When visiting Lancaster County in southern Pennsylvania, along the Susquehanna River, please leave your Type-A personality at home. Time moves slower in this lush farmland, and, wandering the back roads, you will get stuck behind a clip-clopping horse and buggy. Though attractions and shops can be far apart, getting lost along undulating byways is half the pleasure. And all the best things to do in Lancaster PA do revolve around a simpler way of life.
Breathe slowly while reveling in the stark beauty of the early morning sun hitting the facade of a local harness shop, riveting scenes of draft horses and straw-hatted men at work in vast fields, and the soft bustle of Amish women mixing jam in age-old kettles.
Put away your cell phones and cameras. (The Amish do not want to be photographed, so please respect their wishes).
And be prepared to tuck in early for the night.
Start planning your romantic getaway with this detailed travel guide that includes all the best things to do in Lancaster, Pennsylvania, as well as the most romantic hotels and restaurants.
Pair this weekend getaway with a visit to a City of Firsts and Snack Capital of the World in York PA. And for even more delights, check out all the top romantic getaways in Pennsylvania, plus more Northeast getaways.
Things To Do In Amish Country PA
GO: Strasburg Scooters Tours
If there's a better, more pleasurable way to explore the back roads, farms, and landscapes of Lancaster County PA, I don't know of any. As Strasburg Scooters Tour owner, Marc Crusemire says, "We have way too much fun! I can't believe I make a living riding a scooter."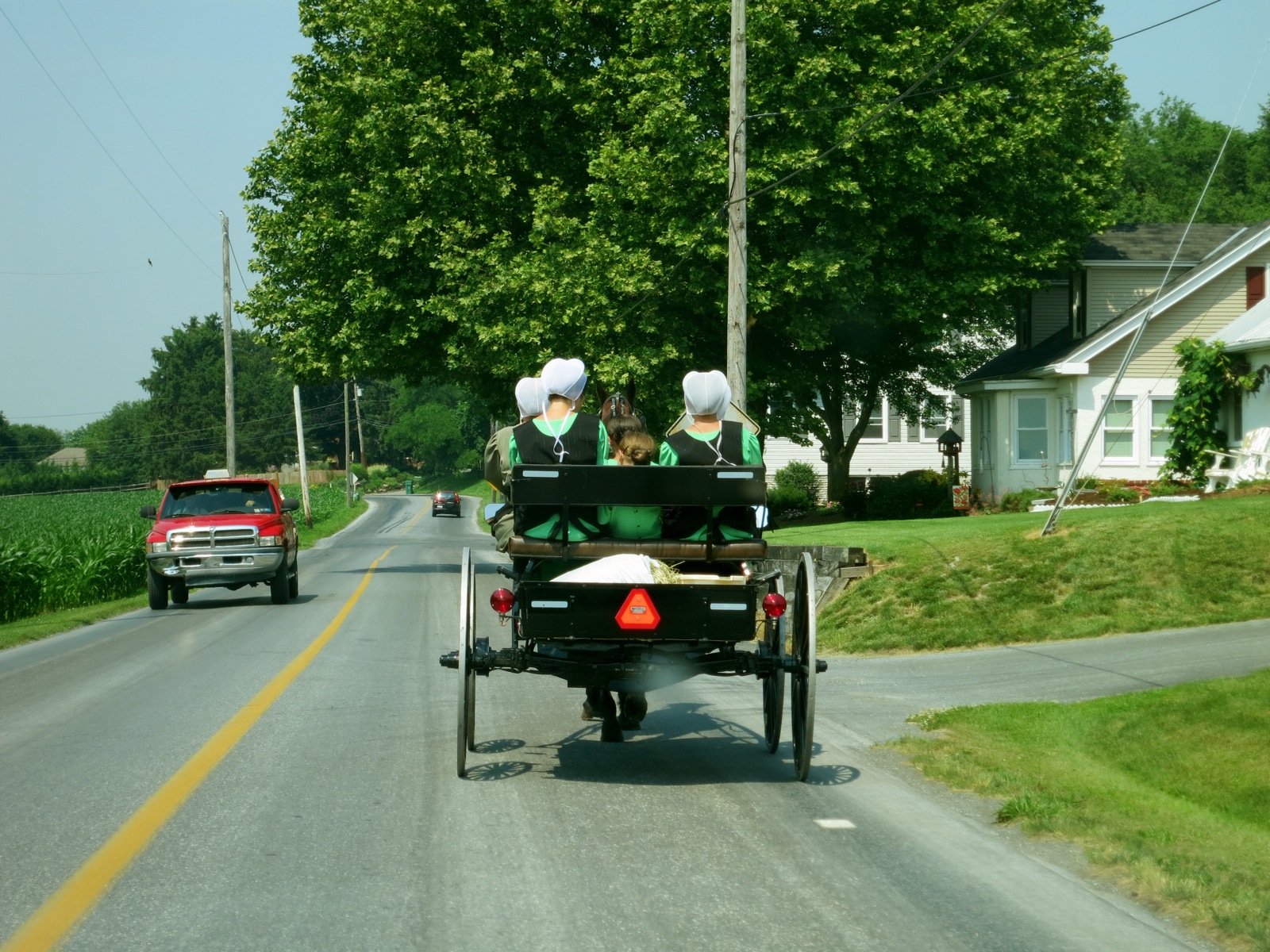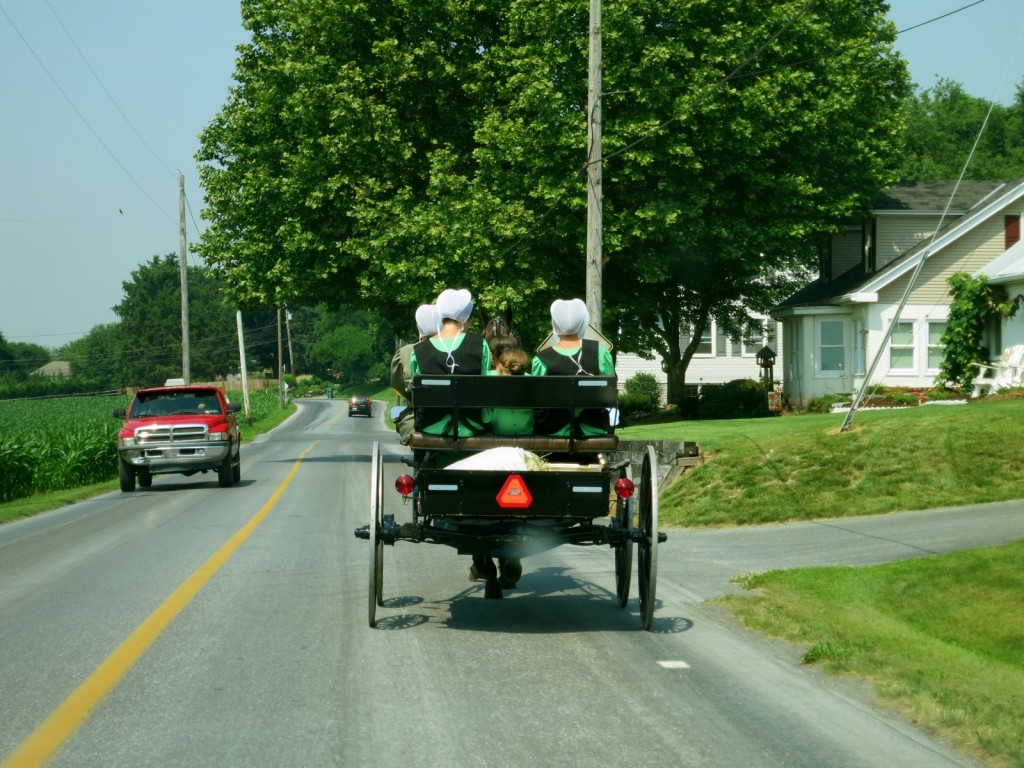 What began as an unprofitable rental business morphed into a tourist favorite when Marc and his wife, Nikki introduced guided tours. Now, Strasburg Scooters does not rent their vehicles – and only runs tours. It's been a boon to business.
Visitors love the highly interactive and educational excursions that make stops at Amish homes (sometimes to make Whoopie Pies or do other activities with the resident families), introduce outsiders to the Pennsylvania Dutch way of life, and allow them to viscerally enjoy the beauty of the surroundings.
SHOP: Misty Creek Goat Dairy (Leola)
There's a little shop at the Misty Creek Goat Dairy, just a few minutes' drive from the Inn at Leola Village, where customers can help themselves to samples of cheese, scented soaps, or bottles of raw goat's milk.
A handwritten sign asks customers to fill out what they purchased in a notebook and place their cash and make change in the drawer below. Open Dawn to dusk every day except Sunday.
TASTE: Lapp Valley Farm (New Holland)
The Lapp Family has been making ice cream at Lapp Valley Farm Creamery since the mid-1970s after Benuel Lapp took an ice cream-making course at Penn State. And, if you've read our coverage of Penn State ice cream, you know how outstanding it is.
You can pet baby calves in their little pens, and either walk into the shop or get your ice-cream cone via drive thru service. Just be prepared to wait in line. This real back-country place has been "discovered."
Riehl's Quilt and Craft Shop is located on a working dairy farm operated by the Riehl family. Far from the stereotype of the serious Amish woman, the delightful young Riehl girls at the counter have a quick wit and love to banter with customers. Riehl's features quilts of all sizes, Amish foot scooters, fresh root beer, rock candy wall hangings, pillows, quillows, dolls, pot holders, spice mats, bird feeders, mailboxes, and all sorts of needlecrafts.
SHOP: Miller's Organic Farm (Bird-in-Hand)
Not only does Miller's Organic Farm have a great selection of organic meats, nuts, and other goodies, but they also raise camels and sell their milk. You'll find a selection of dried food as soon as you enter the shop, but the real magic lies behind the plastic curtain into a large refrigerated room – where shelves burst with dozens of varieties of raw sheep, cow, and goat cheeses, and jars of fermented veggies.
SHOP: Kauffman Handcrafted Clocks (Ronks)
If you know anything about the Pennsylvania Dutch, you know that their craftsmanship is second to none. Kauffman Handcrafted Clocks specializes in customized and handcrafted Grandfather and Grandmother clocks, made from the finest solid woods. This small workshop and store are worth a stop, even if you don't intend to purchase anything.
VISIT: Lil' Country Store, Ronks
This Amish family raises miniature horses. Stop by to see them. Watch owner Daniel working in his wood shop (furniture for sale). And then grab an ice cream or other sweet confection at the makeshift concession stand at the Li'l Country Store.
TOUR: Amish Experience VIP (Visit-In-Person) Tour
This seasonal, unique three-hour, 14-person, end-of-day tour originates at the 10-acre Plain & Fancy Farm Amish Experience Complex. One of several Amish country tours, the VIP Tour makes stops at three different homes while granting golden sunset views of this magical land.
"The Other" becomes a bit less so as you speak to dairy farmers, proud that their federally-inspected cow's milk is considered of high enough quality to supply Land of Lakes, then watch craftsmen make use of compressed air and batteries to aid in weaving or woodworking.
The final stop is a meeting of the minds of a sort. You'll have an opportunity to sit with an Amish family in their own home and ask them about their culture. Though some stereotypes are true (Amish do not want to be photographed), others are not.
They do not live a Medieval lifestyle. In fact, some Amish homes are quite modern (it's amazing what batteries, propane, and compressed air can power), with indoor plumbing and large kitchens the envy of many "English." This experience sells out quickly, so reservations are a must.
SEE: Amos the Giant Amish Man (Ronks)
Originally constructed in 1969 to draw tourists in to Zinn's Diner on Route 30, this 15 ft. hunk of a farmer now stands on Hershey Farm Restaurant and Inn property.
Stop by for a photo op (come on, you know you want to) and for "The Best Chocolate Whoopie Pie" in Lancaster County, some say.
Hershey Farms began in the 1970s as a little pretzel stand, but has grown into a newly renovated hotel and Smorgasbord restaurant where you can watch pretzel-makers hand roll the soft version of the snack.
SHOP/SHOOFLY PIE: Dutch Haven (Ronks)
You can't miss this place. Dutch Haven has a big windmill on the roof and looks rest-on-its-laurels-touristy. Inside, shelves groaning with souvenirs add to the "tourist-trap" perception. But looks can be deceiving. This place sells more Shoo-fly Pie than all other bakeries in Lancaster combined.
Why? Because Dutch Haven Shoofly Pie is awesome. And I don't use that word lightly. Forget about that gooey, sickly-sweet stuff you endured on former trips to Pennsylvania Dutch Country. Here, it's amazing what flour, molasses, and water can become. With no eggs or dairy, these pies can stay on your counter for two weeks. And in your fridge for another two.
DO/SHOP: Kitchen Kettle Village (Gordonville)
For the most part, visitors swarm here for the chow-chow, pickled beets, pepper jam, and other small-batch jams and jellies that emerge from decades-old kettles; foodies on the lookout for authentic, natural-ingredient condiments are finally discovering this place.
Quick history: just about the time that the Broadway musical Plain and Fancy exposed New Yorkers to Amish culture in 1954, Pat and Bob Burnley began canning jams, jellies, and relishes in their garage.
The Kitchen Kettle Village, which evolved from that garage as curiosity about the Amish flourished, now encompasses 42 shops, restaurants, and an Inn, and though modernized, still retains those original kettles and canning methods.
Now an incredible million jars of jams and jellies (90 varieties) emerge from these old-fashioned kettles per year. That's with just eight Amish women in the kitchen at any given time. You can watch these industrious ladies – who learn this lost art by helping their own mothers at home– bustling about in an open kitchen.
Things to Do In Lancaster PA For Couples
VISIT: The Pennsylvania College of Arts and Design
The Pennsylvania College of Arts and Design, a leader in the installation of public art, has been a downtown anchor for thirty years. It hosts free lectures, international artists, and signature events. At the very least, pop in to peruse the latest exhibition in the Main Gallery, as exhibitions change periodically.
GO: Lancaster Balloon Rides
The hot air balloon rides offered by Lancaster Balloon Rides might just be THE most romantic thing to do in Lancaster PA. Imagine snuggling close to your sweetie while enjoying panoramic views of the Amish farmlands, the Susquehanna River, and the historic downtown area of Lancaster.
SHOP: Lancaster Central Market
If you arrive on Tuesday, Friday or Saturday bring a cooler, and tote it to the country's oldest continuously operating public market, Lancaster Central Market, "where city and country have come to meet" for more than 200 years.
Locals are proud of this mainstay (Lancaster was an inland "market town" dating back to 1730), and you might very well hear a neighbor call out, "Will I see you at the market?" on non-market days. With sixty-two separate vendors (some operating as family enterprises for over 100 years), you can find an abundance of ethnic foods here, too.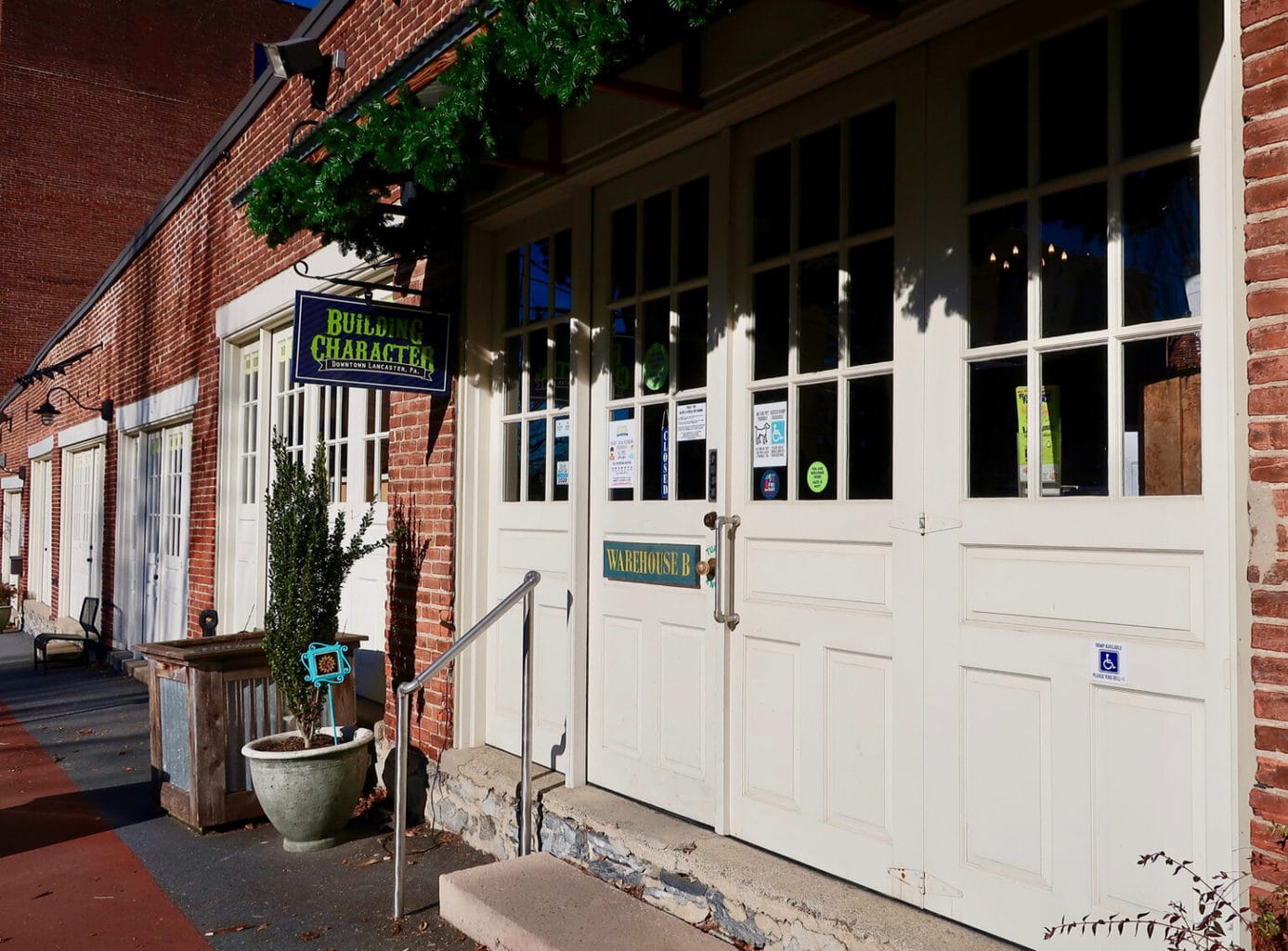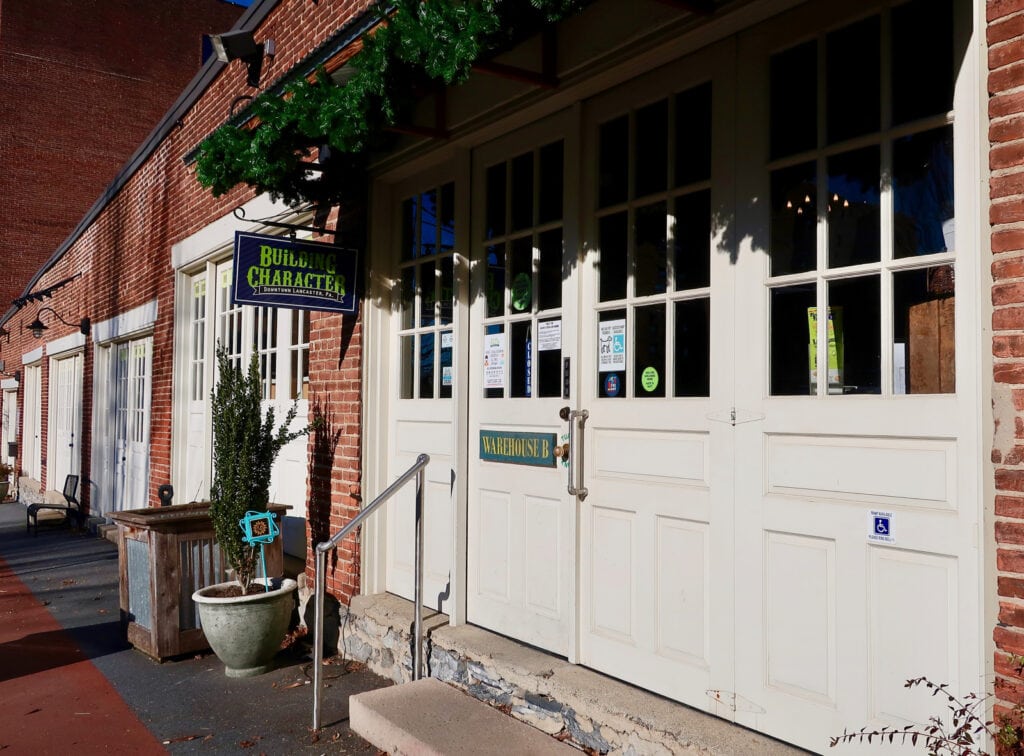 SHOP: 300 Block of Queen St.
Your wampum goes a lot further in Lancaster and doubly so in the funkier regions of Queen St. (300's block). Don't miss Building Character, a vast co-op arts mall specializing in architectural salvage.
DO: See A Show at The Fulton Theatre
This city of 60,000, amazingly, has two live theaters. Built in 1842, and renovated in the 1870s after Sarah Bernhardt declared it "the worst place to perform," The Fulton Theatre (named for Lancaster-born Robert Fulton, inventor of the steamboat), became one of the best places to perform, hosting the likes of Mark Twain, Louis Armstrong, and Al Jolson. Renovated again in the mid-1990s, The Fulton Theatre now stages innovative, engaging original productions.
DO: Go To An Event at the Ware Center
Scope out the events at Millersville University's Philip Johnson-designed Ware Center; a soaring space made up of an auditorium (with acoustics so perfect, you can hear a pin drop on stage), galleries, event spaces, and classrooms.
There's something for everyone nearly every night; dance, lectures, art films, and more in a windows-to-the-city room where you can watch the town light up as the sun goes down.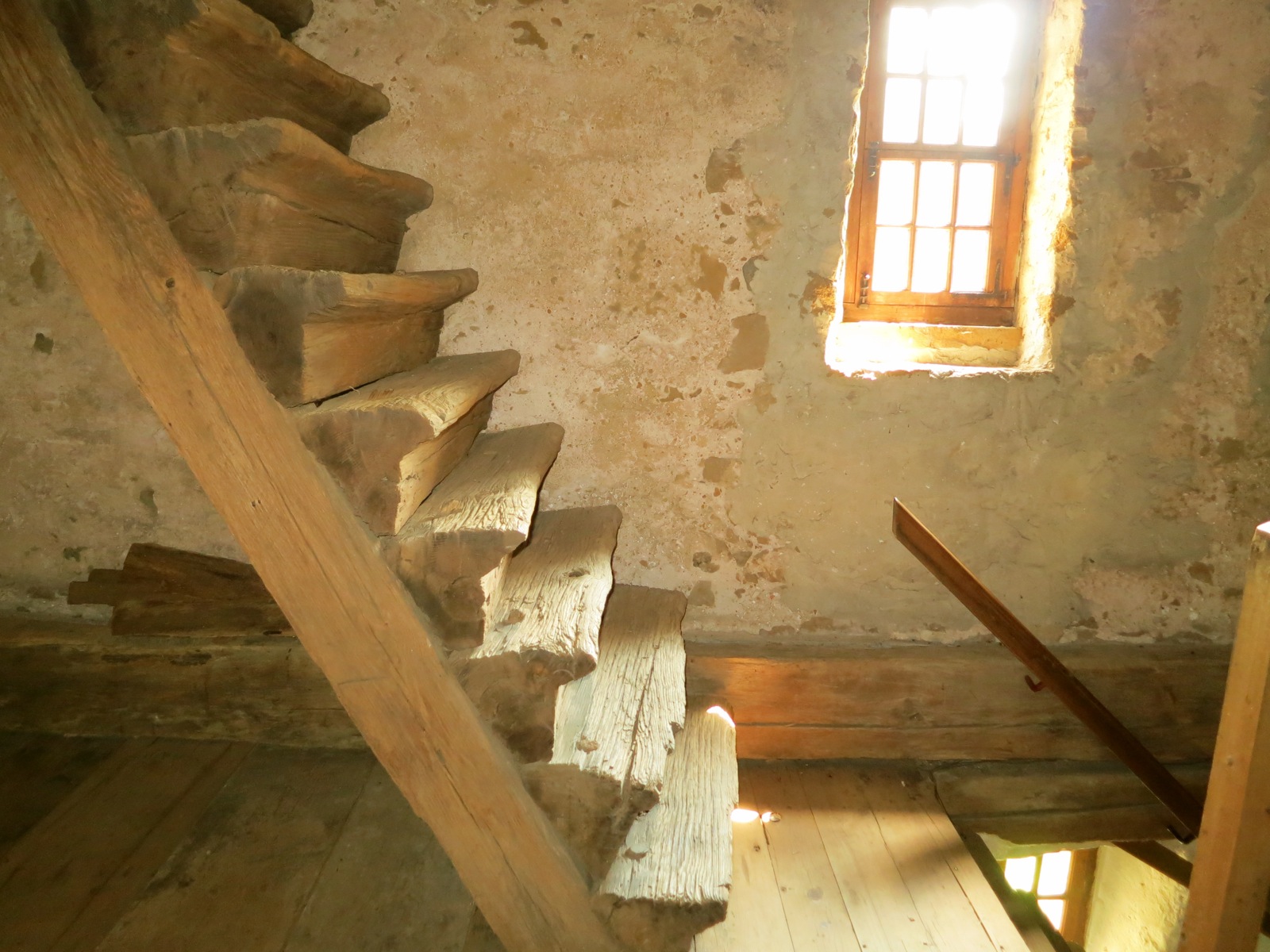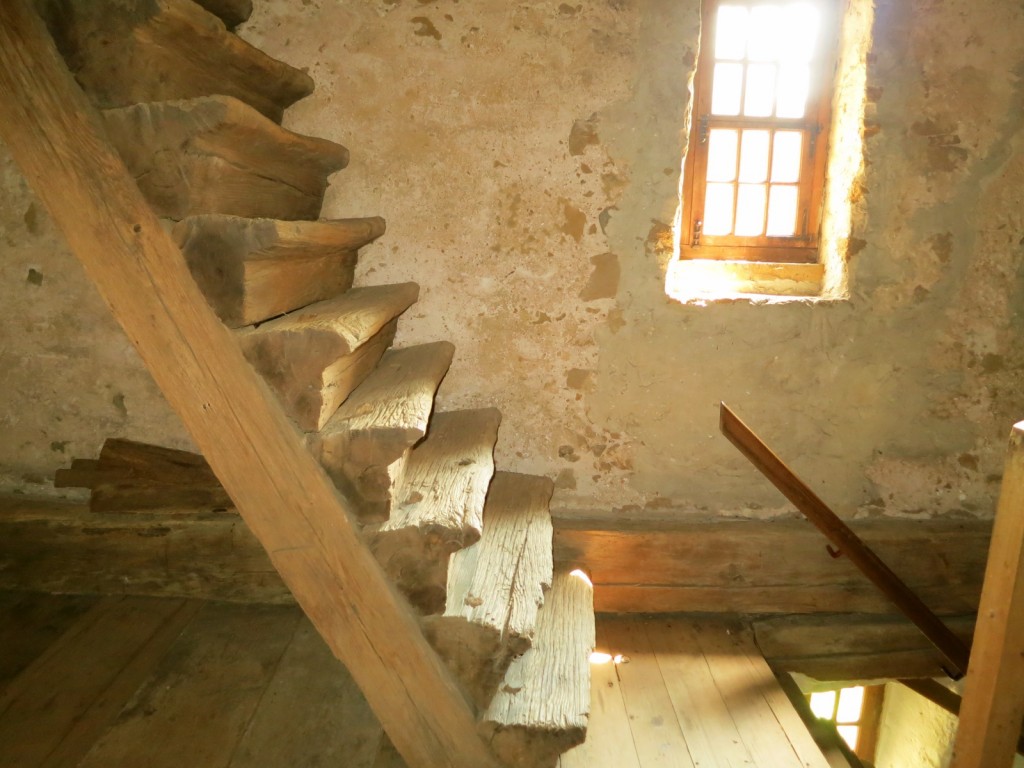 VISIT: Hans Herr House and Eastern Woodland Longhouse
Built in 1719, the Hans Herr House is the oldest building in Lancaster County. It's also considered the longest-standing Mennonite Meeting House in the USA. And it wasn't even built by Hans Herr (who may or may not have even left Germany), but by his son Christian Herr.
A prime example of Medieval Germanic architecture, with asymmetrical windows and a central fireplace, this was a mansion in the early 1700s when other families lived in log cabins.
What makes this historic site in the middle of PA Dutch farmland so compelling, though, is what has been preserved. For example, the year 1719 is chiseled in stone over the front door. The home also tells the story of Mennonite life throughout the centuries.
Costumed interpreters expound on everything inside and outside the structure.
One room is set up as starkly as it would have been when neighbors assembled to pray. Upstairs, in the bedroom, guides remark on a rare, intact "Immigrant's Trunk" made of wood and iron. The prudent Mennonites usually burned the wood for heat and smelted the iron into farm tools, but in this case, did not.
The whole 11-acre complex, which encompasses a Native American Longhouse, blacksmith shop, smokehouse, museums, and thriving fruit tree grove provides a fascinating look at pioneer life.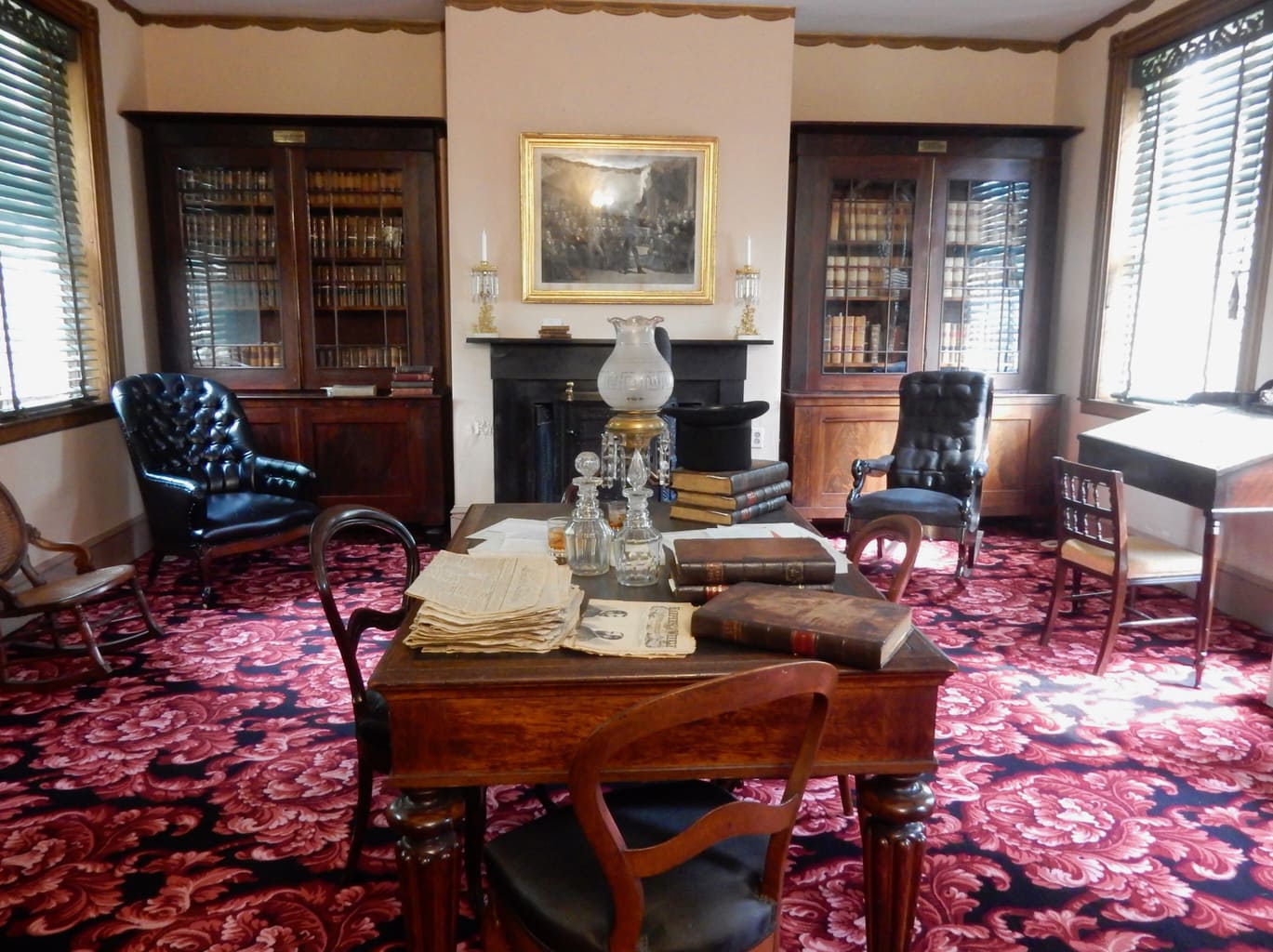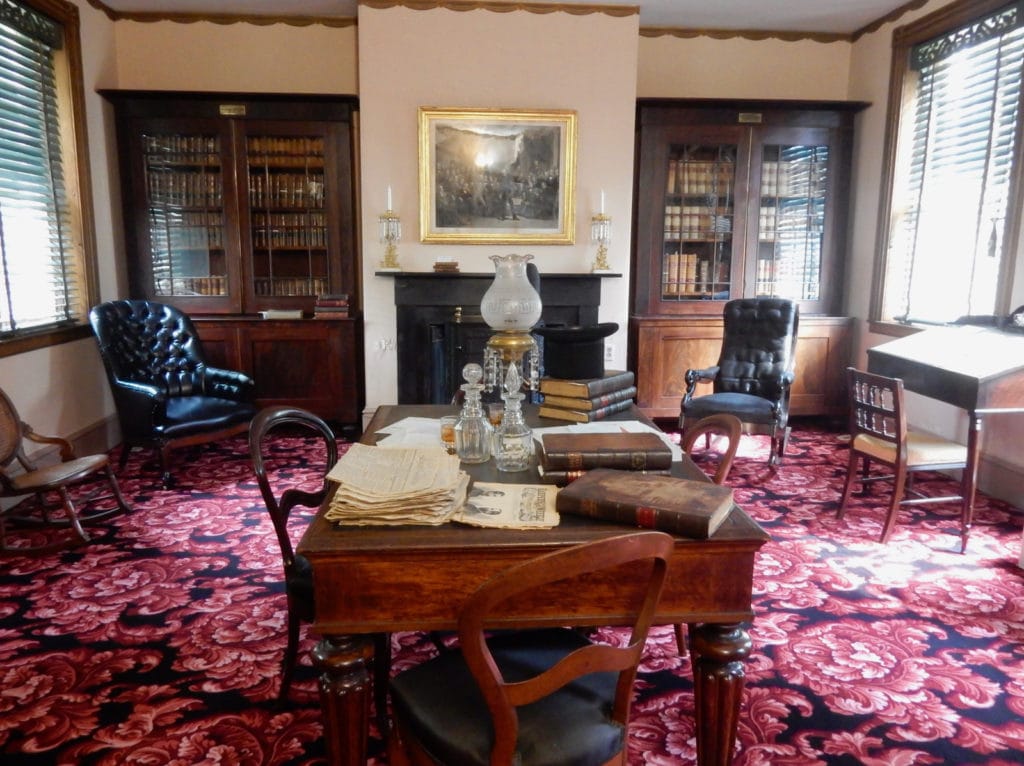 TOUR: Wheatland – the Home of President James Buchanan
Your tour Wheatland begins in the LEED-certified Visitor's Center, managed by Lancaster History. Peruse the museum exhibitions – and don't miss the temperature-controlled Decorative Arts storage room in the basement with a weird wax figure of Buchanan. Watch a 22-minute orientation film, and obtain tickets for your Wheatland tour next door.
Buchanan's administration is commonly understood to be one of the worst in US Presidential history. But this 30-minute tour is fantastically entertaining – depicting the "bachelor President's" human side.
Fortunately, artists of the day sketched each room as it looked when Buchanan lived here. So historians were able to duplicate them with a third of the President's original pieces of furniture and the rest of the period – making for a very authentic look at the way he lived.
Buchanan purchased the stately circa 1828 brick home in 1848 and moved in with his orphaned niece, Harriet, and nephew, Buck. A confirmed bachelor (the only US President who never married), Buchanan had no children of his own.
There are no ropes or barriers in the house, making it one of the most accessible Presidential House tours in the country. The foyer is bright and sunlit. Its stunning Mahogany rail and Tiger Maple spindle staircase lend a "Shaker-esque" vibe.
Set in his ways, Buchanan didn't campaign outside his house but hosted movers and shakers in his parlor. The dining room is small and intimate. The table is set with authentic White House china that Buchanan brought with him to DC because he liked his own stuff. To illustrate Buchanan's love of Madera Wine – an original bottle from 1827 stands on a side table.
Buchanan's favorite hand-carved teak desk, a gift from Calcutta India, dominates his handsome office. And the reproduction rose and black floral carpeting in the low-lit Library reveals that décor in the mid-1800s was far from drab.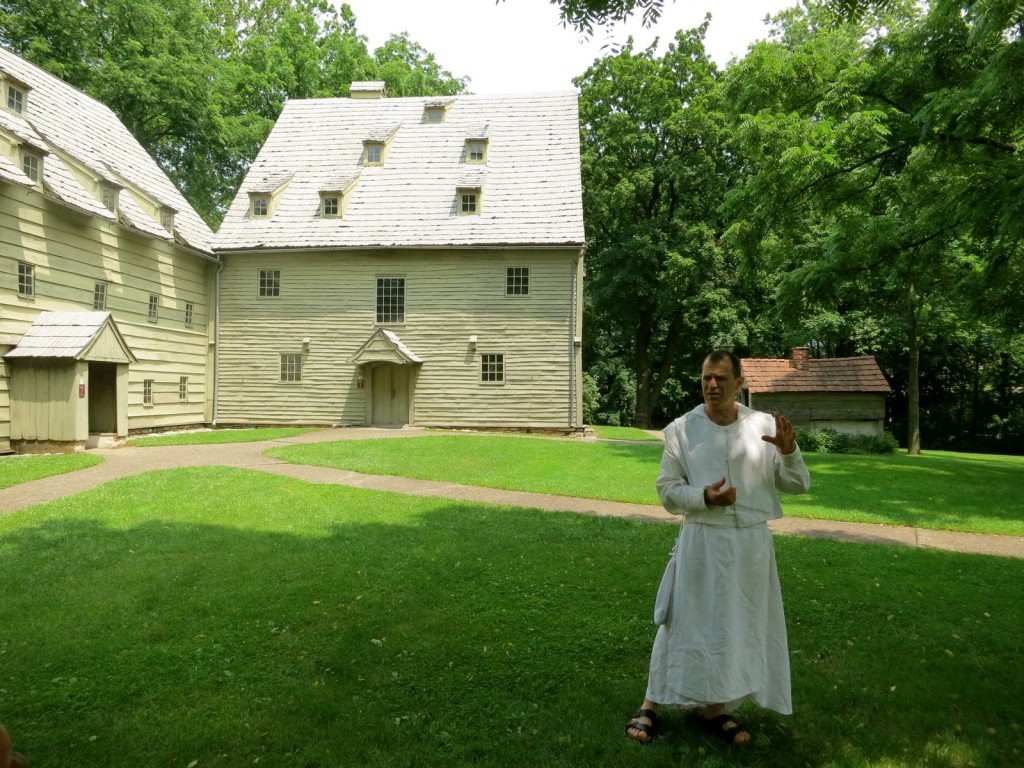 TOUR: Ephrata Cloister (Ephrata)
Take a 45-minute guided tour of the Ephrata Cloister, a most peculiar monastic compound in this center of religious tolerance.
Conrad Beissel was a restless, but charismatic soul. He strove, some would say, to just be left alone in the Pennsylvania woods. But isolation doesn't jive well with charisma.
So, in 1737, Beissel cobbled together a type of Tomorrow-Christ-Will-Return-Messianic religion with Saturday Sabbath, Vegetarianism, and Celibacy as central tenets. He then built the largest structures west of Philadelphia to house his followers. In 1750 the community, with its own Latin Academy and large printing press, reached its peak of 300 members.
Your entertaining and engaging guide (mine was Nick Seigert), dressed as a "Brother" in a flowing white robe, takes you through a typical day and night in 1750. Most of the daylight and nighttime hours were devoted to prayer, some light spinning and calligraphy work, one meal of fruit and nuts, and an intense two-hour "Jesus is coming like a thief in the night" midnight service.
In the still-standing Woman's Dorm and Meeting House, visitors are invited to lay on an 18" wide board with a solid wood block pillow to experience the severe conditions that the Brothers and Sisters would have to endure.
No big surprise that many left quickly and that a celibate group without long-term plans (Christ would arrive any minute to take them home, after all), would die out pretty quickly following Beissel's death in 1768. But it makes for a very thought-provoking and compelling tour.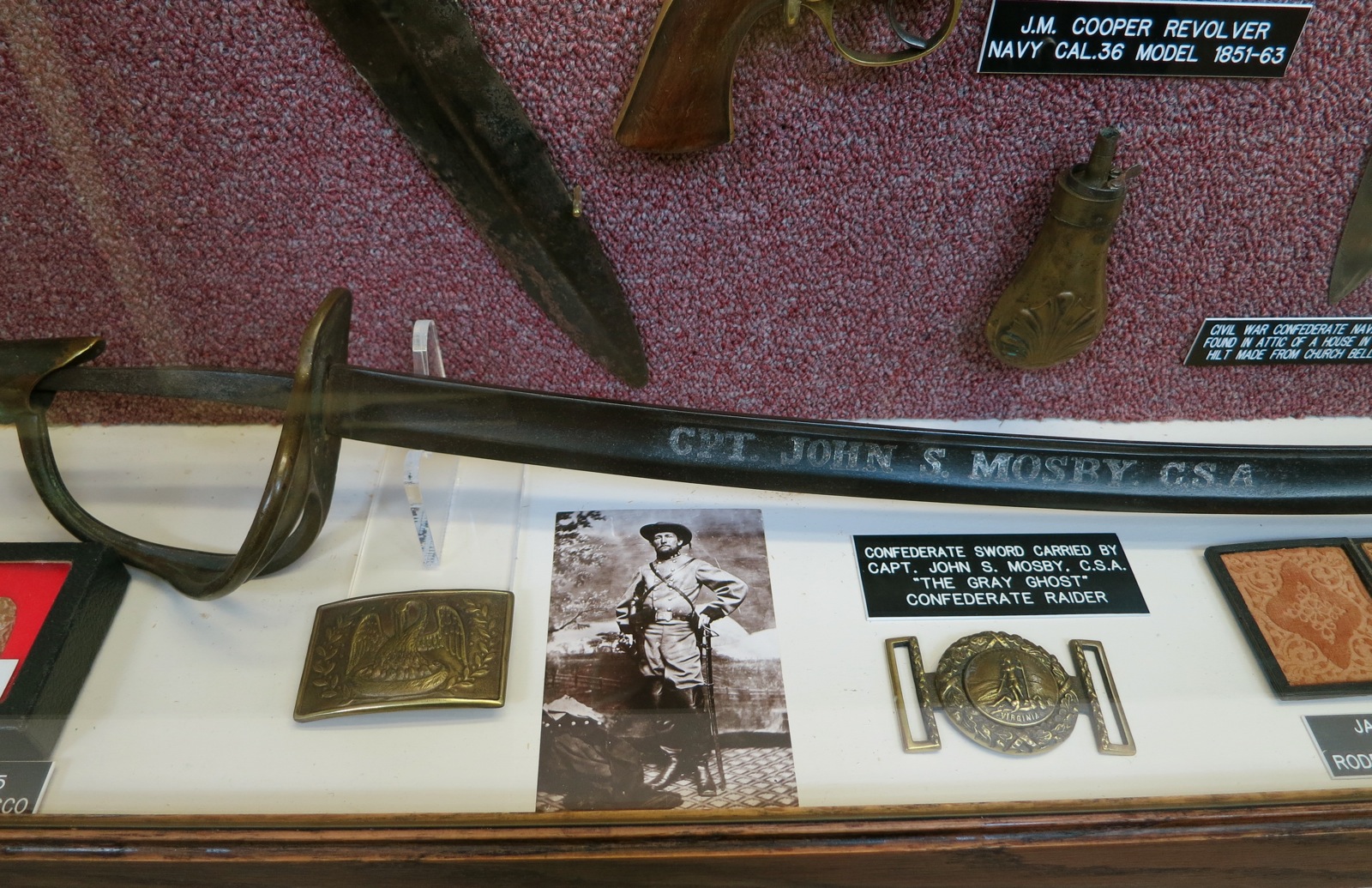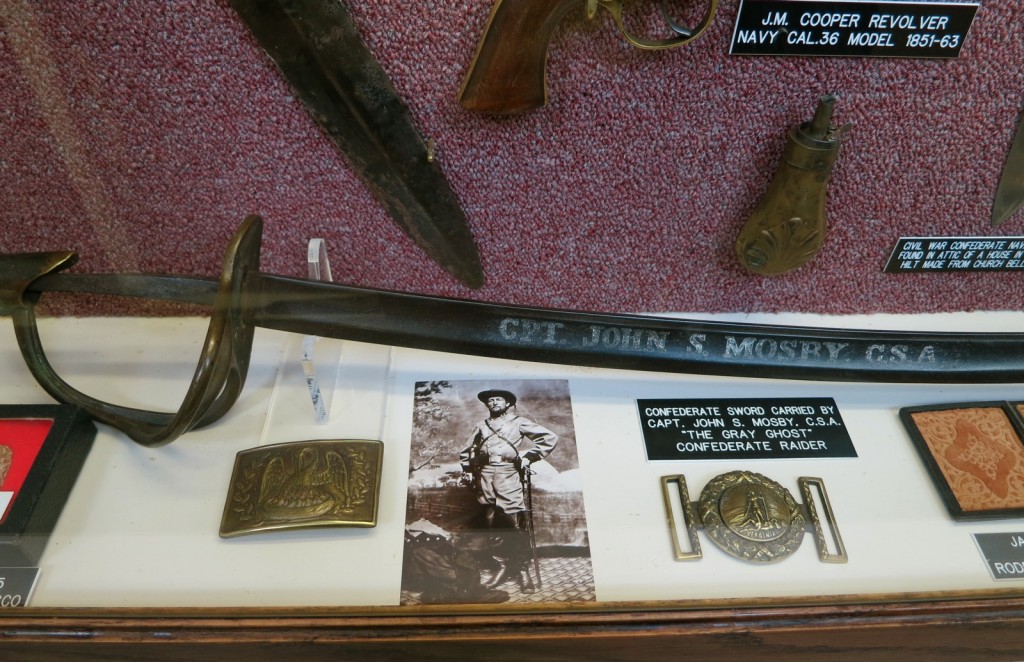 VISIT: American Military Edged-Weaponry Museum (Intercourse)
I know. The surprisingly compelling American Military Edged-Weaponry Museum is an anomaly in this peaceful place. But it does serve a purpose. Find the former Colonial Revival Bank in the center of Intercourse, and you'll discover where the guys (and knife-collecting women) go when their spouses and friends are off shopping.
Owner/curator Larry Thomas has been collecting rare knives since High School. He roams the country for the most esoteric blades. (And lately, guns).
Historic arms are beautifully presented and succinctly described in glass case after glass case. Find the personal sword of "The Great Ghost of the Confederacy" – Col. Mosby – the only Confederate officer who never surrendered and was stripped of his citizenship (he was later pardoned by President Grant), a rare WWII Bazooka, a 13-stamp-part "Grease Gun," and an attention-grabbing assemblage of "spy" weaponry including Coin Knives, Pencil Daggers, and real pen penknives.
Open seasonally, check ahead for hours.
VISIT: National Watch and Clock Museum (Columbia)
Punch your souvenir ticket into a Time Clock then walk through a time portal. From Stonehenge and Sundials to ultra-modern digitals, the National Watch and Clock Museum is one cool way to "pass" time.
In an agrarian society, lapsed time (how long it took to get something done) was more important than the scheduled time, which eventually became necessary during the Industrial Revolution and the advent of the railroad.
You'll learn about "escapement" – how energy is released via weights and pendulums, the concept of Asian sliding scale time (depending on the season), and see a slew of clocks, pocket-watches, and far-out "novel" timepieces.
One highlight of the museum is an 11-foot-tall "Monumental Clock." Advertised as "The Eight Wonder of the World," it made its way around the country in the 1870s and '80s.
Operated via weights and bellows, the Monumental Clock features religious and Revolutionary War characters that emerge from small slamming doors at precise times. You can see a full run of all of its features on the hour.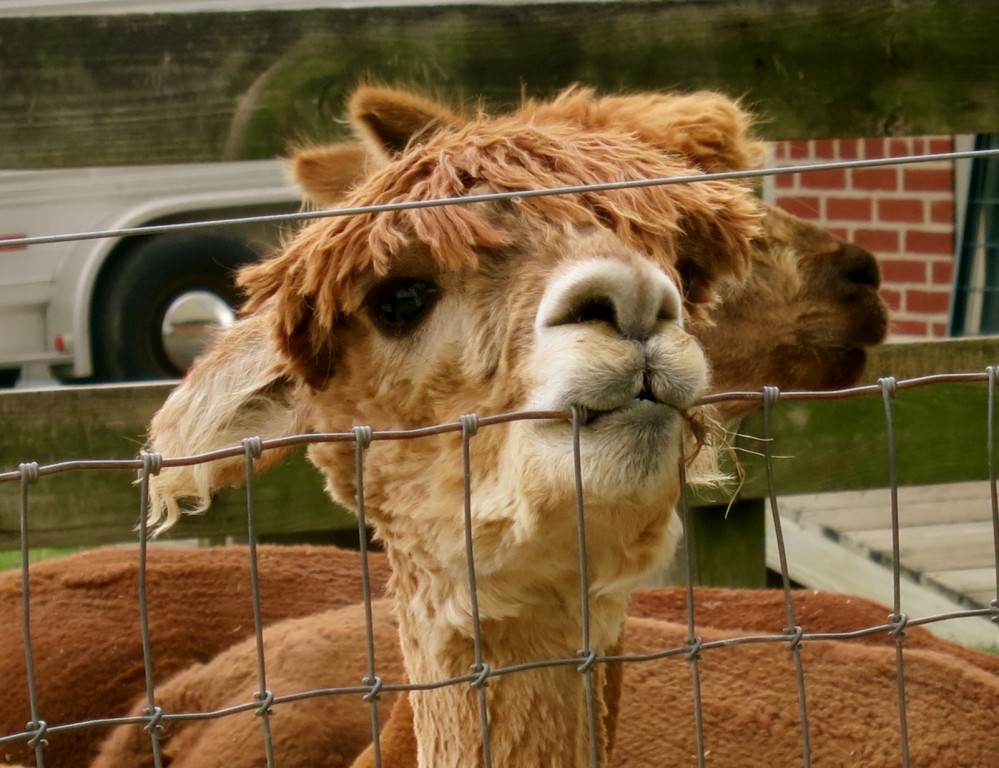 VISIT: Eastland Alpacas (Mt. Joy)
There is no word for the extreme cuteness of these little, trusting, giraffe-necked, big-eyed creatures. When you come to Sue and Kevin Zurin's Eastland Alpacas Farm, where you'll see 120 registered, named, and micro-chipped camel cousins huddled together and waiting to be fed, it's almost too much cuteness to bear.
Alpaca fleece – in 22 natural colors – is finer than lama wool. You can purchase woven products (ie $19 for a pair of alpaca socks) in a small store onsite.
Tour the 30-acre property and get close enough to these sweet animals to give them hugs. If you fall in desperate love with any, you might be able to take them home. The Zurins will sell their alpacas to good homes. Call or email for tour or appointment (though drop ins are ok for the store), donation only, 10am-4pm is the best time to come.
VISIT: Landis Valley Museum
Landis Valley Village & Farm Museum is a living history museum that celebrates the history and culture of Pennsylvania Dutch Country. The museum is situated on over 100 acres of farmland and features a collection of over 100 historic buildings, including farmhouses, a schoolhouse, a church, and a blacksmith shop, that have been moved to the site from around the region.
PLAY: Dutch Wonderland
Looking for more fun date ideas in Lancaster? Check out the retro Dutch Wonderland amusement park. The park features over 35 rides, plus other attractions and shows. Some of the most popular rides include the Kingdom Coaster, a wooden roller coaster that offers a thrilling ride for older kids and adults, and the Duke's Lagoon, a water play area with a large wave pool and water slides.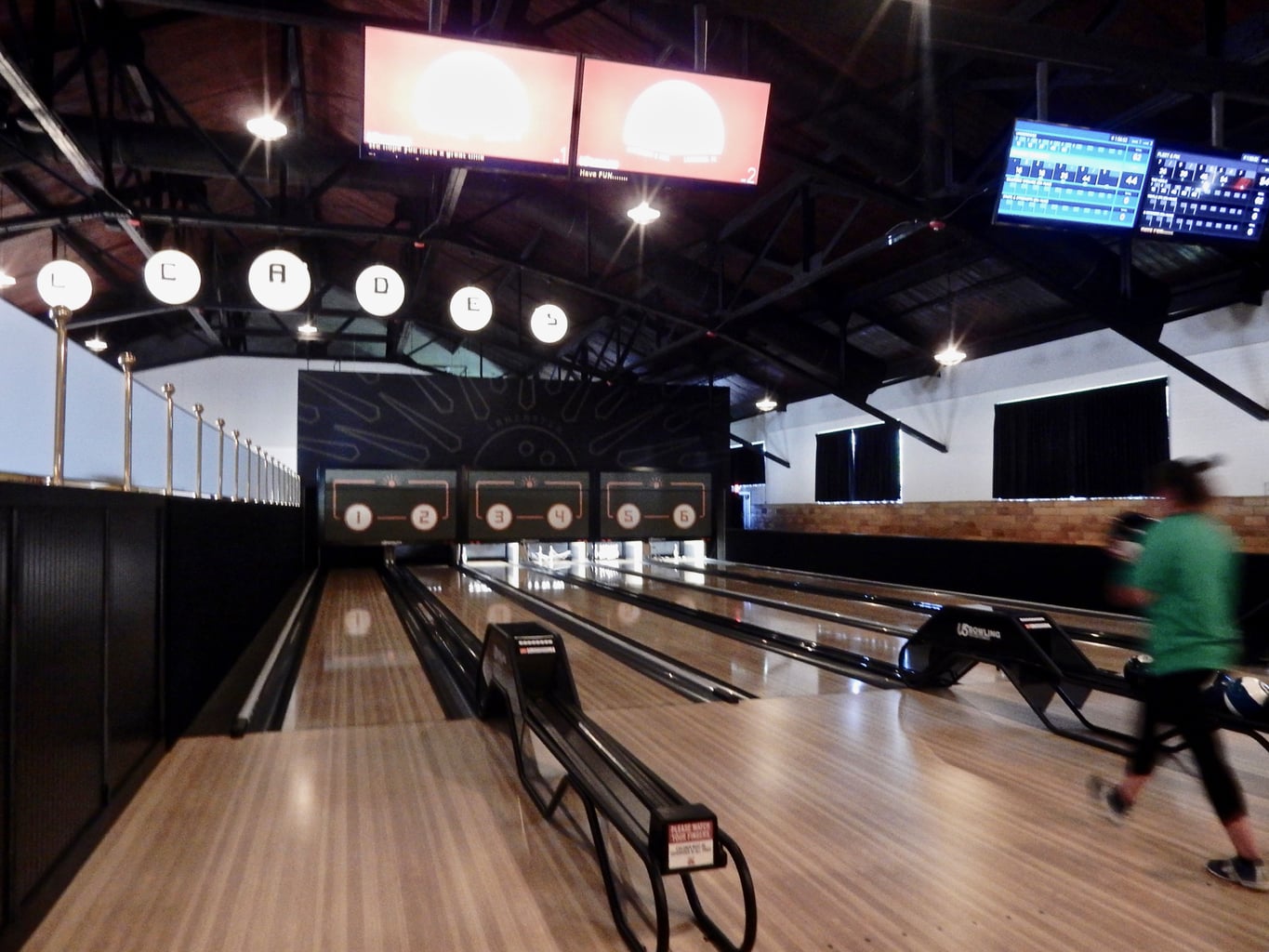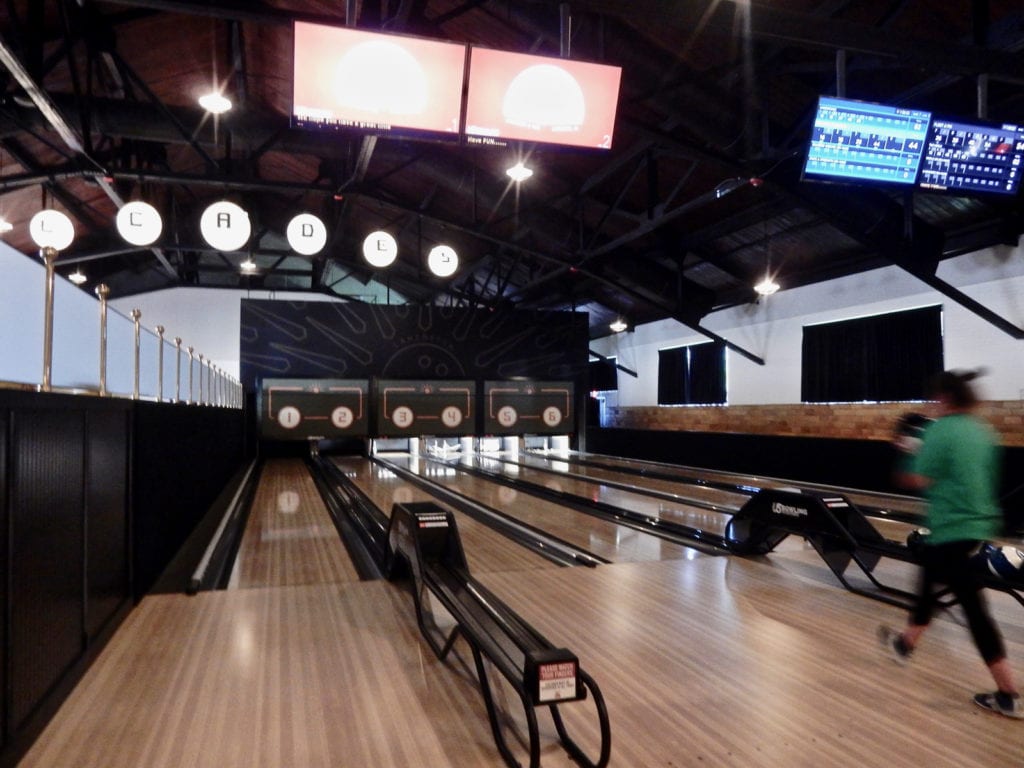 GO/FUN/EAT: Decades
A half "deca" team (that's 5, by the way) got together to open a bowling alley, retro arcade, restaurant, and bar in the former Stahr Armory in Lancaster. Jonathan Yeager, Chris Trendler, Adam Ozimek, and Mike and Bri Callahan believed that locals yearned for a place to hang out where they could be active and social at the same time.
"There were bars, and there were arcades, but Lancaster lacked things to do," said Yeager. Opened in March 2019, Decades – so named to invoke a feeling of nostalgia for young and old – has been a boon to the city's growing nightlife scene since day one.
House of Cards fans might recognize some props scattered about. Most of the furnishings, including the host stand, the mirror behind the bar, pendant lights and chandeliers came from the Cards set. Besides the six-lane bowling alley, there's SkeeBall, Ms. Packman, Donkey Kong, and other blast-from-the-past games.
I've heard that the Honey Garlic Wings are epic (I didn't try them, though), and the space is family-friendly from the time it opens at 4pm until 8:30 pm-midnight when it becomes a 21+ venue.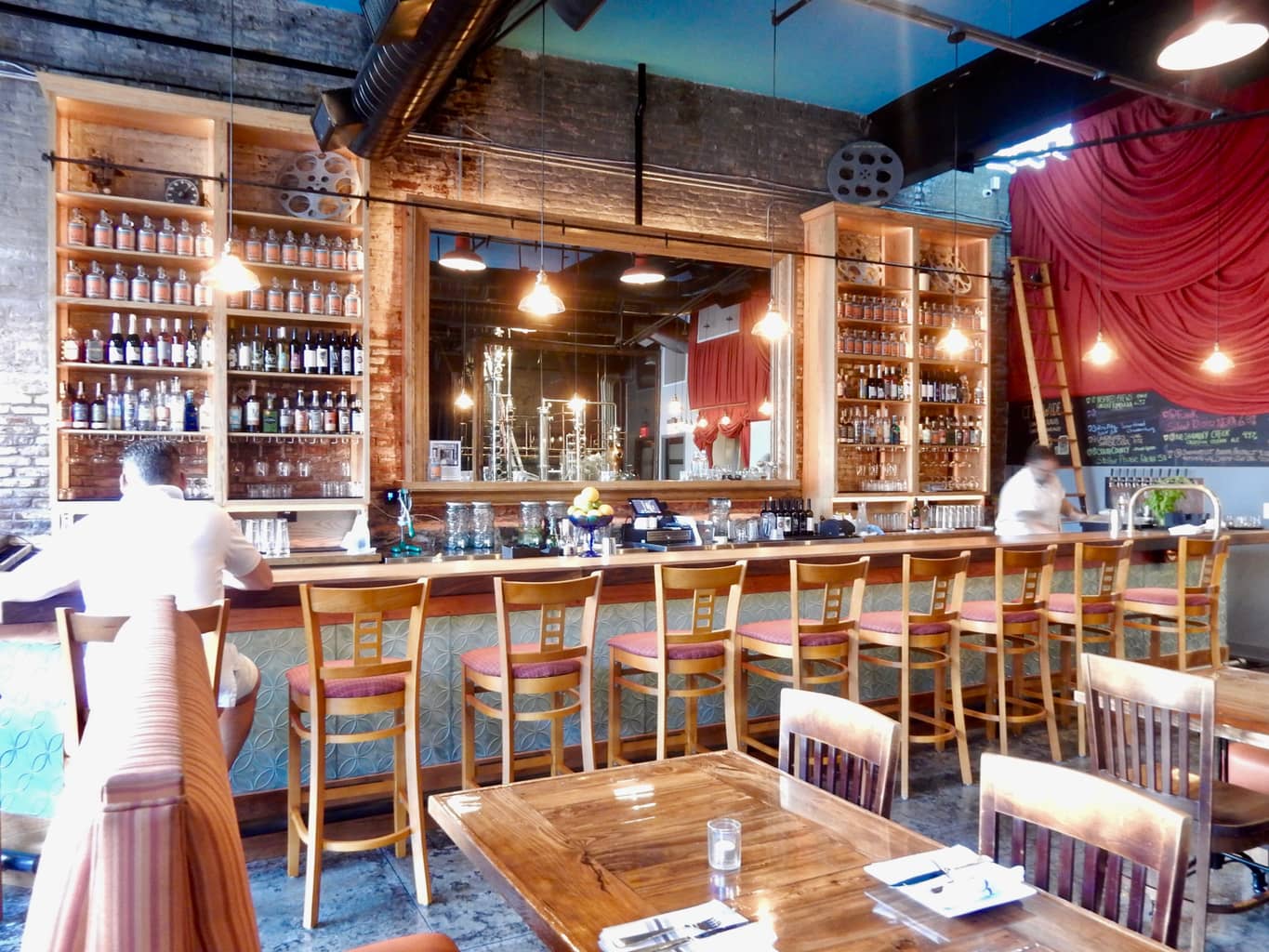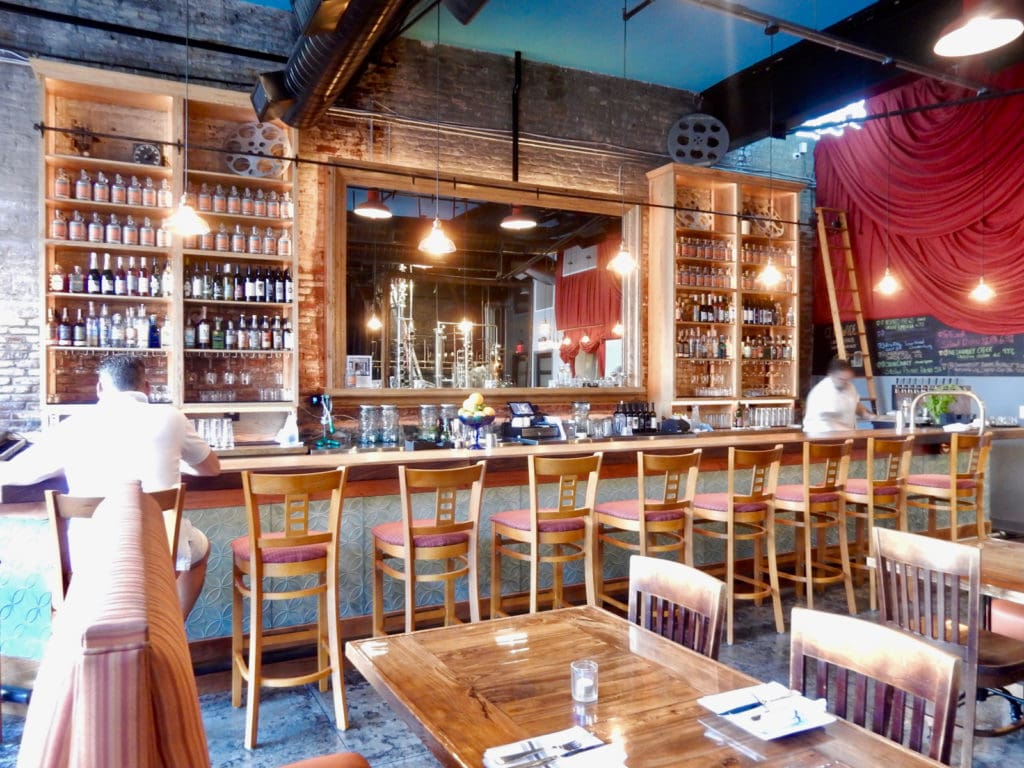 GO: Zoetropolis (Cinema Stillhouse)
Middle School art teacher, Nate Boring (in partnership with 4 others), found a used furniture store and turned it into another mixed breed of bar/eatery.
Zoetropolis combines an indie movie/live theater venue with an open-kitchen restaurant and bar. And, a rum-focused distillery. Harking to Prohibition, Zoetropolis turns out Silver, Spiced, and Aged Rum from a series of shiny looming stills.
The restaurant satisfies the "small bite" crowd, centering on Tapas and a variety of inventive dishes like Smoky Molasses Glazed Salmon, Scallops, and many Vegan options.
As an art teacher who continues to teach, Boring is in awe of the eclectic creative spirit involved in designing the building's interior and concocting the firewater made here. He contributed to it by fashioning a shuffleboard bar top, hand-making decorative tiles, and sourcing local trees for the black walnut shelves. Zoetropolis is certainly his labor of love and a true work of art
GO: First Friday
Arrive on the First Friday of any month and, from 5-9 pm, the City of Lancaster turns into "Mardi Gras." Over a hundred shops and galleries participate with music, wine, and special events.
Even if you can't be here on First Friday, come any other time, unplug from your IPad, and "StumbleUpon" furniture, art, and jewelry boutiques in real life.
NIGHTLIFE: Tellus360
Tellus360, a multi-level music/bar venue, presents an eclectic calendar of events and shows.
Lancaster PA Restaurants
EAT: Root of Lancaster
You're into beer. He's on a plant-based diet. What to do? Check out the vegan Root of Lancaster Restaurant that seems to double as a sports bar. Quite a weird combo, but it works.
Chefs in the open kitchen turn out foodstuffs from colorful salads to pizza and fried veggies slathered with no-dairy cheese. Watch them work, and then enjoy the fruits and vegetables of their labor.
SNACK: Mr. Sticky's Homemade Sticky Buns
Though not downtown, you've got one reason to stop at the Discover Lancaster Visitor's Center on Route 30, and it's not for maps (although they have them, and the staff is a great source of local info).
Order one addictive Sticky Bun from Mr. Sticky's shop next door, and you will either bless me or curse me. Warm from the oven, Mr. Sticky's scrumptious treats put those mall-franchise cinnamon buns to shame.
EAT: Smokehouse BBQ at Plain & Fancy Farm
All is not coach-bus family-style meals at Plain & Fancy – the ten-acre complex that encompasses restaurants, gift shops, shows, tours, and buggy rides. While the Plain and Fancy Farm Restaurant books groups of 20 or more, the Smokehouse BBQ & Brews provides a great lunch or dinnertime meal for small parties.
Though you can certainly order a' la carte, get the "Smokehouse Sampler" for a taste of many PA Dutch items. You'll choose from 2 types of meat, 3 sides, and a dessert.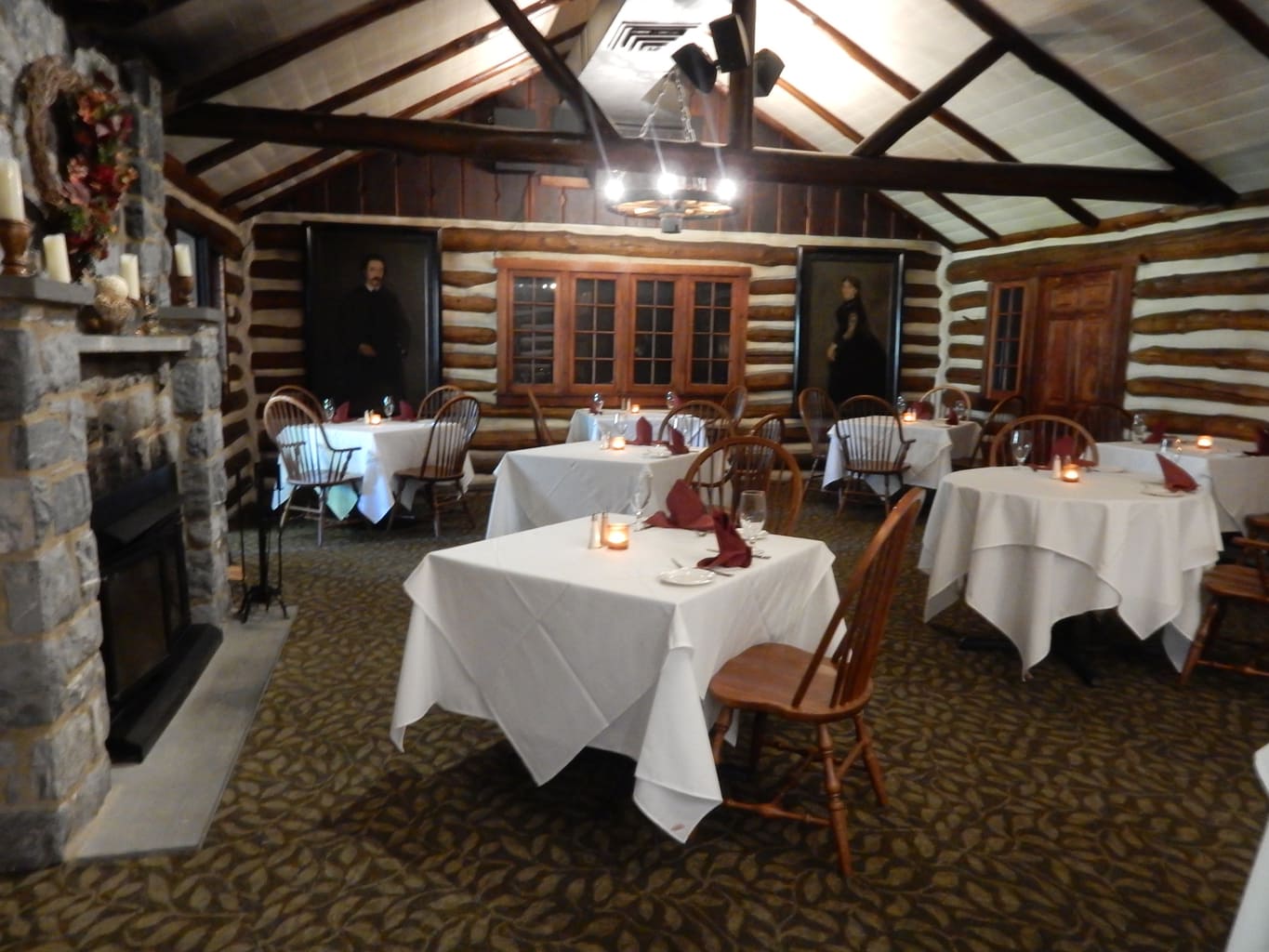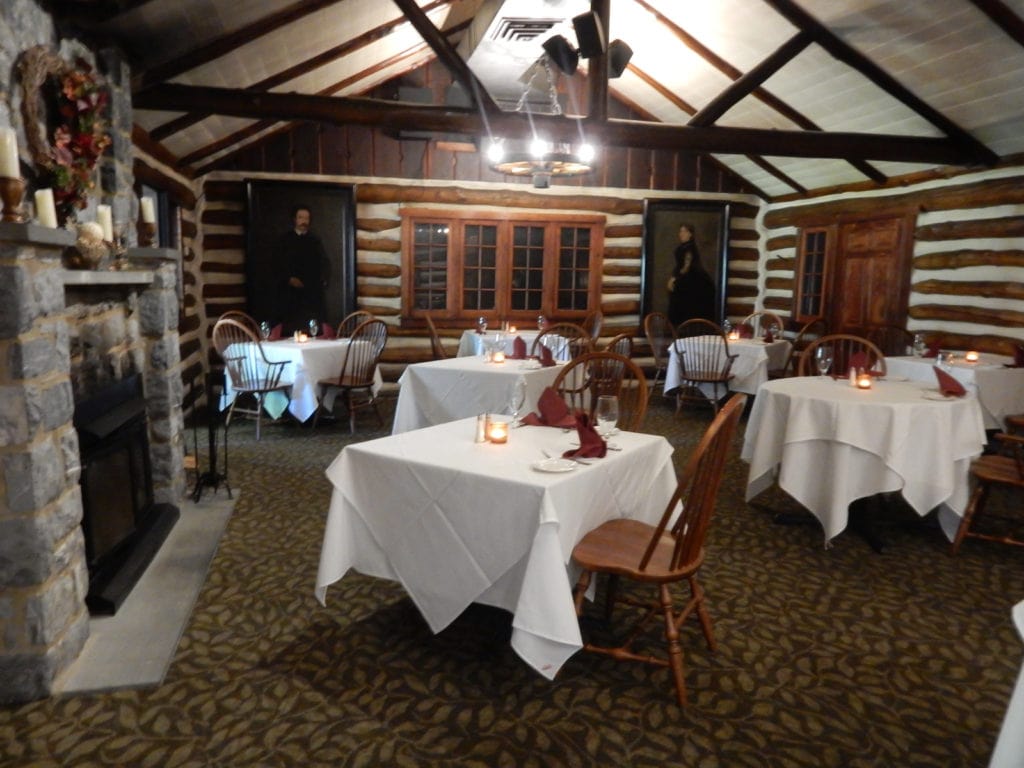 EAT: The Log Cabin (Ephrata)
Opened in the '30s as a restaurant, this cabin in the woods, so remote it served as a speakeasy back in the day, takes some getting to. Most likely because of that, The Log Cabin – actually two of them co-joined – has earned icon status in these parts. The mood is upscale and quirky – with a 1700's log-cabin'y vibe and piped-in music spanning Mozart to Batman.
The food is fantastic and eclectic, and the service is excellent. Not overly fawning, but there when you need it. Fresh herbs and vegetables come from the chef's garden right on site. Entrees range from the Cabin Burger, with candied apple smoked bacon, to Coffee Rubbed 8oz. 21-day aged Rib Eye. I delightfully devoured my Salmon Oscar – a perfectly cooked wedge of fish on potato galette, topped with asparagus and crabmeat. Mouthwatering.
DRINK/EAT/STAY: Bube's Brewery (Mt. Joy)
Encompassing a small brew-works, a Biergarten, the Bottling Works Tavern, and fine-dining Catacombs, Bube's Brewery has been discovered by travelers from all over the world.
Walk into a room built in the 1880s, a decade when hundreds of German immigrants, like Adolf Coors, opened the kind of breweries they left back home.
You won't find any other place in the country with such remnants of medieval beer-making technology. Experience the way lager was made before the Steam Engine and Industrial Revolution changed the method entirely.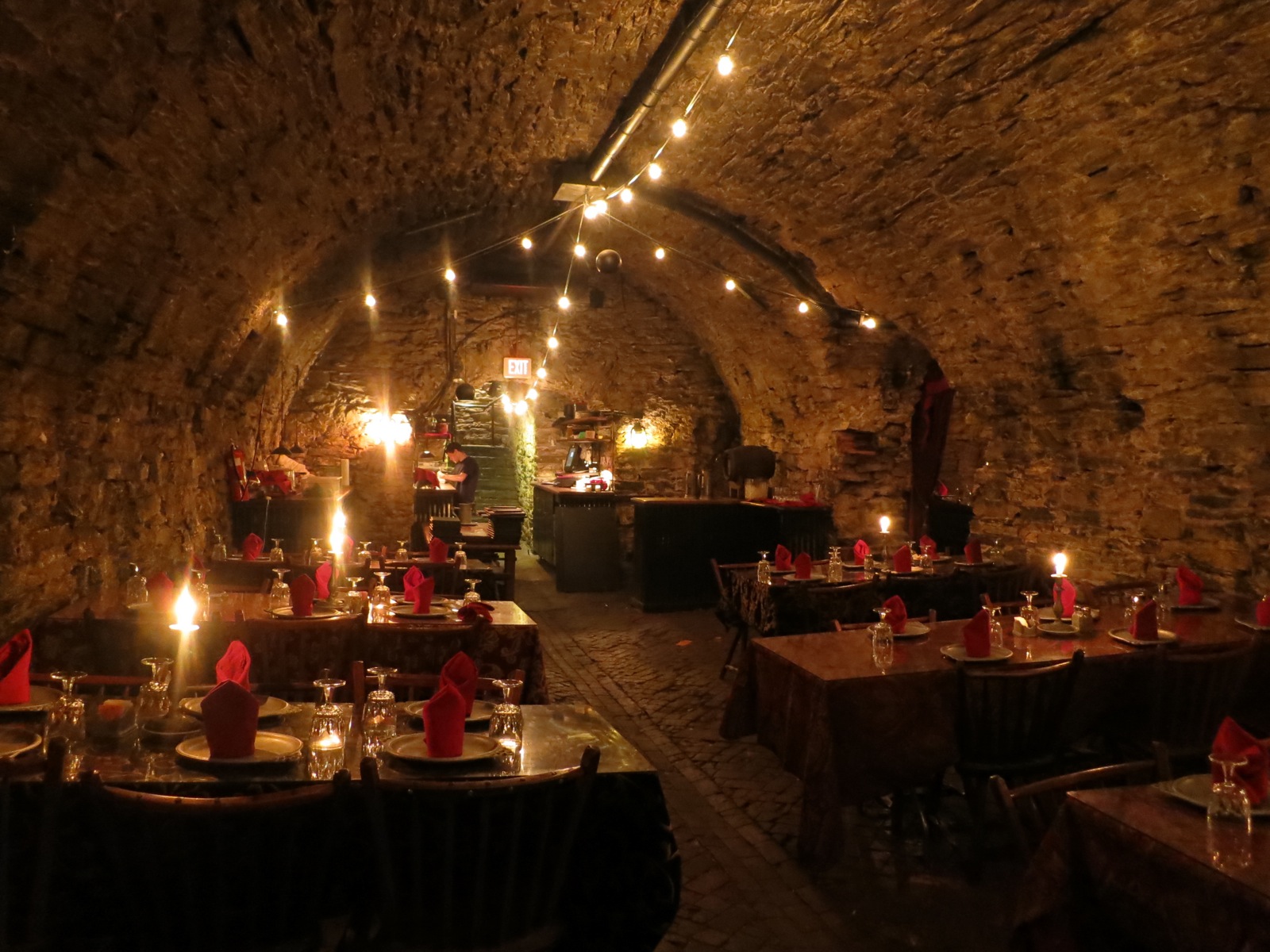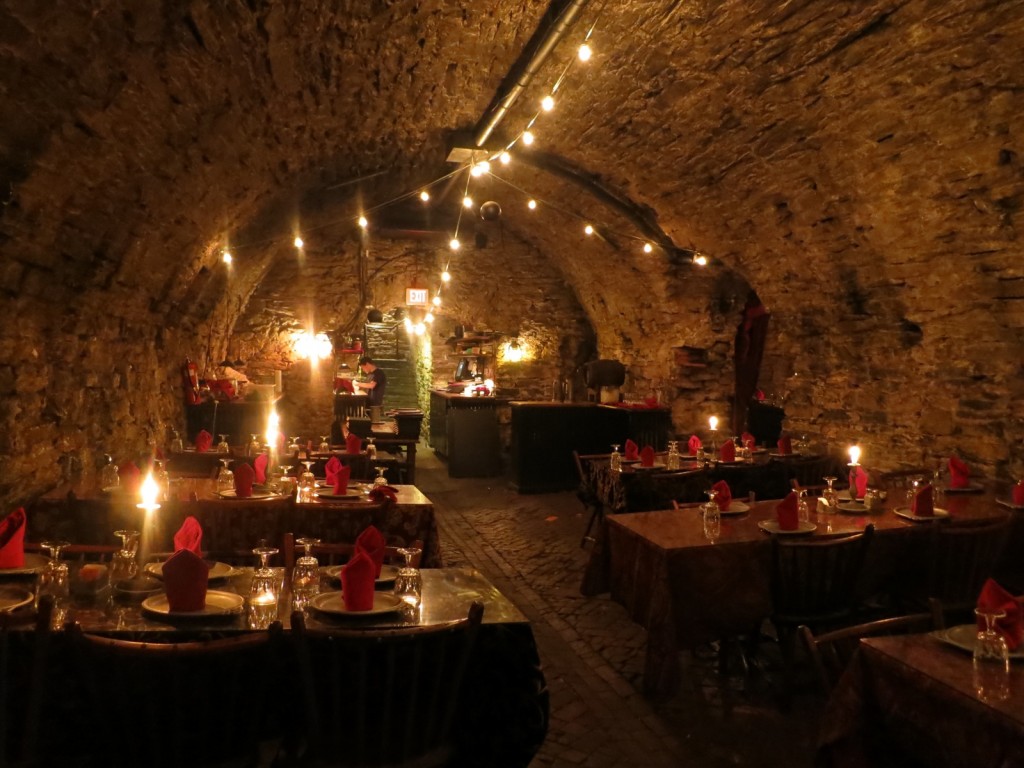 "This building, constructed over a cave that was required as a cooling cellar, could stand in for one built in 1489," says owner Sam Allen. In fact, Bube's is the only pre-industrial brewery in the USA still brewing. The freshly brewed stuff here is inordinately fresh. Taps run right from tanks in the back to the bar.
If you come for dinner in the Catacombs, you'll get a ten-minute tour of the whole place on your way down.
Down below in the cool, humid cellar, exceptionally friendly and attentive waitstaff serve up well-prepared dishes. Try the Trenchman's Plate – 6oz angus filet mignon, crab cake and side dishes, in dark, candlelit arched stone rooms of the Catacombs Restaurant.
DRINK: Annie Bailey's
Got a hankering for Bangers and Mash or an on-draft pint? Try the authentically dark and woody two-floor Annie Bailey's Irish Public House– a popular hangout for locals and tourists.
DRINK: Lancaster Brewing, Our Town Brewery
Grab a beer at its source at both Lancaster Brewing Co. or Our Town Brewery. Not only are they blocks away from each other, but each is large enough for a crowd of friends.
Hotels In Lancaster PA
STAY: Inn at Leola Village, Leola
Once again, "repurposed Lancaster" comes through with this beauty of a hotel. Though it opened just a mere 20 years ago, The Inn at Leola Village has been deemed a Historic Hotel of America, and listed on the National Trust for Historic Preservation by dint of its renovated antique farmhouses and reclaimed tobacco barns on the property. Restaurants, shops, a day spa, and more guest rooms were built around this: 62 distinct rooms in all.
In 1999, the mid-1800s tobacco farm was slated for demolition to make way for modern businesses. When the original Inn owners decided to turn the cluster of buildings into a sprawling inn – one that, they said, would earn a AAA 4-Diamond award, naysayers commented, "Sure. When pigs fly!" (Ergo, the flying pig is a reoccurring motif at this now 4-Diamond, Forbes-approved lodging).
For travelers seeking a true, back-roads, Amish-Country experience, the location of the Inn at Leola Village can't be beat. Leola is a mere 15 minutes to the tiny PA Dutch hamlets of Bird-In-Hand, Ronks, and New Holland in one direction, and downtown Lancaster PA in the other.
First Impressions of Inn at Leola Village
The reception/lobby – an eye-catching rustic space with a fireplace and friendly staff – is set within the original carriage house.
Guest rooms and suits can be found in small cottages, former barns, and above the restaurants, spas, and other establishments on the property. Elements of whimsy contribute to a fun guest experience.
In lieu of your basic "Do Not Disturb" sign, those who don't want to be interrupted for any reason can hang a small cushion, emblazoned with a flying pig, and the words, "Go Away," on the door.
Each bed is topped with a small pillow stitched with the word "Tonight" on one side, and "Not Tonight" on the other. (Given the romantic nature of most accommodations, however, I doubt the latter is used much.)
Amos King Suite
The Amos King tobacco barn is partitioned into three abutting guest suites, just a quick walk from check-in.
If you're a fan of reclaimed barn wood, you'll love this soaring chamber, bedecked with sections of original walls and doors. These relics from the past serve structurally as walls, are affixed ornamentally to stucco walls and are used to create nightstands, consoles, and other furniture.
The effect is grand.
Just FYI – some suites are built for romance and not really family-friendly. The bathroom area is lofted and separated from the bedroom by a set of stairs.
Honeymooners and amorous couples adore the two-person sunken Jacuzzi, which can be turned into an open shower via a showerhead above the center of the tub – no shower curtain in sight.
Dining at Inn at Leola Village
The casual – though still charming – Osteria Avanti offers burgers, chops, chicken dishes, and traditional Italian fare in a warren of dining rooms where tables are set a good distance from each other. If my Lamp Chops, perfectly seasoned and exactly the way I like them, are any indication, the rest of the menu is also well above average.
A Couples Pampering Package combines lodging, dining, spa credit, champagne, and chocolate-covered strawberries.
STAY: Inn at Kitchen Kettle Village (Intercourse PA)
There's something quirky about staying in what at first glance seems like a "tourist trap." But guest quarters nestled among the shops and streets at the Inn at Kitchen Kettle Village are surprisingly fine, with reasonable rates and friendly service that befits a family-run business. Right down to the welcome treat in each room that includes a complimentary travel mug you can have refilled with coffee throughout the Village any time of day.
If you like your own "cottage," but care less that the room itself is somewhat plain, choose a Cottage room. For the best luxury bang for your buck, the rooms over the Quilt Shop building are jaded-luxury-traveler-tested stylish.
Ask for 902; a two-level charmer with couches and flat-screen TV downstairs and a leather reading chair, subtle greens and ecru pallet, a big, sponged-wall bathroom, and, like every single room here, features locally-quilted bedding.
The Kling House
In the morning, order your complimentary breakfast in the Burnley's former home – The Kling House. Chances are, you'll meet the famous Pat Burnley, who likes to greet guests in what was once her living room.
STAY: Cork Factory Hotel @ Urban Place
Cork Factory Hotel, a 77-room boutique was built brick by handmade brick in 1865 as Lancaster Cork Works. Later purchased by Armstrong in 1895, the factory produced cork disks that were then inserted into bottle caps.
The hotel is a study in repurposing; utilizing wood, stone, and brick from the original buildings. It's not difficult to imagine foremen clumping up and down the main staircase, making sure that the cork presses were working efficiently. Although, it might be a stretch to conceive of horses stabled where the ballroom now stands.
The bar top, tables, and chairs in the in-house restaurant Cork and Cap were all made from salvaged wood found on-site. Ask for a high-ceiling suite on the 4th floor where you'll be spared noise from upstairs neighbors. Guestrooms exude raw charm – you are, after all, sleeping in a former factory building. Exterior walls are original uneven handmade brick; warps, pits, and all. Ceilings feature exposed pipes and unadulterated planks of wood.
Beds are firmly comfy, with herringbone-woven leather headboards and white fitted comforters. With just a few pieces of furniture, designers went for "less is more," though the imperfections in the brick walls can be mesmerizing.
In the bathroom, stone tile, granite sink, and glass shower bathrooms meet luxury boutique standards.
STAY: Lancaster Arts Hotel
You can also stay in Tobacco-Warehouse luxury at the 63-room Lancaster Arts Hotel which features the work of dozens of Pennsylvania artists in its lobby, suites, and rooms.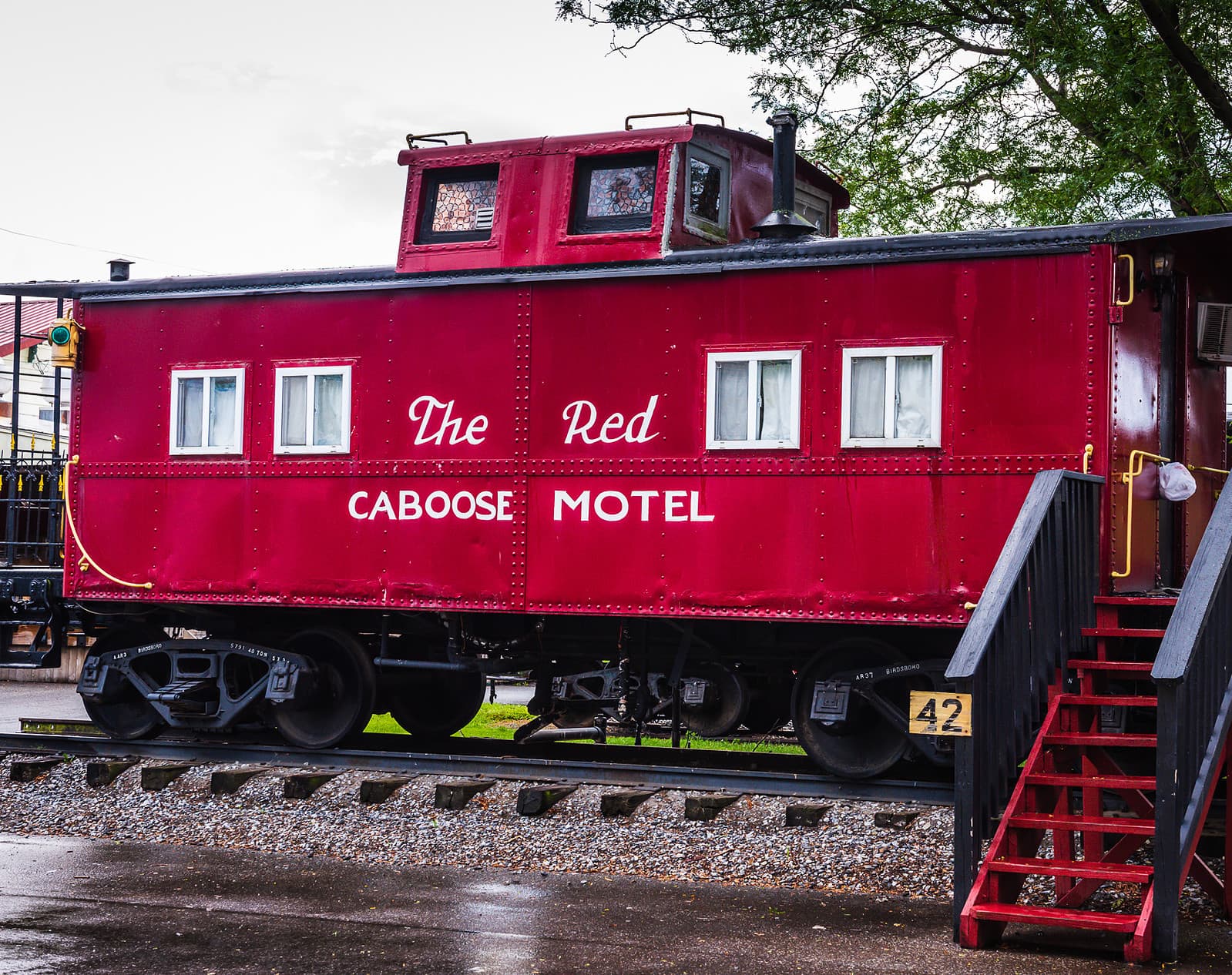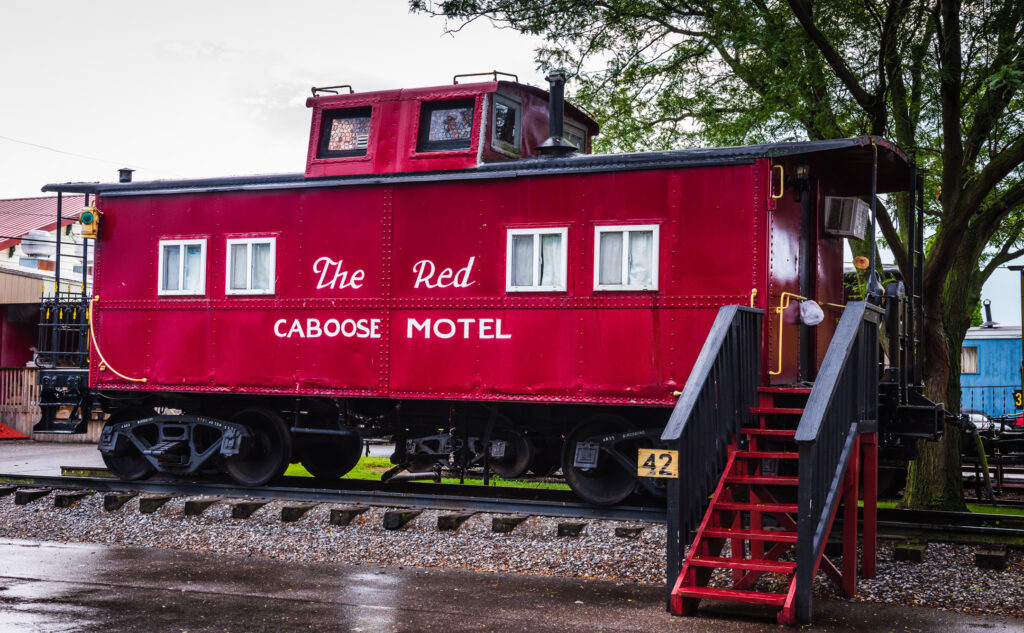 STAY: Red Caboose Motel (Ronks)
OK, the Red Caboose Motel is not the Ritz. But who cares when sunset views include vintage steam trains chugging within a few feet of the front porch on their way through verdant farmland?
All 40 train cars (38 Cabooses, 1 mail car, 1 baggage car), and the Shady Rest Hotel with 4 suites, that collectively serve as this unique lodging, have been upgraded with flat-screen TVs, new carpet, and fresh coats of paint.
Most train cars sleep six people. Eat in a Pullman Dining Car, climb an old silo now used as a Viewing Tower, and otherwise soak in the landscape from the front porch.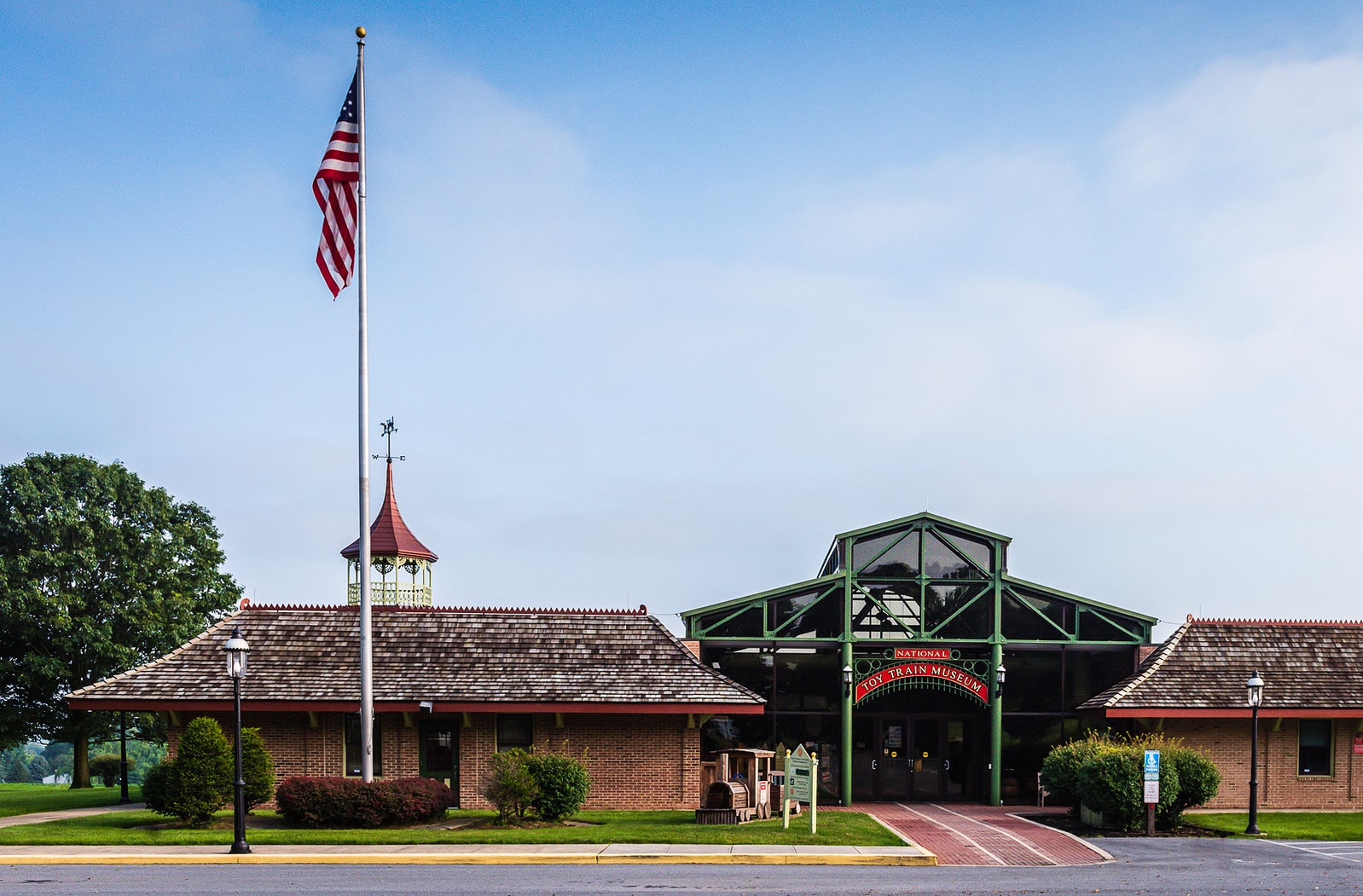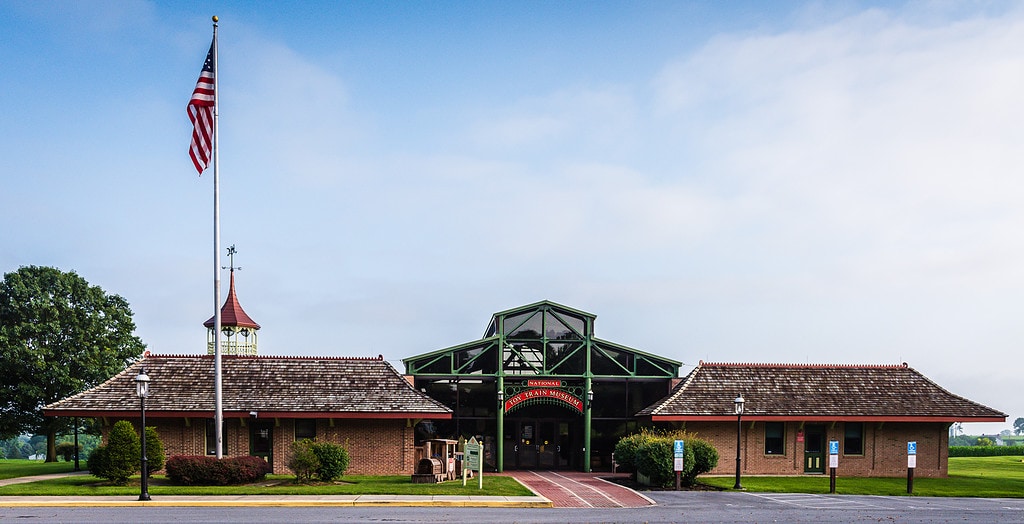 From here, you can walk to the PA Railway Museum, the National Toy Train Museum, and the Strasburg Rail Road for a complete "Trainspotting" weekend.
More Weekend Getaways For Rail Road Enthusiasts
All articles belong to Getaway Mavens LLC, and all photos belong to us as well, unless otherwise noted. It's all copyrighted. Please don't repost anything elsewhere without asking us first. All rights reserved. This site uses cookies to enhance your experience.
We make no guarantees of any price listed on our site. We're not responsible for content on external websites linked to ours, including linked resources, an external blog post, any partner site, hotel property sites, or affiliate sites. We only write about places we have vetted, but can't guarantee that your experience will be exactly the same.
Posts may contain affiliate links at no cost to you. Several of our trips are also compensated by the respective tourism boards for the city or state we are visiting. This never impacts how we share the destination with you – opinions are always our own and we pride ourselves on that. We do not sell links or accept unsolicited guest posts under any circumstances. Don't even ask.
United States Copyright, Getaway Mavens, LLC