The Langham New York
If you're looking for a romantic, extravagant, indulgent, celebratory overnight in New York City, search no more. The Langham on 5th Avenue in midtown Manhattan near the Empire State Building, and three blocks from the New York Library, has all the hallmarks of an exceptional boutique hotel.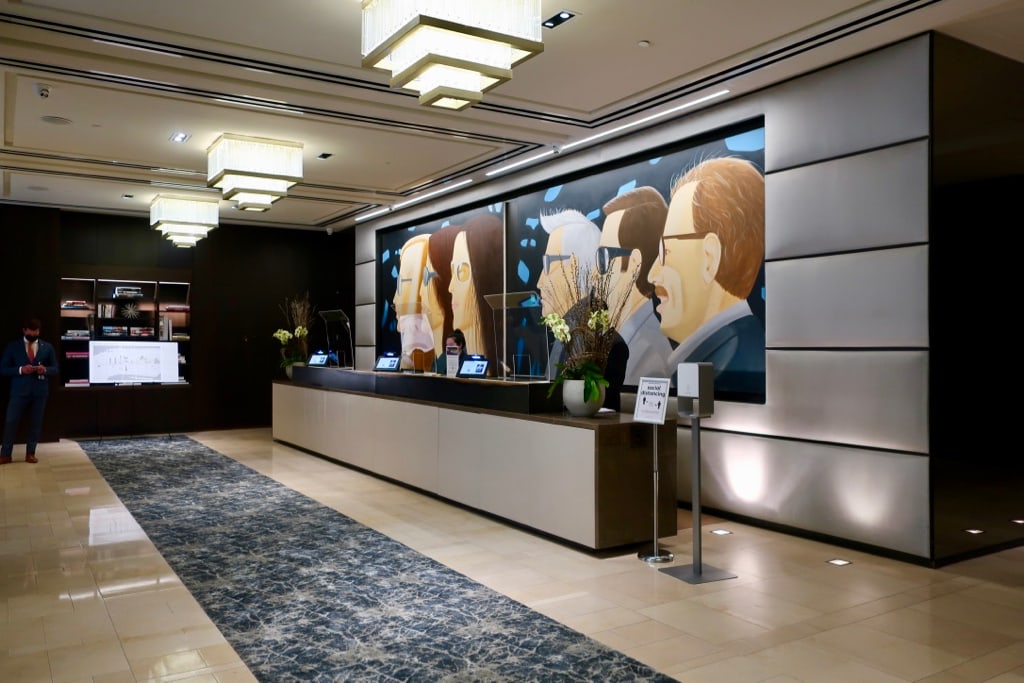 Michelin-starred restaurant, Ai Fiori, is on the 2nd floor. A massive piece by artist, Alex Katz, takes up space behind the reception desk, and more of his art covers the walls throughout common areas and guest rooms.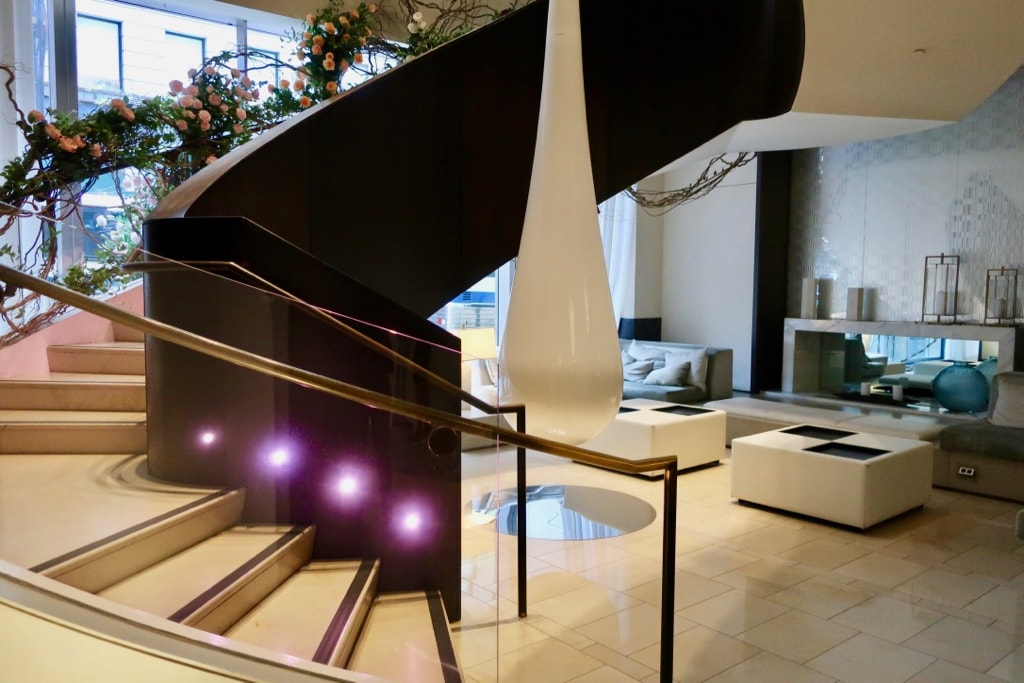 A two-story white globular form hangs in the lobby seating area. (Guests are allowed to touch it, which generates much glee amongst the younger set).
The whole effect is amorous and modern; handsome and precious; muted – then abounding in color.
The Langham is so romantic, it made it onto our 20 Best Romantic Hotels Northeast USA 2021 list.
First Impressions of The Langham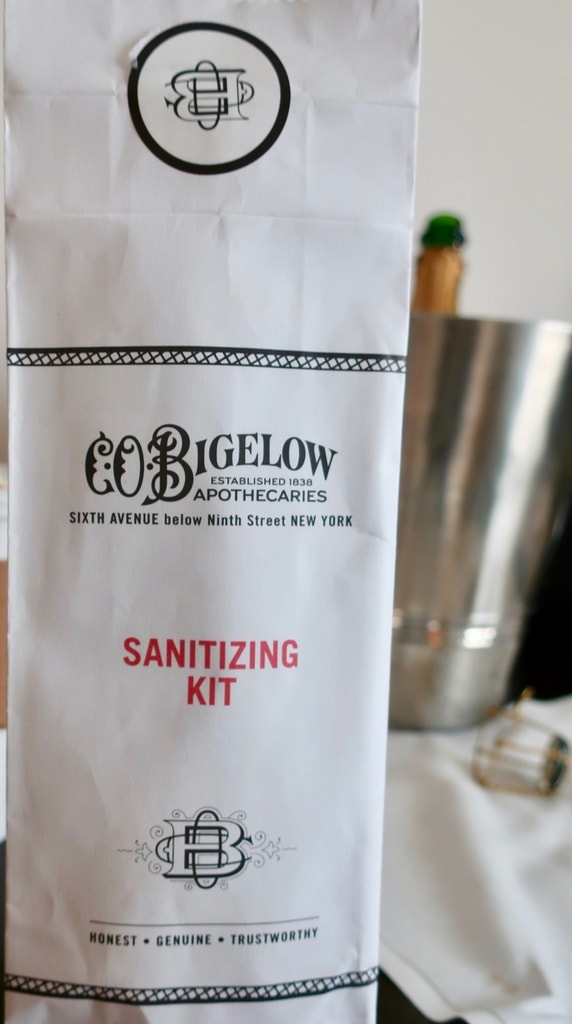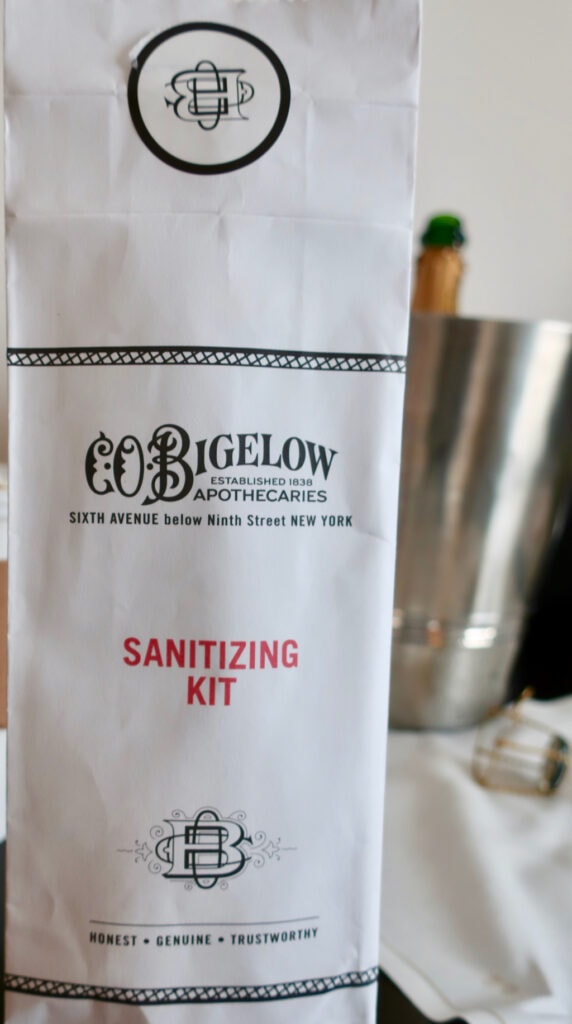 Staff at the front desk are friendly and helpful, imparting a kind, reassuring welcome to Covid-era New York. You'll receive a printout with QR Code, explaining the protocols in place to keep everyone safe, including the offer of in-room workout equipment as the fitness center is currently closed. In the room, find a small Bigelow Apothecary bag filled with masks, gloves, and hand sanitizer.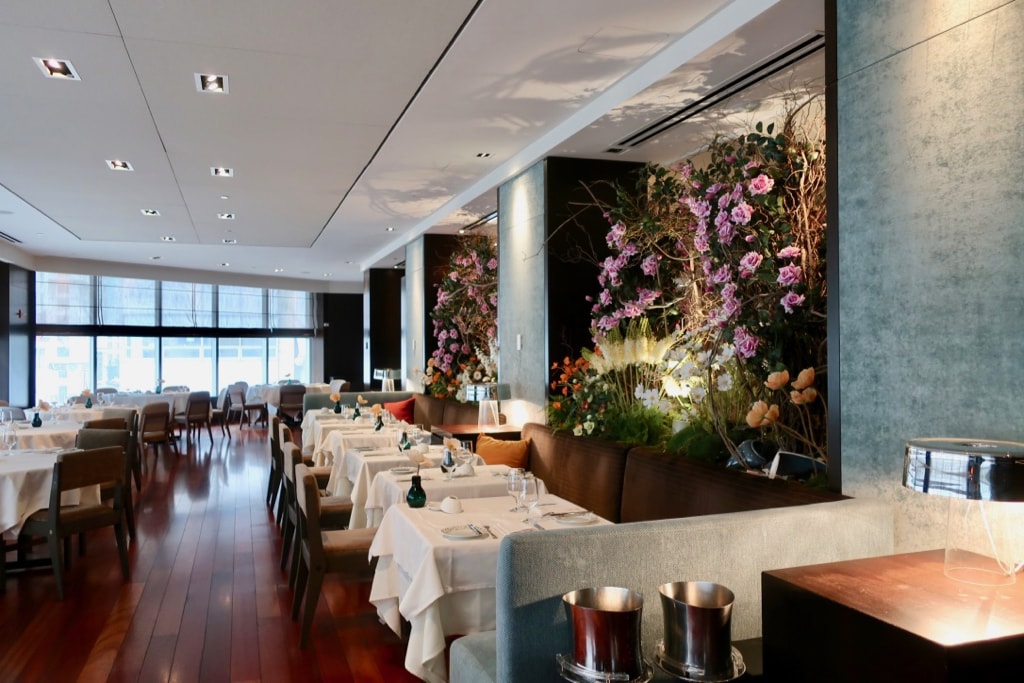 Ai Fiori Restaurant
If there's a more exquisite restaurant in New York, I don't know of it. At Michelin starred Ai Fiori, literally meaning "among the flowers" in Italian, guests dine on Italian-French-Riviera fare while jewel-toned floral arrangements nearly tumble onto their tables.
Guest Rooms at The Langham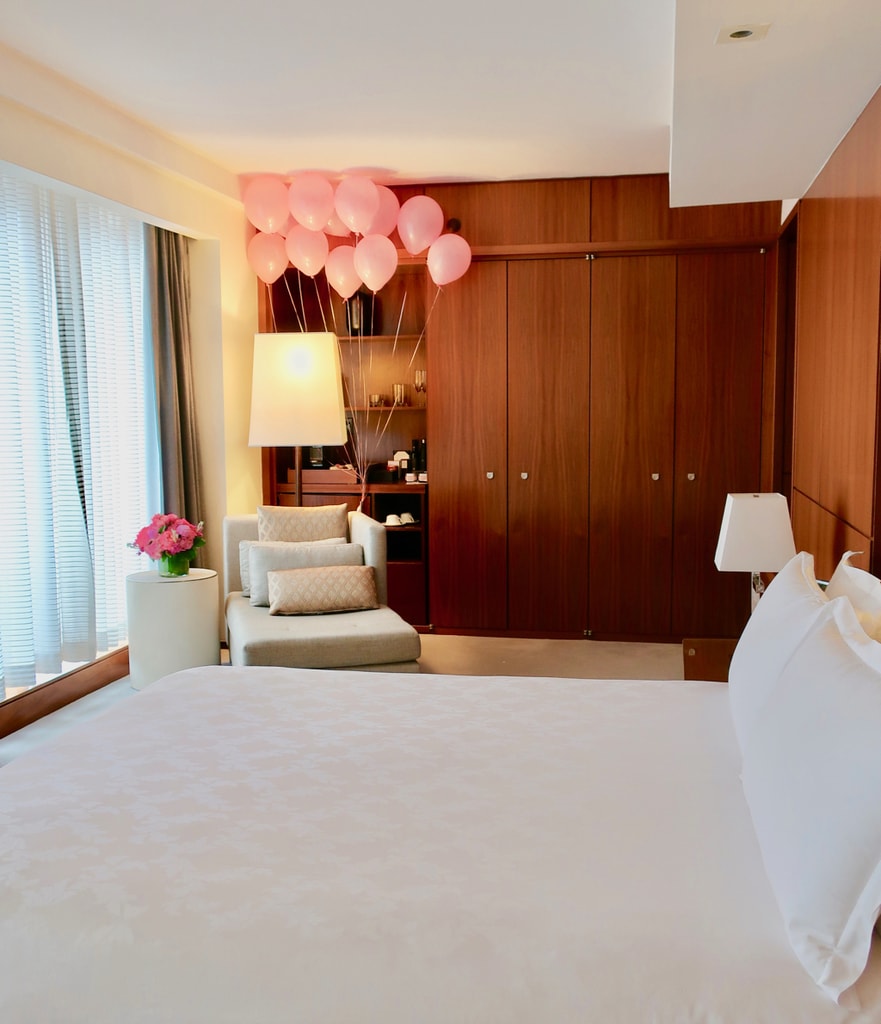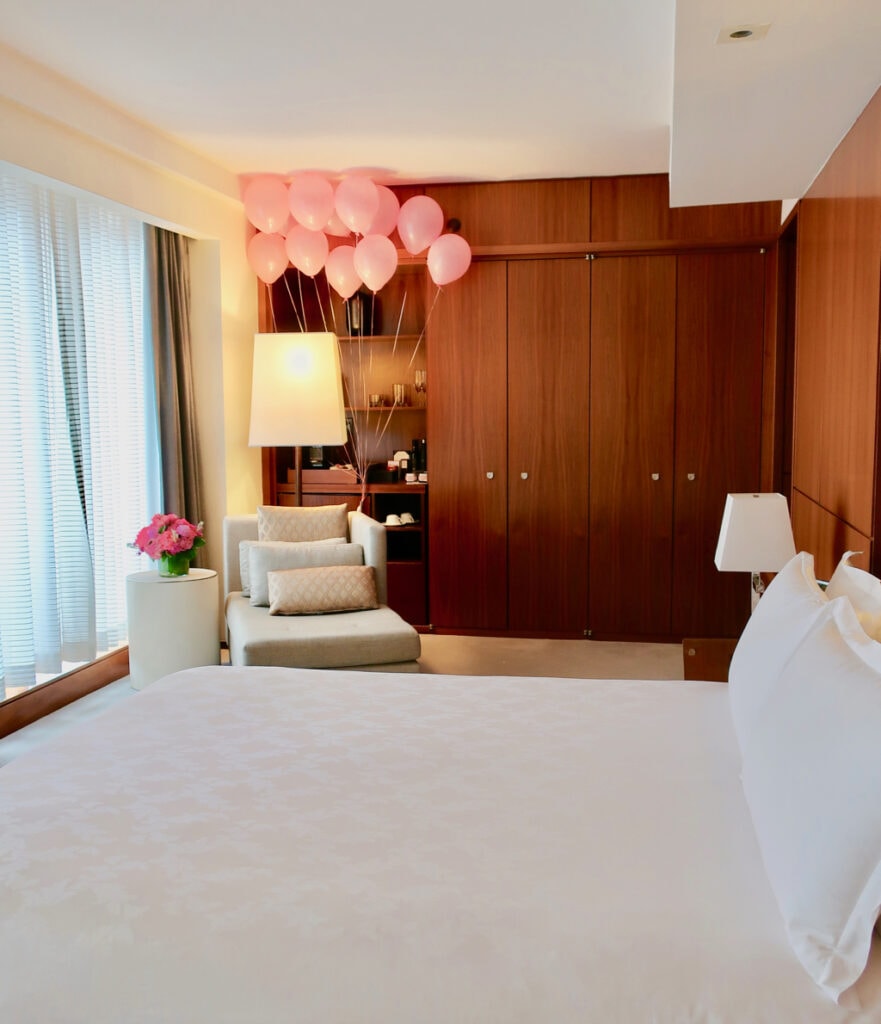 Rooms at The Langham are larger than in most city hotels – dramatically so – starting at 420 sq ft. with an average of 700 sq. ft. Décor is handsome, refined, and vaguely masculine, with wood paneled walls and nature's hues.
(In fact, the rooms are so large, the hotel mounted a theatrical production, in one of the Executive rooms, for 40 guests. It was a play about a fictitious encounter between Albert Einstein and Marilyn Monroe that takes place in, you guessed it. A hotel room.)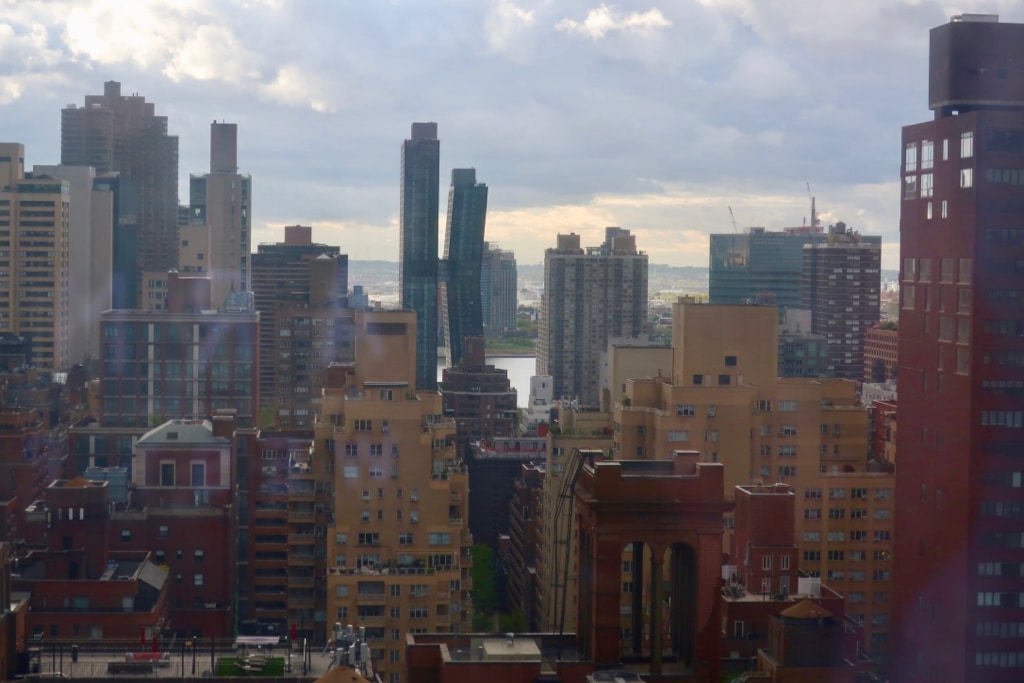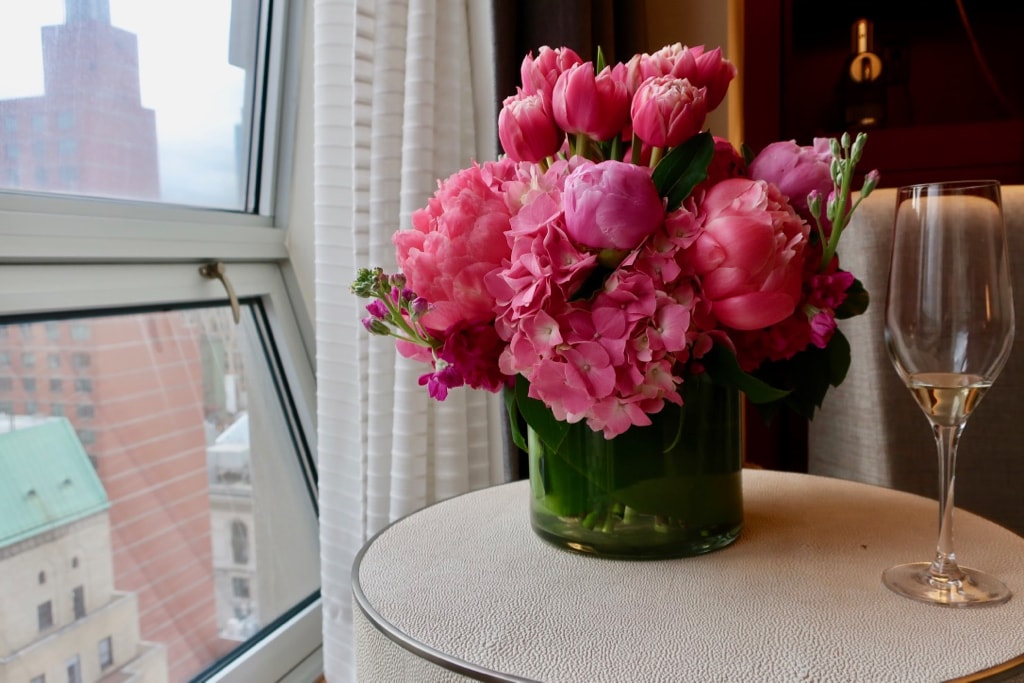 Dreamy king beds face windows that provide a panoramic view of Manhattan that gets more dramatic the higher the floor.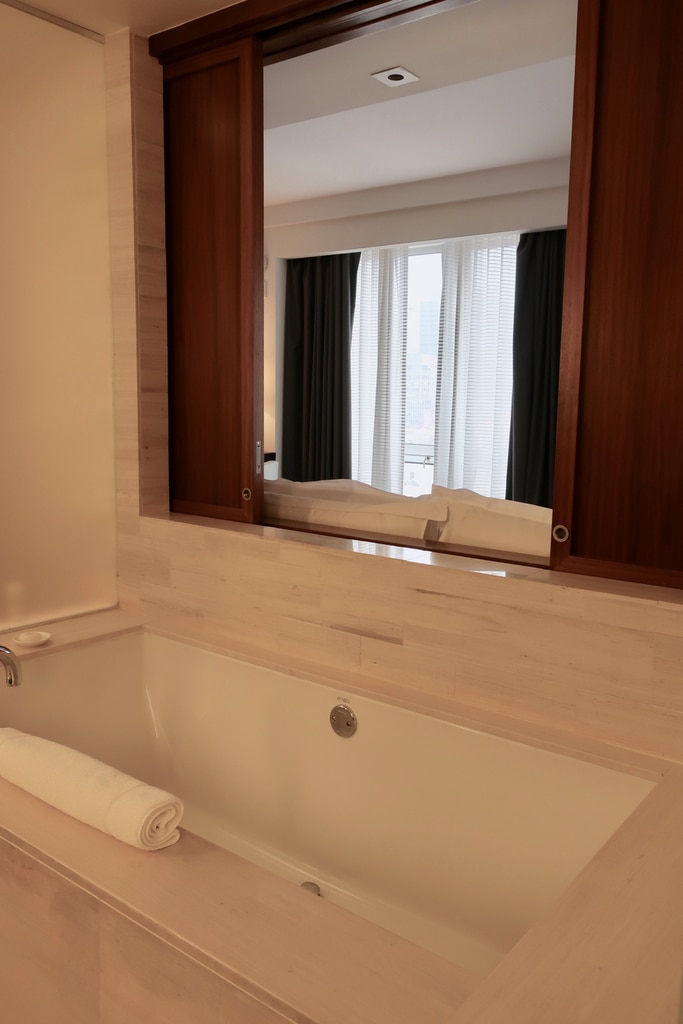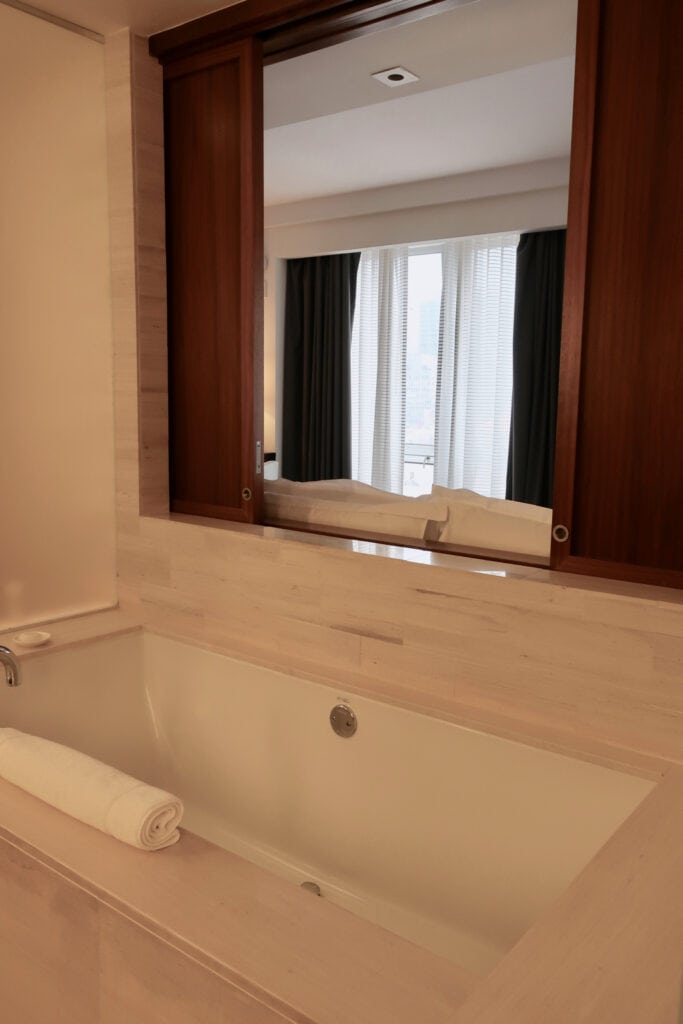 Behind the bed in many rooms, half doors slide open right onto the bathtub – adding a touch of romance.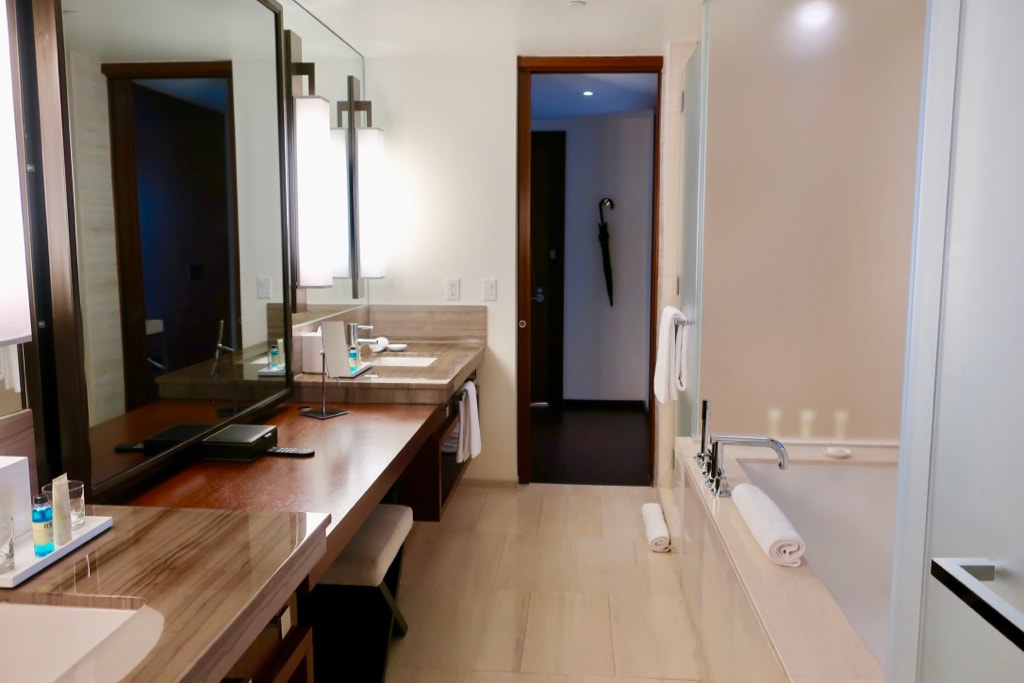 Stately bathrooms feature Bigelow Apothecary products and in-mirror televisions, for those who can't peel themselves away from the news while shaving or putting on makeup.
Terrace Trio for "Travel Bubbles"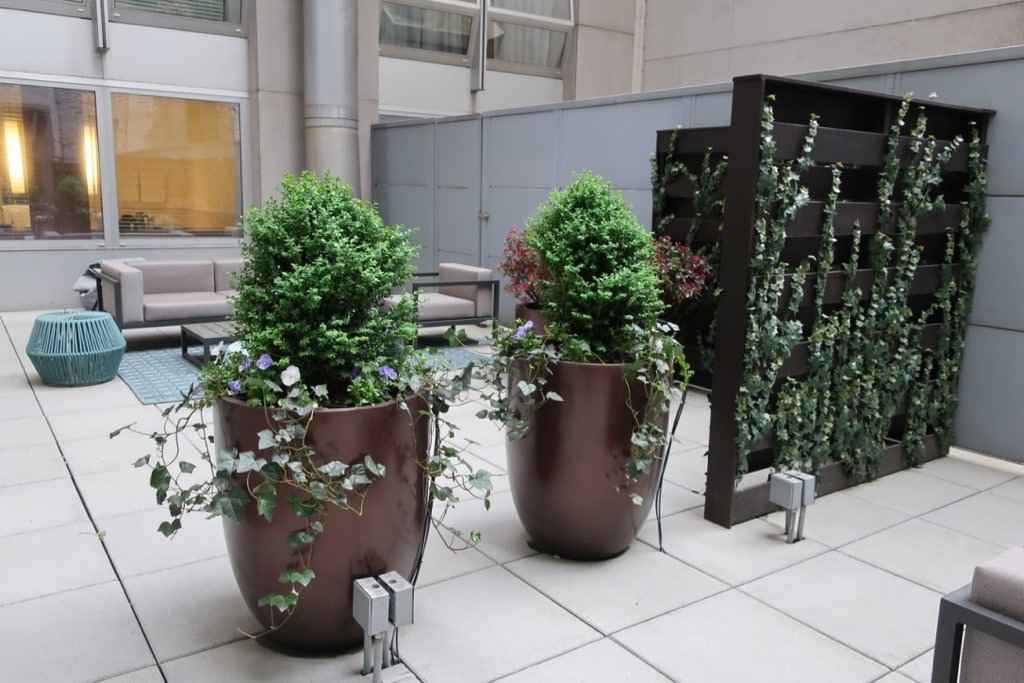 If you yearn to travel with your best buds, consider booking the only three separate rooms with terraces that connect together You can arrange for a private yoga, fitness, or cocktail-making class outside, or have a meal prepared and served on your own group patio.
Top Suite – Empire Presidential Suite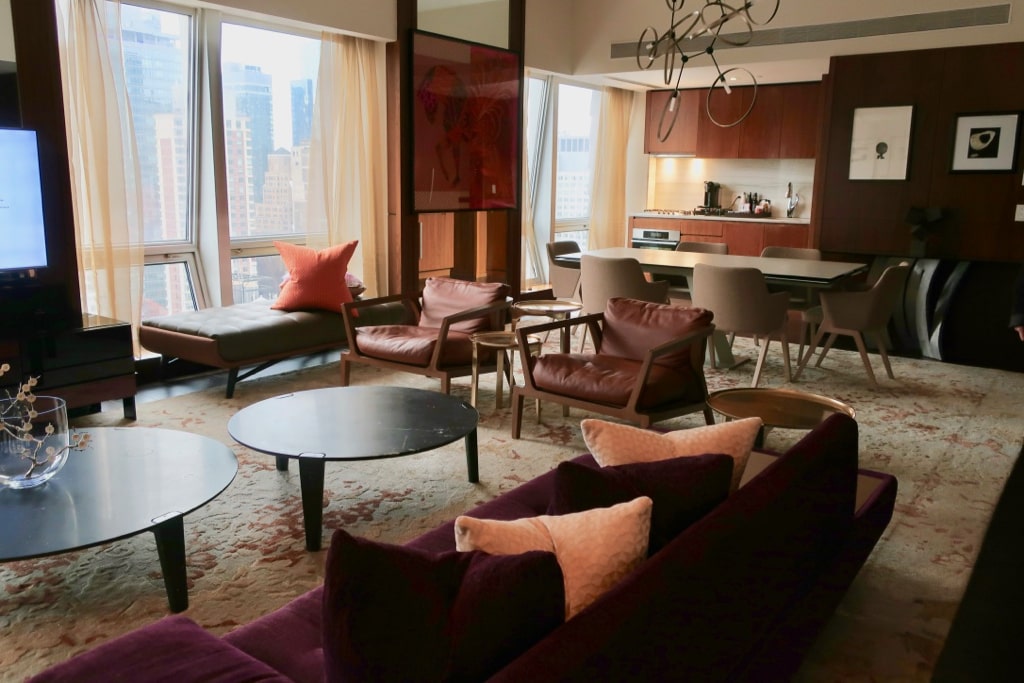 In a section of The City overtaken by furniture and design stores, The Langham commissioned neighboring Roche Bobios to design the most luxurious, and largest suite of all, with more from Alex Katz and framed Hermes scarves on the walls.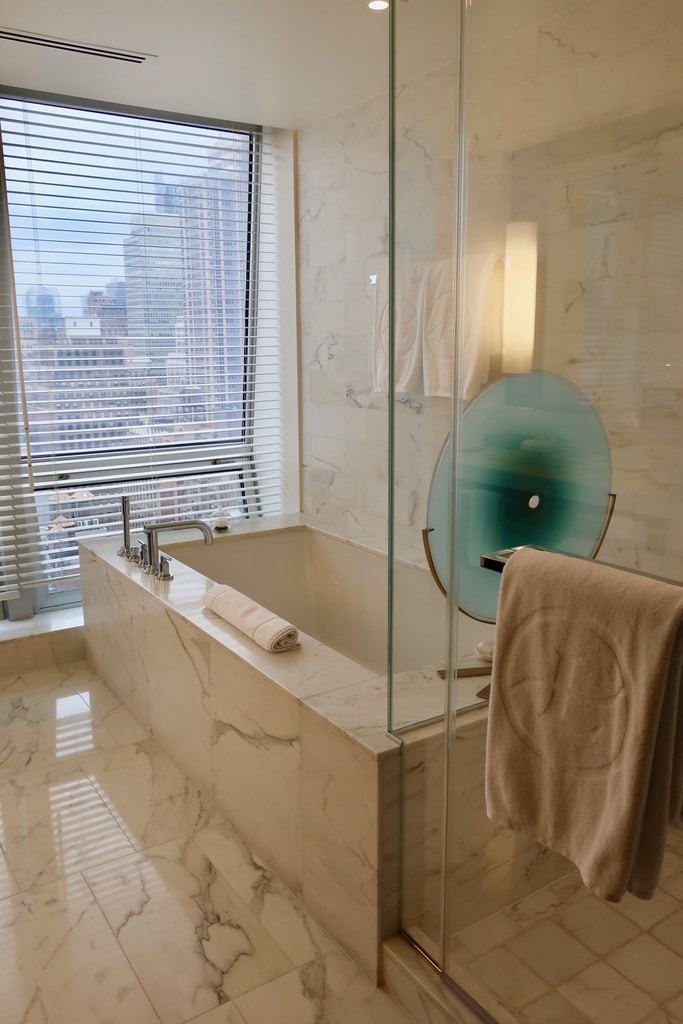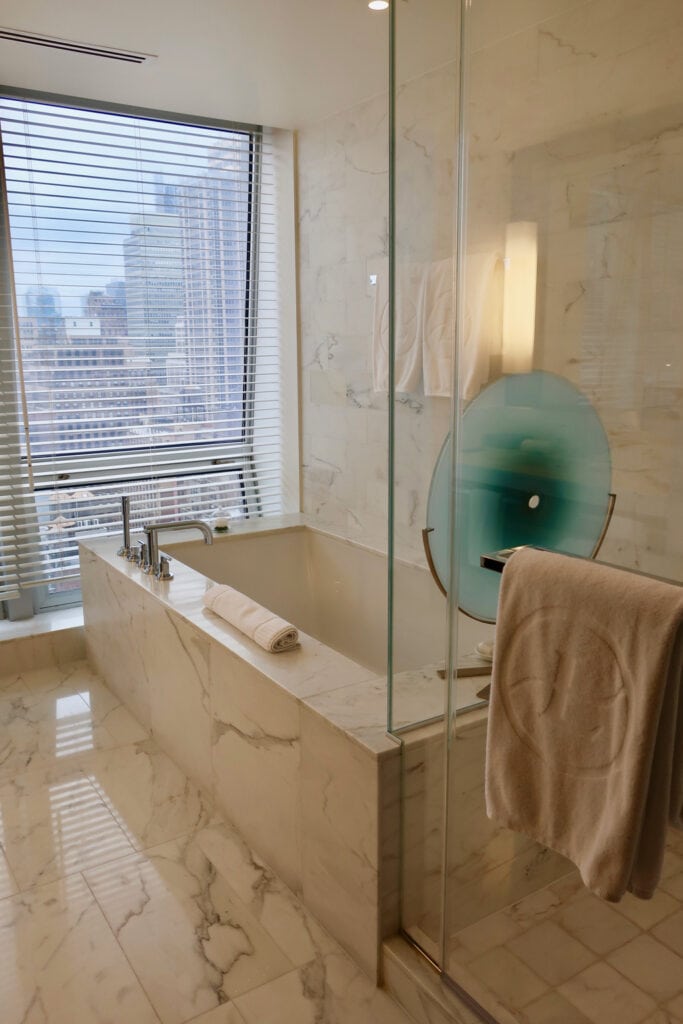 This suite, favored by celebrities who travel with an entourage, has two bedrooms, two and a half baths, and can add three more bedrooms "for personal staff." Starting at $15k per night, this gorgeous space is not meant for the run of mill tourist.
"Celebrate The Everyday" Packages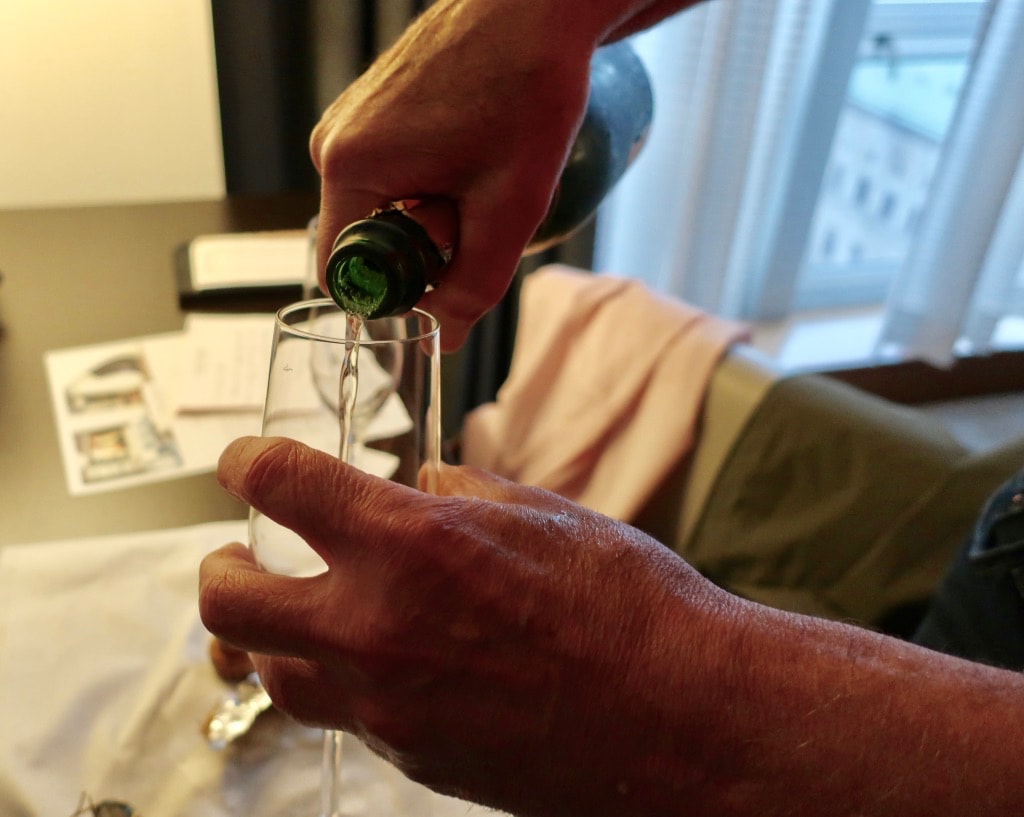 Are you venturing out overnight for the first time in over a year? Is it your wedding anniversary? Did you sell your business, get a new job, or expecting a baby? All of these are reasons to celebrate, and the folks at The Langham know how to make your day. Or weekend. They love coming up with unique experiences customized for you.
Celebrate The Everyday package includes a bottle of chilled Champagne, a bouquet of balloons, and a vase of roses in The Langham's signature pink. All waiting in your room. Superior Rooms from $525, Deluxe King rooms from $725, Suites from $1,000, all exclude tax. Check website for package rates.