WHY GO: Morning fog envelopes New London CT like smoke from Benedict Arnold's deadly fires.  In 1781 America's most noted turncoat led British troops on a raid that left this naval stronghold in cinders, destroying ships, homes and shops.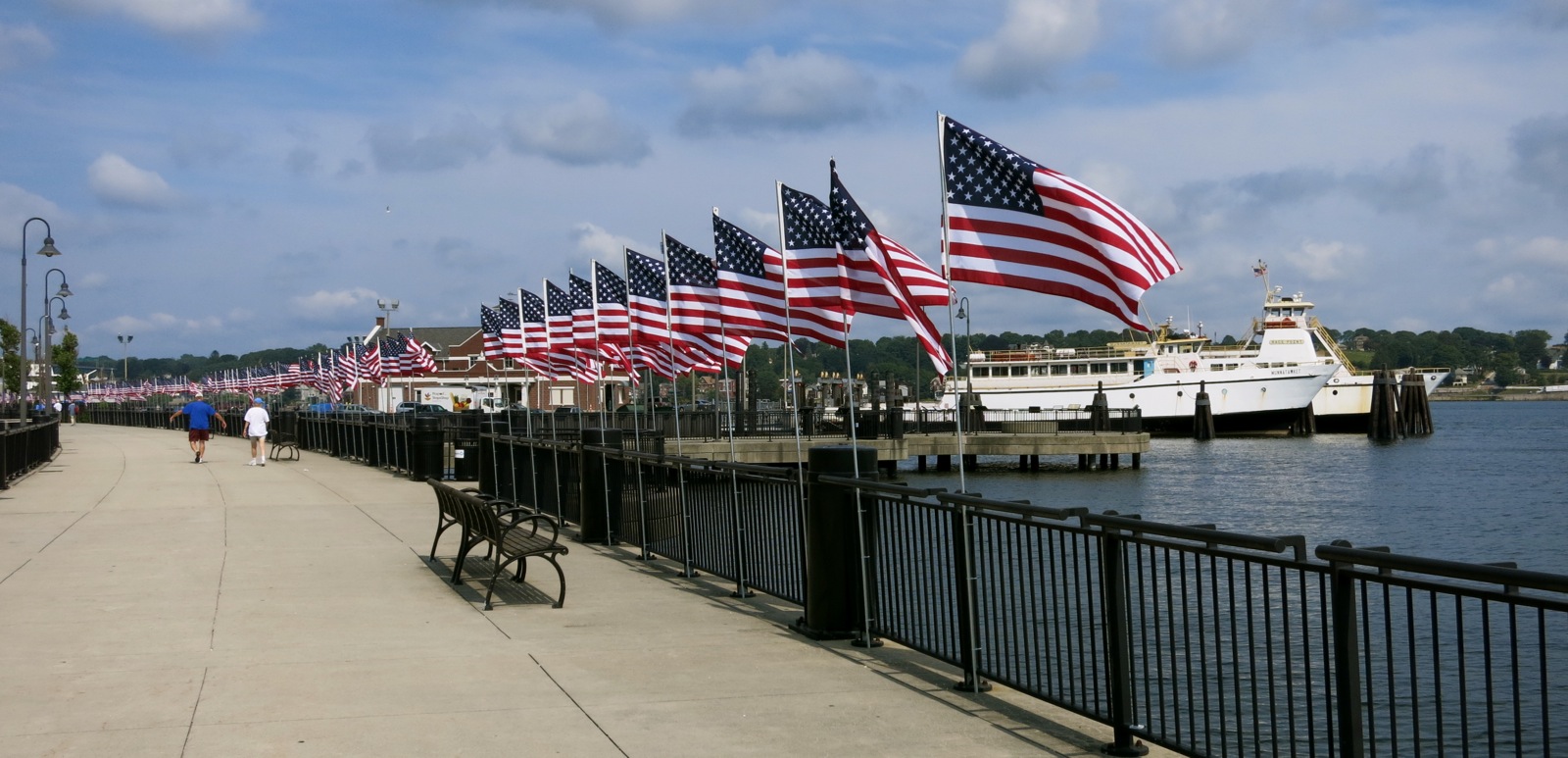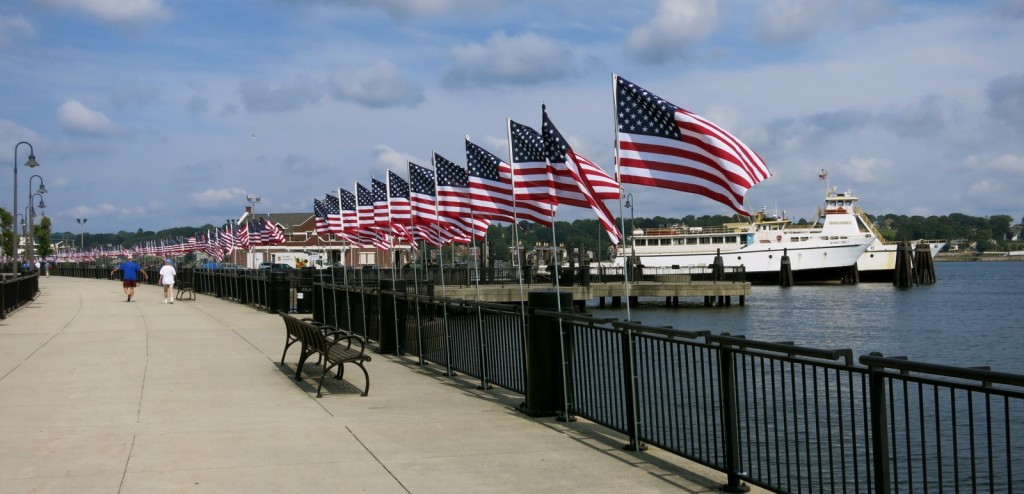 A hundred and twenty years later, a young playwright Eugene O'neill escaped his stern father and morphine addicted mother by "disappearing" into the thick New London fog on his daily swim in the Thames River – a block from his summer home.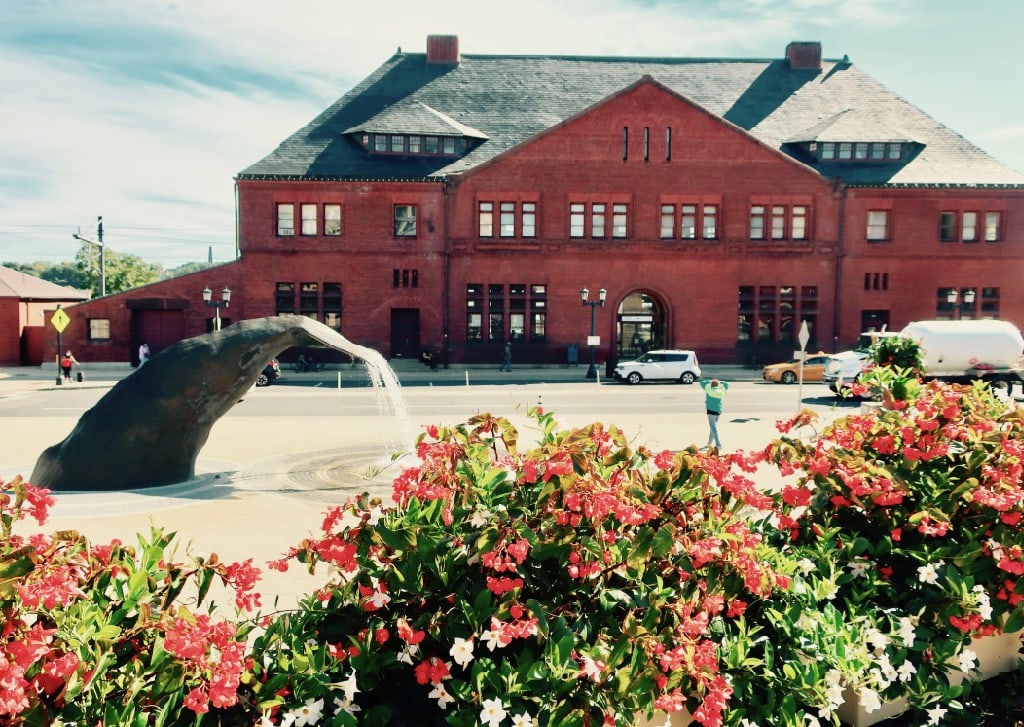 New London is home to what was the country's oldest operating Custom House (closed in Sept. 2021), where the Amistad was taken and sold in 1839, and United States Coast Guard Academy. General Dynamics Electric Boat, the company that makes the Navy's nuclear submarines, is located across the Thames River in Groton CT.
New London also boasts a world-class art museum, Connecticut and Mitchell Colleges, H.H. Richardson's last train station design, and large ferries that roar multiple times a day to Block Island and Greenport, NY.
The USS Nautilus – the world's first nuclear propelled submarine is berthed in a museum complex alongside the Naval Base in Groton CT. A tour there is free, so even if you're bound for Mystic Seaport, just five miles away, make it a point to stop there.
This Getaway takes you from New London across the Thames River to Groton. Once a "gritty port," New London and Groton offer much to those seeking a romantic escape, starting, of course, with river views and a brand new glamorous boutique inn.
Pair this getaway with a visit to neighboring Niantic and Waterford CT: smaller 'burgs on the Connecticut shoreline.
Check out this post for more Romantic Getaways in Connecticut.
And here for Romantic Ideas all over New England.
The Inn at Ocean Ave made it onto our 20 Best Romantic Hotels Northeast USA 2021 list. 
New London and Groton made it on to the Getaway Mavens Top 20 Romantic Getaways in the US 2021 list.
Things to do in New London and Groton CT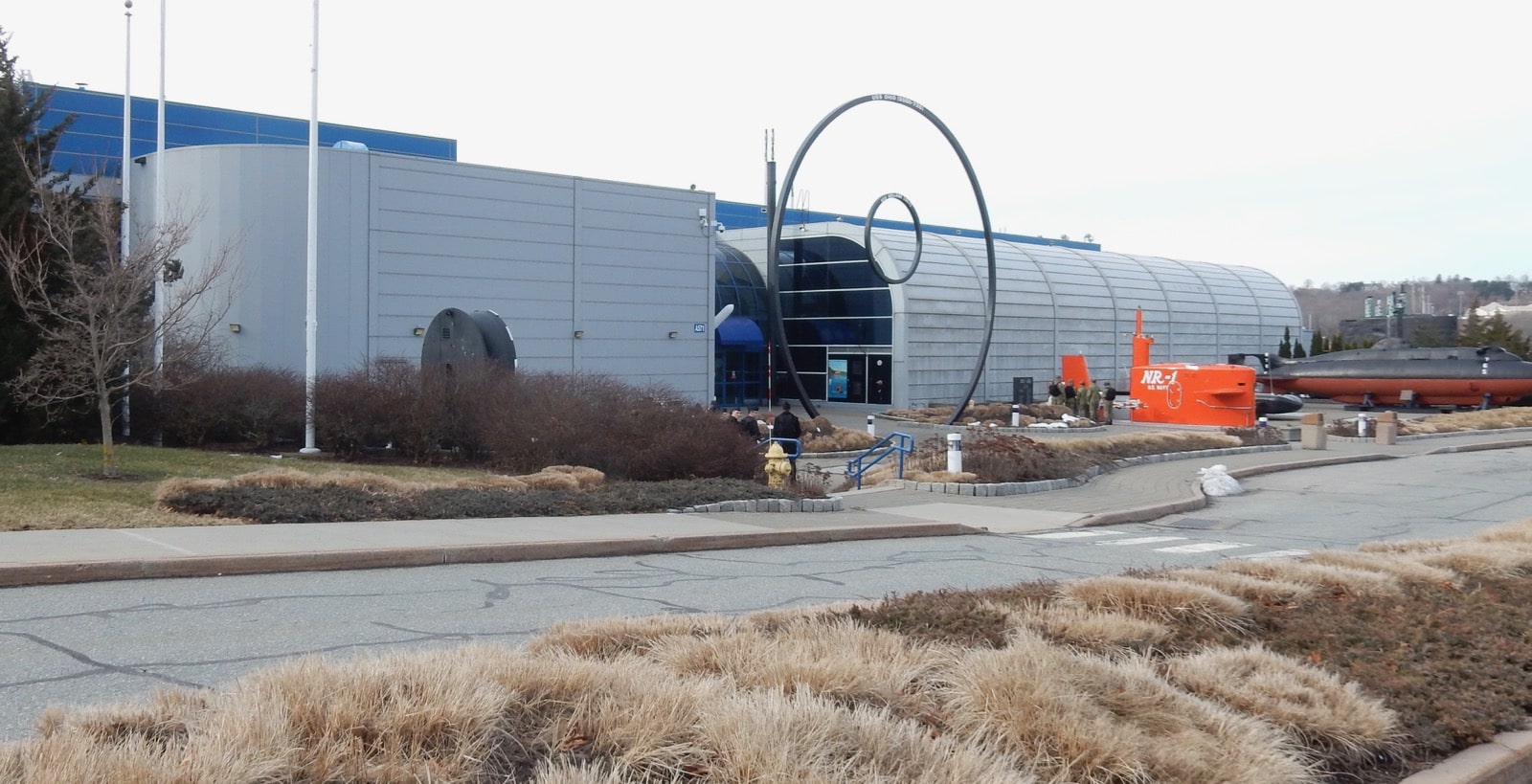 ** Be aware that, although the museum might be open (check website for changing times), the submarine, Nautilus, will be away for repairs through late Spring 2022. The Museum will offer a virtual tour, however. 
This somewhat unsung military museum and the first nuclear submarine in the world, adjacent to the Naval Submarine Base New London is is a must-see on the Connecticut Coast.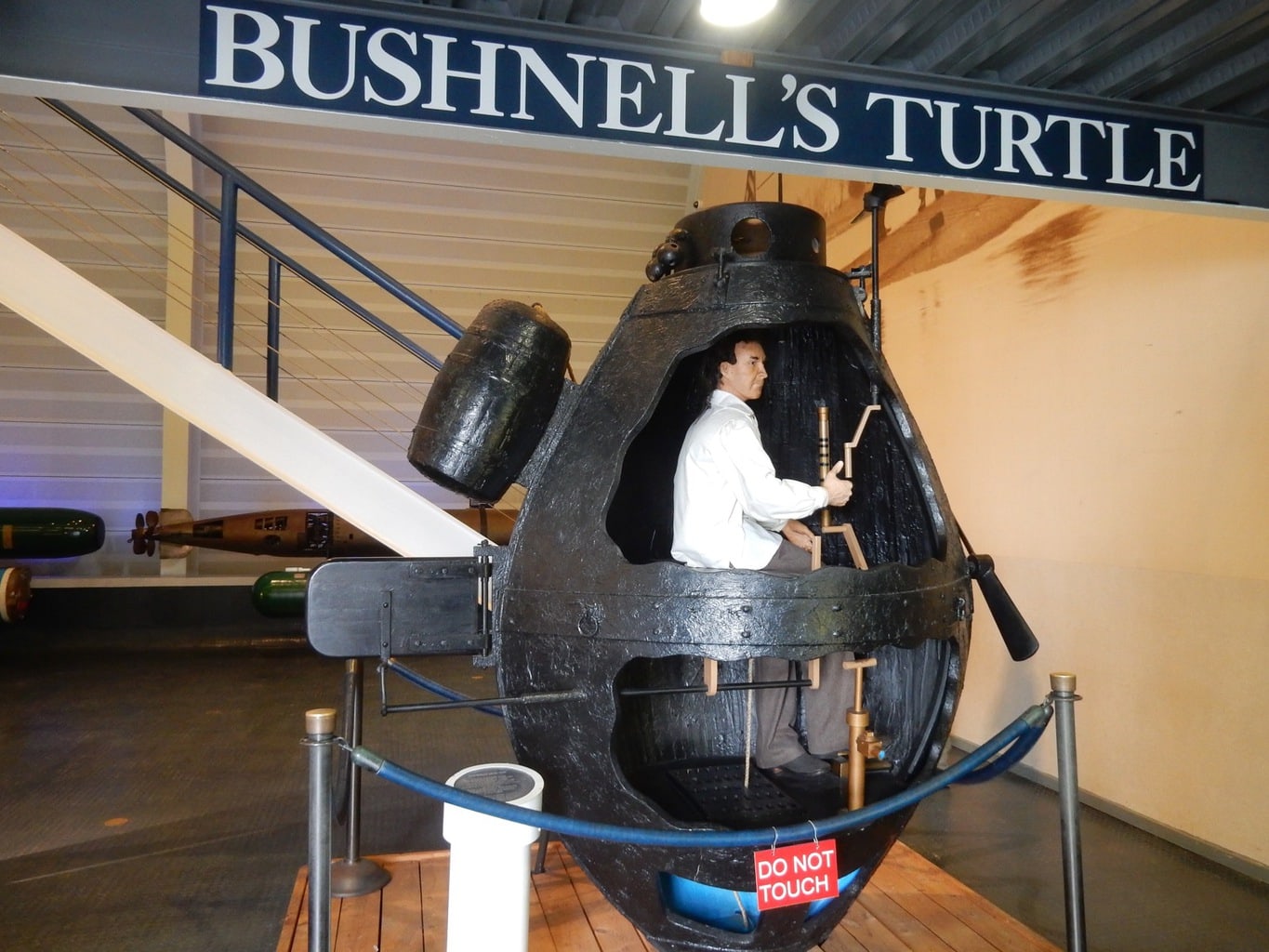 It's no surprise that the first Nuclear Sub was built in Connecticut. This New England State is an exemplar of Yankee Ingenuity. Key example? David Bushnell invented The Turtle, the world's oldest working submarine, here in 1776.
Bushnell created a vessel from two hollowed Oak trunks in the shape of turtle shells. Built to thwart the English Fleet, the sub was capable of diving 20 feet and attaching bombs to the hulls of British Frigates. Unfortunately, those plans failed.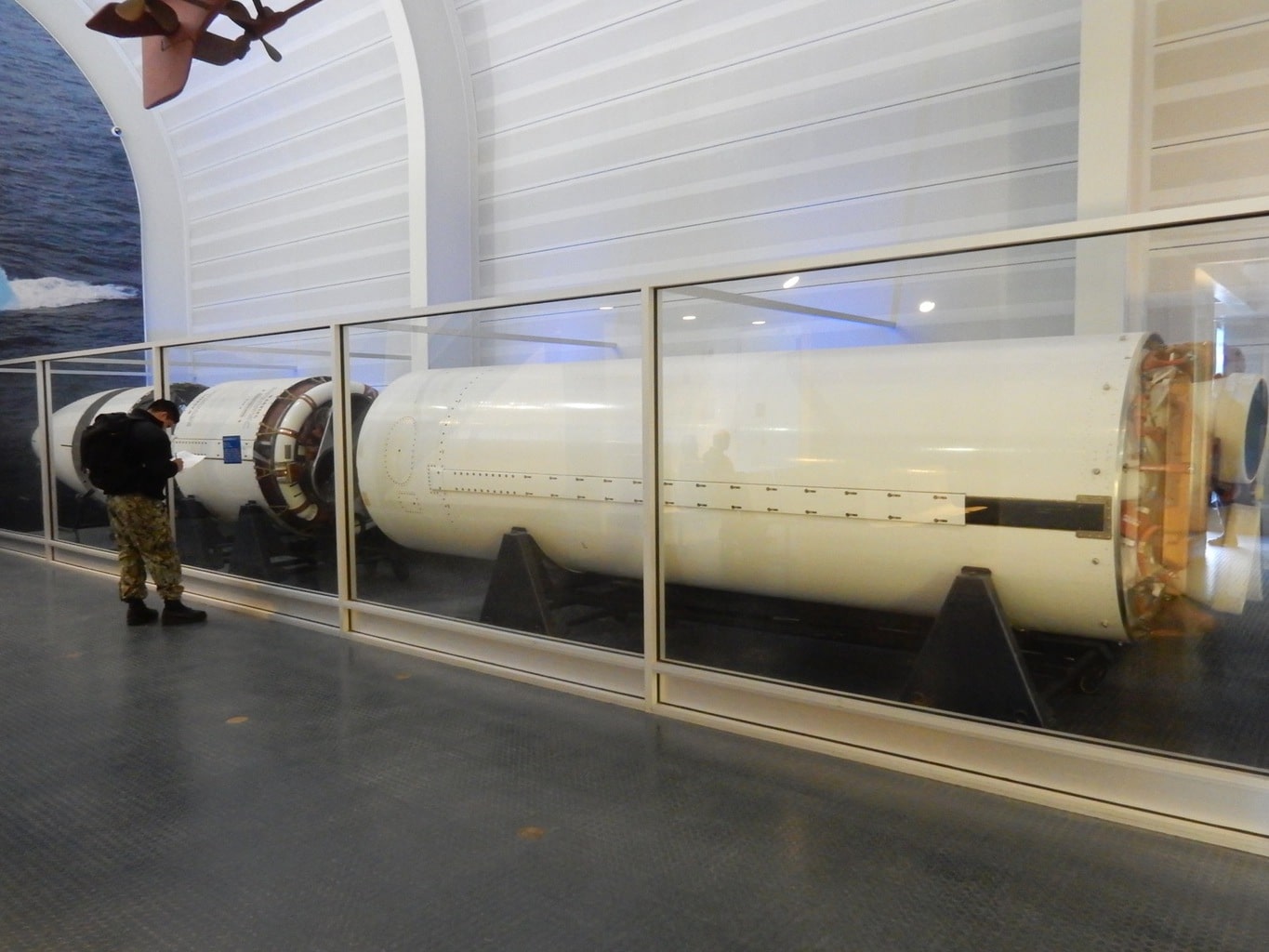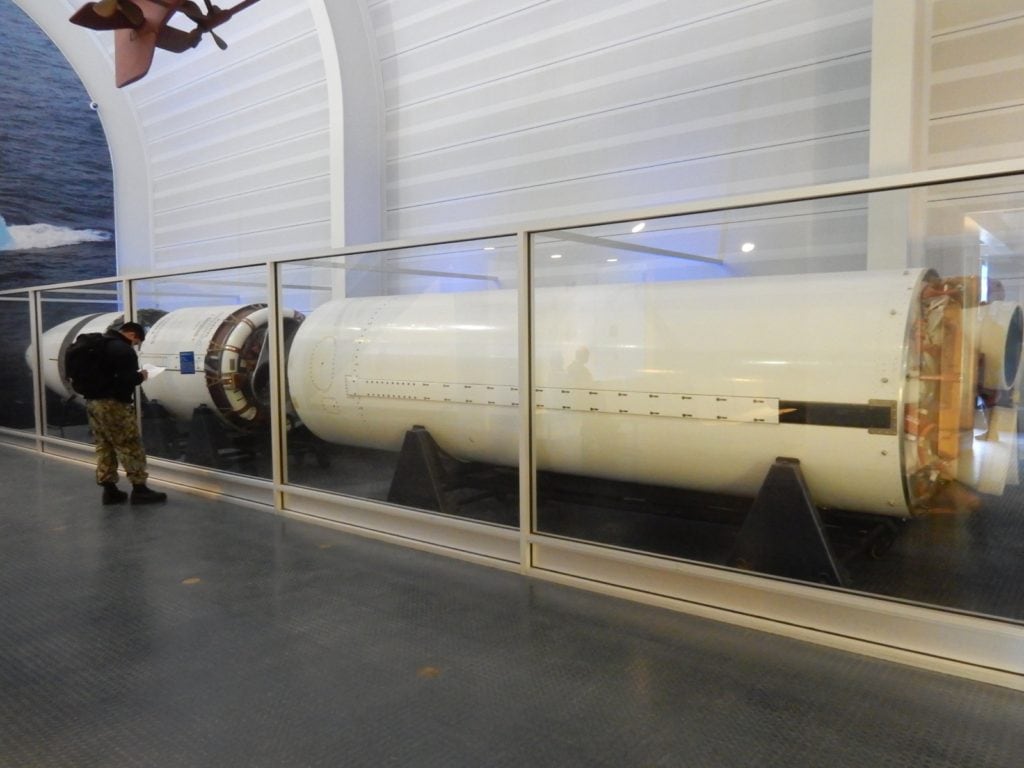 You'll find a model of The Turtle among an extensive collection of missiles, control panels, submarine models and videos of submarines and their payloads throughout the museum. The 31-foot long, 35,000-pound 4-section Polaris Missile, operational from 1964-1981, is terrifying in its heft and destructive power.
Self Guided USS Nautilus Tour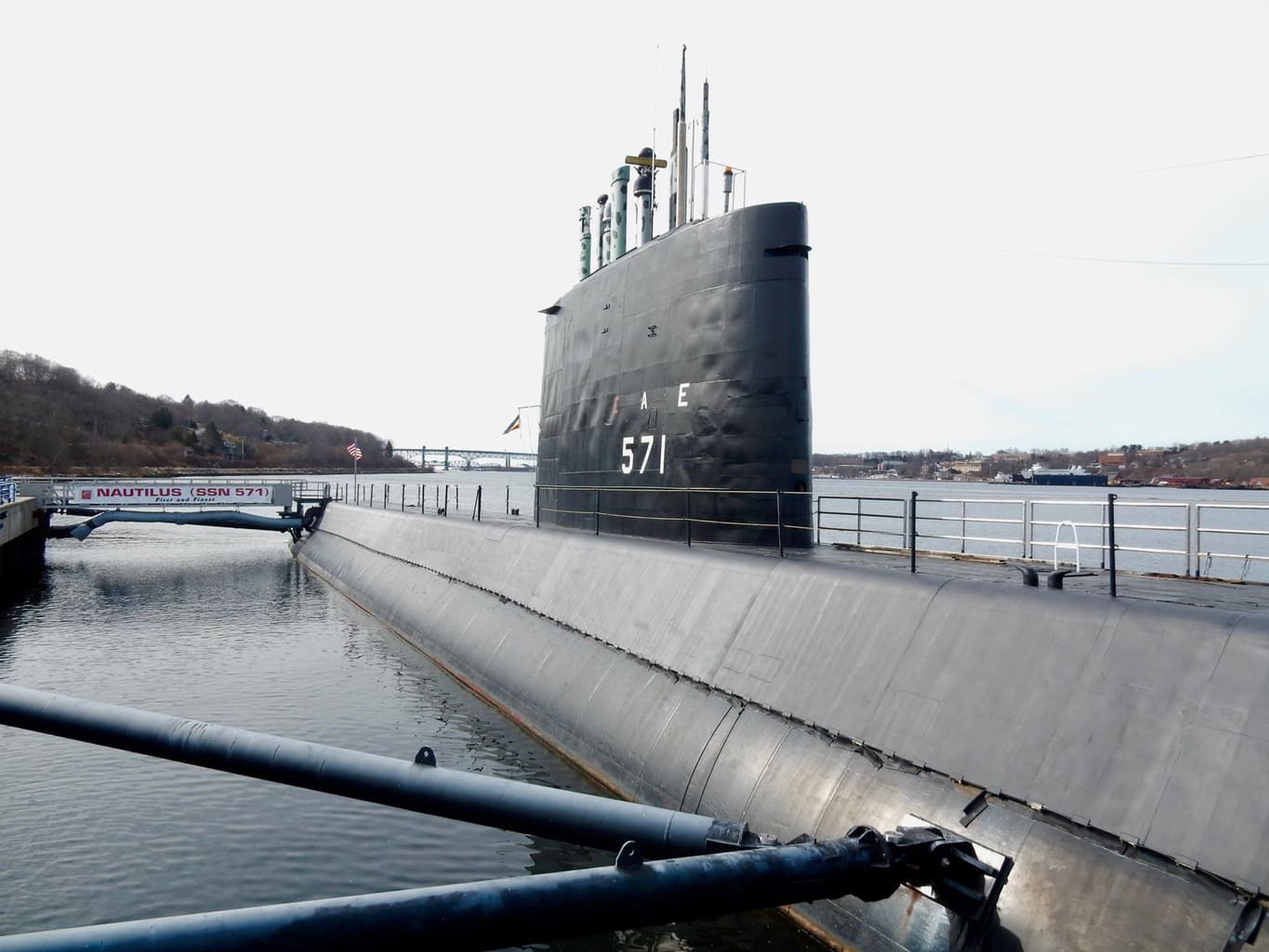 But of course, you came here to descend into and walk through the tight quarters of an underwater metal tube – the USS Nautilus. (FYI – there is no wheelchair accessibility. And forget it if you are claustrophobic or have problems climbing through narrow hatches with 18" thresholds or can't scramble up or down ladder-like stairways).
If you're OK with the above, you'll be rewarded with an intimate look at how submarine sailors lived and worked. An audio-tour of the vessel provides a fascinating look at military life in an underwater, constricted environment.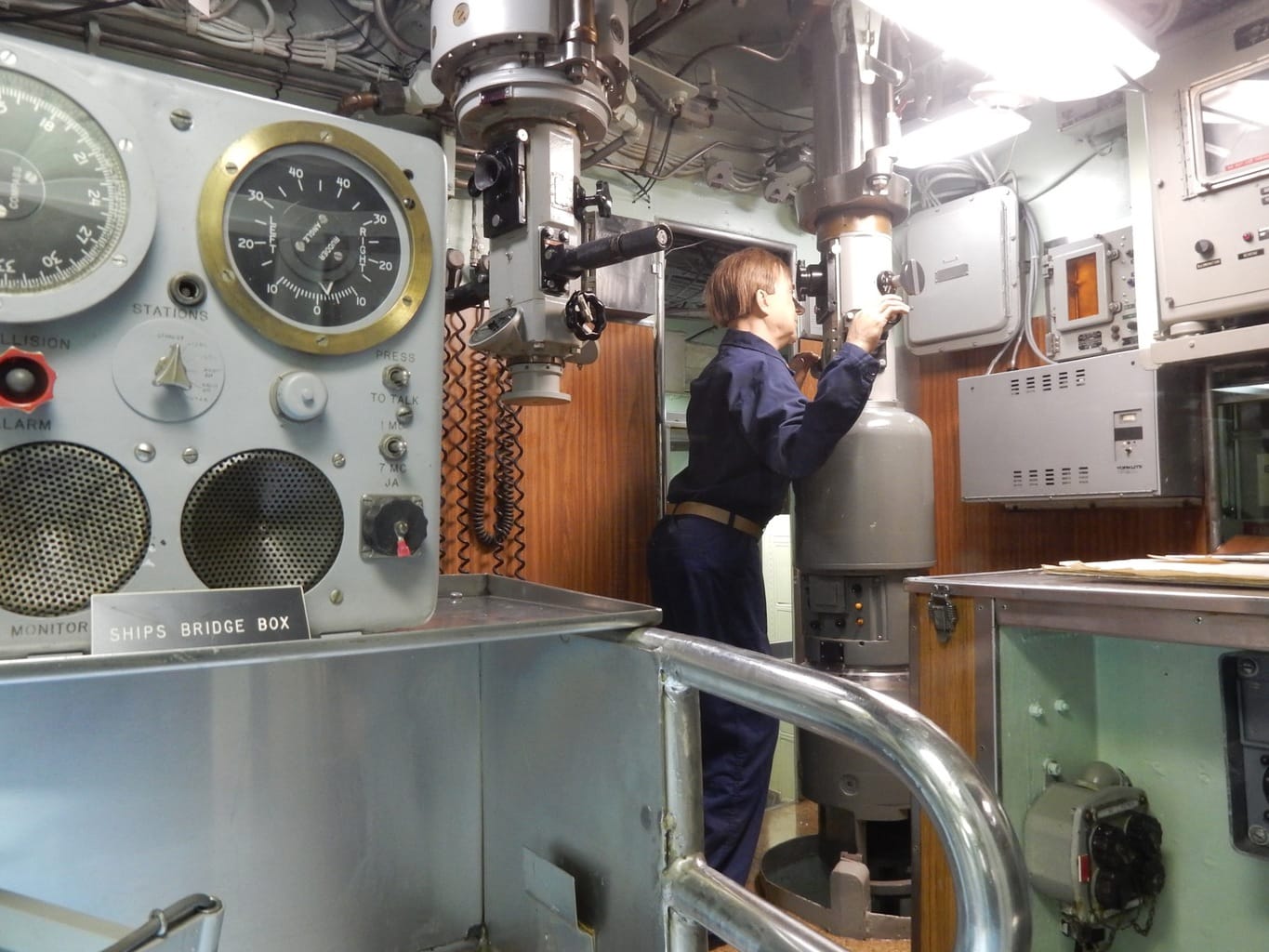 The decommissioned 700 foot long, nuclear-propelled USS Nautilus was launched in 1954. It was the very first nuclear-powered object, and the first ship in the world to cross the North Pole (August 2, 1958).
After serving in developmental testing programs and in military operations alongside other subs, in 1982, The USS Nautilus was designated a National Historic Landmark. It opened to the public in 1986 as part of the Submarine Force Museum.
World's First Nuclear Submarine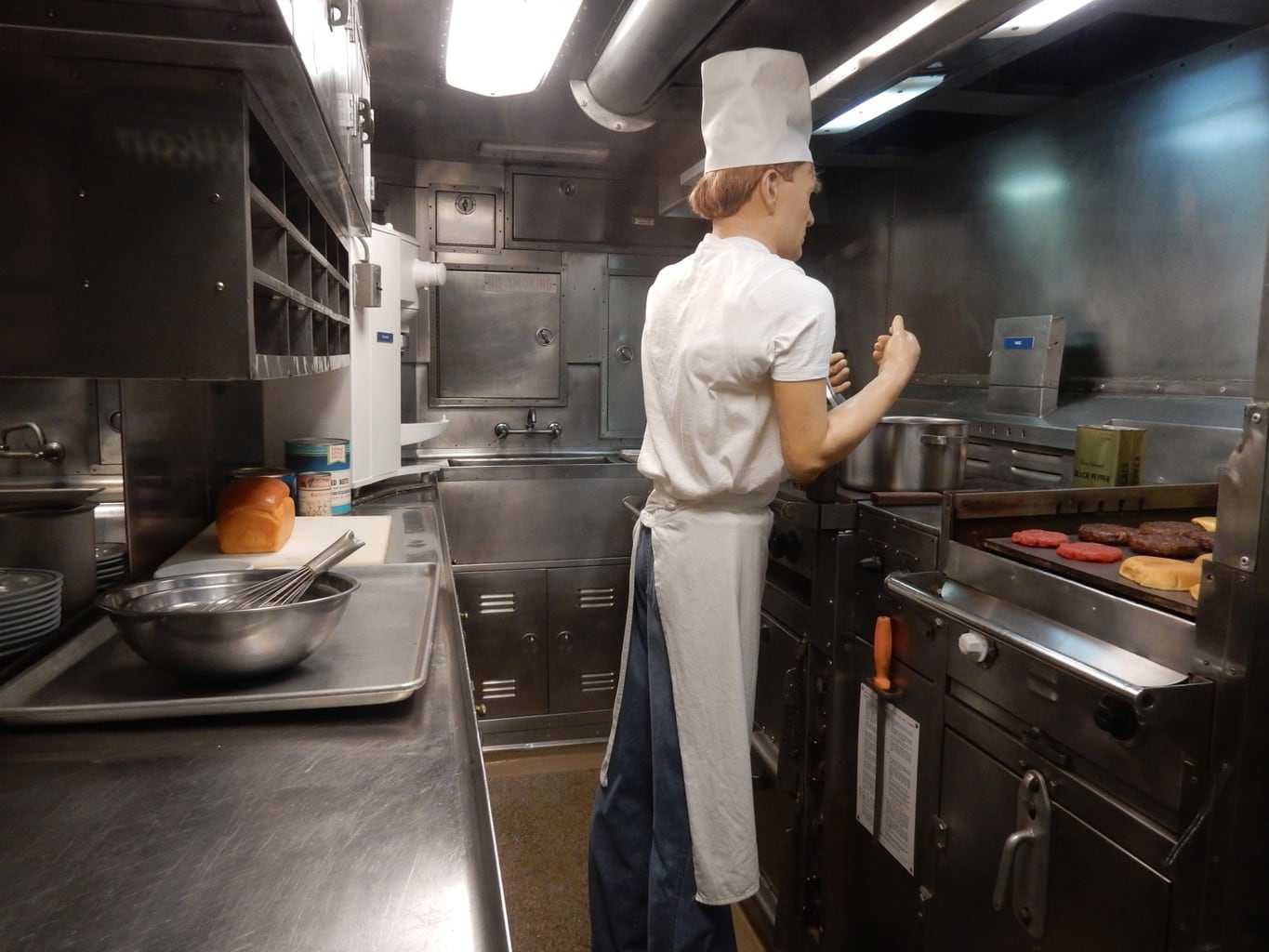 You'll receive an "Audio Wand," which activates a narrated overview of what you see in each portion of the ship. Descend 30 stairs into the Torpedo Room to begin. Each area features lifelike mannequins depicting the roles of crew members: from torpedo operators to chefs in the mess hall. Bunks were coffin-small though food was some of the best in the military.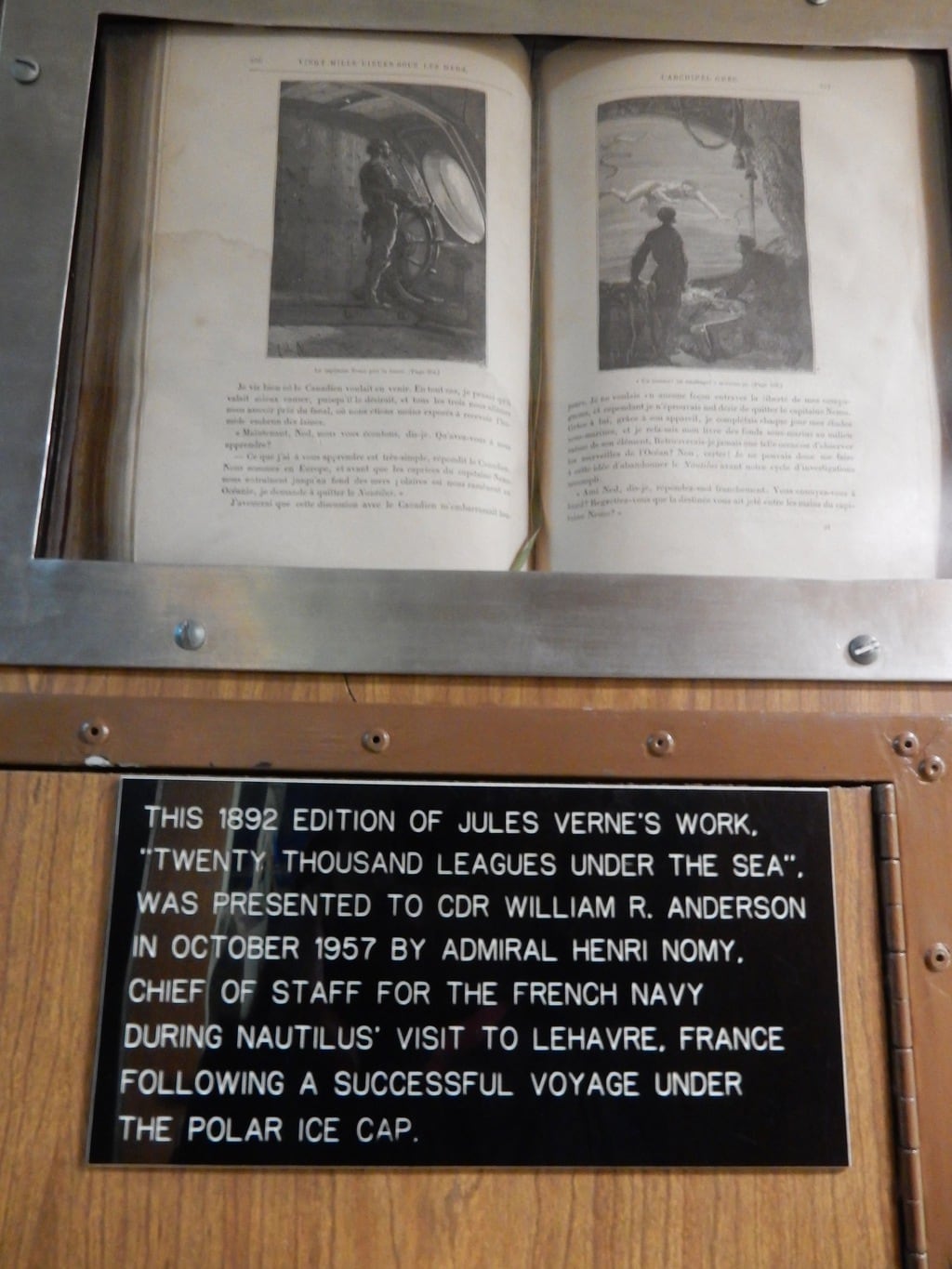 One of coolest "hidden gems" in the hold, on full display, is an 1892 copy of Jules Verne's 20,000 Leagues Under the Sea. Verne's masterful story featured a Captain named Nimo and a submarine called Nautilus – after which this ship is named.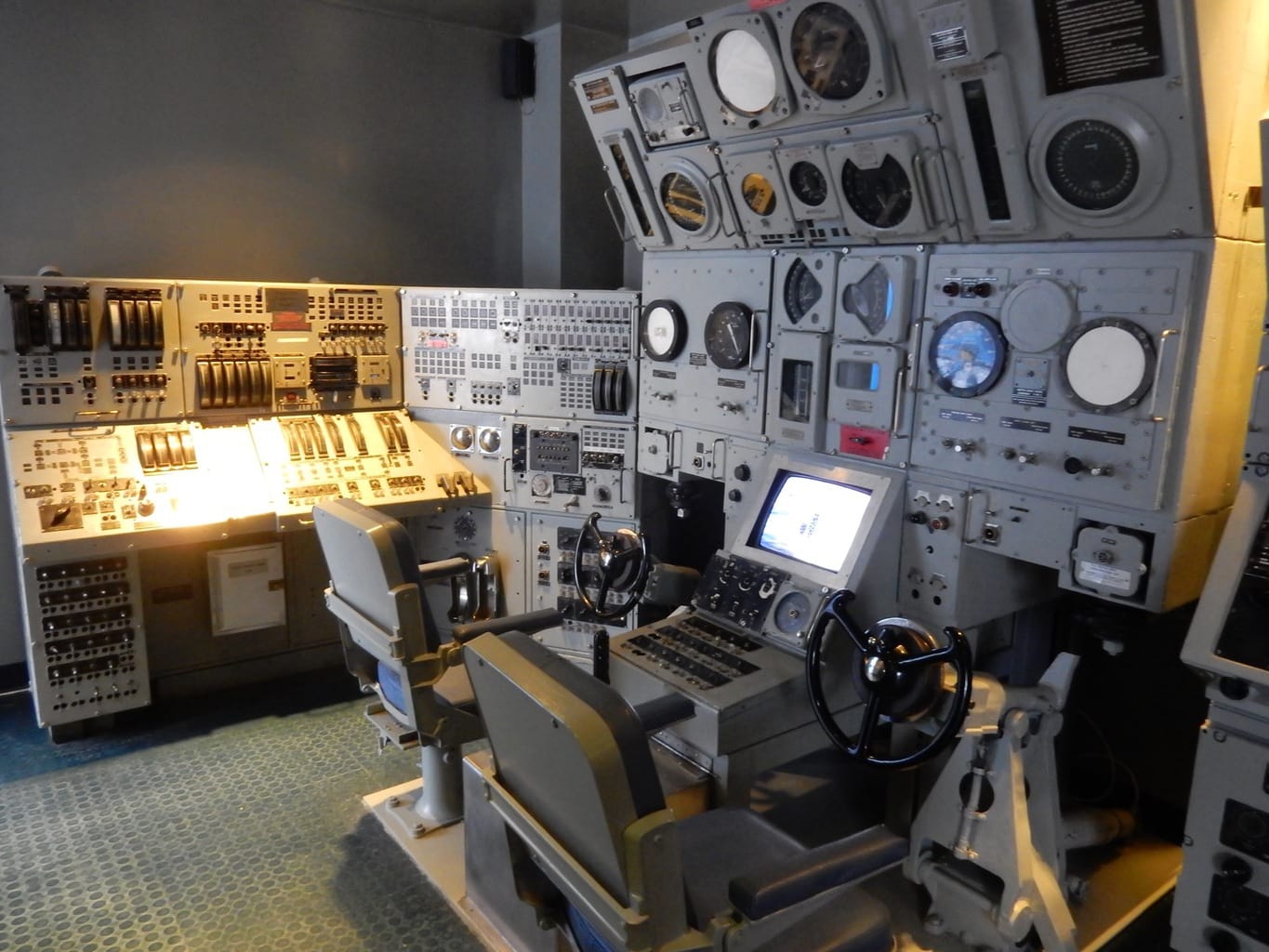 Plan at least one and a half hours for both the museum and submarine. Admission is Free, Open Nov 1-April 30, Wed-Mon 9-4, May 1-Oct 31 Wed-Mon 9-5. If you don't want to wait on line, come off season Winter, when you can get right on the submarine.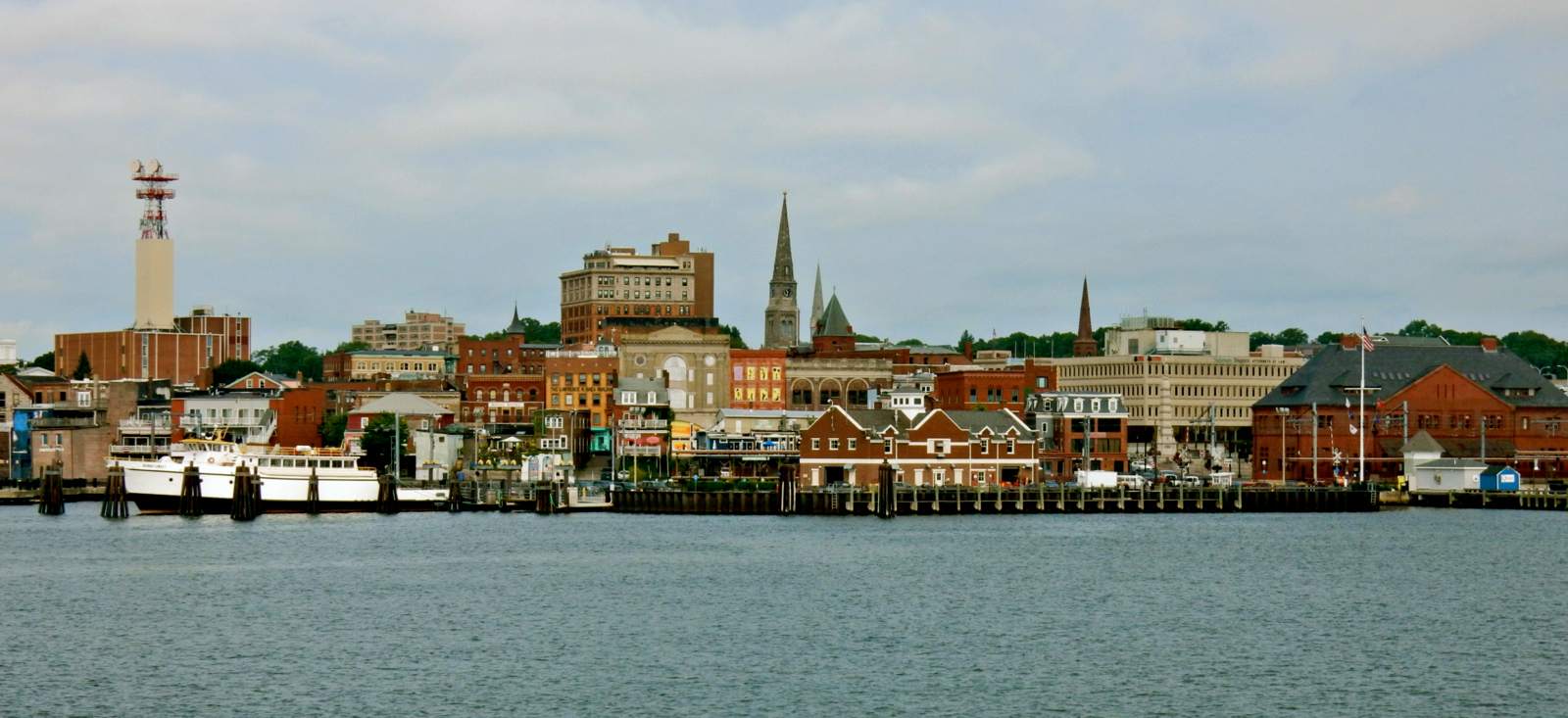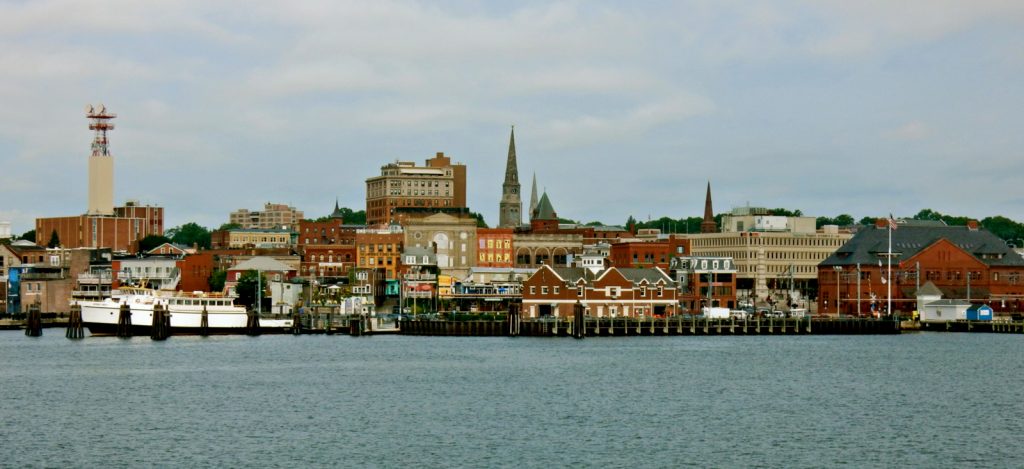 DO: New London Historic Landmarks Events
Nearly all of New London was burned to the ground by anti-American forces led by Benedict Arnold in September, 1781.
Today, relish the buildings that survived the inferno, as well as other architecturally significant structures from the mid to late 1800's – when shipbuilding and whaling created fortunes for many – now in various states of repair.
Members of New London Landmarks Commission are the enterprising guardians of these jewels, working hard to preserve buildings designed by leading architects of the day; Robert Mills (Washington Monument) and William Tuthill (Carnegie Hall) among other Colonial, Romantic and Victorian Era builders.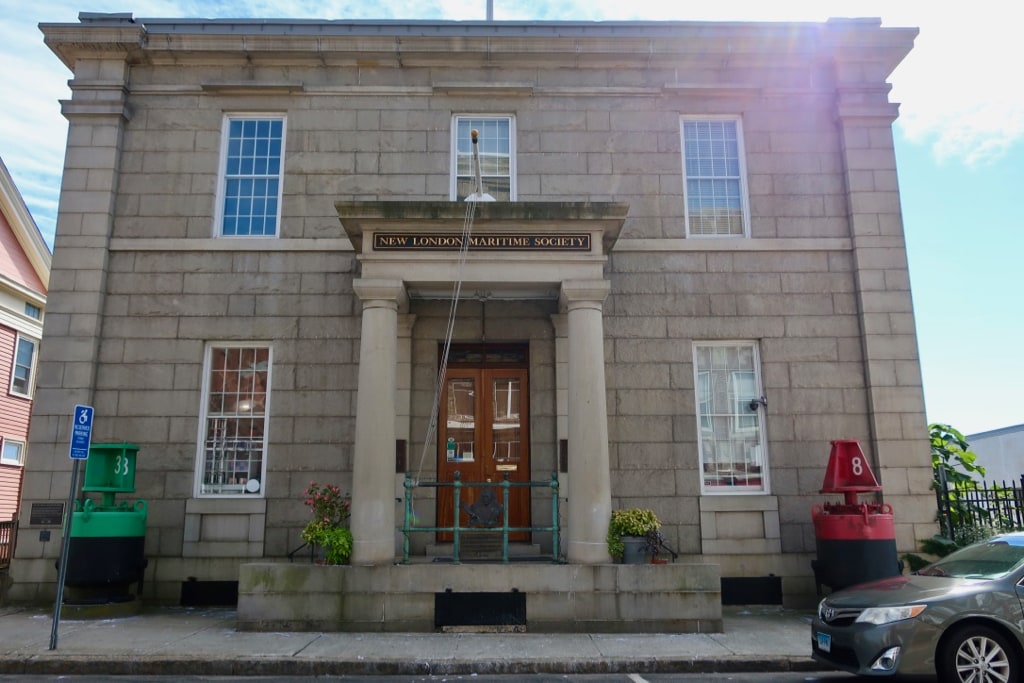 This granite structure played an important part in the Amistad story. Built in 1833-35 by Robert Mills (who also designed the Washington Monument), the New London Customs House (in operation until September 2021) was the "oldest continuously operating Customs House in America" and has seen its share of riches, cargo, contraband, and enslaved refugees.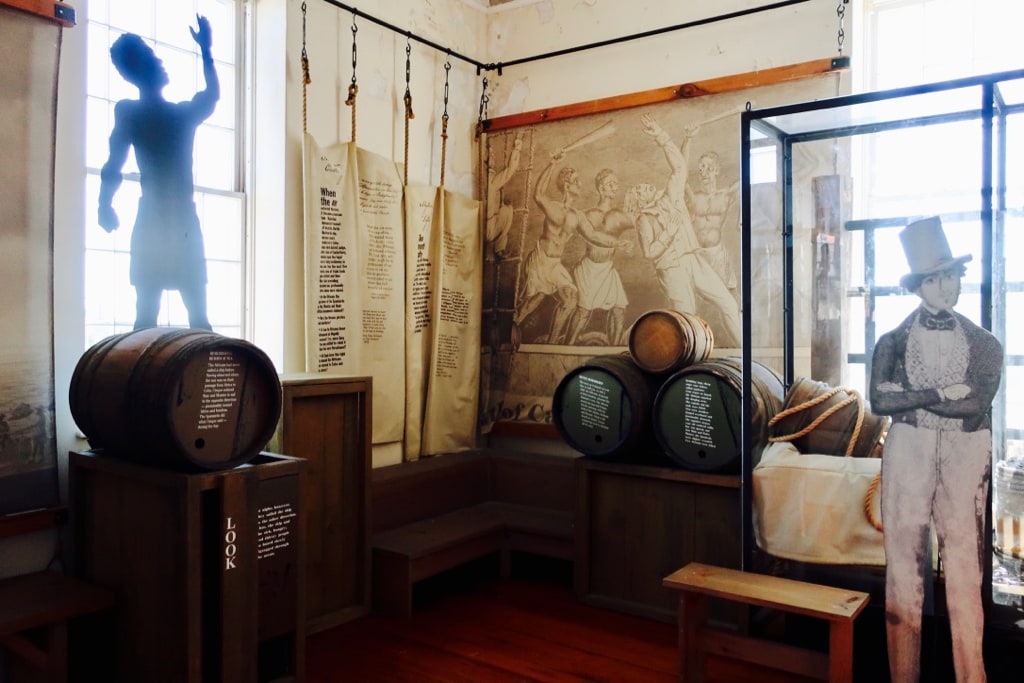 Connecticut's anti-slavery laws were deeply rooted. Here, on September 30, 1858, Police Court Justice Augustus Brandegee and Customs Collector John Perkins Mather applied Connecticut's Personal Liberty Law against the Fugitive Slave Act. They asked a stowaway slave named "Joe," "Do you want to be slave or free?" Joe answered, "Free!"
Perhaps the most well known episode in Abolitionist History took place here. In 1839, fifty-three men illegally abducted from Sierra Leone killed the captain and cook aboard the ship Amistad on its way to a Caribbean plantation.  Found tattered off of Long Island, NY, the Amistad was hauled to New London, CT.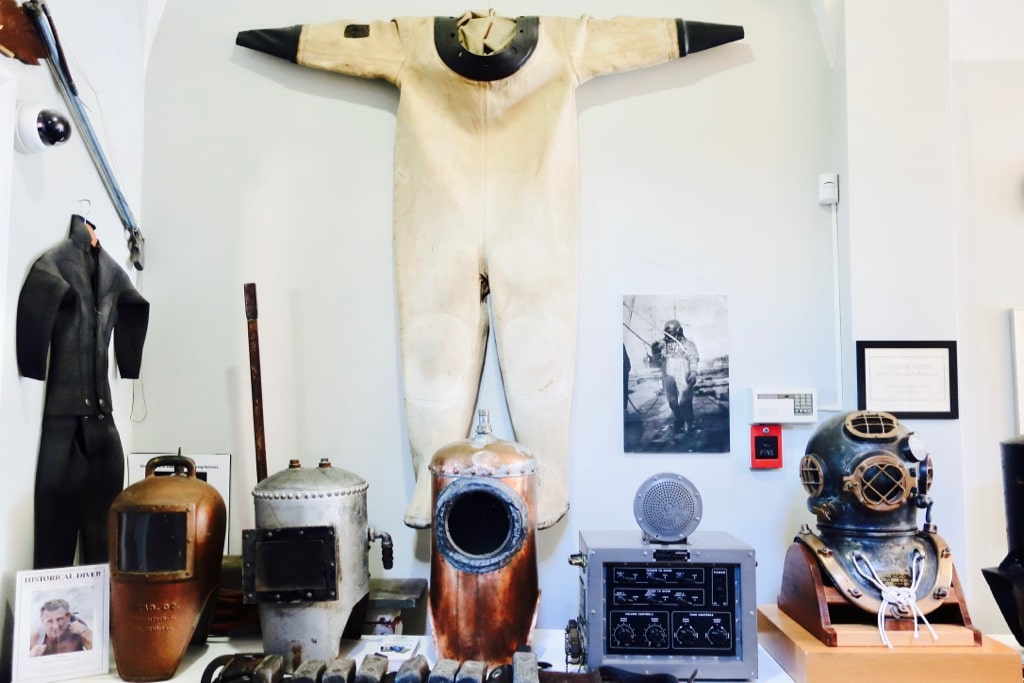 The story of this fraught ship is told in a very impressive interactive exhibit in this Custom House/Museum which also features rotating lenses from nearby lighthouses, foghorns (a school group favorite), and a collection of beautifully preserved diving helmets from the early 19th century. Open Tues-Sun 1pm-5pm daily.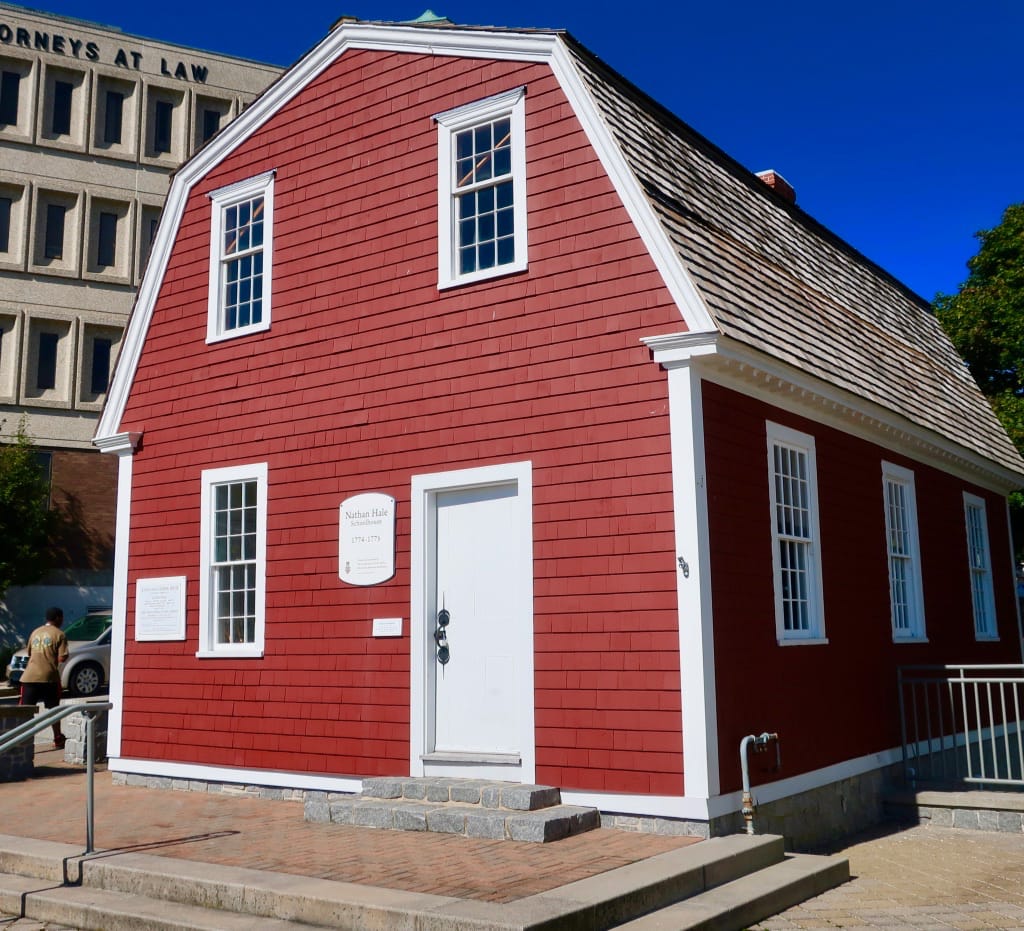 VISIT: Nathan Hale Schoolhouse
Nathan "I only regret I have but one life to lose for my country" Hale taught at this one room schoolhouse. Hale was hanged in 1776 by the British at the age of 21, after being caught spying for General George Washington. Open June 1st – Labor Day,  Wed-Sun 11-4, free.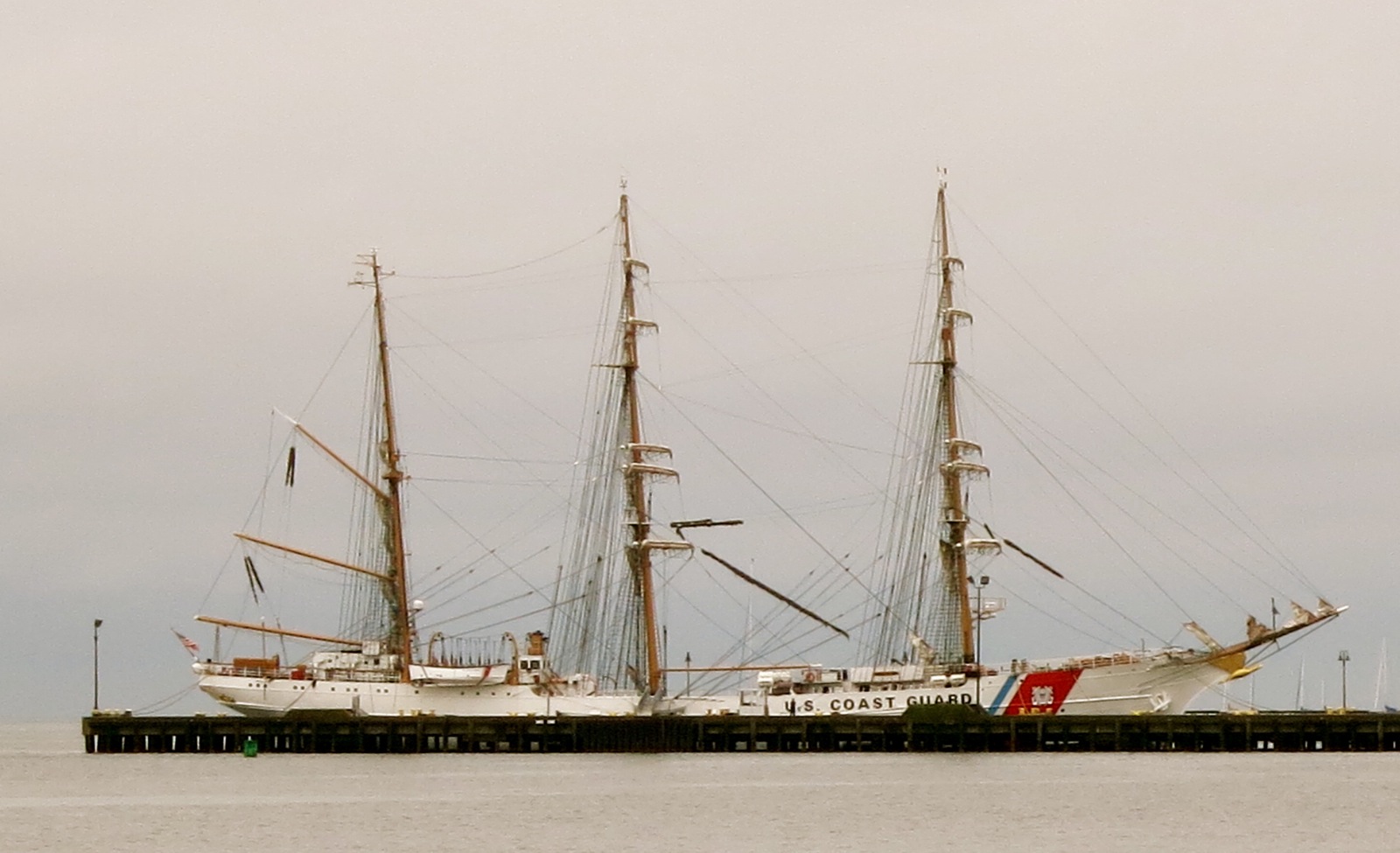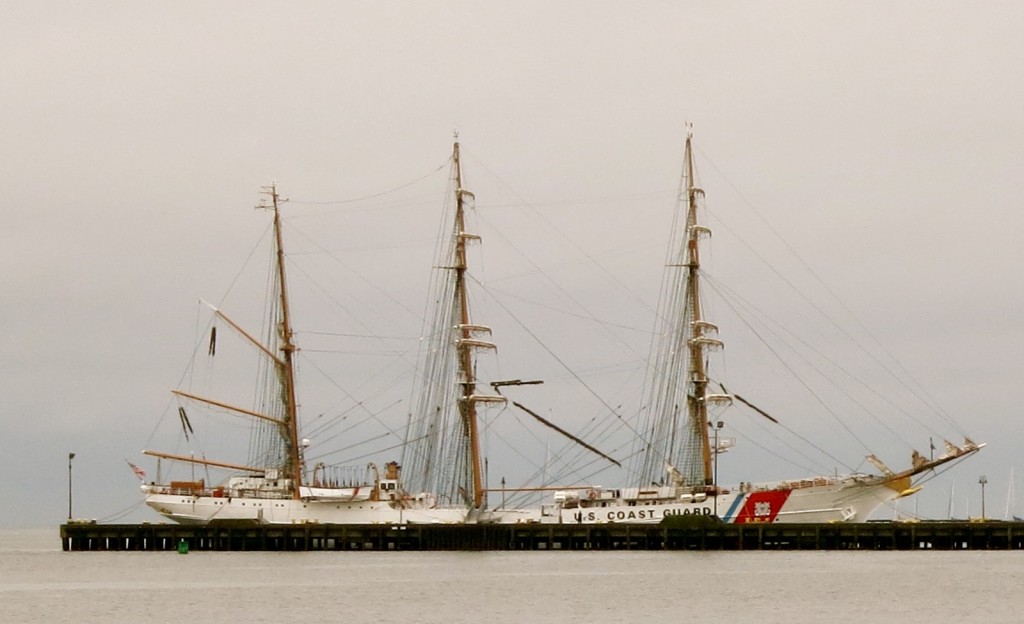 VISIT: Coast Guard Academy and Museum, New London
The complicated history of the Coast Guard, an often forgotten branch of Homeland Security, is well documented in this newly updated and engaging museum on the campus of the US Coast Guard Academy.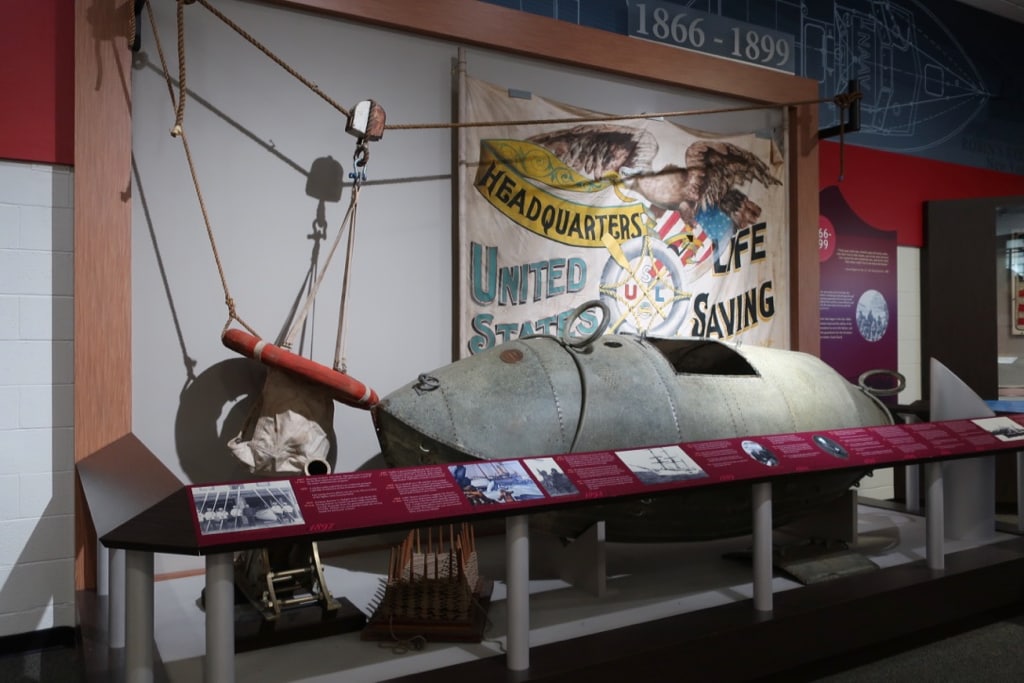 "A few armed vessels, judiciously stationed at the entrance to our ports, might be made useful sentinels of the laws," wrote Alexander Hamilton in 1790.
The history of the Coast Guard has had many twists and turns. The organization in current form is an amalgamation of five agencies. In 1789, the Custom Service established the Revenue Cutter Service.
Revenue Cutter merged with the US Lifesaving Service in 1915, when the Great European War illuminated the need for a strong Coast Guard ready to operate with the Navy if war came to United States shores.
By 1946, The Lighthouse Service, Steamboat Inspection Service, and Bureau of Navigation all folded into the agency that stands as our current U.S. Coast Guard with its five fundamental roles; maritime safety, maritime security, maritime mobility, national defense, and protection of natural resources.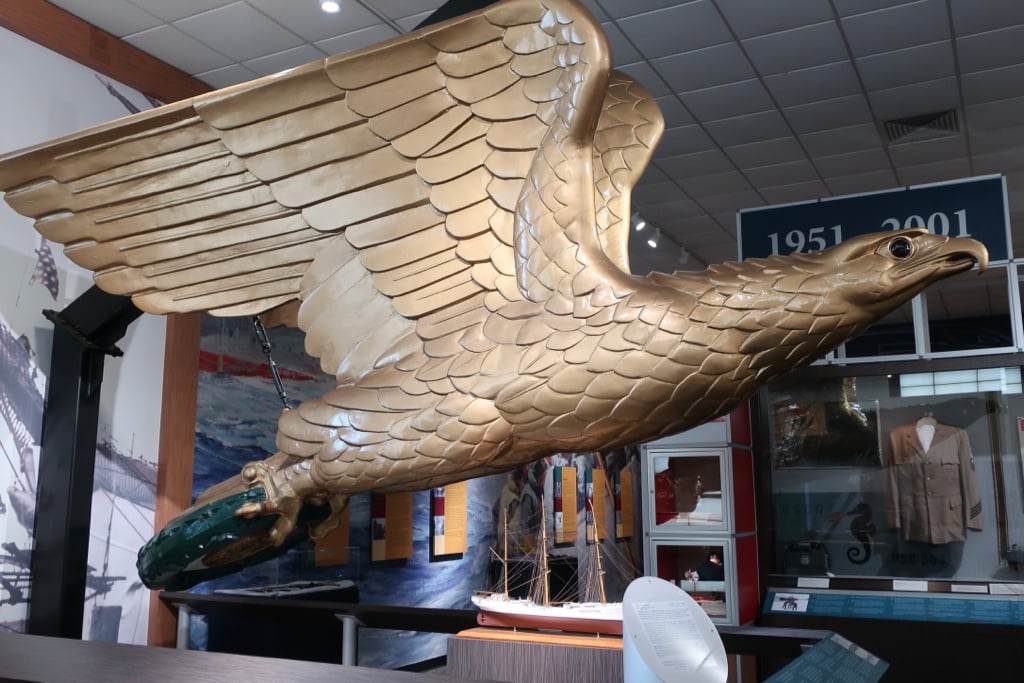 Among the most important artifacts on exhibit here are the Breeches Buoy apparatus used to transport shipwreck victims from boat to shore in the 1800's; and the large Eagle figurehead from the original German Horst Wessel.
The Tall Ship barque Eagle was built in Germany in 1936 and originally used to train Nazi naval cadets. Confiscated by the US after WWII, it's been used ever since to train American Coast Guard cadets. All cadets must spend at least 6 weeks aboard the EAGLE, learning nautical traditions, and basic navigational, seamanship, and leadership skills.
The Coast Guard remains Semper Paratus, "always ready" to protect those at sea, from threats from the sea, and to protect the sea itself. Museum open Mon-Fri 9-4, during school year. See website for summer hours.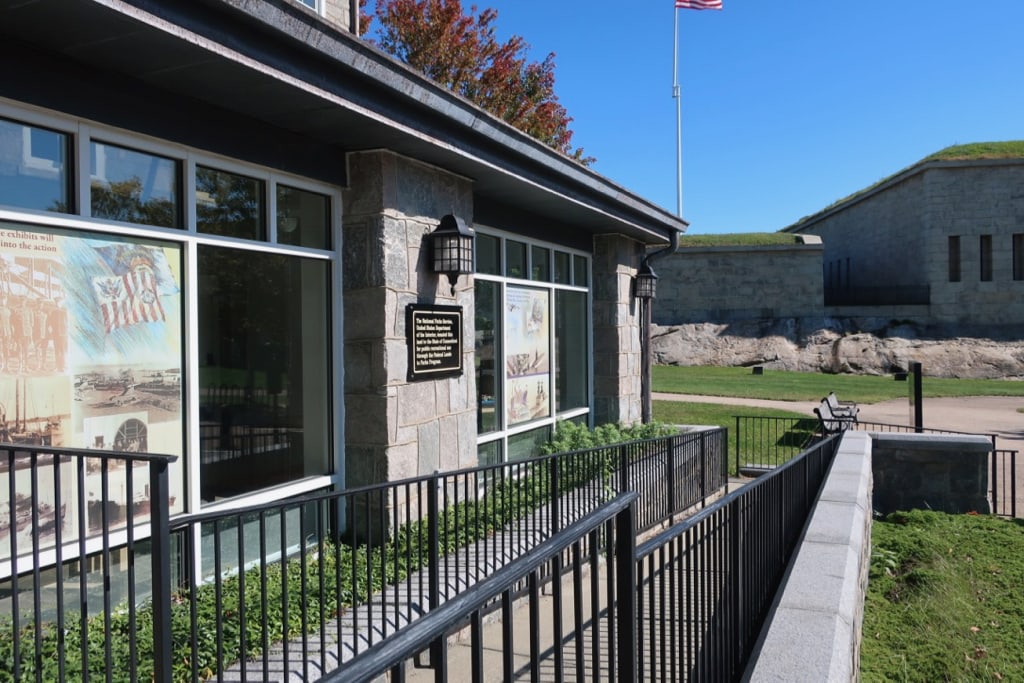 The last of three forts built on this site, it was obscured by trees and dilapidated buildings until 2002.  Now, a Visitor's Center attracts adults and kids with a real periscope and interactive kiosks allowing history-buffs to build their own forts and detect submarines.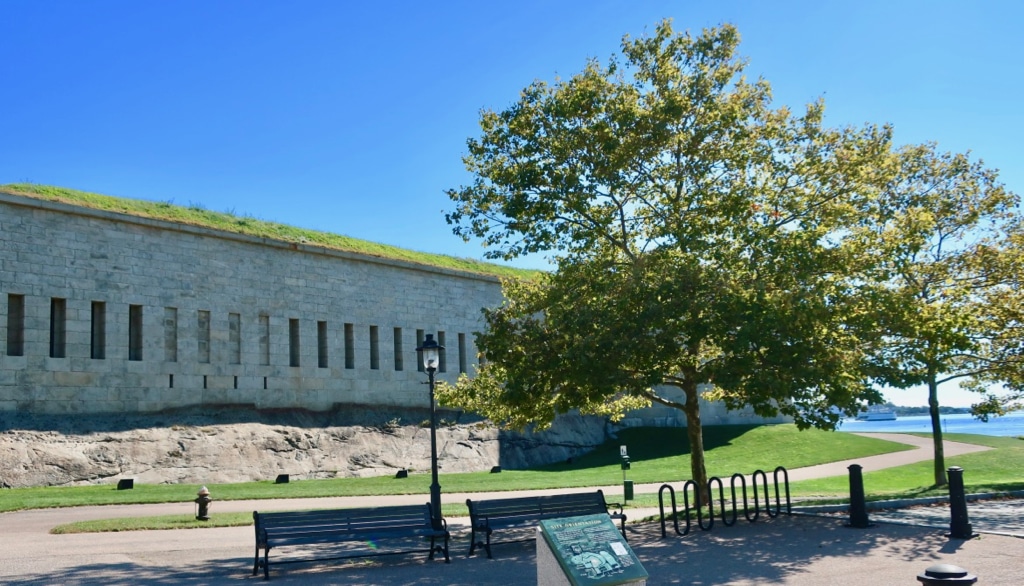 And the fort itself – an Egyptian Revival design built between 1839 and 1852- allows marvelous views of the river.  Where else can you teach a kid about our maritime past then look outside and see a submarine go by?"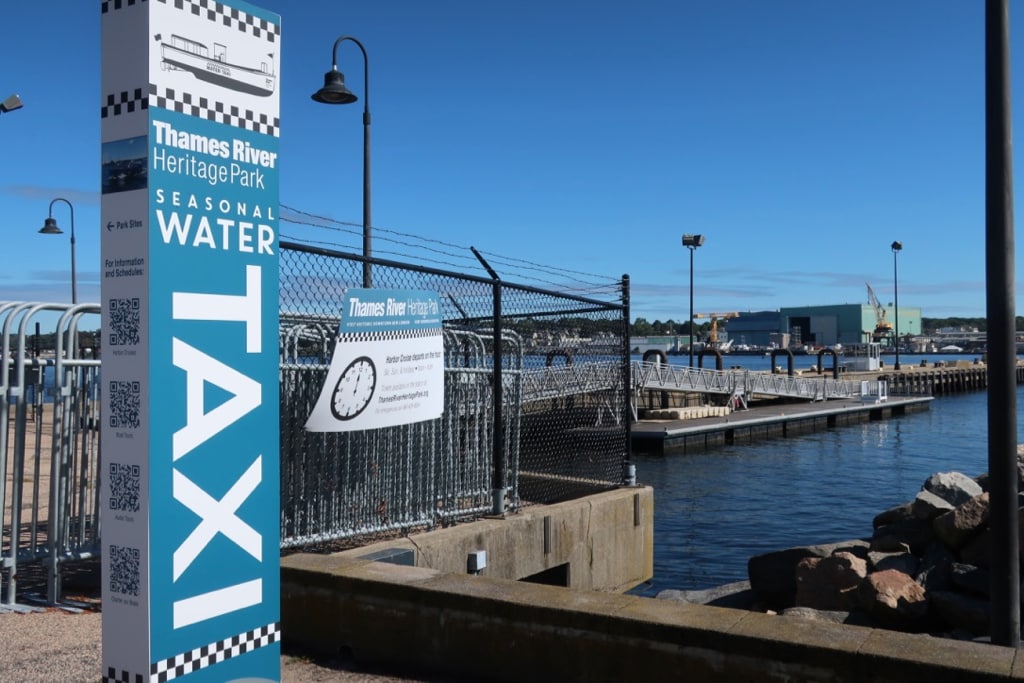 DO: Take Thames River Heritage Park Water Taxi
Take an hour long hop on hop off cruise on a refurbished surplus US Navy utility boat. The Water Taxi makes stops at Fort Trumbull State Park, City Pier in downtown New London, and Thames River Landing in Groton. $10, runs weekends and holidays 10:40am to 6:20pm from mid-June to mid-Sept.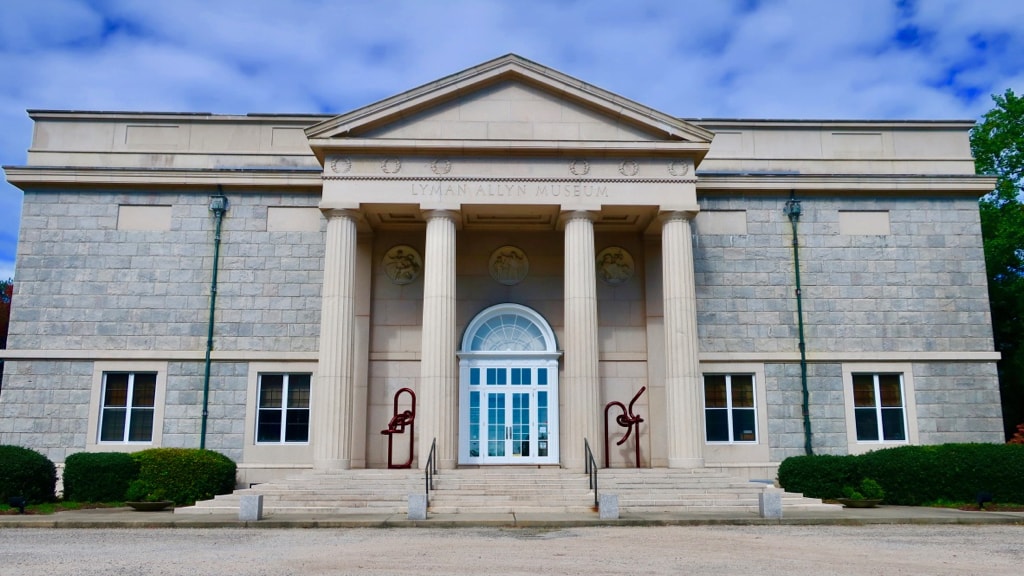 The 70-year-old neoclassical Lyman Allyn sits on 32 hilltop acres. The museum showcases an abundance of Connecticut impressionists, art from the Hudson River School, and other American artists.
Named after the Whaling Captain, Lyman Allyn, as a gift to the town from his youngest daughter, Harriet Upton Allyn in 1926, the museum also features the work of Louis Comfort Tiffany, who had family roots in New London.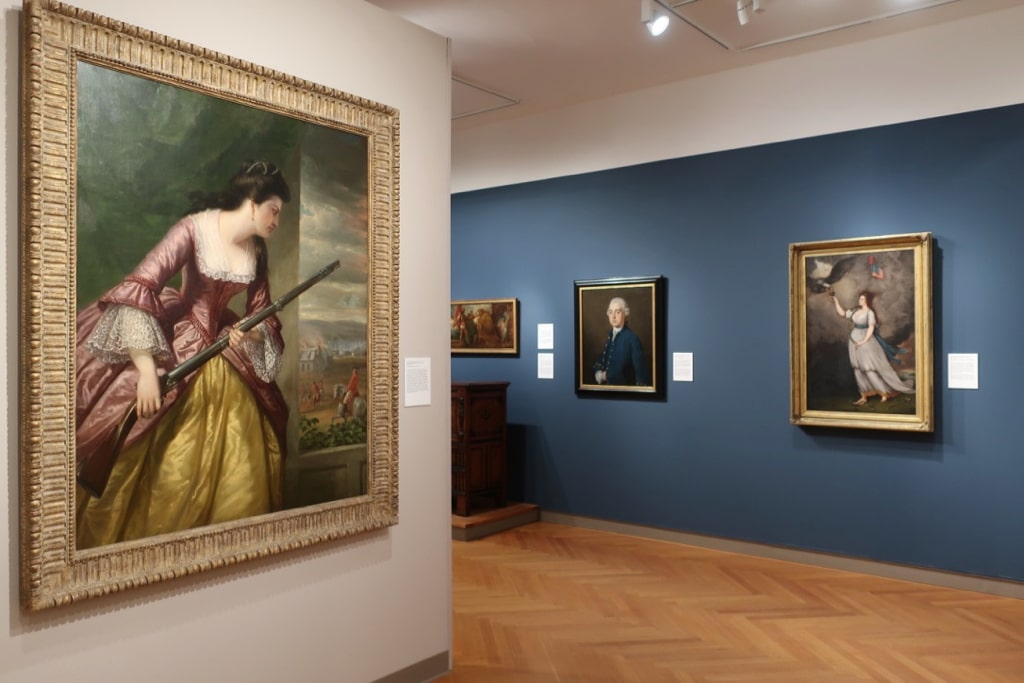 Don't miss the centerpiece of "American Stories" Hall – the portrait of town heroine Abigail Hinman.  The painting depicts Hinman, draped in velvet finery, holding a musket aimed at Benedict Arnold, a family friend, right before he torched New London.
With her husband away, Abigail made a split second decision to assassinate the turncoat when she saw him on horseback right outside her window. At the crucial moment, however, her musket misfired.  $10 adults, under 12 free, Tues-Sat. 10-5, Sun. 1-5.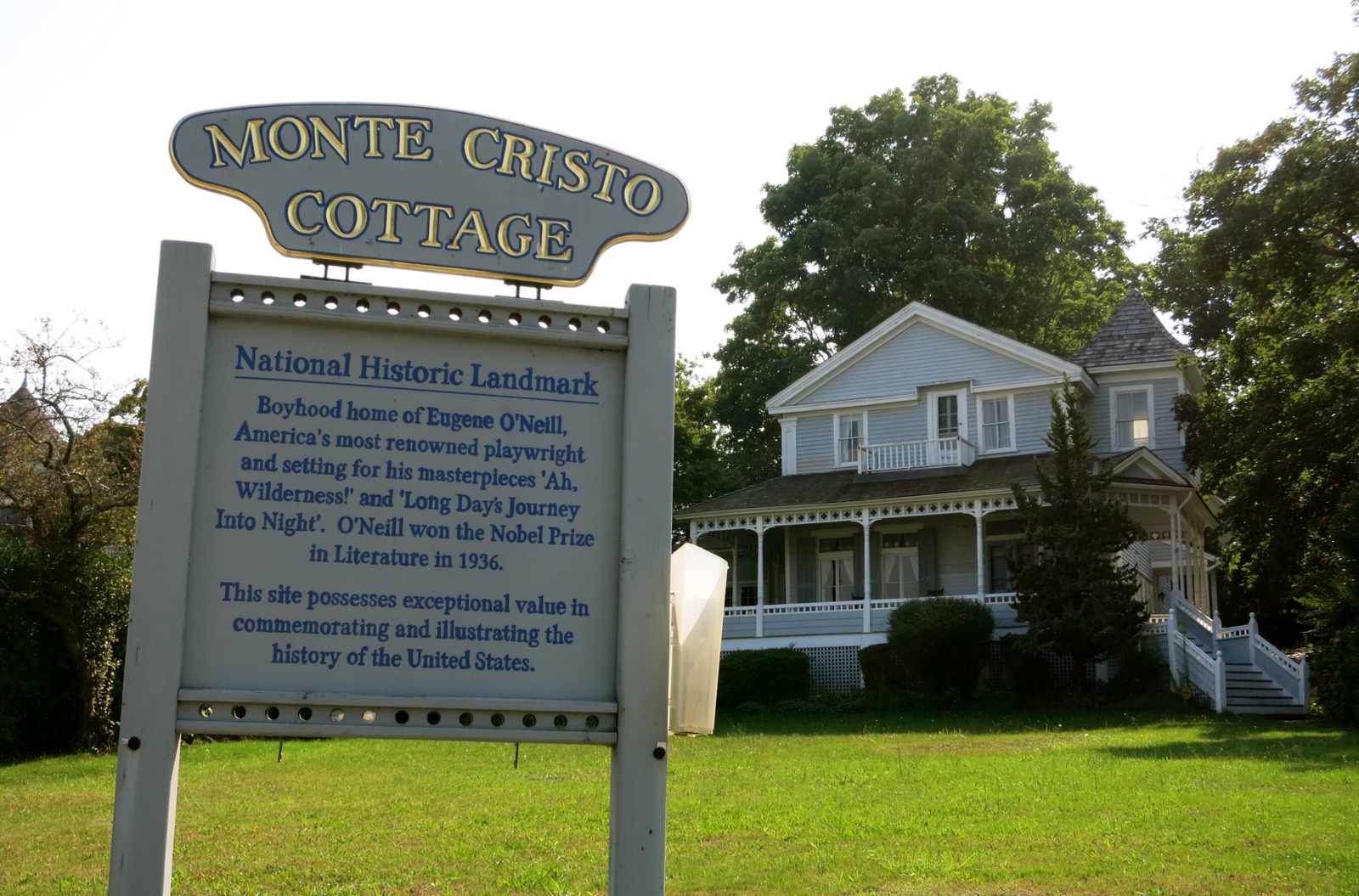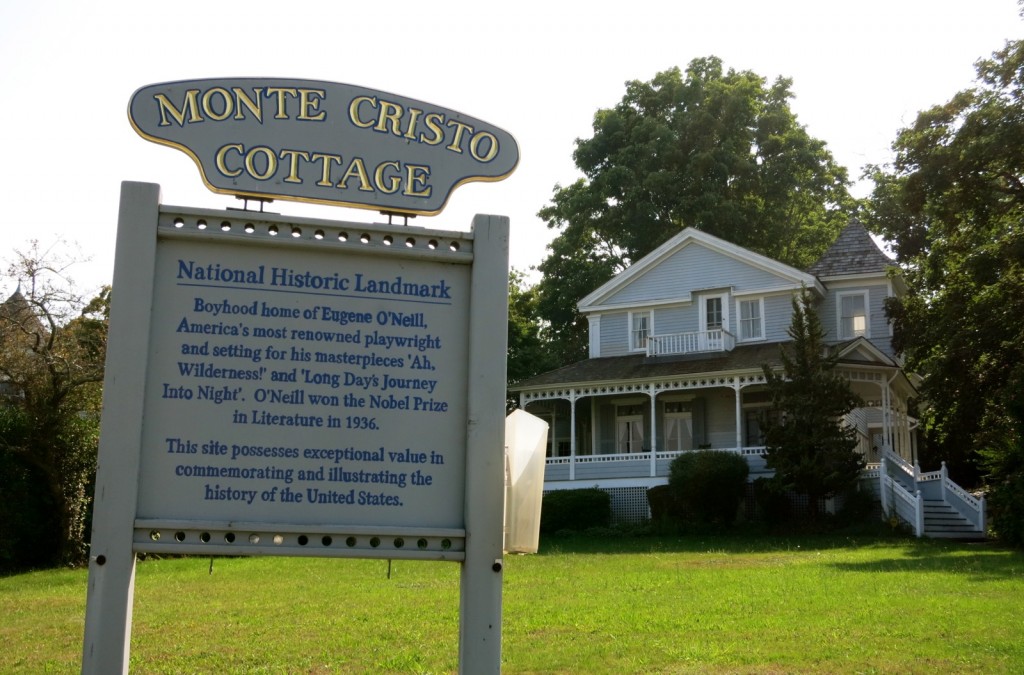 James O'Neill purchased this home with funds earned by starring in and buying the rights to the stage version of The Count of Monte Cristo. Thus, it's where his son, Eugene, spent his boyhood summers. Visitors familiar with one of O'Neill's most famous plays, "Long Days Journey Into Night" will recognize the parlor. It looks exactly as it did on stage and screen. $7 adults, $5 students/seniors, Memorial Day – Labor Day Thurs-Sat. 12-4, Sun. 1-3.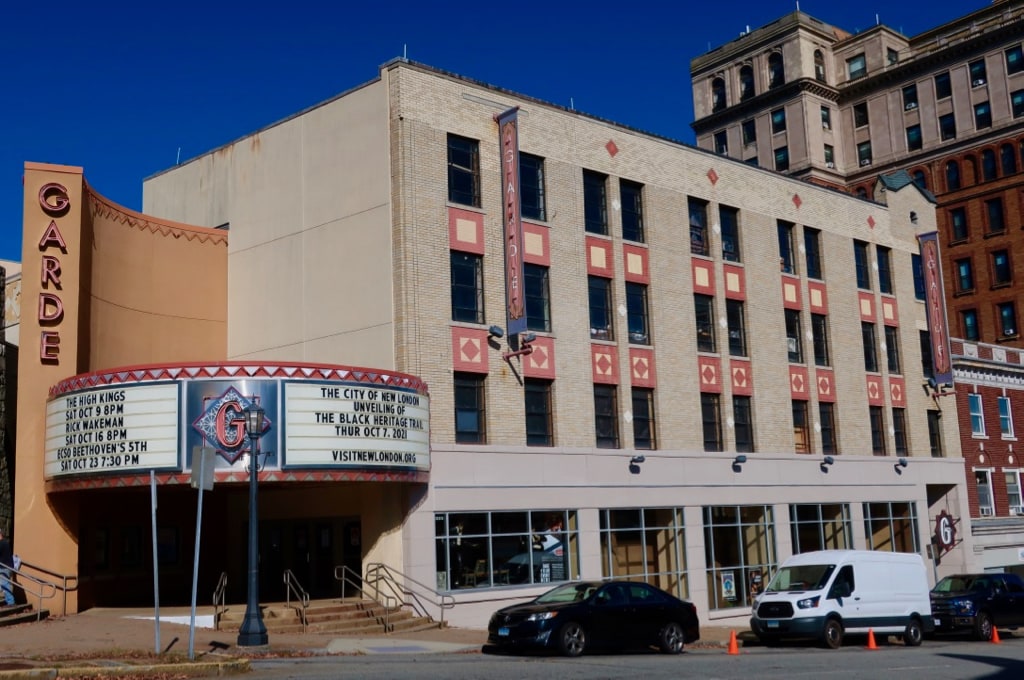 This exquisitely renovated Art Deco performing arts center serves up a heap of culture to this small CT River town.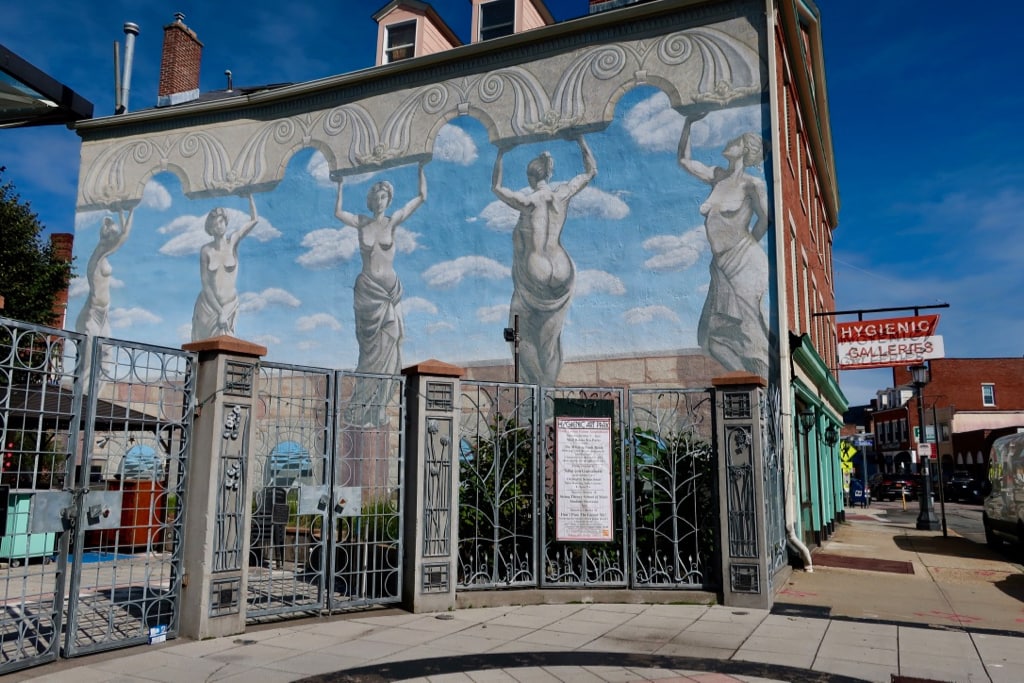 Formerly an ironic "greasy spoon" café, the Hygienic now showcases avant-garde art. As such, it draws a high concentration of pierced and tatted art aficionados.
Where to Shop in New London CT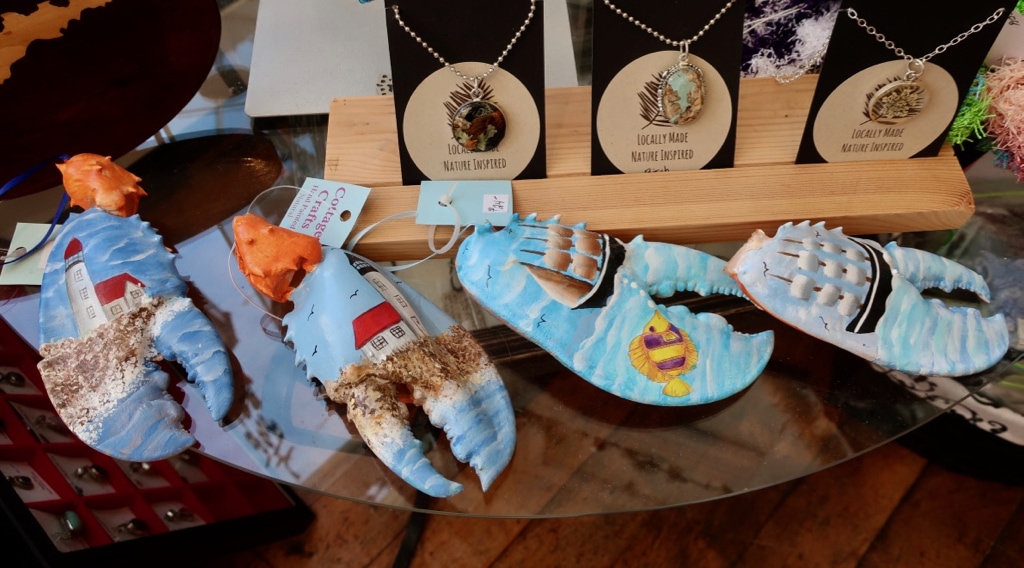 You'll find unique painted lobster claw ornaments ($22-$50) and other locally made crafts and jewelry in this tiny frame and gift shop. Plus – Studio 33 can restore faded treasured photos, and is now the drop off, pick up point for Everpresent Digitizing service: the company that converts old photos, home movies, and videos into online sharable photos and videos.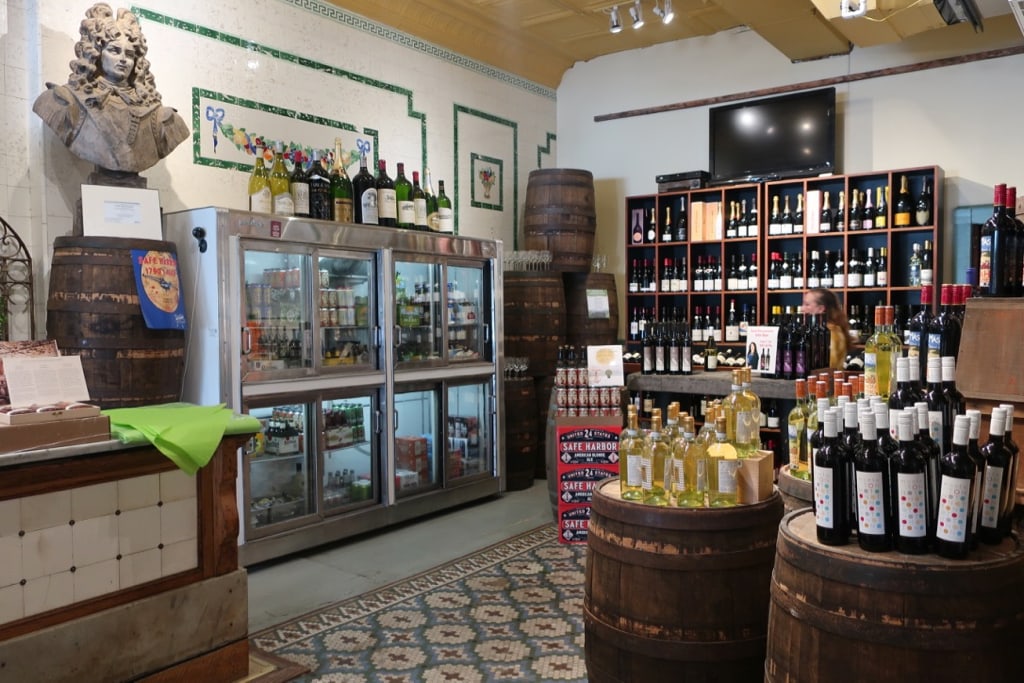 Over twenty years ago, Charlotte Hennegan and Fred Argilagos brought upscale sophistication to New London downtown. They opened up three different shops under one roof.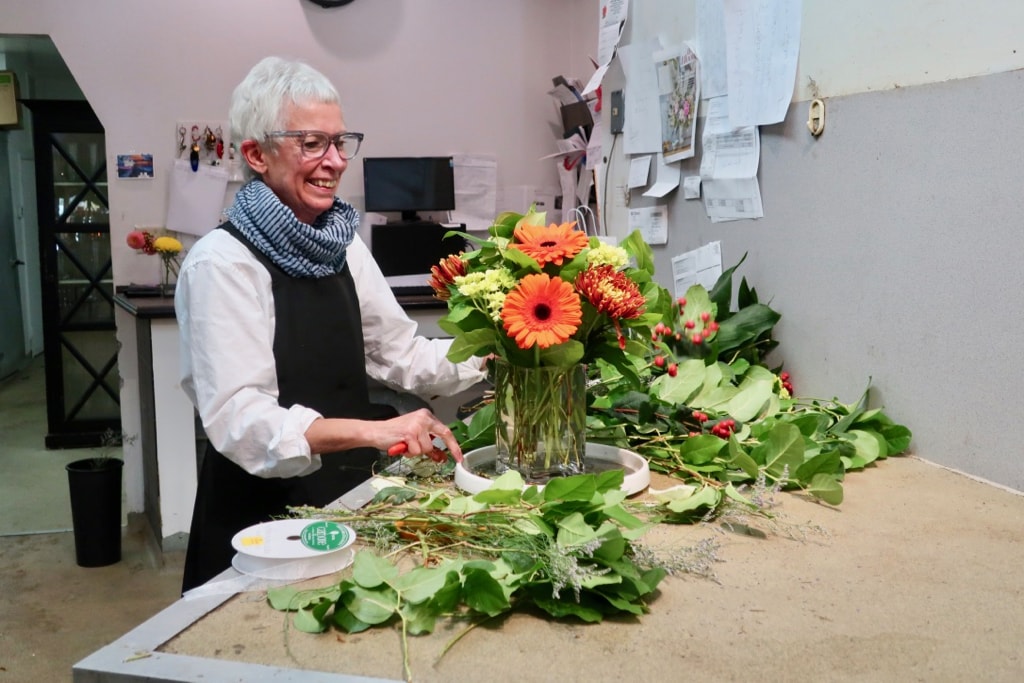 The "Greenery" – a pop-artsy florist – specializes in rare Dahlia's, grown specifically for this shop.
The Beanery serves prepared salads and sandwiches as well as the stuff made from the "beans" – a variety of coffees.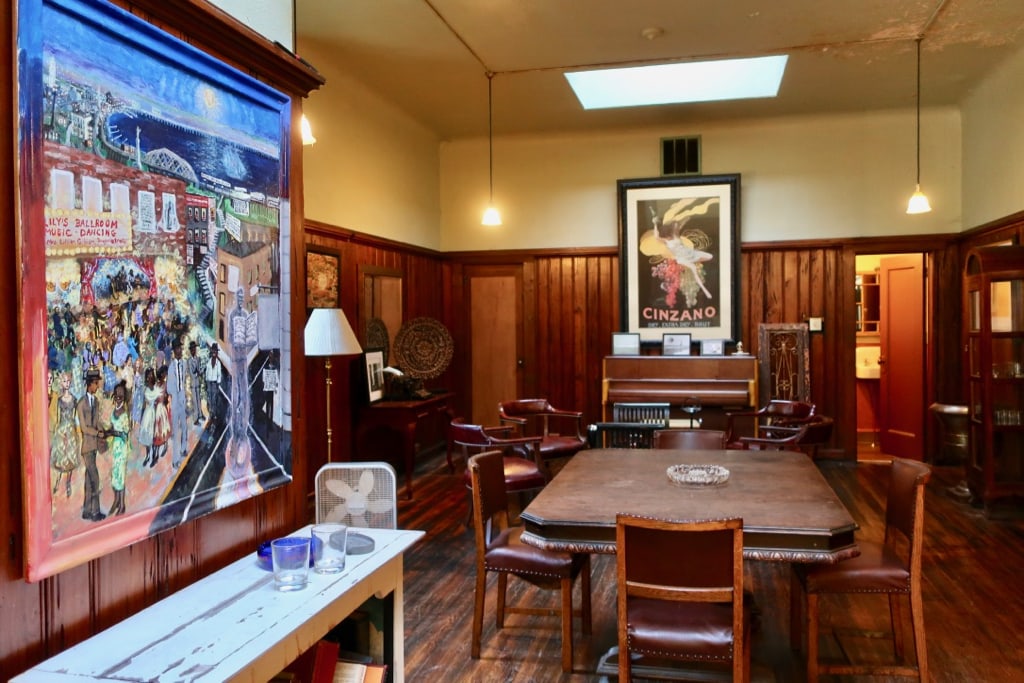 And Wine and Spirits offers an interesting selection from small producers around the world. New to the shop – a Cigar Bar upstairs, where guests can unwind with a stogy and perhaps a sip of whisky.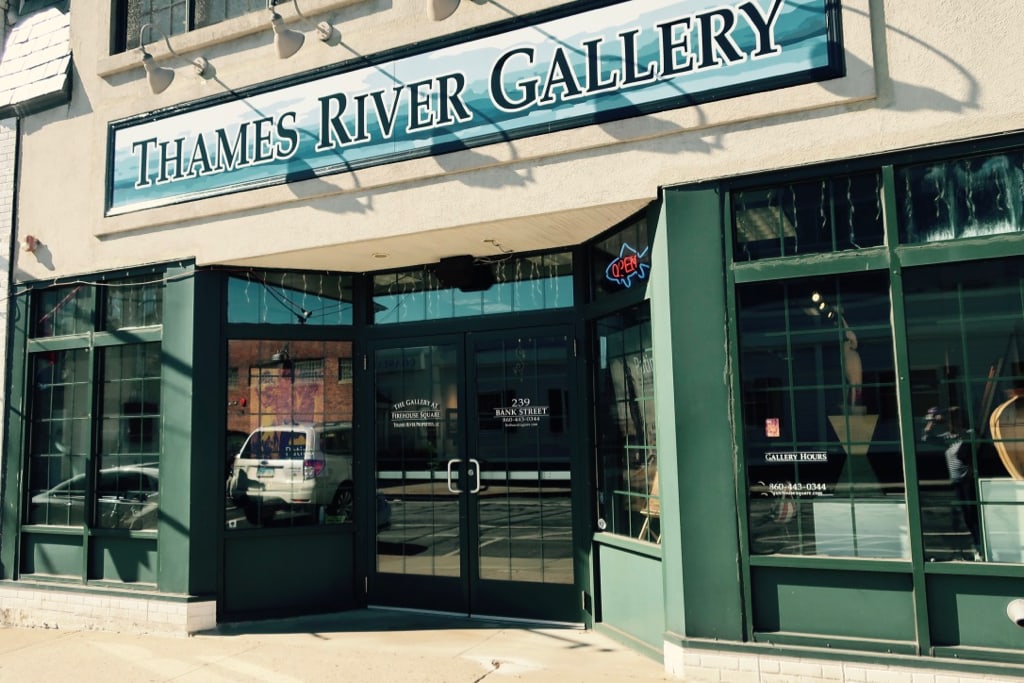 PERUSE: Thames River Art Gallery
Formerly the Gallery at Firehouse Square – the newly named Thames River Art Gallery showcases local and established artists.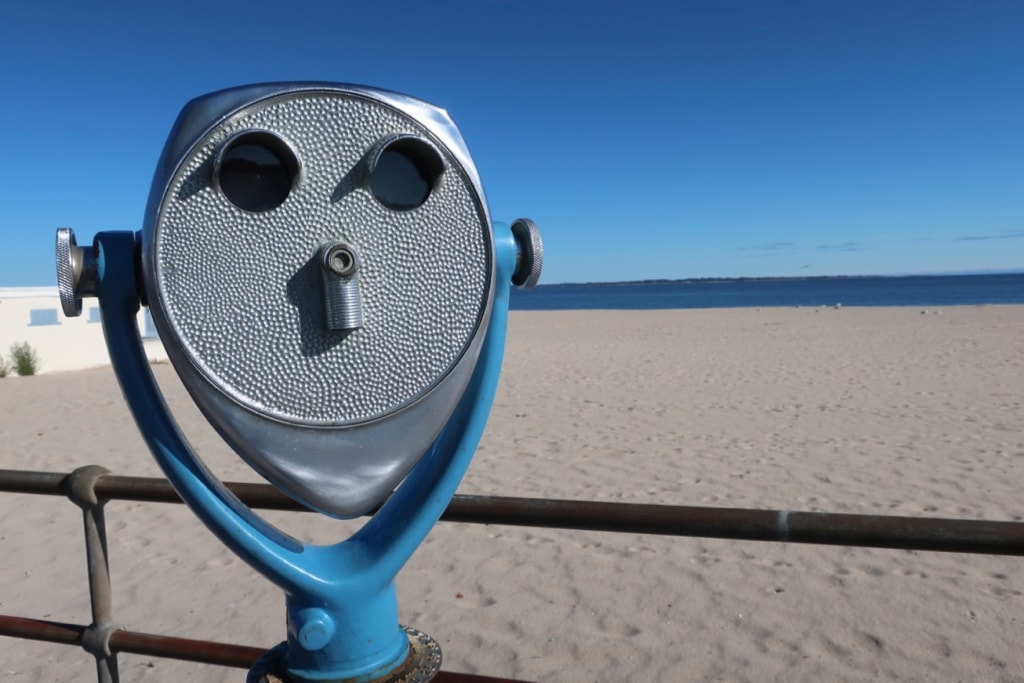 BEACH: Ocean Beach, New London
Ocean Beach is so much more than an expanse of  "sugar sand." It's got amusement park rides, mini-golf, a massive pool, arcades, waterslides, and kiddie "Spraypark." Parking in season is $20 weekdays, $25 weekends. Before Memorial Day and after Labor Day $10. Walk-ins $8. 
Best Places to Eat in New London and Groton CT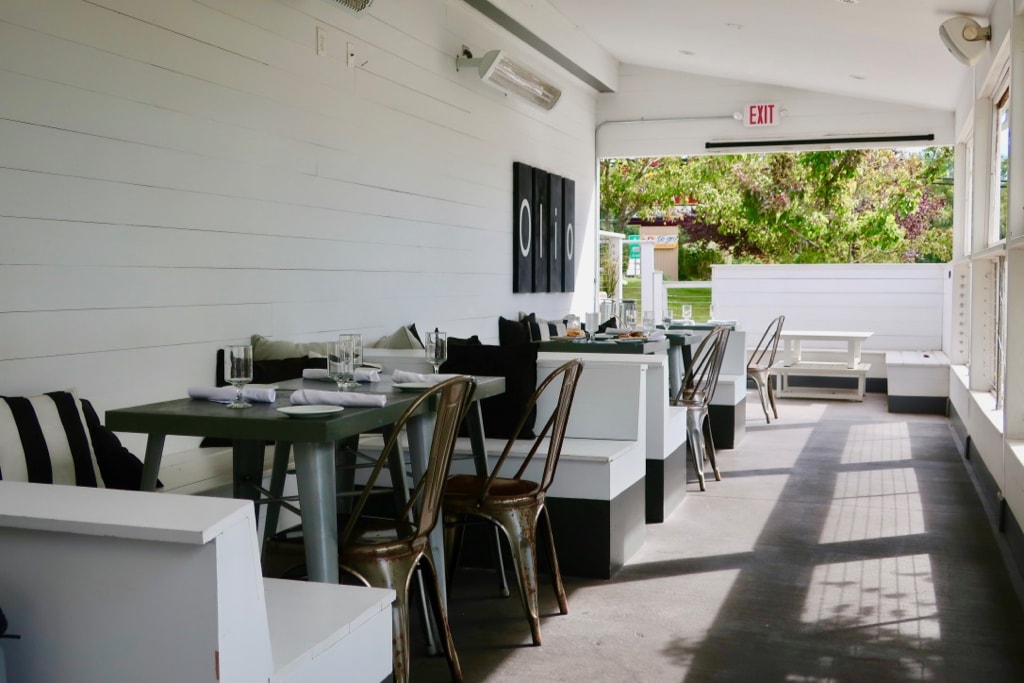 EAT: Olio, Groton
Cross the I-95 bridge, take the first exit (Route 1), and then another first exit – right into Olio's parking lot. This contemporary "New American" restaurant has been a hit since it opened, largely for its chic atmosphere and excellent food. I loved the fact that Chicken Milanese – breaded chicken cutlet heaped with arugula – is listed under "Salads." I felt oh so much healthier stuffing nearly a whole helping of deliciousness into my mouth. Not for nothing is that "salad" one of the most popular items on the menu.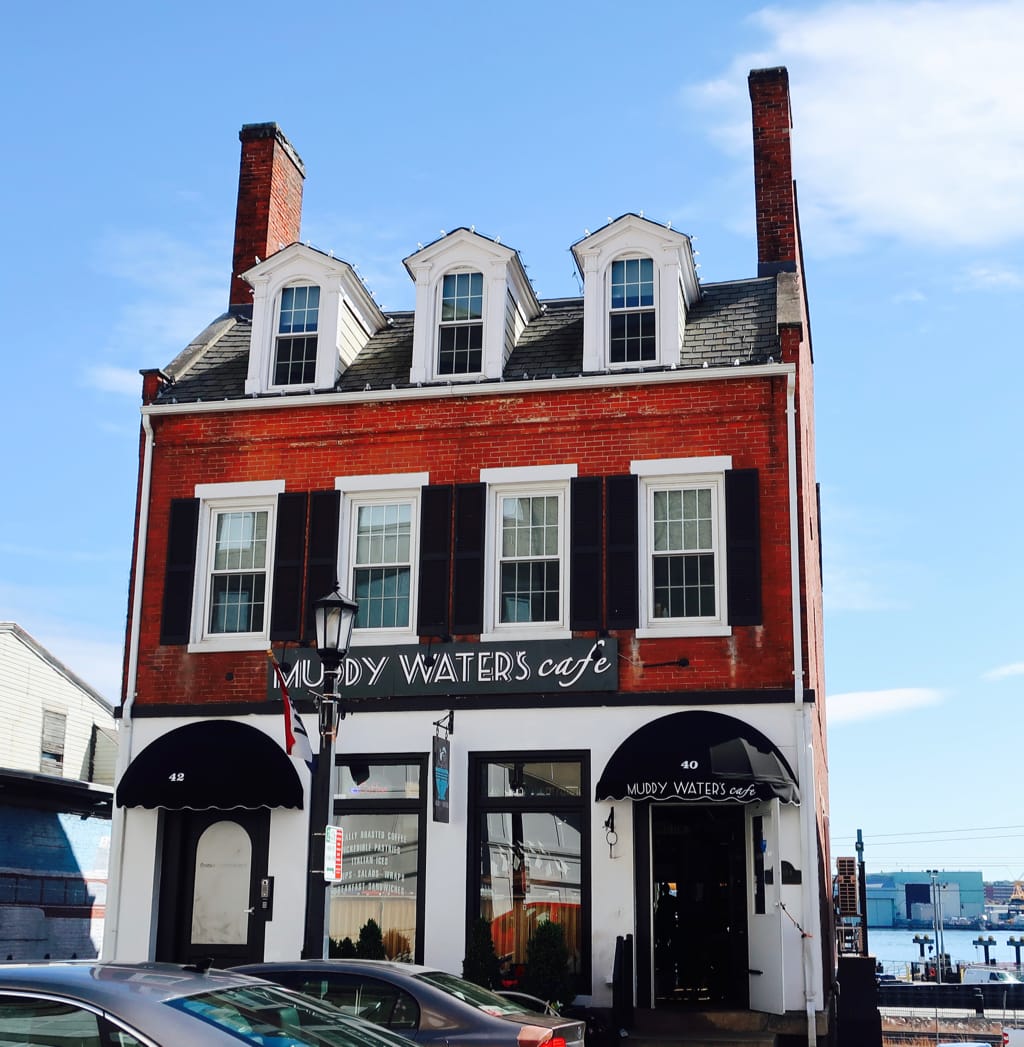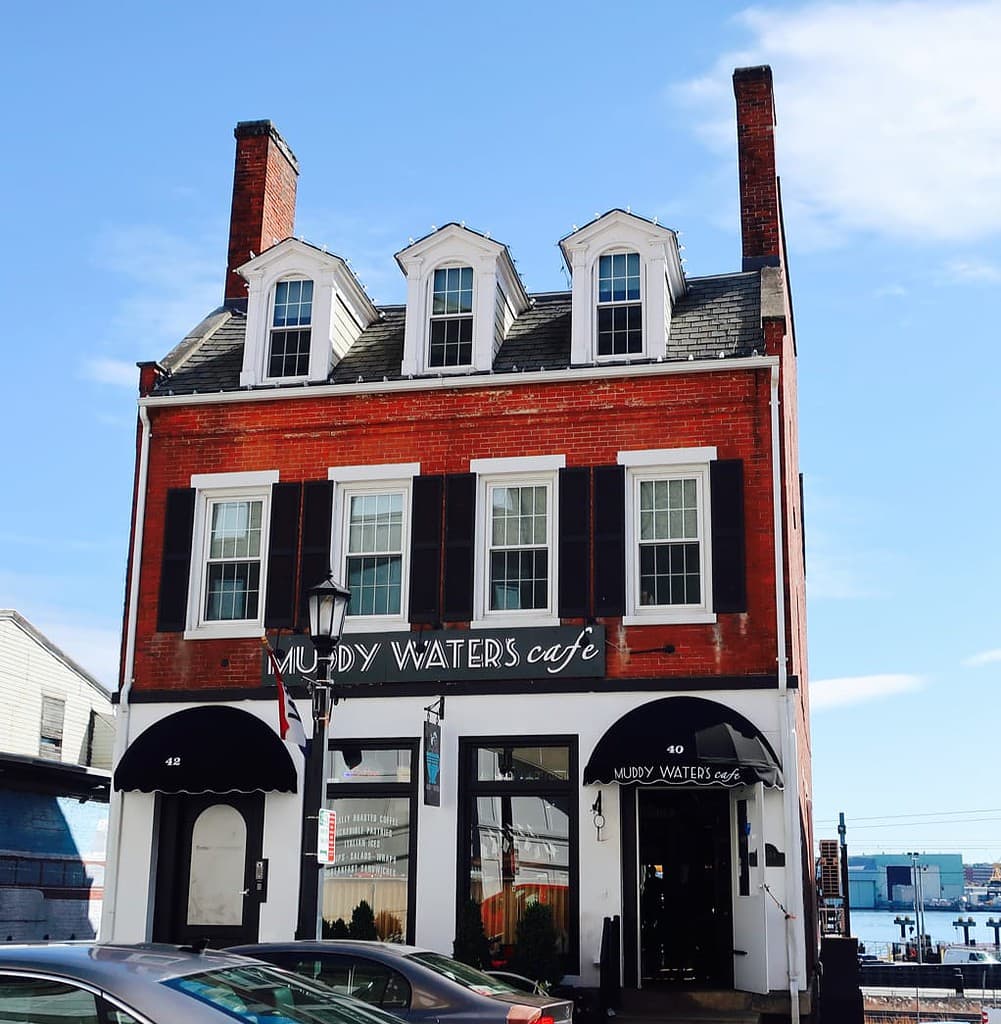 COFFEE/EAT: Muddy Waters Cafe, New London
Might well be a stage set for Friends, this coffee house/ lunch and dinner place is chock a block with smushy couches, chairs and cocktail tables.  Sit on the outside deck overlooking train tracks, city piers and Thames River. A popular hangout for Connecticut College kids and faculty.
A bit off the beaten track, it's got rough plank floors, a funky vibe, an eclectic menu (BBQ? Goat Cheese Tacos?). And according to some locals, WSCH has "the best coffee in Connecticut."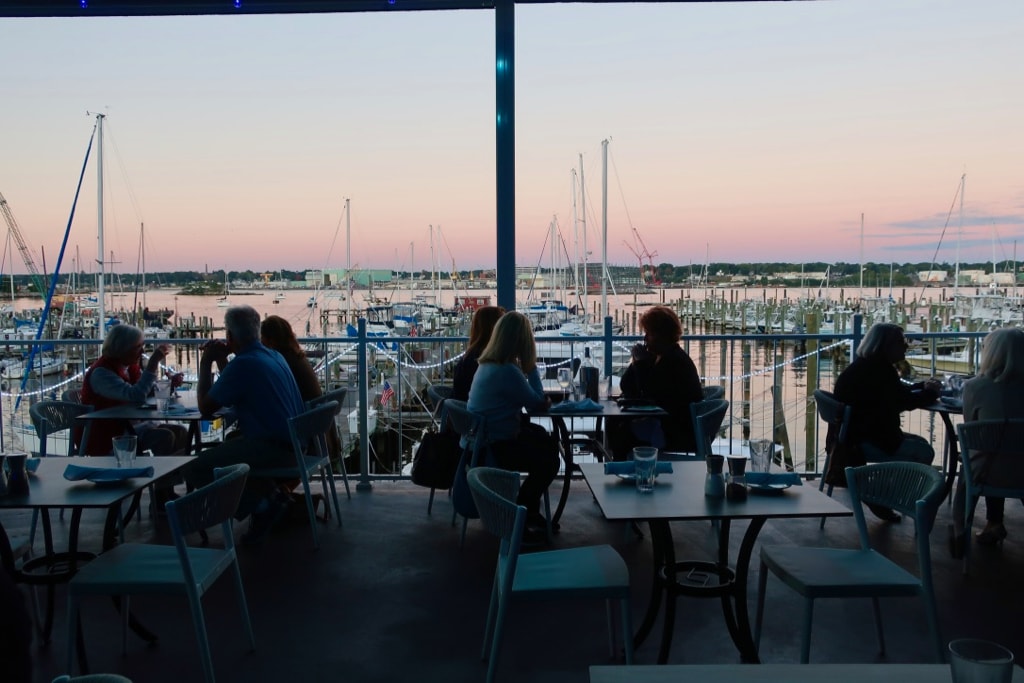 Have a drink and/or a meal with one of the best views in New London. A quick drive (or long walk) from the new Inn at Ocean Ave, On the Waterfront overlooks boats bobbing at marinas, the Thames River, and Groton on the far side.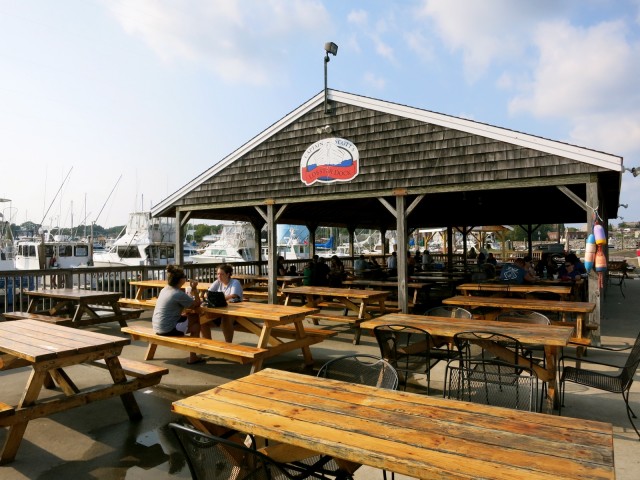 Capt'n Scott's is a New London institution – a picnic-table hotspot beloved by locals and tourists, too. Named after the man who built the Race Rock Lighthouse in 1871, members of the Scott family have owned this really tough to find place for the last two decades, and it still radiates the best of deep fryer New England.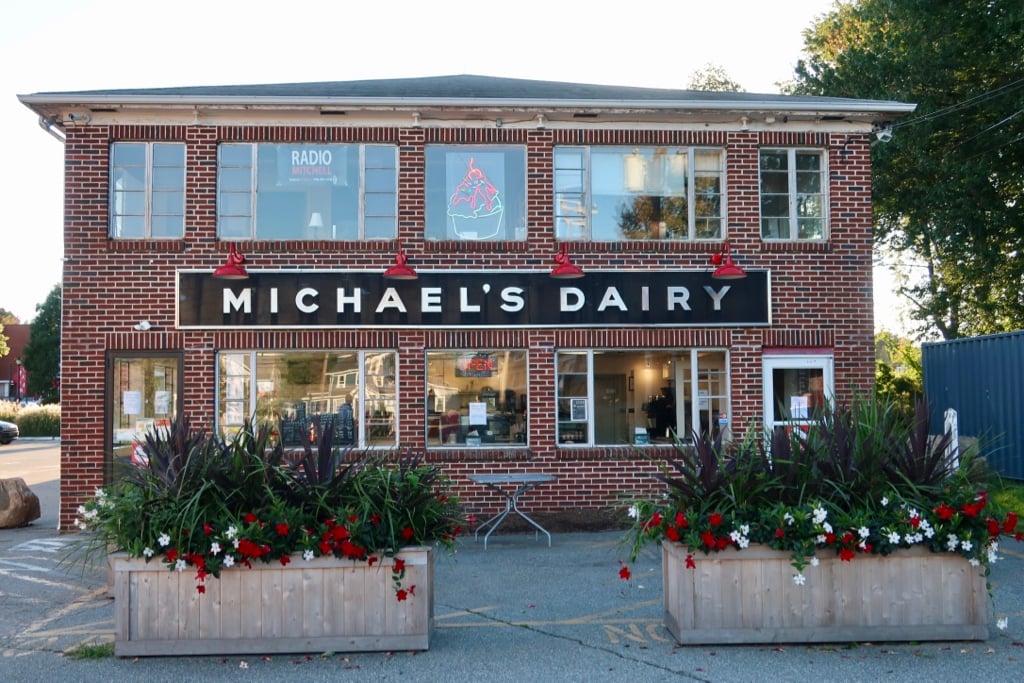 ICE CREAM: Michael's Dairy – on Mitchell College Campus
Oh My Gosh, get a "small" scoop of ultra creamy Graham Central Station! Graham Cracker ice-cream studded with chocolate-covered Kix cereal (or a facsimile of that brand). If that doesn't entice you, Michael's has a slew of other unusual blends.
Where to Stay in New London CT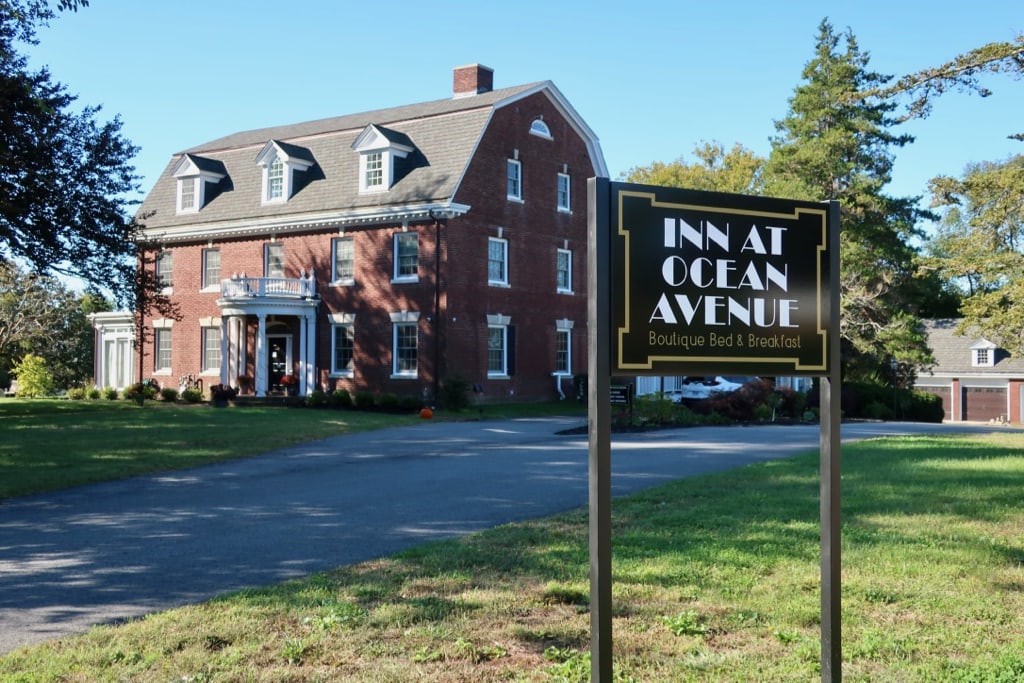 STAY: Inn at Ocean Avenue
The six room Inn at Ocean Ave, a stately brick mansion, stands in contrast to the other more modest homes on Ocean Avenue in New London's beach and marina district. On four sprawling acres that encompass a pool and undulating lawn, you're likely to see guests relaxing outside, reading, or sunbathing. It's that kind of place – where guests, sheltered from crowds, don't need to do anything but rest.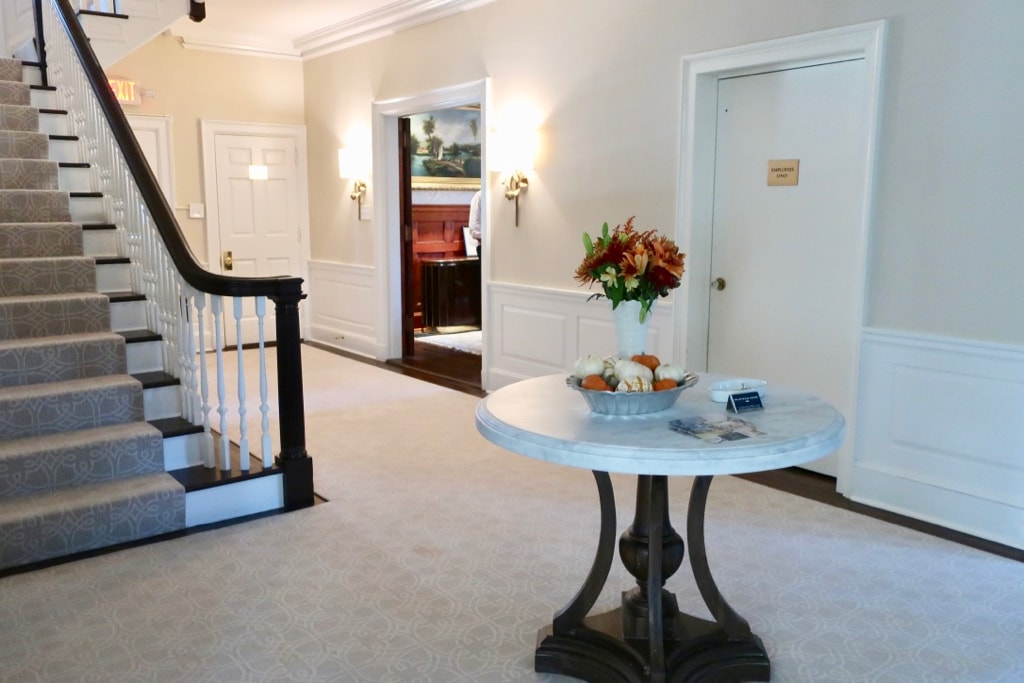 Back-story and First Impressions
As a travel writer covering the Connecticut Coast, I was waiting for someone to open up a boutique hotel or inn in New London. It's a town steeped in beauty and history, and worthy of lodgings other than corporate-ish hotels.
When New Yorkers, Allan and Sharon Goldfarb, discovered this house on a trip to Mystic, they were enthralled enough to buy it as a personal home in 2015, with visions of turning it into a romantic inn sometime down the road.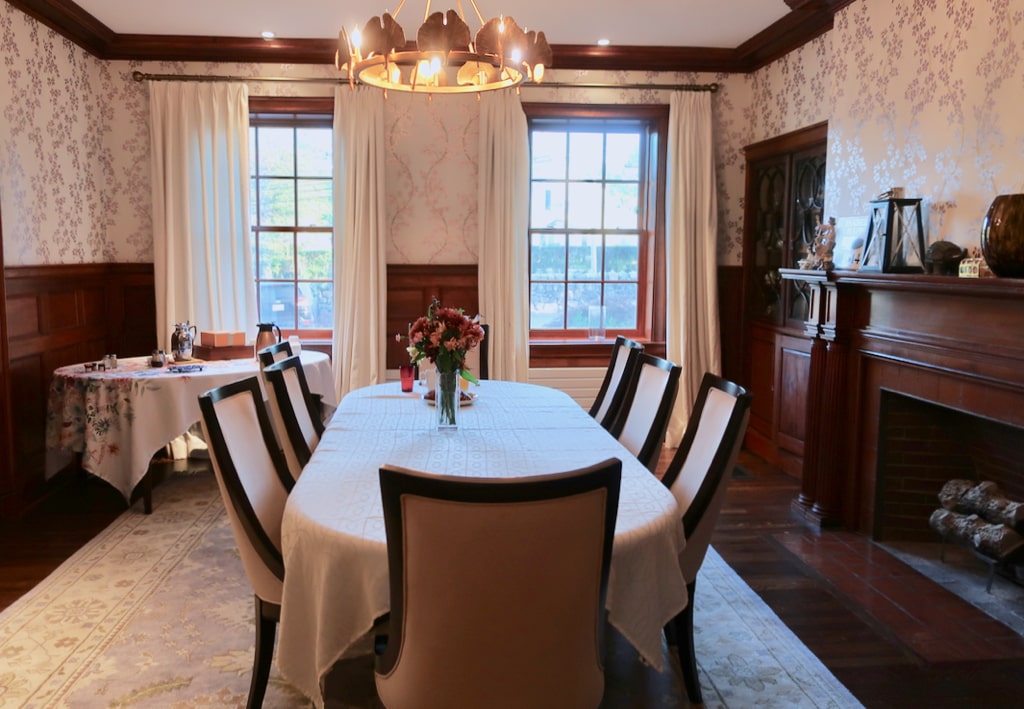 Though the exterior was in good shape, the interior needed plenty of work. For starters, the multi-room mansion only had one working bathroom. It took two full years to update plumbing and electric, and gut renovate each room.
Just a month after the Goldfarbs opened the Inn at Ocean Ave. to guests, Covid-19 forced them to close.
But, when Covid was on the wane, the owners were in for a surprise. No sooner had they turned on the virtual "open" sign than guests started booking. Many were heading to Mystic CT – a 20-minute drive away. Others were just looking for a place to work remotely for a change of scenery.
While photos of each room, might have initially drawn them in, it's the setting, immaculate spaces, and warmth of the Goldfarbs that earn the Inn high ratings on review sites. (Not to mention word of mouth).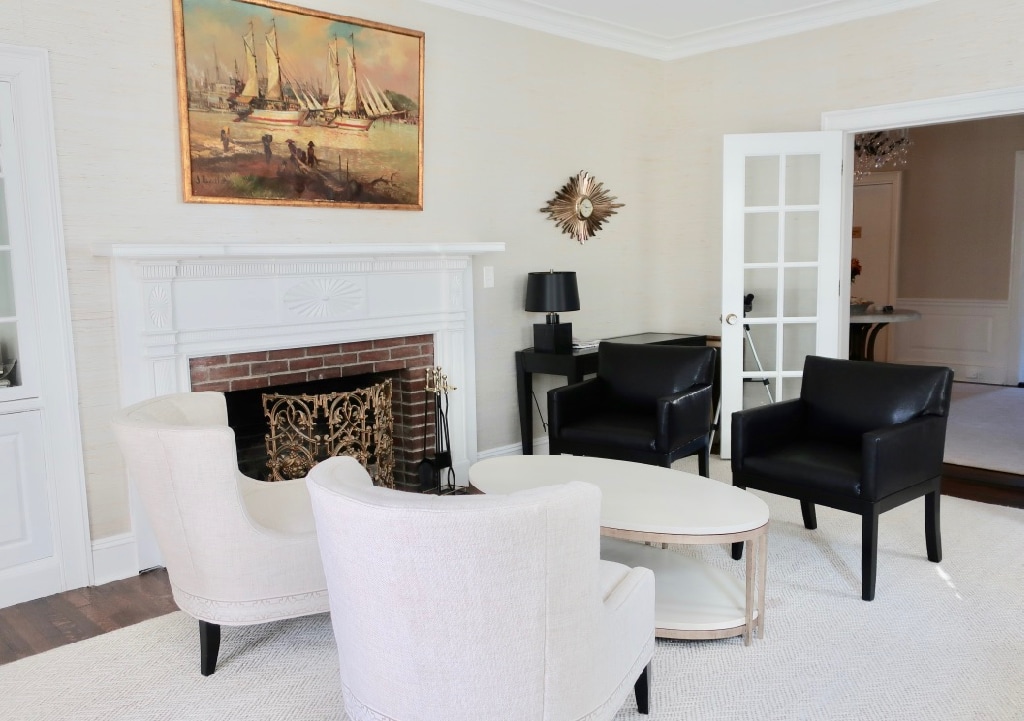 There are a couple of modern and tidy sitting rooms, a formal dining room where you'll meet other guests over breakfast, and an ADA-guest room, on the first floor.
Guests camp out in a small enclosed reading nook on a stair landing. And, of course, on that backyard lawn, where relaxed guests read in the afternoon sun.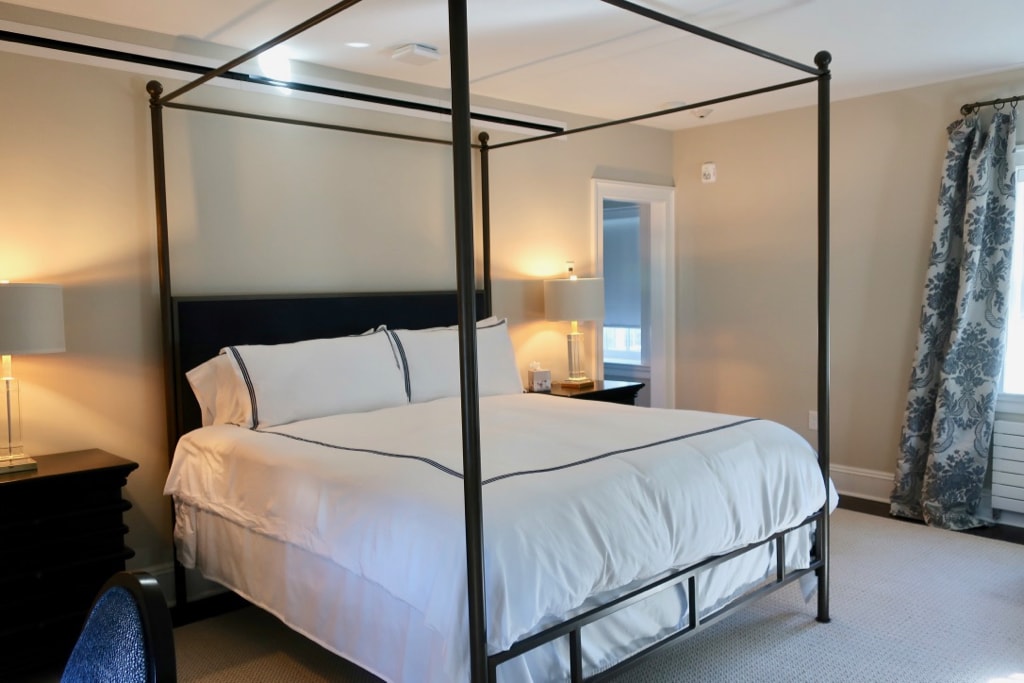 Rooms at Inn at Ocean Avenue
Original hardwood floors and woodwork in the dining room sparkle anew. The Goldfarbs added modern bathrooms, featuring Carrara marble and white subway tile rain showers, in each of six guest rooms.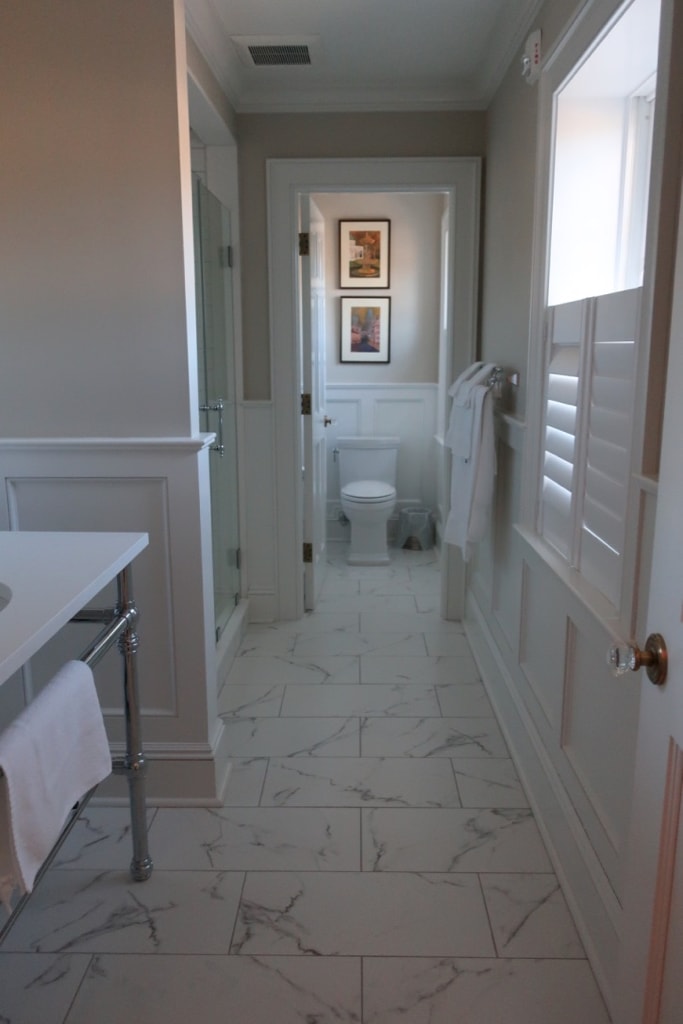 Stylistically, each room is a study in 20's glamour. That's 1920's, by the way – with mirrored furniture and subtle shades of white and off-white. Beds are so soft, snuggly, and dreamy, you might just sleep much longer than you expect to. Guests (including me) report an unheard of uninterrupted 8 or 9-hour slumber.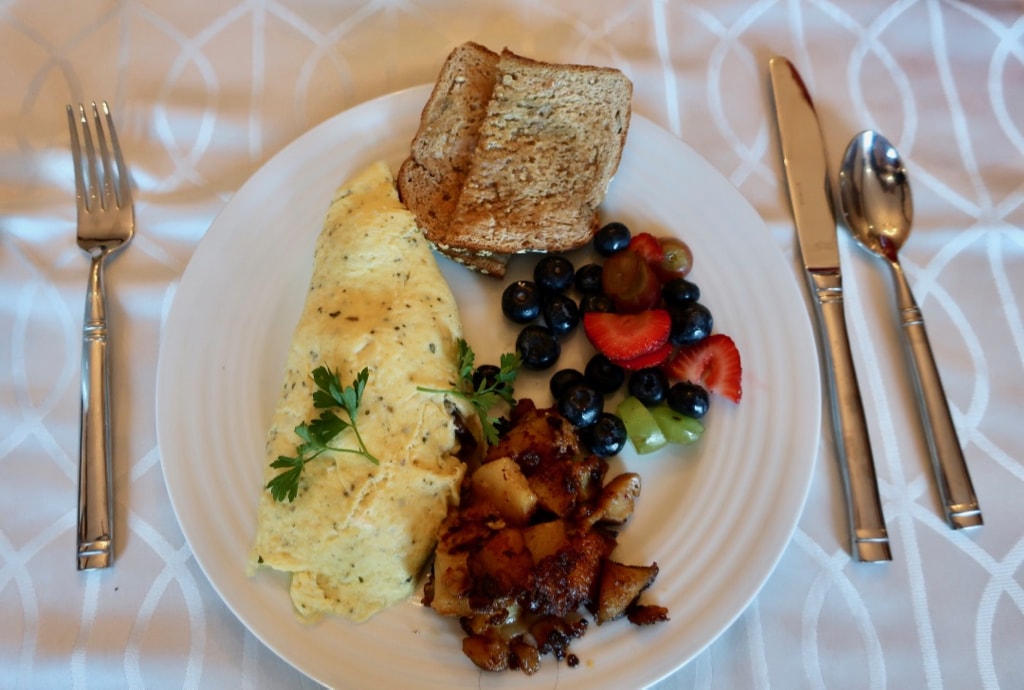 Breakfast at Inn at Ocean Avenue
Allan is the Omelet King, so let him know what you'd like him to mix in, and he's happy to oblige. His egg dishes are delish, but Allan's hash browns are no slouch. In fact, crisped with caramelized onions, you might want to ask for more. Rooms from $230-$260 per night. Includes parking, wifi, full hot breakfast, and all the rest and relaxation you need.
Find Inn on Ocean Ave on Getaway Mavens 15 Top Romantic Hideaways Northeast US 2022
Like this post? Put a pin on it!