The new boutique NH Collection Madison Ave, opened in May 2021, is just four short blocks from Grand Central Terminal in New York City. This is NH Collection's first property in the United States, and, as you can imagine, attracts a good number of both local and international travelers due to its modernist décor, inviting lobby bar, and tasteful, contemporary rooms.
Romantics from anywhere, especially, will appreciate some of NH Collection Hotel's more sensuous elements. (See what makes it perfect for passion below).
In addition to a review of NH Collection, we recommend a few fantastic New York City attractions within a few blocks of the hotel, including the little known Library Walk, Pershing Square, Hidden Grand Central, and the stunning Morgan Library. Be sure to scroll down all the way.
The NH Collection Mad Ave made it onto our 20 Best Romantic Hotels Northeast USA 2021 list.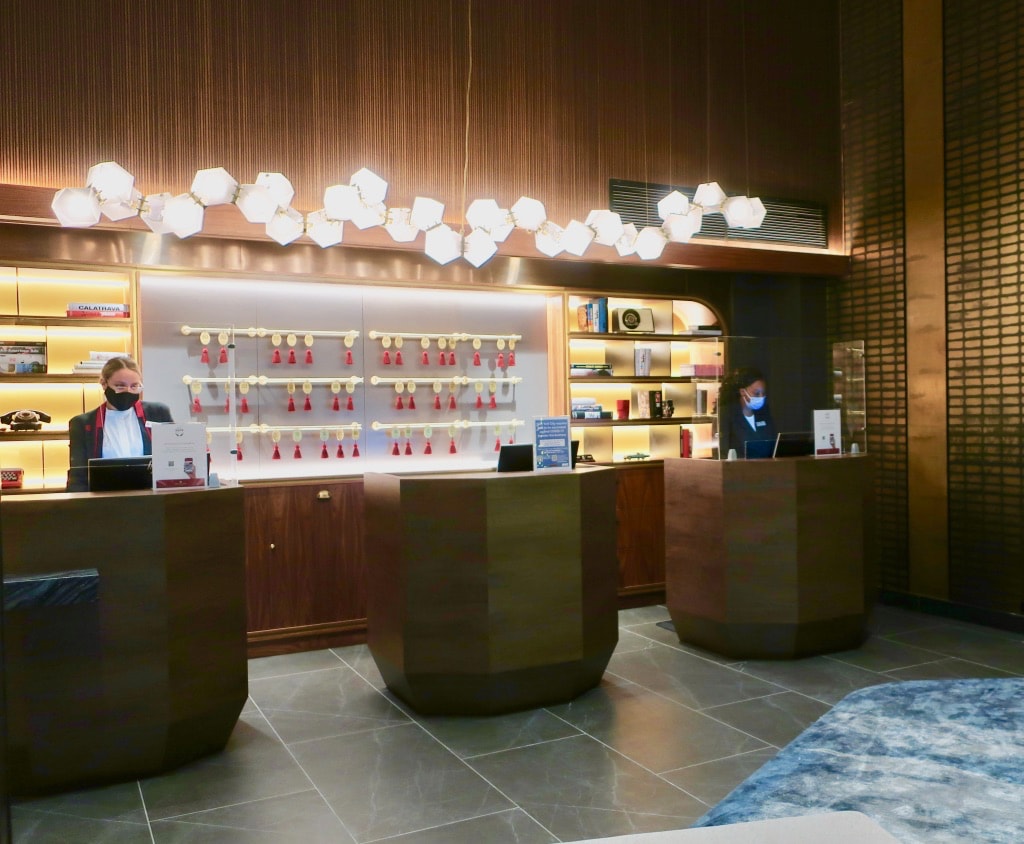 First Impressions of the NH Collection Madison Ave
As with many NYC hotels, there's not much "curb appeal" to this new boutique. In fact, its mundane exterior might baffle new guests. Enter, however, and the mid-century-modern style lobby and bar, in russet, navy, and gray hues, is a warm and welcome sight.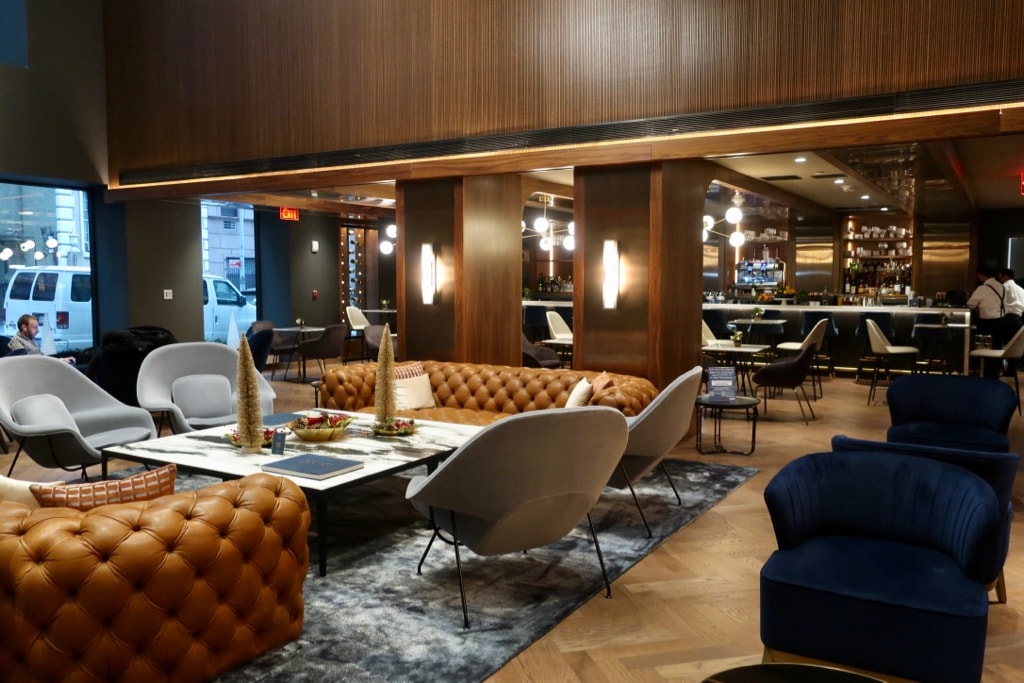 Furnishings are so of the 50's era, it's no surprise that designers were going for a Madison Avenue's "Golden Age of Advertising" aesthetic. You can just imagine Don Draper coming in for a drink at the bar here.
When I checked in, a whole KLM flight crew – pilots to attendants – gathered around tables and couches, with their luggage in tow – either coming or going. "A crew is here every day," said a bellman. Apparently, NH Collection is KLM's preferred hotel in New York.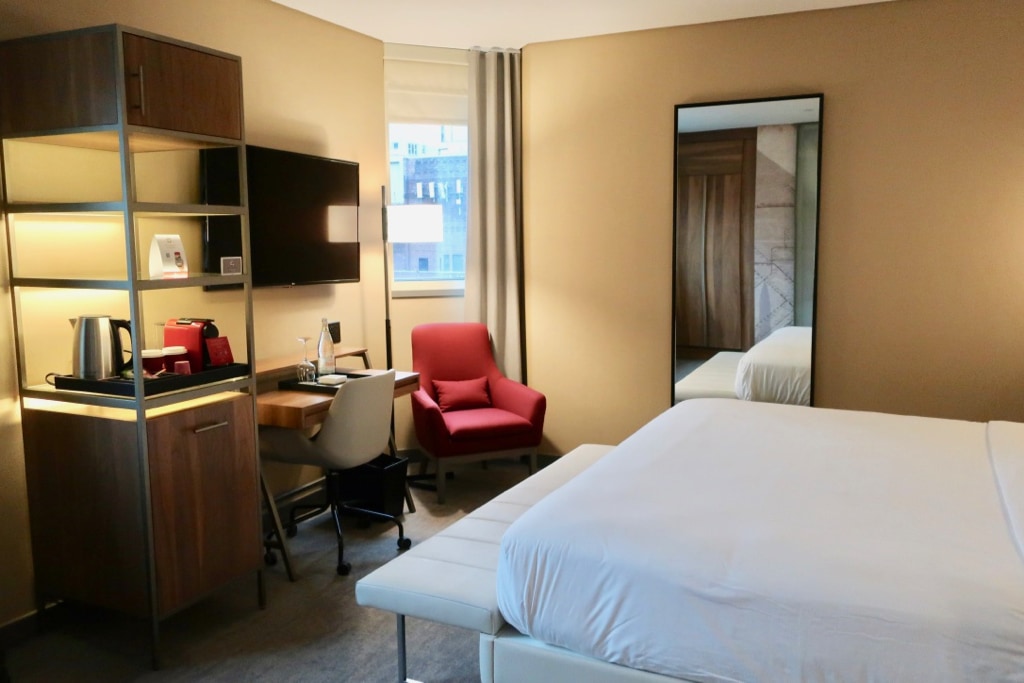 Rooms at NH Collection Madison Ave
Guest rooms are sophisticated, in neutral, natural colors (wood clad closet, shelving, and desk, grayscale carpeting, NYC subway grid wallpaper). Sunlight streams through windows overlooking the commercial canyons of NYC. Views are particularly striking – and romantic – at night, when Manhattan lights up.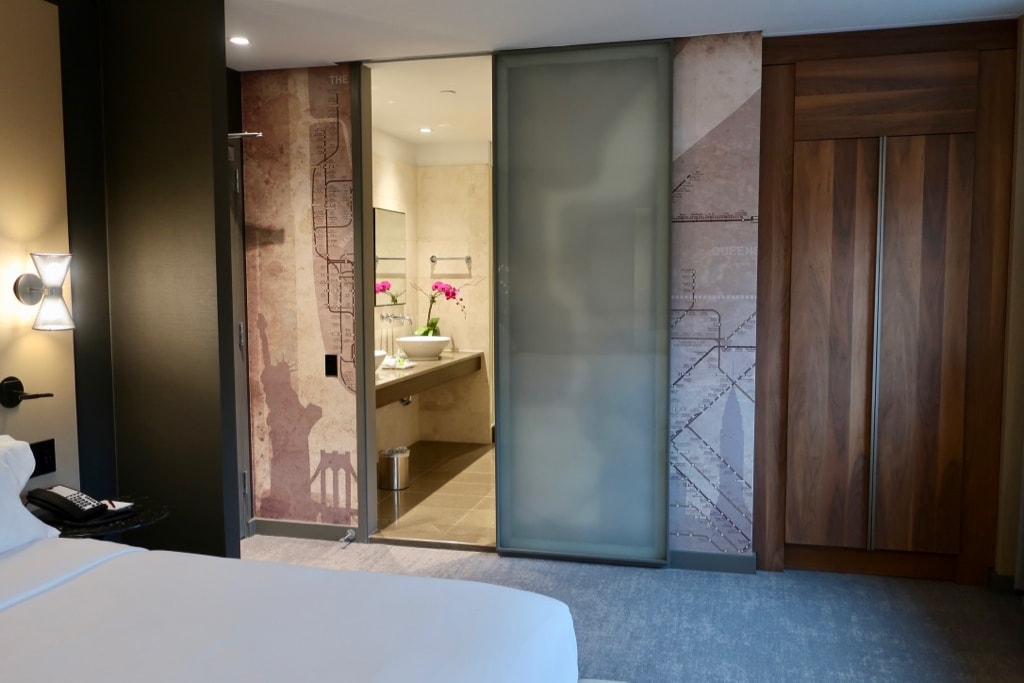 Bathrooms, closed off from the bedrooms via a sliding opaque glass door, are large and pristine.
And, it's amazing how one feature can change the mood of a room. In this case, a real, live orchid brings a bit of sexy to luxurious double sinks, and huge glass rain showers, in polished concrete and Travertine tiles.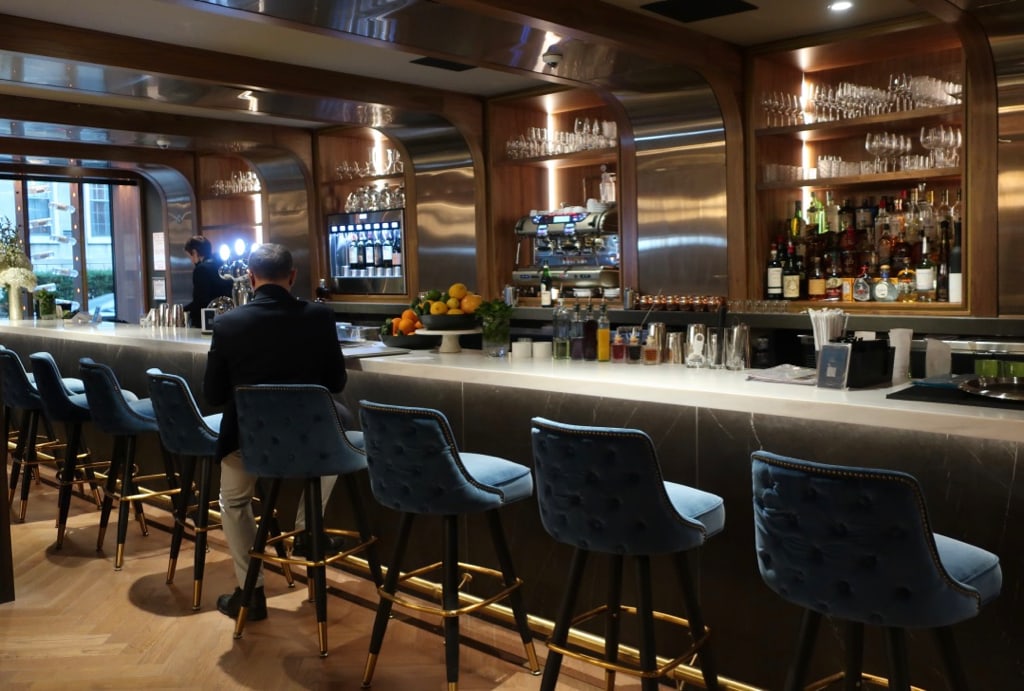 Bar and Breakfast
While there is no restaurant in-house, guests are invited to grab complimentary coffee or espresso and pastries every morning.
NH Collection's lobby bar is far more impressive than those of most eateries in the area. That's mostly to do with the bartender, who can whip up a bright new cocktail at the drop of a hat.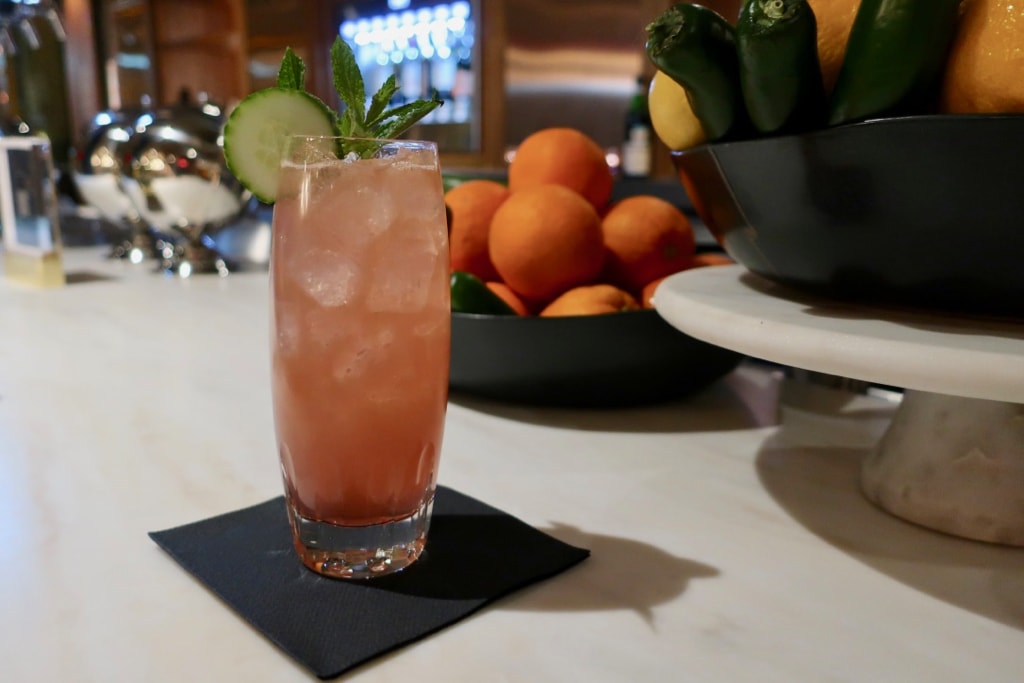 My Brooklyn resident son, Jake, accompanied me for a post-dinner drink. Jake had concocted a beverage for his roommates with ingredients that included fresh mint, cucumber, and muddled fresh raspberries (the latter a tall order on the cusp of Winter). Did the bartender have these items, and could he replicate Jake's Gin Cocktail?
Sure! He had stocked everything (including the fresh raspberries!), and had every conceivable tool and component to throw together whatever idea guests came up with. And, not only that; but he does it all with a smile.
Five Things That Make the NH Collection Madison Ave. Cooly Romantic
The pop of deep pink color, from a real live orchid, in each bathroom.
2. A friendly, masterful bartender who can whip up any drink your heart desires.
3. Curvaceous "womb chairs," and other mid-century modern furnishings in the lobby.
4. Custom toiletries, including a small pot of Hand Cream.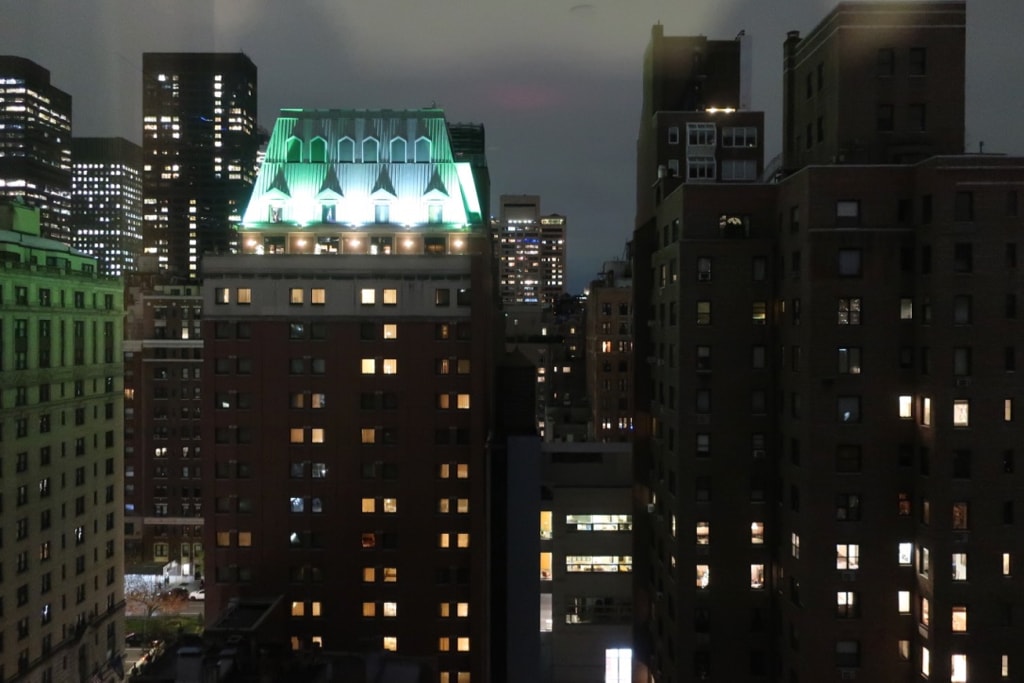 5. NYC scenes right outside your window.
Just the Facts
This being New York City, rates vary widely. The same standard "Deluxe" room that goes for over $500 in December can be under $150 in January (the best month to get deals in Manhattan). Check website for best rates.
Things to Do Near the NH Collection Madison Ave.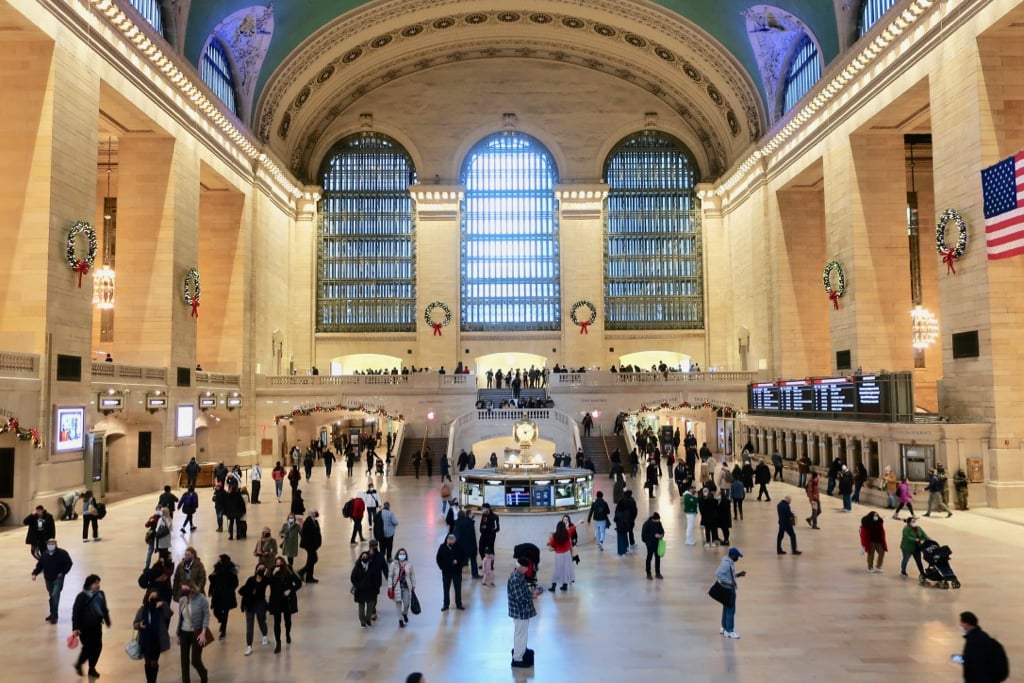 Chances are, if you're "coming in" from the suburbs, you'll end up at one of the grandest train stations in the US. And, chances are, if you are from the 'burbs, you've been here hundreds, if not thousands of times.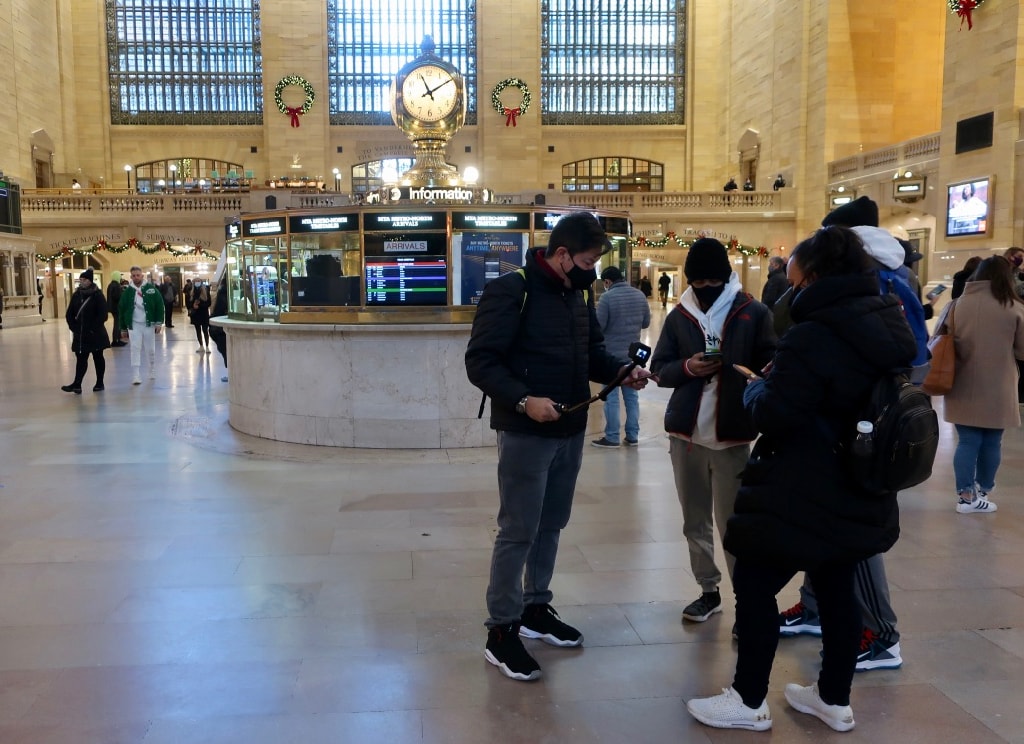 For those folks (and I include myself), it's easy to take this place for granted, or feel that you know all about it because you're savvy enough to tell friends to meet up "at the Clock" aka the central Information Booth.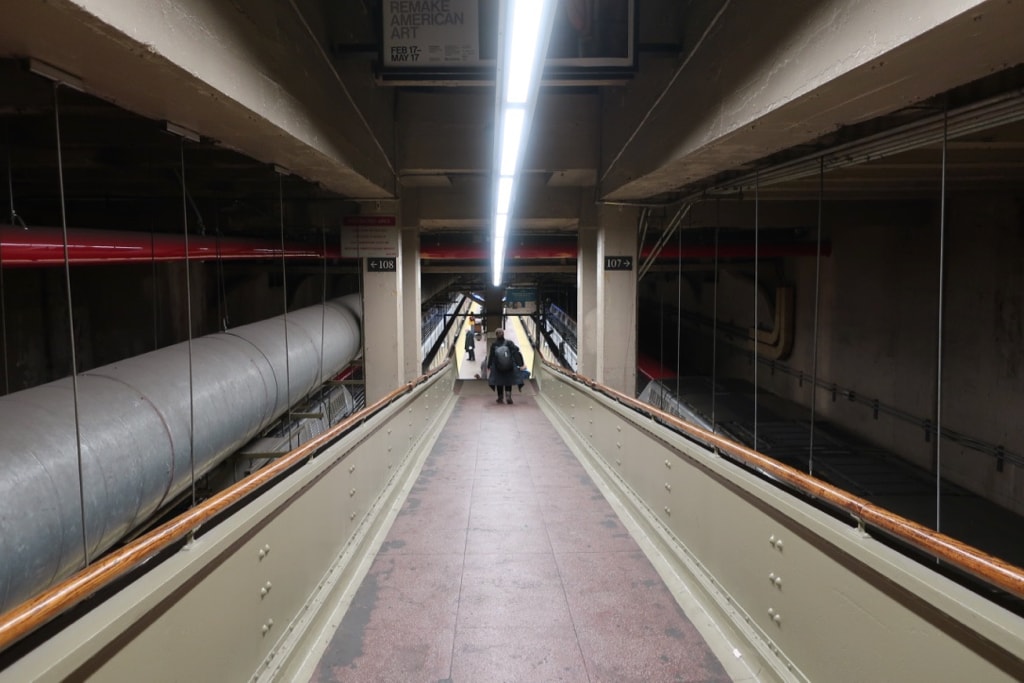 But Grand Central Terminal (GCT) holds many hidden secrets – and far be it for me to know all about them. For that, I direct you to this tour from Untapped New York.
Secret Grand Central Tidbits
Just to give you a taste, however, here are some tidbits: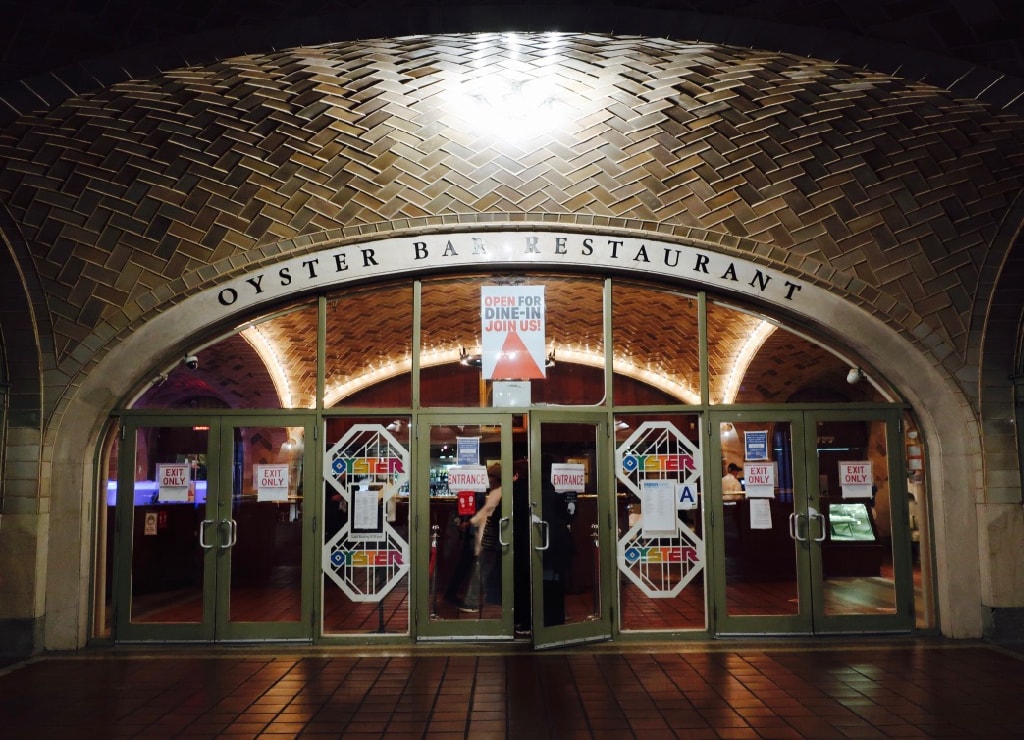 Oyster Bar/Whisper Gallery
The Oyster Bar opened in early 1913, the same year that Grand Central Terminal began operations. The vaulted ceiling outside its doors is known as the Whisper Gallery: speak quietly into one corner, and someone facing the wall diagonally across can hear you.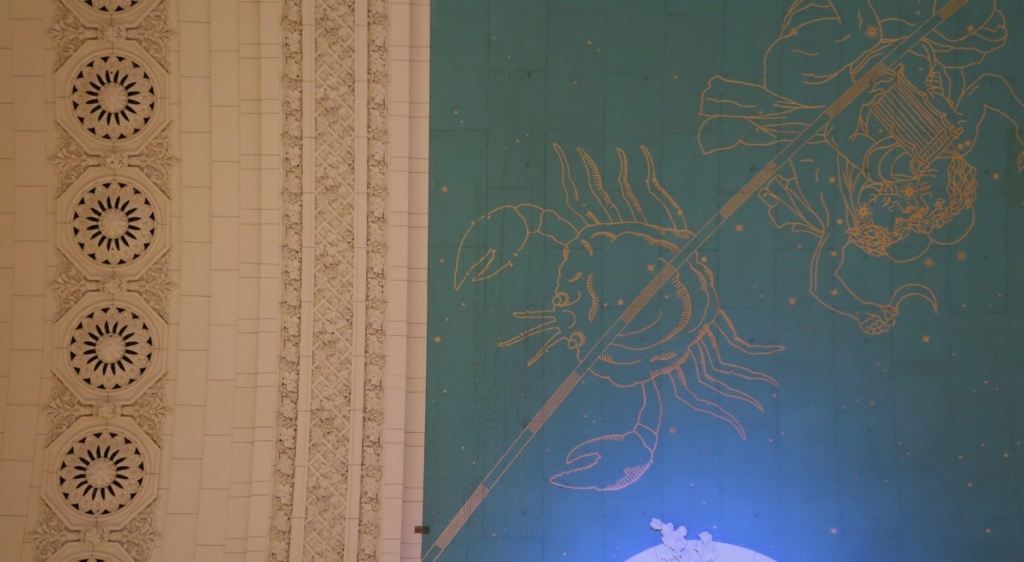 Celestial Ceiling Dirt
In 1998, the celestial ceiling was cleaned and restored to its 1944 appearance (which in turn had been restored to its 1913 form). Get an idea of how dark and dirty it was in 1997 by looking below Cancer the Crab – you'll see one small grimy rectangle left there for perspective.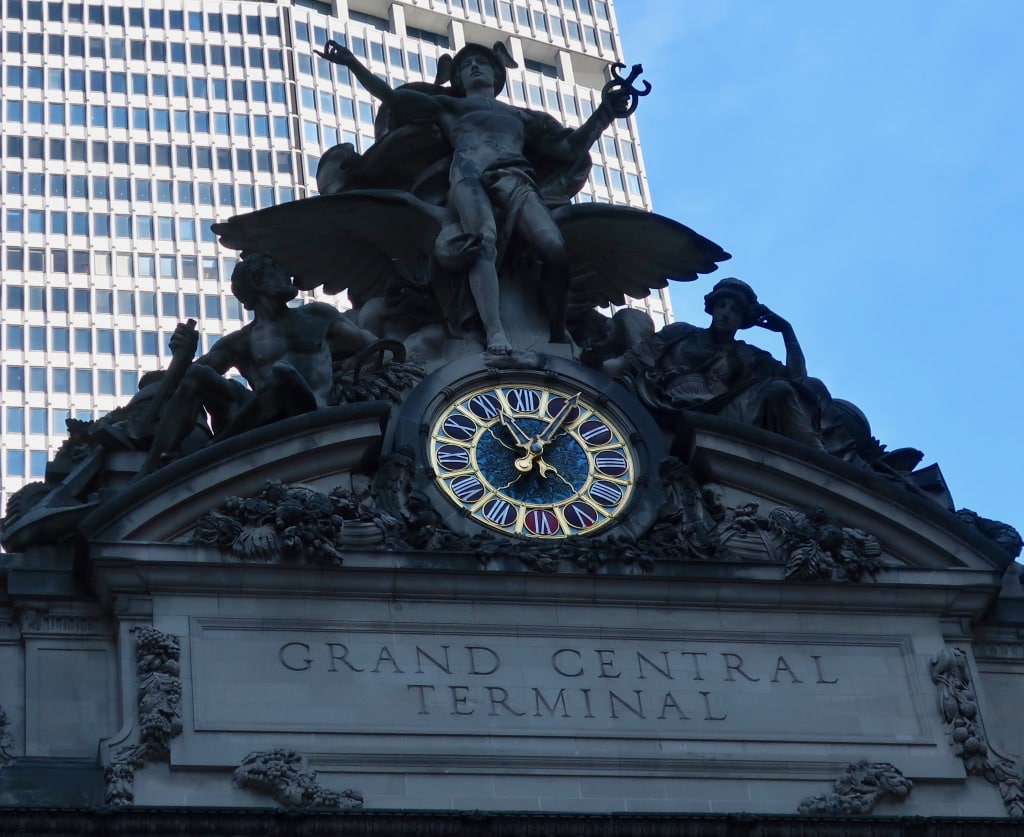 Largest Tiffany Clock in the World
The timepiece above the 42nd and Park, Grand Central entrance is the largest Tiffany Clock in the world.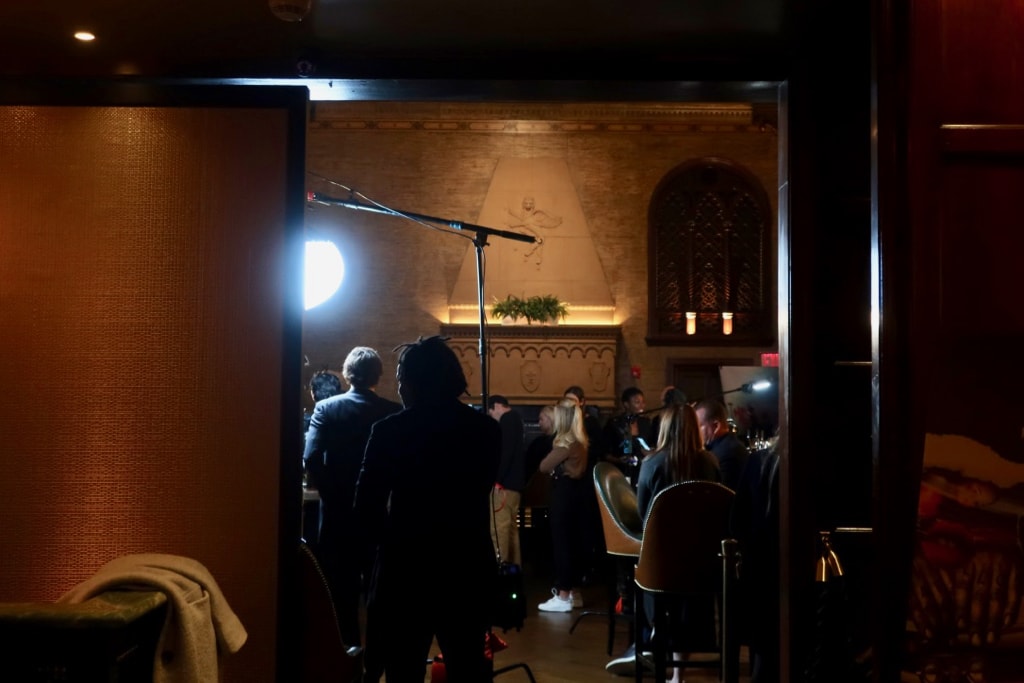 Hidden Bar
The Campbell Apartment, built as an office for bank tycoon, John W. Campbell, is now a "hidden" bar and lounge on the Vanderbilt Ave corner of GCT. It's also, as I quickly discovered, a popular film shoot location.
If you're walking to the NH Collection from Grand Central, exit on 42nd St and cross over to Park Ave – right there known as Pershing Square. (If you're hungry, the Pershing Square Café – originally built under the viaduct in 1939 as a Visitor's Center – features a decent breakfast). It's a pedestrian walkway for one block, and filled with sculptures and outdoor seating.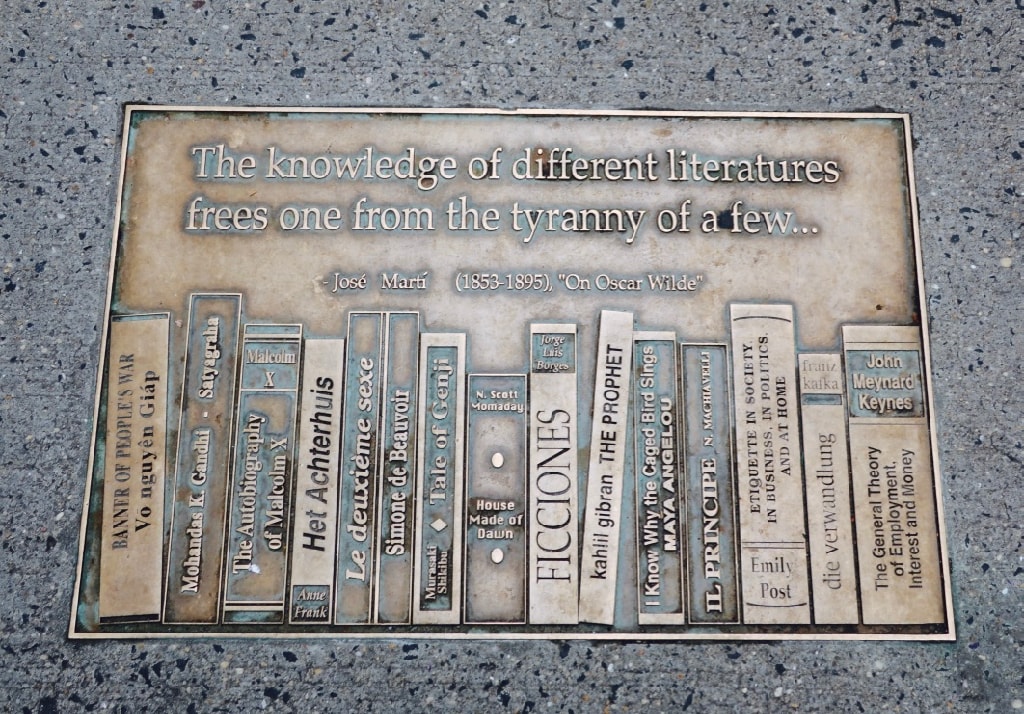 In a city that invites you at every turn to "look up," here's one good reason to look down: Library Way. I'd imagine most people don't even know this treasure exists – within a stones throw of Grand Central Terminal.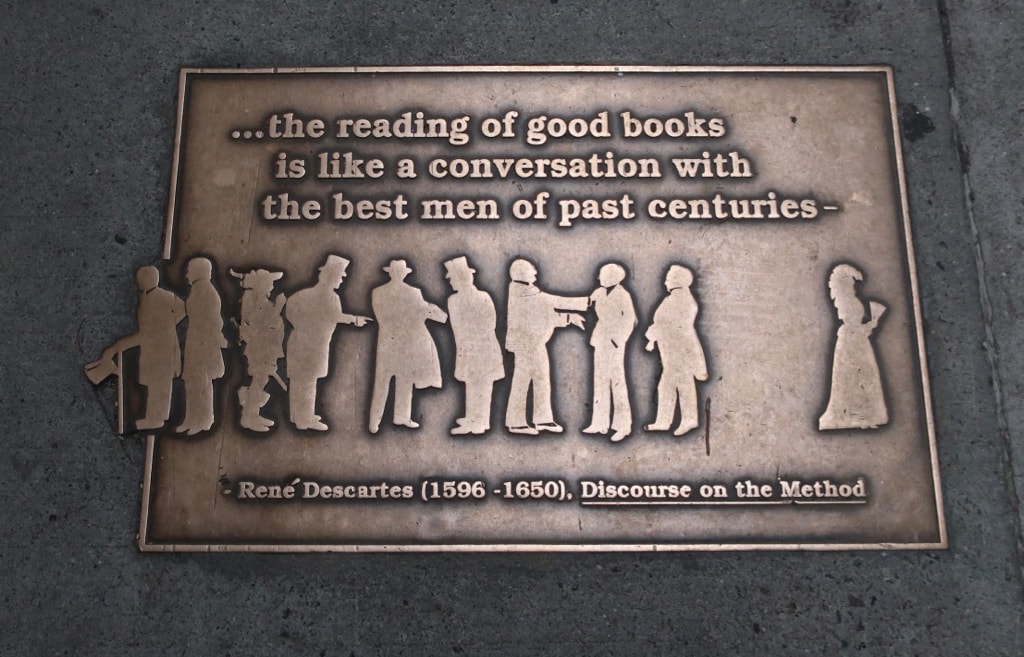 From the NY Public Library on 5th Ave and 41st St. – walk down toward Park Ave on 41st to see, beneath your feet (on both sides of the street), 94 bronze plaques depicting quotes and sculptural reliefs of authors and artists from ancient Rome to modern times. Each one is a work of art by urban sculptural artist Gregg LeFevre, and worthy of close examination.
(One block from NH Collection). Most tourists don't know about this terrific museum and the exquisitely preserved library. In 1906, John Pierpont Morgan – founder of J.P. Morgan – commissioned Charles McKim of McKim, Meade and White to design this magnificent building. The 2006 expansion by Renzo Piano – a stunning glass box atrium – connects a lovely restaurant and other galleries to the incredible 4-room Library, restored in 2010 to its original splendor.
If you do nothing else here, make a beeline to the East Room, North Room, West Room and Rotunda of Morgan's Library. You'll find yourself in a kind of Harry Potter meets Renaissance-European world of rare books, tapestries, mosaics, handwritten manuscripts, and historic letters, with a good dollop of wonder thrown in.
Though these treasures rotate on view, you may see Robert Louis Stevenson's notebook. It's scribbled with the first draft of what he originally called a "Fine Bogey Tale," and became The Strange Case of Dr. Jekyll and Mr. Hyde.
After Morgan's death in 1913, Henry Clay Frick purchased much of JP's vast art collection. These works formed the basis for the Frick Collection, another small but worthy NYC Museum. But plenty is left, and a visit to NYC would not be complete without a visit to the Morgan Library and Museum. Open Tuesday through Thursday: 10:30 a.m. to 5 p.m., Friday: 10:30 a.m. to 9 p.m. Saturday: 10 a.m. to 6 p.m., Sunday: 11 a.m. to 6 p.m. $20 adults, $13 kids.
Want more of New York City just a short stroll away? Check out the links below for our favorite haunts.
Central Park South: The New York City of the Movies
Madison Avenue Business District: A More Intimate Designer Shopping Experience Off 5th
Times Square NY For Non-Touristy Tourists
15 Top TV Shows and Movies Filmed In NYC
See The Real Stephen and Icons of NY in Midtown Manhattan
Chelsea NYC: FIT, Flowers, Floating Gardens, Figures, and the Cool Cambria Hotel