WHY GO: It's strange to think that there are relatively inexpensive things to do in Greenwich Connecticut, a town on the nation's famed "Gold Coast."
This swanky Connecticut town, a 50-minute train ride on Metro-North from Grand Central Station in New York City, is known for its hedge fund billionaires, Captains of Industry, and Hollywood types. As such it does not broadcast its considerable tourist assets, many of which, ironically, are wallet-friendly or free.
This Maven grew up in Greenwich CT and has seen it change over the years. The town was once a bastion of understated wealth, absent the bling. People who dressed to the nines were an anomaly. It's quite different now.
In the 1970's, the most popular High-Schooler hangouts on Greenwich Avenue, Rodeo Dr. East, were Woolworth's (best hotdogs at the lunch counter) and the Army-Navy Store. Now, brands like Valentino, Jimmy Choo, Pucci, and Tom Ford fly out the doors of boutiques and department stores.
The Bruce Museum, once a single (albeit, large) stone mansion that housed dozens of birds nests among several natural history exhibits, is now "The Bruce:" a much expanded edifice, showcasing works by the world's most famous impressionists, along with astonishing, glittery rock and mineral formations, rivaling those of larger institutions in the nation's cities.
But I'm here to tell you that you can still visit Greenwich without breaking the bank (providing you don't buy those Jimmy Choo's!). And, although some beaches and ferries (like the one to Great Captain's Island) might be open to Greenwich residents only, there are times when visitors can take advantage of this tony town's treasures.
Follow along below.
Making this a romantic escape? Discover more Romantic Getaways in Connecticut here.
For a more ethnic-eats-meets-rock-n-roll getaway, inches from this one (but in another State), dig into this post on Port Chester – Rye NY. It borders Greenwich and could not be more different.
Things To Do In Greenwich CT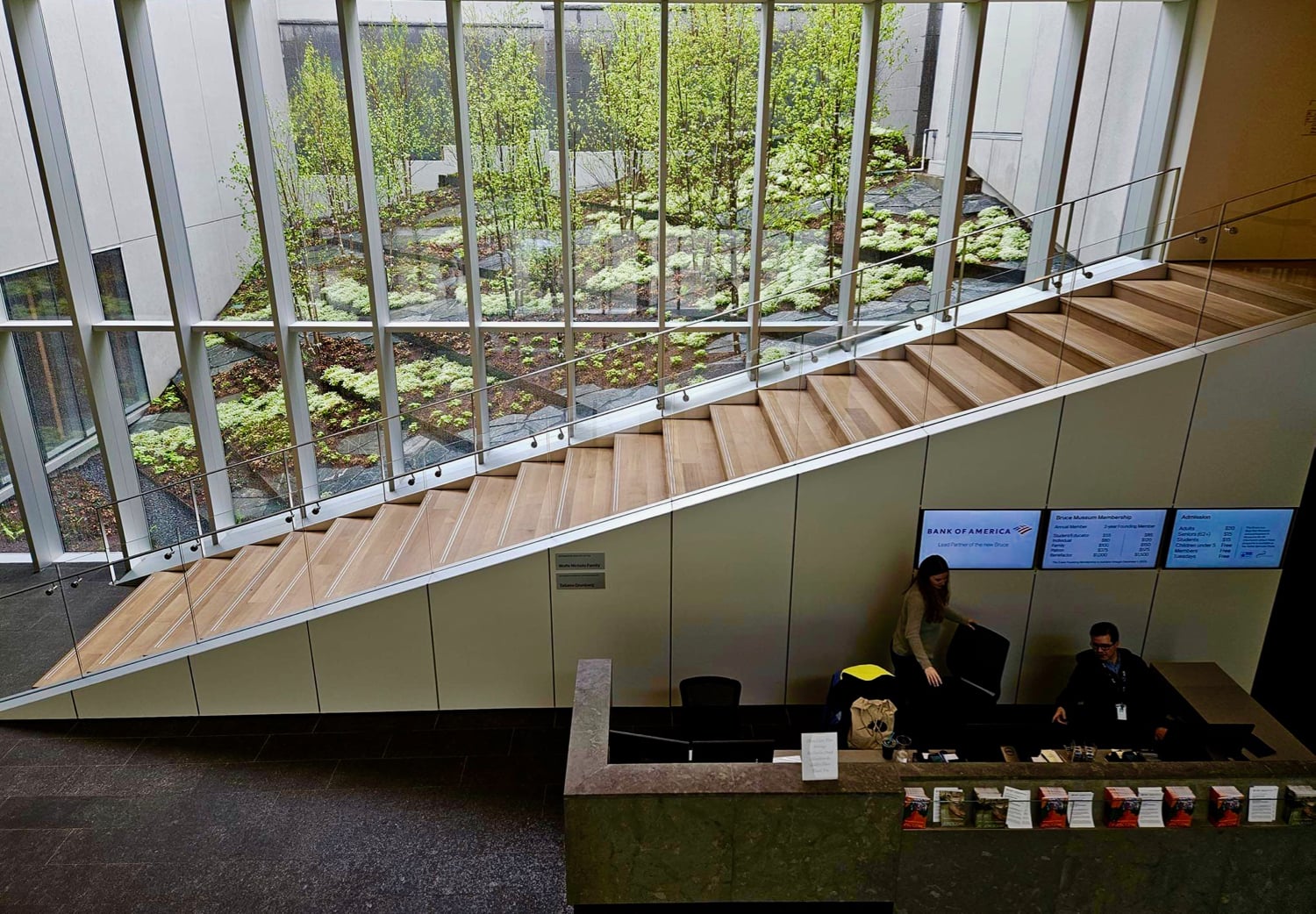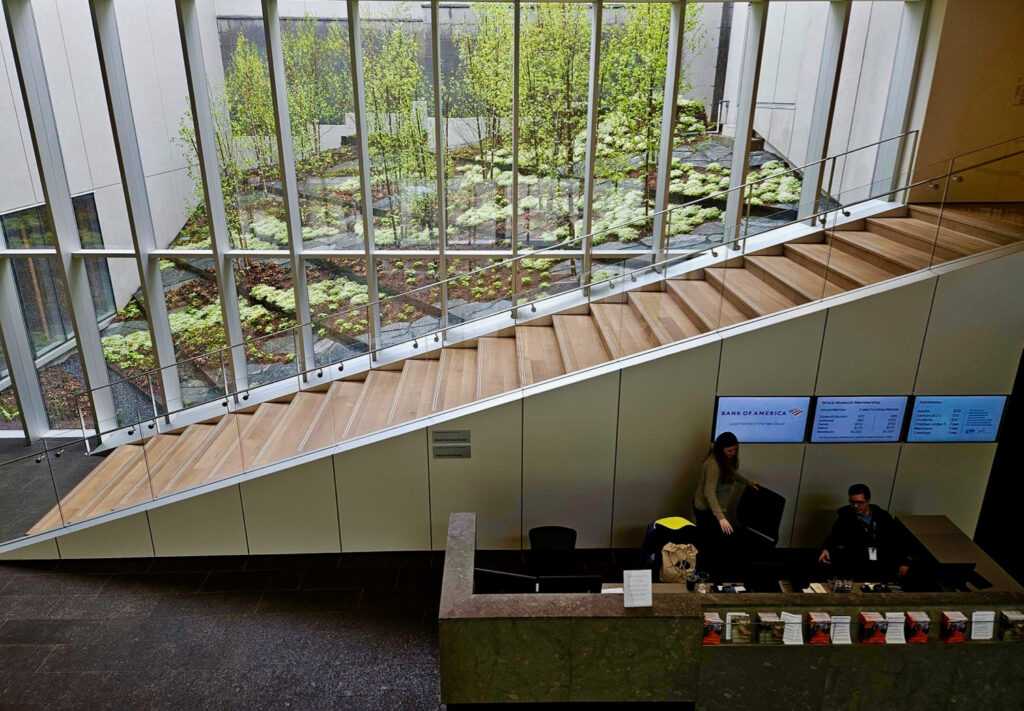 VISIT: The Bruce
If you haven't been to the Bruce Museum since 2022, you're in for a surprise. After a $60 million expansion that almost doubled the last expansion, it is a world class institution that combines the best of both Art and Natural History collections.
I grew up spending happy rainy days at the old "Bruce" – peering at snakes in cages, colorful eggs in old nests, roaming through the dark black-light Space exhibit. My, my, how it's changed from the original 1857 stone mansion, deeded to the Town of Greenwich by Robert Moffat Bruce in 1908.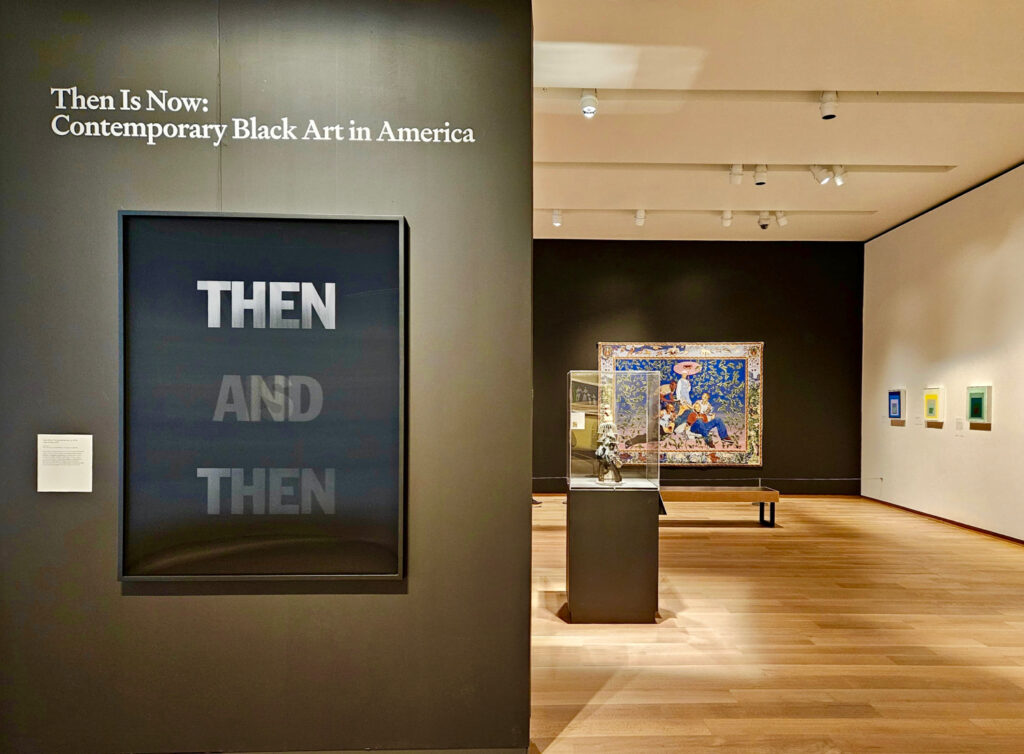 Now, it holds works from members of the local Cos Cob Art Colony – like Childe Hassam, and other famed impressionist and abstract artists. There's a Gaugin, Wyeth, Louise Nevelson, plus emerging artists introduced in innovative exhibits (like the 2023 Contemporary Black Art In America).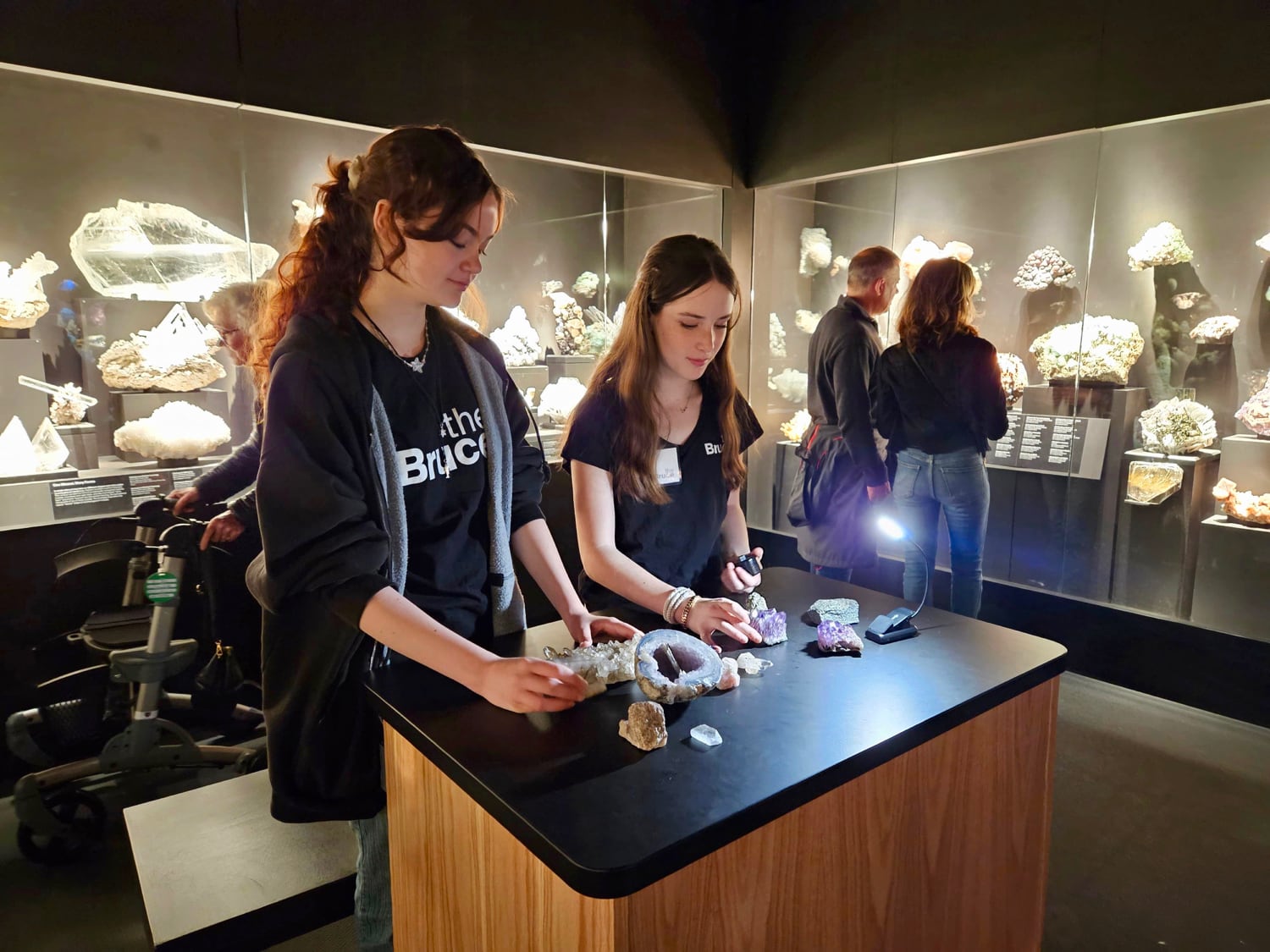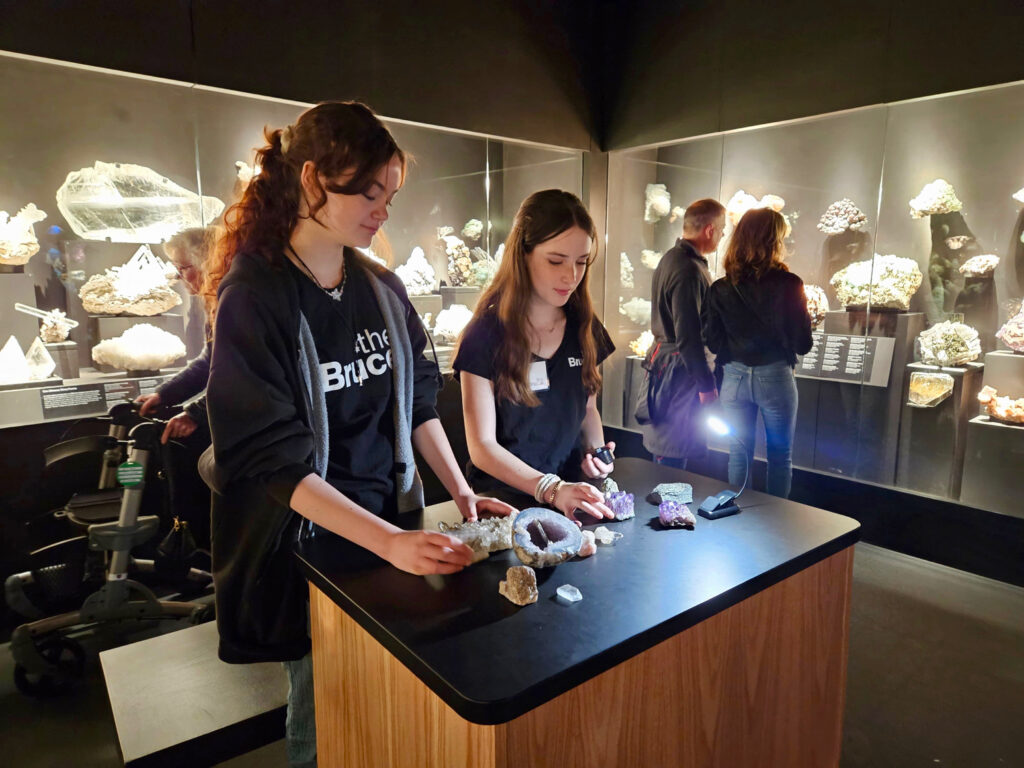 Yes, the art collection is marvelous, and sometimes provocative. But the real "gems" can be found in the Robert R. Wiener Mineral Gallery: a kaleidoscope of rocks and specimens to knock your socks off.
I've been to major Natural History Museums all over the world and haven't ever seen anything as phenomenal. Even better, the museum enlists local High School students as docents, who are well informed about these impressive geological features.
Although many exhibits are temporary, the Bruce's Permanent Science Galleries (7 in all), features landscape/animal dioramas, dinosaurs, and all the things you'd expect in a well-curated Natural History Museum. The beauty of The Bruce is that you can have your STEM, and The Arts, too.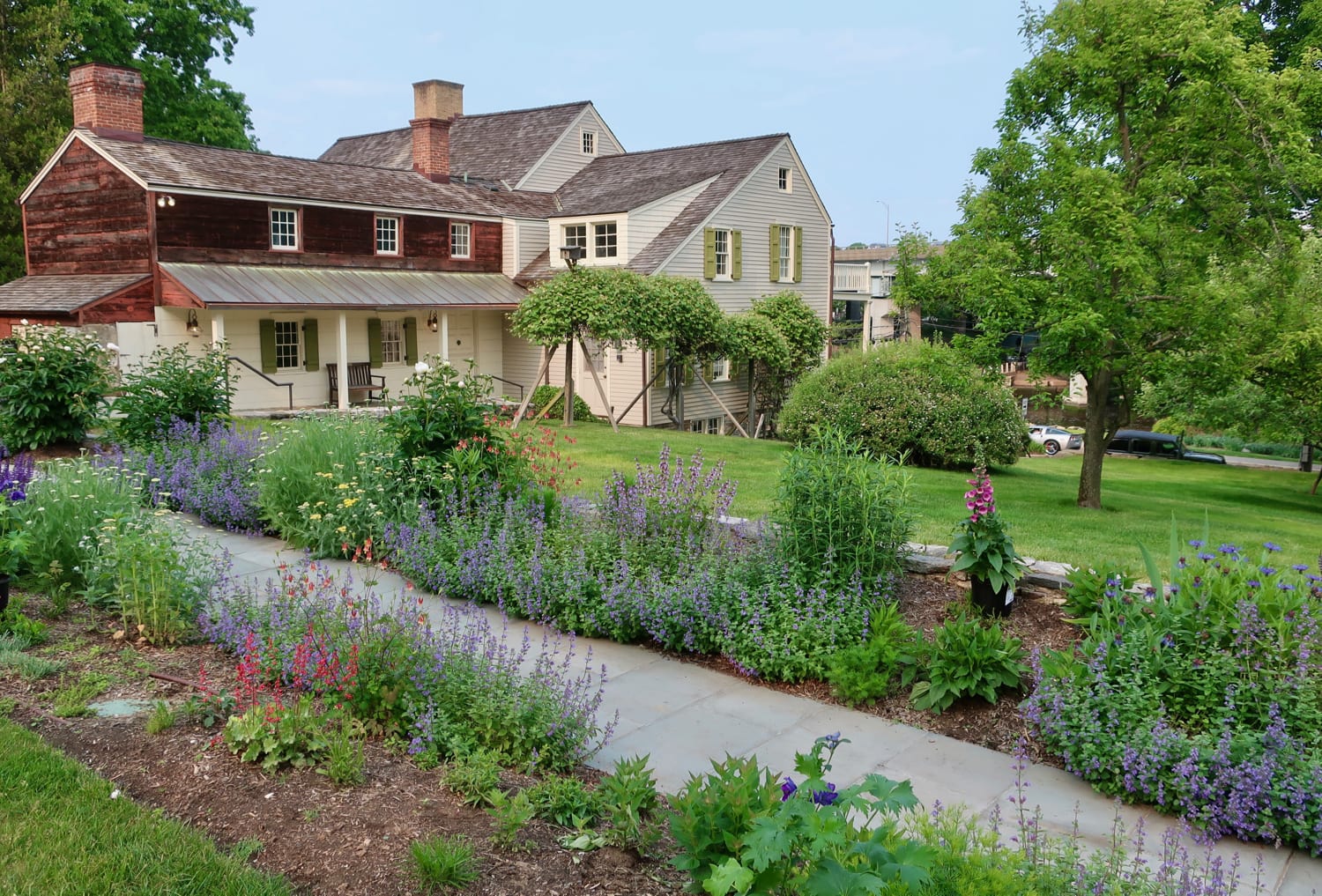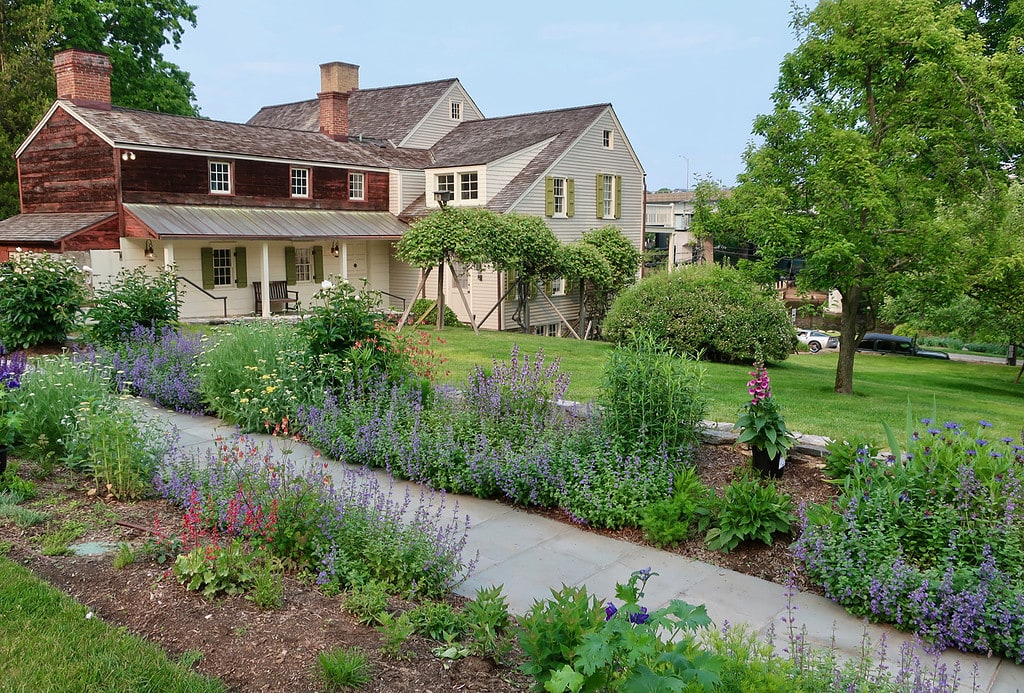 VISIT: Bush-Holley House
Originally built in 1728-1730, this Salt Box home and stunning garden complex is a must-see for anyone interested in both Colonial and "Art Colony" Era Connecticut. It is important to note that the gorgeous water views that so entranced the original Bush family, and later, members of the Cos Cob Art Colony, are now obstructed by a very obtrusive Interstate 95 overpass. Ahhh. Progress.
The Bush Holley House, designated a National Historic Landmark in 1991, is a three-building attraction composed of a museum, the Bush-Holley House itself, and the offices of the Greenwich Historical Society.
Originally owned by the Dutch Bush (formerly, Bosch) family, merchants who positioned the home overlooking the harbor, it was expanded by David Bush in the mid-1700's. After Josephine and Edward Holley purchased the property in 1848, they turned it into a boarding house for artists.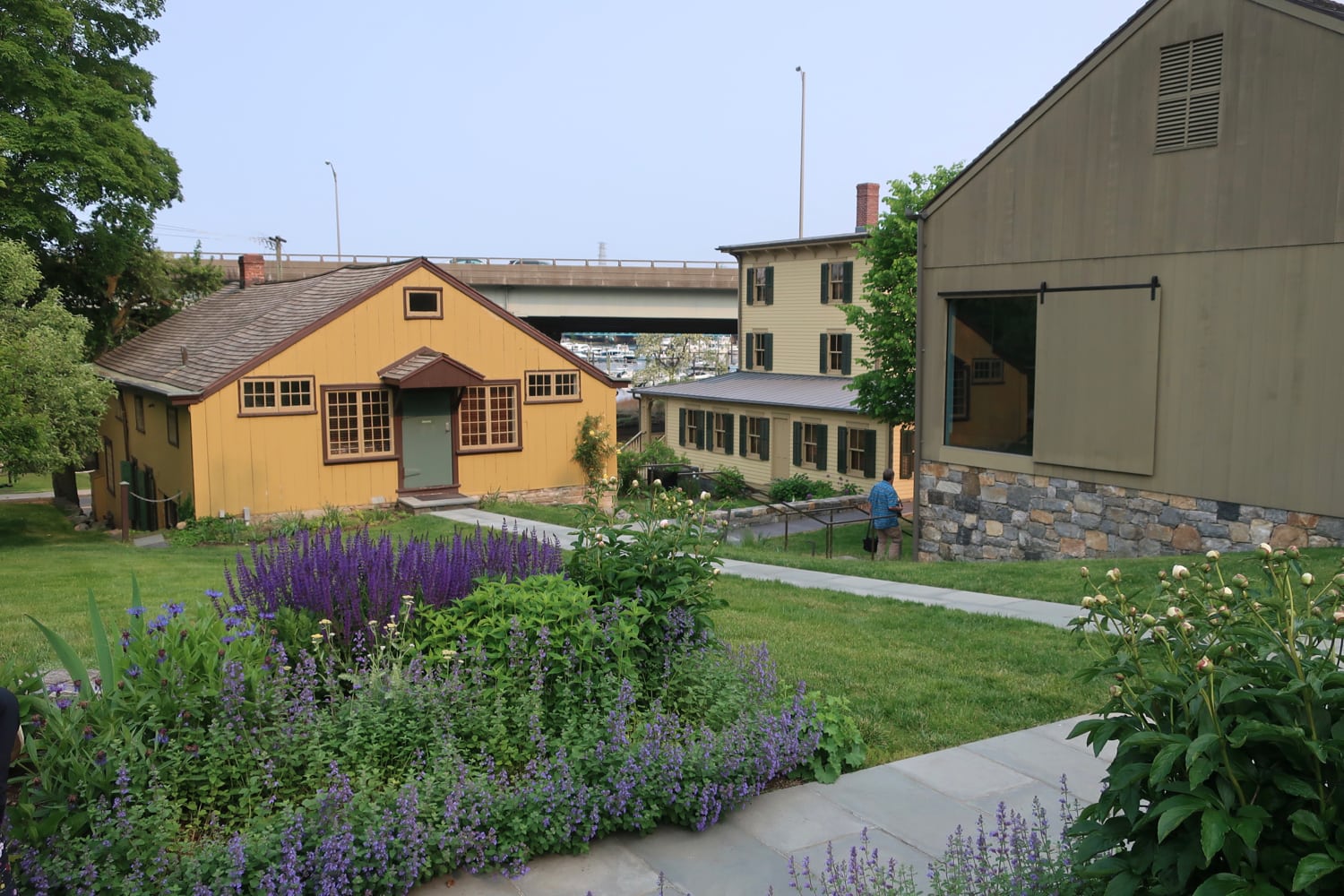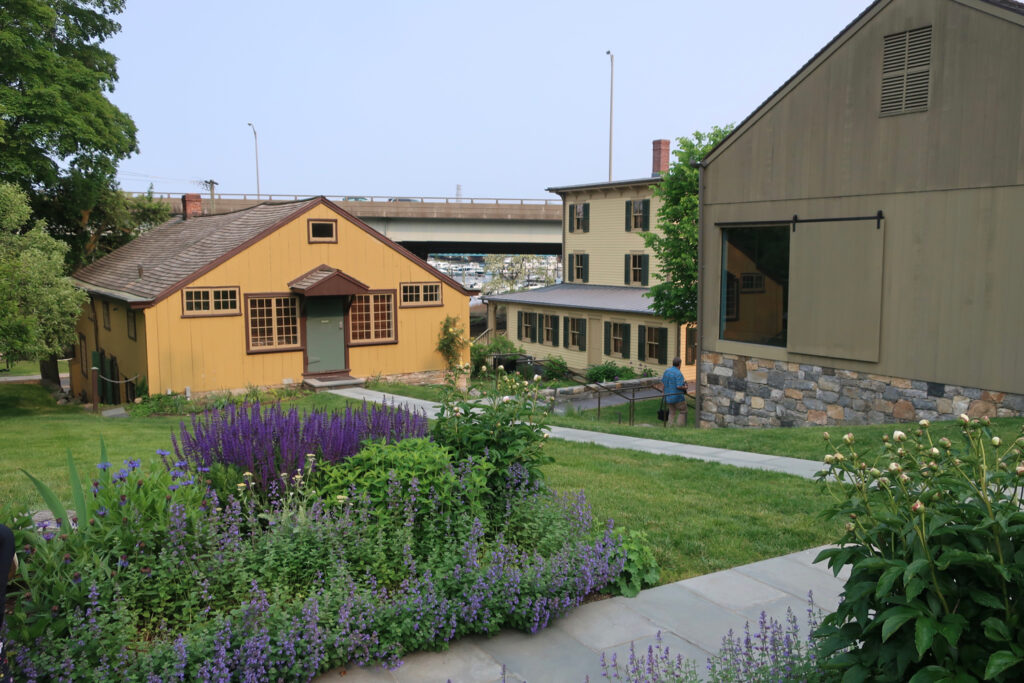 Now, the Bush-Holley House interprets the home as it was during two distinct periods: New Nation (1790-1825) and Cos Cob Art Colony (1890-1920). The Cos Cob Art Colony attracted the likes of Childe Hassam and J. Alden Weir. (Weir is one of only two artists whose home/farm/studio is a National Park – Weir Farm National Historical Park, on the border of Wilton and Ridgefield CT).
Florence Griswold, who put up starving artists in her boarding house in Old Lyme CT, 9 years later in 1899, created another hotbed of American Impressionists: one that, thanks to the wonderful Florence Griswold Museum, is better known than Cos Cob (for now).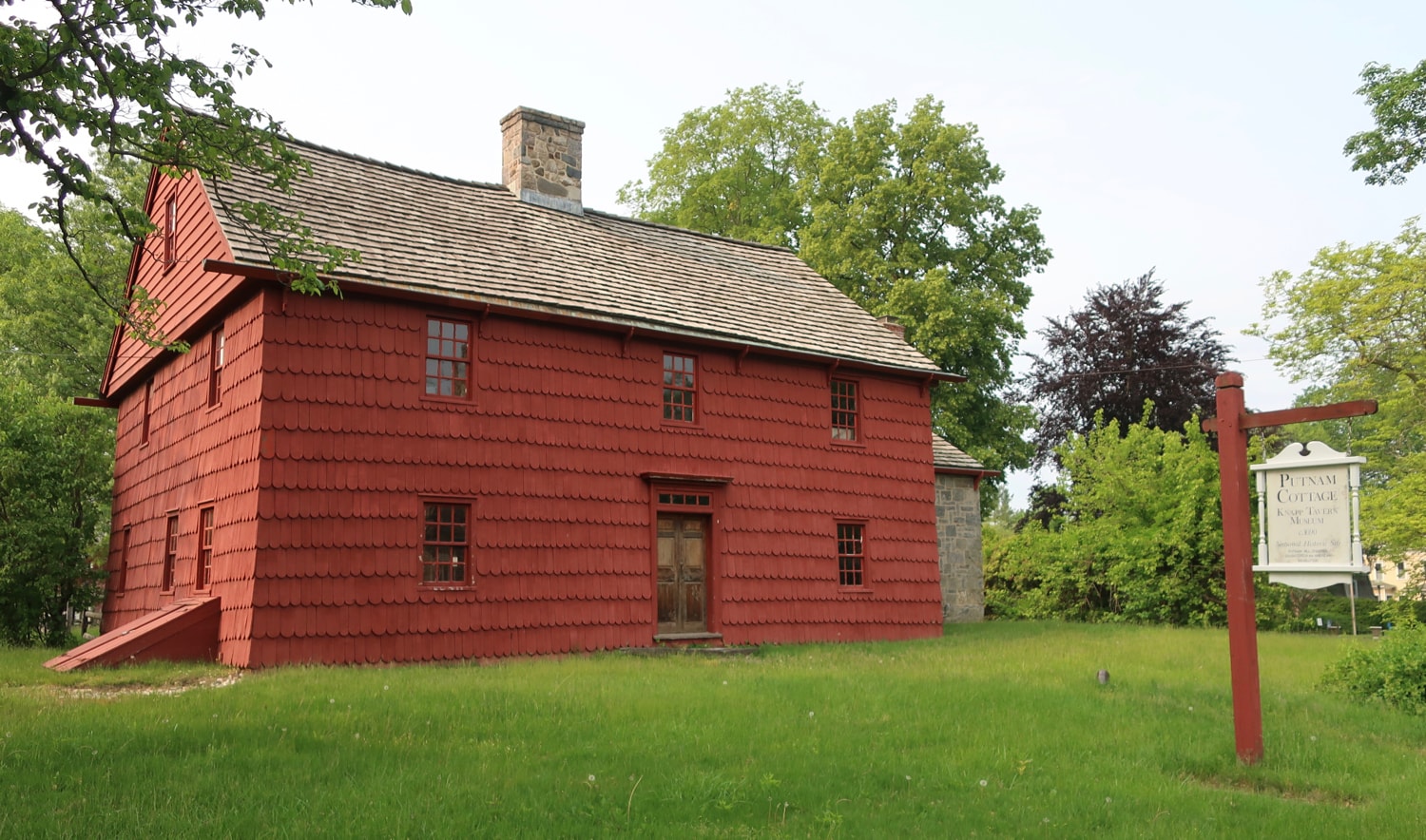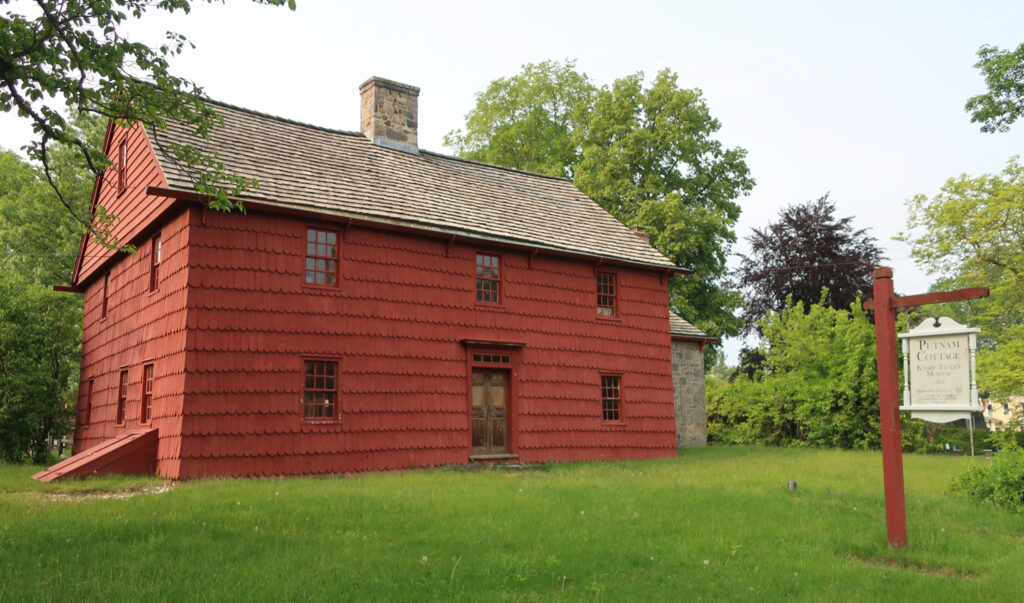 SEE: Putnam Cottage/Knapps Tavern
What is now the Putnam Cottage was built in the late 1600's for the Knapp family. In 1750, Timmothy Knapp turned it into tavern – a roadside stop and meetinghouse for local Freemasons.
Right on the Boston Post Road (the byway, now US Route 1, that the country's first Postmaster, Benjamin Franklin, designated as America's first official postal route), it must have seen quite a bit of business back in the day. Naturally, George Washington stopped there, in 1776, to feed his troops. (His receipts are kept on file at the Smithsonian).
The building became associated with Revolutionary War hero, General Israel Putnam, in 1779, after he evaded British troops, riding wildly downhill from Knapp Tavern to Stamford to alert the militia. (The official seal of Greenwich CT depicts that adrenaline-fueled ride).
WALK/NATURE: Greenwich Beaches, Woodlands, and Parks
Greenwich Point Park AKA Tod's Point
From November 1 until the end of April, anyone can join CEO's, debutants, happy families and working stiffs on the gorgeous loop around Greenwich Point. Also known as Tod's Point, you'll find this magical place, overlooking Long Island Sound, at the end of Shore Road in Old Greenwich.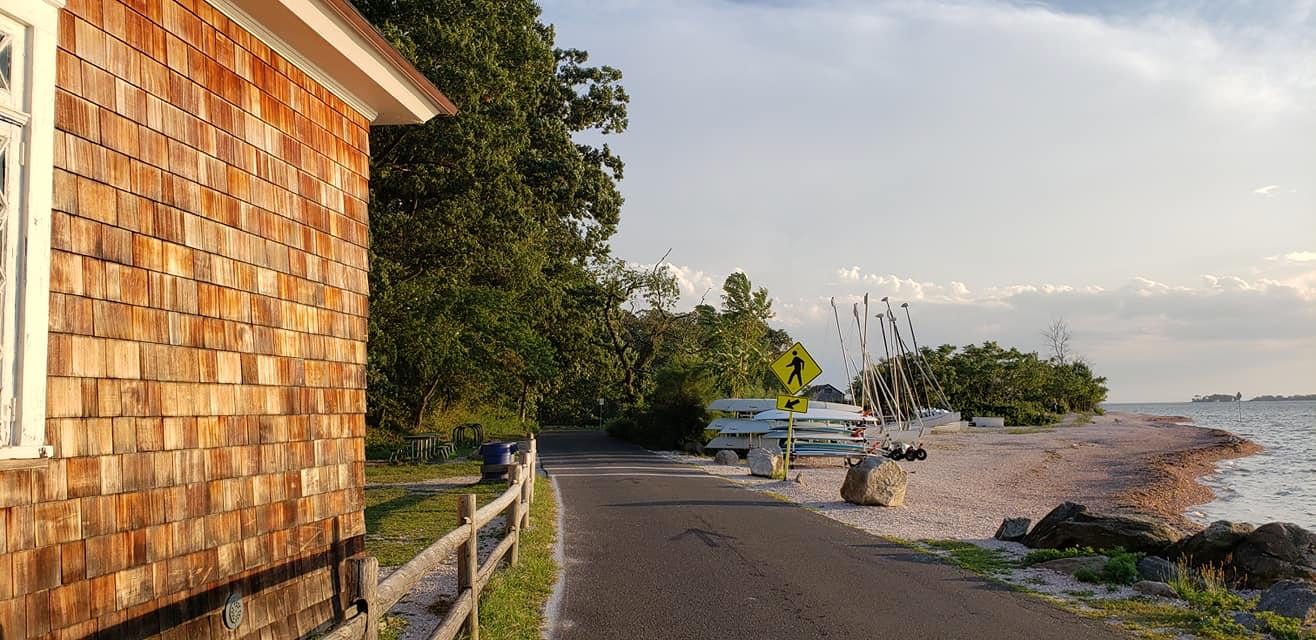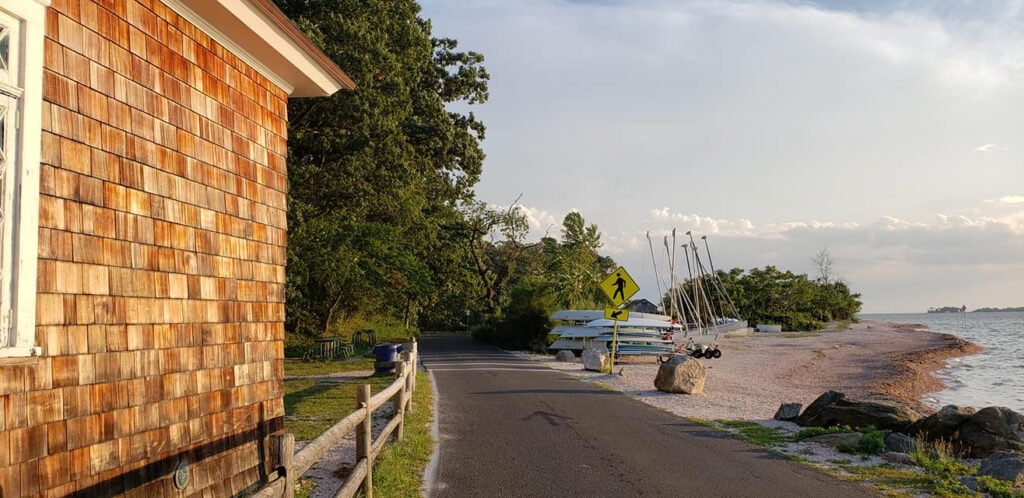 The 2.2 mile long path takes you on sand, through salt marsh, shoreline, and forest. In warm months, only Greenwich residents are allowed, but during off-season, entry is absolutely free. Free entry from November 1st – April 30th.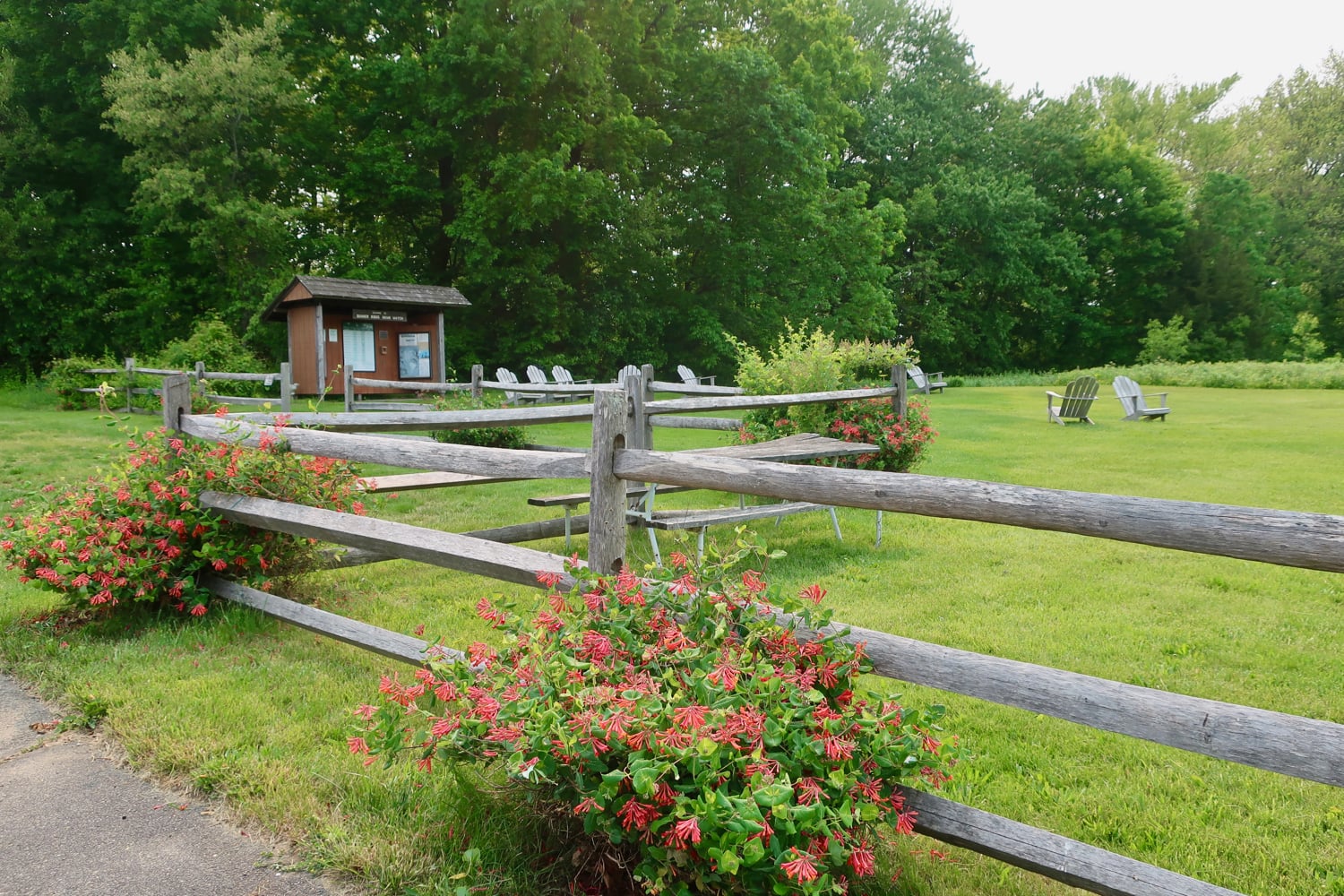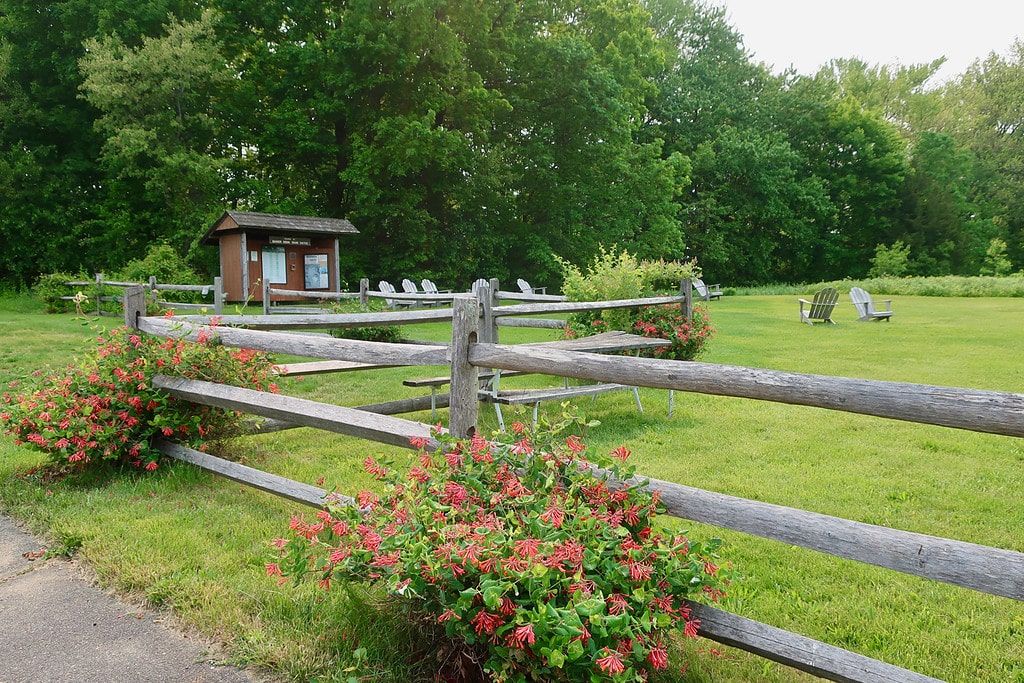 Greenwich Audubon Center
This Audubon flagship, Greenwich Audubon Center, on the corner of Riversville Rd. and John St., has 2,400 members and fantastic daily programs. Drive through the gates and get your bearings at the Kimberlin Nature Education Center – a beautiful craftsmen-style building.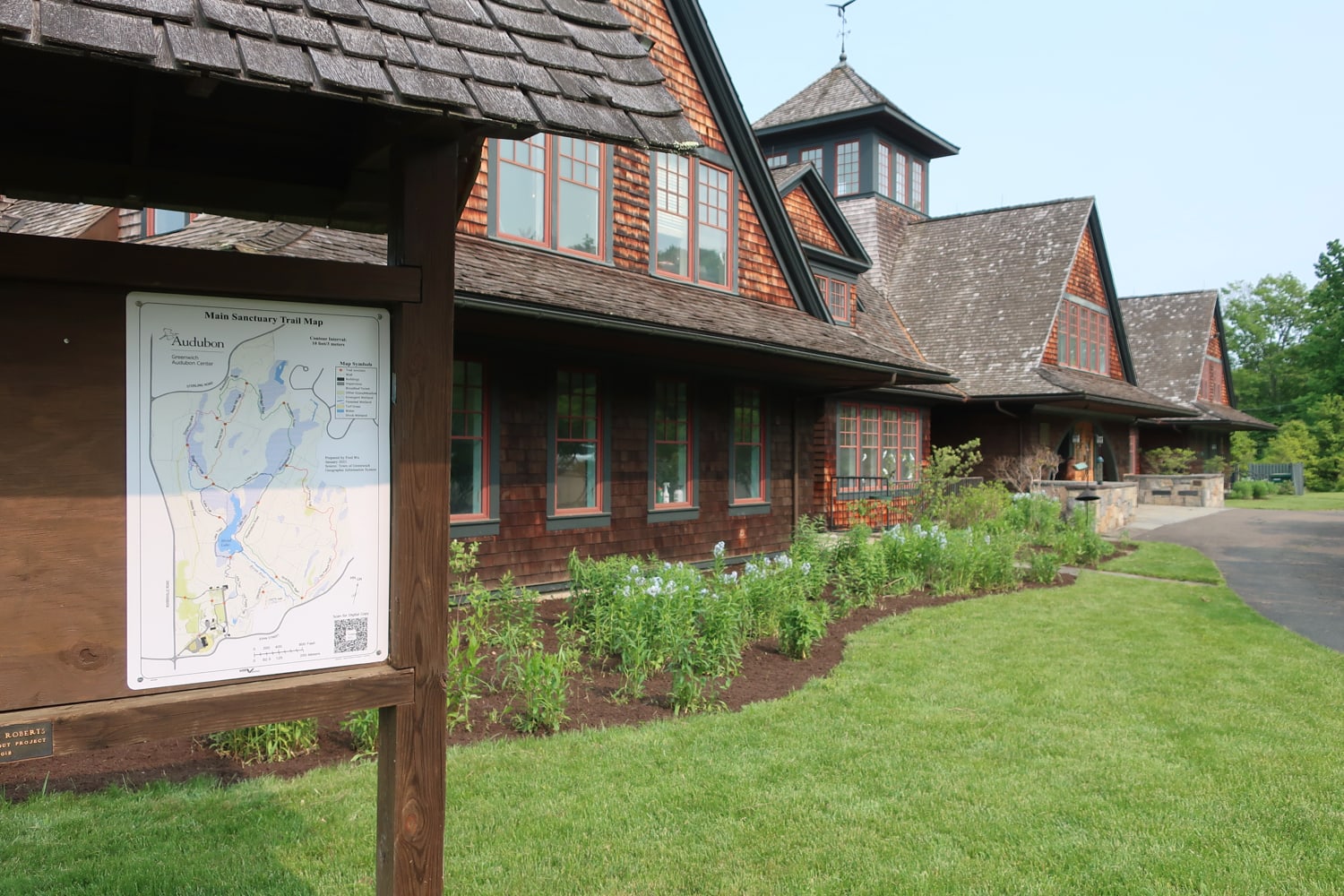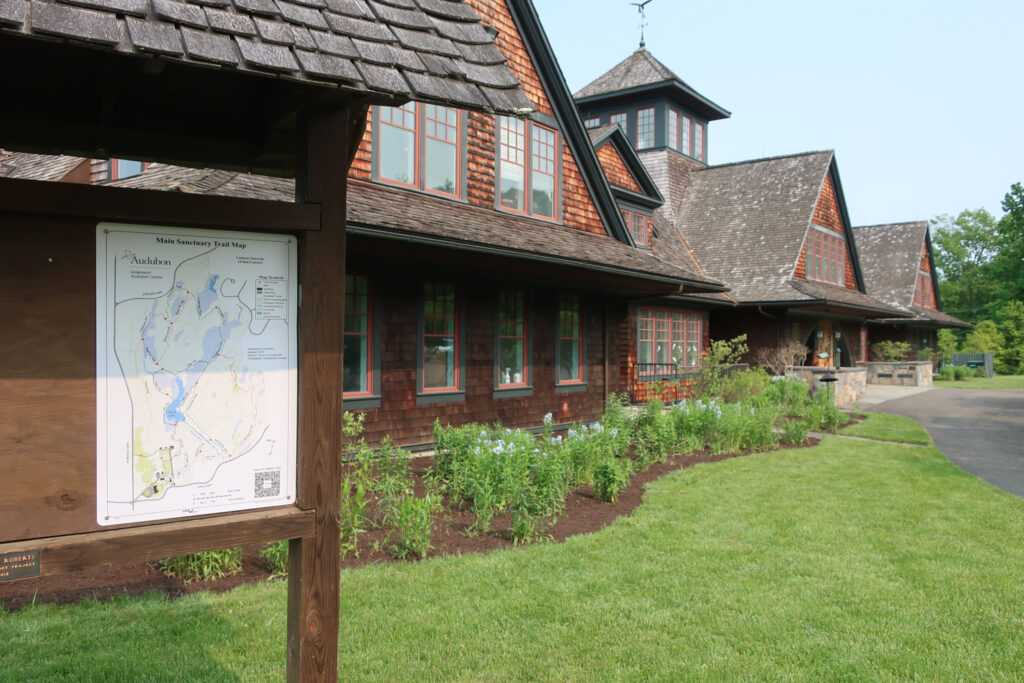 Although there are seven Audubon sites in Greenwich, this one encompasses nearly 300 acres and 7 miles of walking trails that meander through wetlands, meadows, hardwood forest and other habitats. All the ingredients are here to cure your "nature deficiency disorder"(NDD) and other ills of modern life.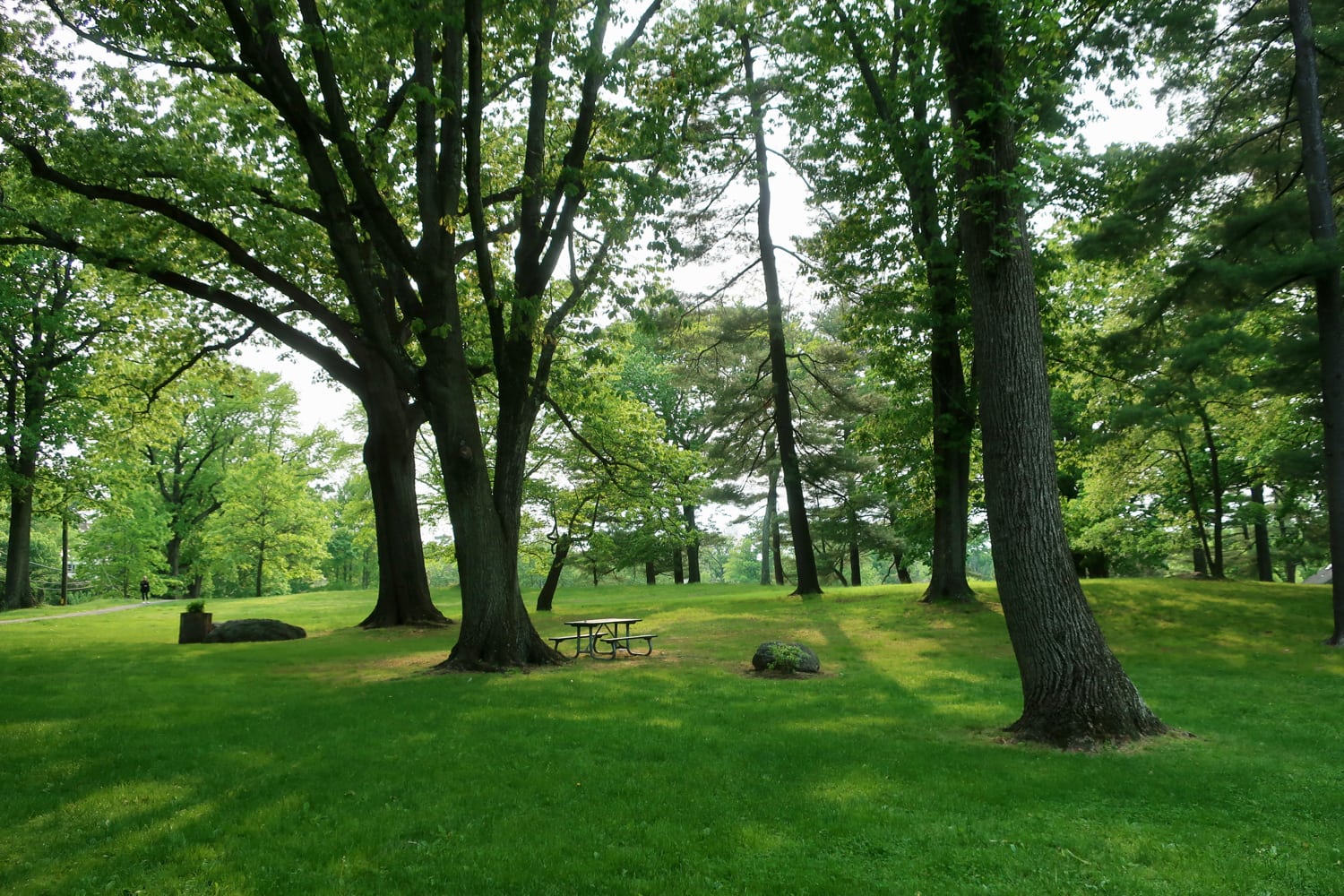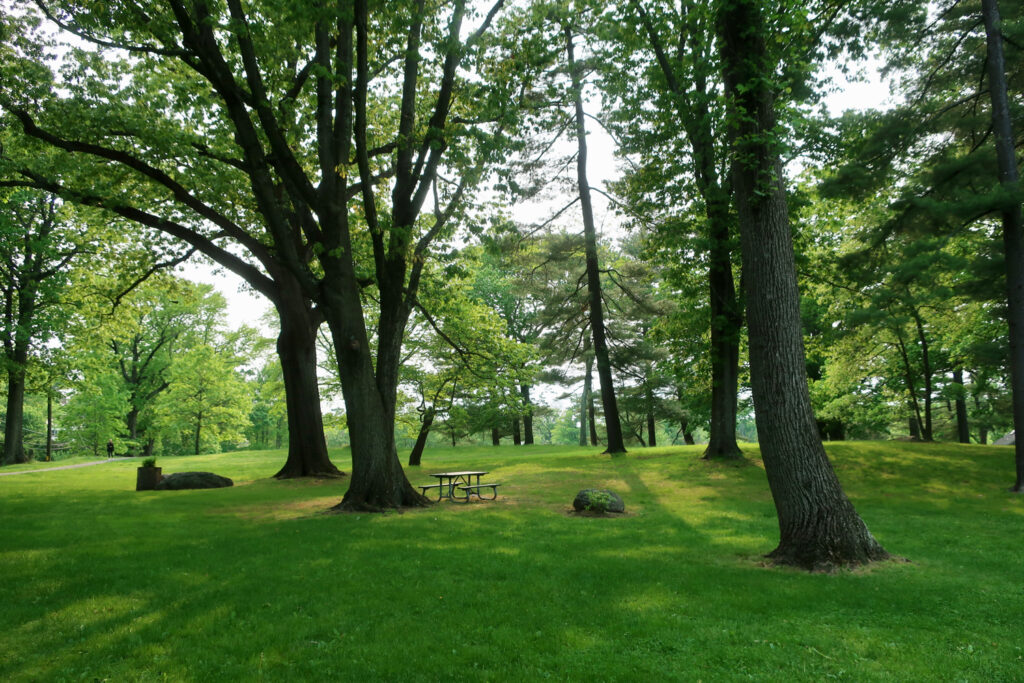 Bruce Park
The 60-acre Bruce Park is Greenwich CT's oldest public park. Bequeathed to the town in 1908, along with a hilltop mansion (now The Bruce Museum), Bruce Park offers views of Long Island Sound and ponds from walking paths, athletic fields, and the extremely popular children's playground.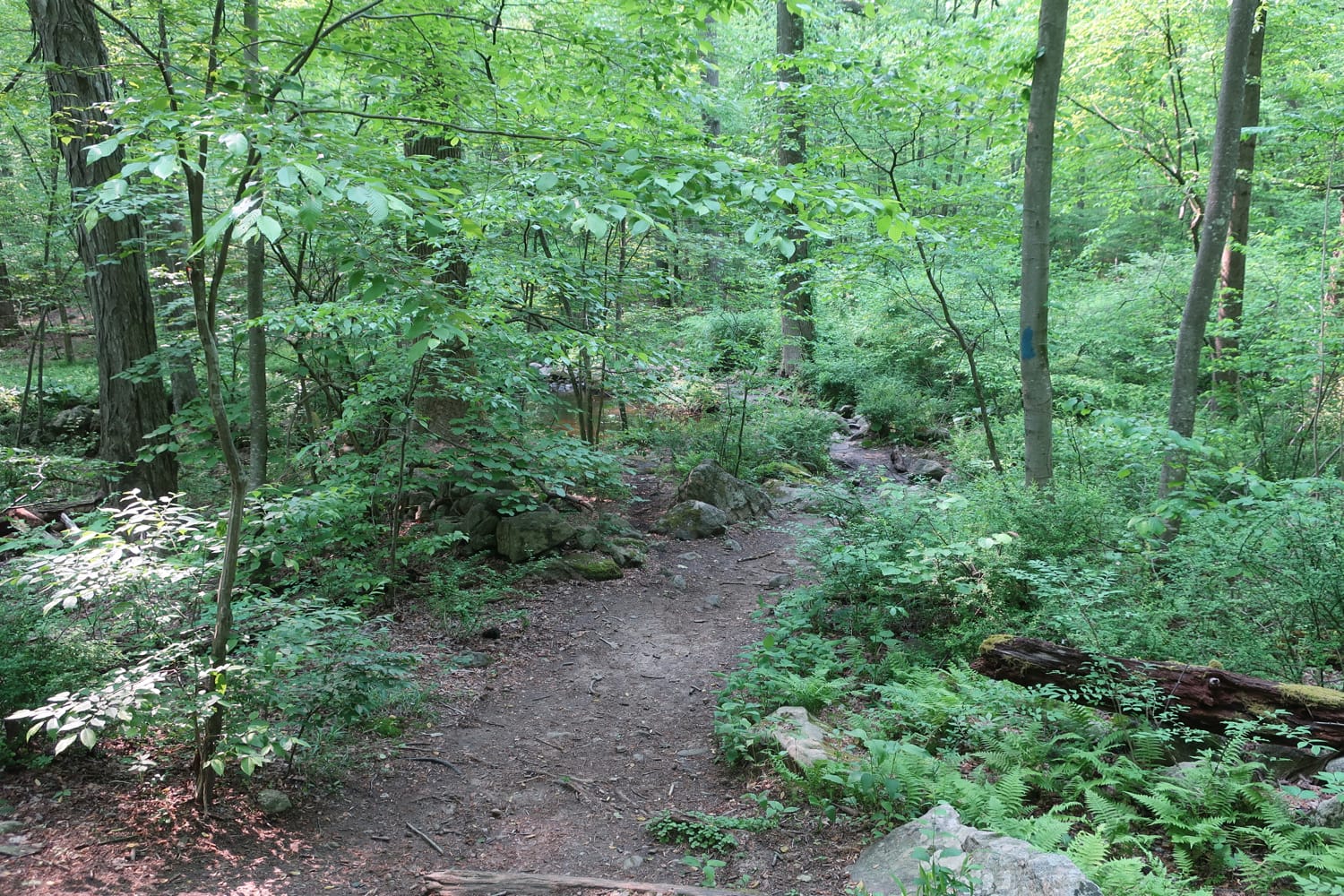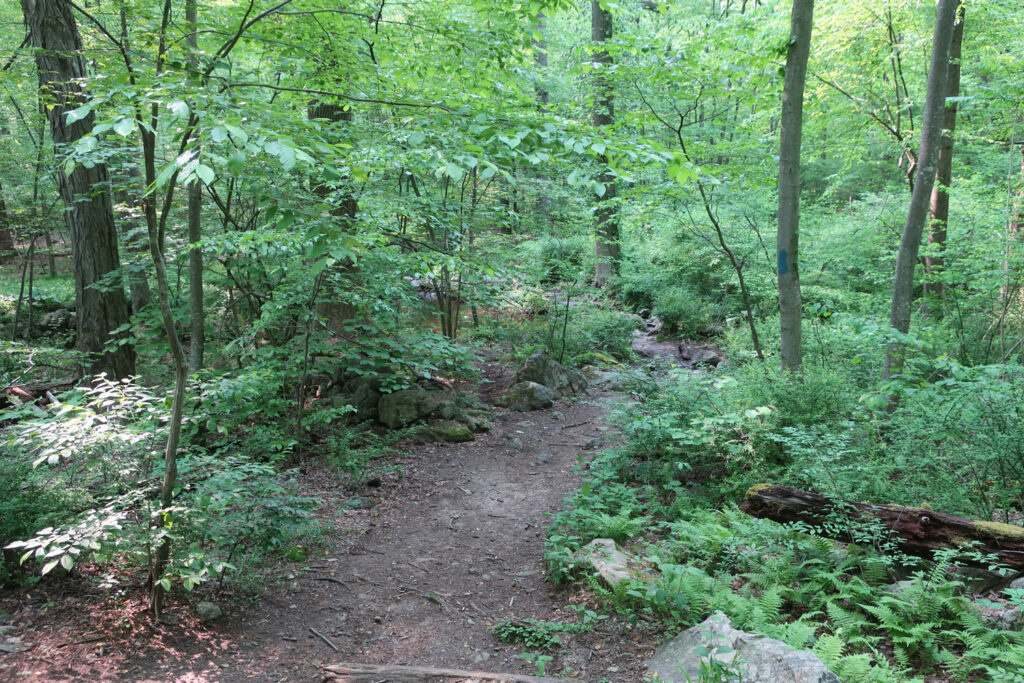 Babcock Preserve
The perfect-for-forest-bathing 300-acre Babcock Preserve offers 7 miles of trails (including a 4.1 mile loop), bridle trails, and a picnic area. There is some parking – and it's free and open to the public. It's a popular woodland dog-walking park.
WATCH: A Polo Match at Greenwich Polo Club
Can there be anything more preppie than a Polo match? After all, there's a whole brand of preppie clothing with that name. But in Greenwich, it's one of those inexpensive, must do, and even romantic activities – even if you don't like or understand the sport.
Most summer Sundays, the Greenwich Polo Club, amid the extravagant mansions of Back County Greenwich, opens its gates at 1pm, and allows cars, filled with however many people you can cram in, entrance for only $50. Per car. That's for the bare minimum, sit on the lawn, bring your own picnic experience. (Each seat in the stands and boxes will cost $60 and $100 respectively).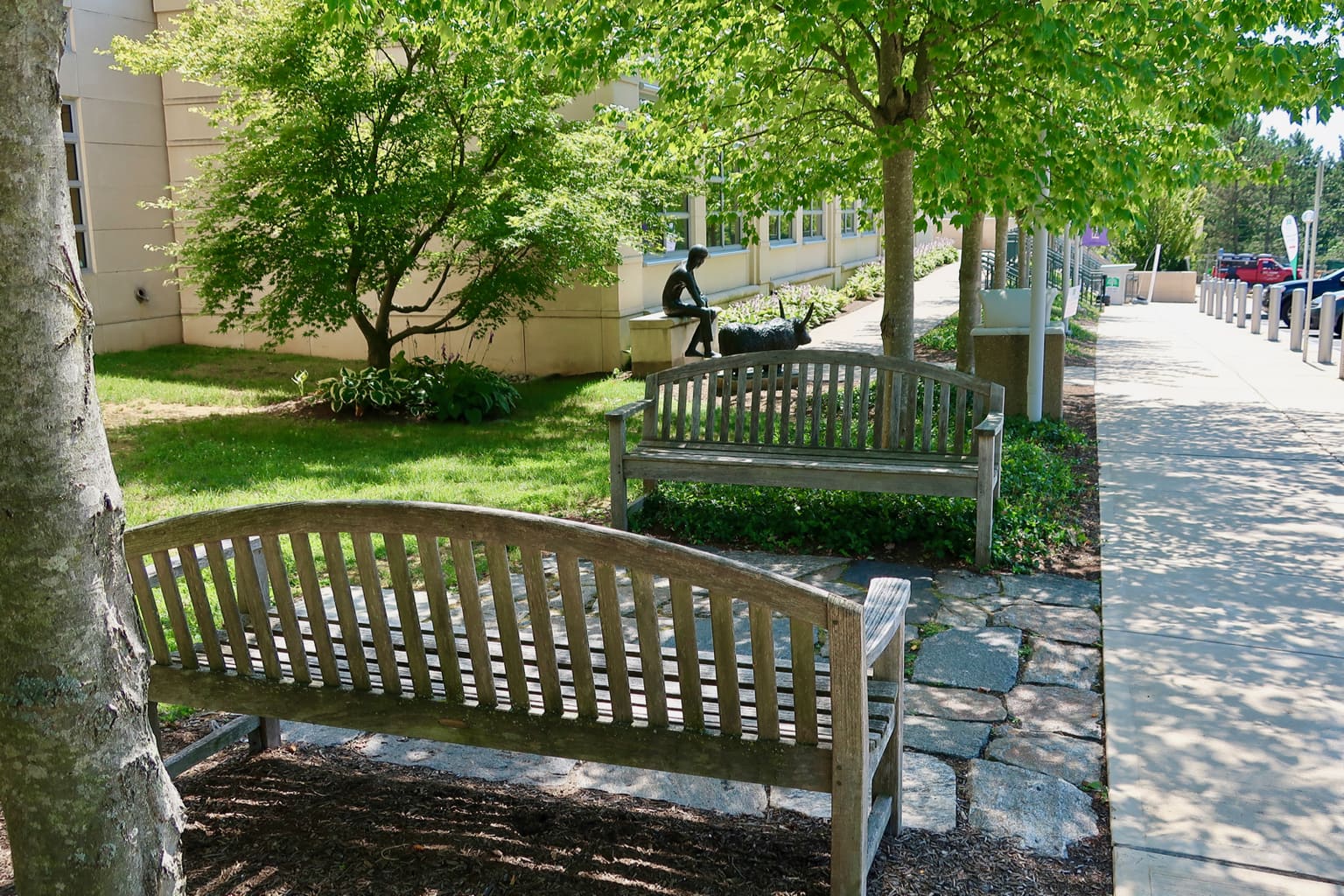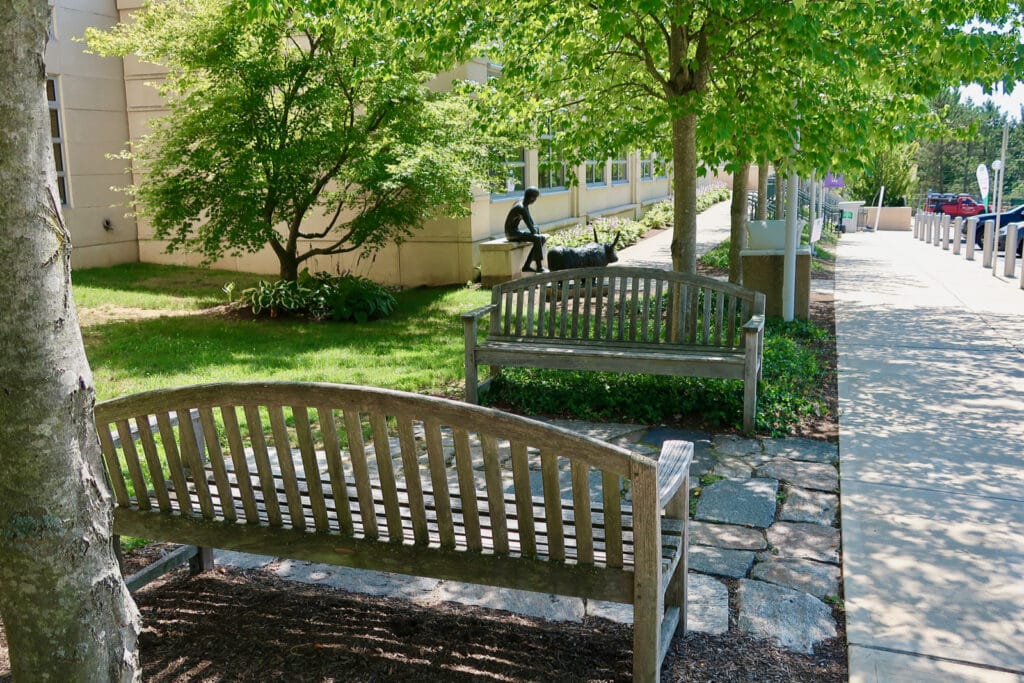 DO: Friends Friday Films at Greenwich Library
During my High School years in the early 70's, this free Friday Night Films at Greenwich Library was a Date Night favorite. We'd generally start at the bowling alley across the street (no longer there) for one or two $1 games, grab some fast food and end up at the Greenwich Library to see and then discuss an "art" film or a recently released movie.
Friday Night Films are still free. And I'd imagine they are still popular with young Greenwich couples on a budget. But even visitors can take advantage of this great benefit. And while you're at it – check out the rest of the beautiful library, including the current art exhibit at the Flinn Gallery upstairs.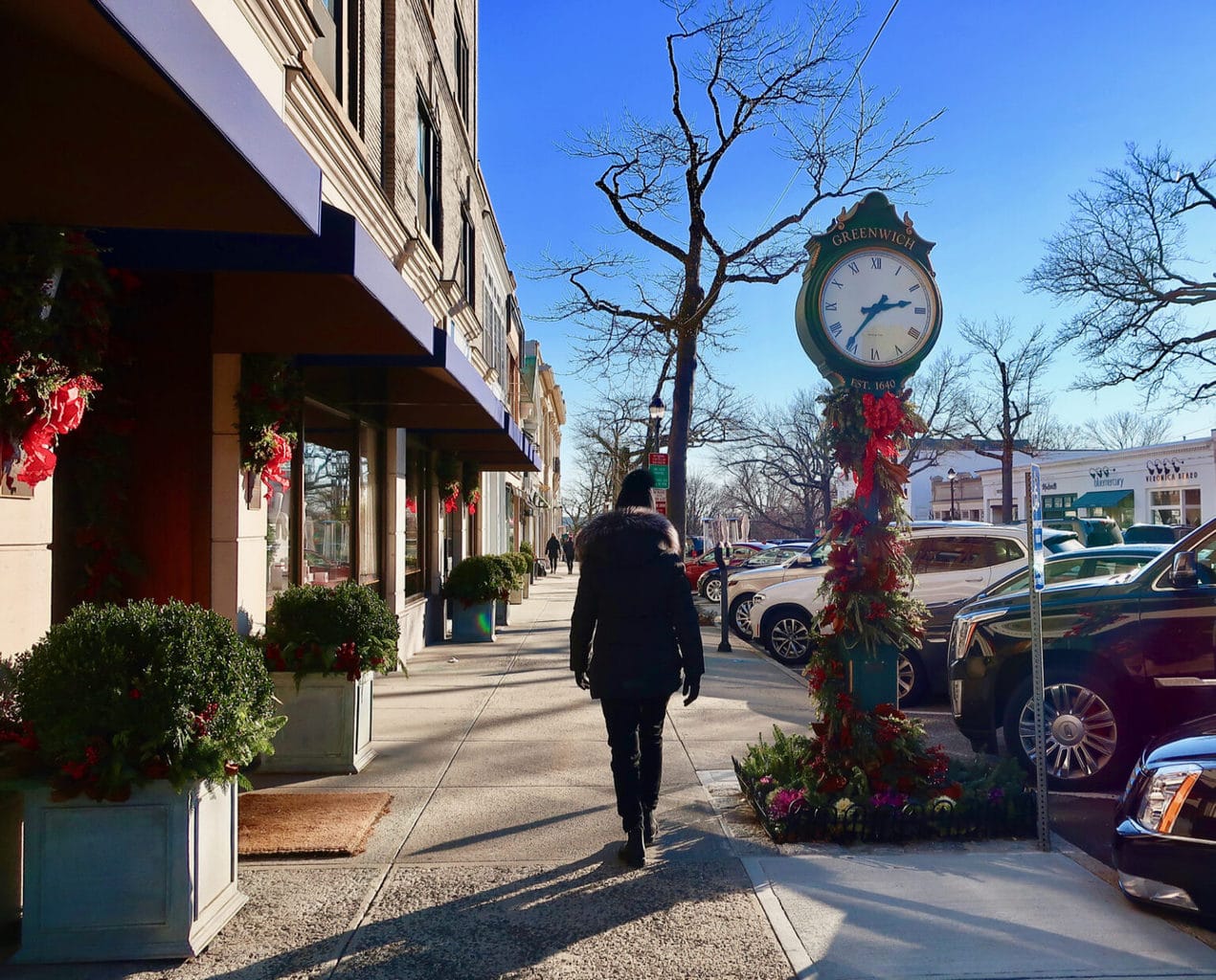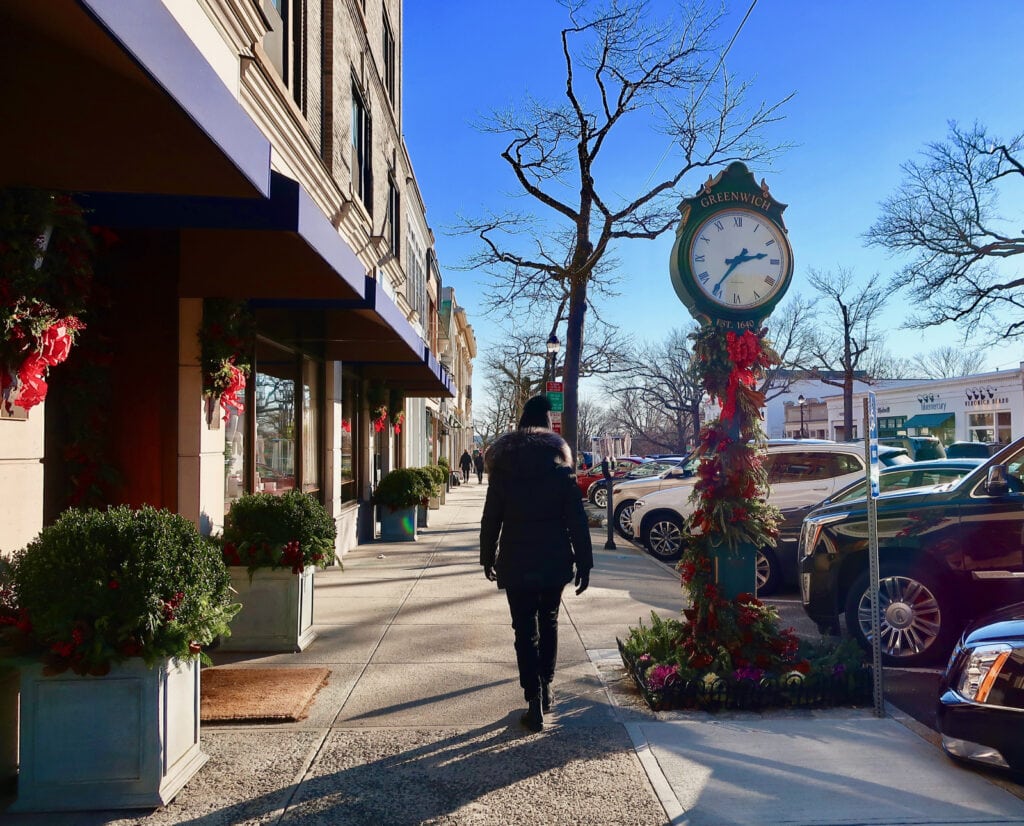 WALK: Greenwich Ave.
It's like Rodeo Dr., but in Connecticut. Plus – it costs nothing to window shop.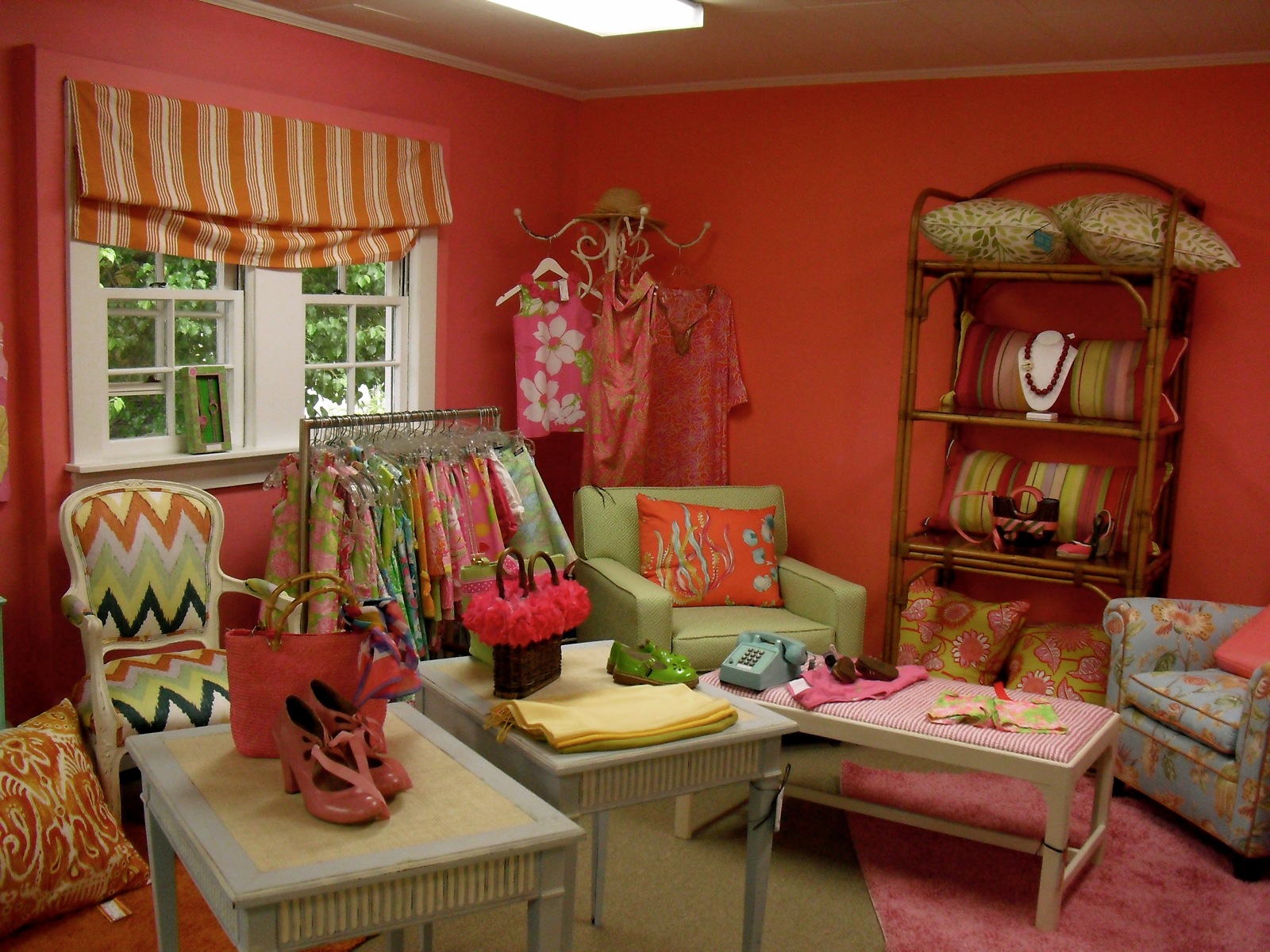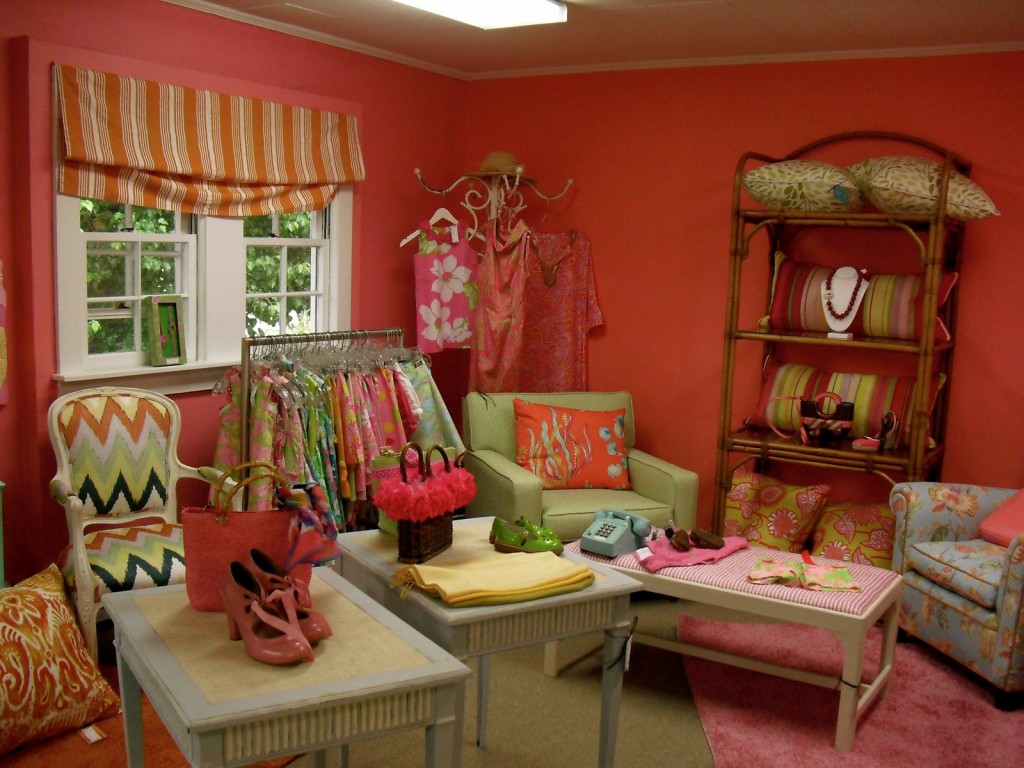 SHOP: Consignment Shop
The appealing and sun-drenched Consigned Designs is by far the friendliest vintage shop in town. Saleswomen have an encyclopedic knowledge of designers and styles, and owner Ellen Atkinson is always on hand to help.
Restaurants In Greenwich CT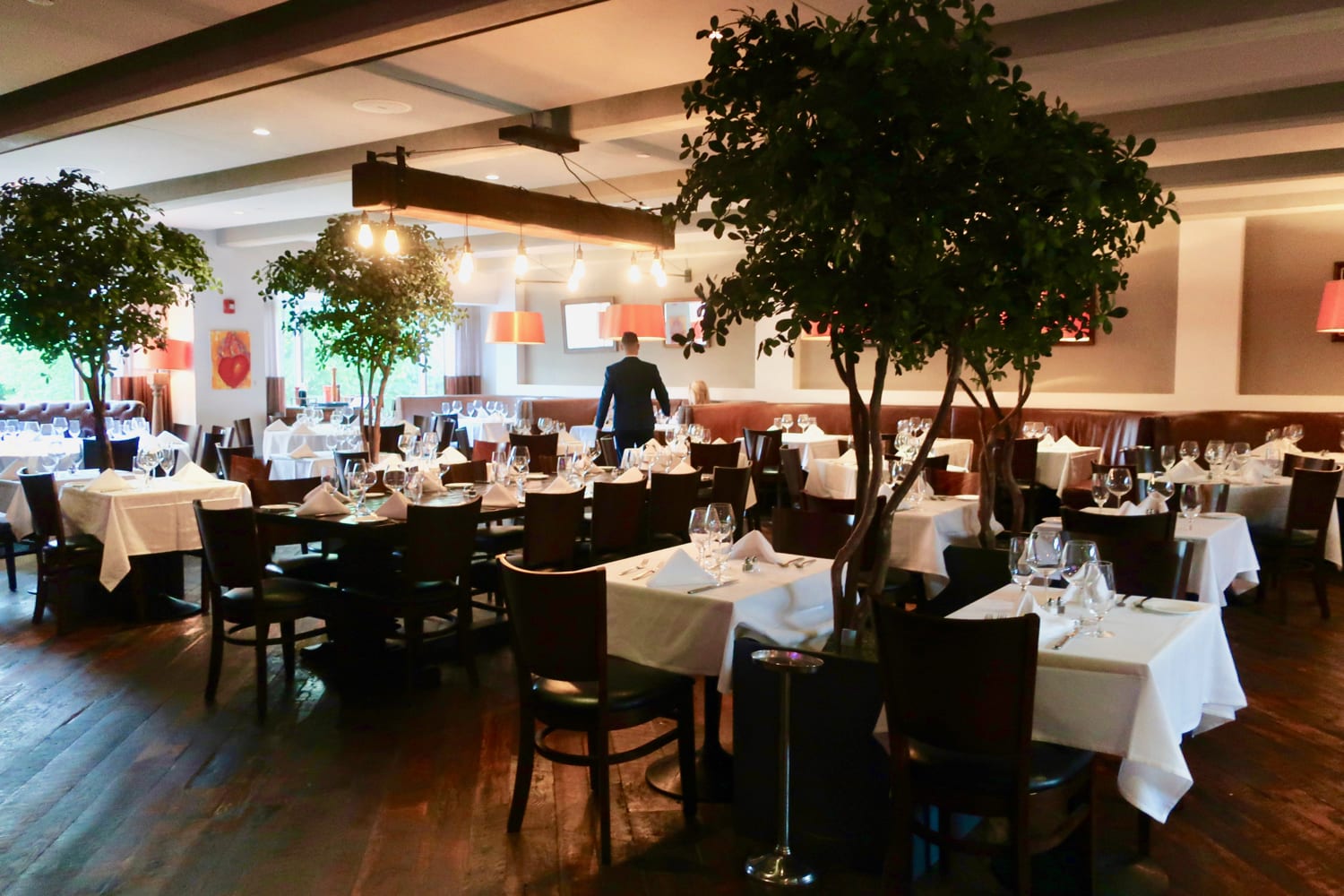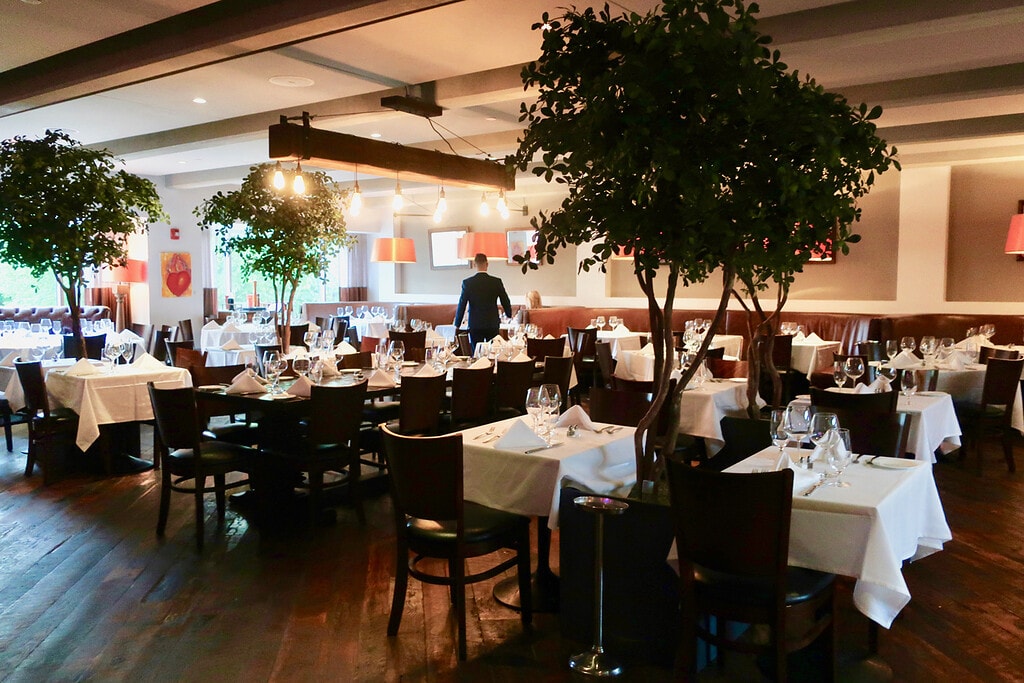 EAT: Locals Love
Best places to possibly spot a celebrity, with excellent Italian food to boot: Tony J's at the J-House (see below under Where to Stay), and Valbella. Best homemade pasta dishes: Pasta Vera. Most Romantic Restaurant: Rebecca's (in Glenville section). Great Cute French: Le Fat Poodle and Le Penguin. Best Raw Bar: Elm Street Oyster House. Best Vietnamese: Orienta.
See below for our less expensive faves:
EAT: MYX Creative Kitchen
It might be tough to find fast-slow-food restaurant, MYX Creative Kitchen. It's situated on a Greenwich Ave. side street (W. Elm). But once you do, you'll most likely return because, well, its slogan, "We make healthy easy," is true.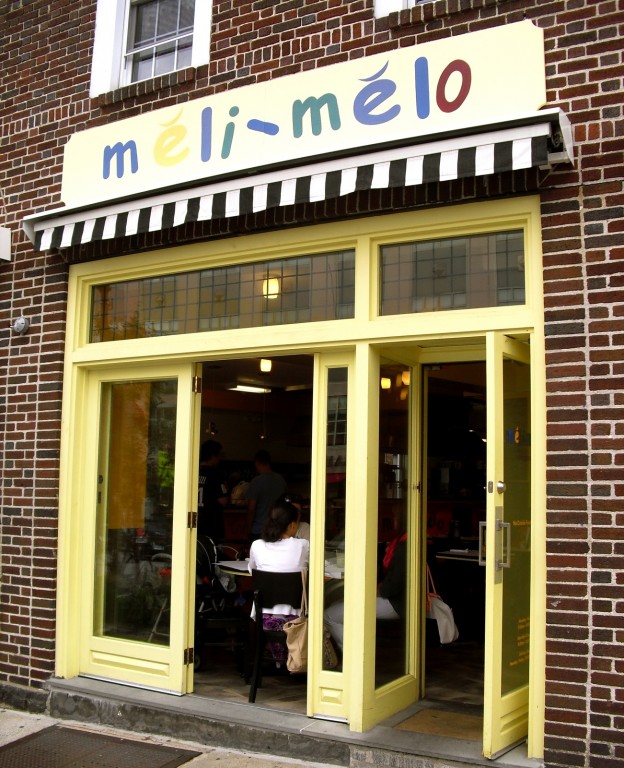 EAT: Meli Melo
So popular, owners took over the adjacent shop, this little lemon-yellow spot dishes up sweet and savory buckwheat crepes, obsessed-over homemade soups and hands down the best fresh-mint-chocolate chip ice cream on the planet.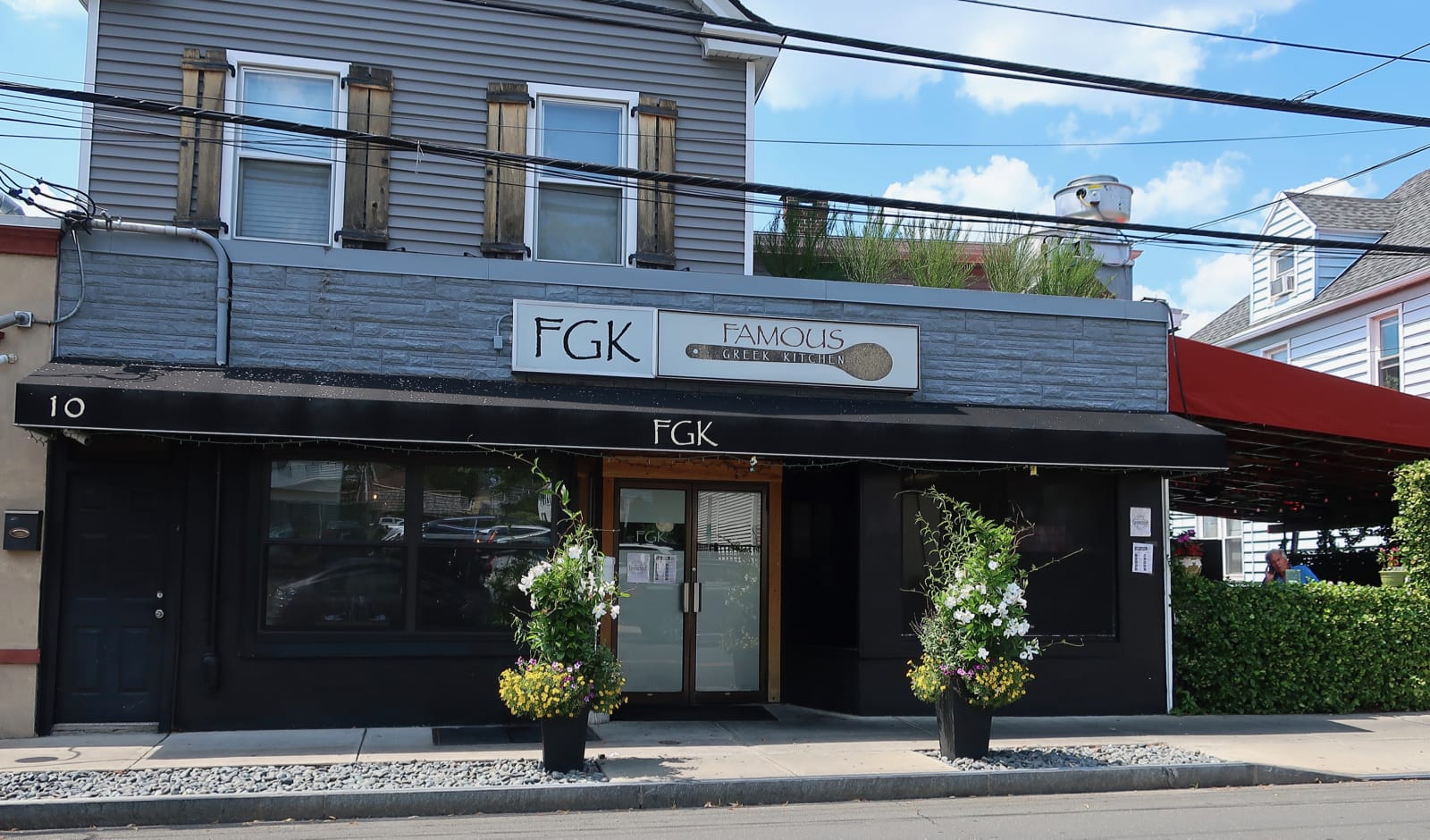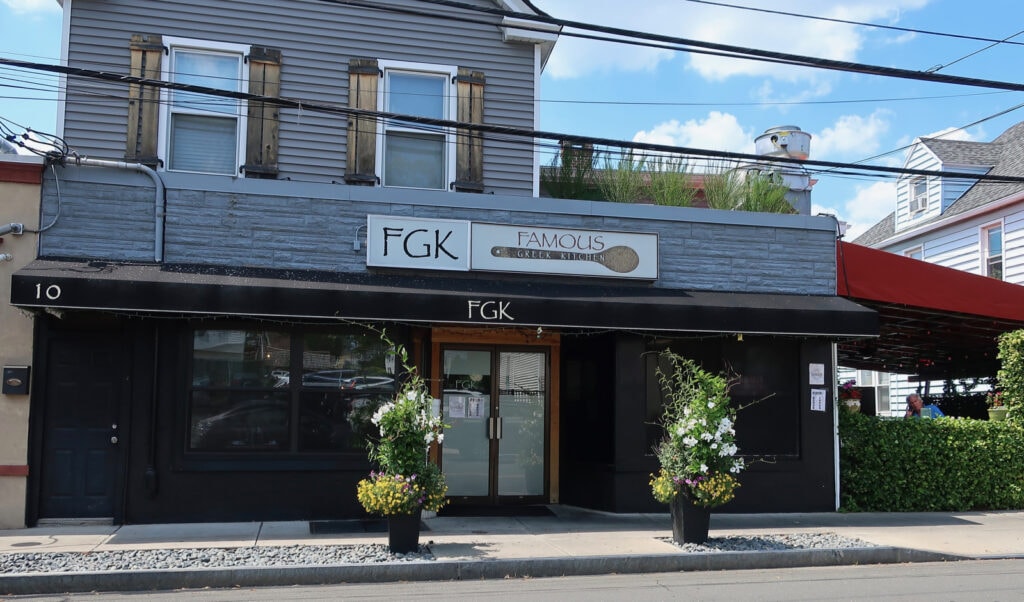 EAT: FGK (Famous Greek Kitchen) in Byram Section of Greenwich
Although this area of Greenwich (Byram) is closer to downtown Port Chester NY than Greenwich Ave., I include FGK here for simplicity's sake. If you ask anyone around where to find the best Greek Food (not to mention an adorable dining area) around, most will mention this place. It's literally just over the NY-CT border in what was once considered a blue collar section of Greenwich.
Where To Stay In Greenwich CT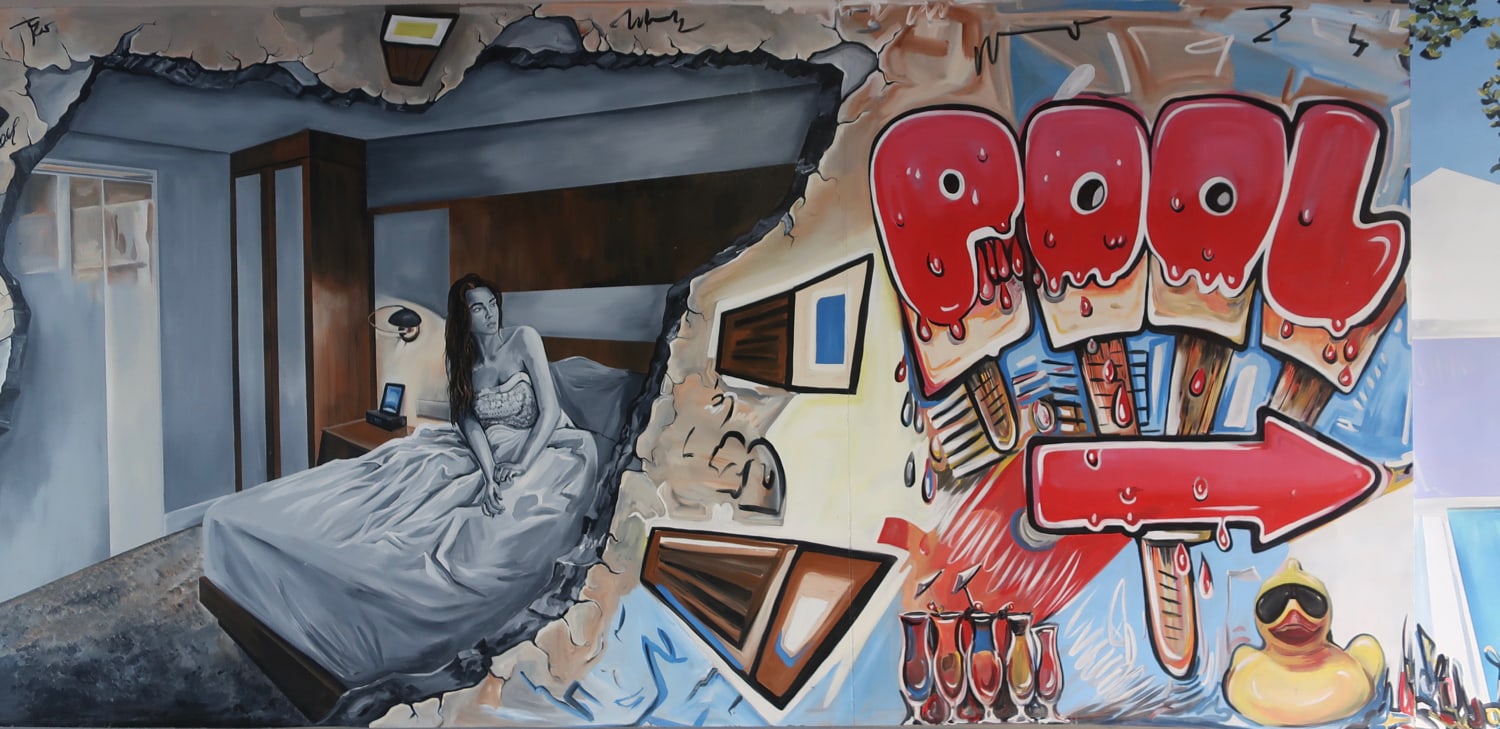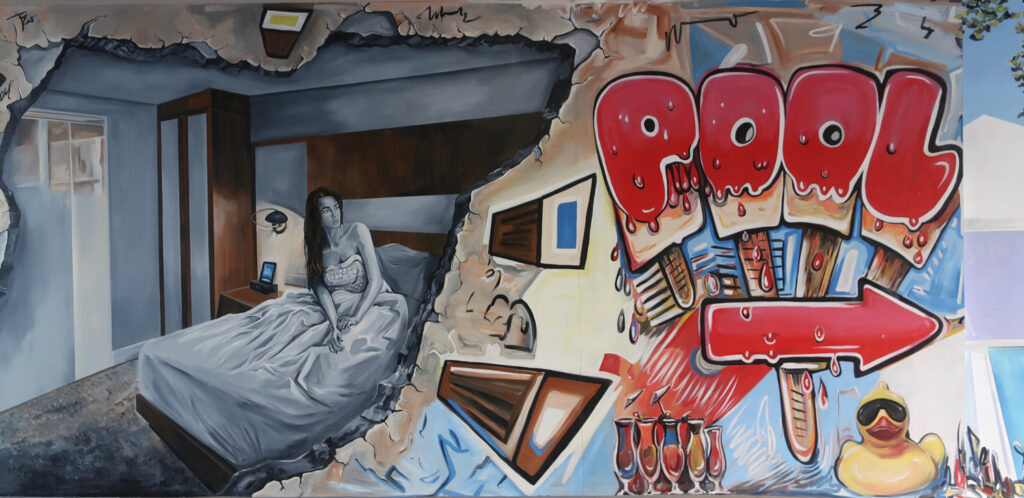 STAY: The J-House Greenwich
The J-House in Greenwich CT is the last boutique hotel you'll find on I-95 before exiting New England. But it wasn't always so chic. First, it was a Howard Johnson's that after decades of decline became an eyesore.
Fortunately, a local developer bought the distressed property, tore it down to the studs, and rebuilt it as the sleek enviro-jazzy hotel it is today.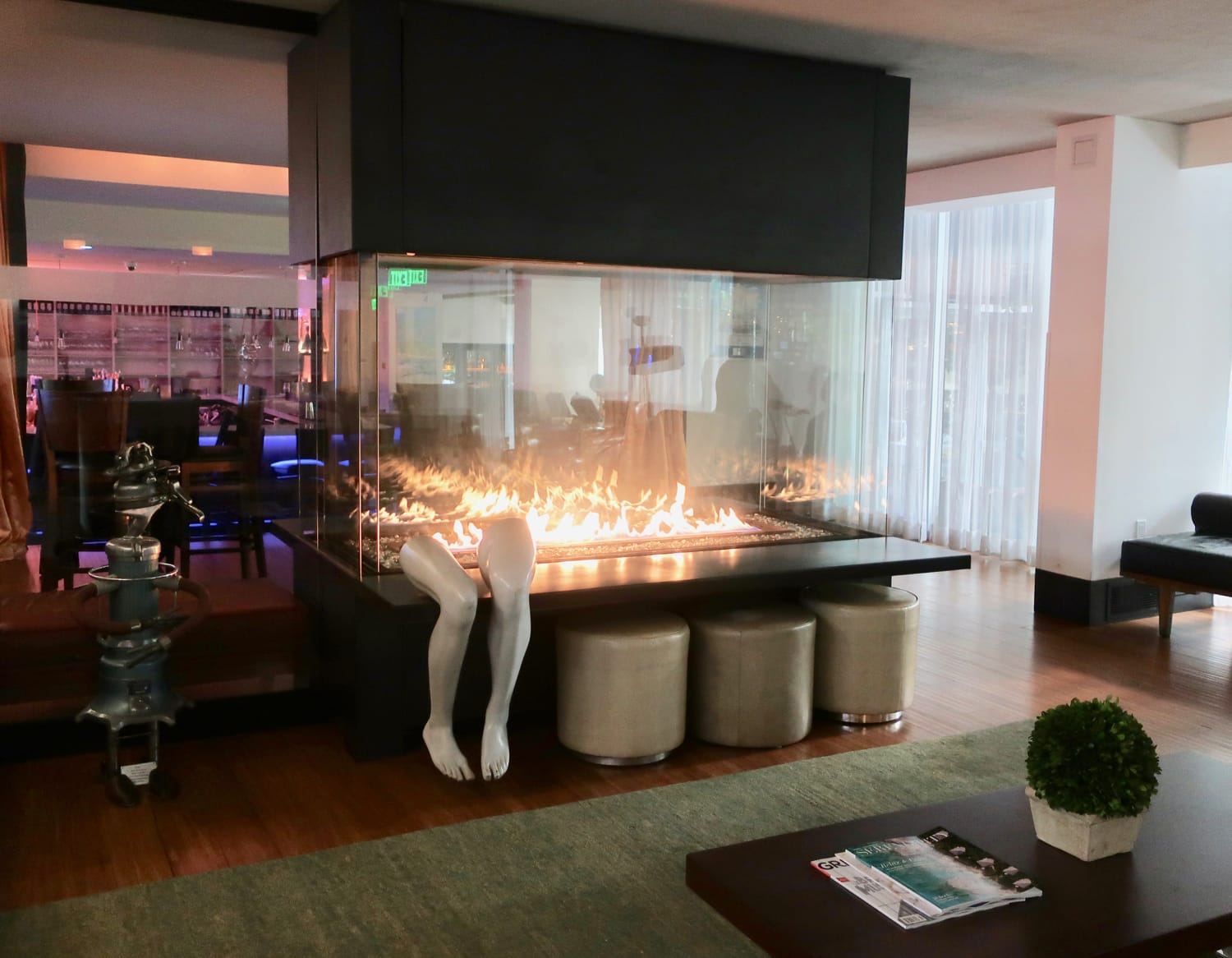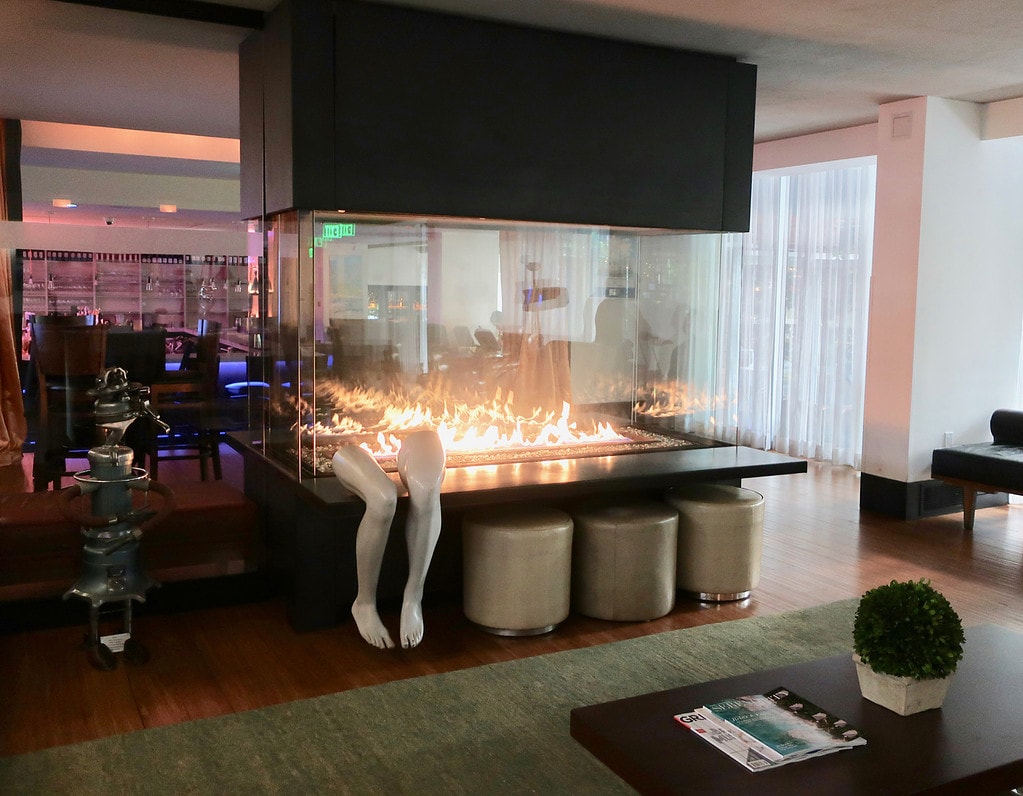 First Impressions of J-House Greenwich
Check in comes with a smile and the offer of a drink: a sparkling Prosecco. The place has certainly come far from its Howard Johnson's roots.
The stone and glass entryway opens into a small reception area, and then a very cozy fire-lit "living room." Whimsical arts and crafts are scattered about, including conversation pieces like a pair of svelte naked legs draped demurely over the glass fireplace ledge, tin men creations, "projection art," and other contemporary-artsy accoutrements.
Renovated with the environment in mind, roof shingles are made from recycled tires. The interior décor is Earth-Tone modern – with furniture sourced from Restoration Hardware.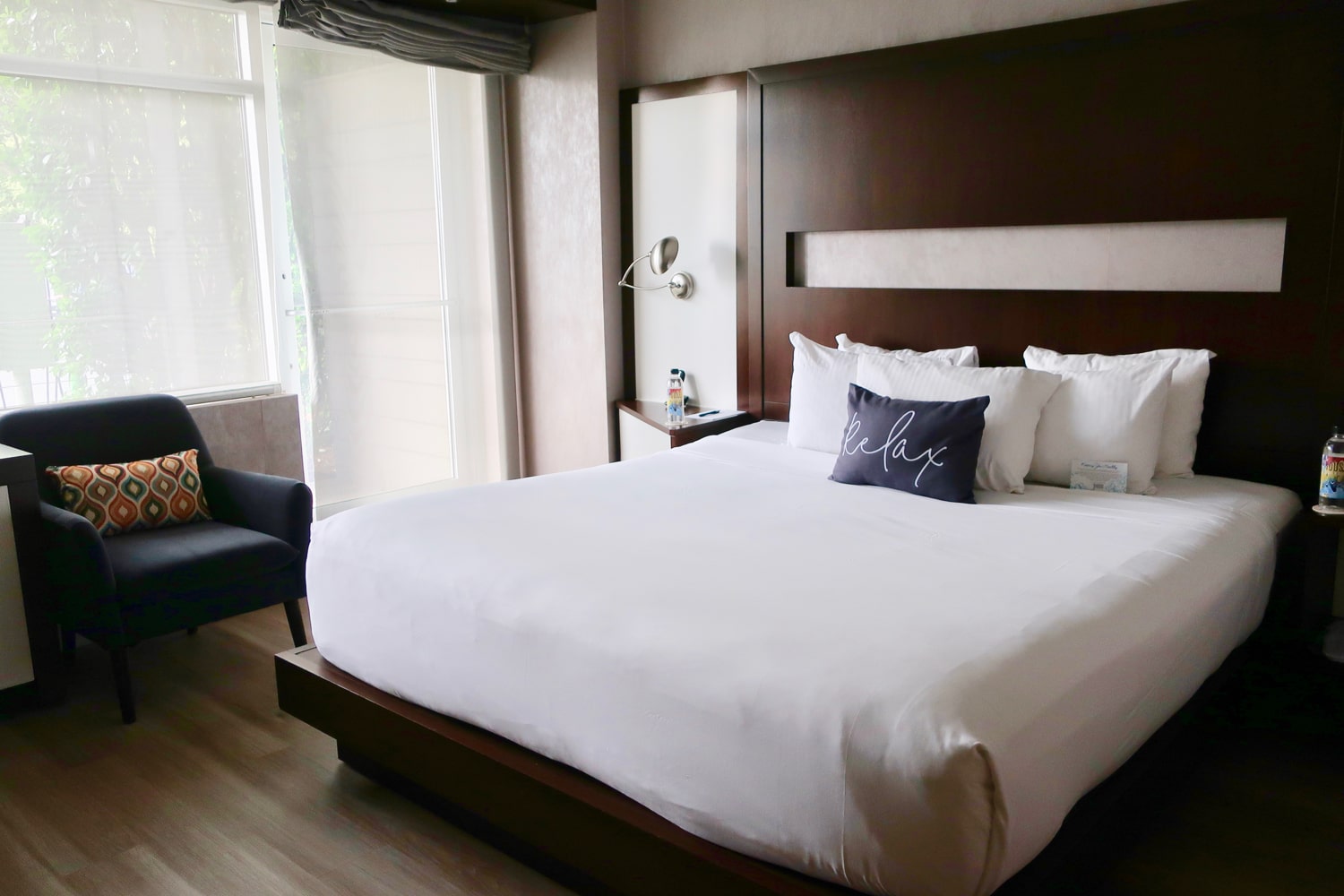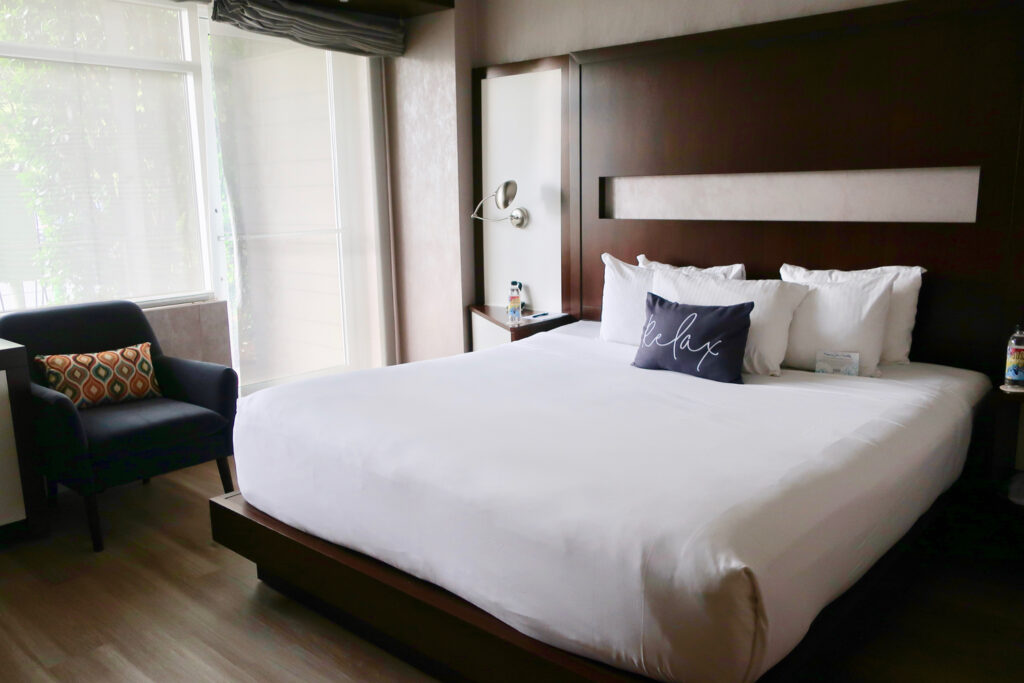 Rooms at J-House Greenwich
All 85 "automated" high-tech rooms and suites are outfitted with 55" flat screen TV's, bedside switches to control window shades, temperature, and light, and pillow top teak platform beds clad in white. Overall – cocoons of comfort and efficiency.
Bathrooms are quite futuristic, with a multifunctional Japanese toilet that sports a heated seat, and options for bidet cleansing. Also, for screen addicts, you won't miss a spec of news while shaving or putting on makeup, as there's a TV embedded in every bathroom mirror.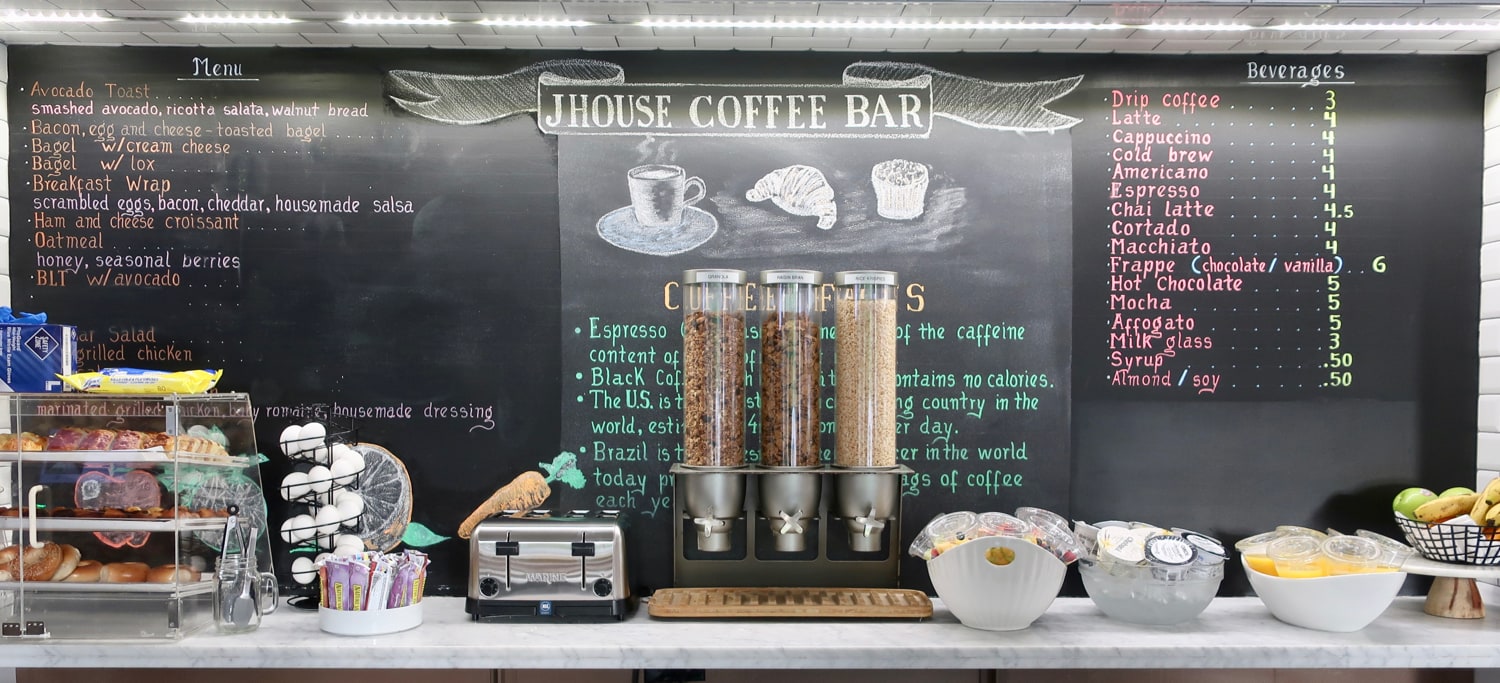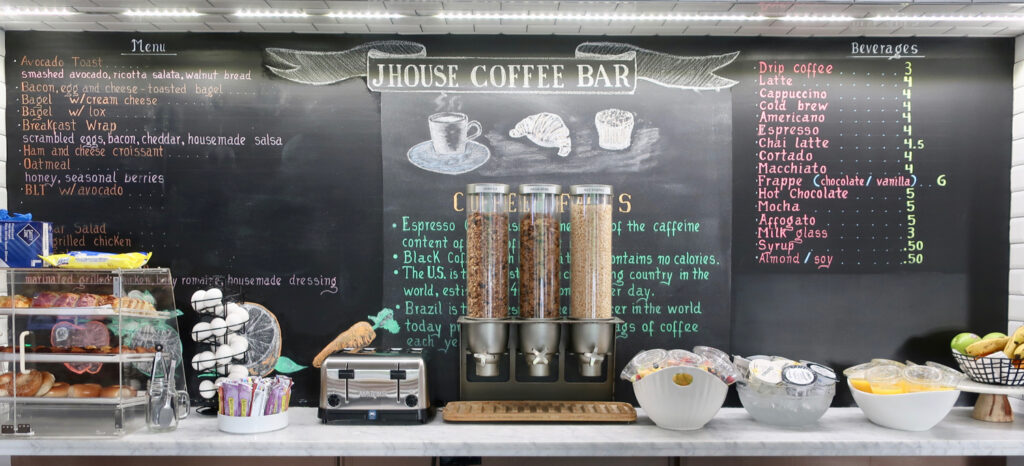 Coffee Bar
Every morning a complimentary continental breakfast is laid out at the Coffee Bar. There, you'll also find Coffee from around the world, fine baked goods and breakfast and lunch bites.
Tony J's at the J-House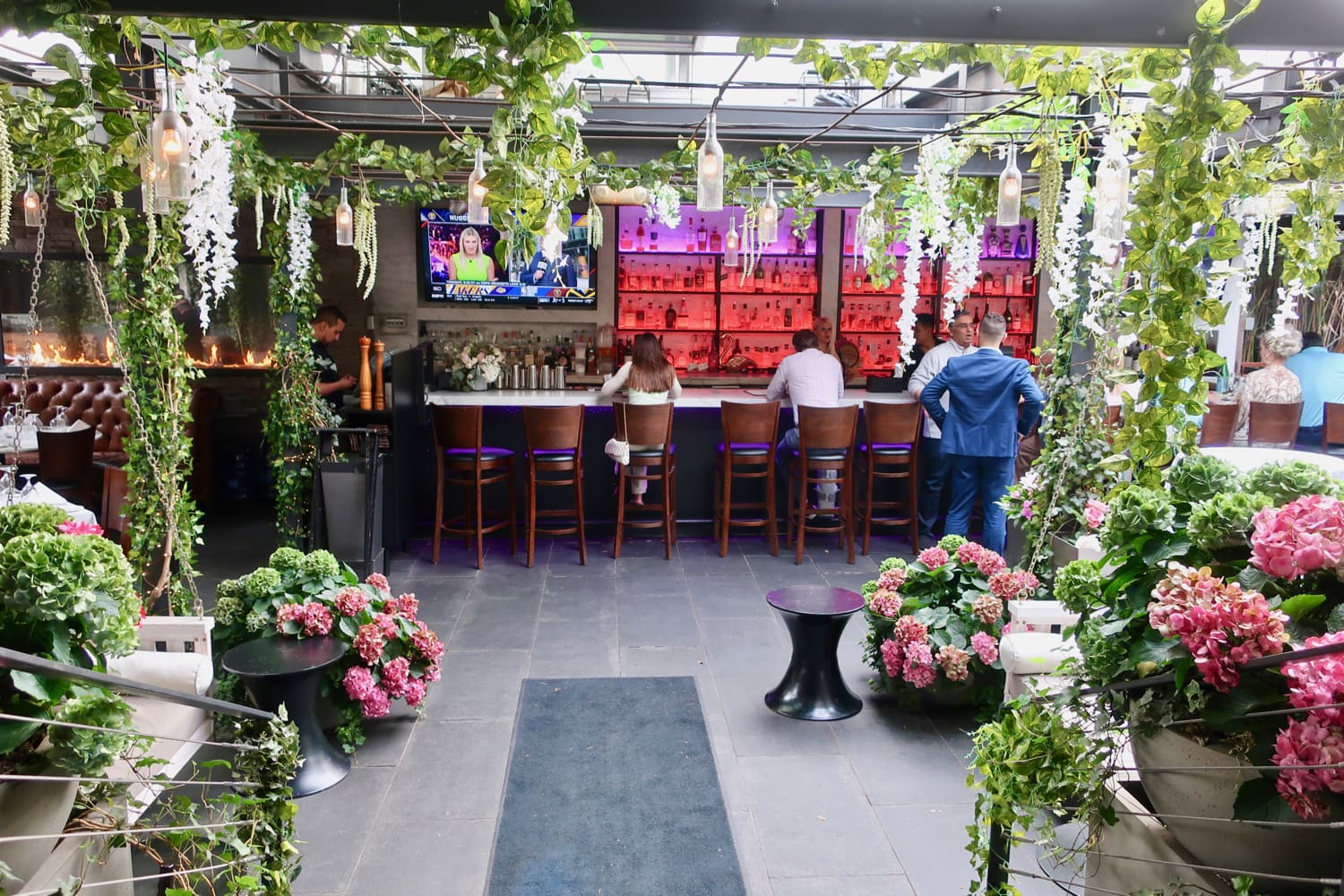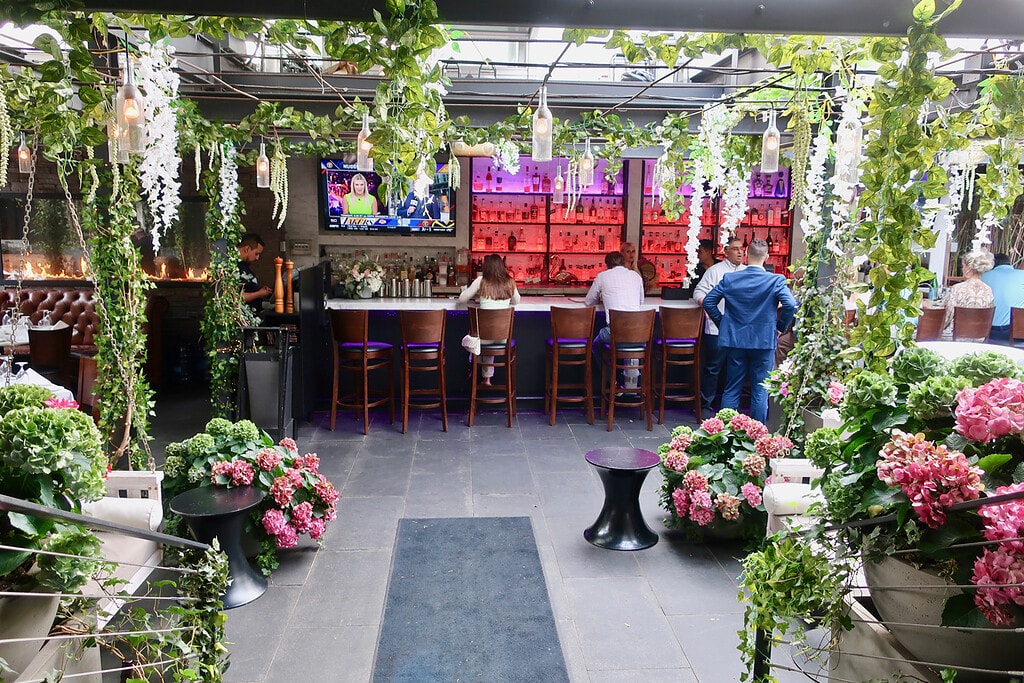 Force of nature Tony Capasso presides over on-site restaurant, Tony J's at the J-House, and he's everywhere seemingly all at once. He might be laughing with a tech billionaire, joking around with bold faced names who just flew in from the coast, or quizzing locals with his latest trivia questions. A big personality, Tony treats new guests and regulars like regular people, no matter who you are.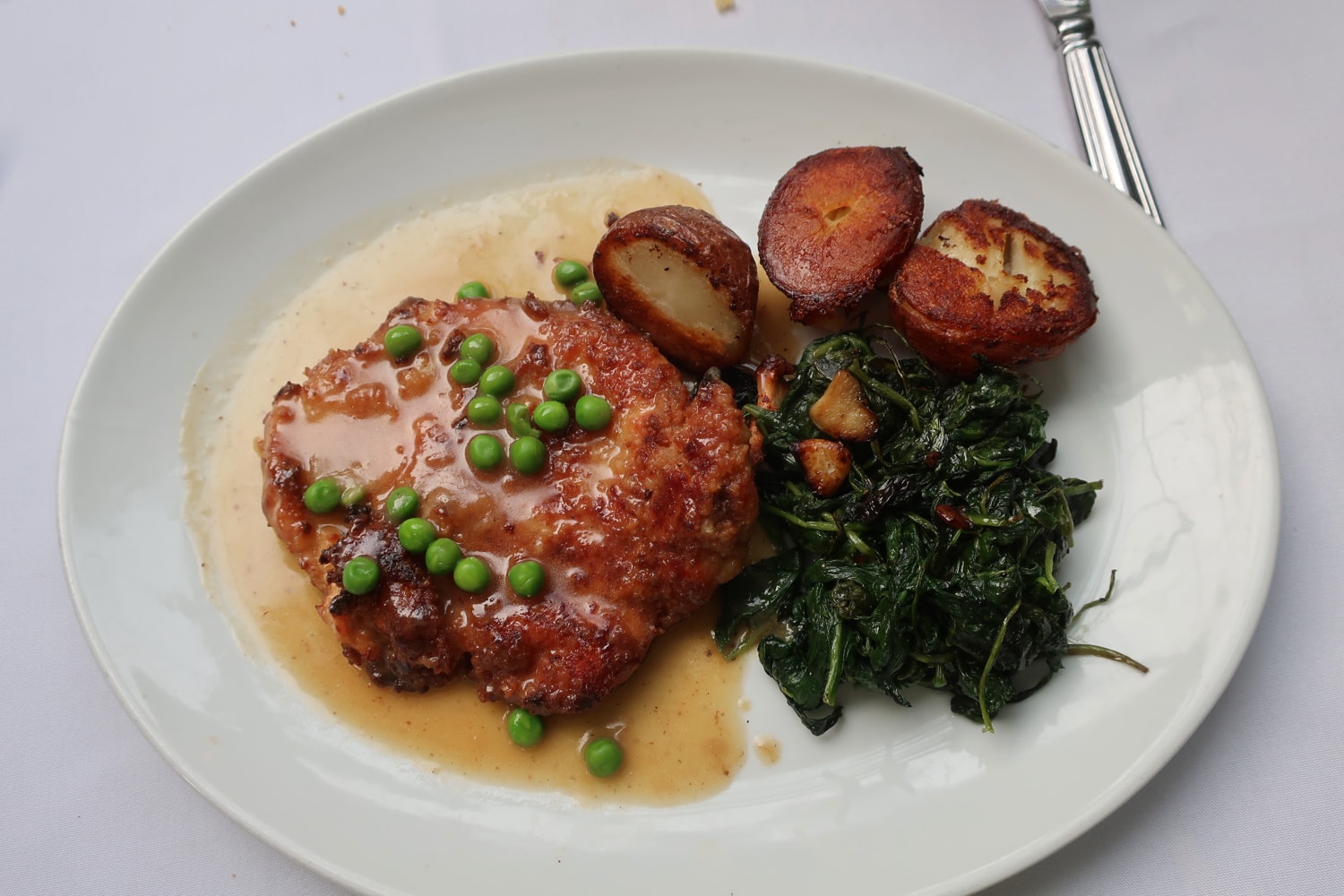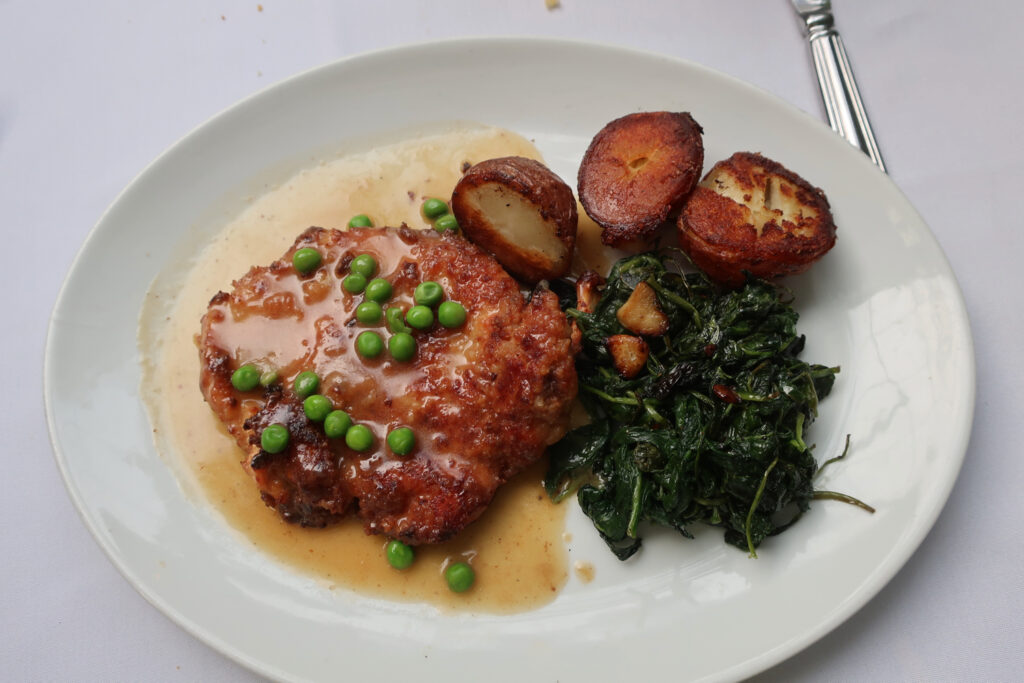 Although Tony J's features prime steaks, sushi, and "market fresh fish," my personal favorite is the Martini Chicken: a pounded, breaded breast, browned to perfection and bathed in a luscious sauce. Apparently, I'm not alone. It's a Tony J's Signature.
When it's cold out, locals find camaraderie at the restaurant bar, topped with starburst chandeliers. But the festive scene in summer is out on the wisteria-canopied patio, where elbowroom is at a premium.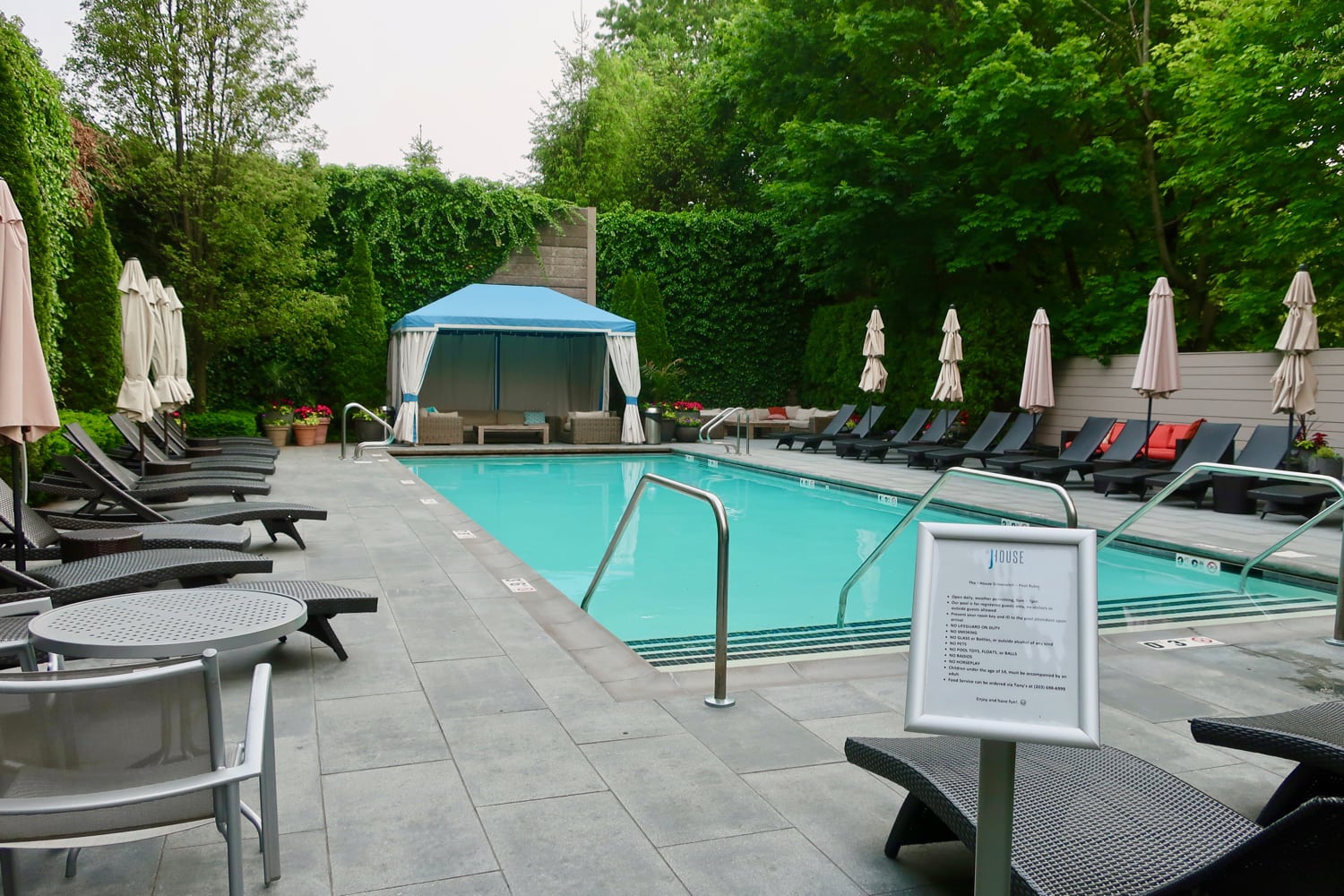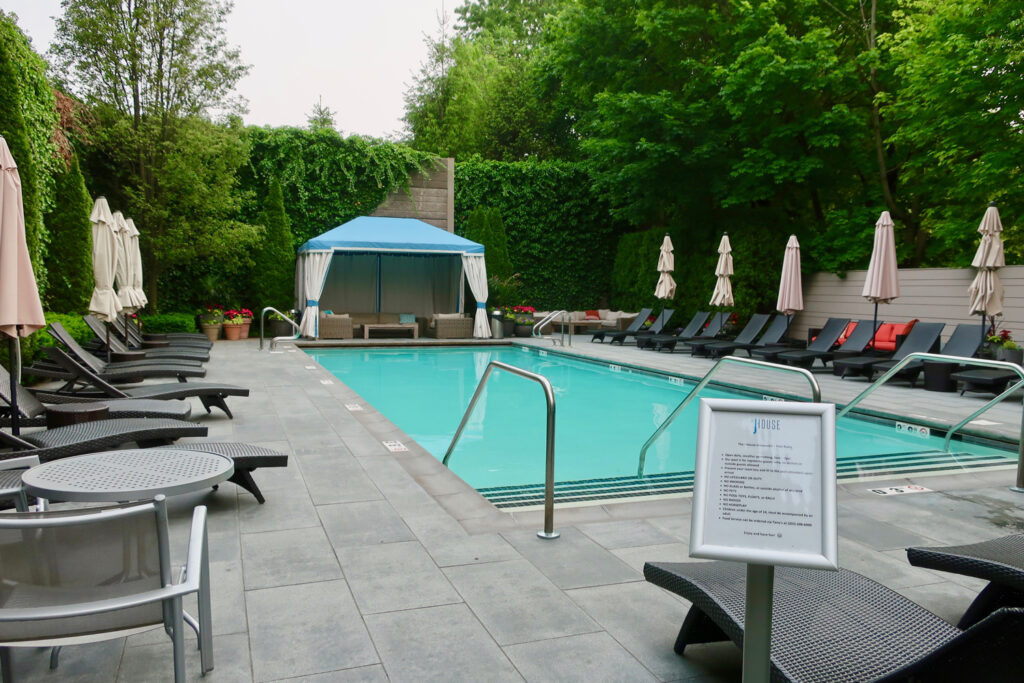 J-House Pool
Yes, there's a pool. And, though it's off the side of the parking lot, creative landscaping places you in some exotic locale.
J-House Spa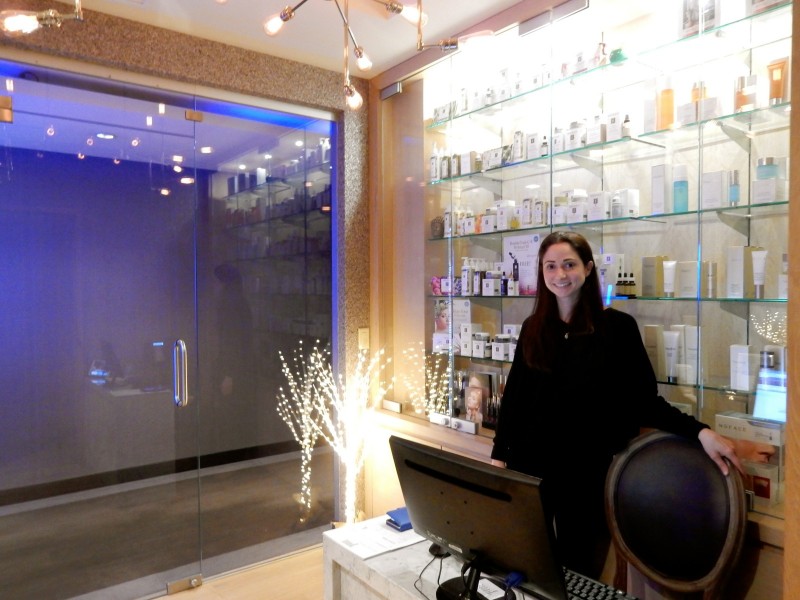 Open seven days a week, and with 8 massage therapists and 3 aestheticians, the J-House Spa is a hit with guests in need of a good rubdown or cosmetic session.
Though not big (4 treatment rooms; one dedicated to couples), the Spa makes up for lack of steam rooms, sauna and other Big Spa amenities with extremely professional therapists. Restorative treatments include massage, wraps, body exfoliation, facials, waxing and make-up.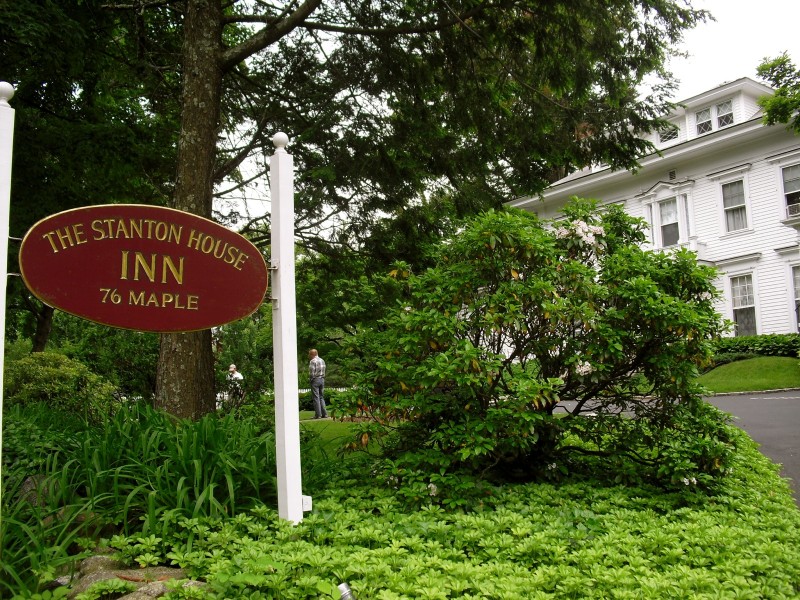 STAY: Stanton House Inn
The gracious Stanford White designed Stanton House Inn, a Federalist mansion just steps from downtown Greenwich yields charming surprises, especially for such a moderate (for Greenwich) price. Currier and Ives prints dot the walls of two ground floor sitting rooms.
Several rooms have luxe Duxiana beds. The couple taking morning tea in the parlor might be from France or just across town. With breakfast included in the cost of an antique appointed suite, and a beautiful garden-side outdoor pool, it is indeed the best deal in town.
Stay in the original master bedroom, Room #20, a King Suite with 16 ft. ceiling, electroflame fireplace and an antique claw-foot tub.
STAY: Greenwich Hyatt
At Greenwich Hyatt Regency, perhaps you'll hear echoes of the beat of the old Conde Nast Publishing presses as they churned out Glamour, Better Homes and Gardens, Vanity Fair, and other national glossies in one of the most park-like hotel lobbies in the country.
Known as "Greenwich's lobby," this human terrarium suggests a tropical paradise with living banana trees, palm trees, coursing streams, Koi ponds, and waterfalls. The Gazebo Lounge is to Greenwich what the Grand Central Station Information Booth is to New York. THE place to meet. Decently priced rooms have a fresh, classic Coastal New England vibe.
All articles belong to Getaway Mavens LLC, and all photos belong to us as well, unless otherwise noted. It's all copyrighted. Please don't repost anything elsewhere without asking us first. All rights reserved. This site uses cookies to enhance your experience.
We make no guarantees of any price listed on our site. We're not responsible for content on external websites linked to ours, including linked resources, an external blog post, any partner site, hotel property sites, or affiliate sites. We only write about places we have vetted, but can't guarantee that your experience will be exactly the same.
Posts may contain affiliate links at no cost to you. Several of our trips are also compensated by the respective tourism boards for the city or state we are visiting. This never impacts how we share the destination with you – opinions are always our own and we pride ourselves on that. We do not sell links or accept unsolicited guest posts under any circumstances. Don't even ask.
United States Copyright, Getaway Mavens, LLC