Last Updated on
WHY GO: New Haven CT is home to Yale University. Original Gutenberg Bible. Most innovative Live Theater in the country. Free World Class Art Museums. Best Pizza on the planet. Birthplace of the a) Hamburger, b) Frisbee, c) Knights of Columbus, d) Cotton Gin, e) Dictionary.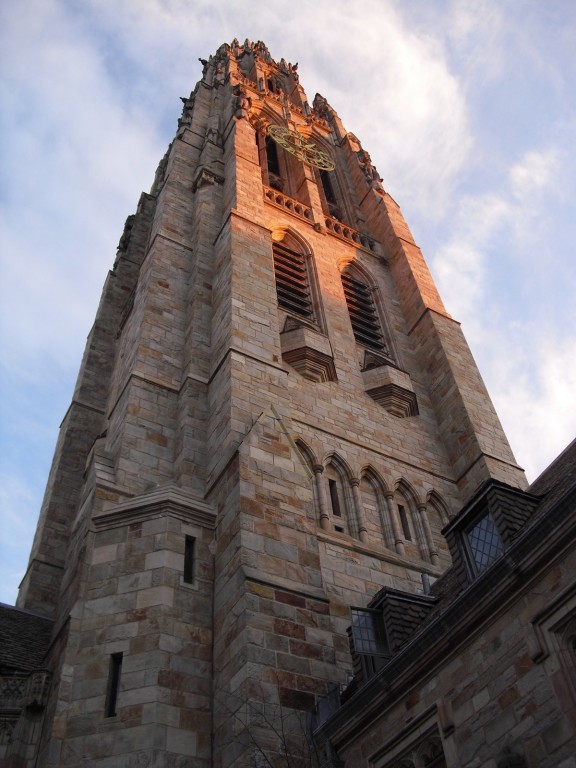 There are so many reasons to visit New Haven CT, and this Getaway is just the start.
Things To Do In New Haven CT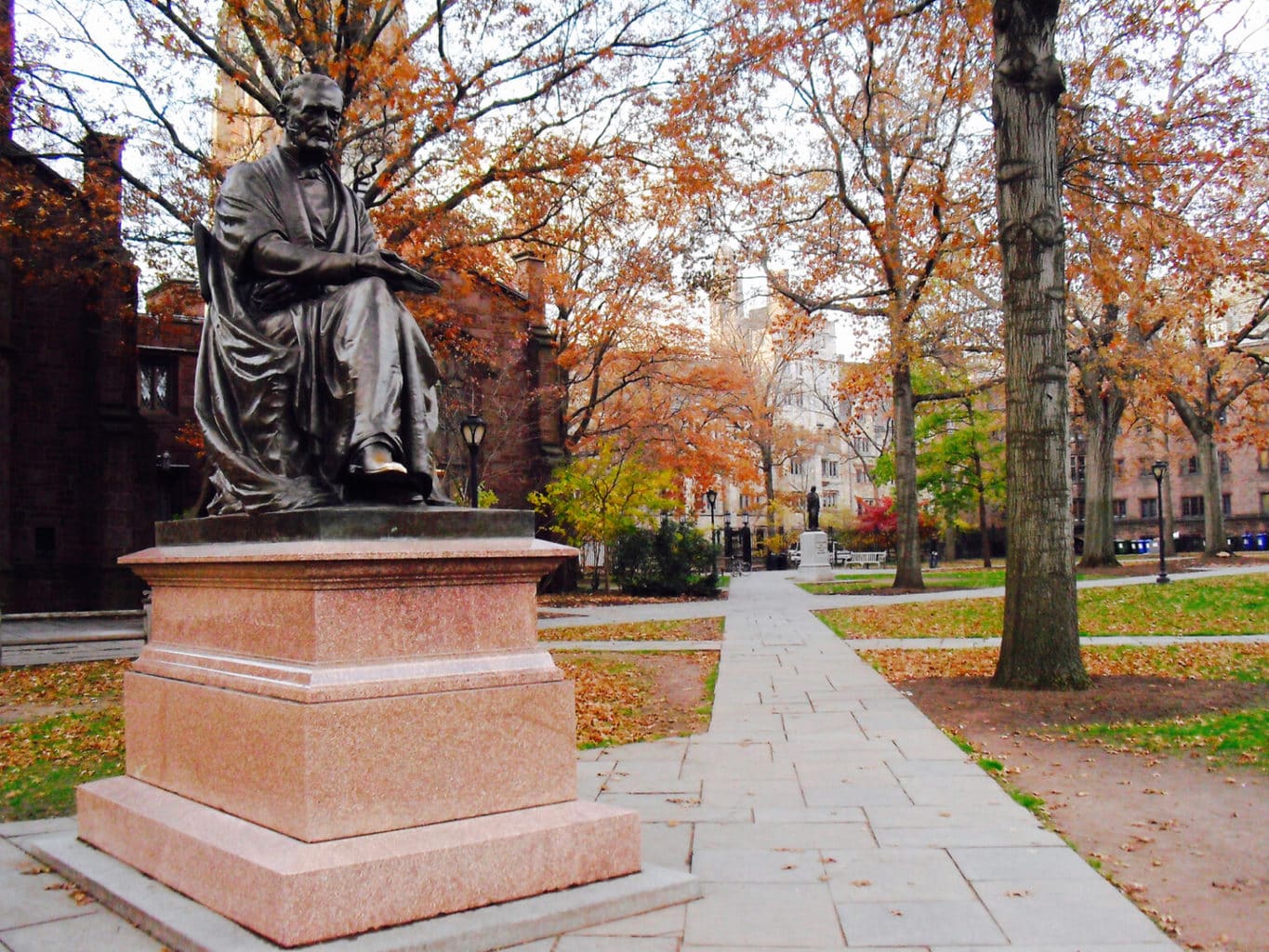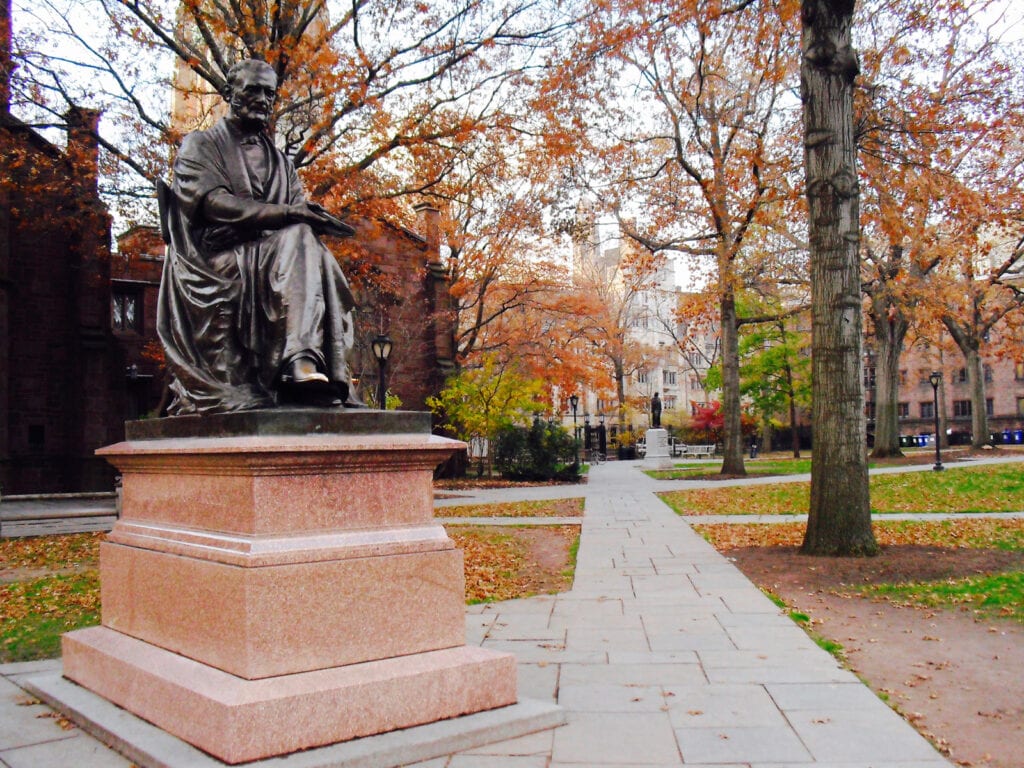 Ivy-bound or not, no trip to New Haven would be complete without a campus tour led by a loquacious student guide. The Georgian and Gothic style dorms and academic buildings are beguiling no matter when you go, though its best to come during the academic year for the full experience.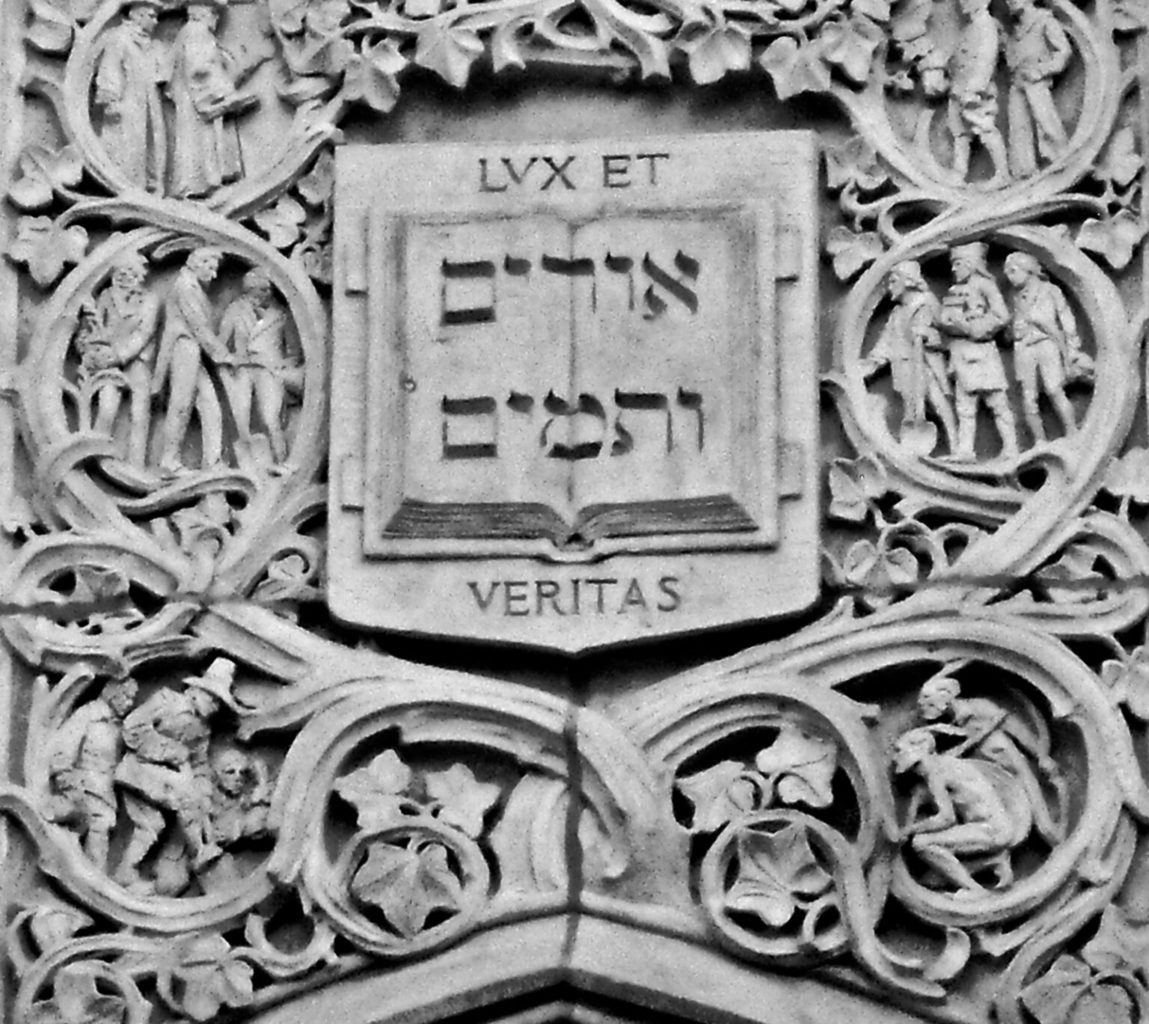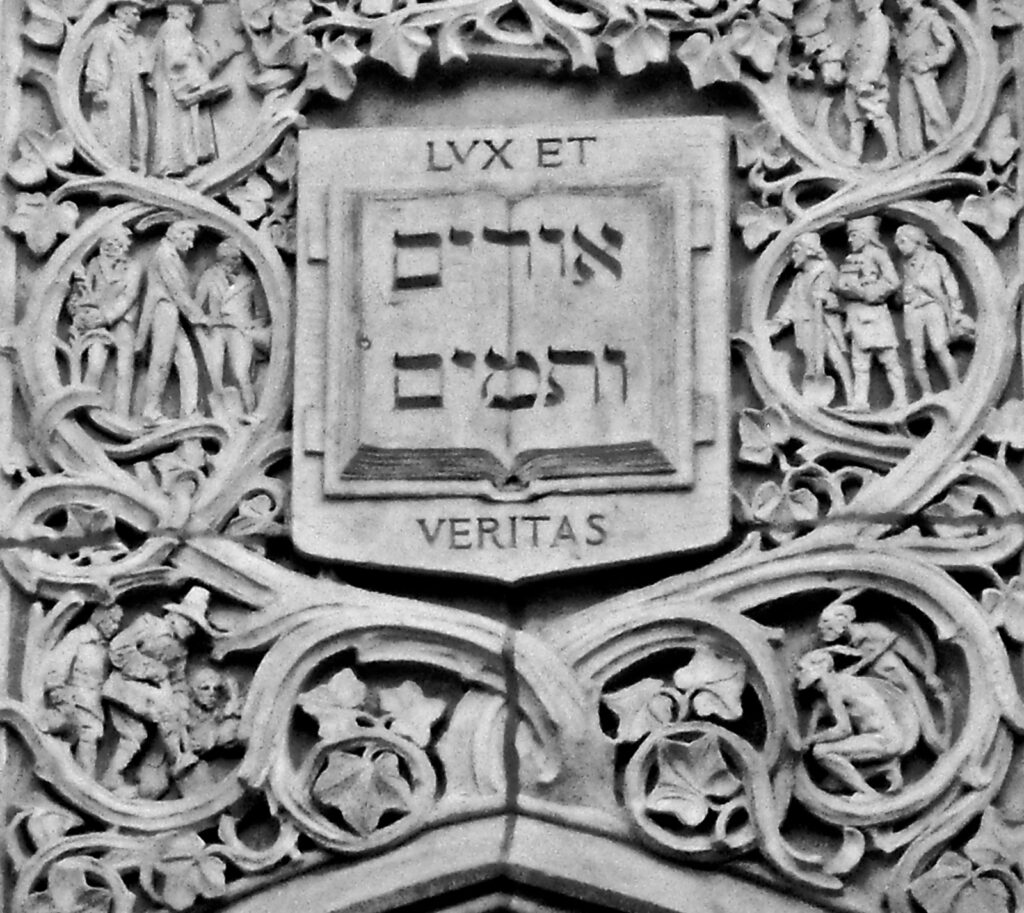 You'll visit the Beinecke Rare Book and Manuscript Library to see one of the few remaining Gutenberg Bibles left intact in the world.In place of paper-damaging glass windows, diffused light from beautiful translucent yellow marble panes one and a quarter inch thick set the inner shaft of books ablaze when the sun is low in the sky.
Free 1 ¼ hour tours leave from Visitor Center, 149 Elm St. Mon. – Fri. 10:30am, 2pm, Sat. and Sun. 1:30.
"Starchitect" Louis Kahn's first commission, the Yale University Art Gallery has undergone a $135 million renovation uniting three historic buildings.
Reopened in December 2012, the expanded museum now runs 1 ½ city blocks with nearly 70,000 square feet of exhibit space.
With a 4,000-piece collection of European, African, Asian and American art from ancient to contemporary, this museum does not overwhelm. It inspires. Free admission, Tues – Fri. 10am-5pm, Sat/Sun 11am-5pm. Closed Mondays.
Housed in an architecturally significant building ("My Architect" documentary subject, Louis Kahn's, final design), this is the first museum in the US to incorporate retail space on the street.
A wood-paneled four-story interior housing the largest collection of British art outside of the UK covers an enormous amount of territory from the Middle Ages to modern times.
Perfect for those fascinated by early portraiture, maritime oils and lots of equestrian paintings – or who'd like to sit within reach of the some of the oldest books in the English language. Free admission.
Eli Whitney, an industrial revolutionary who developed the cotton gin, and Noah Webster, creator of America's first dictionary are buried within a gravestone's shadow of one another at the Grove St. Cemetery.
You'll find other Father's Of Invention as well as iconic historical figures here as well. Free tours May – Nov. Saturdays at 11am and First and Third Sundays of each month at noon.
View the model of Eli Whitney's cotton gin, made by the inventor's own hands in one of the lesser known museums in town.
Breeze through exhibits that document the history of the New Haven from a Puritan settlement to an Industrial city for an overall view of its importance in American history. Open Tuesday – Friday: 10 a.m. – 5 p.m., Saturday – 12 – 5 p.m. $4 adults.
Cool Trivia – In 1920 Yale students began tossing tins from locally baked Mrs. Frisbee's' Pies to each other on the Green for sport – forever changing the face of collegiate pastimes and extreme disc-tossing.
And in October '12, winds from Superstorm Sandy toppled an old tree on the Green, unearthing human remains that were tangled in its roots.
Historians believe the bones were those of victims from the 1775-82 small pox epidemic buried in mass graves.
Once declared "the prettiest street in America" by Charles Dickens, Hillhouse Ave. is notable for another reason entirely. In the basement of St. Mary's church (set within an enclave of WASP homes) in 1882, Father Michael J. McGivney established an organization that sought to counter the growing persecution of Catholics in the United States and provide life insurance for his parishioners.
McGivney launched what was to become the largest Catholic lay society in the world; the 1.6 million member Knights of Columbus.
If prayer is in your heart, head to the Knights of Columbus Museum to trace the history of the largest lay Catholic organization in the world.
Walk into the vast lobby to see the 400 year old copper-clad cross that rested in Christ the Redeemer's arms atop St. Peter's Basilica.
For those of a certain faith, New Haven is a Pilgrimage site. Free admission daily 10am-5pm except Thanksgiving, Christmas Eve, Christmas and Good Friday.
Marlon Brando shouted, "Stella!" for the first time on this stage in the 1947 premier of A Streetcar Named Desire. Julie Andrews sang "The Rain in Spain" to Rex Harrison, and Yule Brenner twirled his ladylove here before My Fair Lady and The King and I moved to Broadway.
Rogers and Hammerstein considered the Shubert their "lucky theater" – seven of their musicals went on to acclaim from here.
Built in 1914, The Shubert Theater was the preeminent "tryout house" for some of the most legendary stage productions of all time; including Oklahoma, the Sound of Music and Carousel.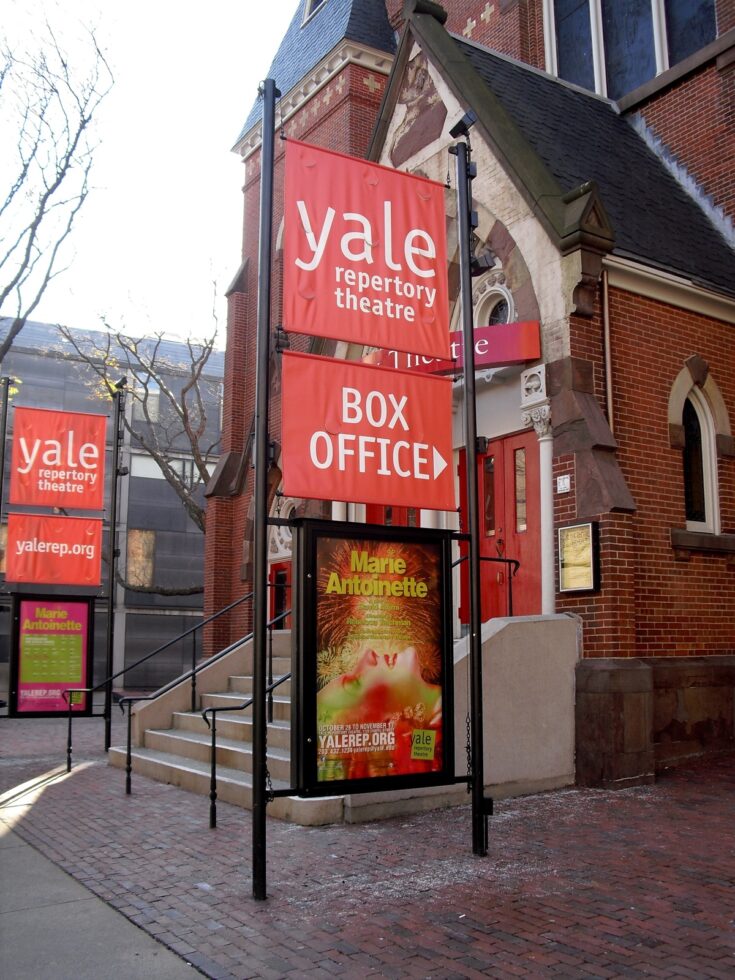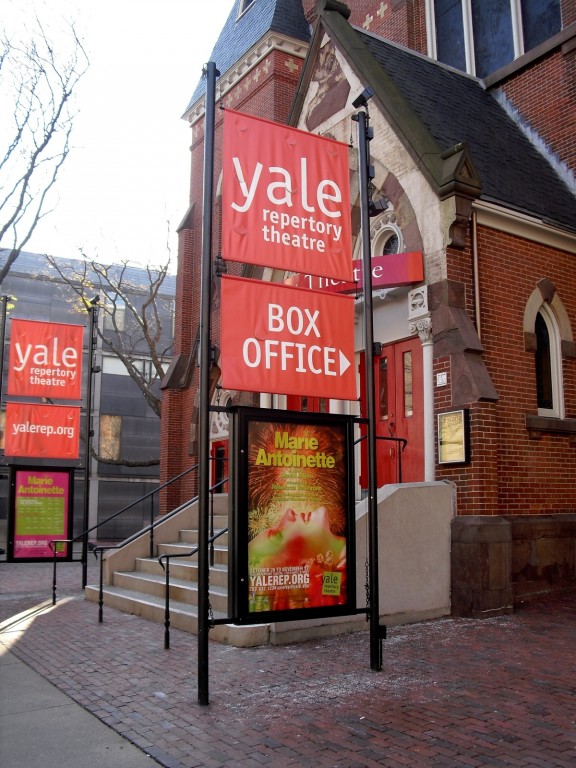 Meryl Streep and Sigourney Weaver got their start in this theater where students, writers and set-designers from Yale's Graduate School of Drama take creative risks that other more commercial playhouses might shun.
Many who got their start here return for a production or two. Everything presented is first rate, and who knows? You may just catch a future star on the rise.
Located in a food terminal, across from Hummell's Hotdogs, this hidden gem has premiered Pulitzer Prize winning plays (Wit, Shadowbox, Gin Game) and featured Al Pacino in one of the first productions of American Buffalo in 1980.
Restaurants In New Haven CT
The perfect place to sit, sip, snack and study. An independent bookstore/coffee house, for a couple of bucks you can enjoy a huge muffin or scone then peruse an esoteric array of books.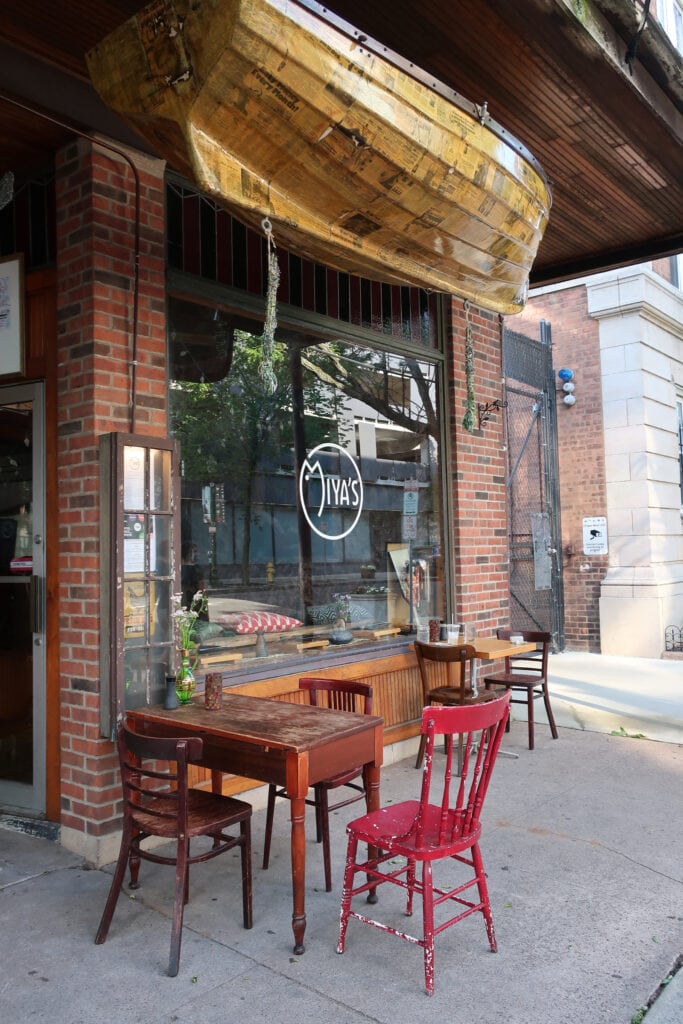 Miya's is the only "sustainable sushi restaurant in the US" with for sure the only reflective, social activist, quirky chef this side of San Fran.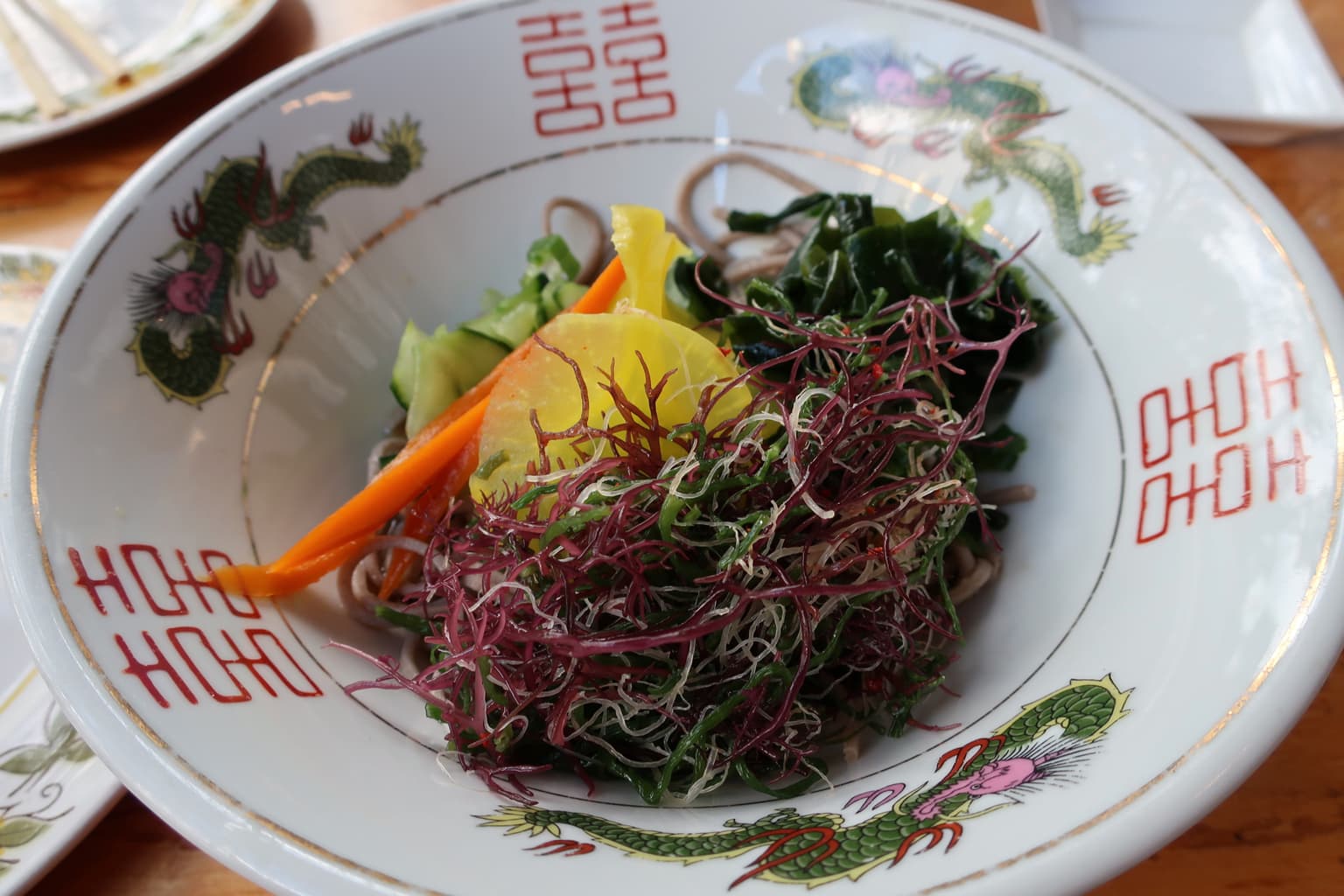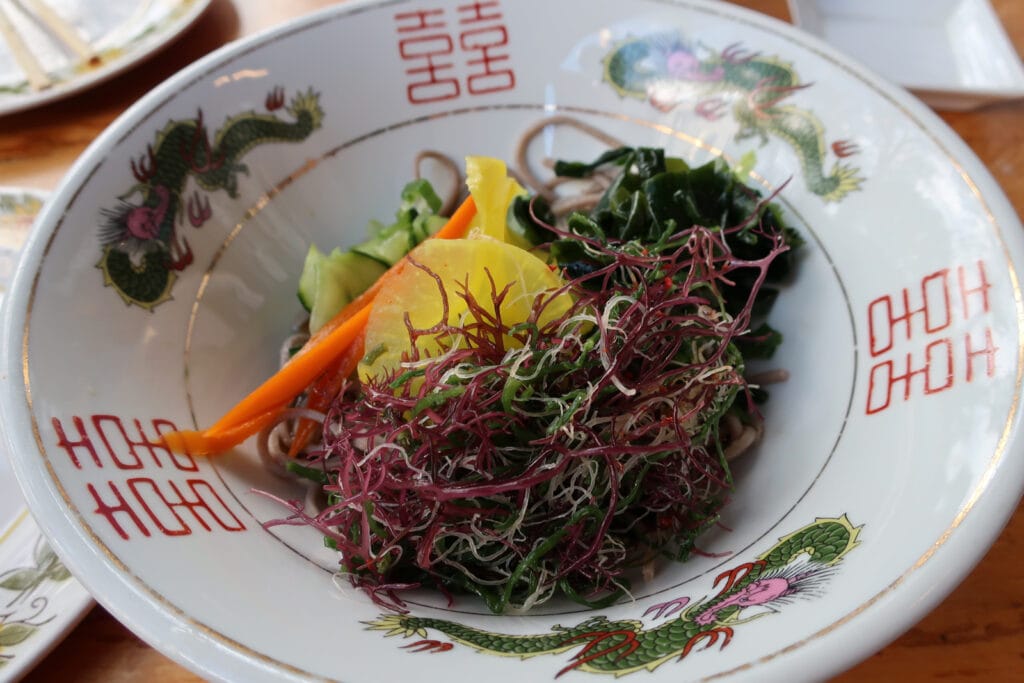 Chef/owner Bun Lai takes Japanese cuisine to infinity and beyond. Toothsome concoctions include "Kiss A Smiling Pig, the vegetarian "Killer Squid," Mom's Potato Salad, and the I can't believe it's not chicken "Karma Virtue Chickennots,"which is a box of chicken-less Southern fried chicken—made from spore-bearing wild toadstools/farmed oyster mushrooms. Holy moly – my favorite guilty pleasure. Of course there's so much more: plant, sea creature, and insect-based on the eclectic menu. Says Bun, "we don't want trendy.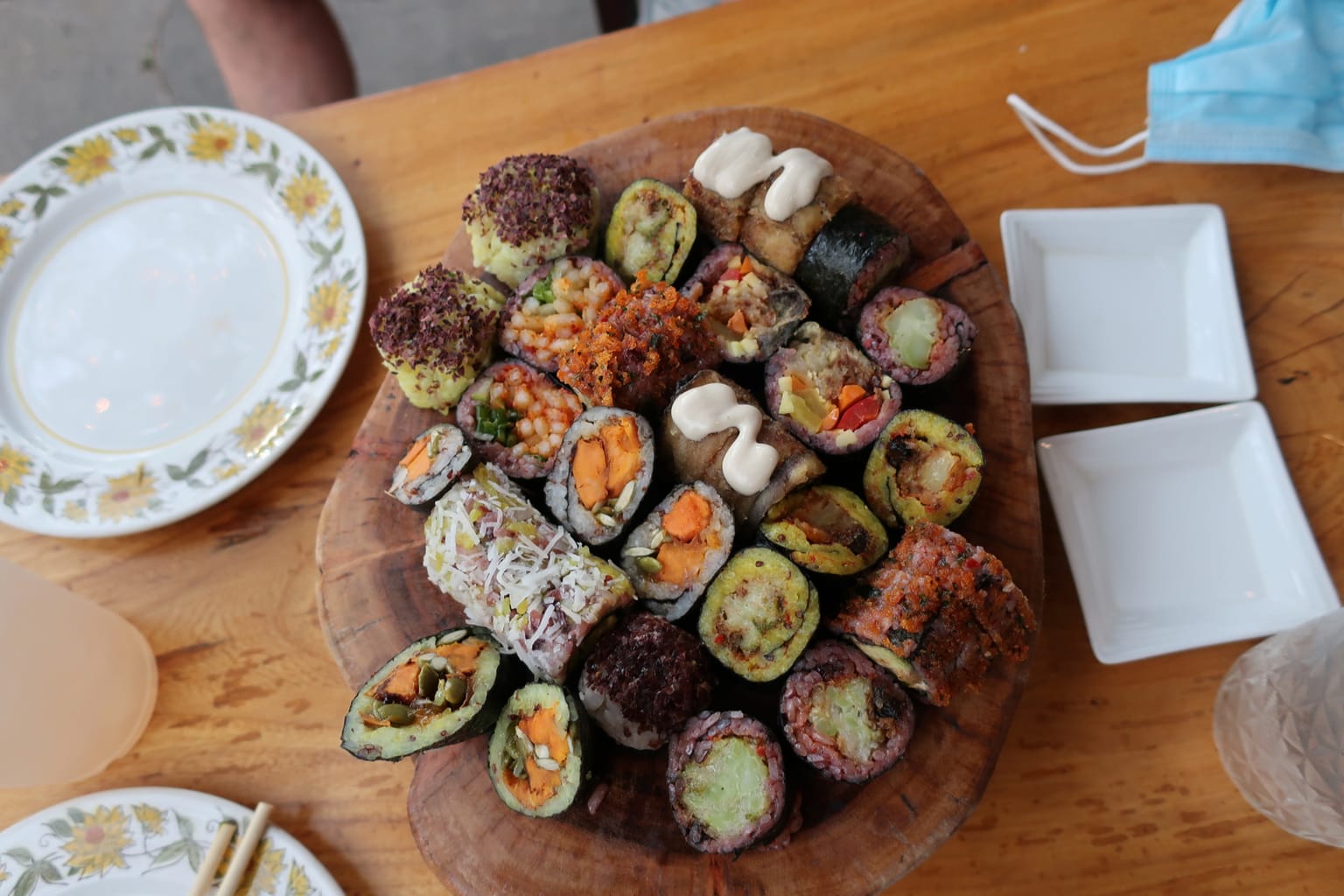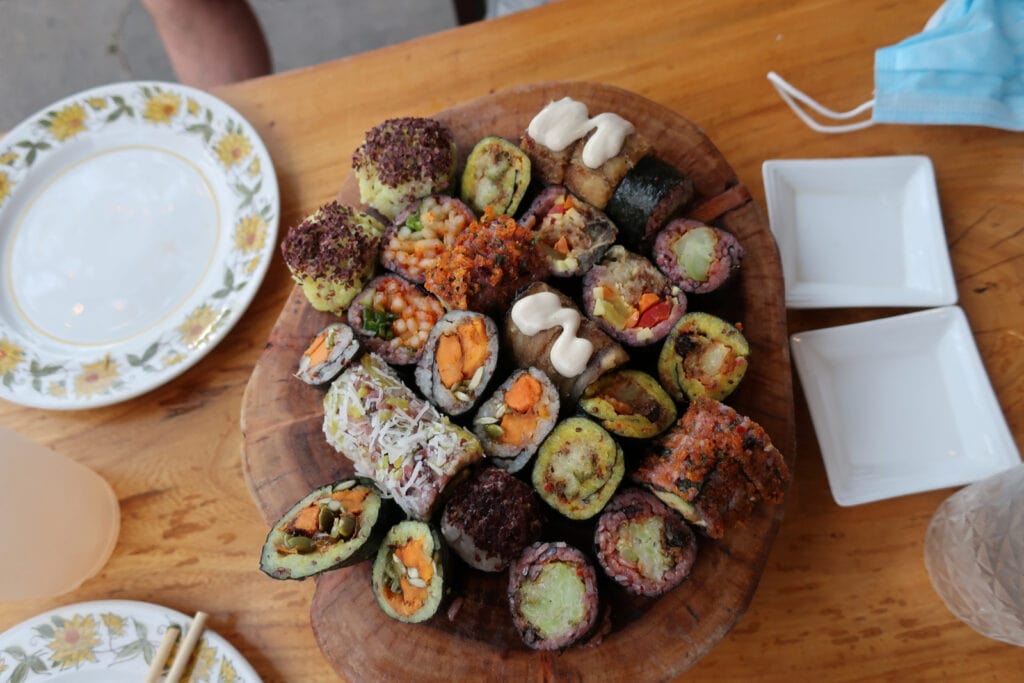 We want accessible, world-class food while making fun of haute cuisine." Mentioned in a New Yorker article about Invasive Species as food source, Miya's can increasingly be found on the world scene. Lines start forming early.
Louis Lunch, established 1900, is considered by many to be "the birthplace of the American Hamburger." Located in a tiny brick building, Louis draws hamburger purists (quarter pound of tartare quality beef on two slices of white bread with onion and tomato – no ketchup) from all over the globe.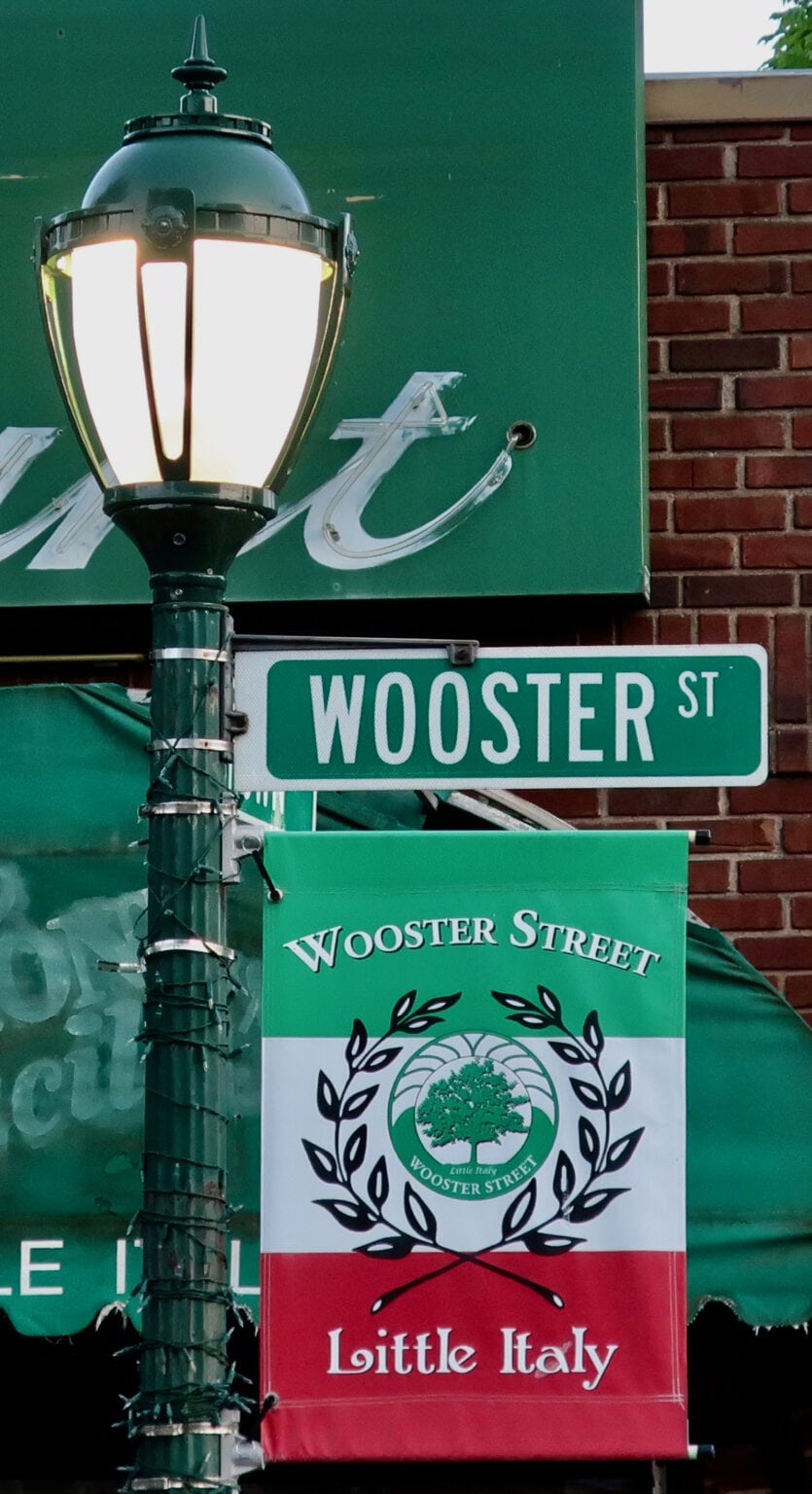 On Wooster Street, New Haven's Little Italy, three pie places vie for the "best pizza" in the region – or quite possibly the world. (Insider tip; don't stand on the long Pepe's line.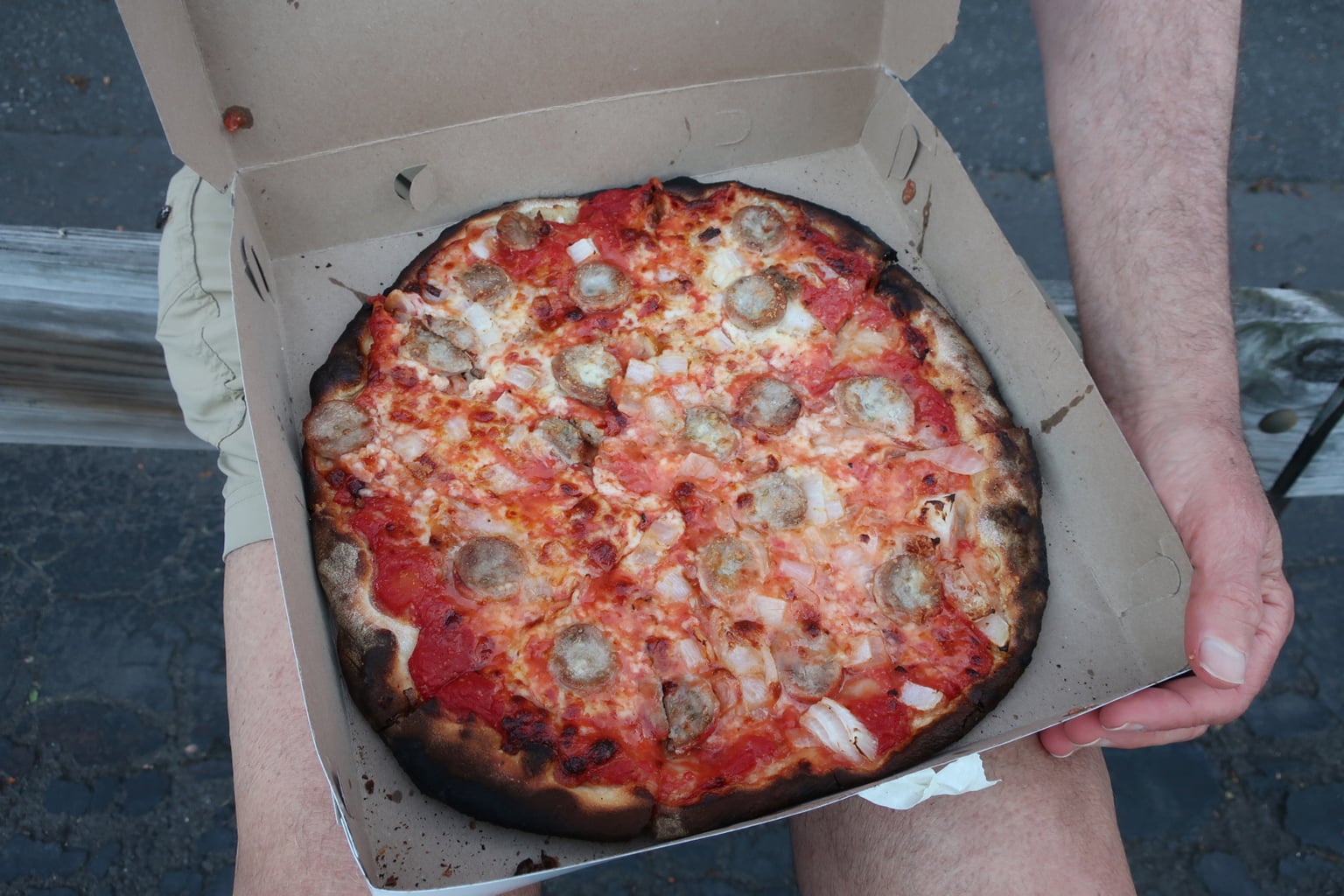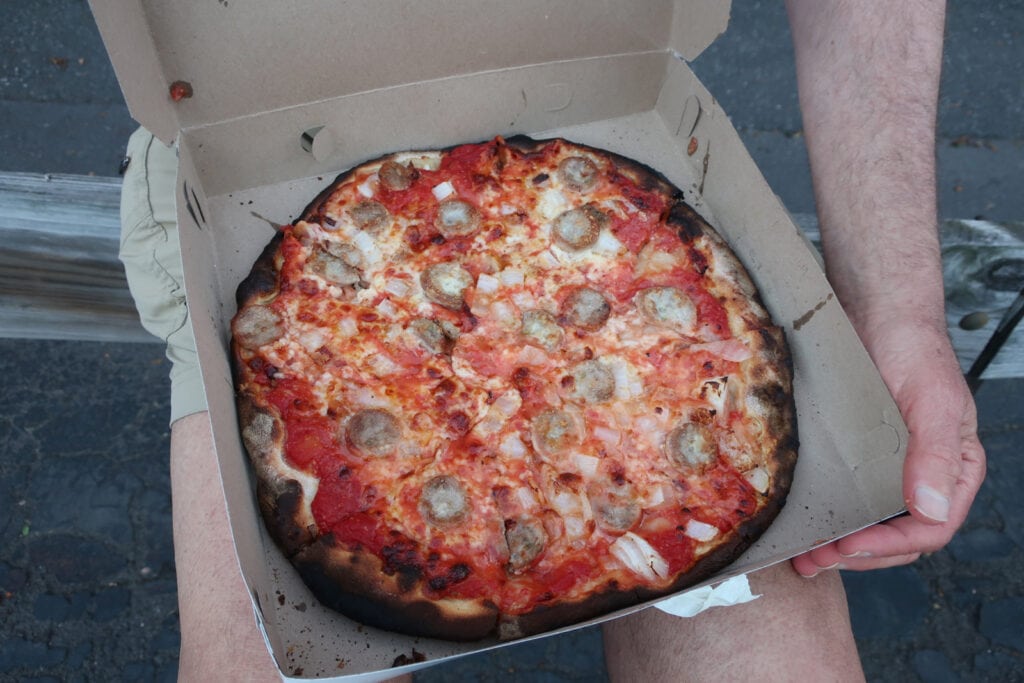 Go next door to The Spot – which serves the same Pepe's pizza). Pepe's signature White Clam Pizza is still a best seller. Relative newcomer Modern Apizza, opened in 1934is giving the old standbys a run for their money.
Toads Place was # 1 nightclub in the USA where, in the mid '80's the Rolling Stones tried out their new act, unannounced, before going on tour. High profile musicians just tend to pop in like that.
Hotels in New Haven CT
STAY: The Study at Yale
The Study at Yale could be confused with a swanky Crate and Barrel Furniture showroom…with cocktails. A whimsical pair of giant brass spectacles greets you at the door, and in the lobby, shelves brimming with art books, natural wood floors, and comfy distressed leather chairs in blues, creams and grays invite you to take a load off.
Sleep in a collegian's fantasy dorm room; study-mod suites sport light woods, heather teals and earth-browns. Ergonomic chairs are tucked under work desks set with stocked mesh pencil cups. Cute blue and white seersucker robes hang in gleaming white subway tile and grey-veined marble bathrooms.
Suites with cozy reading alcove offer views over the tile roofs and chimney tops of the stately Yale Campus. $199-$400 per night, includes complimentary wi-fi, apples and gingersnaps at check-in.
All 306 rooms have been newly renovated in earth tones, traditional furniture and incorporate Yale student art work on walls. The owner of Omni chain also owns Gold's Gym, so the hotel's fitness center is better than most. $179 and up per night.