WHY GO: New Haven CT is home to Yale University. Original Gutenberg Bible. Most innovative Live Theater in the country. Free World Class Art Museums.  Best Pizza on the planet. Birthplace of the a) Hamburger, b) Frisbee, c) Knights of Columbus, d) Cotton Gin.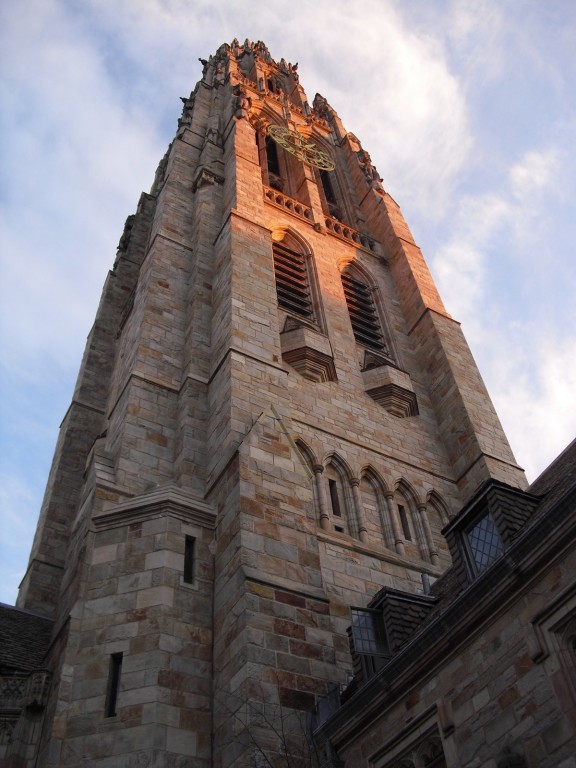 So – stay in a cool boutique hotel, eat fantastic meals, and enjoy life at the seaside college town of New Haven CT.
Looking for more quirky things to do throughout the Constitution State? Check out this Best Under the Radar Things to in Connecticut post.
Things To Do In New Haven CT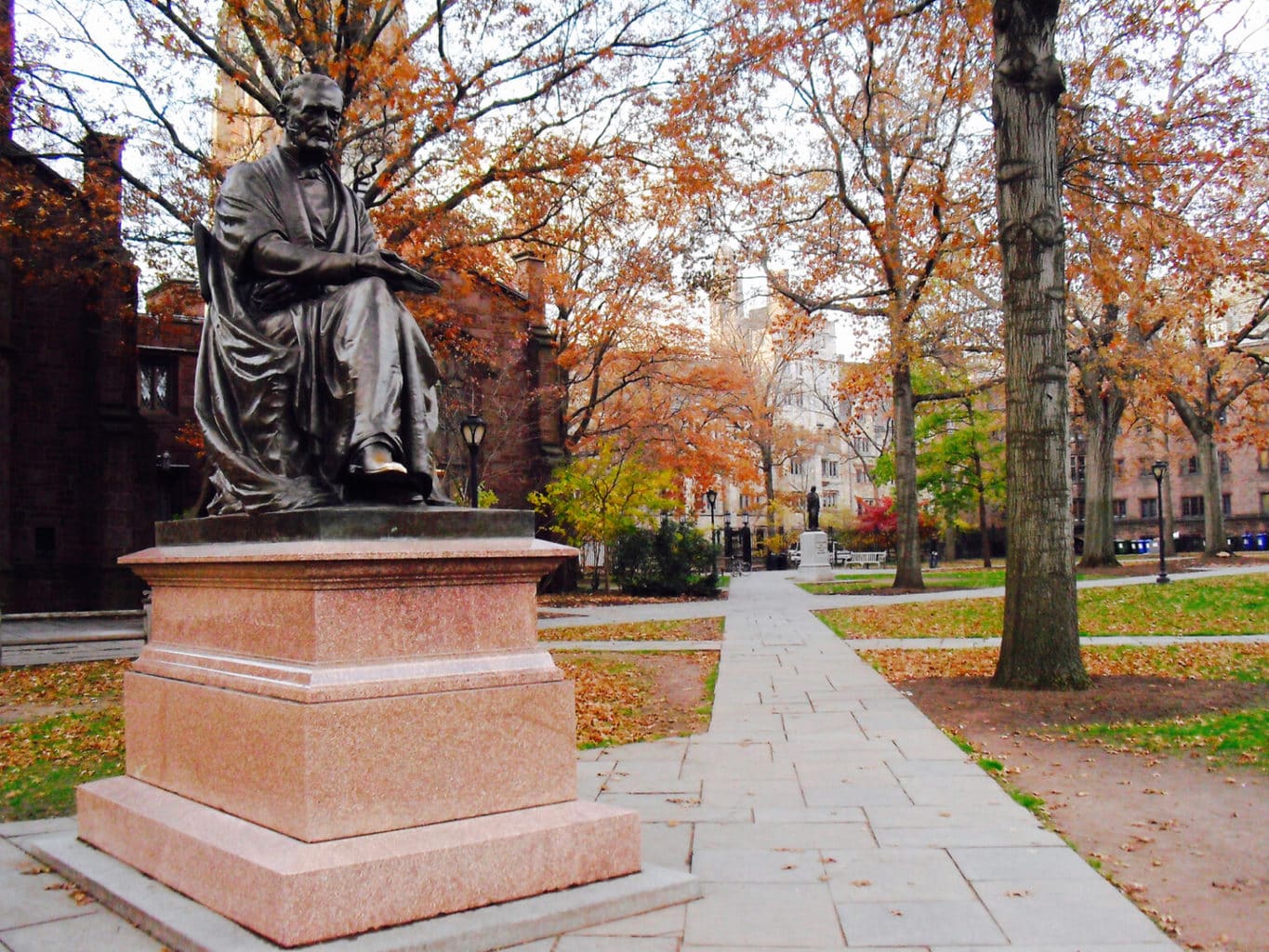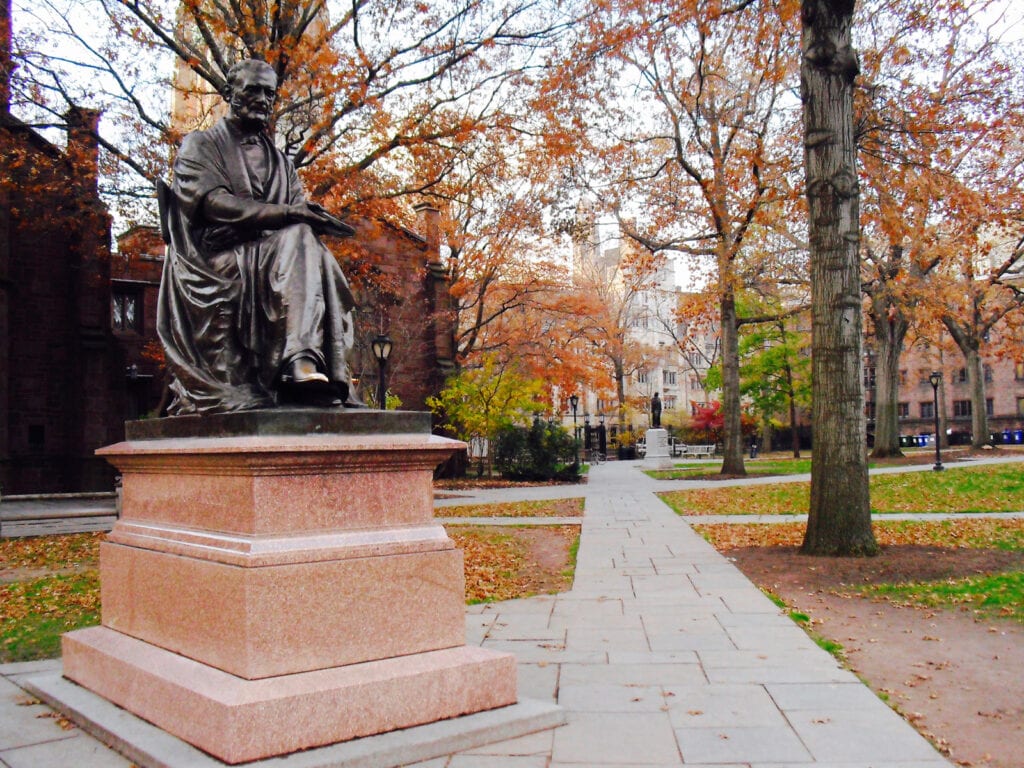 Ivy-bound or not, no trip to New Haven would be complete without a campus tour led by a loquacious student guide.  The Georgian and Gothic style dorms and academic buildings are beguiling no matter when you go, though its best to come during the academic year for the full experience.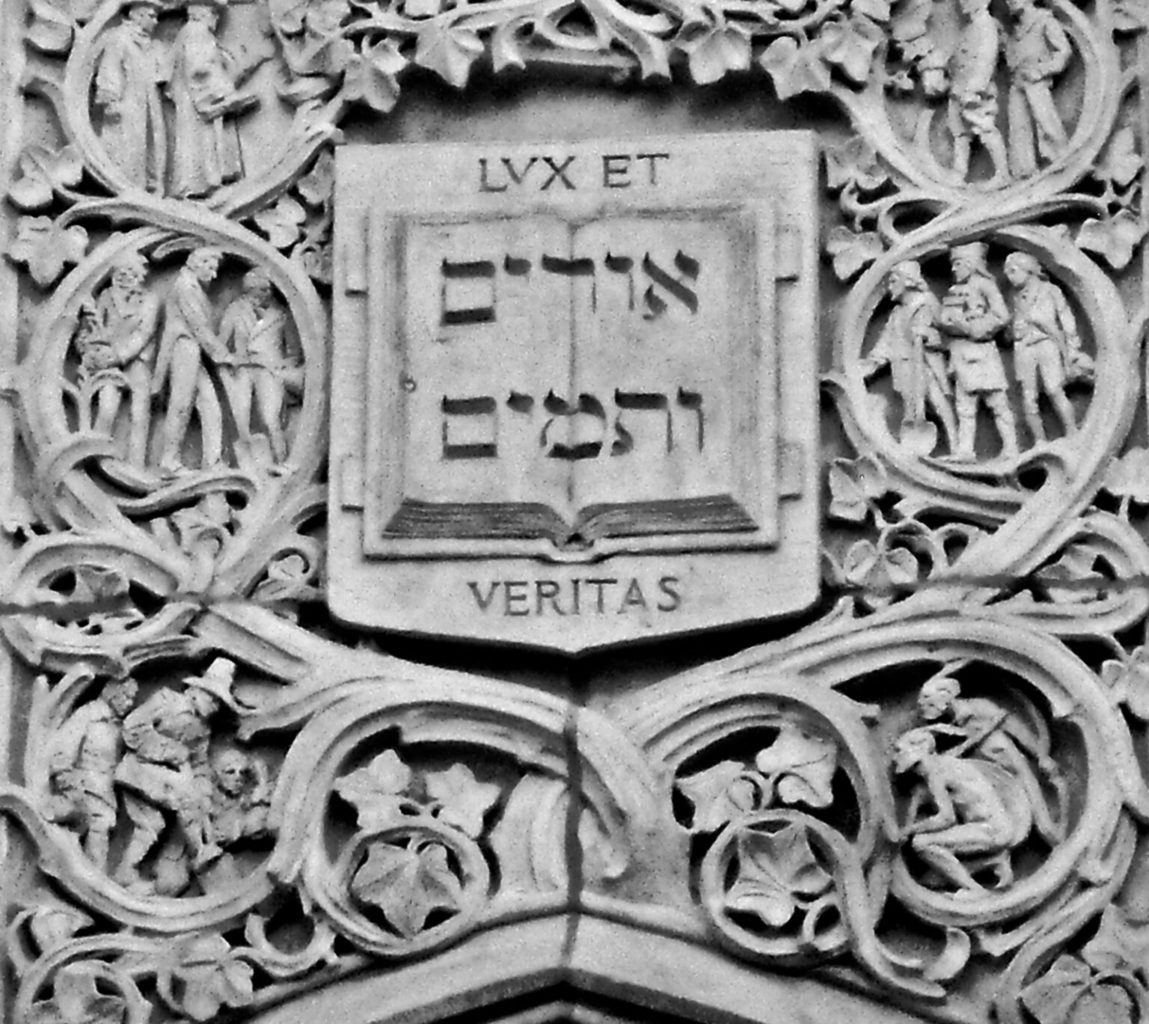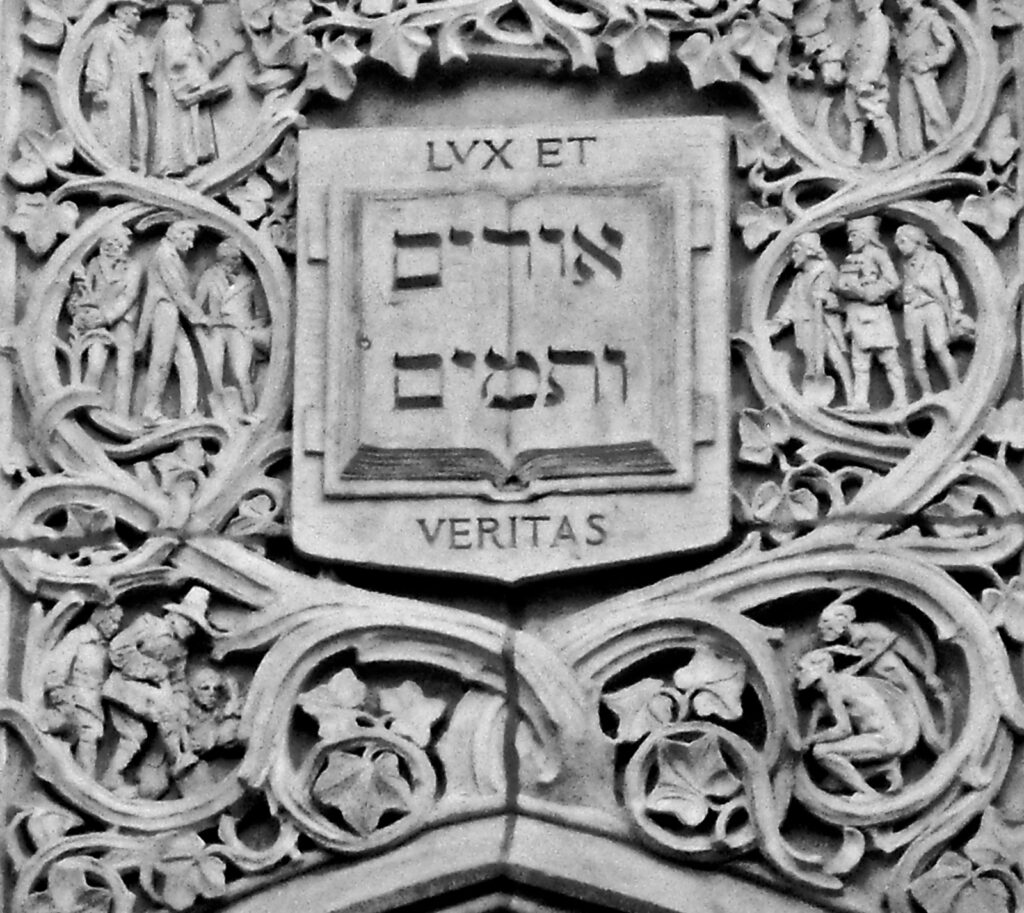 You'll visit the Beinecke Rare Book and Manuscript Library to see one of the few remaining Gutenberg Bibles left intact in the world. In place of paper-damaging glass windows, diffused light from beautiful translucent yellow marble panes one and a quarter inch thick set the inner shaft of books ablaze when the sun is low in the sky. Free 1 ¼ hour tours leave from Visitor Center, 149 Elm St. Mon. – Fri. 10:30am, 2pm, Sat. and Sun. 1:30.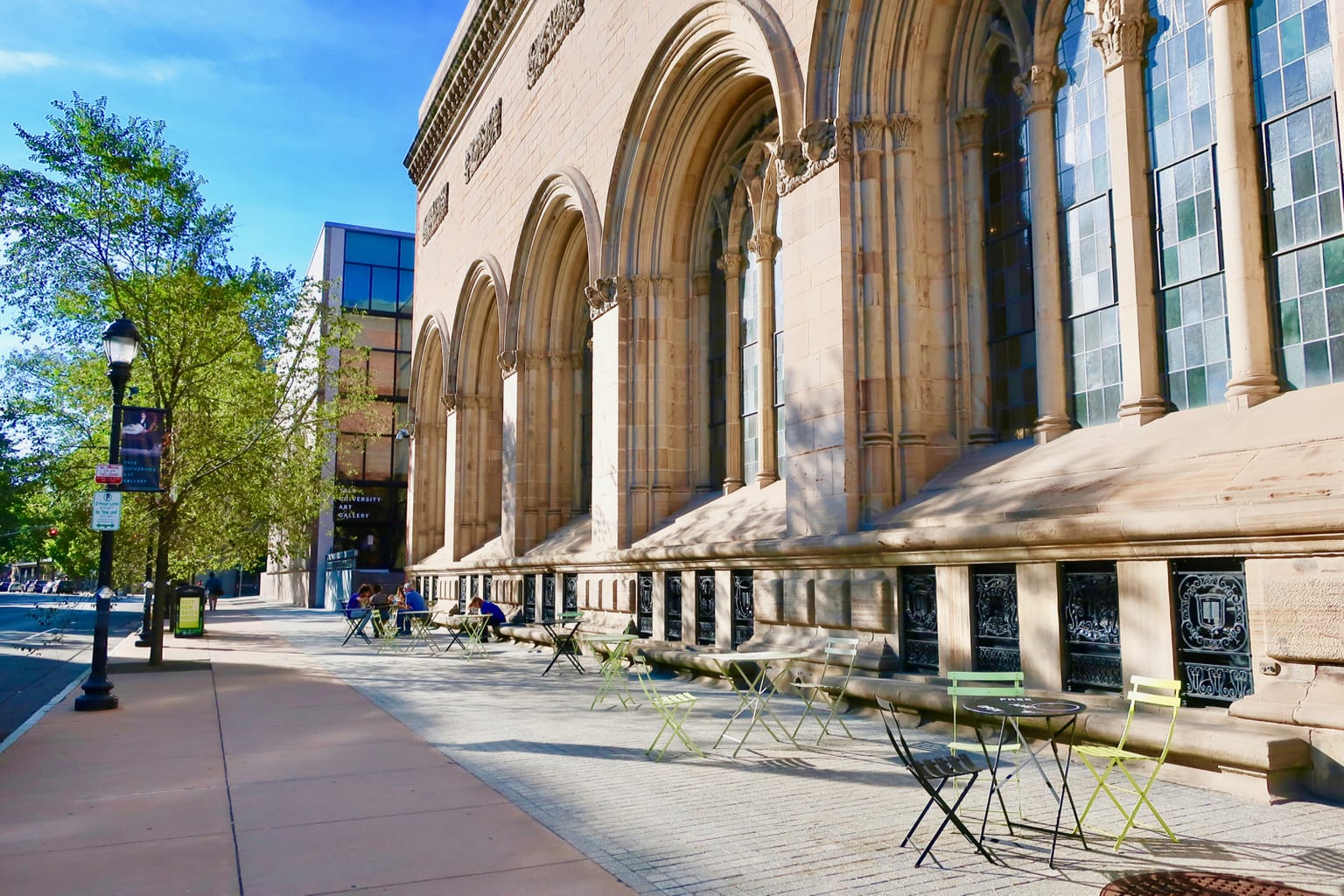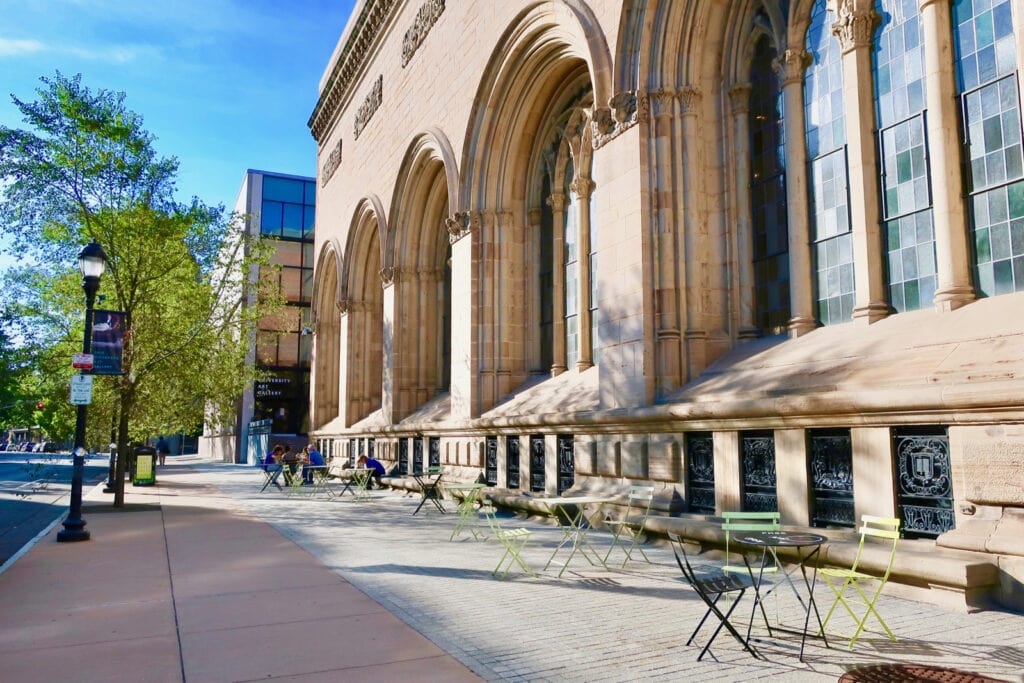 "Starchitect" Louis Kahn's first commission, the Yale University Art Gallery has undergone a $135 million renovation uniting three historic buildings.
Reopened in December 2012, the expanded museum now runs 1 ½ city blocks with nearly 70,000 square feet of exhibit space.
With a 4,000-piece collection of European, African, Asian and American art from ancient to contemporary, this museum does not overwhelm.  It inspires.  Free admission, Tues – Fri. 10am-5pm, Sat/Sun 11am-5pm. Closed Mondays.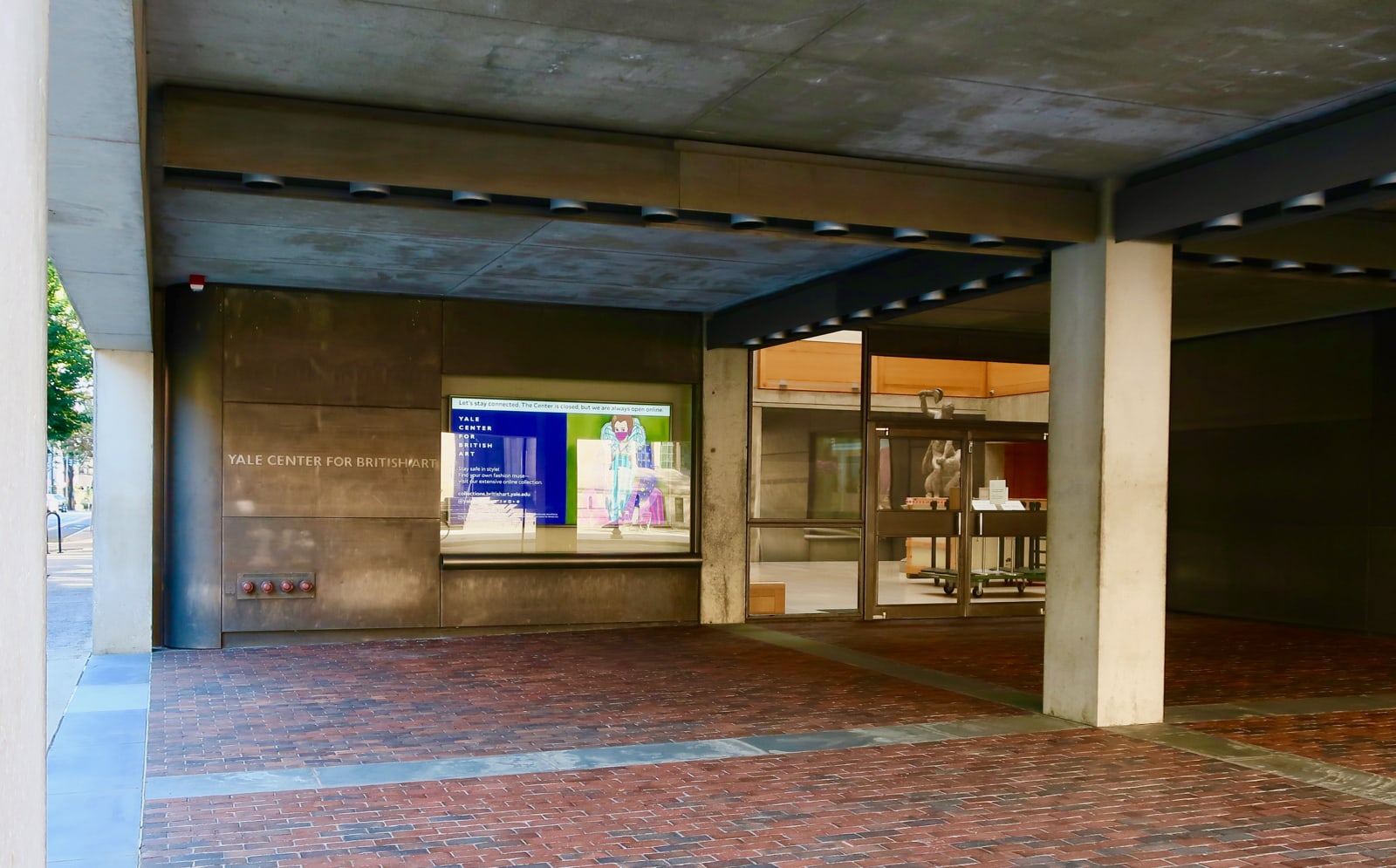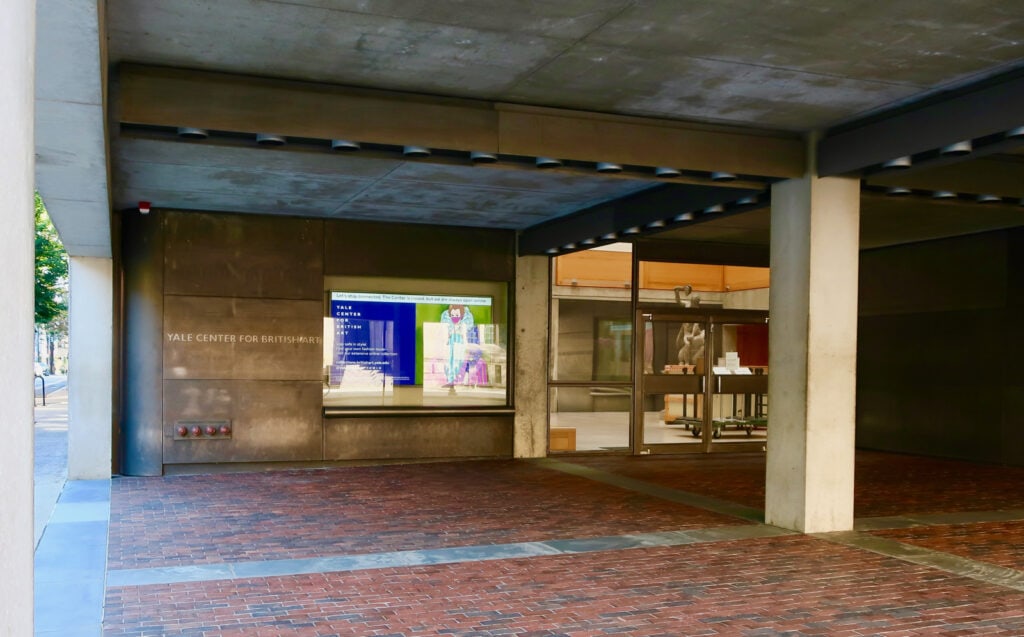 Housed in an architecturally significant building ("My Architect" documentary subject, Louis Kahn's, final design), this is the first museum in the US to incorporate retail space on the street.
A wood-paneled four-story interior housing the largest collection of British art outside of the UK covers an enormous amount of territory from the Middle Ages to modern times.
Perfect for those fascinated by early portraiture, maritime oils and lots of equestrian paintings – or who'd like to sit within reach of the some of the oldest books in the English language. Free admission.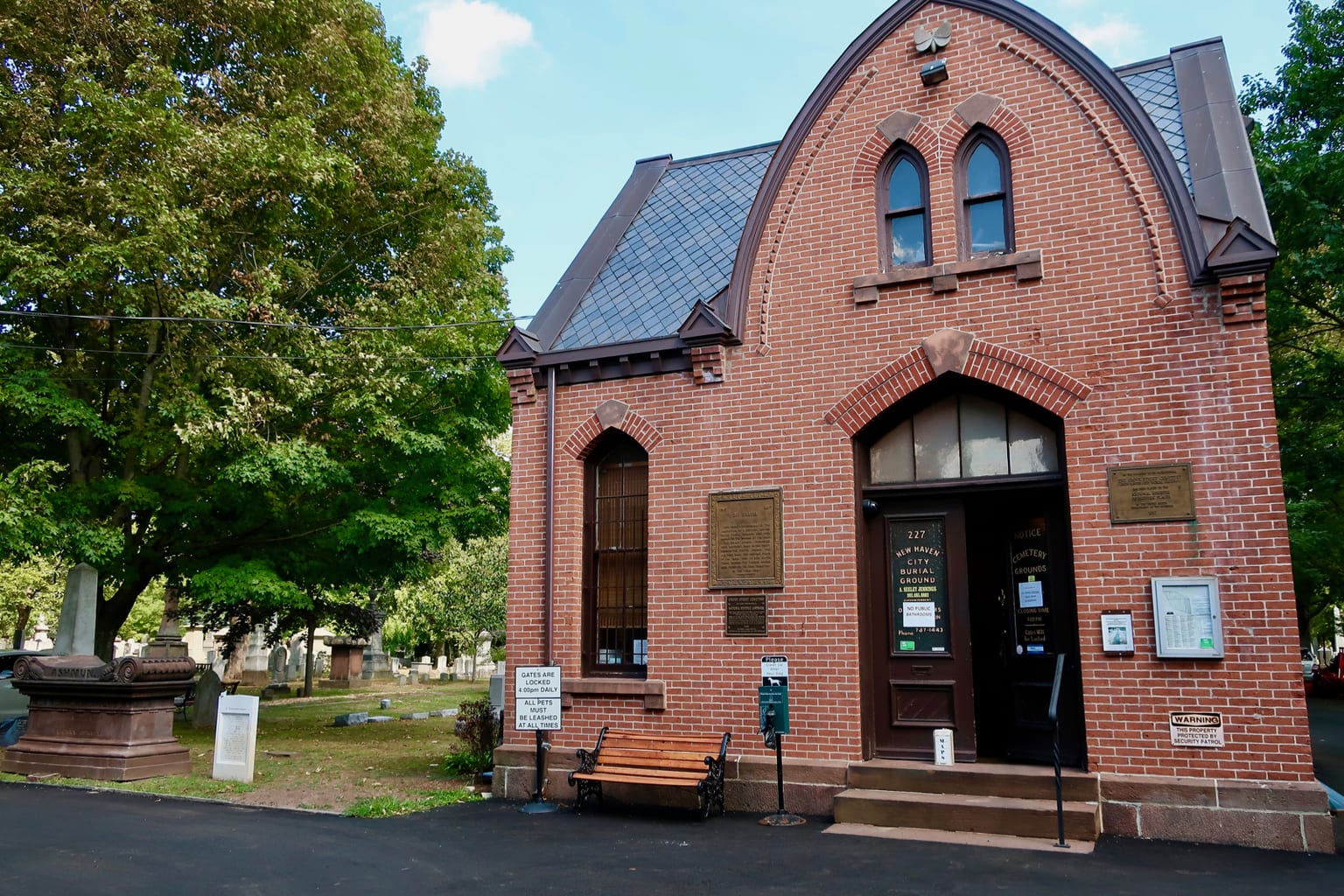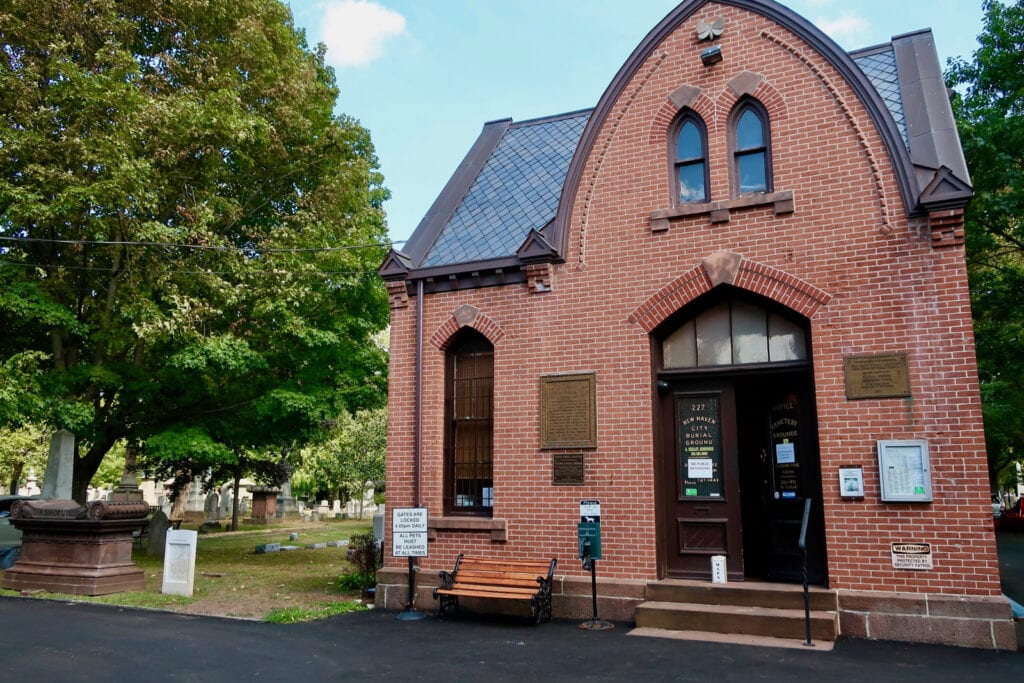 Eli Whitney, an industrial revolutionary who developed the cotton gin, and Noah Webster, creator of America's first dictionary are buried within a gravestone's shadow of one another at the Grove St. Cemetery.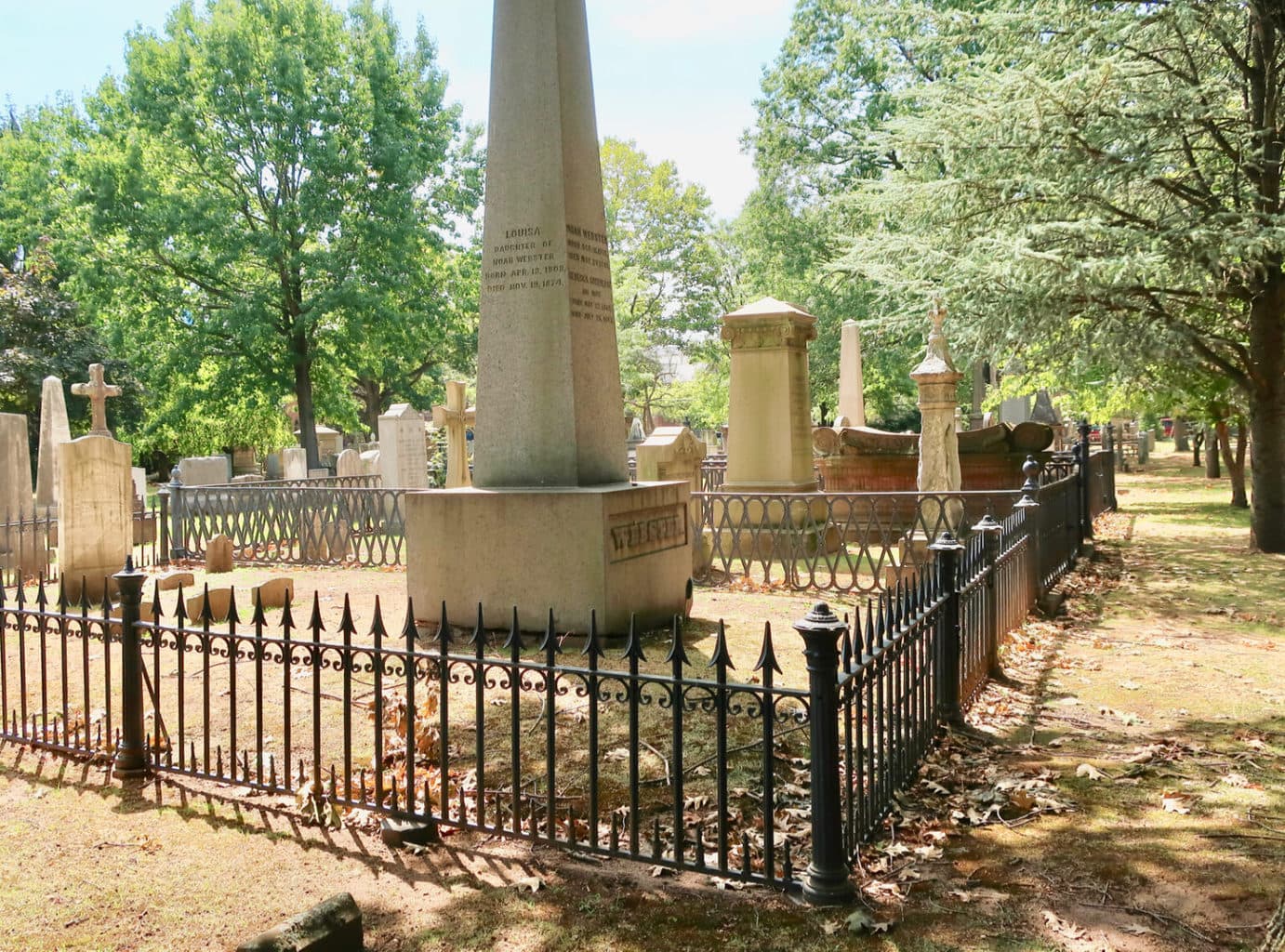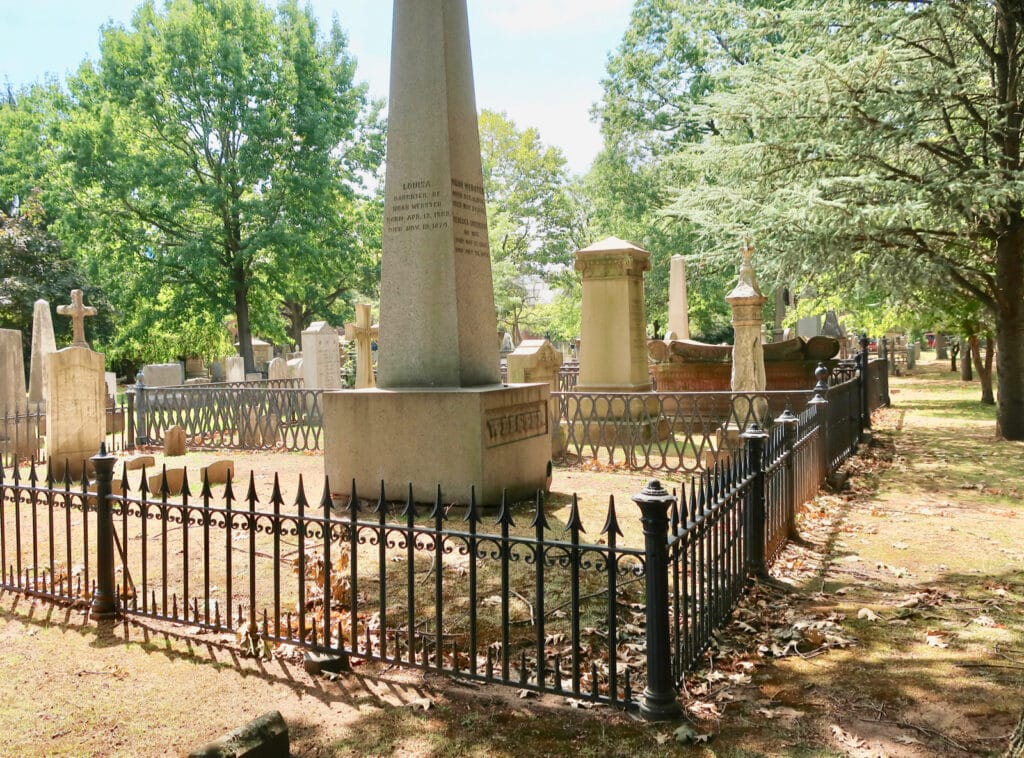 You'll find other Father's Of Invention as well as iconic historical figures here as well.  Free tours May – Nov. Saturdays at 11am and First and Third Sundays of each month at noon.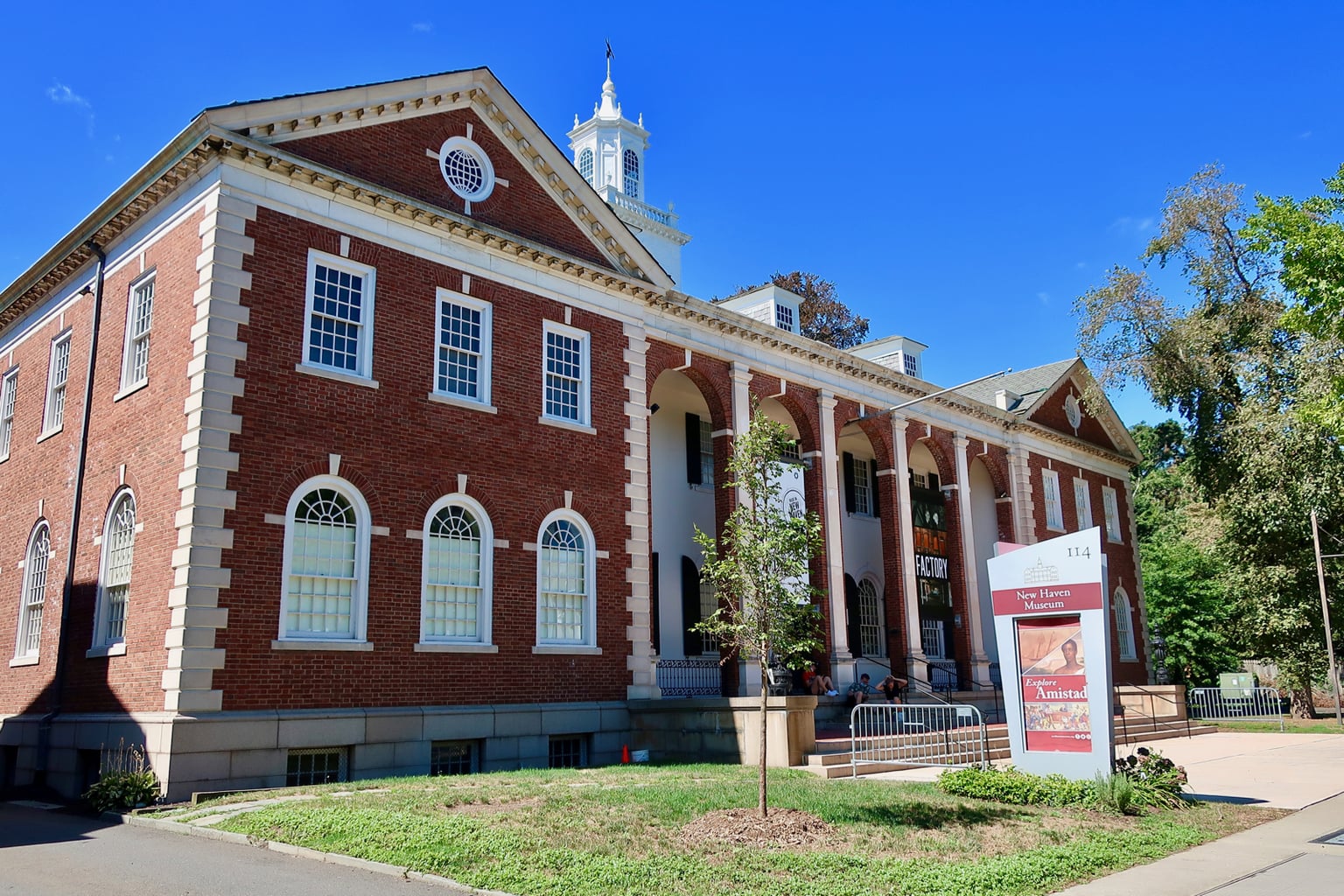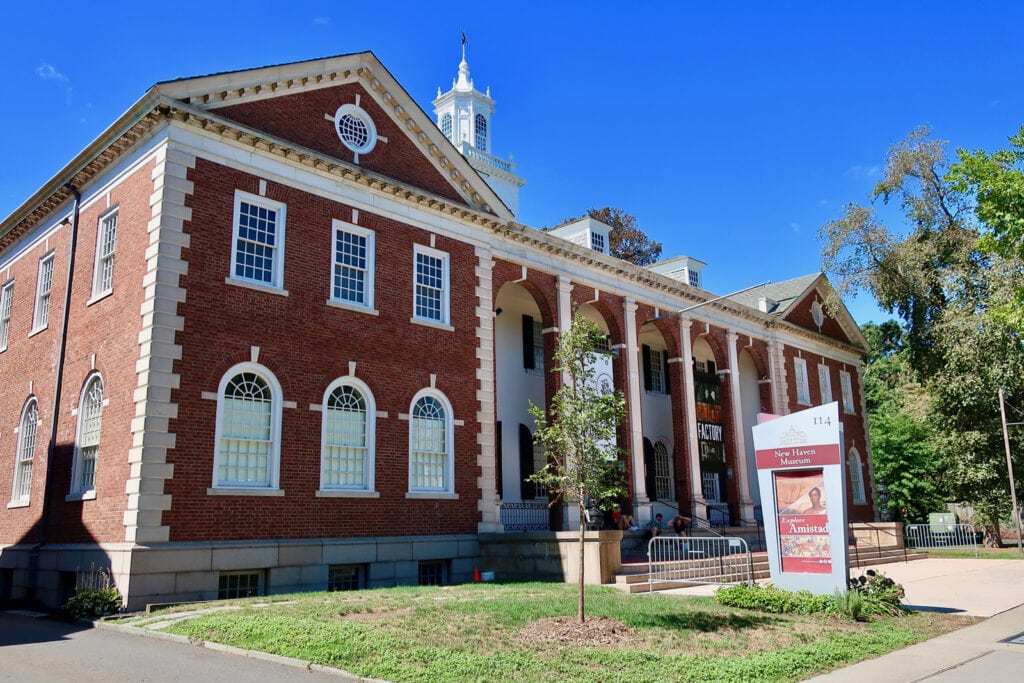 View the model of Eli Whitney's cotton gin, made by the inventor's own hands in one of the lesser known museums in town.
Breeze through exhibits that document the history of the New Haven from a Puritan settlement to an Industrial city for an overall view of its importance in American history. Open Tuesday – Friday: 10 a.m. – 5 p.m., Saturday – 12 – 5 p.m. $4 adults. 
Cool Trivia – In 1920 Yale students began tossing tins from locally baked Mrs. Frisbee's' Pies to each other on the Green for sport  – forever changing the face of collegiate pastimes and extreme disc-tossing.
And in October '12, winds from Superstorm Sandy toppled an old tree on the Green, unearthing  human remains that were tangled in its roots. Historians believe the bones were those of  victims from the 1775-82 small pox epidemic buried in mass graves.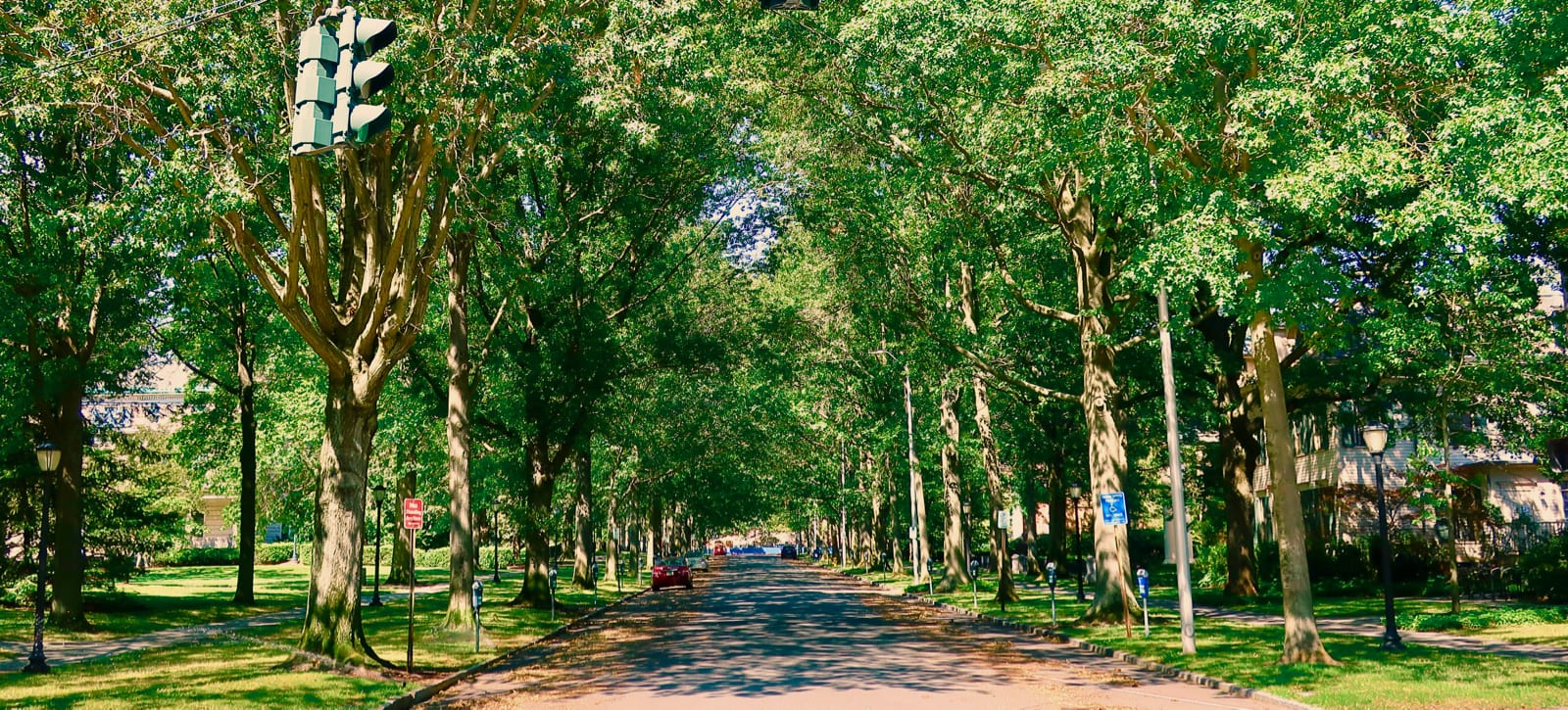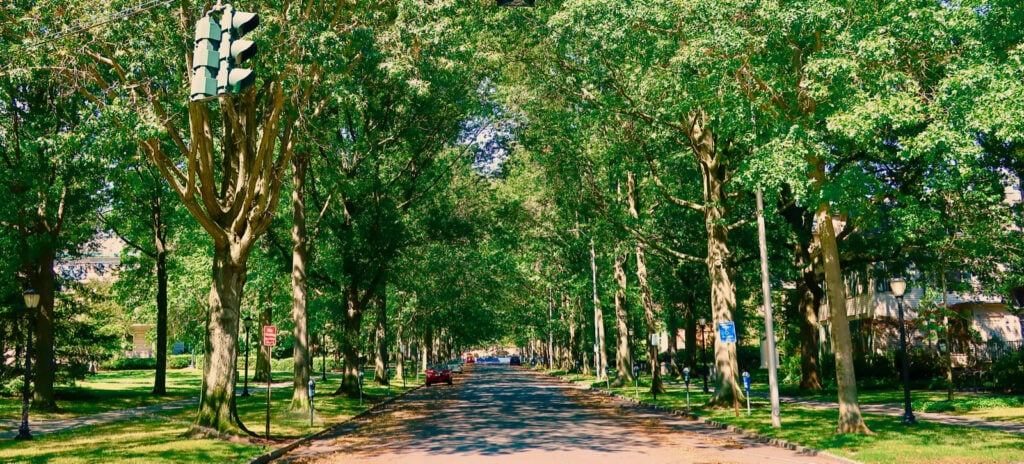 Once declared "the prettiest street in America" by Charles Dickens, Hillhouse Ave. is notable for another reason entirely.
The basement of St. Mary's church (set within an enclave of WASP homes) is where, in 1882, Father Michael J. McGivney sought to counter the growing persecution of Catholics in the United States, as well as provide life insurance for his parishioners. McGivney established what was to become the largest Catholic lay society in the world; the 1.6 million member Knights of Columbus.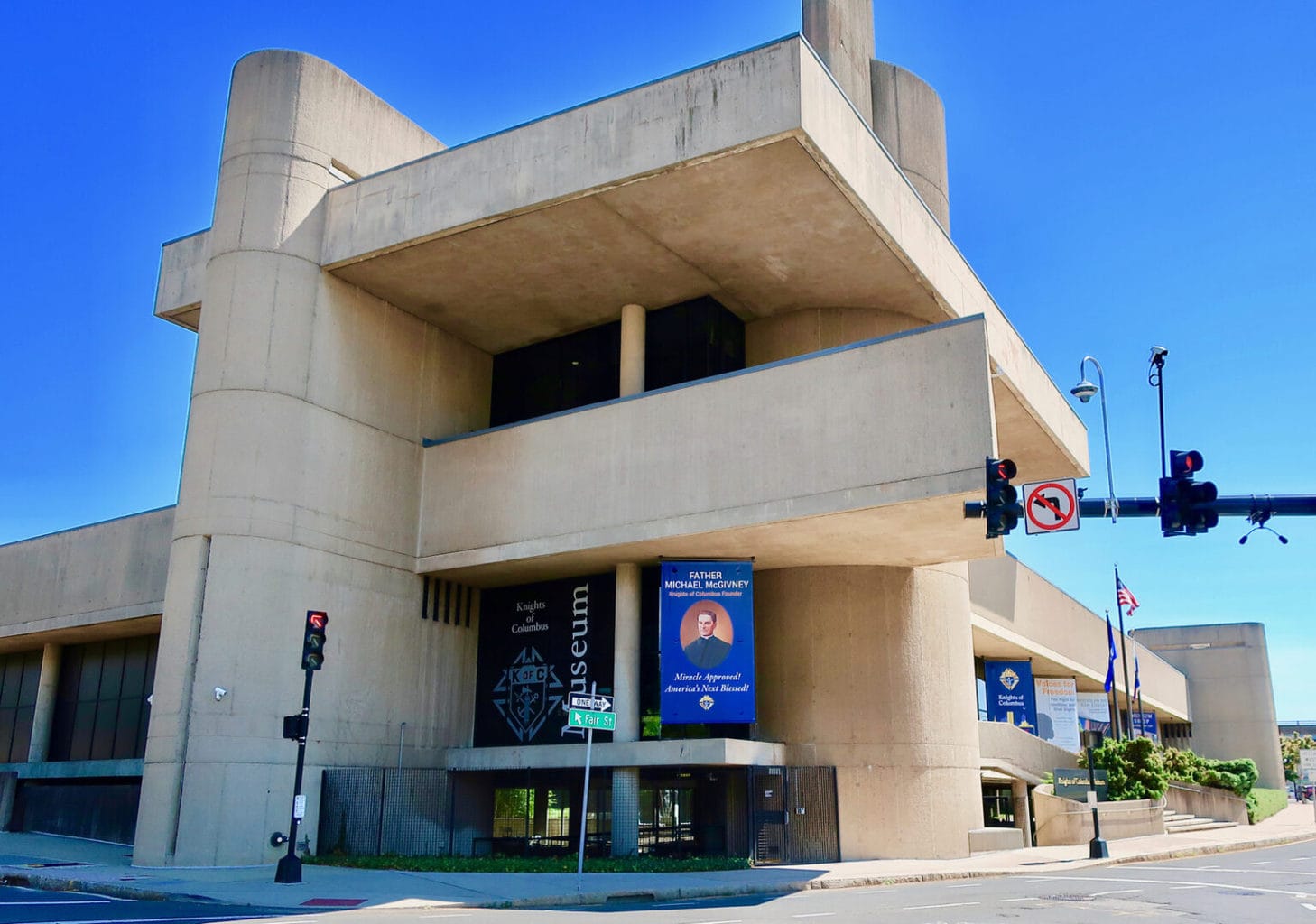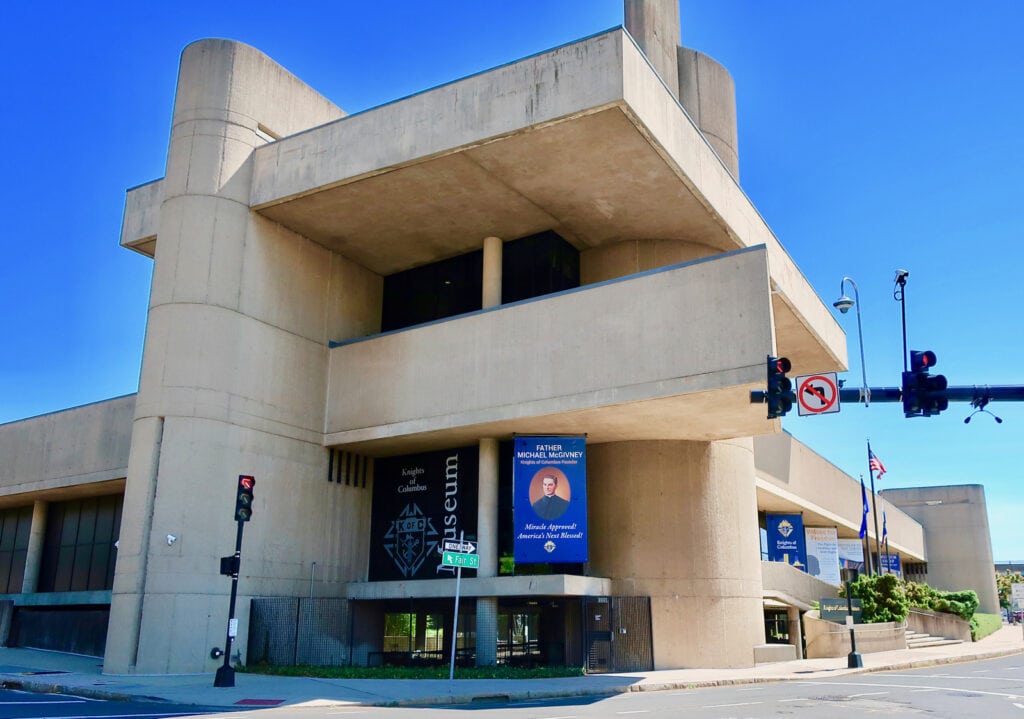 If prayer is in your heart, head to the The Blessed Michael McGivney Pilgrimage Center (Formerly the Knights of Columbus Museum) to trace the history of the largest lay Catholic organization in the world.
Walk into the vast lobby to see the 400 year old copper-clad cross that rested in Christ the Redeemer's arms atop St. Peter's Basilica. New Haven is a Pilgrimage site for Catholics in America. Free admission daily 10am-5pm except Thanksgiving, Christmas Eve, Christmas and Good Friday.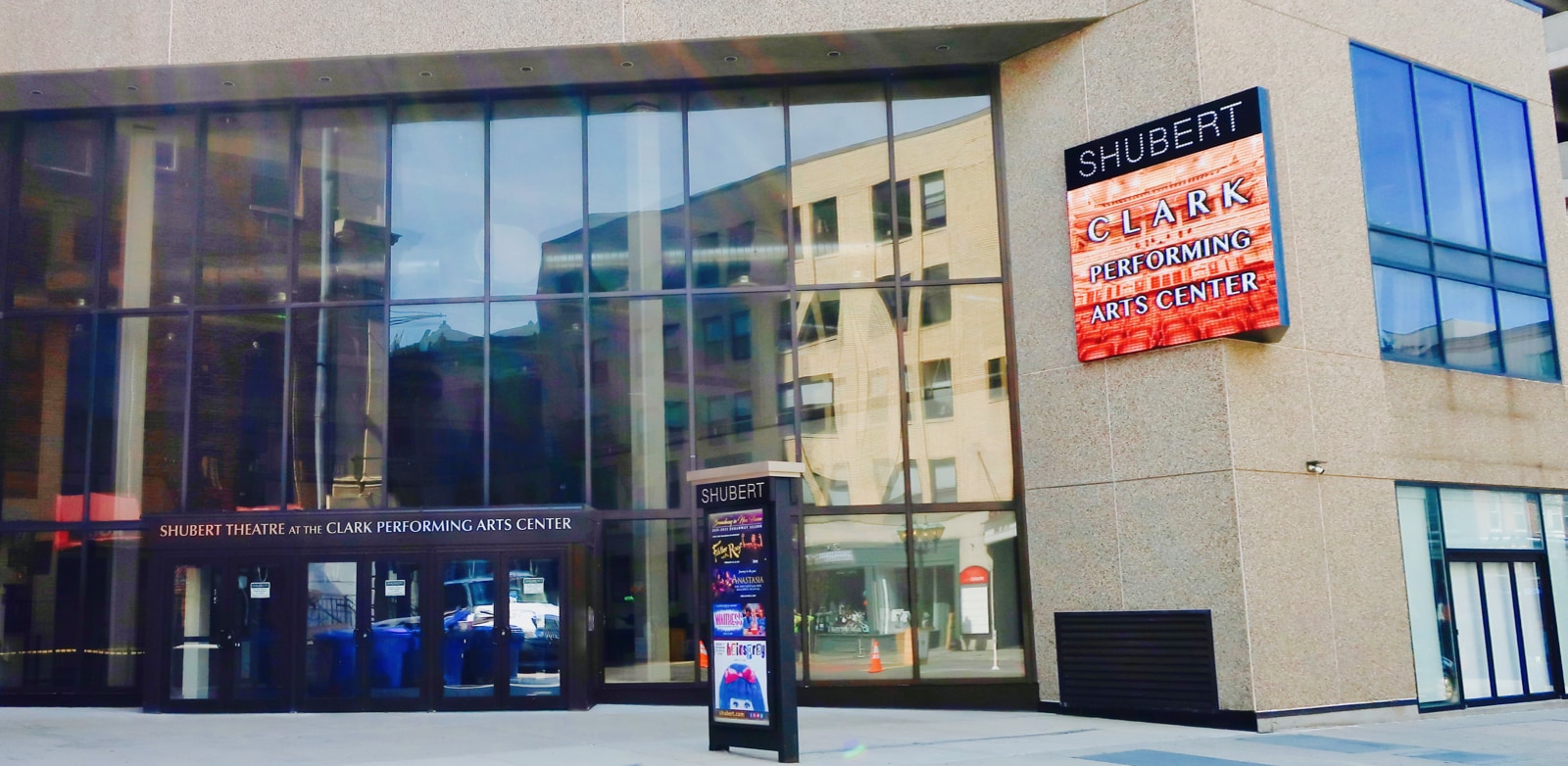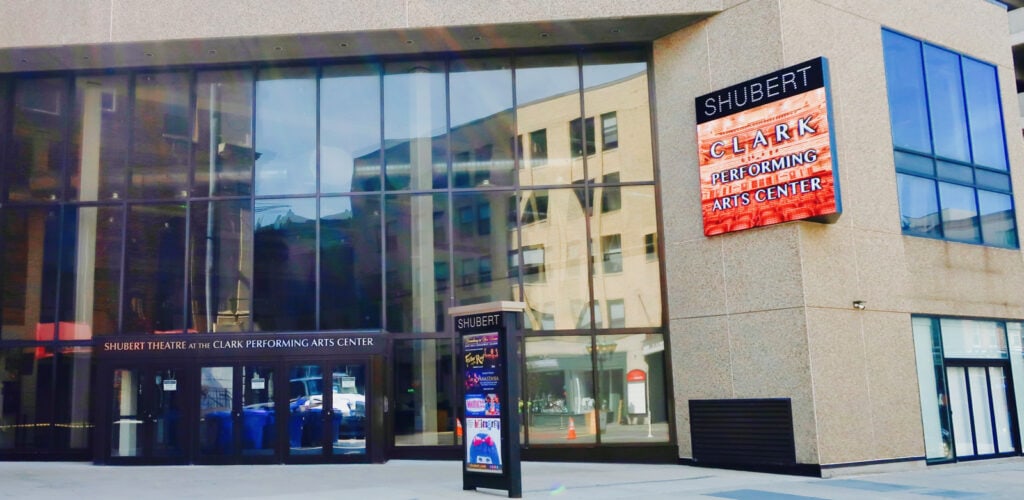 Marlon Brando shouted, "Stella!" for the first time on this stage in the 1947 premier of A Streetcar Named Desire.  Julie Andrews sang "The Rain in Spain" to Rex Harrison; and Yule Brenner twirled his ladylove here before My Fair Lady and The King and I moved to Broadway.
Rogers and Hammerstein considered the Shubert their "lucky theater" – seven of their musicals went on to acclaim from here. Built in 1914, The Shubert Theater was the preeminent "tryout house" for some of the most legendary stage productions of all time; including Oklahoma, the Sound of Music, and Carousel.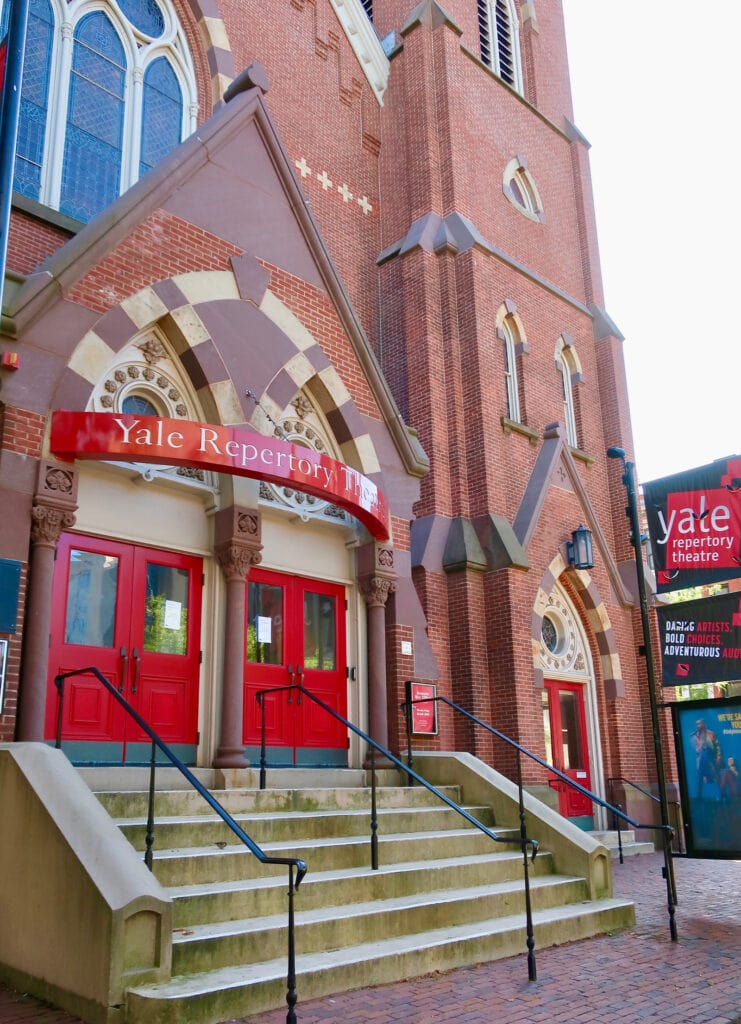 Meryl Streep and Sigourney Weaver got their start in this theater where students, writers and set-designers from Yale's Graduate School of Drama take creative risks that other more commercial playhouses might shun.
Many who got their start here return for a production or two.  Everything presented is first rate, and who knows? You may just catch a future star on the rise.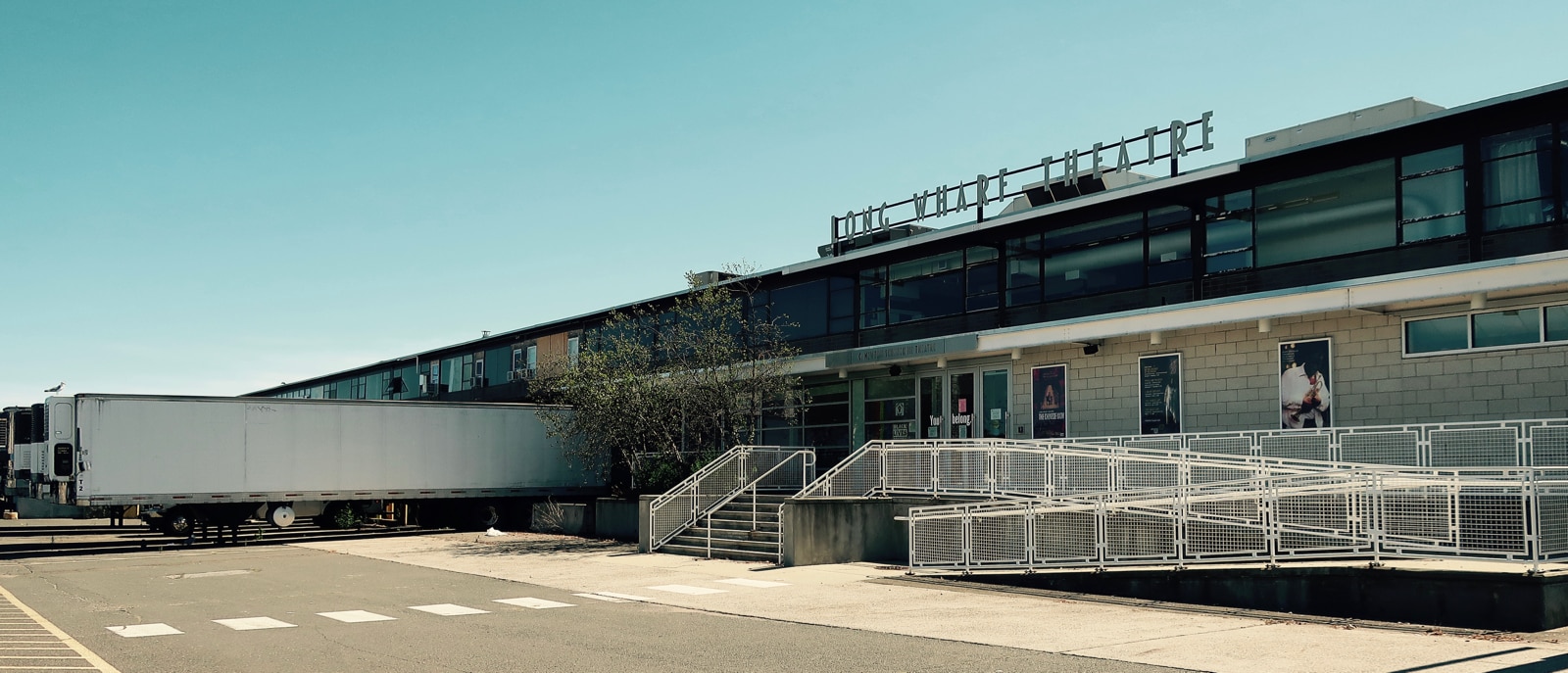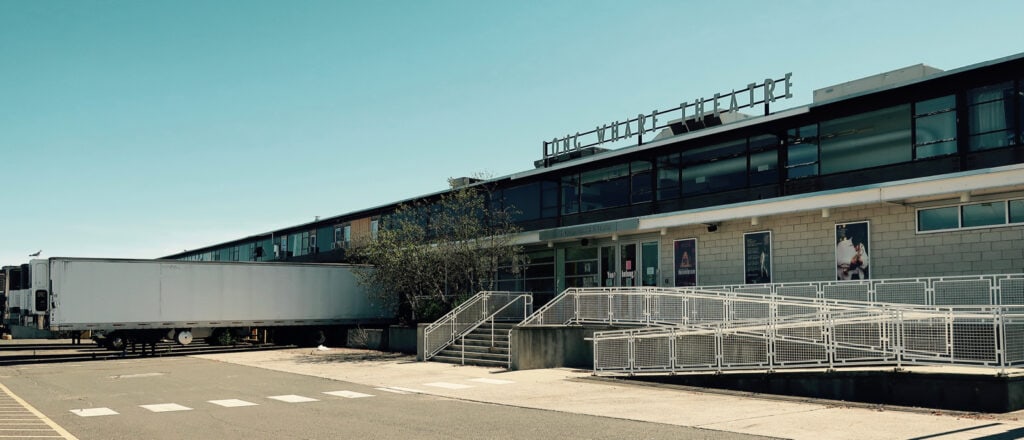 Located in a food terminal, across from Hummell's Hotdogs, and nearly invisible behind banks of semi-tractor trailer trucks, this hidden gem has premiered Pulitzer Prize winning plays (Wit, Shadowbox, Gin Game) and featured Al Pacino in one of the first productions of American Buffalo in 1980.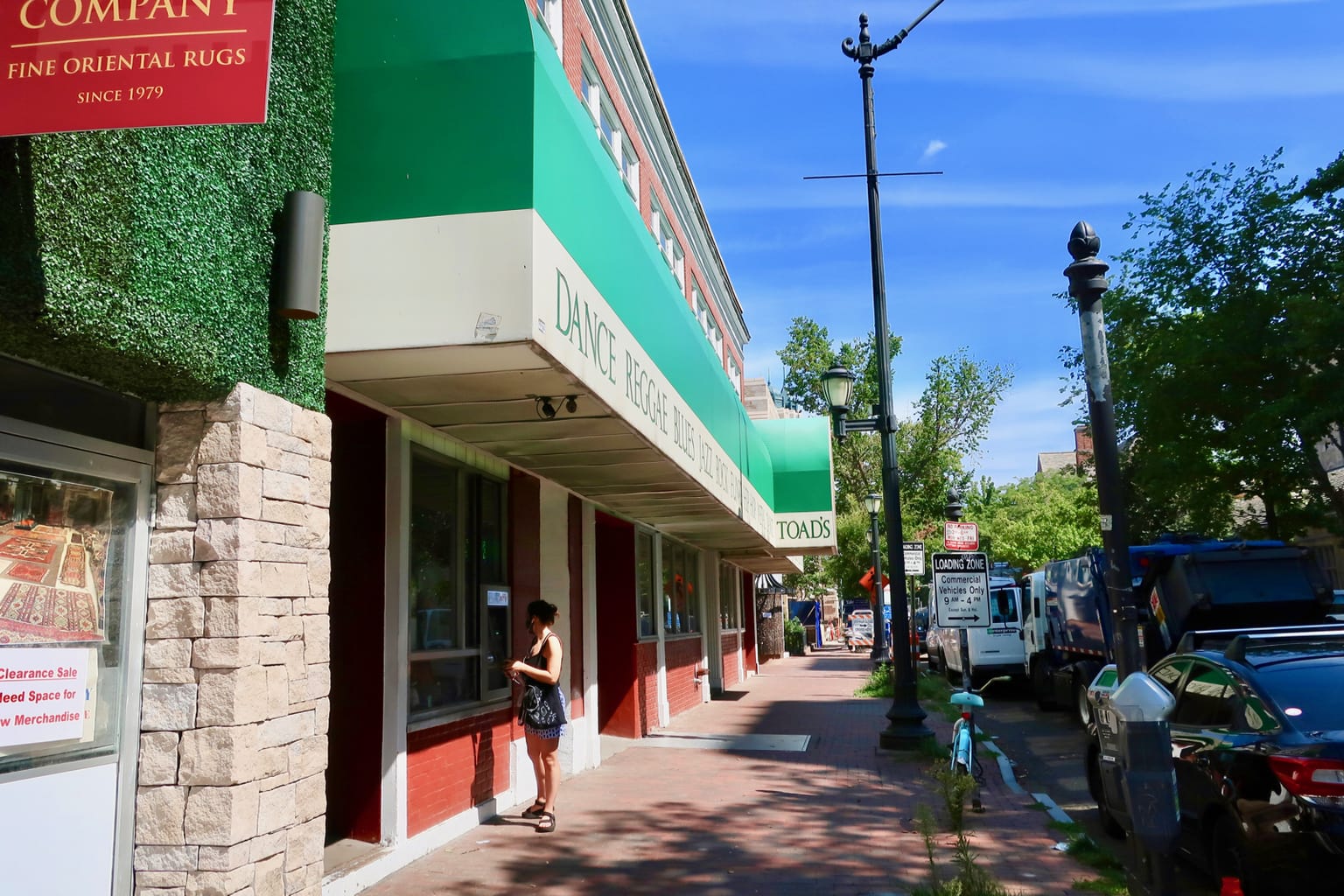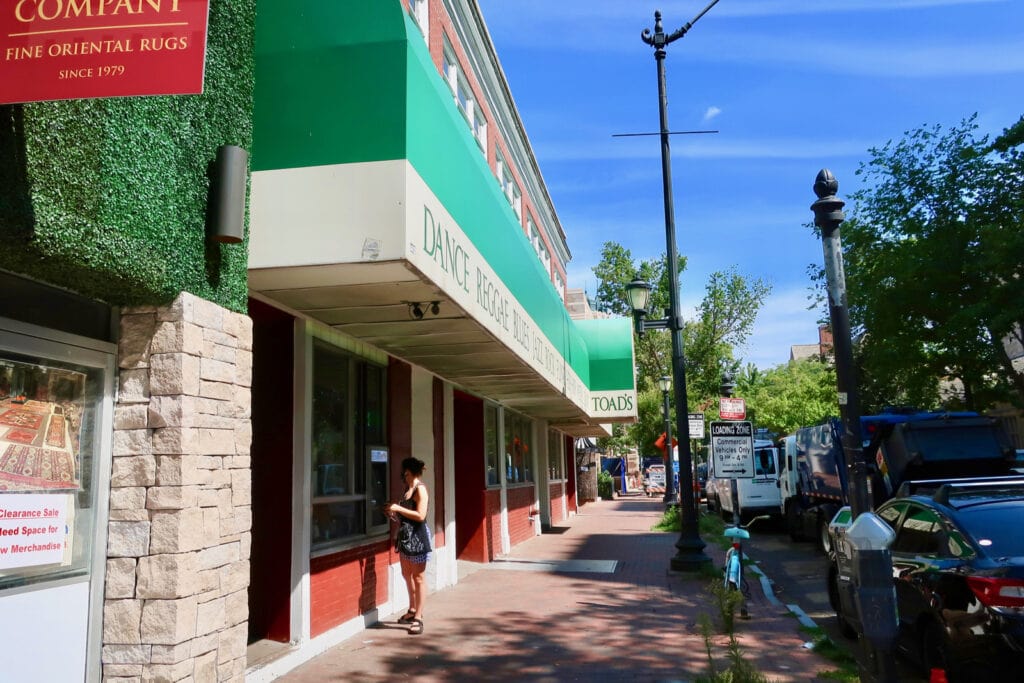 Toads Place was # 1 nightclub in the USA where, in the mid '80's the Rolling Stones tried out their new act, unannounced,  before going on tour. High profile musicians just tend to pop in like that.
Restaurants In New Haven CT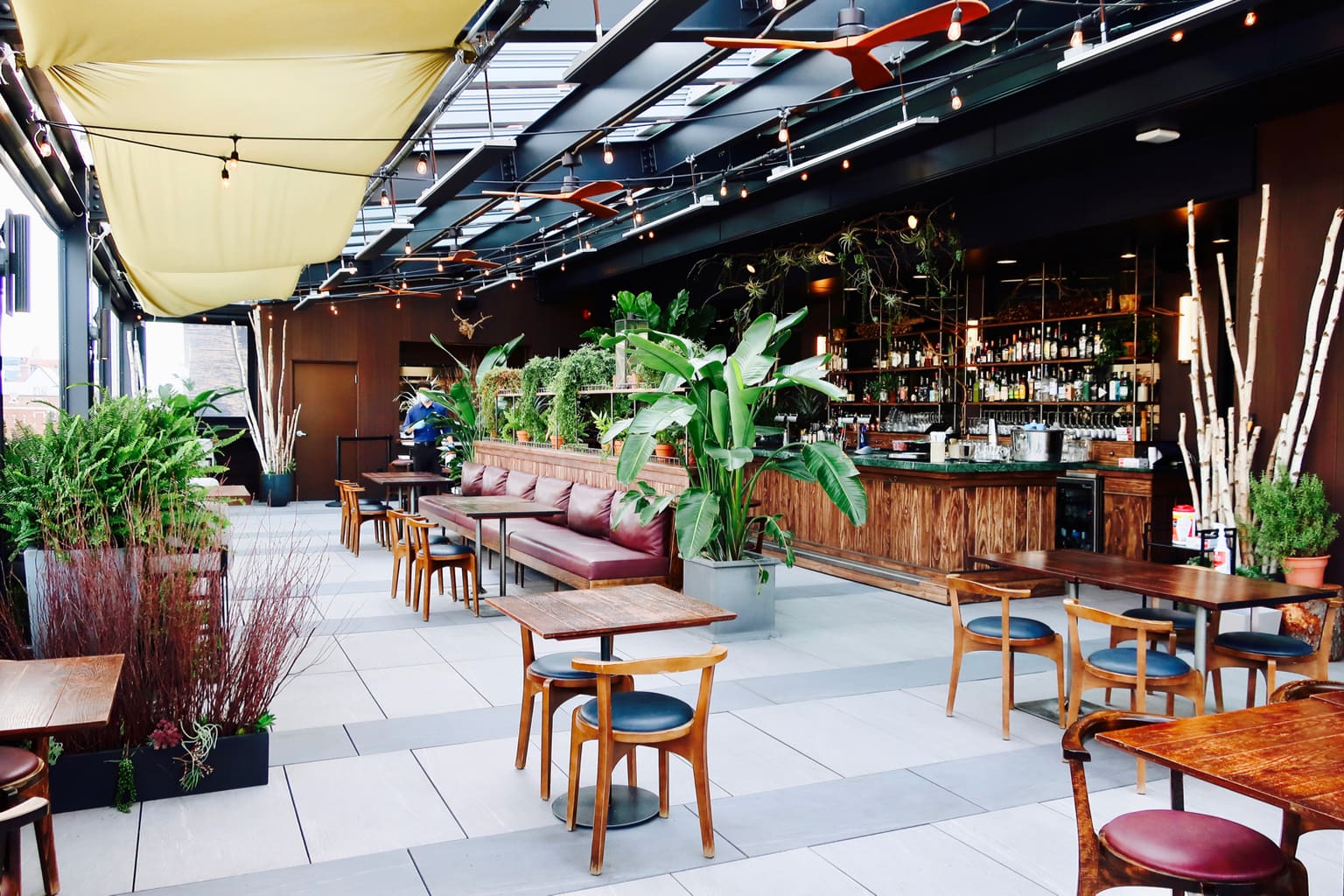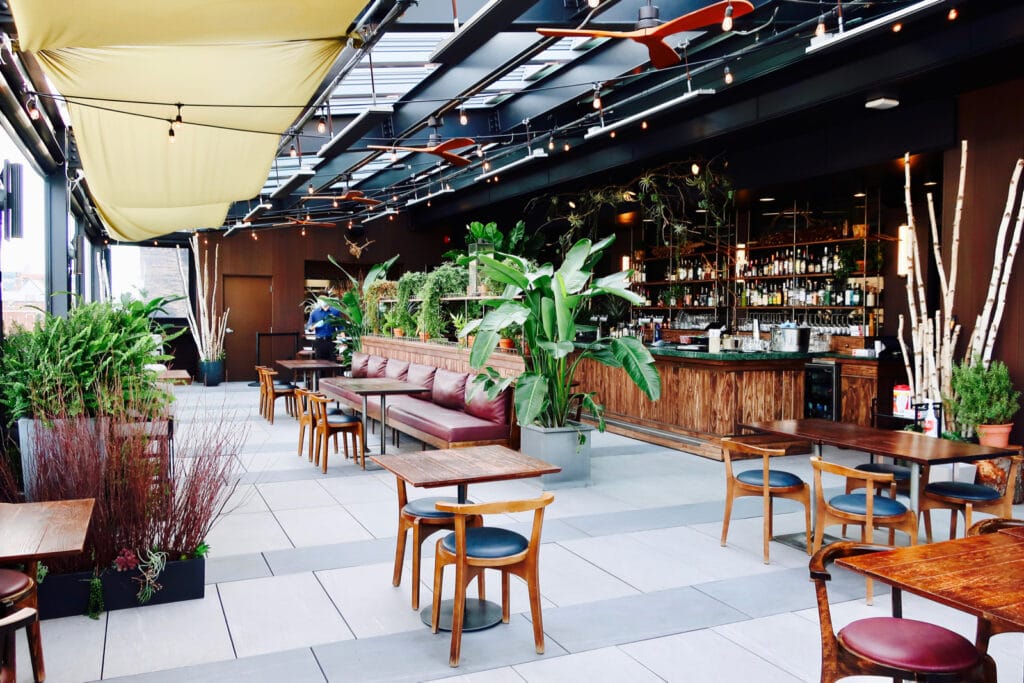 Named for its location – the corner of High and George streets – the rooftop restaurant of the Blake Hotel hits high marks for small bites and the scene. Designed to take advantage of the sunset, High George has obvious appeal during the waning hours of the day. Although technically outdoors, the High George roof-deck can be enclosed in inclement and freezing weather. I ate breakfast on a balmy August morning, soft breeze blowing, and felt safe as could be. And the service could not have been better. Or nicer.
My waiter, Daine Smikle, was attentive and warm. Smikle dished about the headliners – pre-Covid – at Toad's Place (see above). "I used to work at Popeye's on Whaley Ave. Because it was close to Toad's, and open until 3am, musicians and college kids came there after each show." When Toad's opens again, I guess, Popeye's New Haven will be the wee-hours place to be once again.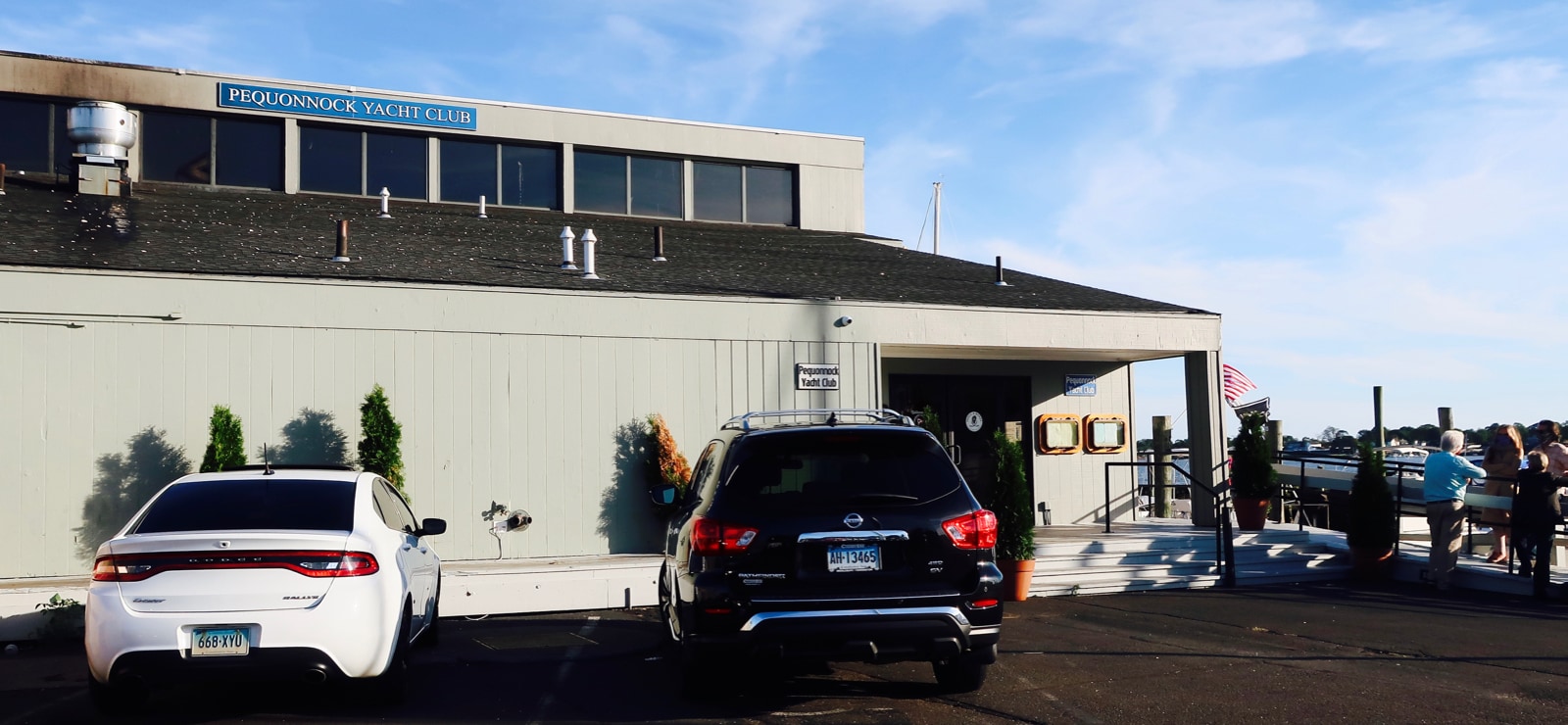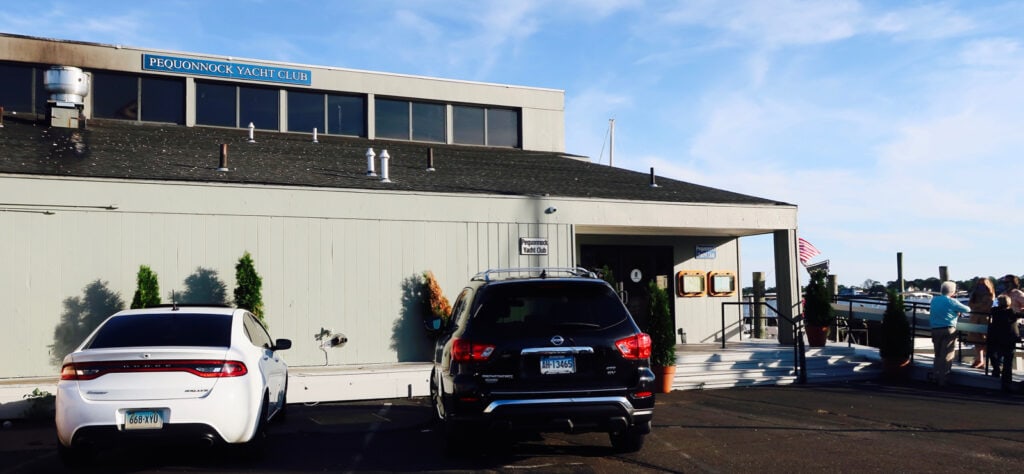 With the name a nod to Yale's Skull & Bones Society, Shell and Bones on the waterfront offers a hip take on seafood. You'll have to find it first, however. While parking lot signs indicate that the restaurant is nearby, there is nothing to specify that Shell and Bones is inside the Pequonnock Yacht Club building. But it is.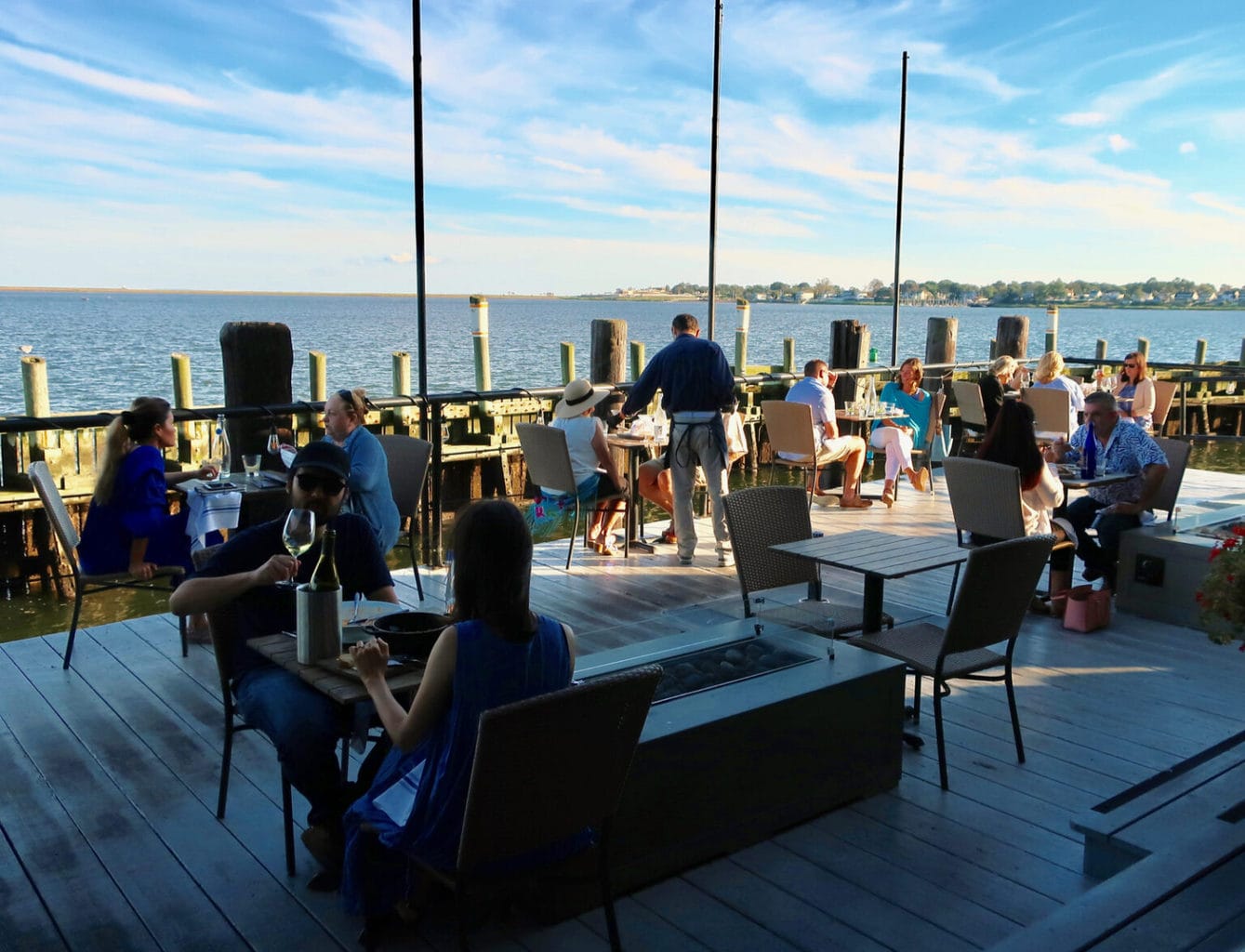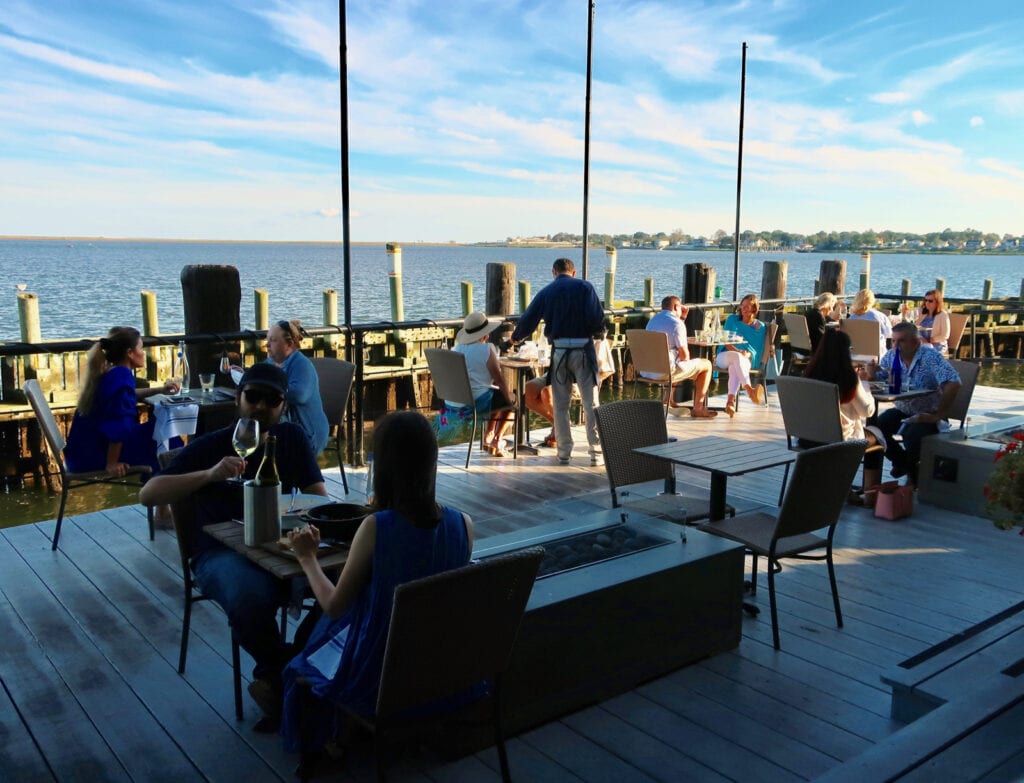 If you can, grab a table on the outdoor deck overlooking boats in the marina. The restaurant is best known for its Raw Bar, which turns out favorites, including the absurdly splurgy "Tower of Shells" ($98). This pile of seafood includes a whole lobster, lump crab, shrimp, oysters, clams, ceviche, and crudo with cocktail sauce. Phew!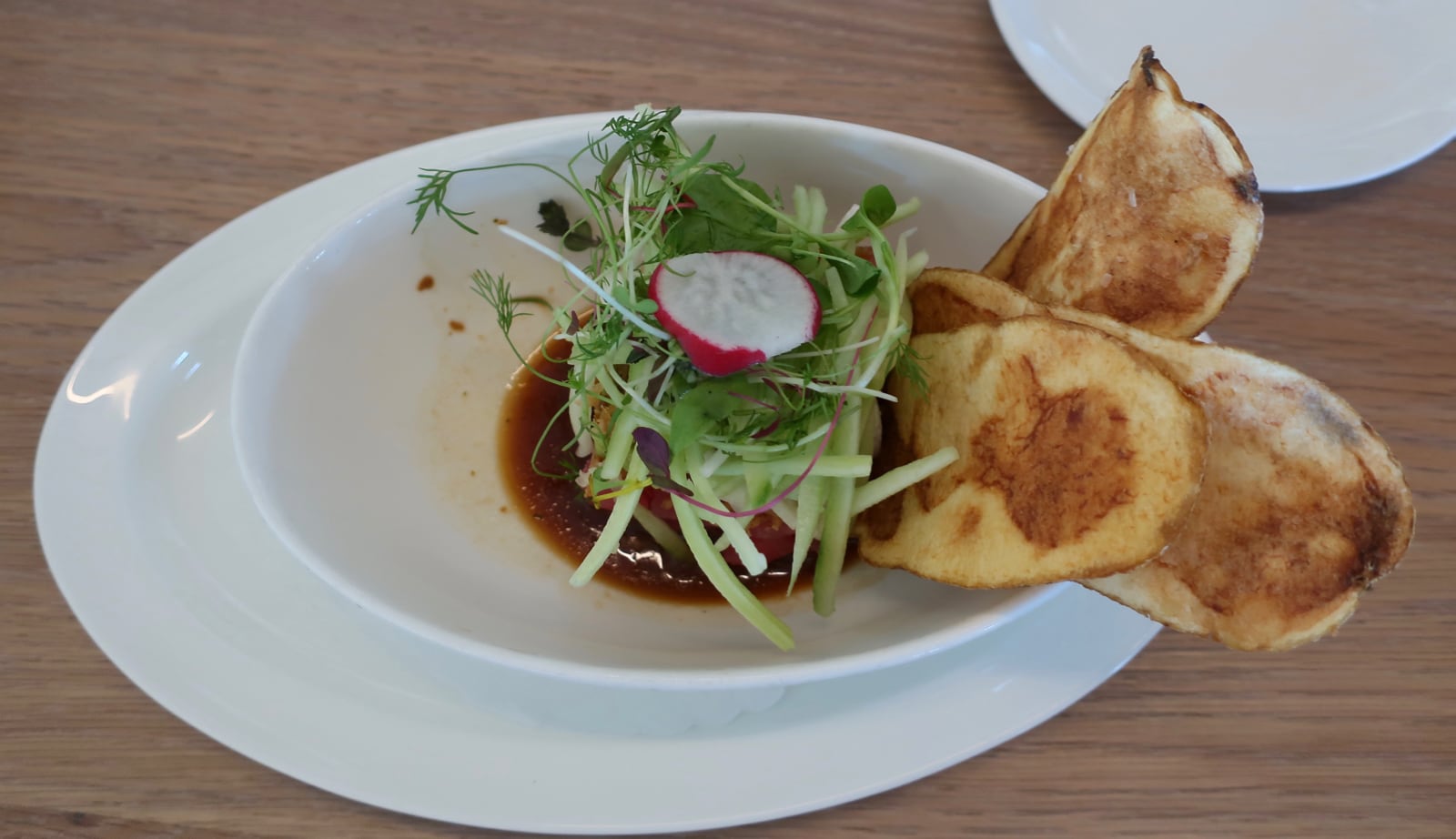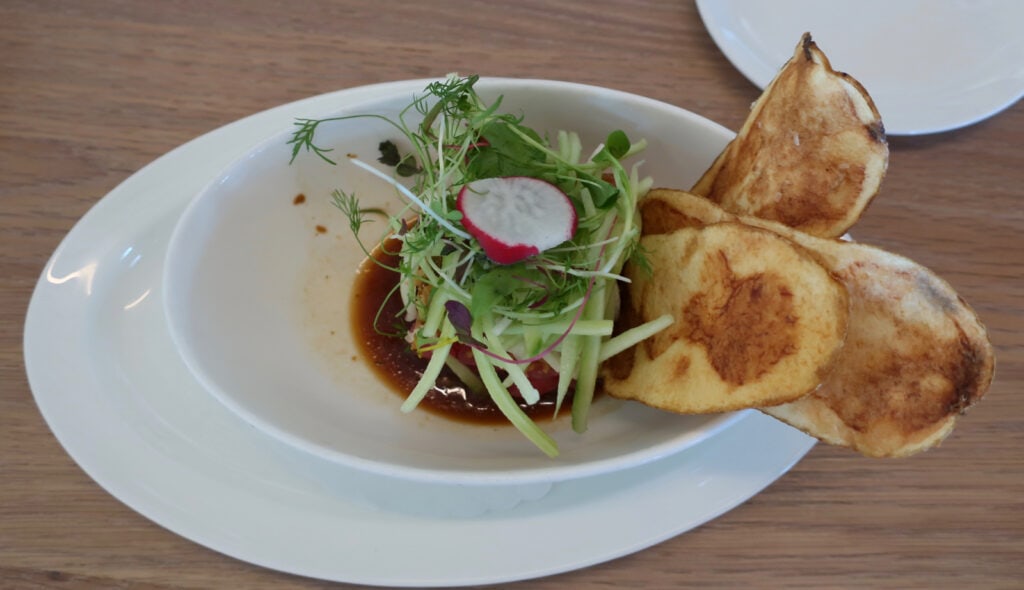 I fell for the Tuna Tartare ($18), done just the way I like it, with soy, avocado, cucumber, onions, and large potato chips. Don't like seafood? Order the excellent Steak Frites ($30) to Chef's Fliet Mignon ($52).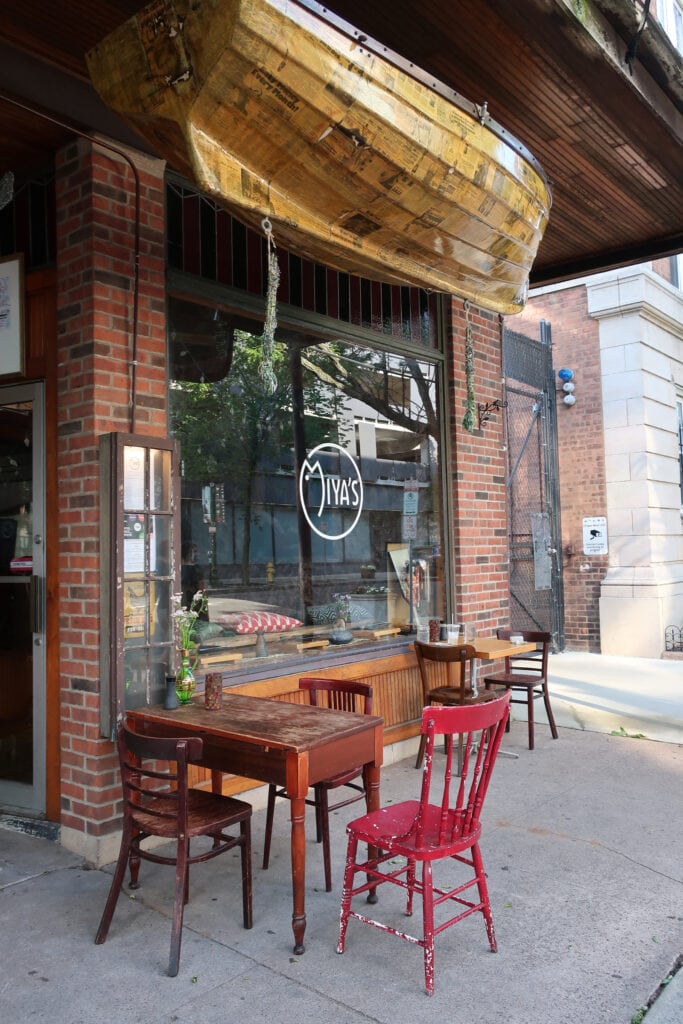 Miya's is the only "sustainable sushi restaurant in the US" with, for sure, the only reflective, social activist, quirky chef this side of San Fran.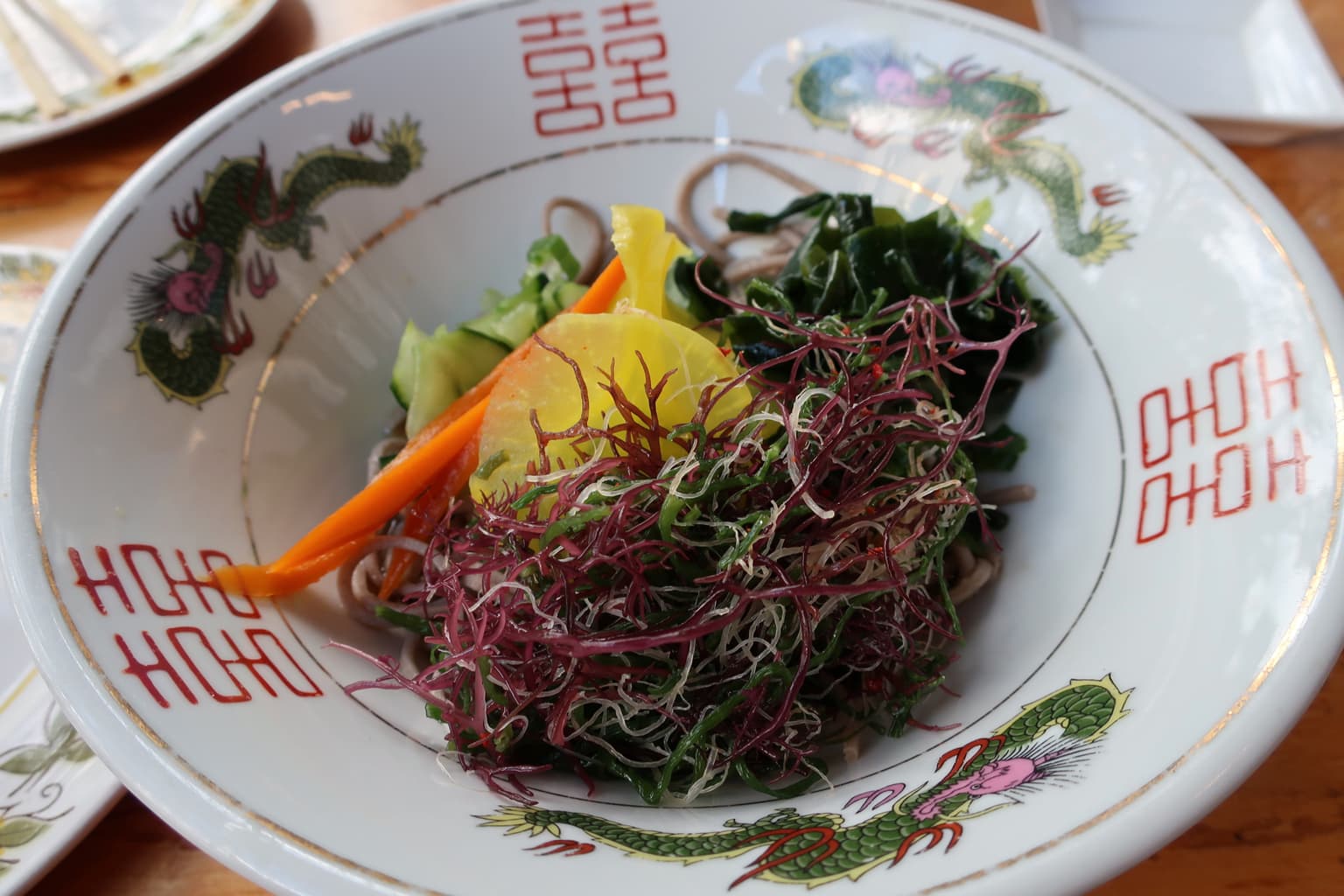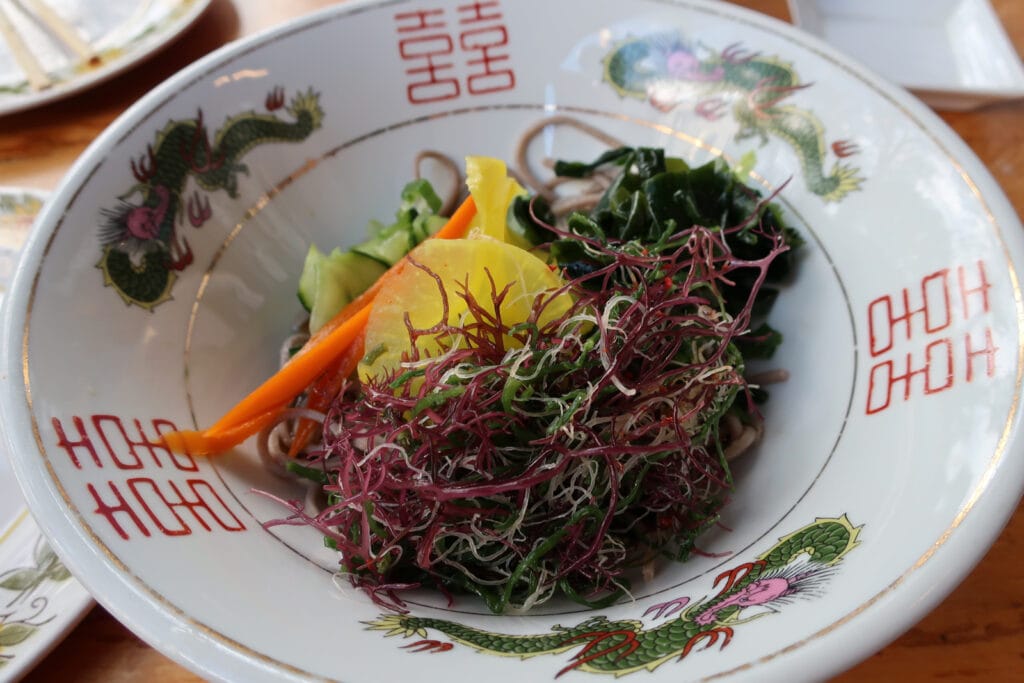 Chef/owner Bun Lai takes Japanese cuisine to infinity and beyond.  Toothsome concoctions include "Kiss A Smiling Pig, the vegetarian "Killer Squid," Mom's Potato Salad, and the I can't believe it's not chicken "Karma Virtue Chickennots,"which is a box of chicken-less Southern fried chicken—made from spore-bearing wild toadstools/farmed oyster mushrooms. Holy moly – my favorite guilty pleasure. Of course there's so much more: plant, sea creature, and insect-based on the eclectic menu. Says Bun, "we don't want trendy."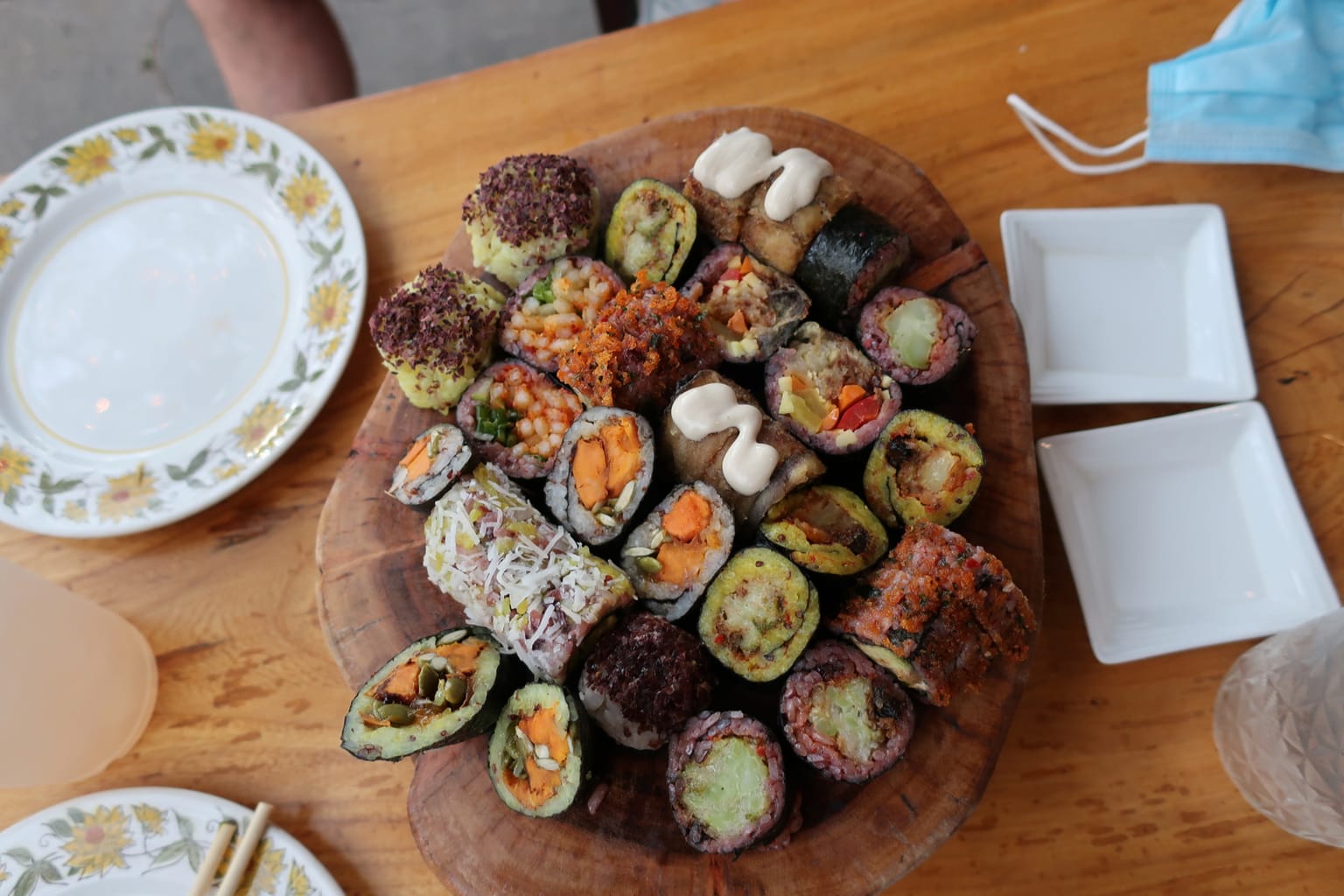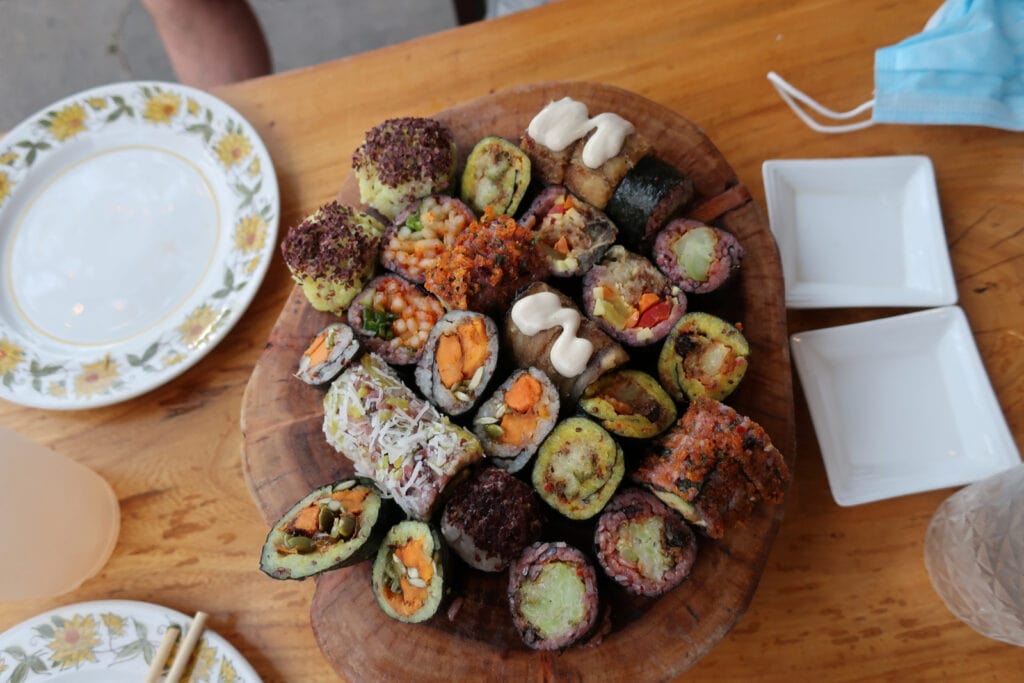 "We want accessible, world-class food while making fun of haute cuisine."  Mentioned in a New Yorker article about Invasive Species as food source, Miya's can increasingly be found on the world scene.  Lines start forming early.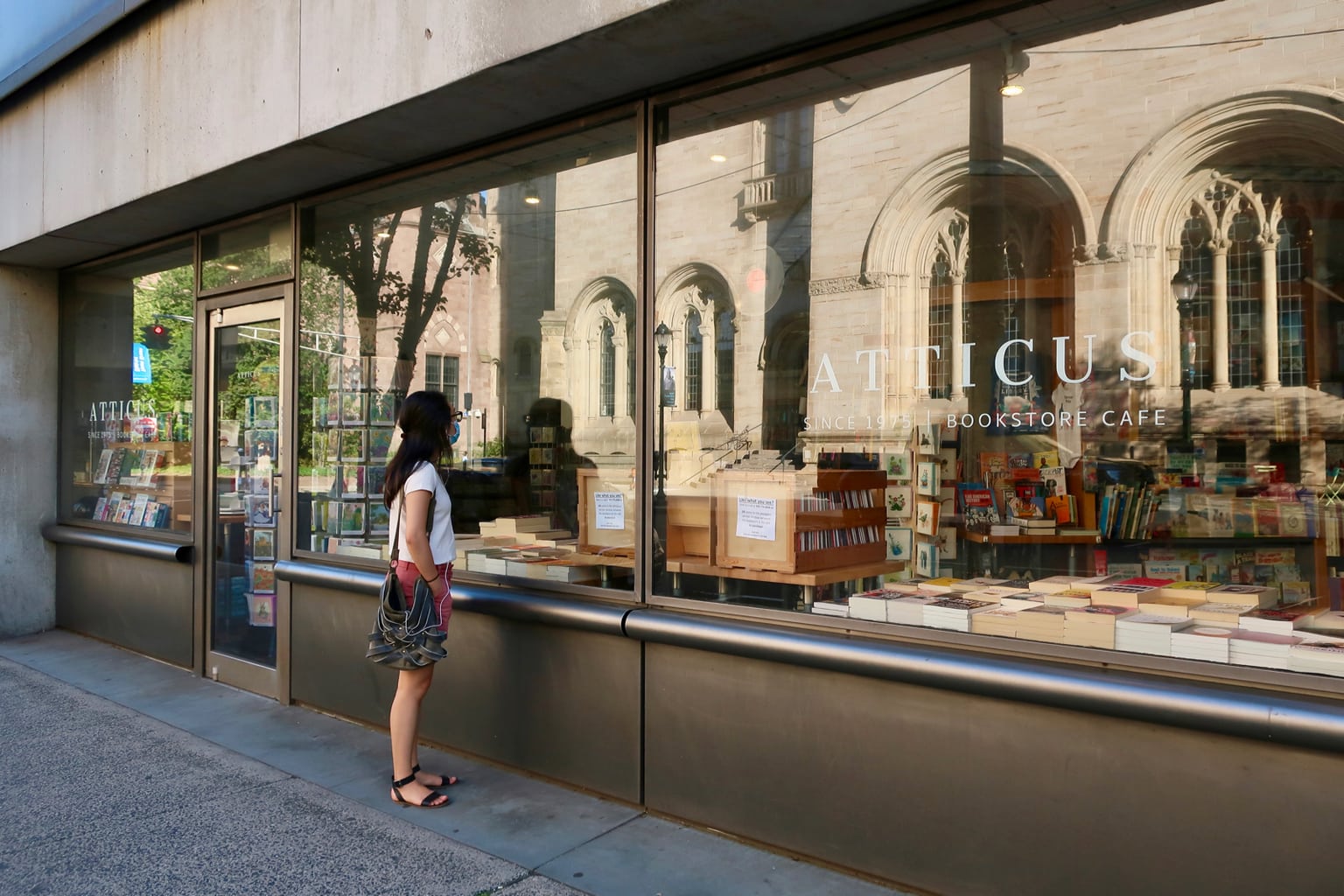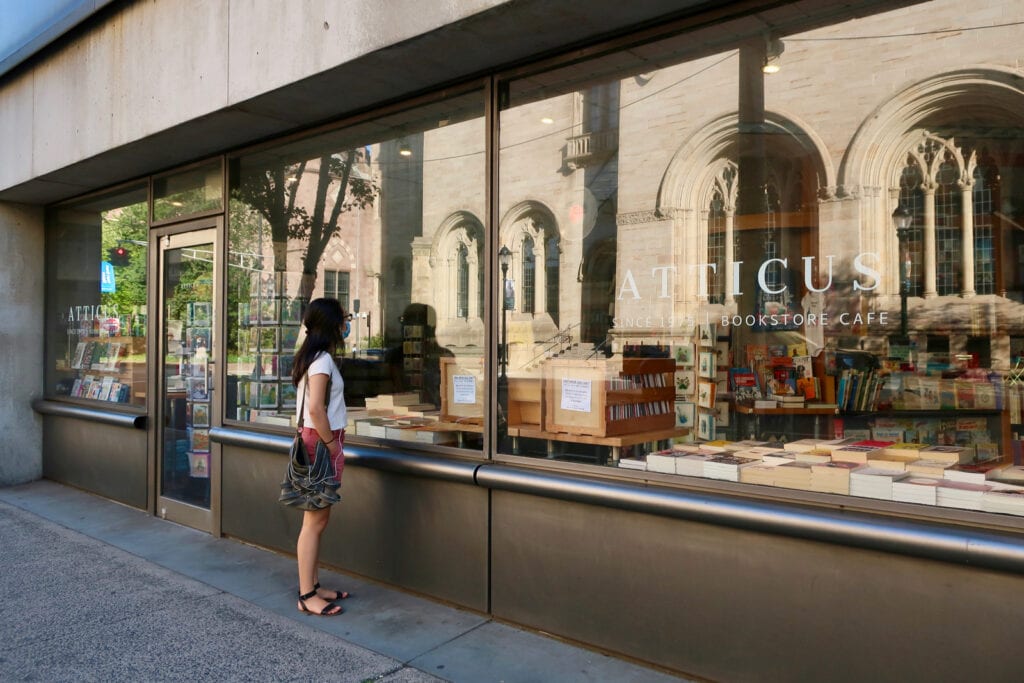 The perfect place to sit, sip, snack and study. An independent bookstore/coffee house, for a couple of bucks you can enjoy a huge muffin or scone then peruse an esoteric array of books.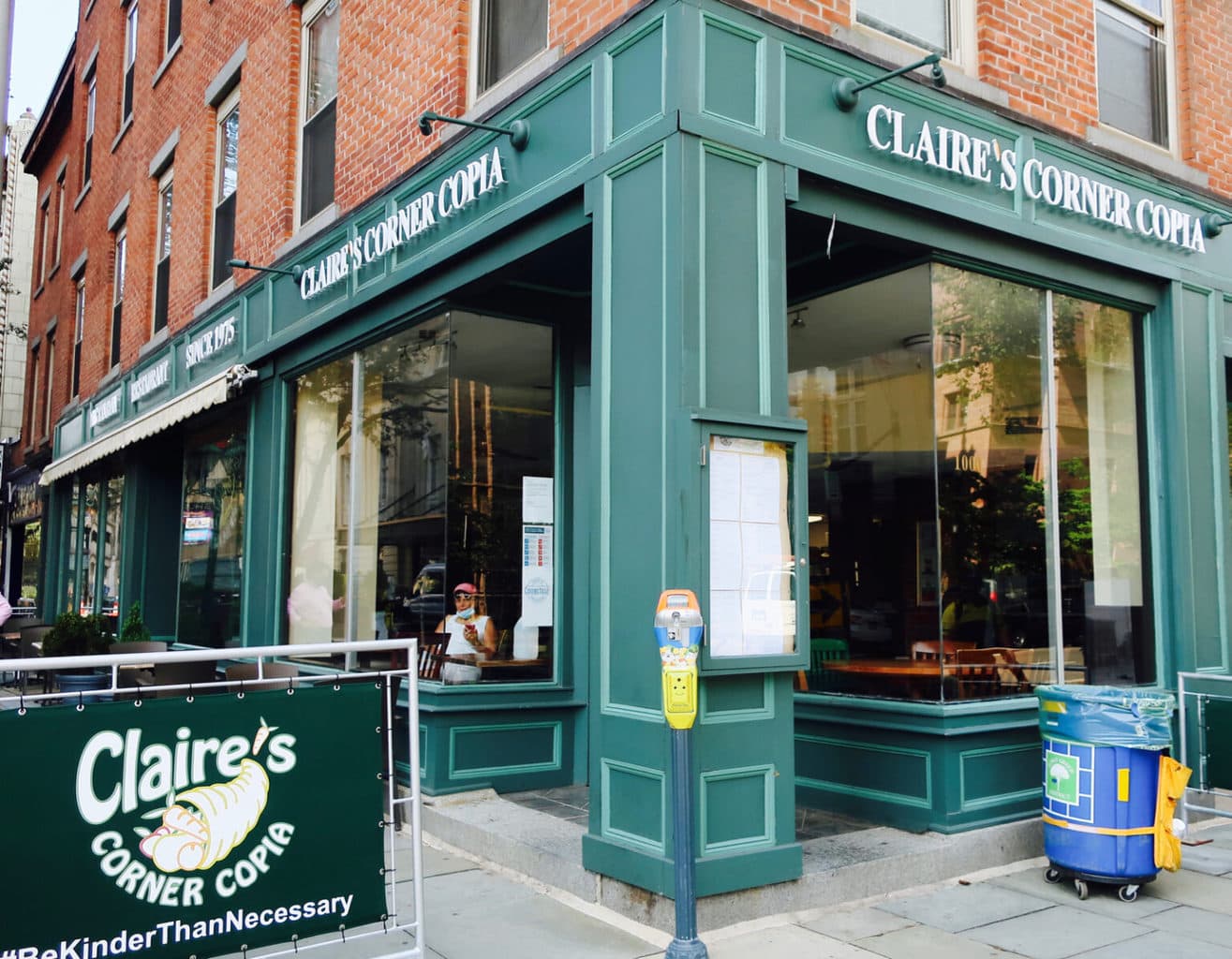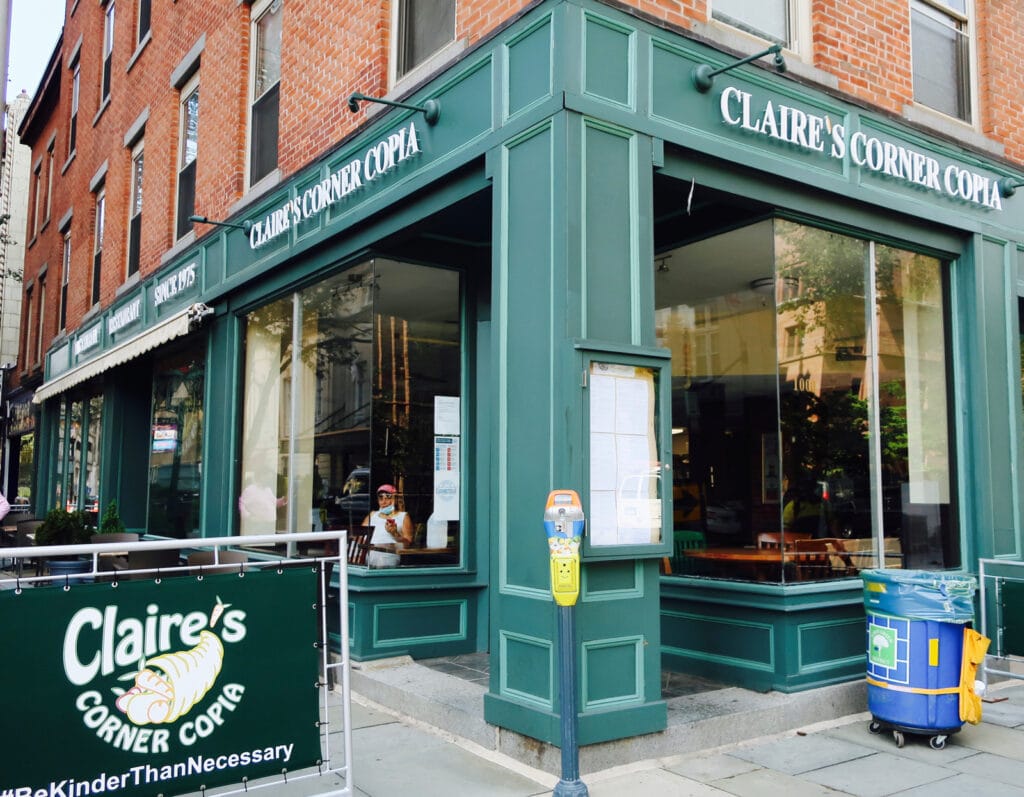 As a Registered Nurse, Claire Criscuolo attempted to tackle a rise in diet-related heart disease and diabetes by opening a vegetarian restaurant, Claire's Corner Copia, in 1975. Her motto; "We want people to know what real food tastes like." Like Louis' and Pepe's, Claire's has continued to be a mainstay of New Haven life, and year after year, new Yale students "discover it" for themselves. Whatever you do, don't pass up a hefty slice of Claire's standout Lithuanian Coffee Cake.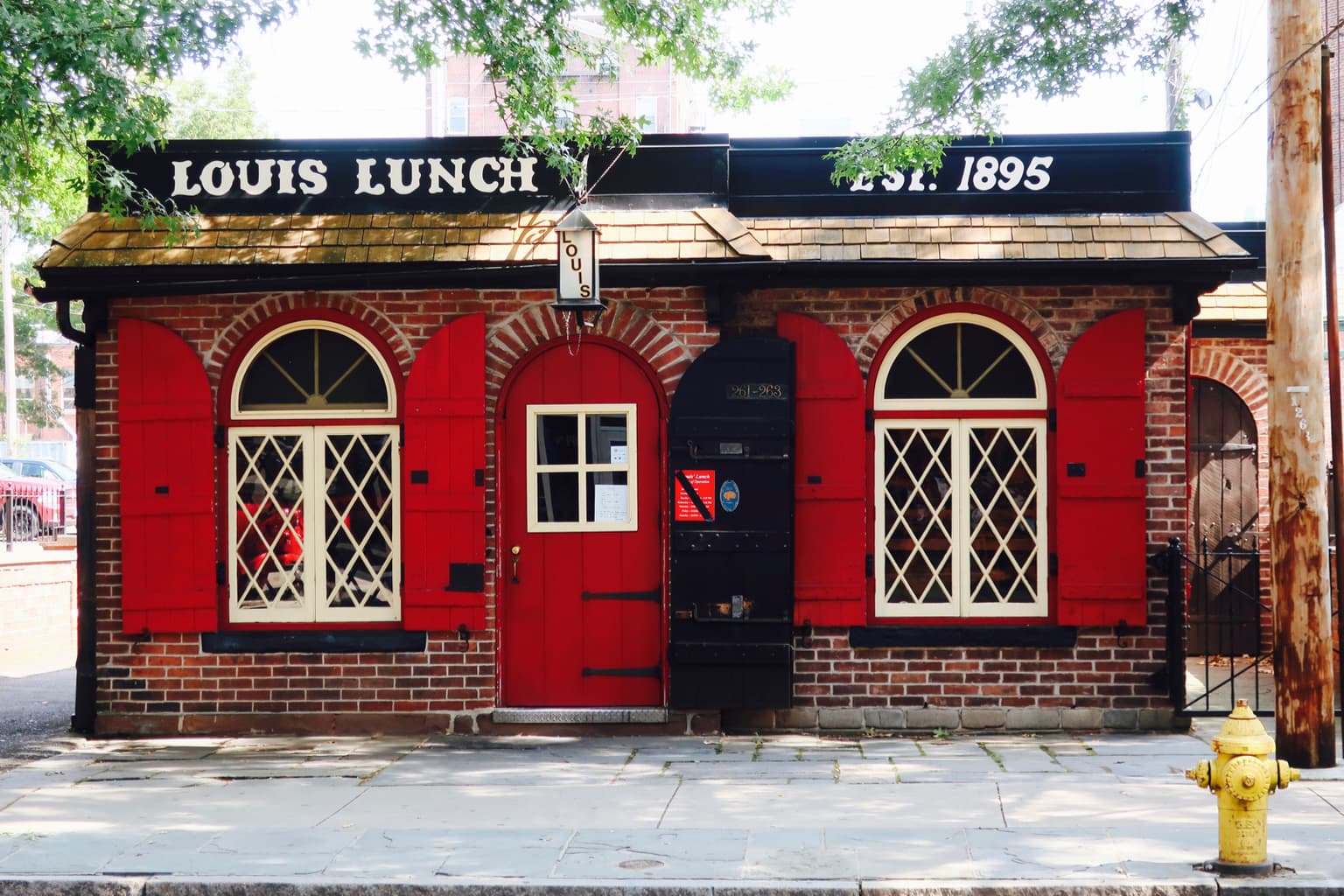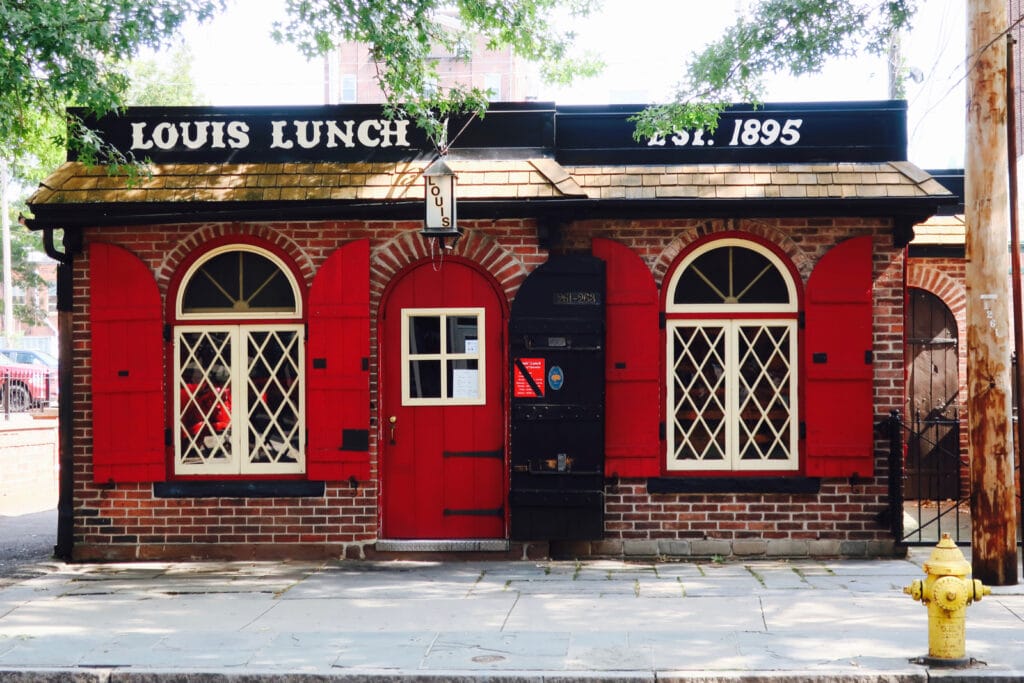 Louis Lunch, established 1895, is considered by many to be "the birthplace of the American Hamburger." Located in a tiny brick building, Louis draws hamburger purists (quarter pound of tartare quality beef on two slices of white bread with onion and tomato – no ketchup) from all over the globe.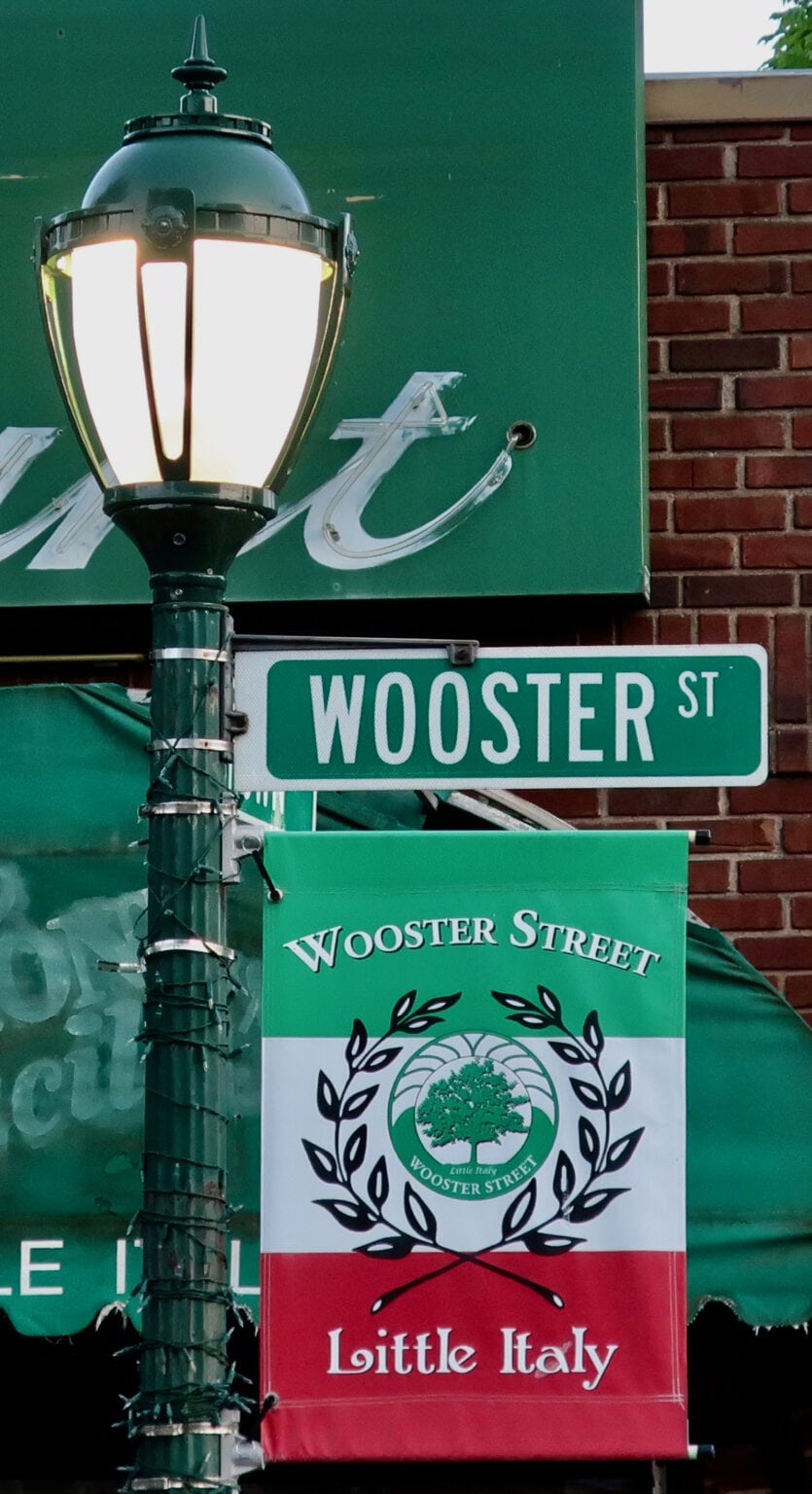 On Wooster Street, New Haven's Little Italy, three pie places vie for the "best pizza" in the region – or quite possibly the world.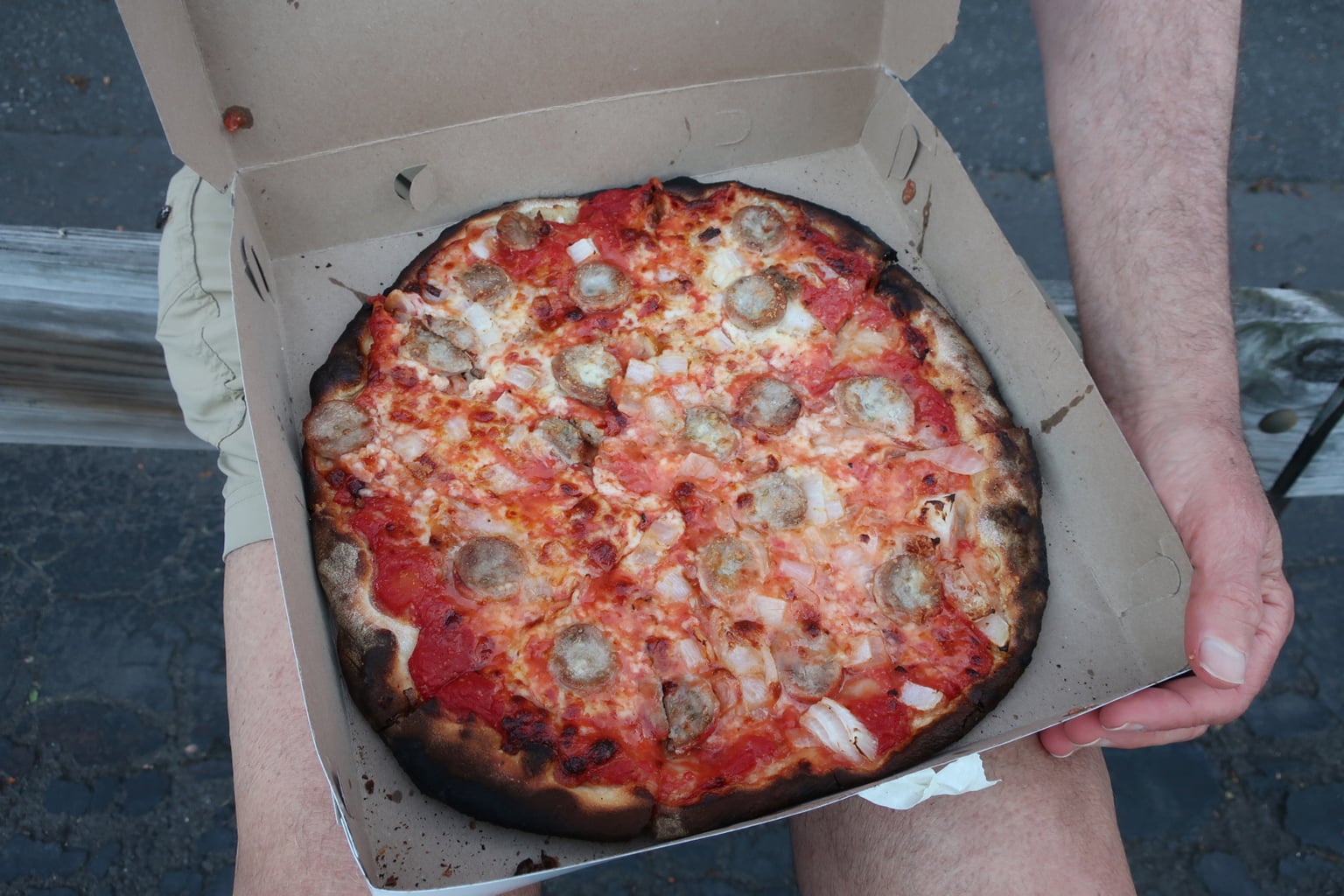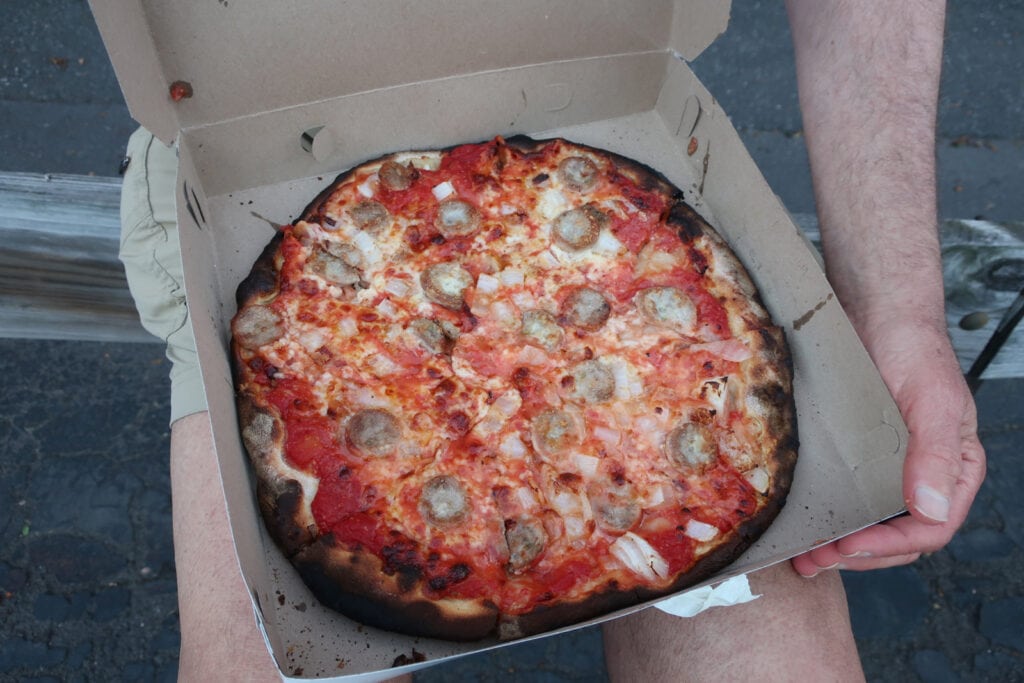 Pepe's signature White Clam Pizza is still a best seller. Relative newcomer Modern Apizza, opened in 1934, gives the old standbys a run for their money.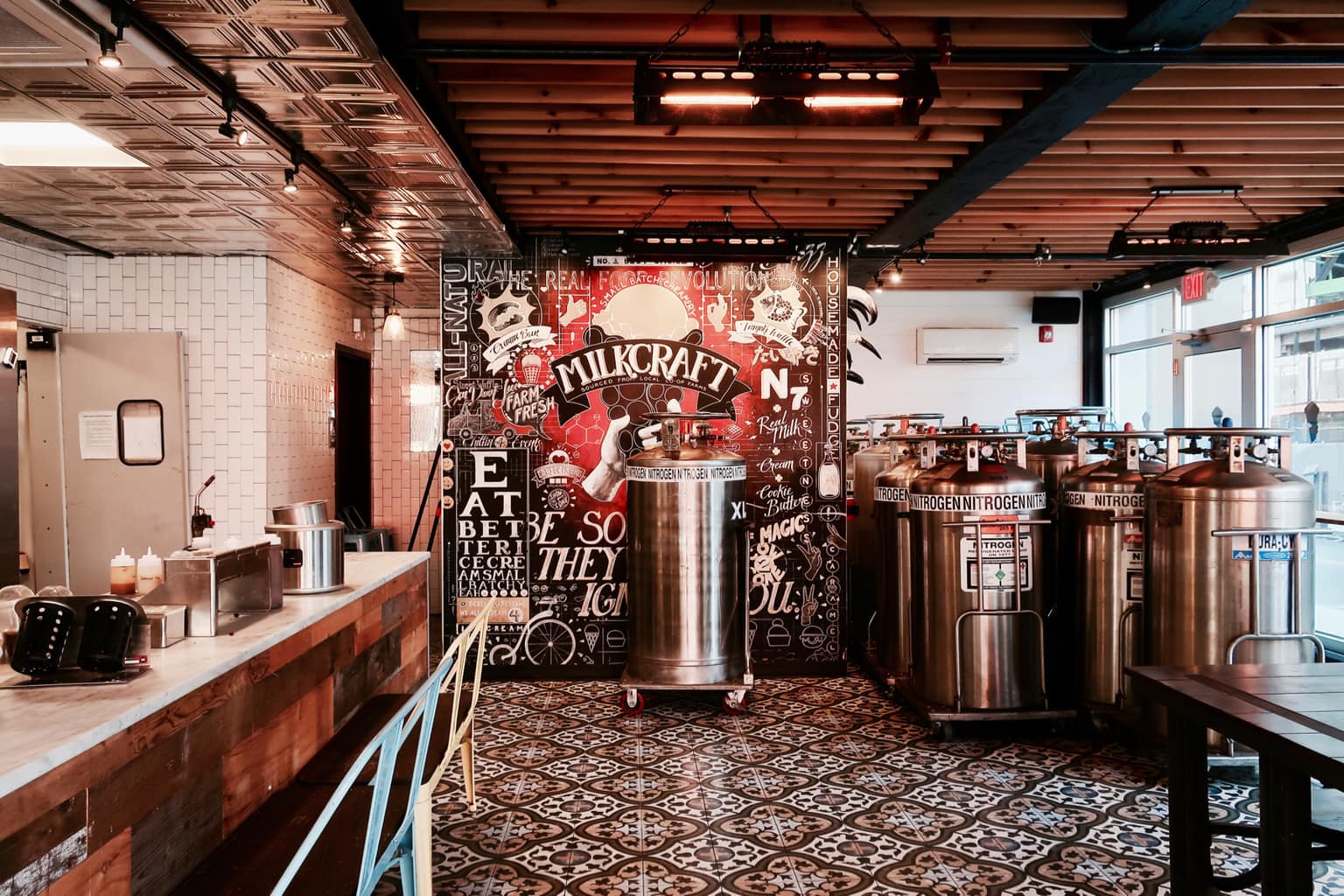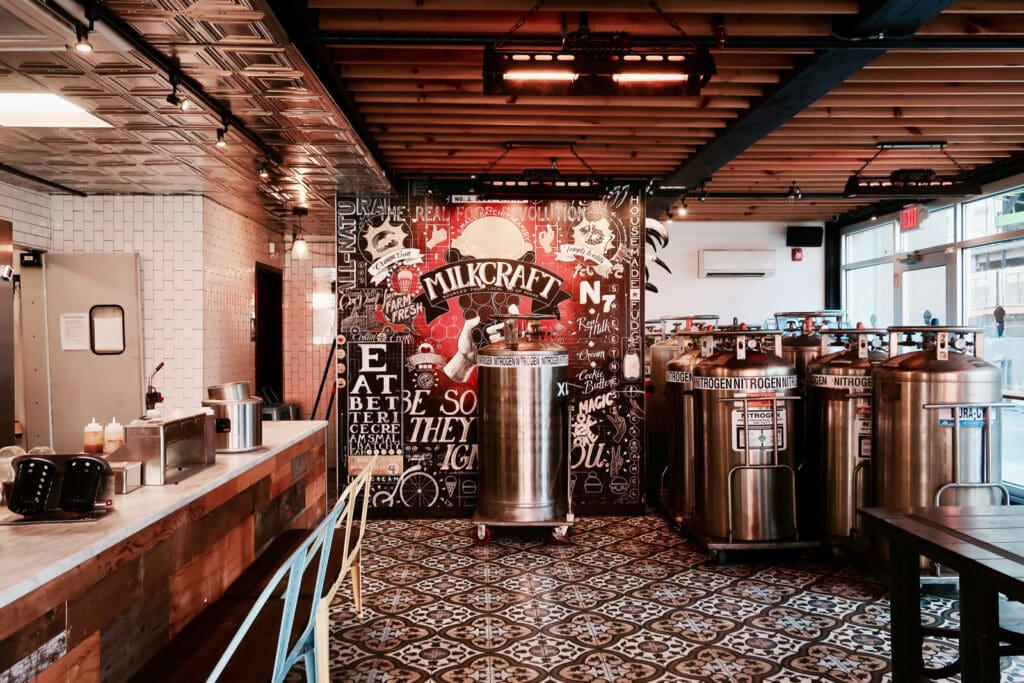 Never has liquid nitrogen been put to more decadent use: flash-freezing cream and natural flavorings into instant, almost gooey, custard-smooth ice cream. Indescribably amazing.
Best Hotels in New Haven CT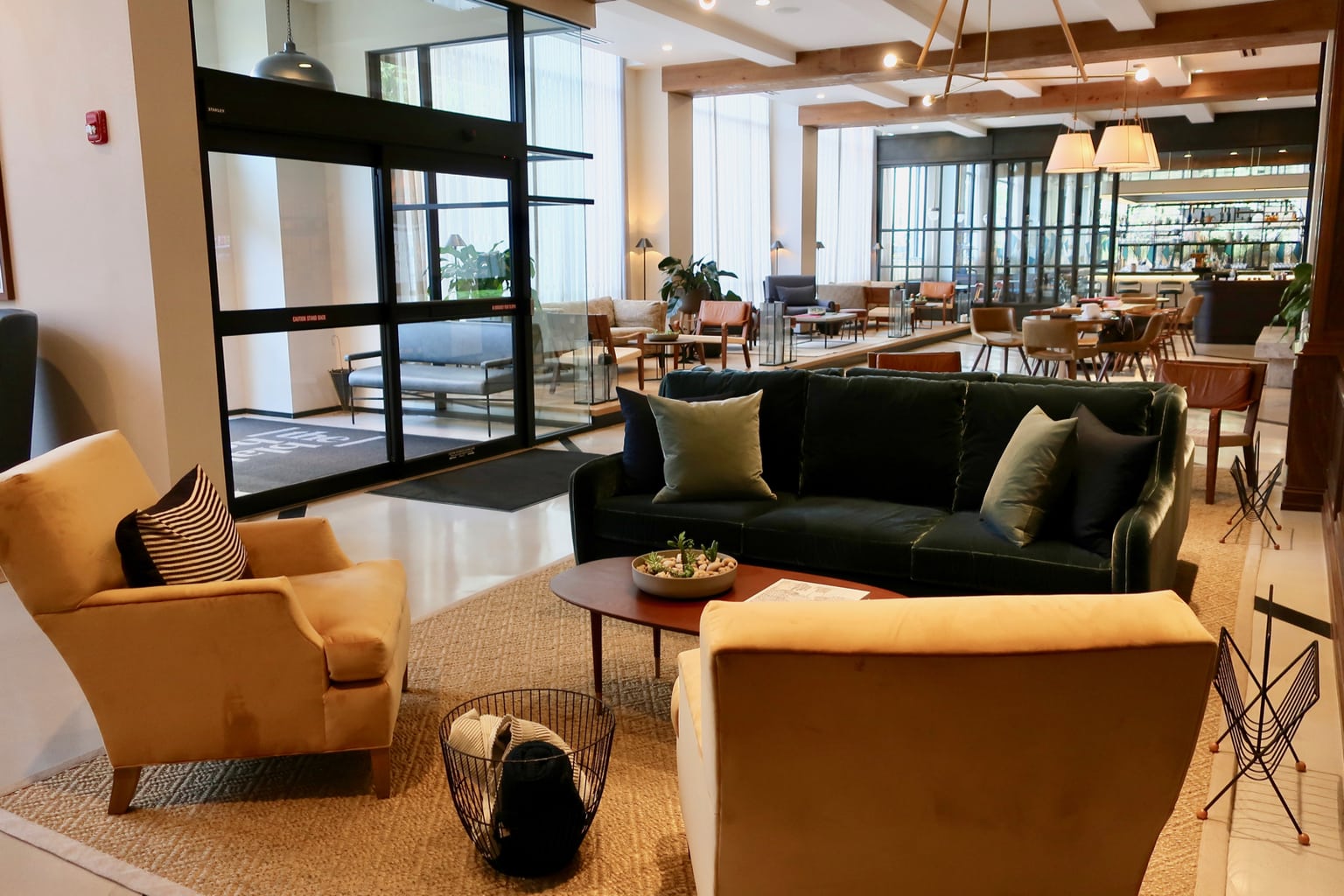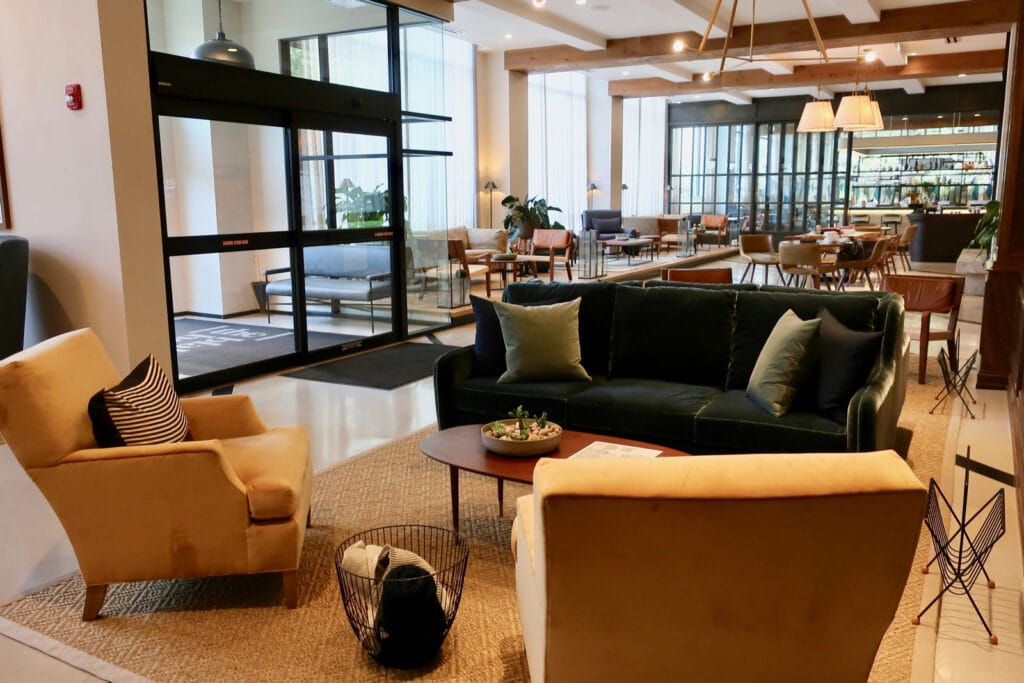 The vast lobby of the hot new New Haven boutique hotel, The Blake, with its clusters of seating and work surfaces, seems like a relic from another – pre-Covid – era. The space was envisioned as a place where groups of friends, family, and colleagues could gather in smaller spaces. Now, it's nearly empty.
However, since June, the hotel itself has seen an uptick in guests – mostly because of safety protocols that include mask wearing, deep cleaning, and lots of Plexiglas and hand sanitizer.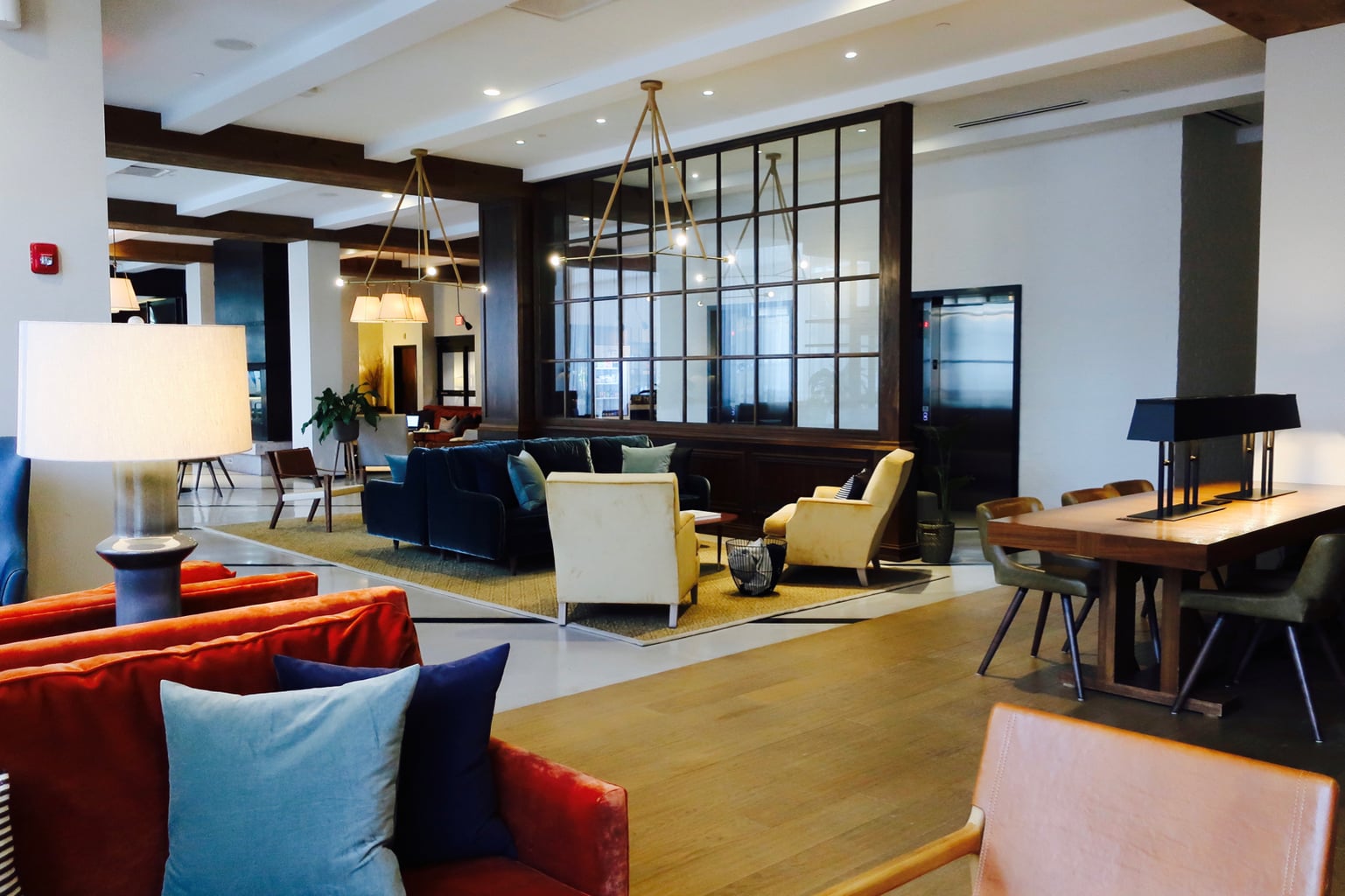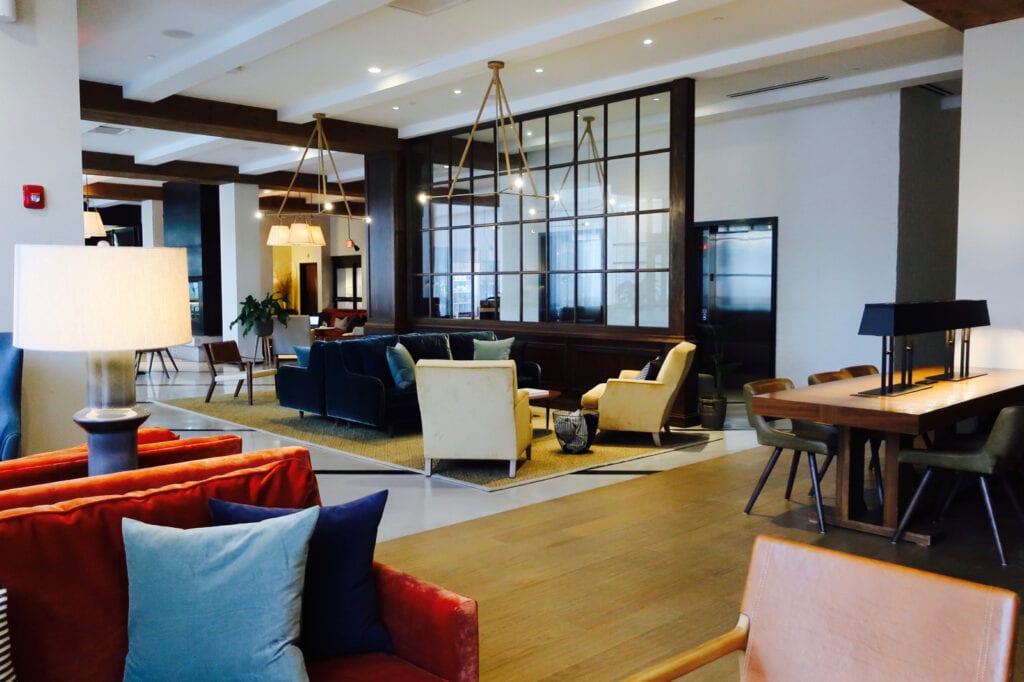 Those receptive to travel now desire these kinds of safeguards, especially in high-concept, design-forward lodging. The Blake, in the center of downtown New Haven, with a hot rooftop bar/restaurant (High George) and within two blocks of Yale College, two theaters, museums, and great restaurants, delivers in spades.
Rooms at The Blake Hotel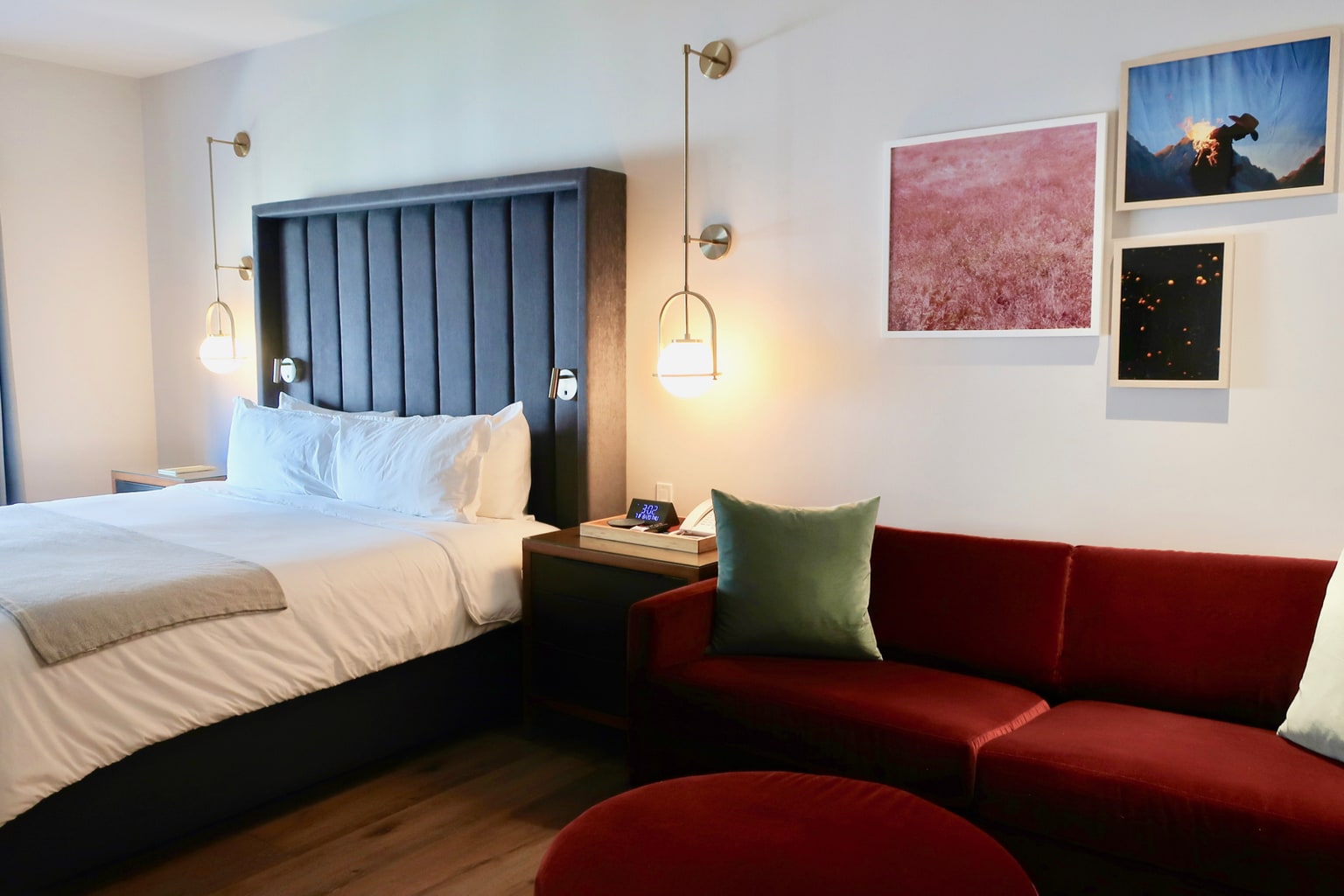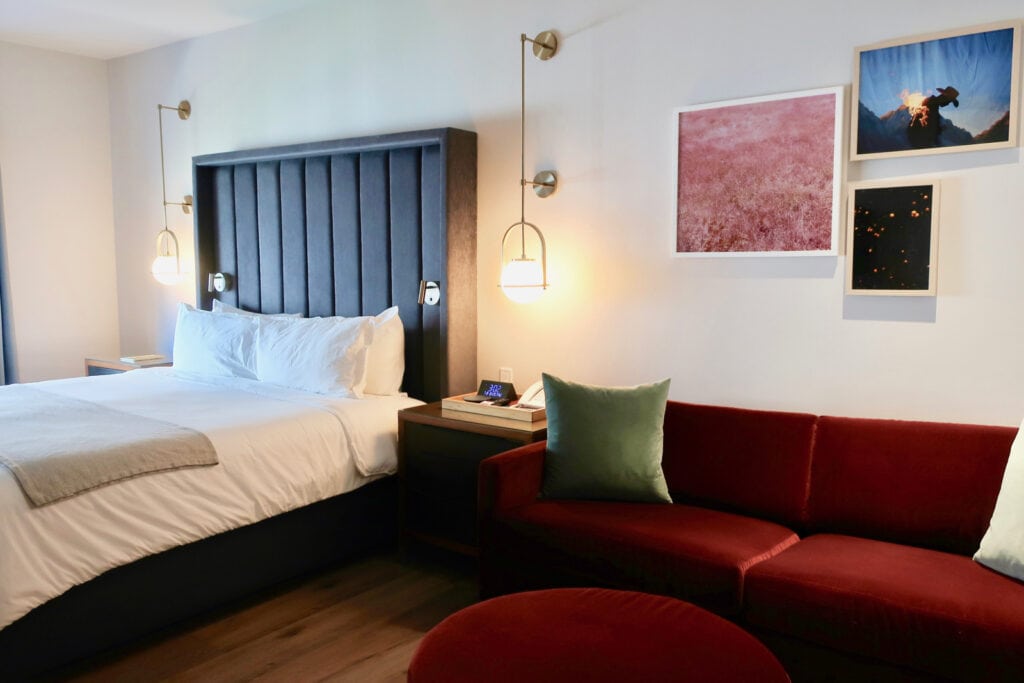 As an extended stay hotel, rooms are huge. Each includes a compact, impeccably designed galley kitchen featuring a stove, microwave oven, fridge, dishwasher, and stocked with tableware, pots, and pans. As per Covid protocol, the minibar has been removed, although items can be purchased in the Grab and Go section of the lobby, next to the reception desk.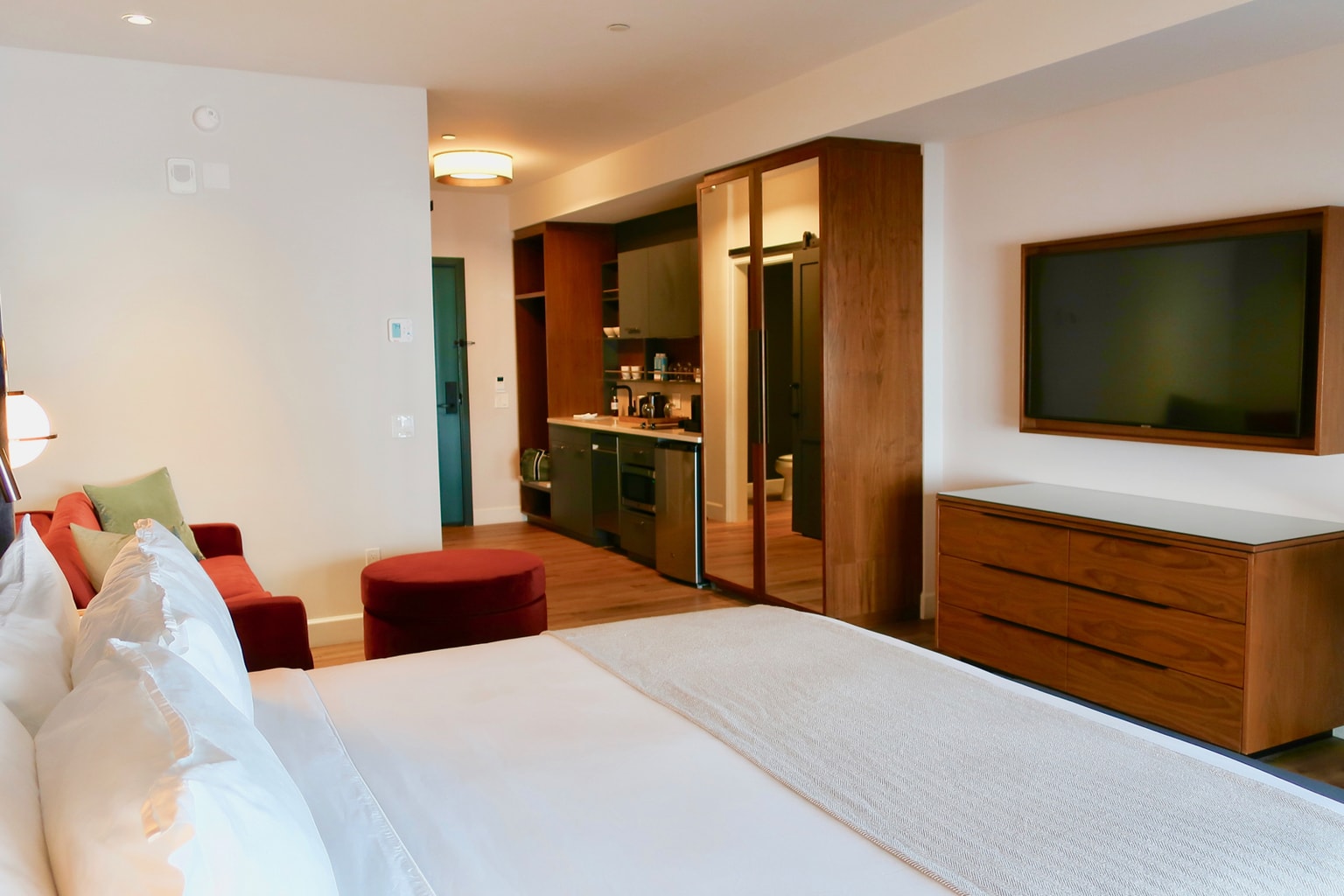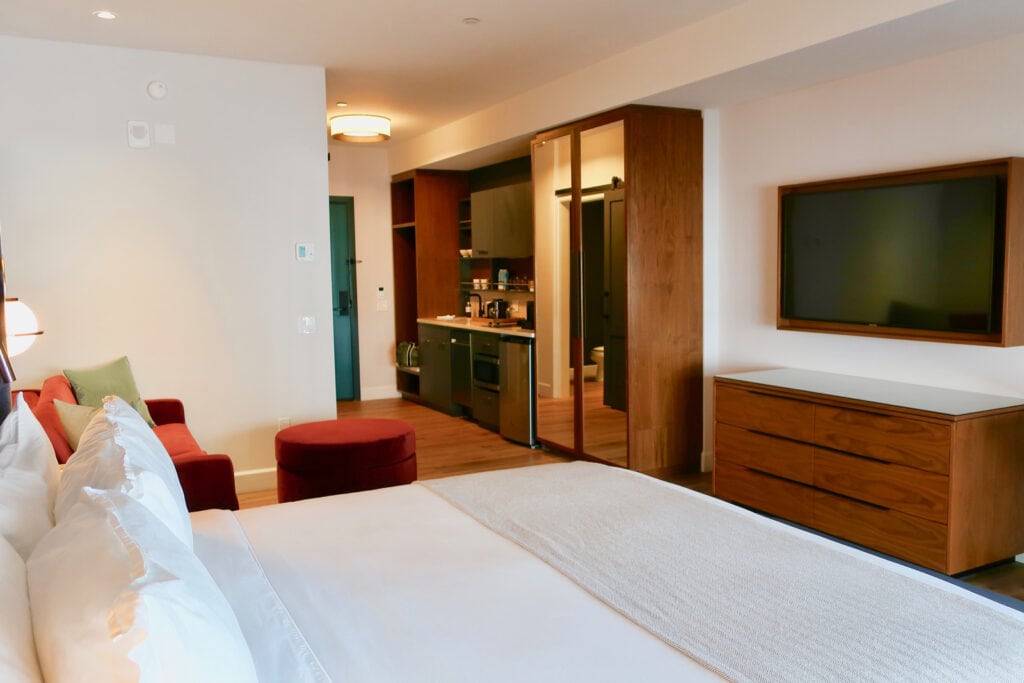 Beds of the sink-into, dreamy kind, have been stripped down to a bright white duvet. Wall art and burgundy couch and ottoman lend a bit of color punch. A large flat-screen TV is mounted above the chest of drawers like its own work of art. And, always near and dear to my heart – there are plenty of outlets, including two on each bedside table.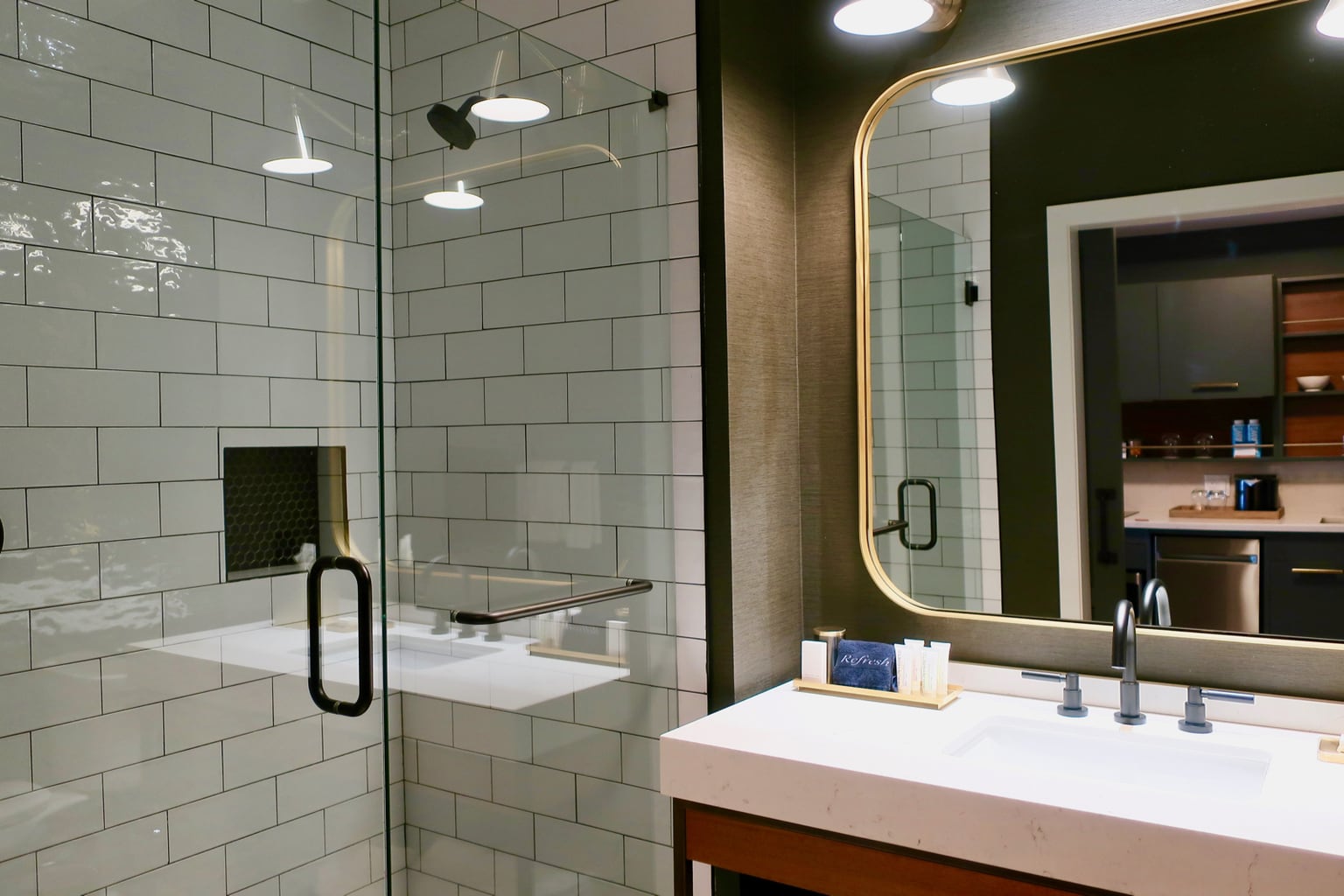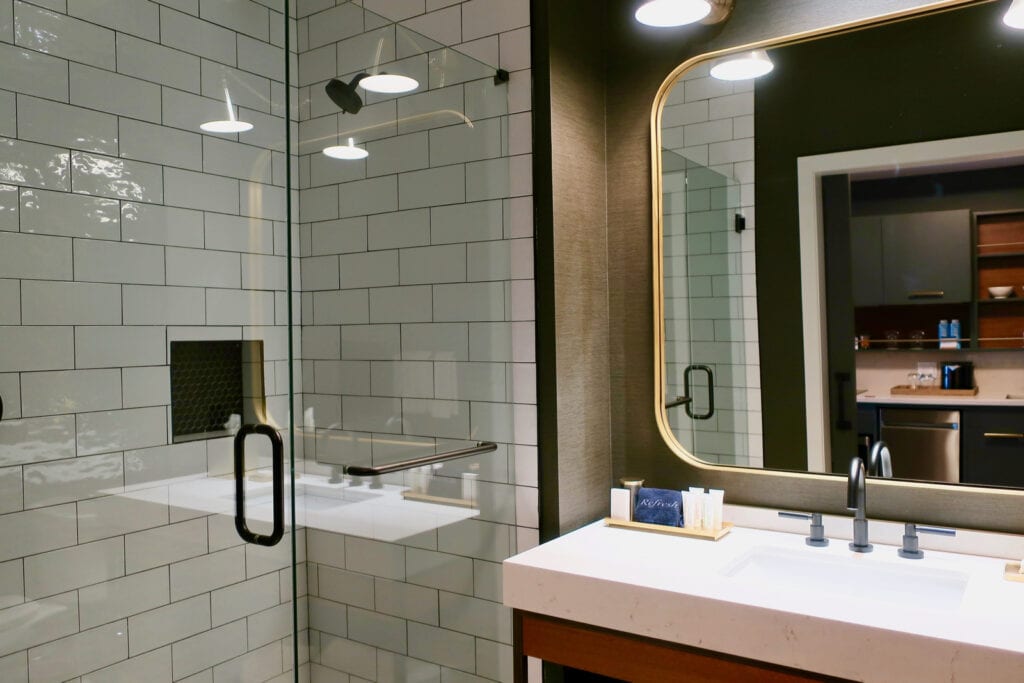 But the star of each room is actually the eye-catching shower: swathed in glossy white subway tile with contrasting black grout, its lovely to behold. In fact, the whole modern bathroom is pretty and pristine – reassuring for sure.
Dining at The Blake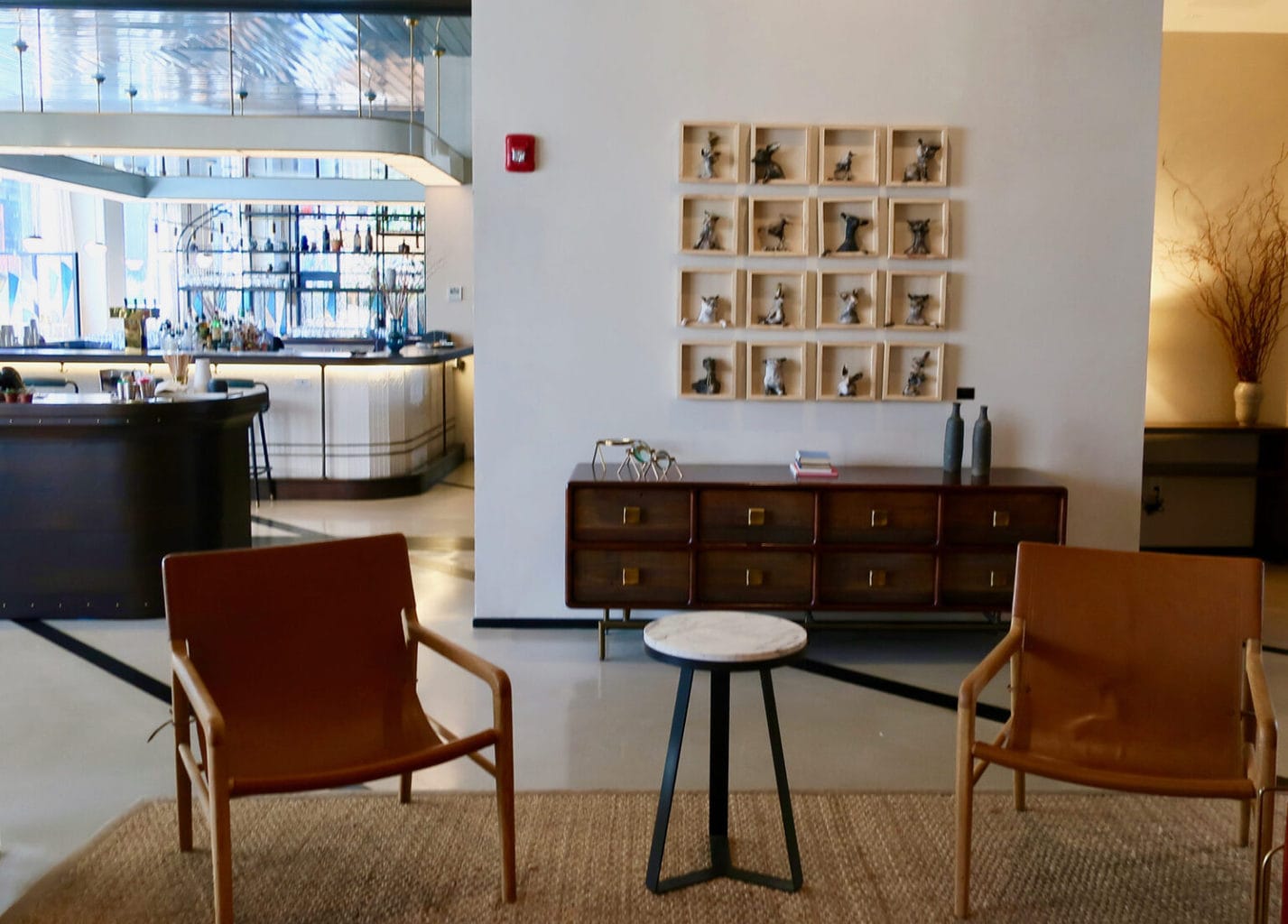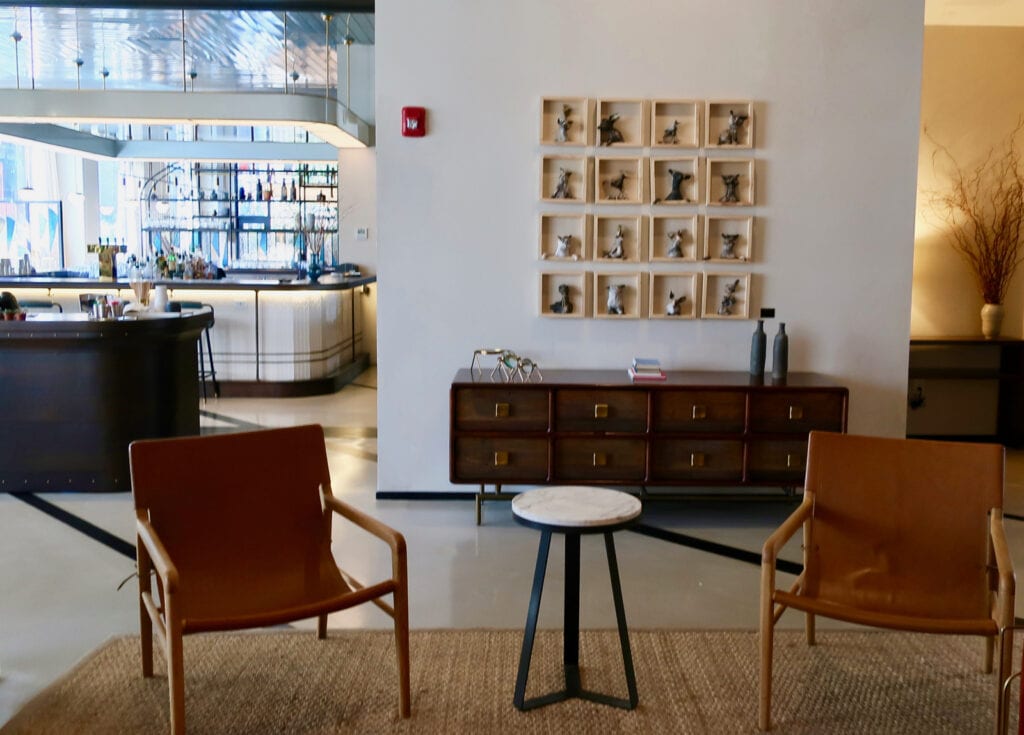 Hamilton Park
For now, this main floor restaurant is closed.
High George Rooftop Bar Restaurant (see under Where to Eat )
This uber-popular 6th floor outdoor patio is favored by locals in the know.
Amenities at The Blake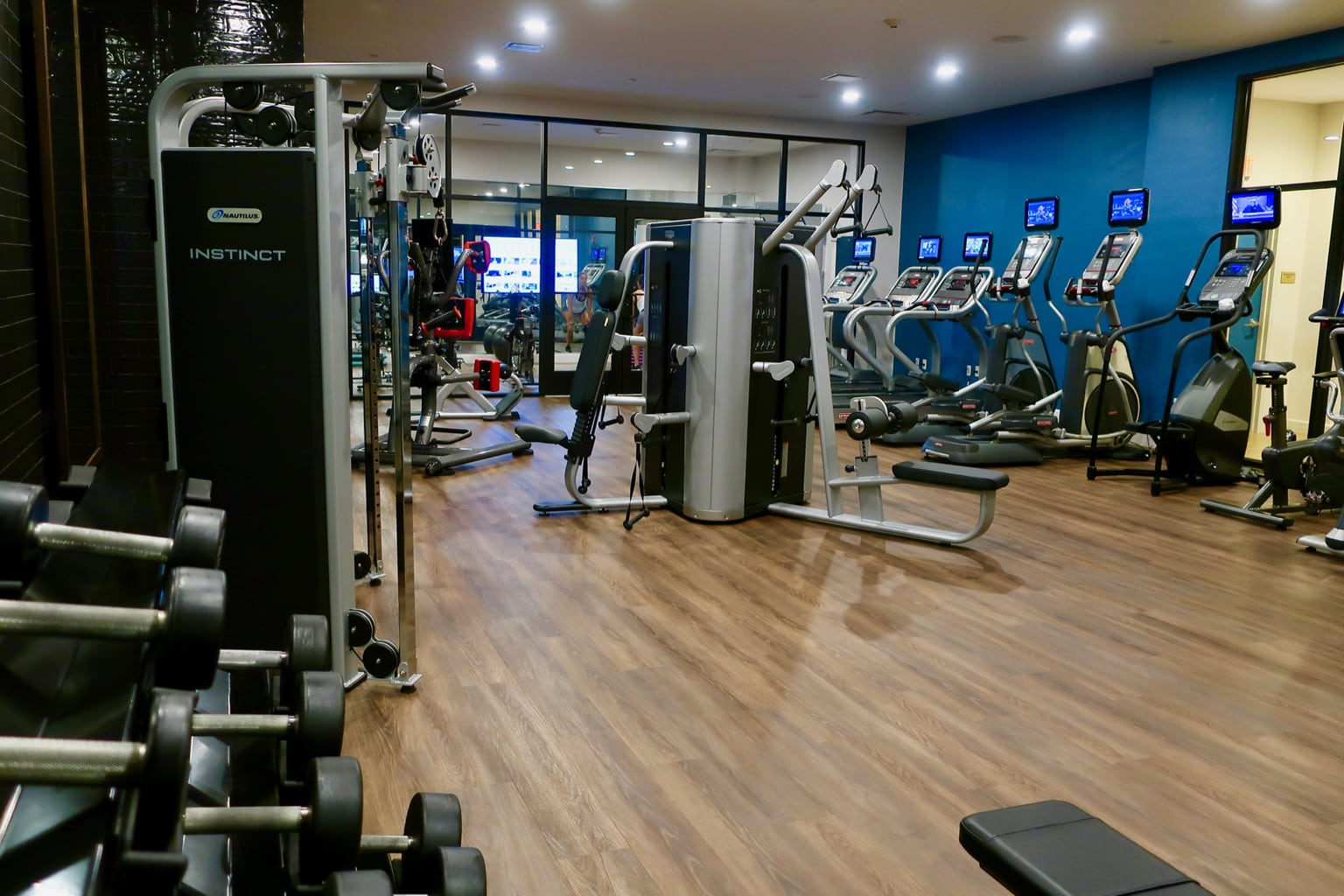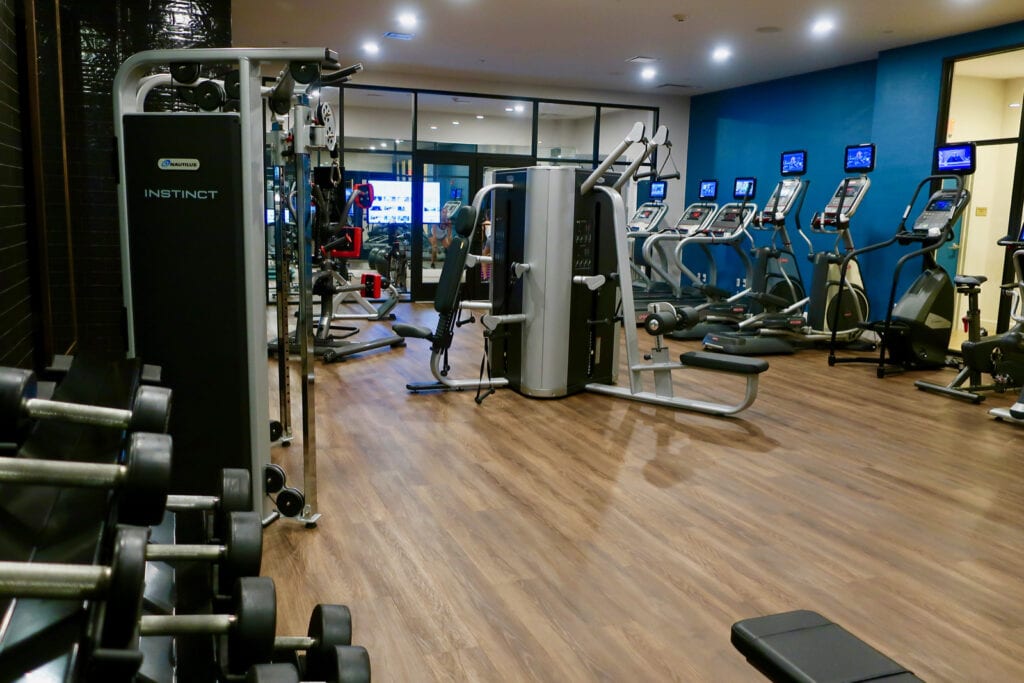 The Blake's two-room fitness center is big enough to pass for a smallish stand-alone gym. It's one of the largest and best equipped of its kind that I've ever encountered in a hotel.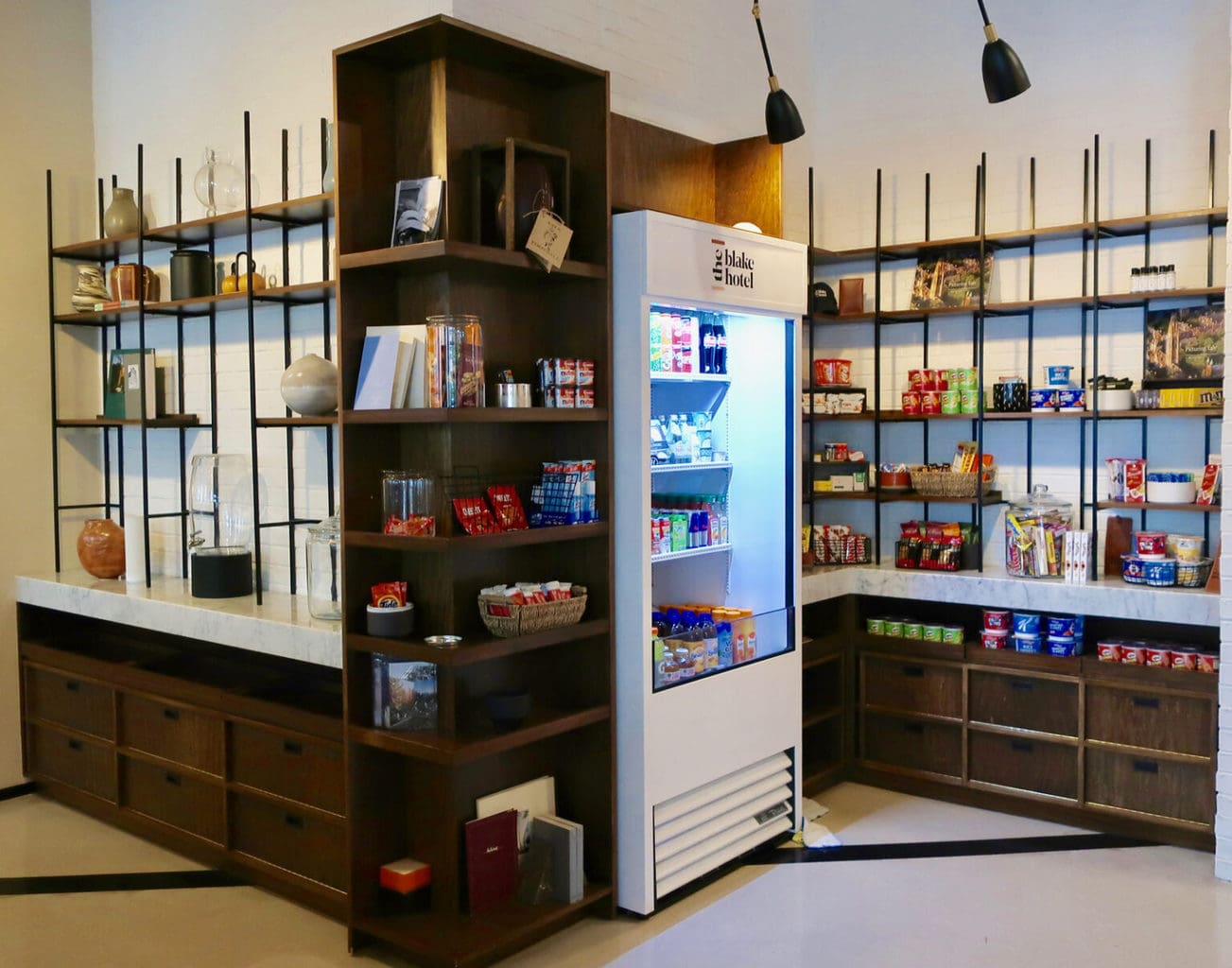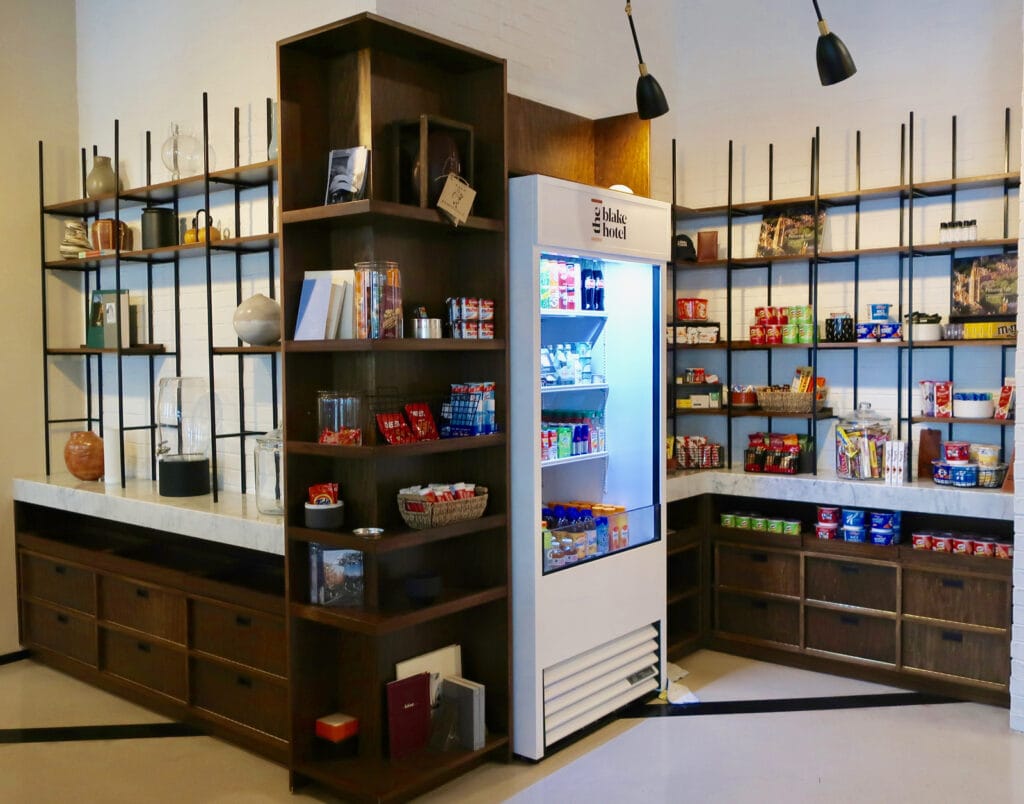 The small grab and go store provides soda, water, yogurts, snacks and candy. Rooms and Suites from $188-$650 include wifi and extensive fitness center.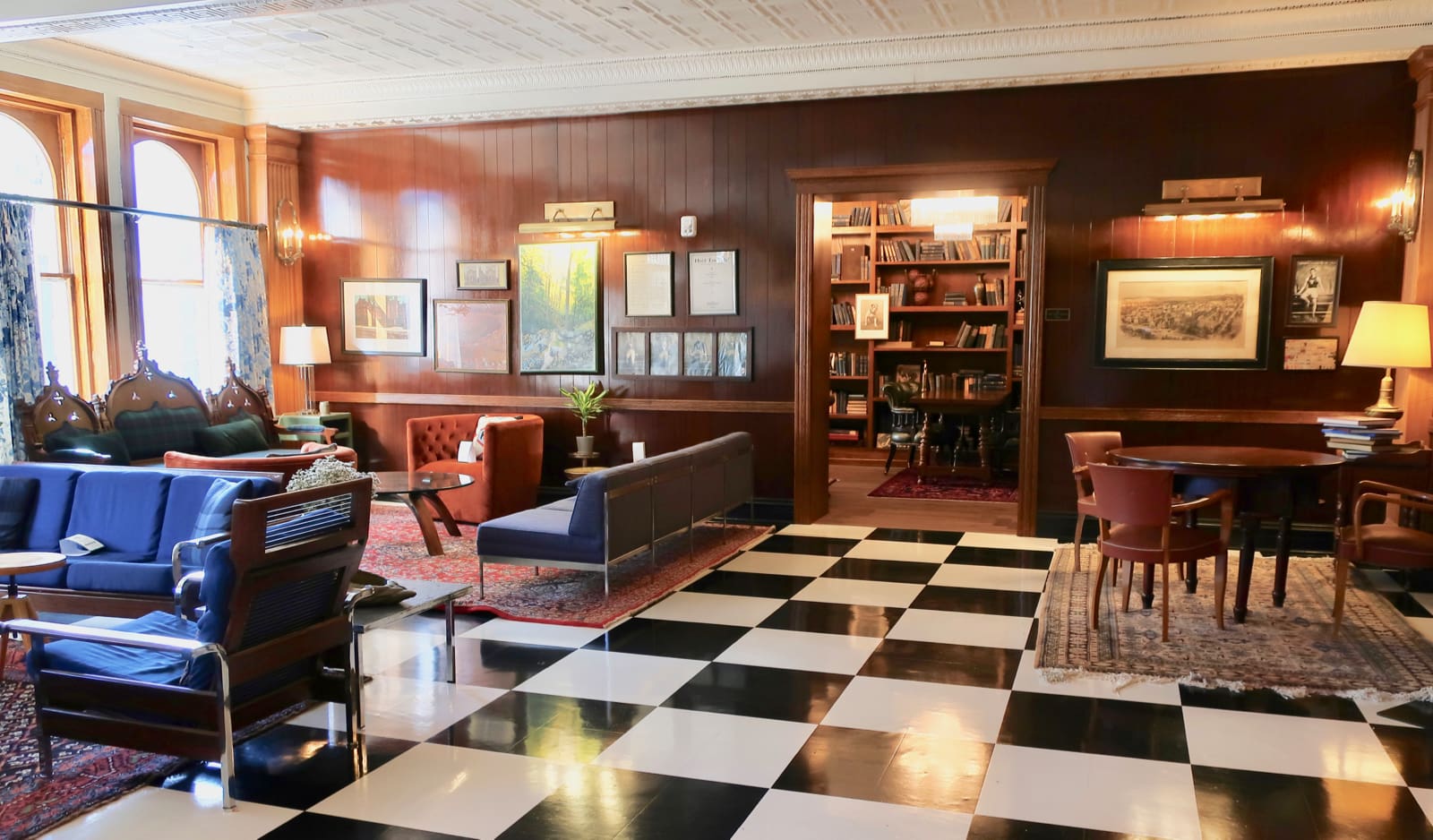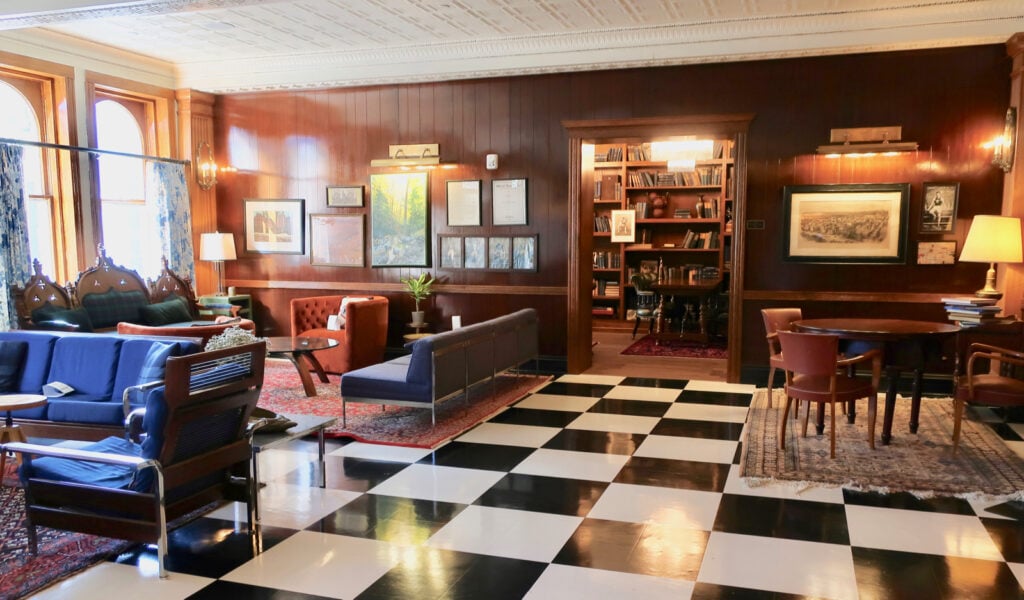 This college-town franchise took over the former hostel, The Duncan Hotel, and turned it into a handsome Ivy League club-ish property. Rooms from $175-$280.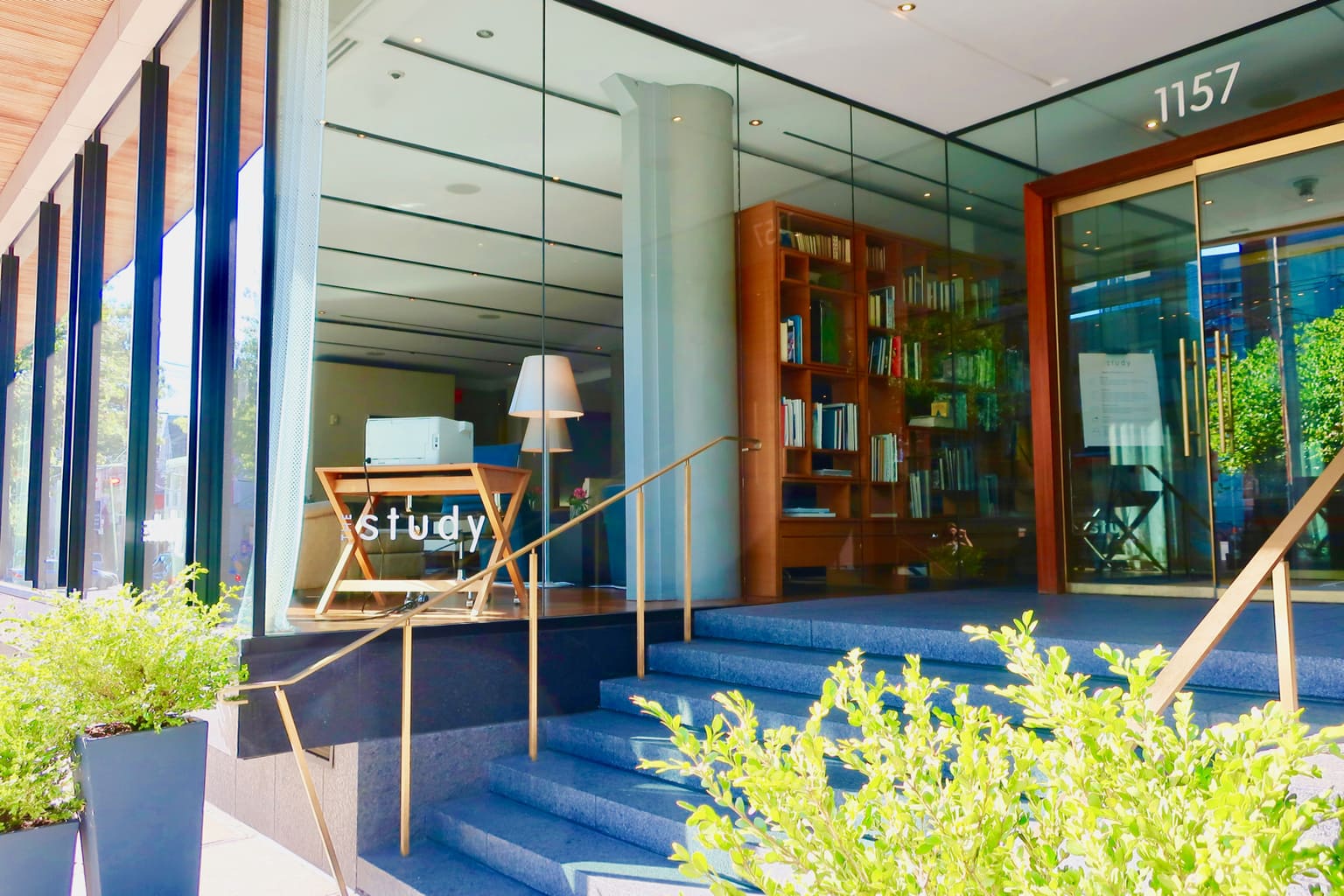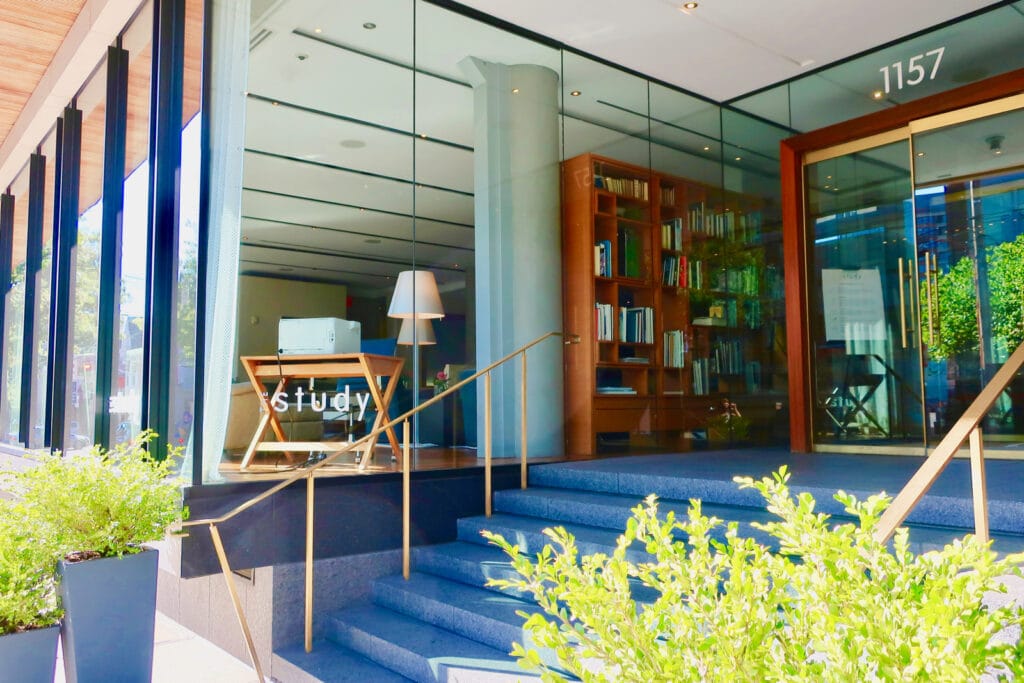 Sleep in a collegian's fantasy dorm room; study-mod suites sport light woods, heather teals and earth-browns. Cute blue and white seersucker robes hang in gleaming white subway tile and grey-veined marble bathrooms. Suites with cozy reading alcove offer views over the tile roofs and chimney tops of the stately Yale Campus. $199-$400 per night, includes complimentary wi-fi, apples and gingersnaps at check-in.