Last Updated on May 28, 2023 by Editor
WHY GO: It's kind of remarkable that there are so many enjoyable and, dare I say, romantic, things to do in Stamford CT, considering its slogan is "The City That Works."
Sure, worker-bee commuters swarm daily into Connecticut's 2nd most populous city (after Bridgeport), just 50 minutes by Metro North train from Manhattan. But there is another side to Stamford – which happens to be this Maven's home. One that has less to do with profits and more with fun. And sometimes weirdness.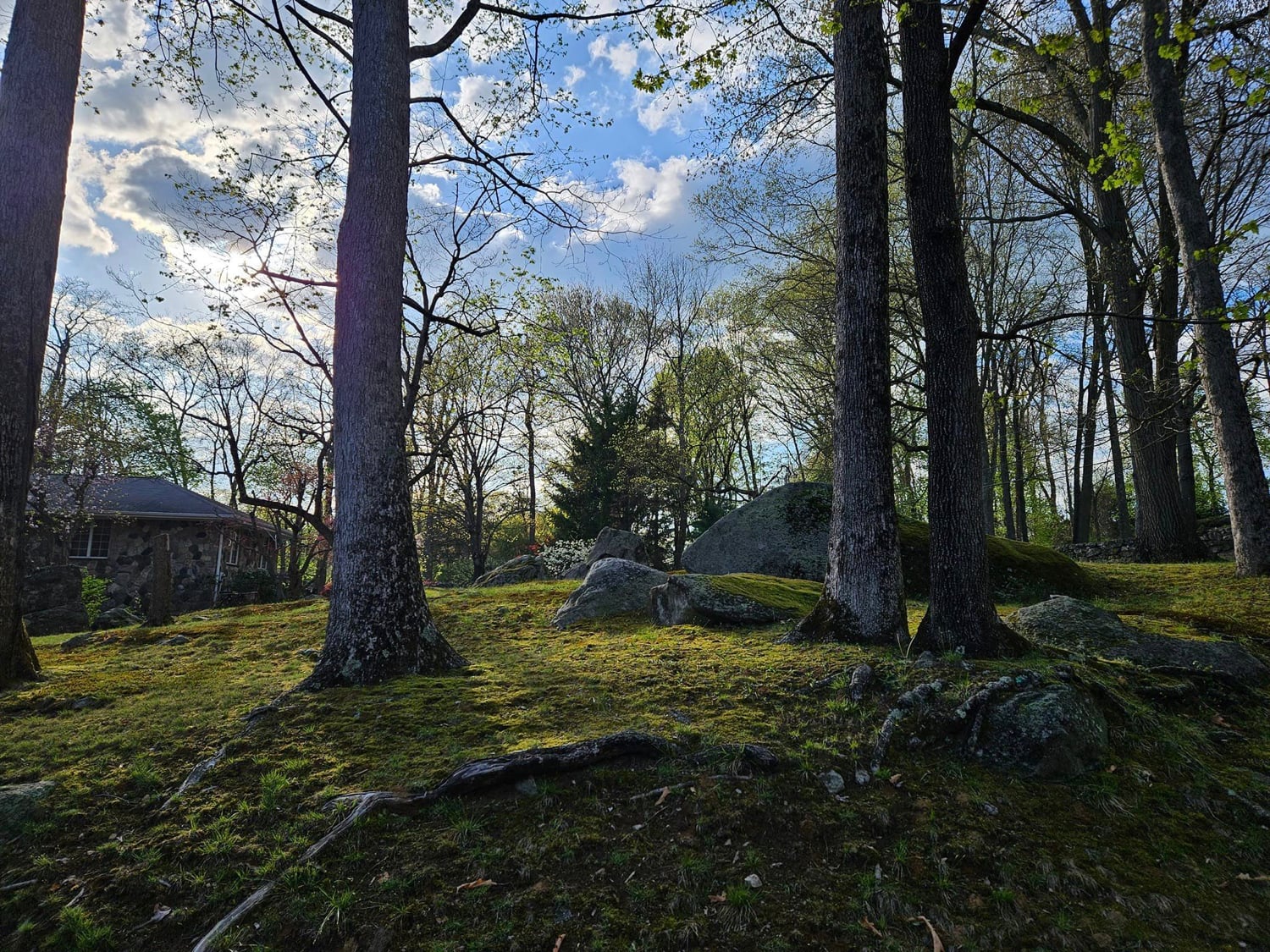 You'd think that with all of these corporate offices and influx of "reverse commuters," there'd be minimal green space in Stamford. But neighborhoods, especially those in North Stamford and by the water harboring City Parks, are canopied with green all summer.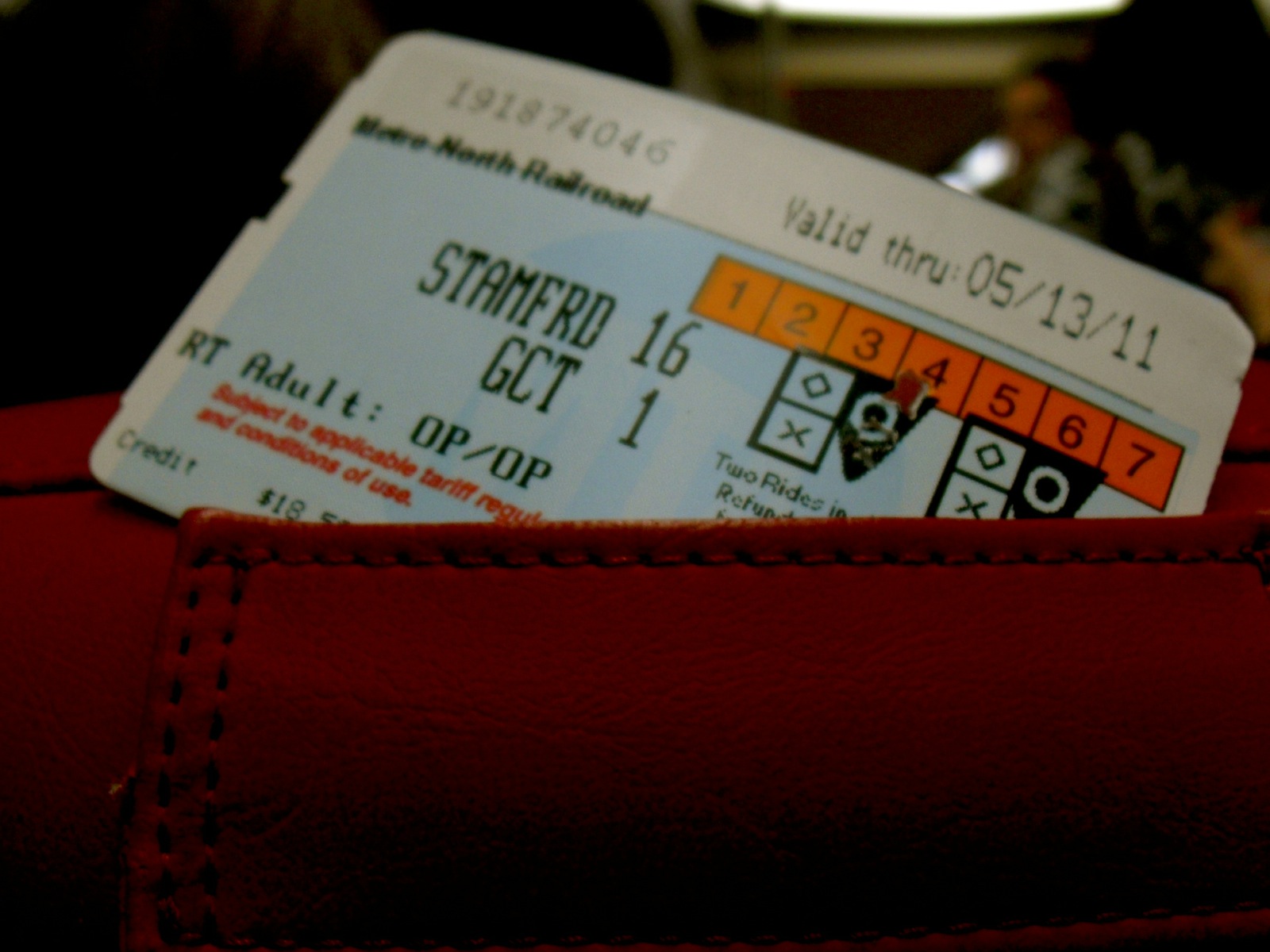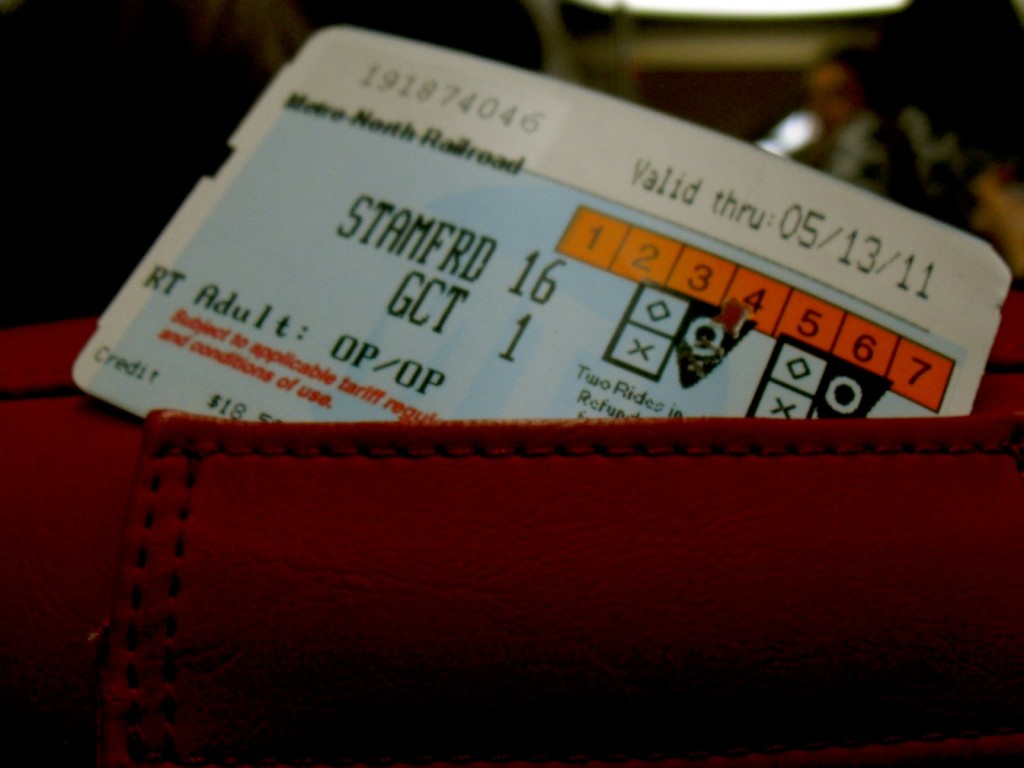 Stamford has a church in the shape of a fish, one of the only Ukrainian Museums in the country, World Wrestling Entertainment, (from 2009-2018, The Jerry Springer Show), some gorgeous parks and gardens, and a surprisingly vibrant nightlife: vibrant enough to bring New York City dwellers out to the burb's.
These contradictions are what make Stamford so intriguing as an Offbeat Romantic Getaway. That and the fact that the culinary scene is so darn diverse. Of course I'll let you in on my favorite haunts.
In addition to being a great place to visit, Stamford is also a fantastic place to live, as evidenced by the hot housing market here. It's so hot, in fact, the Real Estate Brokerage firm, Redfin, published these 16 Things to Do in Stamford CT If You're New to the City. 
Want more Romance in Connecticut? Then, check out further Romantic CT Getaways.
Things To Do In Stamford CT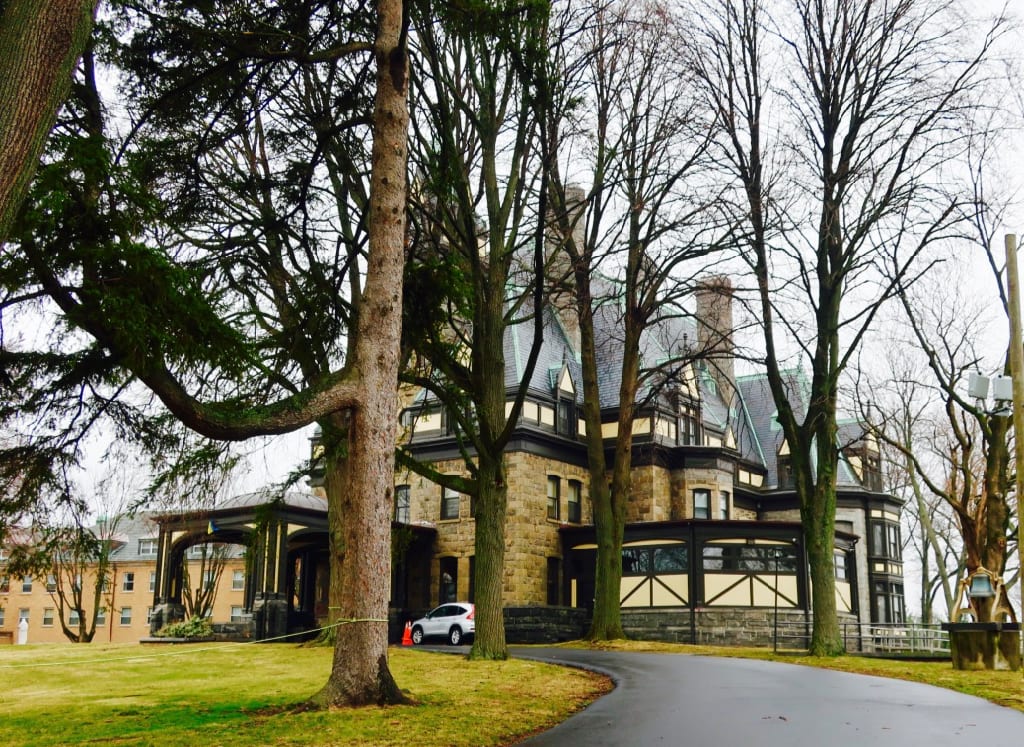 VISIT: Ukrainian Museum and Library of Stamford CT
Now, more than ever, it's important to learn about Ukrainian culture. As I write this, the Russian-Ukraine War is escalating. Putin continues to bomb this Slavic country into oblivion, and with it, the human and brick and mortar repositories of its rich past.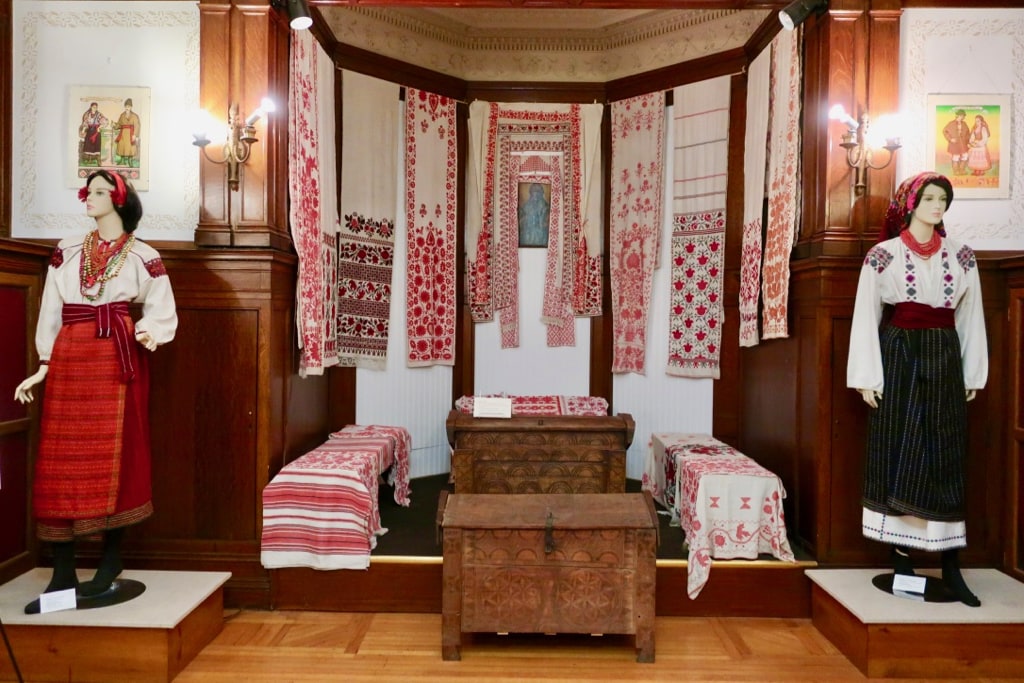 I've lived in Stamford CT for much of my life and didn't know this Ukrainian Museum existed. That changed a few days ago, after I spied a small ad in our local paper. Imagine my surprise when I discovered that, along with the attached Ukrainian Catholic Seminary, it's been open since 1937.
In 1933, Bishop Constantine Bohachevsky purchased the stunning mansion, built by coal magnate Edward Quintard in 1860, for $50,000.
Cultural Center For Ukrainian Immigrants
Established as a Cultural Center for Ukrainian immigrants throughout the U.S., the museum was incorporated in 2000 in Connecticut as a non-profit Educational Center as well, with nearly 75,000 Ukrainian language books in the Library, housed in another historic building.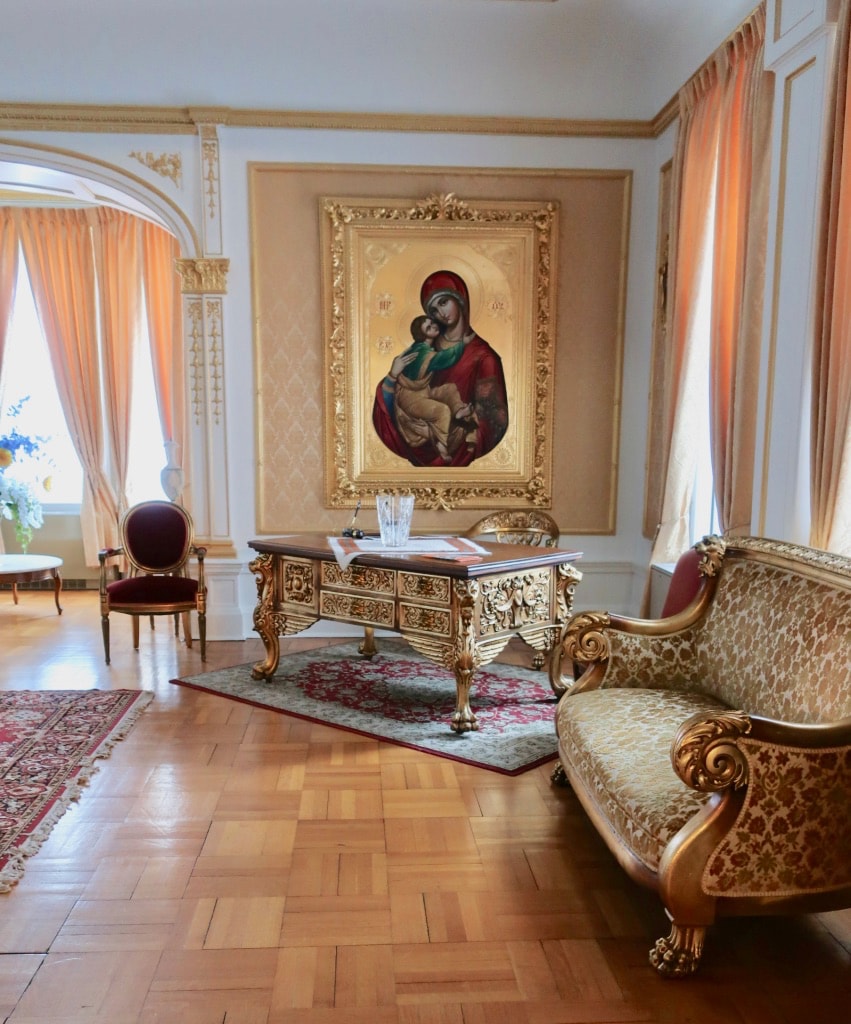 The Museum building itself is a marvel, with carved woodwork, mosaic entry floor, and gilded molding in some rooms. Extraordinary art work, illuminated religious art, prayer books from the Late Middle Ages, vestments, icons, elaborately embroidered folk costumes, ceramics, ornamental eggs, oven tiles, furniture, and more are exhibited on two floors.
These 7,000 folk artifacts and roughly 3,000 paintings and sculptures are on artful display thanks to curator, Lubow Wolynetz, who started out teaching at the Seminary, and 40 years later has overseen the museum's growth from two rooms to two floors.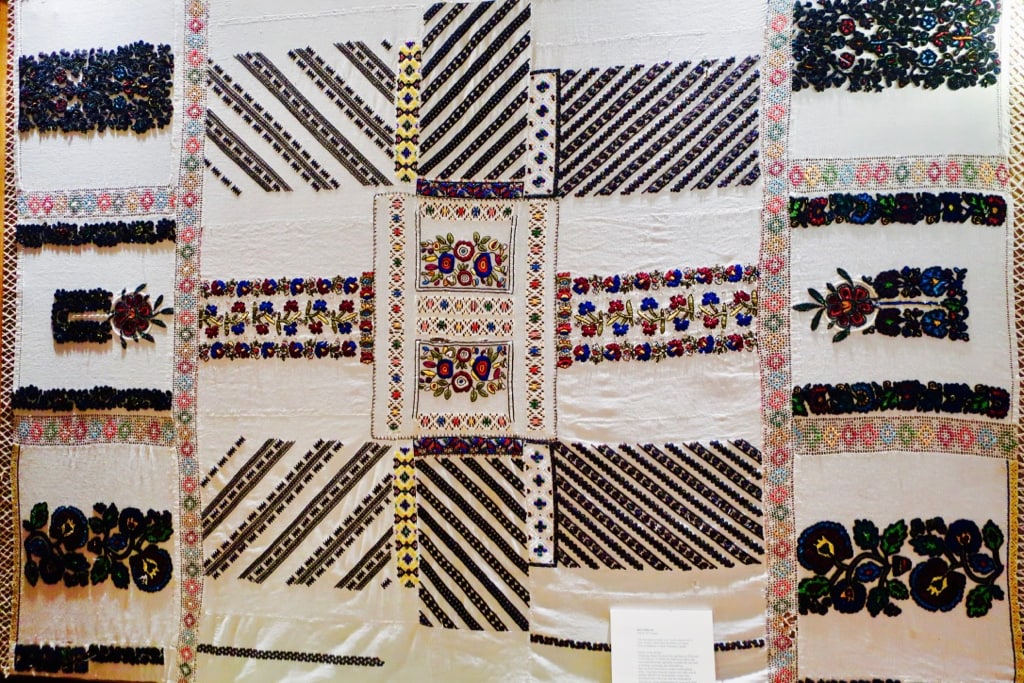 During the hour I spent here, two pieces caught my eye. One of these made me tear up.
I admired the handiwork that went into a bedspread made from the embroidered sleeves of women's blouses. But, I got really emotional while studying a 1963 painting of "Snowy Kyiv." It's an idyllic scene: snowcapped churches, kids bundled up, sleighs and trolleys on the move. I stood there mourning for a peaceful Kyiv, not the battlefront city it is now.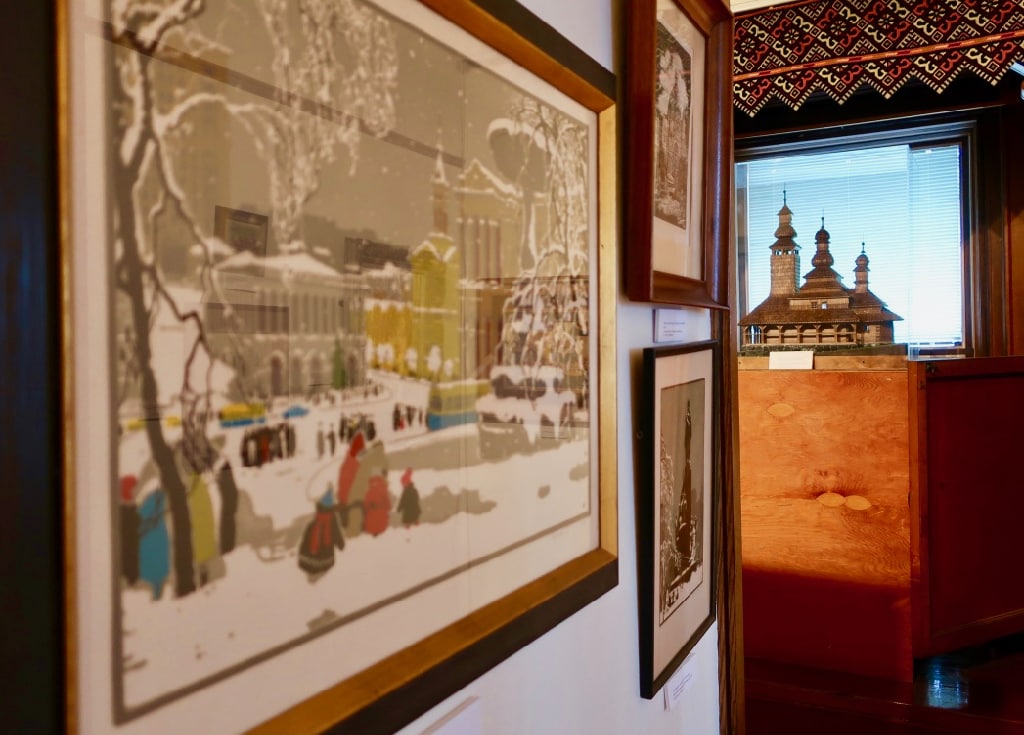 While in Stamford, make it a point to learn about Ukraine. During open hours, ring the doorbell and someone will open the heavy original 1860 doors. Although now with limited hours, you can always call for an appointment. Open Tues, Wed. Thur. 1-5, or Sat by appointment, $5 suggested donation.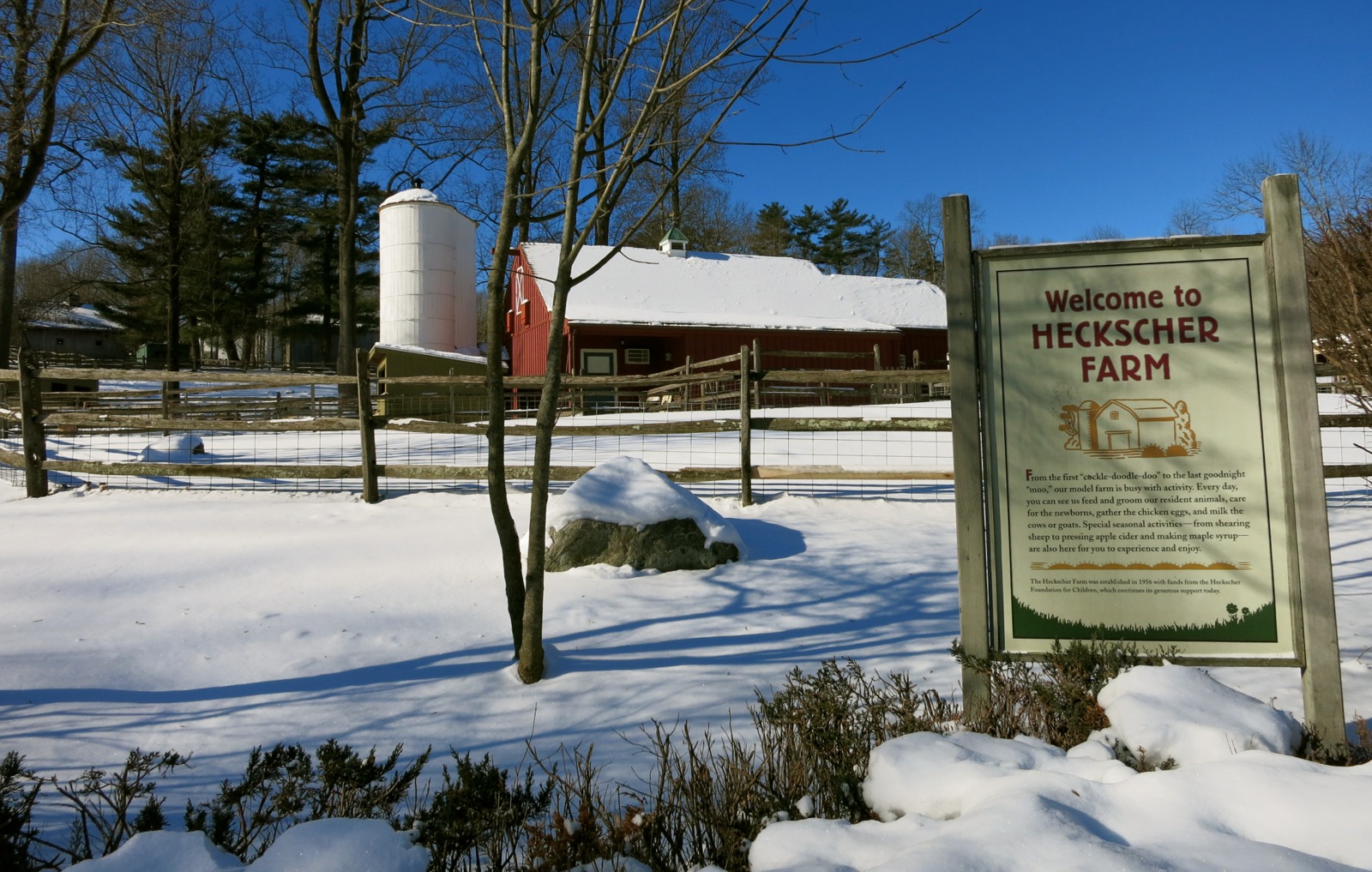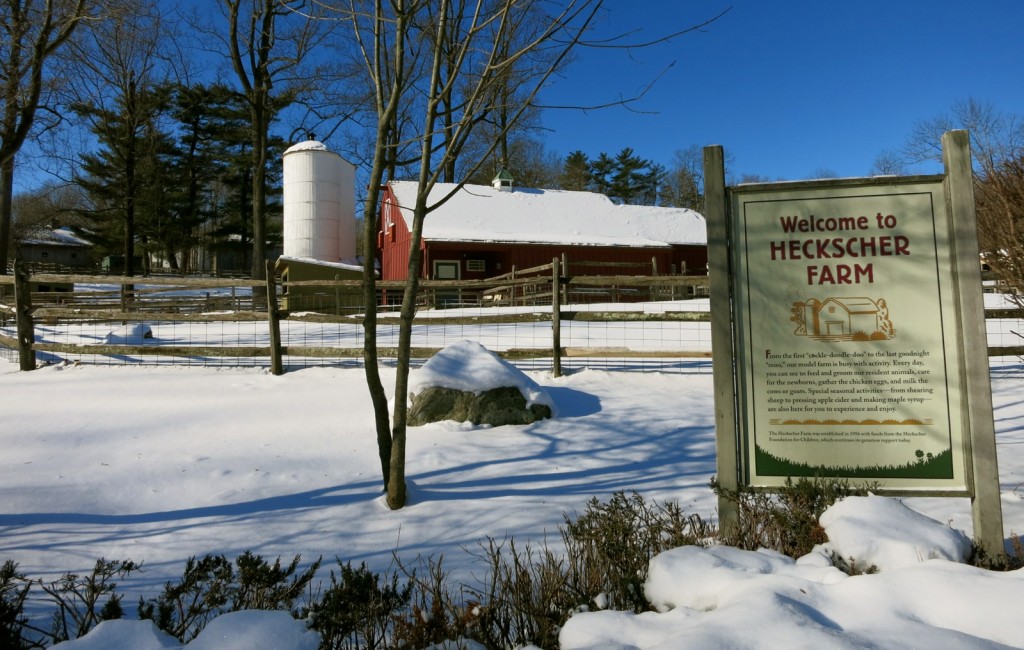 VISIT: The Stamford Museum and Nature Center
This treasure of a local attraction, The Stamford Museum and Nature Center, is worth a morning or afternoon, in order to see all there is to see in this complex that includes an art museum inside the former country home of retail mogul Heni Bendel, Heckscher Farm – a "heritage breed" farm, and the Overbrook Nature Center.
Heckscher Farm houses a corps of barnyard animals from bygone days, including a dozen breeds of chickens, pigs, sheep and bovines. At the Overbrook Nature Center, walking trails feature sculptures and wildlife. The family friendly "Nature's Playground" allows kids (and kids at heart) to sprawl out in an "hawk's nest." And there's an observatory with a 22 inch telescope open to the public most Friday nights.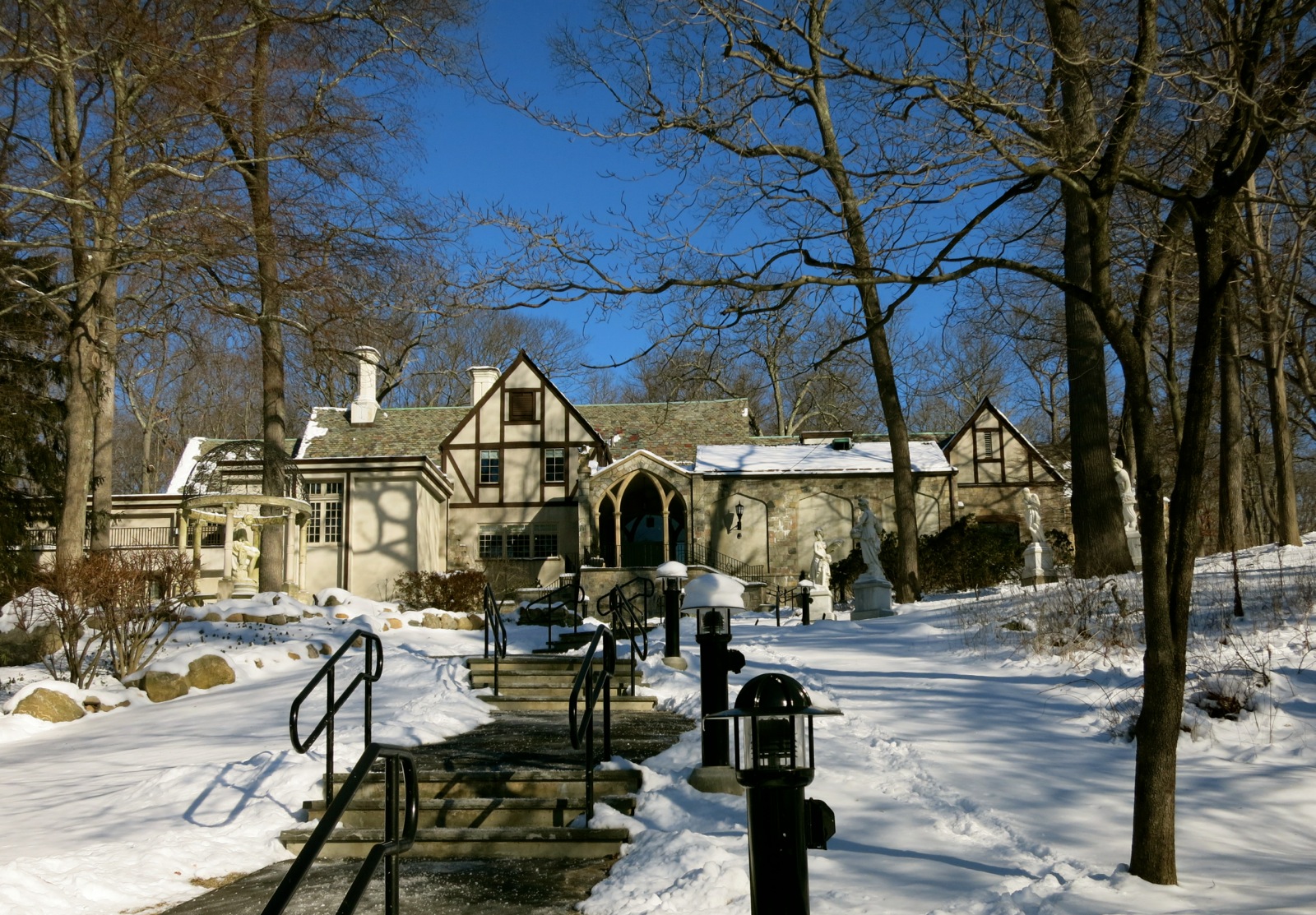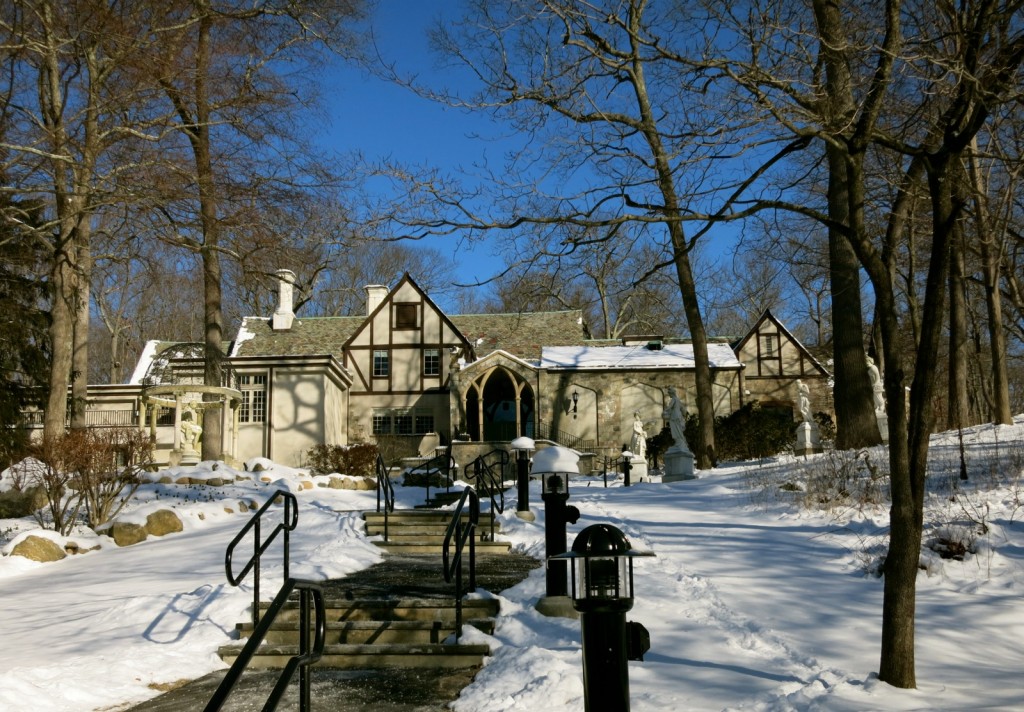 There's always some goat or lamb, piglet or calf being born in the Spring, a season that also brings the popular Maple Sugaring Weekend and Sheep Shearing Festival.  Programs abound, for kids and adults, including the rather romantic "Nights Out" series, which incorporates food and wine into a bit of education. See website for events.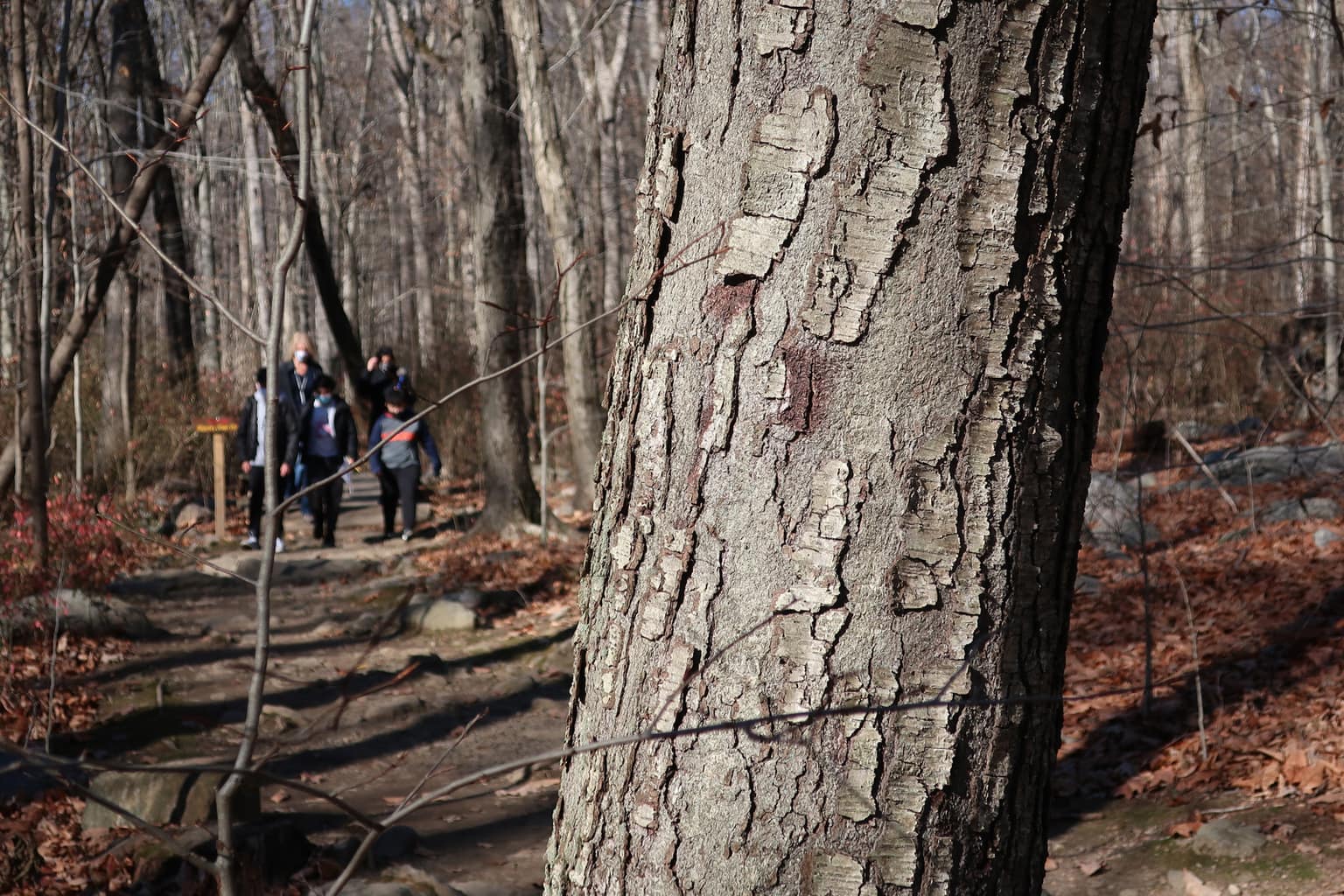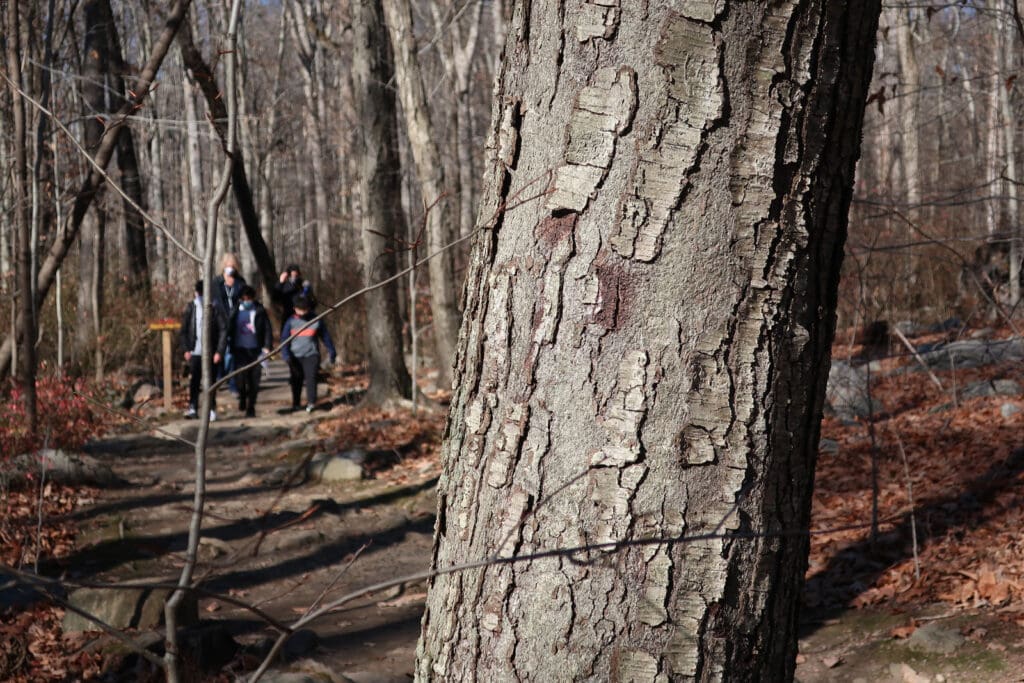 WALK: Bartlett Arboretum and Gardens
Trails throughout the 93-acre Bartlett Arboretum and Gardens (a tree sanctuary) lead past lawns, woodlands and brooks. And, surprisingly, a Potters Field circa 1870-1970, marked by a memorial plaque. Just be aware that these dirt paths can be pretty rooty and rocky – so wear appropriate footwear.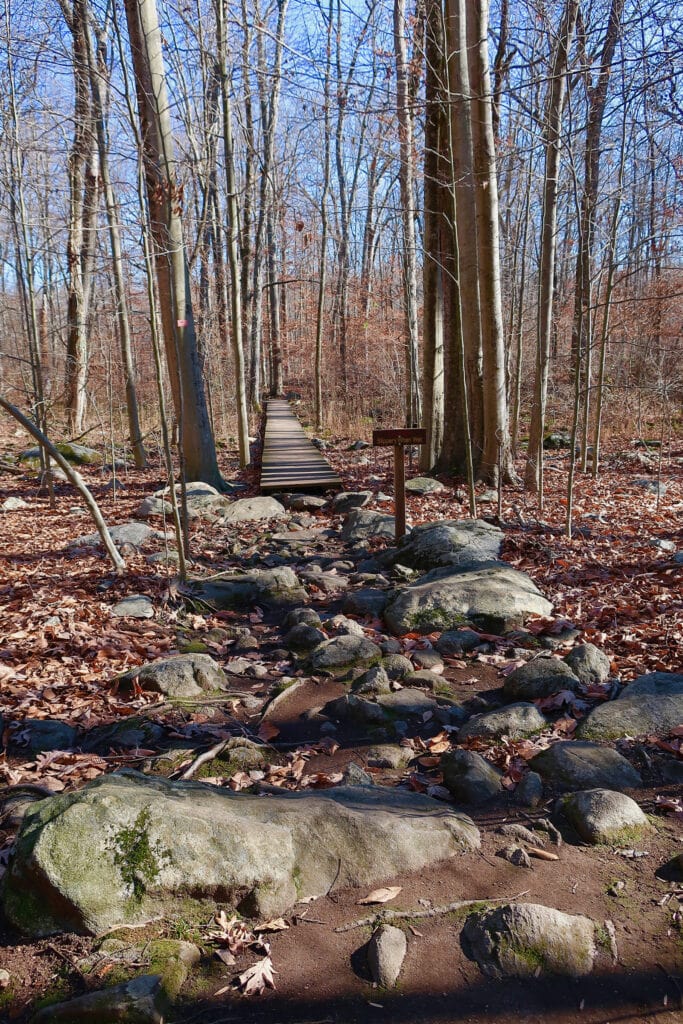 If exotic species of plants and trees are your thing, an afternoon here offers pure bliss. Visitors discover the exceptional beauty of the property's habitats, trails, gardens, majestic trees and plant collections, including a new Sensory Garden. Oh, and wildlife.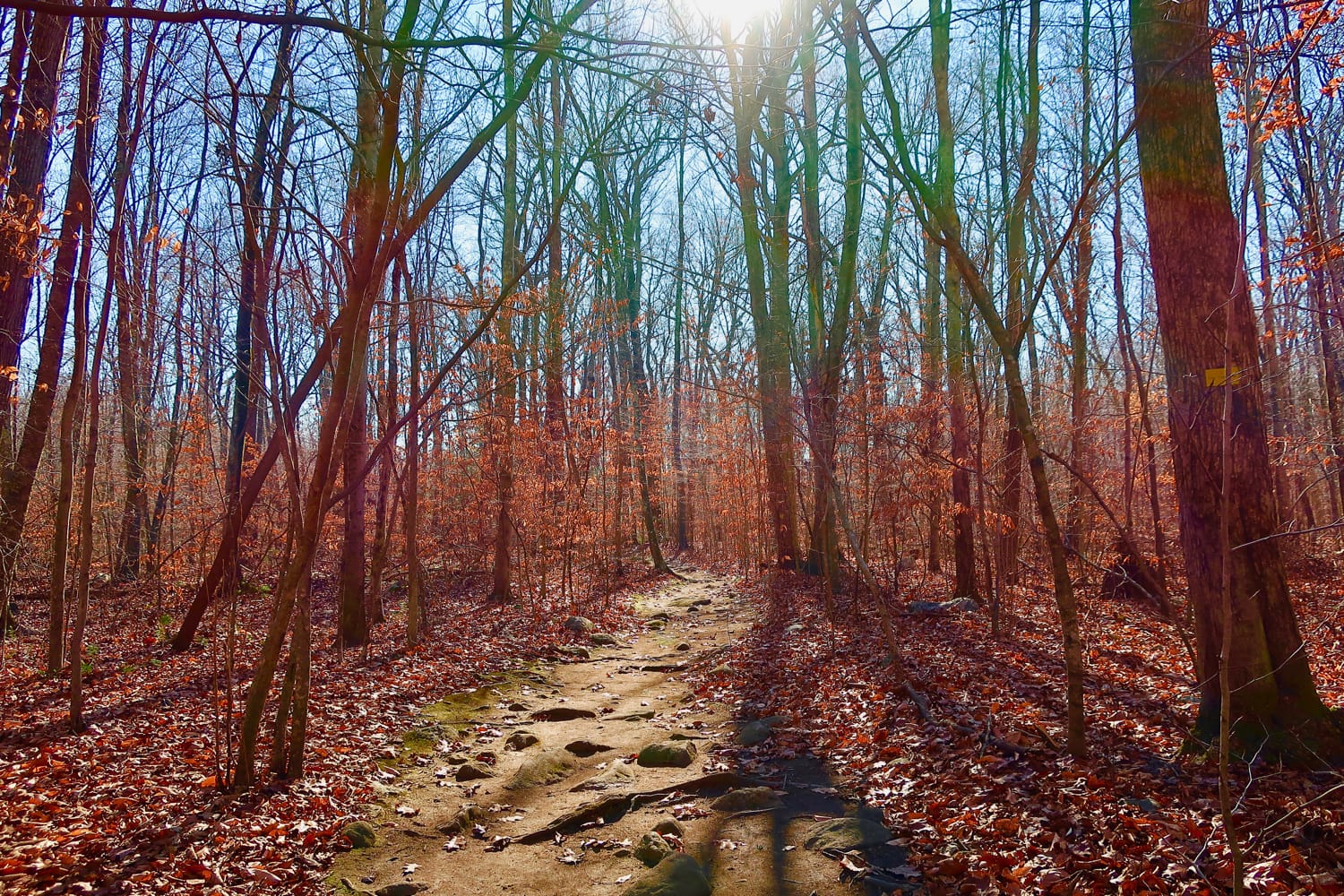 On my latest visit in mid-November, I interrupted a young antlered deer foraging in the woods. He jumped in surprise just a few feet from me.  You can also take part in classes and events online and in person. Check website for info. Open daily from 9am until sunset.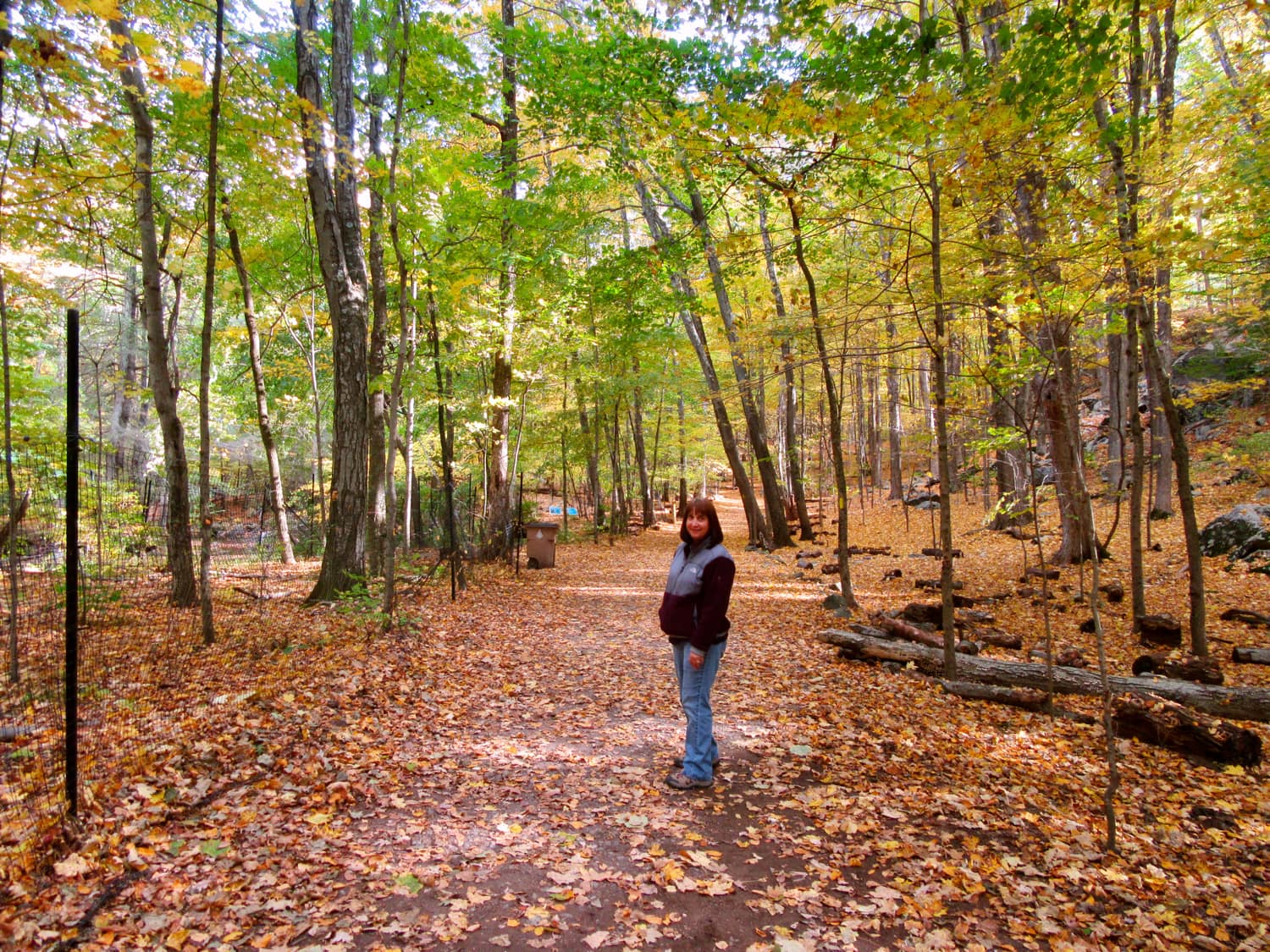 HIKE: Mianus River Park
The 391-acre  Mianus River Park is a City Park. But it doesn't feel "city" at all. That's because it's several miles from downtown Stamford. With a two mile stretch of the Mianus River, forest lands, vernal pools, glacial outcroppings, and miles of rolling trails, the Park serves as a release valve for mountain bikers, dog walkers and hikers who come here in droves.
The river, not surprisingly, is popular with fly-fishermen/women (Orvis once sold "Mianus Flies"), so you might see folks in high-waders serenely attempting to catch trout.
Situated on the border of Greenwich CT and Stamford, The Mianus River Park has many fans on both sides. So much so, there's an active and cooperative Friends of Mianus River Park group, which runs guided hikes, clean-ups, and other programs to support this precious treasure in the midst of Connecticut's second largest city.
Just FYI – there are only a few parking spaces on Merribrook Ln. So, find someone who lives nearby or take a ride-share to get here.  
GO: Fort Stamford – Goodbody Garden 
Yet another Stamford City Park, the 5-acre Fort Stamford sits on the footprint of a Revolutionary War fort, built in 1781 to protect Greenwich and Stamford from British troops. In 1928, the wealthy Goodbody family built a home, now gone, on the property. But the Italianate Garden (Goodbody Garden) still thrives, thanks to passionate members of the Stamford Garden Club. They are exquisite and a beloved venue for wedding photos.
VISIT: Ferguson Library and Outdoors 1 Public Library Plaza, Stamford
The Ferguson Library, and its public plaza is considered the heart of Downtown Stamford. That's because it is devoted to the community (and visitors) – with free programs that would cost big bucks anywhere else.
On any given day, there could be a presentation by a celeb (e.g. actor and travel writer, Andrew McCarthy, promoting his new book), a ballroom dance workshop, a CrimeCONN conference, knitting circle, health check, movies… you get the idea. There's even a playgroup for Ukrainian children, so that their new immigrant parents can get plugged into community services.  Check to see "what's on" when you're here.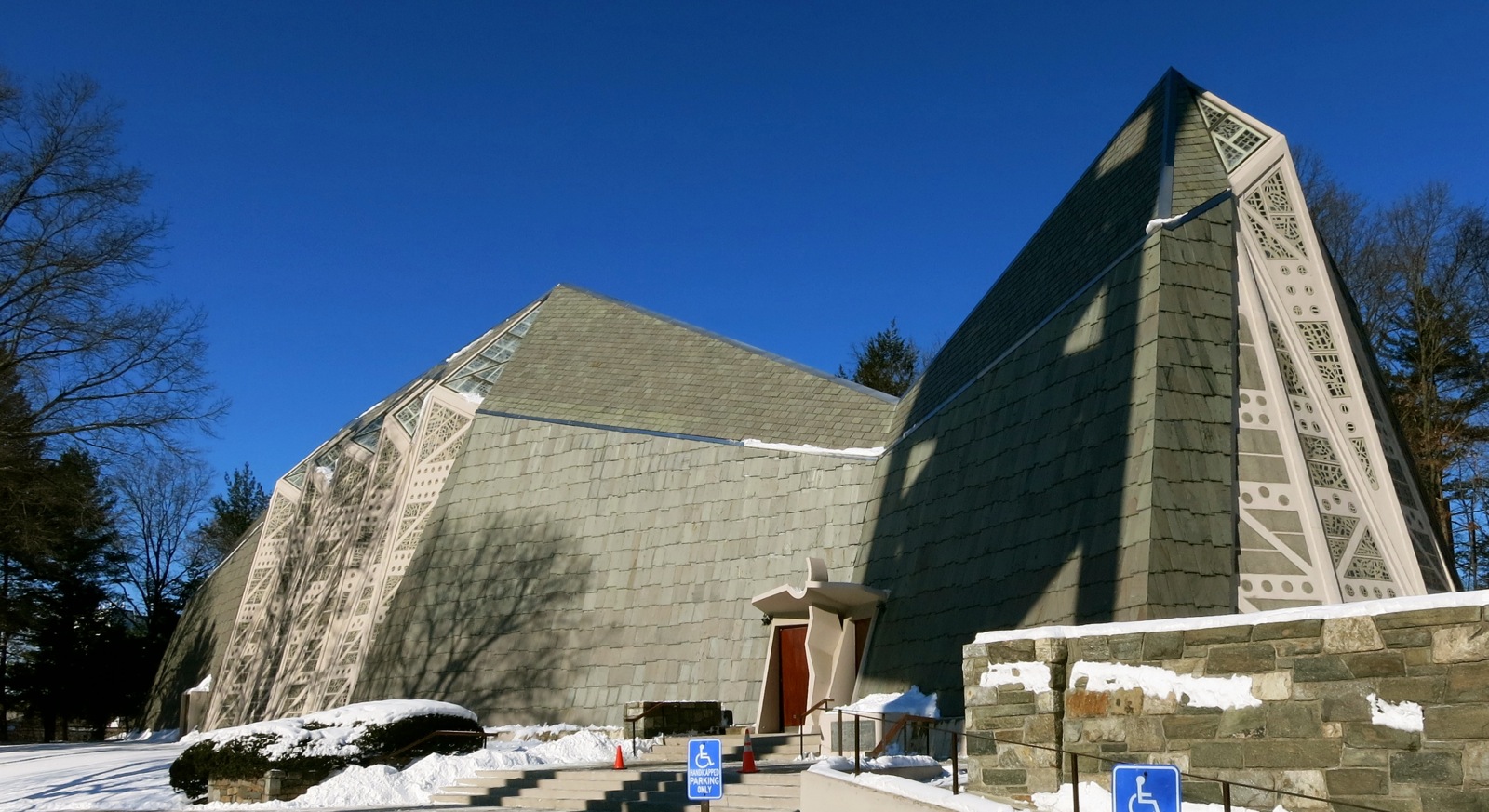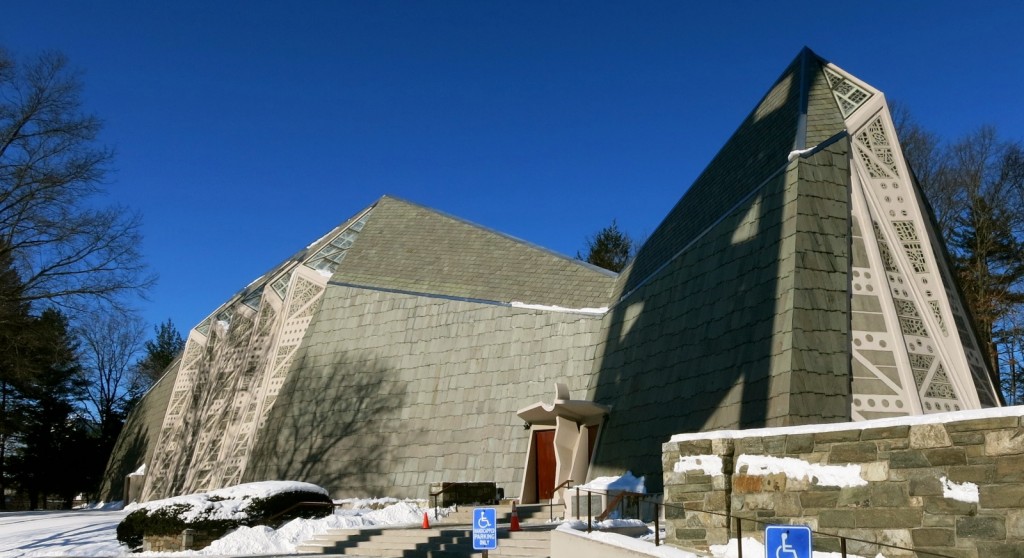 VISIT: First Presbyterian Church AKA "Fish Church"
It's immediately obvious that this church was built in the shape of a fish. Thus, its nickname (and url i.d.), Fish Church. This out of the ordinary design is what most people see when they pass by on busy Bedford Street.  But step inside and you are suddenly in the center of a massive kaleidoscope.
Designed by Wallace K. Harrison – the architect who led the multinational team that designed the UN Building in New York, and who also had his hand in building Rockefeller Center and Lincoln Center  – this stunning sanctuary opened in 1958.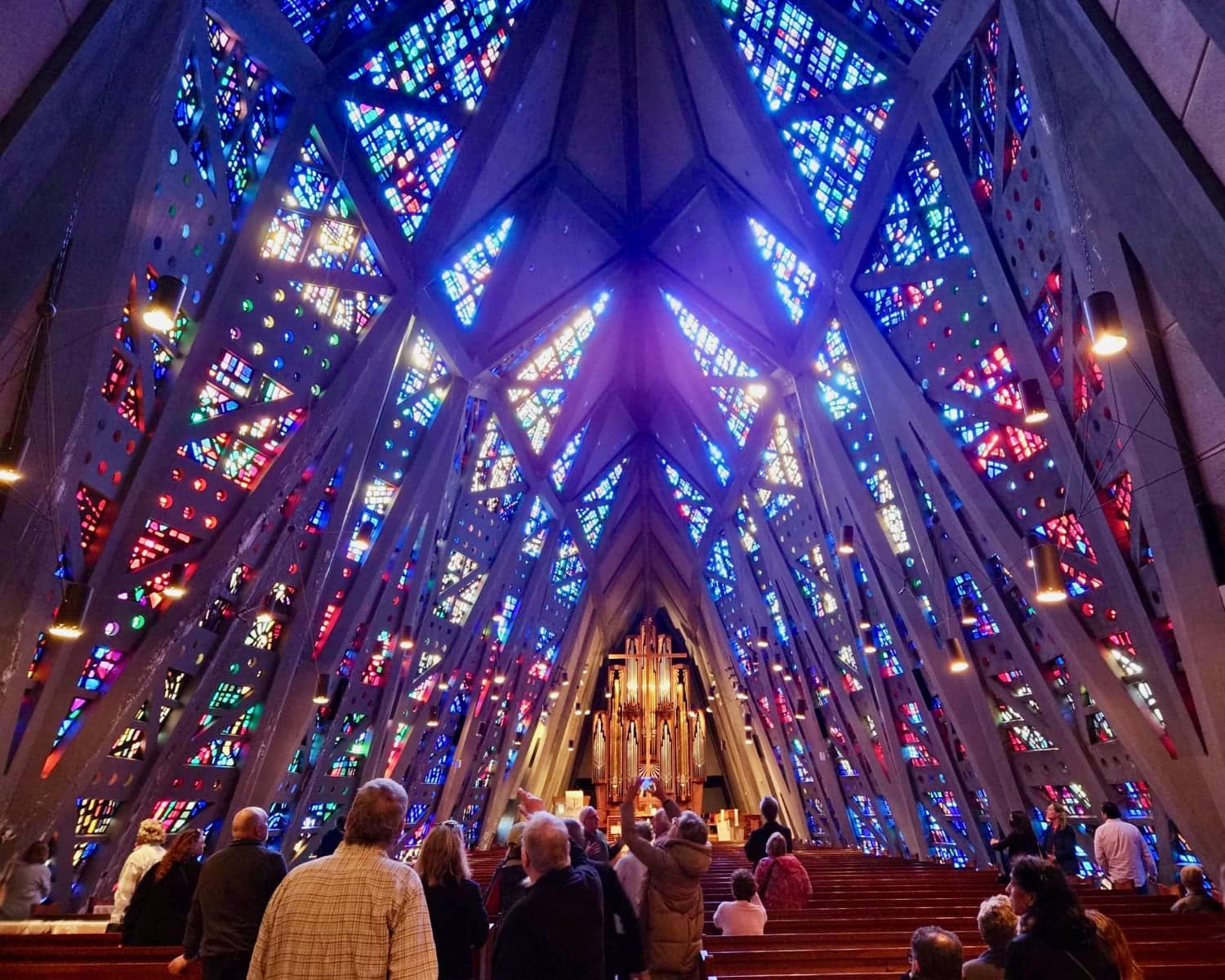 With more than 20,000 individual pieces of faceted stained glass set in concrete, it's truly like being inside a work of art. Even if you are of another faith, come to hear the thunderous tones of the Visser-Rowland pipe organ, containing over four thousand pipes. The experience is absolutely spine tingling in this magnificent space. Click here to see astonishing aerial and interior views of the Fish Church taken via a drone.

WALK/ICE-SKATE: Cove Island Park
The one mile loop around the 88-acre Cove Island Park runs along canals, a town marina, on beaches, throughout rock outcroppings, under shade trees, past grills, picnic tables, bike riders, and kite flyers. In fact, the Audubon Society calls Cove Island "remarkable" in its diversity of habitats (and, I might add, of people).
Audubon lists these habitats as, "sandy and rocky beaches, salt marsh, mud flats, estuary, a large pond (Holly Pond), the last undeveloped sand dune in Stamford, woods, cut lawn, fresh water wetlands, meadows, and brushy areas." In every respect, Cove Island Park is a Stamford jewel.
Terry Conners Rink
What's even more remarkable is that the Park includes the Terry Conners Ice Rink, which offers public skating, and skate rentals, throughout the year. (Even in the sweltering summer).
Just FYI: You'll need a Beach/Park pass, or drive over with someone who does to park at Cove Island Park. Or, you can be dropped off at the gate and walk in.
DO: Sail on The 80 ft. Schooner SoundWaters
From May to November, this floating Long Island Sound classroom, the Schooner SoundWaters, offers two-hour public afternoon and sunset sails. Hoist canvass to the rhythm of sea chanteys and watch as lobsters, seastars and jellyfish are brought on deck, studied, and released.
SoundWaters seeks to protect the Long Island Sound through education. When out on the water, you'll see why. This Atlantic Ocean estuary is one of the most scenic bodies of water on earth.
LIVE THEATER: Palace Theatre – Stamford Center for the Arts
The 1,636 seat Palace Theatre in Stamford was built in 1927 as a vaudeville house, and, in 1983  restored to its former magnificence. The Palace has since returned to its roots: offering a diverse array of entertainment, including Comedy, Orchestral Symphony, Chamber Music, Ballet, Dance, Rock n Roll, Opera, and more. In the center of downtown, with great restaurants all around, it's easy to get to, and makes for a terrific evening. Just check the website calendar for dates.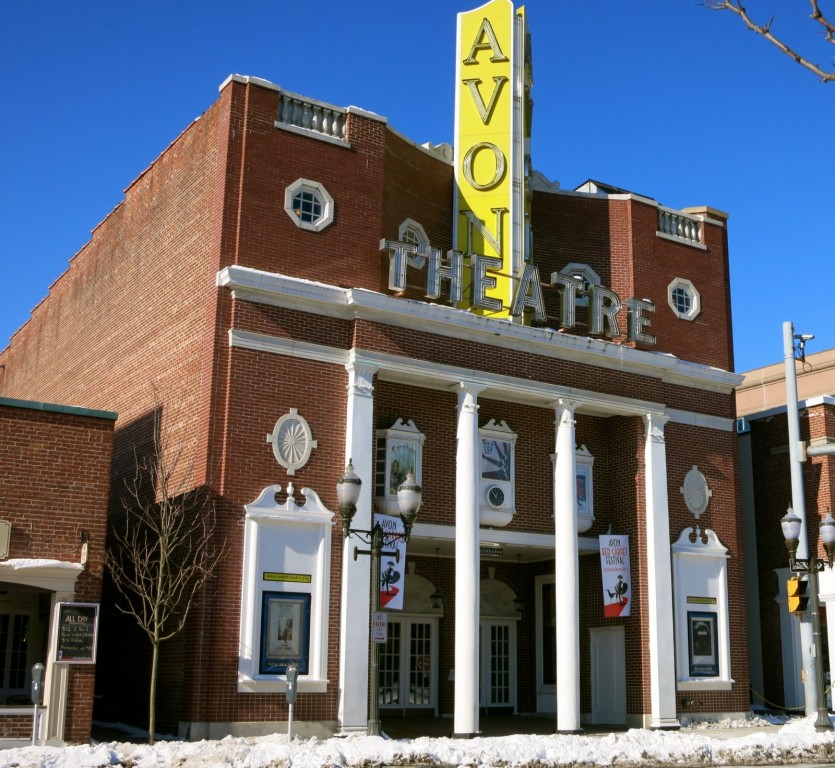 SEE AN INDIE MOVIE: The Avon Theater
Before his death, resident notable, Gene Wilder, sat on the board of the independent arts movie house, The Avon Theater.  Every so often he'd participate in a Q&A after one of his "Wilder's Picks."
This area of the country, actually, is replete with big and little screen actors who just "vant to be alone." But some are willing to emerge from seclusion to speak before or after a screening of a movie that he or she has directed or starred in.
Frank Longella discussed "Starting Out in the Evening," and Charles Grodin told an intimate audience what it was like to work with Robert DiNiro in "Midnight Run." Though DiNiro hasn't made an appearance onstage here, he has filmed a couple of movies in Stamford. So, perhaps its just a matter of time.
RIDE: The Harbor Point Trolley
Park your car once in Stamford and you can get to most attractions and restaurants on the FREE 14-stop Harbor Point Trolley.  This mode of transport is a boon to residents and visitors – bringing you from downtown theaters and eateries (and the great Ferguson Library) to the waterfront. Check it out and ride it just for the kicks!
DRINK: Half Full Brewery
Here's your chance to visit and sample homegrown, craft brews. Established by young Conor Horrigan, who left his Wall Street job after an epiphany on vacation in Peru, Half Full has been a Stamford sensation since it opened its doors. I'm partial to the creamy Half Full Chocolate Coffee Brown Ale. 
DRINK: Lock City Brewing
This nano-brewery normally would swarm with beer lovers on summer nights. Though Covid put the kibosh on that, you can still pick up a growler of the popular stuff when open. Check website for details.
PLAY: Chelsea Piers Stamford
It says something that the only Chelsea Piers Fitness outside of NYC was located in Stamford CT. What that something is, I'm not sure. Perhaps a community that has a fine tuned work-fitness ethic? Or groups of people who love to play Pickleball. (Isn't that all over the country, though?). Whatever it is, though, it's a popular place, and if you're so inclined, you can drop in for a pick-up soccer, basketball, or volleyball game.
Best Restaurants in Stamford CT
EAT: The Wheel
Industrial-chic? Check. On the waterfront? Check. Fresh ingredients sourced from 40 area farmers? Check. The prettiest, yummiest cocktails around? Check. The Wheel has been a smash hit since it opened in 2021, and no wonder. It's been my go-to place to take in and out of town friends – just to impress. Soaring ceilings, excellent and innovative small and large plates, and convivial service set this place apart from other eateries in town. 
EAT: Teff
This Ethiopian grain has been called a "superfood," "the new quinoa" and so many other superlatives, you'll feel healthy just dining on the spongy teff-based bread (injera) alone. But this bread is merely the delivery device for excellent stews and warm salads – hallmarks of Ethiopian food. While meat lovers won't feel left out, vegans will adore all the vegetarian offerings, which make great use of beans, greens and other veggies.
EAT/BUDGET: Remo's Brick Oven Pizza Co.
It's not fancy or (thankfully) pricey, but Remo's was purported to be one of Bobby DiNiro's favorite hangouts while filming in town. And it's my favorite "neighborhood" brick oven pizza joint.
Of course the pizza's great, but I'm partial to Remo's Chicken Balsamic – a mélange of boneless chicken breast, sliced portabella mushrooms, and sun-dried tomatoes over penne pasta, tossed with a balsamic glaze I apparently can't resist.  All fish, chicken and veal entrees hover under $25, a bargain in this Gold Coast city.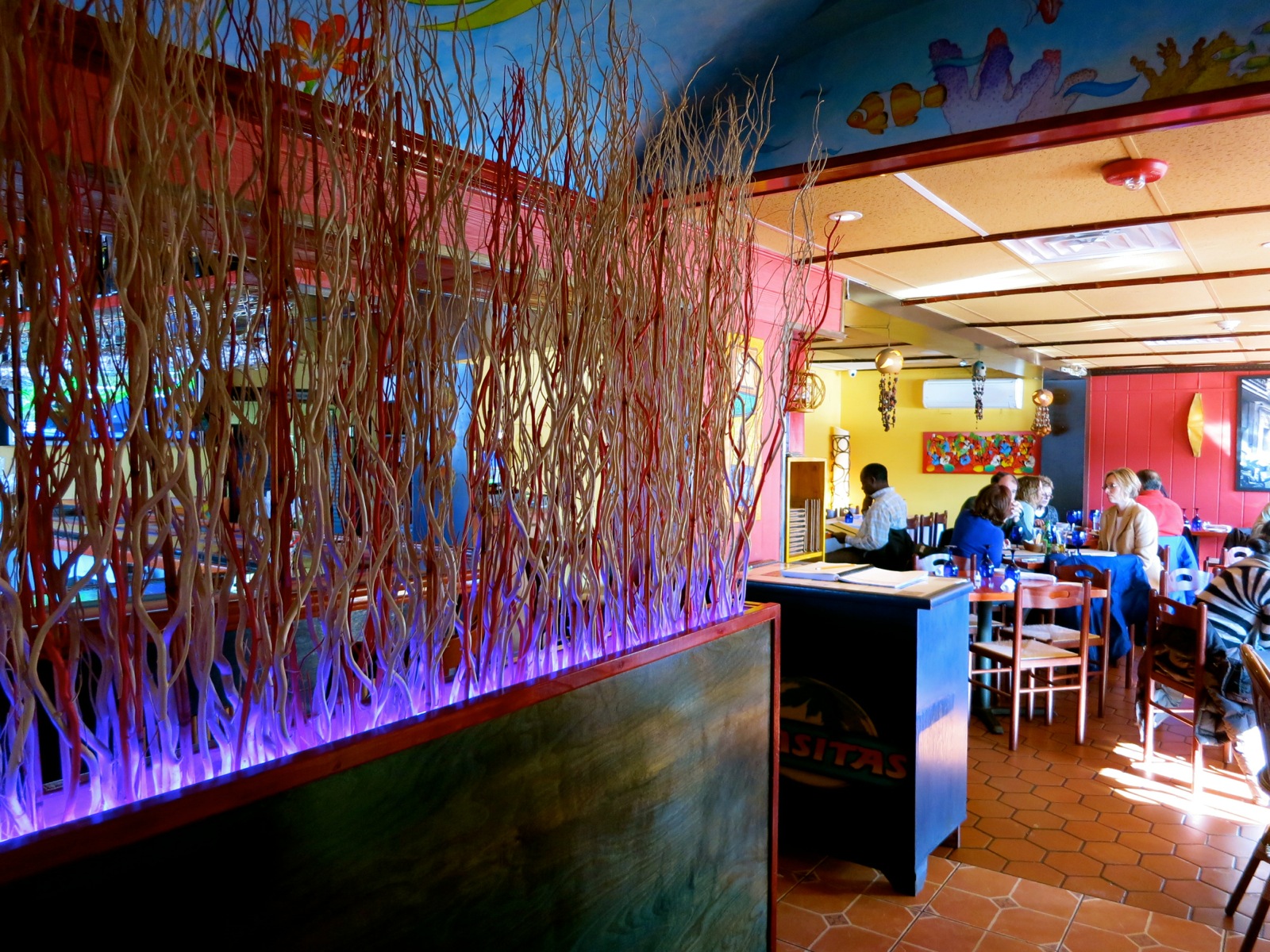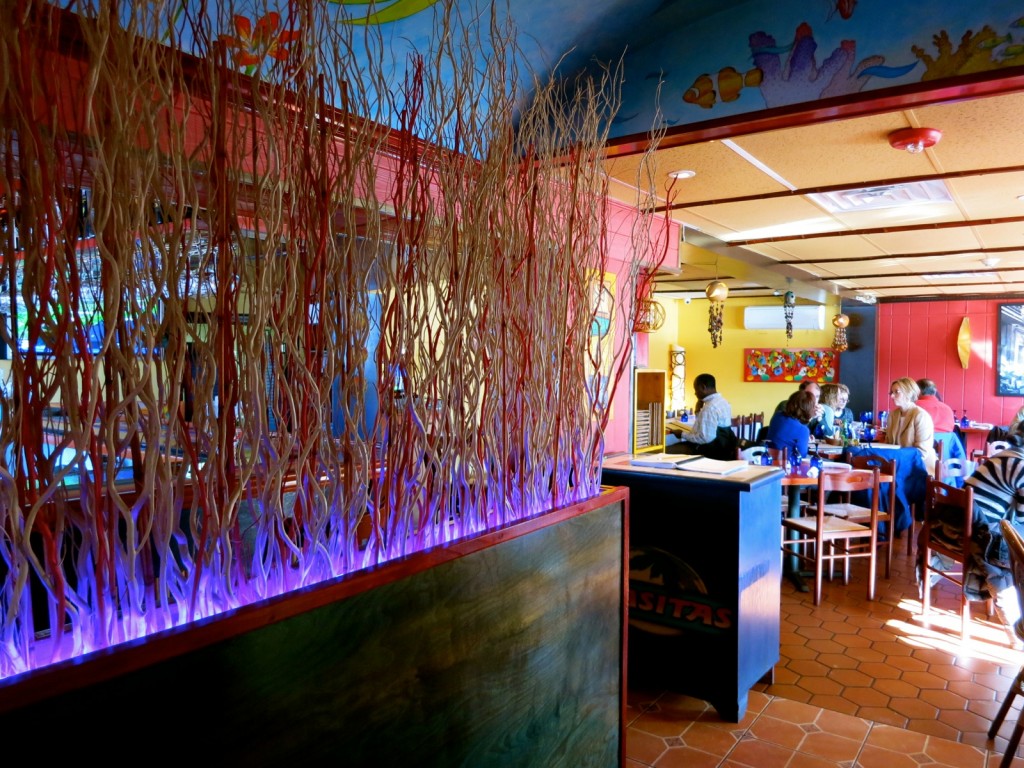 EAT: Brasitas
This tiny Latin Fusion restaurant used to be that hidden, aesthetically pleasing hole in the wall that no-one outside of Stamford knew about but where we all took our out-of-town friends. On busy Route 1 near car parts stores, you could park on a side street and just walk in.
Those days are gone. And though the food remains incredible, you've got to call days in advance for a reservation. And then hand your car keys over to a valet when you arrive.
EAT: Locals Love International Eclectic
Cafe Silvium for intimate and old school Italian, Table 104 for "new school" Italian,  Olio for eclectic "New" American, Kouzina Greek Tavern for Greek, Flinders Lane Kitchen & Bar for Australian, Çka Ka Qëllu for authentic Albanian (with music), Layla's for Mediterranean. 
Hotels in Stamford CT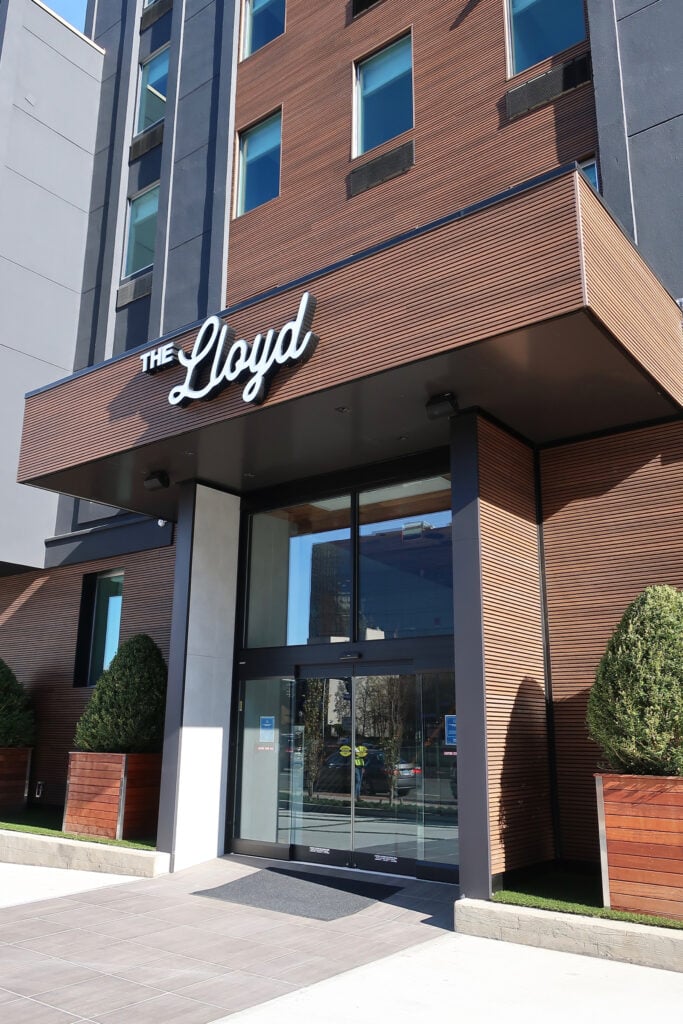 STAY: The Lloyd (Tapestry By Hilton)
The old Zero Degrees Hotel is now The Lloyd, and still the only groovy boutique in Stamford, CT. And, yay, it's pet-friendly! This hotel is so cool and inviting, you might not notice that it sits on a busy road. The lobby, decked out in soothing woodland colors, West Elm furniture, contemporary art, and a gas fireplace, makes you almost forget you're in a rather large (for Connecticut) city.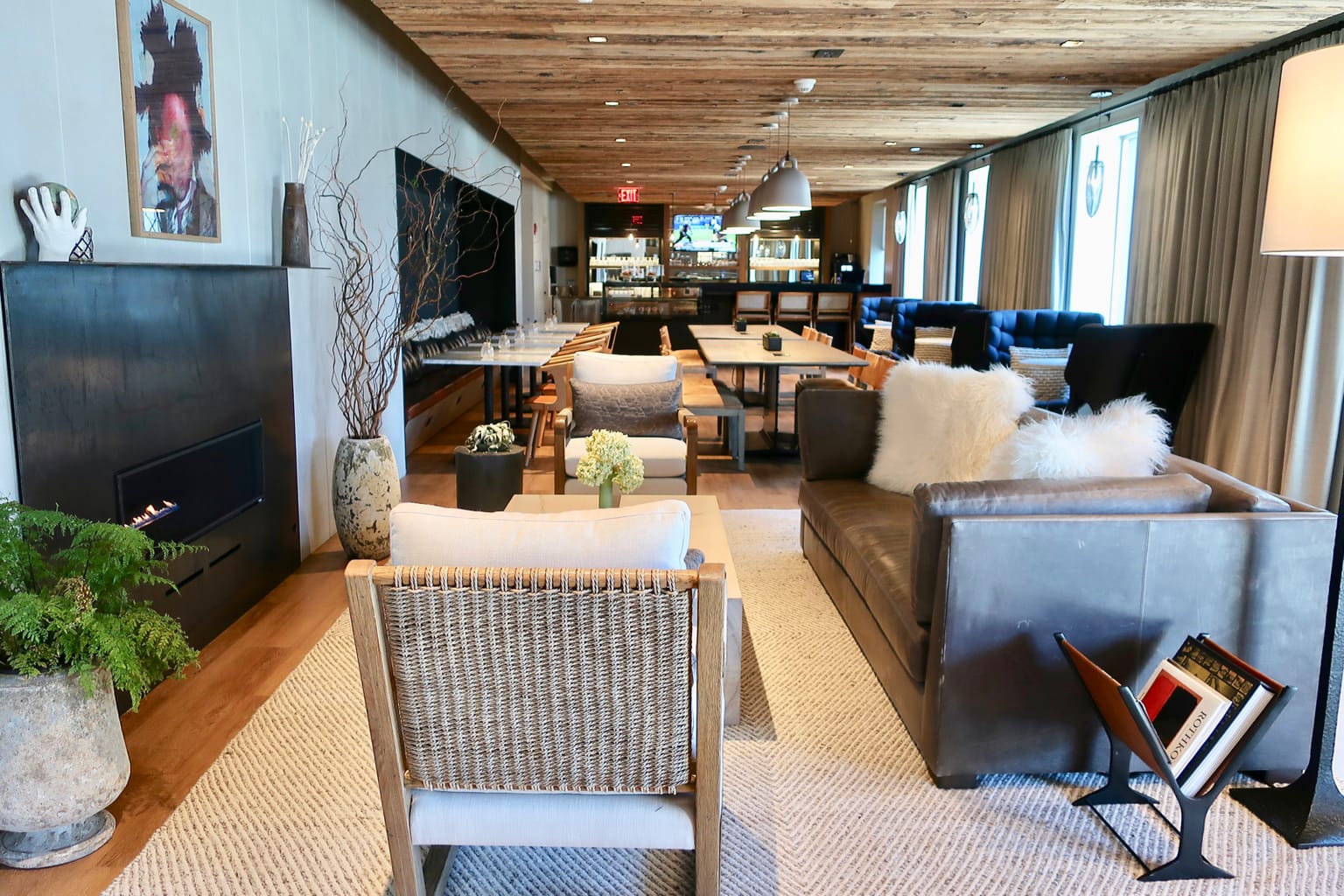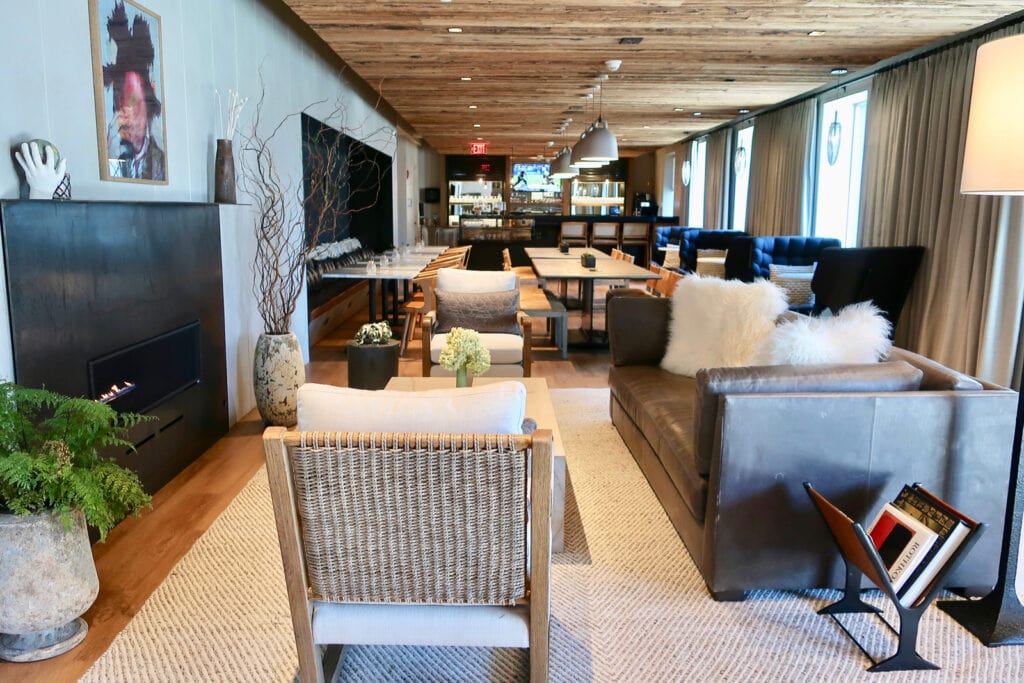 All 94 rooms are outfitted with all the elements of a true boutique; tufted leather headboards, duvet clad beds, one deeply hued wall for punch, Porcelanosa bathroom tiles, and locally sourced art. Huge (50″) flat screen TV's and free wi-fi round out the great, comfy deal. 
All articles belong to Getaway Mavens LLC, and all photos belong to us as well, unless otherwise noted. It's all copyrighted. Please don't repost anything elsewhere without asking us first. All rights reserved. This site uses cookies to enhance your experience.
We make no guarantees of any price listed on our site. We are not responsible for content on external websites linked to ours, including linked resources, an external blog post, any partner site, hotel property sites, or affiliate sites. We only write about places we have vetted, but can't guarantee that your experience will be exactly the same.
Posts may contain affiliate links at no cost to you. Several of our trips are also compensated by the respective tourism boards for the city or state we are visiting. This never impacts how we share the destination with you – opinions are always our own and we pride ourselves on that. We do not sell links or accept unsolicited guest posts under any circumstances. Don't even ask.
United States Copyright, Getaway Mavens, LLC