WHY GO: Why is Essex, CT one of the most popular yachting towns in the Northeast USA? Because it's located on the flat out stunning Connecticut River, deemed one of 15 wetlands "of international importance," where Bald Eagles have returned in droves.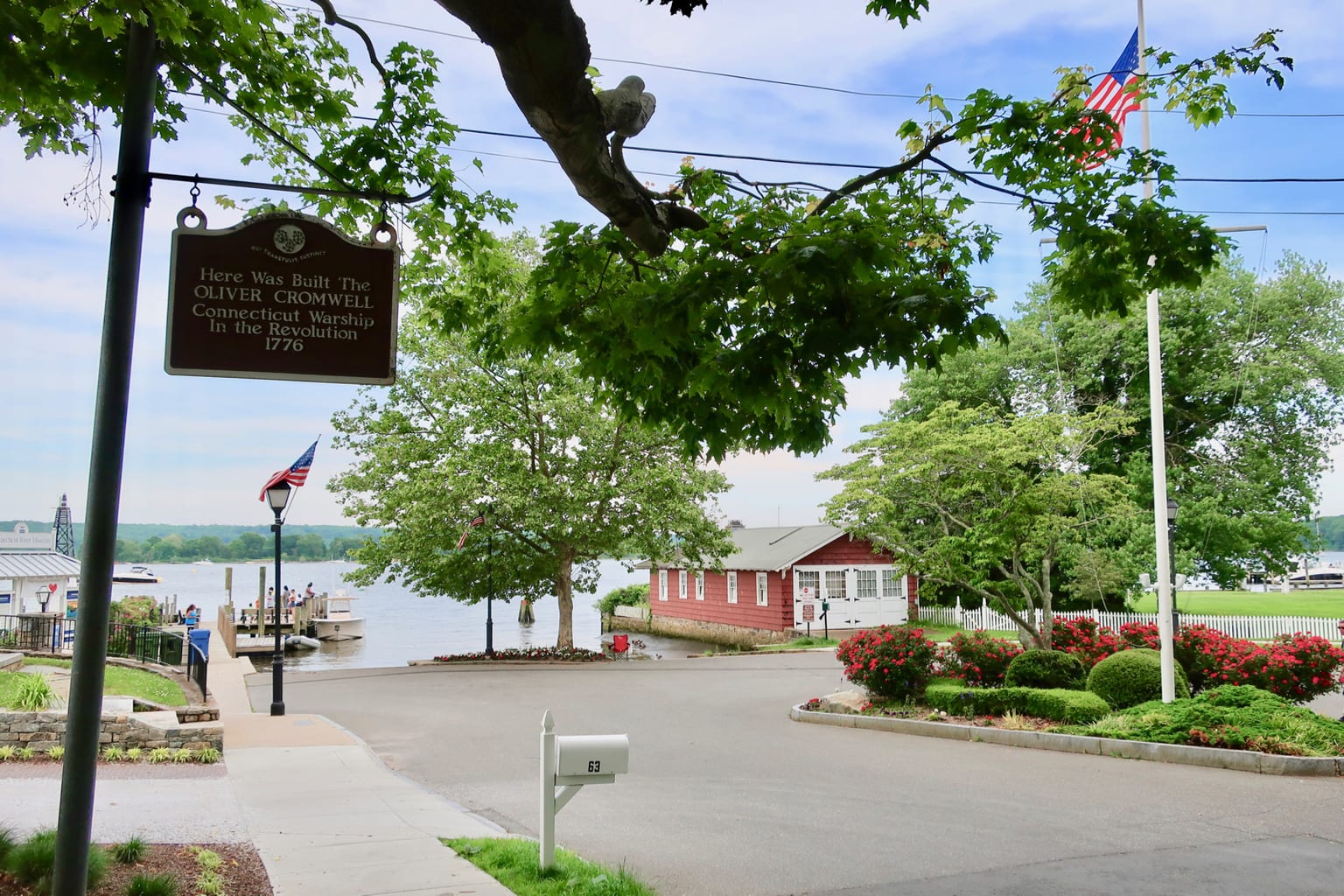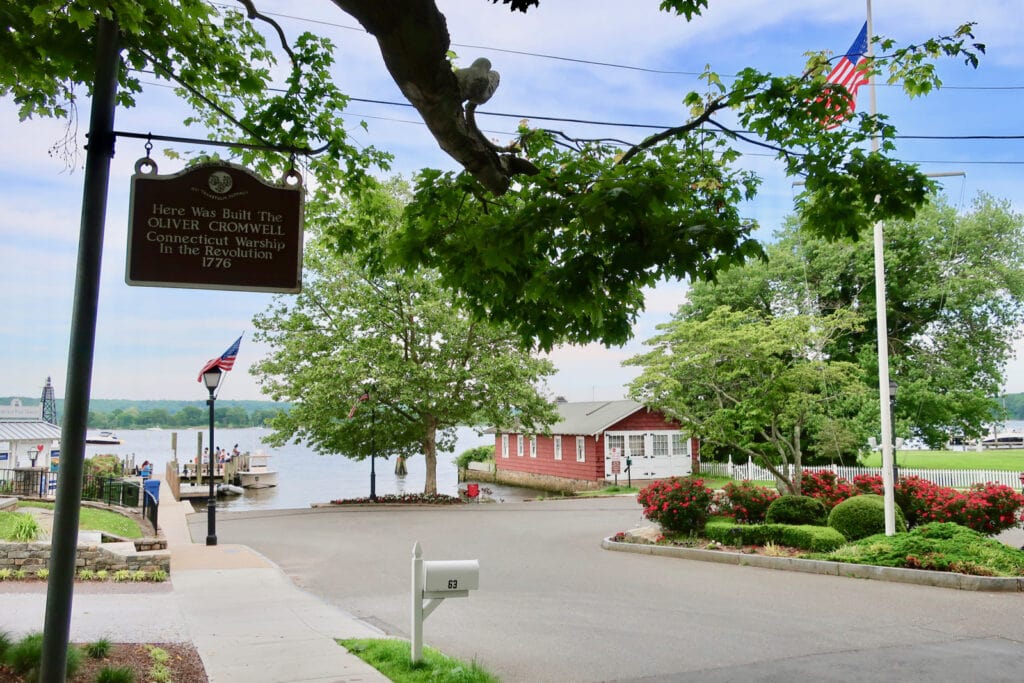 The Connecticut River and Essex in particular was, if not the center of the maritime universe, a prominent player in United States history. The first battleship ever to be built in North America, the Connecticut Warship Oliver Cromwell, was designed and launched from Essex in 1776. The American Turtle, the world's first submarine, created to blow up British ships at anchor during the Revolutionary War, was built on a now-washed-away island nearby.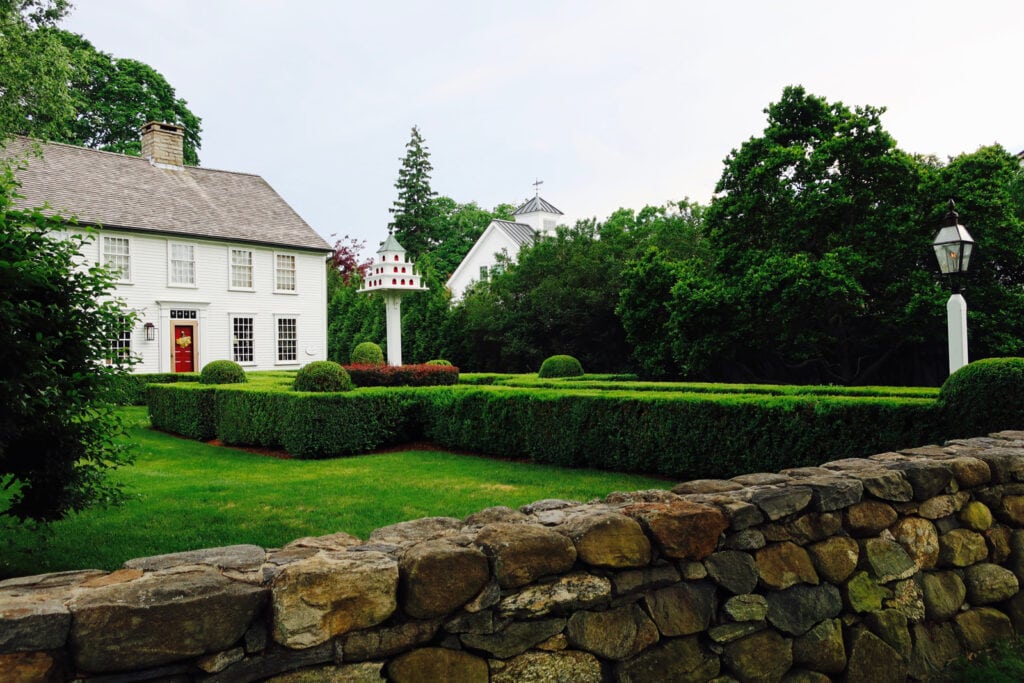 Stay in the oldest continuously operating inn in the USA. Dine on Farm-to-Table cuisine, wander around yachts on the waterfront. And, of course, soak up natural beauty and fife and drum American history in this singular New England riverside Getaway.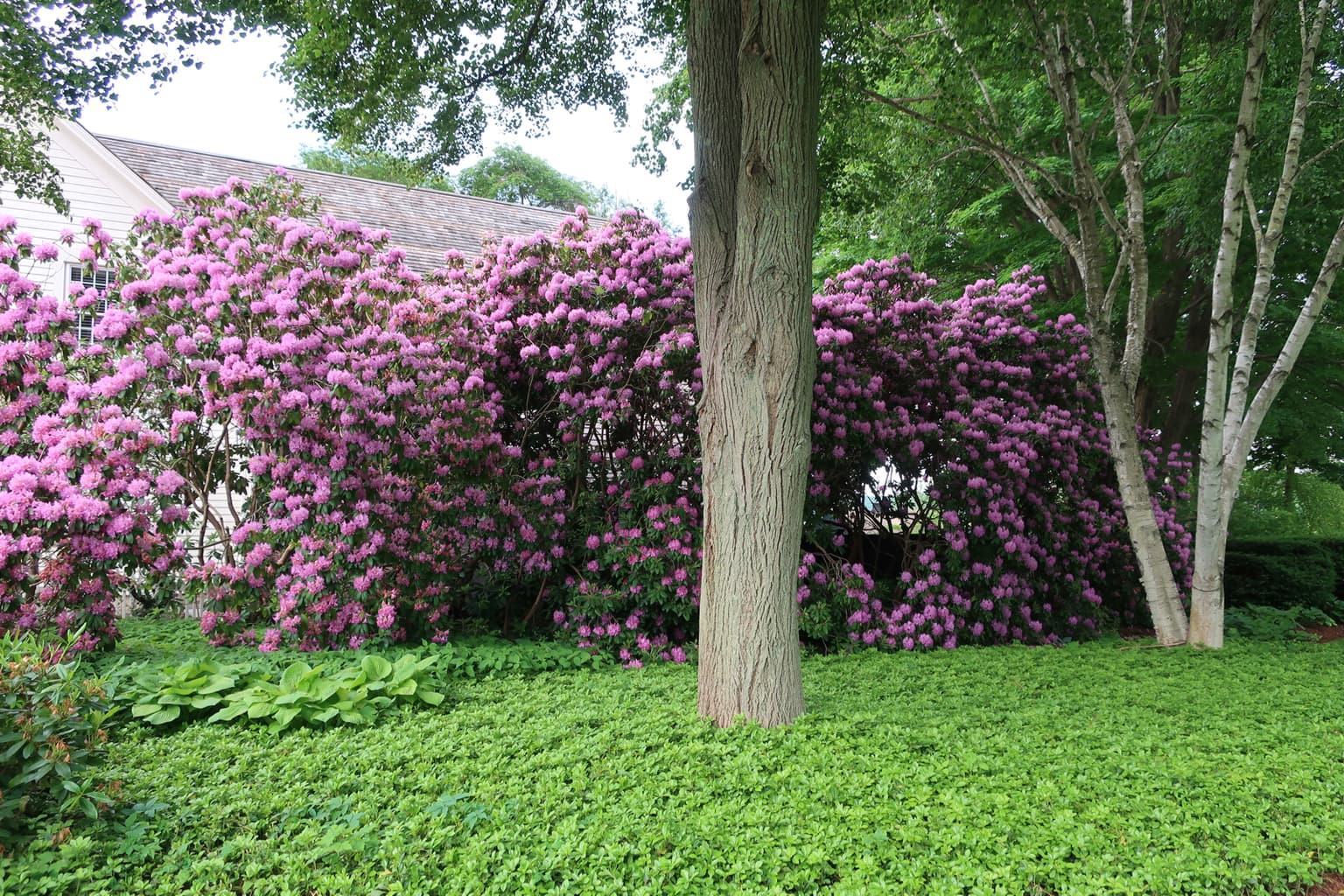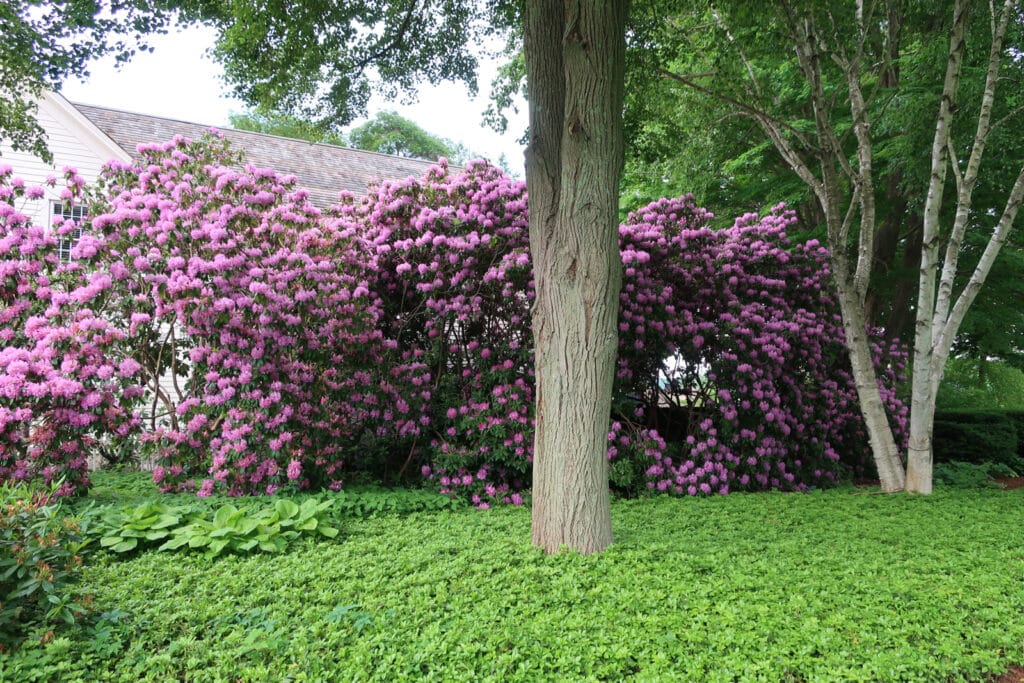 Expand your stay by exploring these towns along the Connecticut River.
What To Do In Essex CT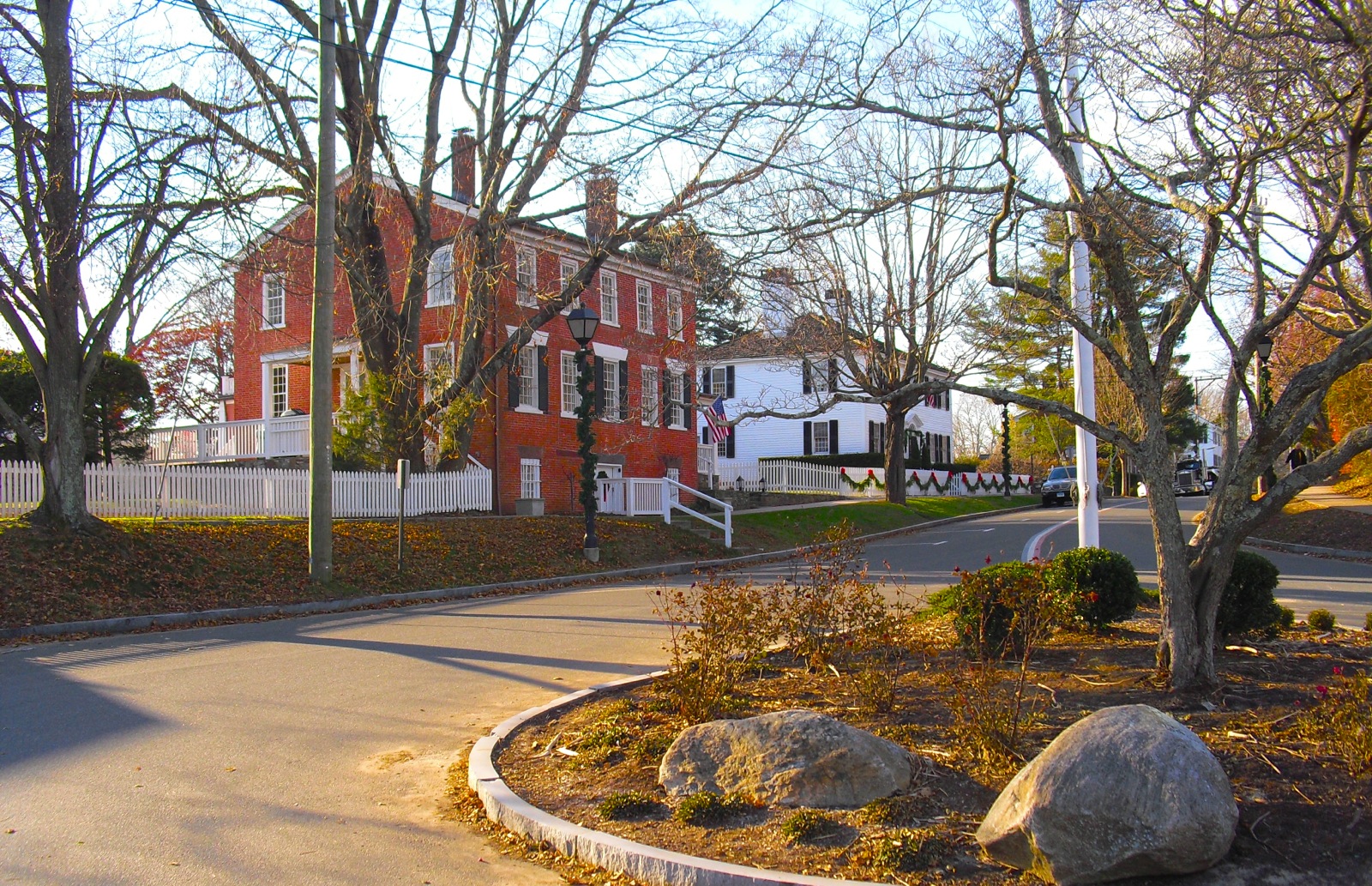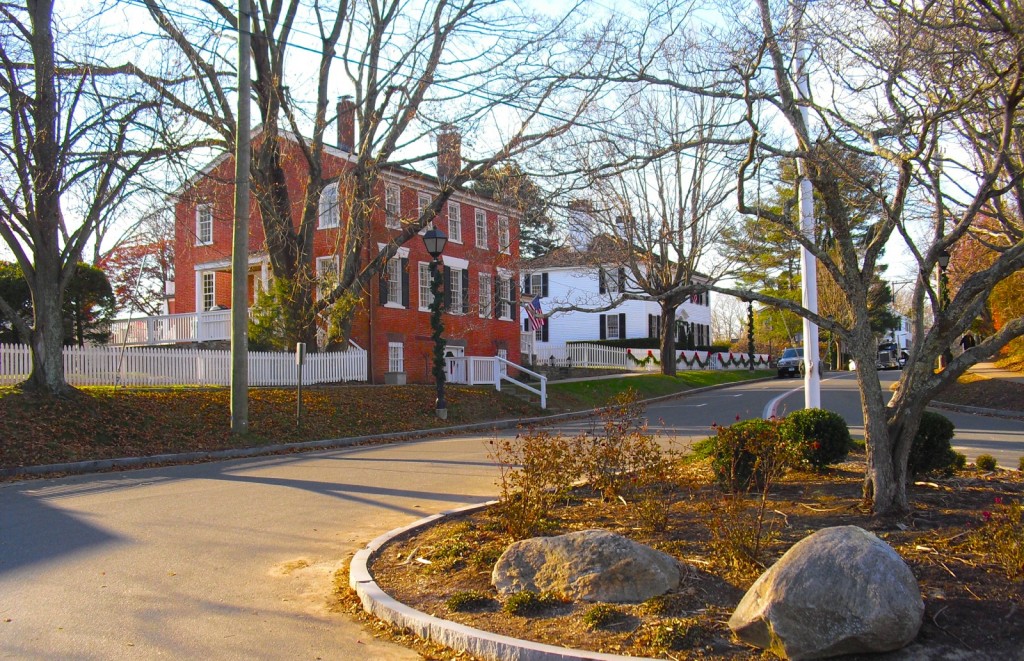 STROLL: Main Street and Offshoots
Essex has the kind of Main Street made for idyllic, patriotic commercials. And for idle strolling.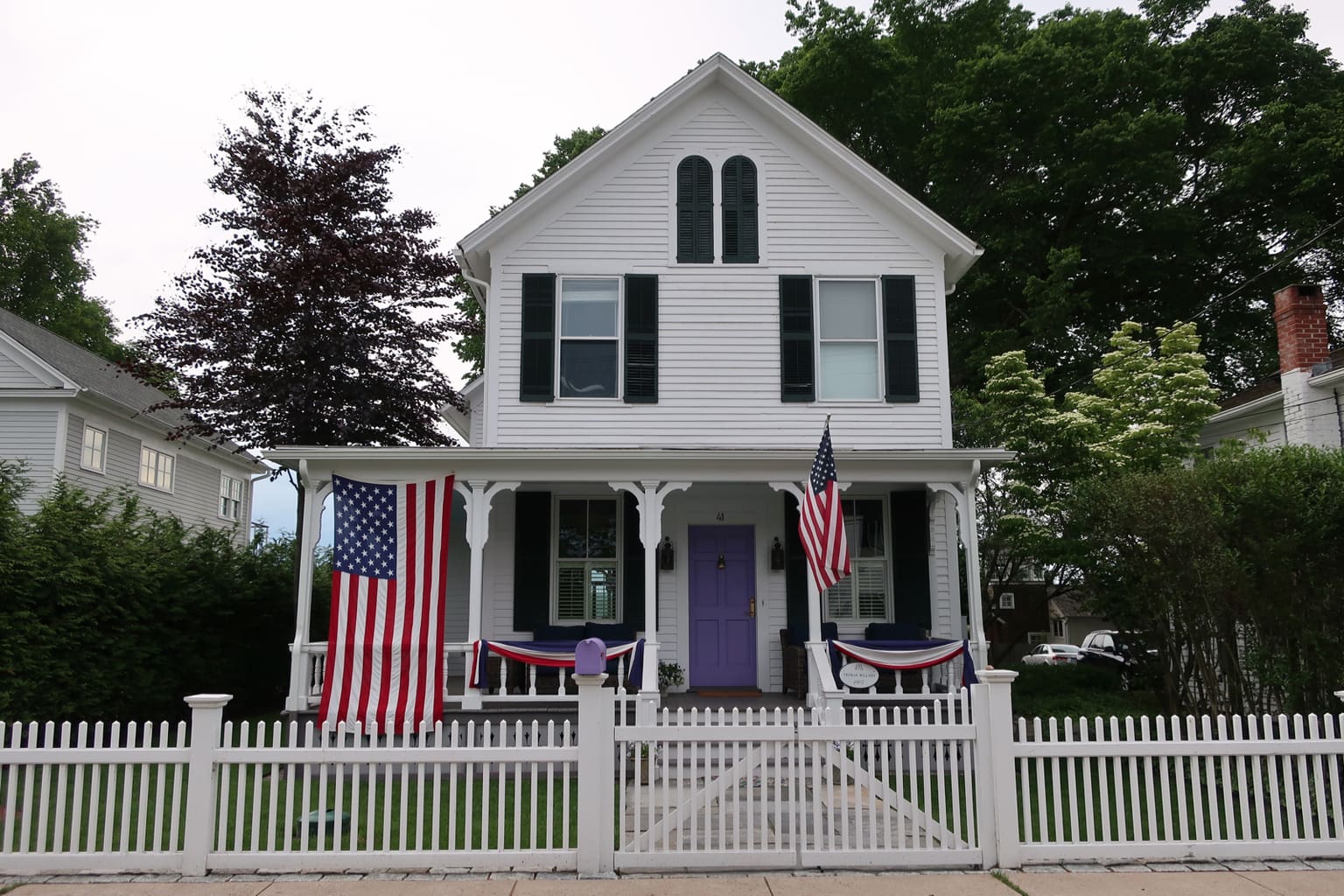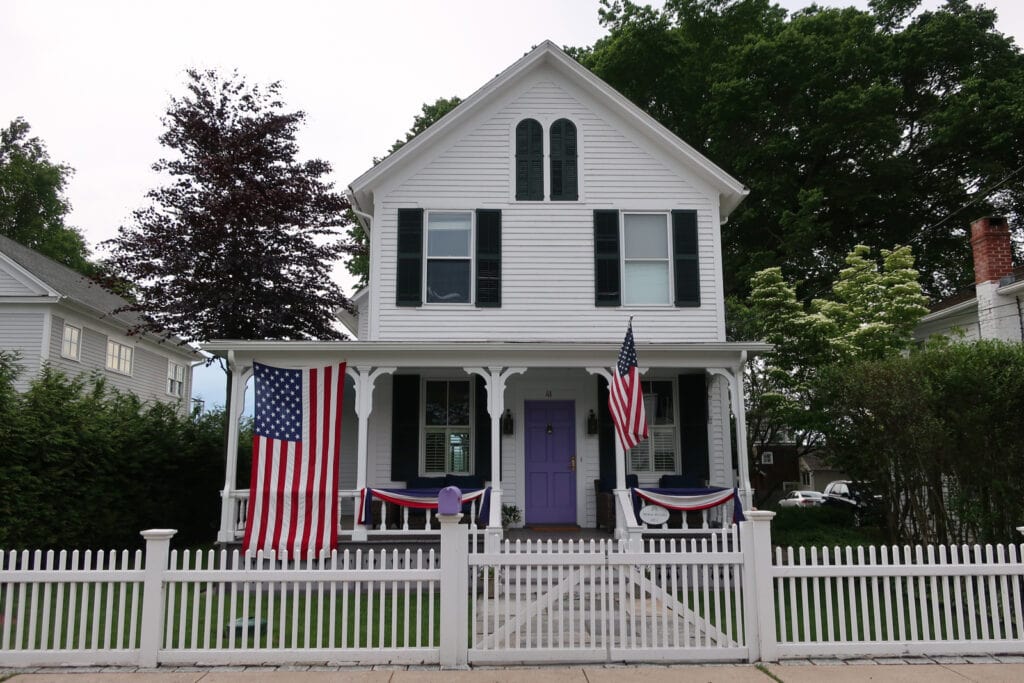 Small picket-fence framed homes in muted colonial colors – grays, browns, mellow yellows – are marked with name and date of original owner. They are lovingly occupied, despite groups of visitors (and locals) who ramble within a few feet of front doors.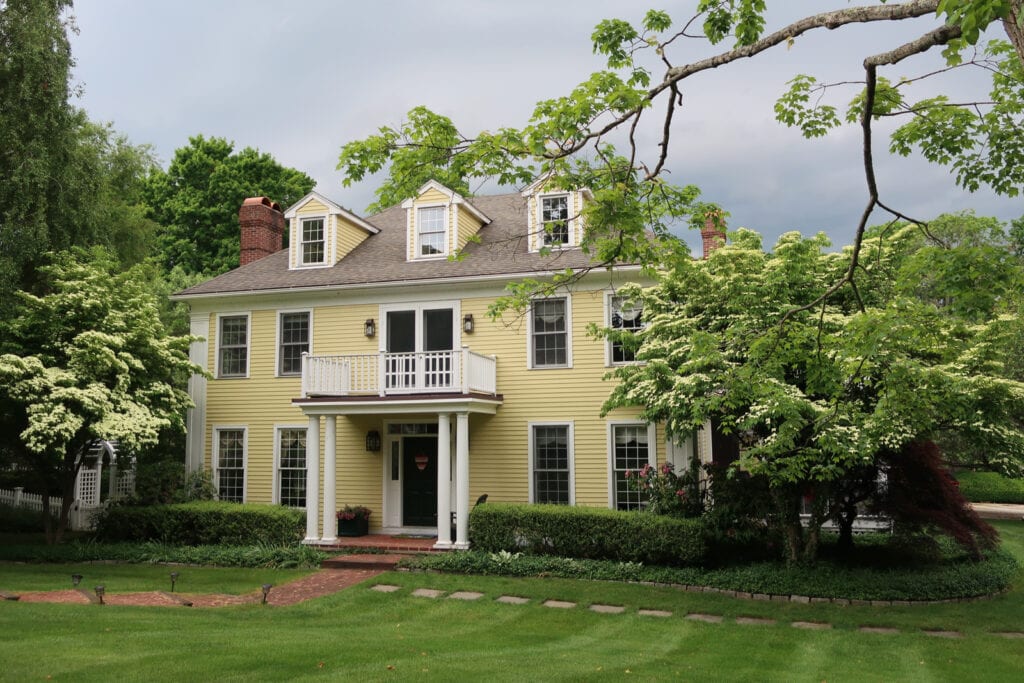 Walk in almost every direction, and you're bound to find lovely homes and ubiquitous marinas.
SHOP/ICE CREAM: Main St.
The Essex CT waterfront is all about the Connecticut River Museum, The Griswold Inn, and ice cream!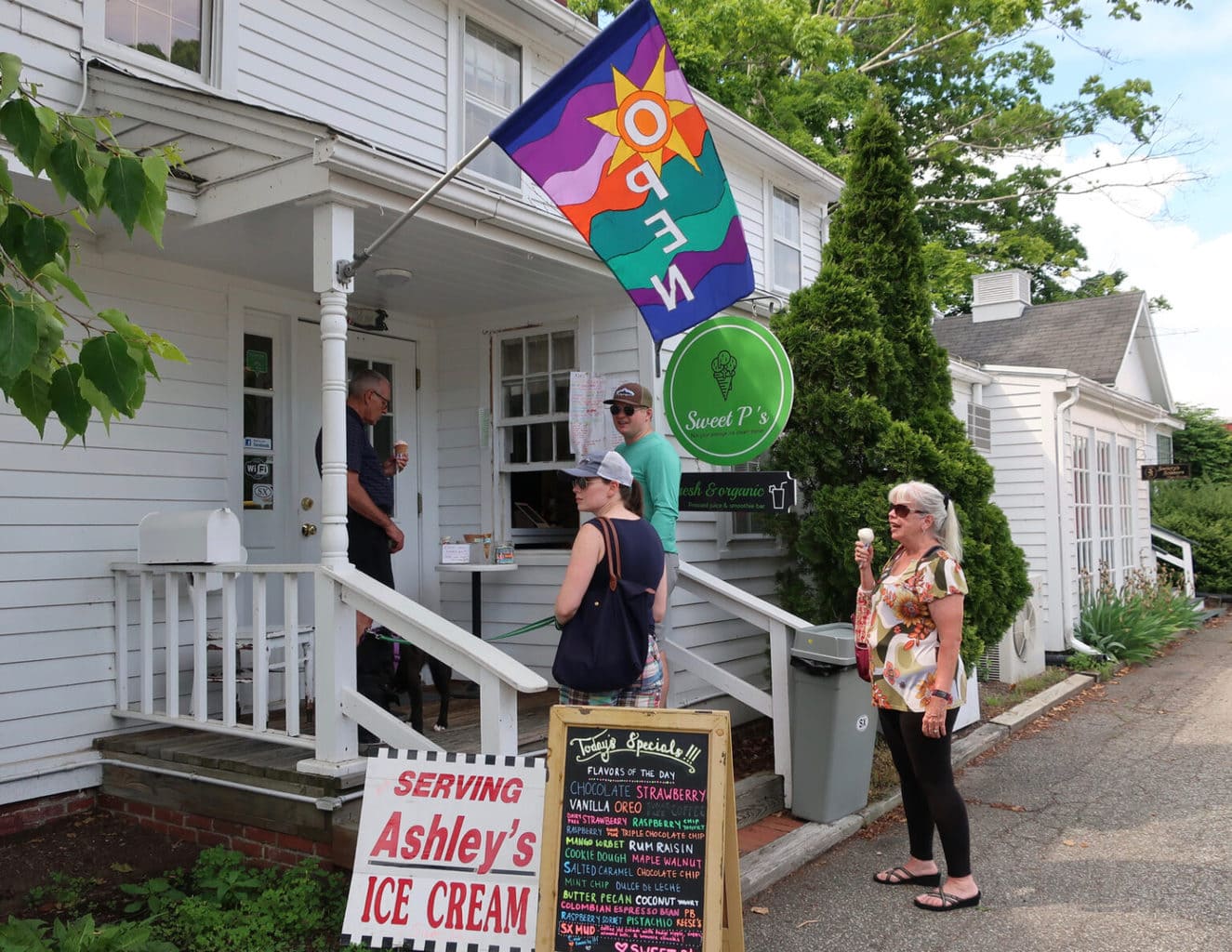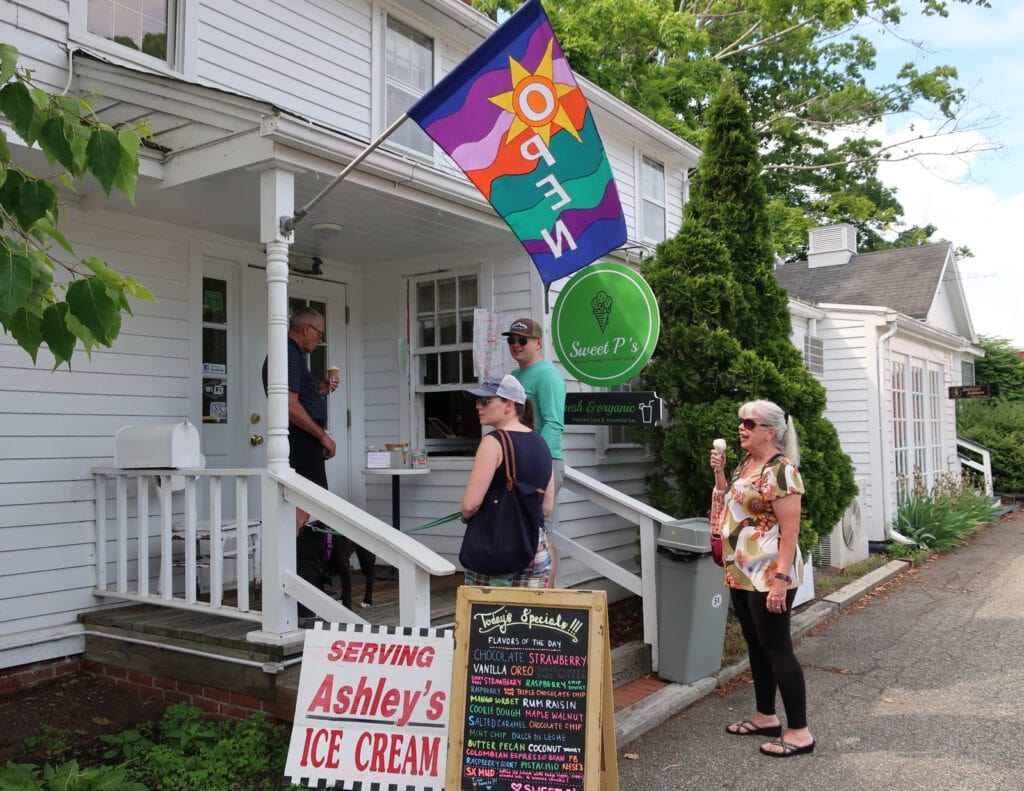 Crowds line up at Sweet P's for cool, Ashley's ice cream. And "fresh and organic pressed juices and smoothies."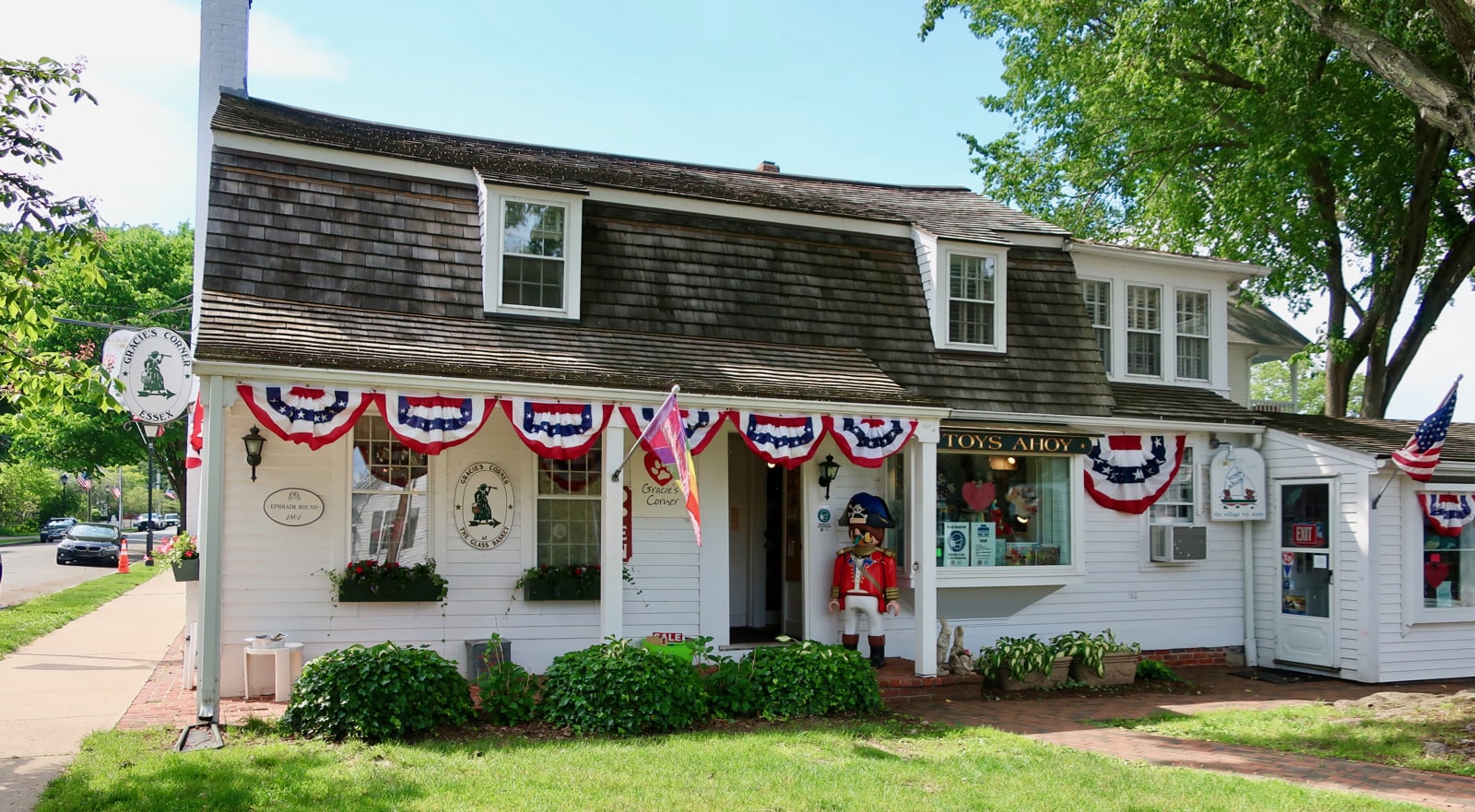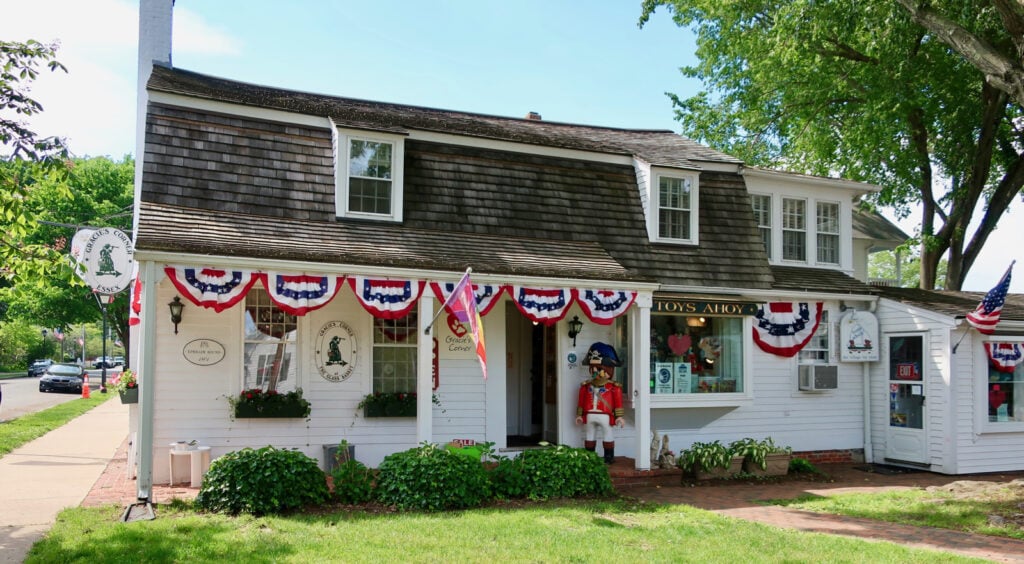 And generations of Essex visitors, arriving by car and boat, make Toys Ahoy their first stop every year.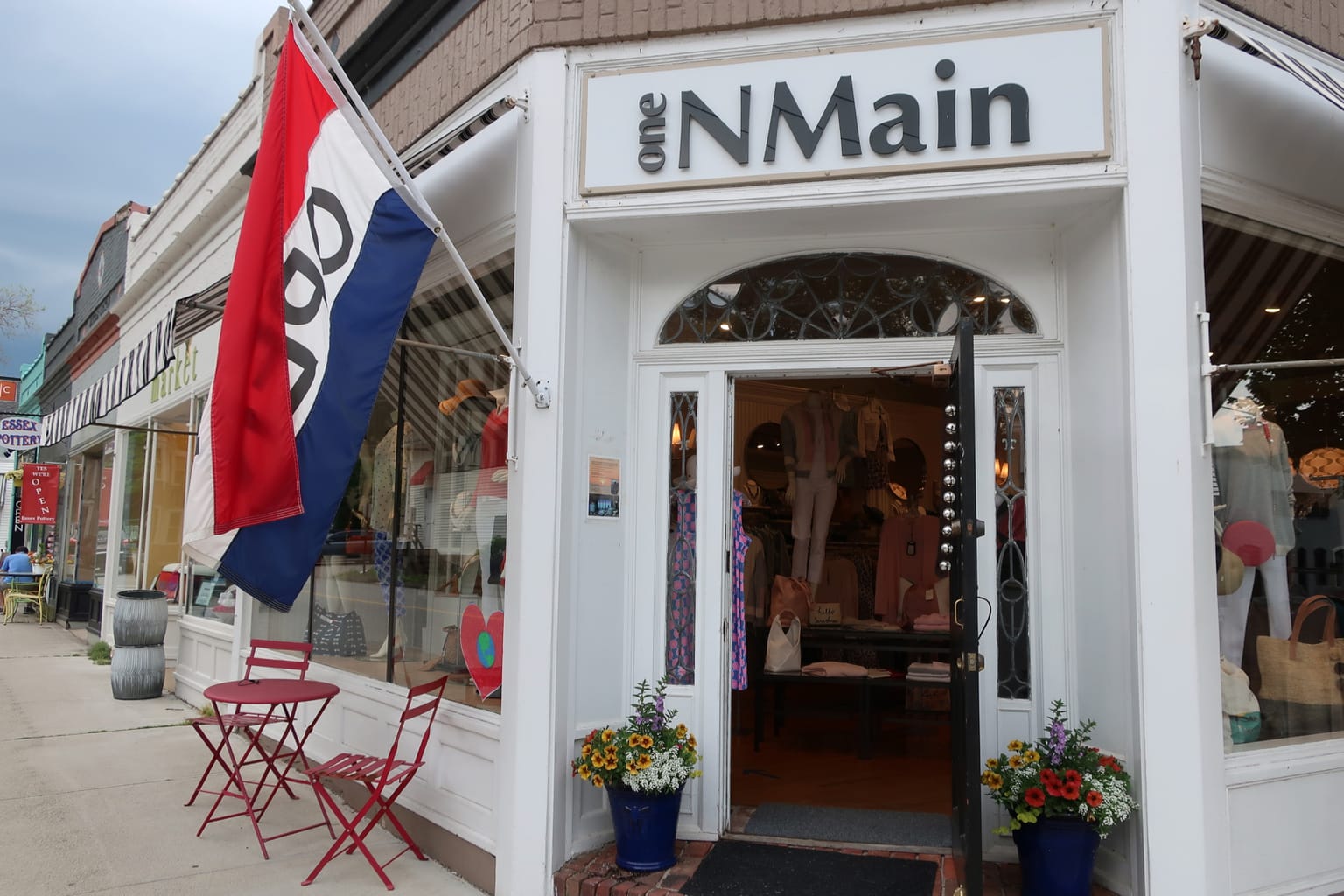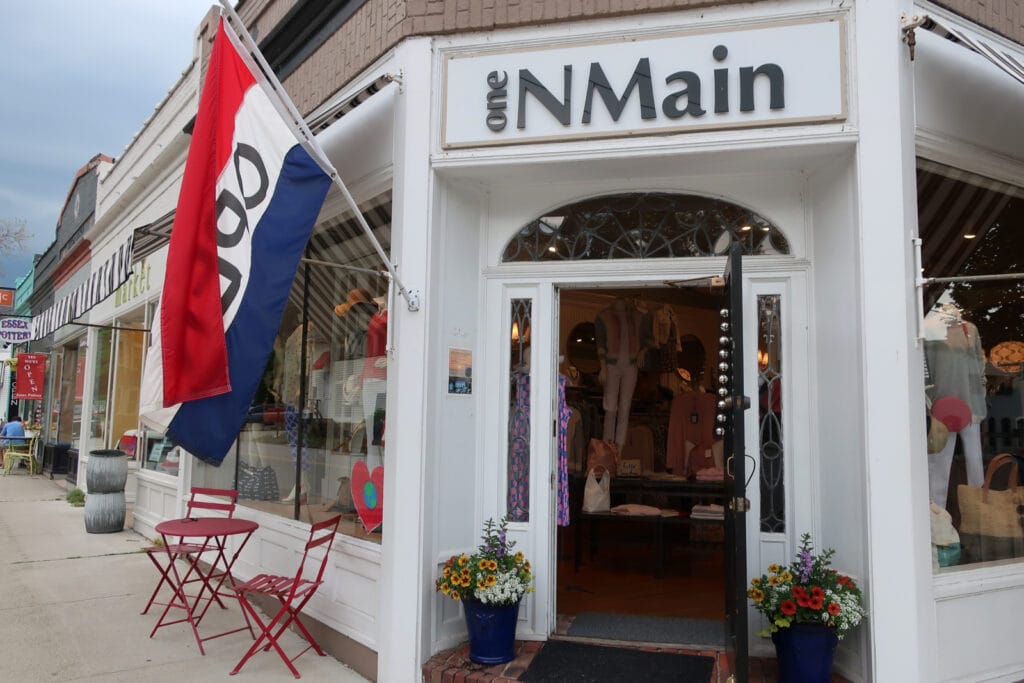 But you'll find more shops as you head up the street away from the Connecticut River. Most are of the high end, preppy women's clothing variety. There's, befittingly, a J. McLaughlin and Talbots. But also indies like One N Main.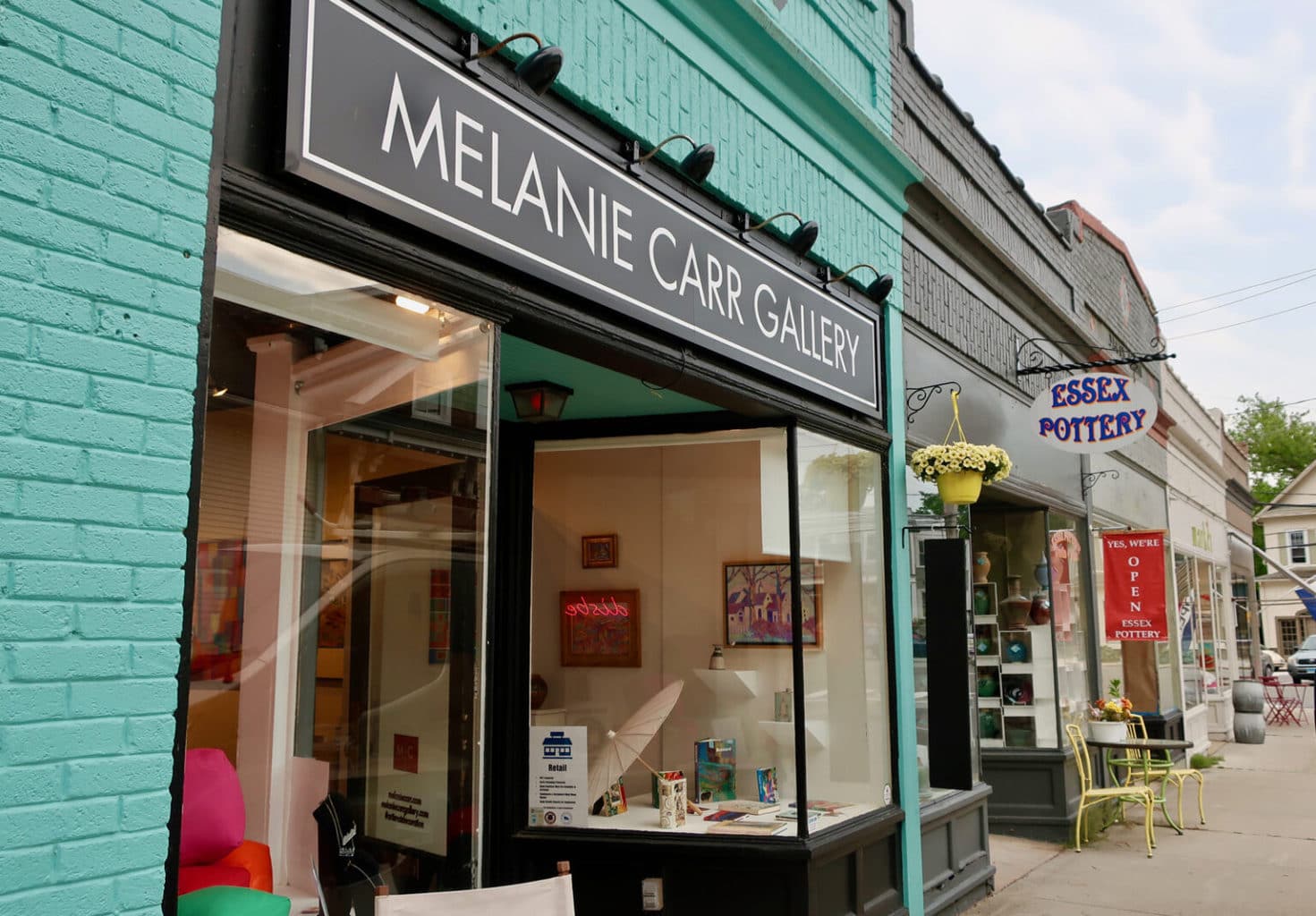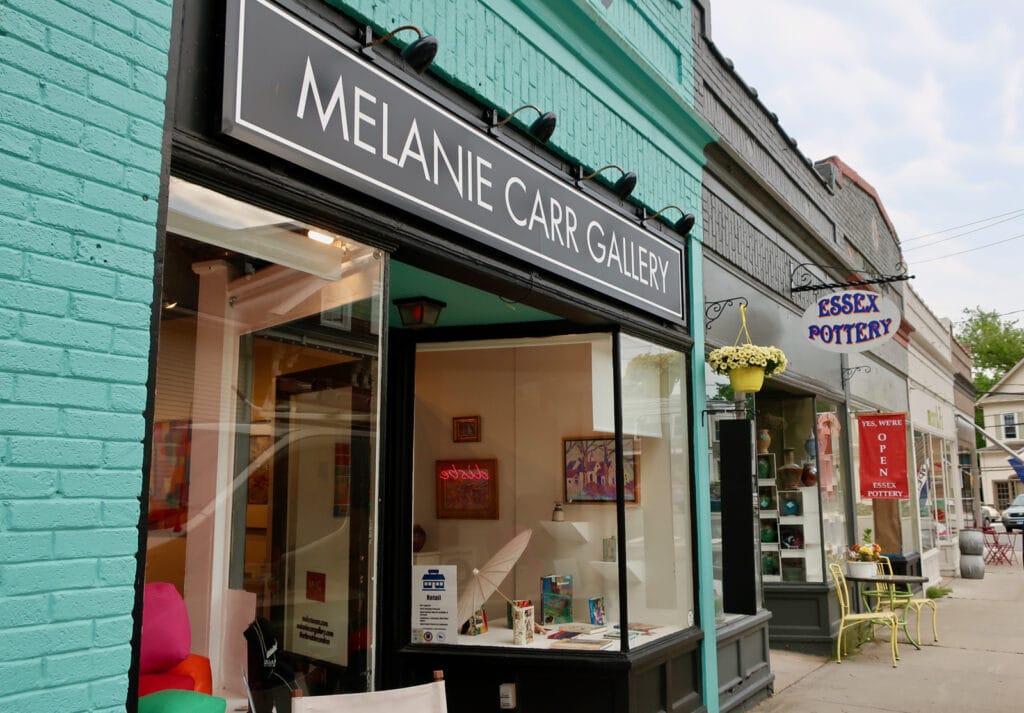 Naturally, art galleries, like the above Melanie Carr Gallery, feature trend-forward art and home decor. According to its website, MCG presents thoughtfully curated work from emerging to mid-career artists while serving as a hub for open exchange to all interested in further engagement and awareness of contemporary art and the artistic process.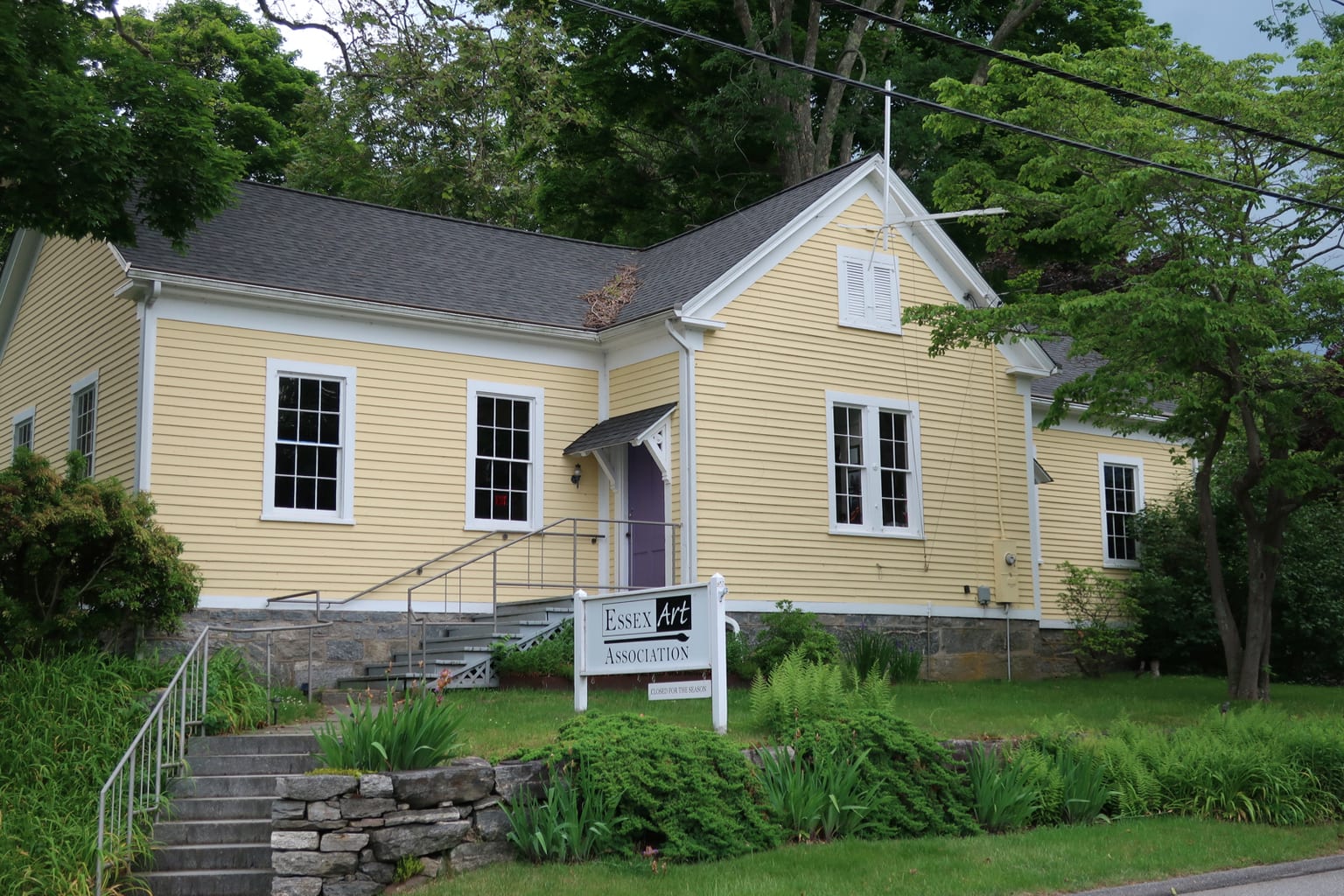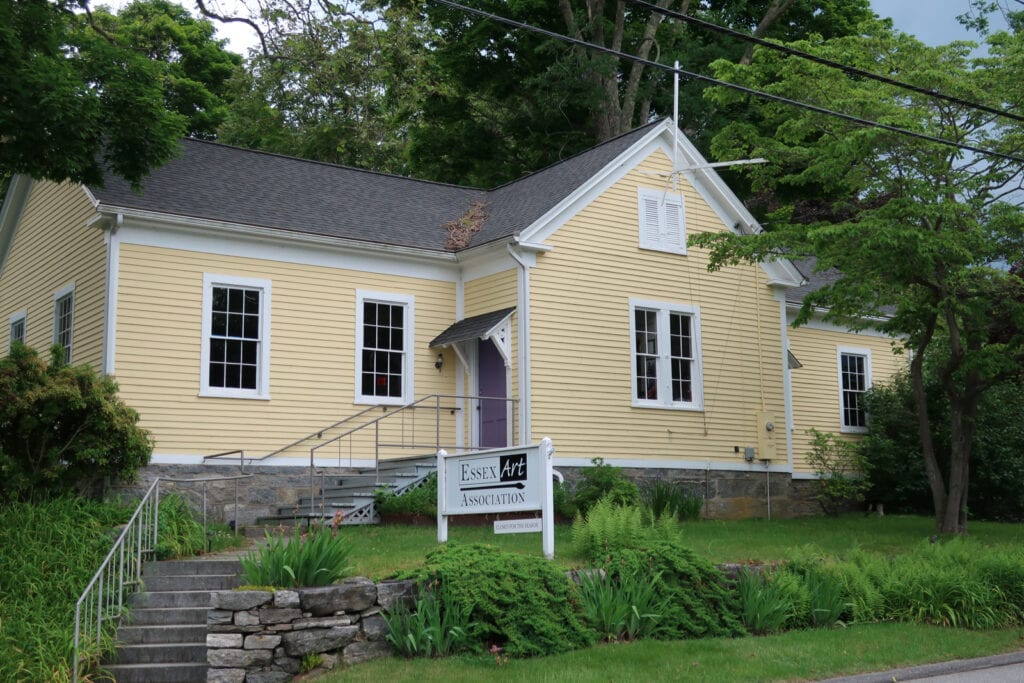 Several shows a year offer local artists an opportunity to showcase their work. A win-win for the community.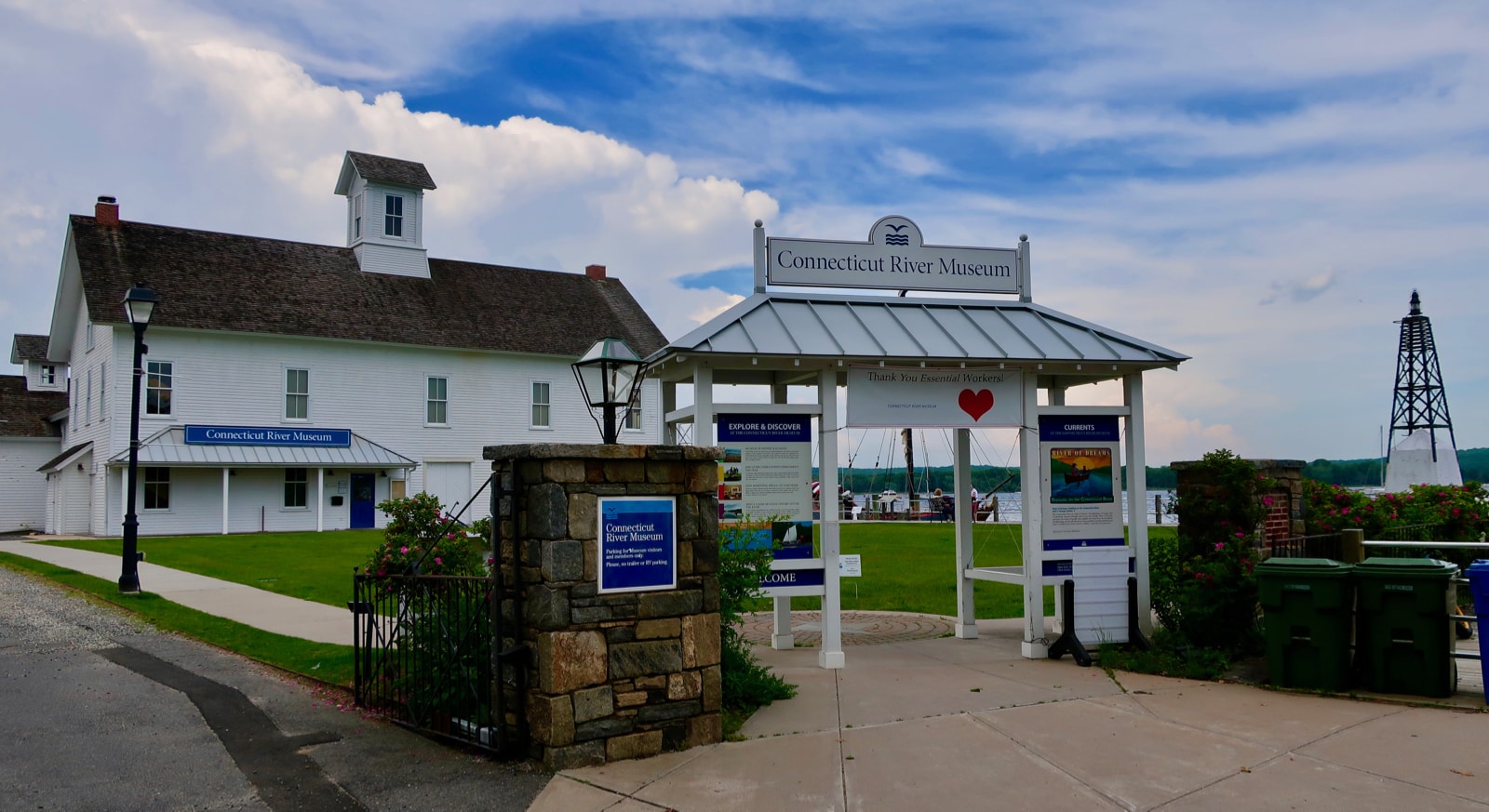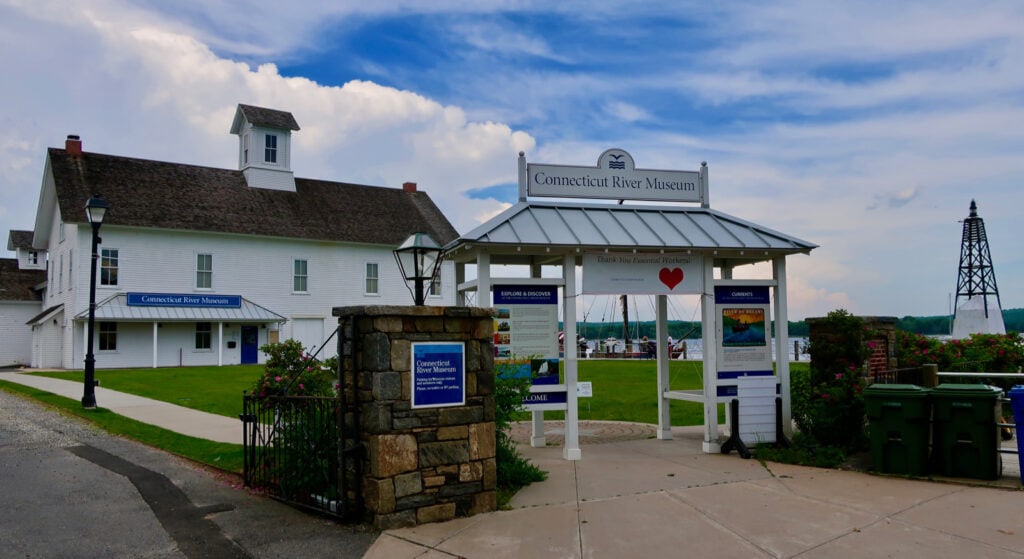 After the Revolutionary War, when the United States began to establish international trade routes, Essex was a hub of the New York Packet Trade. What is now the Connecticut River museum was first erected in 1873 as a warehouse when the town was a key stop on the way to Hartford, Providence and New York City for people and cargo. On the main floor, you'll find a trunk from the Oliver Cromwell, its lid carved with the symbol of the new Republic. An eagle.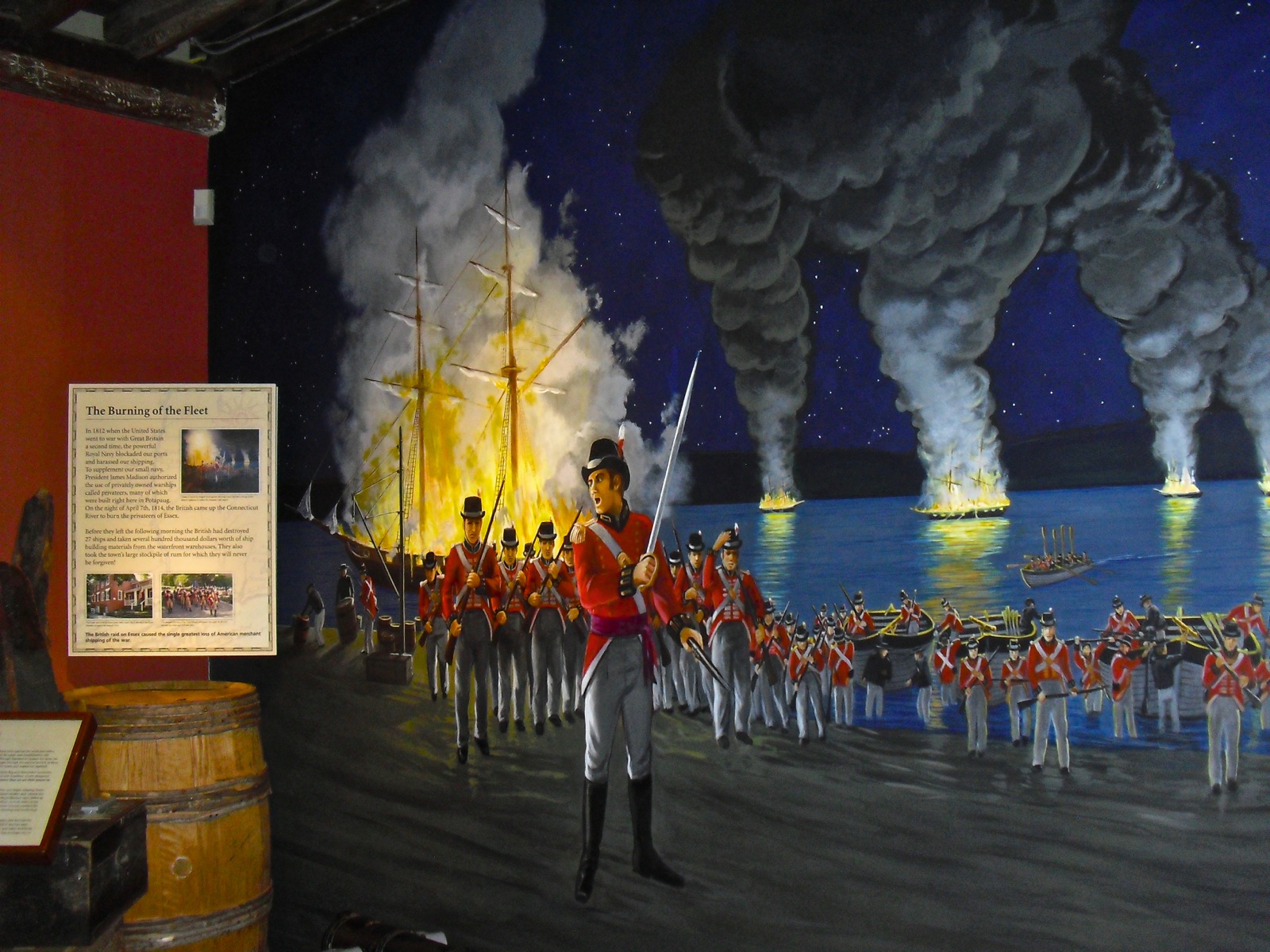 Oil paintings and models of ships, along with a rare navigational chart from that time in history cover the walls. The original pulley system, used to unload steamboats bulging with cargo, runs through trap doors to the third floor. Elephant tusks from Zanzibar supplied the billiard and piano factories down the road in Ivoryton. Sugar cane, tobacco, coal and other needed supplies were warehoused here.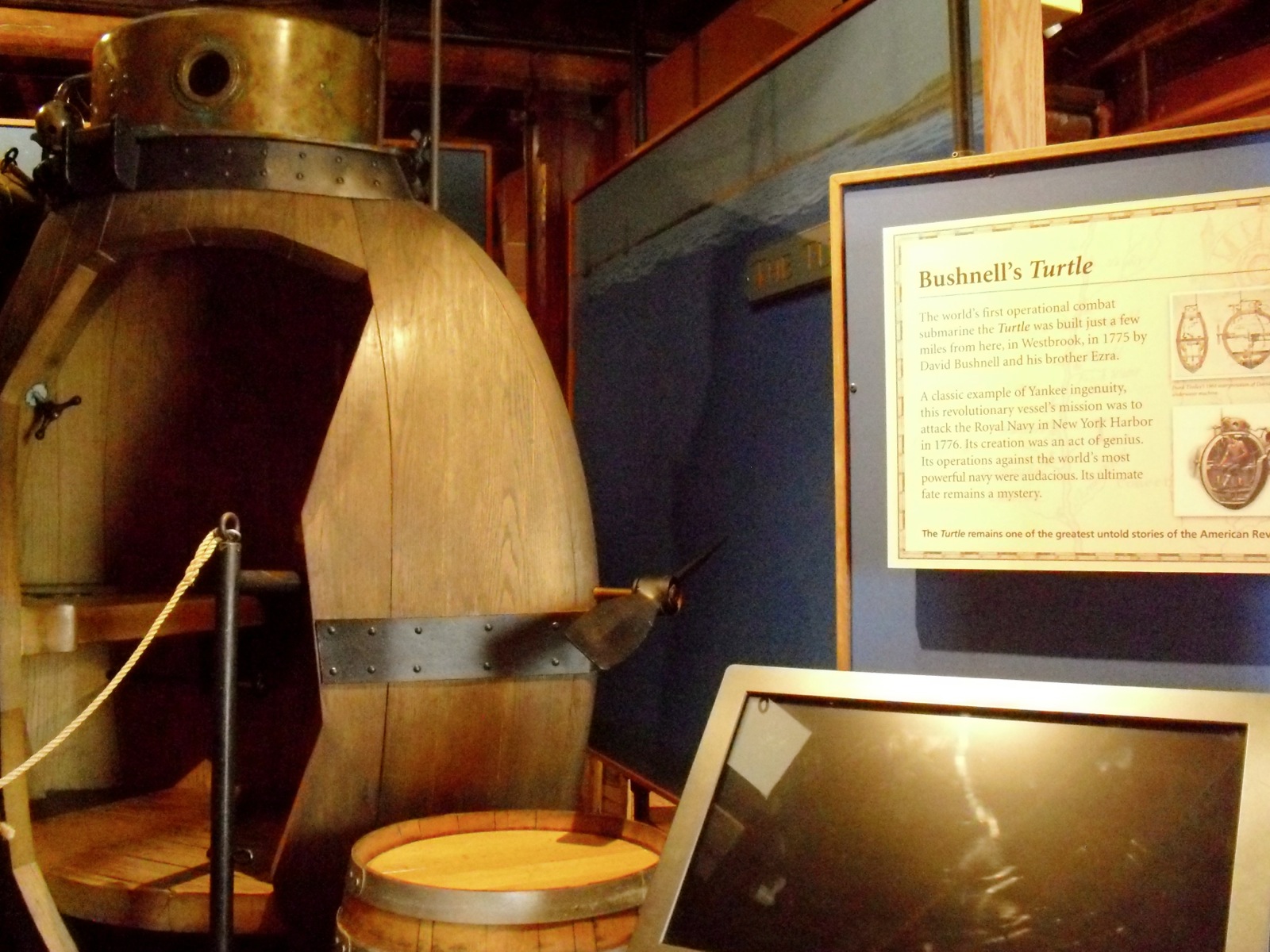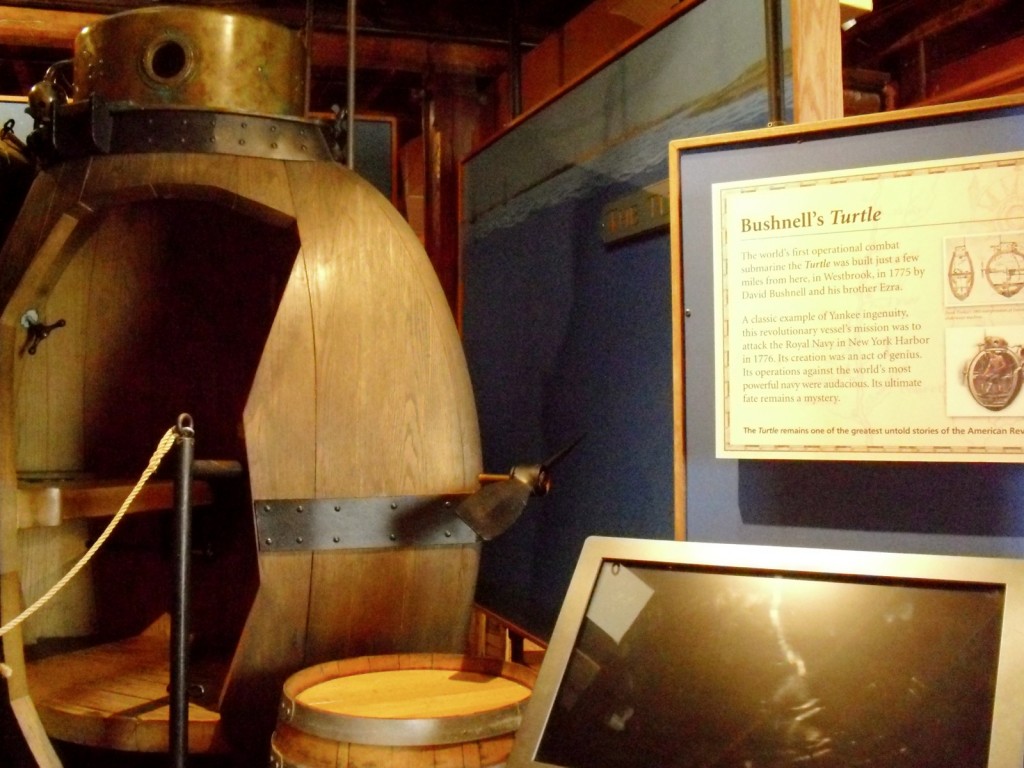 Sit inside a replica of David Bushnell's American Turtle, the world's oldest working submarine. This example of Yankee Ingenuity was built in 1776 to blow up British ships in New York Harbor. Interpretive signs tell the story of "the best kept secret of the American Revolution."
The full-scale model of the American Turtle looks no larger than a whiskey barrel and gives the visitor a visceral sense of the risks our forefathers took to claim our country's freedom. $8 adults, $5 child. Tuesdays: 11 AM – 5 PM; Wednesday – Sunday: 10 AM – 5 PM. Mondays Memorial Day through Labor Day only.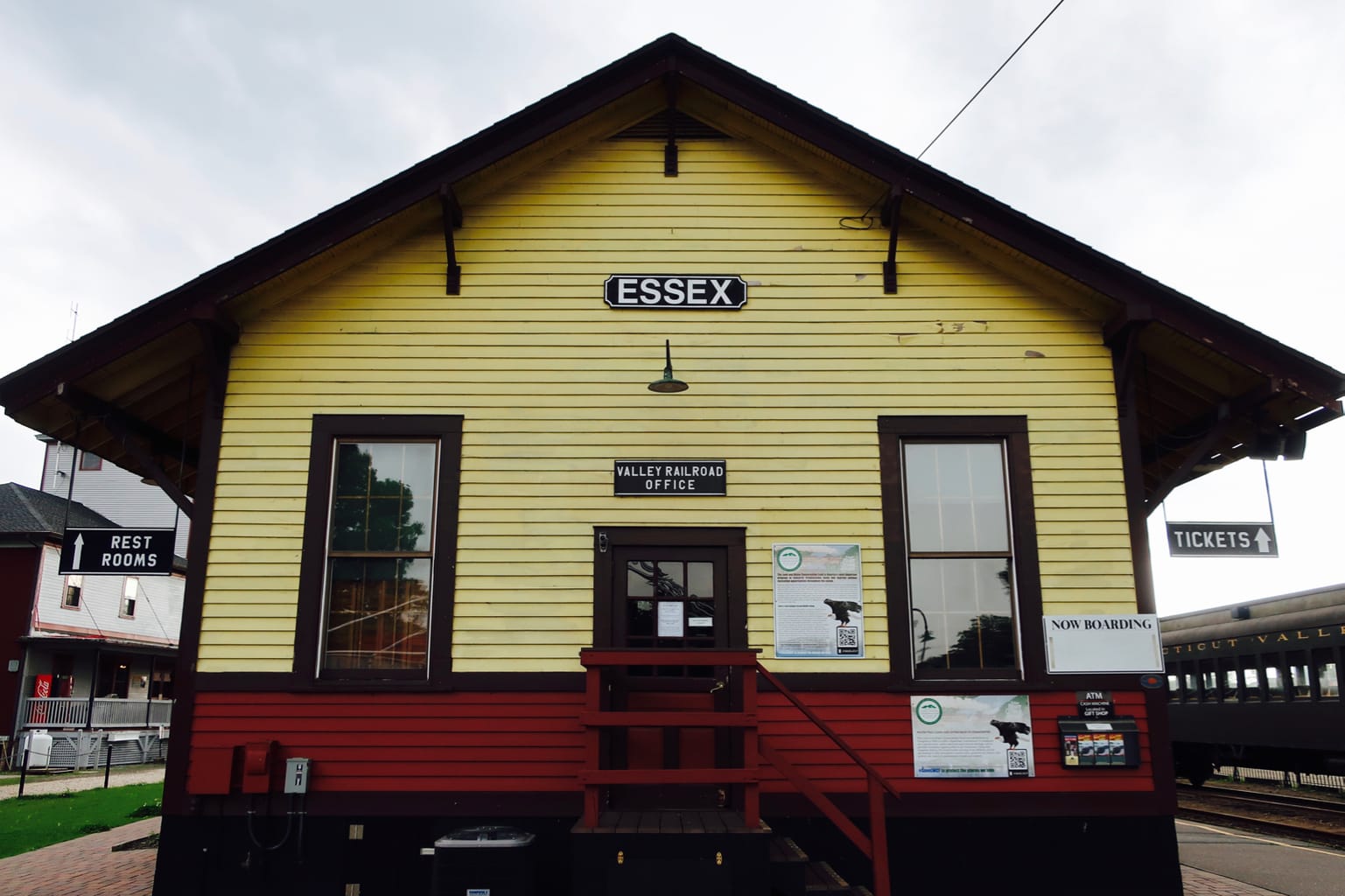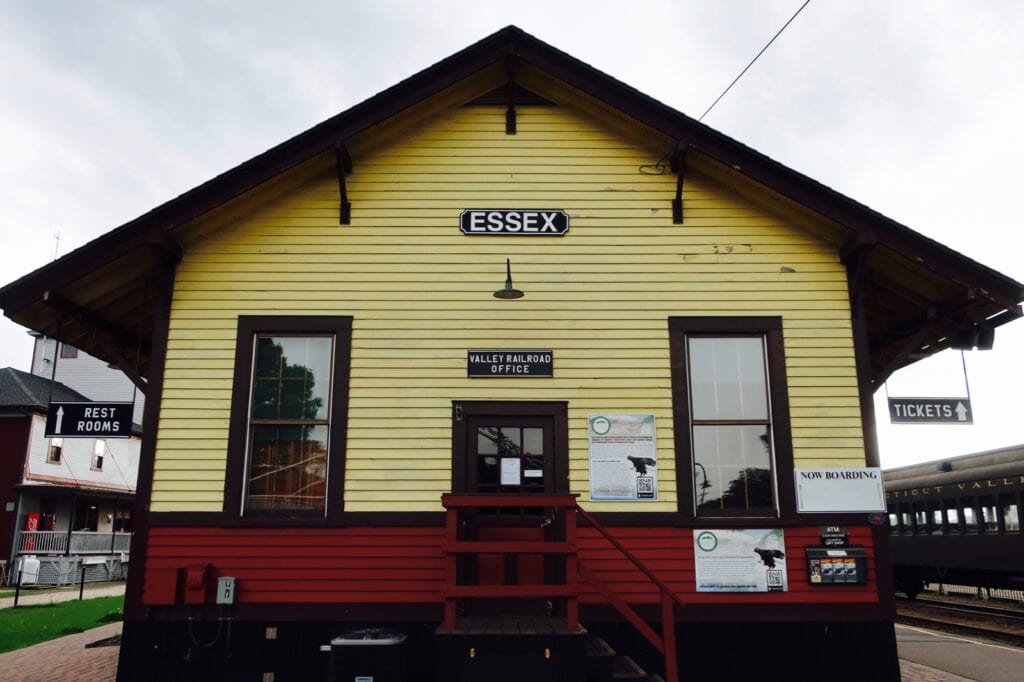 The Essex Steam Train began offering public rides in 1971 – catering to those who never lost sight of the romance of the rails. The authentic steam engine, built in 1923, spent most of its working years running freight in Alabama.
Now, each 22-mile pleasure trip requires three tons of coal, hand-shoveled into the firebox by a hearty "fireman." Travel in luxury, in a 1930 Pullman Parlor Car, with plush green swivel chairs and waitress service.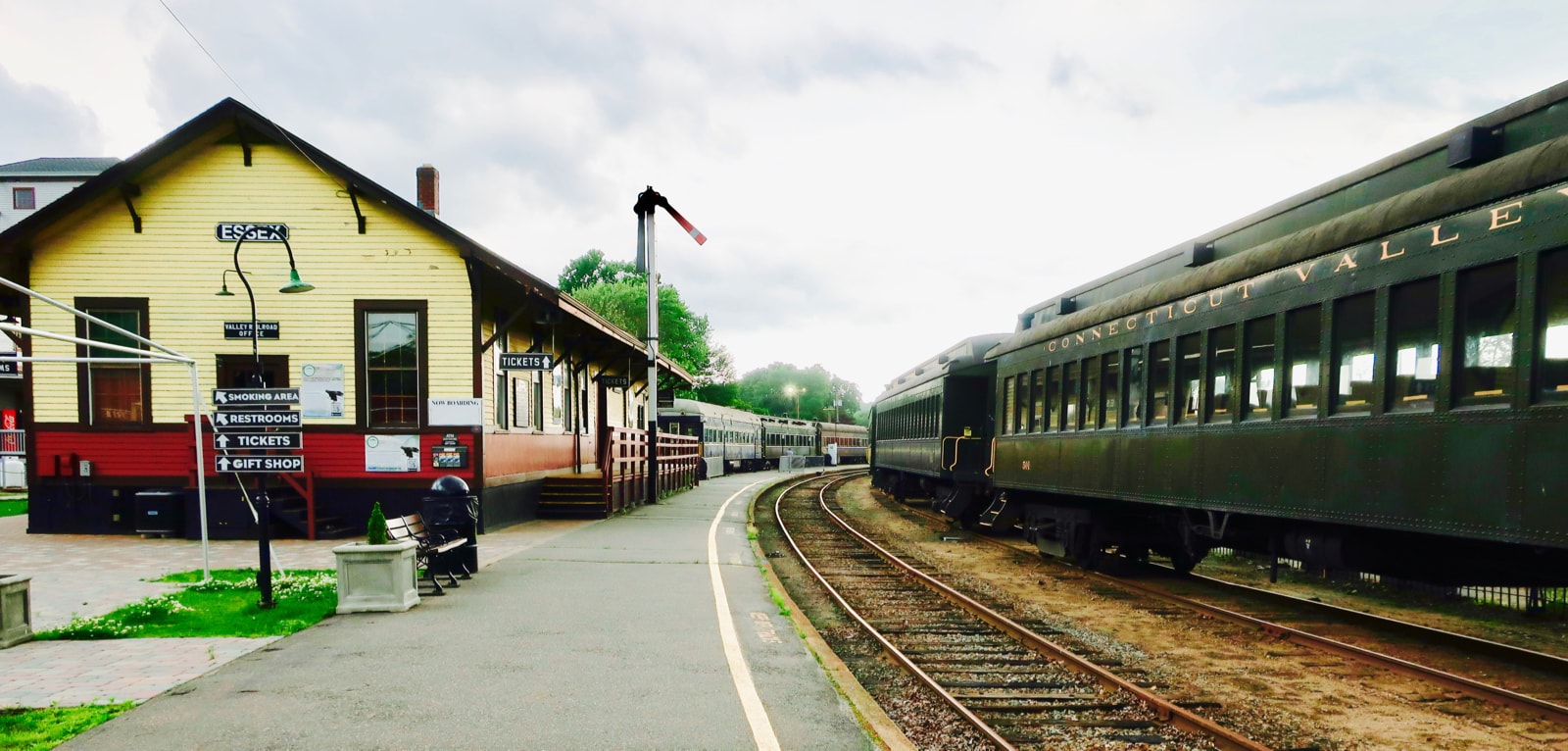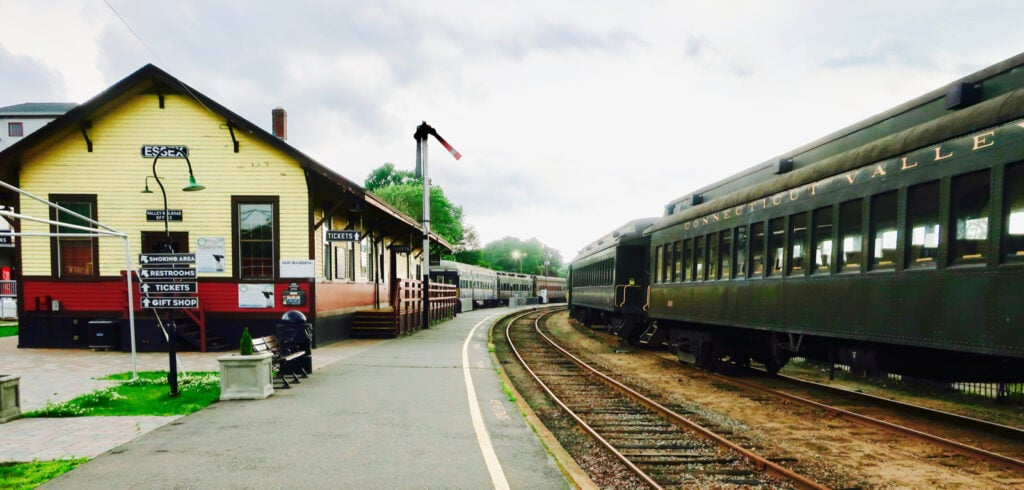 The train drops passengers off at The Becky Thatcher, a 65ft, 45-ton paddle wheel boat built in 1961 in Ft. Lauderdale, FL "in someone's back yard." She chugs upriver to East Haddam and the Goodspeed Opera House, and then turns around and heads back to the train. (2 ½ hours; $29 adults, $19 kids).
The Griswold Inn contains the largest marine art collection in private hands. Although much of the art and ephemera was amassed by the prior owners from the 1890's to the 1990's, the Paul Family, who have owned and operated the Inn for almost 25 years, continue to add to this important collection.
These walls can certainly talk. Museum quality paintings and prints tell stories of Connecticut Valley history and the steamboating era.
Complimentary 90 minute tours (limited to 40 people) runs select Sundays in late Fall, Winter and early Spring and begin at 3:30pm in the wine bar. Check the Inn's calendar, book your room on Sunday and enjoy the evening's tour for a one-of-a-kind getaway.
Restaurants In Essex CT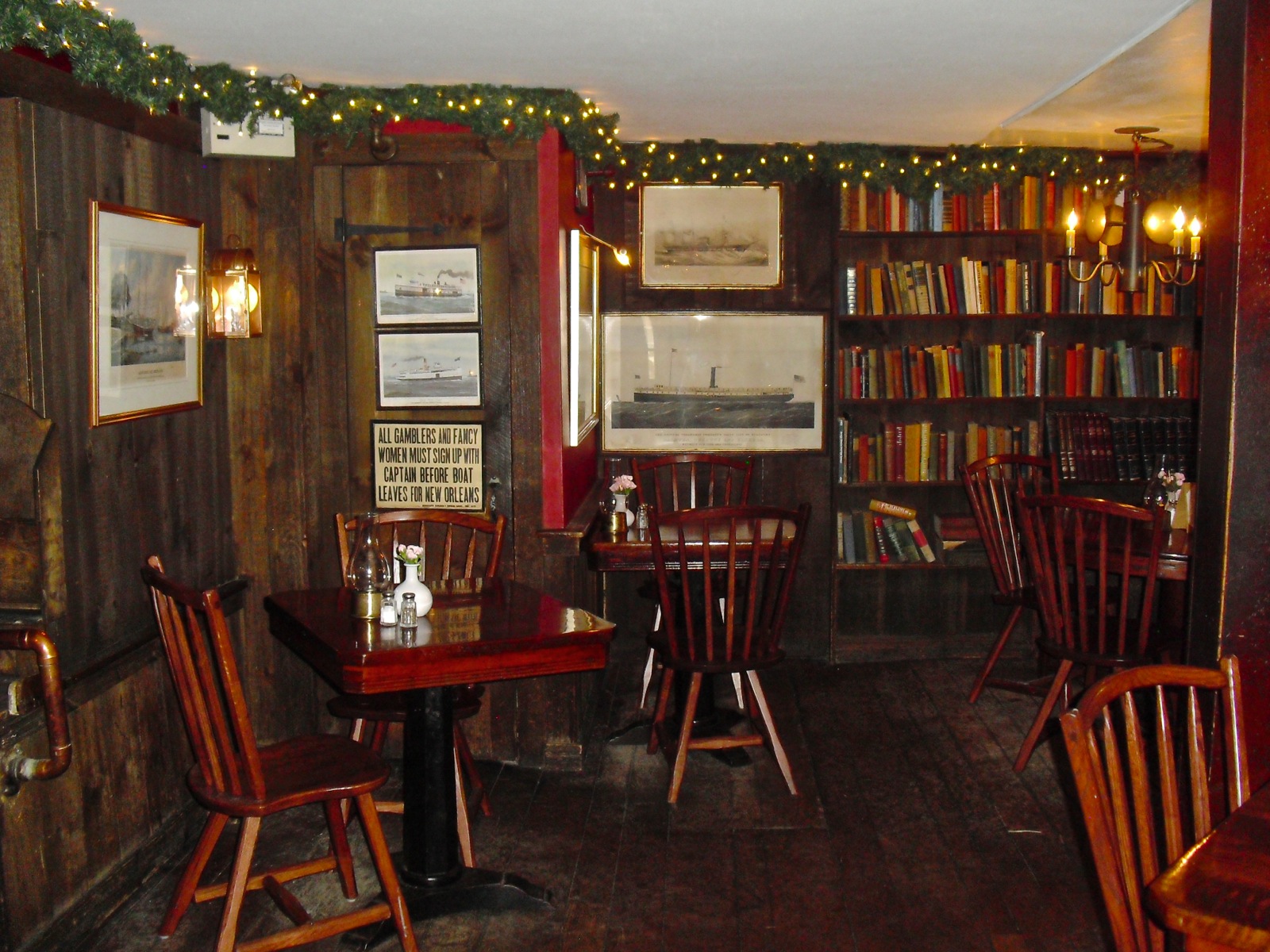 Begin in the more contemporary Wine Bar for a drink and nibbles. Ask the bartender to "turn on" the painting behind the bar. The 1880's Essex scene will rock slowly back and forth. It was formerly in constant motion, but drinking patrons got seasick.
For dinner, dine on traditional New England fare in darkened opulence, beneath the roof of an authentic New Hampshire covered bridge surrounded by vintage Currier & Ives steamboat prints.
With quirky dining rooms that include an old New Hampshire covered bridge and a 1738 schoolhouse, the interior of The Gris is a curiosity PT Barnum would have adored.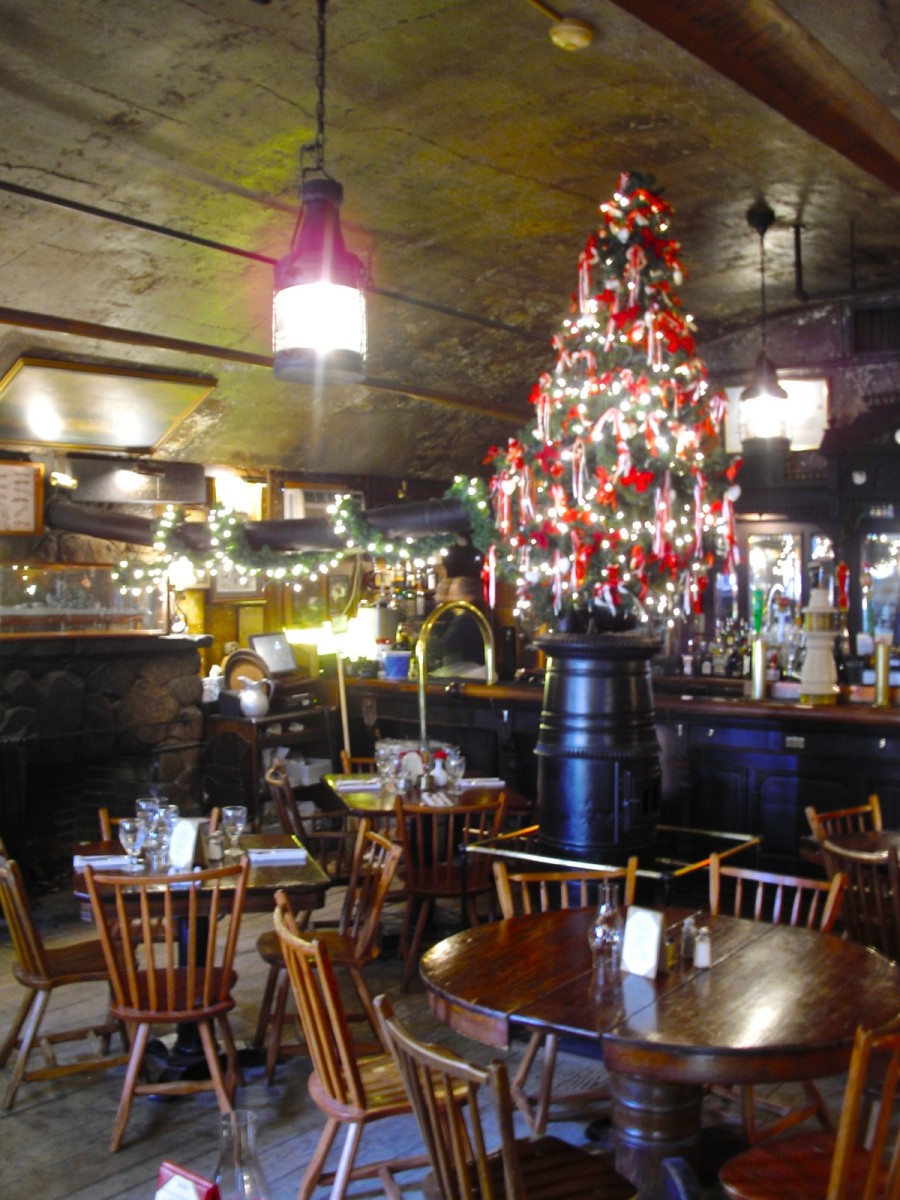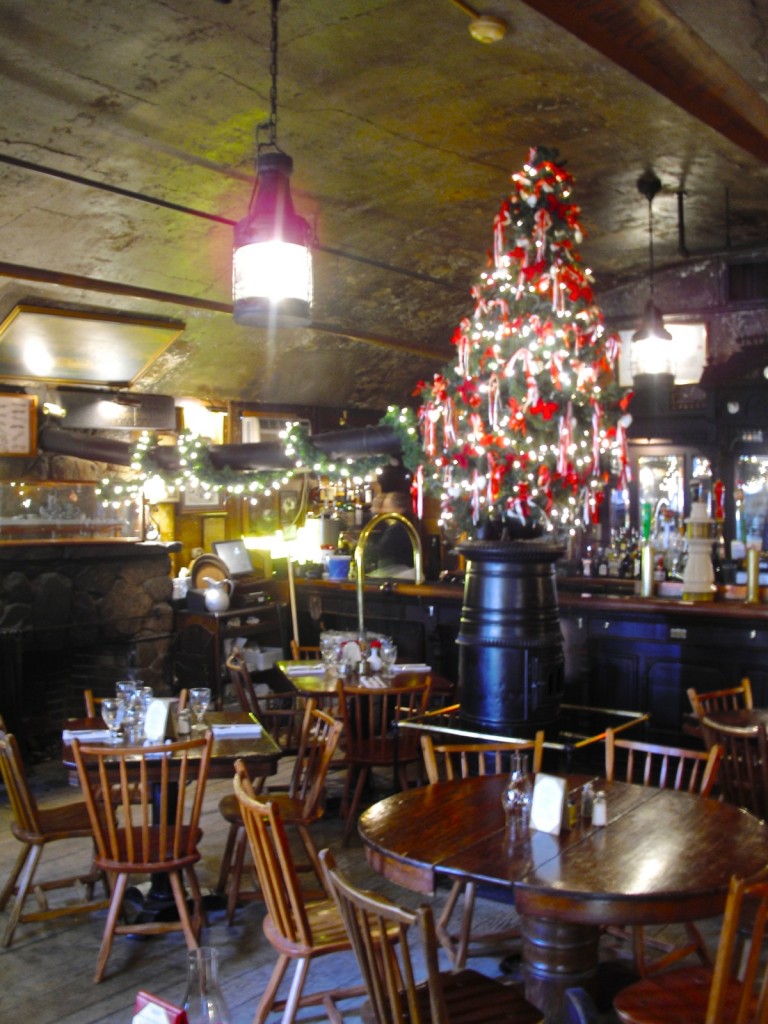 There's live music every night, and a continuous party guaranteed to make you happy. Depending on the day, listen to Dixieland Jazz, Sea Shanties, and other rollicking tunes. The Gris Tap Room always makes The Best Bars of America lists. A night in revelry there should be on everyone's bucket list.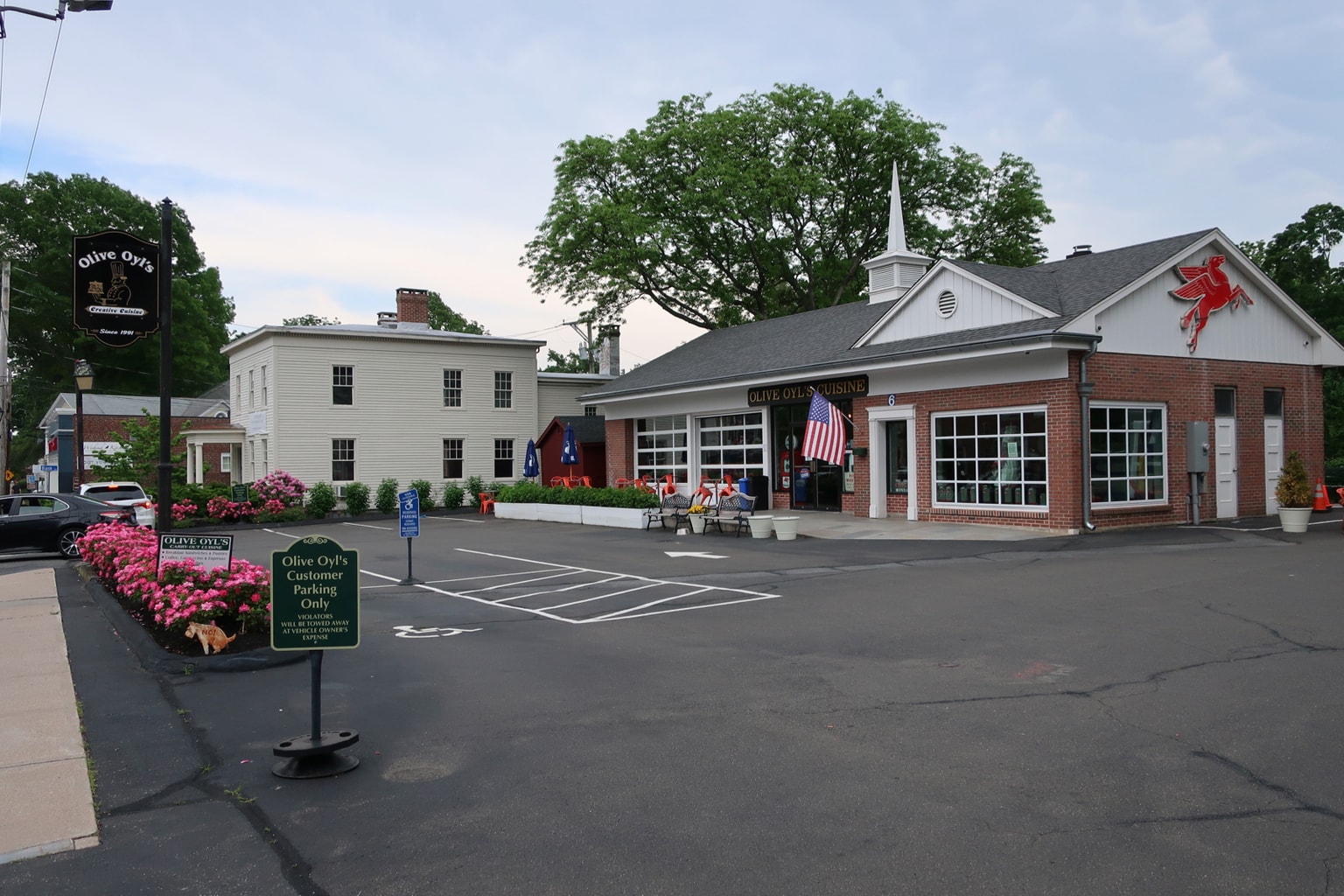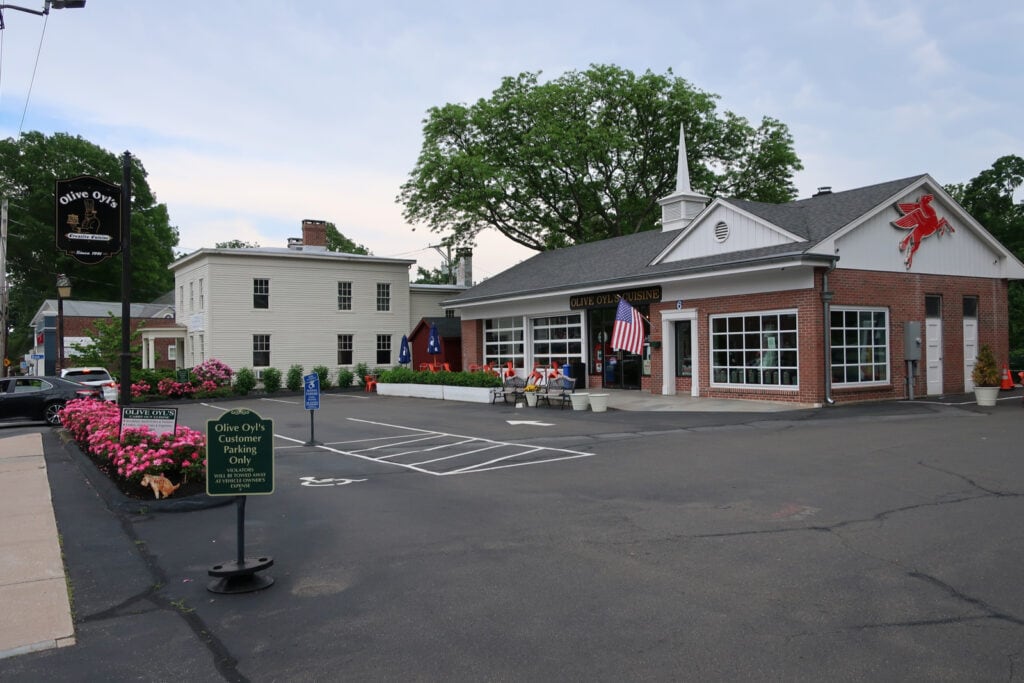 Don't you just love dirty remade into clean? Olive Oyl's, a healthy gourmet take-out meal spot, set inside a former gas station, is the ultimate in repurposing. Perfect for picnics or boat provisioning.
Where To Stay In Essex, CT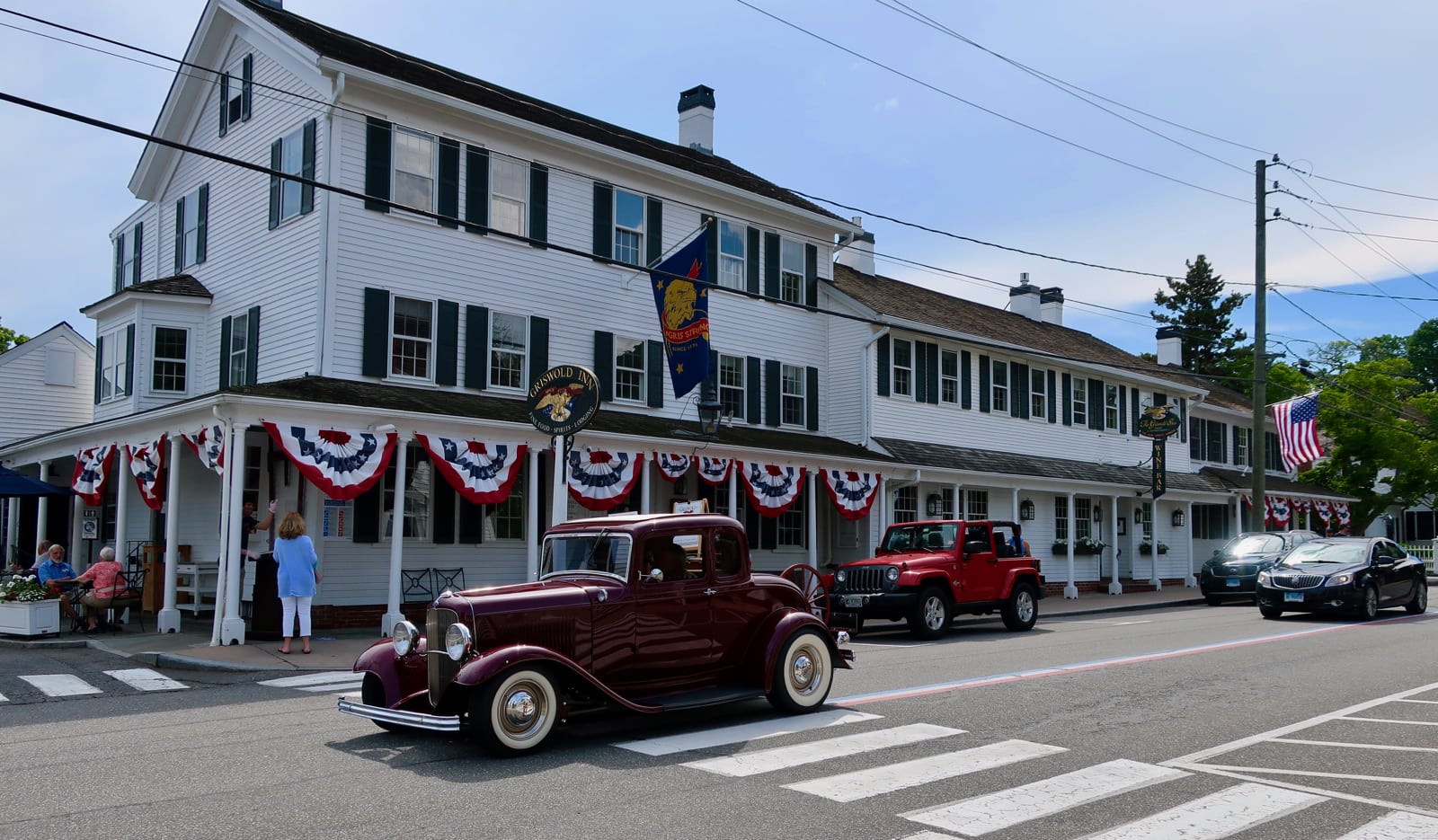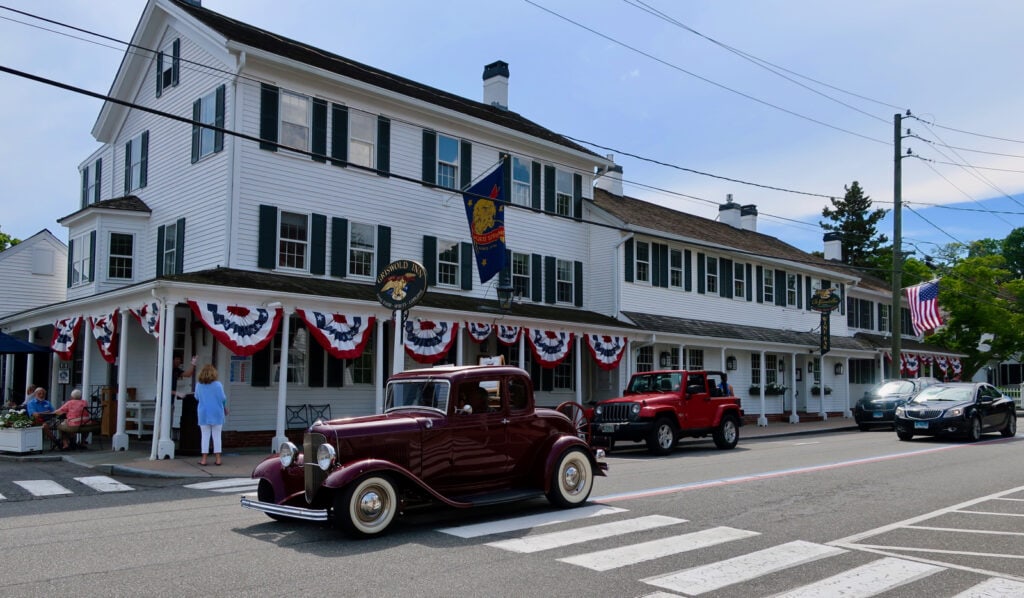 STAY: The Griswold Inn – known locally as "The Gris"
Before the ink was dry on our Declaration of Independence, and while American's first warship, the Oliver Cromwell was launched down the street in June 1776, the Inn welcomed its first guest.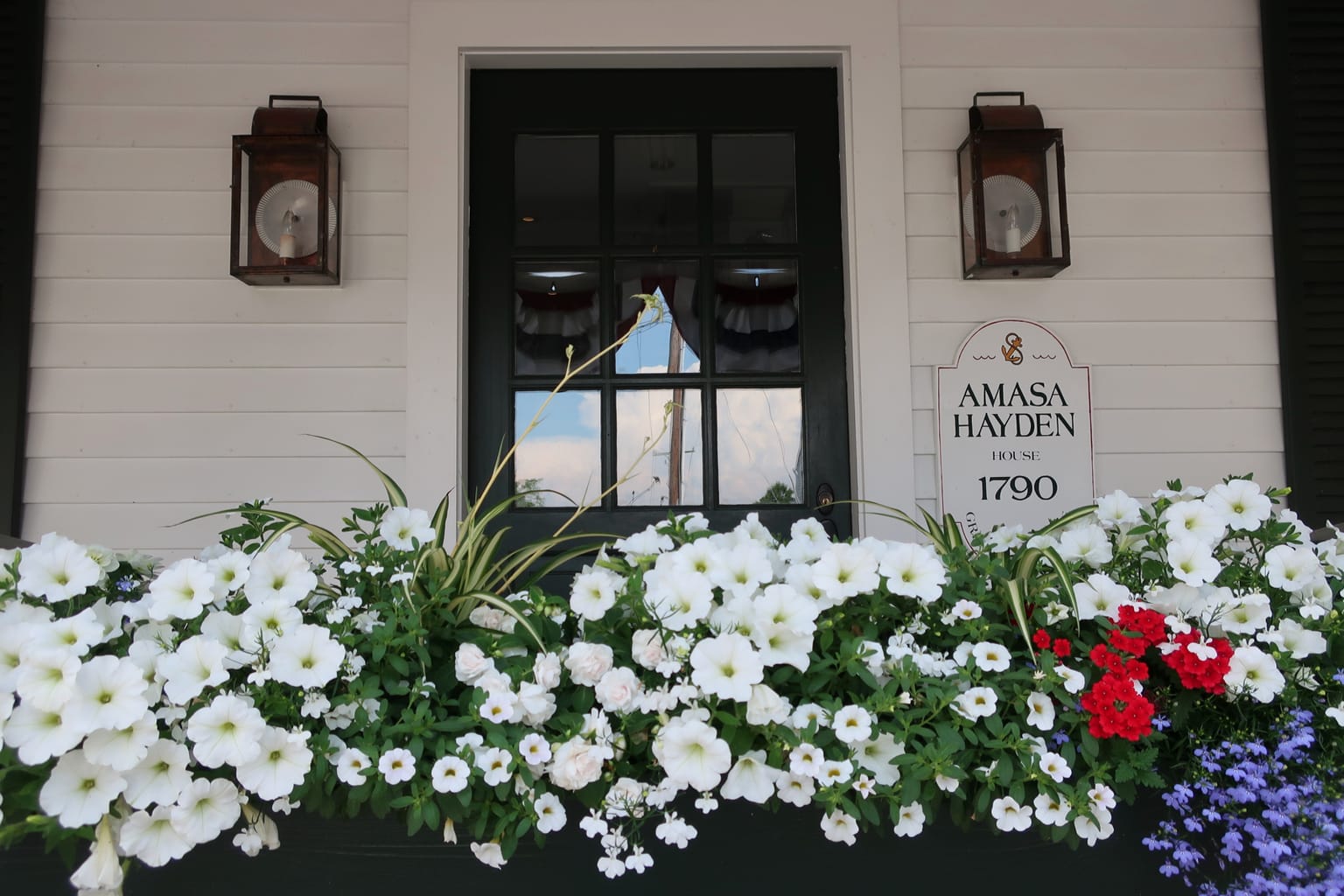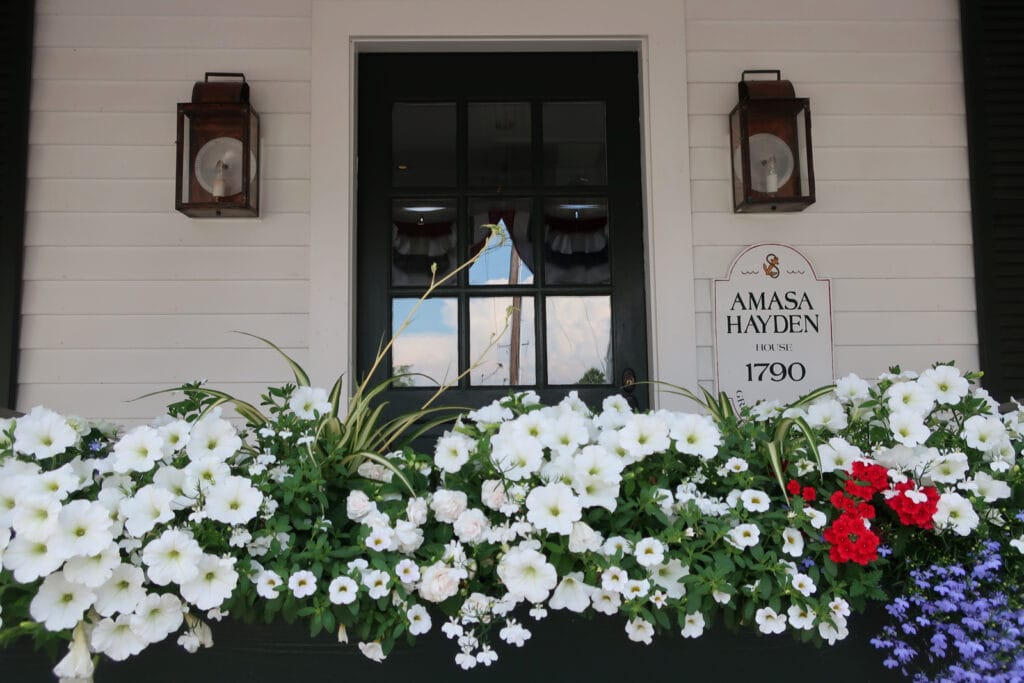 It is one of the oldest continuously operating inn in the United States, and has been in the hands of only six owners in over 244 years. Beautifully redone rooms feature burnished wood floors, area rugs, four-poster beds and nautical art. ($155-$360 per night with midweek specials).
Getting There: New York City (110 miles), Boston (127 miles), Philadelphia (205 miles).