Last Updated on May 15, 2023 by Editor
The Homestead – A Boutique Inn in Madison Connecticut
When I tire of upscale, "design by committee" corporate hotels, I look for something that deviates from the norm. Not so much as to be unrecognizable as an inn, or glitzy, or flamboyant. Just a place that showcases the creative chops of its owner. And I found all that at The Homestead Madison CT.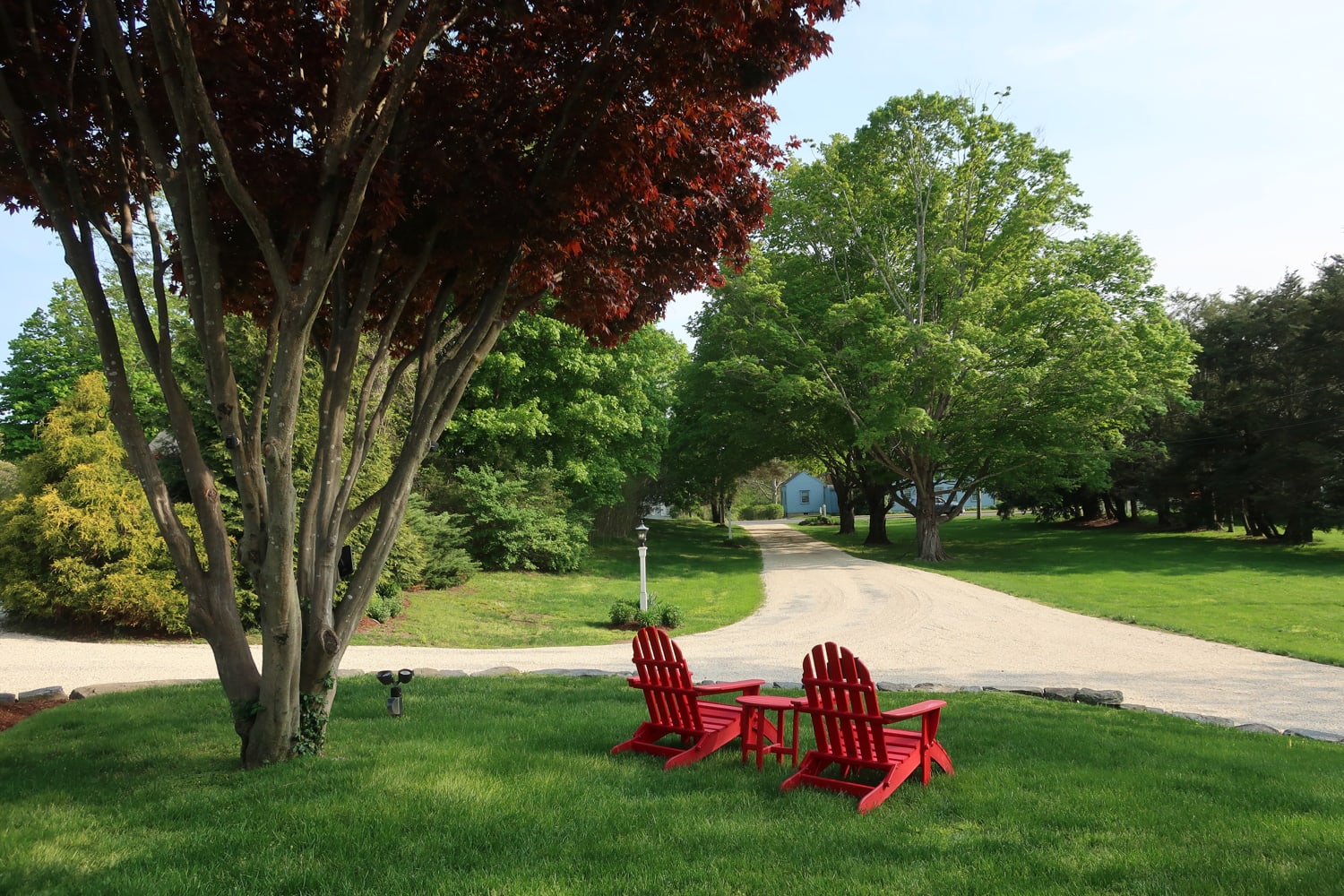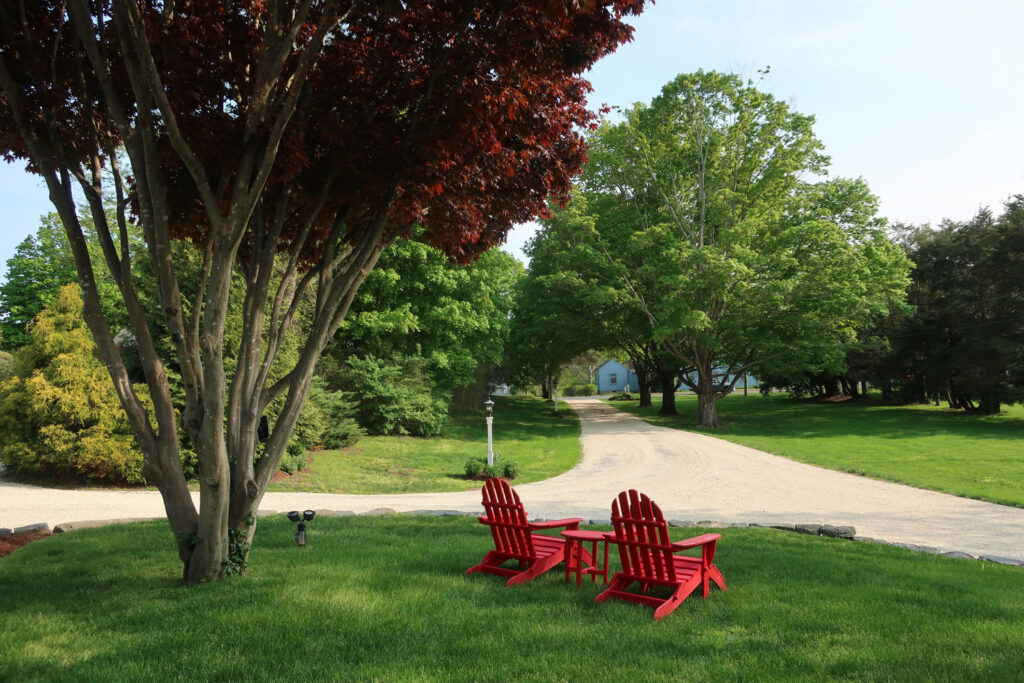 Ralph Guardiano and his daughter are the second and third generation to own this inn, first built as a retirement home in 1958.
Recently reopened after a complete renovation of the inn's 12 rooms, it is homey, unpretentious, and oh so idiosyncratic. That's owing to the fact that Guardiano owns a production and marketing company – a career that takes him around the world – and he has a tendency to pick up objects that catch his eye.
First Impressions of The Homestead Madison CT
Approaching the whitewashed inn, you'll see a handful of bright red Adirondack chairs on the front lawn. It's an inviting tableau – red against white, shade trees, and a front porch with a fire pit and more red chairs. Welcoming, and slightly quirky.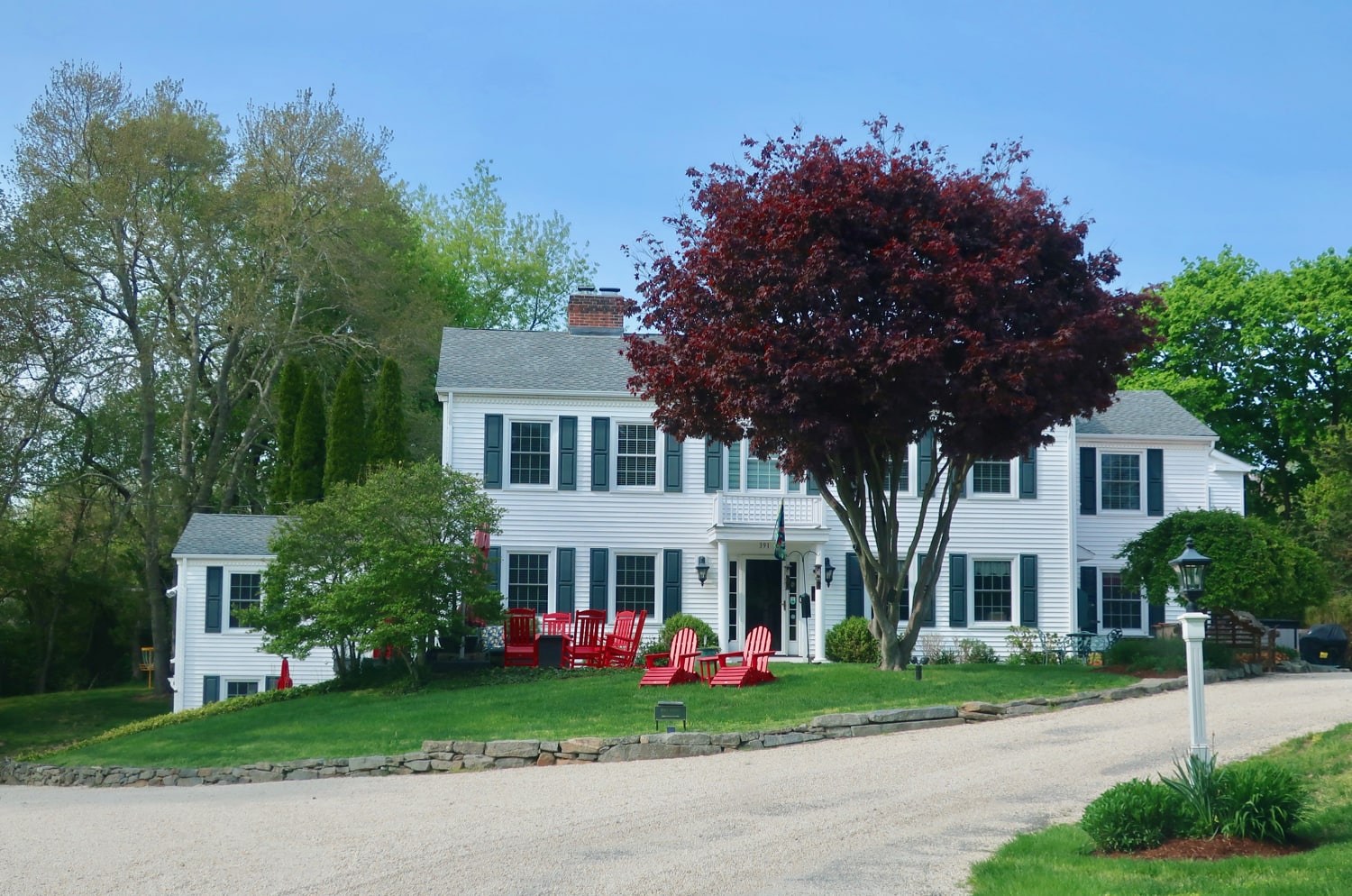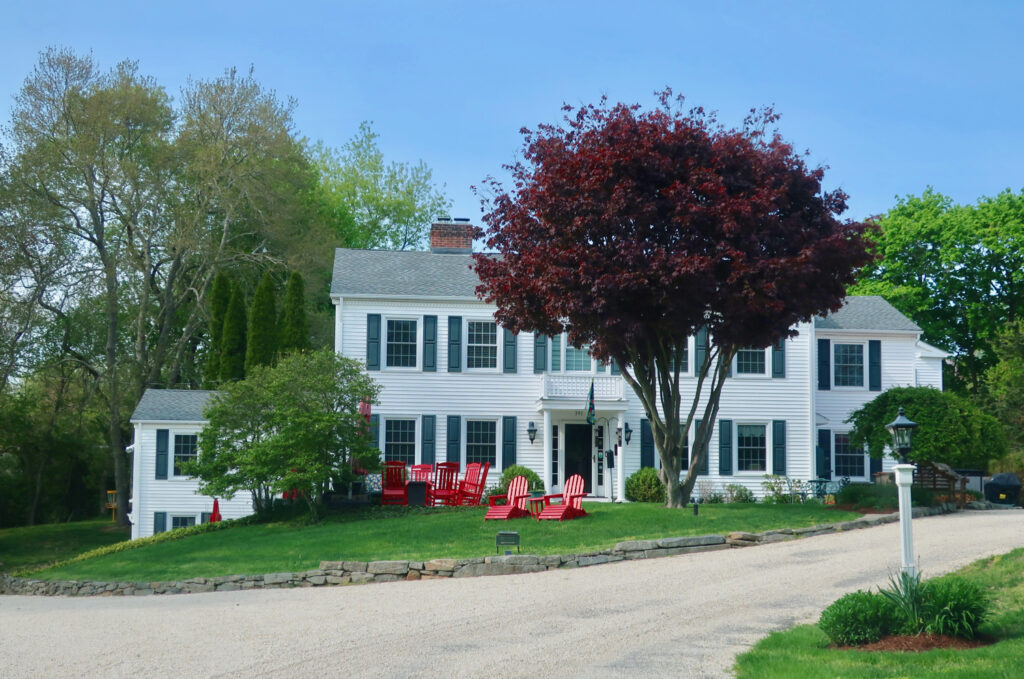 The quirkiness ramps up when you walk inside. If it's cool out, the gas fireplace in the main parlor is blazing, and over it, a picture frame "TV" that showcases a rotating roster of Guardiano's favorite paintings. Together, they bathe the room, stocked with an assortment of early 60's-style overstuffed furniture, in a flickering glow.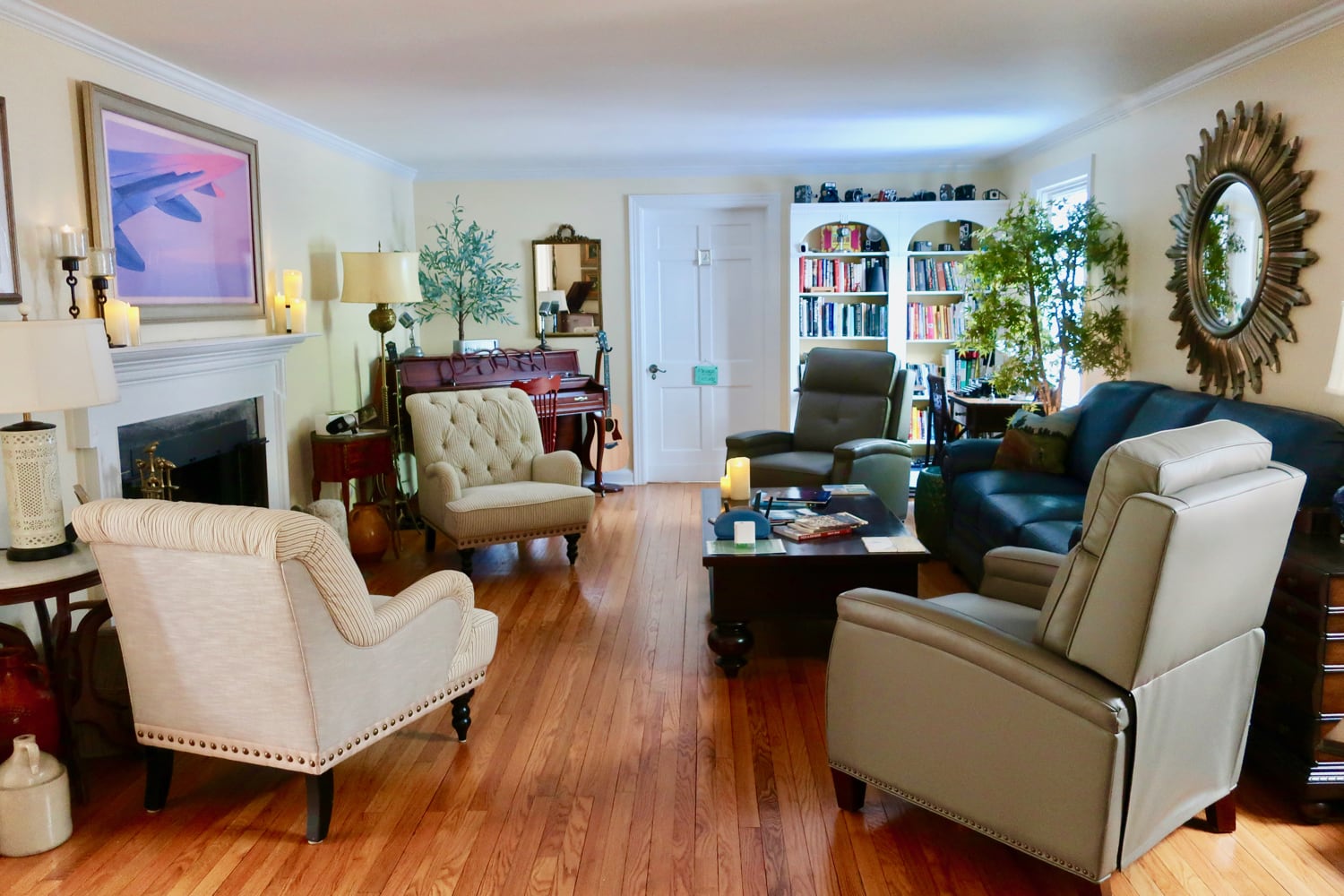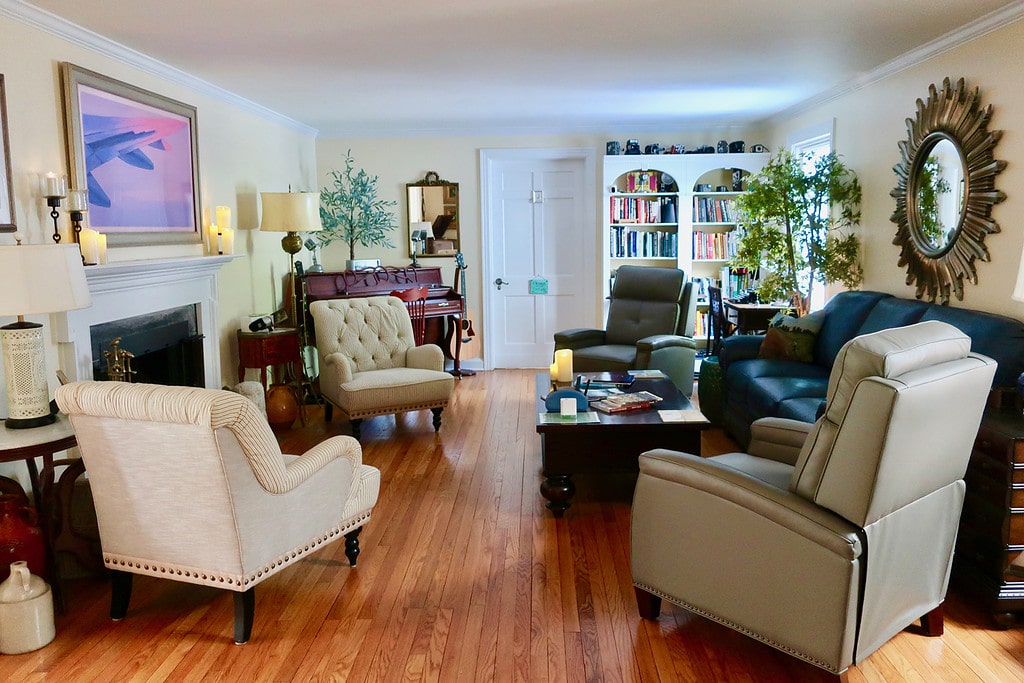 There's a cacophony of curio objects all over the place. Guardiano evidently loves rubber duckies and antique cameras and photo equipment. And radio microphones.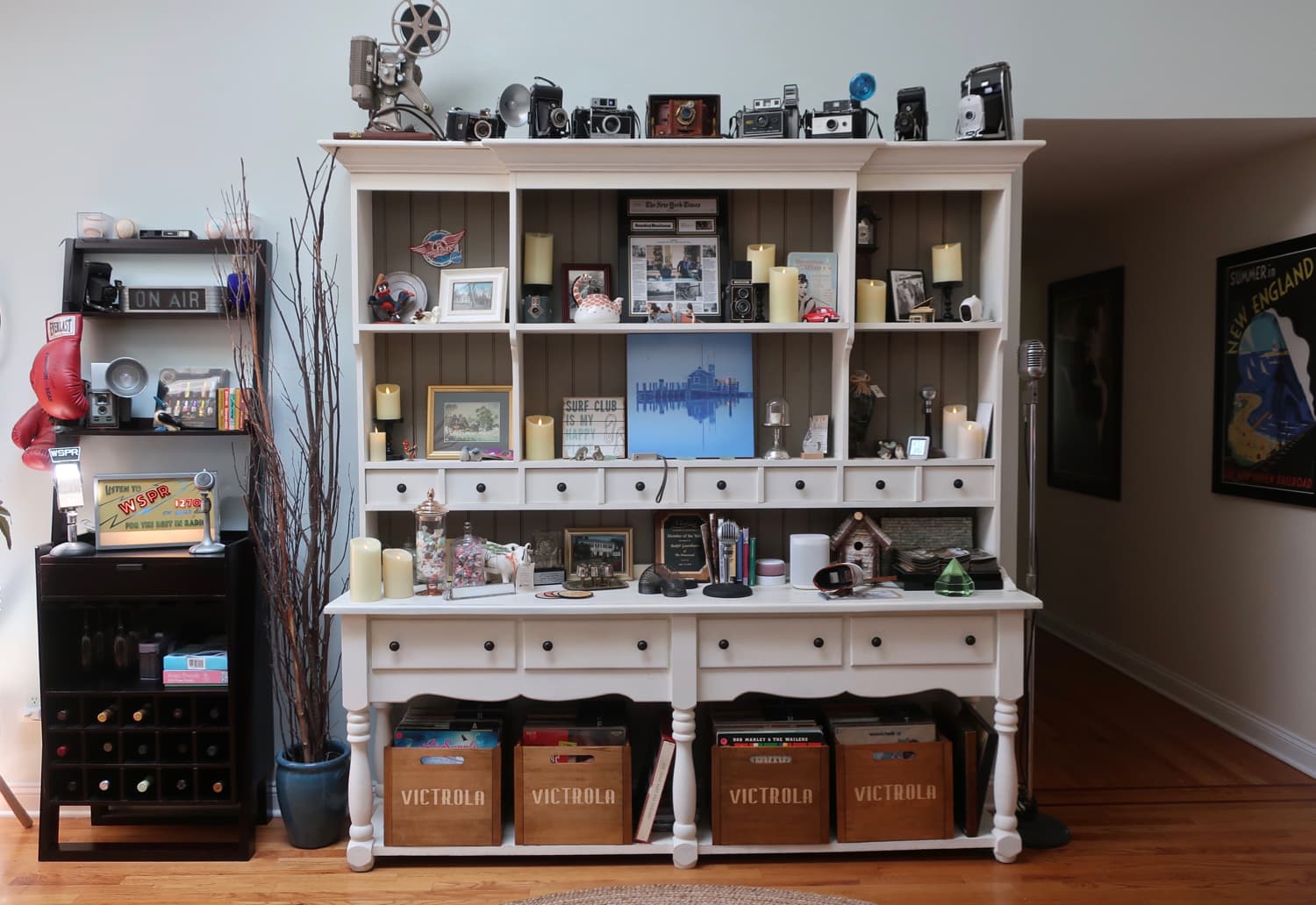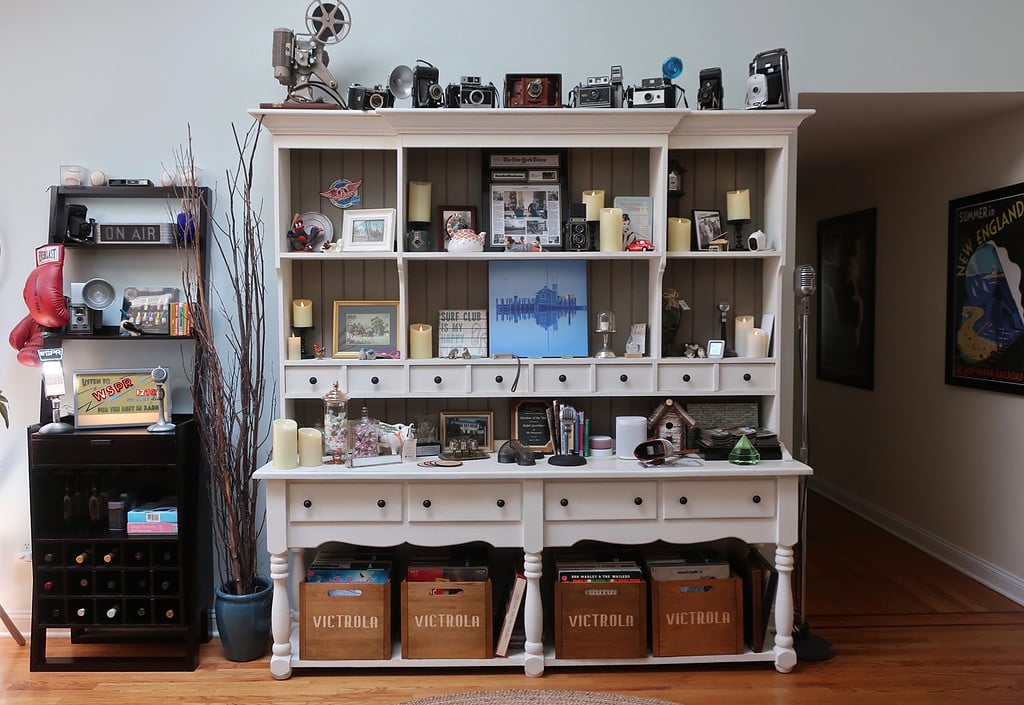 Have the innkeeper (or Ralph, if he's there) point out the teeny-tiny styrofoam cup that was full size before being sent to the depths of the Atlantic – to the wreck of the Titanic. It shrunk down to nearly nothing from the water pressure, and stayed that way.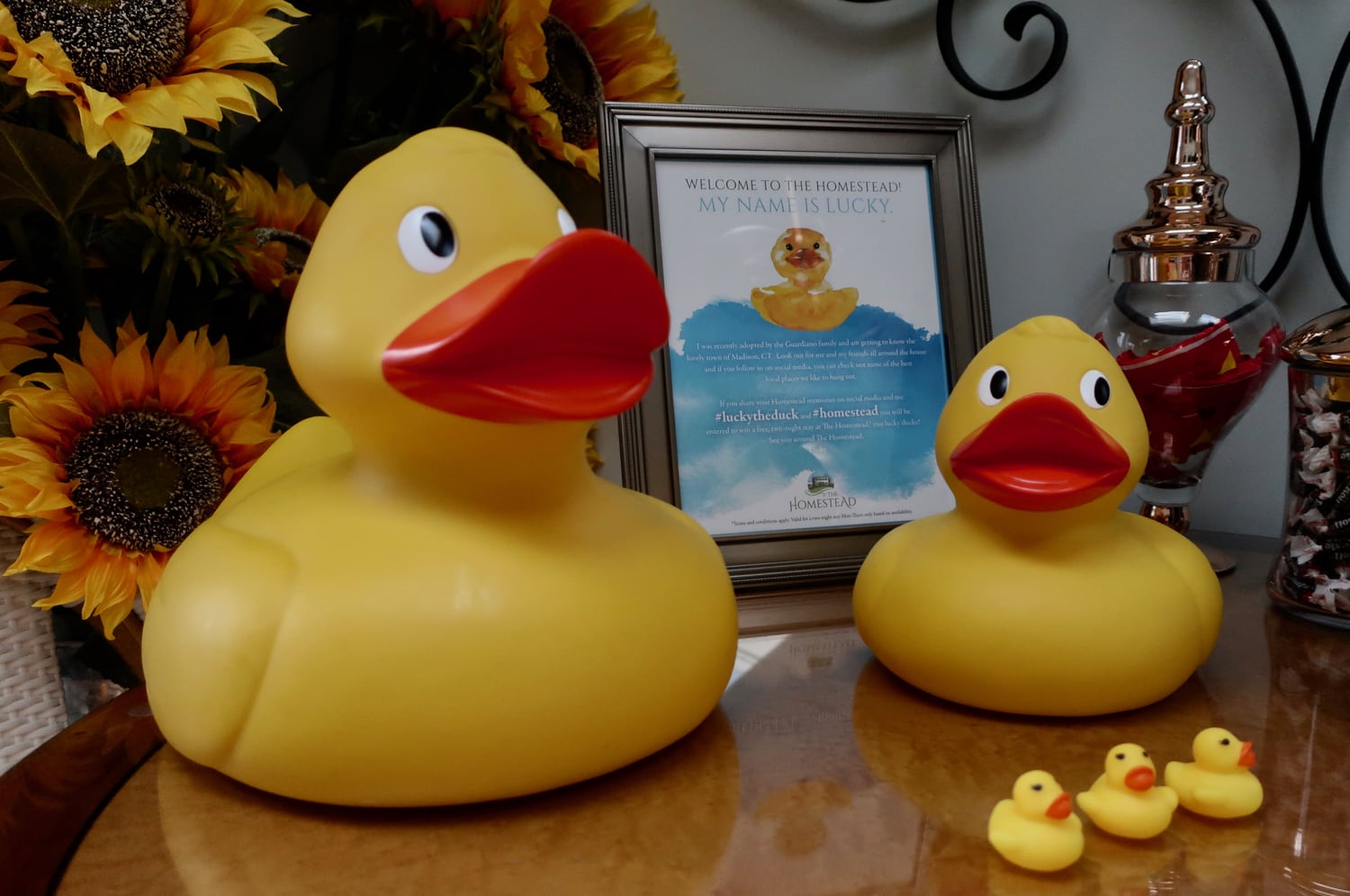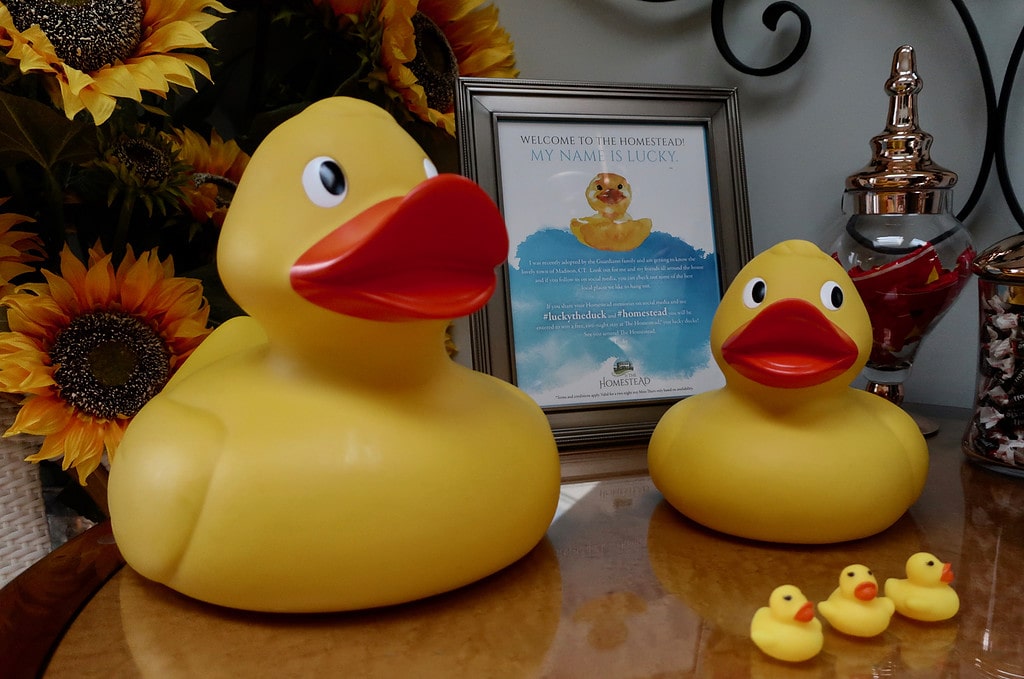 Even prior to arriving, you get the feeling that whoever owns the place is eager to please. You're asked about any dietary restrictions – pretty typical for a B&B.
And then, the peculiar query about music preferences. Why? Because among the many categories of things that Guardiano collects are vinyl records – and record players.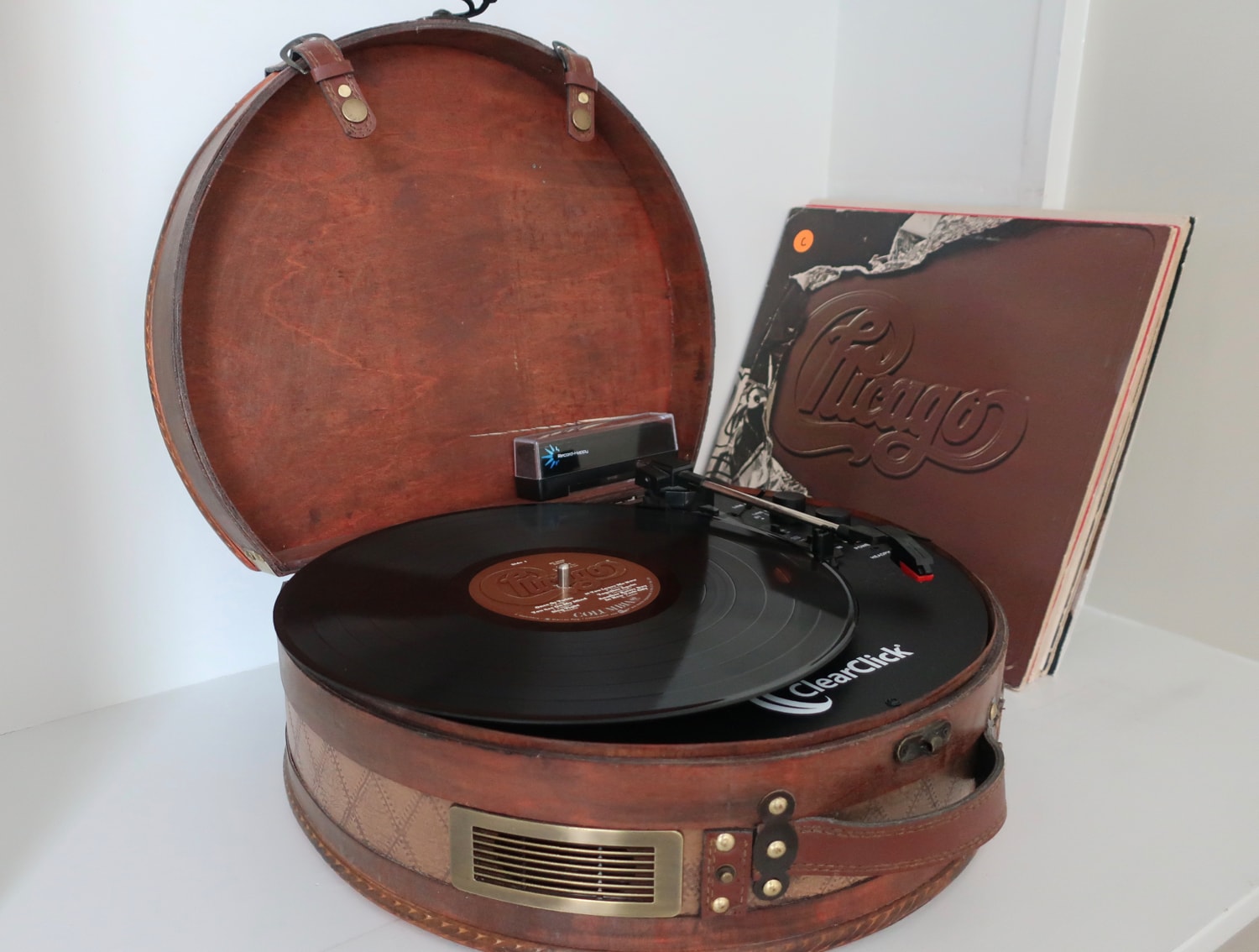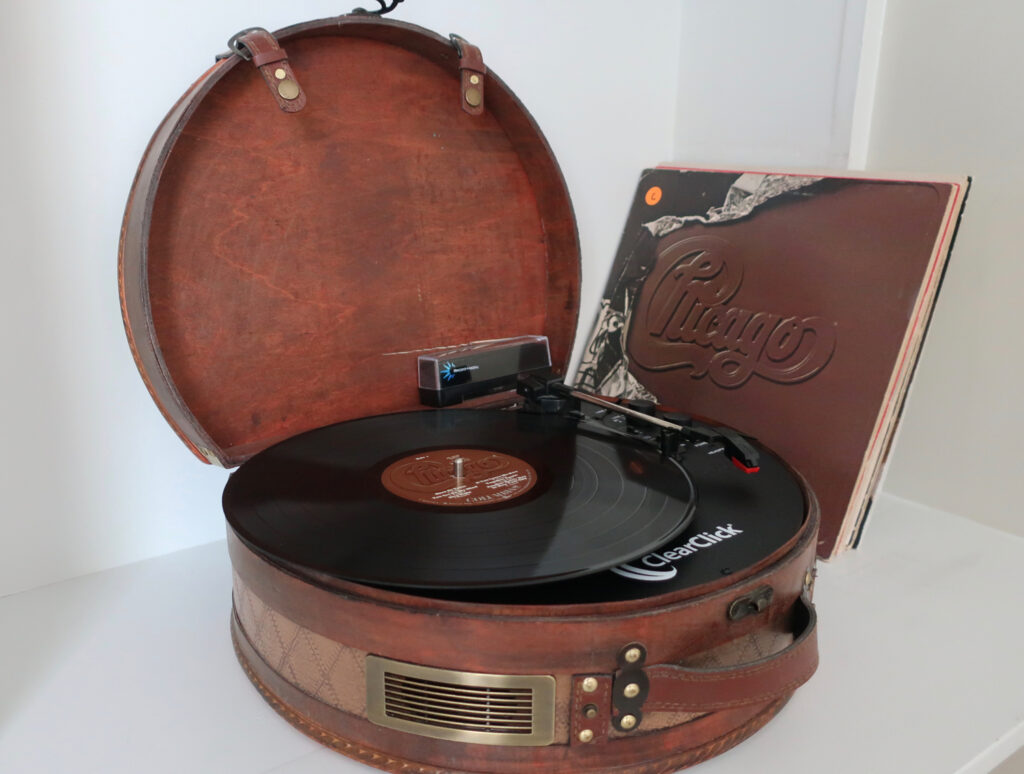 So, yes, there's a turntable in each guestroom – complete with vinyl records of your favorite bands.
Rooms at The Homestead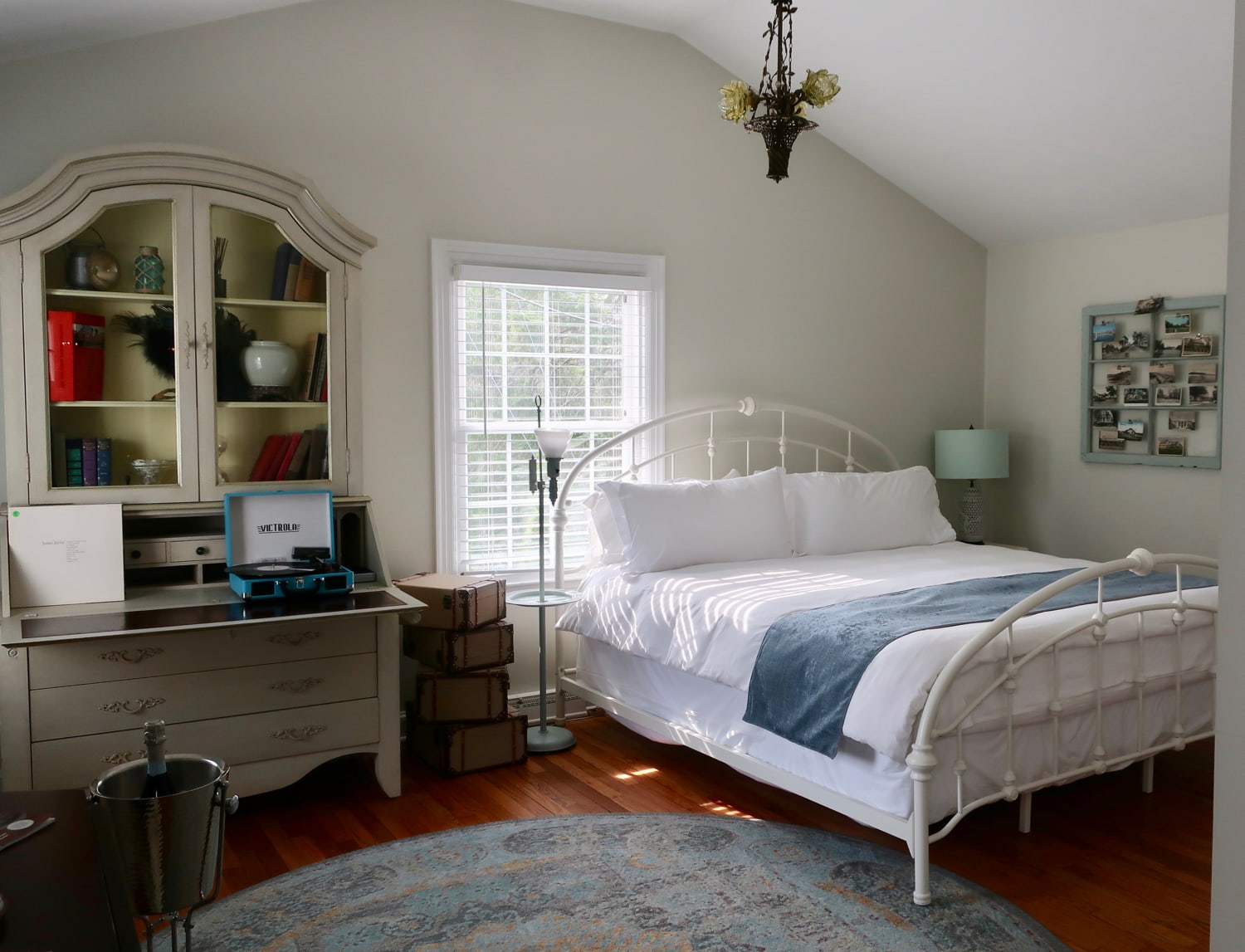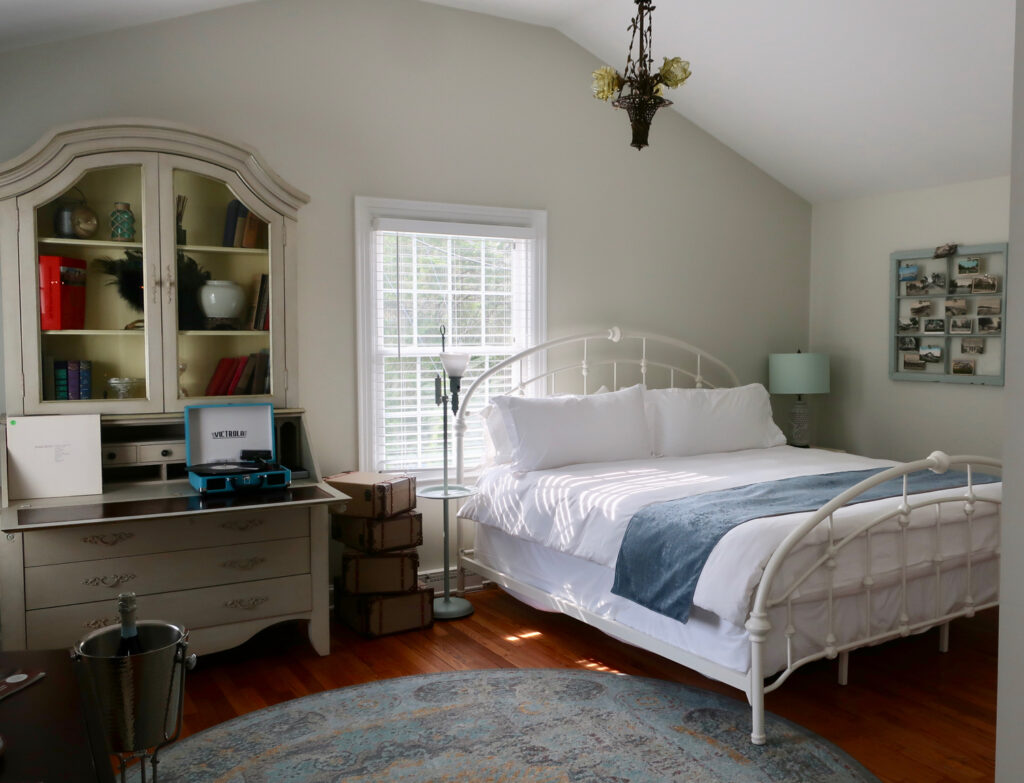 All 12 rooms are different, with eclectic furniture, art, and knickknacks that can change depending on Guardiano's gleanings that week.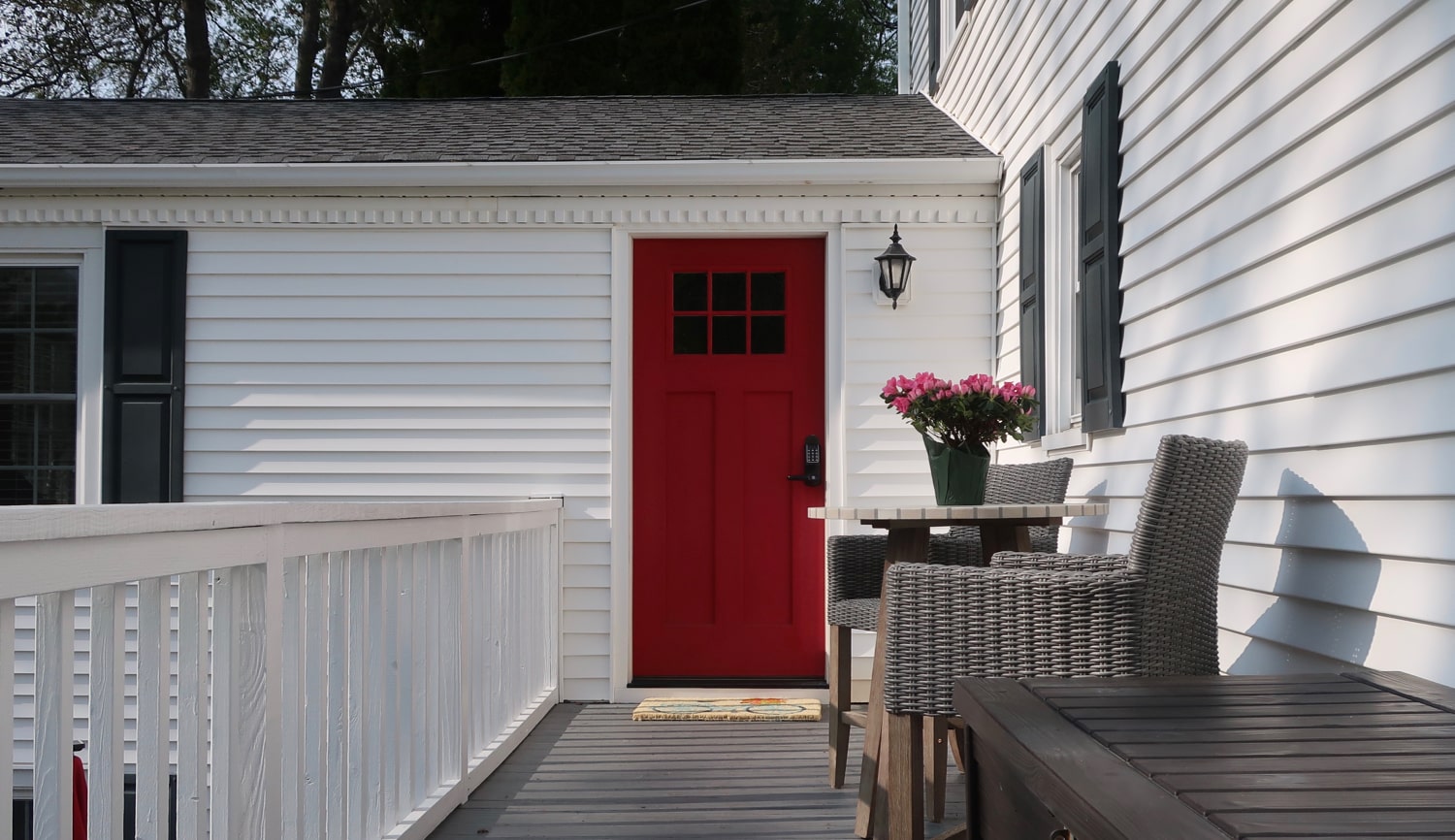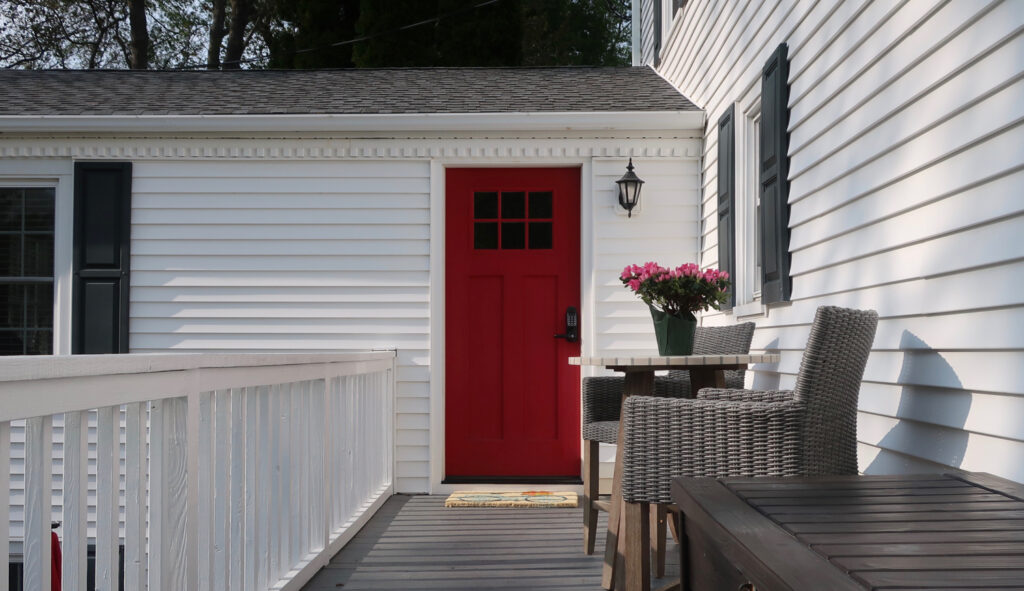 Some on the ground floor (like mine #2) have private entrances. Some have two beds for families, mother-daughter, or girlfriend getaways. Three are pet-friendly.
But all rooms have several things all the time. One is the most dreamy sinkable bedding that, in my case, sent me off into an uninterrupted 7 hours of sleep. Another is the aforementioned record player and records. And yet another is a set of little rubber "Lucky Ducks" and mini ducky marshmallows (so much better than Peeps) that you get to take home.
And, all bathrooms sport a futuristic toilet with warm seat, and bidet on demand. And, get this – shower water is filtered 15 times, and infused with vitamins that left my skin and hair so soft.
Food
Even though The Homestead does not have a restaurant, you will NOT go hungry here. There's a popcorn machine – with both infused oil and dry shaker toppings to give the snack pizzazz. Bags of premium potato chips and granola bars are left out for the taking.
And, in the morning, breakfast around the communal table invites conversations among guests. (Always a perk when I'm traveling alone). The Homestead sources from the best of local bakeries, and serves those muffins and other baked goods along with a fruit salad and hot savory dish of the day. (Mine was a toothsome slice of quiche).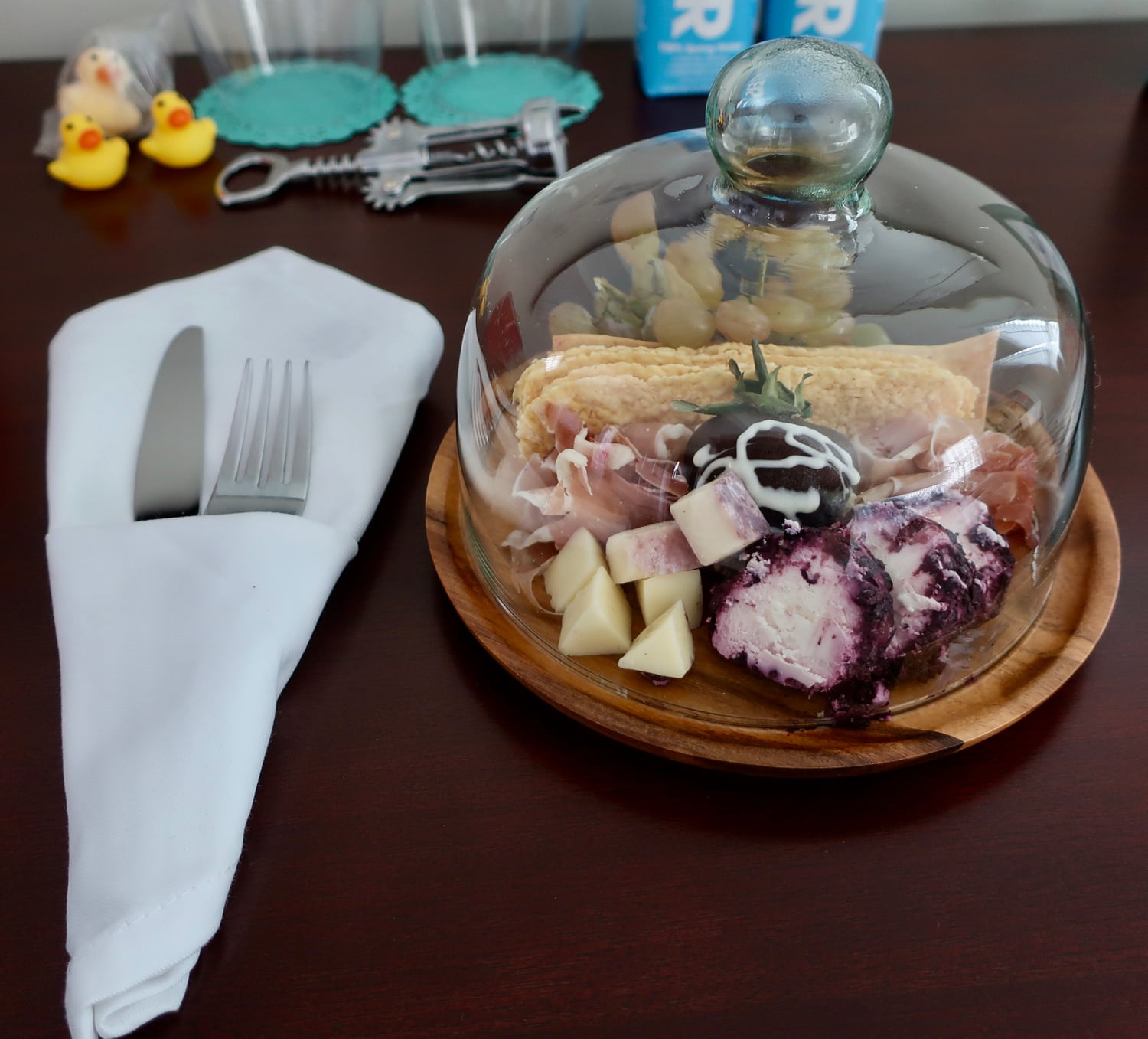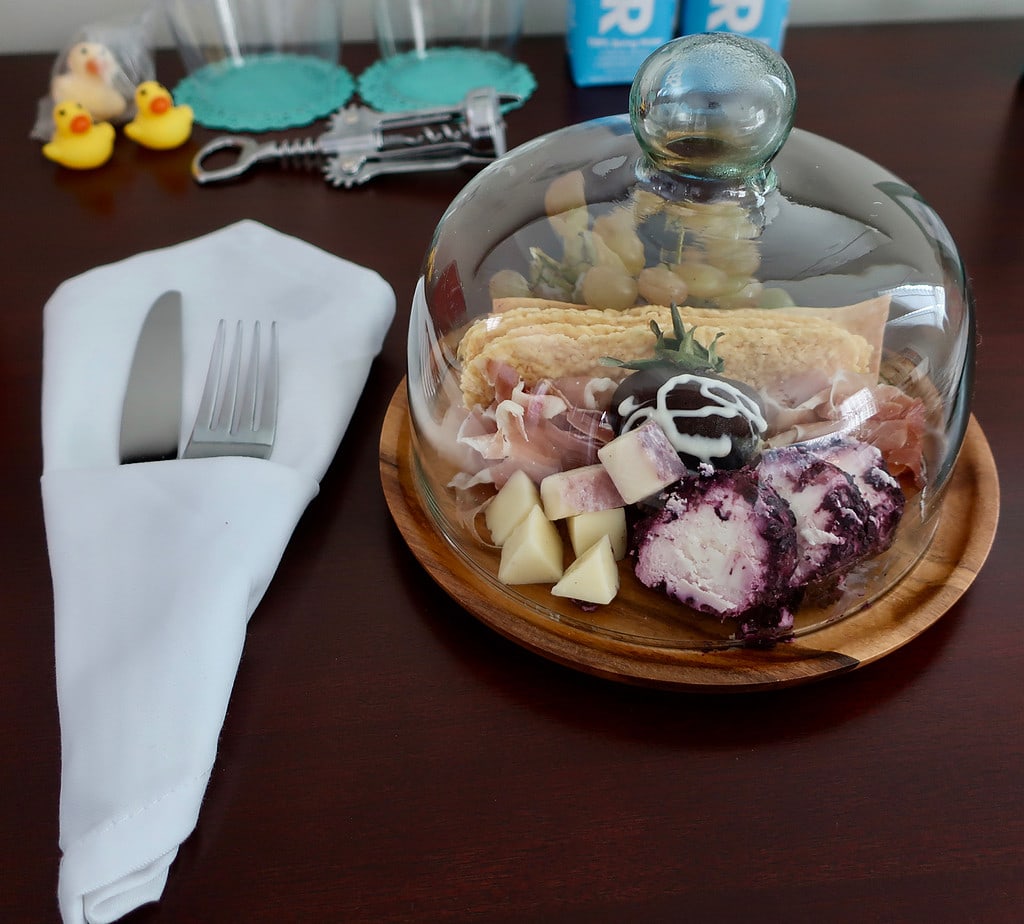 To make it uber romantic, order an "Enhancement" ahead of time. (For a fee) you can have a beautiful cheese plate waiting in your room, perhaps with a chilled bottle of Prosecco.
Just the Facts
Rooms start at $235 midweek off-season, and rise to $440 per night weekends in season. $515 for 2-bedroom family suite. Includes gourmet breakfast, treats, snacks, boxes of water, use of beach-cruiser bikes, mini-duckies. The "Elopement Package" for couple and up to 4 witnesses includes a local officiant, 6" cake, and champagne toast, $650 (does not include room).
Care to explore around? Check out out Madison CT and Nearby Clinton post, and neighboring Guilford CT.
And, check this post out for more Romantic Hotels in CT.
All articles belong to Getaway Mavens LLC, and all photos belong to us as well, unless otherwise noted. It's all copyrighted. Please don't repost anything elsewhere without asking us first. All rights reserved. This site uses cookies to enhance your experience.
We make no guarantees of any price listed on our site. We are not responsible for content on external websites linked to ours, including linked resources, an external blog post, any partner site, hotel property sites, or affiliate sites. We only write about places we have vetted, but can't guarantee that your experience will be exactly the same.
Posts may contain affiliate links at no cost to you. Several of our trips are also compensated by the respective tourism boards for the city or state we are visiting. This never impacts how we share the destination with you – opinions are always our own and we pride ourselves on that. We do not sell links or accept unsolicited guest posts under any circumstances. Don't even ask.
United States Copyright, Getaway Mavens, LLC