At a time when graciousness and good cheer seem to be in short supply, especially in the hospitality biz, these 25 romantic hotels in Virginia offer warm, friendly welcomes and honest to goodness service. Celebrate, or reanimate, your relationship with a day or two in one – or more – of these exceptional lodgings.
To help you plan, we've divided Virginia into four sections: Northern, Central, Southern, and Coastal (both Chesapeake Bay and the Atlantic Ocean towns).
Romantic Hotels in Northern Virginia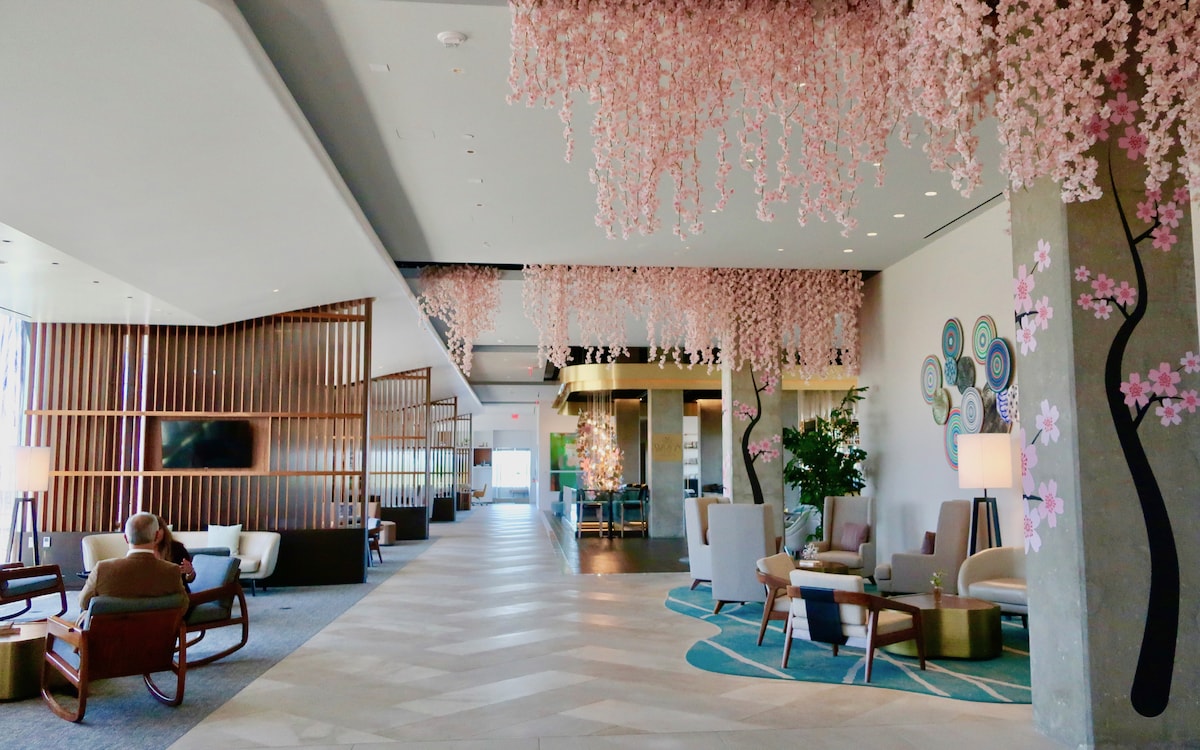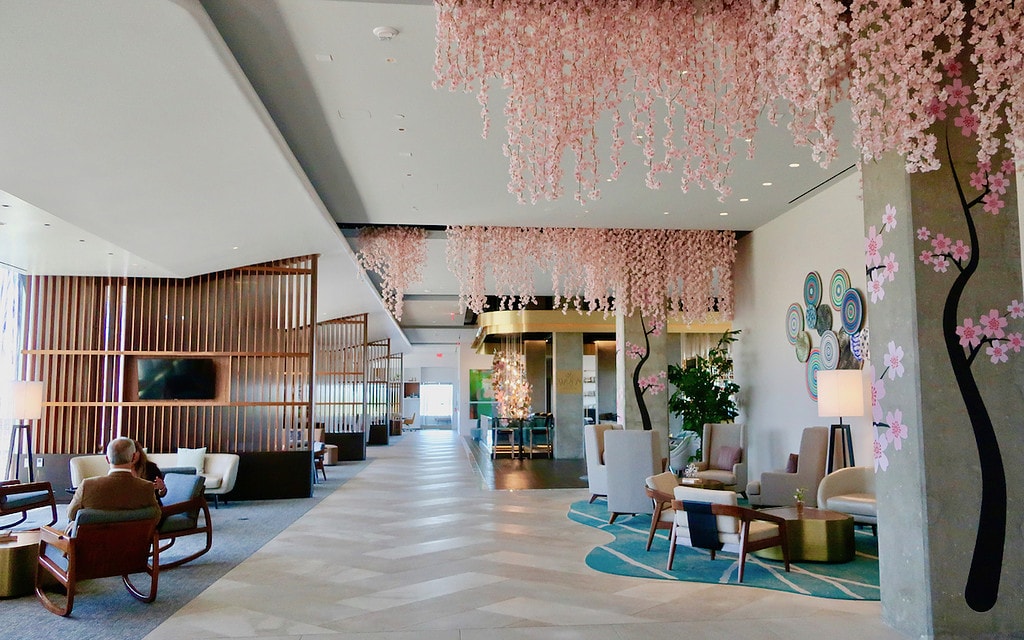 The Watermark Hotel Tysons
Does your idea of a romantic getaway involve an authentic Japanese dinner, followed by a round of Putt-Putt, some craft brews, frozen rum drinks, and live music? Or – would you prefer just sipping wine on your balcony overlooking others doing all that? Either way book a modern-luxury suite at The Watermark Hotel at the Capital One Center in Tysons VA.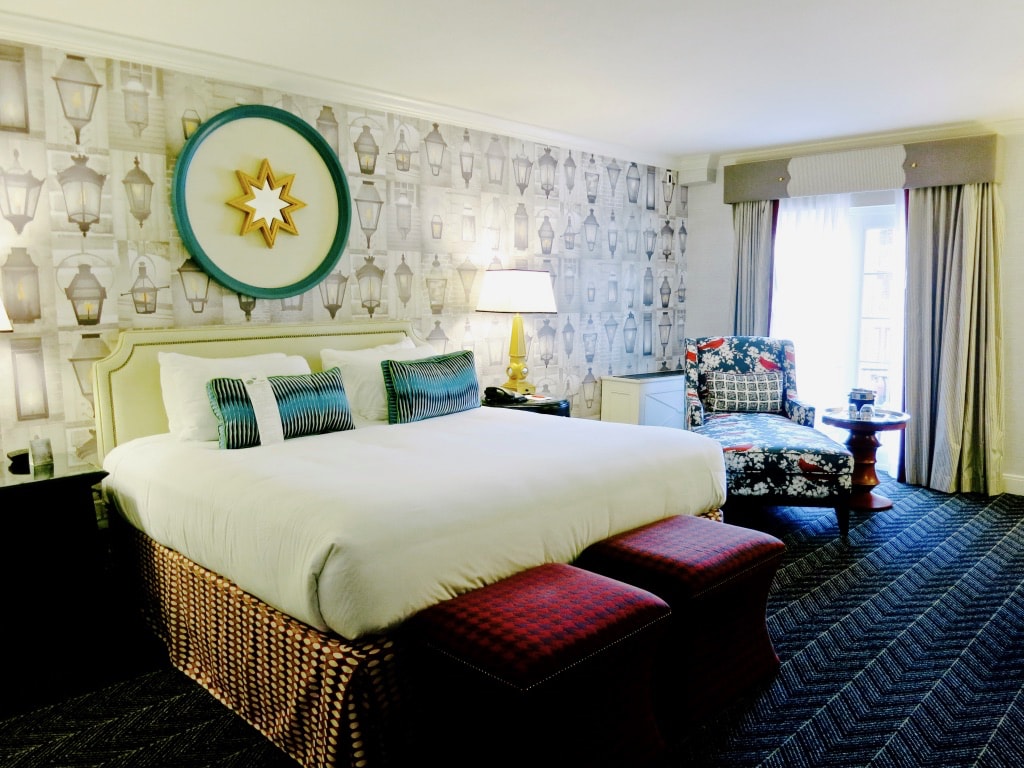 The Alexandrian (Autograph Collection), Alexandria
Although the Alexandrian has all the hallmarks of a romantic hotel – a super cool color saturated, chic ambience, attention to detail, attentive service – it also has quite the quirky history.
This location, in Alexandria VA, has always been an inn, ever since the 1850's when Confederate-friendly Marshall House stood on site, flying the Southern Cross proudly from its roof. Legend has it that the owner wanted to stick it to Abe Lincoln, who "could see the flag from the White House."
Union officers came to take the flag down, and in the process killed the inn's owner. But not before he shot and killed one of them. This was considered one of the first – if not the first – volleys in the Civil War.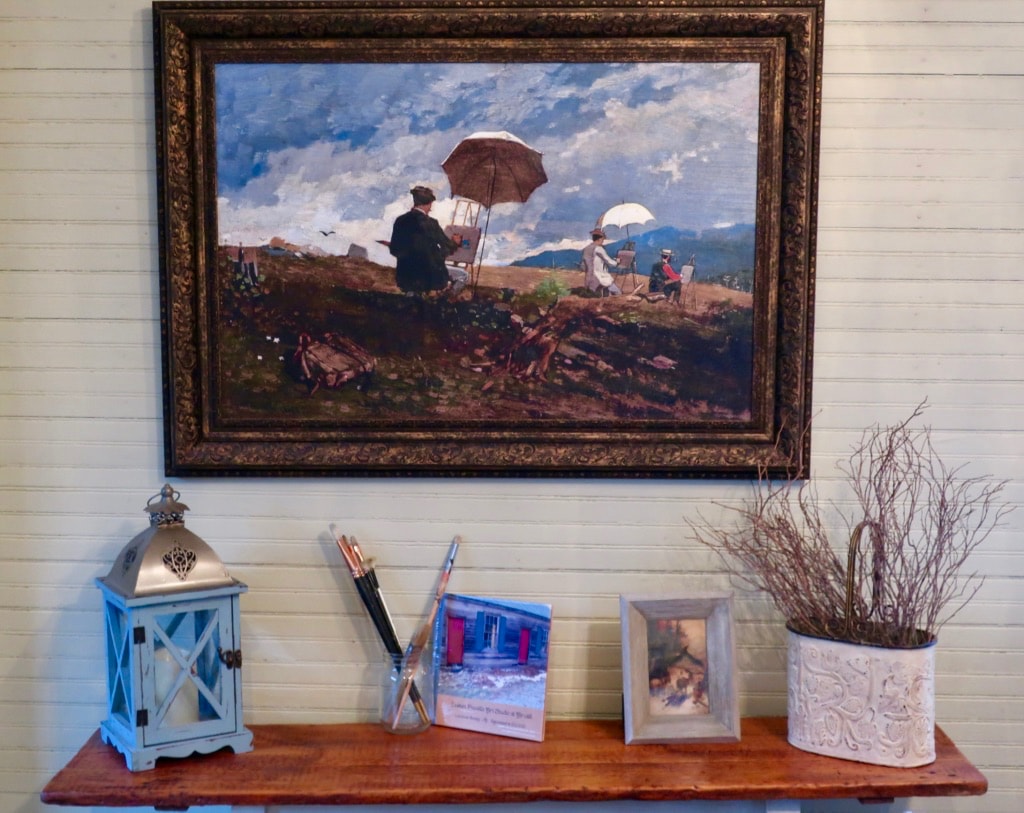 Airwell B&B, Purcellville
Formerly a home owned by landscape artist, Lucien Powell, Airwell in Purcellville VA is now one of the most romantic B&B's in Virginia's Wine Country. The main house and cottages sit on five acres of lush gardens, trees, and stone fences, which presumably haven't changed much since Powell's time.
Visitors can luxuriate in the tranquility of Blue Ridge Mountain views; ponder life with a glass of wine (purchased from a vineyard nearby) on one of the patios; soak in the main house hot tub; or winery-hop nearby.
For the ultimate amorous escape, book Powell's former art studio – re-imagined as a contemporary cottage – and have breakfast brought to you in a hamper.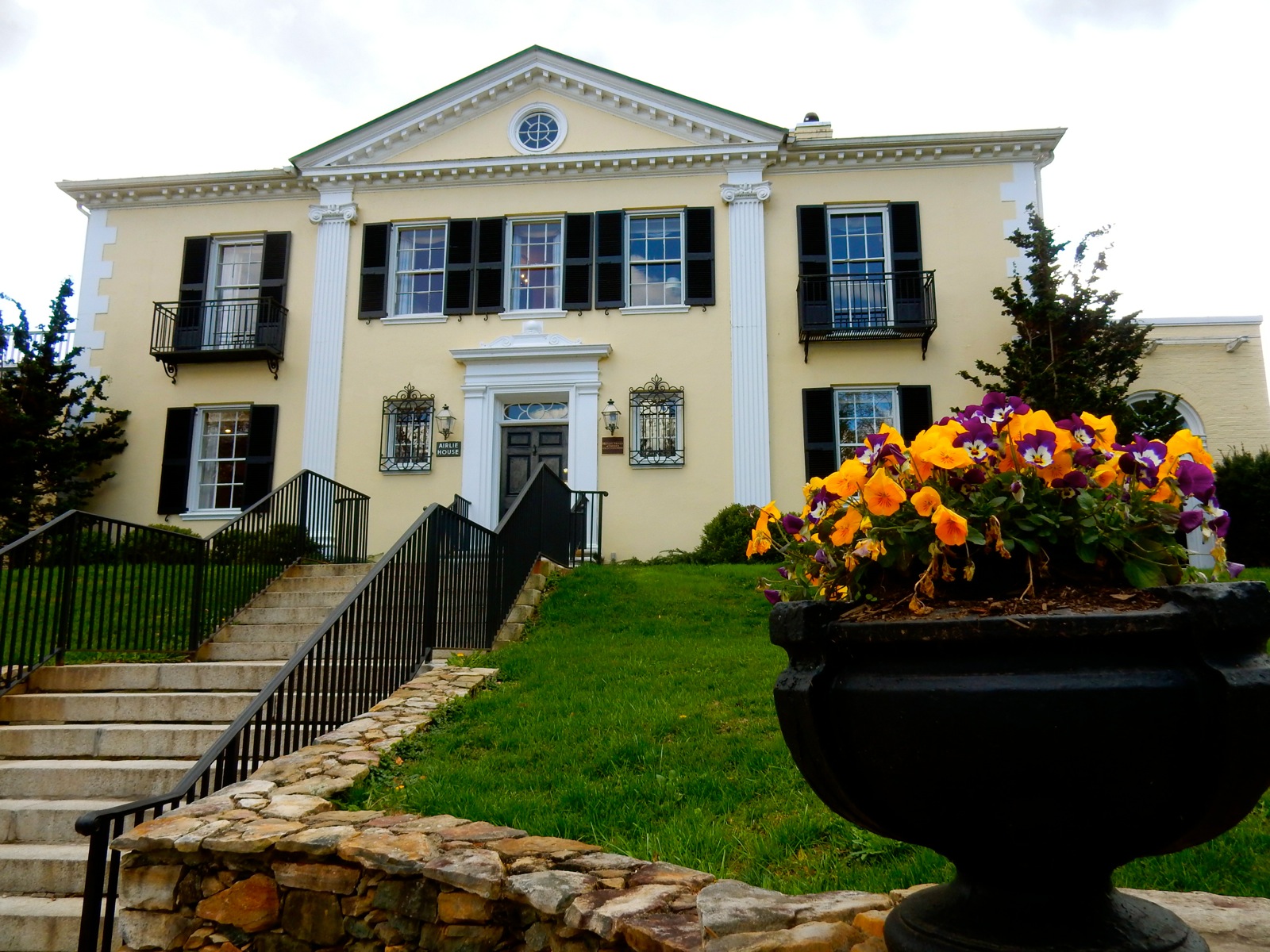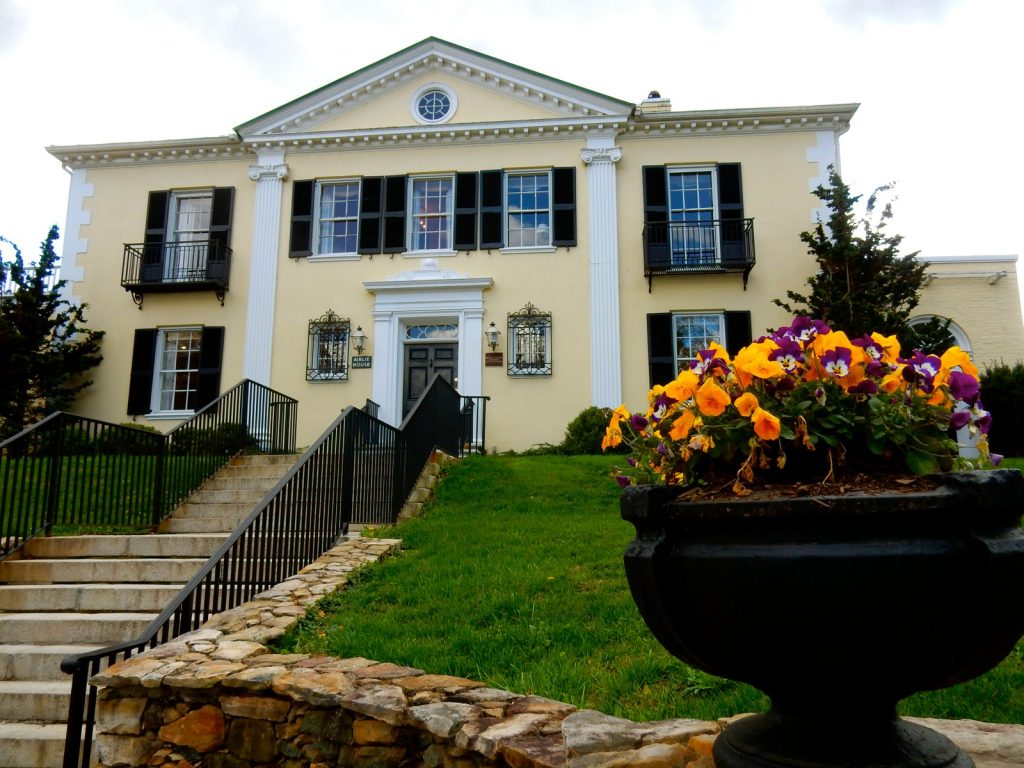 Airlie Resort, Warrenton
Take a deep breath as you pull into the long drive of Airlie Resort. Rolling hills, stonewalls, undulating backcountry roads meld into a kind of fairyland idyll.
Formerly a conference center, now leisure travelers are welcome to stay in rooms set inside cottages and buildings clustered around the property. Airlie Resort is particularly excellent for non-platonic couples who can learn the art of archery on site: and then "walk through Cupid's Grove together." (John Adams, 1776 Musical lyrics).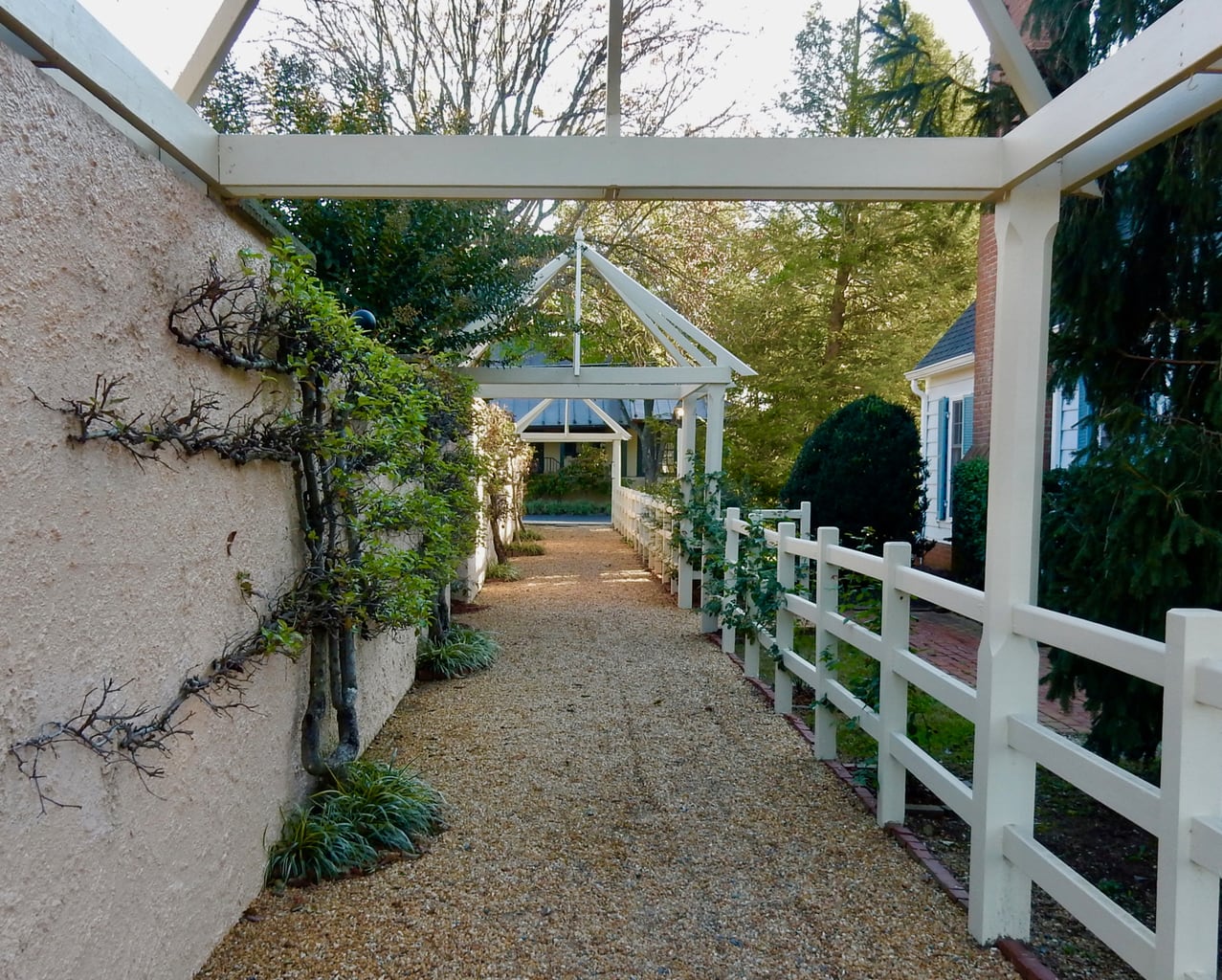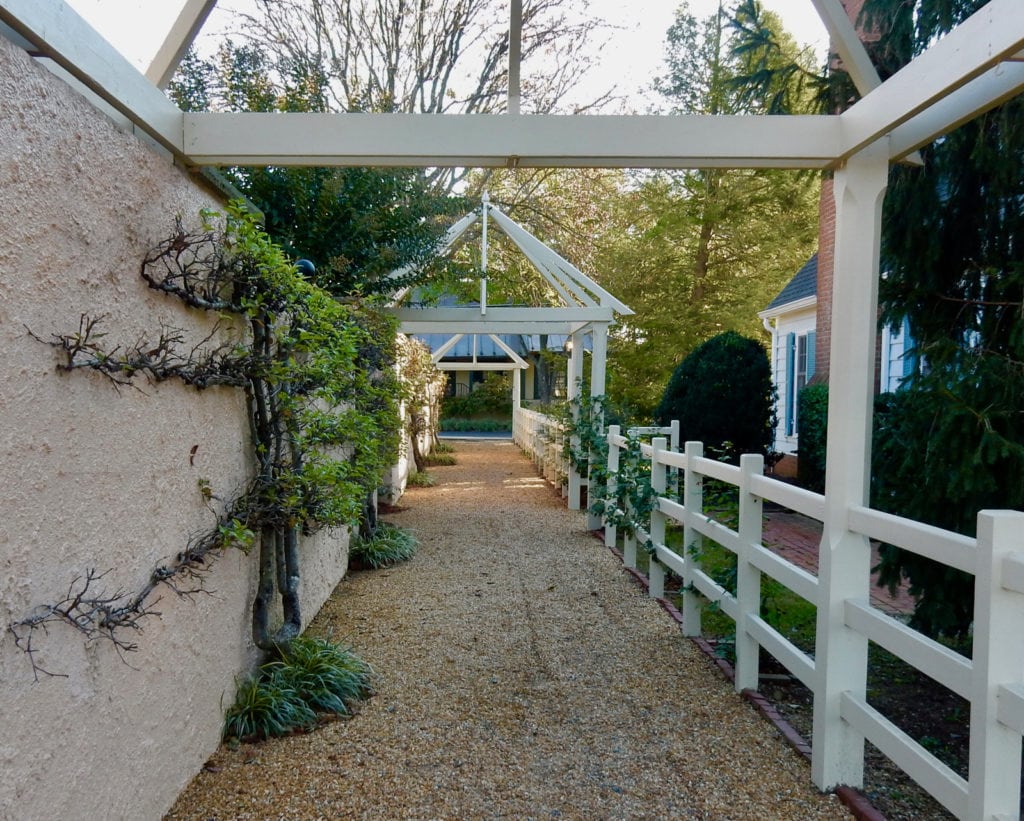 Red Fox Inn and Tavern, Middleburg
If you've heard about the tiny burg of Middleburg VA, it's probably because of the venerable and highly luxurious Salamander Resort, just out of town. But for those looking for a unique in-town stay, the lesser-known Red Fox Inn and Tavern, established in 1728, is one of the oldest and finest inns in the country.
Bold Faced Names, like Elizabeth Taylor and Jackie Kennedy, stayed here during fox-hunting seasons of yore. But, even if you're not Bennifer 2.0 or some other celebrity couple, the friendly staff make you feel like one.
Romantic Hotels in Coastal Virginia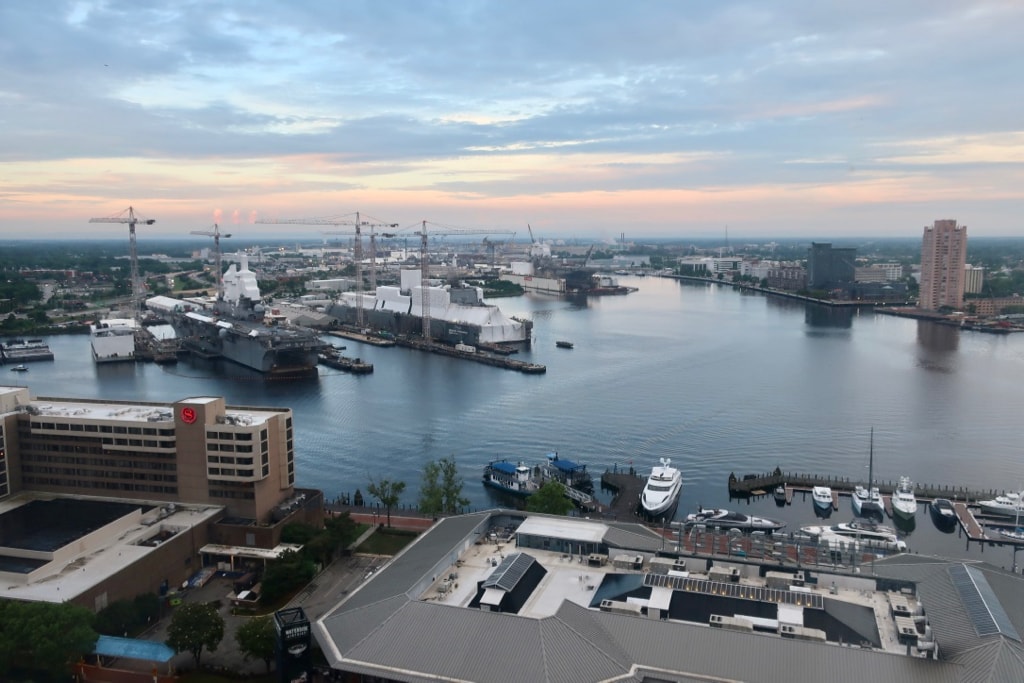 Norfolk Hotels On/Near Waterfront
Although it's home to the largest Naval Base in the world, Norfolk VA has a growing arts and foodie scene the envy of many East Coast towns. Choose any hotel on the harborfront: Marriot, Hilton, Sheraton, and it's instant romance, with cobblestone streets and views of Navy ships coming and going.
Alternately, stay at the glossy Glass Light Hotel (Autograph Collection), a few blocks from the water. Interior design is so playful – with cool translucent and colorful glass art pieces throughout – you won't miss the harbor views at all.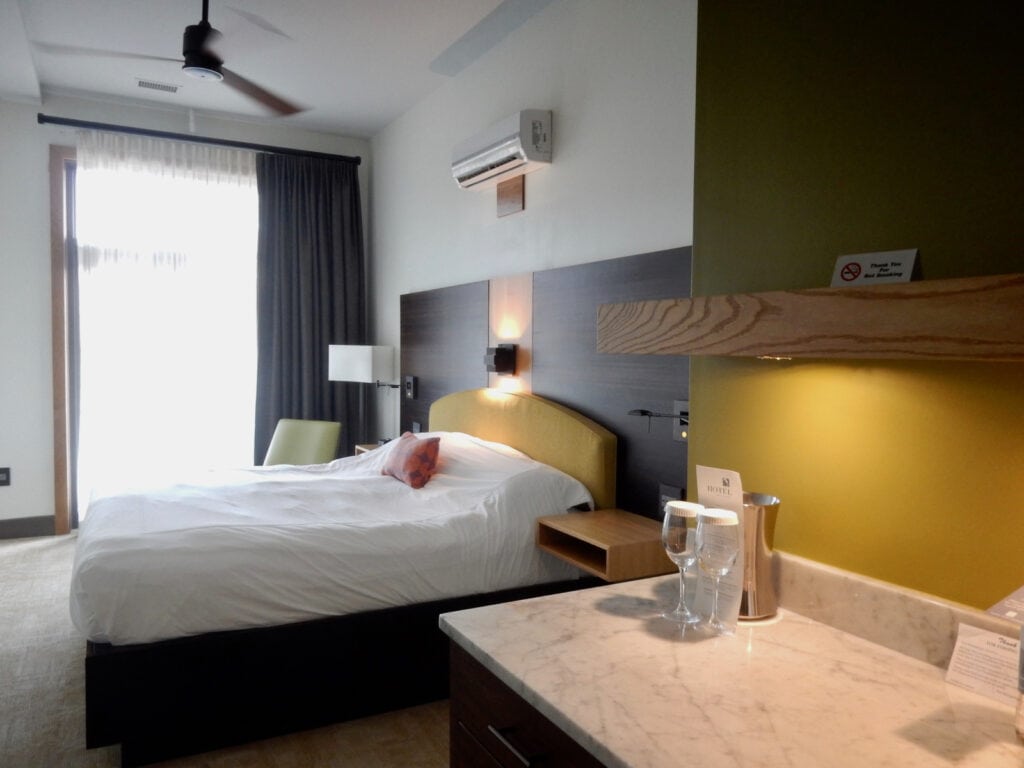 Hotel Cape Charles, Cape Charles (Delmarva Peninsula)
A boutique in every respect (small number of rooms, design forward, easy-breezy reception), the 22-room Hotel Cape Charles is a smashing way to stay in Cape Charles VA, a beach town near the Southern tip of the Delmarva Peninsula.
Balcony rooms are soothing and poppy – with white comforters, high ceilings, canary yellow bed headboards, and a small balcony with seating overlooking Mason St. For couples that love to discover new places through booze-makers, the uber-popular Cape Charles Distillery is literally right across the street.
Romantic Hotels in Central Virginia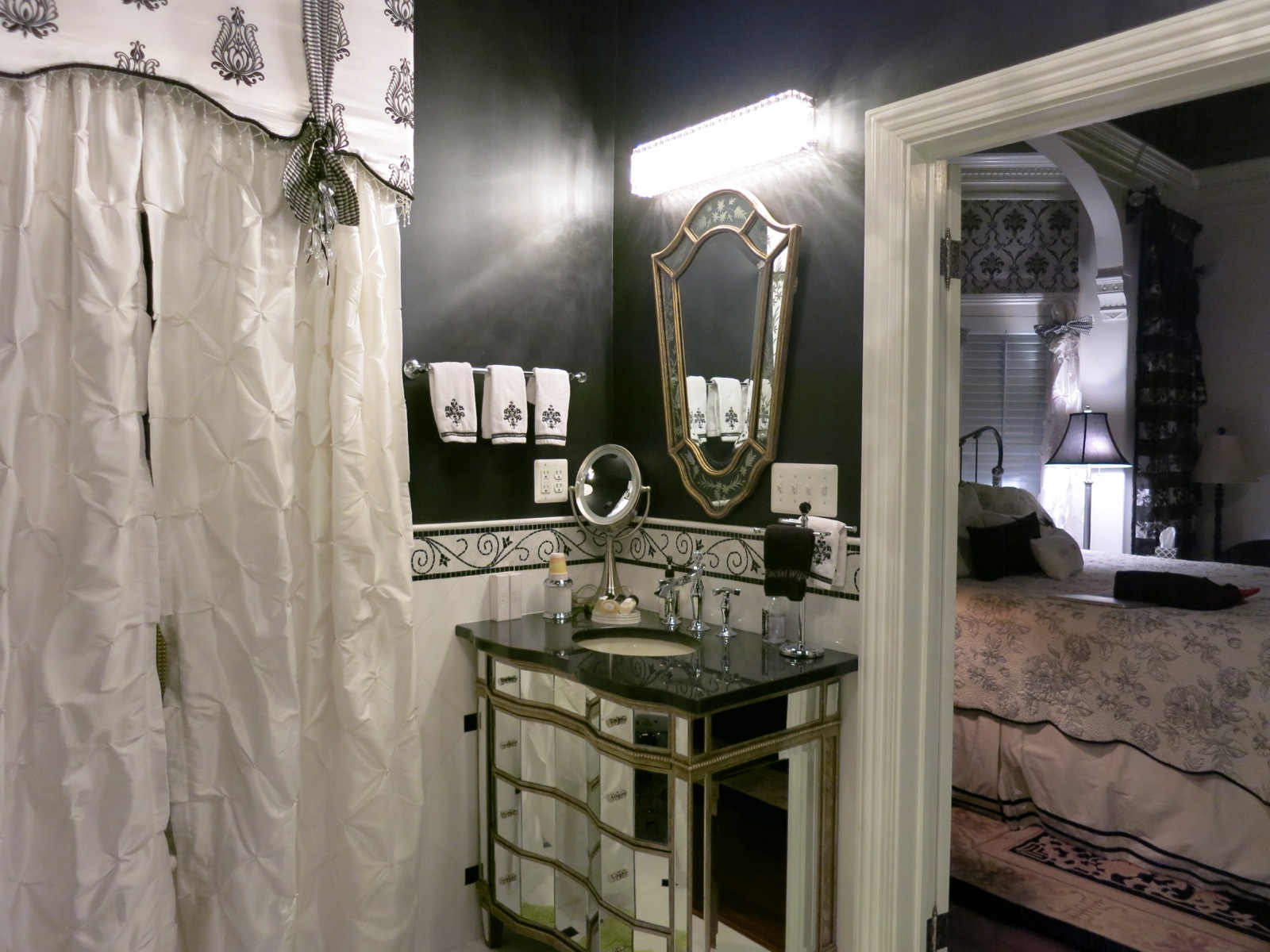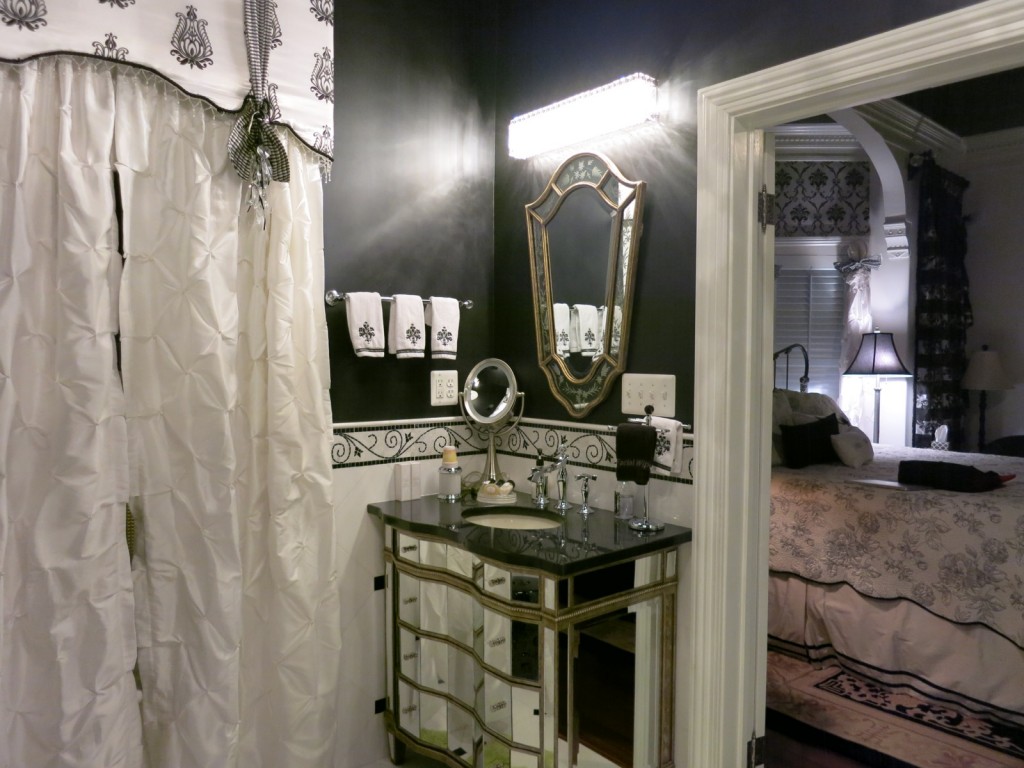 1890 Caroline House and The Richard Johnston Inn, Fredericksburg
Right at the edge of the cute-boutique section of town, the beautifully decorated three-room 1890 Caroline House in Fredericksburg VA, balances 1920's chic with 2020's kick.
The Sawyer Scott Room – with crown moldings, bay window, black and white pallet, high tech jet tub, glass shower, wrought iron bed, gas fireplace, mirrored vanity desk, dark walls and sparkling crystal chandelier, could be one of the most popular on a "House Design" tour. Whimsically sumptuous – it makes for a great romantic hideaway.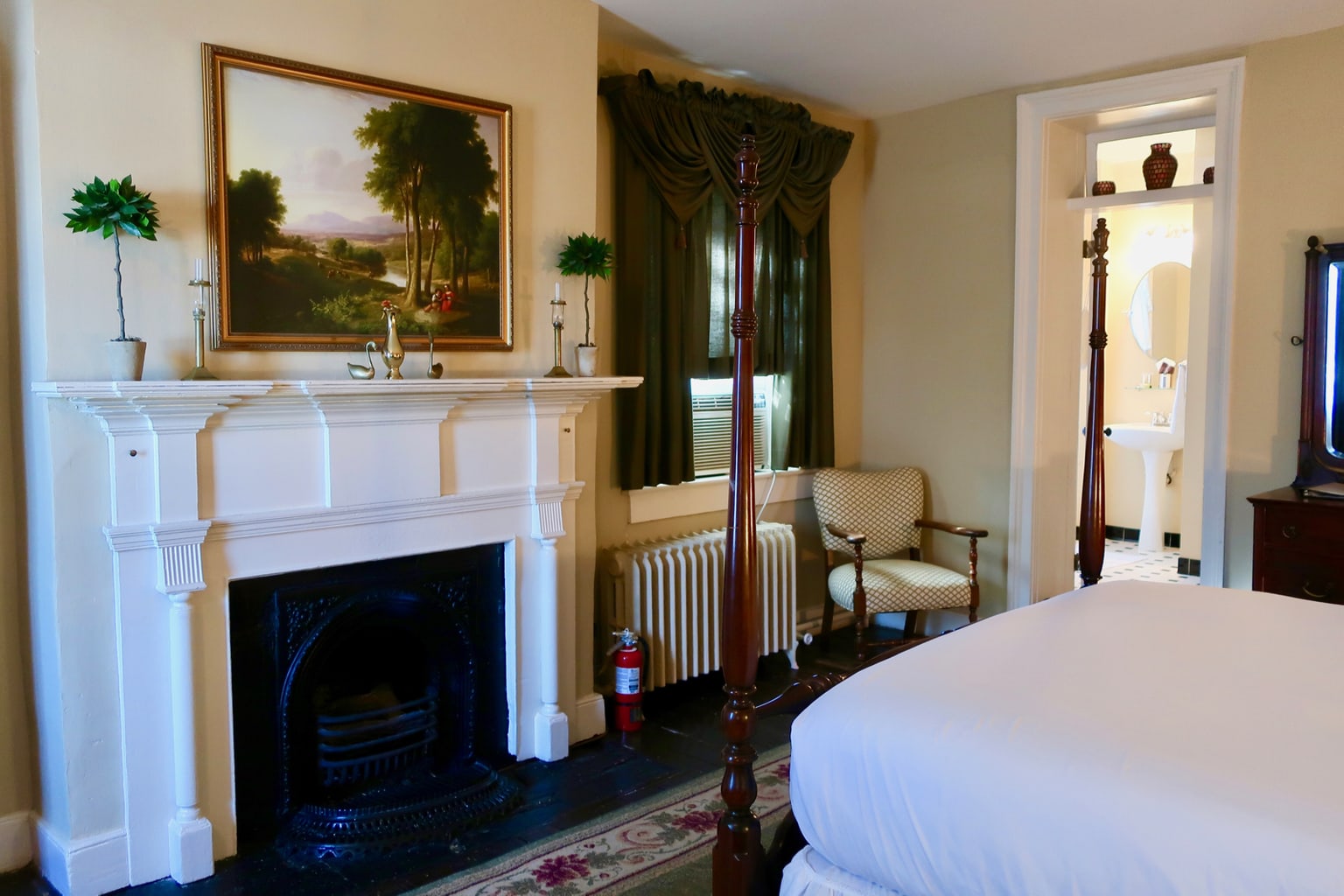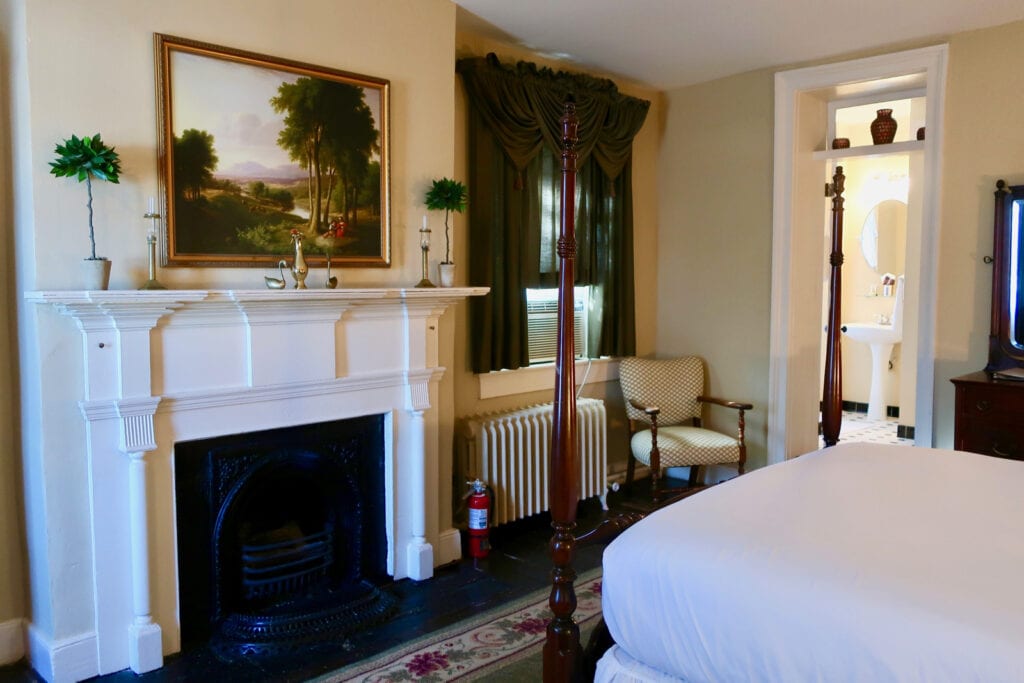 Holladay House, Orange
Are you historians in love? Then, plan to stay at the six-room Holladay House, three miles from the tour-able estate of the "Architect of the US Constitution," James Madison.
Holladay House occupies one of the oldest, most historic, homes in Orange VA. Madison's grand nephew, John Madison Chapman, built the house in 1830 (with additions in 1910 and 1970), borrowing some architectural elements from his Great Uncle's home.
The inn is as handsome and fine a lodging as you'll find in this walkable town. The communal parlor is light and bright. The dining room reflects the prestige of the home's prior owners. Lovely guest rooms and suites are dressed in Federal finery. But the height of a Holladay House stay is breakfast: each dish is divine.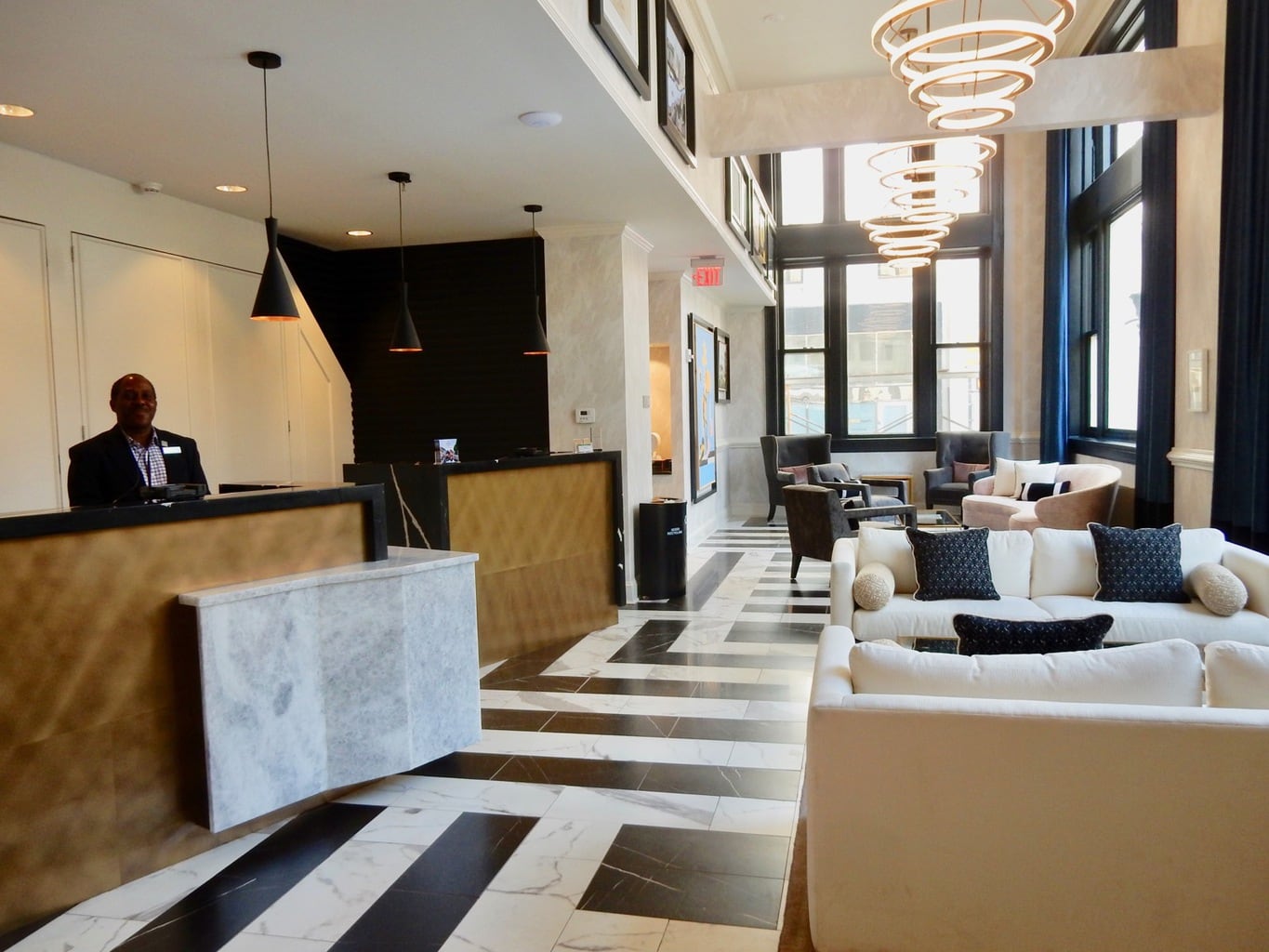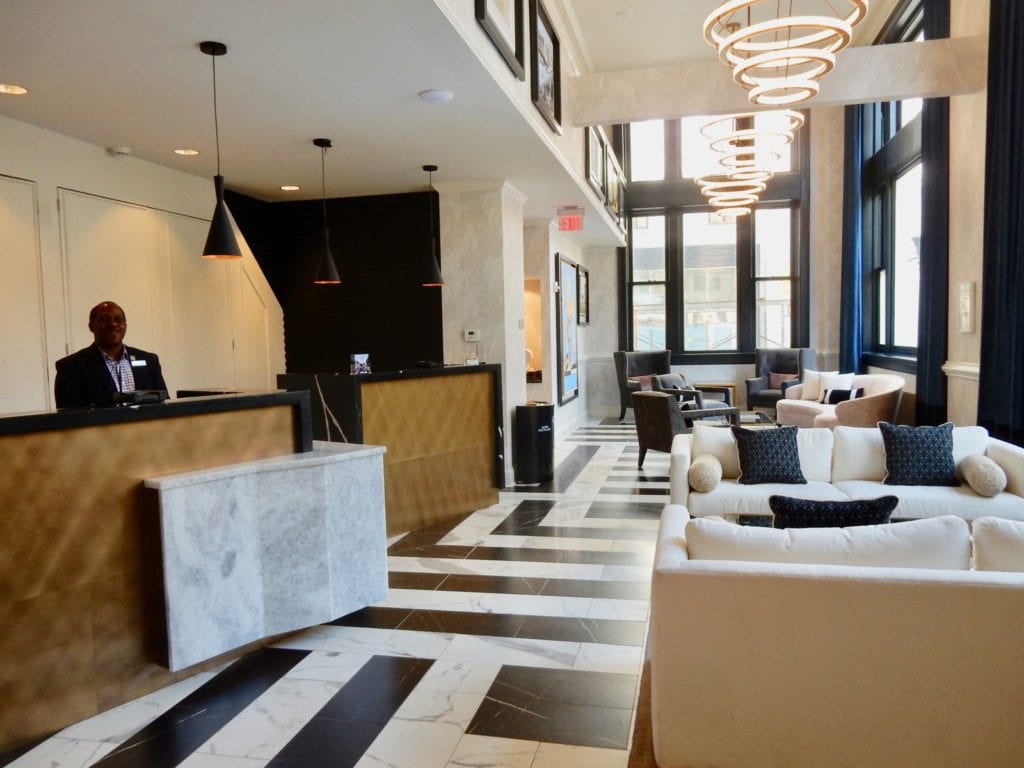 Richmond Boutique Hotels
As Richmond VA grows in popularity with couples looking for romantic getaways, boutique hotel options are increasing as well. Try the Linden Row Inn for friendliness, history, and excellent in-town location without having to spend a mint.
The renovated Commonwealth Hotel stands a stone's throw from the Virginia State House, and features direct views of the Capitol Building from some modern, stylish rooms. Both The Quirk and The Graduate hotels are also drawing lovebirds looking for a nest for the night in Richmond.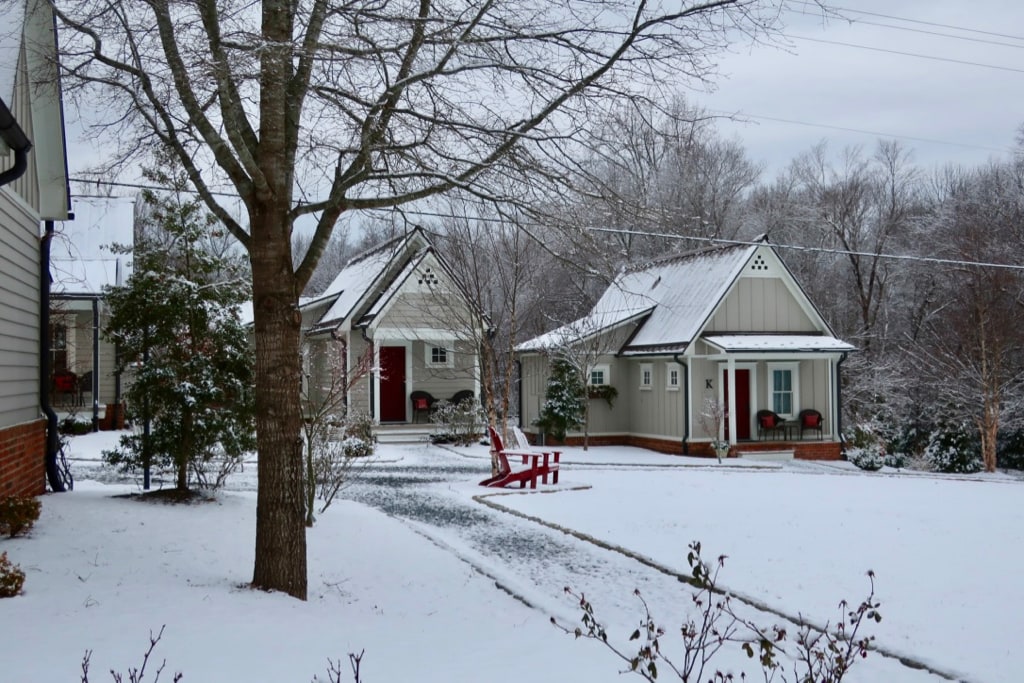 Cottages at Mill @ Fine Creek, Powhatan
The Mill at Fine Creek, 30 miles west of Richmond VA, is composed of a wedding venue, a fantastic brewery – Fine Creek Brewing – and a series of small boutique guest cottages, just perfect for a romantic getaway.
Richmonders are lucky to have this relatively isolated place so nearby. But even New Yorkers have discovered Cottages at Fine Creek, happy to drive six hours to get here. Hiding out in one of these tiny abodes is a perfectly pleasing way to escape the bedlam of the city.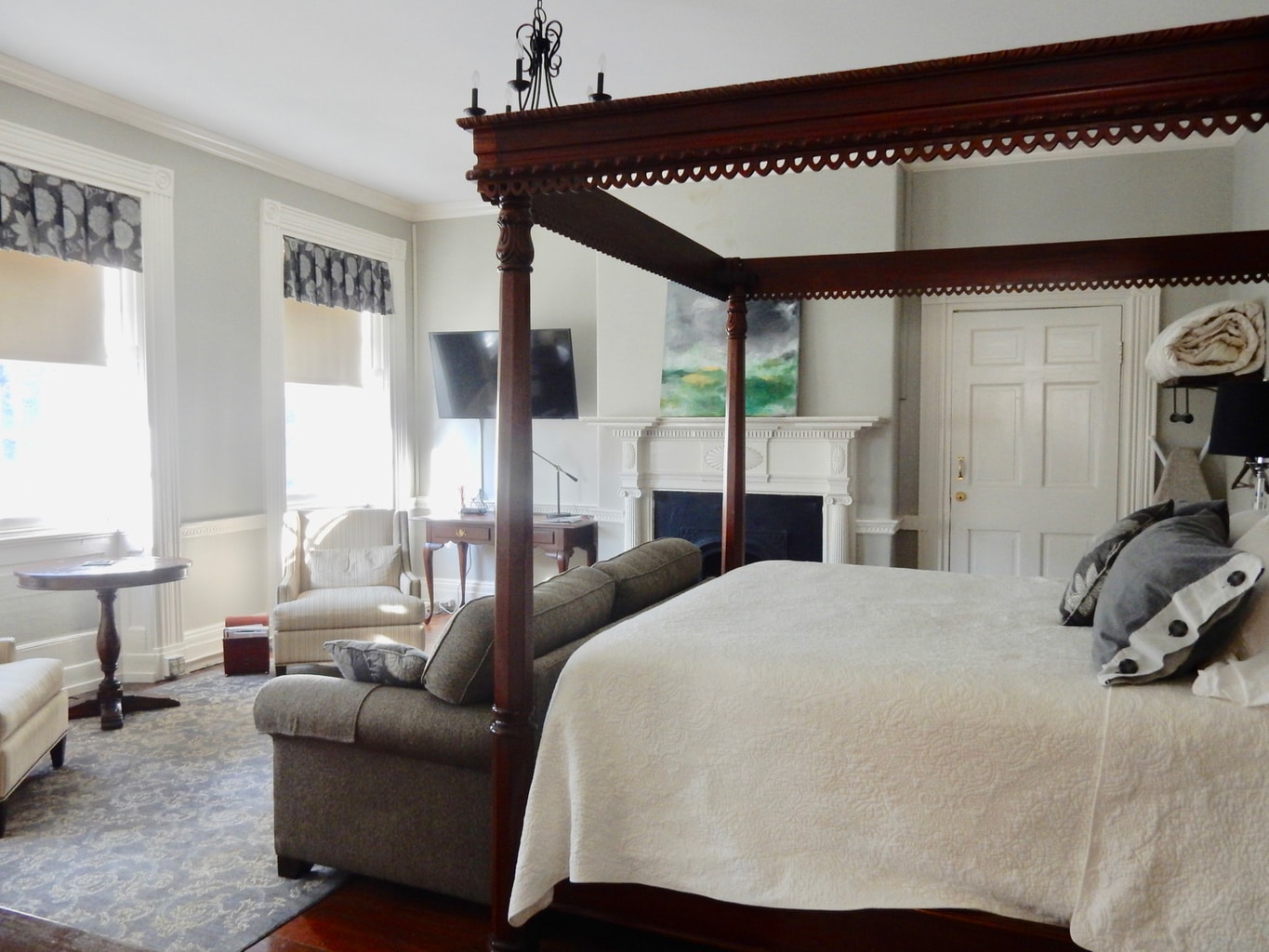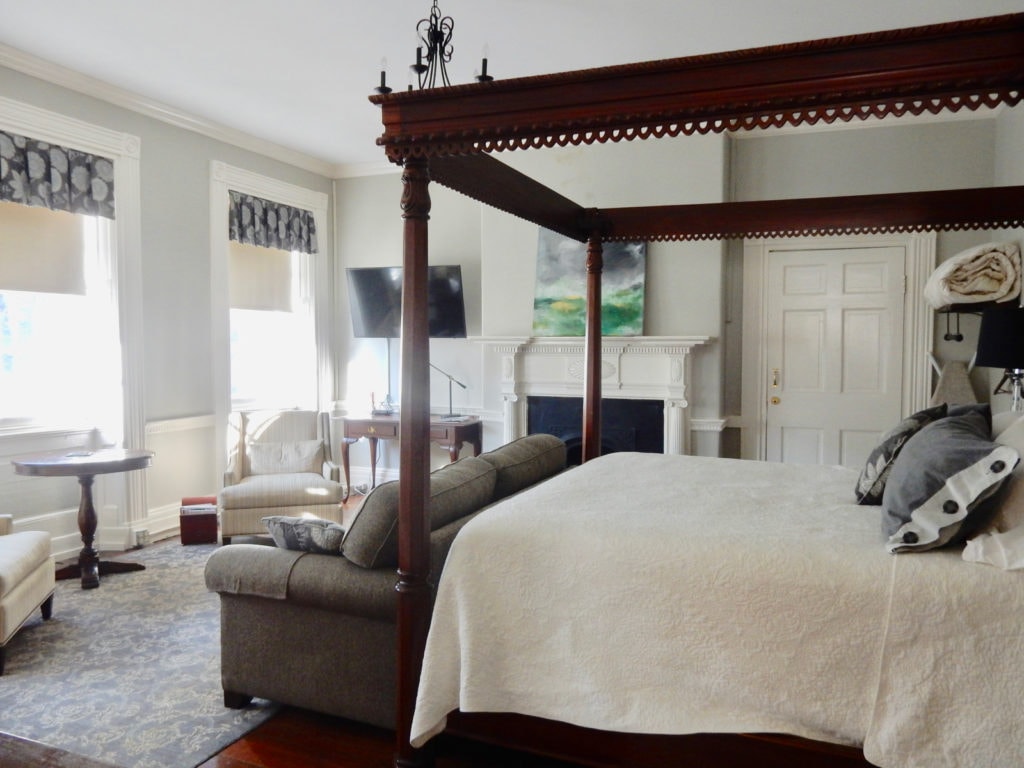 Dinsmore @ The University, Charlottesville
All nine rooms at Dinsmore Boutique Inn in Charlottesville VA are elegant, with lovely attention to detail. There are tiled showers and claw foot tubs, original floors and doors, four-poster beds and fireplaces – what you'd expect from a small posh inn.
But I'd venture to say that this is the only lodging where the restaurant chef also makes the proprietary bath salts. If there's no room at the inn, consider either the funky high-style Draftsman (Autograph Collection), or collegiate-inspired Graduate Hotel – both also downtown.
Romantic Hotels in Southern Virginia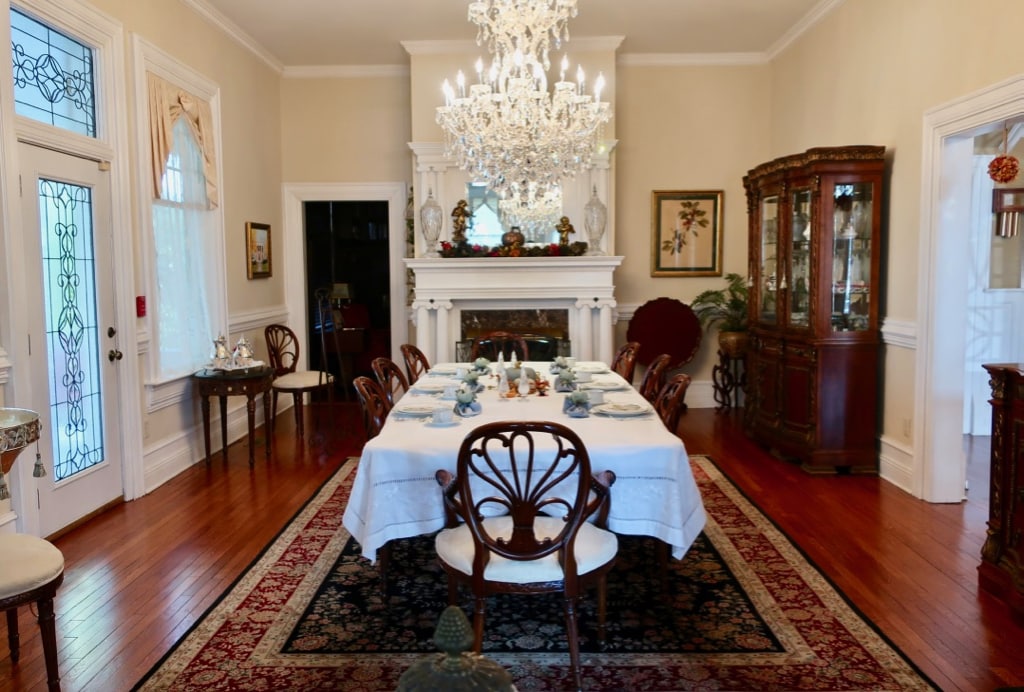 Trinkle Mansion B&B, Wytheville
The Trinkle Mansion B&B has captured the hearts of those who have overnighted in rooms filled with tasseled drapes and needlepoint chairs, clawfoot tubs, and sturdy antiques.
The origin story of the Trinkle Mansion Bed and Breakfast has become a Wytheville legend in and of itself. Let's just say the rare and uber-dreamy "Juliet Balcony," jutting out over the foyer, played an integral part in its rescue and ambitious renovation.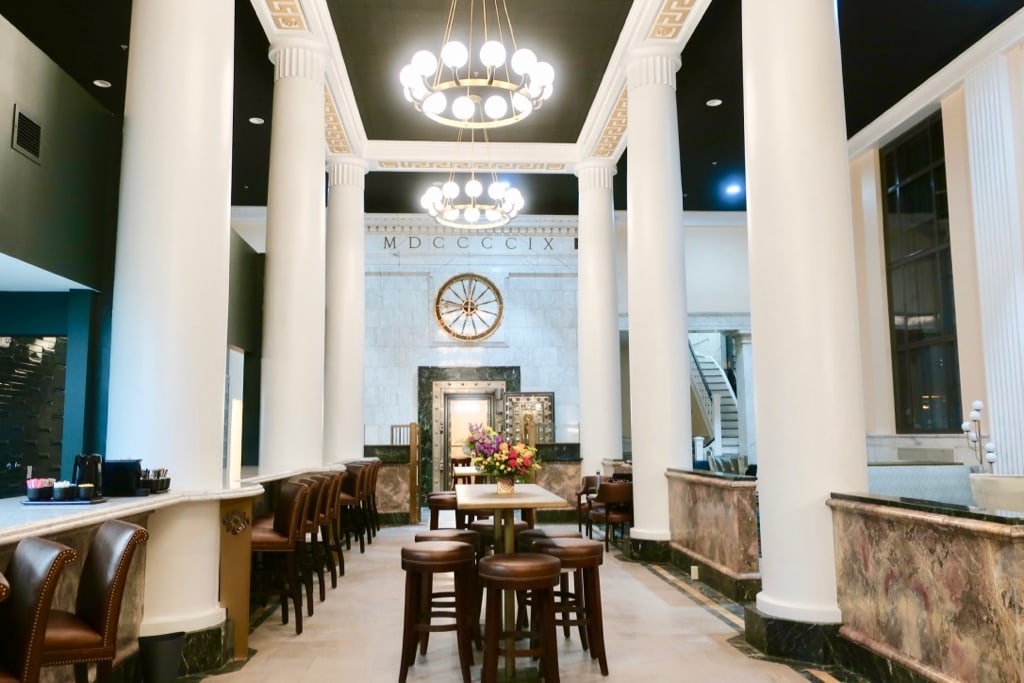 Liberty Trust Hotel, Roanoke
Boutique hotel lovers in love, seeking a rich overnight experience, will want to book where the rich used to stash their cash: at the 54-room Liberty Trust Bank – now the Liberty Trust Hotel in downtown Roanoke VA.
The 7-story French Renaissance and Beaux Art designed "Temple of Finance," (as one newspaper headline blared) was built in 1910 when banks were handsome, stately, and durable. Guest rooms are functionally modern and classy, some with views of the surrounding Blue Ridge Mountains. If available, book a cocktail in the stunning lobby vault – a space just for the two of you.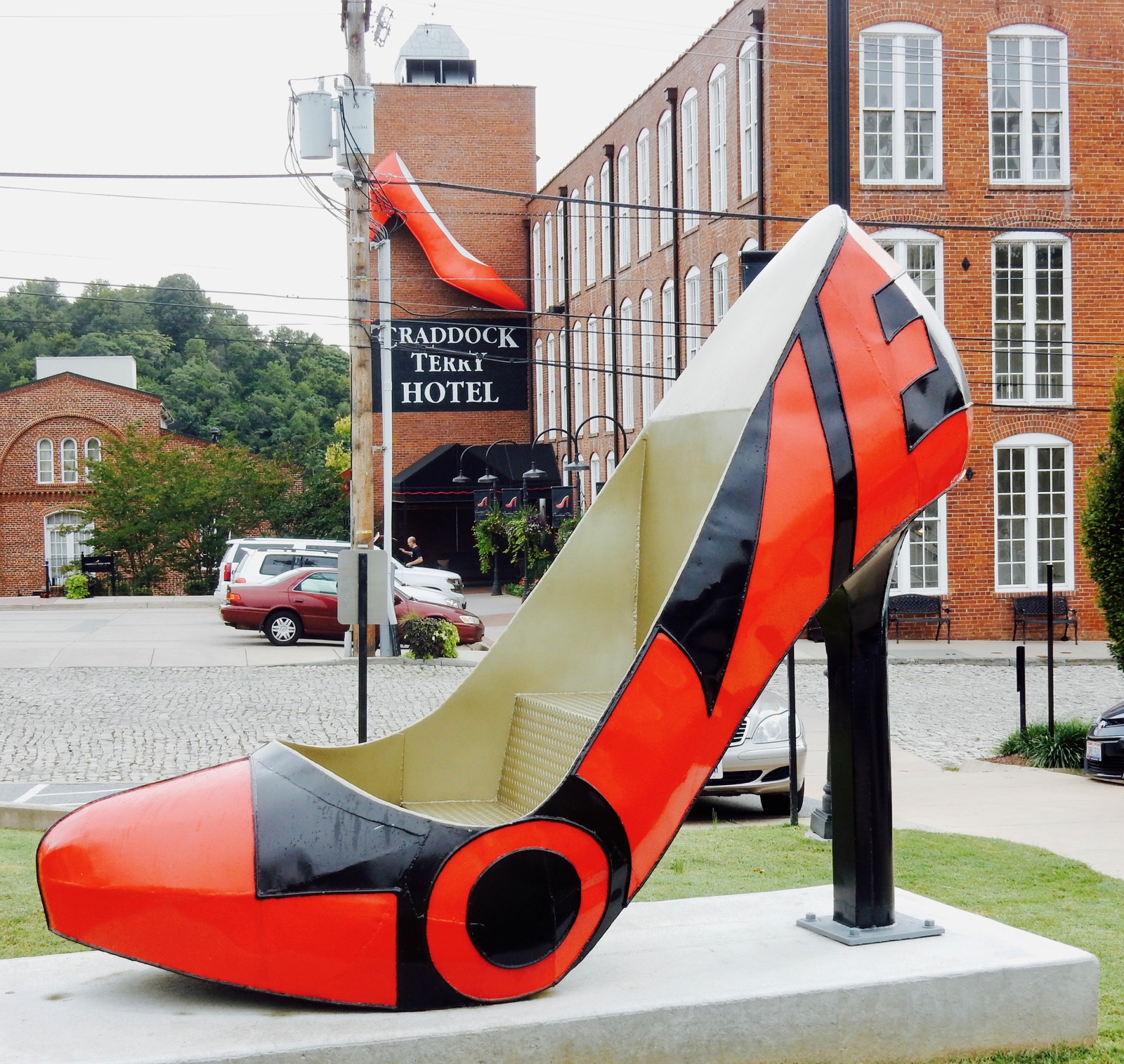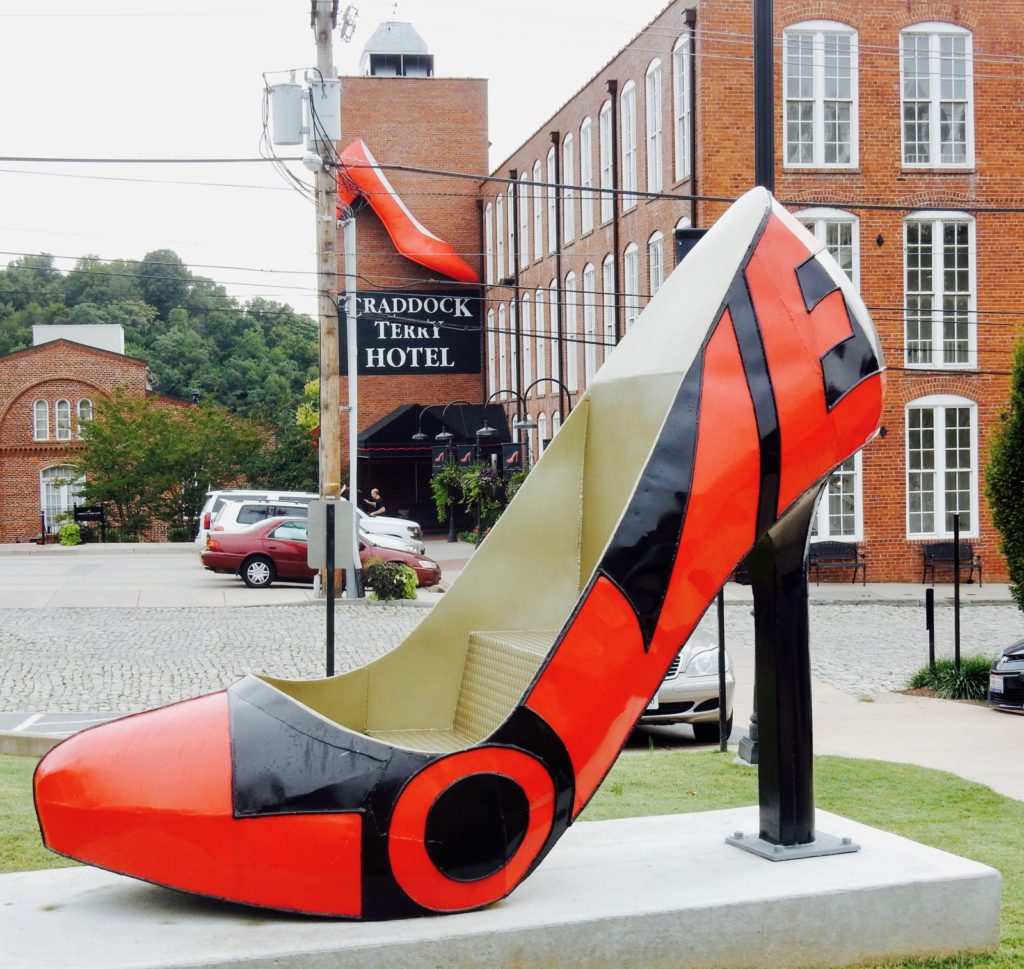 Craddock Terry Hotel, Lynchburg
Do you have a shoe fetish? Does footwear arouse your passions? Then book a room at the stylish Craddock Terry Hotel, in a repurposed shoe factory in Lynchburg VA. Impassioned lovers will find exemplary service, funky aesthetics, and charming, industrial-chic guestrooms.
Shoe art adorns the walls. The bath mat is in the shape of a foot. But the coolest artifact awaits you on the bed: a hefty wooden shoebox. Fill out the short form inside, leave the box outside your door, and sometime between 6 and 7am the next morning, you'll receive it back stocked with a full continental breakfast.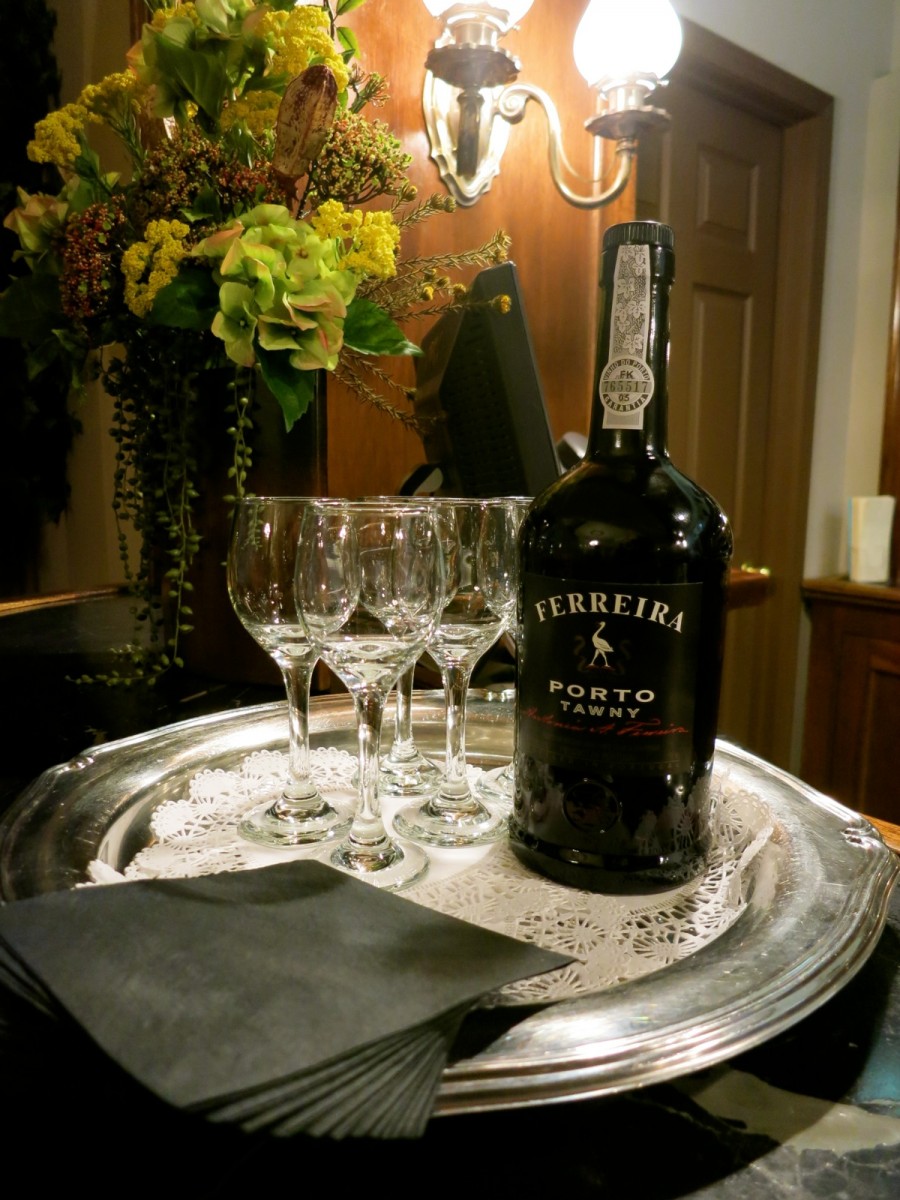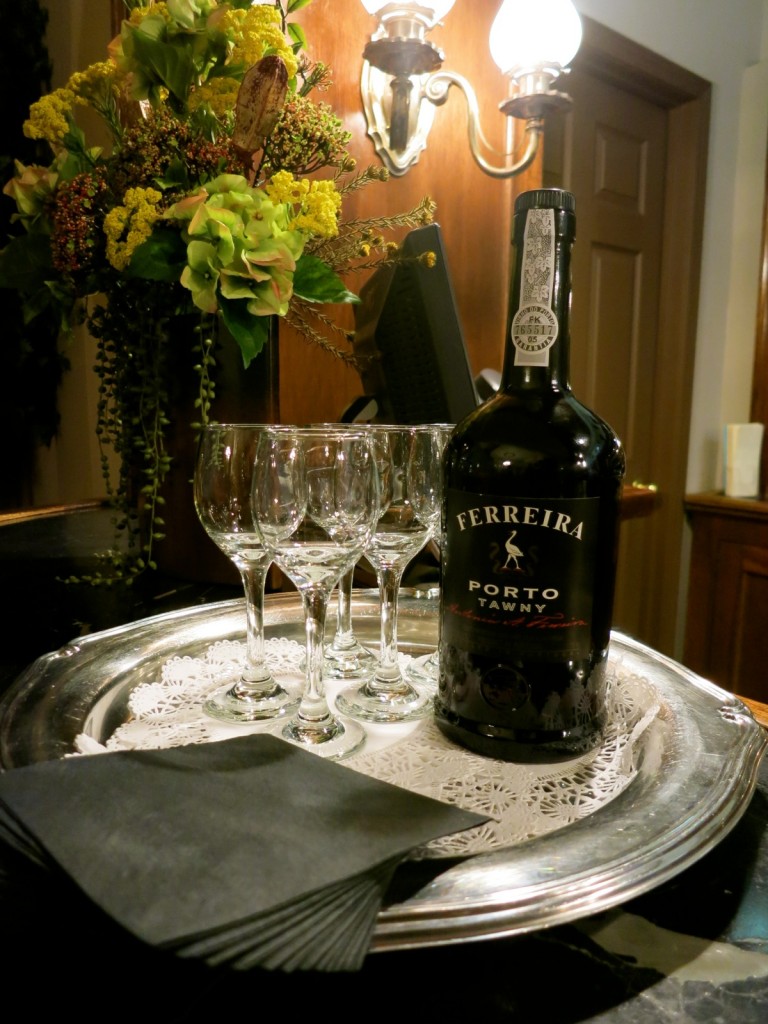 The Martha, Abingdon
Carpeted halls and stairs might lean and creak a bit, but what would a historic hotel be without a bit of off-kilter character? Formerly a mansion, then with the addition of two wings, a girl's finishing school in Abingdon VA, The Martha has been adjusting and settling into boutique hotel status since it was opened in 1932 (and renovated in 2006).
So, by virtue of its history, it's location (across the street from the famed Barter Theater), a top notch Spa, an indoor saltwater pool, and the Port it serves as a nightcap for guests, we proclaim The Martha one of the top romantic hotels in the region.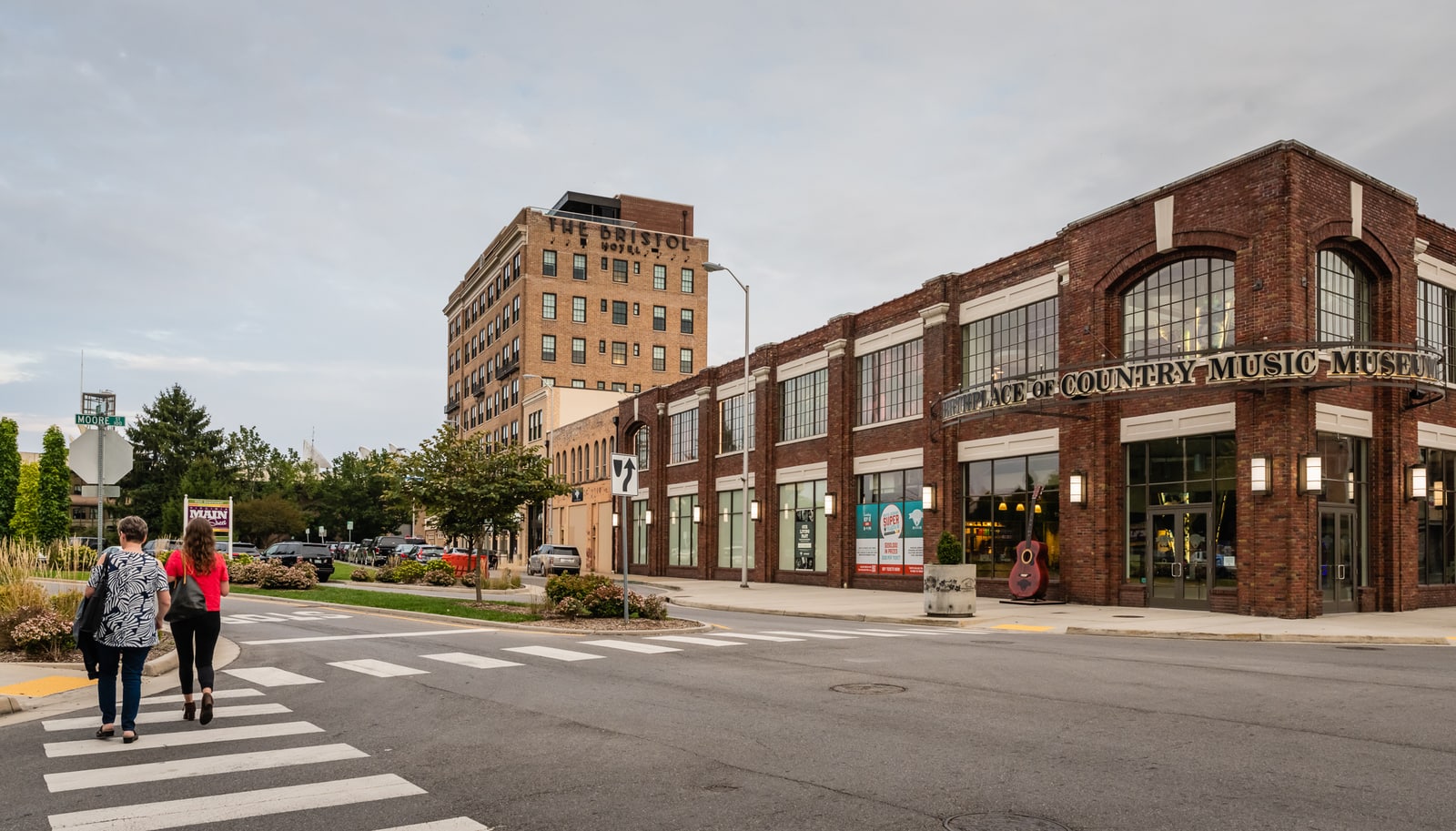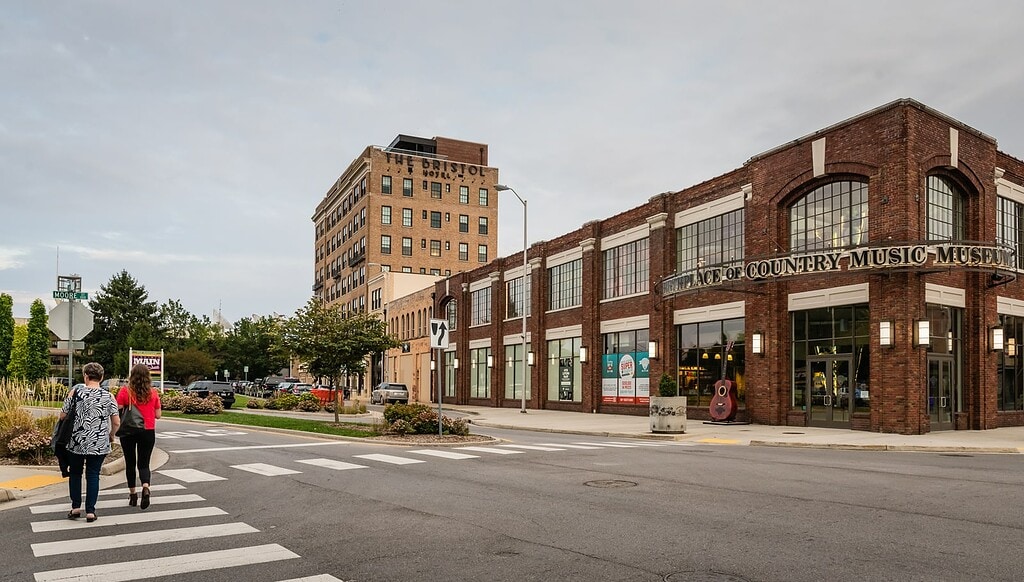 Bristol Hotel, Bristol VA
Next door to the Birthplace of Country Music Museum, The Bristol Hotel, a chic boutique hotel in the foothills of the Appalachian Mountains (on the Virginia side of Bristol), has a winning formula for high-end travelers seeking an upscale and stylish overnight stay.
If the two of you are hardened fans of country music, and want to learn about its origins in the USA, this is the best place to overnight.
But next-best-thing pilgrims will also be drawn here for the modern décor with historic design elements from the 1920s, including exposed brick with original pressed lettering, the former hand-crank elevator displayed in the lobby and Roman-arched entryways, eye-catching lobbies (there are two seating areas), and the phenomenal rooftop bar/lounge overlooking the city and surrounding Virginia and Tennessee mountains.