Last Updated on January 13, 2023 by Editor
WHY GO: Harrisonburg VA is no longer just a sleepy little college town (James Madison University) in Virginia's Shenandoah Valley. Things are happening here at a brisk pace – the type of things that the Getaway Mavens love.
There's a burgeoning, collaborative, spirits/beer/cidery community, a growing art presence with notable Quilt Museum and arts and crafts collective, a "Harvest Your Own" Lavender Farm, new indie-owned restaurants, and two unique, historic B&B's.
Come visit Harrisonburg and you will not be disappointed. Just don't expect to see the Pennsylvania State House. That's in HARRISburg, 200 miles up the pike.
Harrisonburg is on our list of 20 Surprisingly Romantic Getaways in VA. Check it out if you wish to explore the state further.
Looking for someplace dreamy outside of Virginia? Check out our 150 Best Romantic Getaways in the Northeast US (Virginia to Maine).
Things to do In Harrisonburg VA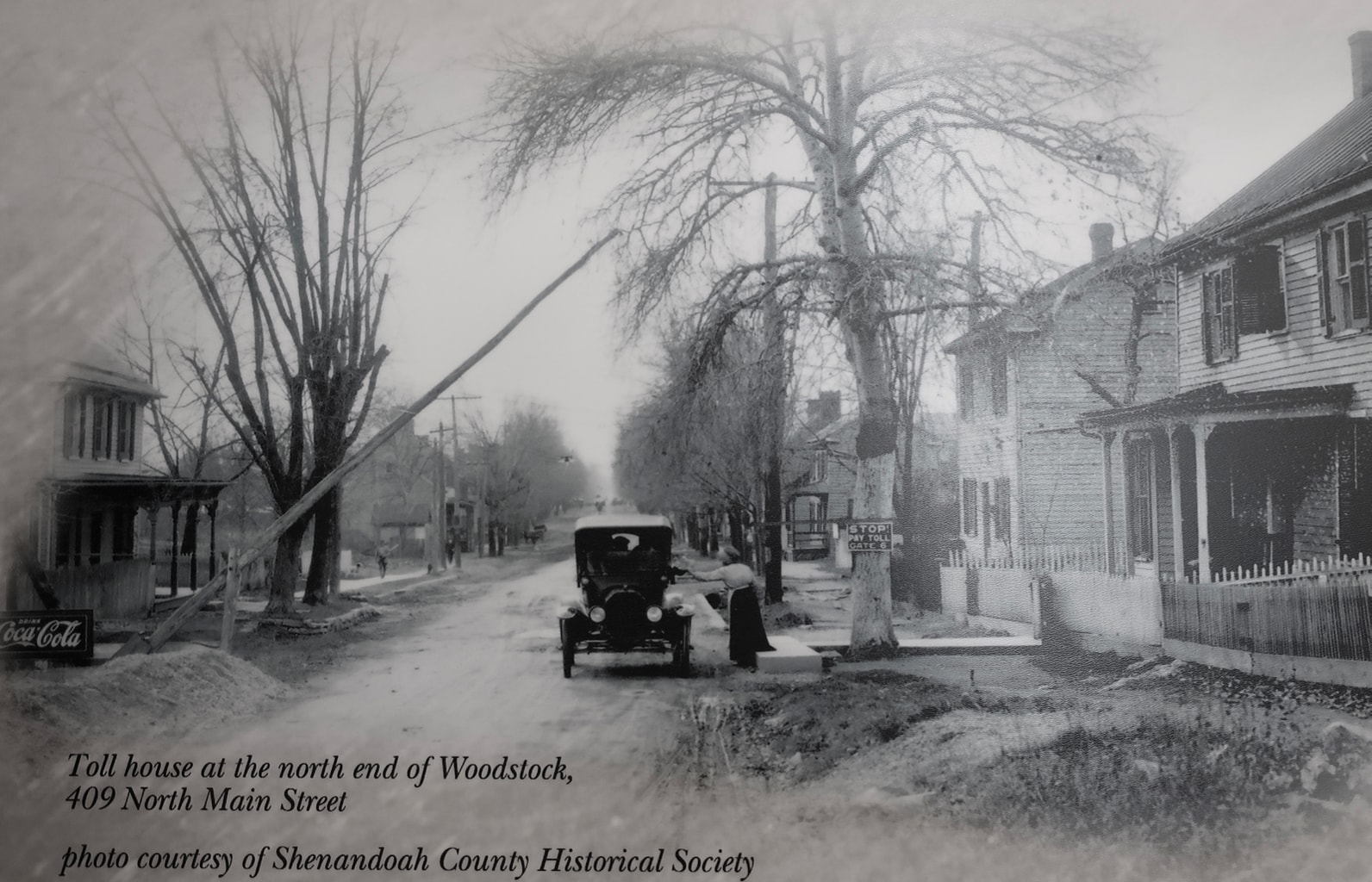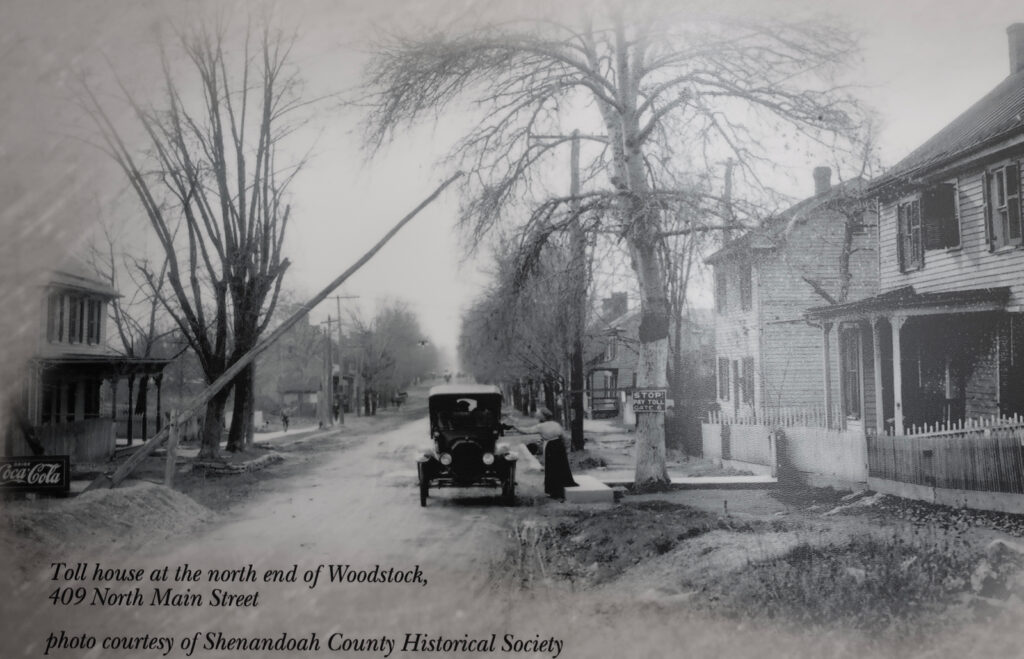 Yes, the name of the Hardesty Higgins House Visitor's Center sounds like a spoof on My Fair Lady (and in fact, this Higgin's first name was Henry, too!). But the "2-up, 2-down" typical English Style home owned by the Union-sympathizing first Mayor of Harrisonburg is worth visiting, especially if you get misty-eyed over highway development in this country (like I do).
The road that runs through town, US Route 11, was originally an Indian path. Then, in the 1750's, it became the Great Wagon Road. In the early 1800's the thoroughfare was known as the Valley Turnpike, running from Rouse Point NY on the Canadian border to New Orleans LA right through Harrisonburg.
Every five miles, a toll gate, consisting of one single pole, was positioned across the road. Whenever a car reached it, a designated toll-taker (usually a woman in an adjacent house) would "turn the pike" to lift the gate. Thus the "Turnpike" was born.
There's a great little exhibit about US Route 11, as well as Civil War history, and lots of helpful volunteers to guide you around town. Open daily 9-5. Free.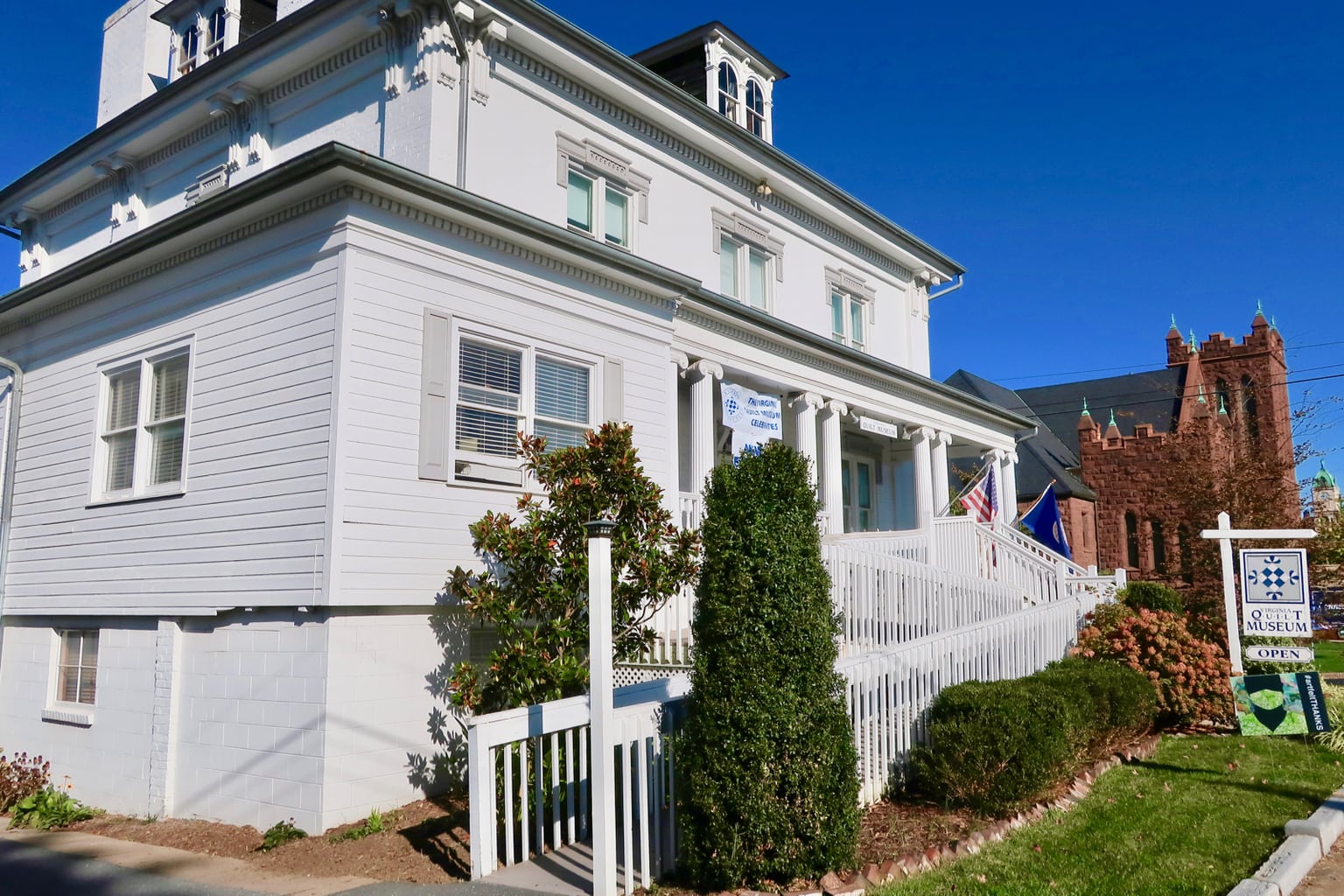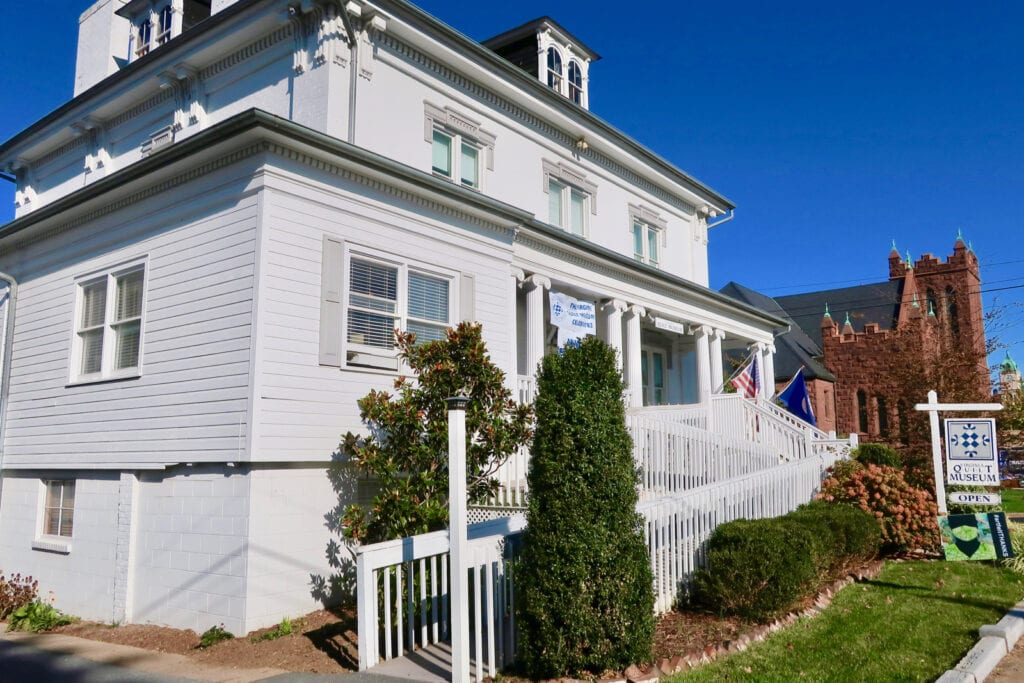 Even if you're not into quilting – come here to see fantastic art. Because that's what I'd call each intricately stitched fabric panel on display.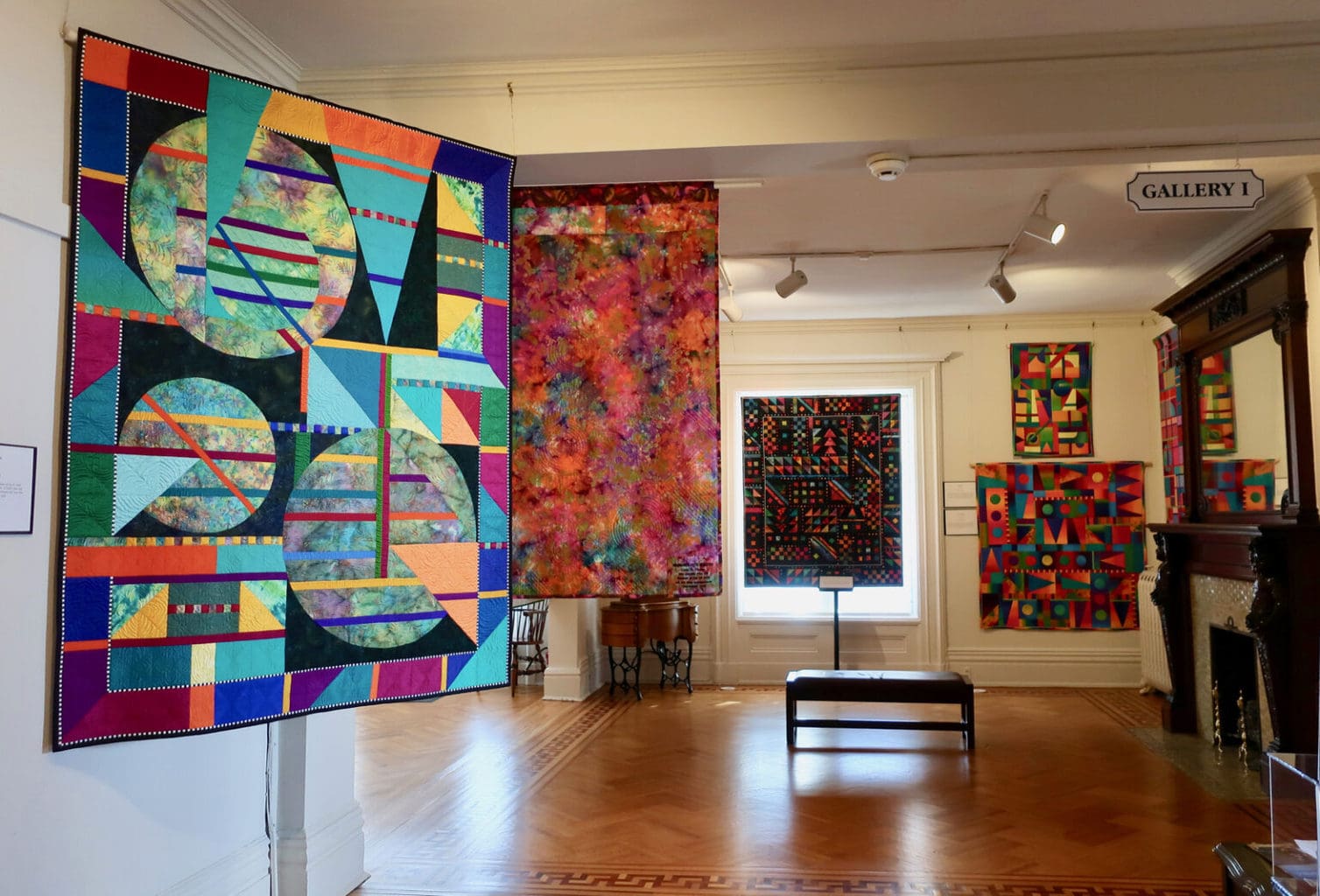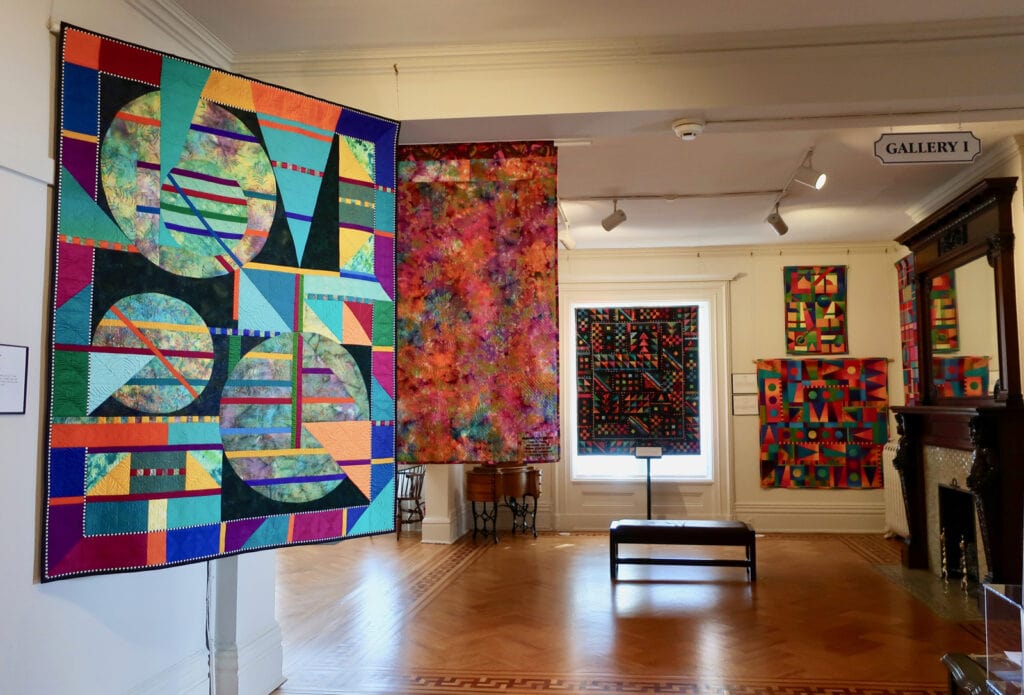 Yes, each quilt from historic (circa 1880) to contemporary is stunning. But the house itself – built in 1856 – also has a storied past. One of the only pre-Civil War homes in town, this Greek Revival belonged at first to lawyer, and co-founder of Rockingham Mutual Insurance Co., Edward Warren.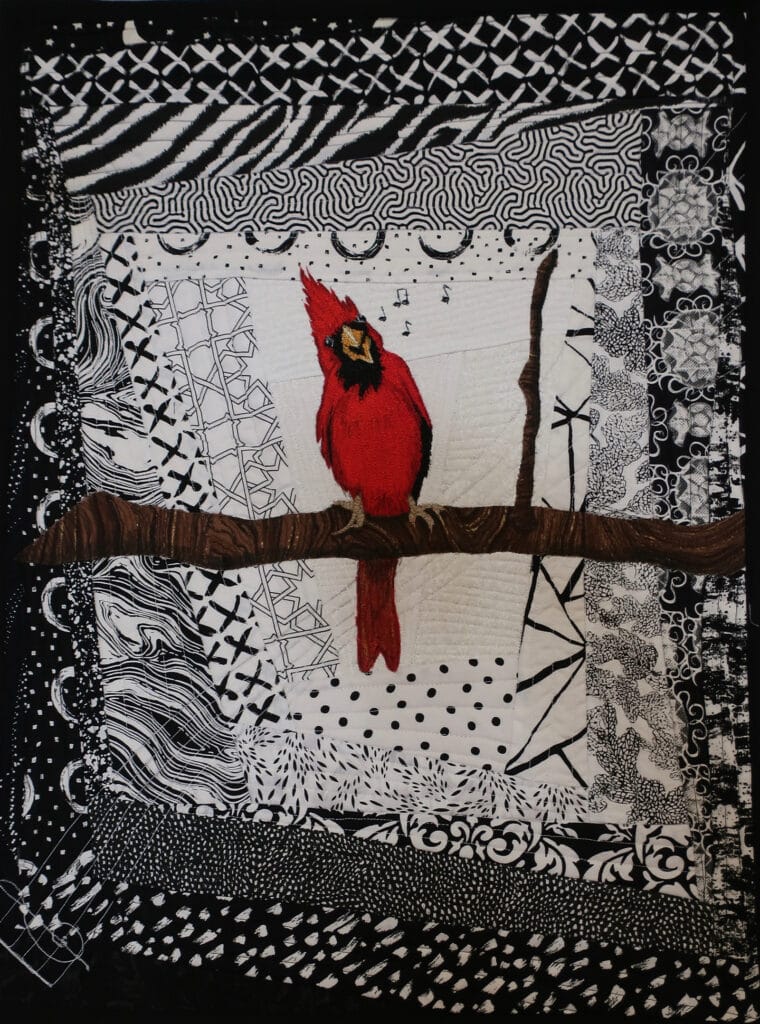 Warren, a Brigadier General in the Civil War, died in battle. After Gettysburg, this home became a hospital for the wounded. During the Civil War, local women sewed quilts for soldiers and sold them to raise money for "the cause." So, it's no surprise that the Virginia Quilt Museum is housed here.
Larger than it looks, there are three floors of exhibits. The first floor generally displays work of contemporary quilters: In this case the creations of Linda Fielder, whose depictions of starry nights and pastel flowers, as well as Mondrian-like abstractions, go for $1,000 to $3,000.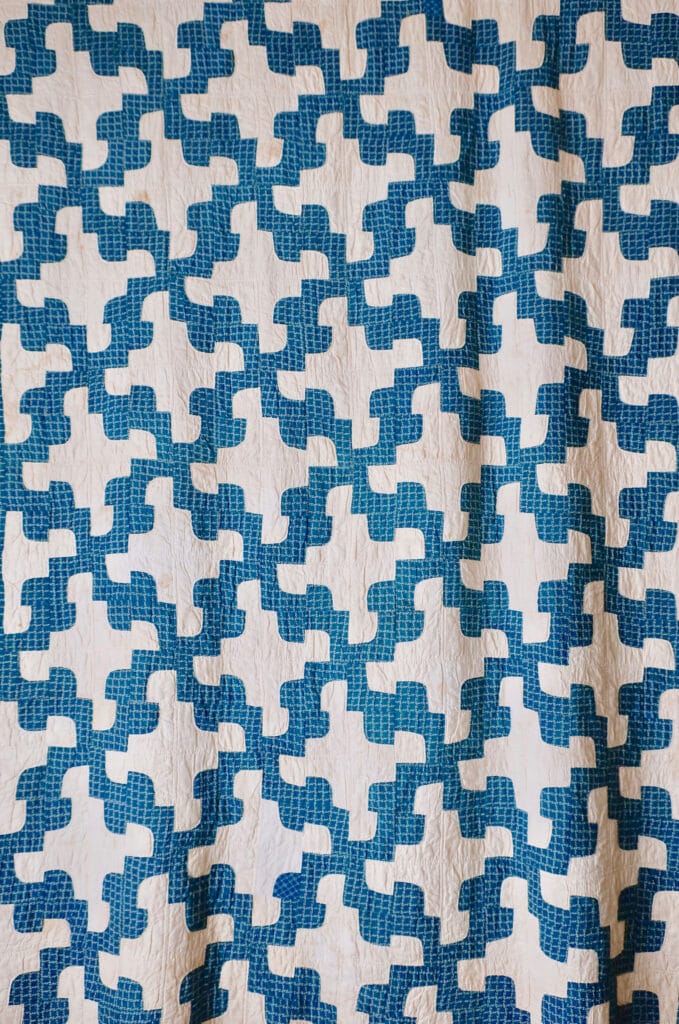 Upstairs learn the origins of the "Drunkards Path" pattern. It has to do with the intersection of Women's Suffrage and the Temperance Movement, bringing in the colors of the Temperance Union – blue for water, white for purity. Although there are no permanent exhibits, 300 quilts from the museum's permanent collection and other featured artists rotate roughly three times a year. Open Tues. – Sat. 10-4, $8 adults, $7 seniors.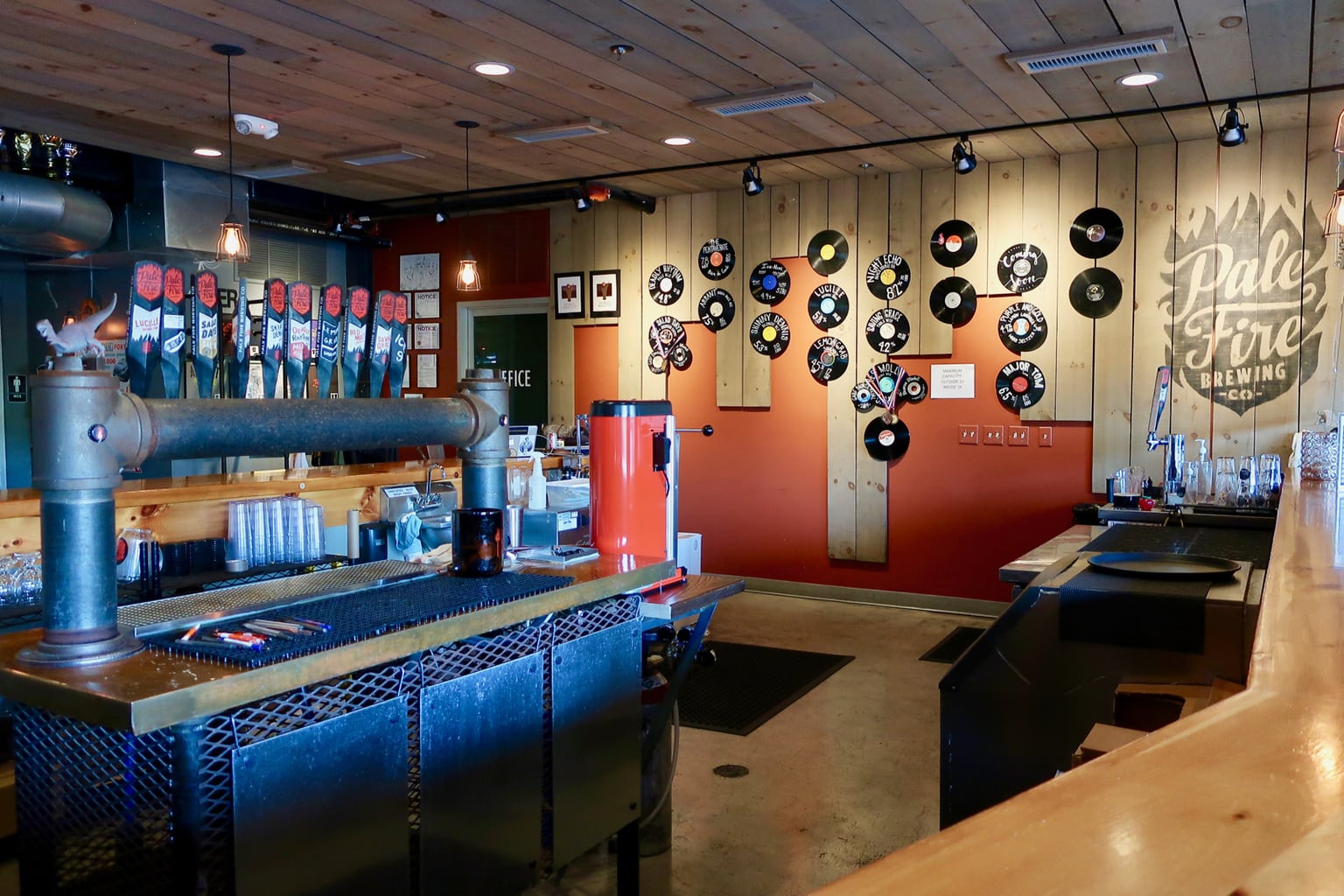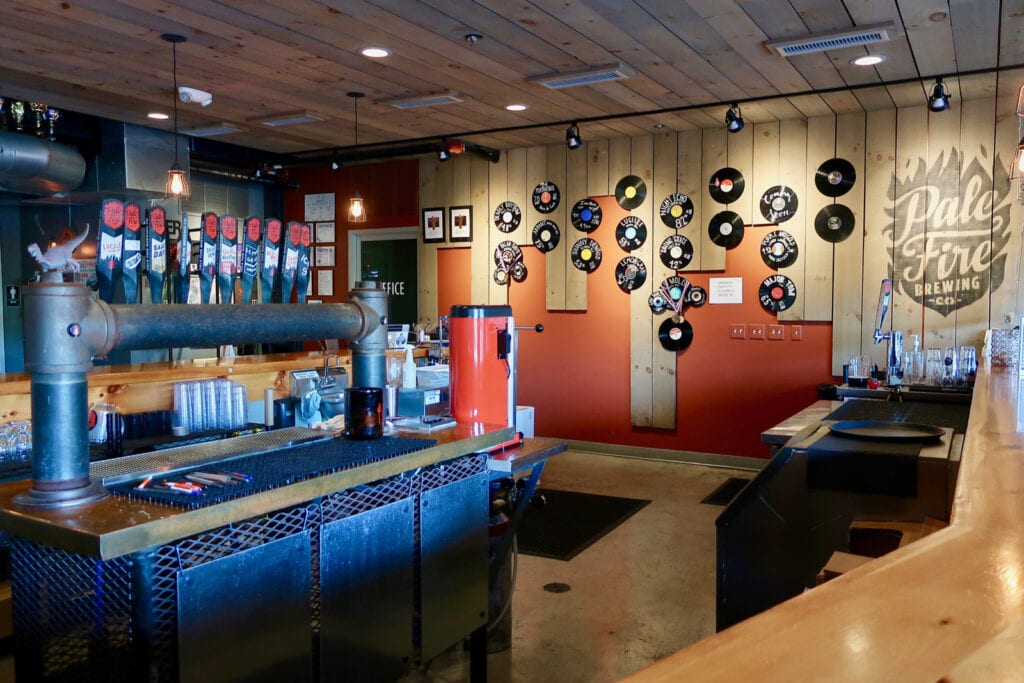 BEER/CIDER: Shenandoah Spirits Trail, Harrisonburg
Although the Shenandoah Spirits Trail covers breweries, wineries, cider-houses, and distilleries over a large swath of mid-Virginia, here we concentrate on the five breweries and one cidery in Harrisonburg alone.
They're a tight-knit community – this collaborative, thriving group of beer and cider makers. And each has his/her own versatile take on making awesome beverages.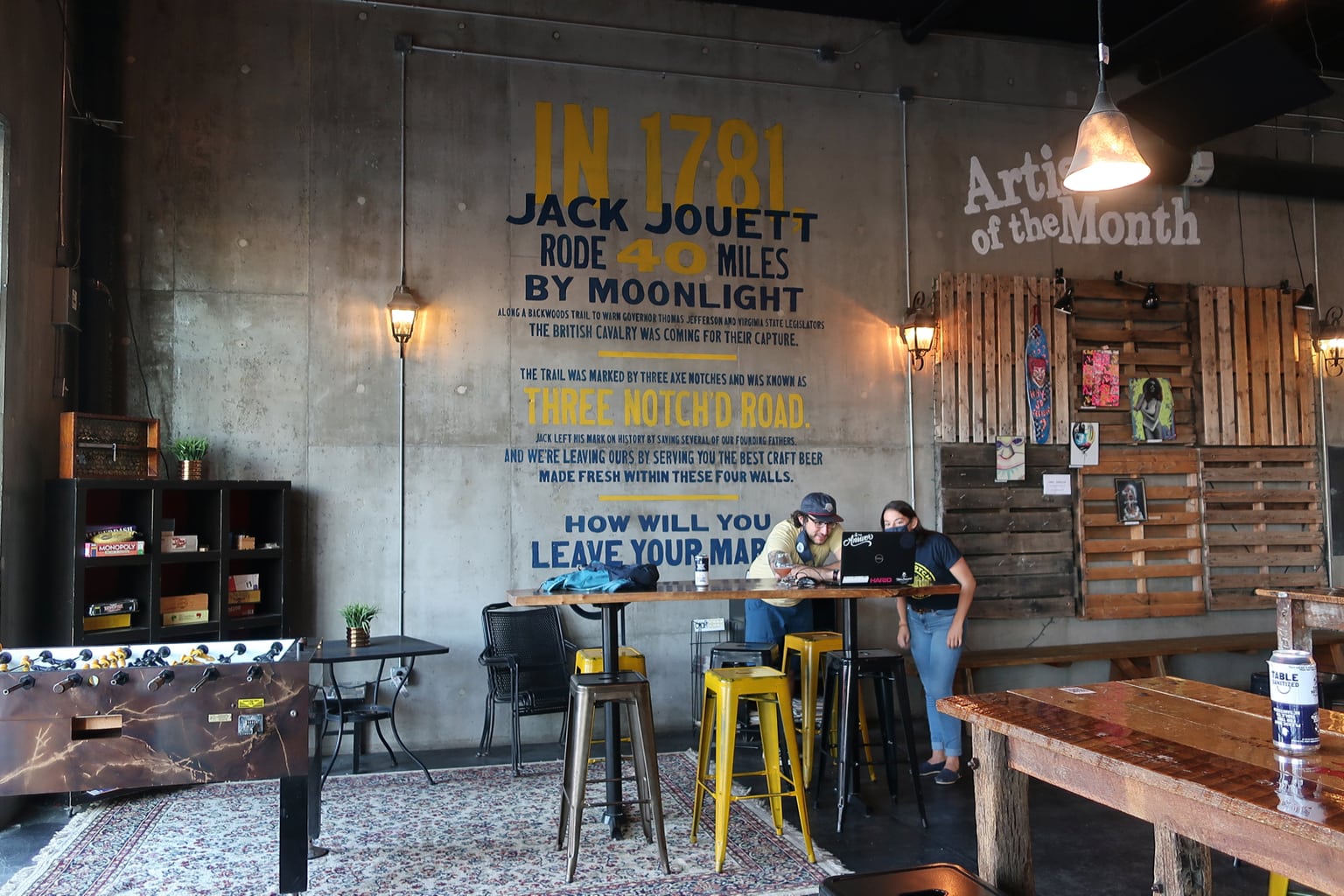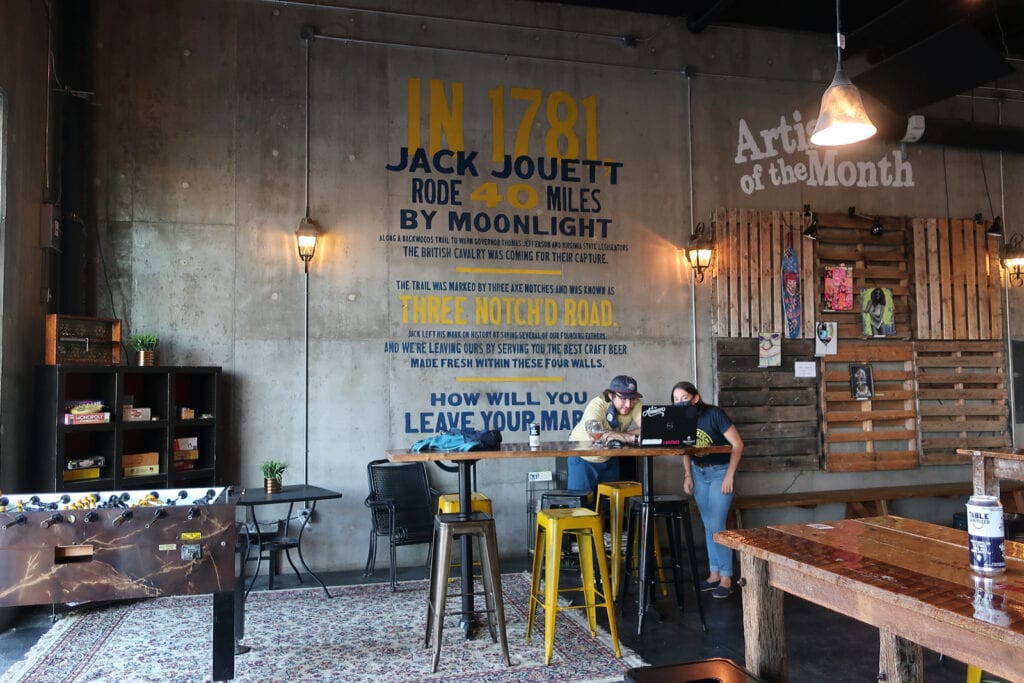 Three Notch'd Valley Collab House
I covered the Three Notch'd flagship in this Charlottesville post. Here, delve into "Black Is Beautiful" Imperial Stout, a selection of Sours, and other fine brews in a cool, soaring space.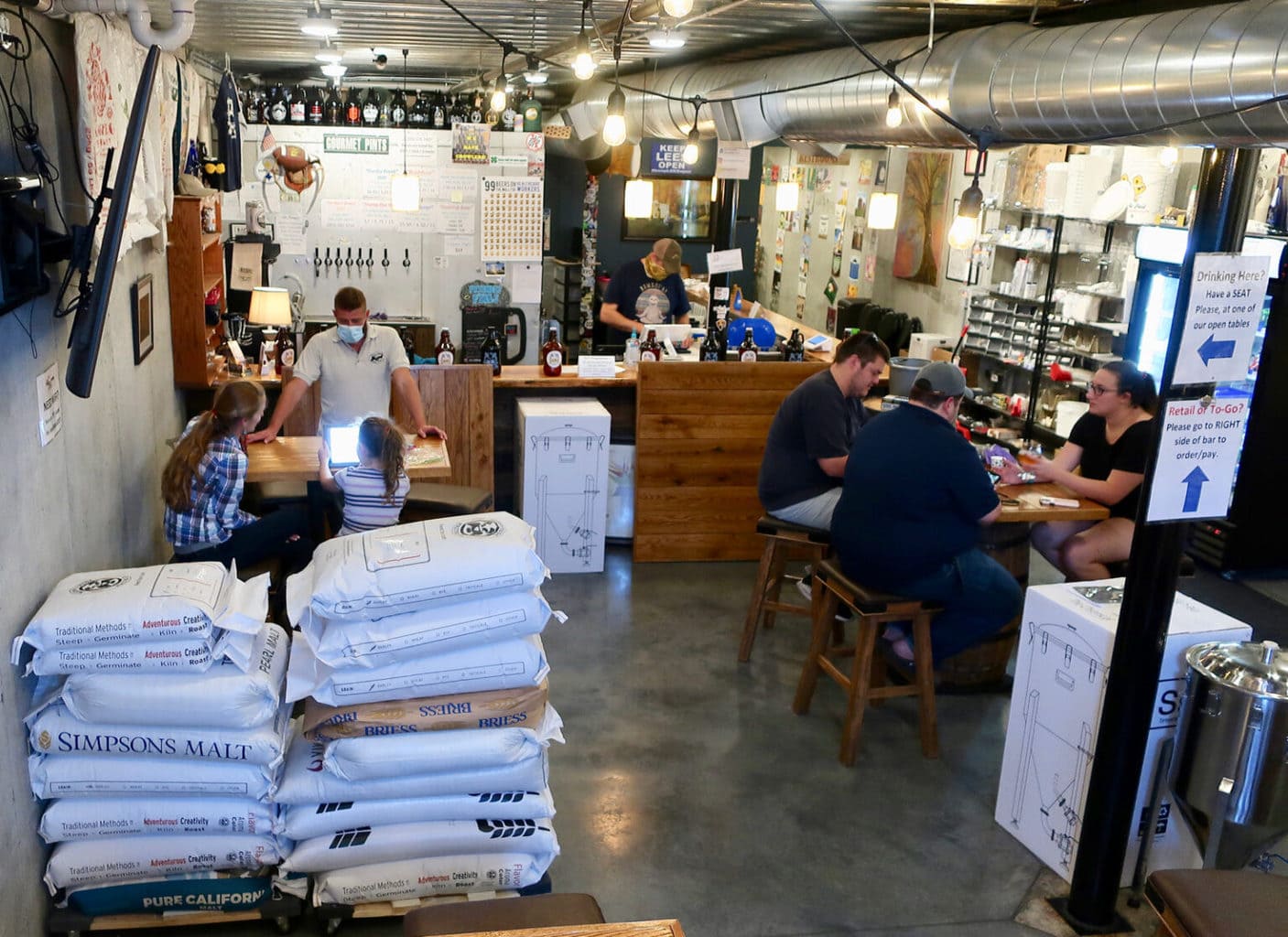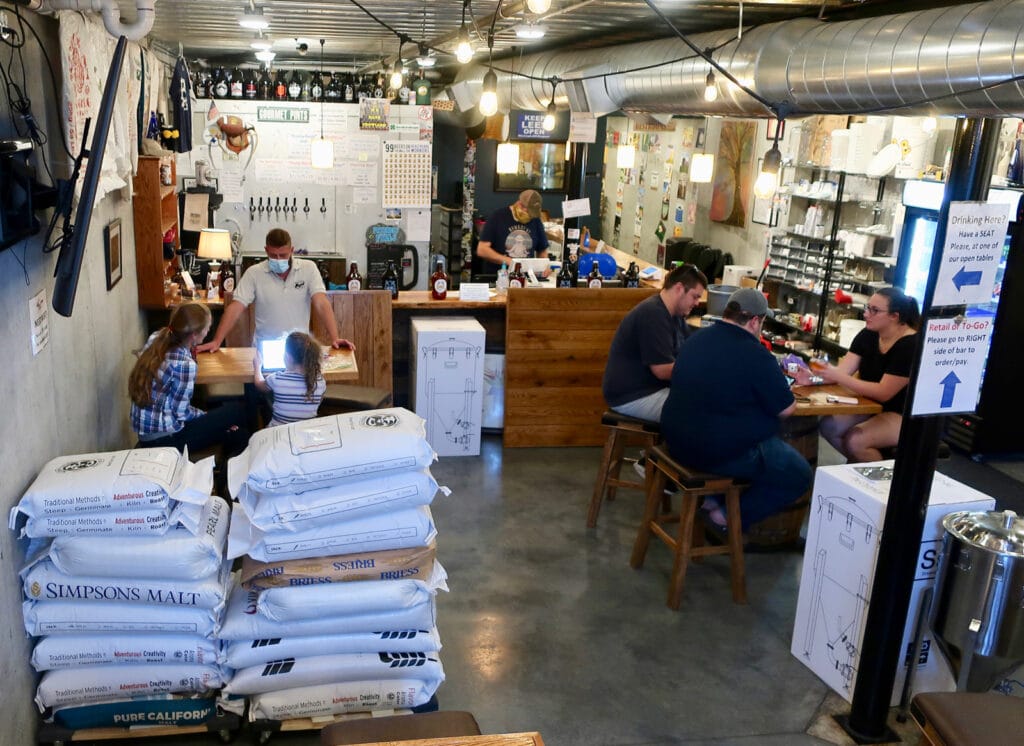 Watch your step around stacked bags of grains – awaiting pick-up by home-brewers. Yep, the literally underground (basement) FF is a one-stop home-brew shop. But do stop in for the unique beverages, like real popular Bee's Knees Honey DIPA, and punnily named Thai One On (Thai Ginger and Apricot notes). The brewmaster/owner, irreverent as he might be, proves a capable mixmaster of some of the most preposterously tasty beers.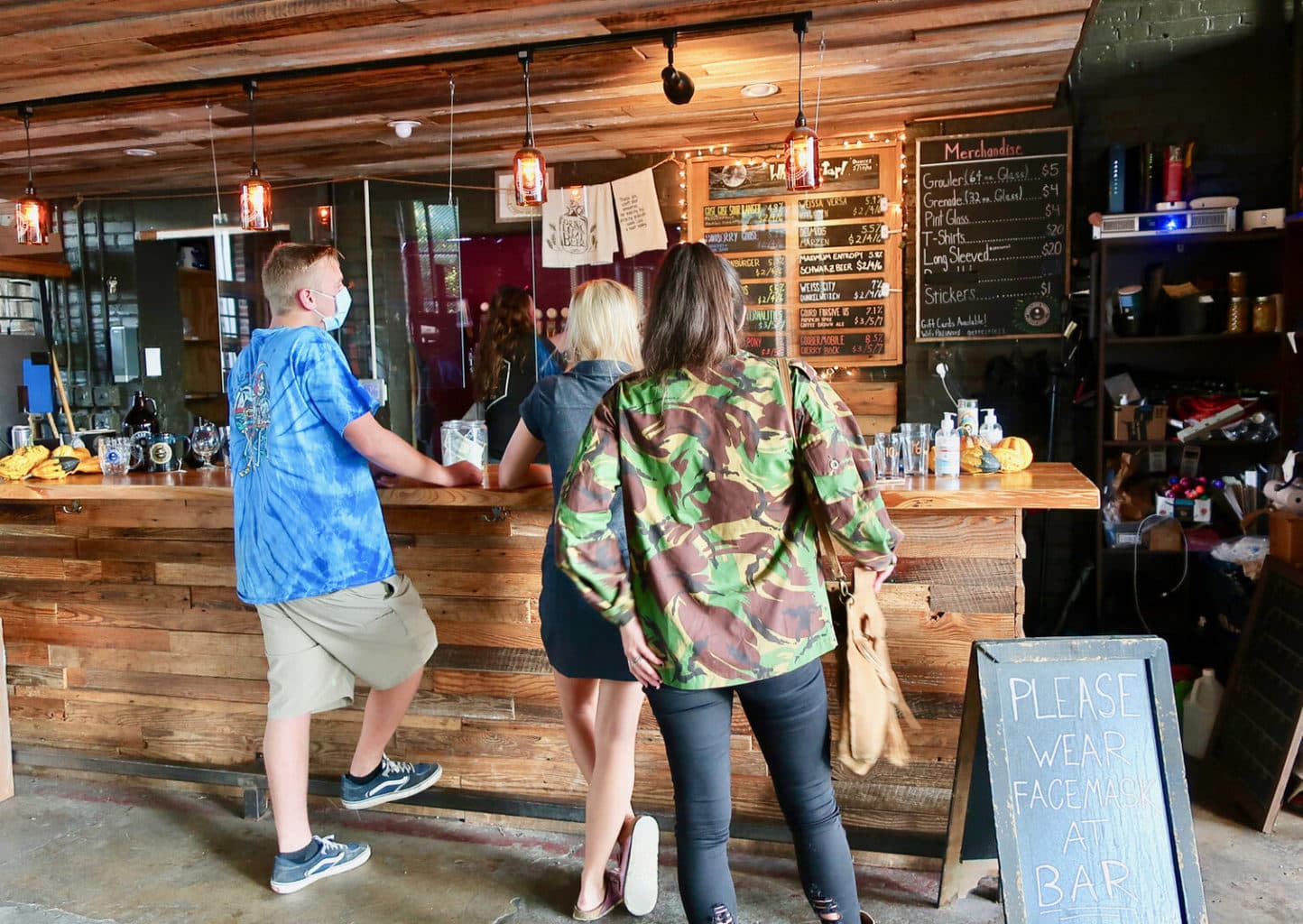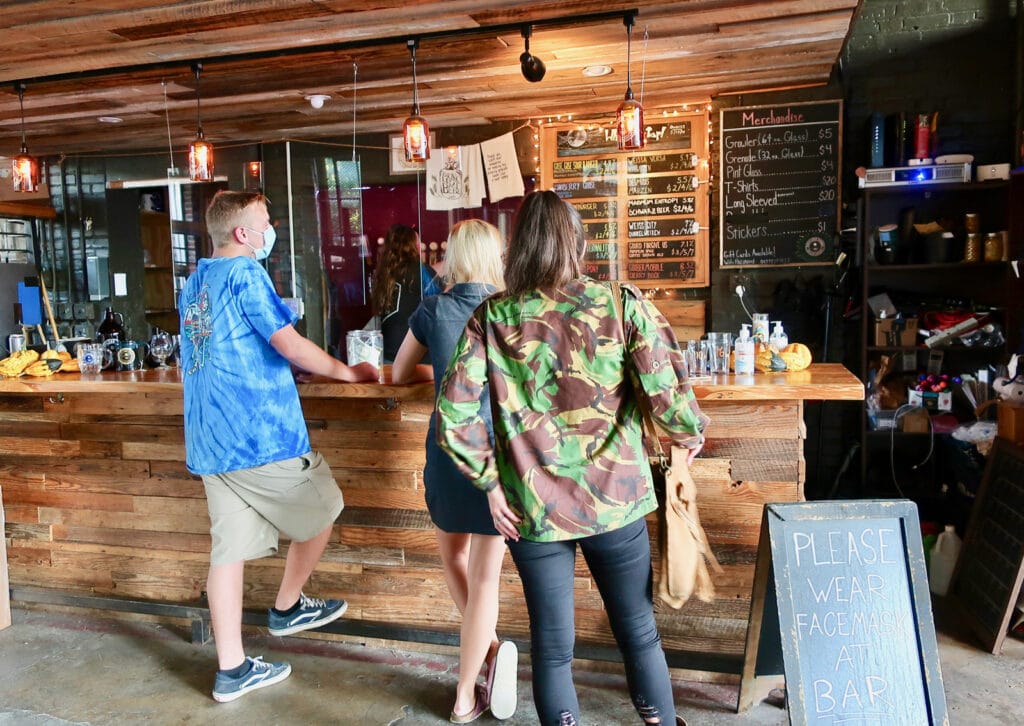 This rustic, laid back place seems to draw the same kind of patrons. No bells and whistles – just Harrisonburger Pilsner, Apocalypse Pony IPA, and other fresh brews.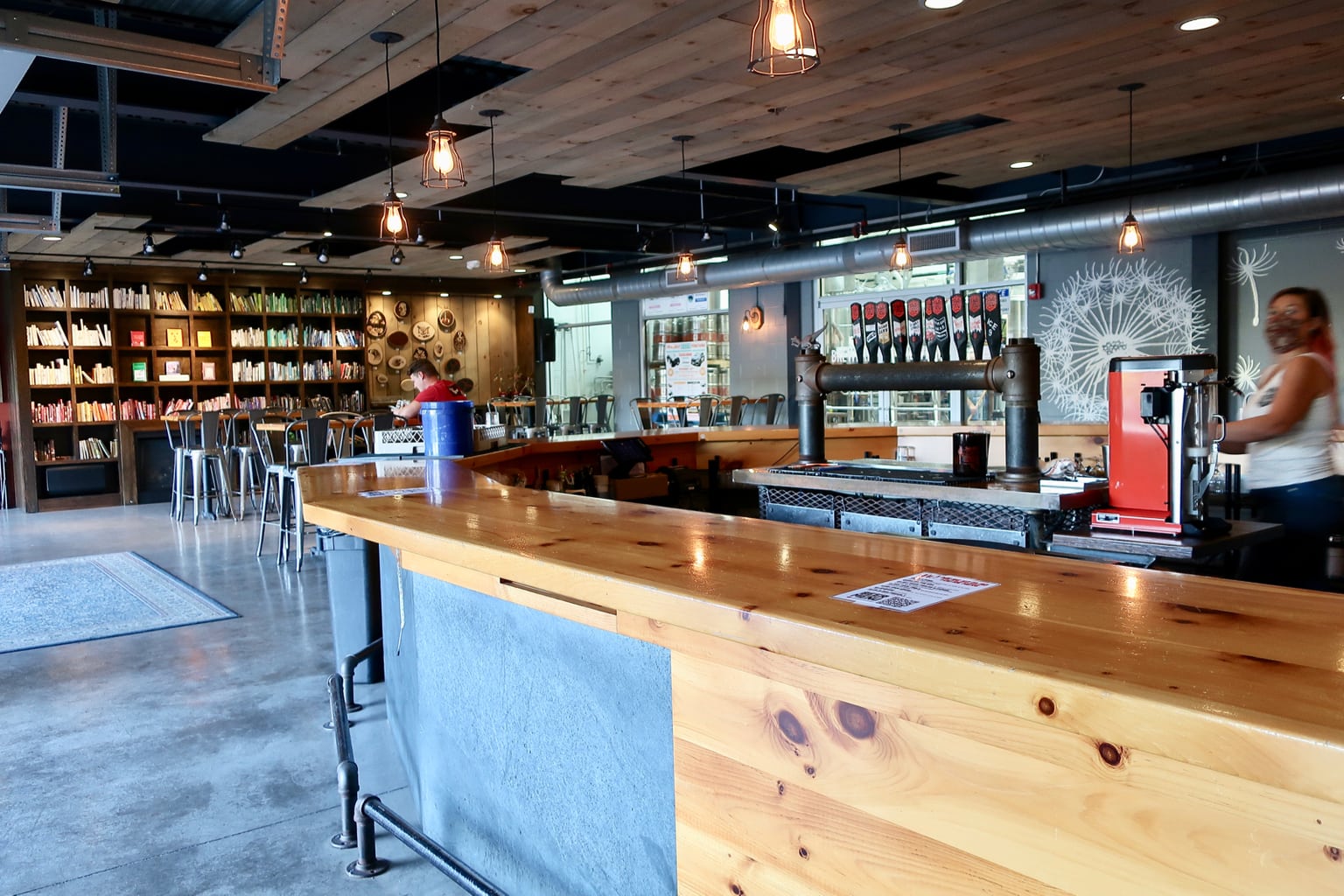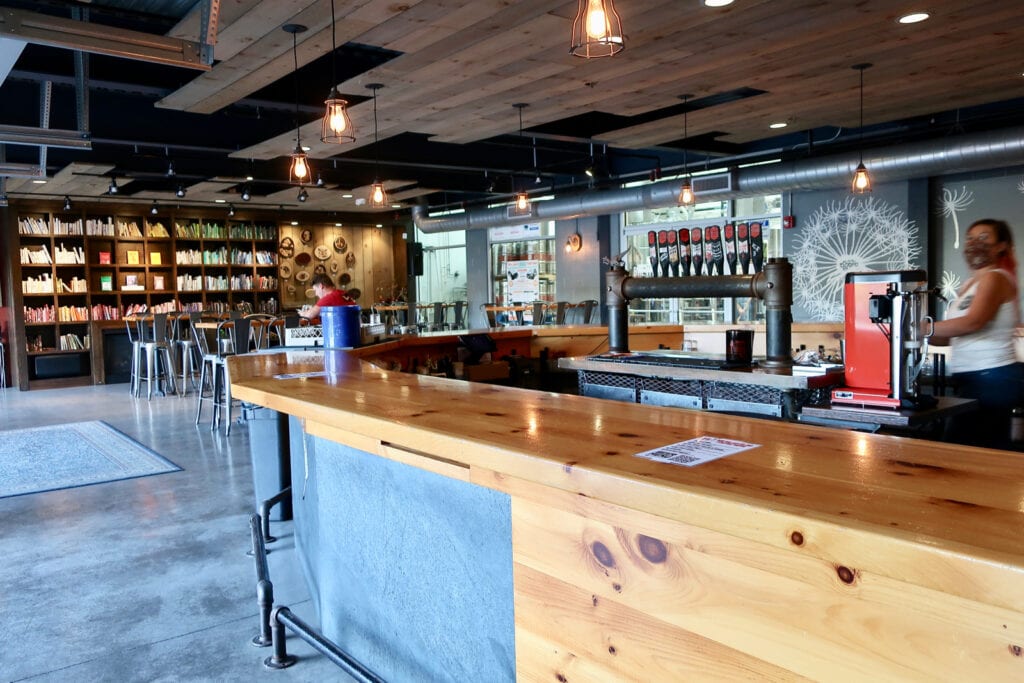 In the repurposed Ice House complex, Pale Fire Brewing is probably the most "polished" of the Harrisonburg establishments, if you're judging by décor alone. Though it has the vibe of a trendy sports bar, Pale Fire's brews are taken seriously by beer aficionados. Its Red Molly Irish Red Ale took the Bronze both in the Great American Beer Fest (2019), and World Beer Cup (2016).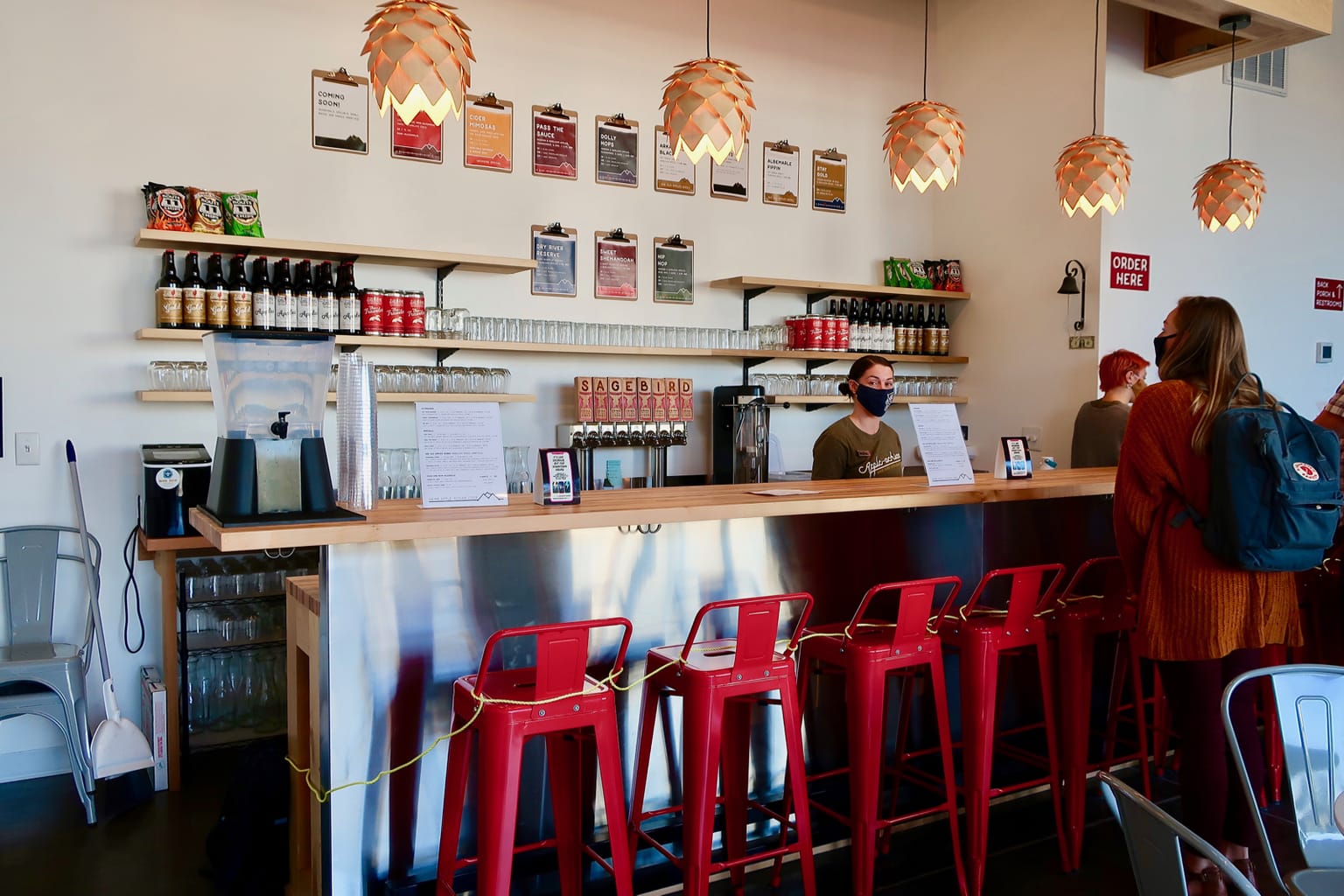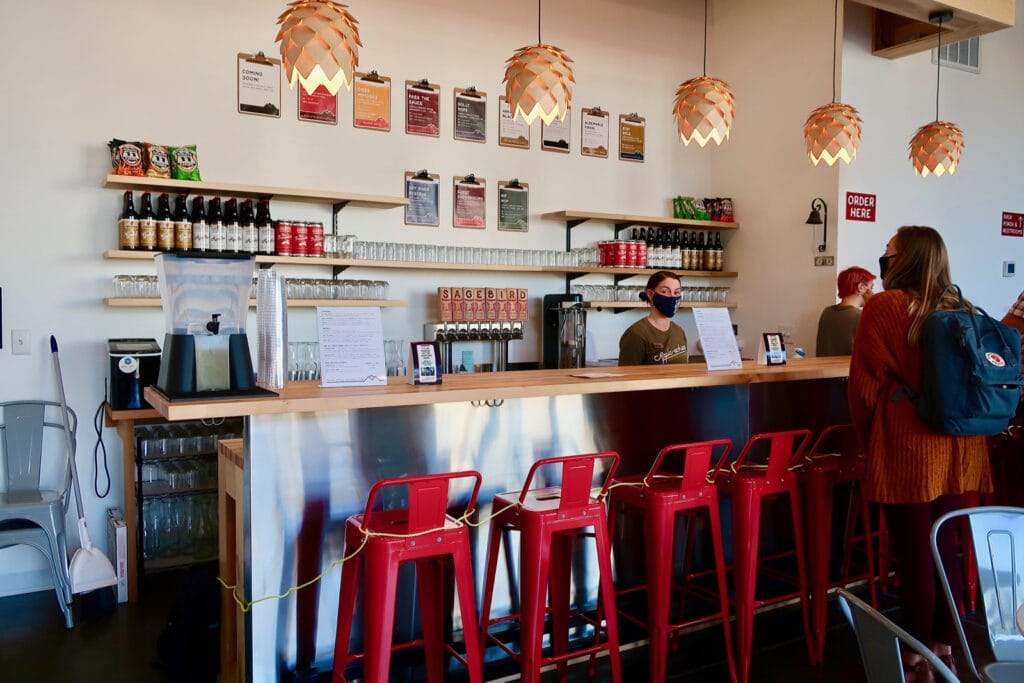 Zach and Amberlee Carlson opened Harrisonburg's newest hard-cider house in August 2020. For those keeping track at home, this was the summer when the world stood still, in the grip of a deadly pandemic. And yet, Zach says, "Business has exceeded expectations." Amberlee, a 6th Grade English teacher and artist, designed Sage Bird's beautiful contemporary tasting room. No wonder its been drawing curious community members who turn into repeat customers.
Sage Bird sources most apples from Glaze Orchards in Winchester VA, and though most ciders are dry, "there's one for every palate." To that end, the Carlson's wish to "showcase the difference in apple varieties." In the short while that Sage Bird has been open, one cider has proven most popular: Hip Hop. A zero-bitterness hop style cider, tinted red from rose hips, it's been a crowd pleaser from the get go.
Adam was a mechanical engineer, Jason a Business Admin graduate and Tyler, the youngest, a Microbiology major. The three brothers yearned to work together, and with their combined knowledge and talents, some creative friends, and a bare-boned budget, they started brewing great beer and built this eye-catching tasting room/ brewery in an abandoned Coca Cola bottling plant. In so doing, they established a brewing beachhead in Harrisonburg.
Multicolored planks of wood that form the wall at the back of the bar symbolize the colors of the brews streaming from ten taps. Brother's Craft Brewing turns into a lively event space with live music and food via food trucks on weekends.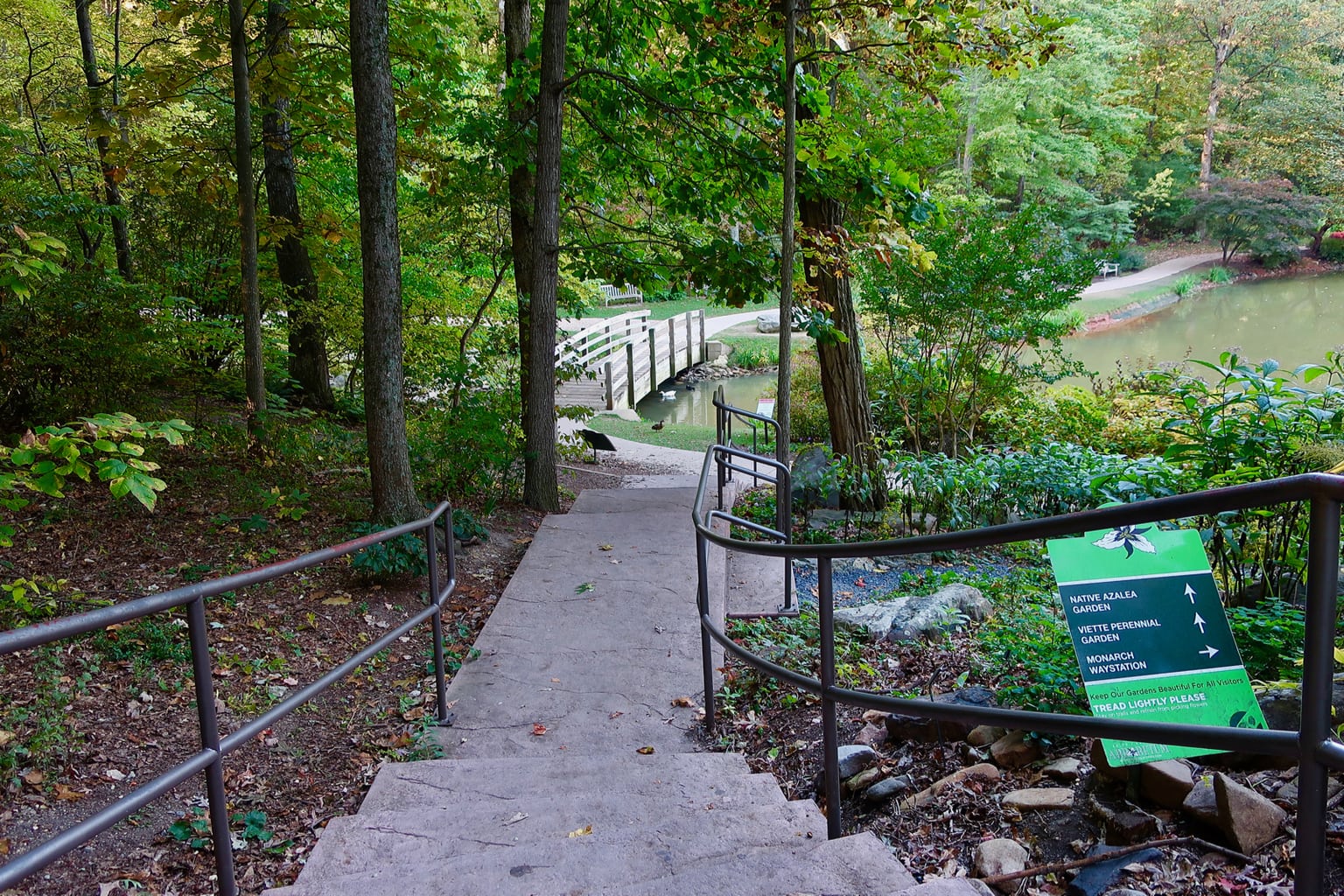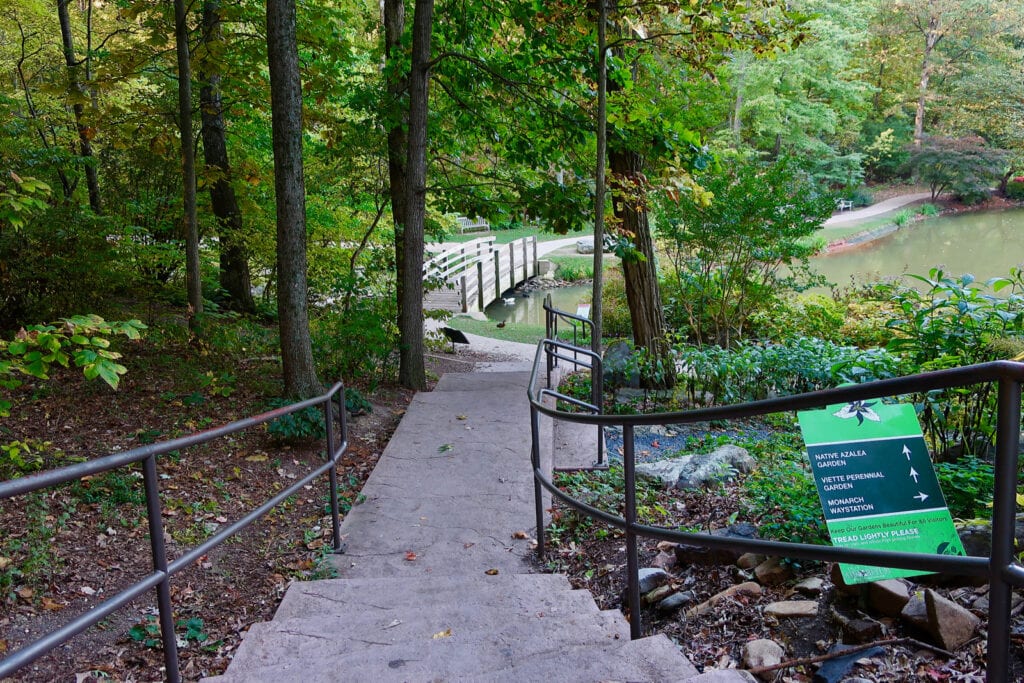 This 125-acre multi-habitat arboretum, on the James Madison University campus, makes for a meditative Covid escape. Gain knowledge about the botanic and natural world. Get your "forest bathing" in, surrounded by preserved 100 year old oak and hickory trees.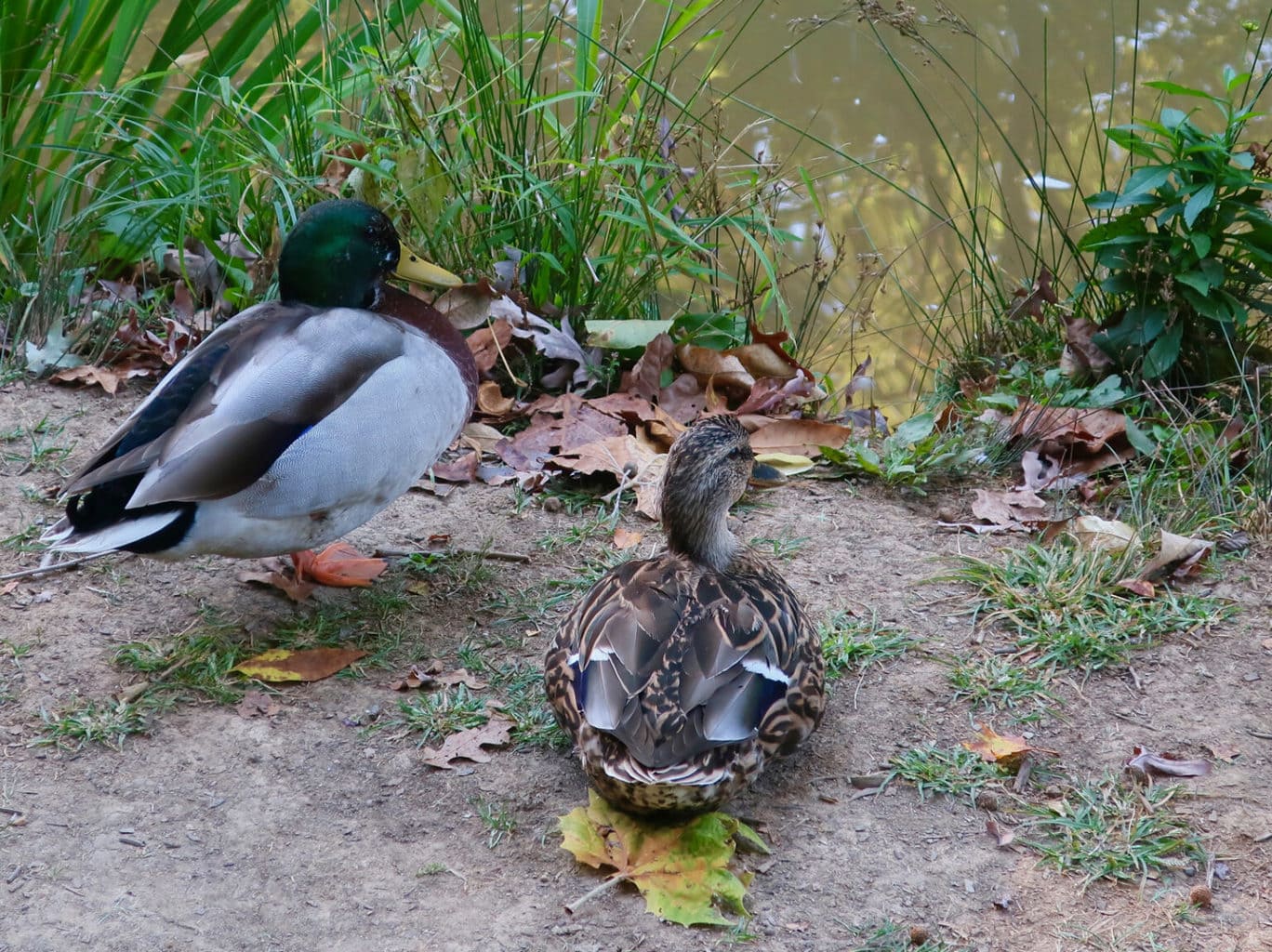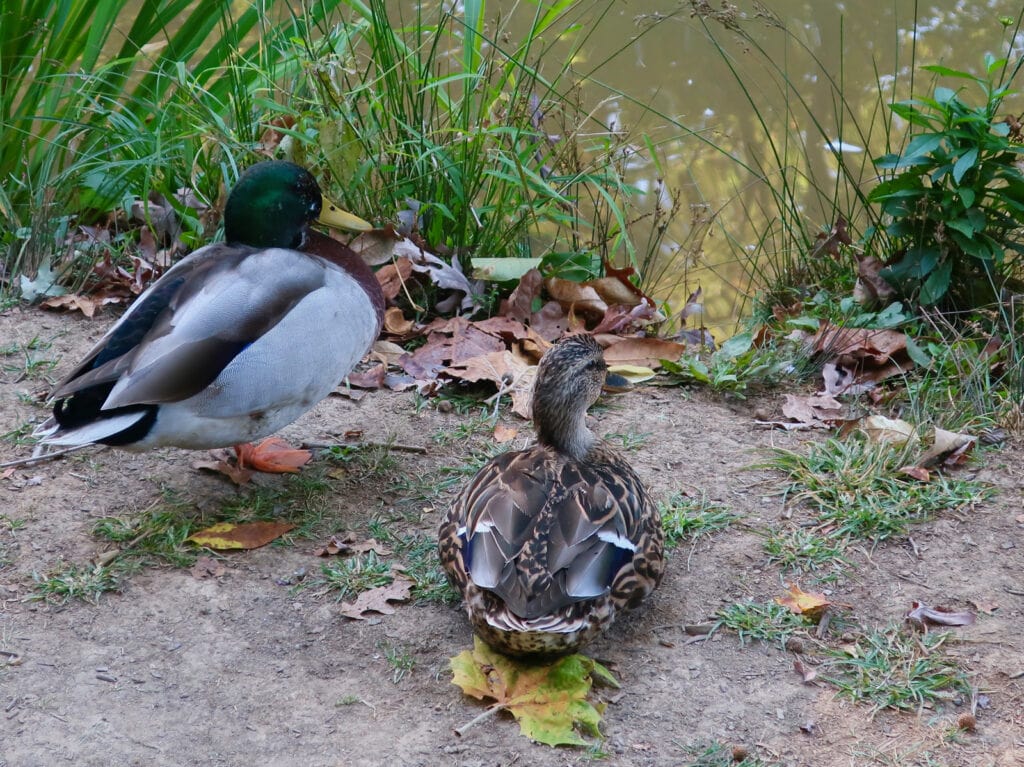 Encounter overly chatty Mallard ducks and geese around a landscaped pond. Go on woodland walks to find an expansive collection of rhododendrons and azaleas – right in the midst of Harrisonburg.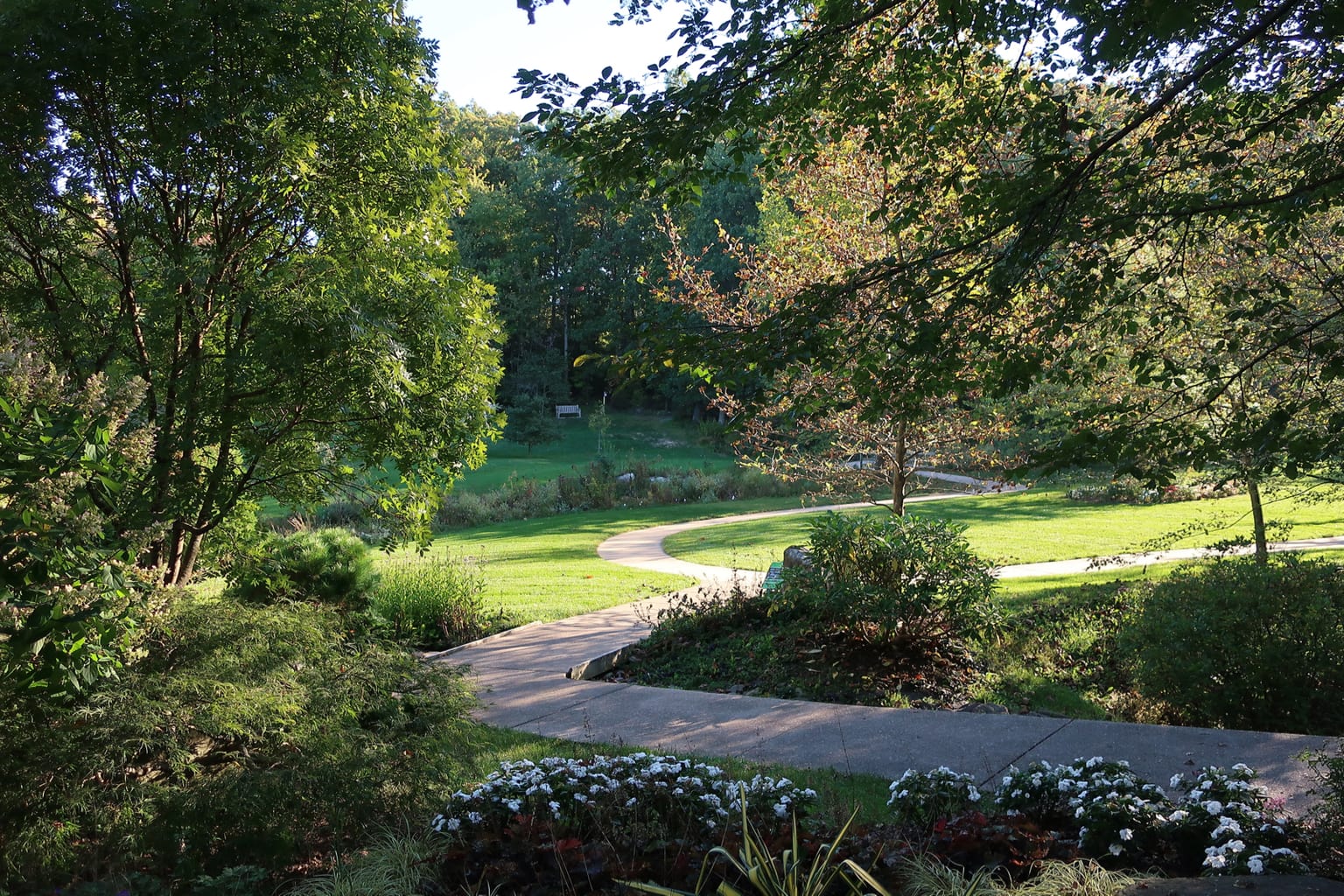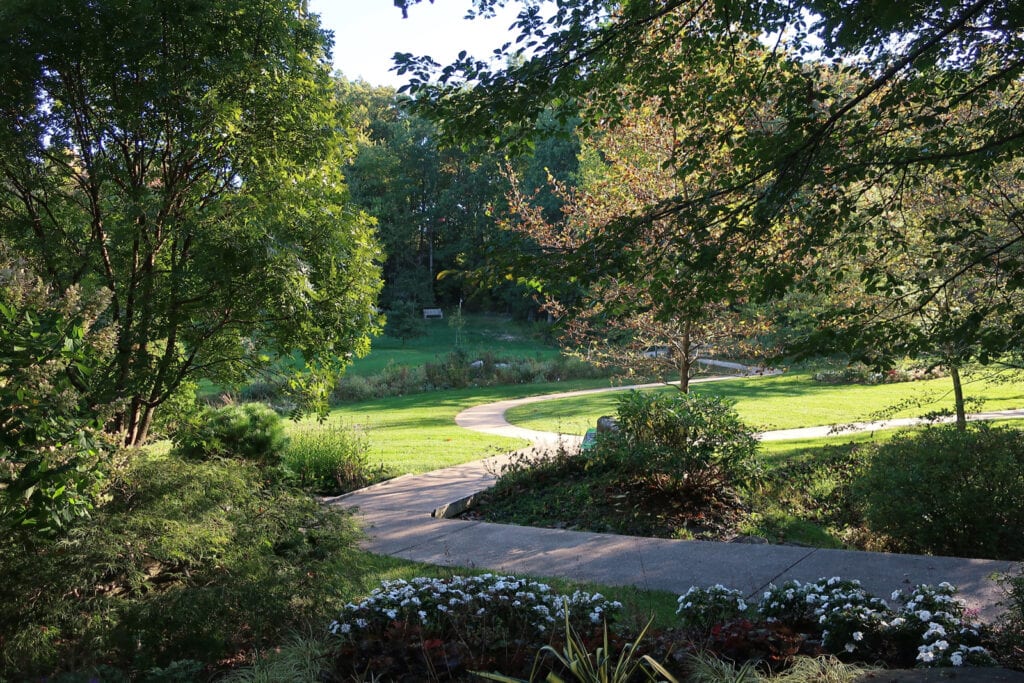 Plan on an hour just to ramble and enjoy nature's best displays – any time of year. Open all year, free.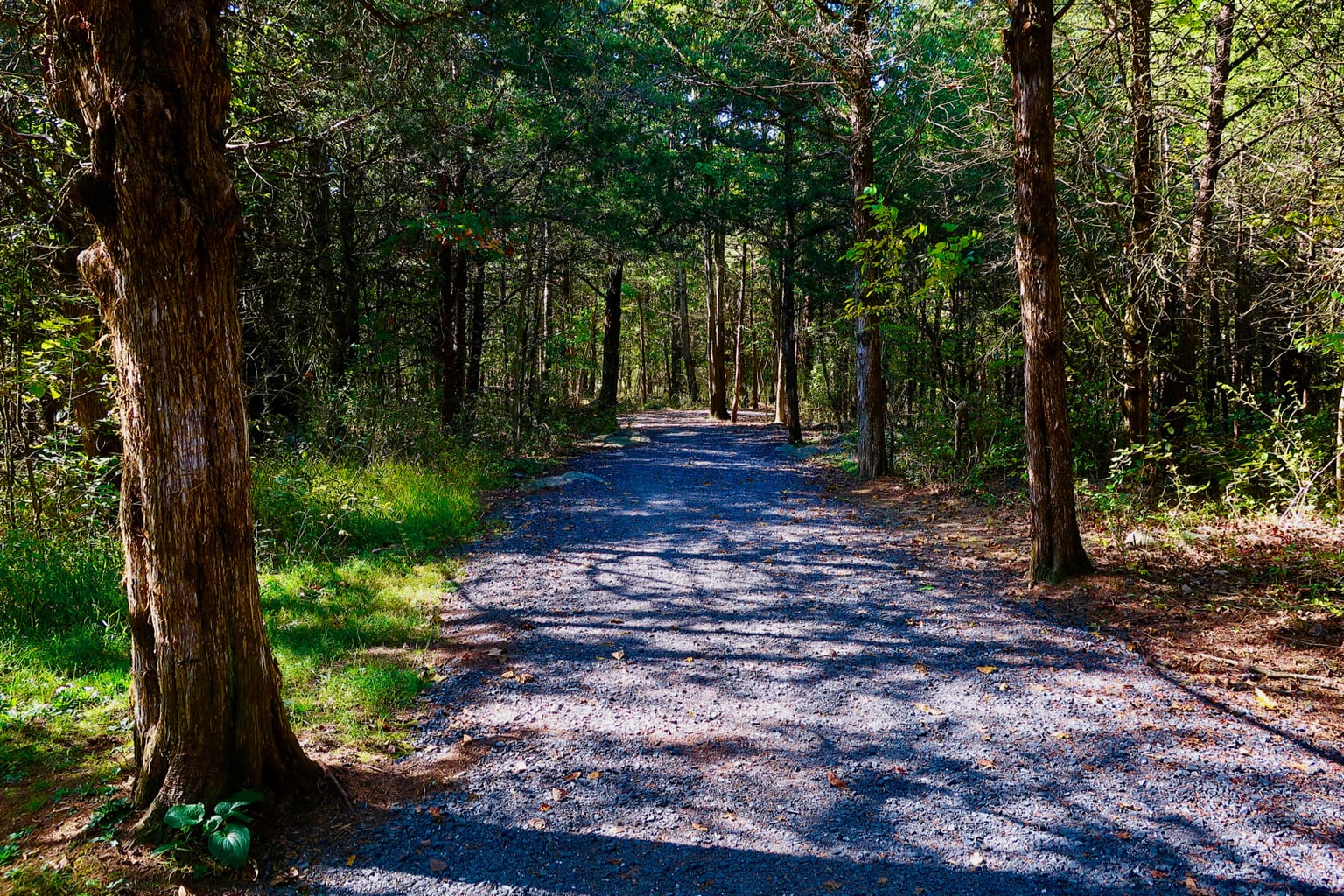 Meander dappled trails throughout this 72-acre town park for a tranquil break. You'll encounter plenty of locals with the same idea.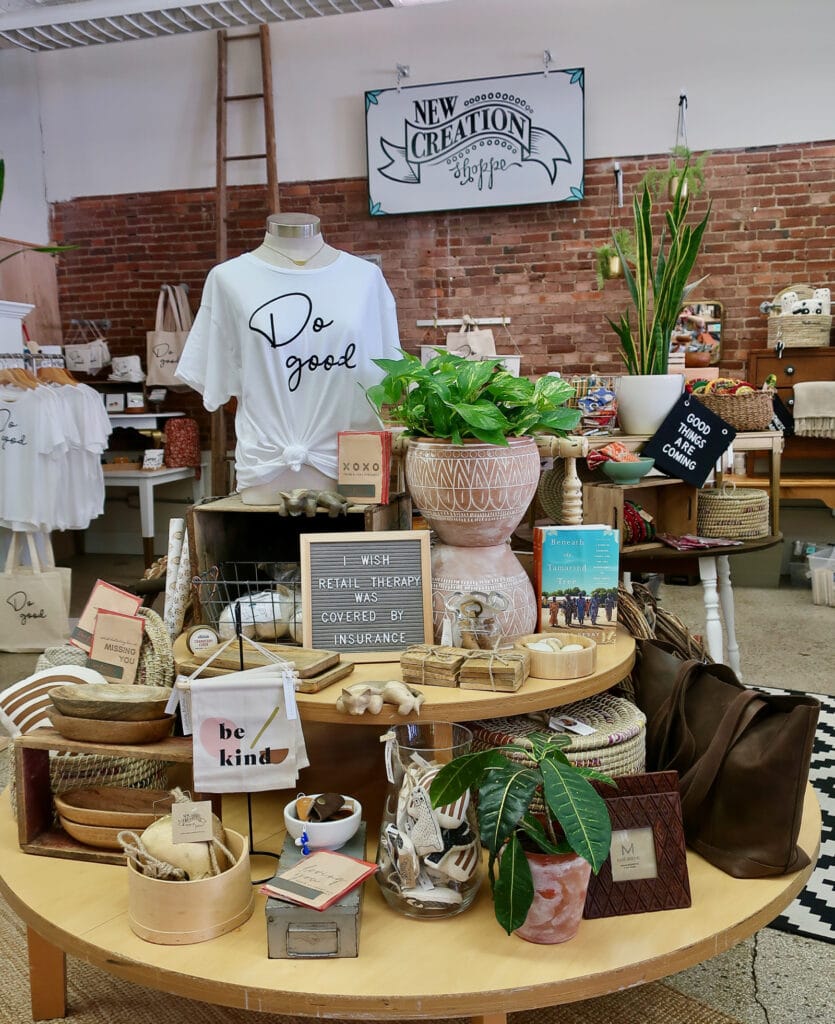 An incubator for small retail businesses, Agora Market is a joy to explore. This group of local vendors, mostly artisans, craft or source unique products and sell them in a vast warehouse space.
"I wish retail therapy was covered by insurance," states a sign within the New Creation Shoppe. Bring Your Own offers "practical goods for a zero waste lifestyle."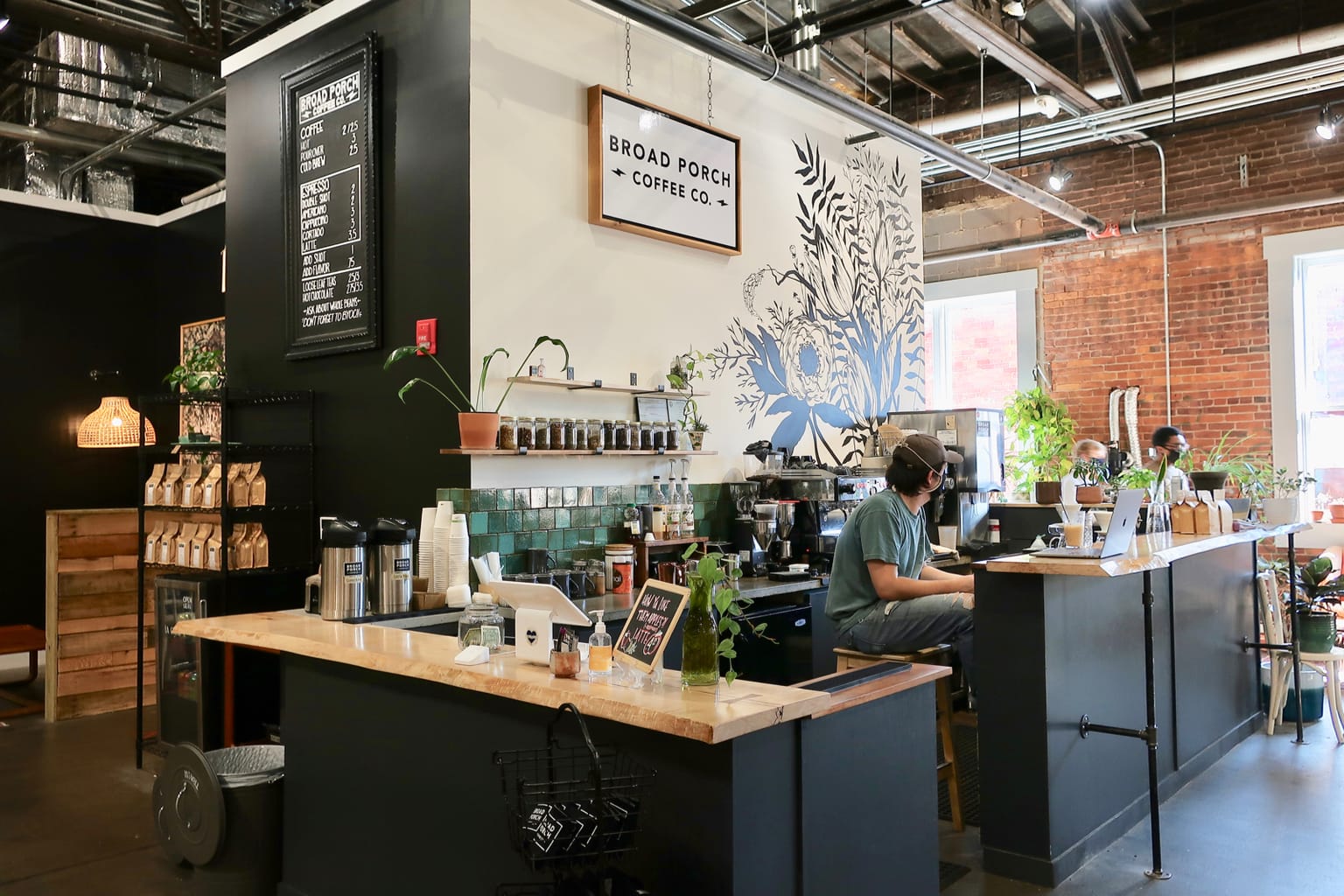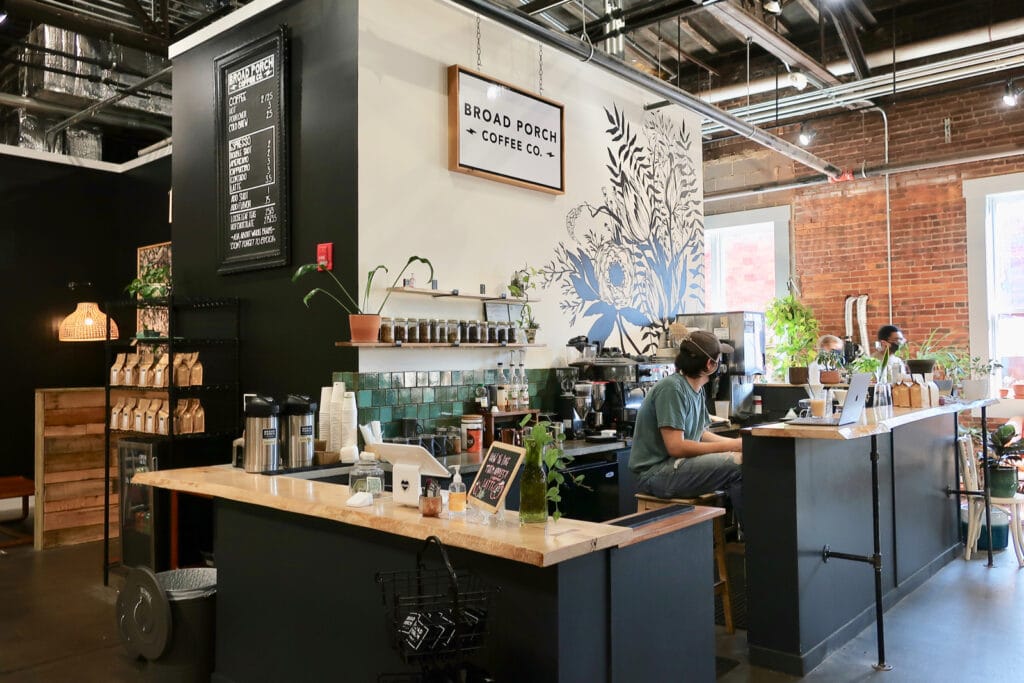 Grab a cuppa joe at Broad Porch Coffee Co. and peruse the goods at Lineage (waxed canvas bags made on site), Charlee Rose Boutique (women's fashions), and Heartworn Vintage.

This artist collective, showcasing the work of 30 local artists, turned 20 years old in 2020. If you're looking for a piece of art, or one of a kind crafted gift, I recommend this gallery – which offers works, far from the mundane, in every conceivable medium.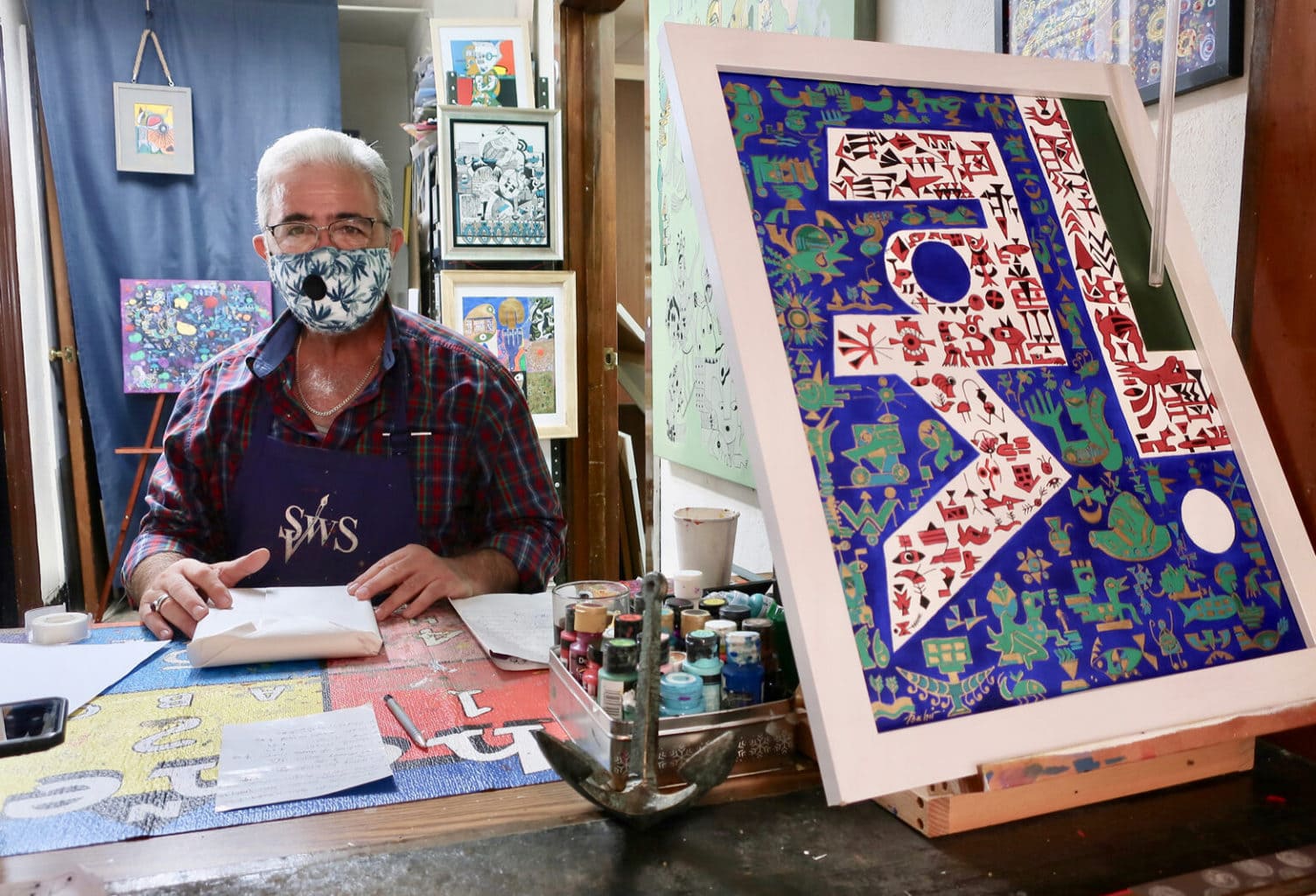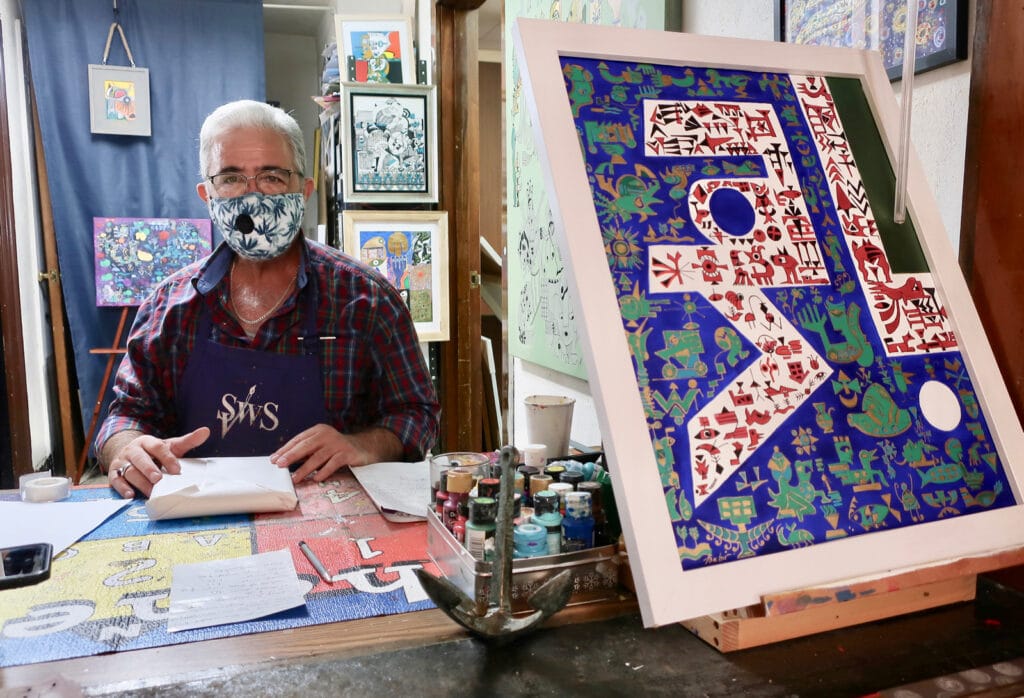 When I visited in October 2020, the Artist in Residence was Bahir Al Badry, from Iraq. His bright, shimmering abstract oil paintings explore themes of justice, freedom, and existence. Universal themes, for sure.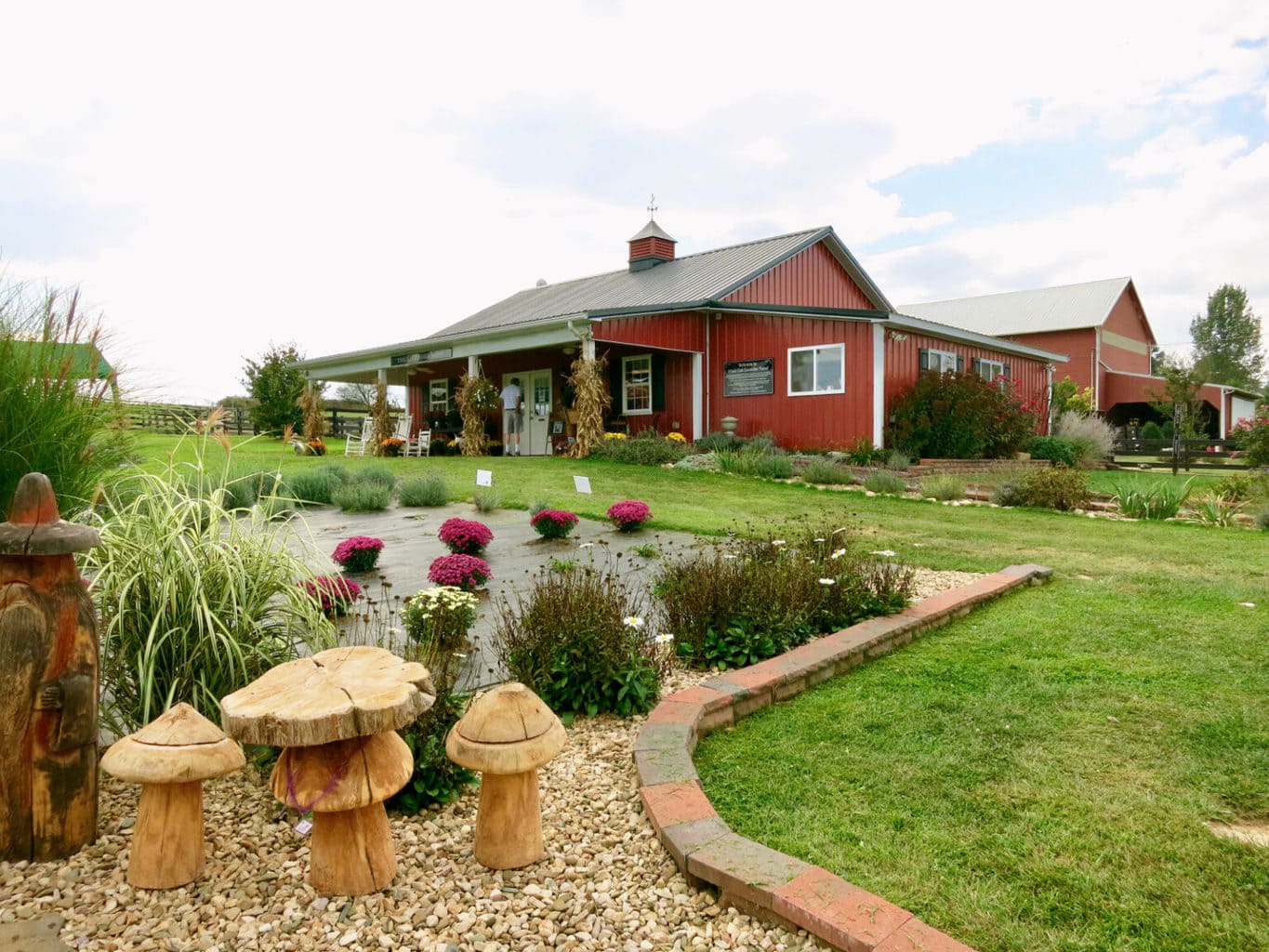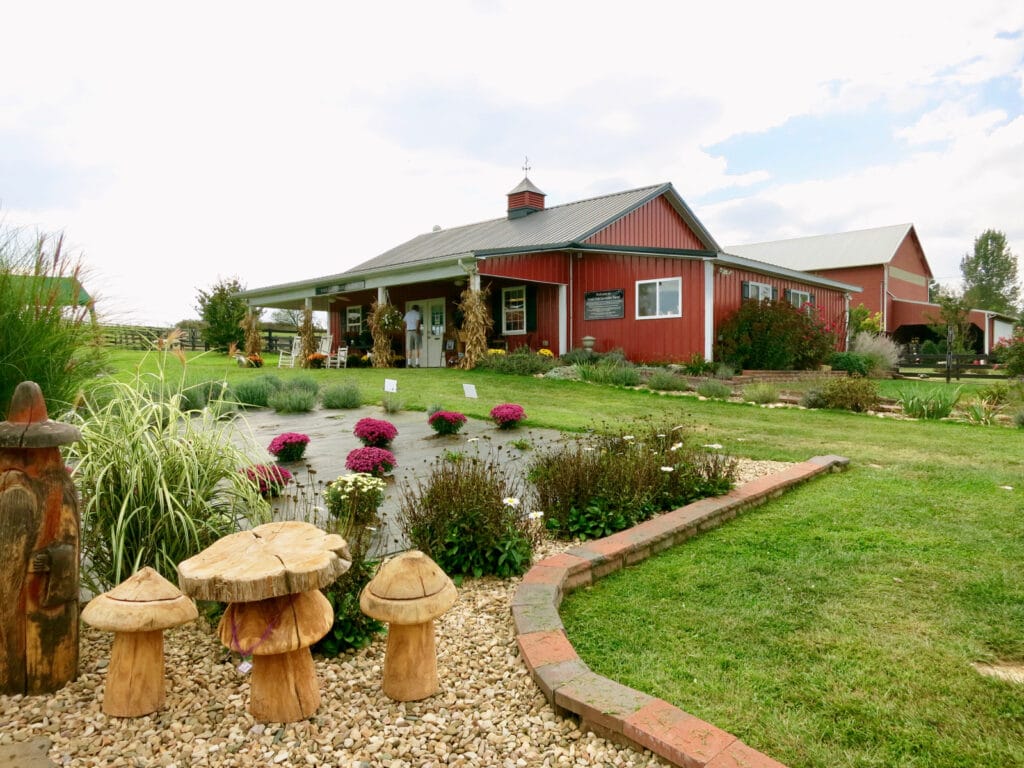 Did you know that there are dozens of varieties of lavender divided into two "families?" Short-stem English Lavender is used in the culinary arts, the long-stem French Lavender for medicinal and therapeutic uses.
White Oak Farm grows and sells both, and is a wellspring of information about the fragrant purple flower. Owner Julie Haushalter offers "U-Pick" your own lavender in summer peak season. You get scissors and a tutorial. Other great programs abound throughout the year.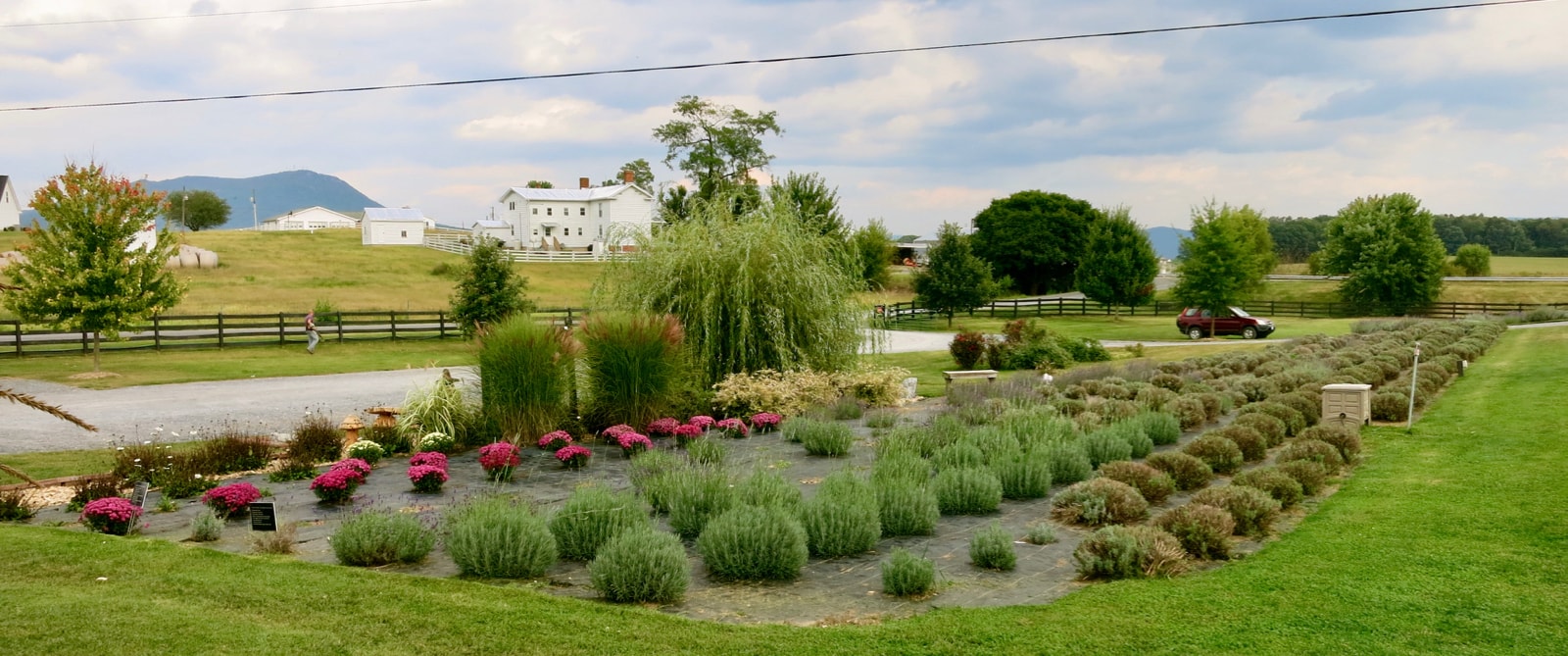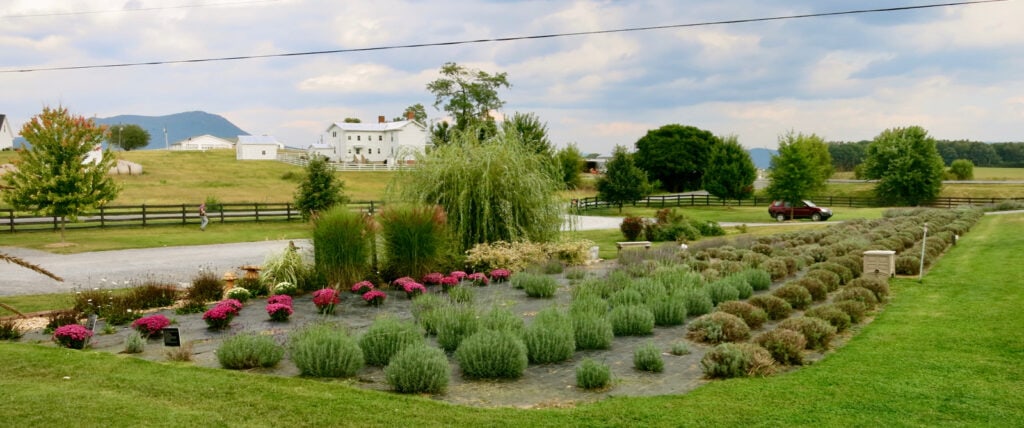 Most of the items in the large store are made right on site – oils, infusions, creams, sprays, candles, potpourri – and for a small fee you have access to the animal farm out back.
You'll find ponies, sheep, jumbo bunnies, free range chickens (laying free-range eggs, which you can also purchase in the store) and the famed Mr. George Washington, the 2012 Presidentially pardoned turkey. Open year round Mon-Sat 10-6, Sun 1-6. Guided tours, $9pp Mon-Sat 11am, Sun 2pm. Closes 5pm in winter.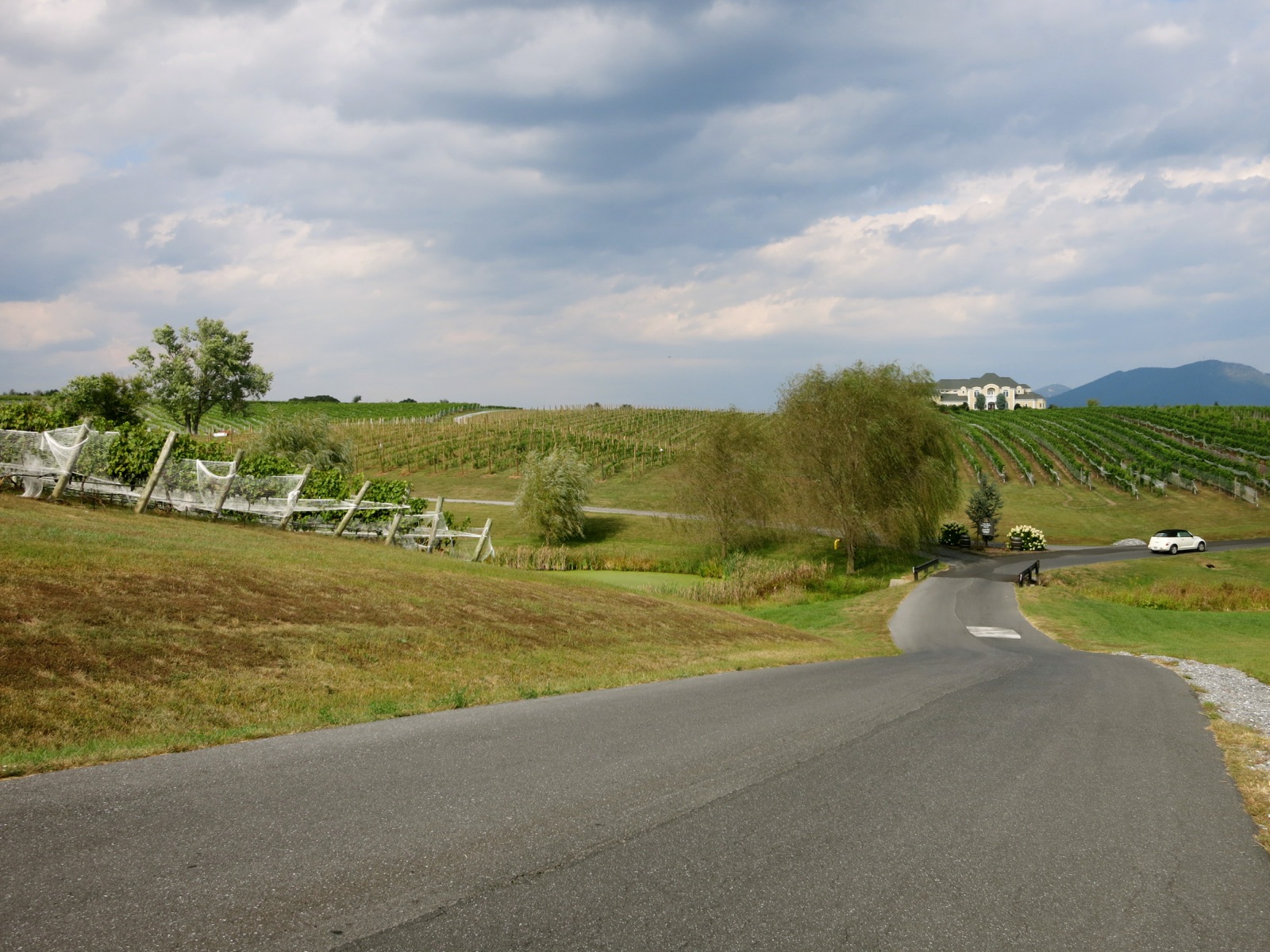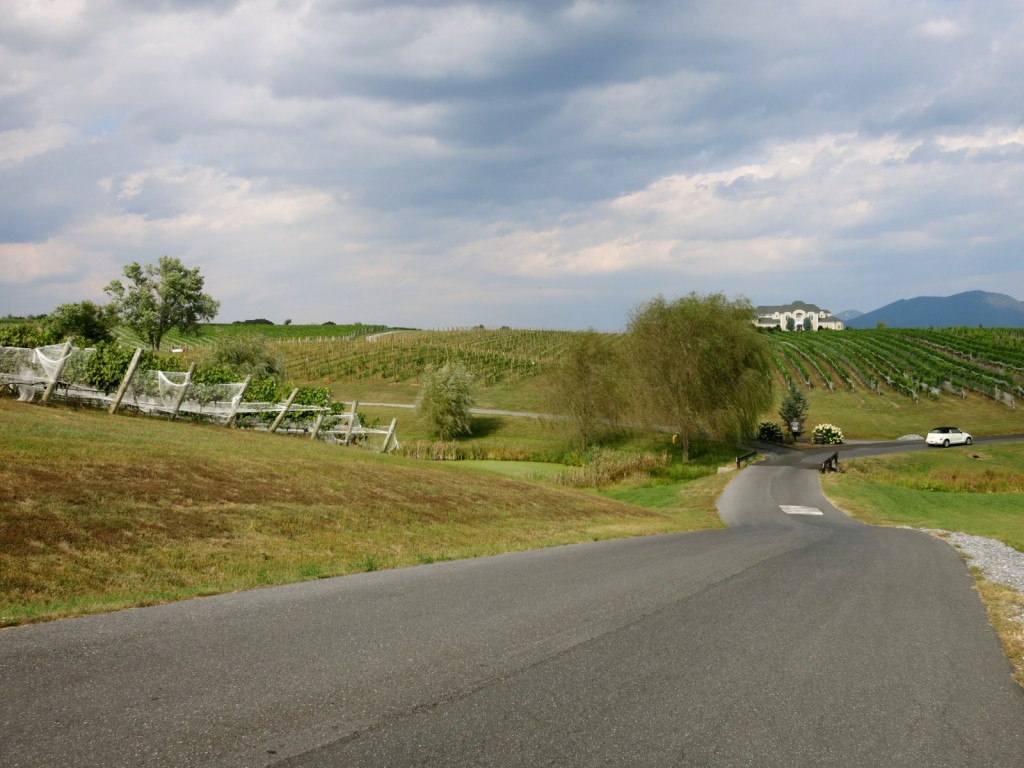 Set in what can pass for the Tuscan hills, this out-of-town hilltop tasting room is one of the prettiest wineries in the state. That accounts for the stream of cars that come and go to this rather remote place during operating hours. Come for a sip and to take in the views. Open April-Nov 11-7, Dec-March 11-5.
Where to Eat in Harrisonburg VA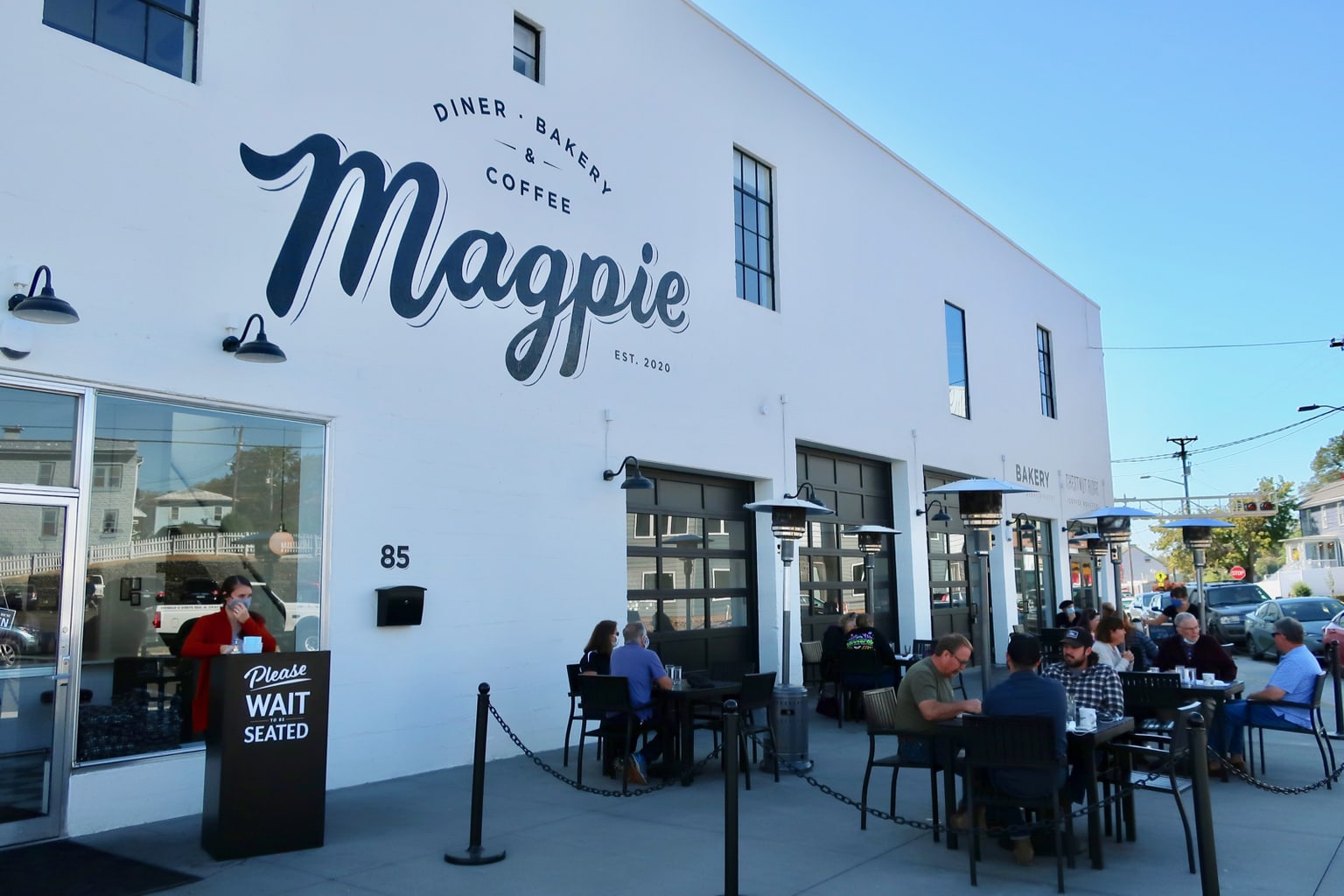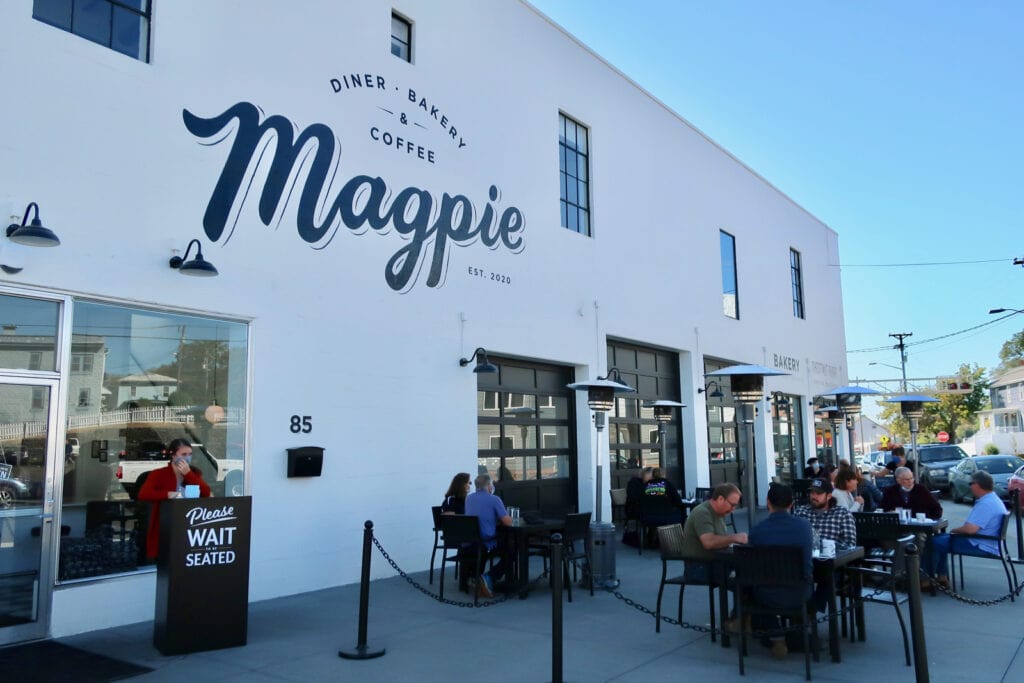 In a former garage/tire shop, Magpie Diner's cool factor starts with the shape of the building: a Flatiron design more associated with large cities than a small Virginia college town. But architecture means nothing if the food isn't good. So, I'm here to say that Magpie's Crispy Chicken Milanese Sandwich ($9.95) is so amazing – I'd eat it every day if I lived anywhere near here. But according to enthusiastic fans – almost everything is a "to die for" dish, which is why it now tops the list of Best Restaurants in Harrisonburg for many.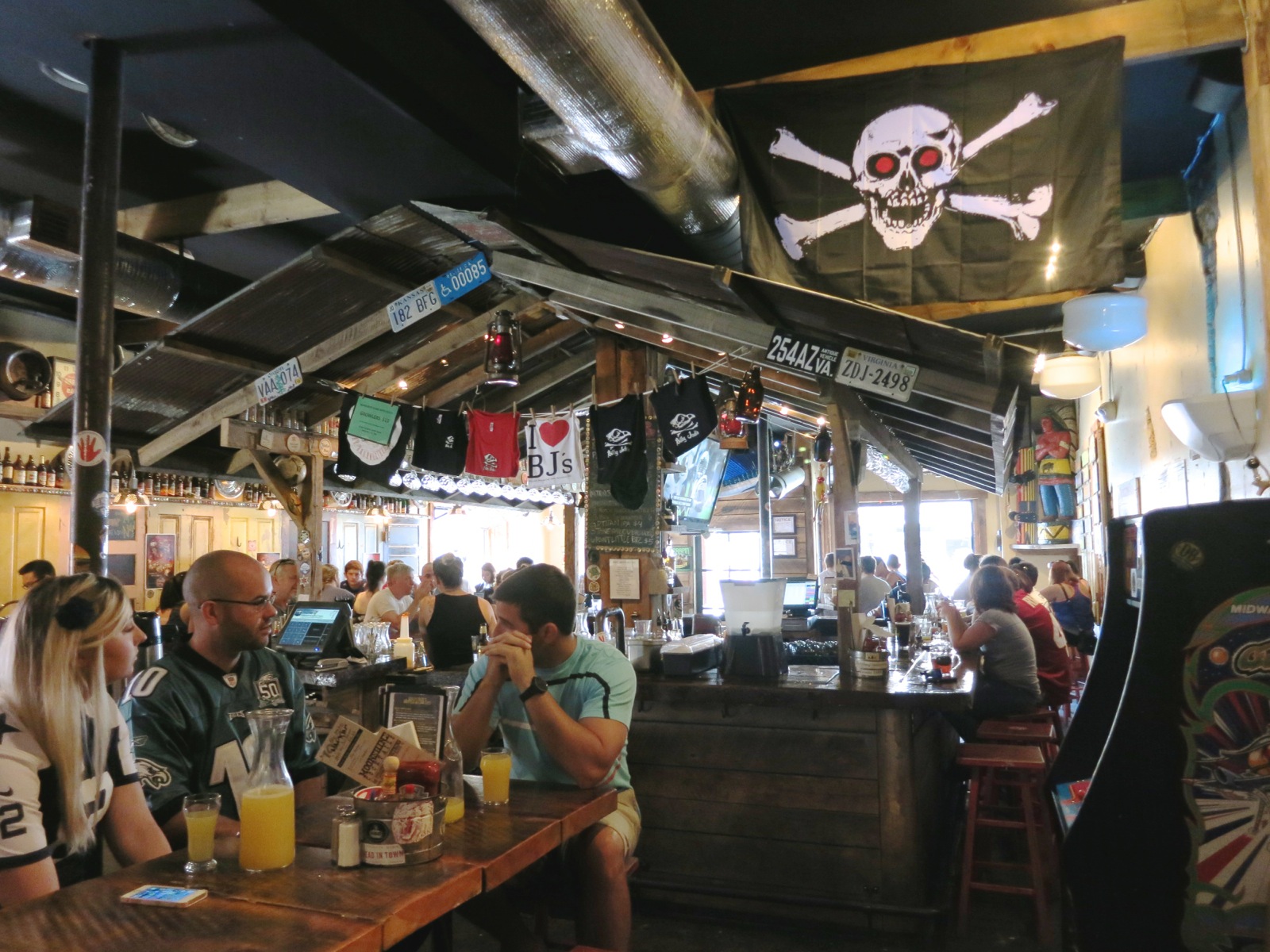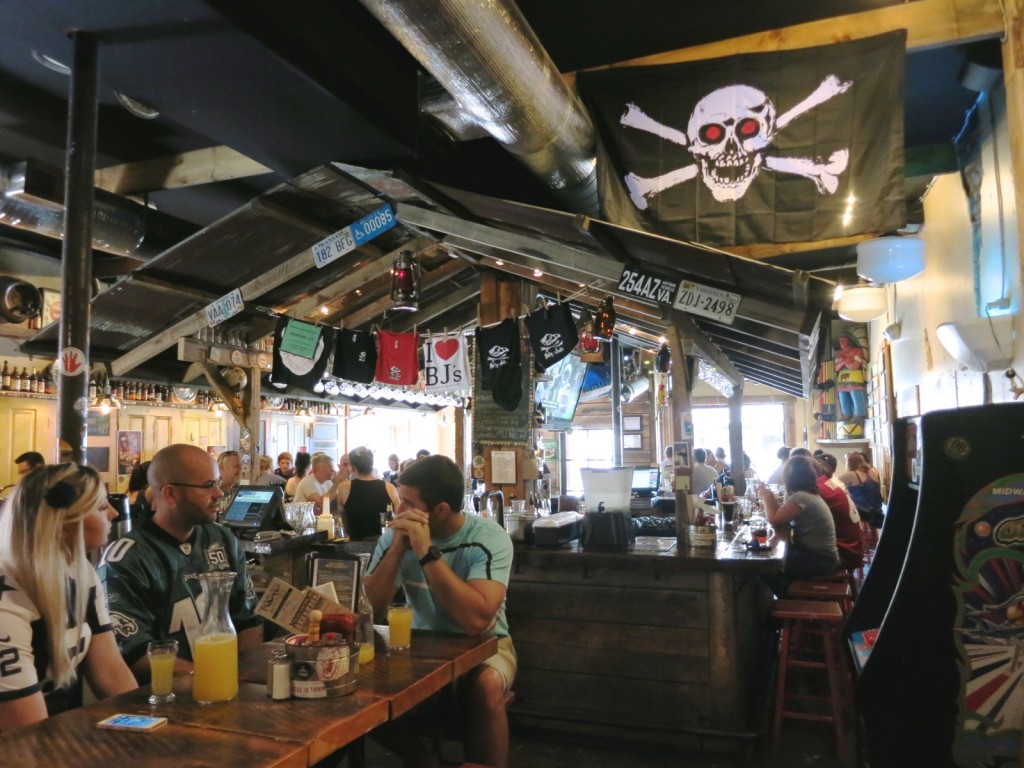 Like any respectable pirate hangout, you'll find the Skull and Crossbones flag and plenty of wise-ass nods to the Pirate life in this barn-like space. Fans of upgraded pub food will love the offerings here, among them, Chicken Sammy -a fried chick breast on hamburger bun topped with spicy cole slaw, and Frito Pie – chili topped with cheese served in a bag of Fritos.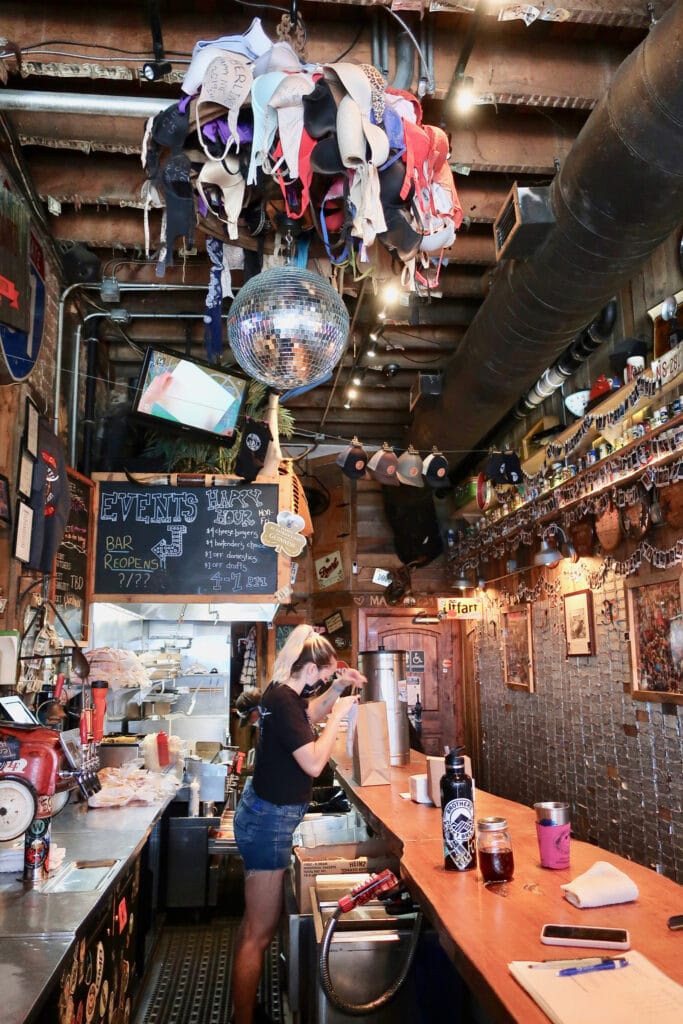 Next to Billy Jacks, they call this stretch of downtown "Jacktown." Come to Jack Brown's Joint for great burgers, beer and convivial discourse. Yes, there's a bra-mirror-ball-chandelier. I don't even want to know…..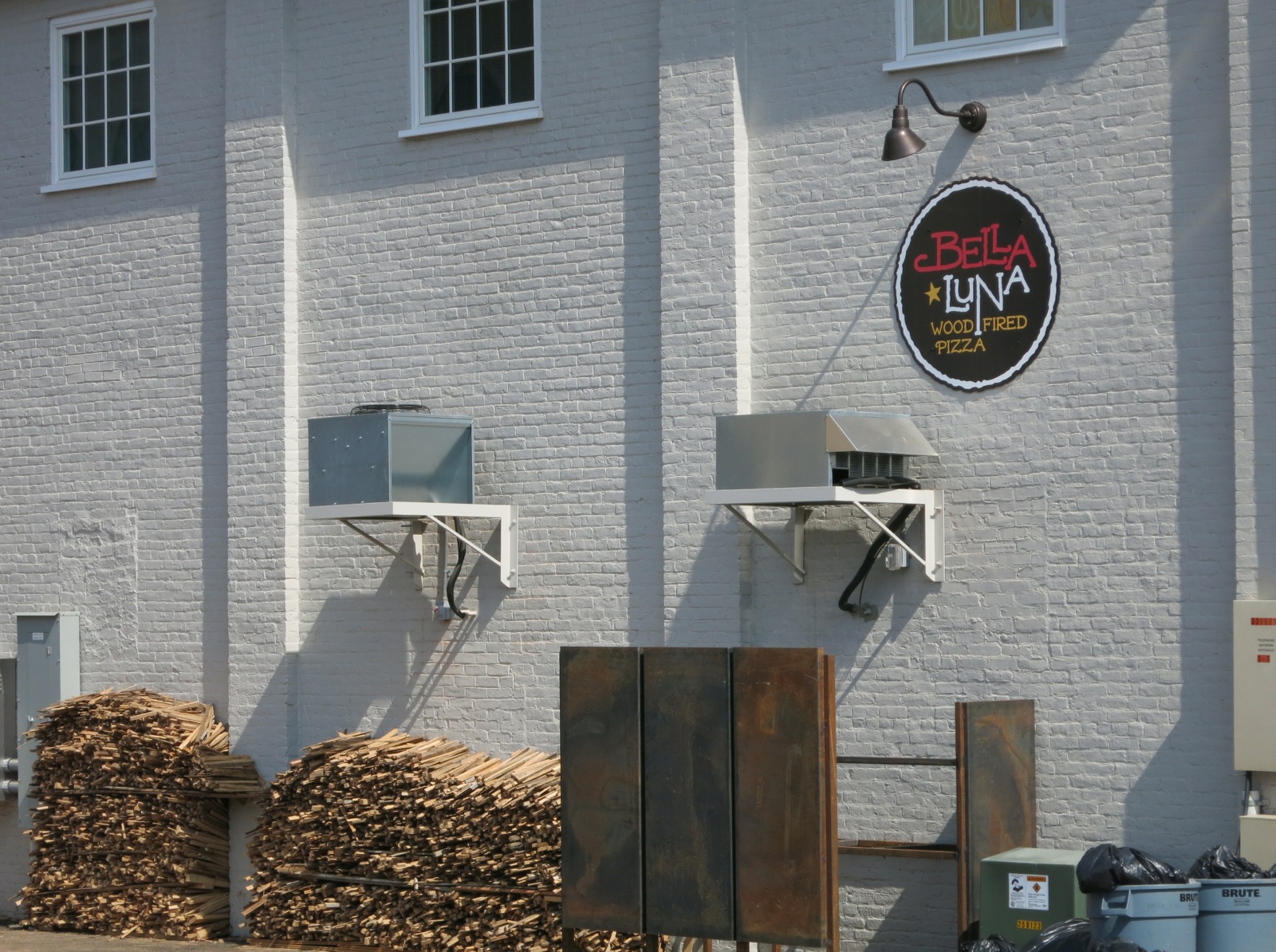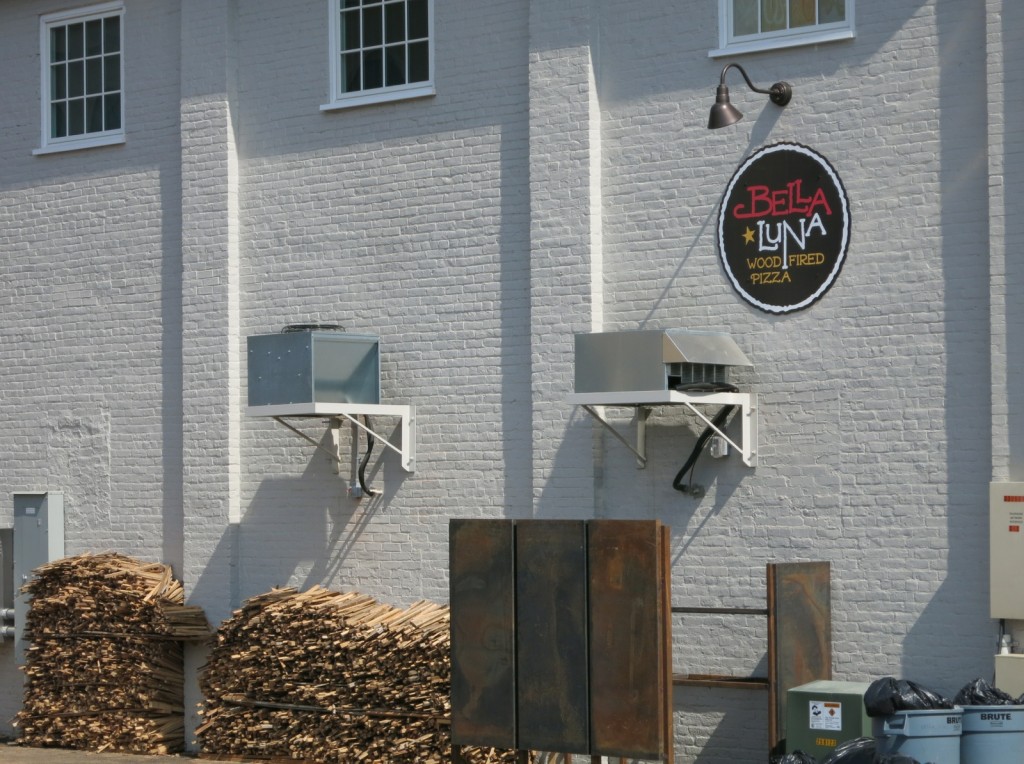 This upscale wood-fired pizza spot is the real deal, as evidenced by the piles of cordwood right outside. Discs of deliciousness are hand-crafted with locally sourced ingredients.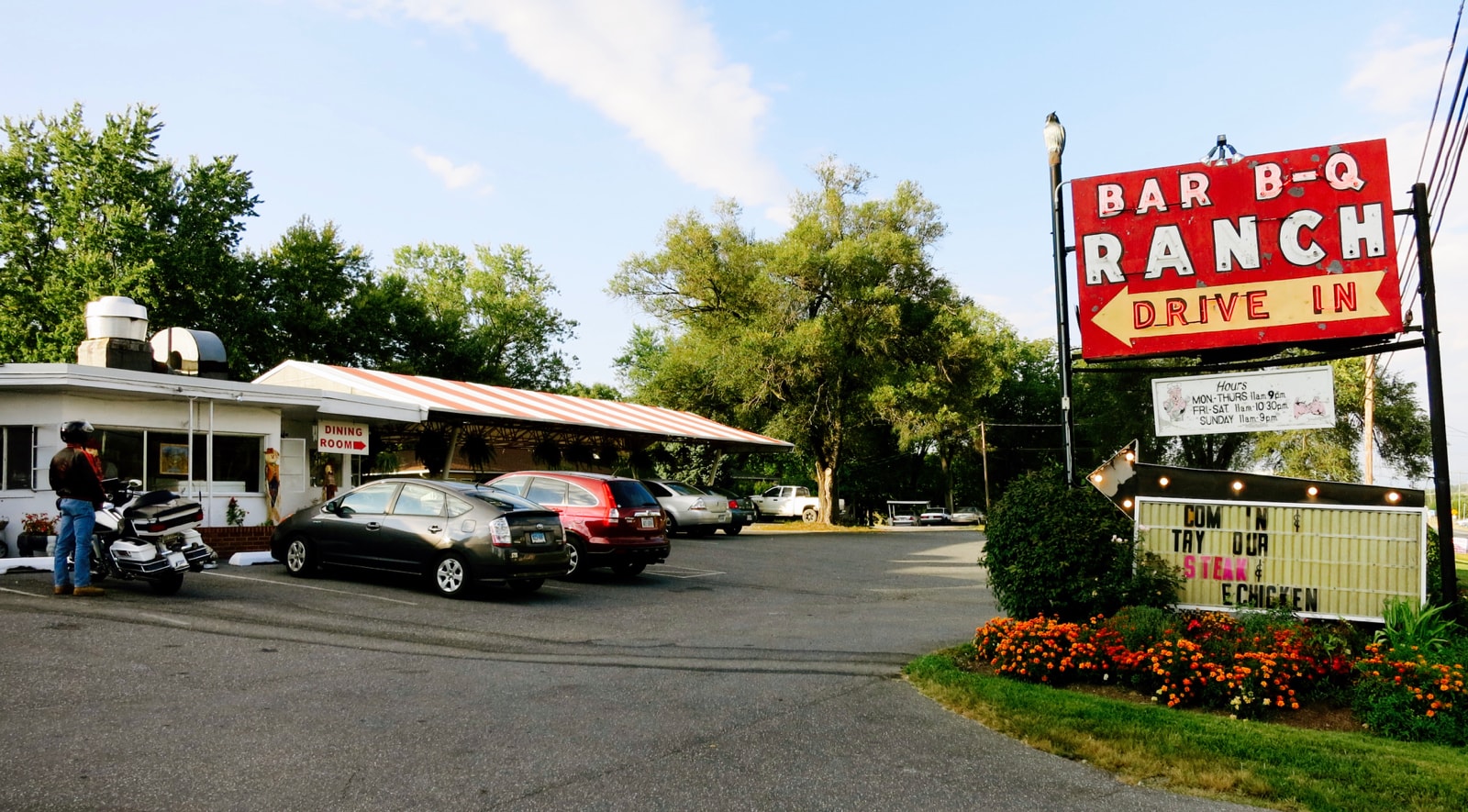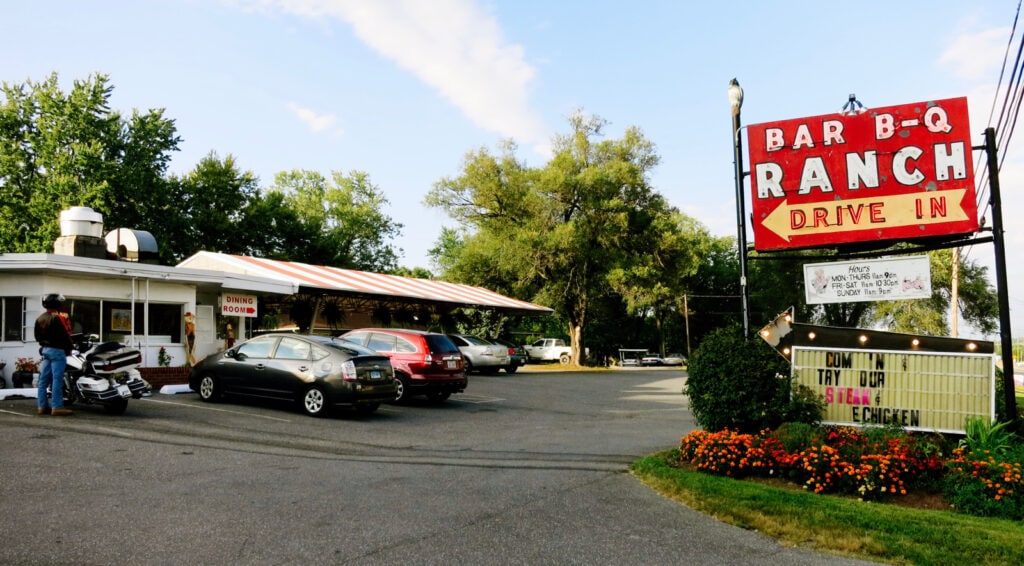 This throwback plastic-cloth on table BBQ joint has been around forever. Come in for pulled pork, sweet tea, and a gander at the collection of little porcelain pigs.
See below under "Where to Stay."
EAT: Locals Love
This is a tough call, because there are fans of every stripe, nationality, cuisine –  and many have favorites. So – here goes. Rocktown Kitchen (unique American comfort), Local Chop & Grill House, BoboKo Indonesian, CubanBurger, Thien An Pho (Vietnamese) to start.
Where to Stay in Harrisonburg VA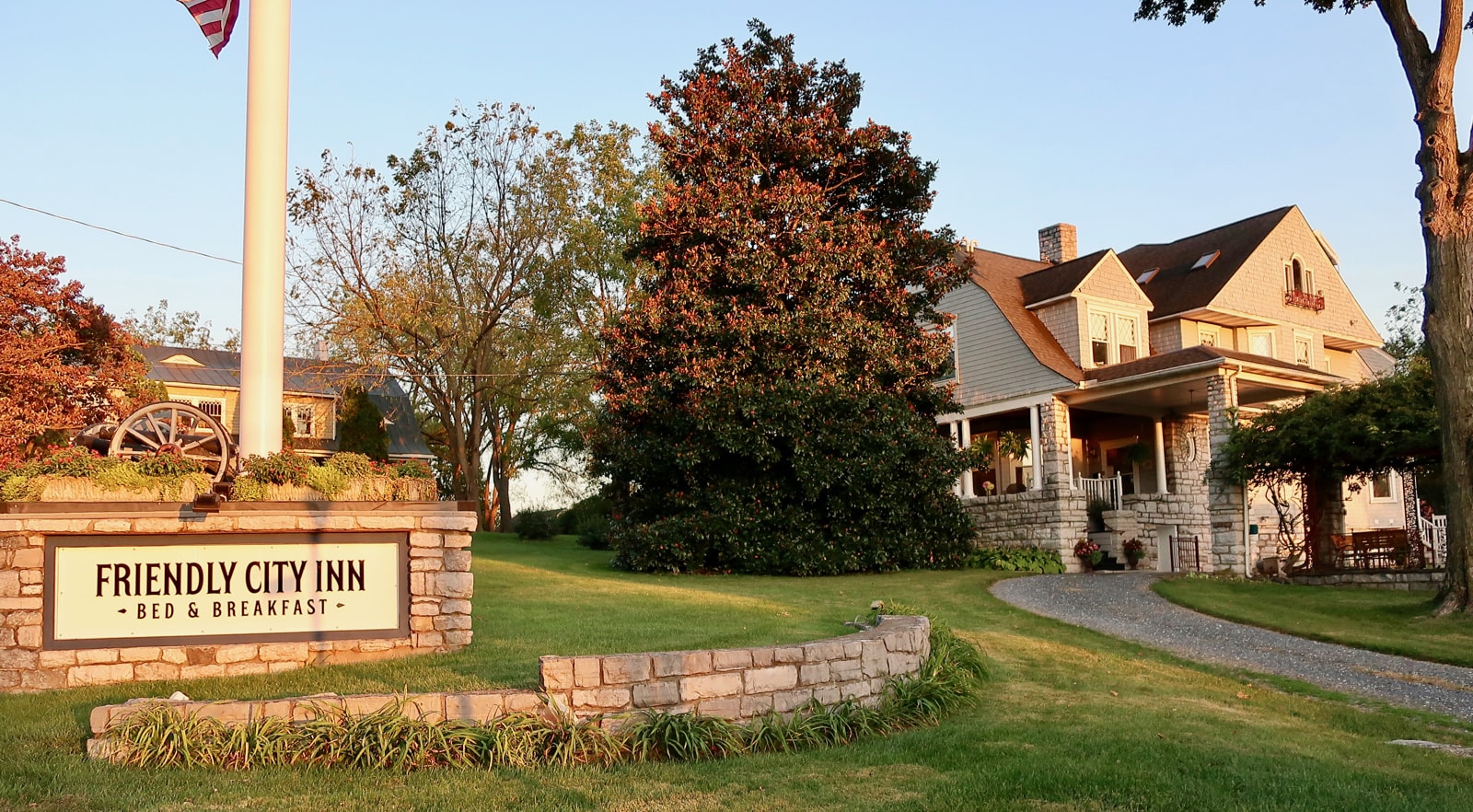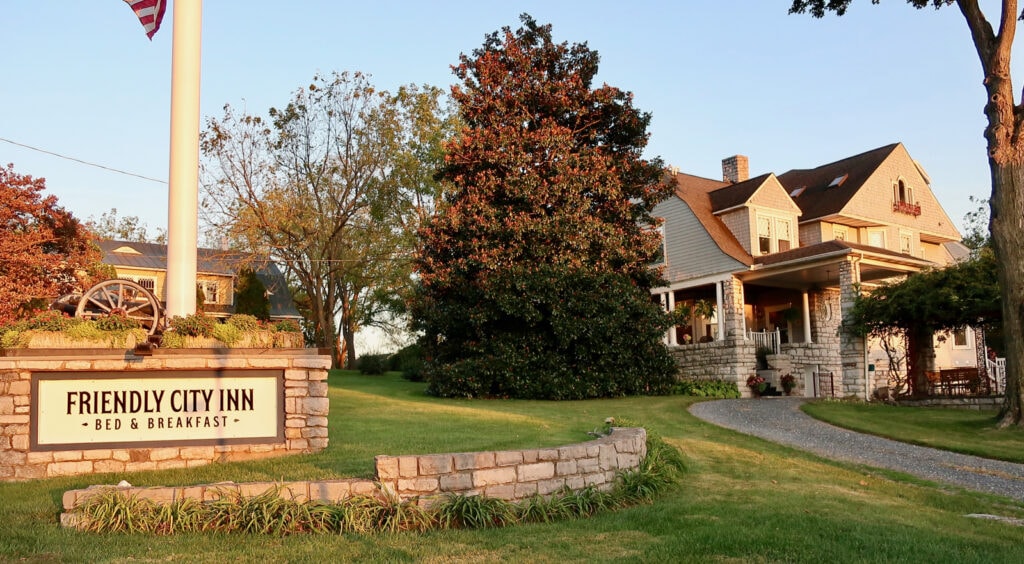 You can't miss the sign for this handsome stone mansion on a hill: Friendly City Inn in huge letters complete with towering American flag. It used to read "Stonewall Jackson Inn," but young new owners, Joel and Becca Graham, changed the name to reflect their own mission and beloved town.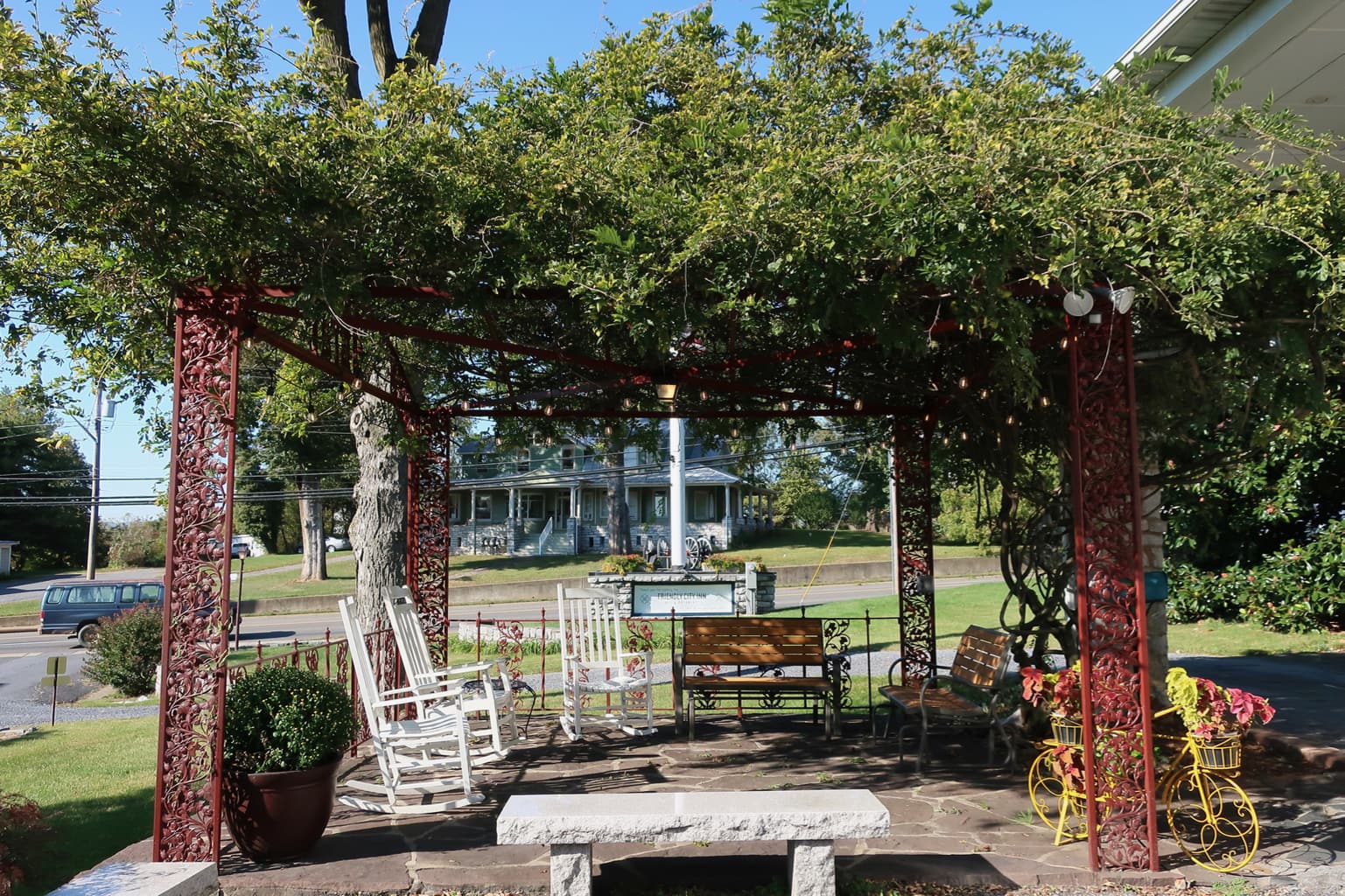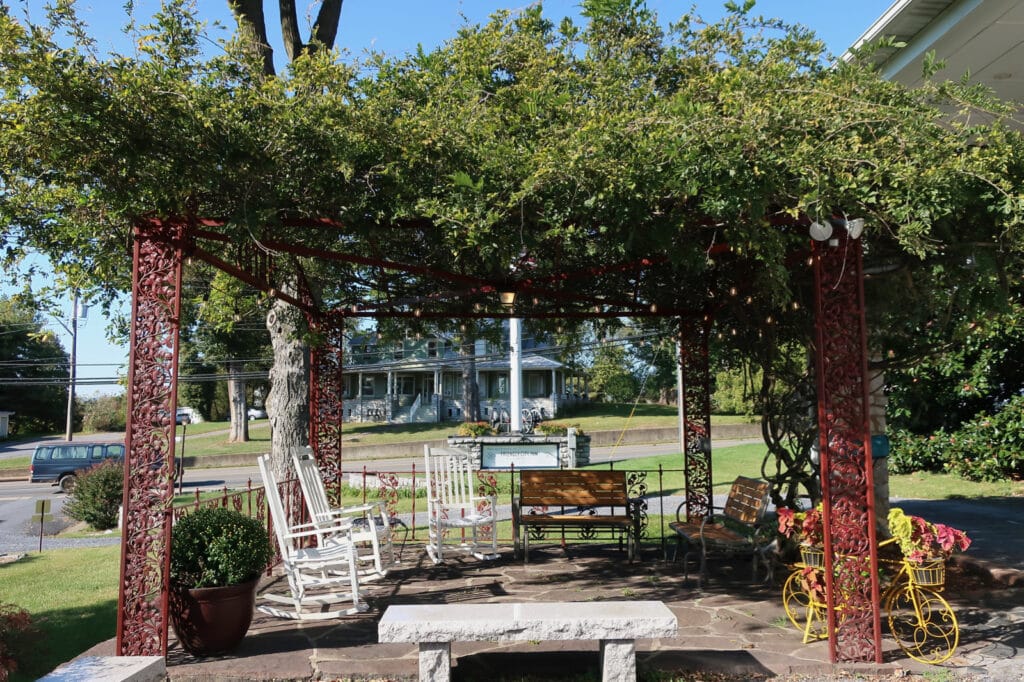 The Grahams certainly put the "friendly" in the Friendly City Inn. Becca in her mid-20's, is warm and welcoming, and makes guests feel at home in her ten room lodging. Interestingly, many new guests are on the younger side, "looking for an authentic B&B experience."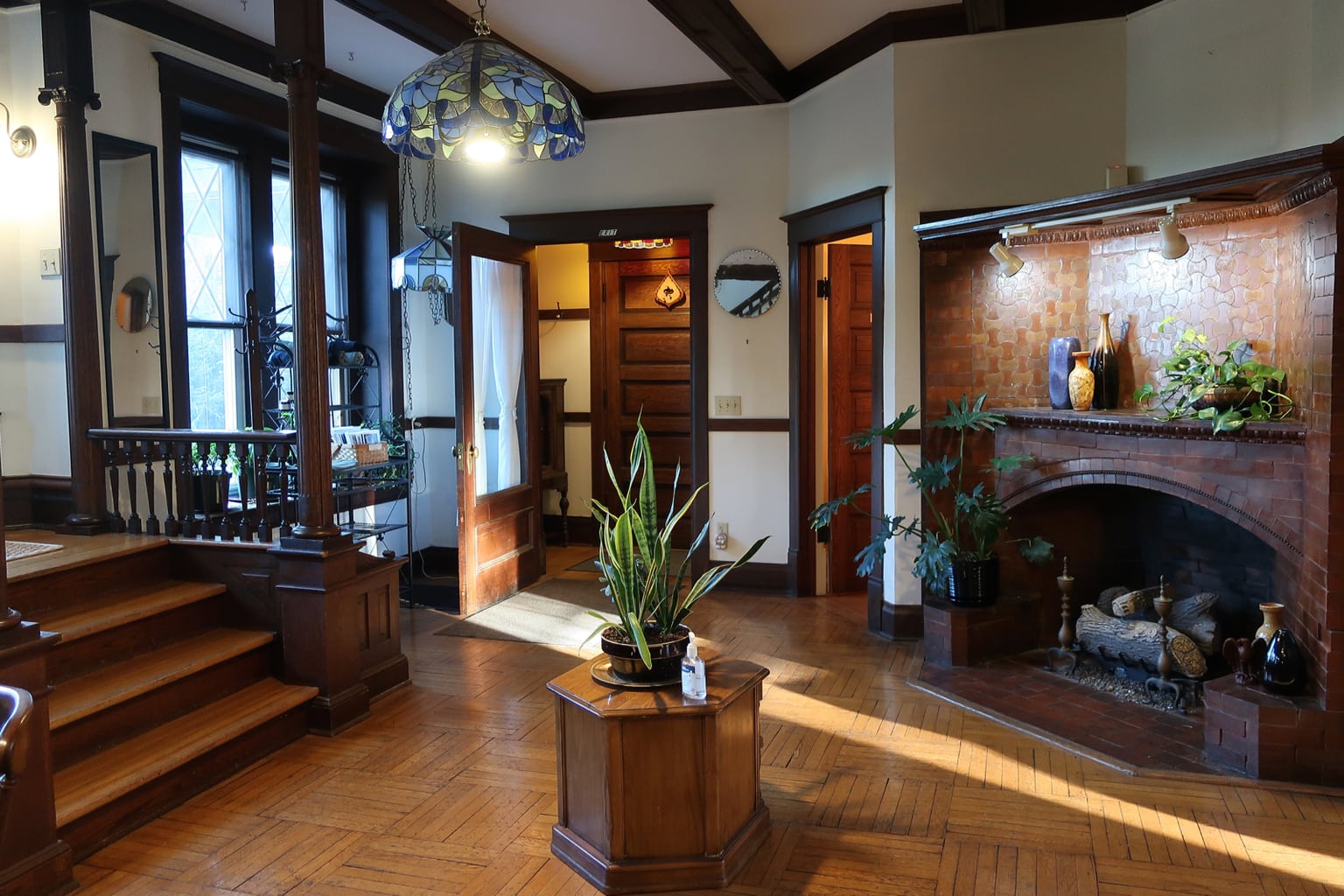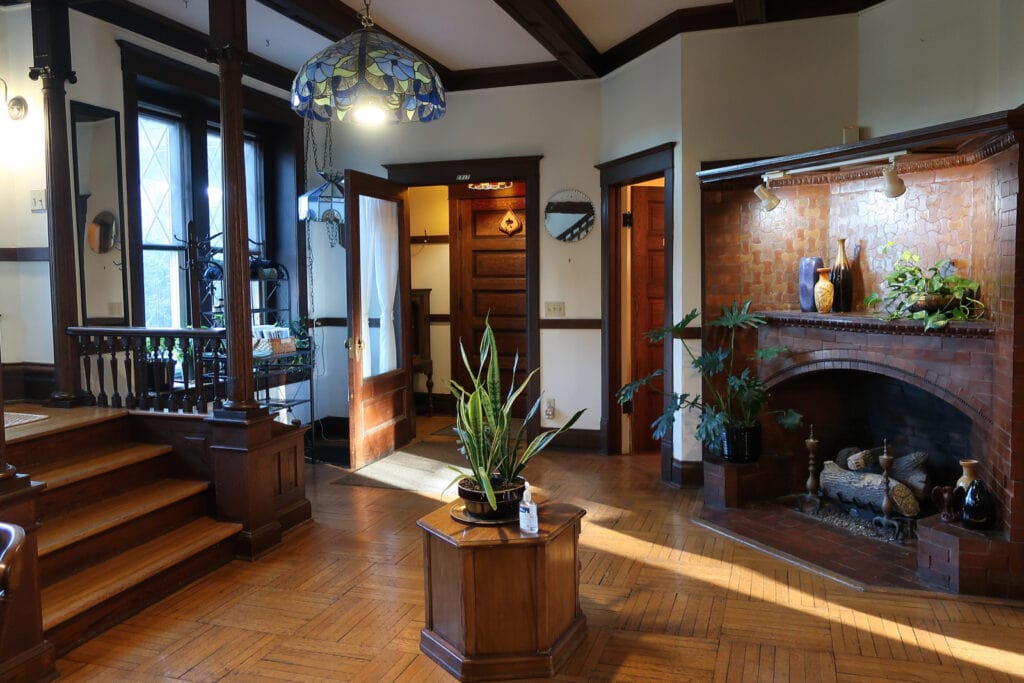 Rooms furnished with antiques, and beds covered in floral quilts, this well-regarded, popular inn is certainly old school in the best way.
First Impressions
Legend has it that a northeastern ship's captain fell in love with a Virginia debutante, and built this stone-and-shingle New England style cottage in 1885 for her.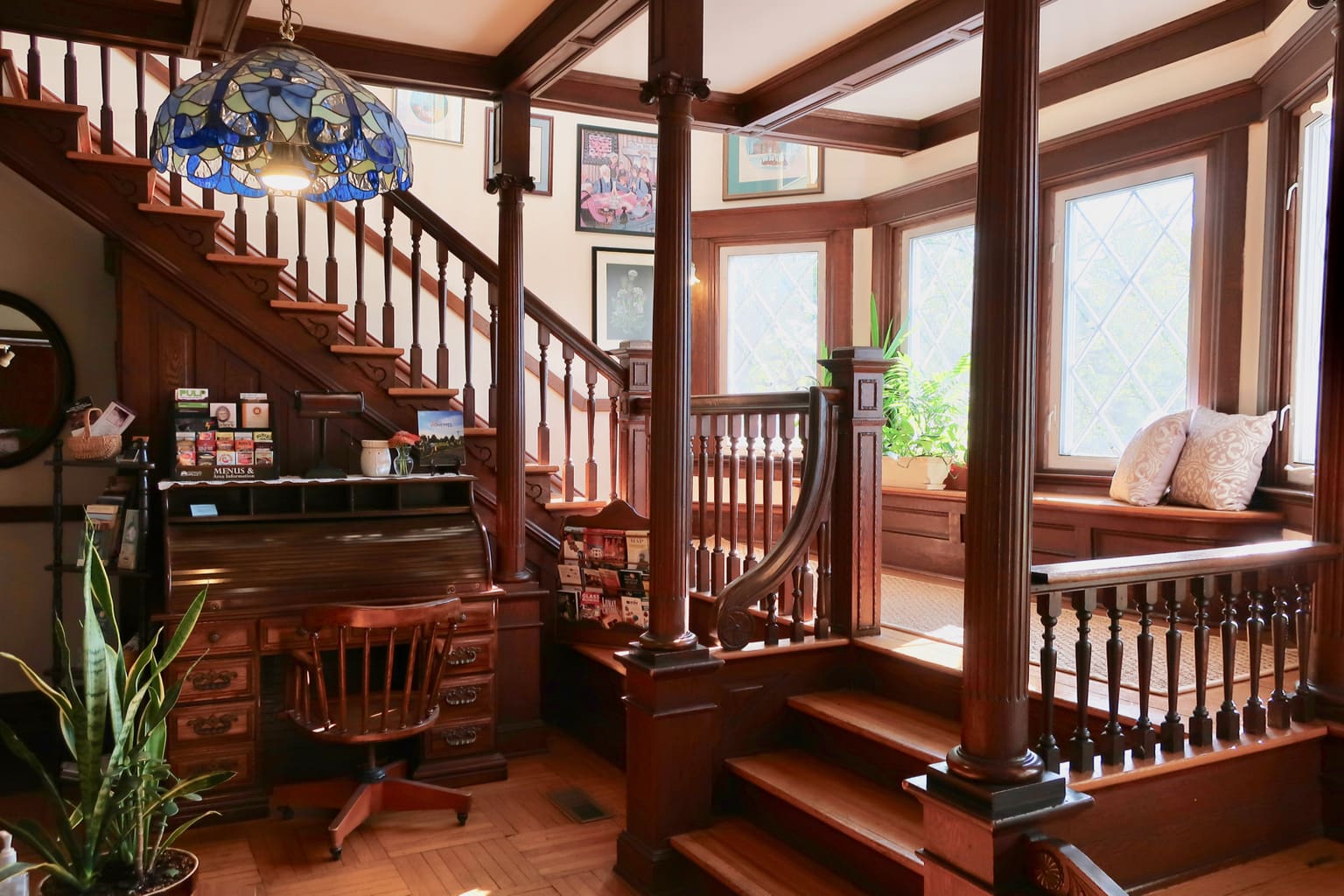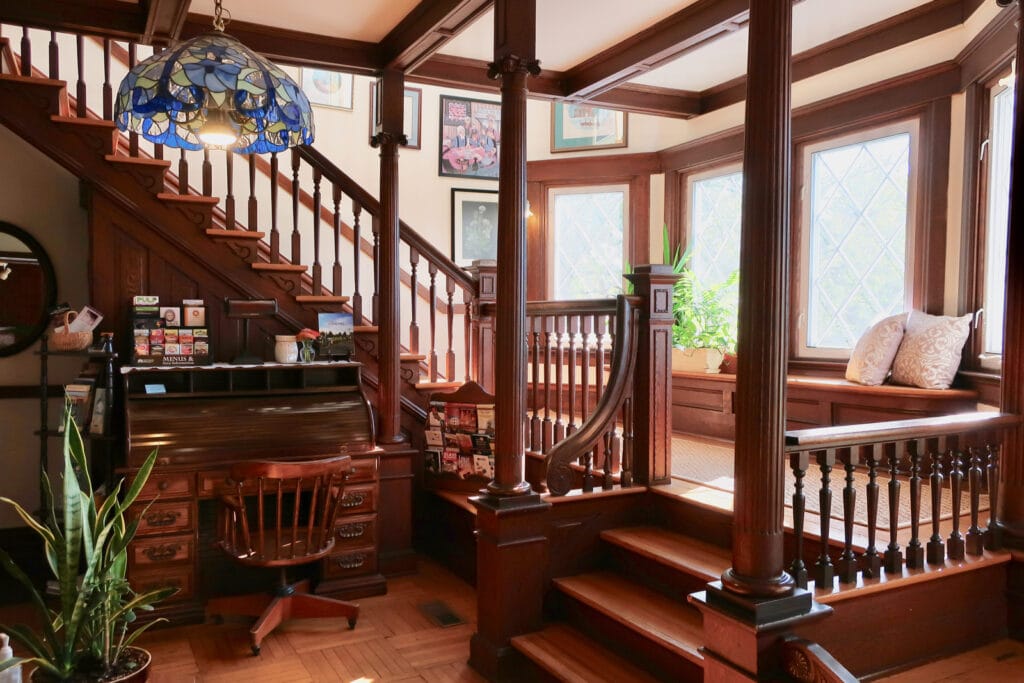 Walk inside, and the lovely foyer, stunning in burnished wood, certainly has a nautical feel. Several common rooms feature leather couches and fireplaces – great spots for safe gathering.
Rooms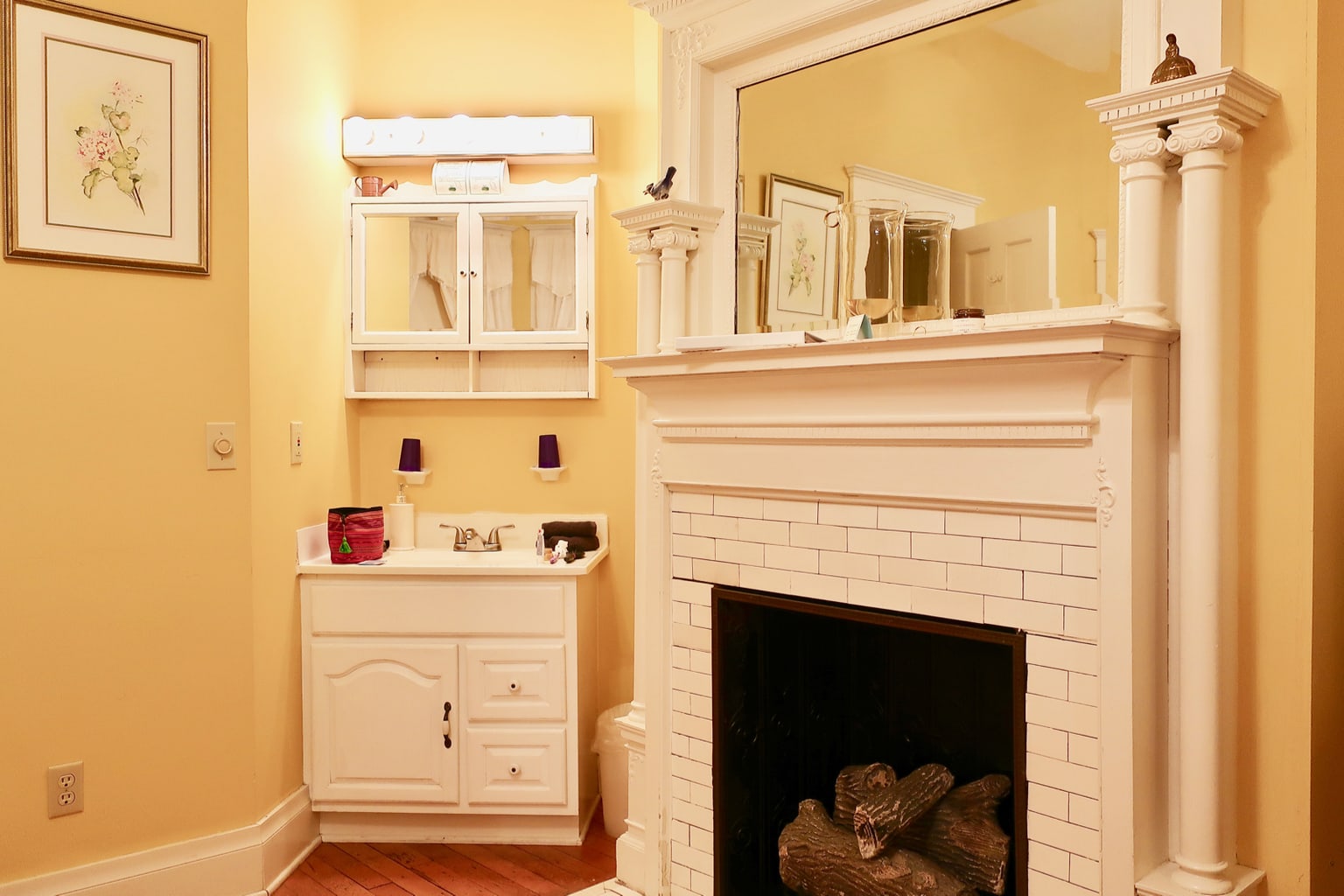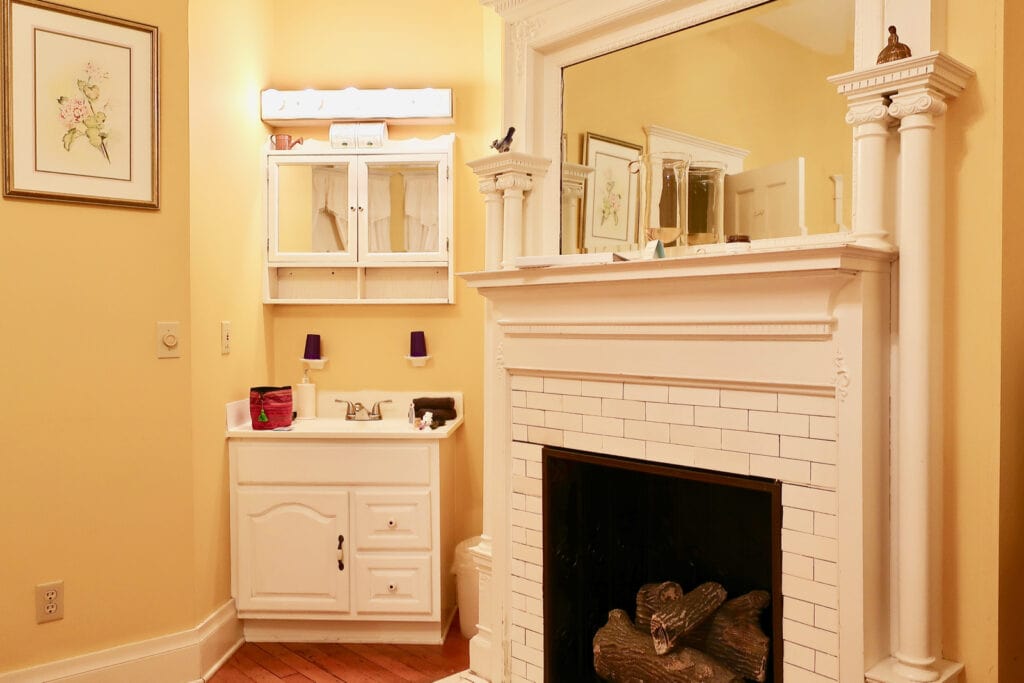 In contrast to the darker common areas, mine – the Magnolia Room, with Greek-columned fireplace and sink outside a small bathroom, was bright and cheery with canary yellow walls.
Breakfast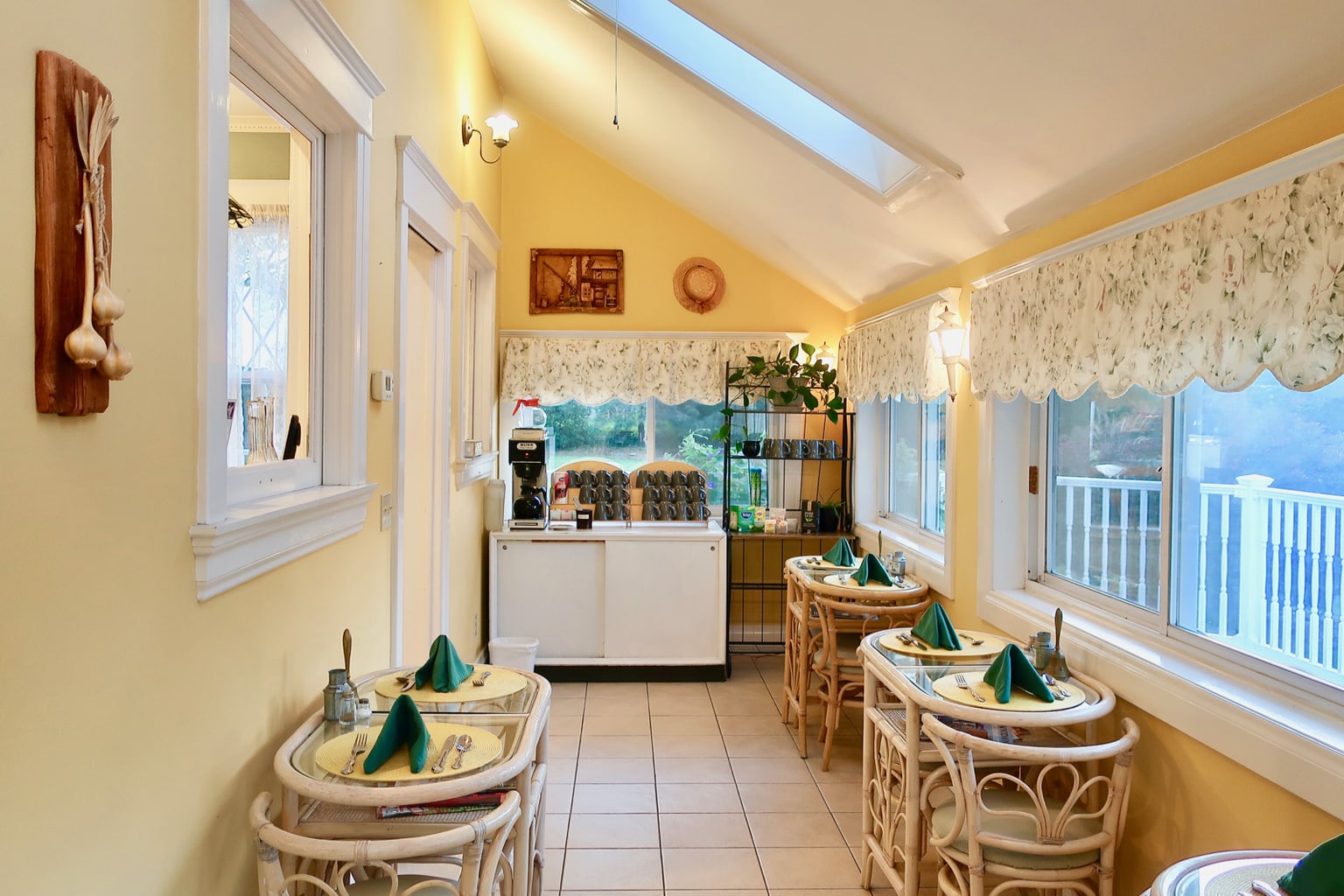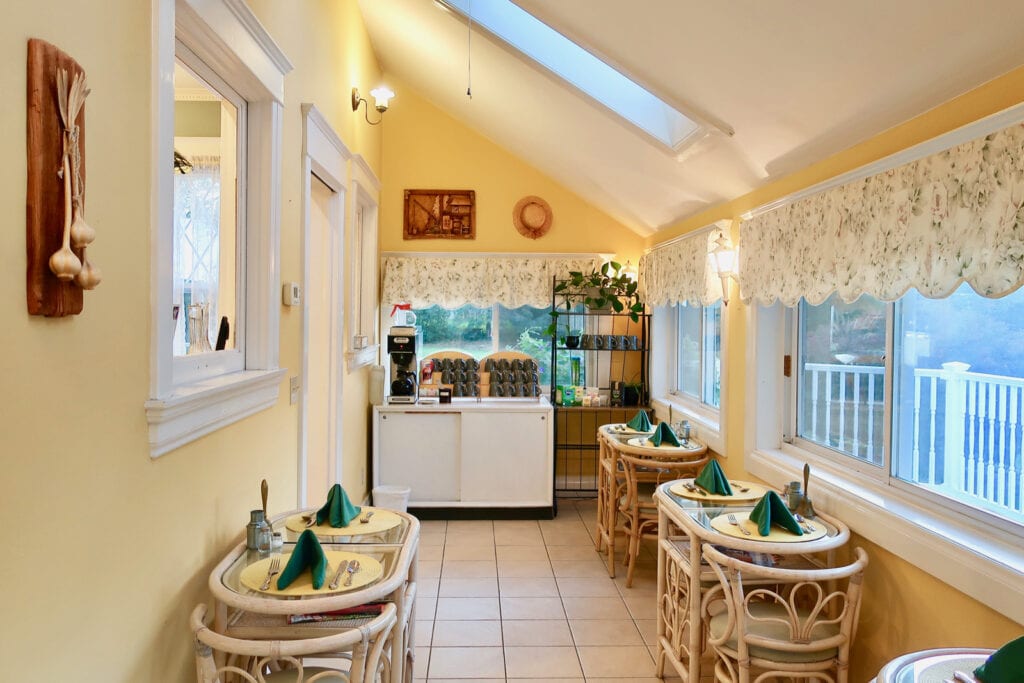 Take breakfast on the expansive veranda or in a bright solarium when it gets cold. As it was cool outside, I stayed in to watch Becca make my morning meal (croissant French toast with berry sauce, scrambled eggs and bacon), as we talked and I sipped my coffee. Breakfast was hearty and delightful. And so was the company. Rooms from $149 – $288 (for special events) per night include parking, wi-fi, bottled water, and gourmet breakfast for 2.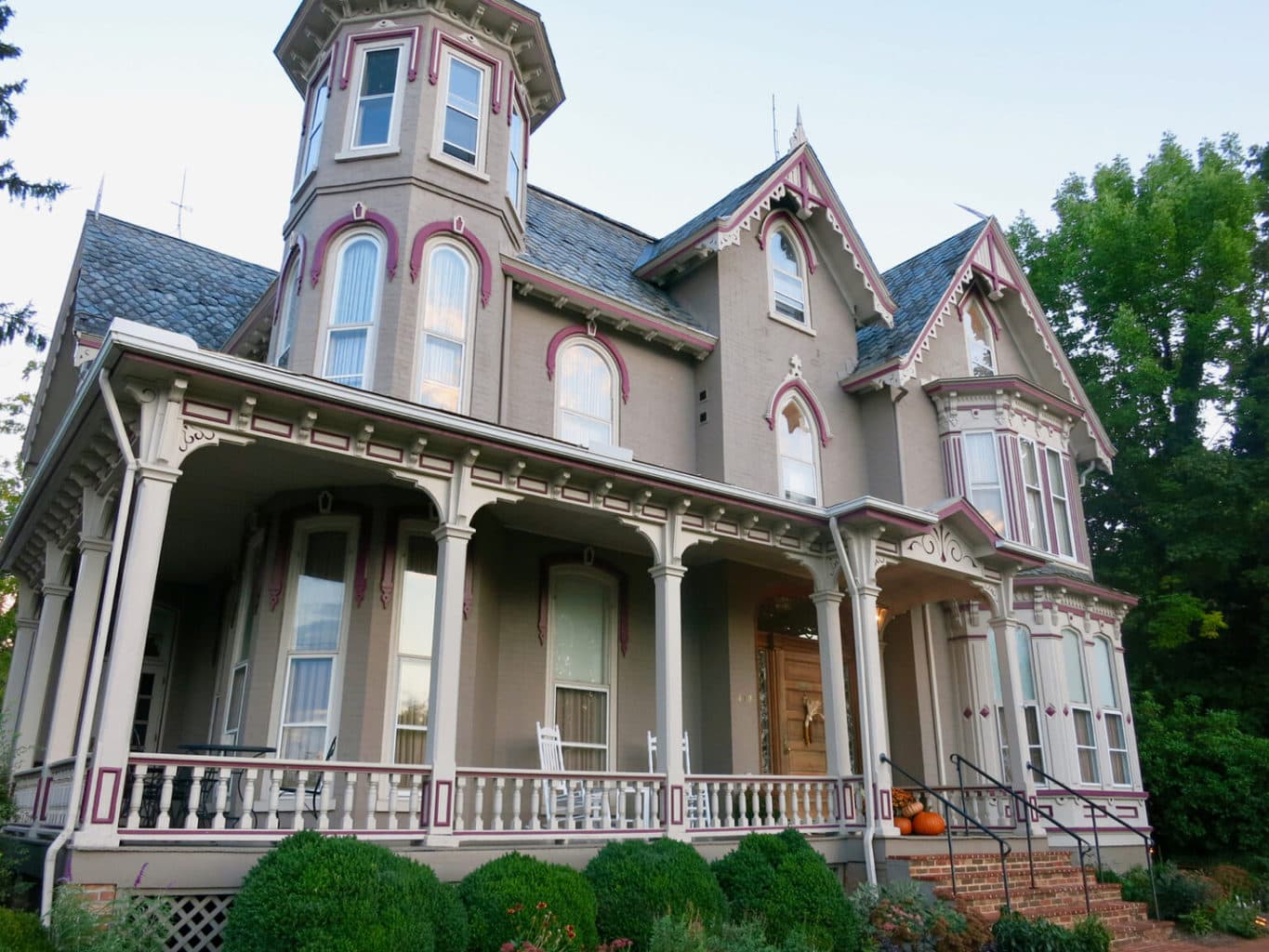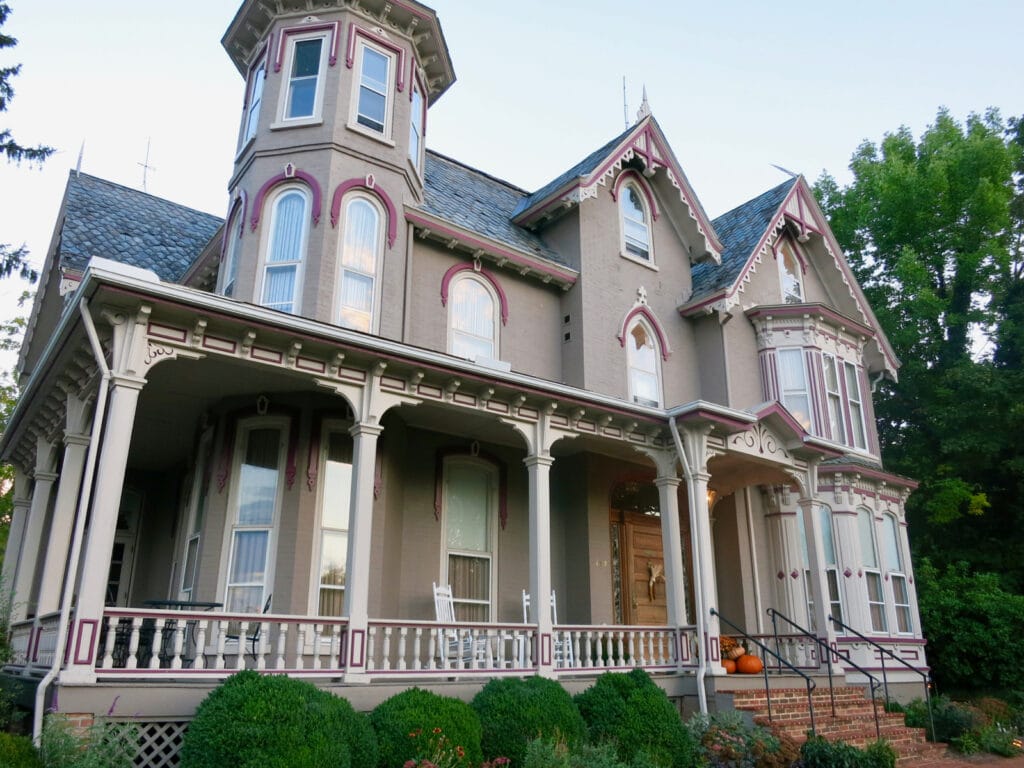 This 1888 Victorian confection is named for its first owner, a man responsible for bringing electricity to Harrisonburg. It sits just a couple of blocks from the Visitor's Center and Historic Downtown Harrisonburg.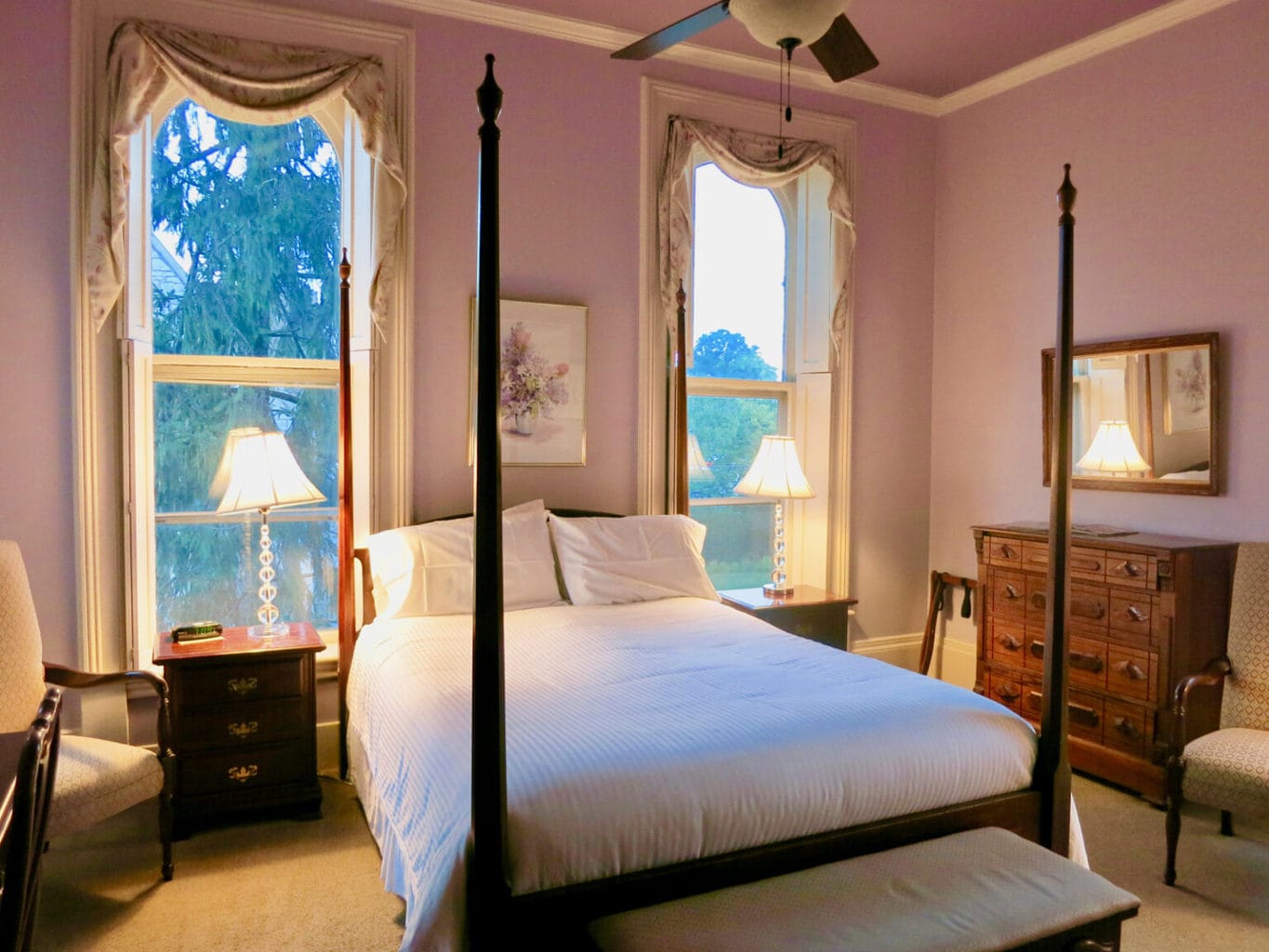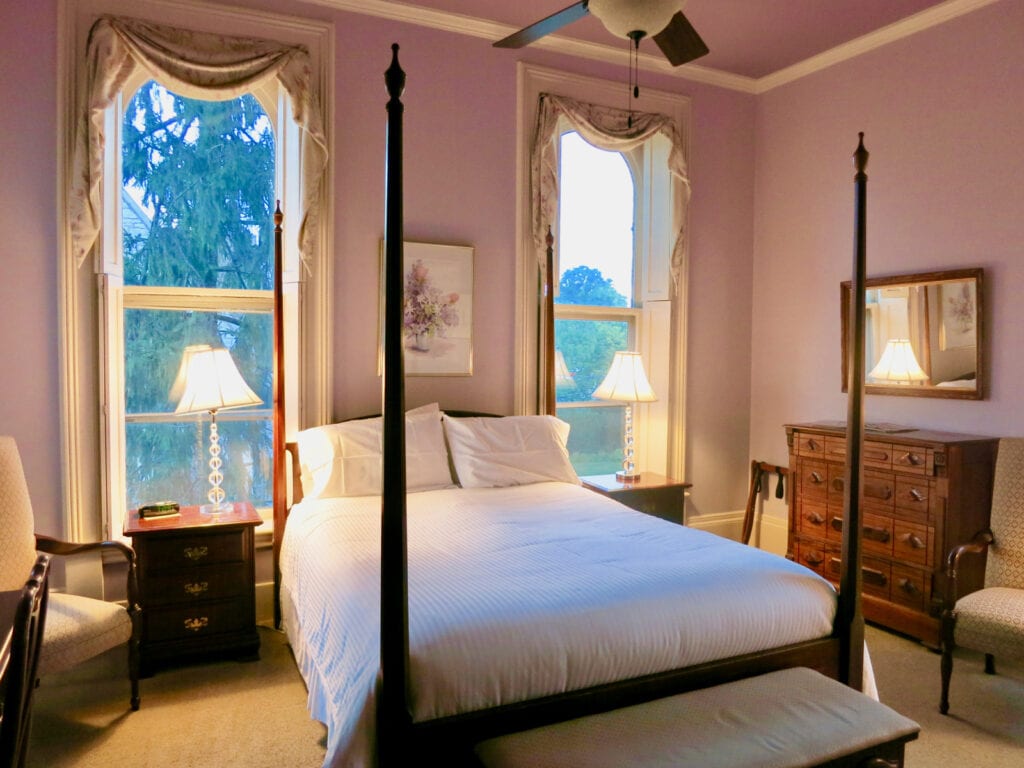 All five antique-filled rooms are lovely. Particularly the lavender-colored #5, with 12 foot ceiling, four poster bed, plump white bedding and working wood fireplace.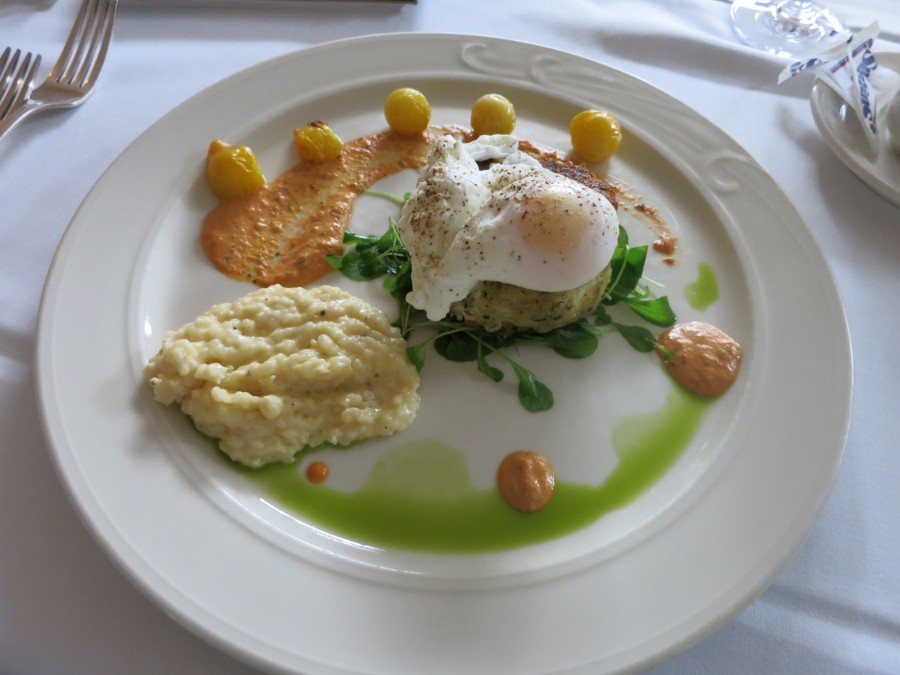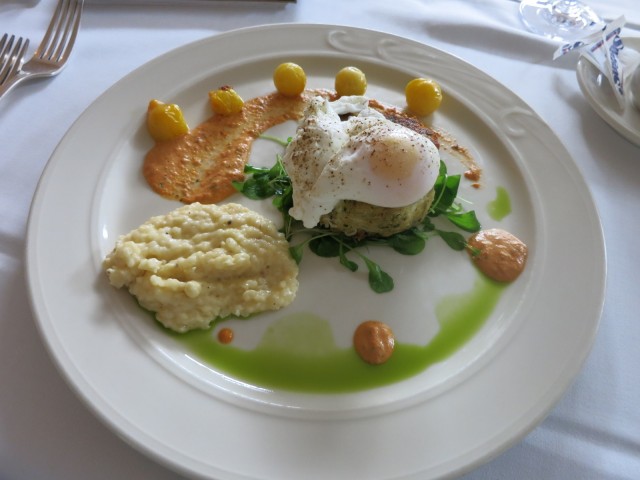 But what makes the Joshua Wilton House a standout is the dining room, both for dinner and the exceptional gourmet breakfast that comes complementary with the room.
The yogurt with homemade granola, juicy yellow watermelon bites, fresh-picked raspberries and nuts, is a revelation. And artfully plated dishes like Crabcake with Poached Egg and Arugula with Lemon Oil dressing would be at home in a high-caliber NYC restaurant.
Rooms are lovely, but the food is beyond excellent. Rooms $150 and $175 include free parking, wi-fi, and incredible gourmet breakfast.
Consider combining your Harrisonburg Getaway with a stay in the stunning Shenandoah Valley (20 minutes north), and/or the surprising center of Shakespeare, Staunton VA just 25 minutes south.