Where and What is the Mill at Fine Creek?
The Mill at Fine Creek, 30 miles west of Richmond VA, is composed of a wedding venue, a fantastic brewery – Fine Creek Brewing – and a series of small boutique guest cottages, just perfect for a romantic getaway.
Richmonders are lucky to have this relatively isolated place so nearby. But even New Yorkers have discovered Cottages at Fine Creek, happy to drive six hours to get here. (It's 2 hours from DC, and 3 hours from Baltimore).
Sightseeing in the area? Check out our What To Do In Richmond post.
First Impression of the Cottages at the Mill at Fine Creek
Thirteen mini-dwellings dot a small hill between an eye-catching wedding venue and Fine Creek Brewing Co. They reminded me of those lodgings on American streets and lanes during the early heyday of road trips (although these are much more upscale). Staying in one was a true nostalgia trip.
My husband drove from Connecticut and I landed in Powhatan VA in the face of a coastal Northeast snowstorm. We were relieved to find that not only was The Mill at Fine Creek's small Provisions store open, but that the brewery tasting room – just a few steps from our cottage – would be in full swing until 8pm.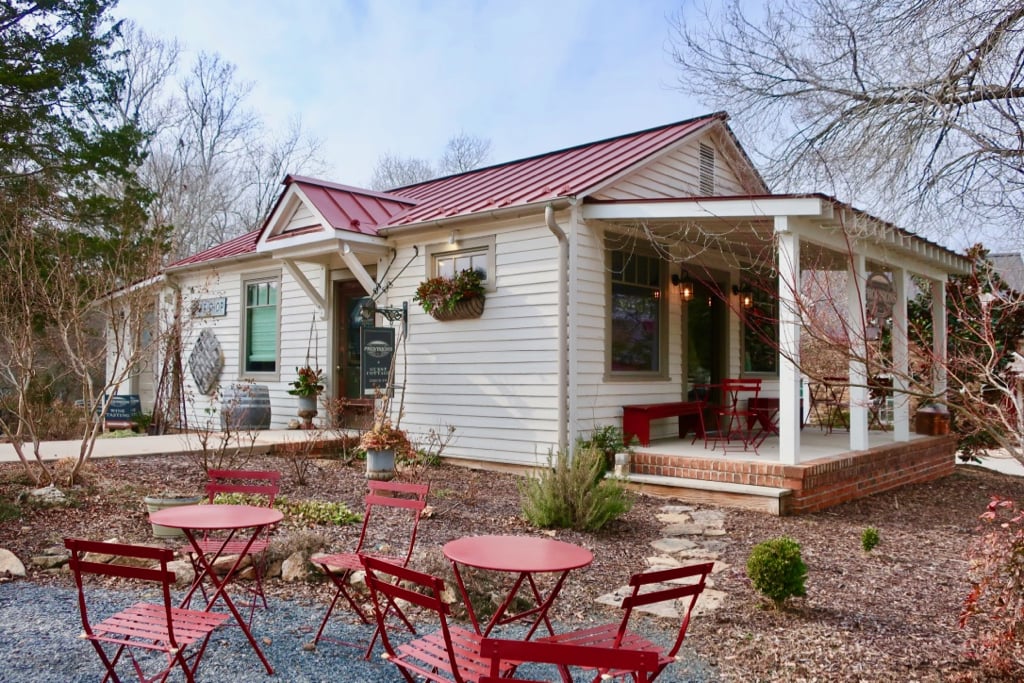 After checking in at the small gift and prepared-foods shop, we walked a minute up the hill to our one bedroom home for the night – cottage F. (There are 7 one bedroom cottages, 5 two bedrooms, and one three bedroom). It proved to be a wonderful escape from the city. And, from the Northeast's raging storm.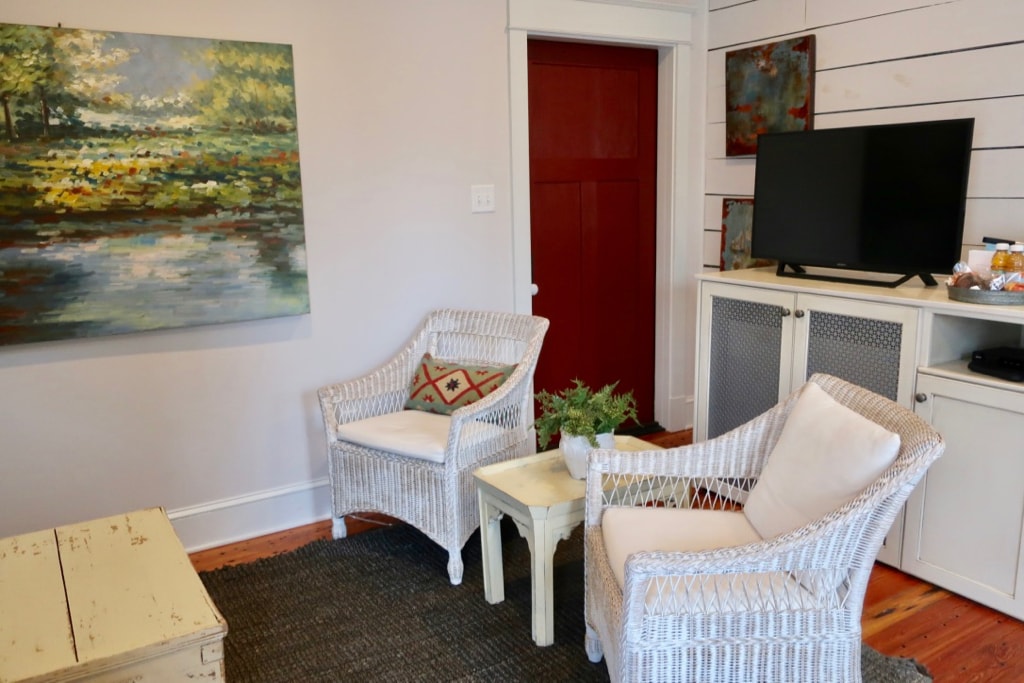 Cottage F at Mill at Fine Creek
Cottages vary in décor. Cottage F features a blend of contemporary art with homey knickknacks – nothing flamboyant.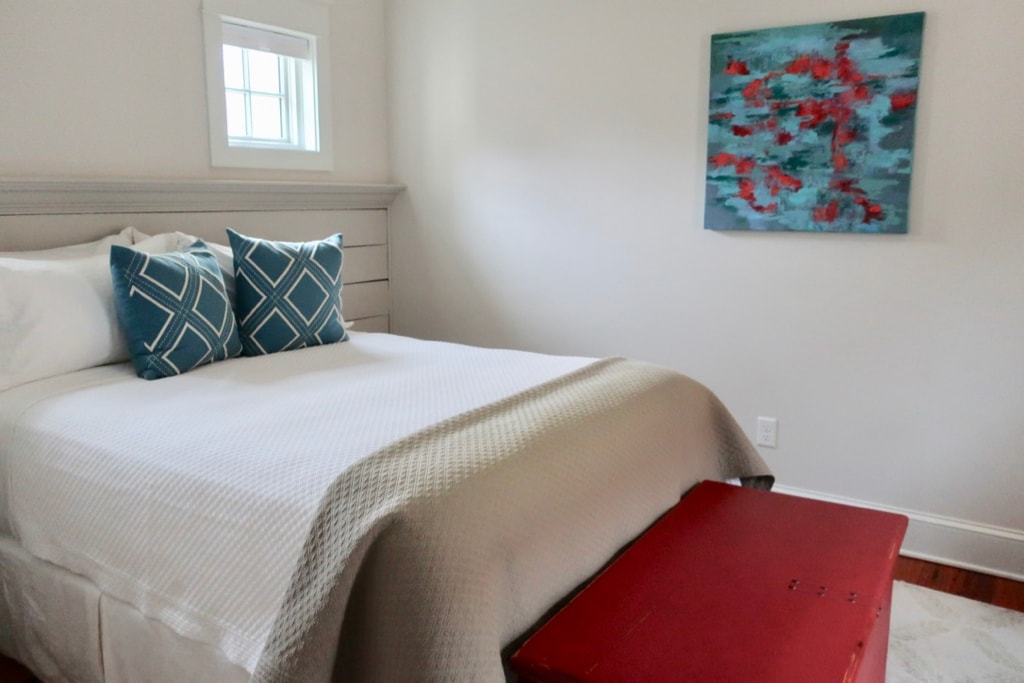 The large stylish bathroom – with mint-green mosaic tiled floor – was not your same-old "country-luxe" salle de bain. The choice of color suffused the room with a slightly modish edge.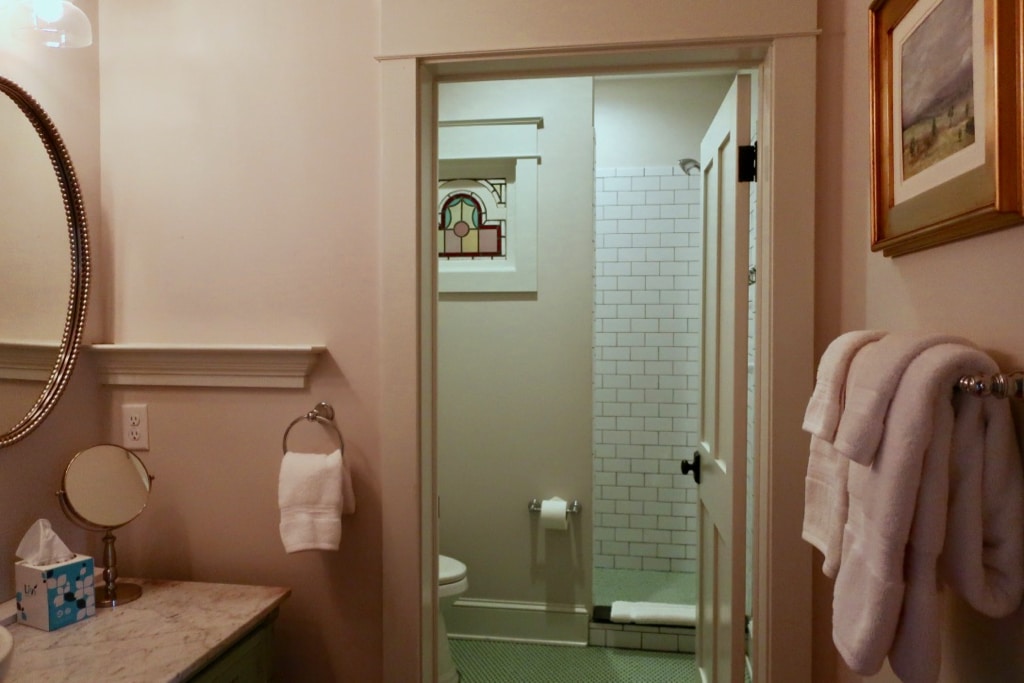 Ordinarily, overnight guests pick up a continental breakfast in the Provisions Store each morning from 7-9am. But, with the winter storm bearing down overnight, employees were cautious: planning to get to work at 9am. Fortunately, managers provided granola, yogurt, juice, and muffins in the cottage for the next morning.
With outside temps in the low 30's, inside was warm and cozy. It had started to snow by nightfall, which just added to the sense of wellbeing and the knowledge that we were safely cocooned.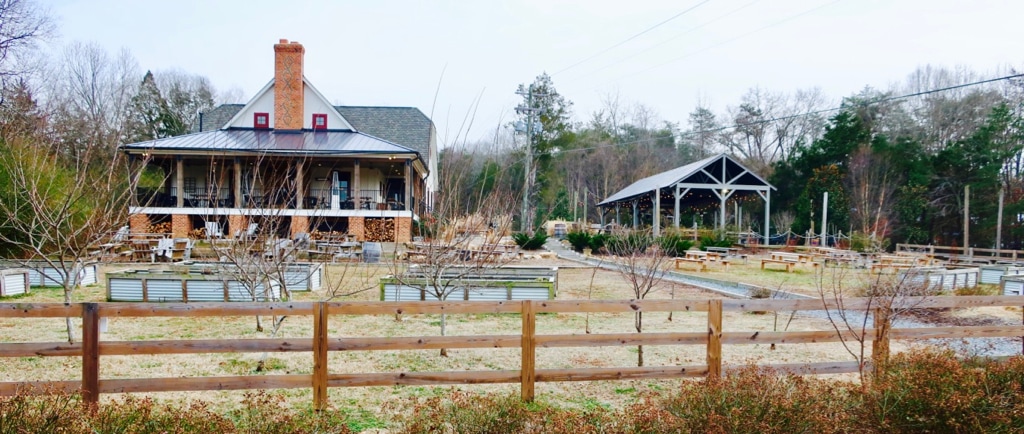 Fine Creek Brewing
The proximity of Fine Creek Brewing, which serves from-scratch elevated pub food, and fresh brews, renders the Cottages at Fine Creek a romantically seductive getaway. It took a whopping three minutes to walk to the brewery's front door.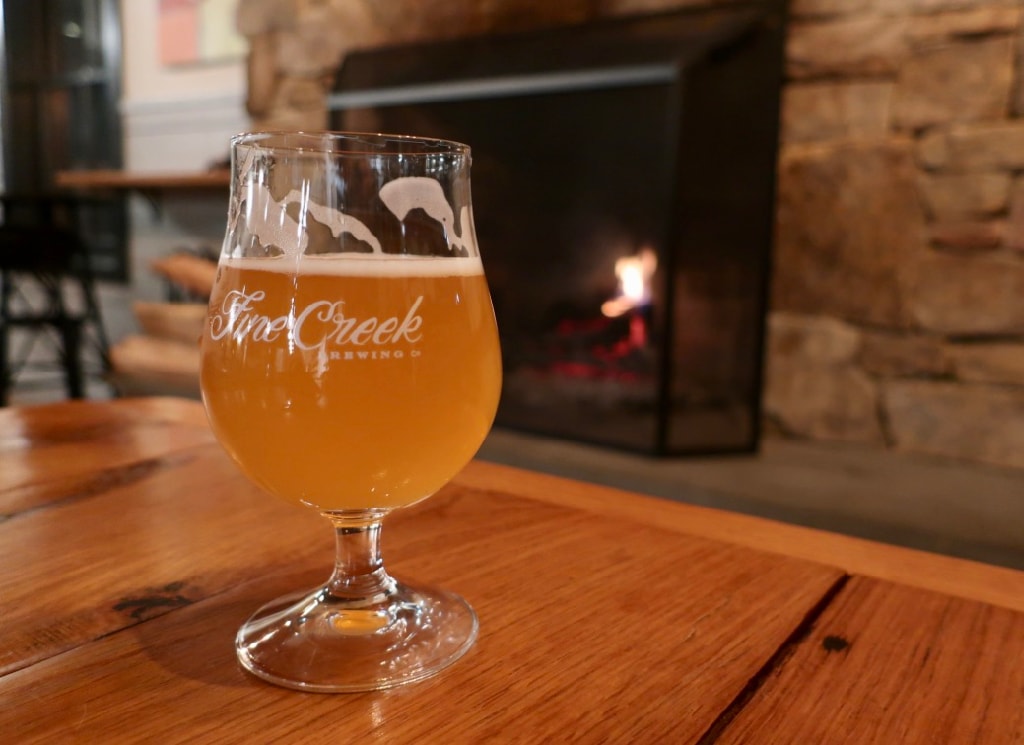 There's something very comforting about a food establishment built for locals – especially when out-of-towners can tap into that local vibe. Plus, what's actually on tap is delicious. As a sour beer fan, I was impressed, as I was with my hot, toasted, gooey grilled cheese sandwich. I happily enjoyed both in the warm glow of a flaming fireplace – perfectly content as the snow fell outside.
Rates per night: $260 for 1 bedroom, $435 for 2 bedroom, $630 for 3 bedroom includes wifi, parking, breakfast.
(Guest Cottages at Mill at Fine Creek was included on Getaway Mavens Best Romantic Hotels in the Northeast US 2022 list.)