WHY GO: Like much of Virginia, this major city in the Blue Ridge Mountain region is stunningly beautiful. Once (and still) a significant railroad town, Roanoke VA is now known internationally as home to the DIY TV series, The Salvage Dawgs, the gang at Black Dog Salvage who enjoy wrecking buildings and building stuff out of the debris.
But with a re-emerging downtown, the largest lit star in the world, great new (and old) restaurants and one historic hotel, Roanoke is a hot-spot once again. Better yet, many attractions, including a terrific Art Museum, are free. Here's how to do it right.
(Have a few more days? Discover Lynchburg VA, just a bit over an hour away).
Things to Do in Roanoke VA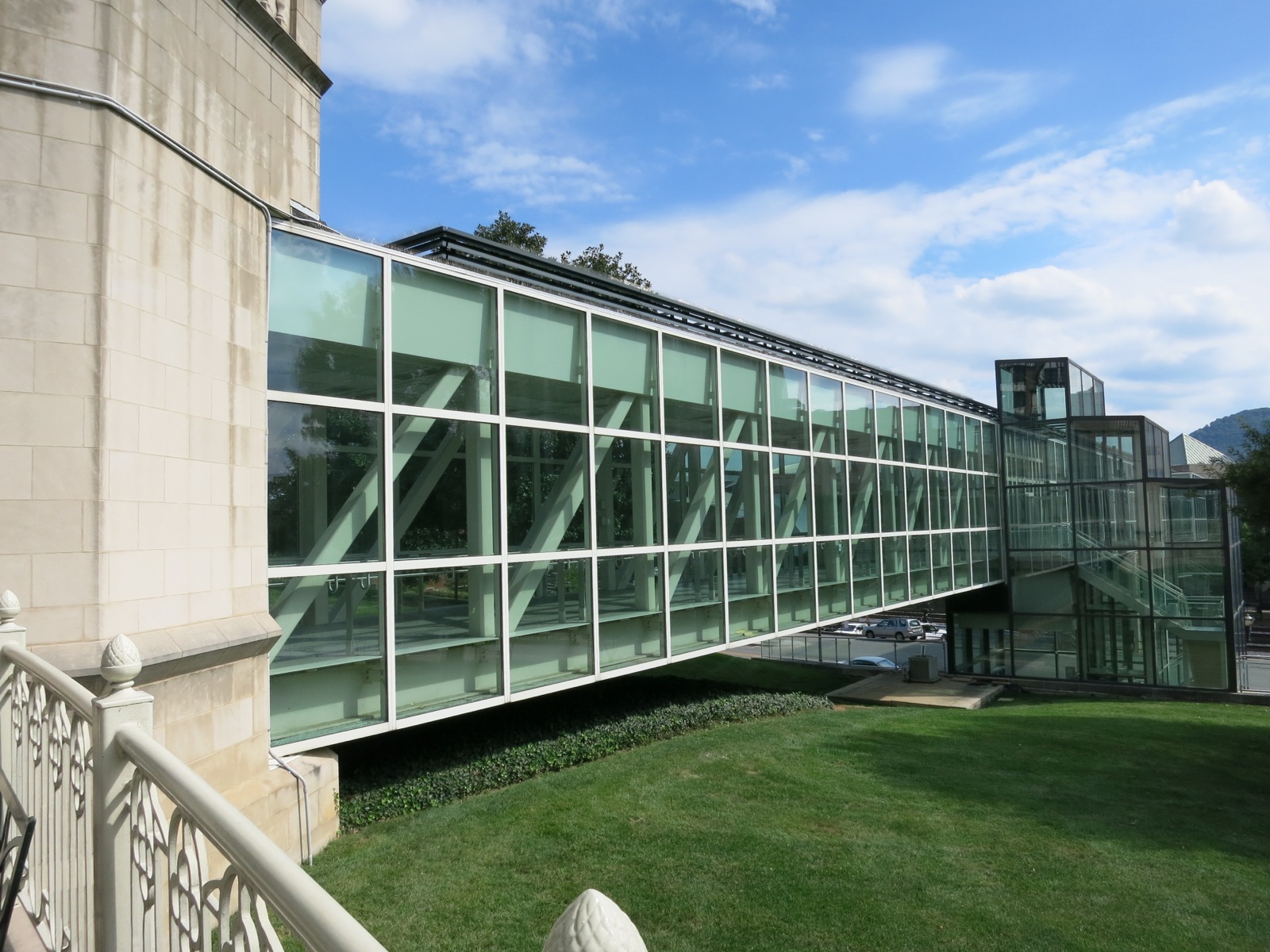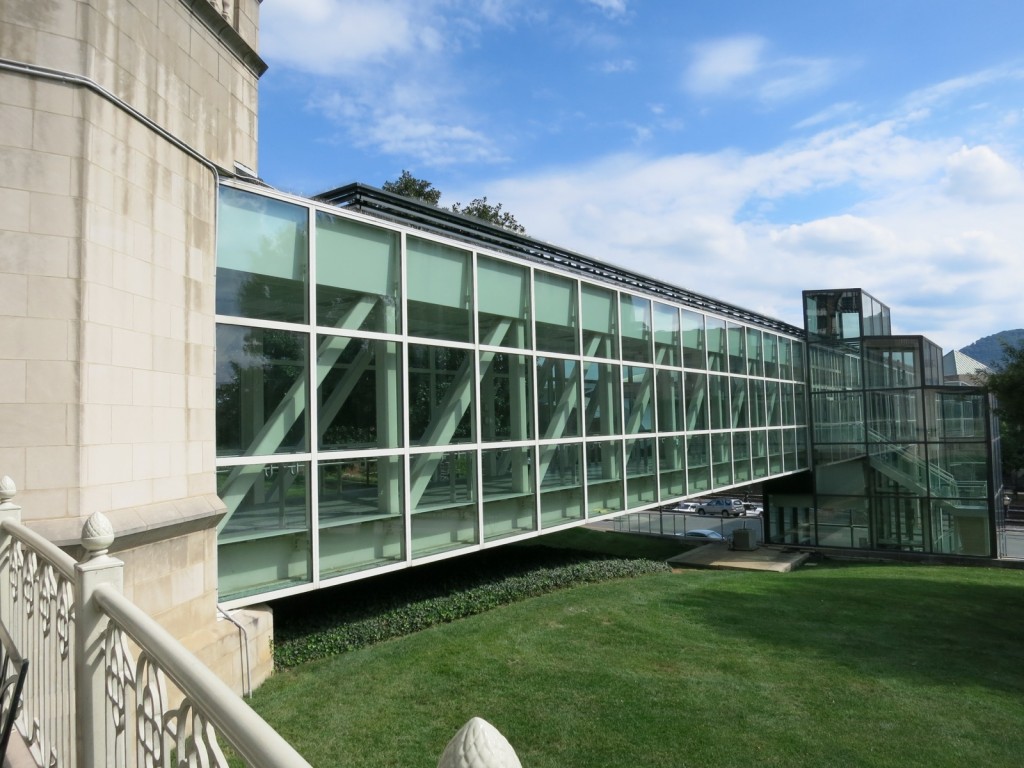 WALK: On the Skywalk
Perched over wide set of railroad tracks, take a moment to pause midway, and you may see a freight train barreling towards (then under) you going 35 MPH.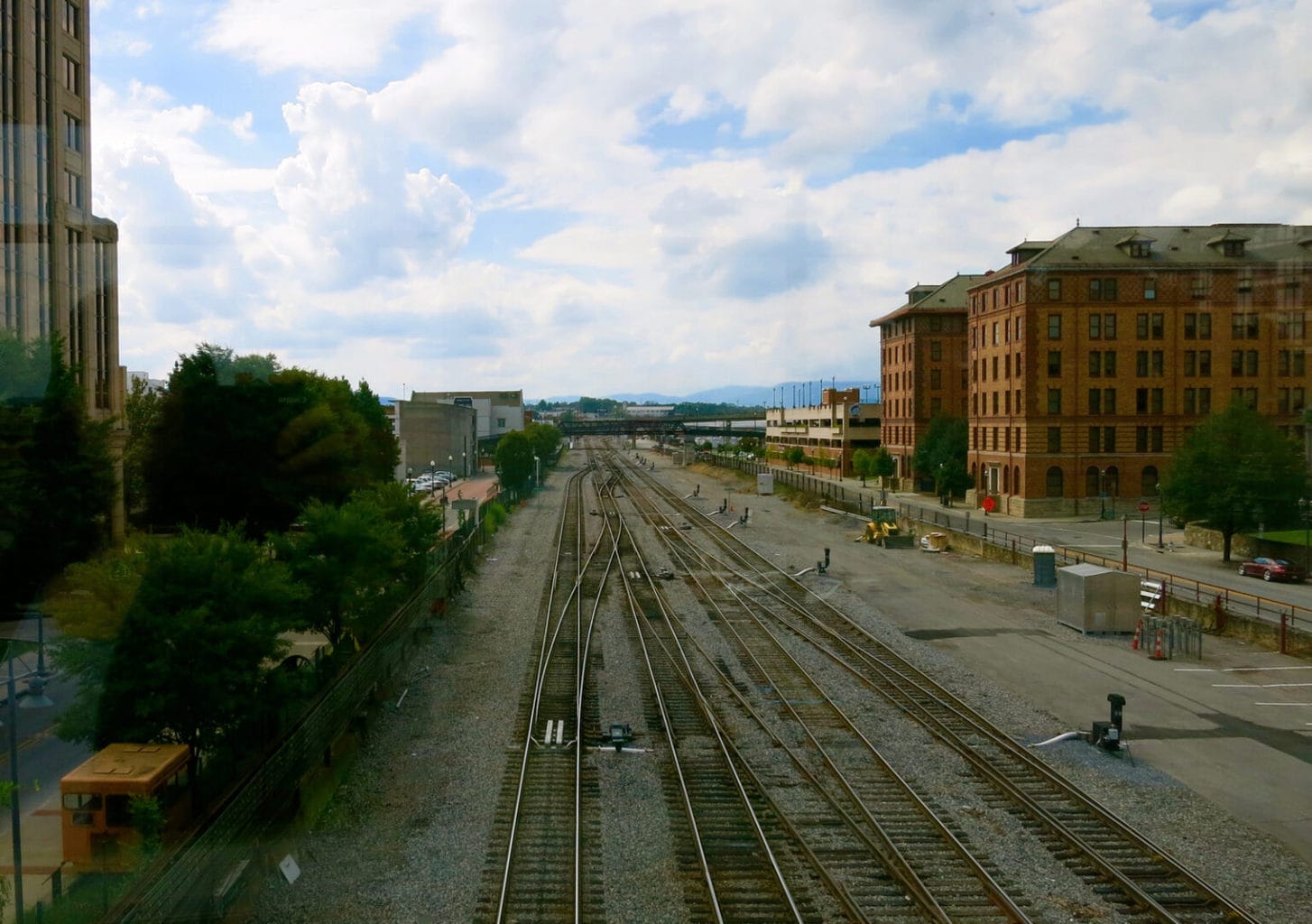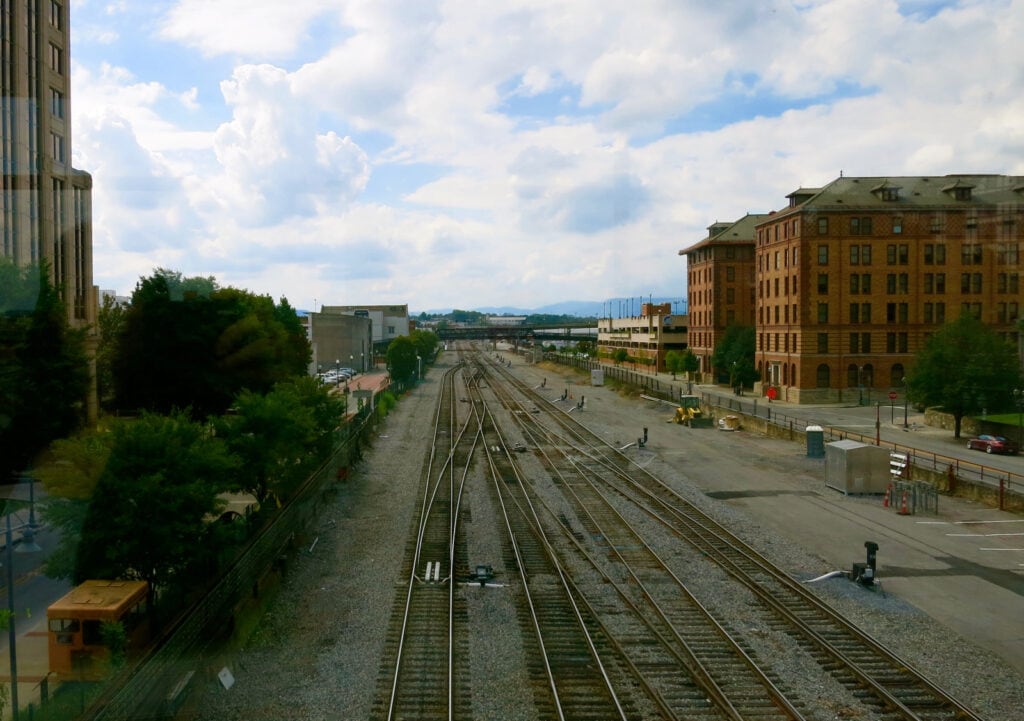 The glass skywalk links the Hotel Roanoke to downtown, so when you descend the escalator, you'll have a great choice of things to do – including the following: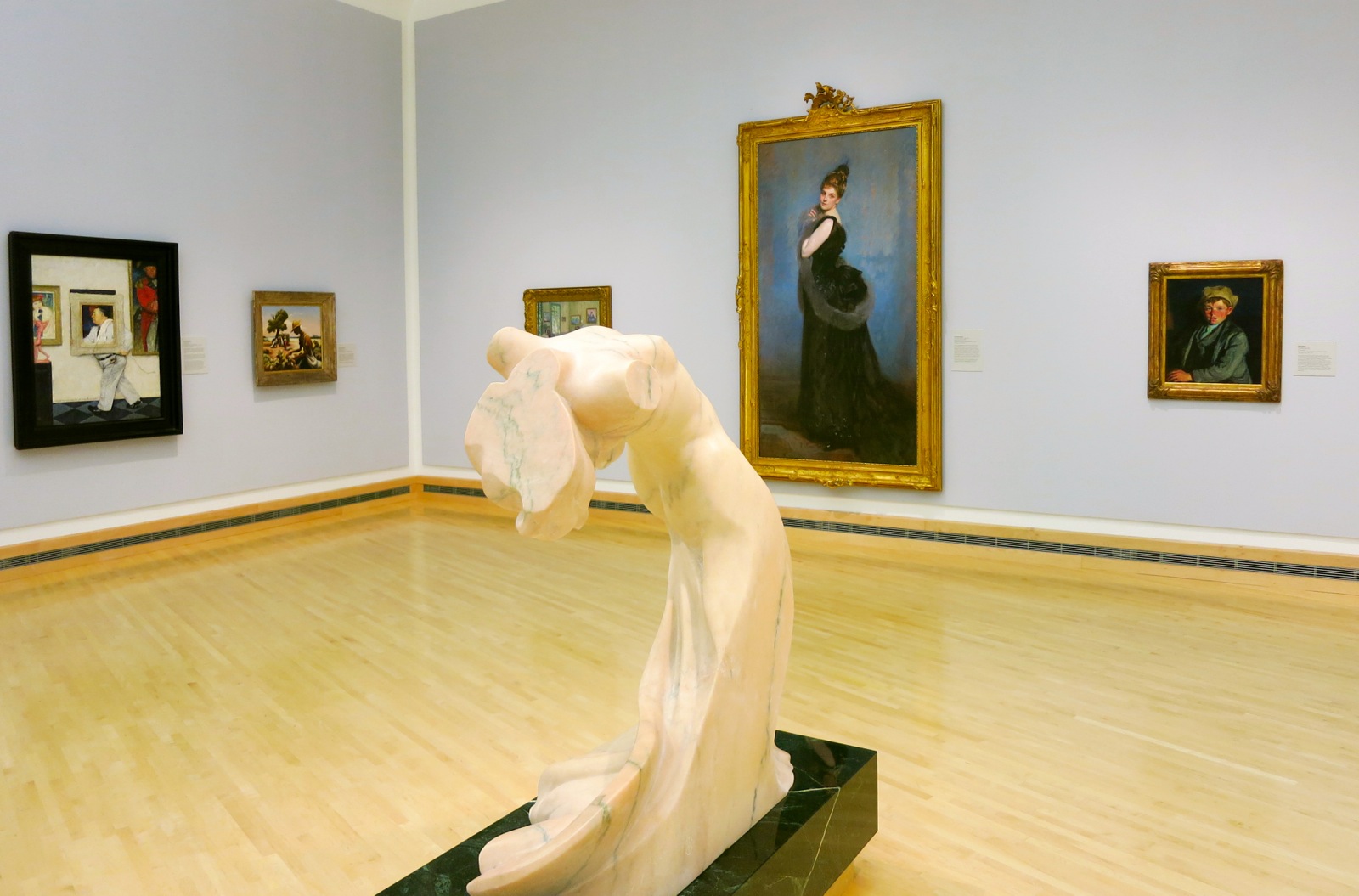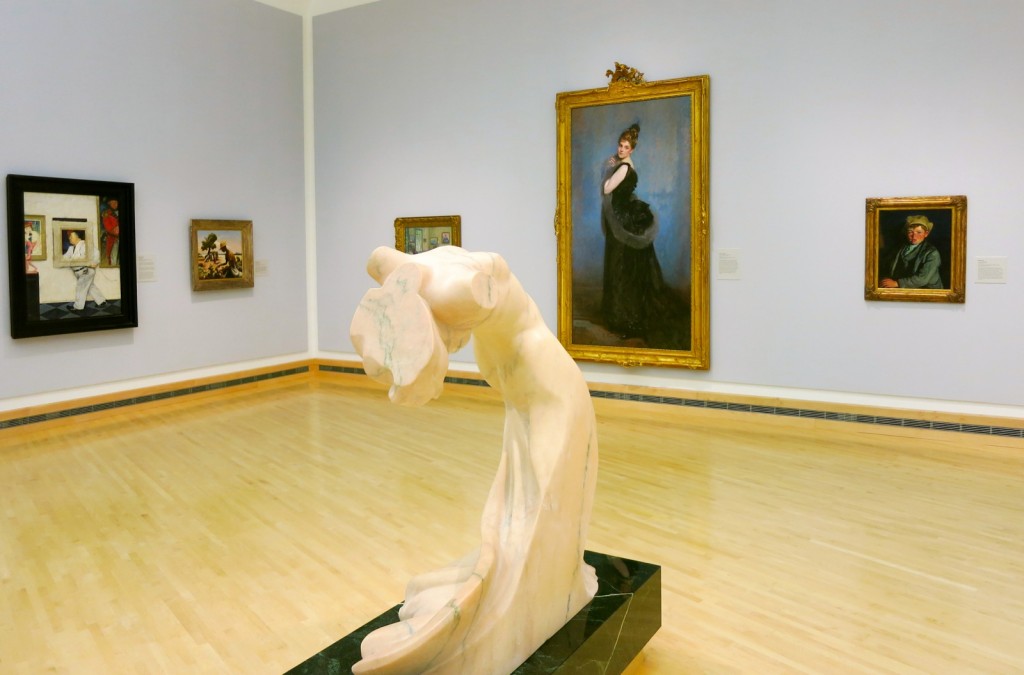 Designed by Randall Stout – an associate of Frank Gehry – and much in the organic Gehry style, the contemporary Taubman Museum of Art is as much an architectural statement as an art museum. Chief among the collection is John Singer Sergeant's Norah, who, clad in a bustled black dress, stares alluringly from the canvas.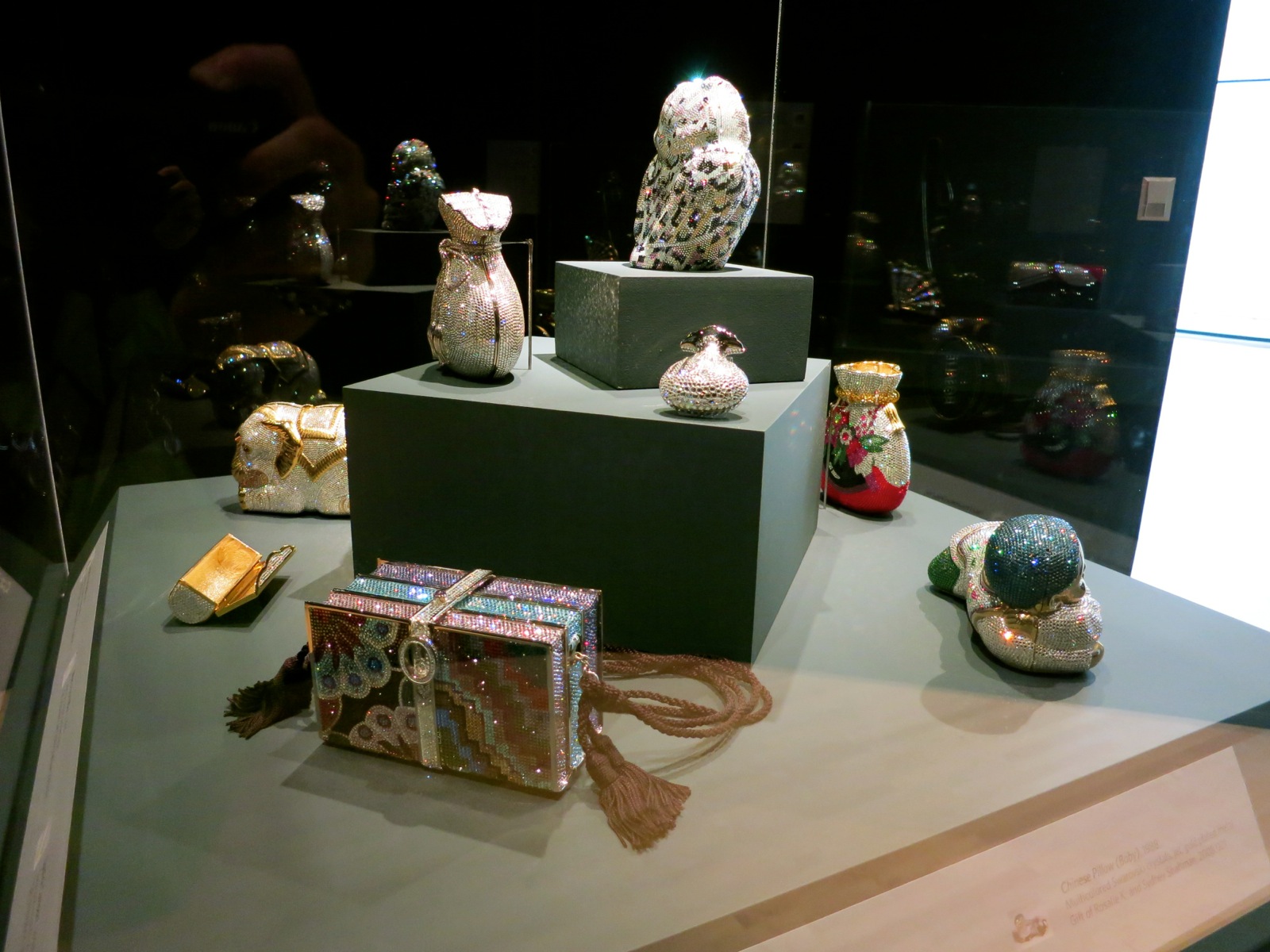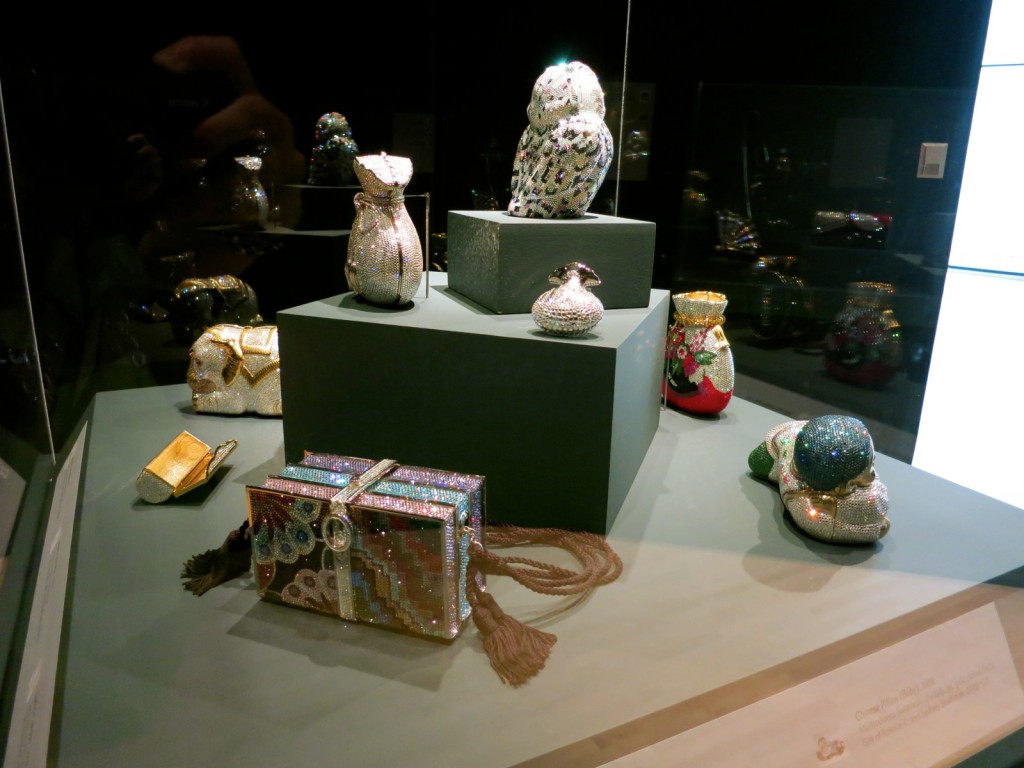 The most unique and popular exhibit, however, is Rosalie Shaftman's collection of 130 Judith Leiber crystal and semi-precious stone-encrusted handbags, the largest collection of these exquisite Leiber pieces outside of The Leiber Museum in the Hamptons. Open Tues-Sat. 10-5, Thursdays open till 9pm. FREE.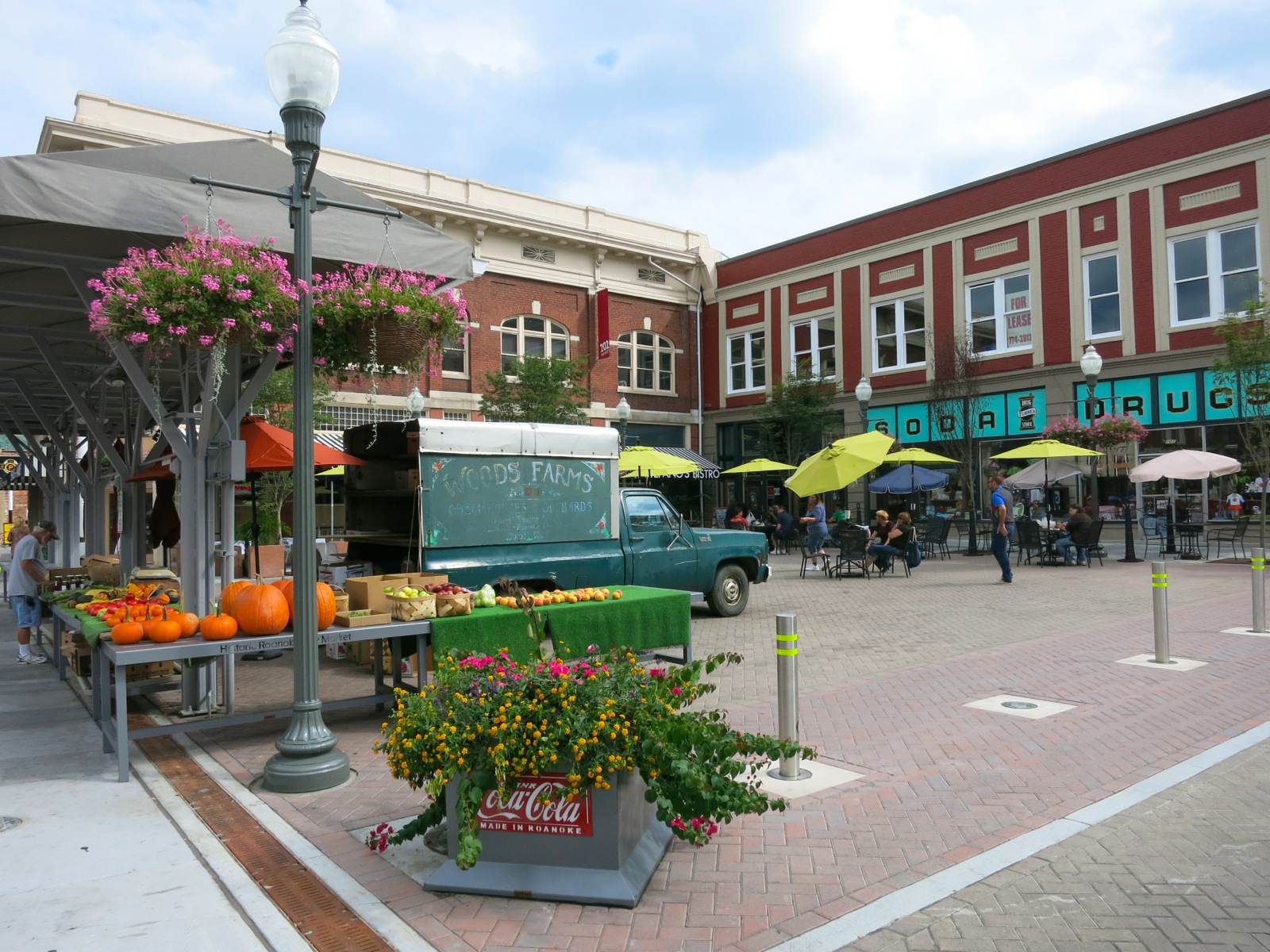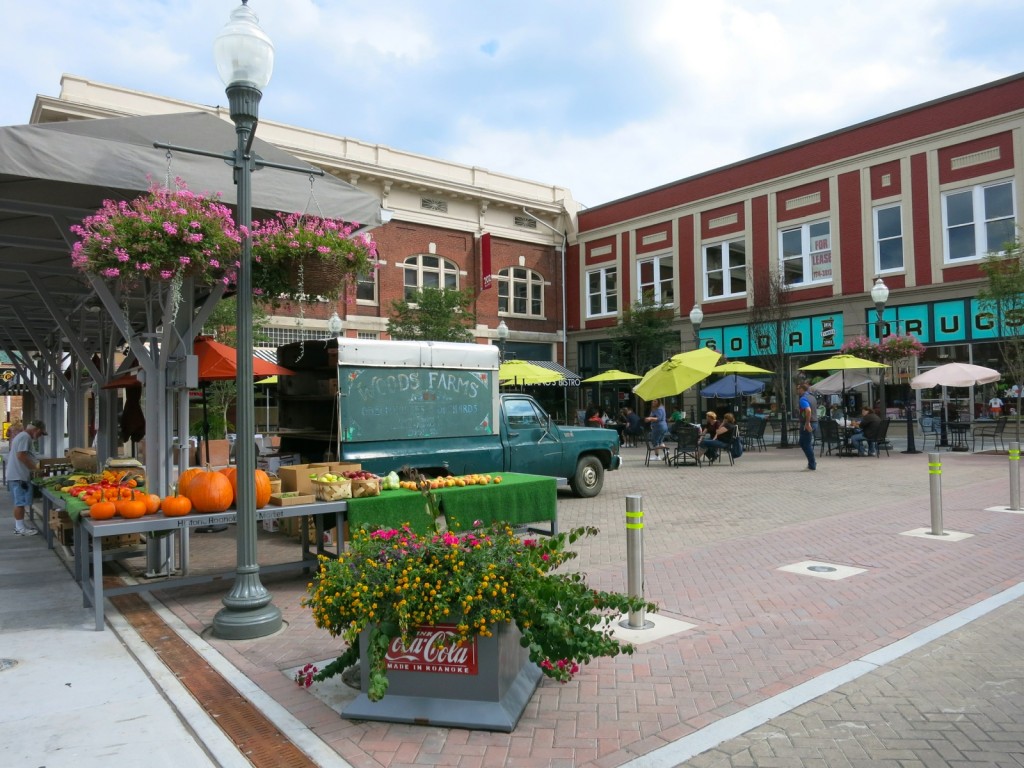 Roanoke's central market is one hallmark of a thriving downtown. The Market Building itself was built in 1922 with running water and newfangled refrigeration.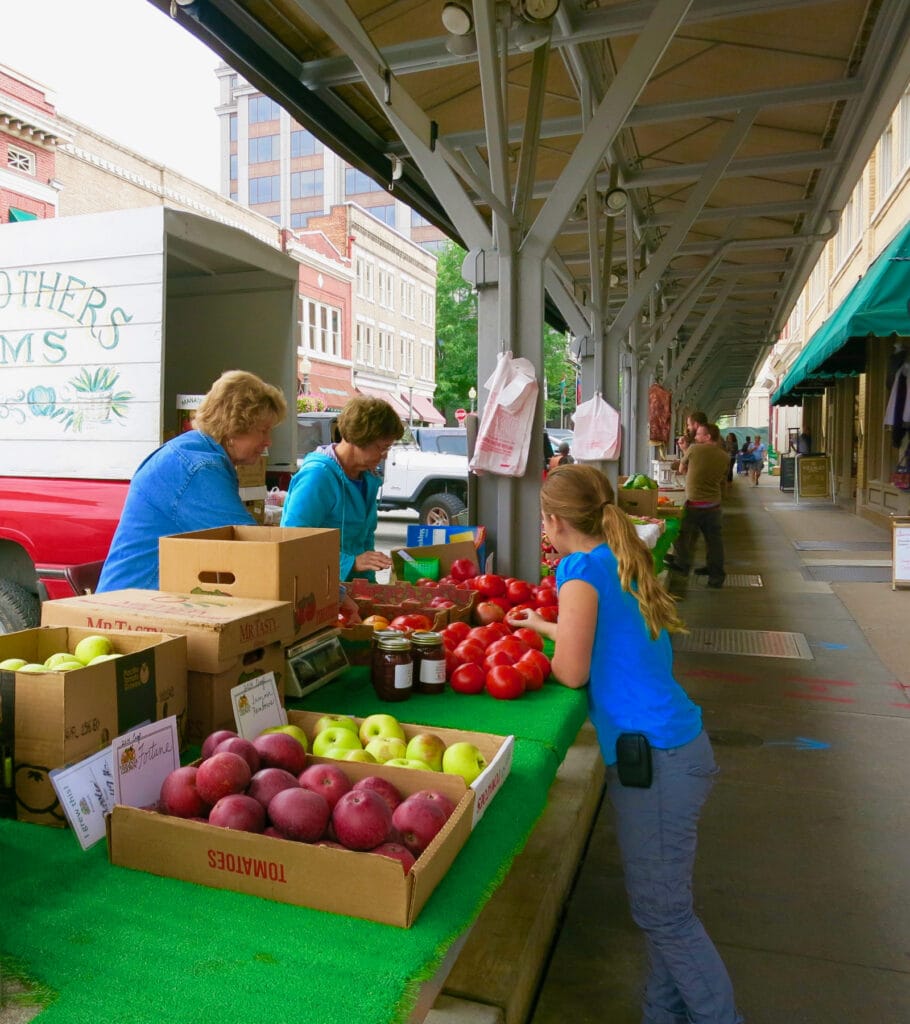 At the outdoor Farmer's Market, just-picked produce tops dozens of built-in concrete tables alongside new stores like Eli's Provisions (see below), which sells products from Virginia producers.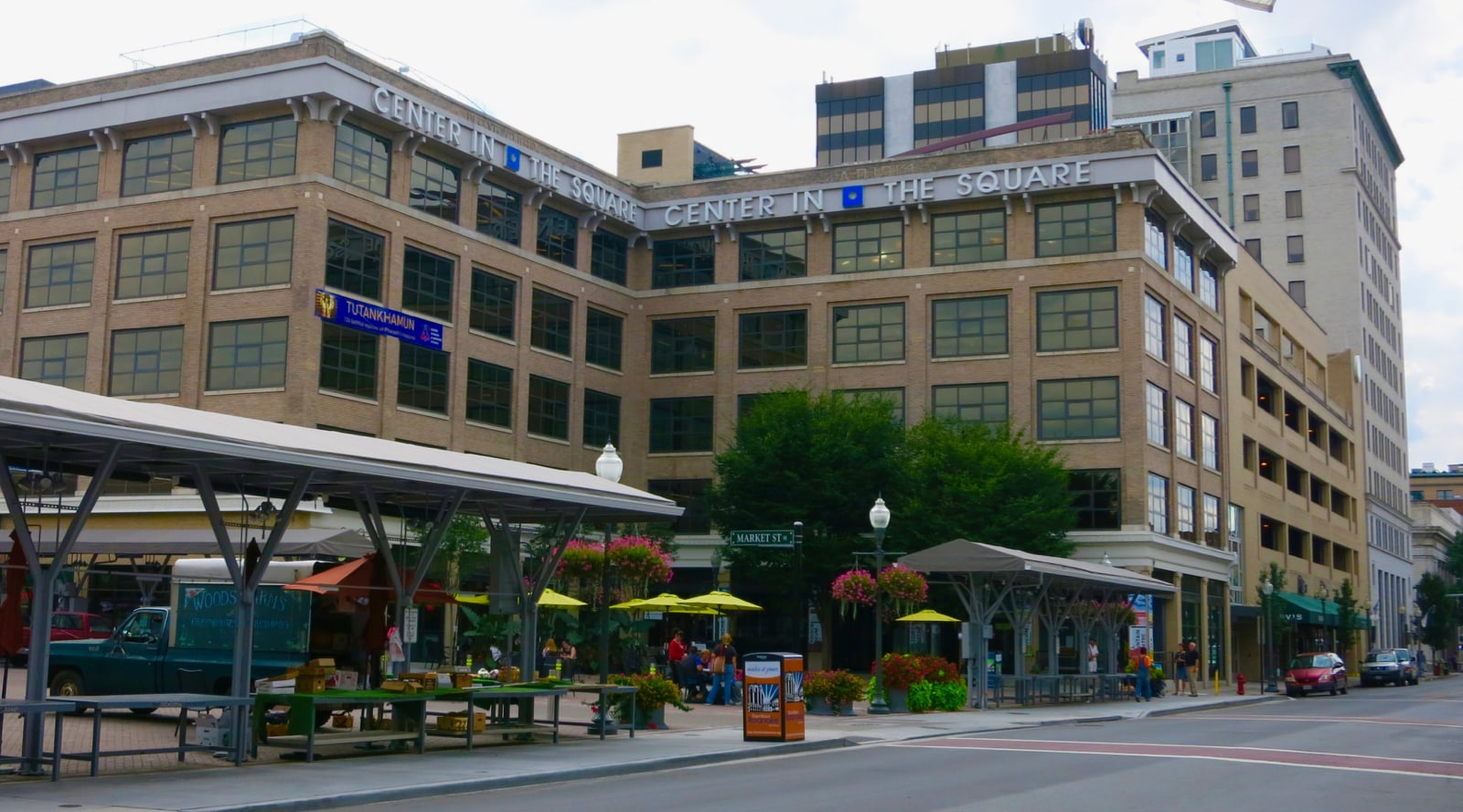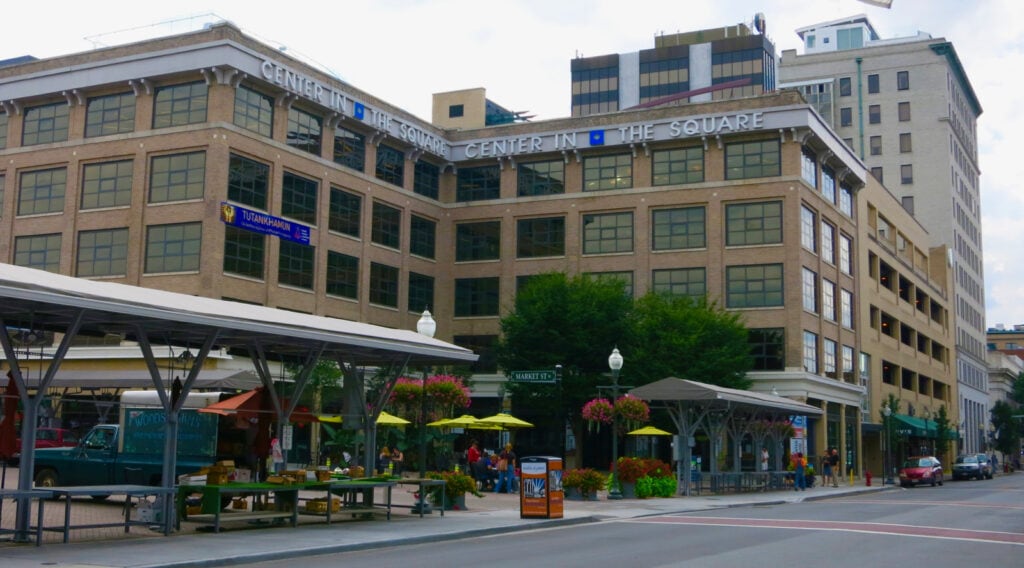 First built in 1983 and renovated in 2013, this multi-level series of museums is still a work in progress, but worth a couple of hours to explore. Incorporating the O. Winston Link Museum/The History Museum of Western Virginia, the Harrison Museum of African American Culture, the Science Museum of Western Virginia, and the highly interactive Roanoke Pinball Museum – you pay one price and can access all.
All exhibits in Science Museum are made "from scratch" by local institutions. Duck down into an "underground mine," learn about then maneuver magnetic cranes at a miniature Steel Recycling Plant, and try your luck at reporting the weather at a makeshift TV station.
My favorite section of the museum, however, is the laboratory, staffed by helpful educators, where everything required for do-it-yourself experiments are bundled nicely in plastic boxes. It's hands-on learning at its best. Open Mon-Sat 10-5, Sun 1-5, (closed on Mondays during school year), $15 adults, $13.50 kids for science museum only. Center Pass – $40 adults, $35 kids allows access to all museums in Center in the Square.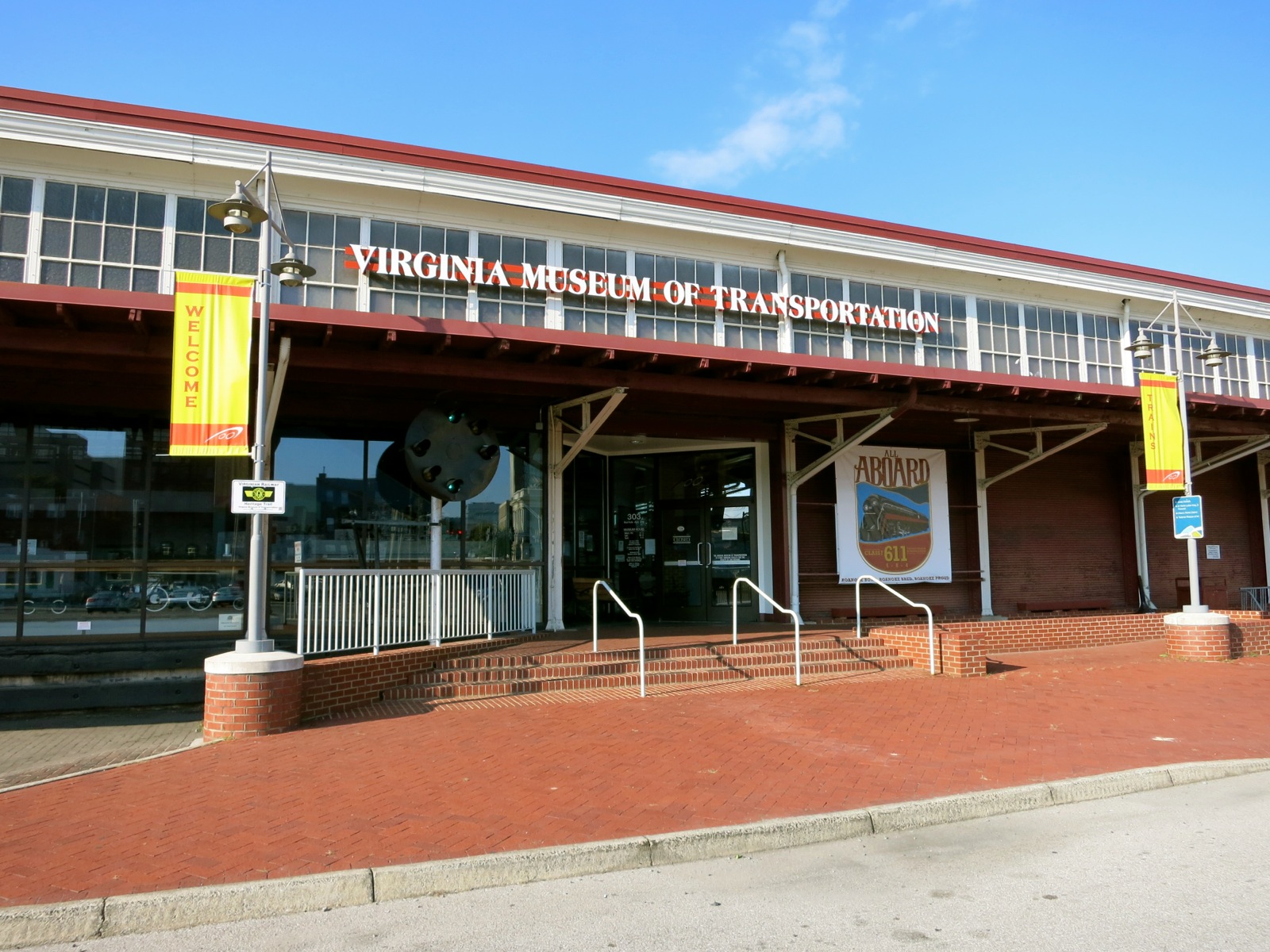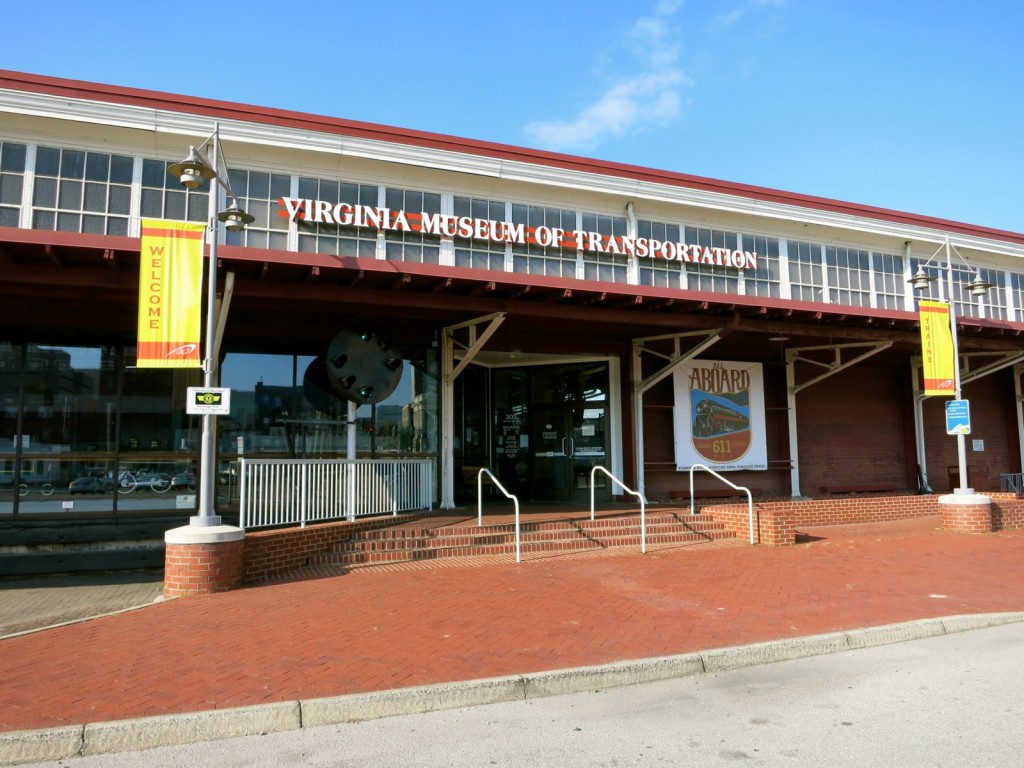 Set in a former freight station, this massive museum is filled with cars, airplanes and, of course, trains. City planners conceived an interactive "Rail Walk" linking the museum to downtown, four blocks away.
Along the walk, which traverses Roanoke's central and very active train tracks, are informational plaques, train-wheel benches and crosswalk rails that go up and down at the push of a button. Open Mon-Sat. 10-5, Sun 1-5. $12, adults, $8 kids.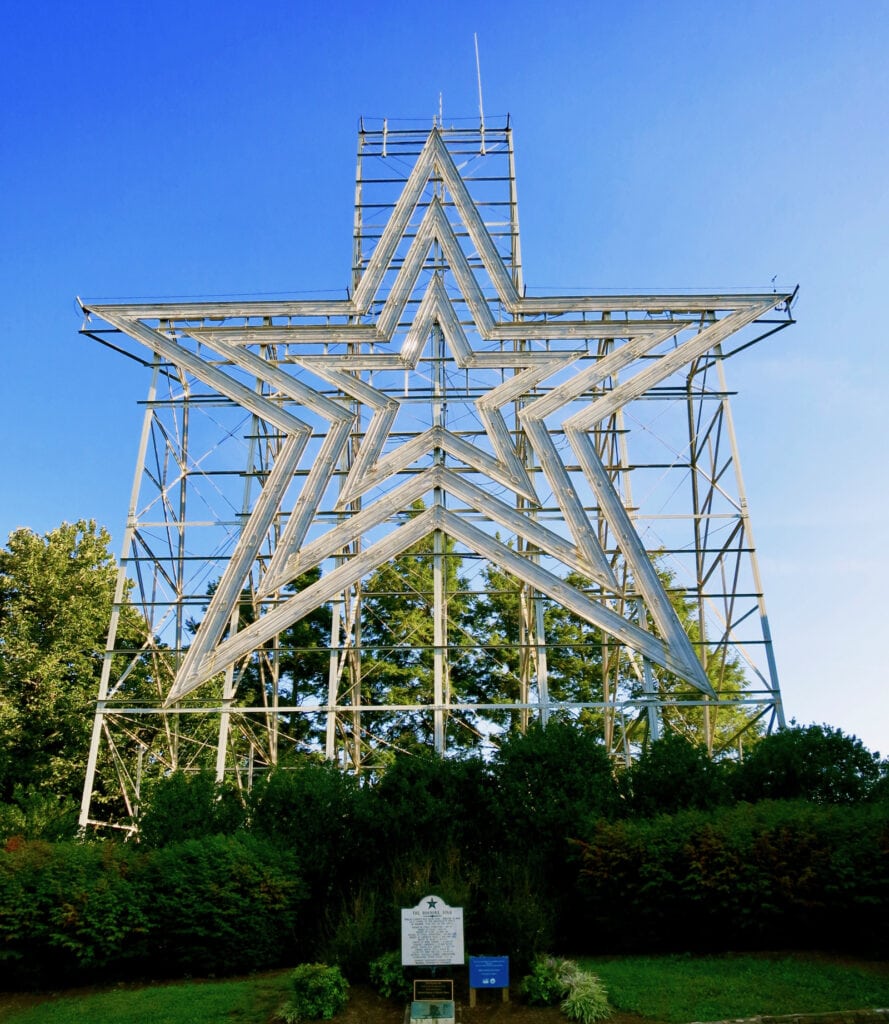 Drive up Mill Mountain (where you'll also find a small nature center and Discovery Zoo) and follow signs to the Roanoke Star. At 88 1/2 feet tall, and standing 1,045 feet above the city of Roanoke, this neon lit structure is considered the "World's Largest Manmade Star" – at least when it was built in 1949.
Still, it's impressive, and the views from up here are unparalleled. Bringing the experience into the 21st Century, you can text a link to family and friends – www.roanokeva.gov/starcam – and wave to them via the "Star Cam."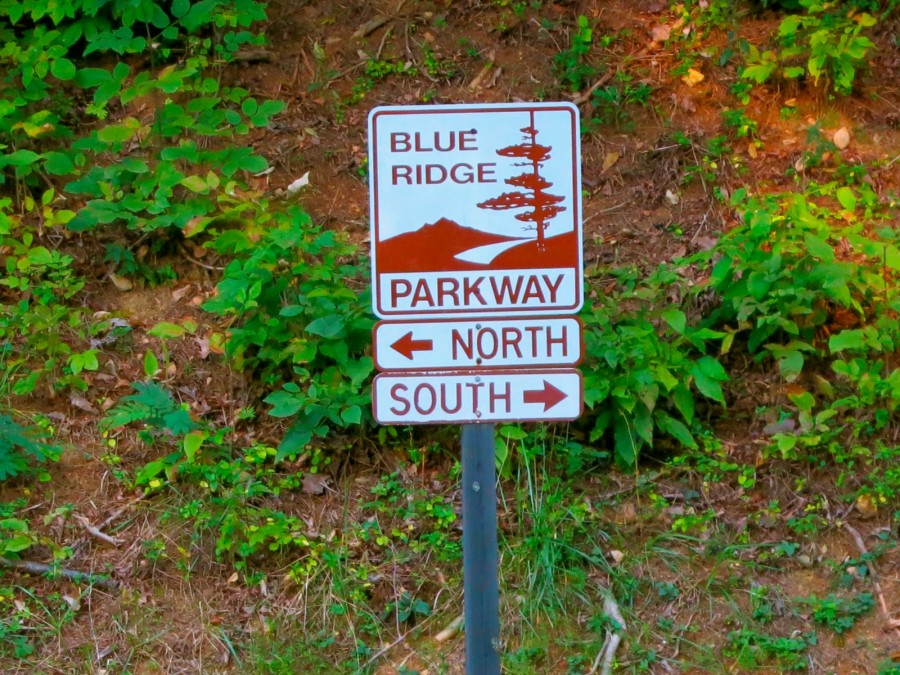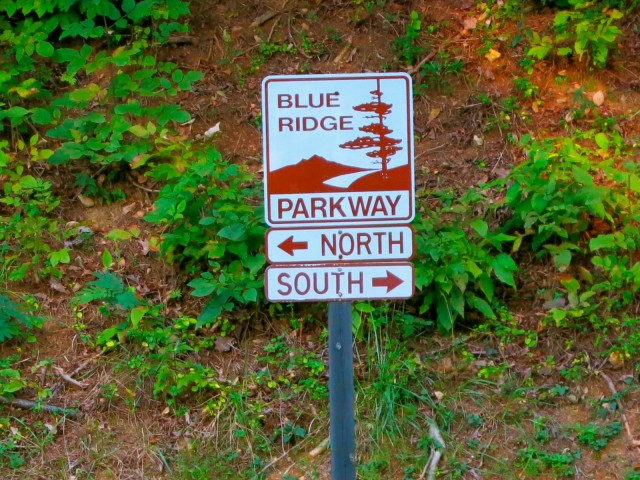 From the Roanoke Star, it's a mere three miles to the entrance of the Blue Ridge Parkway at Exit 121. Get a taste of this gorgeous 469-mile ribbon of road by traveling as far as you'd like. You may start to plan a Blue Ridge Parkway road trip right then and there.
Running for about 10 miles along the Roanoke River, the Greenway is a city release-valve, where walkers and cyclists enjoy leafy forays.
Ride all the way to Grandin Village for a whole day (see below), or plan on just a few hours. It's particularly fine at the day's end, when oncoming sunset and shadows make the path and river extra magical. Good thing Underdog is open until 7pm Thurs and Fridays and until 6pm (later for rentals) on Sat and Sundays in Spring and Summer. Two hours $12, three hours $15, 24 hours $30 plus $10 each additional day.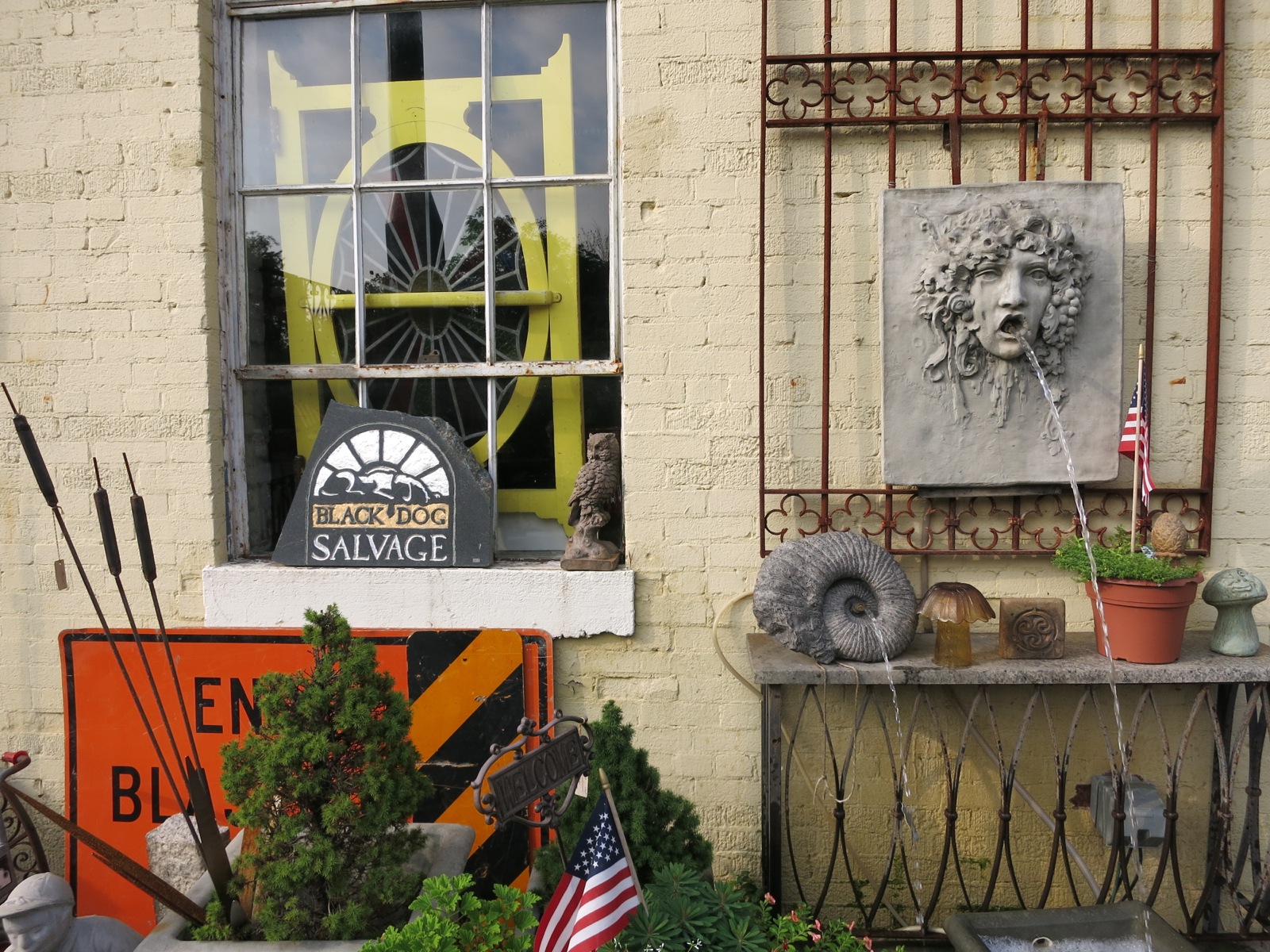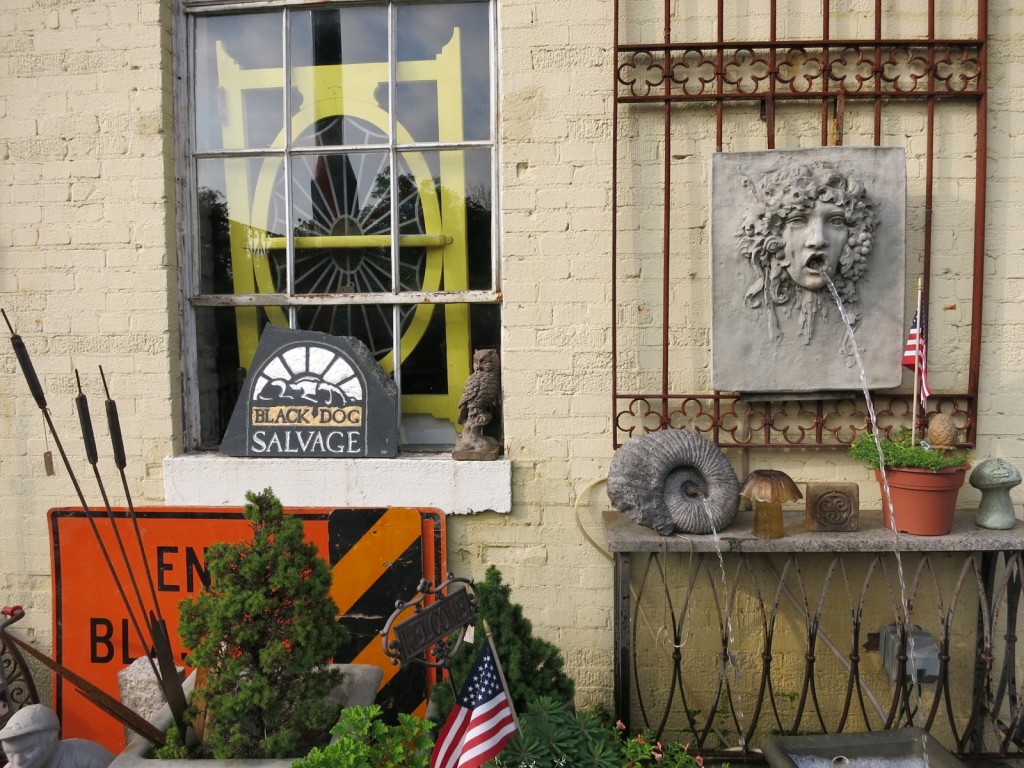 You can spend a weekend in this charming neighborhood village just a five minute drive (or 30 minute bike ride on the Greenway) from downtown – but leave a few hours for the one establishment that has put Roanoke VA on the international map.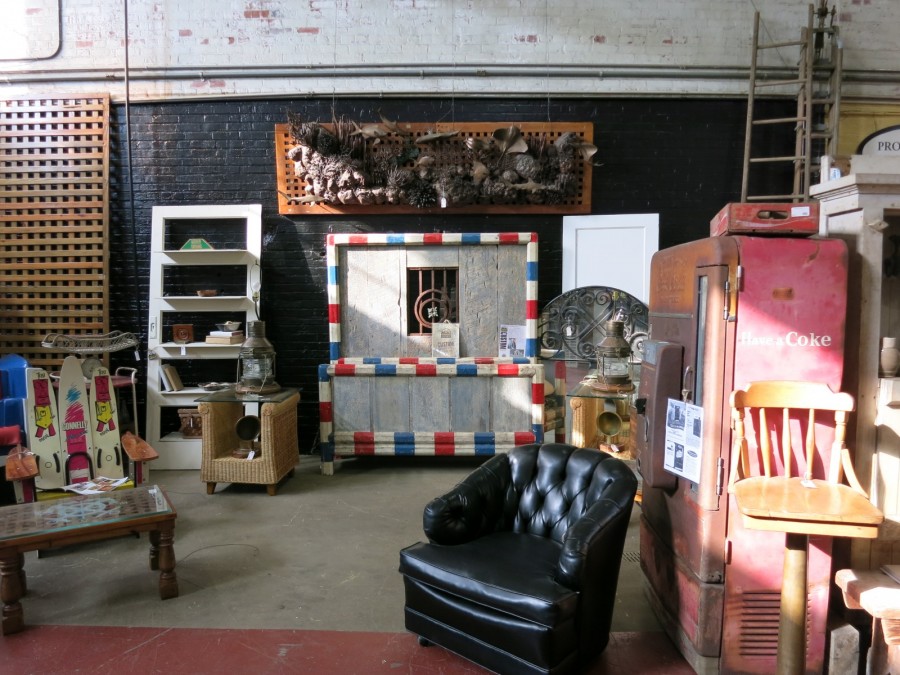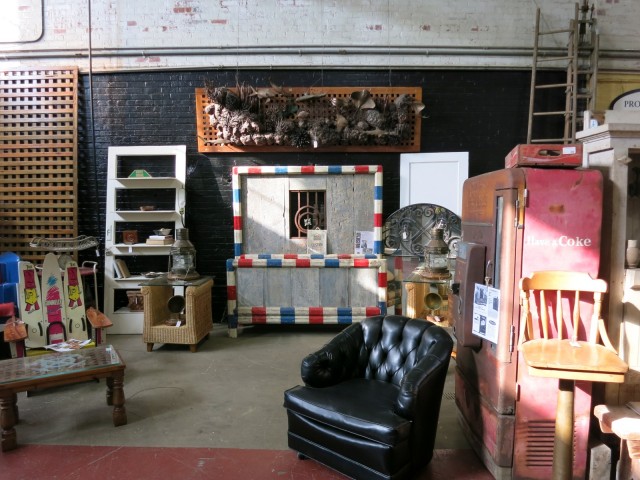 Black Dog Salvage is home base for the Salvage Dawgs (DIY and HGTV), Mike Whiteside and Robert Kulp, who take apart buildings and make really cool things out of the pieces (or sell them at Black Dog Salvage).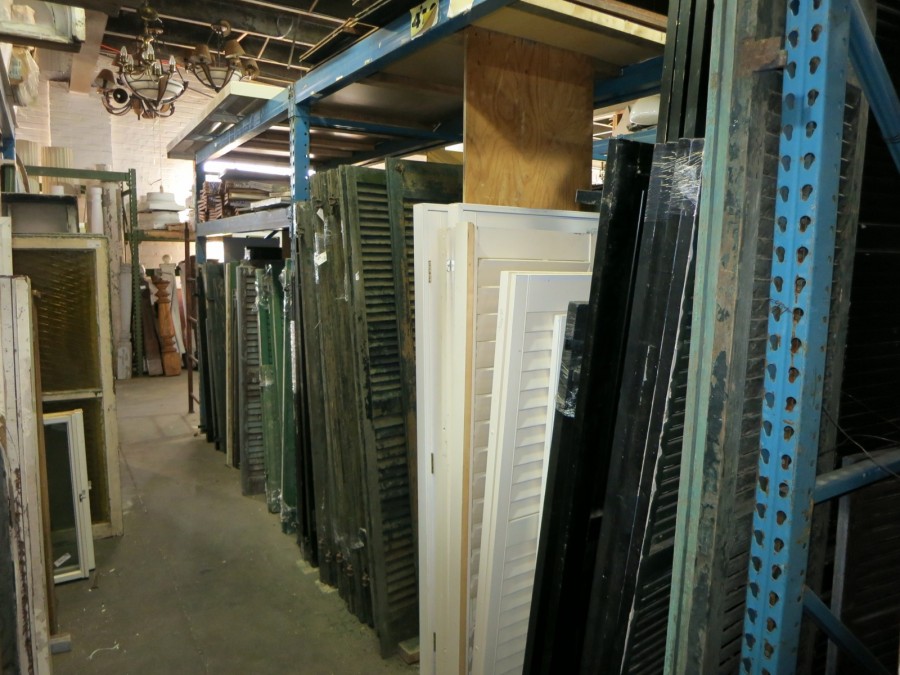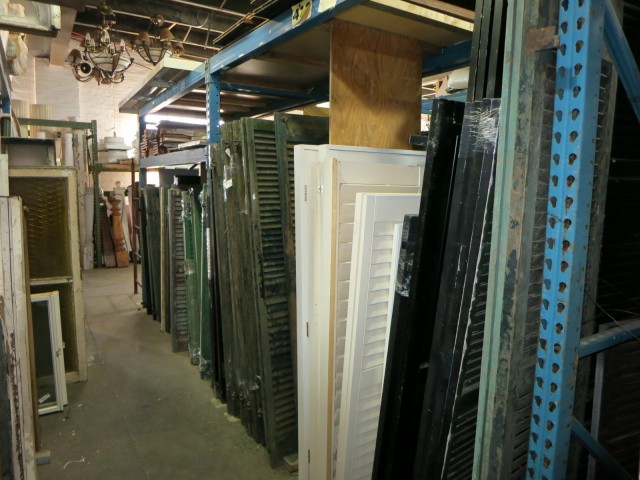 Black Dog Salvage occupies a series of large warehouses crammed with reclaimed materials of every kind, that are truly overwhelming in scope. One whole cavernous room is full of individual vendors who sell everything from doorknobs (Fabulous Knobs, $5-$7), iron accessories (Rustoration), antique prints (Appalachia Press) and so, so, so much more.
You'll discover bed frames made from horse-jump posts, chairs made of doors, more loose wooden shutters than you've ever seen in one place, and nearly everything you'd ever need for your up-cycling projects, including consultation and assistance.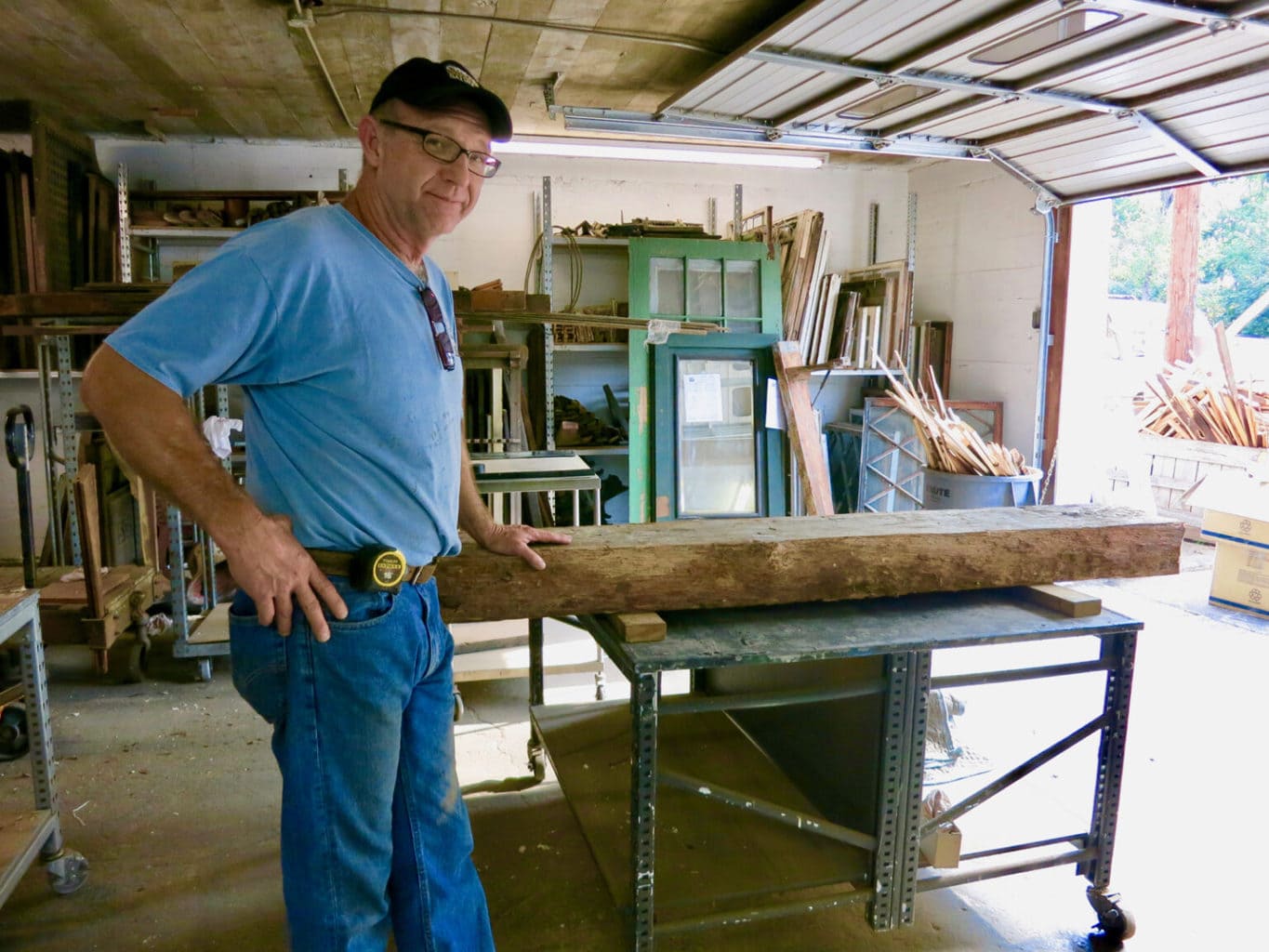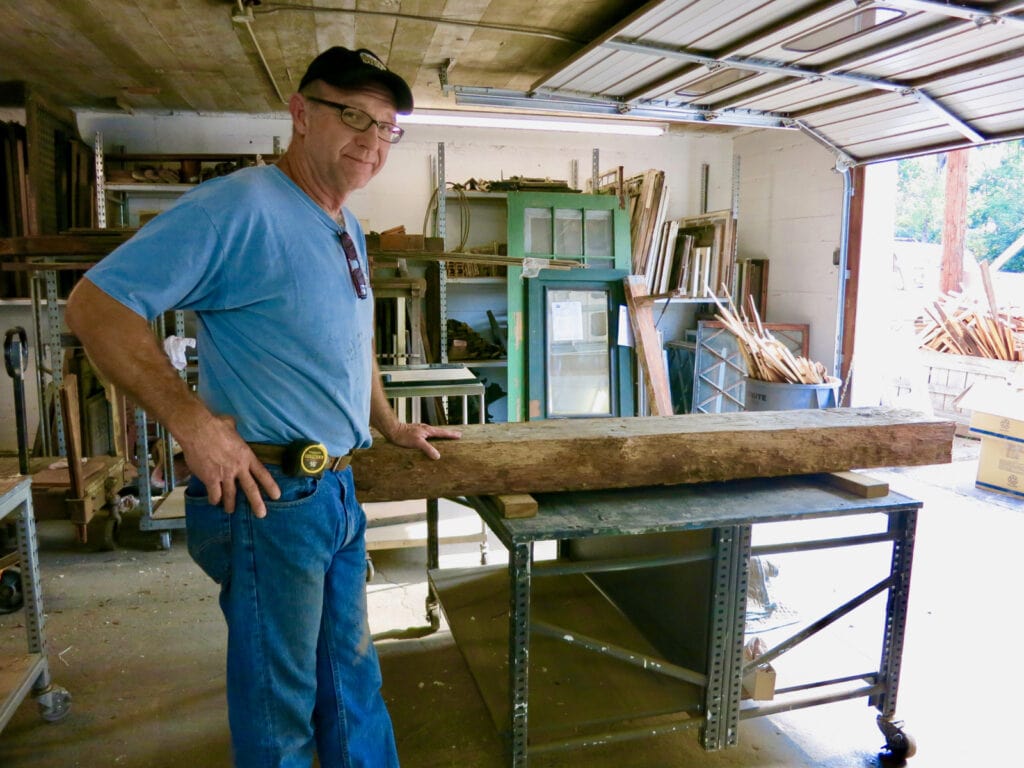 Furniture designer, Jeff Ellis, whips up new ideas in his workshop downstairs. Not only does he create repurposed furniture for Black Dog, but he works with customers to come up with ideas.
After checking out "Dawgs" place, linger in Grandin Village for awhile. Stop into Too Many Books for rare and out of print tomes and indie-art flick Grandin Theater for that foreign movie you just dying to see. If you're in the mood for a pre-movie- pie, Grace's Pizza is an excellent choice. Or try farm-to-table Local Root Restaurant and follow up with a cool treat at Pop's Ice Cream.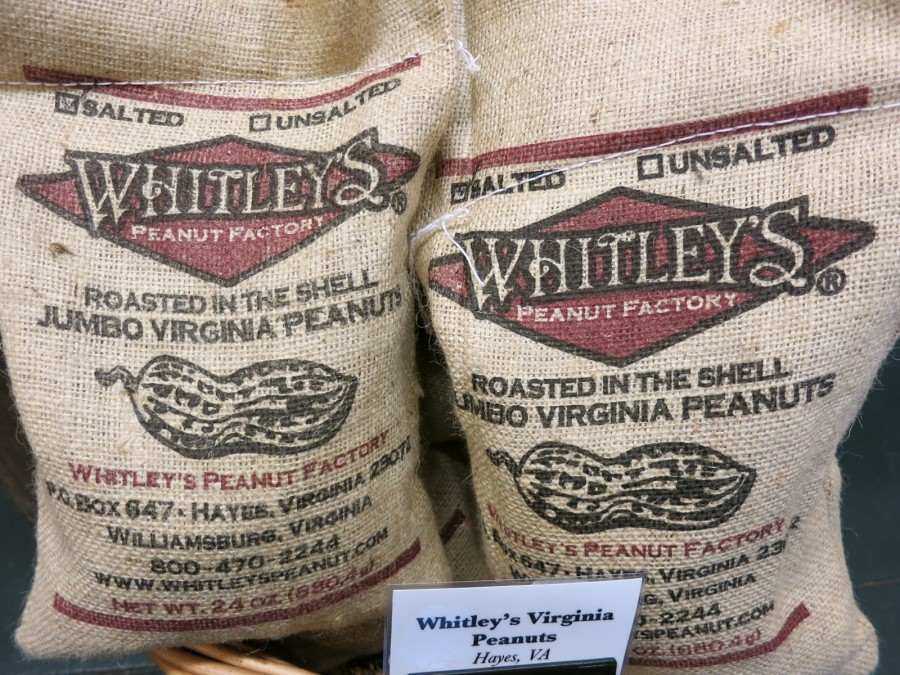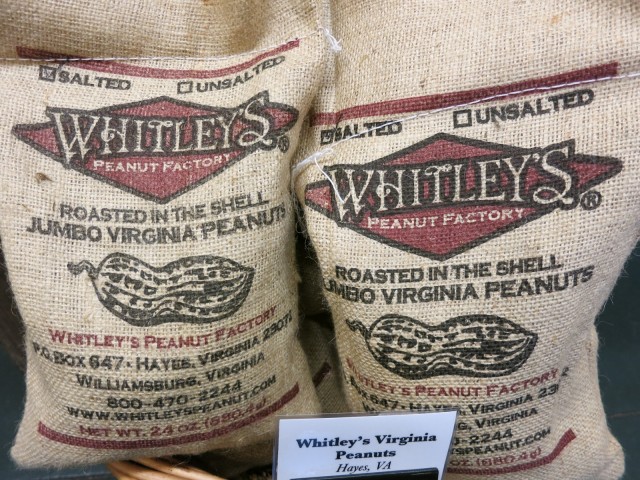 SHOP: Eli's Provisions, Roanoke Market
Owner Robert Jaeger oversees rooms bursting with VA-made jams, coffee, honey, apple butter, and the best-selling burlap bags of peanuts. Ask him to make up a gift basket of your favorites to keep or give away.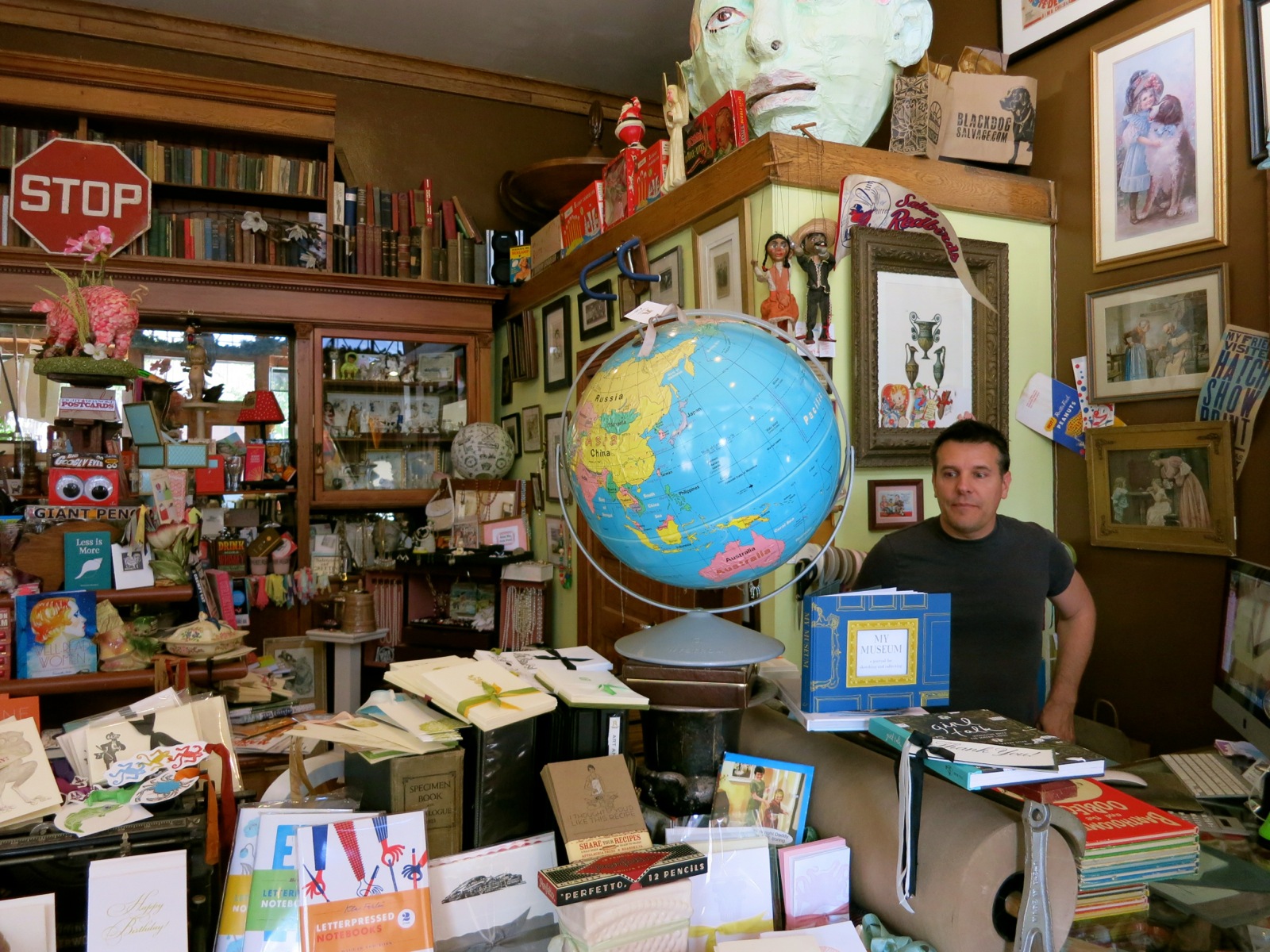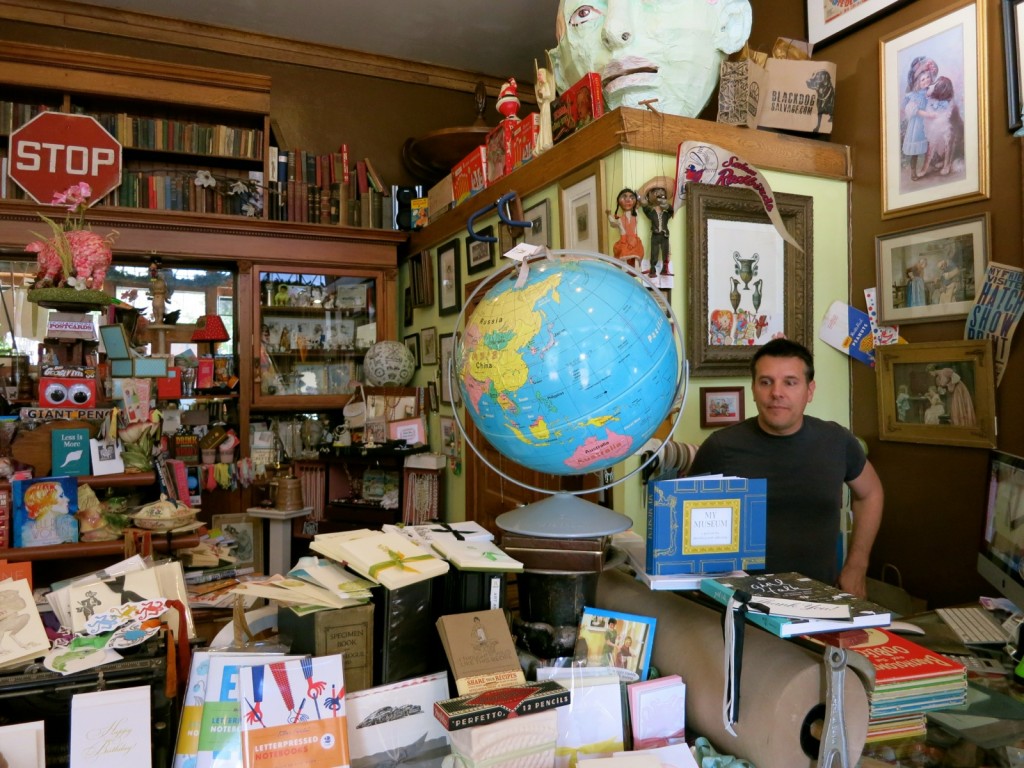 Design School grad, John Rebum, brings some L.A. flare to this antique print shop. A selection of unique doo-dads will keep you browsing longer than you'd planned.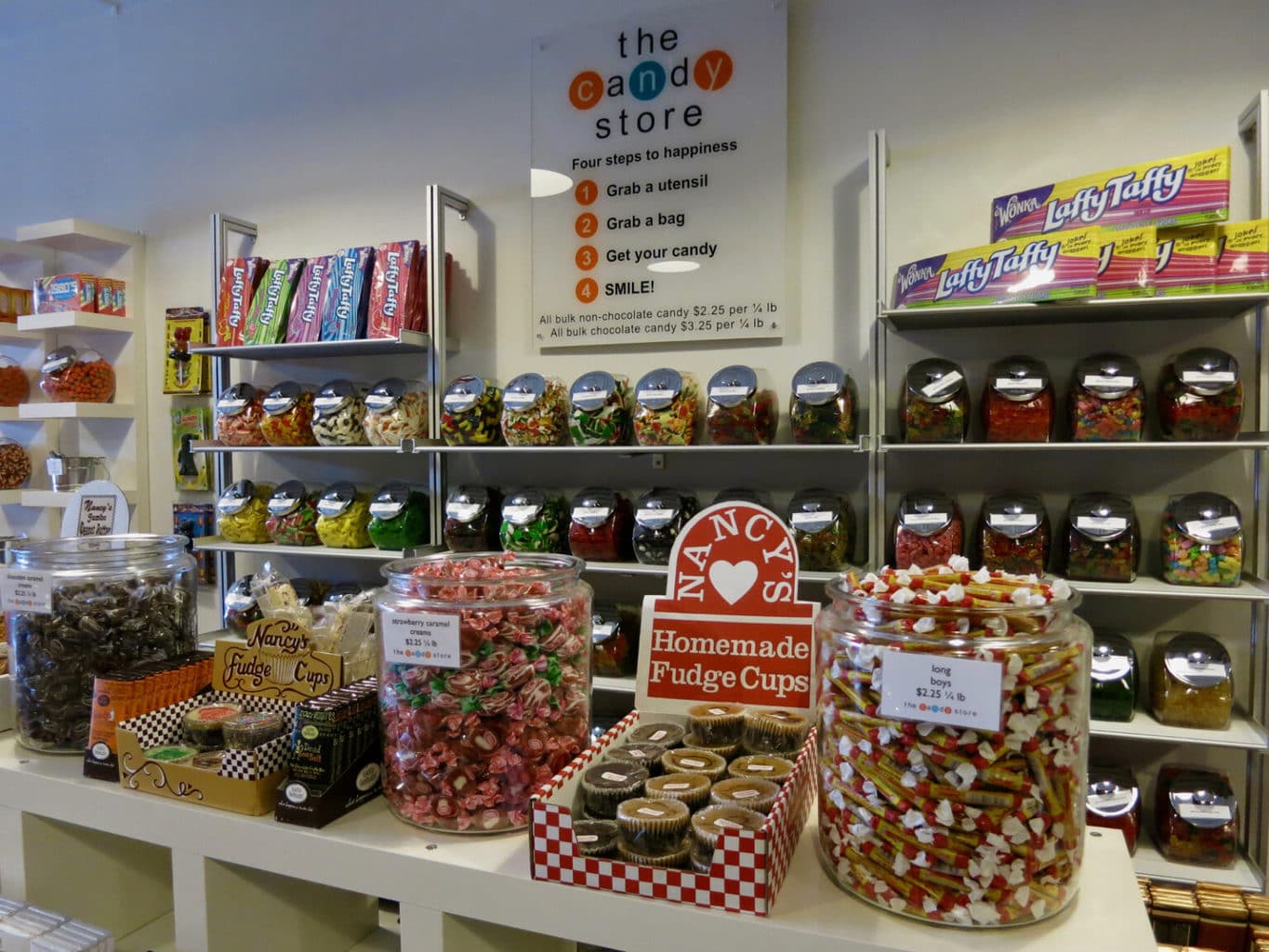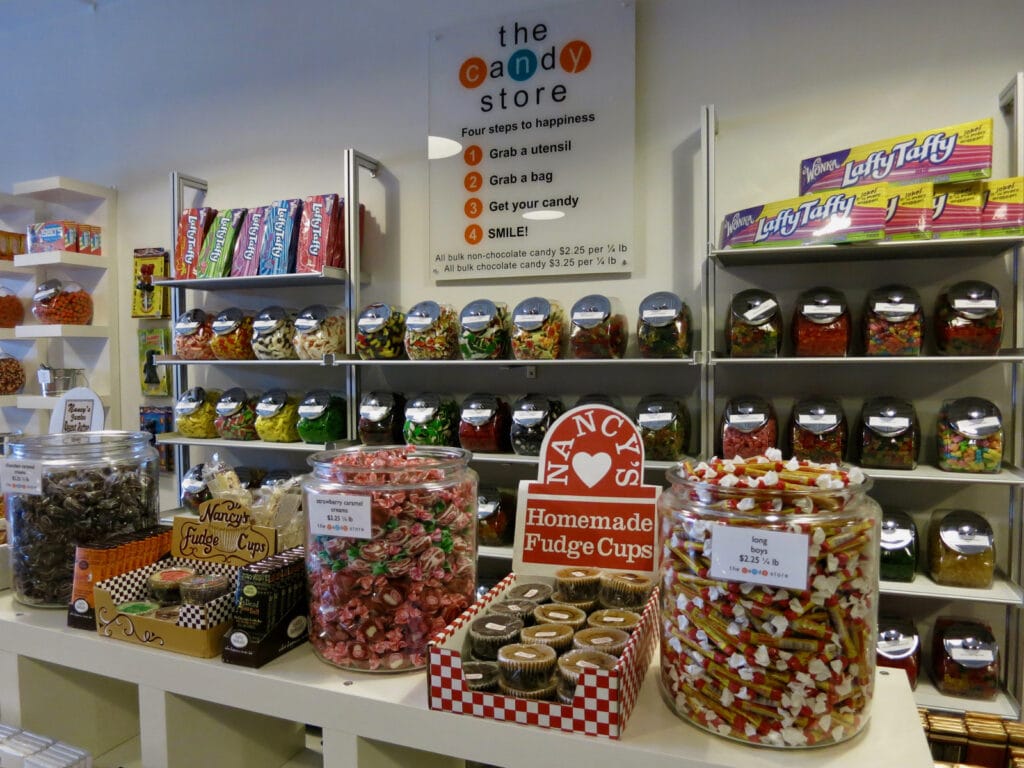 If you can't find your nostalgic favorite here, then it doesn't exist. Also, check out the largest "Gummy" Gumby and other novelty sweets – just looking has zero calories.
There's no better way to sample Roanoke's blossoming food scene than with a food tour, and this one did not make it to the top of a certain Review Site for nothing. Begin at the Hotel Roanoke, and you'll hear about the history of the city, its people and restaurant scene as you stop at seven of them in three hours. Sat at 11am. $54 per person (limited to 17 people per tour).
Best Places to Eat in Roanoke VA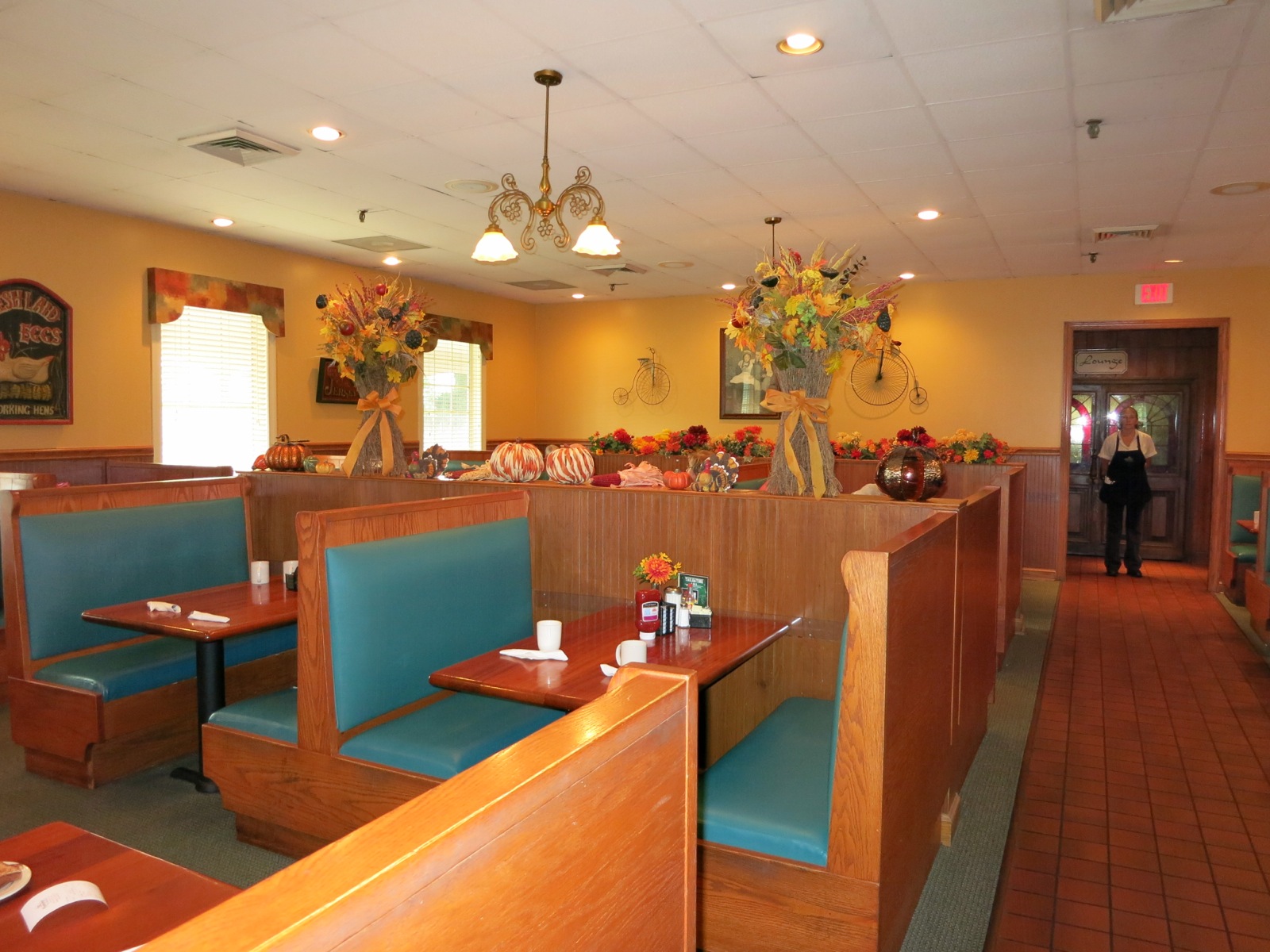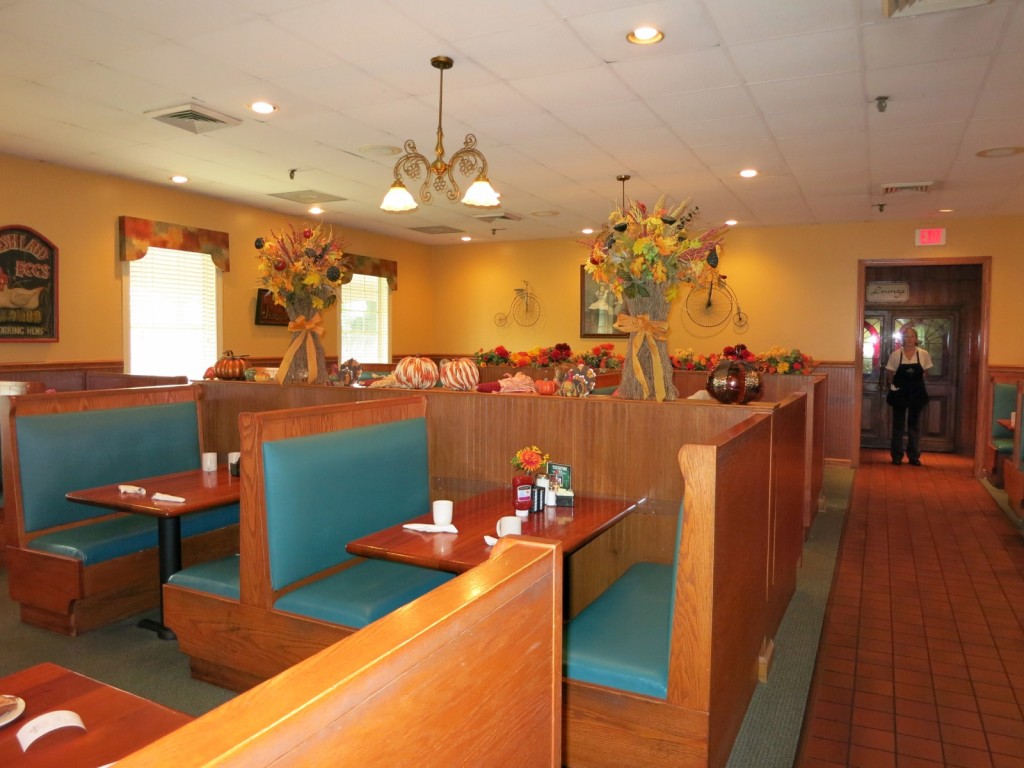 If you do nothing else, come to this humble 75-year-old diner for the ethereal biscuits that have been "perfected over time" and even mentioned on the Today Show. A local favorite, you'd just pass right by this 300 seat brick building unless you knew to stop for its signature Country Ham with Red-Eye Gravy, Sausage Gravy and of course the discs of flaky dough that practically float through the air.
"French Inspired Southern Comfort Food," or "Grandma's cooking with French Training", Lucky is tough to define. You'll find the likes of Buttermilk Fried Chicken, Coca Cola Soy Tuna With Watermelon, Boiled Peanuts, and Roasted Marrow Bones on the inventive, eclectic menu that changes daily depending on what ingredients look good that day.
Cocktails verge on kitchen chemistry: try the signature "Cube" – frozen blocks of mixed juices over which Bourbon is poured. The flavor of the drink changes as the cube melts. Even the end of the meal is topped off by whimsy – the check is clipped onto a 45 record.
Where to Stay in Roanoke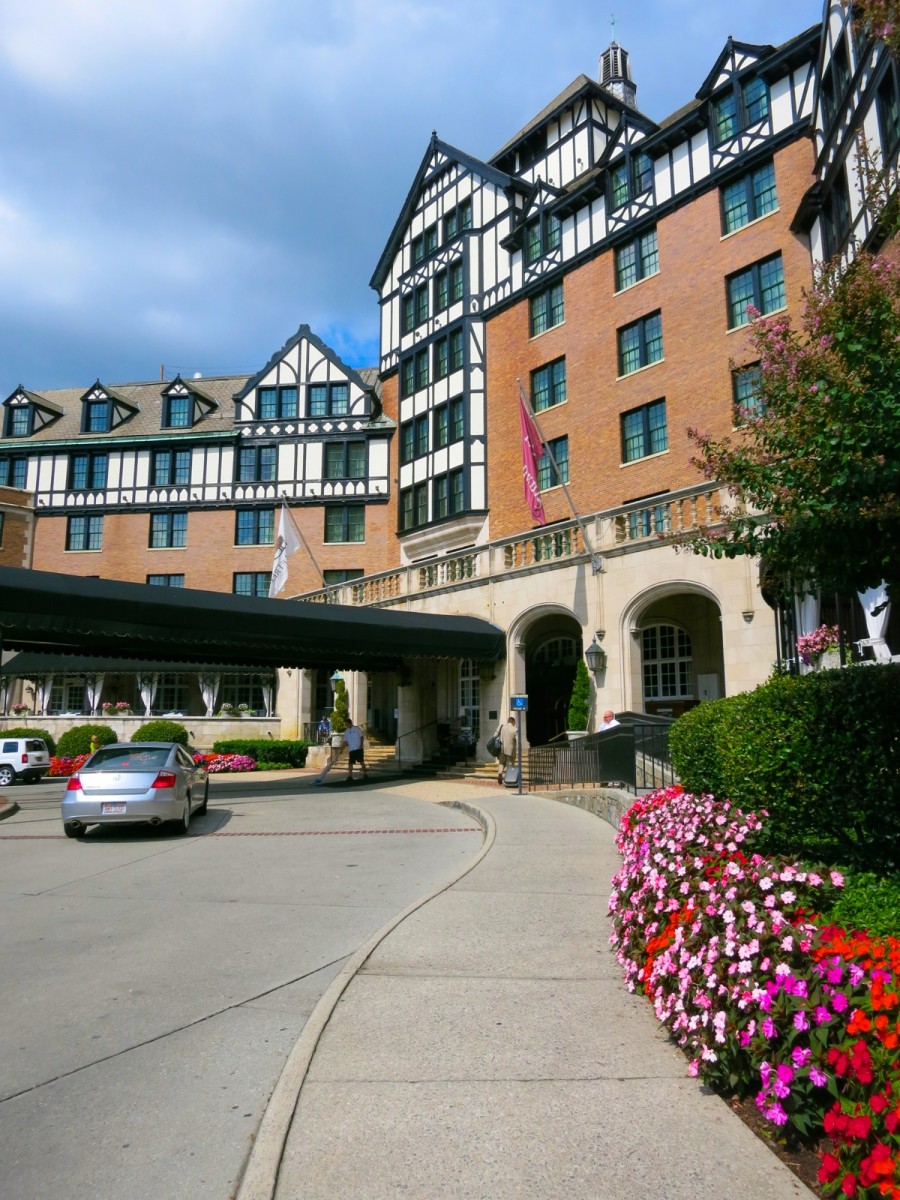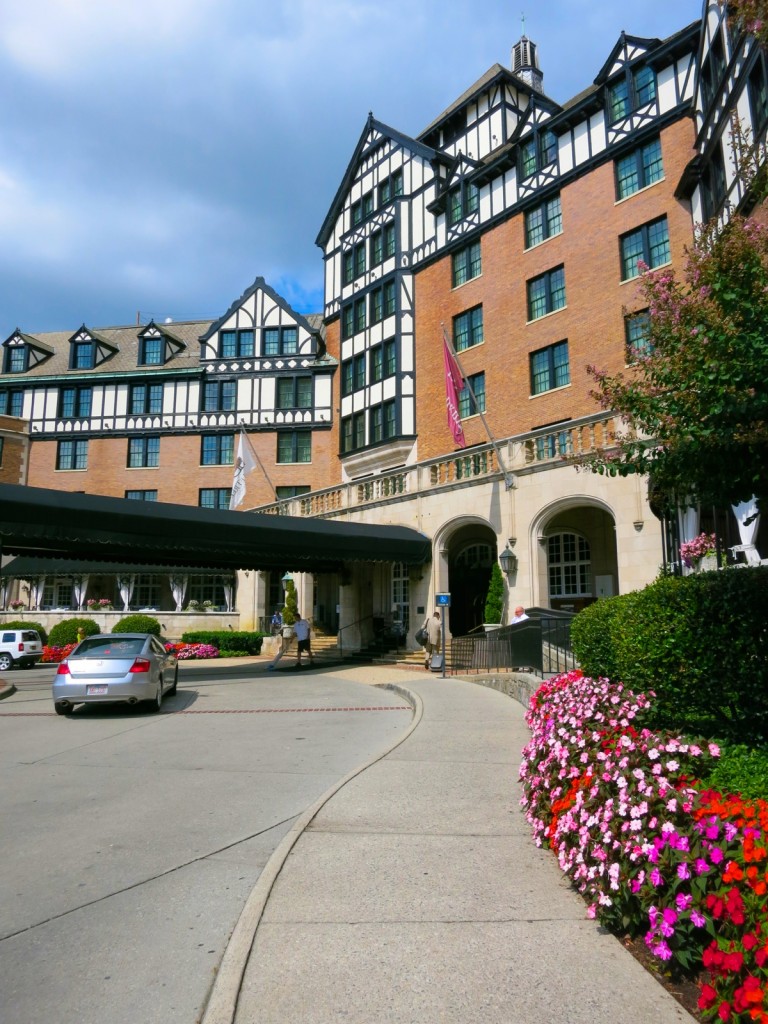 Built in 1882 for visiting railroad executives and expanded in the 1930's to offer 331 rooms, this Hilton Curio Collection affiliate has, despite recent updates, maintained some historic elements. The colorful granite lobby floor and WPA-like murals above the elevators are original to a 1938 design.
Celebrating its roots, the hotel offers the "Train Lovers Package," which includes a room overlooking the railroad tracks, a commemorative book and tickets to the Transportation Museum. Rates start at $139 per night.