WHY GO: Cape Charles VA, a pristine Chesapeake Bay beach town, was developed as a "planned community" by the railroad and ferry company in 1884, and now draws an increasingly upscale crowd.  For motorists who arrive by car, you can't miss  the black water tower built in 1996 as a replica of the Cape Charles Lighthouse. It has turned what is generally an eyesore into a work of art.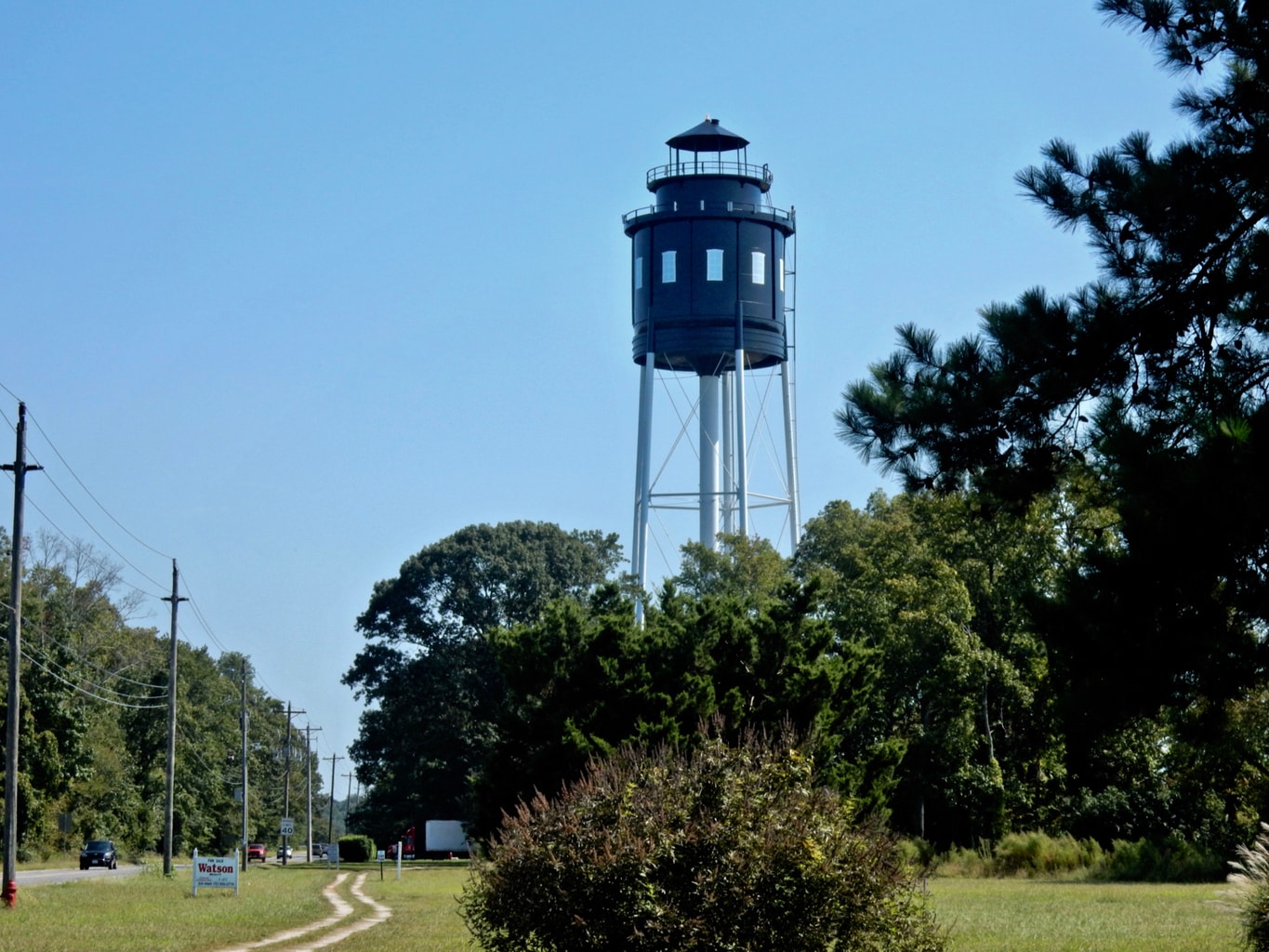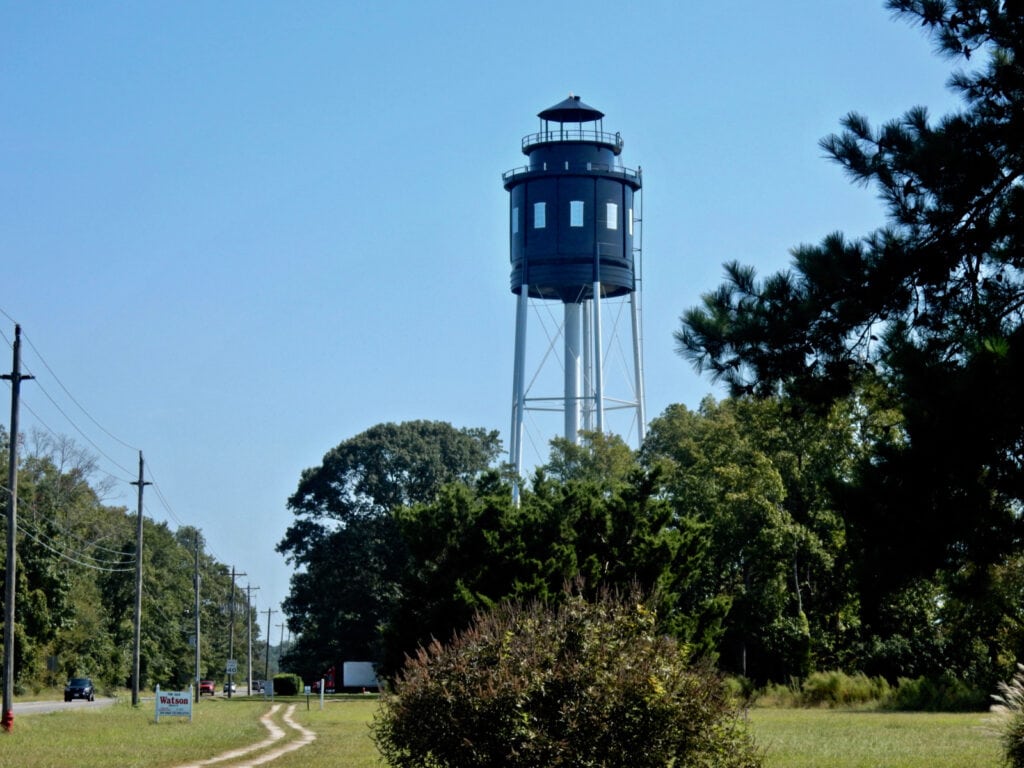 Cape Charles is surprisingly suave and sophisticated, with a European style coffee shop, great restaurants, friendly indie shops, a Brewery, Distillery, and Cidery, B&B's and a cool main street boutique hotel.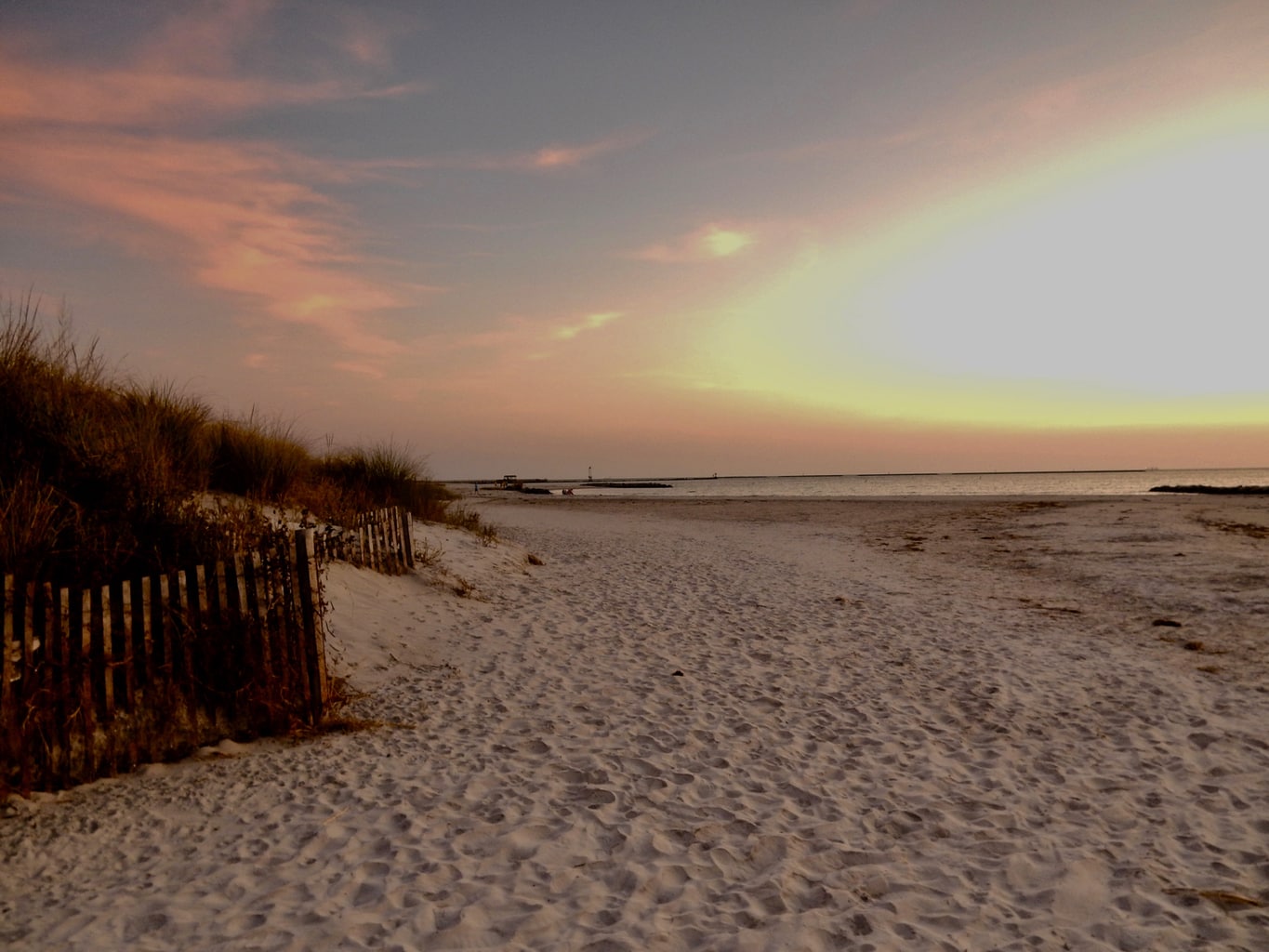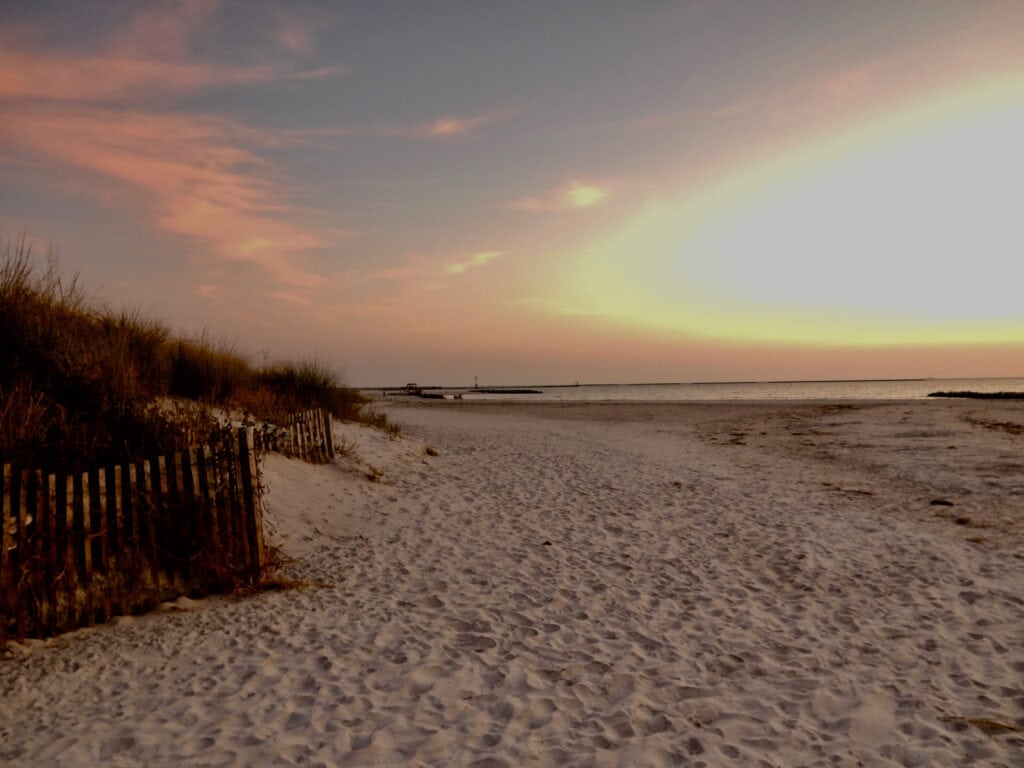 Cape Charles is also a beach and fishing town – small enough to manage with a golf cart. These ubiquitous vehicles give the town a golf-club vibe, though not a snobby one. As with most towns on the Delmarva Peninsula, Cape Charles is genuinely warm and welcoming.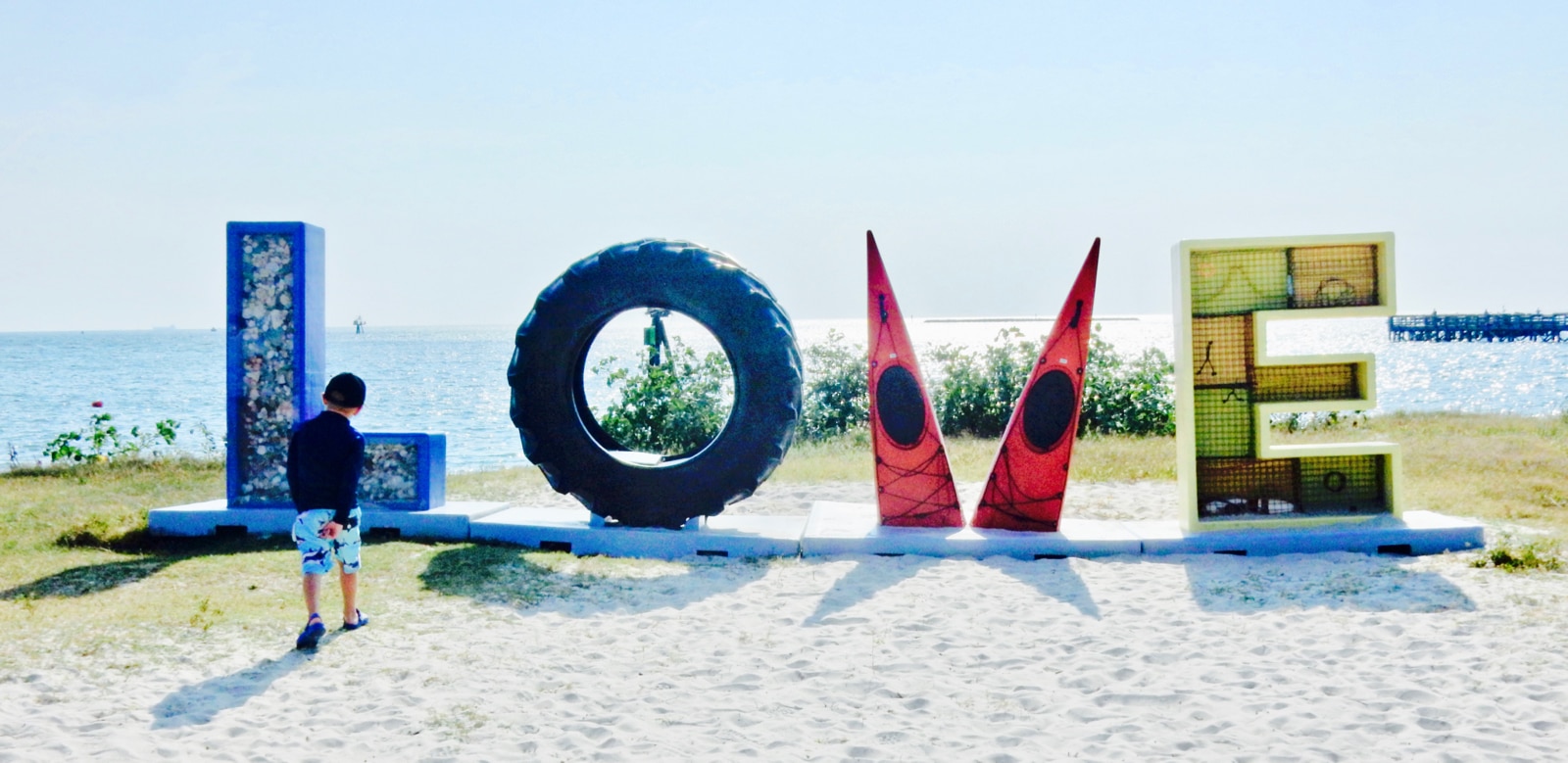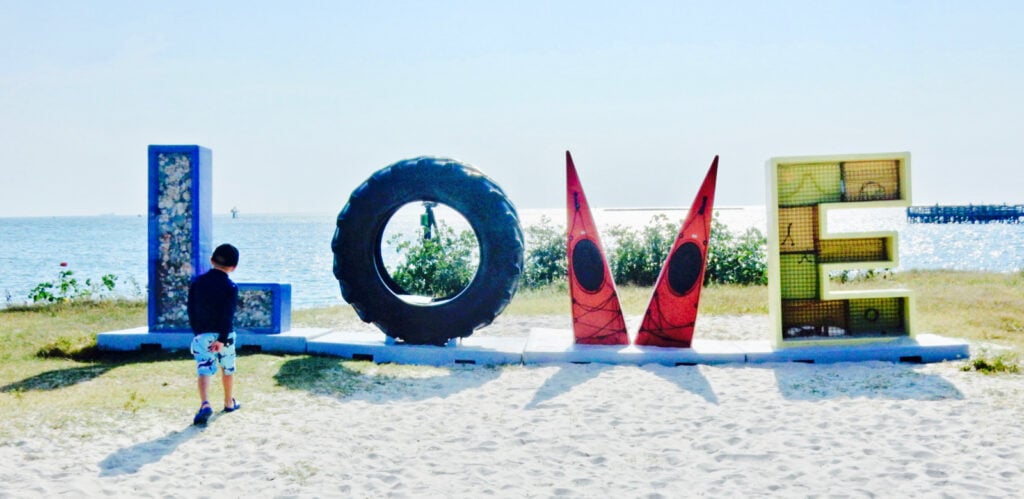 And it's also being discovered. My latest visit in September 2019 just so happened to be on the heels of writers from Coastal Living Magazine and the Washington Post – and concurrent with production staff of HGTV's "Budget Beach House." To avoid the crowds, plan a few days here off-season to chill out and get to know the locals. Your golf cart is waiting….
Cape Charles is on our list of 20 Surprisingly Romantic Getaways in VA. Check it out if you wish to explore the state further.
Looking for someplace dreamy outside of Virginia? Check out our 150 Best Romantic Getaways in the Northeast US (Virginia to Maine).
Things to Do in Cape Charles VA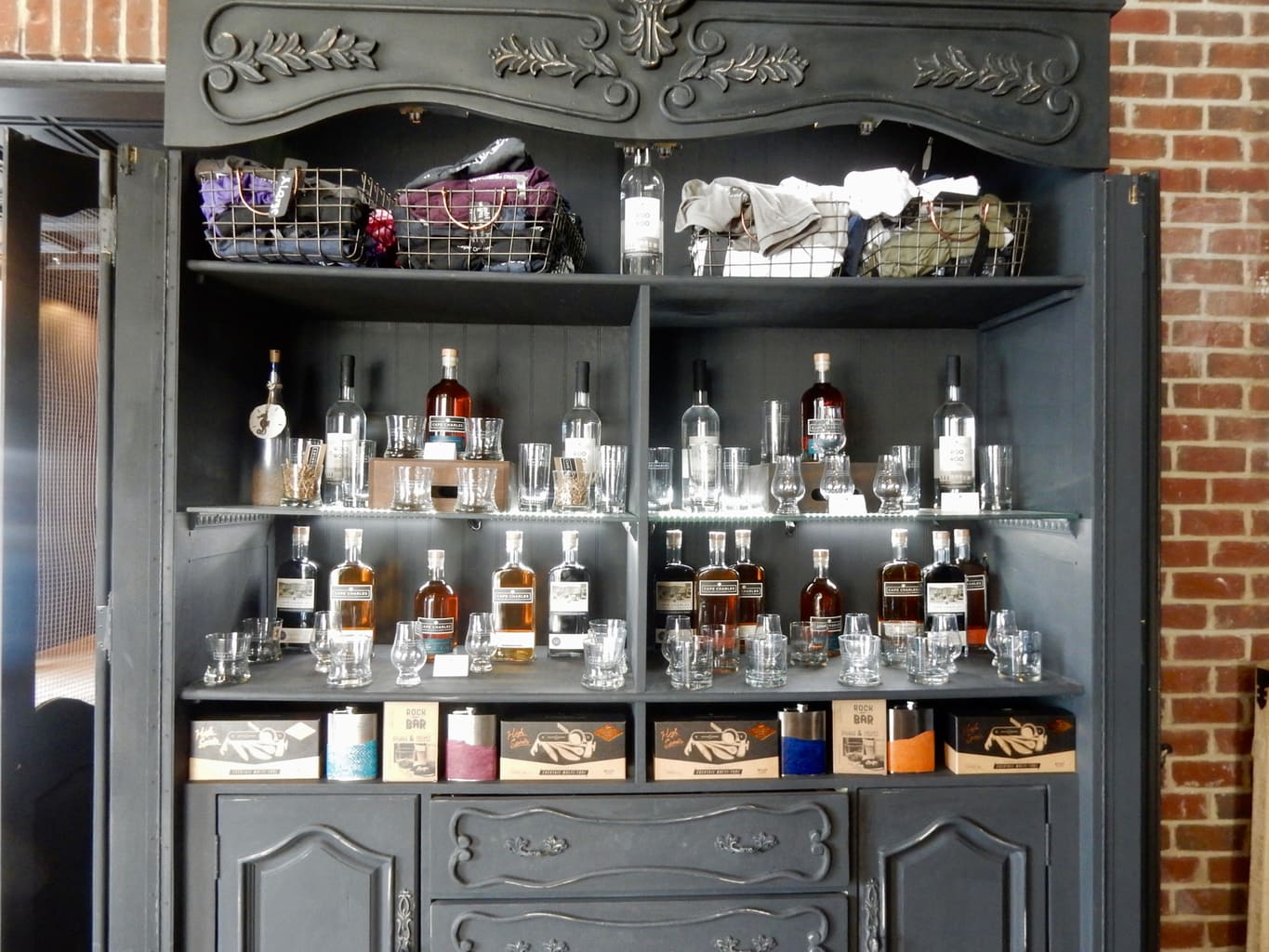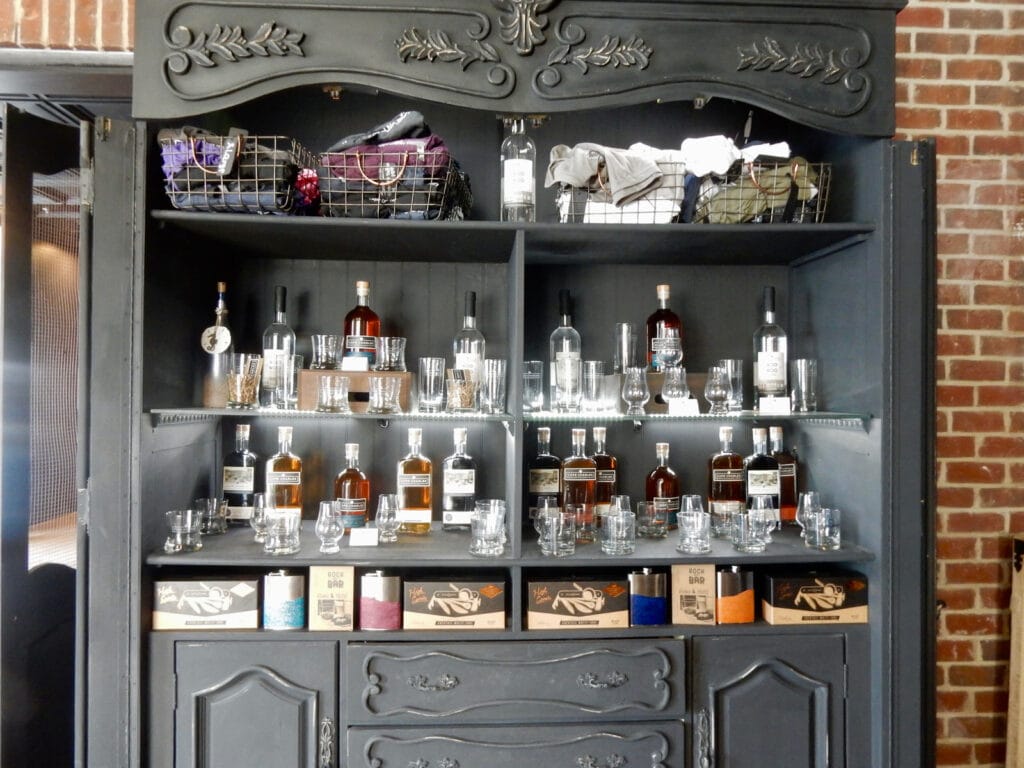 Cape Charles Distillery, owned by Bill Duncan, has upped the swank level of this bayside town. The ambience is low-lit gracious luxury. Artisanal cocktails are over the top delightful. And products are made from the essence of Mother Nature and are as pure as distilled spirits can be.
The tony Cape Charles Distillery tasting room and cocktail lounge moved into this Mason St. space in mid-2019 from another location in Cape Charles.
With its leather-luxe décor and speakeasy bar, it's become quite the sensation in this small town for both tourists and locals. Open year round, the Distillery is poised to become Cape Charles' winter gathering place, with inventive craft cocktails that change with the seasons.
Distilling in The Blood
When he was a child, Duncan studied at the knee of his Georgia Grandfather who taught him to work hard, fish, and make moonshine. For several decades, Duncan worked in I.T., before deciding to revisit his childhood passion.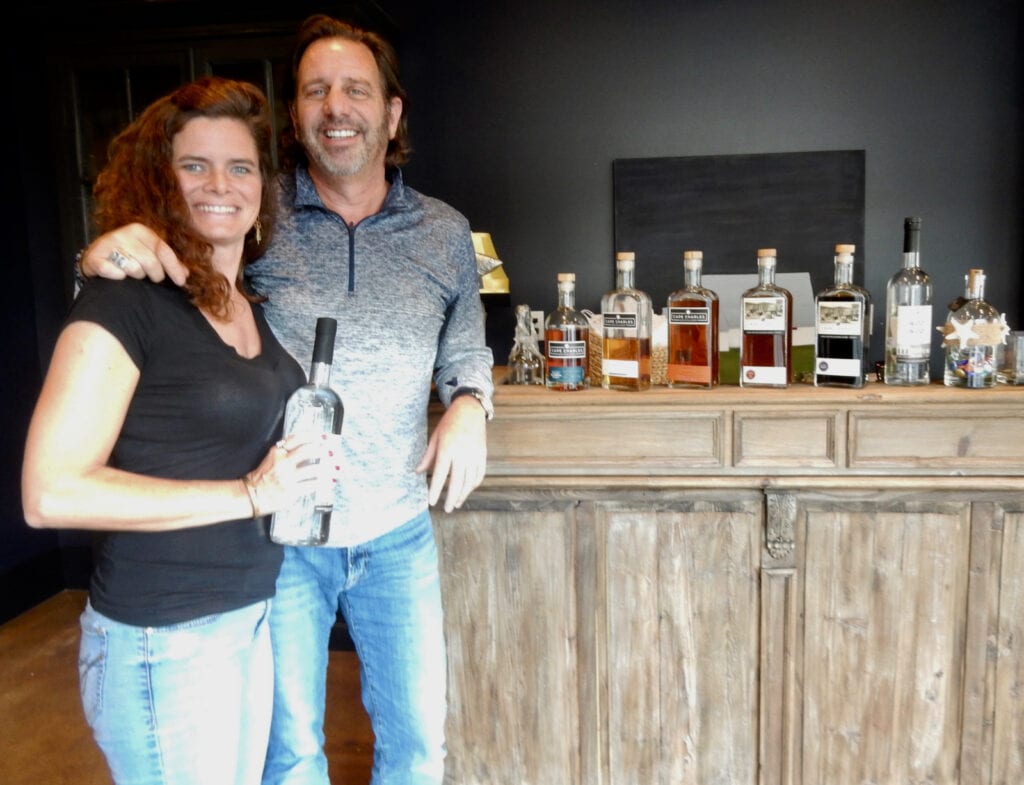 Duncan's spirits are so smooth, they warm the gullet without the burn. Bourbon, Rye, Blackberry and Apple Pie Moonshine, and the nine-times distilled and double-filtered Woo-Woo Vodka are fine both on their own and in mixed drinks.
My very favorite, Maple Whiskey, is particularly tasty on a cool fall evening.
Apparently, Duncan's "Three Ingredients for Success" – Customer experience, quality products, and educating the public – is paying off. Cape Charles Distilling was recently named the #1 Distillery in Eastern VA by Virginia Living Magazine.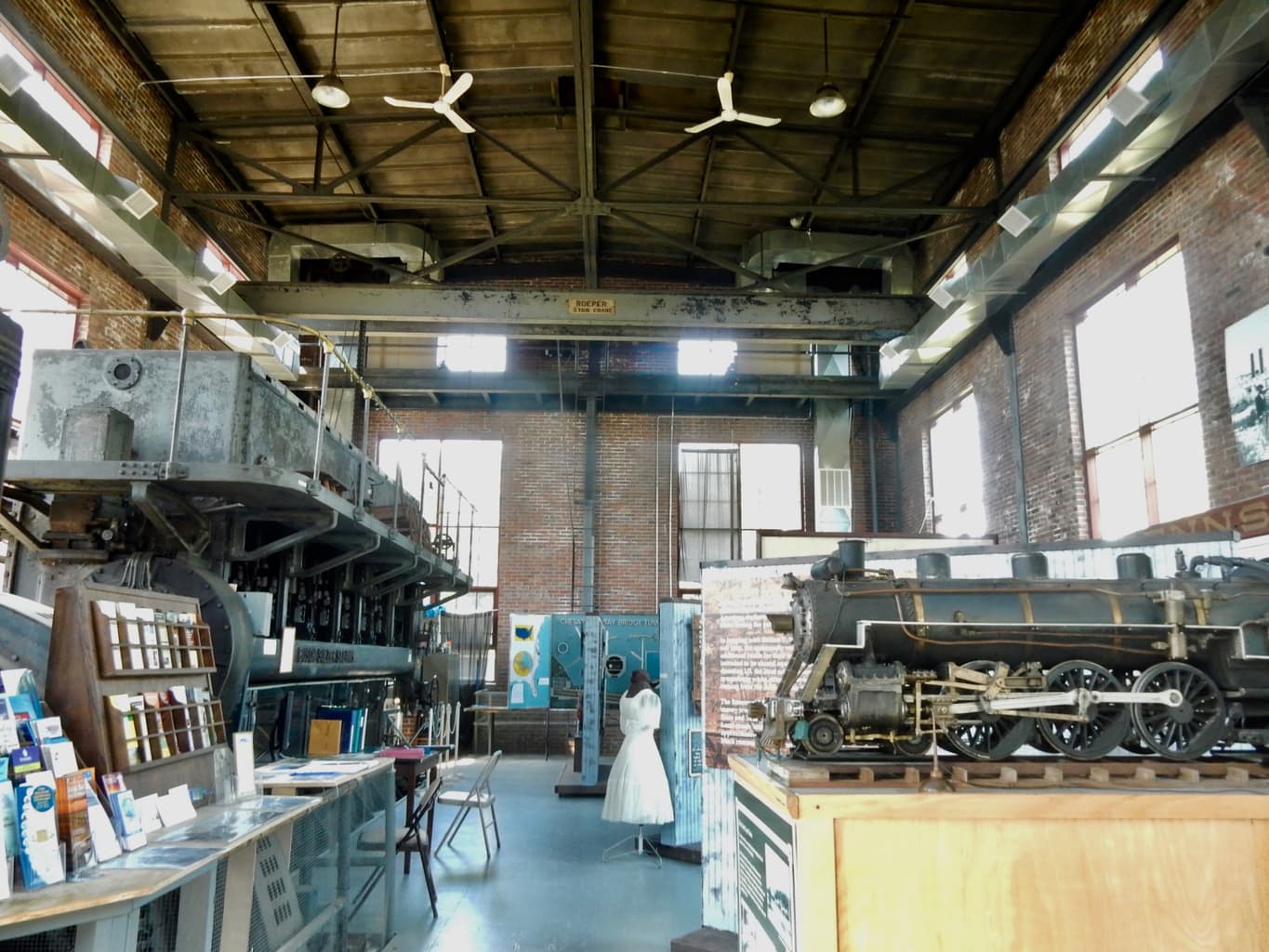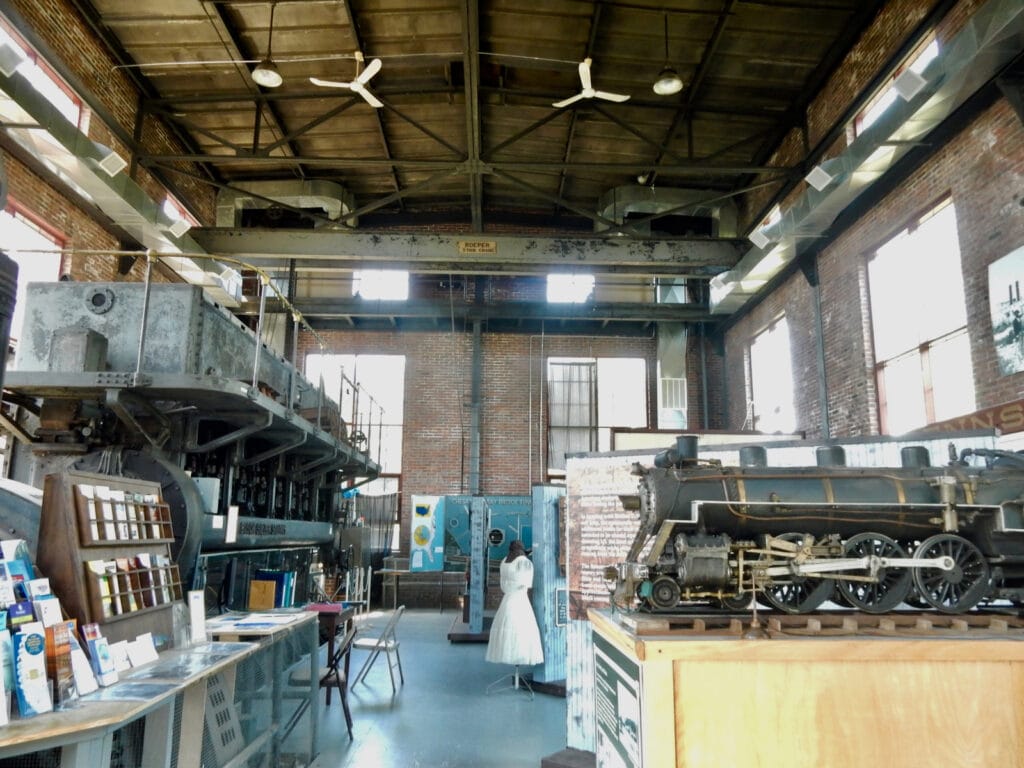 Walk into the former Electric Power Plant and inhale the strong scent of diesel oil – still clinging to the massive Busch-Sulzer St. Louis Marine diesel engine that dominates this rather scruffy glass case and poster-board museum.
Those interested in railroad and steamship memorabilia will find much to love here. I was most fascinated with artifacts and information about the 1963 Chesapeake Bay Bridge and Tunnel that runs 17.6 miles shore to shore.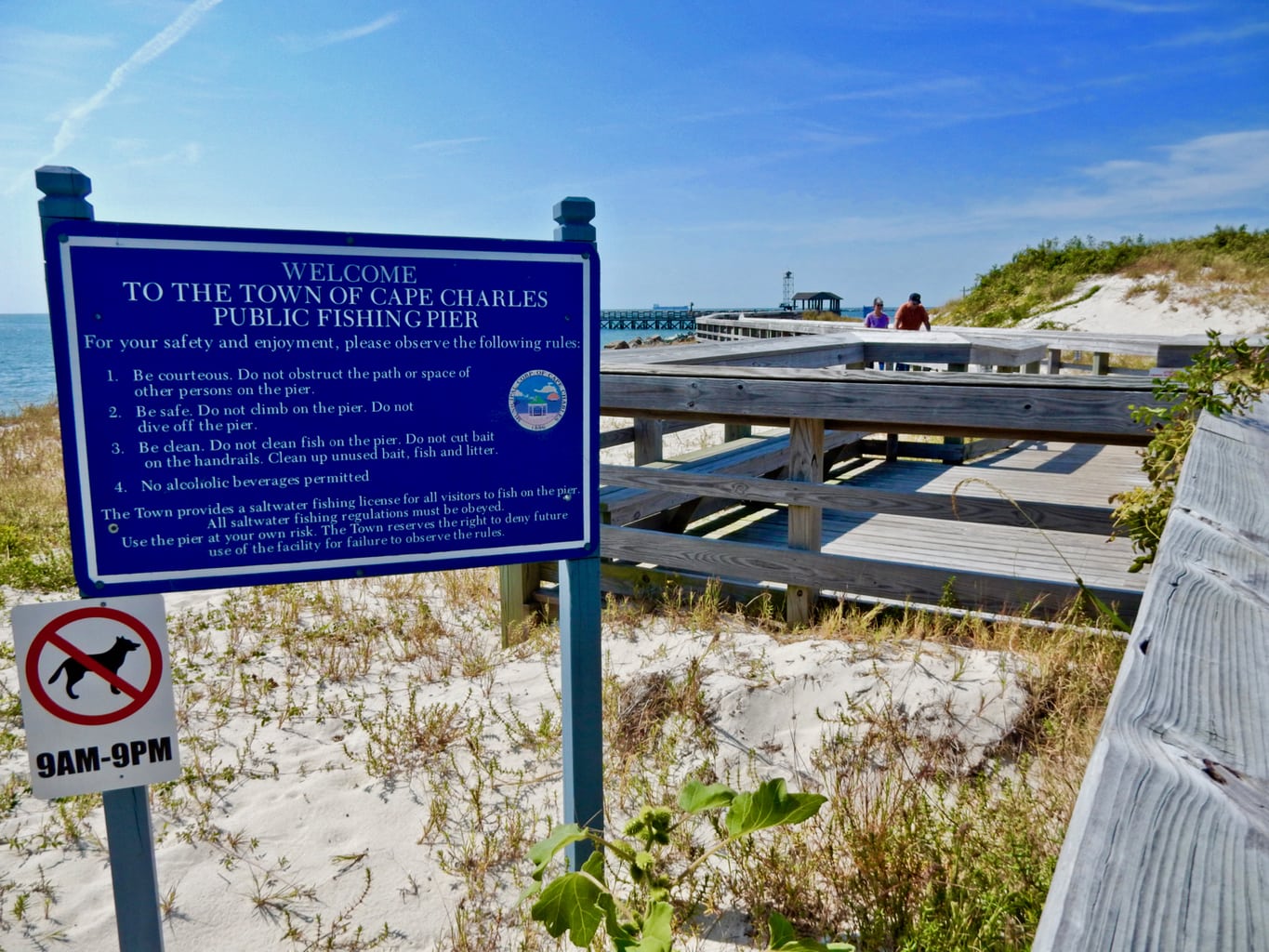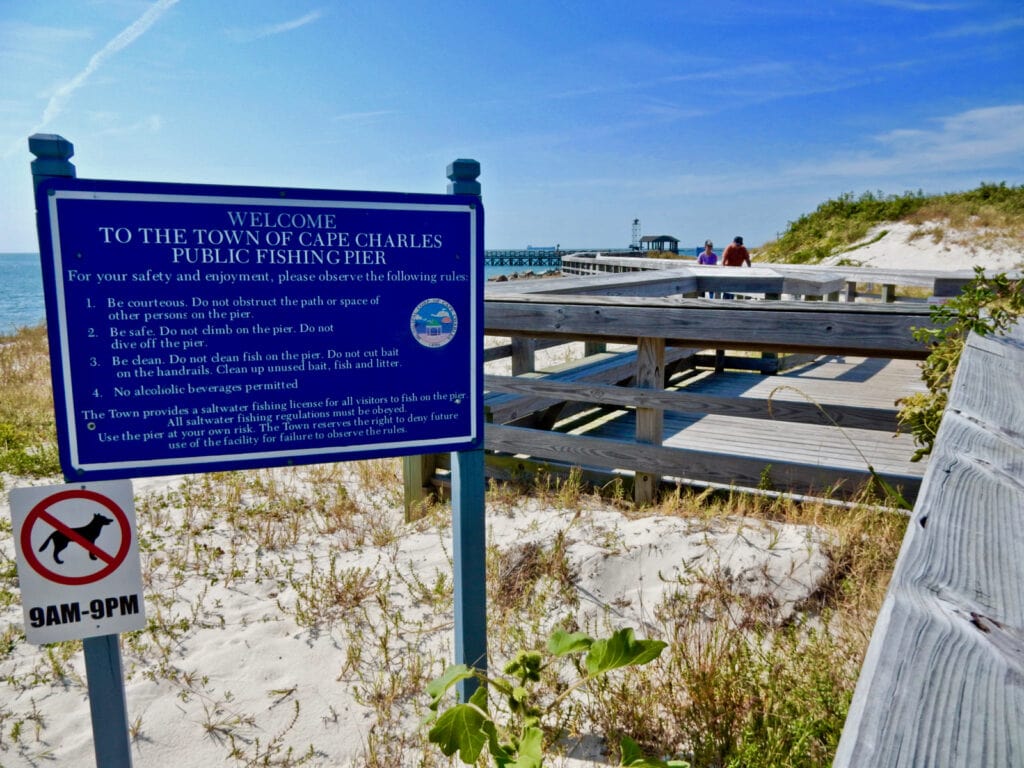 WALK: Cape Charles Municipal Fishing Pier
Open during the day, and lit up at night for evening fishing, this wooden walkway gets you right out into Cape Charles Harbor. Great views and the occaisonal lucky fisherman.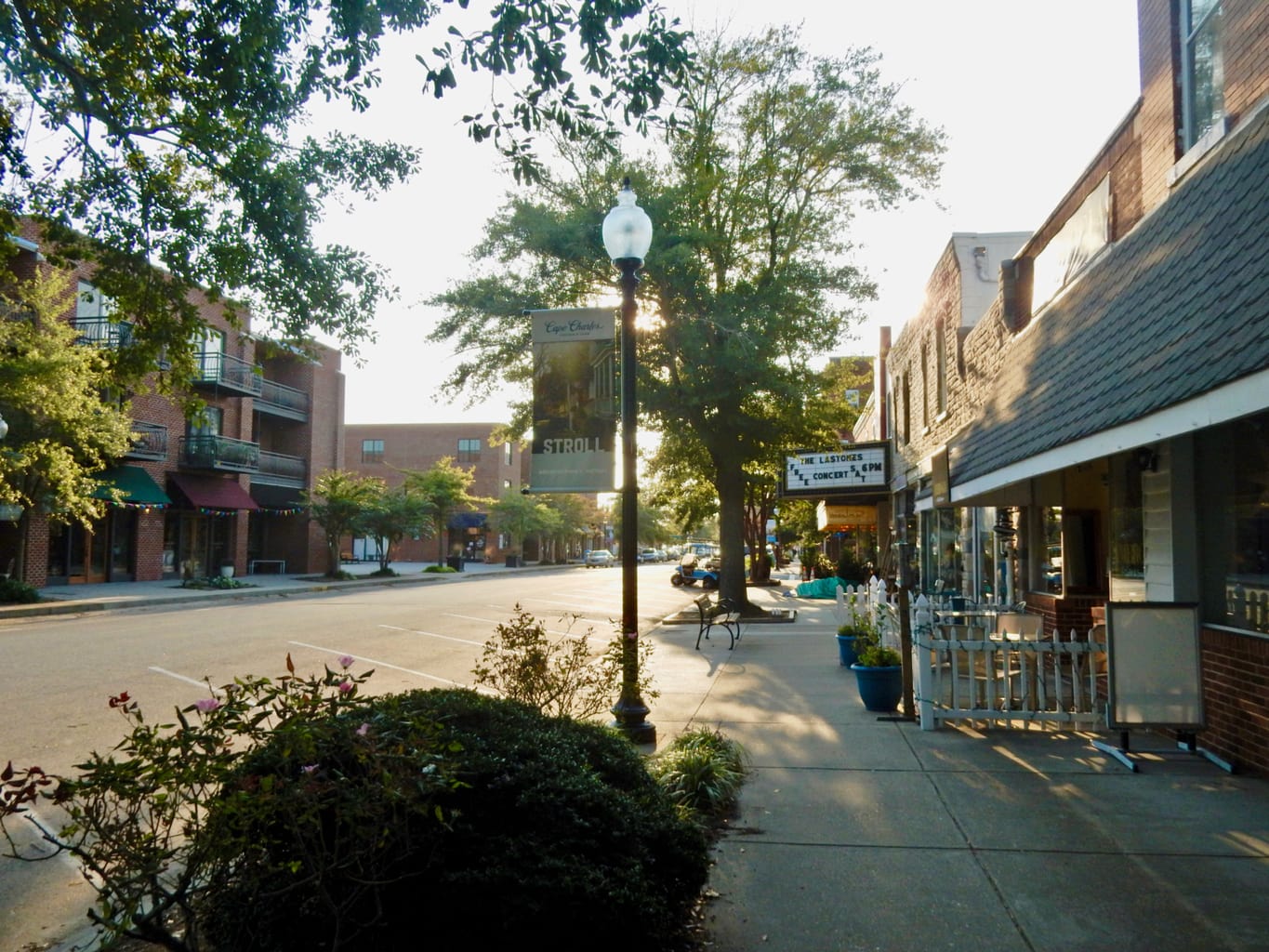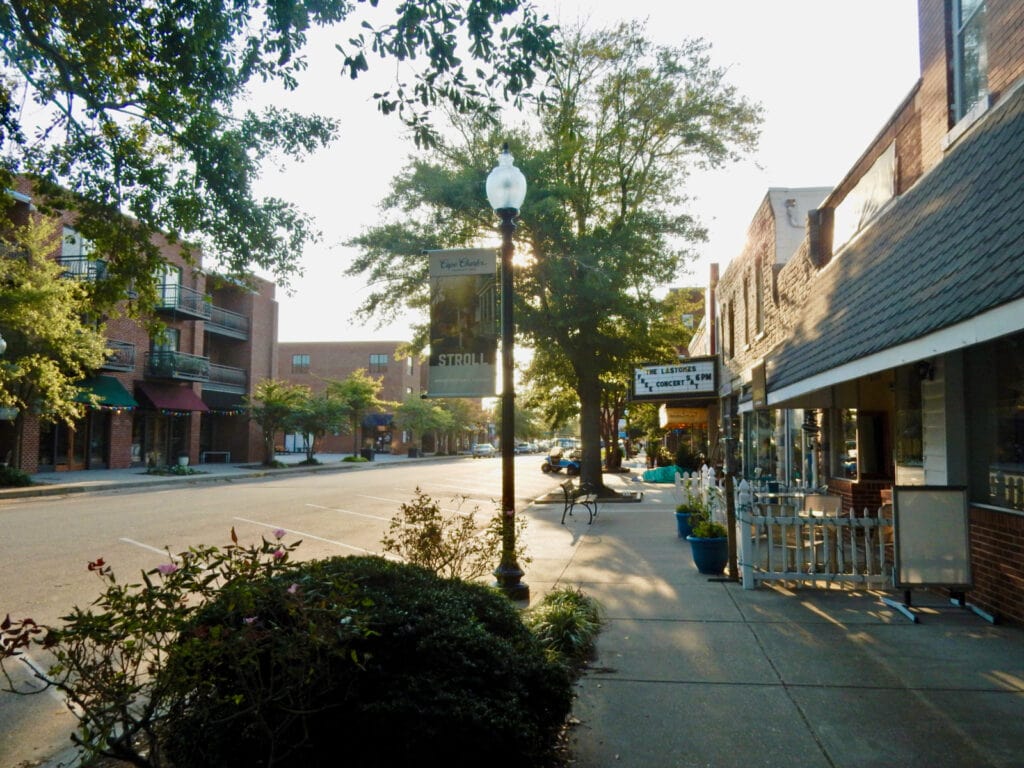 SHOP: Stores and Galleries
Each and every store and art gallery on and around Mason St. is a treasure trove of unique gifts, art, and clothing. That they are independently owned is icing on the cake for those who seek to "shop local" when traveling. Here are my favorites: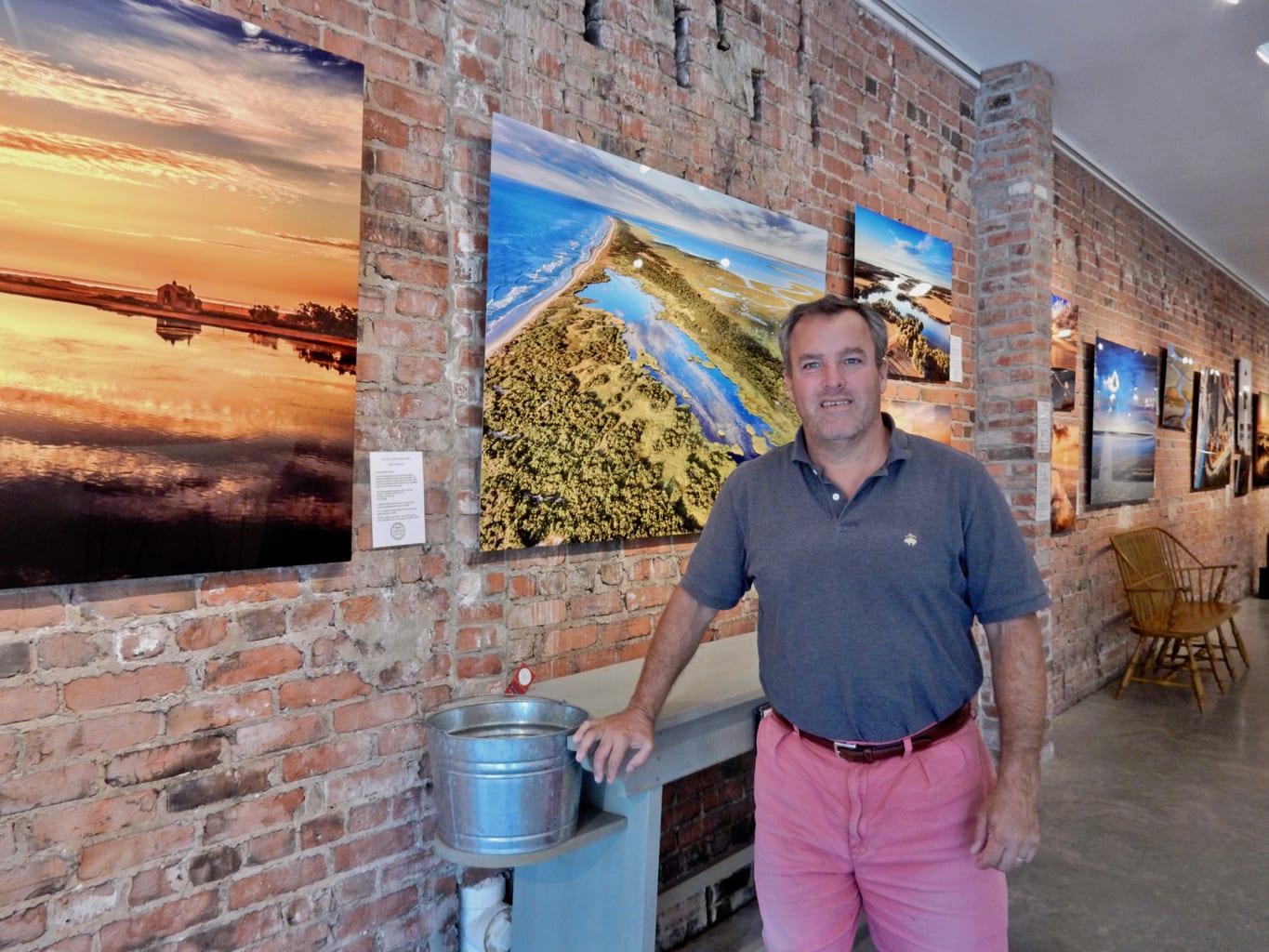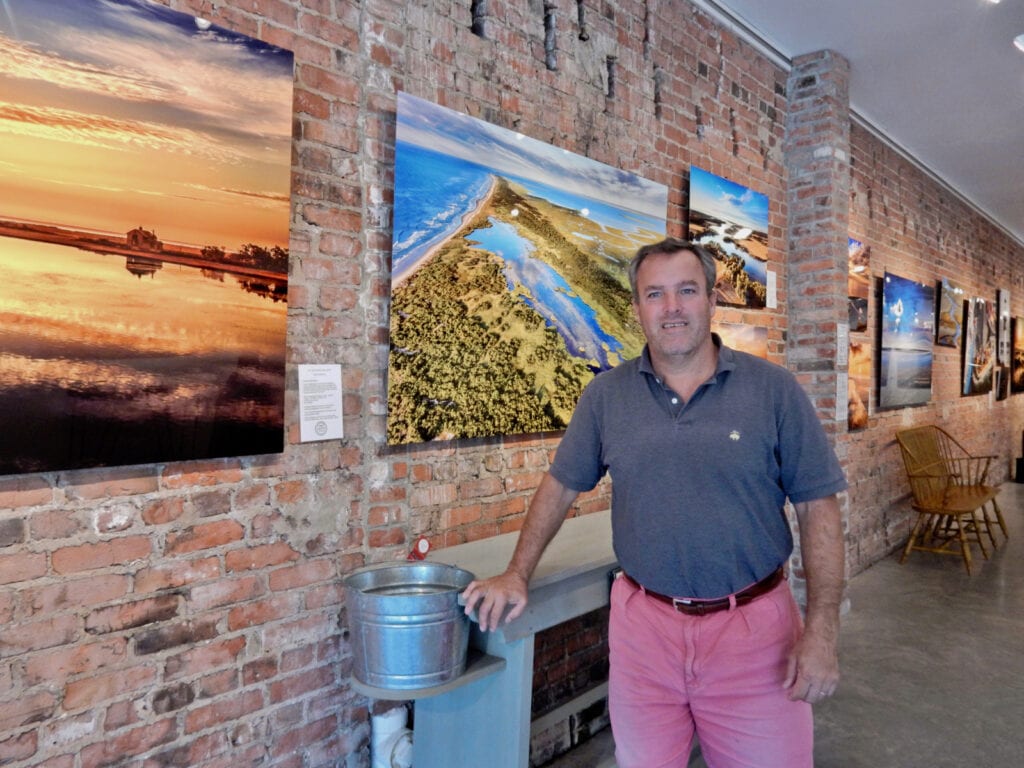 This incredible 3,000 sq ft. brick-walled photo gallery showcases the astoundingly gorgeous work of aerial-photographer, Gordon Campbell who also owns the building, as well as the Campbell Field Airport.
Campbell hails from Connecticut and New York, where he operated a series of photo-finishing shops, before moving to Cape Charles in 2005. He purchased what was the old Kellam Field Airport, and started out flying small planes around the Eastern Shore.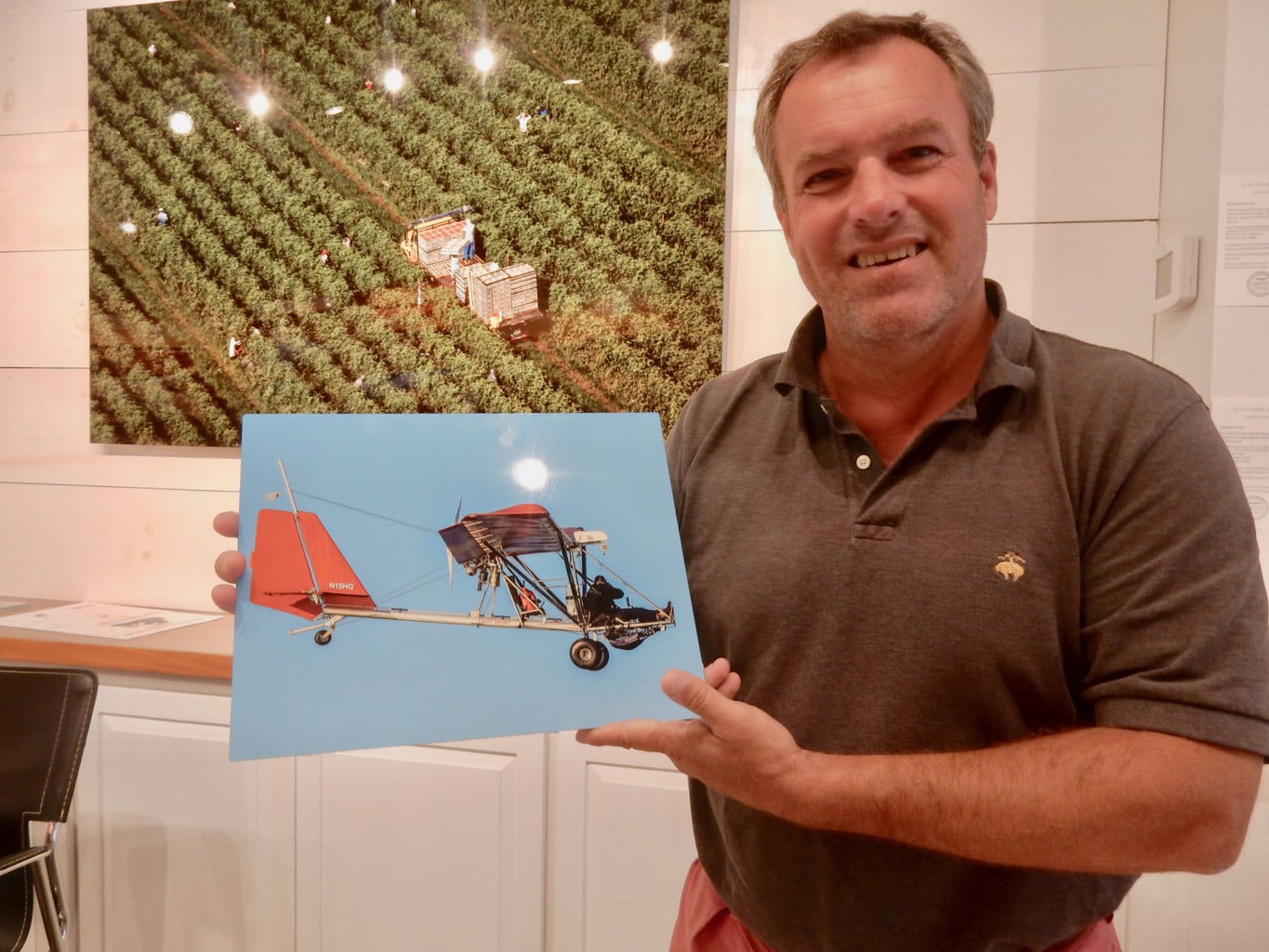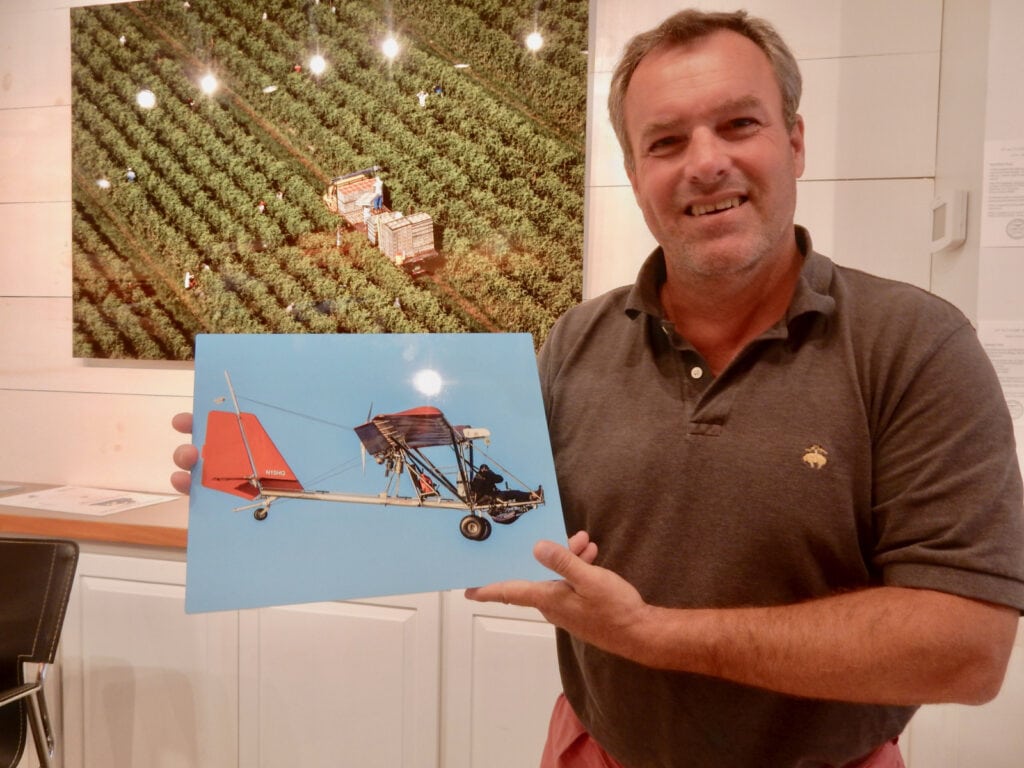 Now, Campbell uses one of his flying machines – an open air frame-only "Dragonfly"- to cruise "low and slow" over America's coastline, capturing mind-blowing, luminous, aluminum-mounted photographs of vanishing barrier islands.
In this age of sea rise, offshore islands will soon disappear, so we must rely on these pictures to document them.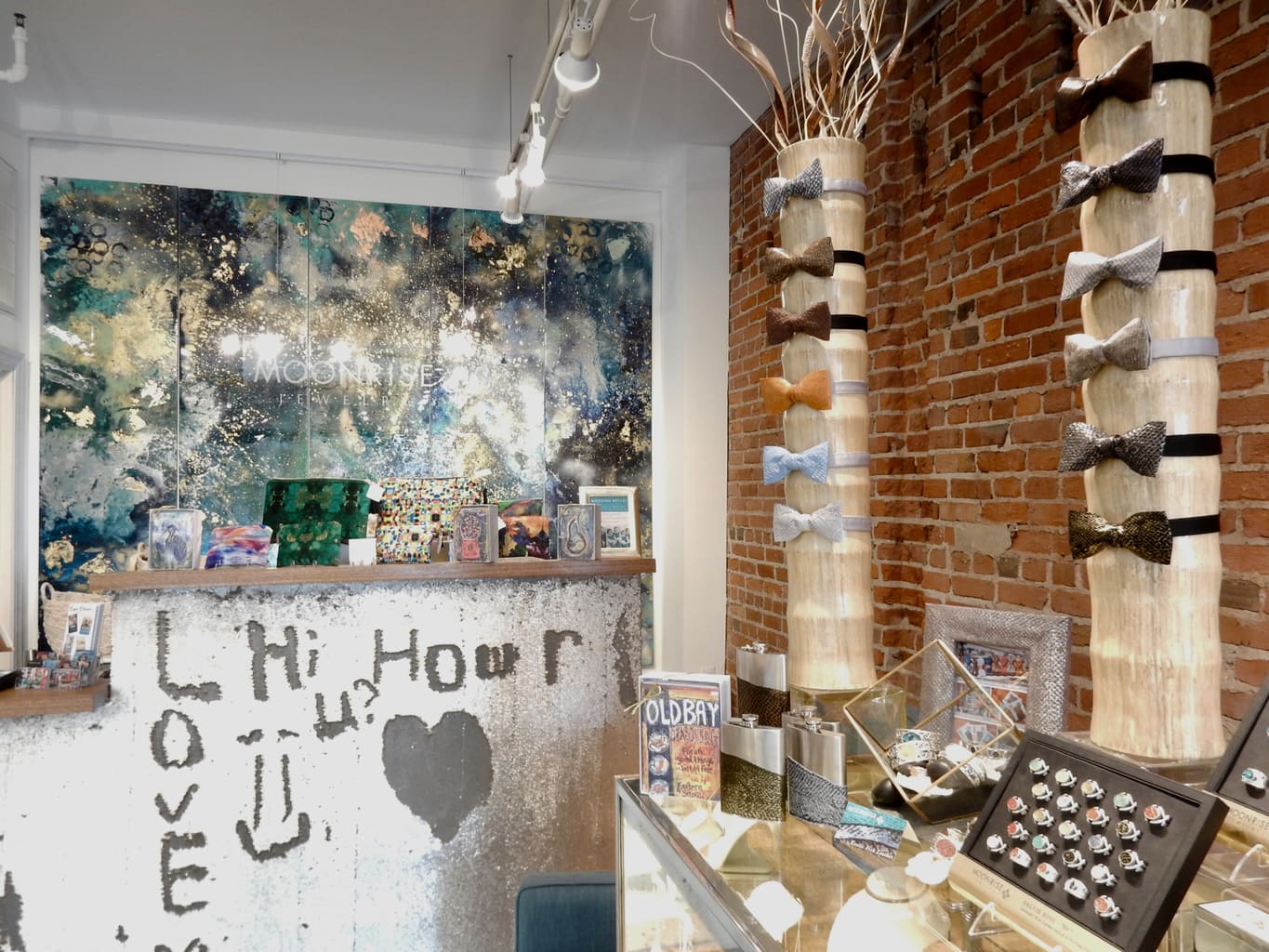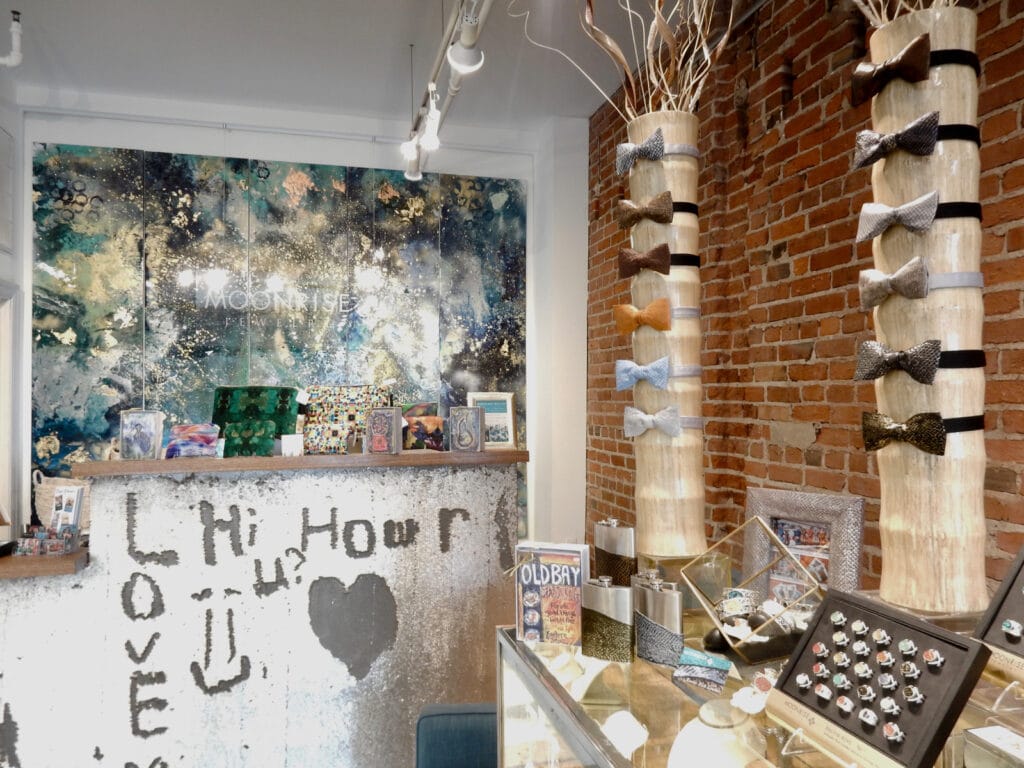 Stop in to learn about "Fish Leather" jewelry, bracelets, flasks, men's bow ties, and more. Skin from different kinds of fish are used, each with its own characteristics.
For example, Tilapia leather has the appearance of "mermaid skin." Though the material comes from Iceland, the products and jewelry are made right here.
Like A Sailor
Find socks, t-shirts, tea towels and other gifts emblazoned with the off-color words a sailor would utter. Be aware before taking young readers inside.
Buoy 56
Opened in 2019, a portion of the proceeds from this casual living boutique goes to an organization that supports disabled kids. So buy seashore-themed home goods, clothing, and jewelry with good conscience.
Everything an old fashioned candy shop should be.
The Boardwalk
Need a sculpted crab or octopus-based table? You'll find it at this emporium that also features shore gifts and signs.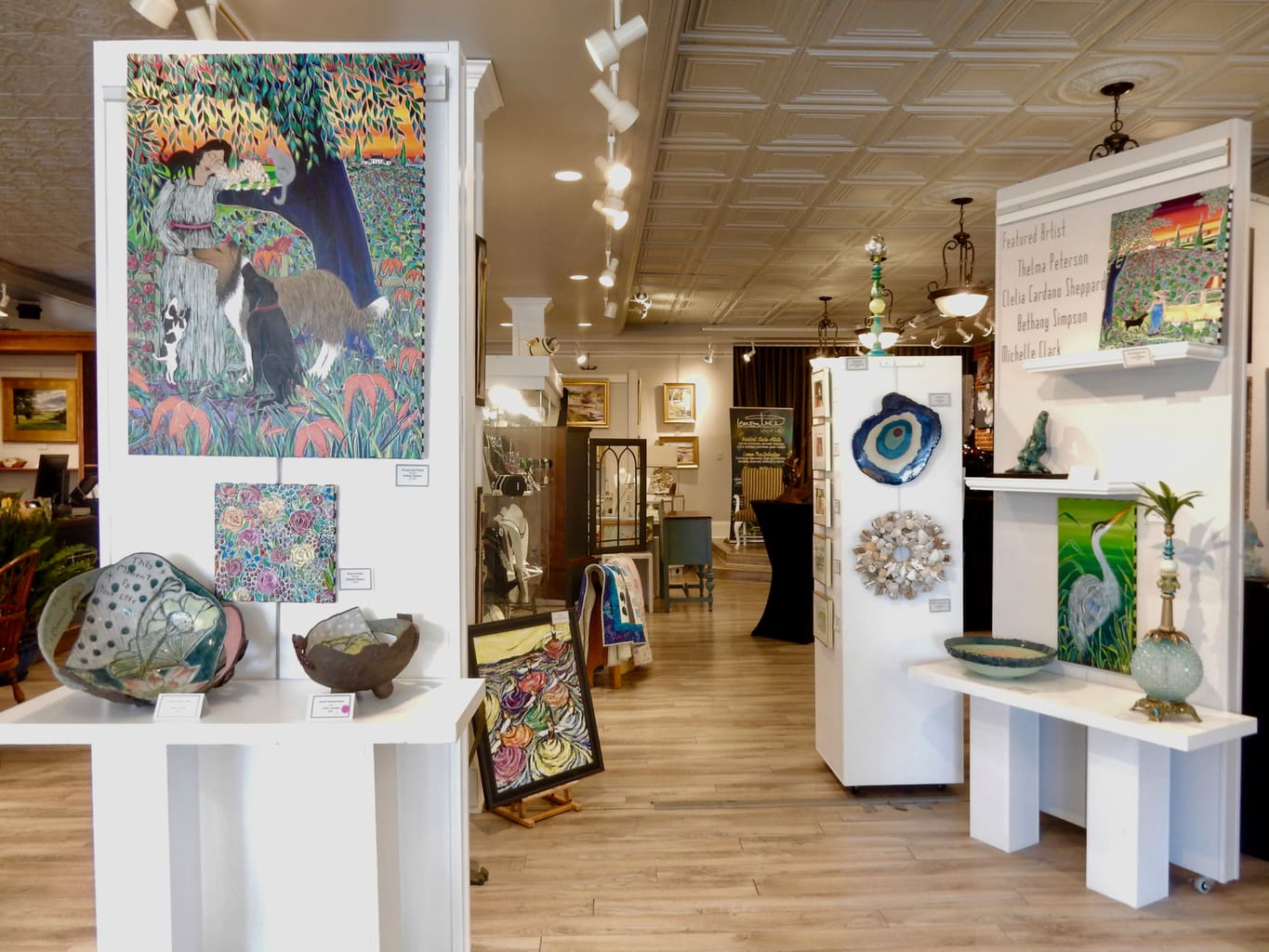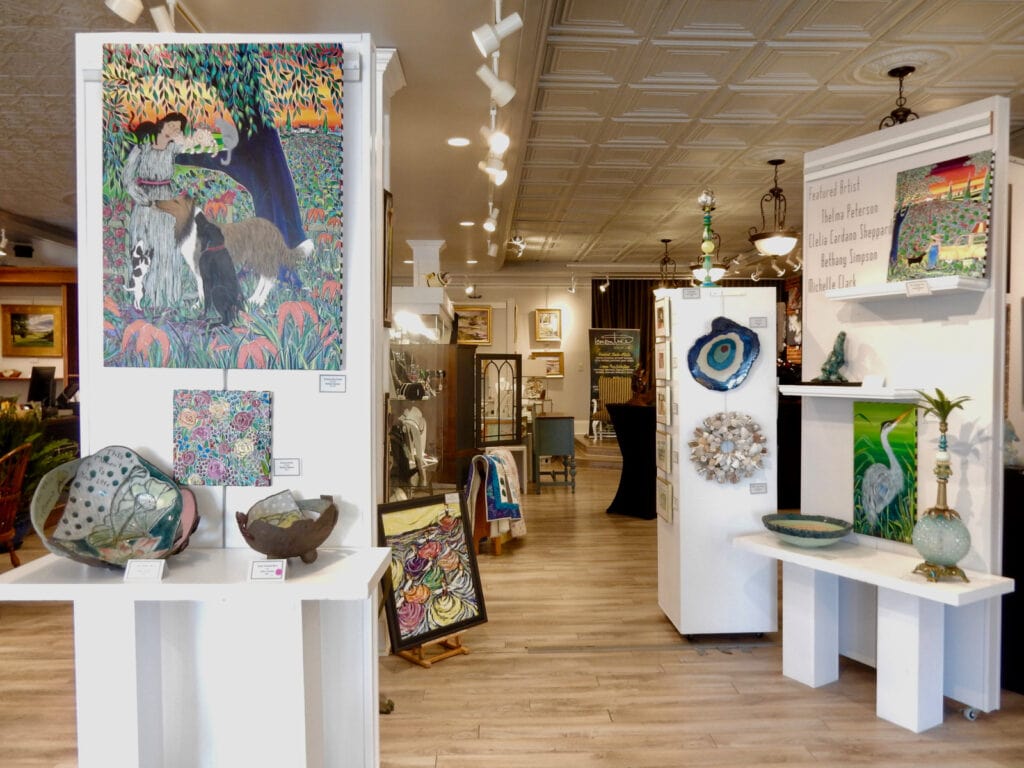 An immense amount of furniture and local art can be found here.
Table & Tonic
Though this shop specializes in craft cocktail items and cute paper goods, its best seller is delish Bourbon Honey.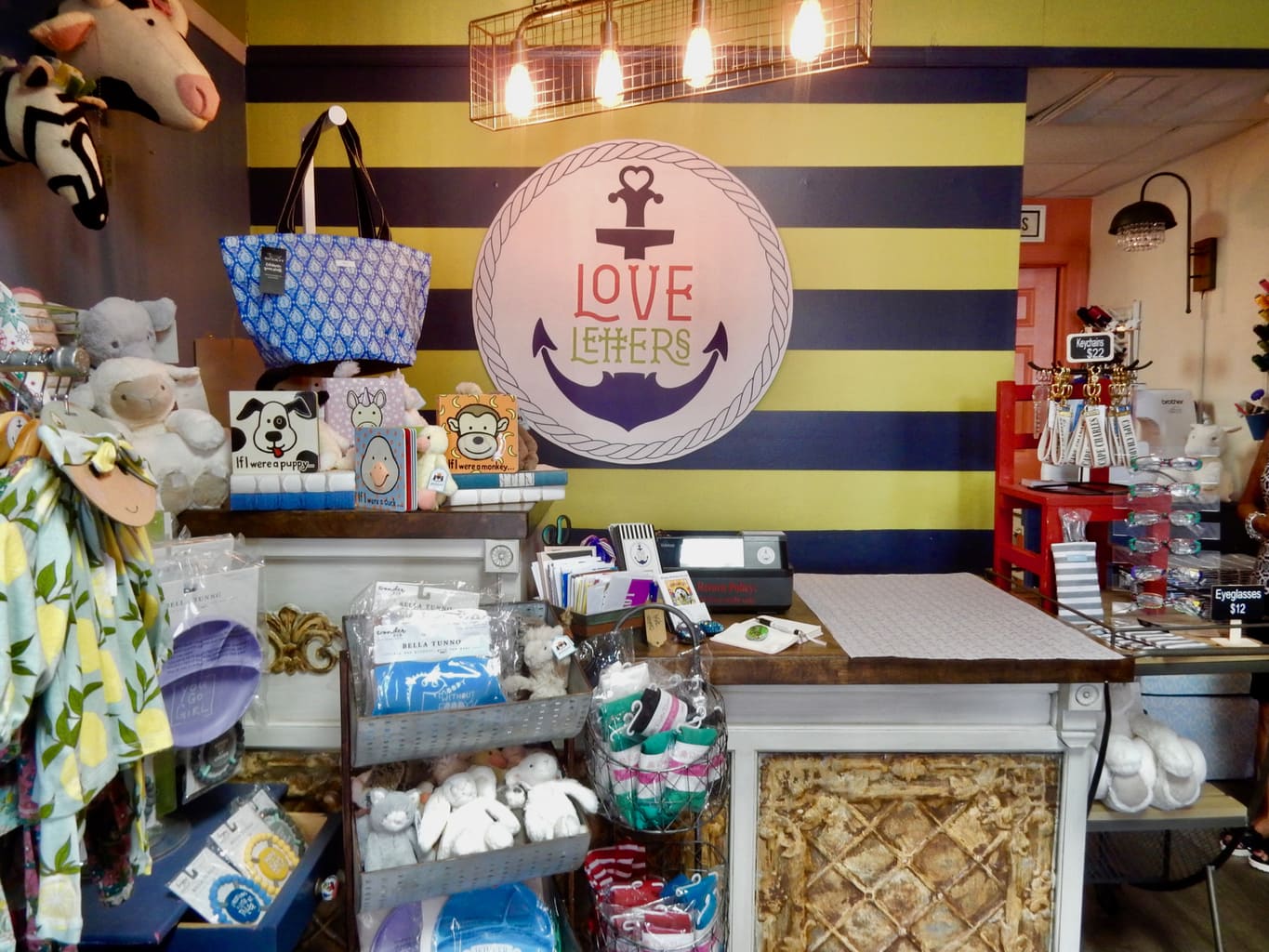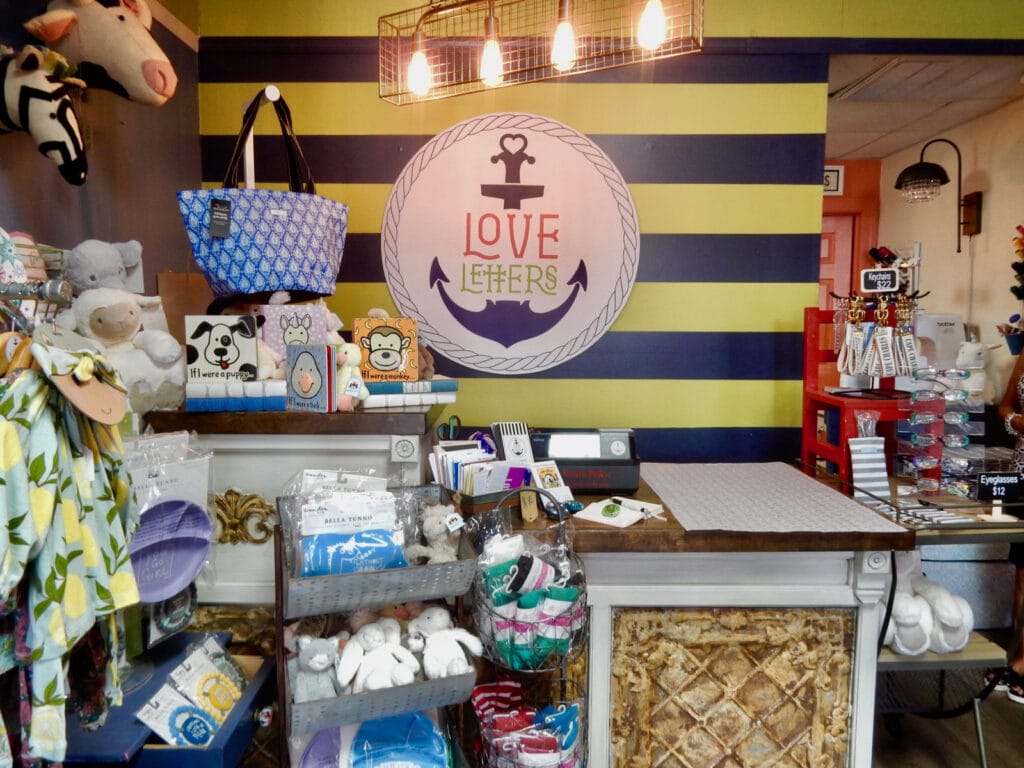 Love Letters
Women's clothing, baby clothes, and "Scout" bags emblazoned with the name and likeness of resident White Golden Retriever, Scout.
It's rare that a club open to the public sports two celebrity-designed 18-hole golf courses.  Both Arnold Palmer and Jack Nicklaus created these gorgeously landscaped Chesapeake Bay front courses and you can arrange to play here for under $70 off season (in season it's $120 for 18 holes).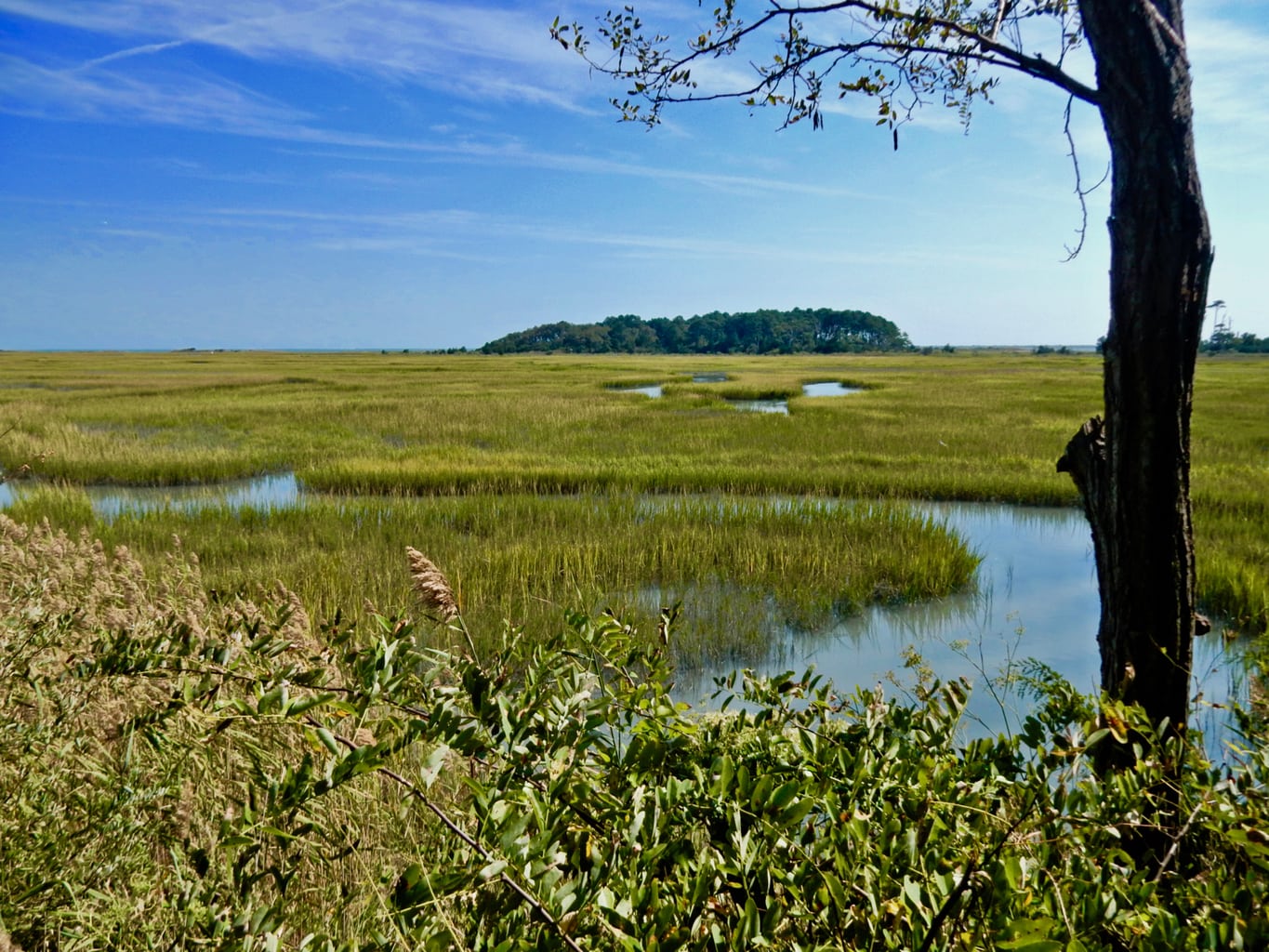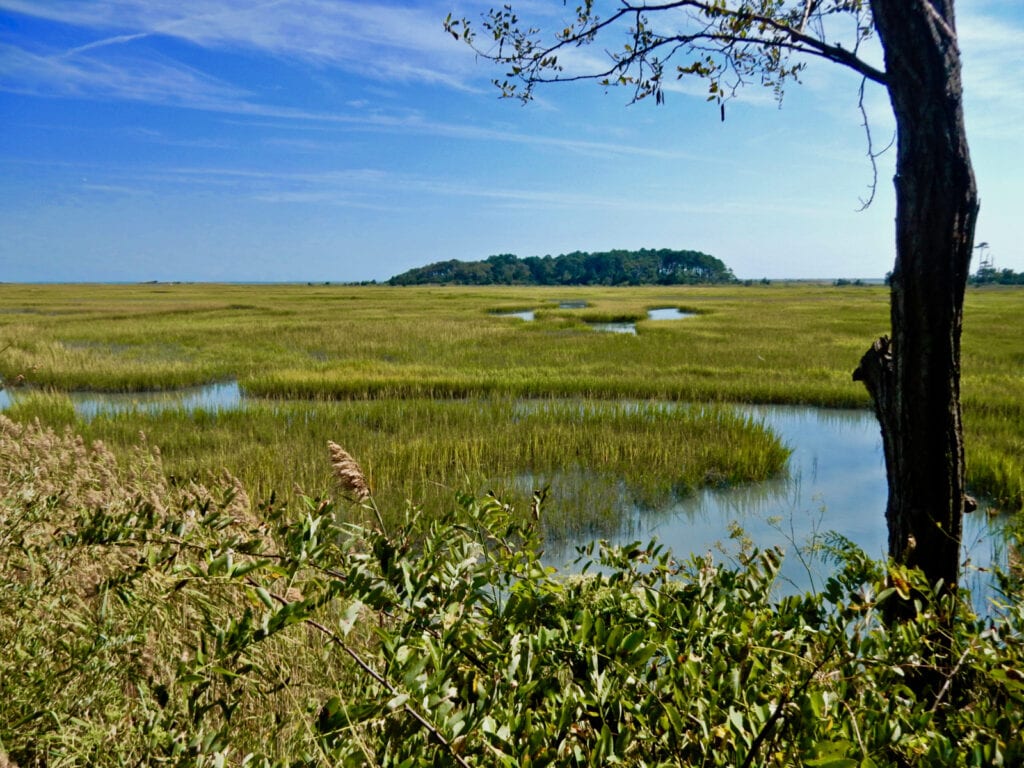 At the tip of the Delmarva Peninsula, before jumping on the Chesapeake Bay Bridge Tunnel crossing, plan a leg stretcher at this bird-rich Wildlife Refuge. According to the Refuge website, "this area is one of the most important bird migration funnels in North America."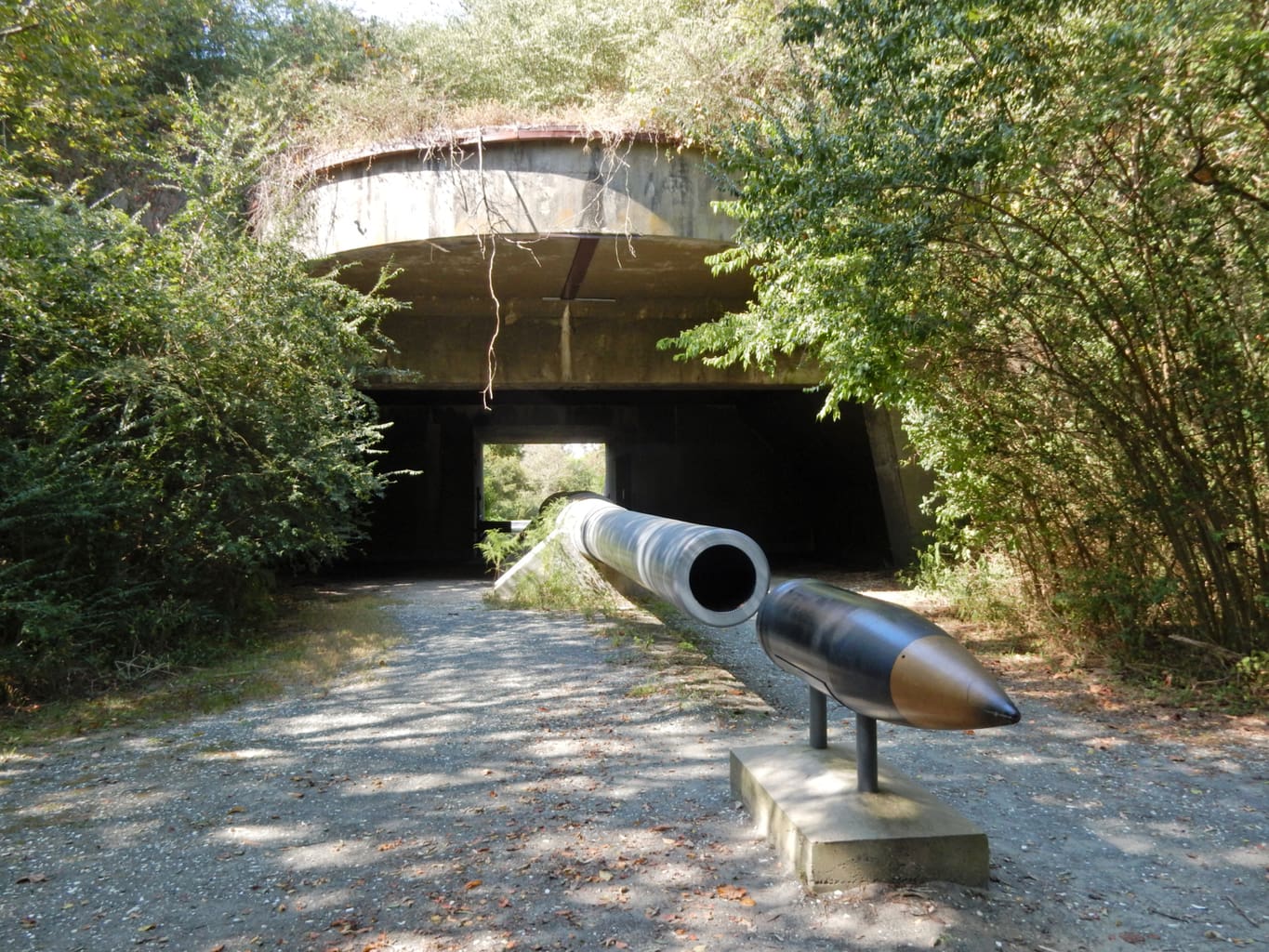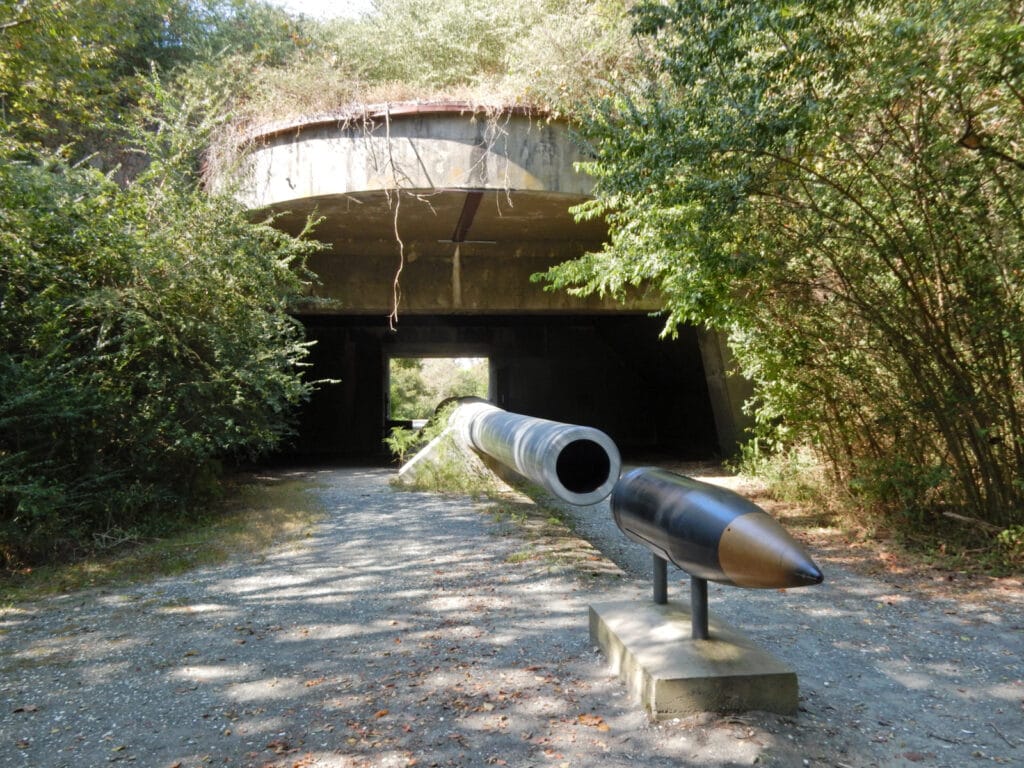 Before it was a haven for songbirds, this strategic land at the mouth of the Chesapeake Bay was Fort John Custis. Visitors can wander through WWII bunkers and run their hands over a barrel gun from the U.S.S. Missouri.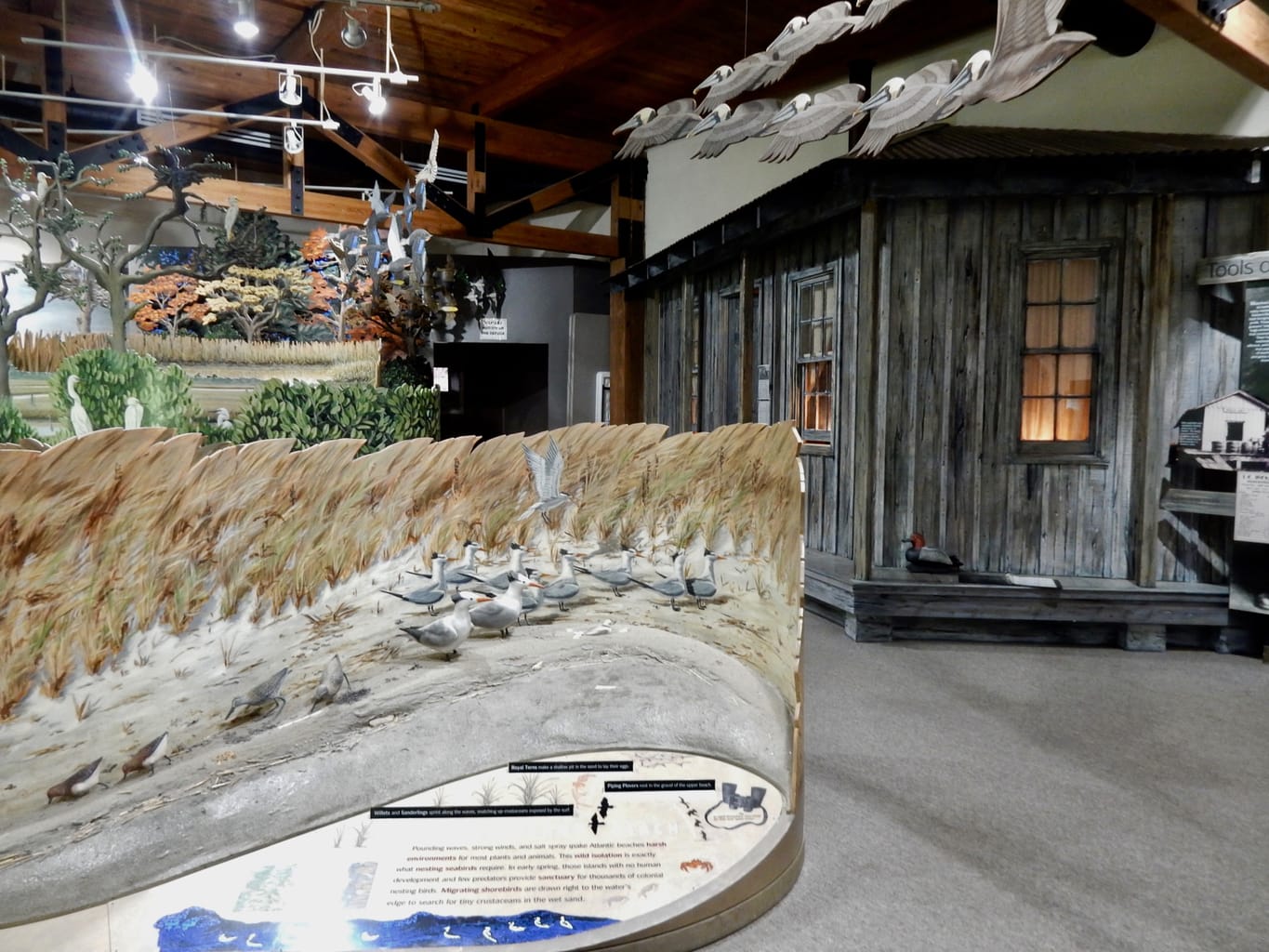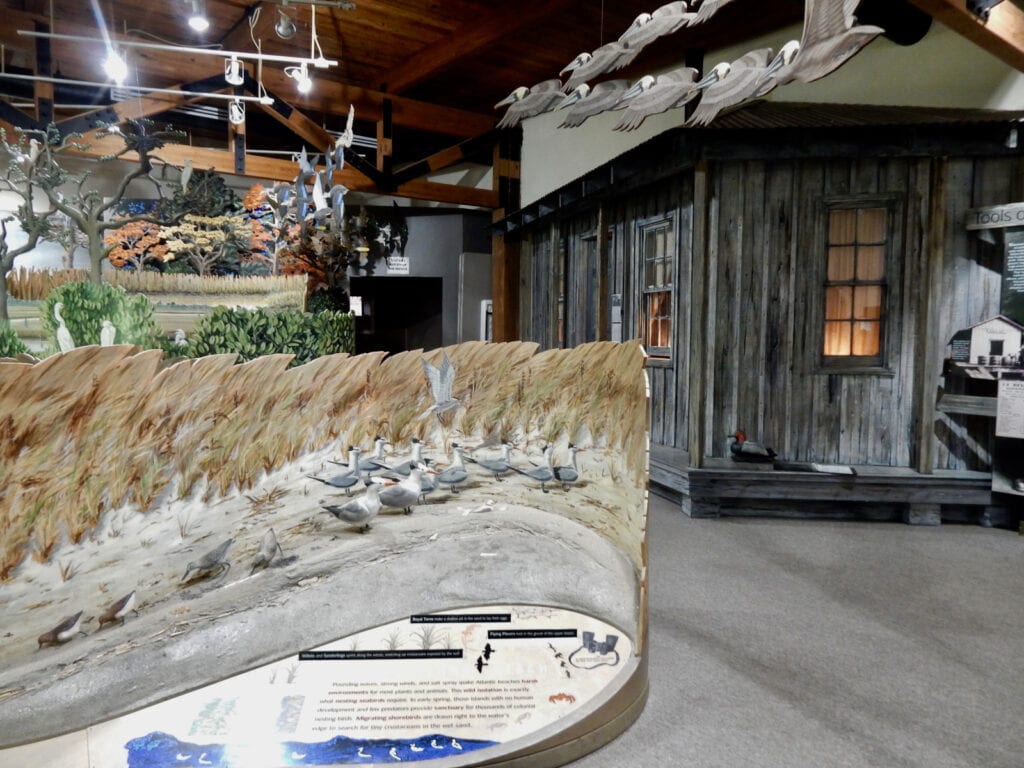 If you have time, spend a few minutes in the Visitor's Center where exhibits tell the story about this dramatic part of Delmarva. Both Birders and History Buffs will find plenty to see here.
Best Restaurants in Cape Charles VA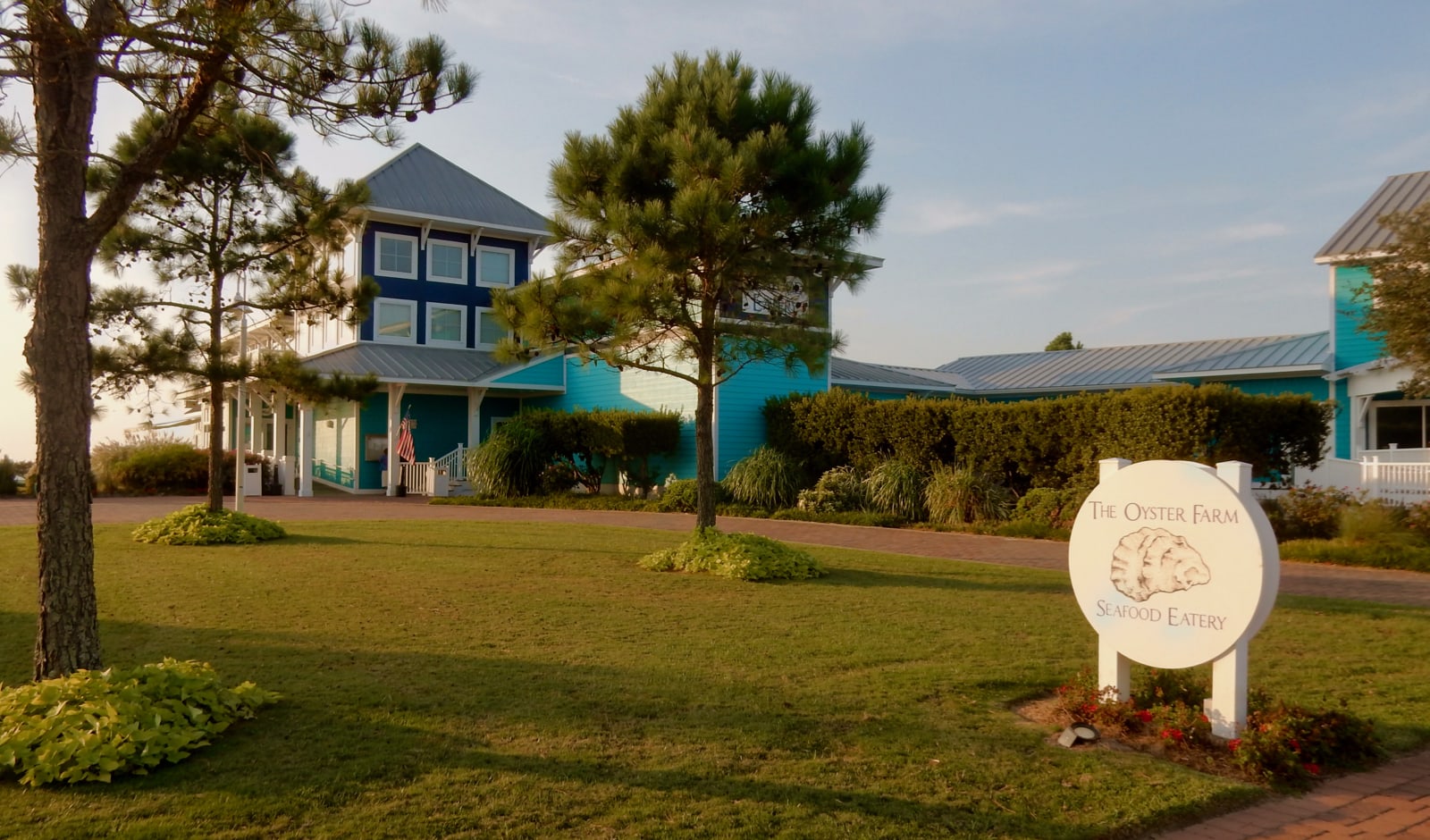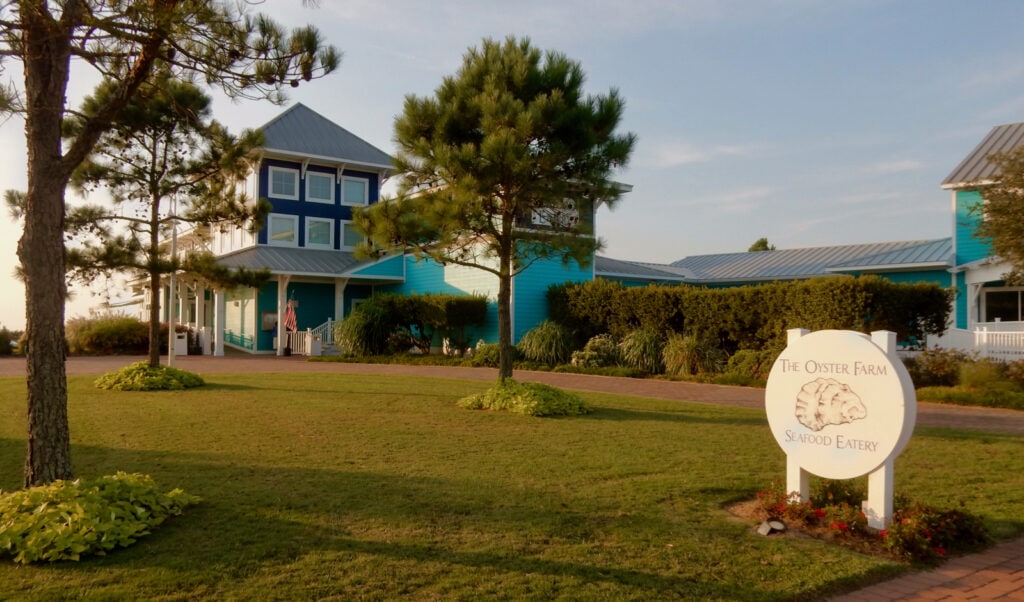 EAT: Oyster Farm @ Kings Creek
Yes, it's a drive from town and tough to find, but as you make your way into a luxury shorefront development of multi-storied homes, painted in a prism of colors, you'll know you're in the right place.
On King's Creek that flows directly into Chesapeake Bay, this is where you want to be when that great ball of fire dissolves into the horizon at days end, optimally with a glass of wine and fresh oyster in hand.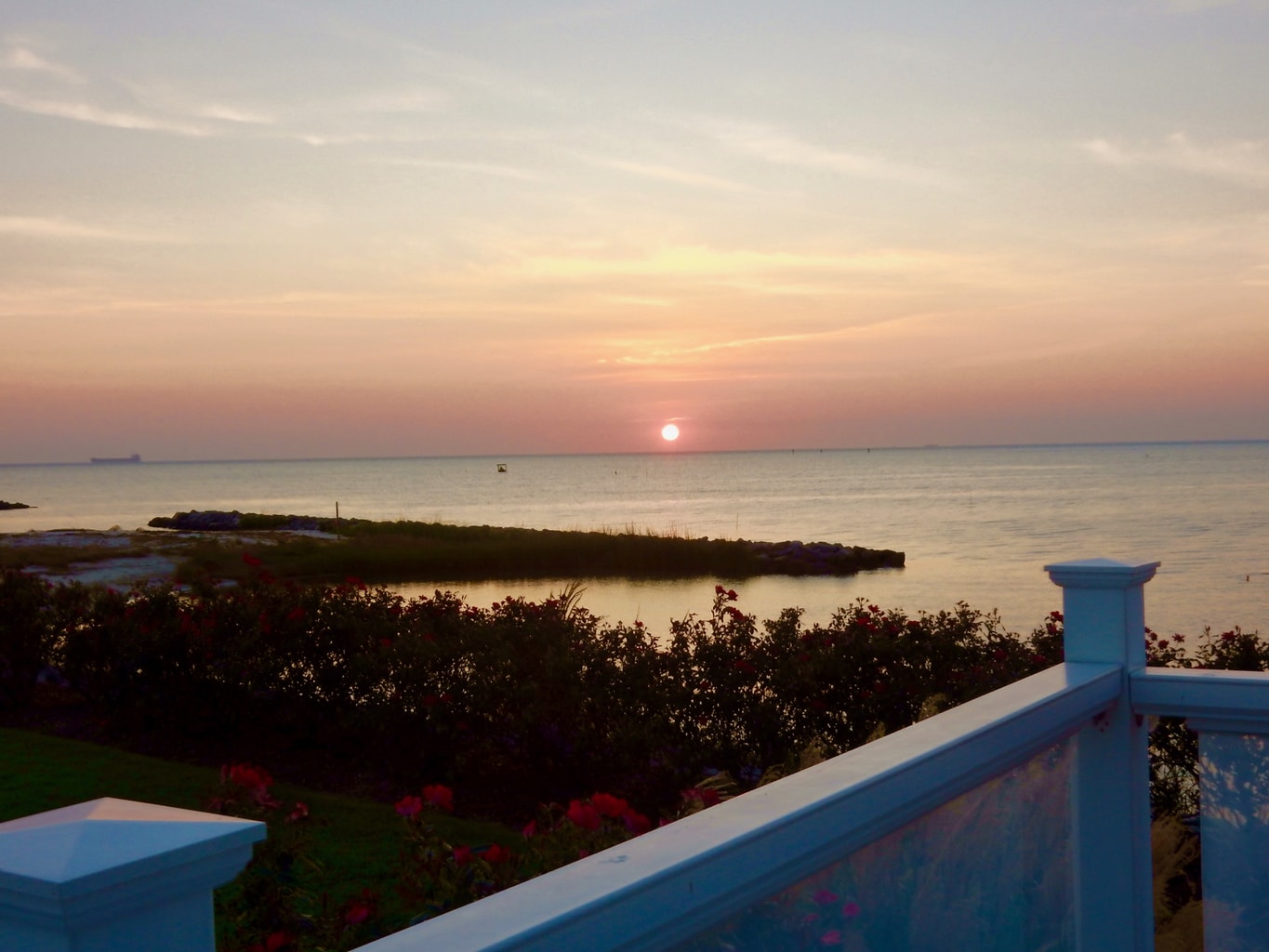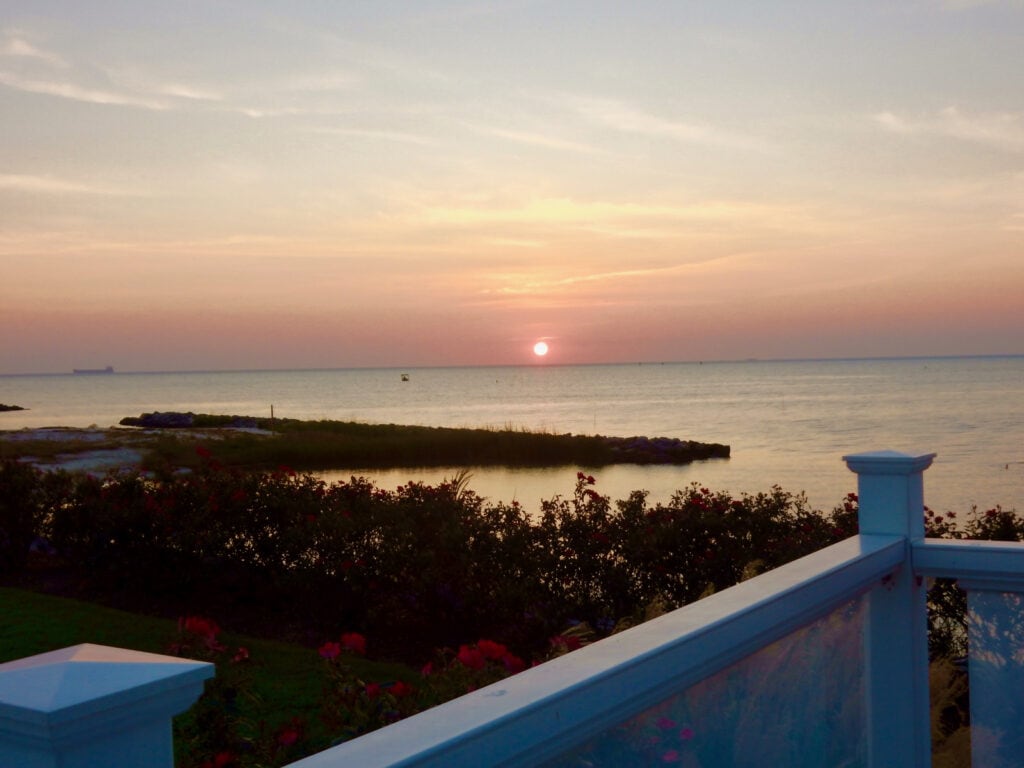 Dishes, such as Thai Shrimp, are very good, but it's the gob-smacking scene at the end of day – a sunset over the Chesapeake right outside the window – that takes center stage. Join crowds out on the deck to say goodbye to the setting sun. It's like Mallory Square in Key West – but with a knockout raw bar.
Dine on She Crab Soup ($6, $8), Fresh Eastern Shore Crab Dip ($17), local oysters ($12 for 6) or clams ($8 for 6), Oyster Farm Crab Cakes ($32), Steak, Chicken, and Burgers, while watching watermen harvest oysters and clams through the window. If you're lucky, you'll also see dolphins at play. And here's a tip: Don't pass on the warm crusty/soft rolls. They are out of this world good.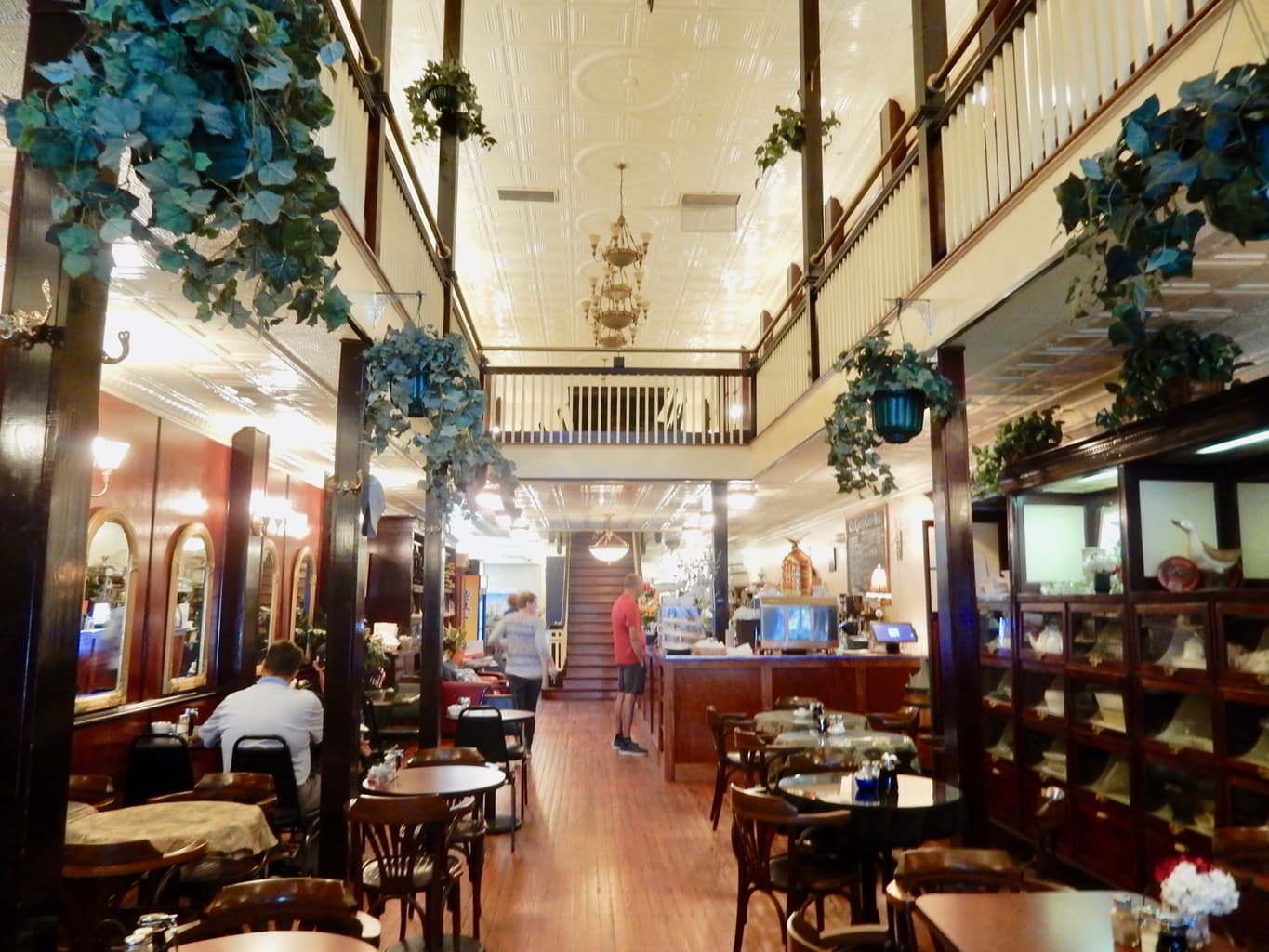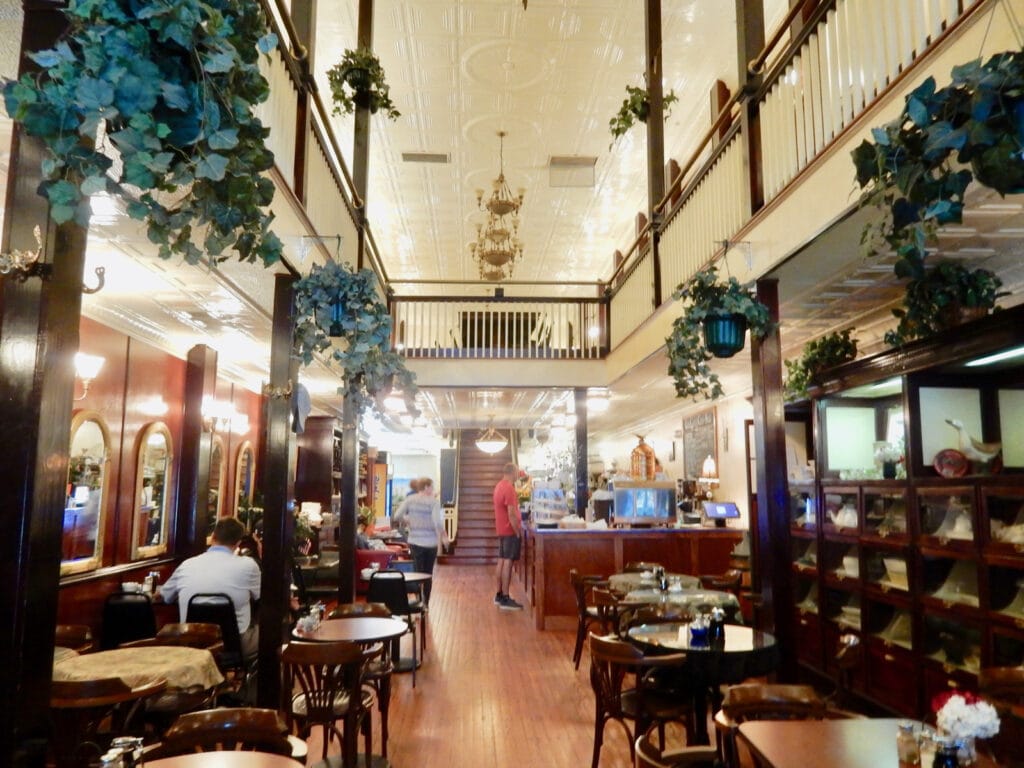 You may feel as if you've stumbled into a Venetian coffee house when you walk into this arcade style building evocative of the Victorian era. Hanging plants, old wood floor, locals chatting and reading newspapers – it's a step back in time. Plus, the coffee is excellent. And so are the breakfast items and lunchtime sandwiches.
Fourteen years ago, Roberta Romeo purchased the building, which once housed a bank and then a department store. It has since become the center of Cape Charles life in the off-season. You might just find a group women playing Mahjong or Canasta, or men and women engaged in a Book Club discussion.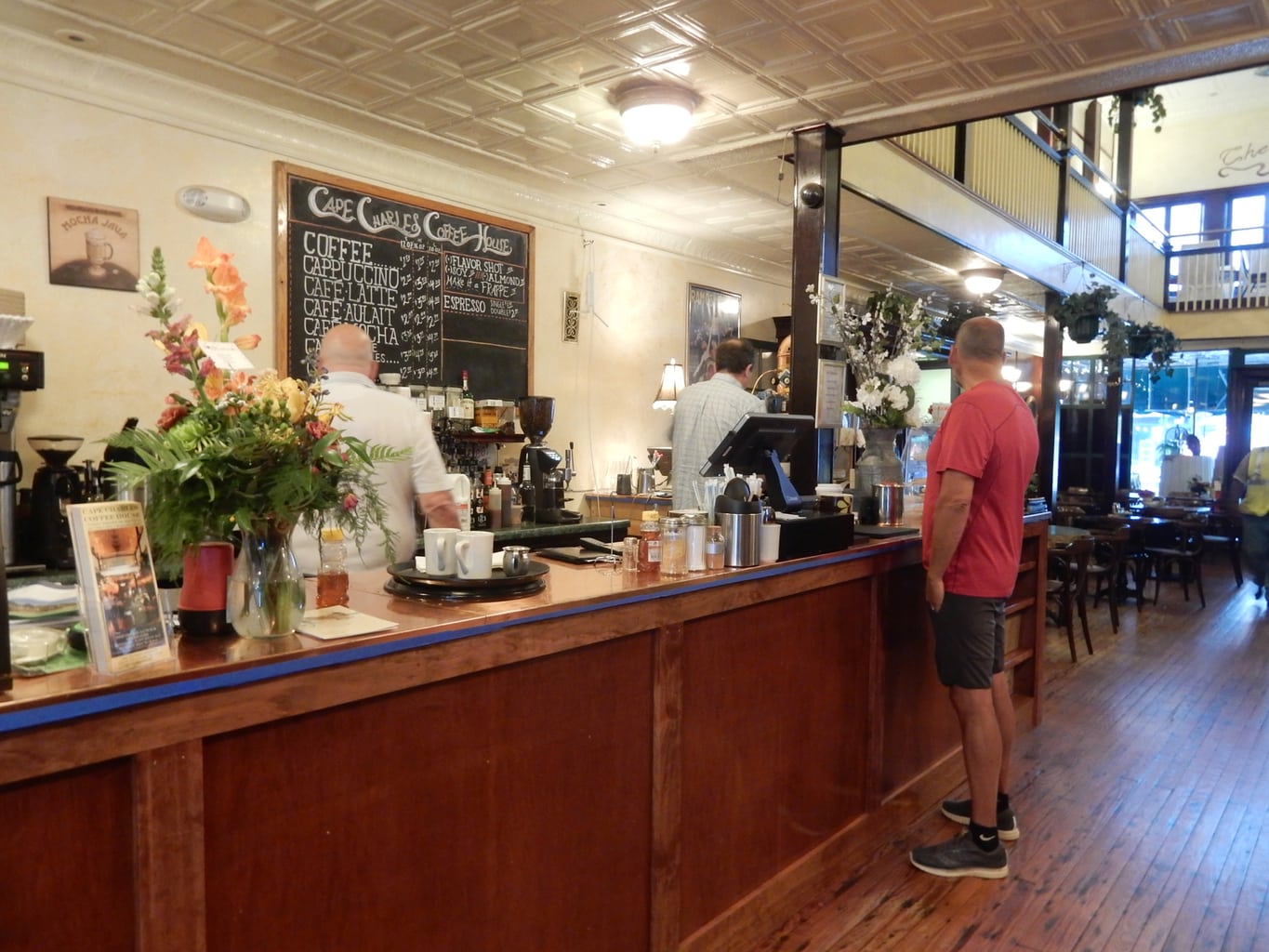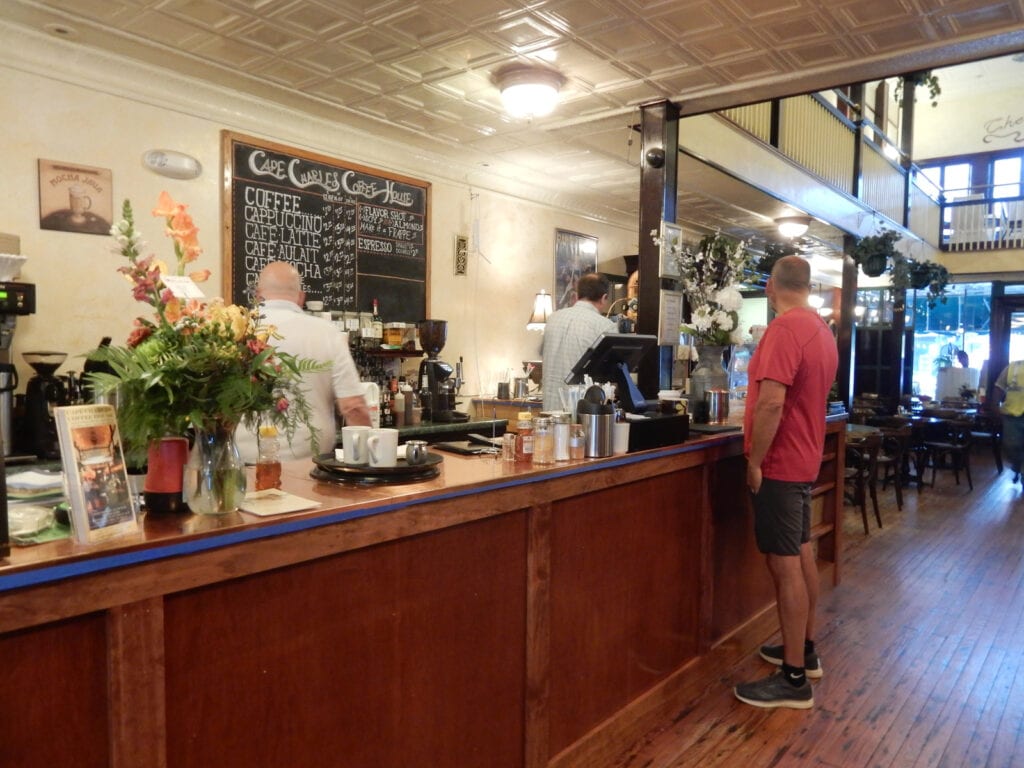 "We have a great local crowd who make themselves scarce between Memorial Day and Labor Day. It's so crowded with visitors they can't get in," Romeo asserts. "If you want to meet the regulars, come here in the cooler seasons."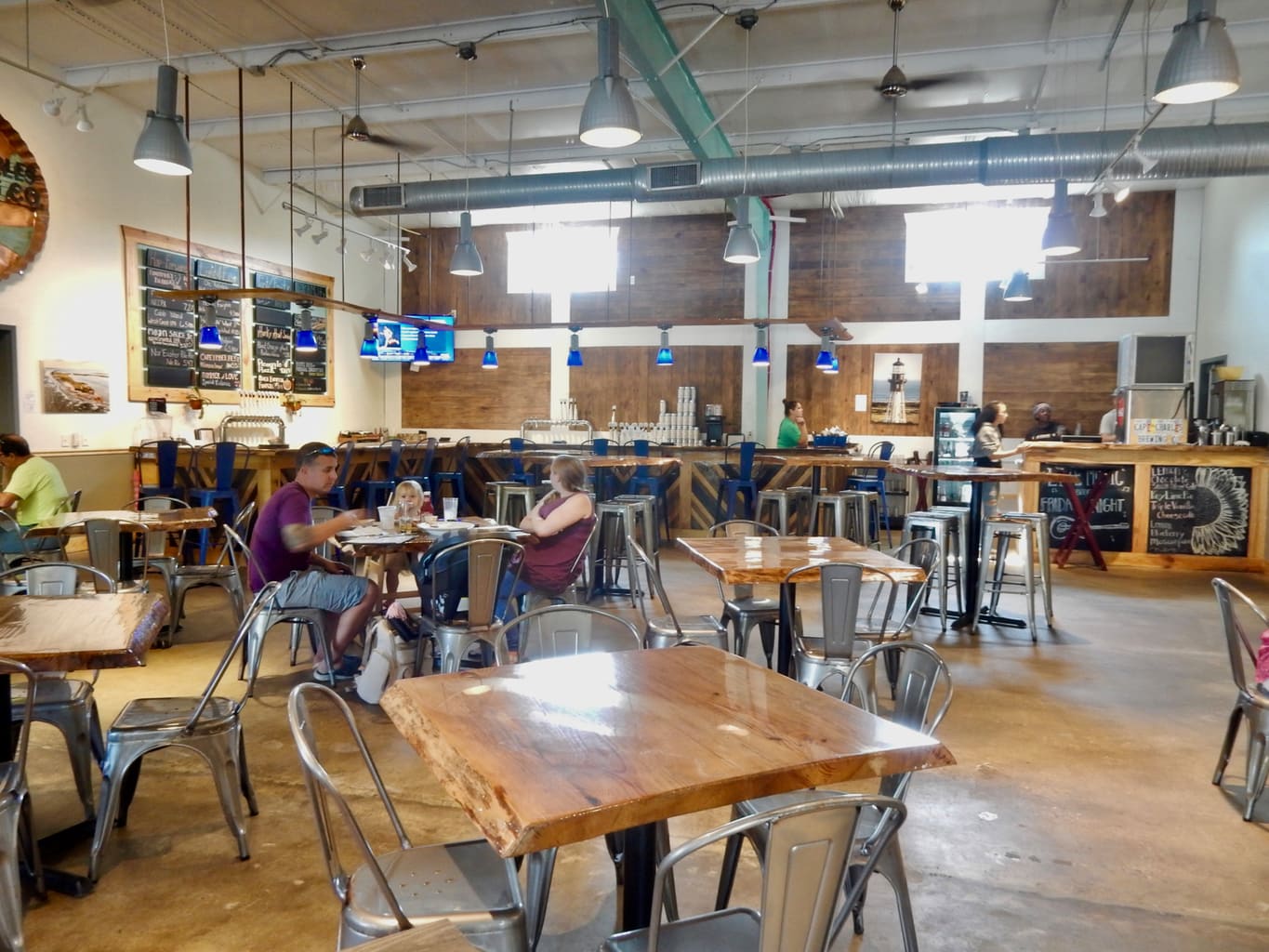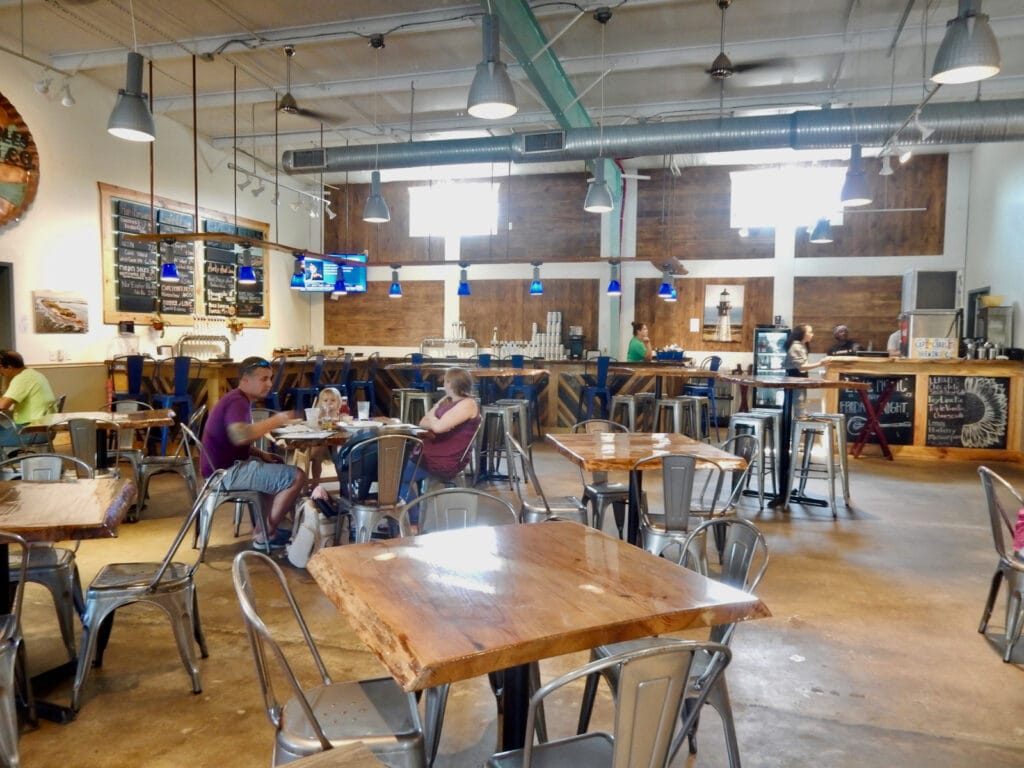 Great craft beer on tap – Cobb Island IPA, Ole Reliable Lager, Smith Island Imperial Oyster Stout to start – also find "great burgers" according to the hordes eating and drinking there.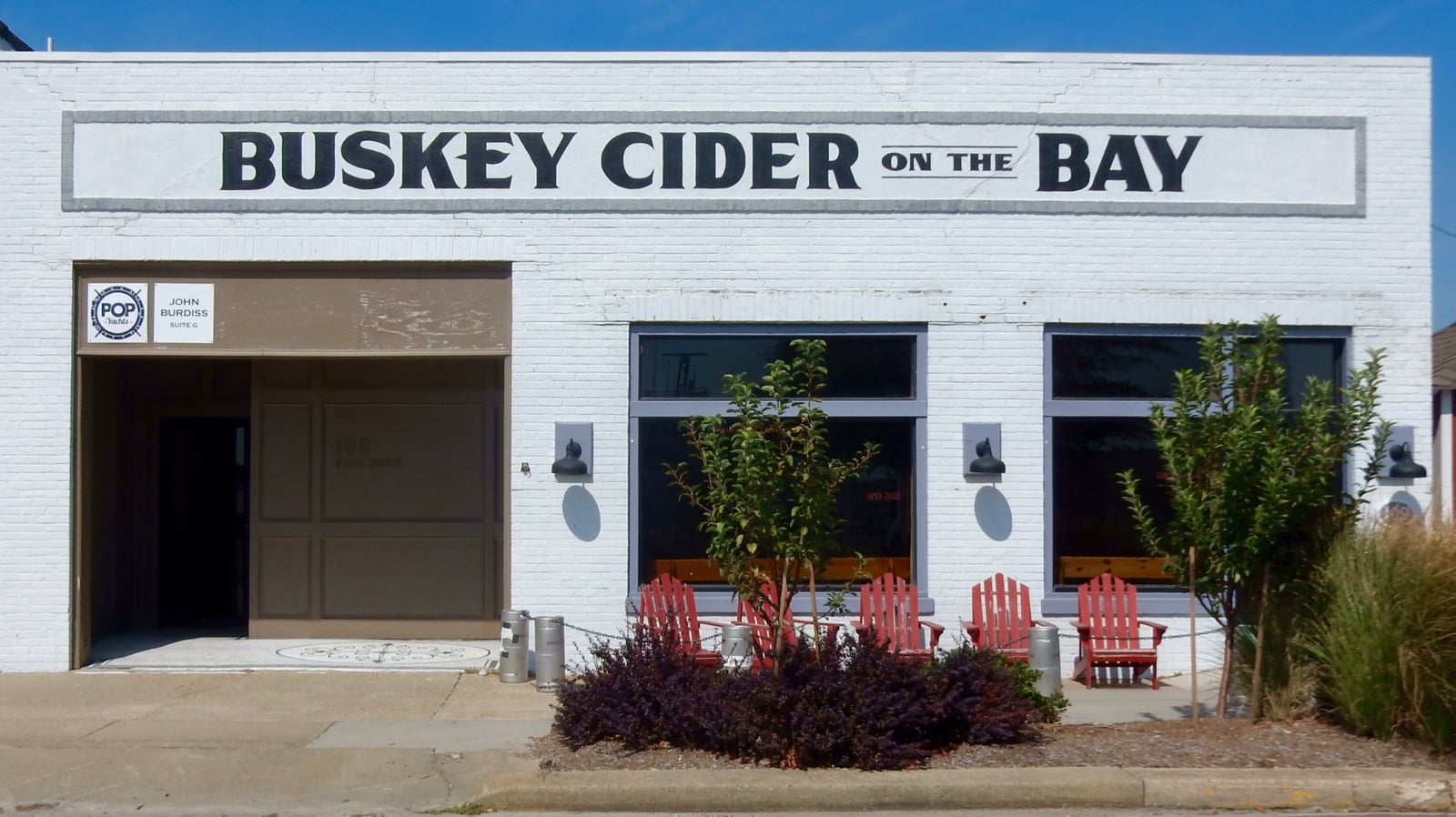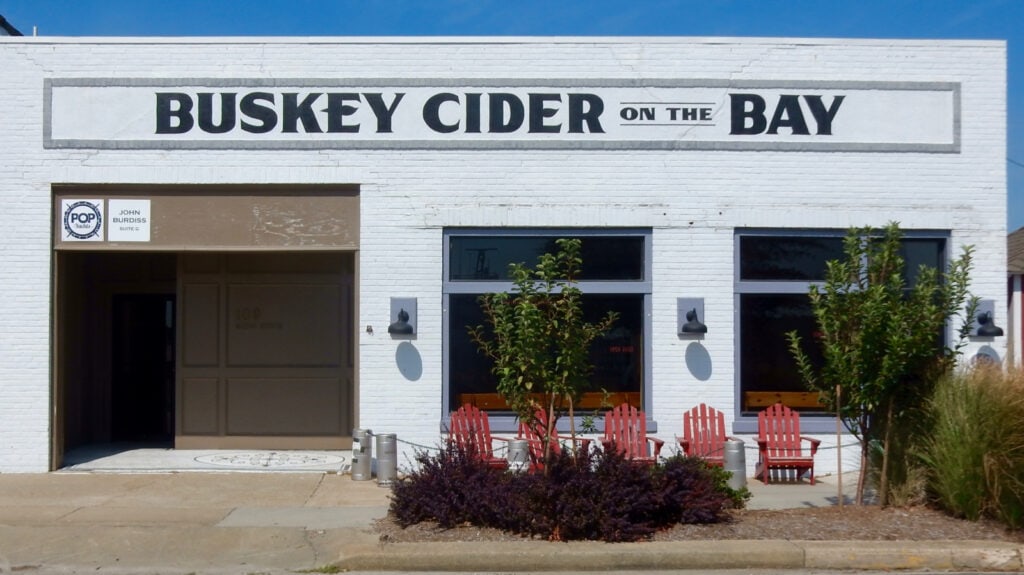 Hard Cider all kinds of innovative ways in a joyful, nearly waterfront space at the end of Mason Street close to the beach.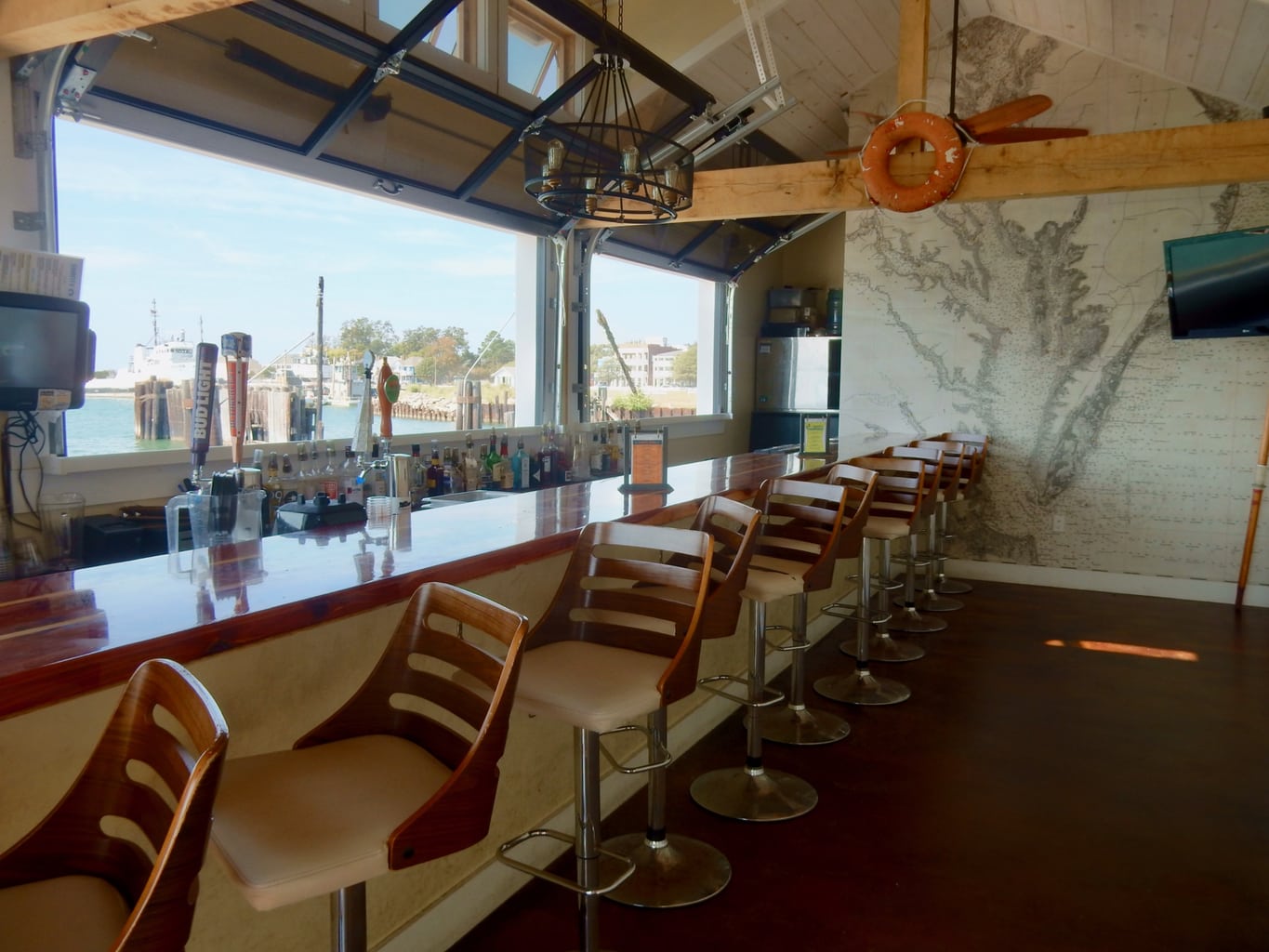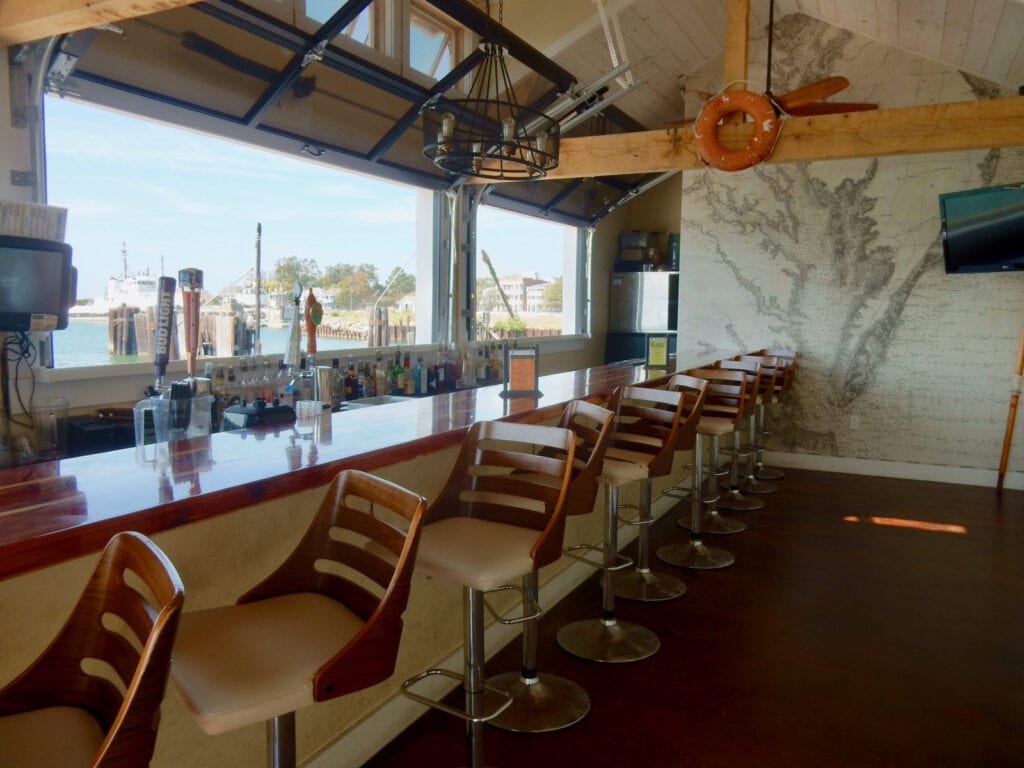 This fun, casual spot right on a Cape Charles Harbor wharf is known for Steamer Buckets, live music, and a new enclosed bar.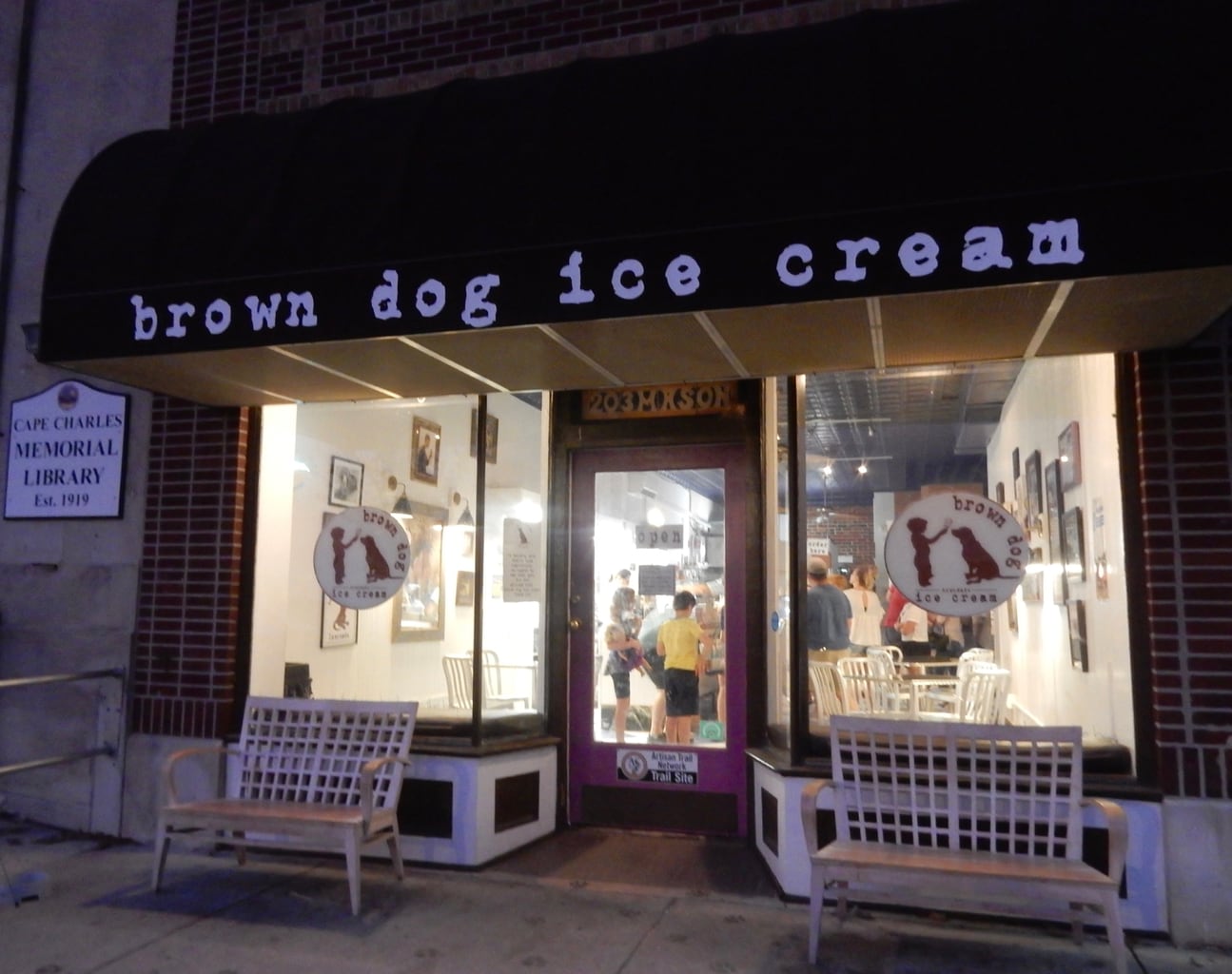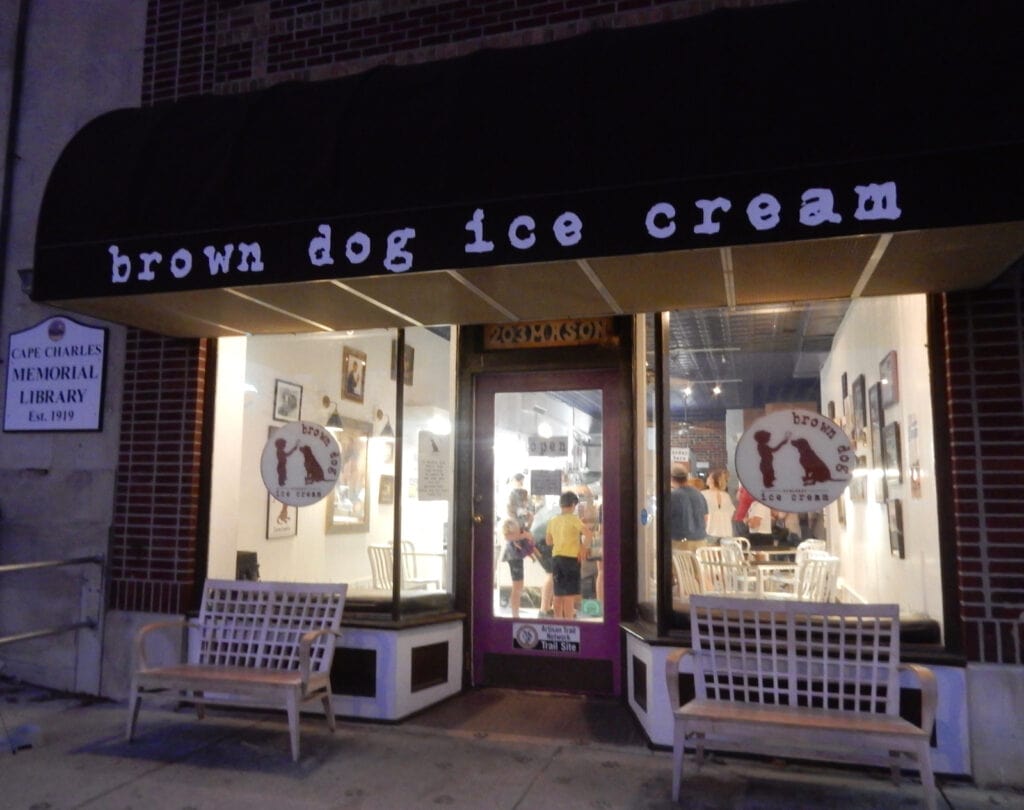 ICE CREAM: Brown Dog Ice Cream
This Mason St. staple seems to be the place to go on balmy nights after sunset.
Where to Stay in Cape Charles VA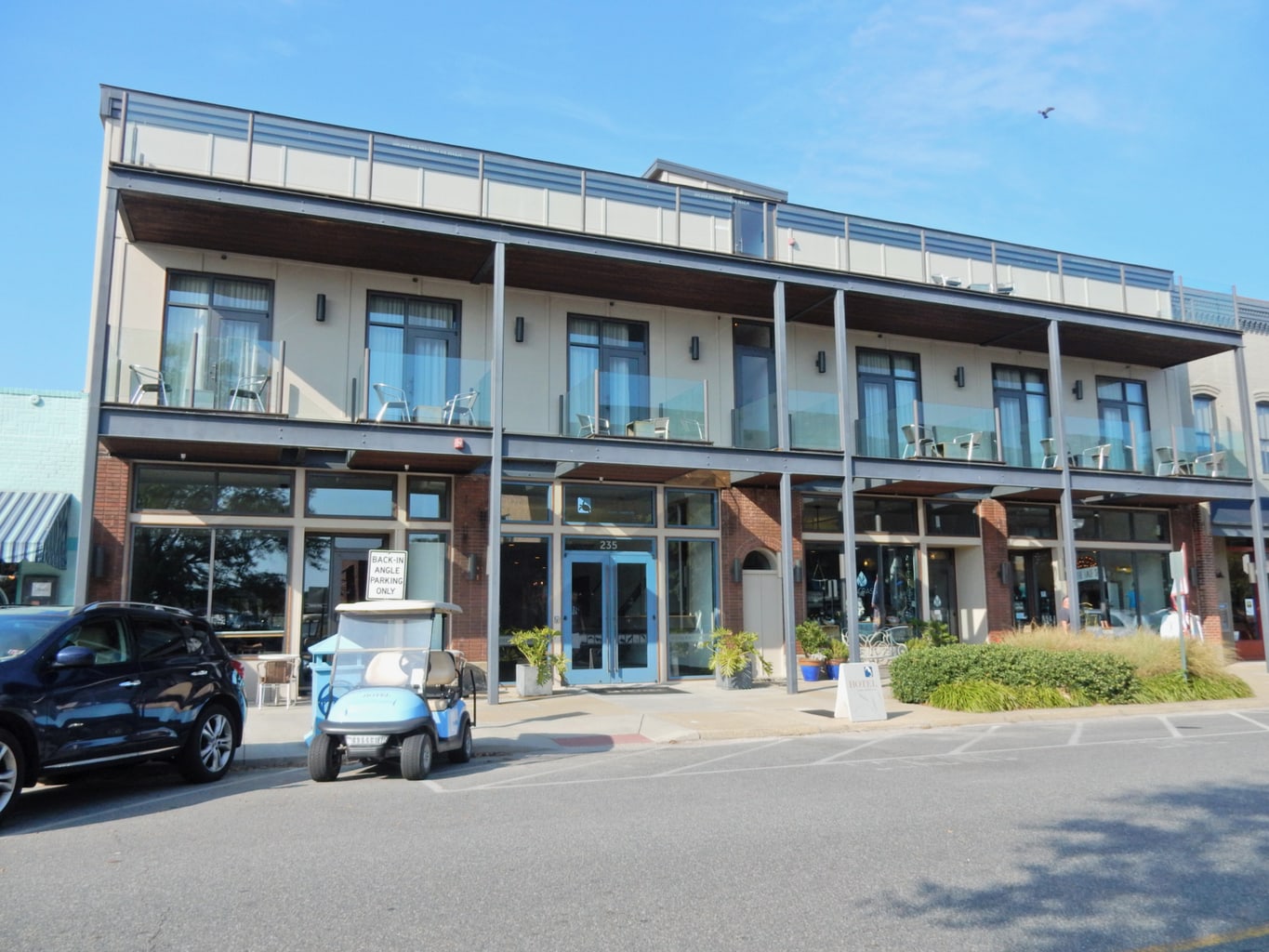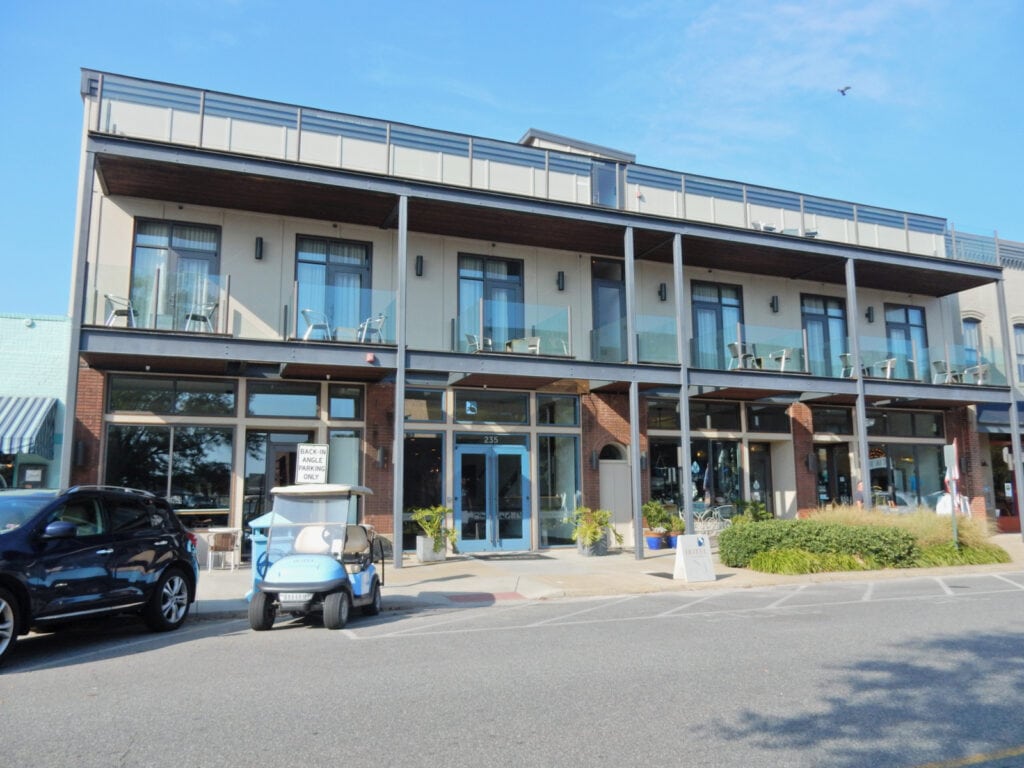 A boutique in every respect (small number of rooms, design forward, easy-breezy reception), The 22-room Hotel Cape Charles is a smashing way to stay in this beach town near the Southern tip of the Delmarva Peninsula.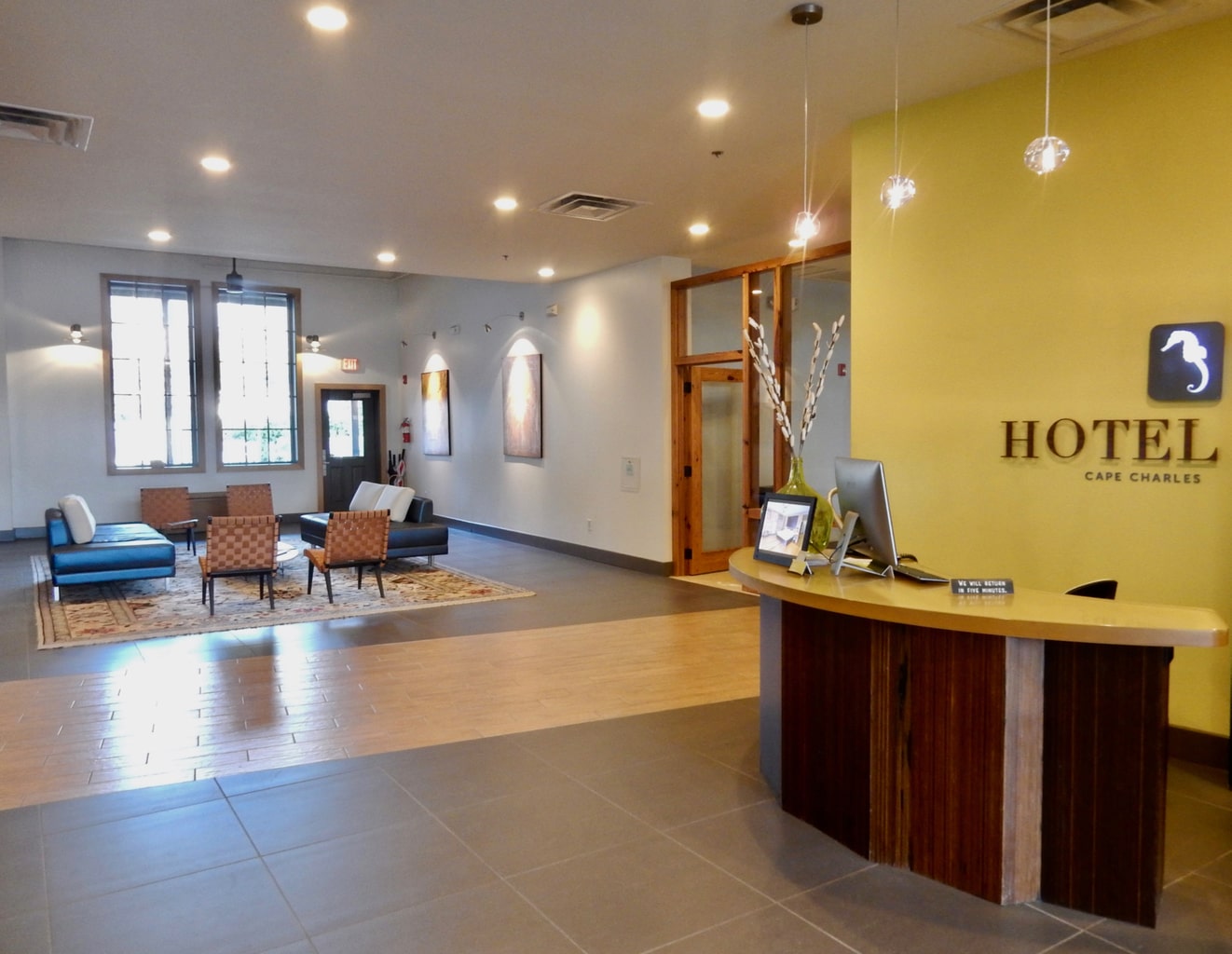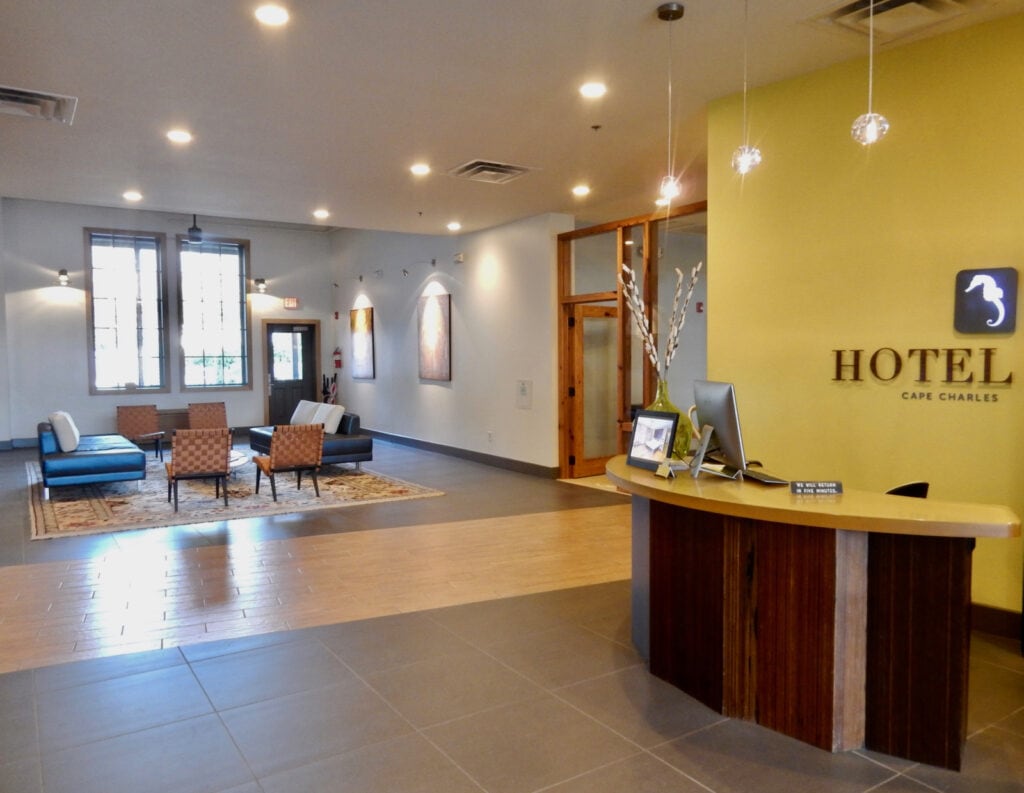 Right on Mason Street, Hotel Cape Charles placed me squarely in the middle of everything, (and, most importantly, right across the street from Cape Charles Distilling). Right out the front door to the right and left were shops and restaurants. And the beach and fishing pier were just a five-minute walk away.
Hotel Cape Charles Guest Rooms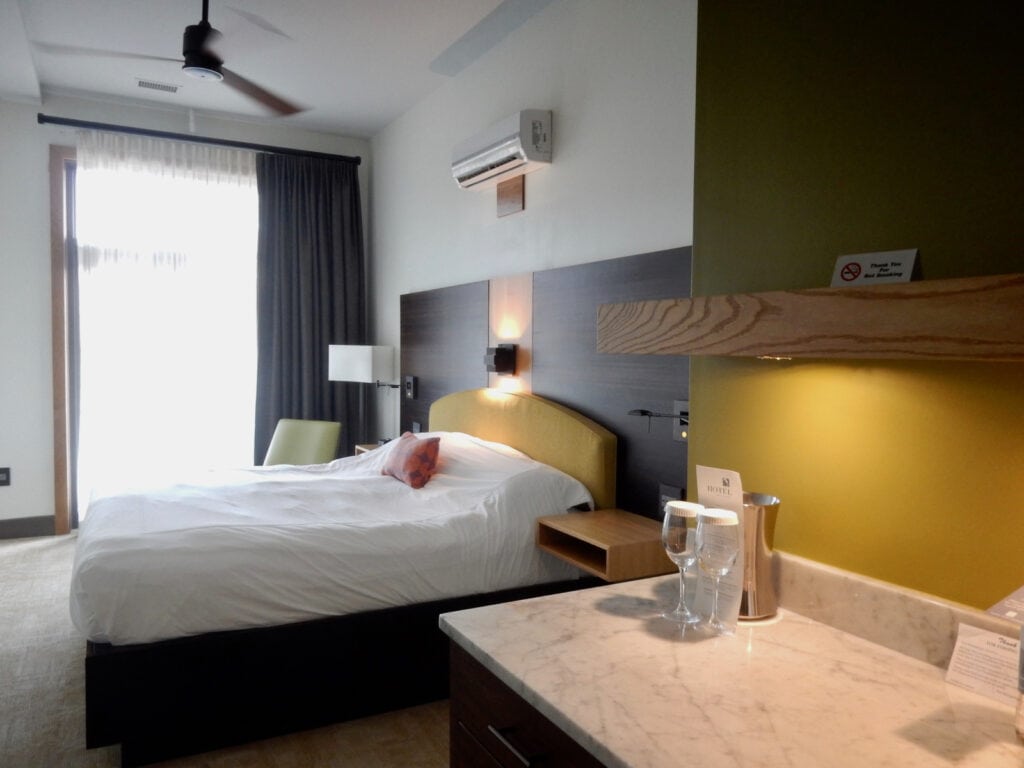 My balcony room was both soothing and poppy – with white comforters, earth-hued carpeting, wood bedside tables, high ceilings, canary yellow bed headboards, large flat screen TV, and a small balcony with seating overlooking Mason St.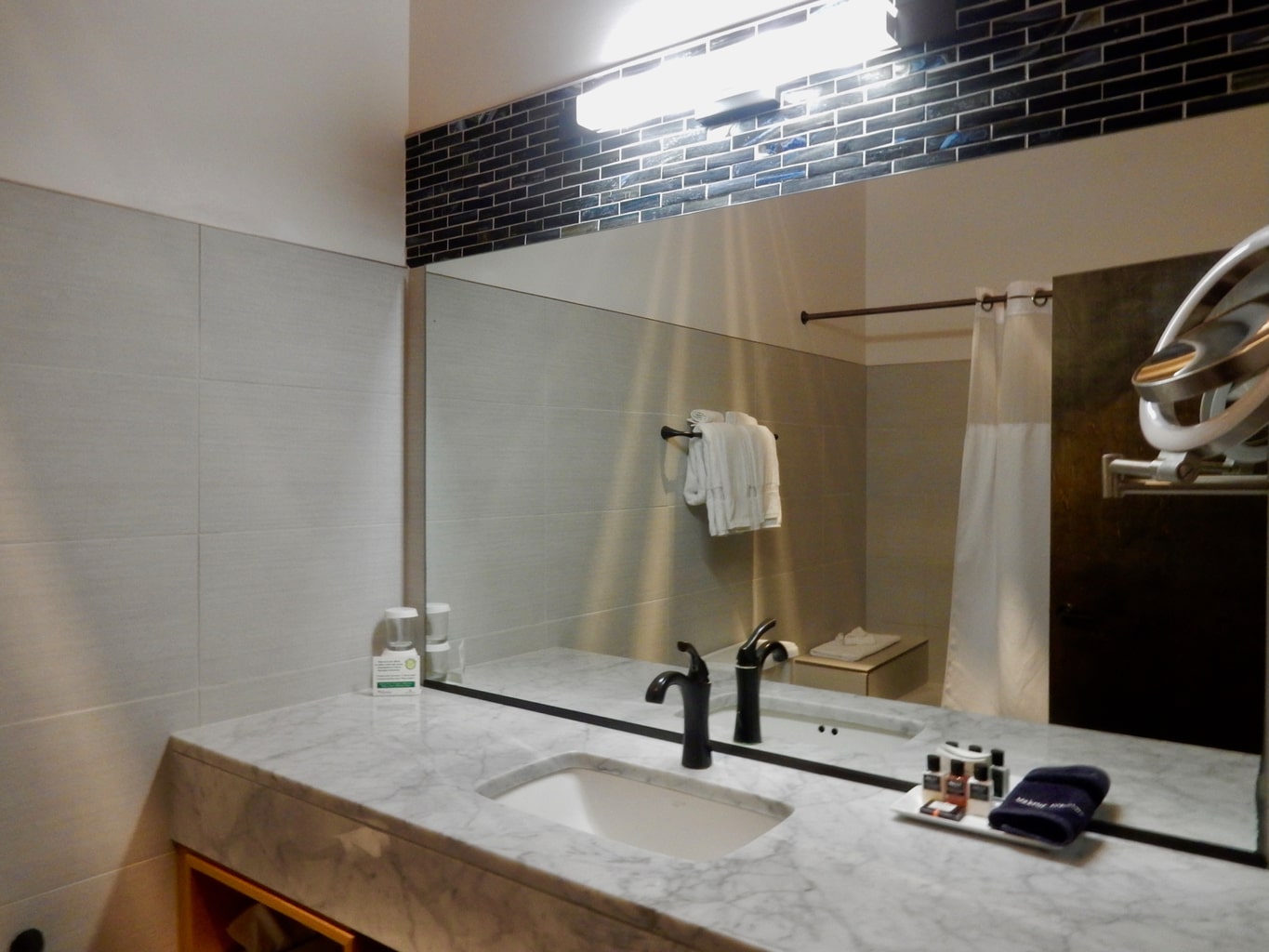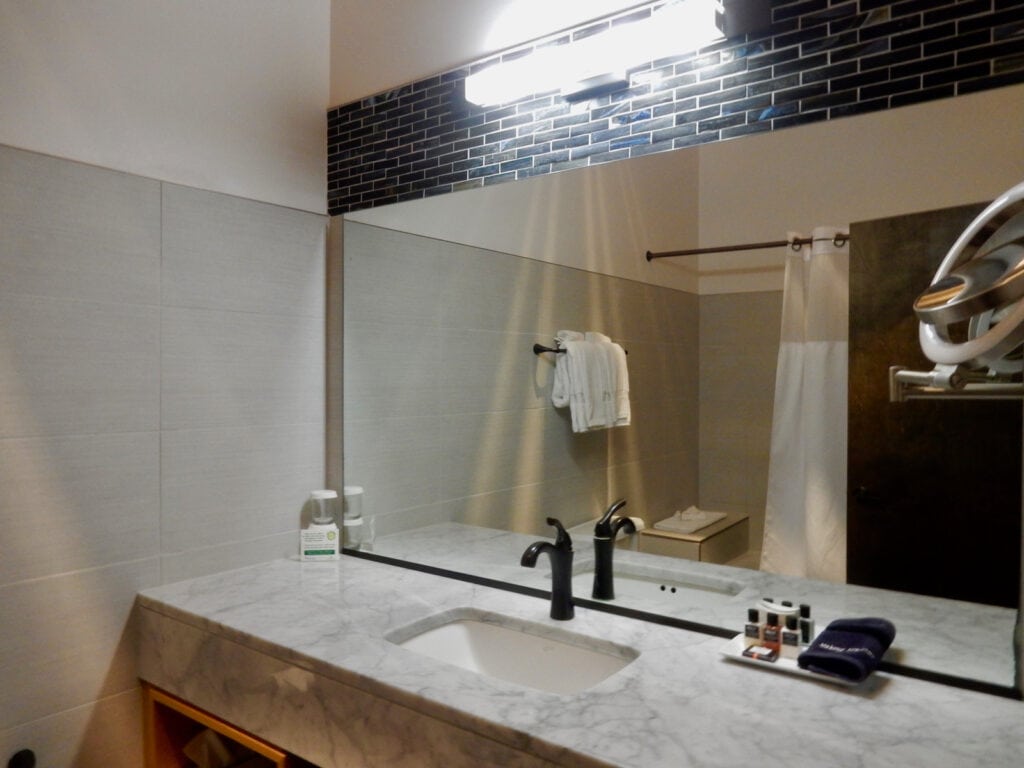 Handsome grey-scale bathrooms sport Carrara Marble sinks and contemporary tiled walls and shower.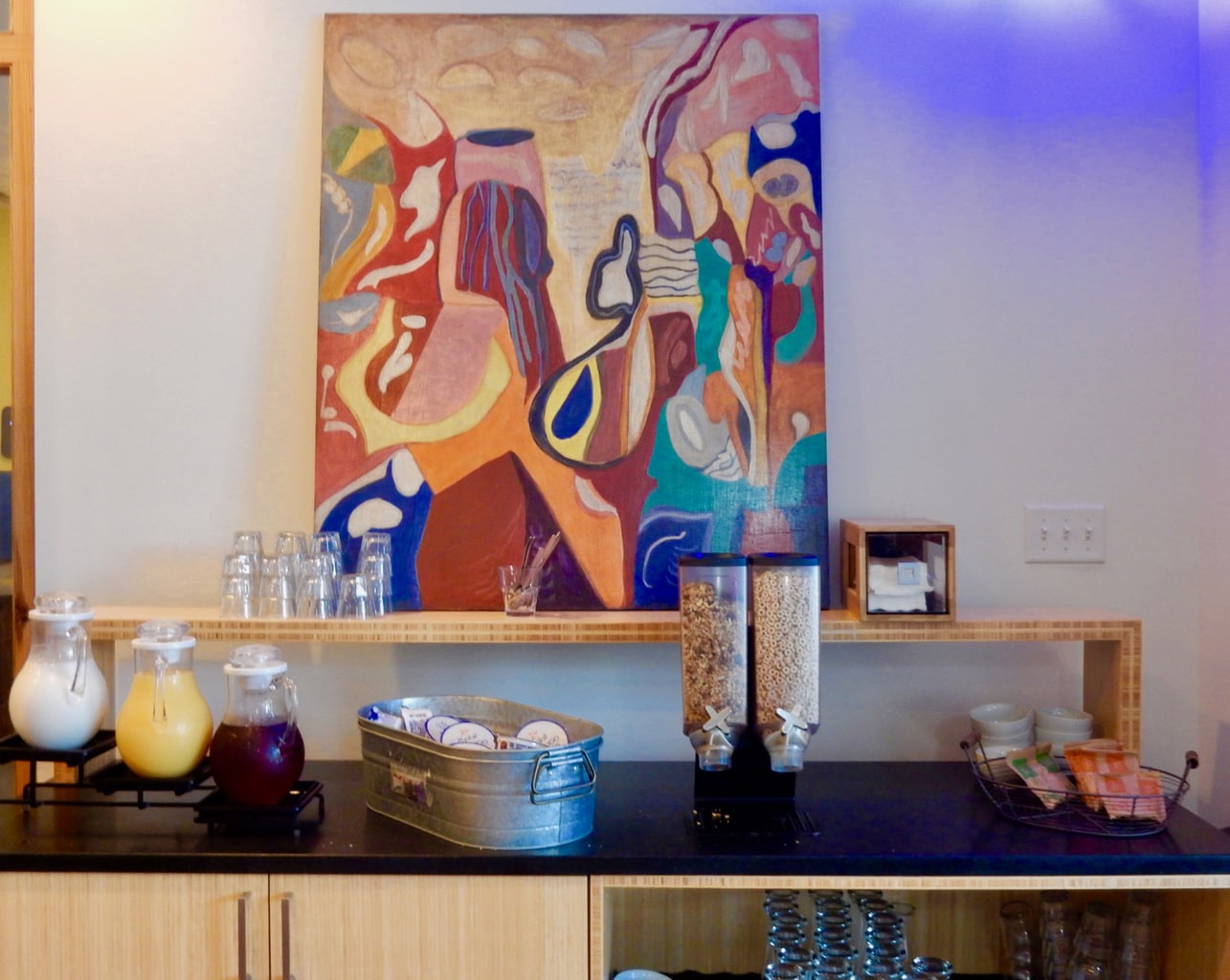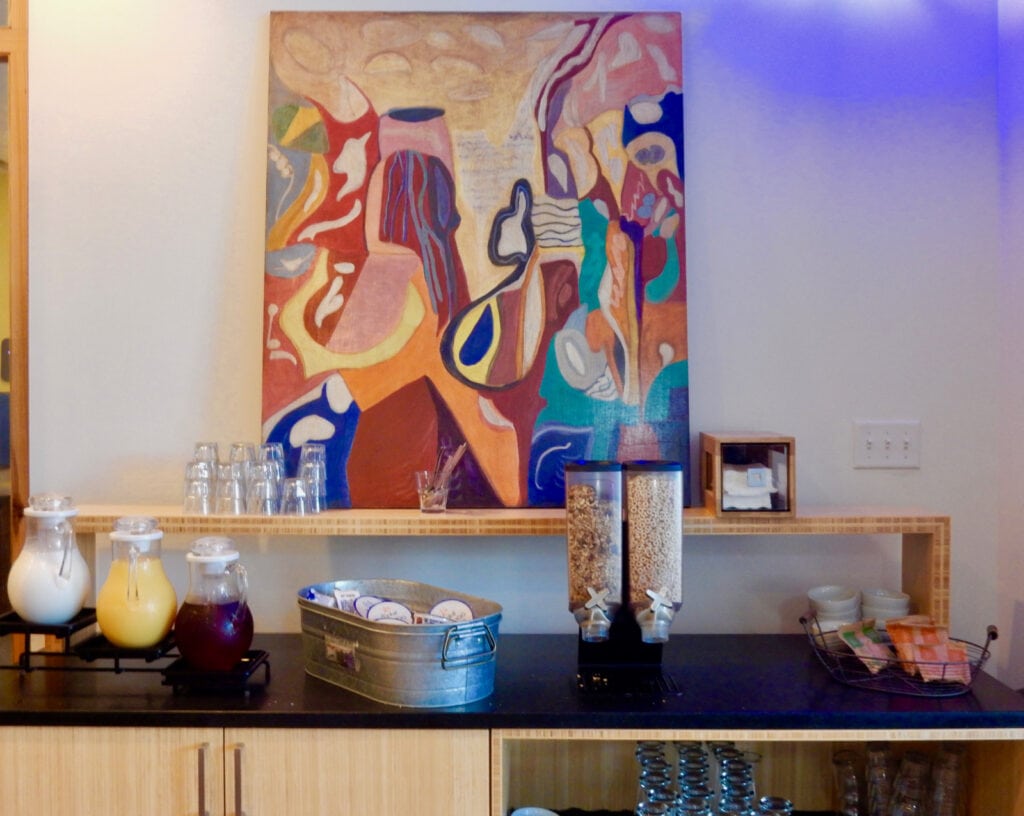 Guests can rent a "street legal" golf cart for $50 per day, or try for one of 6 cruising bicycles to use for free. The hotel provides beach towels and private outdoor showers complementary for guests as well. Rooms start at $165 per night ($179 for balcony rooms), and include wi-fi, parking, use of bikes (when available), morning coffee and cereal.