WHY GO: Orange County VA encompasses the towns of Orange, Gordonsville, and Somerset in Central Virginia. With its hazy hills and dales, farms, and intimate towns, Orange County is so stunning, you'll want to visit for its beauty alone. But this oft-overlooked region has what the Getaway Mavens love: historical importance, charming communities, quirky farms, fantastic food, and sumptuous lodging. All without mobs of tourists. Yet.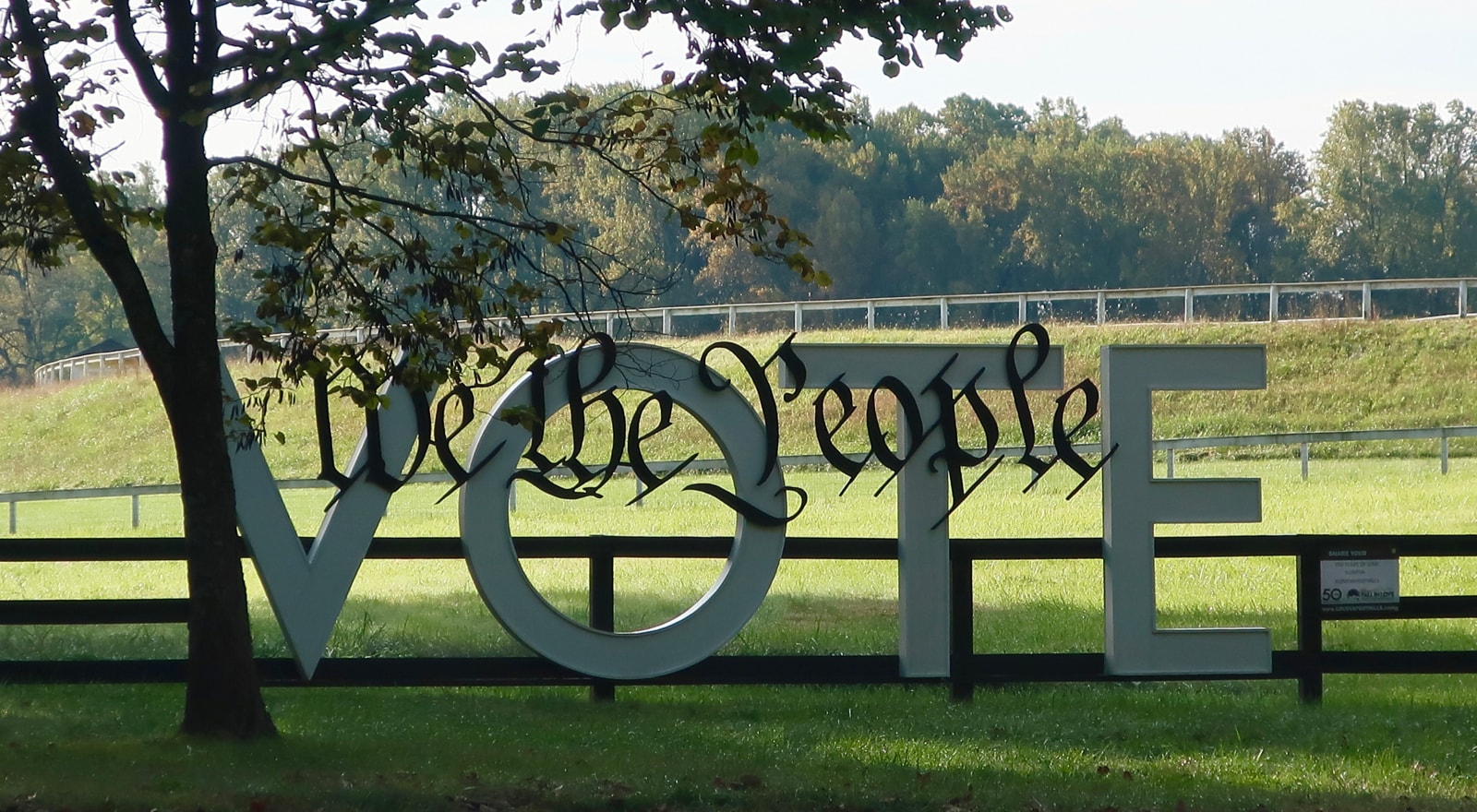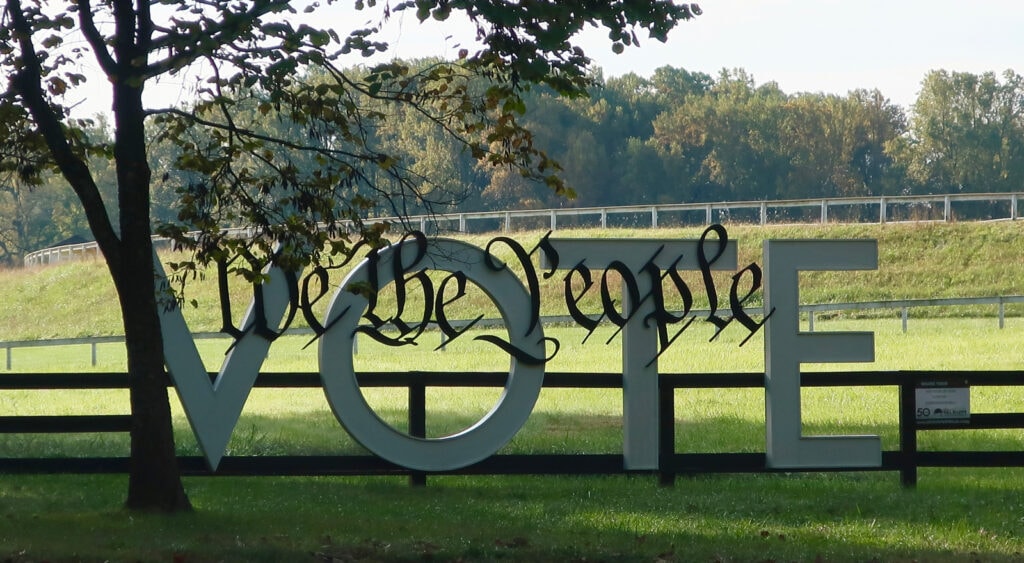 Take a deep dive into the life of James Madison, the "driving force" behind our US Constitution, and his family home and museum. Try your luck solving the country's largest Corn Maze. Sip wine and have dinner at a naughtily named vineyard, or grab beer and pizza at a family-run brewery.
Pick up a great hostess gift, and grab an earth-to-plate meal on a patio overlooking a thousand acre tree farm. Make friends with boutique shop owners on a picture-perfect main street. And, of course, stay historic, or in mansion-splendor on this low-crowd getaway.
For more getaways:
Charlottesville VA is 40 minutes South of Orange
Fredericksburg VA is an hour East of Orange
Harrisonburg VA is on hour West of Orange
Orange County is on our list of 20 Surprisingly Romantic Getaways in VA. Check it out if you wish to explore the state further.
Looking for someplace dreamy outside of Virginia? Check out our 150 Best Romantic Getaways in the Northeast US (Virginia to Maine).
Things to Do in Orange County VA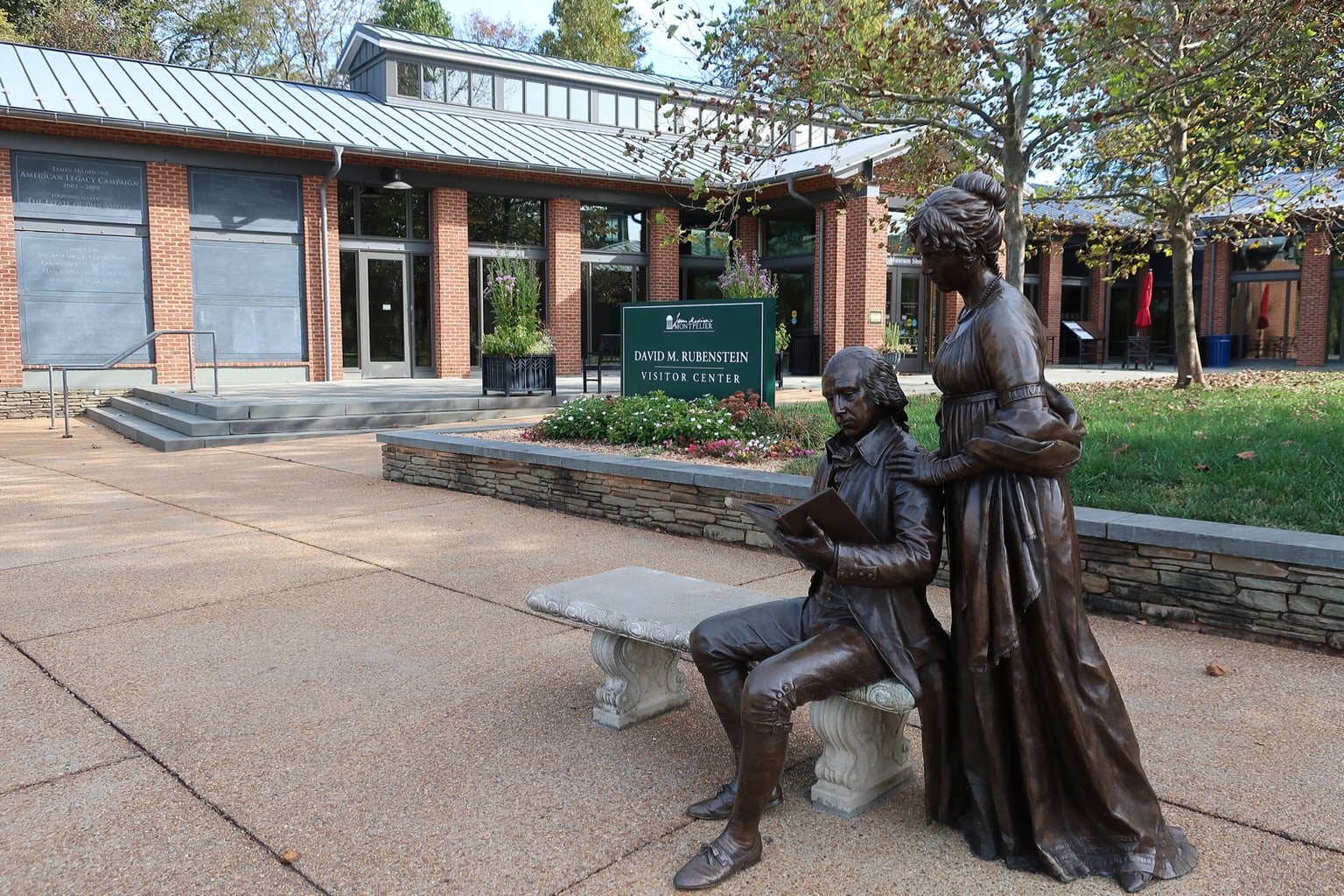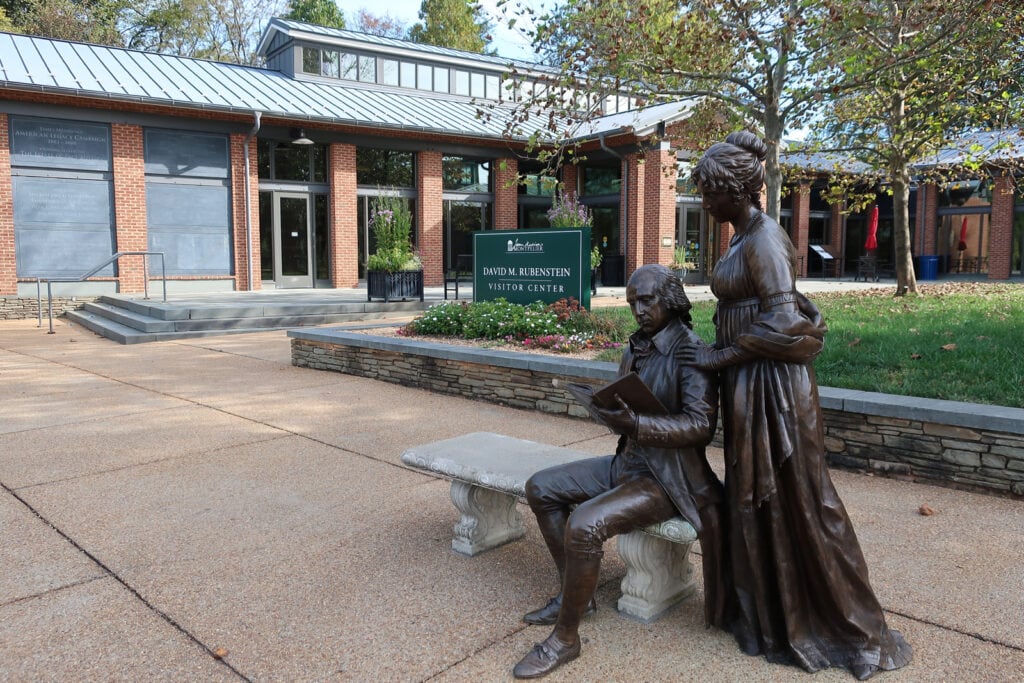 *Sign up for a one- hour outdoor tour (during Covid) that begins in the Visitor's Center. And be sure to wear a mask.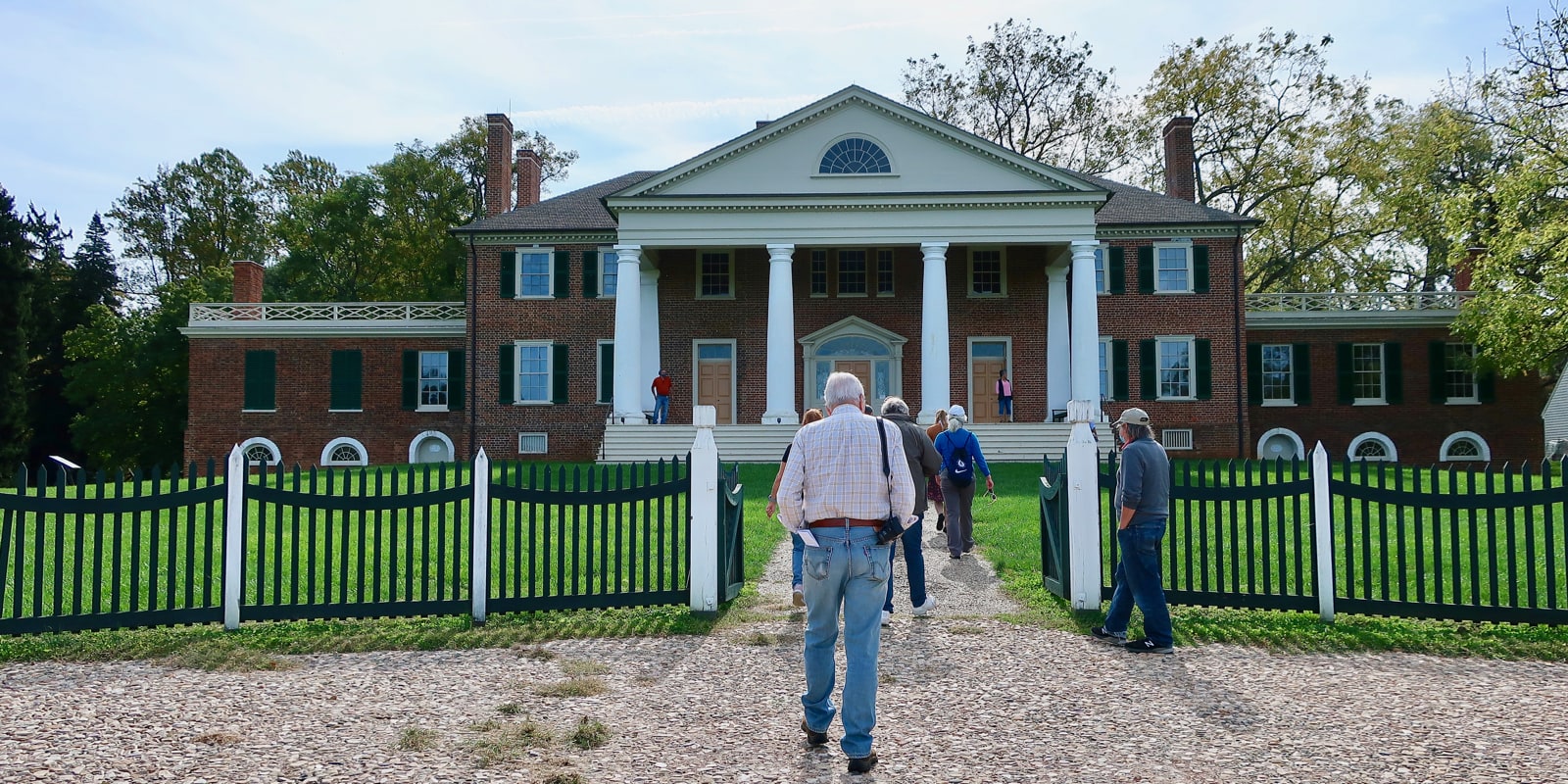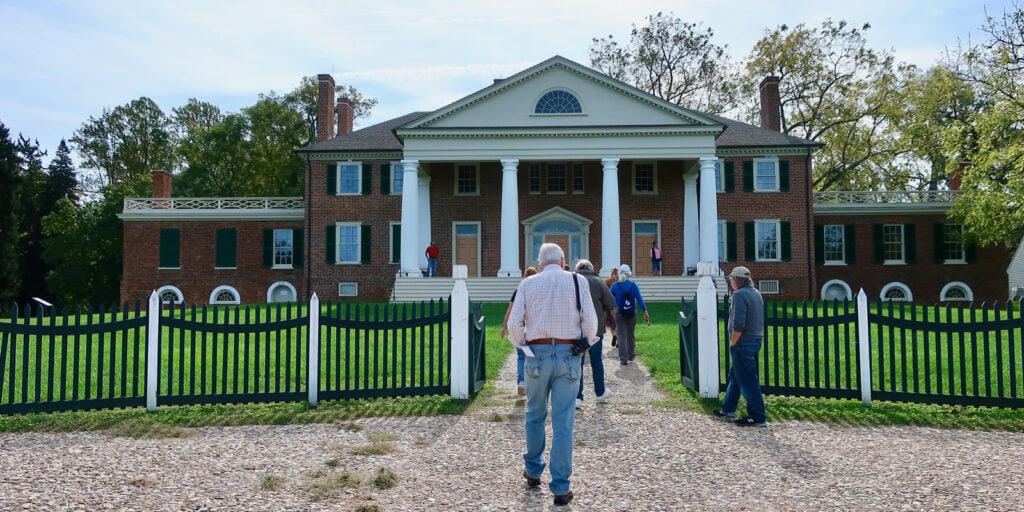 Montpelier, built by the father of President James Madison, and last owned by a DuPont, has been in the shadow of the more popular homes of Thomas Jefferson (Monticello) and George Washington (Mount Vernon), also in Virginia, for far too long. That might be changing with a growing interest in the framers of the US Constitution.
Montpelier tour guides provide an in-depth look at the Madison Family and the experiences that influenced James Madison's radical (for the time) ideas.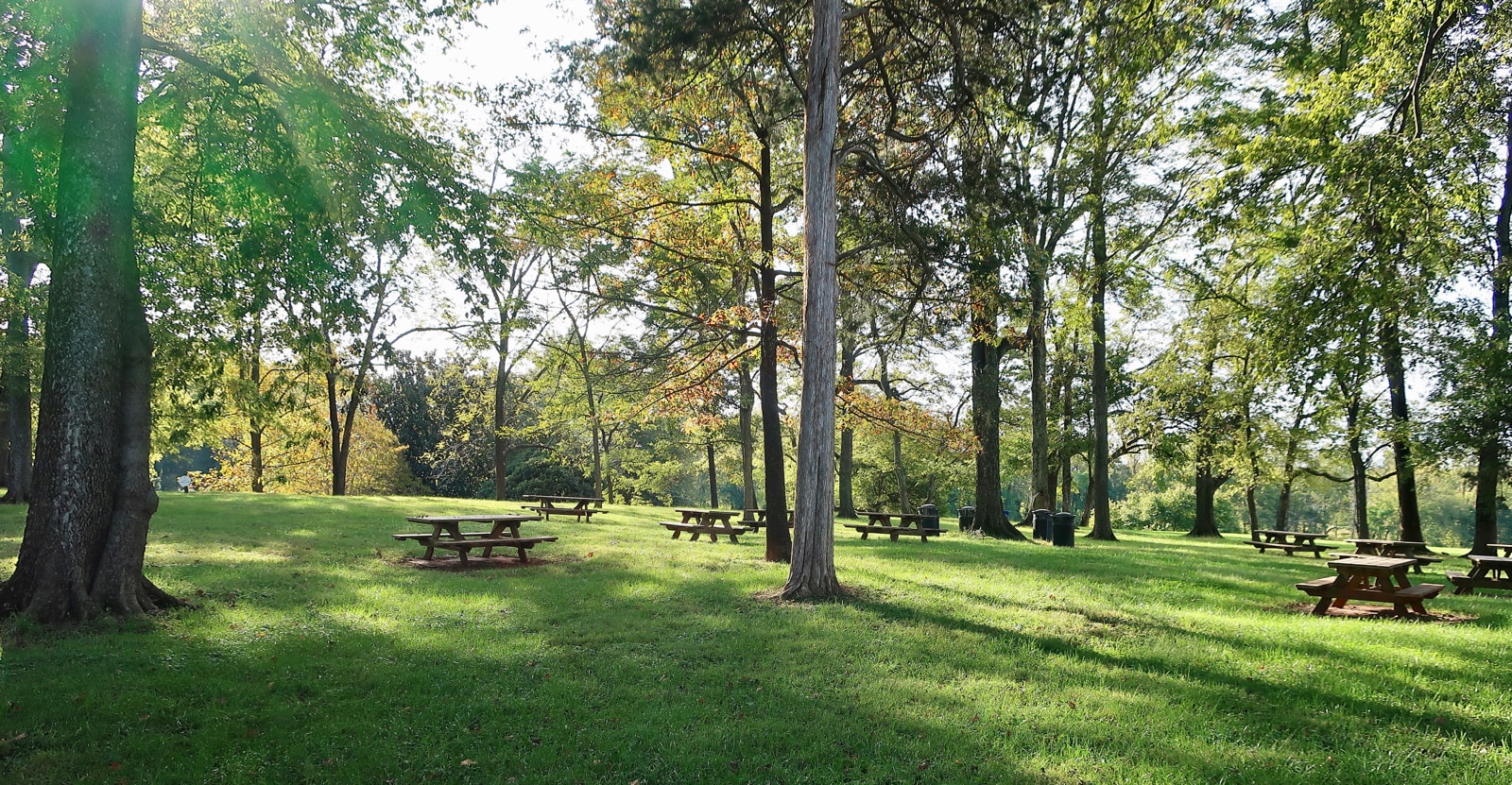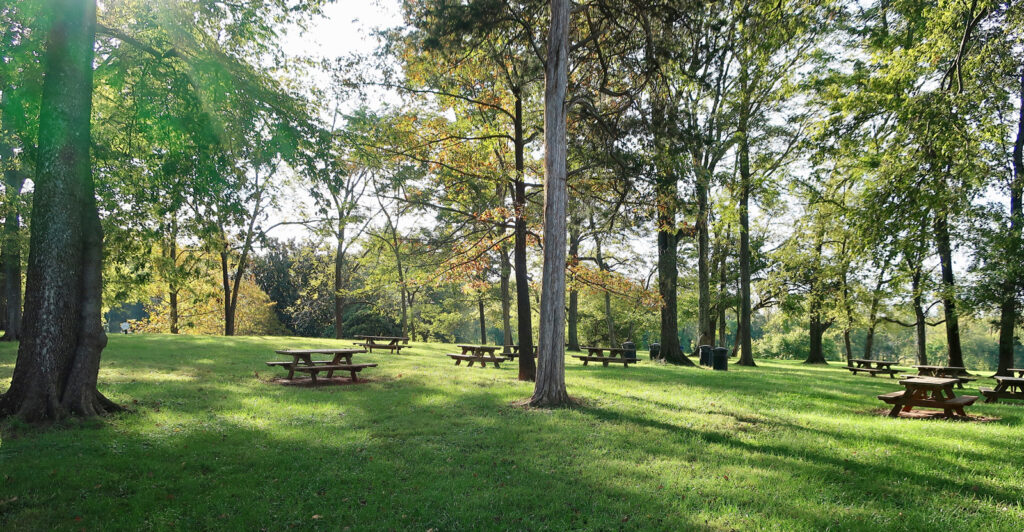 At boarding school, Scotsman Donald Robertson tutored James Madison during the period of the Scottish Enlightenment, an intellectual movement that called upon reason rather than passion to seek truths. Madison studied the Hebrew language (he might have been considering the ministry), and read law back home. He eventually landed on politics.
Roots Of Madison's Beliefs
Madison believed that the premise of the Articles of Confederation, with each US State acting as its own country, could not hold. He wrote to his Virginia neighbor, Thomas Jefferson, who was residing in France, to send over books of European political history. The democratic model of Ancient Greece informed Madison's groundbreaking idea of a central, citizen-elected government. He authored The Virginia Plan, which concluded that there must be a balance of power, clearly delineated, between Executive, Judicial, and Legislative branches of a Federal government
When first proposed, a government of the people, by the people, and for the people was a revolutionary idea. As one of the architects of our Constitution, James Madison, along with the Founding Fathers, sought to change the system. The idea, a Representative Republic was, from the very start, an "experiment."
Ushering In the US Constitution
At the Constitutional Convention in 1787, each of the Confederate states came up with its own plan, with arguments about how the number of state representatives would be determined. More populated states pushed for more representation. Northern states argued against the counting of enslaved people, since they were considered property and could not participate in government. To appease the South, a compromise held that slaves would be considered as 3/5ths a man, to augment population numbers.
It took a solid four months to hash out the US Constitution that stands today. It took even longer to ratify it.
Read the Federalist Papers (authored by Alexander Hamilton, John Jay, and Monroe) to get a good idea of what the opposition was saying. Much had to do with the rights of the people, which the framers considered too fraught, overwhelming, and time consuming to include in the Constitution itself. Another four years would pass before the first ten Constitutional Amendments – The Bill of Rights – were ratified in 1791.
Though Madison was named "The Father of the US Constitution," he modestly claimed that it was the result of "many hands and minds."
Madison Home, Montpelier
The Madison home itself was built in several phases. James Jr. married Dolly Todd, whose first husband and baby had died of Yellow Fever, leaving her a widow with two-year-old John Payne Todd. The couple built a Philly style townhouse tacked on, but not connected to, the main house. (Dolly and James were introduced by mutual friend, Aaron Burr, of all people). After Sr. died, James inherited the property.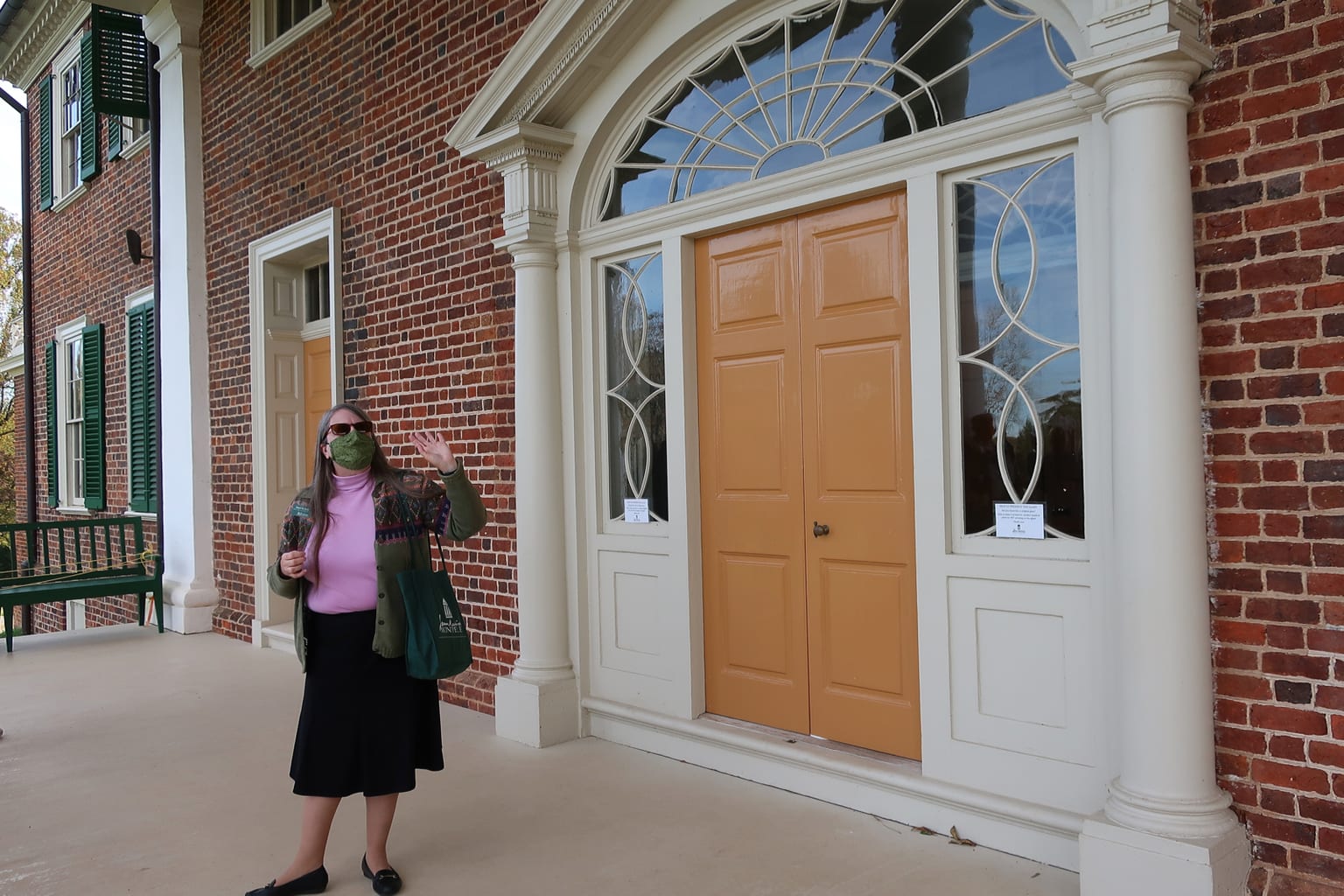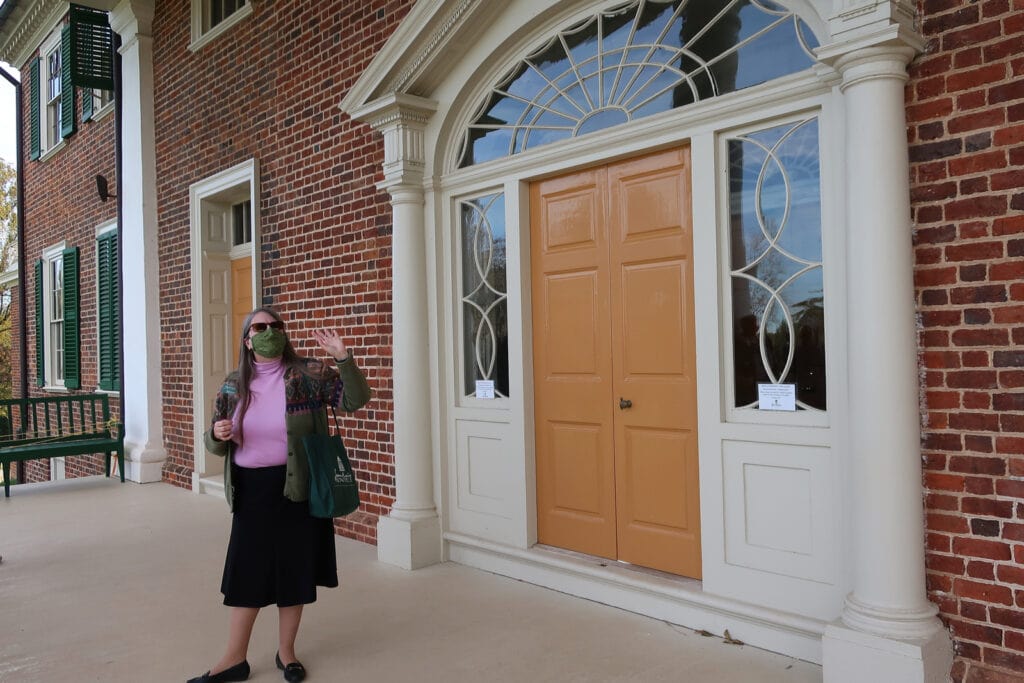 He later served two terms as Thomas Jefferson's Secretary of State, and then as President of the United States for two terms – 16 years in total away from his cherished Virginia home. Over the course of three generations of Madisons, it's estimated that over 300 enslaved people labored in the home and tobacco and wheat fields.
DuPont Era
In 1905, William DuPont purchased the home, expanded it, and built outbuildings and a horse track on the property. (In 2003-08, the DuPont wings were removed, restoring Montpelier to the way it looked when James Madison lived here.) Marian DuPont Scott owned the property until her death in 1983, at which point, she donated it to the National Trust for Historic Preservation.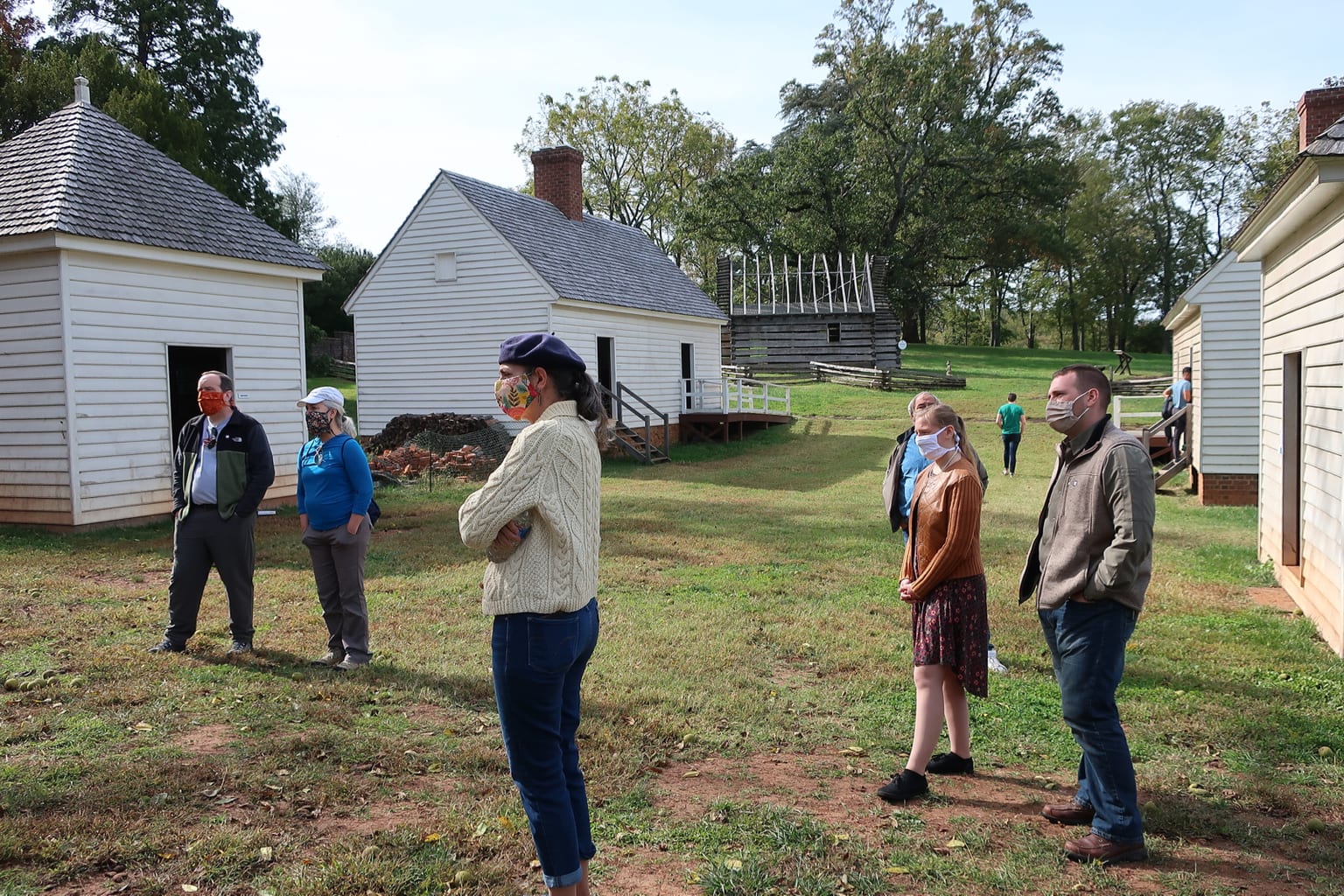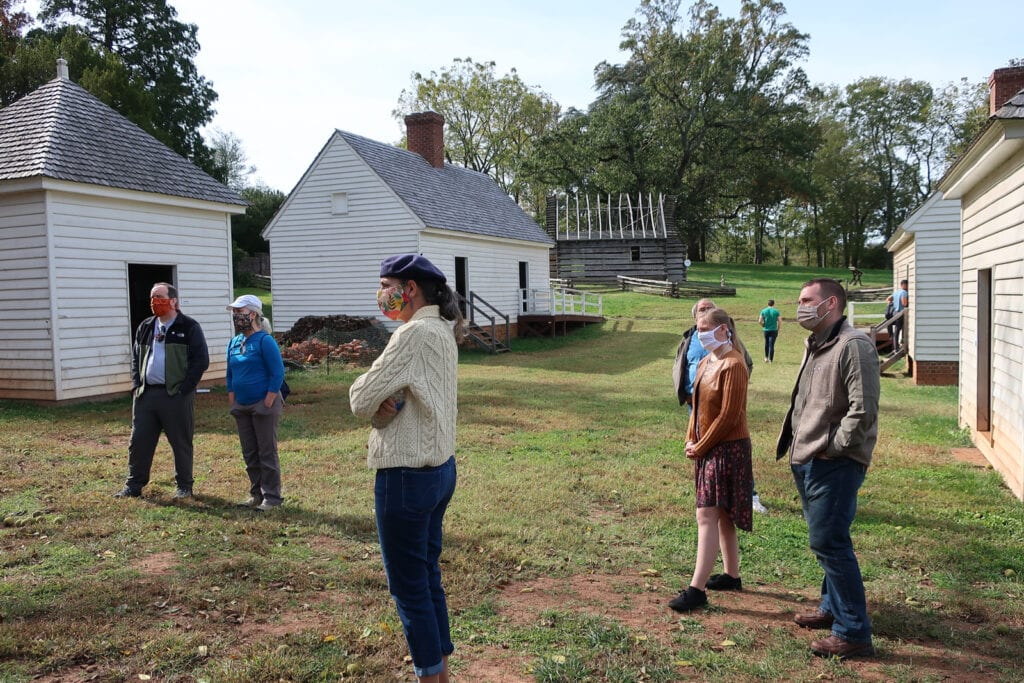 Just outside the home, the South Yard has been reconstructed to James Madison's time: with an out-kitchen, two smokehouses, and living quarters for the enslaved people who worked in the home.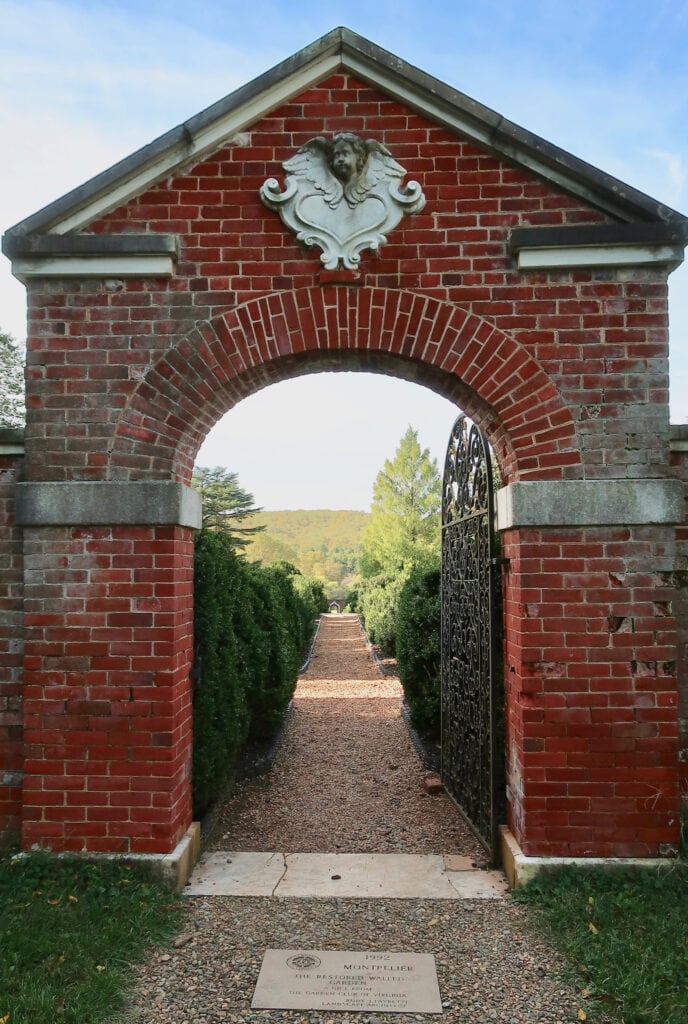 The grounds also include a stunning 2-acre ornamental garden, with tidy, squared off sections, patios, and flowering plants. You can also pay your respects at the Madison Family Cemetery, and walk 8 miles of hiking trails on what is now 2,650 acres (originally 5,000 acres).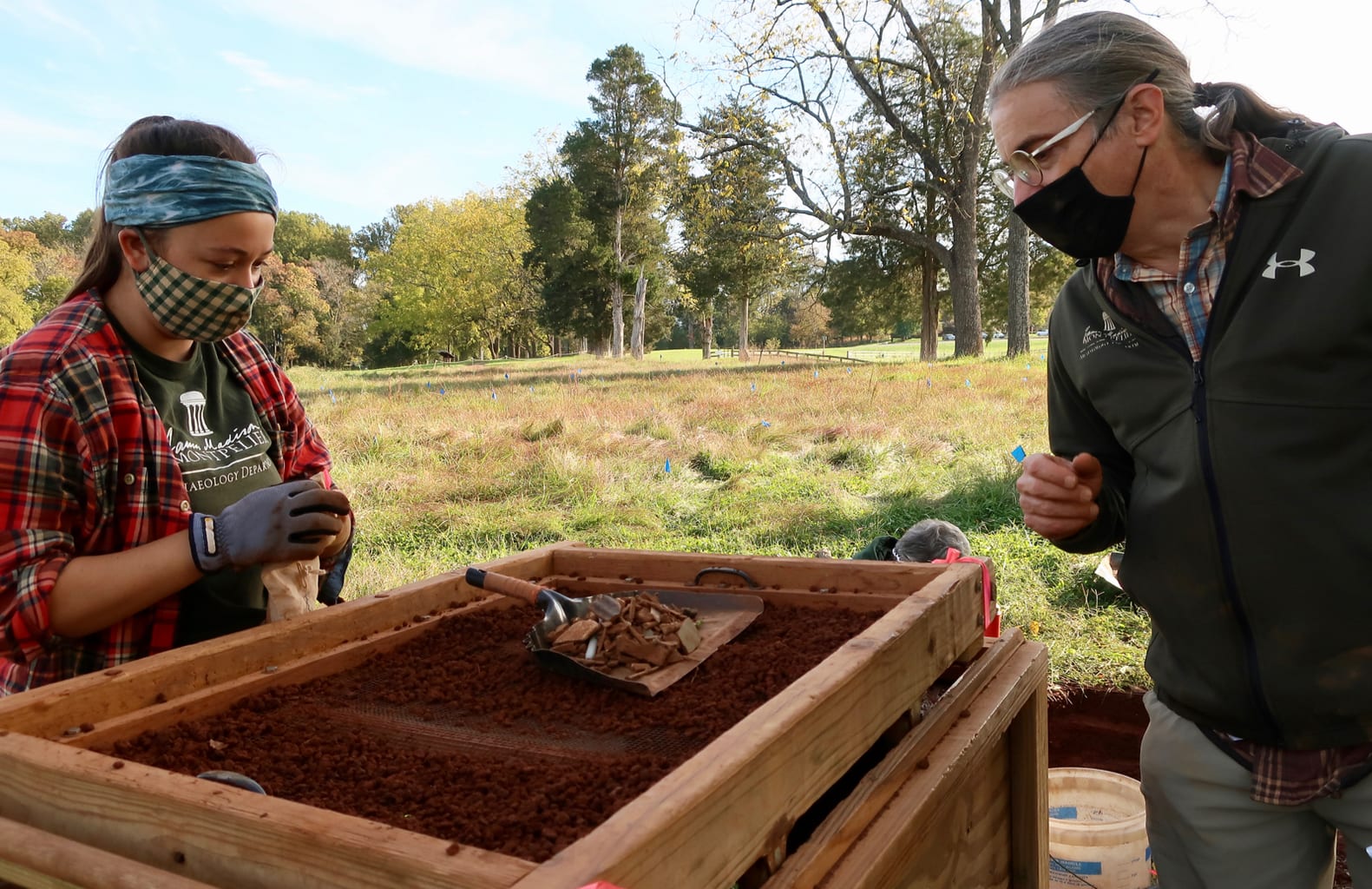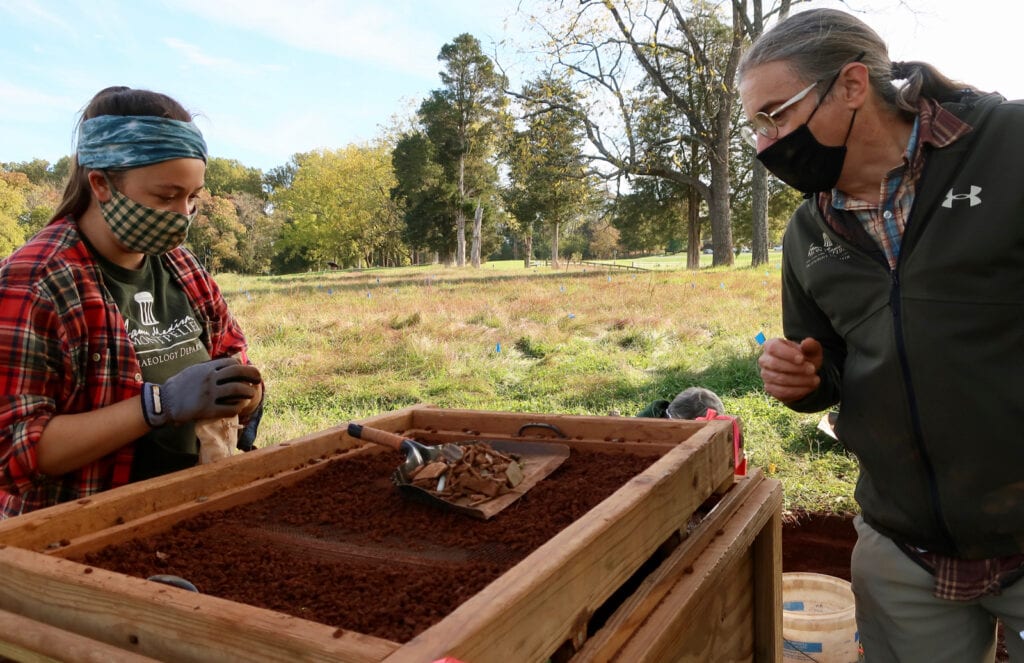 In addition to a tour of the property, archeologists are digging up relics of the plantation's field-slaves and overseer's quarters a distance from the home. Montpelier benefits from the input of many descendants of those who were enslaved here, and ongoing activities are quite robust.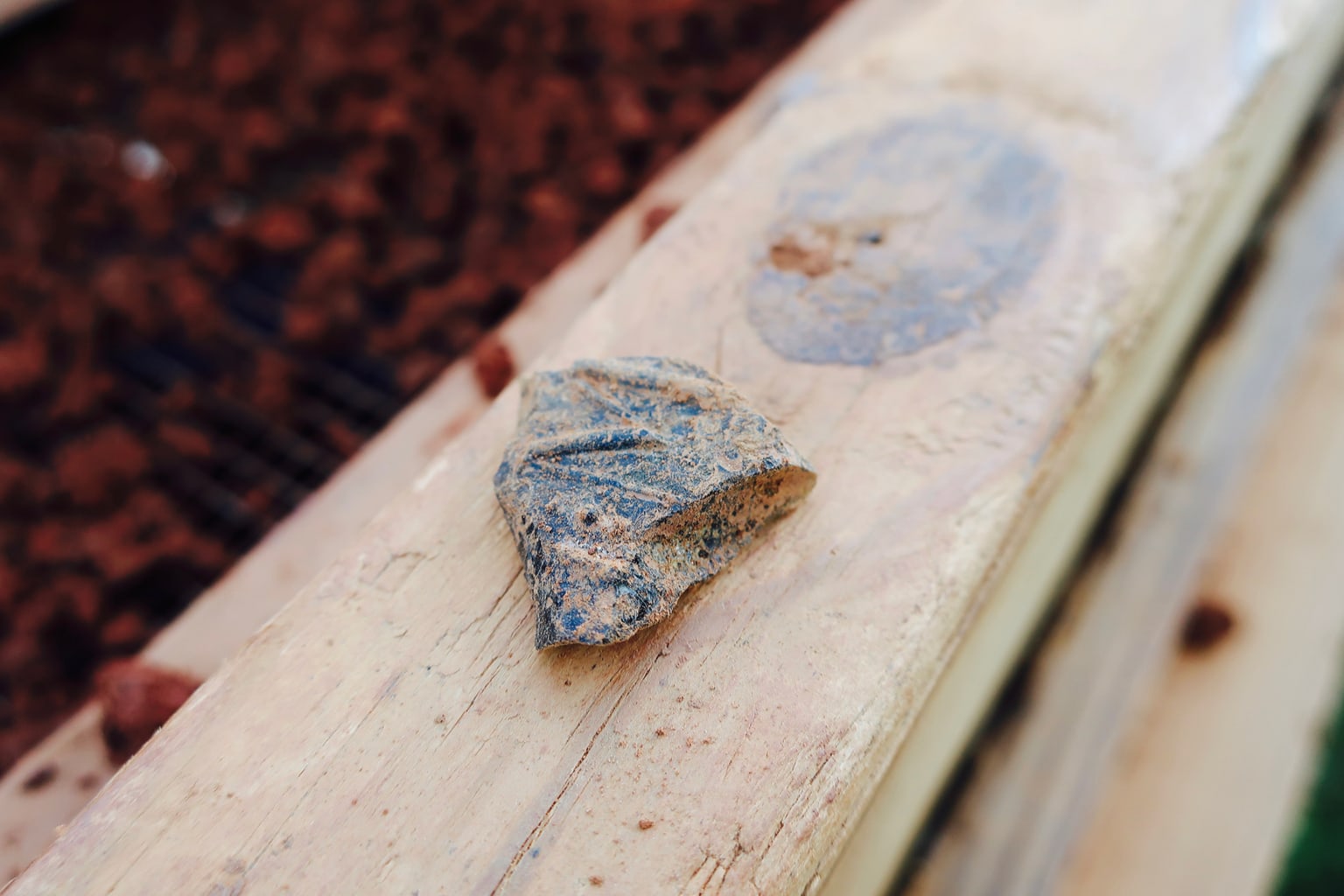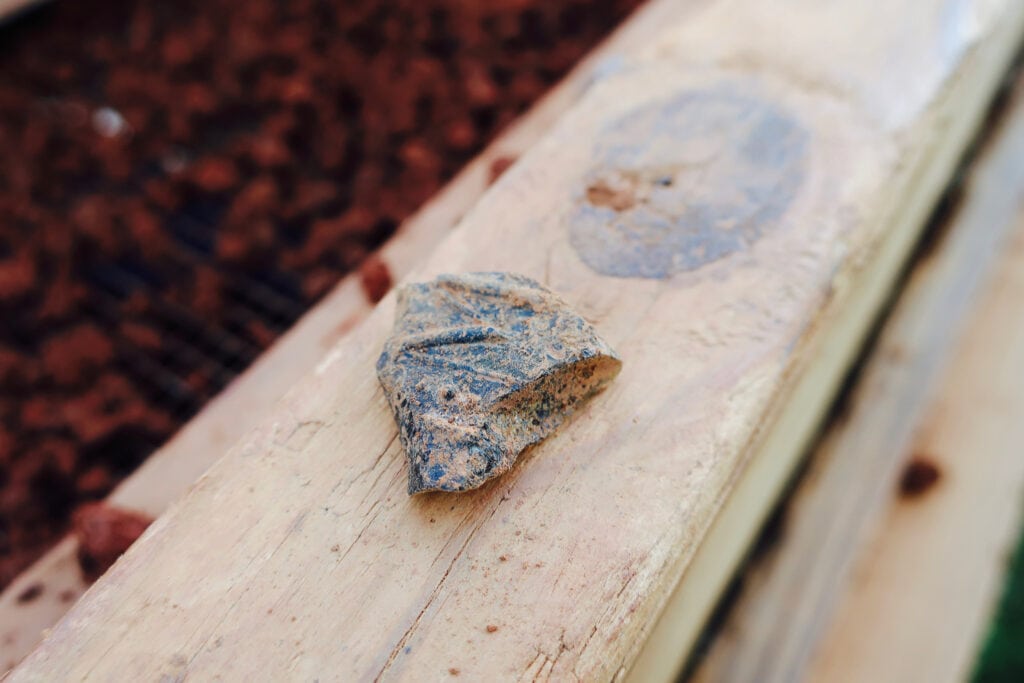 Members of the public can sign up for weeklong programs through Montpelier's Expedition Programs – aiding archeologists in their intricate work from March through October. I met Gayle and Tony Manning – active seniors from Florida who have been coming up since their granddaughter was an intern, 16 years ago.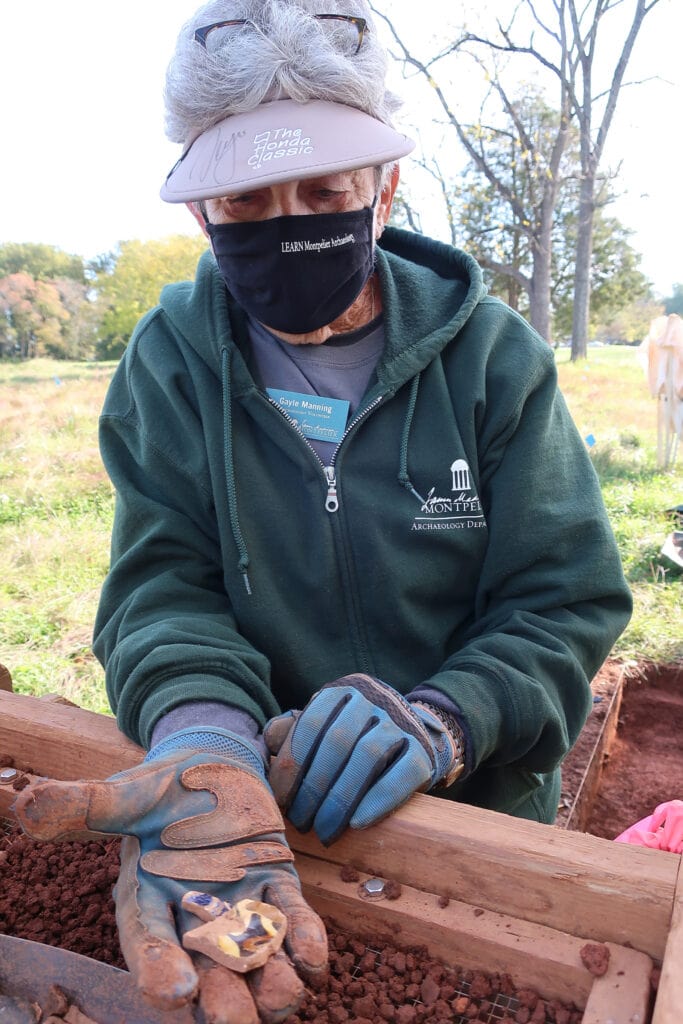 On the day I visited, they had just unearthed a fragment of a Madison family wine bottle, stamped with "M," and several shards of colorful 1750's Staffordshire earthenware.
Besides the Archeology program, visitors can sign up for the Log Cabin Unit – learning how to wield an ax to hand-build these structures. Open Wed-Mon 9-4, grounds pass $10 per car, outdoor guided 1-hour tours $25 adults, $12 kids.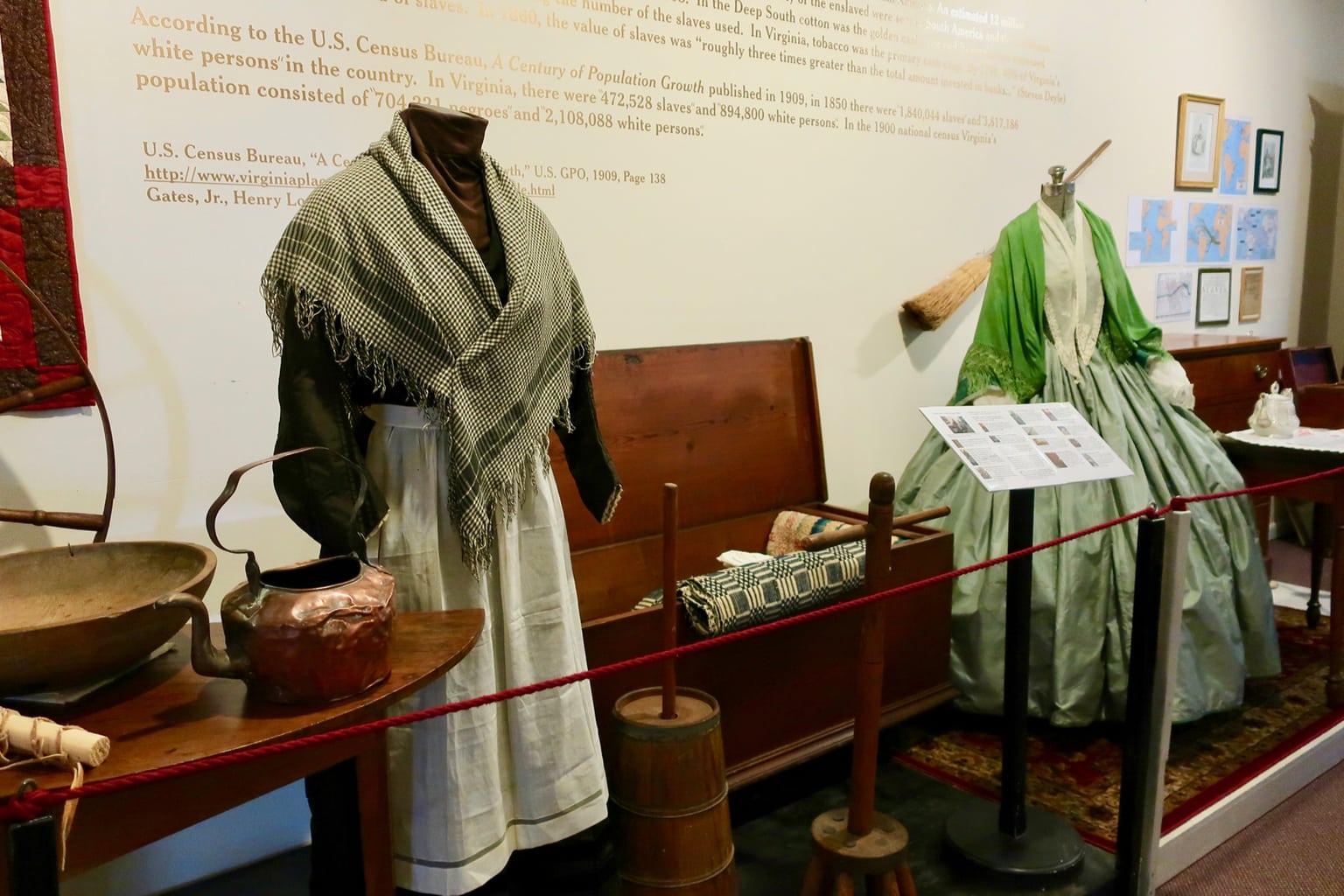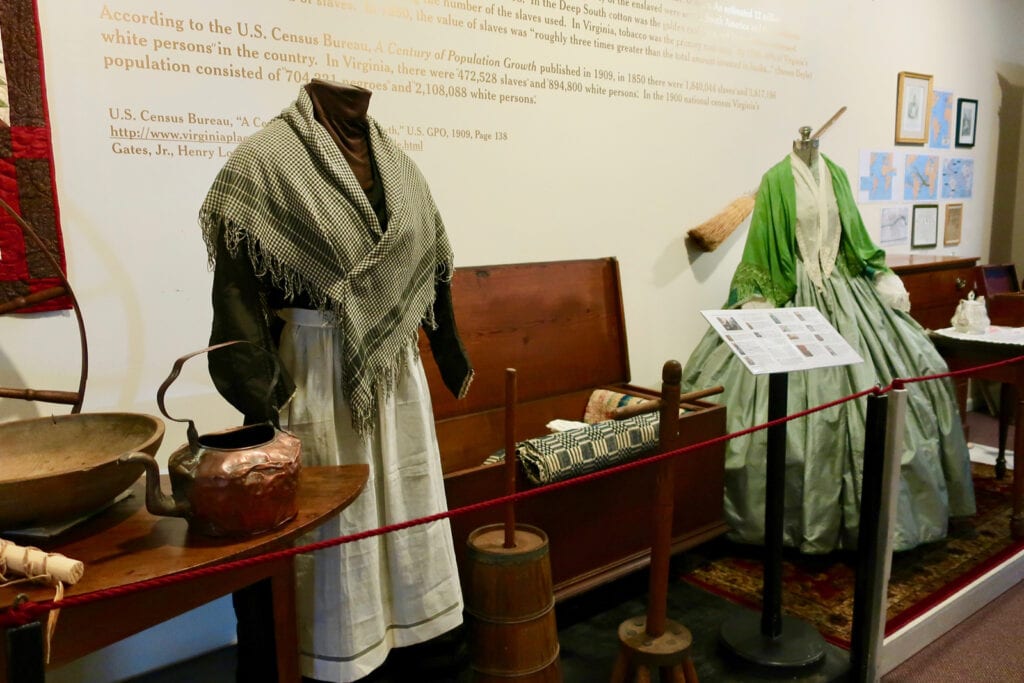 This larger than it looks museum, located in the former 1930 Powell Motor Co. building, has been telling the story of President James Madison for over 40 years. In 2015, the museum added the history of Orange County. (A temporary exhibit – October 2020 – highlighted the former Silk Mill that made parachutes for allies in WWII and shut down in 1988 after Rayon killed the industry).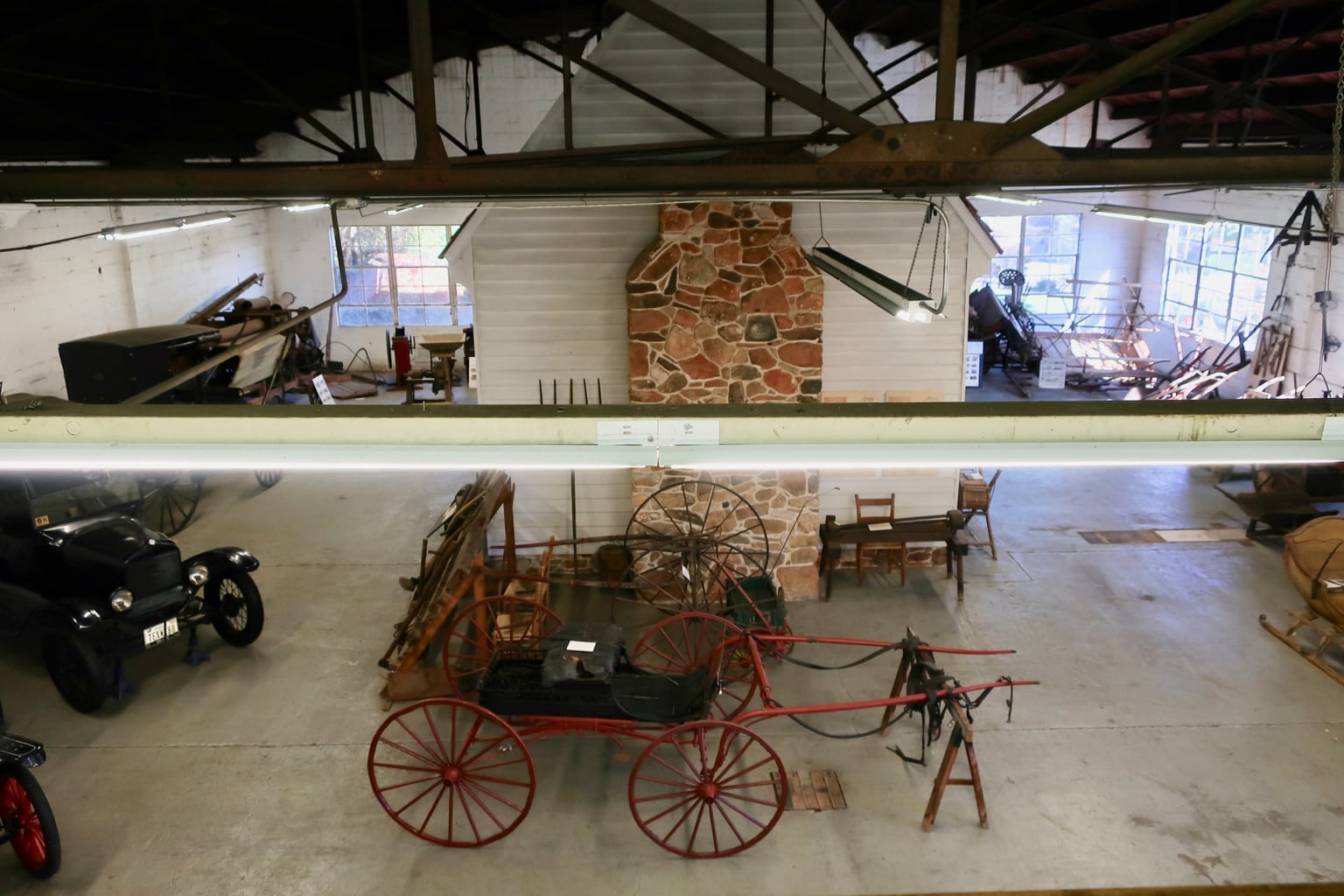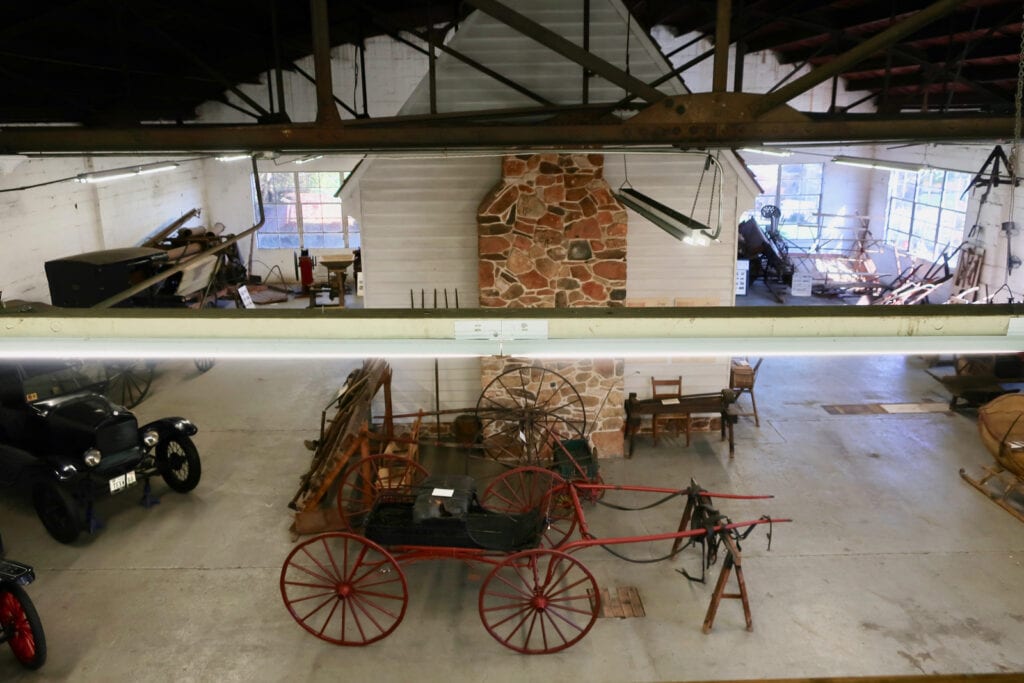 Of course, Madison and his wife, Dolly, are the centerpiece of this museum, but it also covers the Black, Native American, and agricultural history of Orange County. In fact, the old massive garage bay now holds an array of antique farming equipment and one huge surprise: a completely reconstructed Alexander Spotswood's Arjalon Price House – a 16 ft. square 1733 tenant house.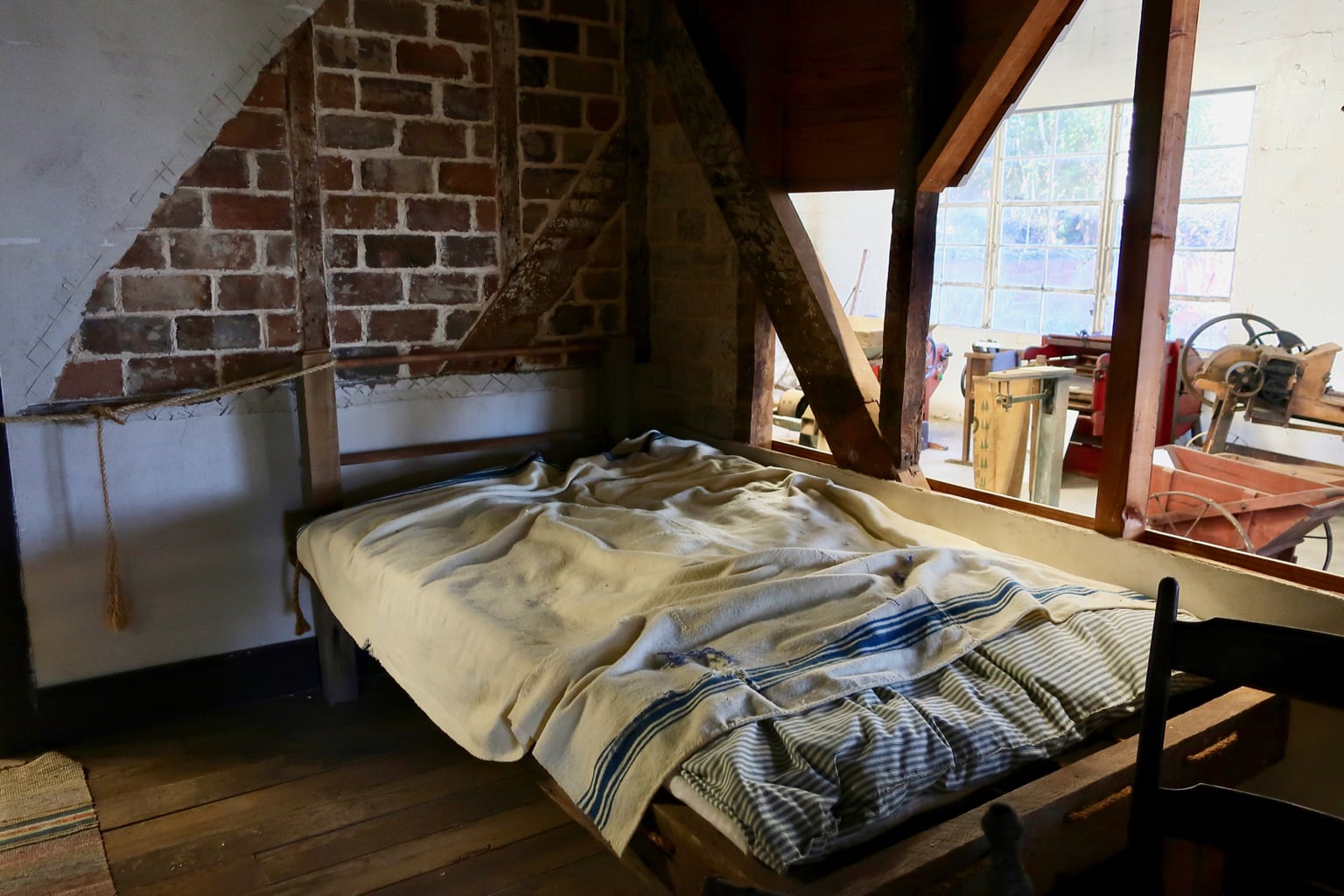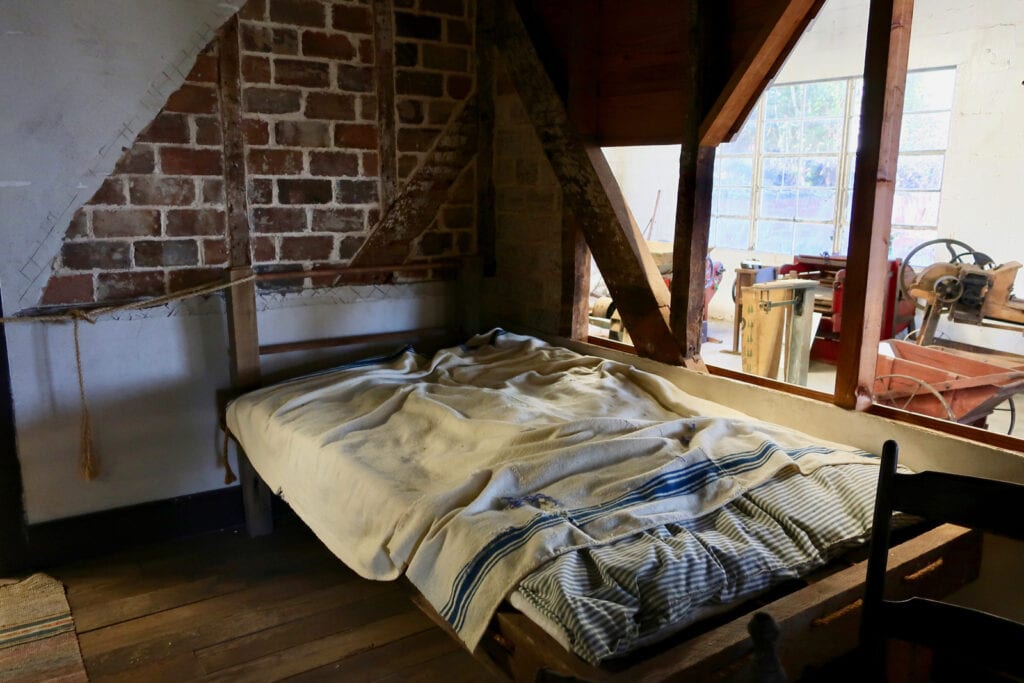 Interestingly, local Native Americans weren't recognized as such. Dr. Walter Plecker, first registrar of the Bureau of Vital Statistics, was a eugenicist, and white supremacist. When issuing birth, death, and marriage certificates, he divided residents into two racial categories: Pure White and Colored. There was no category for "Native."
The Black History exhibit focuses on three themes. 1 – A tribute to the forgotten Black patriots of the Revolution (including a "Book of Names."). 2- Voting Rights and the importance of Education. 3- "Looking through the window" into an Orange County home with enslaved workers. Interestingly, "house-slaves" were expected to be sharply dressed. Women wore their slaveholder's hand-me-down dresses, minus the hoop skirt, as a show of wealth.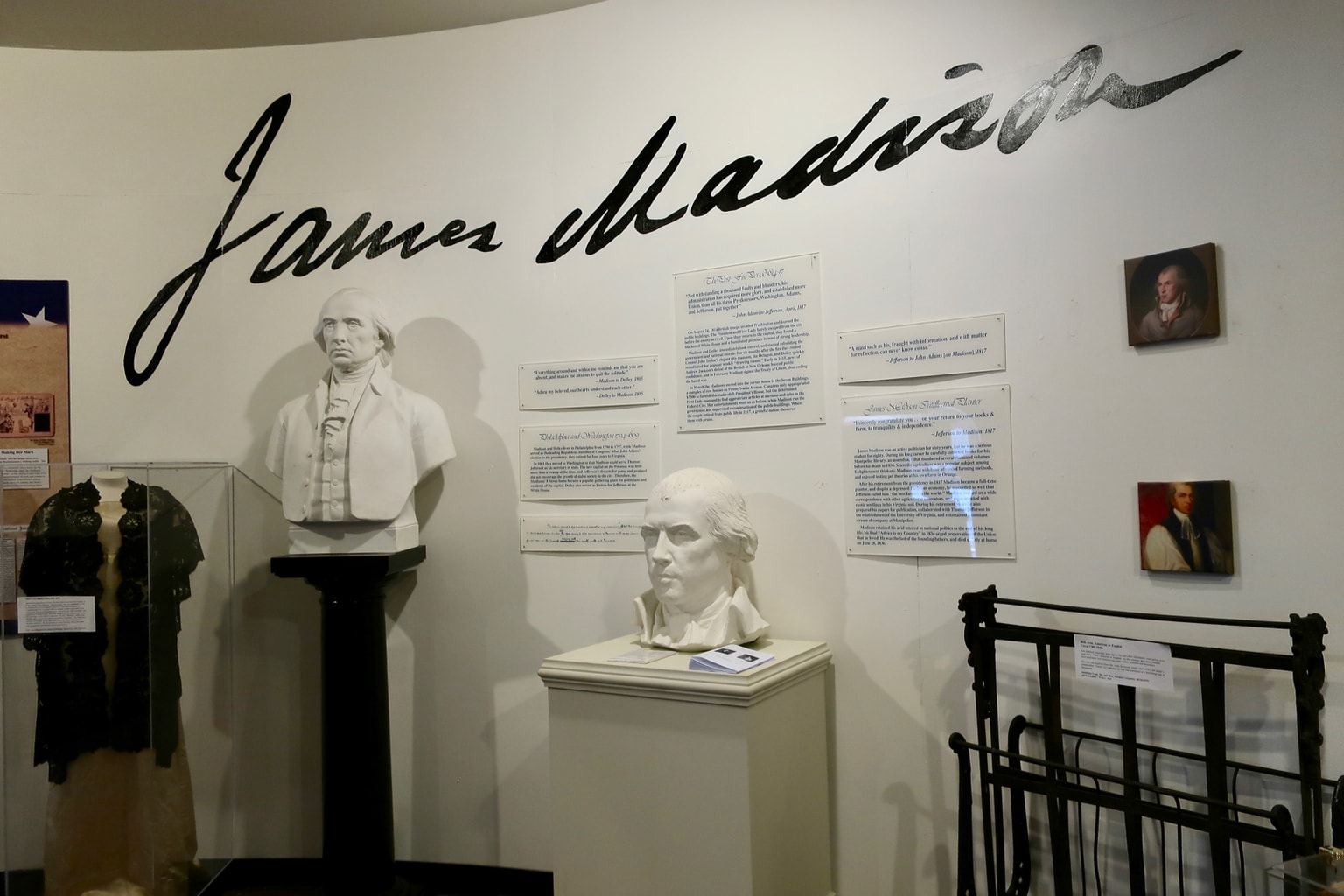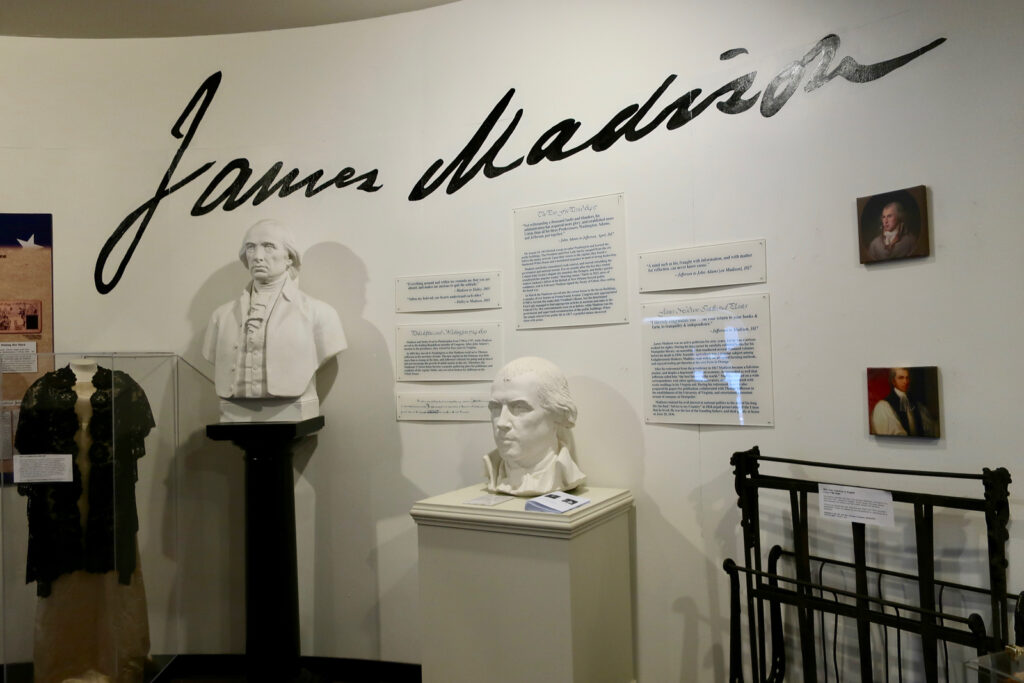 Of course, the main gallery contains information and artifacts from the USA's fourth president, who lived three miles away: James Madison. Read the original obituary, which stated that Madison, born in 1761 and died in 1836, was "the last of the great lights of the Revolution."
Dolly Madison was important in her own right. She was the first of US President's wives to be called the First Lady, she presided over the first Inaugural Ball, hosted dignitaries and heads of state, chaired a fundraiser for the Washington Memorial, and initially decorated the Presidential Mansion with American furnishings and art. Open daily 10-5, $6 adults, $3 kids.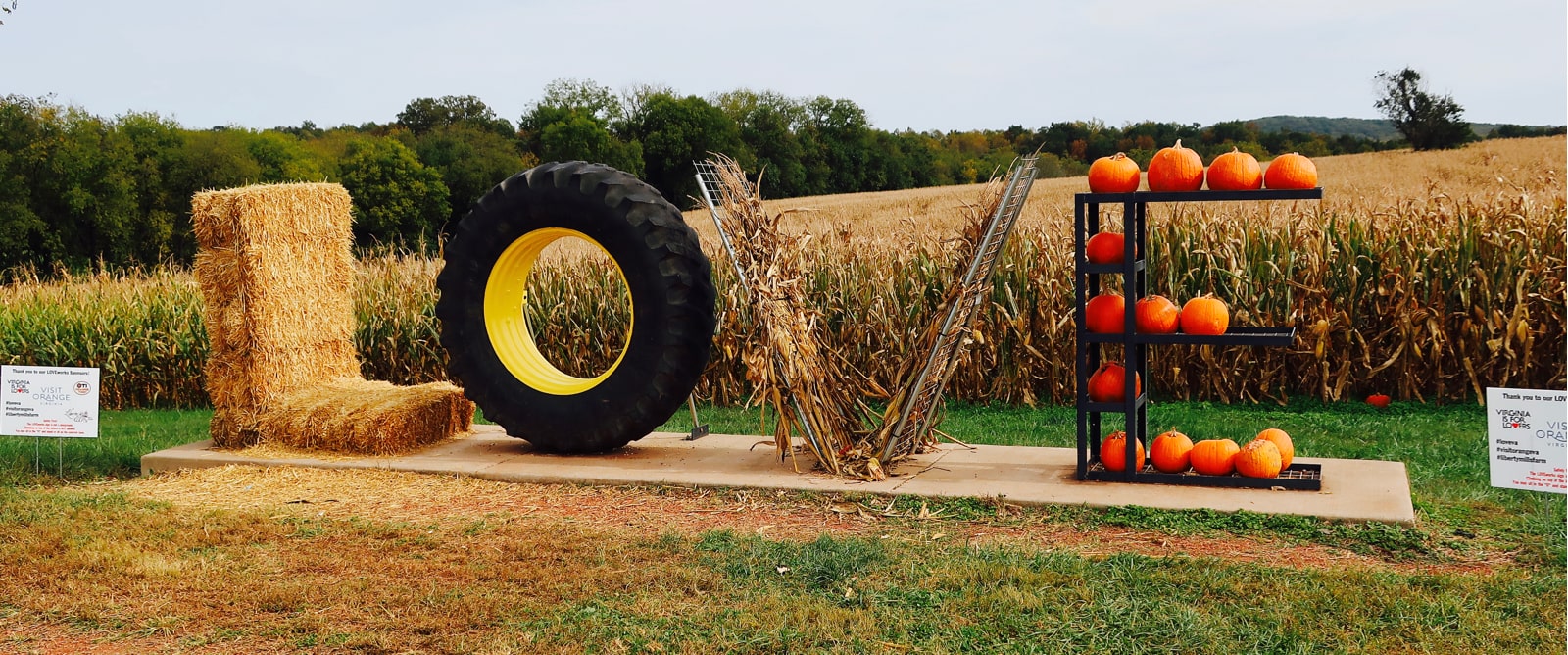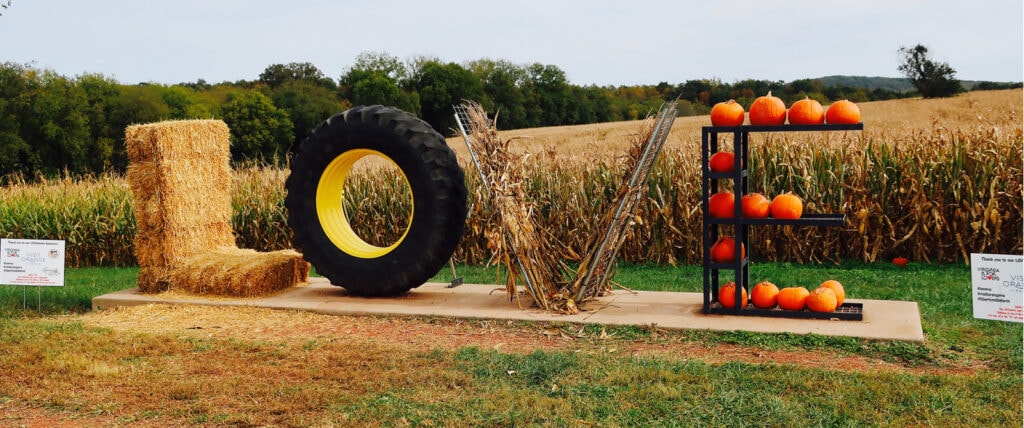 Who knew that the largest corn maze in the USA could be found in this tiny Virginia burg? From the Saturday after Labor Day until mid-November, this corn, sunflower, and pumpkin farm turns into an elaborate oversized puzzle. People come from all over the world to walk through paths framed by seemingly endless stalks of corn – the ultimate human sized labyrinth.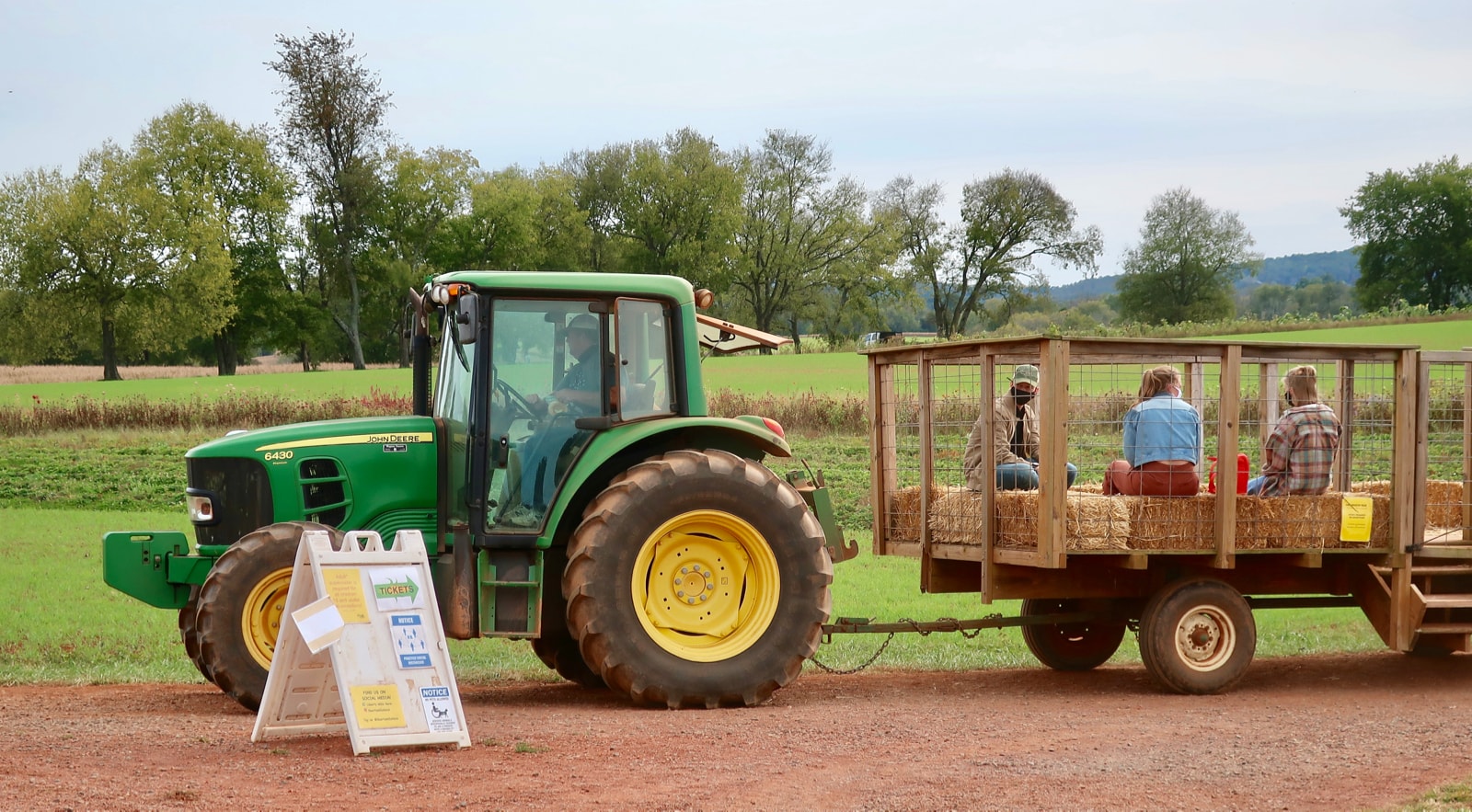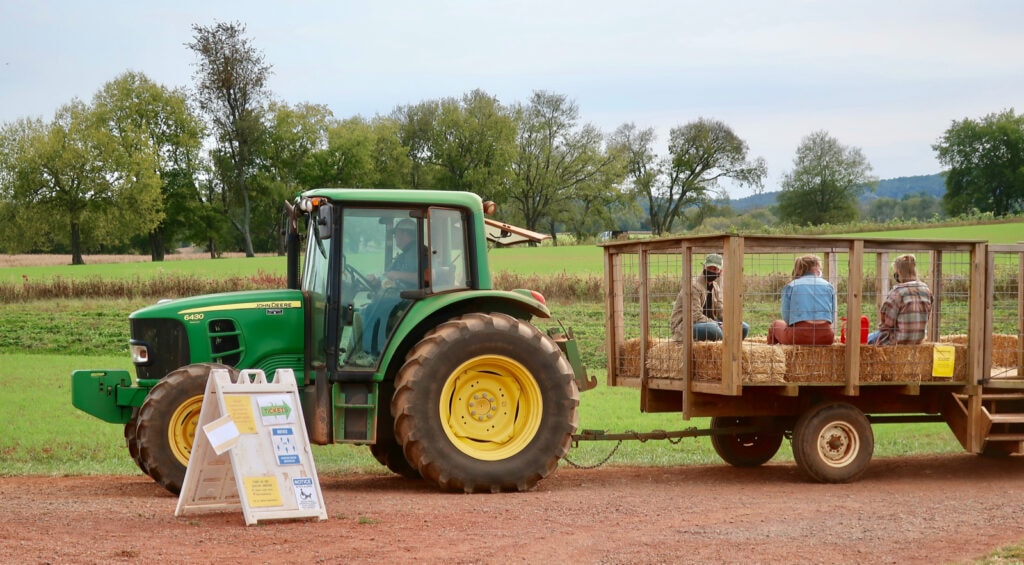 There are four separate trails from easy to difficult. The trickiest, according to farm owners, Evie and Kent Woods, is for Millennials. "It's a Mystery Maze that does not follow any normal rules. It's like an outdoor escape room."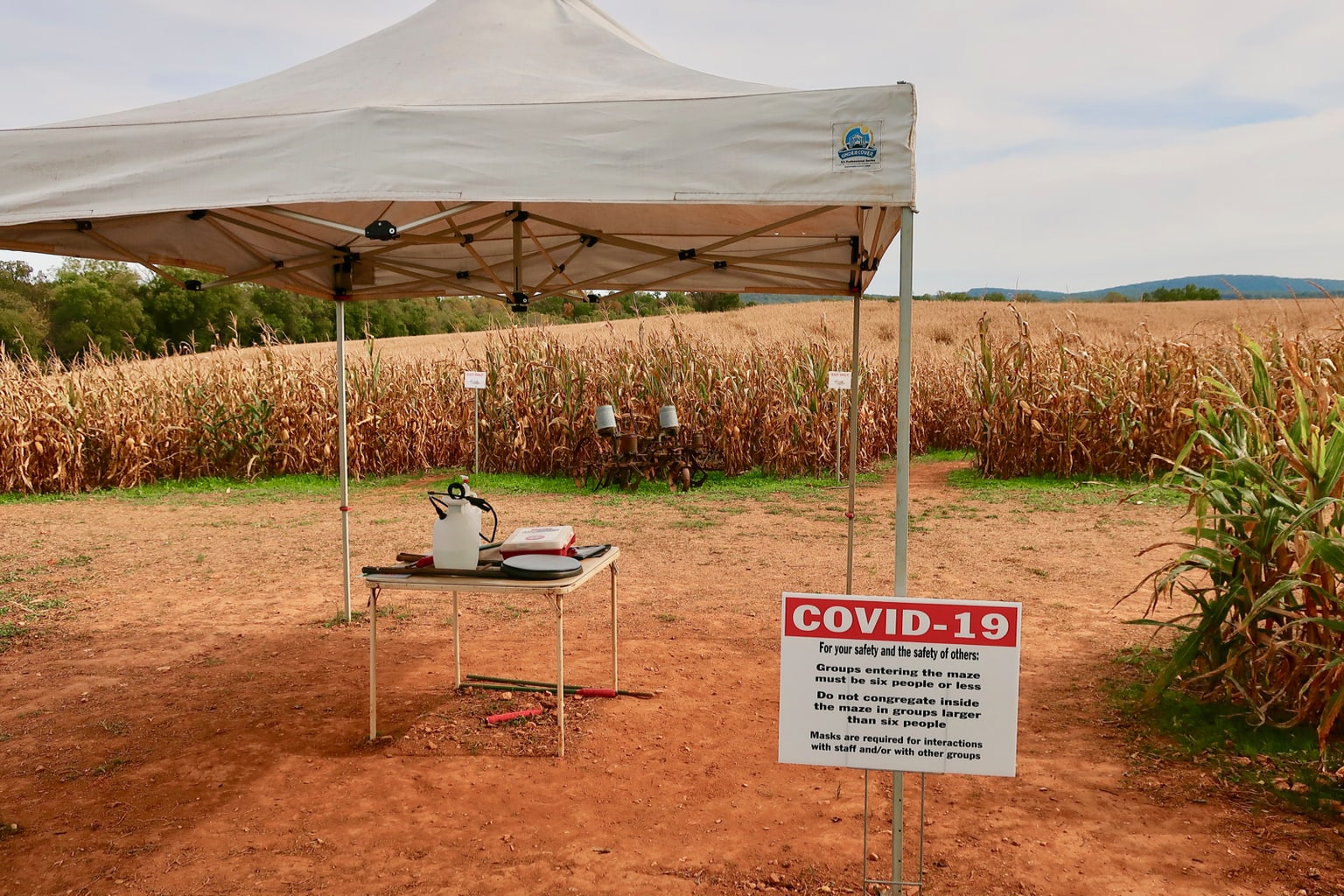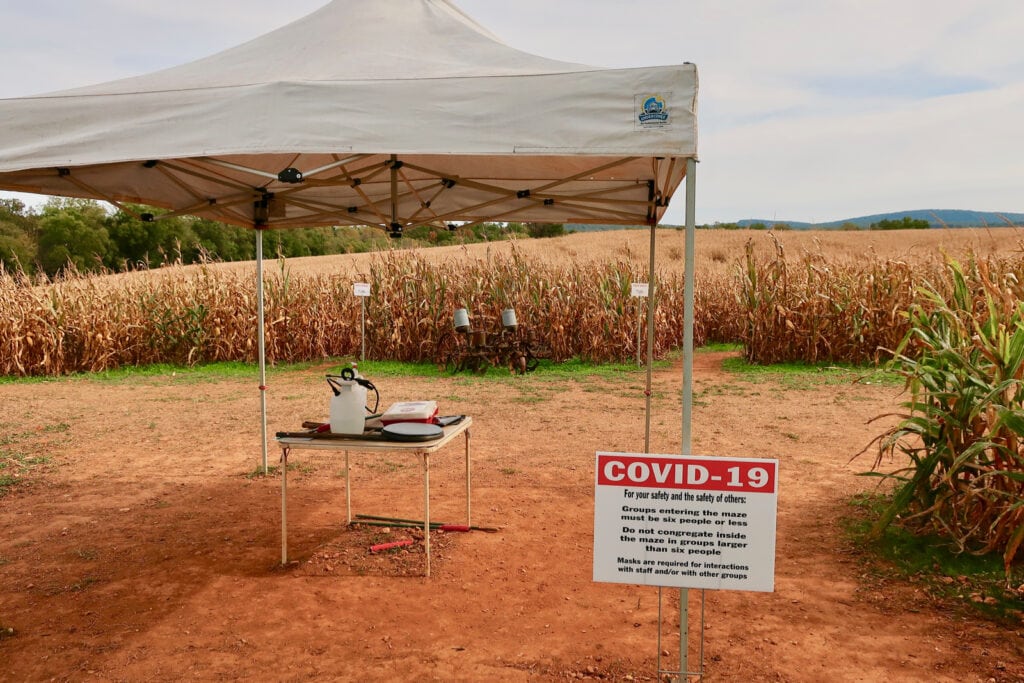 Every year, the Woods decide on a theme, and then hire "one of the two maze-making companies in the country, Maize Company" to create it. This year, it's all about the US Navy. Called "Anchor's Aweigh," the maze features ships of all kinds, a Compass Rose and more.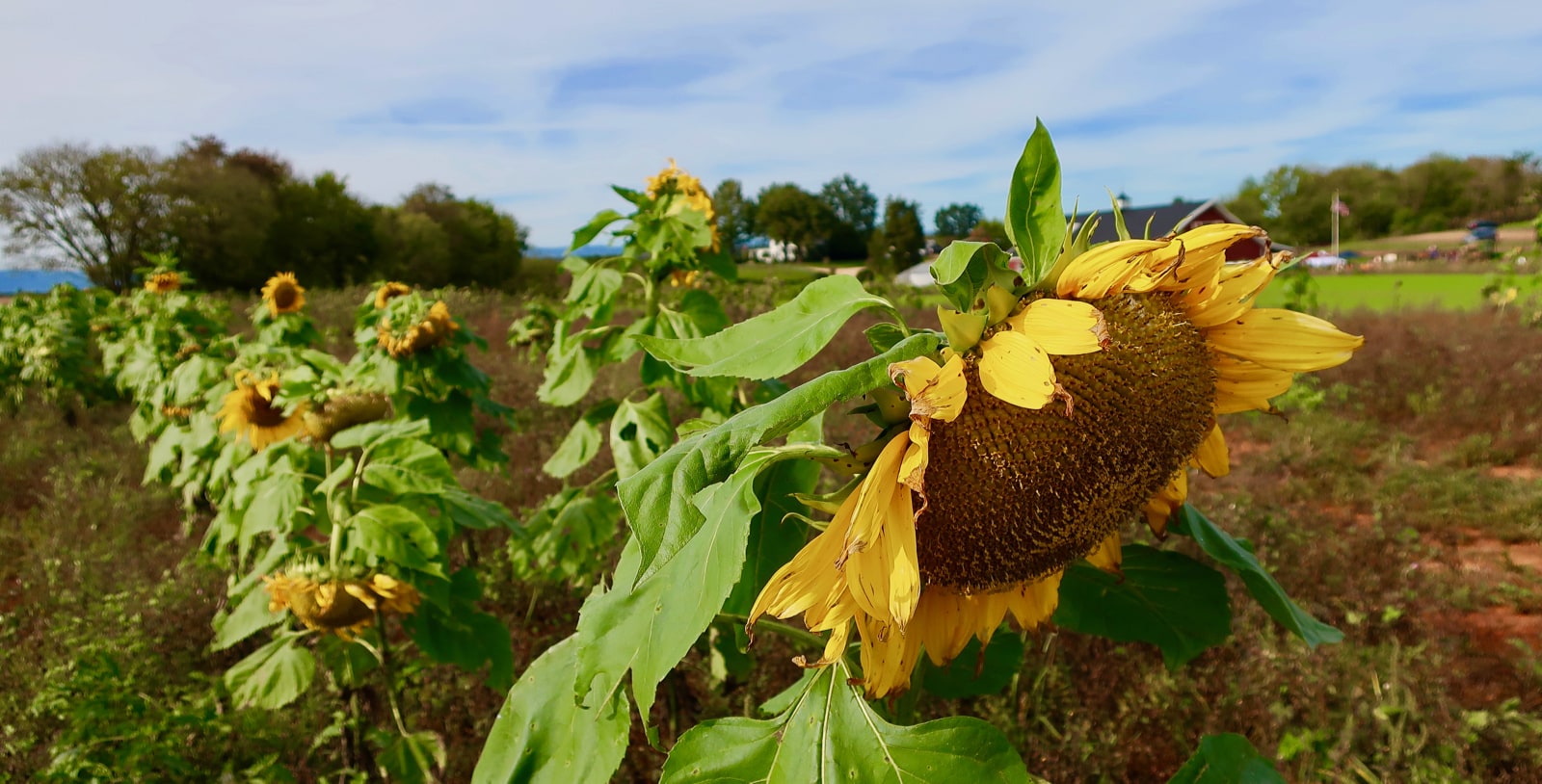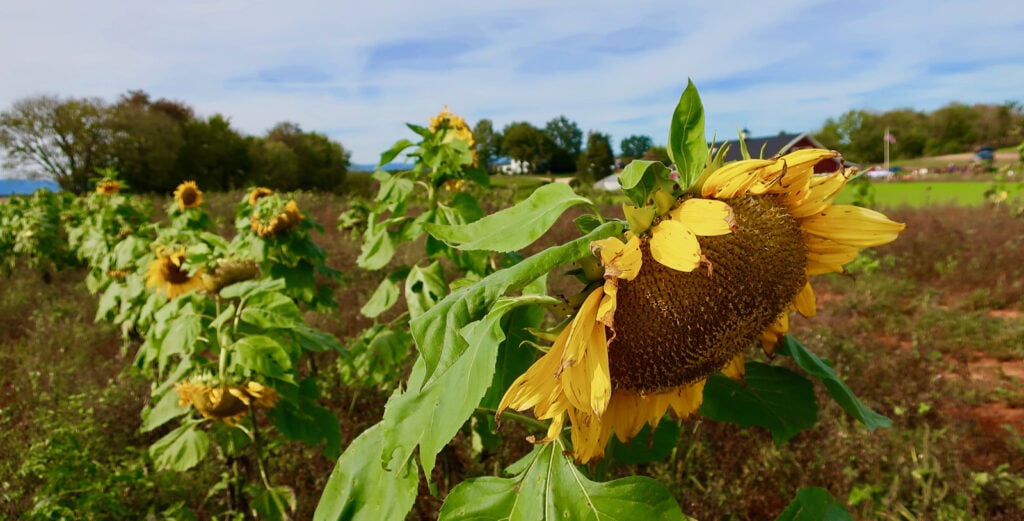 Come to pick pumpkins, nosh on popcorn (Liberty Mills grows its own), take a tractor hayride, pick sunflowers, or just to grab something in the farm store. Maze tickets, $12 each.
Liberty Mills Farm is one of the best quirky Places to Propose in Virginia.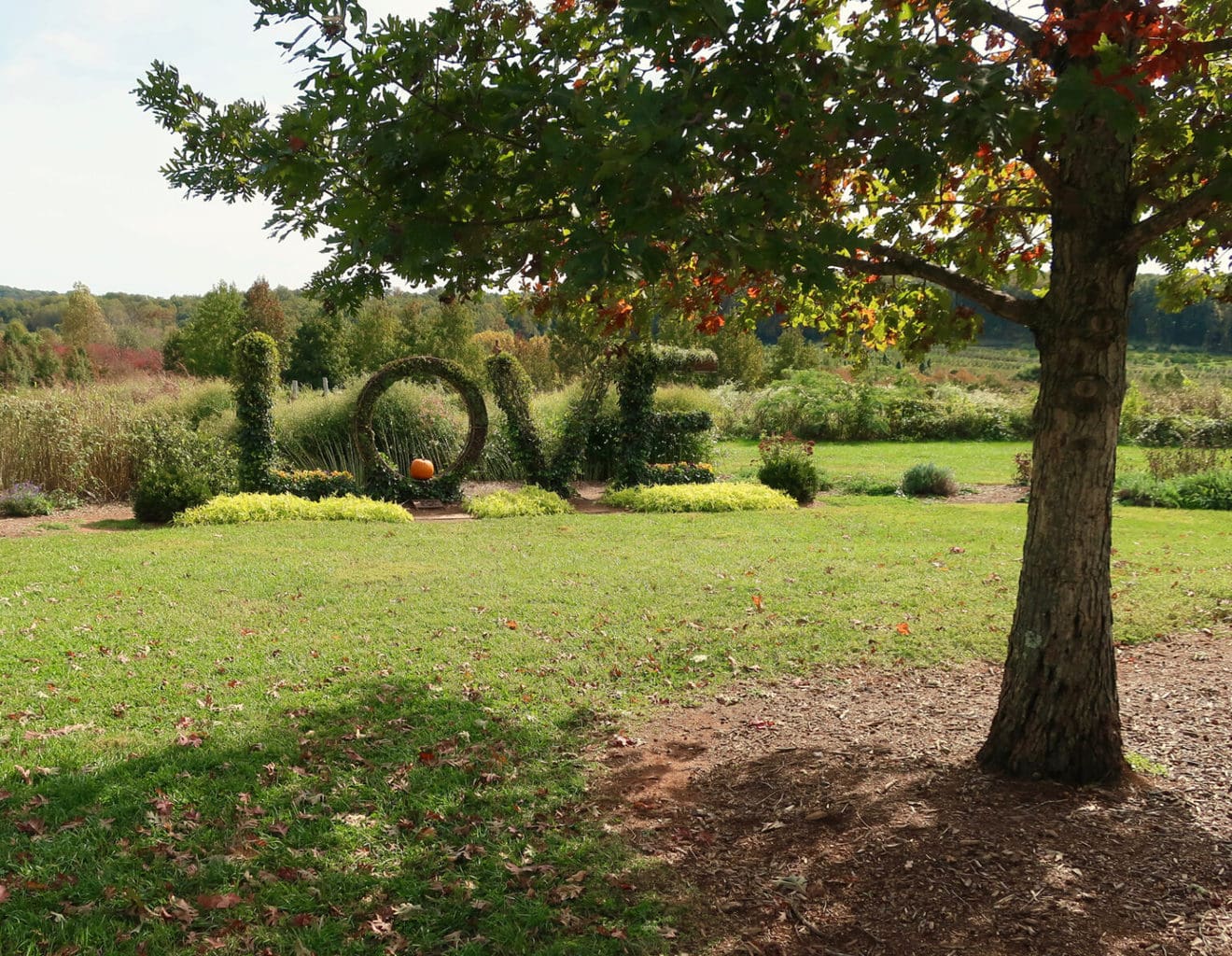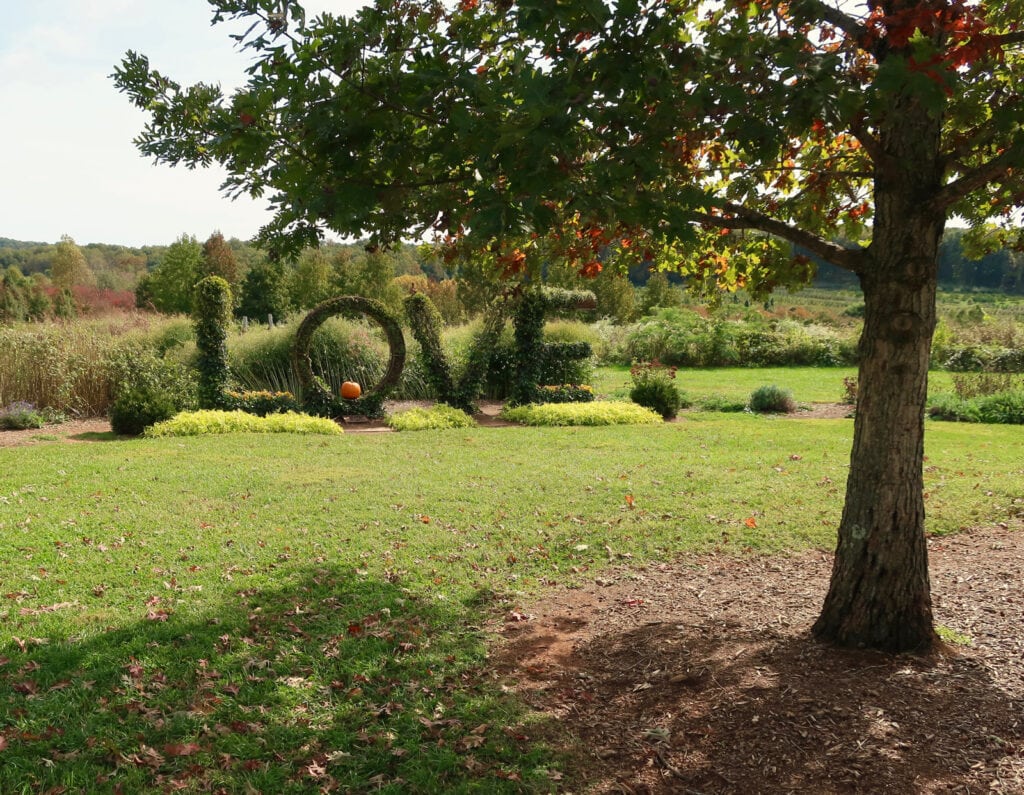 A mash-up of two family names – Gregg and Allen – Grelen began as a 50-acre cattle farm. Under the driving force of owners Dan and Leslie Gregg, the Market @ Grelen has since morphed into a 1,000 acre tree farm, plant nursery, café, garden shop, pick-your-own fruits, and wedding venue. It is stunning in every season, but particularly in autumn, when those trees are sheathed in color. No huge surprise that Grelen has become a popular wedding venue. The floral arrangements are already here!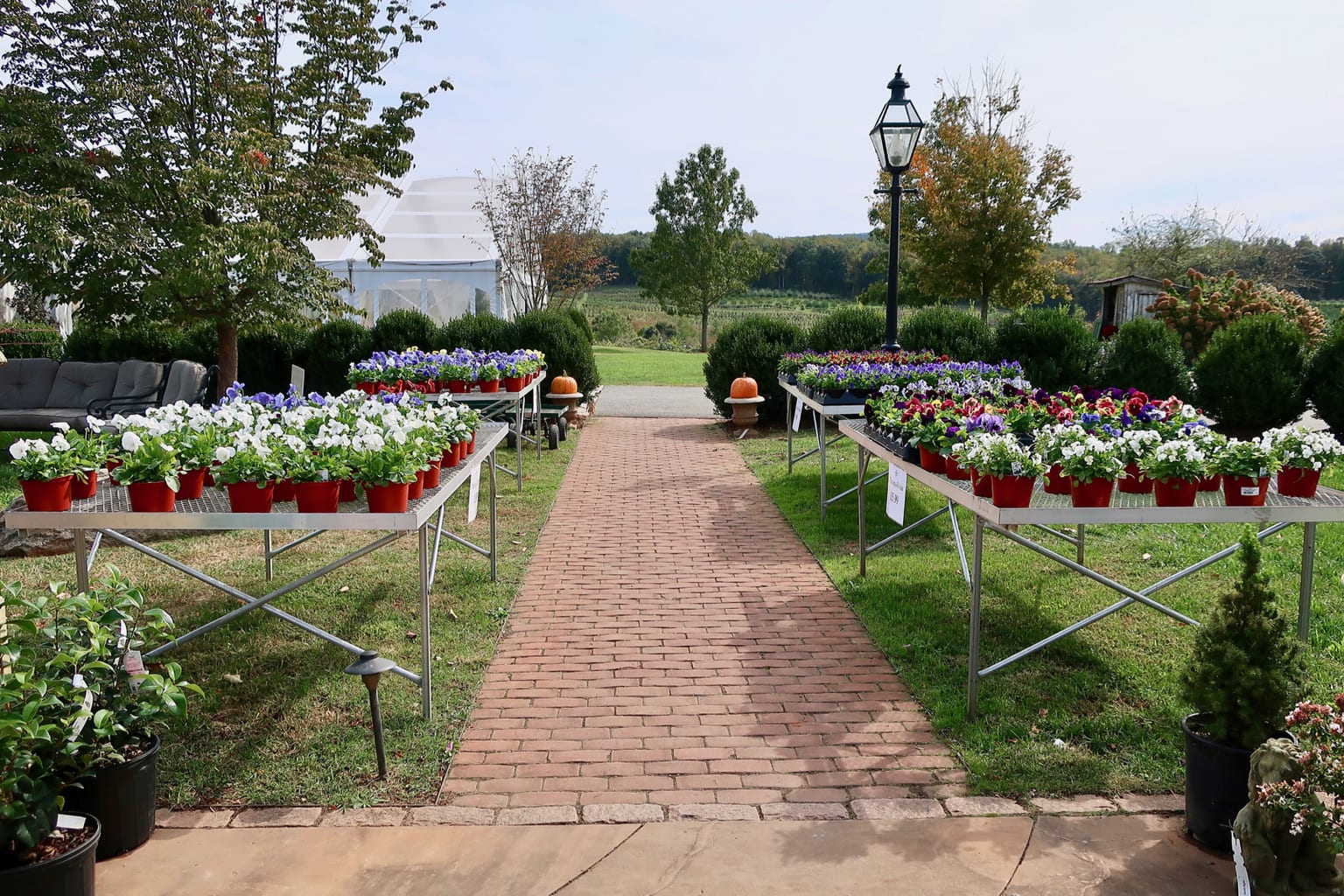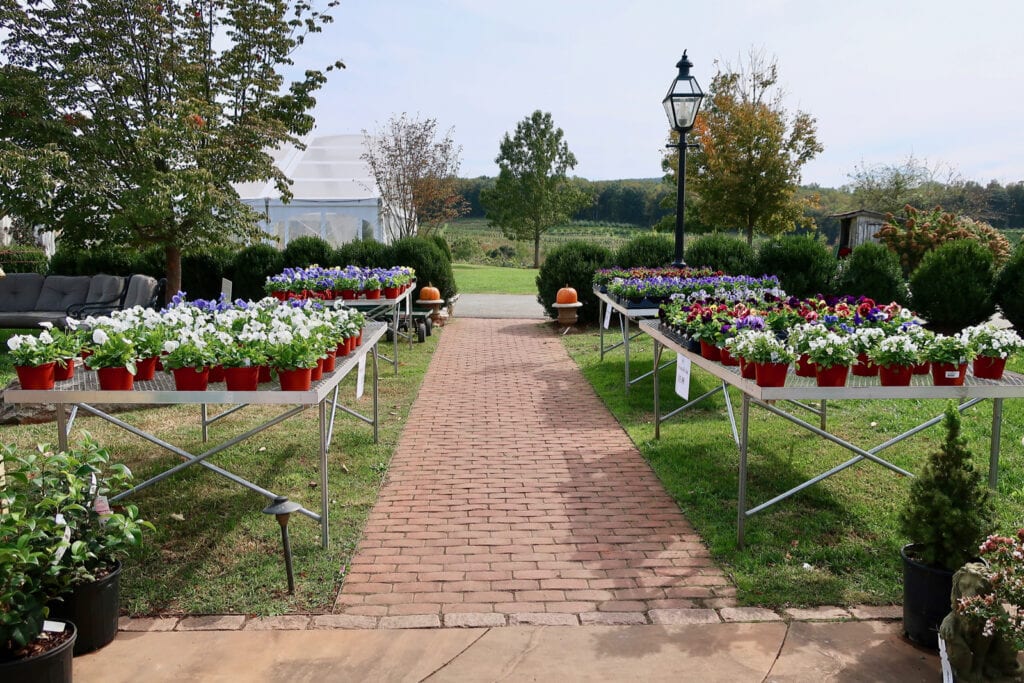 Those with a penchant for lunch al fresco (which everyone seems to be in Covid-times) The Market @ Grelen's Café excels – with the extra benefit of sweeping views of hills dotted with trees from an expansive patio. Try Panini Pimento Cheese ($10) – a smoked gouda pimento cheese dip on toasted marble rye, the Grelen Apple Salad ($5/$10), or other specials of the day.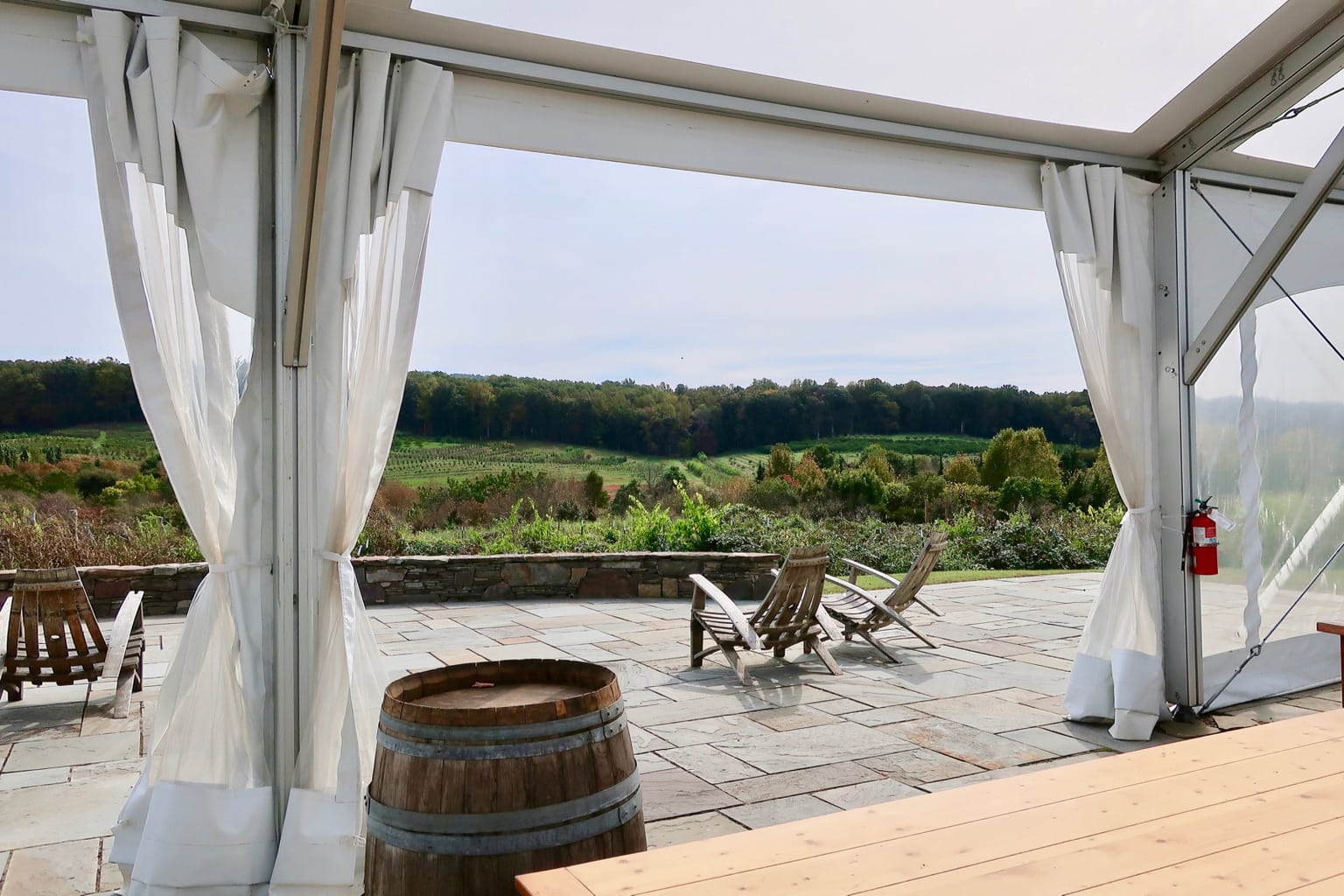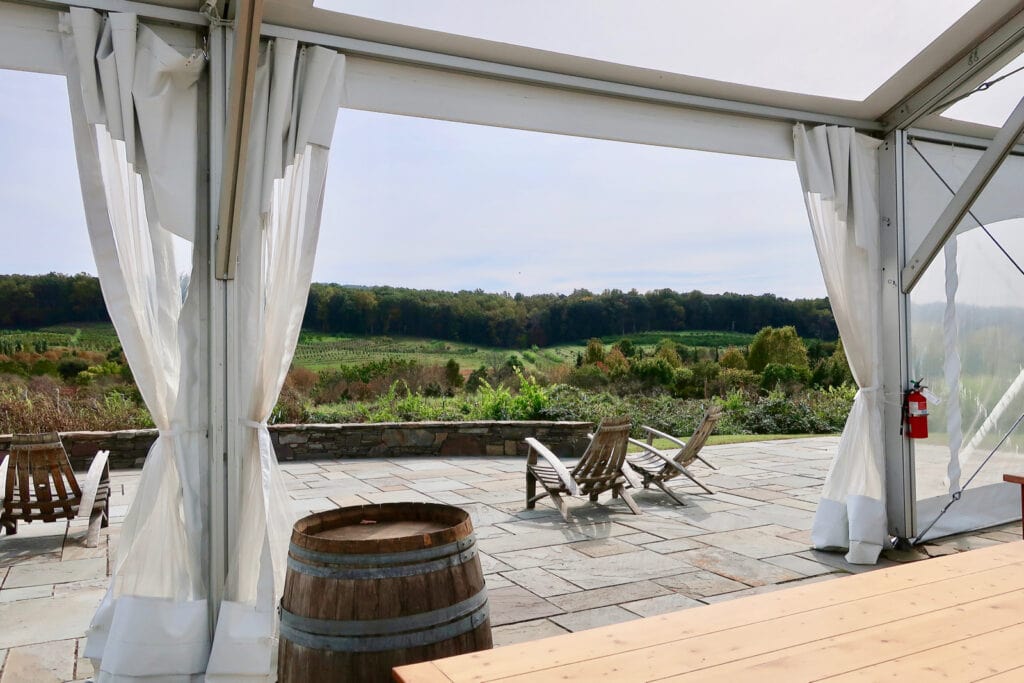 You can also wander among these trees (that will eventually be purchased and replanted at private homes) on five miles of hiking trails. Some circle the nursery. Another connects to James Madison's Montpelier 1.3 miles away. The grounds are dog friendly – you'll even find baggies for poop at the trailhead.
Even if you are not in the market for a tree, plan to poke around the shop at Grelen. Leslie has a keen eye for irreverent, timely, and unique gifts. I purchased a tea towel stamped with a phrase that fits my mood at the moment: "I'm not an Early Bird or a Night Owl. I'm some form of permanently exhausted pigeon."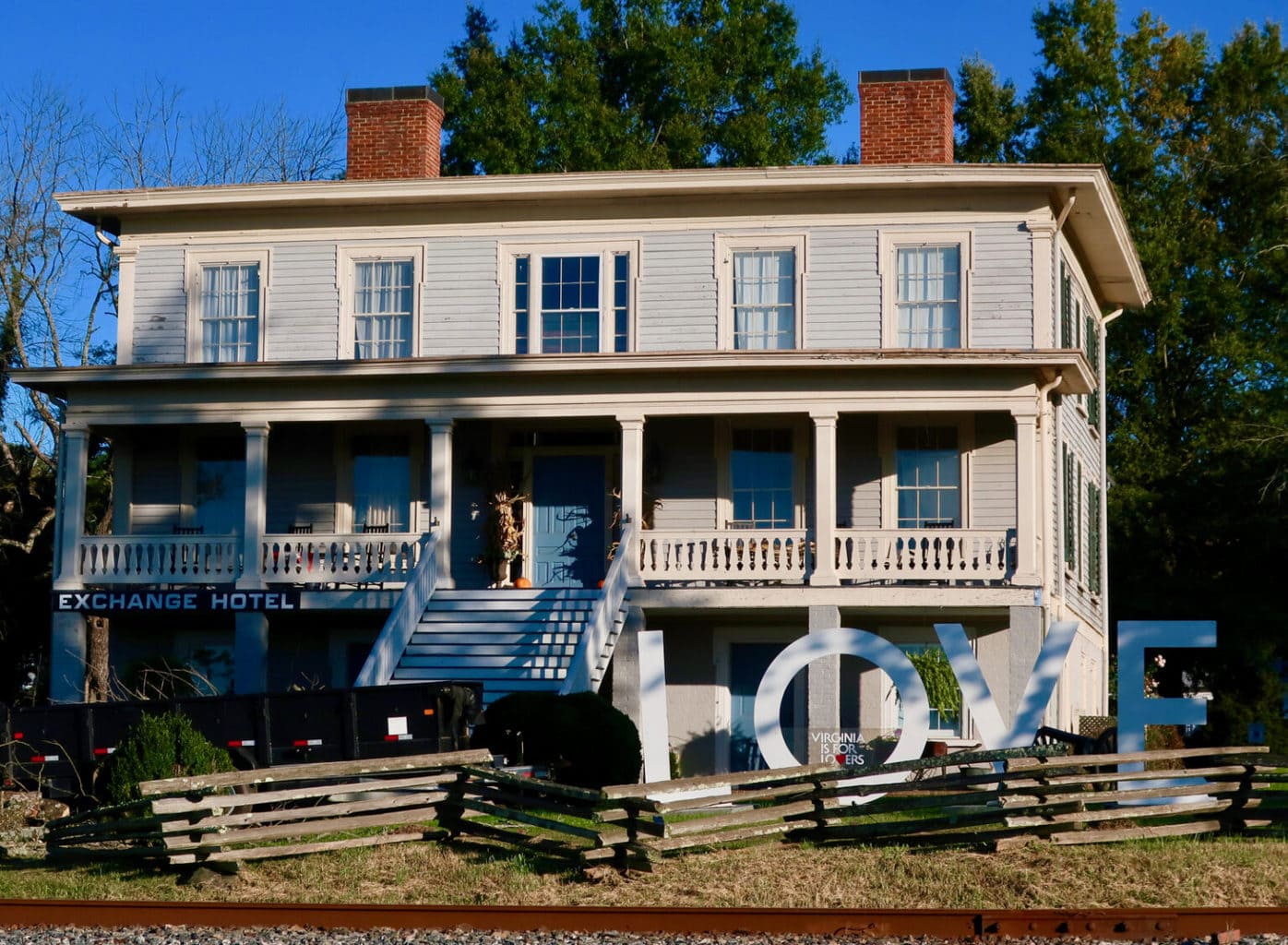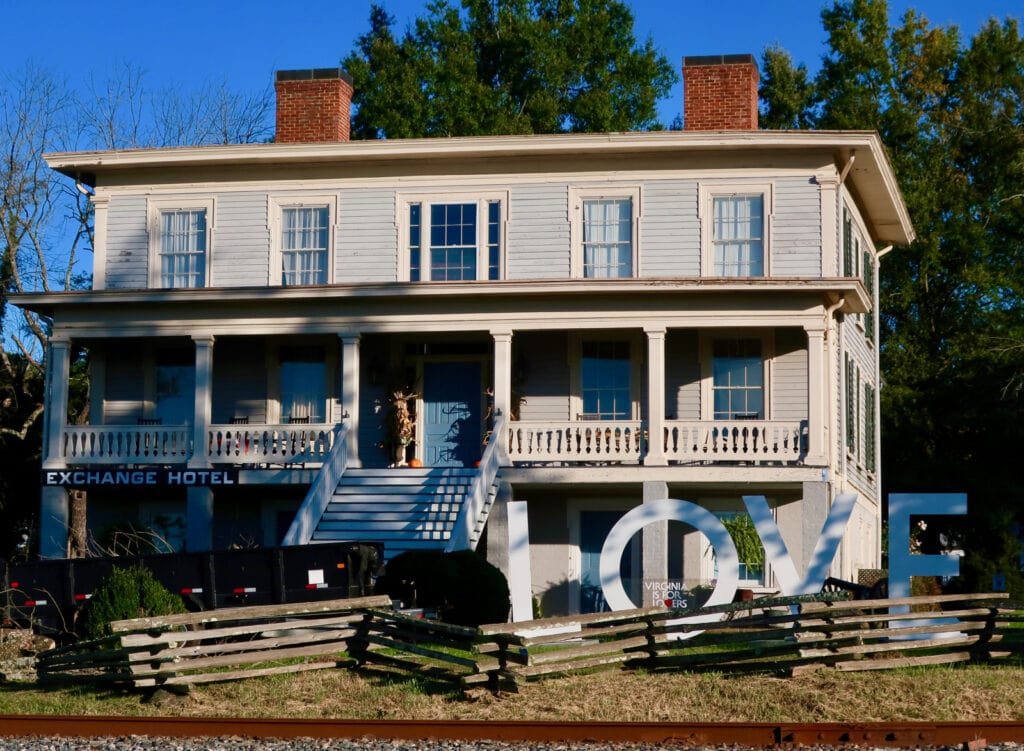 Built in 1860, over 70,000 wounded were treated in this Civil War era hotel, which barely served as a lodging before the war broke out. Now owned by Historic Gordonsville, the Museum is a draw for "people who like antiques, medical history, and ghosts," says a docent. Yep – this place is purportedly haunted by a woman named Ella, and Assistant Surgeon, Dr. A.E. Craghill.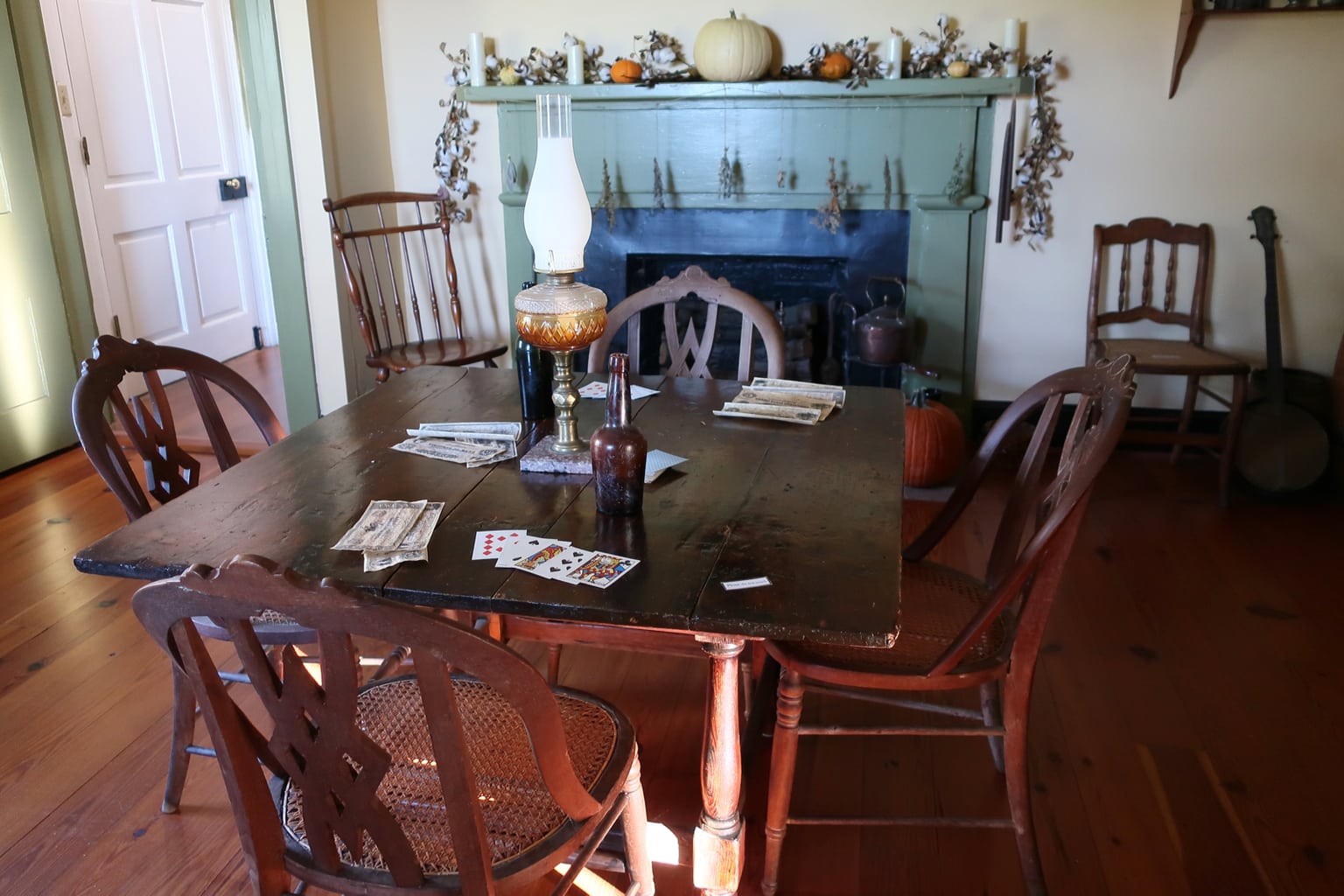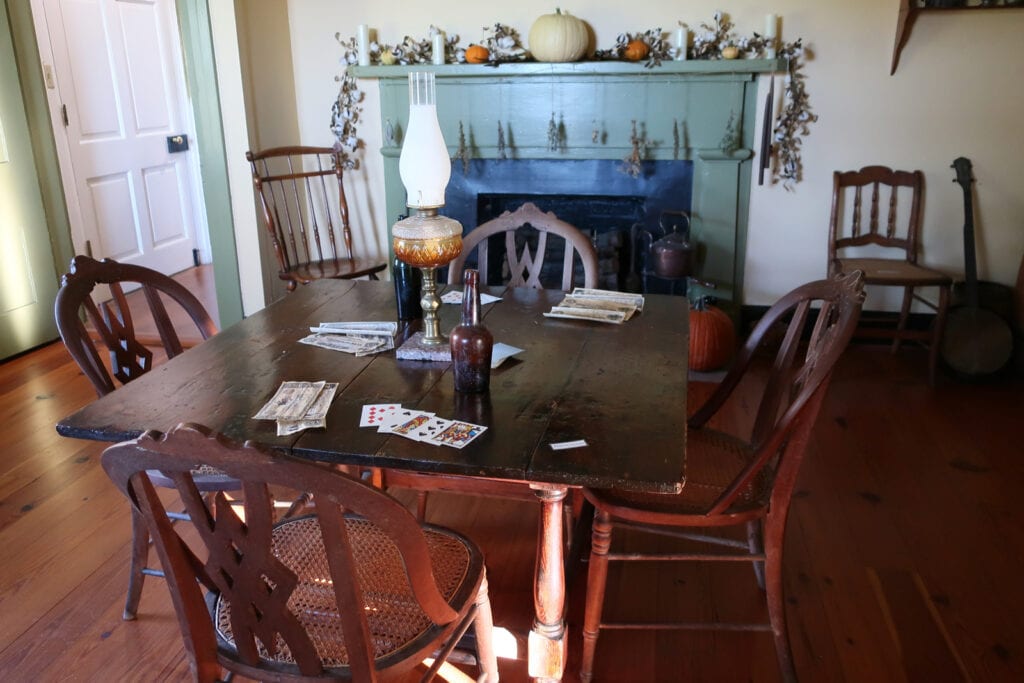 A tour of rooms on three floors is a trip through time. In fact, the rooms serve as a timeline of the building. Start with the history of Gordonsville before walking into the men's Tavern Room, the women's parlor, the Medical Room (containing a Civil War ambulance), and into a hotel room that became a hospital room. It's in this room that most of the paranormal activity occurs, say those who work here.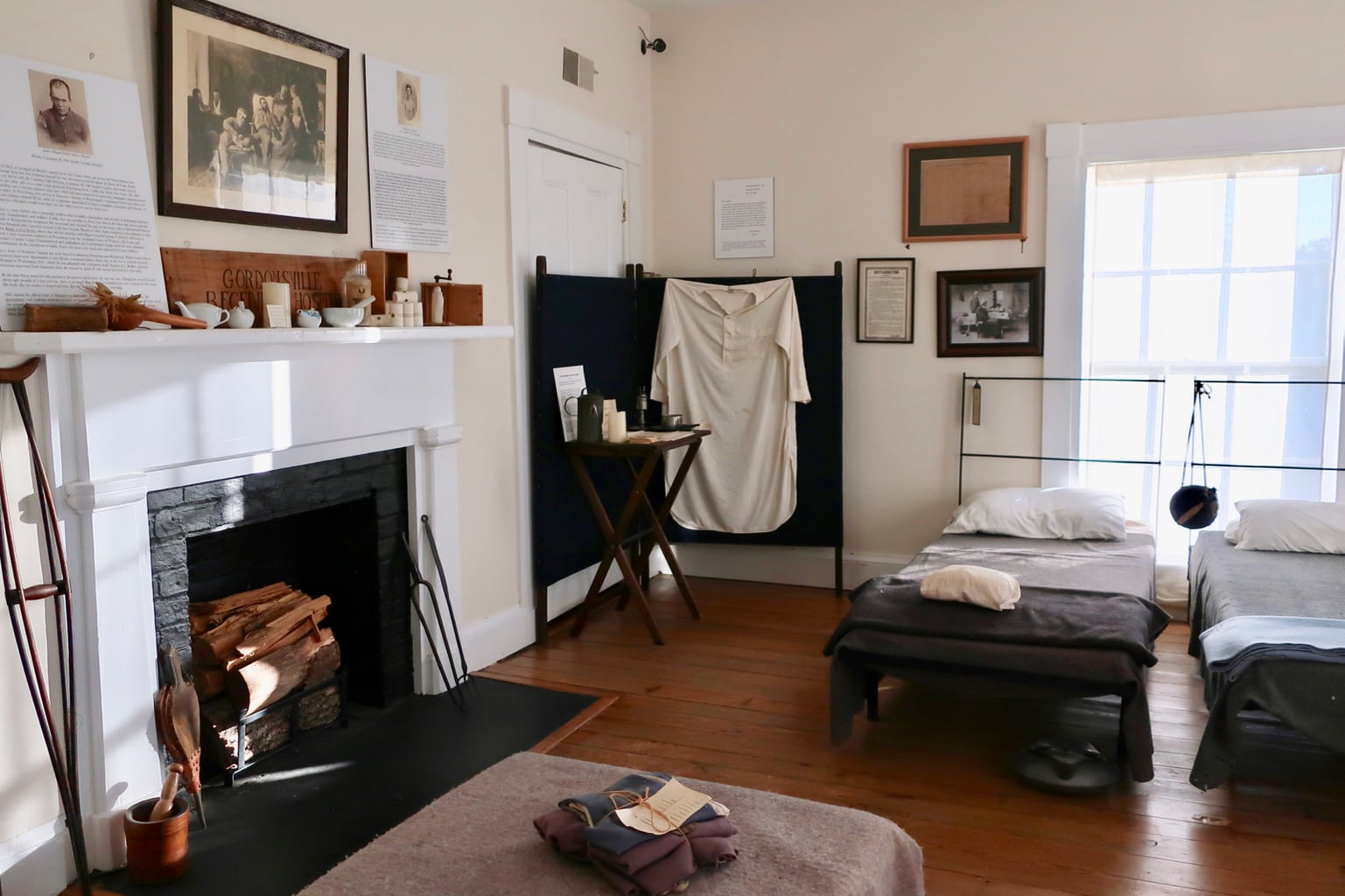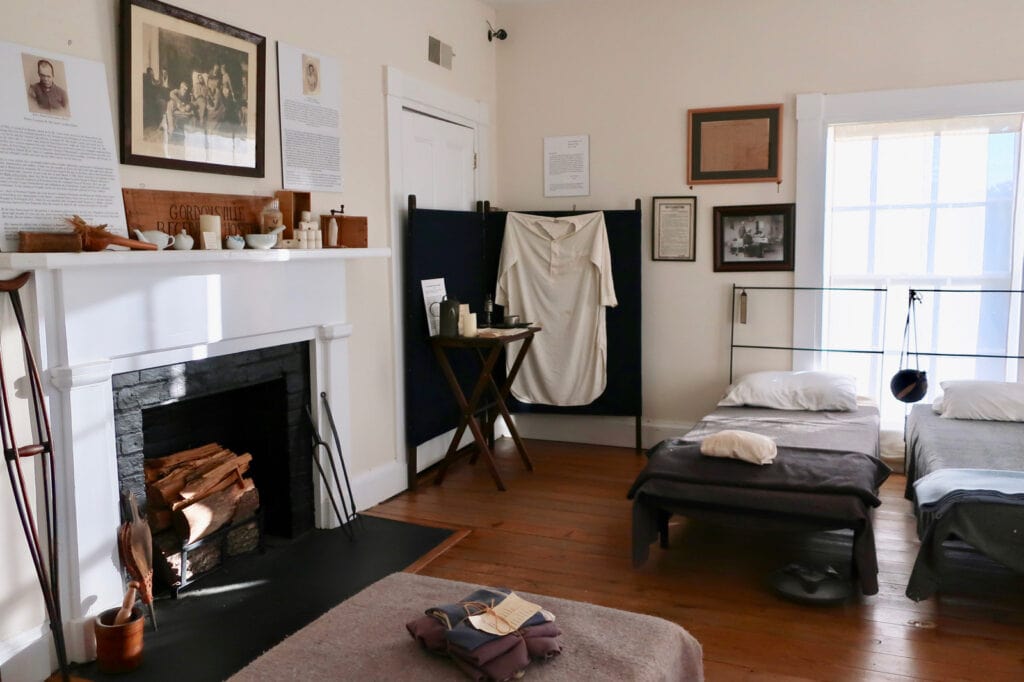 Peruse exhibits about the Sisters of Charity who administered to the sick and dying. Read about the Secret Service who guarded Confederate President Jefferson Davis. And learn of the Freedmen's Bureau, where newly freed slaves came for education and legal aid.
Over 250 free Blacks registered for assistance here in 1867. In most cases, manumitted slaves were thrown out of the only home they'd ever known, without a place to go, or money to live. To address this, some entrepreneurial women cooked platters of fried chicken that they'd take to the trains running right outside the building, and sell these golden morsels to passengers through the windows. Gordonsville became known far and wide as the "fried chicken leg center of the universe." Open Tues-Sat. 10-4, $12 adults, $5 kids.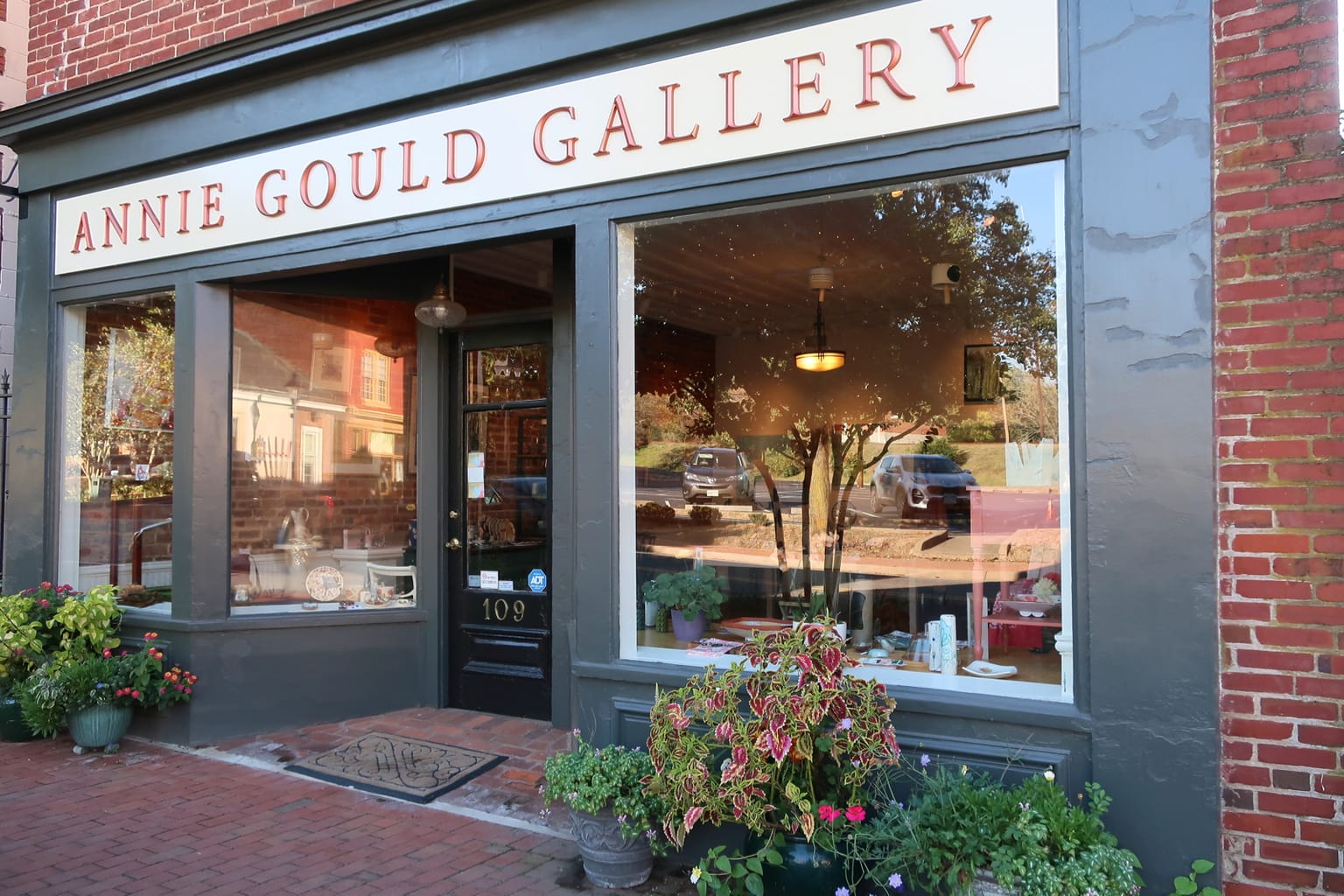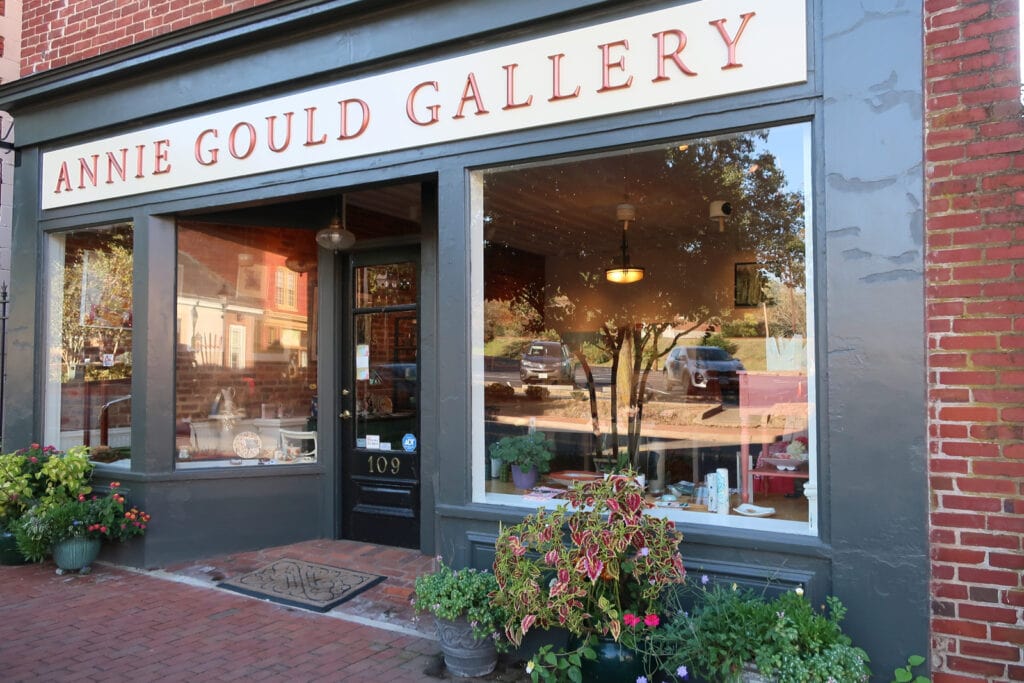 SHOP: Main Street Gordonsville
It's a lovely 15 minute drive (9 miles) from Orange to Gordonsville – a well-heeled town where fancy intersects with artsy, and all are welcome in main street shops. I was immediately sold on the array of non-touristy establishments where you're likely to find things you'd never see anywhere else. My favorites: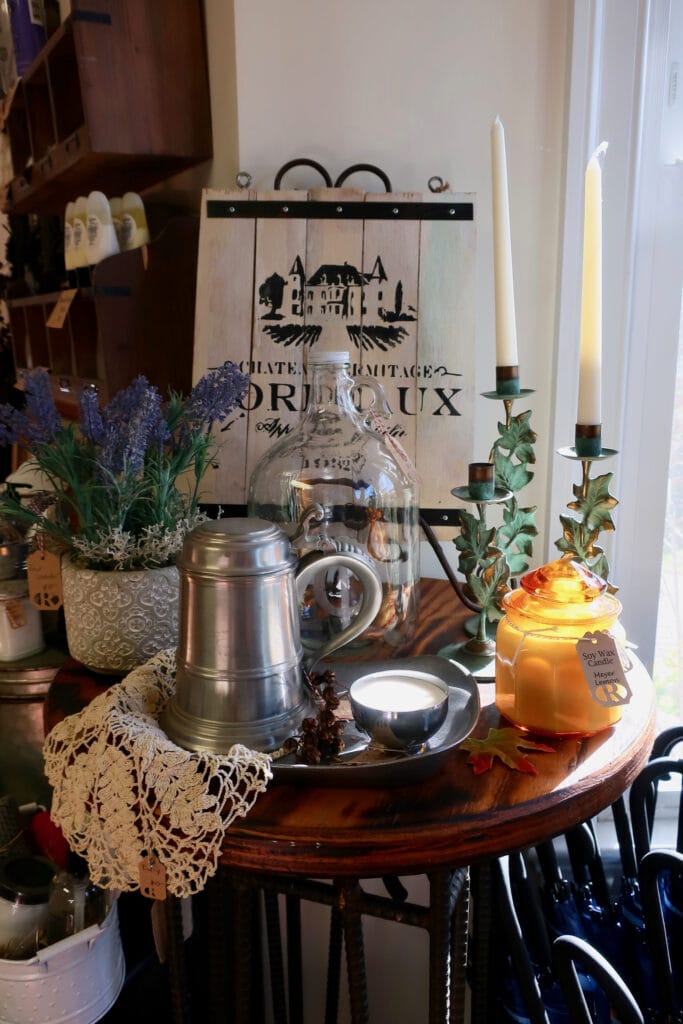 Find up-cycled jewelry, sculpted ironwork, and homemade body lotions – most created on-site by owners Adam and Kathryn. They sign and date one of a kind wall art, use only American rebar to fashion barstools, tables and obelisks, plus, they've got a full-service clock, watch, and antique restoration biz as well.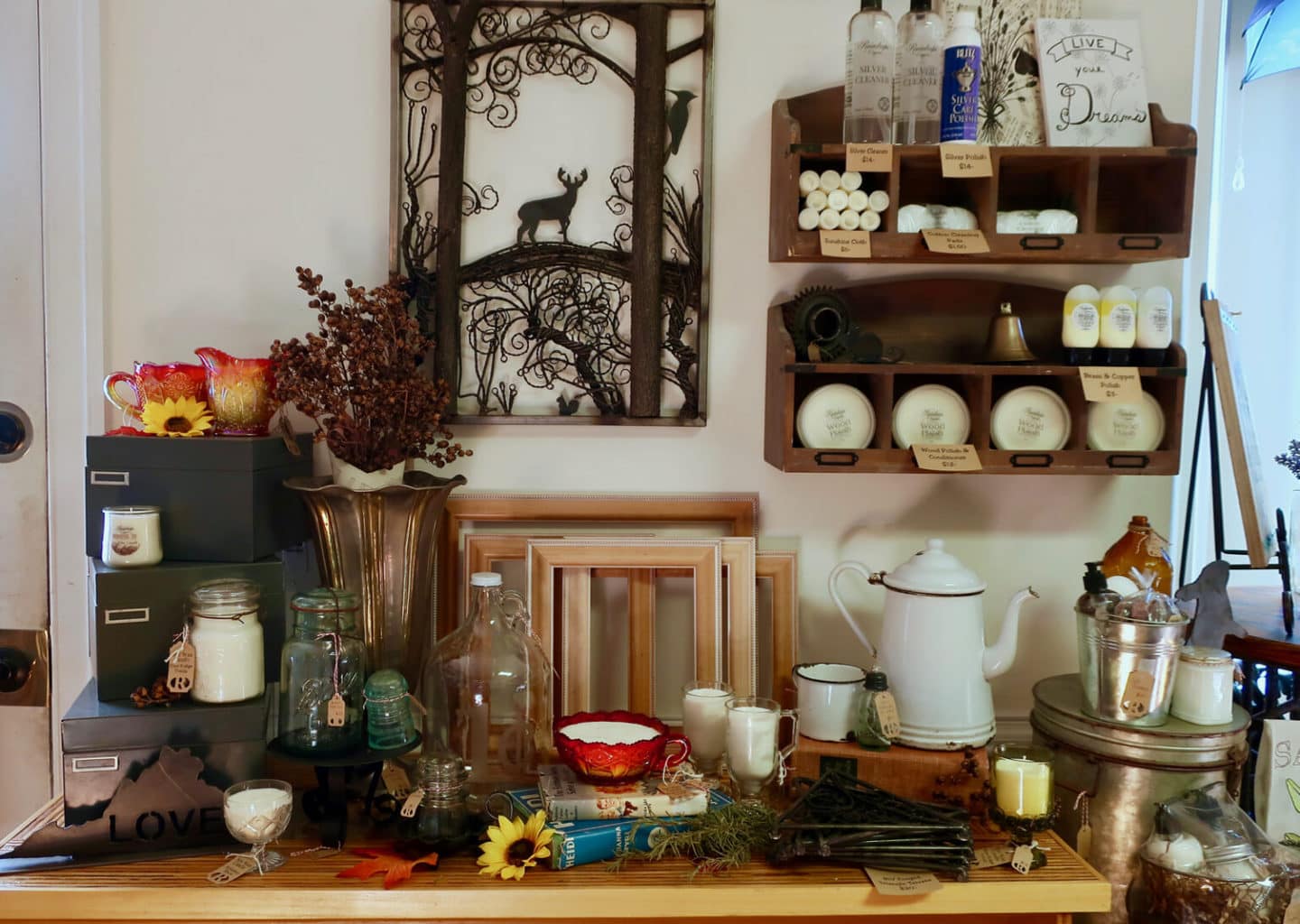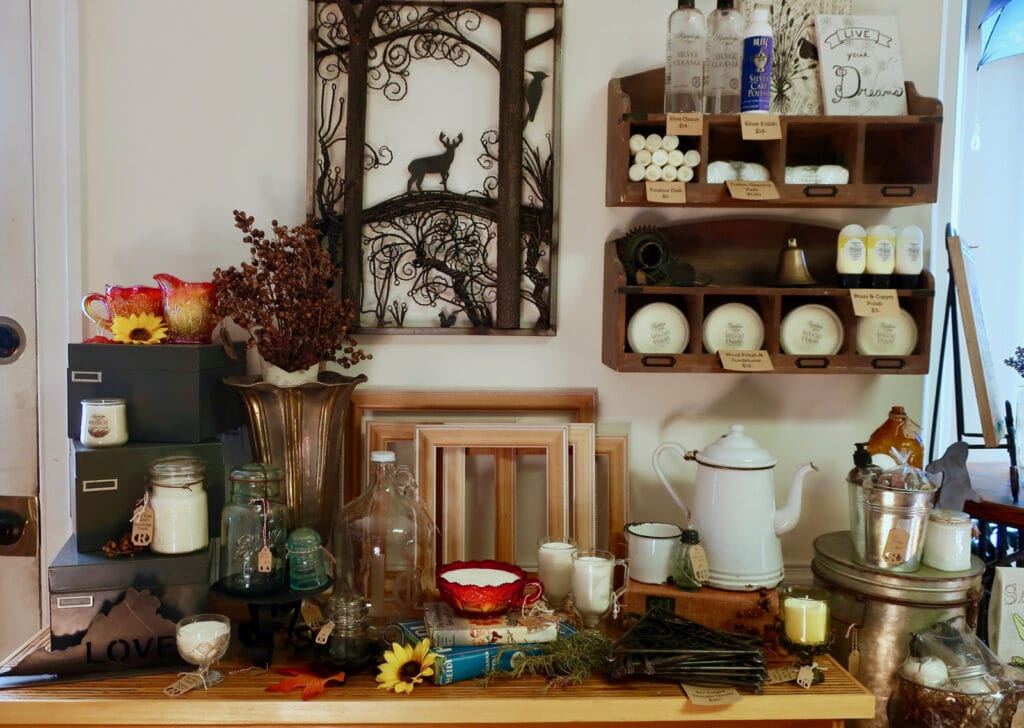 Their hand-cut custom signs can be found all over this region, including at Iron Pipe Alewerks and in LOVEworks signs. What appears to be a cluttered antique store from outside is a treasure trove of unique home goods within.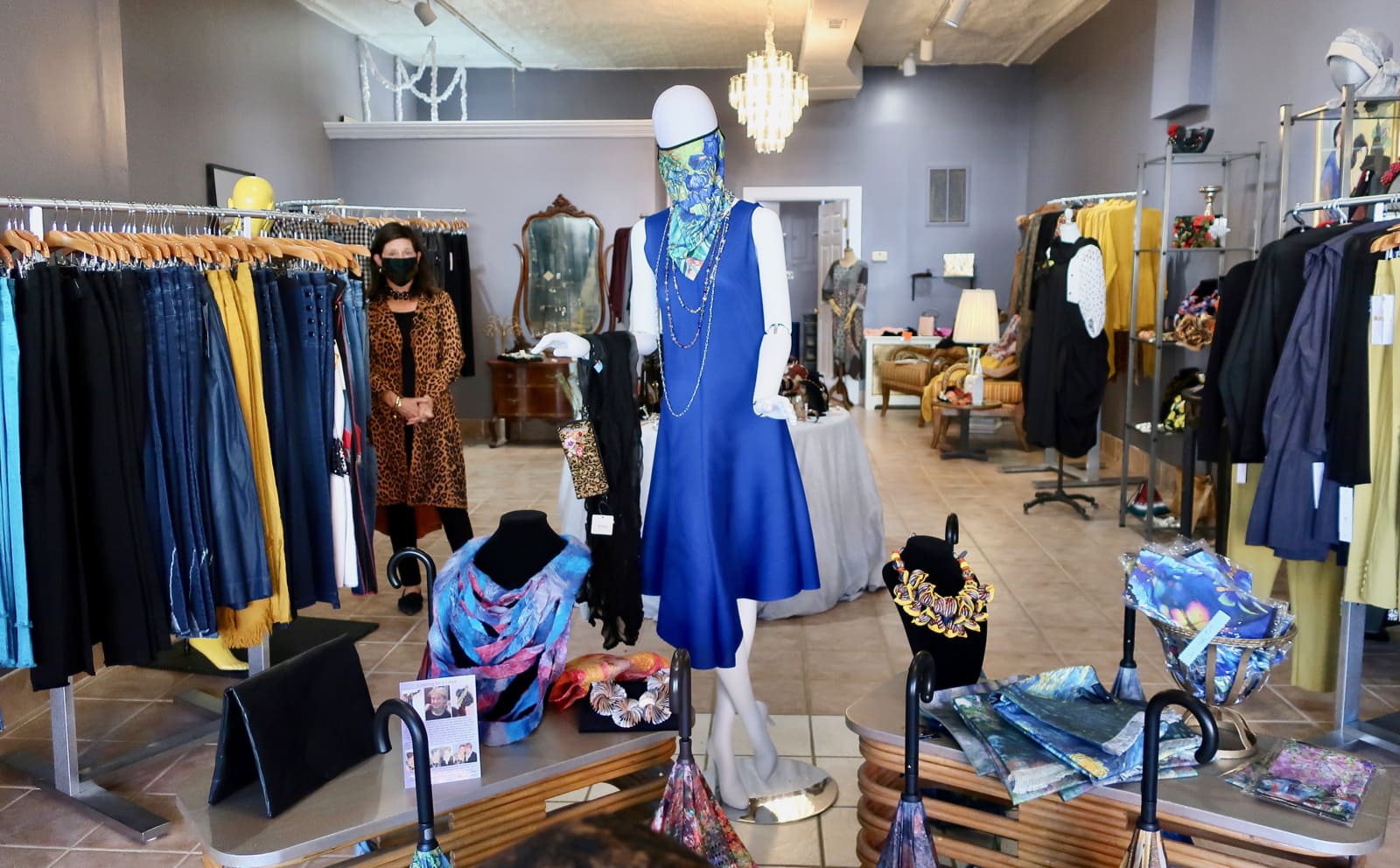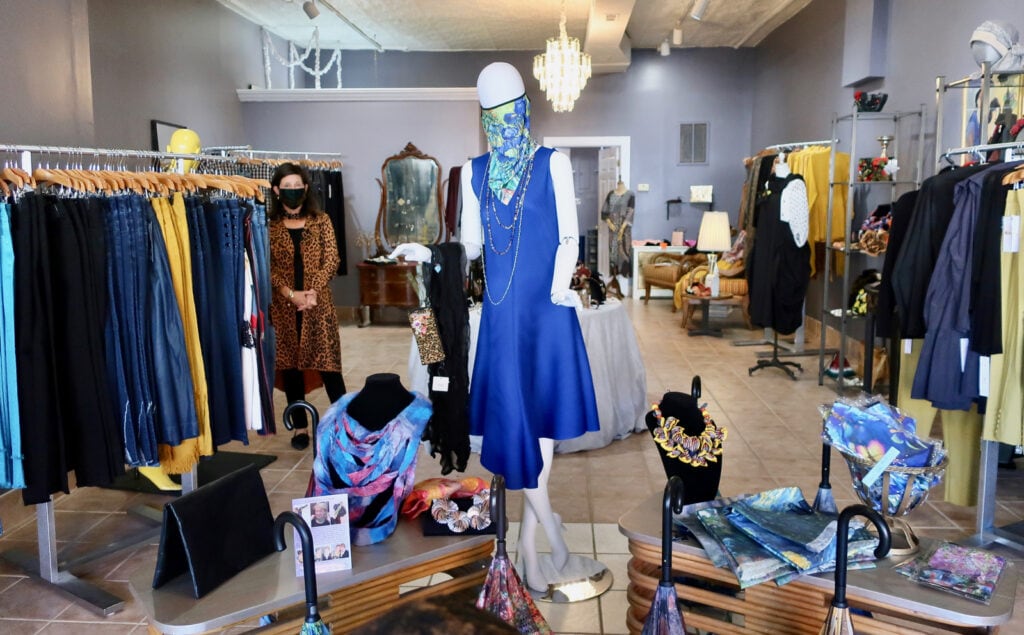 POSH Ladies Boutique
I was surprised to discover this trend-forward women's fashion shop in small town Virginia. But Gordonsville surprised me on many levels.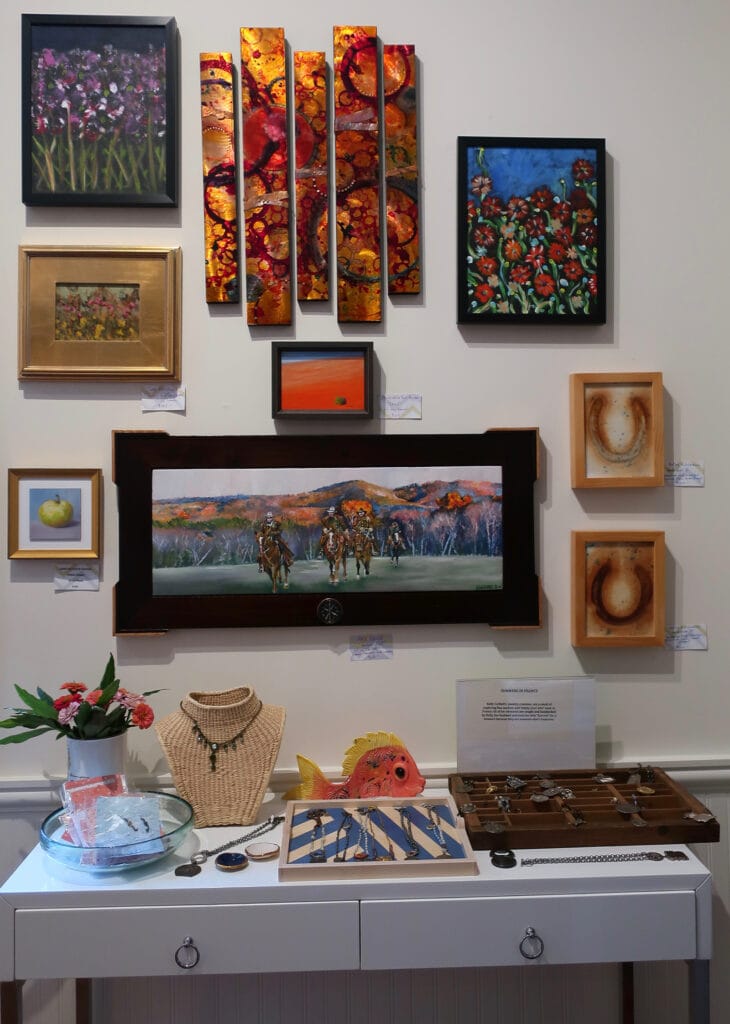 Gould represents 50 artists in this flourishing gallery situated in one of the oldest buildings in town. The inspired paintings, pottery, ceramics, vintage accessories, and other art in almost every medium testifies to a multi-talented group of artists. For some reason candlesticks are flying out the door. "People are focusing on home-décor during Covid," says Gould.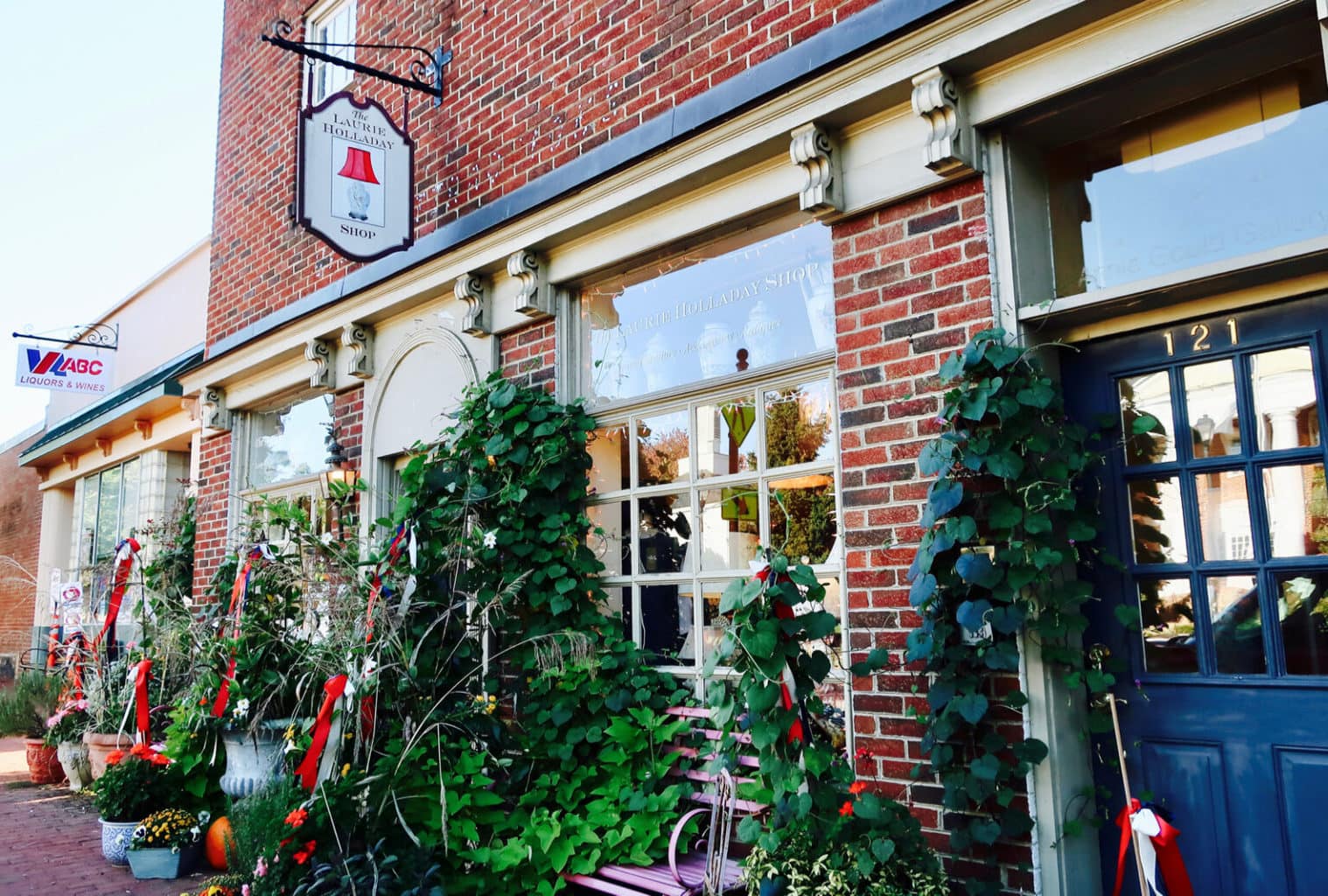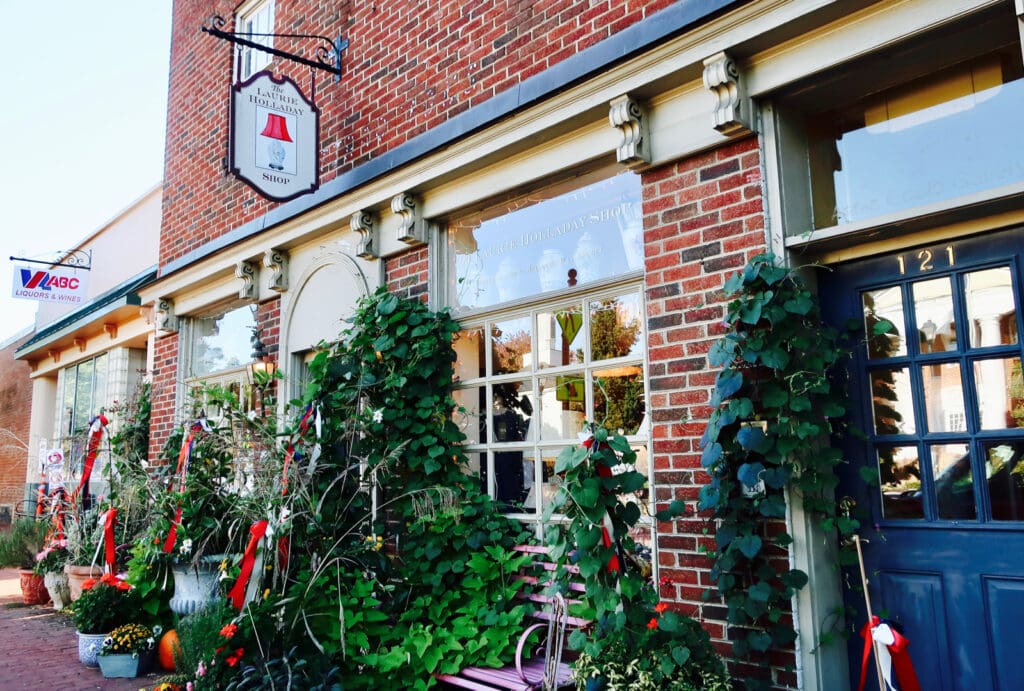 This eclectic, classic shop has "a little bit of everything," and wouldn't look out of place in, say, Greenwich CT. Holladay's father owned a furniture and interior design shop in Princeton NJ for 75 years, which apparently informed her aesthetic.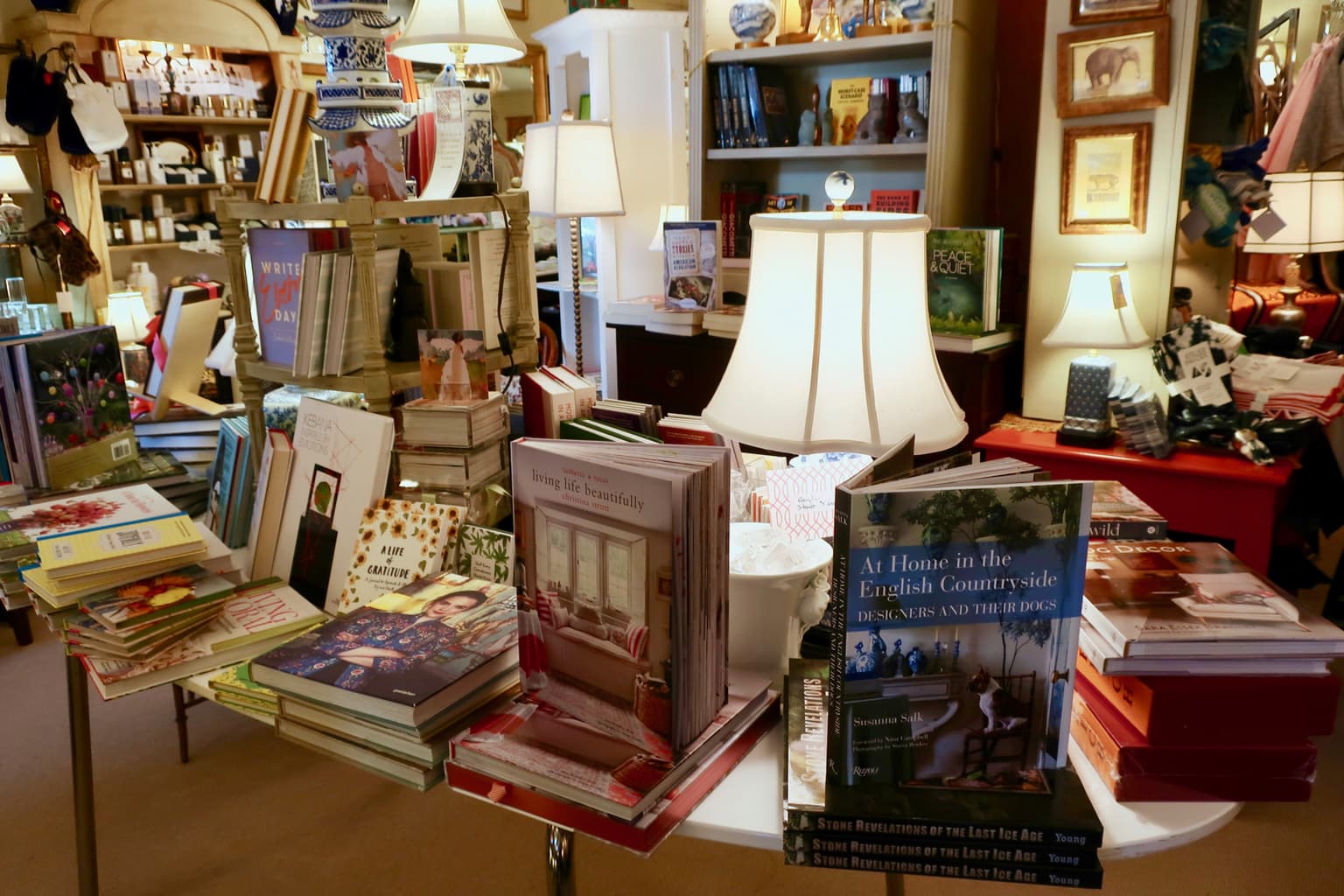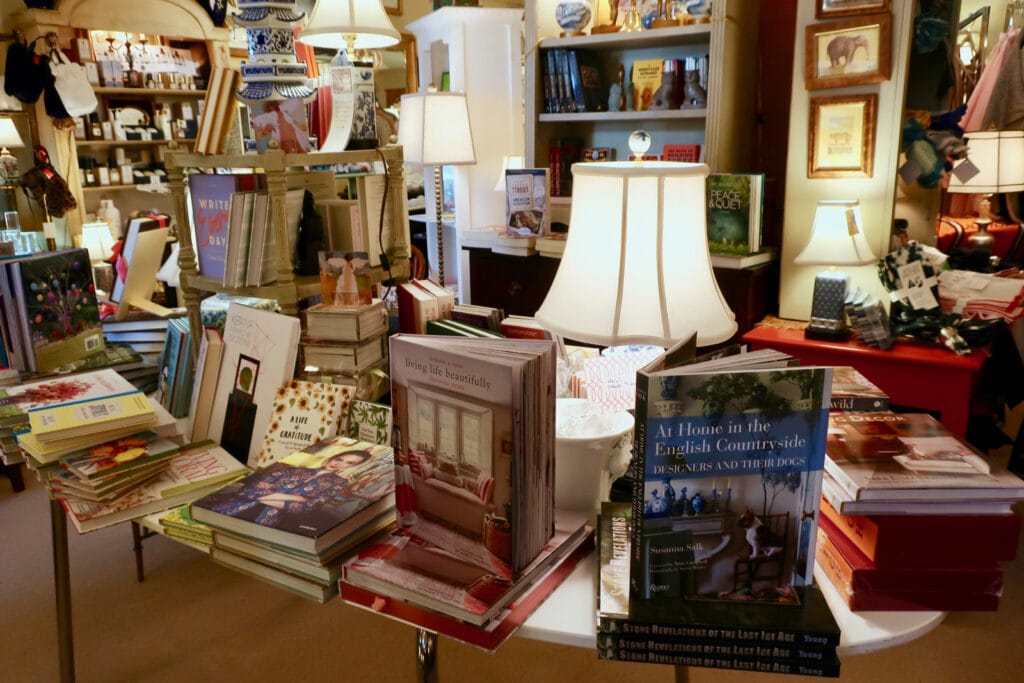 Find quality and distinctive gifts, lampshades, clothing, food, jewelry, Caswell-Massey products, tableware, wallpaper, and textiles.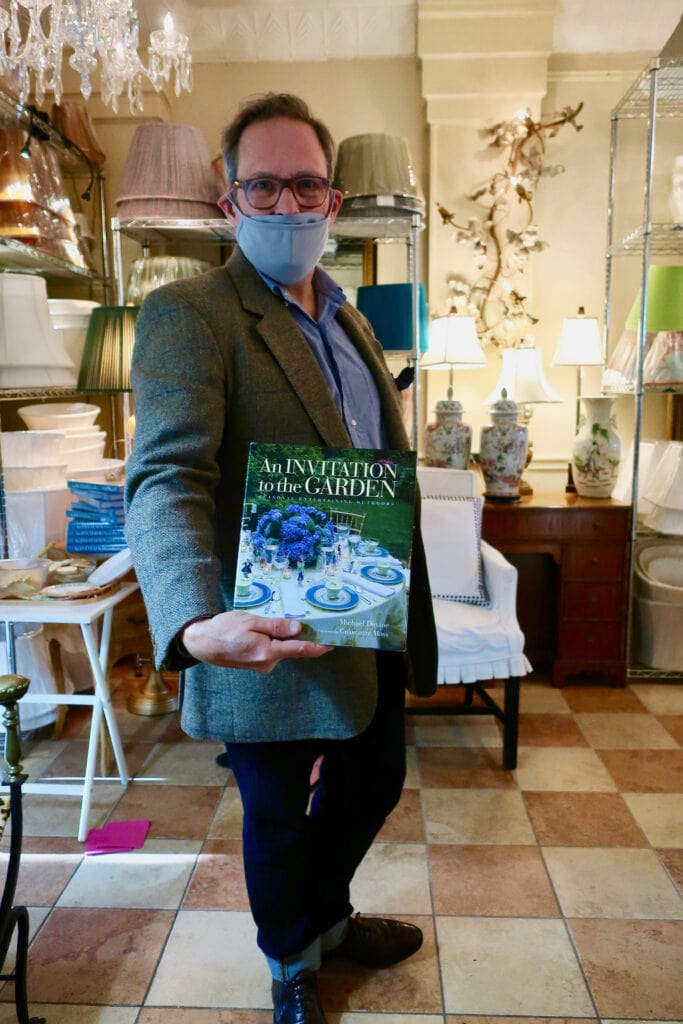 Every so often, Holladay hosts a "get to know the designer" event (with wine and cheese). I was lucky enough to meet Michael Devine, author of An Invitation to the Garden – Seasonal Entertaining Outdoors, which, in this moment in time, has become the entertaining book of the Covid-era.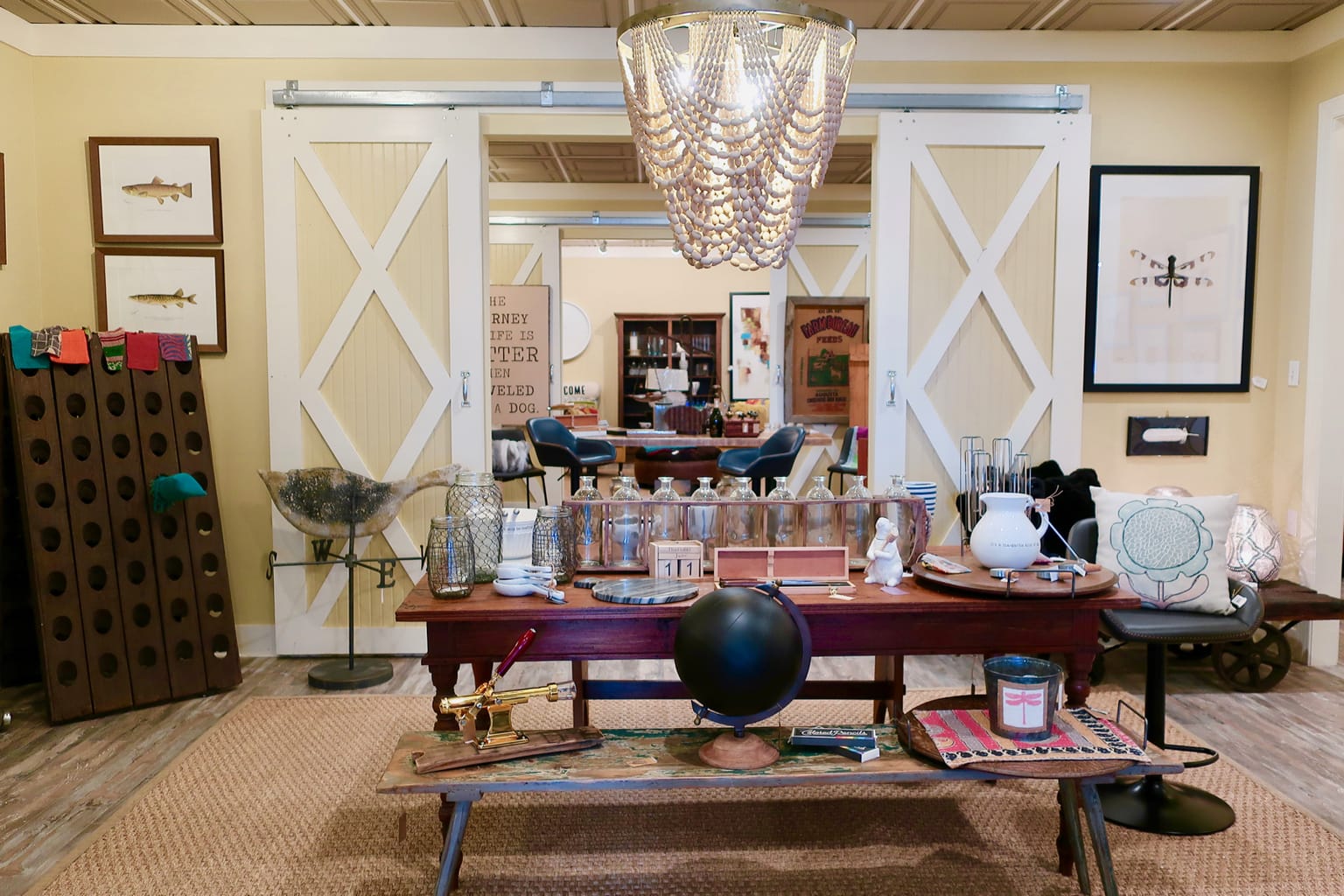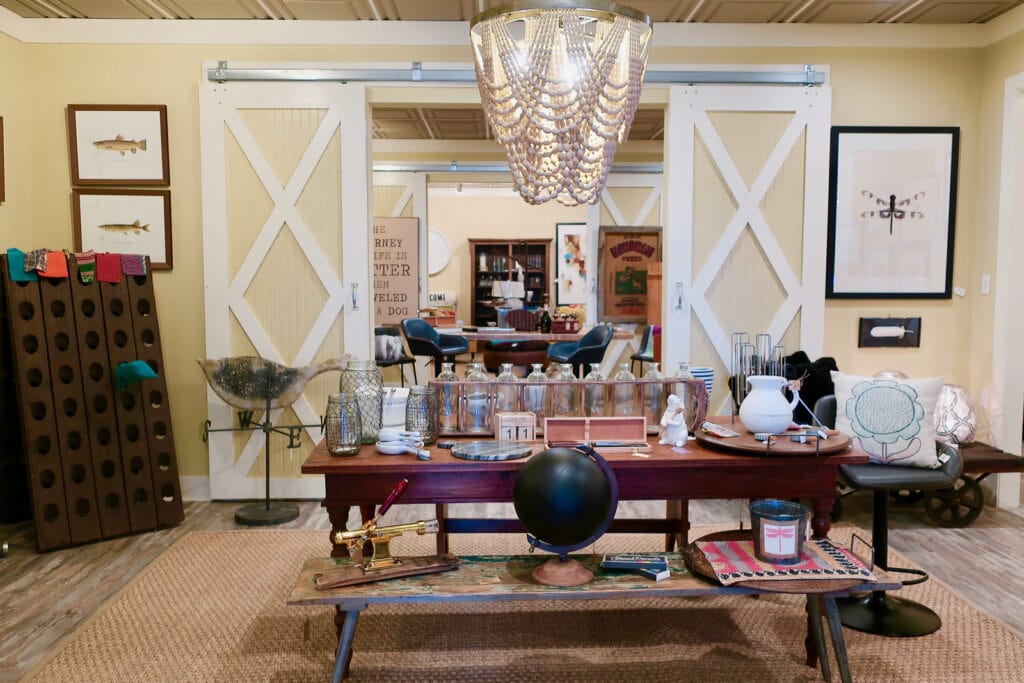 SHOP/ORANGE:
This is the kind of place you might stumble on in SoHo NYC: clever, unique furnishings, lamps, art, and clothing. Objects on Main is eclectic and modern and witty in ways I'd never expect out of my New York area bubble.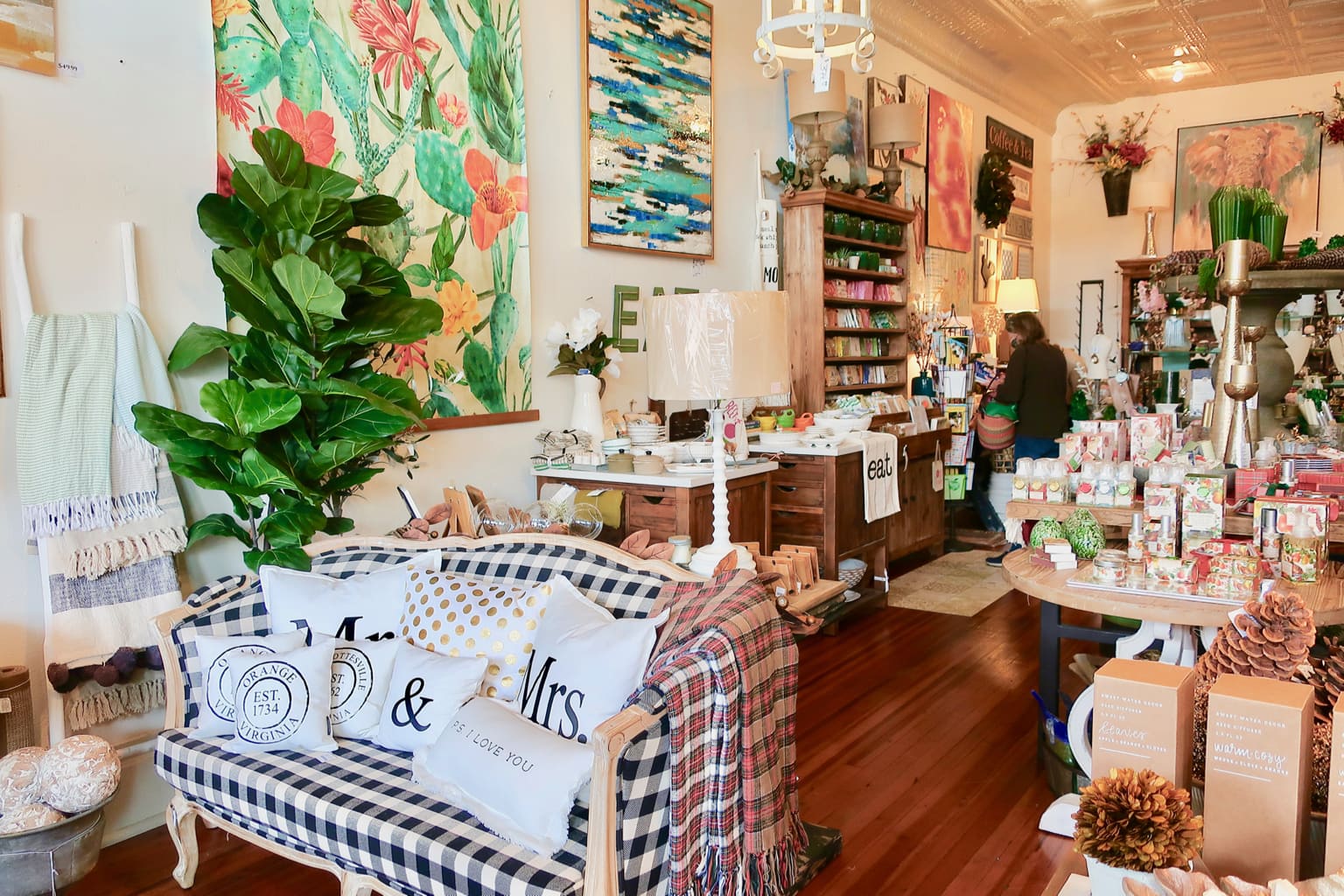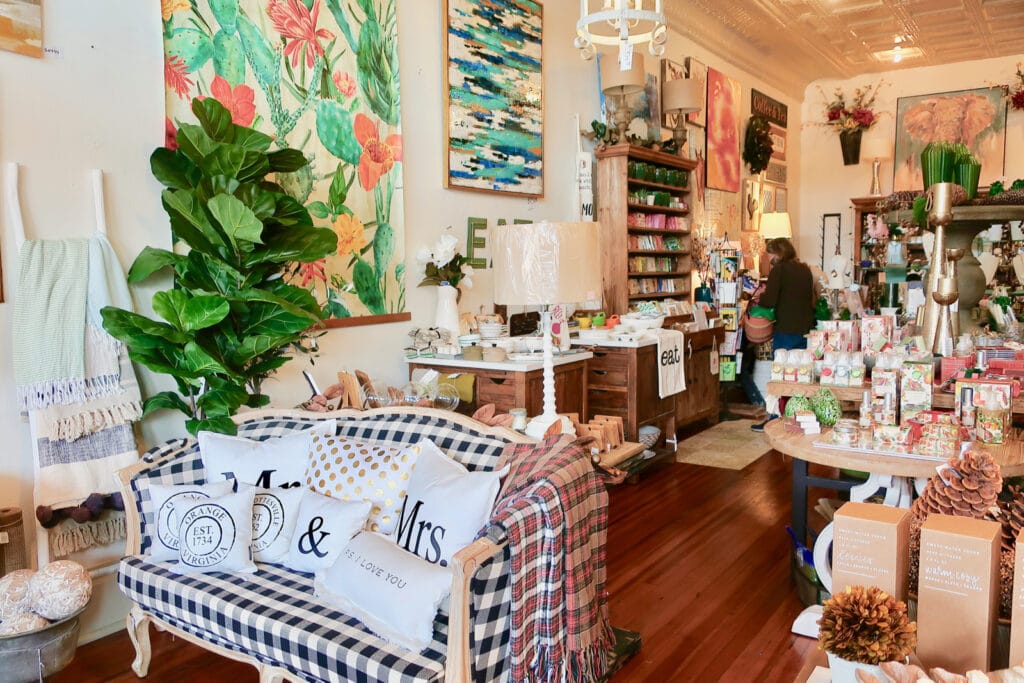 This in-town outpost of Market @ Grelen hits the spot for wedding, baby, and pet gifts. Plus, everything Orange VA for town pride.
Best Restaurants in Orange County VA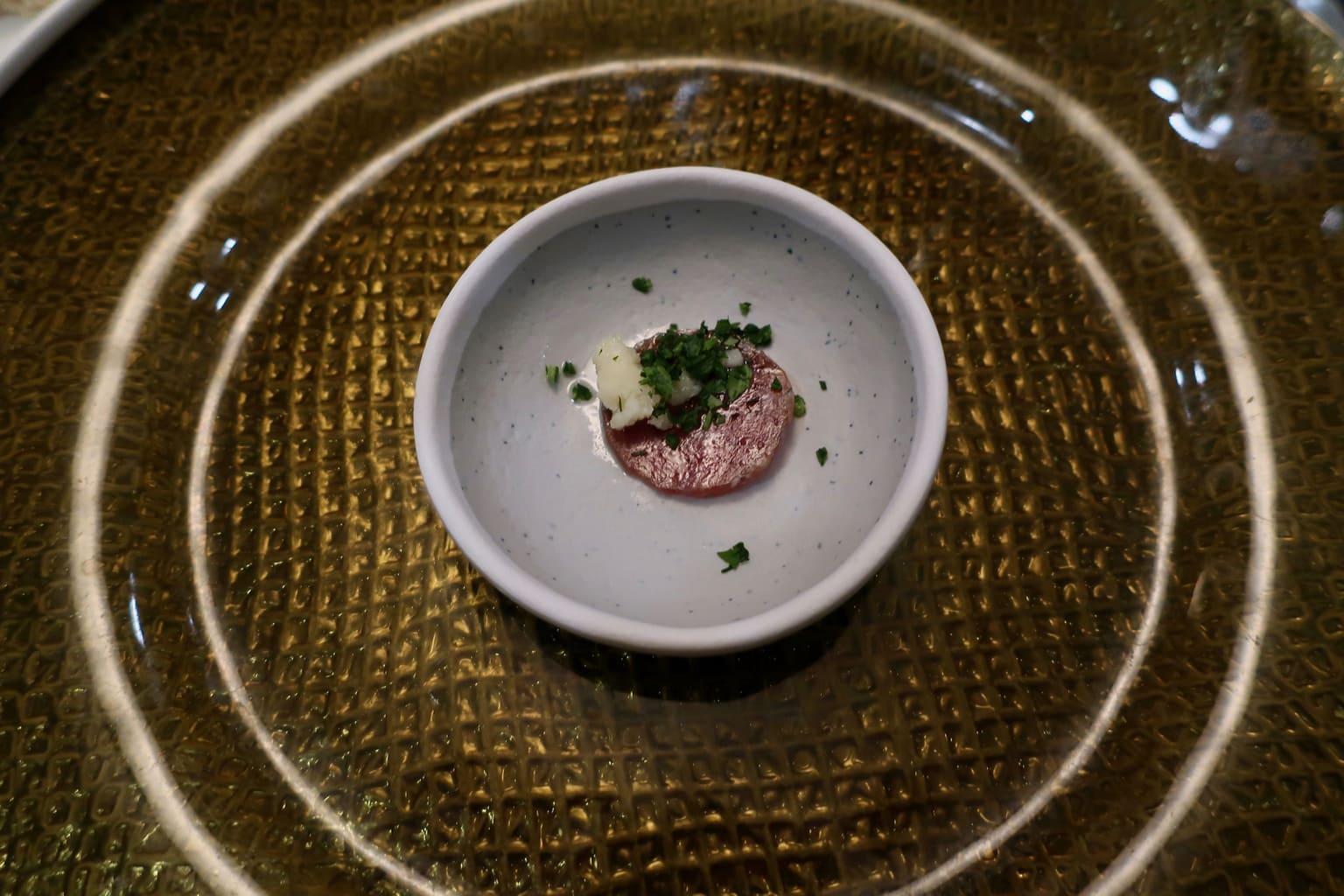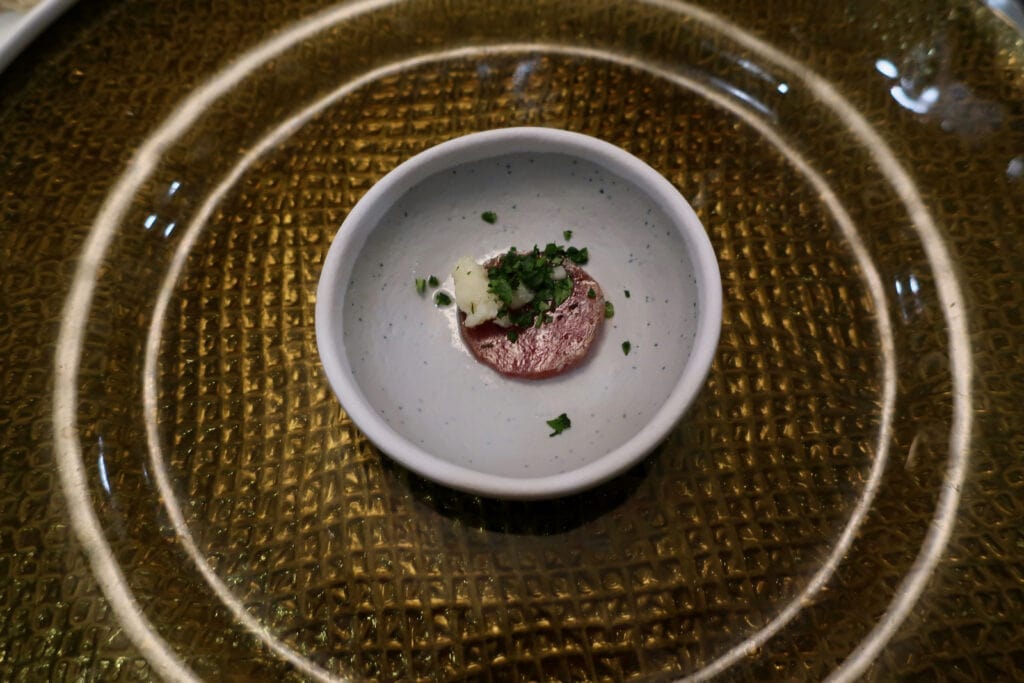 For a fine-dining splurge, you won't find better in Orange County VA. Yes, it's special. Yes, the food is astounding. And service? Over the top – not only in attention, but in graciousness and warmth.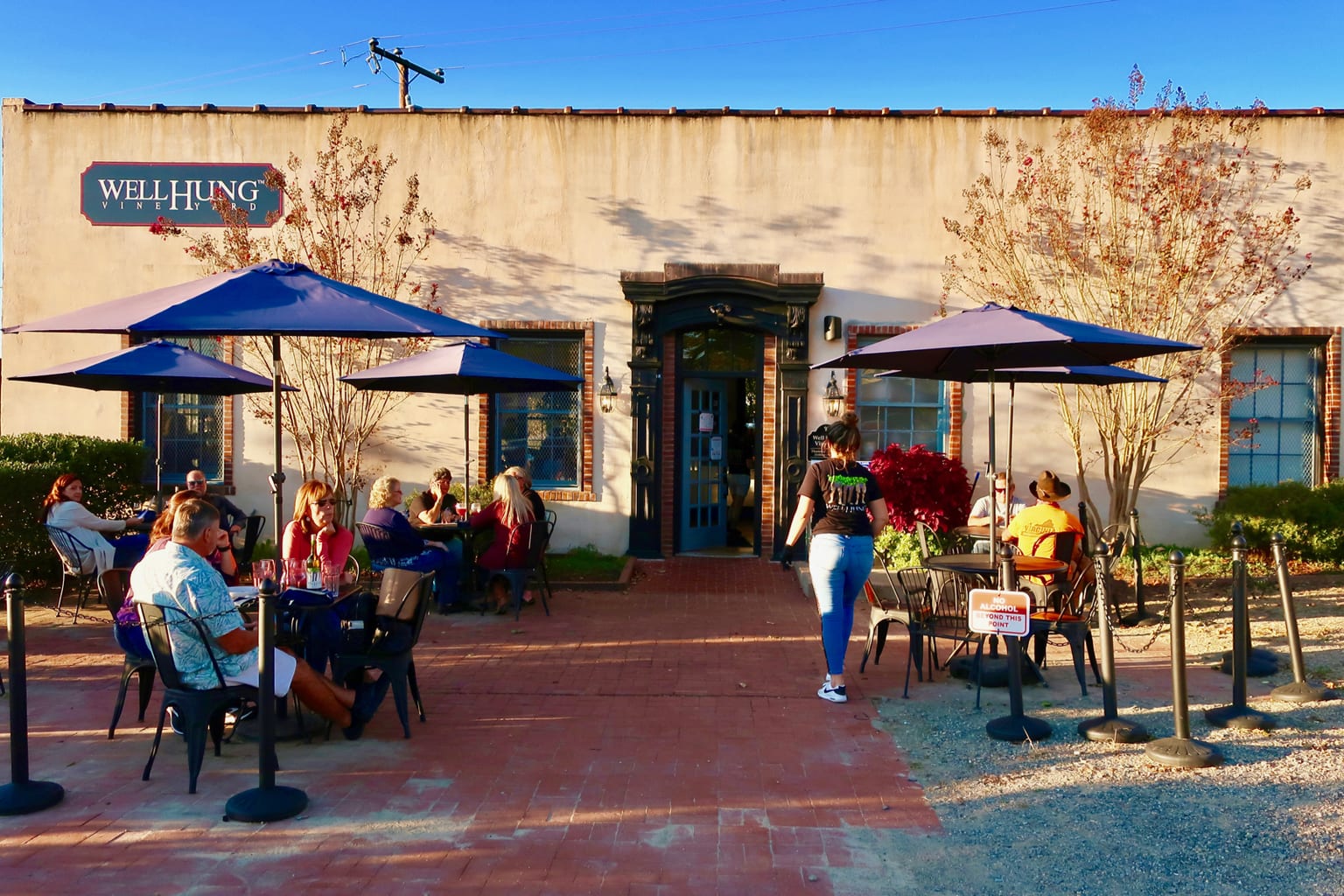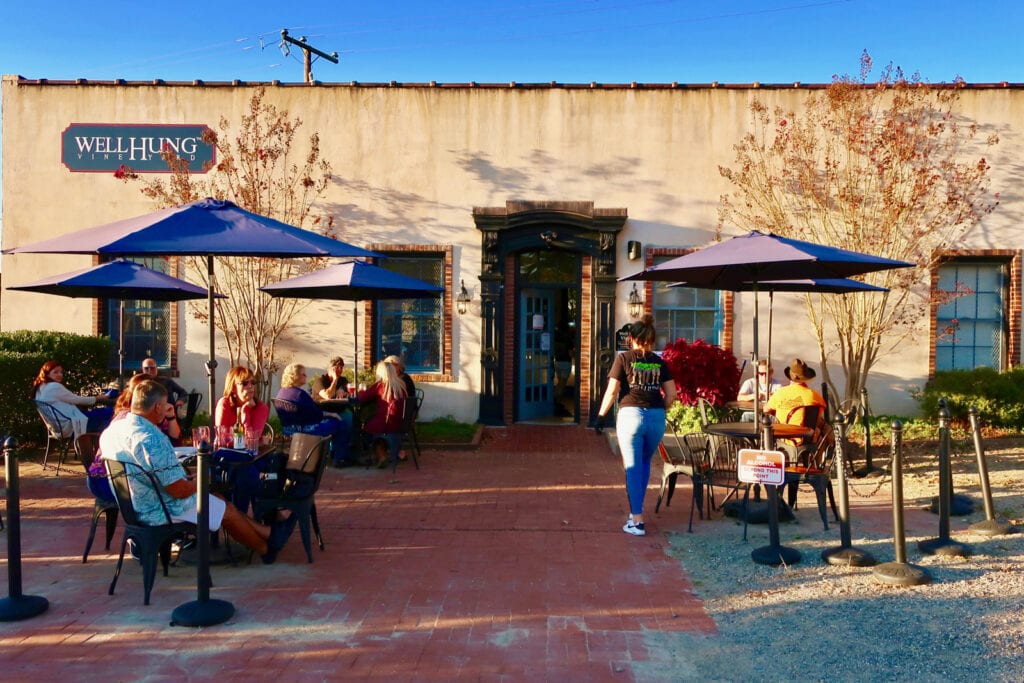 The name. It started as a joke, of course. One of the three original vineyard owners, Amy Steers, married to an urologist, was ogling plump clusters of grapes with her artist friend, Tracy, when Tracy blurted it out. They went with it. Well Hung drew the curious, and, apparently, humor outweighs prudishness in this neck of the woods. In August 2019, Well Hung Vineyard opened up this restaurant/tasting room in Gordonville's 1920's post office. Swarms of people came.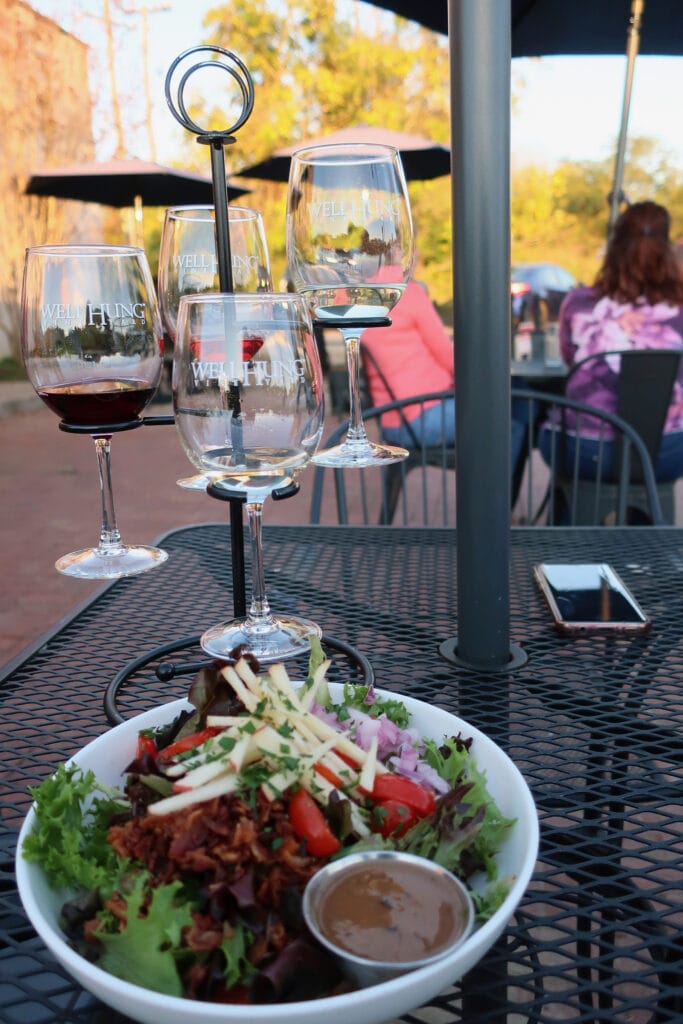 The wines, with appropriately risqué names (Under Table Red, Playful Pink, Pop Your Cork, Red Tryst, Wishful Thinking) are surprisingly flavorful ($9 -$15 for flight of 4,). And food is fresh and very, very good. And affordable. (Most expensive entrée is Surf and Turf for $19). My Well Hung House Salad ($10) sets a high bar for all salads to come. Excellent, fresh, and as crisp as the first day of autumn. Also on the menu: Full Monty Flatbread Pizza ($15), Meatloaf Cupcakes ($15), and more delights. The vibe is convivial and casual. Yes, dogs are welcome on the patio!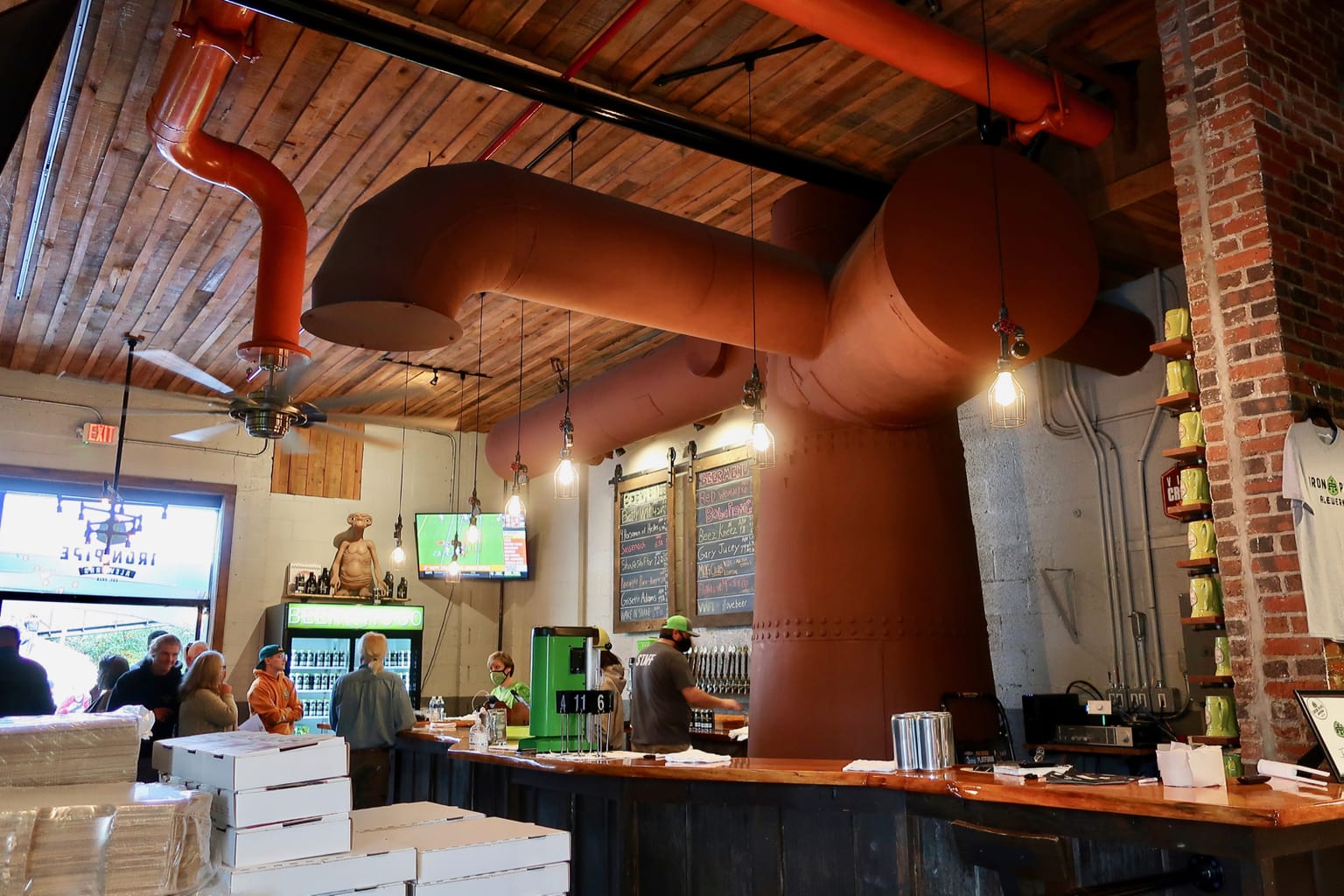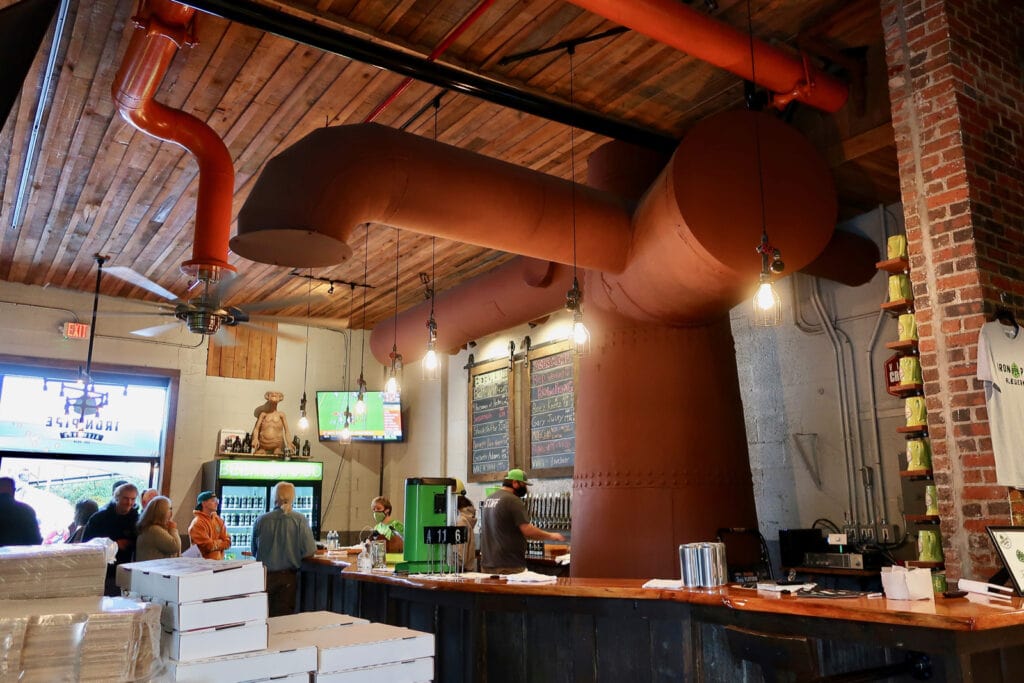 Named for the massive tangerine-hued pipe in what was the boiler room of the silk mill that turned out parachutes during WWII (now the tasting room), Iron Pipe Aleworks is a family enterprise. Dad, Steve Speelman, makes the pizza. Son, Zach, makes the beer. (Or, as Zach says, "I don't make beer. The yeast makes the beer.").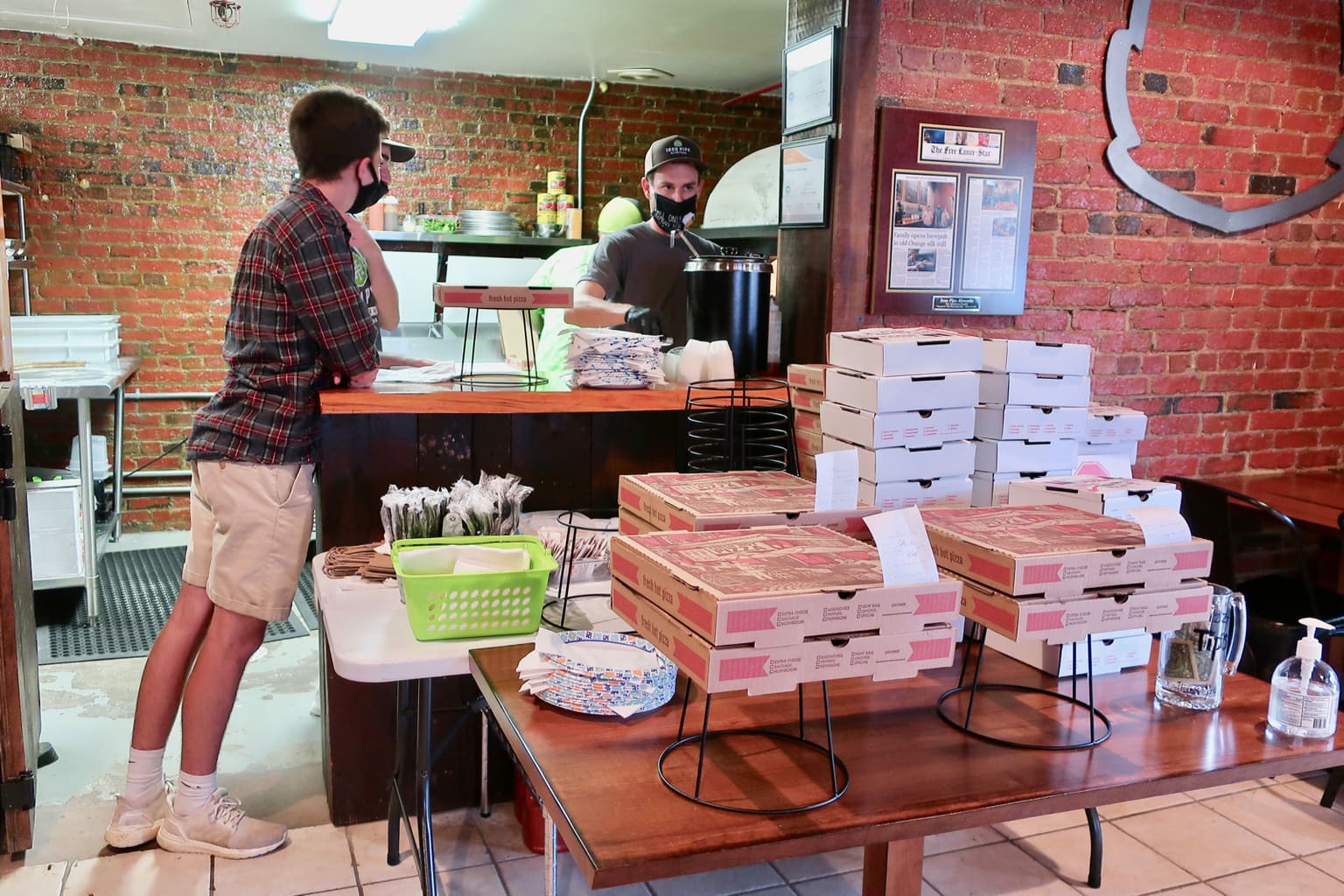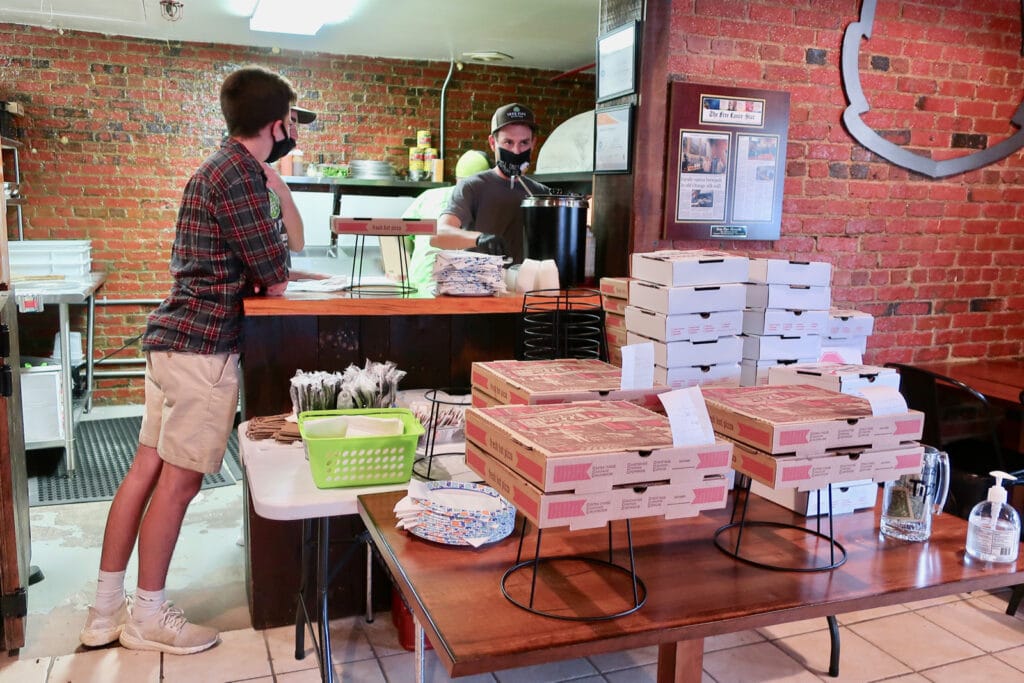 Zach had several jobs before finding his passion in brewing. He worked in other brew houses before opening his own with his Dad (who was, and still is the Director of a hospital IT Dept) in October 2019. Rather than curtail business, the pandemic ramped it up.
Seems that people wanted to take out gourmet brick oven pizza (with not-so-secret addition of beer in the crust), and craft beer. It also seems that IT Steve has a talent for pizza-making. The spicy and hot-honey "Bee Sting" – with pepperoni, jalapeño's, and honey – is a crowd favorite.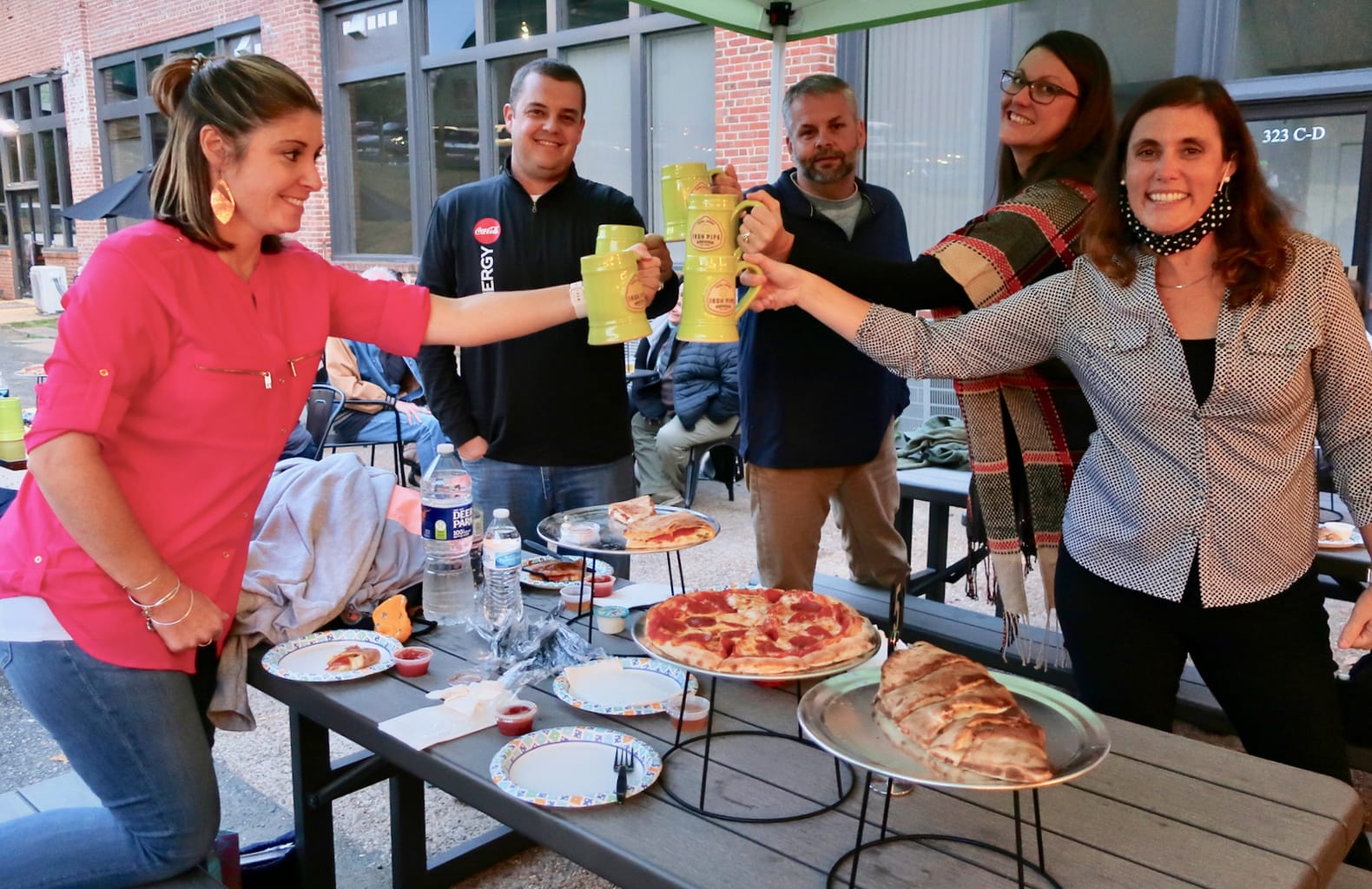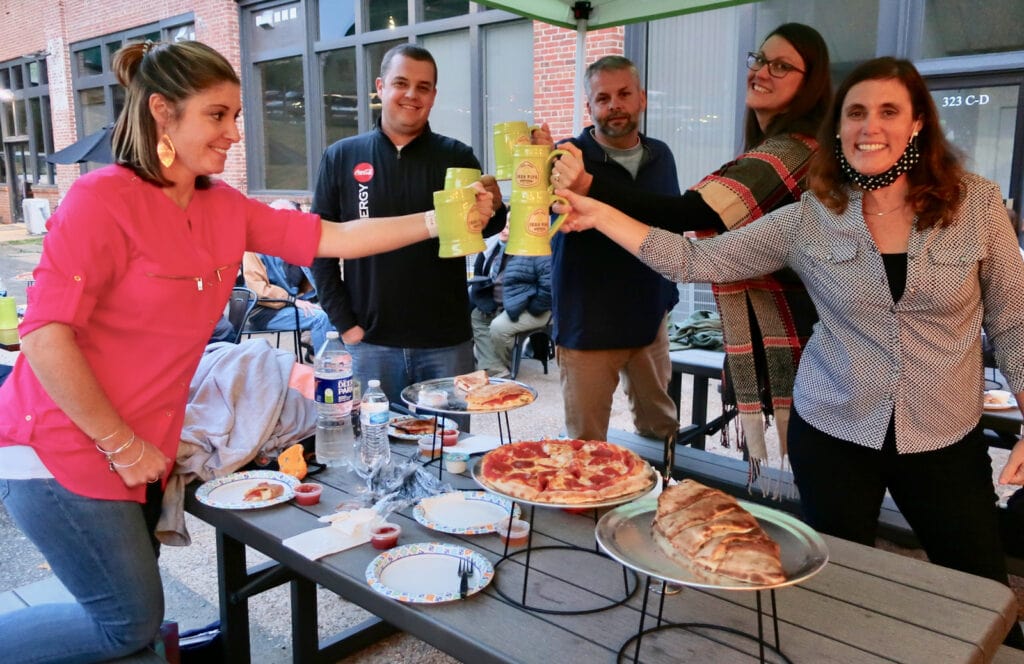 Like any independently owned brewery worth its hops, this one, that literally started out in the Speelman garage, gets clever with beer names. For instance, Gary Jucey – a New England IPA; Betty Whit – Belgian Witbier, and more. With its lettuce green and grey logo, and funky décor, Iron Pipe has fast become an Orange VA hot spot as evidenced by a slew of people outside (distanced) on a Covid-October weekend night.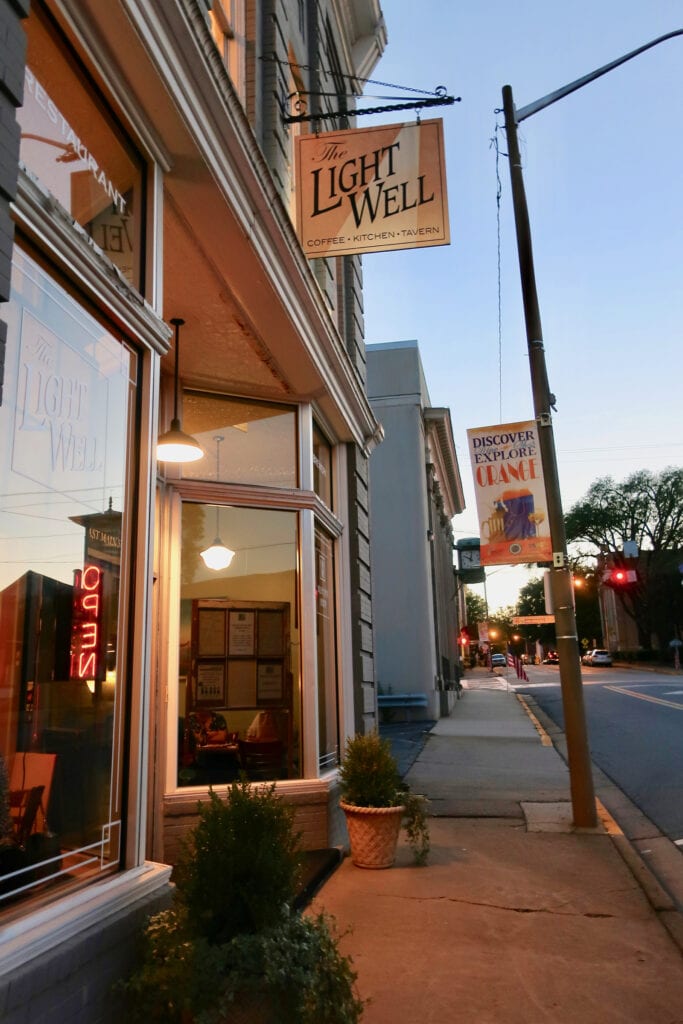 EAT: The Light Well, Orange
Known for its locally-roasted coffee, burgers, up-market pub food, and unique hand-made egg rolls (e.g. chicken-bacon-cheese, $7), The Light Well is also a popular bar. There are 12 beers on tap, and signature cocktails, like Hot Caramel Apple Cider, that start at $8. Named for the massive skylight that brings natural light into its soaring space, it's a pretty interior with warm service. For now, tables are well spaced, and patrons, when not eating, wear masks.
Where to Stay in Orange County VA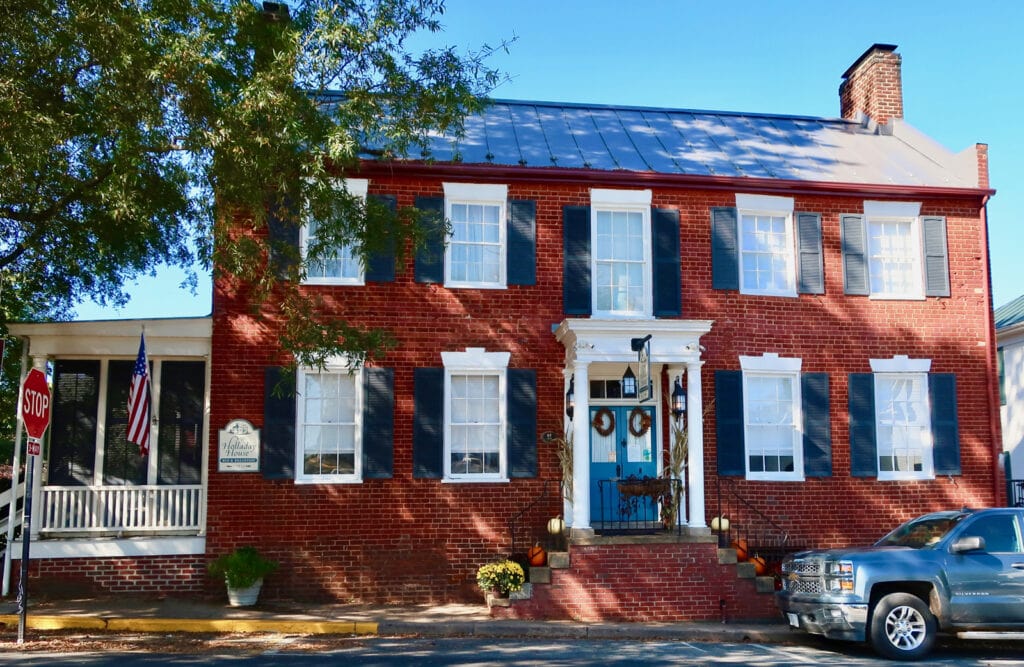 Sharon and Sam Elswick preside over this six-room inn carved from one of the oldest, most historic, homes in Orange VA. The Elswicks were "the youngest inn owners in Virginia" when they purchased Holladay House 14 years ago, leaving DC corporate life behind at age 30. Unlike most B&B owners at time, who purchased these establishments as a "retirement job," the young couple saw innkeeping as a career. Their attention and devotion to detail is evident.
James Madison's grand-nephew, John Madison Chapman, built the home in 1830 (with additions in 1910 and 1970), borrowing some architectural elements from his Great Uncle's home three miles up the road.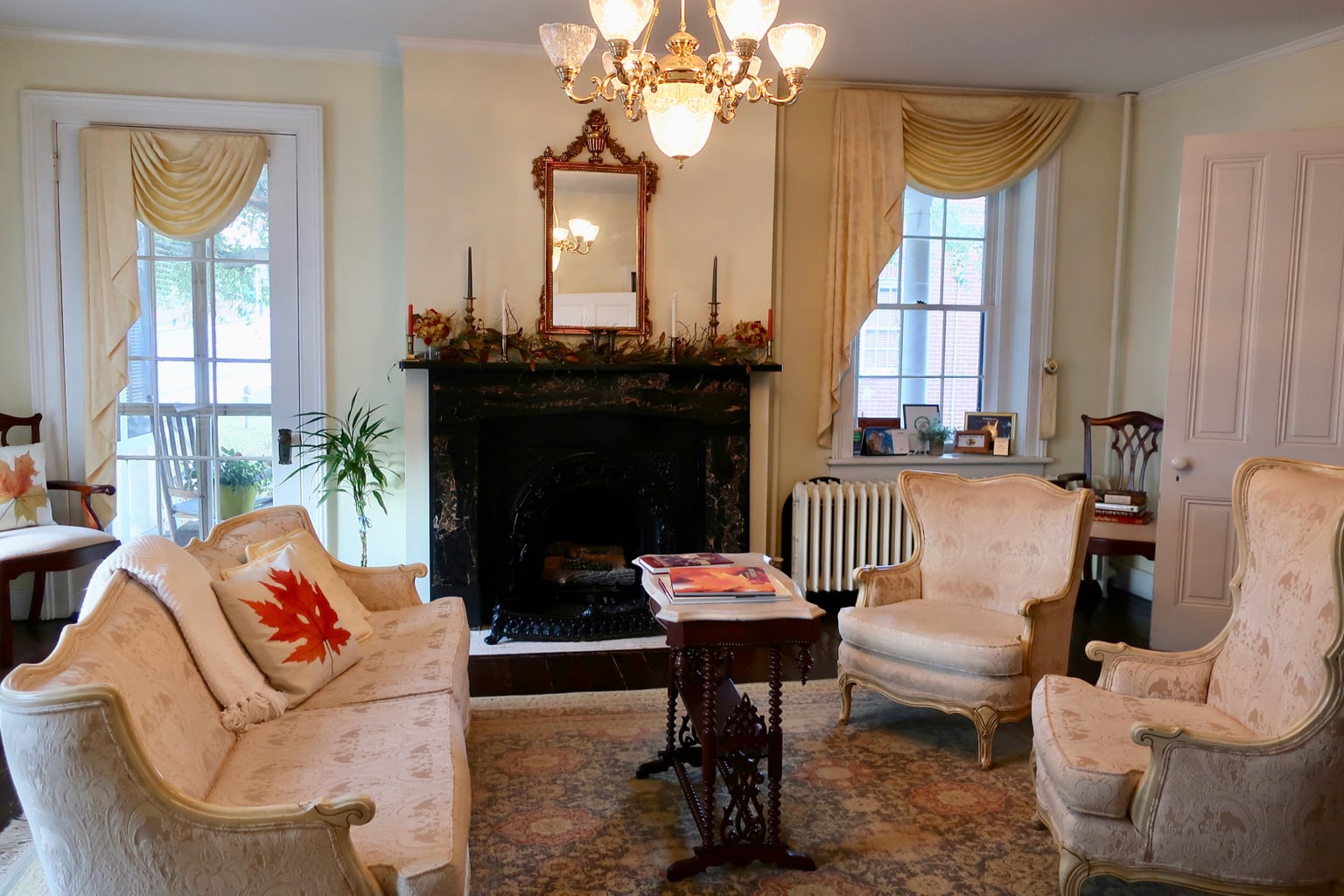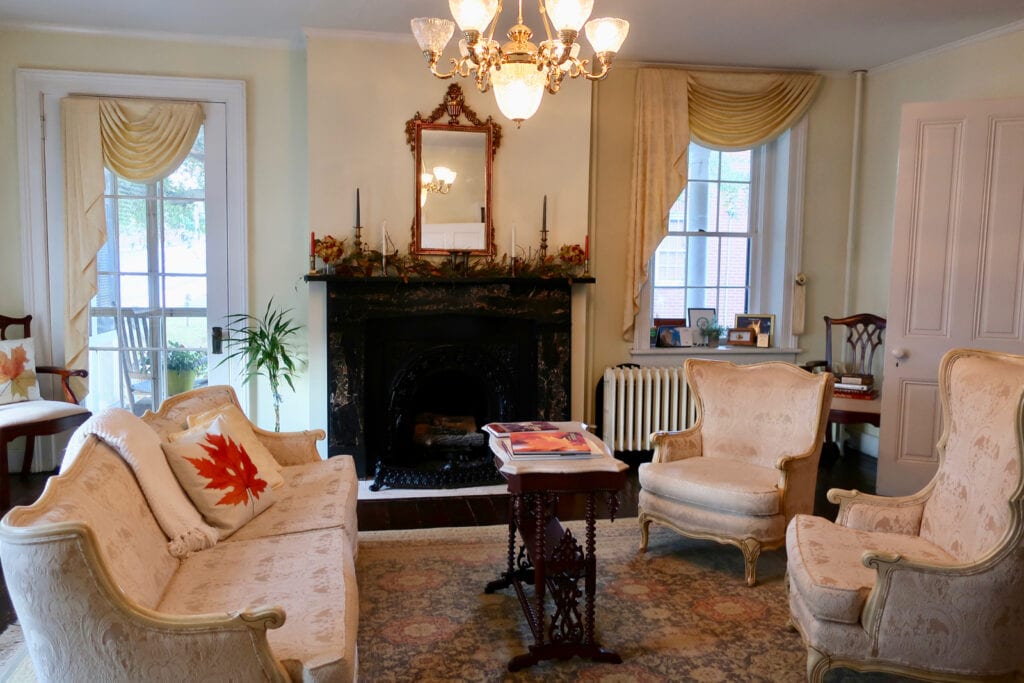 Holladay House, named for the doctor who purchased the house in 1899, was kept in the Holladay family for 101 years. Doc's grandchildren, Phebe and Pete Holladay, turned it into a B&B before selling it to the Elswicks in 2006.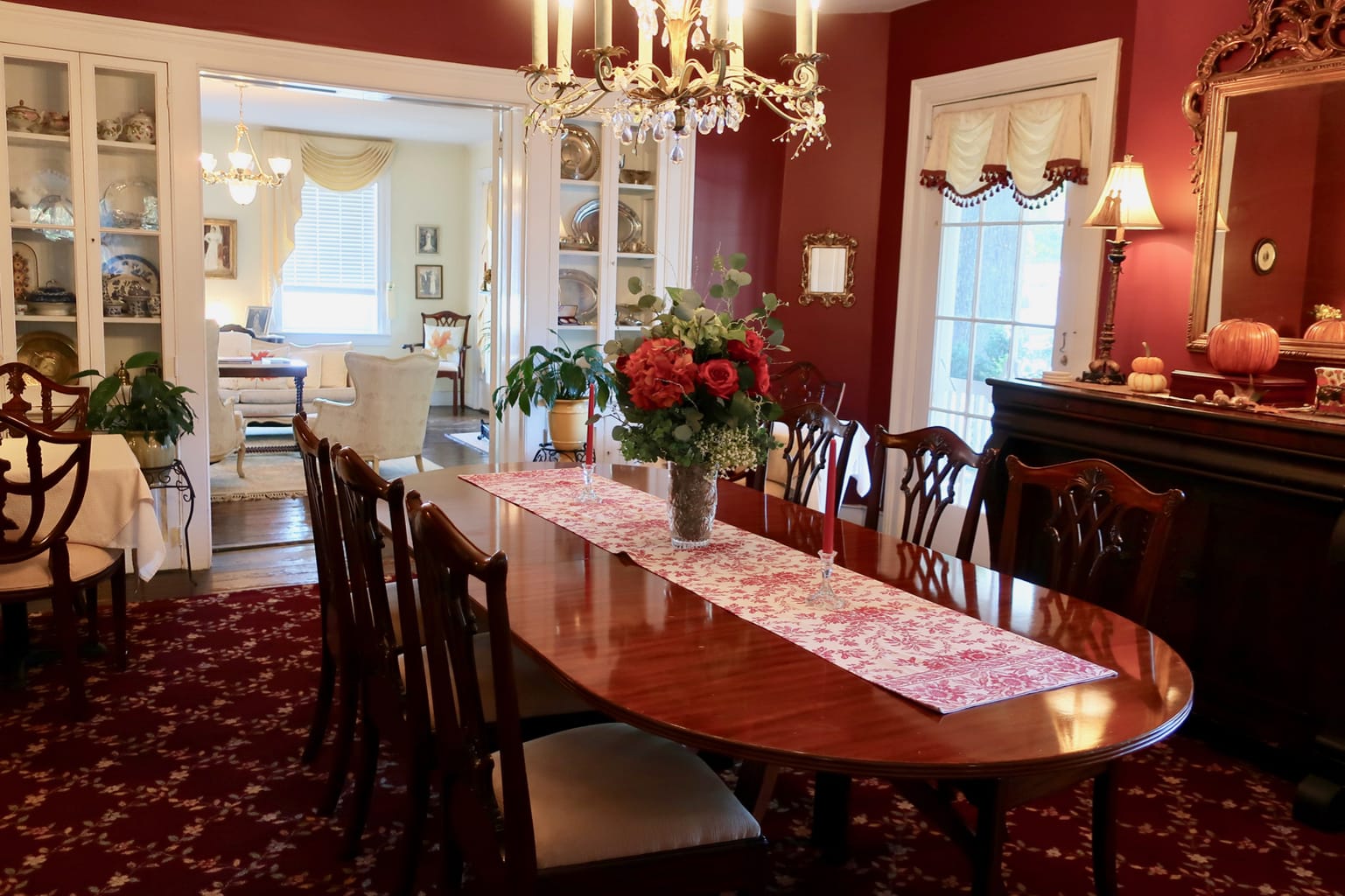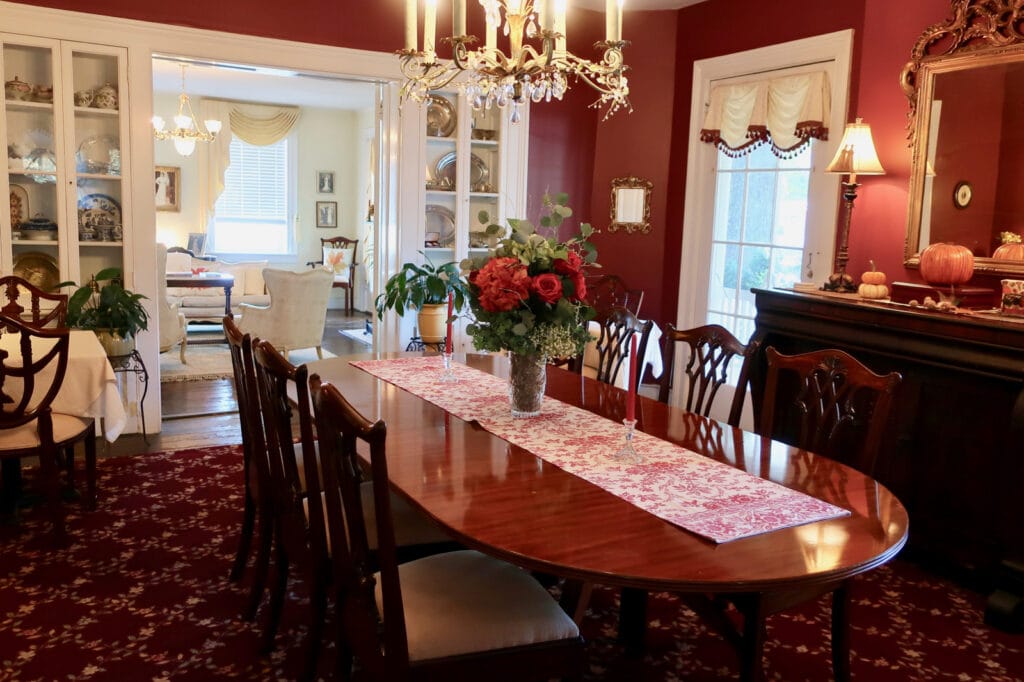 The inn is as handsome and fine a lodging as you'll find in this walkable town. The communal parlor is light and bright. The dining room reflects the prestige of the home's prior owners.
Rooms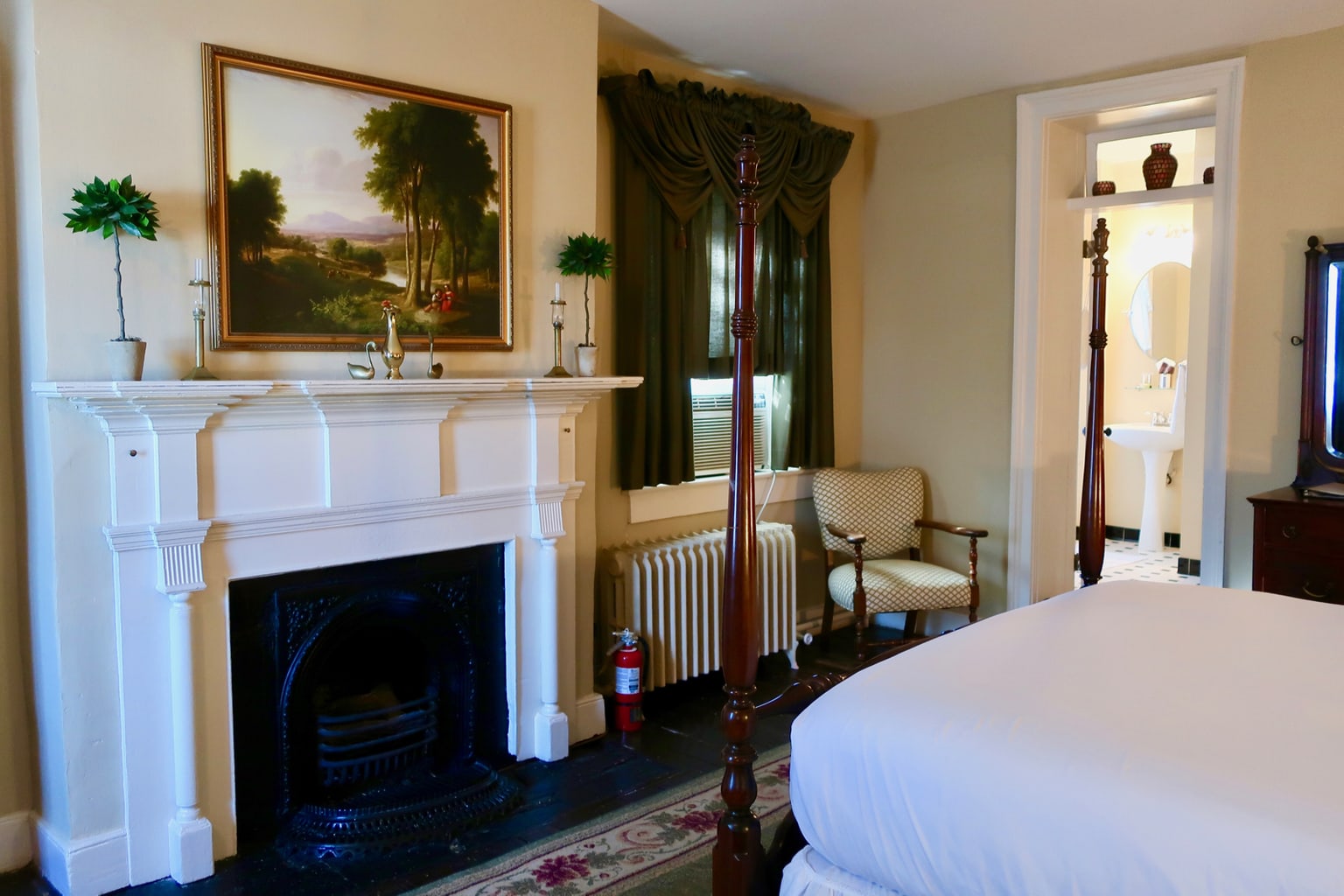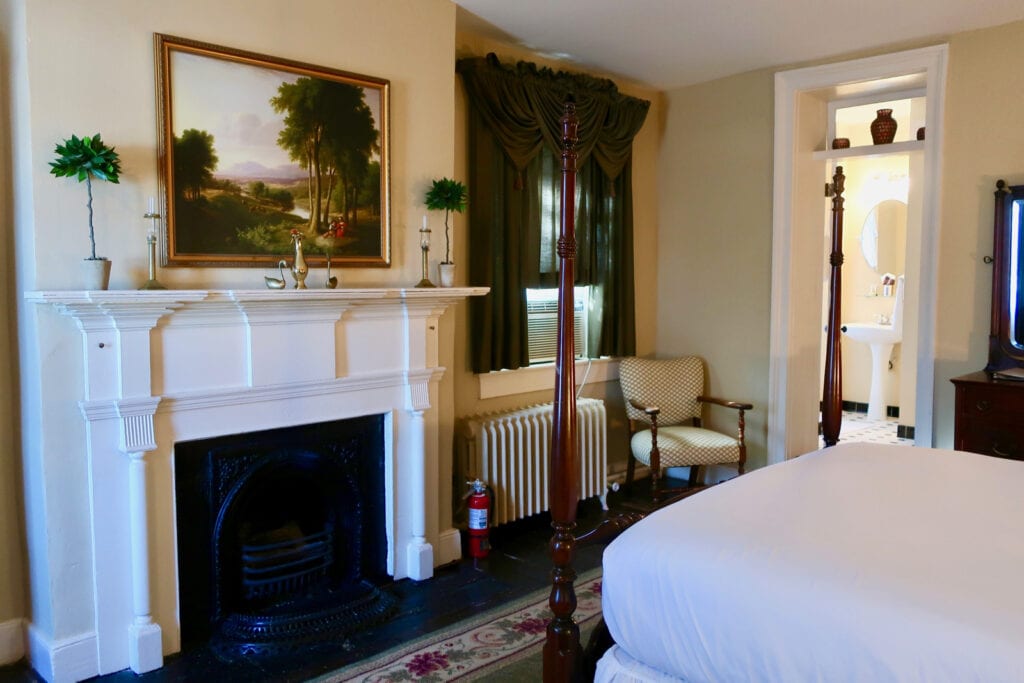 Guest rooms and suites are dressed in Federal finery. To be Covid-compliant, bulky bed-coverings were replaced by crisp white duvets, which lend an element of freshness. The John Madison Suite incorporates a sitting room with couch and upholstered chair and ottoman that I found to be a most comfortable work station. Plus, there were plenty of outlets for my electronic devices.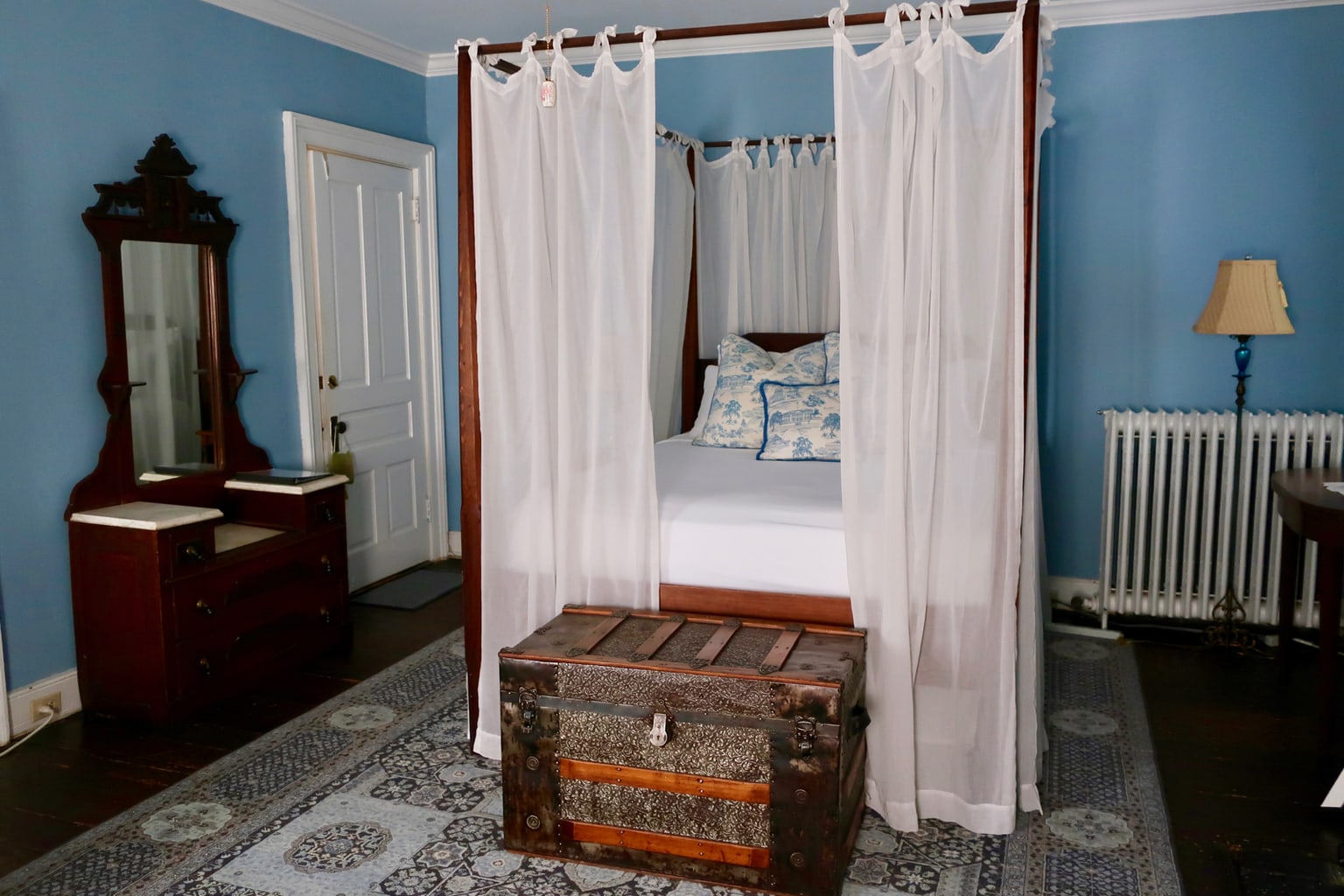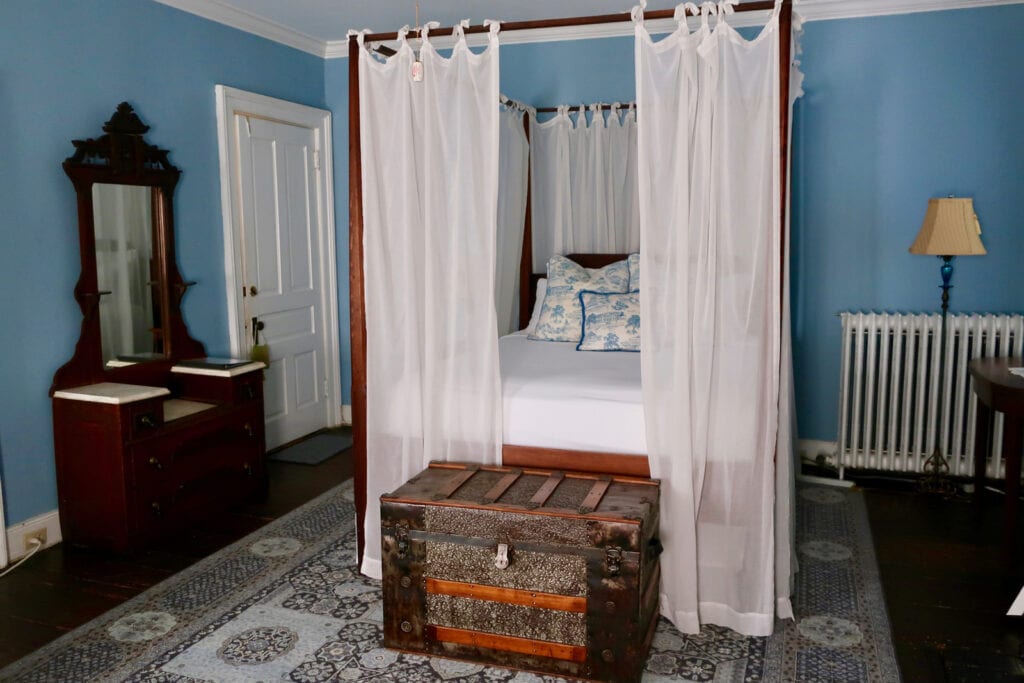 Had the weather been colder, I would have switched on the gas fireplace – which would have kept me in that dreamy bed forever.
Breakfast
The height of a Holladay House stay is breakfast. Oh my! Sharon is modest, but her dishes are divine. On my first morning there, I was blown away by her warm fruit compote topped with homemade granola, followed by a crustless quiche wrapped in ham, served with biscuits from an old Holladay House recipe.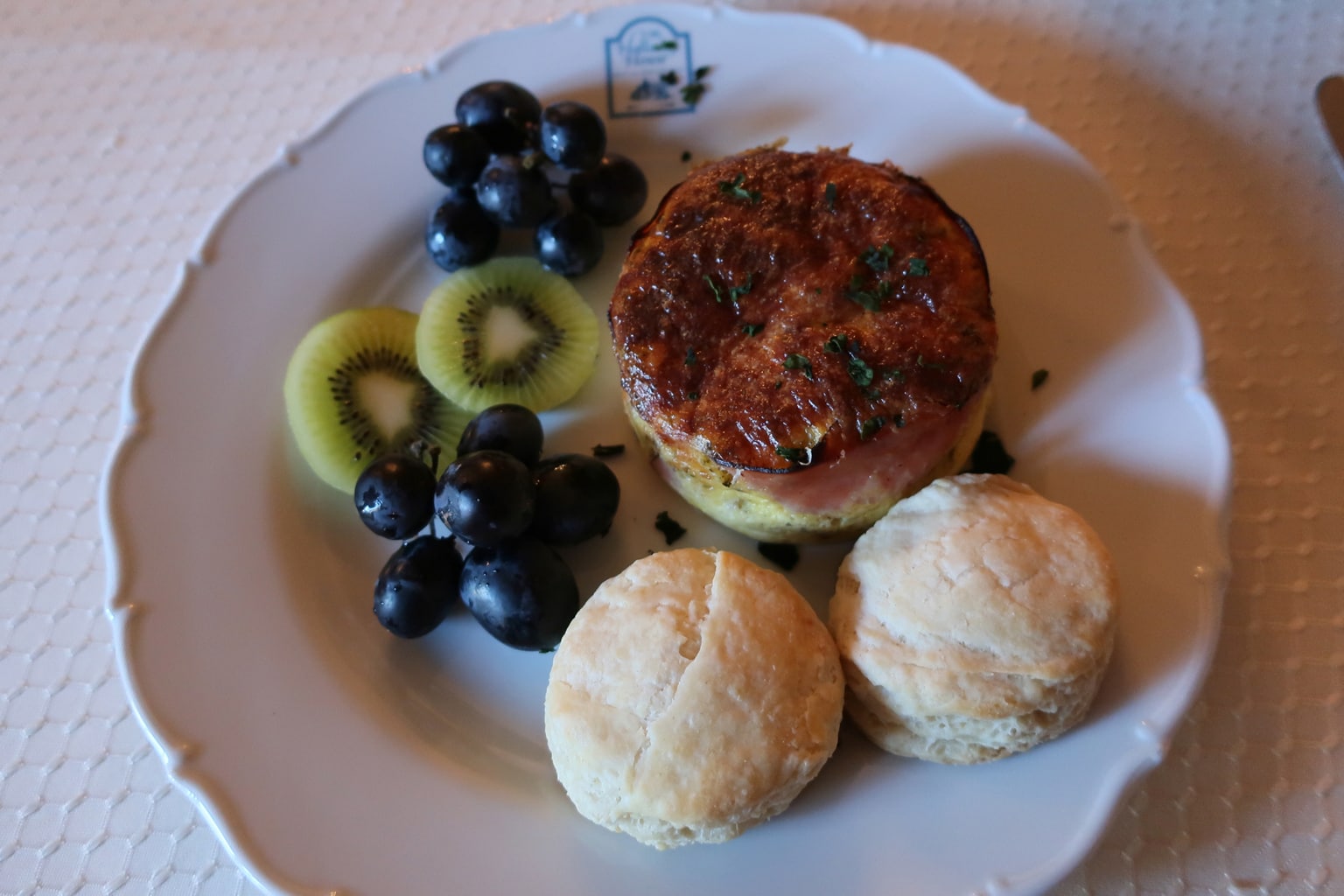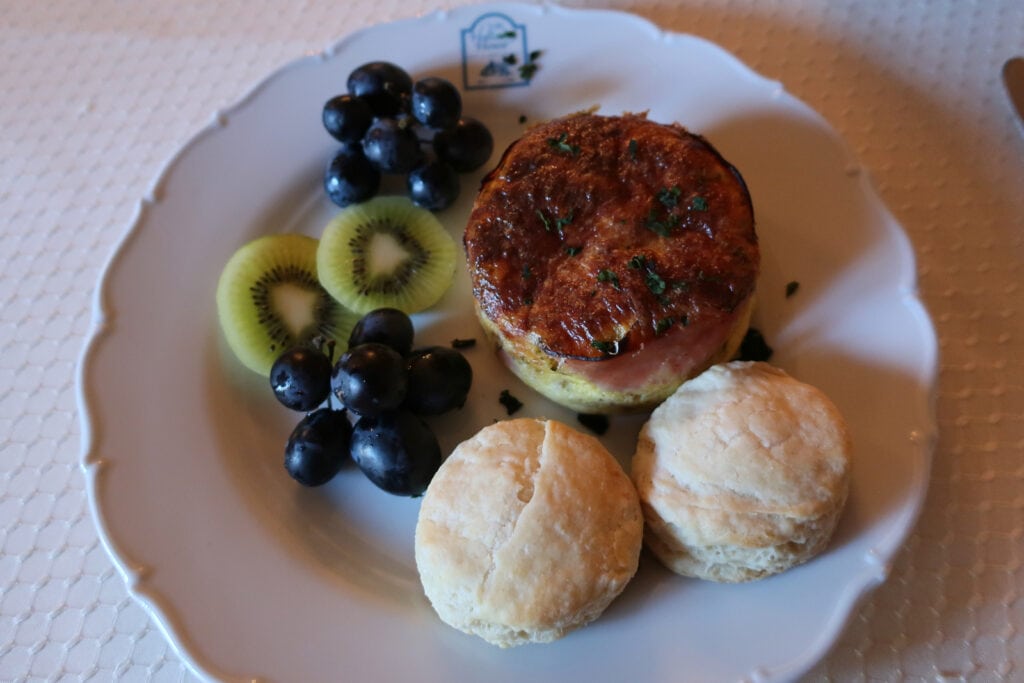 Day two brought sliced apples with homemade Elderberry syrup, and Crème Brule French Toast with thick slabs of Bacon Steak on the side. Obviously, lots of loving research, care, and skill goes into the morning meal. Rooms from $159-$250+ include parking, wi-fi, gourmet breakfast for two.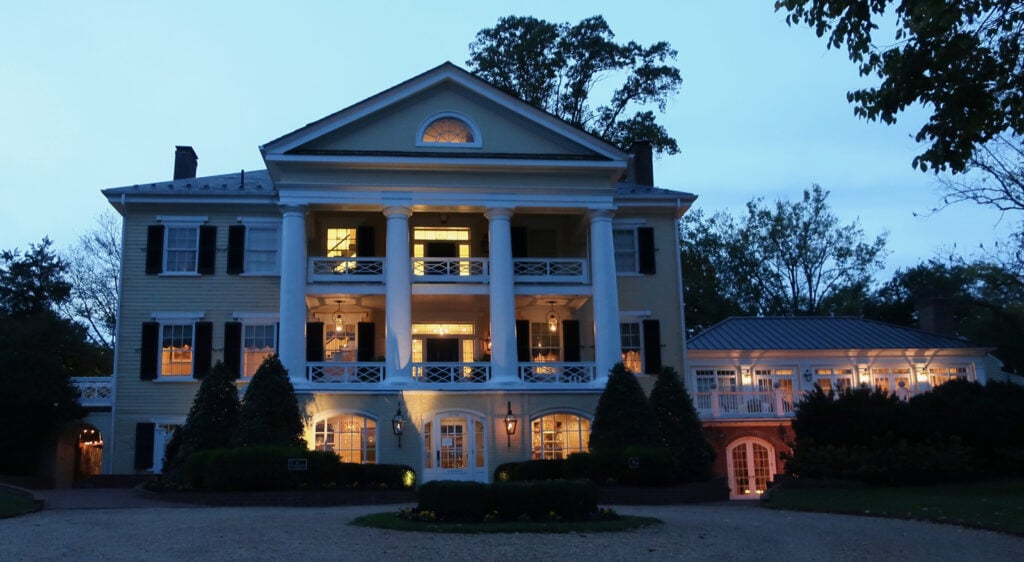 Just 1 ½ hours from Washington DC, the Inn @ Willow Grove and its restaurant has been booked for weeks, and has been since the pandemic began. A bit out of downtown Orange, this ultra-luxury mansion compound, on the Select Registry, features 25 rooms in both the main house and in surrounding cottages. The property includes a pool, a Spa building, gorgeously landscaped gardens and patios, and a high-end barn-like event space for weddings. Guests call it "a different world." Rates from $315 per night.