Last Updated on December 17, 2022 by Editor
Long known as the "Honeymoon Capital of the World," Niagara Falls USA has a reputation for kitsch. Wax museums, mini golf, and tacky souvenir shops do little to contradict the image.
But as we recently found out on a Niagara Falls NY winter weekend getaway, it's a wonderfully romantic destination in the winter months. Then, the popular tourist destination quiets down as the landscape is covered by the sparkle of snow.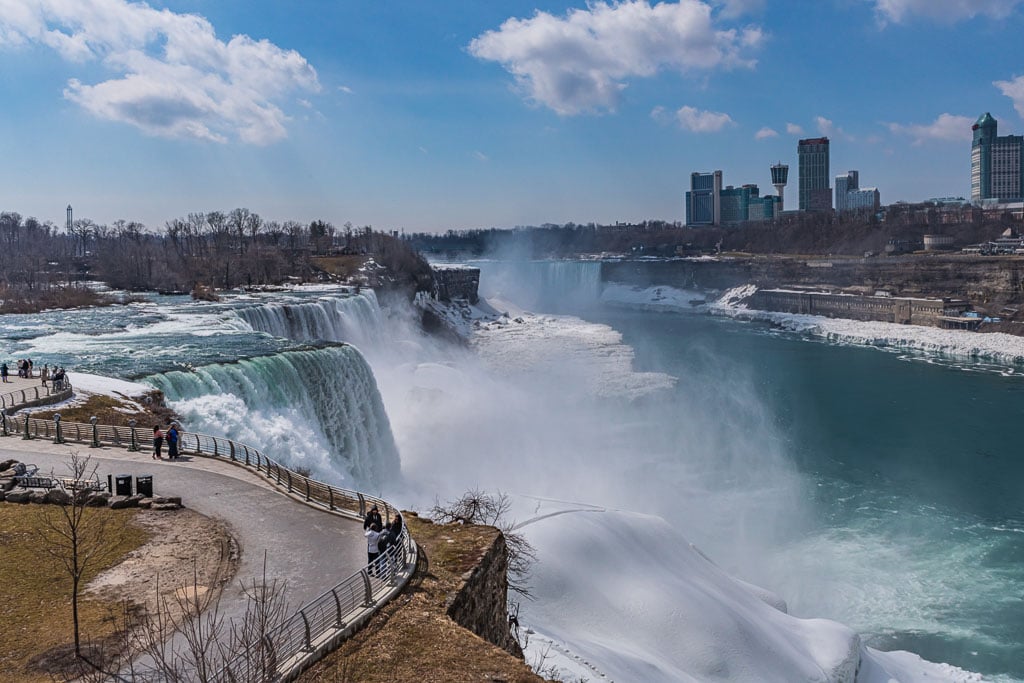 Niagara Falls romantic getaways are magical regardless of whether you choose the US or Canadian side. Pack your favorite road trip outfits as the region is definitely worth exploring on an even longer vacation!
Scroll down to the bottom of this travel guide for even more romantic getaways in Canada and Western New York.
Where Is Niagara Falls NY?
Located on the border between USA and Canada, where three international bridges connect the two nations, the waterfalls can be seen from both countries. The scenic vistas are spectacular from both sides.
Although the consensus is that the Canadian side has more panoramic views as well as the popular Journey Behind The Falls, you can actually feel the spray on the US side.
GETTING THERE: It's a 30-minute day trip from a Buffalo NY weekend getaway, and a little over a three-hour drive from a Cleveland, Ohio romantic getaway.
Is Niagara Falls Open?
Ranked the "World's Most Instagrammed Waterfall," and one of the best waterfalls in the USA, Niagara Falls remains open to visitors throughout the year. Do call ahead, however, as some attractions only operate seasonally or weather permitting.
For example, the Maid of the Mist–made even more popular by the wedding scene in NBC's "The Office"–runs from May-November (exact dates are weather-dependent.)
Of course, at this time, Western New York continues to be under a COVID-related travel advisory. However, the onus is now on personal responsibility. Indoor dining and other venue admission rates are readily available, although with greater distancing.
And now you can easily cross over to Canada, as proof of vaccination nor the ArriveCan app are no longer required.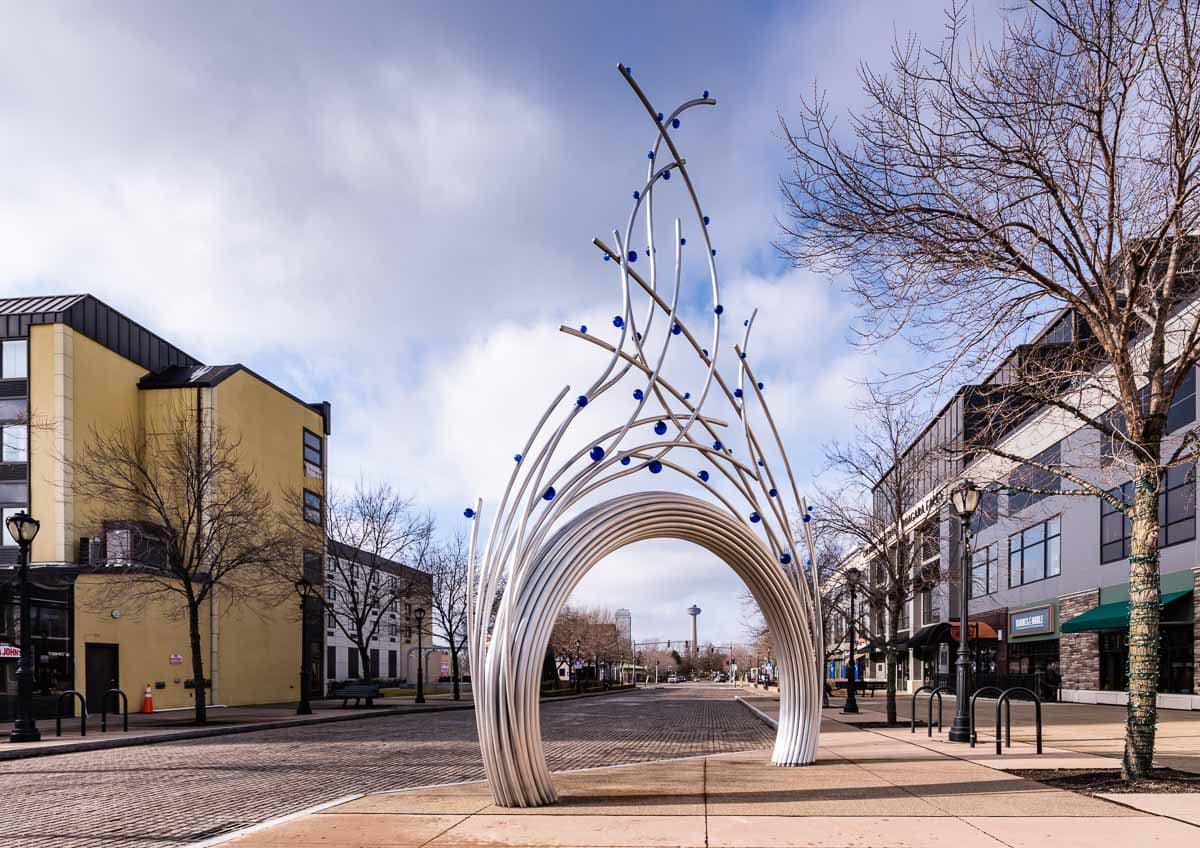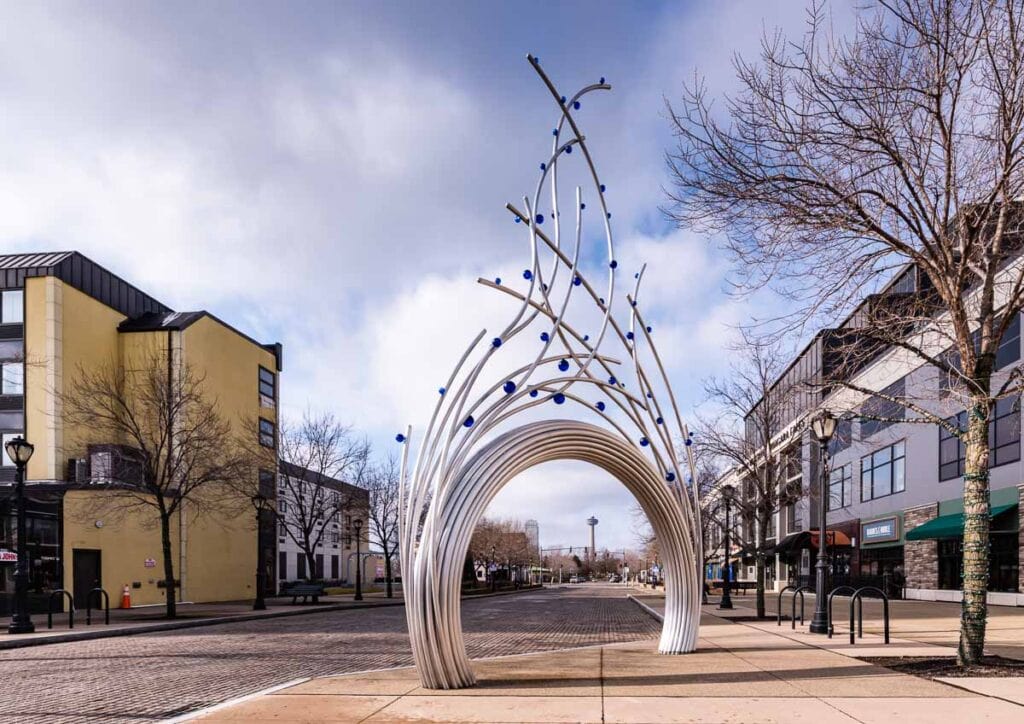 Best Time to Visit Niagara Falls
Choosing the best time to visit Niagara Falls is entirely dependent on what you want to do, your crowd tolerance, and your weather preference. If you want to see and do everything that the region is known for, including the weekend fireworks, go in the summer.
But that's also when it's at its busiest. In winter, when days are shorter and colder, a number of attractions such as the Niagara Falls boat rides are closed for the season.
From late Autumn and well into Spring, Upstate New York temperatures are frosty, but there's nothing more beautiful than a winter wonderland.
Snowy conditions (typically January-March) reduce crowds while opening up activities like snowmobiling and ice skating. You can see the waterfalls without crowds, and get off-season discounts too.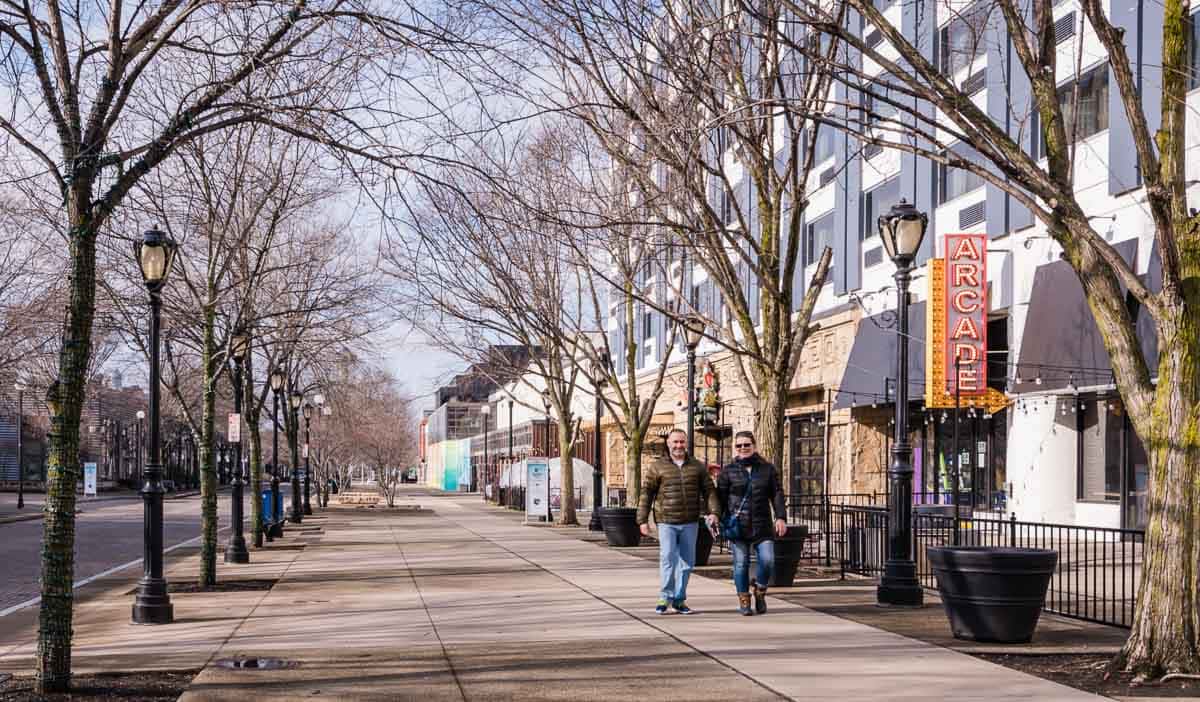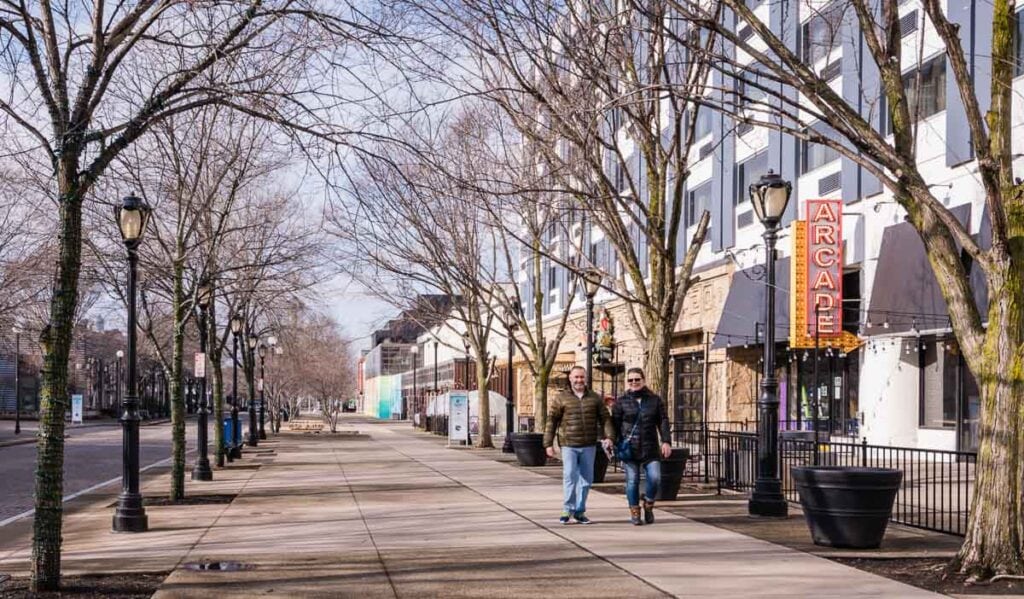 Things To Do on a Niagara Falls NY Weekend Getaway
What To See If You Only Have One Day In Niagara Falls -New York
GO: Niagara Falls Observation Tower (Niagara Falls State Park)
If you only have time for one stop, make it a good one. Niagara Falls encompasses three waterfalls–American Falls, Bridal Veil Falls, and Horseshoe Falls–and you can see all of them from the Prospect Point Observation Tower.
When available, an elevator takes you to the foot of Niagara Gorge. There, stairs lead to Crow's Nest, a lookout point whose proximity to the falls comes with wet mists.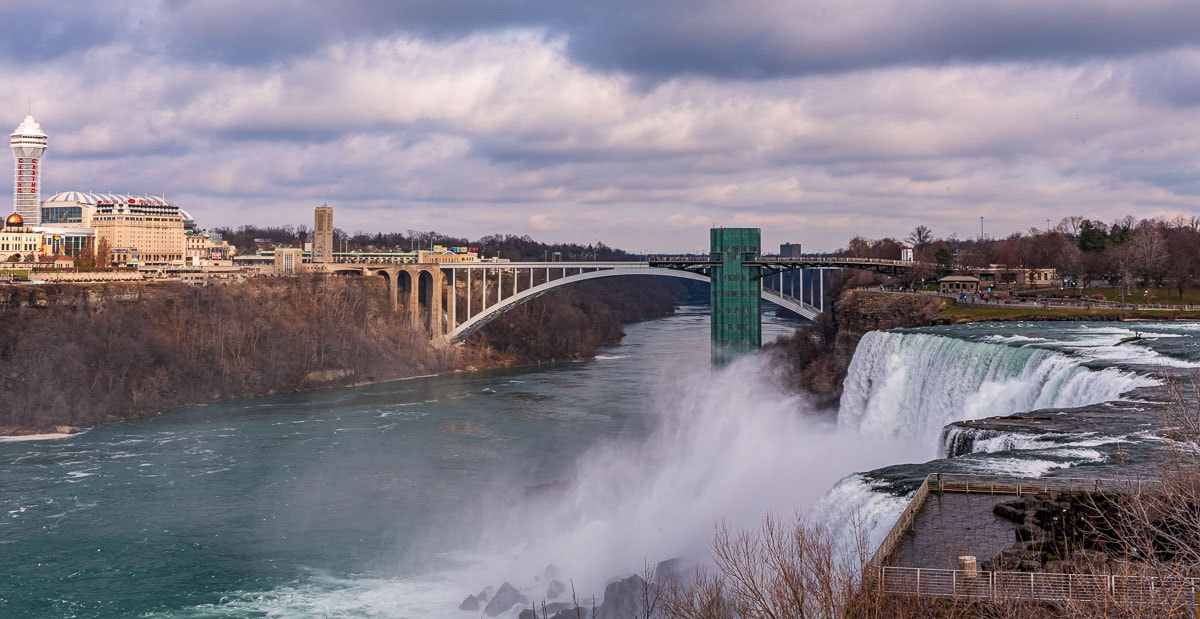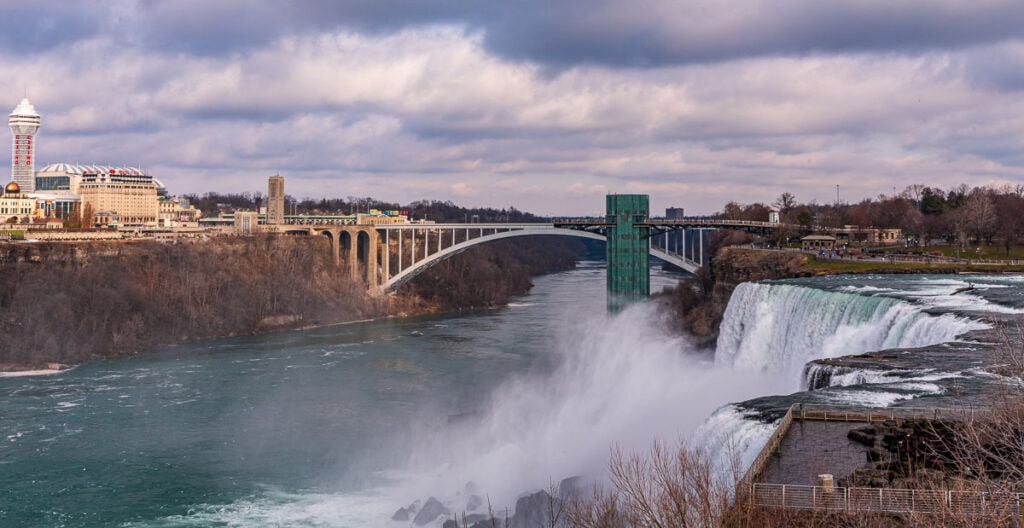 Admission is free during the winter season, while a nominal entry is charged when the Maid of the Mist opens (this is also where you access the boat tours.)
GO: Cave of the Winds Winter Experience (Niagara Falls State Park)
The highlight of the Cave of the Winds Experience is standing on an observation deck at the base of Bridal Veil Waterfall, where rainbows are a frequent bonus. To get there, you take an elevator down to a poster-lined tunnel and then head outdoors.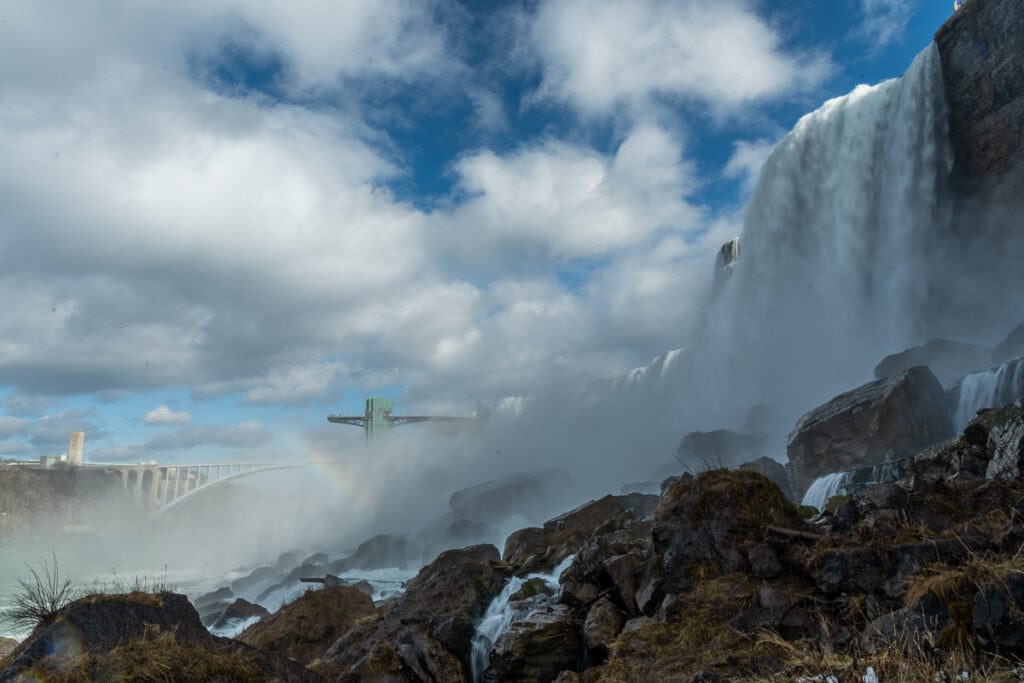 Currently, admission is limited due to COVID safety rules. Timed entry tickets are required. Since these are only available at the attraction (not online,) you may want to purchase these early in the day and plan to explore other parts of Niagara Falls State Park while you wait.
The walkway along Horseshoe Falls is nearby, while the Observation Tower is approximately a 20-minute walk away.
Travel Tip: Parking is $5, but do hold onto your receipt so that you can move between parking lots to access different parts of Niagara Falls State Park. Empire Pass holders get free parking here, and at all New York State Parks.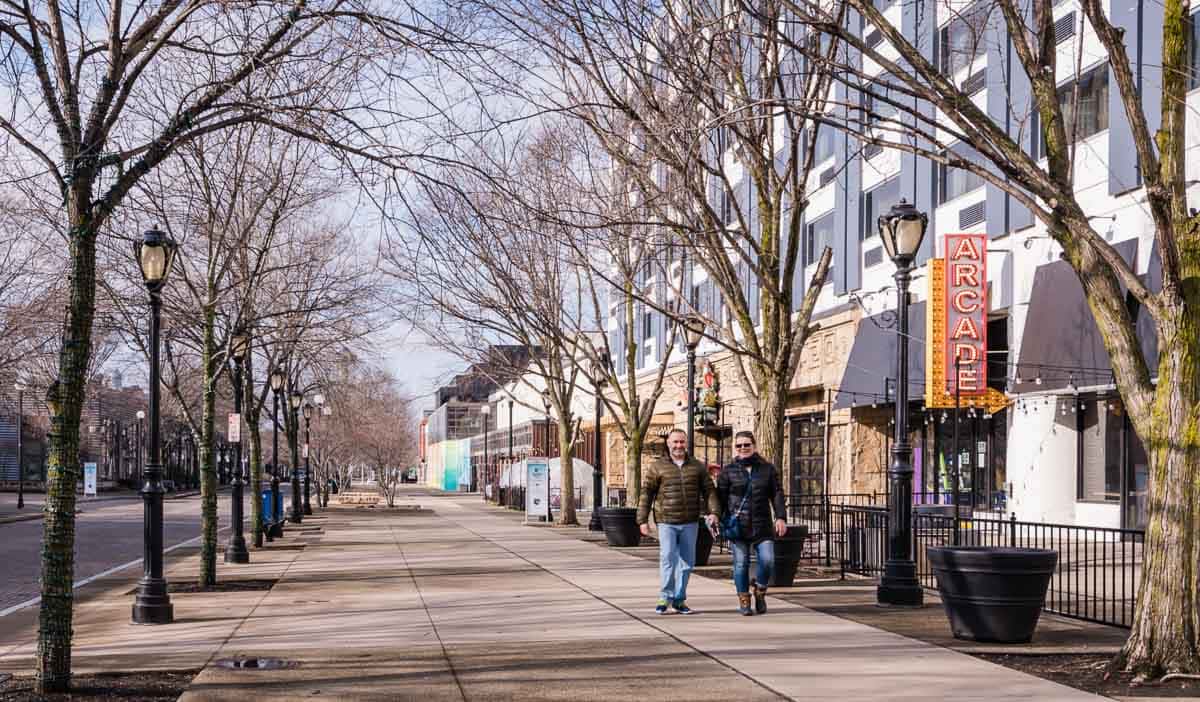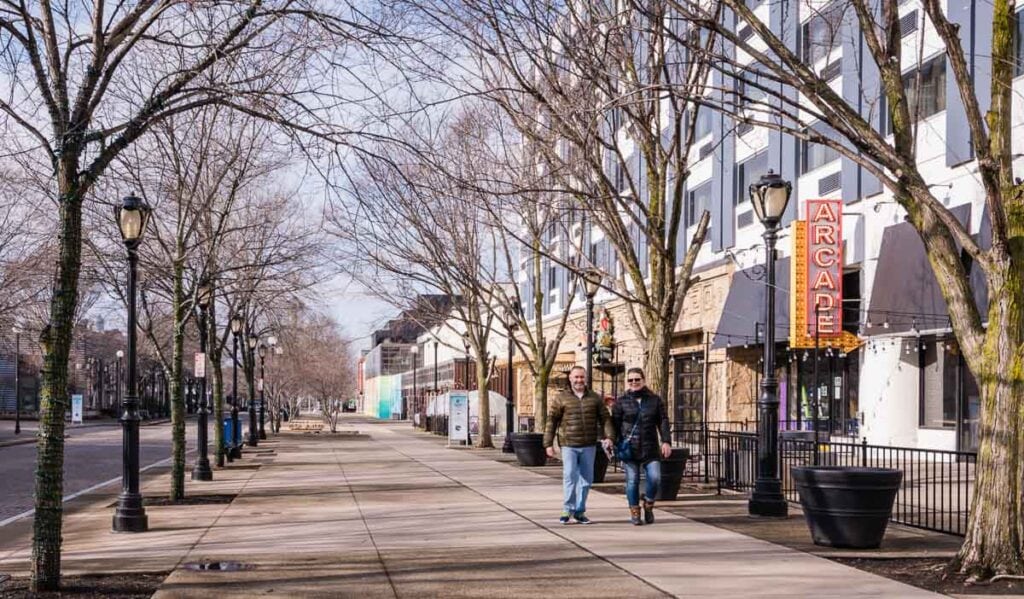 What To Do In Niagara Falls If You Have More Time
GO: Old Falls Street
Most summers, Old Falls Street comes alive with outdoor entertainment. But even now, with COVID restrictions in place, it's a pretty tree-lined street with several fun selfie spots.
VISIT: Niagara Falls Underground Railroad Heritage Center
An early suspension bridge built in 1848 to connect the USA and Canada served as a major crossing point for slaves escaping before the Civil War. Learn about the Underground Railroad and Abolitionist history at the Niagara Falls Underground Railroad Heritage Center.
Advance ticket purchase is highly recommended. But if you can't make it to the museum in person, consider signing up for a virtual tour. And here's a list of more Underground Railroad sites in New York.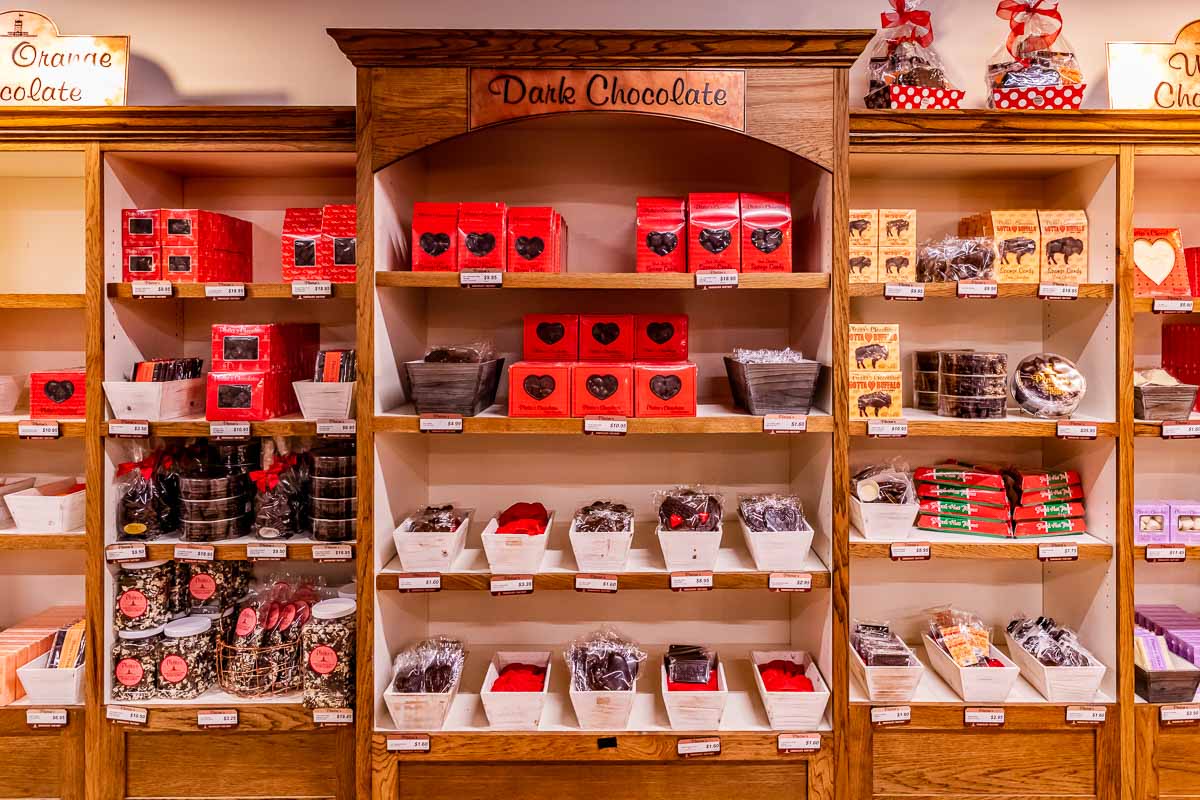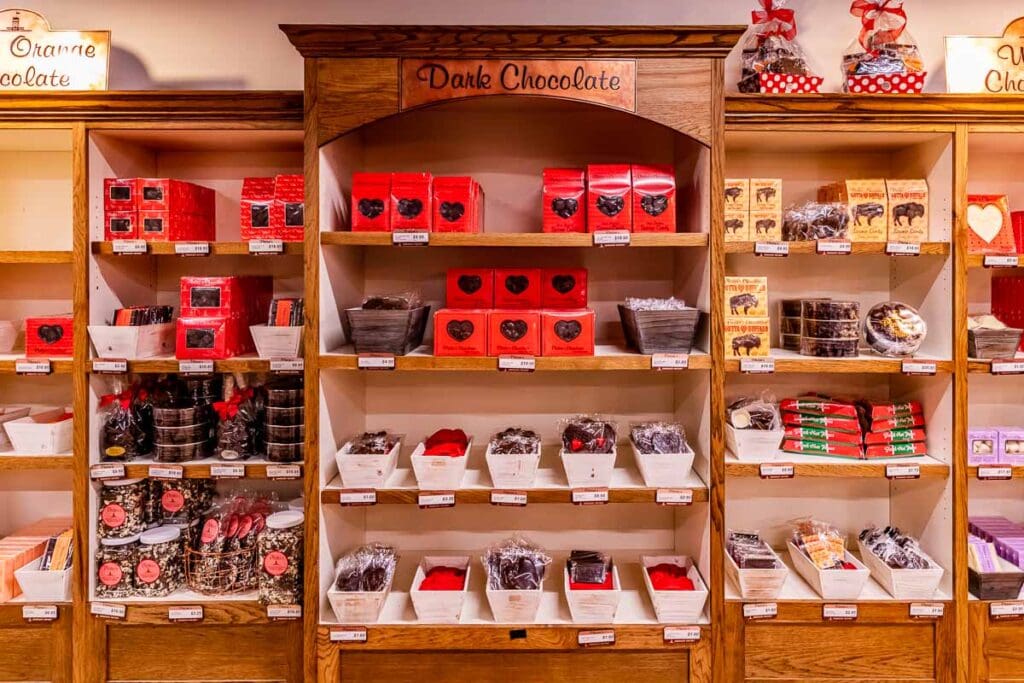 TOUR: Platter's Chocolate Factory
A self-guided tour is as good an excuse as any to check out chocolate production at Platter's Chocolate Factory. While there, you won't want to miss the regional treat, sponge candy. The cafe's sinfully rich ice cream sundaes are worth the calories too.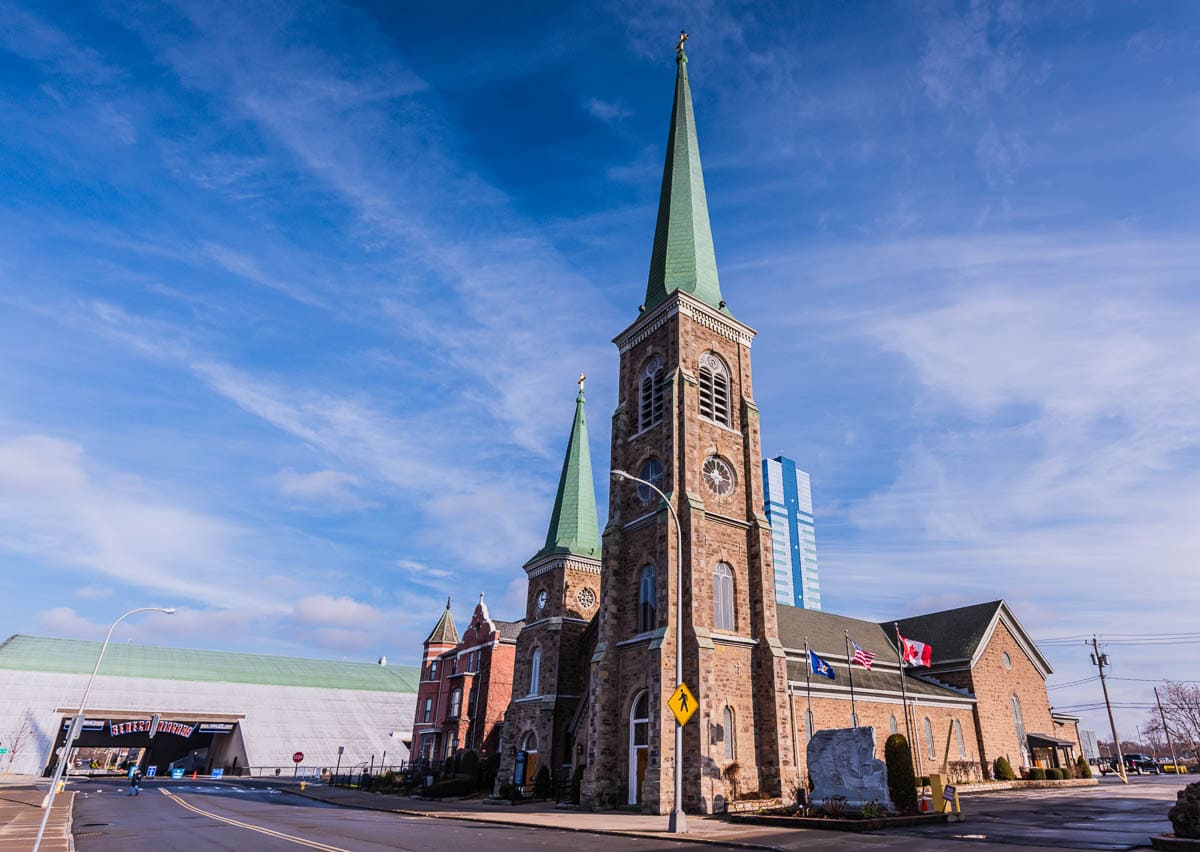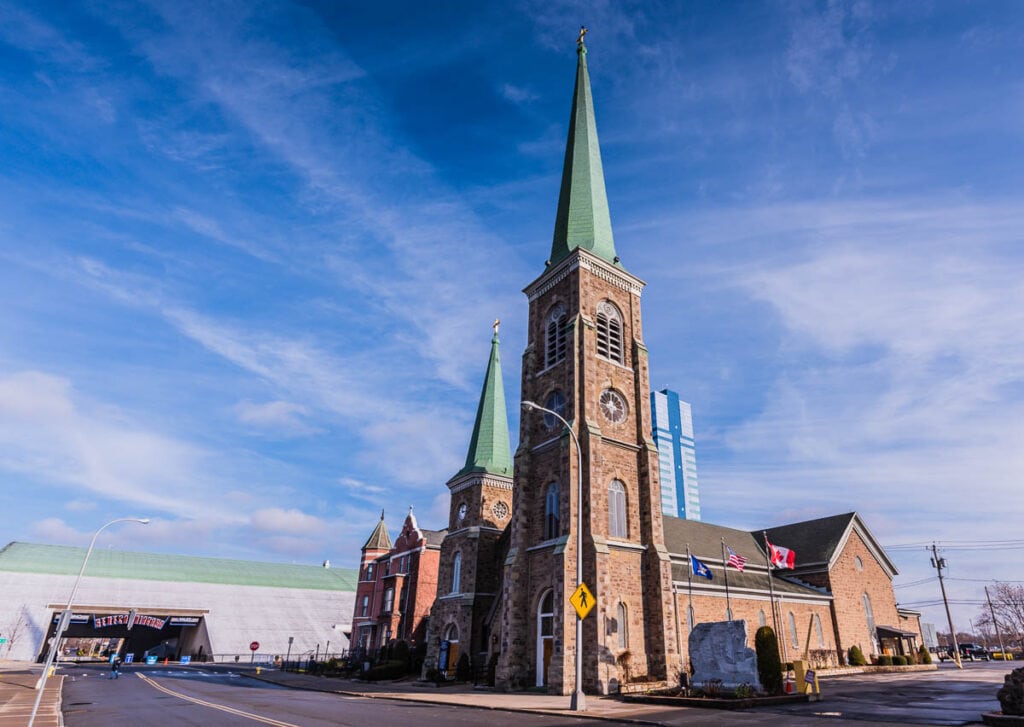 SEE: St. Mary of the Cataract
Niagara's oldest Catholic church, St. Mary of the Cataract started out as a mission in 1837. Begun in 1870, its 176-foot tower stands as high as the American falls go deep.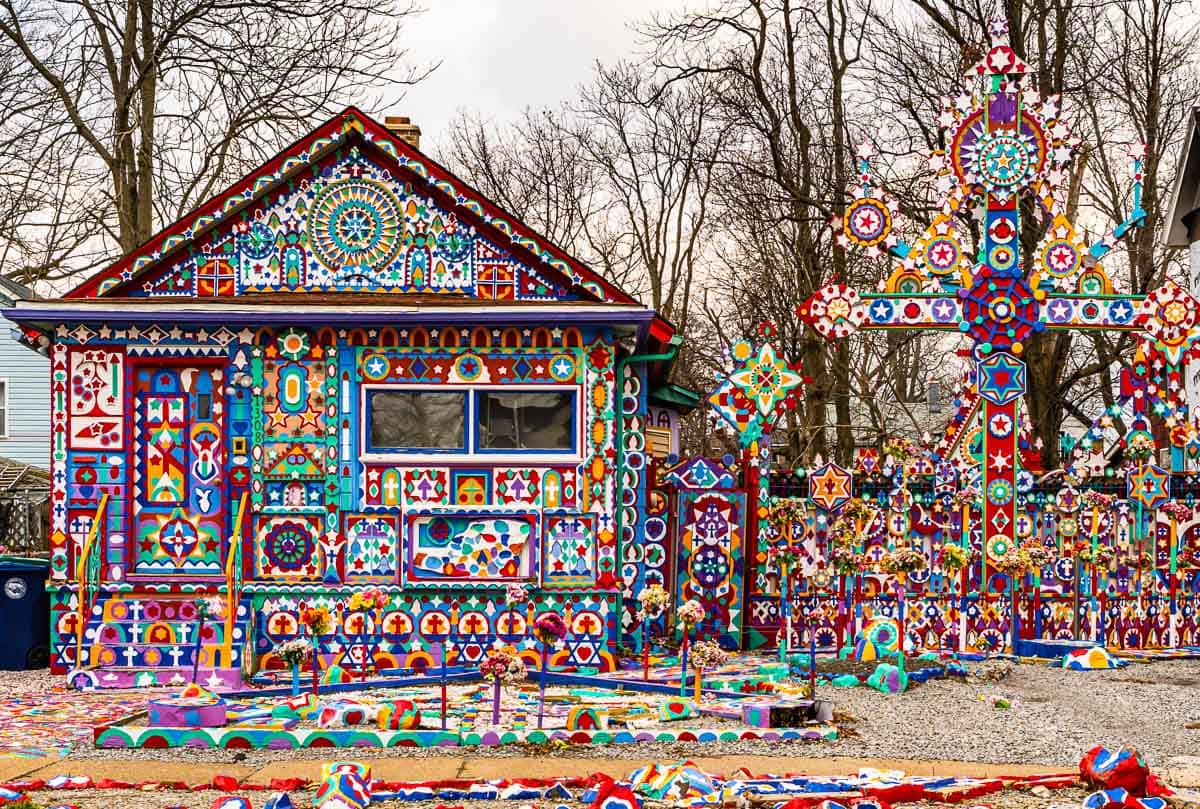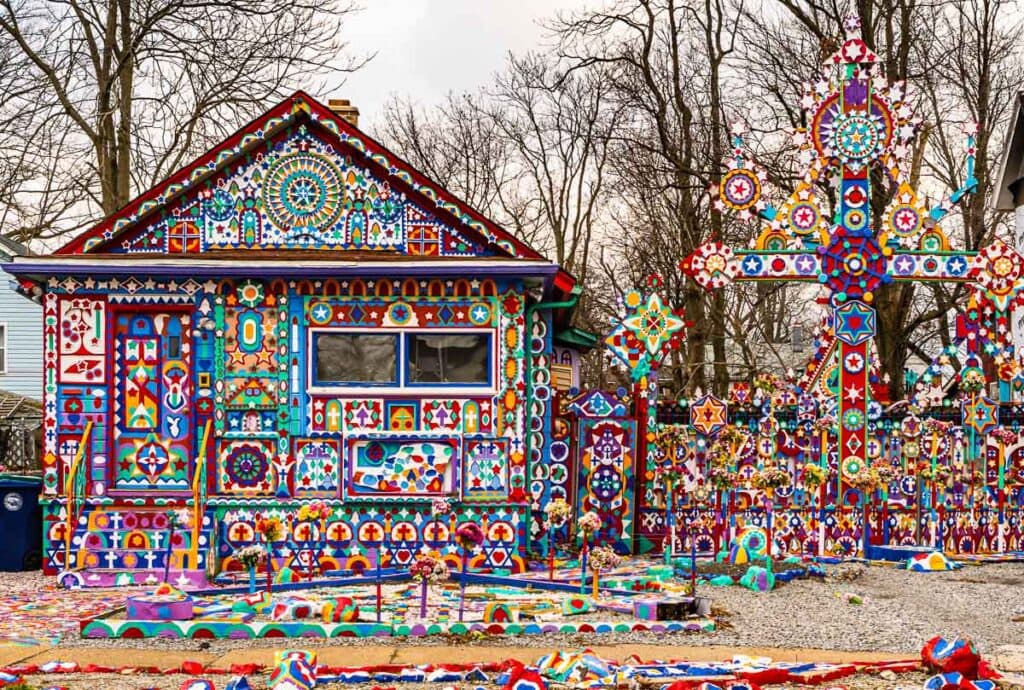 SEE: Prophet Isaiah Housse
Prophet Isaiah passed away on January 25, 2020, but the colorful house he dedicated to the Lord remains. According to Roadside America, God called Isaiah to "transform a run down Niagara Falls house into a carnival-colored showplace, a beacon to catch people's attention so that they could be saved."
Find it at 1308 Ontario Ave., Niagara Falls, NY.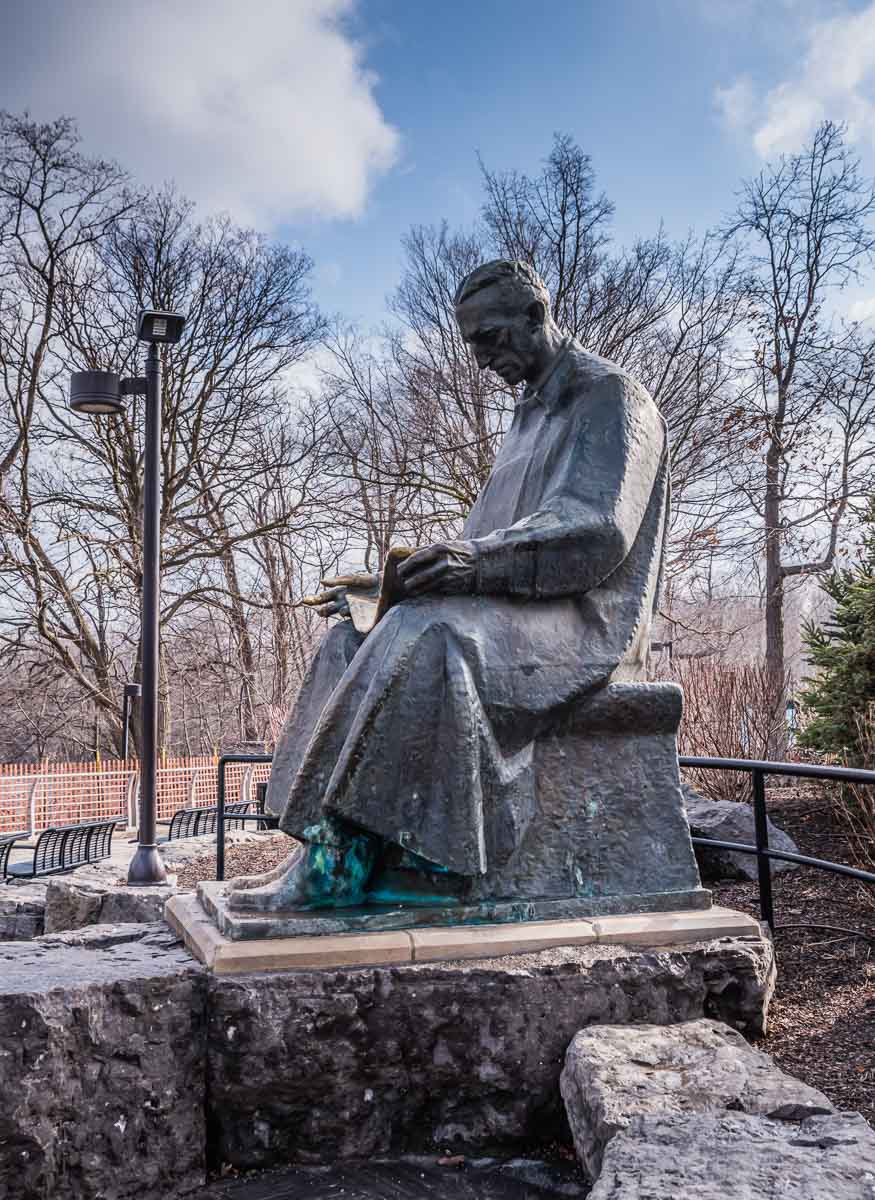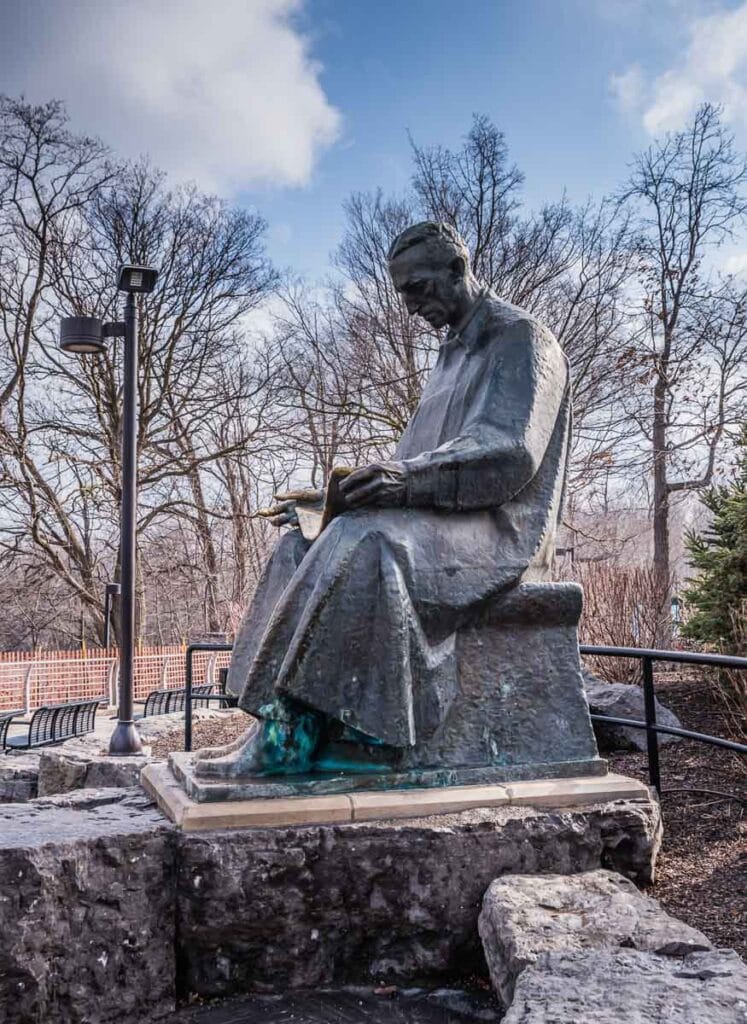 GO: Niagara Falls Hikes
Goat Island Scenic Walk in Niagara Falls State Park. (2.3 miles) Accessible year-round, this mostly level easy hike circles Goat Island. Explore the oldest state park in the US. Some points of interest include the Nikola Tesla Monument, a view of Horseshoe Falls from Terrapin Point, and a close-up of the upper rapids around the Three Sisters Islands.
Niagara Gorge Rim Trail and Whirlpool Rapids Loop. (3.5 miles) Moderate trail with great views. Steps lead down into the gorge at river level.
Find more hikes in Niagara Falls on the All Trails app.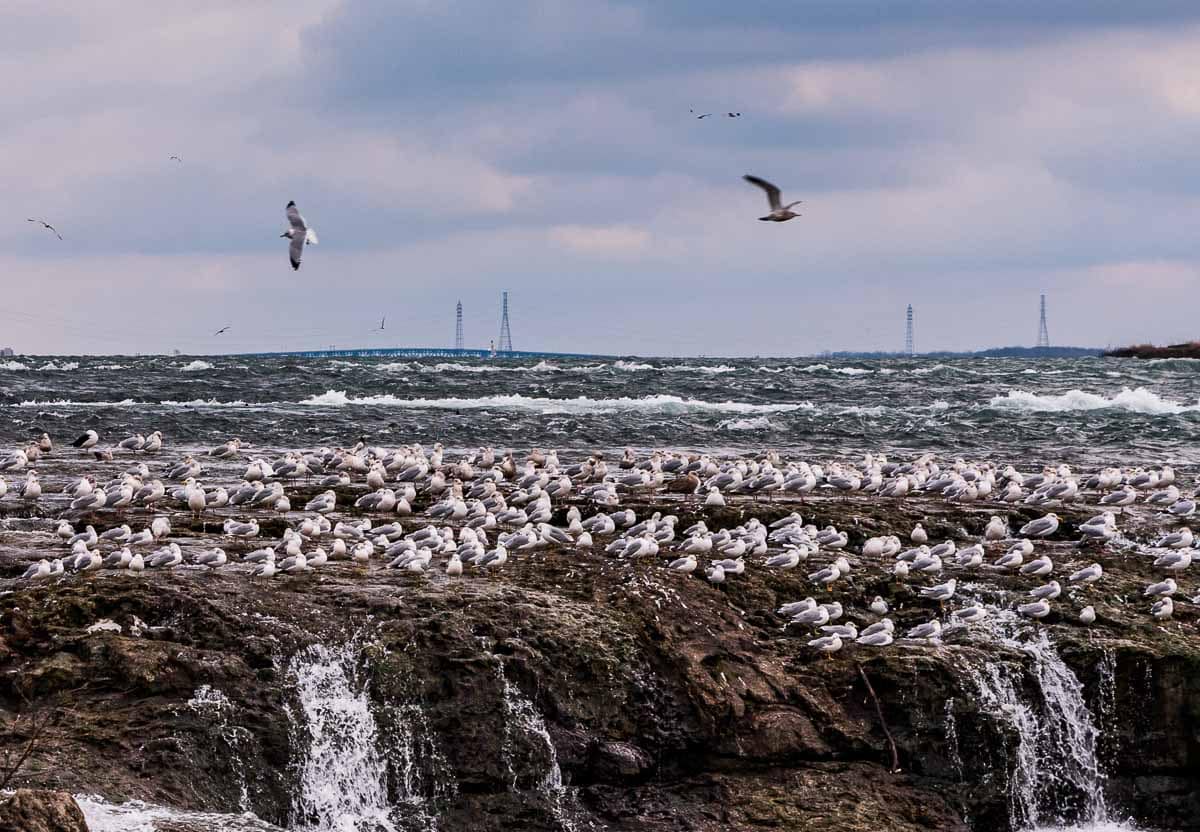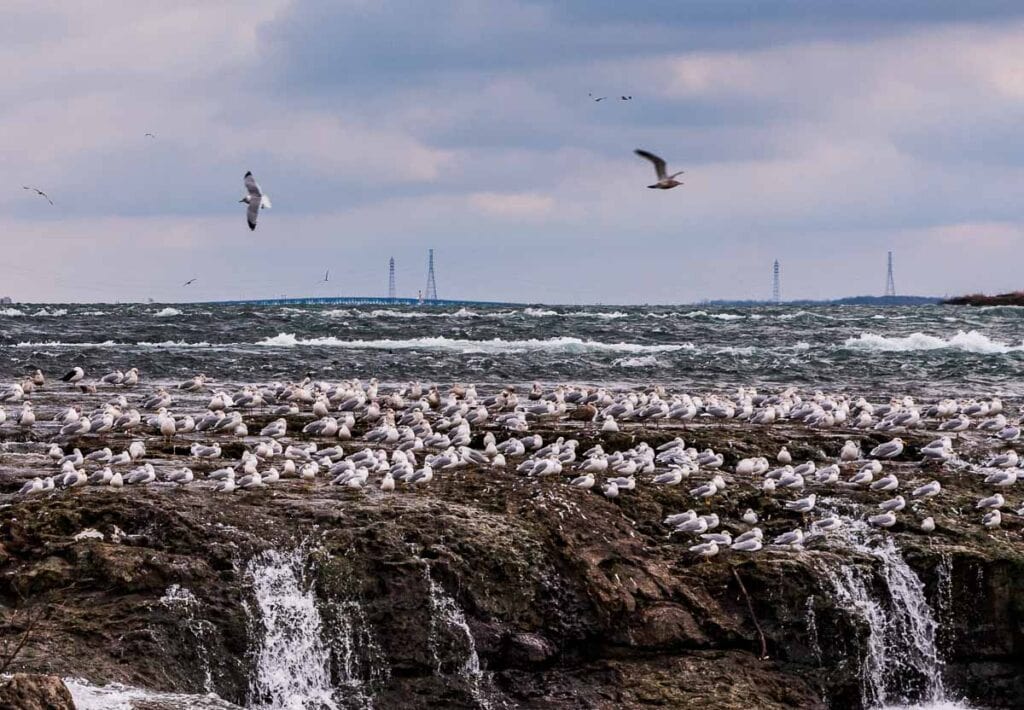 DO: Niagara River Corridor Birding
Known for its gulls, waterfowl, and raptors, the Niagara River Corridor has been recognized as a "globally significant" Important Bird Area (IBA.) Bird watchers are set up at the Observation Tower and other spots in Niagara Falls State Park; elsewhere, they head to Whirlpool State Park, Artpark, and Fort Niagara State Park.
Beyond Lake Ontario, there is excellent birding at Four Mile Creek State Park, Wilson-Tuscarora State Park, and Golden Hill State Park.
GO: Ice Skating
Bring your own skates and glide for free outdoors at Deveaux Woods State Park (call ahead to confirm that it's open.) Or head indoors to skate at Hyde Park Ice Pavilion.
SEE: Falls Illumination.
Every evening, weather permitting, Niagara Falls is illuminated on both the US and Canadian sides. "Inspired By Nature" calls upon the colors of sunrise, sunset, rainbows, and the aurora borealis. Additional displays honor charitable causes. Find the illumination schedule here.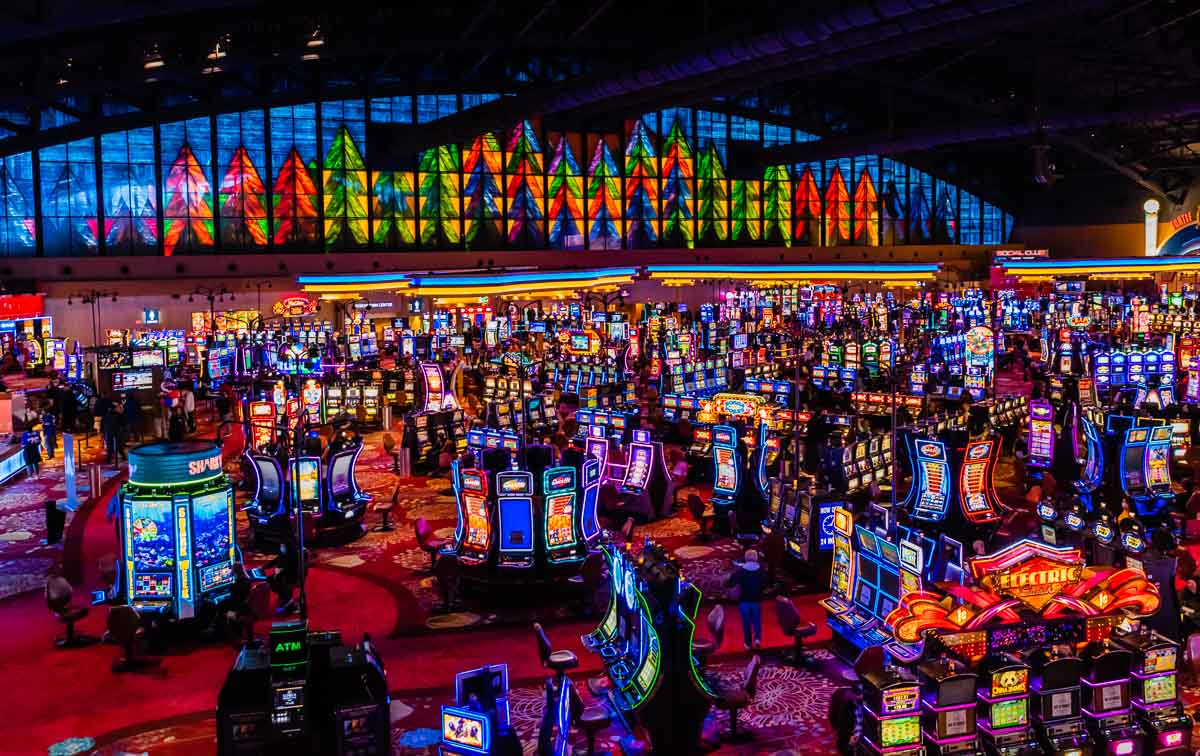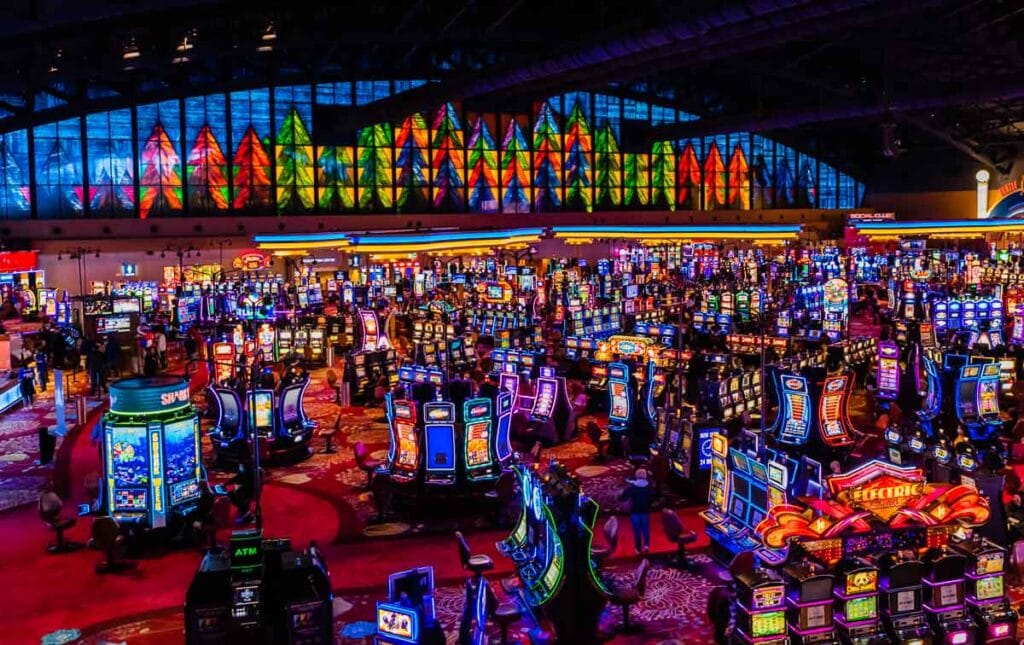 PLAY: Seneca Niagara Casino
2,700 slot machines, 80 live-action tables, and all the neon you could like enliven the massive gaming floor at Seneca Niagara Resort and Casino. Restricted admission and smoke-free zones make this one casino even a non-gambler can enjoy.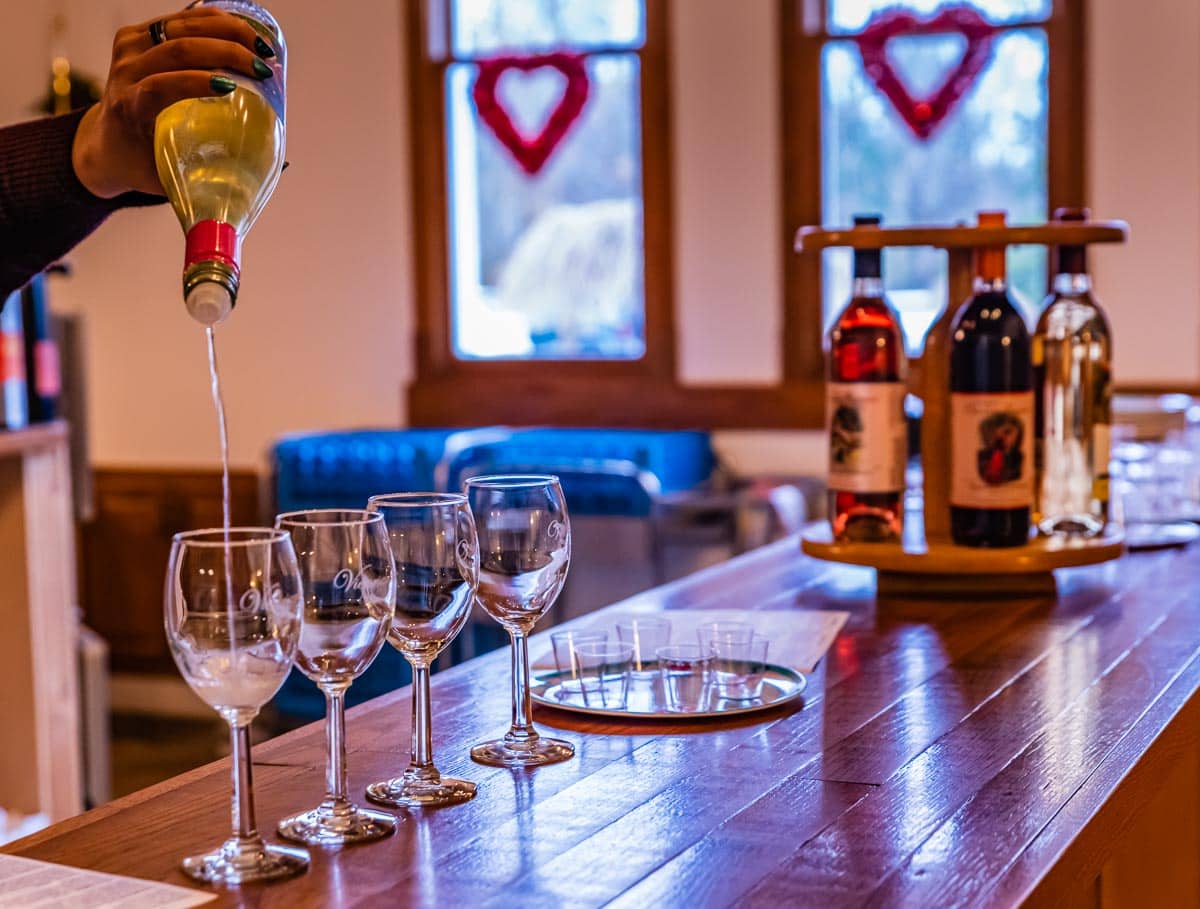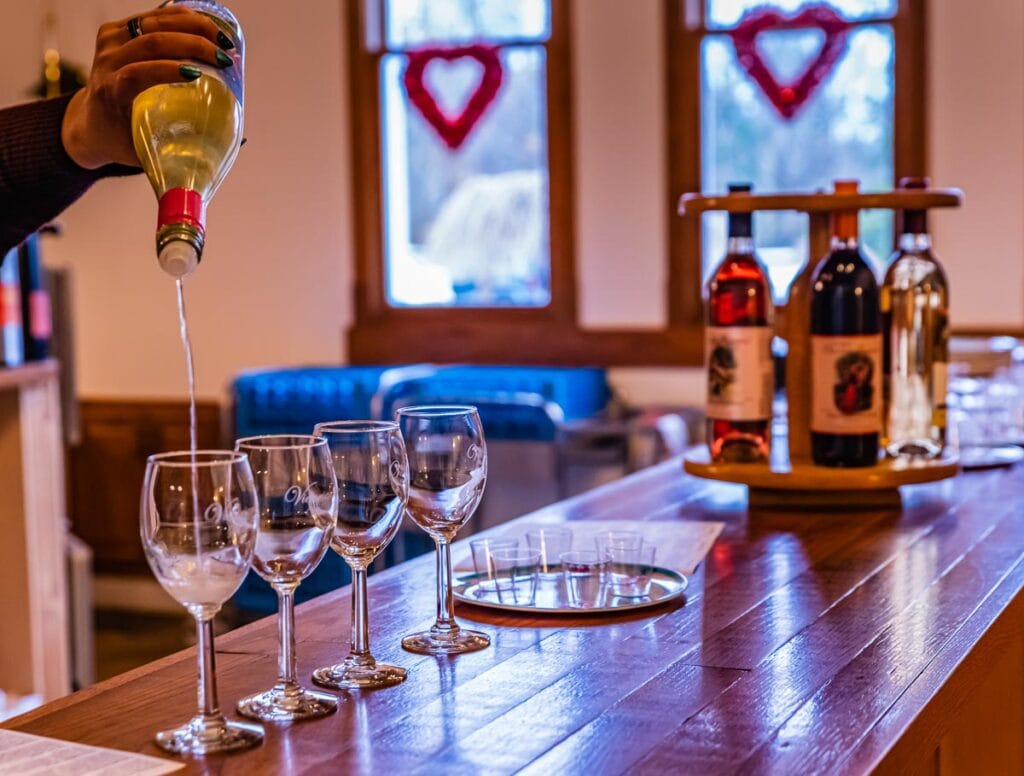 GO: Niagara Wine Trail Day Trip
With nearly twenty wineries on the Niagara Wine Trail between the Niagara Escarpment and Lake Ontario, you could easily spend much more than a weekend exploring all of them. Here are a few of our favorites:
Honeymoon Trail Winery
Picked frozen on the vine, Vidal Ice Wine is Honeymoon Trail Winery's specialty. Sadly, it was all gone by the time we visited in mid-January. Nevertheless, we discovered several keepers.
We took home bottles of the Chillin' Niagara, a sweet dessert wine, and the Pink Catawba. The latter is a sweet blush wine made from one of the first Native American grapes.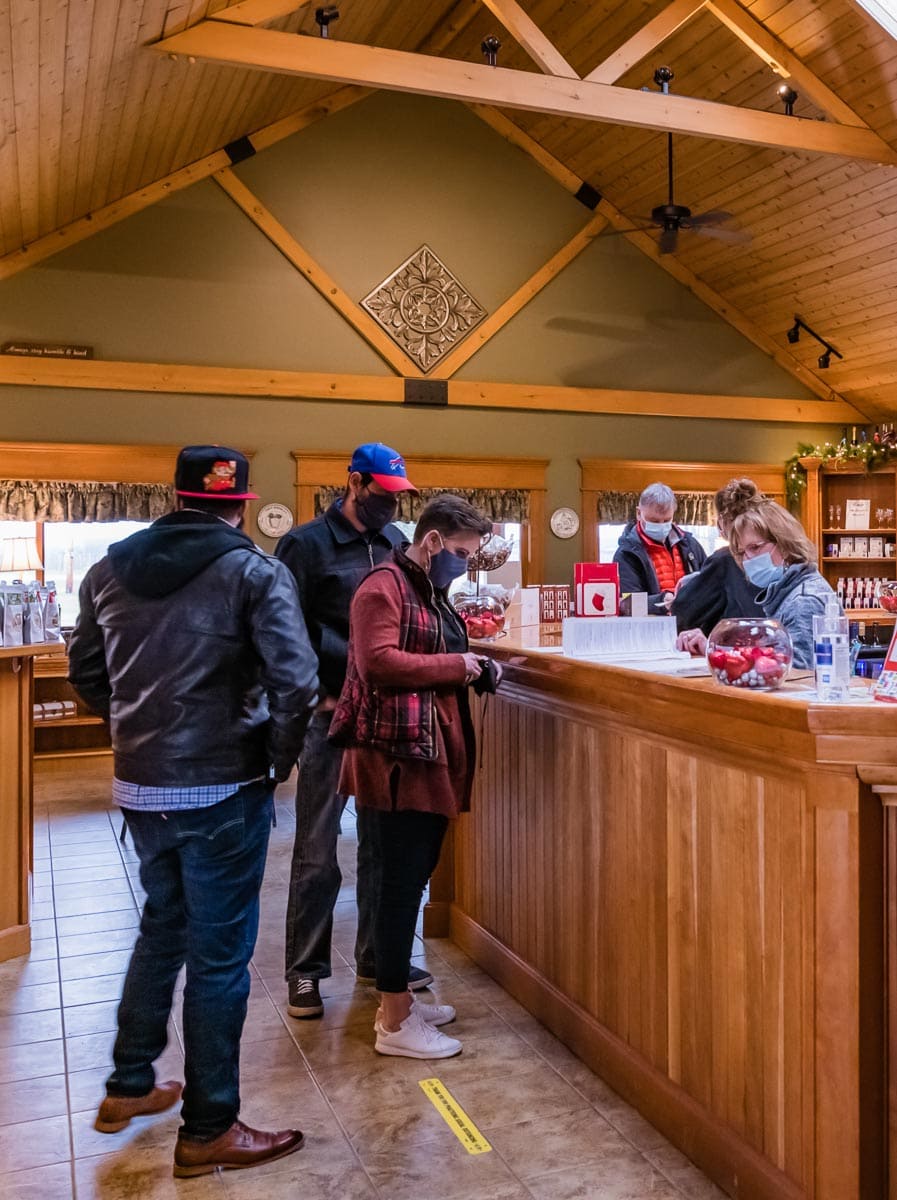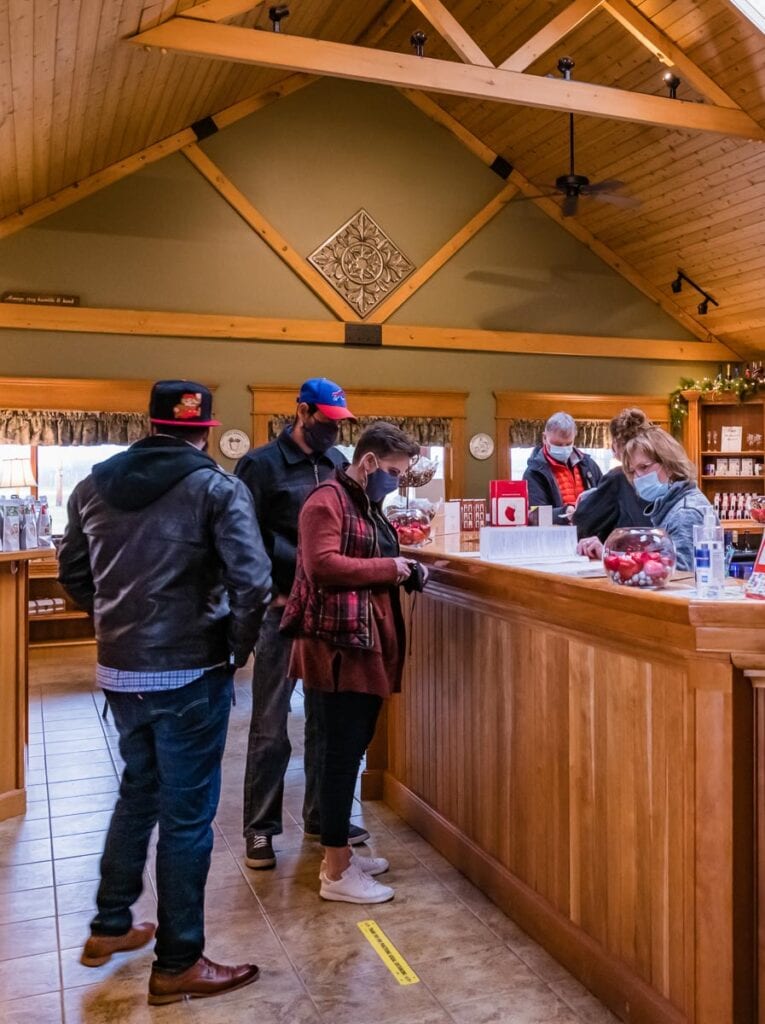 Schultze Vineyards & Winery
We found the ice wine that the region is famous for at Schultze Vineyards and enjoyed sampling these and more in one of the loveliest settings around. Artisanal gifts are a handy complement to wine tastings.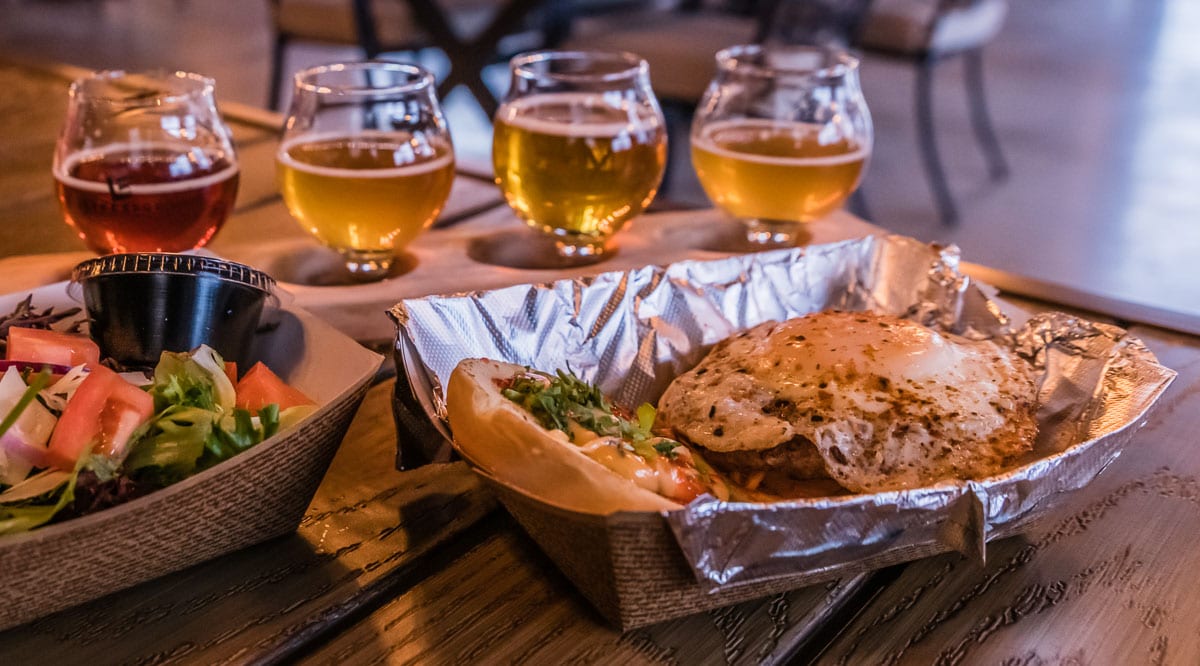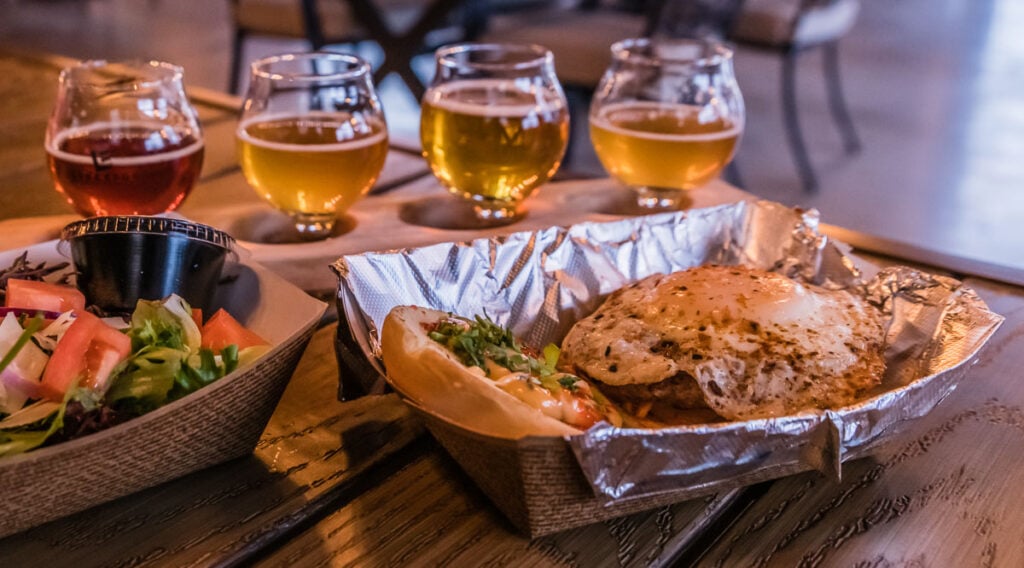 If you're still hungry after wine and snacks, head next door to Live Edge Brewing Company. Their burger menu–Korean Burger, PB&J Burger!!!–is both inventive and tasty.
Victorianbourg Wine Estate
Classy and classic, there's no more delicious combination than wine and chocolate. But THIS is the next level. Pair award-winning dessert wines with truly decadent Knipschildt Truffles for an orgasmic experience like no other.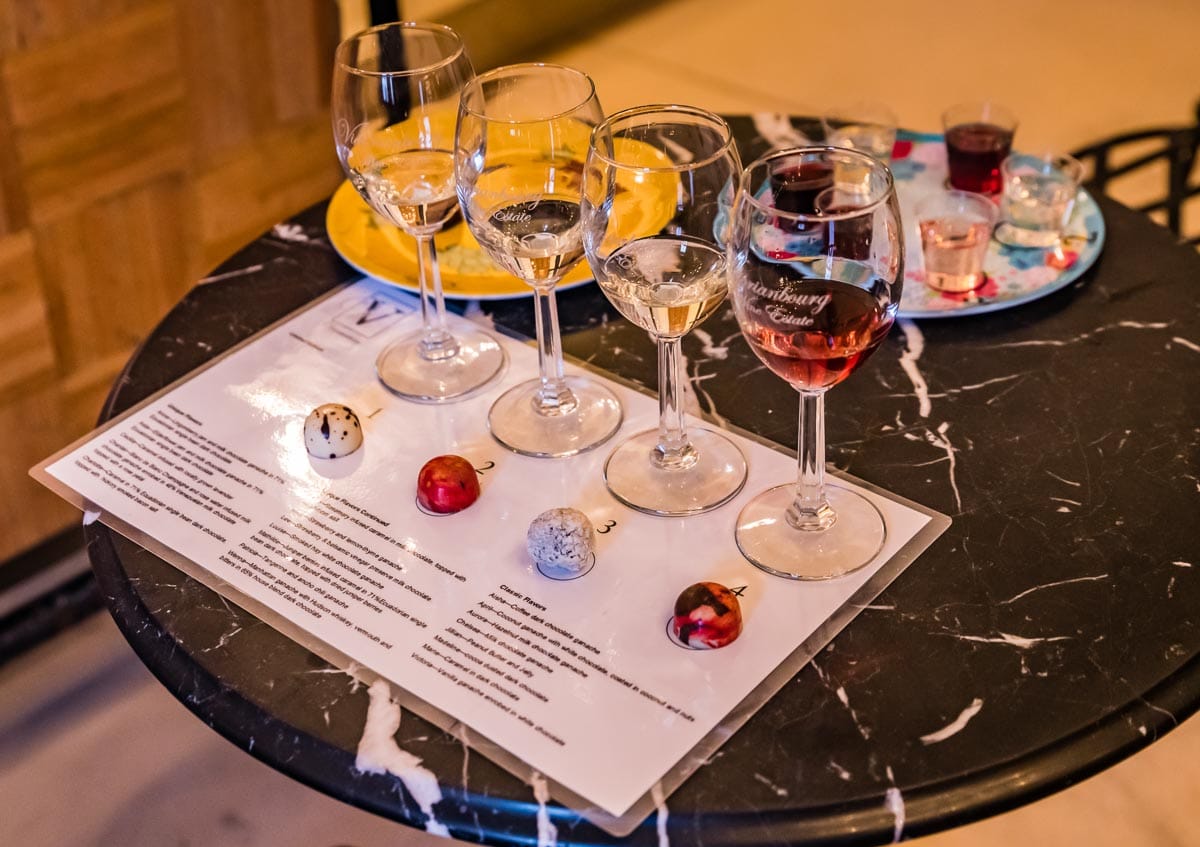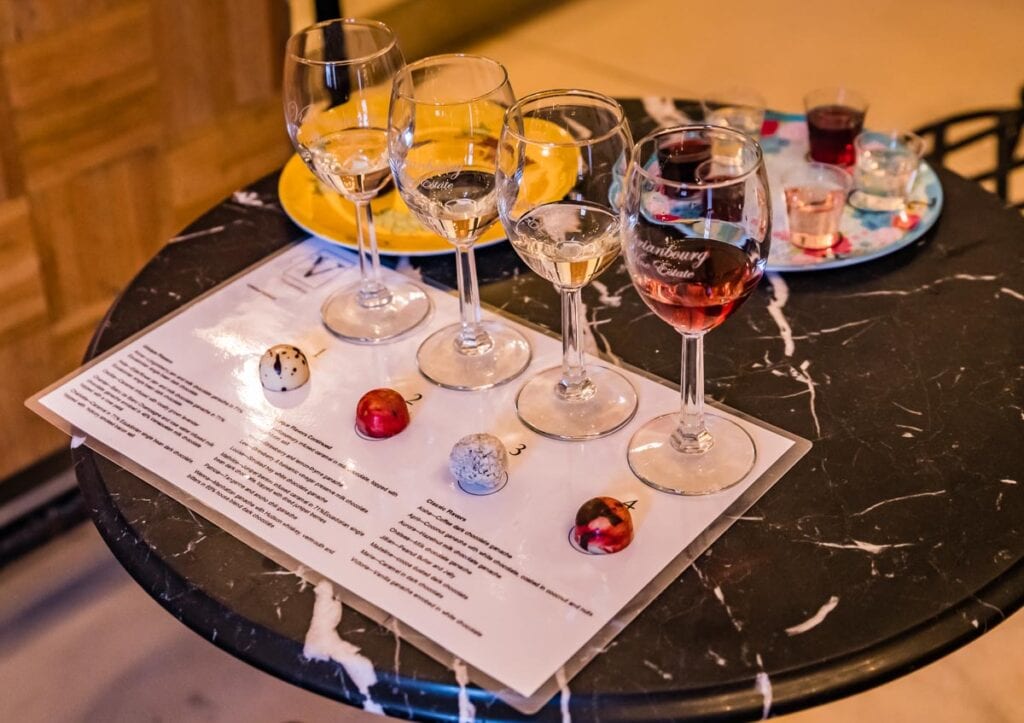 And, because more IS more, finish the pairing off with a tasting of Victorianbourg Wine Estate's Chocolate Wines. We're partial to Chocolate Ecstasy, but also love everything else in the Chocolate Fantasy Collection: Chocolate Flirtation, Chocolate Seduction, and Chocolate Obsession.
Restaurants in Niagara Falls NY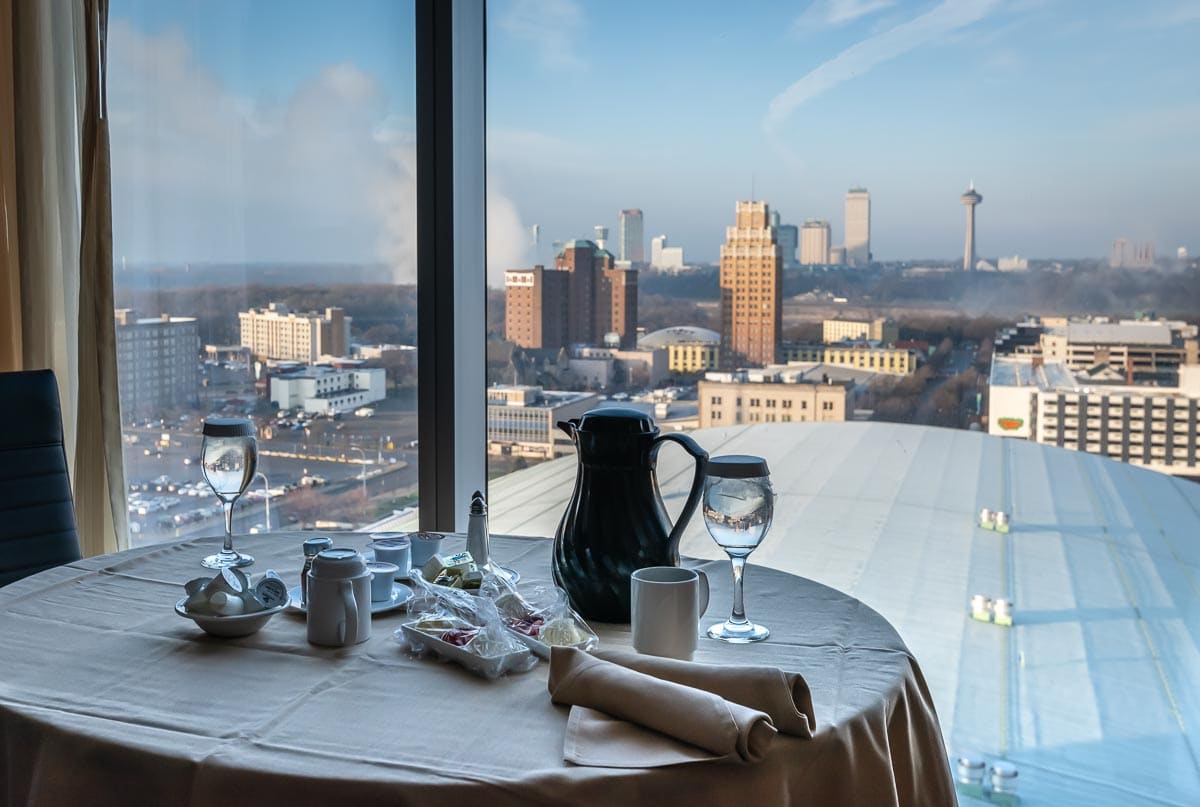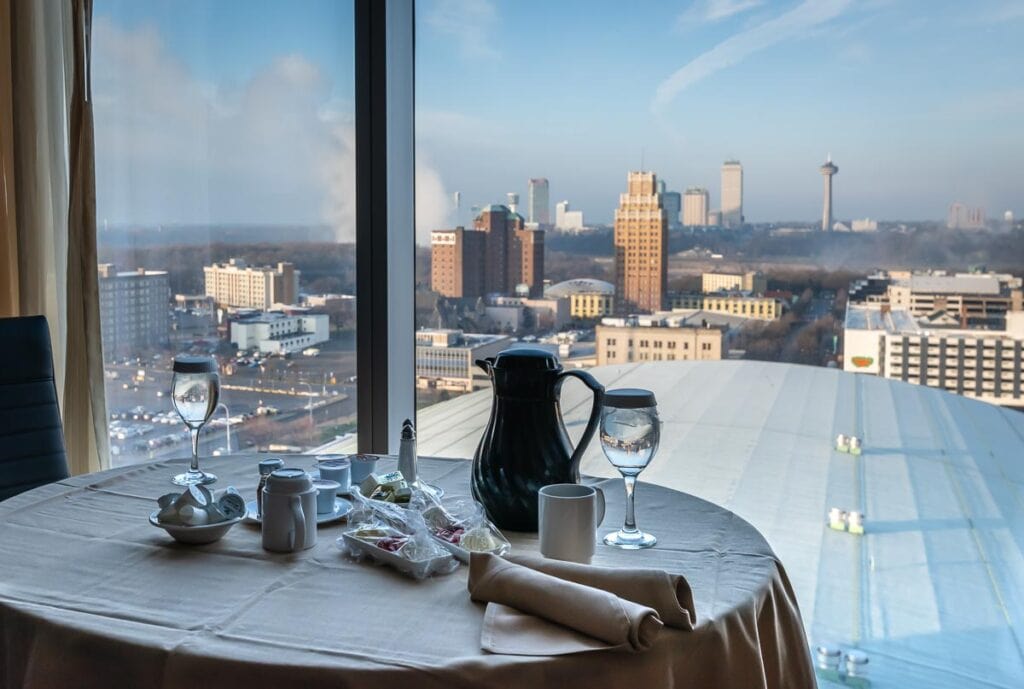 Although indoor dining was open when we visited, we were hesitant to partake. Instead, we enjoyed room service and take-out menus in the privacy of our hotel room.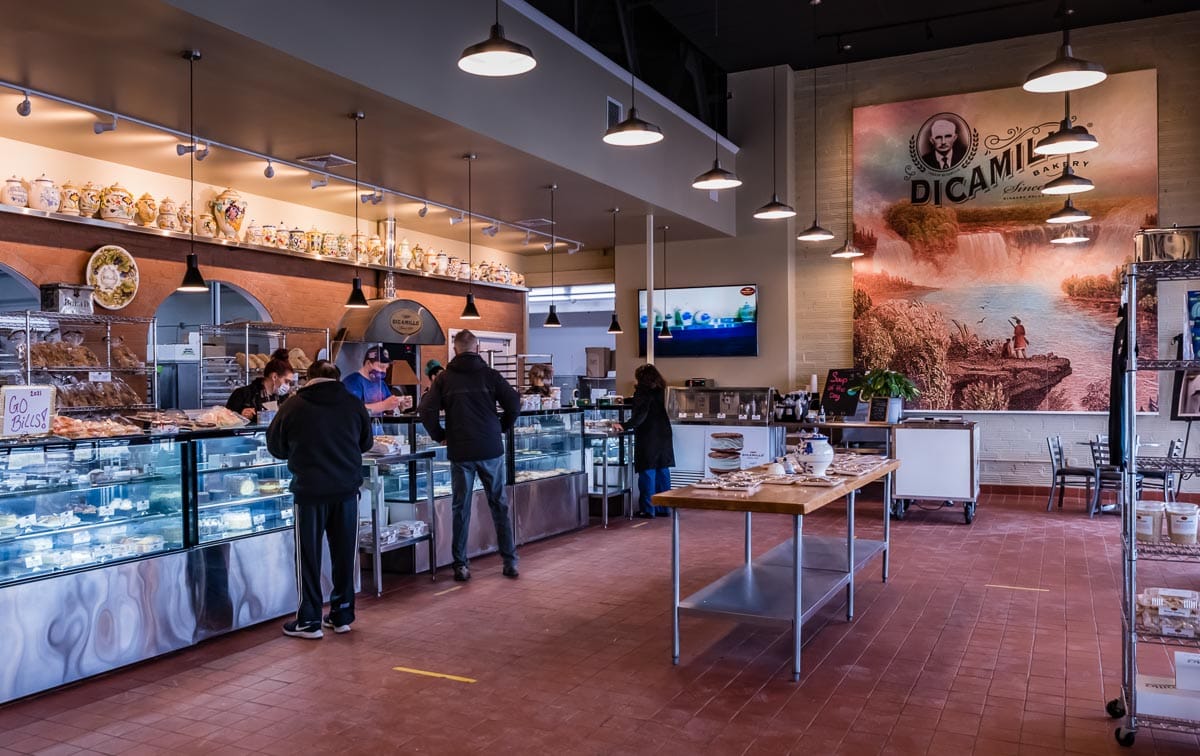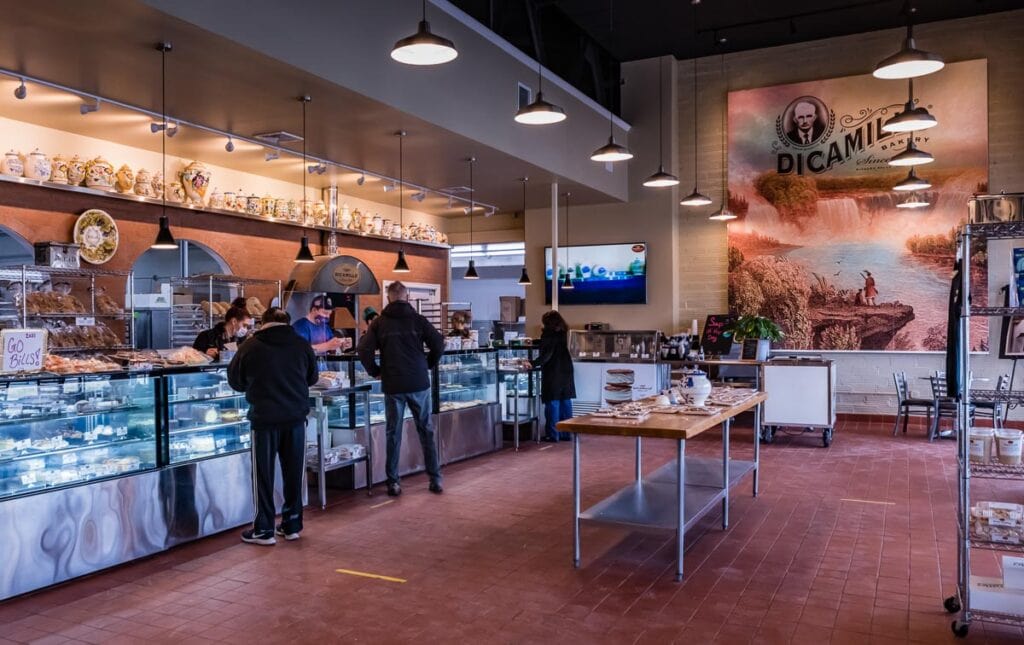 DESSERT FIRST: DiCamillo Bakery
When Joe Kennedy dropped in for biscottis on the JFK campaign trail, DiCamillo Bakery had already been in business for over forty years. The biscottis are still delicious, defining what it is to be a biscotti, and are available to ship anywhere in the country.
In addition to the biscotti, you will find a wide assortment of Italian cookies and pastries, bread, rolls, and artisanal pasta.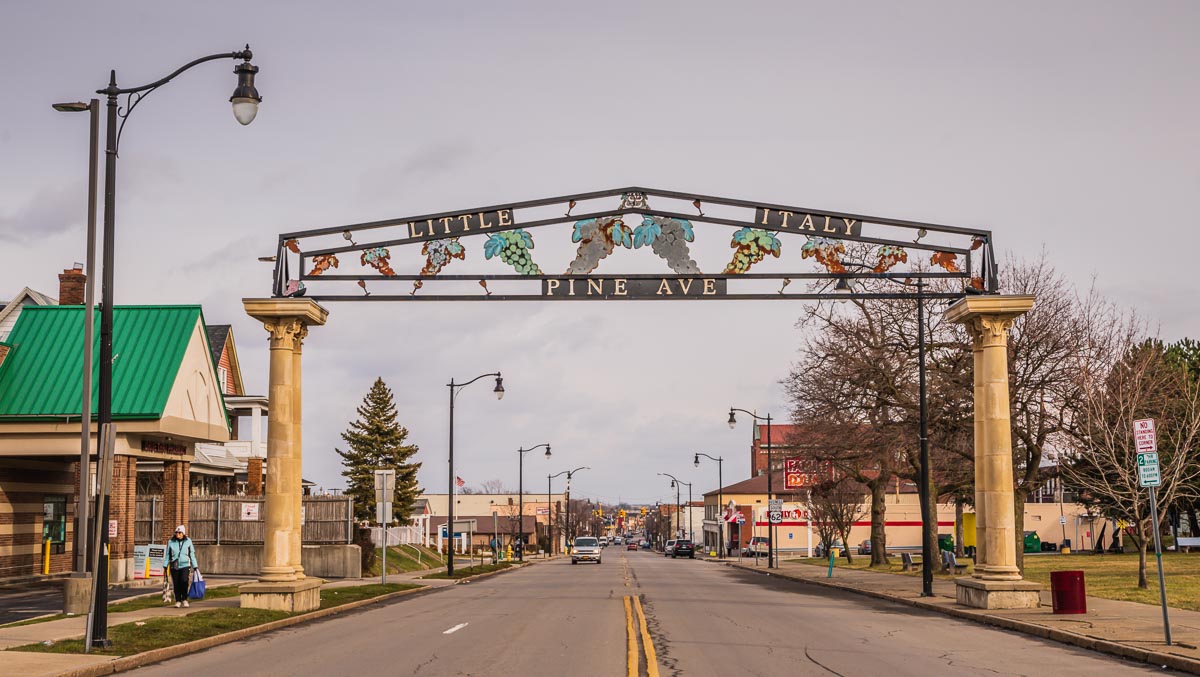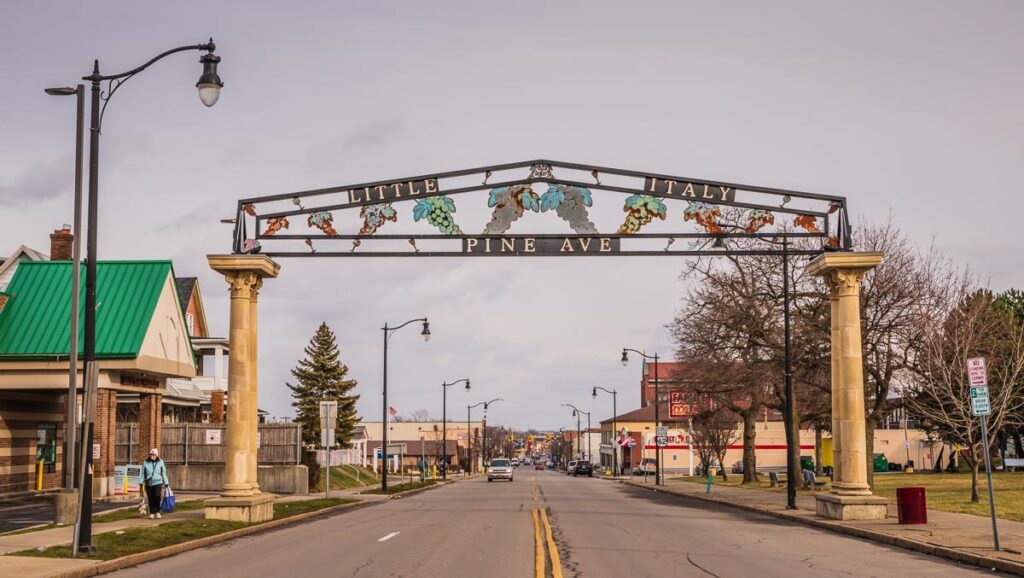 The bakery's flagship shop (interior seen here) is located on Linwood Avenue, and there's another Niagara Falls location in Little Italy.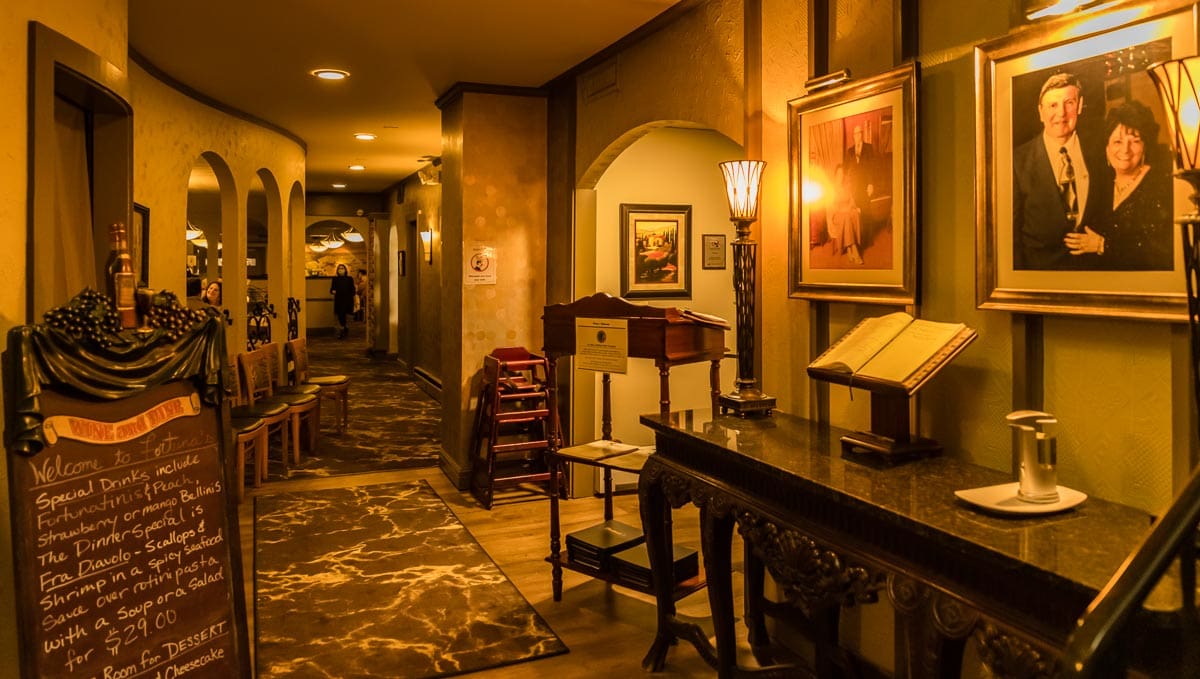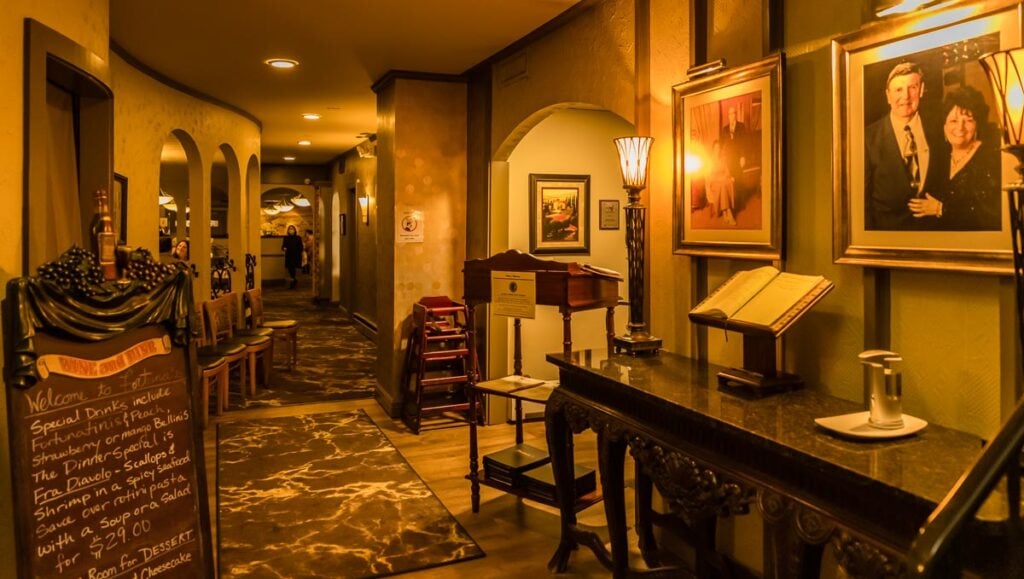 EAT: Fortuna's
Located in Niagara Fall's Little Italy, Fortuna's pasta sauce rivals anything we've ever tasted in New York City's Little Italy. Initially, we had hoped for a romantic dinner at the restaurant, but no seats were available on a Saturday night.
We did catch a brief glimpse of the interior before being quickly shuffled outside.
Luckily, takeout is easy and fast. As far as we could tell, everything on the regular menu is available to take home. When the order is ready (ours took less than fifteen minutes,) you receive a phone call alert so that you can drive up for curbside pickup.
DINE IN: Rainforest Cafe
Usually, the main attraction at the family-friendly Rainforest Cafe is the animatronics. But, in the Age of COVID, there's a new reason to eat here: ice caves. Neither ice nor actual cave, the "ice cave" package is pricey ($175-$250 for 4-6 guests, reserved in 2-hour slots.)
These tables are set outside the restaurant, on Old Falls Street; and are a fun way for adult friends to gather (and avoid frequent eruptions from jungle animatronics.)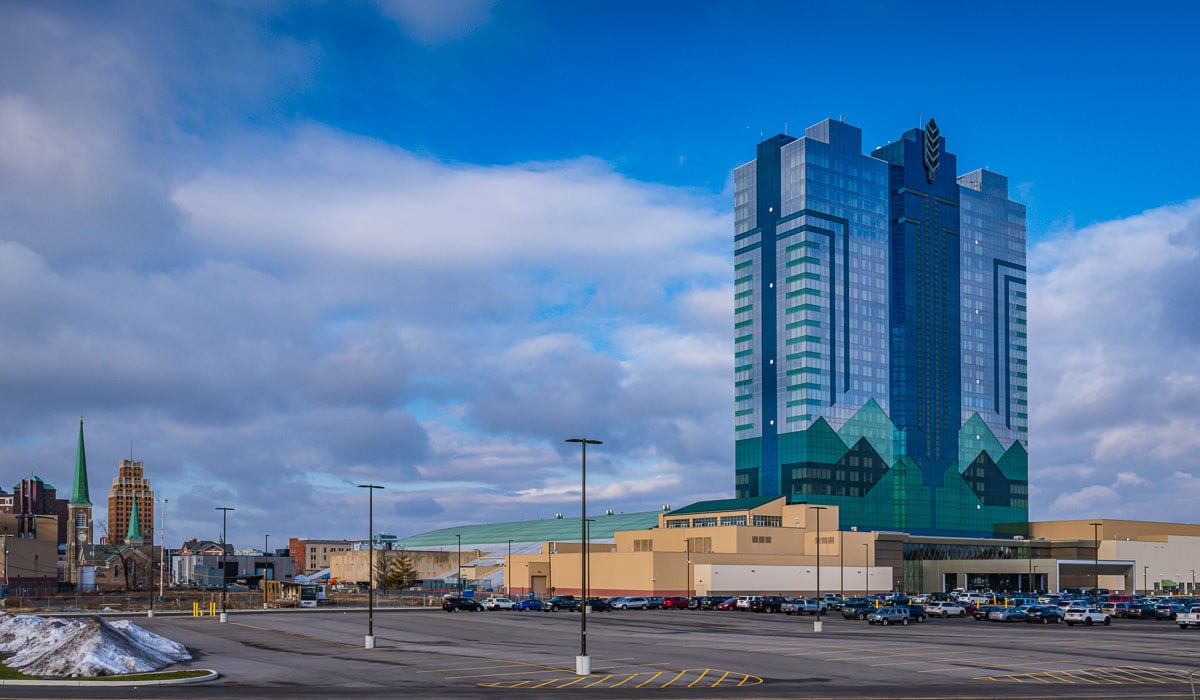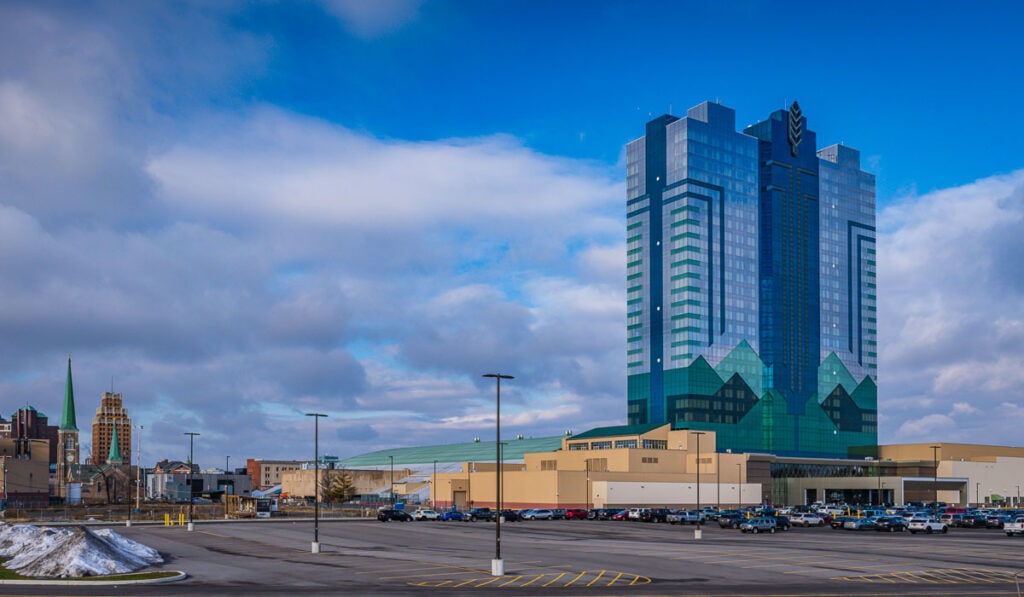 Niagara Falls Hotels
Seneca Niagara Resort & Casino towers over Niagara Falls NY–literally. The hotel is the tallest building in Niagara Falls NY and the 10th tallest building in Upstate New York.
(The tallest building outside of NYC is in Albany NY.)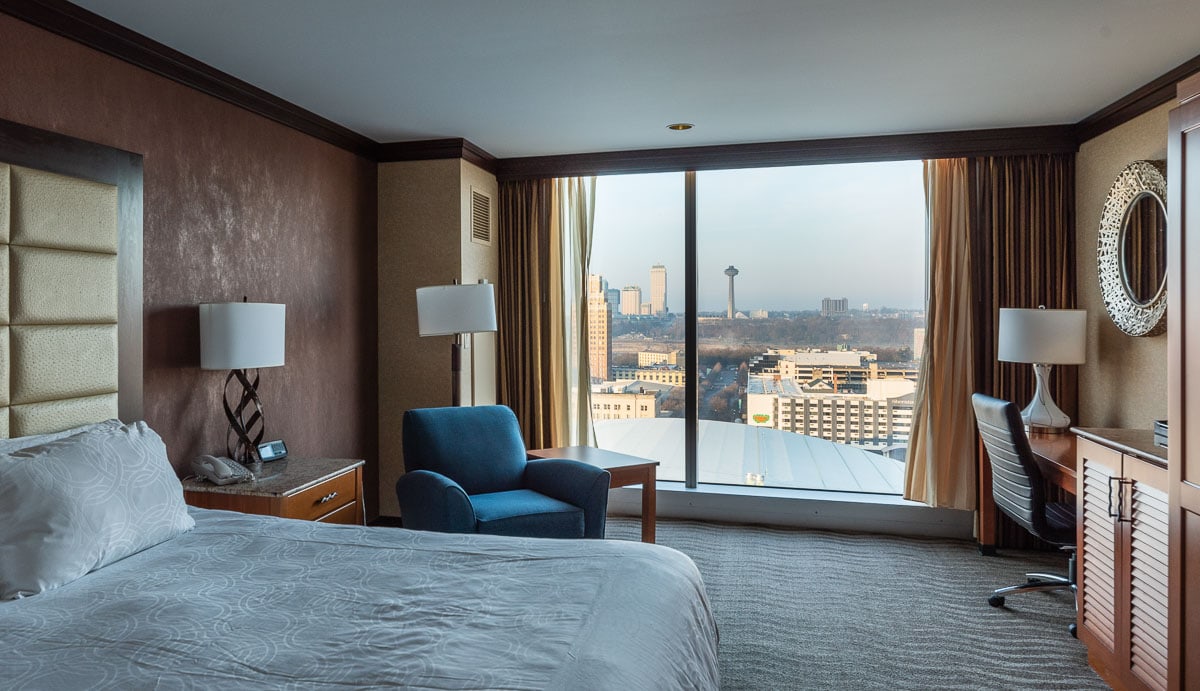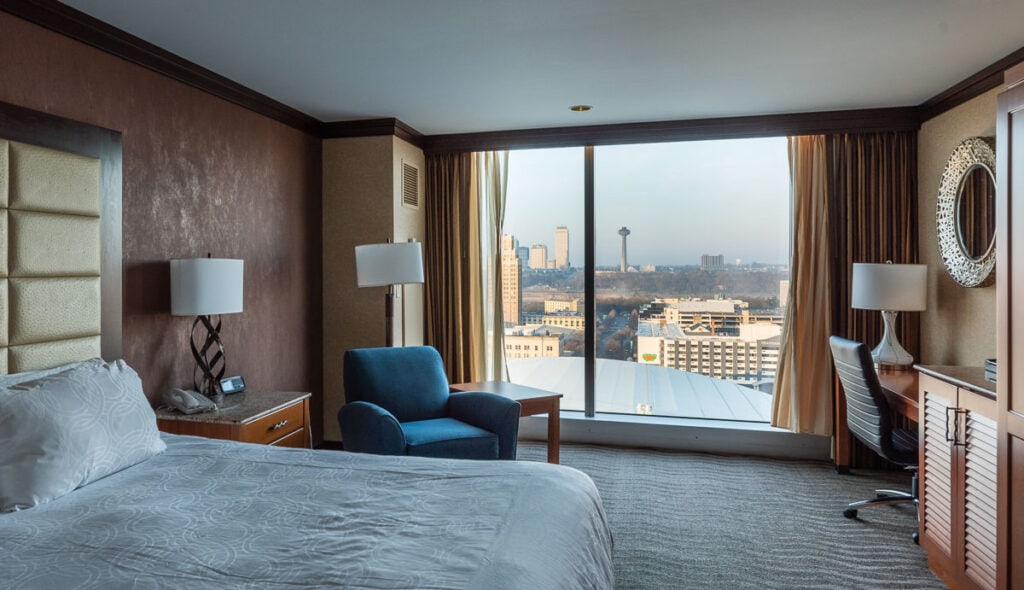 Because of its height, you've practically assured a great view from your guest room. And catering to the adults-only vibe, rooms are spacious, sophisticated, and modern. Best of all, most of the premise has been designated a Smoke-Free Zone.
Couples will appreciate the guest room bathrooms. Large granite showers inset with turquoise tile detail, a nod to Seneca Nation heritage, easily accommodate parties of two. A ceiling heater envelopes you in warmth. And you will want to request refills on luxurious and good-for-you Juara Candlenut toiletries (also available to order online.)
The resort has a great spa and indoor pool, but what we most enjoyed was the variety of top-notch bars and restaurants, including Blues Burger Bar, Koi's Asian Fusion, and the Western Door Steakhouse. By and far, our favorite is the in-house Canadian-beloved, Tim Hortons.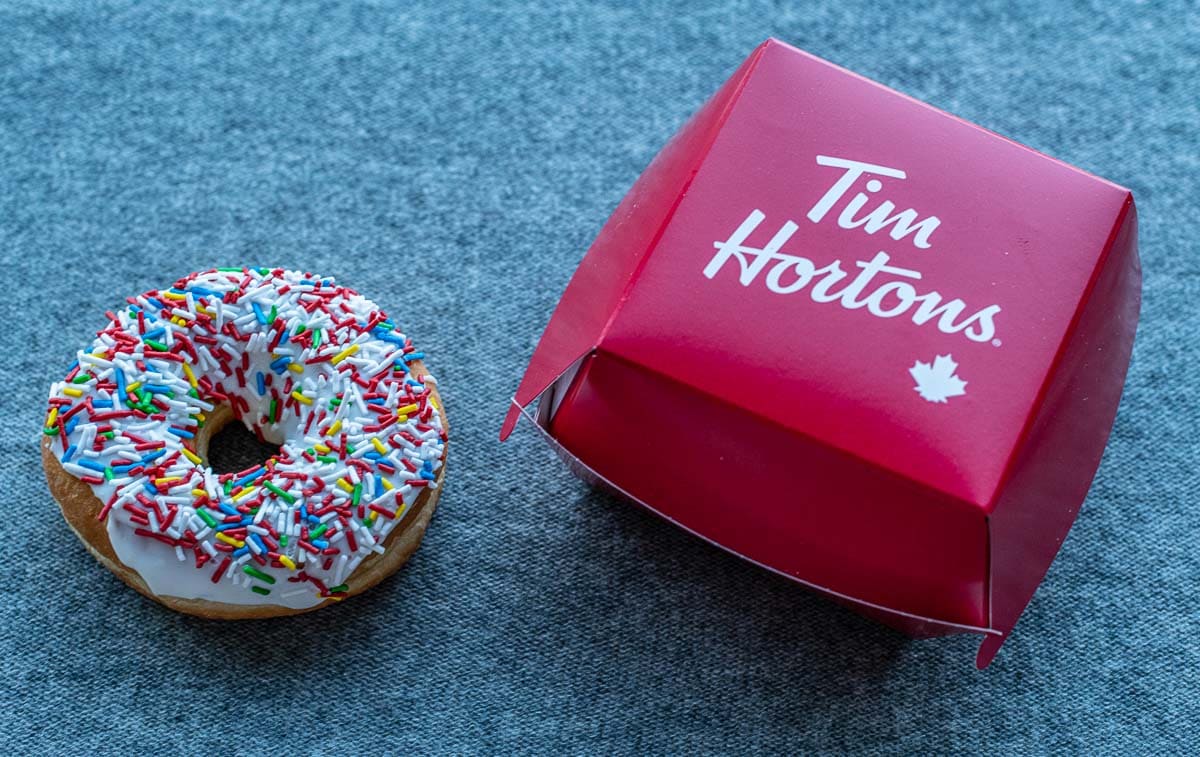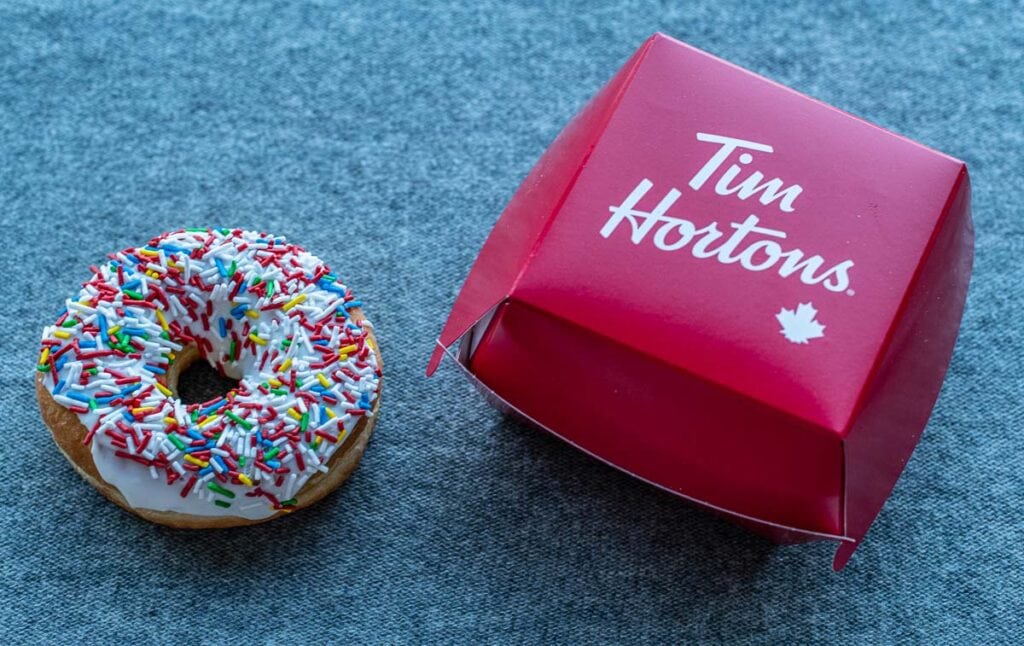 Travel Tips: Plenty of free parking in the covered garage, but that's also where folks go to smoke. Your best bet is open-air ground-floor parking. Also, fuel at the onsite gas station is considerably cheaper than anywhere else in the area. Do fill up before leaving.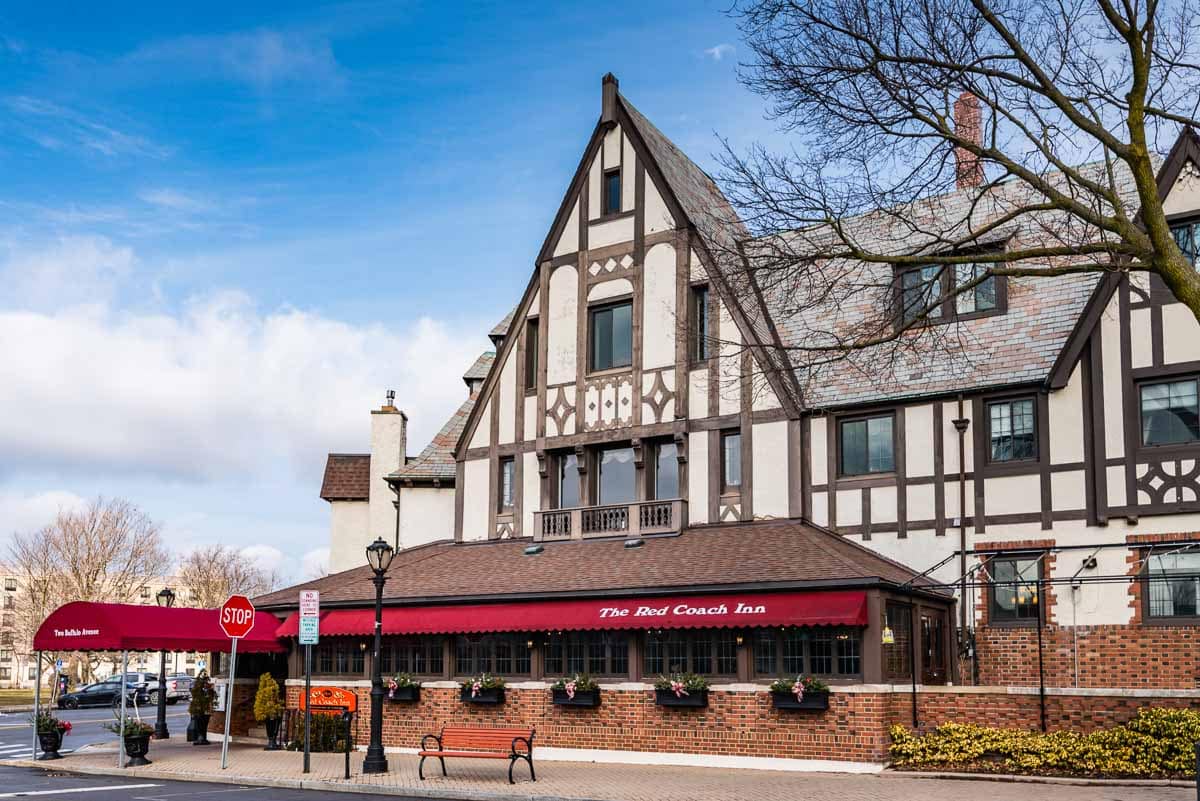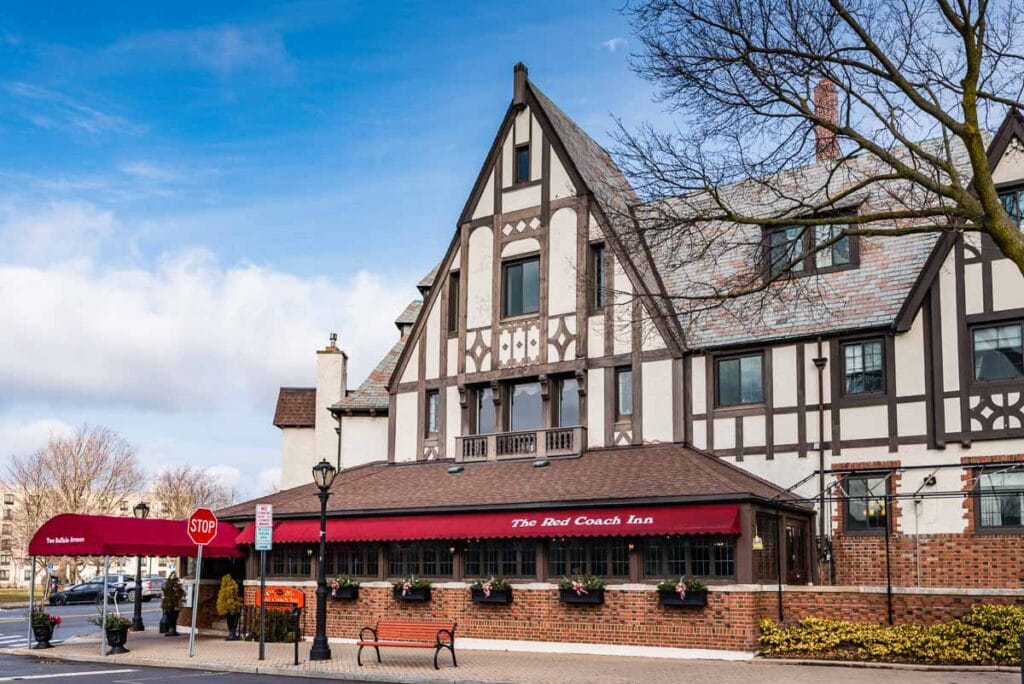 Historic Red Coach Inn has the best location, so close to the waterfalls that "you can hear the roar." Constructed in 1923, the English Tudor-style hotel was modeled on the Bell Inn in Finedon, England. It's considered one of the most romantic hotels in Western New York.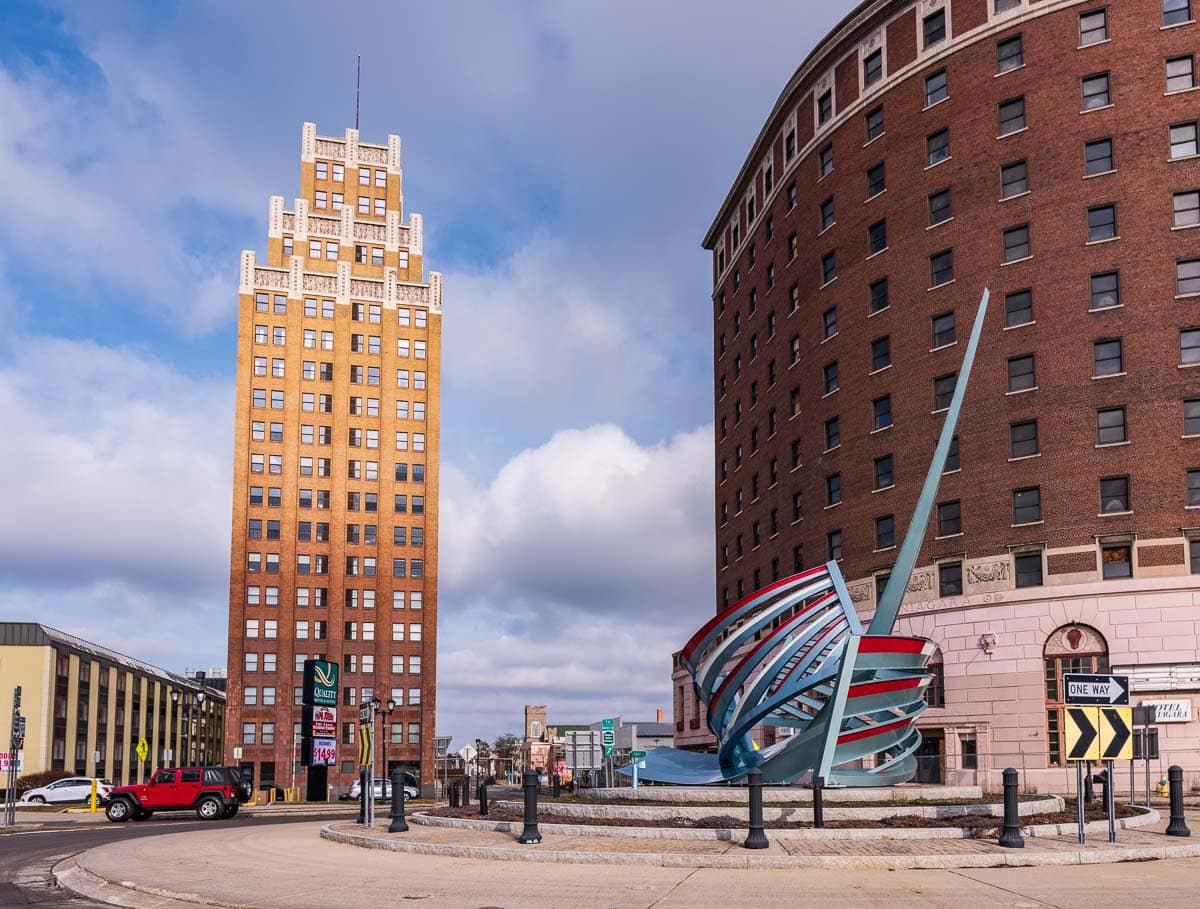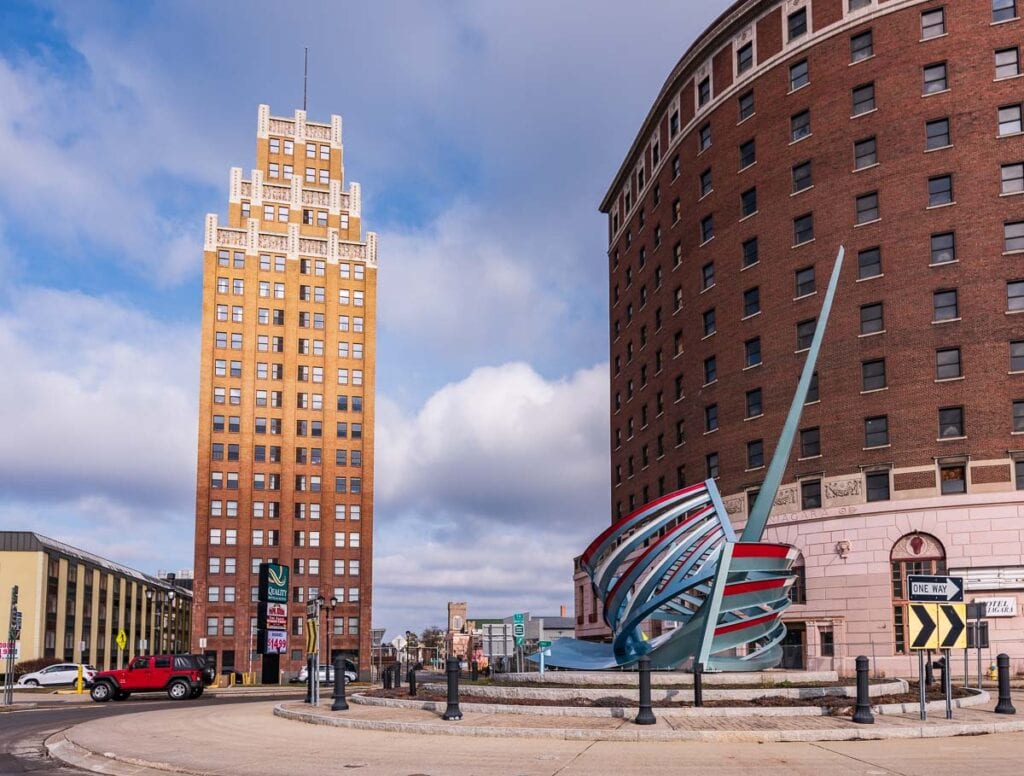 Amanda, of the popular A Dangerous Business travel blog, describes The Giacomo as a "historic boutique hotel full of character" in her couple's weekend itinerary in Niagara Falls. Rooms are small but well-appointed, and a 19th-floor lounge presents a great view of Niagara Falls State Park.
Discover More Winter Weekend Getaways
Extend Your Vacation with these Western New York Getaways
Weekend Getaways in Canada