Last Updated on December 10, 2019 by Editor
When a Parisian vacation is not in the budget, consider a road trip to Quebec, Canada. Just a five-hour drive from Albany, NY along the Adirondack Northway (Interstate 87,) Mont-Tremblant is well-known for its challenging ski runs and European-style village.
Less well-known is that year-round it's an ideal destination for couples seeking the romance of France, and its cuisine.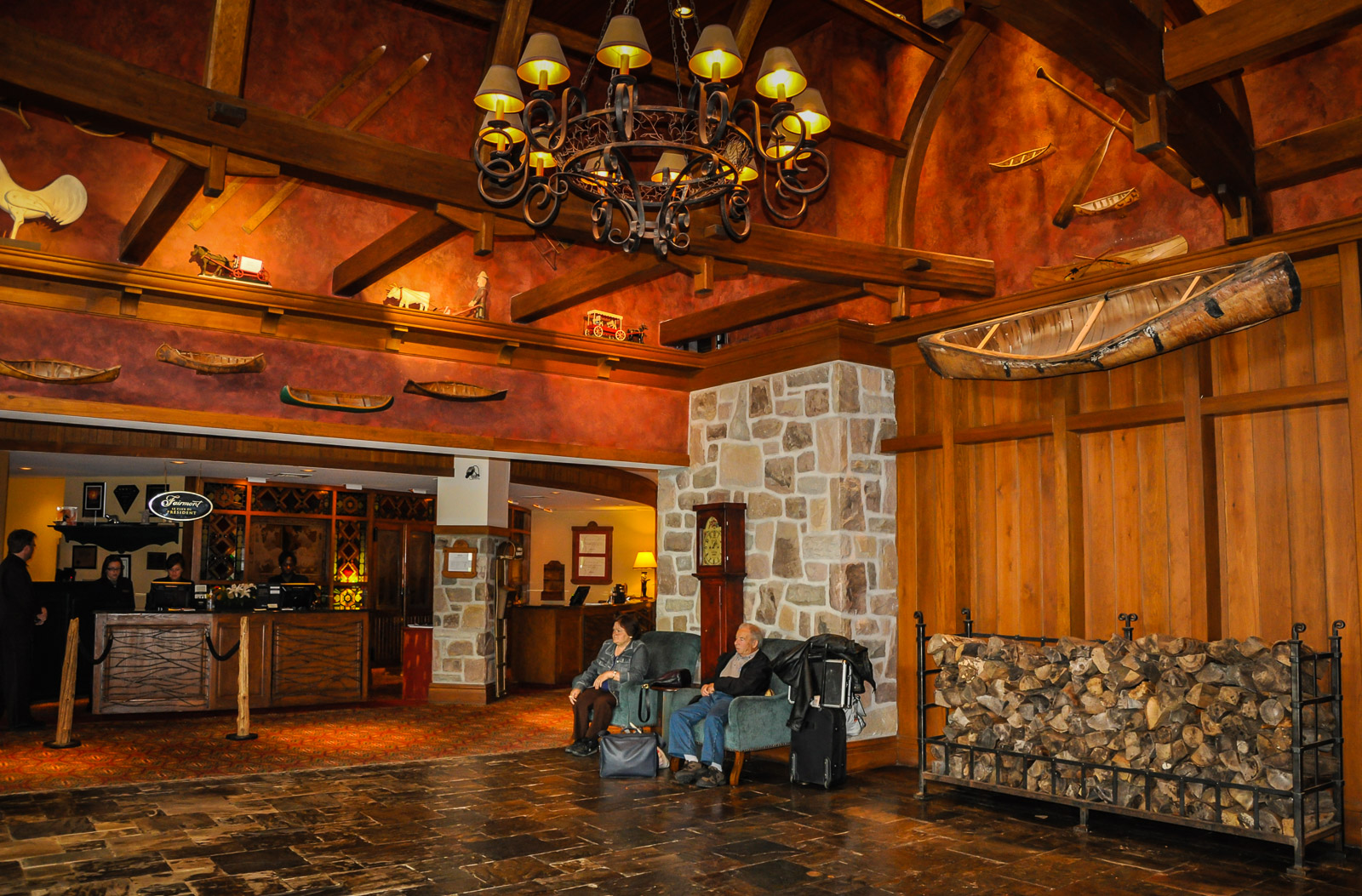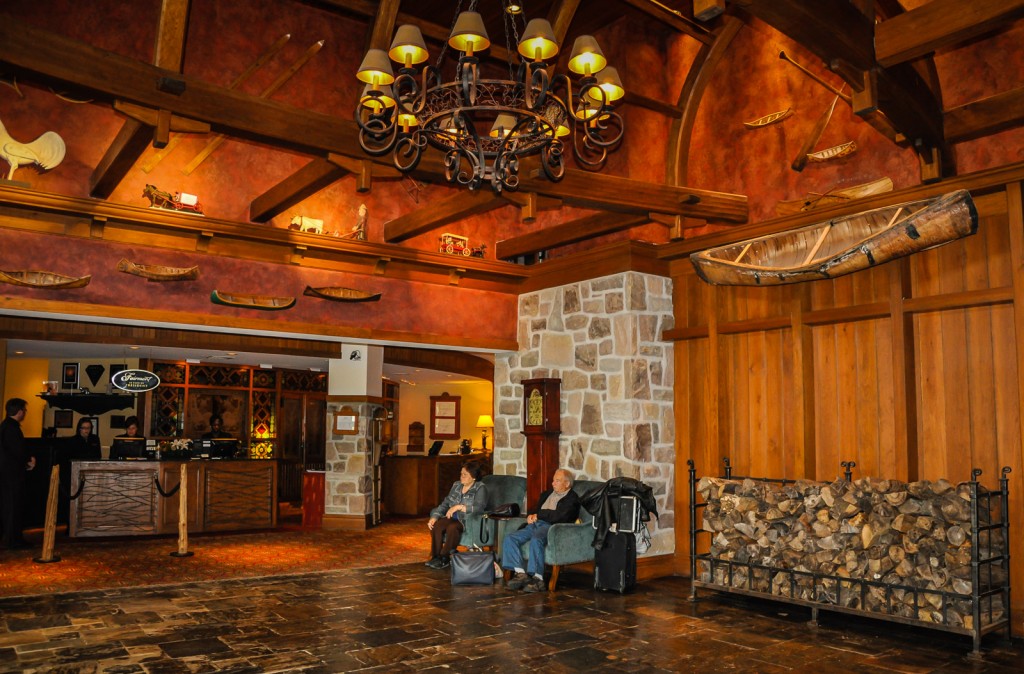 First Impressions
For our 17th wedding anniversary, my husband and I splurged on a weekend getaway at the Fairmont Tremblant Resort. Our first taste of the culinary delights in store for us awaited us shortly after check-in when we received a card and gift of chocolate-dipped strawberries served on a bed of granite.
It was sweet and unexpected as I'd only mentioned the anniversary in passing as I made the reservation.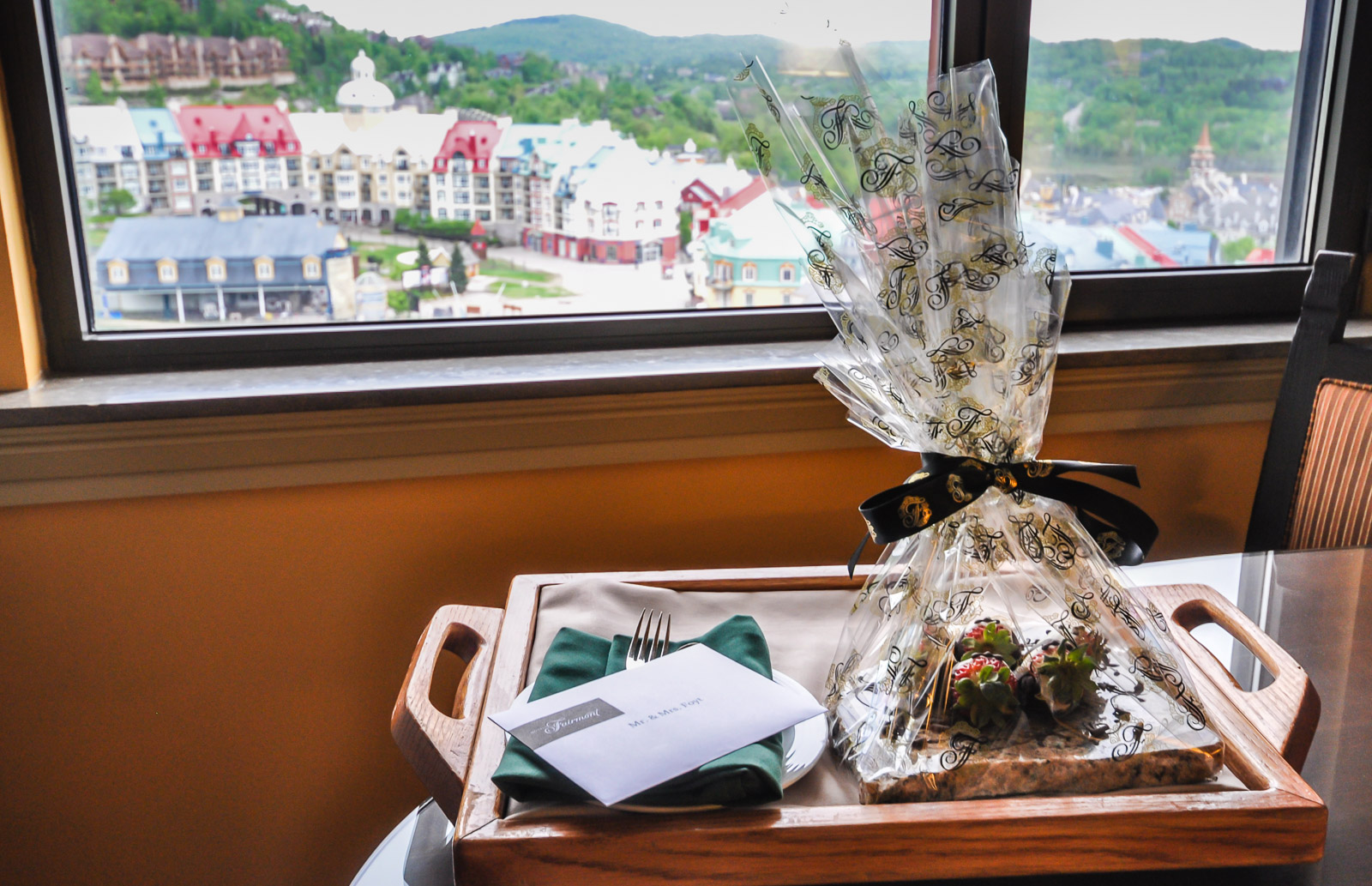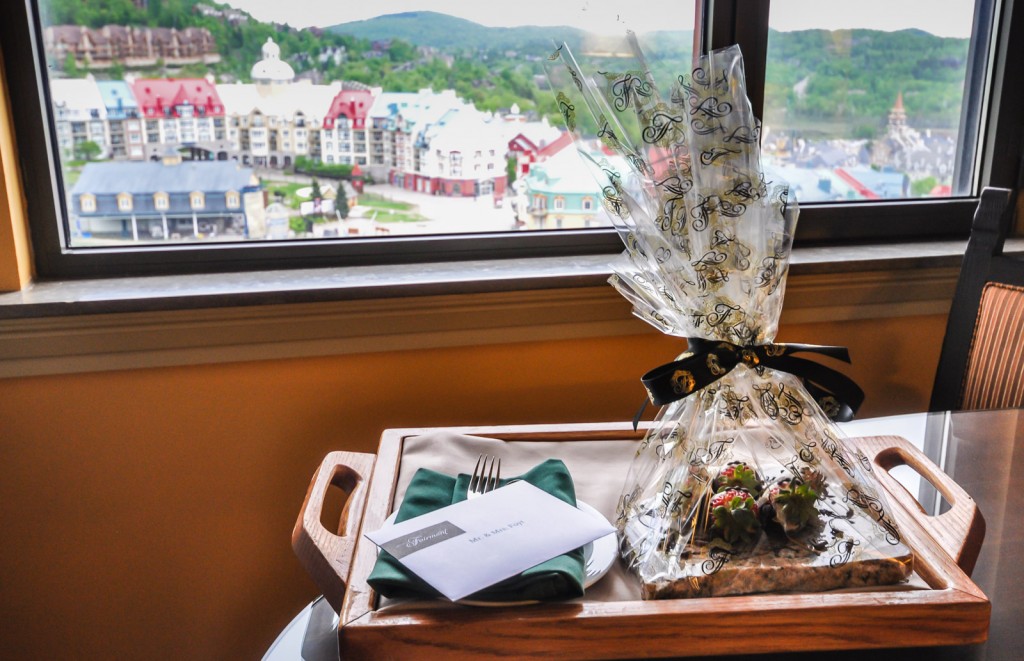 In retrospect, I should have realized that this was typical of a luxury hotel chain known for its attention to detail and eagerness to exceed expectations. Most welcoming of all was the Fairmont Canine Ambassador, the very relaxed Yellow Lab who reminded us of our buddy at home.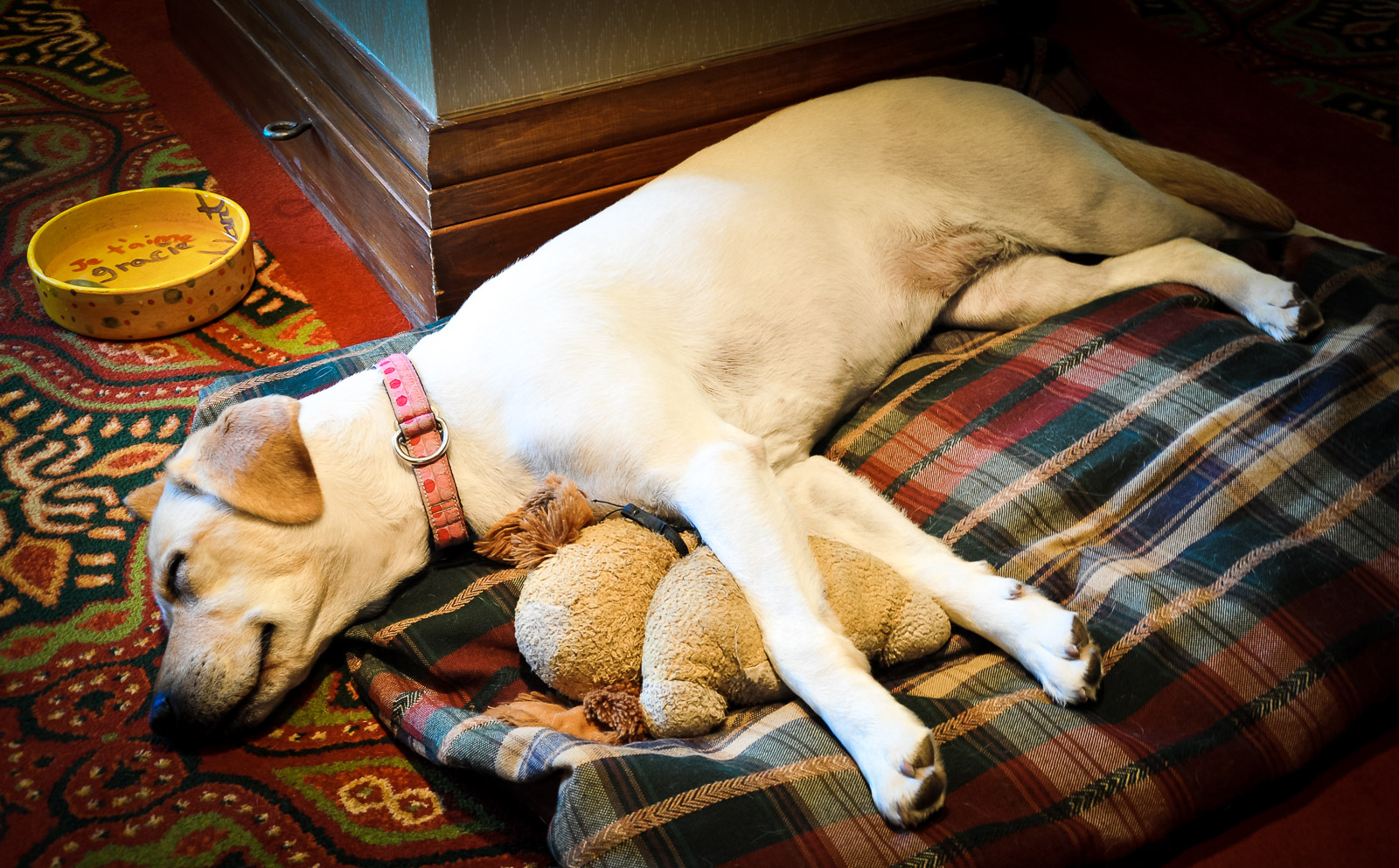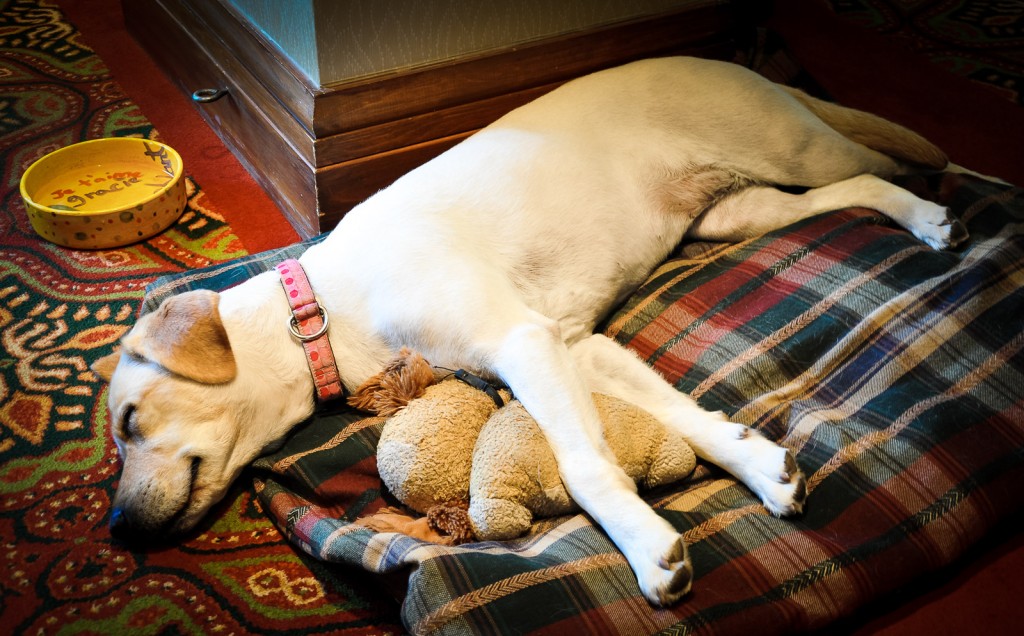 Guest Rooms
Our room was snug, dominated by a sturdy and attractive canopy bed and a mesmerizing view of the ski village set against the backdrop of the Laurentian Mountains. We didn't want for anything, and even the WiFi was included with enrollment in Fairmont President's Club.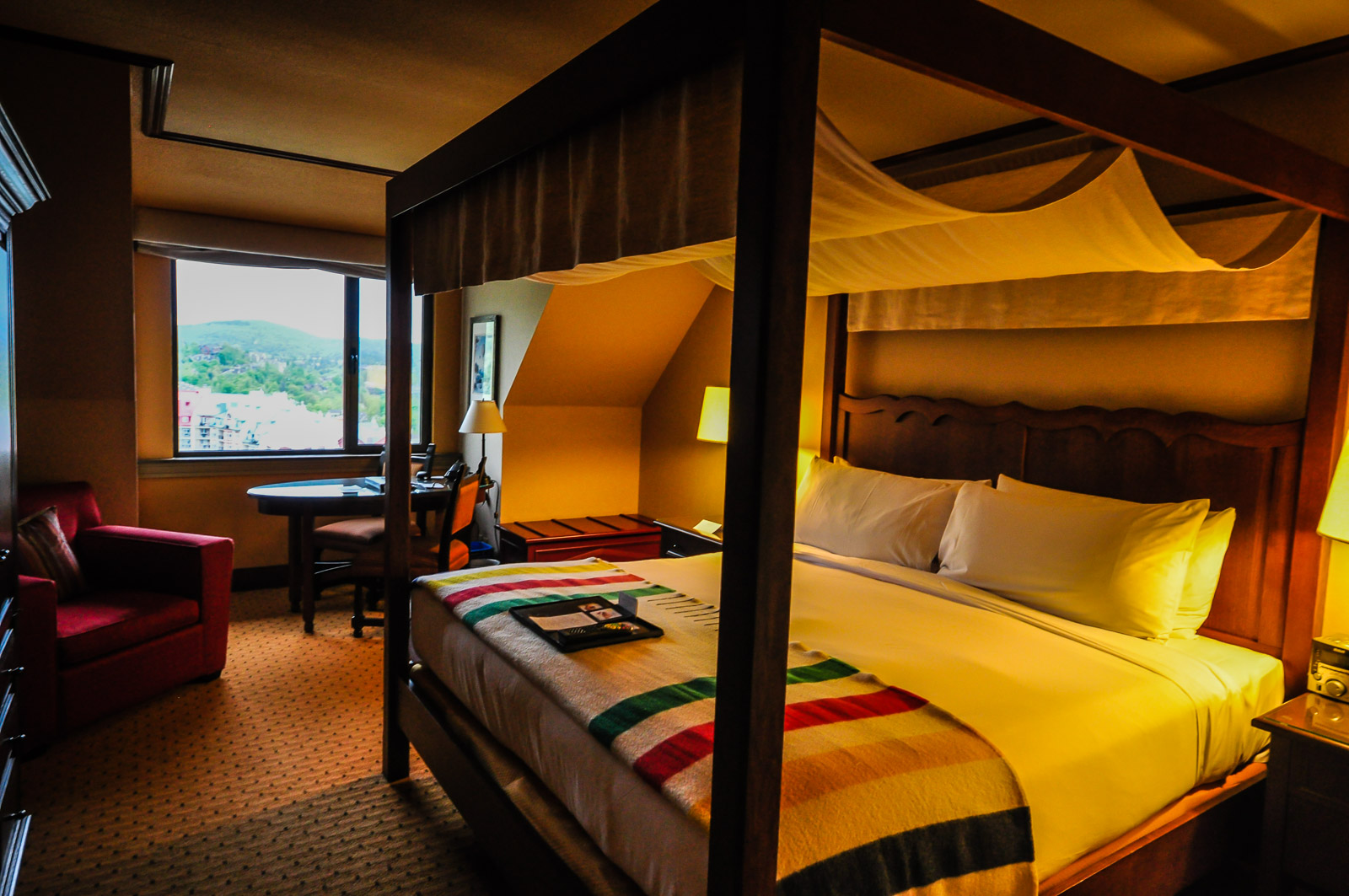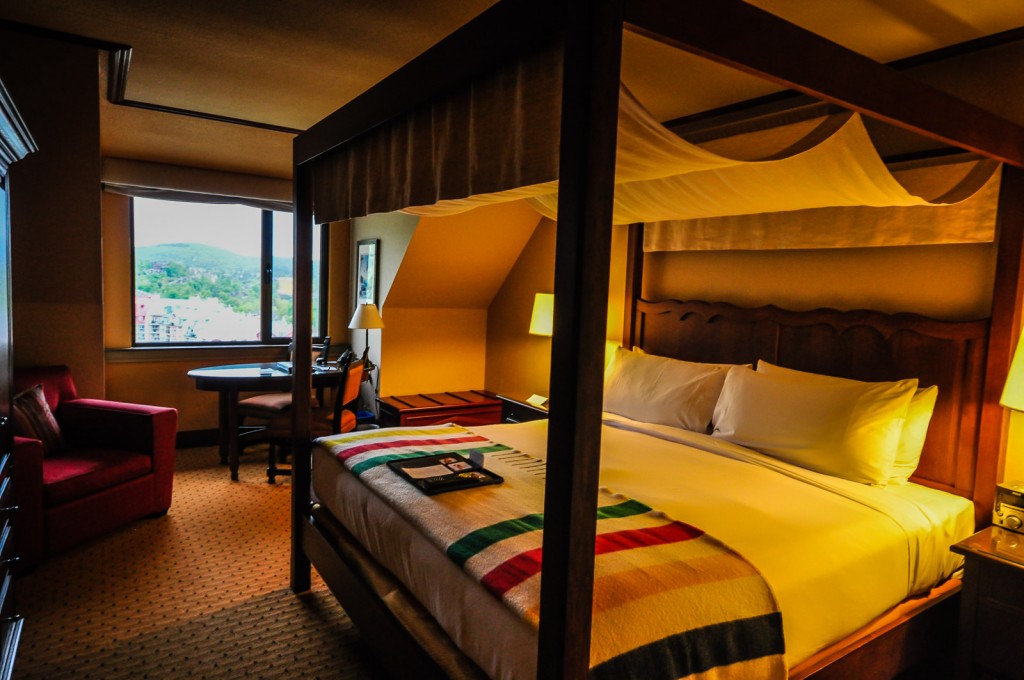 You may judge a hotel by its cleanliness or comfort, all areas of excellence at the Fairmont Tremblant Resort, but my personal standard is the bathroom provisions. And this is where our room truly shined. Beyond the usual toiletries, our bathroom was stocked with bathrobes, loofah, emery board, bath salts, and even a weight scale (that I promptly hid from sight.)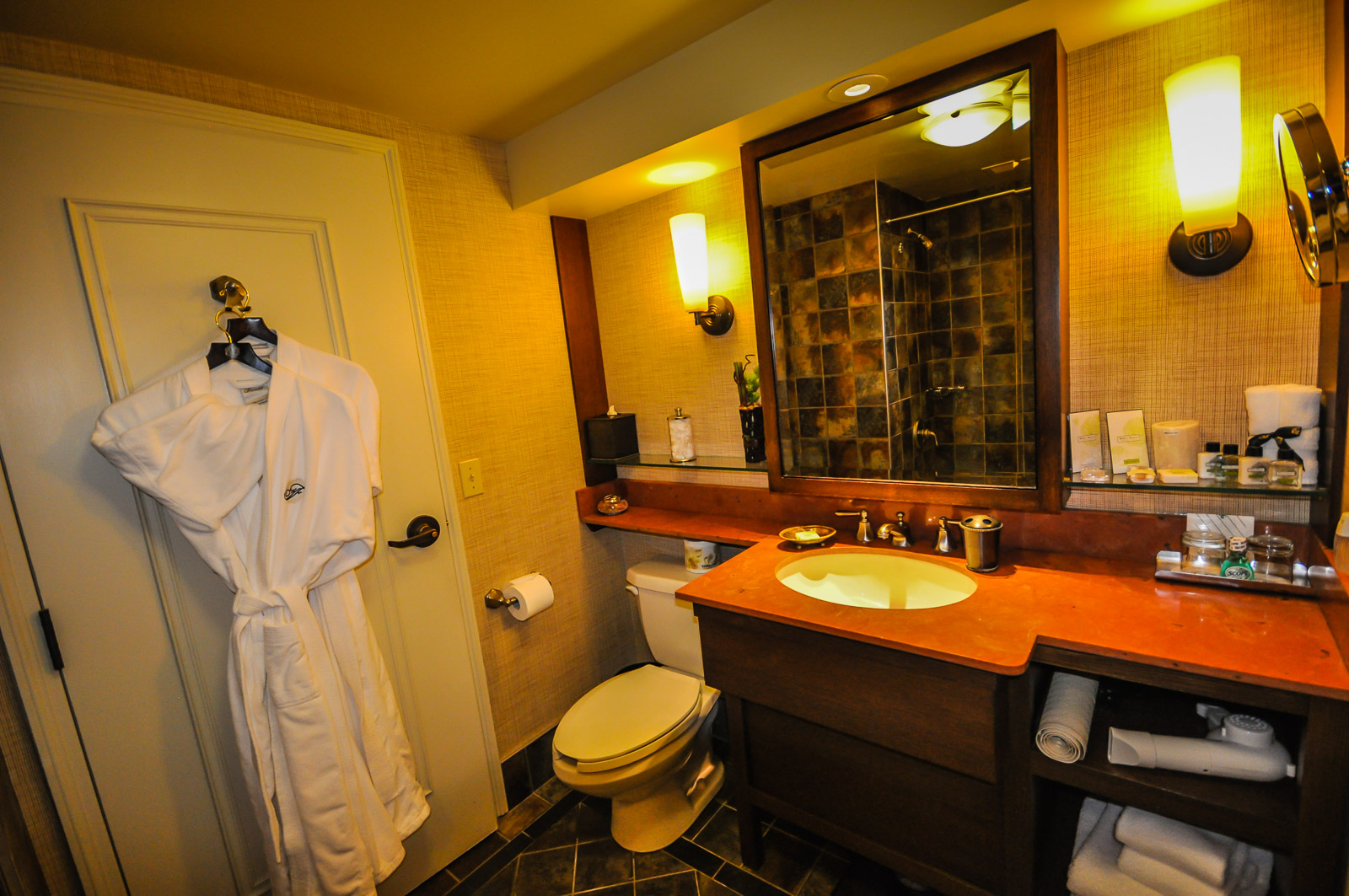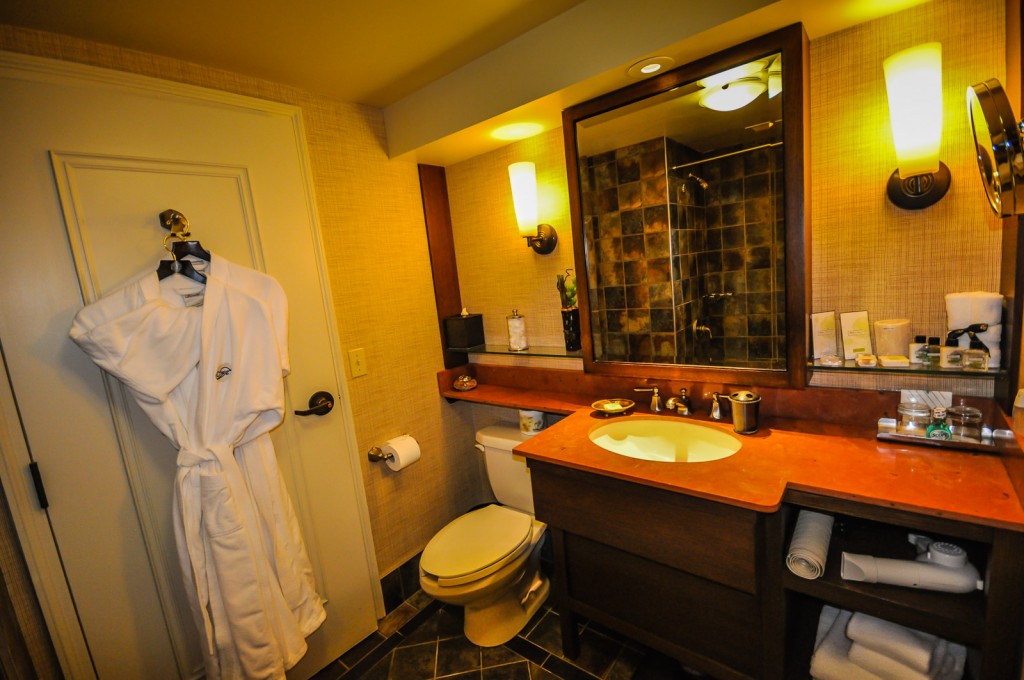 Mont-Tremblant Village
Although we had planned to spend our days on arduous hikes in Mont-Tremblant National Park, our resolution dissolved at the prospect of long, lazy days spent exploring the village.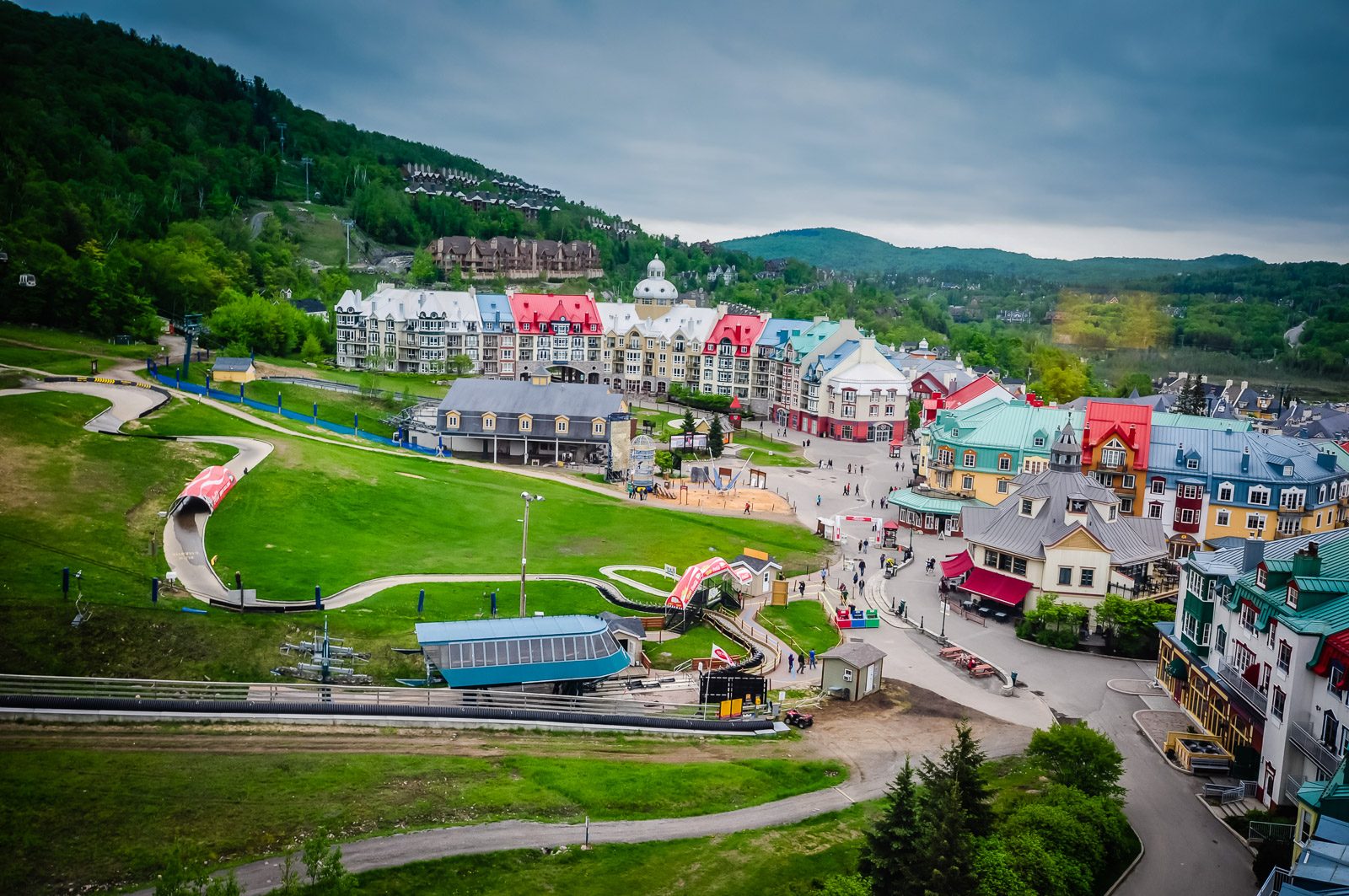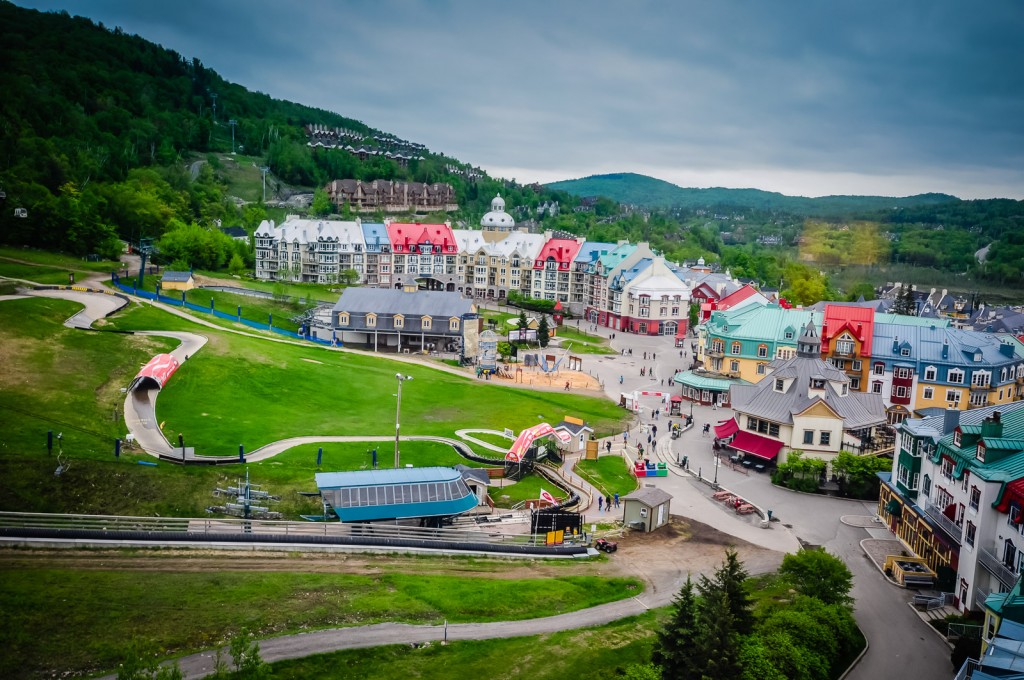 It wasn't until our last day that we took the gondola to the top of the mountain.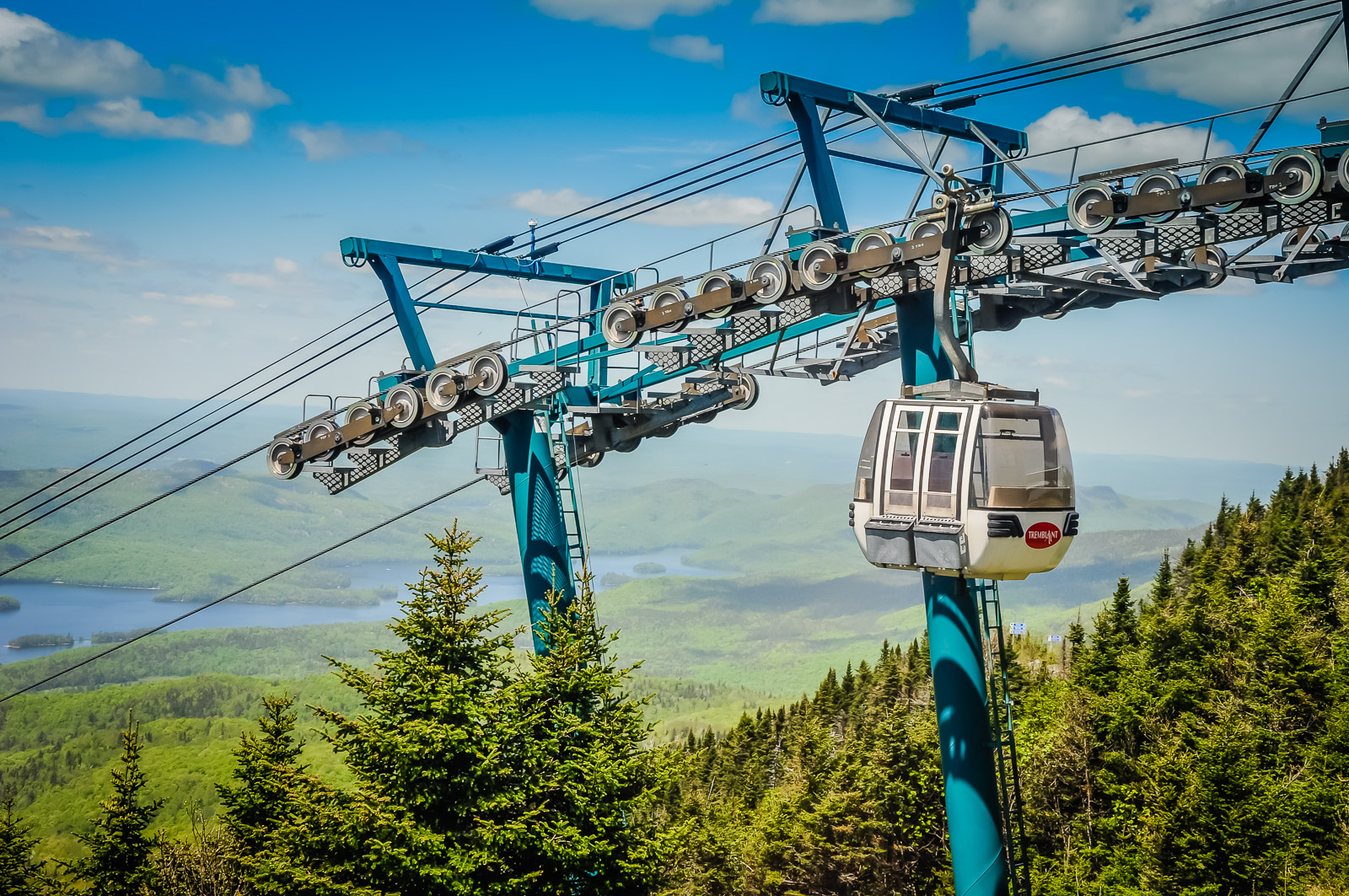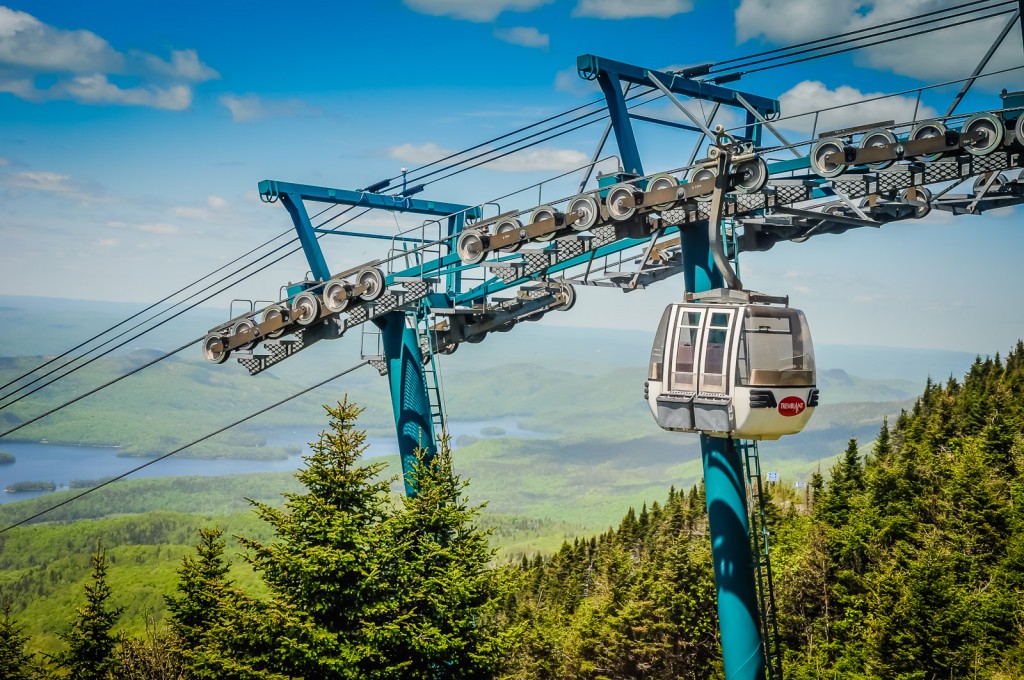 As we rode in comfort, we noticed a man vigorously striding uphill. He was greeted by applause when he reached the summit from the small crowd gathered to admire the view from the comfort of Adirondack chairs set in a sunny slope.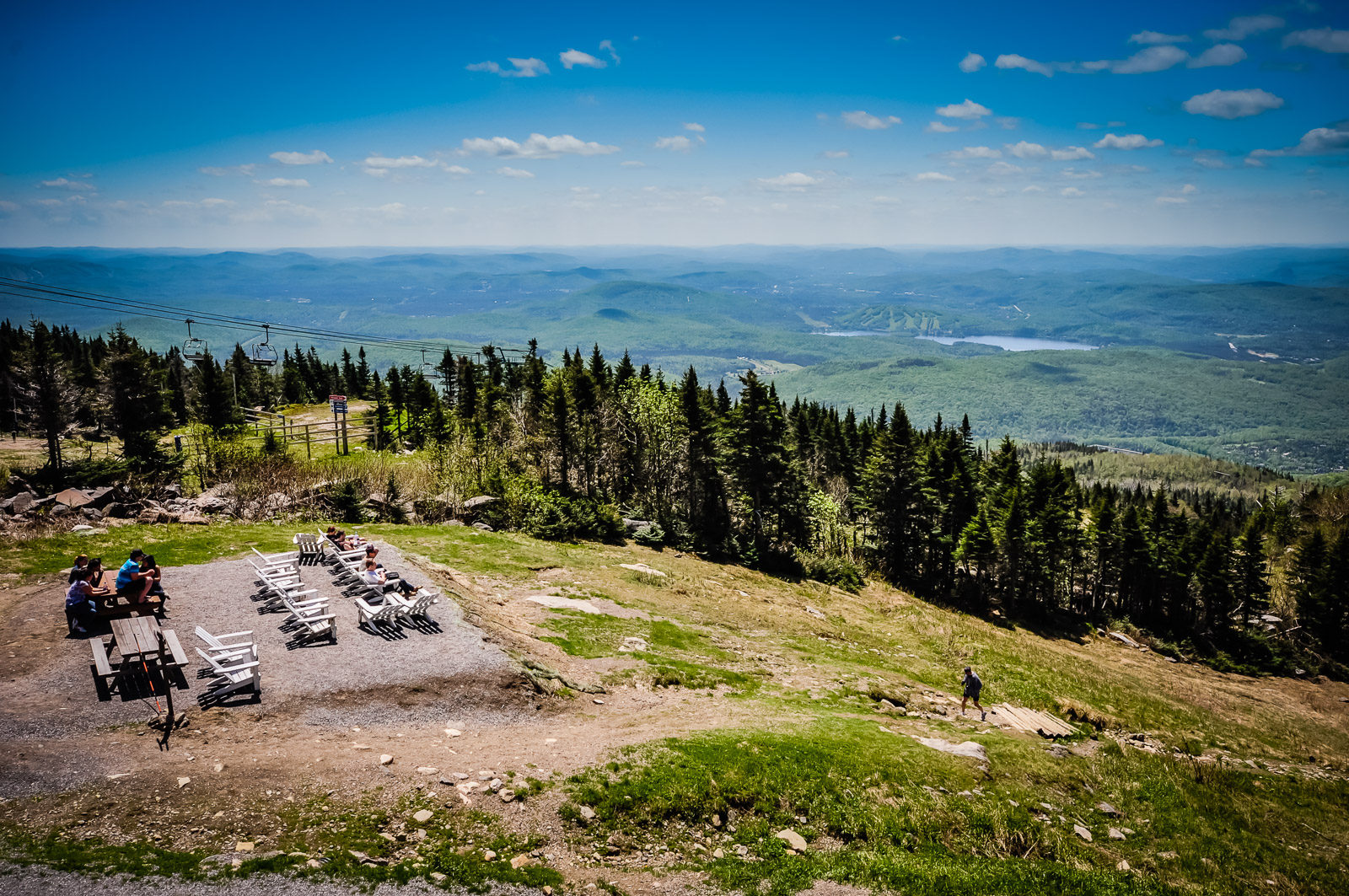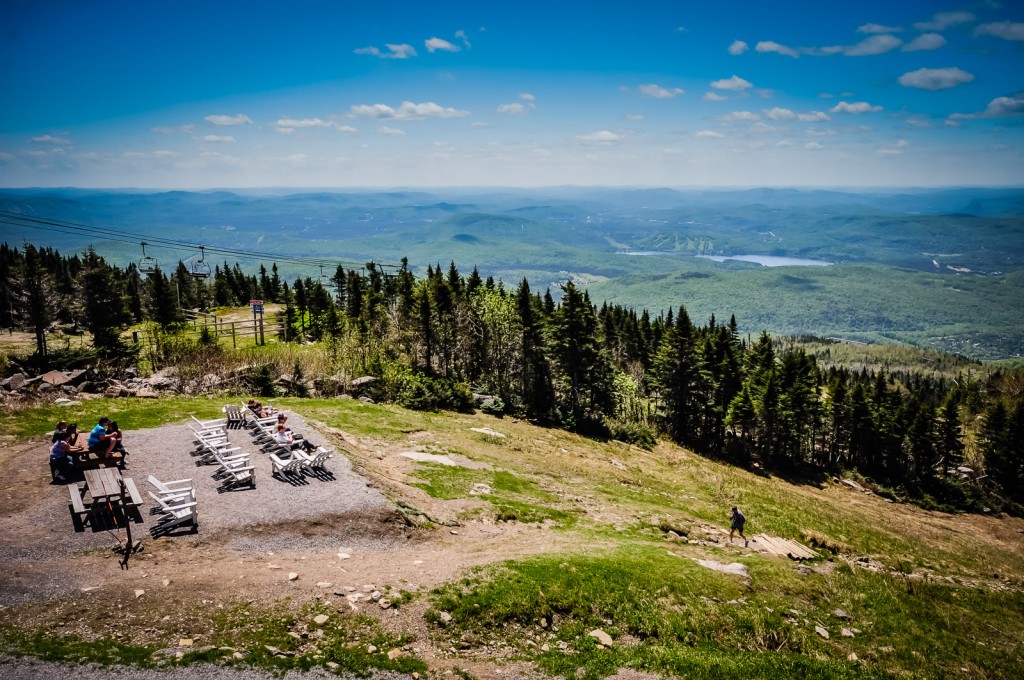 Not nearly as ambitious as the lone hiker, we did what we'd done all weekend, walking around just enough to justify sumptuous meals.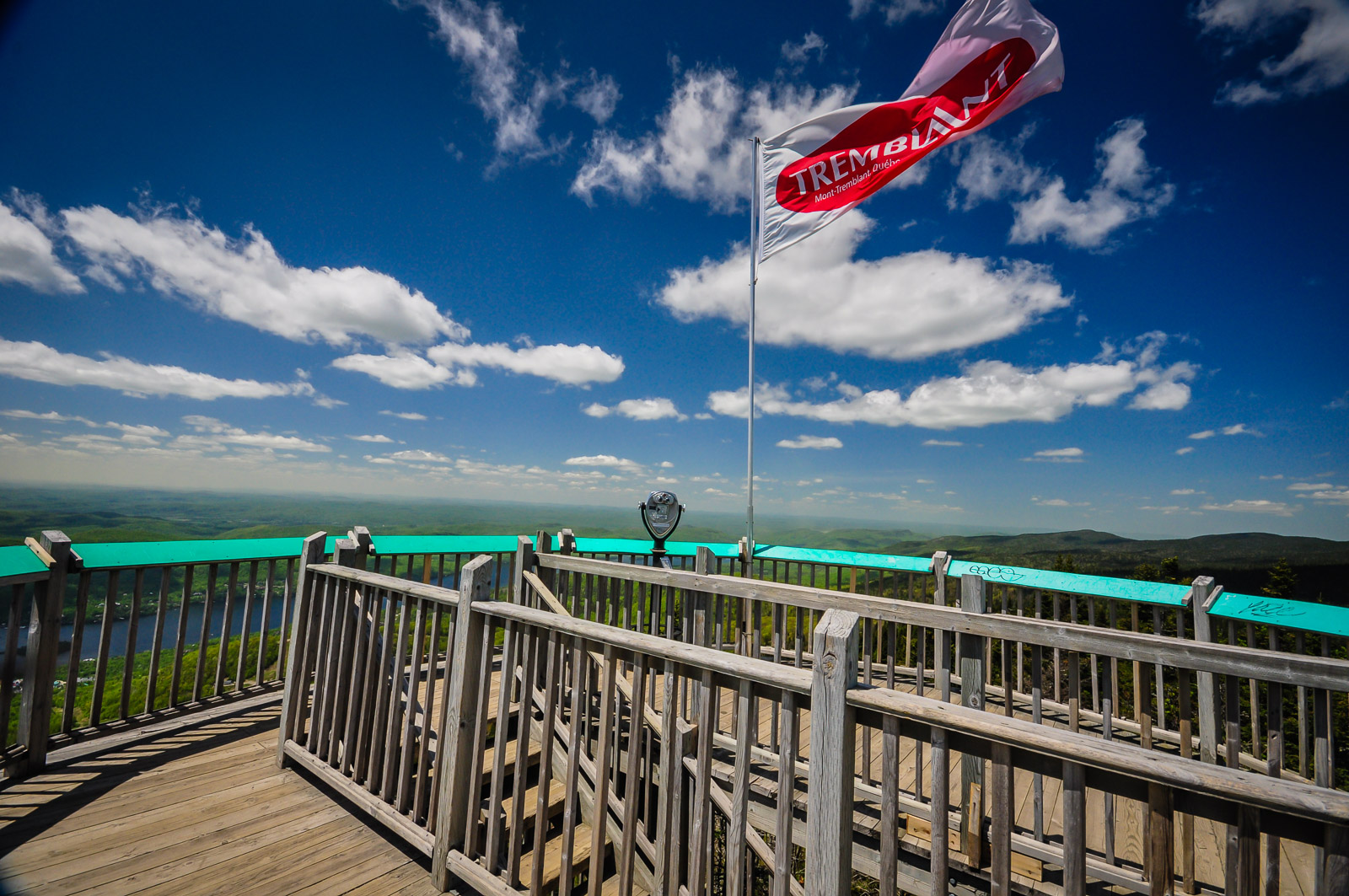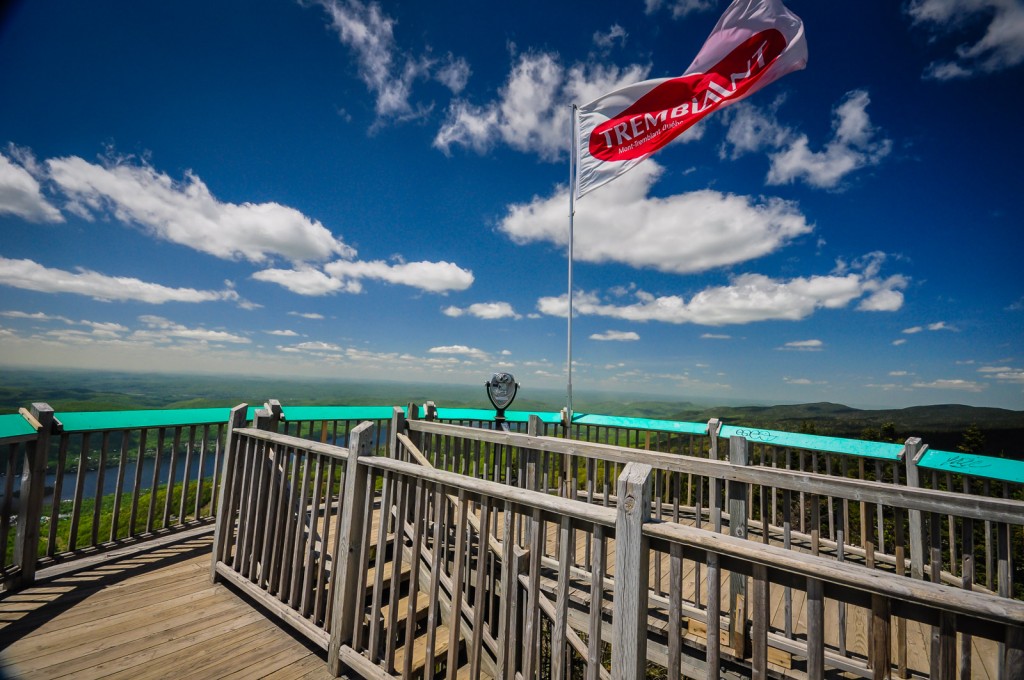 Very Fine Dining
Our first meal in Mont Tremblant at L'Avalanche Bistro Lounge set the tone for the entire weekend. Having arrived late in the day on Saturday, without stopping to eat, we were famished and ready for an early dinner. This was fortuitous because, otherwise, if we had waited just a bit later, we might not have lucked into the most romantic table in the restaurant – at a garden window with a great view of pedestrian traffic.
(L'Avalanche Bistro Lounge has subsequently closed, but there's no shortage of romantic restaurants in Mont Tremblant. We hear good things about Restaurant Des Petit Ventres and SEb L'Artisan Culinaire.)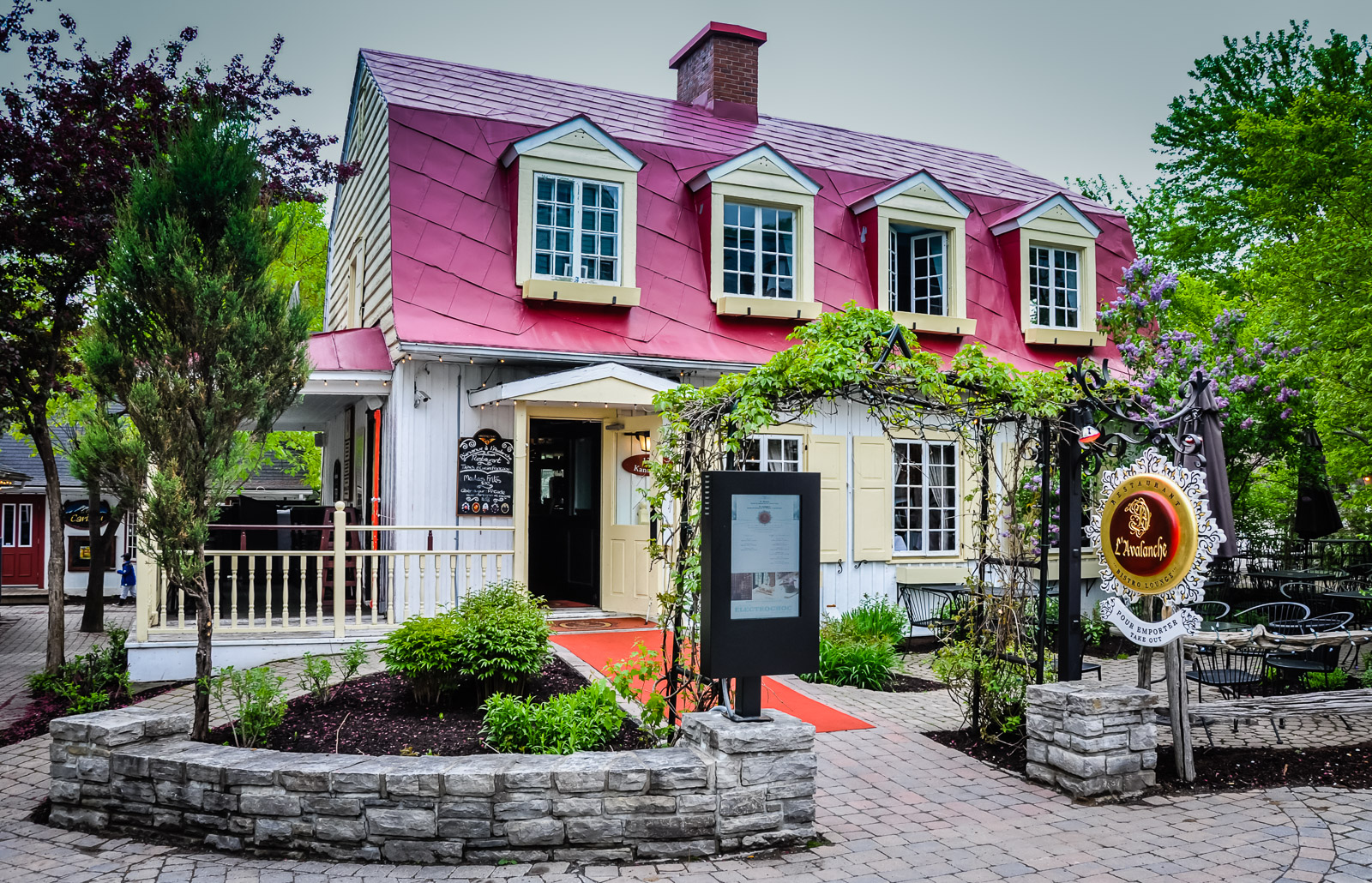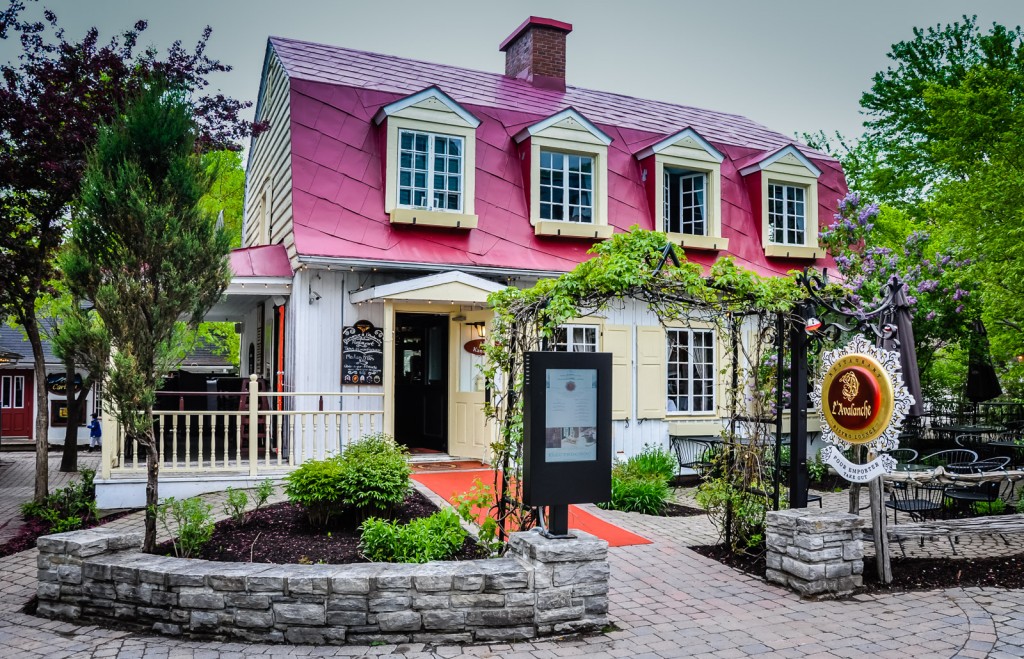 We enjoyed a leisurely meal, accompanied by an extravagant bottle of wine, that featured escargot appetizers, wild game entrée, and an unusual crème brûlée assortment for desert. Dinner was a bit of a splurge, but well worth it not only for the deliciousness but also for the chance it gave us to unwind and shed the stress of quotidian parenthood.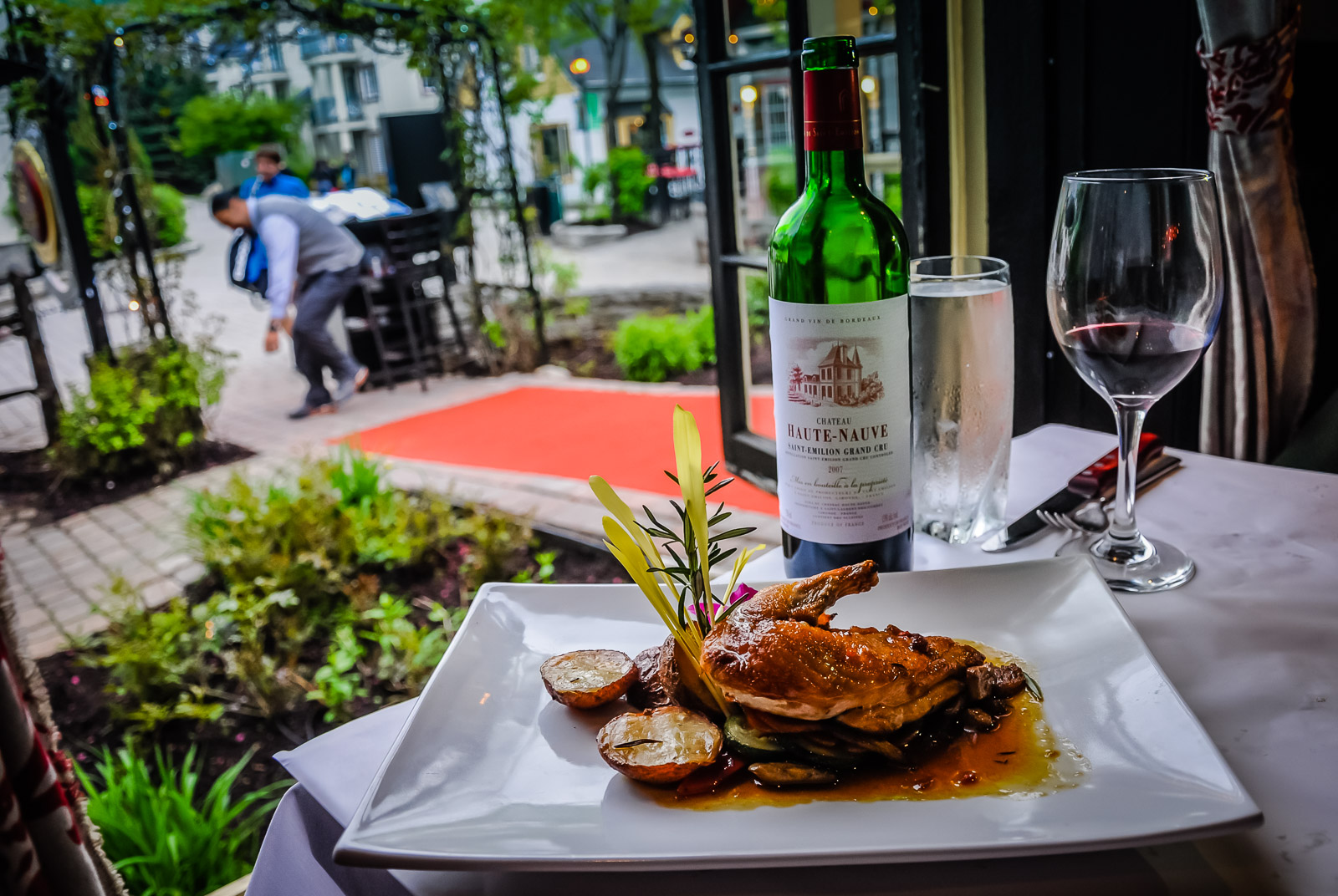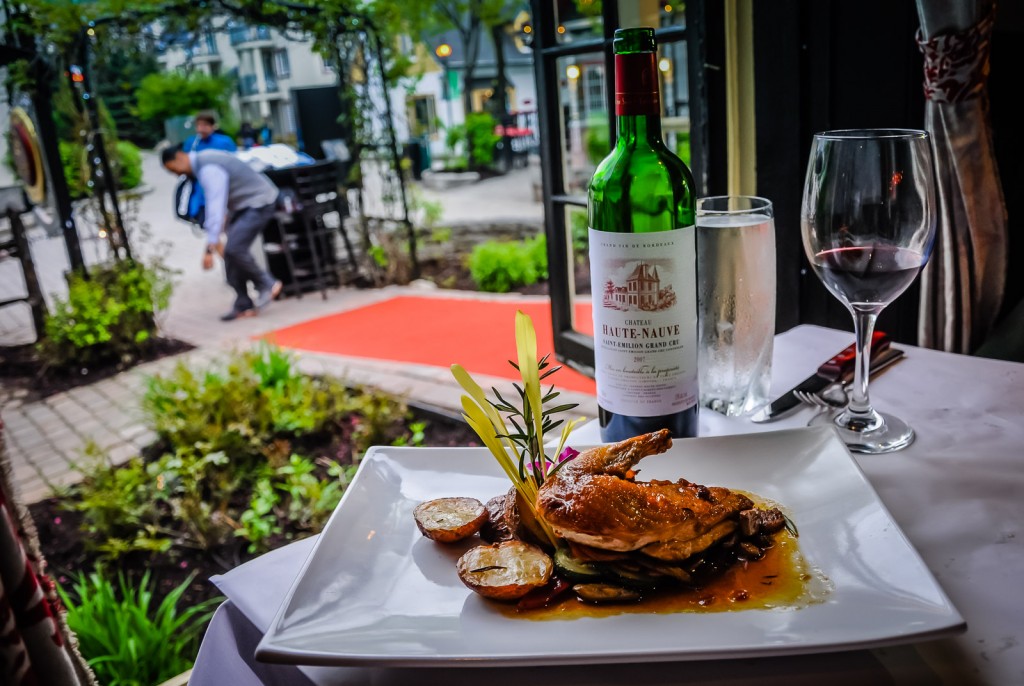 That's not to say that we left all our petty disagreements at home. At Microbrasserie La Diable, my husband and I initiated a hotly contested Facebook argument about condiments.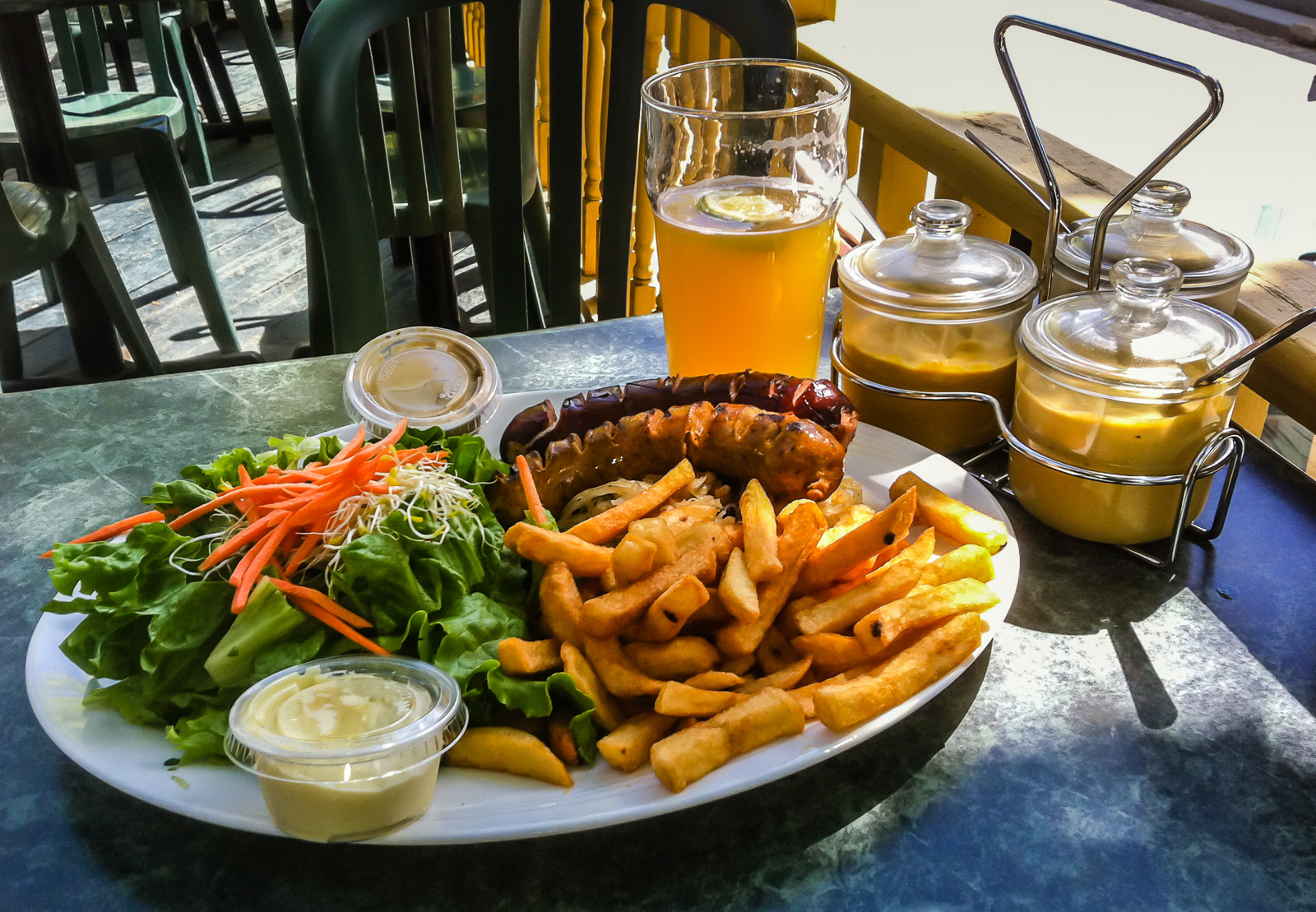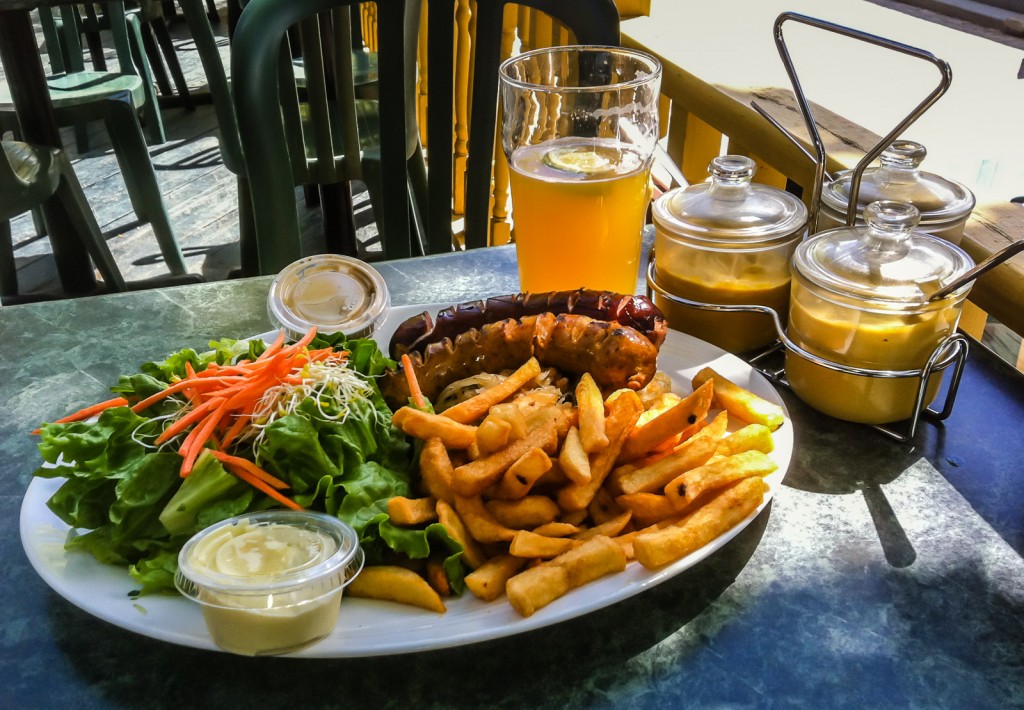 Our European-style sausages and French Fries came with the house mayonnaise, a special blend made onsite. But I may have overreacted when I labeled him an "Ugly American" for ditching the mayo in favor of MANY (in fact, all) the ketchup packets on the table.
I'm of the mind that you give local flavors a chance to sway your palate. It appears that I'm in the minority as our friends jumped to his defense, professing the superior qualities of ketchup.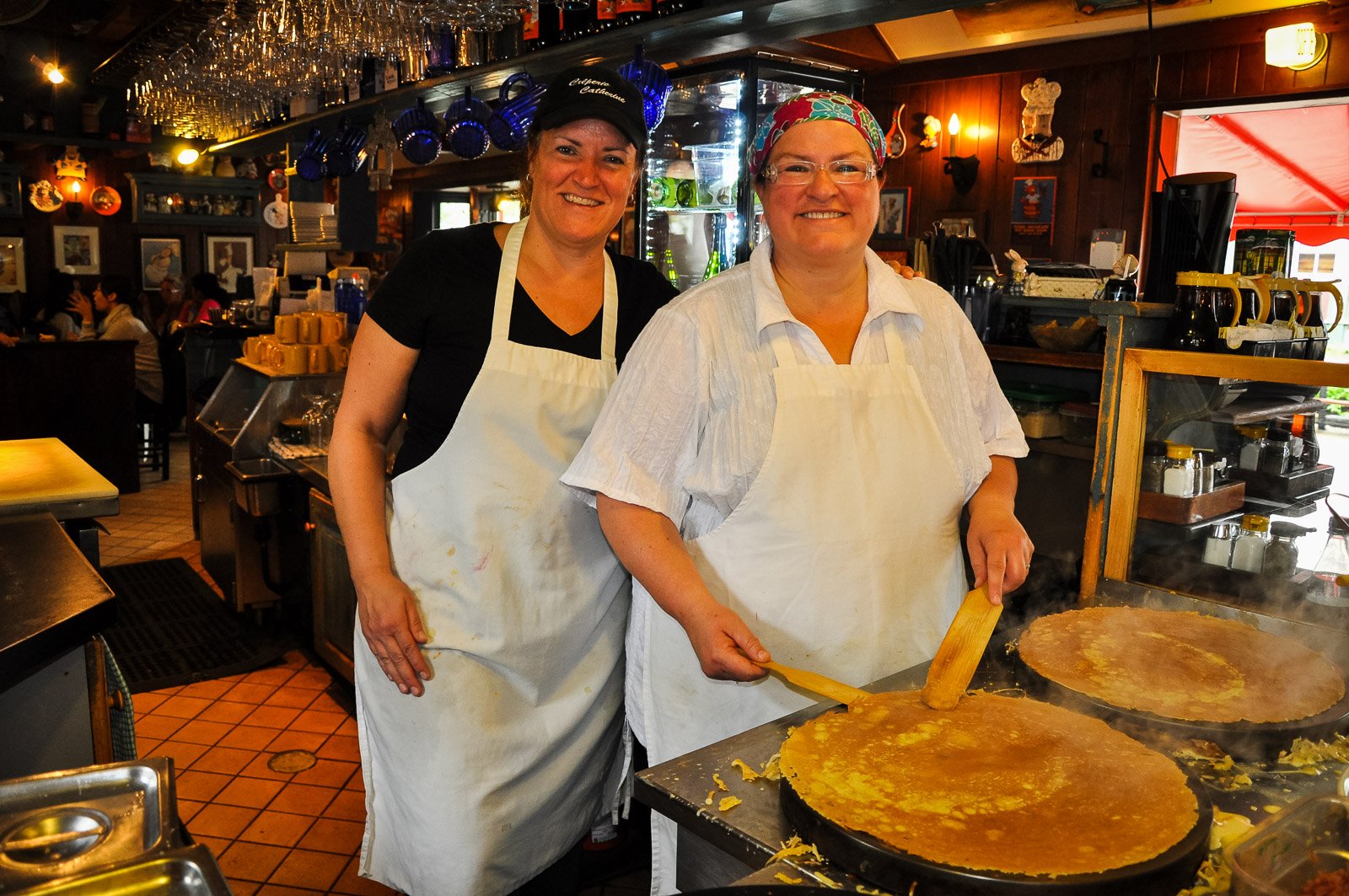 Harmony was restored at Creperie Catherine, a restaurant that we returned to again, and again. On our first visit, we were seated at the best table in the house, right in front of the crepe griddles. And we happened to be there when Catherine and Lorraine, the two sisters who launched this restaurant nearly seventeen years ago, were at the stove.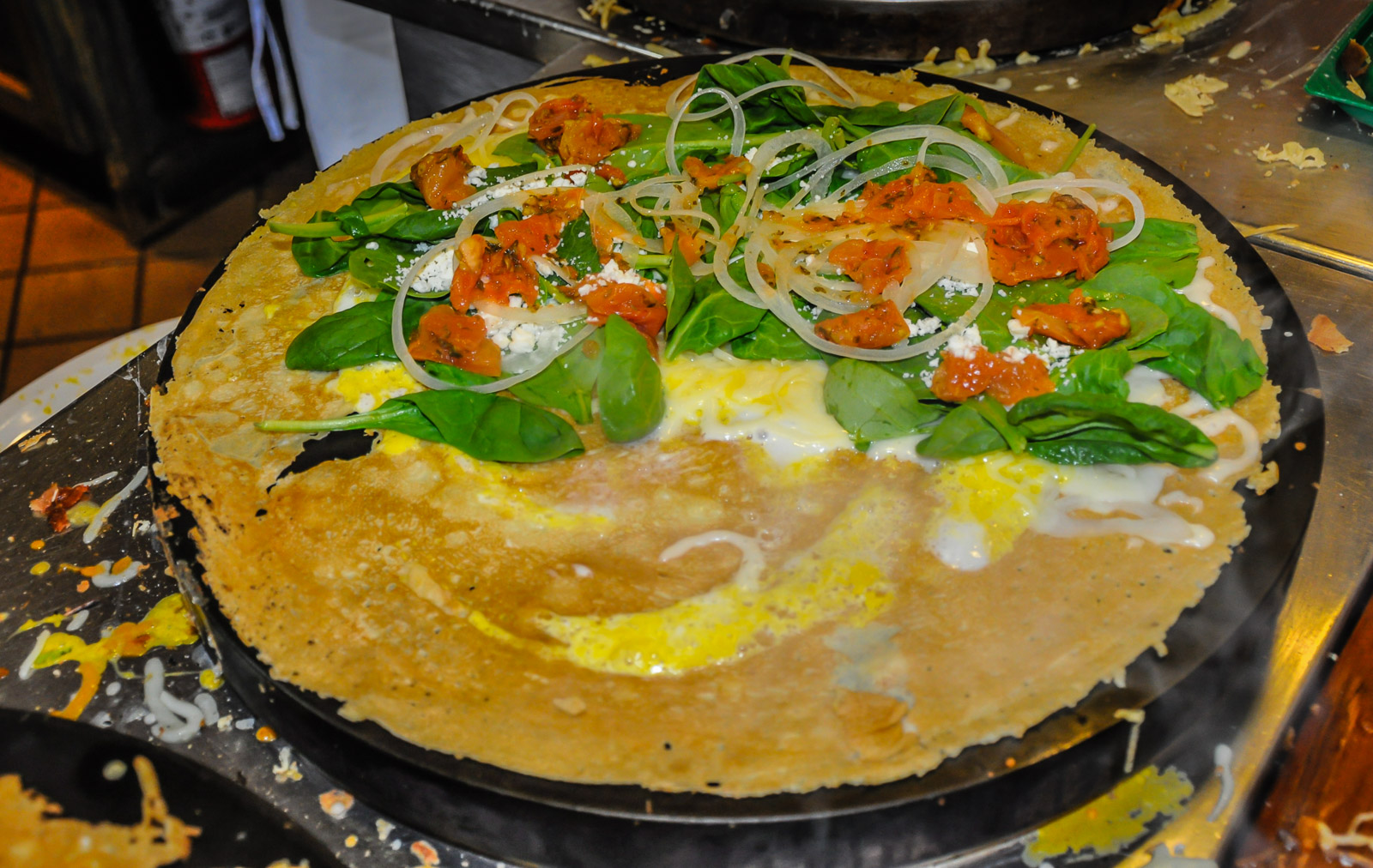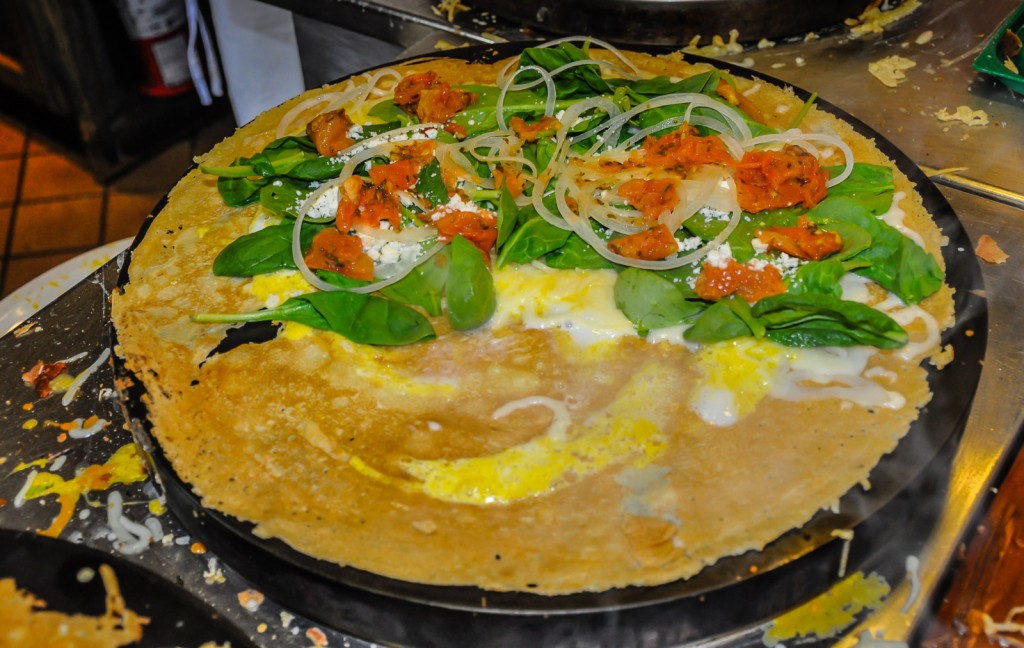 That's how we found out that the most popular savory item is the Crepe Florentine (Spinach, Egg, Feta, Swiss Cheese, Tomatoes, Onions, Bechamel.)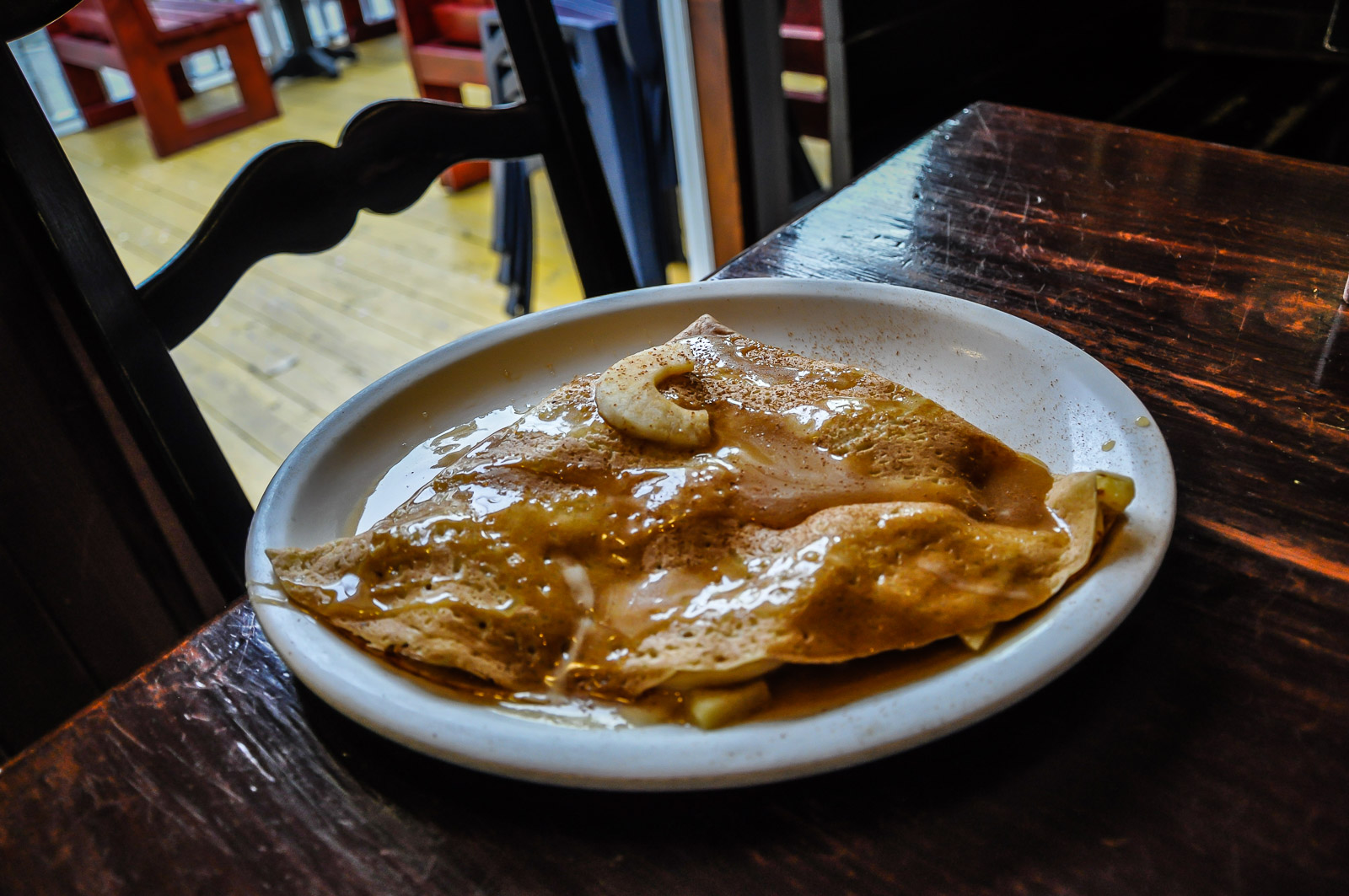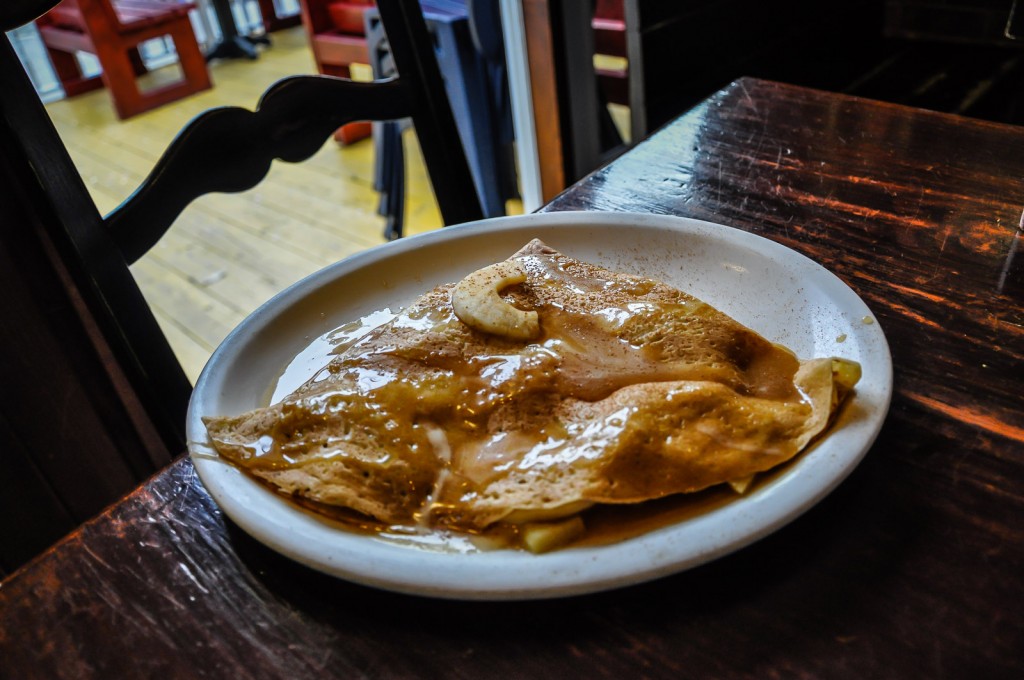 But that the special sauce that patrons are willing to wait in line for, even at forty degrees below, is the Sucre A La Crème – a rich, caramel syrup that goes especially well with Granny Smith apples or bananas.
We were in complete agreement here, hold the mayo and the ketchup, these crepes are delightful as is.
Just the Facts
Fairmont Tremblant features 314 well appointed guest rooms including 63 suites, 2 swimming pools, one indoor and one outdoor heated pool, 3 outdoor Jacuzzis, health club, and spa. Guests enjoy early entry to ski slopes, skate and tube loans.