Last Updated on April 14, 2023 by Editor
When a Parisian vacation is not in the budget, consider visiting Mont Tremblant, Quebec in Eastern Canada. Mont-Tremblant is well-known for its challenging ski runs and European-style village. Less well-known is that it's a year-round destination that's ideal for couples seeking the romance of France, and its cuisine.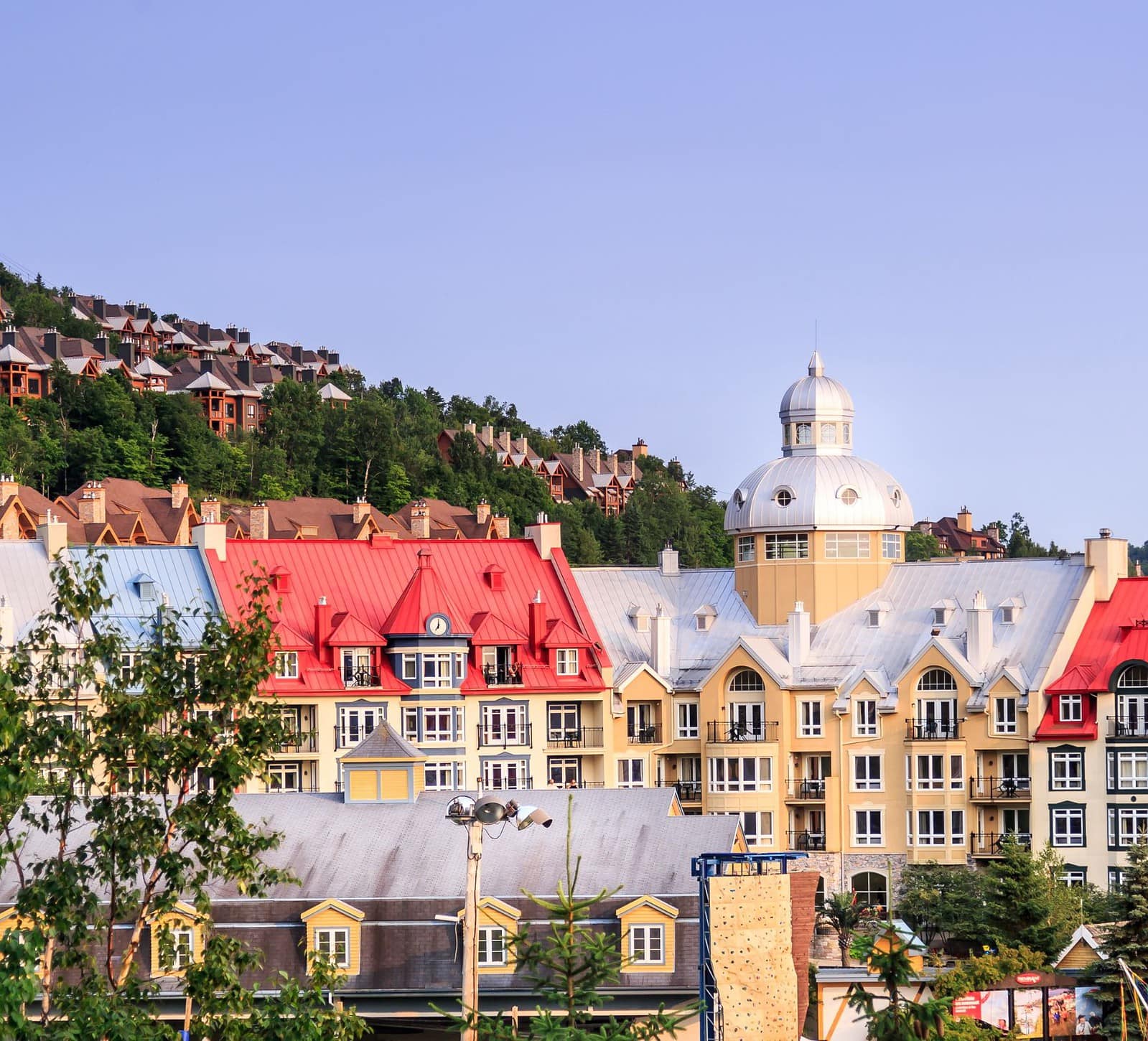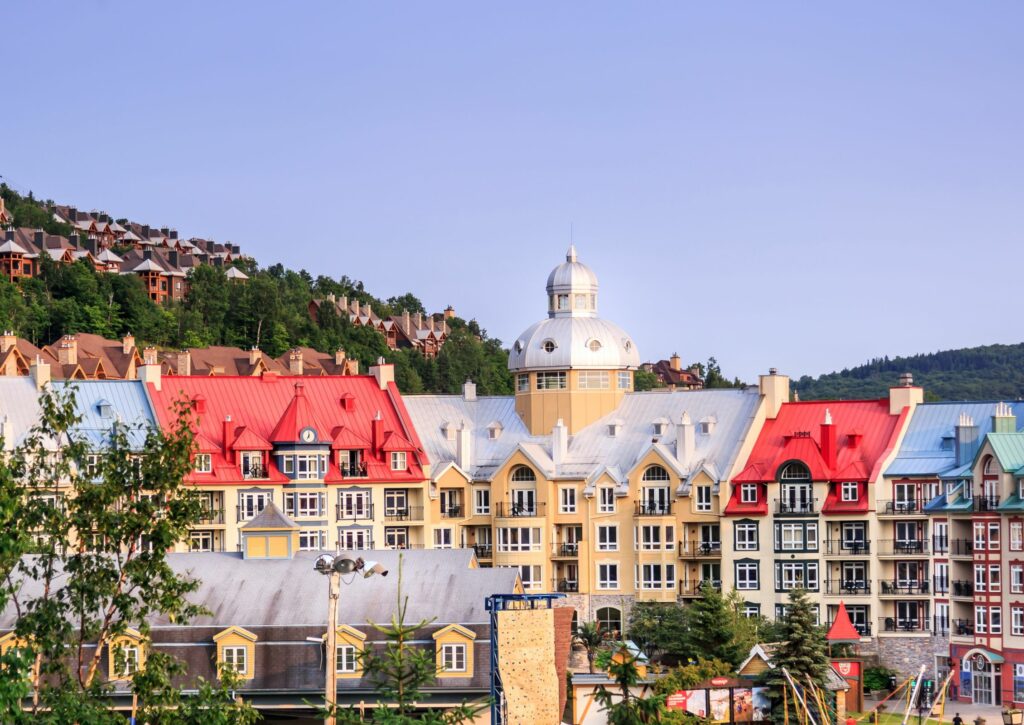 How To Get To Mont Tremblant
The nearest airport, Montreal-Trudeau International airport (YUL.) is about a 90-minute car ride away, as is Old Montreal. But it's also only a 5-hour drive from Albany NY or Toronto.
Mont Tremblant Hotels
Fairmont Tremblant Resort
First Impressions
For our wedding anniversary, my husband and I splurged on a weekend getaway at the Fairmont Tremblant Resort. Our first taste of the culinary delights in store for us awaited us shortly after check-in when we received a card and gift of chocolate-dipped strawberries served on a bed of granite.
It was sweet and unexpected as I'd only mentioned the anniversary in passing as I made the reservation.
In retrospect, I should have realized that this was typical of a luxury hotel chain known for its attention to detail and eagerness to exceed expectations. Most welcoming of all was the Fairmont Canine Ambassador, the very relaxed Yellow Lab who reminded us of our buddy at home.
Guest Rooms
Our room was snug, dominated by a sturdy and attractive canopy bed and a mesmerizing view of the ski village set against the backdrop of the Laurentian Mountains. We didn't want for anything, and even the WiFi was included with enrollment in Fairmont President's Club.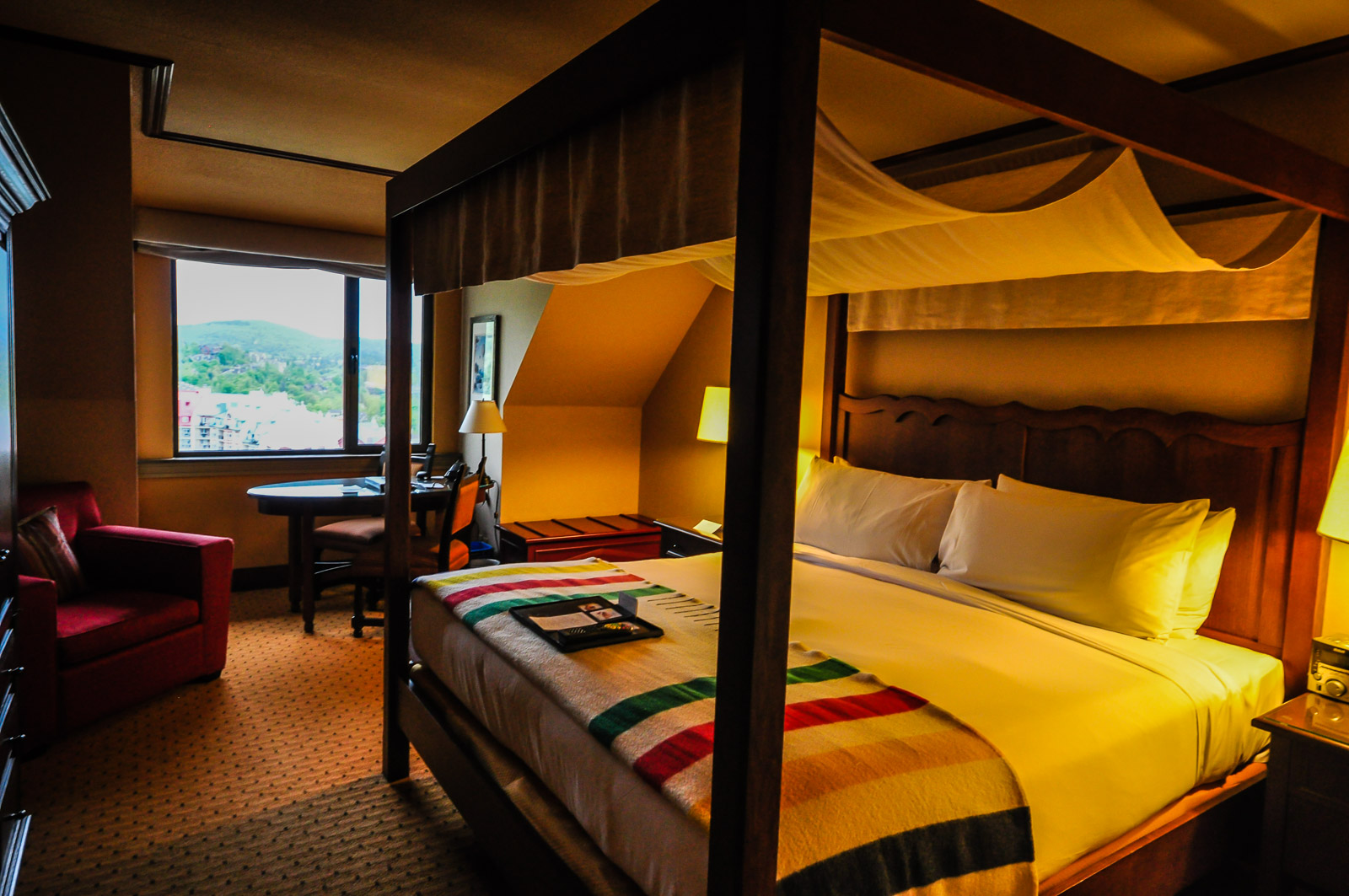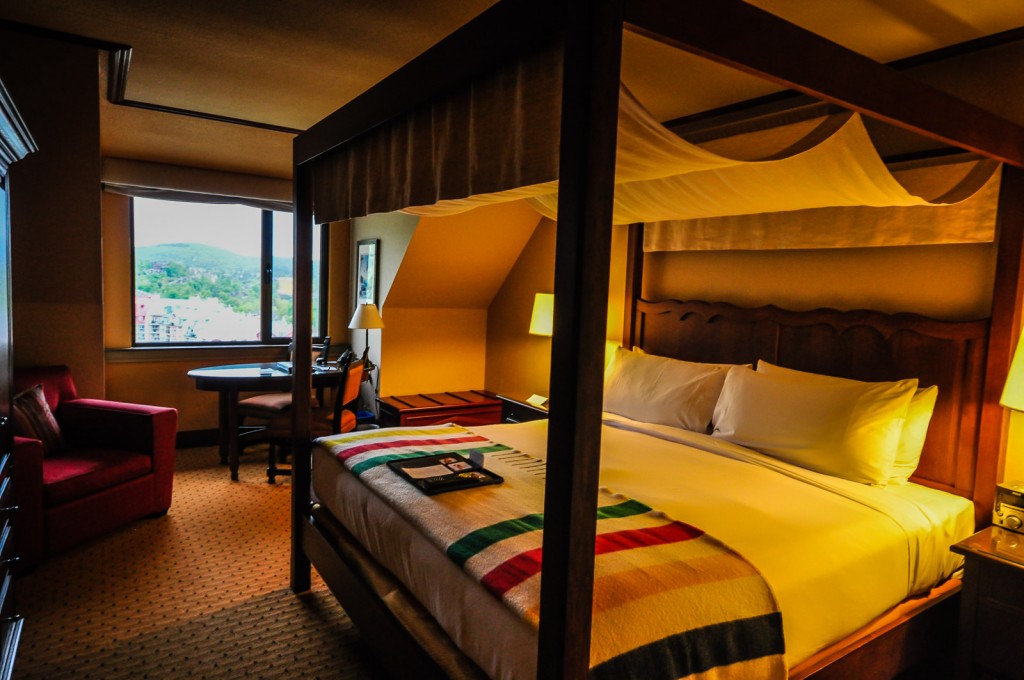 You may judge a hotel by its cleanliness or comfort, all areas of excellence at the Fairmont Tremblant Resort, but my personal standard is the bathroom provisions. And this is where our room truly shined. Beyond the usual toiletries, our bathroom was stocked with bathrobes, loofah, emery board, bath salts, and even a weight scale (that I promptly hid from sight.)
We enjoyed the Fairmont Tremblant Resort on a Spring Getaway, but in the winter, it's got one more wonderful perk. You can ski in ski out.
MOUNTAIN INN: Auberge Le Lupin Bed and Breakfast
The Auberge Le Lupin B&B easily earned its reputation as one of the top inns in Canada. Each guestroom is uniquely decorated, some with fireplaces and/or balconies with views of the Laurentian mountains.
Guests can expect a freshly prepared meal each morning, featuring local ingredients and specialties such as crepes, croissants, and homemade jams. Breakfast is served in the inn's cozy dining room, which offers views of the garden.
GLAMPING: Bel Air Tremblant
Bel Air Tremblant offers a variety of luxurious accommodations, including chalets, treehouses, and villas. Each unit is beautifully designed and features high-end amenities such as fully equipped kitchens, fireplaces, and private hot tubs or pools. The accommodations are spacious and provide plenty of privacy, making them ideal for couples.
A Day Of Leisure At Mont Tremblant Village
Although we had planned to spend our days on arduous hikes in Mont Tremblant National Park, our resolution dissolved at the prospect of long, lazy days spent exploring the village.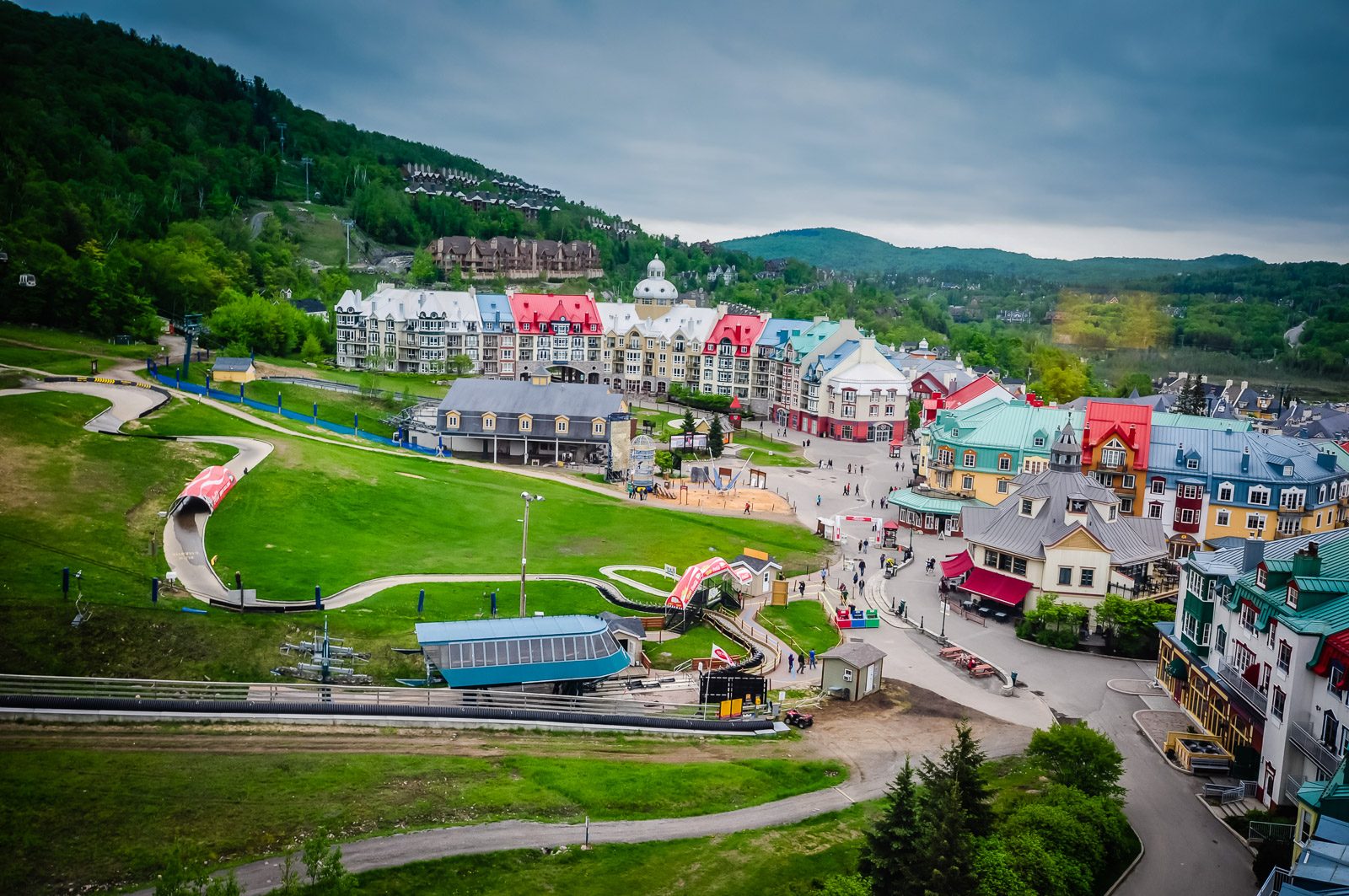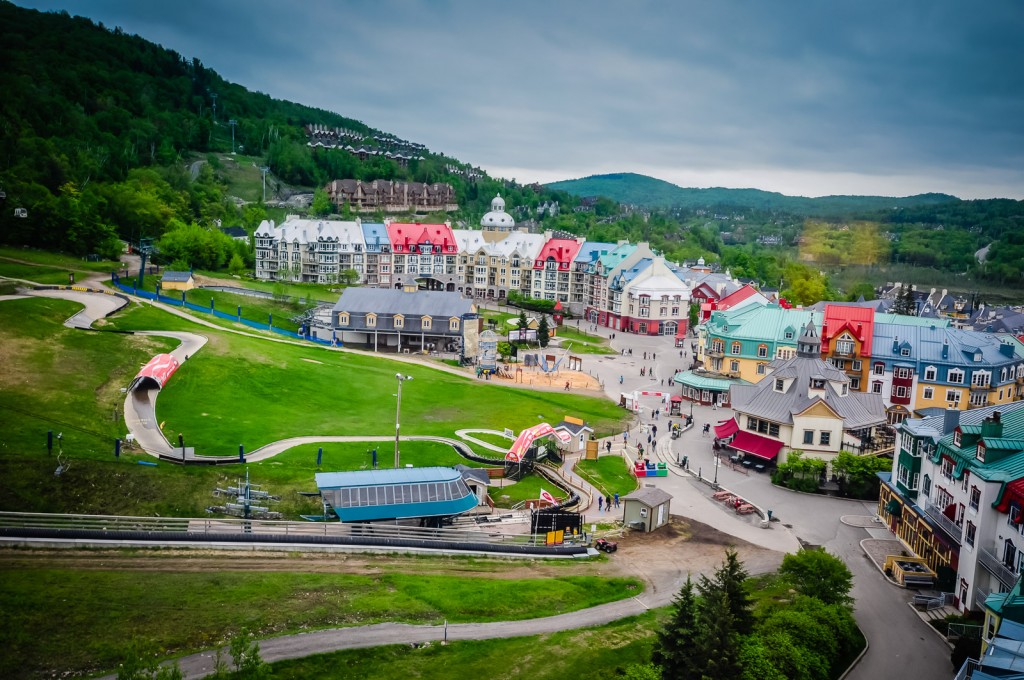 It wasn't until our last day that we took the gondola to the top of the mountain.
As we rode in comfort, we noticed a man vigorously striding uphill. He was greeted by applause when he reached the summit from the small crowd gathered to admire the view from the comfort of Adirondack chairs set on a sunny slope.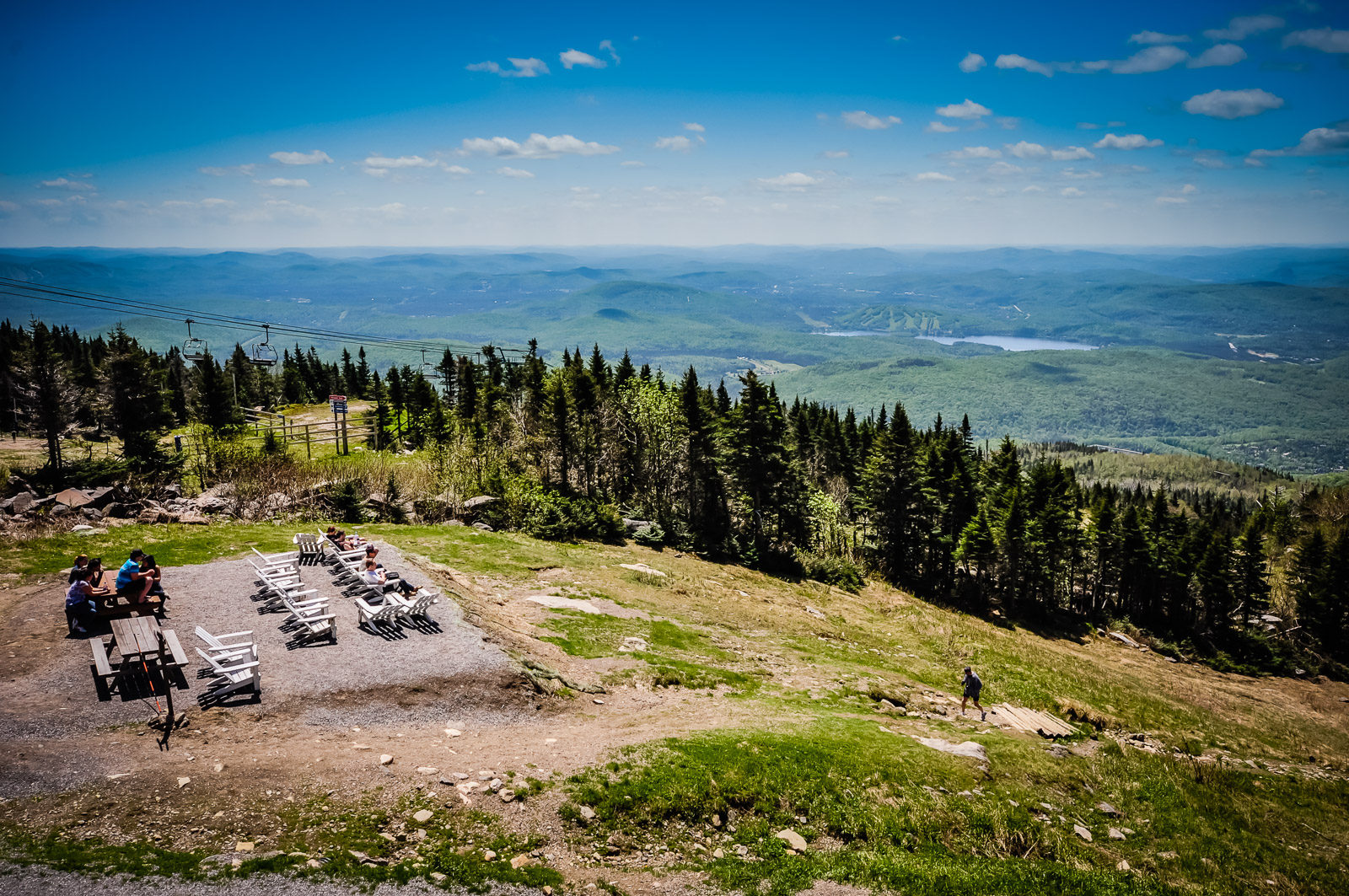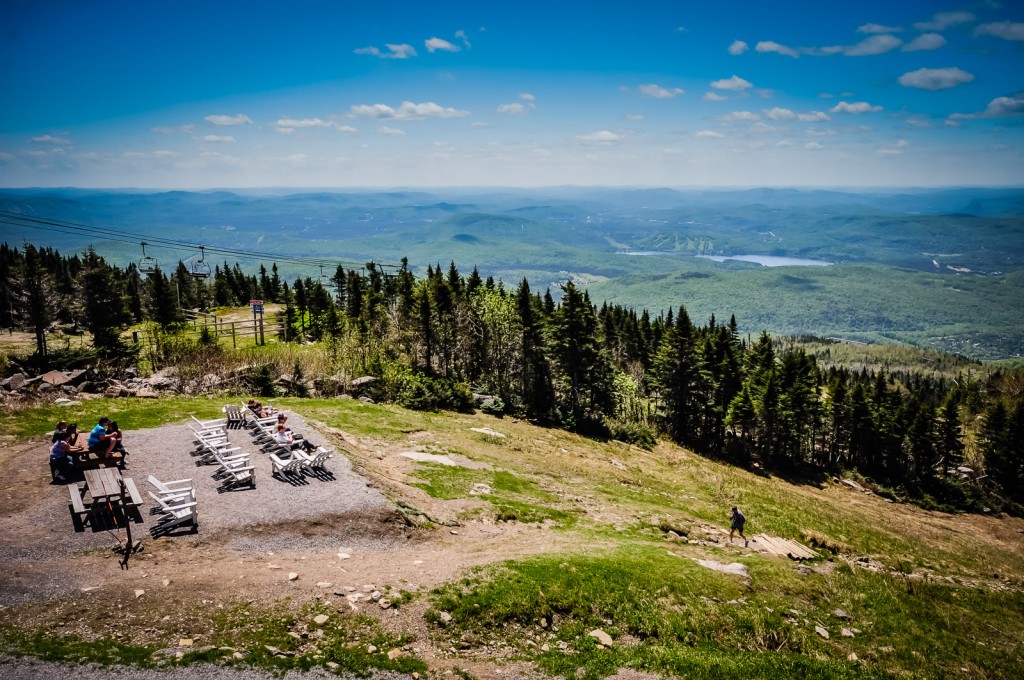 Not nearly as ambitious as the lone hiker, we did what we'd done all weekend, walking around just enough to justify sumptuous meals.
Things To Do In Mont Tremblant
Mont Tremblant Ski Resort
You can't talk about Mont Tremblant in the winter without mentioning skiing. Mont Tremblant Ski Resort is one of the best on the East Coast, with a variety of terrain to appeal to all levels of skiers. That same terrain provides great trails for mountain biking in the summer.
Perhaps more surprisingly, biking enthusiasts can go fat biking even in winter. In fact, Mont Tremblant Resort offers an impressive list of fun activities: alpine touring, casino, waterpark, dog sledding, ice climbing, helicopter flights, dune buggy tours, and woodsman-guided adventures.
Place Saint Bernard
Named after Saint Bernard, the patron saint of skiers, Place Saint Bernard is a popular outdoor gathering spot located in the heart of the pedestrian village of Mont Tremblant. The square of shops, restaurants, and ski chalets.
During the winter months, Place Saint Bernard serves as the central hub for skiers and snowboarders. The square is located at the base of the mountain, making it an ideal location for those who want to grab a quick bite or a warm drink between runs. Visitors can also take part in various winter activities such as ice skating, sledding, cross-country skiing, and snowshoeing.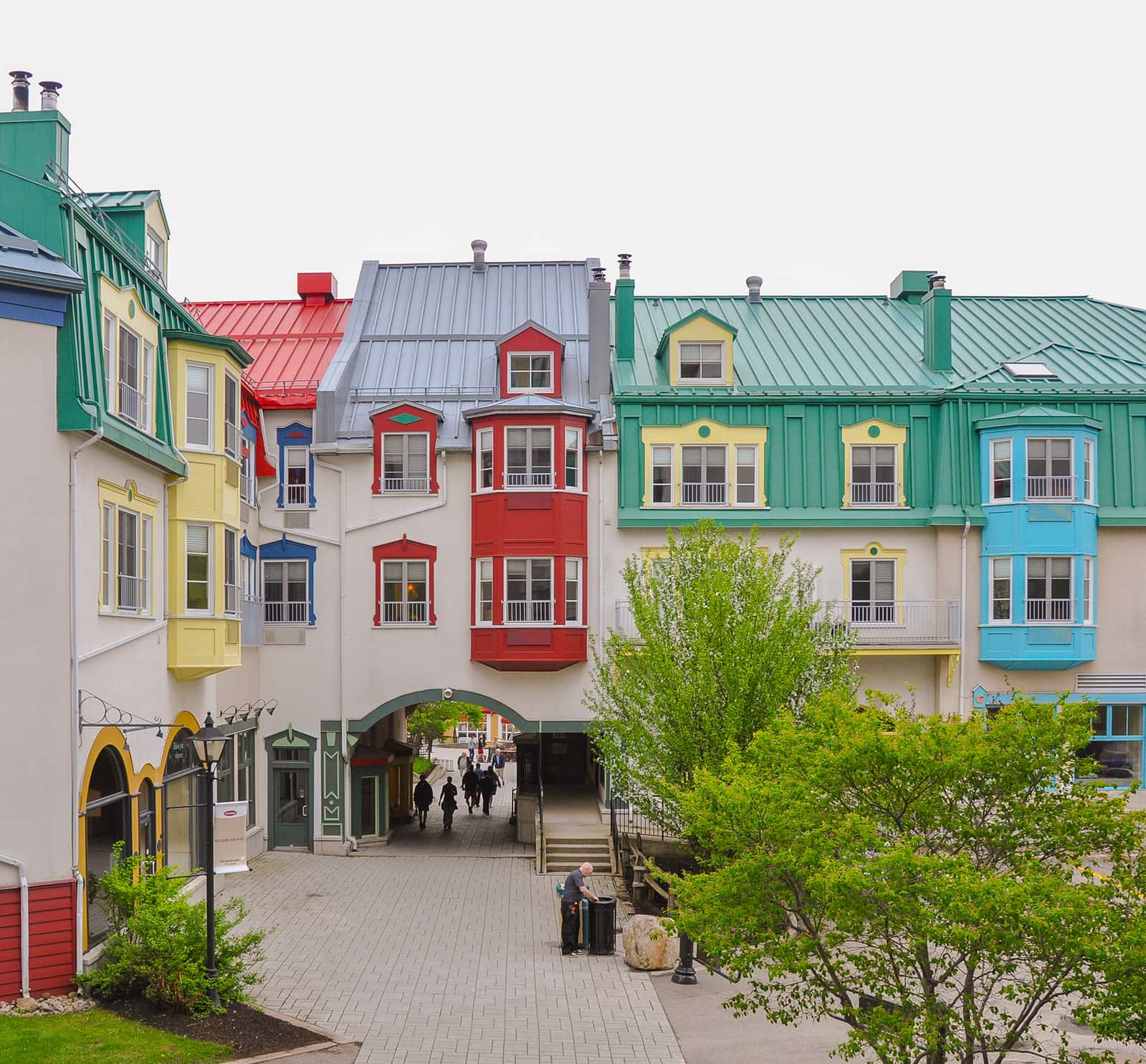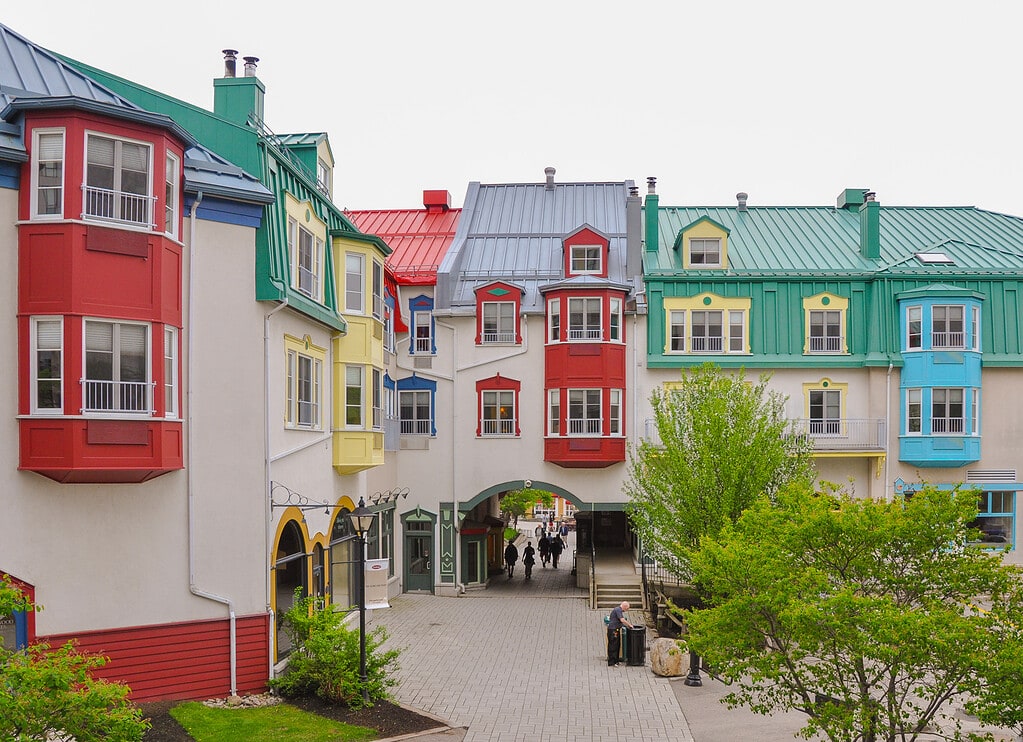 In the summer, the square is transformed into a bustling hub of activity for hikers, mountain bikers, and other outdoor enthusiasts. Visitors can take a ride on the gondola, which offers breathtaking views of the surrounding mountains, or enjoy a picnic in the grassy area in the center of the square.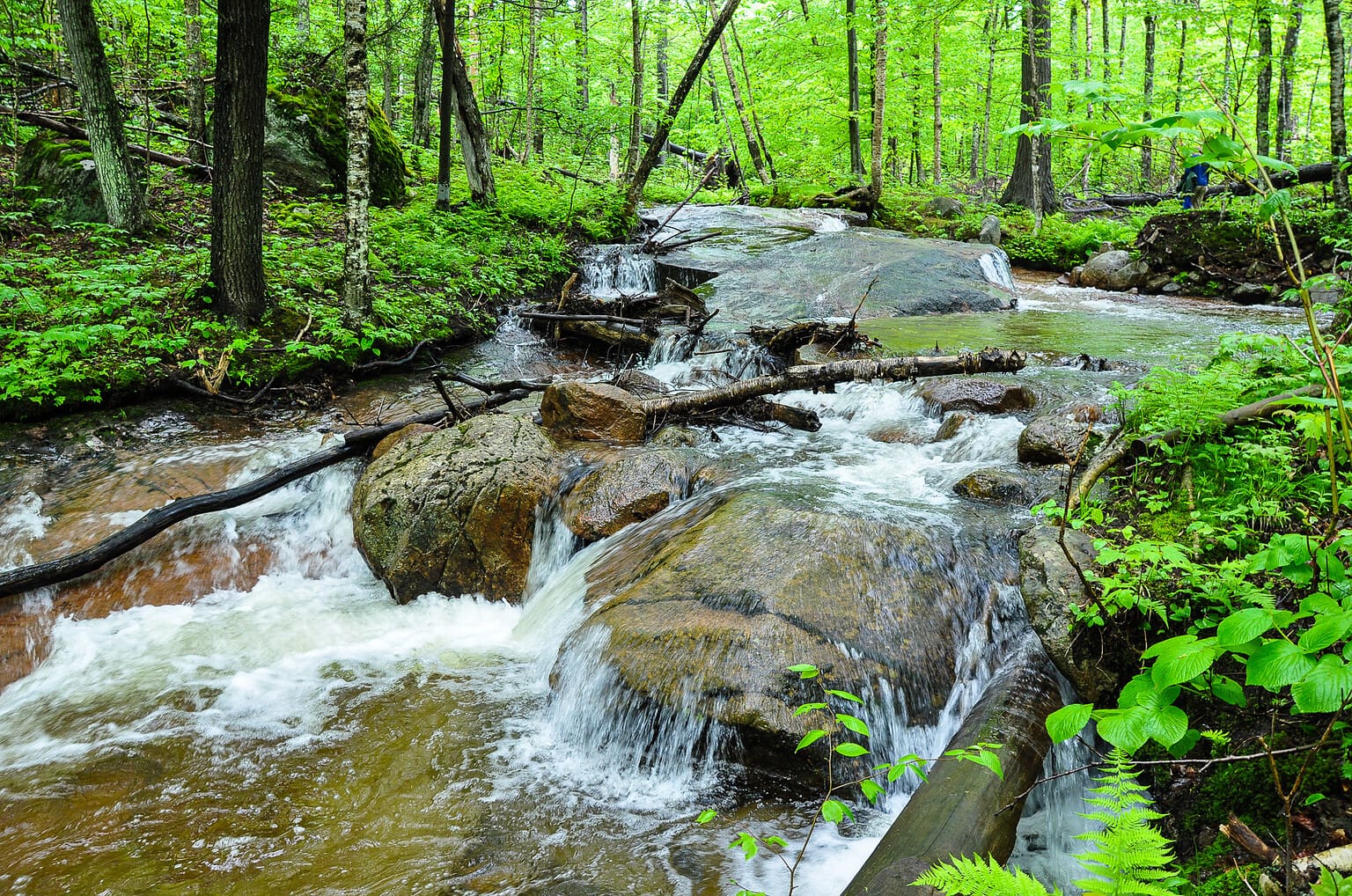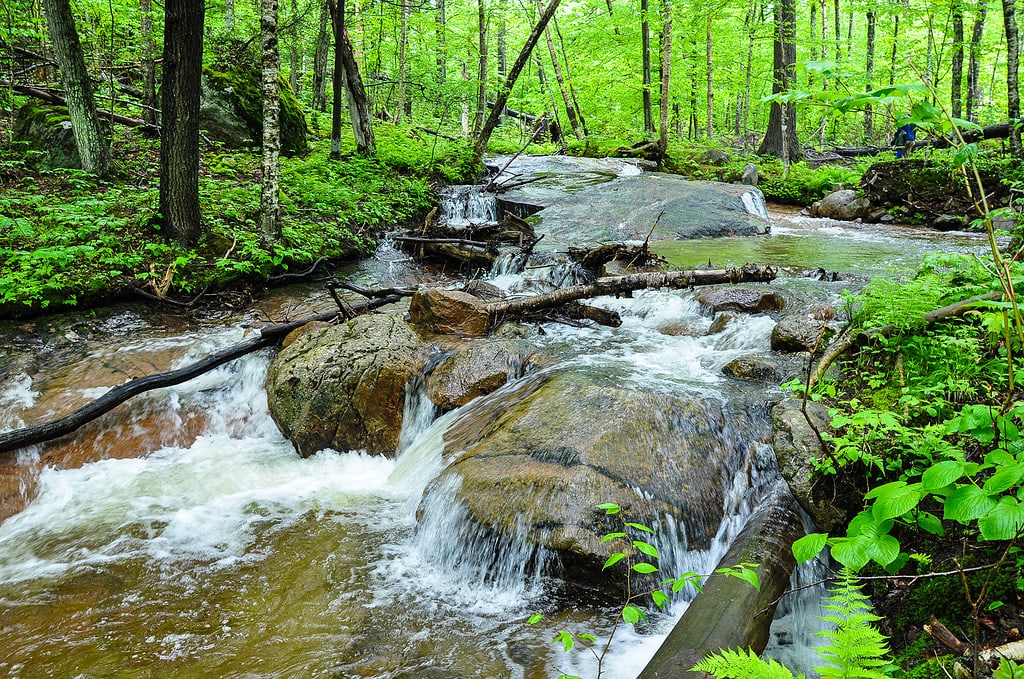 Mont Tremblant Hikes
Les Ruisseaux – This easy 1.6 out-and-back hike traverses pretty bridges over streams and passes mini waterfalls.
La Corniche and La Roche Loop – A moderately challenging 5-mile loop, this trail can be hiked or snowshoed.
Devil's Fall Trail – Short and sweet, less than a mile, this trail takes you to the most impressive waterfall in the Mont Tremblant National Park.
Scandinave Spa Mont Tremblant
It runs hot and cold, but in a good way. Scandinave Spa Mont Tremblant features a range of facilities that are designed to promote relaxation and wellness. This includes outdoor hot baths, cold plunges, Finnish saunas, eucalyptus steam rooms, and relaxation areas with fireplaces. The facilities are nestled in a peaceful natural setting, with stunning views of the surrounding forest.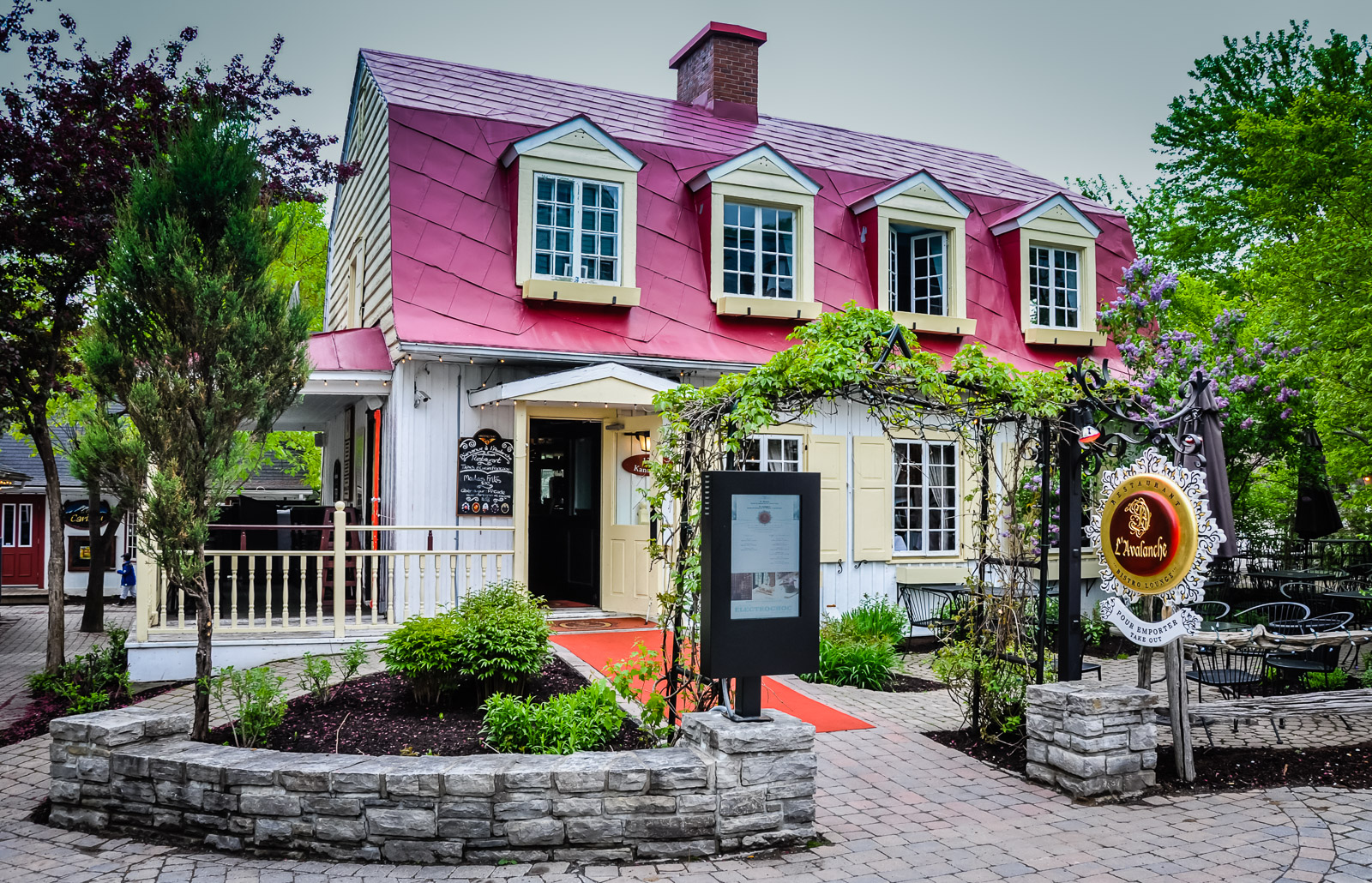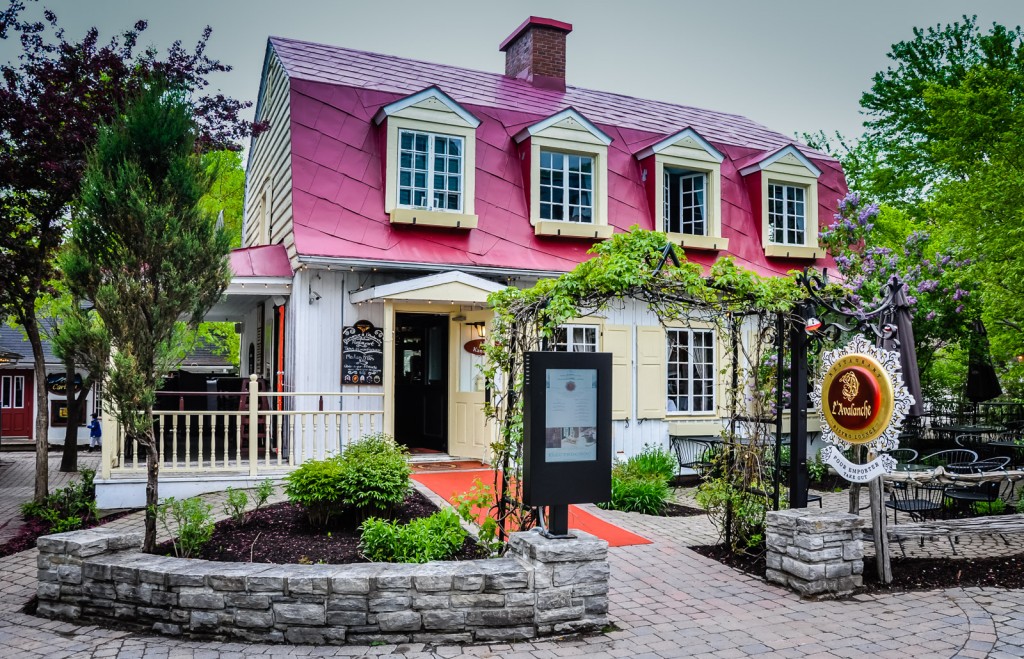 Mont Tremblant Restaurants
Our first meal in Mont Tremblant set the tone for the entire weekend. Having arrived late in the day on Saturday, without stopping to eat, we were famished and ready for an early dinner. This was fortuitous because, otherwise, if we had waited just a bit later, we might not have lucked into the most romantic table in the restaurant – at a garden window with a great view of pedestrian traffic.
We enjoyed a leisurely meal, accompanied by an extravagant bottle of wine, that featured escargot appetizers, wild game entrée, and an unusual crème brûlée assortment for dessert. Dinner was a bit of a splurge, but well worth it not only for the deliciousness but also for the chance it gave us to unwind and shed the stress of quotidian parenthood.
BRUNCH: La Maison de la Crepe
Located in a central location in the Mont Tremblant pedestrian village, La Maison de la Crepe is a wonderful spot to start the day. There's a great selection of sweet or savory crepes. And while the rustic setting is lovely indoors, on a warm day, nothing beats sitting out on the terrace and gazing out on the mountain view.
BRUNCH: Le Charlotte Cafe Bistro
The homefries, eggs benedict, and homemade jam all get rave reviews. And while the plating is pretty, we love the cosy setting even more.
ROMANTIC RESTAURANT: Seb L'Artisan Culinaire
Seb L'Artisan Culinaire offers a unique dining experience that features contemporary cuisine with a focus on local and seasonal ingredients. The menu changes regularly to reflect the availability of fresh and high-quality ingredients. The dishes are beautifully presented and showcase the creativity and skill of the restaurant's chefs. The restaurant also has an extensive wine list, featuring both local and international wines.
ROMANTIC RESTAURANT: Restaurant La Petite Cachee
Restaurant La Petite Cachee offers a Mediterrenean-inspired menu that includes classic bistro dishes such as onion soup, escargots, and steak frites, as well as seafood and vegetarian options. The restaurant also has a selection of homemade desserts and a wine list featuring both local and international wines.
APRES SKI: Microbrasserie La Diable
That's not to say that we left all our petty disagreements at home. At Microbrasserie La Diable, my husband and I initiated a hotly contested Facebook argument about condiments.
Our European-style sausages and French Fries came with the house mayonnaise, a special blend made onsite. But I may have overreacted when I labeled him an "Ugly American" for ditching the mayo in favor of MANY (in fact, all) the ketchup packets on the table.
I'm of the mind that you give local flavors a chance to sway your palate. It appears that I'm in the minority as our friends jumped to his defense, professing the superior qualities of ketchup.
"They brew their 100 percent natural craft beers on-site, and their range includes a wheat beer, pale ale, stout and Trappist ale."

APRES SKI BAR: Le p'tit Caribou
Le p'tit Caribou has the cred. Ski Canada magazine named it the best après-ski bar in Eastern North America ten years in a row, while Forbes ranked it as the fourth best après-ski bar in the world. High praise aside, Le p'tit Caribou is fun and welcoming. The nightclub features multiple levels, each with its own bar and dance floor, as well as a cozy lounge area with comfortable seating.
More Quebec Getaways:
All articles belong to Getaway Mavens LLC, and all photos belong to us as well, unless otherwise noted. It's all copyrighted. Please don't repost anything elsewhere without asking us first. All rights reserved. This site uses cookies to enhance your experience.
We make no guarantees of any price listed on our site. We are not responsible for content on external websites linked to ours, including linked resources, an external blog post, any partner site, hotel property sites, or affiliate sites. We only write about places we have vetted, but can't guarantee that your experience will be exactly the same.
Posts may contain affiliate links at no cost to you. Several of our trips are also compensated by the respective tourism boards for the city or state we are visiting. This never impacts how we share the destination with you – opinions are always our own and we pride ourselves on that. We do not sell links or accept unsolicited guest posts under any circumstances. Don't even ask.
United States Copyright, Getaway Mavens, LLC