Last Updated on April 6, 2023 by Editor
Old Montreal, or vieux montréal, shines year-round and positively sparkles in winter. Gas lights cast a warm glow on cobblestone streets as thousands of little white lights twinkle on multistory garlands adorning shops, art galleries, posh hotels, and comfort-food restaurants.
17th-century buildings lie juxtaposed against a backdrop of modern buildings such as the forward-minded science center, once the filming location of FBI TV thriller Quantico, and skyscrapers used to screen contemporary art video projections.
Whether you're interested in exploring centuries-old landmarks, browsing the unique shops and galleries, or simply soaking up the atmosphere at one of the many cafes or restaurants, Old Montreal, Quebec is sure to capture your heart and leave you longing to return.
For even more weekend getaways, check out our list of romantic getaways in Canada.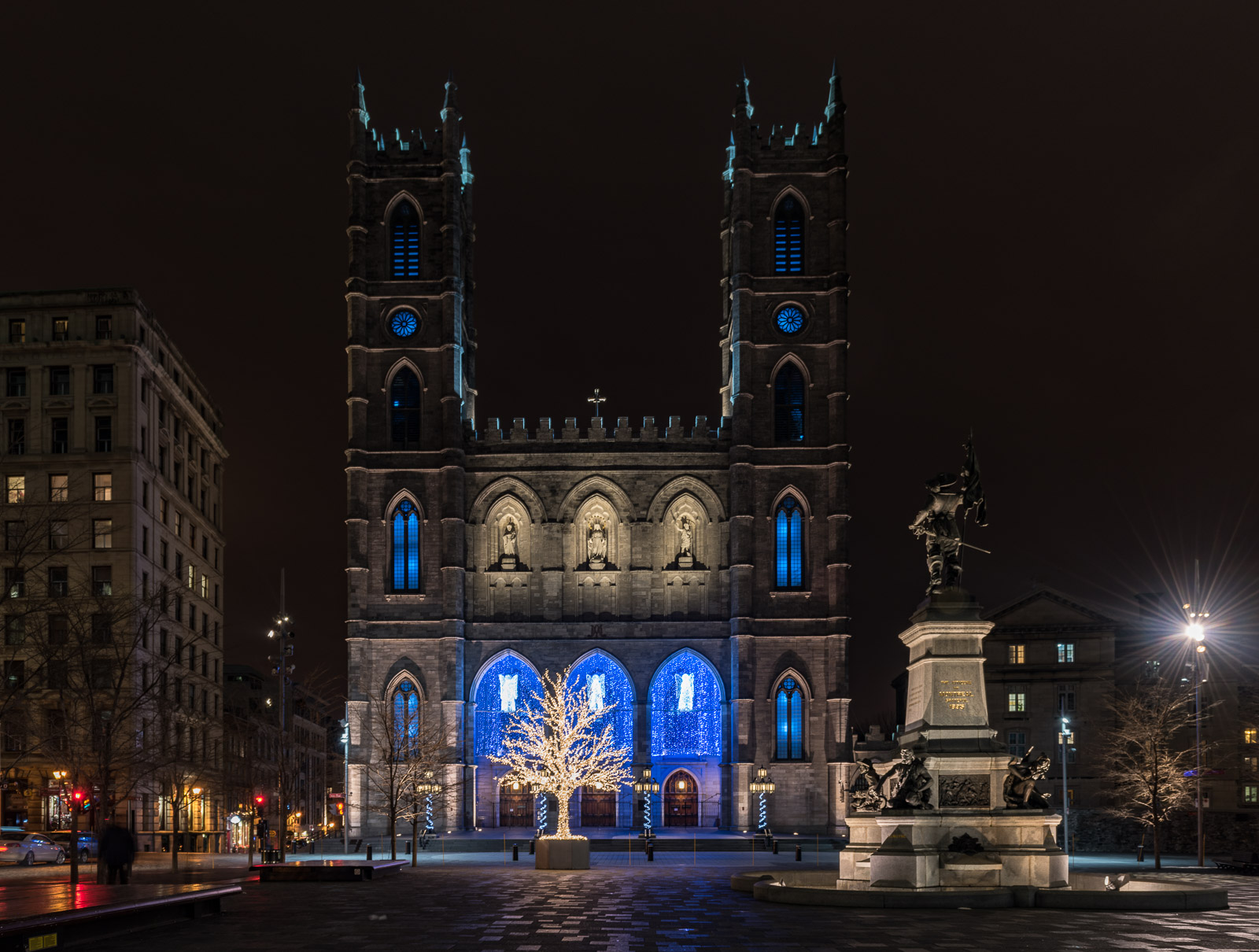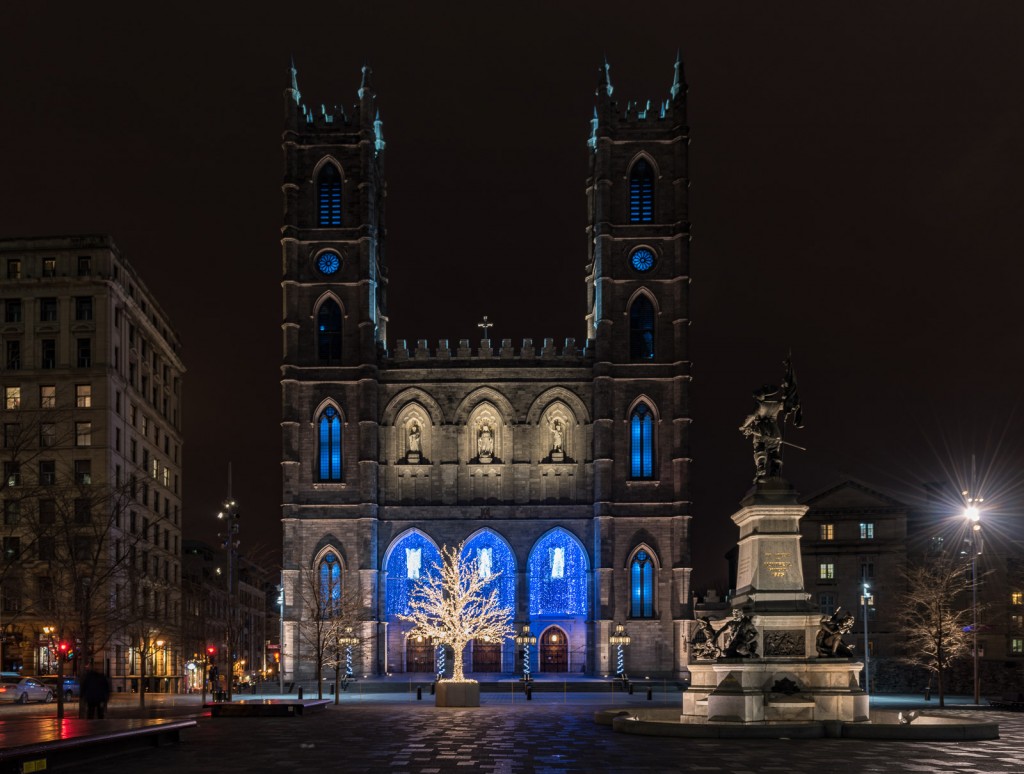 Things To Do in Old Montreal
Tour The Notre Dame Basilica
Take a guided tour of Notre Dame de Montreal where Celine Dion and Rene Angelil were married and where her husband's funeral is being held twenty years later. Founded in 1657, the original parish church of Notre Dame was built in 1672.
The current Gothic Revival structure that replaced it in the early 1820s was designed by James O'Donnell, an Irish-American Anglican who it's said converted to Catholicism so that he could be buried on site.
If you go, be sure to check out the unusual stained glass windows. Unlike most churches, these depict Montreal's religious history.
Do plan to see the Aura Experience, it's a stunning sound and light show that takes visitors on a journey through the history and architecture of the iconic basilica. The multimedia show is presented on a grand scale, using cutting-edge technology to project images and colors onto the walls, ceiling, and organ pipes of the church, creating a breathtaking visual spectacle.
The show features an original musical score, composed specifically for the experience, that is played on the church's grand pipe organ. Throughout the 45-minute show, visitors are transported through time, learning about the church's history, its architecture, and the symbolism and meaning behind its ornate decorations.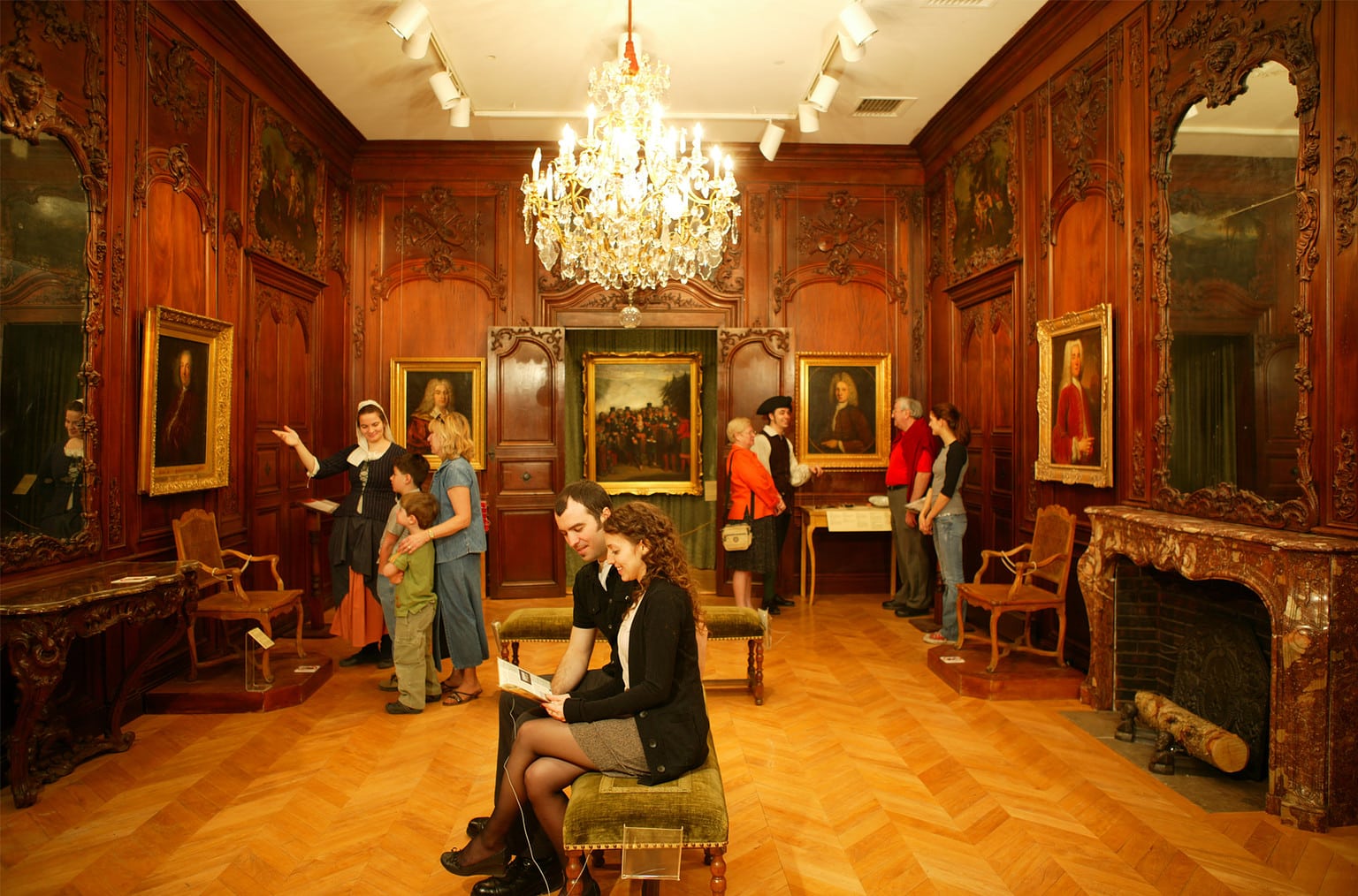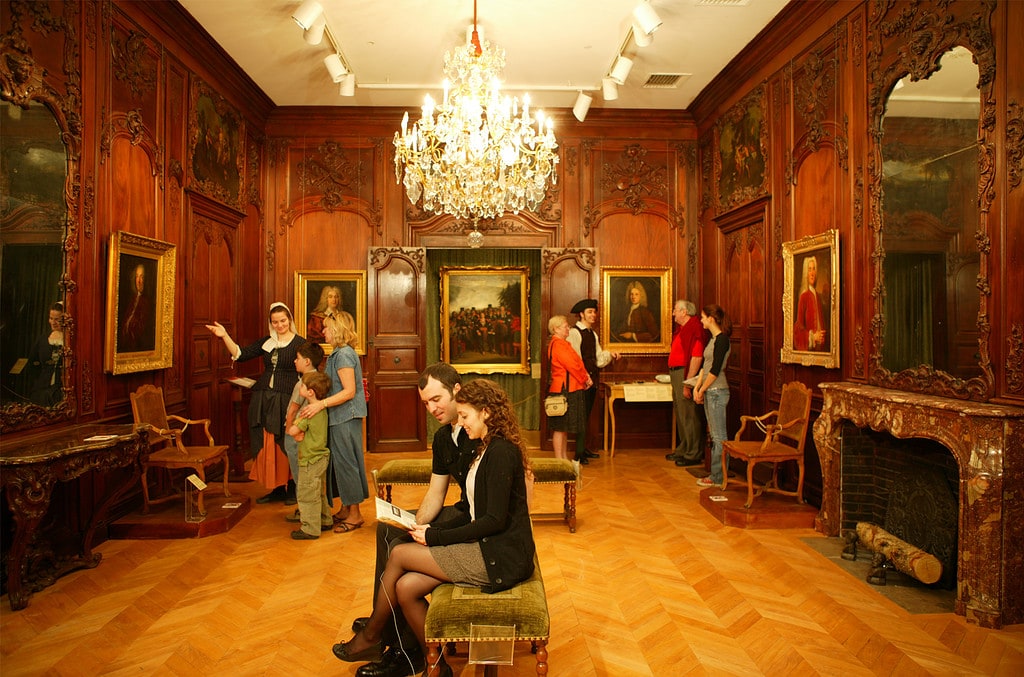 Visit Château Ramezay
Originally the 1705 home of Claude de Ramezay, former Montreal governor, Château Ramezay is now a museum dedicated to the history and culture of Montreal. Visitors can explore the various rooms of the building, including the governor's quarters, the banquet hall, and the kitchen, which have been carefully restored to their original appearance. The museum also features a beautiful garden, which provides a tranquil escape from the bustling streets of Old Montreal.
Stroll Rue Saint Paul, Montreal's Oldest Street
Rue Saint Paul is known for its beautiful architecture, trendy shops, art galleries, and top-rated restaurants. Visitors can take a leisurely stroll along the street, admiring the well-preserved stone buildings that date back to the 17th century. Many of these buildings have been converted into trendy boutiques, art galleries, and artisanal shops, offering visitors a unique shopping experience.
Rue Saint-Paul is also home to some of Montreal's most acclaimed restaurants, serving up a wide variety of cuisine, from traditional Quebecois dishes to international flavors. Visitors can enjoy a meal at one of the many bistros, cafes, or fine-dining restaurants that line the street.
In addition to shopping and dining, Rue Saint-Paul also offers visitors a glimpse into Montreal's fascinating history. The street is home to several museums and cultural institutions, including the Pointe-à-Callière Museum.
Visit Pointe-à-Callière
Pointe-à-Callière, the Montreal Museum of Archeology and History, showcases artifacts and exhibits from the period of Montreal's first builder, Paul de Chomedey, sieur de Maisonneuve, and even before, from the earliest settlers of North America. The museum is built on the site of the original settlement of Montreal, and visitors can explore the remains of the city's original buildings and streets, which have been carefully preserved and integrated into the museum's exhibits.
The museum's permanent collection includes over 1 million artifacts, ranging from prehistoric times to the present day, and covering topics such as the fur trade, the French and British colonial periods, and the city's vibrant multicultural history.
The museum also hosts temporary exhibits, educational programs, and special events throughout the year, making it a dynamic and engaging destination for visitors of all ages. Pointe-à-Callière is a must-visit attraction for anyone interested in the history and culture of Montreal and Quebec.
Shop/Eat At Bonsecours Market/Marché bonsecours
Originally built in 1847 as a public marketplace, Bonsecours Market has served a variety of purposes, including as Montreal's city hall and as a concert hall. Today, the building has been restored to its original function as a public marketplace, and it houses a variety of artisanal boutiques, art galleries, and restaurants.
Visitors can browse the shops for unique souvenirs, artisanal crafts, and high-end fashion, or sample the local cuisine at one of the many restaurants and cafes located within the building. The building's stunning neoclassical architecture, with its iconic dome and clock tower, makes it a popular destination for photographers and tourists alike.
Take In A Show At The Quartier Des Spectacles
There's a dizzying choice of shows and performances at the Quartier des Spectacles. The district is home to a variety of cultural institutions, including museums, art galleries, and performance venues. It is also known for its many festivals and events, including the Montreal International Jazz Festival, the Just for Laughs comedy festival, and the Festival Mode & Design, among others.
The area features a number of public spaces and installations that are illuminated at night, including the Place des Festivals, which hosts a variety of outdoor concerts and events. Visitors can explore the many art galleries and museums, take in a live performance at one of the many theaters, or simply stroll the streets and soak up the lively atmosphere.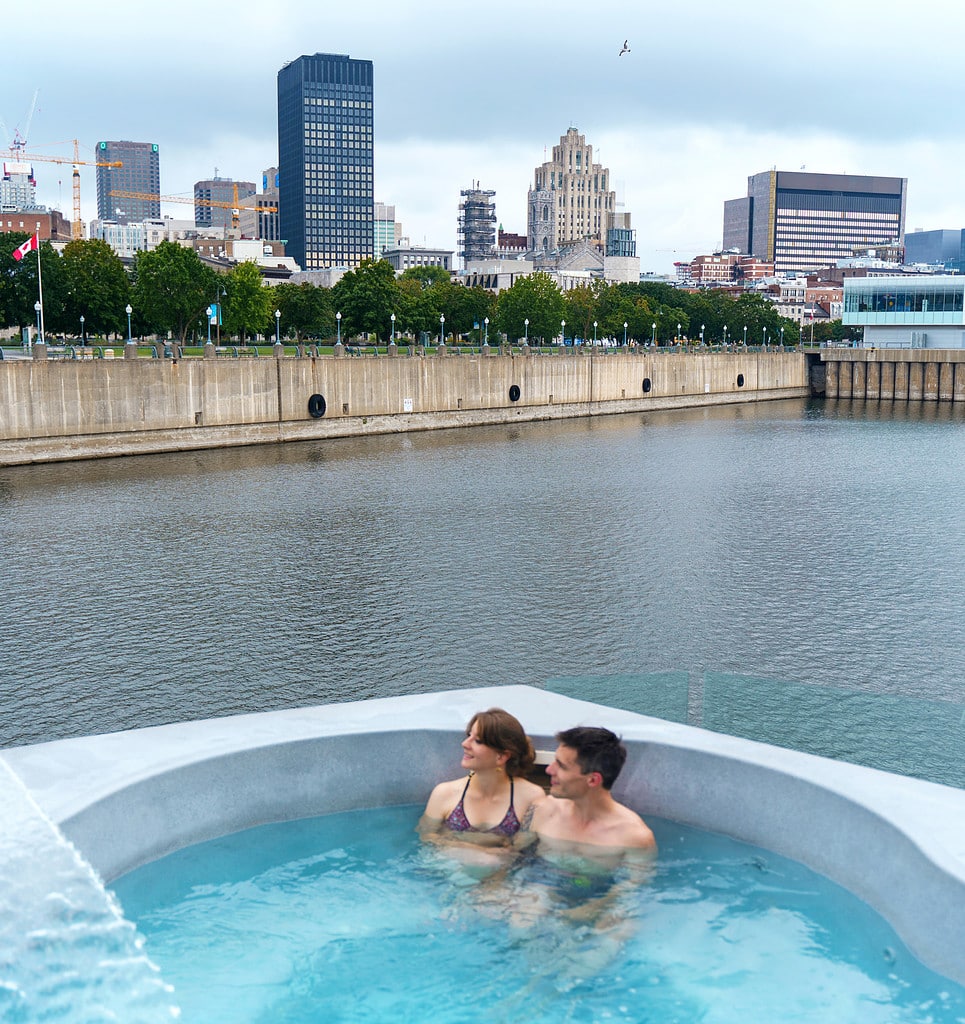 Destress At The Spa
If you crave warmth and relaxation, you're in luck because Montreal has a number of fantastic Nordic-inspired spas. Locals recommend the heat therapy and blissful silence at Scandinave Spa, but if you're looking for an unusual experience, check out Bota Bota, the floating spa aboard a converted ferryboat on the St. Lawerence River.
Meet Up At Place Jacques-Cartier
Surrounded by delightful shops, restaurants, and cafes, Place Jacques-Cartier is a great place to enjoy a meal, shop for souvenirs, or simply people-watch. The square is lined with beautiful historic buildings, including the iconic City Hall, and features a large fountain at its center. In the summertime, the square is transformed into a bustling pedestrian zone, with outdoor seating, live music, and performances, making it a popular destination for visitors looking to soak up the lively atmosphere of Old Montreal.
Place Jacques-Cartier is also the starting point of several walking tours, including the Old Montreal Ghost Tour and the Old Montreal Food Tour, which offer visitors a chance to explore the history and culture of the area.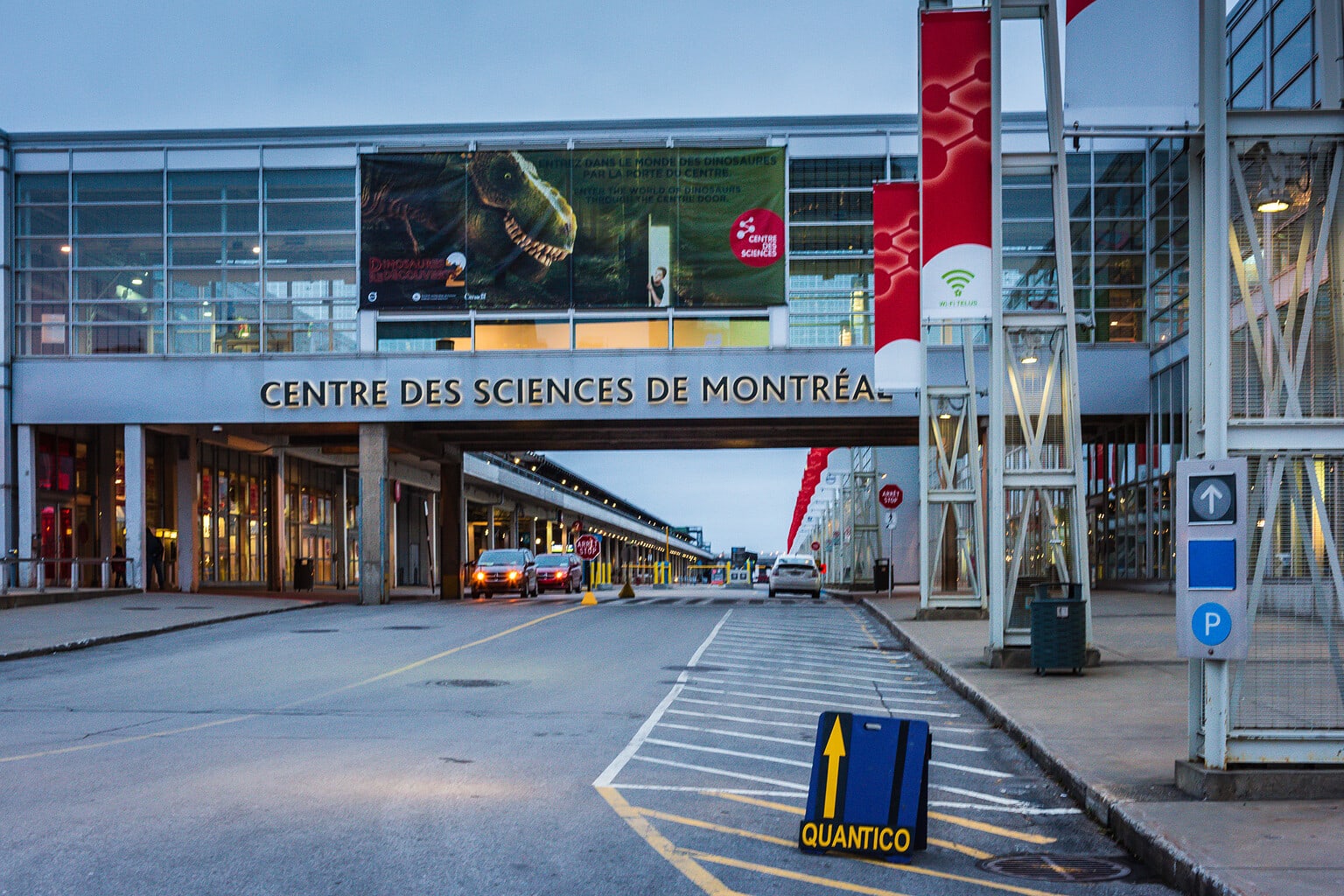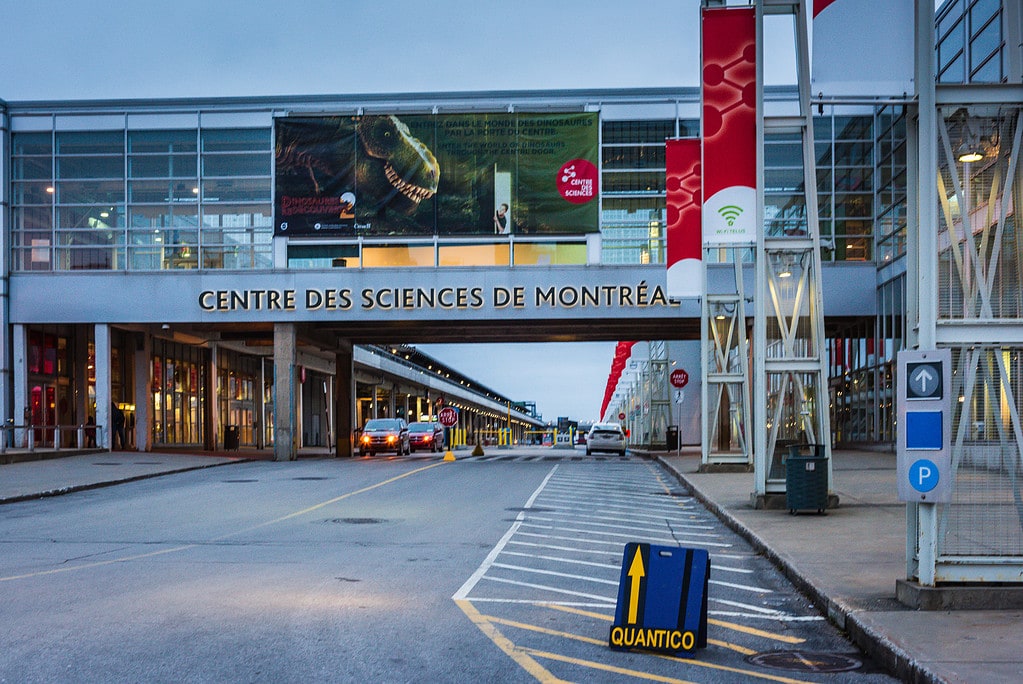 Visit The Montreal Science Center
Some of the coolest things to see in Montreal are at the cutting-edge science museum. The Montreal Science Center features a variety of interactive exhibits and educational programs that explore the latest advances in science and technology. Visitors can explore exhibits on topics such as space exploration, the human body, and the environment, among others.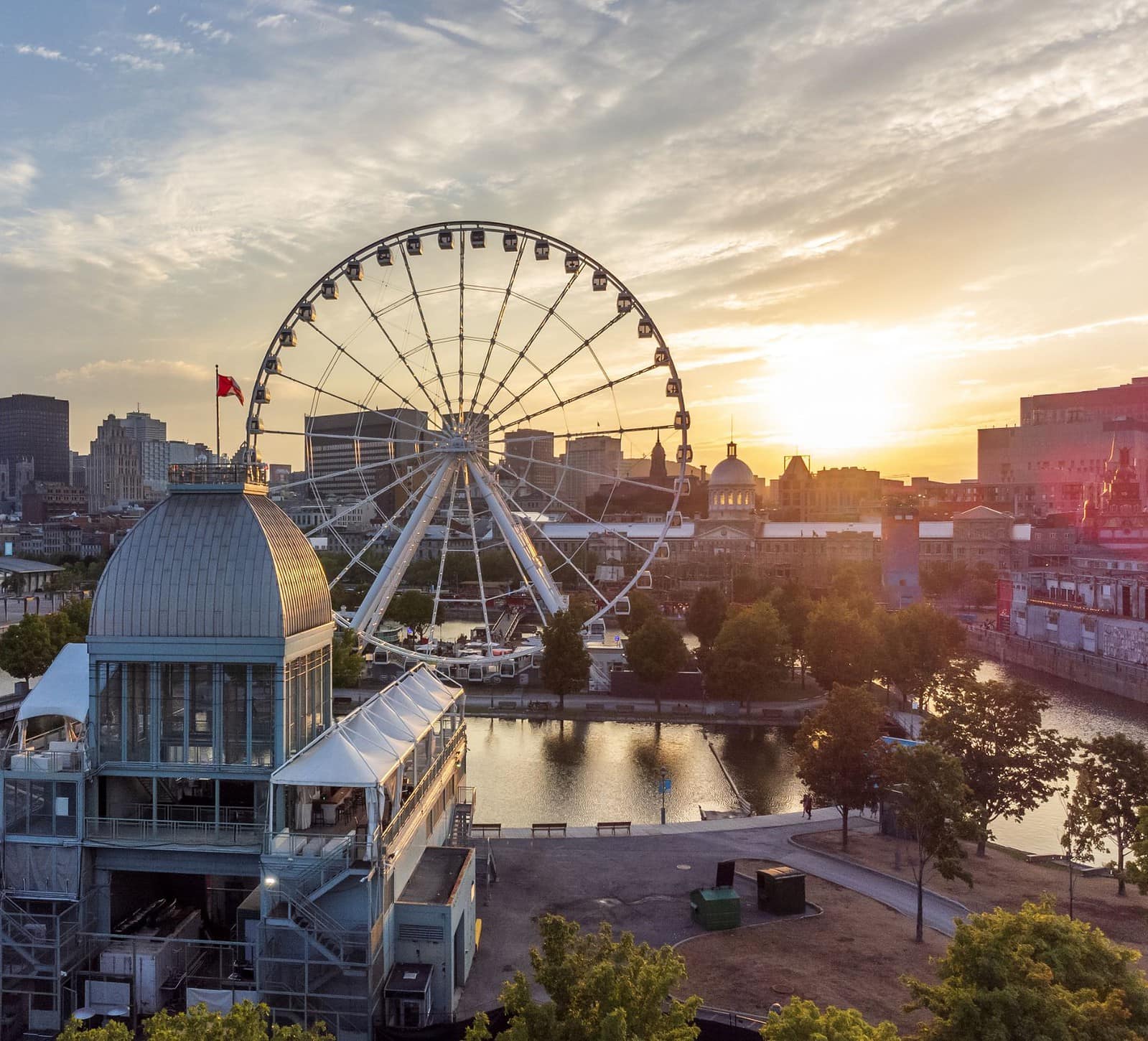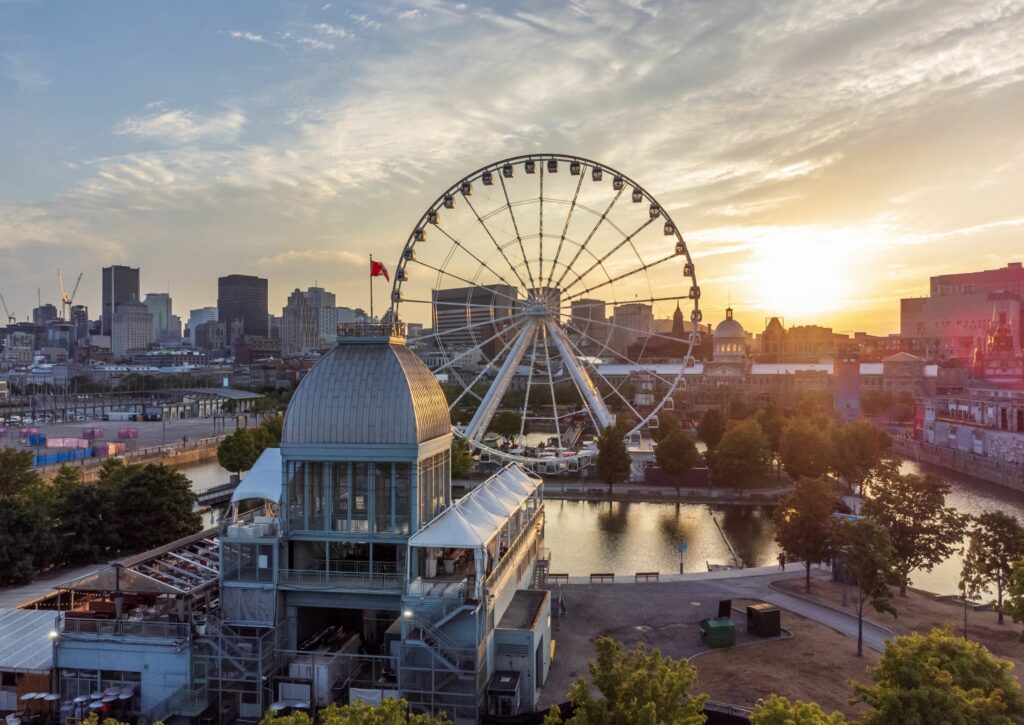 Ride La Grand Roue de Montréal
One of the prettiest views of vieux port is from la Grande Roue de Montréal, also known as the Montreal Observation Wheel. The 60-meter tall Ferris wheel located in the Old Port of Montreal features 42 enclosed gondolas that offer stunning panoramic views of the city and the St. Lawrence River. La Grande Roue de Montréal is open year-round, and visitors can enjoy the views during the day or at night when the city is lit up.
Skate At The Quays Skating Rink
In winter, don't miss another attraction at the Old Port of Montreal, the Quays Skating Rink. There are over 150 ice rinks in Montreal, but this is one of the best. With its picturesque location and stunning views of the city skyline and the St. Lawrence River, the rink attracts visitors of all ages and skill levels.
The rink is open daily during the winter season and offers skate rentals for those who don't have their own. In addition to public skating sessions, the rink also offers skating lessons for beginners and special events throughout the season, such as DJ nights and themed skate parties.
Attend Montreal En Lumiere Winter Festival
Hot chefs and an eclectic roster of sizzling artists star at Montréal en Lumière one of the largest winter festivals in the world. The festival typically takes place over two weeks in February and features a variety of activities and events, including concerts, outdoor activities, art exhibits, and culinary experiences.
The festival is known for its spectacular light displays that transform the city into a magical wonderland. Visitors can explore illuminated installations throughout the city, including the Quartier des Spectacles, Place des Festivals, and the Old Port.
The festival also features a large outdoor site that includes various activities and attractions, such as an ice slide, a Ferris wheel, and a zip line. In addition to the outdoor fun, Montreal en Lumiere also showcases the city's culinary scene with a variety of gourmet events, including wine tastings, food tours, and chef competitions.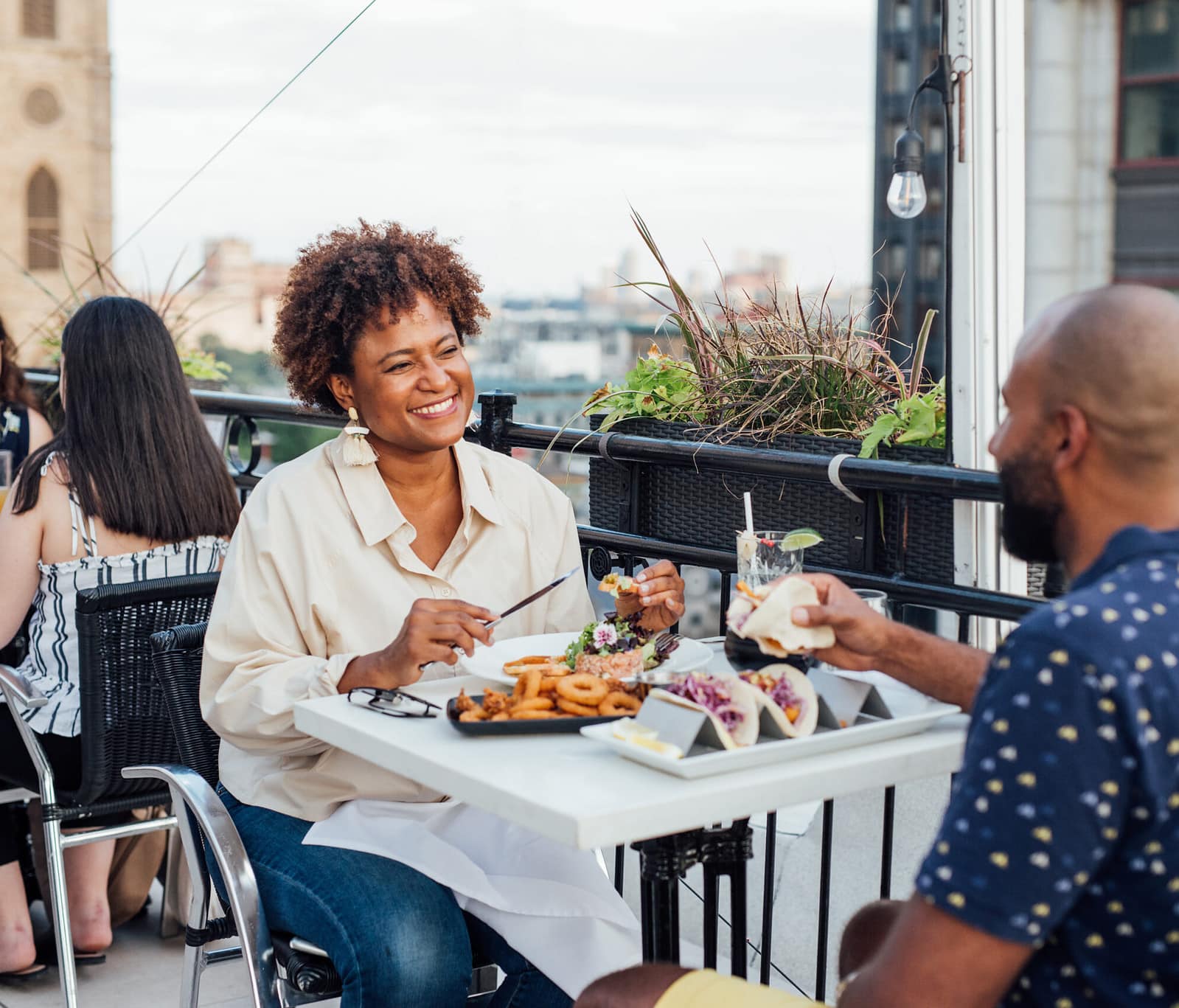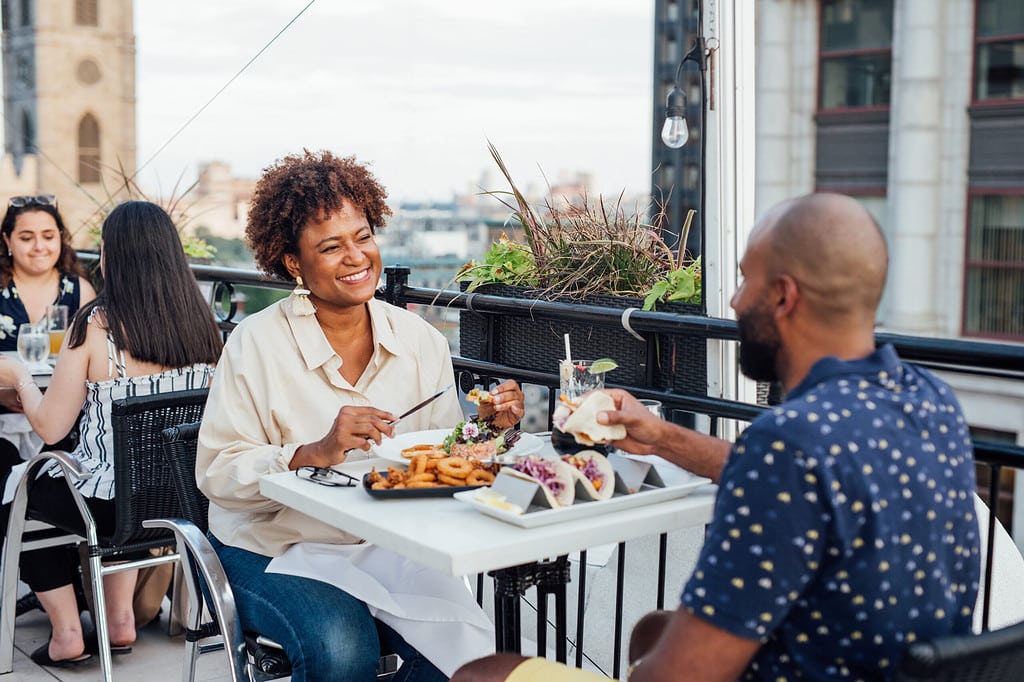 Best Restaurants In Old Montreal
Weekend Brunch In Old Montreal
A leisurely brunch, sips of latte interspersed with soulful gazes, is the quintessential purview of a city weekend. And fortunately, there are several great brunch venues in Old Montreal: Nelli Cafe, Taverne Gaspar, and Maggie Oakes, among others.
LUNCH: Schwartz's Deli
Open since 1928, Schwartz's Deli is known for having the best smoked meat in the city. Get the classic smoked meat sandwich accompanied by fries and coleslaw drizzled with vinegar, and topped off with a slice of Sugar Pie.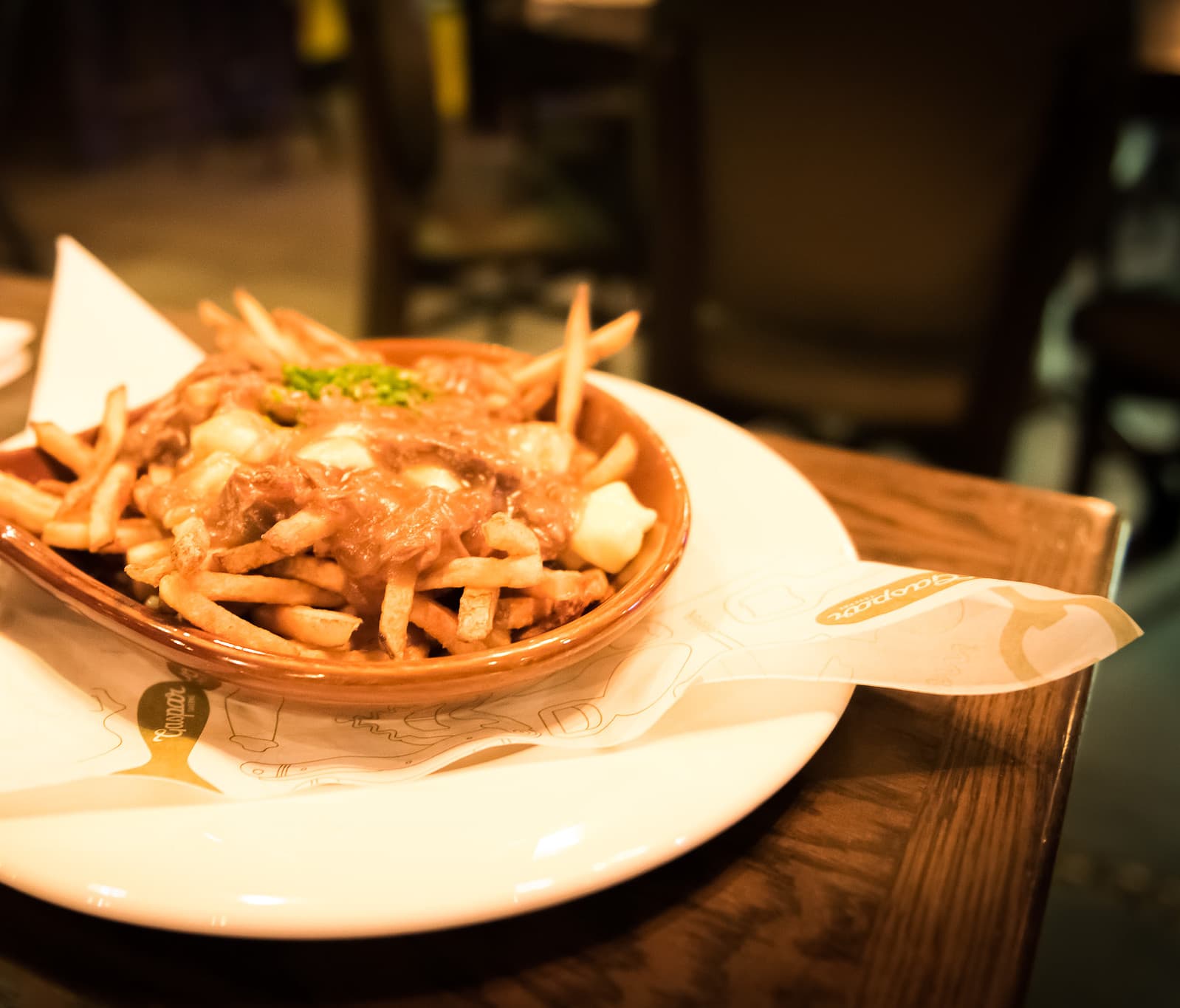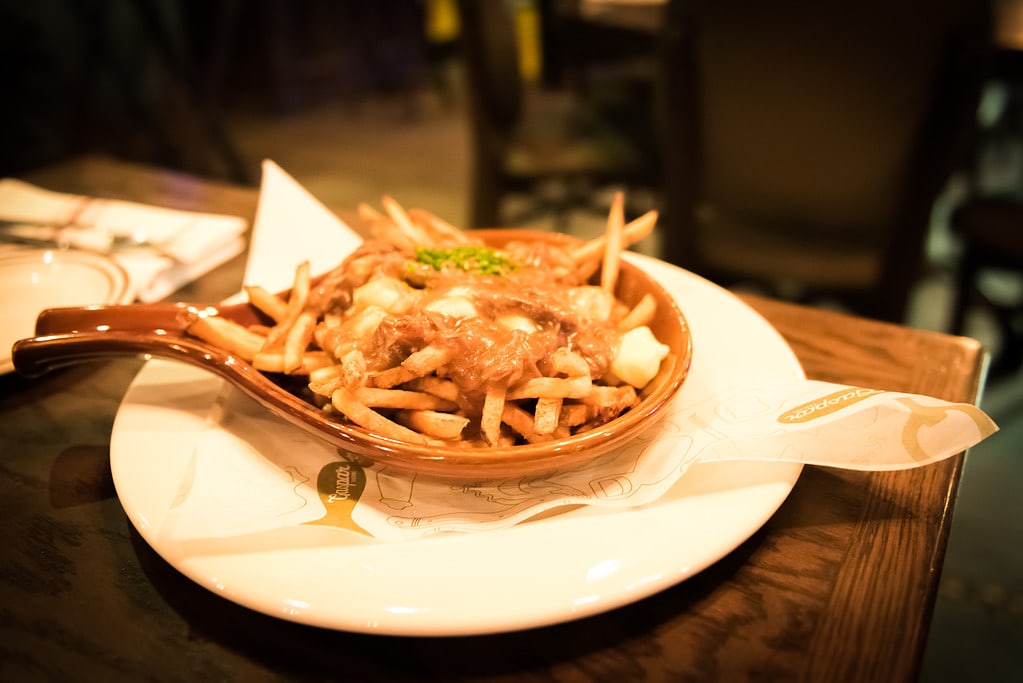 Try The Poutine
A trip to Quebec wouldn't be complete without poutine, the Canadian dish that elevates the humble french fry into a full meal. Traditionally made with french fries topped with gravy and cheese curds, clever chefs come up with all kinds of additions.
Garde Manger chef Chuck Hughes beat out Bobby Flay in an Iron Chef America TV battle by adding lobster to the simple comfort food. For the classic poutine, you can't go wrong with pub-fare at Taverne Gaspar on the waterfront facing Old Port Montreal.
Romantic Restaurant Bonaparte
Restaurant Bonaparte is an elegant fine-dining restaurant located in the heart of Old Montreal. Housed in a beautiful 19th-century building that exudes old-world charm, the menu features classic French cuisine with a modern twist.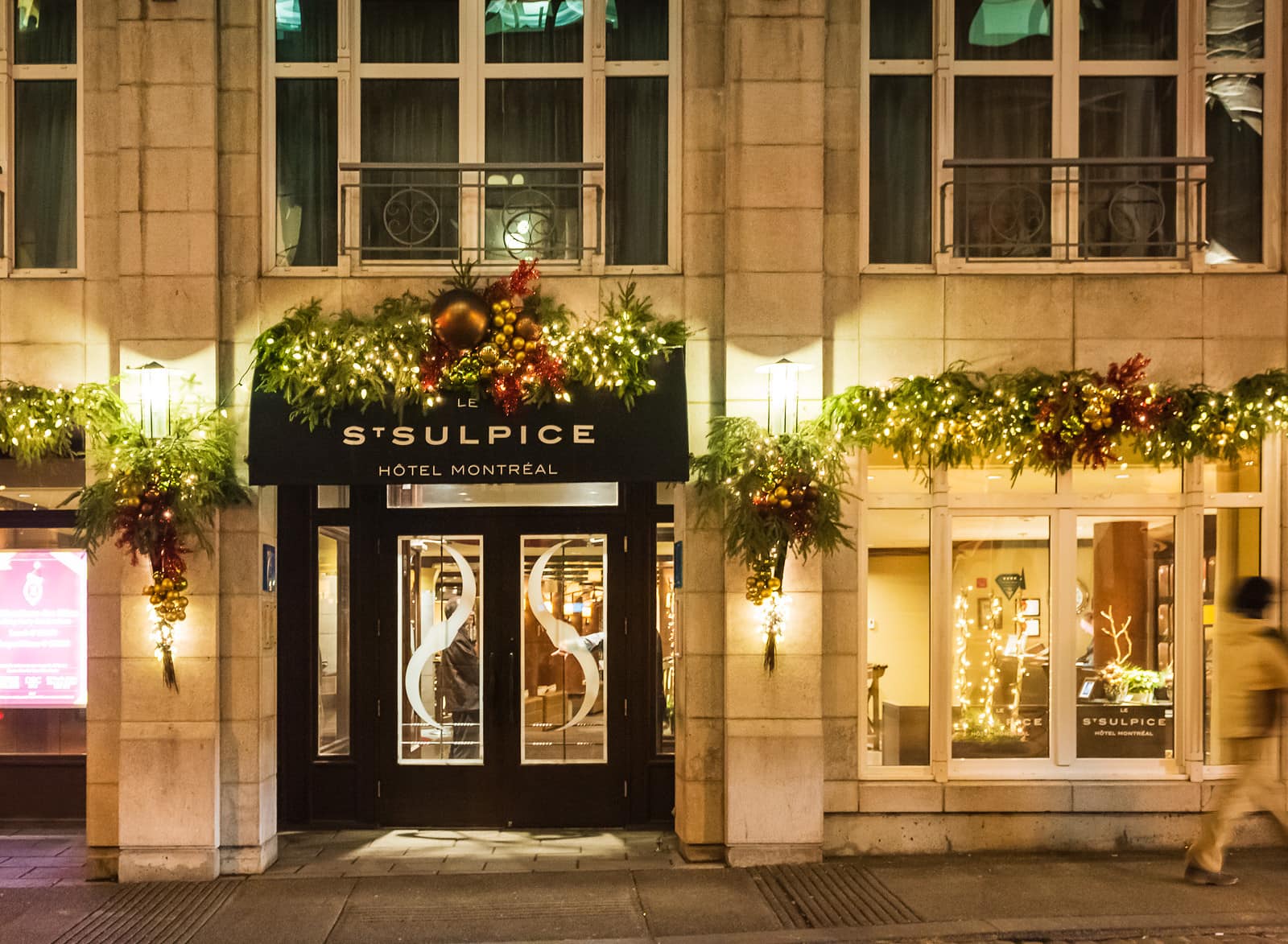 Old Montreal Hotels
STAY: Chic boutique Le Saint-Sulpice Hotel Montreal pays tribute to pop and postwar artists in its individually decorated guestrooms. An impressive hotel art collection includes originals by the likes of Warhol and Lichtenstein. Plus, the complimentary continental breakfast includes NY-rival St. Viateur bagels.
STAY: Recommended by friends as their go-to choice for a romantic getaway, Hotel Nelligan is a 105-room boutique hotel created from two circa mid-1800s buildings. Splurge for a penthouse suite with a private terrace and panoramic views of the Old Port.
Getting There
Montreal is easy to get to by plane, train, or automobile from Northeast USA. Montreal-Pierre Elliott Trudeau International Airport YUL (or YMQ – all Montreal airports) runs nonstop flights to all major cities, and with the current favorable exchange rate, it can be very economical to initiate flights from here.
From Albany NY, the drive is just over 3 hours–doable as a day trip but preferable as a weekend getaway. Be prepared to show passports on the border. Amtrak offers great deals on round-trip train travel between NYC and Montreal, but the eleven-hour ride is twice as long as the road trip.
More Quebec Getaways:
Old Montreal On The Map
All articles belong to Getaway Mavens LLC, and all photos belong to us as well, unless otherwise noted. It's all copyrighted. Please don't repost anything elsewhere without asking us first. All rights reserved. This site uses cookies to enhance your experience.
We make no guarantees of any price listed on our site. We are not responsible for content on external websites linked to ours, including linked resources, an external blog post, any partner site, hotel property sites, or affiliate sites. We only write about places we have vetted, but can't guarantee that your experience will be exactly the same.
Posts may contain affiliate links at no cost to you. Several of our trips are also compensated by the respective tourism boards for the city or state we are visiting. This never impacts how we share the destination with you – opinions are always our own and we pride ourselves on that. We do not sell links or accept unsolicited guest posts under any circumstances. Don't even ask.
United States Copyright, Getaway Mavens, LLC