Last Updated on July 14, 2022 by Editor
WHY GO:
Beavers. OK, now that I have your attention: Albany NY history begins with a slick little creature, whose pelts were coveted in the 1600's by the fashion plates of Europe, and were found in abundance in this Hudson River region.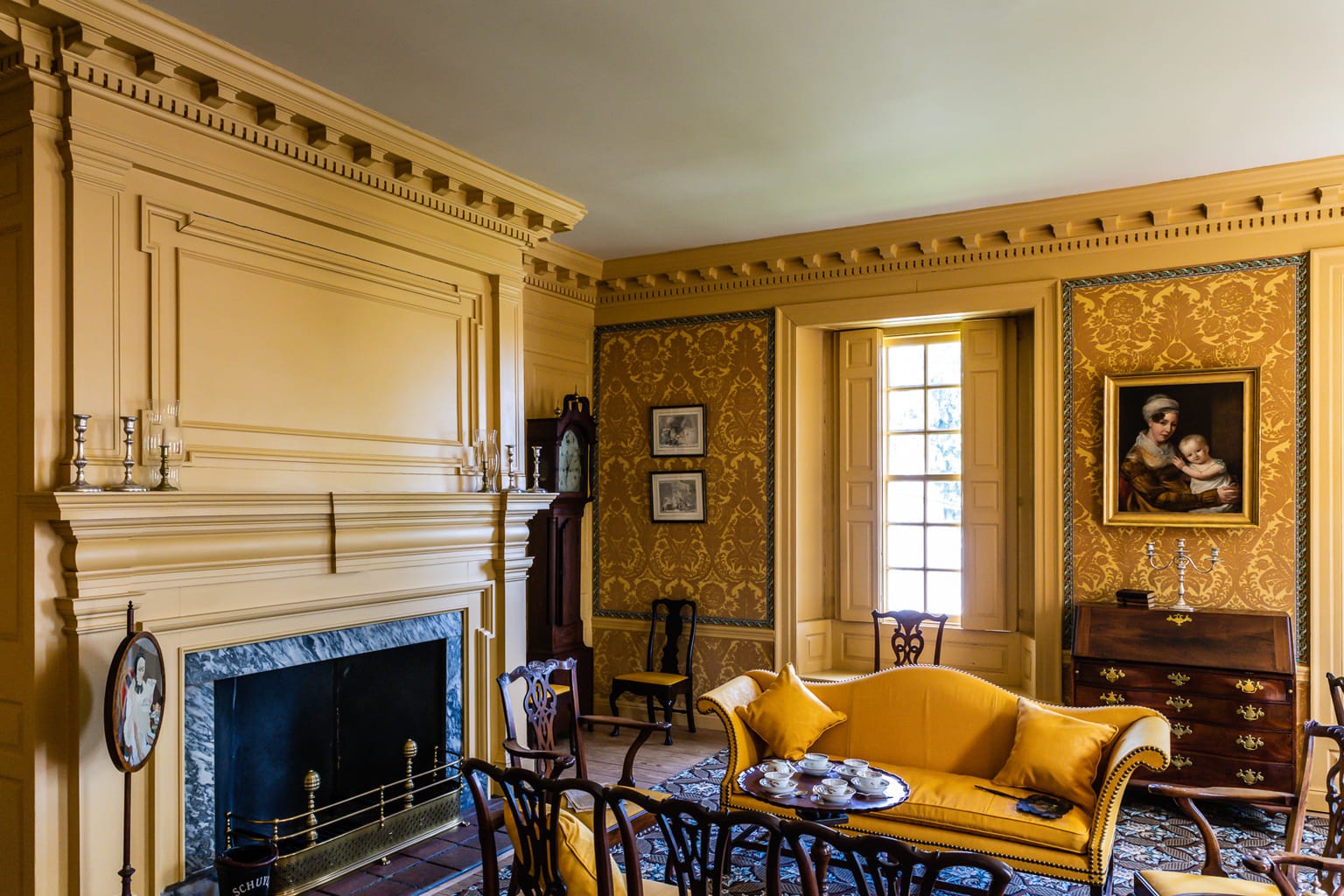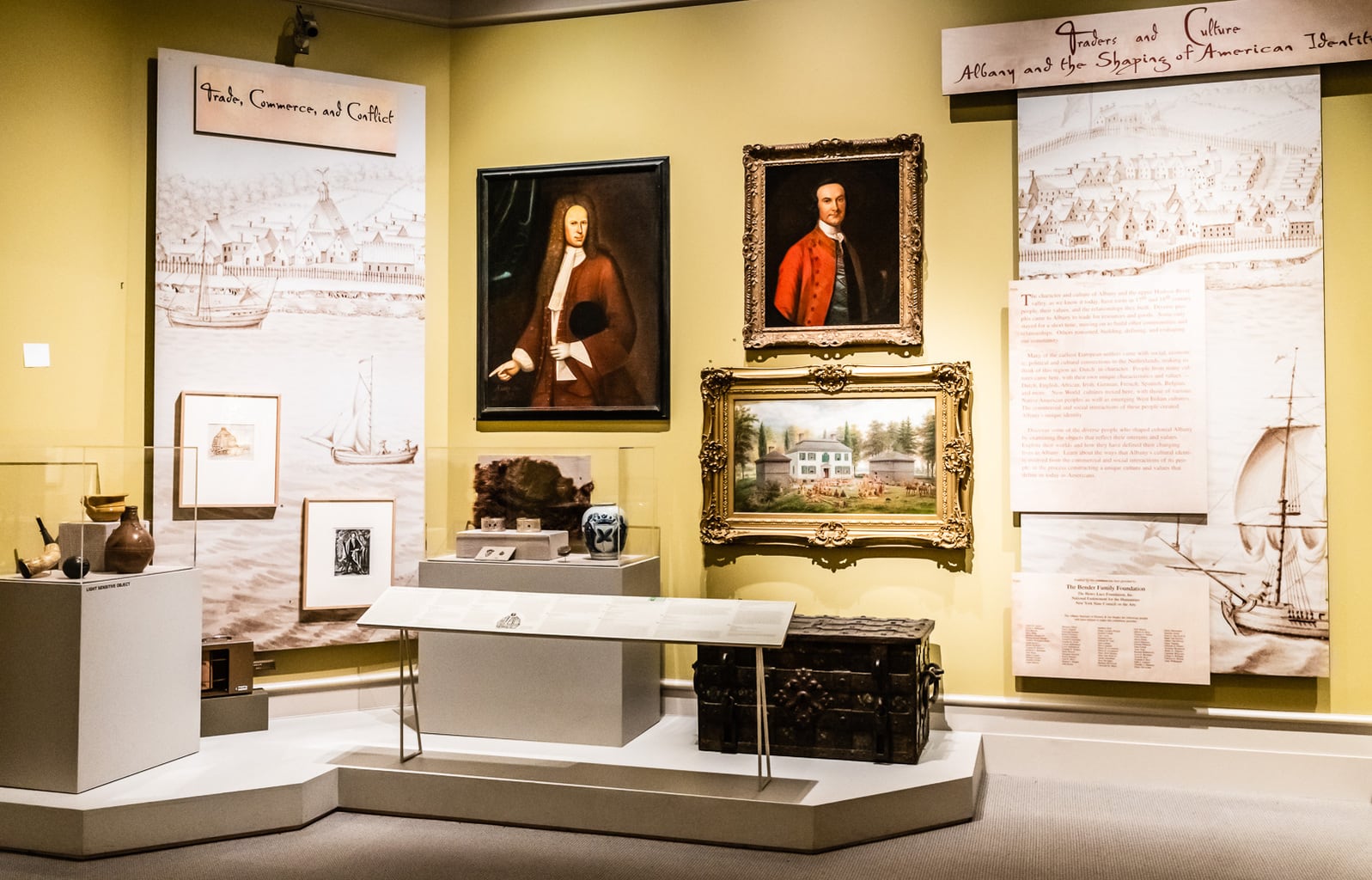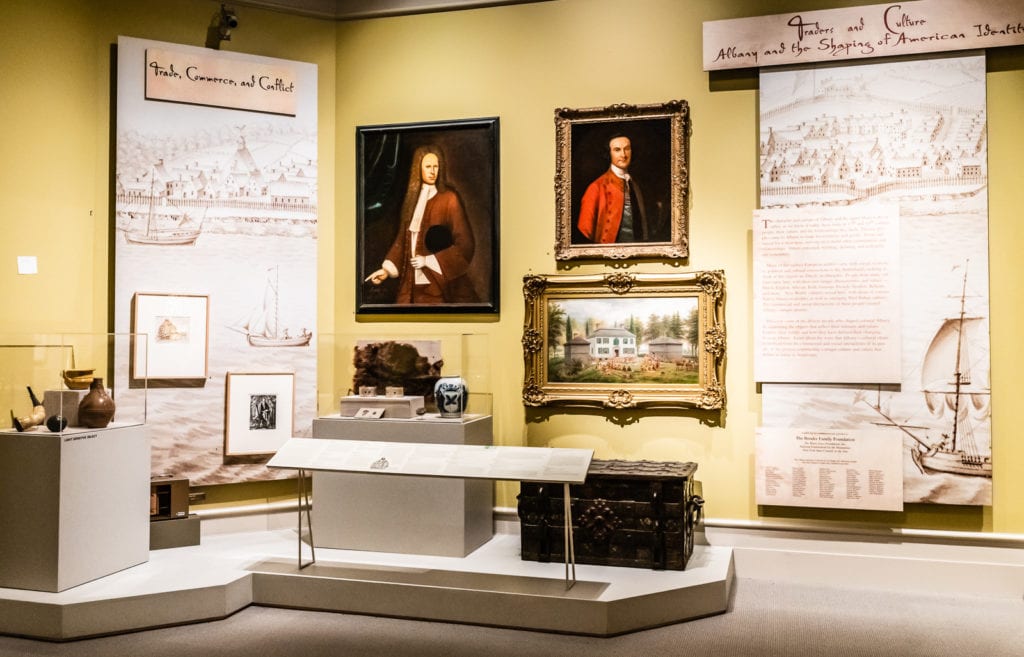 So, traders came to the new Dutch settlement, followed by colonists who flourished and became Bold Faced Names of the American Revolution. One of these rebels was Alexander Hamilton, who married an Albany gal, Elizabeth Schuyler, in her parental home.
This home, of course, is open for tours and has become a popular attraction due to the success of the Broadway show.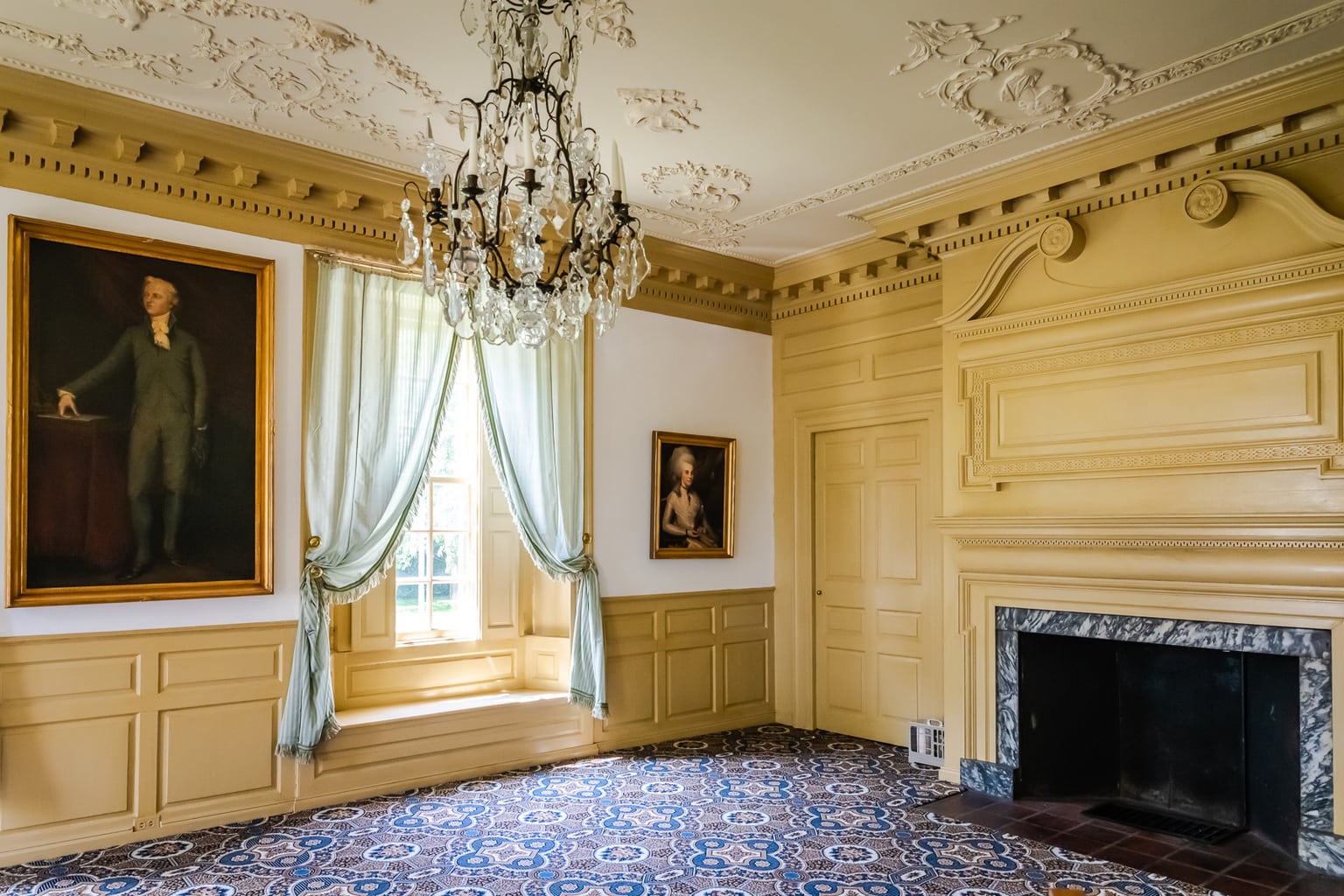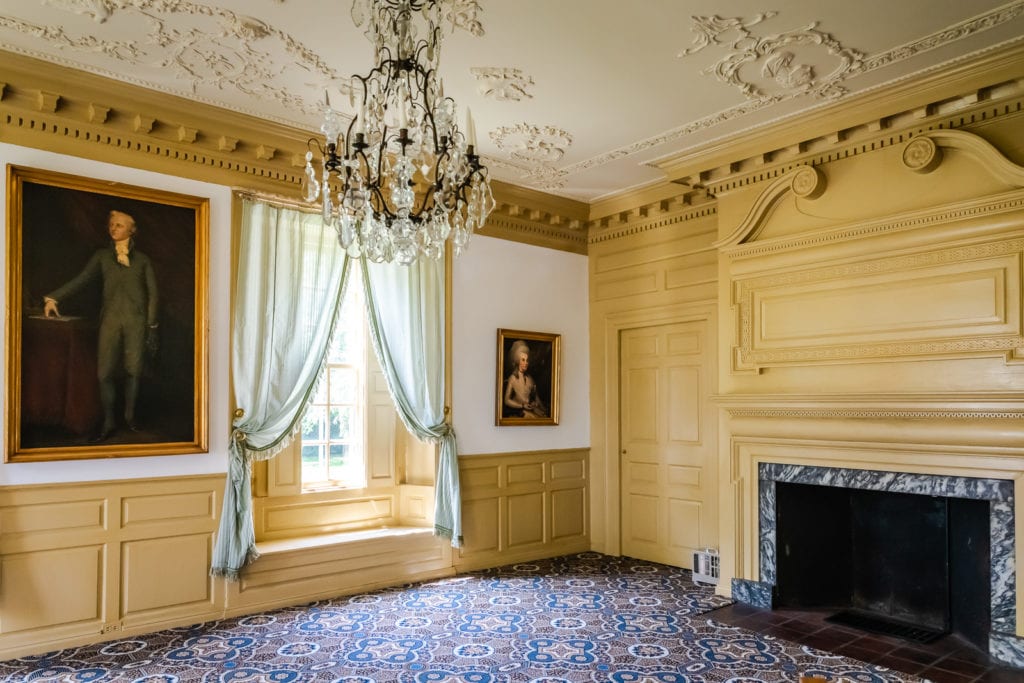 But Albany has other charms. It is the New York State Capital City, with a neo-classical Capitol Building that stands in juxtaposition to the lean, modern structures on the Empire State Plaza.
There are parks and neighborhoods, excellent museums and historic sites, a haunted pub and other terrific eateries, and one lovely upscale Inn close enough to walk downtown, yet far enough to experience peace and quiet. The Getaway Mavens let you in on the best places to eat, snack, and stay.
Follow along here…
Things To Do in Albany NY
START: Discover Albany Visitors Center at Quackenbush Square. Listen to the "clip-clop" of a horse and carriage as you enter the "Welcome to Albany Exhibit" at the Visitor's Center. With its abundance of beavers whose pelts were in demand in Europe for beaver-skin coats, this Hudson River town became an important New World trading port.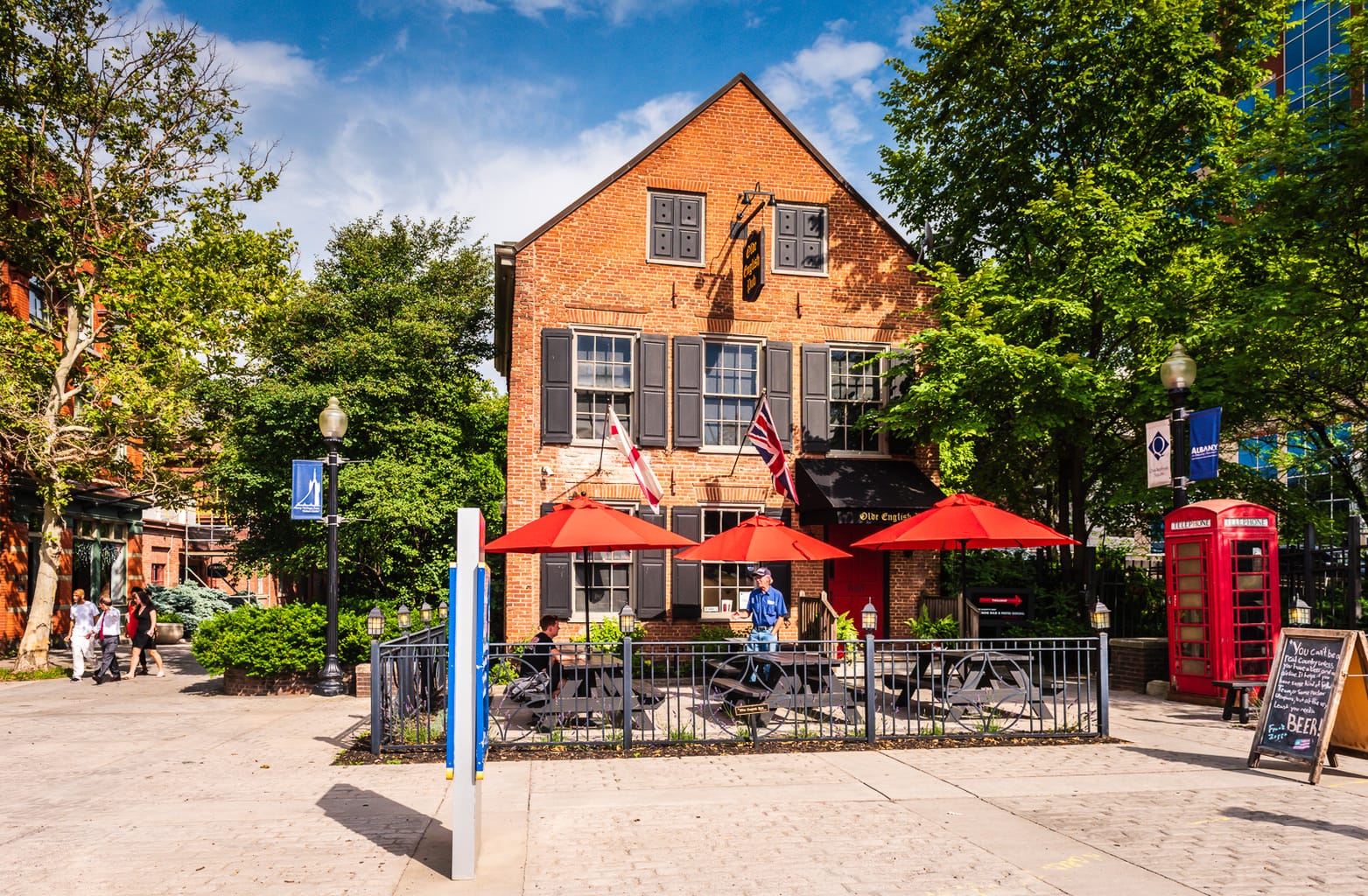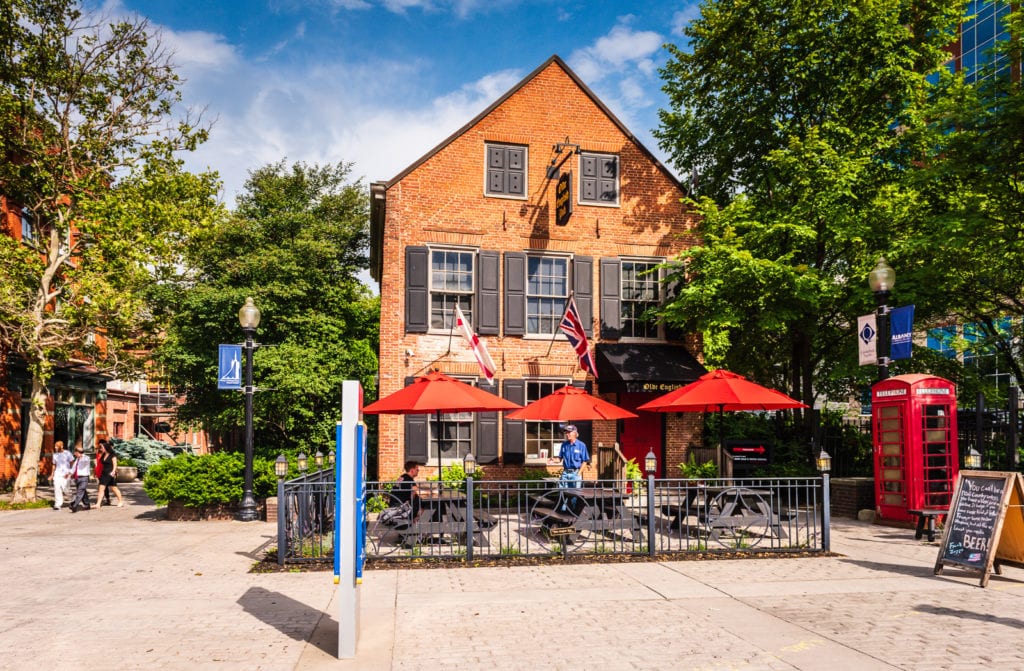 In 1754, Benjamin Franklin met with representatives of seven northern colonies to develop the "Albany Plan of Union" in defiance of the French during the French and Indian Wars. In 1825, the Erie Canal linked Albany to Buffalo and the Great Lakes, and in 1881, the city was wealthy enough to hire "starchitect" HH Richardson to design the Romanesque City Hall.
By the end of the 19th century, the grand neo-classical New York State House, costing more than the U.S. Capitol Building, was completed.
The NY Capitol now anchors one end of the uber-modern Wallace Harrison designed Empire State Plaza that again put Albany on the architectural map in the 1960's and 70's. Pick up brochures and advice from Visitors Center staff, and head out to explore.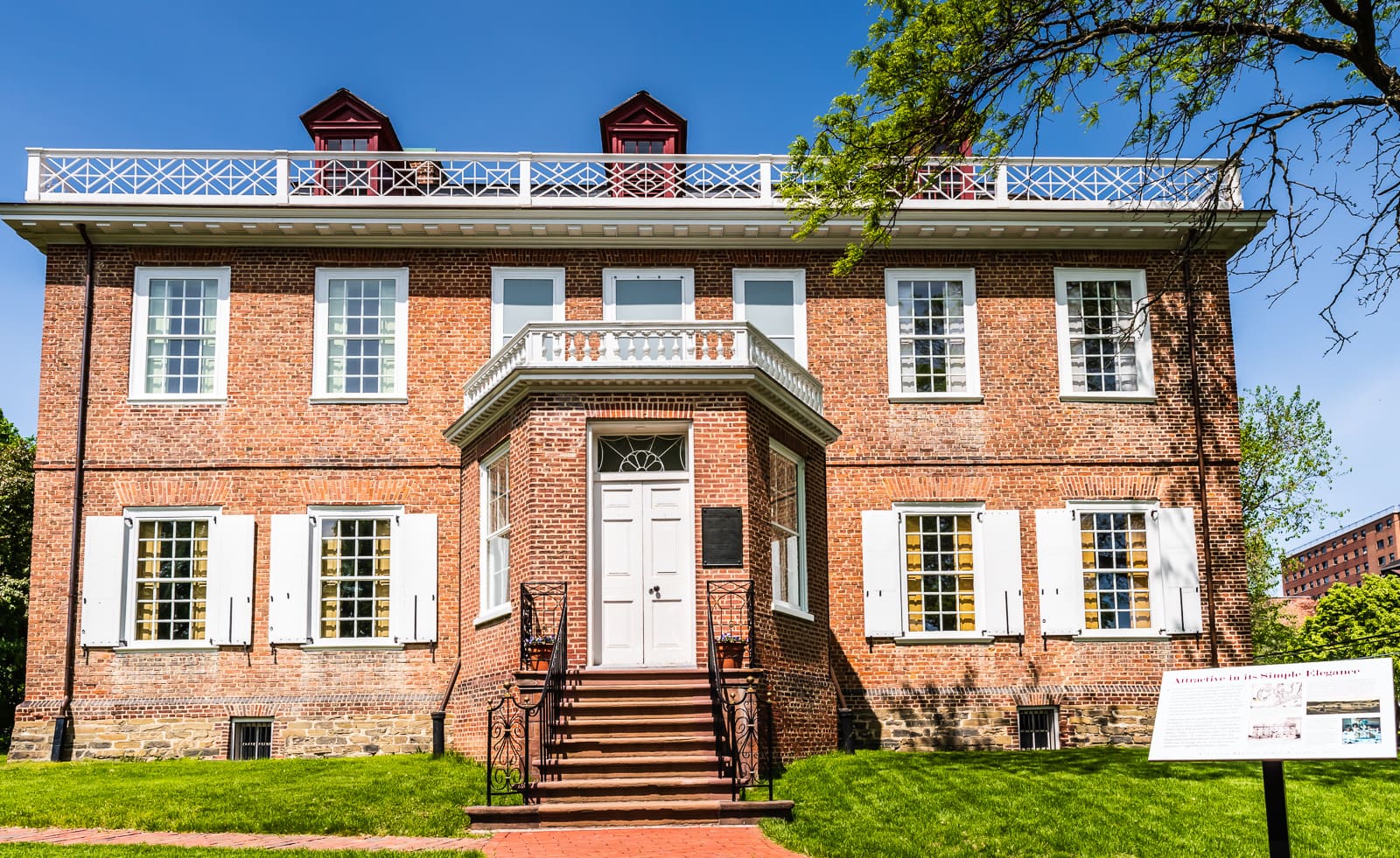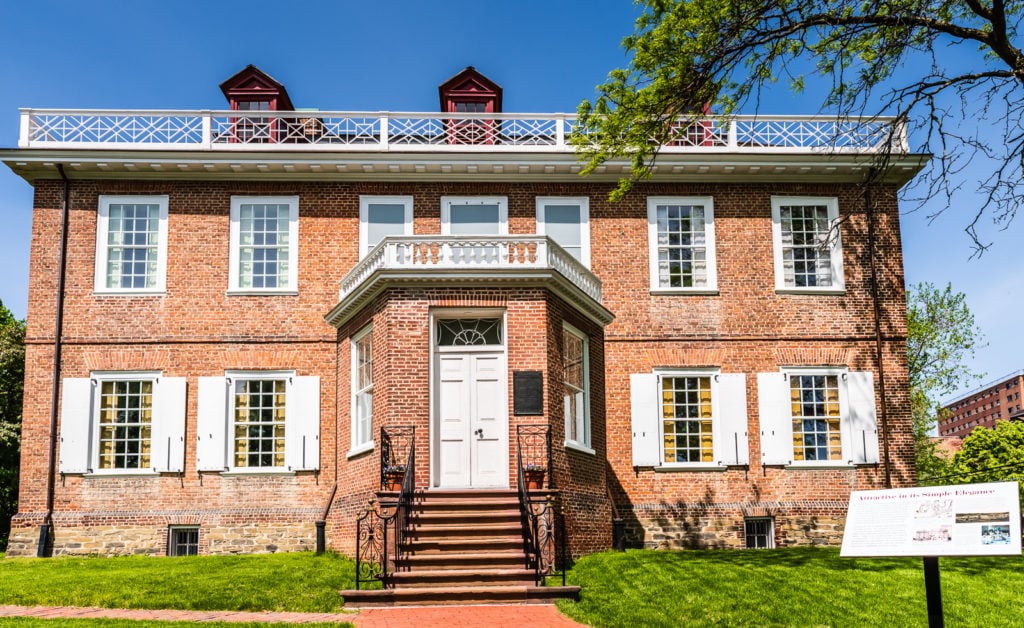 TOUR: Schuyler Mansion State Historic Park. On December 14, 1780, Alexander Hamilton married Elizabeth "Eliza" Schuyler at her home in Albany, New York. Eliza was one of fifteen children born to Philip and Catherine Schuyler, a prominent family who often hosted the crème de la crème in their mansion, a city landmark on a hill overlooking the Hudson River.
Thus began a long and fascinating relationship between one of America's founding fathers and the City of Albany.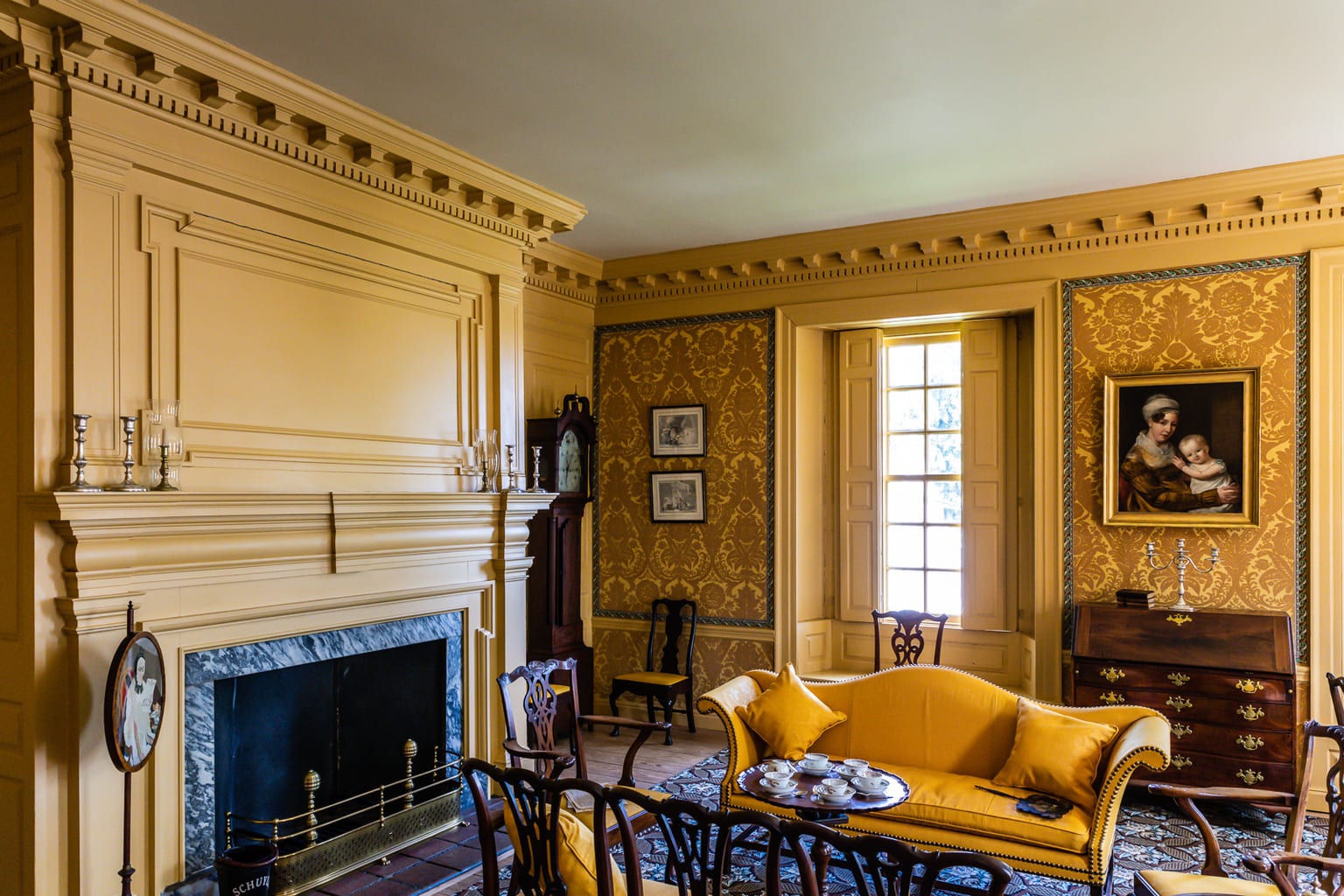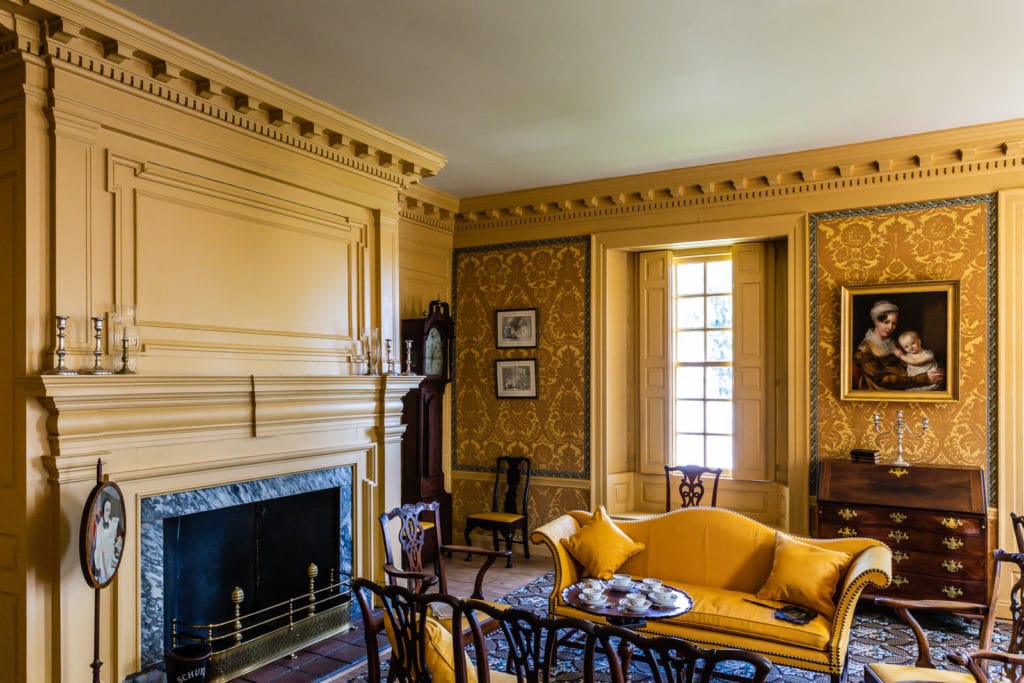 It's no surprise that visitation to the Schuyler home has increased by up to 600% since the musical, Hamilton, became a Broadway hit. Elizabeth married the famous Founding Father right in the front parlor – now undergoing restoration to its original colors.
A second parlor, fully decorated in a profusion of golden yellow, would make a cage full of canaries jealous.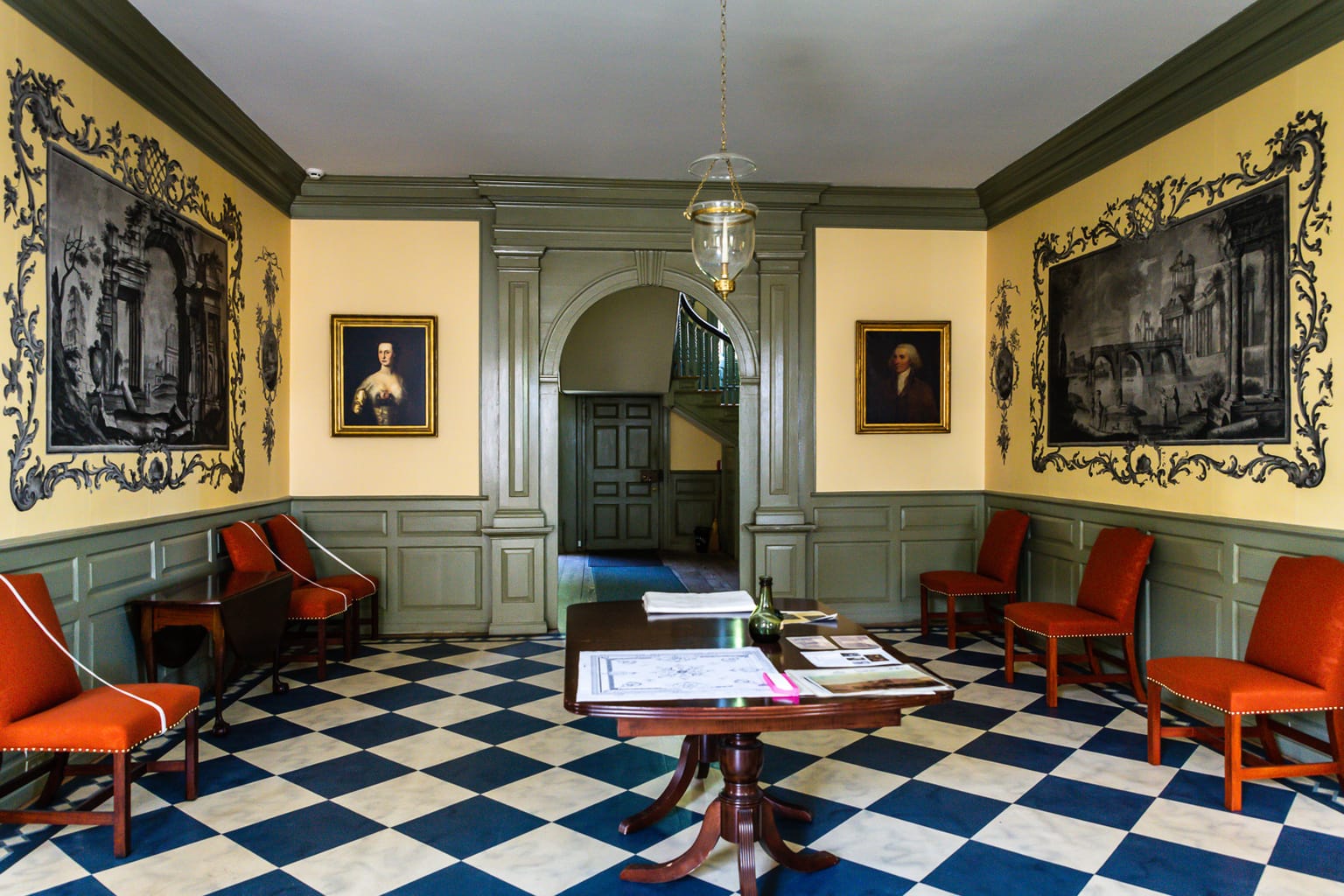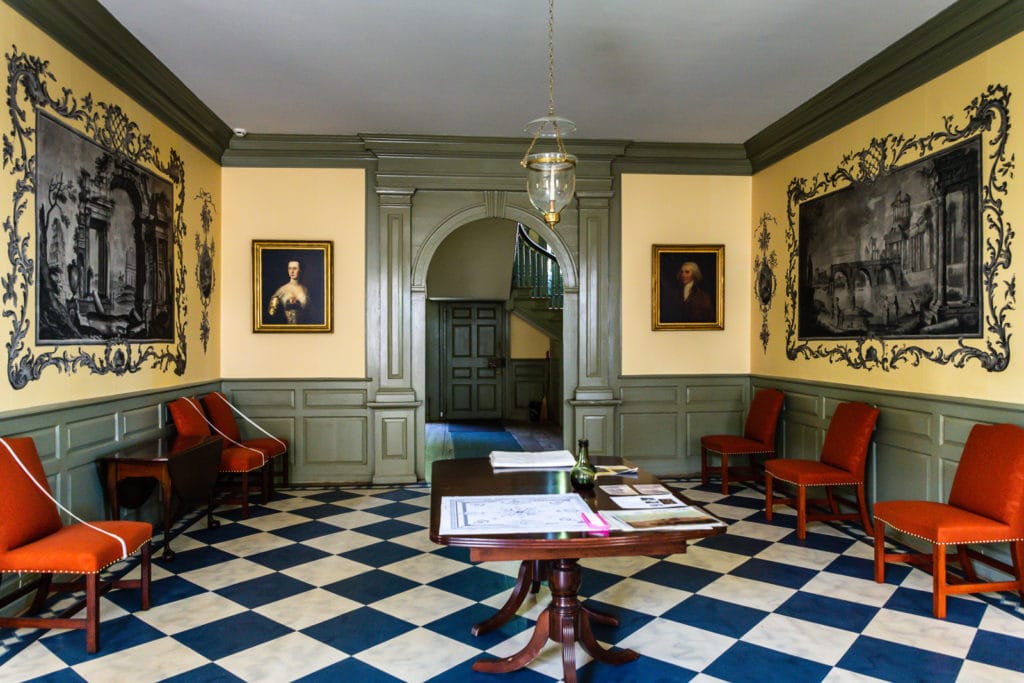 There's been much written about the home and its elements – wallpaper, paint colors, period furniture. It was, for the time, the height of luxury. The hand-painted Panini "Ruins of Rome" wallpaper in the entry foyer was meant to wow visitors. While the flock wallpaper from France, seen in several rooms, cost as much as one tenant farmer would pay in rent over the course of 13 years.
But what's really exciting about this tour is hearing both the whitewashed version of Philip Schuyler ("major player in the military during the Revolutionary War") and, shall we say, the "off-color" version (to grab land, he destroyed Iroquois villages, leading to the death of 5,000 – 15,000 Native Americans; he abused laudanum, an opioid solution, to assuage pain from gout; he drank gallons of Madera Wine; and he was a fan of erotic books, the porn of the day. "15 kids – understandable," quipped the guide).
Katherine, a Van Rensselaer and the "10th wealthiest American in history," was but a teen when Philip courted her. She and Philip were married just five months before their first child, Angelica, was born. Only eight of their 15 kids survived beyond childhood, and only six outlived Katherine.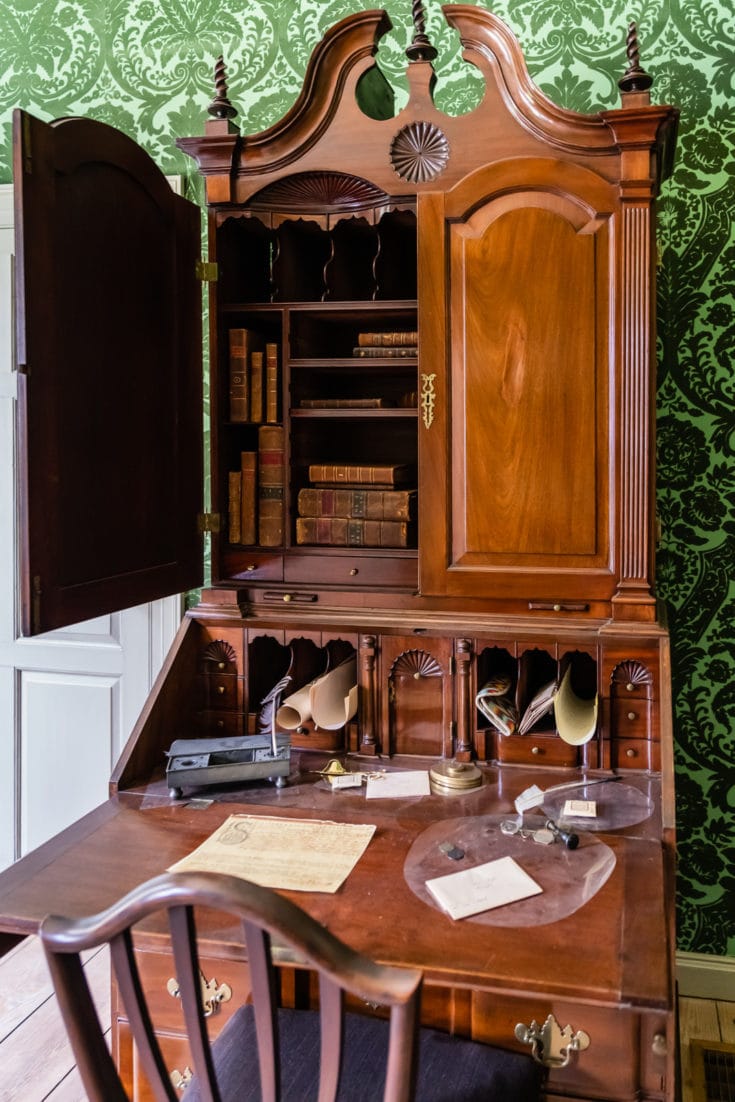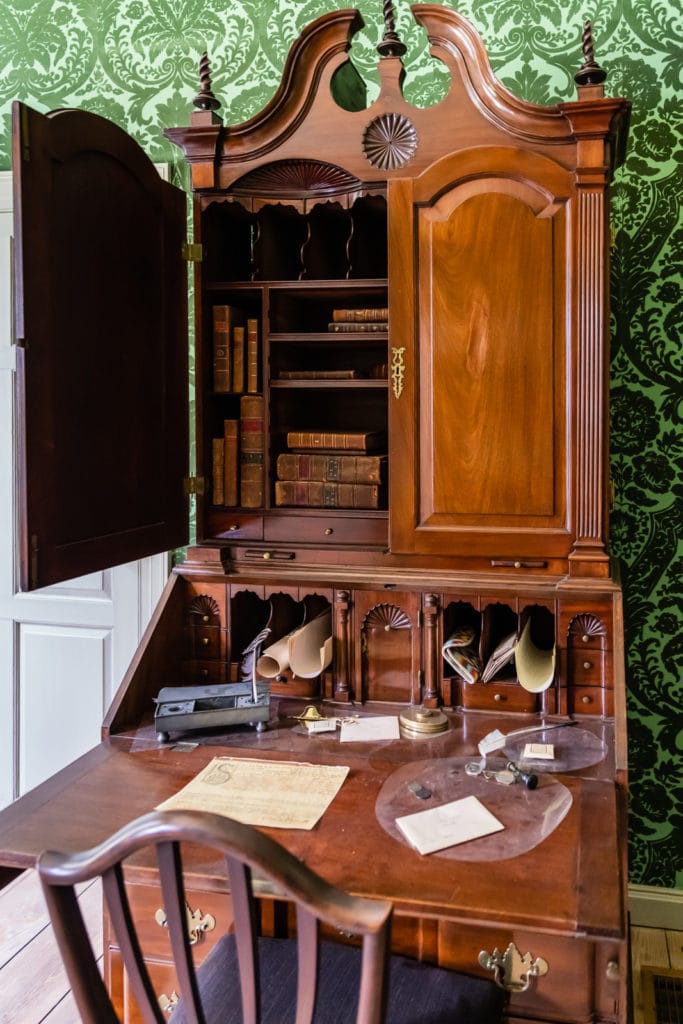 The hour-long tour covers slavery (the Schuyler's owned 8 – 15 enslaved humans), Schuyler personalities, and the room in which Alexander Hamilton wrote three of his Federalist Papers. Open Mid-May – October, Wed-Sun 11-5 (in July and August opens at 10am), $5 adults, 12 and under free.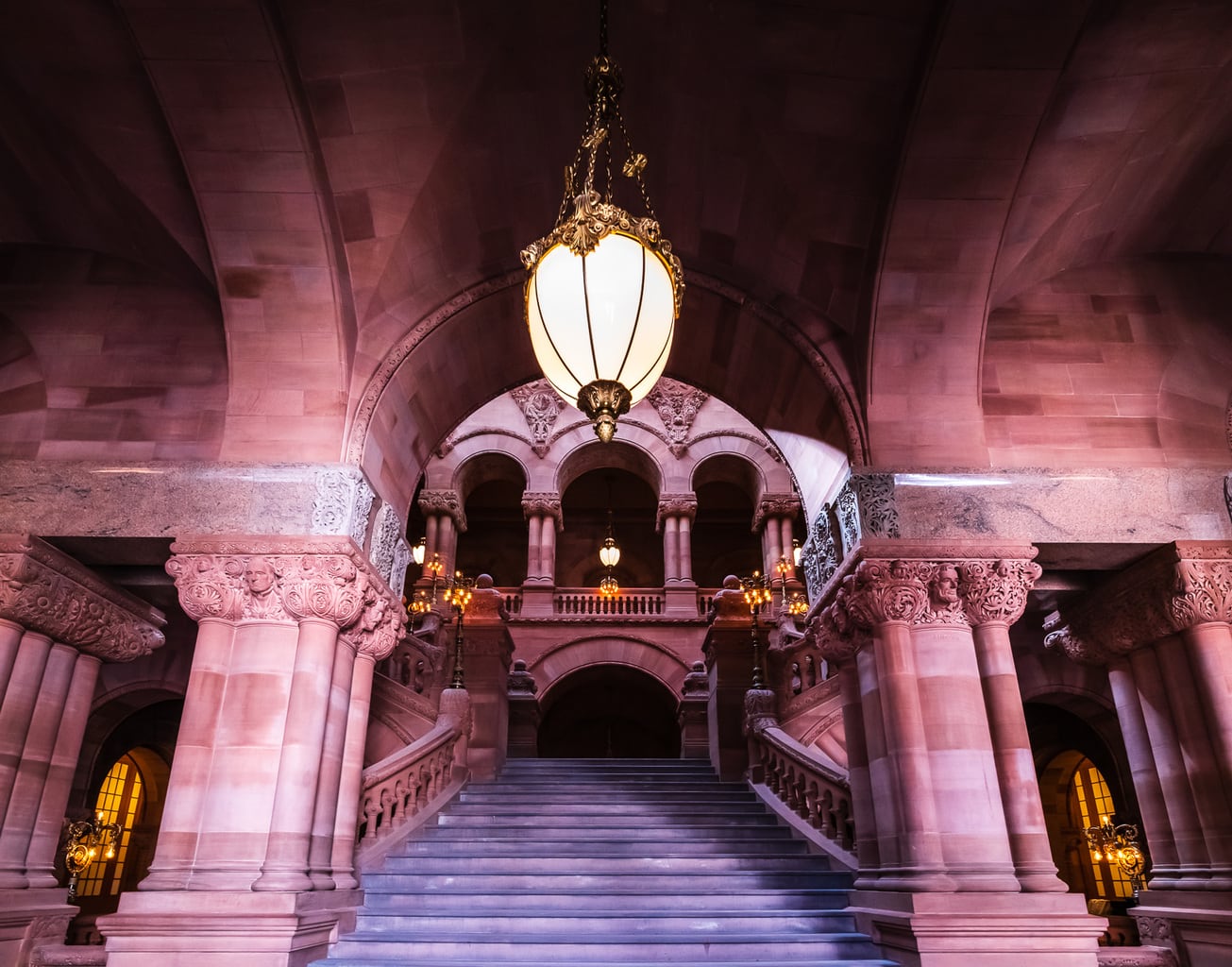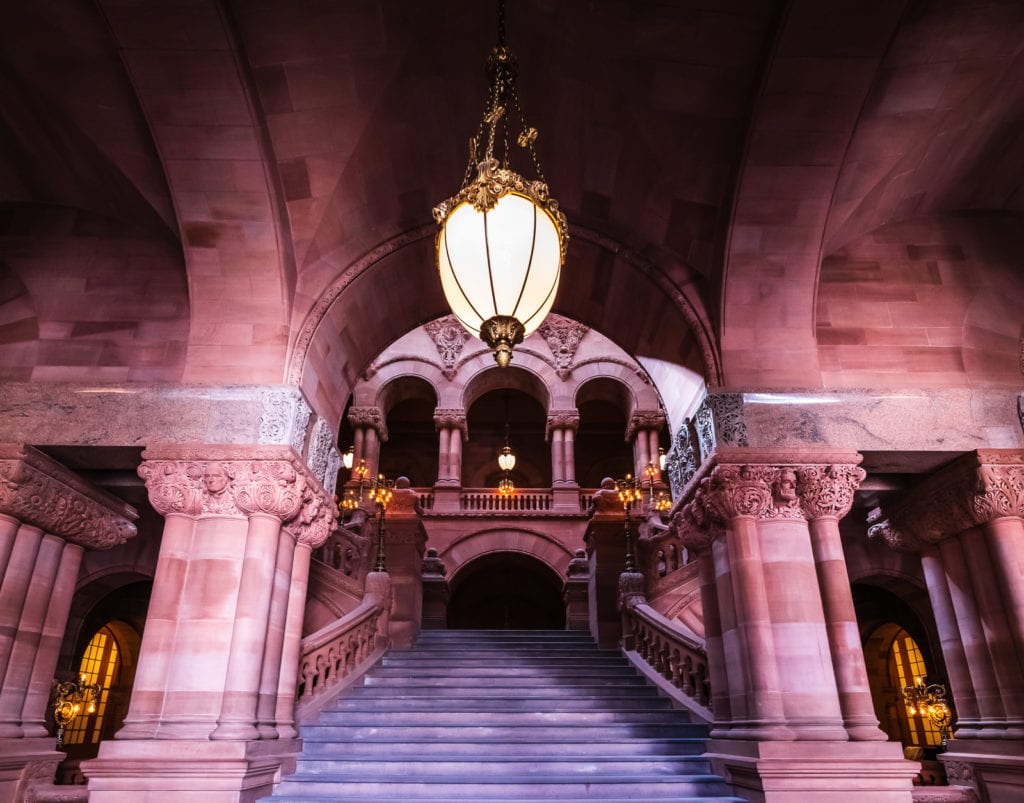 TOUR: New York State Capitol. The neo-classical New York State House, designed by Isaac Perry and completed in 1899 at a cost of $25 million, is worth stopping into if only to see the Great Western Staircase. Better known as the "Million Dollar Staircase," four flights of sandstone steps are festooned with ornate carvings and 77 stone faces of celebrities of the day, including Abe Lincoln, Ulysses S. Grant, and Henry Wadsworth Longfellow.
Lincoln, it's said by some, still haunts the place.
Capped by a skylight that was covered over during WWII, and restored to its original stained glass beauty in 2002, this magnificent stairway needs no other art or embellishment.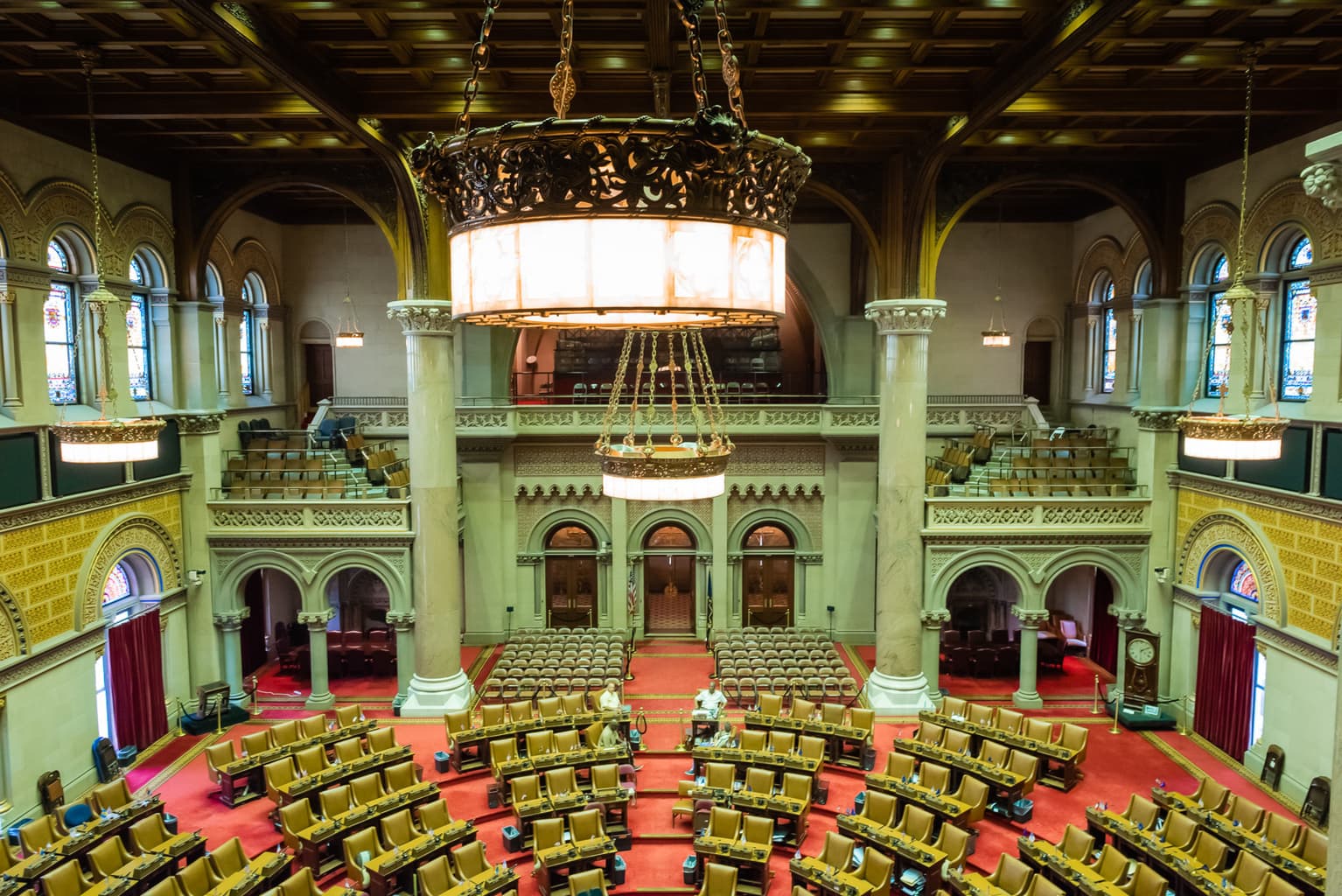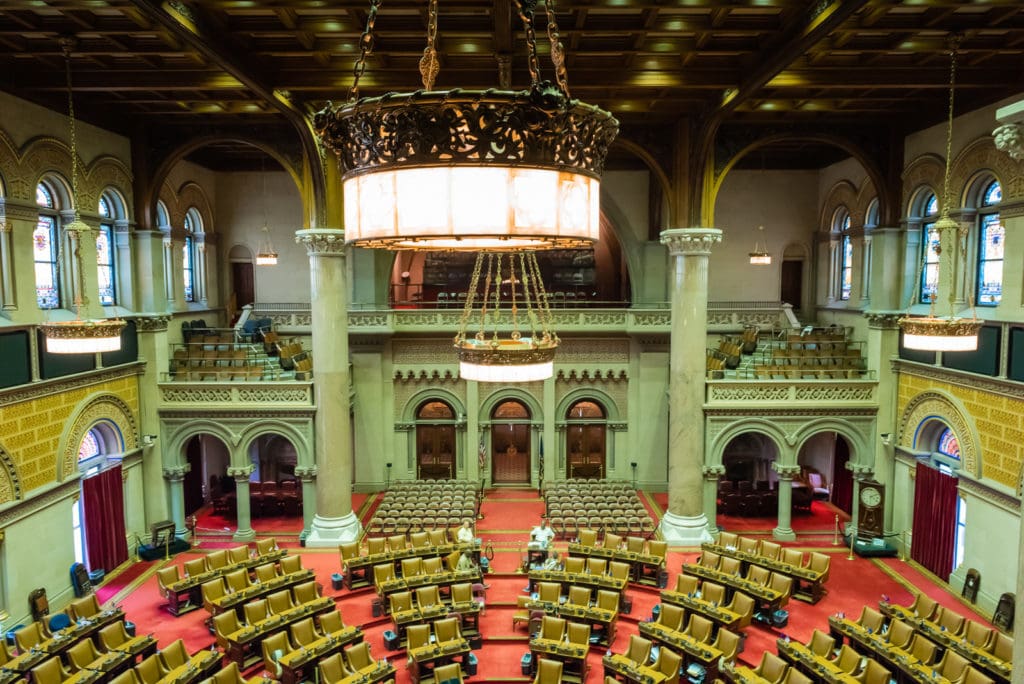 On the 4th floor you'll find the State Assembly Visitor's Gallery, with a bird's eye view of the proceedings in a magnificent room. In the fall, sign up for chilling Capital Hauntings tour. One hour tours are free, Mon-Fri. 10, 12, 2, 3, Sat. 10am, 1pm. In the fall, sign up for the chilling Capital Hauntings tour. Or take this self-guided audio tour during working hours 7am-7pm.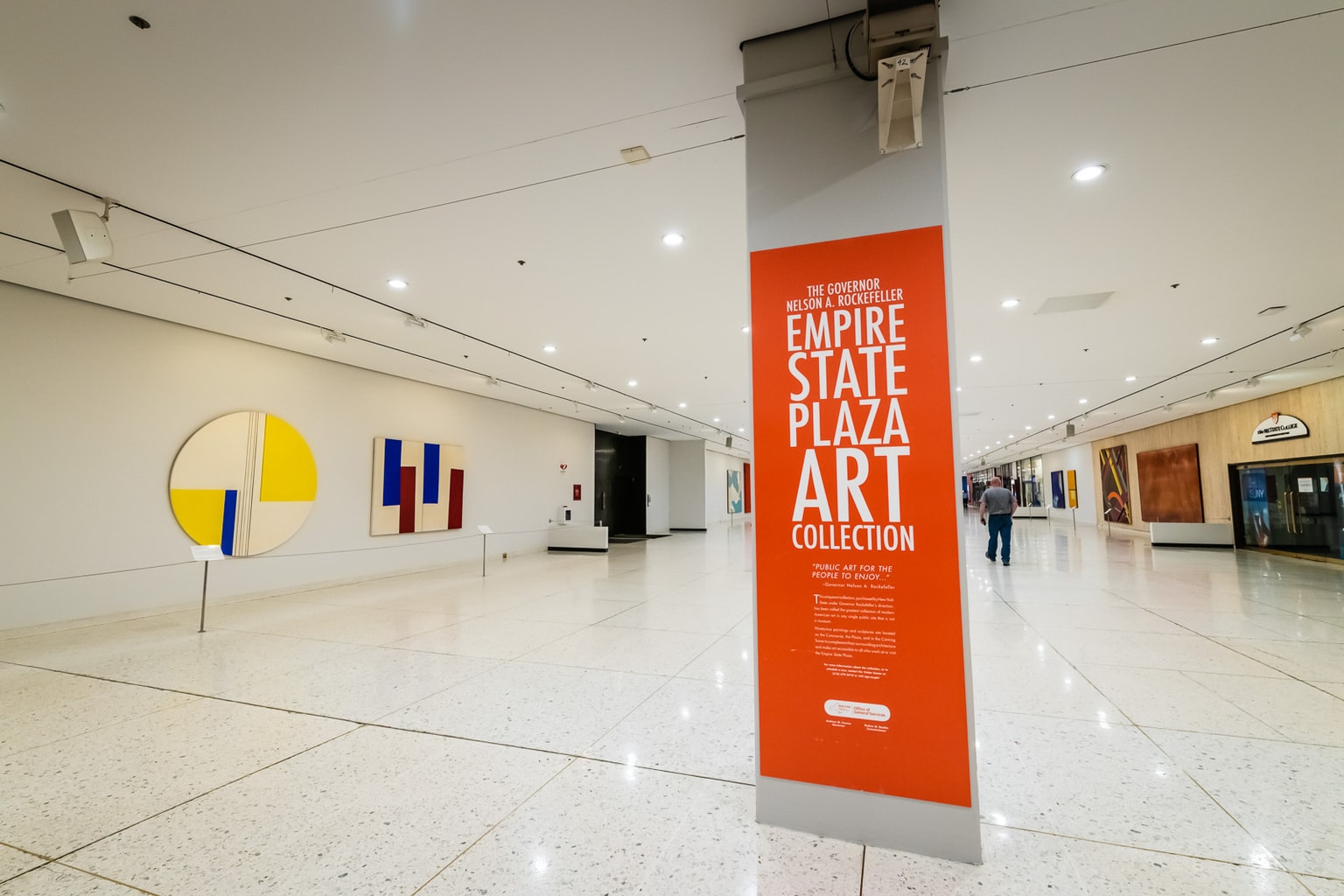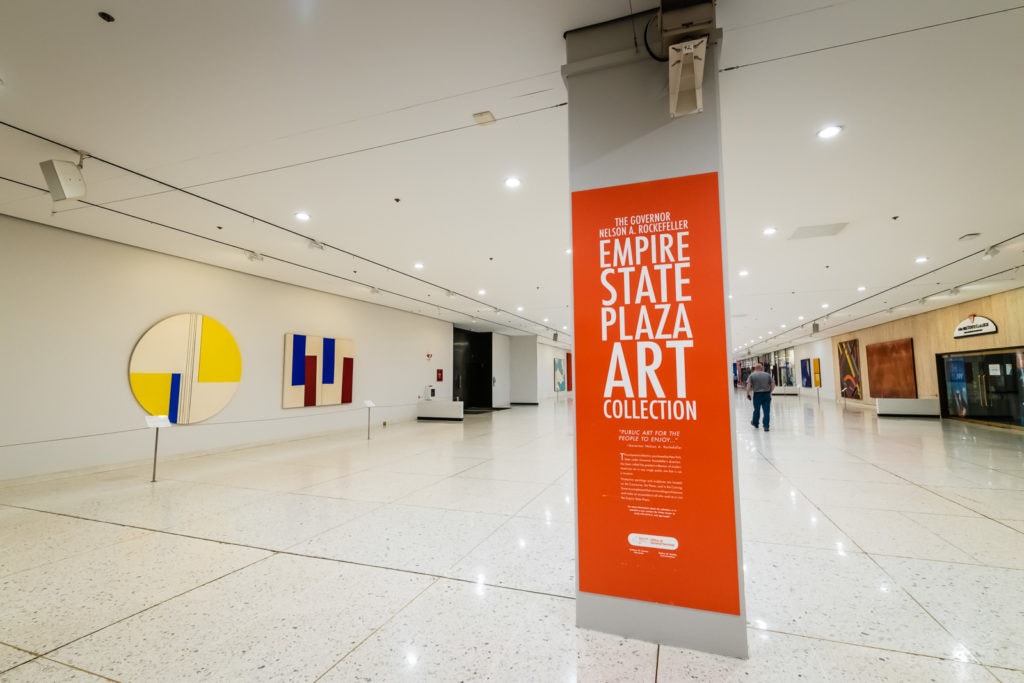 WALK: Empire State Plaza Concourse from the Capitol building to New York State Museum. Take the escalator from the lobby of the NY State Capitol Building to the lower level Concourse, a quarter mile hall that extends beneath the entire Empire State Plaza and is lined with vendors, the Empire State Plaza Visitor's Center, and a unique collection of Mid-Century Modern Art (including a Robert Motherwell carpet, of all things).
Visitors can stroll at their leisure to explore the labyrinthian underground city that leads to the New York State Museum. Plaza Visitor's Center open Mon-Fri 8:30-4:30, Tours of Empire State Plaza Art Collecton every Monday at 1pm (except government holidays), free.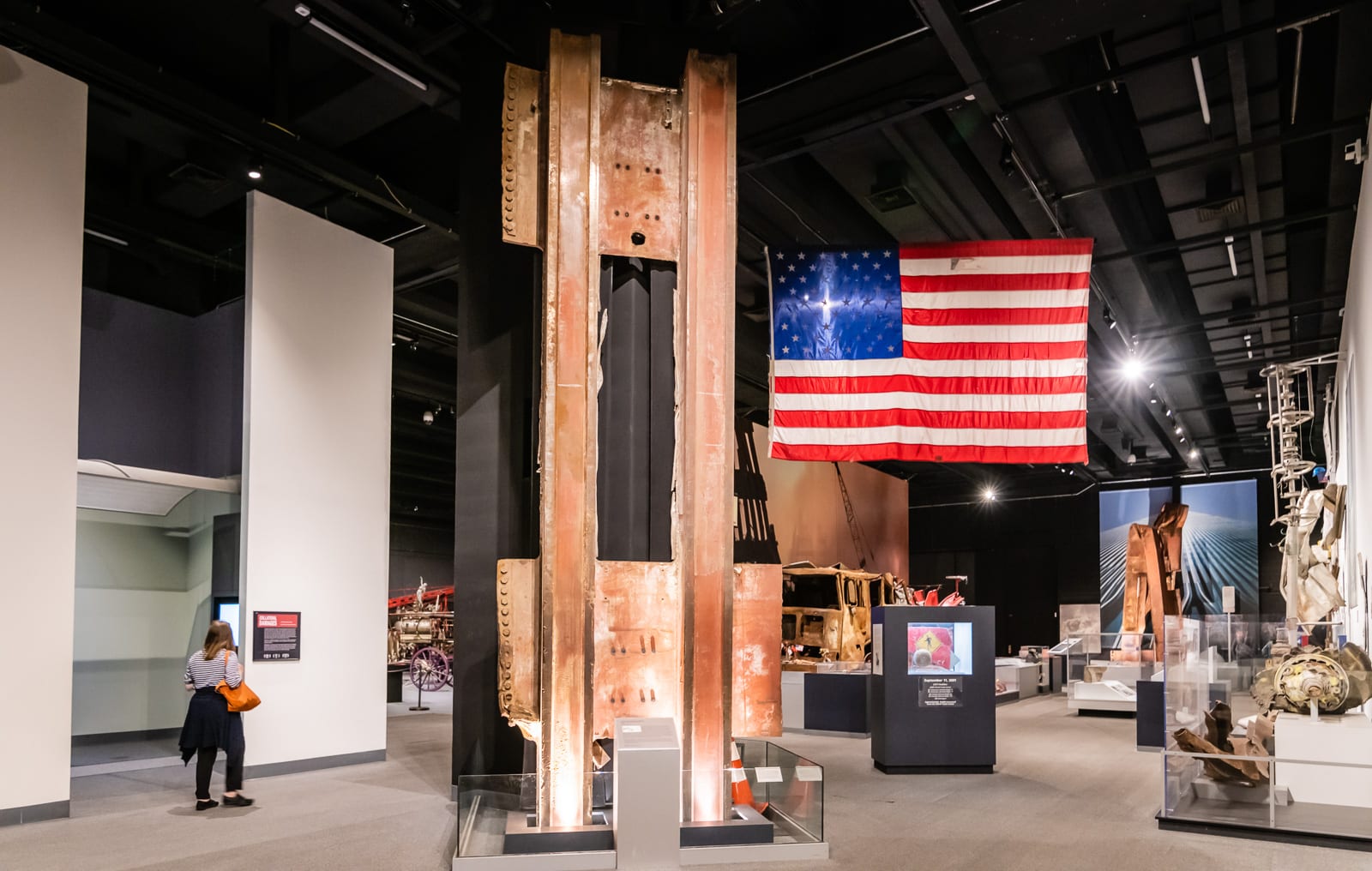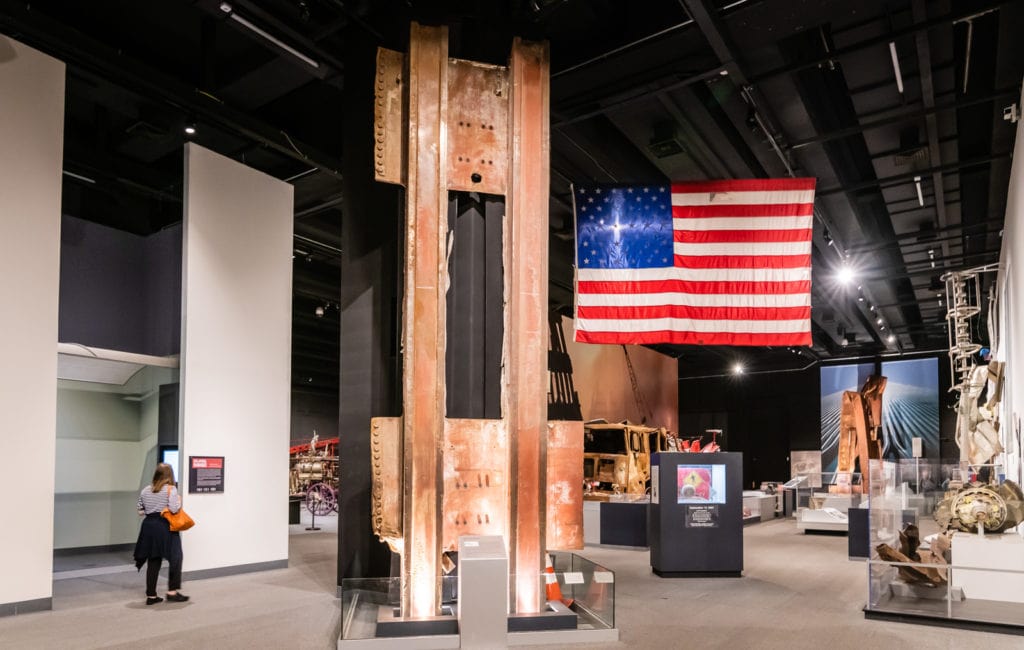 VISIT: New York State Museum. Climb into an old NYC Subway car. Go into the Adirondack wilderness without leaving Albany. Meet the loggers who wrestled with nature and the rugged individuals and native animals that make this mountain range their home.
Tuck into an Iroquois longhouse or come face-to-face with a woolly mammoth. Don't miss a free ride on the Historic Carousel on the 4th floor that runs every 15 minutes.
The New York State Museum presents endless corridors devoted to the flora and fauna of the Empire State, as well as exhibits about NY's human story – from the joys of Sesame Street to the tragedy of the World Trade Center's Rescue, Recovery, and Response. Free, donations are accepted, Monday – Saturday, 9:30 a.m. – 5:00 p.m. Last ride on Carousel at 4:30.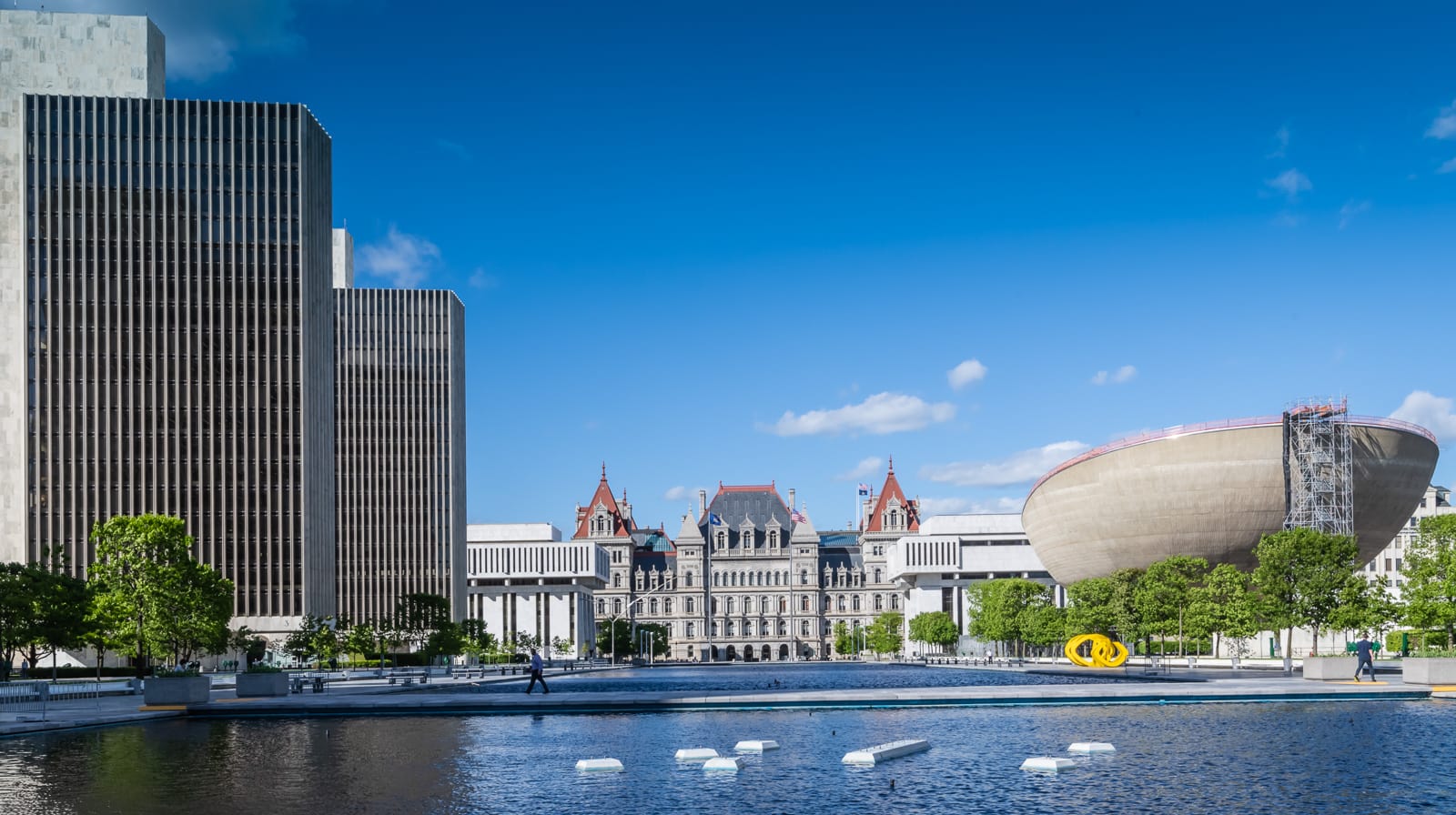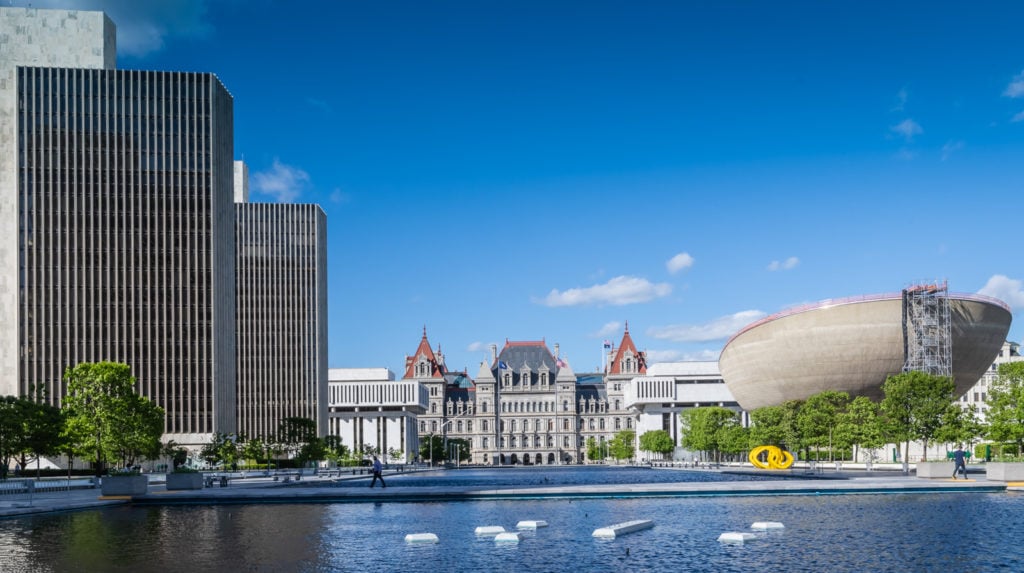 EXPERIENCE: Empire State Plaza & Corning Tower. If you got to the Museum through the underground Concourse, you'll want to get above ground to the Plaza heading back. The best overview of the whole shebang is from the entrance of the NY State Museum – the vista is of a reflecting pool and ten graceful modern buildings that surround it.
"The Egg" – a six-story performance hall that looks more like a flying saucer – is the most iconic.
But tourists flock to the Corning Tower for the swift elevator ride to the 42nd Floor Observation deck and its unsurpassed views of the Hudson River, Albany, the Catskills and Adirondacks (NY), Green Mountains (VT), Berkshires (MA), and beyond. Corning Tower open Mon-Fri. 10-4, free.
In winter, ice skating on the plaza is one of the most romantic things to do in the Capital Region. While in summer, the Capital Concert Series, which includes a spectacular fireworks display on the 4th of July, draws huge crowds.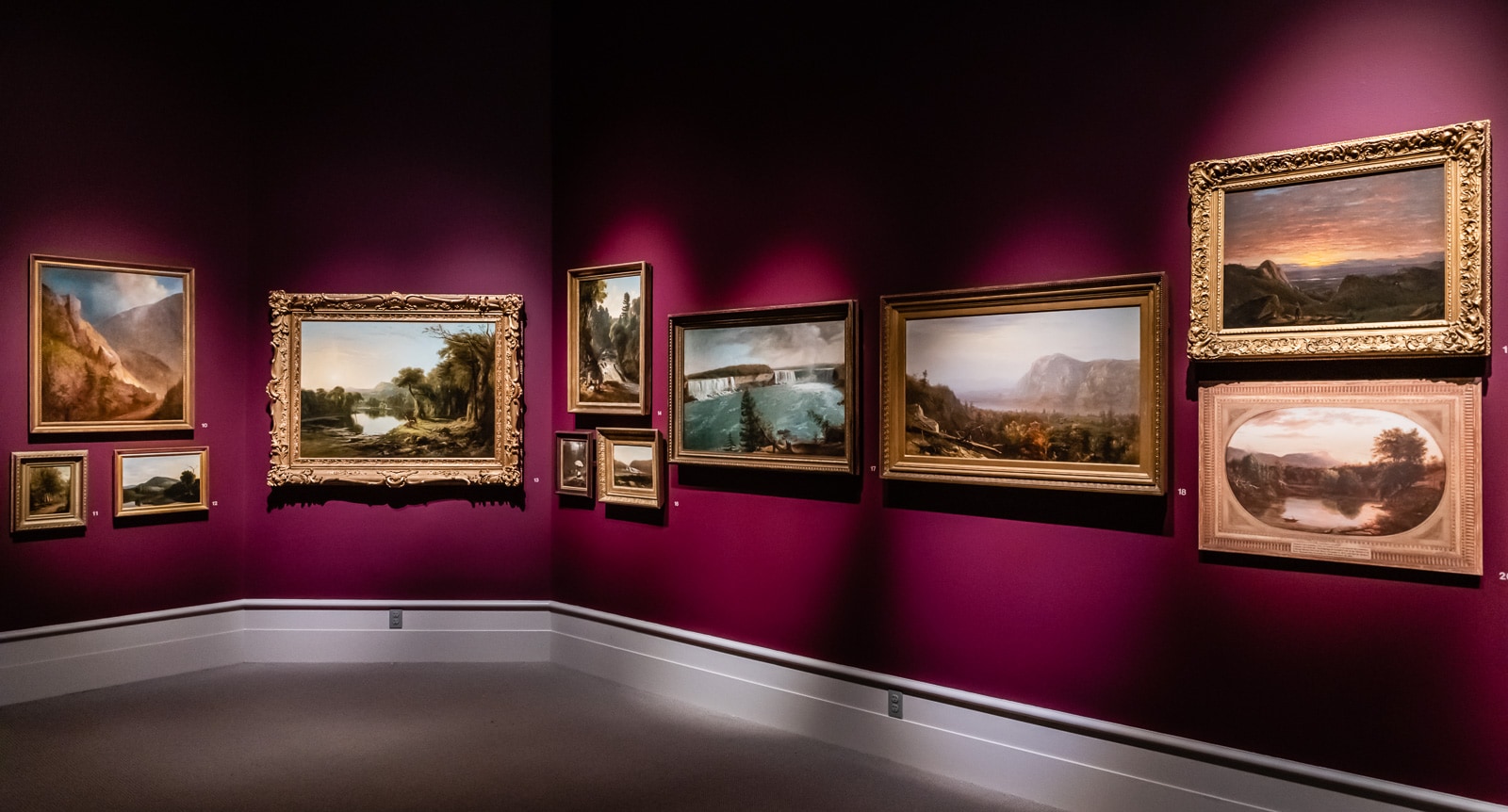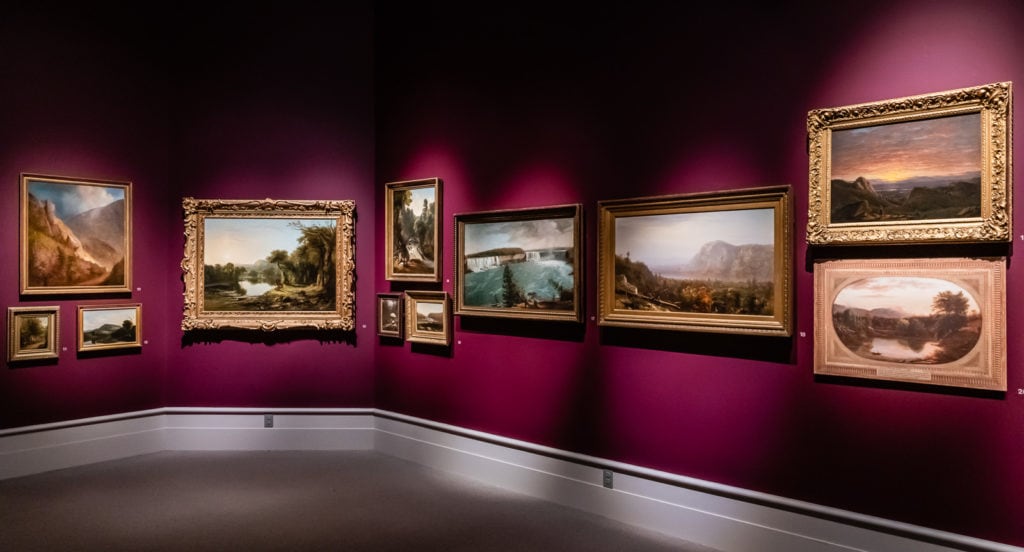 VISIT: The Albany Institute of History & Art (AIHA). Though small, this art and history institution, first opened in 1907, has a first rate collection of Hudson River School paintings; a school of art that seems to be coming back into vogue. Yes, there are well-curated galleries containing artifacts from Ancient Egypt and another depicting the Character and Culture of Albany and Upper Hudson River (heavy on pelt trading, Dutch settlers, and West Indies influence).
The cornerstone of AIHA, however, is its 3rd floor gallery, showcasing a large collection of paintings – 83 in all – from the Hudson River School of Art. You'll find the full spectrum – from the flaming sunsets of Frederick Church, to works by the "Father of the Hudson River School," Thomas Cole, and even a rare landscape by Sarah Cole, Thomas's sister, that she painted in the mid-1830's.
Works from William Hart and Homer Dodge Martin figure prominently. This ongoing exhibit is thrilling for all who appreciate mountain and river landscapes suffused with the poetic romanticism of the mid 1800's. Open Wed-Sat 10-5 (until 8pm Thurs), Sun 12-5, $10 adults, $6 kids.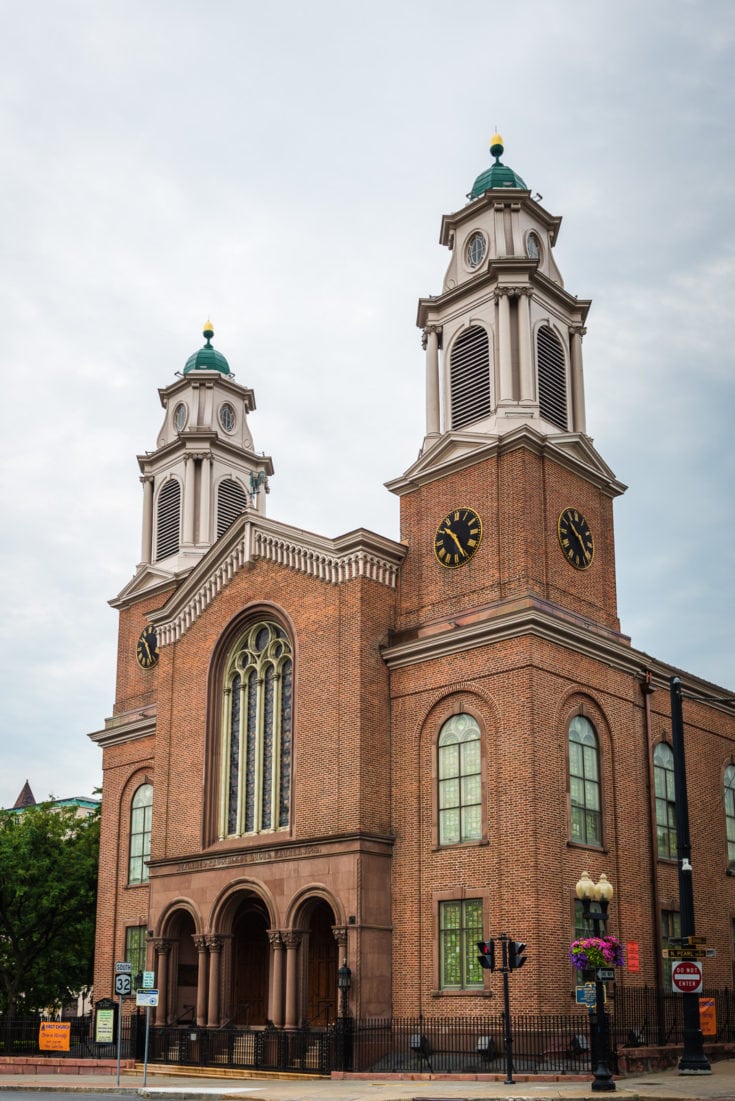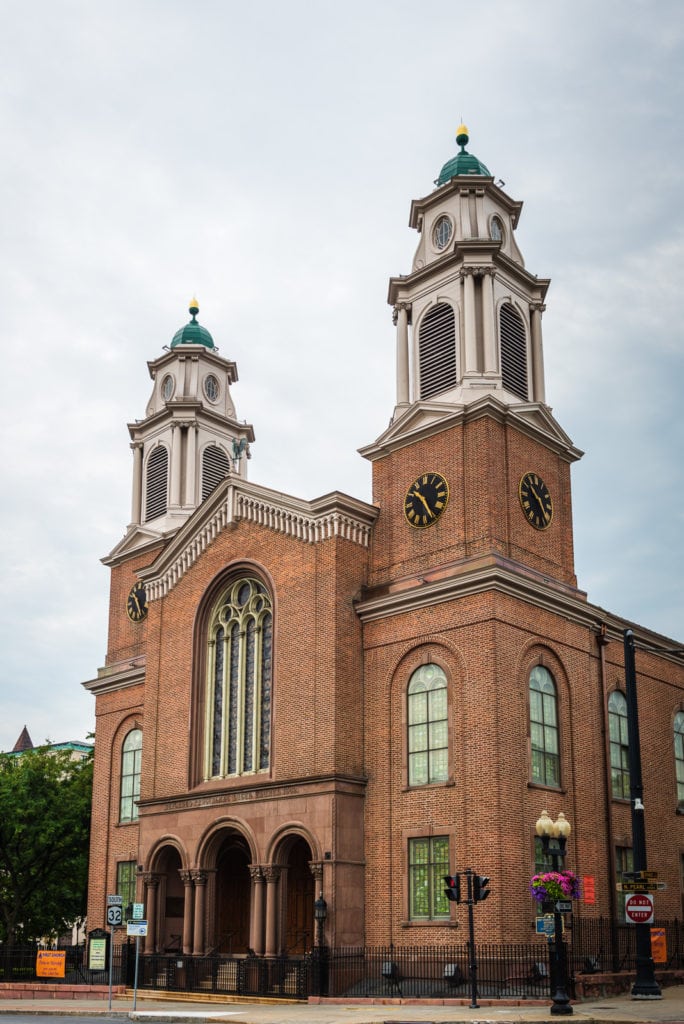 GO: The First Church. Albany NY is the oldest chartered city in the United States, dating back to 1686, although evidence of European settlement can be seen in architecture dating back even further back.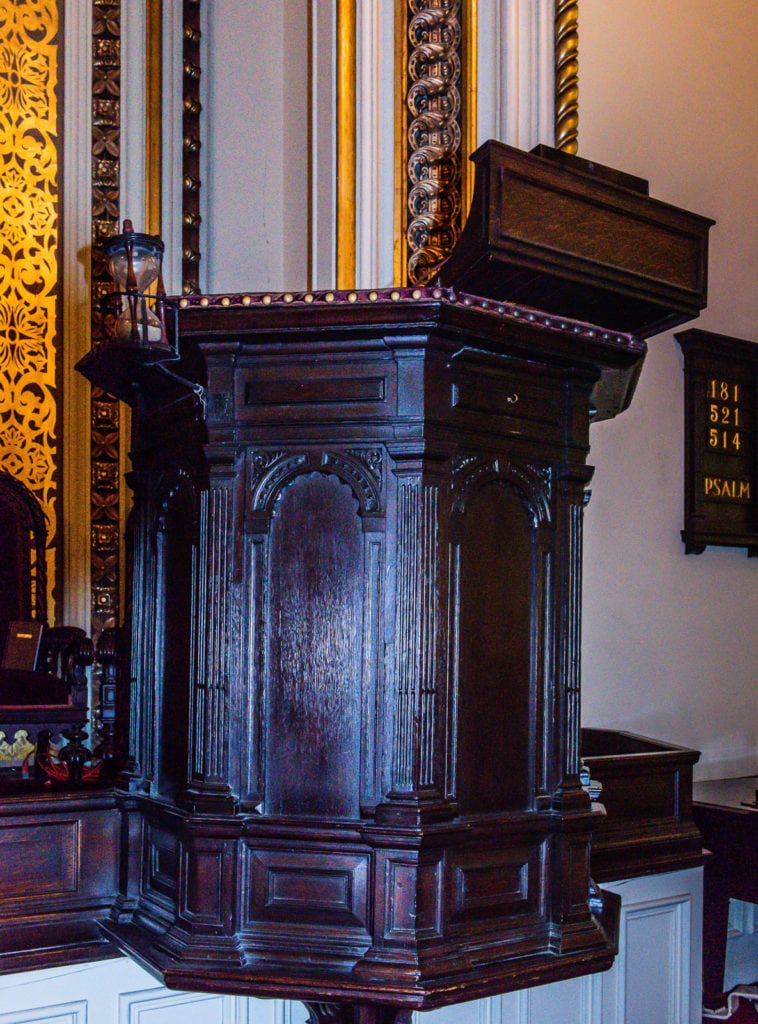 The Schuyler family belonged to the First Church (designed by Philip Hooker in 1798), which is home to the Reformed Church in America. Established in 1642, this is the second oldest congregation in the United States.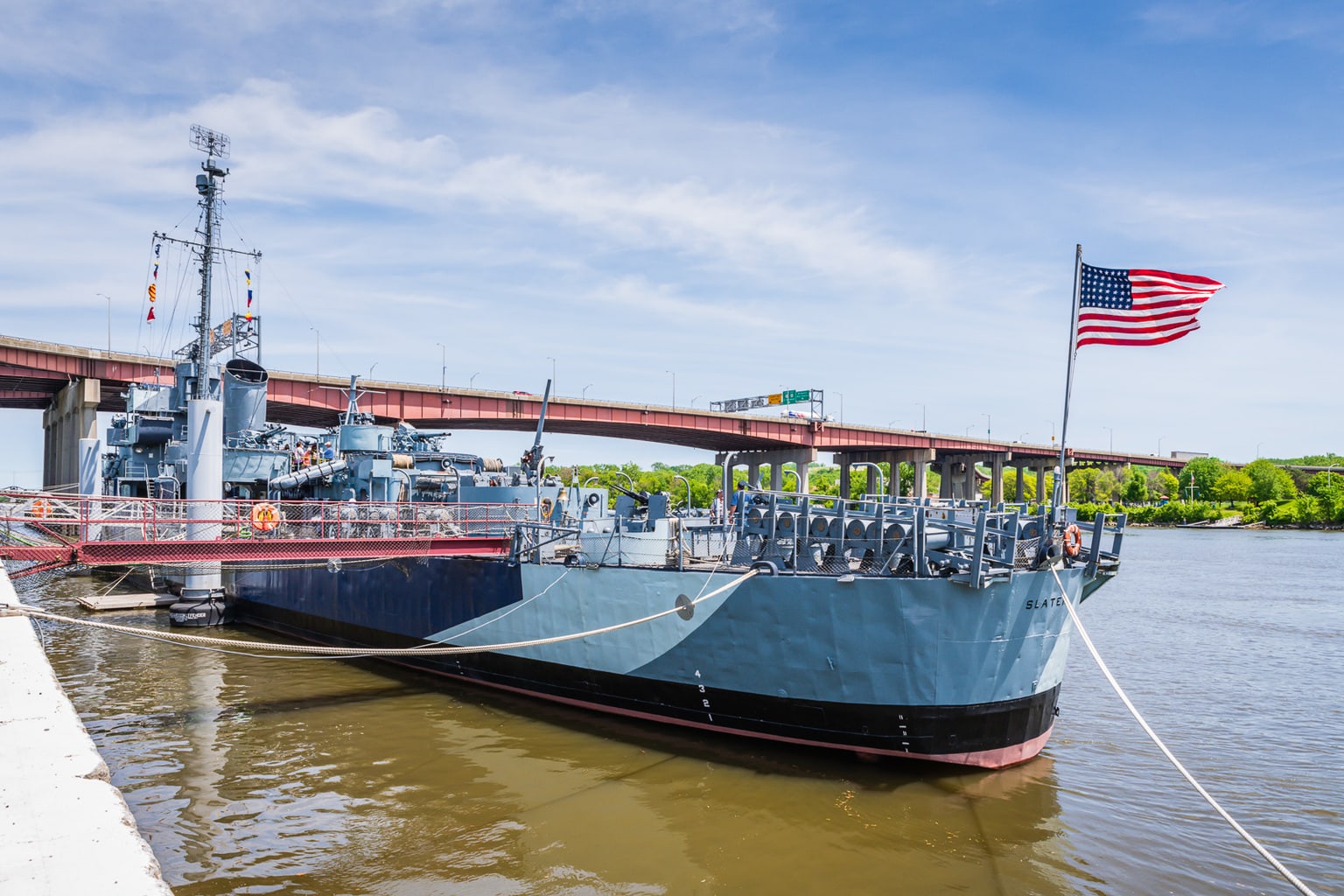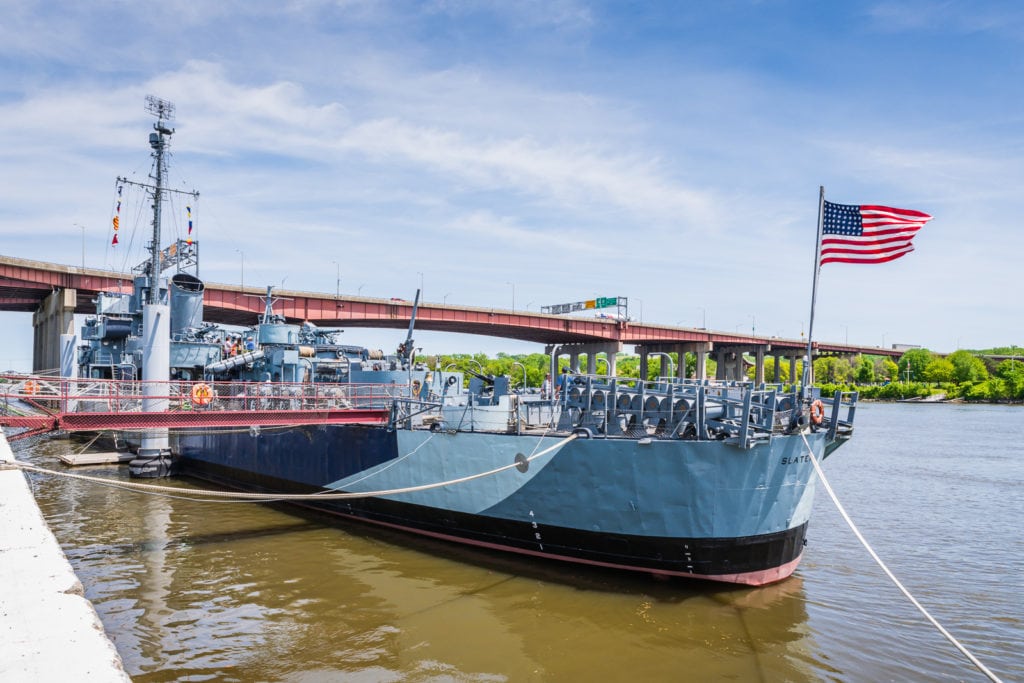 TOUR: USS Slater (Destroyer Escort Vessel). Those who appreciate naval ships from WWII won't want to miss a tour on the USS Slater. Launched in Tampa Florida in 1944, it was named for 22-year-old Frank Slater, killed in action off Guadacanal in 1942. Open April – Nov, Wed-Sun 10-4, $9, must take guided tour.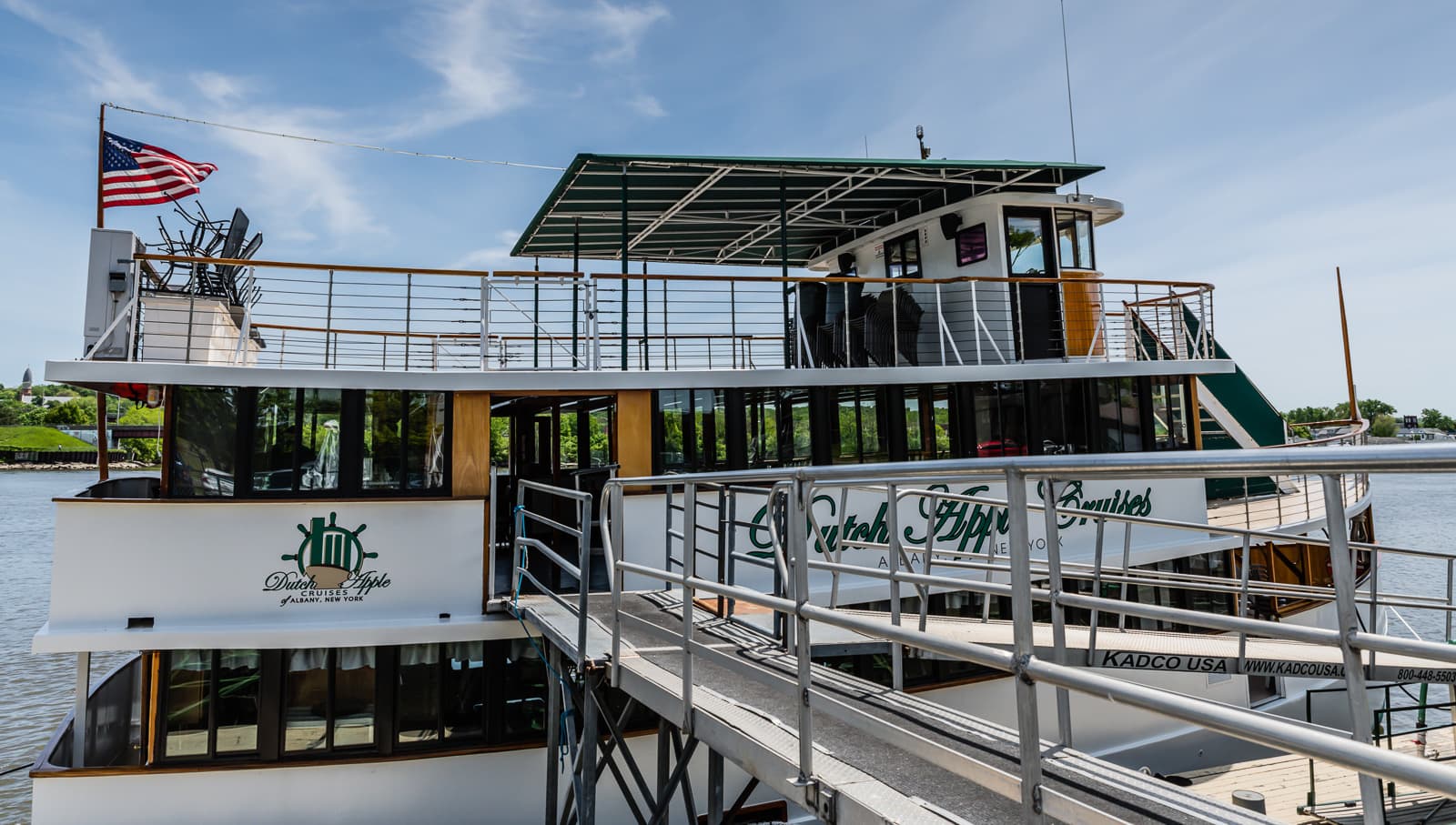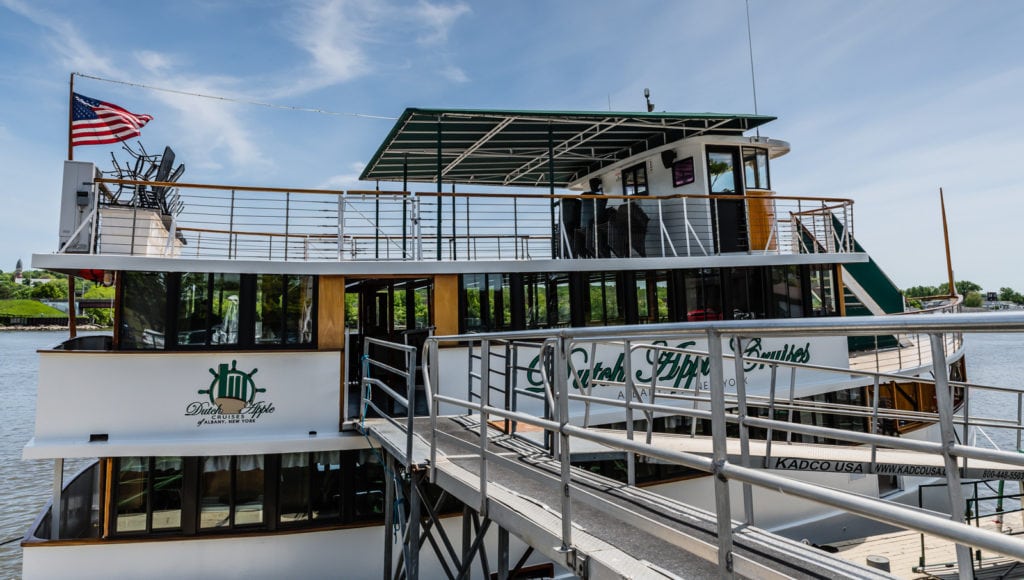 TOUR: Dutch Apple Cruise. Modeled on the Hudson River dayliners of an earlier era that ferried passengers between Albany and New York City, Dutch Apple Cruises offers sightseeing tours of the Hudson River. Couples love the sunset tours; special events such as the Father's Day BBQ or Golden Oldies tour sell out quickly. Open April – Nov, see calendar for tour schedule.
TOUR: Shaker Heritage Society. Only two Shakers remain–at Sabbathday Lake Shaker Village in New Glouster, ME–of the visionary religious group that shaped American culture. But the very first Shaker Settlement–established in Albany, New York in 1776– persists as a living history museum, with educational workshops and a popular crafts fair. (Barn weddings here are especially beautiful.) Open March – Nov, Tuesday-Saturday, 10am-4pm; Nov-Dec, Mon-Sat, 10am-4pm.
Interested in Shaker culture and history? Consider a visit to the Canterbury Shaker Village in New Hampshire, an active site until recently.
EXPLORE: Washington Park. If you can, time your visit to historic Washington Park during the annual Tulip Festival. It's quite a sight to see over 100,000 bulbs in bloom. But, any time of year, the Olmsted-inspired green space is one of Albany's loveliest attractions.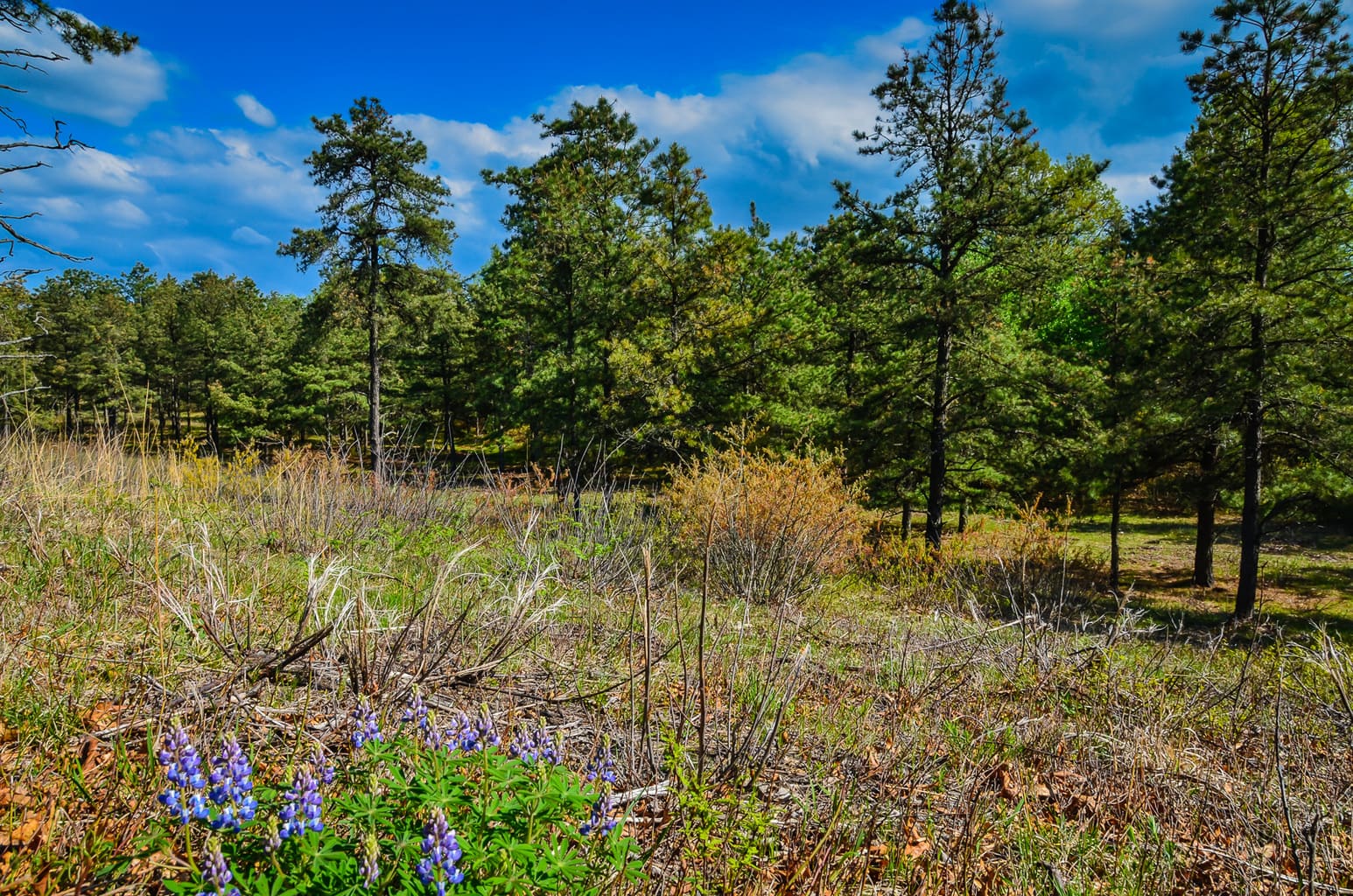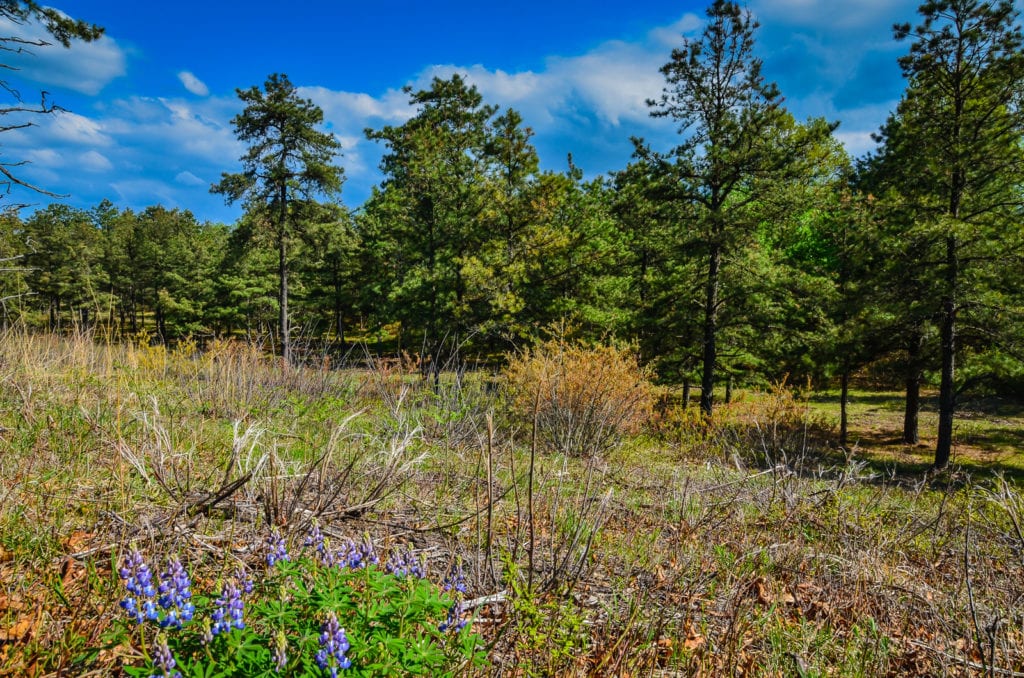 WALK/NATURE: Albany Pine Bush, One of the largest Pine Barrens in the world, Albany Pine Bush's sandy soils host fields of wild lupines that feed the endangered Blue Karner Blue Butterfly. And that's just one of many uniquely beautiful attractions at this preserve that makes it a great place to get fit while battling NDD (Nature Deficit Disorder).
Recreational pursuits at the Albany Pine Bush, designated a National Natural Landmark in 2014, change with the season. This is Albany, after all, and we know how to revel in snow. Winter brings plenty of the white stuff for snowshoeing and cross-country skiing.
Come the warmer months, and choices expand to include hiking, biking, kayaking, fishing – fly fishing is a cardio sport, right? Free, The Preserve trails are open year round, 24/7, Discovery Center open Mon-Fri. 9-4, Sat & Sun 10-4.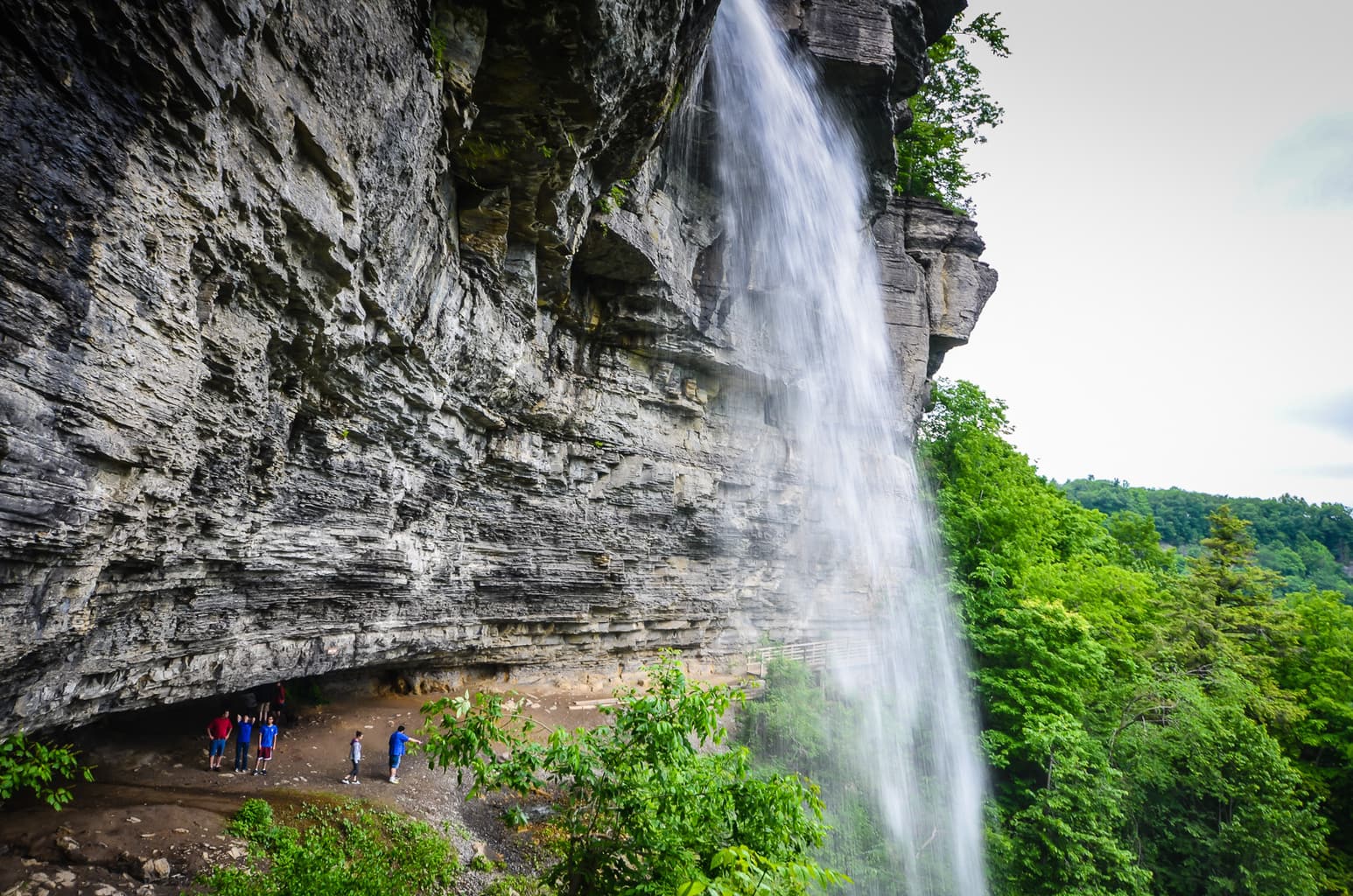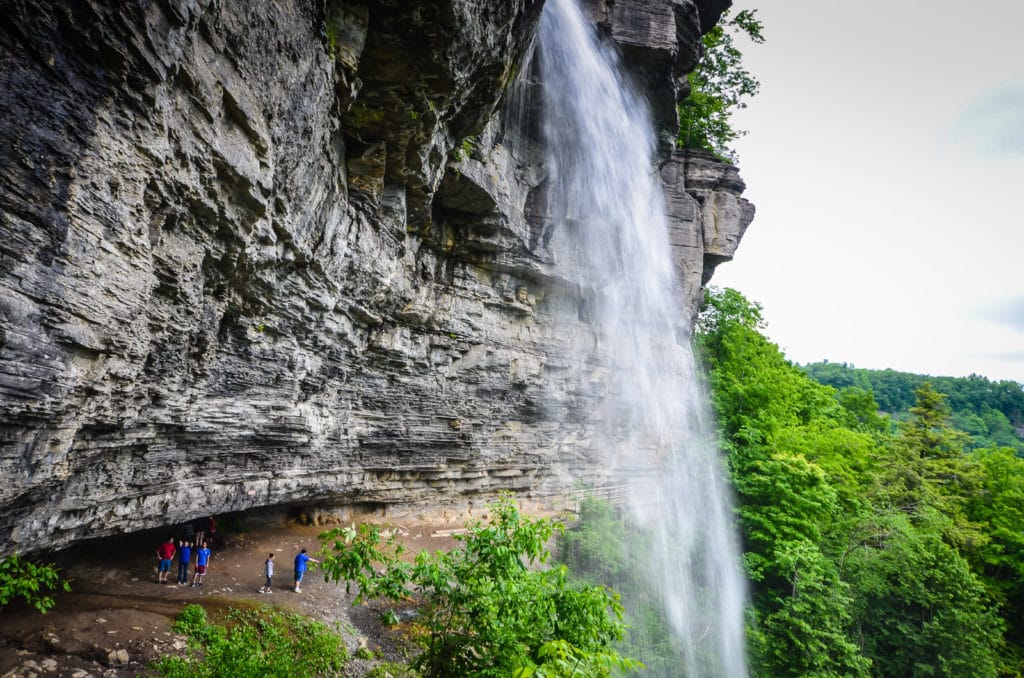 HIKE: Thatcher State Park. Passing under Minelot Falls and along the fossil rich ledges of the Helderberg Escarpment, the 1-mile Indian Ladder trail is a relatively easy and scenic hike. Other attractions include the Emma Treadwell Thacher Nature Center and the new Wild Play Adventure Course. The park is open year round, 7am until sunset, but the Adventure Course and hiking trails are subject to seasonal closures.
EXPLORE: Upper Madison. This ever-evolving neighborhood encompasses the popular Madison Café (see Where to Eat), a seemingly under-renovation Theater, a tidy coffee shop (Skyline Coffee) notable for it wall murals and cold-brew tower, and an assortment of restaurants including the new and growing in popularity Madison Pour House.
WANDER: Lark Street. Bohemian artists, brownstone buildings, and trees line what Metroland, the Capital Region's alternative newsweekly, describes as the "warm pulse within Albany's black heart, the flower busting up through the concrete edifice of the Empire State." Purple prose perhaps, but Lark Street (between Madison and Washington Avenues, larkstreet.org) inspires passion from visitors and residents alike. Art on Lark is the second largest street festival in upstate New York, second only to LarkFEST, the largest one day street festival in New York.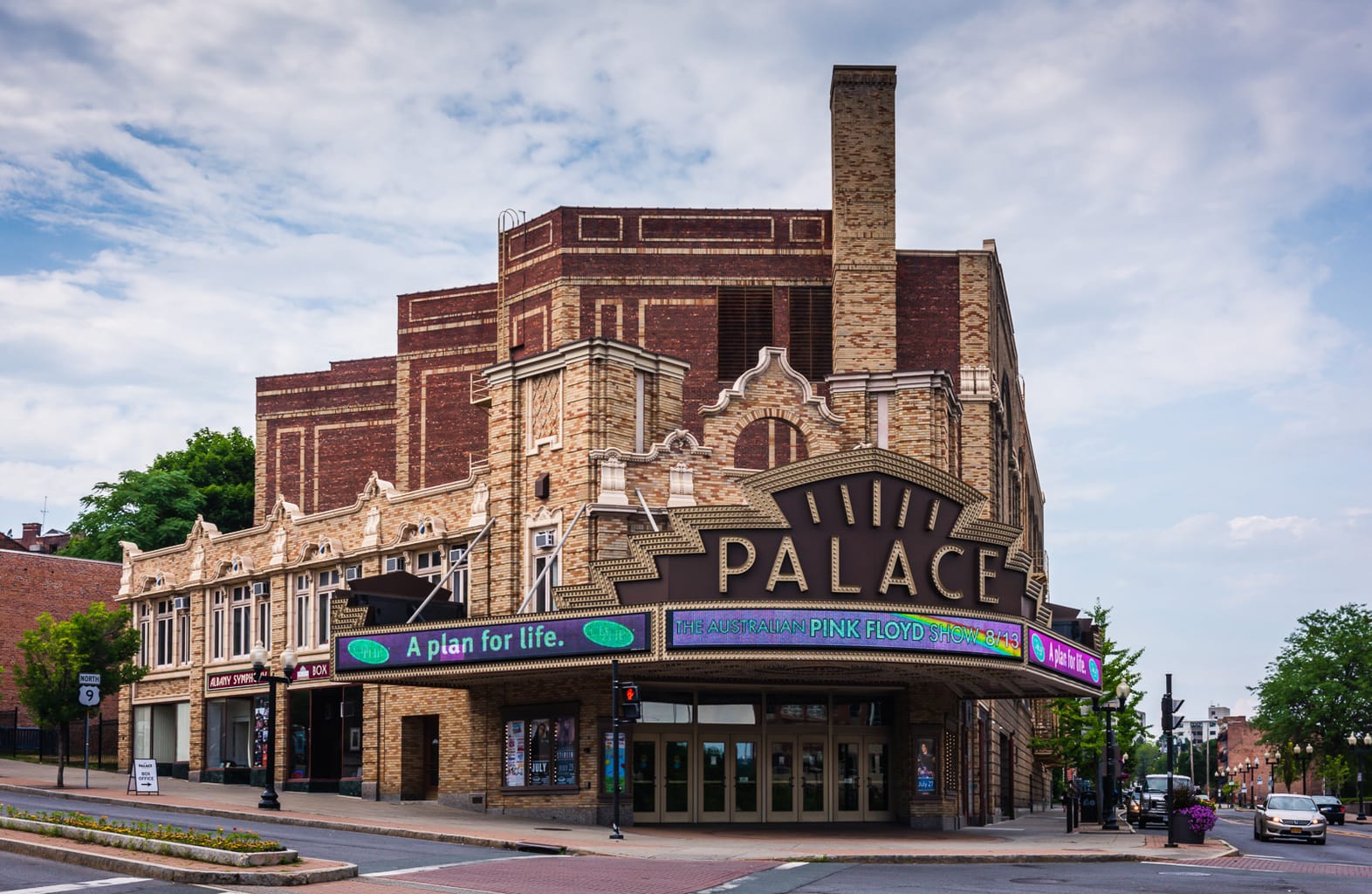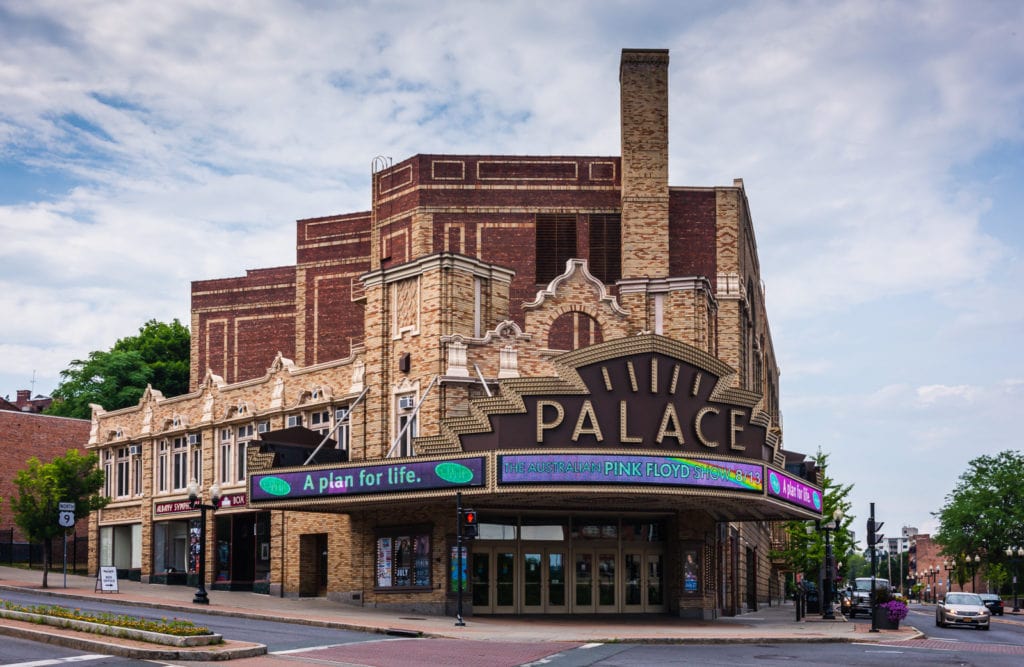 GO: Palace Theater. Once the third largest movie theater in the world, Albany's Palace Theater was built as an RKO movie palace in 1931. And it's still a grand place to take in classic movies like "Rebel Without a Cause" and "It's a Wonderful Life."
A number of touring musicals, comedy performances, and famous artists pass through each year. But as the home of the Albany Symphony Orchestra, it is the adventurous programs spearheaded by the Capital Region's beloved Grammy Award-winning conductor, David Alan Miller, that capture the hearts of young audiences.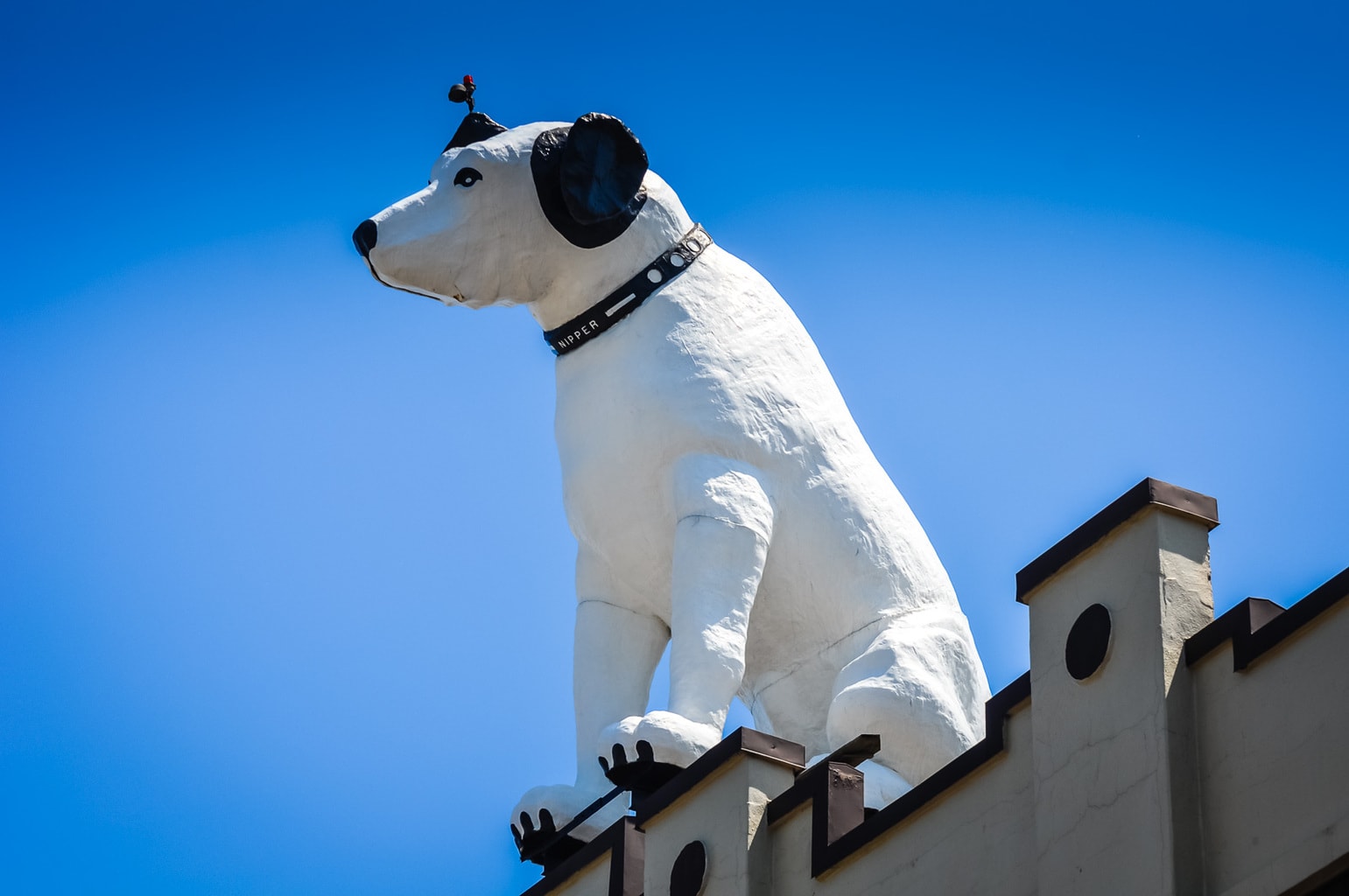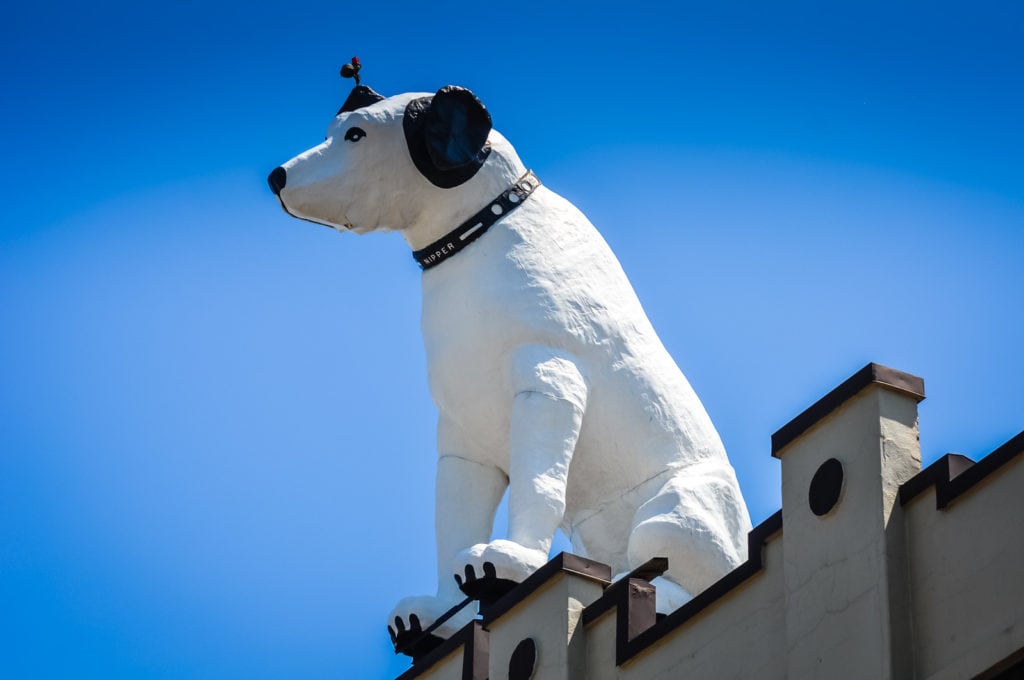 SEE: NIPPER. Look up to the roof to spot the world's largest Nipper statue. Best known as the RCA Records mascot, the terrier mix adds a dash of whimsy to the Albany skyline. 7 Tivoli Street, Albany, NY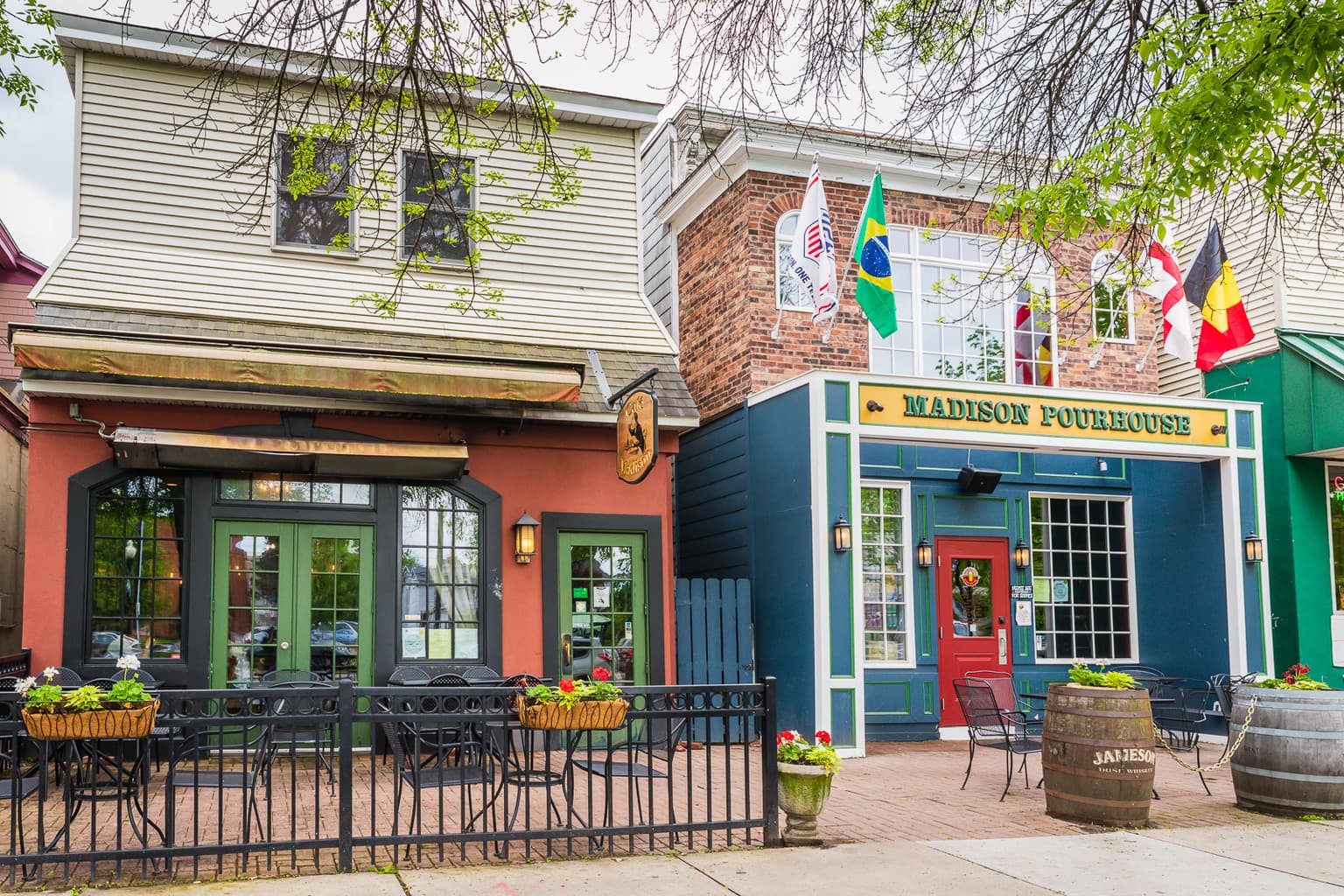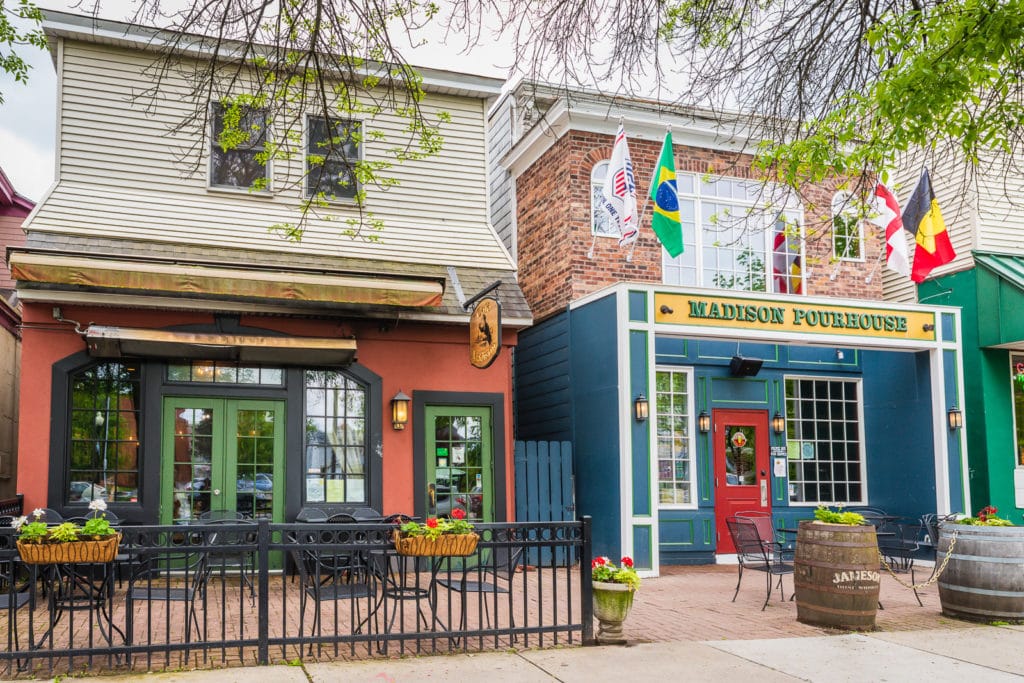 Restaurants in Albany NY
EAT/BREAKFST-BRUNCH: Café Madison. This popular breakfast spot, decked out in vibrantly colored walls enhanced by equally vivid Toulouse Lautrec-ish art, is consistently packed, often with lines out the door. Near St. Rose college in the recently branded "Upper Madison" section of Albany, Café Madison dishes out plenty of clever egg concoctions, but also yummy Asian Buffalo Cauliflower Salad ($12), Tofu Scramble ($12), Fried Oatmeal (2 slices with maple syrup, $6), and other fantastic tweaks on the morning meal.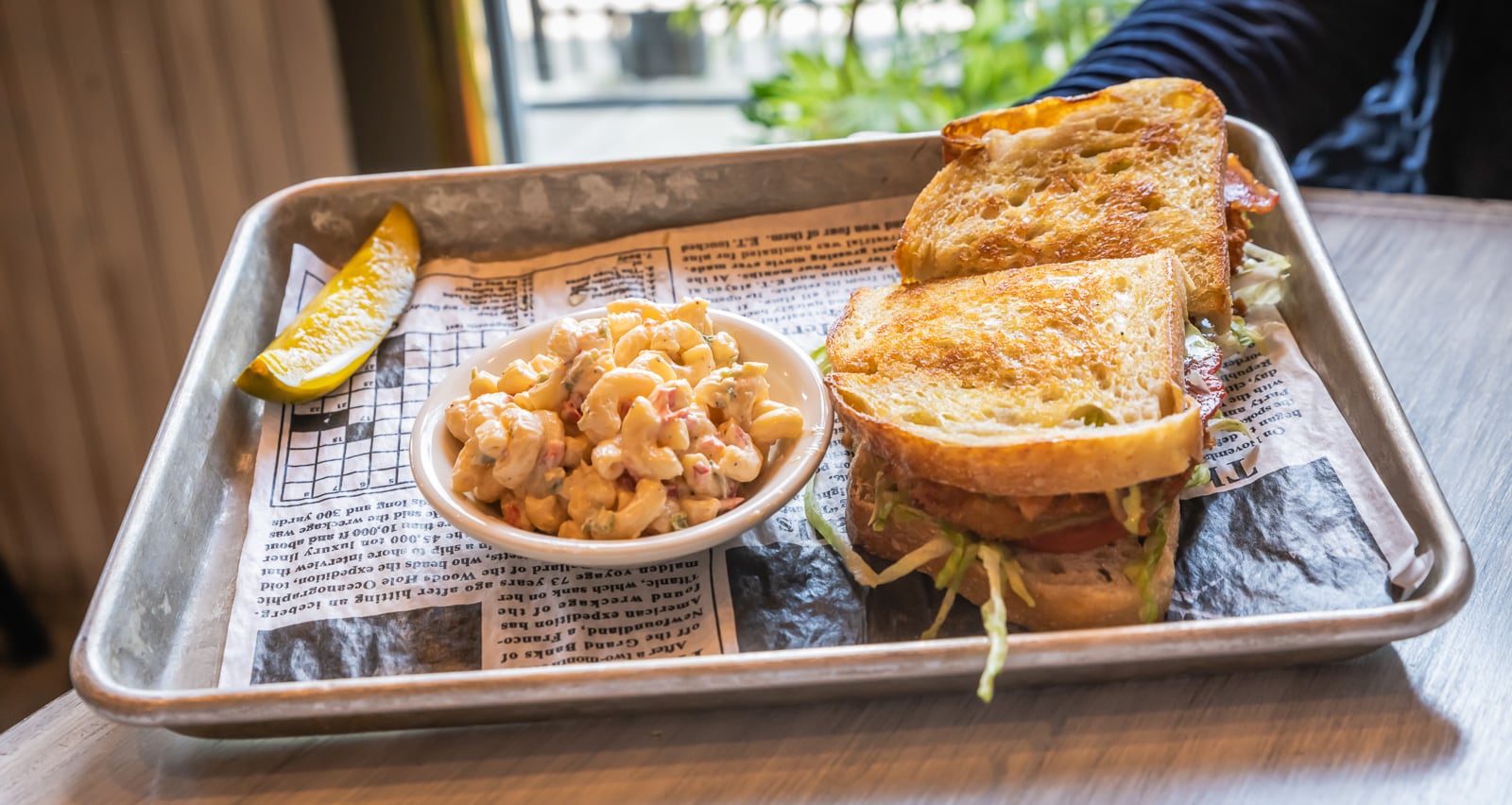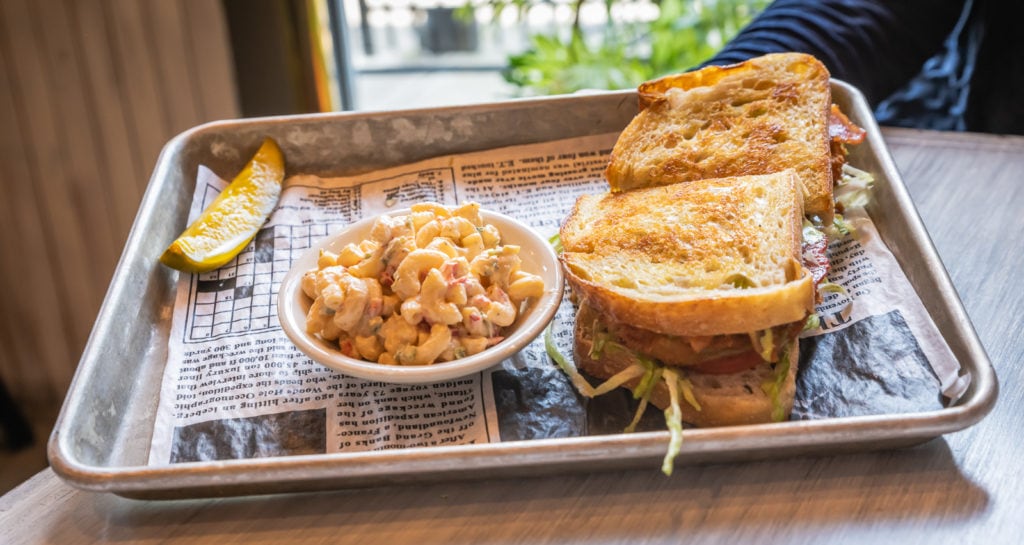 EAT: The Cuckoo's Nest. This Southern food joint just proves that you can succeed in the "College Ghetto" of Western Ave (near Frats and Sororities) if you're good enough. And The Cuckoo's Nest is. In spades.
Munch on small bites, like Fried Green Tomatoes with Pimento Cheese, Bacon and Buttermilk Dressing ($10.50), choose from among the "Biscuit Situation," ($9-$11) or "Soul Bowls" ($14 – $16, one with "Hot Chicken"), or order my new favorite lunchtime temptation – the FGBLT (Fried Green Bacon Lettuce Tomato) Sandwich, which will put you off of the bland red tomato version forever.
Seems like chef/owners Devin Ziemann and fiancé Kaytrin Della Sala, who also own Crave across the street, have another hit on their hands.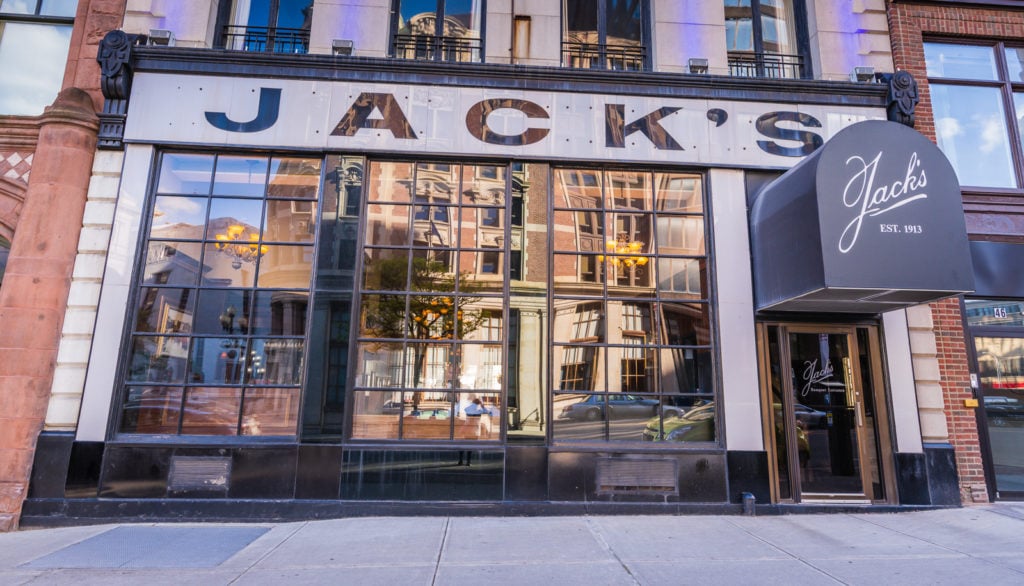 CLASSIC DINNER: Jack's Oyster House. An Albany institution just a stone's throw from the Capitol Building, Jack's Oyster House has seen its fair share of politicking. Since it opened more than a hundred years ago, this local classic has hosted every sitting governor and even an American president for at least one meal.
Any day of the week, New York's lawmakers and lobbyists hash out schemes ensconced in turn-of-the-century décor and service.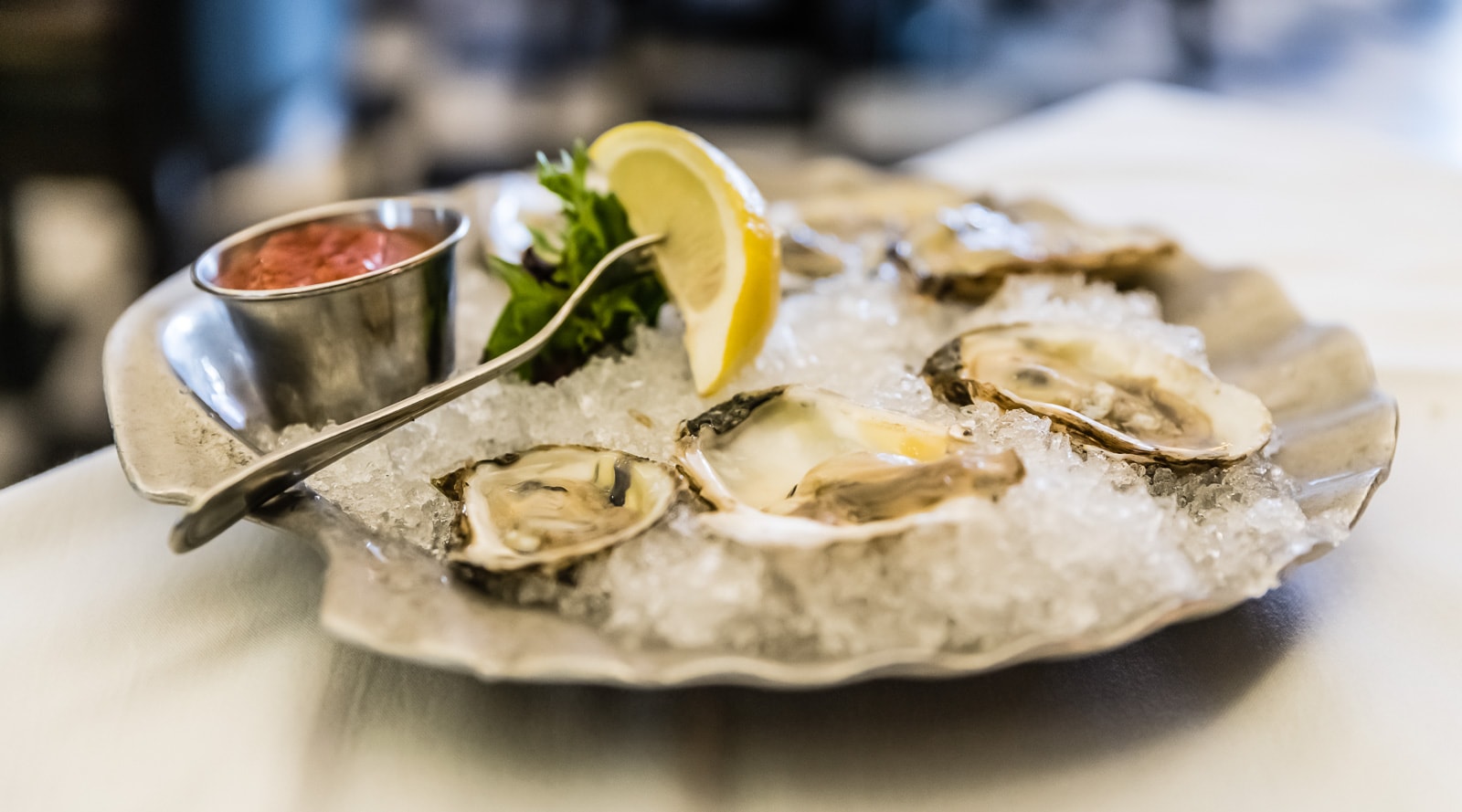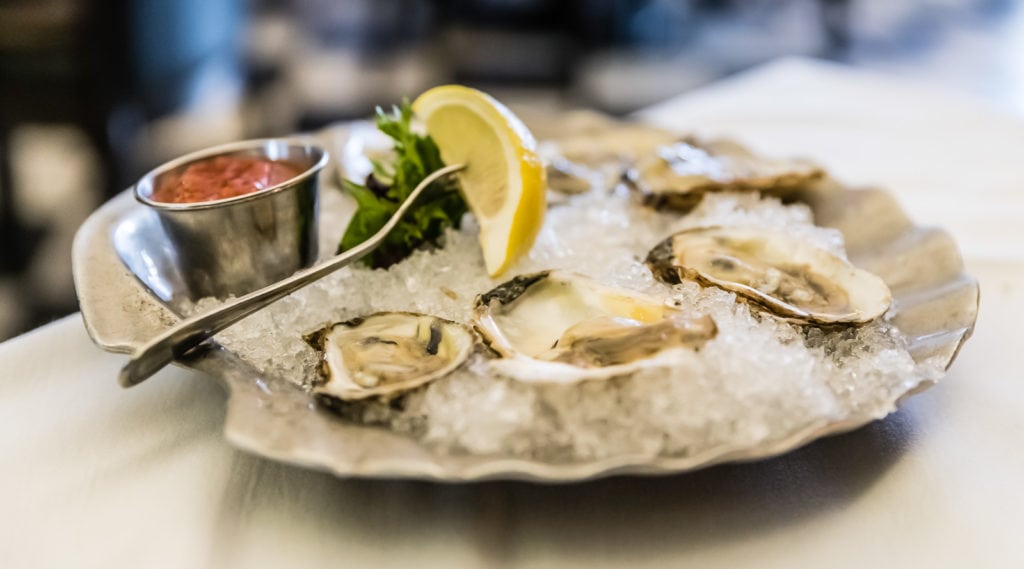 Most recently, Executive Chef Larry Schepici streamlined the menu to a limited core that's supplemented by seasonal features. The menu is very much of the steak-and-lobster variety; standouts include Jack's famous 1913 recipe Manhattan clam chowder and a wedge salad (no longer on the menu, but available upon request.)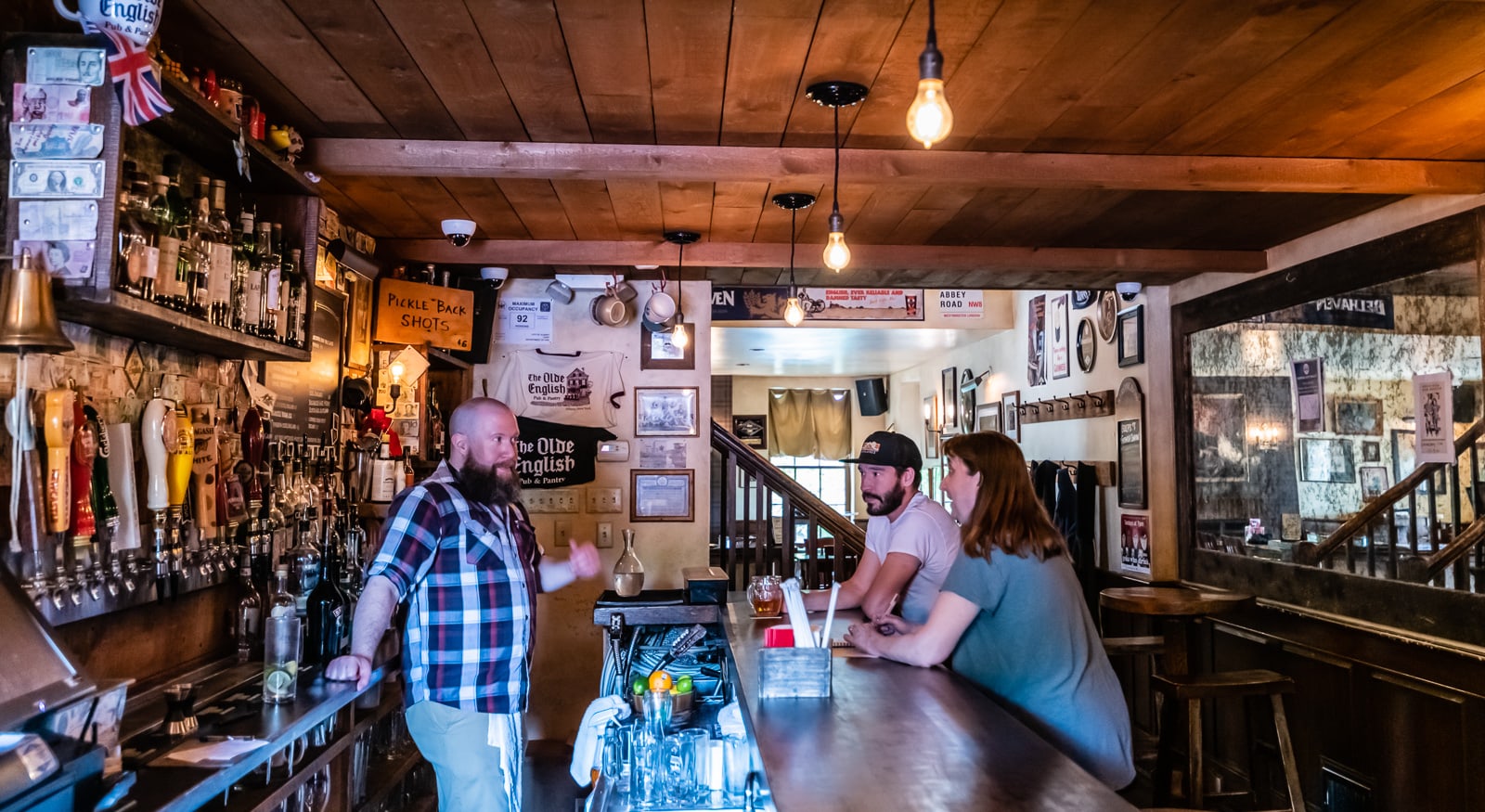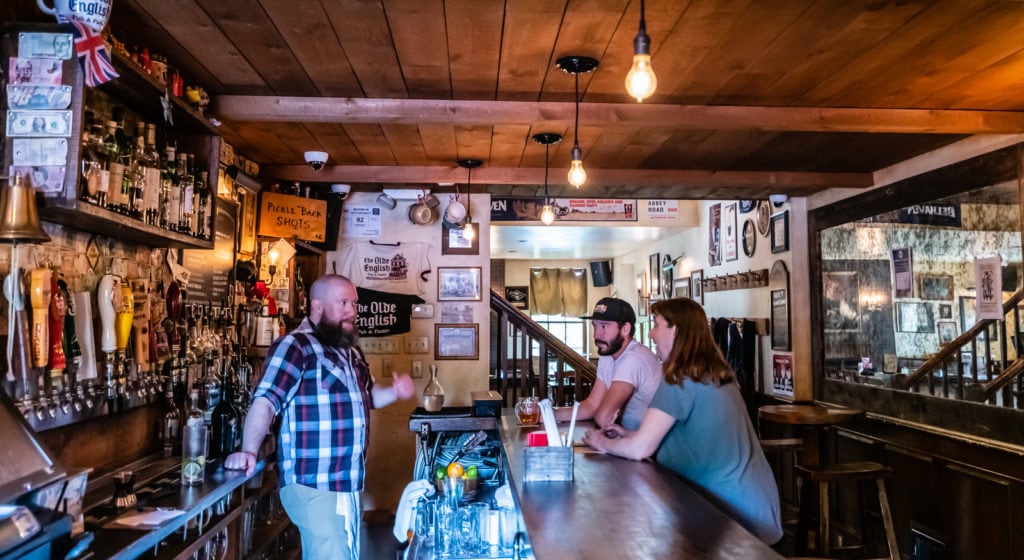 DRINK: Olde English Pub (next to the Albany Visitors Center in Quackenbush Square). Built in the 1730s, this old drinking dive is one of the oldest pubs in America, and of course, haunted. Employees have seen loaves of bread fly off shelves, heard all the kitchen timers go off at once (and then stop abruptly), and sense a whispering presence at the foot of the stairs.
The ghosts, they say, are "not malicious," just "here." But of course, that's not the only reason to patronize this historic spot. There are 16 beers on tap, and Pickle Back Shots are only $6.
EAT: New World Bistro Bar. Food Network's Chopped celebrity Chef Ric Orlando brings a colorful rock n' roll sensibility to local, seasonal, and organic. His passion for farm-to-table means that whichever eclectic ethnic menu you choose, and there are several: vegan, gluten-free, brunch, large plate, small daily specials; you can count on locally sourced ingredients.
And secrets are revealed: local farms, wineries, and breweries are listed by name. His signature Jerk Chicken is not just free range but also from Free Bird.
Come as you are, the feel is urban chic – exposed brick and repurposed Art Deco mahogany bar originally from the 1939 World's Fair. A co-venture with funky Spectrum 8 Theaters owners Scott Meyer and Annette Nanes, New World Bistro Bar anchors Albany's newly energized entertainment and culinary arts "DelSo" neighborhood.
This is where you're likely to run into local media celebrities and discerning restaurant critics.
EAT: Cafe Capriccio. The renowned 4-course family style feast at Café Capriccio's Chef's Table is as memorable for the authentic regional dishes as it is for cultural lessons shared by author and proprietor, Jim Rua. Staff and guests are encouraged to develop regional expertise on organized trips to Italy which offer first-hand research and partnership opportunities with farms and wineries such as Fattoria Lavacchio in Tuscany.
Dress up to dine in this intimate establishment popular with Albany elite. Despite a 30-year history as one of the Capital District's best restaurants, this is not a polished restaurant. The atmosphere is low key and homey, with soft carpeting, knotty pine walls, old posters and opera music playing; it's like eating at a friend's house…if your friend is an award-winning chef who grows his own herbs and heirloom tomatoes.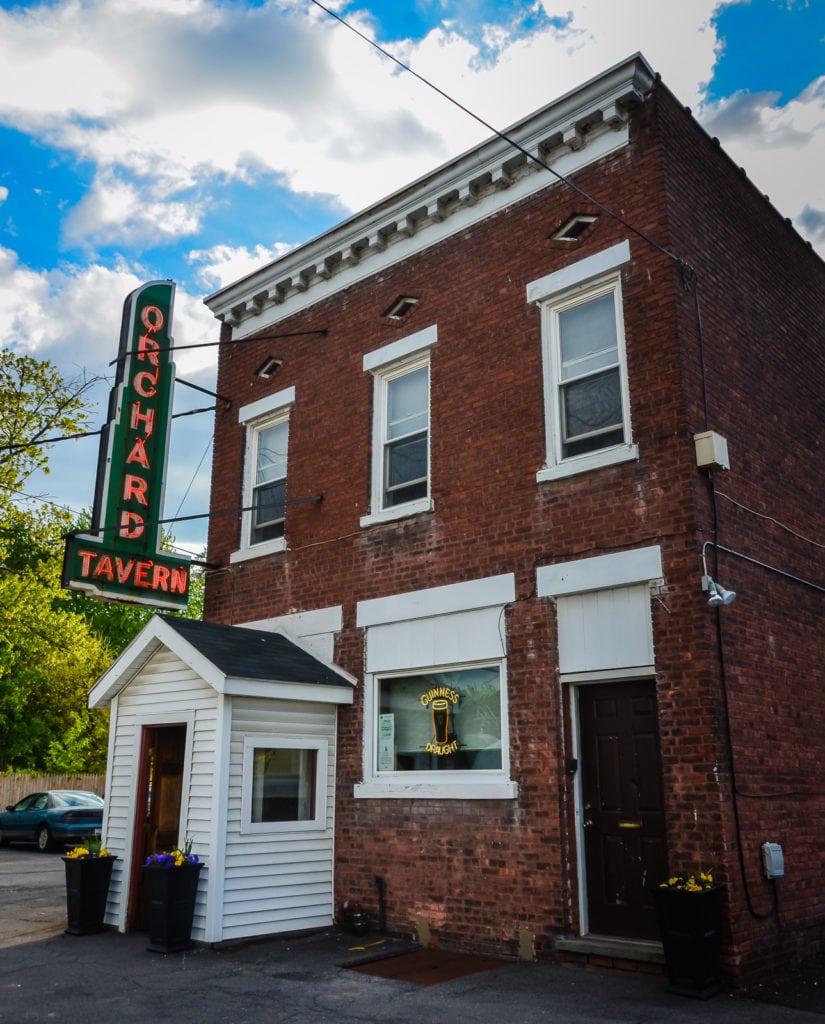 EAT: Orchard Tavern & Restaurant. A rotating display of photographs and memorabilia documents The Orchard Tavern's rich history of service to generations of workers at the New York Central Railroad's West Albany yards.
Open since 1903, longtime patrons worried that the neighborhood institution would change when Kris Monforte purchased it in 2018. However, the new owner promised only minor cosmetic changes and that the menu, with its beloved rectangular pizza, would remain the same.
EAT/DRINK: City Beer Hall. It's hard to say whether or not The City Beer Hall's passionate following is a result of free pizza with beer. Who can resist free food? Not when it comes with a selection of 18 beers and ciders on tap, plus many more by the bottle.
Beer pairings and leisurely brunches are almost weekly events. For a gastronomical splurge, reserve tickets to "Wild Game Nights" when one brewery is matched to an assortment of exotic meats for an unforgettable 4-course meal.
Different thematic areas of the bar include a Main hall with communal tables, an outdoor beer garden, and a newly-renovated Rodeo Bar that hosts a dance floor on weekend late nights.
EAT/INSIDER TIP: When the tulip festival makes its annual return to Washington Park, local fish fries all through the Capital Region open for the season to serve a fried culinary masterpiece found nowhere else. A long narrow piece of fish, about a foot long, fried to perfection, is served in a hot dog bun sometimes with condiments, sometimes not.
Available any day of the week, local custom is to take the whole family to the fish fry after softball games on Friday afternoons. Opinions vary greatly as to the best fish fry in the Capital Region. In Albany, folks swear by Ted's Fish Fry, but the general consensus is that top honors go to Gene's Fish Fry in East Greenbush.
SNACK: Cider Belly Donuts. Historians tell us that the earliest doughnuts can be traced to the olykoek cakes that Dutch settlers introduced to America. Thus, you can't fully appreciate New York's Dutch heritage without sampling donuts, and you can't do better than to taste the Original Cider Doughnut. Baked fresh daily, open Monday-Friday, 6:30-3pm, Sat-Sun, 8am-noon, or until they run out.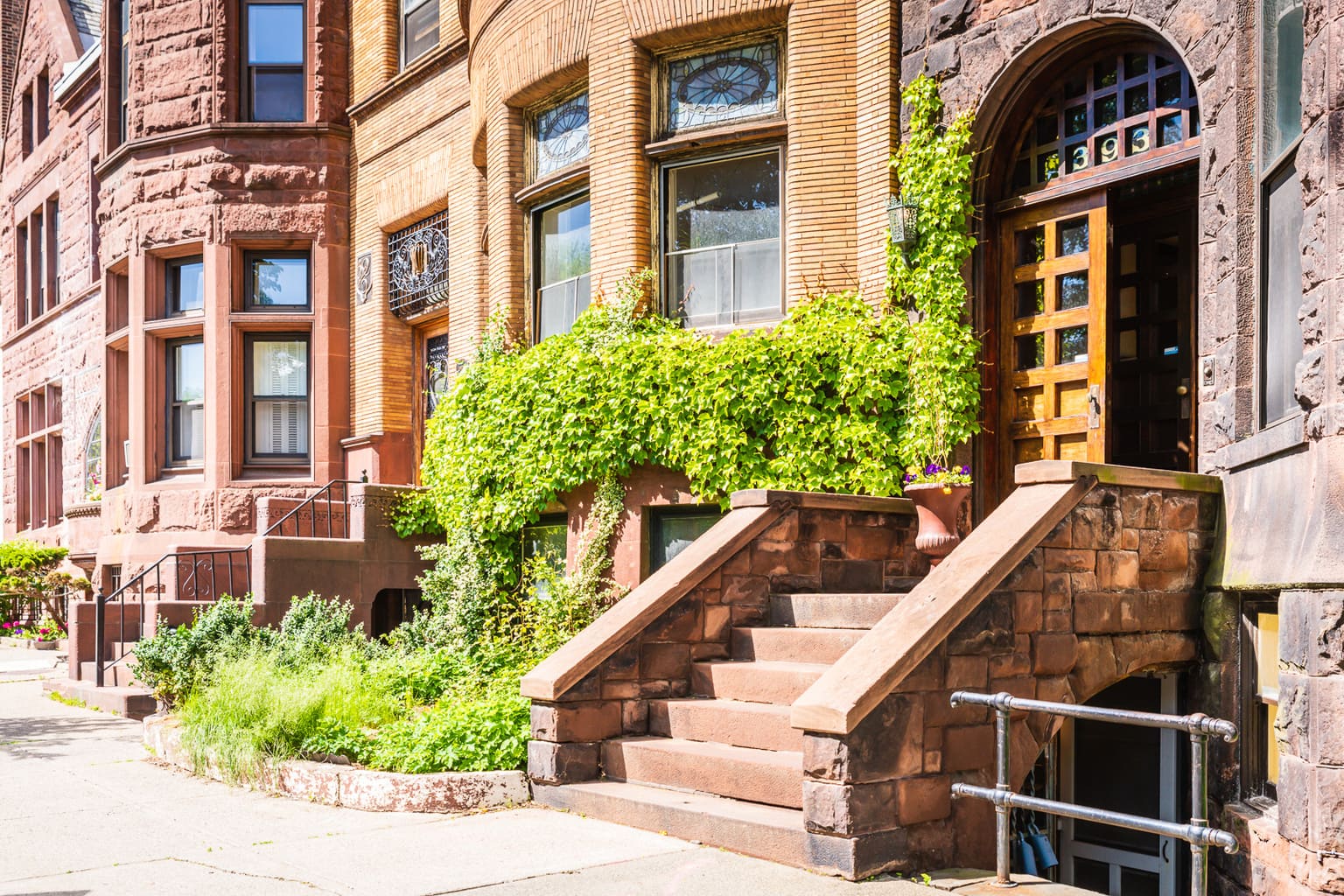 Hotels in Albany NY
STAY: Morgan State House. Arrange to stay in one of the six lovely rooms in the Historic 1884 Mansion at what is considered the best B&B in downtown Albany. (There are 11 more modern rooms in Morgan State House's condo at the end of the block).
These rooms – on three walk-up floors – are spacious and tastefully decorated in elegant traditional furnishings, some featuring bay windows overlooking the Frederick Law Olmsted designed Washington Park. Starched sheets and down comforters wrap guests in blissful luxury.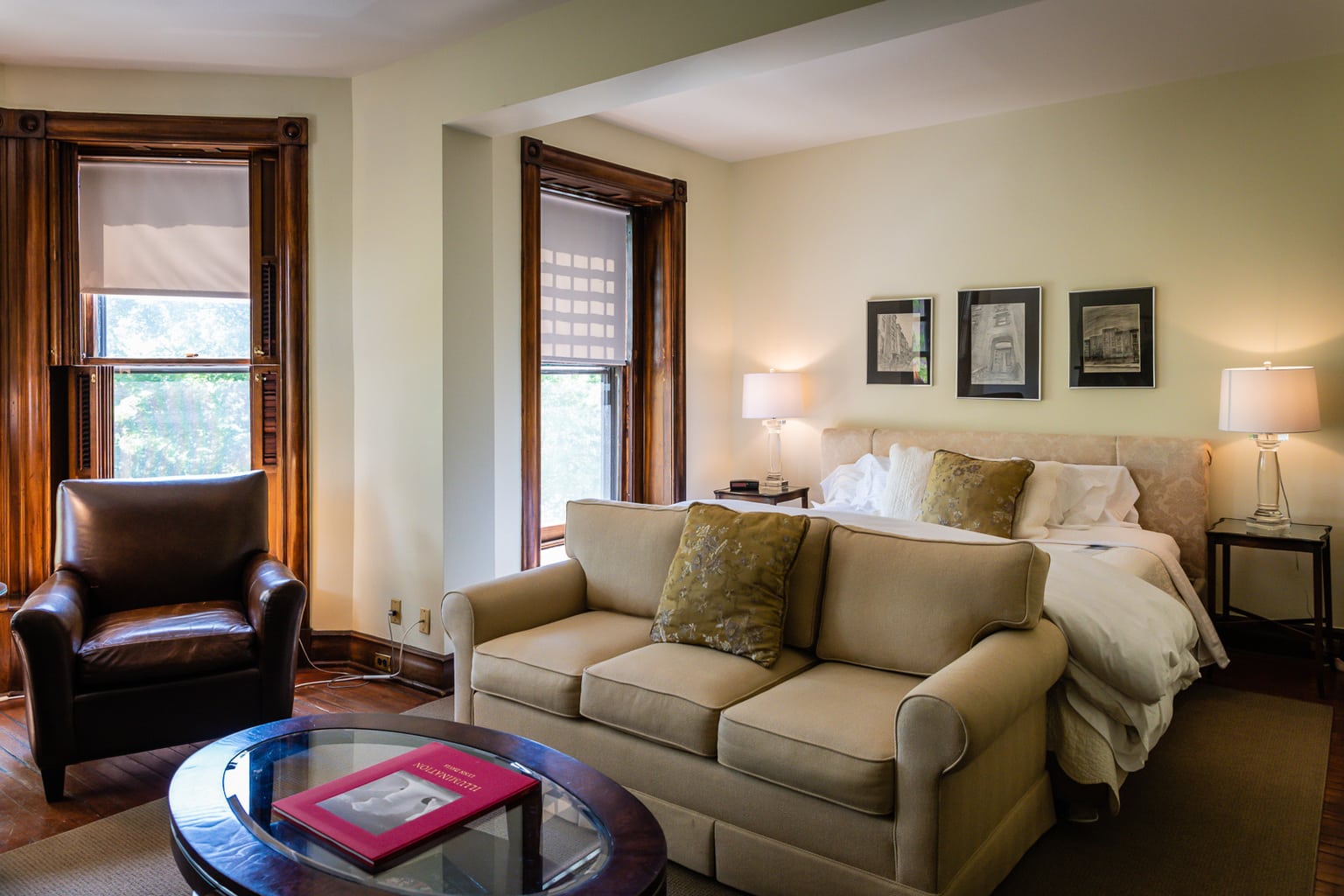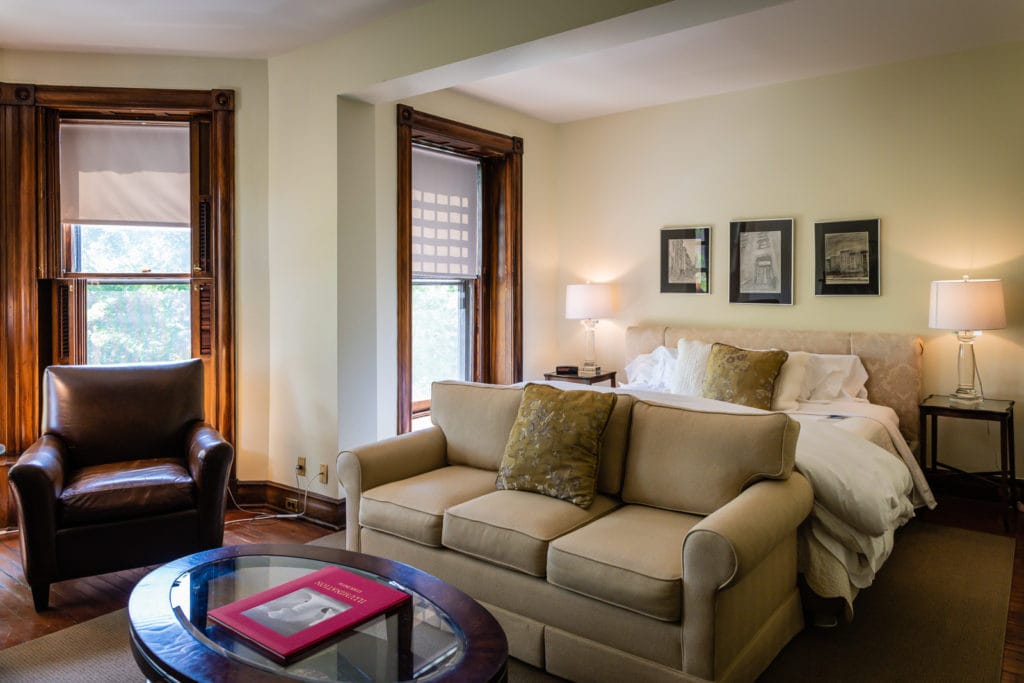 In the morning, converse with fellow travelers while enjoying a Continental Breakfast (complementary with room) around a large dining room table or outside on tranquil backyard garden patio. Room rates in the Mansion from $179-$249, and from $149 in the Condo, include Continental Breakfast and parking.
STAY: Both the upscale Renaissance Hotel and Hilton Hotel offer full-service amenities just steps from the Capitol Building and Empire State Plaza.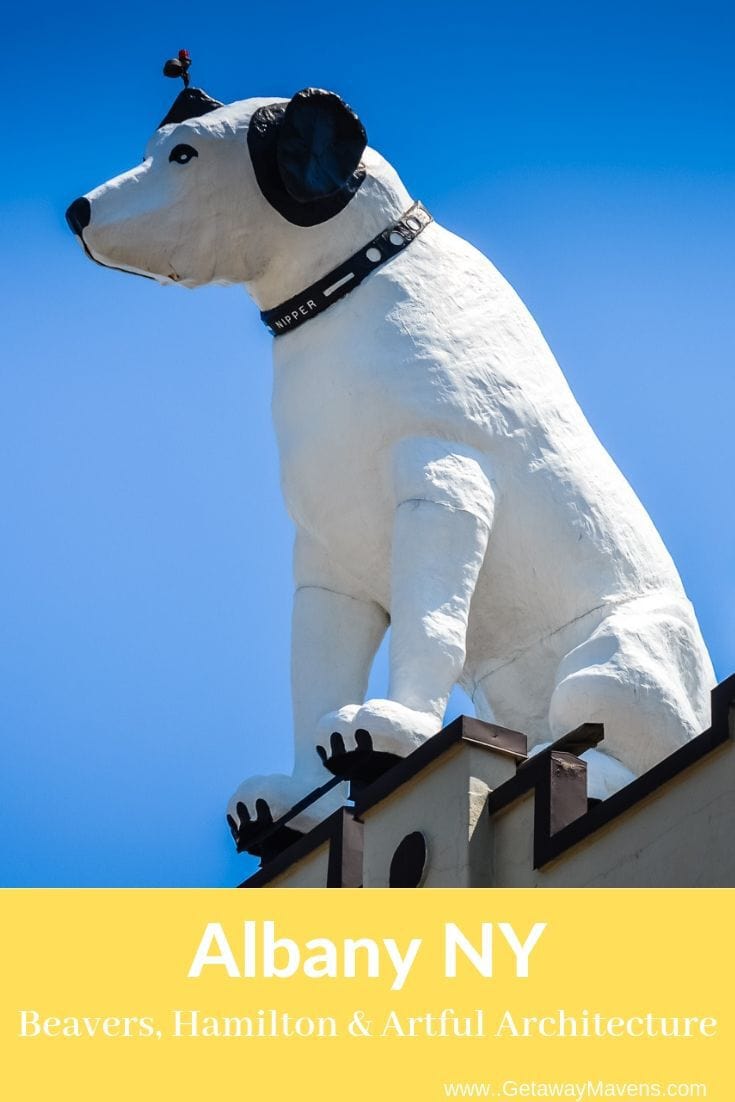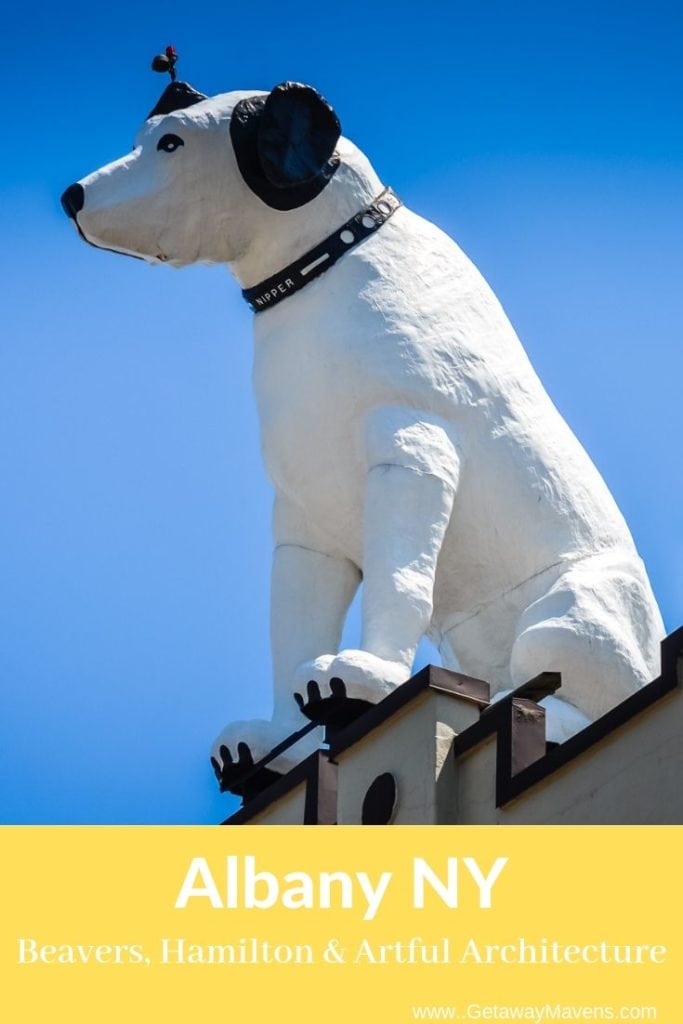 Looking for more things to do nearby? Check out these great weekend getaways in Upstate New York:
Don't miss these popular posts!
For even more Upstate New York travel inspiration, look for our New York Getaway Guides.