WHY GO: Here's a strange fact: Stratford in Ontario Canada, a good two-hour drive from Toronto and home to the preeminent Shakespeare Theater Festival, is also hometown of Justin Bieber. Talk about Yin/Yang.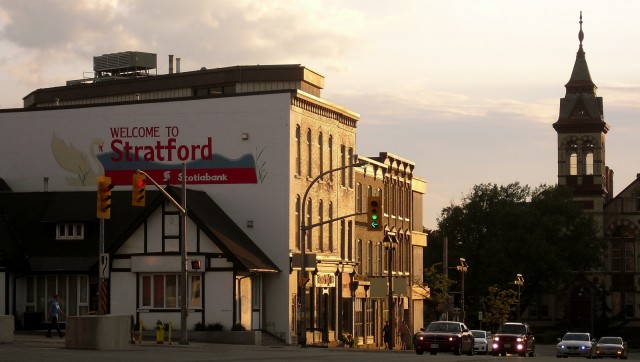 This small outpost has also been nurturing quite a Locavore culture, drawing high-caliber chefs who work magic with the products that come from local farms. A couple of "Food Trails" have been laid out to temp tourists with tastings; a Chocolate Trail and an ingenious Bacon-Ale Trail.
Whether you're into Bieber or the Bard, if you are a Chocoholic, or if you just love to eat good food and see first- rate theater, visit Stratford Ontario. It is one satisfying Getaway.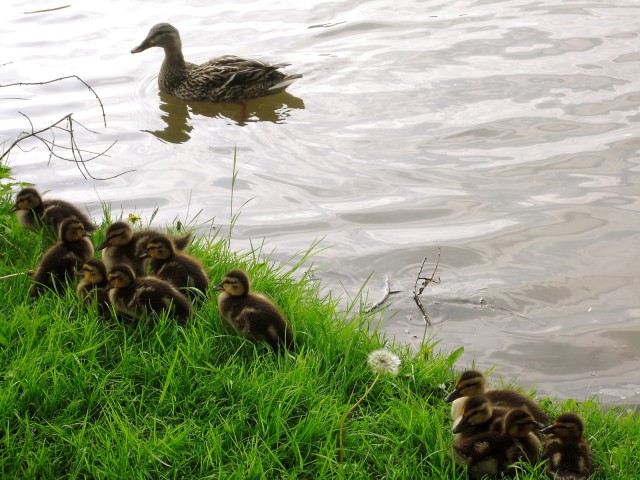 Things To Do in Stratford Ontario
Canada's version of Stratford-On-Avon, these world-class Shakespeare Festival productions run the gamut from The Tempest to Tommy (the Rock Opera). As a matter of fact, a few years ago, Christopher Plummer starred in The Tempest, and his is the caliber of acting that festival goers have come to expect from this four-stage theater since it opened in the mid-1960's. Located on the tranquil Avon River, bring a picnic and eat while watching ducks at play before settling in to enjoy the main event.
TOUR: Chocolate Trail and Bacon-Ale Trail
Each Trail costs $30 per person, which entities you to 6 tastings. The Chocolate Trail consists of 20 establishments and the Bacon/Ale Trail has 10.
includes a stop at the Rocky Mountain Chocolate Factory. Watch chocolatiers mix batches of molten chocolate in big copper kettles through the front window and "come in for a dip."
The Bacon-Ale Trail
includes Loaded Baked Potato Soup and a Pint at Molly Bloom's Irish Pub. This chewy, stew-like Soup is Molly Bloom's "claim to fame. Owner Rob Wigan admits to "pumping out thirty liters," in other words "amazing amounts" of this thick, creamy double-smoked bacon-licious award-winning soup per week.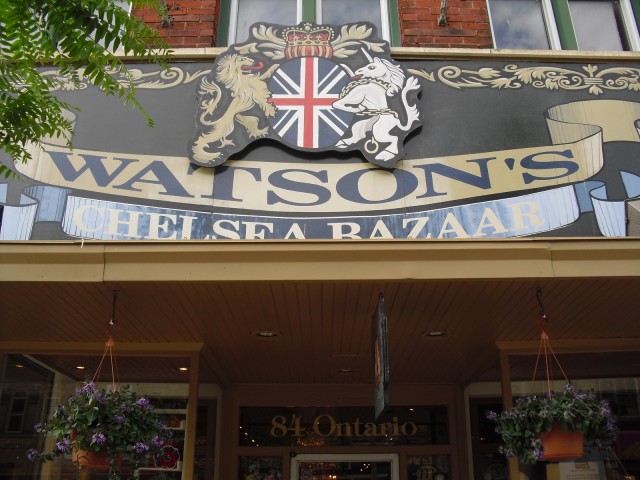 Two floors chock full of useful and less useful stuff – fine China, Hedgehog dryer balls, teapots, jewelry, handbags, home-goods.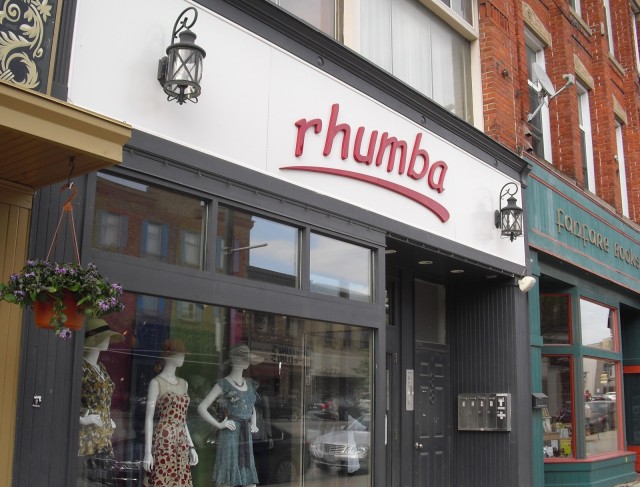 SHOP: Rhumba
Light as air tunics, sexy knits, and lots of unique clothing are tough to resist. I tried. I failed. Prices above H&M, below couture.
Where to Eat in Stratford, Ontario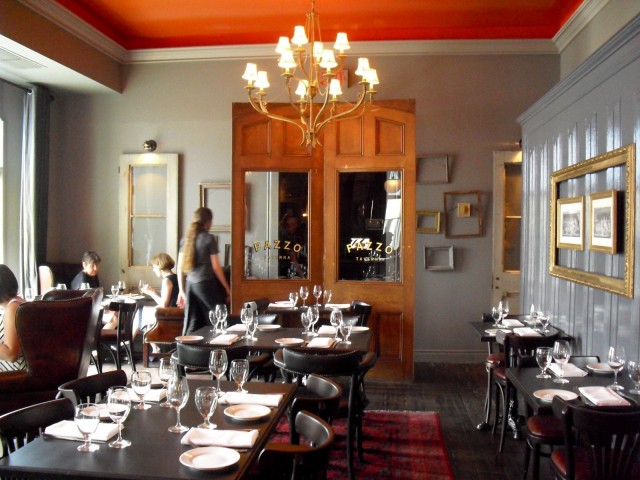 Distressed-wood tables, empty picture frames on grey wainscoted walls, candle-lamp chandeliers; Pazzo's upscale French Farmhouse décor fosters an expectation of excellence from the kitchen and delivers. And then some. Expertly executed shaved truffle and fried mozzarella plates, and tiers of crawfish, lobster, king crab legs, oysters and scallops arrive at your communal table like mana from heaven.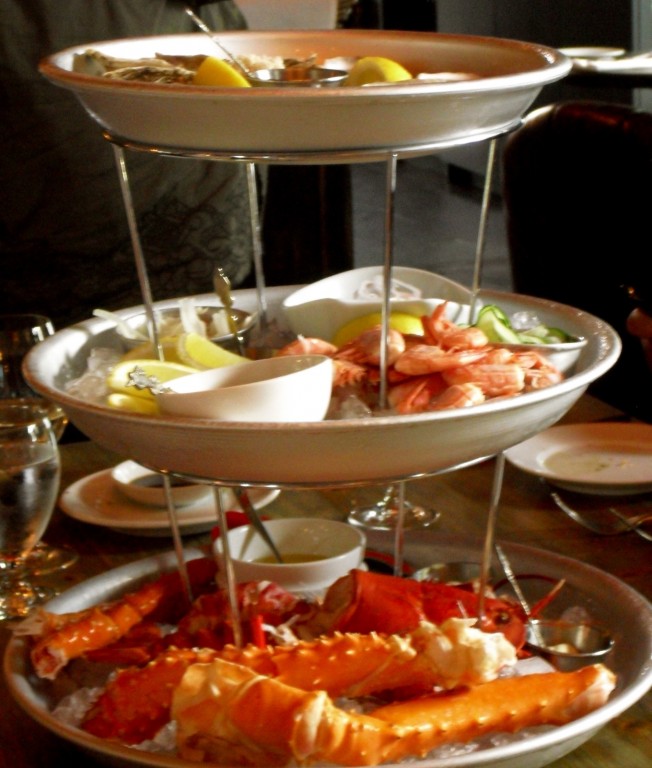 Downstairs, you'll find the more casual brick-oven Pazzo Pizzeria, and if you'd like to bring a picnic to the Shakespeare Theater, pick up a prepared meal next door at the incomparable Pazzo Bakery. I could live on the chewy/dense/incredible bread (brought to the table at the Taverna) alone.
Upscale "must go" fine dining in a tucked-away tough to find spot. Dinner is price-fix only (2-course $57, 3-course $63), and incorporates an eclectic global take on locally sourced ingredients.
Where to Stay in Stratford, Ontario
Luxury seekers in the know stay at The Bruce. Considered a "5-star" hotel by its fans, this is the town's most upscale property. Rooms from $295 per night.
Getting to Stratford, Ontario
By car, Stratford is 1:40 minutes from Toronto, 2:15 minutes from Buffalo, NY, and 6:30 minutes from Montreal. Stratford Airporter provides shuttle service between Stratford and Toronto Pearson International Airport. Stratford Festival offers direct bus service between Toronto and Stratford, $20 roundtrip in season. Via-Rail provides a passenger rail service to Stratford on a daily service, all year round.