Last Updated on April 8, 2023 by Editor
Here's a strange fact: Stratford Ontario Canada, a good two-hour drive from Toronto and home to the preeminent Shakespeare Theater Festival is also the hometown of Justin Bieber. Talk about Yin/Yang.
This small outpost has also been nurturing quite a Locavore culture, drawing high-caliber chefs who work magic with the products that come from local farms. A couple of "Food Trails" have been laid out to temp tourists with tastings; a Chocolate Trail and an ingenious Bacon-Ale Trail.
Whether you're into Bieber or the Bard, if you are a Chocoholic, or if you just love to eat good food and see first-rate theater, visit Stratford Ontario. It is one satisfying Getaway.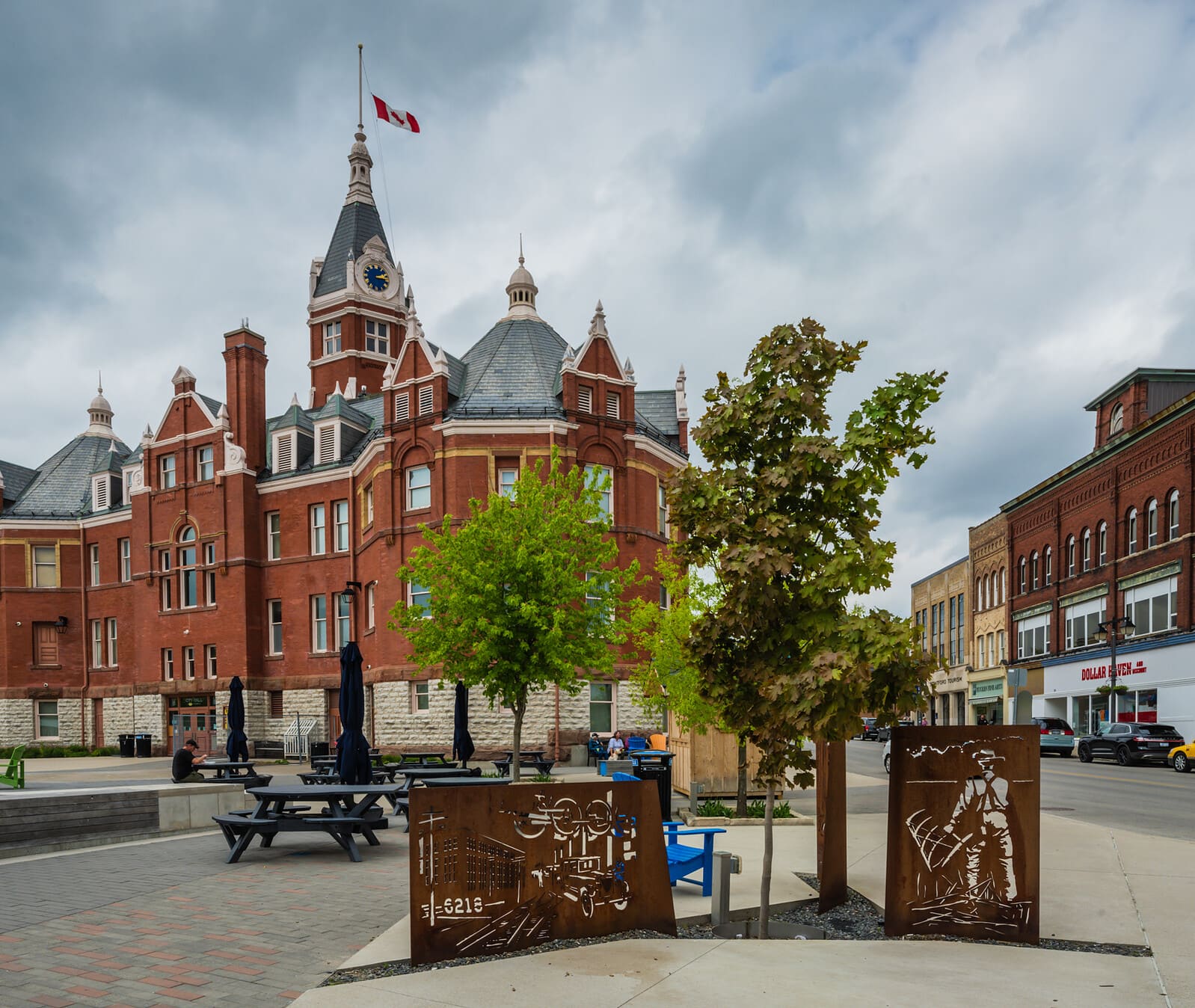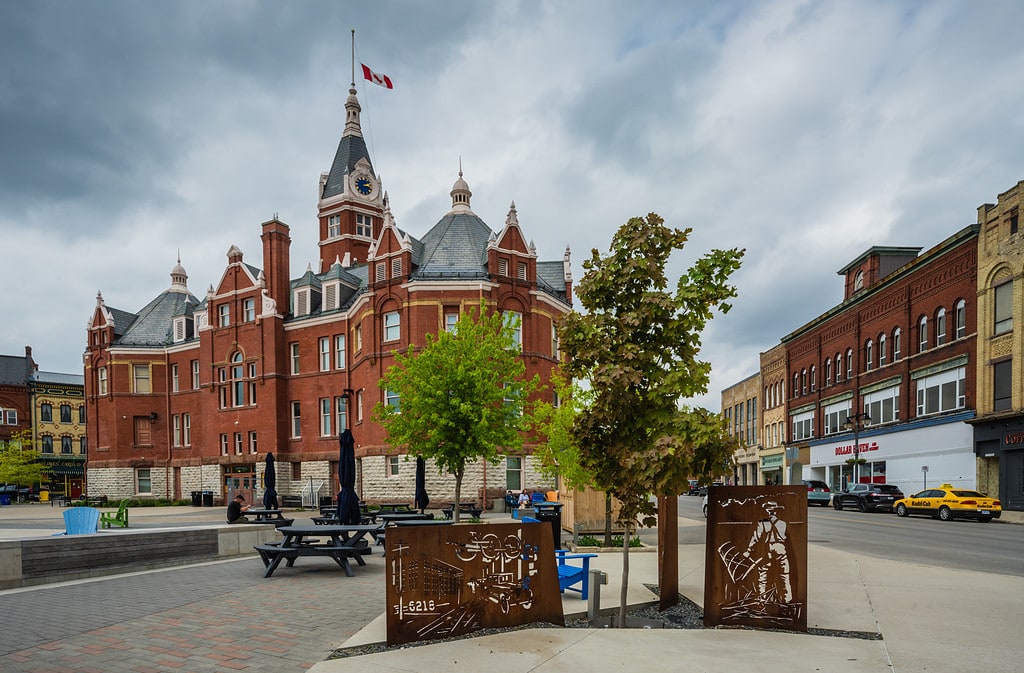 Things To Do in Stratford Ontario
Although it's a city by definition, with a population hovering at the 30K mark, Stratford has all the charm of a small town. Situated along the Avon River in Perth County, shop-lined city streets are tailor-made for romantic strolls. Here are a few of our favorite attractions.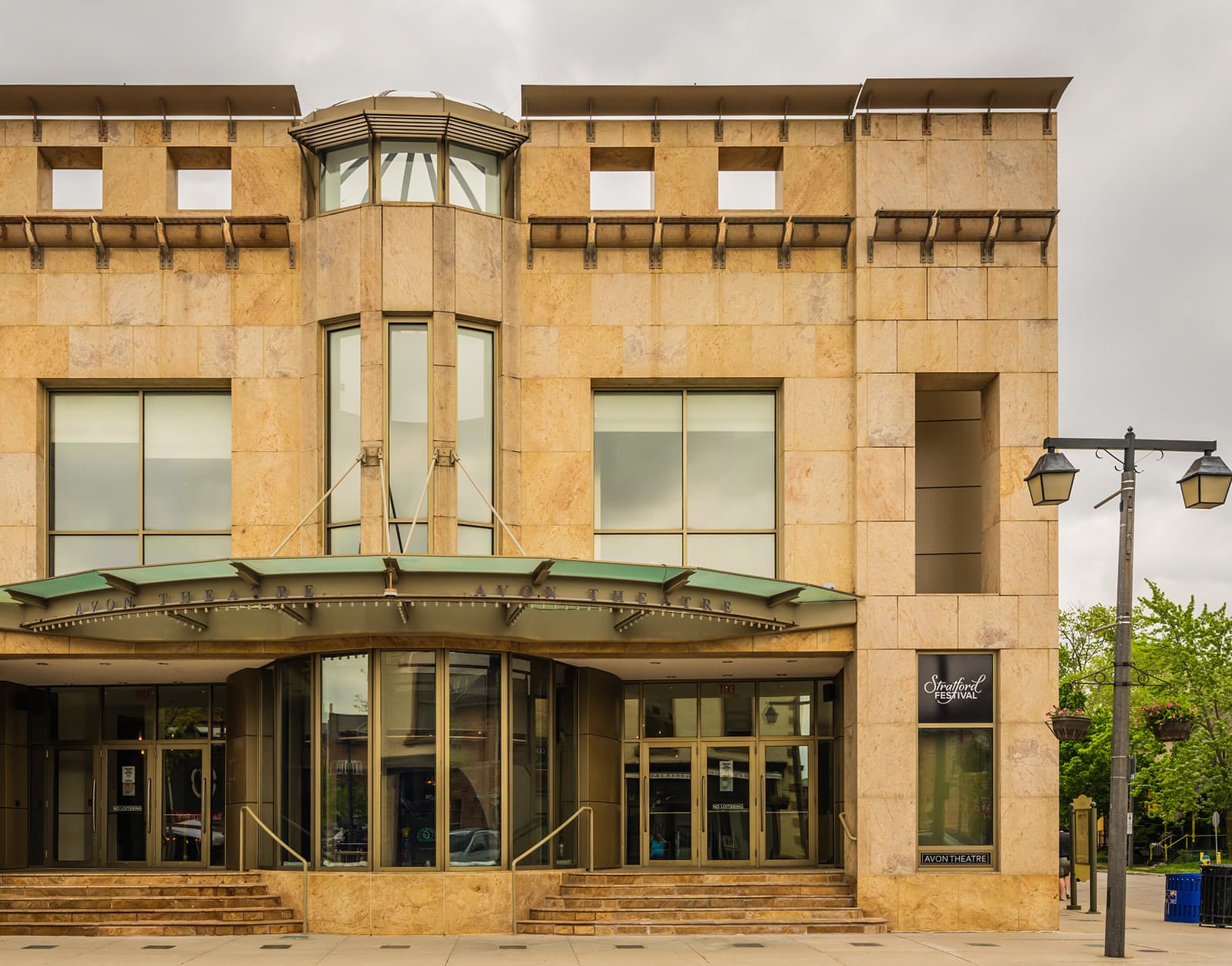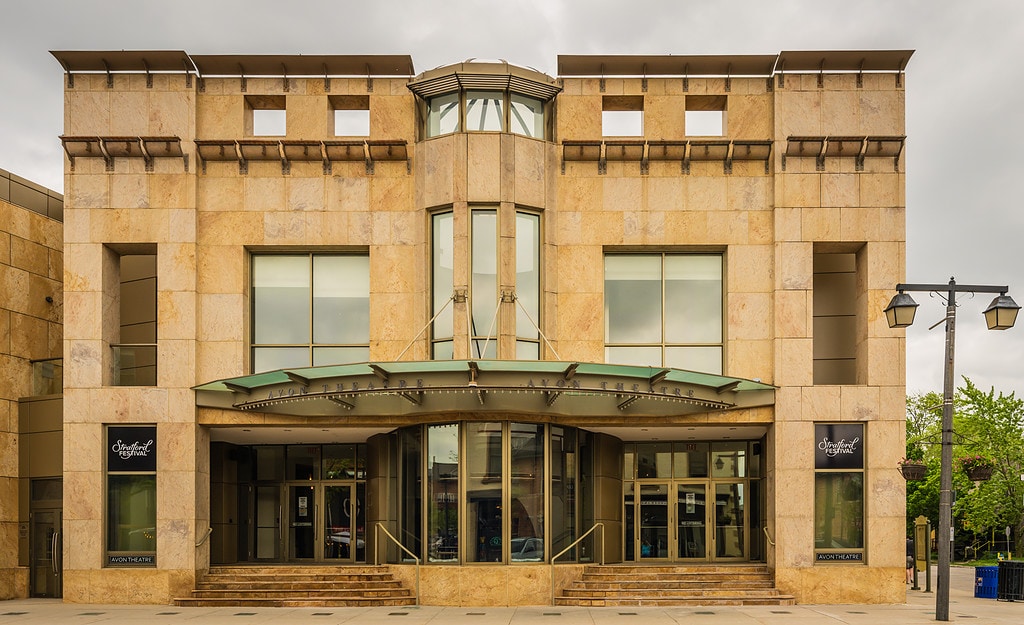 Attend A Play At The Shakespeare Festival
Canada's version of Stratford-On-Avon, these world-class Shakespeare Festival productions run the gamut from The Tempest to Tommy (the Rock Opera). As a matter of fact, a few years ago, Christopher Plummer starred in The Tempest, and his is the caliber of acting that festival-goers have come to expect from this four-stage theater since it opened in the mid-1960s. Bring or order a take-away picnic to enjoy along the banks of the Avon River before the main event.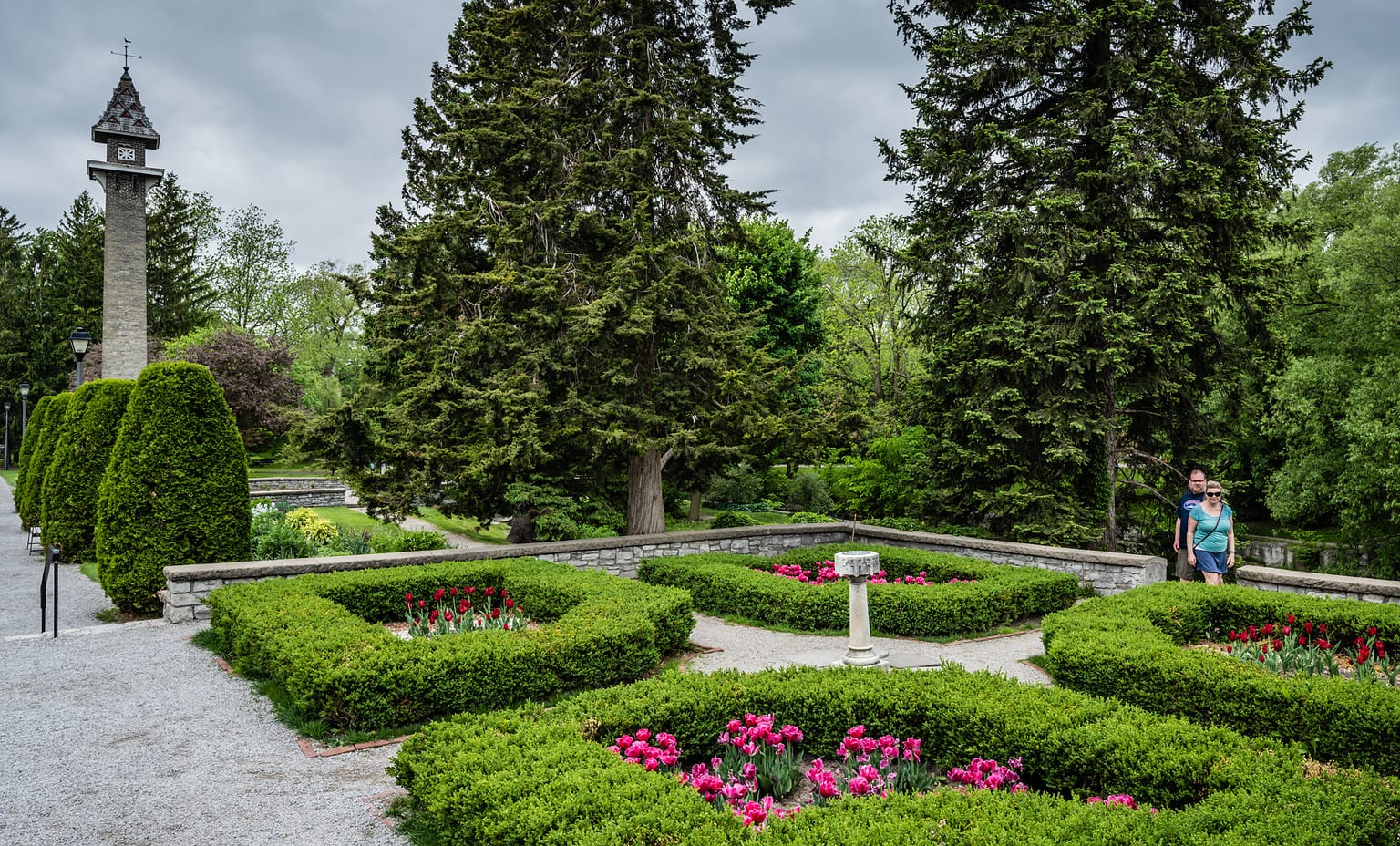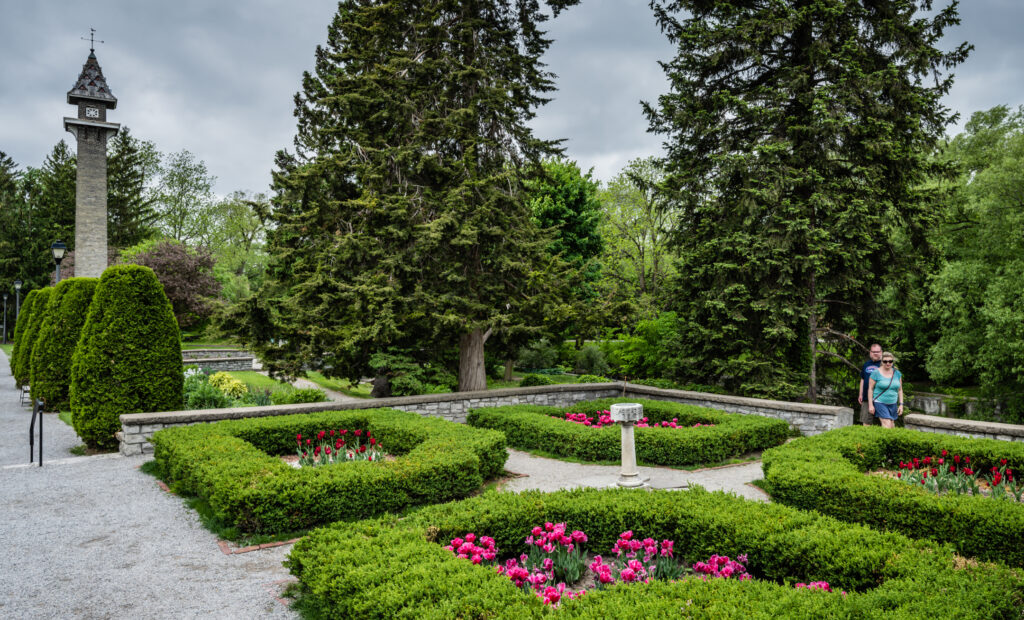 Stroll The Shakespeare Gardens
Set along the Avon River, the Shakespeare Gardens were originally laid out with plantings mentioned in the bard's works, as well as royal donations. Today, you can still find some of the historical plantings, as well as a bust of the playwright, amidst colorful seasonal plantings and a commemorative tower.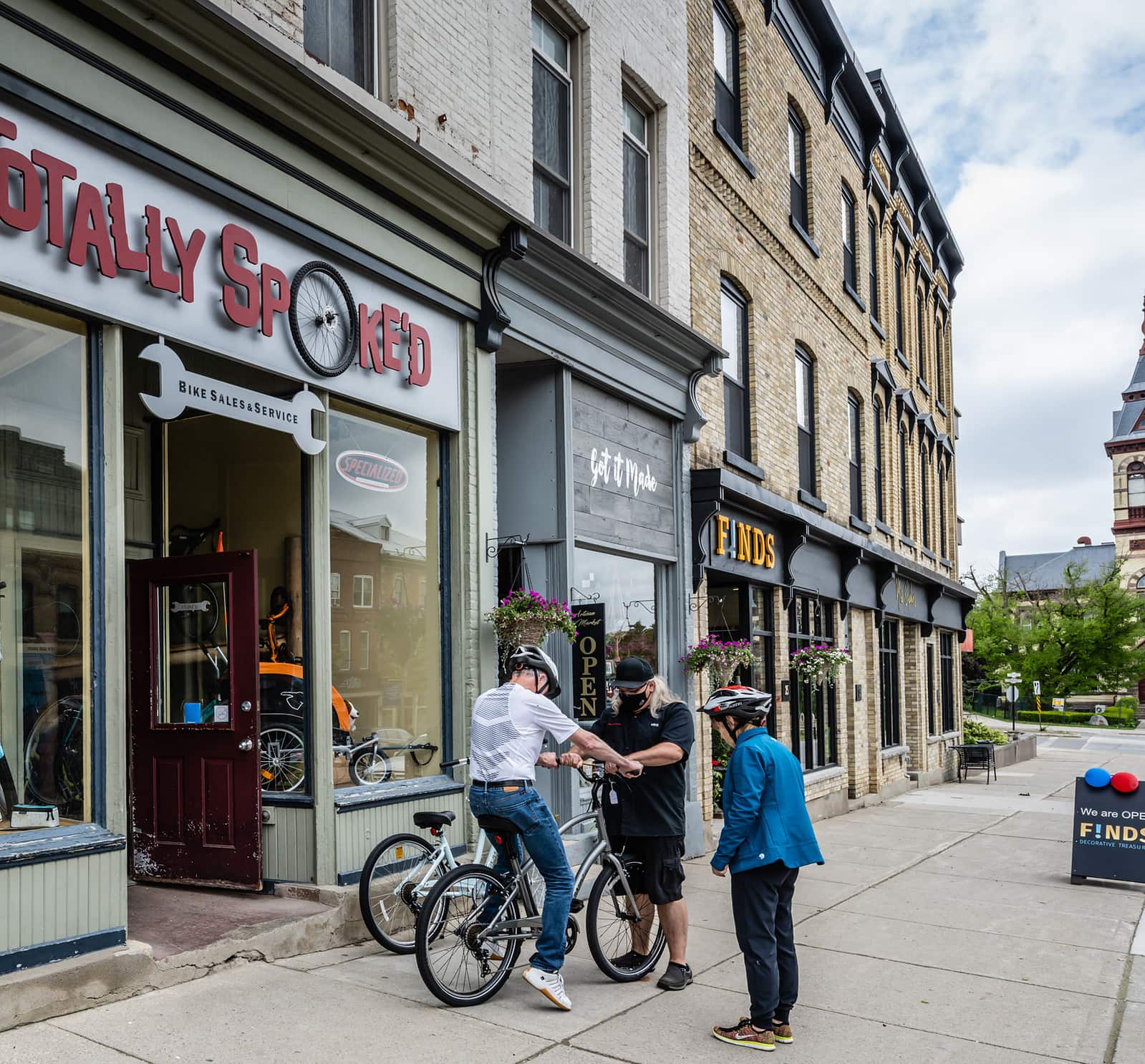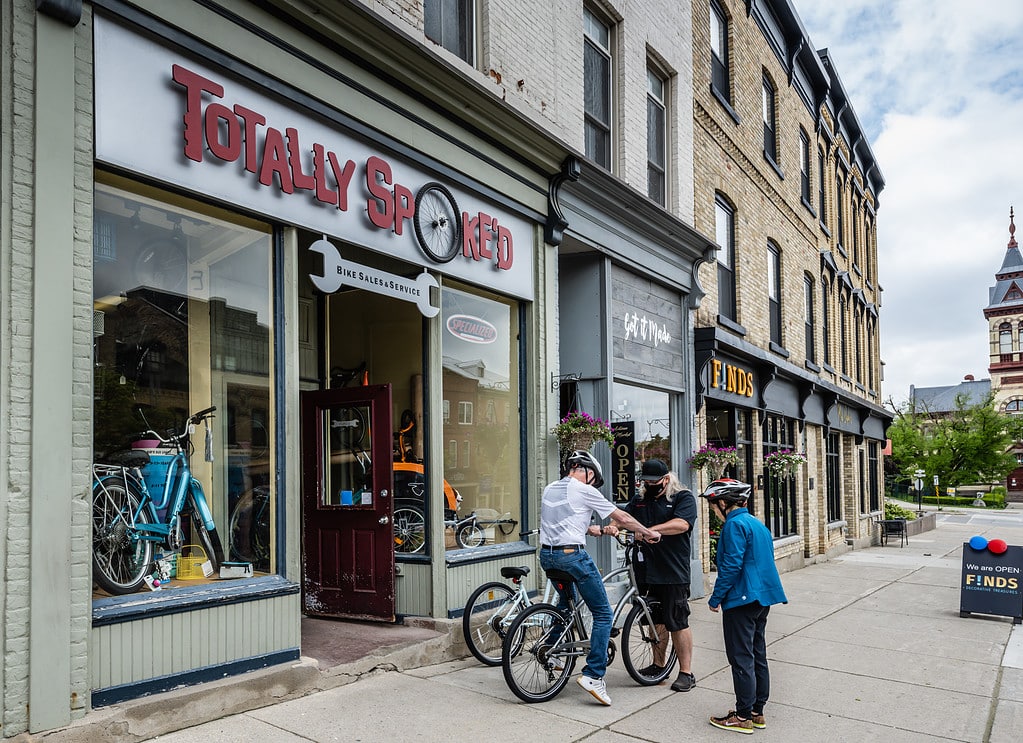 Bike Around Stratford Ontario
Rent an e-bike from Totally Spoke'd or a regular bike from The Boathouse and set out on an Ontario adventure. Visit Stratford highlights four city cycling routes, while Cycle Stratford publishes ten interactive bike routes.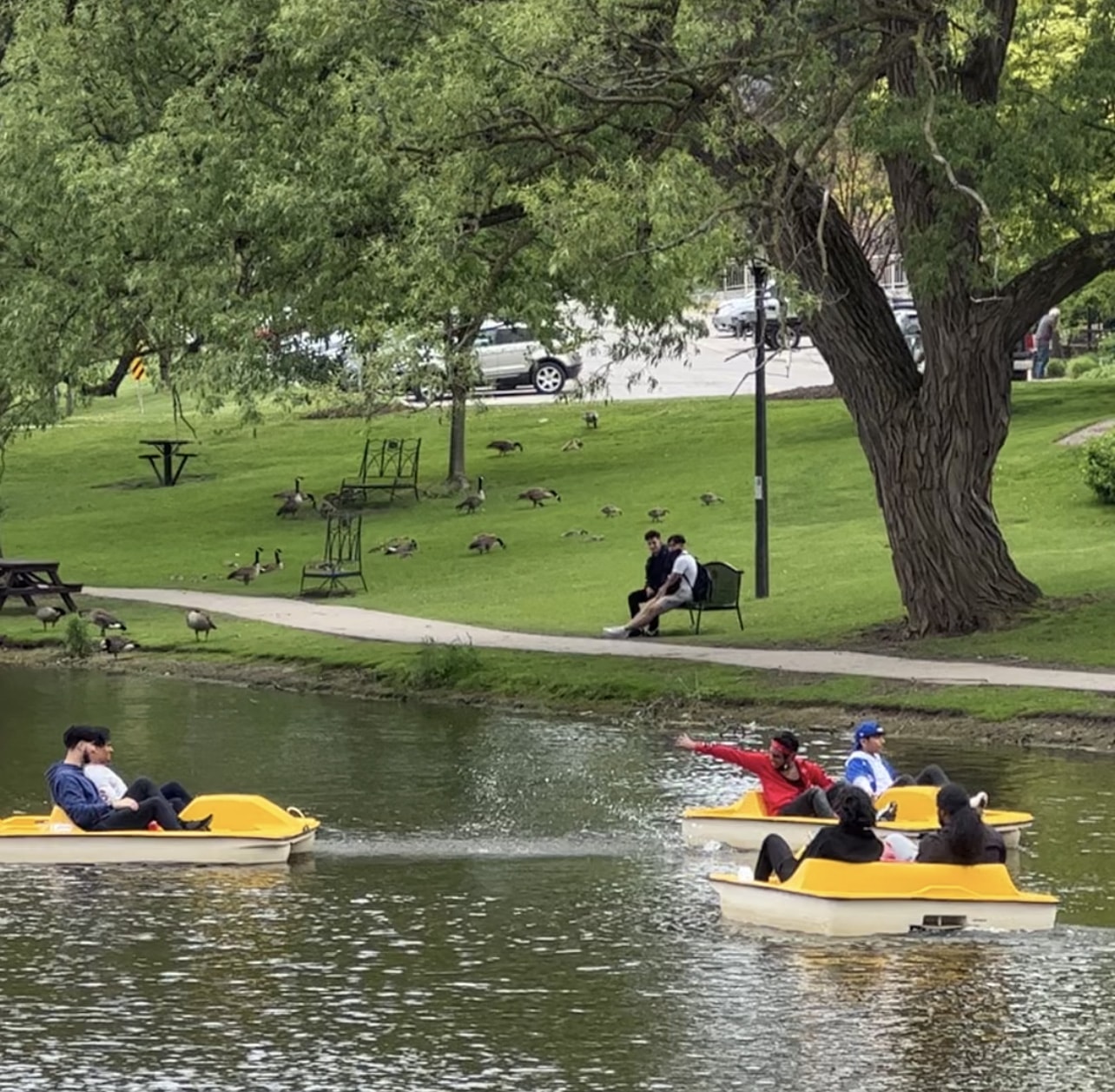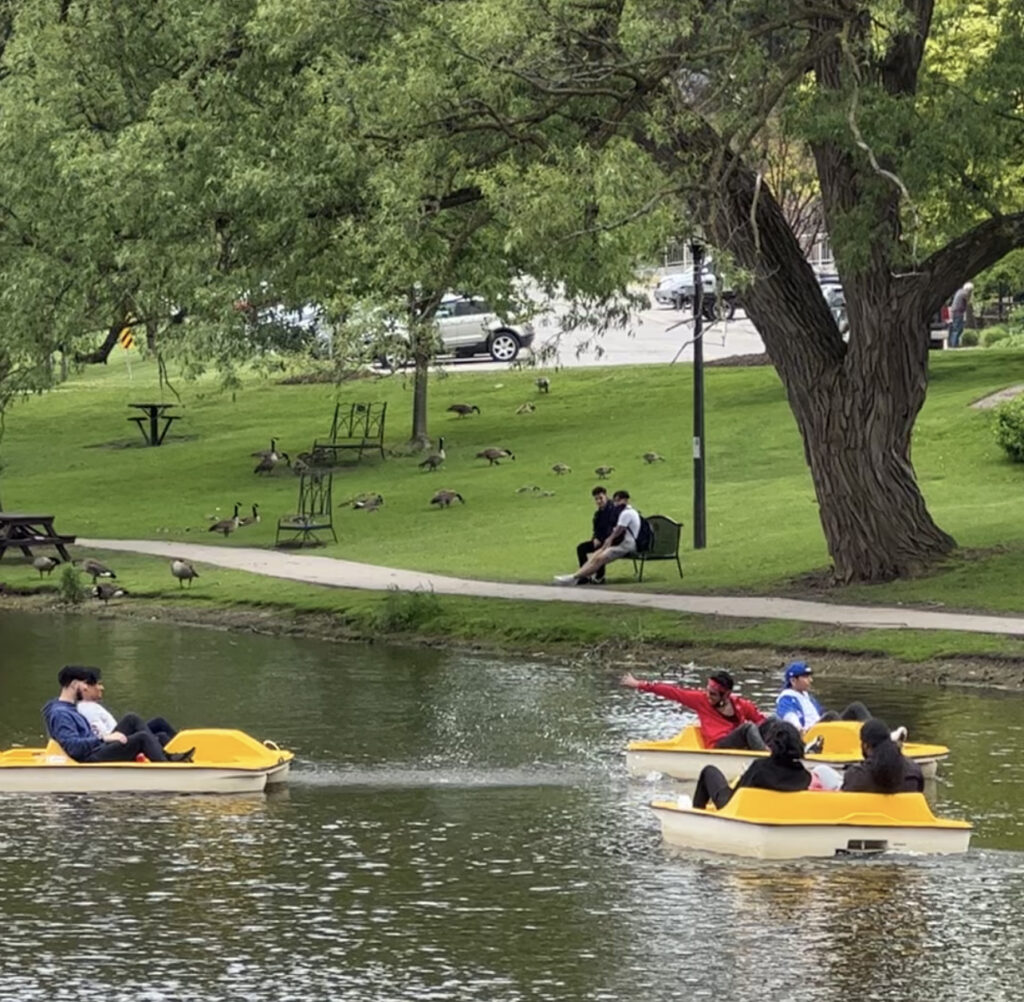 Paddleboat On The Avon River
Rent a paddle boat from The Boathhouse on the Avon River and while away a leisurely afternoon, or get more than one to race. The Boathouse also runs 30-minute river tours on the Juliet III, and they have a patio restaurant where you can pick up a sandwich for outdoor dining or an impromptu picnic.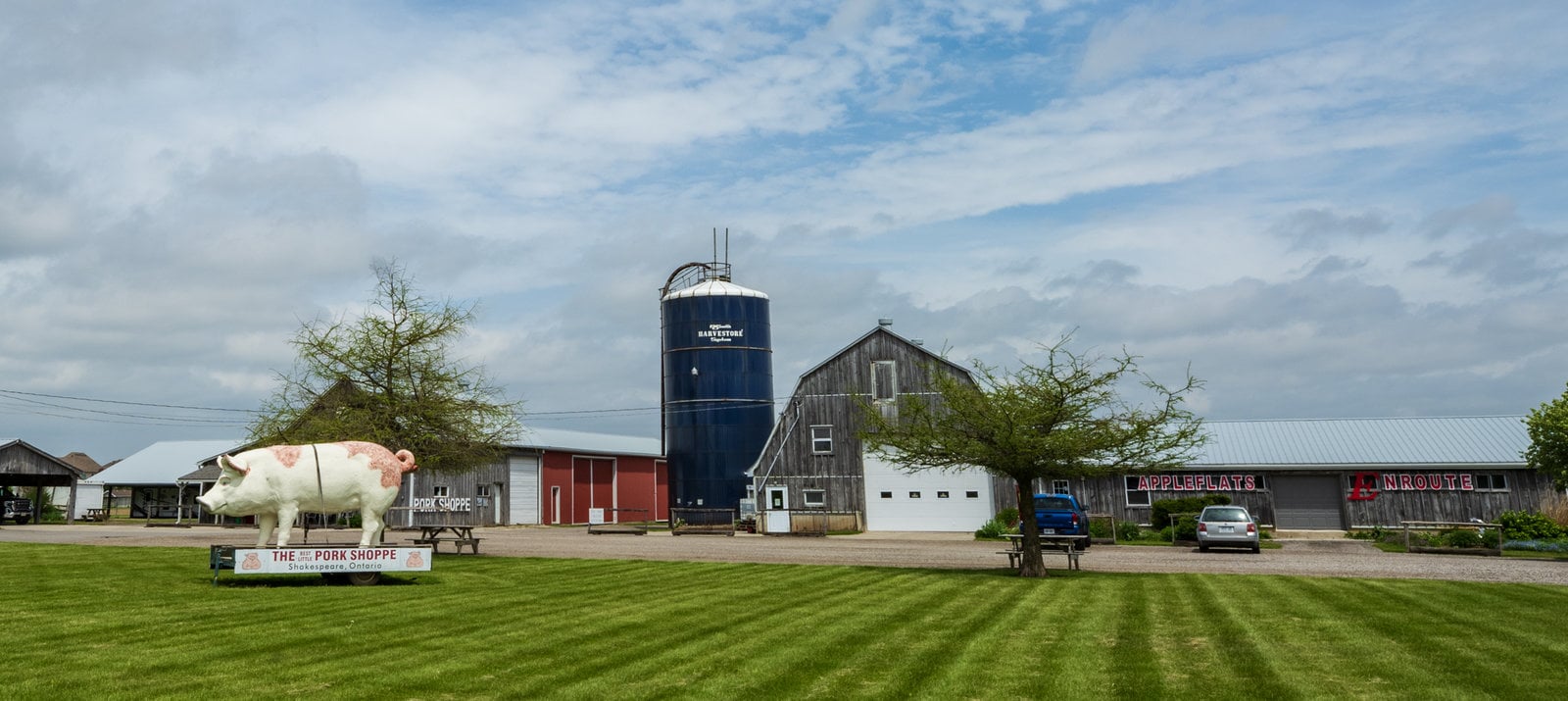 Sample A Culinary Trail
Each Trail costs $39.55 per person, which entitles you to 6 tastings on the Chocolate Trail or 5 on the Bacon & Ale Trail. The Chocolate Trail consists of 22 establishments and the Bacon/Ale Trail has 16, and most are within walking distance.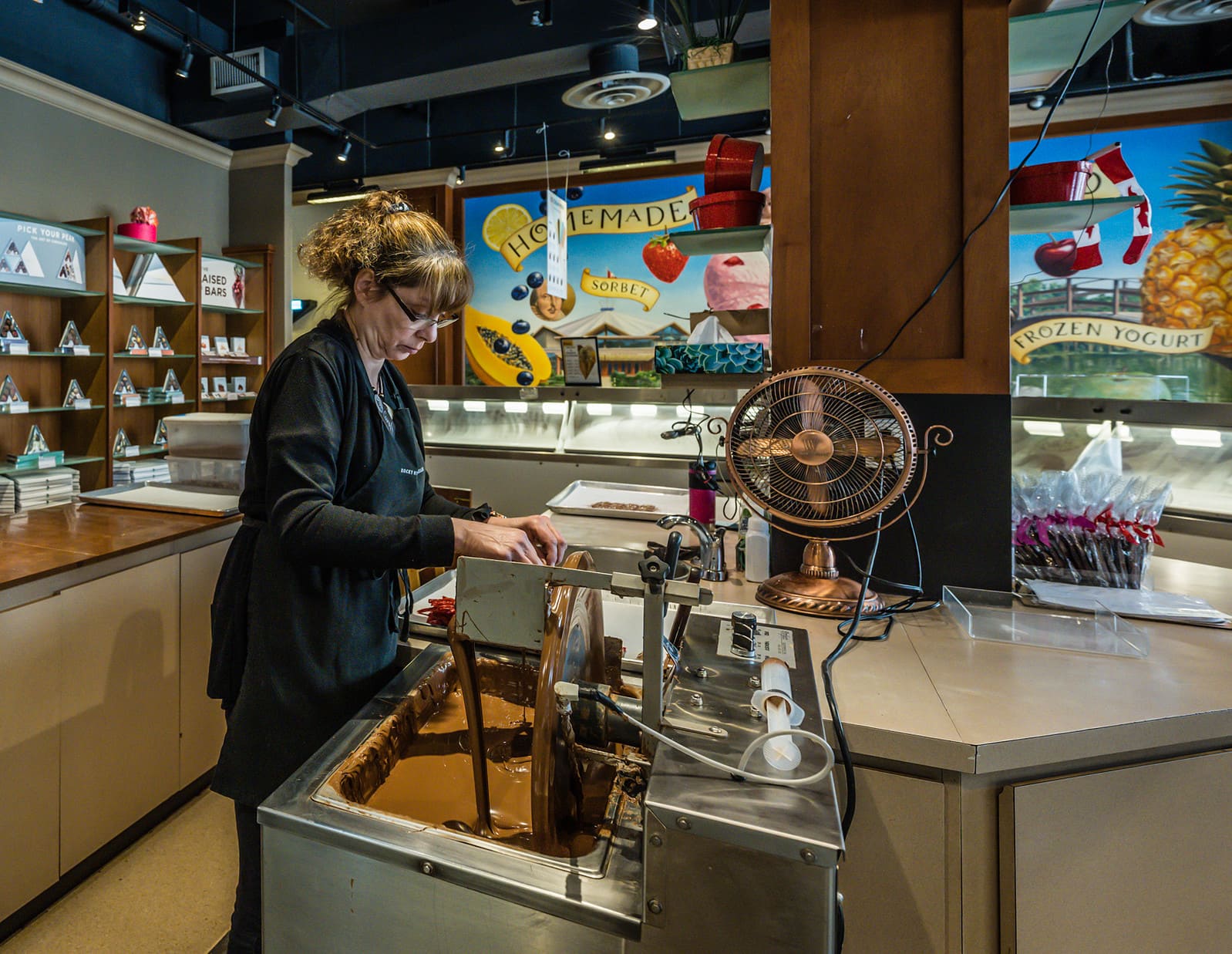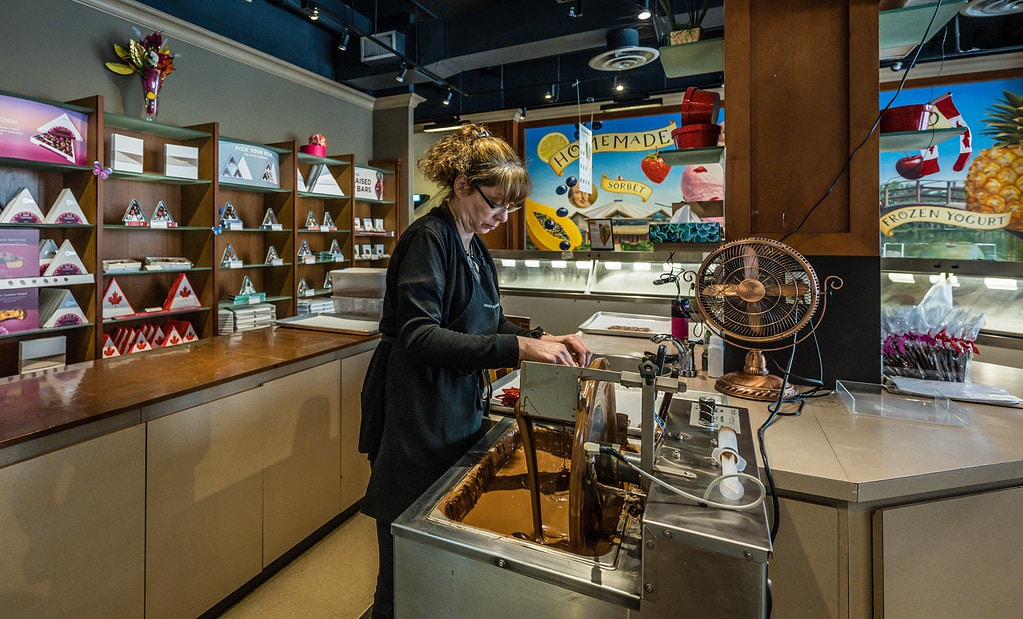 The Chocolate Trail is best begun at the Rocky Mountain Chocolate Factory. Watch chocolatiers mix batches of molten chocolate in big copper kettles through the front window and "come in for a dip."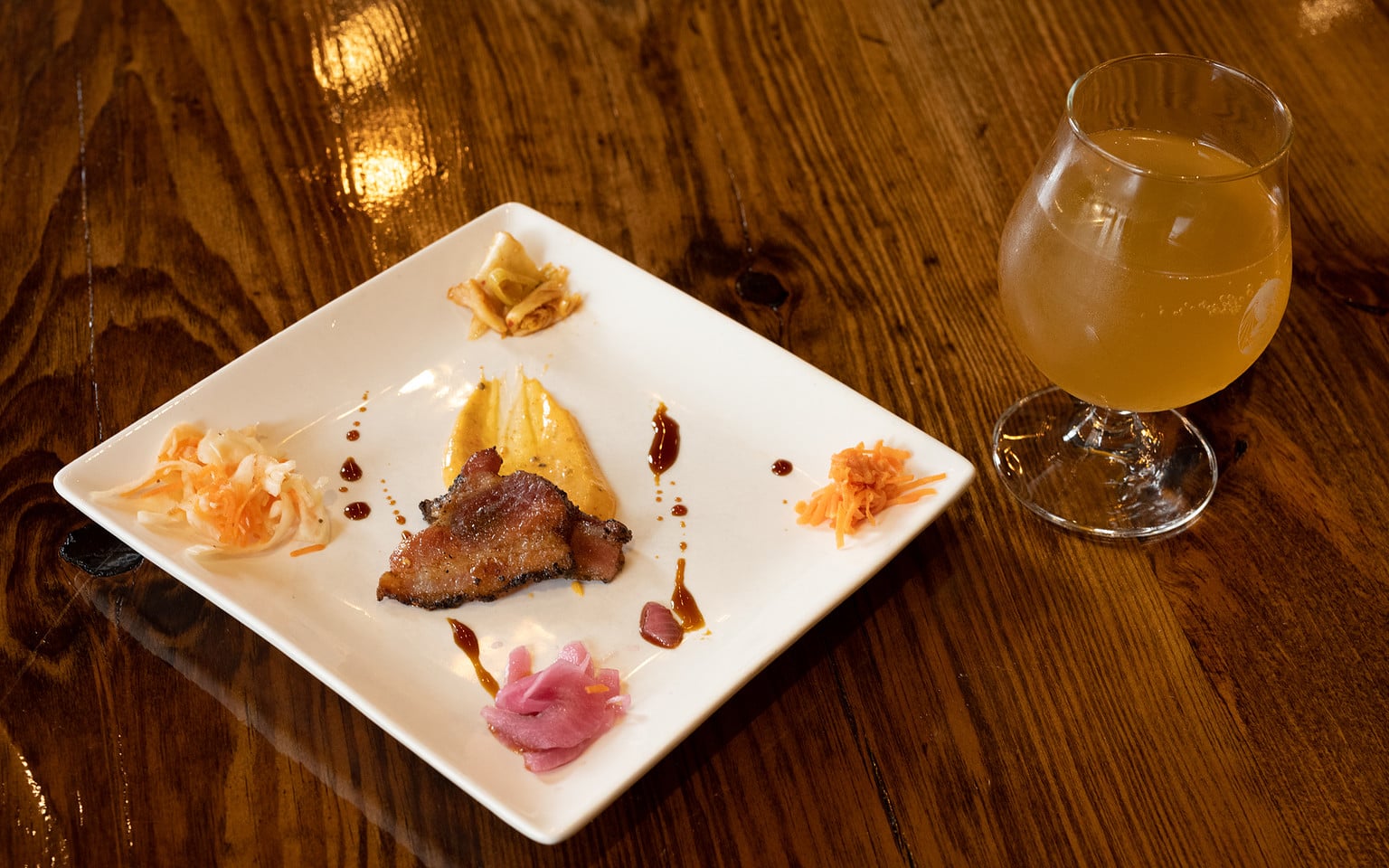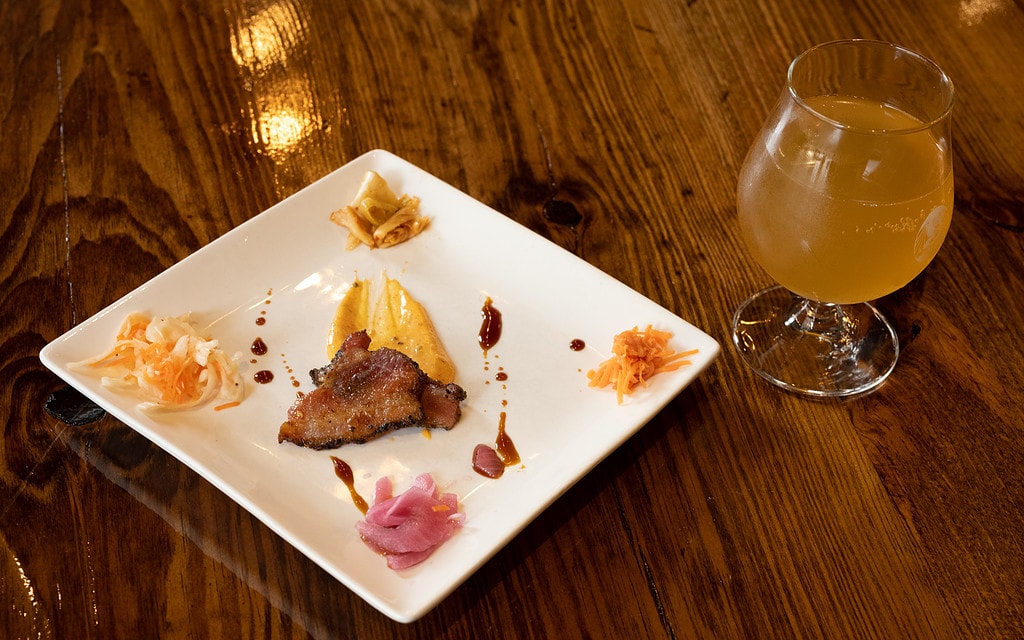 You really can't go wrong with any of the stops on the Bacon & Ale Trail.
At Molly Bloom's Irish Pub, a pint comes with a Loaded Baked Potato Soup. This chewy, stew-like Soup is Molly Bloom's "claim to fame. Owner Rob Wigan admits to "pumping out thirty liters," in other words "amazing amounts" of this thick, creamy double-smoked bacon-licious award-winning soup per week.
Meanwhile, at Mercer Kitchen Beer Hall you can pair a fruity brew (the Clifford Fruition Blood Orange Guava Sour is outstanding) with Asian staples. The Pork Belly Steam Bun garners rave reviews, and we like it paired with Mercer's award-winning Coconut Curry Soup.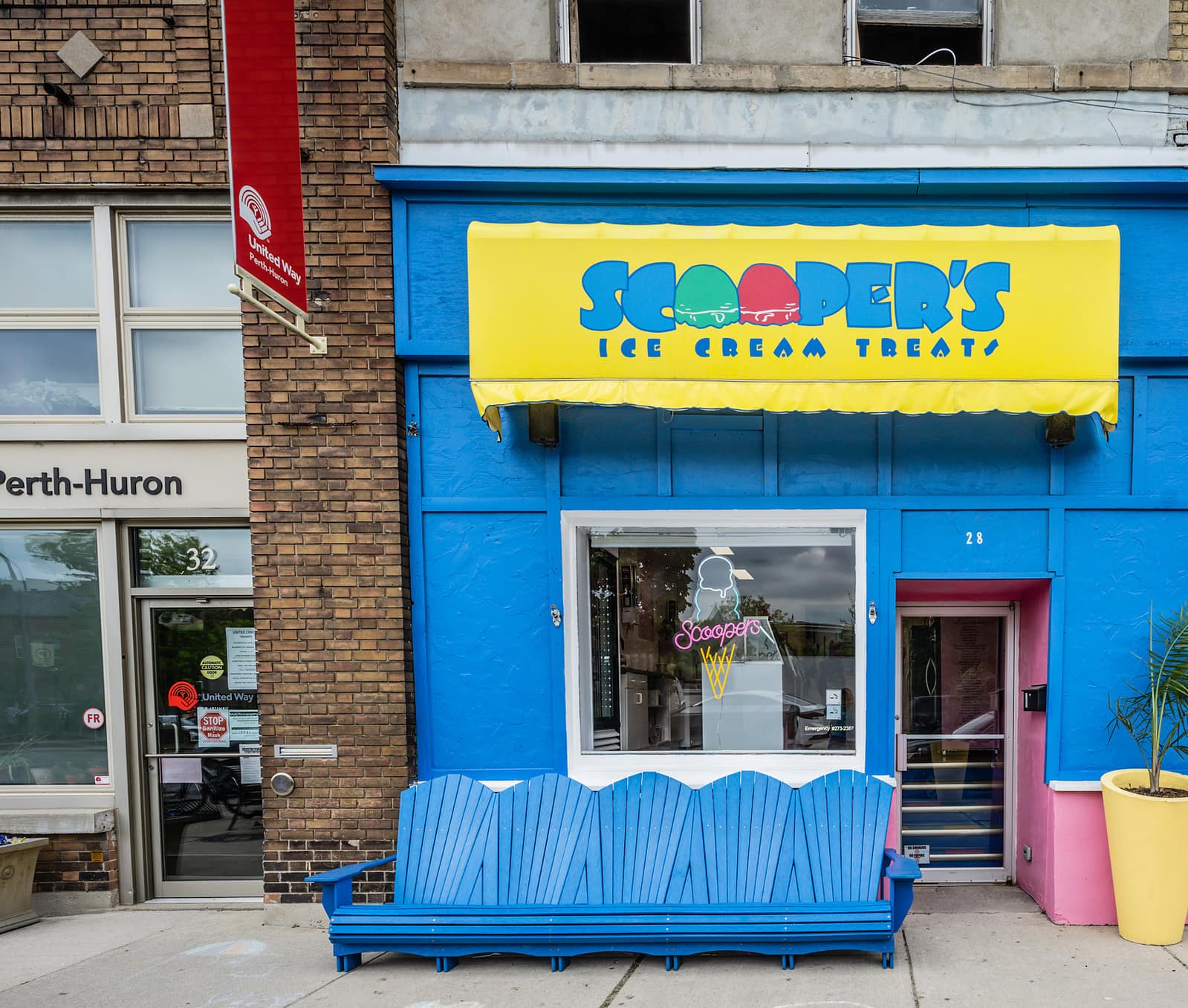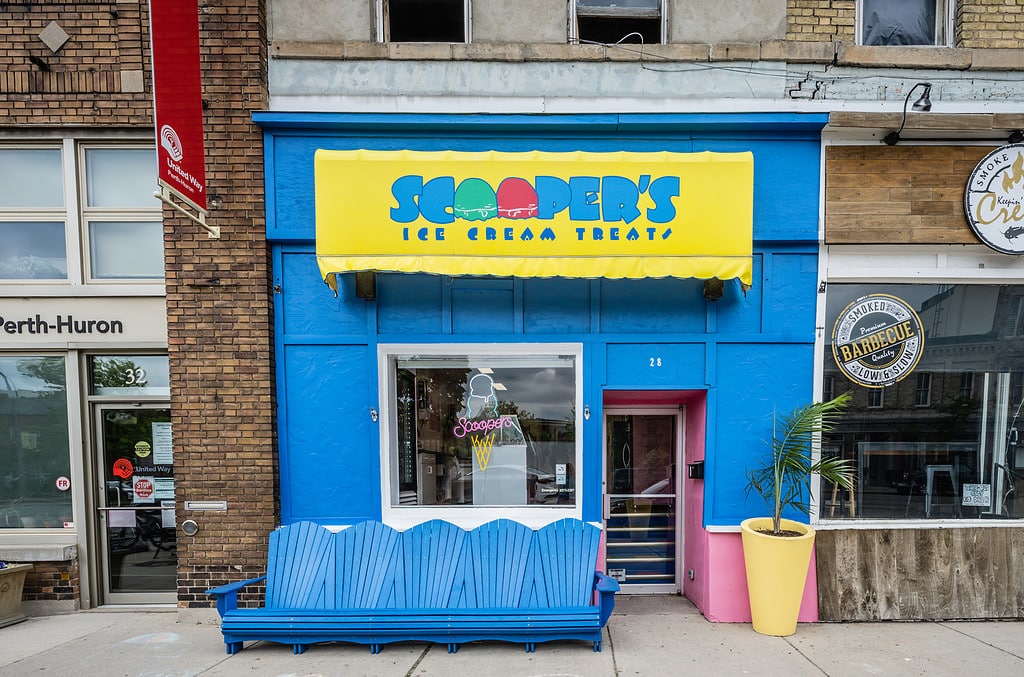 Follow The Bieber Trail
Stop by the Stratford Tourism Office (47 Downie Street) to pick up the Bieber-iffic Map To Stratford, or download it here. But at the Tourism Office you will also find Justin's signed red guitar. The map is an excellent overview of Stratford, plus you'll discover where to get Peameal n' Eggs or Fish with Poutine.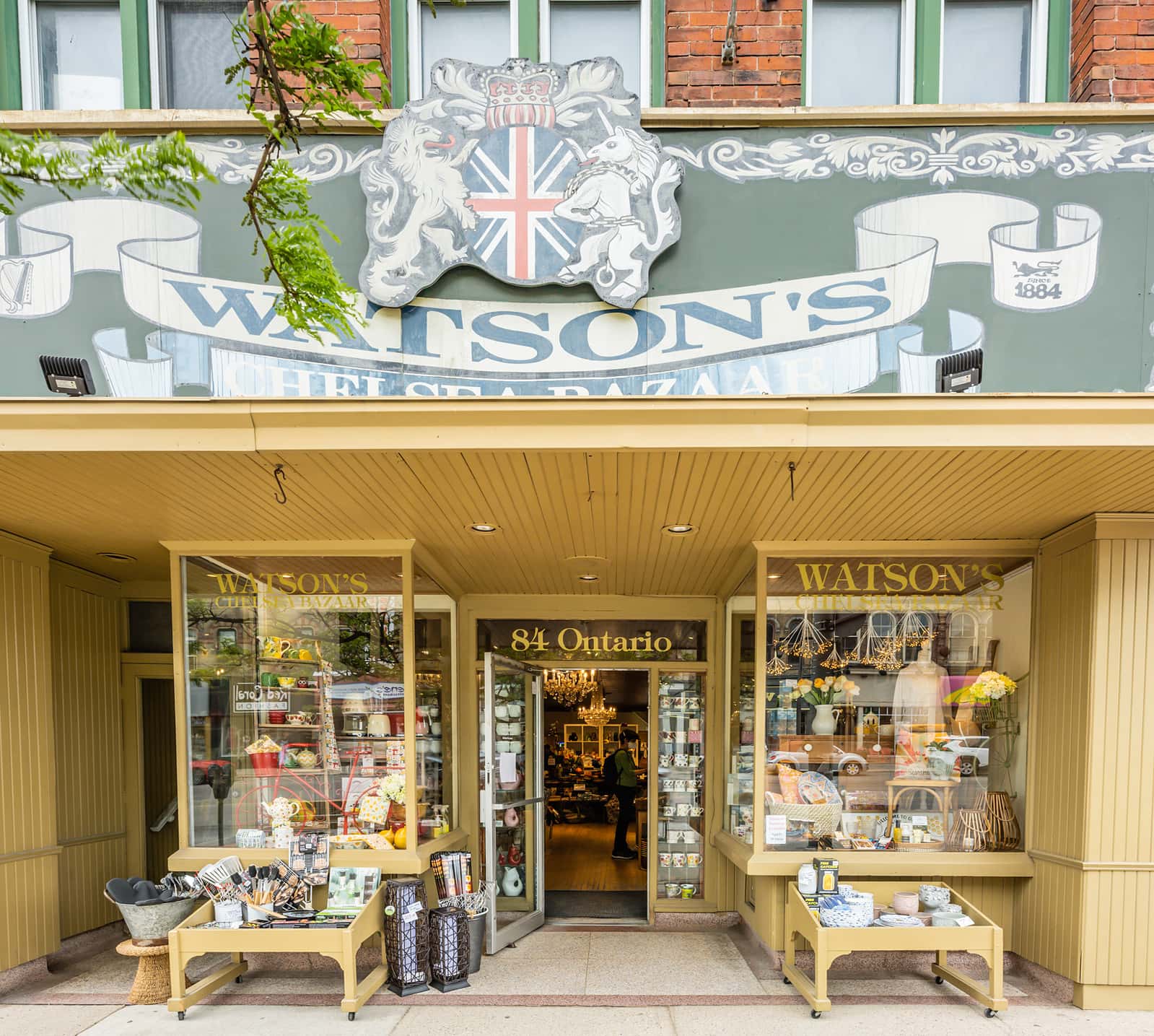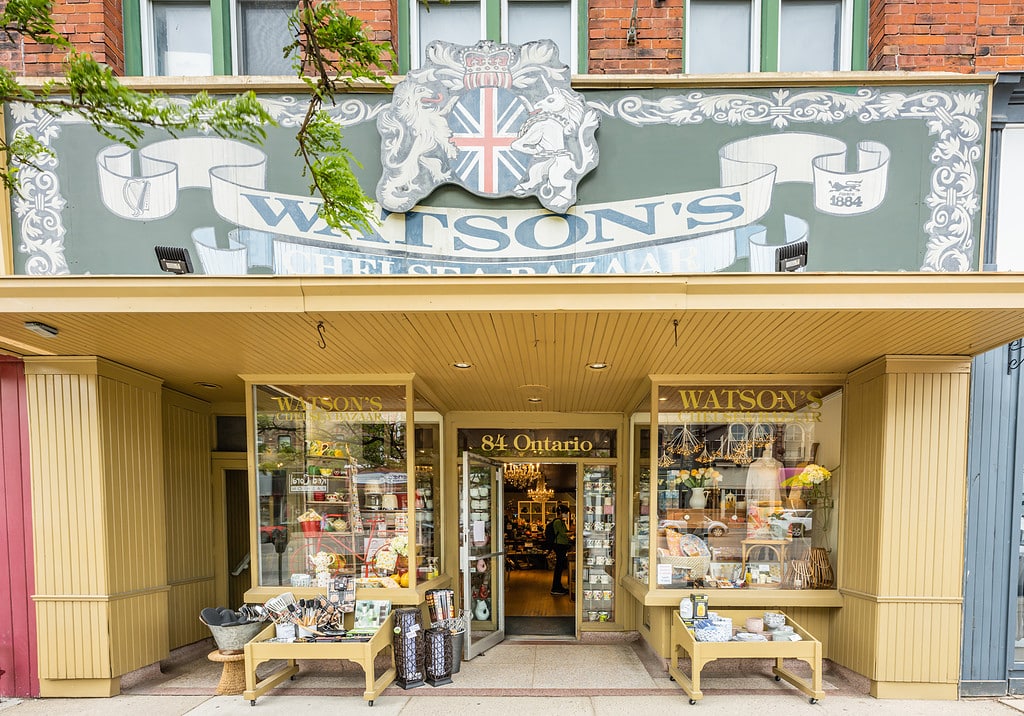 Shop In Downtown Stratford
Stratford is lined with delightful shops and eateries; it's a wonderful place for serendipitous discoveries. Here are a couple of our finds.
Watson's Chelsea Bazaar features two floors chock full of useful and less useful stuff – fine China, Hedgehog dryer balls, teapots, jewelry, handbags, home goods.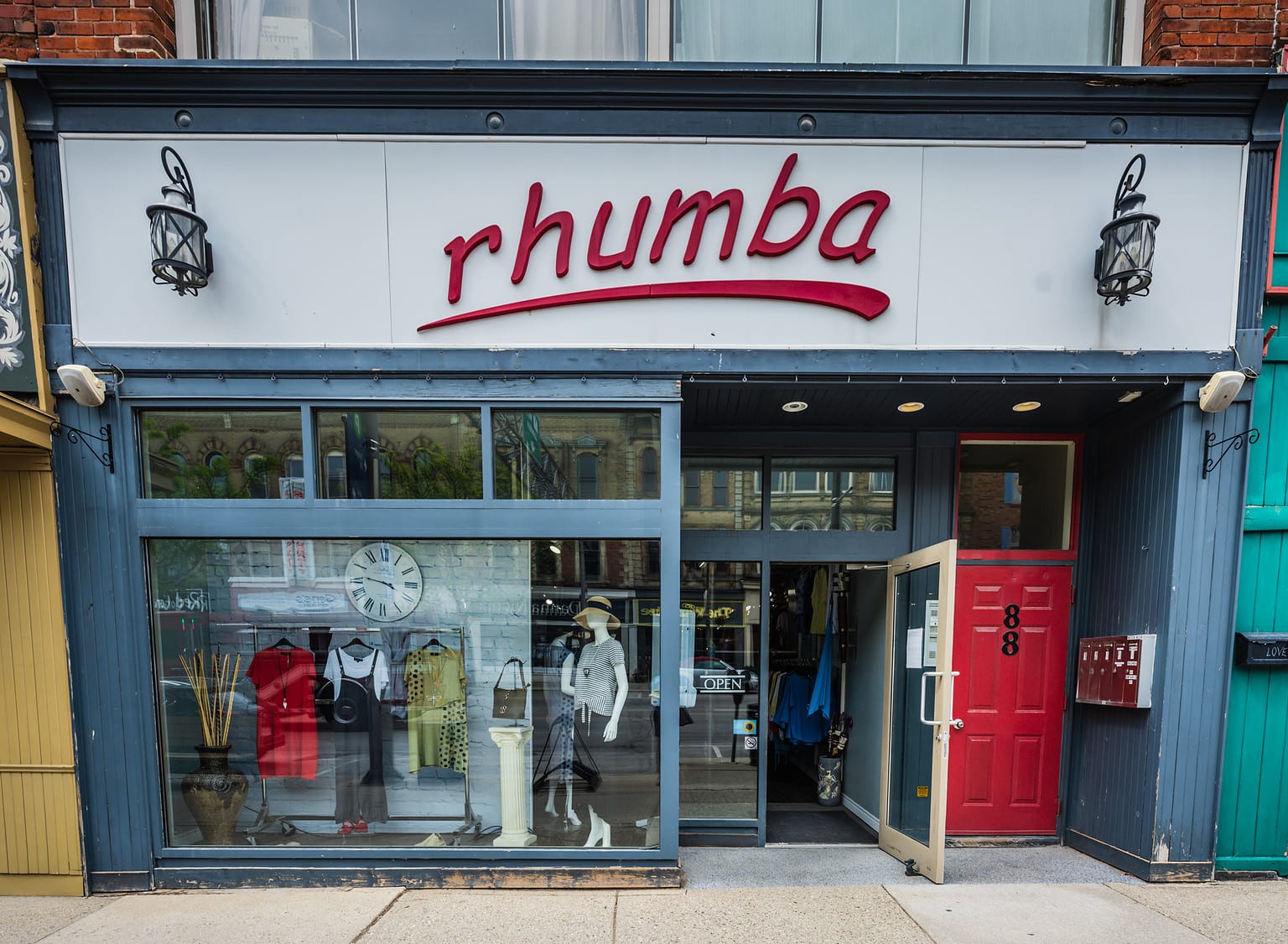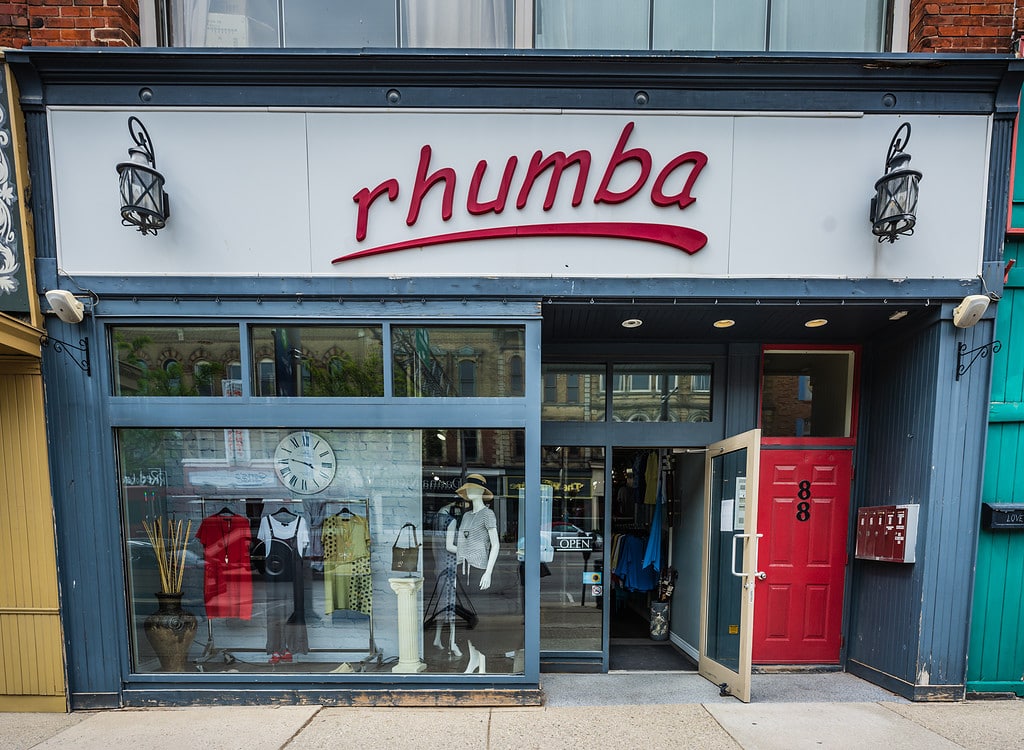 Rhumba carries light-as-air tunics, sexy knits, and lots of unique clothing that is tough to resist. I tried. I failed. Prices above H&M, below couture.
Learn About Stratford's History
The Stratford Perth Museum is dedicated to preserving and celebrating the history and heritage of the Stratford and Perth County region. Find isplays on local industries such as agriculture and manufacturing, as well as exhibits on notable residents such as Justin Bieber and the Shakespearean actor William Hutt.
Restaurants in Stratford Ontario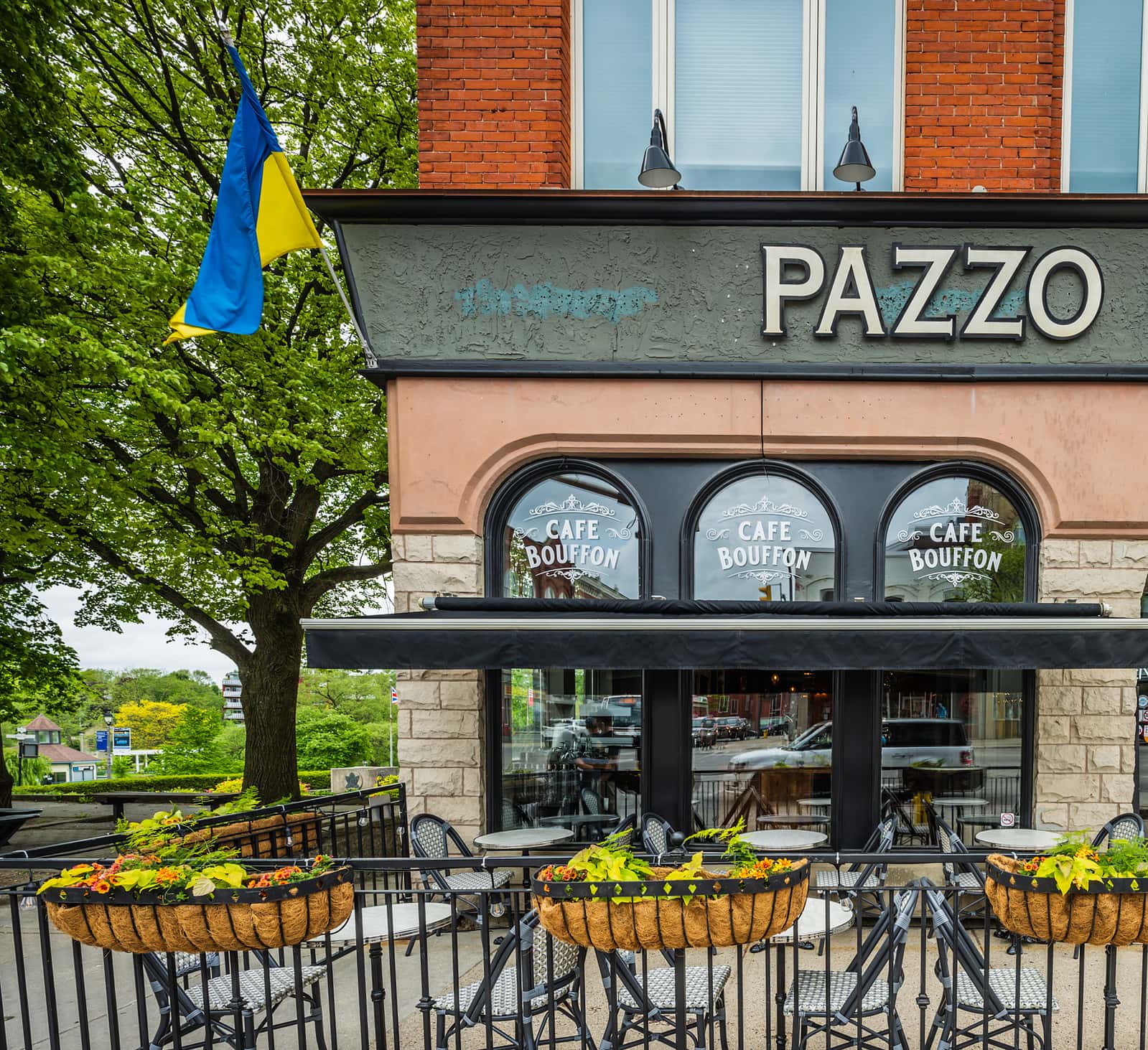 Romantic Restaurant: Cafe Bouffon
Distressed-wood tables, empty picture frames on grey wainscoted walls, candle-lamp chandeliers; Cafe Bouffon's French Farmhouse décor fosters an expectation of excellence from the kitchen and delivers. And then some. Expertly executed shaved truffle and fried mozzarella plates, and tiers of crawfish, lobster, king crab legs, oysters, and scallops arrive at your communal table like mana from heaven.
Romantic Restaurant: Bijou
Upscale "must go" fine dining in a tucked-away tough-to-find spot, Bijou incorporates an eclectic global take on locally sourced ingredients. Pairing outstanding Head Chef Steward Taylor with a longstanding relationship with Perth County producers, Bijou elevates the farm-to-table experience.
Stratford Ontario Hotels
Luxury Hotel: The Bruce
Luxury seekers in the know stay at The Bruce Hotel. Considered a "5-star" hotel by its fans, this is the town's most upscale property. Rooms from $295 per night.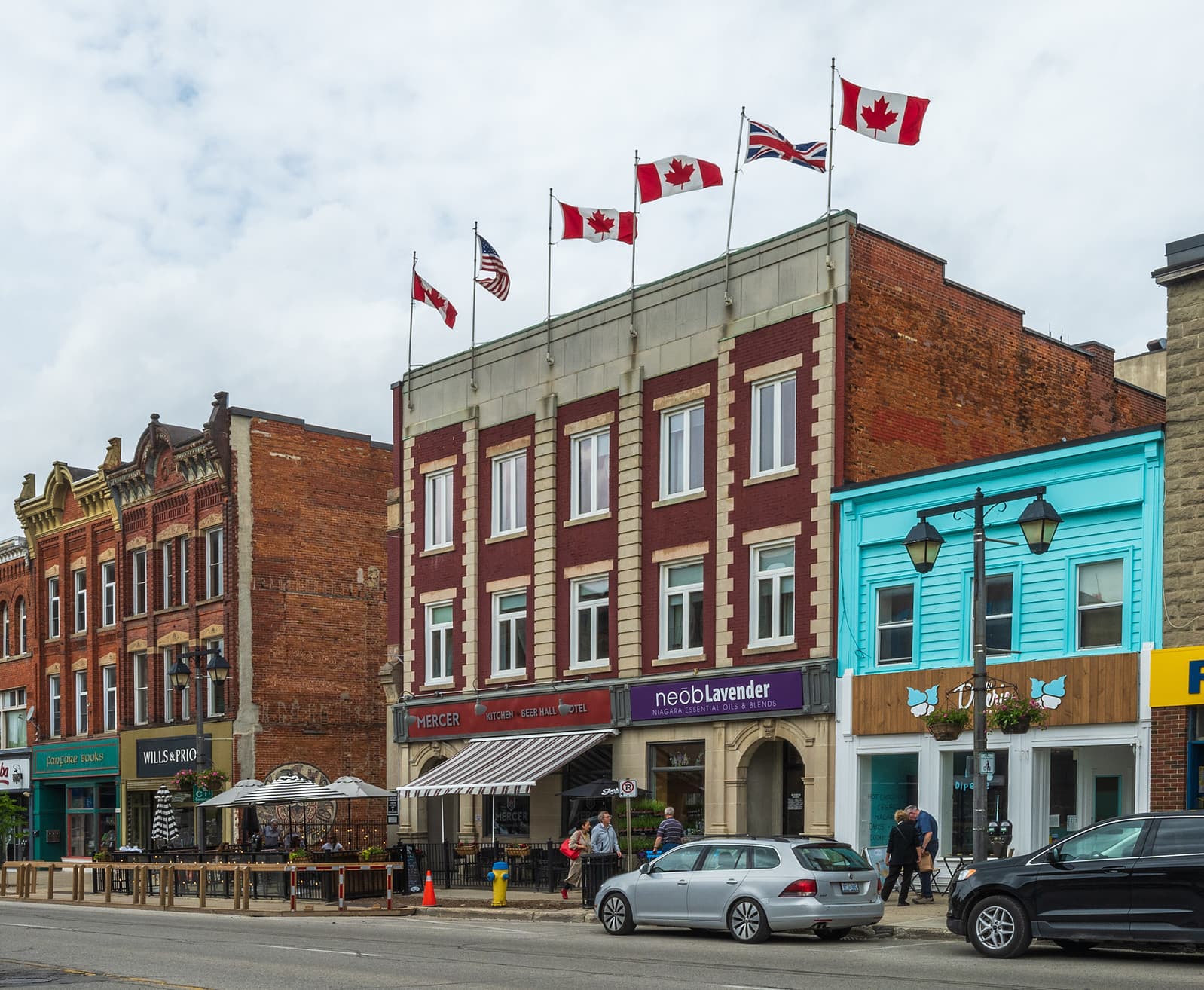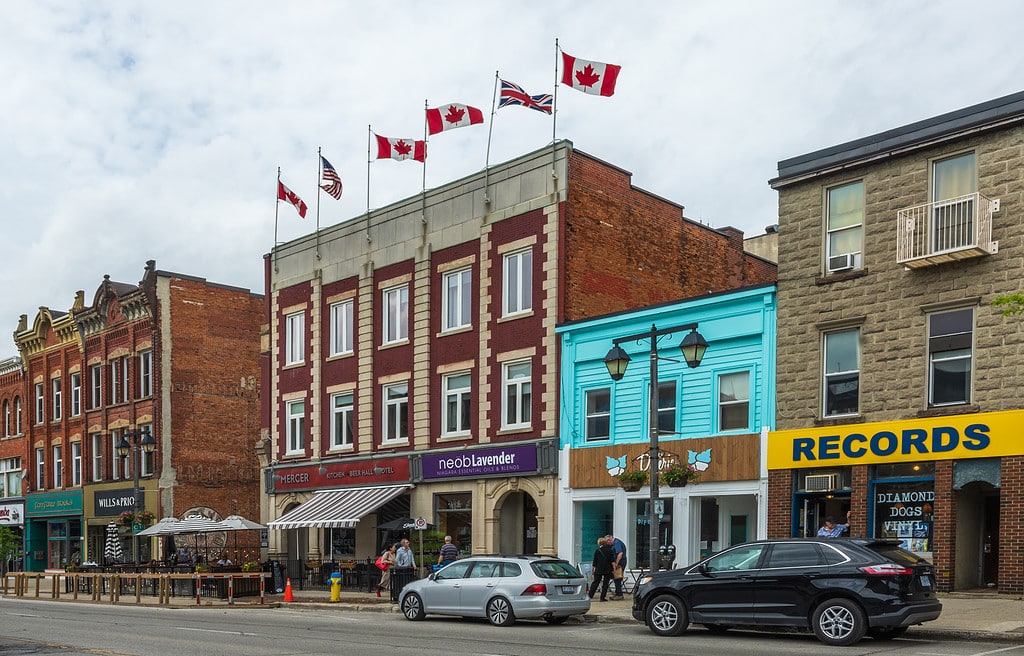 Boutique Inn: Mercer Hotel Downtown
Small and boutique, the Mercer Hotel Downtown only has 14 rooms, but it's especially convenient to the Bacon & Ale Trail as it's housed upstairs in the same building as the Mercer Kitchen Beer Hall. This is a BW Premier Collection property by Best Western.
Stratford Ontario Weather
The weather in Stratford, Ontario is very similar to what you find all over Northeast USA. There are four distinct seasons with a snowy winter that looks like a scene out of a Hallmark Christmas movie. Fall foliage season is another lovely time to visit; however, Spring brings out the blooms in the Shakespeare Garden. And, depending on preference, summer is perhaps the most pleasant of all with temperature highs hovering below 80 degrees Fahrenheit.
Getting to Stratford, Ontario
By car, Stratford is 1:40 minutes from Toronto, 2:15 minutes from Buffalo, NY, and 6:30 minutes from Montreal. Stratford Airporter provides a shuttle service between Stratford and Toronto Pearson International Airport. Stratford Festival offers direct bus service between Toronto and Stratford, a $29 roundtrip in season. Via-Rail provides a passenger rail service to Stratford on a daily service, all year round.
Romantic Weekend Getaways In Canada
Stratford Ontario Map
All articles belong to Getaway Mavens LLC, and all photos belong to us as well, unless otherwise noted. It's all copyrighted. Please don't repost anything elsewhere without asking us first. All rights reserved. This site uses cookies to enhance your experience.
We make no guarantees of any price listed on our site. We are not responsible for content on external websites linked to ours, including linked resources, an external blog post, any partner site, hotel property sites, or affiliate sites. We only write about places we have vetted, but can't guarantee that your experience will be exactly the same.
Posts may contain affiliate links at no cost to you. Several of our trips are also compensated by the respective tourism boards for the city or state we are visiting. This never impacts how we share the destination with you – opinions are always our own and we pride ourselves on that. We do not sell links or accept unsolicited guest posts under any circumstances. Don't even ask.
United States Copyright, Getaway Mavens, LLC