WHY GO: This Getaway, to Lubec and Eastport ME, and FDR's summer cottage on Campobello Island, brings you to the easternmost land in the United States, with a short foray into Canada. Yes, it's all the way up here. Or Down Here – to coin a "Downeast" phrase: a good ten hours from New York City or 7 from Boston. But so totally worth it. It's beautiful and welcoming, but be sure to bring your Passport!
Things to Do in Lubec, Eastport and Campobello Island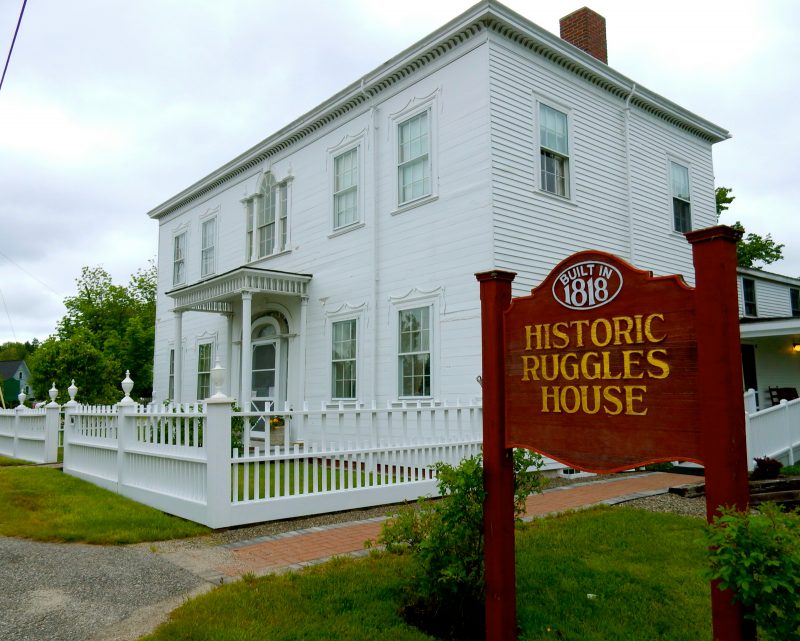 FIRST: Stop at Ruggles House, Columbia Falls
About 45 minutes from Schoodic Peninsula and an hour from Lubec, Columbia Falls ME was a small town, even when Judge Thomas Ruggles moved here from Massachusetts in 1795.
As a young man, Ruggles traveled to the Maine wilds, purchased thousands of acres of timberland, set up sawmills and grew his wealth from lumber and shipping. In 1816, Ruggles hired architect Aaron Sherman from Duxbury MA to design this home in neoclassical Adamesque-style. That would have been impressive anywhere. But here, in a town of 600 souls, it is absolutely incredible.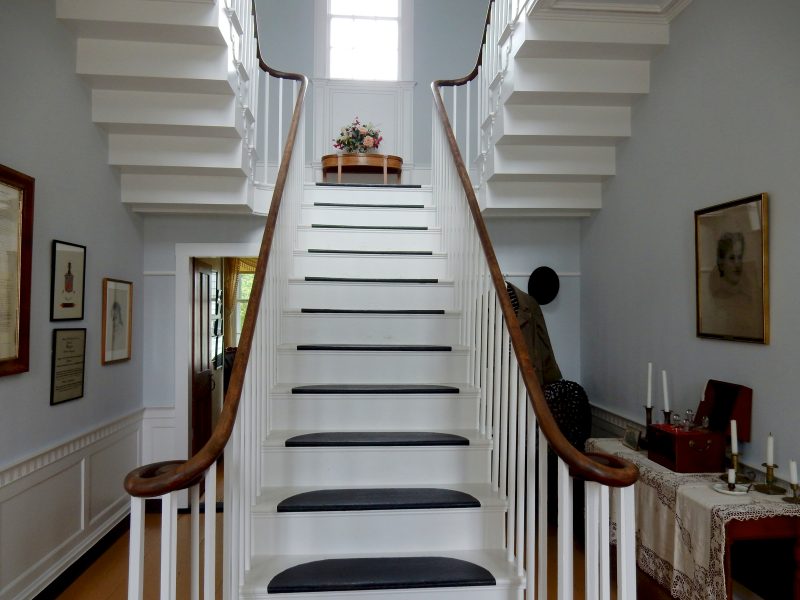 Ruggles moved into the home in 1820. Sadly, he lived only another six months – dying at age 50 and leaving his wife to raise seven children. Frederick Ruggles, 19 at the time, stayed home to help his mother, and waited until he was 46 to marry.
Frederick's daughter, Lizzy, an artist who remained single, and whose elaborate charcoal and pencil drawings can be seen throughout the house, stayed in the home until her death in 1920.
Poverty stricken, Lizzy could not keep the home from becoming Gray-Gardens-derelict. But she did have the foresight to leave it to the public. Thus, the Ruggles House Society was formed in 1920 to restore the house. It's done an incredible job over the years – so much so that this place is worth a one or two hour detour.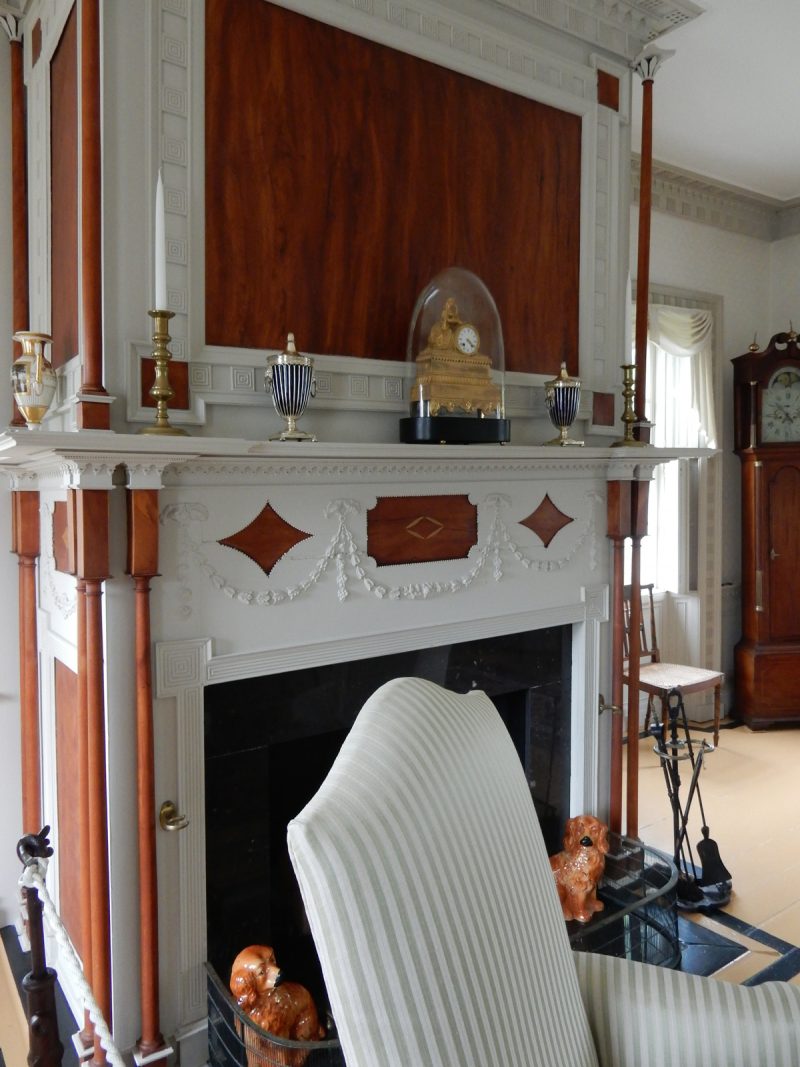 Most stunning is the 200-year-old flying double staircase, with no visible means of support, which has never needed repair, and the exquisite mahogany-inlayed fireplace in the parlor. There's a warming cupboard" above another fireplace that held quilts and blankets, and an original 1796 burled wood chest upstairs. Tours are 45 minutes to an hour. Open Mid-June-Mid October, Tues-Sat 10-4, Sun 12-4, $5 adults, $3 kids.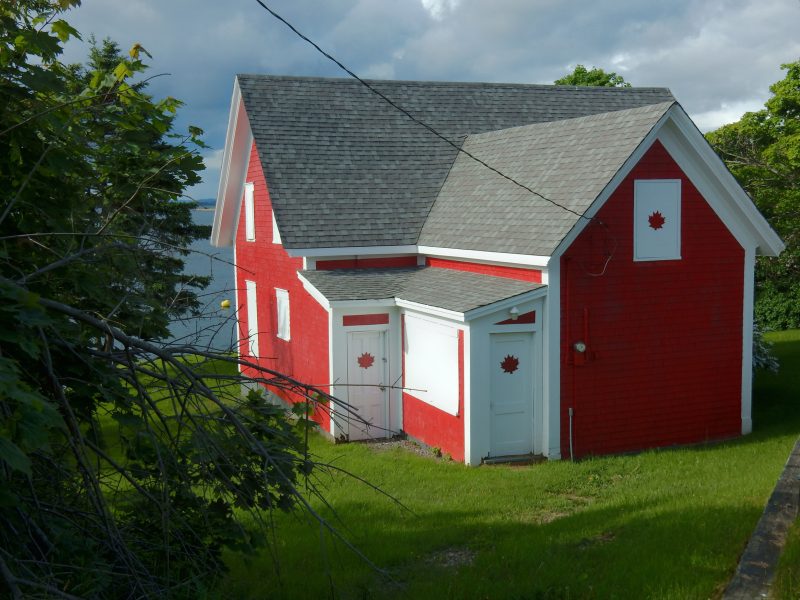 Accessed through Lubec ME,  there are several components to this New Brunswick, Canada Island. Explore the Natural Area, the Roosevelt Campobello International Park, and the remainder of the island – including two iconic lighthouses. And plan to spend the good part of a day here, or at least 4 hours.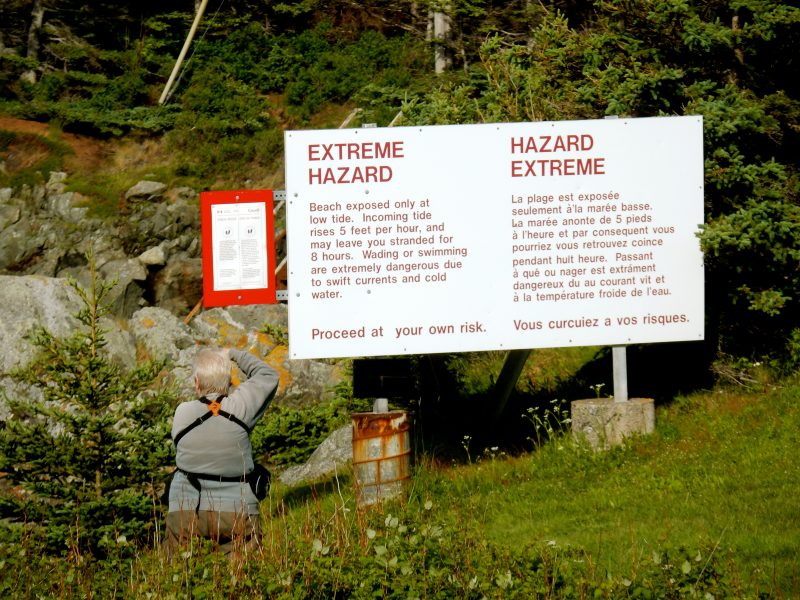 At the southern end of the Bay of Fundy, the tide swings 20-28 feet every day. This is an important fact, as you'll see later. Also very important to know – the time here is an hour ahead of Maine. When it's 9am on the East Coast USA (Eastern Standard Time), it's 10am on Campobello Island (Atlantic Standard Time).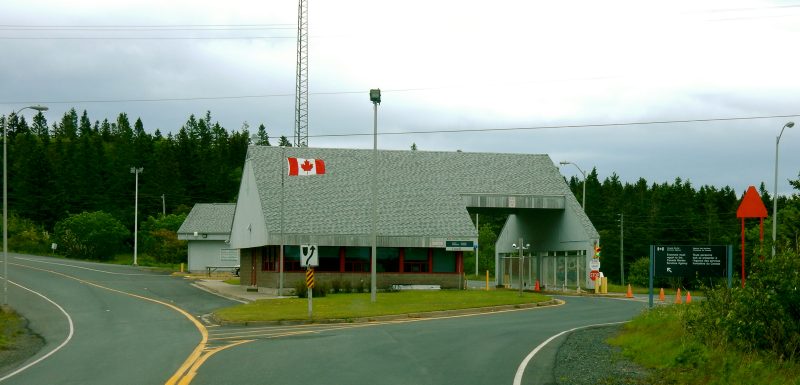 Crossing the bridge from Lubec, Maine onto Campobello Island takes two minutes. Perhaps a bit more at the manned border gate where you must present your Passport.
But the trip here took more than two days in the 1880's, when wealthy families from Philly, New York and Boston traveled by train and steamer in order to escape the heat and grime of the disease-ridden cities.
The FDR Connection
Grand hotels (no longer standing) were built to attract the well-to-do. Hotel lobbies and restaurants hummed with realtors who wined and dined vacationers, urging them to construct private homes with resort benefits.
Among those were James and Sara Roosevelt, who first brought their son, Franklin, here in 1883 when he was a year old.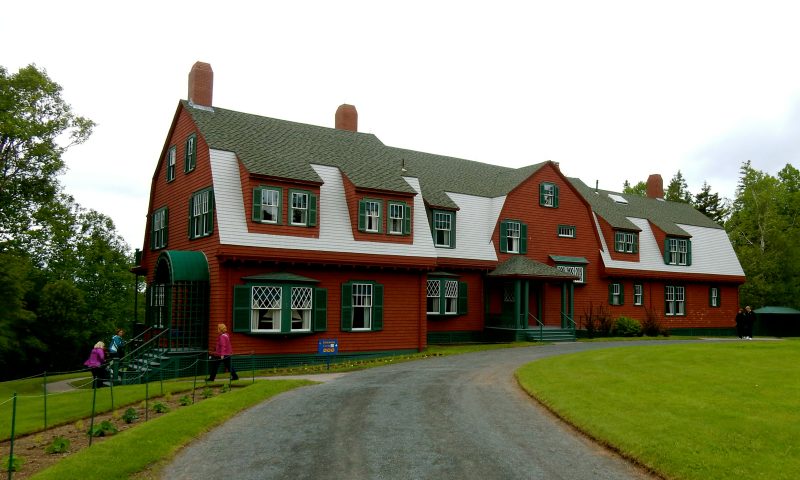 Though James and Sara's cottage is no longer standing, Sara's belated wedding gift to Franklin and Eleanor next door still does.  Sara purchased the summer home for the already 4-year married couple in 1909. She just couldn't pass up the $5000 deal from the owner.
FDR called Campobello, "My beloved island." It's where he made the decision to run for public office, the U.S. Senate, in 1910. And it's where polio struck him in April 1921. FDR came to his beloved island only three more times after contracting the deadly virus.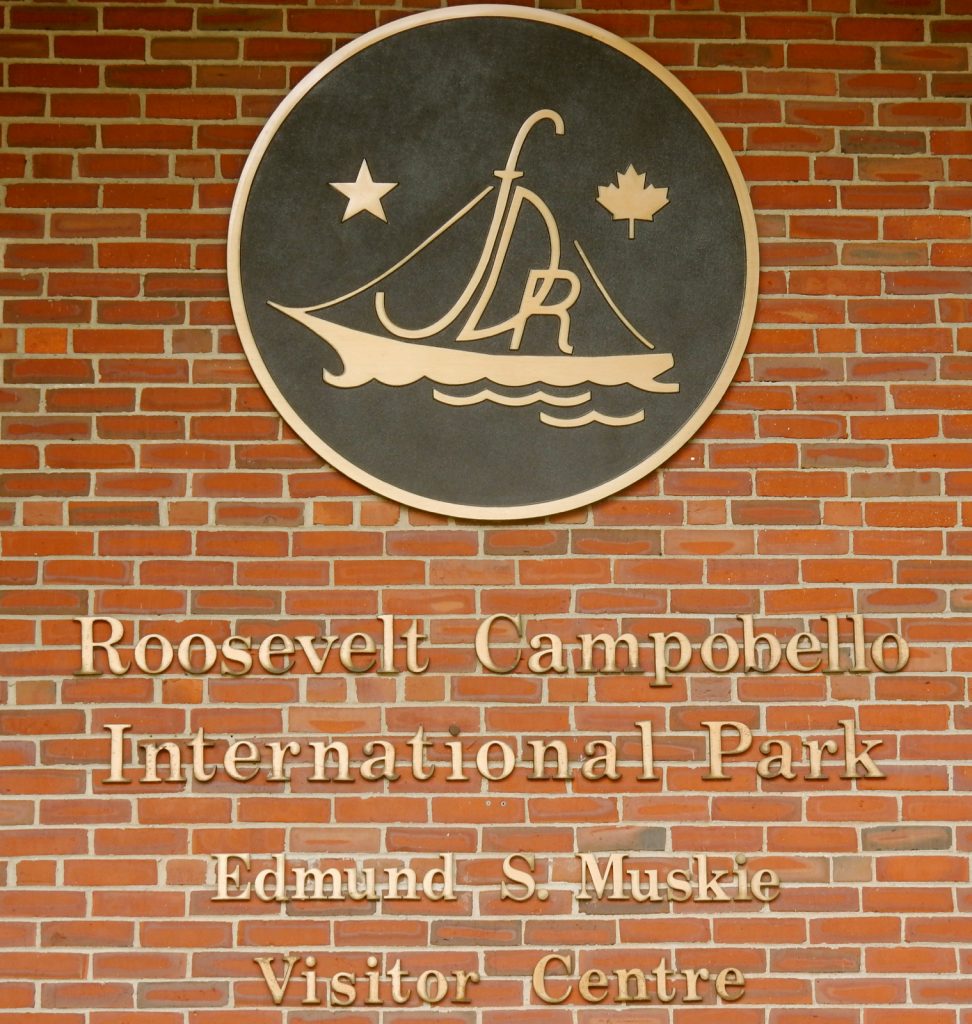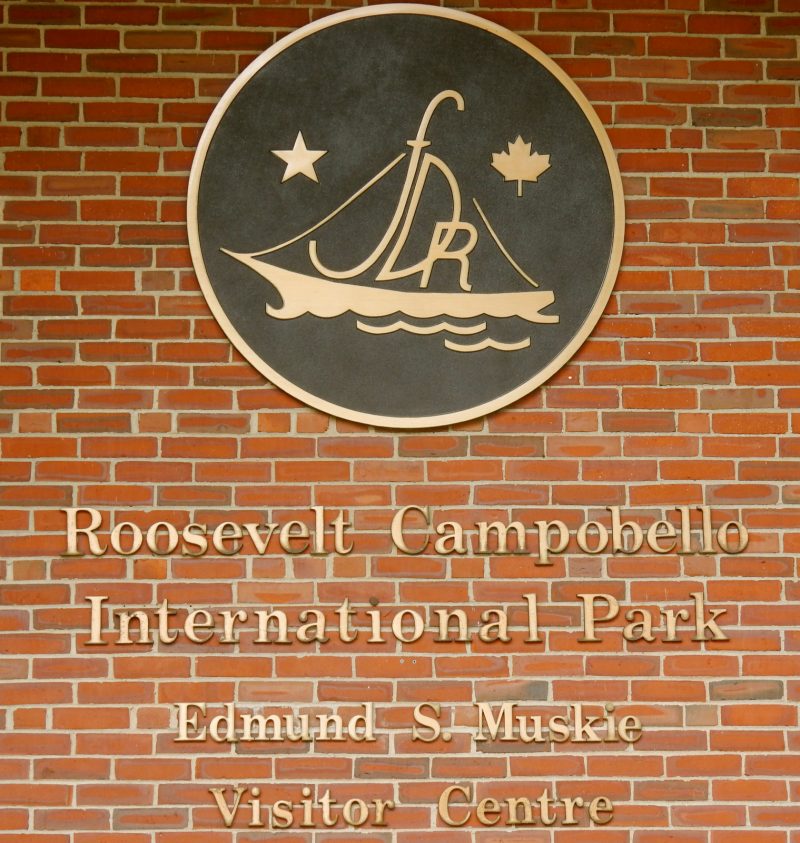 Your visit to this part of the island should begin at the Roosevelt Campobello International Park, less then a mile past the bridge. Watch a 15-minute video, and peruse the exhibits about the Roosevelt's and the island itself – an important overview.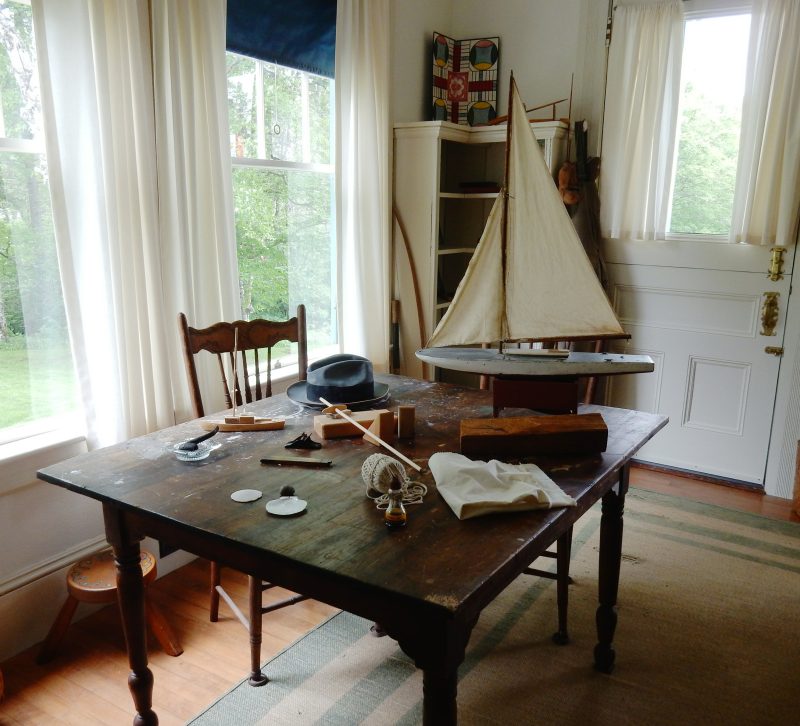 After the film, your guide brings you a few steps to FDR's family cottage, left to look as it did in 1921. Franklin's hat sits on the dining room table, Eleanor's writing desk nearby.
Tours of the home are self-guided, with helpful docents to answer questions and move you along. It's amazing how unpretentious and lived in the home looks. This was a true rustic getaway: bedrooms, for houseguests and family (and staff) were nothing fancy, electricity didn't come to the island until 1948.
The kitchen featured a kerosene stove and gravity fed water system from tanks on the 3rd floor. Most heartbreakingly poignant is imagining FRD, on the fateful night polio took away use of his legs, crawling across the upstairs hallway from his bedroom to the bathroom.
Take "Tea With Eleanor"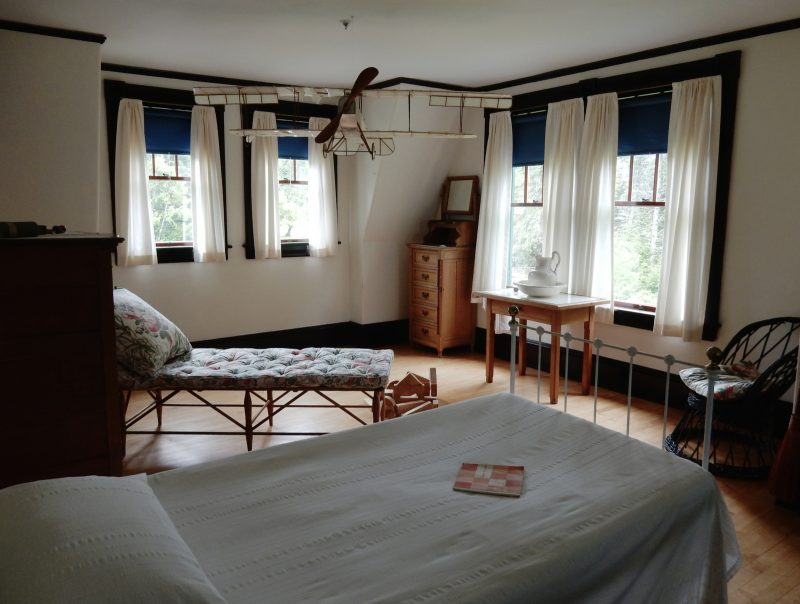 After President Franklin Roosevelt's death in 1945, Eleanor still came to Campobello until just before she died in 1962. She had such a presence here and was so beloved, the Park Service created an exceptional twice-daily event that allows visitors a chance to know her better: Tea With Eleanor.  Held in the much more elegant Queen Ann Style Hubbard Cottage next door, it's free with admission to the Historic Site.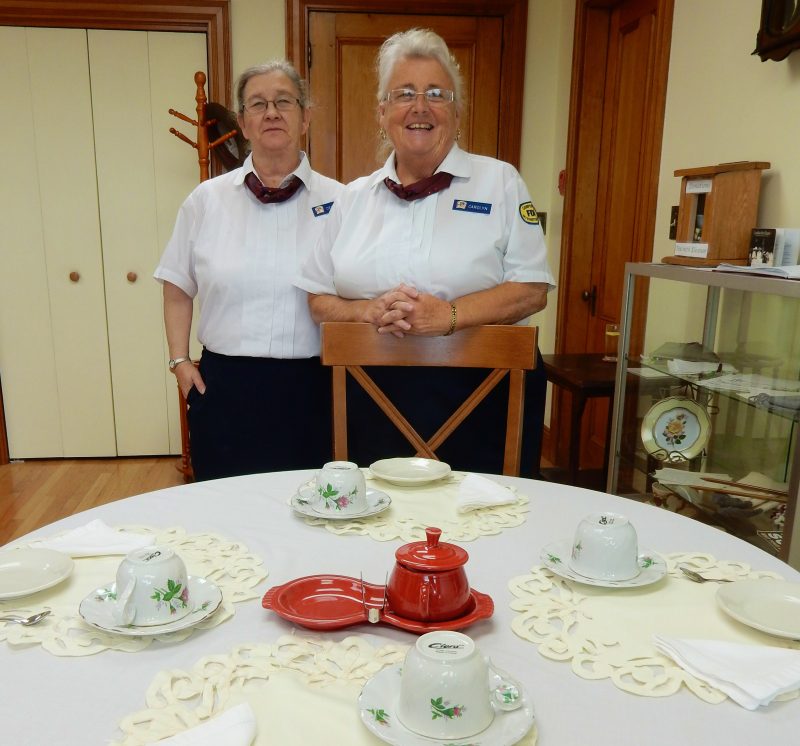 For an hour, you and 19 others will enjoy tea and Eleanor's favorite Ginger Snap cookies while listening to docents (mine were the fantastic Carolyn Newman and Debbie Mitchell) talk about her life at Campobello.
Every afternoon at 3, no matter where she was or what she was doing, Eleanor Roosevelt would take tea. It was her way of catching up with people – of all classes and corners of the world.
While nibbling on cookies and being served cup after cup of tea, you'll listen to stories about Eleanor, her relationship to "Uncle Teddy," her courtship with Franklin, her island experiences, humanitarian work, Civil Rights, UN, and the ways she unwound.
When the bridge from Lubec to Campobello Island was built in 1962, Eleanor was the first person (besides the workmen) to cross it. She died later that year at the age of 78.
There are two ways to get tickets, which are snapped up quickly. Come to the Visitor's Center the moment it opens at 10am Atlantic Time – 9am Eastern Standard Time – or pay $14 for online reservations ahead of time to make sure you get a seat for either the 11am or 3pm sitting, 20 seats each.
Explore the Rest of Campobello Island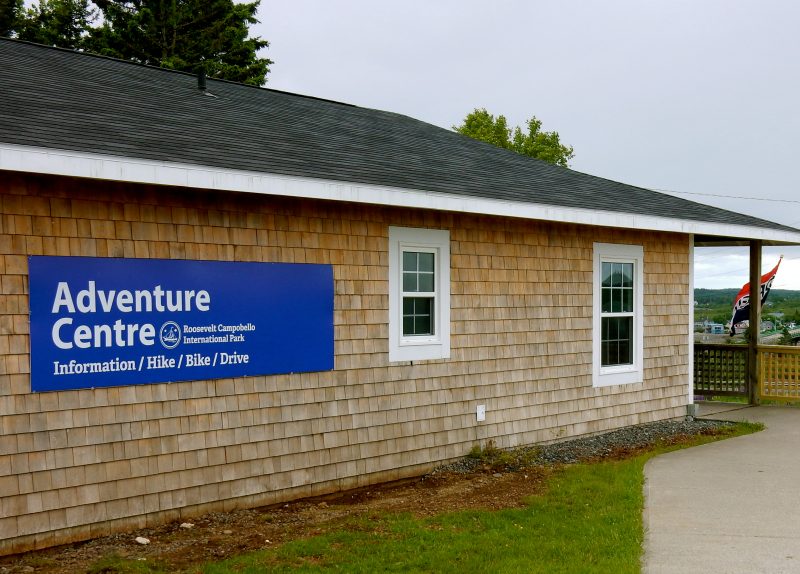 Campobello Island as a whole is nine miles long and four miles wide – with Roosevelt-Campobello International Park (managed by both the USA and Canada) taking up a third of its southern end.
After visiting the Roosevelt portion of the island, head back towards the bridge to the Campobello Island Adventure Center, which is the first building on a hill you saw to your right as you drove in.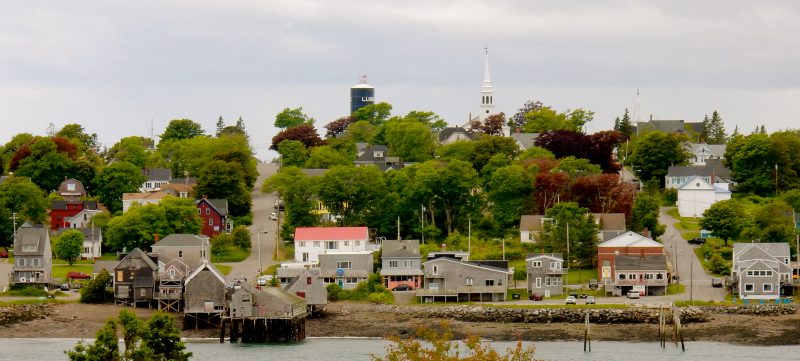 From the front porch of the Center, you can see downtown Lubec, ME across the channel and the Mulholland Lighthouse below. Stop in for brochures, an island map, and hiking ideas in the 2,800-acre Natural Area. Knowledgeable staff will point you in the right direction. Like most Canadians, they are incredibly friendly and patient.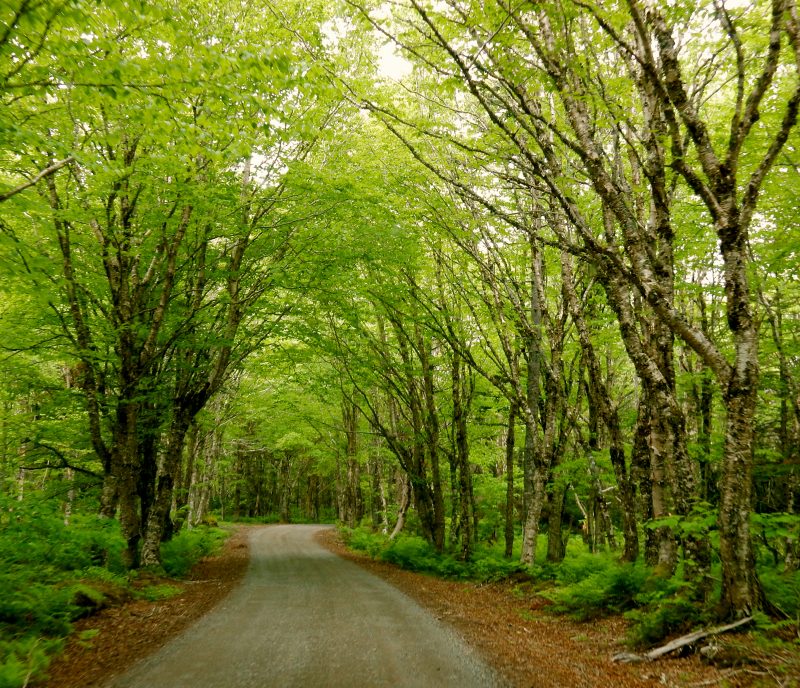 Drive out to Cranberry Point, where locals dig for clams in the vast mudflats. Travel on old graveled carriage roads that take you through canopies of trees, to shore points with names like Raccoon Beach, Mink Point and Herring Cove, and out to the magnificent Liberty Point – with breathtaking views.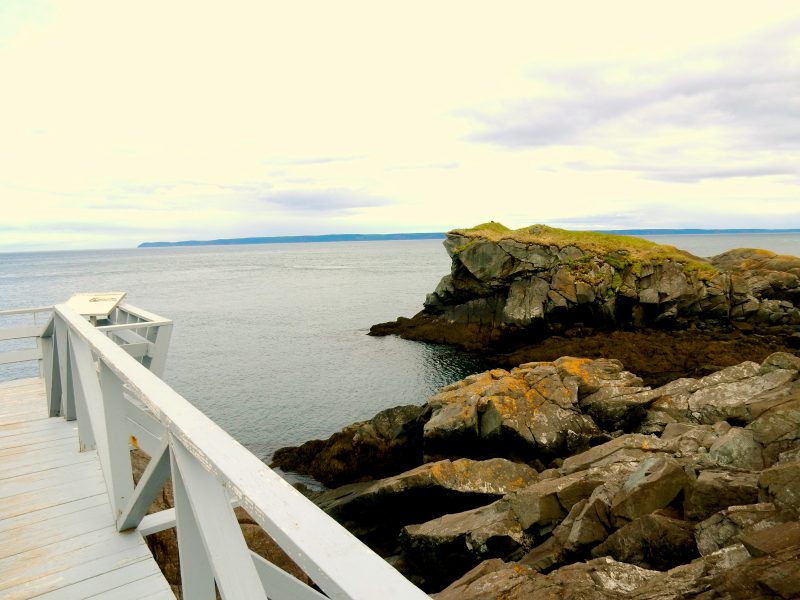 You can't miss Liberty Point. A huge rock (what us downstaters would call a small island) designated Sugarloaf Rock, but referred to as Frog Rock due to its shape and green blanket of moss, sits just offshore, and almost close enough to a newly built observation deck to touch. You're likely to see Bald Eagles here – it's a favorite nesting site.
From the Natural Area, drive the one main road to the Northern end of the Island.
See Whales!
On your way, you'll pass through the sleepy Wilson Beach Community and a couple of Whale Watching operations; Island Cruises and Capt. Riddle's Whale Watching. People on this island proclaim it to be the best place to see whales anywhere on the East Coast.
East Quoddy Head Light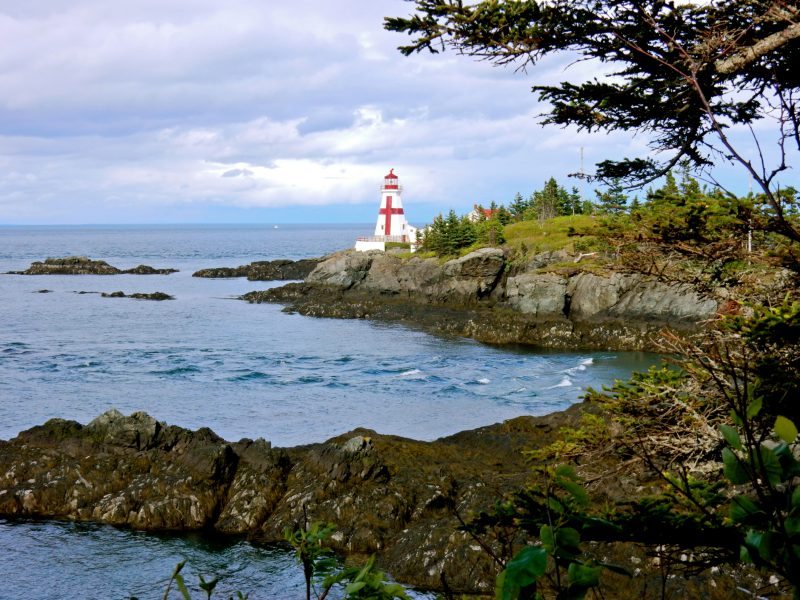 Your objective on this side of the island is the much-photographed Head Harbour Light, aka East Quoddy Head Light (not to be confused with the candy-cane West Quoddy Head Light in Lubec ME).
This one sports the Acadian Cross and sits just offshore. It's most striking to see in the waning light. The brave and nimble might attempt to cross the rocky bottom at low tide to get to the lighthouse, but must return just as quickly. Remember those 28-foot swing tides mentioned earlier? When the tide comes in, it does so with such force and so quickly – 5 ft. per hour – adventurers can get caught out there for 8 hours or more.
Roosevelt International Park Visitor's Center open Sat. before Memorial Day to October 31, Cottage open until Sat after Labor Day, 9-5 Eastern Daylight Time (10-6 Atlantic Time). Natural Area open year round. Admission for all, FREE.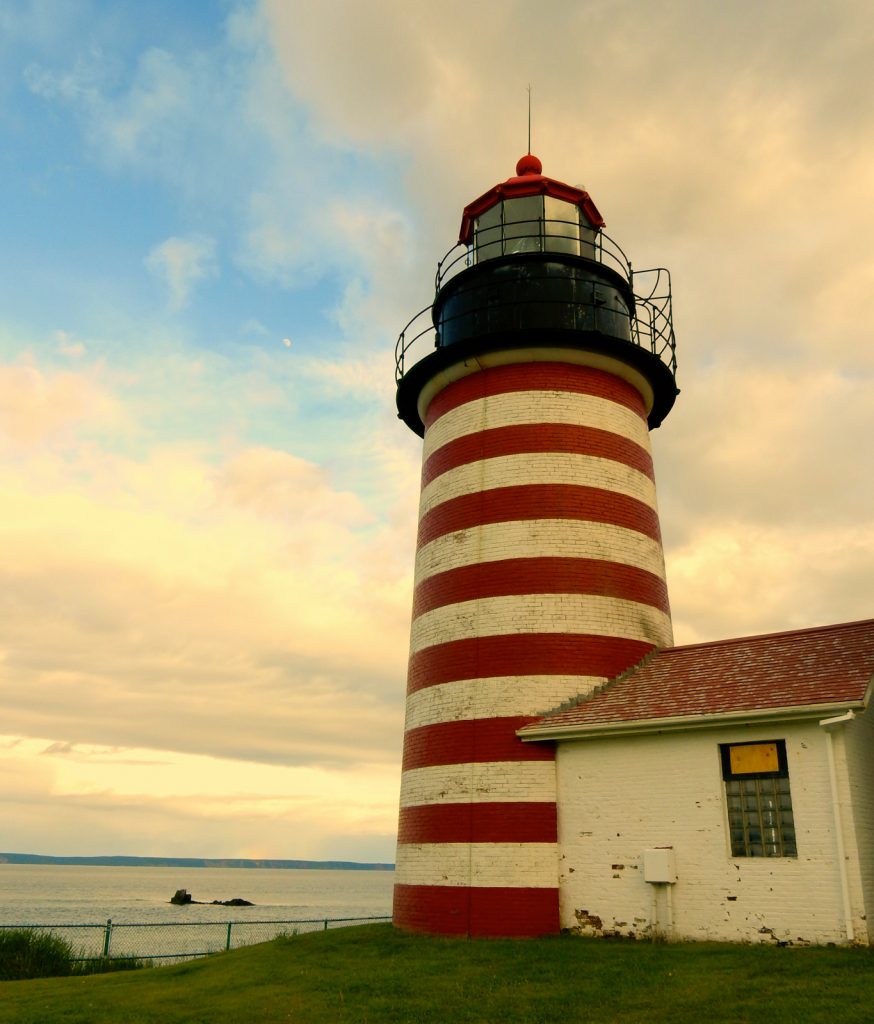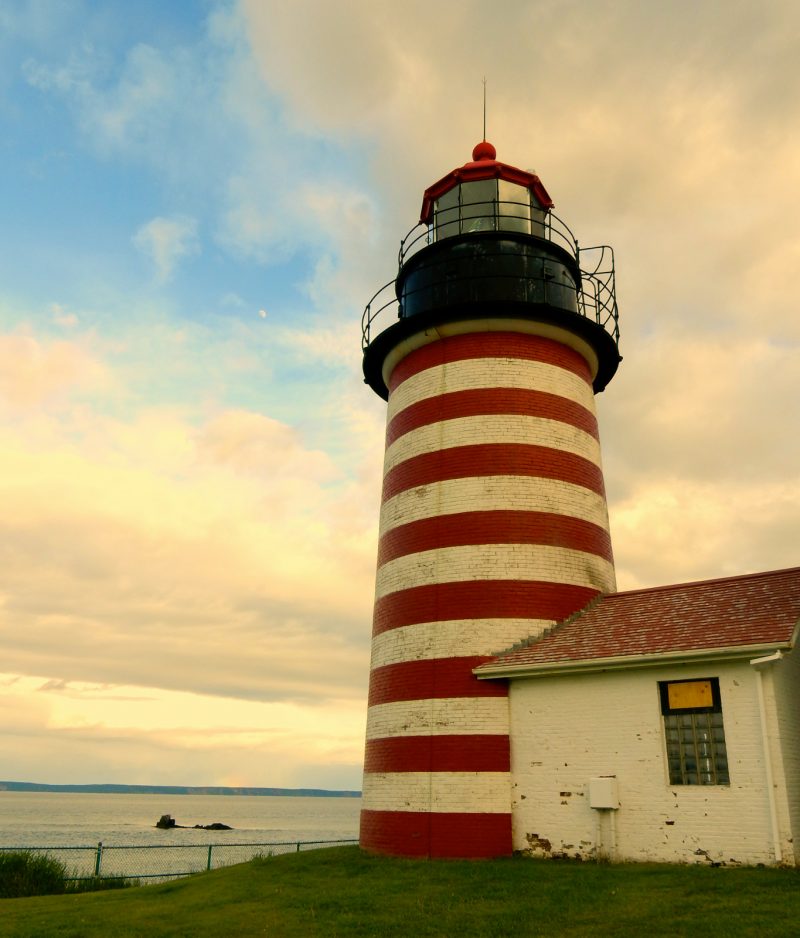 PHOTO OP: Quoddy Head State Park and the West Quoddy Head Lighthouse, Lubec
Best time to head out here is around sunset – the golden hour. That's the perfect time to photograph this Cat-In-The-Hat-like saltshaker lighthouse. Though Lubec itself is the easternmost town in the US, the Lighthouse grounds constitute the easternmost POINT in the country. Open May 15- Oct 15, 9am to sunset. $4.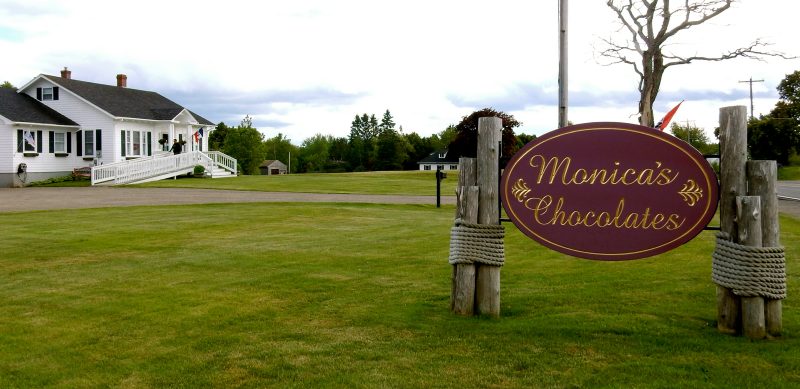 Monica Elliot's story is incredible. Over 20 years ago, she married a man who moved her to Lubec from Peru. She knew no English, and couldn't drive. A short time later, Monica's husband suffered a debilitating brain aneurysm and she was forced to both take care of him and pay the bills.
Monica was a good businesswoman and had been in the clothing (wedding boutique) biz in Lima. Despite not knowing anything about chocolate, she believed it would be a simple food to make and sell.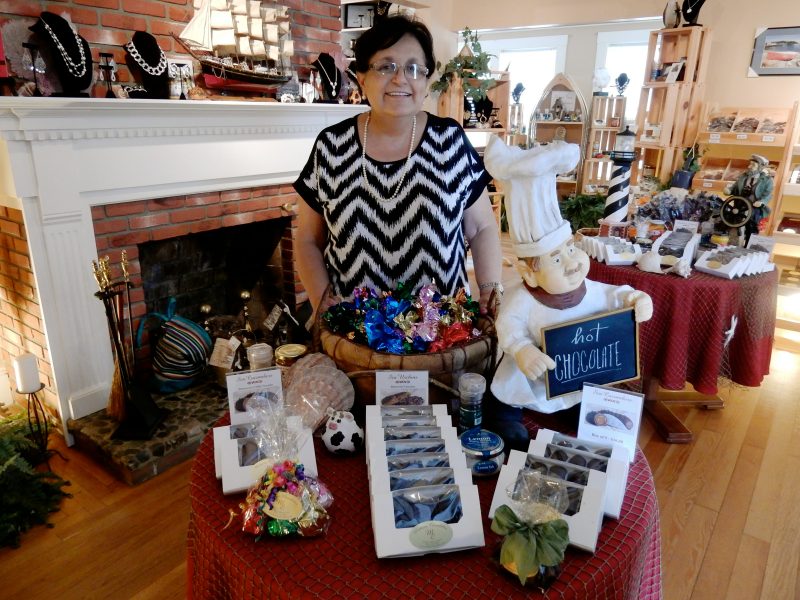 Monica asked her father for some recipes and thought she'd sell perhaps two or three bonbons or truffles a day. She sent a few pieces from an early batch to her clothing buyer friends in NYC who raved about Monica's Chocolates and ordered more. And then more orders started pouring in.
Years later, Monica's is not only a local sensation, but a global one, shipping all over the world. Amazingly – all of her delectable chocolates are still made by hand, with natural ingredients (e.g. fruit fillings fermented in wine for one year) in the basement of her beautiful showroom in tiny Lubec Maine. A true immigrant success story. Open daily 8am-8pm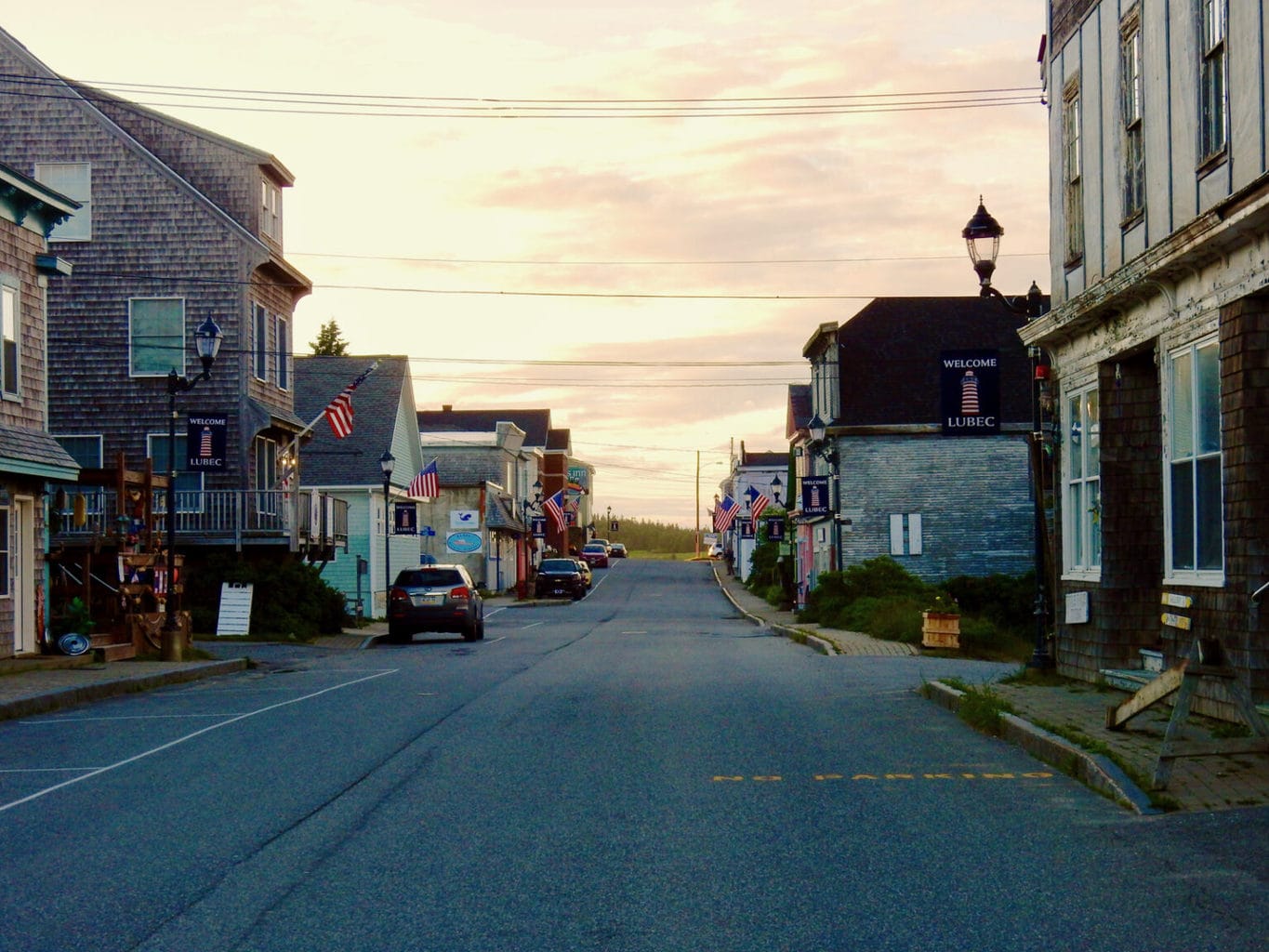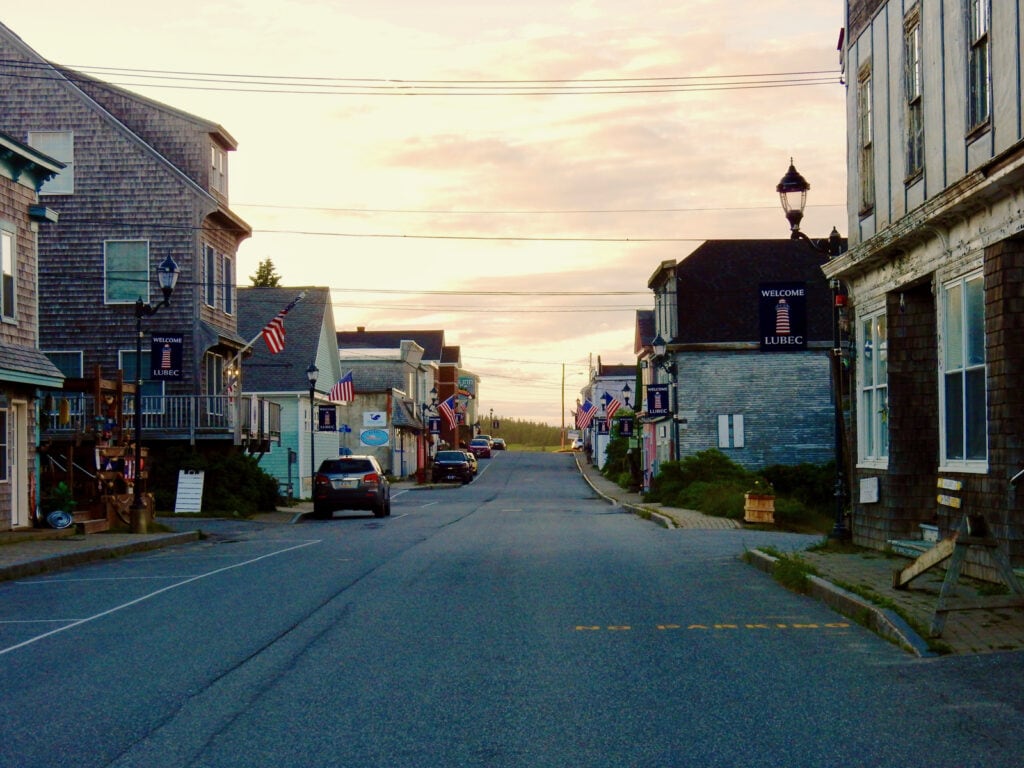 WALK: Downtown Lubec
It's just a couple of blocks, and a small harbor-side park, but for the "Easternmost Town in the United States," it's got some good restaurants, a Brew Pub (Lubec Brewery), and lots of charm. Don't miss Shanna Wheelock's pottery gallery – Crow Town Gallery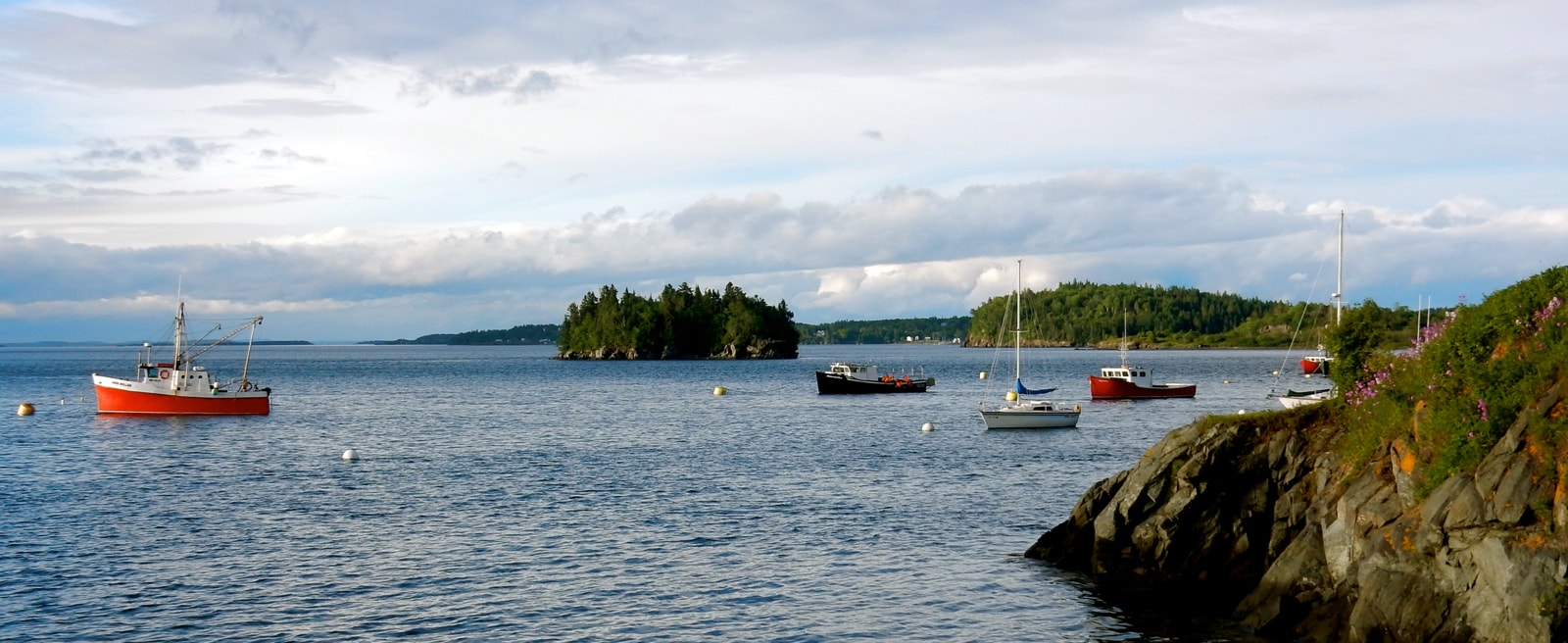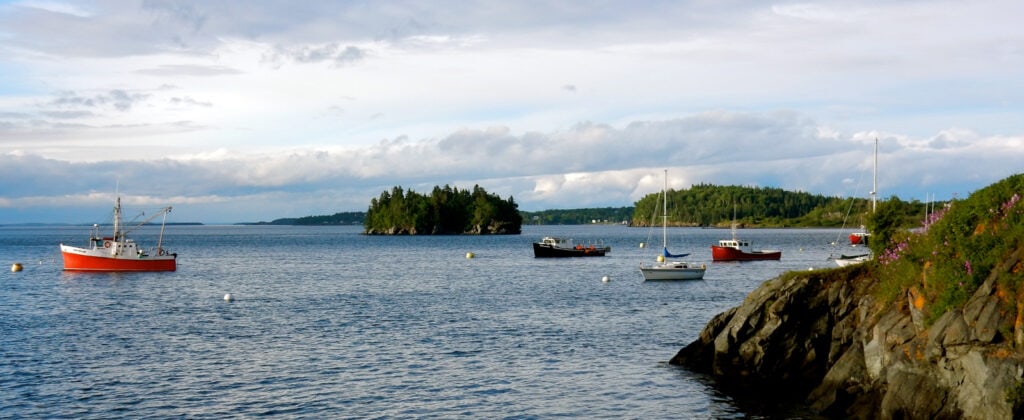 SUMMERKEYS/LUBEC
If you've heard of Lubec at all, its probably due to Summerkeys – when the whole town becomes a music and art workshop. From June till September Summerkeys conducts week-long classes in almost every instrument, including voice. Not to mention performances by Bold Face Names in the industry.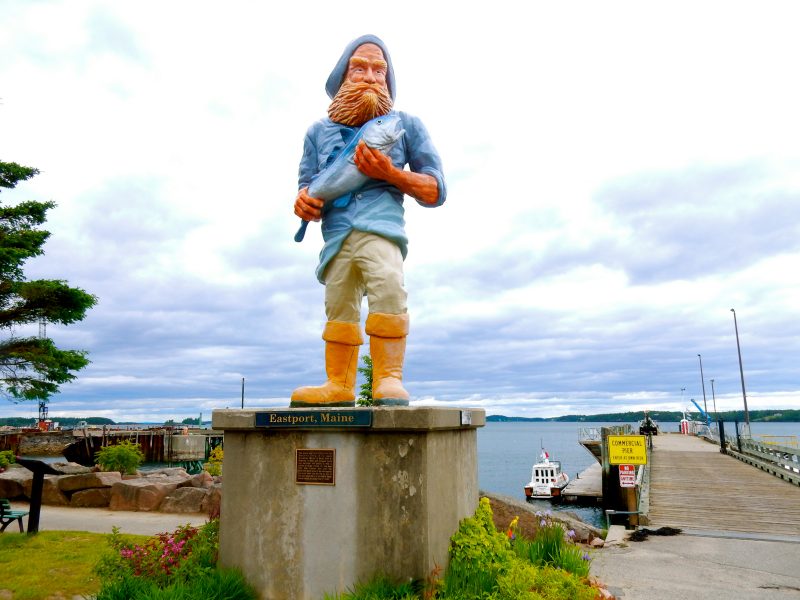 DRIVE: Eastport
Though you can almost see it across the bay from Lubec, it will take you about 50 minutes to drive up and around to get to the Easternmost CITY on in the USA (Lubec is the easternmost TOWN). But it's hardly a city.
What Eastport is, is artsy and open to new ideas. Plus, it's got Raye's Mustard, and the Tides Institute (see below), worth a stop from anywhere.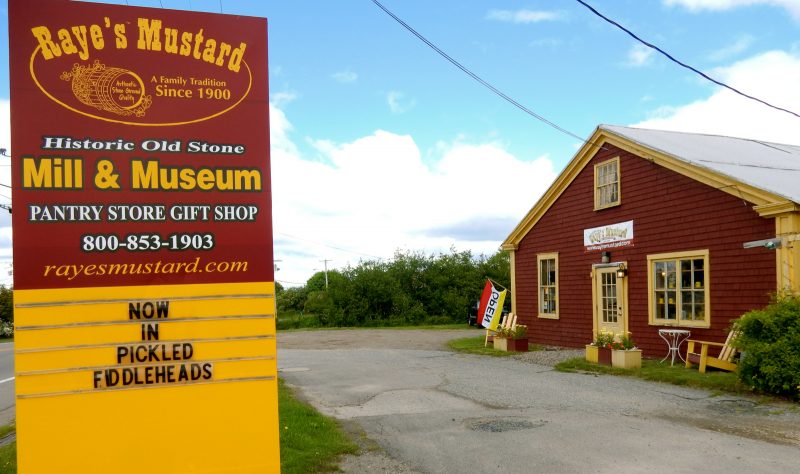 In 1900, there were 18 sardine canneries in Eastport. At the time, sardines were packed in mustard as a preservative. The canneries are gone, but Raye's remains. And, it's the only mustard mill in the USA that still grinds it own seeds that have been soaked overnight in vinegar and water.
Now run by 4th generation Kevin and Karen Raye, you can purchase pure "Off The Stone" Mustard – as well as other aged and flavored varieties in the original 1903 building. Come in to buy or to sample. Open M-F 10:30-5, Sat/Sun 10-5, closed weekends in winter.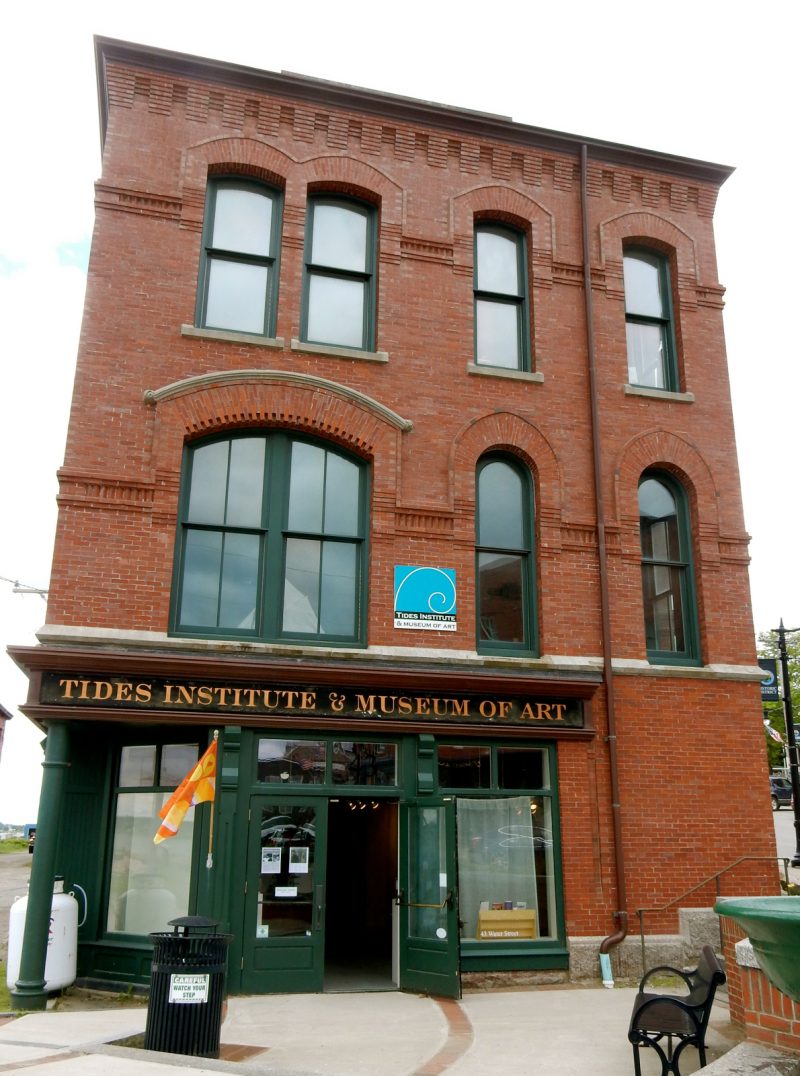 The name is a bit confusing. This is not a Maritime Institute focusing on tidal charts or swing tides or any kind of tide. Except, perhaps, the Changing Tides of Fortune and Industry in these remote coastal towns.
In this case, the change has a lot to do with the Creative Tide that has swept over this tiny place – as evidenced by this three-pronged organization. Directed by Hugh French and his wife, Kristin McKinlay, Tides Institute has become a "cultural anchor" for the city of Eastport.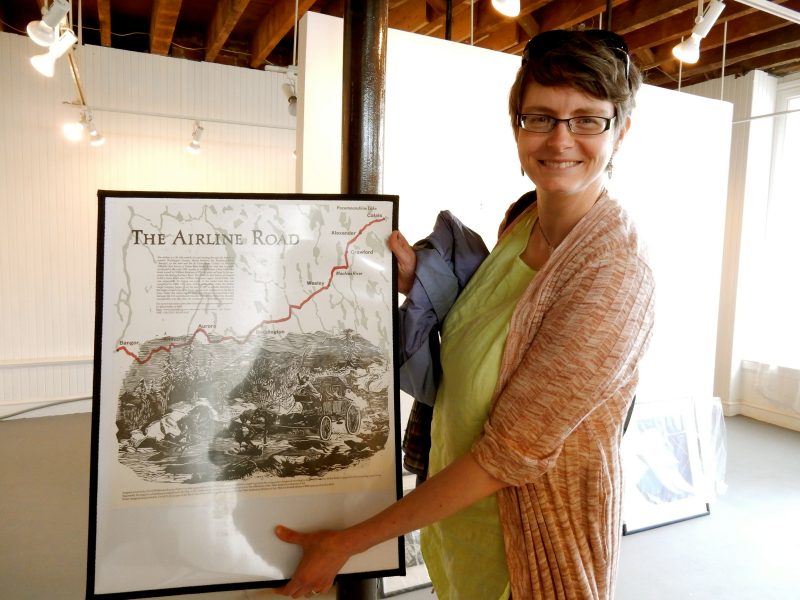 The Tides (Art) Institute is made up of three buildings. The Tides Gallery, situated in a threatened old bank building in the process of restoration, exhibits Maine artists intent on preserving Maine's heritage.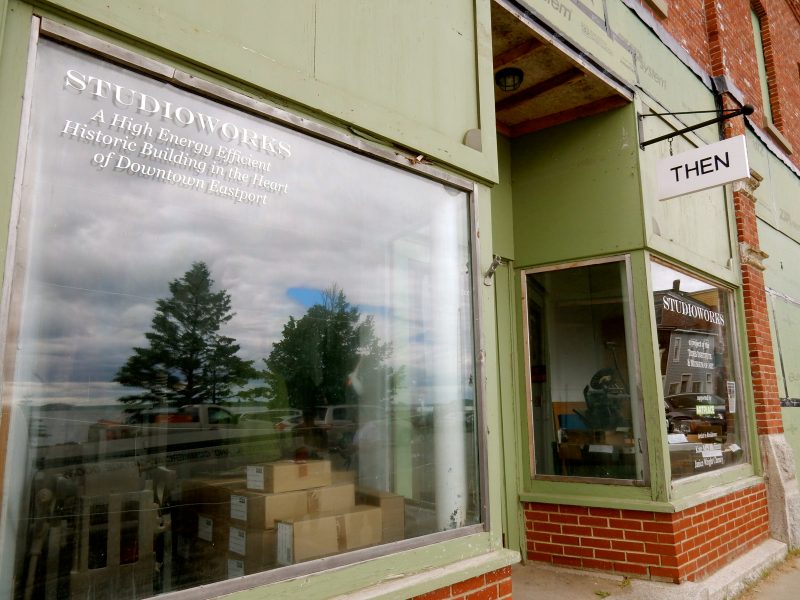 StudioWorks, a shop-front on Main Street, invites an annual artist in residence to create his/her own art in real time and interact with the community.
The Free Will North Church features site-specific art installations. A past year included a cool dynamic projection of fish swimming on the walls and ceiling of the sanctuary. Sardinia, by Canadian artist, Janice Wright Cheney. Gallery open Wed-Sat 10-4, Spring to Fall, check website for event times.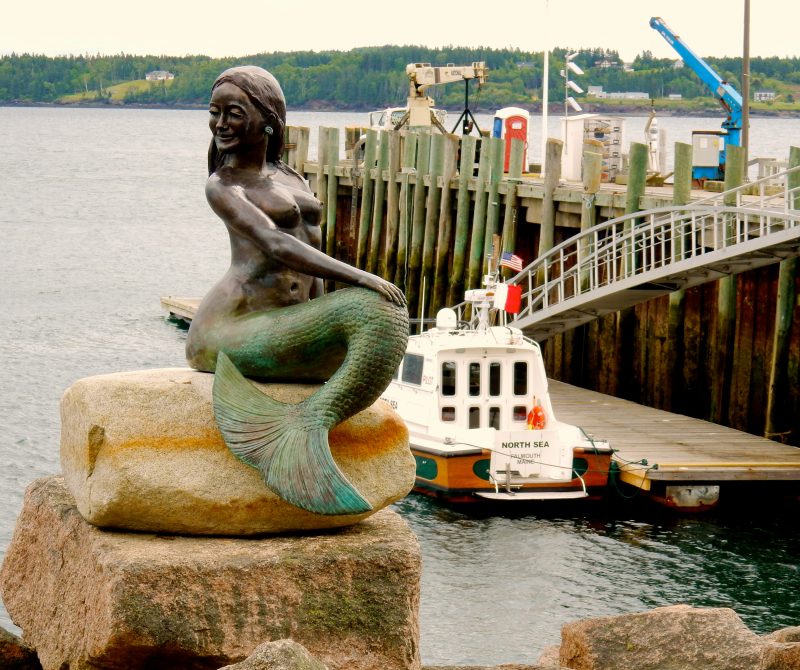 WANDER: Downtown Eastport ME
Eastport has its own Playboy version of The Little Mermaid, as well as a gnomish Fisherman, and several worthwhile art galleries. These include The Eastport Gallery – showcasing eclectic ceramic, wood and other crafts and paintings.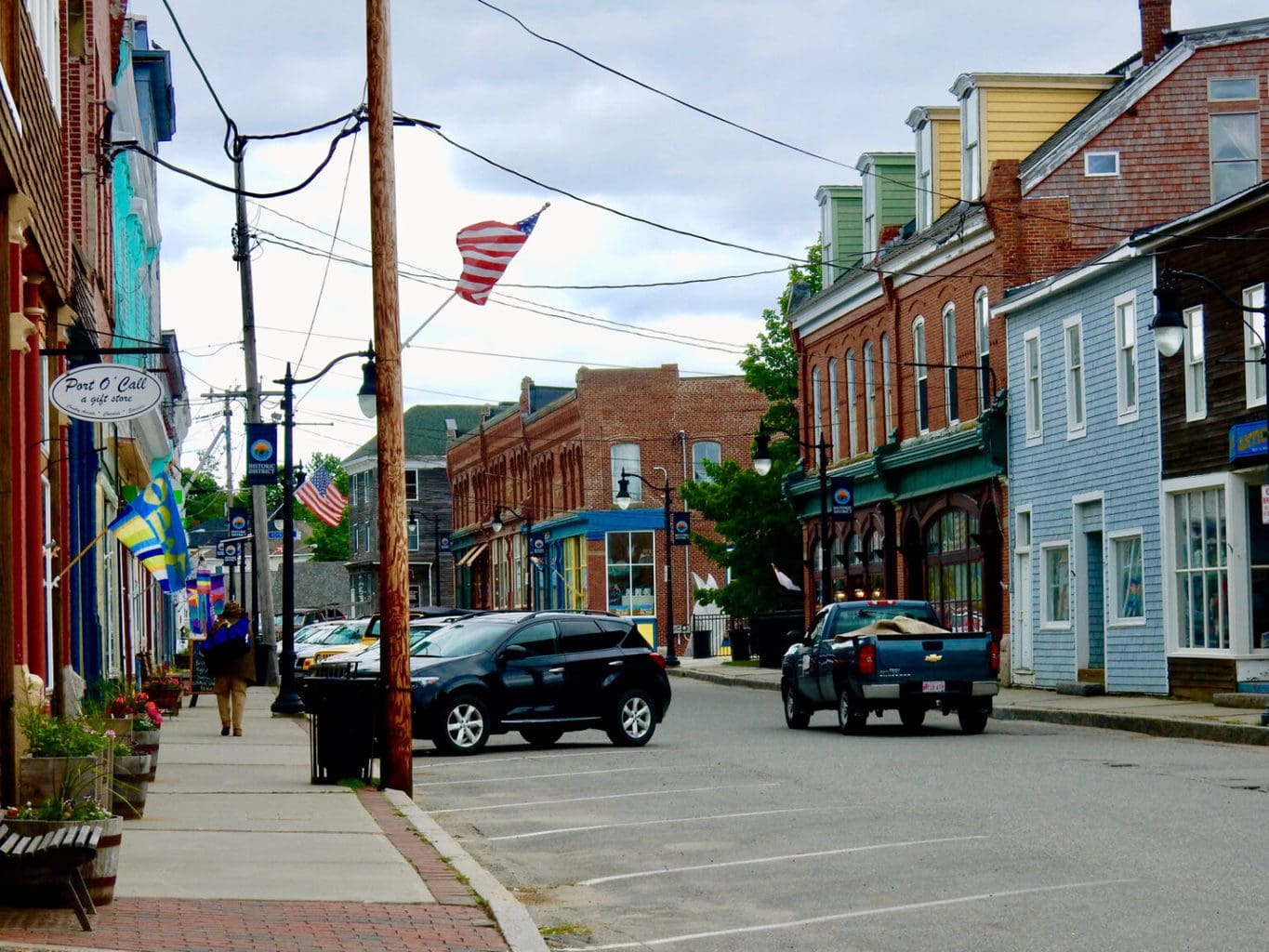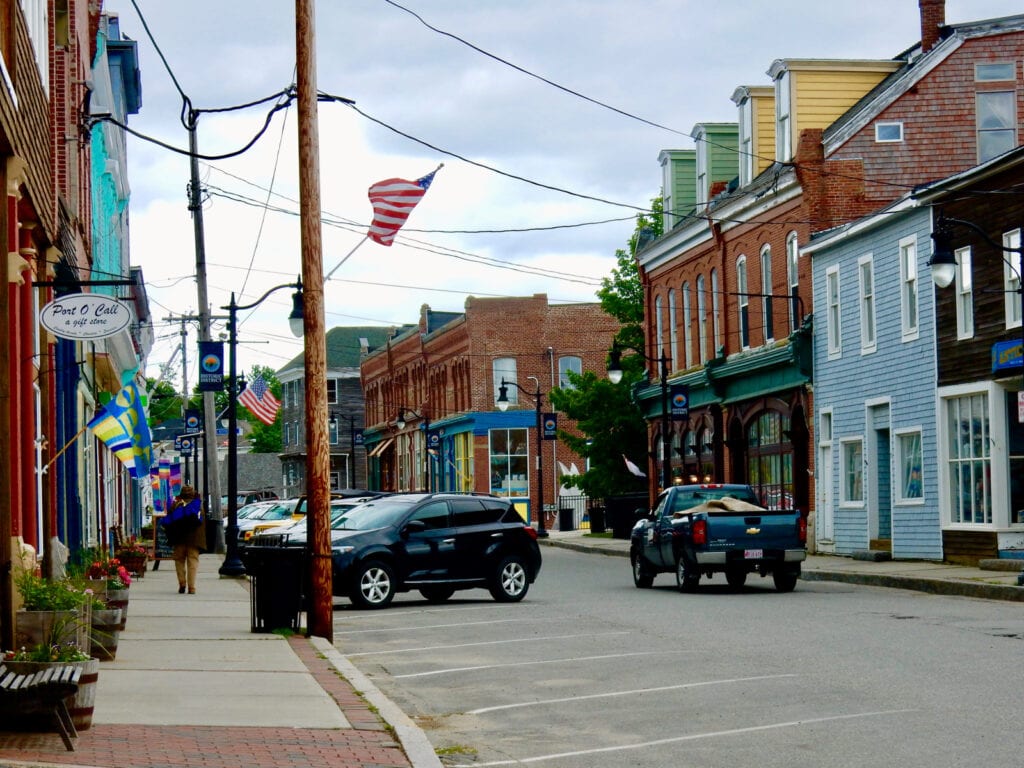 Breakwater Gallery – which features local artists with a whimsical, colorful bent.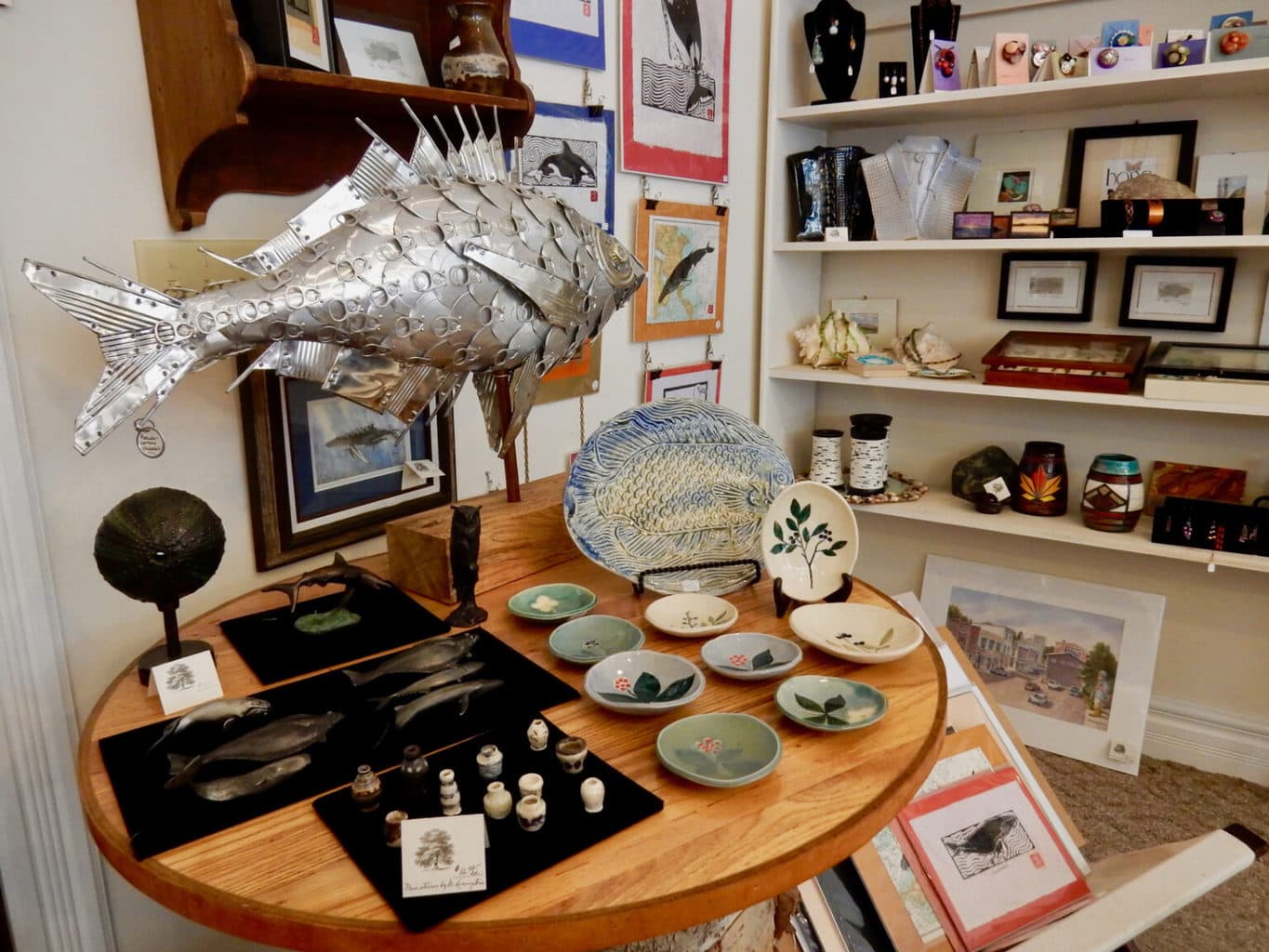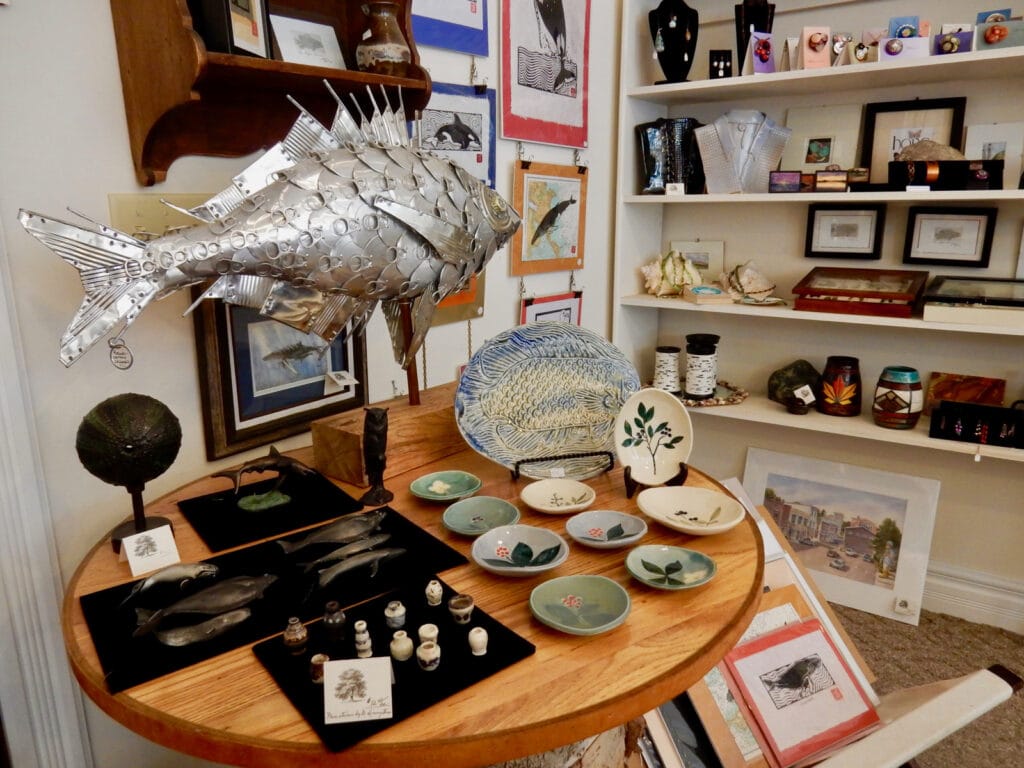 And The Commons – 100 artists, mostly from Maine. Not your typical tourist souvenir emporiums, you'll find things here you won't see anywhere else.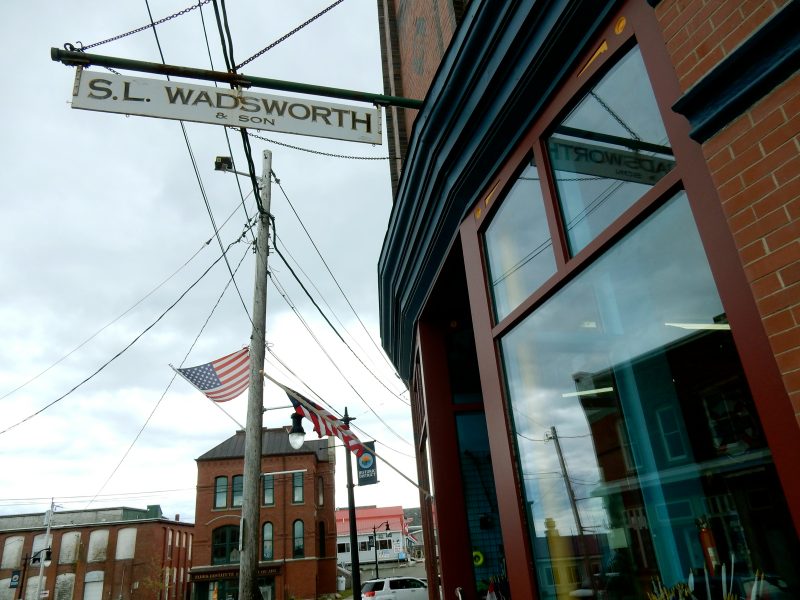 Founded in 1818, SL Wadsworth is the Oldest Ships Chandlery in the USA. It relocated to this Main St. address after the Ground Hog Gale in 1976 collapsed its wharf and buildings.
Where to Eat in Lubec and Eastport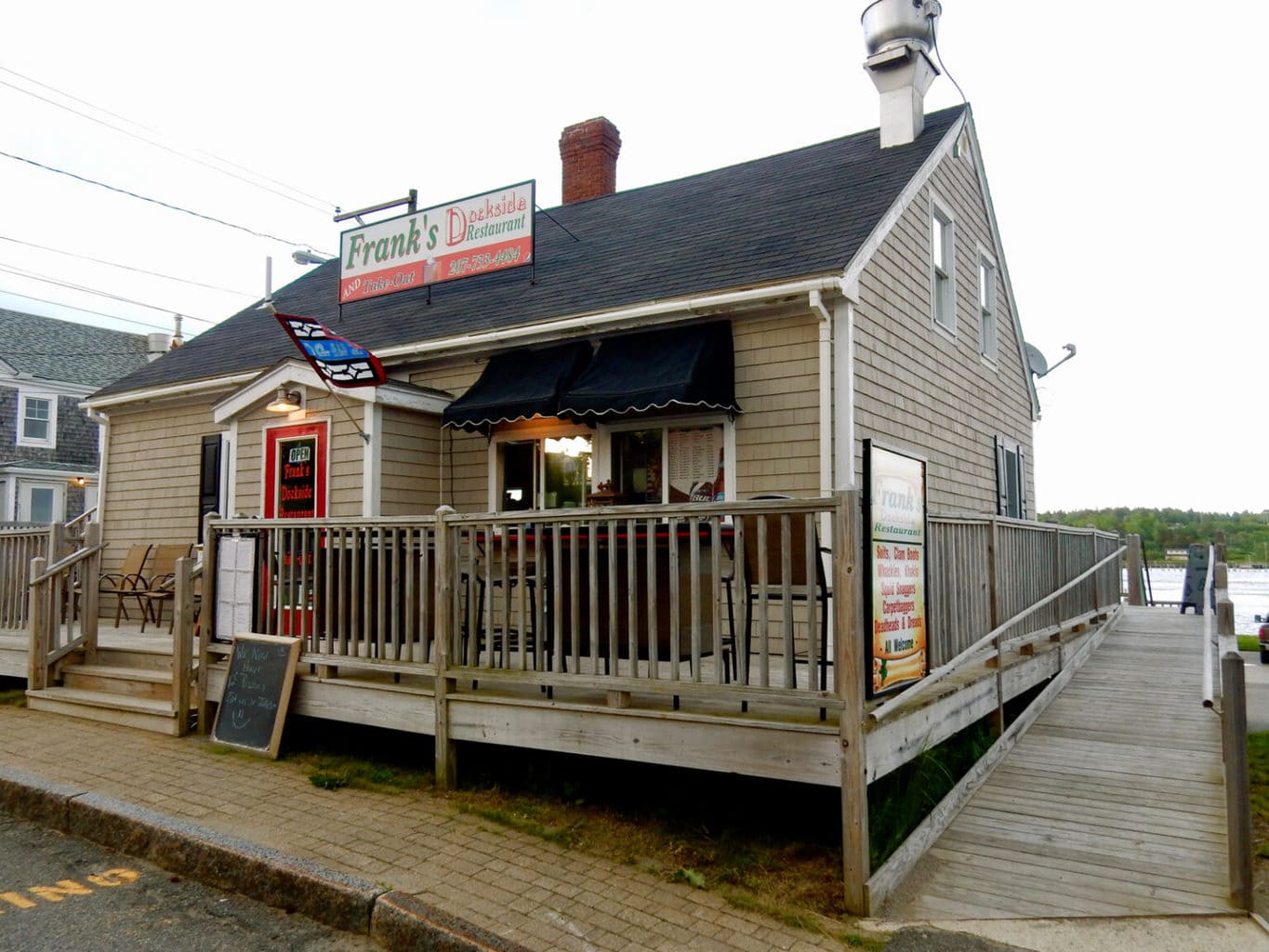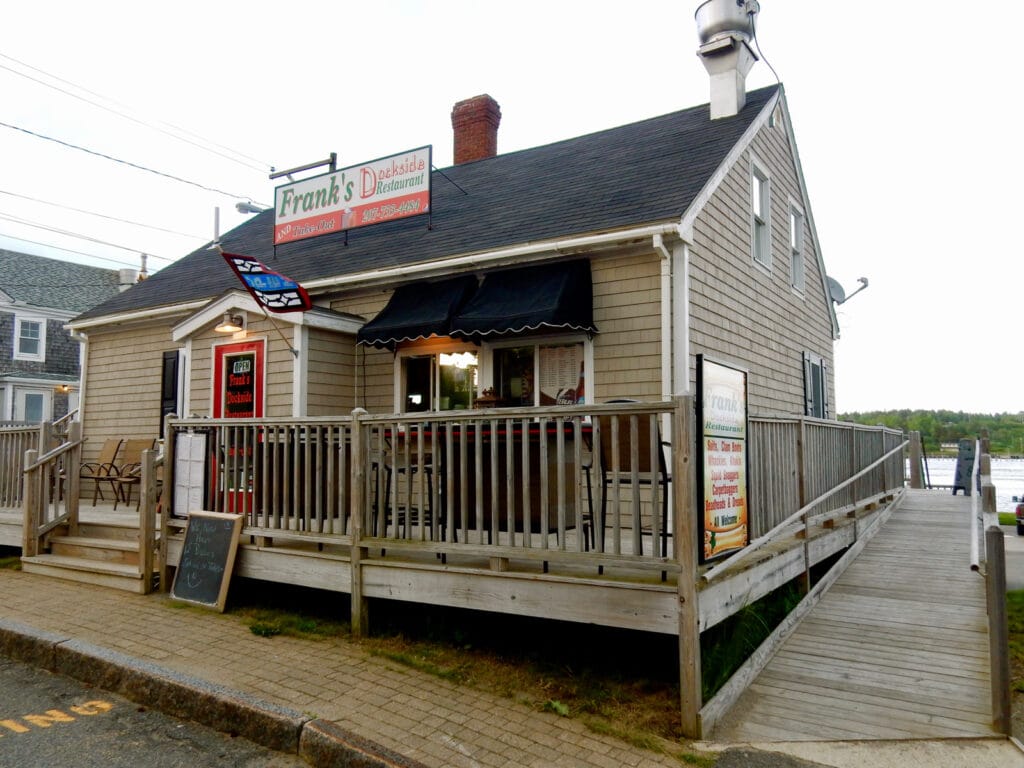 Restaurants in Lubec and Eastport
Locals recommend Lubec Brewing Company for pub food and brew. Franks – the quintessential crab and lobster shack. Water Street Tavern for "perfect mussels." Cohill's Pub – "The Best Seaside Pub in New England" with great burgers.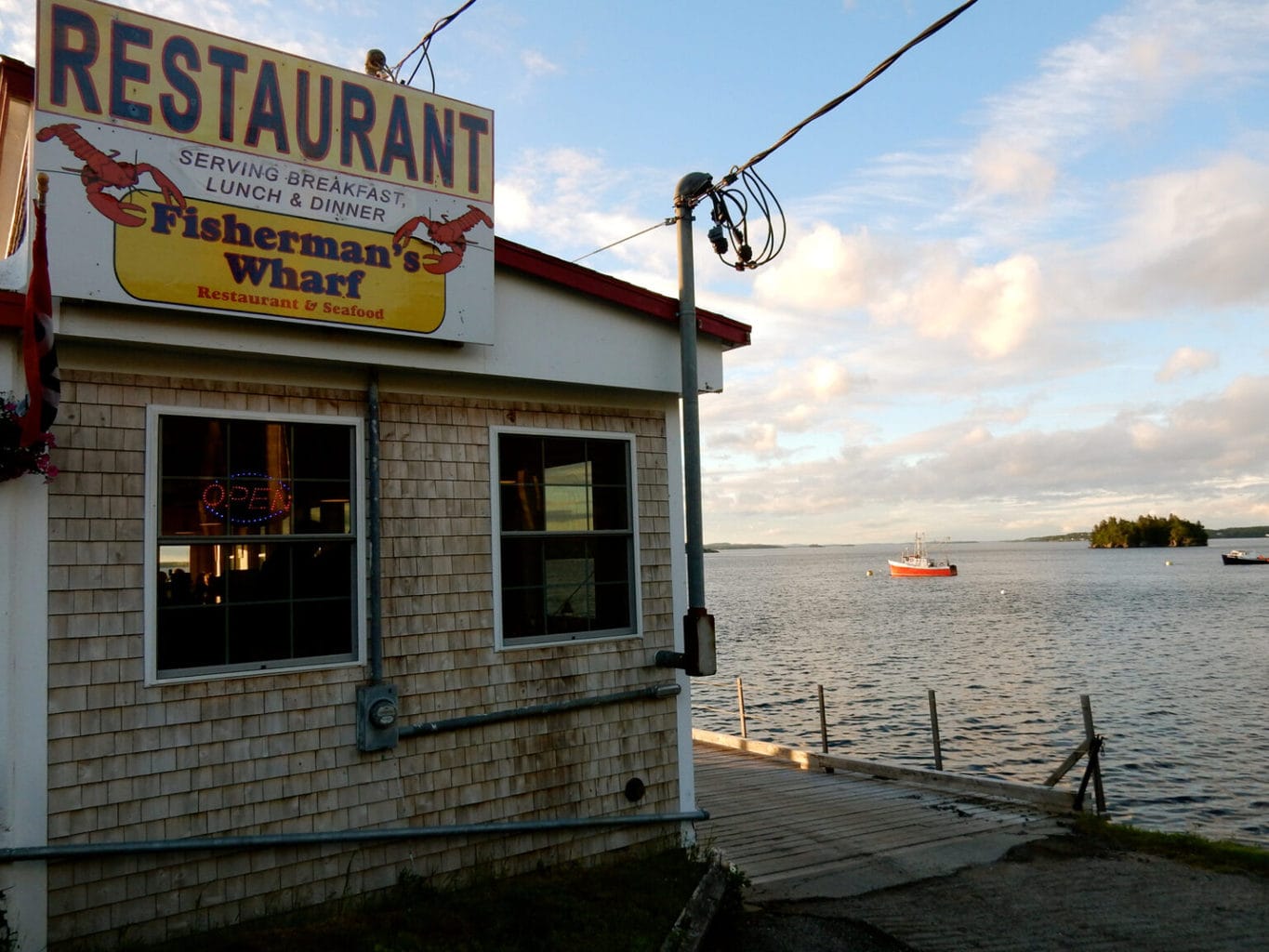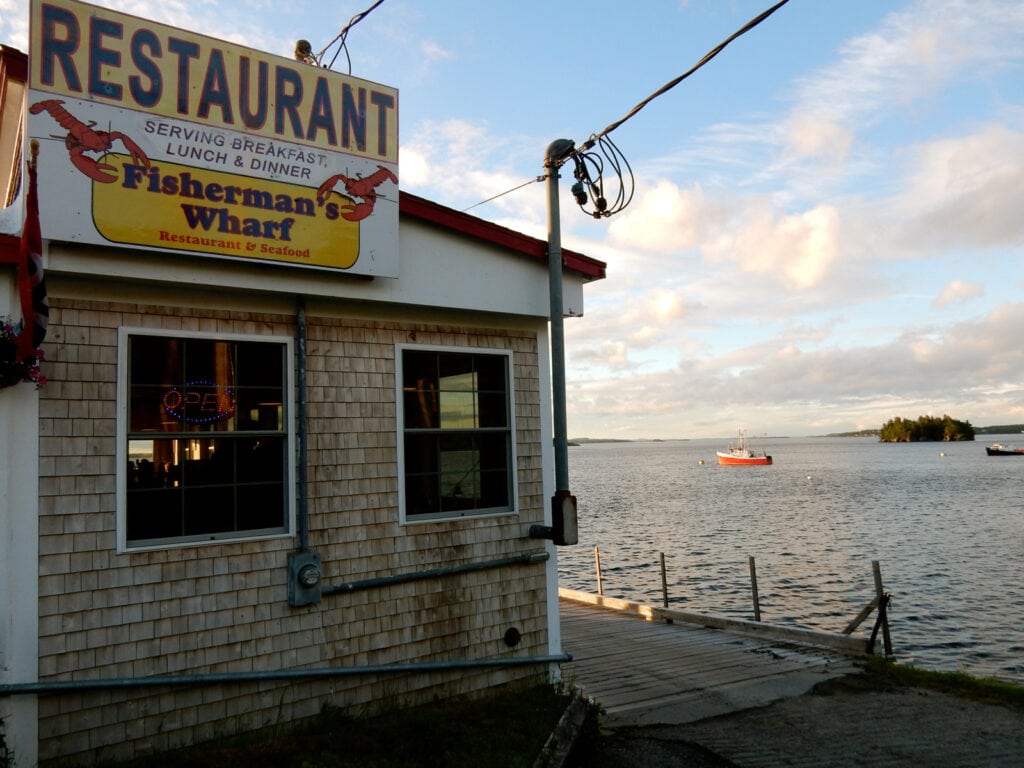 The far-from-downtown Inn at the Wharf's  Fisherman's Restaurant, with incredible bay views, and Quoddy Bay Lobster in Eastport for lobster roll in a cute, bare-bones lobster-your-way place.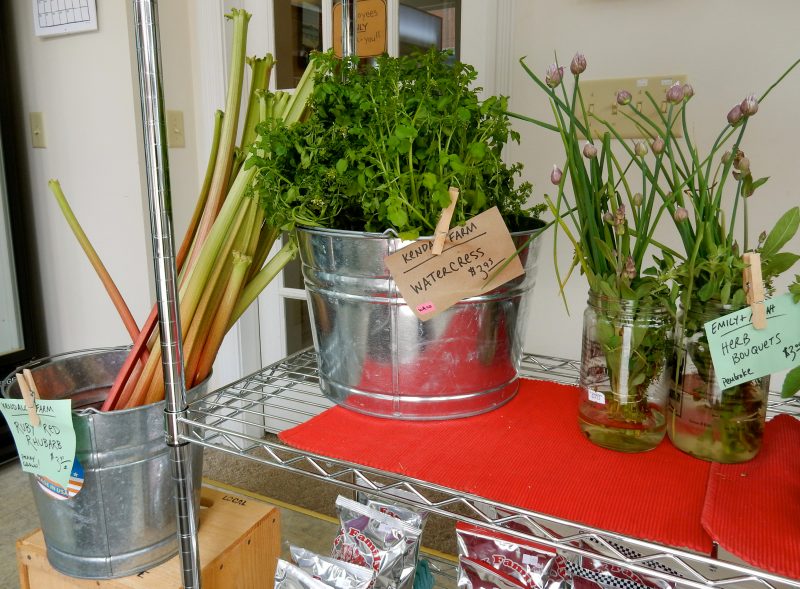 HEALTHY SNACKS: Eastport Co-Op
This tiny farmer's market supports farms in Maine, and just got its beer license! Top items: Greenhouse-grown produce, organic meat, day boat scallops and goat cheese and yogurts.
Where to Stay in Lubec ME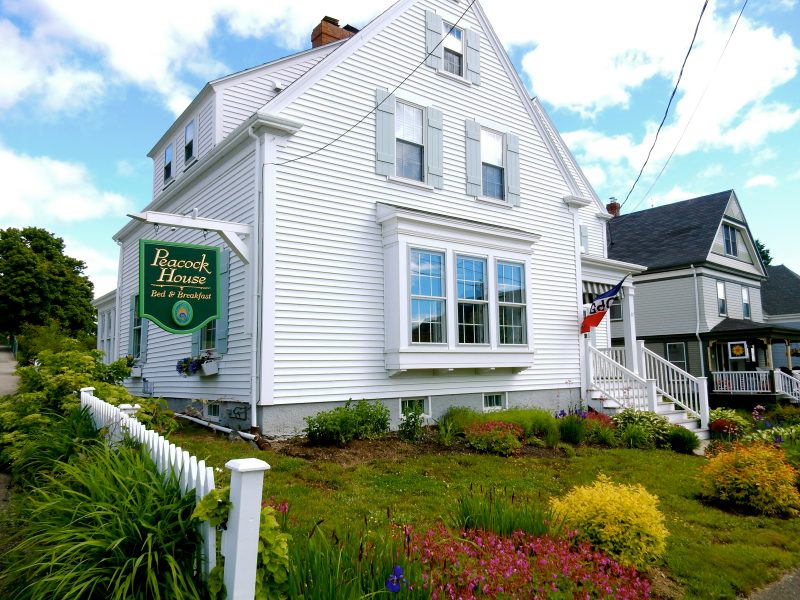 STAY: Peacock House B&B
The Peacock House B&B, a 1860's Captain's House, sits atop a hill in the tiny town of Lubec Maine. Surrounded by flowers in the spring, with birds chirping and coffee brewing in the morning – it's a quiet, tranquil, and beautifully decorated haven. When all 7 rooms are full, mornings are a happy, social, "small world" time for conversation over a hot gourmet breakfast.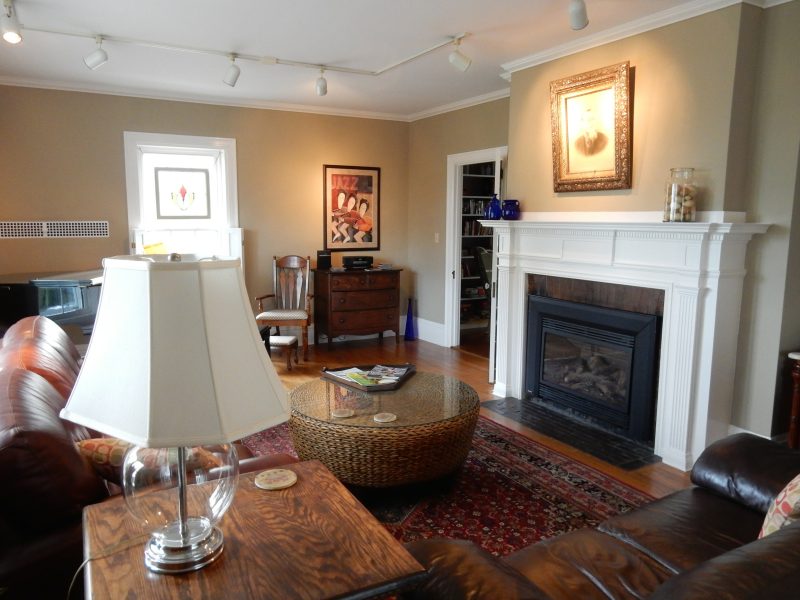 Soft-spoken and warm innkeeper, Mary Beth Hoffman, has reason to be proud. Common areas are lovely. Bright rooms are furnished in a modern, eclectic style.
The grand piano and guitar in the living room are meant for guests to play. The library is stocked with jazz and classical CD's and books about the Roosevelts,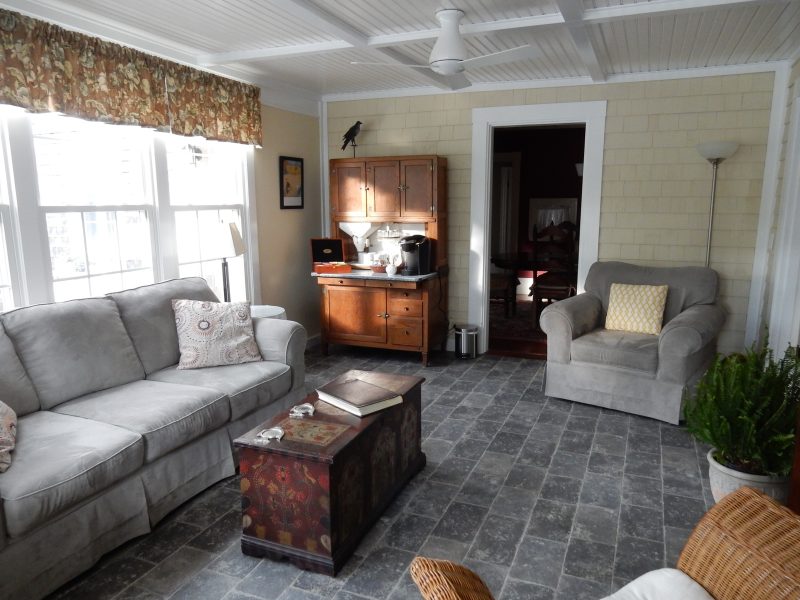 The inn fills to capacity during "Summer Keys." So the best time to come is early June or after Labor Day when the weather is moderate and the crowds thin out.
Rooms and Breakfast
All rooms are charming and whimsical, updated with soft, comfy bedding and modern amenities.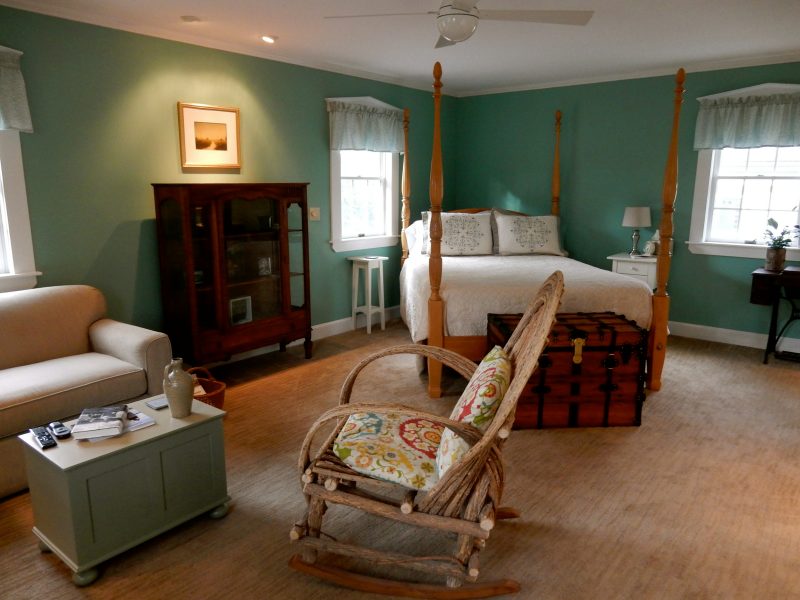 If available, ask for the Peacock suite. This large exquisite teal-walled room features a carved four-poster bed, gas fireplace, twig rocking chair, captain's sea chest, a curio cabinet, an old Singer Sewing machine, and other antiques that somehow coalesce into a contemporary-country tableau.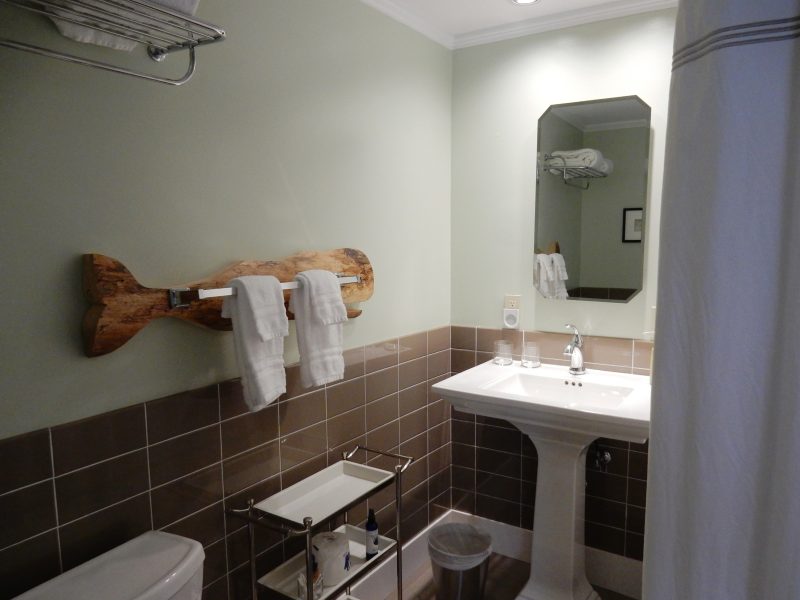 The impeccably clean, modern bathroom features a bath-shower, pedestal sink and a fantastic carved-whale towel rack made by a local artist.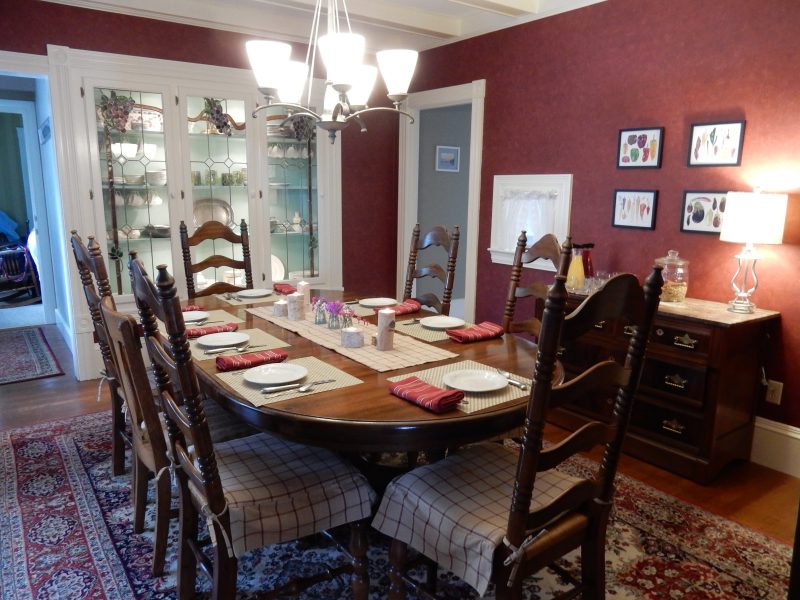 Mary-Beth serves a hot, candle-lit gourmet breakfast in the dining room. Most mornings this includes fresh fruit  and something sweet or savory, like a toothsome, hearty hot berry compote.
Guests gather around the large stately table to swap stories and backgrounds. This makes for a very congenial and social meal. Rooms $125-$185 per night include snacks and hot gourmet breakfast for two.
Voted "Best Seaside Pub in New England" by Yankee Magazine, Cohill's also has nine clean rooms. Rates from $105-$150. 
Owners repurposed a 100 year old sardine factory and pier into a restaurant and lodging. Suites and 2-bedroom apartments are all furnished with private kitchens. Rates $90-$150 for suites, $150-$180 for apartments.