Last Updated on
WHY GO: Arlington VA is a state and a river removed from Washington, DC, and yet of it. There's the National Cemetery, of course, which is why most people end up here (one way or another).
Arlington Virginia, in Northern Virginia, is home to the Pentagon, the DEA, and other Getaway Mavens inspired attractions.
But Arlington VA is also a city of neighborhoods, each with its own unique personality.
Schedule a tour of the Pentagon, pay homage to the fallen at several lesser-known Memorials, contemplate shocking exhibits in a museum on the ground-floor of a law enforcement agency building, and of course plan an insider tour of Arlington National Cemetery in this patriotic, eye-opening Getaway.
Things to Do in Arlington VA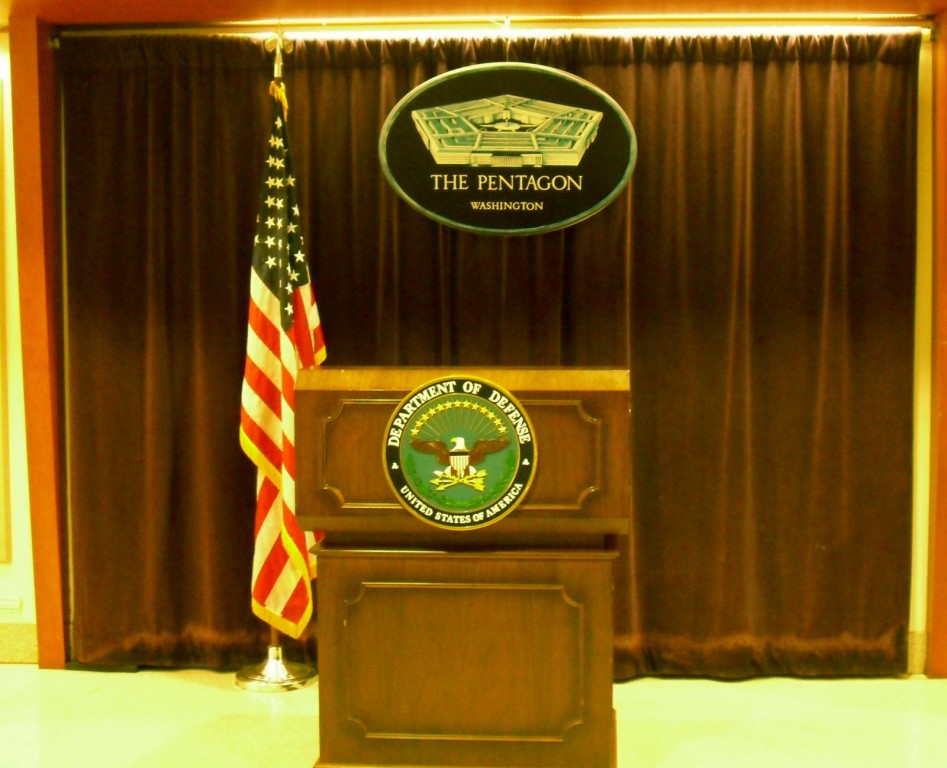 You've got to jump through hoops for this 50 minute walking tour, but it's worth it. Access an application online at least two weeks before your visit, and follow directions (which includes providing two government ID's- at least one with photo).
Your tour guide will most likely be a charismatic young man or woman in dress uniform adept at speaking articulately while walking backwards for 1-½ miles. You won't hear any top secrets, but will come away knowing a thing or two about the Department of Defense's home office.
Twenty three thousand government and civilian contract employees work in rooms along 17 miles of corridors. You'll see the mall-like shopping plaza with a Bank of America (" the safest bank in the USA") a Dunkin Donuts and Starbucks (that together sell 30,000 cups of coffee per day) and a slew of other stores outsiders cannot access.
You'll learn the history of the branches of the military, get a run-down of "The Forgotten War," and hear lots of trivia including intel about the Civil War General who earned the highest GPA ever at West Point (hint – it wasn't a Union officer).
Of course, the most poignant stop is a small memorial room carved from the space where, on September 11, 2001, a jet plane slammed through this stone block wall, killing 125 people in the building and 59 onboard.
It's quite ironic that construction of the Pentagon began on September 11, 1941 – sixty years nearly to the minute that the terrorist attack occurred – at 9:37am. Tours Mon-Fri. 9am-3pm by reservation only. Apply online. Free.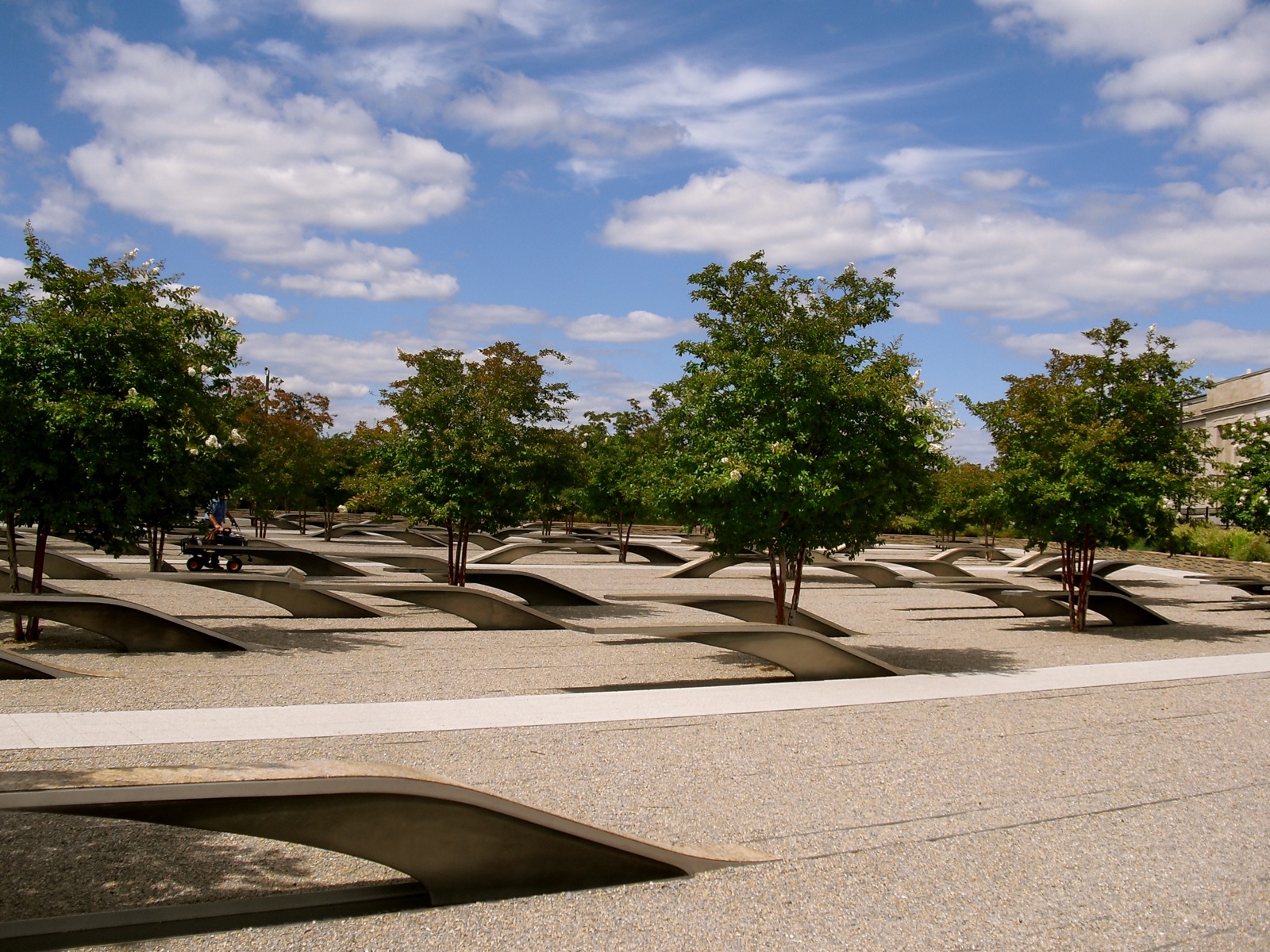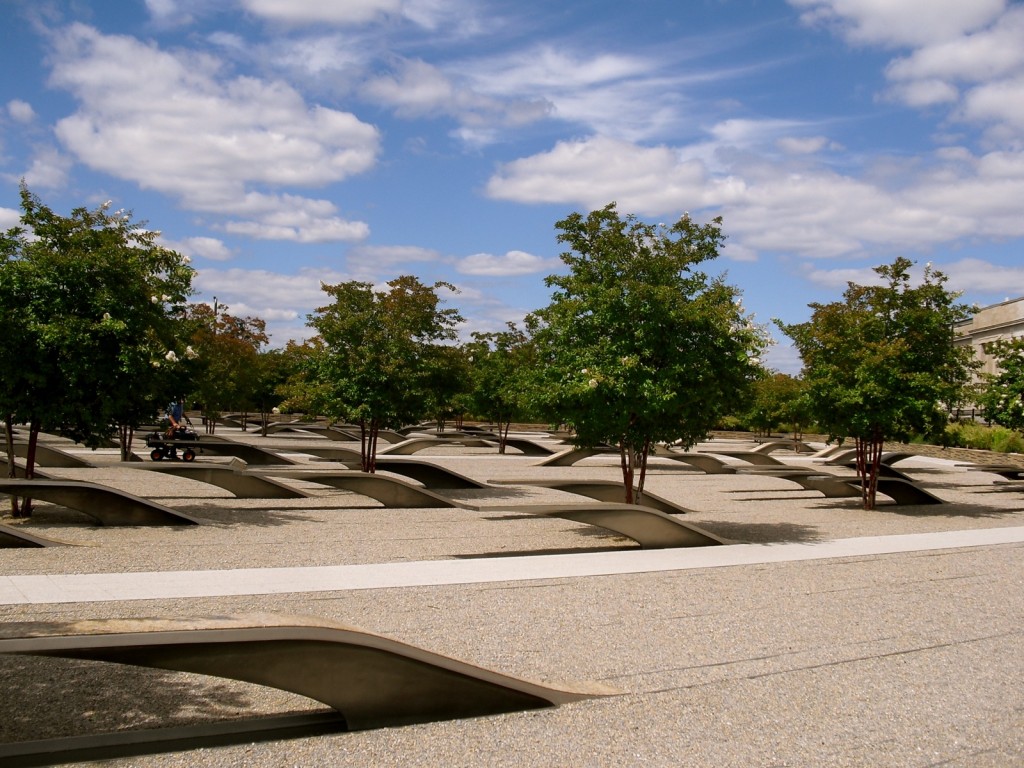 Everyone should visit this somber but beautiful park, designed by Julie Beckman and Keith Kaseman, dedicated to the 184 people – ages 3 to 72 – who died at the hands of terrorists on that day.
Wing-like benches cantilever over tiny pools of flowing water – each representing one victim. Organized by birth-year "locater stones," benches of the victims who died on the plane point towards the sky, the benches of those who perished in the Pentagon point towards the exterior wall that crumbled from the force of the jet (quickly rebuilt).
This is a potent place, a contemplative place, a memorial, funded by families of the victims, to be added to your itinerary whether or not you go inside the Pentagon. Open daily 24/7.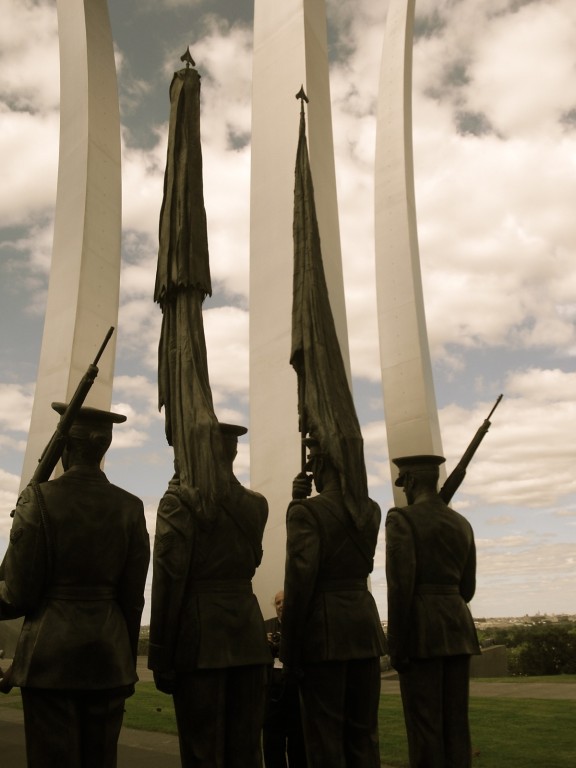 A trio of curved spires reach for the sky in this pocket park devoted to our fallen Airmen and Women.
At 270 ft., 231 ft. and 201 ft., they form what some assert is a "missing man formation" or Thunderbird "bomb blast maneuver," but even according to the artist, all is up for interpretation.
One thing is for sure – if you've been to the Presidential memorials and Vietnam Memorial on the Mall across the river in Washington, DC – add this to your list.
In a rectangular space, flanked by a sculpture of four Air Force Honor Guards standing 8 ft tall and a Memorial Wall, the soaring spires are a beacon of integrity, service and excellence – the three core values of the United States Air Force.
Come to picnic, for a concert, or to see the "bombs bursting in air" on the 4th of July over the Mall. This hilltop perch is the perfect vantage point. Open daily 24/7. Free.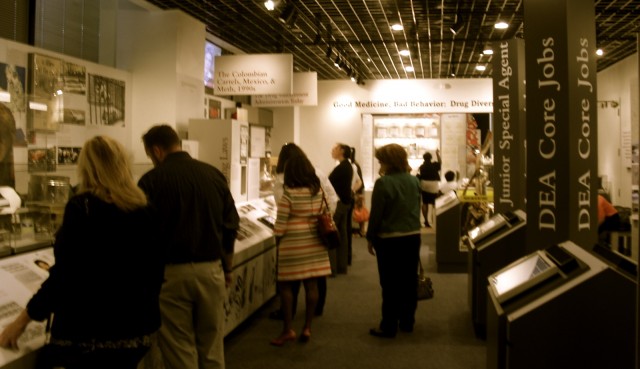 ** Be aware – the DEA is closed for renovations as of July '19. It will reopen in Fall 2020.
There's illegal drug paraphernalia in abundance at this stern-lecture of a museum. Like Reefer Madness, the DEA Museum, located on the first floor of the Drug Enforcement Administration building, takes itself very seriously to the point of sometimes-unintentional parody.
But there's no question that its approach – warnings with shocking visuals of the tragedies that befall those who get hooked on the really hard stuff – is highly effective and should be heeded.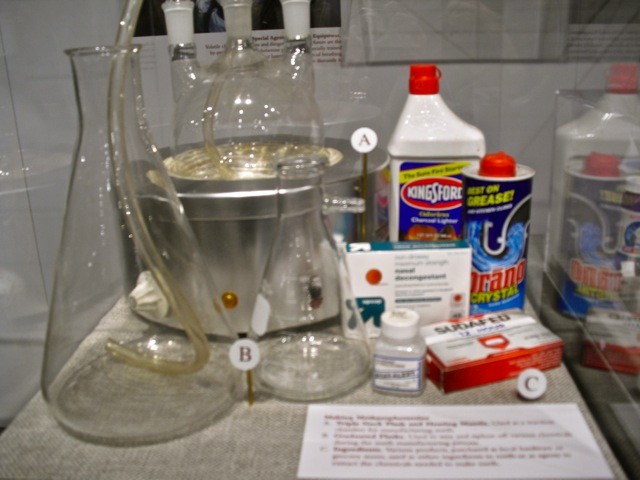 The museum covers the history of our country's drug culture thru the prism of law enforcement from the 1850's, when opium brought to America by Chinese immigrants was considered America's first drug epidemic.
It continues through the 1920's "new street drug, marijuana" (listed as "controlled substance only in 1937) to the "rise of the counter-culture" in the 60's and 70's with its stimulants and hallucinogens, to the cocaine-fueled 80's ("a drug with status…and menace") into the methamphetamine (originally formulated to keep soldiers awake for battle during WWII) crack-addled 90's to the "rave" or "club" drugs of today.
You'll be swept up in a deadly world laid out in glass cases and in posters and documents. If you grew up in the days when "Nark" was a dirty word, this museum will turn your head around for sure. If you take the Metro- get off at Pentagon City Stop (blue line) – it's across the street from Macy's. Tues-Fri 10-4, Free.
Established in 1864 to bury both Union and Confederate soldiers who died in the Civil War, Arlington National Cemetery remains the place to honor those who served our country. Over 400,000 active-duty service members, veterans and their families are interred on 624 acres (and growing).
The ANC Martz Gray Line tour covers the Tomb of the Unknown Soldier (with Changing of the Guard), the Kennedy Memorial and other popular spots. If you haven't been to ANC or it's been awhile, be sure to acknowledge the Women in Military Service for America Memorial, which serves as the ceremonial entrance to the Cemetery.
Over 2.5 million women have served in military roles since our country was founded, and here, finally in 1997, their achievements were recognized. Daily October – March 8am-5pm, April- Sept. 8am-7pm, $15 adults, $7.25 kids, military free.
Everything is made by hand in small batches in this neighborhood "micro-chocolatier" owned by CIA (in this case, Culinary Institute of America) grad Jason Andelman.
If you'd like your premium chocolates to look like graphic-art masterpieces and taste like PB&J, an "Arnold Palmer," Butterscotch with real scotch, or any one of several dozen innovative home-brewed flavor combinations, just walk into this divinely scented gallery, watch artisans at work through windows and choose your bliss ($18 for 9 pieces).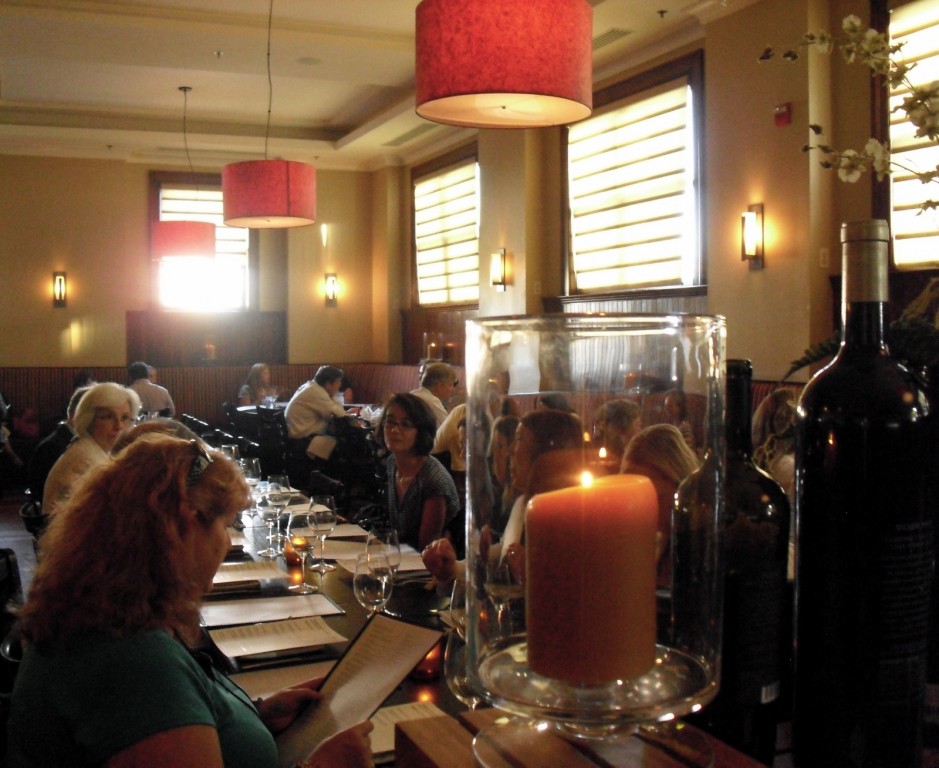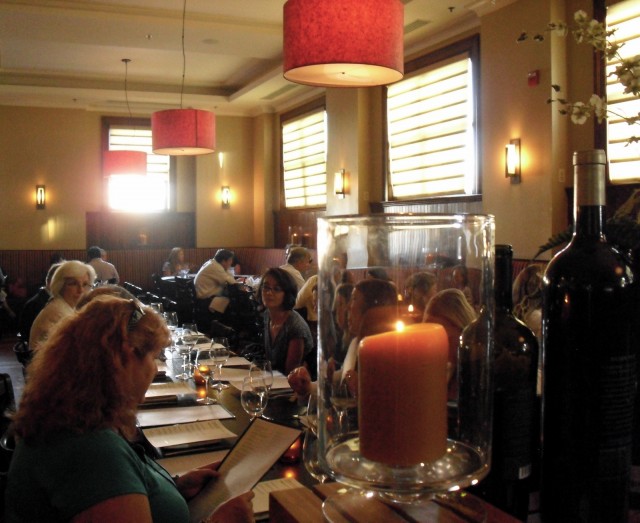 Best Restaurants in Arlington VA
A hotspot in the Clarendon section of Arlington, two floors overflow with lovers of Wood-Burning Oven Pizza ($15-$16.95; just $10 from 10pm-midnight), pasta – or in Liberty's vernacular, "Macaroni," and entrees from short ribs to black bass. Lots of wood, open kitchen, great food; a hit.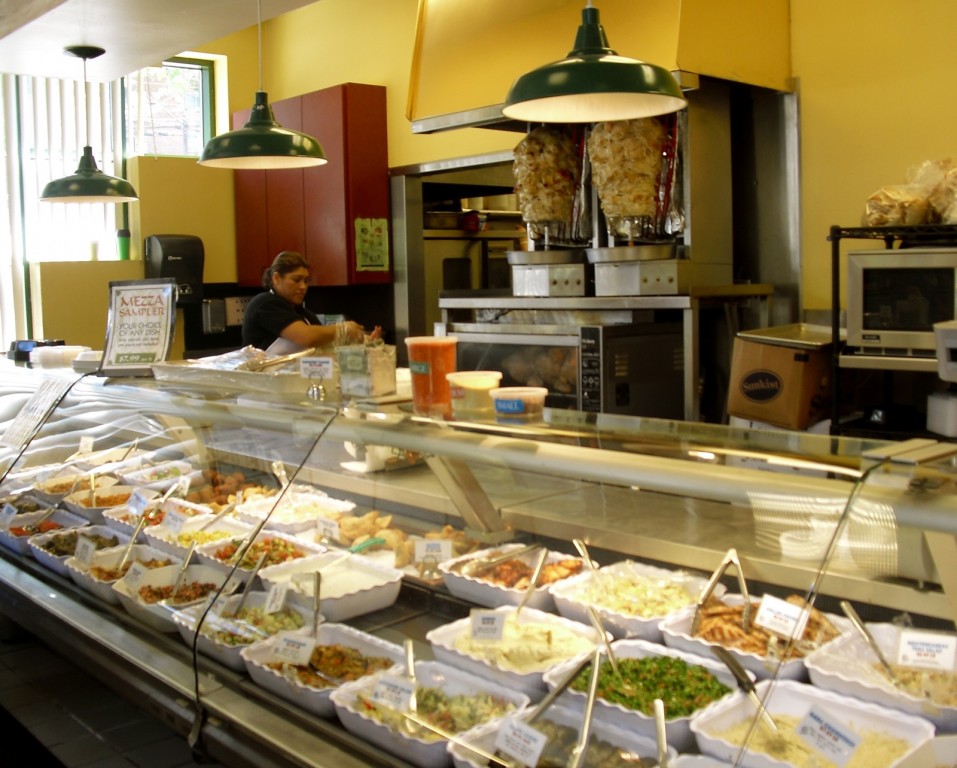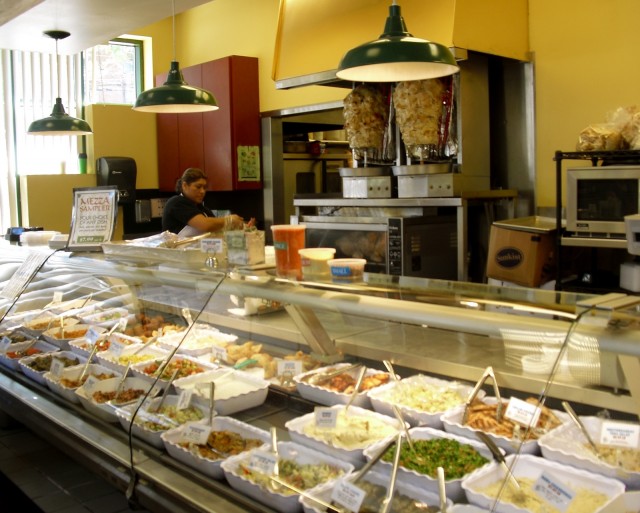 Chef Jay Comfort elevated this hummus and baba ganoush franchise to haut-Mediterranean standards. Back in 1979 when it opened, Middle-Eastern food was so unfamiliar to Americans, the Abi-Najm family had to transliterate "hummus" (choosing to spell it "Hommos," they've run into some problems with LGBT crowd) from the Arabic.
Now, the family signs paychecks for 400 employees working in 11 Taverna properties (two in Arlington alone) throughout VA, DC and MD which collectively prepare ¾ million pounds of bone-in leg of lamb per year – more than any other restaurant group in the country. For a tasty experience, take a cooking class, offered at Lebanese Taverna Market, Wed, Thurs. 6:30-9:30PM, $65 per person includes instruction and meal.
LOCALS RECOMMEND
Three "Top Chef" Restaurants are side by side in Crystal City. Go to splashy Jaleo if you're in the mood for Spanish Tapas, Kora for "casual" Italian with flare, and Good Stuff Eatery if all you want is a "Farmhouse Burger" and a shake.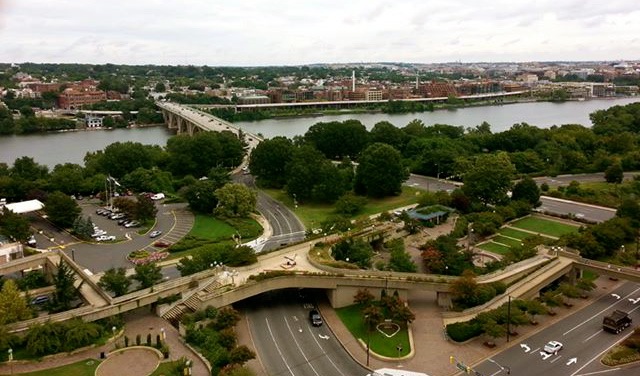 Hotels in Arlington VA
There are no cute or charming B&B's or boutique inns in Arlington, but there are plenty of large chains here – from budget to luxe to in between.
You'll find clean decent rooms with heavenly bedding at the Holiday Inn/ Rosslyn. Though short on luster, rooms with outstanding views of the Potomac River, Washington DE and the Key Bridge are nearly half the price of the riverside Marriott Key Bridge and include complimentary parking and wi-fi.
Ask for a King Suite on a higher floor facing the Potomac, and you'll enjoy knockout views from two, count them, two, balconies! (Rooms start at $90 per night, King Suites at $120).
At the other end of the spectrum, you can find a room at the Ritz Carlton Pentagon City (adjacent to an upscale shopping mall) starting at $179, and at Le Meridien for $140.