WHY GO: No matter what time of year, there are plenty of exhilarating things to do in Annapolis MD. January through mid-April, the Legislature is in session, with lots of politicos and lobbyists roaming the streets and crowding bars and restaurants.
In May – the Naval Academy Graduation and Commissioning Week turns Annapolis into a sea of Midshipmen and new Ensigns (Navy) and Second Lieutenants (Marines), with Blue Angels flying overhead.
Summer, of course, brings tourists.
Although American history in this yachting city harks back to before the War of Independence, there are plenty of new things to do in Annapolis MD.
Tour all 330 acres of the Naval Academy via electric car driven by a knowledgeable USNA Grad. Visit the fantastic new Annapolis History Museum, near "Ego Alley," that allows you see Annapolis through the eyes of all of its residents, and lets you in on top attractions and how to get to each one on foot. And, of course, try out new restaurants.
Annapolis is also one of the most beautiful towns in the USA. This travel guide brings you, by land and water, to some of the most historic, attractions and eateries, some just gaining momentum – on this historical, romantic, Maritime Getaway.
Annapolis is on our list of 17 Best Romantic Getaways in Maryland. Check it out for more adventures with your loved one.
Things to Do in Annapolis and Surrounding Anne Arundel County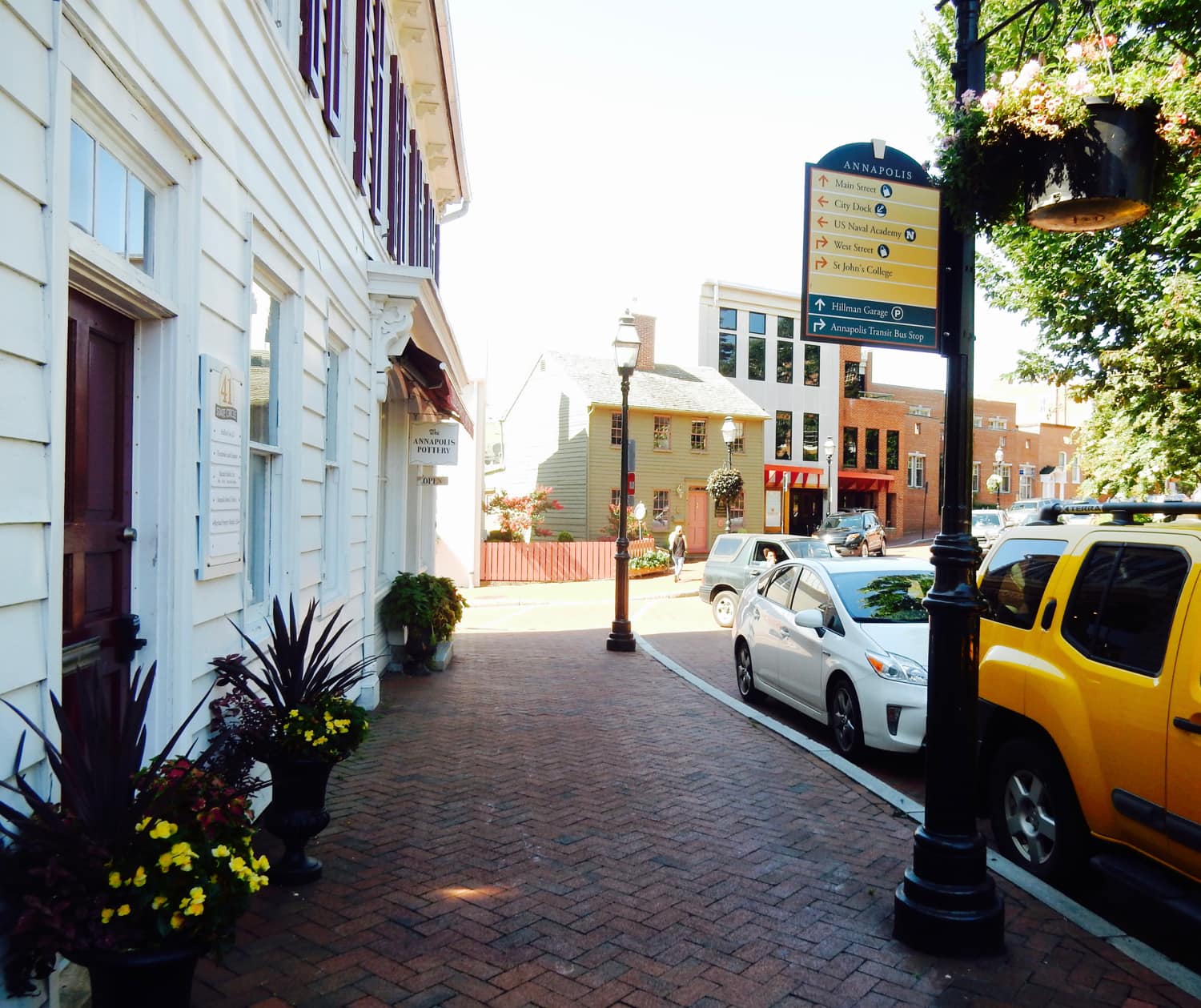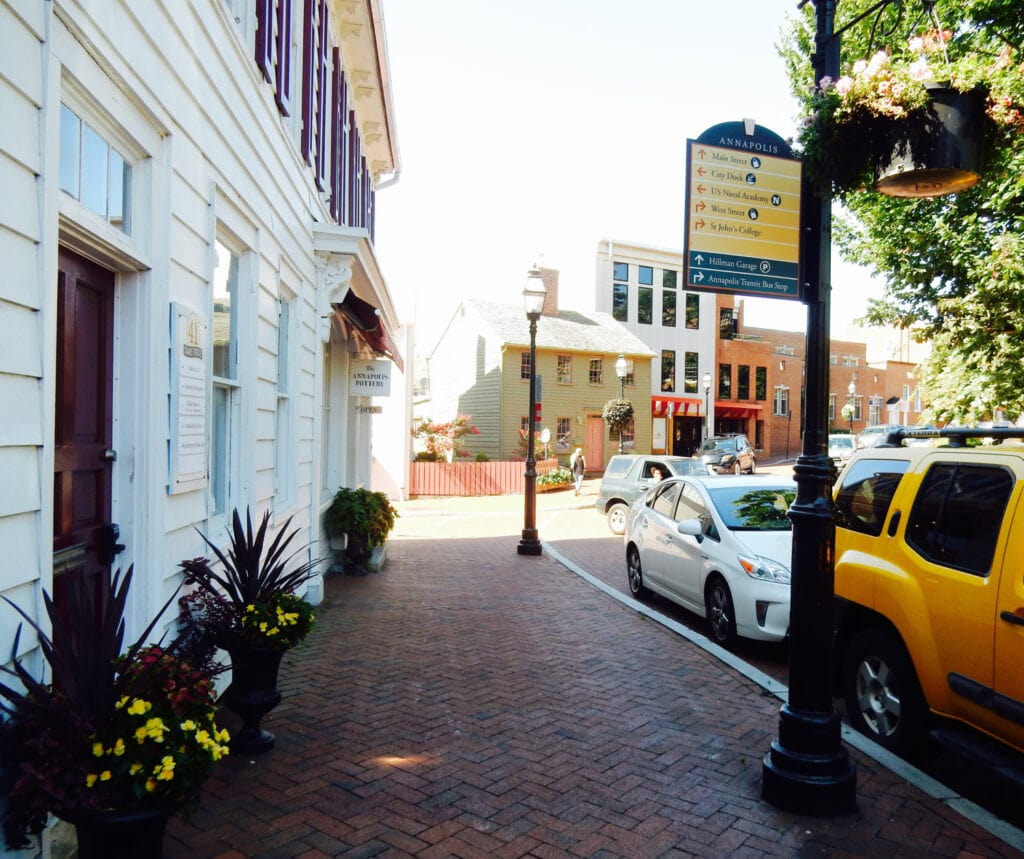 WALK: Downtown Annapolis
Annapolis MD, "America's Sailing Capital" has also been called A Museum Without Walls. The whole downtown is considered a National Historic District. Four signers of the Declaration of Independence came from Annapolis, and the US Naval Academy has graduated many other high-ranking government officials, including President Jimmy Carter and Senator John McCain.
There are more 18th Century brick buildings in Maryland's Capitol City than in any other town in America within an easily walkable human-scale downtown. Annapolis, chosen in 1694 as a provincial capital due to its central location, was laid out on a Baroque Street plan. Its highest points are Church and State House.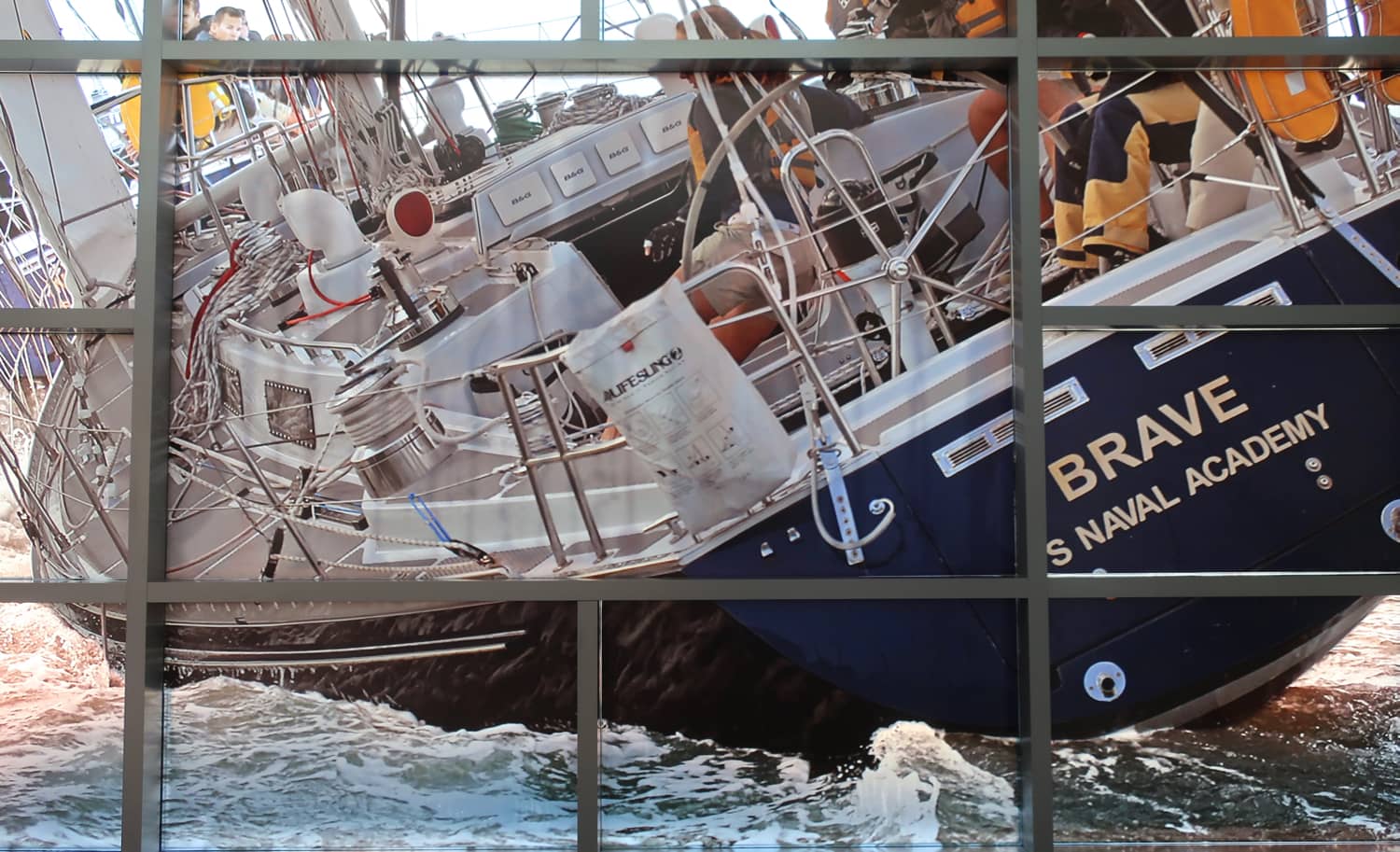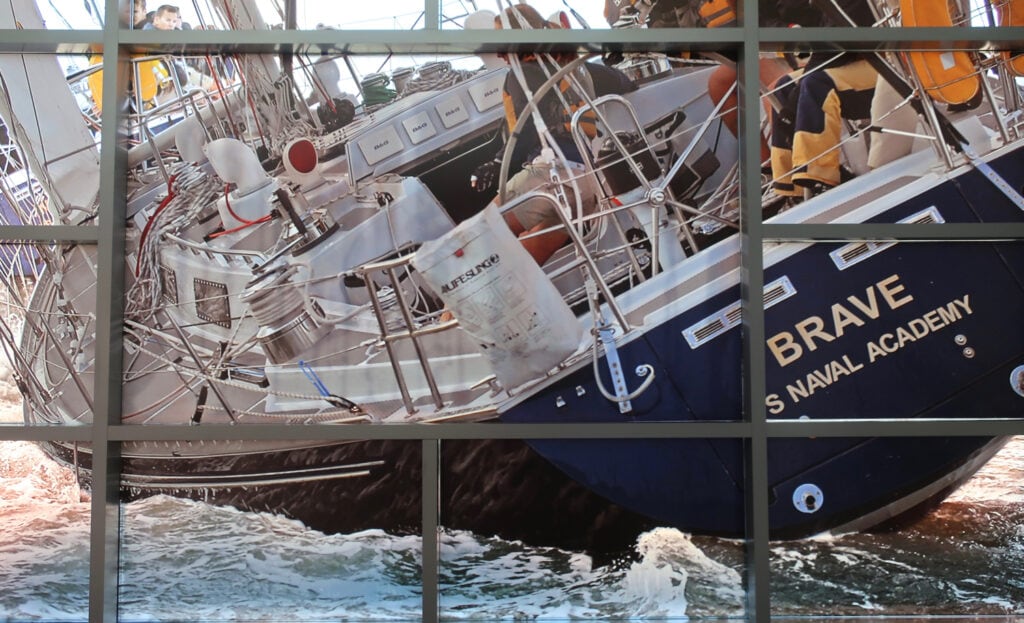 TOUR: US Naval Academy
Guided tours of the 4,400-midshipmen-strong US Naval Academy are well worth an hour plus. There are several ways to see the 330 acre campus: via a 90 minute walking tour or a 75 minute electric car (GEM) tour. Begin at the Visitor's Center after going through an initial security checkpoint (there are signs to direct the way).
Take A Walking Tour of USNA
The Naval Academy opened in 1845 with a heavy influence on engineering – as it has today. Considered one of the Top Five Engineering Schools in the country, only 1,200 are chosen from a pool of 17,600 applications.
Not only does a prospective applicant need to show aptitude and intelligence, he or she has to be in top physical condition, have demonstrated leadership in High School, and have been endorsed by a Congressman or Senator. The Academy accepted its first female students in 1976, and now women make up 25% of the student body.
If you time your visit right – watch the pomp and circumstance of Noon Formation, when all Midshipmen must muster before lunch (every Mon-Fri except in inclement weather).
Bancroft Residence Hall
You don't have to enter the Bancroft Residence Hall to understand how large it is. With its own zip code, Bancroft is the largest stone building in the United States.
Learn the Story of Bill the Goat
What's the deal about Bill the Goat? Well, the thinking went that in the 1700's through 1800's, goats were kept on ships to supply fresh milk. A rational choice for a mascot for the seafaring branch of the military, no? The first Bill the Goat, named El Cid, made his appearance at the 1893 Army-Navy Game. In 2023, the USNA's mascot is Bill #36, with #37 waiting in the wings.
Lejeune Hall
Check out the Wall of Fame in Lejeune Hall. As you can imagine, sports are of utmost importance here, and photos of standouts, including NBA champ, David Robinson, line the wall of the skywalk overlooking an indoor Olympic Sized pool. Robinson graduated as a 7'1" giant. Too tall to fit on a ship, he served in the Civil Engineering Corps, before playing for the San Antonio Spurs.
Pass the tony homes where Department Heads live: it's one of the prettiest blocks on or off Academy grounds.
Enter Annapolis Academy Chapel and John Paul Jones Tomb
One of the most remarkable buildings on campus is the Chapel, a stunning, soaring structure that can be seen from all over town. In the basement rests the crypt of Revolutionary War Naval hero, John Paul Jones.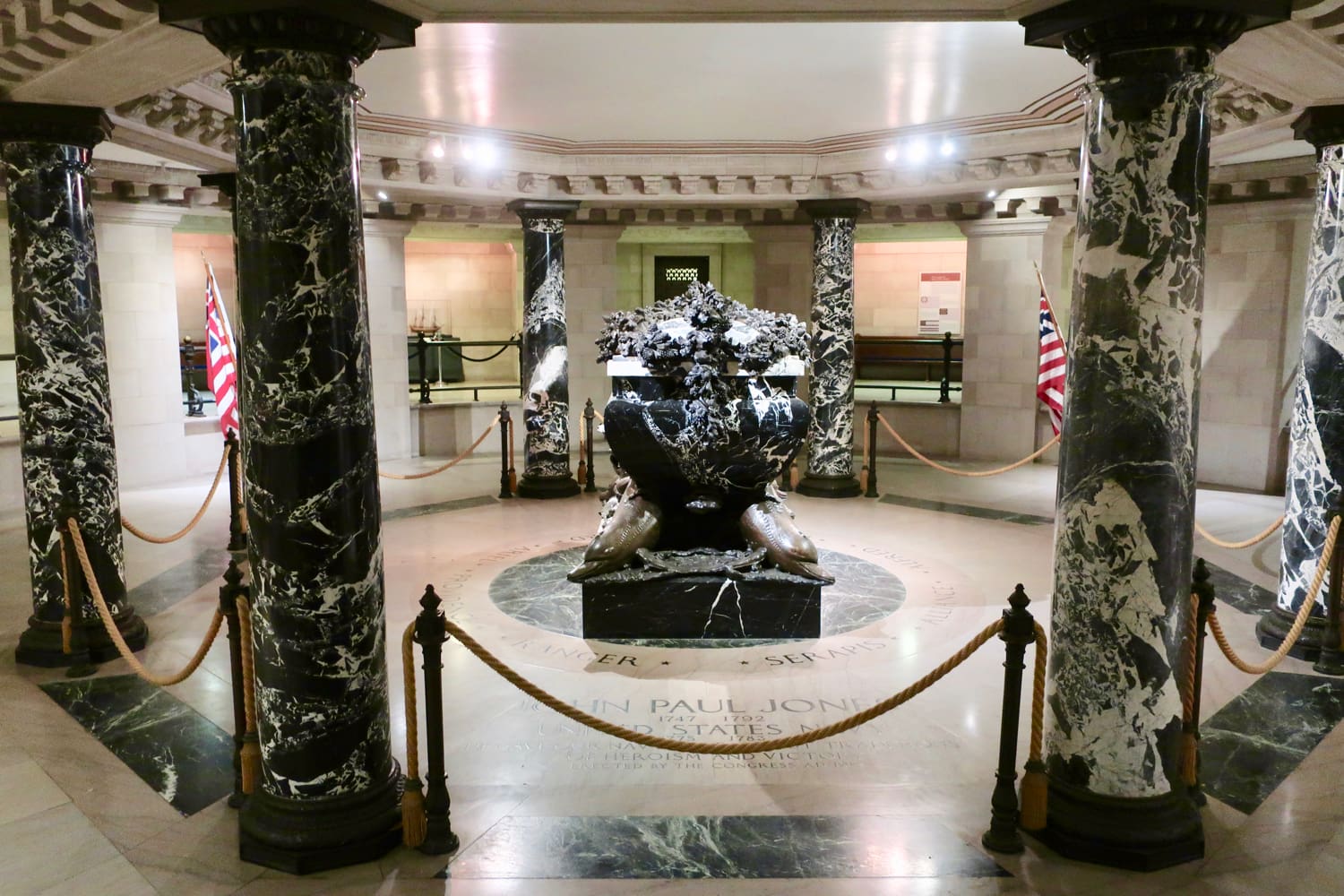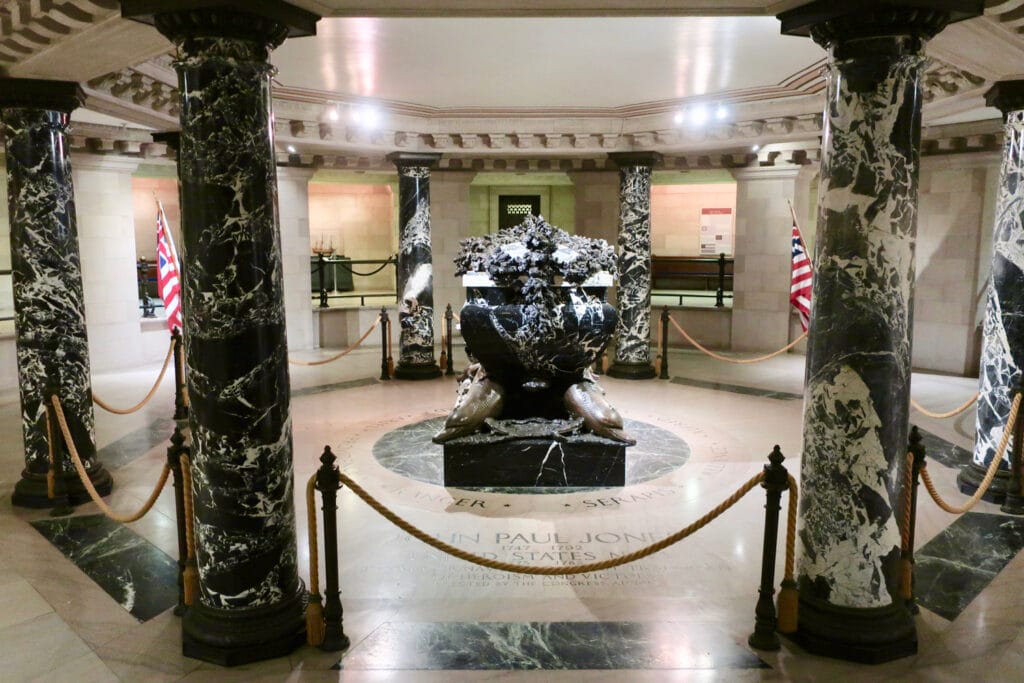 Jones, who shouted the famous, "I have not begun to fight!"after being asked to surrender to the British, is interred in a green-marble casket laced with carved seaweed and swimming dolphins.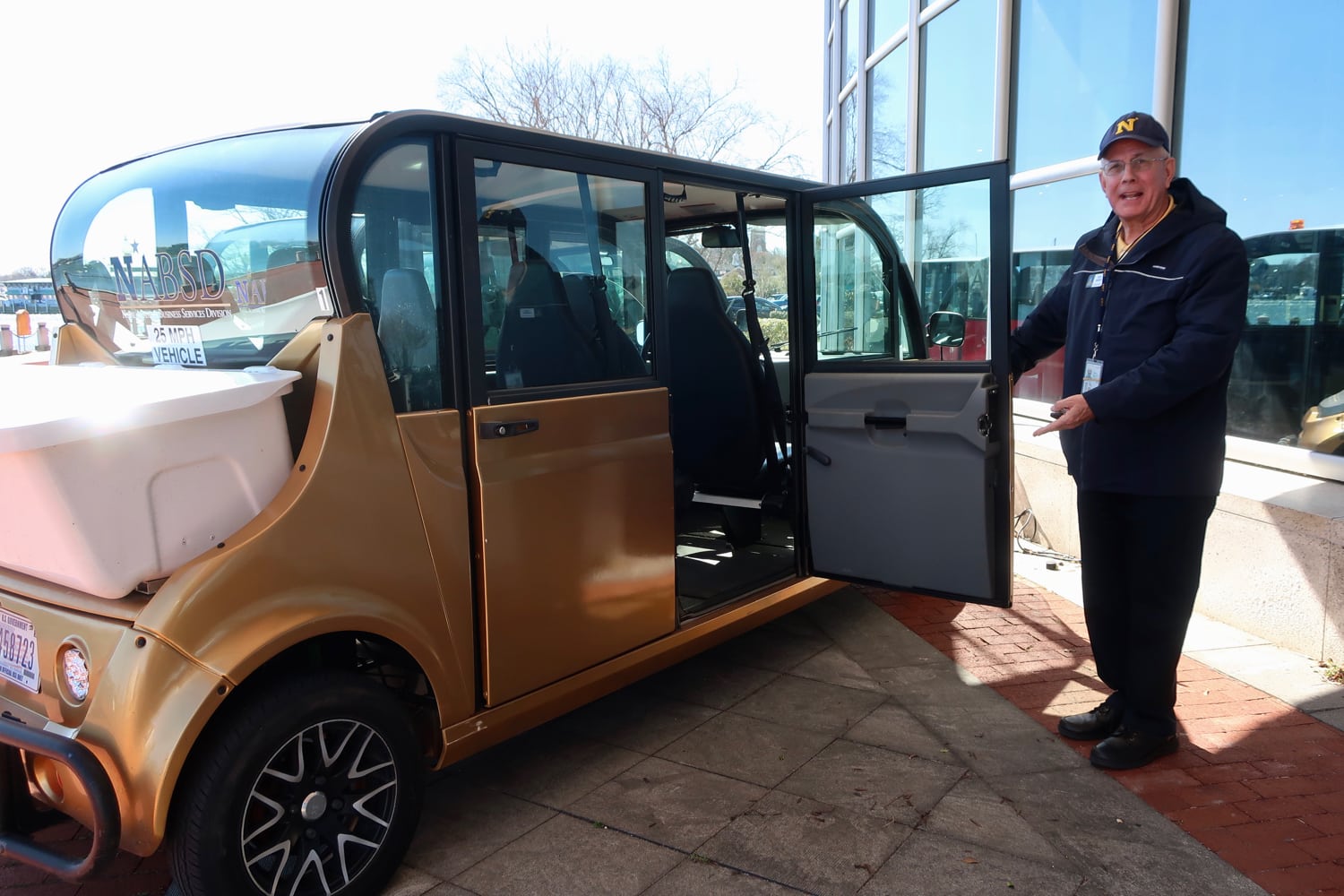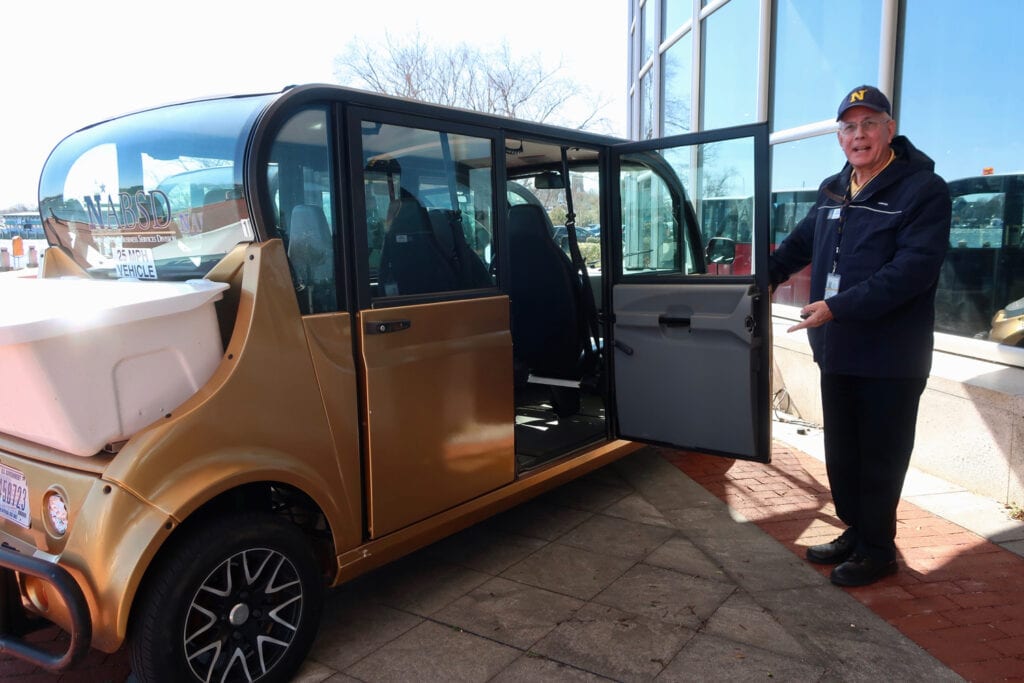 Take A GEM (Electric Car) Tour
While the walking tour takes visitors to ten acres at the center of the Academy grounds, a private GEM (Electric Car) Tour ($30pp) brings you all over the 330 acre campus, with a couple of stops.
Along the way, your driver, a Naval Academy grad, recounts stories about the buildings, graduates, and customs of this storied Academy.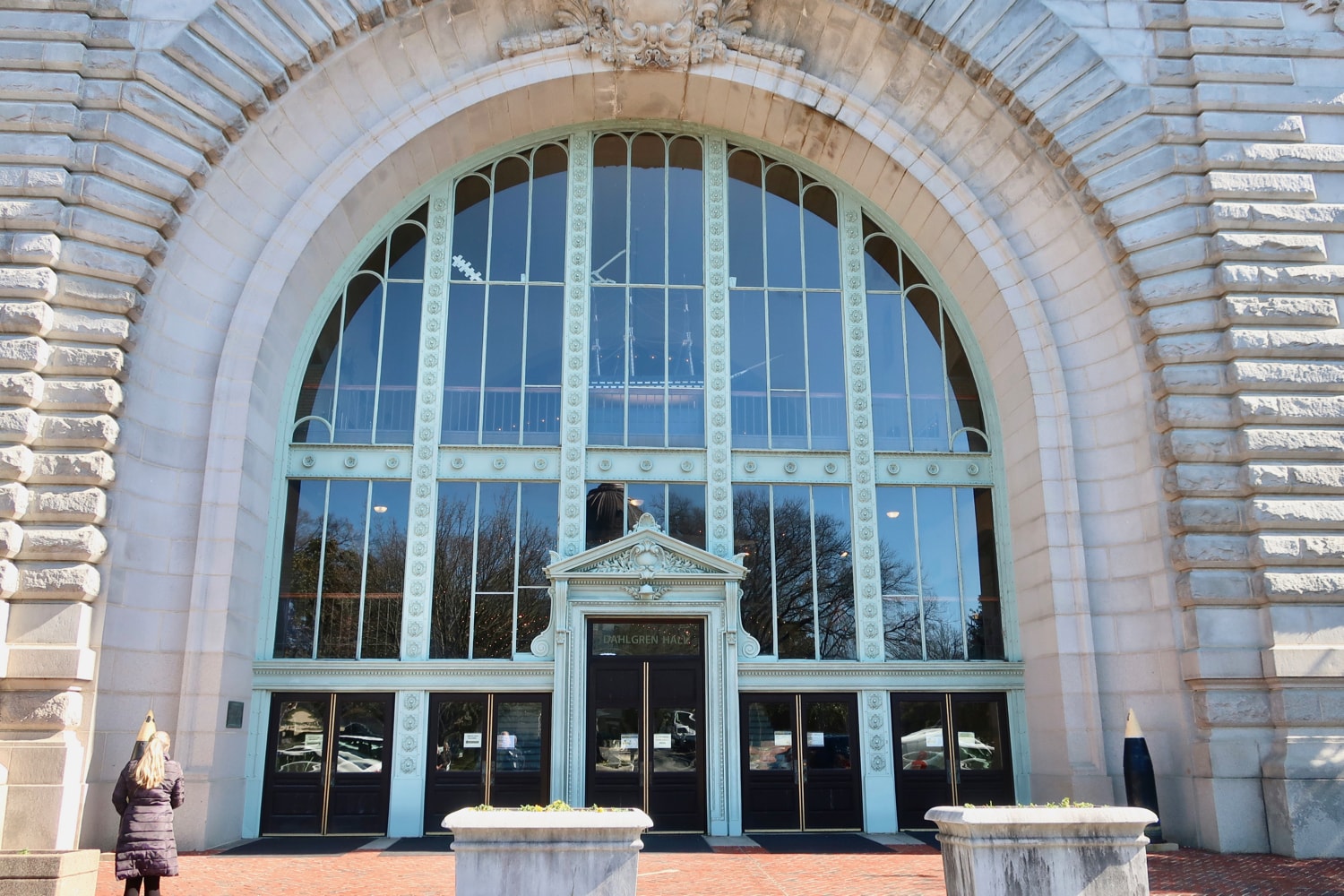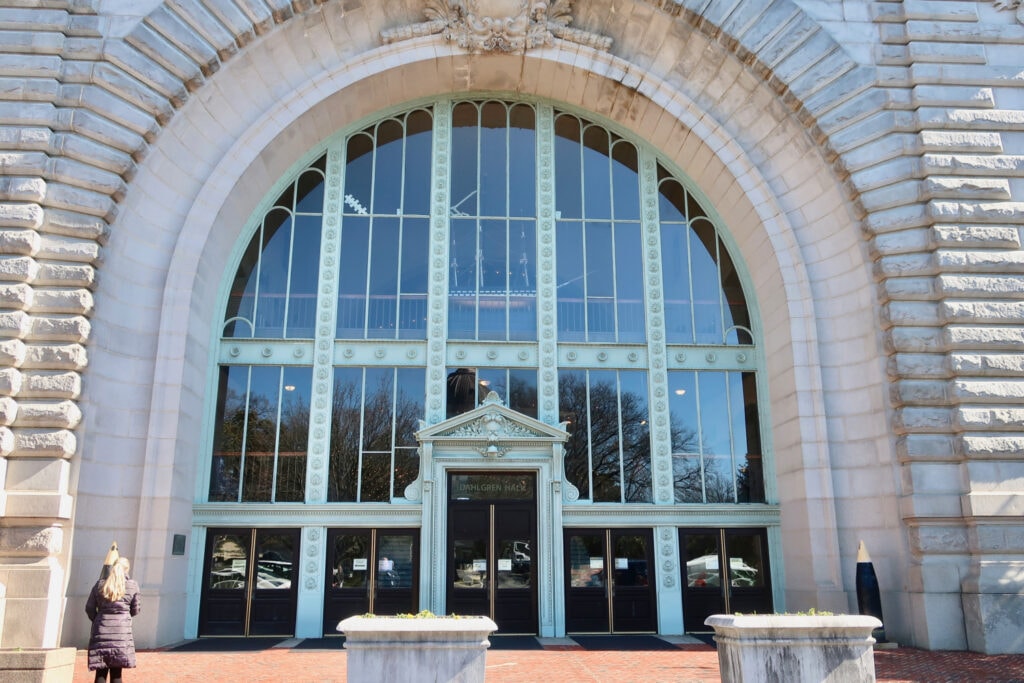 You tool down Porter Road, lovely homes of Department Heads, and stop at significant buildings, such as Dahlgren Hall, designed by architect Ernest Flagg (who could not have been born with a better name for these military projects). Its vast, train station-like interior served first as an ice-hockey rink, and now houses a restaurant, offices, and a mega assembly room large enough for all Midshipmen.
TOUR: Discover Annapolis Trolley Tour
If you're short on time, and want to see the most of this city efficiently, take the 60 minute Discover Annapolis Trolley Tour, jam packed with information; mostly important, some funny and frivolous. It's a great overview of the town, so you'll know where to visit and amble later on, if you have more time.
Annapolis features the highest concentration of Georgian brick buildings in the country, and you'll pass many of the 1,300 while you tool around town.
Naturally, you'll see plenty of boats at docks and hear the scoop about the Naval Academy. But you'll also be privy to some facts about other college in town: St. Johns.
TOUR: St. Johns College and On Site Mitchell Art Museum
The alma matter of Frances Scott Key, and with an enrollment of only 440 students, St. Johns College (Annapolis and Santa Fe), is unlike any other institution of higher learning in the U.S.
All undergrads are required to read 130 Great Books that form the "Basis of Civilization." All in their original languages (e.g. Ancient Greek, Classic French). History, science, philosophy, and other disciplines are taught through these great masterpieces.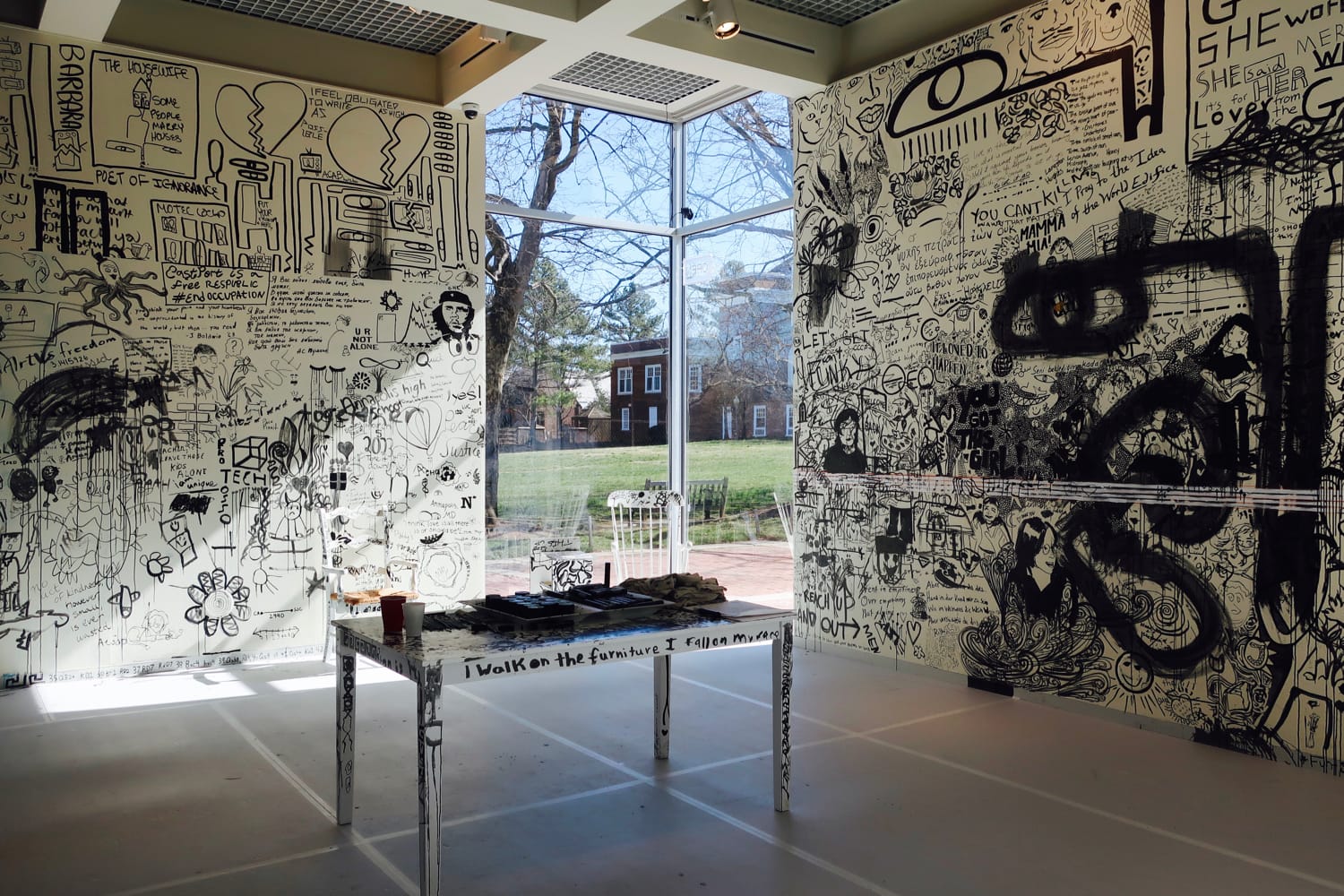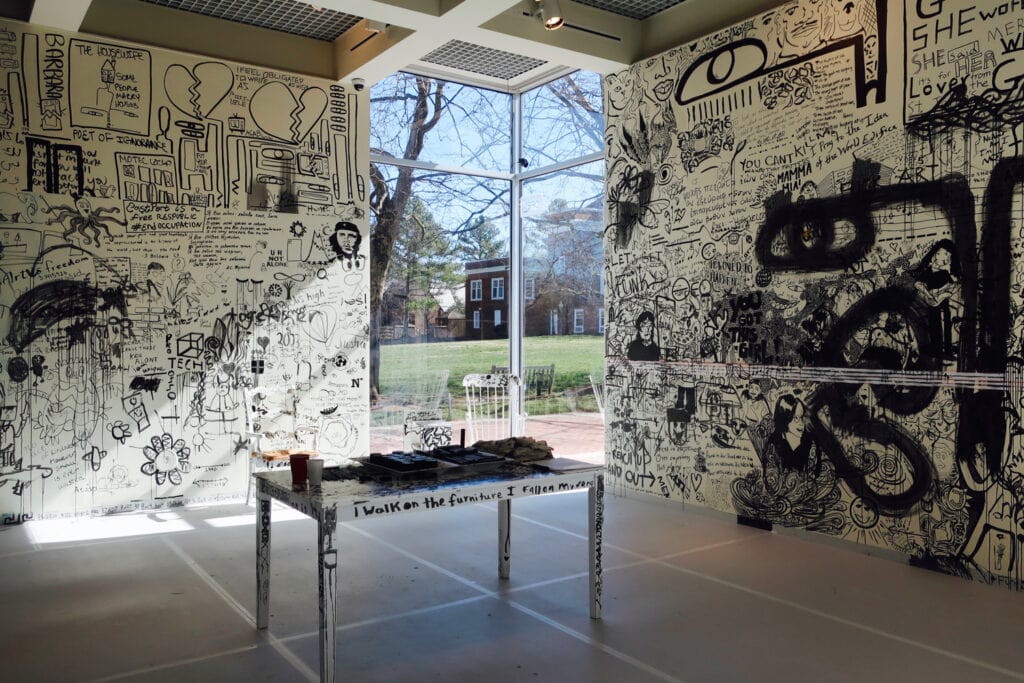 Stop in to Mitchell Art Museum
The Mitchell Art Gallery on the campus of St. John's College, has just rebranded as the Mitchell Art Museum to much fanfare. Established in 1989, and accredited for ten years, this two-gallery museum displays quality art from around the world.
To announce its rebranding, the Annapolis community was invited to walk into a large, empty, sunlit room, stocked with black graffiti markers, and encouraged to let their imaginations run wild. The result runs academic to scientific to potty mouth – and is a delight to behold. Until, of course, it's removed and other art, including "New Media," takes its place.
Take in a Free Lecture or Concert at St Johns College Mitchell Art Museum
As St. John's College fosters an atmosphere of questioning and curiosity, seasonal shows are bound to be unconventional – and possibly provocative. Come on Friday nights at 8pm for a lecture or concert. They are free and open to the public.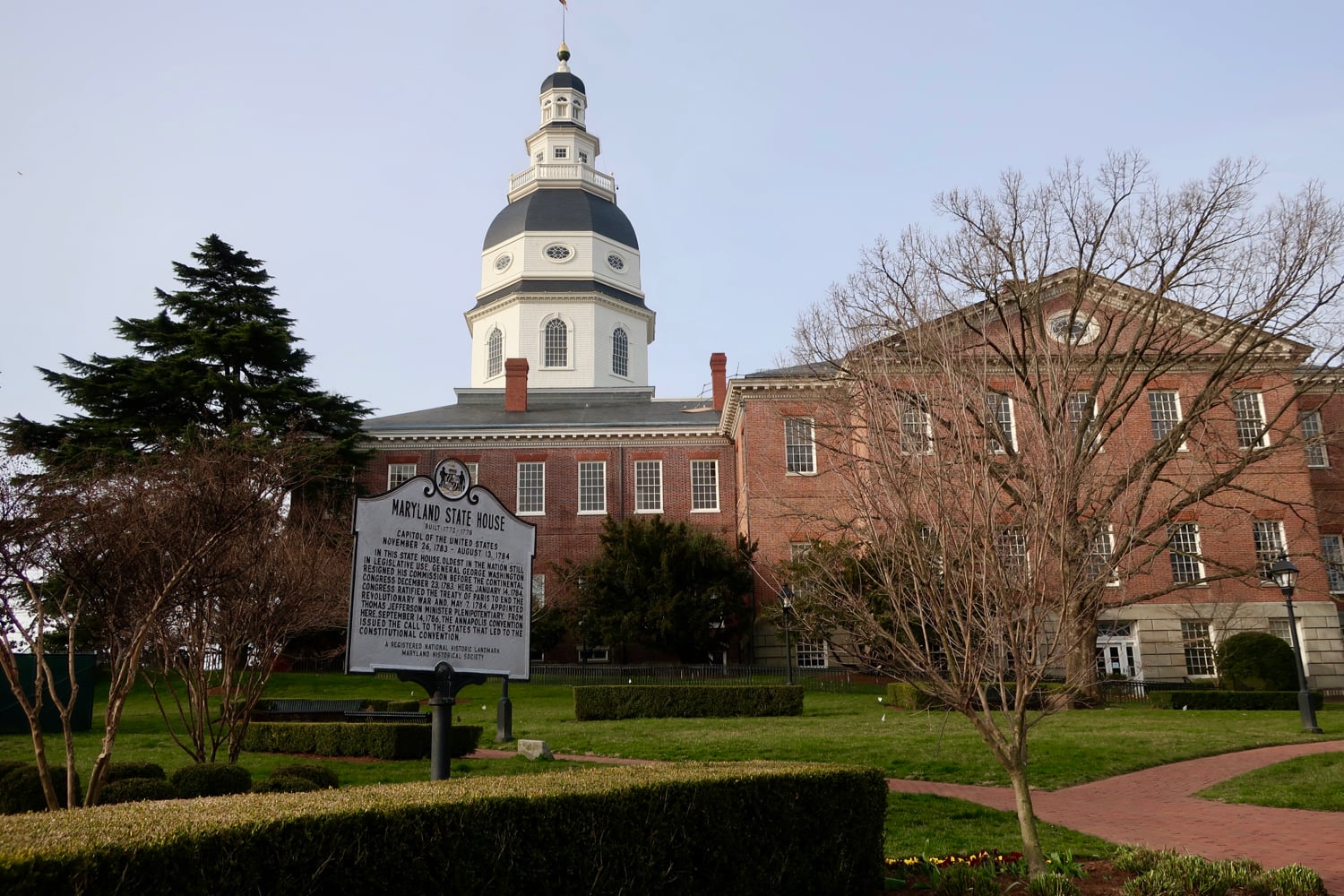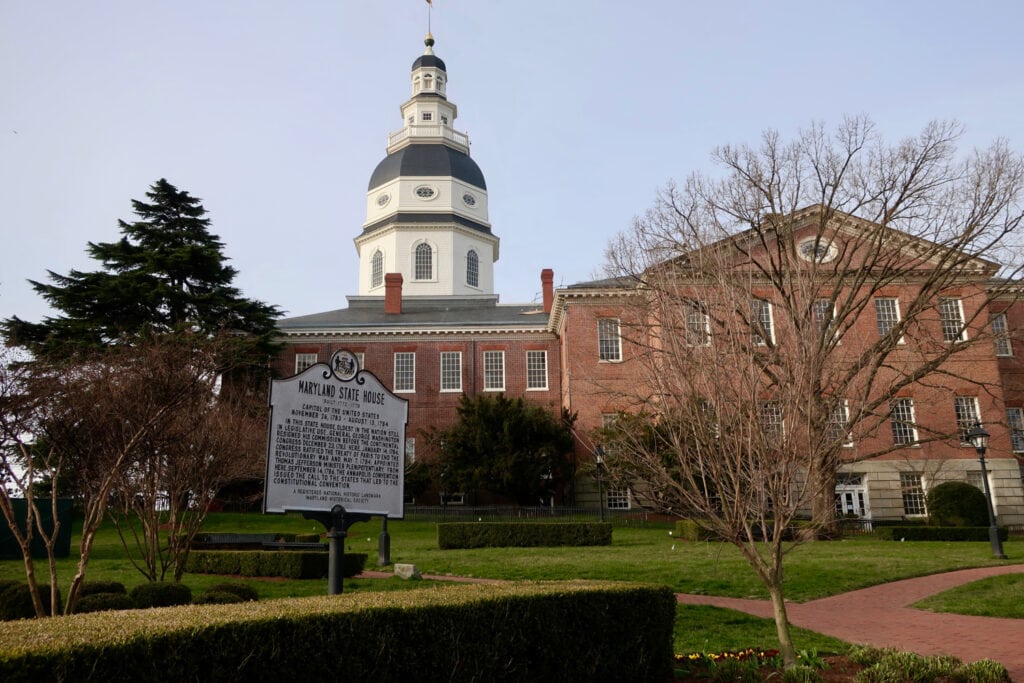 TOUR: Maryland State House
Take a self-guided tour and learn more about the Maryland State House that served as our Nation's Capitol for four months in 1783 and 1784 and the oldest state capitol in continuous legislative use.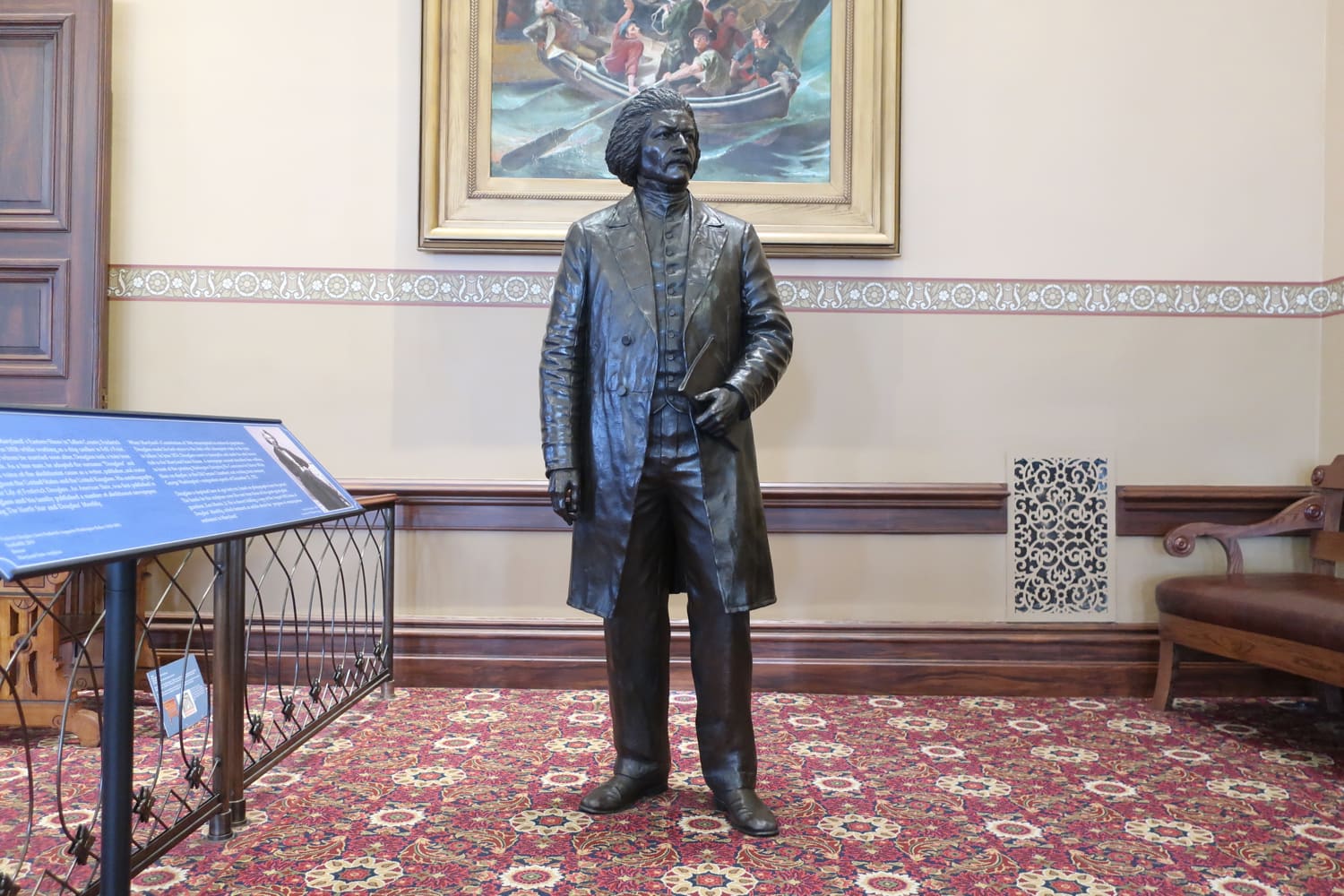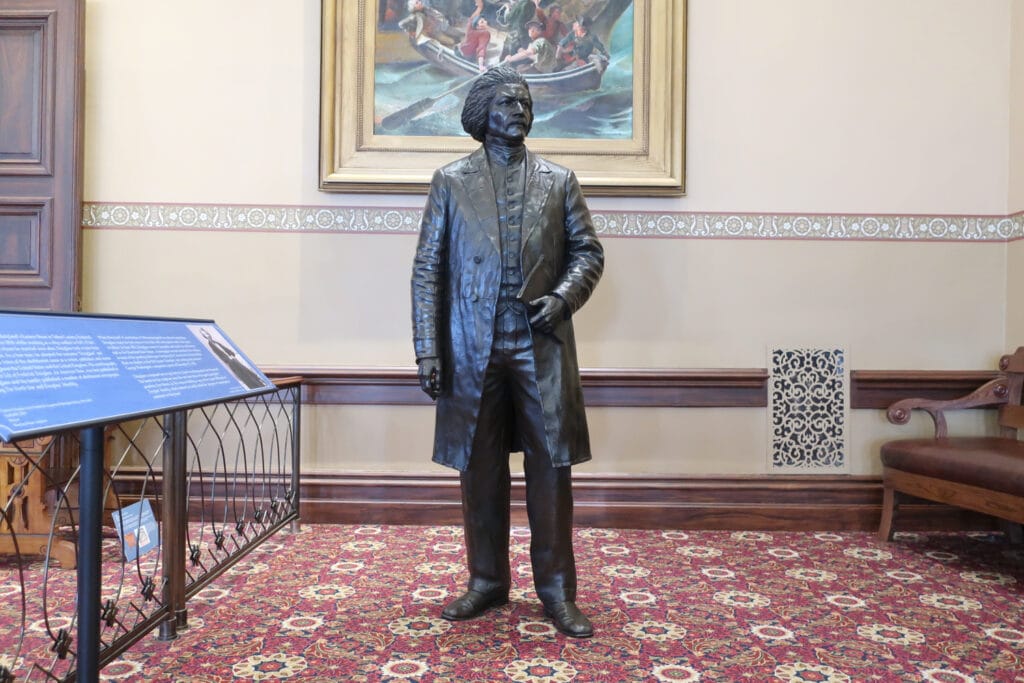 The wooden dome, built in 1788, is the largest wooden structure of its kind in the USA, and built completely without nails. The lightening rod atop it, designed by Benjamin Franklin, juts 28 ft. into the sky and is held in place by a gilded acorn.
See Statue of George Washington Tendering His Resignation as Commander of Continental Army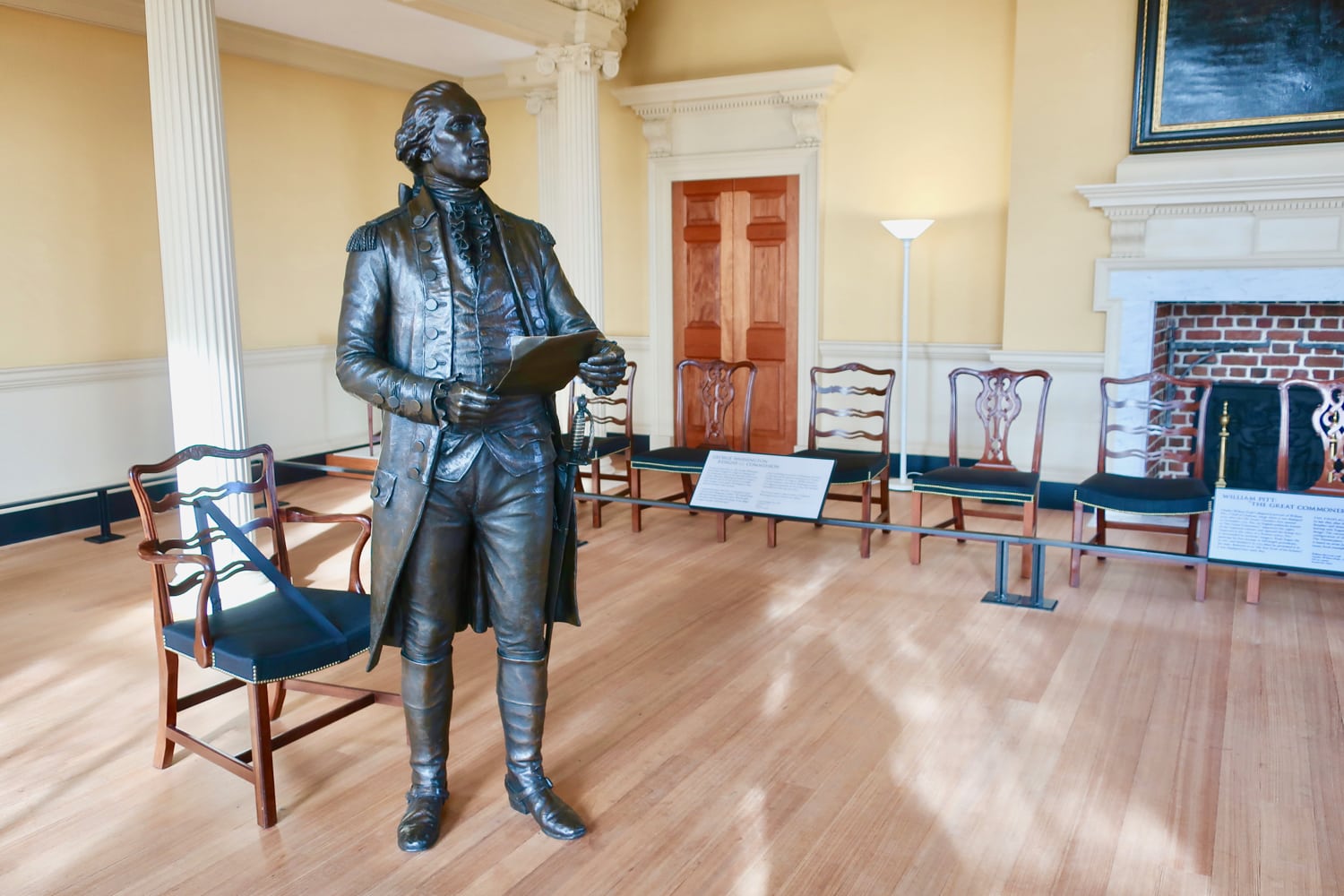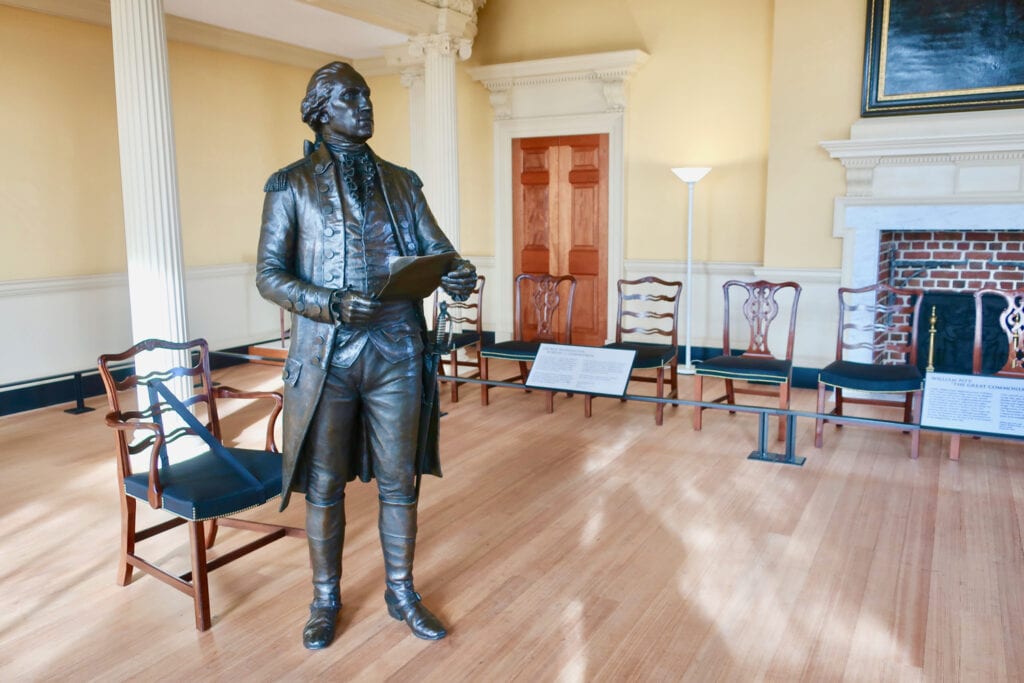 The Maryland State House, a National Historic Landmark, hosted the ratification of the Treaty of Paris, ending the Revolutionary war, and served as meeting place for the Continental Congress when General George Washington, gripping his handwritten speech with two hands as he shook with emotion, tendered his resignation as Commander In Chief of the Continental Army.
Washington's personal handwritten resignation speech, considered by historians to be the 4th most important document in American history, is on display along with video and more information about what happened here.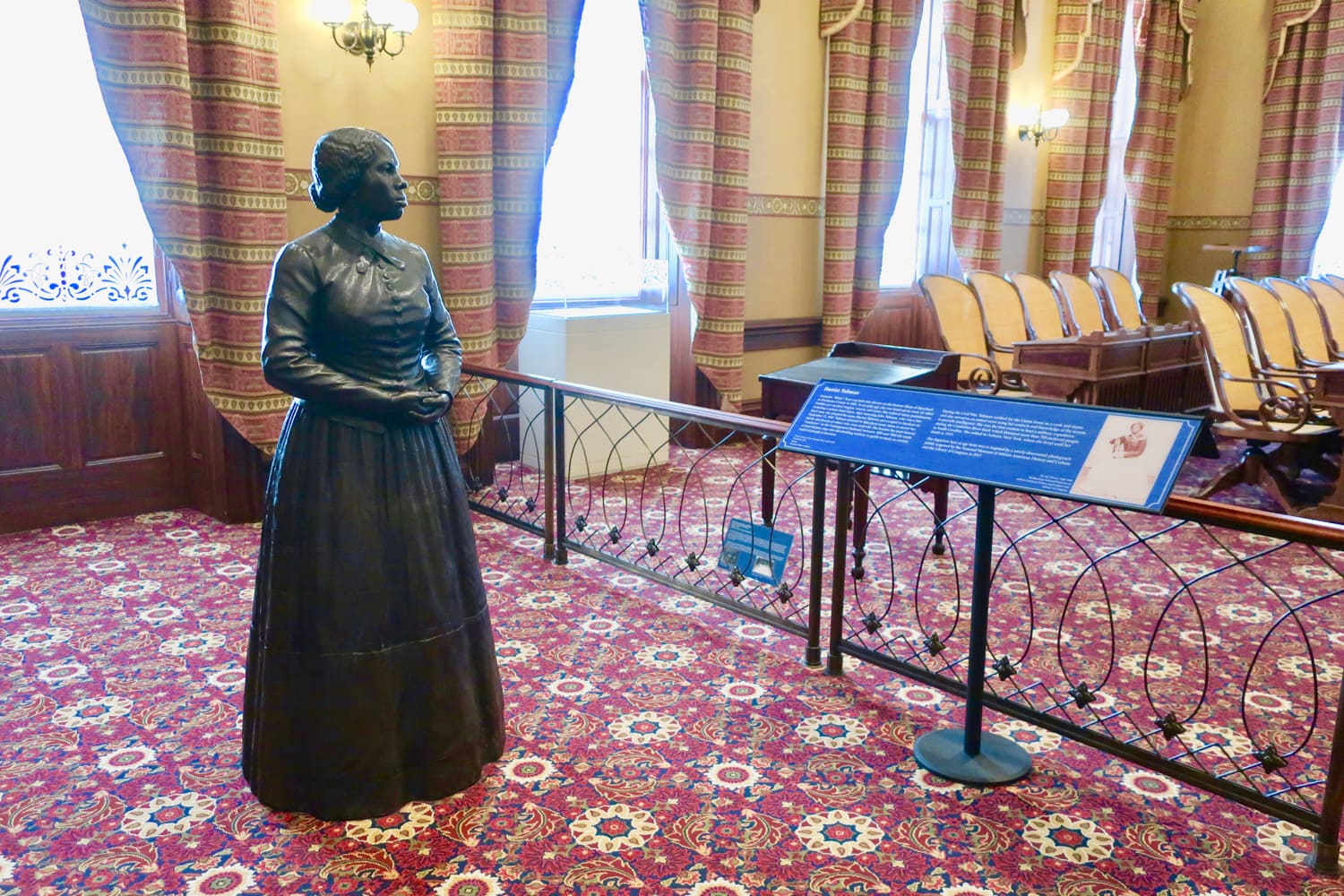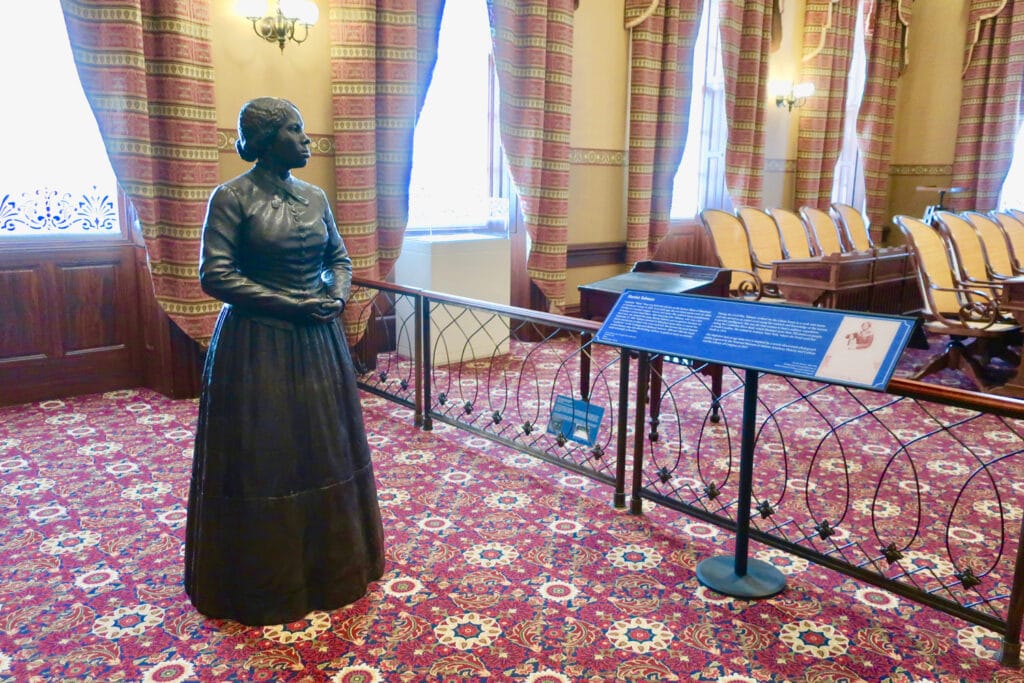 See Newly Installed Statues of Frederick Douglass and Harriet Tubman in Old House Delegates Chamber
Don't leave the Capitol building without popping in to the Old House of Delegates Chamber to see the recently installed life-sized statues of Frederick Douglas and Harriet Tubman at opposite sides of the room.
TOUR: William Paca House and Garden
William Paca, one of four Maryland signers of the Declaration of Independence, built this Georgian Mansion in 1760. Then a young lawyer (who married Mary Chew, "an amiable young lady with a very considerable fortune"), Paca was active in the early Patriot movement and Sons of Liberty, rising quickly in politics.
Throughout much of the 20th Century, this stunning home served as a hotel, with an extension that obliterated the back 18th Century Pleasure Garden.
In 1965, when the hotel shuttered, a team of experts – archival researchers, archaeologists, architectural historians, paint analysts, x-ray photographers, carpenters, masons, landscape designers, horticulturists and other skilled professionals – began restoration with a keen eye to detail.
Chips of paint on the original wood floors were thankfully preserved under carpeting. Now, each room on two floors is an authentic recreation of how the mansion would have looked in Paca's time.
Many visitors come just to stroll the gardens alone, which is composed of the "Wilderness," a Boxwood maze garden, and a spring-fed lily pond fronting a two story fairytale "Summer House," the top floor which can be rented for special events.
In my opinion, a catered meal for two overlooking the gardens is a most romantic way to Pop the Question. Open Mon-Sat 10-5, Sun 12-5, $10, adults, $5 kids, for house and garden.
VISIT: Banneker-Douglass Museum
Situated in the former Mt. Moriah African Methodist Church, Annapolis's museum of African American History, the Banneker Douglass Museum named for mathematician Benjamin Banneker (who helped survey the borders of the original District of Columbia), and Abolitionist, Frederick Douglass, is a hidden gem worth at least an hour.
Celebrating Fellowship, Worship, and Community, engaging exhibits are now in an adjacent building, and focus on Black men and women in Maryland history who deserve to be recognized.
Mathias de Sousa came to Maryland in 1633 as an indentured servant, earned his freedom, and became a ship's captain. Explorer, Mathew Henson, was the first African American to reach the North Pole, with Lt. Robert Peary, in 1909. There are photos galore – one of the largest of a popular, then segregated, Black beach.
Divided in half, one side attracted "church and family," and other half "entertainment," where performers on the "Chitlin' Circuit" (like James Brown) would draw big crowds.
The exhibit titled "Deep Roots, Rising Waters," follows Emancipation, Military Service, Education, and the Civil Rights struggle in a positive way without sugar coating some dark history.
Your journey begins in the lobby – dominated by a stunning stained glass wall hanging that echoes the windows in the church next door. It's a welcoming place for all to experience.
TAKE: Annapolis Water Taxi
The Annapolis Water Taxi is one of the best ways to get around, especially if you're a transient boater hanging on a mooring, or a traveler wanting to get from Annapolis to the "Maritime Republic of Eastport" (declared Jan 25th, 1998) right across Spa Creek.
TOUR: Annapolis EvenTours
Tool around Historic Annapolis in a GEM (Global Electric Motor) for a very different experience than a walking or trolley tour. With only six seats (UAT has 15 GEM's – the largest fleet of them used for tourism purposes in the USA), each Annapolis Eventour is an intimate and personal way to explore the narrow alleyways and cobblestone streets of this Naval town.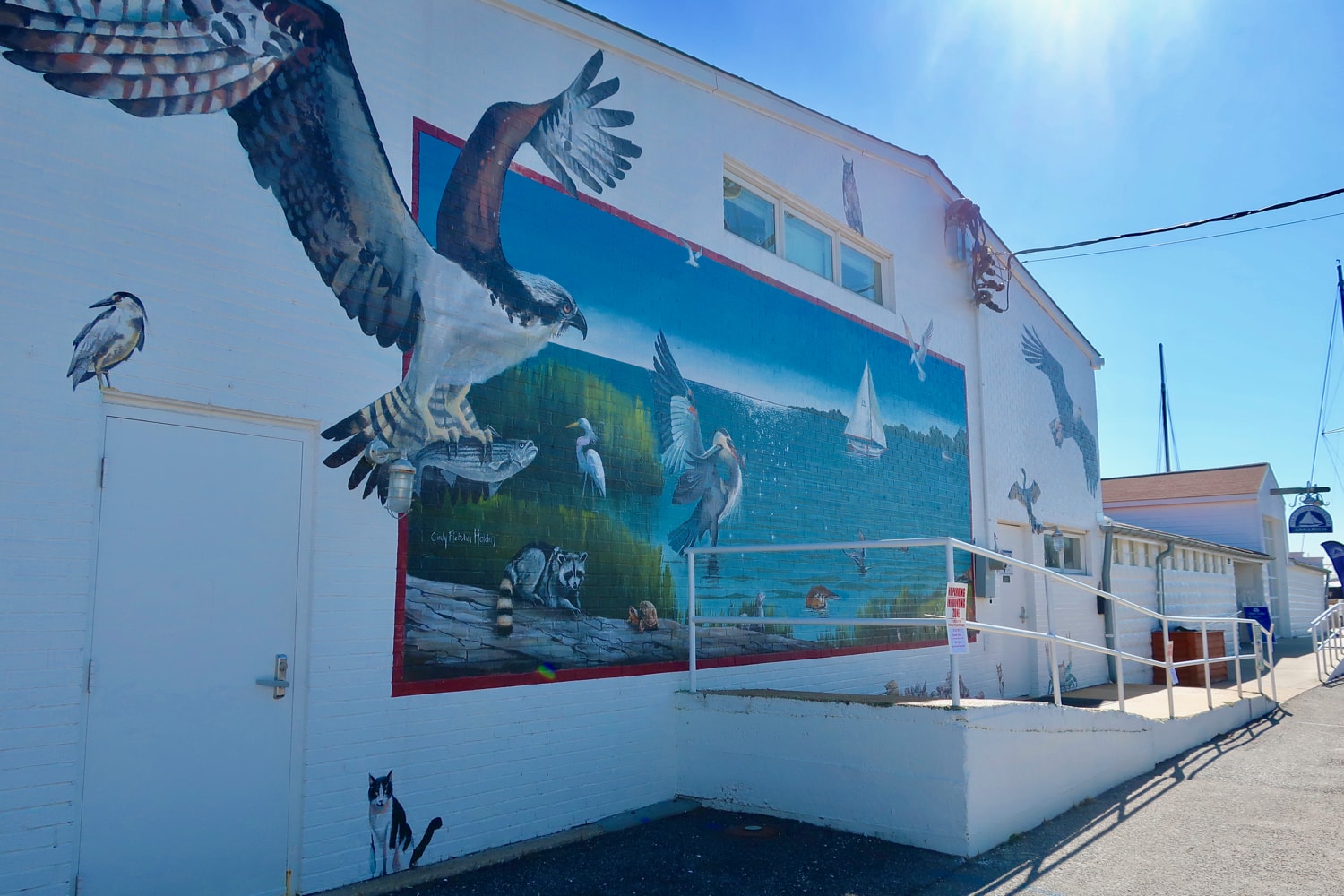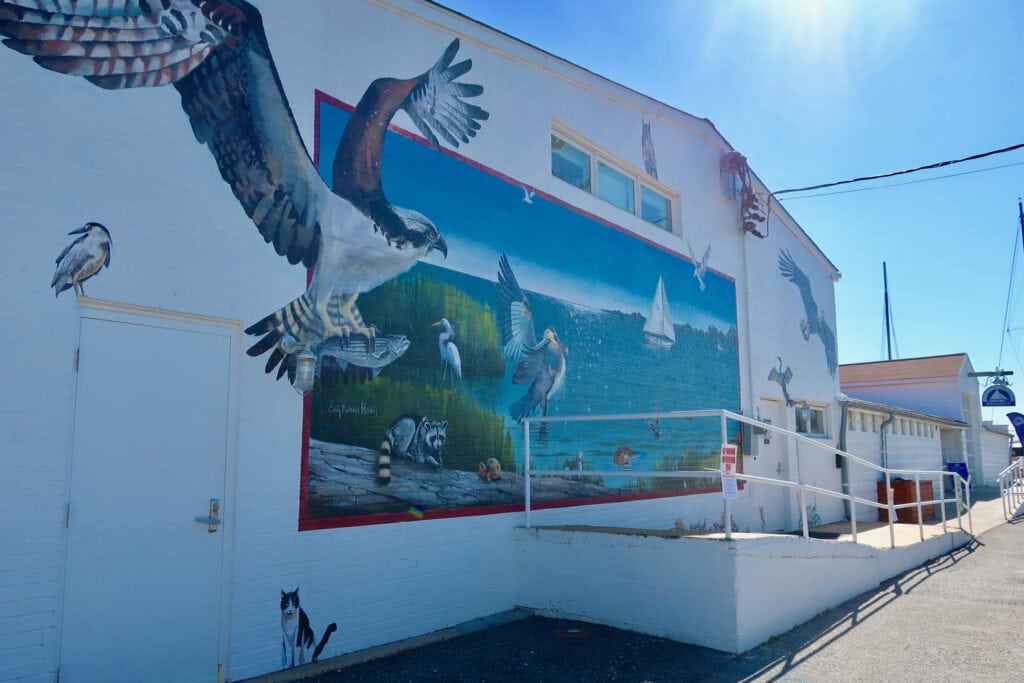 GO: Annapolis Maritime Museum, Eastport
A million bucks can buy a lot of upgrade for a small museum, so if you haven't been to the Annapolis Maritime Museum and Park since before 2020, it's time you return. It's fun, interactive, and will teach everyone a thing or two about the Chesapeake Bay and the creatures that 400 years ago, put it on the map.
The entirety of AMM consists of this Museum Campus and the 12-acre Park Campus at Ellen O. Moyer Nature Park, for the time being used for educational purposes and staff offices only.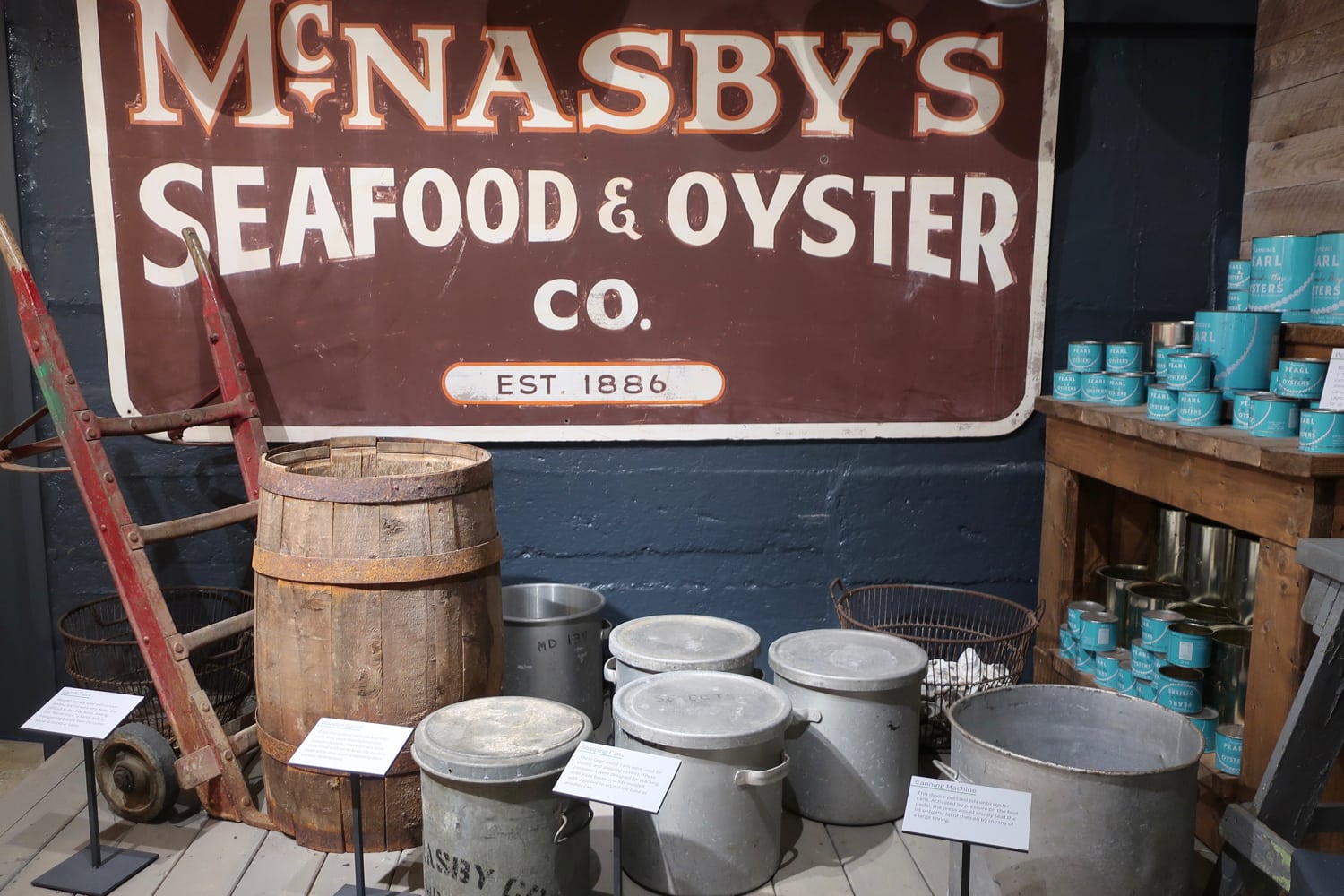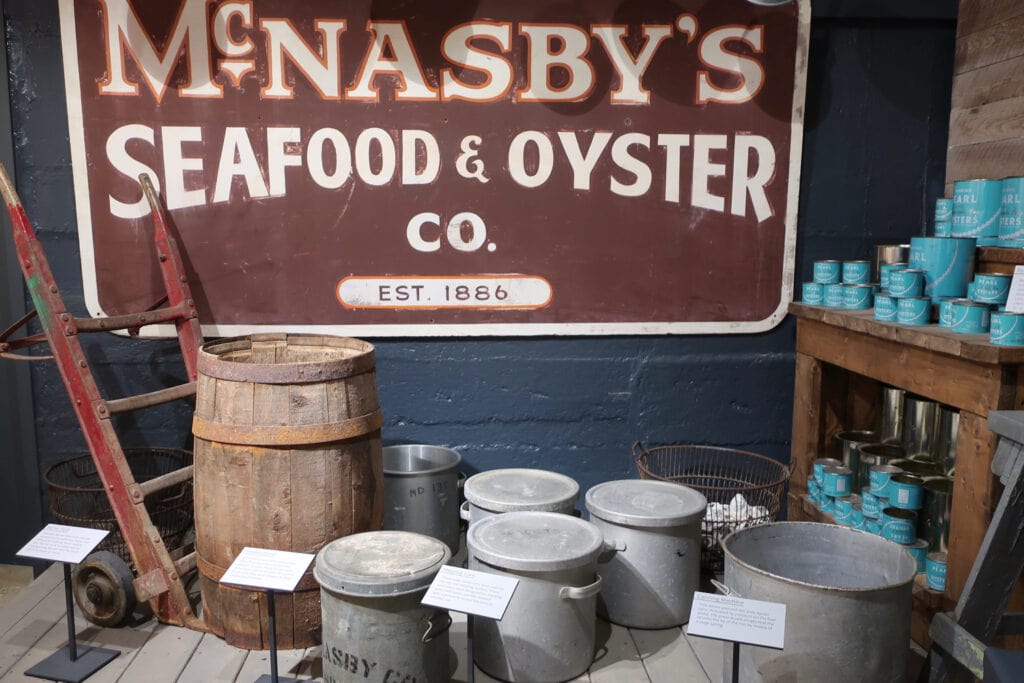 The Museum Campus is on the property of McNasby's Oyster Company, the last Oyster Packing Plant in the region, where millions of oysters, from 1918-1973, came through the back door to be processed and shipped all over the country.
Annapolis has primarily been a yachting/Navy community, but Eastport across the channel identifies as a Watermen's neighborhood, and this Maritime Museum highlights that industry. The Museum now lets visitors engage with oyster shuckers, flip the pages of a "Harry-Potter" like magic book, and learn the history and current situation of the Chesapeake Bay watershed.
Watch Hologram of Oyster Shucker at Former McNasby's Seafood Co.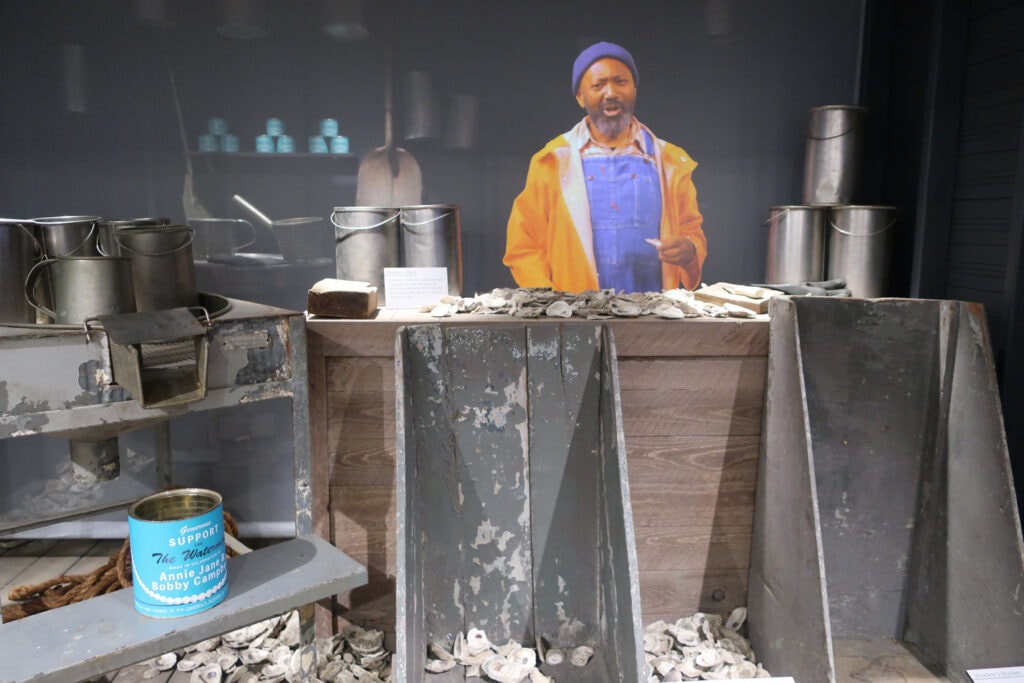 Watch a five minute movie in the Art Gallery to hear about the Chesapeake Bay in the early 1900's – "the most abundant protein factory in the country." Next, watch an oyster shucker as he describes his job working at McNasby's.
Steer A Kayak, Racing Yacht or Oyster Boat – Virtually –And Maybe Meet Resident Cat, Mac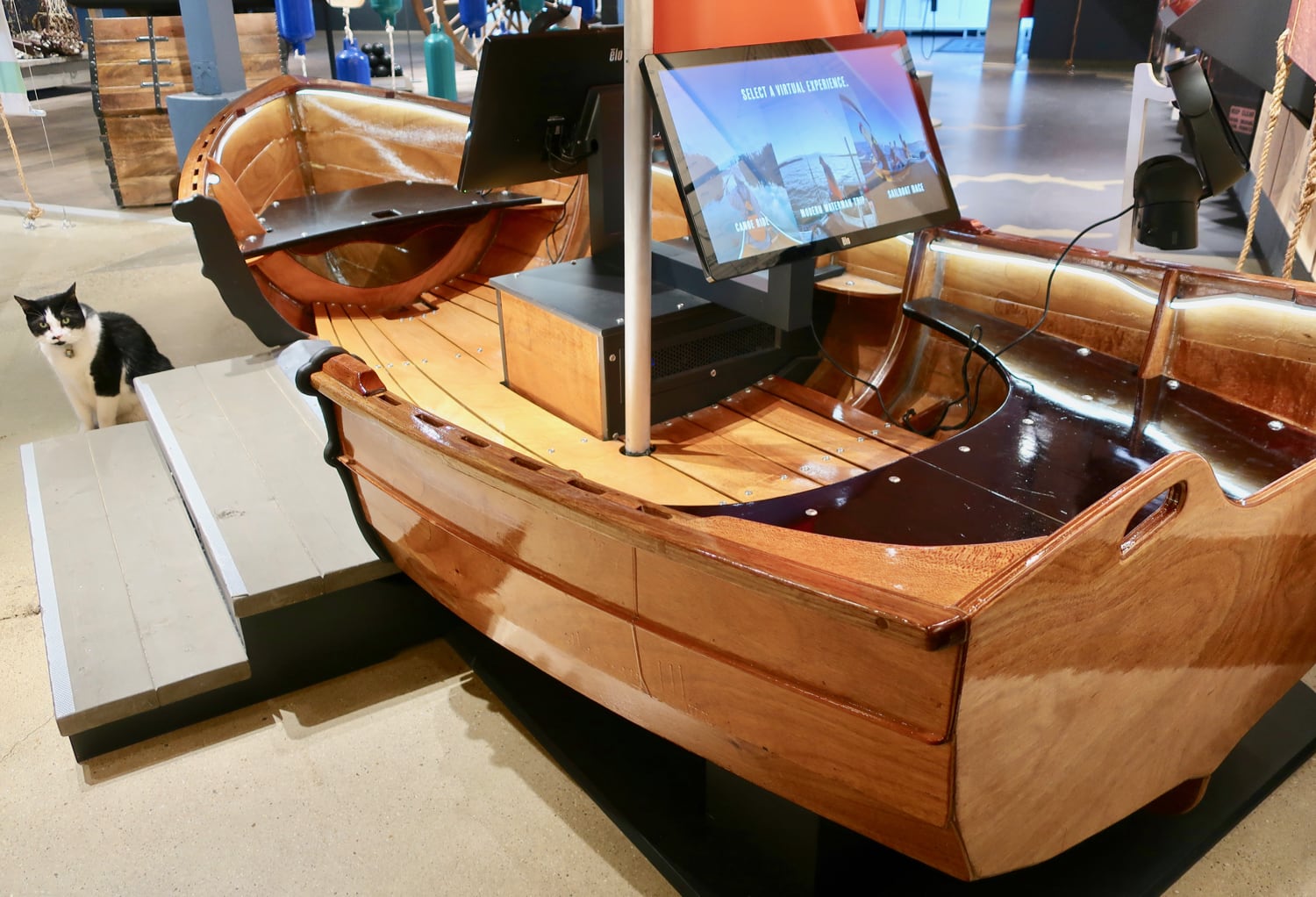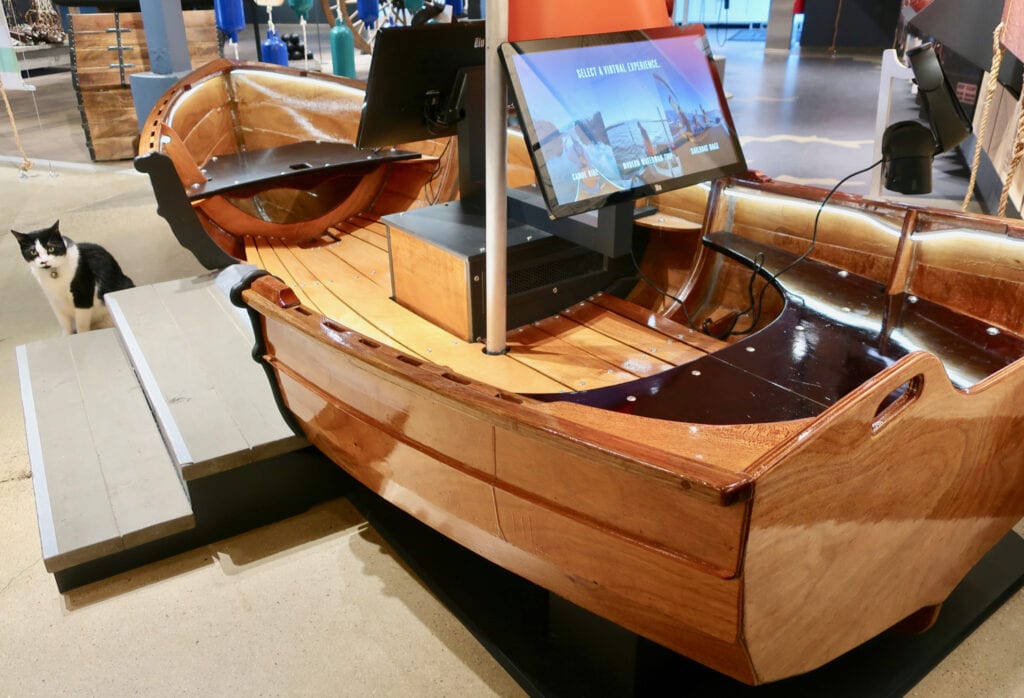 Jump into a small wooden oyster boat, put on a headset, and via virtual reality, paddle a kayak, race a sailboat, or become a waterman.
Get a load of the heft of the kind of cannon used in the 1880's Oyster Wars, when New Englanders encroached on Chesapeake Bay Watermen's livelihoods. Yes, for some, the clashes turned into bloody battles.
See two 500 gallon aquariums side by side comparing the Chesapeake in 1608, when Captain John Smith first set eyes on it, and its condition today. It's pretty shocking what 400 years of factories, farms, home development and impervious roads in six states along the watershed have wrought.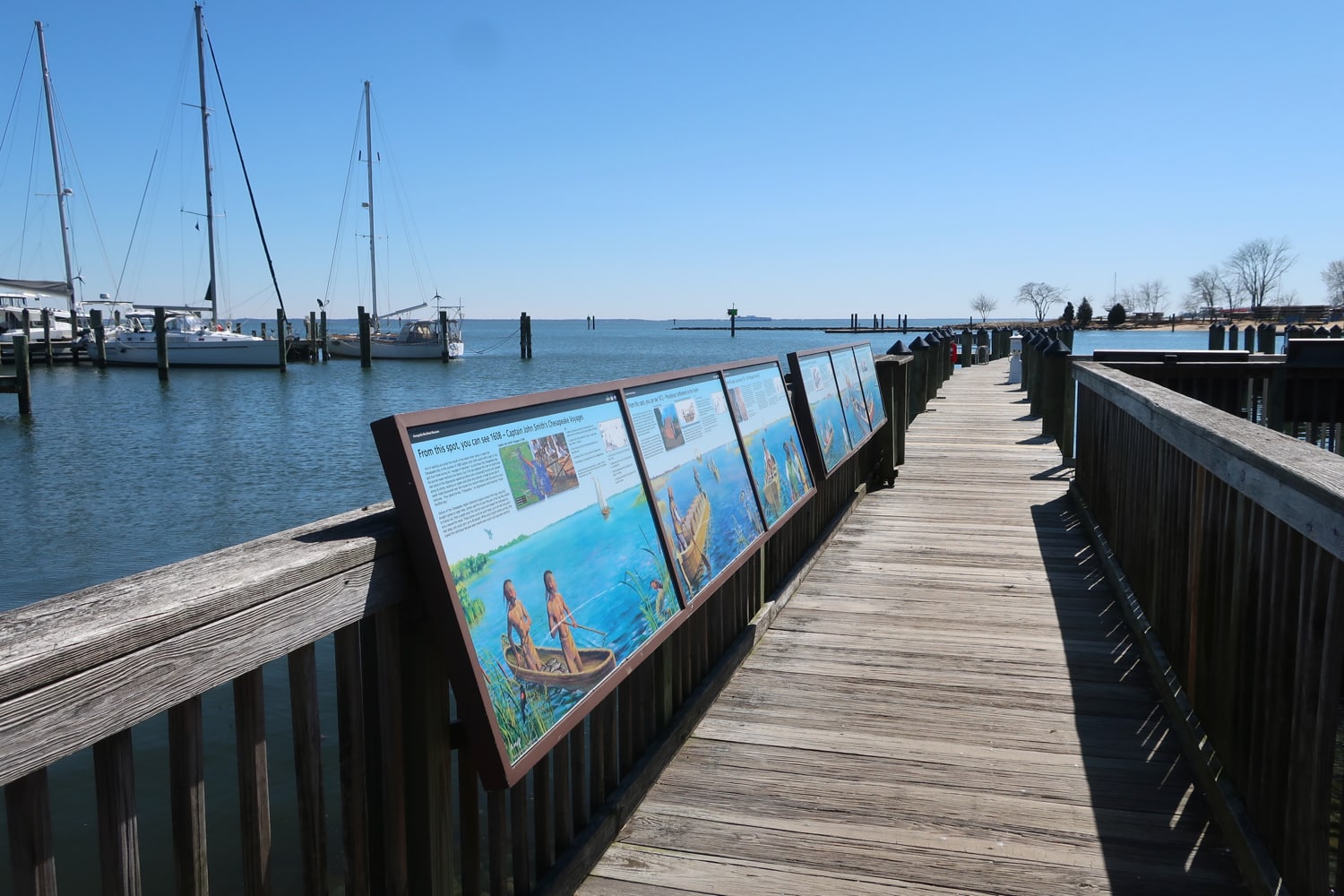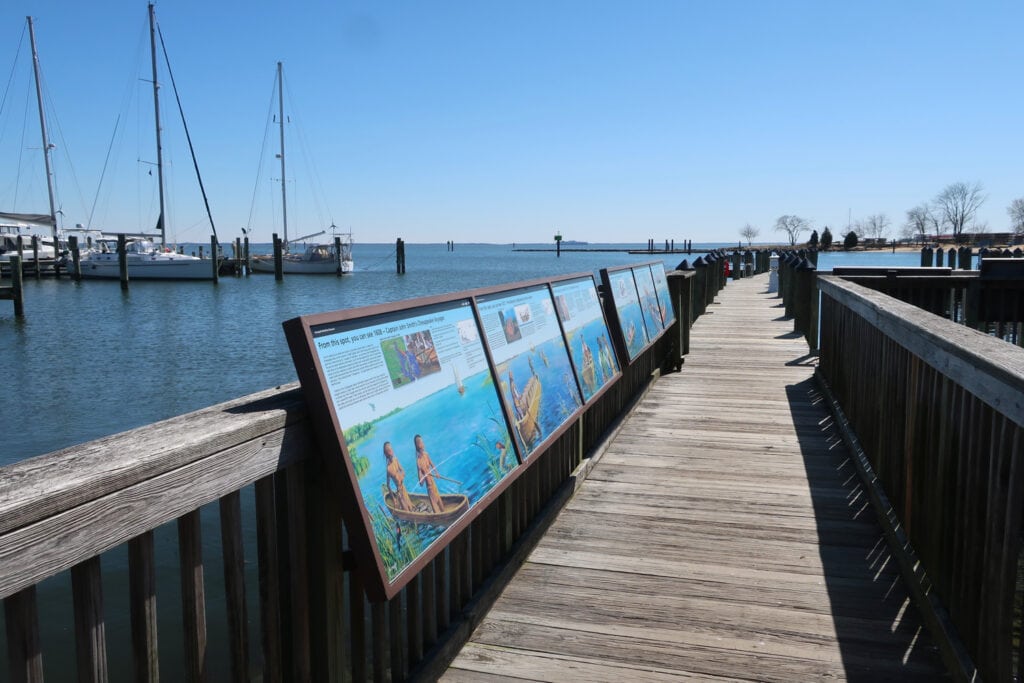 Stroll On A Waterfront Boardwalk Lined With Information Panels
Head outside to walk a boardwalk lined with information panels about the area. The authentic Skipjack, Wilma Lee, docks here when she isn't out on Heritage History Tours or Sunset Sails. And, it's where you'll also find a couple of restored and preserved traditional Bay workboats from the past.
Every week from June through August, 800 – 1,000 people converge on this little dead end establishment by foot, car, boat, and kayak, for the Thursday Night Concert Series. It turns little Eastport into a happening place.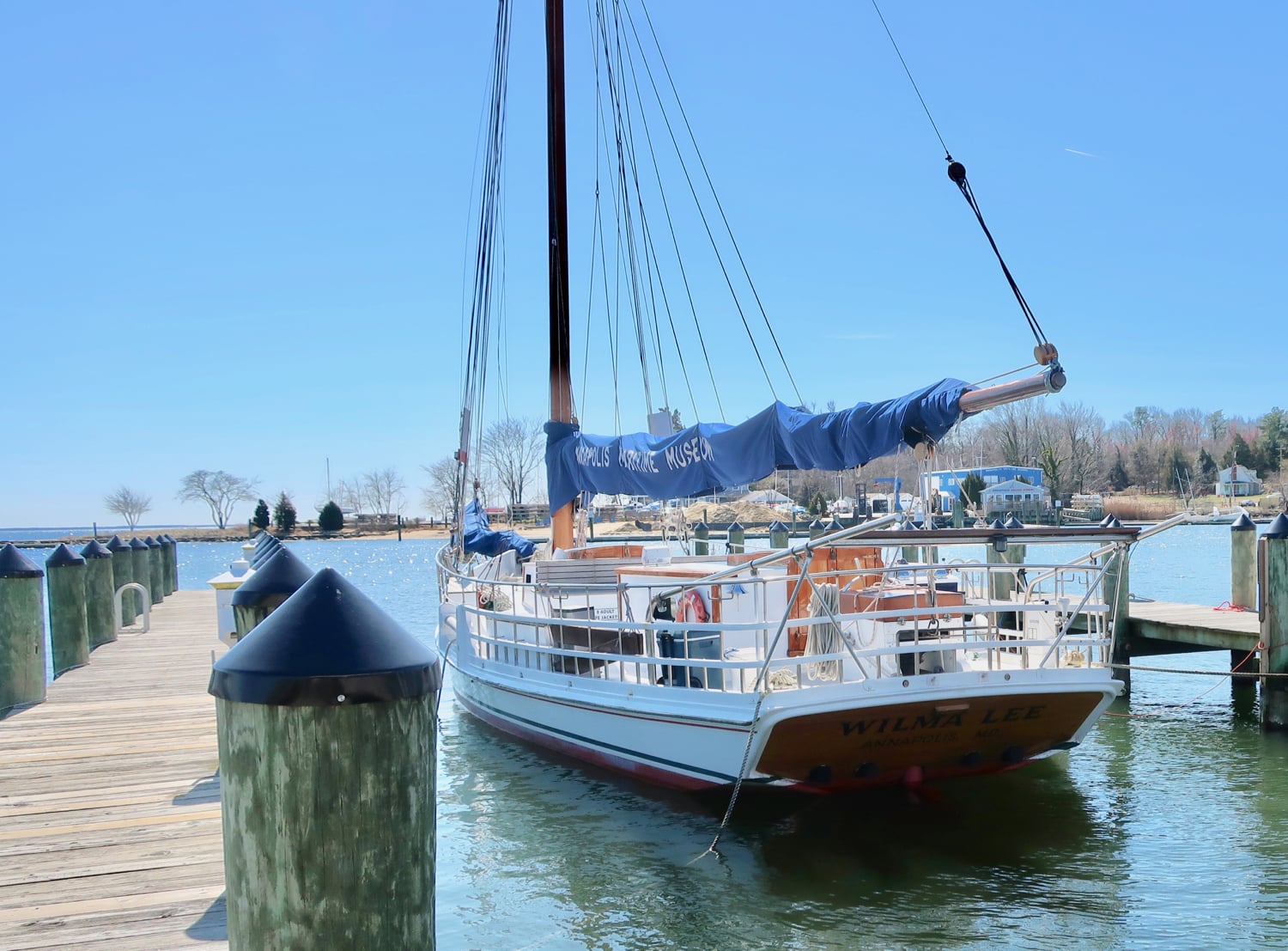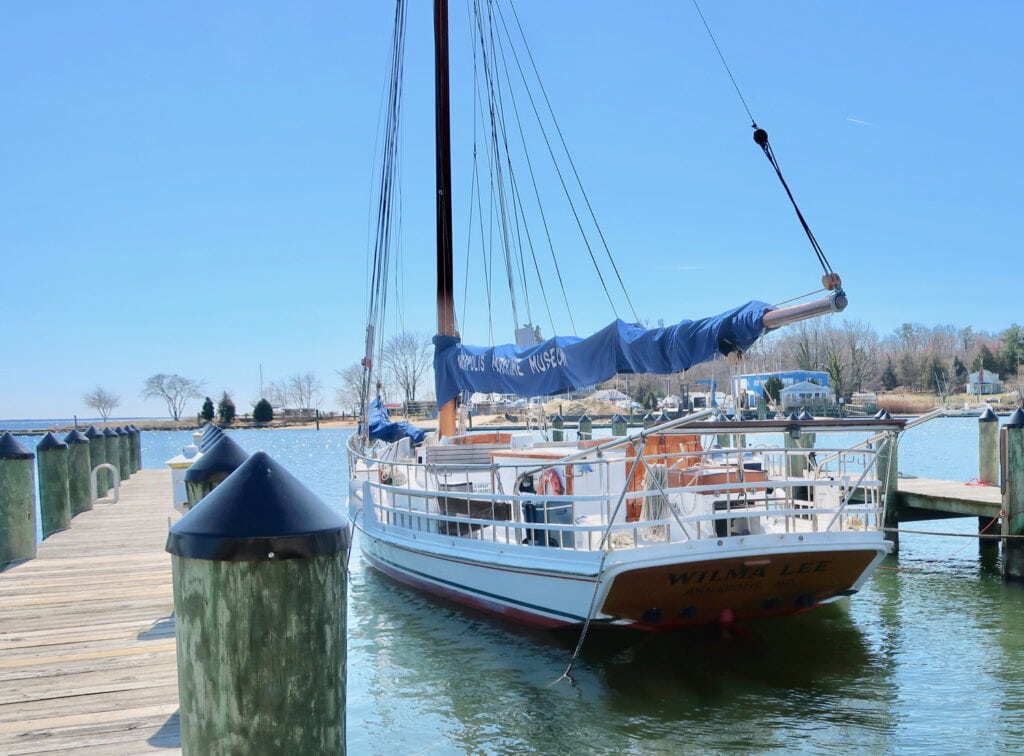 Make it Romantic With A Sunset Sail on the Skipjack Wilma Lee
Outside, the 75 ft. skipjack, Wilma Lee is primed and ready to take groups out on historic heritage tours ($45pp), and romantic sunset or Wednesday Night Races sails, with beer, wine, and canned cocktails included ($65pp). Or, you can charter her for private events.
Take a Duffy 22 Electric Boat on an hour or longer spin around Annapolis Harbor (Spa Creek, Back Creek) with up to 9 other people. Owner, Greg Horn, provides a 30-minute orientation. And then, you're on your way.
It's a very special way to see the Naval Academy and Annapolis downtown, particularly beautiful at sunset.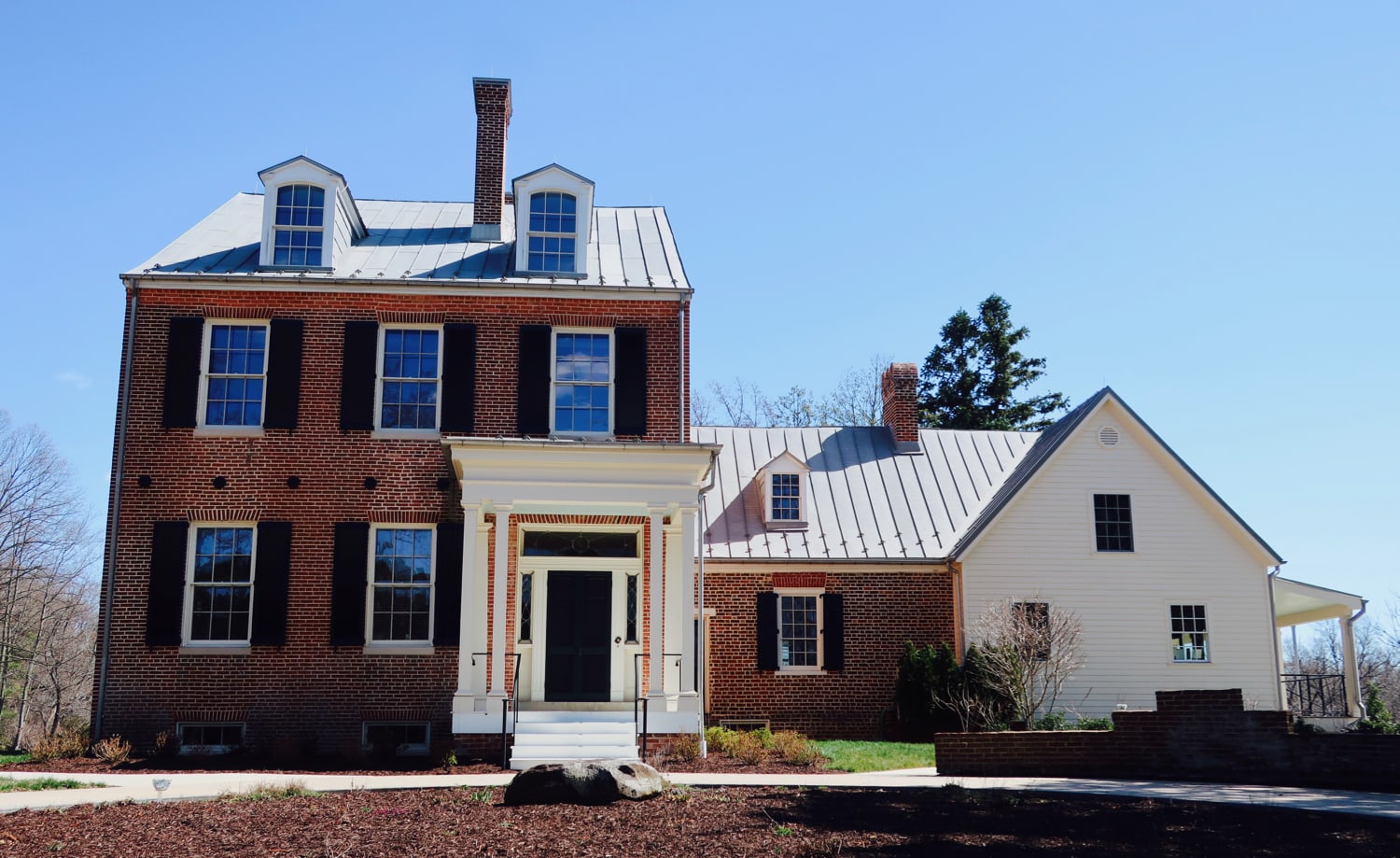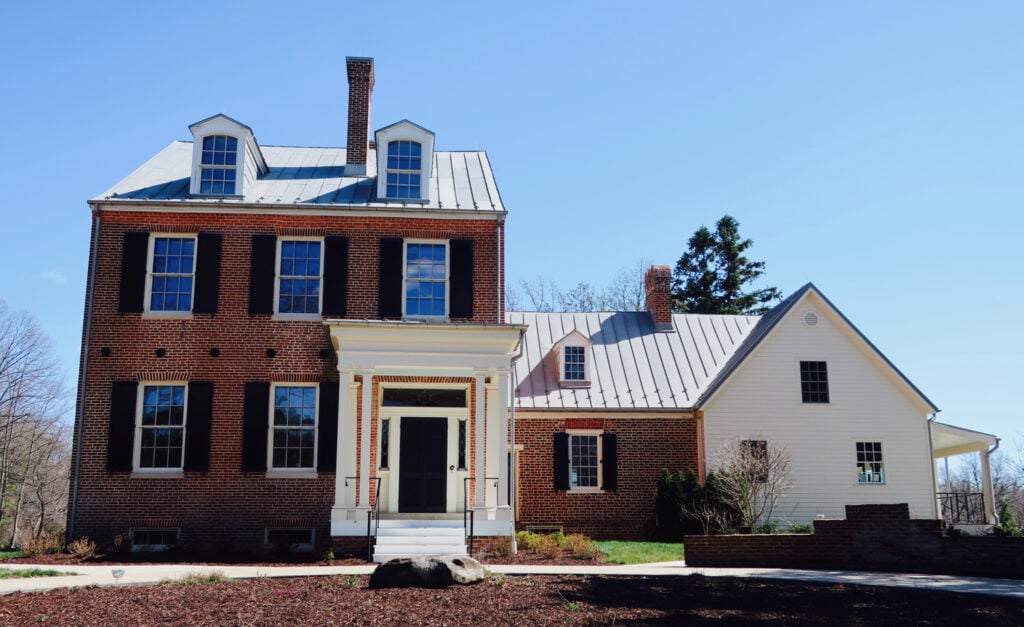 VISIT: Woodlawn History Center At Smithsonian Environmental Research Center, Edgewater
The Woodlawn History Center at the Smithsonian Environmental Research Center (SERC), originally built in 1735, is the oldest building in the Smithsonian Collection in its original location. It also serves as a Welcome Center for those curious about the history of the land – and the environmental and archeological research being conducted on this 2,654 acre property.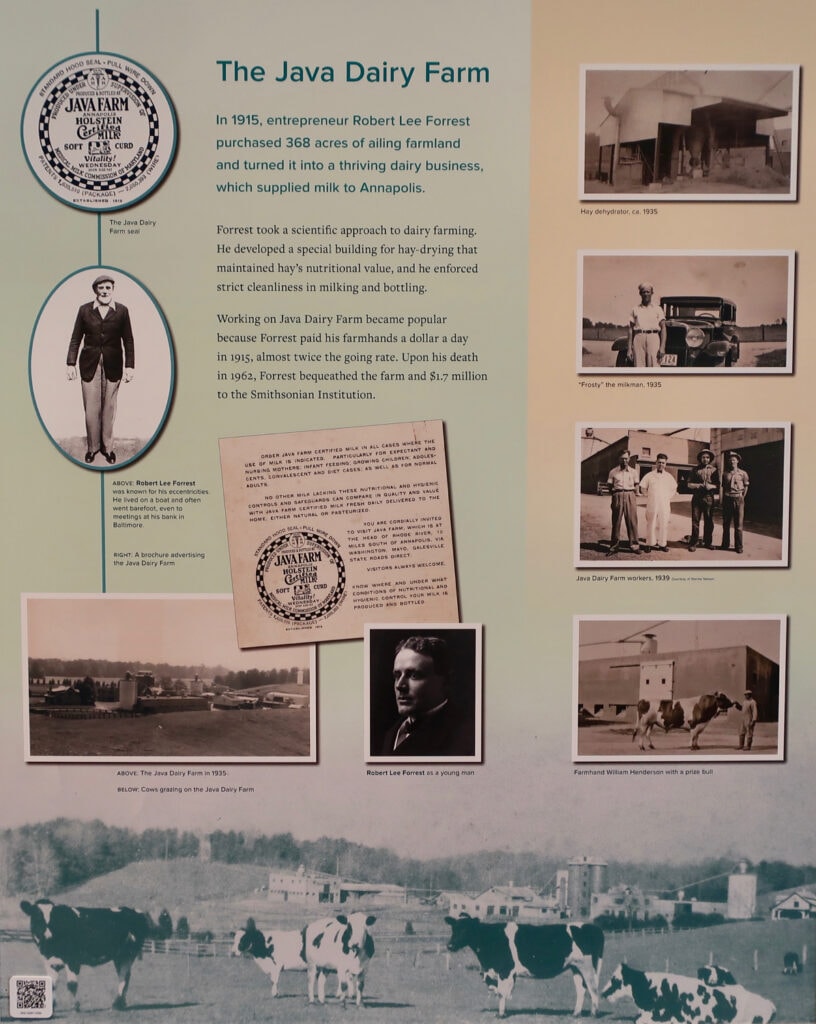 In the early 1900's this was a dairy farm, owned by Robert Lee Forest. He left his portion of this property to the Smithsonian in 1962.
There's a plethora of scientists in various specialties doing their research thing at the on-site Mathias Laboratory: microbial biology, fisheries, invasive species, plant ecology, and more.
Become A Citizen Science Archeologist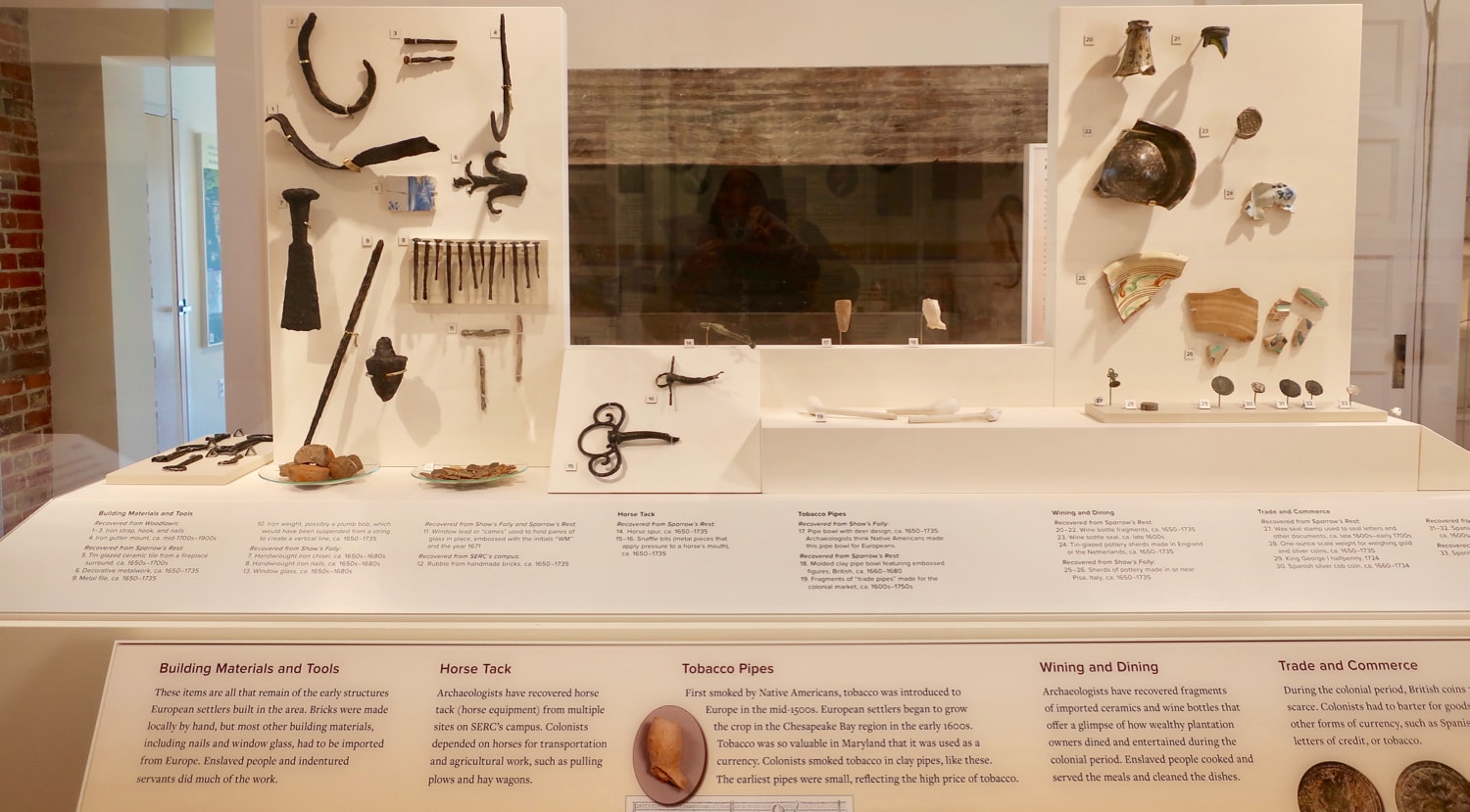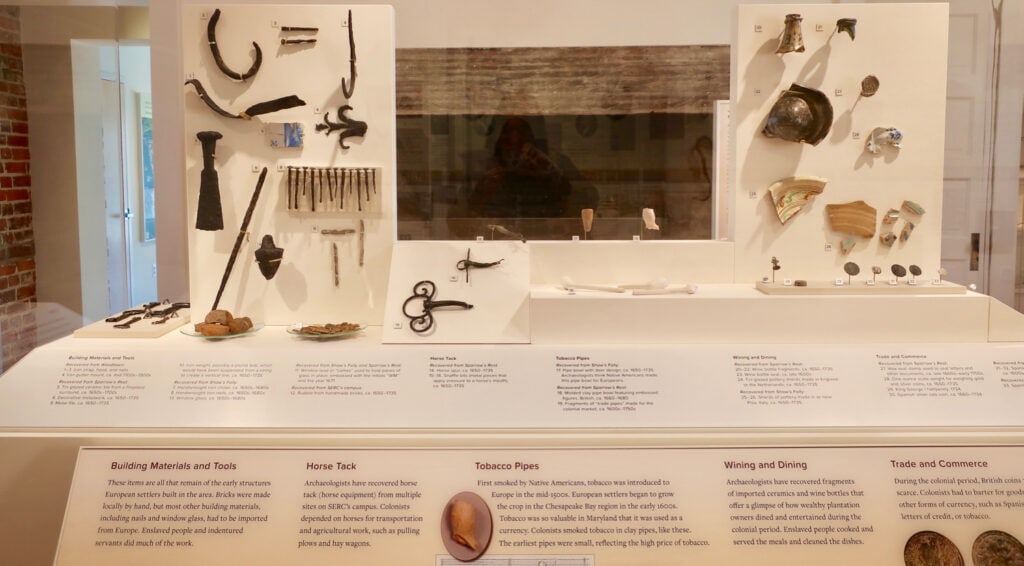 At the same time, "Citizen Scientist" archeologists come here to dig up evidence of the Native American and European settlers, and enslaved people who lived on this land. Recently, remnants of a Freeman School from 1860 has been unearthed.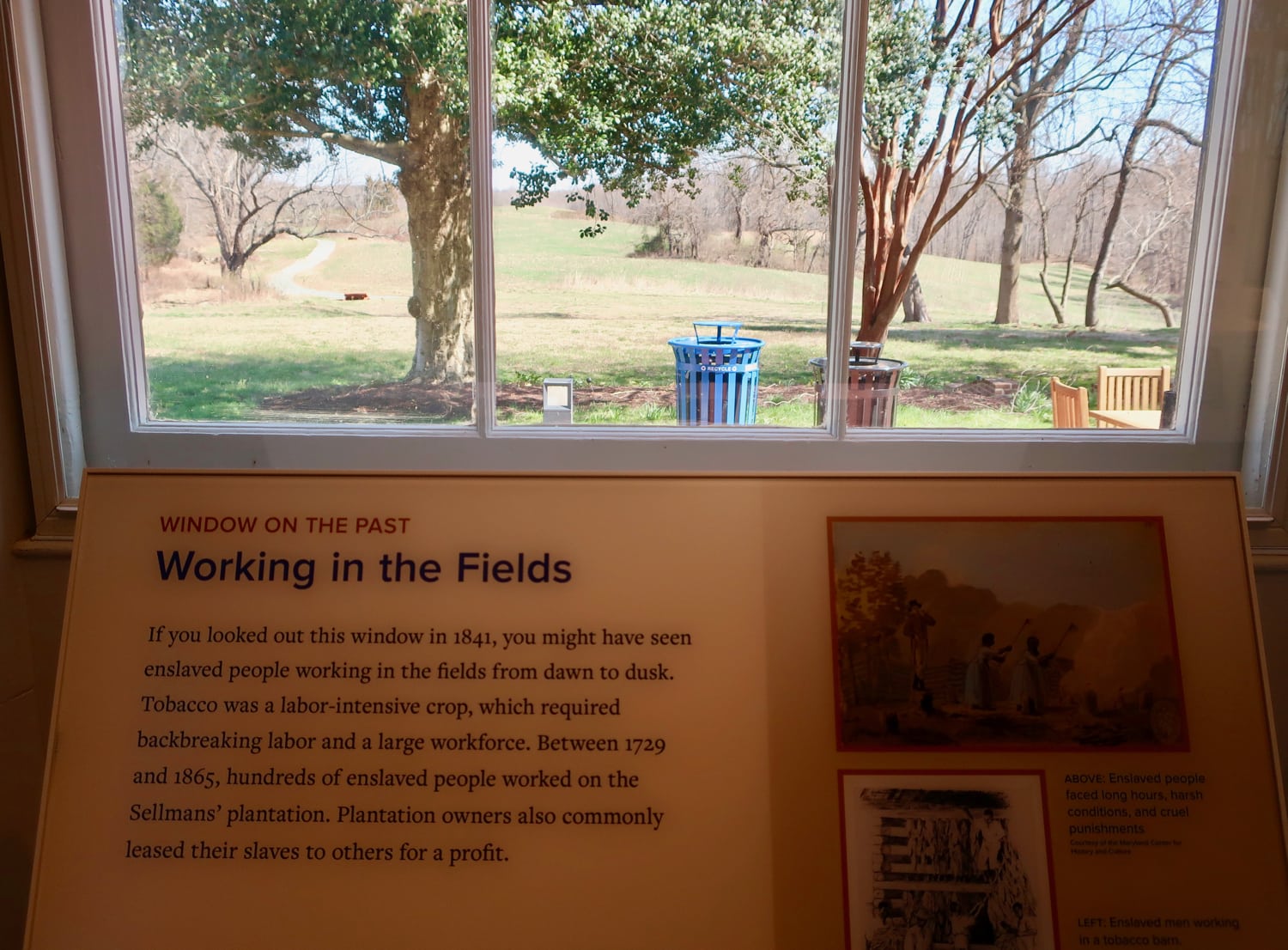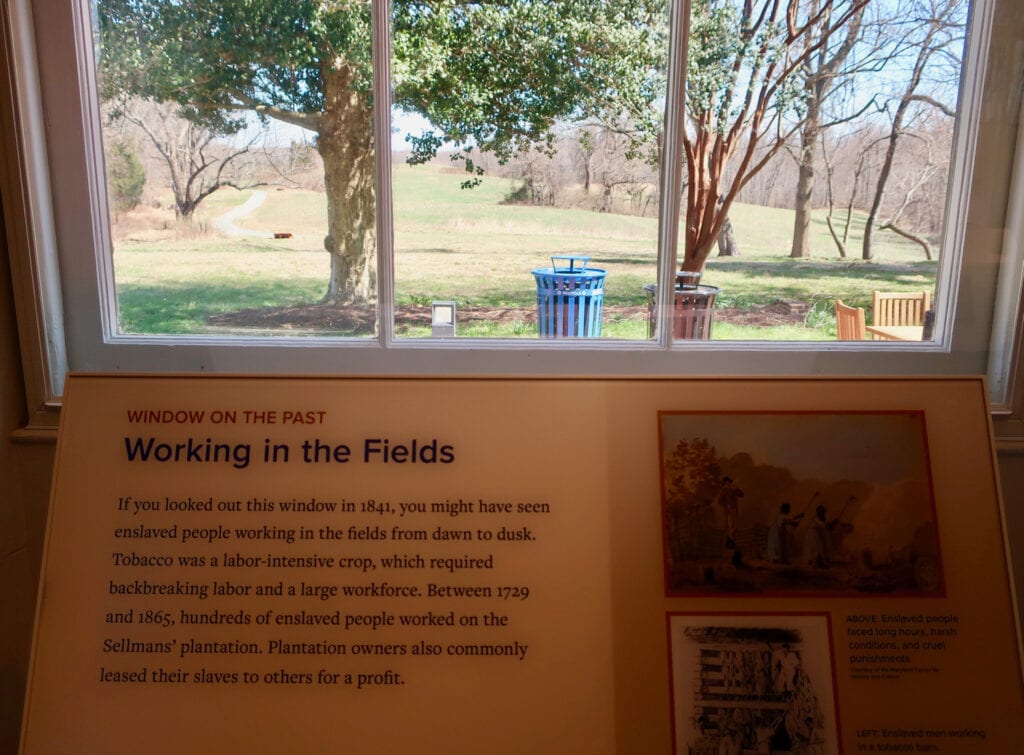 The Woodlawn History Center, beautifully renovated during the "plague years" of 2020-2022, tells the story of the groups of people who lived and left a human impact here. Plus, it's the story of the house itself from the 1700's on.
Walk An Interpretive Trail or Take A Canoe Tour at Smithsonian Environmental Research Center
In addition to signing on to be a volunteer "citizen" archeologist or help with digs, the public can take canoe tours, walk a mile-long interpretive trail connecting archeological sites (in development March '23), and plenty of other programs.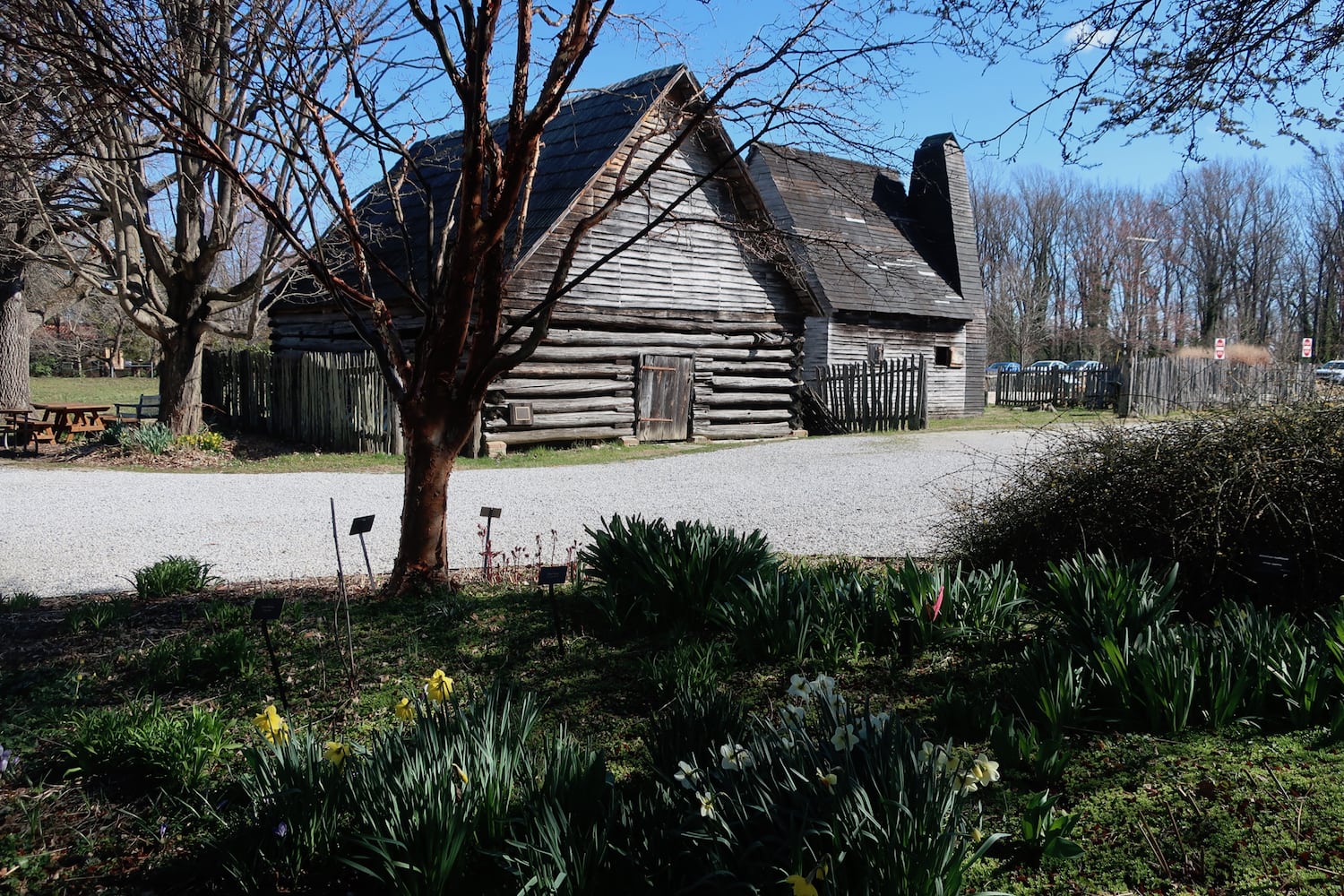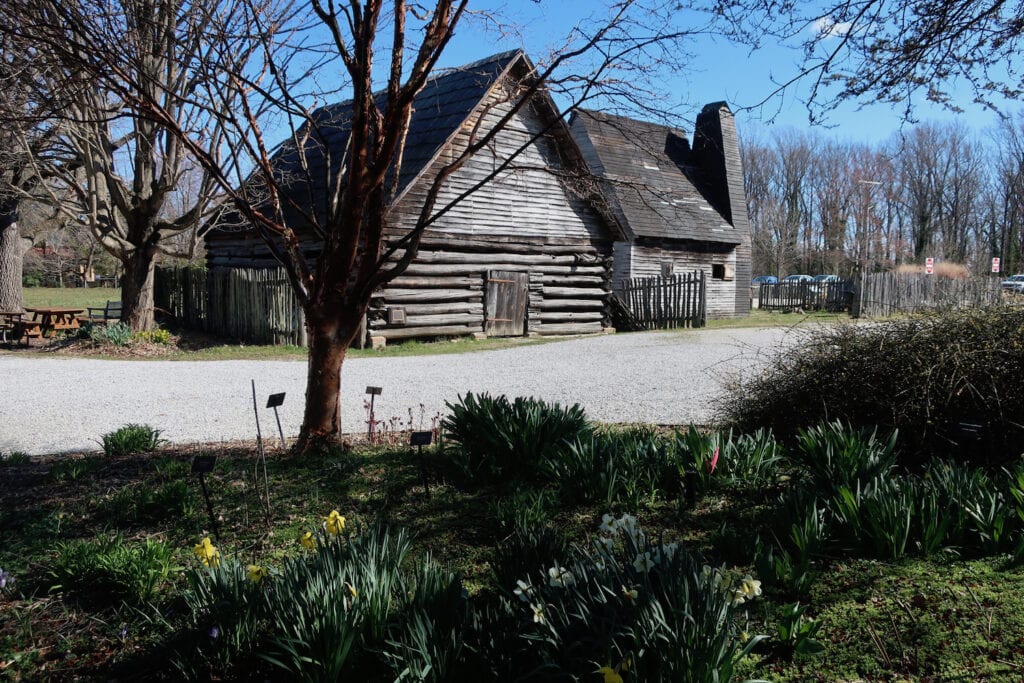 TOUR: Historic London Town and Gardens, Edgewater
At the shoreline dead end of a residential street, you might think you've got the wrong directions fo Historic London Town and Gardens. But keep on to what looks like a mini Plimith Plantation, and you will be duly rewarded with views, human interest stories dating back to colonial times, and some of the wildest, most amazing plants and trees you'll ever see in this part of the USA.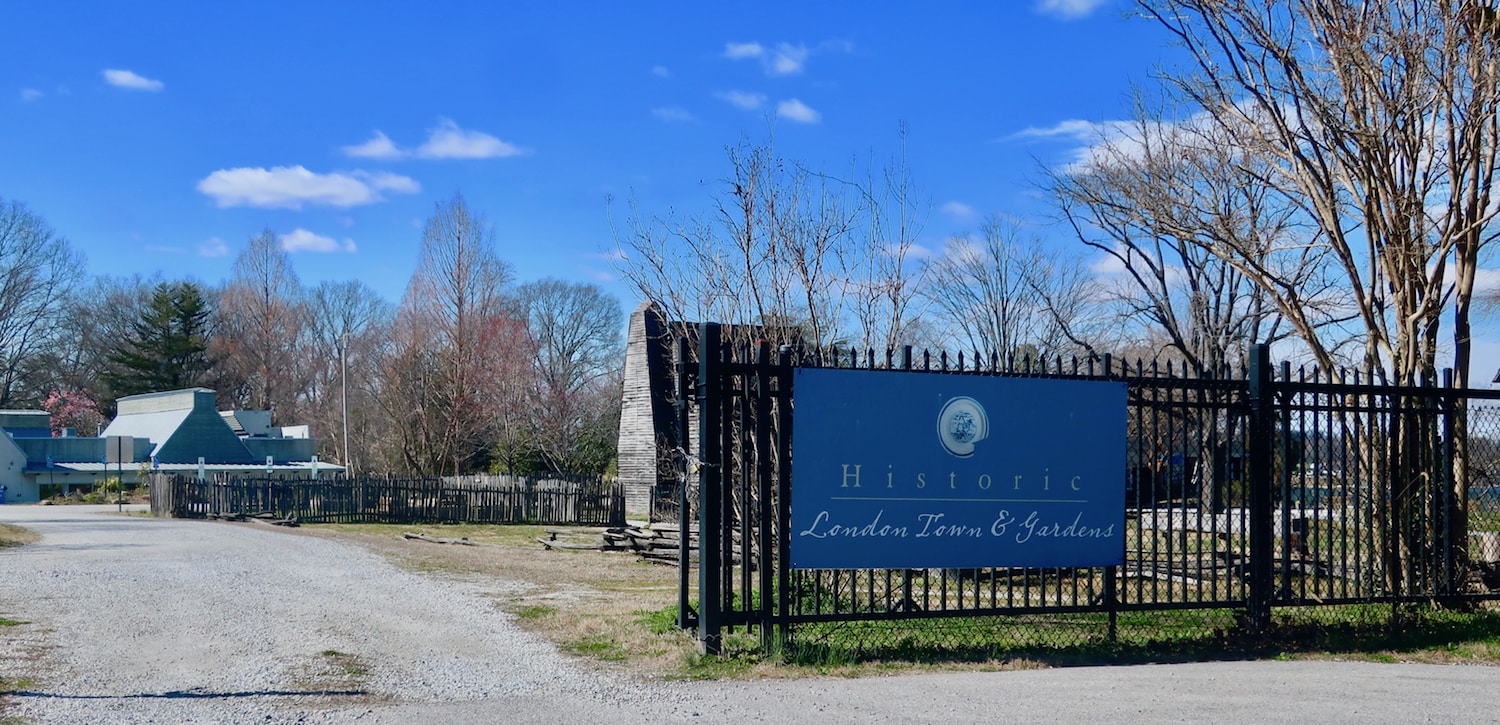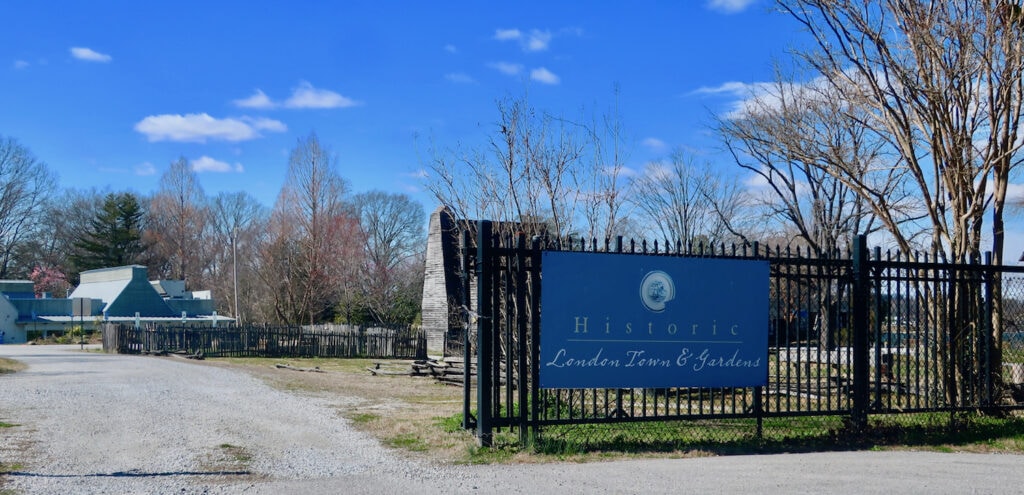 Settled on the banks of the South River in 1683, London Town was a bustling place. In 1760, William Brown built his grandiose tavern – now the centerpiece of Historic London Town, right on the active river.
But by 1800, with the river completely silted and too shallow for boats, the town virtually disappeared. In the late 1820's, the tavern and existing buildings became an Alms House – which operated until 1964.
Now a 23 acre property provides another look at the way European settlements in the New World operated, prospered, and then fell into decline. With the addition of the Experimental Gardens, it also offers a rare look at rare plants and trees.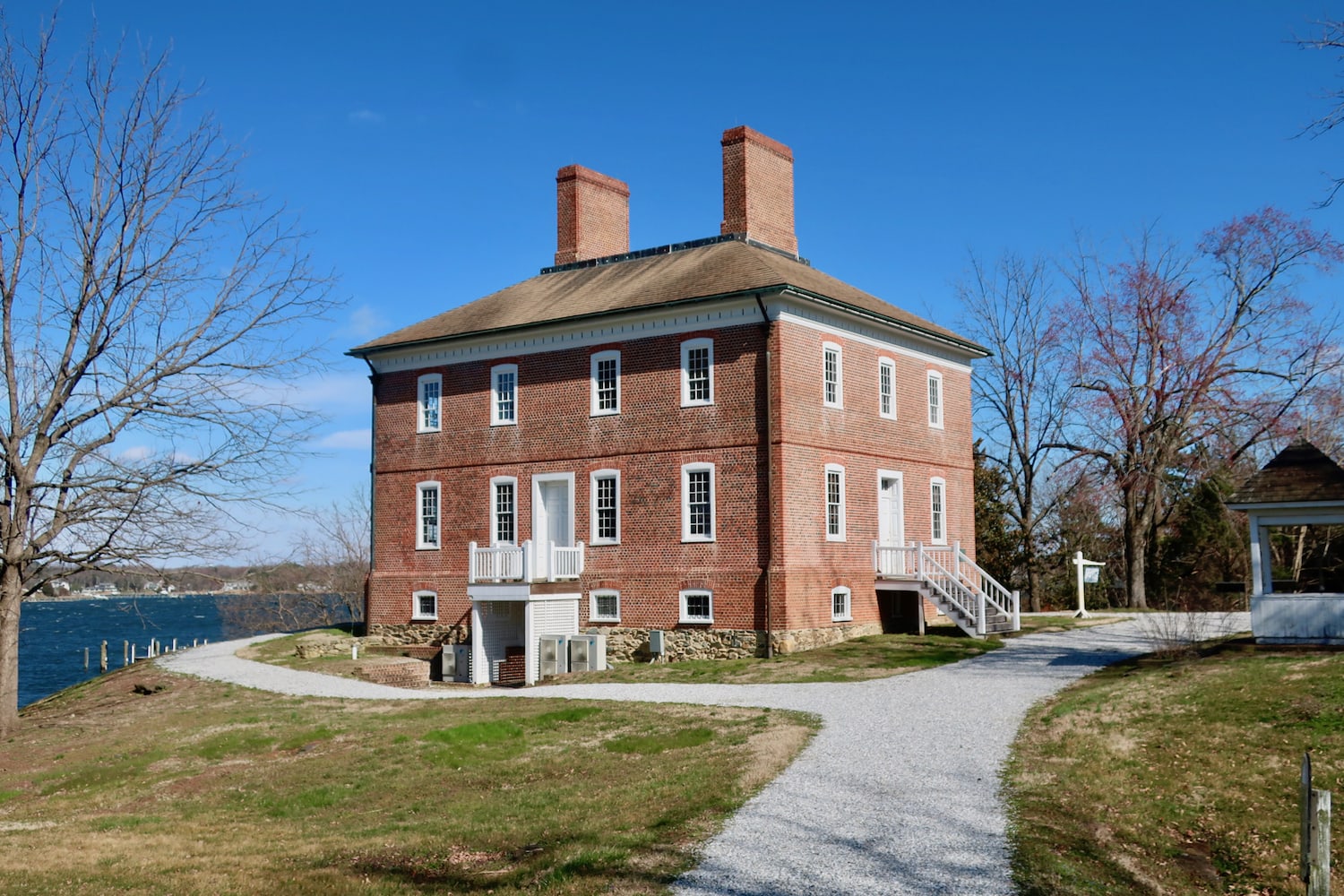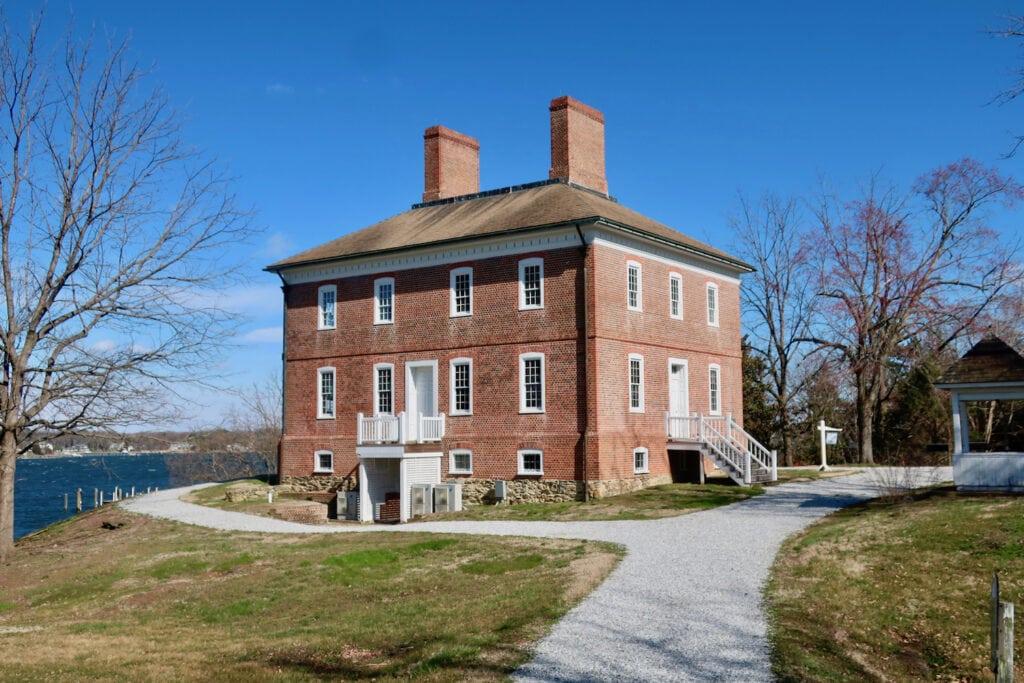 Visitors are invited to tour the 1760 William Brown Home-Tavern, to just imagine guests right off the ferry from Annapolis (the fastest way to get to and from there), walking a few steps from dock to front door. In fact, George Washington stopped over here before heading to the Maryland State House (in Annapolis) to tender his resignation from military service.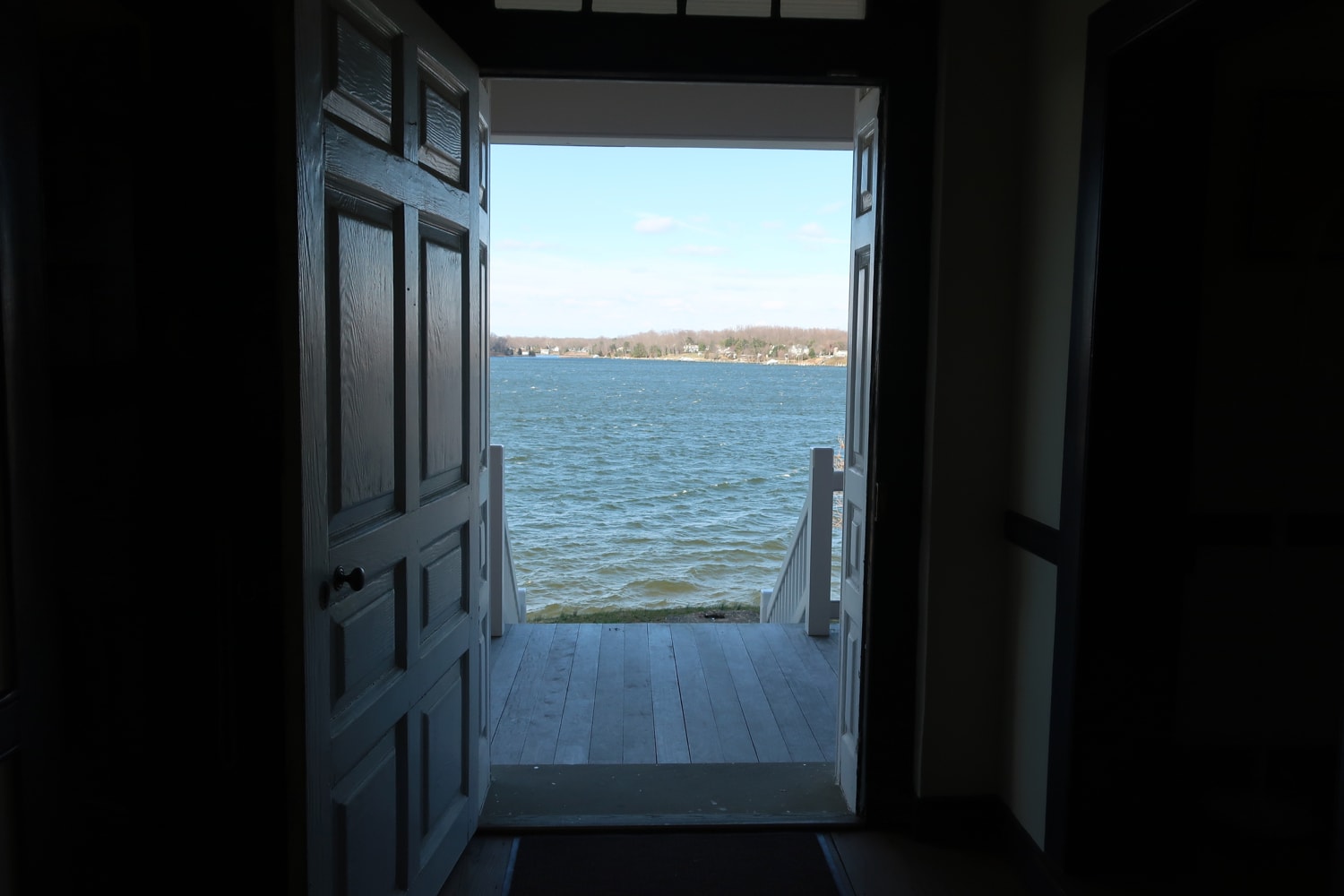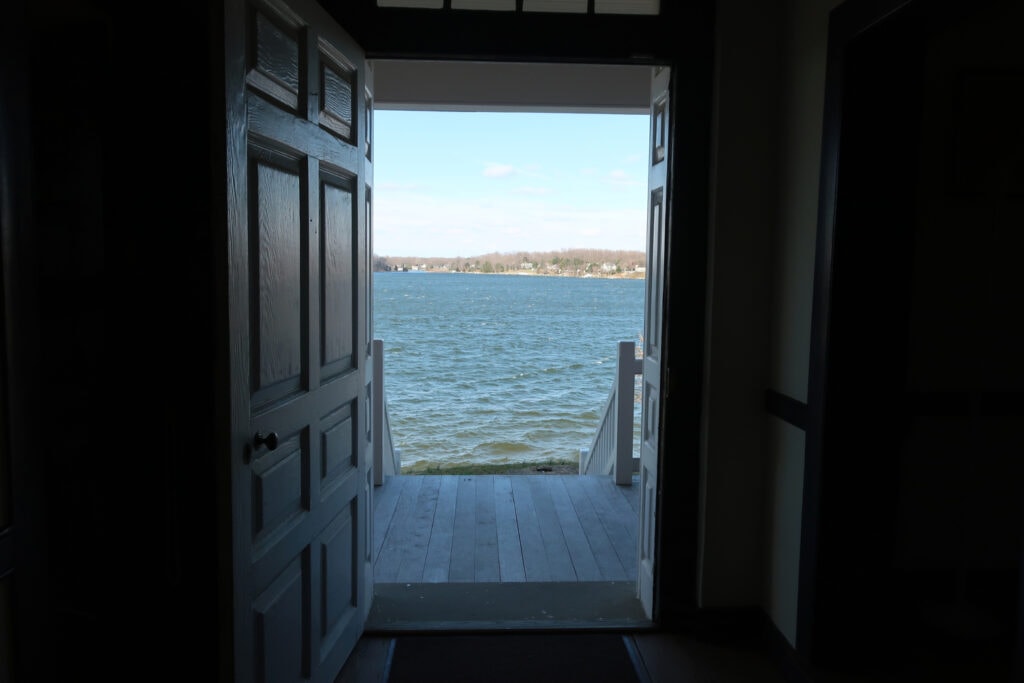 Tour guides here are fun and full of stories and trivia – enhanced by immersive experiences and artifacts found on the property, such as coins cut in pie-shaped pieces. It seems that back then, payment for room and board was complicated. People from up and down the coast – Charleston to Boston – made their way here, with all kinds of money, from promissory notes to Spanish coins.
Prior to the U.S. Mail, traveling guests would bring news of the world and the correspondence of others from town to town: rendering a tavern like this the local Post Office.
Historic London Town also honors the enslaved people who worked here, providing names and fleshing out back-stories from documents. Several out buildings – the carpenter shop and tenement homes – are self-guided and worth popping into.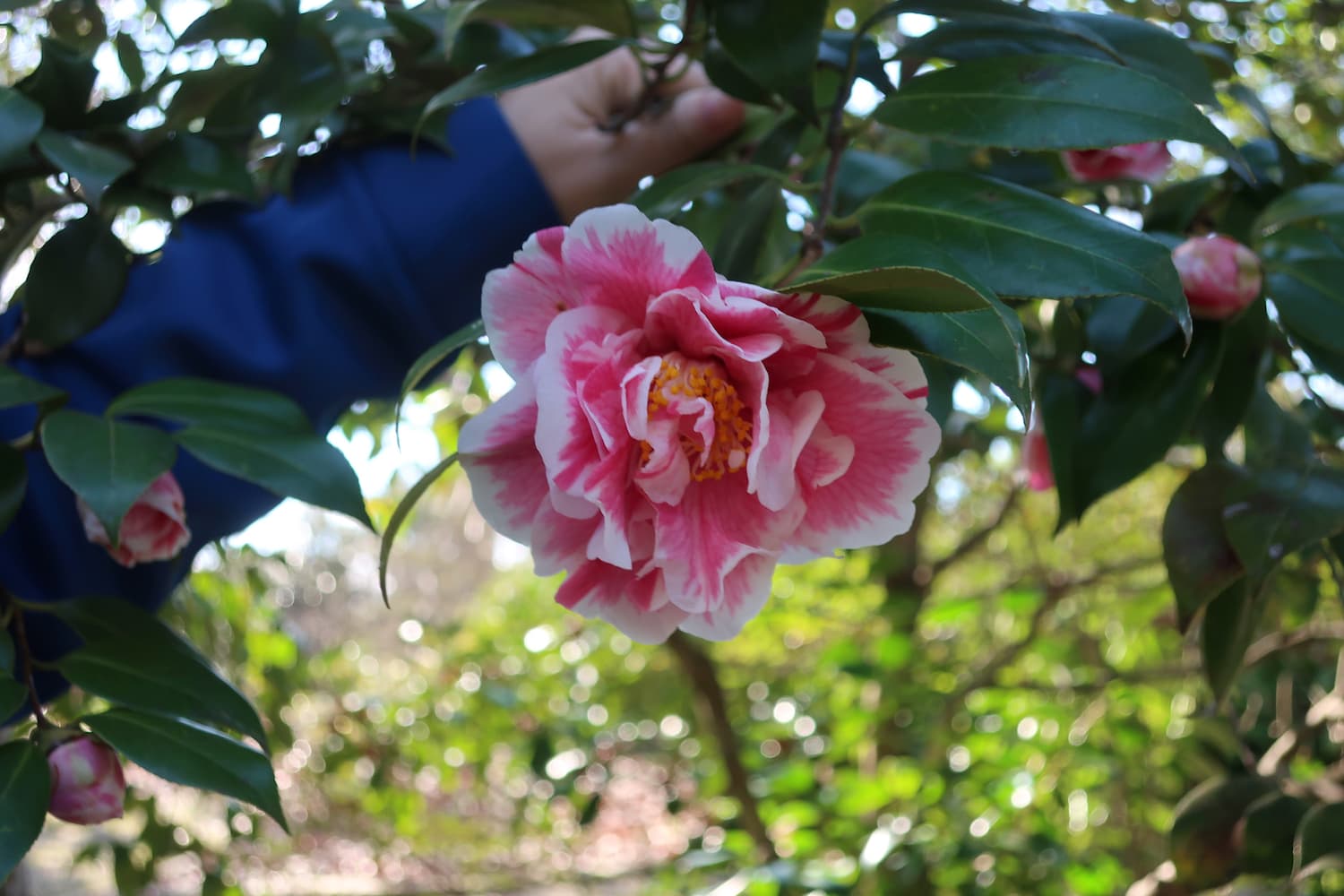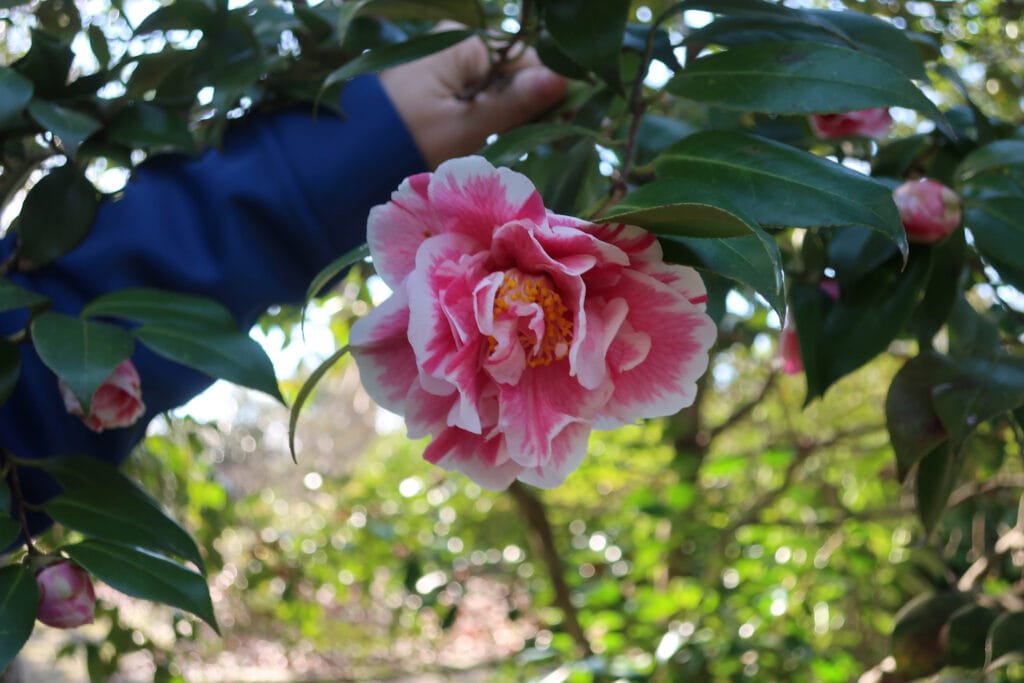 Make It Romantic

: Walking On Paths Lined With Blooming Trees and Plants

Plan to stay a bit longer to peruse the rose-like Camellia and big-flower'd Magnolia Trees, Peonies, Azaleas, and other flora and fauna that have thrived here from other climes. ("Between March and May, it's 'The Show,'" says Lauren Silberman, Deputy Director). Walk on a mile of paths to the water, down into an ornamental garden, and back up to the Visitor's Center – topped by a living roof. It's jaw-dropping beautiful.
Or Imbibe Like William Brown's Guests Did For Colonial Cocktail Events Once A Month
Also – arrange your visit to coincide with a "Colonial Cocktails" event at the William Brown House, generally run at 6:30pm on Thursdays, once a month.
TASTE/DRINK/EAT: Great Frogs Winery
Great Frogs Winery owner, Andrea O'Shea. Andrea, along with her husband Nate, offers wine tastings in an Instagram-worthy converted tobacco barn.
Nate, a restaurant wine buyer, was always intrigued by vino. He "wanted to make something" after moving back to Maryland for family reasons.
We can thank Andrea, an artist with an eye for design, for the cool and cozy barn-chic décor and stunning tasting presentations.
Most vintages, like the Vintner's White and Chesapeake Rose – are good and dry. But Great Frog's standout is Tanyard, a proprietary blend of Chambourcin and Vidal Blanc grapes that pairs well with vinegar, spice, and Old Bay. It's perfect for this area of the country.
Sign up for a tasting. Wine is beautifully presented in small carafes topped with cork balls, and there's "wine friendly snacks" for purchase.
GET AROUND: Annapolis Free Downtown Shuttle
Called the Annapolis Free Downtown Shuttle (aka the Circulator) trolley rides are FREE! Every 20 minutes, Monday through Saturday – 7:30 a.m. to 11:00 p.m., Sunday – 8:00 a.m. to 8:00 p.m.
HANG OUT: Ego Alley/Alex Haley Roots
Affectionately called "Ego Alley," the Annapolis City Docks claim a friendly competition between boat owners. Look for the Statue of Alex Haley reading to Children. Haley's book, Roots, tells the story of his great-great-great-great grandfather, Kunta Kinte, brought to this very site in Maryland.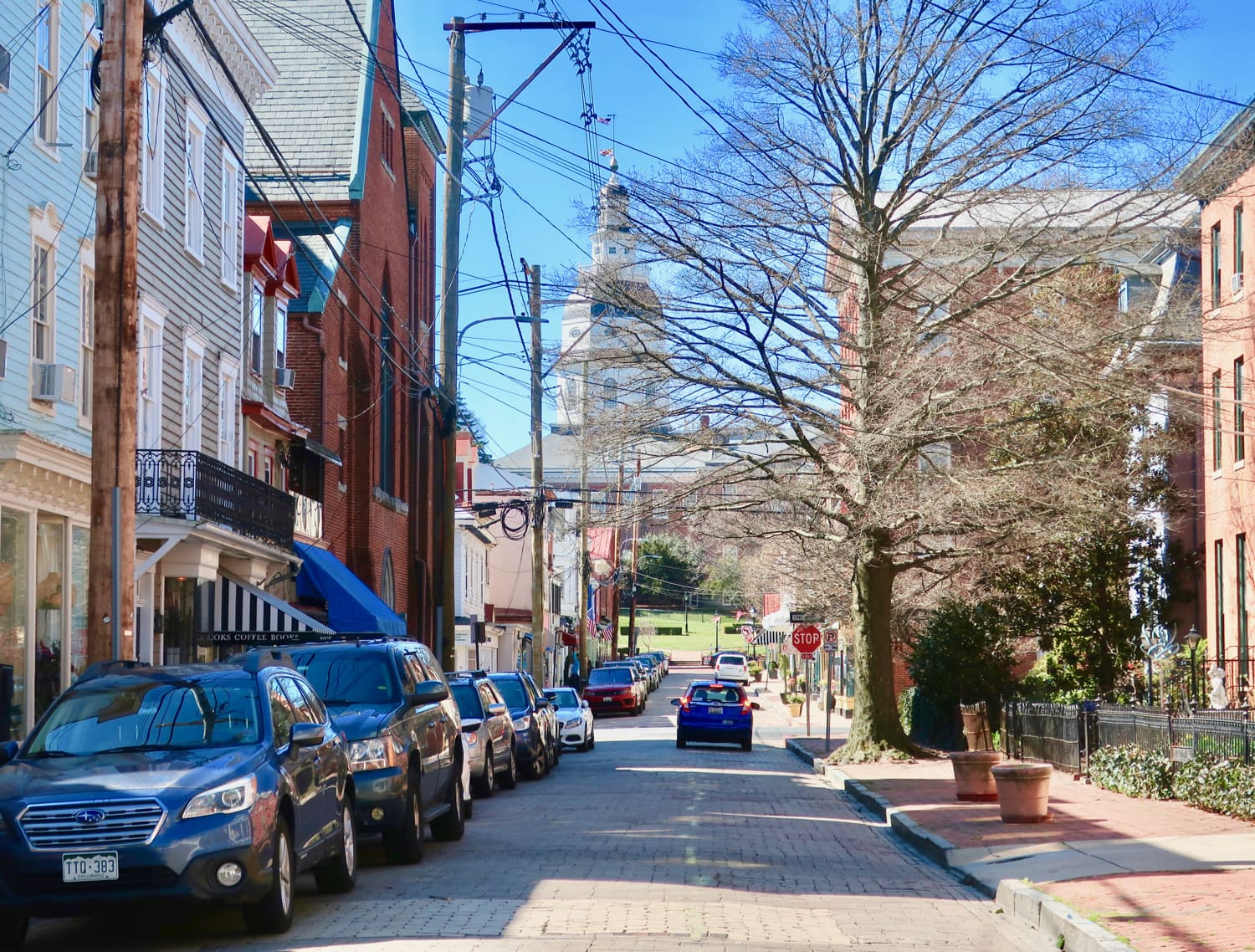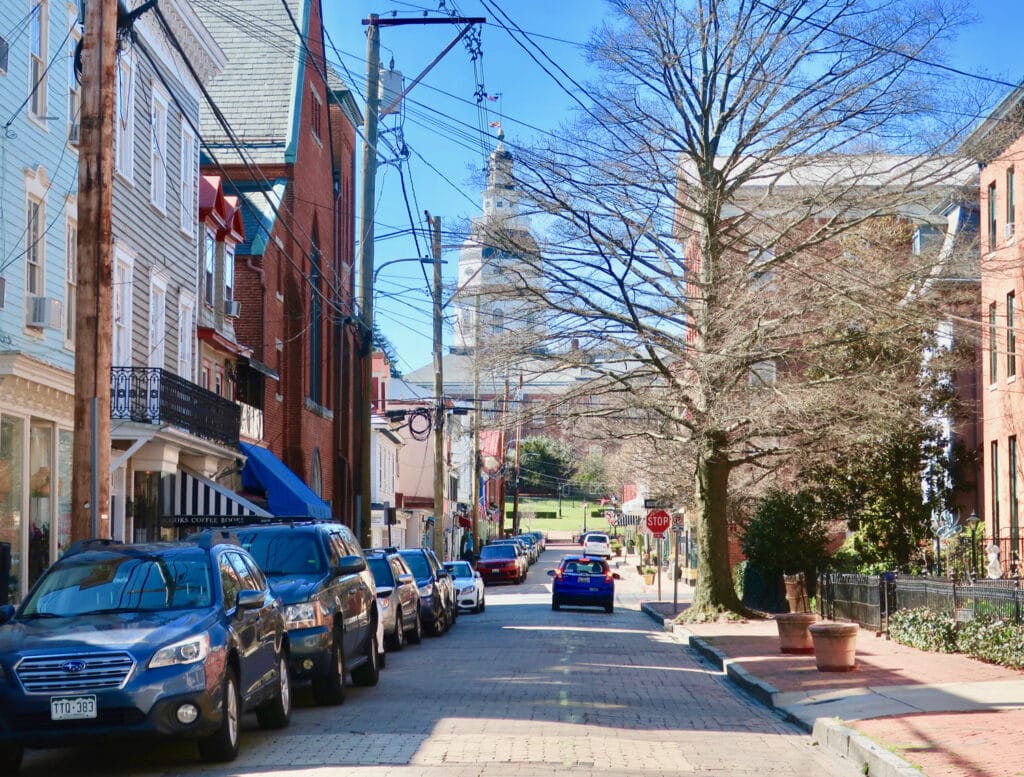 SHOP: On Maryland Ave.
You'll find the best antique and boutique shops here.
Best Restaurants In Annapolis MD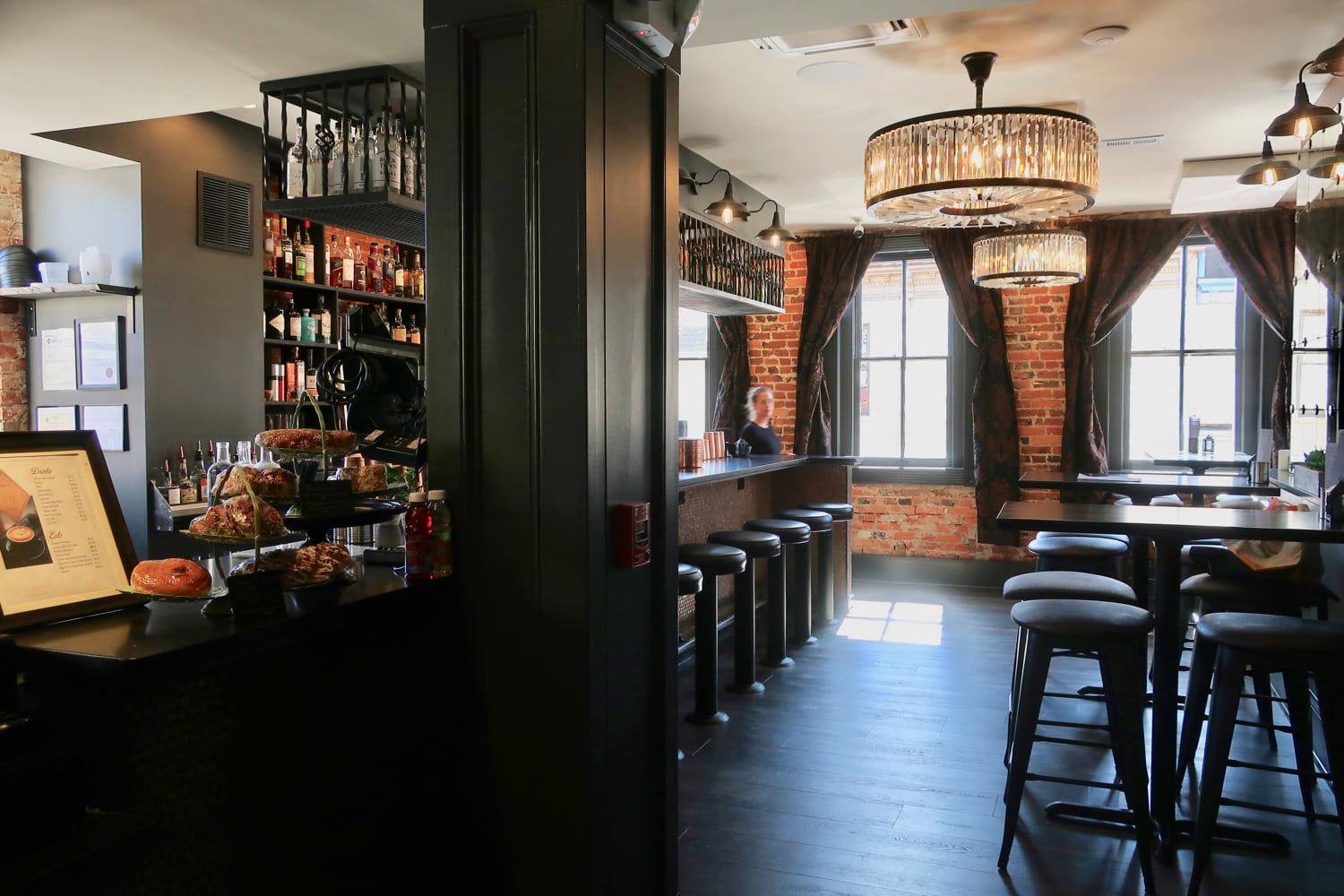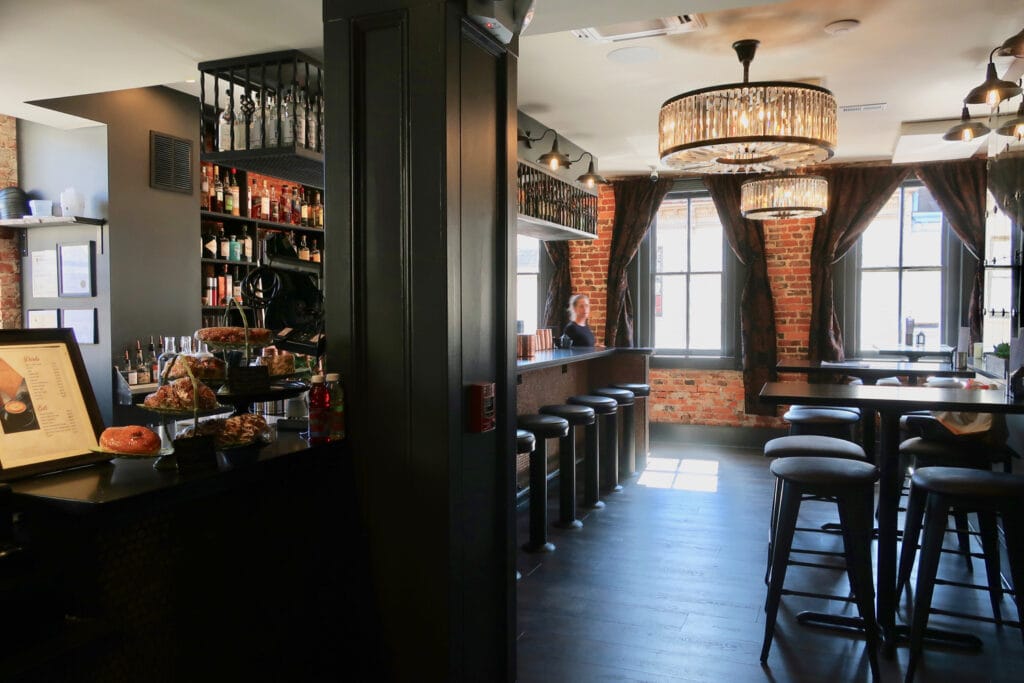 EAT/DRINK: Parley Room at The Capital Hotel
The Parley Room, at the new boutique Capital Hotel, is hopping during happy hour, with signature cocktails on draft. Yes, on draft. "This saves time, freeing bartenders to interact personally with guests," says chef/manager, Anthony.
The most popular drink, the "O.G." – Original Gimlet – tastes exactly like a spiked lemon merrangue pie. But the droves of fans who come here have their own favorites. The food – fresh, healthy, and "awesomely plated" – is priced so low, I wondered if we'd gone through a time warp to the Mad Men 60's.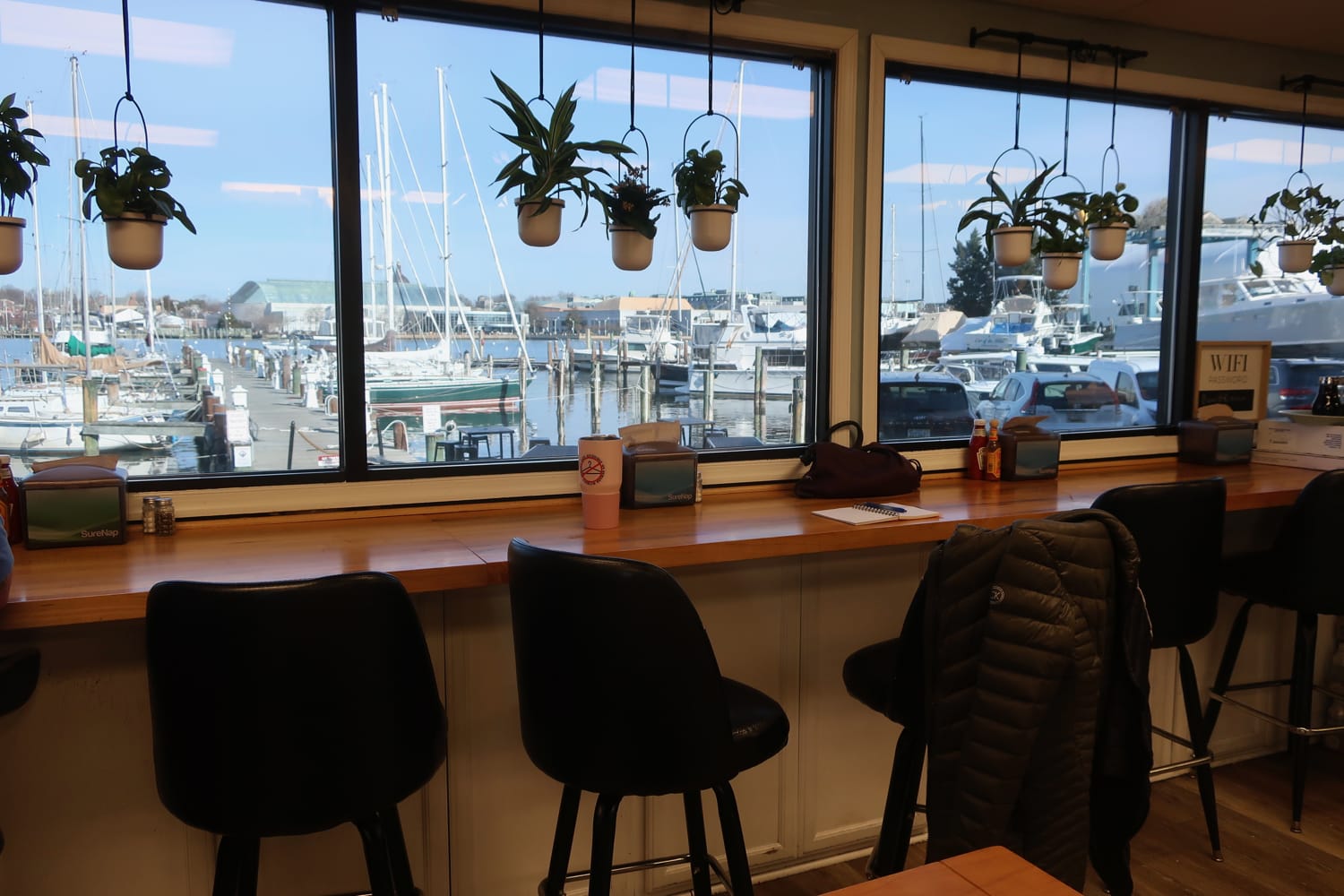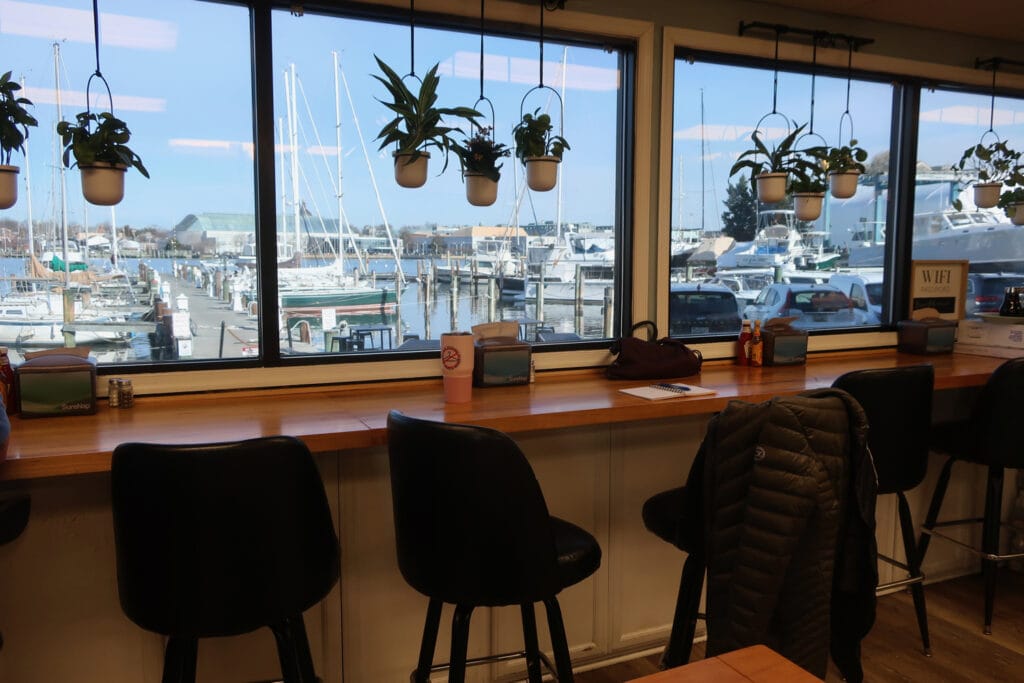 EAT/BREAKFAST/LUNCH: Bread & Butter Kitchen, Eastport Section of Annapolis
This marina-based café, Bread and Butter Kitchen, in the "Republic of Eastport" section of Annapolis has some of the best eating in town. That's because owner, Monica Alvarado, believes in sourcing local and best. And, not skimping on ingredients.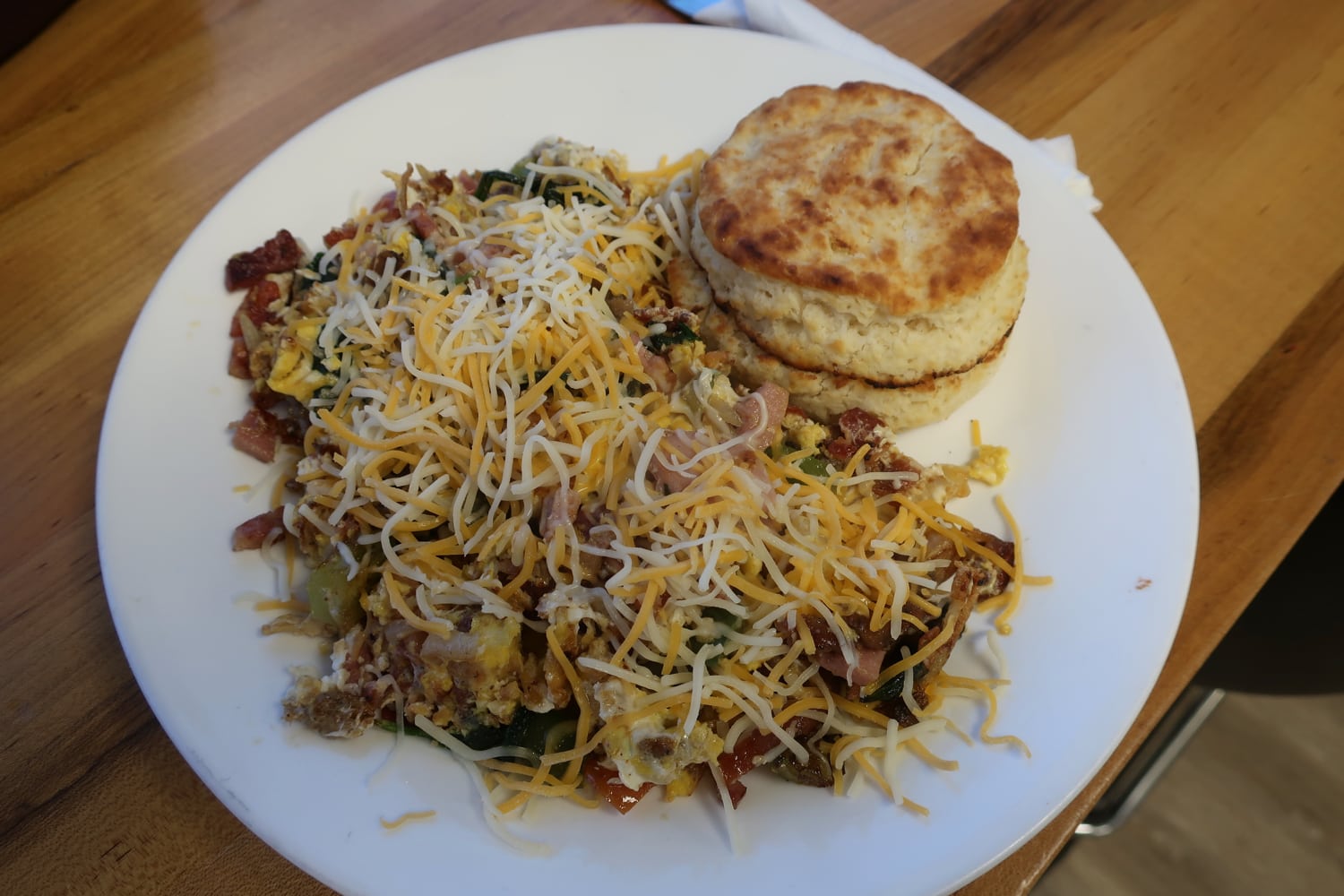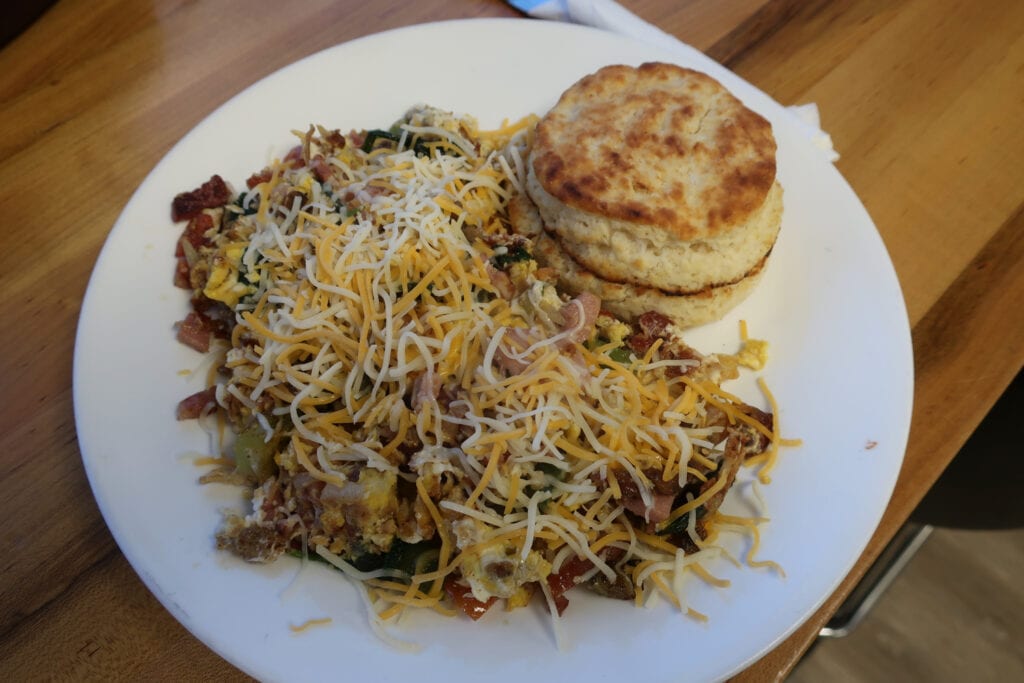 Her "Legendary Scone" is, in fact, just that; "Bagel Lox" is layered with locally smoked salmon; and she even entices vegans with her Lion's Mane "Crabcakes." But one of her best sellers, Hippy Hash Skillet, was kept on the menu through the last several iterations of this place before Alvarado purchased it in 2017.
Sit at a hightop counter that runs the length of the wall beneath a bank of windows for optimal views with your toothsome eats, and then snag one of those legendary scones for the ride home.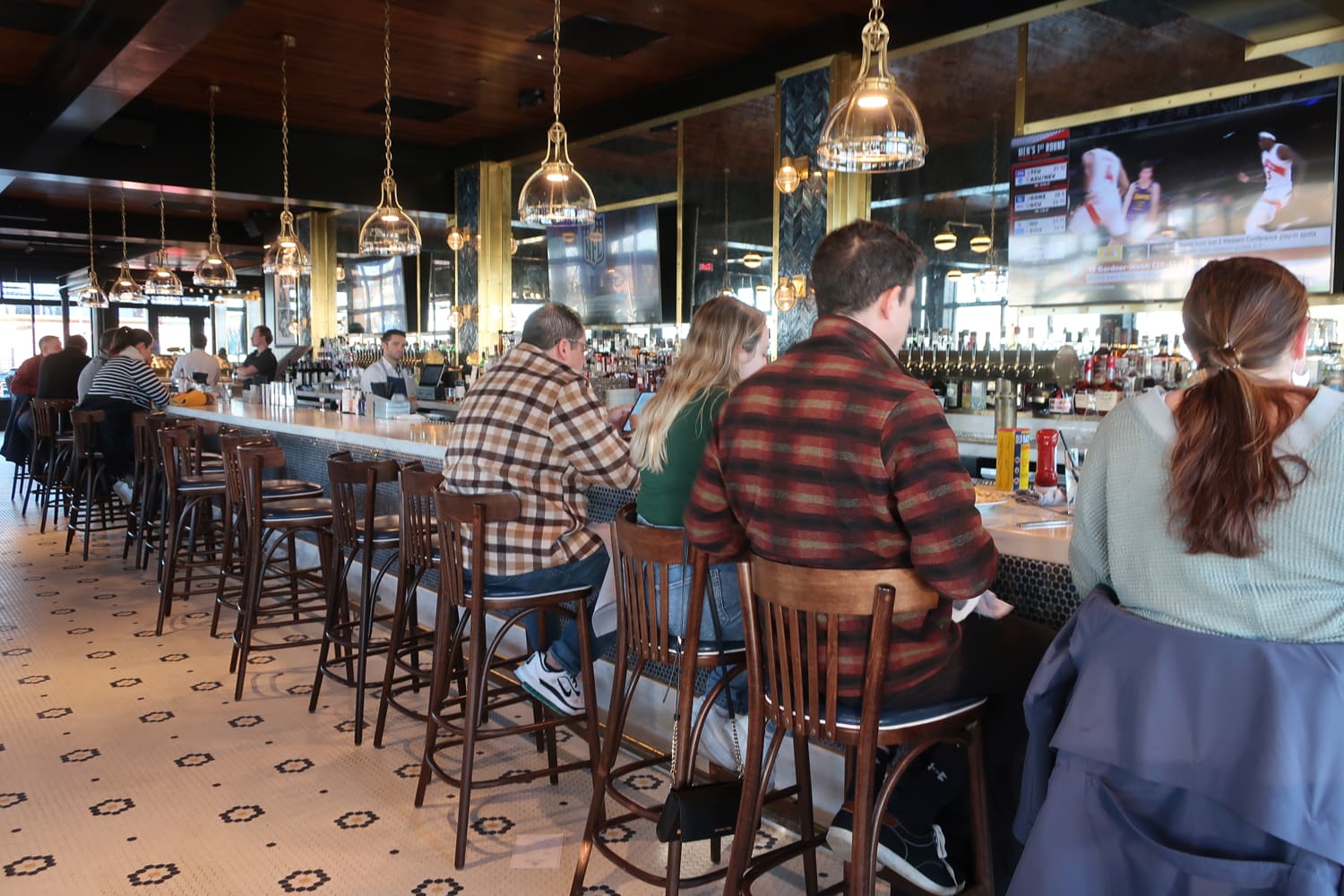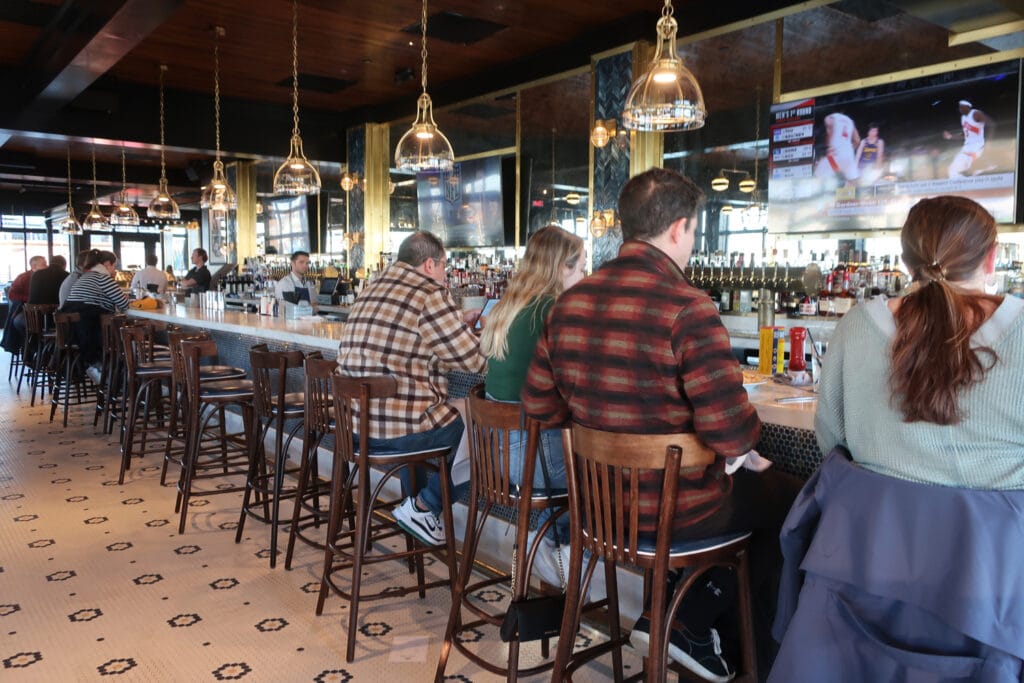 EAT: Choptank Annapolis
Dine on signature crab cakes and "Crab and Chili Encrusted Oysters" at Choptank Annapolis, in a contemporary building by the Waterfront. It's got Seafood Towers, "Robust" steaks and chops that you can customize with Crab Oscar and other toppings: essentially all the hallmarks of an upscale surf and turf eatery.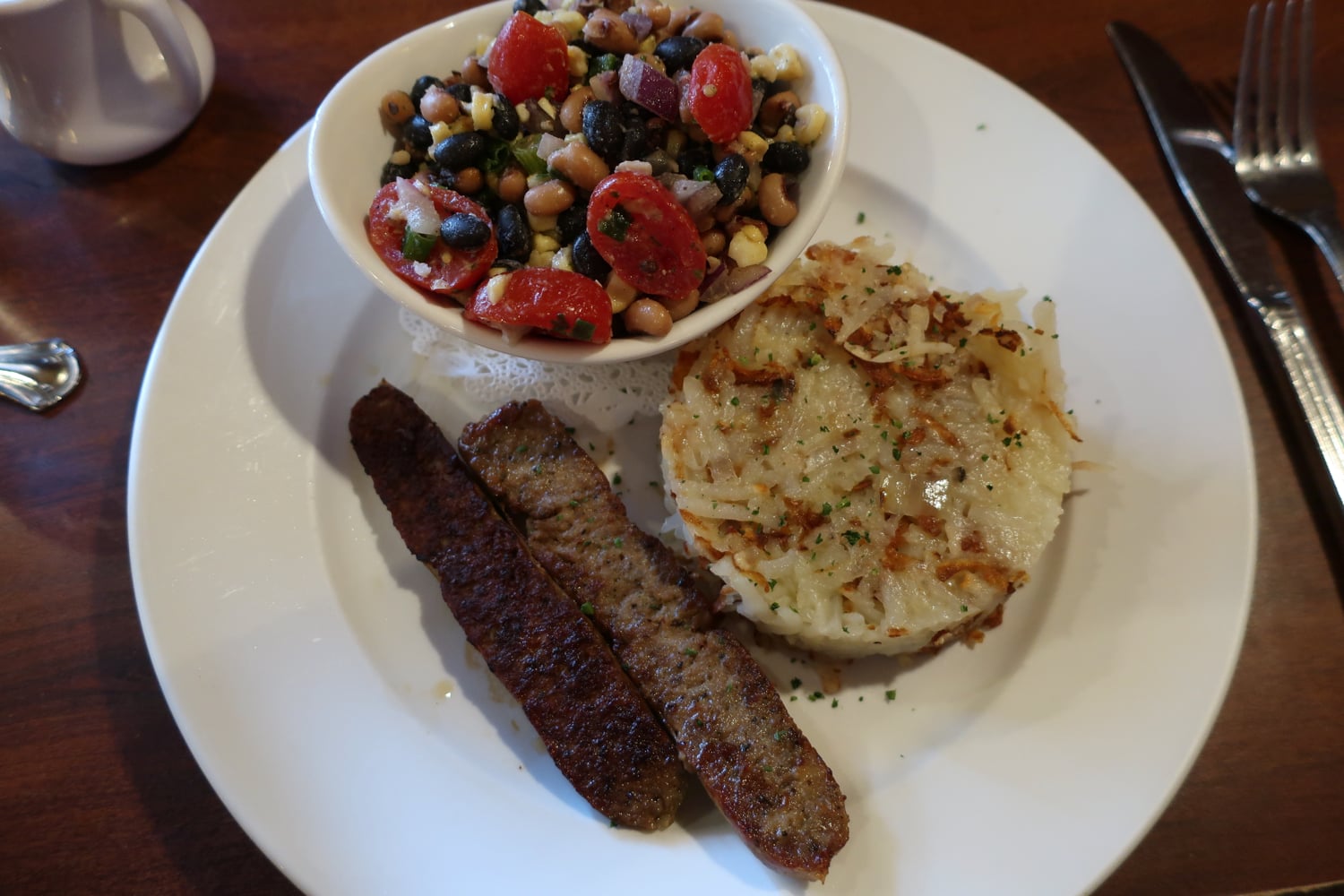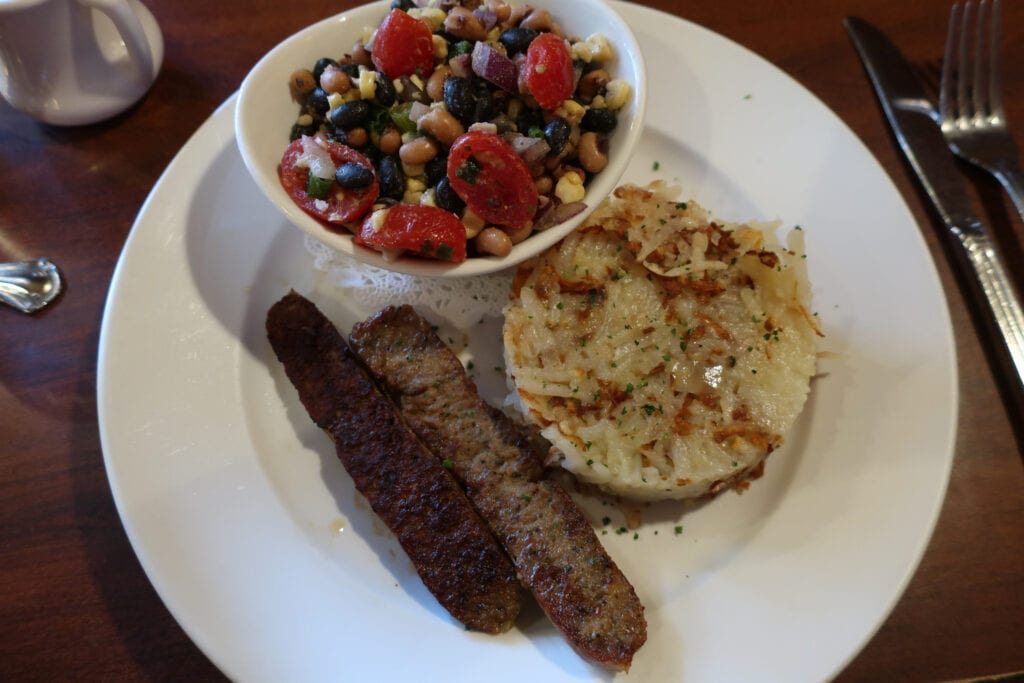 EAT/BREAKFAST: Miss Shirley's
On weekends, there are lines out the door of this Baltimore-Annapolis breakfast institution. Miss Shirley's best-sellers, "Chicken & Waffles" and "Get Your Grits On" fly from kitchen to tables where you'll typically also find plates heaped with pancakes and fluffy biscuits.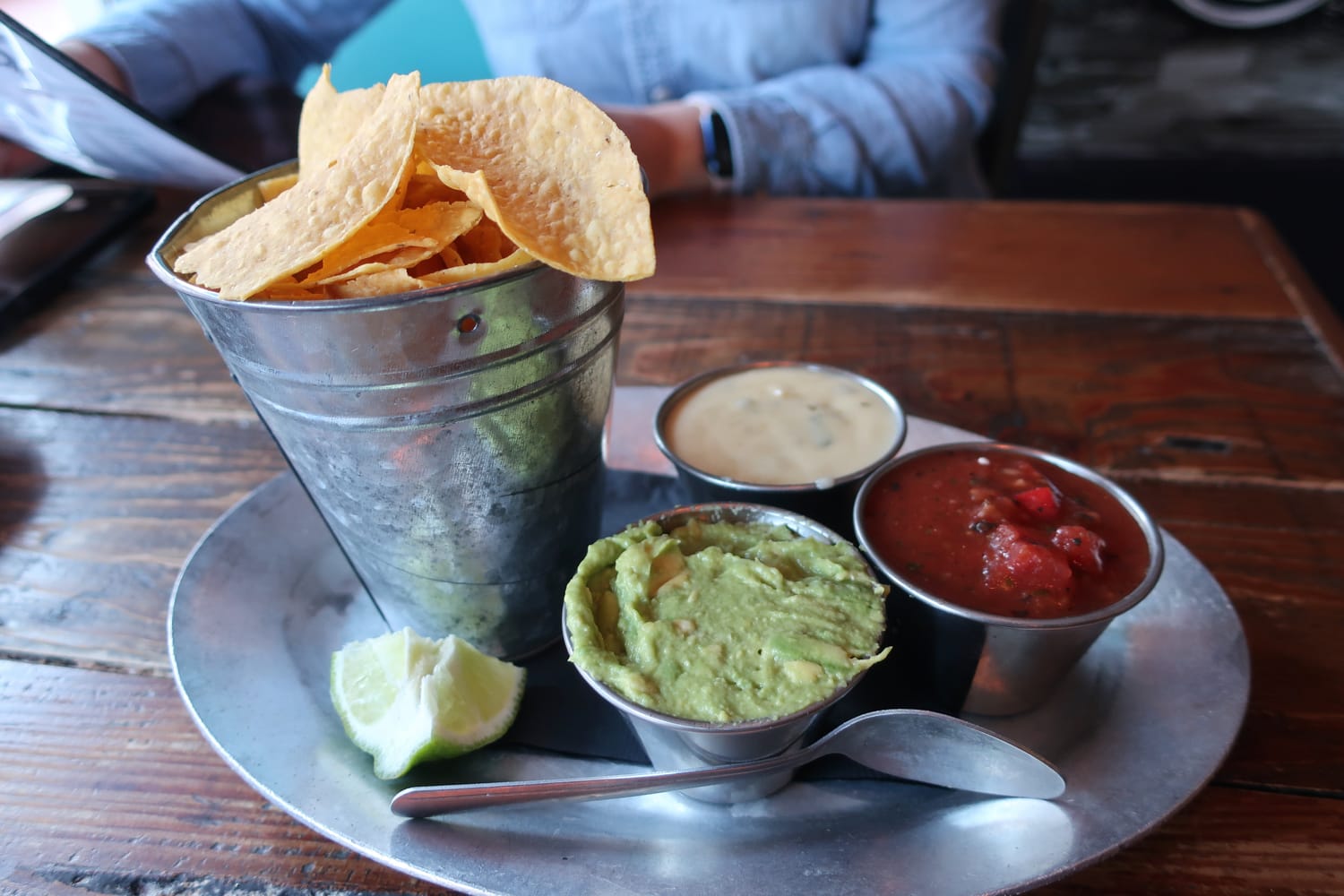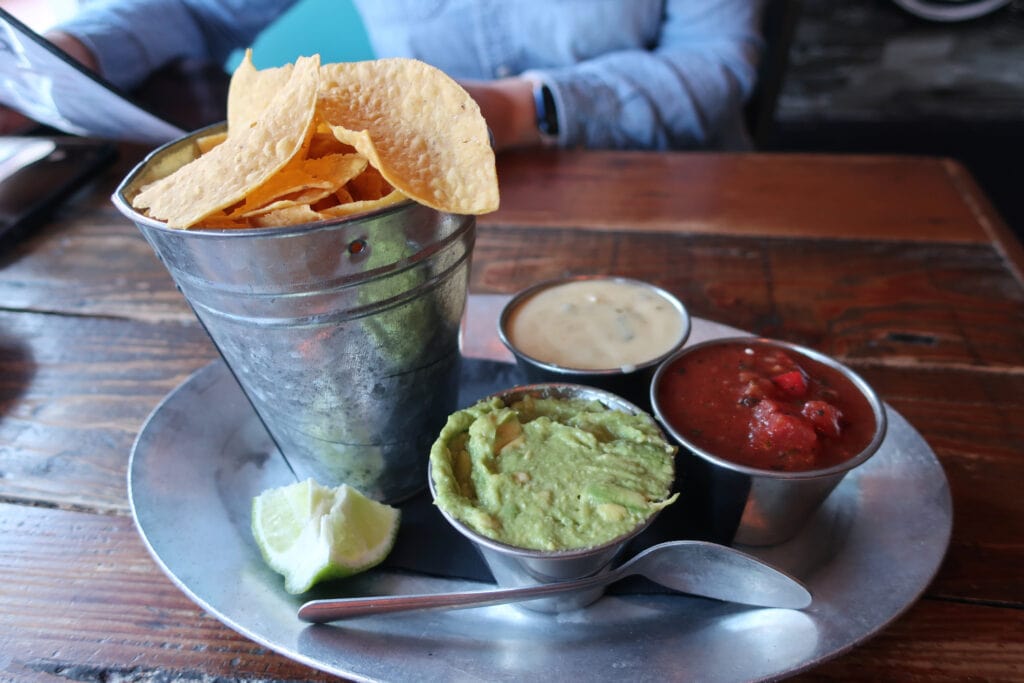 EAT: Vida Taco Bar
Get the trio of sides – Salsa, Queso, Guacamole – that pair perfectly with chips at the fun and trendy Vida Taco Bar. And then order a chicken, veggie, steak, fried cod, or seared tuna – or all of them – for a perfectly fresh and well-rounded meal in funky surroundings.
EAT: Boatyard Bar and Grill
Travel enough through Maryland and you'll find that almost every restaurant claims "The Best Crab Cakes." But not every restaurant can claim that Michelle Obama declared theirs, "The Best." The Boatyard Bar and Grill can.
Now a "Yachtsman's hangout," Dick Franyo opened this The Boaty McBoatface of restaurants 20 years ago. Originally, he intended to run it as "just a sailor's bar."
Then, celebrities like Jimmy Buffet and Kevin Bacon (who celebrated his birthday here a few years ago) started coming in. Thanks to Cooking Channel darling Chef George Betz, "the food got good."
So Franyo, a Harvard MBA grad who spent 30 years as an Investment Banker, decided to double the size of the restaurant. Sailing photos and fish mounts blanket the walls. The place is hopping at all times.
EAT: Carrol's Creek Waterfront Restaurant, Eastport
Take a water taxi or walk across the bridge to Carrol's Creek Waterfront Restaurant . Here, you can sip wine and nibble innovative cuisine while watching kayakers, SUPers, scullers, and sailboats silently slipping by.
The signature ap, Sea Scallops in Shredded Phyllo looks like dual sea urchins on a bed of wilted spinach and tastes divine. But don't miss the table-side Caesar Salad. It's one of the best I've ever had and large enough for two plus some.
EAT/BREAKFAST: Evelyn's, West Annapolis Village
Named after the owner's young daughter, Evelyn's espouses a "plant to plate" ethos. Few people know about this little neighborhood in Annapolis. But more and more are finding out thanks to establishments like Evelyn's, whose "Local and Sustainable" offerings include Loaded Oatmeal ($6), Vanilla Spice French Toast, Weems Creek Omelet with Jumbo Blue crab meat, and plenty more in an adorable, welcoming, and bright space.
EAT: Chick and Ruth's Delly
No. It isn't misspelled. And yes, you can feed a whole soccer team with signature 6 lb "largest in the world "milkshake and three-pound Super Colossal Burger at Chick and Ruth's Delly. But you don't have to indulge to have good patriotic fun here.
Every weekday morning at 8:30 (weekends at 9:30), owner Ted Levitt leads his patrons in the Pledge of Allegiance. The "Delly" is also renowned for its fantastic pies. Check out the Governor's Booth with "Democrat" and "Republican" sides.
DRINK/WINE/SMALL BITES: Vin 909 Wine Café
At Vin 909 Winecafe, try some "great wines you've never heard of." And then graze on innovative small plate foods, like Wild Boar Meatballs. Patrons also swear by the pizza.
EAT: The Federal House
Near the city docks and the Barry Gate entrance to the Naval Academy, the Federal House is anything but traditional. Chef/Owner Jeremy Black loves coming up with toothsome concoctions, like his excellent Sante Fe BBQ Wing Sauce and Candied Salmon Salad. Start with the signature Cream of Crab Soup. Then let your taste buds be your guide.
EAT: Locals also love
Acqua AI 2 in a repurposed bank, Preserve – farm to table with PA Dutch influence, Level Bar. Light House Bistro – a "social enterprise business" that trains people who have experienced homelessness. Osteria 177 – for fine Italian. Red Red Wine Bar – where you can purchase you own bottle, tagged with flamboyant descriptions, and pay corkage fee if eating in.
Best Hotels In Annapolis MD
STAY: Historic Inns of Annapolis
No huge surprise that Historic Inns of Annapolis, comprised of three buildings across the street from Maryland's State Capitol, were voted Best Historic Hotel in 2022 by Historic Hotels of America.
The Governor Calvert House, Robert Johnson House, and flatiron-shaped Maryland House built in 1727, 1772, and 1776 respectively, are imbued with Founding Father history. It's rather thrilling to absorb it all while sleeping in the lap of luxury.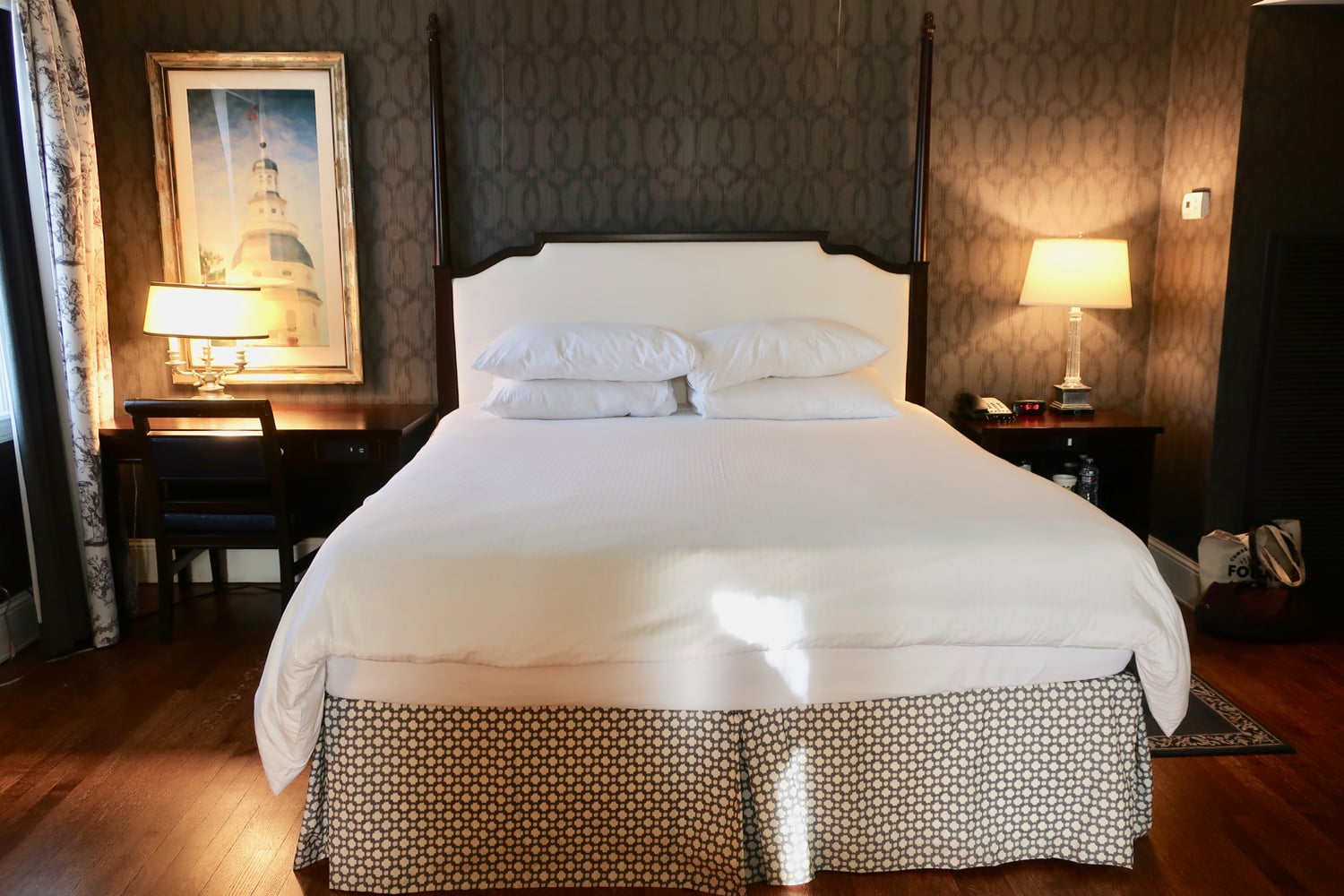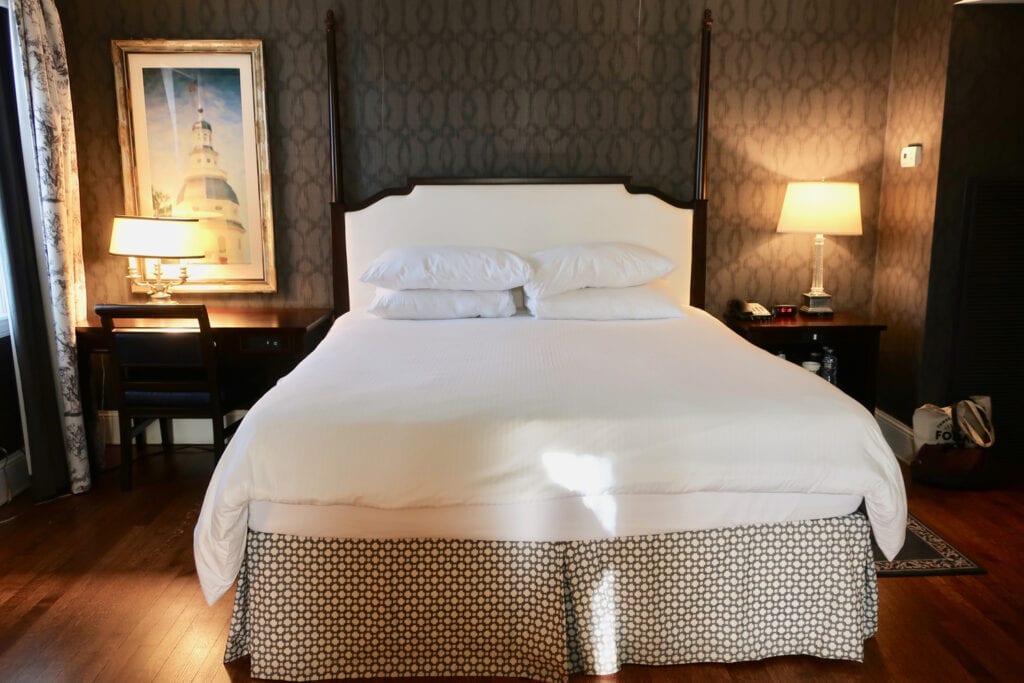 Rooms in all three properties, were refreshed, re-painted, and re-carpeted in 2015 – with charcoal colored walls, and whimsical bathroom wallpaper.
Governor Calvert House
Even if you're staying in another building, check in is at the Calvert House – right on State Circle (a brisk one minute walk to the Maryland State House Visitor's Entrance. I timed it). Initially built in 1727 as home to Governor Calvert, most of it was destroyed in a 1764 fire, after which it was used by the State of Maryland as military baracks, and then built to Victorian finery as a private home in 1852. Many luminaries of the day, including Mark Twain, visited the home when it was in private hands.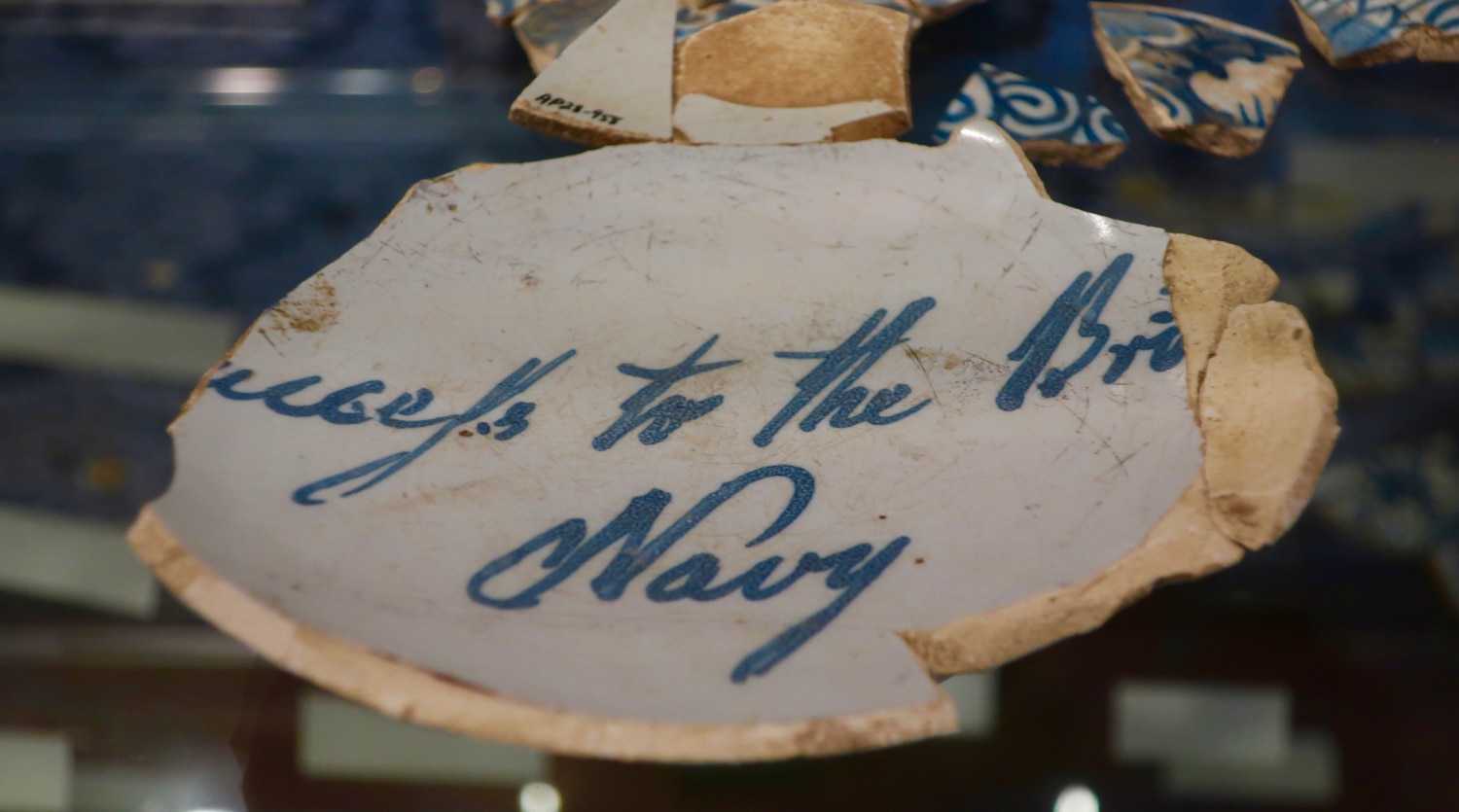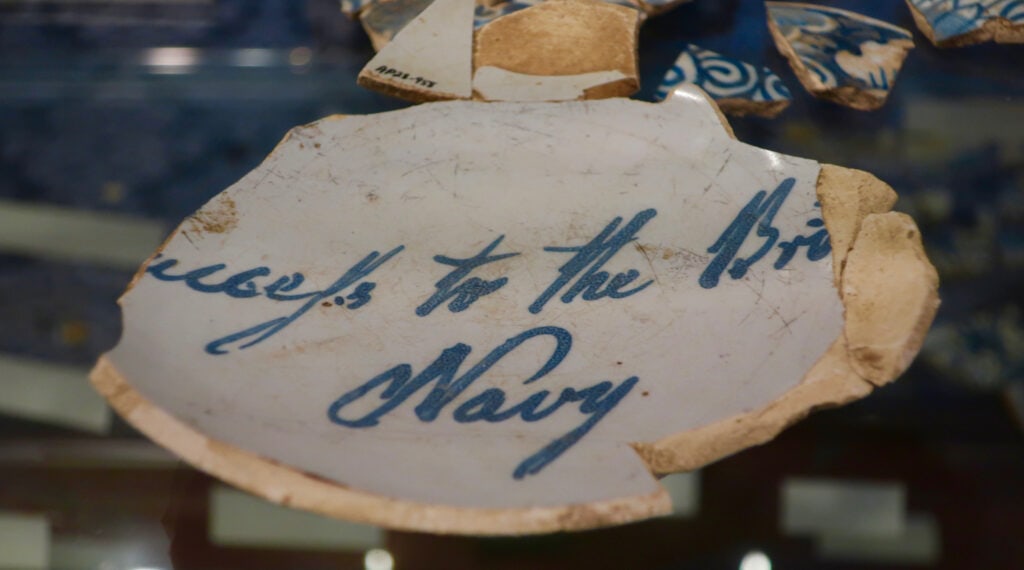 Success To the British Navy Punch Bowl
In 1972, the home was expanded and renovated as a boutique inn. Plenty of artifacts were unearthed while the building was under construction – and they are displayed in a glass case off the lobby. One, a large piece of a delft punchbowl, reads, "Success to the British Navy," harking back to the Revolutionary War.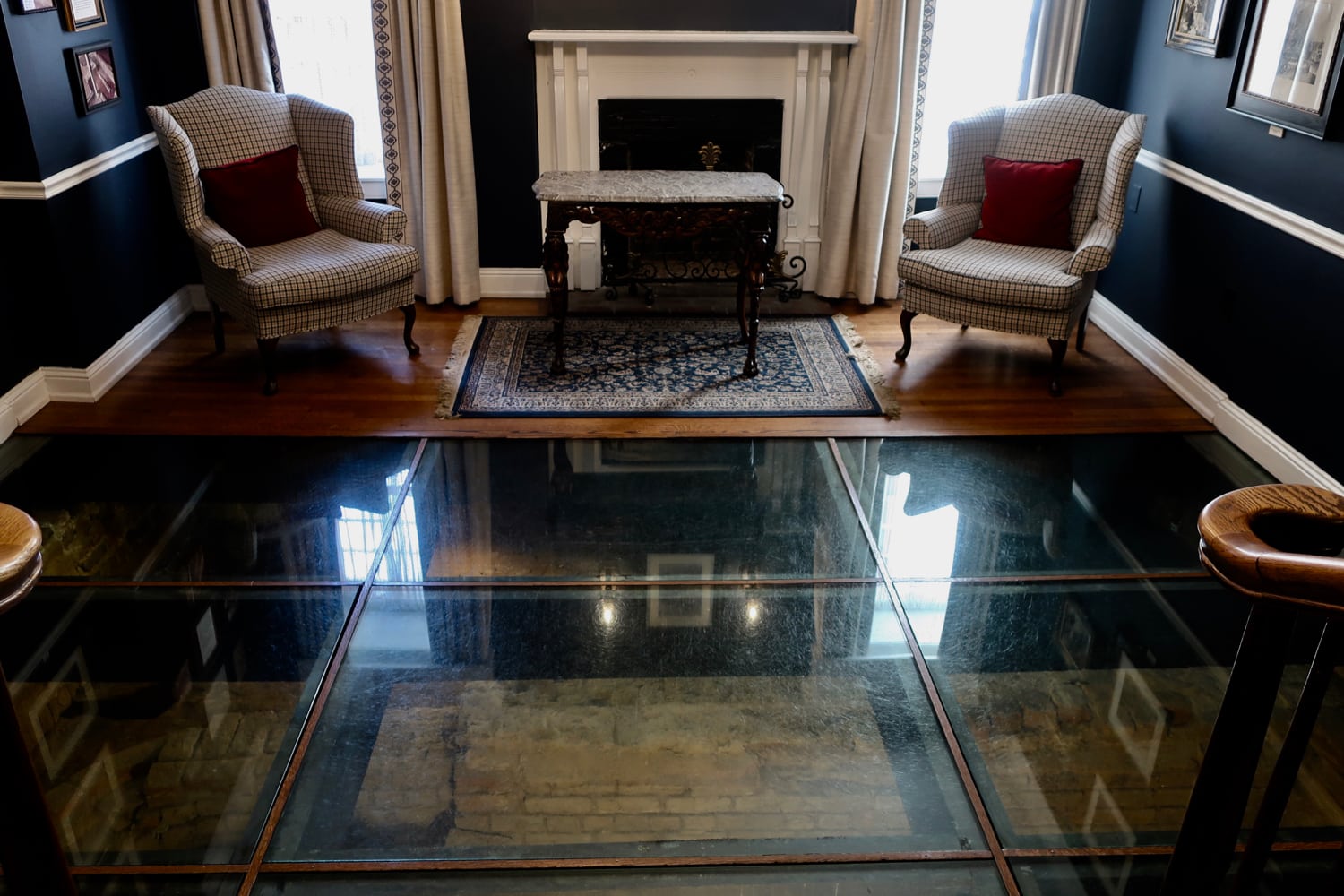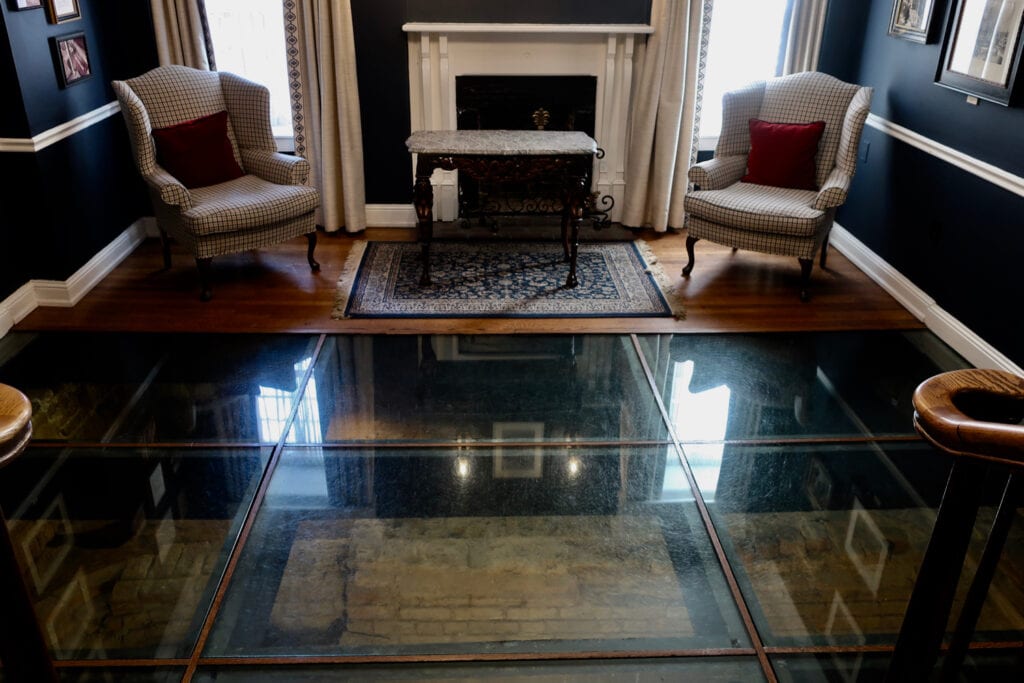 Walk Atop An Early American Heating System: Hypocaust Room
Perhaps the coolest section hotel is the Hypocaust Room – one of the parlors off the lobby. Stone remants of the 1727 home heating system, found beneath the original building, are on full display beneath plexiglass panels.The effect is quite dramatic.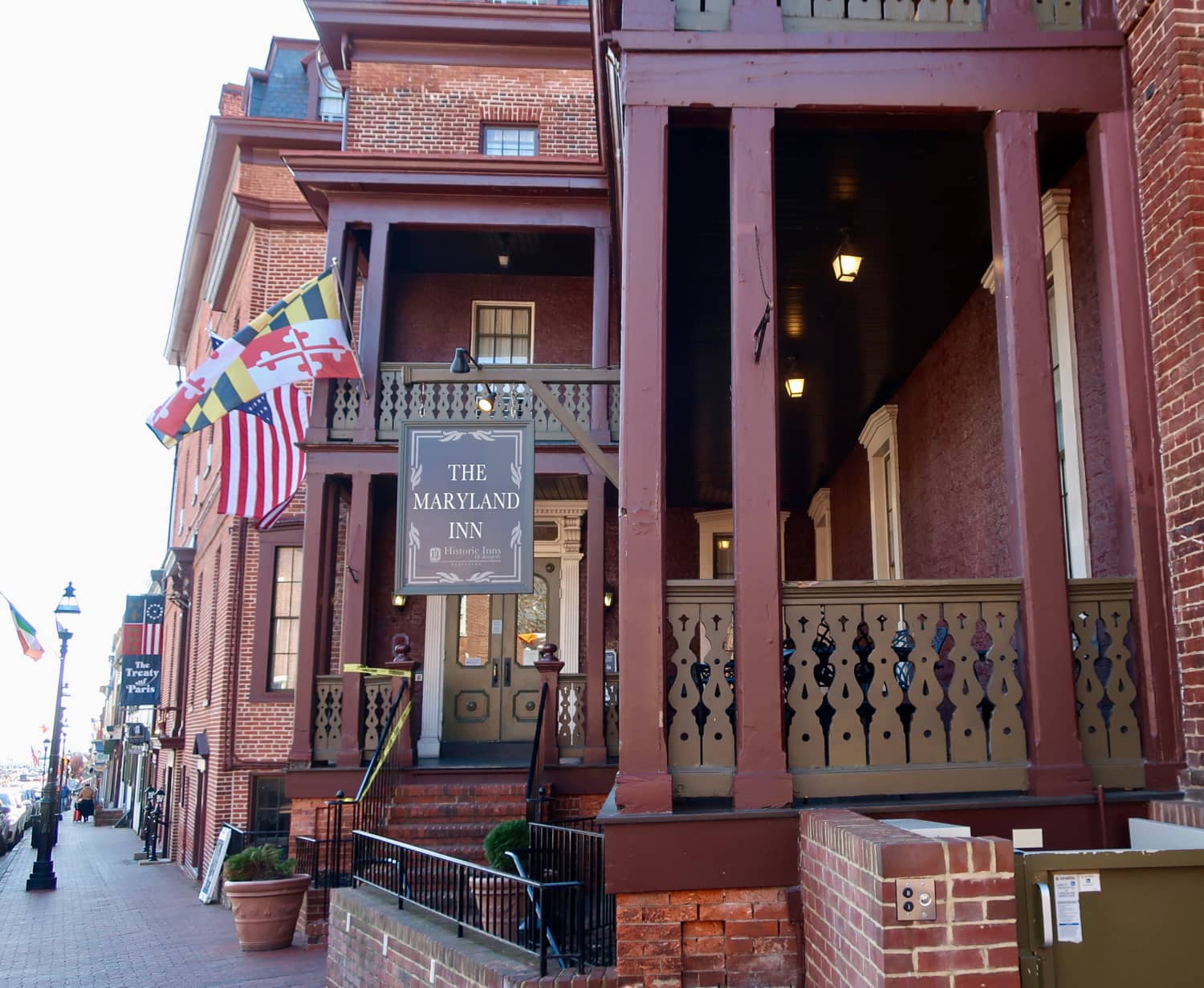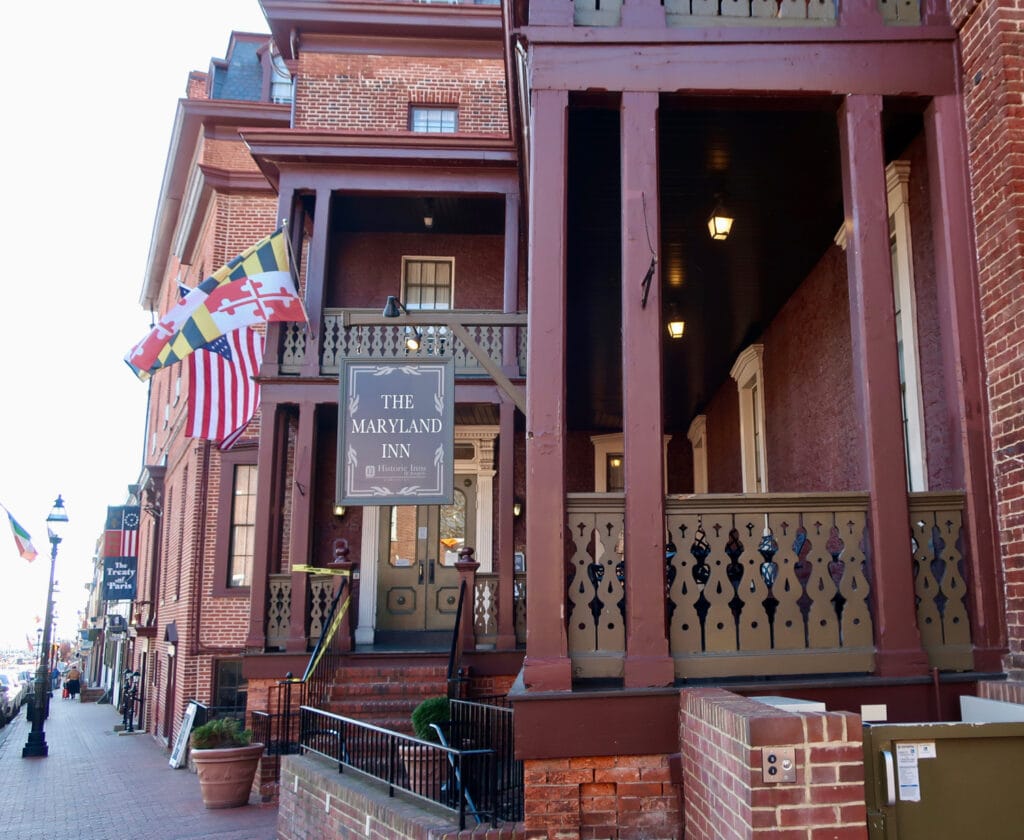 Maryland House
Built in 1776, this 45-room flatiron building has been an inn and tavern since inception. Due to its shape, this inn has the smallest rooms. However, it's got an historic tavern, Drummer's Lot Pub, right downstairs.
Maryland House was built on Annapolis's "Drummer's Lot," where, as a sort of town crier in the 1750's, William Butterfield drumed out a series of complex beats as code for the news: for example, when the legislative season was about to start.
The small, faded tapestry above the Pub fireplace is original – and what Ben Franklin and George Washington might have perused when lifting a pint in this very room.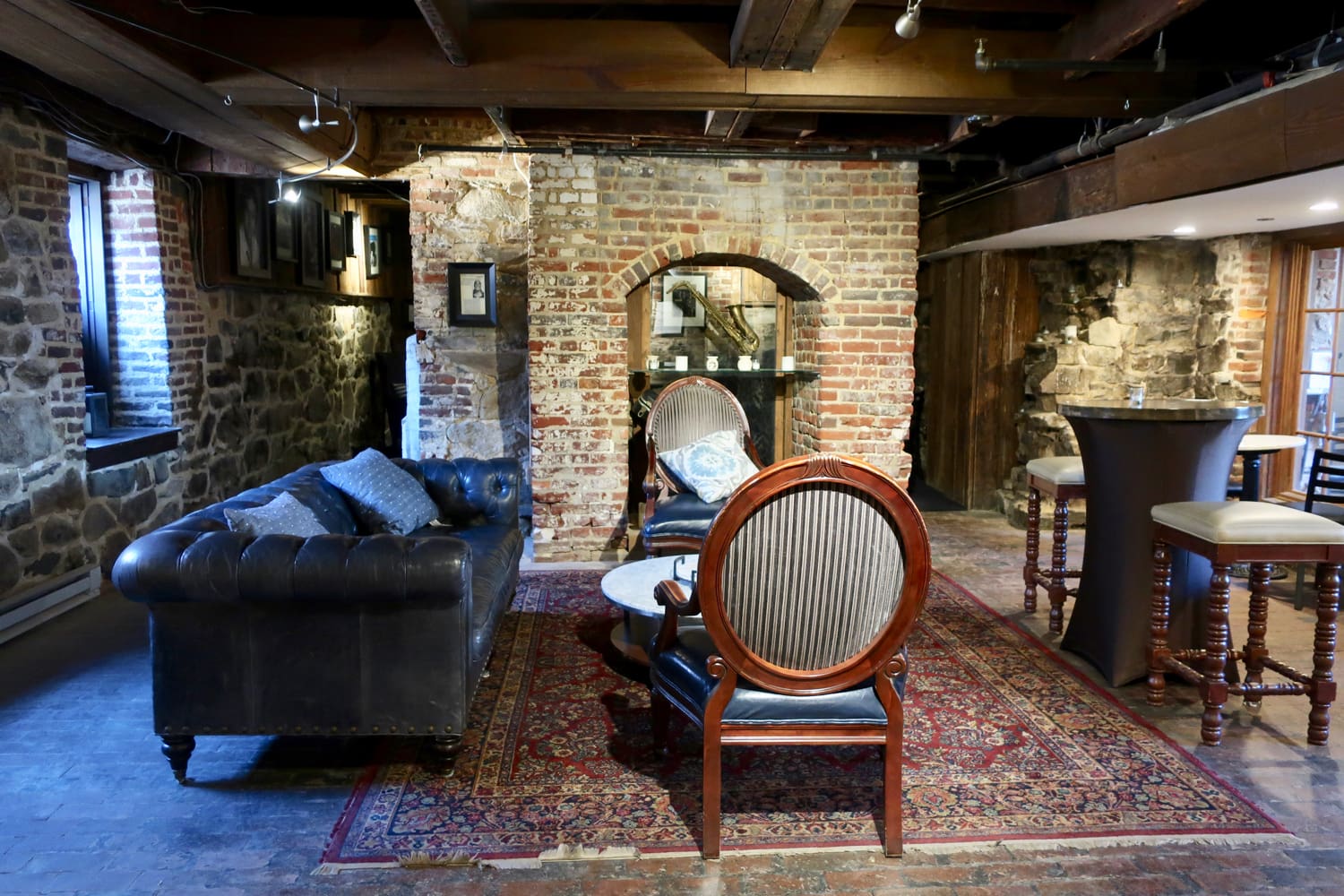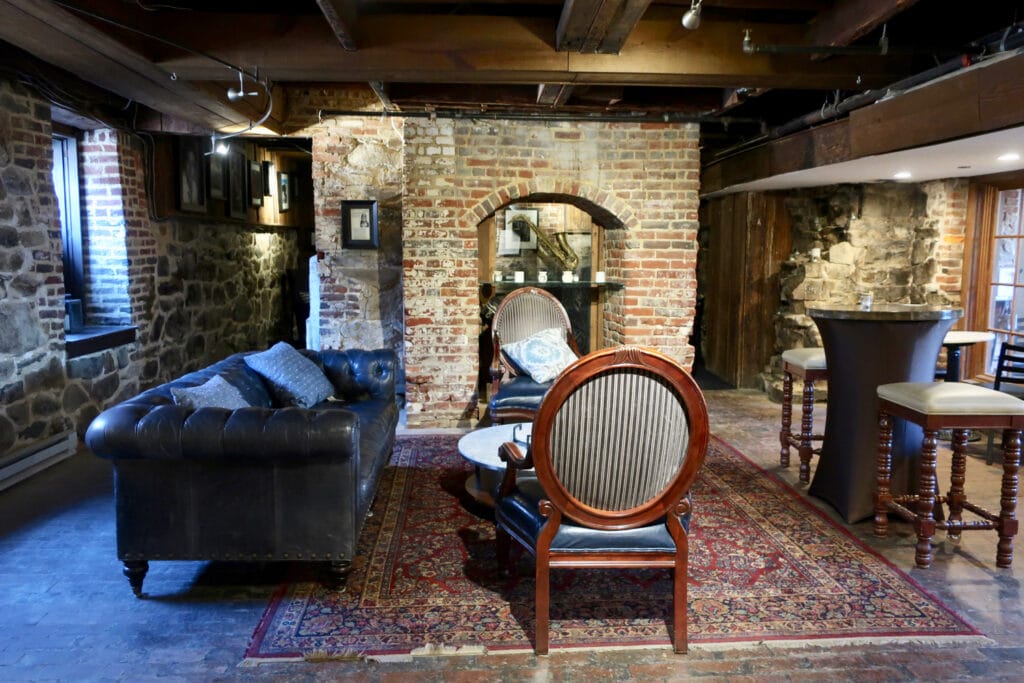 Documents show that the duo dined at the Treaty Of Paris Restaurant (adjacent to the pub), which, in the 1970's became a jazz club, and then a Starbucks – and is now being renovated into a restaurant again. Interestingly, in the restaurant, you can see the entrance to a tunnel that purportedly ran to the State House – allowing legislators a quick escape.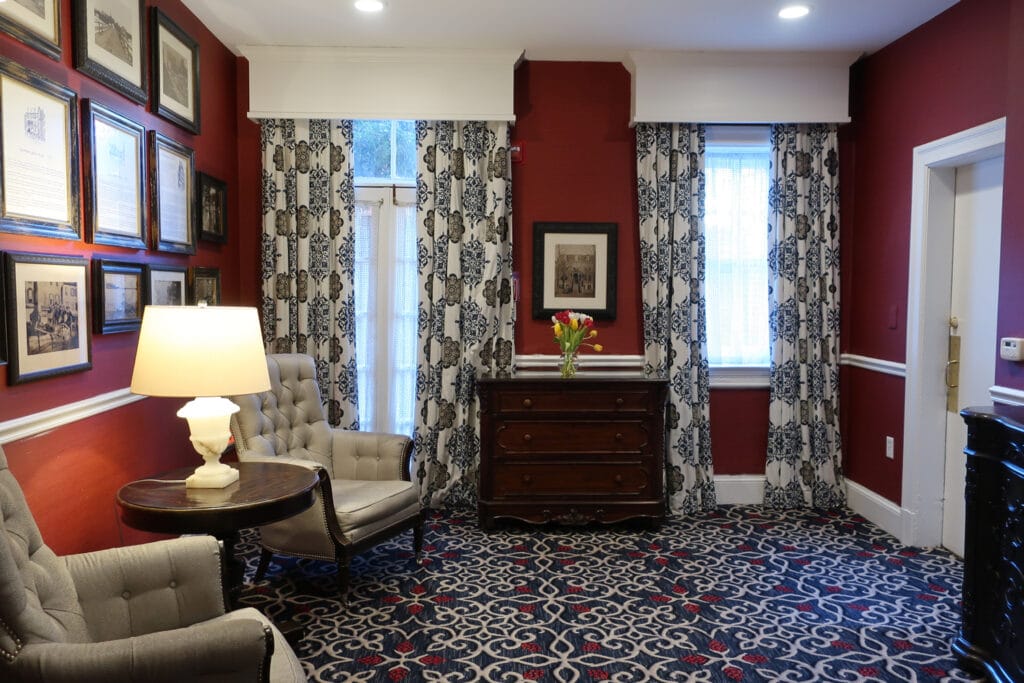 Robert Johnson House
If you require peace and quiet, book one of the 29 rooms at the Robert Johnson House. This is as close to a home stay as you'll find among the three properties.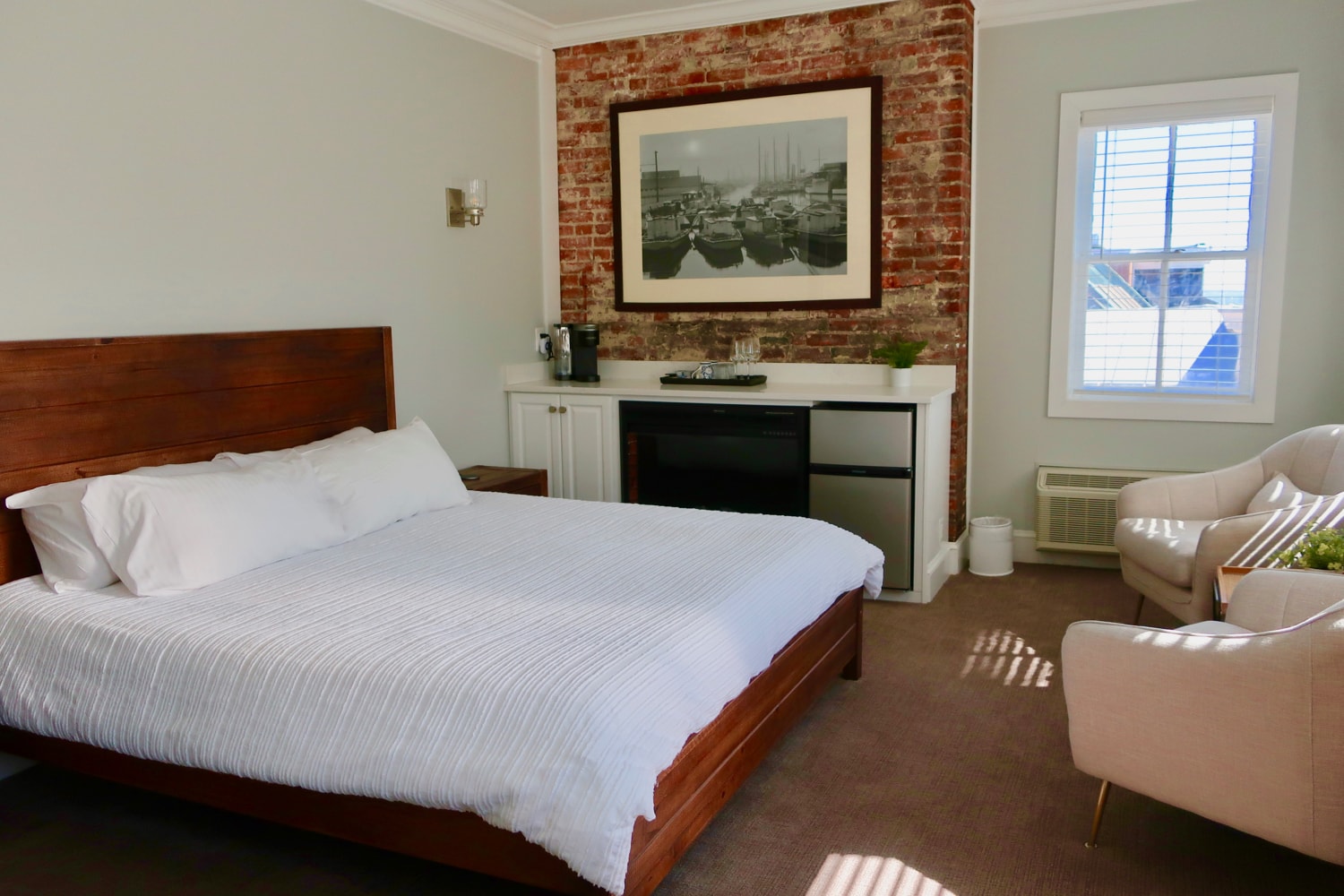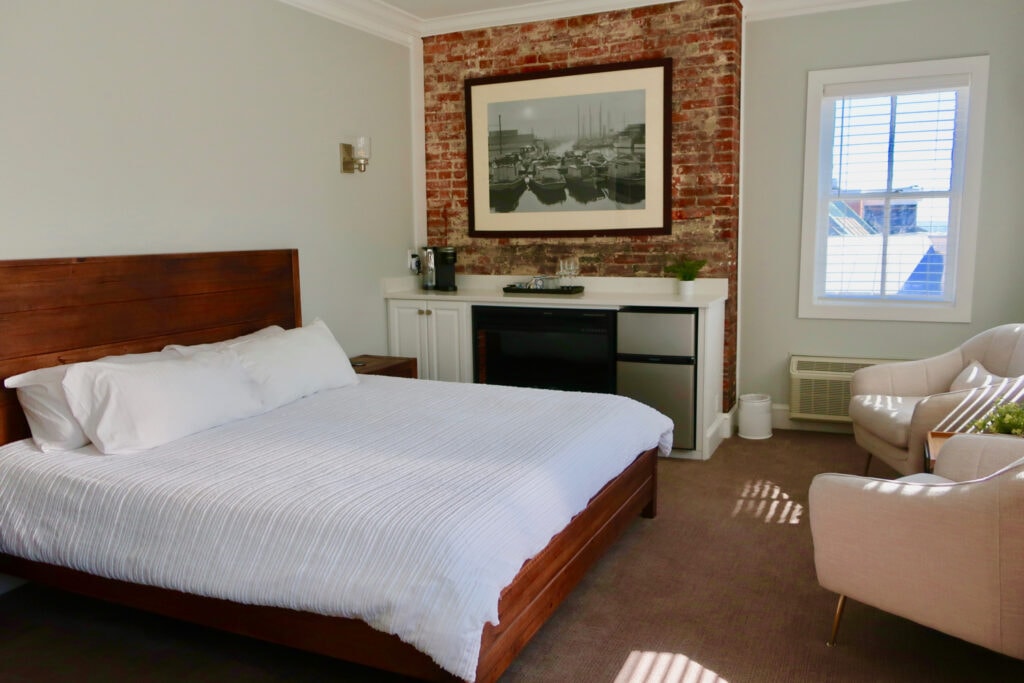 STAY: The Capital Hotel
With only six rooms, the boutique Capital Hotel, reopened recently after a gut renovation with new ownership, and is yet another choice among historic properties in town. The Capital Inn so intimate an inn, the manager provides guests with his personal cell phone number.
Each nicely designed room, some with views of the State House or Annapolis Harbor, has its own theme based artwork. And, rates are reasonable for this location: from $225-$400 depending on day of the week.
More Weekend Getaways Near Washington DC