Quirky Places to Propose in New York State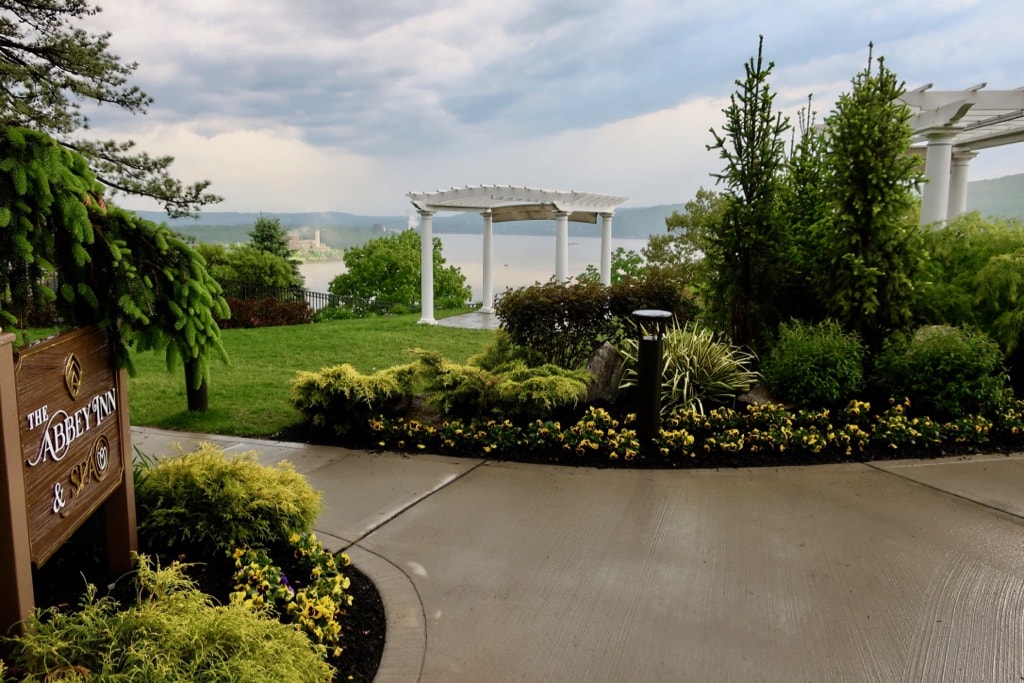 Overlooking the Hudson River From a Former Convent
The Abbey Inn and Spa, in Peekskill NY, was once a home and chapel for nuns. Now, this hilltop hotel overlooking the Hudson River, is one of the most romantic places to stay (and get hitched) in the New York City area. For lovers on the verge of a lifetime commitment, there's no more convenient place to propose in NY than exactly where you'll want to get married.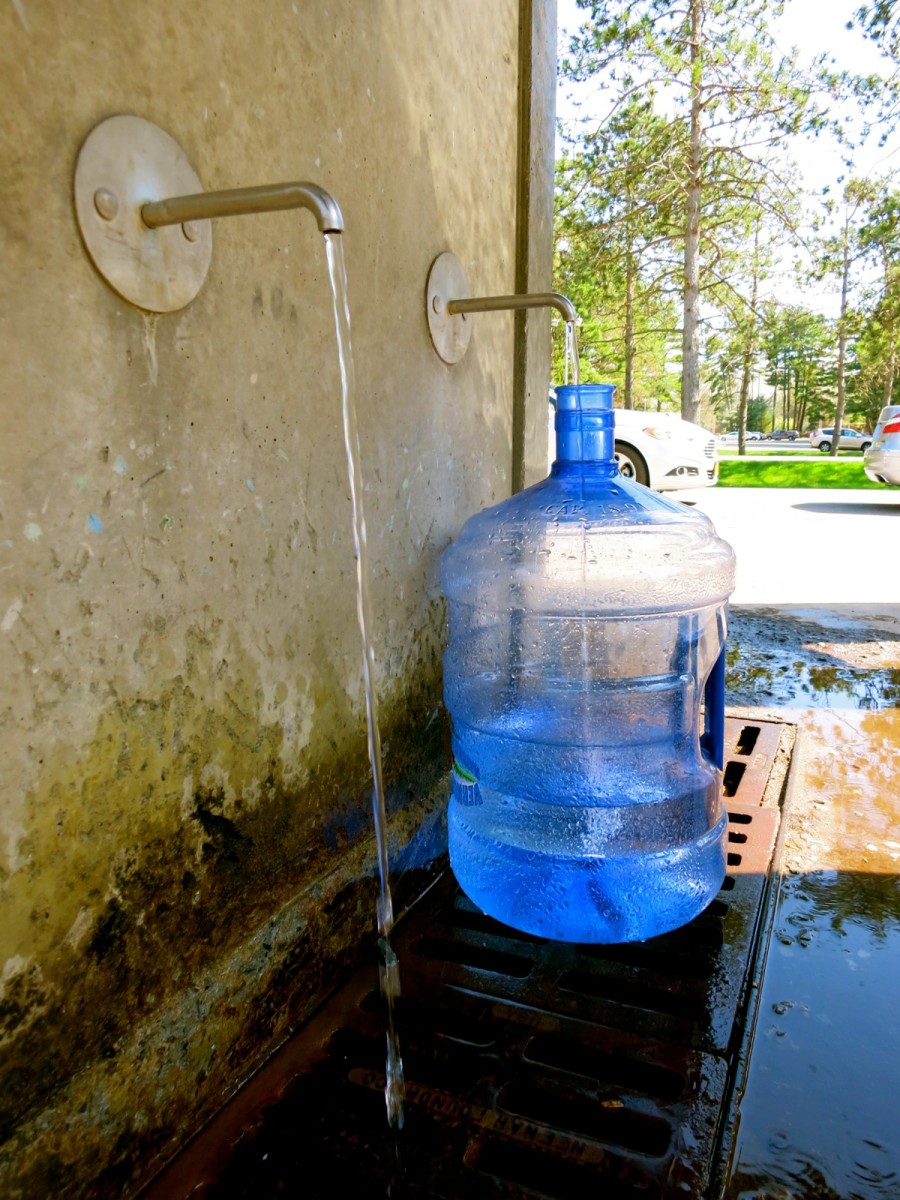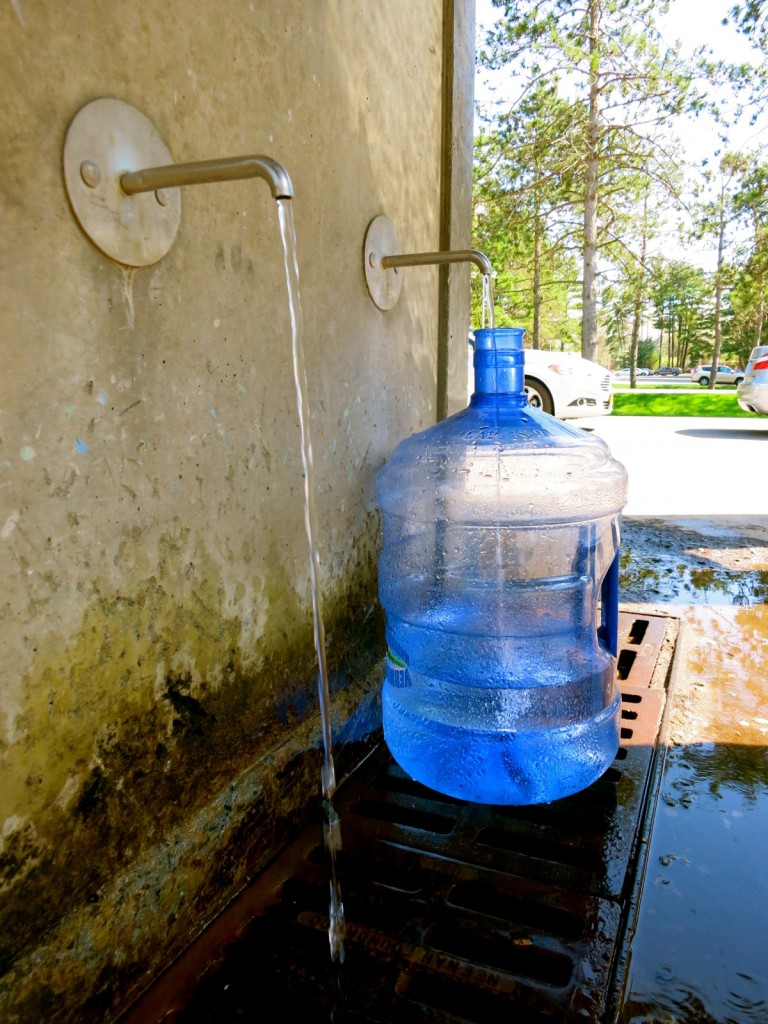 While Sipping the Curative Waters That Gave Saratoga Springs Its Name
Saratoga NY might be most known for horseracing, but before the ponies showed up in the mid 1800's, and due to its mysteriously curative mineral waters, health seekers came here in droves. Due to that draw, Saratoga Springs was the first "Spa Town" in the USA. If the two of you want to combine a wellness getaway with a marriage proposal, pop the question where you can best sample "the waters:" at the romantic Roosevelt Spa, or at an always-running fresh water spigot. Both can be found in the massive Saratoga Springs State Park.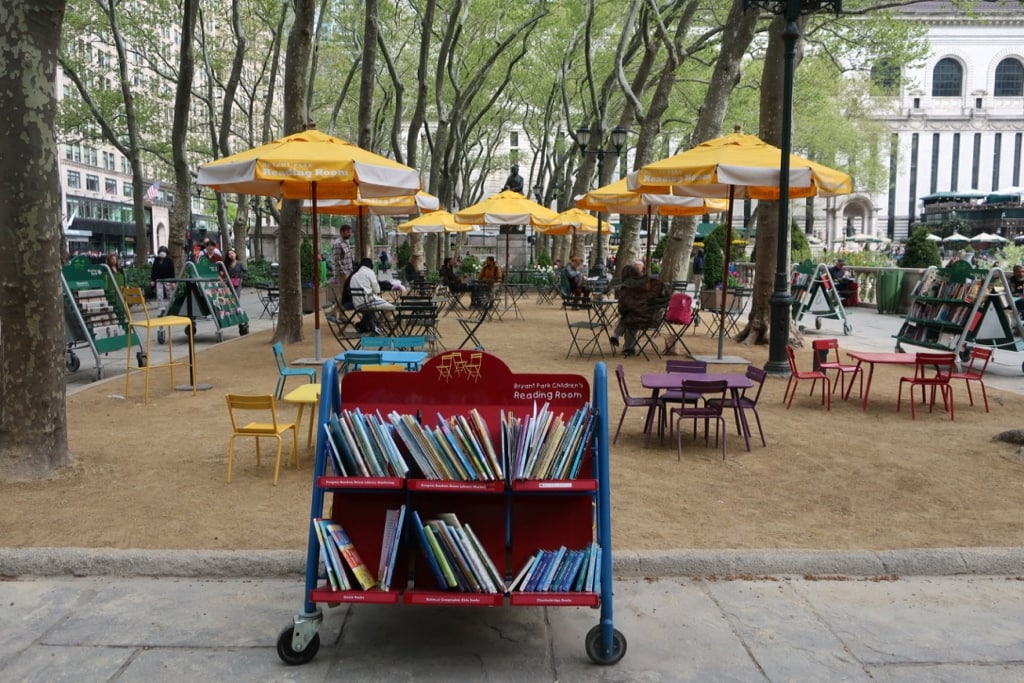 Go Big Or Go Quiet In the Times Square NYC Area – a Most Iconic Place to Propose in New York
Here are two ideas for places to propose in New York City's Times Square area, depending on your personality type. Go Big or Go Home duos might want to engage the Elmos, Superheroes, and/or the Naked Cowboy in Times Square itself to help with the Big Ask. Lower profile lovers can walk a block to stunning Bryant Park, plop down in the outdoor Reading Library, and pledge their troth over a book of favorite poems.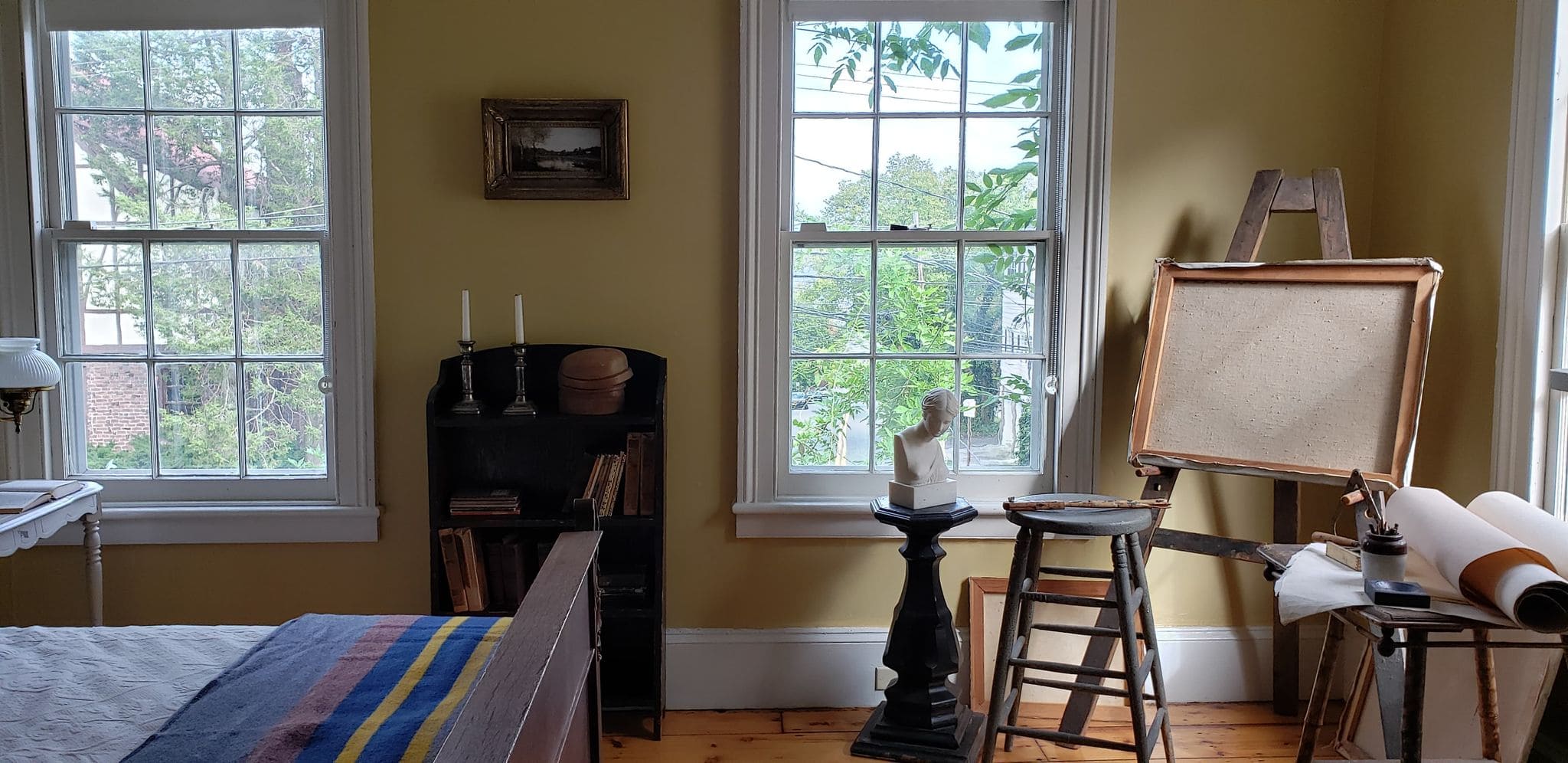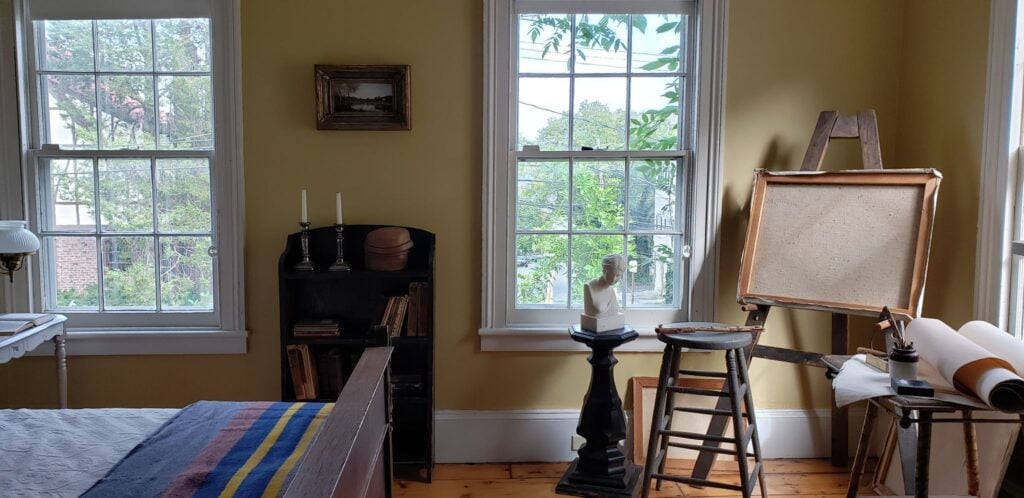 In Edward Hopper's Childhood Bedroom, Nyack
Calling all American Art nerds! Come to Nyack on the Hudson. This small town is one of the best places to pop the question in New York if you're both into Edward Hopper paintings. Hopper's modest house on Nyack's main street serves as both a small museum and history of the man whose painting, Nighthawks, became an iconic symbol of loneliness and alienation in the big city. But Hopper was not that dark, as you'll find on a tour of his home. His work lightened up considerably when he spent summers on Cape Cod.  


While Plunging Downward on a National Historic Landmark – the 1929 Dragon Coaster, Playland Park
Hold onto your hat – and the diamond ring – as you quickly drop down from the top of the Dragon Coaster's highest point in Playland Park, Rye NY.  Once you catch your breath, propose to the person you'll want to stick with through all of life's ups and downs.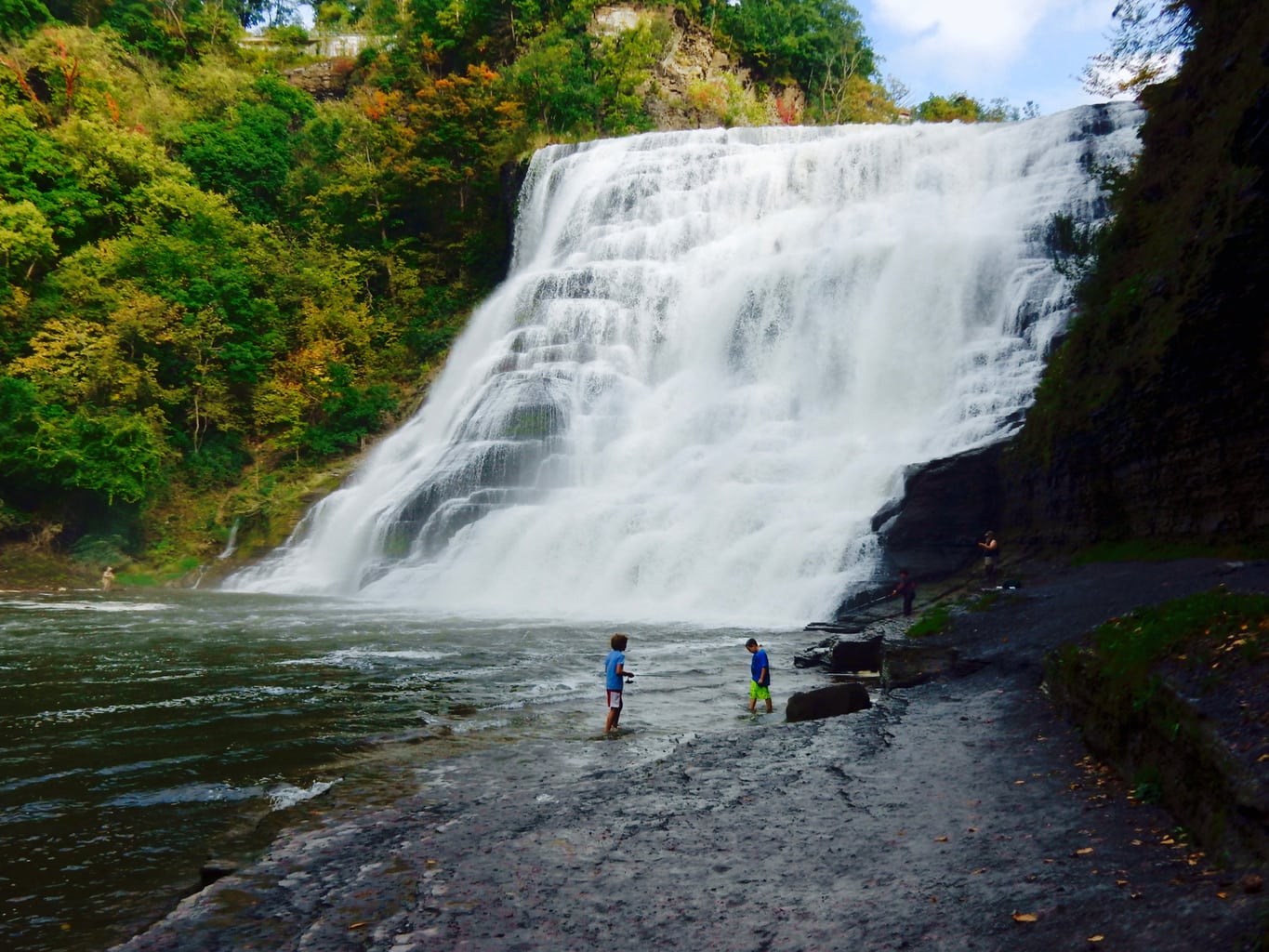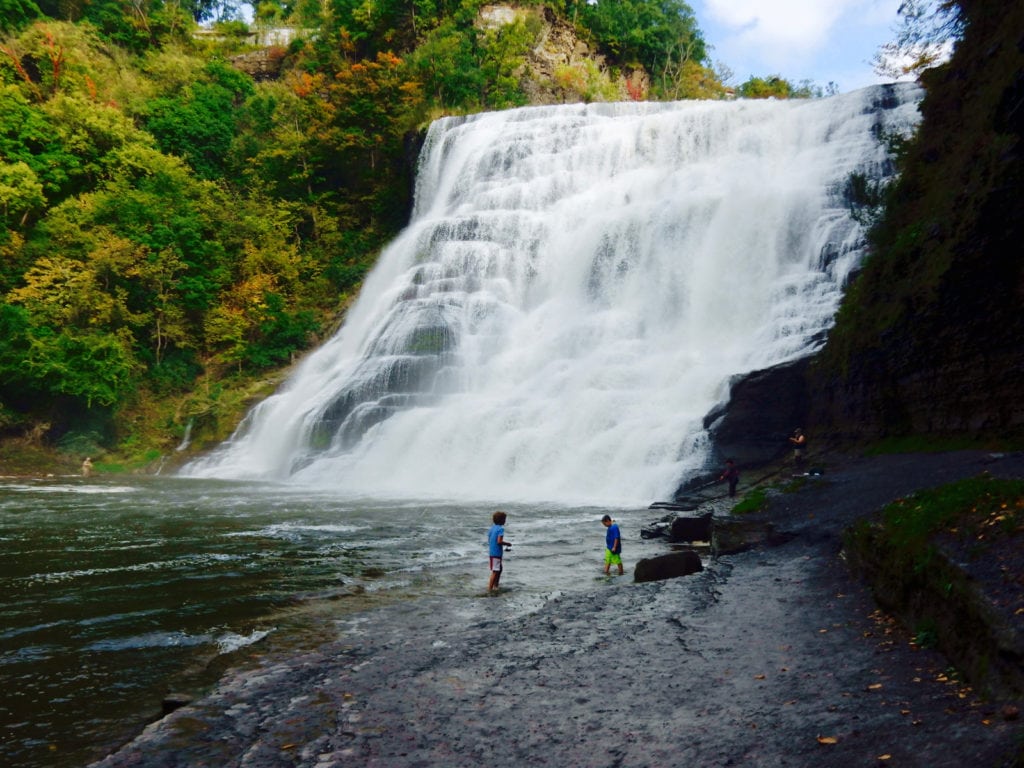 While Chasing Waterfalls in Ithaca
Waterfalls are among the most romantic natural features on earth. No big surprise, then, that the word, "waterfall" is one of the most searched in the travel and hiking space. So, why not pop the question on a Waterfall Tour in the Finger Lakes? Yes, there is such a thing in Ithaca, where you'll find a dizzying number of waterfalls. (The town's tagline, "Ithaca is Gorges," is not a spelling error). The best, and most convenient way to find all these cascades (especially if you'll be including Finger Lakes wine to celebrate) is to let someone else drive. That someone should be a Waterfall expert with Experience! The Finger Lakes Tour Co.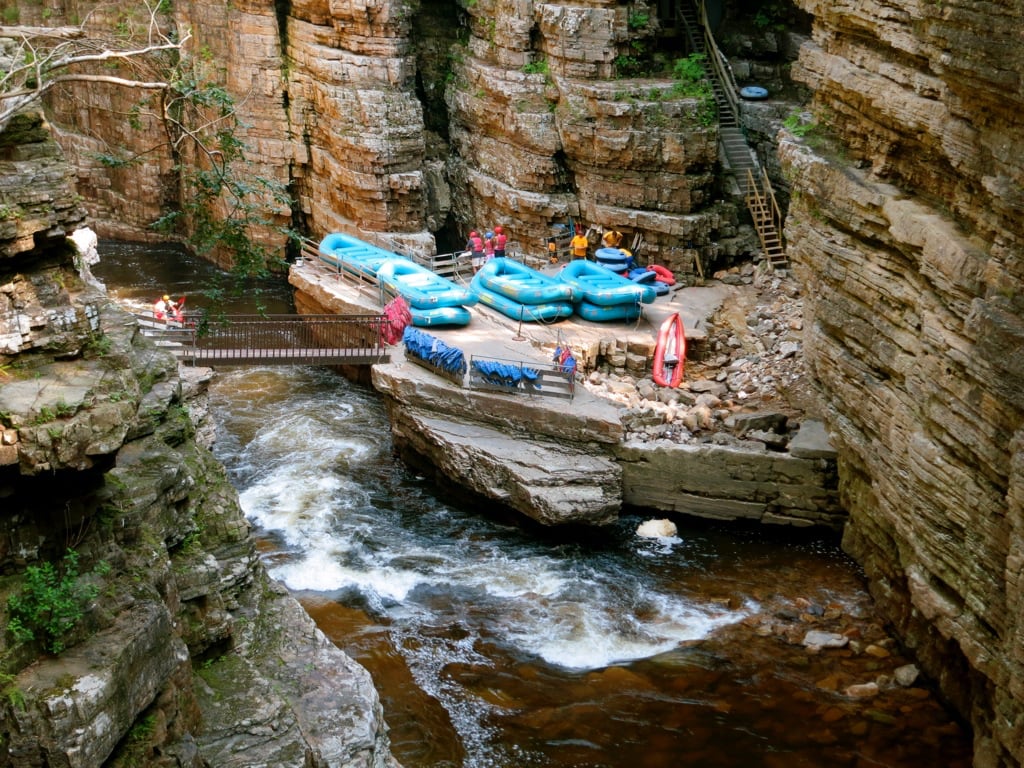 While Rafting Through Rock Walls in the Adirondacks: One of the Very Best Places to Propose in New York
Ausable Chasm in the Adirondacks will blow you away to the point you wonder how you even missed this absurdly gorgeous geologic feature: One you can interact with, both by viewing from tiered walkways and by paddling. Pressing through walls of rock in an inflatable raft on a chute of whitewater, you might experience the nirvana that tourists did in the 70's. The 1870's that is – when larger wooden boats were pulled back into place through an elaborate pulley system. The raft trip is relatively tame, so you can pop the question during this singular NY experience. However, you may want to save the ring presentation for dry land.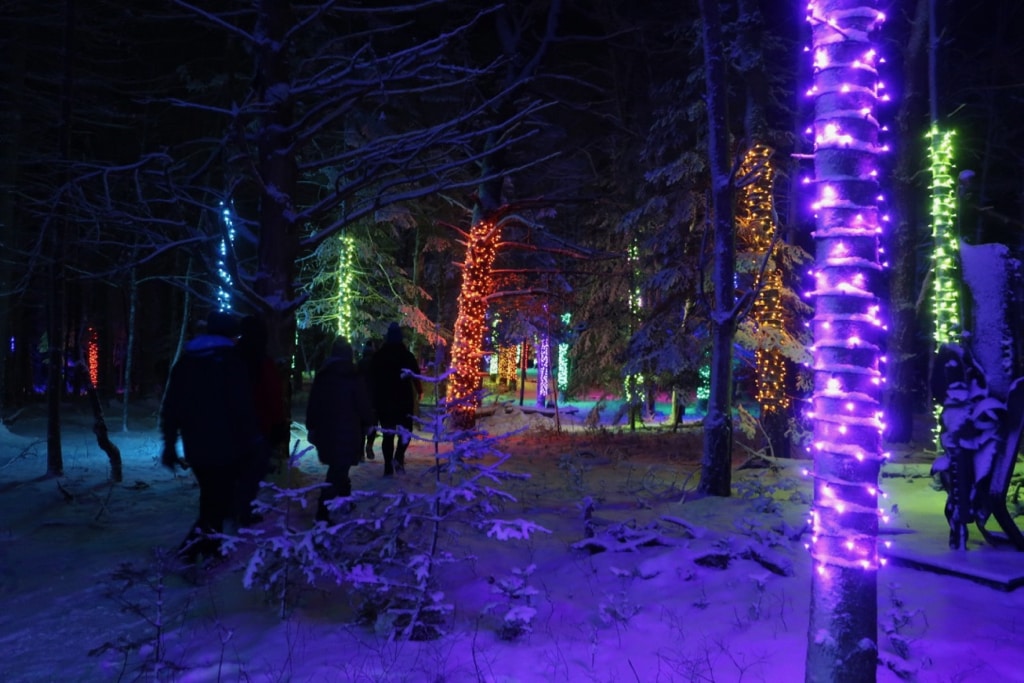 Amid Twinkling Winter Lights at the Wild Center, Tupper Lake
The Adirondack Region is a magical place. Lost in all the hoopla of Lake Placid, though, are the small towns of Saranac Lake and Tupper Lake. So, if you wish to start a lifelong collaboration with your love in a magical place at a magical time, come to the Wild Center in Tupper Lake in the depths of winter, from 5-7pm Thanksgiving weekend through February, for Wild Lights. Pop the question either on a pin-light bedecked elevated boardwalk or in a musical forest ablaze in colored lights. Either way, you'll feel warm and tingly all over. Even when it's snowing and you can see your (hot and heavy) breath.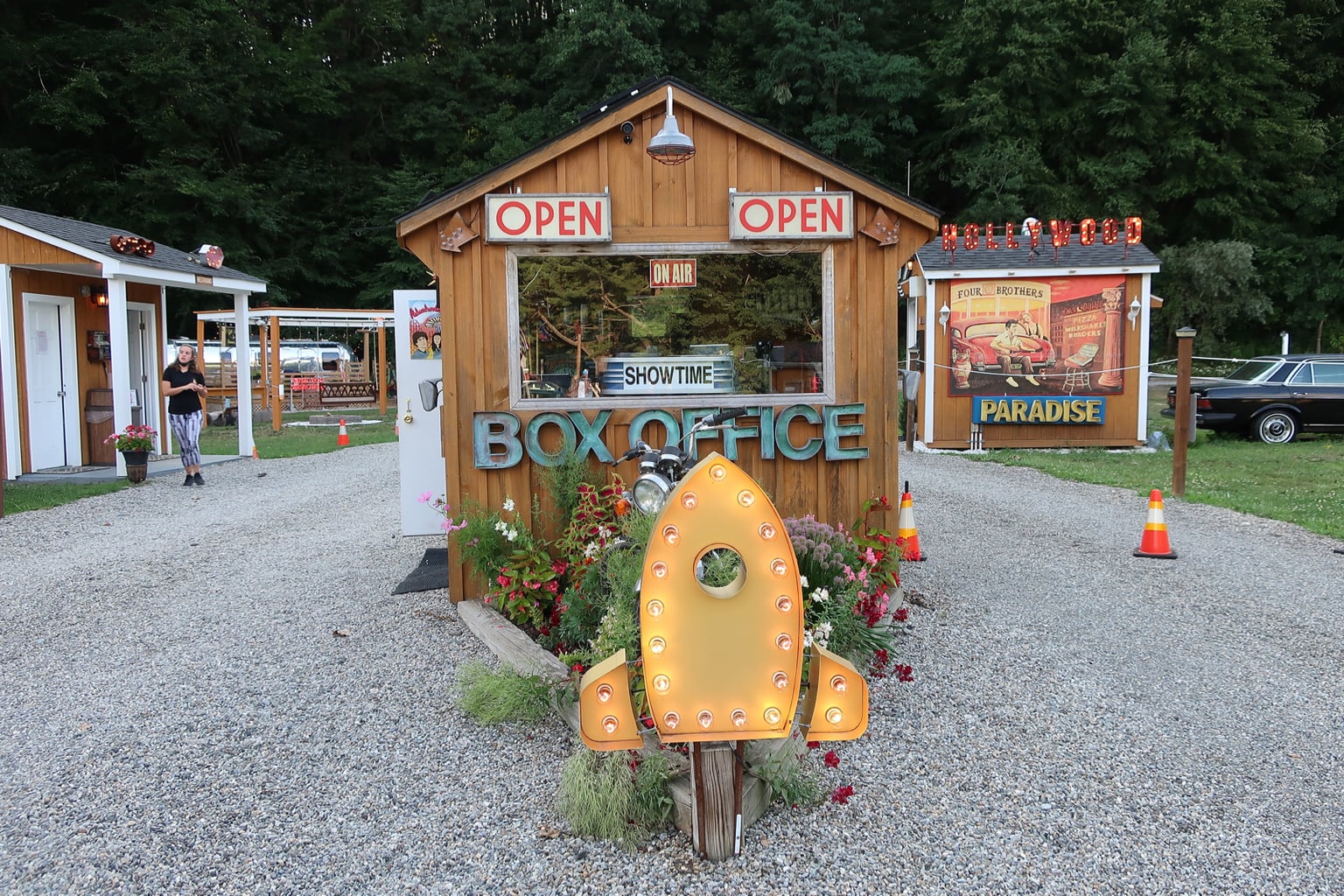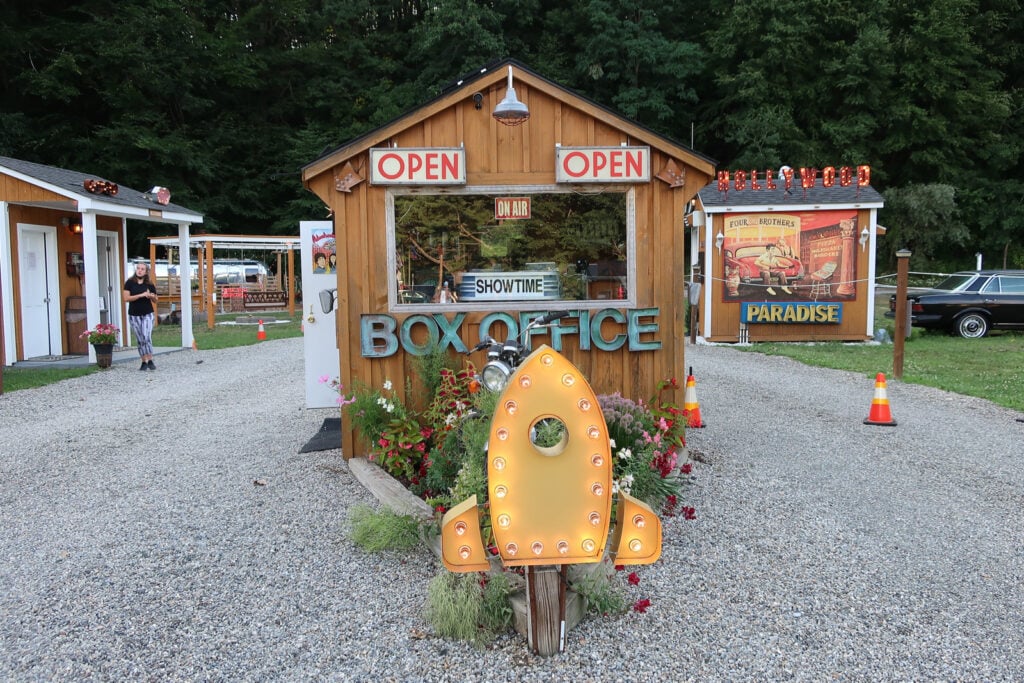 At a Kitschy 50's Drive-In In Amenia
Northern Dutchess County is a wonderful place to pop the question in NY. It's got romantic inns (Troutbeck), fantastical "Cup" Gardens (Innisfree Garden), an Orvis compound, and, the kitschiest of all – the retro Four Brothers Drive In Theater. Snuggle with your honey, order food service from your own car, and then. Watch the movie?? Well, really, that's up to you.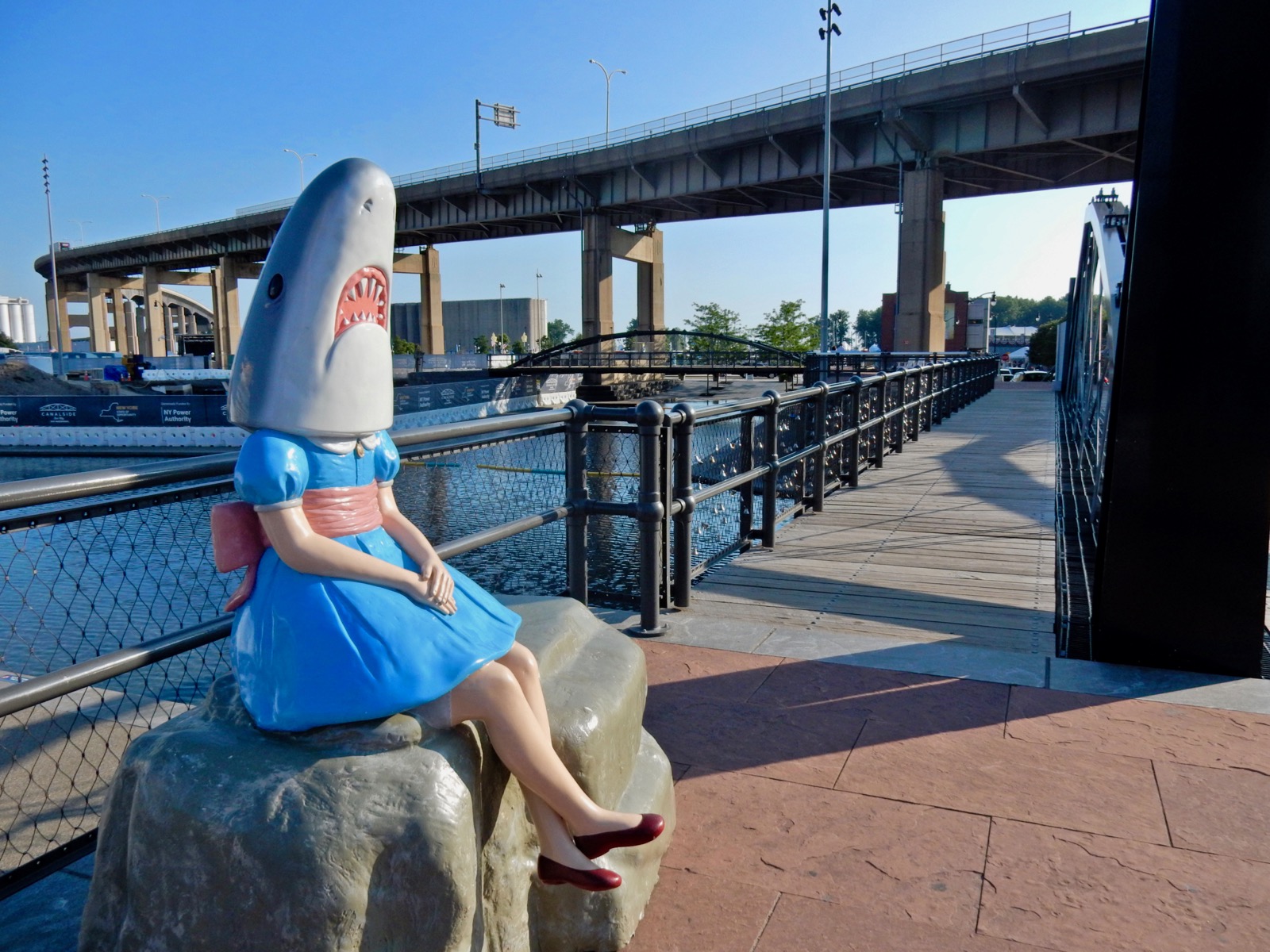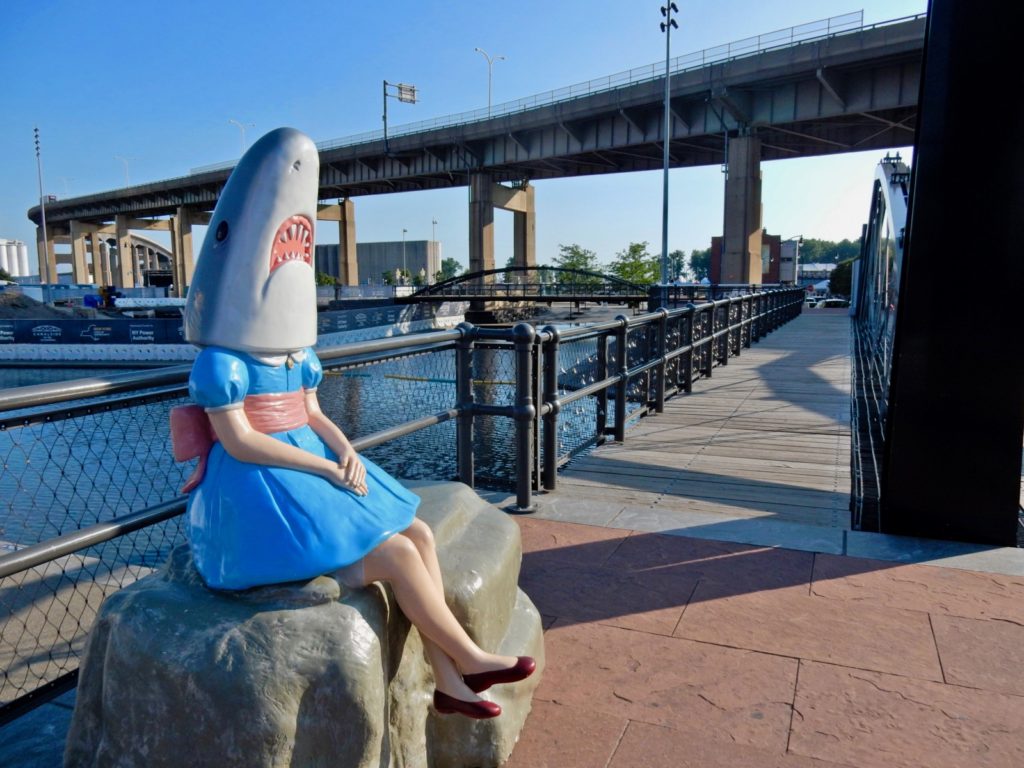 By Shark Girl in Buffalo NY
Come on. You know you want to. You can find this Albert-Knox Museum installation at Canalside in Buffalo.