Last Updated on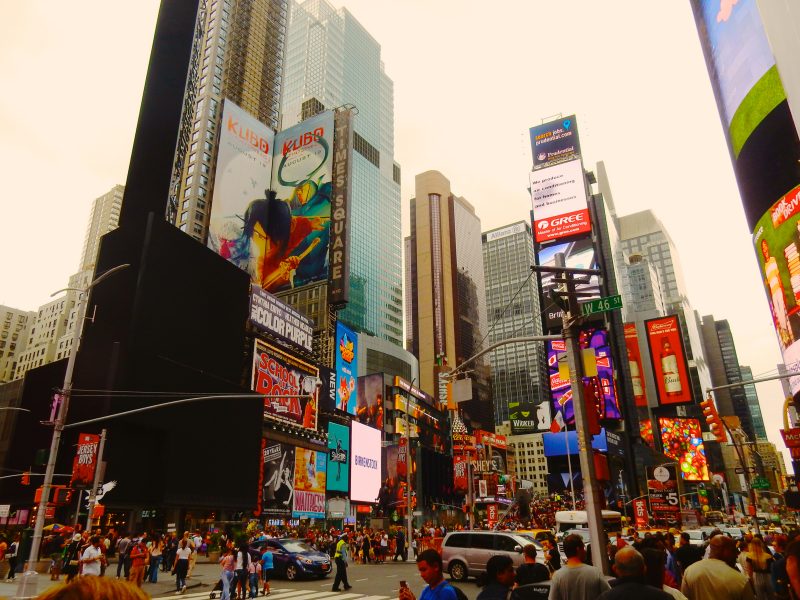 WHY GO: Any authentic New Yorker knows that Times Square is "for tourists," and doesn't represent "real" New York. With Ruby Tuesday's, Red Lobster, Olive Garden, Bubba Gump's, Hard Rock, the Gap (coming), Old Navy (coming), Walgreens, Sephora (two of them!); Times Square in the center of Manhattan could be a mall in anywheresville.
But for all its commercial characteristics, Times Square is a tourist attraction for a reason, and that reason is its unabashed frenetic, ferocious flashing lights, ads and news on every façade at all hours of the day. A heavy police presence provides a sense of safety, and the fact that it is the center of the Theater District, aka "Broadway," makes it even more appealing to stay.
So, the Mavens have scouted out the spots where you can dine and overnight in the midst of it all, yet at a remove from all the noise, with a bit of advice on where to find free performances or discounted Broadway shows. Yes, you can stay classy in Times Square. Read on.
Things to Do in Times Square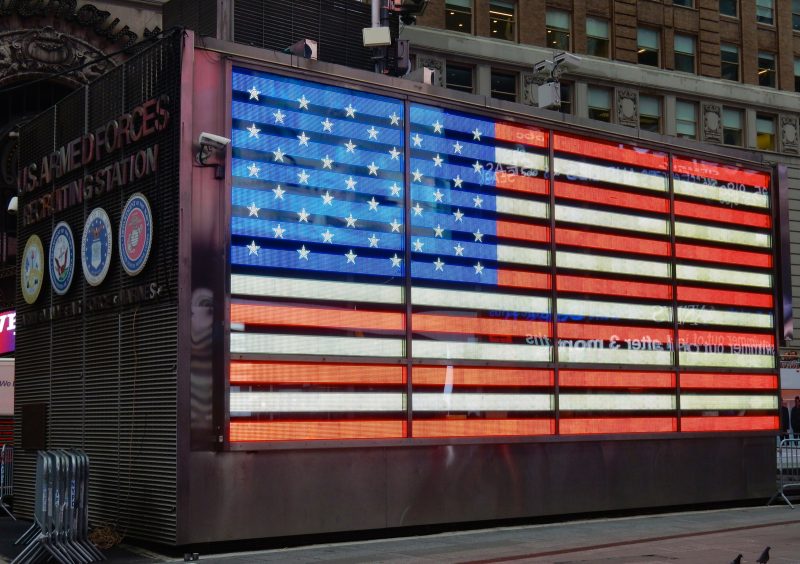 DO: Stand in Awe. Skip the shopping (which you can easily do in any city), pay no mind (or money) to the cartoon characters who expect a tip with photo, and just soak in the flashing Jumbotrons, take a selfie or us-ie in front of the illuminated American Flag on the Army Recruiting Office building, and pay strict attention to the wonder on the faces of foreigners. It will put you in a good mood.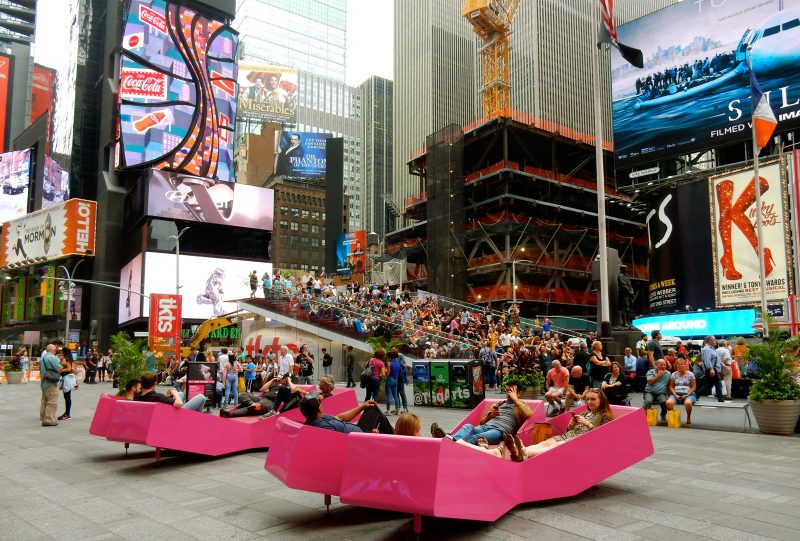 DO: Sit on the Times Square Steps. Don't take these steps for granted. They weren't always there. Nor were the pink loungers at the foot of said stairs. Once upon a time (not so long ago in my memory), Times Square was a snarl of traffic and XXX-Rated movies. Now, it's a pedestrian-friendly, pie-shaped crush of humanity, and vantage point for great Instagram photos.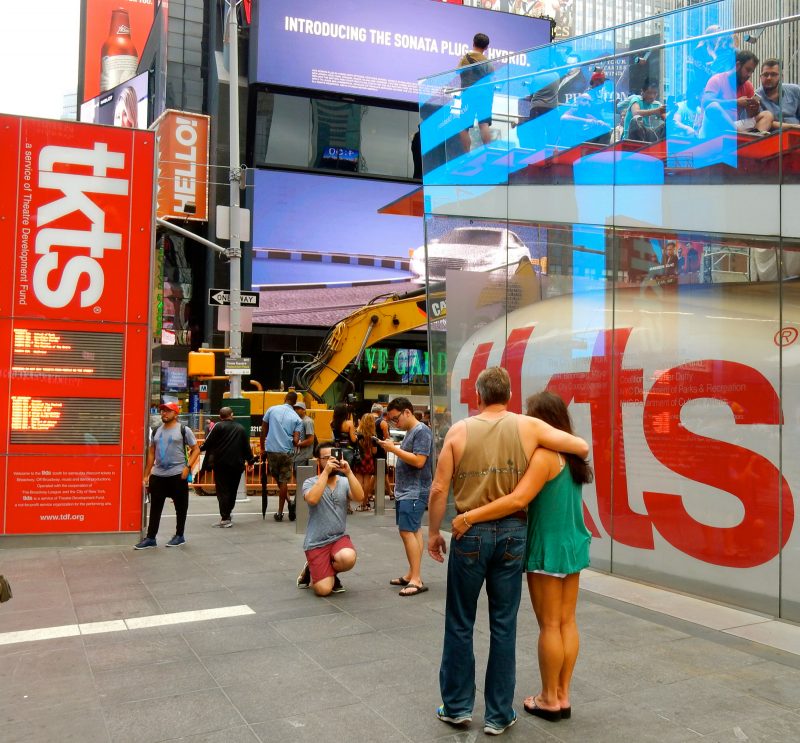 DISCOUNT BROADWAY SHOWS: TKTS. Broadway doesn't like empty seats, so each day TKTS (on 47th between Broadway and 7th Ave) sells those seats for 40% or 50% less than box office cost. Don't expect hit shows, like Hamilton or Book of Mormon to be listed, but you may get lucky with others. Cue up and figure out which shows you'd like to try for. By the time you get to the ticket window, your first pick might be sold out, but you'll get something. Open 10-2 for matinees, 3-8 for evening performances. Find more tips for scoring cheap Broadway tickets here.
DO: Gulliver's Gate. Opened in May 2017, and named for Jonathan Swift's Gulliver's Travels, the Lilliputian world of Gulliver's Gate – our world, tweaked – is so interactive and engaging, you can spend hours peeking through mini windows, watching freighters move through locks, see traffic snarl and trains snake around mountains in several rooms totaling 50,000 square feet of space. This permanent attraction is so intriguing, you might be compelled to return numerous times to catch what you missed.
At the ground floor entrance, you're issued a hefty metal key to this kingdom (which becomes your take-home souvenir), enabling you to "turn on" various scenarios. Naturally, New York City takes up the most real estate – Manhattan in particular is sprawled out in intimate detail. Cars move through the streets, balloon animals from the Thanksgiving Day Parade make their way down 5th Ave., Grand Central Station is packed with people, while subway trains can be seen beneath. The new stegosaurus-like World Trade Center Path Station looms over the 9-11 Memorial waterfalls, The Strand Hotel straddles the Highline, and other iconic structures entice visitors to peek inside windows.
Moving on to Niagara Falls – snap a headshot of yourself and watch it pour over the falls in a quirky, virtual version of a barrel plunge. Next comes coastal New England, an enticing co-mingling of mountains, seaside, and commercial fishing docks. In "Europe" – Venice (St. Mark's Basilica), Rome (Coliseum), and Paris's Eifel Tower and Arc de Triomphe, share space with the CERN Particle Accelerator. Russia in winter and its Northern Lights are quite striking, as are other cities and countries in Europe, Africa, Asia, South and Central America. Each country or region was responsible for making and delivering its own model, which explains the outsized seven hills of Jerusalem (a whole corner of a room next to a miniscule Saudi Arabia), made in Israel.
The largest model airport in the world is in a separate room. Little people and mini-planes wait at the gate, while the runway is active with planes taxiing, taking off and landing.
At 1:87 scale, each one of the 1,000 buildings, 100 bridges, innumerable humans (at .8 inches tall), and other features of cities, countries, and regions around the world are so intricately fashioned, you'll spend many happy hours discovering myriad dramas – many humorous – taking place: Firefighters high fiving each other after rescuing a cat from a tree; burglars cracking a safe in the MetLife building; a graffiti artist tagging a wall, just for starters. These little vignettes are so easy to miss, but so fun to find.
Stop by the NASA-like "Control Room," where computer operators monitor and manipulate vehicles, lighting, teeny tiny videos playing on teeny tiny movie screens, and more. Talk to model makers in the 3-D Model Lab, where structures and humans are 3-D printed with plant-based plastics. And then, if you'd like, have one made of yourself (for a fee). Open daily 10am-8pm, $36 adults, $27 kids, free for US military in uniform.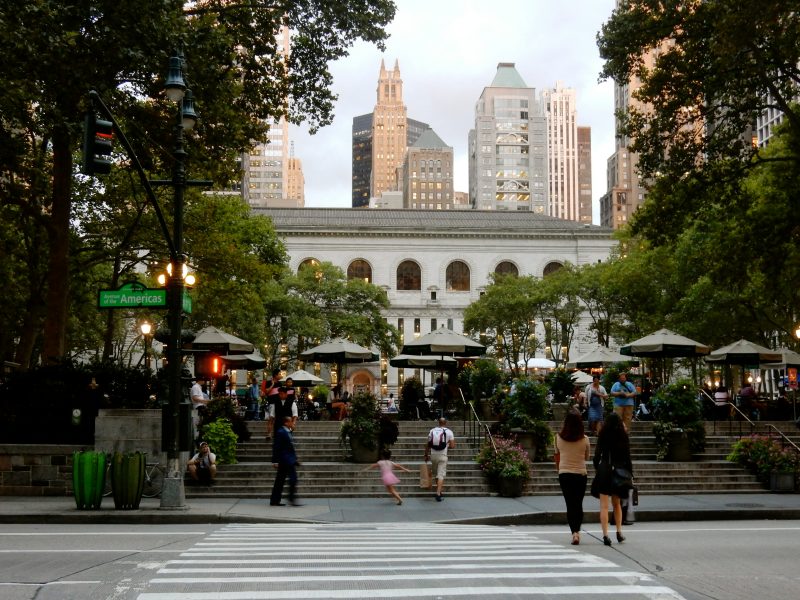 FREE SHOWS: Bryant Park, 6th Ave between 40th and 42nd St.s. What a difference an Avenue makes. Walk just steps from Broadway to 6th Ave to find the relatively tranquil Bryant Park (in back of the New York Public Library), and if you time it right you might catch a well-reviewed Shakespeare play for free. The small city park also offers tours, Ti-Chi, concerts and lots of other free programming. A New York City treasure for sure, and not one that many tourists know about when wandering around the pastiche of illuminated, blinking Times Square facades.
Where to Eat in Times Square
There's hope among the tourist traps! My favorites for now are: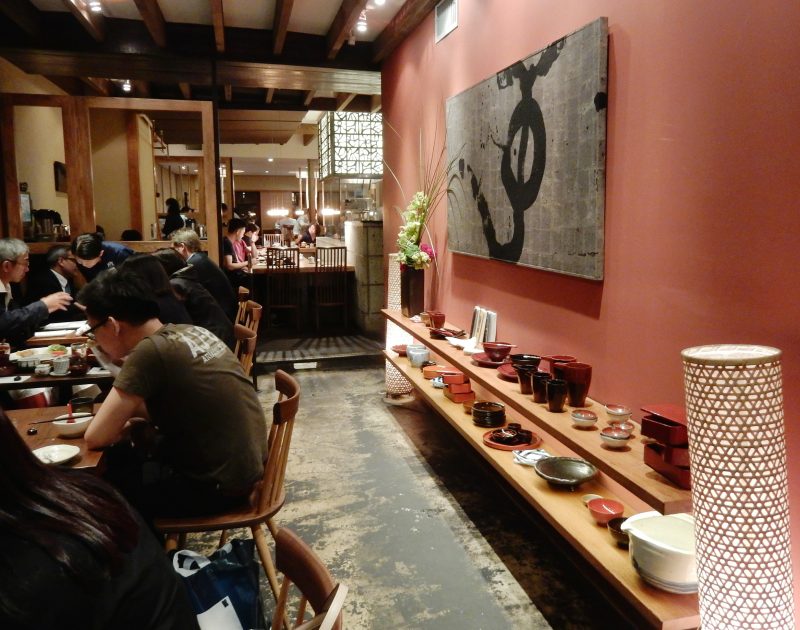 EAT: Ootoya, 41st between Broadway and 6th. Bursts of umami in every bite – this Japanese spot is so authentic, you may be the only non-Asian there. And no wonder – Oootoya serves homestyle Japanese comfort food and some wonderful sake cocktails. My favorite is a variation on Hot and Sour Chicken, the Tori Kurozu Ju, which comes with Miso Soup, rice, pickled salad and shaved cabbage. And better yet, there's no tipping required!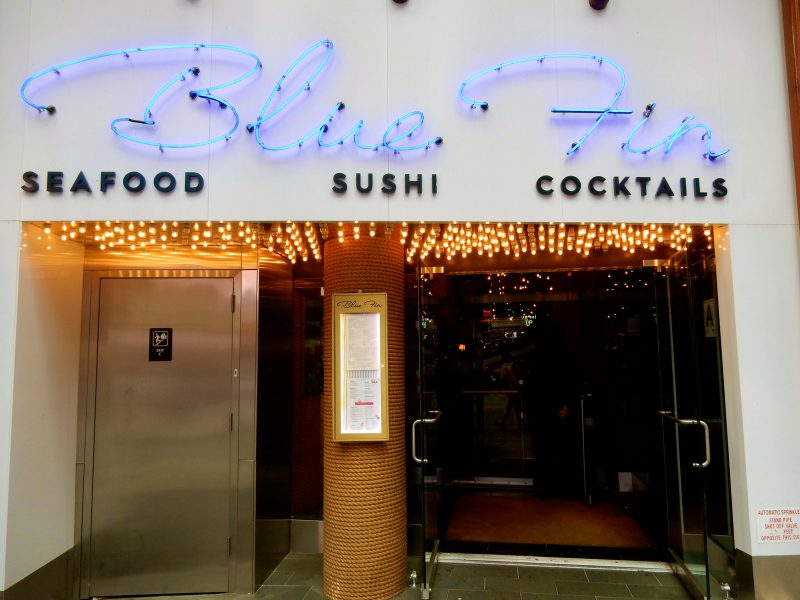 EAT: Blue Fin. This is where I have lunch after purchasing show tickets at TKTS across the street. The civilized, tranquil wood interior is antithesis to the frenzy outside. Sushi is good, but I love the Salmon Burger ($19), which spills out of the bun, it's so huge.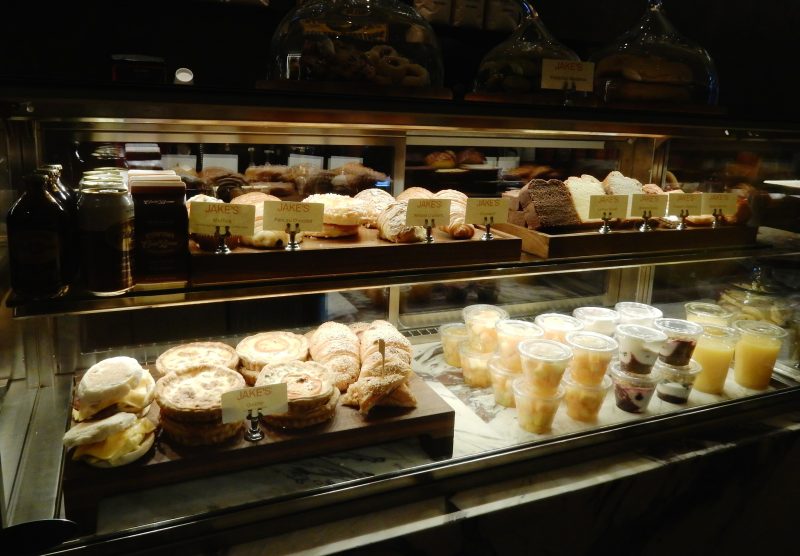 COFFEE/BREAKFAST: Jake's @ Knick. Get your Stumptown Coffee fix and flaky croissant here.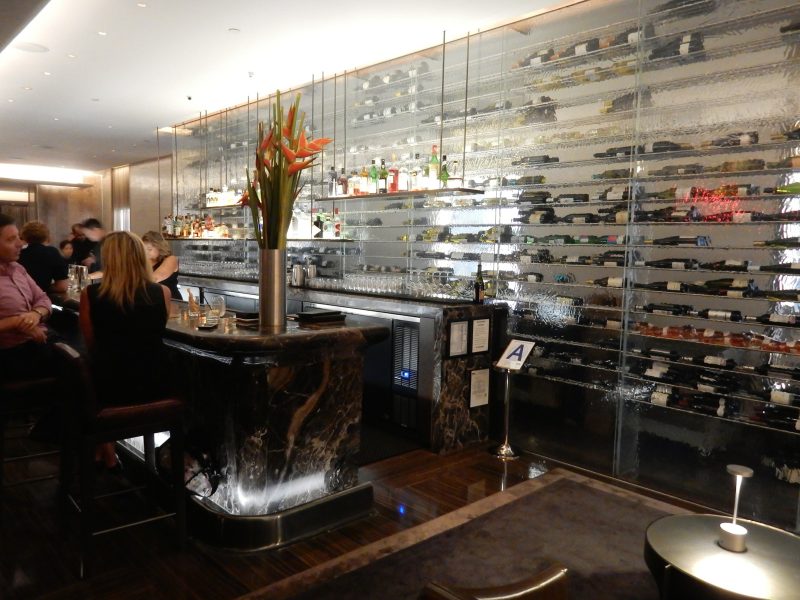 EAT: Charlie Palmer at the Knick – upscale décor with small bite rates, including a Mon-Fri three course pre-theater menu for $45 (5:30-6:30 rsvs only, 4th floor Knickerbocker Hotel).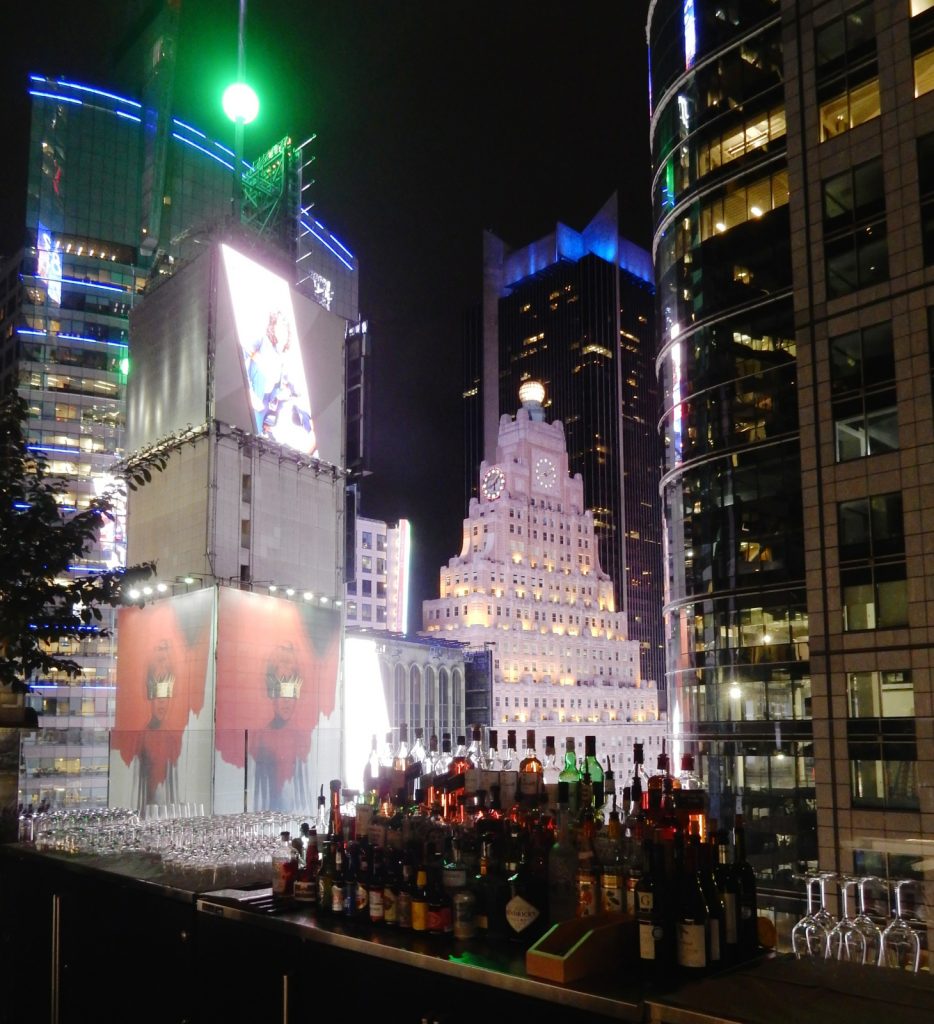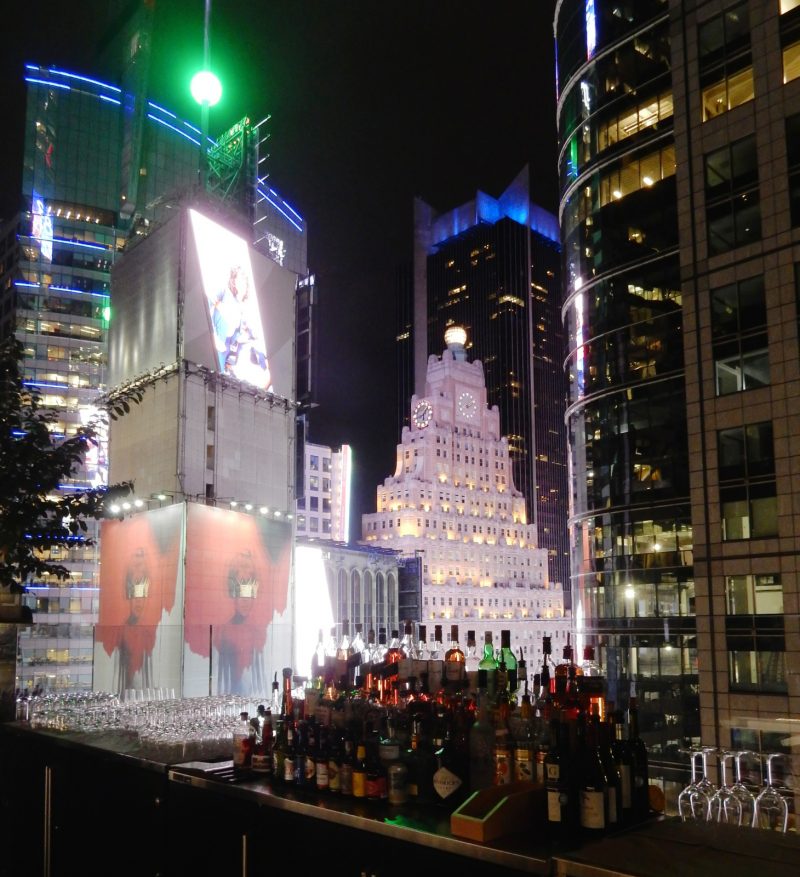 EAT/DRINK: St. Cloud at the Knick – Knickerbocker Hotel's rooftop bar. What a stunning vantage point, and perfect for small bites and a drink either before or apres theater. There's a direct view of the Times Square New Year's Eve ball, so of course this rooftop sells out fast for December 31st.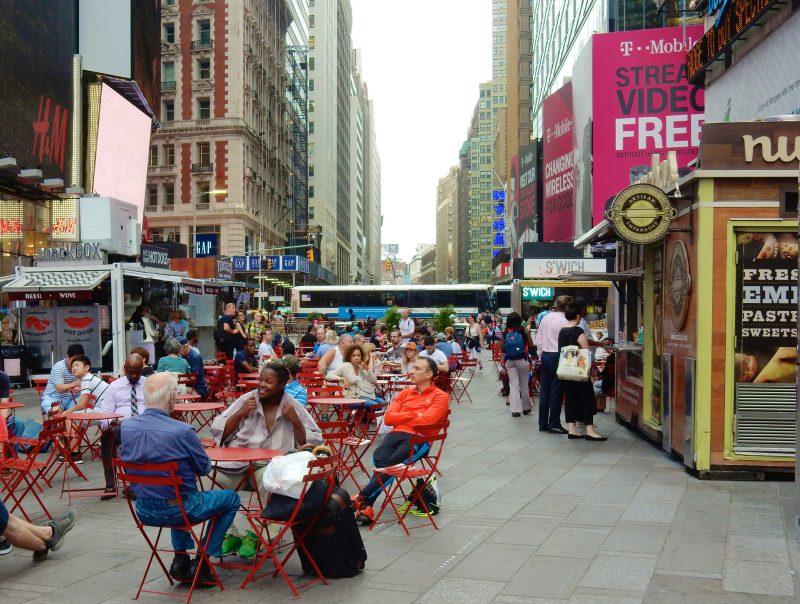 EAT: Food Truck Court. New this year, you can get your NY hot dog, lobster roll, deli, empanada, or Virgil's BBQ from trucks stationed near 42nd street and sit at one of the available tables. Let's see how this perk plays out – so far, it's looking good.
Where to Stay in Times Square NY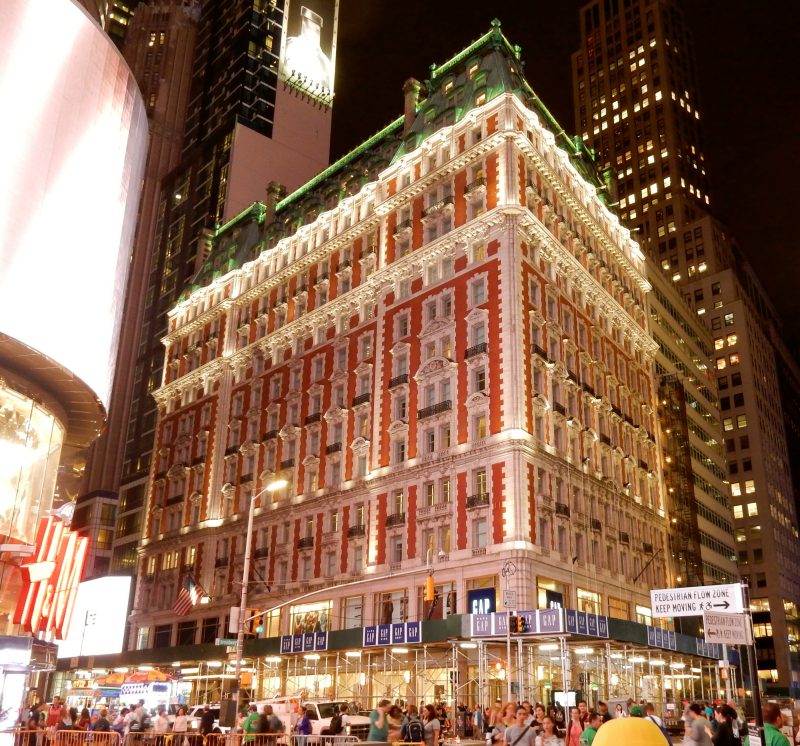 STAY: Knickerbocker Hotel. The luxe is back at the Knick – which sports the only rooftop bar in Times Square. Such a cool place, the Knickerbocker ranks among the best as a Maven Favorite – with full review HERE.
Weekend Getaways In New York City
Central Park South: The New York City of the Movies
See New York Getaways for all destinations in the state.