Last Updated on May 19, 2022 by Editor
WHY GO: Any authentic New Yorker knows that Times Square is "for tourists" and doesn't represent the "real" New York. With Ruby Tuesday's, Red Lobster, Olive Garden, Bubba Gump's, Hard Rock, the Gap, Old Navy, Walgreens, Sephora (two of them!); Times Square in the center of Manhattan could be a mall in anywheresville.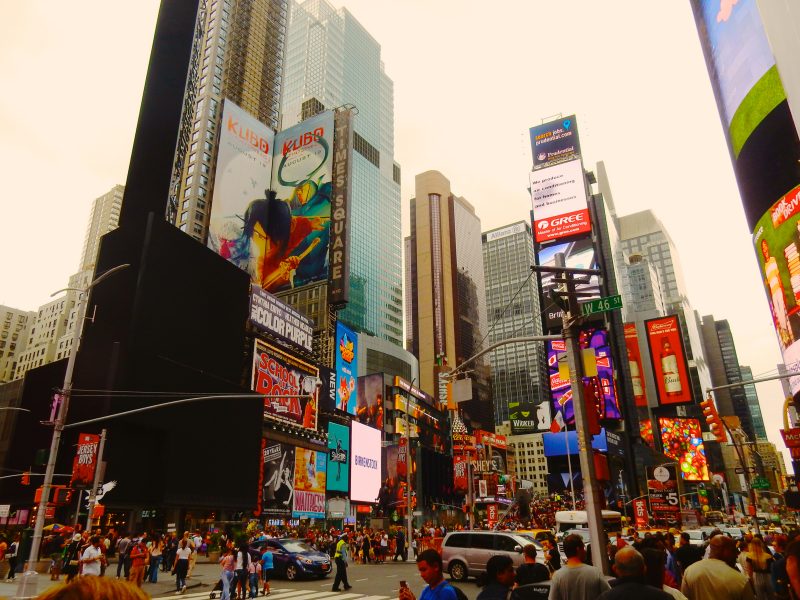 But for all its commercial characteristics, Times Square is a tourist attraction for a reason. And that reason is its unabashed frenetic, ferocious flashing lights, ads and news on every façade at all hours of the day. A heavy police presence provides a sense of safety, and the fact that it is the center of the Theater District, aka "Broadway," makes it even more appealing to stay.
So, the Mavens have scouted out the spots where you can dine and overnight in the midst of it all, yet at a remove from all the noise, with a bit of advice on where to find free performances or discounted Broadway shows. Yes, you can stay classy in Times Square. Read on.
The Times Square area is one of the Getaway Maven's recommended Best Places to Propose in New York State.
Things to Do in Times Square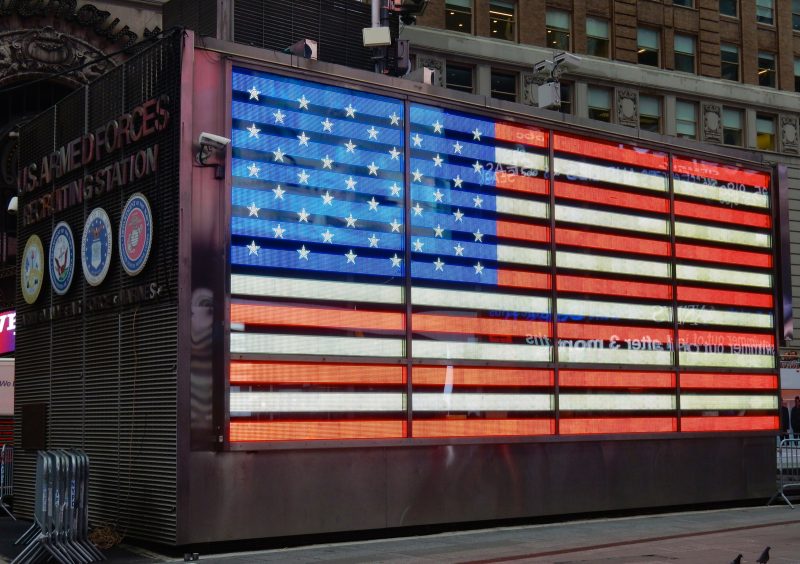 DO: Stand in Awe
Skip the shopping (which you can easily do in any city), pay no mind (or money) to the cartoon characters who expect a tip with photo, and just soak in the flashing Jumbotrons, take a selfie or us-ie in front of the illuminated American Flag on the Army Recruiting Office building, and pay strict attention to the wonder on the faces of foreigners. It will put you in a good mood.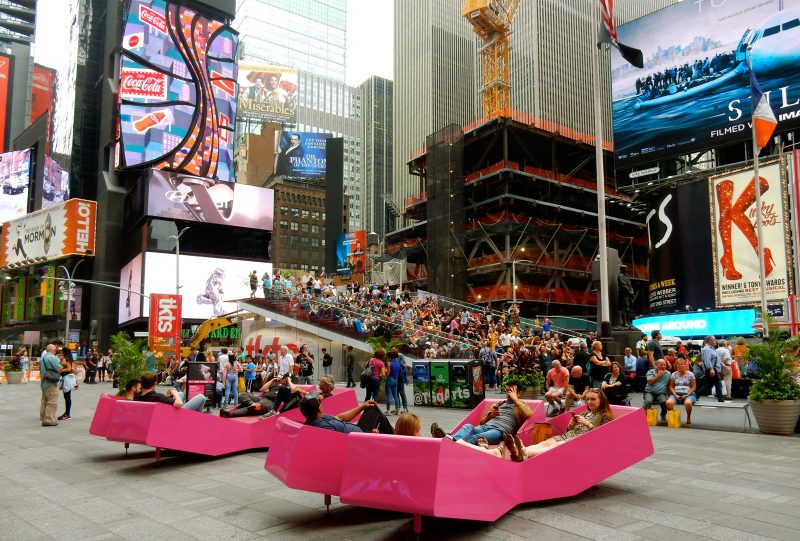 DO: Sit on the Times Square Steps
Don't take these steps for granted. They weren't always there. Nor were the pink loungers at the foot of said stairs. Once upon a time (not so long ago in my memory), Times Square was a snarl of traffic and XXX-Rated movies. Now, it's a pedestrian-friendly, pie-shaped crush of humanity, and vantage point for great Instagram photos.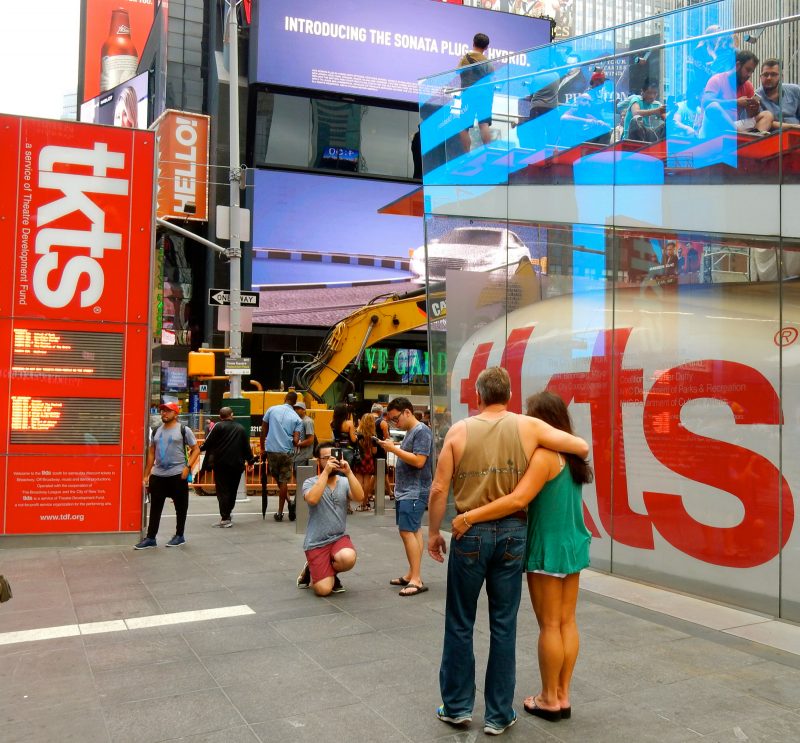 DISCOUNT BROADWAY SHOWS: TKTS
Broadway doesn't like empty seats, so each day TKTS (on 47th between Broadway and 7th Ave) sells those seats for 40% or 50% less than box office cost. Don't expect hit shows, like Hamilton or Book of Mormon to be listed, but you may get lucky with others.
Cue up and figure out which shows you'd like to try for. By the time you get to the ticket window, your first pick might be sold out, but you'll get something. Open 10-2 for matinees, 3-8 for evening performances. Find more tips for scoring cheap Broadway tickets here..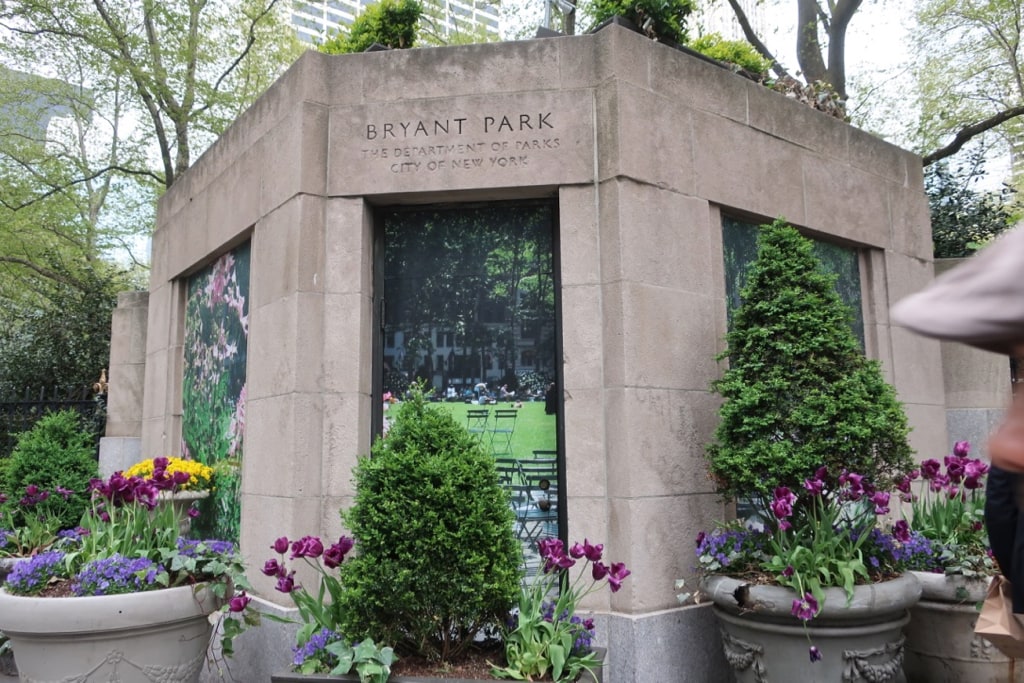 FREE PROGRAMING: Bryant Park, 6th Ave between 40th and 42nd St.
What a difference an Avenue makes. Walk just steps from Broadway to 6th Ave to find the relatively tranquil Bryant Park. In the Spring, Bryant Park is a blooming pocket of perfect in the midst of Manhattan.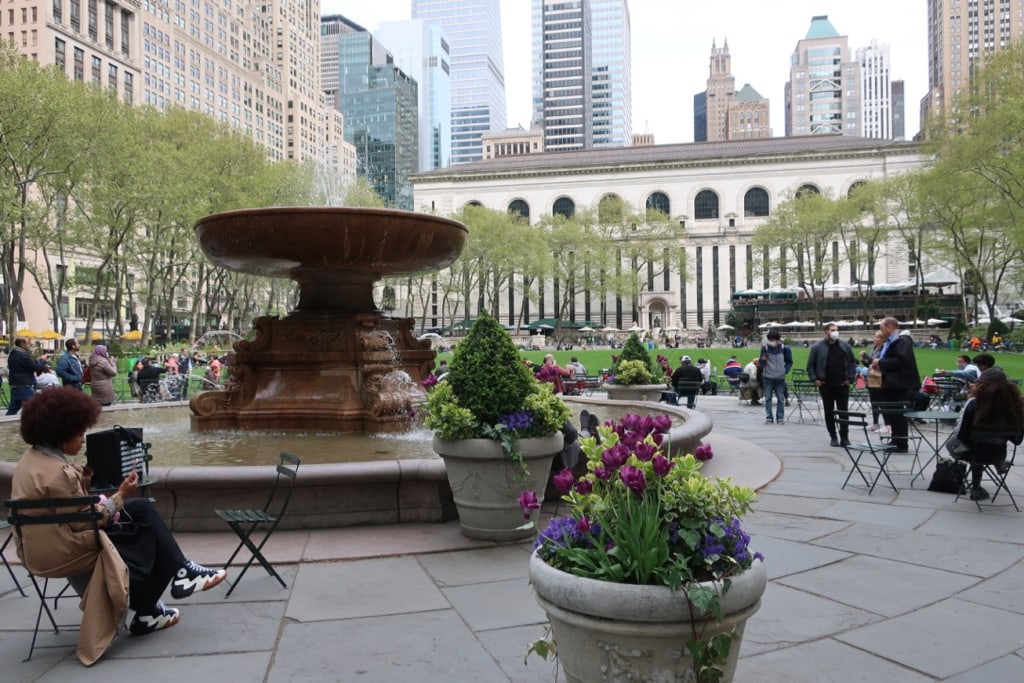 Located right behind the NY Public Library, Bryant Park has an outdoor library of its own. Plus, ping-pong, chess tables, a mini kids carousel, and food kiosks to suit every eater. (My favorite: the loaded Belgian Waffles at Wafels & Dinges). There are chairs and tables throughout, and on beautiful weekdays, chances are you can find an open one.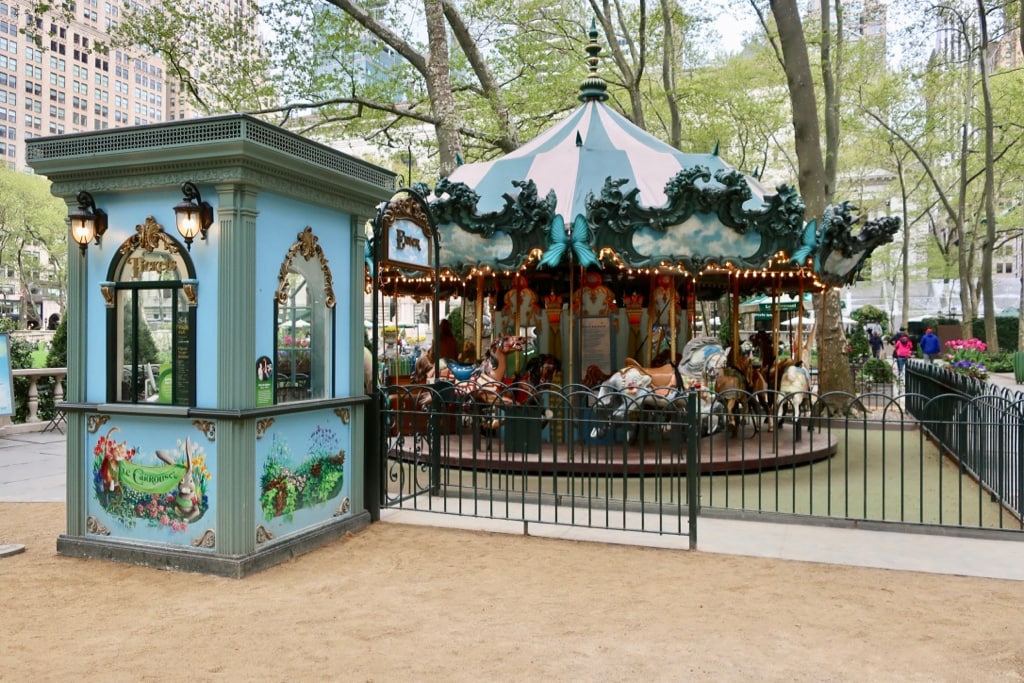 Although the food and carousel rides aren't free, almost everything else is, including programs, classes….and parties! Learn to juggle. Take a Tai Chi class. Go bird watching with experts. In the evening, join a dance party or watch an outdoor movie. This list just scratches the surface. There's always something going on.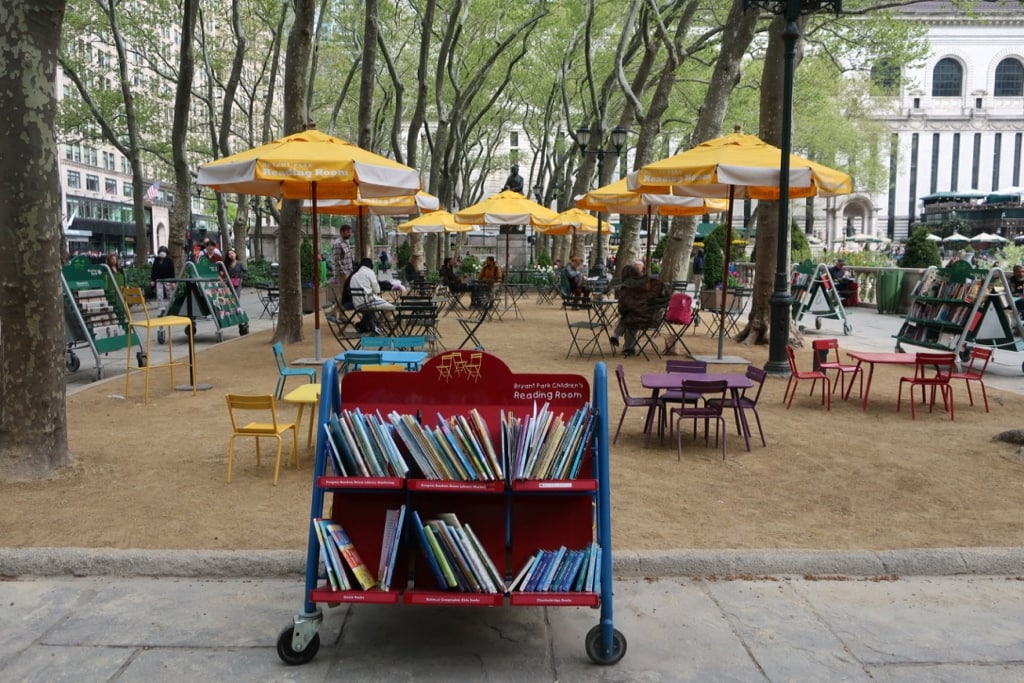 It's no surprise that Bryant Park has won awards for Landscape Architecture and Public Space Management. It is certainly a role model for all city parks.
Where to Eat in Times Square
There's hope among the tourist traps! My favorites for now are: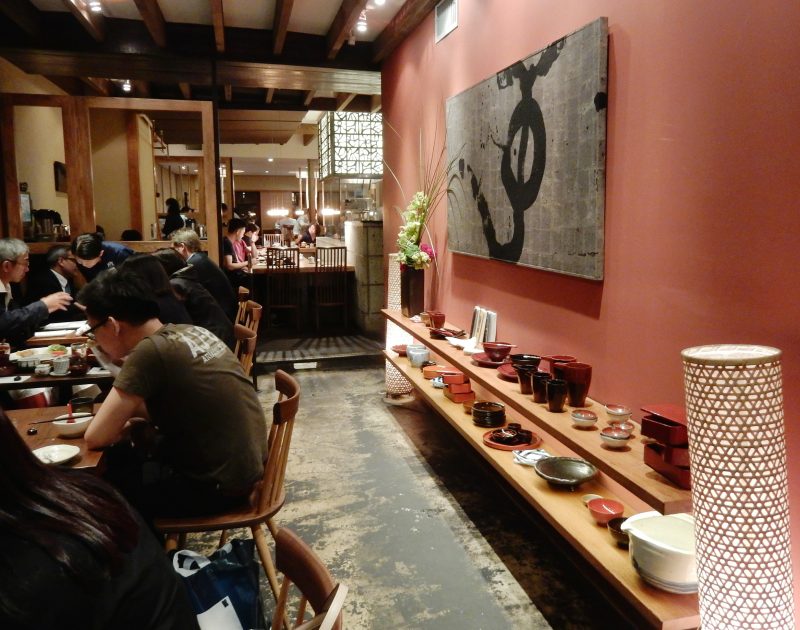 EAT: Ootoya, 41st between Broadway and 6th
Bursts of umami in every bite – this Japanese spot is so authentic, you may be the only non-Asian there. And no wonder – Oootoya serves homestyle Japanese comfort food and some wonderful sake cocktails. My favorite is a variation on Hot and Sour Chicken, the Tori Kurozu Ju, which comes with Miso Soup, rice, pickled salad and shaved cabbage. And better yet, there's no tipping required!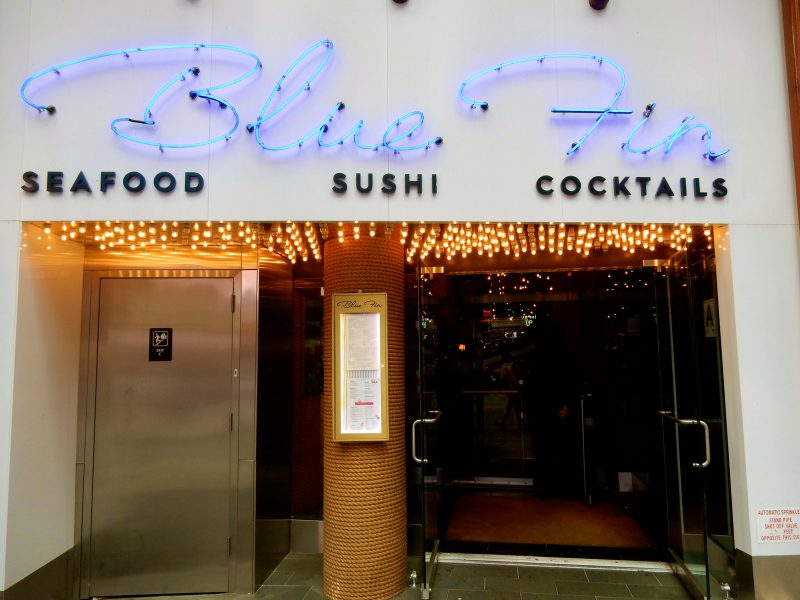 This is where I have lunch after purchasing show tickets at TKTS across the street. The civilized, tranquil wood interior is antithesis to the frenzy outside. Sushi is good, but I love the Salmon Burger ($19), which spills out of the bun, it's so huge.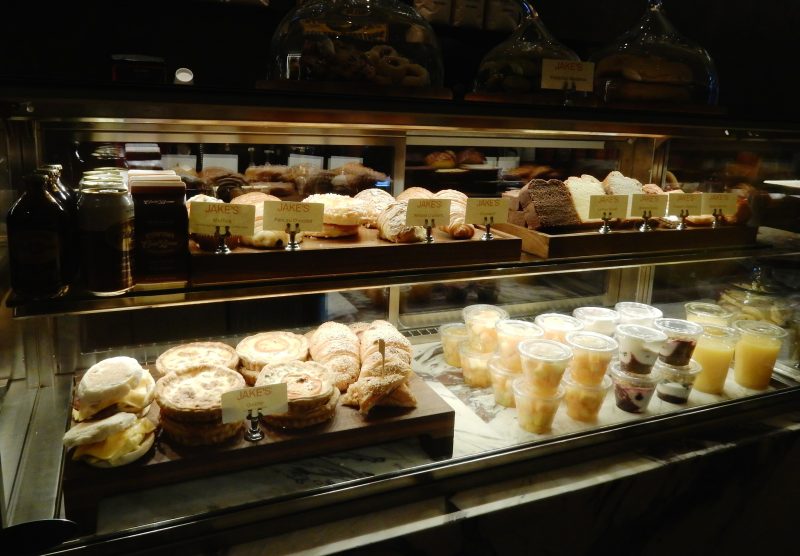 Get your Stumptown Coffee fix and flaky croissant here.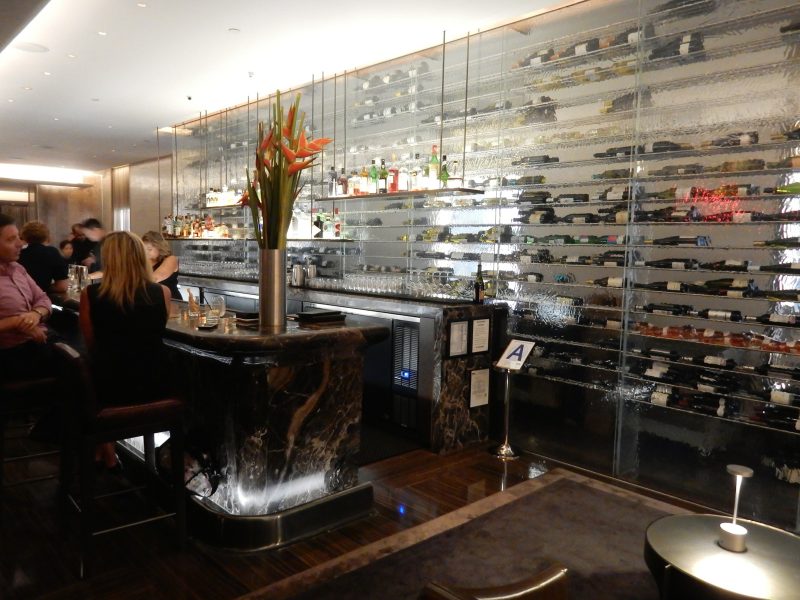 upscale décor with small bite rates, including a Mon-Fri three course pre-theater menu for $45 (5:30-6:30 rsvs only, 4th floor Knickerbocker Hotel).
EAT/DRINK: St. Cloud at the Knick – Knickerbocker Hotel's rooftop bar
What a stunning vantage point, and perfect for small bites and a drink either before or apres theater. There's a direct view of the Times Square New Year's Eve ball, so of course this rooftop sells out fast for December 31st.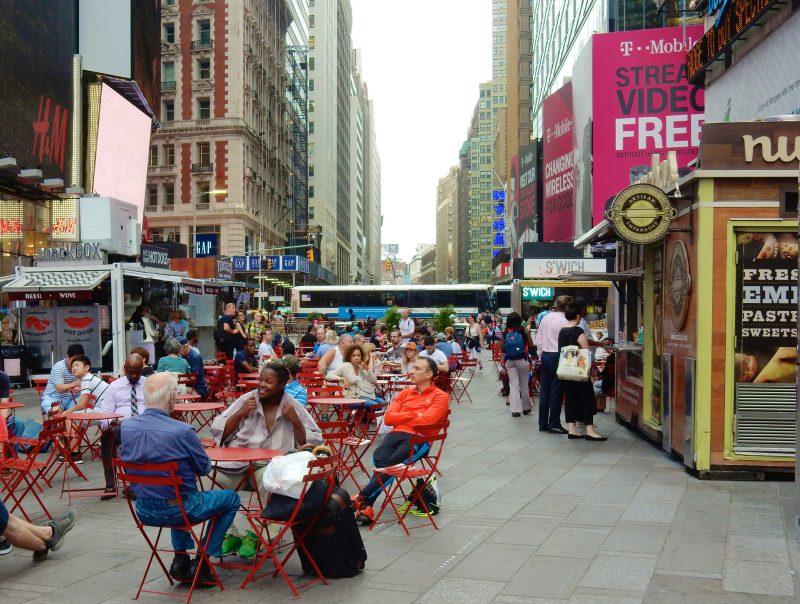 EAT: Food Truck Court
Get your NY hot dog, lobster roll, deli, empanada, or Virgil's BBQ from trucks stationed near 42nd street and sit at one of the available tables. Let's see how this perk plays out – so far, it's looking good.
Where to Stay in Times Square NY
The nickname "Knickerbocker" harks back to the mid 1800's when Washington Irving, author of The Legend of Sleepy Hollow and Rip Van Winkle, penned his first blockbuster called Knickerbocker's History of New York. Its narrator was a fictional Dutch historian named Diedrich Knickerbocker.
That name, appropriated by the New York Knicks basketball team, was also the moniker of a turn of 20th Century hotel, The Knickerbocker, built by John Jacob Astor IV (who perished on the Titanic).
Now, it lives again.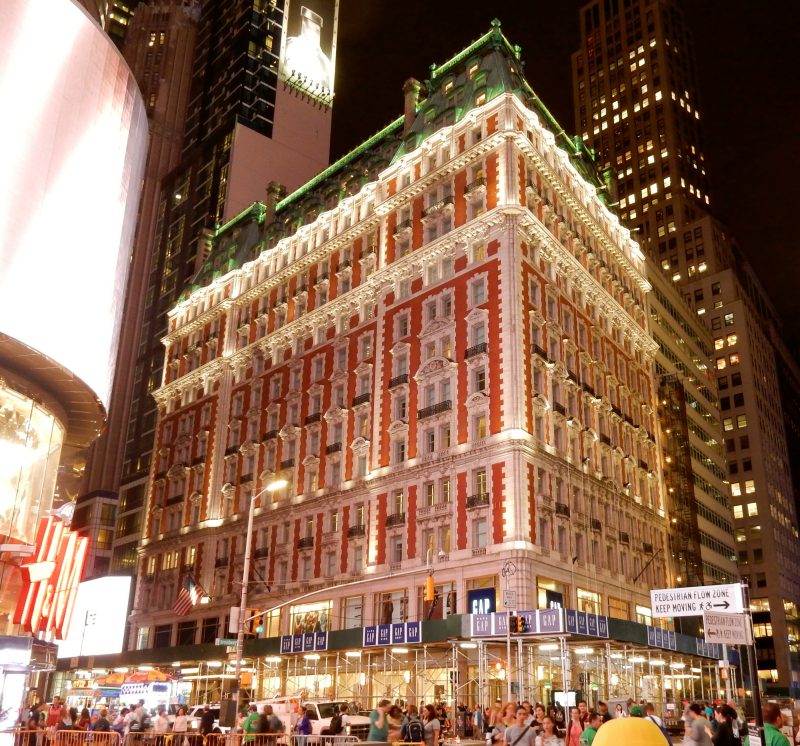 First opened in 1906, The Knickerbocker Hotel was what would now be considered a TMZ darling. It was the place where notables of the day went to see and be seen in the newly developing Times Square, the wedge of Manhattan real estate named for the New York Times Newspaper building, built in 1904.
Presidents Teddy Roosevelt and Woodrow Wilson, Carrie Nation, Anna Pavlova, and William Randolph Hearst all stayed here. Enrico Caruso, Mary Pickford and George M. Cohan were residents. The Knickerbocker Bar, with its Maxfield Parrish mural, hosted the A-listers of the day. The restaurant served some of the best meals in town.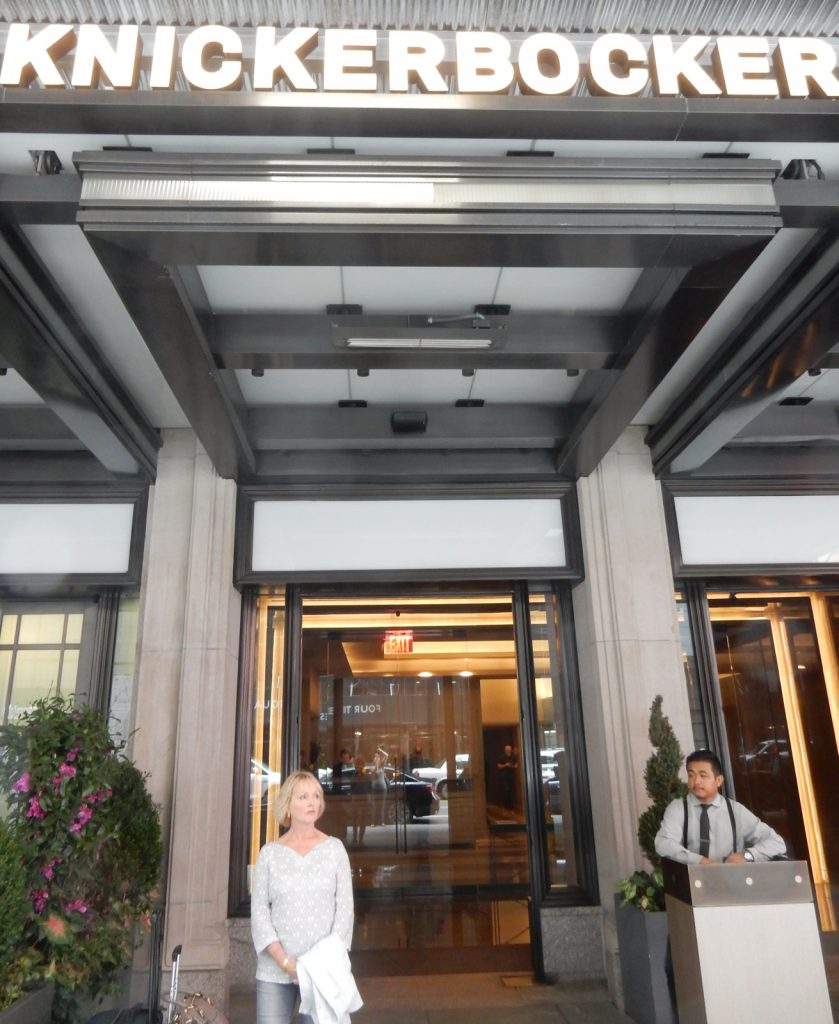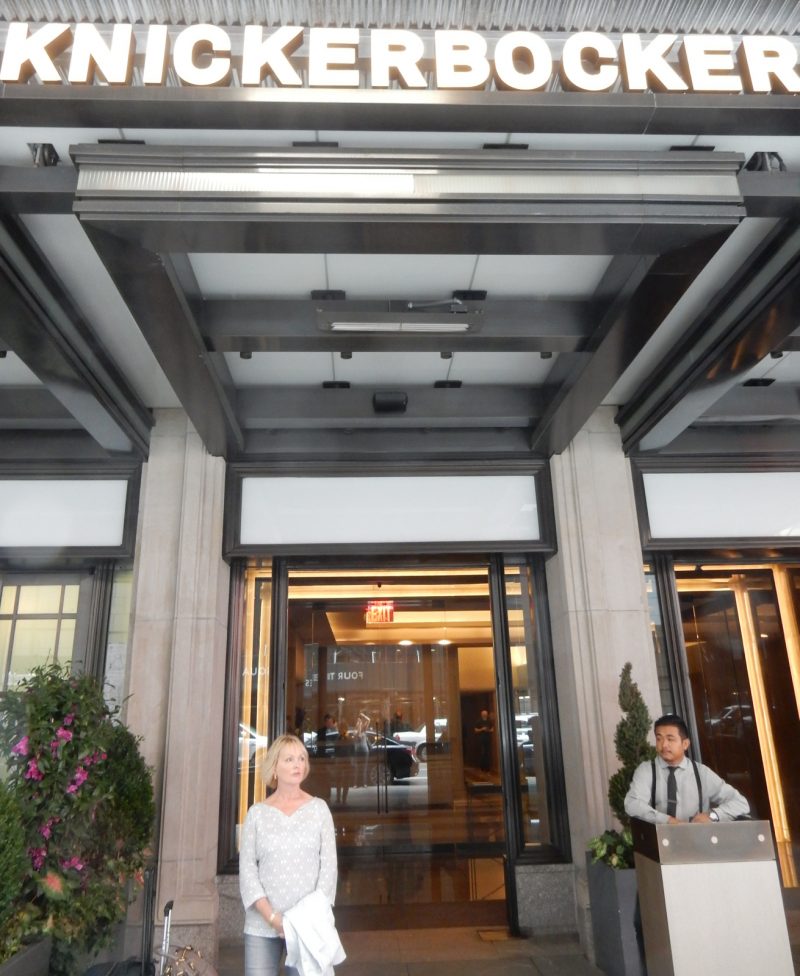 But then, in 1920, The Knickerbocker Hotel closed abruptly, without explanation. Some claim the shut-down was due to Prohibition and/or the increasing value of office space in that section of NYC. The building was subsequently used as headquarters for Newsweek from 1940-1959, then retail space and housing units.
In the mid 20-teens, the Knickerbocker was resurrected as the famed hotel once again. It was completely renovated with its stunning Beaux Arts red brick with terra cotta trim exterior intact. As such, the structure is a standout in Times Square amid the flashing lights of surrounding Jumbotrons and ordinary facades of Big Box stores.
First Impressions of the Knickerbocker Hotel
The lobby is spare – a gateway of dark marble with little, if any, adornments. Walk past the concierge desk in the front, down a narrow hall to a low-lit living room like space. Two receptionists sit at small desks.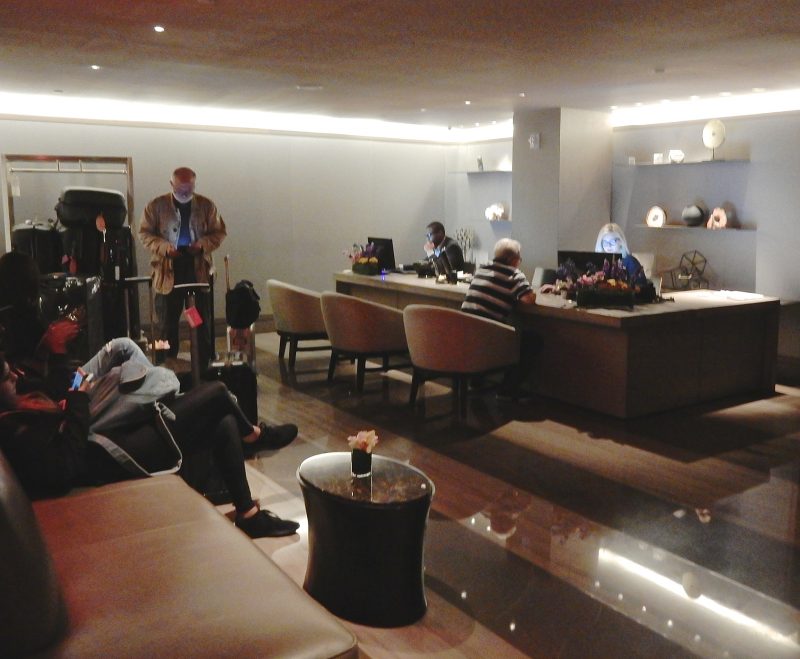 The effect is surprisingly intimate: Definitely a disorienting first few moments in an area of The City generally crawling with tour bus groups waiting in line for room keys.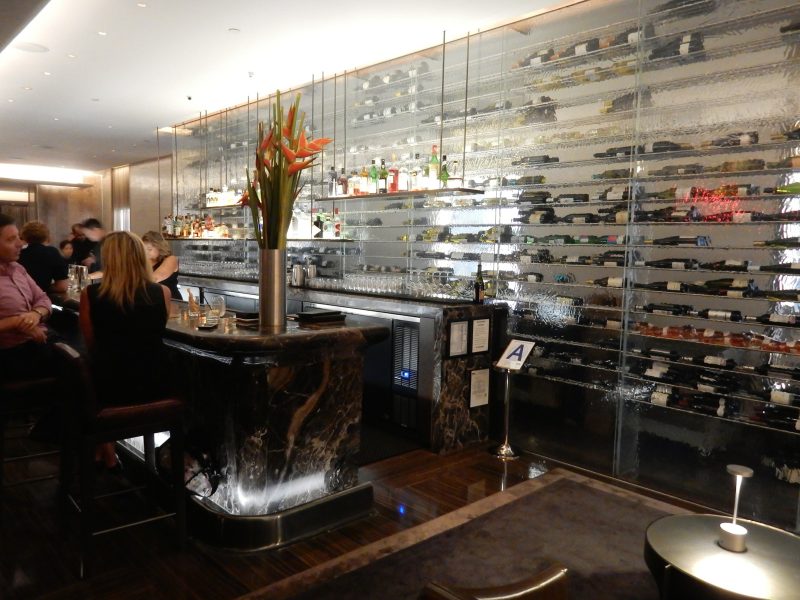 I was immediately put at ease and felt a sense of calm – another surprise – with feng shui-ish décor and one-on-one engagement with a bright and affable employee. She informed me when the Rooftop Bar would open, and the fact that in-house restaurant, Charlie Palmer's, was hosting live jazz that night.
Rooms at Knickerbocker Hotel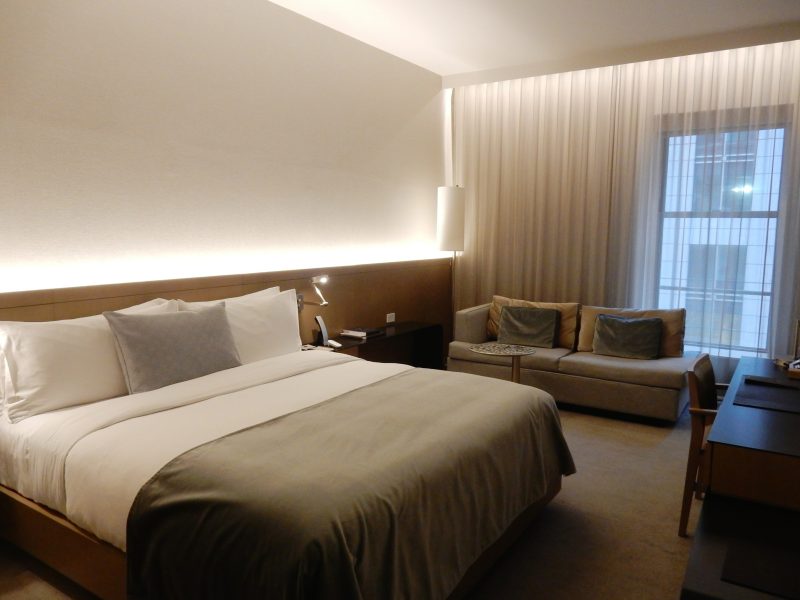 Modern furnishings in shades of cream, camel and mink are not what you'd expect from the Beaux Arts exterior of the building. Rooms, in mellow Asian meets Danish decor, are immaculate and minimalist, devoid of art on walls or any punch of color. There's more than enough of that right outside the window.
Each is furnished with blond wood furniture, ultra-comfy platform beds topped with white duvets, and thermostats that work extremely quickly (hot to cool in a matter of minutes, shower hot in seconds). Best of all, they are are super-soundproof – a key ingredient in the noisy center of a 24/7 city.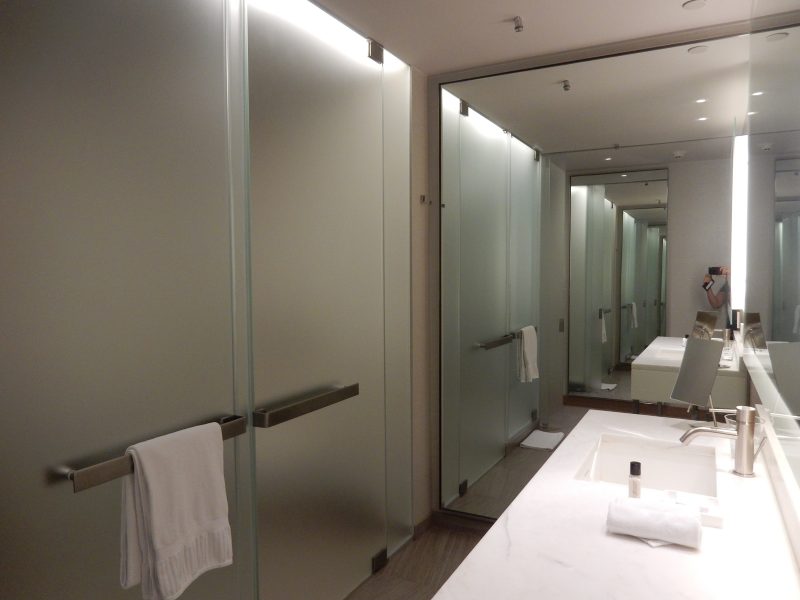 Frosted glass sliding doors separate the bathroom from bedroom. Sleek and modern with large rain-shower, marble-topped sink and huge, well-lit mirrors, European style toilets, granite-like ceramic tile floor, and textural wallpaper, bathrooms are spa-like in their simplicity.
Drinks and Dining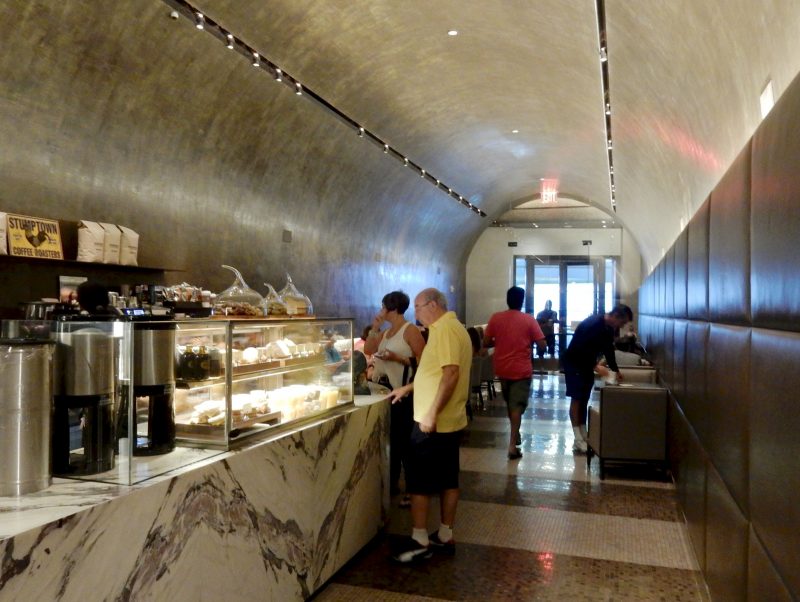 Jake's @ The Knick. Named for J. Jacob Astor, this Stumptown Roaster outpost can be accessed through the hotel lobby. Besides excellent coffee, it sells grab and go croissants, muffins and other baked goods.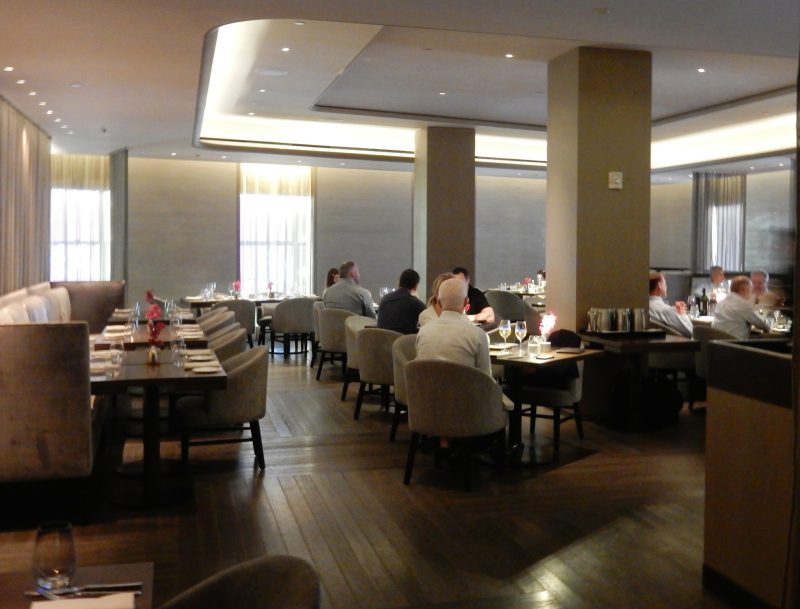 On the 4th floor, Charlie Palmer at The Knick is quiet, classy and the food, high-class. Though I didn't dine here, the intimate room was busy on a Tuesday night, and live jazz attracted the cocktails-before-dinner set.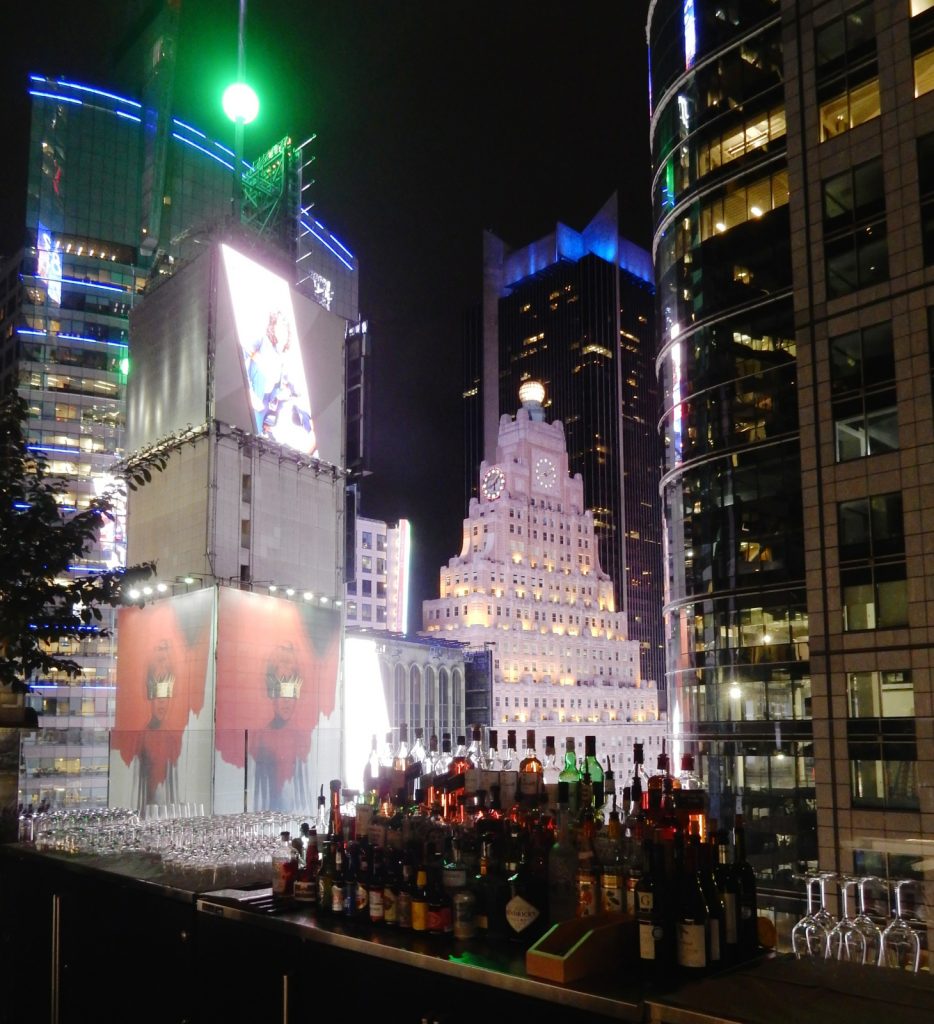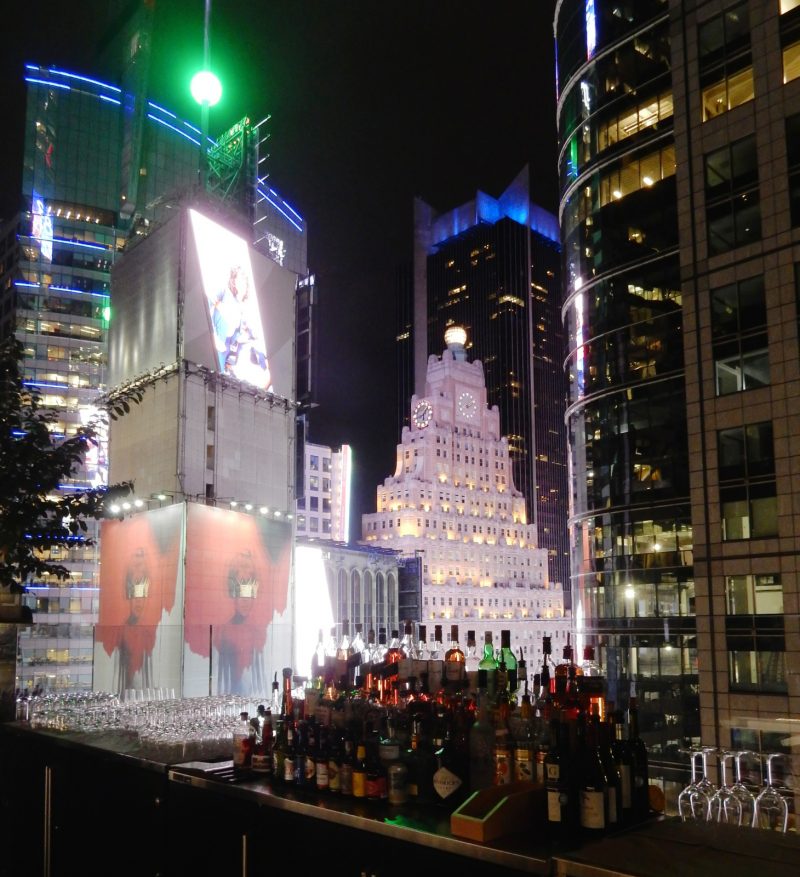 I've been to many a roofdeck bar – some even in New York City – but there is none to compare with the St. Cloud at the Knickerbocker. More than 16 stories high, within direct view of the Times Square New Year's Eve ball and the flashing lights of the surrounding mega screens, this quiet spot is a treat and revelation. Even if you are not staying here, having a drink here is a must-do.
Amenities at Knickerbocker Hotel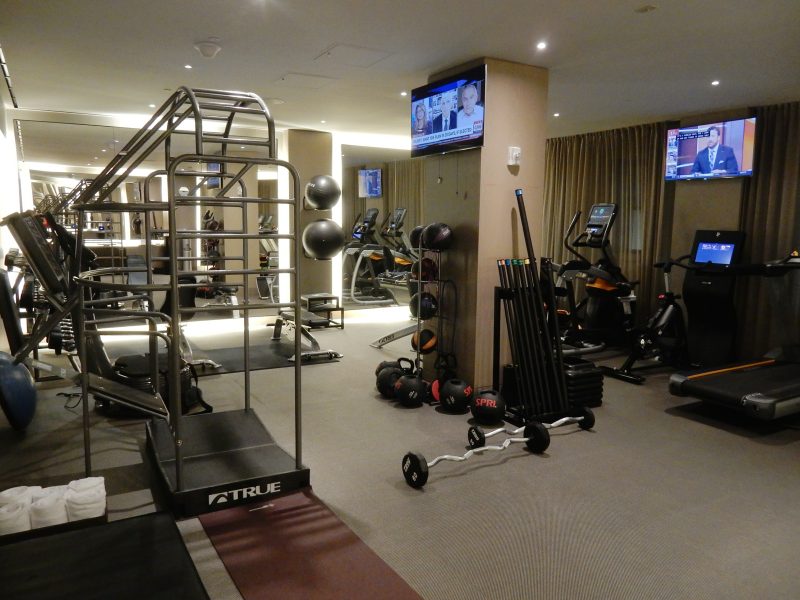 Besides in-house dining and that boffo view from the roof deck, The Knickerbocker also has two fitness rooms – one for cardio and another featuring weight machines and apparatus. Rooms rates from $375, suites from $450 per night includes free wi-fi.
Weekend Getaways In New York City
Central Park South: The New York City of the Movies
See New York Getaways for all destinations in the state.