WHY GO: Sure, you go to the Adirondacks to hike or ski or to skate on the Olympic Oval. But on the trips that your Grandfather or Great Grandfather took up to the mountains, there were other monumental attractions to behold, as well as more life and death reasons one would have make the trek.
These old-school sites are making a comeback – if only for their raw beauty and dazzling vistas; on rivers flanked by limestone walls, by tiered waterfalls, inside an elevator that rises through 27 stories of rock. Plus, the region is charging headlong into foodie utopia; farm to fork joints are giving a major boost to the Adirondack culinary scene.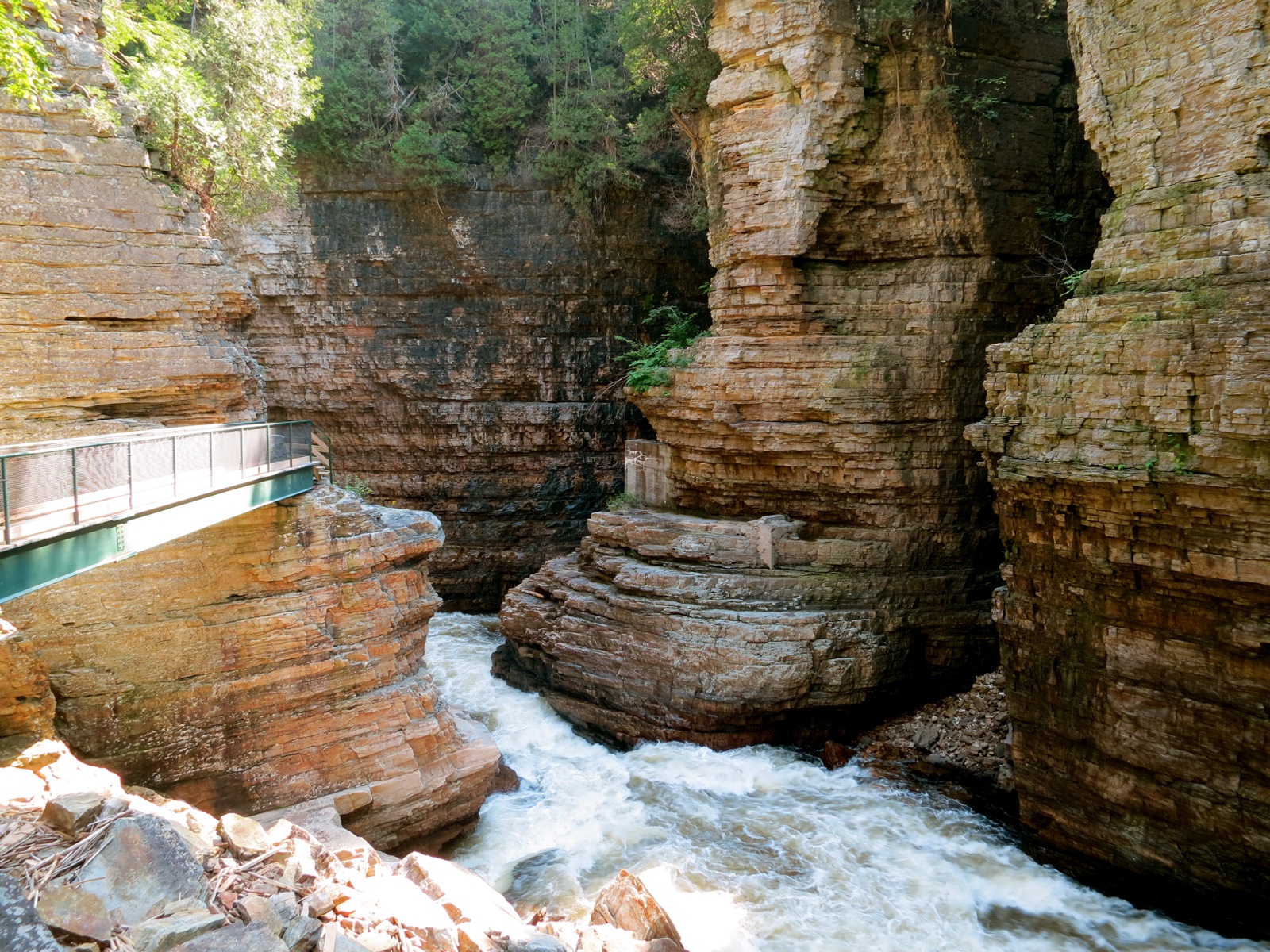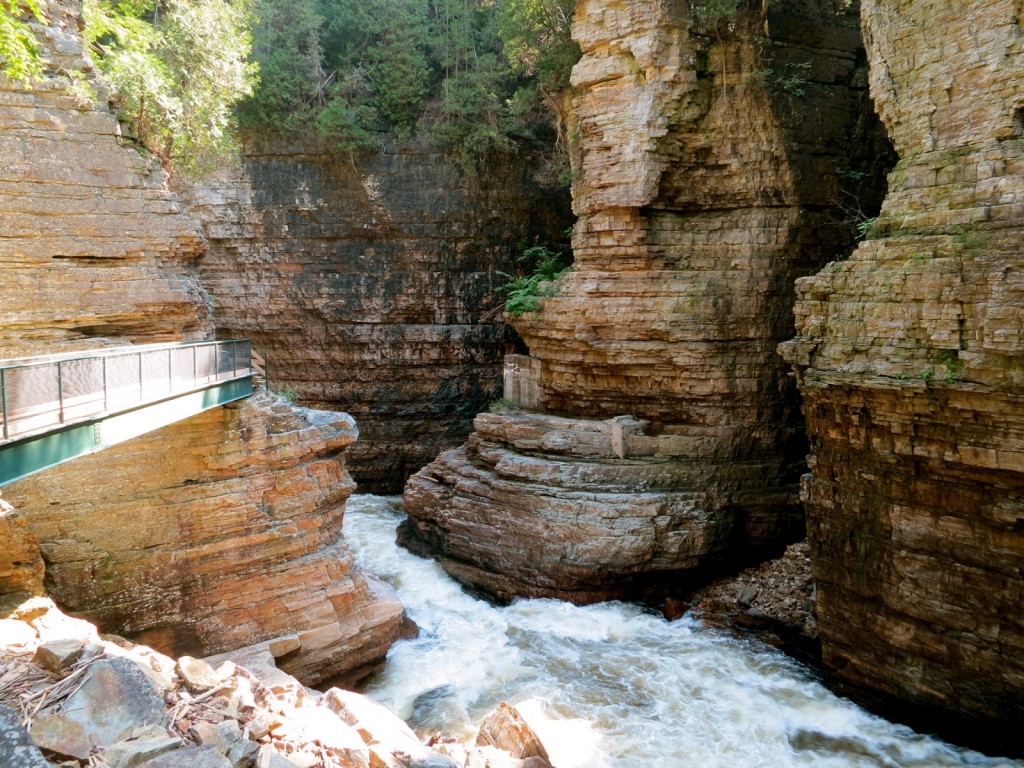 Things To Do In The Adirondacks
Wow! How did you ever miss this? Pressing through walls of rock in an inflatable raft on a chute of whitewater, you might experience the nirvana that tourists did back in the 70's – the 1870's that is – when larger wooden boats were pulled back into place through an elaborate pulley system. You can see the rusty remnants as you travel down rough and calm water (FYI – you will get wet).
The boats may have changed, but the grandeur has not, and it's certainly worth the 40-minute drive from Lake Placid. There are many ways to experience this mini-Niagara Falls– from ambling along paved paths to partaking in the "Adventure Trail" which includes cables, rappelling, edge walks and lots of stairs.
If you've got only a couple of hours, opt for the "Classic Tour" $29.95, which includes access to the one mile intermediate trail that descends into the chasm and a one mile river raft ride. Open all year, boat and tube rides seasonal. Snowshoe tours in winter.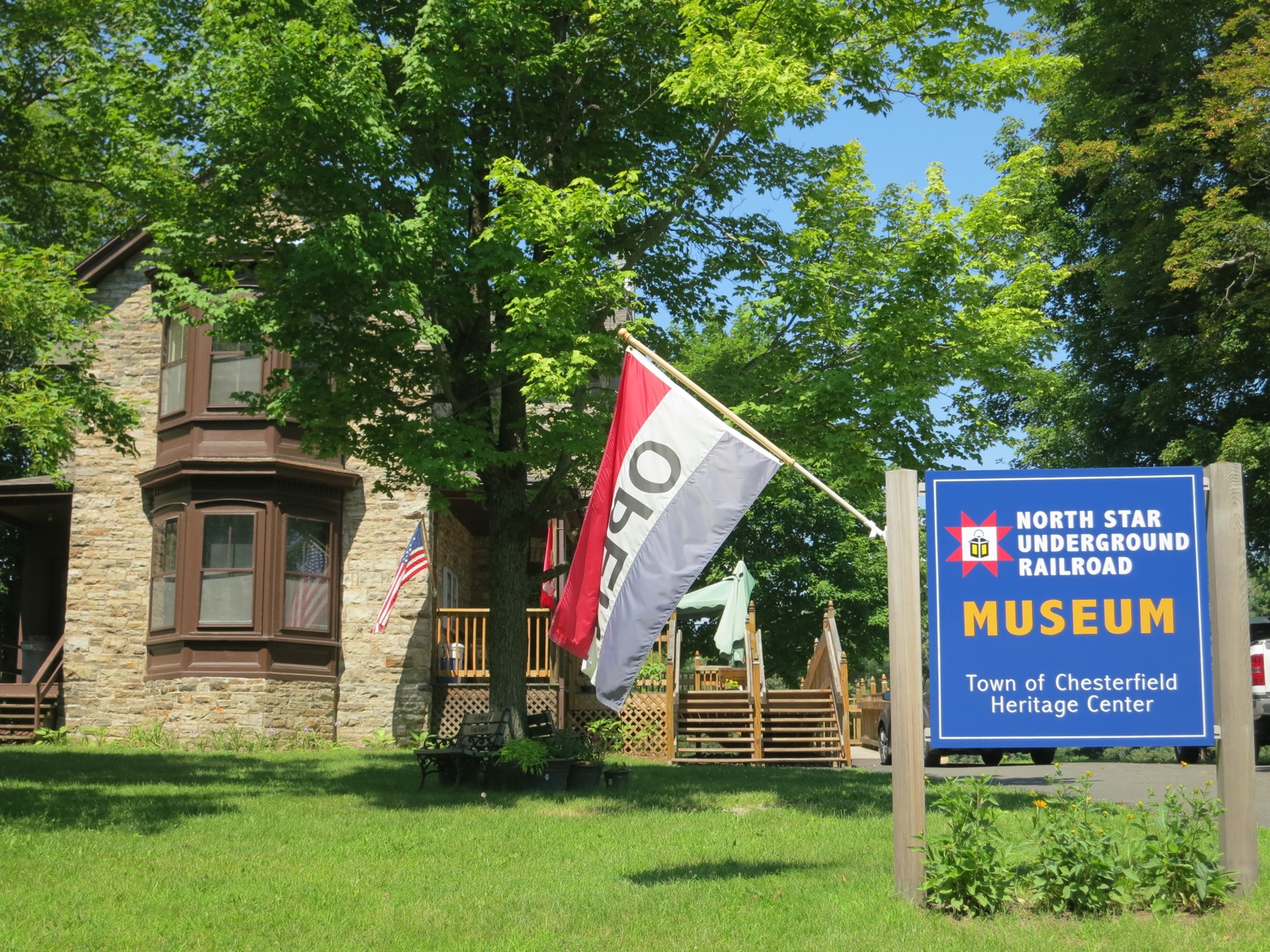 Next door to Ausable Chasm, discover the part this region played in the Underground Railroad. Exhibits tell the tale of fugitive slave, John Thomas, who escaped from a plantation in Maryland, making the arduous journey on foot through Philadelphia to Troy, NY bound for Canada. Whether by wagon, train, boat or on foot, slaves were told to "Follow the Drinking Gourd" – aka The Big Dipper – by night as that would lead them north.
But, like many runaway slaves, Thomas stayed in upstate NY due to the generosity of one man – the Abolitionist Garret Smith – who gave away 120,00 acres of land to over 3,000 runaway slaves so, as landowners, they could vote in New York. In 1872, Thomas wrote a letter of gratitude to Smith, which was lost for over a century and just recently rediscovered.
"Thank you for the welfare you've taken in the interest of my people. We were blessed by your noble generosity," Thomas wrote. This small but important museum is worth 30 minutes of your time. Check our related post for more Underground Railroad sites in New York. Open daily May-Oct 9-5. Free, though donations appreciated.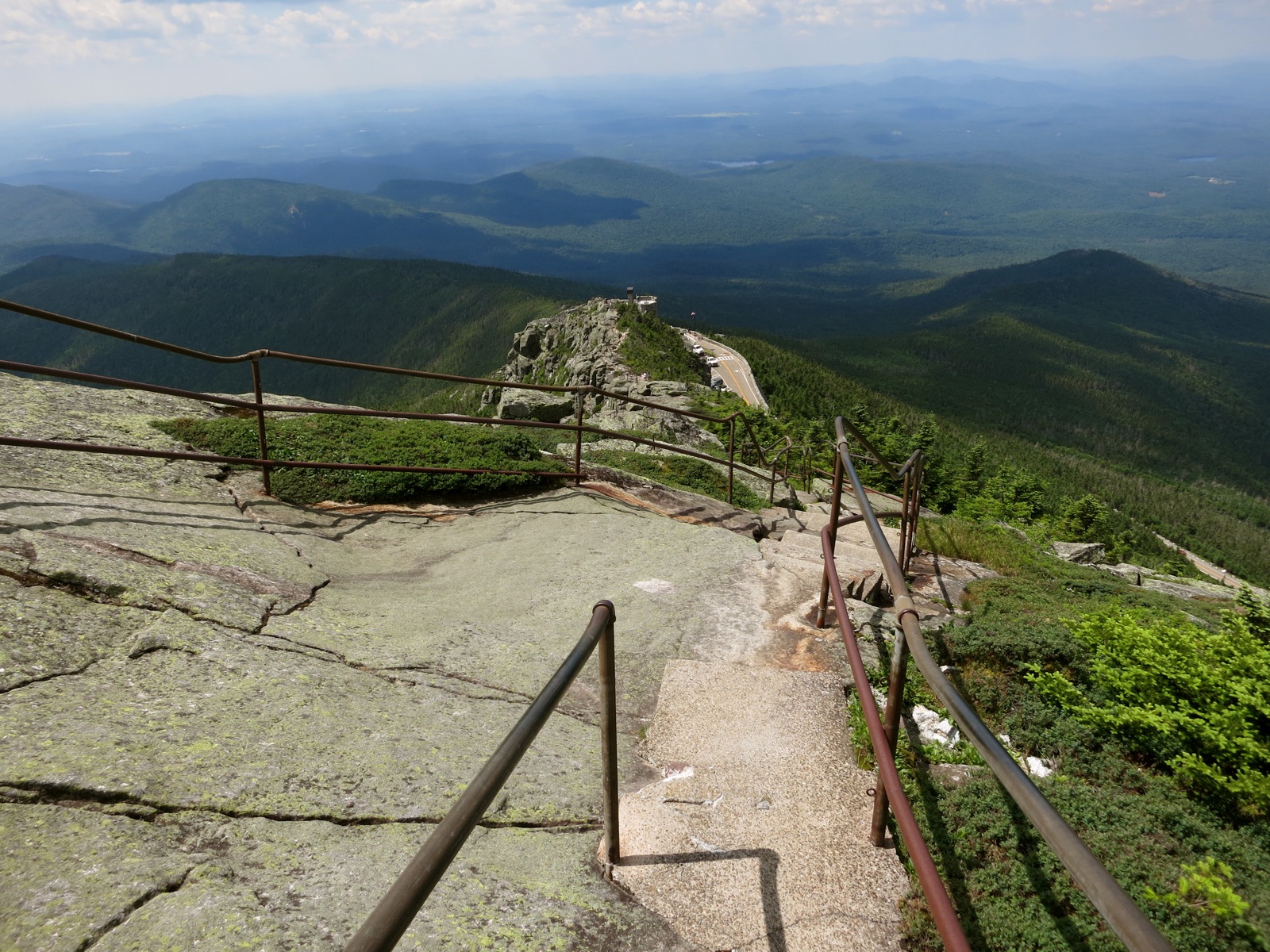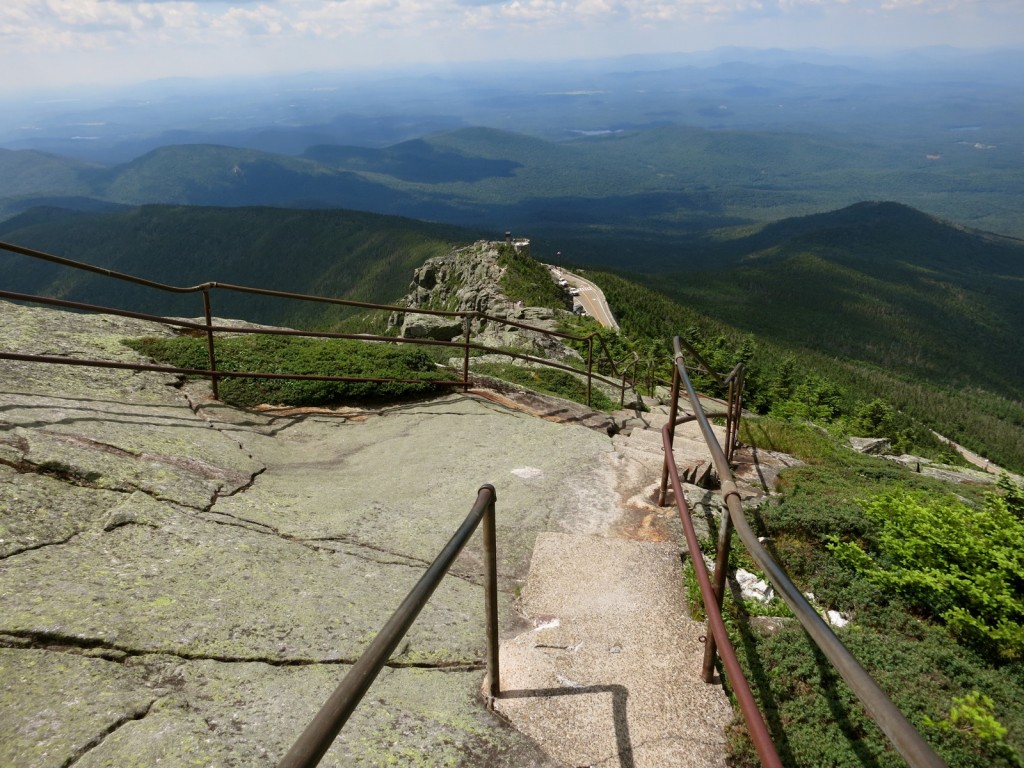 Pay the toll, and then climb the first road to honor American Veterans, a Works Project built during the Roosevelt Administration in1935. Follow the winding ascent with pullouts from which to ogle Adirondack views. But save your best ogling for the summit of Whiteface, the 5th highest peak in the Adirondacks.
Park near the tourist center then walk through a 427 ft. long dark tunnel to a 27-story elevator that rises through rock to the tippy top of Whiteface. Or, opt for a slick-rock ascent from the castle-like café and tourist center. My recommendation; take the elevator up then walk down. FYI- wear closed toed shoes. Mid May to Mid October 9-4, $18 weekdays, $20 weekends for car and driver, $10 & $11 for each additional person.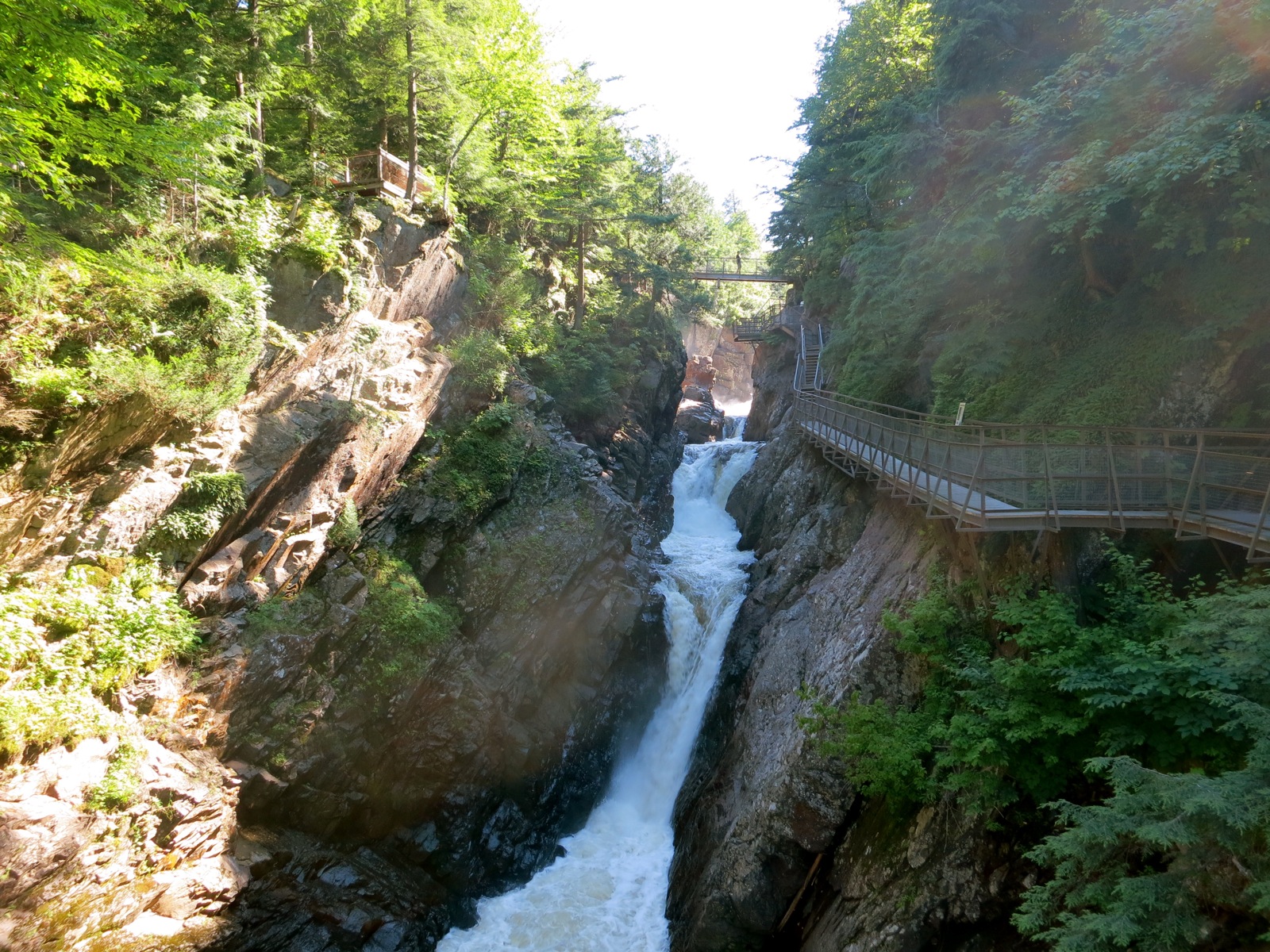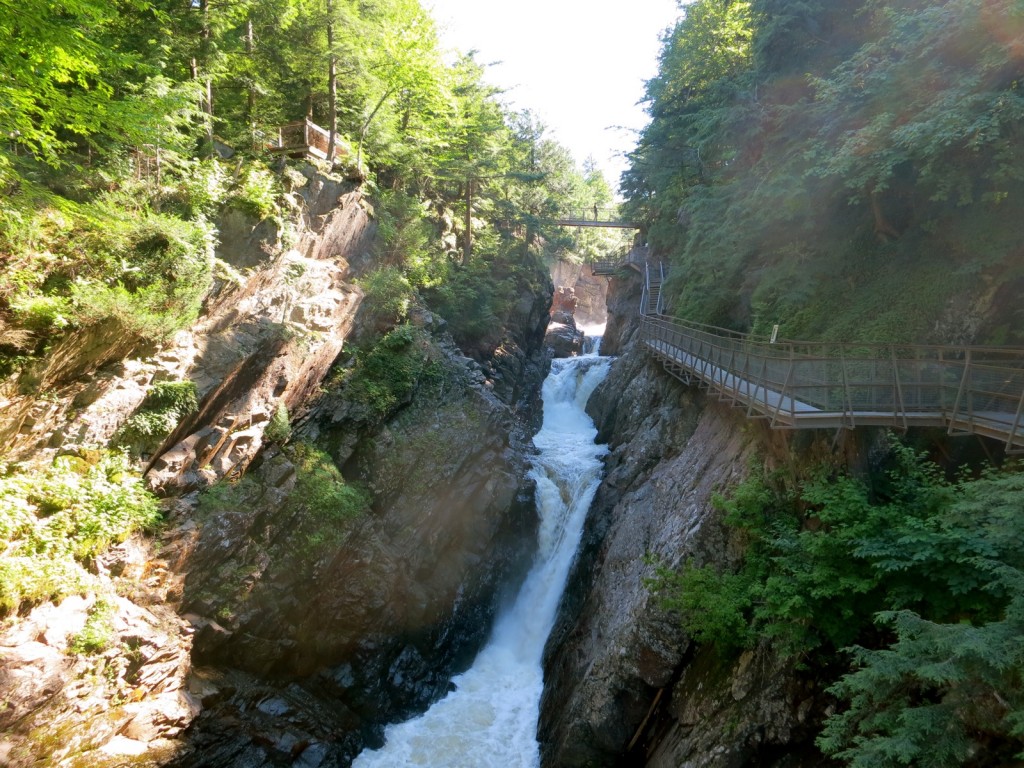 Yes, touristy. But you have to admire the tenacity of this "gorges" spot off Route 86. The stunning Attraction-that-Could was destroyed twice in 2011: once due to excessive snow melt, then months later from Hurricane Irene.
Back better than ever, marvel at the force of water down and through rock on a half-mile multi-level series of paths, stairs and bridges. Teeter over rushing water on glass pathways.
In the heat of summer, the water spray is refreshing. In winter, rent snowshoes and special treads to crunch over snow and ice. Photo ops abound any time of year. Afterwards, sample local wines at the Beer and Wine Bar in back of the gift shop. May-Oct Daily 9-5, Dec. – March daily 9-4:30. $13 adults, $10 kids. Winter Waterfall & Snowshoe Package $26 adults, $16 kids. Includes offsite rentals all day.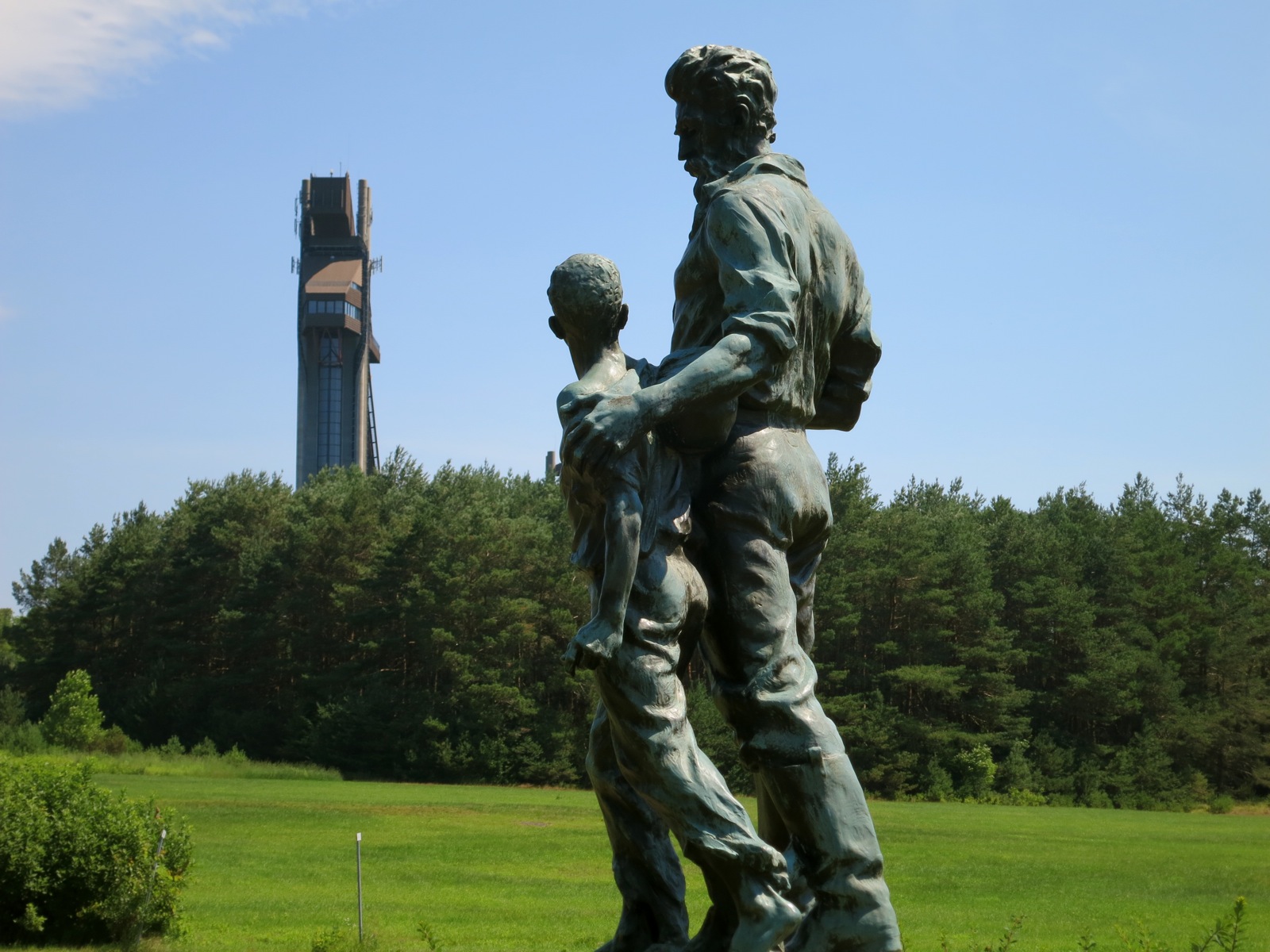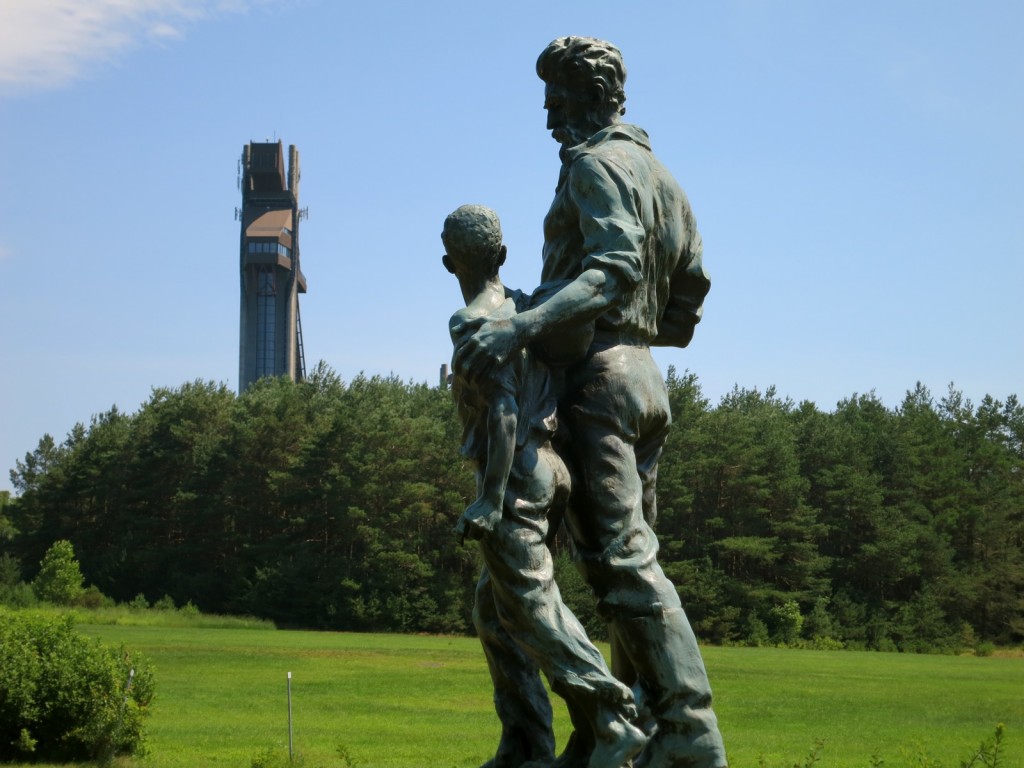 In the shadow of the Olympic Ski jumps, it's not difficult to imagine why one of the most famous abolitionists, John Brown, born in Connecticut, and raised in Ohio, would have decided to settle here in 1855.
Brown spent only a few weeks in Elba, NY before traveling to Kentucky to join his sons in their fight against slavery. Before being executed for his role in the raid on the US Arsenal in Harper's Ferry VA, Brown asked to be buried "by the big rock" on his bucolic property in NY. Open May1-Oct 31 Wed-Mon (closed Tues) 10-5. $2 adults, under 12 free. Grounds and grave open year round during daylight hour.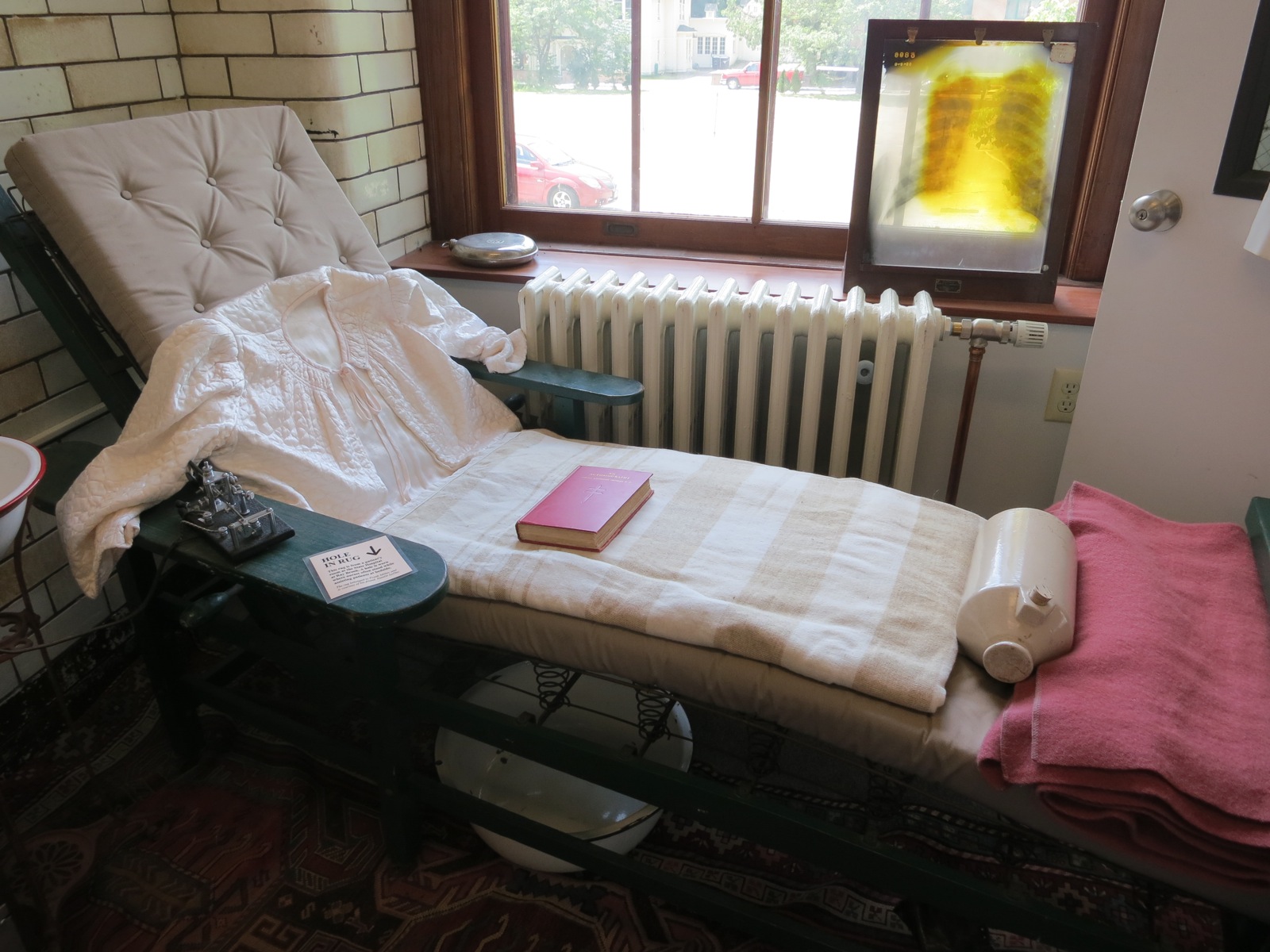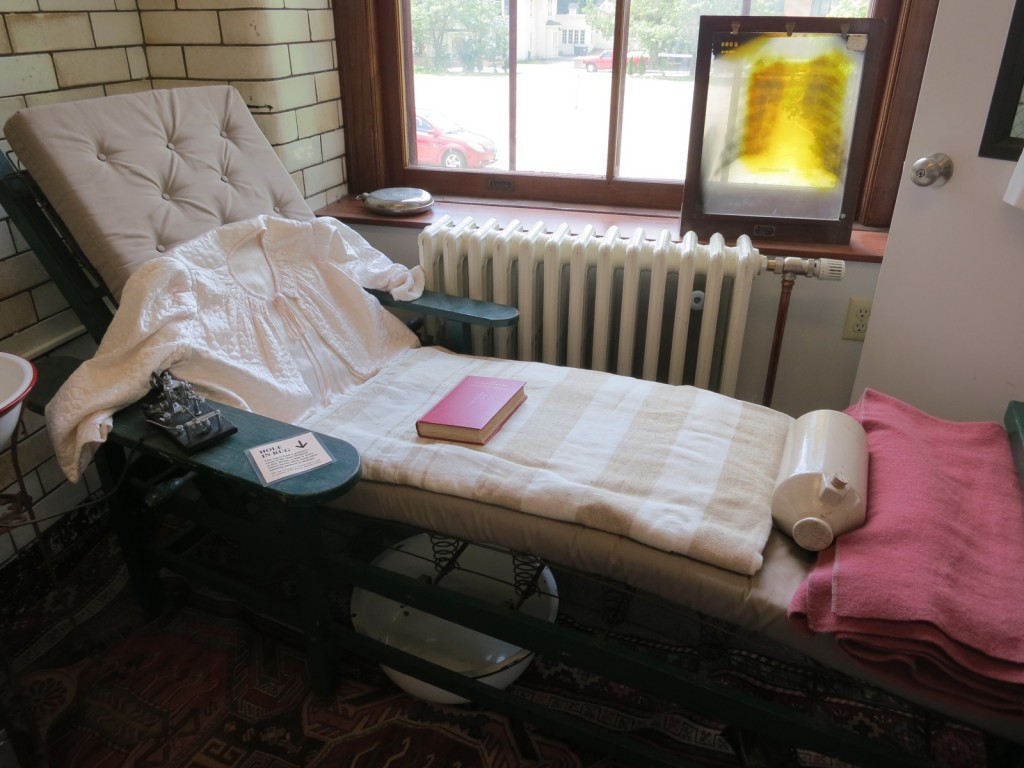 When Dr. Edward Trudeau contracted tuberculosis in the late 1870's, he moved to the brisk-aired mountains of the Adirondacks to die. But strange thing is – he didn't, and so thinking that he had stumbled onto a cure, Trudeau enticed those with the disease up to Saranac Lake in 1884.
This first Sanatorium eventually became a town-wide industry. Thousands of young adults (average age 18-35) came for "the cure," staying an average of two years. Homes with wide porches cropped up to accommodate specially designed "Cure Chairs" on which those with TB would stay all day and night. In the late 1800's everyone in Saranac Lake either had TB or served those who did.
"Tray boys and girls" – kids from the local schools – brought meals to the ill. Friendships between patients were legion (those that turned romantic were referred to as "cousins"). In the 1890's, Dr. Trudeau established the first Laboratory to study the insidious disease. Meticulously restored to the way it looked at the turn of last century the Lab opened as a tourist attraction in 2009.
The Trudeau Institute, (currently located elsewhere in Saranac Lake), continues to break ground in medical research. Dr. Edward Trudeau's son and grandson, both doctors, carried on his work in town. His great-grandson, the Doonesbury cartoonist Gary Trudeau, still visits Saranac Lake on occasion. Open year-round Tues-Sat. 10am-5pm. $7 adults, $5 students, under 12 free.
Perfect on a hot day, it's the only way those of us who don't own a lakefront "camp" (or know someone who does) can get out on this oval of water. You'll see lots of classic wooden motor boats – the sports car of the lake set, required to get to summer homes on three islands; Moose, Buck and Hawk.
The one-hour trip features stories about the surrounding topography, Adirondack architecture, seasonal homeowners, and the "camps" that are camps the way Harry Winston is a jewelry store.
CEO's and founders of Texas Instruments, the Vanguard Group, and other notables like Kate Smith owned or own these summer homes on water so pure you can drink it (through Brita filters) with no ill effects. Mid May to Mid October – see website for schedule; $17.50 adults, $11 kids.
Restaurants In The Adirondacks
This Adirondack-chic bistro-style farm to table spot is owned and run by the same guys who brought the boutique Dartmouth Lodge (see below) to Keene. Dine on dishes like Pork Osso Buco, Duck Fat Bread Rolls for dinner and fresh from the farm delights for breakfast and lunch.
Experience the pure pleasure of summer; a pulled smoked BBQ chicken on unadulterated bun ($8) at this classic tented picnic table place. Originally a hot dog stand (hence the name), it's evolved into a Raw Bar, Lobster, Ice-Cream, Smokehouse, Gift Shop miniplex.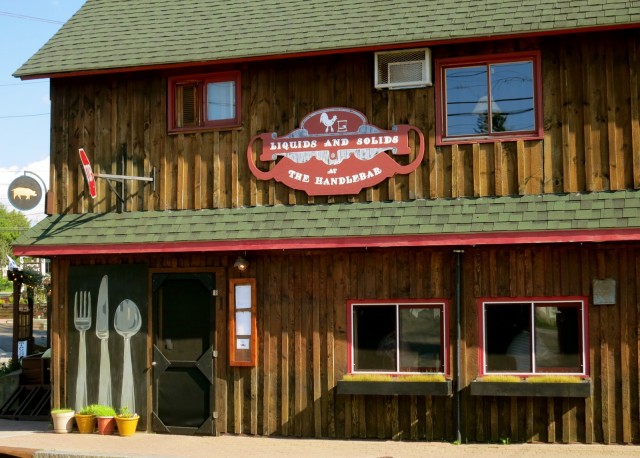 Getting through the beer list is an endurance test, but a joyful one in this roadside Café where craft brews with names like Mother's Milk Stout and Deveiant Dale's IPA get their own "tasting notes."
Chefs lavish farm-to-fork attention on menu items that change daily and "are smaller than most Americans are used to," says one server. In other words, just the right size. So, "Tempura Asparagus" ($11) consists of several whole lightly battered spears lying on a bed of piquant fresh garden greens.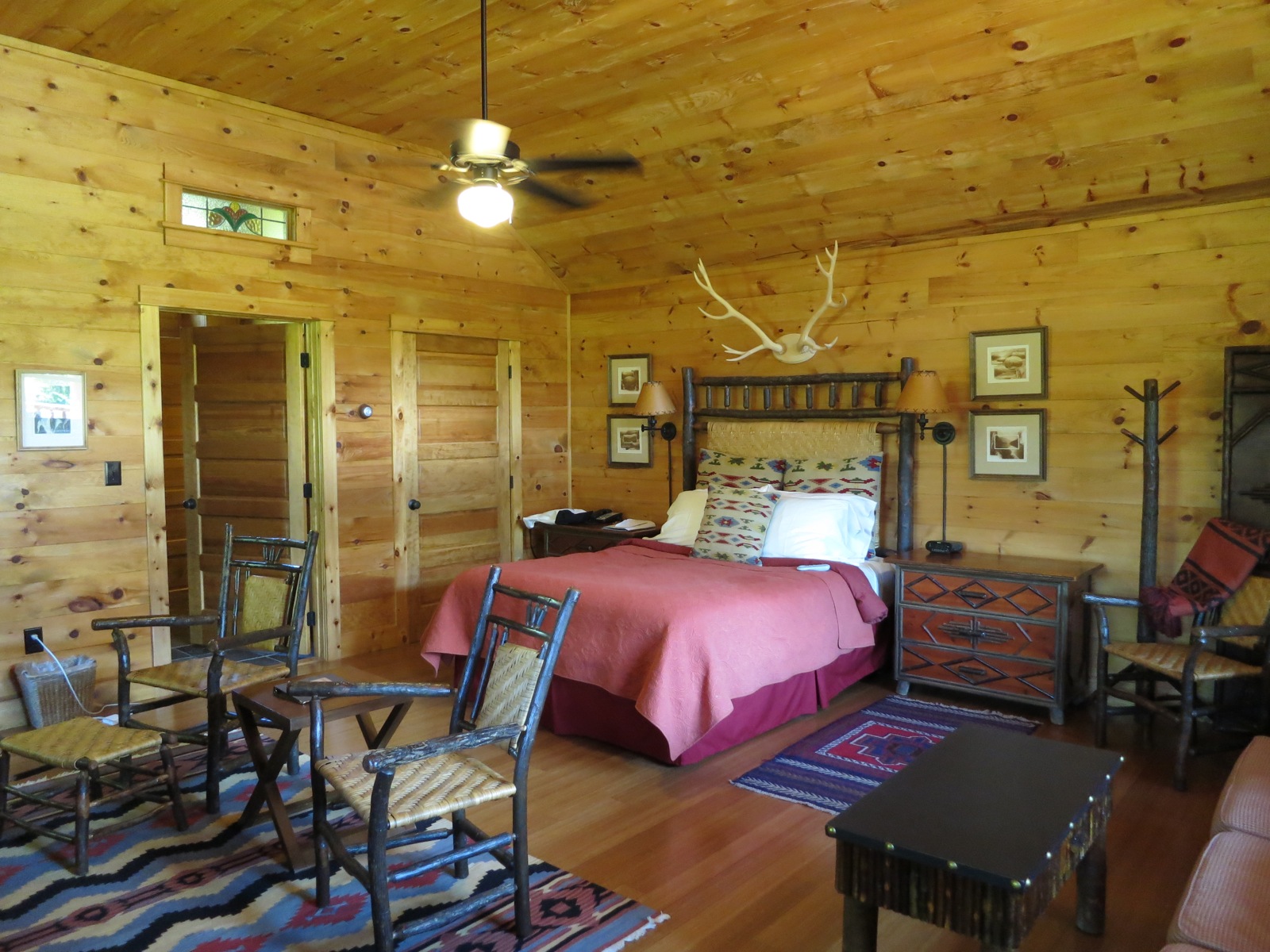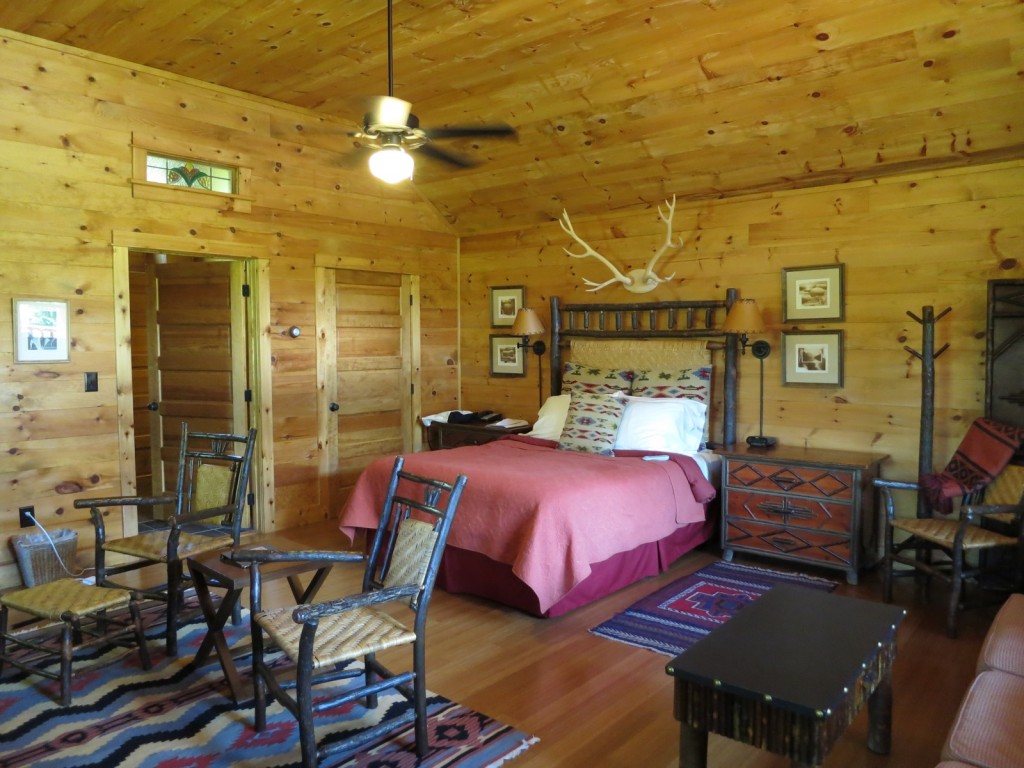 Best Lodging In The Adirondacks
As a rule, you won't find boutique design in rustic roadside cabins. But The Dartbrook Lodge, which elevates "Classic Rustic Design" to boutique hotel standards, breaks that rule entirely.
Right on Route 73, current owners Steve Pounian and Jay Haws, with backgrounds in design, completely remodeled each cabin in Great Camp style and reopened the Lodge in 2009. While sourcing locally made furniture and accessories, Pounian and Haws established relationships with Adirondack artisans and began to collect and sell their products at the neighboring shop Dartbrook Rustic Goods – a terrific balsam-scented emporium.
Because of the Lodge's roadside location, you'll pay a fraction of what you'd have to fork over for a comparable space a few miles away on Lake Placid. Ask for the apartment-sized Halcyon House; log plank walls, Sleep Number bed, rustic/luxe and beautiful décor extends to the slate floor bathroom; the glass and bluestone double rain shower is downright glorious and could find a home in any upscale hotel. All this for less than $200 per night. Cabins $175-$195 per night.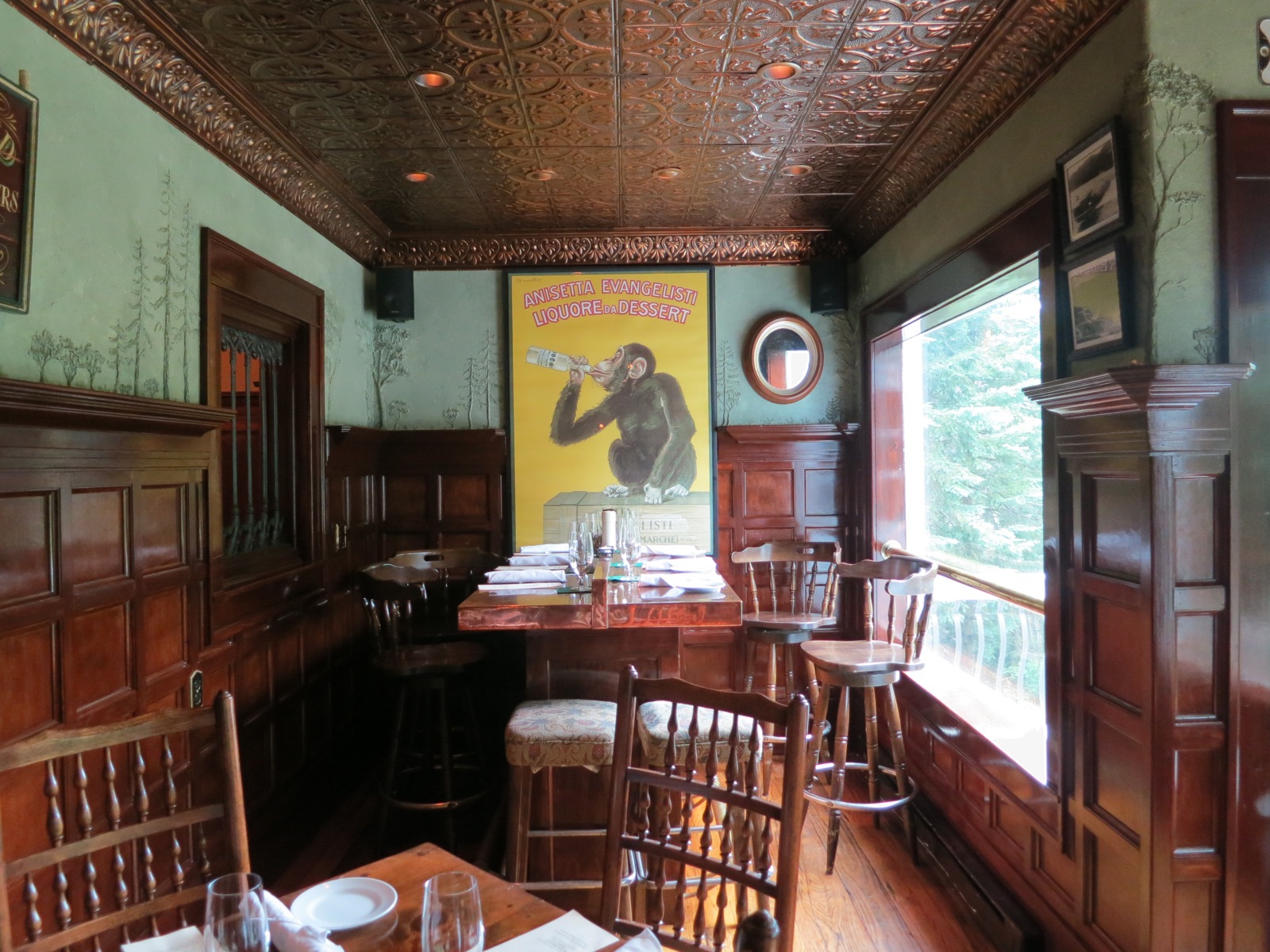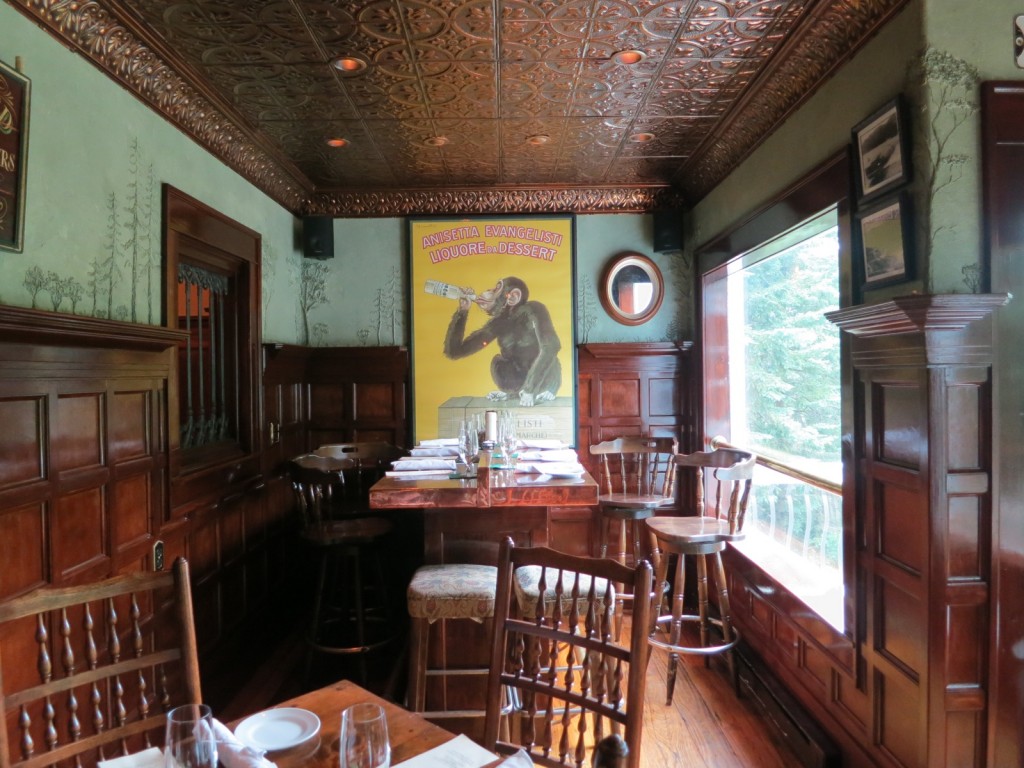 Tucked on a side street uphill from Mirror Lake, the Interlaken is that great blend of casual elegance, phenomenal food, unsurpassed bar and comfortably classy antique-stuffed rooms that don't cost an arm and a leg. Even "in season."
Owners Mary and John Nealy believe that guests should enjoy luxury without having to pay outlandish rates. What is bliss? It's being served your favorite wine while being warmed by a huge blazing fireplace as snow falls outside the window, and knowing that your room is just upstairs. $175 to $275 per night.