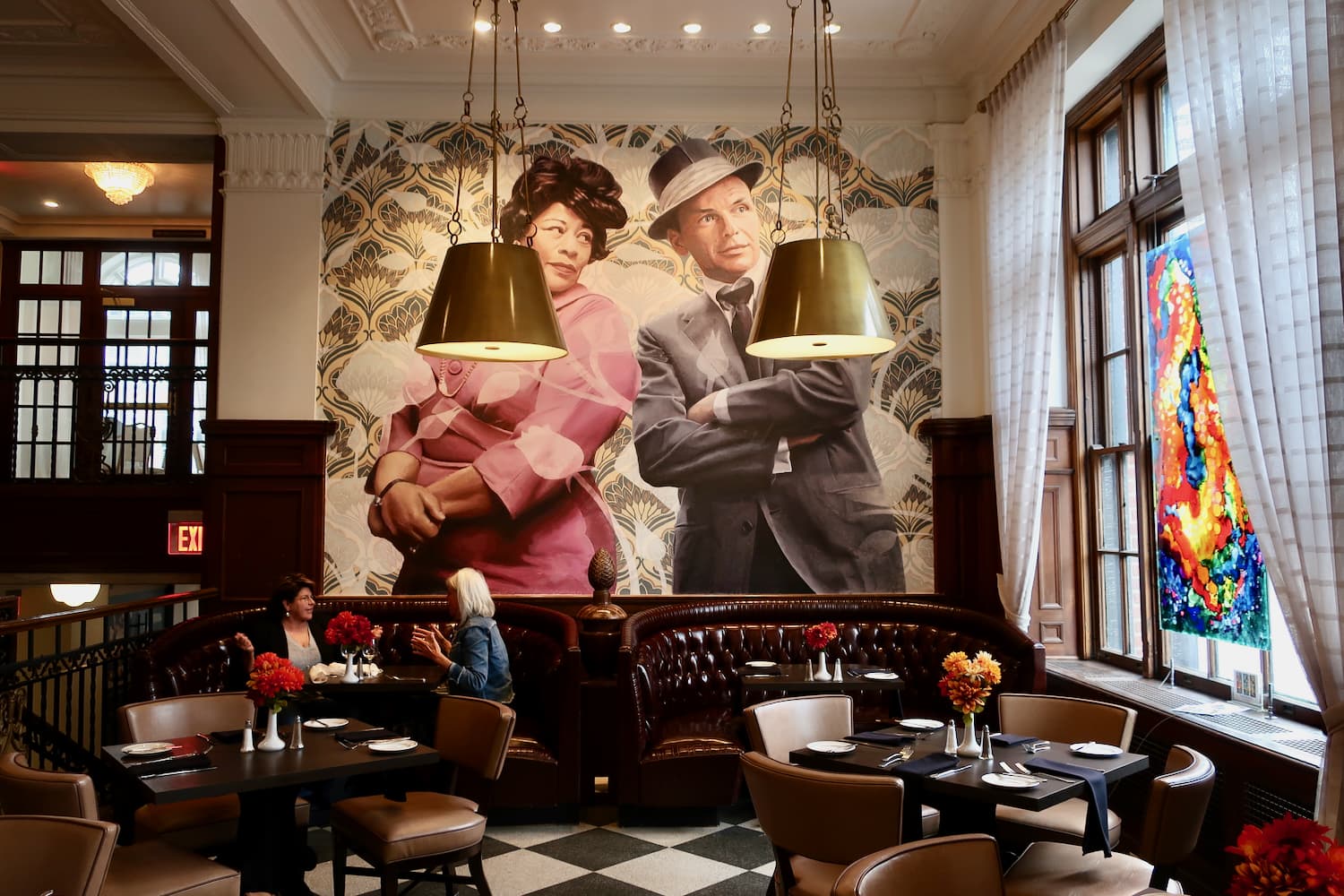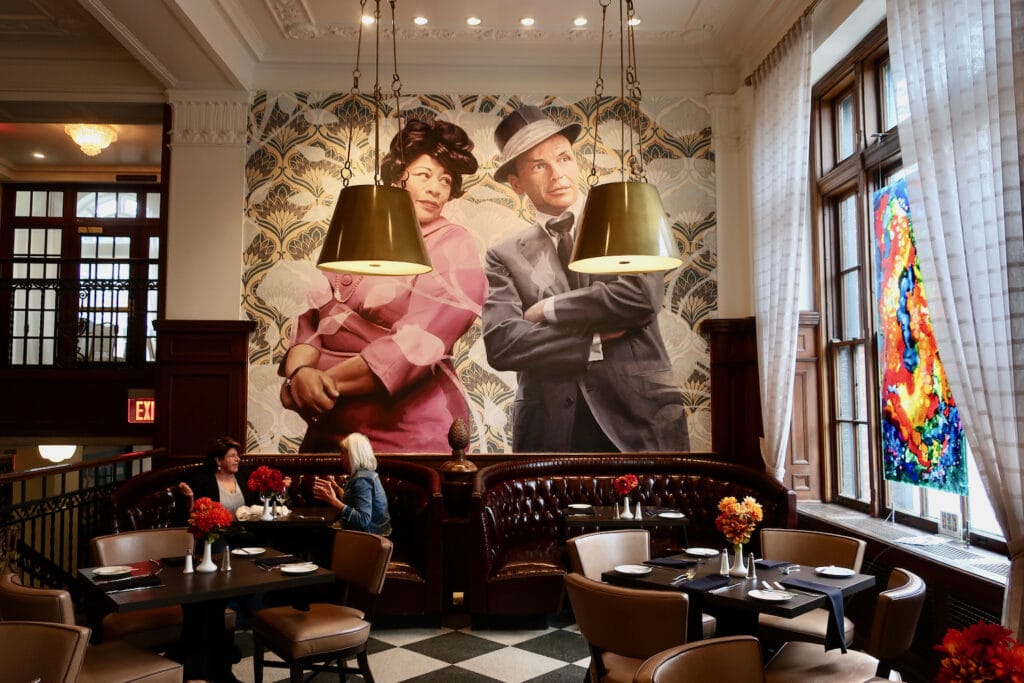 Yorktowne Hotel Tapestry Collection By Hilton
Built in 1925 and completely overhauled by 2022, the Yorktowne Hotel reopened to great acclaim in 2023. Promoted as a "Business Hotel" – it sure is a high-end place for executives to stay.
However, by virtue of its design elements, fantastic art, nods to the past, great rooftop lounge, and pristine luxury bathrooms, we deem the Yorktowne Hotel one of the sexiest and most romantic lodgings in Pennsylvania.
Now under the Hilton umbrella in the luxury Tapestry Collection, the renewed hotel features all the special amenities–including high-speed WiFi connection, room service, and plush bedding–that make these properties a comfortable stay.
Located around the corner from Central Market and just a 5-minute walk from all the attractions and restaurants that delight visitors, the hotel couldn't be more convenient. And there's a huge parking garage just across the street.
It's a gorgeous place to meet up with friends, or steal away with a lover.
And for those who want to venture outside your hotel room – there's so much in York PA to discover.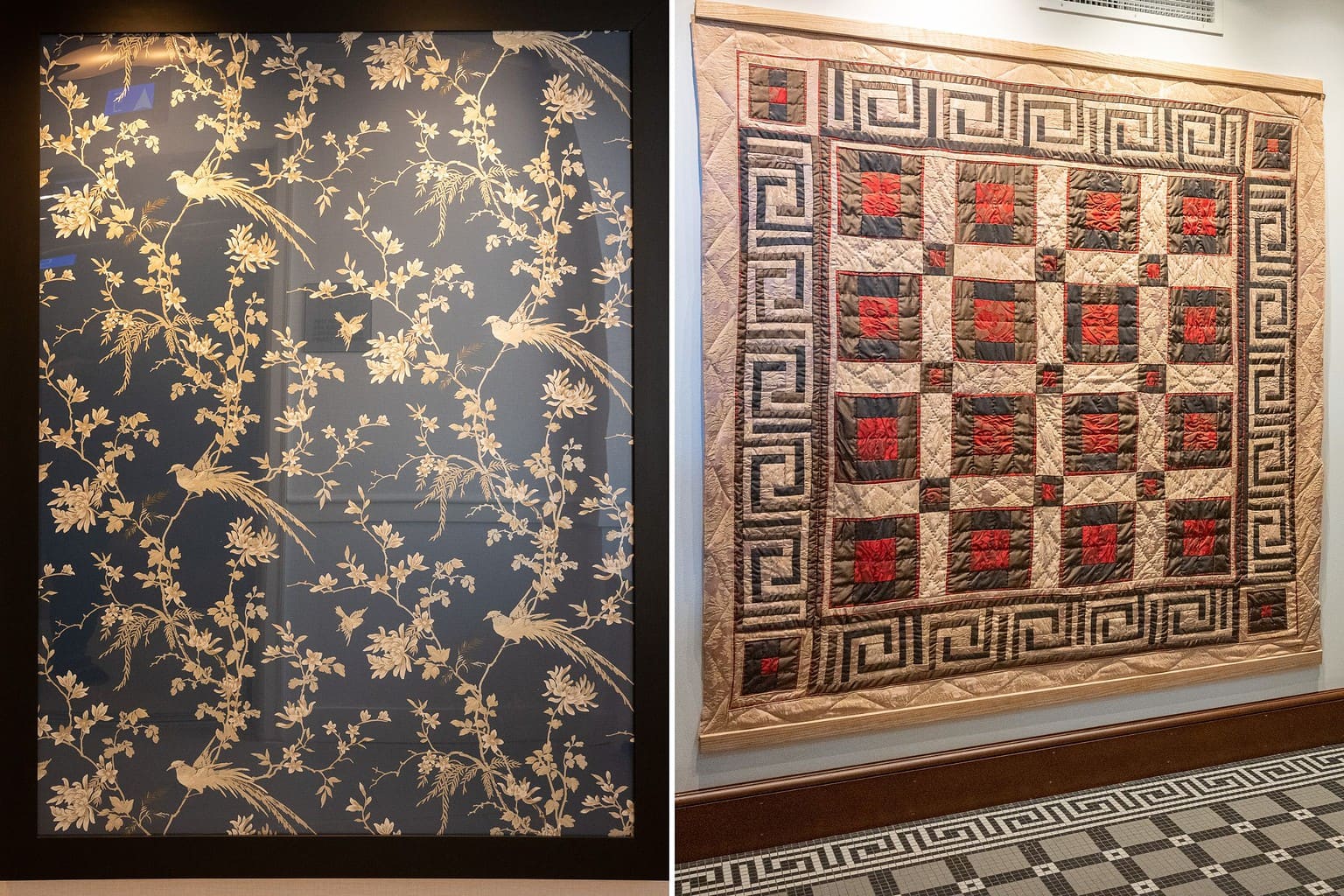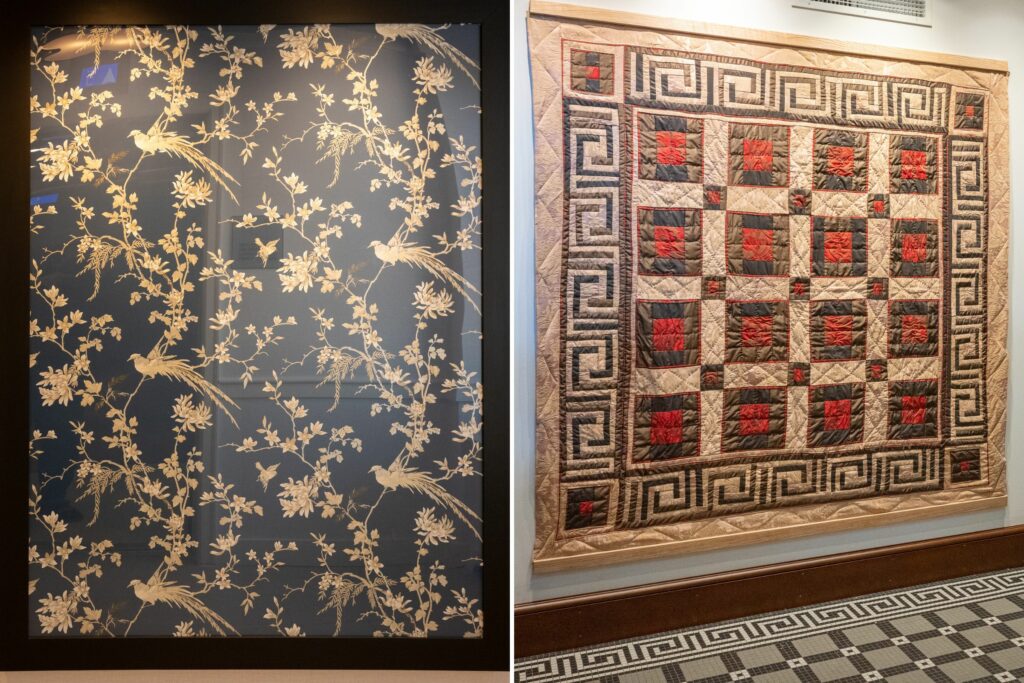 First Impressions of Yorktowne Hotel
In addition to the newly rediscovered Cornelius Hicks mural behind the front desk, great attention has been paid to design details. Of course, locally-produced York Wallcoverings are on the walls, including an original framed segment.
A quilt, "Bringing The Pieces Together Again," inspired by the original tile floor, hangs at the Market Street entrance. Interestingly, artist Gale Jamieson used remnants of fabric from the original hotel lobby and ballroom drapery.
Most impressive is the grand lobby, with original black and white Terrazzo floors (discovered under three layers of carpeting during renovation), soaring ceiling, central three-sided bar, and a wall-sized mural depicting a couple of famous former guests: Ella Fitzgerald and Frank Sinatra.
Food and Drink at Yorktowne Hotel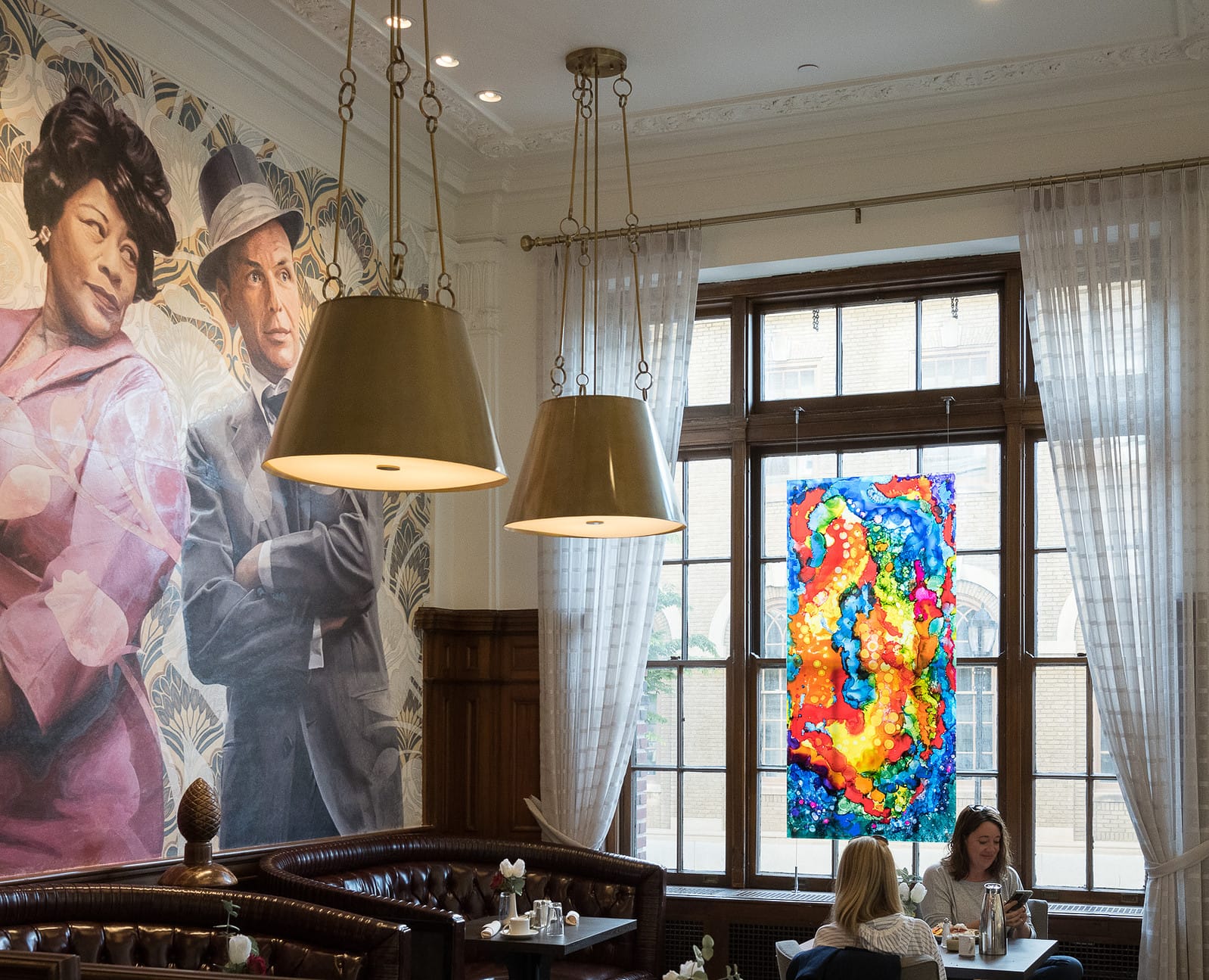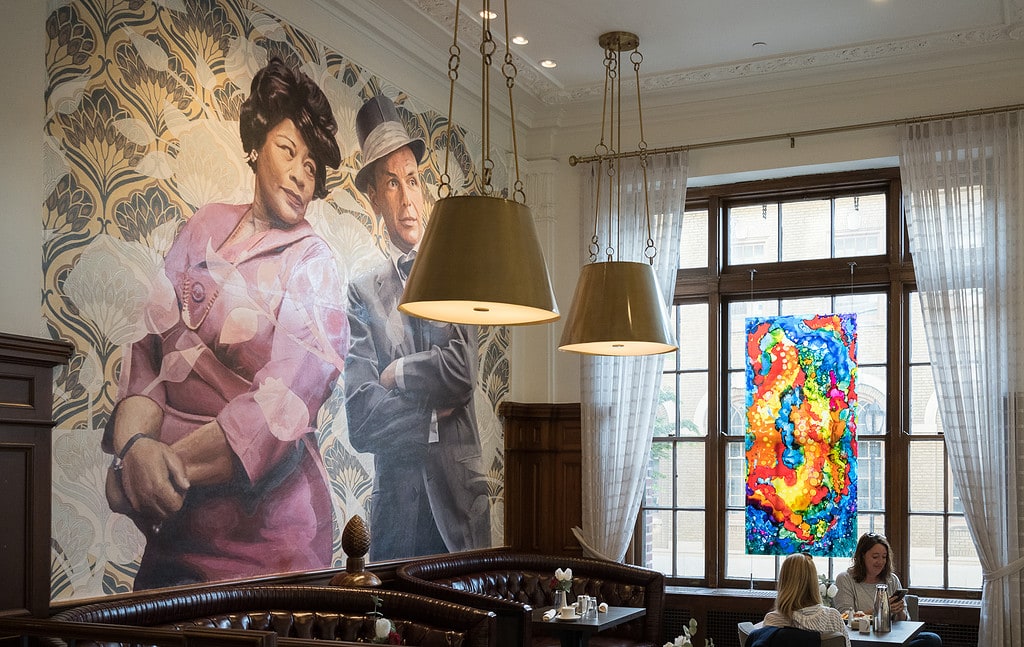 A knockout bar and restaurant graces the Davidson Lobby, called, practically enough, the Davidson Lobby Bar and Restaurant. Since it opened in 2023, the Davidson has become a destination eatery itself – rivaling those just outside its doors.
From the time it opens each day, the three-sided bar thrums with convivial conversation, which sometimes addresses the goat in the room. Look up over the bottles of spirits, and on the top shelf you'll see a stuffed goat encased in glass. What's that all about?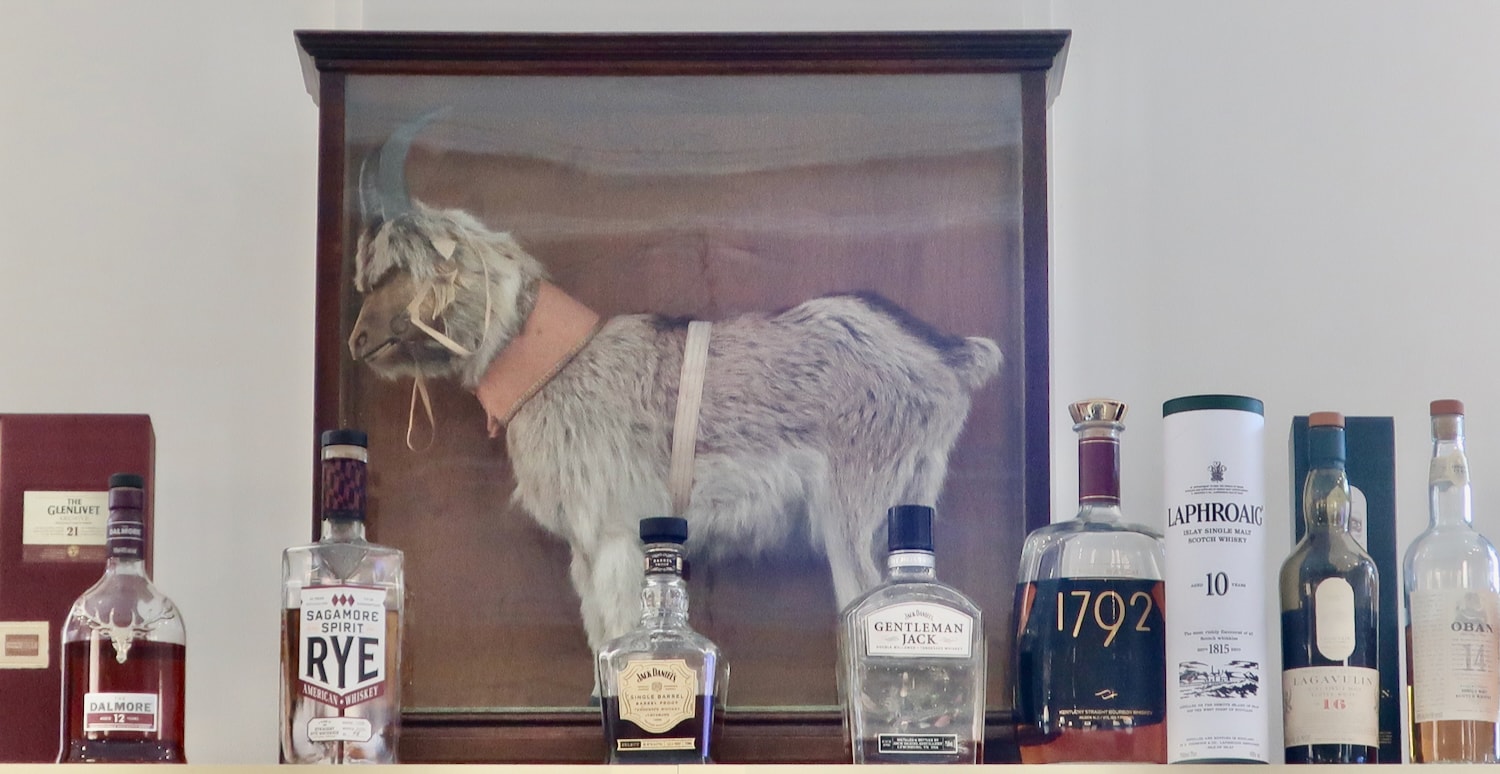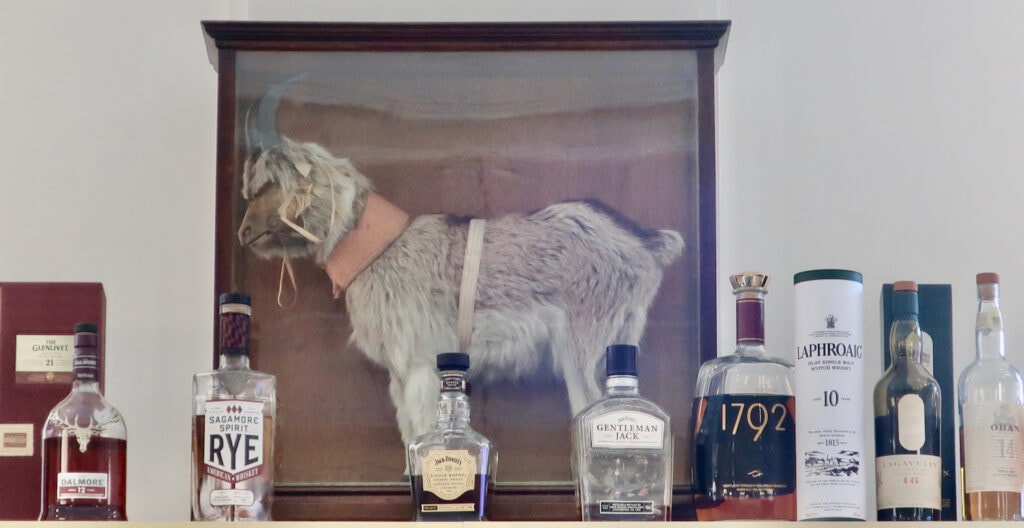 Ask the bartender. Apparently, the taxidermied goat was a rah-rah mascot during a capital fundraising campaign to build the Yorktowne Hotel in 1925. Displayed first by the front door and now over the bar, the goat has been kept as a quirky reminder of those days.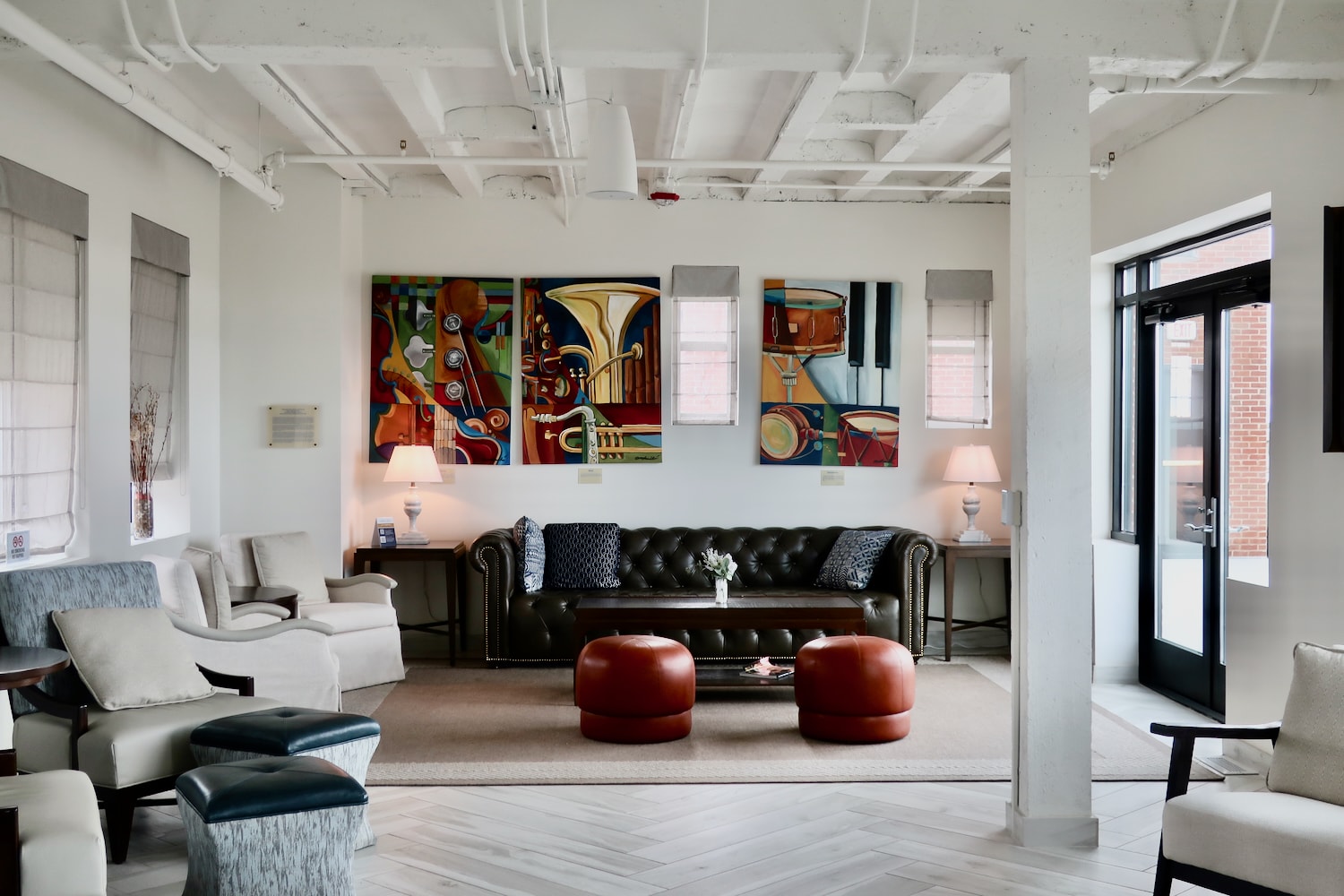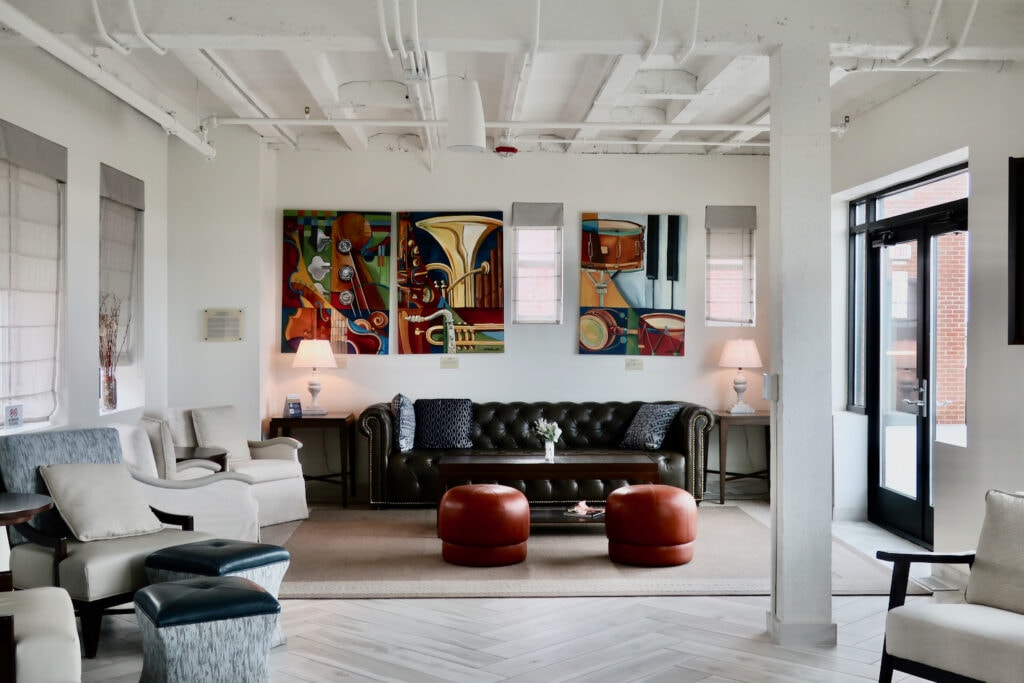 If you stay Wed-Saturday, and just want a bite and drink, there's no better place to take your heart's desire than up to the Graham Rooftop Lounge. You can choose to stay inside, in an ultra artsy lounge, or outside (in season) on a nearly wrap-around roofdeck.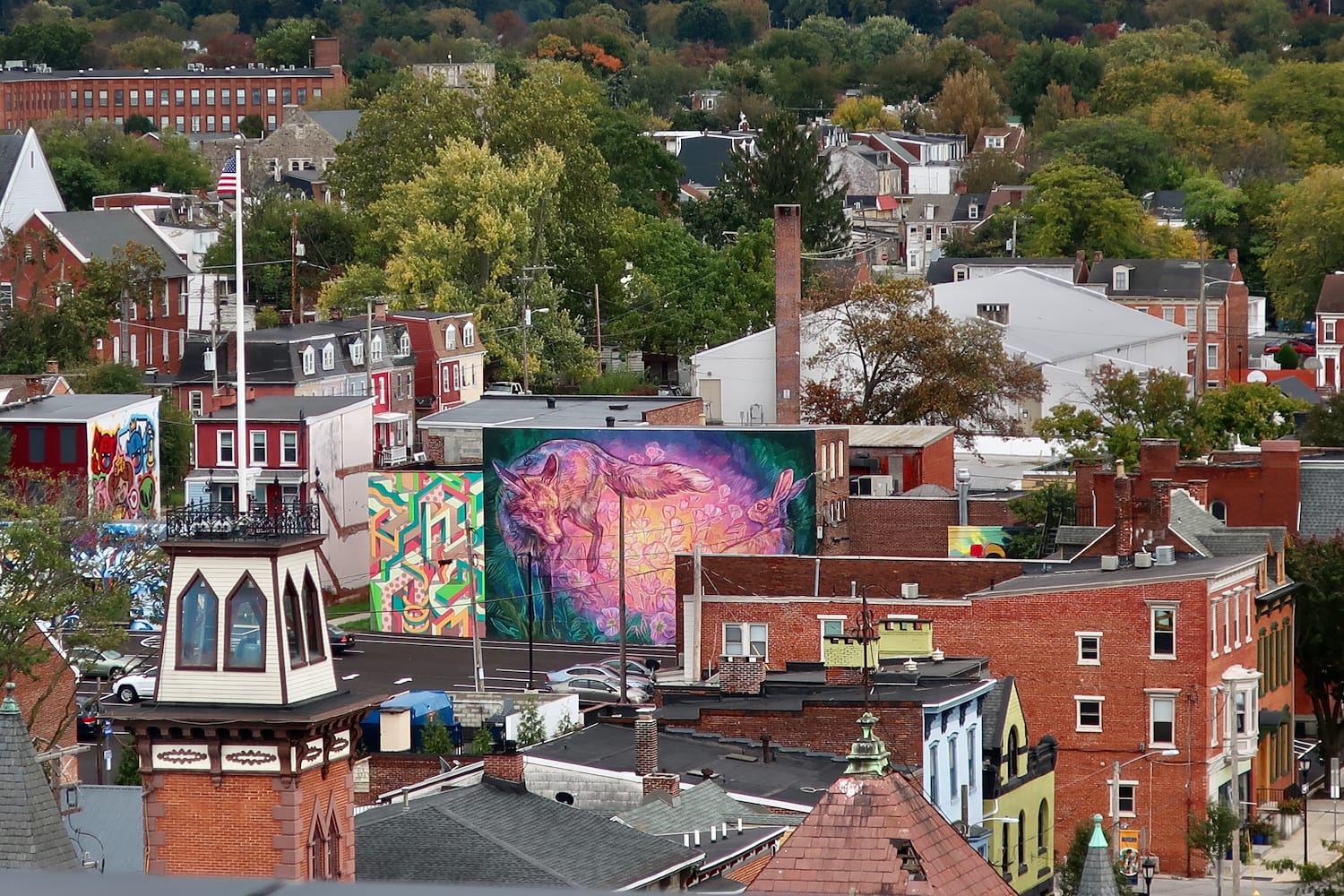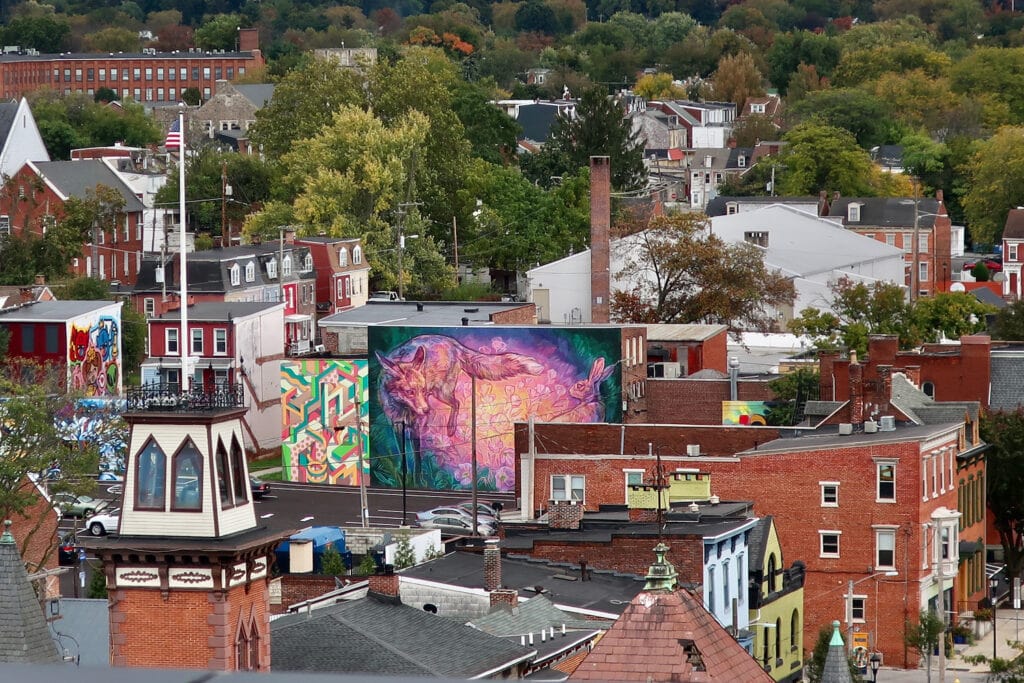 The latter offers gorgeous views of Downtown York – including those of Mural Park, just a few blocks away.
Guest Rooms at Yorktowne Hotel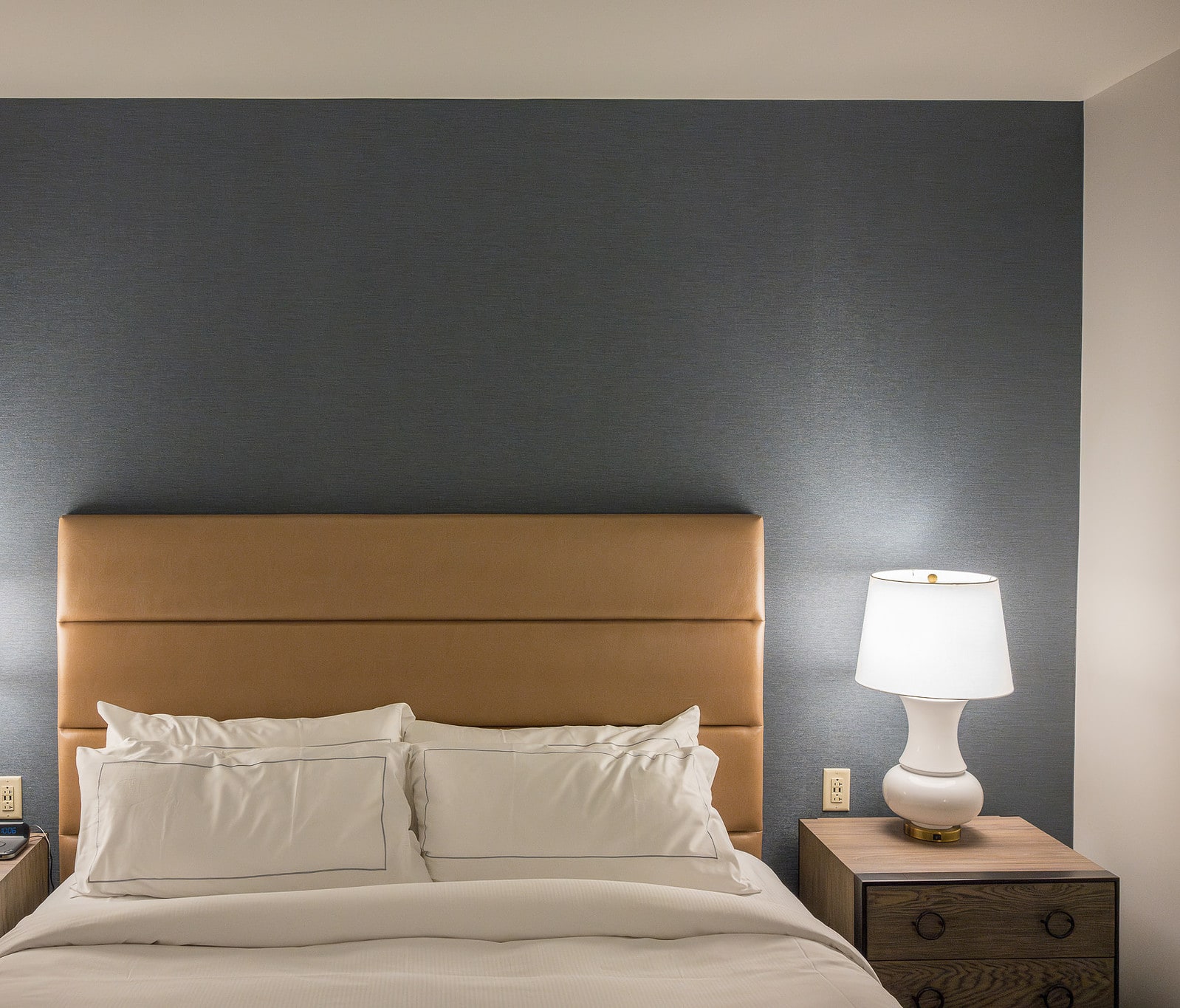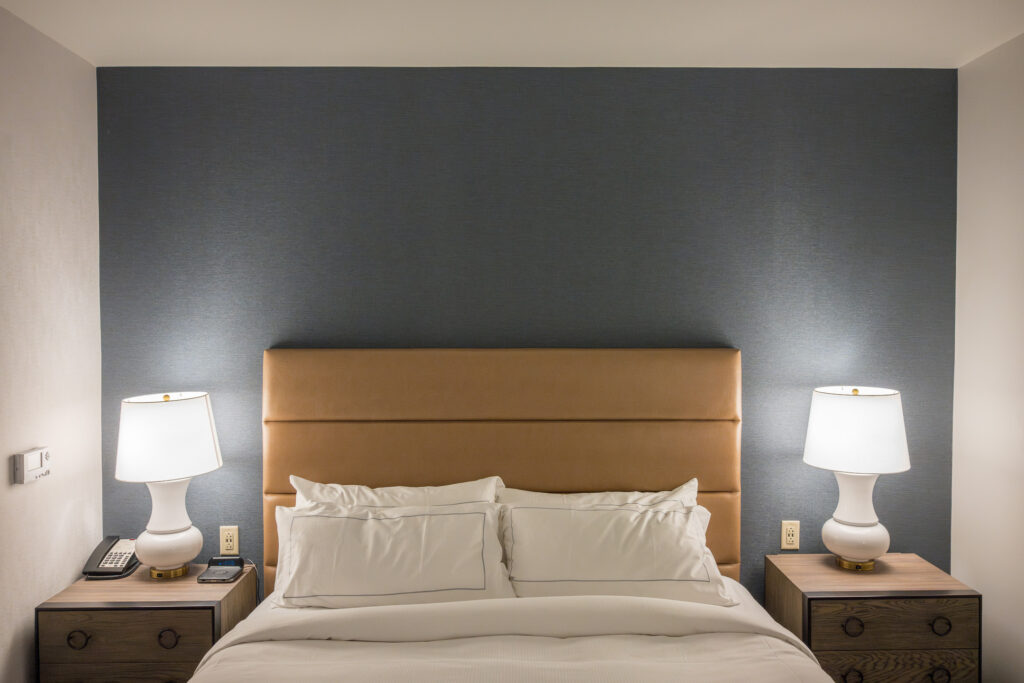 Guest rooms are plush cocoons that are ideal for nesting. A walk-in shower and brass fixtures, and honeycomb-patterned marble mosaic floor make for an upscale bathroom experience.
Rooms themselves are simply decorated. Although well fitted with all the useful amenities–fridge, safe, coffee maker–they're tucked away so there are no distractions from a restful slumber.