Last Updated on March 29, 2023 by Editor
WHY GO: The Getaway Mavens let you in on the best things to do in Roanoke VA, a major city in Virginia's Blue Ridge (VBR) Mountain region.
Once considered the "Moonshine Capital of the World," (more illegal hooch was distilled here during prohibition than in any other area of the USA), and having earned its fame as a railroad and coal town, Roanoke VA is now known for healthier pastimes: mountain biking and hoofing it on hiking trails.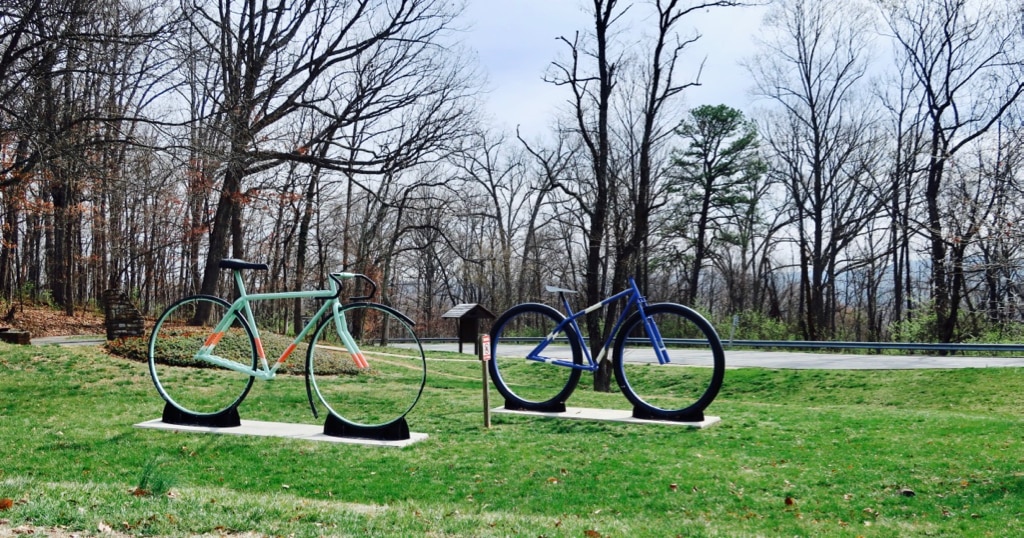 But with a re-emerging downtown, the largest lit star in the world, great new (and old) restaurants, an historic hotel, and a newly opened Bank-repurposed boutique hotel, Roanoke is a burgeoning hot-spot. Your visit to Virginia's Blue Ridge Region should definitely include a couple of days in Roanoke.
Wait, there's more! You can also explore some small towns with outsized charm right nearby. We cover Roanoke and Salem, and more. Just read on.
Have a few more days? Discover Lynchburg VA, just a bit over an hour away. Planning a longer trip to explore the Blue Ridge Mountains? Check out all the top things to do in Blue Ridge GA!
Things to Do in Roanoke VA
WALK: On the Skywalk
Perched over wide set of railroad tracks, take a moment to pause midway, and you may see a freight train barreling towards (then under) you going 35 MPH.
The glass skywalk links the Hotel Roanoke to downtown, so when you descend the escalator, you'll have a great choice of things to do.
VISIT: Center In the Square
First built in 1983 and renovated in 2013, this multi-level series of museums is worth several hours, or more, to explore. The Center in the Square incorporates the Harrison Museum of African American Culture, the Science Museum of Western Virginia, and the highly interactive Starcade and Roanoke Pinball Museums.
Starcade and the Pinball Museum are some of the best quirky Places to Propose in Virginia.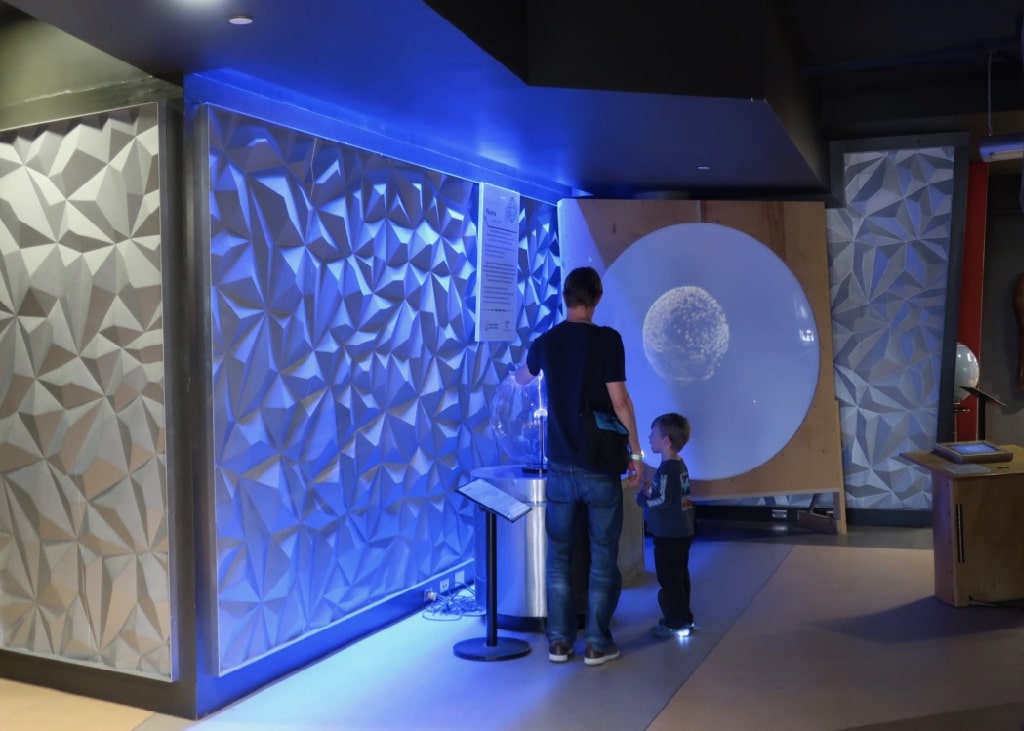 Science Museum of Western VA
Interact with and feed a bevy of colorful chirping birds in the Parakeet Garden. Learn to fly a spaceship and create your own missions. Discover how your Amazing Arteries supply blood cells to all parts of your body.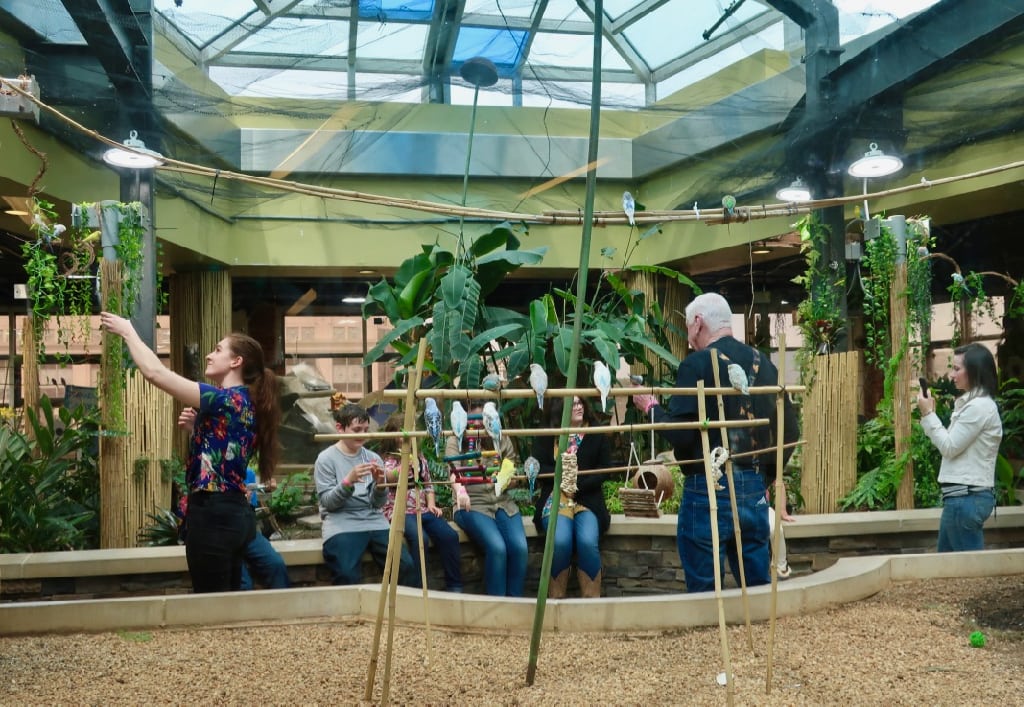 You can do all this and more in this highly engaging museum on two floors.It's hands-on learning at its best. Open Tues-Sat 10-5, Sun 1-5, (closed on Mondays during school year), $15.50 adults, $14 kids.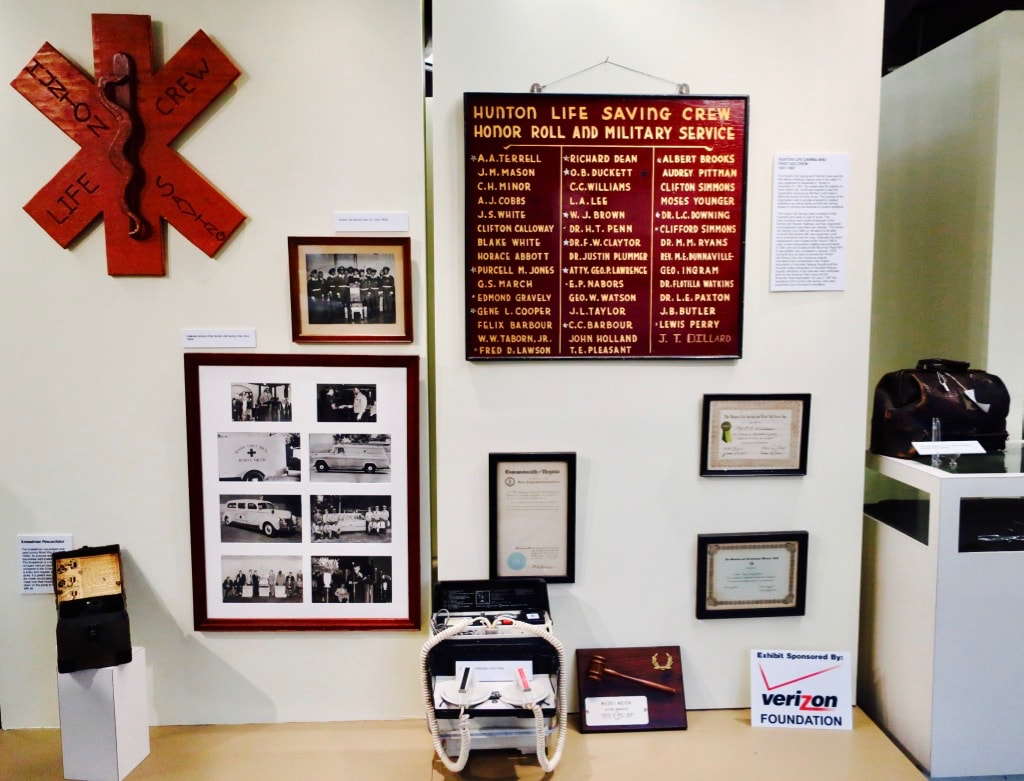 Harrison Museum of African American Culture
While there are no bells and whistles in this must-see museum, there are plenty silent exhibits that spark conversation. You are bound to feel the influence and contributions of the African American culture and people in the Roanoke Valley through the memorabilia, photographs, and artifacts on exhibit.
Although there are marvelous pieces of folk and fine art to ponder, this small place speaks volumes about the Black experience in Virginia in other ways as well.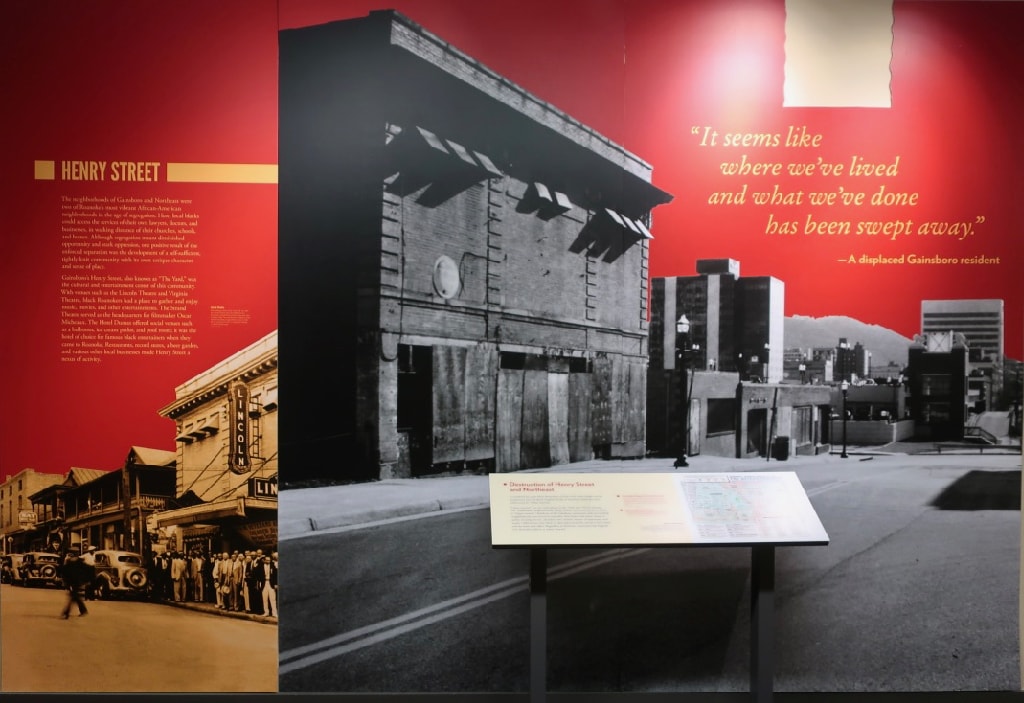 The city of Roanoke had the first Life Saving Crew of Color in the USA (1941-1987), when Virginia was a deeply segregated state. And, like Tulsa Oklahoma, and many other cities in the early 20th Century, Roanoke was home to a thriving Black Wall Street – Henry Street.
However, in this case it was demolished not by bombs and slaughter, but by Urban Renewal, which wiped out services, and thus the community's economic base.
Roanoke's Black history is told in candid photos and artifacts in this quiet yet powerful museum. Though they say, "A picture is worth a thousand words," these remnants of the past are worth a hundred times that.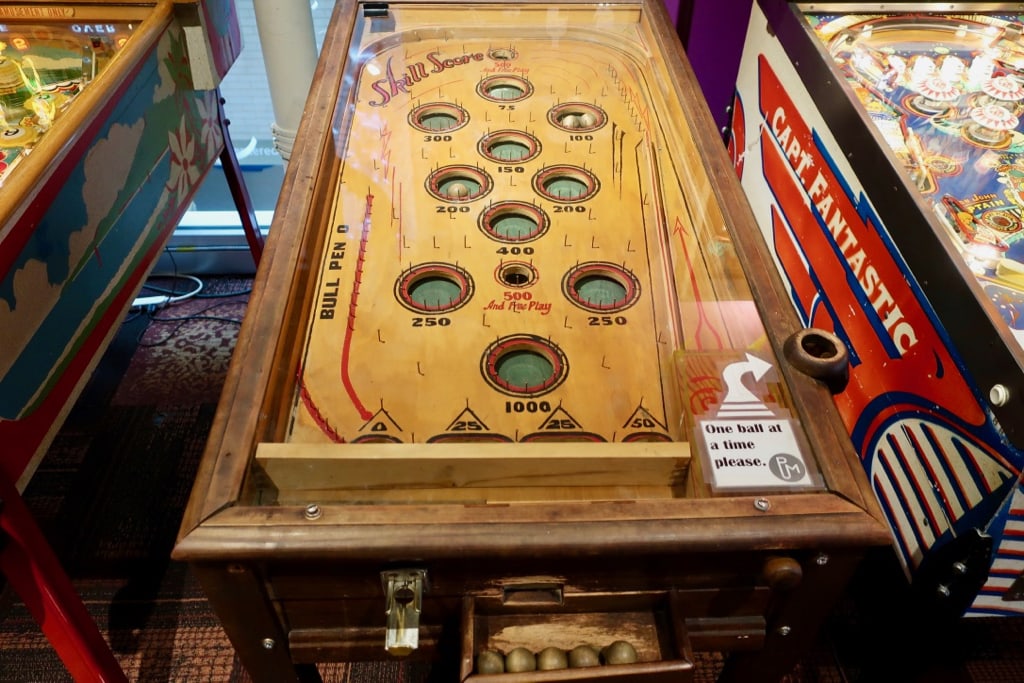 Pinball Museum
Where can you spend a day as Bruce Springsteen put it, "banging those pleasure machines?" At the Pinball Museum in Center in the Square. The oldest pinball in this collection is a 1932 wooden spring-activated game, manufactured during Prohibition and the Great Depression.
The newest is a 2019 Black Knight machine. Play all 60 pinball games in this most interactive "Museum" for just $13.50. For as long as you'd like.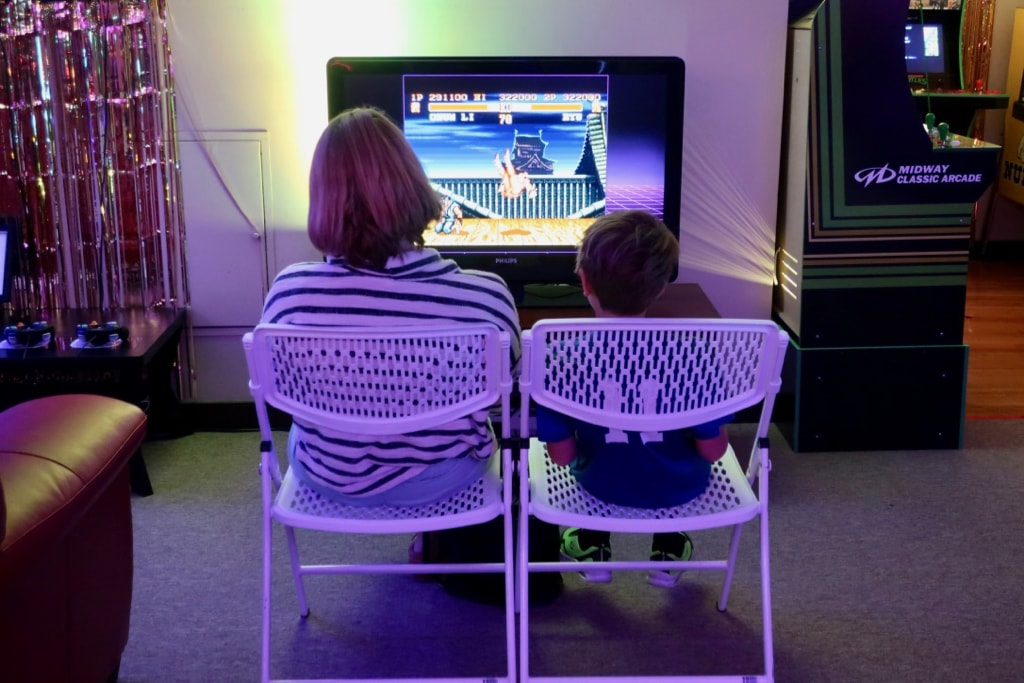 Starcade
As opposed to the Pinball Museum, this second arcade-like "Museum" incorporates all kinds of games: from Skee Ball to air hockey to video games. And, each is topped with an information panel that describes it with date of origin.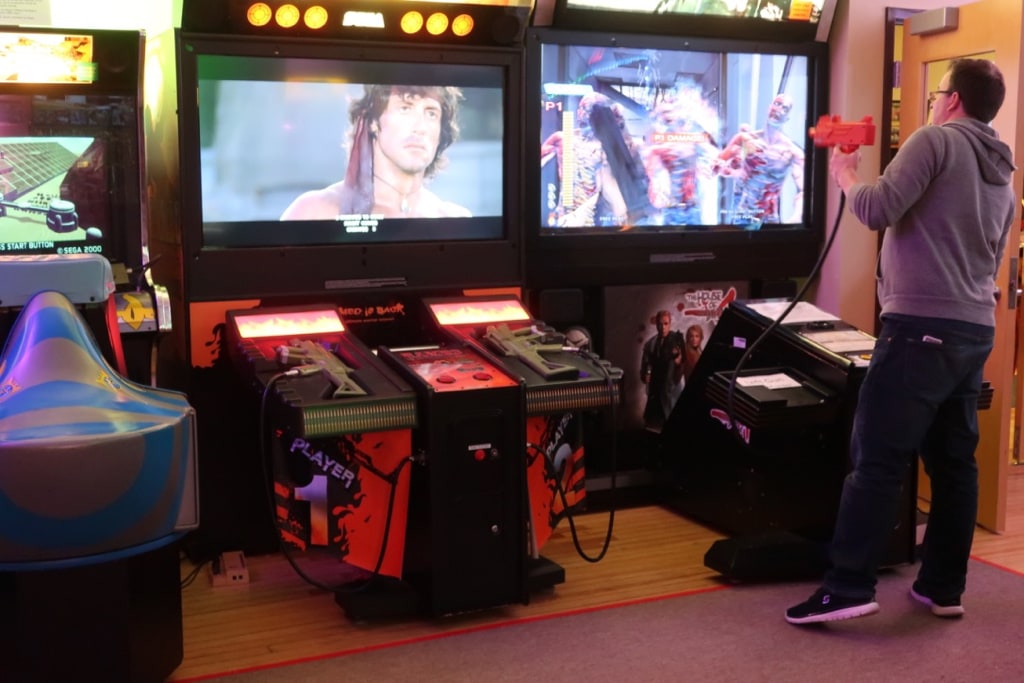 Yes, you can play Pac Man and Donkey Kong, and everything before and after. Starcade brings parents and kids – and, also, couples on date night – together big time. $12 for unlimited play.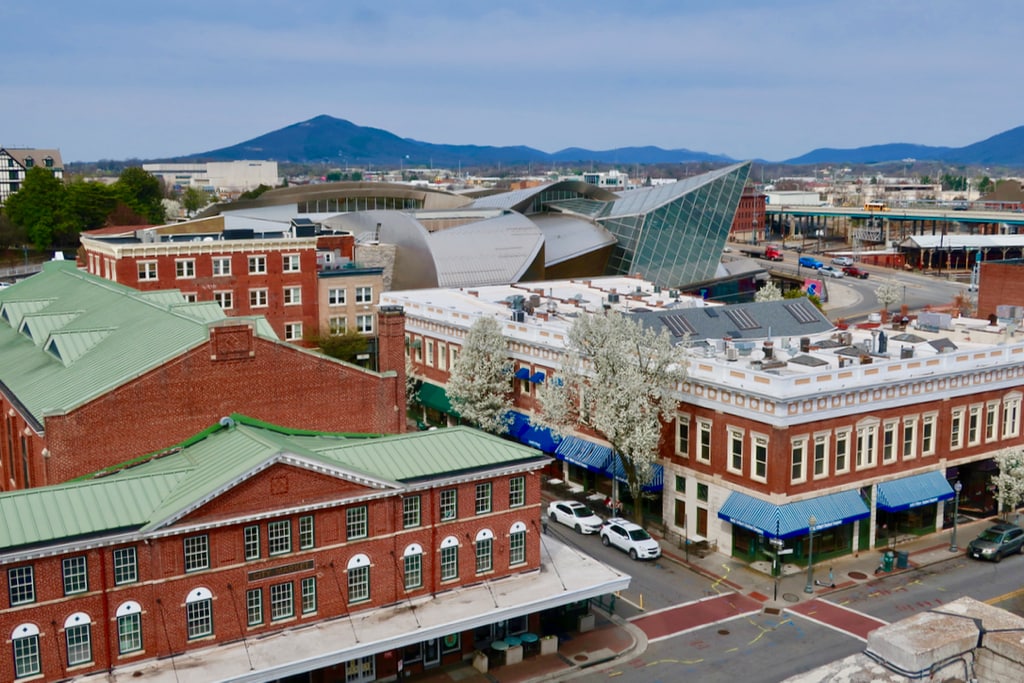 Center in the Square Rooftop
Before leaving, don't miss the incredible, singular views from the top of Center in the Square. From this perspective, Roanoke seems like a train set panorama.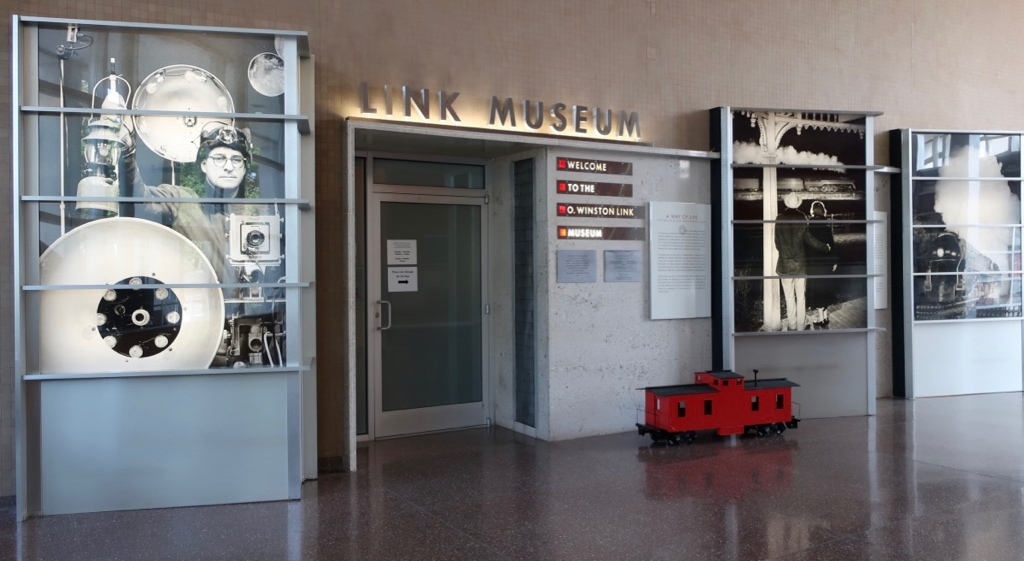 VISIT: O. Winston Link Museum, Western VA Historical Society, Raymond Lowey Gallery, and Virginia's Blue Ridge Visitor's Center
All of these museums and agencies are located in Virginia's Blue Ridge Visitors Center in the restored Norfolk and Western Railroad's (former) Passenger Station. How fitting, given the important part this industry played in Roanoke's history.
Raymond Lowey Gallery
Raymond Lowey, an Industrial and Product Designer who was considered the "Father of Streamlining," renovated the N&W Passenger Station in 1949. Over the years, his designs included lipstick tubes, logos, the Greyhound Bus, and an experimental "Bullet Train" (it looked just like a bullet) for the Pennsylvania RR: the S1 Locomotive.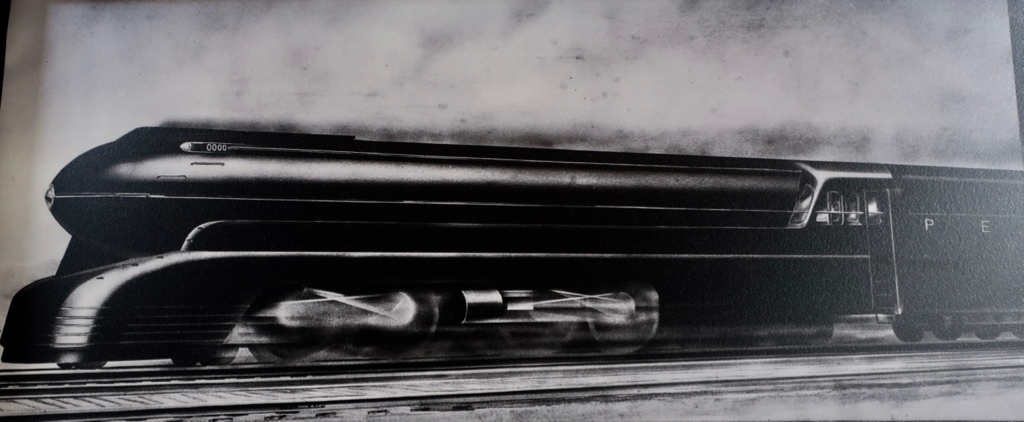 Lowey's clients were all over the map. And, in outer space. NASA hired him to design the interior of Skylab. A series of panels depicting Lowey's work can be found on the main floor right behind the Virginia Blue Ridge (VBR) Visitor's Center desk.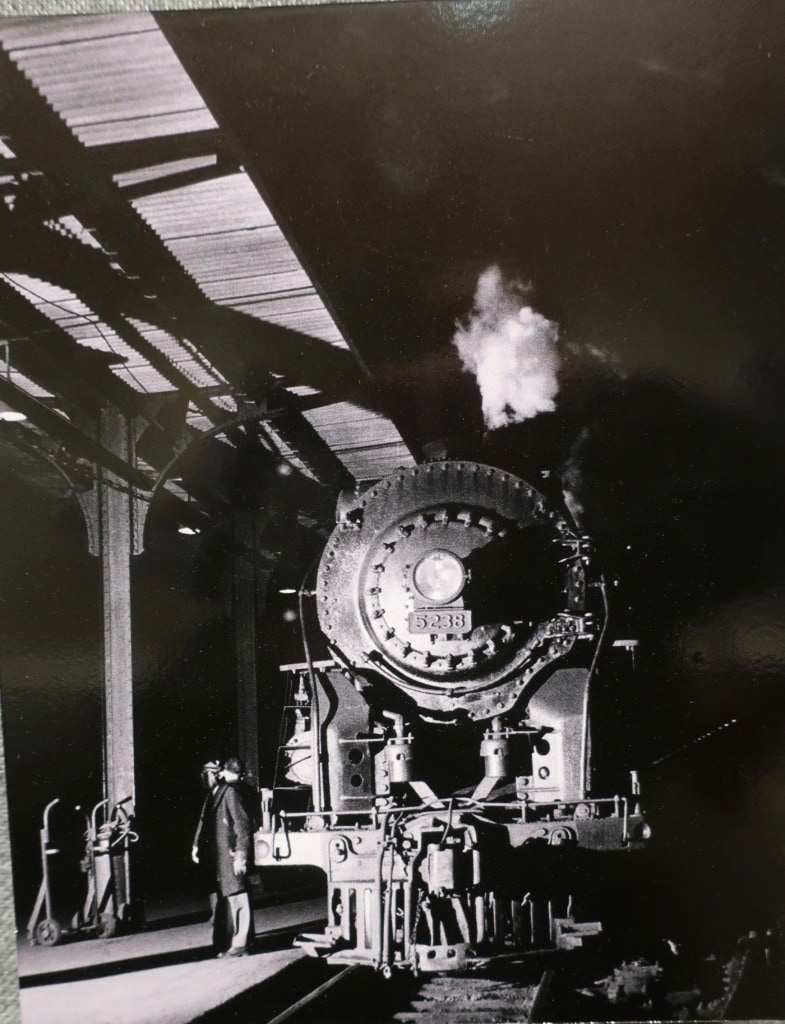 O. Winston Link Museum
Of all the things to do in Roanoke VA, perhaps the most underrated is a visit to the O. Winston Link Museum. Link was a celebrated New York photographer with a passion for the N&W Railroad and the people who worked for it. As a labor of love, he documented the last five years of steam locomotives, from 1955 to May 9, 1960, in Vermeer-ish photographs known for their artfully lit night scenes.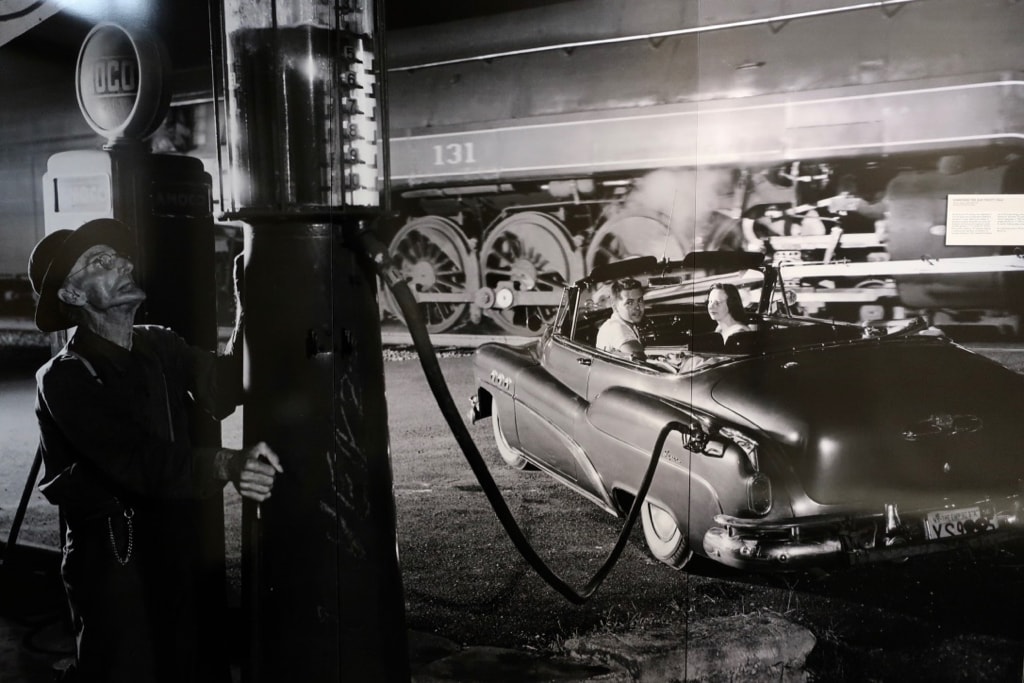 Coal, passenger, and freight trains, workers, and train-spotters all get the spectacular, moody and magical Link treatment in his photos. You can also see the photographer's dark room, his equipment (including lighting), and if interested, Link's archives.
Western VA Historical Society
The Link Museum merges right into the Western VA Historical Society. Exhibits trace the history of Roanoke from Native American to today. Initially a European settlement of 669 residents, it was called Big Lick (referencing animal salt licks in the area). Roanoke became a boomtown in the 1880's when coal, and then trains to transport it, drove the population up to over 20,000. Museums open 10-4:30, Tues – Sat.
VISIT: Taubman Museum of Art
Designed by Randall Stout – an associate of Frank Gehry – and much in the organic Gehry style, the contemporary Taubman Museum of Art is as much an architectural statement as an art museum. Chief among the collection is John Singer Sergeant's Norah. Clad in a bustled black dress, she stares alluringly from the canvas.
The most unique and popular exhibit, however, is Rosalie Shaftman's collection of 130 Judith Leiber crystal and semi-precious stone-encrusted handbags, the largest collection of these exquisite Leiber pieces outside of The Leiber Museum in the Hamptons. Open Tues-Sat. 10-5, Thursdays open till 9pm. FREE.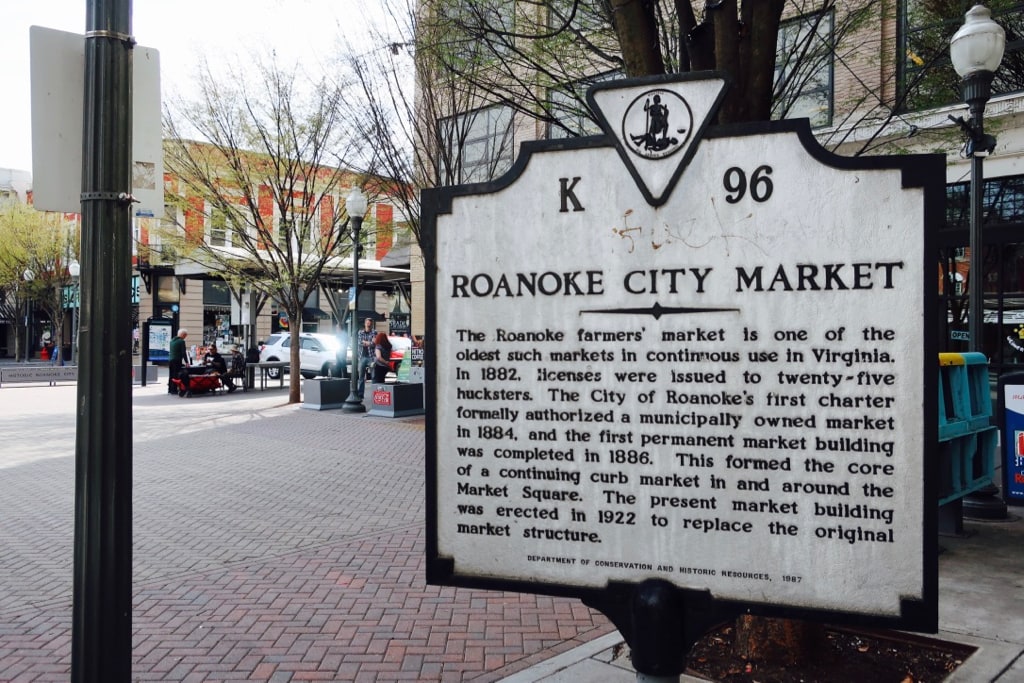 VISIT: City Market and Outdoor Farmer's Market Plaza
Roanoke's City Market is one hallmark of a thriving downtown. The Market Building itself was built in 1922 with running water and newfangled refrigeration.
At the outdoor Farmer's Market, just-picked produce tops dozens of built-in concrete tables alongside shops and boutiques.
VISIT: Virginia Museum of Transportation
Set in a former freight station, the massive Virginia Museum of Transportation is filled with cars, airplanes and, of course, trains. There's over 50 pieces of "rolling stock, consisting of powerful locomotives and other rail cars," according to their brochure.
City planners conceived an interactive "Rail Walk" linking the museum to downtown, four blocks away.
Along the walk, which traverses Roanoke's central and very active train tracks, are informational plaques, train-wheel benches and crosswalk rails that go up and down at the push of a button. Open Mon-Sat. 10-5, Sun 1-5. $12, adults, $8 kids.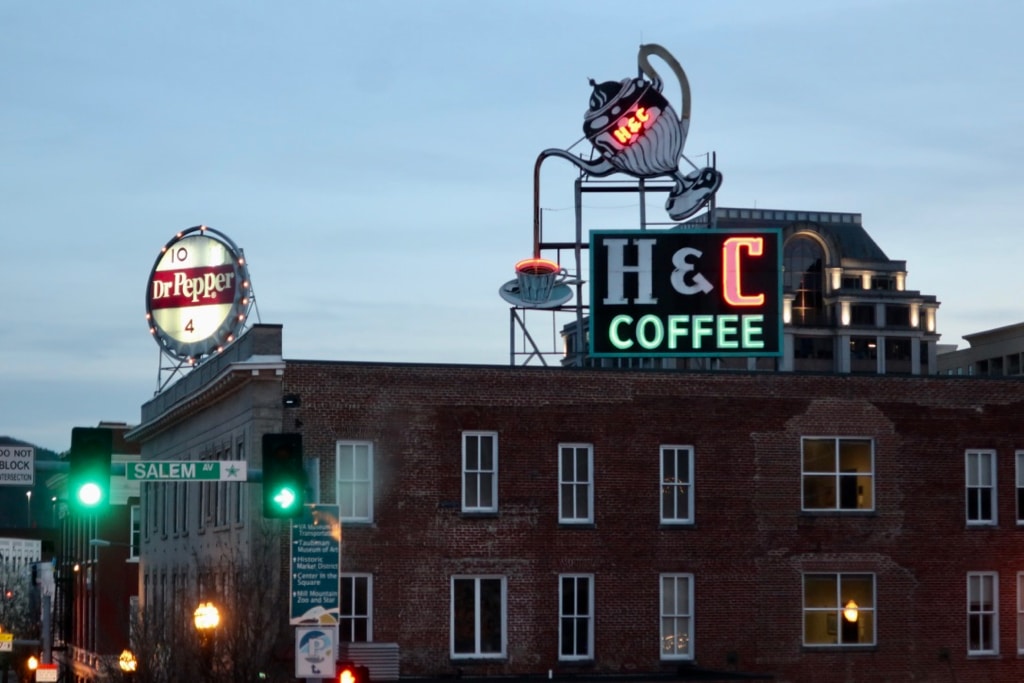 PHOTO OP: H&C Coffee Sign, Roanoke
This neon sign is owned and maintained by the Center in the Square. It just goes to show that the Roanoke Star is not the only light sculpture that defines this VBR town.
GO: Roanoke Star (One of the Top Things to Do in Roanoke VA)
Drive up Mill Mountain and follow signs to the Roanoke Star (sometimes called the Mill Mountain Star, passing the Mill Mountain Discovery Center. Parking is for both the Star and Mill Mountain Zoo – see below).
At 88 1/2 feet tall, and standing 1,045 feet above the city of Roanoke, this neon lit structure is considered the "World's Largest Manmade Star" – at least when it was built in 1949.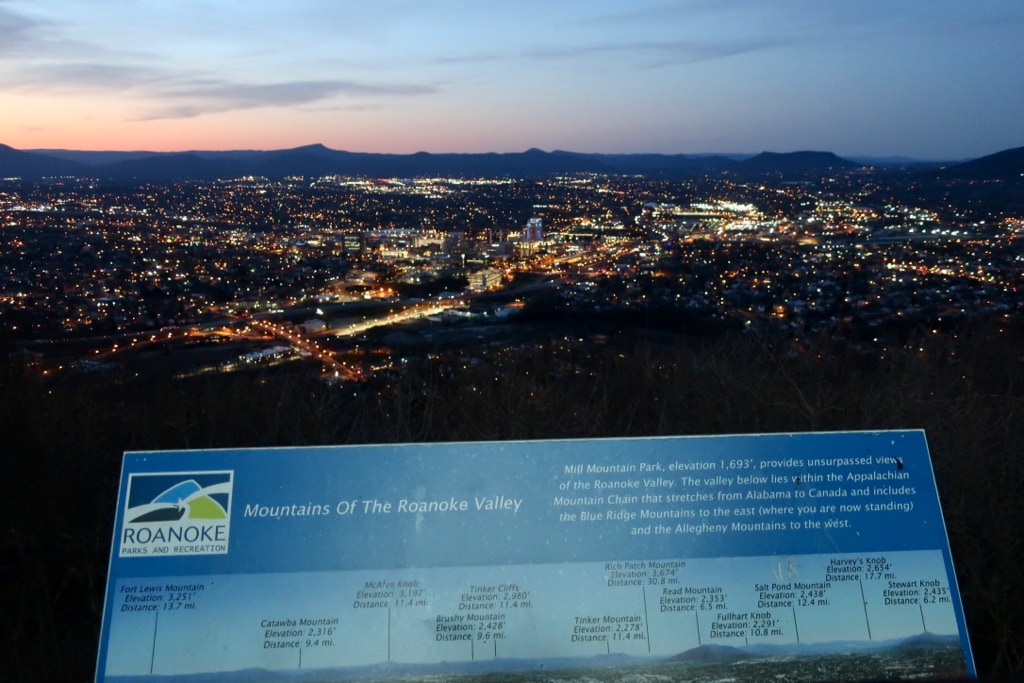 Still, it's impressive, and the views from up here are unparalleled. Bringing the experience into the 21st Century, you can text a link to family and friends – www.roanokeva.gov/starcam – and wave to them via the "Star Cam."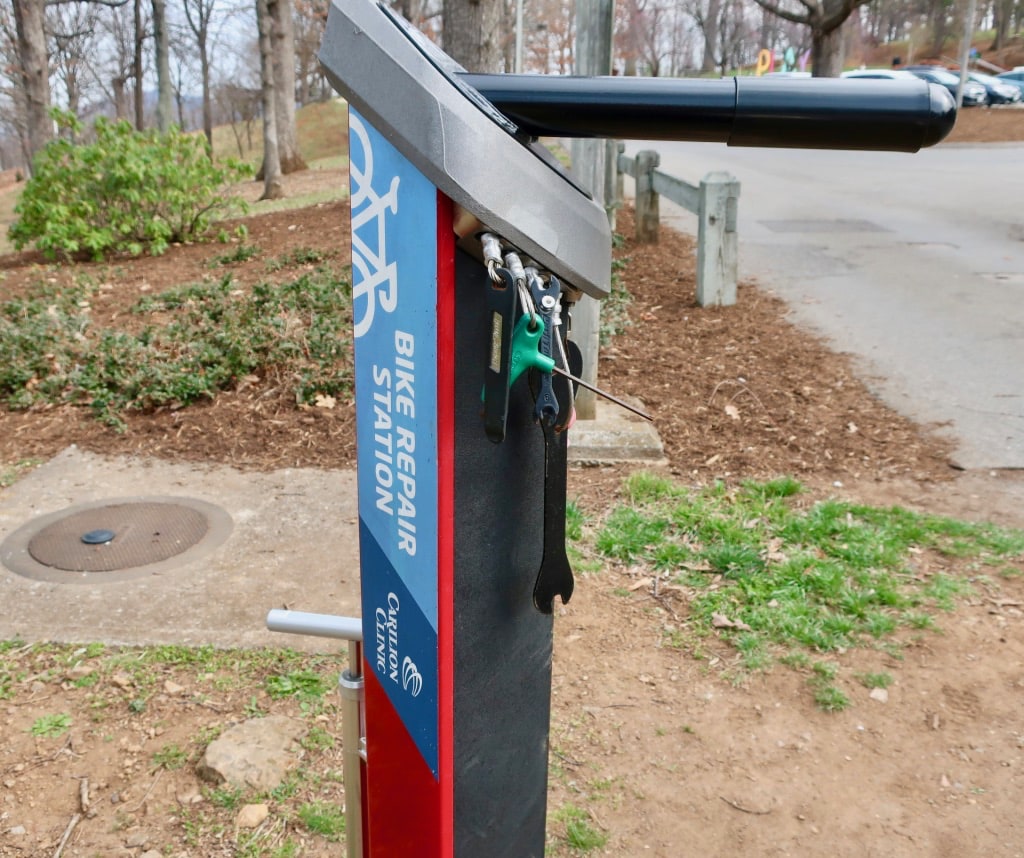 Bikers prove their mettle pumping uphill for miles to get to the Roanoke Star. If your bike happens to get damaged, there are Bike Repair posts along the way – including at the parking lot on top – where you'll find the tools you need to fix almost anything.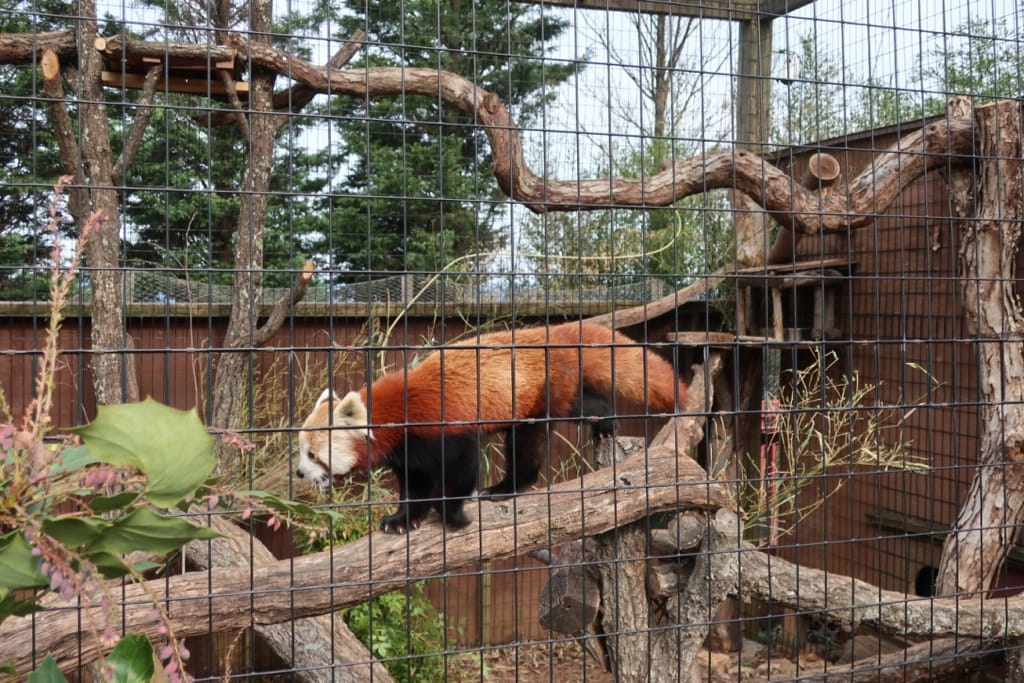 GO: Mill Mountain Zoo, Roanoke
Even without kids in tow, zoos, run with heart, offer universal appeal. This small, accredited conservation zoo is one such place. Reaching its 70th anniversary on July 4th 2022, the 13-acre Mill Mountain Zoo features 200 animals, including an antic Red Panda and 3% of the world's Red Wolf population.
There's a massive pig named Homer (no Charlotte in sight, however) who was found on the side of the road in distress. Homer joins a couple of Palace Cats hand-reared from babies, a Snow Leopard, and "Romantic Otters" who are always grooming each other.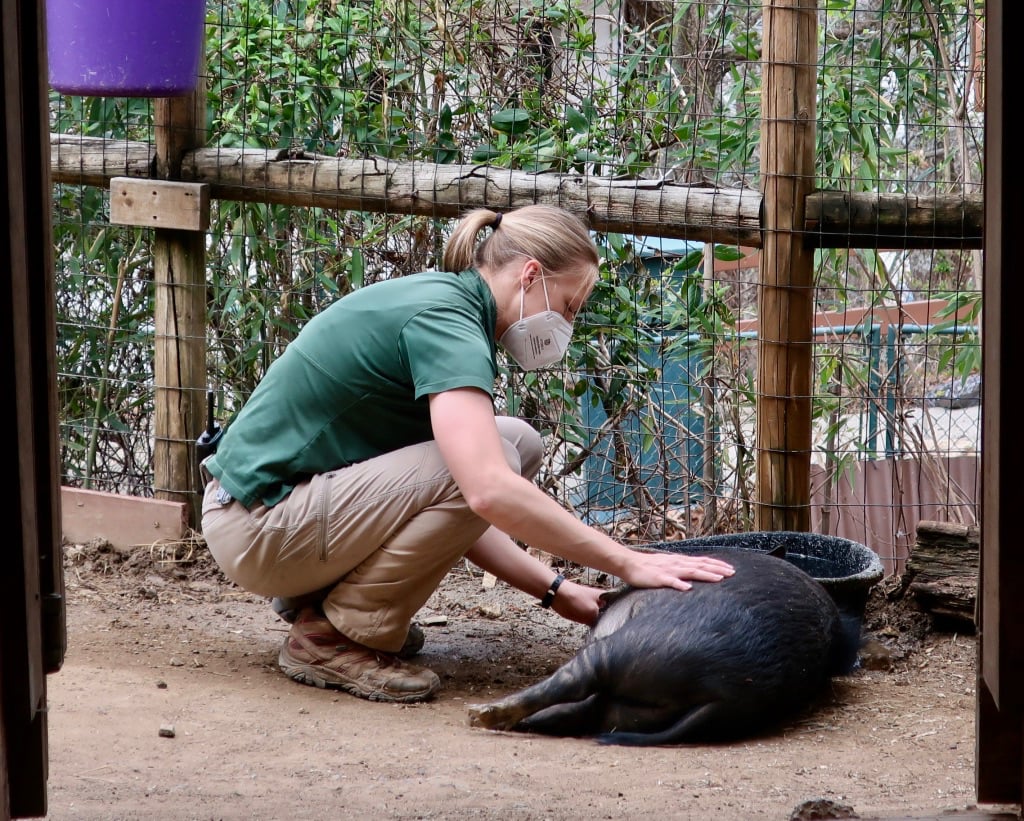 Animal caregivers are "ferociously dedicated" to their charges who come here for seven distinct reasons: critically endangered, endangered, vulnerable, threatened, injured, owner relinquishes, or captive birth.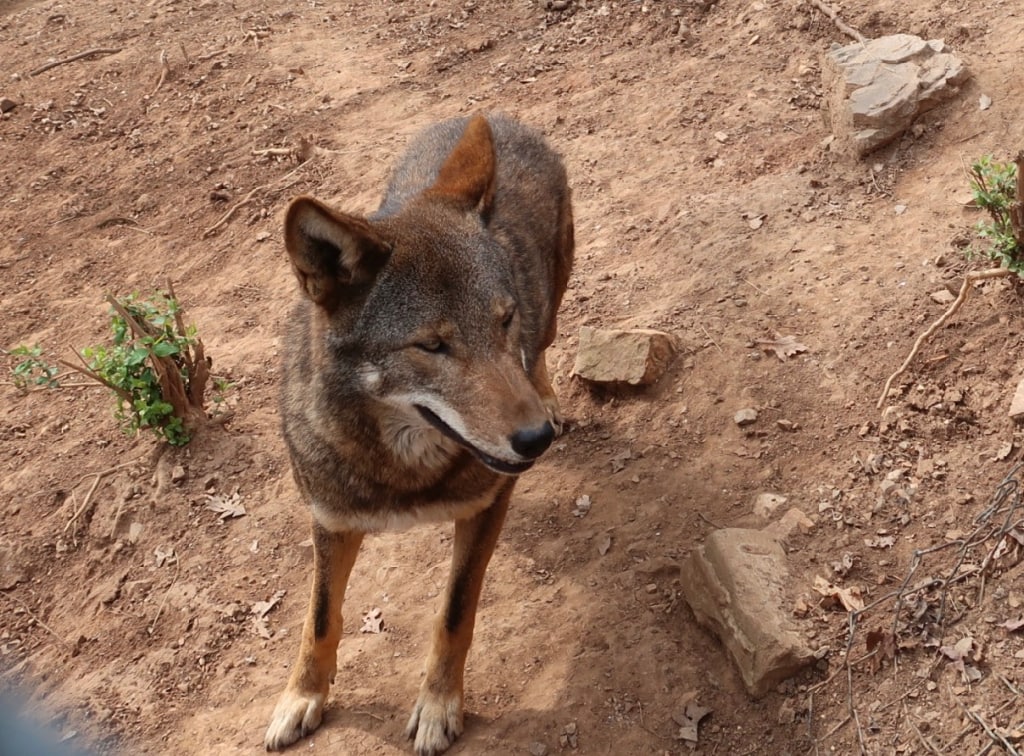 As for the critically endangered Red Wolves, there are less than 20 remaining in the wild. In the world. Mill Mountain Zoo is one of just 42 institutions to house a family pack. And, although you can take a peek at them, they are not acclimated to humans due to plans to reintroduce them back into the wild. Open daily year round 10-5 (last entry 4pm), $7.
DRIVE: Blue Ridge Parkway
From the Roanoke Star, it's a mere three miles to the entrance of the Blue Ridge Parkway at Exit 121. Get a taste of this gorgeous 469-mile ribbon of road by traveling as far as you'd like. You may start to plan a Blue Ridge Parkway road trip right then and there.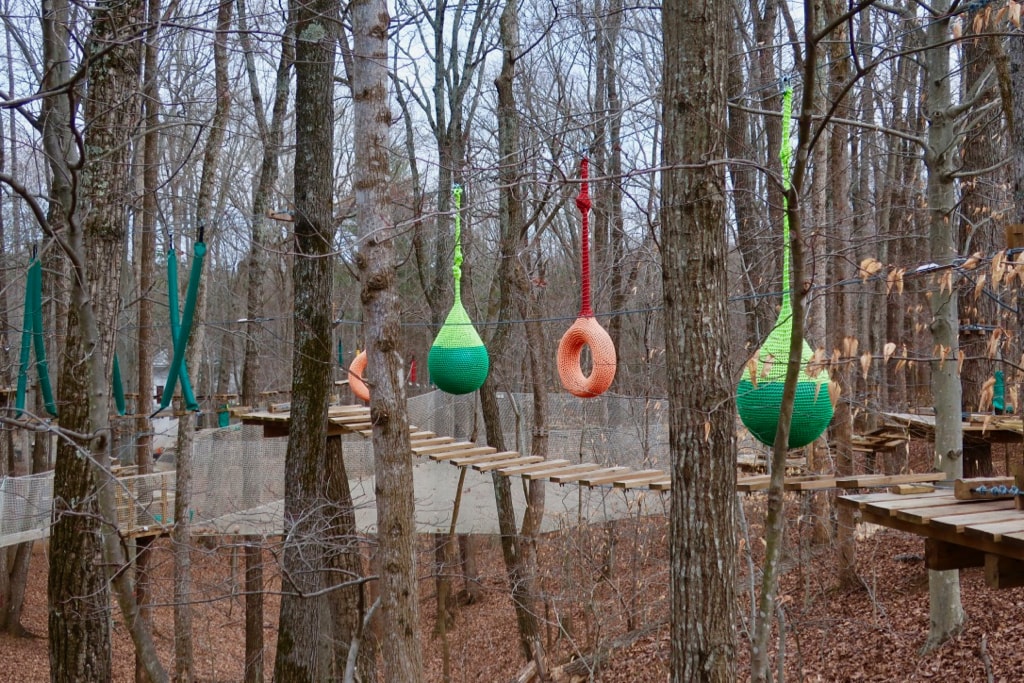 RECREATION/PLAY/STAY: Explore Park
The 1,100 acre public Explore Park, situated along the Roanoke River, offers a disparate selection of activities and establishments. Where else would you put Aerial Adventure Treetop Quest Course, cabins that look like Conestoga Wagons, and yep, a Brew Pub?
You'll not only find those, but also a riverside campground, a 9-hole Disc Golf Course, and a Kayak/SUP rental: all in one massive green and woodsy compound.
At Treetop Quest, $39 adults, $15 kids will get you geared up, oriented, and let loose in the trees (safely hooked in), on up to five levels of nets, ropes, and treetop features, for 2 ½ hours.
Don's Cab-Inns
Speaking of the cabins, Don's Cab-Inns are designed as tiny houses and yurts, clustered together near a central bath/shower building. Each is equipped with a microwave, mini fridge, heat, and AC. (Bring your own bedding).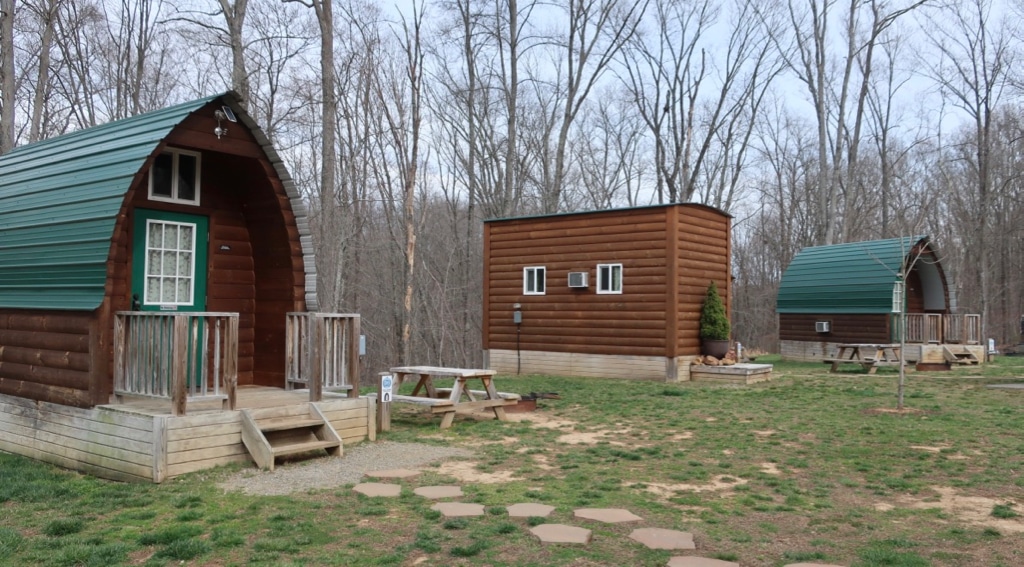 Considered safe for solo travelers and their doggy friends, this is a great budget option while traveling to this part of Virginia's Blue Ridge Parkway. One wildly happy woman (with dog) mentioned that she paid $117 for three nights (total) in March. Prices vary by season.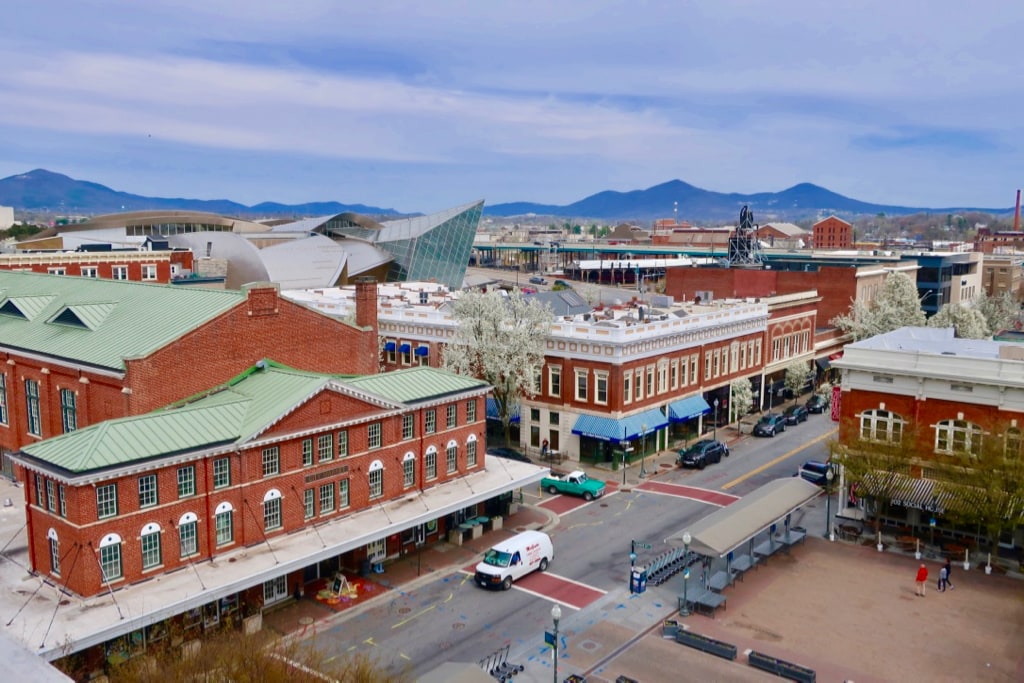 HIKE: Three Appalachian Trail Peaks
Roanoke is the largest city close to the Appalachian Trail. Within half an hour from the city, you can get to the trailhead for a hiker's "bucket list" 30-mile loop trek that takes you to three peaks: Dragon's Tooth, McAfee Knob, and Tinker Cliffs.
BIKE/RENT: Roanoke Mountain Adventures on Roanoke Valley Greenway
Running for about 10 miles along the Roanoke River, the Roanoke Valley Greenway is a city release-valve, where walkers and cyclists enjoy leafy forays. Rent a bike from Roanoke Mountain Adventures, and then ride all the way to Grandin Village for a whole day (see below), or just a few hours.
It's particularly fine at the day's end, when oncoming sunset and shadows make the path and river extra magical. Two hours $20, 24 hours $30.
VISIT: Black Dog Salvage, Grandin Village
You can spend a weekend in this charming neighborhood village just a five minute drive (or 30 minute bike ride on the Greenway) from downtown – but leave a few hours for the one establishment that has put Roanoke VA on the international map.
Black Dog Salvage is home base for the Salvage Dawgs (DIY and HGTV), Mike Whiteside and Robert Kulp, who take apart buildings and make really cool things out of the pieces (or sell them at Black Dog Salvage).
Black Dog Salvage occupies a series of large warehouses crammed with reclaimed materials of every kind, that are truly overwhelming in scope.
One whole cavernous room is full of individual vendors who sell everything from doorknobs (Fabulous Knobs, $5-$7), iron accessories (Rustoration), antique prints (Appalachia Press) and so, so, so much more.
You'll discover bed frames made from horse-jump posts, chairs made of doors, more loose wooden shutters than you've ever seen in one place, and nearly everything you'd ever need for your up-cycling projects, including consultation and assistance.
Furniture designer, Jeff Ellis, whips up new ideas in his workshop downstairs. Not only does he create repurposed furniture for Black Dog, but he works with customers to come up with ideas.
Discover: Historic Grandin Village
After checking out "Dawgs" place, linger in Grandin Village for awhile. Stop into Too Many Books for rare and out of print tomes and indie-art flick Grandin Theater for that foreign movie you just dying to see. If you're in the mood for a pre-movie- pie, Grace's Pizza is an excellent choice. Or try farm-to-table Local Root Restaurant and follow up with a cool treat at Pop's Ice Cream.
DISTILLERY: Twin Creeks Distillery, Rocky Mount (25 miles from Roanoke)
During Prohibition, more moonshine came out of Franklin County VA than from anywhere else in the USA. This led to the "Moonshine Conspiracy of 1935:" the indictment of 80 distillers involved in the illegal production and distribution moonshine whiskey. The 3rd generation son of one of those 80 moonshiners, Chris Prillaman, owns the now very legal Twin Creeks Distillery.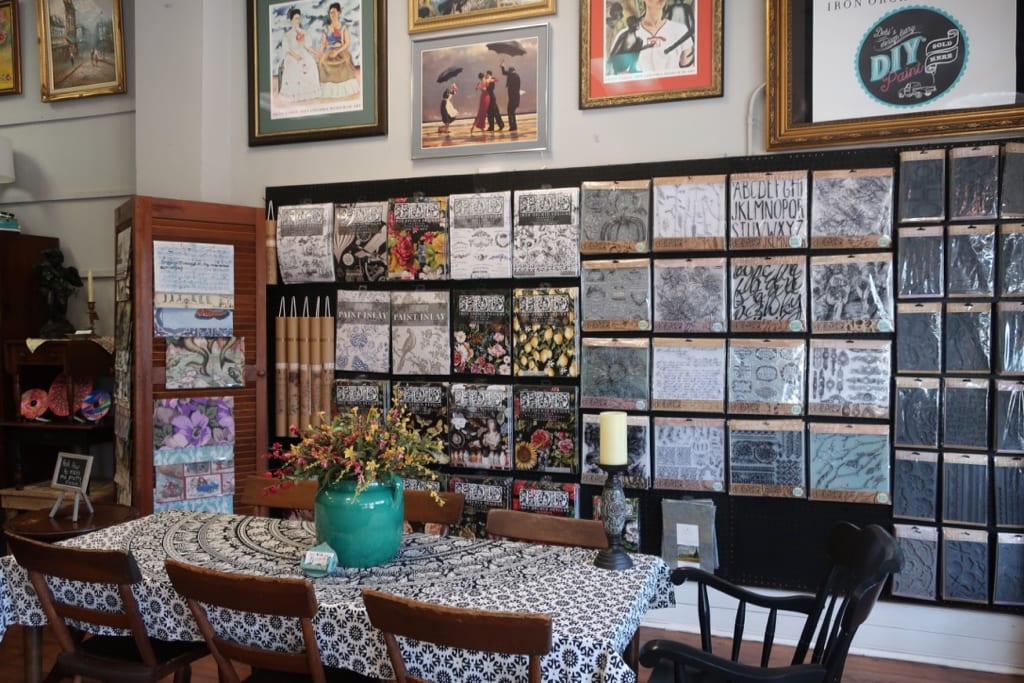 EXPLORE: Salem VA
Just 20 minutes from Roanoke, this small Blue Ridge town is, ironically, home to Roanoke College. If you're a small town Main Street fan, you'll love strolling this one, replete with some antique shops, cool boutiques, and good restaurants.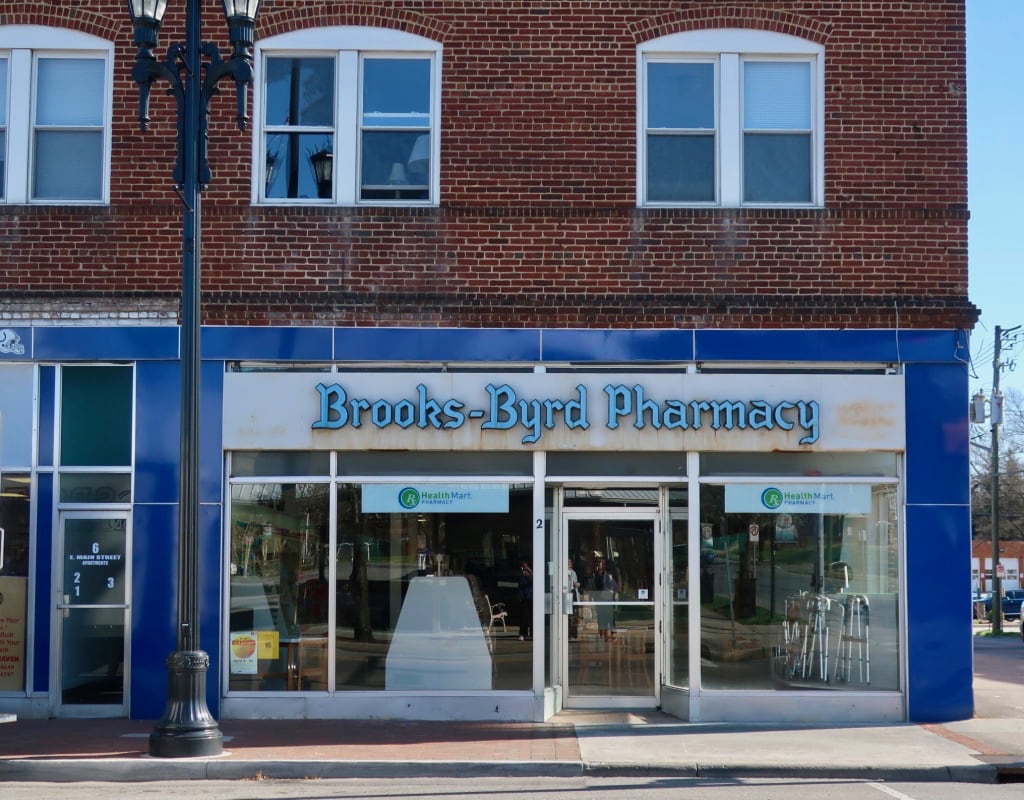 Shop Salem VA
Stop into Wondrous Books & More for used and new tomes, Brooks-Byrd Pharmacy for old-fashioned charm, and several antique shops including Grandma's Attic and Charlottes Web. Blue Moon Antiques and Mercantile is particularly engrossing in that it combines a selection of antiques with DIY craft items (such as floral transfers) to beautify them.
Stay Salem VA
The Lofts at Downtown Salem aka Salem Motor Lofts, offer luxury suites in a former auto factory.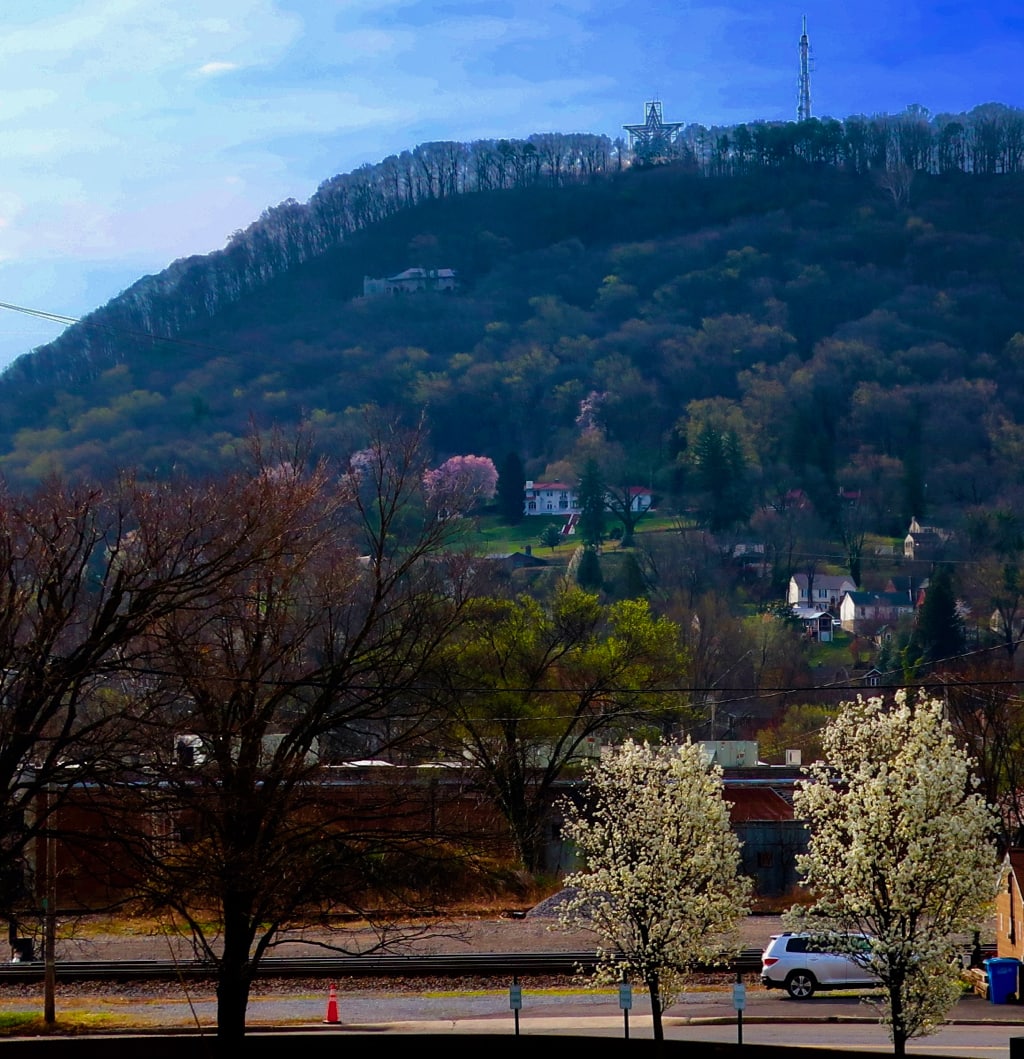 DISCOUNT: VBR Savings Pass
Just sign up for the VBR Savings Pass and you'll get discounts and goodies all over Virginia's Blue Ridge region. Grab free appetizers, shot glasses, and more in Roanoke, Rocky Mount (Franklin County), and Salem with this complementary pass
TOUR: Roanoke Food Tours
There's no better way to sample Roanoke's blossoming food, craft beer, and cocktail scene than with a tour through Roanoke Food Tours. Choose from three different excursions where stories are dished out along with the grub. Cheers!
Best Places to Eat in Roanoke VA and Virginia's Blue Ridge
EAT: Lucky
"French Inspired Southern Comfort Food," or "Grandma's cooking with French Training", Lucky is tough to define. You'll find the likes of Buttermilk Fried Chicken, Coca Cola Soy Tuna With Watermelon, Boiled Peanuts, and Roasted Marrow Bones on the inventive, eclectic menu that changes daily depending on what ingredients look good that day.
Cocktails verge on kitchen chemistry: try the signature "Cube" – frozen blocks of mixed juices over which Bourbon is poured. The flavor of the drink changes as the cube melts. Even the end of the meal is topped off by whimsy – the check is clipped onto a 45 record.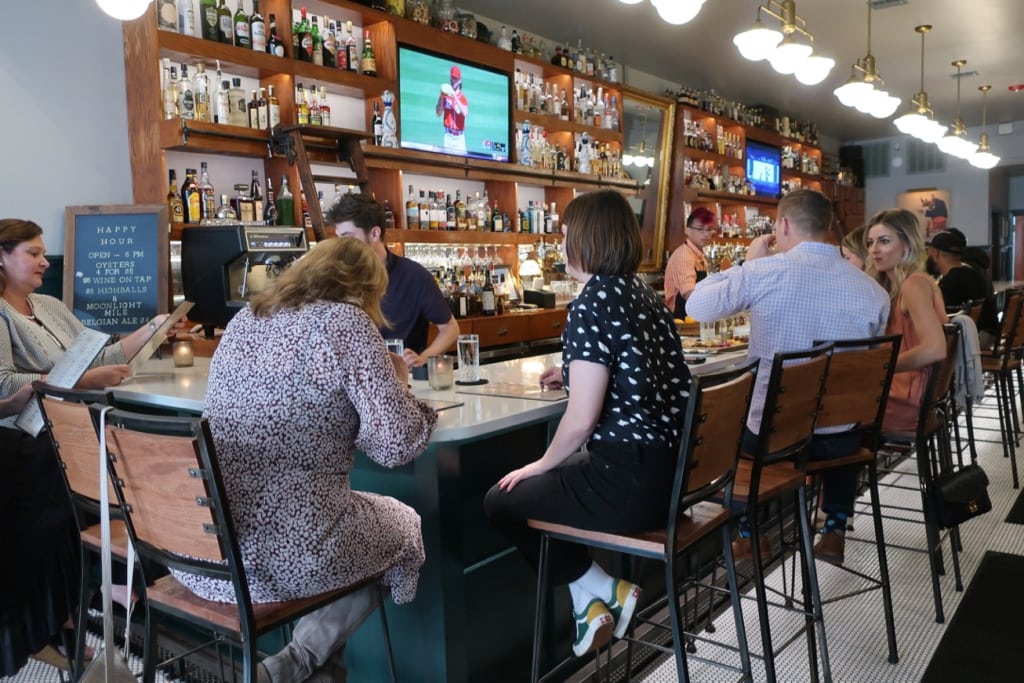 EAT/COCKTAILS: Sidecar, Roanoke
Get your old and new-fashioned cocktails at this fantastic tavern re-imagined for speakeasy-fans of today. While the Sidecar bar takes up most of the room, and the cocktails are inventive, not to mention swell, the food is excellent as well.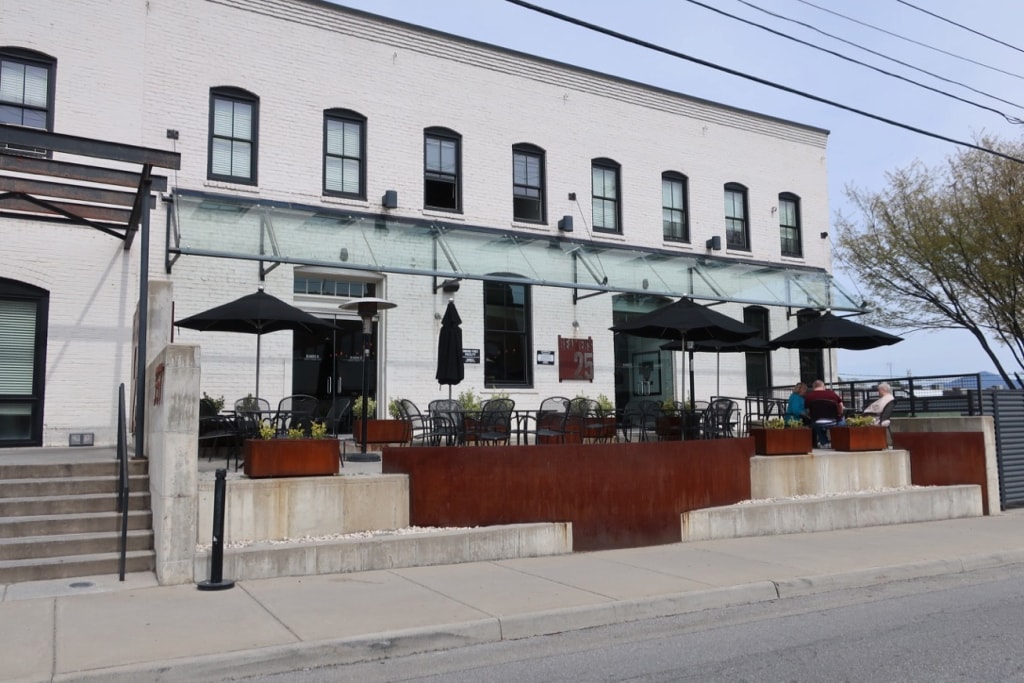 Beamer's 25, Roanoke
Friendly service, great beer and terrific burgers. The casual Beamer's 25 (named for Coach Frank Beamer, VA Tech) is a short hike from the Market District, but worth it for its elevated pub food.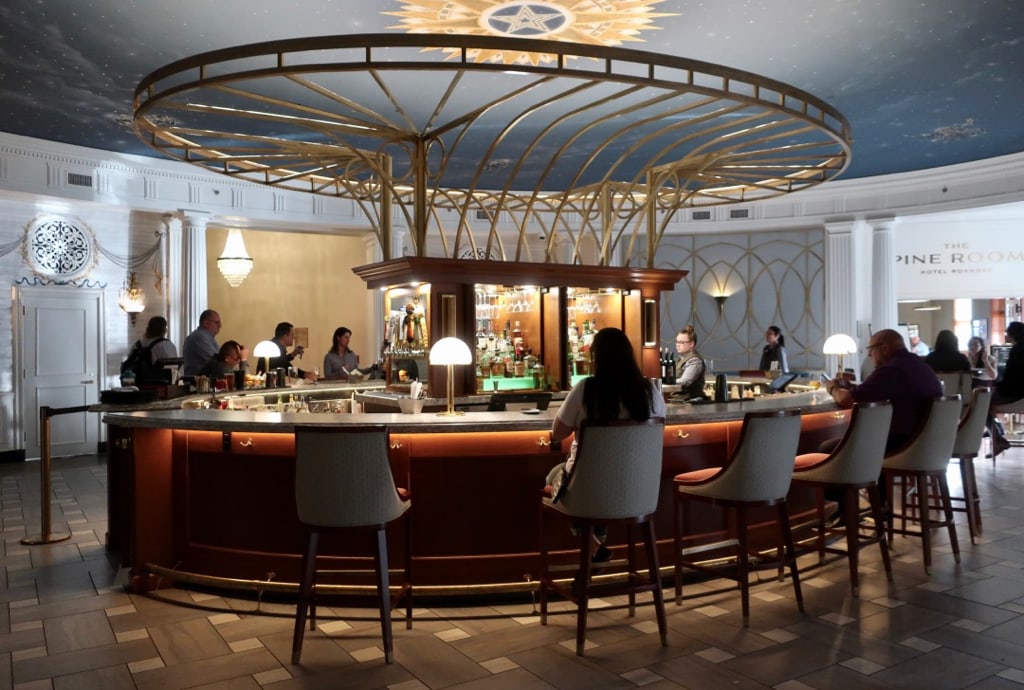 EAT/DRINK: 1882 Lobby Bar and Pine Room at Hotel Roanoke
You won't find a prettier watering hole than the newly renovated 1882 Lobby Bar at the Hotel Roanoke. And, in the adjacent Pine Room, you can watch chefs at work through the open kitchen. The "Crispy Cauliflower" appetizer, slathered in chili sauce and honey, will send you into vegan nirvana.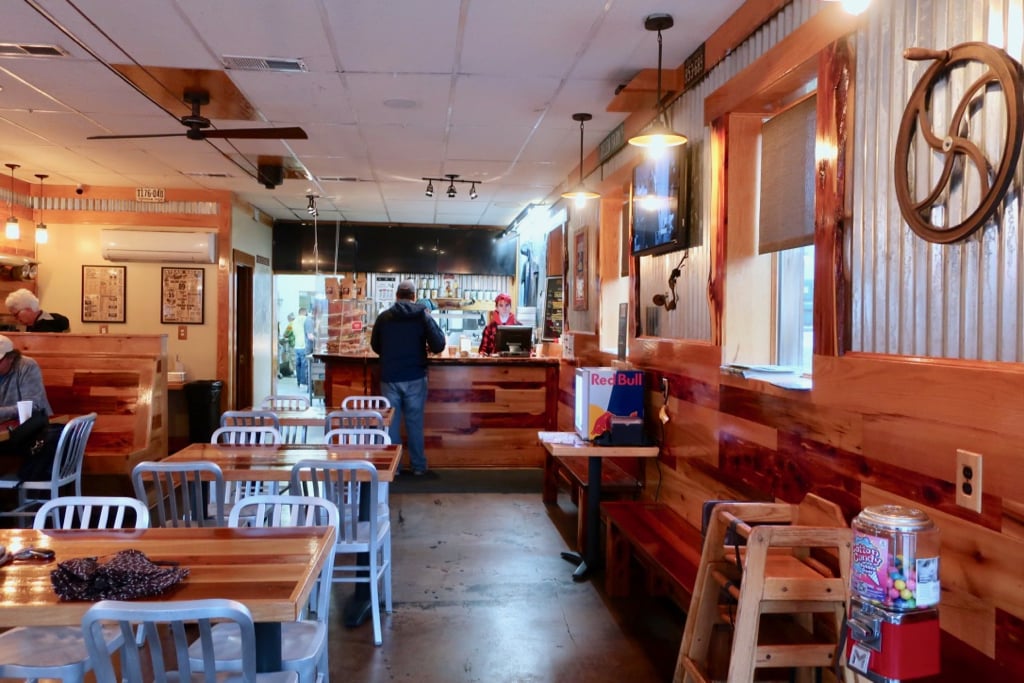 Scratch Biscuit, Grandin Village
Whatever you want on a mouthwatering biscuit – it's yours – at Scratch Biscuit. Sure, start with traditional egg and cheese. But daring folks will move on to more diner-ish stuffing, like fried chicken or corned beef and Swiss cheese.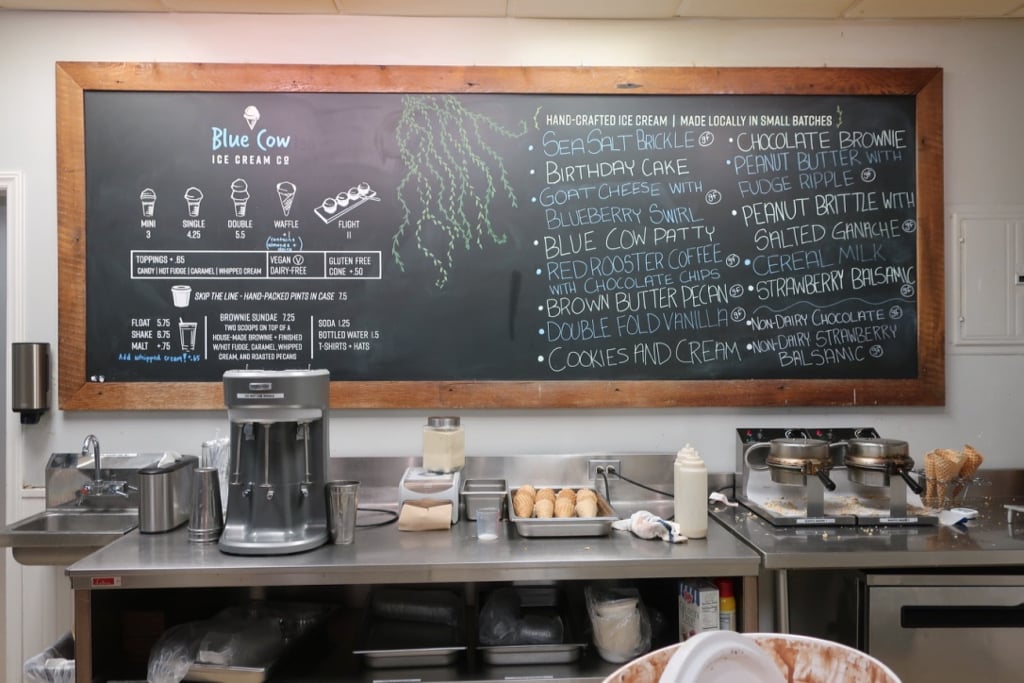 ICE CREAM: Blue Cow, Roanoke
You'll find the inventive Blue Cow Ice Cream Co. right at the base of the Roanoke Star's Mill Mountain. Ice cream disher-outers will talk you into flavors that might sound weird (or even gross) at first – but will become your favorites after one try. Trust me. I'm now obsessed with both the Goat Cheese Blueberry, and Sea Salt Brickle. Oh my.
EAT: Salem VA
Frankie Rowland's Steakhouse
It's not too surprising that one of the best restaurants in the area, Frankie Rowland's Steakhouse, sits right across from Roanoke College in Salem. Home to the famous Pineapple Martini, Rowland's is so popular, a second one recently opened in the city of Roanoke.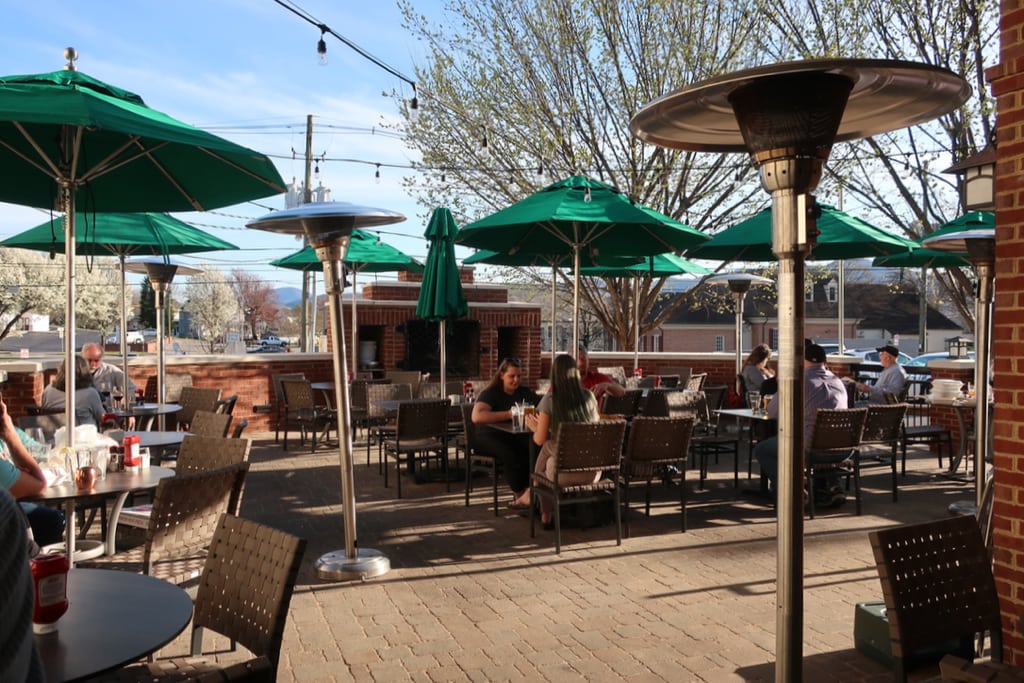 Mac & Bob's
Another local favorite, Mac & Bob's, went through some financial challenges a few years back, and the town rose to save it. That's how beloved – and good – Mac & Bob's is. This community staple, known for its plate-sized Calzones, also serves up salads, sandwiches, and subs, with lots of heart.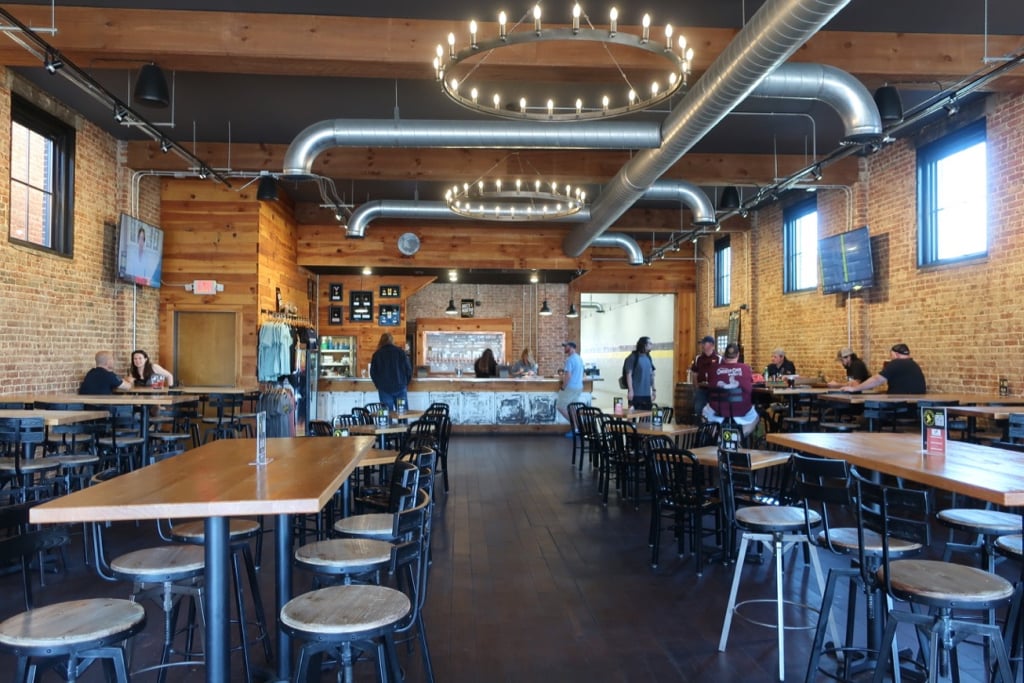 Olde Salem Brewing Co
This small town does have its very own brewery – Olde Salem Brewing Co. – which in my humble opinion, wins the prize for naming its brews – and for its sours.
Categories include "Mother Puckers" for Sours, "Common Folk" for light and easy, and "Hop Bombs." Beers are named Bare Necessities, Work Hard Play Hard, and Loud Pipes. Frank's Pizza and El Jefe (see below) deliver here, so you can make a meal out of it.
Other Popular Salem Eateries
Other college-kid approved eateries include Joe's Deli, El Jefe, Frank's Pizza, and Elderberry's for smoothies. Those with a nut or gluten allergy will be happy to discover approved treats at Corbin's Confections – a totally nut and gluten-free bakery.
Where to Stay in Roanoke and Virginia's Blue Ridge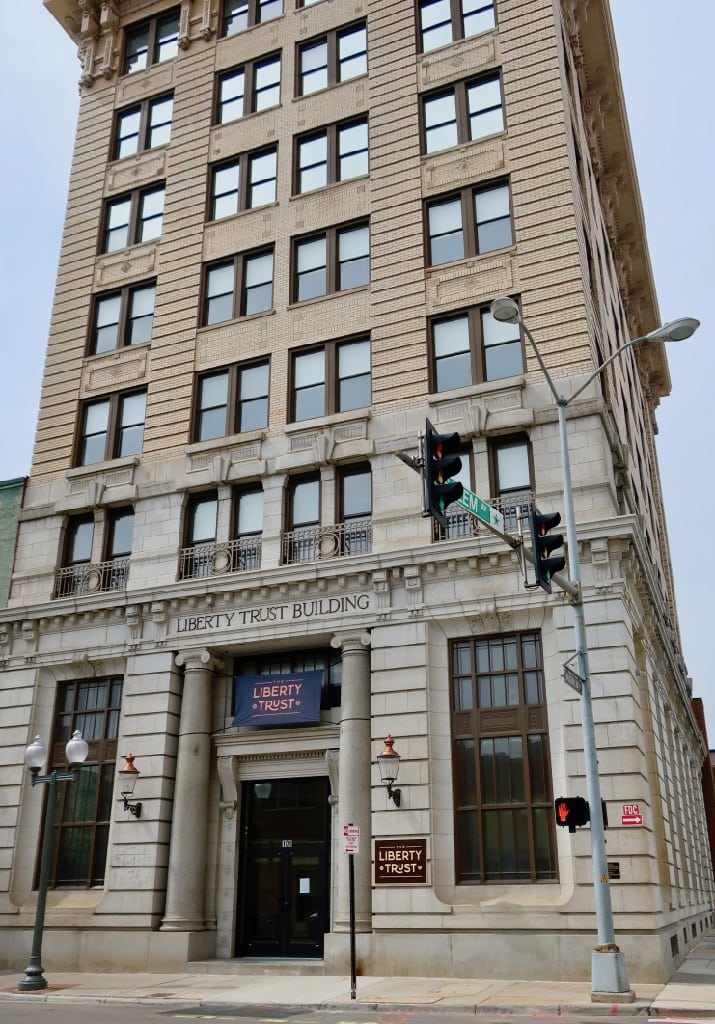 STAY: Liberty Trust Hotel, Roanoke
Boutique hotel lovers seeking a rich overnight experience will want to book where the rich used to stash their cash: at the 54-room Liberty Trust Bank – now the Liberty Trust Hotel in downtown Roanoke.
The 7-story French Renaissance and Beaux Art designed "Temple of Finance," (as one newspaper headline blared) was built in 1910 when banks were handsome, stately, and built to last.
In fact, Liberty Trust was the first building in Roanoke with electricity. It remained a bank into the 1980's, when the structure became an office building.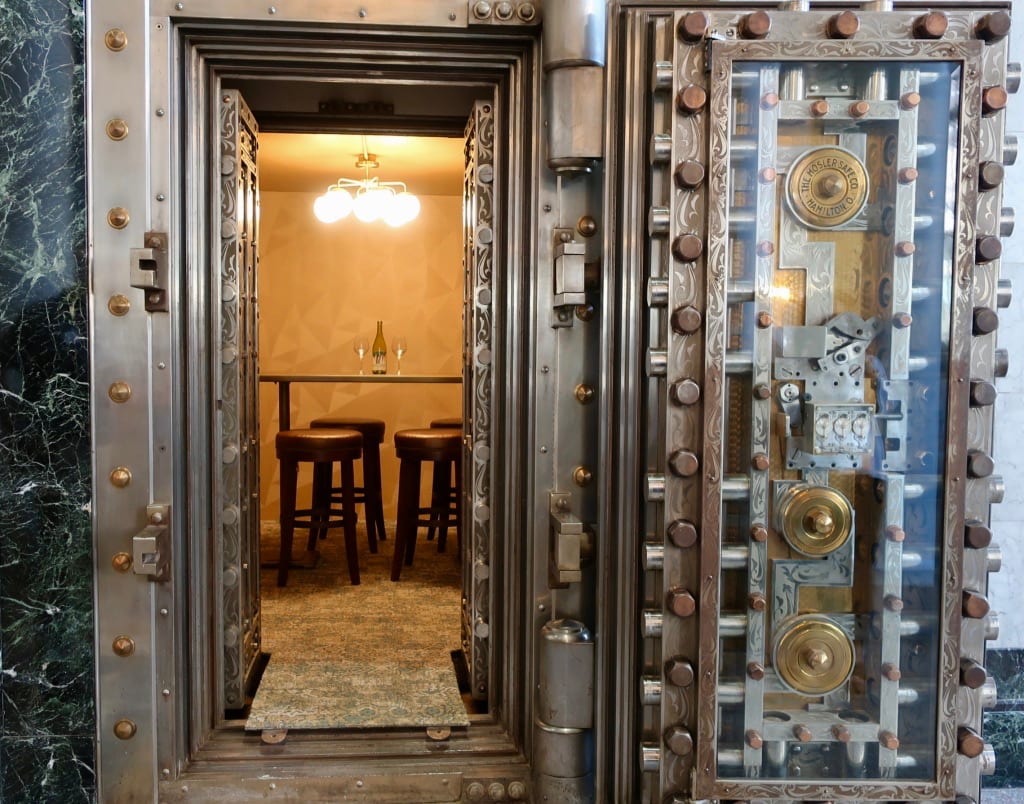 By 2018, new owners enlisted the help of the local Salvage Dawgs to, well, salvage what they saw fit, and aid in redesigning the lobby. The stunning bank vault, open to reveal a private space meant for two, has been preserved, along with other impressive architectural elements, like the original embellished bronze main doors, granite exterior with carved rosettes, and balustrade roof.
There's even a working US Mail shoot that runs from the 7th floor. One of only six Preferred Hotels of the World in the state of Virginia, staying in one of the stylish, modern rooms is a romantic, luxurious experience.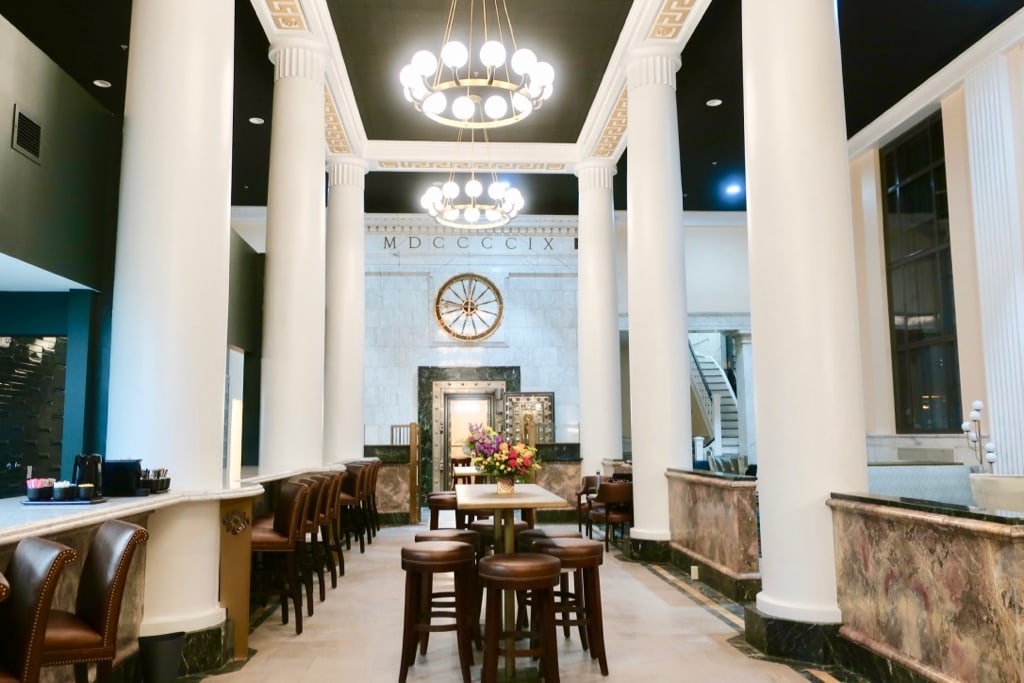 First Impressions of Liberty Trust Hotel
First, the lobby. Up-cycled, yet preserved in its marble glory, your first encounter will surely stop you in your tracks.
Gleaming marble columns support the soaring ceiling, showing off a new bar, and burnished steel-brass vault at the back of the room. Overall, it's a stellar space.
Food At Liberty Trust
By summer 2022, bartenders and waiters will stand in the place of bank cashiers – dispensing small bites and cocktails instead of dollar bills. Owners intend to host wine and chocolate tastings, and other festive programming to engage the community.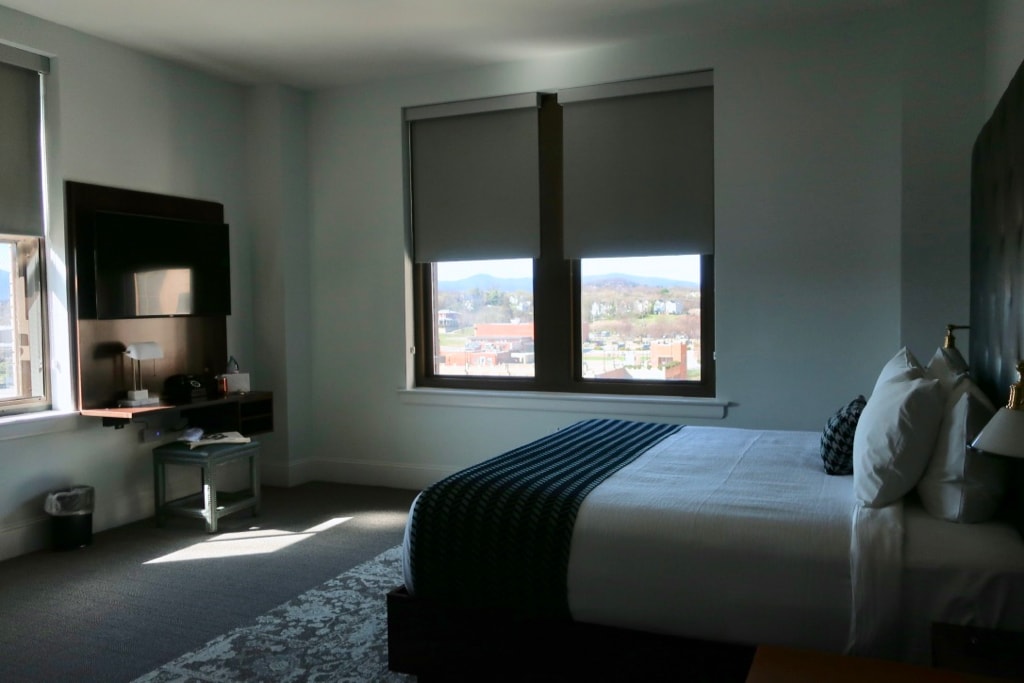 Rooms at Liberty Trust
Eye catching contemporary guest rooms sport hound's-tooth plaid throws and pillows, grey patterned area rugs, and, from high floors, exceptional views of Virginia's Blue Ridge Mountains. Beds are sink-in-able dreamy.
There's an old-fashioned dial phone on the desk, and, as a treat – chocolates and 2 bottles of Evian water (complimentary).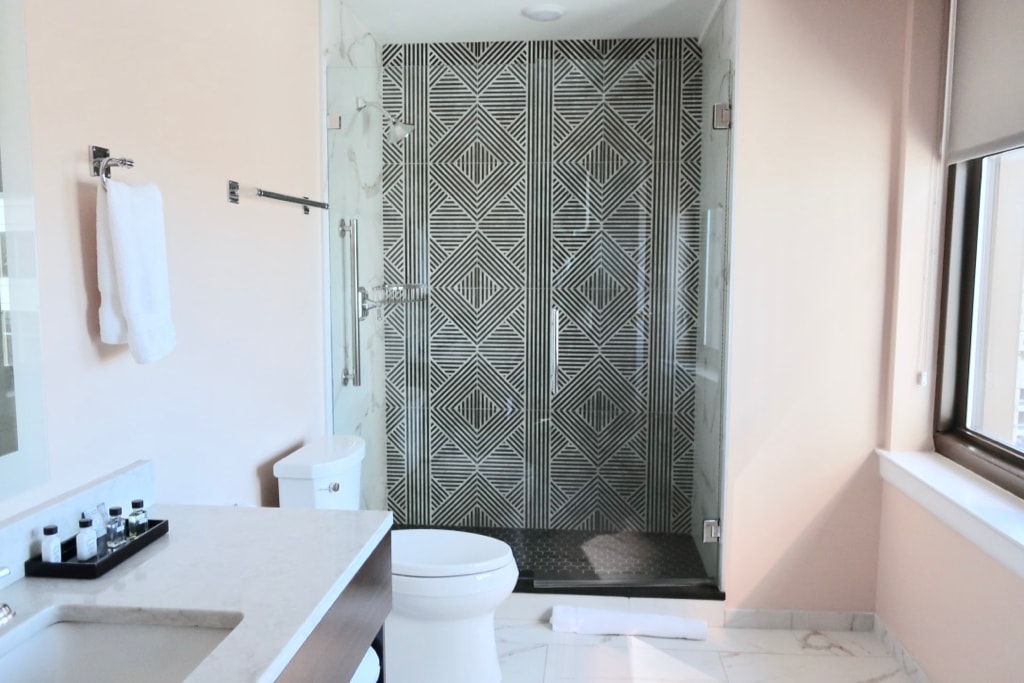 Bathrooms bring this early 1900's building into the modern, boutique 21st century. Rain showers, clad in cool geometric tiles, pack a statement punch. And marble floors hark back to the elegant past.
Rooms start at $189 per night, includes wi-fi, bottled water, chocolate treat, Nespresso Machine in room. Double Queen on 7th floor (largest) from $200-$500 depending on season and day of week.
Just FYI – if you drive, there is no valet. Park either in the open lot across the street ($25 for 24 hours), or in the Center in the Square Garage ($8 per 24 hours), 1 ½ block walk.
(Liberty Trust Hotel was included on Getaway Mavens Best Romantic Hotels in the Northeast US 2022 list.)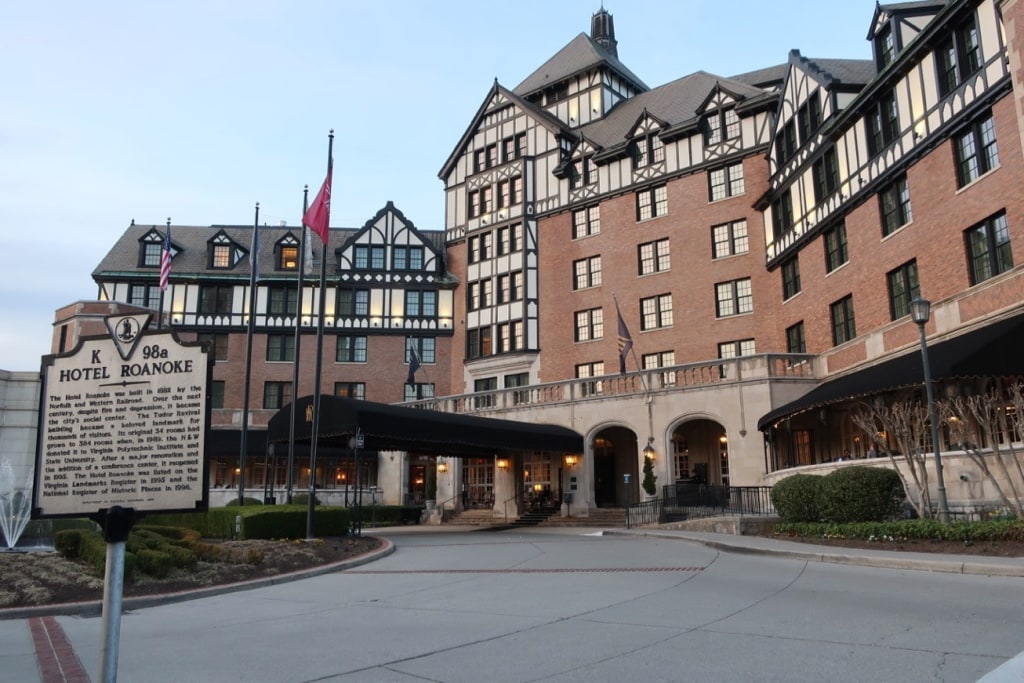 STAY: Hotel Roanoke
Built in 1882 for visiting railroad executives and expanded in the 1930's to offer 331 rooms, The Hotel Roanoke, a Hilton Curio Collection affiliate, has, despite recent updates, maintained some historic elements. The colorful granite lobby floor and WPA-like murals above the elevators are original to a 1938 design.
Celebrating its roots, the hotel offers the "Train Lovers Package," which includes a room overlooking the railroad tracks, breakfast for two, and tickets to the O. Winston Link and Transportation Museums. Rates from $218 per night.
Roanoke is one of the top Romantic Getaways in Virginia.
Lexington VA and Wytheville VA are just about an hours drive from Roanoke.