WHY GO: Far from the hustle and bustle of Nassau and Freeport, Hope Town Bahamas on Elbow Cay offers a quieter alternative. Recreation is of the annual boxcar races and flag football tournament variety. Instead of touristy attractions, this Abaco Island features pastel-pretty gingerbread houses, long stretches of empty white-sand beaches, and translucent shallow waters teeming with technicolor coral reefs.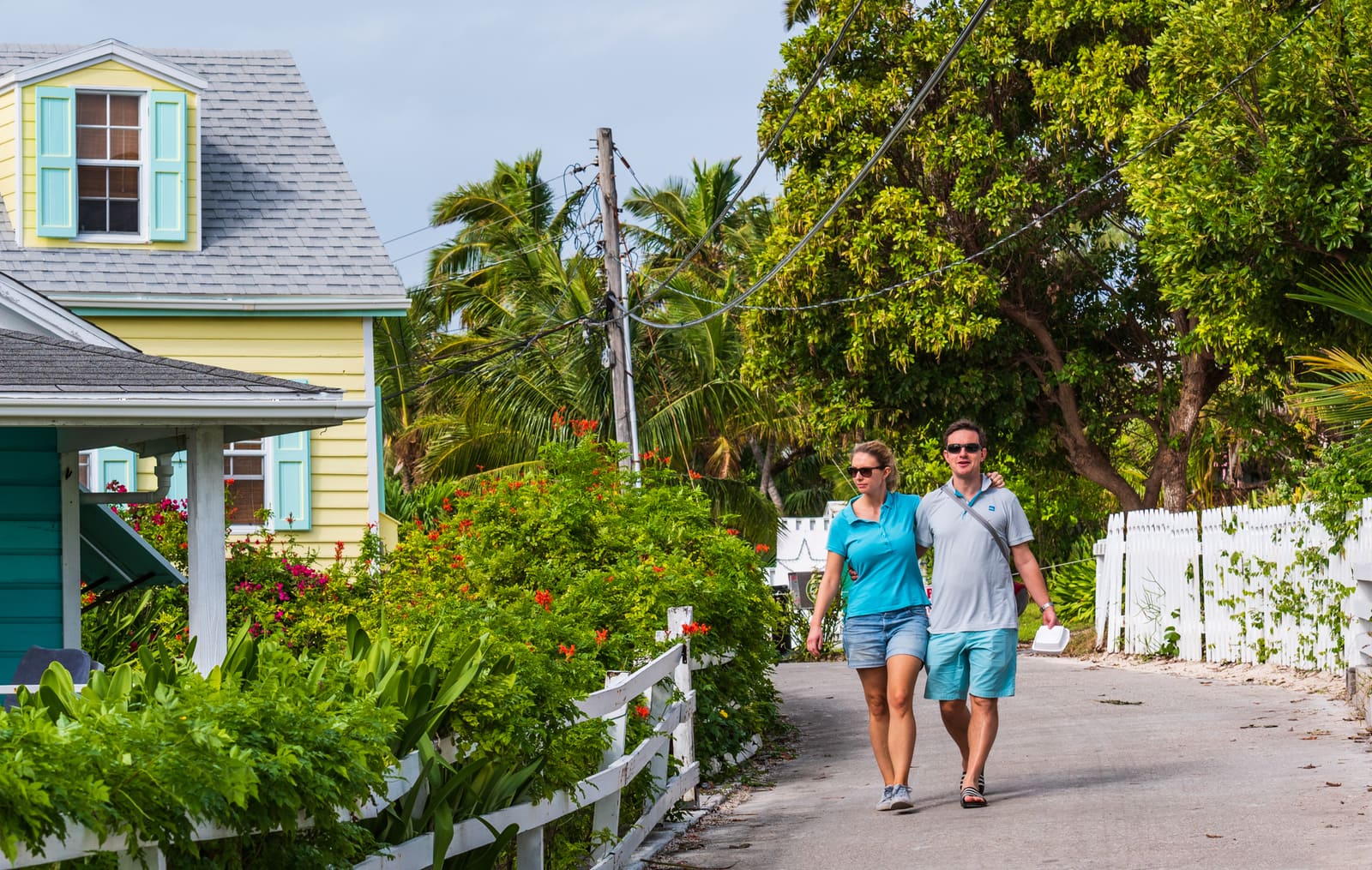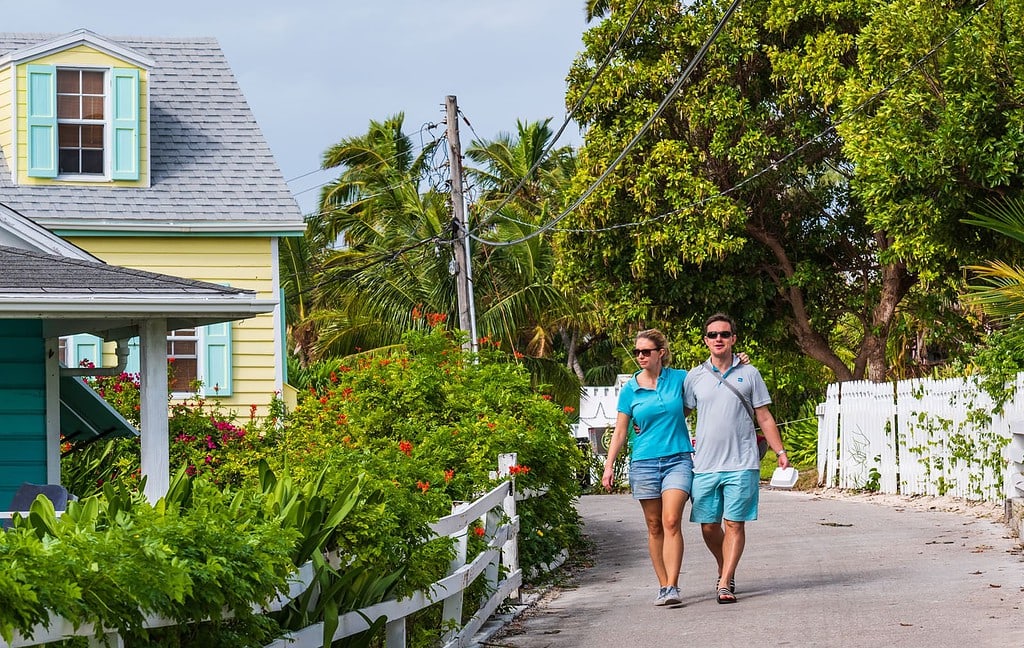 Things To Do In Hope Town Bahamas
Visit Hope Town Bahamas
Set between gingerbread-trimmed buildings and translucent aquamarine sea, on an island too sparsely populated to merit even one traffic light, Hope Town, Bahamas is a delightful collection of historic buildings and charming cottages.
Settled by British loyalists fleeing the newly independent United States of America in 1785, fishing and wrecking were the main sources of income for decades. Then the British built a candy-striped lighthouse that put an end to the shipwrecks. That iconic landmark is now one of the last operational kerosene-fueled lighthouses in the world.
By the 1960s, tourism began to flourish. Visitors started purchasing second homes on Elbow Cay Abaco–including well-known figures such as George Gallup (of Gallup Poll fame)–with an estimated 300 second homes there now.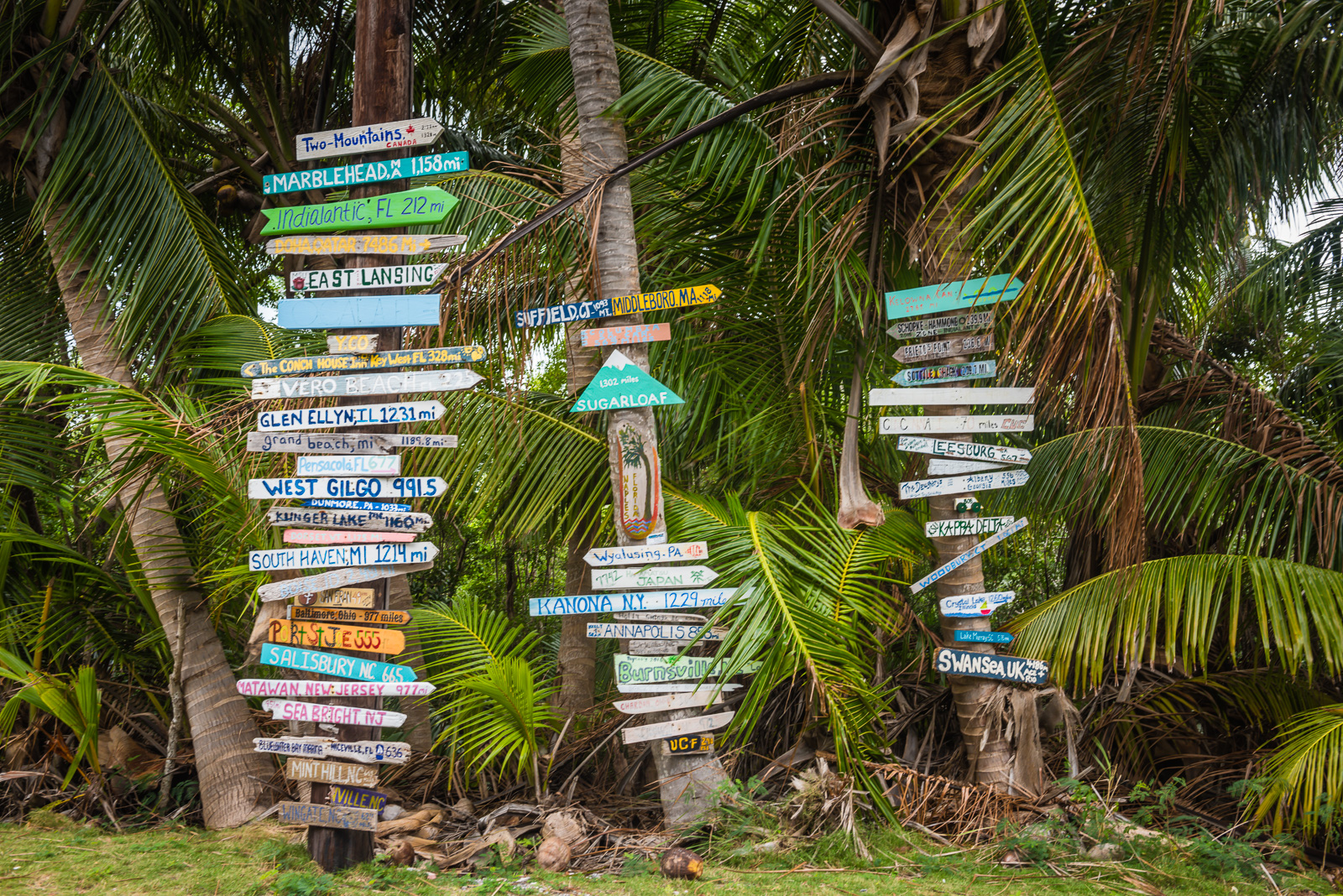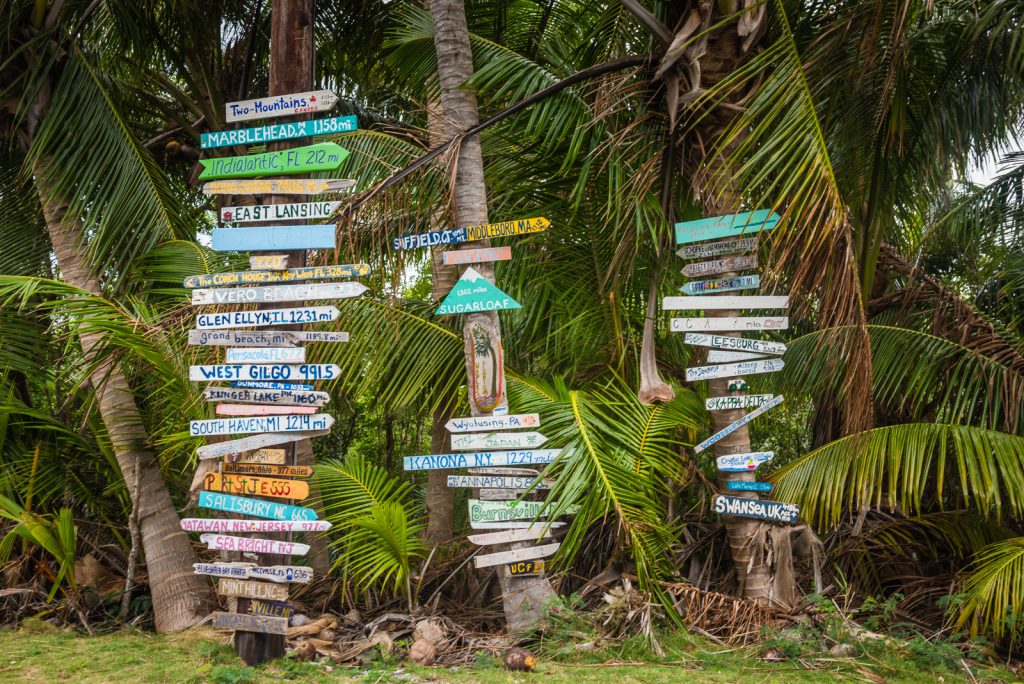 Among the many beautiful destination weddings, which can include a procession from the historic Methodist church along narrow roads to the beach, was the 2004 wedding of Red Hot Chili Peppers drummer Chad Smith.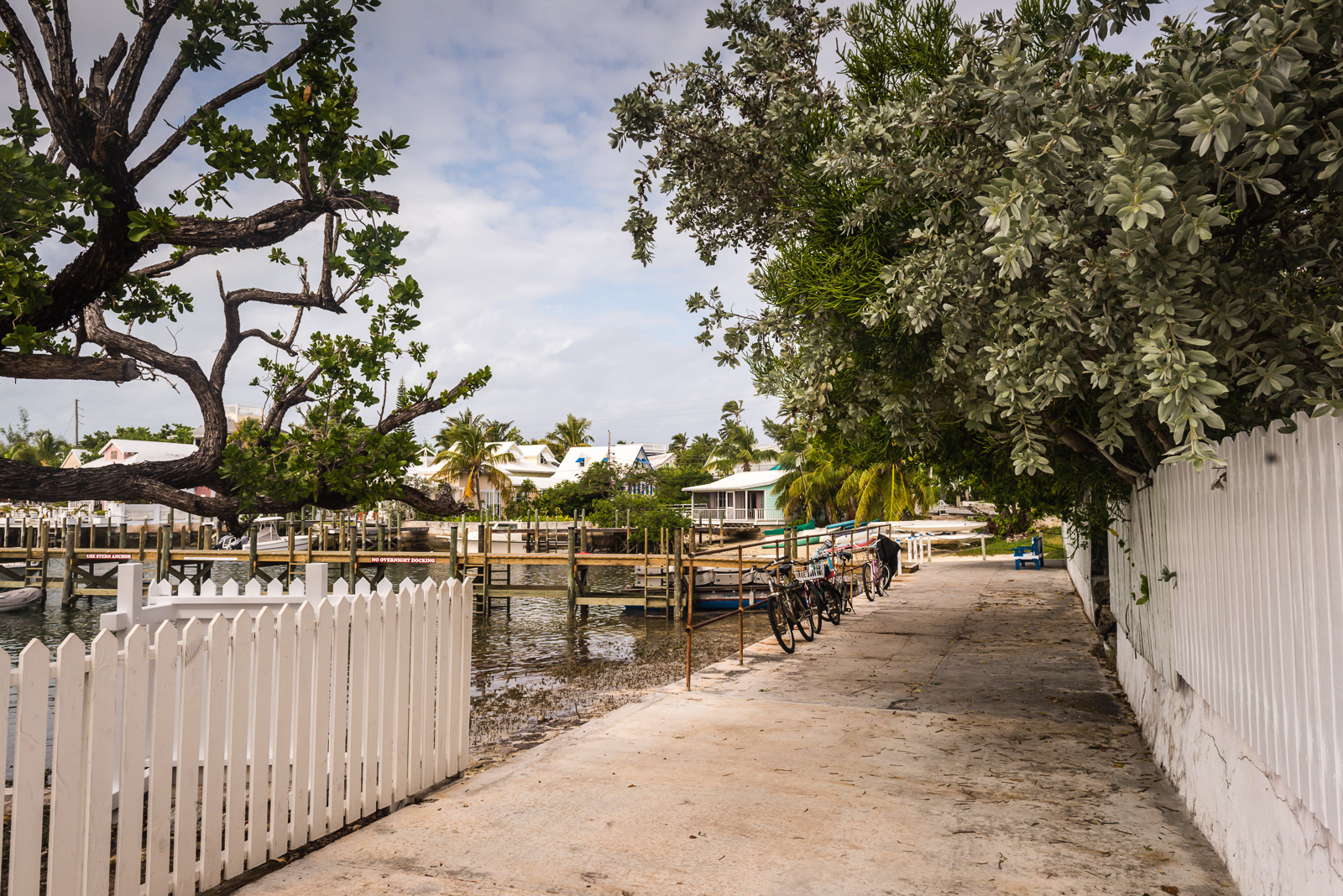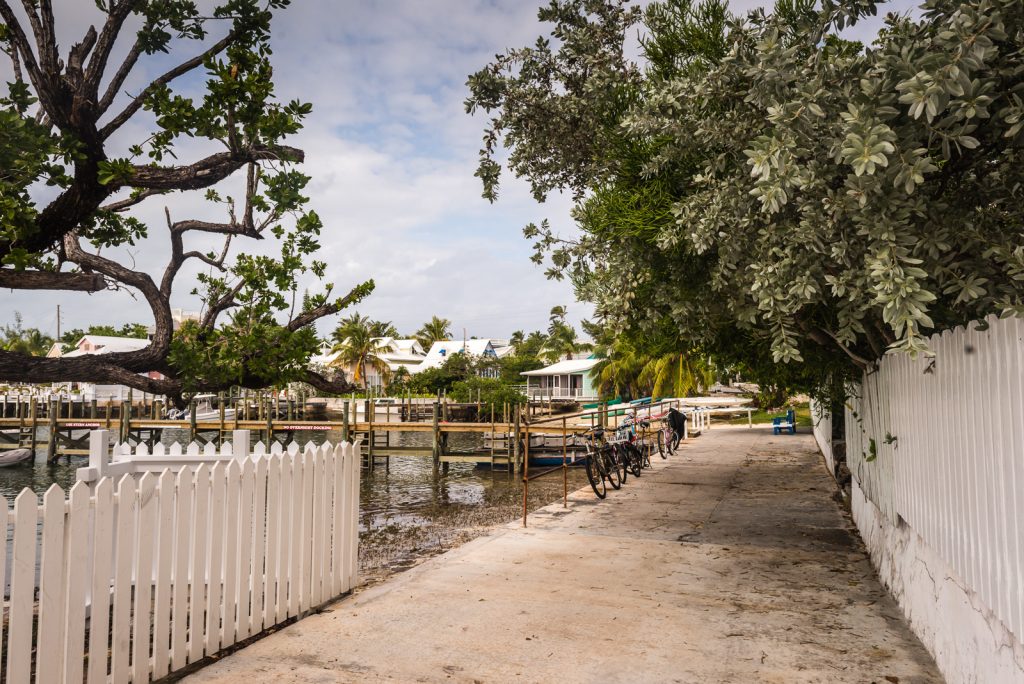 Then, in 2009, Hope Town saw an influx of 84 cast and crew members for a fictional wedding on TV sitcom Scrubs.
To put that in context, you have to realize that the island population hovered at 458 in 2010 (including all those second home residents.) Hence, no traffic light. Only a handful of cars are allowed; one gas pump serves the whole island. There are only a few ways to get around–by boat, bike, foot, or electric-powered golf cart.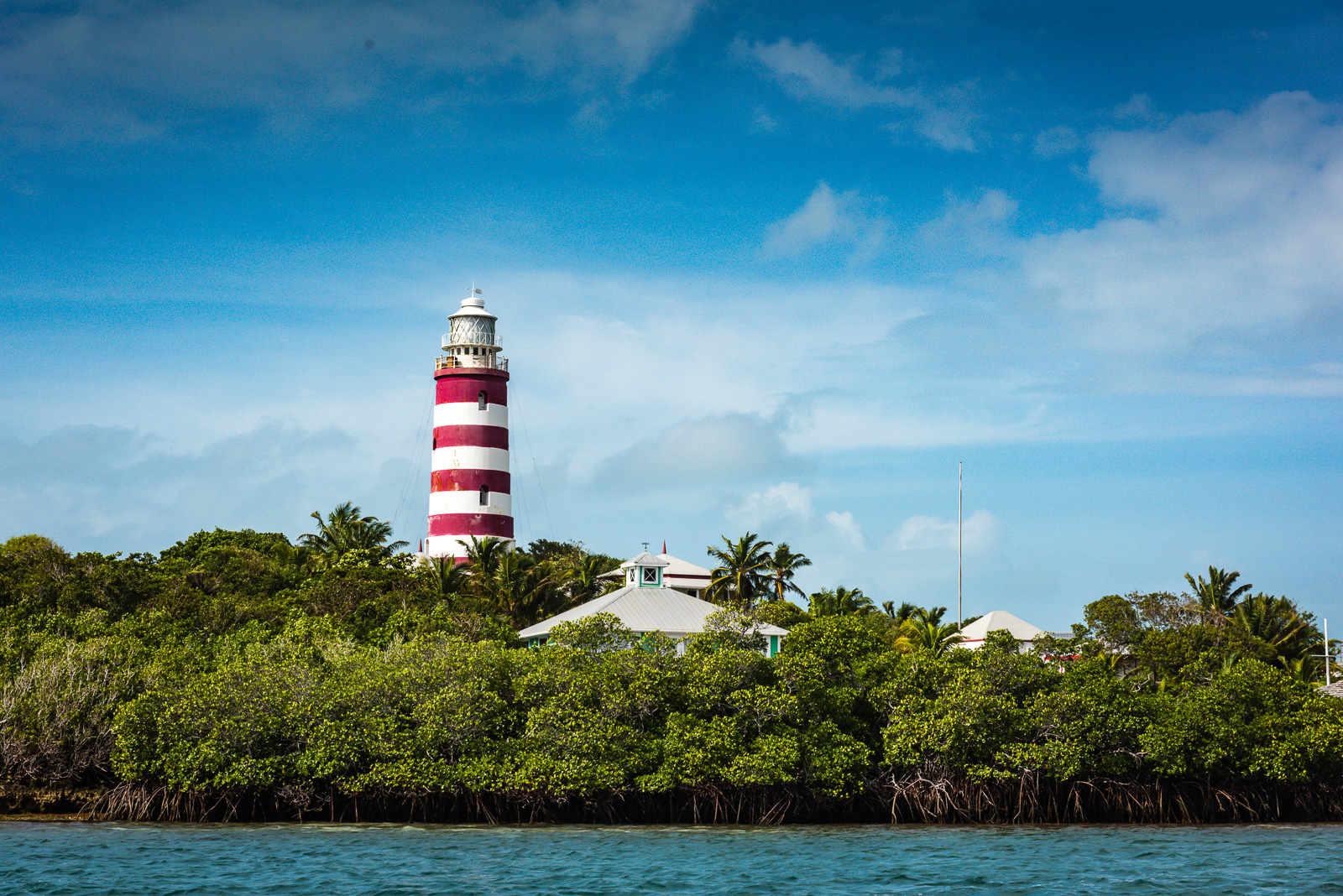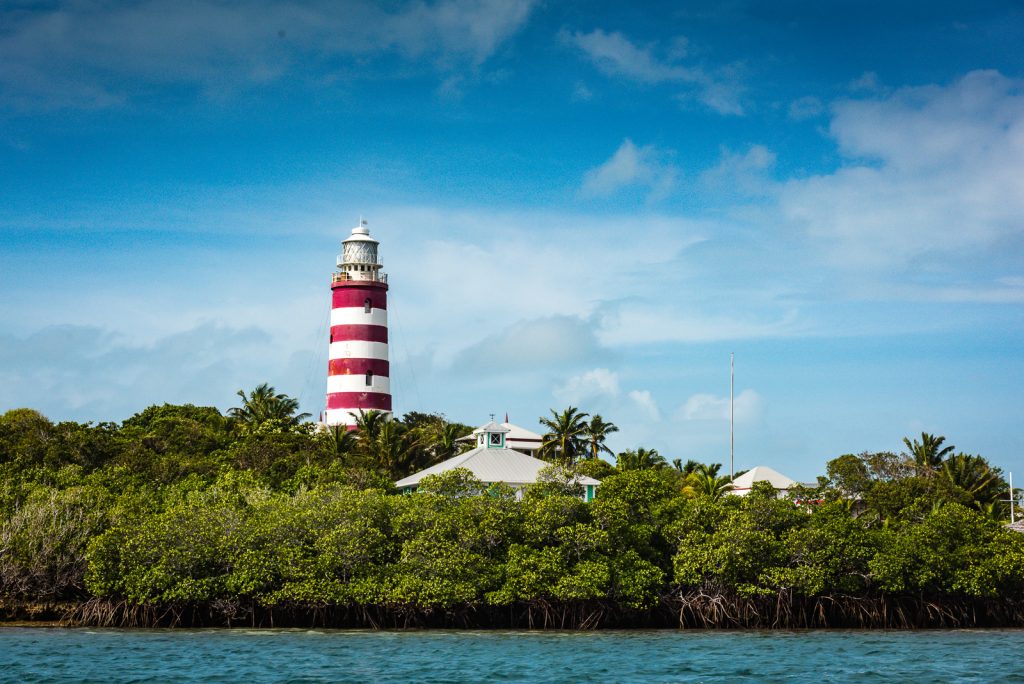 VISIT: Elbow Reef Lighthouse at Hope Town, Bahamas.
For the best view of Hope Town and the Sea of Abaco, climb the 101 steps to the top of the red and white candy-striped Elbow Reef Lighthouse, one of the last kerosene-powered lighthouses in the world.
At over 80 feet high, the 360-degree perspective from the gallery deck of the town lighthouse is spectacular–but not for those afraid of heights.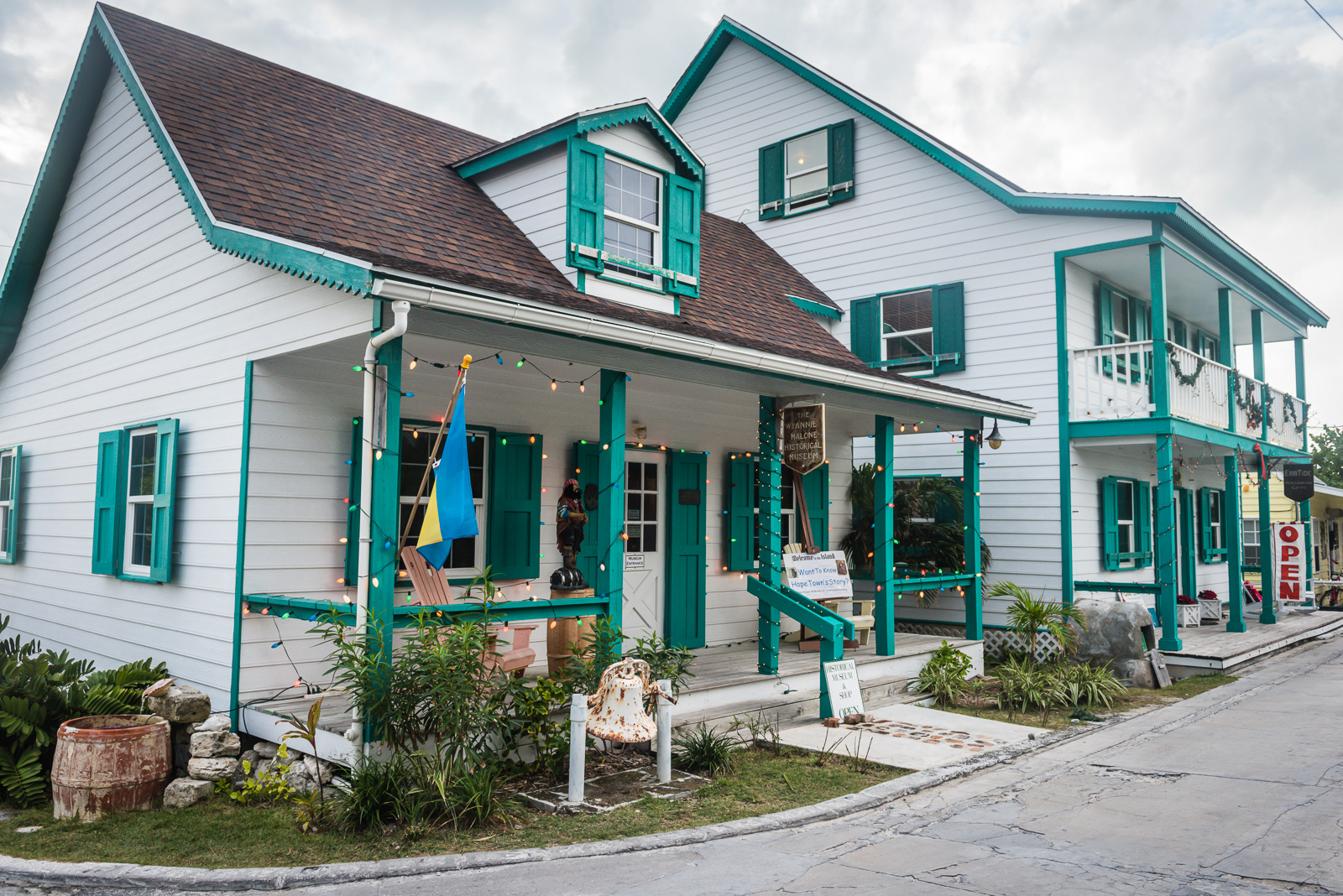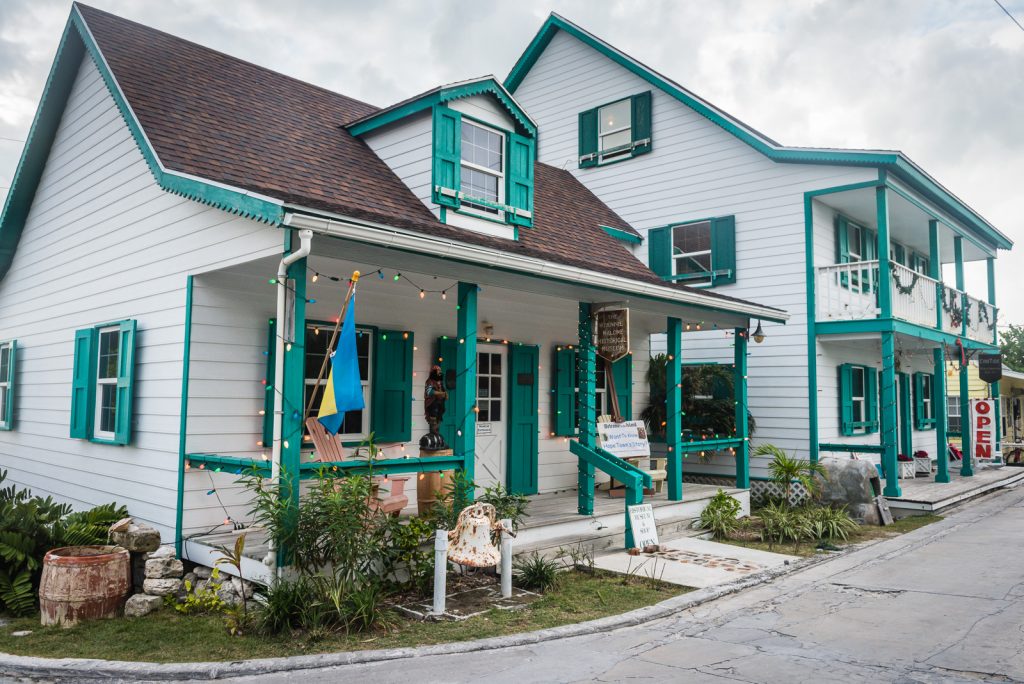 VISIT/SHOP: Wyannie Malone Historical Museum.
The history of Abaco Islands is fascinating. Of particular interest is that the islands were settled by British loyalists who were fleeing revolutionary America. Discover that story and that of Lucayan Indians, pirates, wreckers, and rum-runners in the period displays.
As you exit, be sure to check out local crafts–straw bags, hand-batik fabrics, and landscape prints–in the gift shop.
While the museum and shop are closed, you might want to order a copy of Vernon Malone's A Guide & History of Hope Town to accompany a self-guided walking tour.
Note – The museum and gift shop are currently closed. Call ahead at (242) 366-0293 to confirm open hours.
SHOP/BIKE: Hope Town Canvas/The Bike Shop.
Rent a beach cruiser ($12/24 hours) from The Bike Shop to explore 8-mile-long Elbow Cay, and shop for a one-of-a-kind funky sail bag while you're at it at the Hope Town Canvas Shop. Housed in one cottage in Hope Town, this is also where you'll find Jacob Adams Rum, produced by a direct descendent of the eponymous Loyalist settler.
SNORKEL: Everywhere.
With much of the water surrounding islands measuring 20 feet deep or less, and little or no waves, conditions are ideal for snorkeling. Healthy coral reefs, teeming with colorful fish, can be found at Hope Town Reef. For the very best snorkeling, hop on a boat to go to Sandy Cay Reef or Fowl Cays National Park.
(Travel Tip – Pack your own snorkel gear. Snorkel sets are inexpensive and easily available online or at US sport shops, and the travel-size fins are fine for the Bahamas' calm seas.)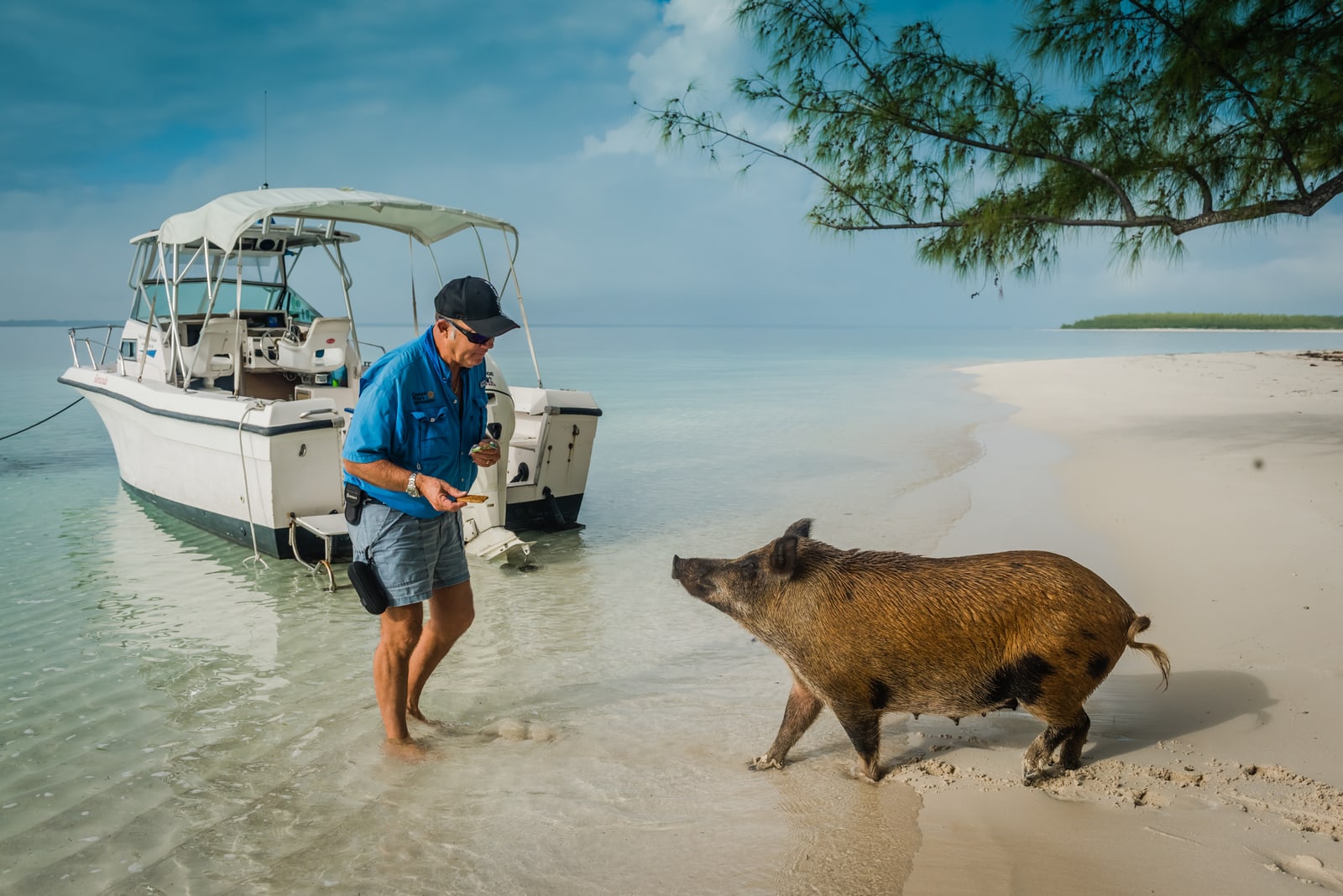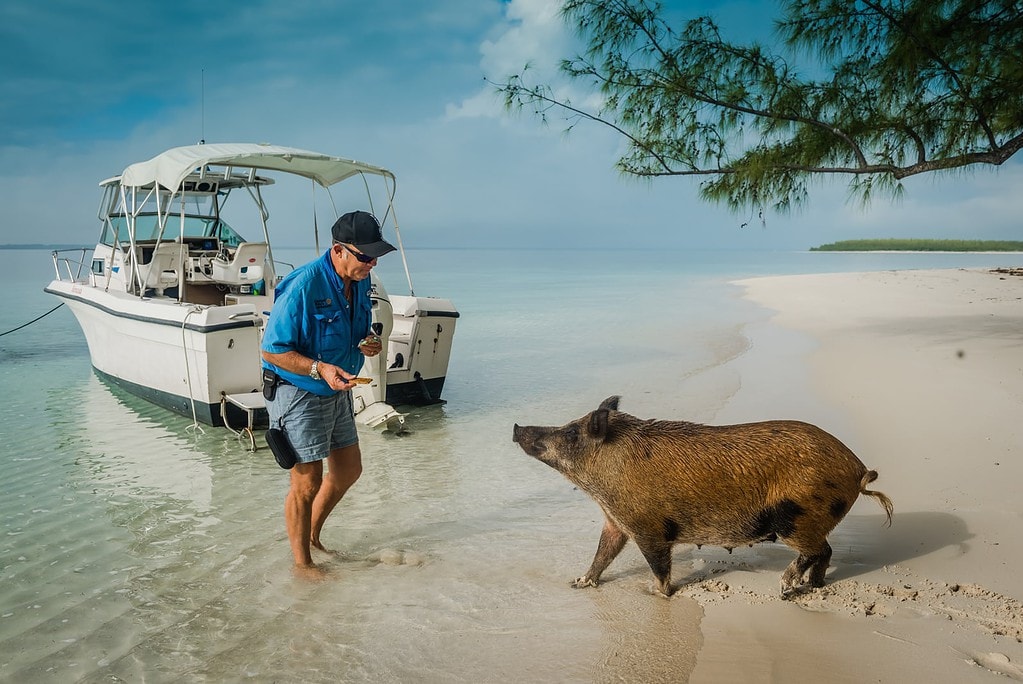 DO: Rent A Boat Or Sign Up For An Adventure.
There's no getting around it. If you want to explore all of The Abacos, you will need a boat. But if you want to discover Abaco Island secrets, you will do well to hire Stafford Patterson, the 8th generation Bahamian, who runs Captain Plug's Adventures.
Captain Plug rents out boats, and he's available to teach newcomers how to handle the rental craft. But on a half or full-day excursion, visitors learn can learn all about island history.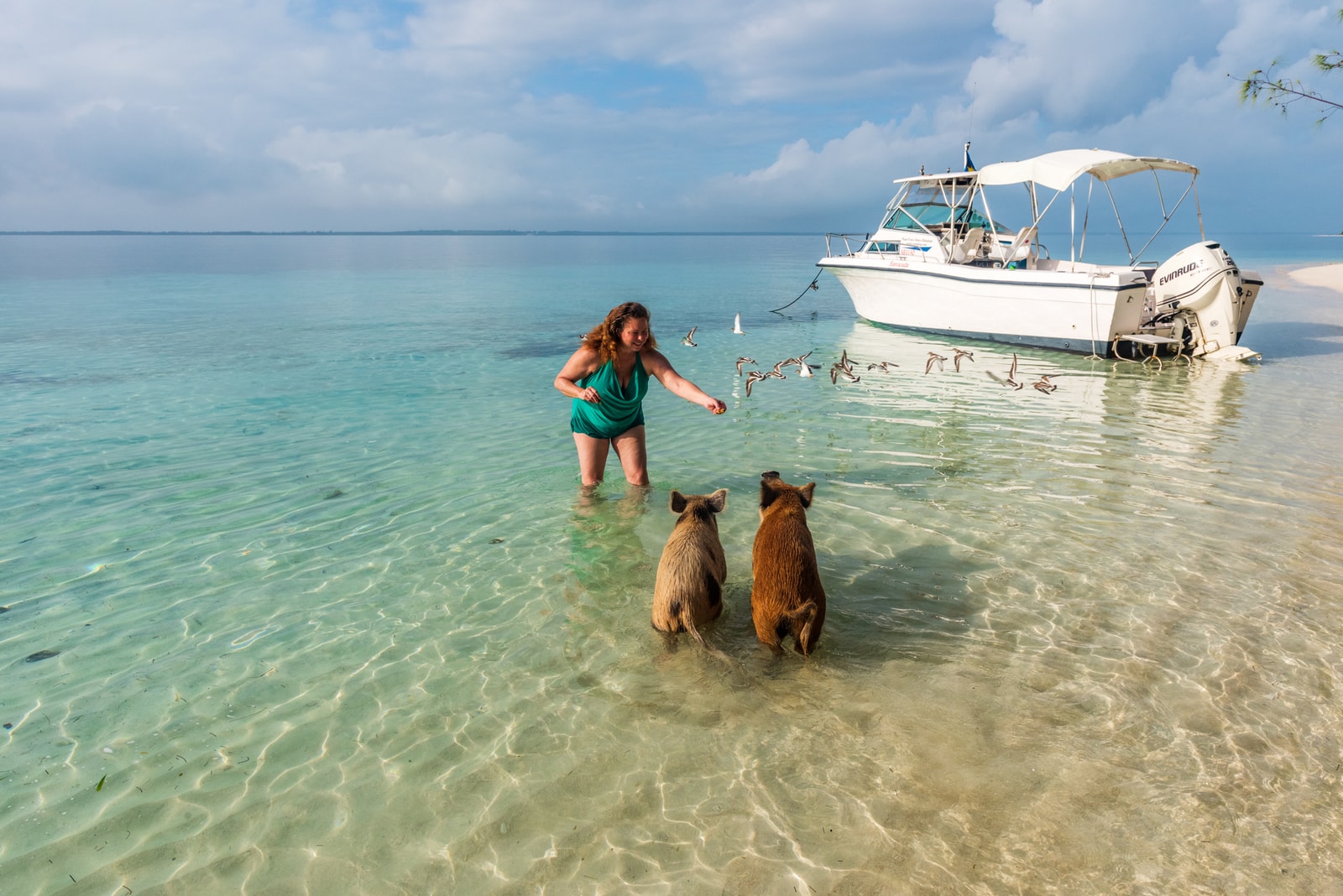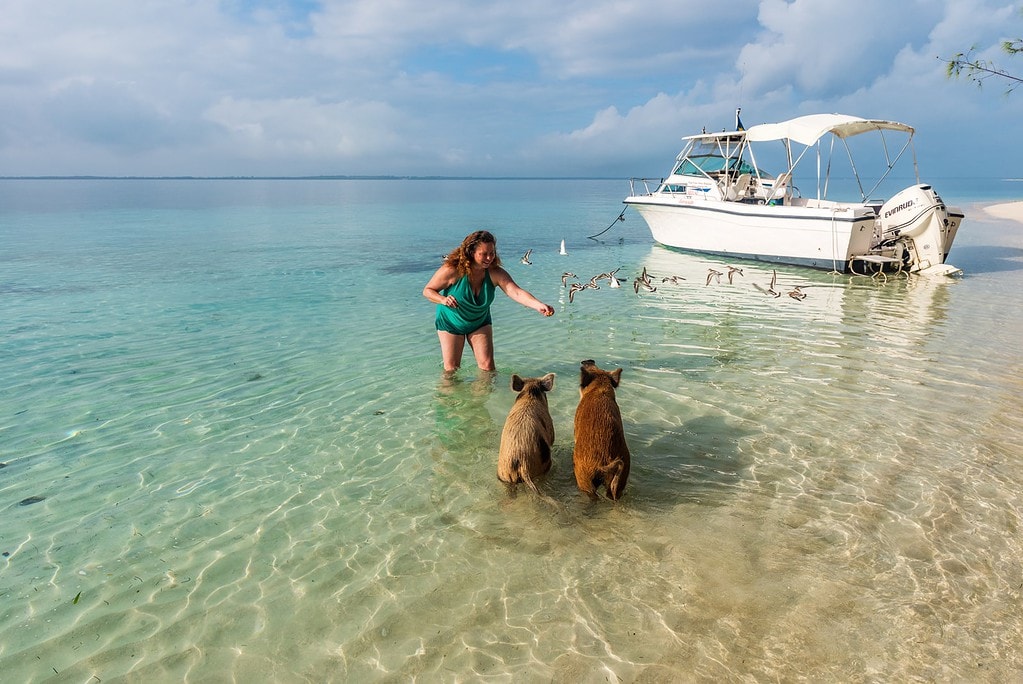 On a three-hour tour, I was able to swim with pigs on No Name Cay and snorkel at Mermaid Reef, but I also got to see Treasure Cay, Great Guana Cay, Man-O-War Cay, and even the film setting for that long-forgotten George C. Scott film, The Day of the Dolphin.
DO: Fishing Or Diving Day Trip
Locals also recommend a couple more things to do in Abaco Island: fishing and diving. Try bonefishing, typically a catch-and-release exercise, with Local Boy Charters. Or, plan a scuba dive trip with Froggies Out Island Adventures.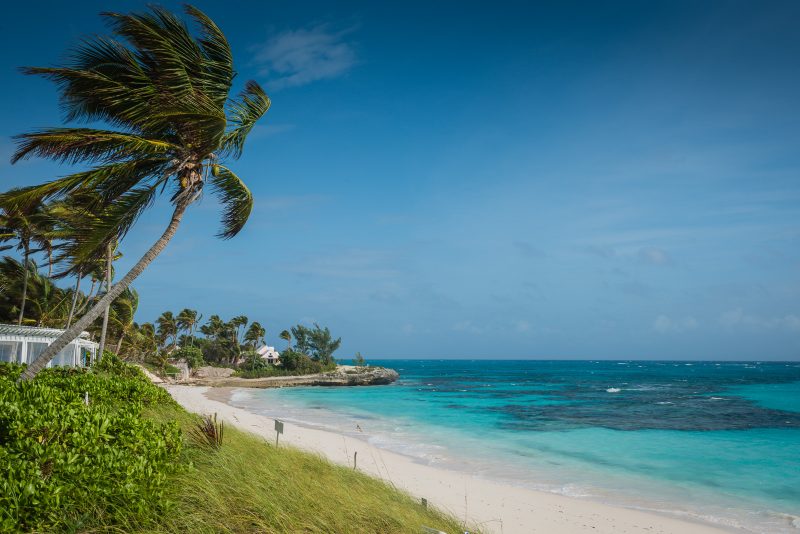 Beaches Near Hope Town Bahamas
The main attraction in The Bahamas is undoubtedly the beach. Crystal-clear ocean and long stretches of sugar-fine white sand invite Instagram-worthy pics. So, of course, the Abaco Islands are full of beautiful white sand beaches; even so, there are a couple of outstanding beaches worth seeking out.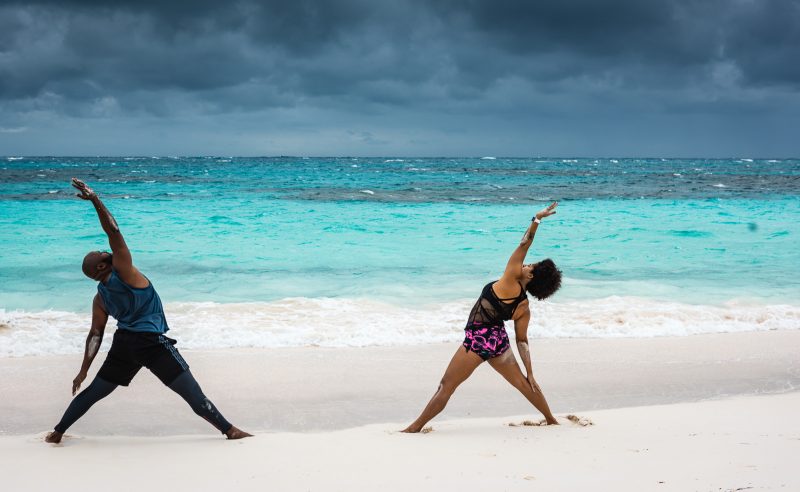 On the Atlantic Ocean side, just beyond the Hope Town village, long stretches of coastline beach invite morning yoga and afternoon kitesurfing. A healthy reef close to shore offers excellent snorkeling, and mostly calm waters are great for a variety of water sports.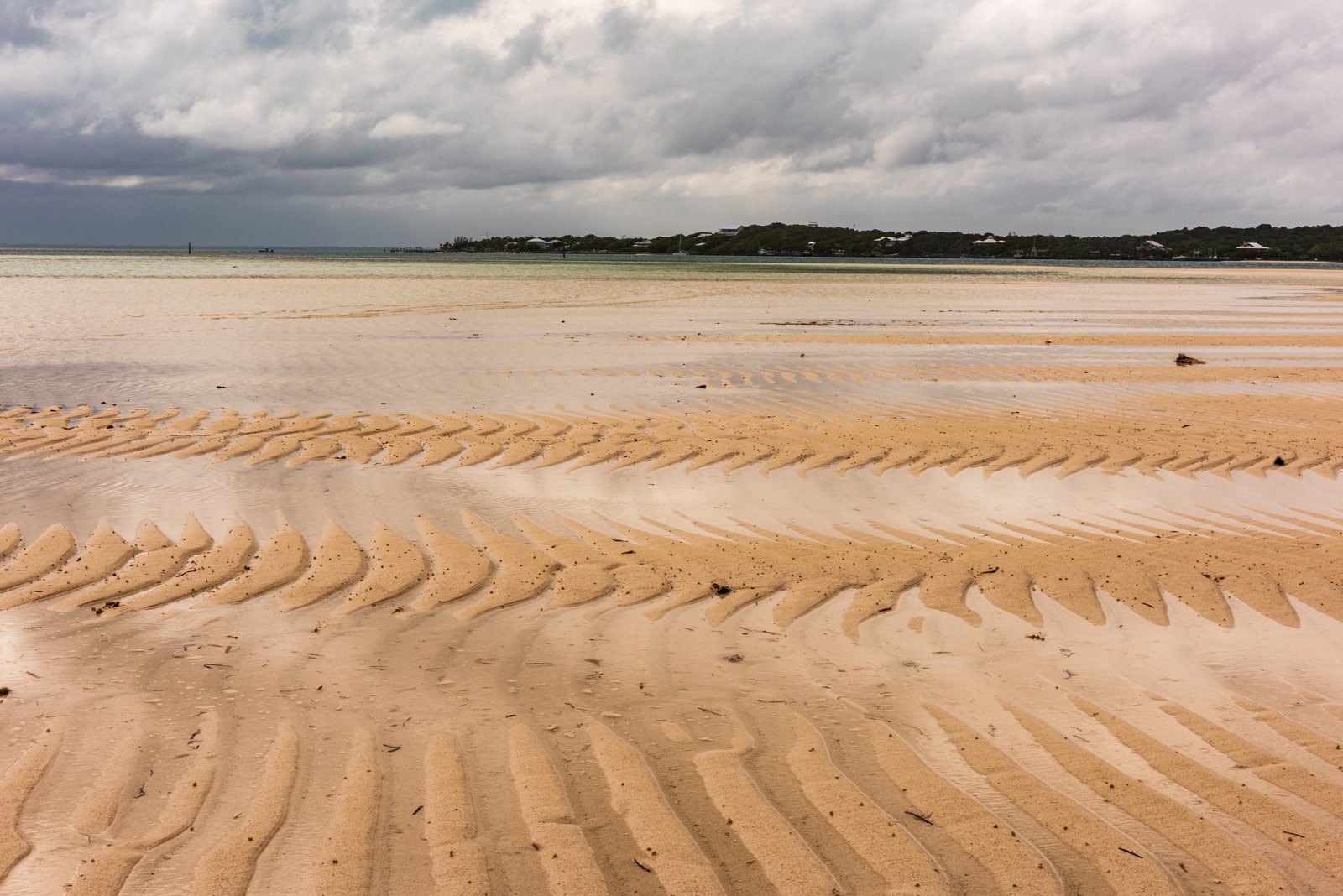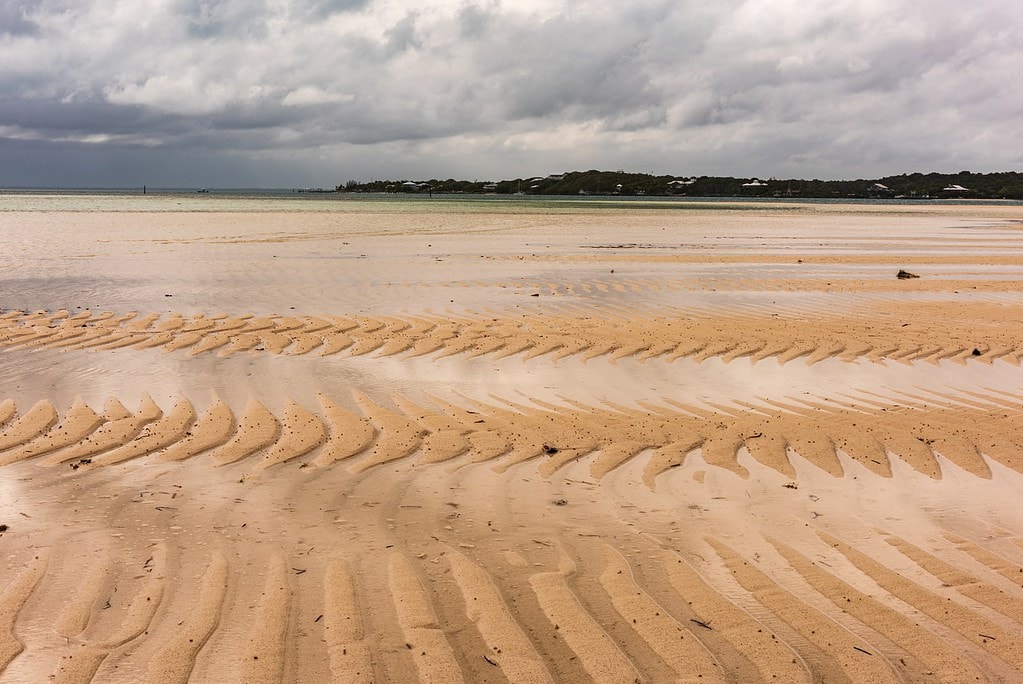 And Tahiti Beach, on the far end of Elbow Cay, should be listed as one of the wonders of the world. A peninsula of rippled white sand juts into seawater so clear it belongs in an infinity pool. Best of all, the secluded beach is only accessible on foot (or by boat.)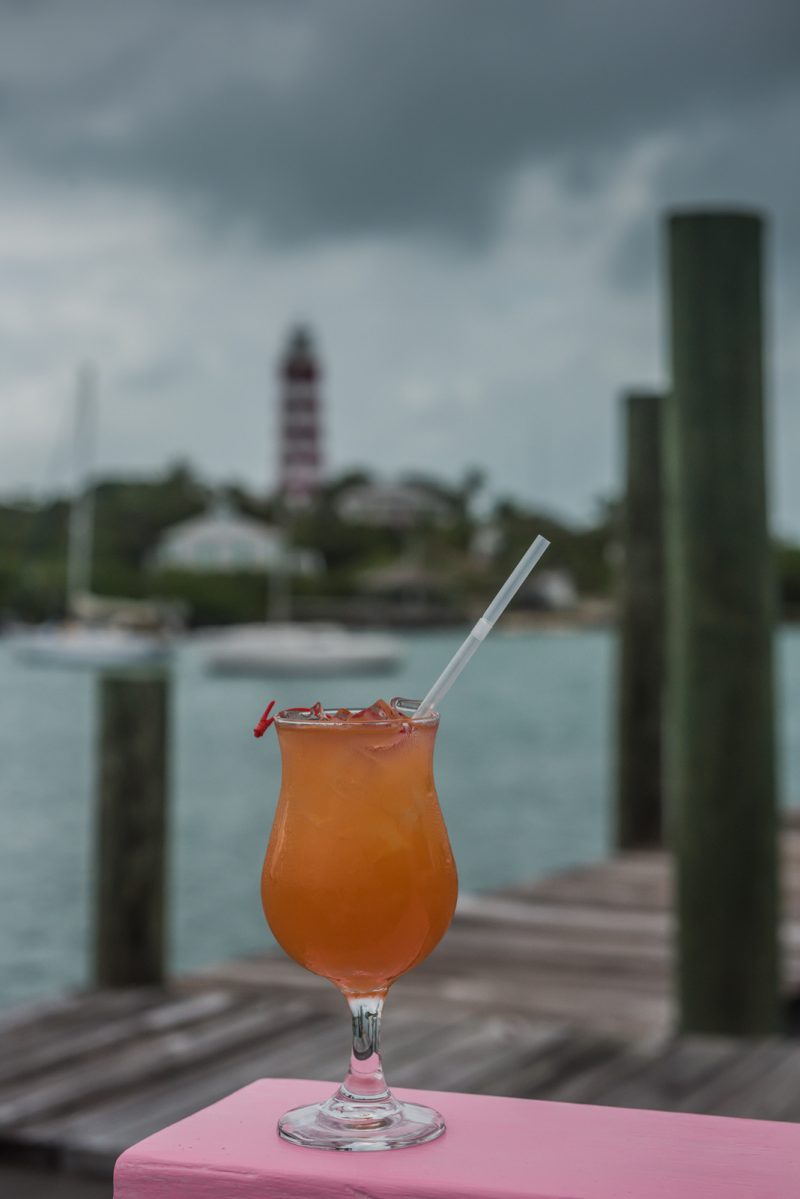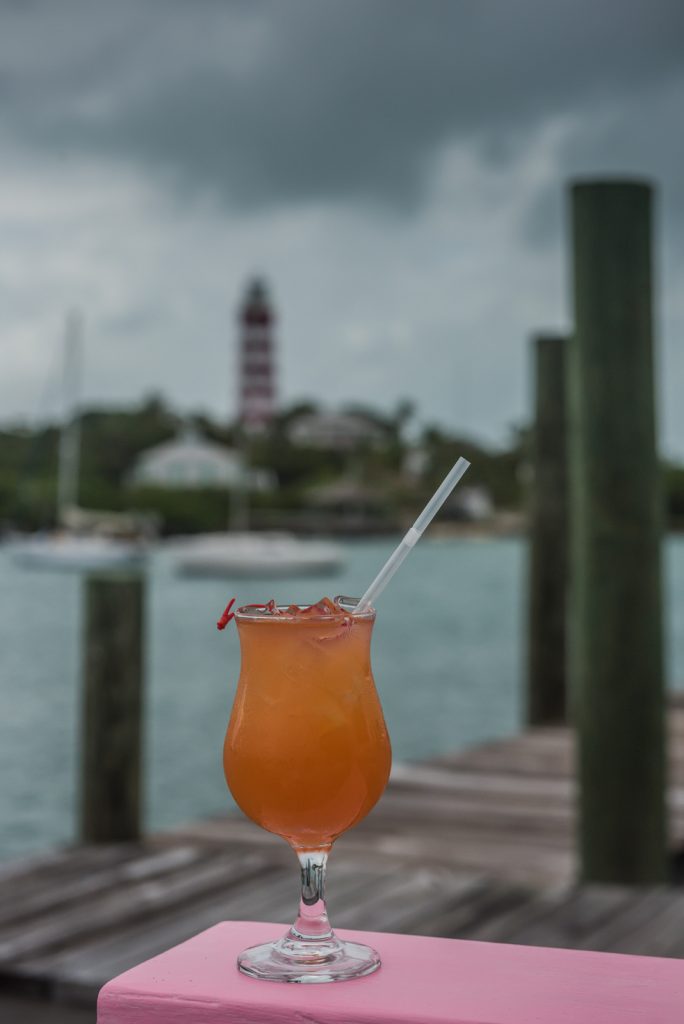 Where To Eat In Hope Town Bahamas
What To Eat In The Bahamas
Bahama's National Drink, the flavored rum Goombay Smash, originated back in the 1960s at Miss Emily's Blue Bee Bar on Green Turtle Cay. That recipe is still a closely-guarded secret, but you can find delicious variations at most bars and restaurants throughout the Abaco Islands.
Bahamian cuisine leans heavily on abundant seafood. Do try the "cracked conch," a deep-fried version of the mollusk. Also, we love the Bahamian twist on battered fish which adds shredded coconut to the tasty coat.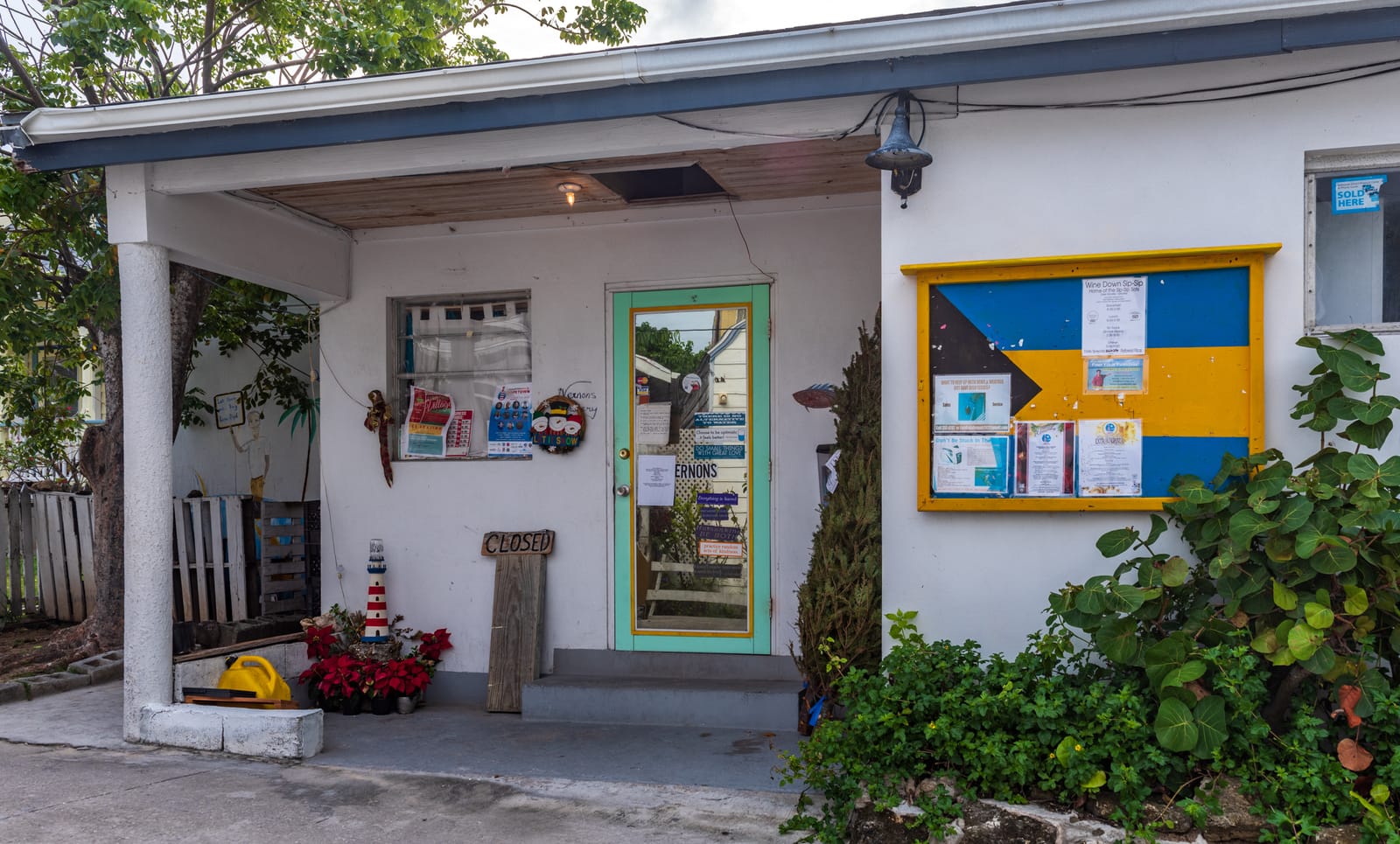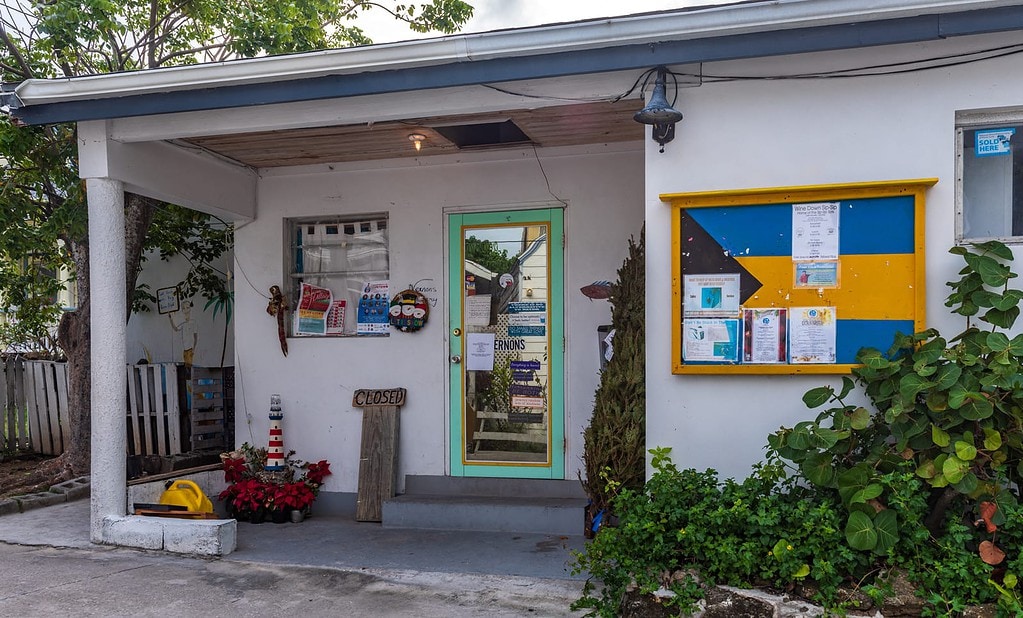 BAKERY: Vernon's Grocery and Upper Crust Bakery.
Minister, baker, and direct descendent of Hope Town founder Winnie Malone, Vernon Malone makes to-die-for Key Lime Pies. Follow the scent of freshly baked bread–we hear that the Banana Bread is simply amazing–to a tiny shop crammed with all essentials and "funny little signs all over the place."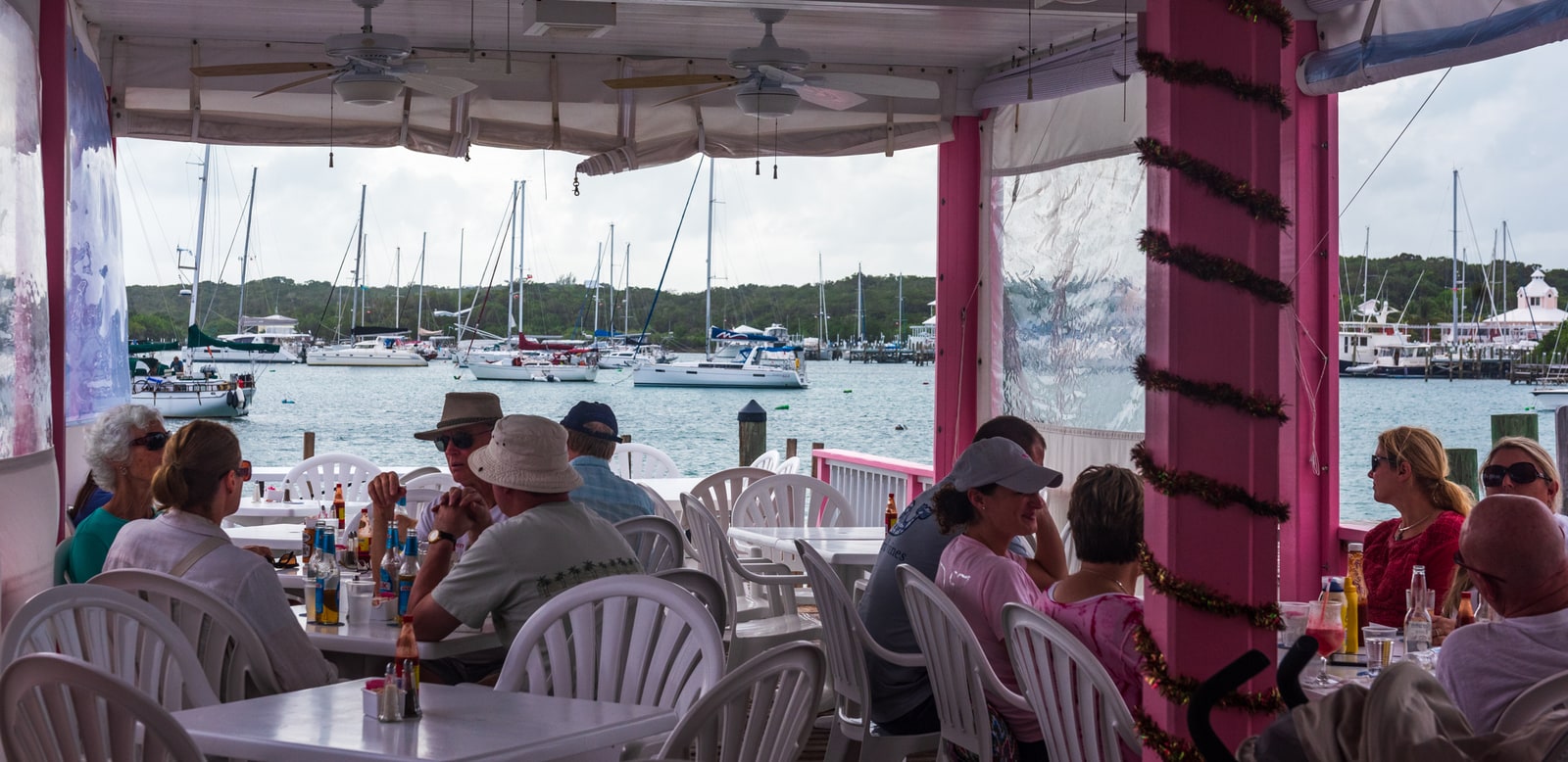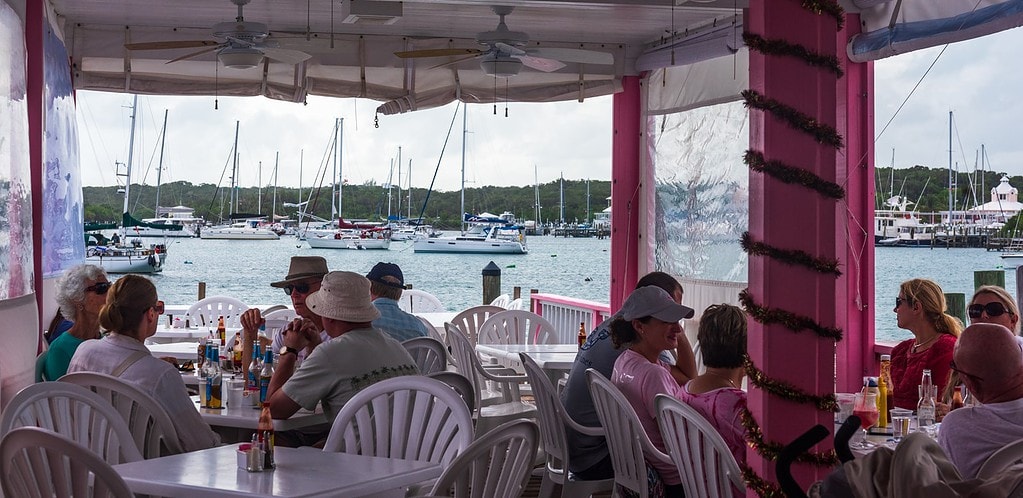 EAT & DRINK: Cap'n Jacks
An all-day hang-out spot, where locals and visitors, meet up, Cap'n Jacks serves breakfast, lunch, and dinner. Set right on the water by the docks, enjoy a Goombay Smash and a Coconut-Battered Mahi Mahi with a view of Hope Town's iconic lighthouse.
ROMANTIC DINNER: Firefly Bar & Grill.
Go for the sunset, stay for dinner at the Firefly Bar & Grill. Sunsets are indeed breathtaking, the bar scene is convivial, and with both lobster and burgers on the menu, leisurely meals are delightfully relaxed.
Abaco Islands Resorts
Hotels and villa rentals are available on all the major islands within The Abacos Islands.
On Great Abaco, the island where the international airport is located, there are a number of resorts, including some with golf courses. Two that are highly recommended are the Sandpiper Inn and Cottages or the Abaco Beach Resort and Marina. And golfers may want to opt for Bahama Beach Club on Treasure Cay (home to a National Geographic Top 10 Beach,) for its championship golf course.
We loved staying in Hope Town as it is central to all The Abaco Islands while providing multiple restaurants and lots to do. And yet, even with friendly locals and plentiful amenities, you can still find a spot where you can have a beach all to yourself.
Sadly, Hope Town Harbour Lodge was destroyed by Hurricane Dorian. Today, your best options are the laidback Abaco Inn or Turtle Hill Resort. Additionally, condo and villa vacation rentals are available via Airbnb, VRBO, or Elbow Cay Properties.
Where Is Abaco Islands And Hope Town Bahamas
Bahamians call the 130-mile strip of cays in the northern Out Islands the "Family Islands" because that's where they go to relax. The Abaco Islands are located 180 miles south of Florida, in the northern Bahamas.
These Bahamian islands include a number of inhabited cays, including Great Abaco, Green Turtle Cay, and the 8-mile-long Elbow Cay that is home to Hope Town, Bahamas.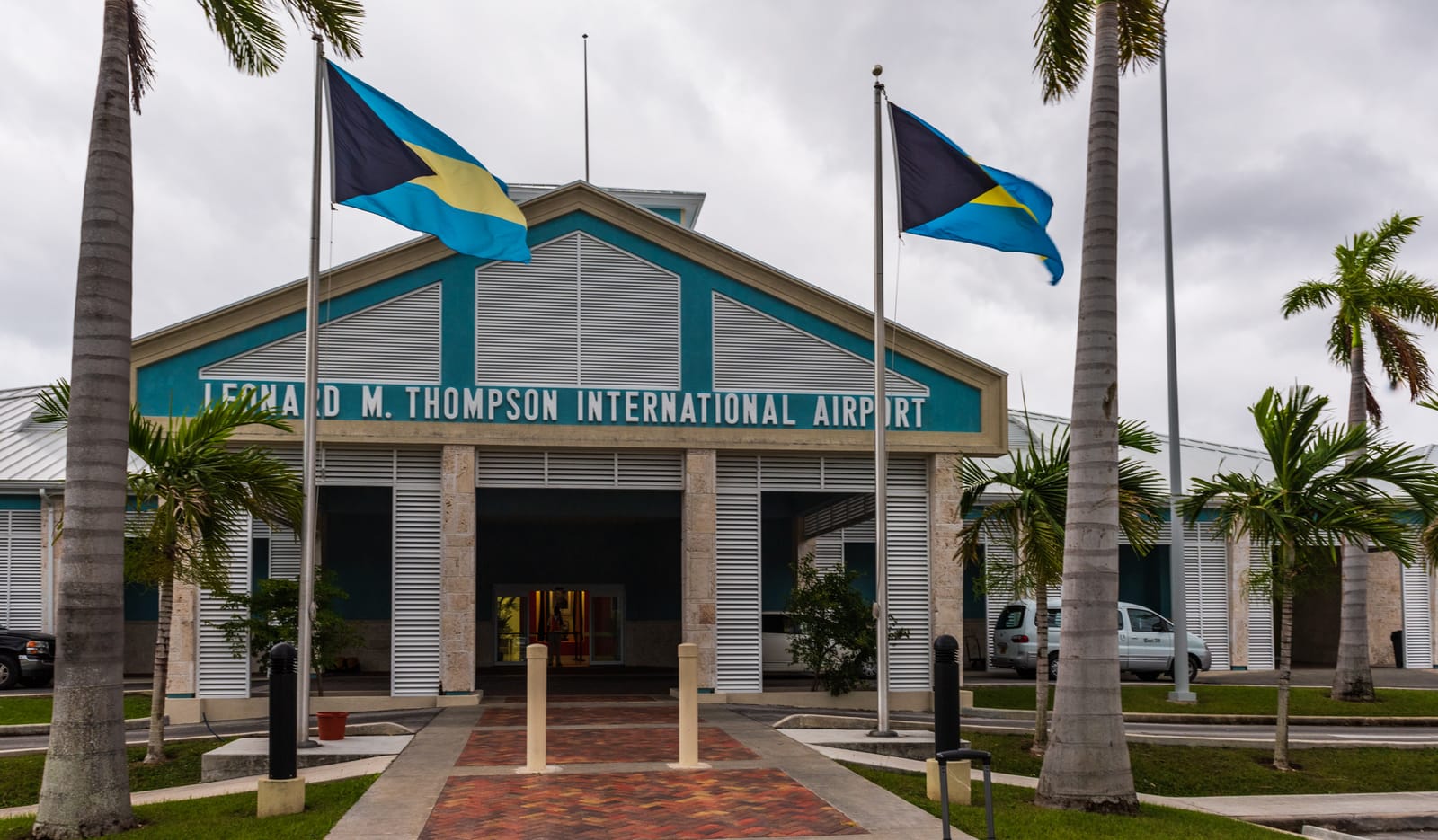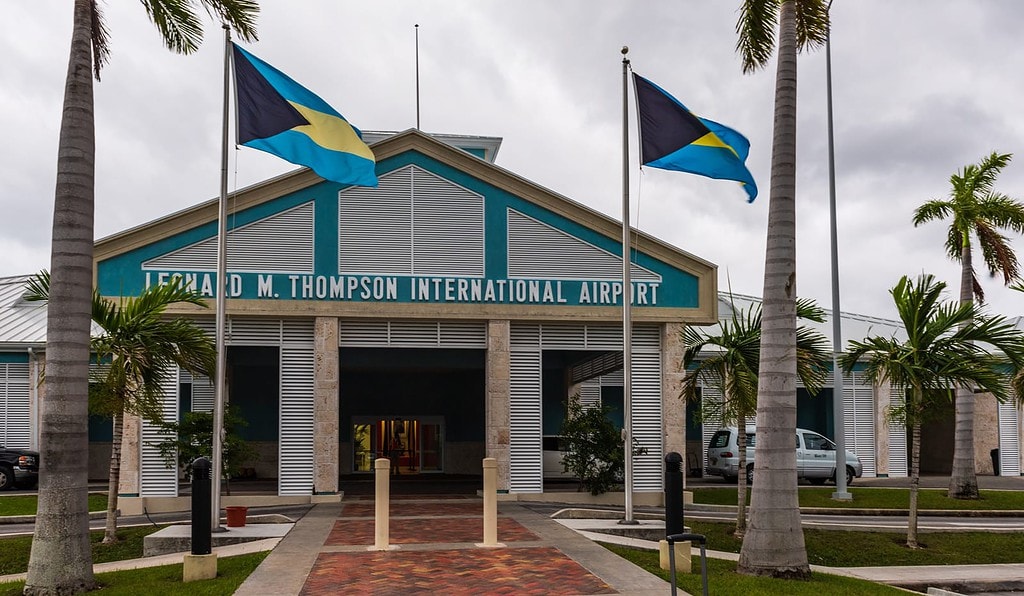 To get there, most visitors fly into Great Abaco's Leonard M. Thompson International Airport, formerly known as Marsh Harbour Airport. American Airlines offers direct flights from Miami or Charlotte, while Delta Airlines plans to resume direct flights from Atlanta in June. Multiple airlines offer connecting flights from Florida (check the link for air charters.)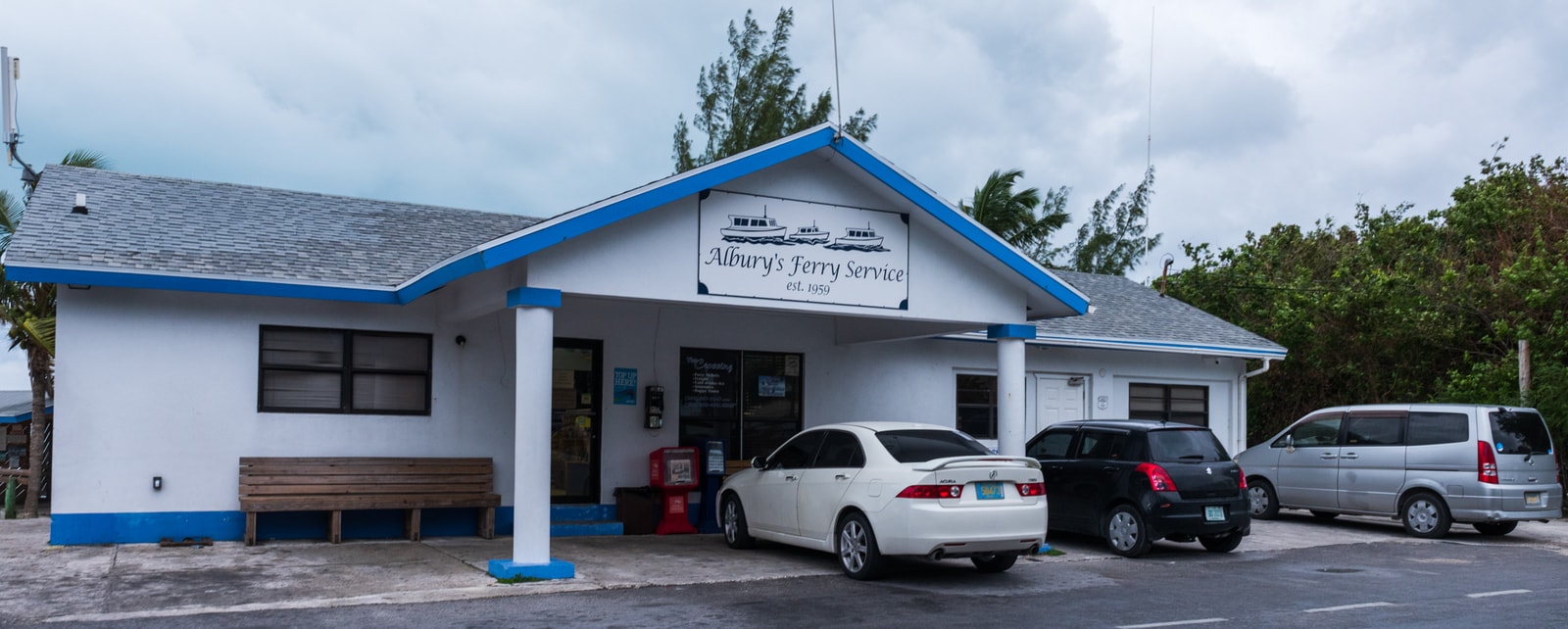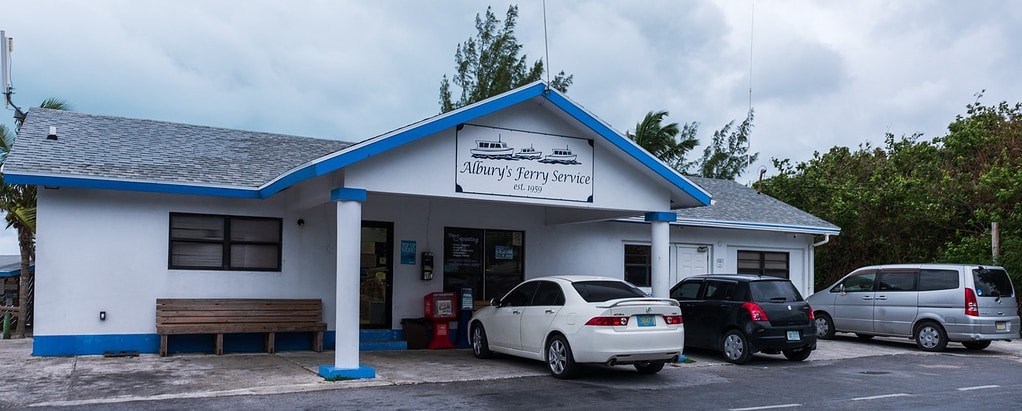 Then, they take a short taxi ride to Albury's Ferry for boat connections to Hope Town.
Getting Around The Abaco Islands
Getting around The Abacos can be an adventure in itself. Car rentals are limited to the mainland of Abaco, and on Marsh Harbour and Treasure Cays. On other cays, you can rent a bike or golf cart. Check your hotel for availability.
During high-demand periods, make reservations with island rental companies such as Hope Town Cart Rentals well in advance. Island hop to Marsh Harbour, Man-O-War, Guana Cay, and Elbow Cay via Albury's Ferry Service.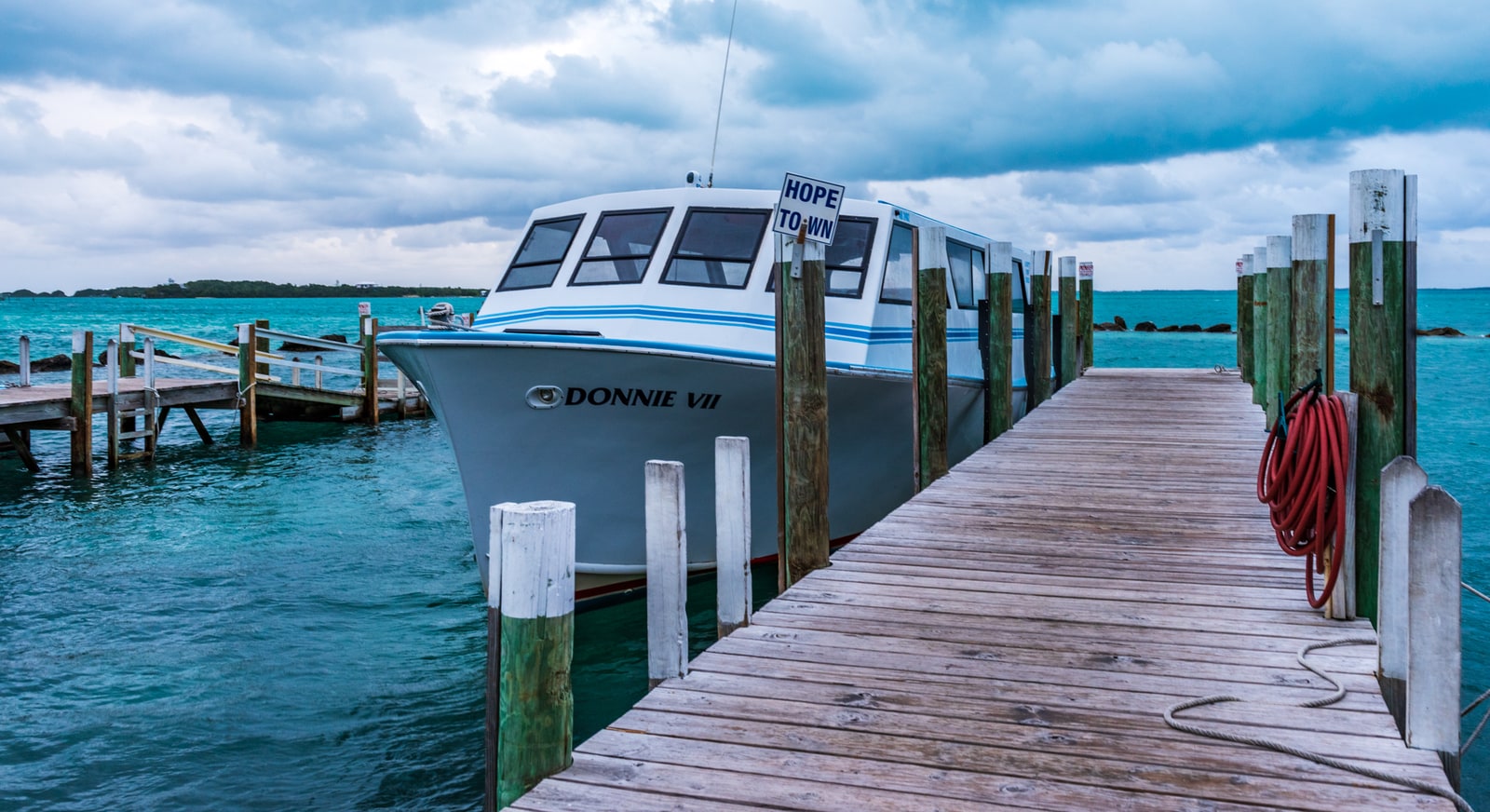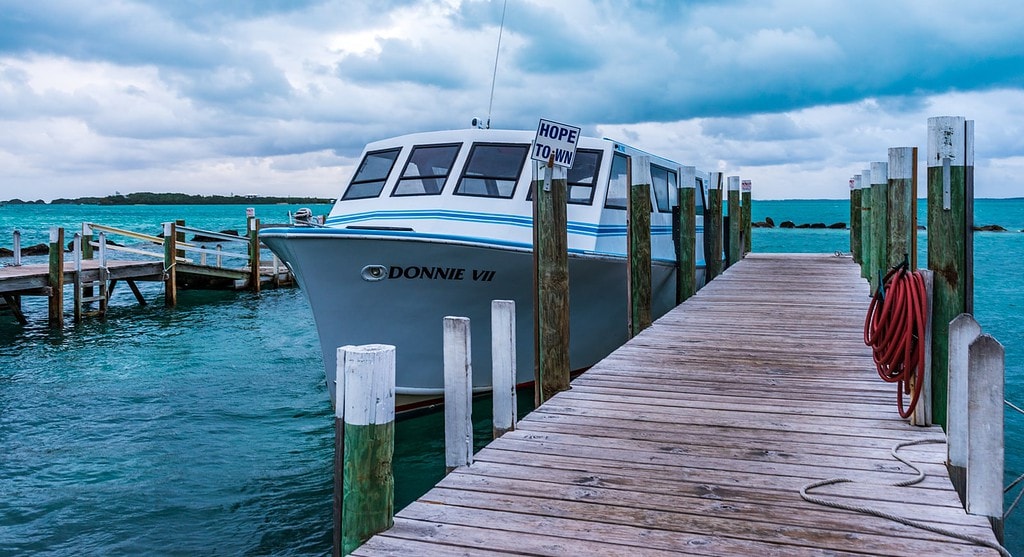 Ferries run frequently every day, with additional late service on weekends; private charters are available upon demand.
Caribbean Vacations Travel Guides: