WHY GO: Like most Caribbean islands, St. Thomas USVI has its fair share of breathtaking white-sand, clear-water beaches. What makes this United States Virgin Island unique is its long history as a major port.
Because of its strategic position in the West Indies, St. Thomas has been described as "the place which is on the way to every other place."
That made it desirable for commercial and military reasons, commanding the interest of Danish merchants, slave traders, pirates, and buccaneers, and beginning in 1917, the US government. As a result, St. Thomas has welcomed an extremely diverse and cosmopolitan population, both as visitors and settlers.
Today, that heritage is well preserved in the fort, historic shops, and "blue bitch buildings" (a local bluish stone that's notoriously difficult to excavate, but which is an attractive and desirable addition to stone facades.) Even more interesting, is the rich cultural legacy now found in local food and traditions.
The island is a major cruise ship port of call, but for the best experience, stay a little longer and save the most popular attractions on this St. Thomas travel guide for when the ships depart.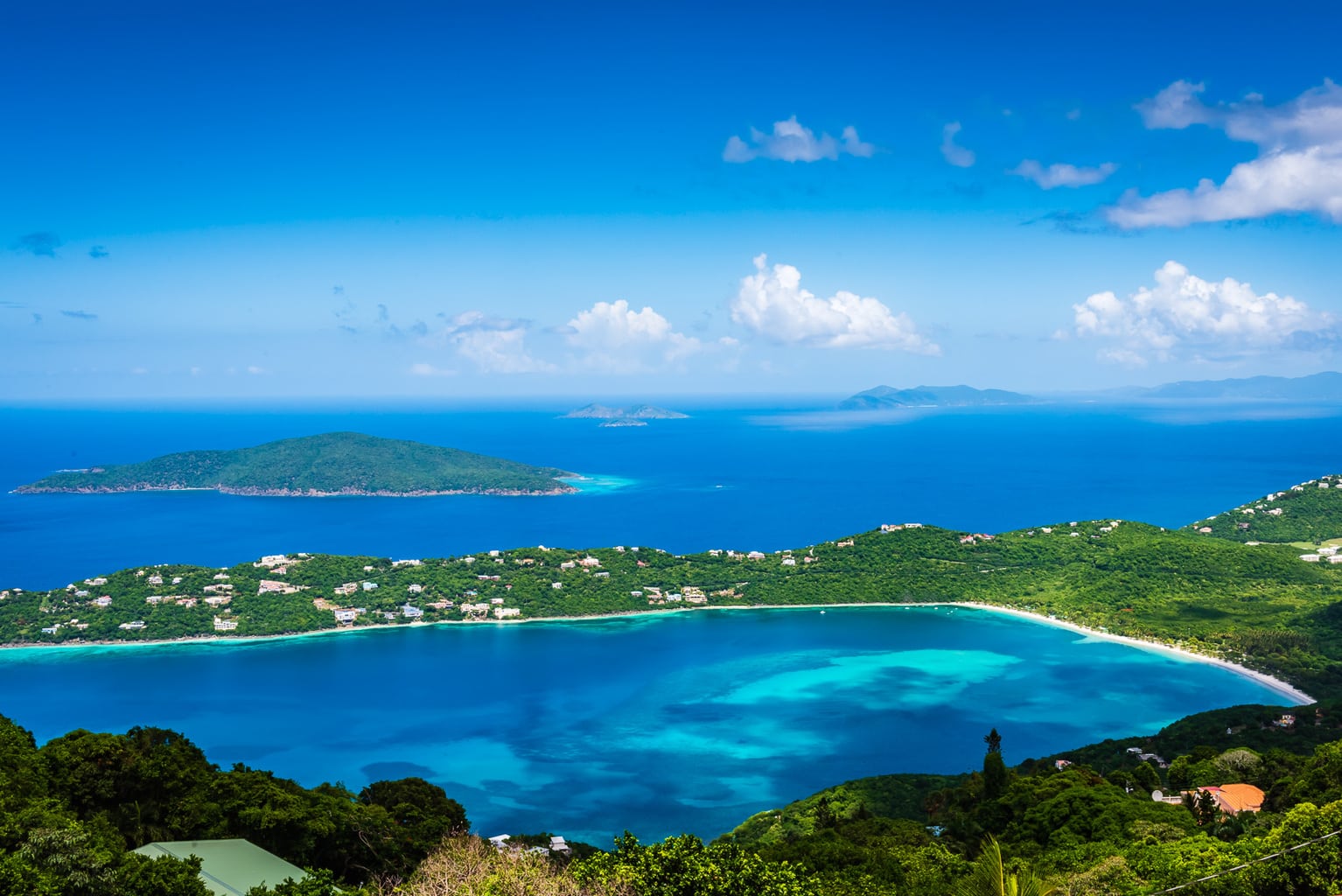 Things To Do In St. Thomas
Maybe it's the Cruzan Rum-heavy banana daiquiris, but the views from the top of St. Peter Mountain, the highest point on the island, are unreal. You can see almost 20 islands and cays, including St. John, as well as Tortola and Jost Van Dyke in the British Virgin Islands.
Mountain Top is a regular stop on island sightseeing tours and offers a wide selection of souvenirs, conveniently for sale next to the bar. Free admission.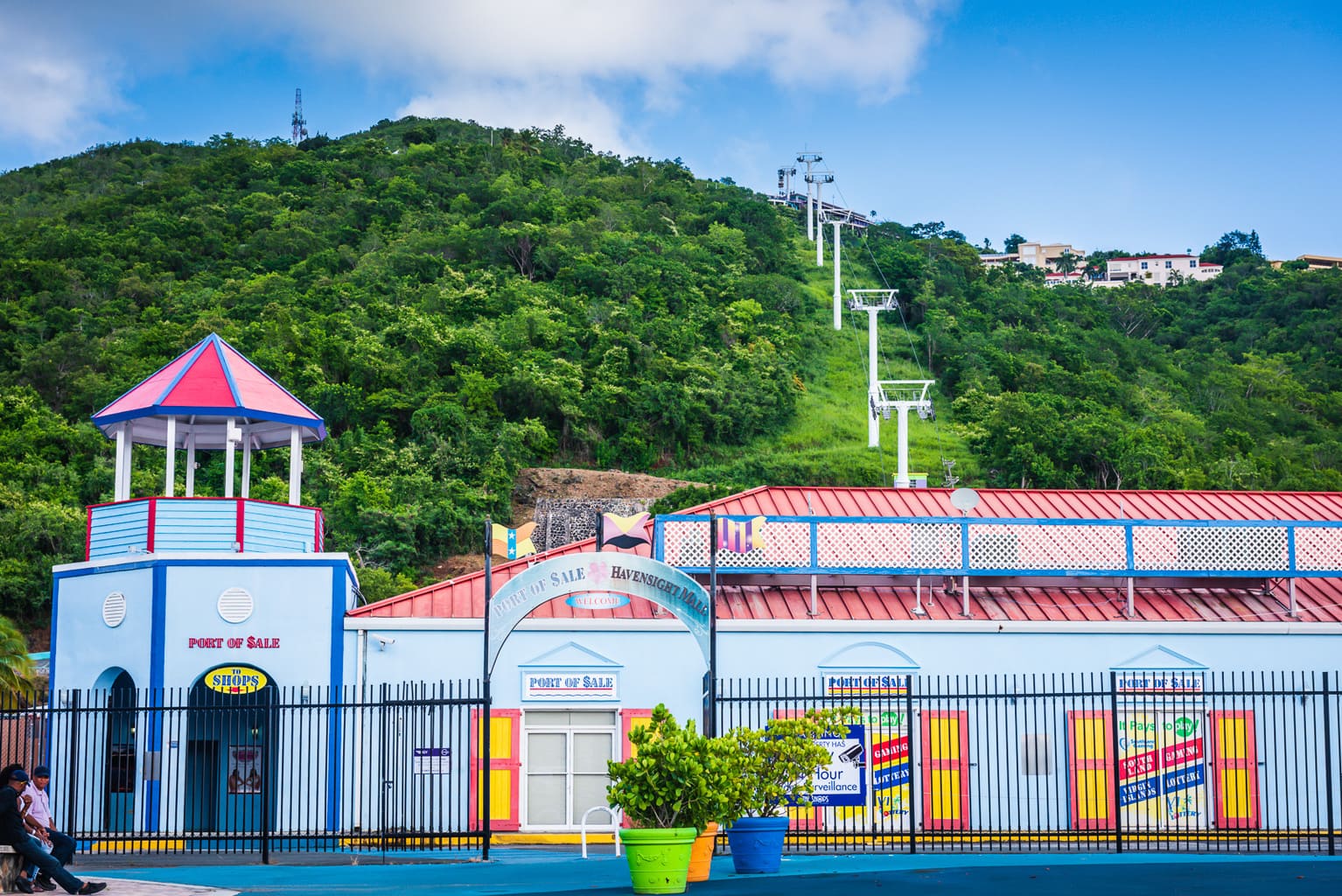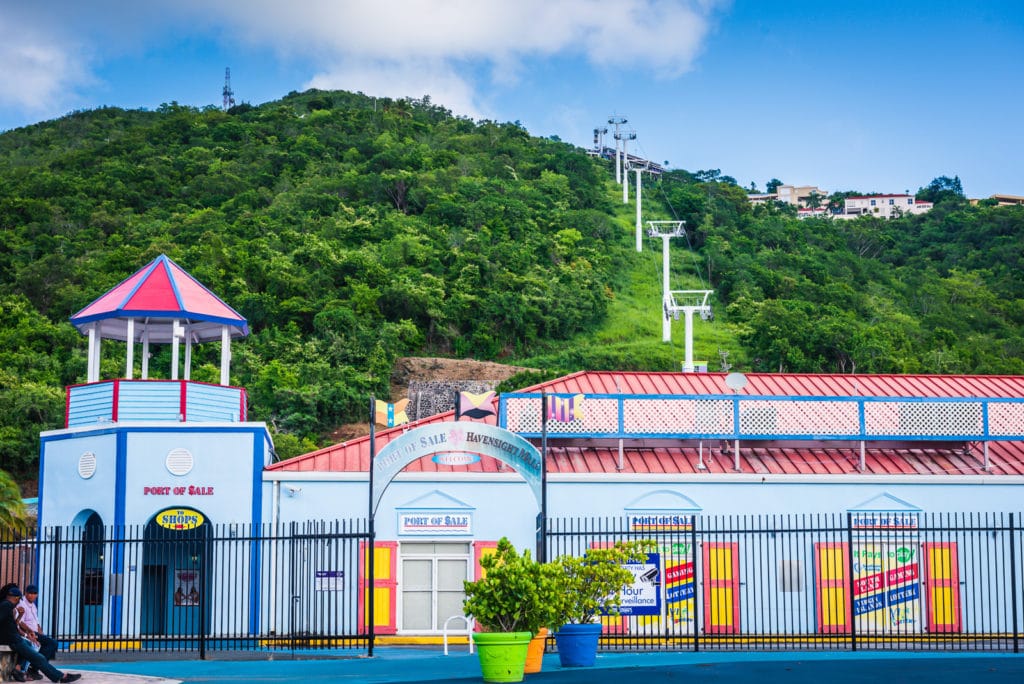 Board a gondola at its base location by the Havensight Cruise Ship Dock for a view of Charlotte Amalie Harbor. It's convenient for cruisers who want a quick look at the island without missing the chance to shop at Havensight Mall or downtown Charlotte Amalie.
Wade through the souvenirs at the top to discover performing parrots. There's also a casual restaurant and a bar that specializes in Bushwhackers, a frozen drink that tastes like a chocolate piña colada.
A costumed Captain Jack Sparrow and a submarine simulator are highlights of a collection focusing on pirates and shipwreck exploration.
Located by Havensight Cruise Ship Dock, the museum is open on Cruise Ship Days from 9 am-5 pm. Call ahead to arrange a guided tour. US $16 adults, $12 child.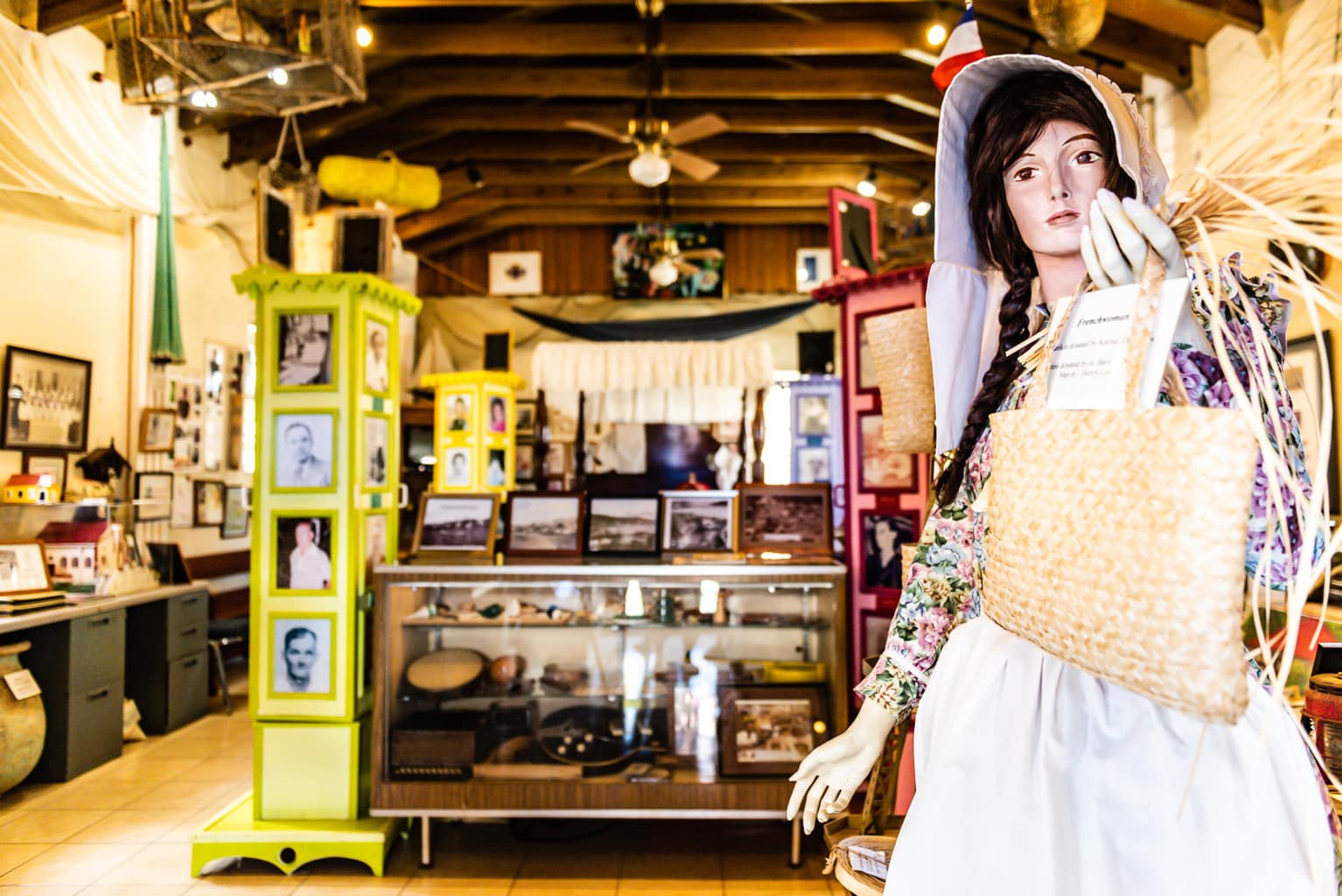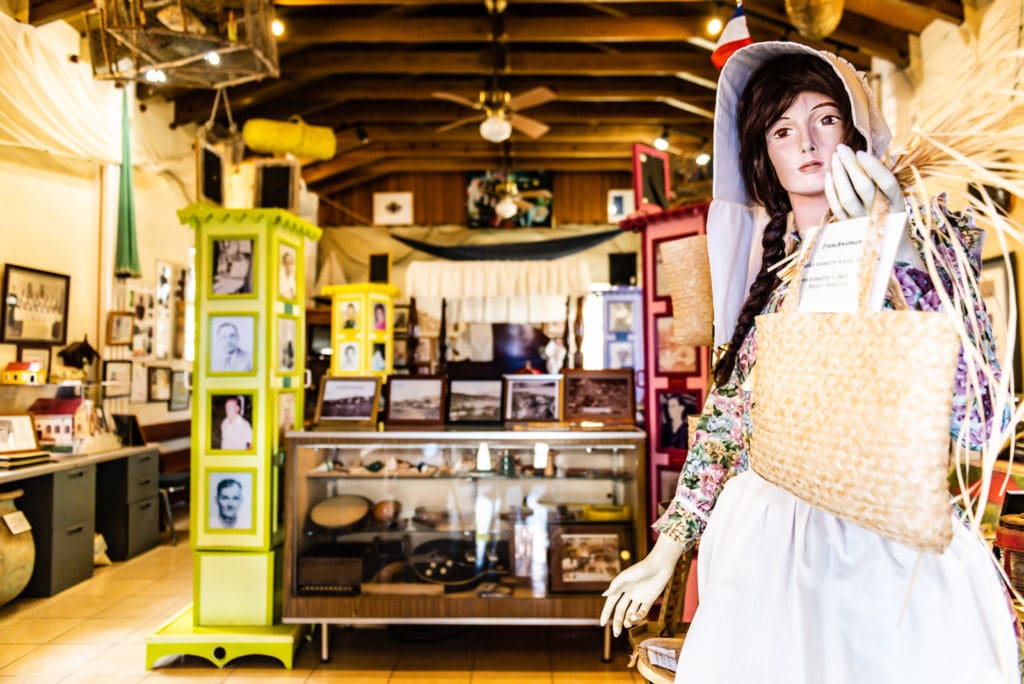 Having served as a fire station, health clinic, and Kindergarten classroom, the one-room structure in French Town (adjacent to Charlotte Amalie) now houses a modest museum celebrating the life of French West Indian settlers who originally arrived from St. Barts in the 1800s.
Nearby, early birds can catch a real slice of Caribbean life when local fishermen bring in their fresh catch to the wharf-side market.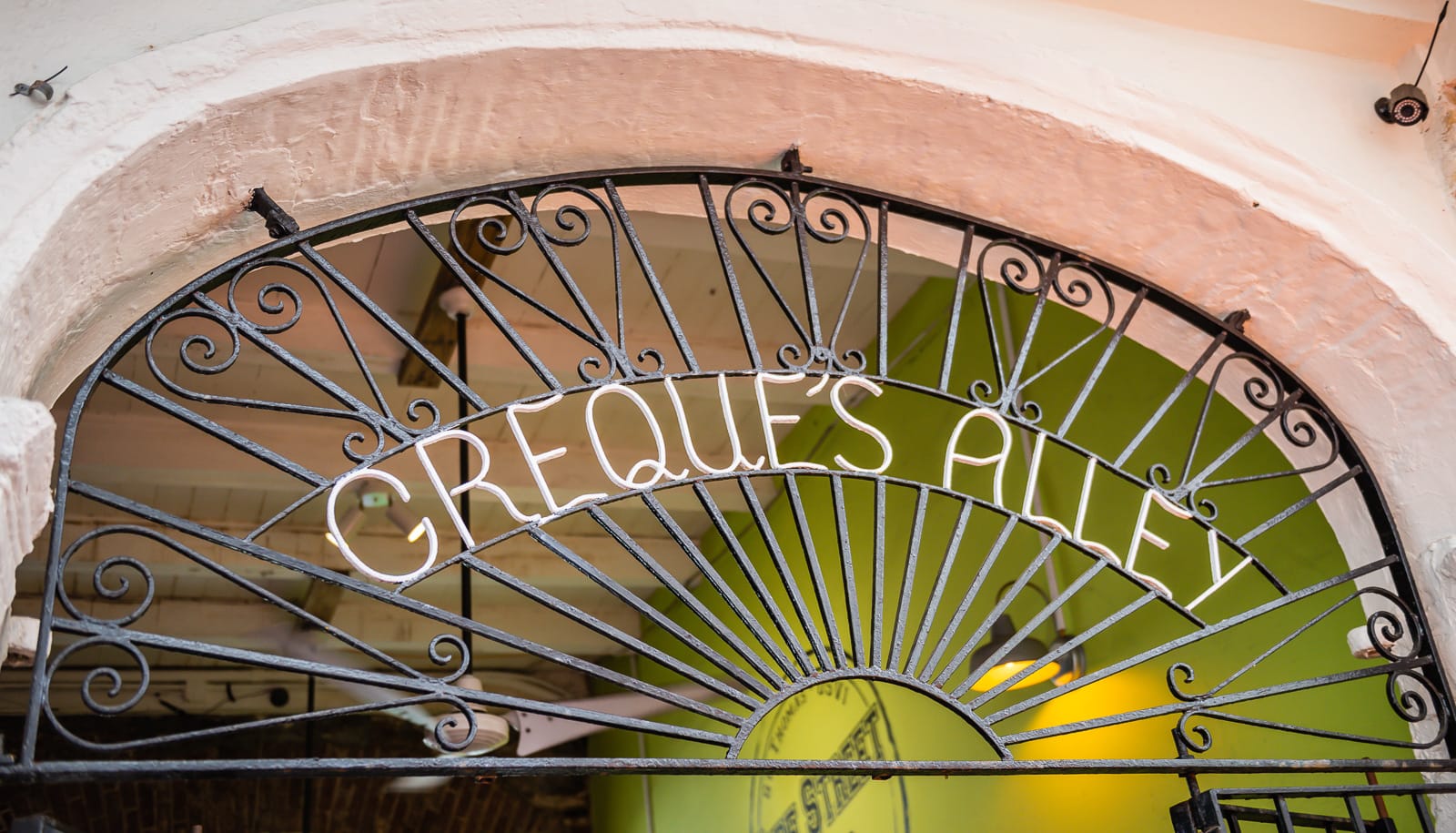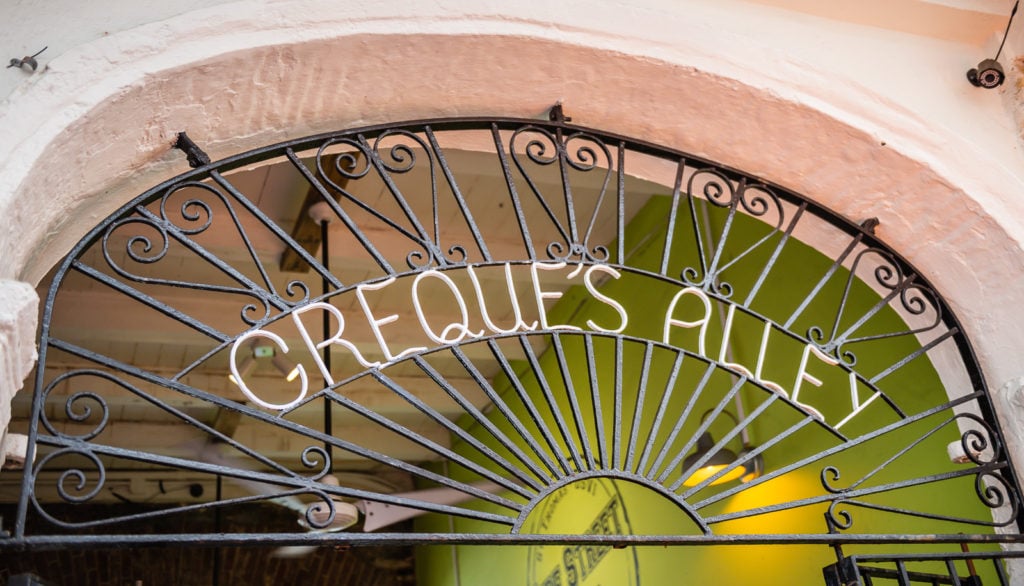 More than 300 years ago, the Creque family were among the Huguenots who escaped France to escape religious persecution.
What makes this ironwork particularly interesting is that it inspired The Mamas and The Papas to write a song title "Creeque Alley" after Hugh Duffy (father of current Duffy's Love Shack owner) hosted the entire hippie troupe at the original Duffy's, then a guest house in the alley between Main Street and the Waterfront.
Sure, you could do the usual duty-free shopping in Charlotte Amalie. The historic shops sell all the best perfumes, cosmetics, luxury watches, and liquors. But add a little historic interest with a self-guided tour and map to stops at the 99 Steps, Market Square, Blackbeard's Castle, and much more.
Learn about the Virgin Islands' earliest residents on a 1.5 hour Downtown Walking Tour led by local historians and drop by the mini-museum in Downtown Charlotte Amalie to check out the collection of historical artifacts. Tours of Hassel Island focusing on military and mercantile history are offered on Tuesdays and Thursdays.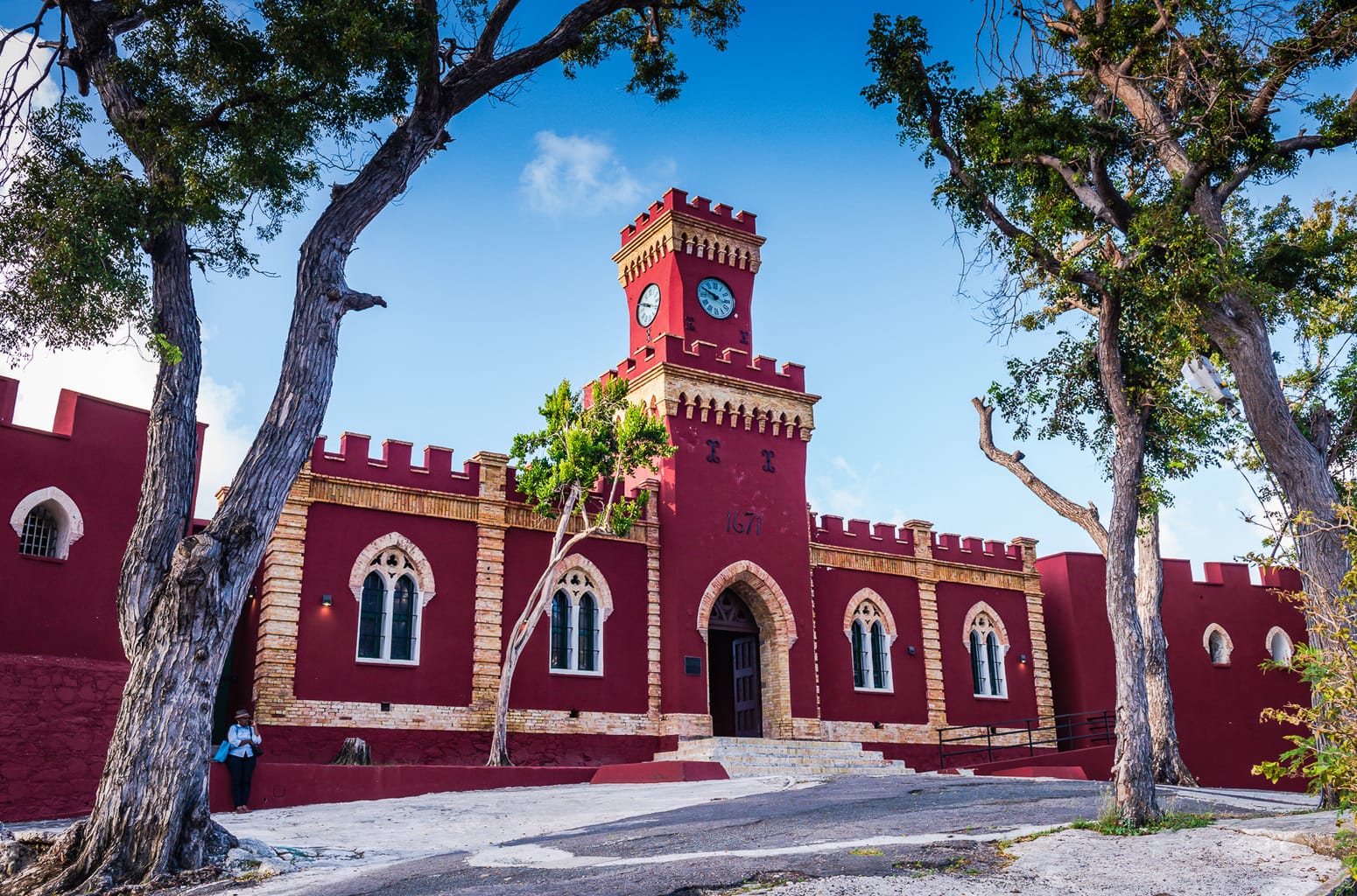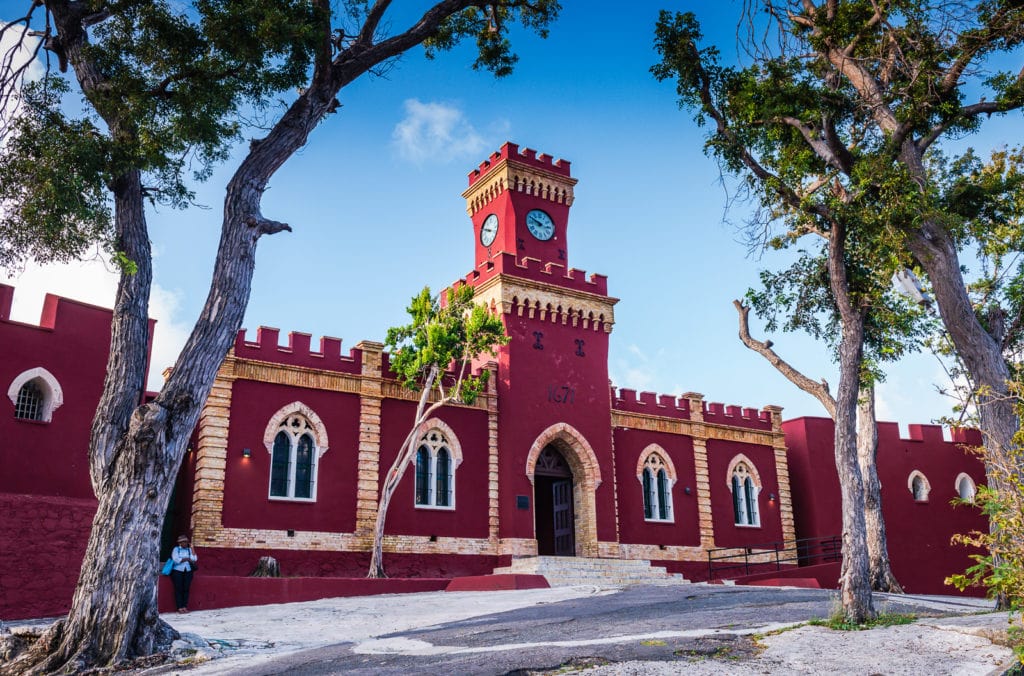 TOUR: Fort Christian.
The oldest Virgin Islands structure in continuous use reopened to the public in 2017 after a 13-year restoration project. Prison-room exhibits cover the fort's history as well as slavery and the contributions of famous Virgin Islanders.
A chapel and antique furnishings are displayed in period rooms on the main floor, while roof access provides a stellar view of the Charlotte Amalie waterfront.
Open Monday-Friday 9 am-4 pm. Admission includes guided walking tour, at 10 am and 1:45 pm. US $10 adults, US $7 children ages 5-12, Free children 4 and under. Forte Strade, Charlotte Amalie, St. Thomas. Phone 340-626-9195.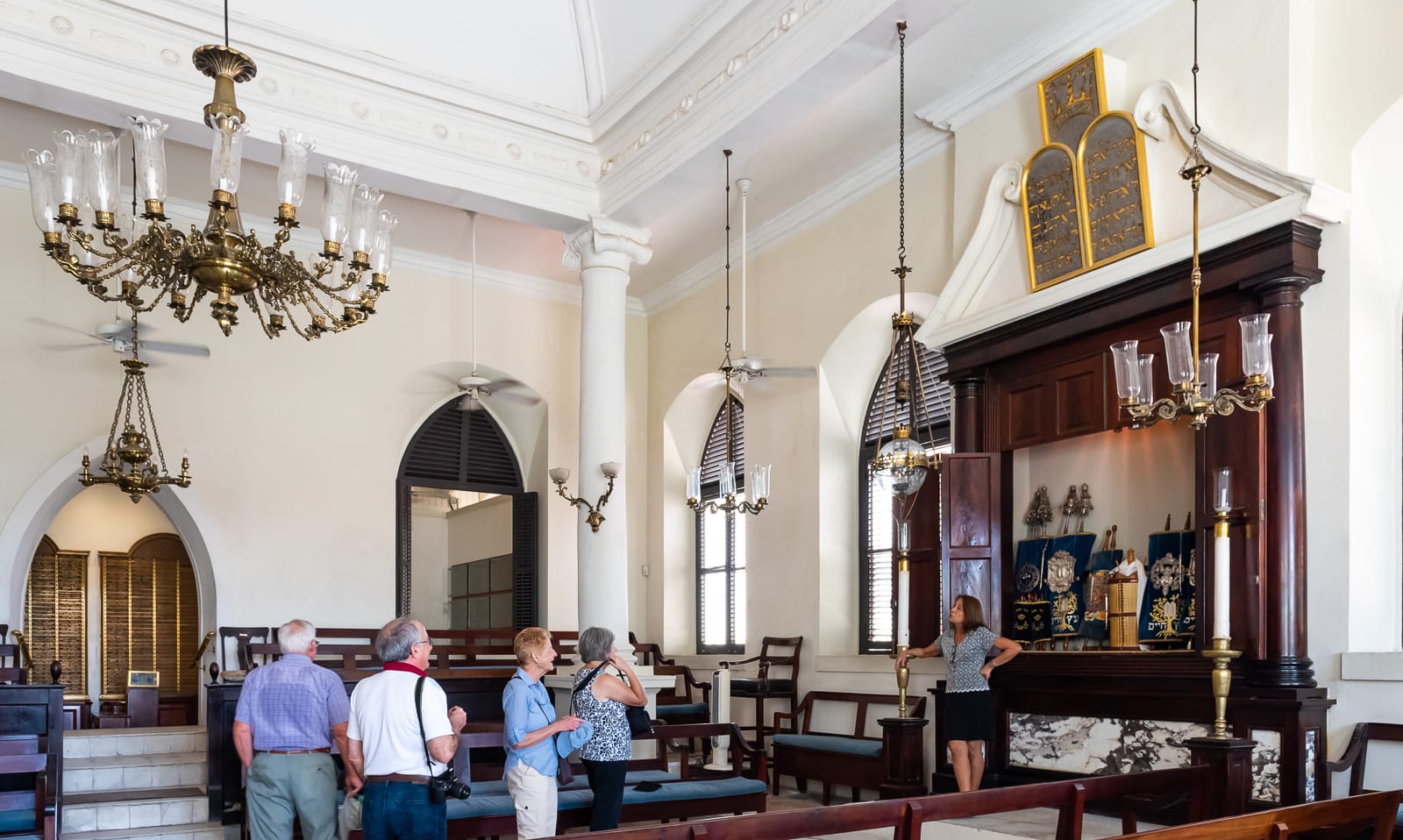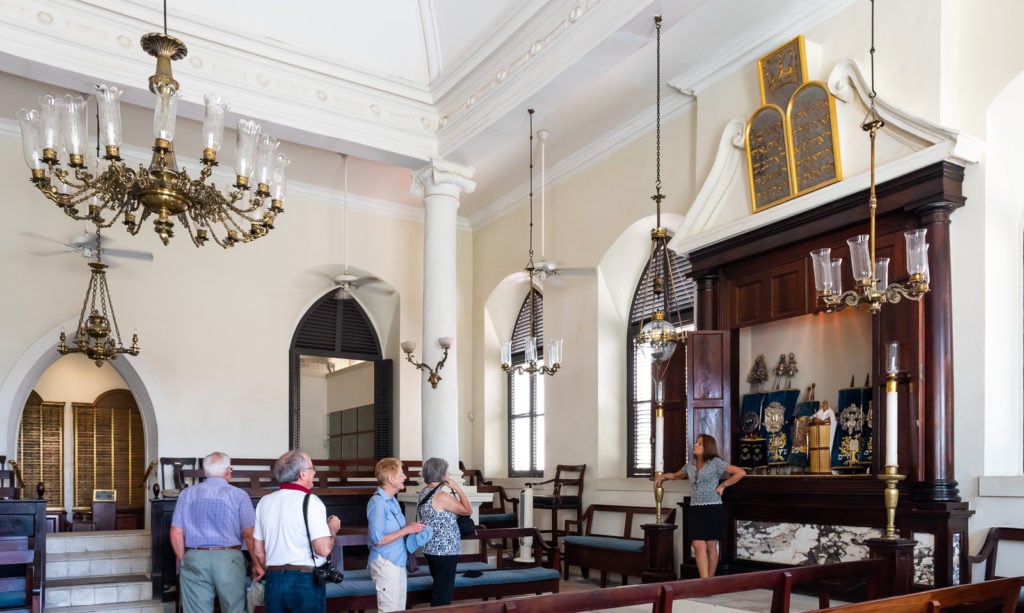 Built in 1833 by Sephardic Jews and featuring a sand floor, the Hebrew Congregation of St. Thomas is the second-oldest synagogue in the Western hemisphere. Docents encourage drop-ins (the synagogue is located a block from Main Street,) and share the stories of Jews in the Caribbean during regular daytime hours. Visitors are also welcome at services and Friday-night suppers.
The historic home that was once the birthplace of famed impressionist painter Camille Pissarro now houses a gallery representing several local artists. Usually open Monday-Friday 9 am-5 pm. 5141 Dronningens Gade, St. Thomas. Phone 340-774-4621.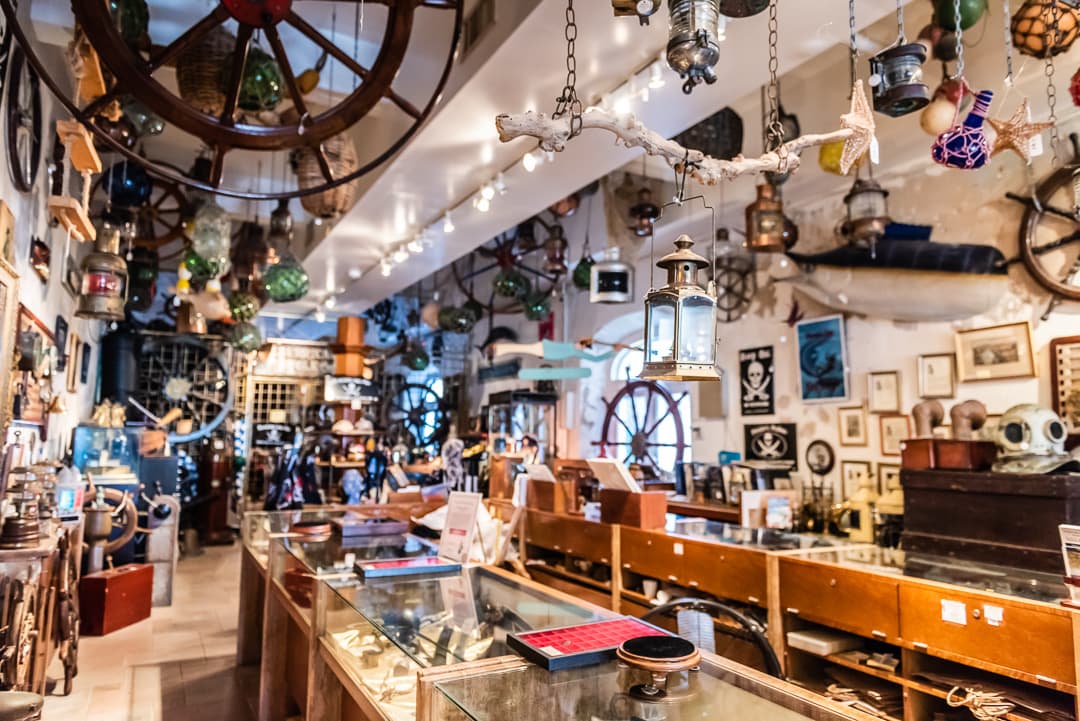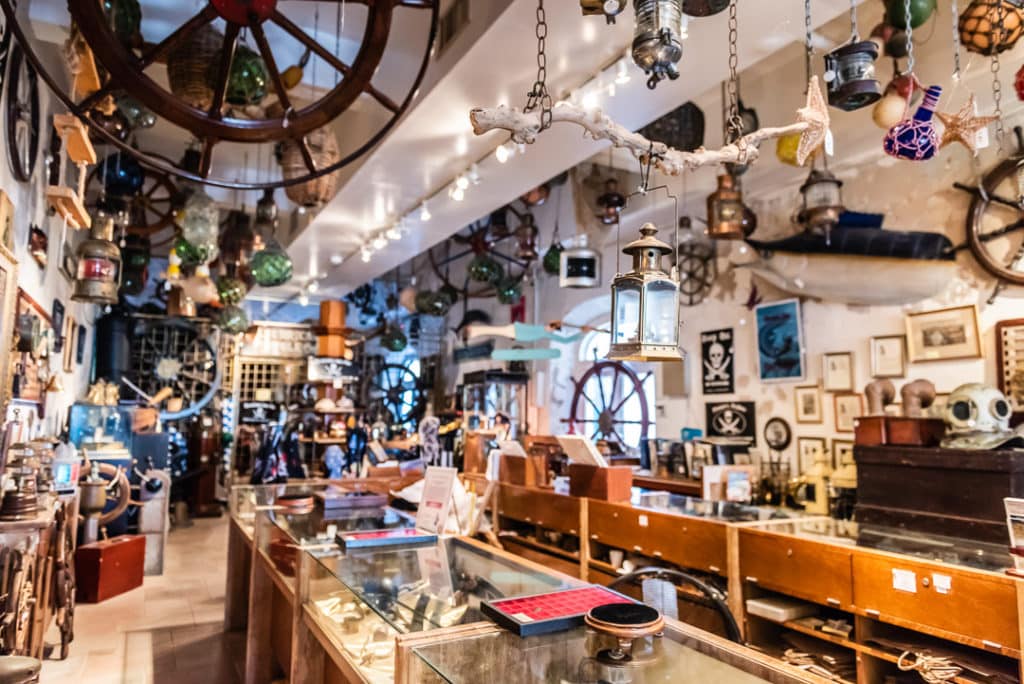 SHOP: S.O.S. Antiques.
Shipwreck treasures—from musket balls to Spanish coins–plus home decor with a nautical motif make this Waterfront shop a popular stop for lookie loos, but you won't find a better shop for a unique souvenir. Waterfront Street, St. Thomas. Phone 340-774-2074.
She's known for her custom leather sandals, but you'll also find many more handmade items that are sure to please someone on your list. These include bright canvas bags for all purposes, in all shapes and sizes.
Tip – Custom-made sandals require two fittings, plan accordingly. 5040 Norre Gade, Suite 2, Charlotte Amalie, St. Thomas. Phone 340-774-2559.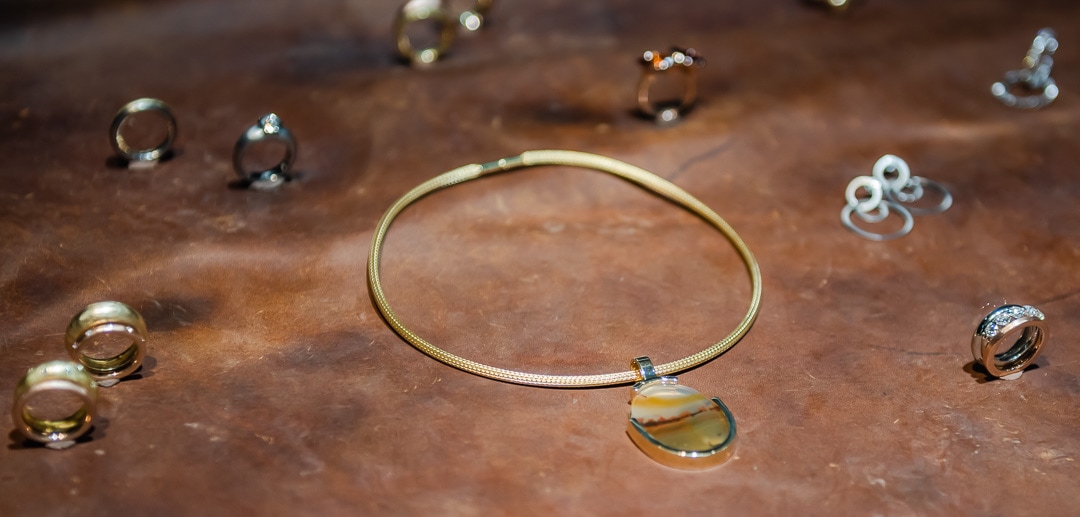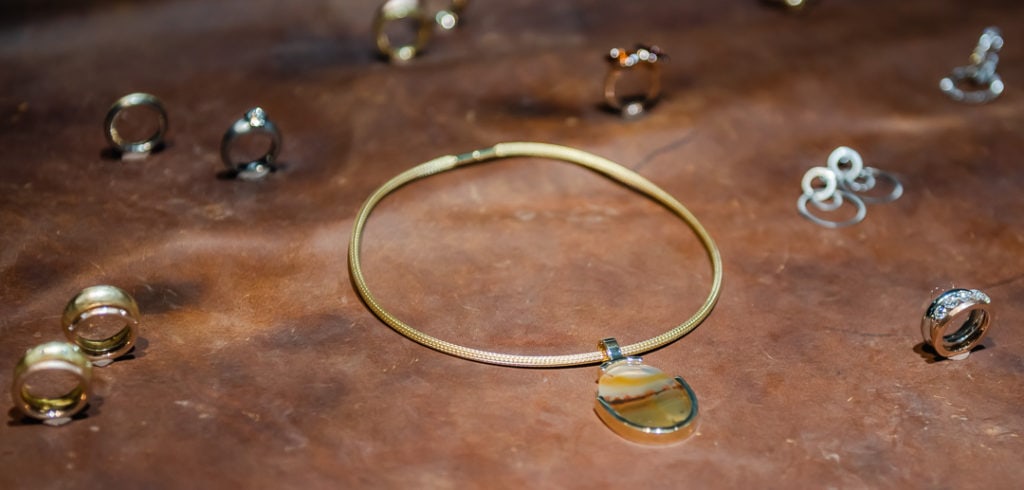 A master craftsman with over 30 years of creating one-of-a-kind jewelry in St. Thomas, Abel Fabri is known for creating simple, organic gold pieces that straddle the border between accessory and art.
Small group guided culinary tours of Downtown Charlotte Amalie combine the history and culture of the Virgin Islands, with a view to explaining how this impacted local cuisine. Tastings—saltfish quiche, coconut rum cake, and a Bushwacker, the island's signature drink–included with the tour.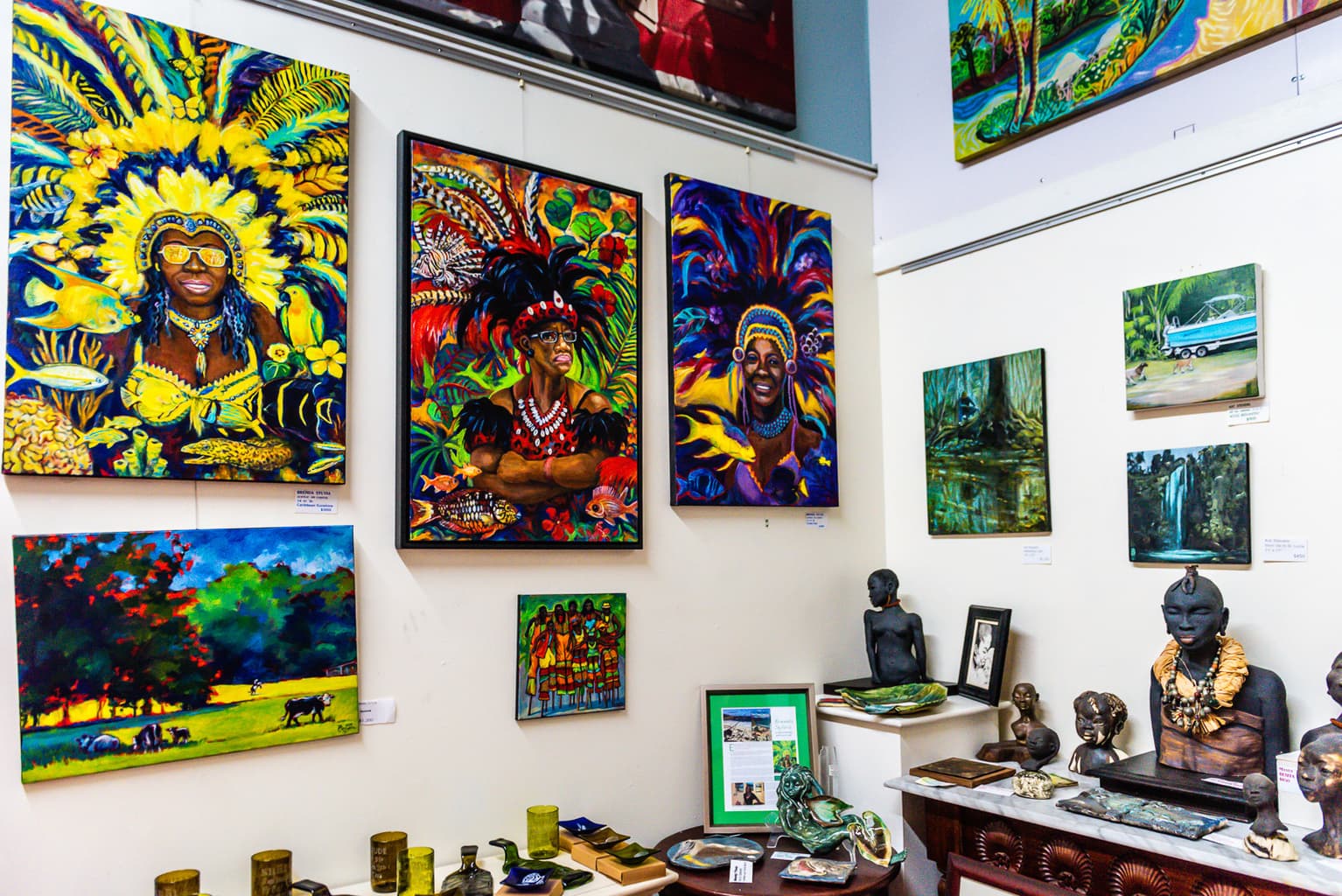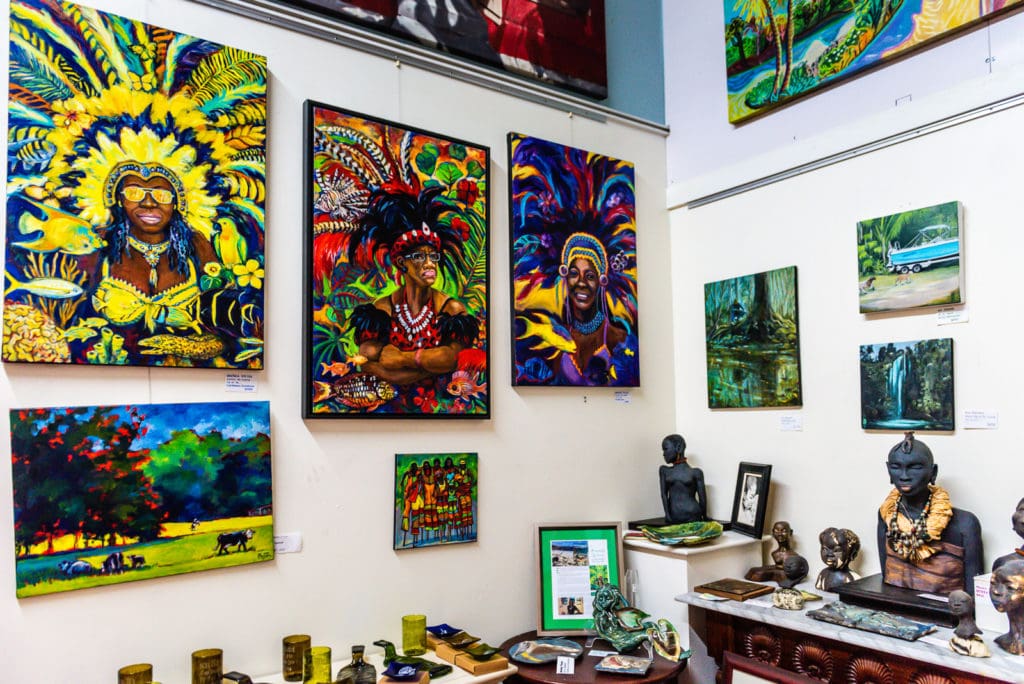 SHOP: Mango Tango Art Gallery.
Located outside of town, Mango Tango displays original paintings, prints, and ceramics by the most renowned artists of the Virgin Islands. Tuesday-Saturday 10 am-5:30 pm. Al Cohen's Plaza, Weymouth Rhymer Highway, St. Thomas. Phone 340-777-3060.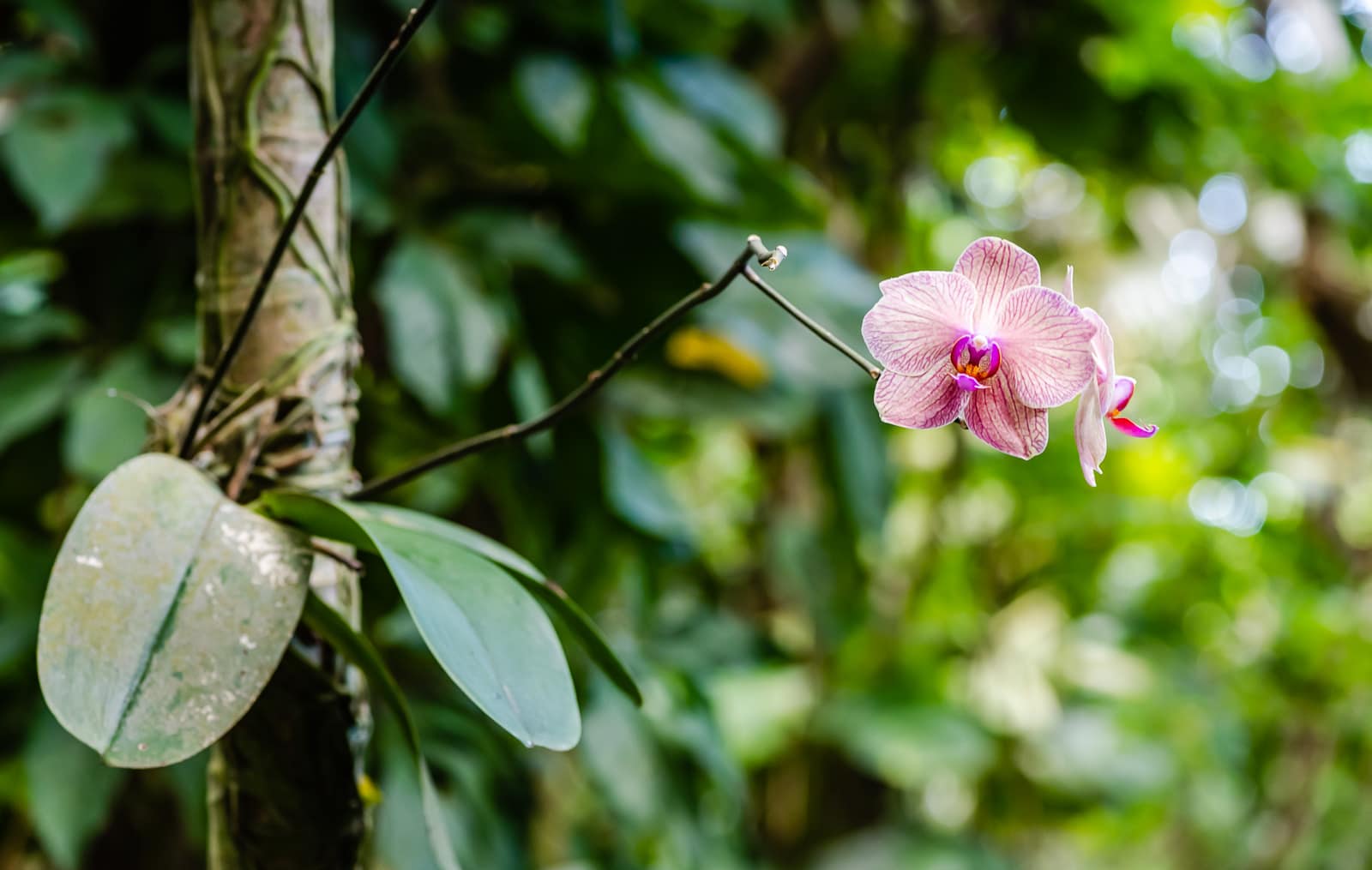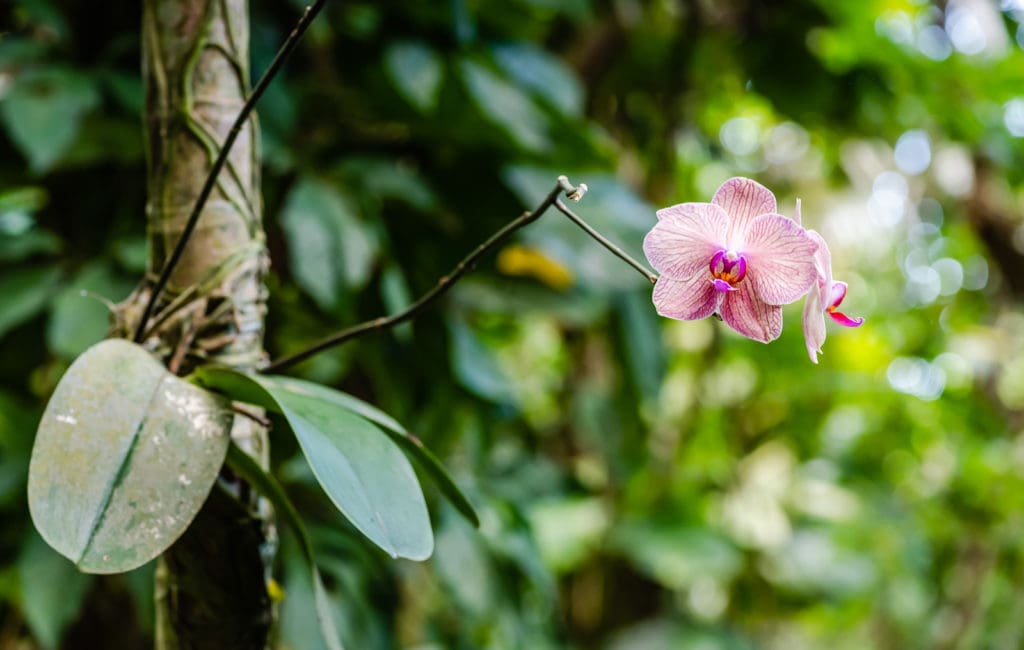 One of the most extraordinary garden collections–featuring over 1,000 orchids and hundreds of bromeliads–is the result of one woman's 20+-year labor of love. Winding garden paths through tropical foliage are occasionally enlivened by the appearance of peacocks, parrots, chickens, and tortoises.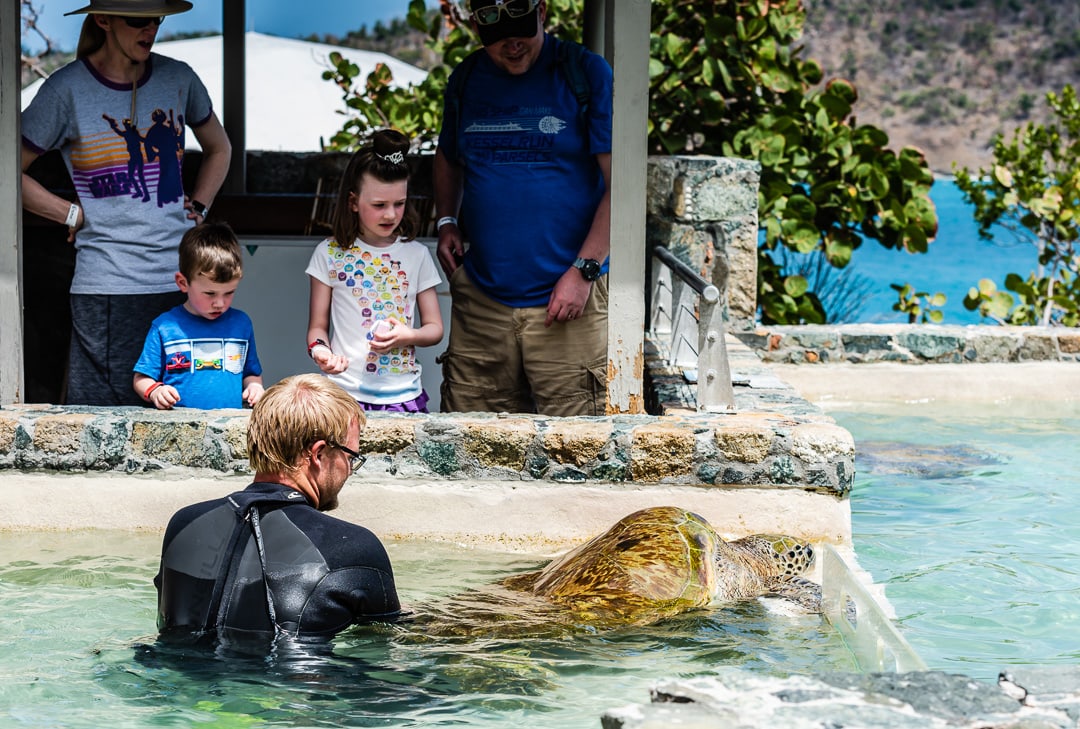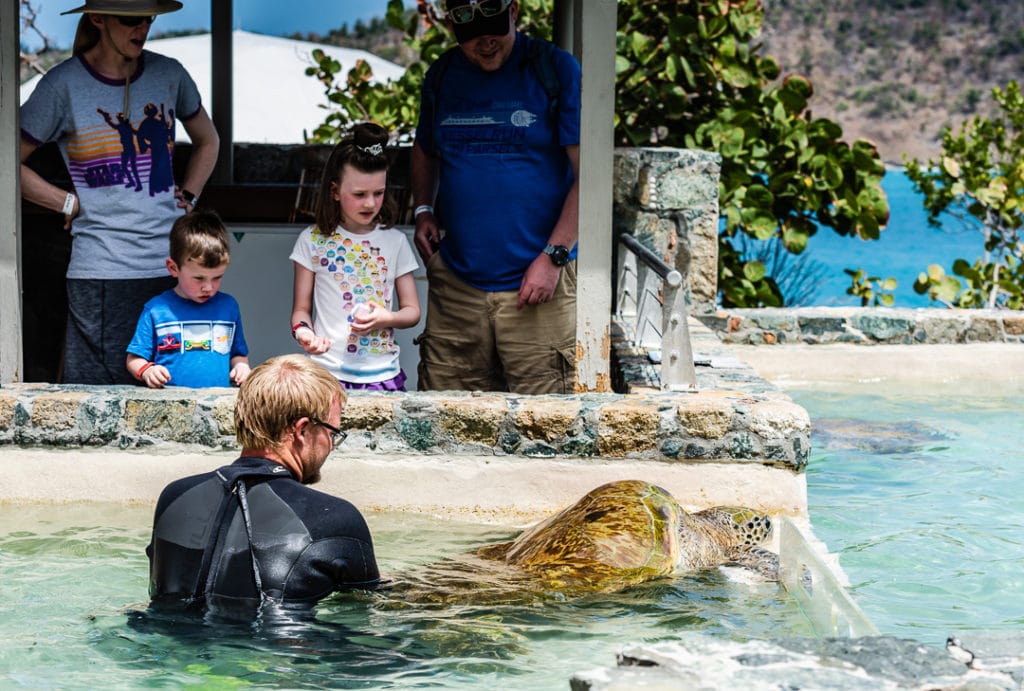 Learn about ocean life and conservation at Coral World; the marine park encompasses an 80,000-gallon coral reef aquarium, touch pool, stingray lagoon, and a sea turtle pool. Swim with sea lions or walk on the ocean floor wearing a Sea Trek helmet, with an air hose attached (additional fees apply.)
A dolphin attraction opened recently. Four dolphins were just introduced to a new state-of-the-art 69,000 square-foot ocean habitat that's been in the works for the past seven years.
Operating at the Mangrove Lagoon Marine Reserve and Wildlife Sanctuary for over twenty years, this company now offers naturalist-led kayak, hiking, and snorkel tours on both St. Thomas and St. John. Daily and weekly rentals of floats, kayaks, and stand-up paddle boards are available on St. Thomas.
Reservations required. Holmberg's Marina (East End), St. Thomas. Phone 340-779-2155. Toll-free 877-845-2925.
Small groups–12 people maximum–and roomy 42′ power boats make for exceptional excursions around St. Thomas and to surrounding islands, including the British Virgin Islands. Docked at Red Hook, Phone 340-775-7990.
Record-breaking Blue Marlin, Wahoo, and Sailfish have been caught in the waters around St. Thomas. Let an experienced captain show you all the best fishing spots, with an itinerary tailored to individual specifications. Shop located at Red Hook. Phone 340-227-5448.
Scuba Diving Around St. Thomas
Wreck diving, reef diving, and a full roster of scuba diving courses. The facility caters to newbies and seasoned divers and their families. With a decades-old history and under new management, the company excels at taking out small parties for unforgettable underwater experiences. #59 Honduras, Frenchtown, St. Thomas. Phone 340-777-9802.
Daily dive trips and packages, as well as scuba diving instruction. Shop open daily 8 am-5 pm. American Yacht Harbor, Red Hook, St. Thomas. Phone 340-777-3483.
Based at Bolongo Bay Beach Resort, St. Thomas Diving Club offers to stay and dive packages. Comprehensive dive instruction, from "Discover Scuba Lesson" to "Emergency First Responder" course. 7147 Bolongo Bay (Bolongo Bay Beach Resort), St. Thomas. Phone 340-776-2381.
St. Thomas Beaches
All beaches on St. Thomas are open to the public, even those attached to resorts, but some are more accessible than others. The water around St. Thomas offers good snorkeling off most beaches, where you'll find plenty of sea life. Rent fins, masks, and snorkels for approx. US$10 a day at a number of beaches, including Coki, Magens, and Sapphire.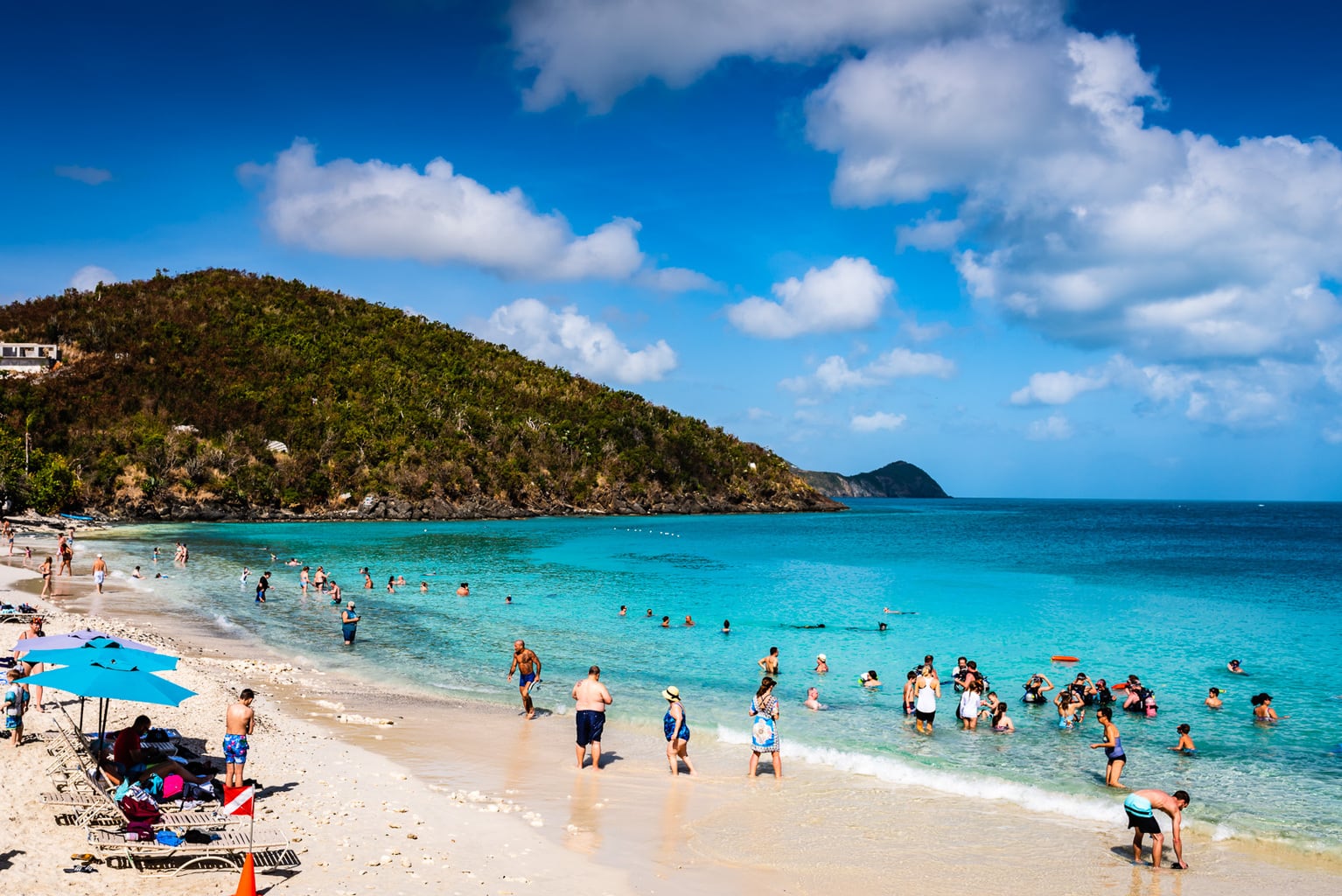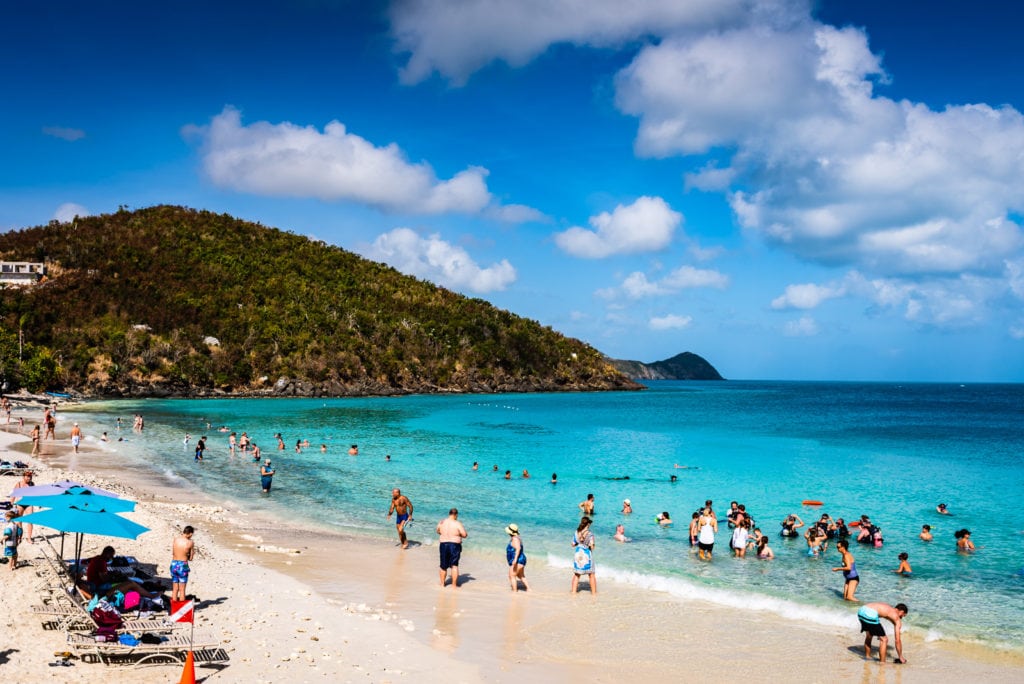 Coki Point Beach
Located at the entrance to Coral World Ocean Park, Coki Beach can be busy when cruise ships are in port. But, in addition to hair braiders and souvenir huts, there are public restrooms. The coral reefs lining the shore offer great snorkeling, Bring some bread to crumble into the water and you'll be rewarded by the sight of colorful Sergeant Major fish congregating around the crumbs.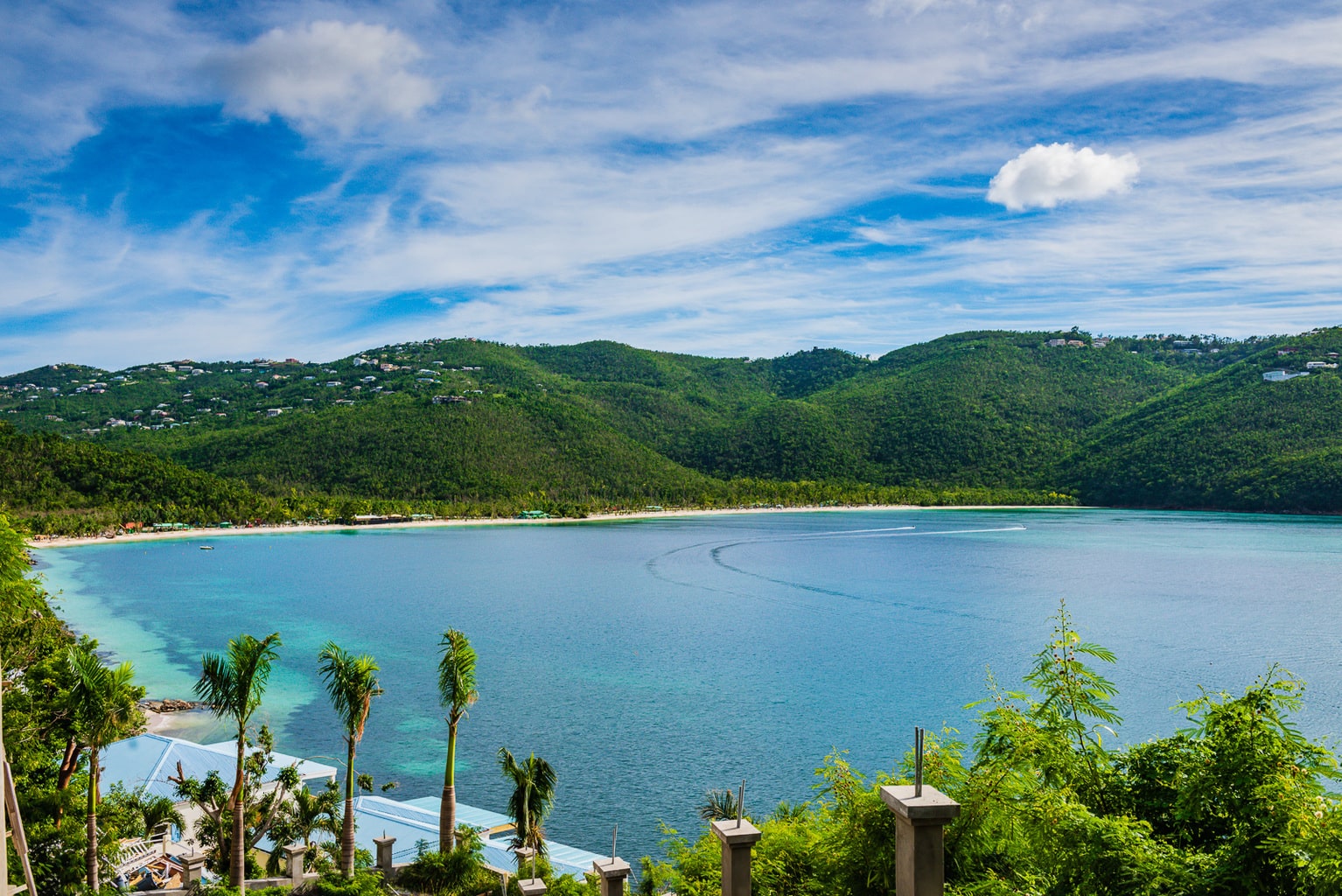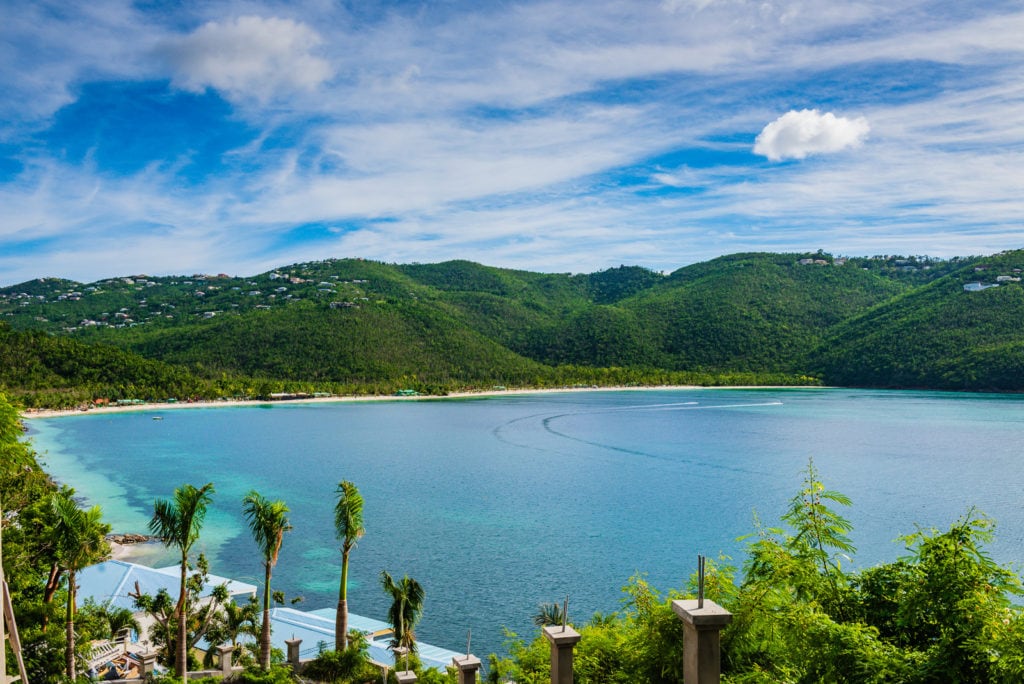 Magens Bay Beach
One of the world's most beautiful beaches, the mile-long crescent beach frames calm, translucent waters. Although it can be busy on cruise ship days, we think it's definitely not to be missed if you are a beach person. Look for a spot on the quieter, shadier western part (on the left as you face the water).
There are lifeguards, showers, changing facilities, a gift shop, and a snack bar. Snorkeling is excellent along the rocky edges, but do be aware that there is a clothing-optional "Little Magens" beach on the right side (facing out to the ocean.) You can also rent beach towels and toys.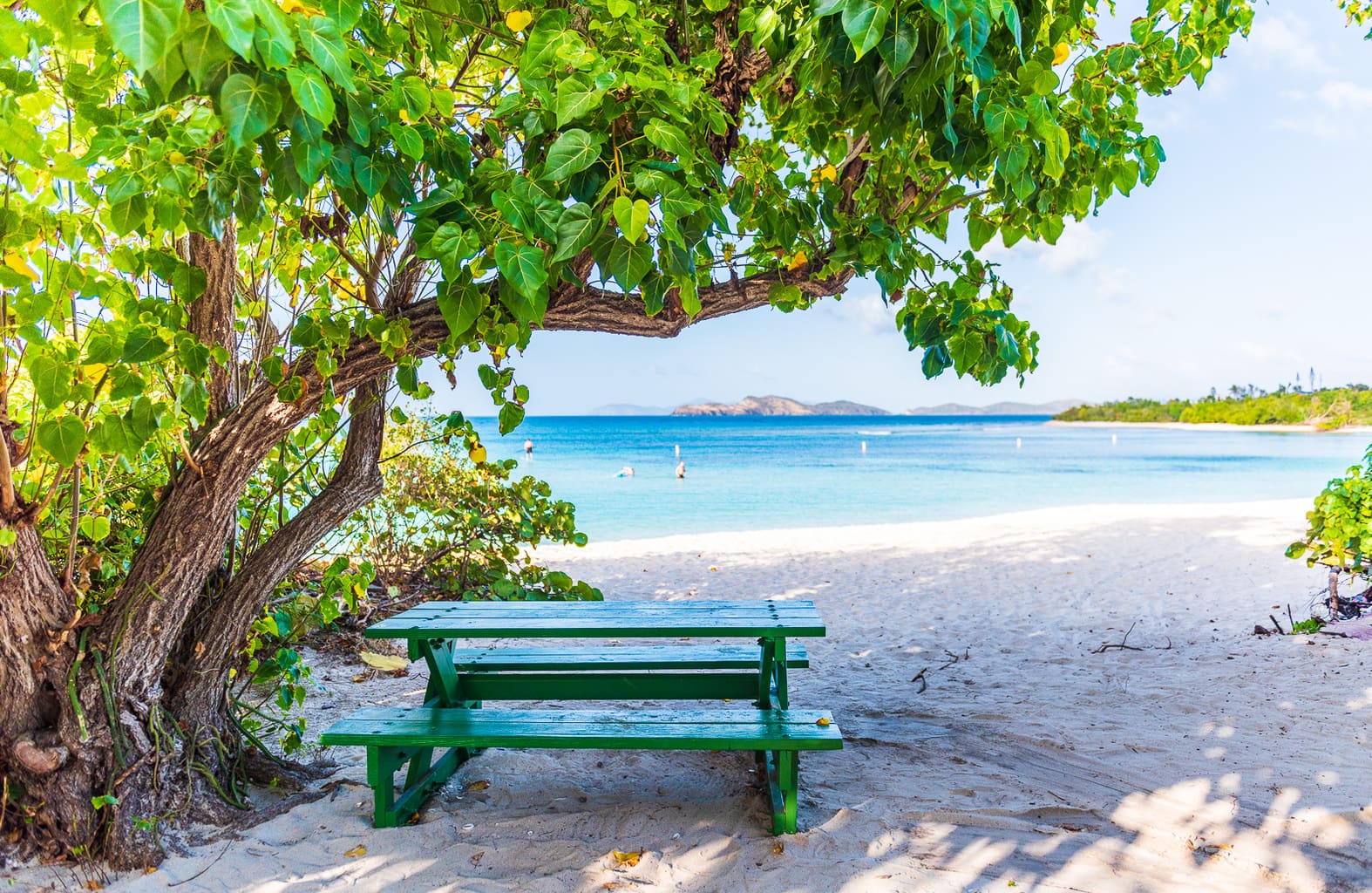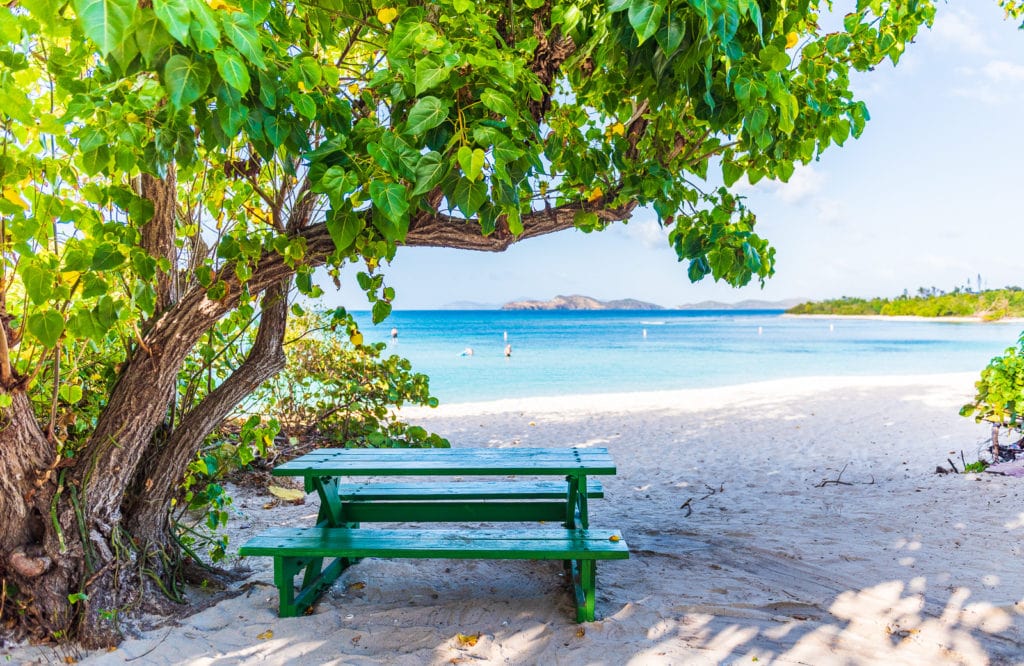 Lindquist Beach (Smith Bay Park)
Lindquist Beach is one of the quietest and prettiest white-sand beaches, with some of the most colorful coral reefs. A recent upgrade added a very well-maintained restroom facility, lifeguard station, and a toll booth. Daily park hours 8 am-5 pm (restroom only open during park hours.) Snorkeling here is excellent.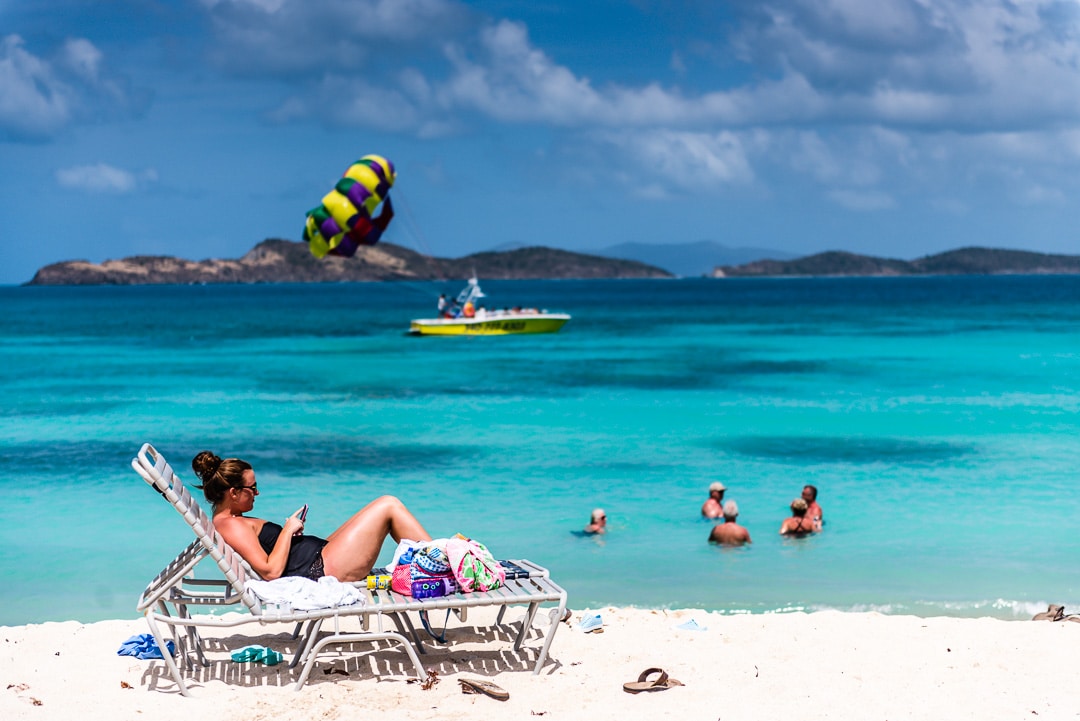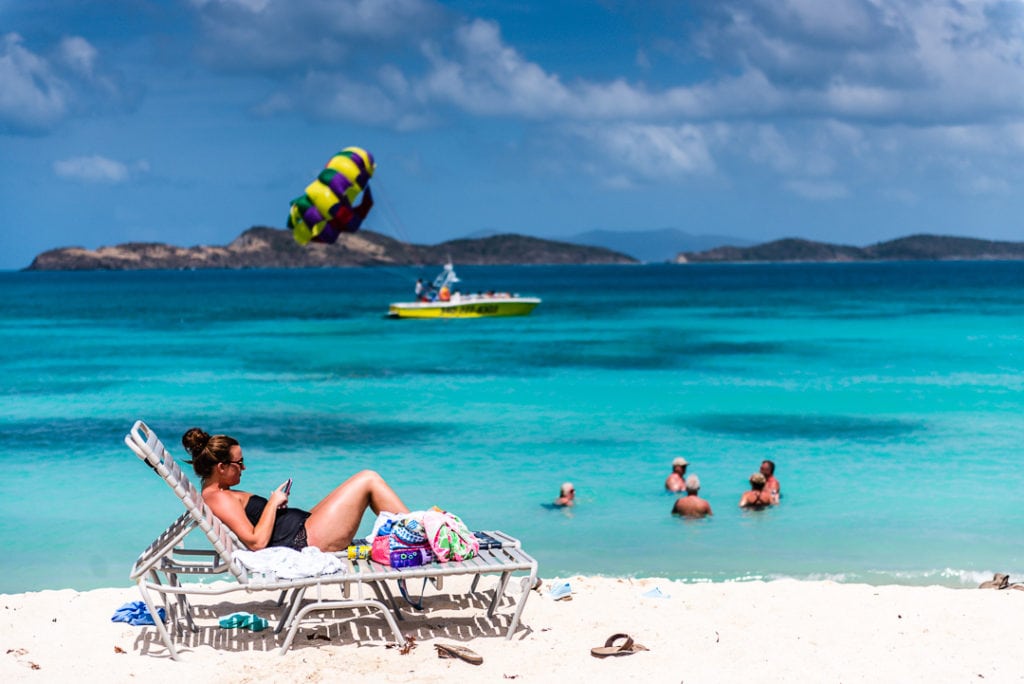 Sapphire Beach
The long stretch of beach fronting Sapphire Beach Resort offers good snorkeling, kayaking, volleyball, diving, and fantastic views of St. John and Tortola, especially when parasailing. A dive shop offers gear and lounge rentals, and a lively bar & grill hosts a monthly Full Moon Party, in addition, to live music almost daily.
Honeymoon Beach
Because it's located on Water Island, getting to Honeymoon Beach is half the fun. Catch the little red ferry (see Water Island Ferry schedule) from the dock next to Tickles Dockside Pub (great breakfast spot, by the way!), and make sure you check when the last ferry returns. The beach is a short (but steep) walk from the Water Island dock.
The beach itself is a little slice of heaven, very quiet and peaceful (except on cruise ship days when sailing excursions and the KonTiki party boat drop in.
Heidi's beach grill makes one of the best burgers, perfect for that "Cheeseburger In Paradise" Instagram shot, and you have to try the Limin' the Coconut frozen rum drink at Dingy's Beach Bar, even under new management, they make the best version of the cocktail. Tip – Don't bother hauling snorkel gear, not much to see here.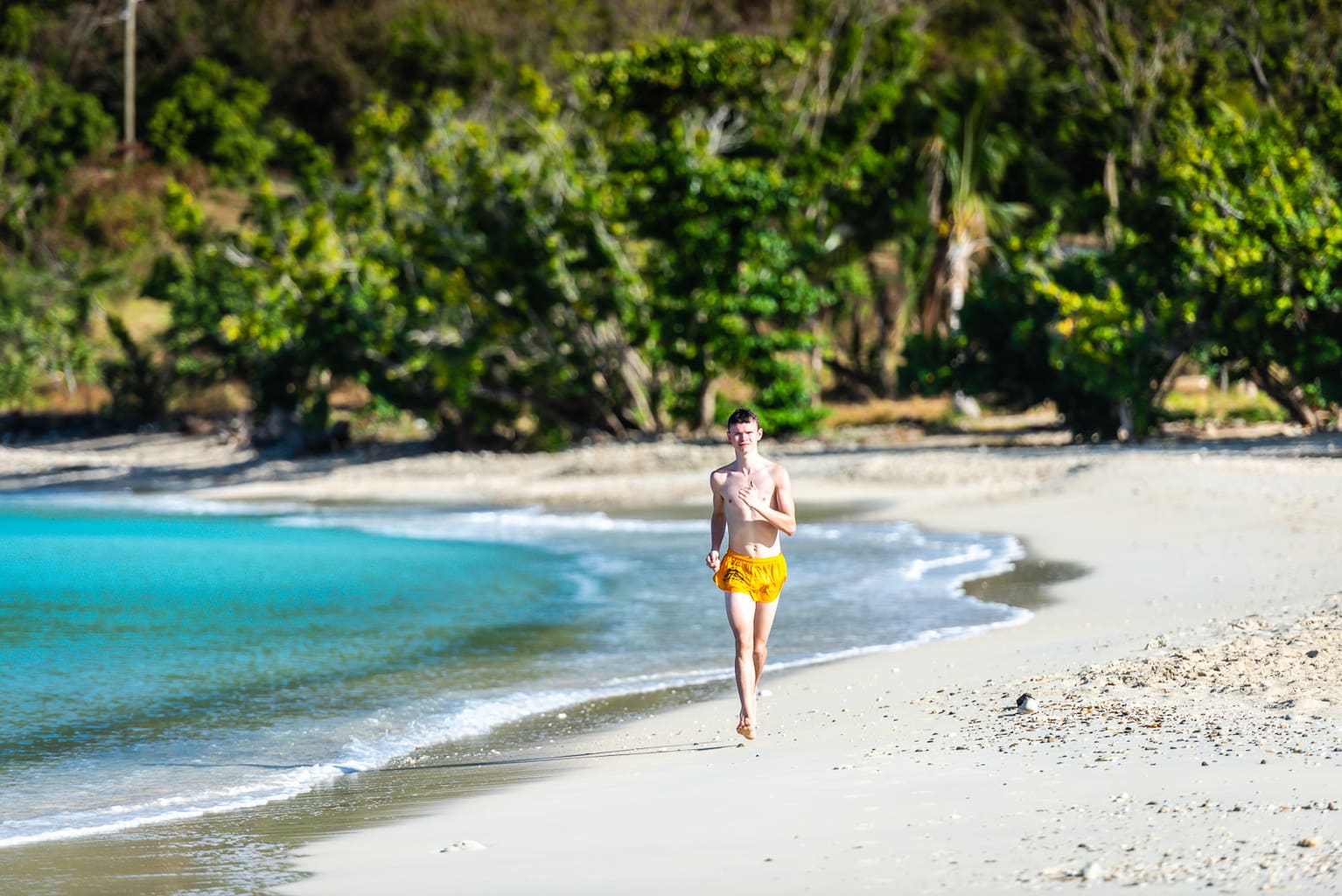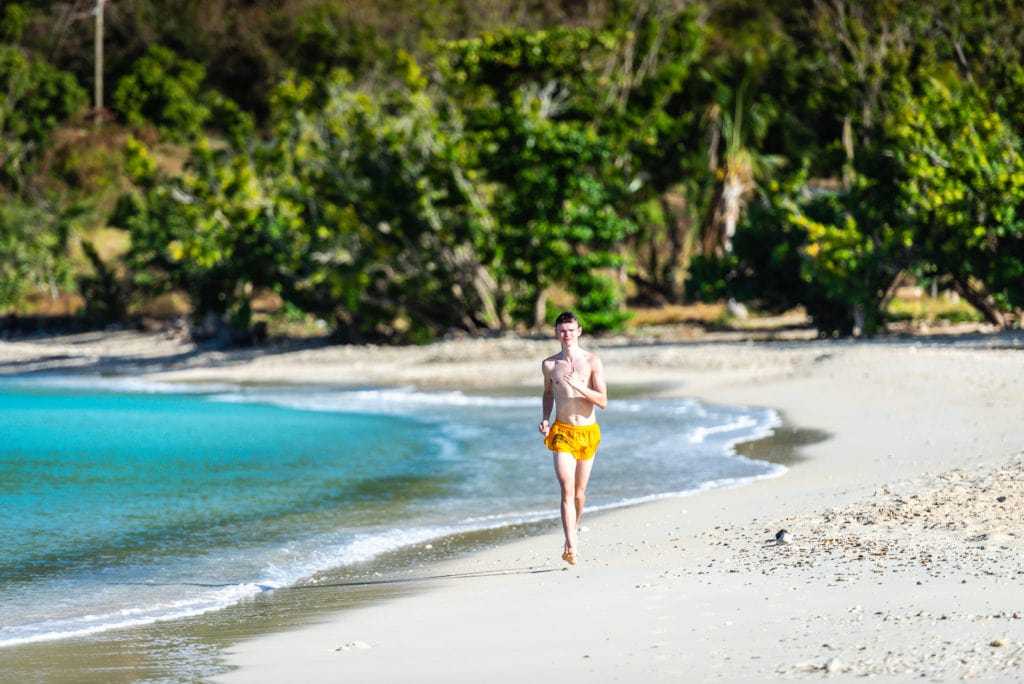 Brewers Beach
Because of its location between the airport and the University of the Virgin Islands campus, you might imagine that this would be a party beach. But you couldn't be more wrong. During the week, it's one of the quietest beaches on the island, with the only amenities being a restroom and a couple of food trucks.
Snorkeling is pretty good, especially towards the edges of the beach. And it's a great spot to watch airplanes taking off from the narrow runway jutting out into the ocean.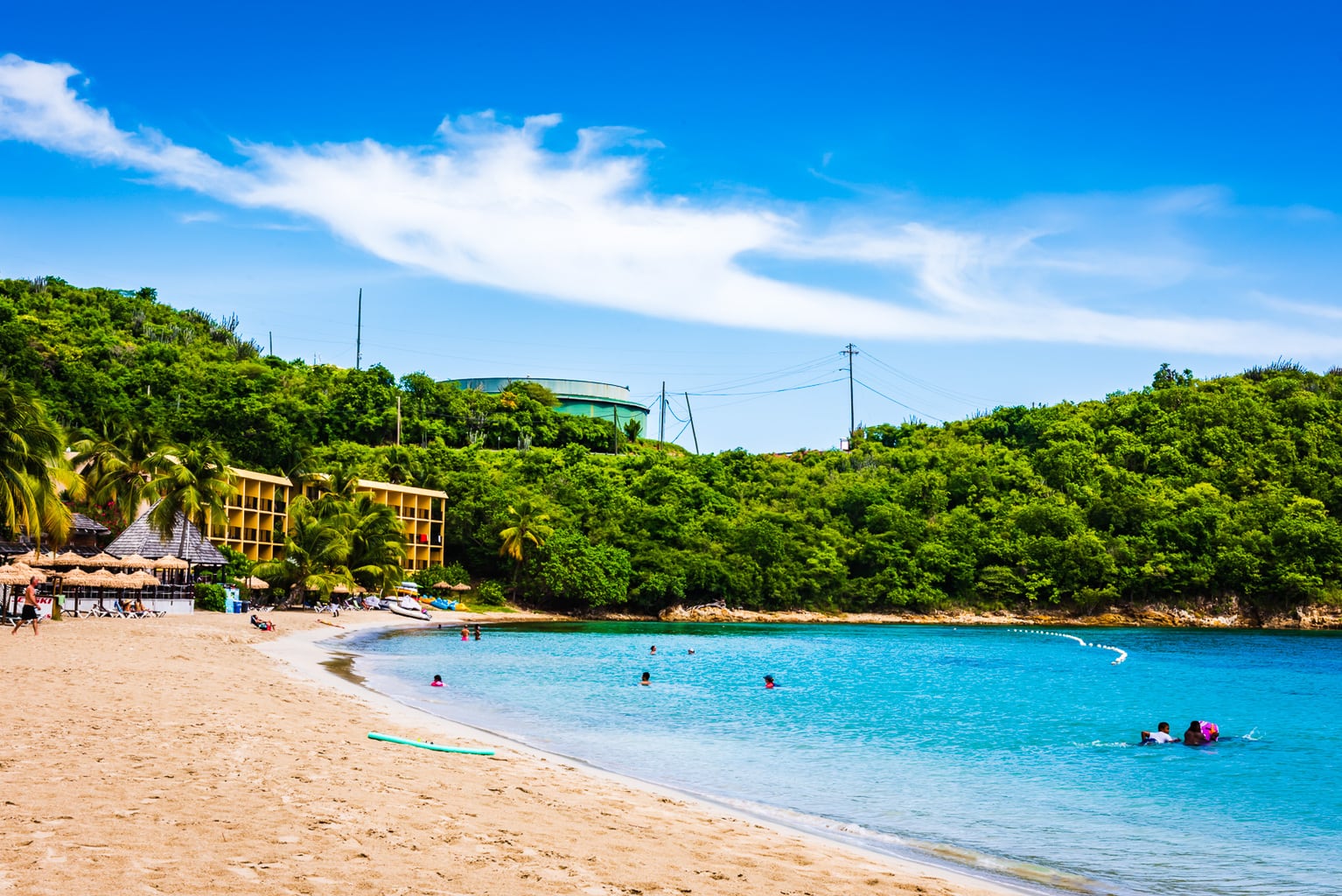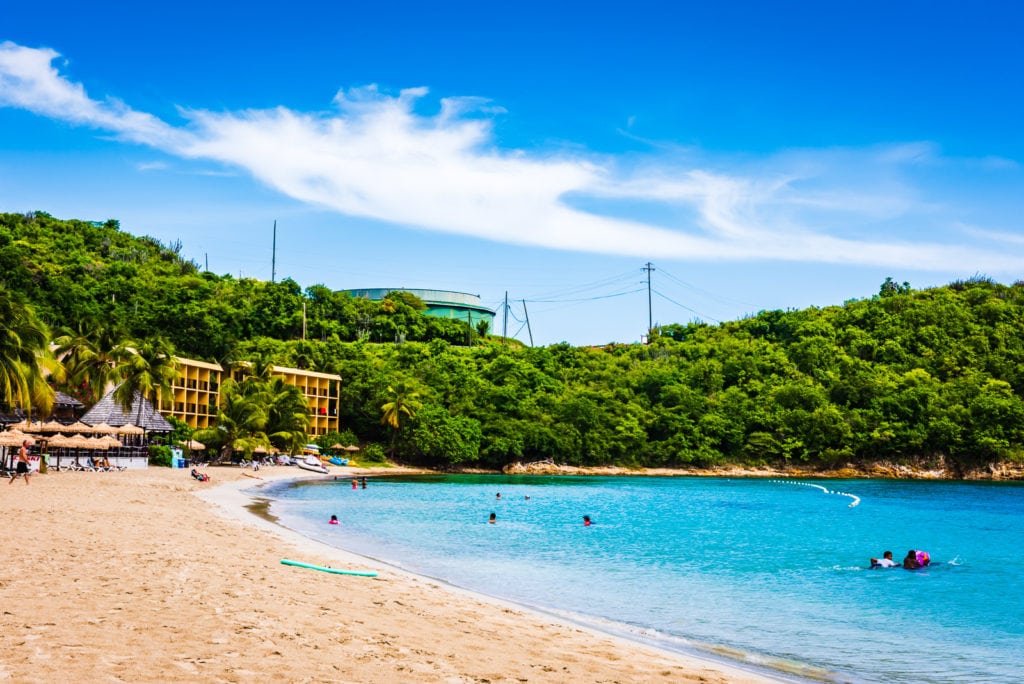 Lindberg Bay Beach
Until recently there were a couple of resorts fronting this beach, but for now, it's down to one–Emerald Beach Resort. But that's all you need for access to a variety of amenities, including a beach bar and restaurant as well as lounge chair rentals. Do be aware that due to airport proximity, it can get a little loud during arrivals and departures.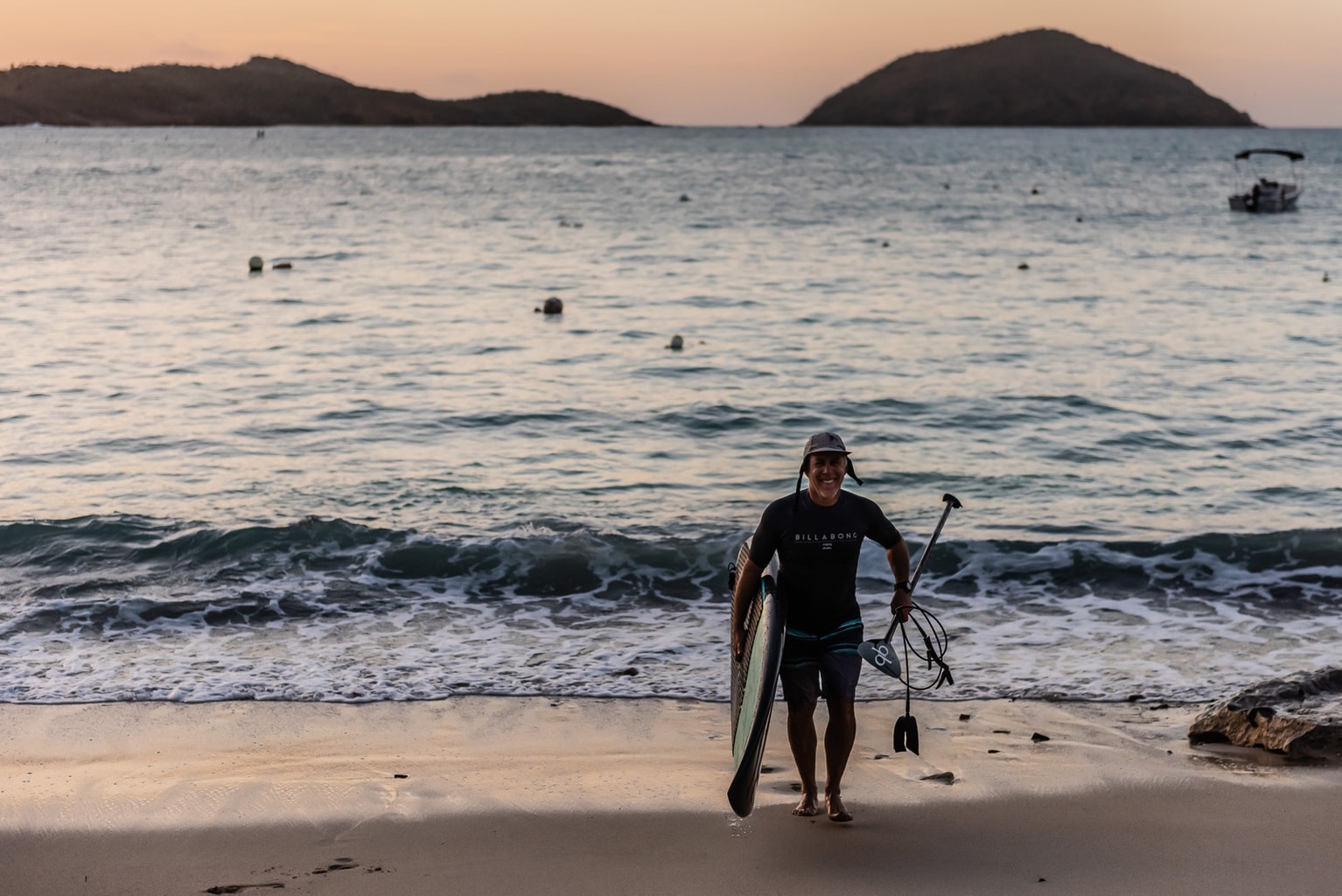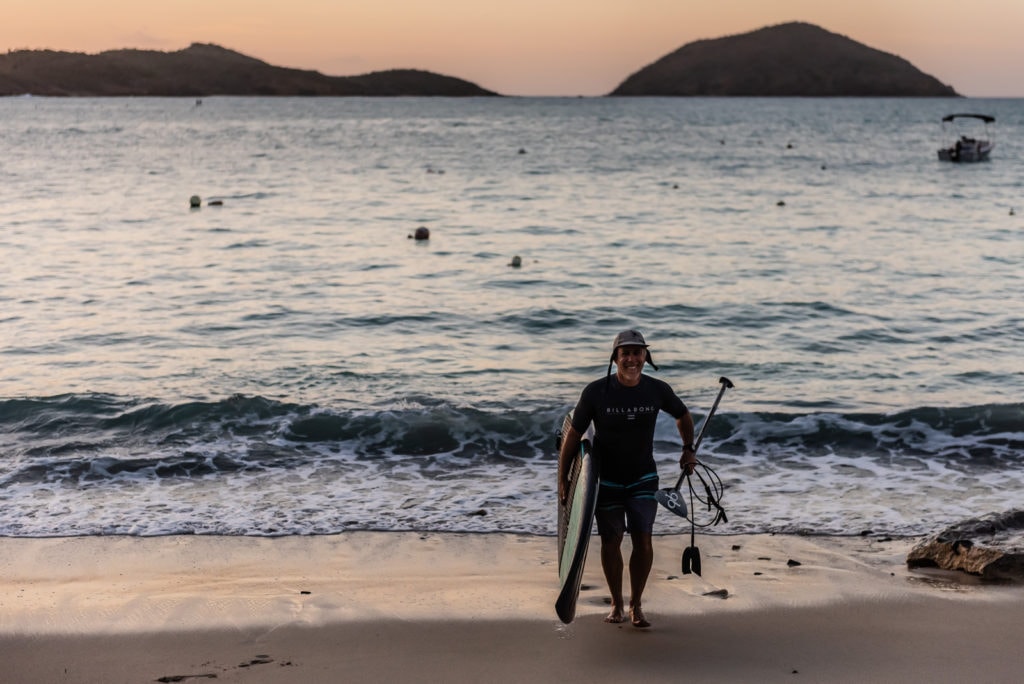 Hull Bay
Popular with surfers and local fishermen, Hull is a quiet, out-of-the-way beach on St. Thomas' North Side. Although the waves can get high in winter, most of the year, the water is fairly calm. Locals also love the Hull Bay Hideaway beachside bar and grill. Nothing fancy. Just good food, good company, and great drinks.
Morning Star (Closed while Frenchman's Reef undergoes renovations.)
The best boogie board surfing beach on St. Thomas, this is where to go to balance serious R&R with more active pursuits. Seaside restaurants and bars at the beachside Marriott resort, as well as rows of umbrellas and reclining chairs, provide ample shelter.
Fun water toy rentals include floats, body boards, snorkel sets, kayaks, jet skis, sailboats, and paddle boats.
Secluded St. Thomas Beaches
Abi Beach
It's not easy getting to Abi Beach. The road is long, unpaved, and has more potholes than the actual road. But the reward is the beach seen on The Bachelor when Nick Viall took six women on a catamaran date that ended with three-on-one beach volleyball after drinking shots.
Until Abi Beach Bar reopens, and we don't know when or if it will, don't expect any amenities so pack accordingly. For now, this may be your best bet for having a beach all to yourself.
Mermaid's Chair
To get to Mermaid's Chair, you have to park outside of the gated community at The Preserve at Botany Bay on the western side of St. Thomas and hike down a mile or so. Afterward, you'll have to hike that same distance back uphill. Your reward is a tiny spit of a beach surrounded by rocks, and almost totally guaranteed privacy.
Neltjeberg Beach
Uncommon Caribbean details how to hike to Neltjeberg from Dorothea Bay, but you can drive most of the way (although I highly recommend a Jeep for this adventure.) A long stretch of beach invites seaside strolls, but do bring your snorkel gear. There's a reef wall that makes this one of the best places to go snorkeling on the island.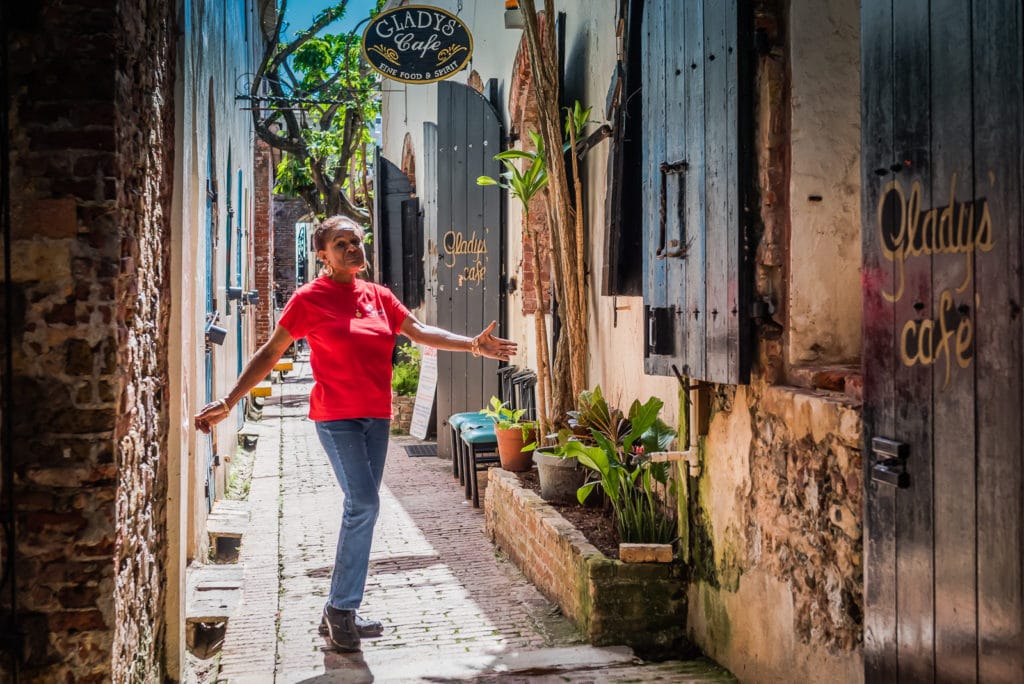 Restaurants In St. Thomas USVI
Located in a historic alley on the Charlotte Amalie waterfront, Gladys' keeps West Indian culinary traditions alive. Local fruit juice cocktails and specialties such as Creole-style fish in tomato and onion sauce, curried goat, kallaloo soup and fungi taste fresh and lovingly homemade.
Do take home a bottle of the homemade hot sauce, but only if you can stand the heat. Daily for breakfast and lunch. 5600 Royal Dane Mall, St. Thomas. Phone 340-774-6604.
Popular with locals and visitors seeking a quick bite, the corner café mixes up fresh homegrown herbs and vegetables into the usual omelets and sandwiches—the veggie burger is a standout. Party Marty, host and server, keeps dishes coming and guests entertained.
Take home a bottle of Jen's homemade hot sauce, if you dare. Daily for breakfast and lunch. Grand Hotel 43-46 Norre Gade (next to Emancipation Park,) St. Thomas. Phone 340-777-4611.
Newly renovated and under new management, Hook, Line & Sinker was known for its decadent brunch menu, but now it's gaining a reputation for the freshest of seafood dishes–served steps from where the Frenchtown commercial fishermen sell their morning's catch from the back of trucks, freshness is practically guaranteed. Note – Temporarily closed but expected to reopen.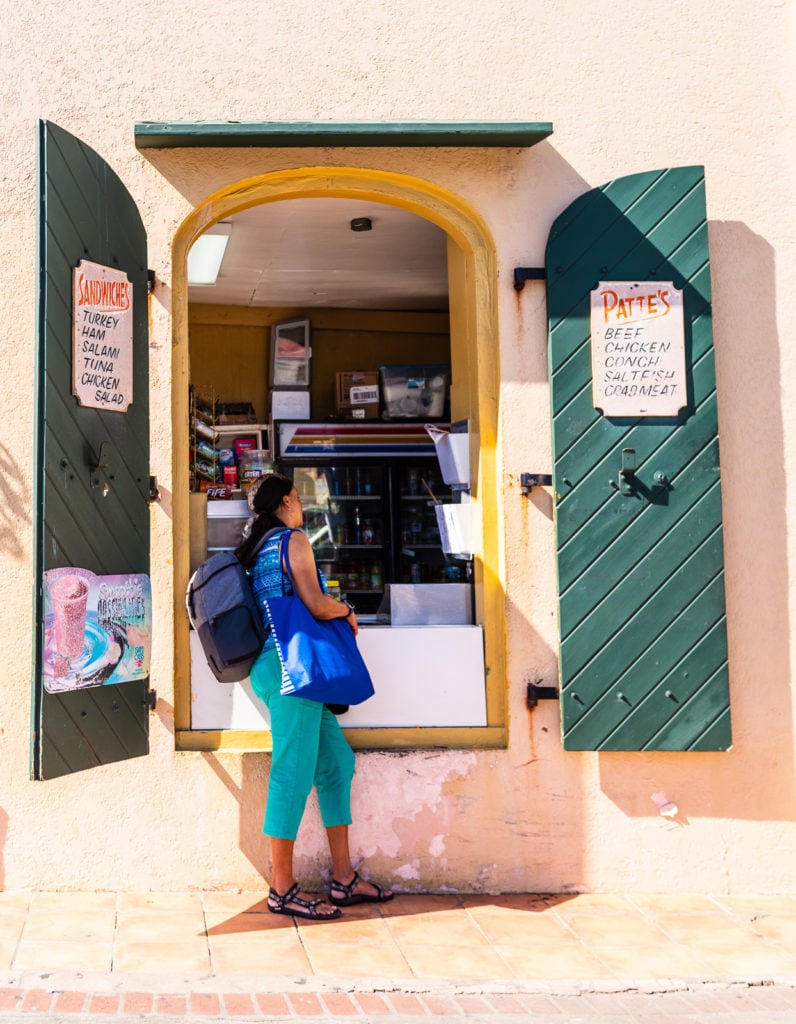 LOCAL: Ice Cream Shop.
The best place to get a pate (cousin to the Jamaican patty—pronounced like the French version but made with ground beef, chicken, or salted cod and onions wrapped in dough and deep fried—very tasty) is at the corner candy shop on the Waterfront, next to The Greenhouse Restaurant.
Cheap and filling, they're very popular. Drop by early as they tend to go fast.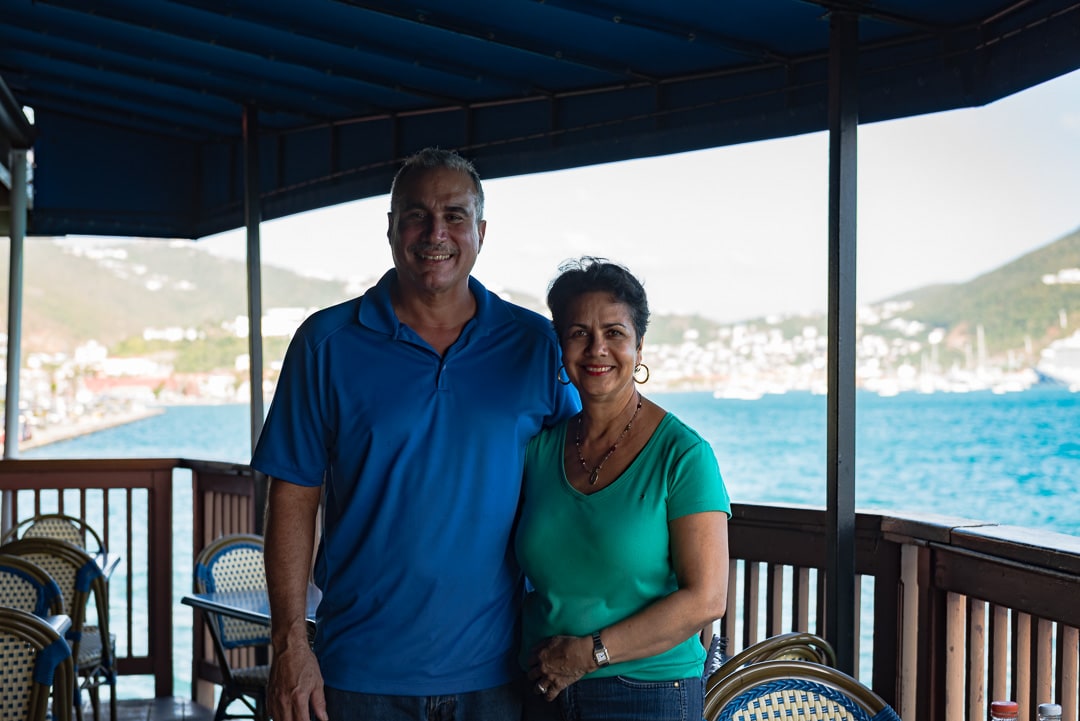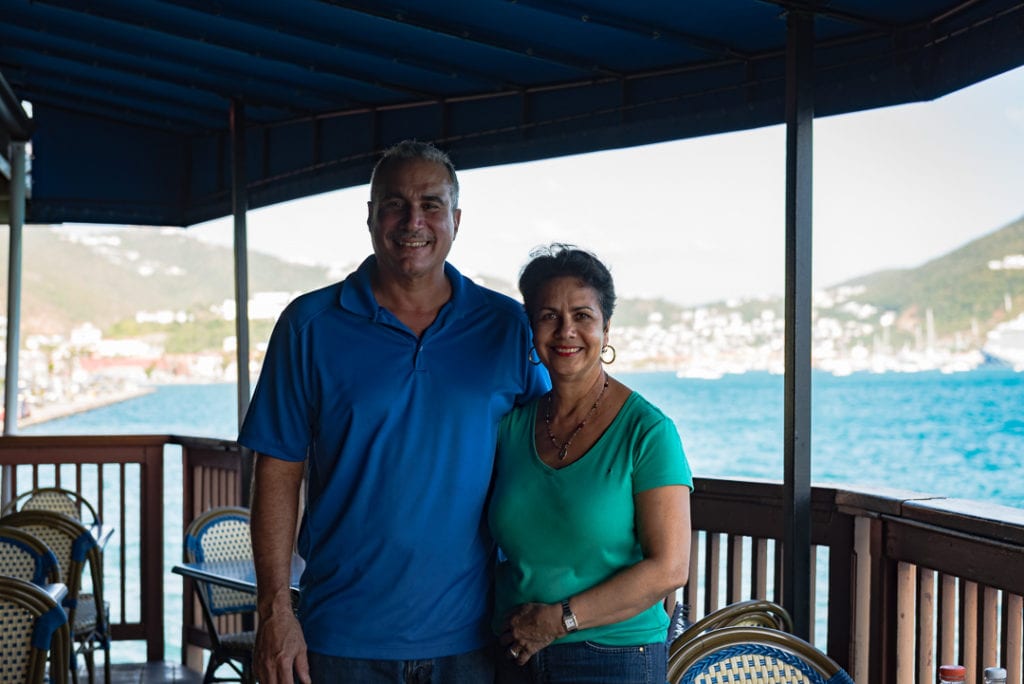 Family-owned restaurant and bar located above the ferry terminal, with a spectacular view of Charlotte Amalie harbor. Breakfast and lunch are outstanding; conch fritters are popular, while Mike's Famous Painkiller is a knockout. Sunday Brunch during the winter season fills up quickly with islanders and visitors in the know.
A local favorite, catch up on the latest mêlée (gossip) with your Bush Tea. Homemade soups, bagel sandwiches, an array of deli goodies, a full coffee bar, and convenience store items make this a one-stop shop.
Get it to-go or stay and enjoy the neighborhood coffeehouse environment, complete with a book exchange. Open daily for breakfast, lunch, and dinner.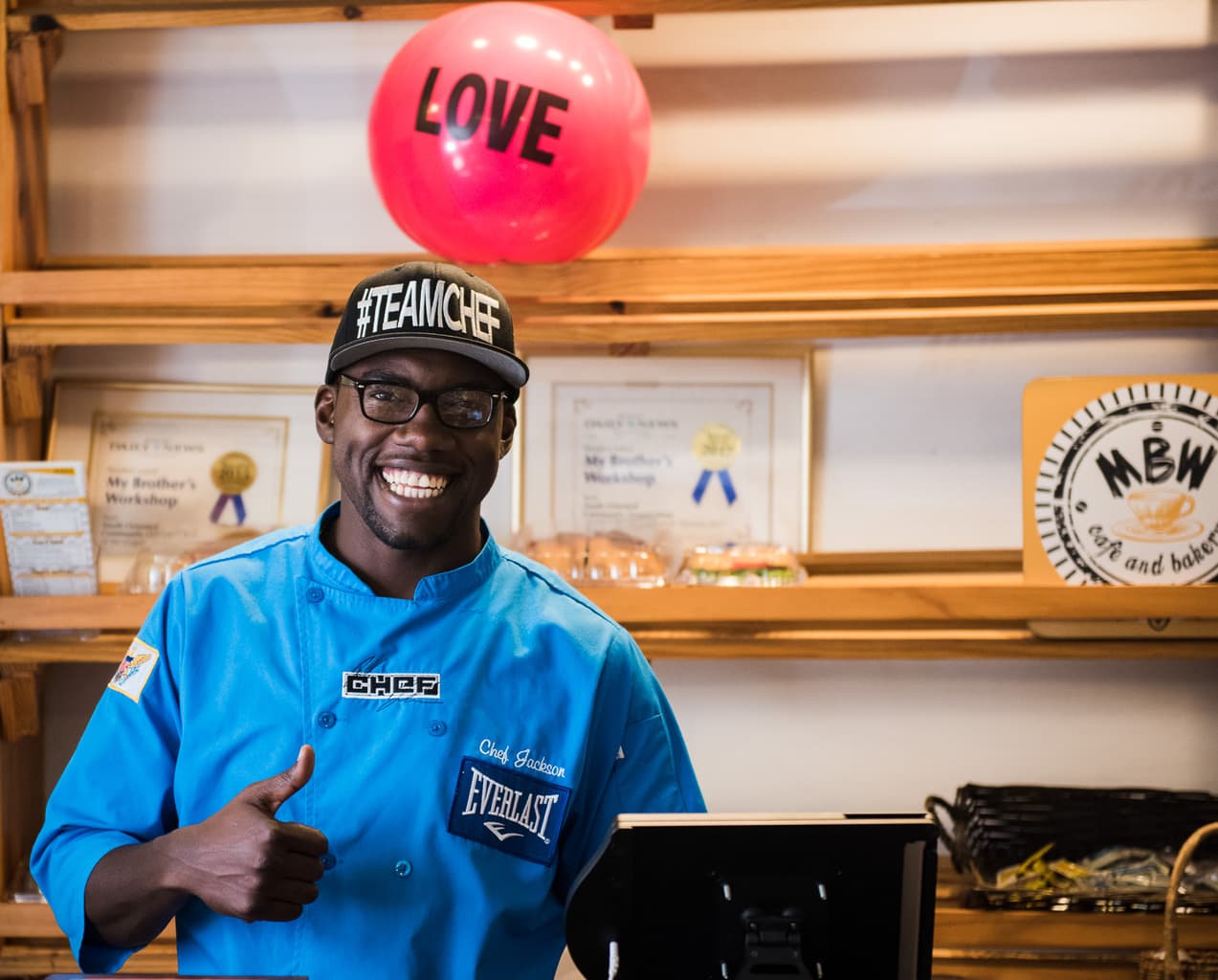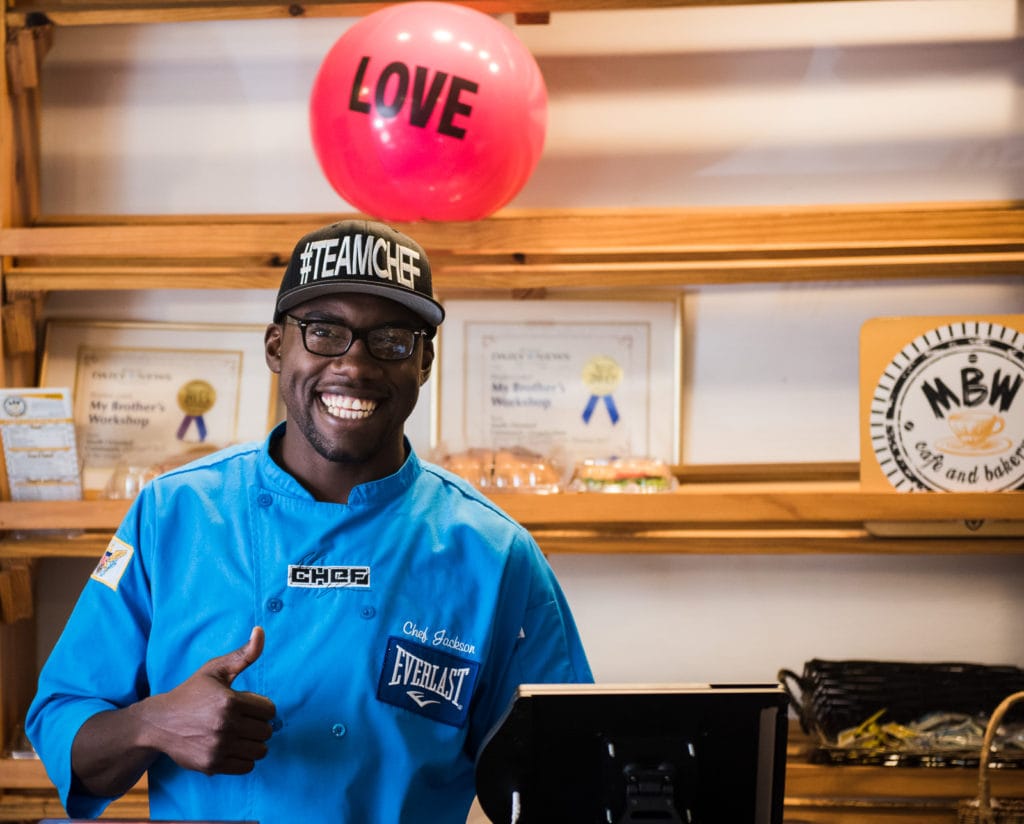 Located on Back Street (a block from Main Street) at historic Bakery Square in downtown Charlotte Amalie, the best bakery on the island has the most heart-warming story. At-risk youth train with experienced chefs to prepare breakfasts, sandwiches, and tasty pastries while learning valuable job skills.
One of the more unusual spots for a pizza shop may well be in the middle of the ocean at Christmas Cove. Pizza pies are baked fresh in a custom kitchen aboard a sailboat docked at Christmas Cove. No boat? No problem. Check the site for partners renting boats for the day, half-day, or sunset cruise.
Organic ingredients, sandwiches, and salads served with freshly baked bread, plus wraps and paninis. Breakfast all day long, robust tea and coffee menu, and fast WiFi (with plugin stations) for a modest fee. All in a welcoming Zen space, with an integrated and adjacent boutique.
Hidden away in French Town, this café serves up just-caught fish found daily at the nearby local market. An on-site vegetable garden provides the rest of the ingredients for farm-to-table freshness while the excellent wine collection inspires eclectic comfort food with Caribbean zest.
St. Thomas Nightlife
DANCE: Paradise Point. Check the Paradise Point Facebook Page for special events, including Locals Night, when both the buffet and live entertainment are hot, hot, hot.
BAR: Duffy's Love Shack. The hand-crafted drinks menu is almost as fun to read as it is to taste–Shark Tank, Booty Call, and Love Potion No9 are favorites–and most are served in unusual mugs. Who doesn't love a drink served in a souvenir tiki cup or actual fish tank? The food menu is limited to basic pub grub.
Located in a parking lot in Red Hook, seating indoors and out. Happy hour 4-7 pm, dancing reflects just how happy.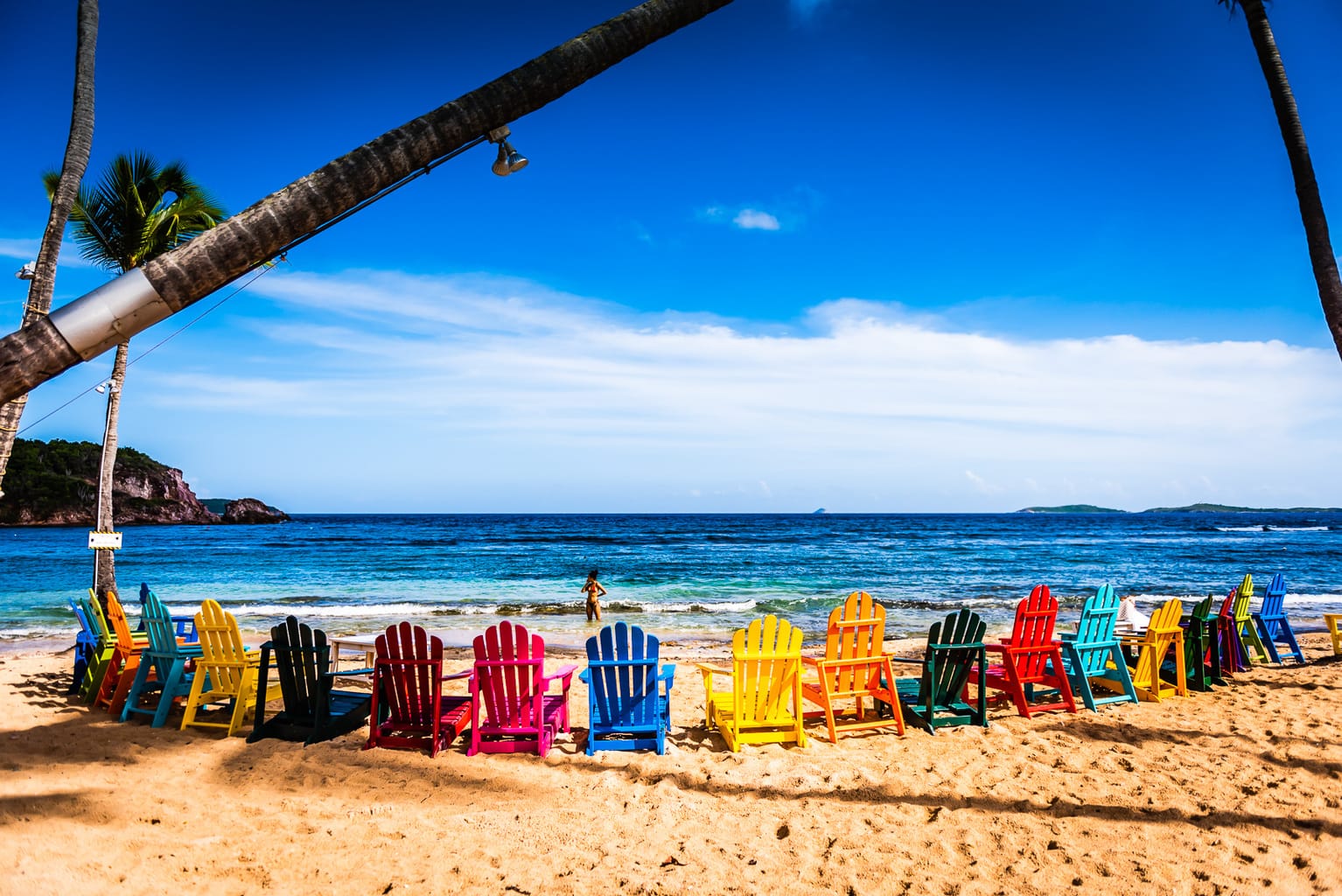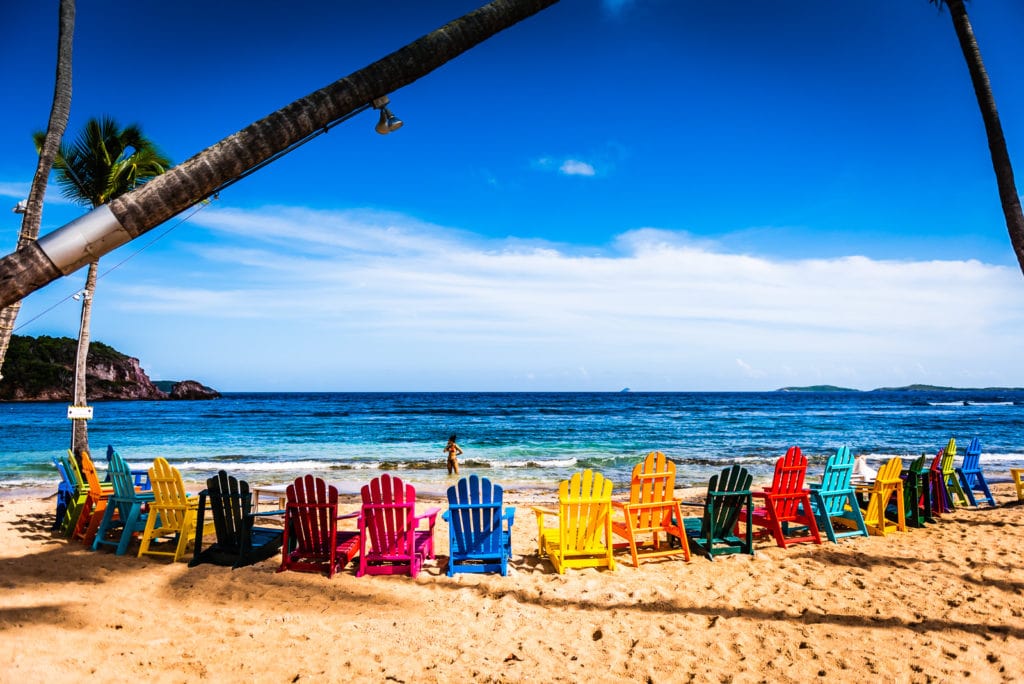 BEACH BAR: Iggies Beach Bar and Grill. For more than forty years, Iggies was the place for cheap drinks, live music, and the weekly carnival buffet party. Now closed pending post-hurricane repairs, Iggie's spirit lives on at Iggies Oasis.
The poolside venue offers an ocean view, a delicious menu, and live music several nights a week. 7150 Bolongo Bay, St. Thomas. Phone 340-693-2600.
St. Thomas Hotels
Although St. Thomas has made great progress getting up to speed after Hurricanes Irma and Maria, several resorts have still not completed repairs. Among them are two of the largest hotels, Frenchman's Reef and the Ritz Carlton, both Marriott properties. In the meantime, several rooms and villa rental properties have opened up. Check Airbnb.com and VRBO.com for listings.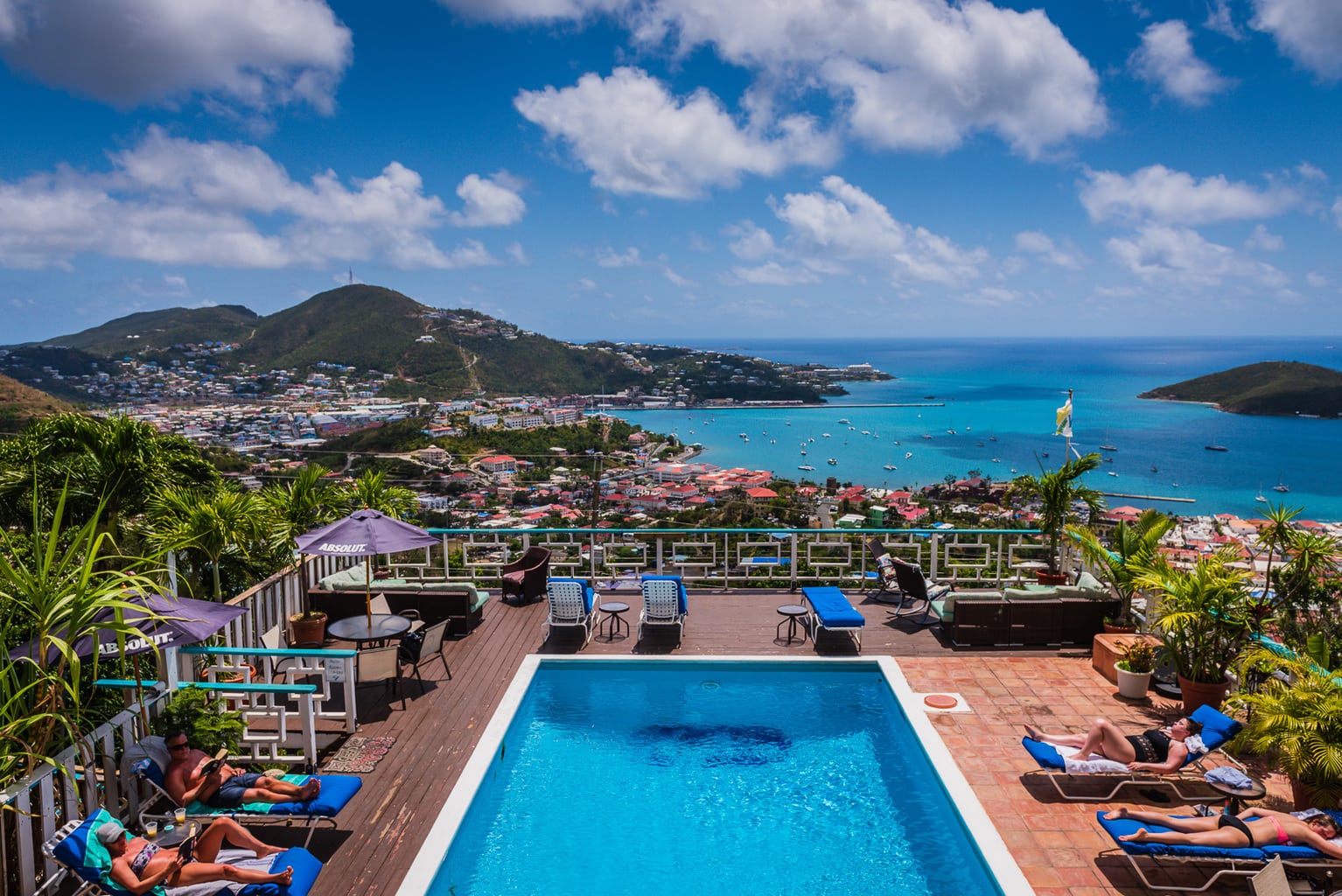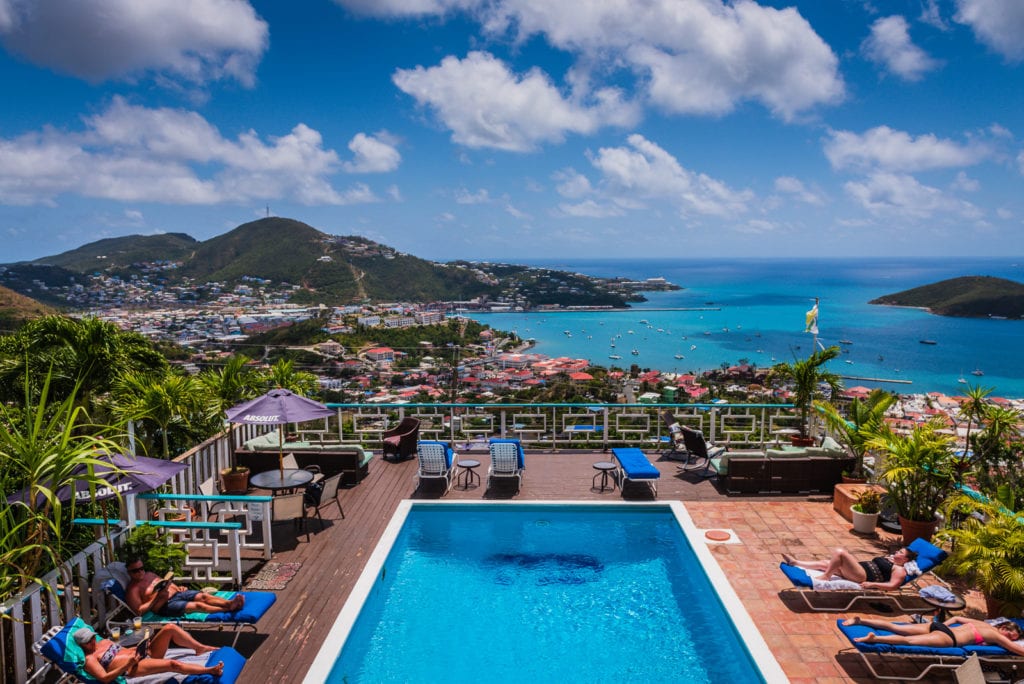 Mafolie Hotel was built in the 1940s at the dawn of tourism in the Virgin Islands. Long before private homes crept up Mafolie Hill, the boutique hotel secured a prime location overlooking downtown Charlotte Amalie, where guests have a bird's eye view of the harbor and on a clear day, can see St. Croix on the horizon. The property is clean and a good value, although the room decor can be a bit of a mishmash.
Locals and visitors come from all over St. Thomas for the award-winning Brunch and romantic dinners with a view of sparkling harbor lights.
The breakfast buffet is complimentary. Located hillside, parking is limited, and there is no beach access. On the other hand, the poolside view of Charlotte Amalie harbor makes up for both drawbacks.
Near the airport, 2 miles from Charlotte Amalie, this beachfront hotel offers some of the best family fare on the island, with a great beach, moderate rates, familiar food, and a location so close to the airport that guests never have to worry about missing their flight.
The pool has a waterfall plummeting off pseudo-boulders, but most guests prefer the Blue Flag beach. Jet ski and other watersport rentals are available from a private vendor. A tennis court is on-site, and parking is free.
Beach weddings and family reunions are popular here. 8070 Lindbergh Bay, St. Thomas.
STAY: Marriott's Frenchman's Cove.
Set on a private cove next to the (currently closed) full-service Marriott Frenchman's Reef & Morning Star (regular shuttle service delivers guests to and fro), this is a relatively small offering from Marriott's Vacation Club, providing spacious and stylish residential-style accommodations with two- or three bedrooms, fully equipped kitchens, and even private laundry facilities.
The Mediterranean-inspired six-story complex hugs a small but sandy beach, and guests here get the best of both worlds: private family-friendly condo-style accommodations, a beautiful semi-private beach with good snorkeling offshore, and access to the full-service Marriott Frenchman's Reef & Morning Star, with all of its upscale amenities, including varied dining.
A little red ferry runs passengers to shops and restaurants in Charlotte Amalie.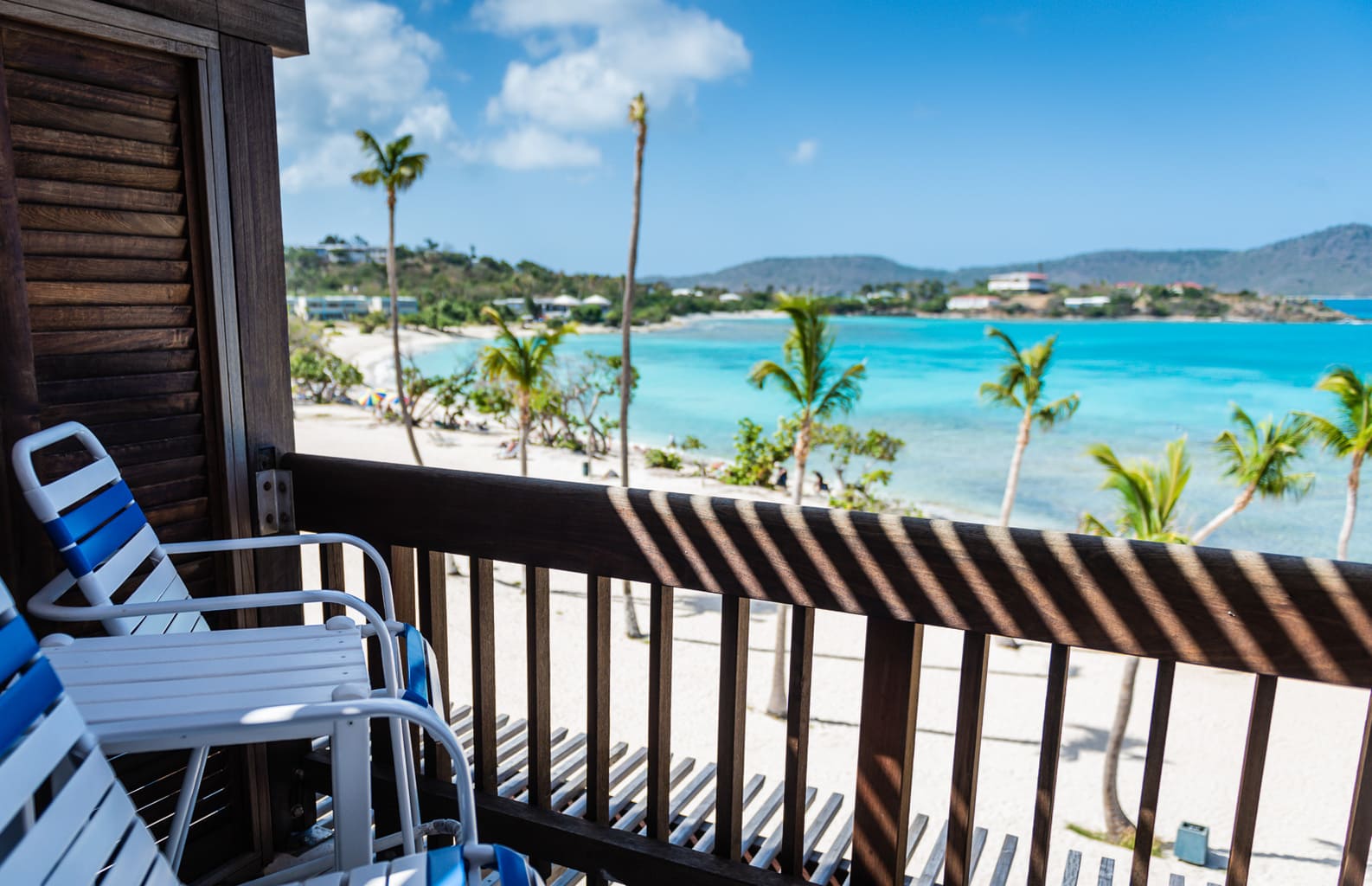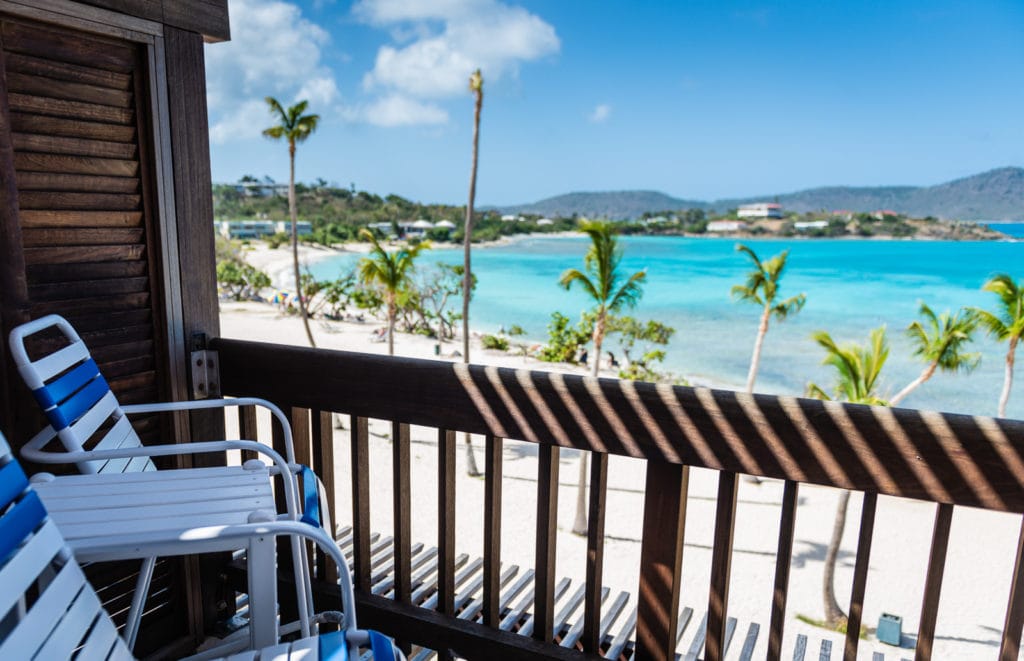 Set on the beautiful Sapphire Beach on St. Thomas' East Side, Sapphire Beach Resort offers low-key, relaxed accommodations that are a bargain for the region. What this resort lacks in five-star amenities, it makes up in beachside fun.
Bands perform at the beach bar several times a week. The food menu is limited to burgers and sandwiches, but the cocktail list packs a punch.
A well-stocked watersports rental shop carries kayaks, standup paddleboards, boogie boards, snorkel sets, floats, and beach lounges. The midsized pool is lovely, but usually empty as the long stretch of white sand and colorful reefs beckon guests. For those with an adventurous spirit, a parasail outfitter plies the coast.
Individually-owned studios and one-bedroom units vary considerably, with some decorated with high-end materials and others leaning more toward shabby chic. It pays to shop around, and consider booking directly with owners on Airbnb.com or VRBO.com.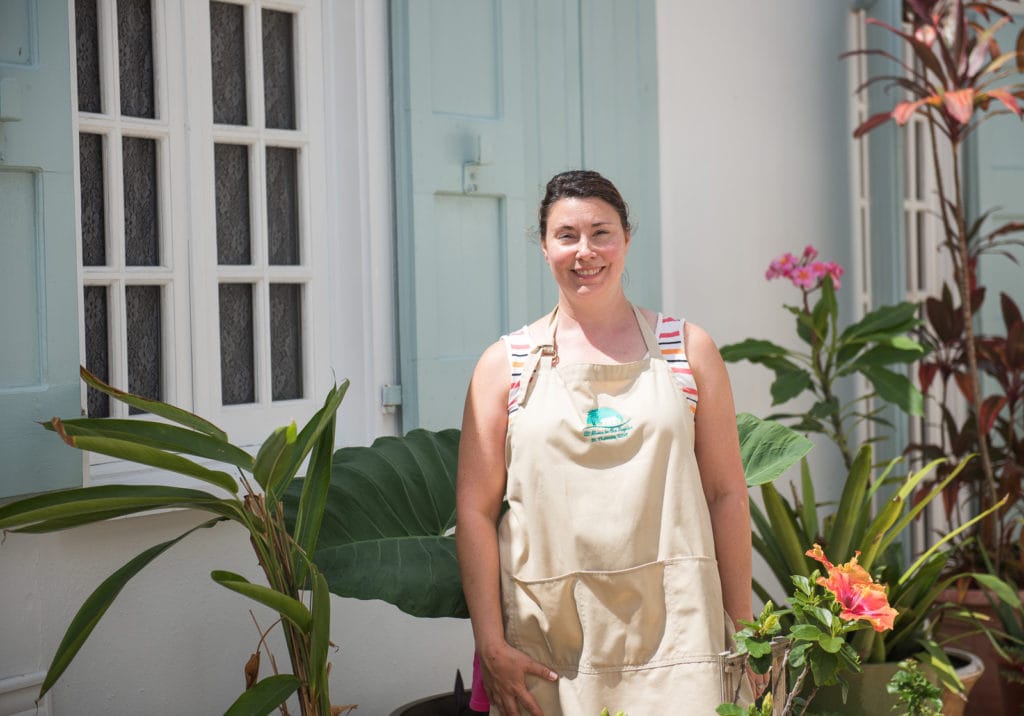 In 1803, the building that would someday house the At Home In The Tropics Bed and Breakfast was being used as a barracks for the private guard of the Danish Governor. It's been through many changes over the past two hundred years, sometimes operating as government offices, private residences, and for the last twelve years, a B&B.
Three years ago, Mark and Jessica Geller purchased the property from the family that had owned it for the previous couple of decades, bringing new energy and a modern edge.
Perched along one of Charlotte Amalie's distinctive step streets, the B&B offers easy access to Charlotte Amalie's shops and historical landmarks. And yet, because it resides behind high walls and tall fences, it feels like a garden oasis—removed from town, and looking out on sweeping views of the Caribbean Sea.
The highlight of this B&B is undoubtedly the breakfast served daily on the poolside terrace. Jessica supplements the herbs and fruits that she grows on the premises with produce from local farmers.
That commitment to the freshest ingredients shines through in the dishes she serves. Guests love her Coconut Spiced Waffles, Mango Bread, and Caribbean Root Hash with Eggs. Her Tropical Oat Parfaits proved to be so popular, she had to share her recipe in a blog to satisfy requests.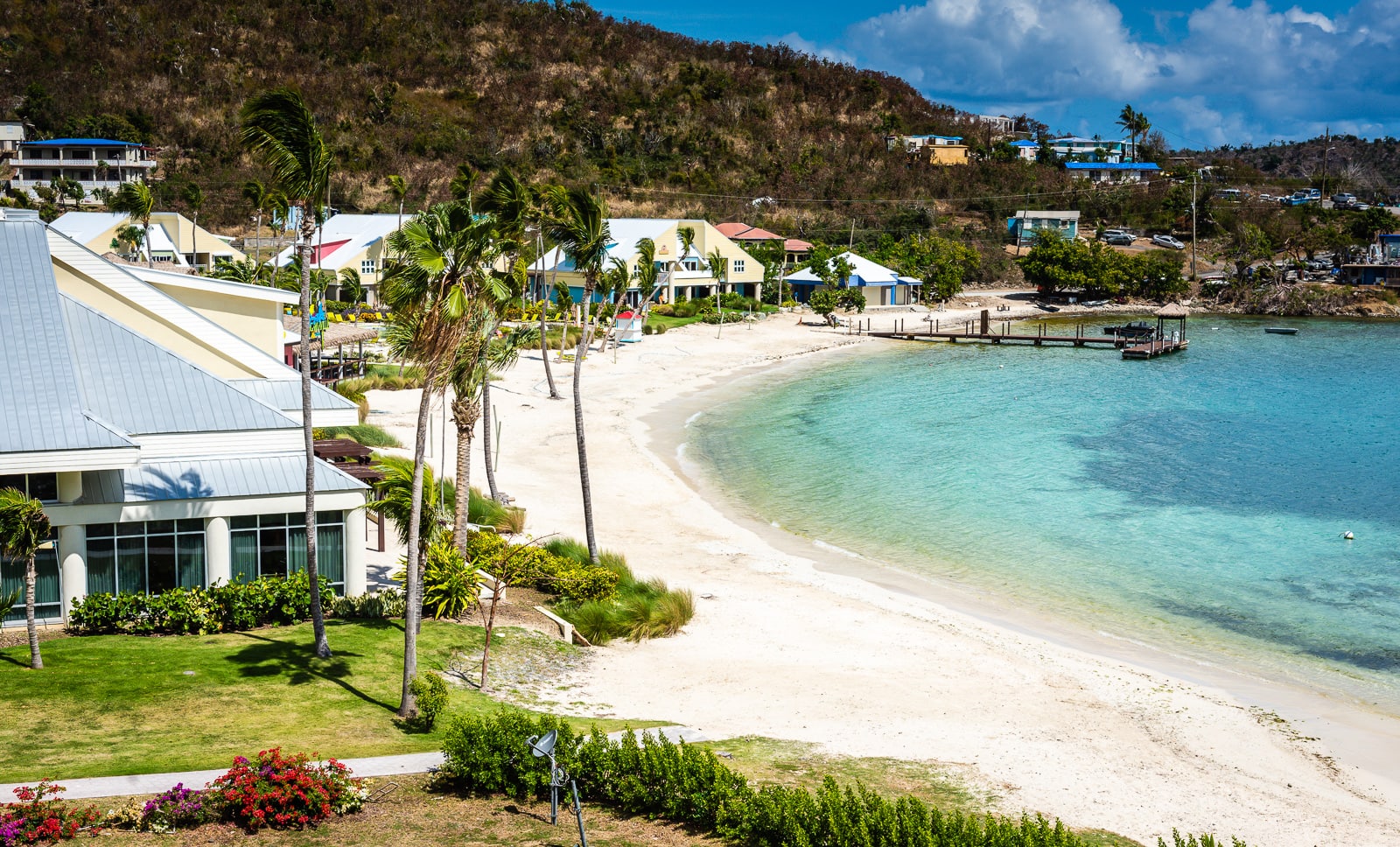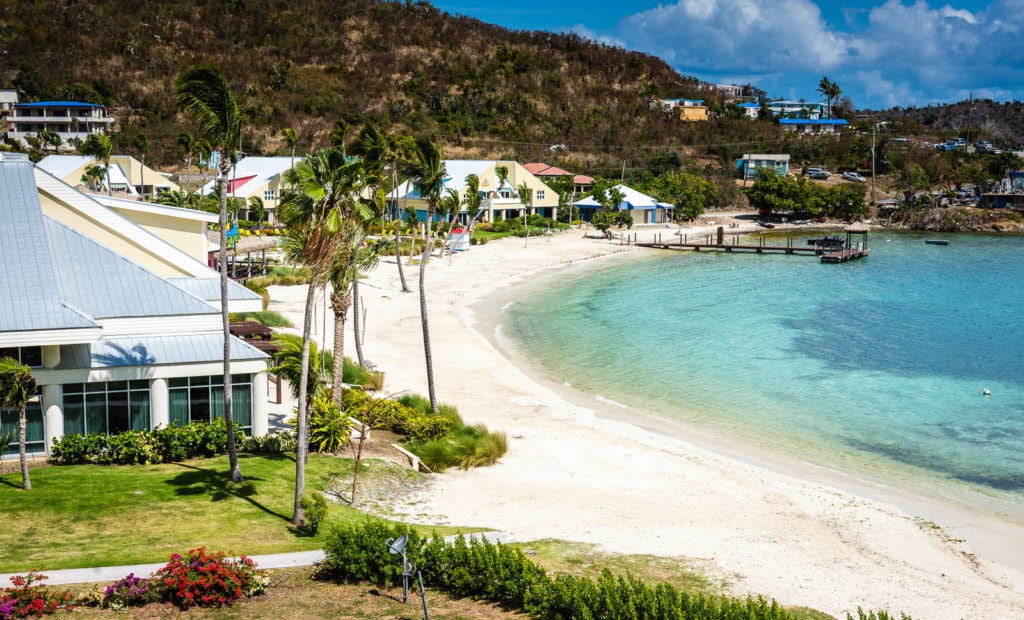 It doesn't get more chill than the Margaritaville Vacation Club. Inspired by singer-songwriter Jimmy Buffet, the resort embodies the ideal of the escapist island lifestyle. Built on the bones of the former Renaissance Grand Beach Palace in northeast St. Thomas, it opened in 2015 after the US $100 million thorough revamping of the condominium-style timeshare units.
Serious lounging takes place at two pools: one with a sandy beach edge, the other with a tiki-style pool bar. Good snorkeling and plenty of watersport activities are available at the beach, but Parrot Heads also appreciate the hammocks, Adirondack chairs, and fire pits.
Somewhere between beach and pool, the Because It's 5 O'Clock Somewhere keeps tropical punch flowing, while Margaritaville Restaurant serves those cheeseburgers in paradise. Live bands perform every evening, and not necessarily Jimmy Buffet tunes.
Getting Around St. Thomas
St. Thomas is served by several major airlines, and there are several options for those looking to do a little island hopping. Your best bet for getting to St. Croix is to take the Seaborne Airlines seaplane; that's an adventure in and of itself.
As for St. John and the British Virgin Islands, check VINow.com for current ferry schedules. There is, or was, a ferry service to St. Croix on a hydrofoil. It does not appear to be running now, but may be available on during carnival and major holidays.
Likewise, there is/was a ferry that runs to Puerto Rico, but it isn't running right now. Both of these ferry rides are NOT for those with weak stomachs.
Taxis are widely available on St. Thomas but do bear in mind that they charge per person, not per destination. It can be significantly more economical to rent a car. Budget and Hertz have airport locations by Baggage Claim, Discount Car Rental has consistently lower rates on Jeeps and offers pickup and dropoff service.
You can rent a scooter in St. Thomas but think very carefully before you do. Roads are steep and hazardous. Even driving a car can be challenging, and visitors often struggle to remember to drive on the left side of the road. Check tips for driving in St. Thomas.
MORE CARIBBEAN GETAWAYS