WHY GO: Even Bostonians don't know about some of these little spots, lanes, speakeasies, and trivia. You've done the Freedom Trail and other big tourist attractions, now come explore hidden Boston.
1) TOUR: Fenway Park
I know what you're thinking. Fenway Park is the opposite of hidden. It is perhaps the most recognizable structure in Boston, at least among baseball fans.
But did you know that Fenway grows its own? Vegetables, that is. An innovative way to use 18,000 sq. feet of dead space, Fenway Farms supplies produce for EMC Level (suites) catering and food service for the stadium.
You'll discover this little-known tidbit on an enlightening tour of the field where one of America's first baseball dynasties has played since 1912.
The Red Sox won the World Series that year. And then again in 1915, 1916, and 1918, before trading Babe Ruth to the Yankees. This trade triggered the 86-year-long "Curse of the Bambino" – broken only when the Sox won the Series again in 2004.
The Tour Begins
Built in 1934, the stadium appeared somewhat as it looks today. Your tour begins as you take a load off on one of the 12,000 wooden seats (out of 37,600) that have been here for over 80 years.
Speaking of seats, look over to the green bleachers in the right field and you'll see one solitary red one.
This is how Fenway officials ingeniously marked the spot where ordinary guy, Joe Boucher, got bopped on the head by a 502 ft. home run ball hit by Ted Williams on June 9, 1946 – the longest homer ever hit at Fenway (before or since).
Next climb to the top of the Green Monster, the 37' 3" wall installed to prevent freeloaders from peeking into the games. Seats atop the Monster command the highest prices in the park – ranging from $175-$800.
The Press Box, arguably the best seat in the house, is next. With a birds-eye view of the whole field, learn about the scoreboard, the oldest manually operated one in all of baseball.
Secrets of Fenway
In fact, score-changers inside the Green Monster must crouch low and climb ladders to haul three-pound tiles to keep tally. In 1940s-era working conditions – without air-conditioning, water, or bathrooms – this job is still the most coveted at Fenway.
There is a "secret message" built into the scoreboard. Though I won't disclose it here, it has something to do with former Sox owners Thomas Austin Yawkey and his wife Jean, who wanted to somehow insert themselves into their beloved Fenway Park long after they were gone.
The ultimate in "Hidden Boston," far be it for me to give this piece of history away. You'll just have to take the tour. Tours are offered to the public year-round on non-game days 9-5 on the hour.
2) WALK: Boston Little Lanes Walking Tour
This hour-long Little Lanes Walking Tour takes you to some of the cutest little streets and alleyways in Boston. Click on the link and follow along.
3) STROLL: Boston Public Garden
Boston Common was established in 1634, and the adjacent Public Garden opened in 1837. It was our nation's first Botanical Garden.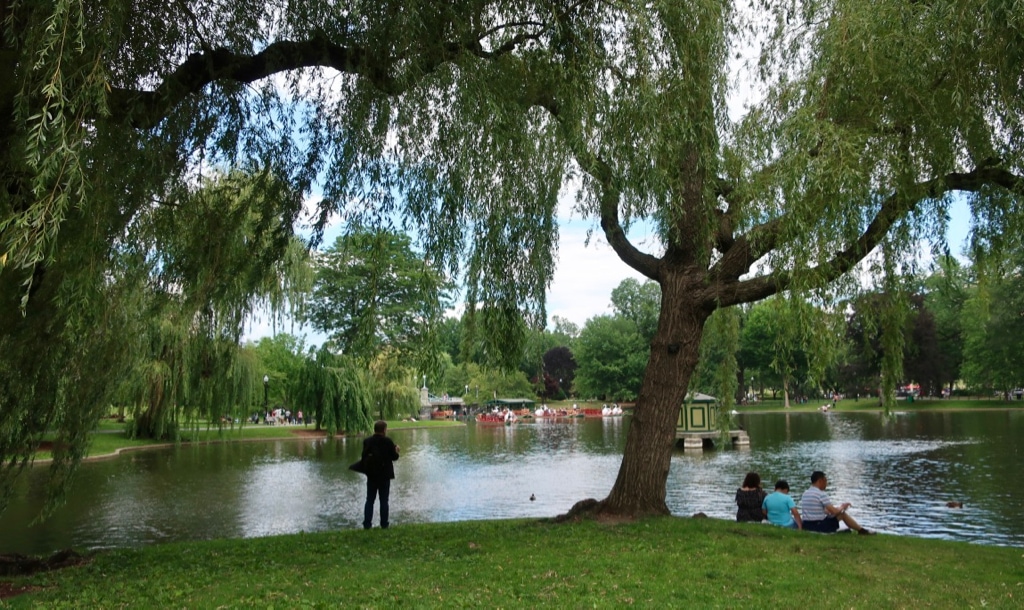 4) TOURISTY: Swan Boats
Not hidden at all – but you're in the Public Garden, so you might as well. Delighting visitors for over 130 years, the Swan Boats are the only boats of their kind in the world.
Opened in 1831, and predating the U.S. Park system, the still active, 175-acre Mount Auburn was the first "Garden Cemetery" in the nation.
Prior to these landscaped grave lands, the dead were buried in churchyards in the heart of town, leading to disease and overcrowding.
Currently the resting place of 93,000 souls of all faiths, Mount Auburn was designed for the dead and living alike. This cemetery inspired landscape starchitects like Frederick Law Olmsted, who based Central Park in New York and other well-known city parks on Mount Auburn's model.
Pick up a map and audio tour at the Visitor's Center in the first of two chapels on the property (just as you come through the main gate).
You'll find directions to the graves of famous Americans, like Henry Wadsworth Longfellow, B.F. Skinner and Buckminster Fuller, among many others. If you don't have time to walk, drive the two-mile Green Lined route.
Don't miss "The Sphinx"- commemorating the fallen heroes of the Civil War; the Tower (which you can climb for views of downtown Boston); and a chance to chat with avid birdwatchers.
On the migratory route, Mount Auburn Cemetery is a twittering aviary in the Spring and Fall. Check out programs and walks throughout the year on the Mount Auburn Cemetery Website.
6) PICNIC/CHILL: Cambridge Center aka Kendall Square Rooftop Garden
Find it on Broadway in Cambridge between the Residence Inn and the Marriott. This little-known elevated pocket park has its own elevator, located in the parking garage of 80 Broadway. Some of the best minds in high tech (i.e. Google) may be plotting the next big disruption at the picnic table next to yours.

This Area Four (Cambridge) outpost is the rustic bar scene's answer to the more "Family" atmosphere of Area Four.
All wood-fired pizza comes out bubbled and blistered and absolutely delish. The Garlic Knots are OMG decadent, with an abundance of buttery garlic bits. Plus, large, sharable pizzas have sourdough crusts described by one food writer as "somewhere between New Haven and Neapolitan Style."
But my dining companion, the very astute 12-year-old, Matty S., deemed A4 Pizza Crust "very much like Naan" in consistency. He's right on the money, and so are these pizzas.
8) DRINK: Backbar, Somerville
It's one of Boston's favorite speakeasies for a reason. Sanborn Court in Union Square is a little alleyway to a behind-store parking area. Walk to a red door in an industrial building. This door will lead you down a hallway past the bathrooms to the second door (marked "backbar").
This interior door opens into a really cool, cavernous room. A huge black and white wall mural, open seating, and bottles of spirits stacked on wood shelves behind a welcoming bar set the scene.
Bartenders shake up concoctions like "Whittle Litaly," "Pina Pepper Colada," and the signature Jim Beam Black "Model T." Ask for the crowd favorite Spicy Caramel Popcorn ($3, $5) with or without bacon. It's irresistible either way.
A block from Boston Commons, jm Curley is known for its cocktails and burgers. And also for its irreverent "Law & Order" rules posted on a huge chalkboard. (e.g. The respectful customer is always right. The asshole customer is always wrong).
But what most people don't know is that there's a hidden room in the back with its own name – Bogie's Place – its own décor (leather banquets), and its own menu (a steakhouse). So private, I couldn't even take pictures, you'll have to make a reservation to score one of 16 seats.
A hotel seemingly conceived from the mind of Pat Benatar or Mick Jagger, The Verb is a fab, funky and fun redo of the former Howard Johnsons that stood in the shadow of Fenway Park.
Developed by Steve Samuels, Adam Weiner, and Robin Brown (who's been involved with top-tier hotels like the Four Seasons), The Verb is as close as Boston gets to Southern Cali – by way of Nashville and London.
Originally purchased as a tear-down-for-a-high-rise, the development team realized that they had a "mid-century gem" on their hands. Turning nostalgic for this "hub of the community," the group consequently decided to completely renovate and update the property with the highest quality luxury appointments plus some.
The heated pool adds a Palm Springs vibe to the courtyard – truly an oasis in the city.
First Impressions of The Verg
In a labor of love, Samuels, Weiner, and Brown built the place in which they themselves would love to hang out. As homage to the area's '60s and 70's music scene, the team filled their new baby with posters, set lists, musical instruments, and other artifacts from the collection of David Bieber, editor of the Boston alt-music magazine, The Phoenix.
You can spend hours checking out the framed calendars, drawings (e.g. Warhol), and set lists mounted on the lobby walls. The Boston Tea Party Club's May 1969 Calendar includes Jeff Beck, The Who, Joe Cocker, Led Zeppelin, the Velvet Underground, It's a Beautiful Day and the Allman Bros. All in one month!!
Lobby and Check In
The lobby, with its wild mix of colors, punchy canary yellow couch, flokati rugs, and comfy 50's-style seating, is the perfect place to congregate. A Fender Stratocaster (plugged into a Vox amp) lists against a wall – ready to be played. (Yes you can).
Of course, there's a well-rounded collection of vinyl albums awaiting their spin on the reception desk turntable. Blondie, the Stones, Springsteen, and a slew more.
I chose Maria Muldaur's Midnight at the Oasis, which brought me straight back to my college days.
At check-in, grab a Kind Bar (no cookies here), and cool bottled water from a "Marshall Amp" fridge. Walk down "sexy" dark hallways, checking out room numbers that are actually photographs on each pastel-colored door.
Rooms at The Verb
All 93 rooms are pleasingly bright and unfussy. Each door opens within inches of a shelf stocked with two bottles of water (again, complementary) and outlets for your drained electronic devices.
This was the feature that impressed me the most – the fact that I didn't need to hunt for a place to immediately power up my phone. There's an old-fashioned clock bedside, a vintage typewriter, and of course, a huge flat-screen HD TV.
Other cool factors include a fun photo on the interior side of the pocket bathroom door, and the ability to turn on the shower (without getting wet) via a hole in the glass.
The hair dryer is kept in a cotton sack marked "High and Dry." Bathrobes are zebra-striped.
This level of attention to detail meshed with whimsy earns a great deal of respect from those who travel for a living.
Revere Hotel, which elevated the former Radisson Boston to artisanal standards, celebrates Paul Revere galloping by on his "midnight ride." Modernist, minimalist, house-music, scented air – the Revere Hotel is a departure from traditional lodging in one of the country's most college-dense cities.
Tawny rooms are large and un-flashy, with a mid-century hound's-tooth chaise lounge, beige leather headboard, burnished hardwood floor entry, and splashes of heather blue, orange, and lime green.
Framed graphic art on the walls showcases quotes from Shakespeare – a nice nod to academia. Book a room on a higher floor (22-24th) for optimal views of Boston, Cambridge, and Charles River.
Weekend Getaways In Boston