Every year, and for the last 20+ years, Sara and I meet for a shopping-in-Boston girlfriend getaway. She drives up from Philly. I tool up from Connecticut. And we spend three days popping into the stores on Newbury Street, from one end to another, with forays to Charles Street, Beacon Hill, and SoWa shopping area.
Initially, we tried the touristy Faneuil Hall Marketplace, the department store heavy Downtown Crossing, Harvard Square across the river in Cambridge, and the franchise shops in the Pru Center shopping mall. But, over time, we honed in on Boston's Back Bay.
Over twenty years brings change to commercial city streets and to people – especially to women who are approaching our "Golden Years."
So it's no surprise that our lives have paralleled the ups and downs of "Boston's most enchanting street with eight blocks filled with salons, boutiques, and fabulous dining," as Newbury Street shopping district touts itself.
Shopping In Boston – The Ups and Downs
Shopping in Boston is just an excuse to catch up, to talk, to "get real" and break bread together. It's never just been about shopping. We try to solve problems, we gossip, we celebrate each other's achievements and suffer each other's sorrows.
We cheerlead and talk sense into each other while pounding the pavement, trying on clothes, ogling cool home decor, getting our nails and hair done, meeting shopkeepers, and drinking wine; or specialty martinis; or craft cocktails.
And, we note what's changed and what remains the same, year after year.
RH
Restoration Hardware now occupies the 1862 Boston Society for Natural History building. The museum became Bonwitt Teller and then Louis Boston, where we once drooled over designer fashions and purchased cutting edge cosmetics. Since then it's been transformed into that upscale furniture store known by its monogram – RH.
Charlie Wang
Through all this change, though, there has been at least one stalwart. The artist, Charlie Wang, has been selling his prints and watercolors of Boston landmarks without fail for years on the corner of Dartmouth St. A constant in the constantly changing face of Newbury St., Wang has himself become a Boston Landmark. (Interestingly, Wang was not there mid-week after the 4th of July weekend 2022).
Of course Sara and I have our favorites. A few are still here, but many have closed or decamped for cheaper areas, like the cool South End, aka SoWa Arts District.
Shopping On Newbury Street In Boston
The shops on Newbury Street, which runs eight blocks from Arlington St. to Mass Ave., can be divided into two realms.
The top half bordering Boston Public Garden– alphabetically, Arlington to Essex– is mostly the "high rent" district, where you'll find The Newbury Hotel (formerly Taj Boston), Dolce & Gabbana, Chanel, Armani, and the like.
The lower half – Essex to Mass Ave., tends toward smaller bohemian boutiques, start-ups (like Ministry of Supply), and chains like North Face and Diesel.
There are several places we've tried once and determined not for us. We are not into fairies, unicorns, or hemp, so we've passed on The Fairy Shop and Hempest almost since day one. And we've been puzzled by the staying power of Johnny Cupcakes, a purveyor of expensive pop-culture t-shirts.
And, of course, there are those places we've outgrown. Urban Outfitters, on Newbury at Mass Ave. had incredible summer deals on teen boy furnishings, so every year I'd stock up on lighting, collapsible chairs and desk knickknacks for my kids' rooms.
Over the years, as prices increased and inventory appealed more to the pierced and tattooed, we'd spend less and less time there. Now, next-door neighbor, MUJI, is our go-to for design-forward home goods, modern clothing, and my favorite pens.
Favorite Boston Shops
Though some stores have closed, others emerge in their place. Here are some of our favorites in 2022, some old, some brand new:
I was thrilled to find this store on our 2022 Boston Shopping foray, as Rhone has been the apparel brand favored by my husband and two sons. Plus, we've got "history."
About seven years ago, at the annual JCC Holiday Gift Mart in my hometown of Stamford CT, I met a few young guys touting the comfort and durability of workout pants they were just starting to make and market. Though expensive, I purchased a pair for my hard-to-buy for husband.
He loved them, and couldn't get enough. Good thing their start-up office was just five minutes from us.
Fast forward 7 years, and Rhone has become a go-to brand for athletes and athletic types – like all my boys. So much so, they opened five stand alone stores: three in NYC, one in Stamford CT, and this, the only Rhone in MA.
I was drawn in by the fantastic oversized sweatshirt jacket in the window. Just had to have it (I know, to each his own). This is VDR's first brick and mortar shop in the United States, with pretty reasonable prices for 80's hip-hop and other, more geometric-styles. (That jacket and other quirky designs average in the $200's).
Betsy Jenny
And every year, we save some time for the sale racks at Betsy Jenney (not Betsy Johnson, another favorite, that sadly closed). Several years ago, I made a special purchase – the perfect Mother of the Groom dress that Betsy herself picked out for me! Betsy Jenney is crammed with funky, fashion-forward dresses, shirts, skirts and accessories. Stay long enough and something is bound to speak to you.
This clean, organic, toxin-free beauty store has everything from cosmetics to sunscreen and underarm deodorant.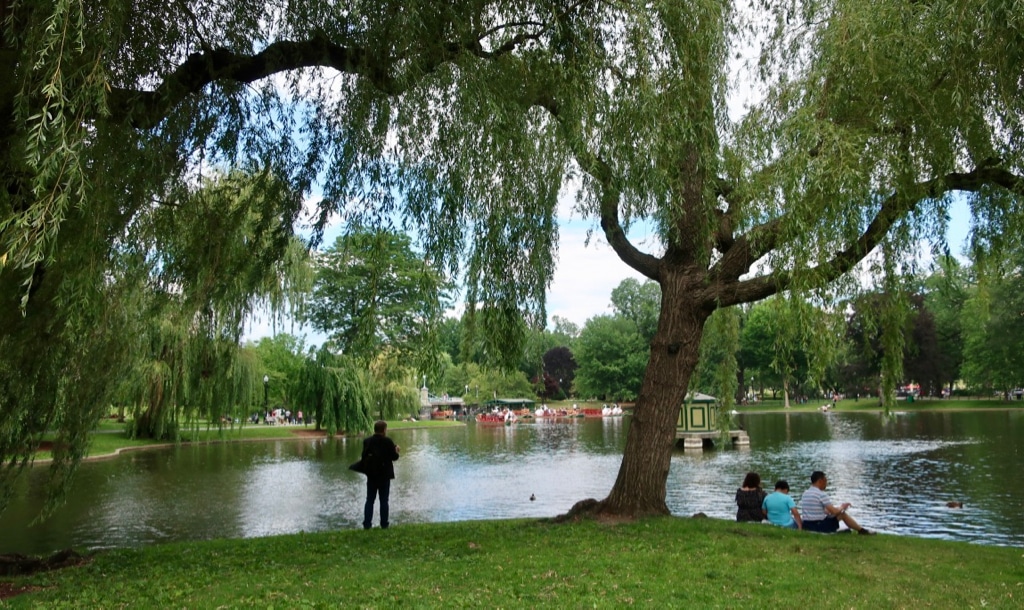 Break From Shopping: Boston Common
Newbury Street runs straight into the Boston Common and Public Garden. Established in 1634, the Common was America's first public park – adding practical cross-town walkways to the burgeoning town of Boston. Two hundred years later, in 1837, the Victorians designed a dedicated area for strolling and smelling the roses. In fact, Boston's Public Garden was the first of its kind in America.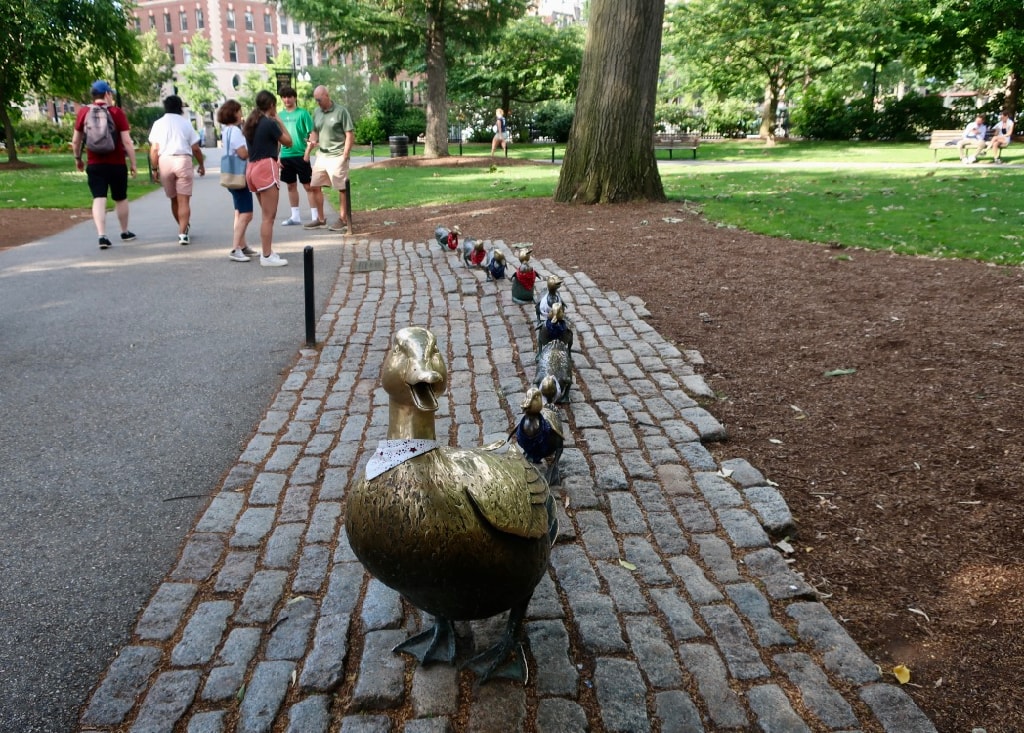 People still make a point to stroll around the gardens and ponds, perhaps taking a ride on a Swan Boat, or beelining to the children's favorite Make Way For Ducklings sculpture.
An art gallery, SoWa was originally derived from a shortening of "South of Washington." Replete with artist studios, it now spans the area from Mass Ave to Herald Street and from Shawmut Ave to Albany Street.
Named for owner/hand-weaver, Dahlia Popovits, Dahlia also sells the work of other innovative clothing artisans and designers.

Cute fashions and home goods made by women – next door to OKW.
Crafty handmade one of a kind gifts from handbags to soaps and so much more.
The beautiful Zainab Sumu, whose "Primative-Modern" African designs grace her best selling scarves, has moved to online only. We're keeping her shop on this list because you can still purchase her gorgeous creations via her website.
Dining On and Near Newbury Street
Shopping in Boston certainly works up a thirst – and hunger. The following are tried and true, starting with the hottest restaurant to hit Boston in years.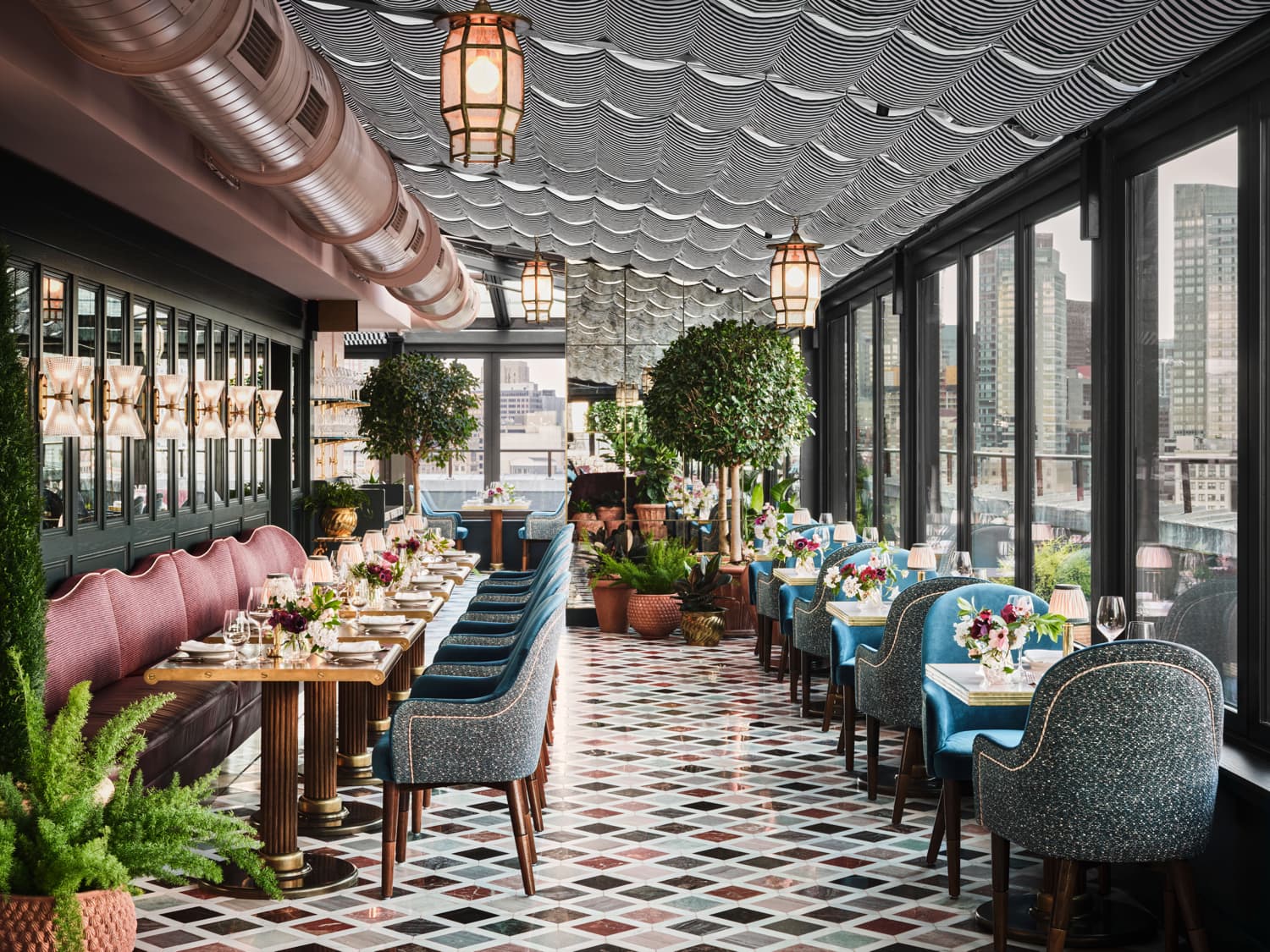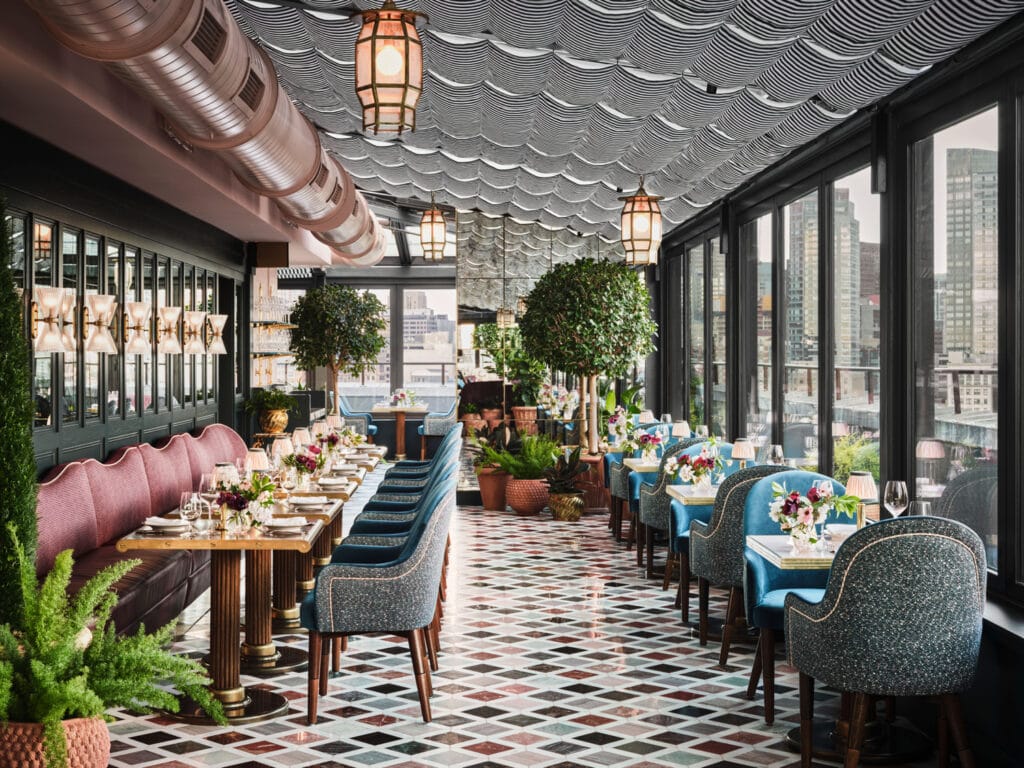 Contessa at the Newbury Hotel
Exemplary food vies with downtown Boston views at Contessa, located on the 17th floor enclosed rooftop of the Newbury Hotel. The restaurant has been the hottest ticket in town since it opened in mid-2021, and it's nearly impossible to get a reservation. But persevere you will – if only to down some of the best dishes in New England.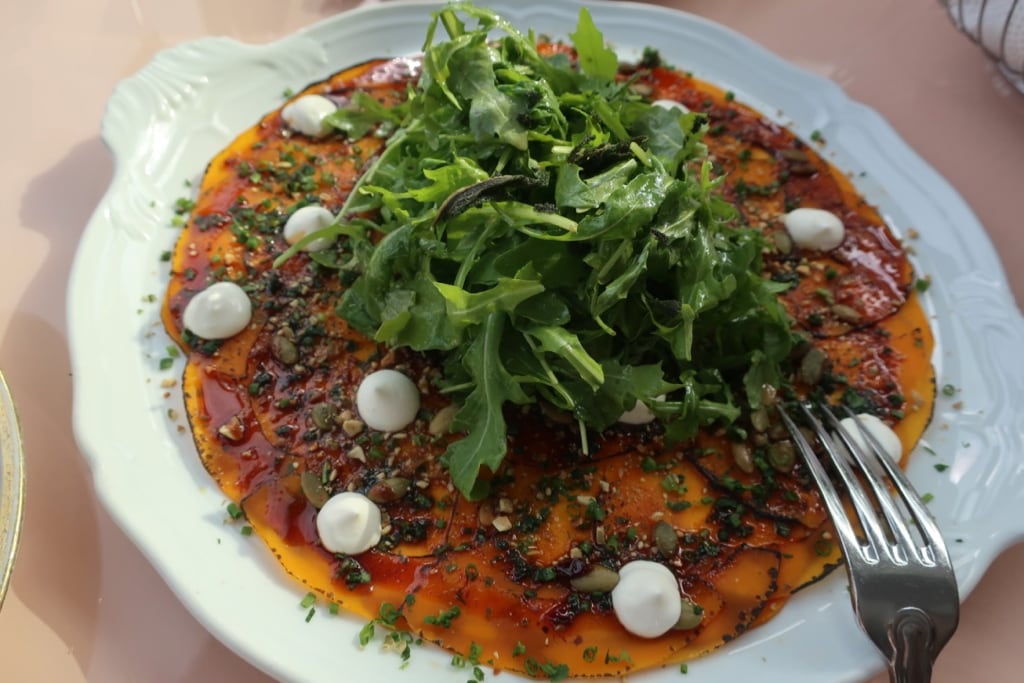 Order the signature Squash Carpaccio – a vegetarian tweak on the raw beef version, and follow it up with one of Contessa's freshly made pasta dishes. The Fusili Genovese is spring in a bowl: a bright green blanket of pesto over corkscrew pasta. Try a "mocktail" – like the Green Spritz – a blend of basil, mint, pineapple, and club soda. It cleanses the palette and makes you forget that it's freezing outside.
Whatever you do, though, don't miss out on dessert. The Crema de Boston, which comes in a small trifle glass, has all the best elements of a Boston Cream Pie and none of the doughy stuff. Insanely good.
JJ Foley's
Are you into historic watering holes? Head to Boston's oldest pub – run by 3rd and 4th gen Foley's. The food is what you'd expect from a place that's got a bunch of fresh brews on draft, and a large selection of great Irish Whiskey's – really ok, but doesn't define the place. What does is it's neighborhood feel – in the SoWa District – a full service bar, and friendly Foley's, like 4th Generation Jeremiah (pictured).
Imagine seeing your food wood-smoked right in front of your eyes. You can at this eatery upstairs in Eataly at Boston's Pru Center. Many menu items are char-kissed over an open flame. Pasta is freshly made in-house (wonderfully el dente), and the breaded Chicken Milanese arrives to the table on a blackened plank of wood. Food is mouth-wateringly good – no wonder the place is consistantly packed.
Tatte Back Bay
Located on Boylston St., Tatte Back Bay (on Boylston) serves up the best Israeli and Middle Eastern food this side of Tel Aviv, and it's our go-to for incredible Shakshuka.
Jonquils Cafe and Bakery
Jonquil's Cafe and Bakery has the most geometrically and theatrically designed baked goods in New England (which are every bit as delicious as they look), plus fantastic sandwiches, and teas that bloom dramatically. An artistic "Living Wall" at the cafe's entrance provides a good idea of the eye-popping treats within. A meal or mid-day treat here is an experience unlike any other on Newbury St.
One of our never-miss favorites is Stephanie's – the traditional long-standing salad spot on Newbury. Twenty plus years on, and it's still a-wait-to-get-a-table kind of place.
We devote at least one lunch to fresh pizza by the slice at this uber casual pie place.
A decent spot to dine, but it's really where everyone ends up to watch the game. And, interestingly, it's located in the first First Spiritualist Temple in the USA, built in 1885.
Where To Stay in Boston Back Bay
Initially, in 2001, we looked for 4 and 5-star hotels near Newbury Street around Copley Square with summer weekend rates under $200 for our girls' weekend getaways and found them. We could score a room at The Lenox, The Elliot, Park Plaza, The Fairmont, and others for a song.
By the mid 'aughts, the only place to find that price was at the Newbury Guest House right on Newbury St – and we were amazed with our large room's classic beauty.
Yes, we've tried them all. Here are some of our favorites for a Boston Shopping trip.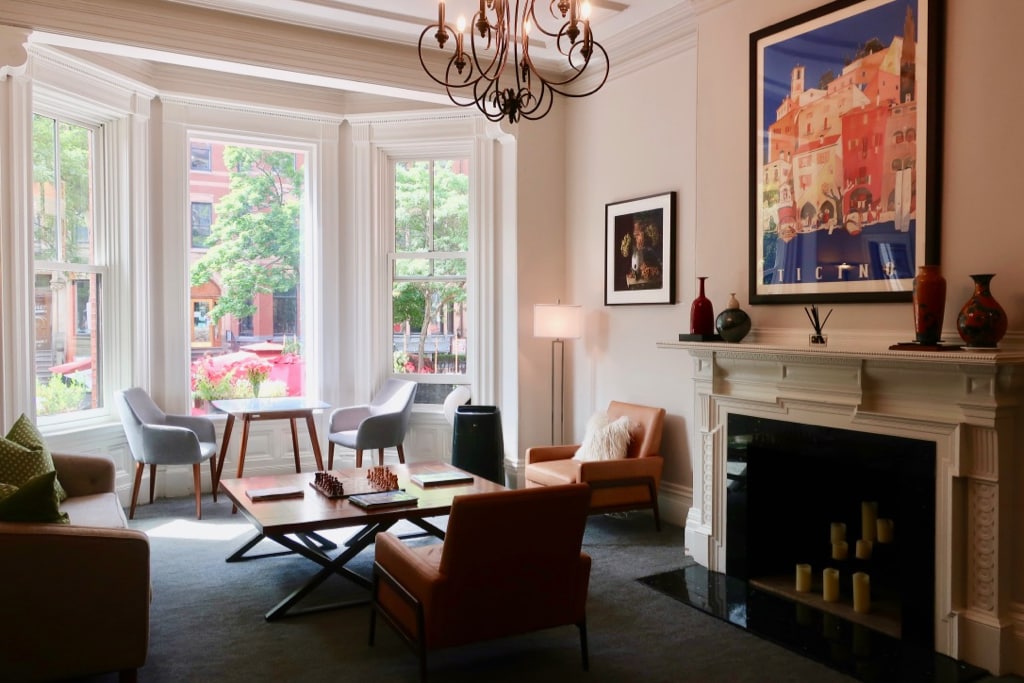 Newbury Guest House
The Newbury Guest House plants you front and center of all Newbury Street happenings. After refreshing and upscaling over the years, the inn is not quite the bargain as in years past, but its location, friendliness, and nice, clean, stylish rooms warrant its higher rates.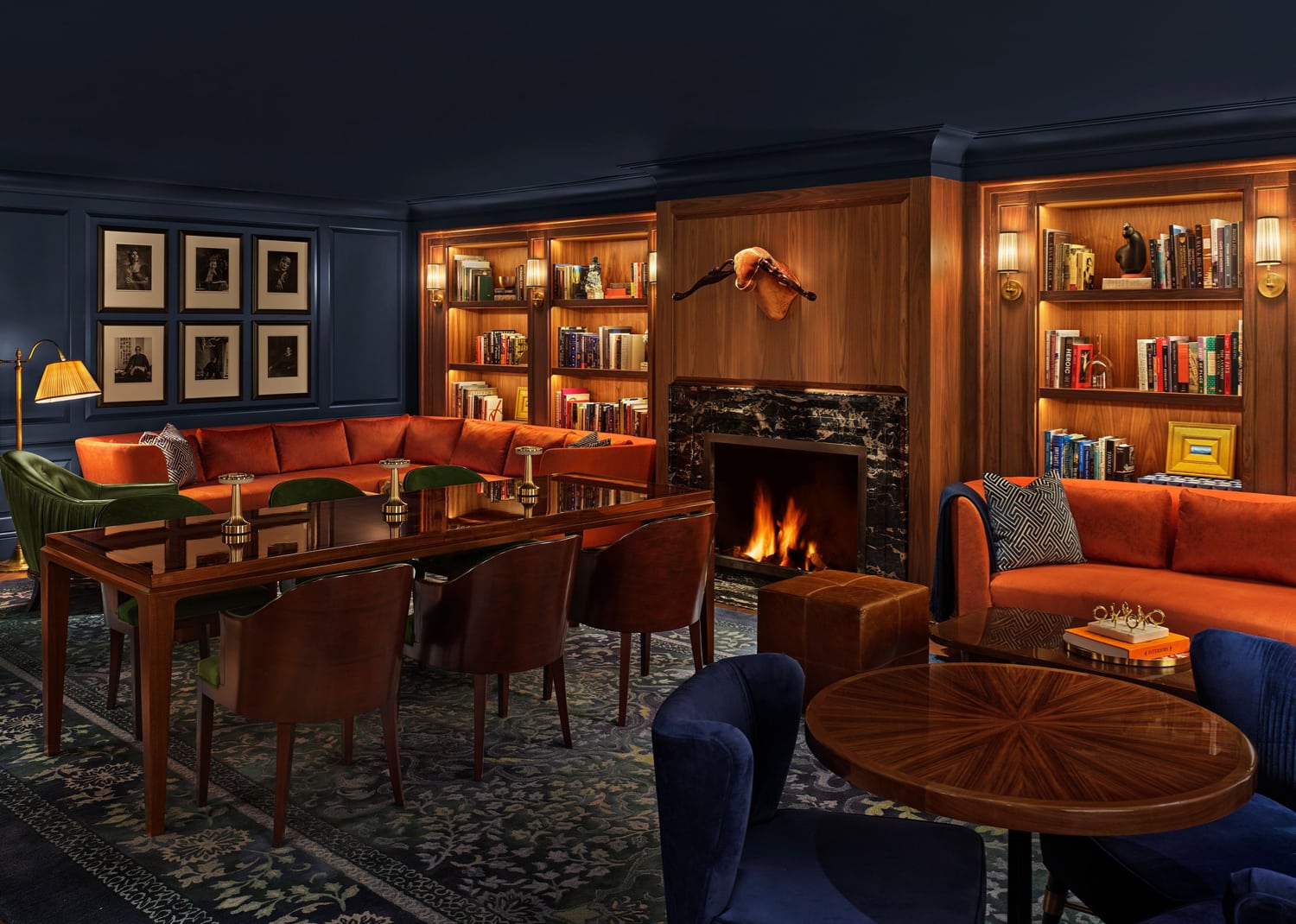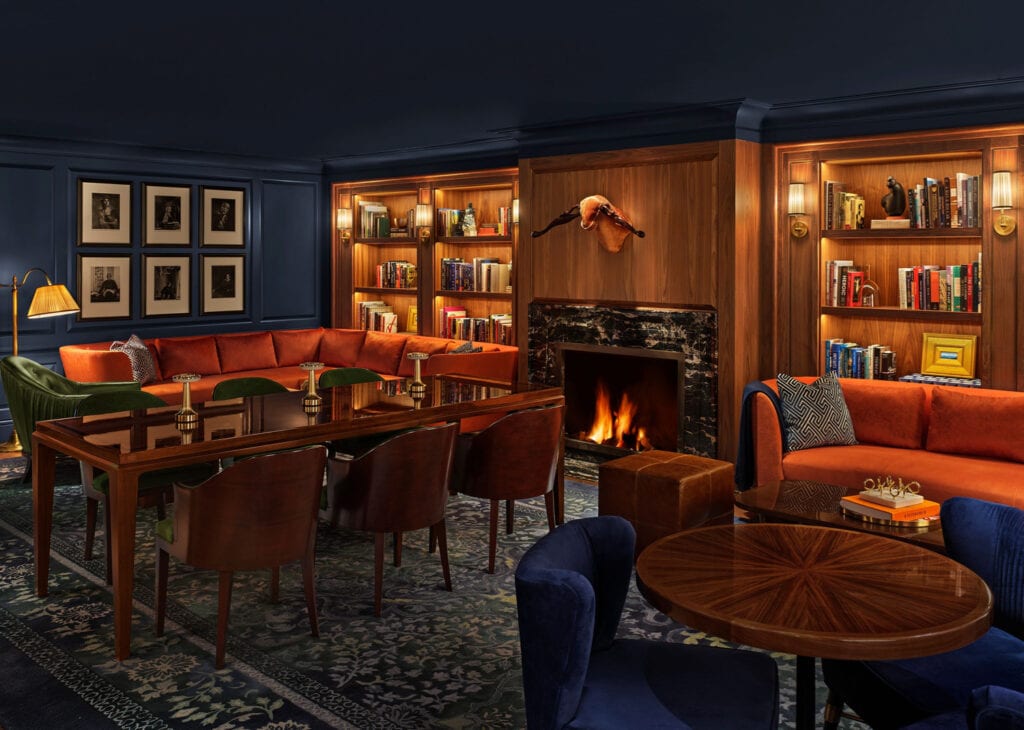 The Newbury
One of the swankiest hotels in Boston, The Newbury (formerly the Ritz Carlton, then Taj) sits atop Newbury Street at Arlington. Overlooking the Boston Public Garden, it's also the best located for a splurgy shopping getaway in Back Bay.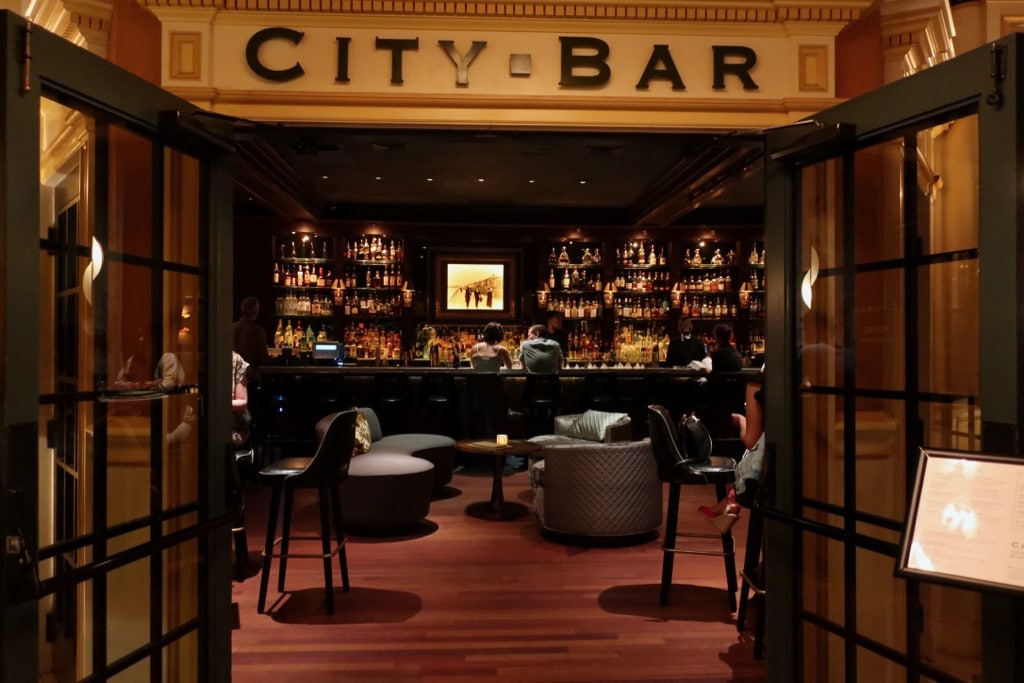 With its high-ceiling European-lush rooms dressed in elegant hues, Italian marble baths and brass chandeliers, you'll feel coddled and swathed in the warm glow of hoteliers who seem to care. Yes, the Lenox takes caring for its guests and community seriously.
Located at the finish line of Boston Marathon, the hotel became a victim of the bombing in 2013. Windows were shattered and guests had to be evacuated quickly.
Then, throughout the week of April 15, 2013, The Lenox turned into Central Command Center. Hotel employees fed over 500 police and FBI around the clock, with other local restaurants and hotels donating food as well. Wait staff handed over thousands of dollars in tip money to The One Fund, created to help bombing victims.
In 2019, our hotel choice was the newly renovated (in 2017) Boston Park Plaza. It's amazing how $100 million can perk up a place.
Built in 1927 as the Statler Hotel, the newly renovated Boston Park Plaza stands on Arlington Ave. a block from Boston Common and the Public Gardens, and two blocks from the top of famous Newbury St.
For its 90th anniversary in 2017, the Park Plaza went through a $100 million top to bottom renovation, and judging by the crowds checking in on a sweltering July Friday, the luster is back.
First Impressions of Boston Park Plaza Hotel
How did I like walking into the lobby on a very hot summer day and encountering a friendly guy peddling an old-fashioned ice cream cart? Incredibly much, thank you! Especially since the gourmet ice-cream bars were free for guests checking in on "Ice-Cream Fridays" in the summertime.
Reception is friendly, efficient, and quick – even in my case, when pilots and flight attendants from Italy (Air Italia) were all checking in at the same time I was. Apparently, the Park Plaza is a favorite among airplane crews flying in and out of Logan Airport.
Rooms at Boston Park Plaza
Guest rooms, with new patterned grey carpeting, contemporary grey valances, and several pieces of furniture along with beds clad in white duvets, are rather minimalist. Bathrooms have been updated with modern tile and raised ceramic sinks.
No art adorns the walls; there are no colorful throws or pillows for punch. But when it's 100 degrees outside, air conditioning turns each room into a bright cool sanctuary.
Dining at Boston Park Plaza
There are three opportunities for grabbing a bite without having to exit the property.
Off The Common encompasses the Bar and most of the lobby interior. Best to order craft cocktails, and appetizers like great fried calamari, Buffalo "Chicken Pops," and artisanal Flatbreads.
Strega Italiano – a tony steakhouse with fantastic cuts of meat, fish, and chicken dishes. Steaks range from $38-$65 and more for Japanese Waygu, but it's worth it for a special night splurge.
STAY: The Colonnade Hotel, Boston
The Colonnade Hotel is the best place to stay in summer as it's the only hotel in Boston with a roof deck pool.
Across the street from the Prudential Center in Back Bay, The Colonnade has been hosting businesspeople and tourists for decades. Every now and then a hotel of this caliber needs to update, and so the Colonnade has, to beautiful effect.
Pleasant rooms have been redone in handsome earth tones, and the lobby impresses with vivid art, but it's the roof-deck pool that elevates The Colonnade Hotel to standout status in Boston.
Rooms at The Colonnade Hotel
Modernized rooms feature white soft duvets punctuated by brown throws, ergonomic chairs around a small table, flat screen TVs, Keurig coffee makers, white marble baths with rain showers, and upscale Thyme amenities.
Bedding is marvelously downy, and floor to ceiling windows reveal constantly moving "city life" views of Back Bay Boston
If it's a nice day, order breakfast or lunch beside the Roof Top Pool (RTP). The food is decent, but who really cares when you're surrounded by the Boston skyline.
Views like this make everything taste exemplary. At night, the roof deck turns into a huge bar scene. The pool is just an added bonus.
The RTP (Roof Top Pool)
This is why you book a room at the Colonnade in the summer. Guests of the hotel can access this rooftop resort for free. And yes, I call it a resort because people actually pay good money to tan and dip and shower and drink up here for the day.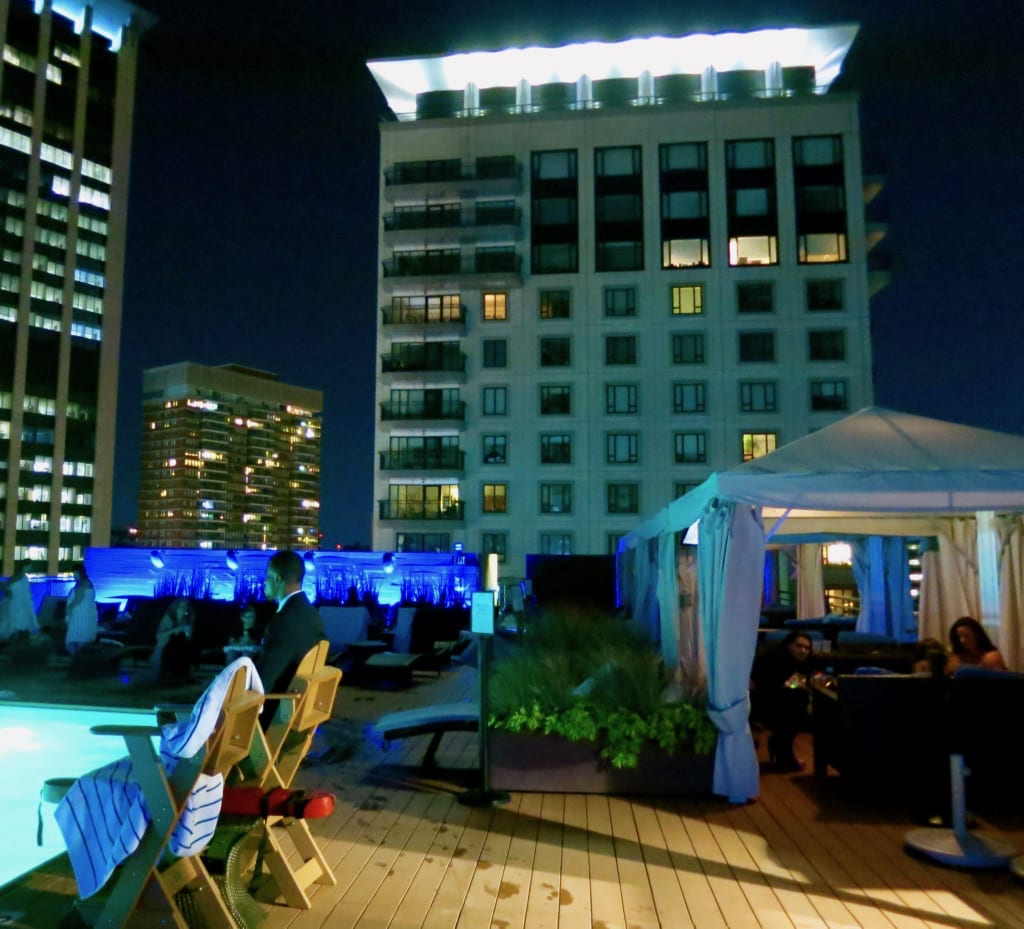 At night – the place turns into an illuminated wonderland. Floating balls in the water glow with ever-changing colors. There's a "beautiful people" element to the crowd at the bar: 20 and 30-somethings capturing themselves and surrounding views on their cellphones, getting progressively boisterous as the drinks pour.
It's a party crafted nightly by weather and personalities – a good deal of fun, even more so for hotel guests since it's just an elevator ride (and a two-level staircase) away.
STAY: Loews Boston
In the former Boston Police Headquarters, Loews Boston is nostalgic, luxurious, and quirky.
There are reminders everywhere of Loews Boston Hotel's original identity as Boston Police Headquarters from 1926 until 1997. In 2004, the Irish hotel company, Jury's, purchased and repurposed the "last major Italianate Renaissance Revival building erected in the city" into a luxury hotel. It became a Loews Hotel in 2009.
Two large blue lights flank the former front door of the Police Headquarters, there's a plaque commemorating the history of the building in the entryway, and you'll find black and white photos of men and women in uniform sprinkled throughout the hotel.
As a nod to its former occupants, each meeting room is named after a Boston Police Chief or officer– including Dorothy Harrison (Harrison Room), the first African American woman Detective, who studied Opera at Boston University but felt that her race would "keep her from a full professional music career."
Harrison served from 1944-1972. As with all women police officers back then, was not allowed to carry a firearm – relying only on her badge and intelligence to do her duty.
First Impressions of Loews Boston
The reception area is modern and minimalist – punched by a large cherry blossom photo behind three mirrored desks. The welcome is friendly and efficient, with starkness of the room offset by a comfy "living room" area complete with a Loews trademark: a full wall TV screen.
Rooms at Loews Boston
Larger than average standard rooms (300-345 sq. ft), renovated in 2014, are handsomely designed "like a fine tailored men's suit." Navy throws on white duvets top cloudlike beds that sport dark wood and cream-colored leather headboards, and sturdy armchairs are upholstered in a tweedy houndstooth fabric.
Dining at Loews Boston
Precinct Kitchen and Bar, called Cuff's until 4 years ago, serves breakfast, lunch, and dinner – with a concentration on tweaked comfort food – what restaurant copywriters call "Classic Boston Cuisine" (whatever that means…. a little Irish? A smattering of Seafood? Yep – all those things).
The bar, generally packed after work hours on weekdays, stands next to the police station's Gun Safe, left in place as another reminder of what was once here. Craft cocktails are terrific – and tend to be potent – thanks to mixologists who know their stuff.
Weekend Getaways In Boston