WHY GO: You've seen Boston. Now, delve in! This getaway exposes you to the Boston art scene: Good, Bad and Yours. Poke around one of the Granddaddy's of the Art Museum world. Find avant-garde art in a waterfront box of glass. Talk to artists and gallery owners in Boston's Art District. And then make your own glass masterpiece. Instructions below.
Artsy Things to Do in Greater Boston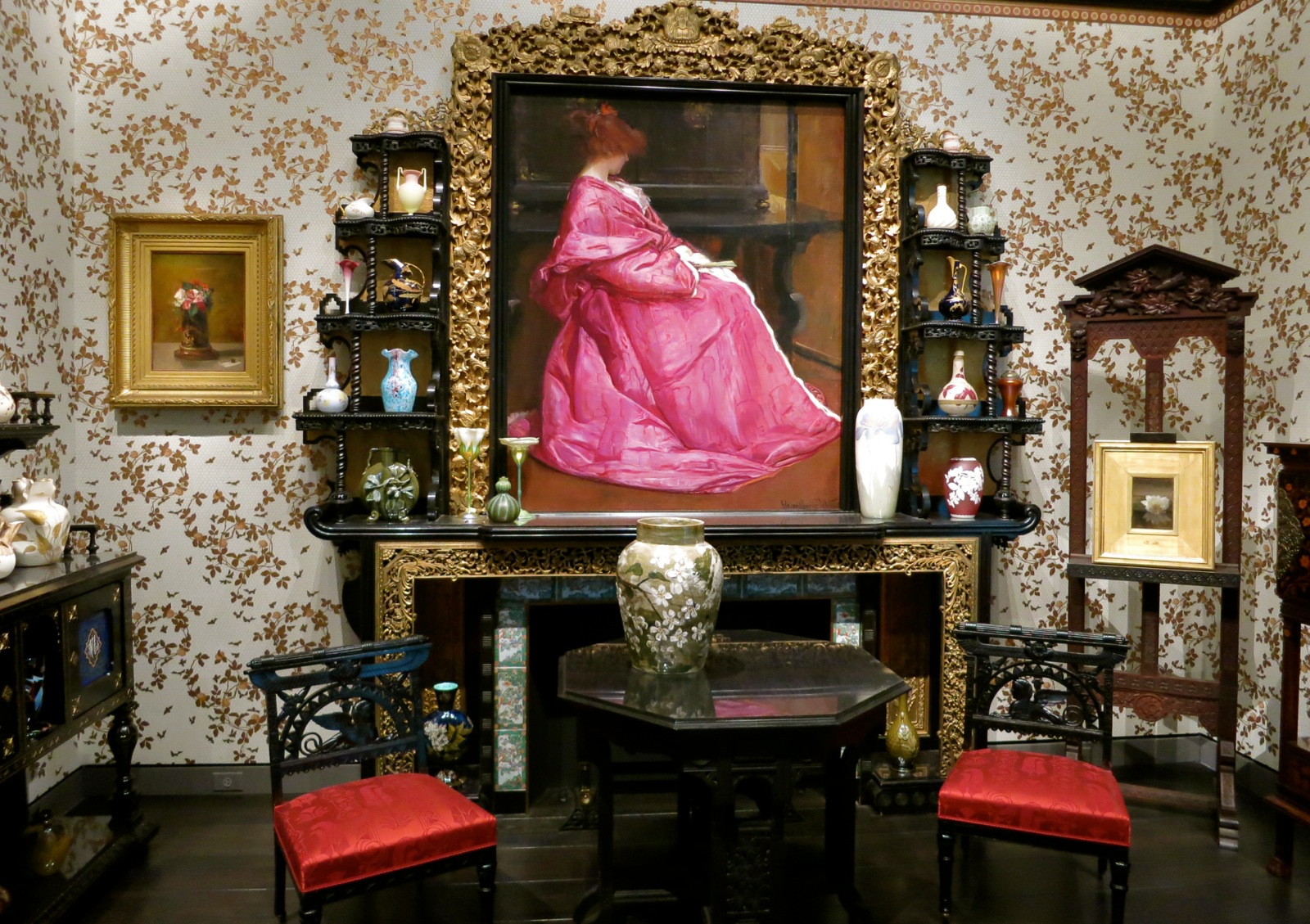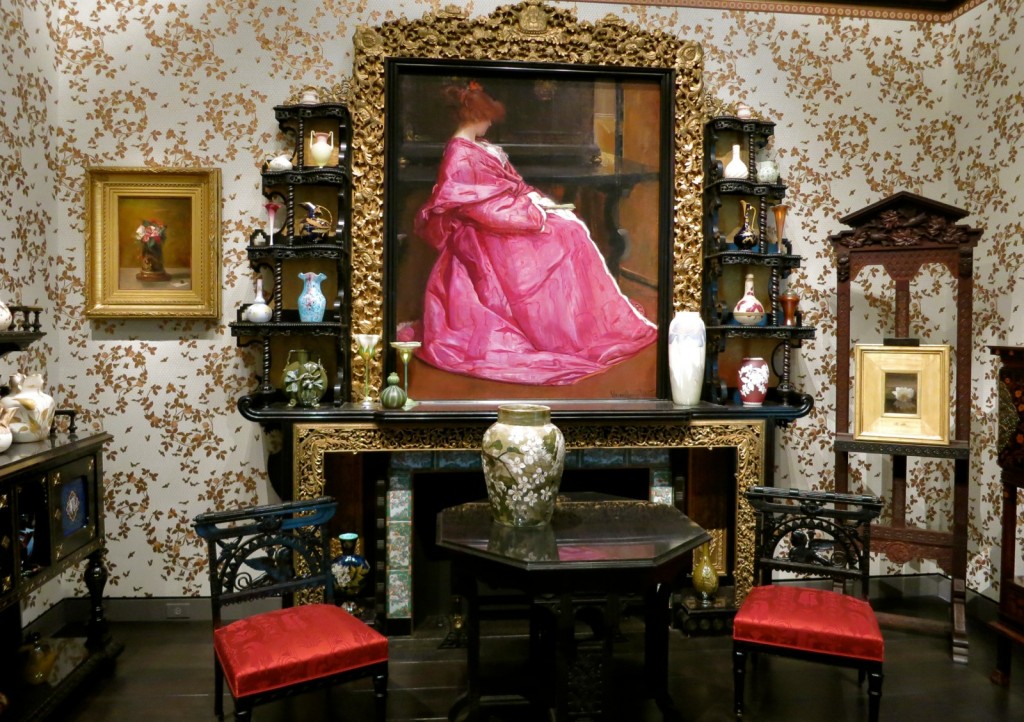 Enter through the Fenway St. entrance ("take a right at the big baby heads," says the guard) into the neoclassical rotunda of one of the world's great Art Museums. There, you're faced with overwhelming possibilities. Each wing – Contemporary, Art of the America's, Art of the Ancient World and European Art– would take at least a full day to explore.
To see all in one visit is tantamount to eating a whole wedding cake alone in one sitting. You'll find Duncan Phyfe furniture, Winslow Homer, and of course John Singleton Copley among the military, society and workaday portraits in the Art of the America's wing. As with any art museum these days, exhibits run from serious to whimsical to provocative, especially in the new Latin American Contemporary Art section.
The MFA holds a large collection of Funerary Arts of the Ancient Egypt with plenty of mummies, and its collection of Monet is the largest in the world outside of France. $25 adult, $10 youth, free for members. Mon, Tues, Sat. Sun 10-4:45, Wed-Fri 10-9:45pm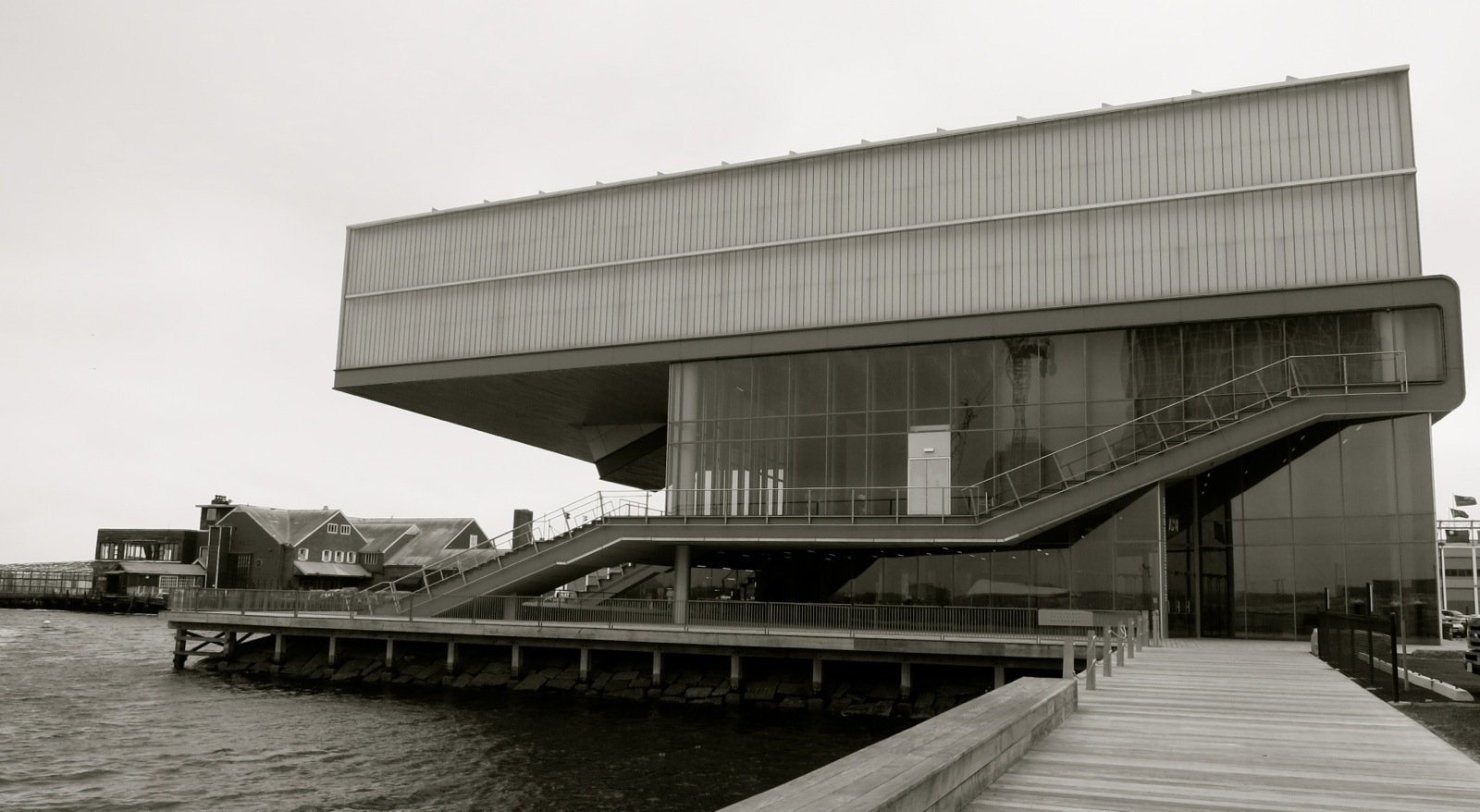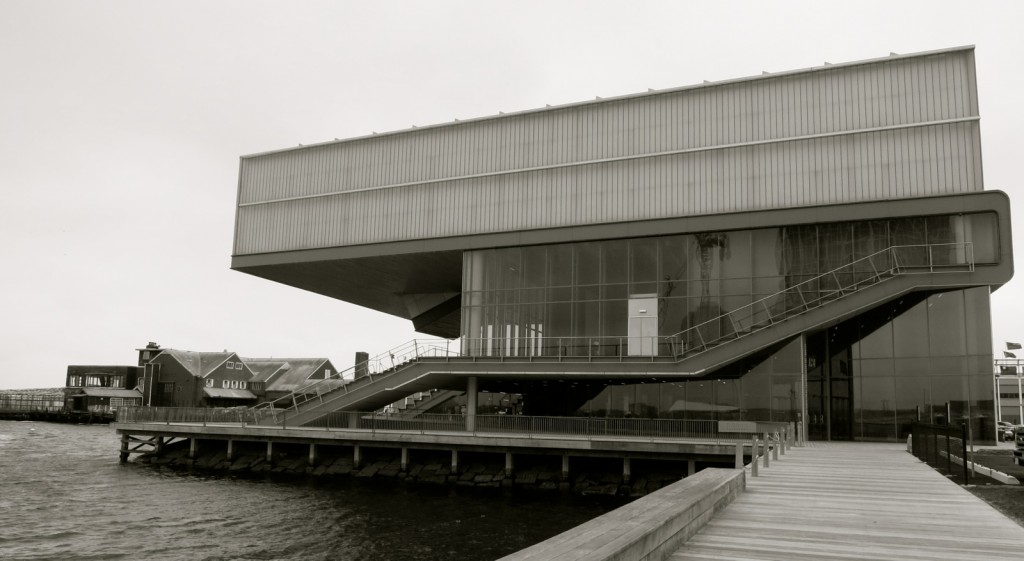 Part of the fun in visiting this harbor-front museum is stepping onto the walkway cantilevered right over the water. Last time I did this, there was an unusual jellyfish infestation in the harbor, generating an unexpectedly random installation/performance piece – thousands of gelatinous creatures propelling slowly in the water below. It wasn't much different from the avant-garde art that finds a home, either permanently or temporarily in the coolest of Boston's museums. $15, Tues, Wed, Sat, Sun. 10-5, Thurs, Fri 10am- 9pm.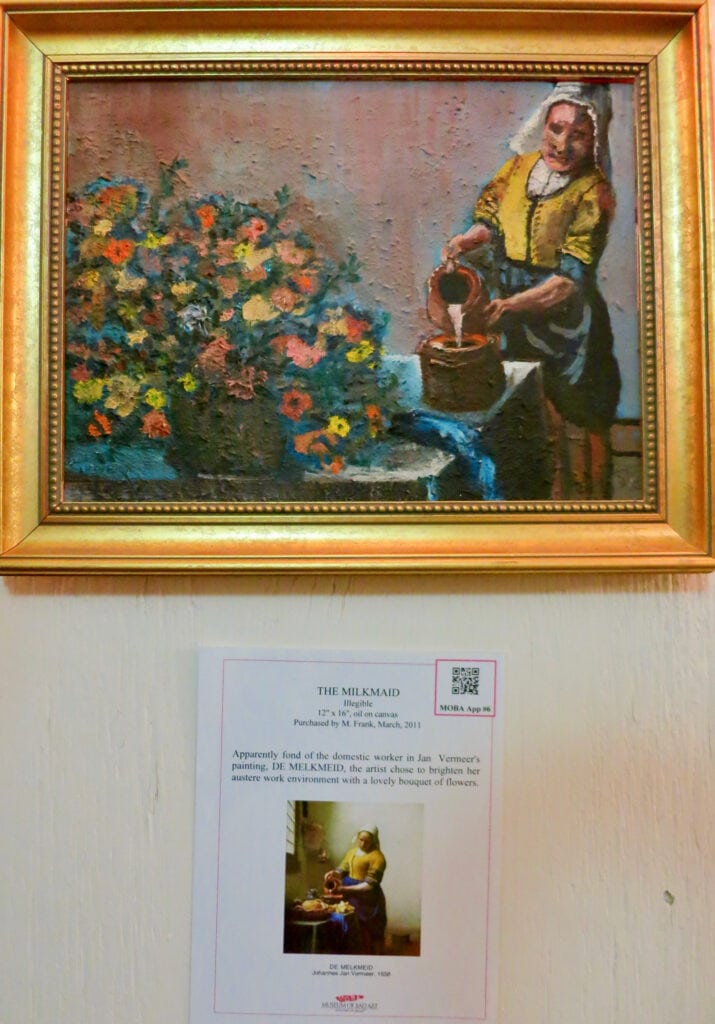 Formerly in the Somerville Theater, Somerville. ** Please be aware that the MOBA is now looking for a new home – and no longer occupies the basement of the Somerville Theater.
At first Scot Wilson, an antiques dealer, threw out bad paintings in order to sell the frames. But along the way, he was captivated by the worst of the art. Wilson began to drive down local streets, looking for paintings amid the trash, stopping to pick up the best of the worst.
As a joke, he mounted a show of Bad Art in his home, wrote up faux descriptions for each piece and expected about 50 friends. Over 200 showed up. So, in 1994 The Museum Of Bad Art (MOBA) was officially established in the basement of the Somerville Theater and two other greater Boston locations.
"So many people want to give us paint by numbers or black velvet stuff," says Museum Director, Louise Reilly Sacco. "We're looking for original creations where something has gone terribly wrong – either a bad idea or bad artist." Now, online only.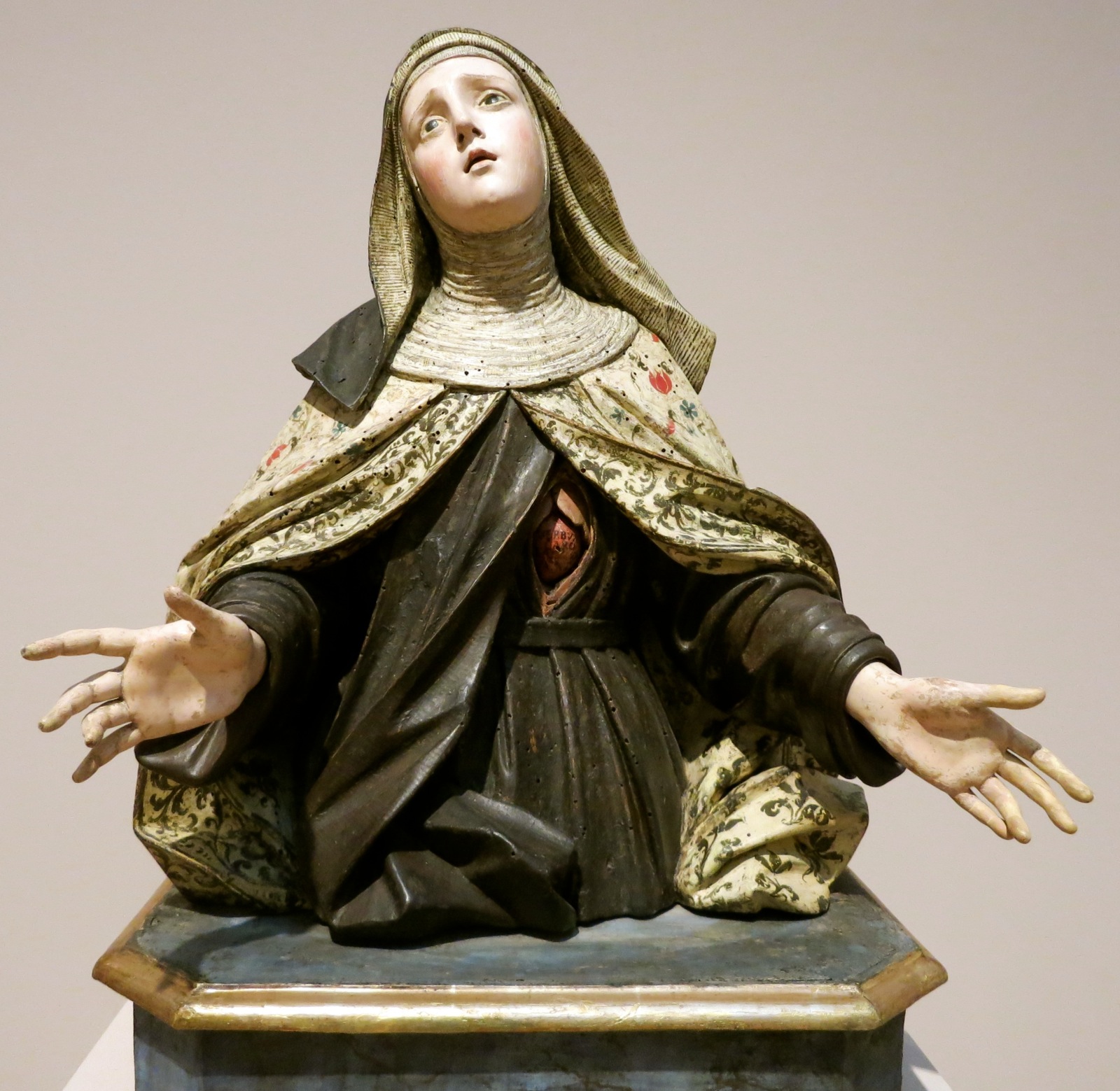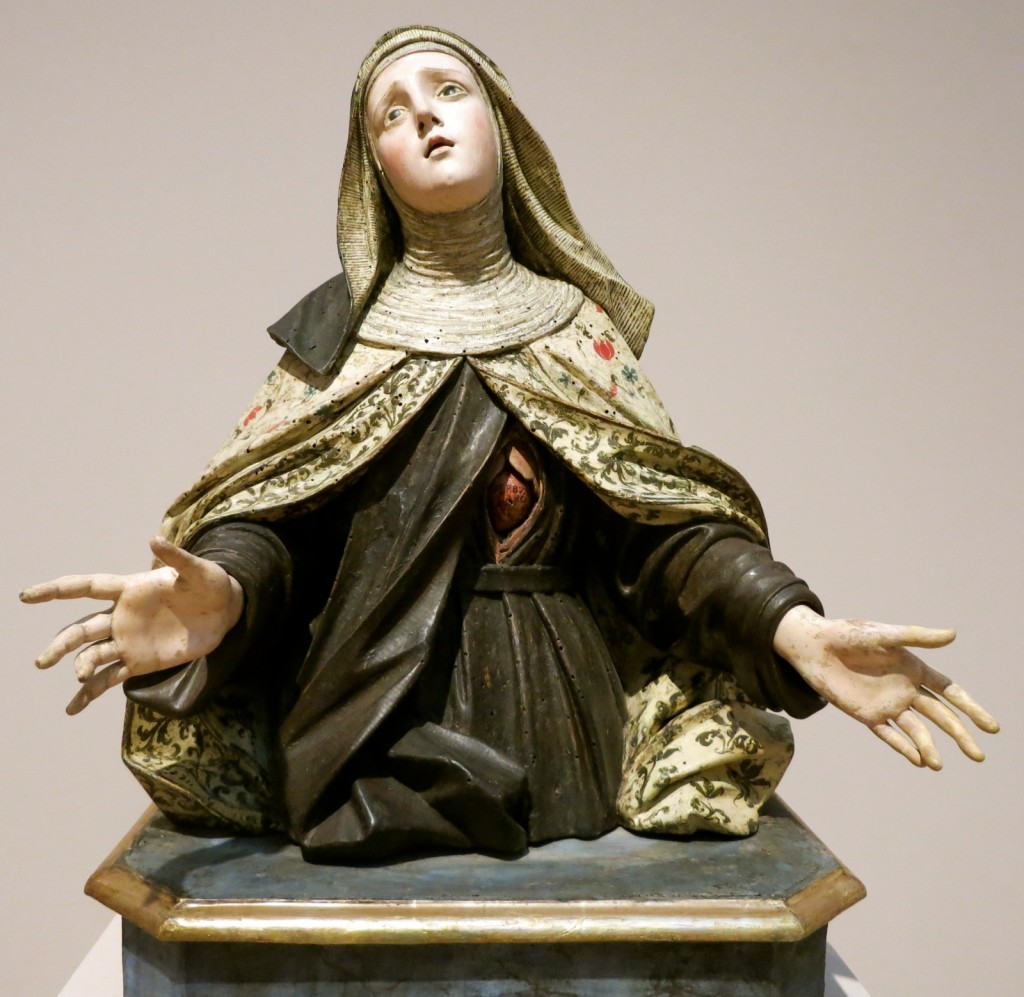 Built in 1993, architect Raphael Moneo envisioned this compact yet soaring museum as a jewelry box that opens at each landing to reveal its treasures. Steps are shallow and take concentration to climb, which turns the whole experience into a meditative exercise.
A "Micro-Encyclopedic" museum (10,000 objects, ancient to modern, that rotate in and out), art is provocative, compelling and approachable, and at least one is rather disconcerting: Francisco Alcaraz's sculpture of Saint Teresa of Avila, arms and eyes raised in ecstasy, chest cut open to reveal a bloody heart. Admission is free. Tue–Sat 11 am – 5 pmWed until 8 pm, Sun 12 pm – 4 pm.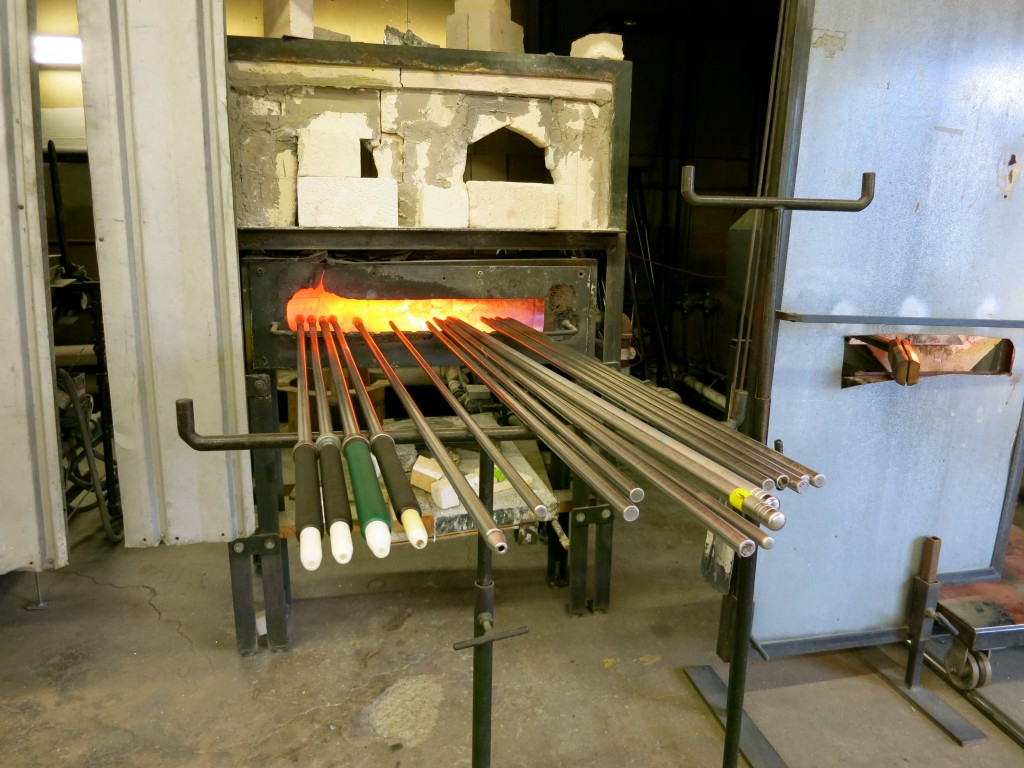 Take a 2-plus hour beginners class, and you'll learn to work with molten glass safely, then make your own tschotchke. Safety first – those furnaces fire up at 2,000 degrees Fahrenheit; so your initial intro to working with metal rods and high heat is a demo and lecture.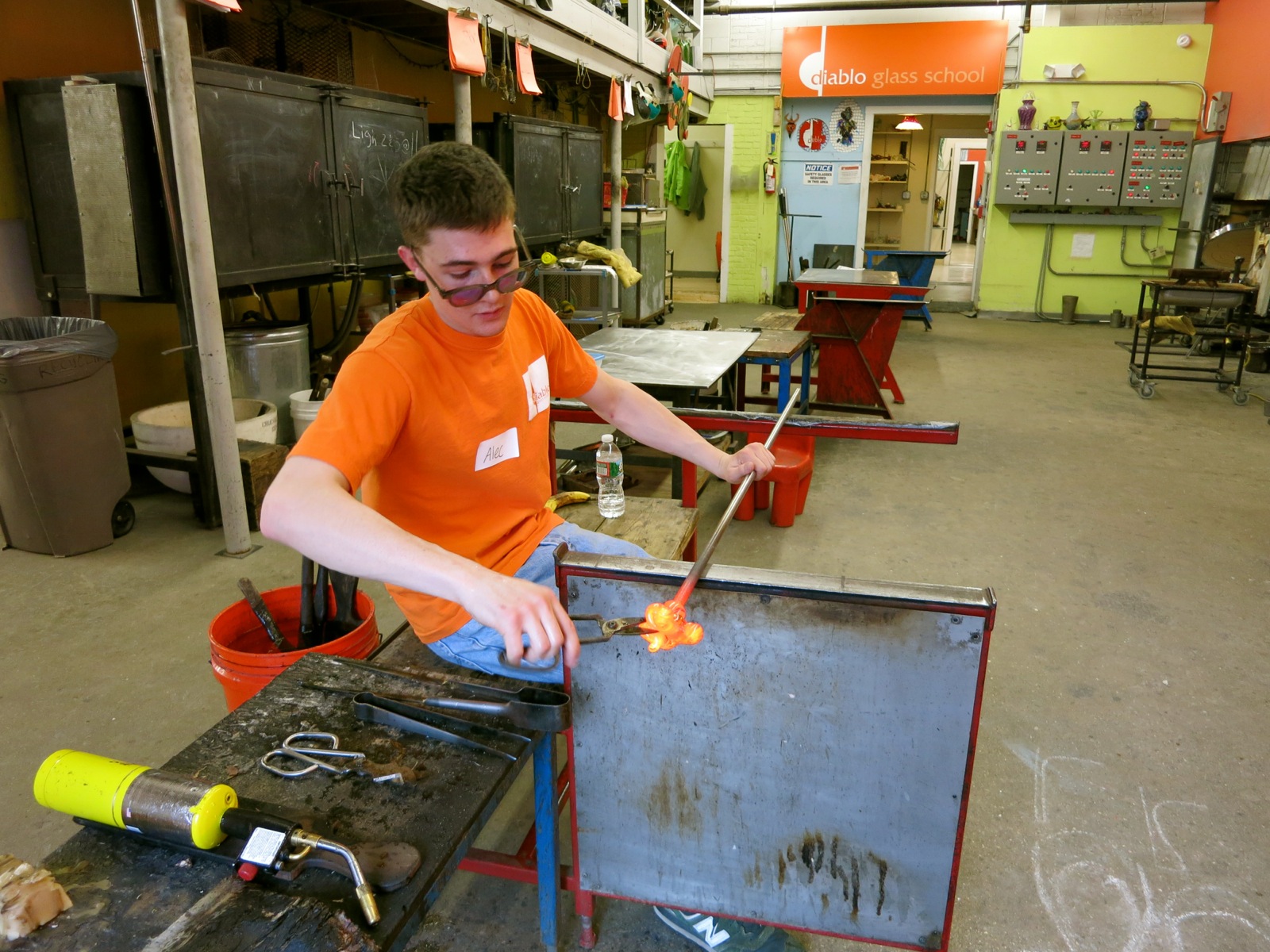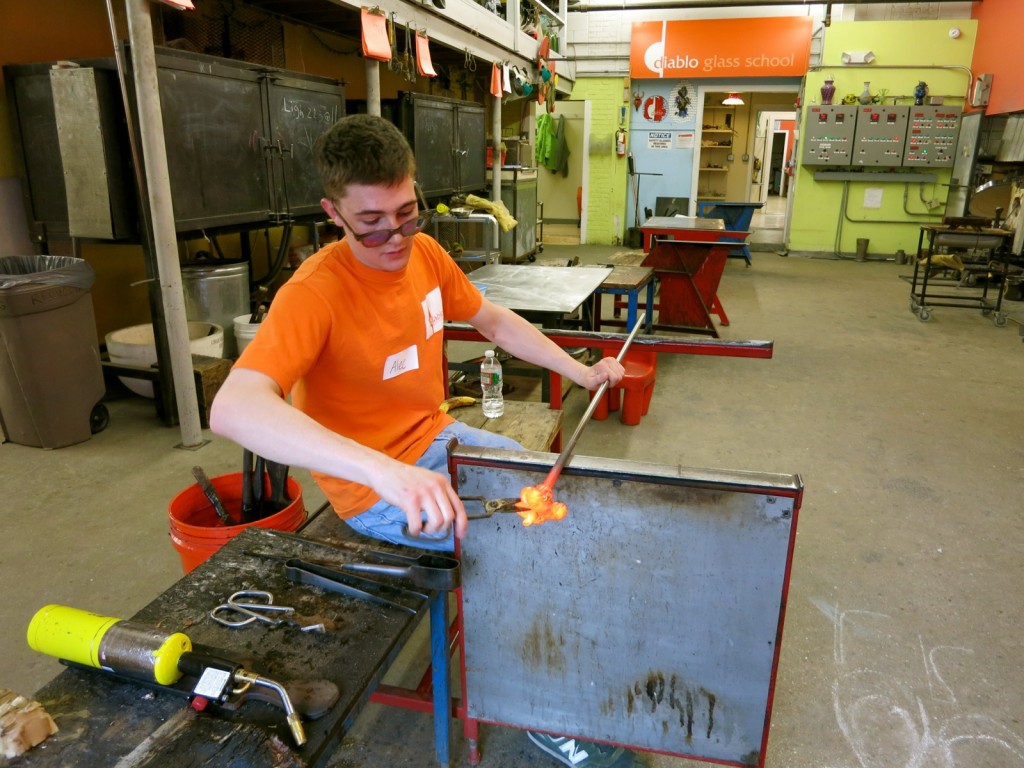 Your instructor will also show you the proper way to get up and down from the workbench (yes, there is a technique) and how to work liquid glass into interesting shapes. Then, you'll have at it with someone standing by to help if you get flustered.
Pick up a hefty solid pipe, stick it inside the glowing ceramic crucible that holds 300 lbs of red-glowing molten glass, get a blob on the tip of the pipe, and for goodness sakes, keep that rod turning so the liquid doesn't end up on the floor.
Glass sticks to metal, but metal gets hot, so there's water and other devices to make sure you don't burn your hands. Finished work goes into a 960 degree "cool-down" oven for 30 hours before you can bring it home. $85 per person for materials and instruction.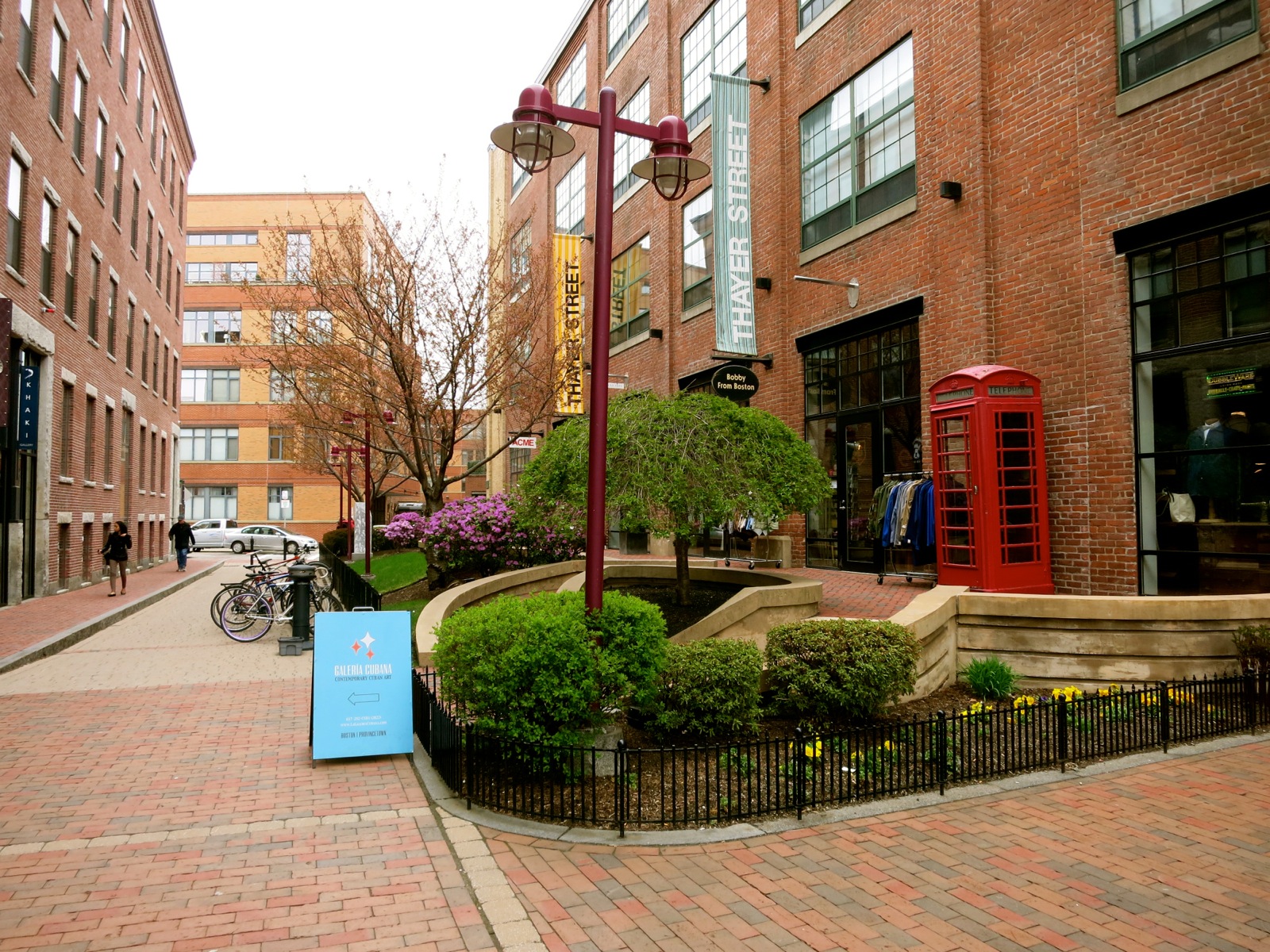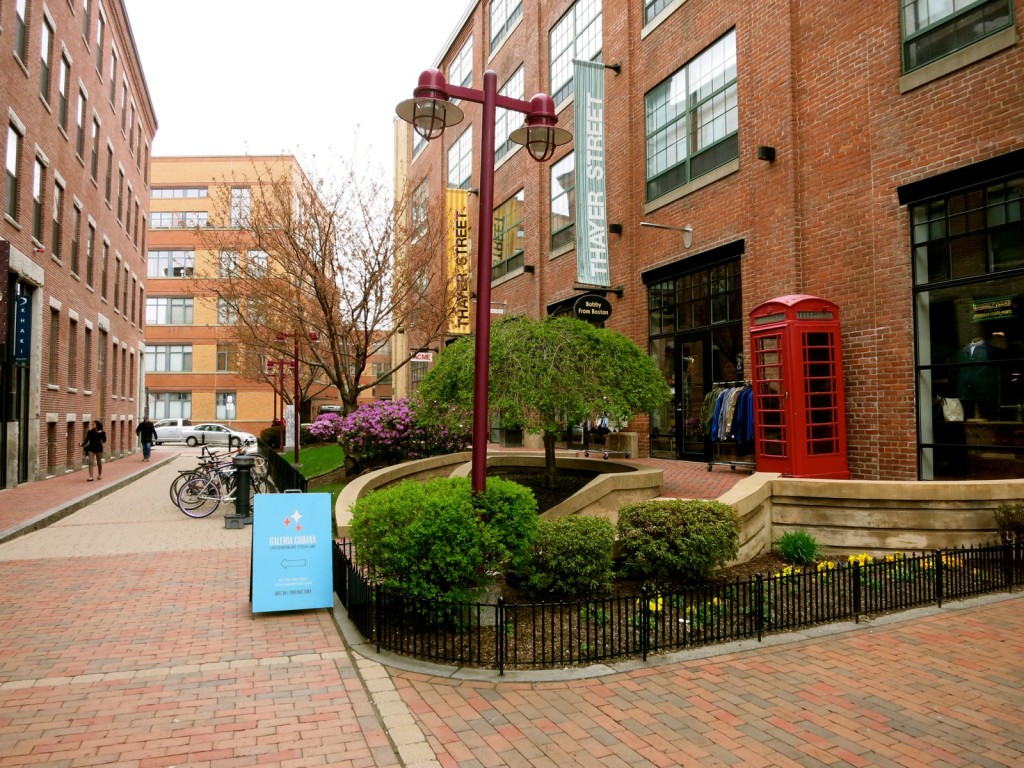 Meet over 70 cutting edge artists, and gallery and shop owners in in two repurposed factory buildings on Boston's South Side. My own personal favorites include Lattitude Gallery which used to be located on Newbury Street, and Dahlia – handwoven and other terrific designer clothing for women.
Artsy Restaurants in Boston MA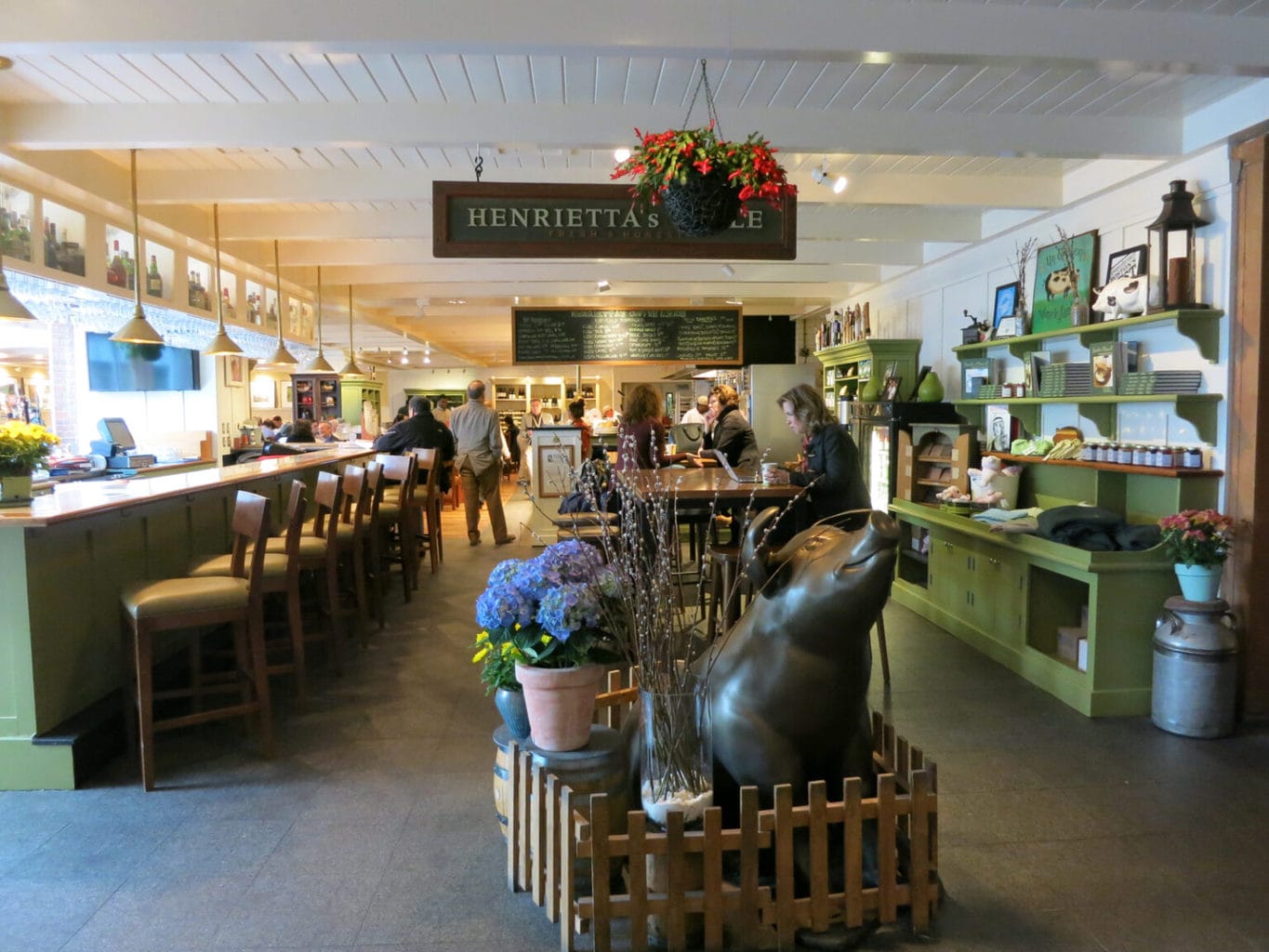 Attached to the Charles Hotel, with "pig" motif and saturated color photos of farm produce, animals, eggs and clammers on the walls, it's a Power Breakfast hotspot for fans of real, slow food. New England favorites include Red Flannel Hash, Poached Eggs with Hollandaise, Malted Waffle and Homemade Apple Butter.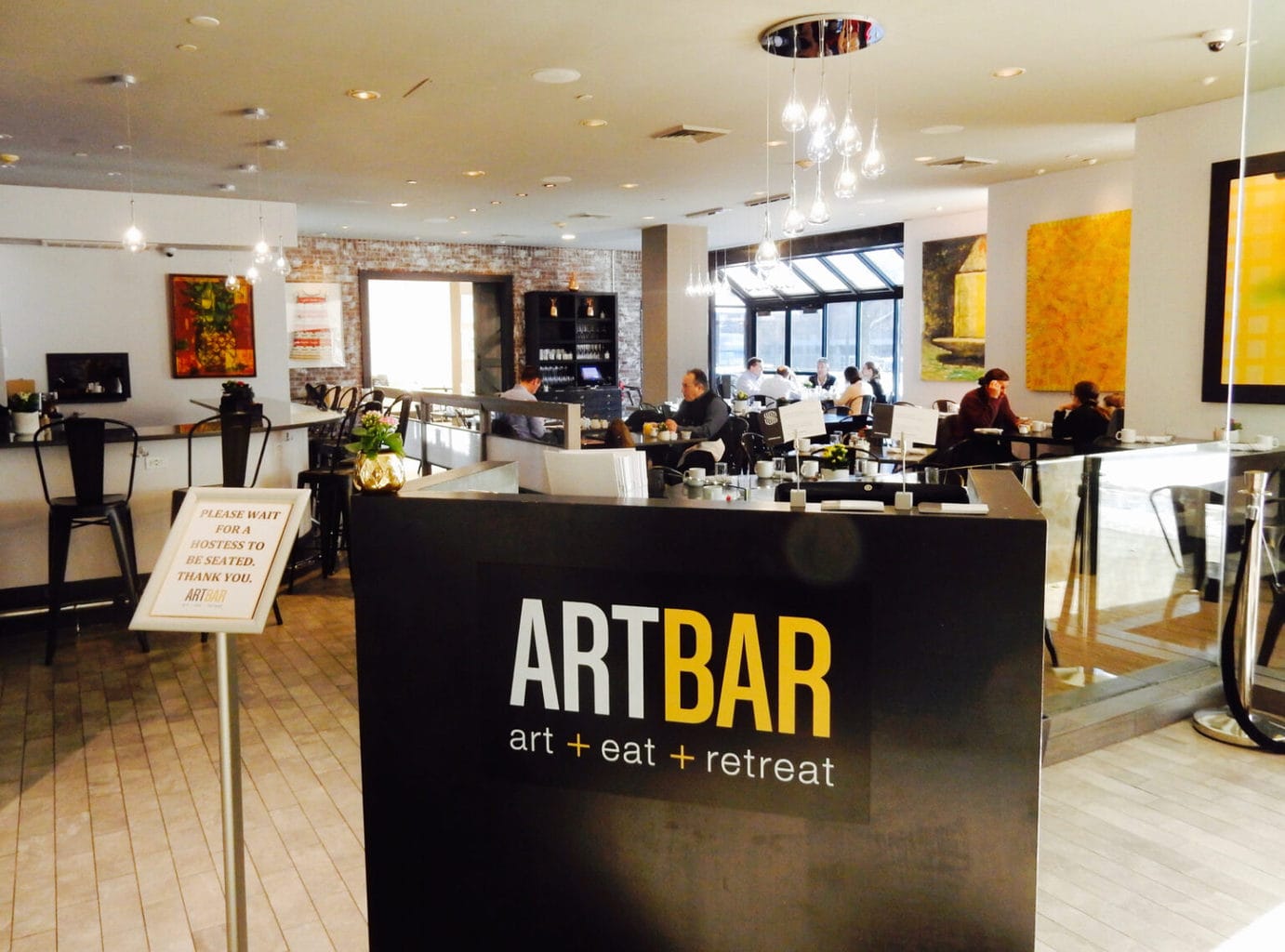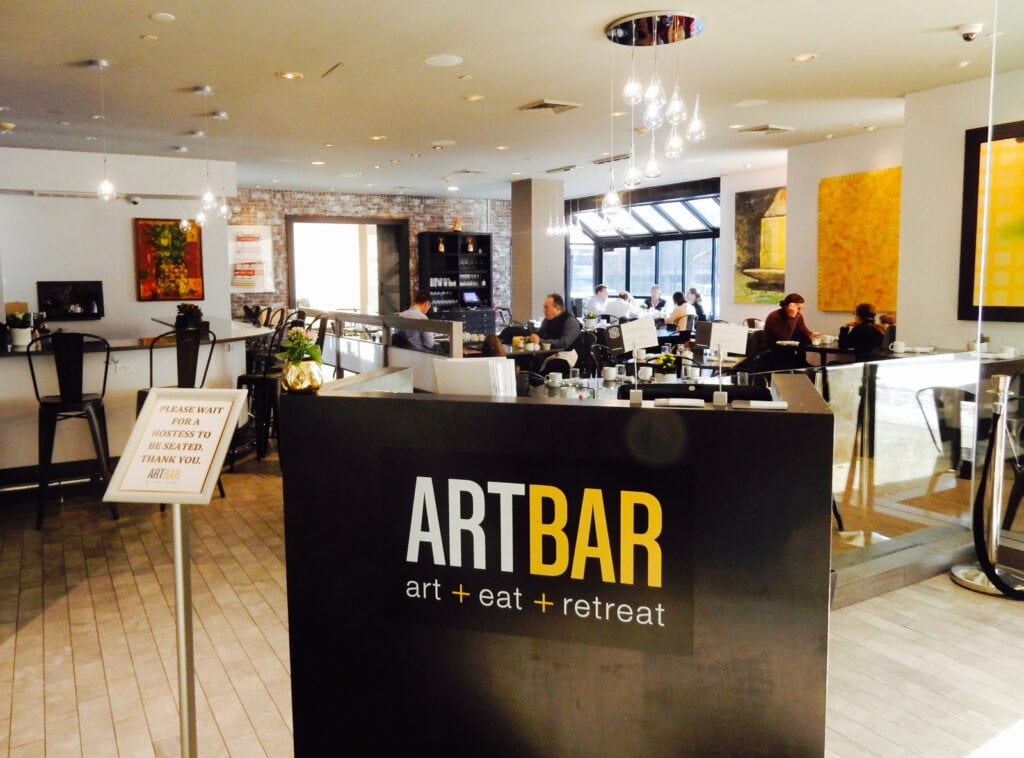 EAT/DRINK: ArtBar at the Royal Sonesta, Cambridge
Continuing with the "Arts in Boston" theme, the Royal Sonesta was one of the first hotels in the country (if not the first) to merge lodging with museum. That extends to its restaurants. So, the casual Art Bar is true to its name. Snack on Sweet Potato Tots with Spicy Banana Ketchup, Spicey Oysters, Grass-Fed Burger, and Amaretto Ice Cream Macaroons, while overlooking the Charles River right outside.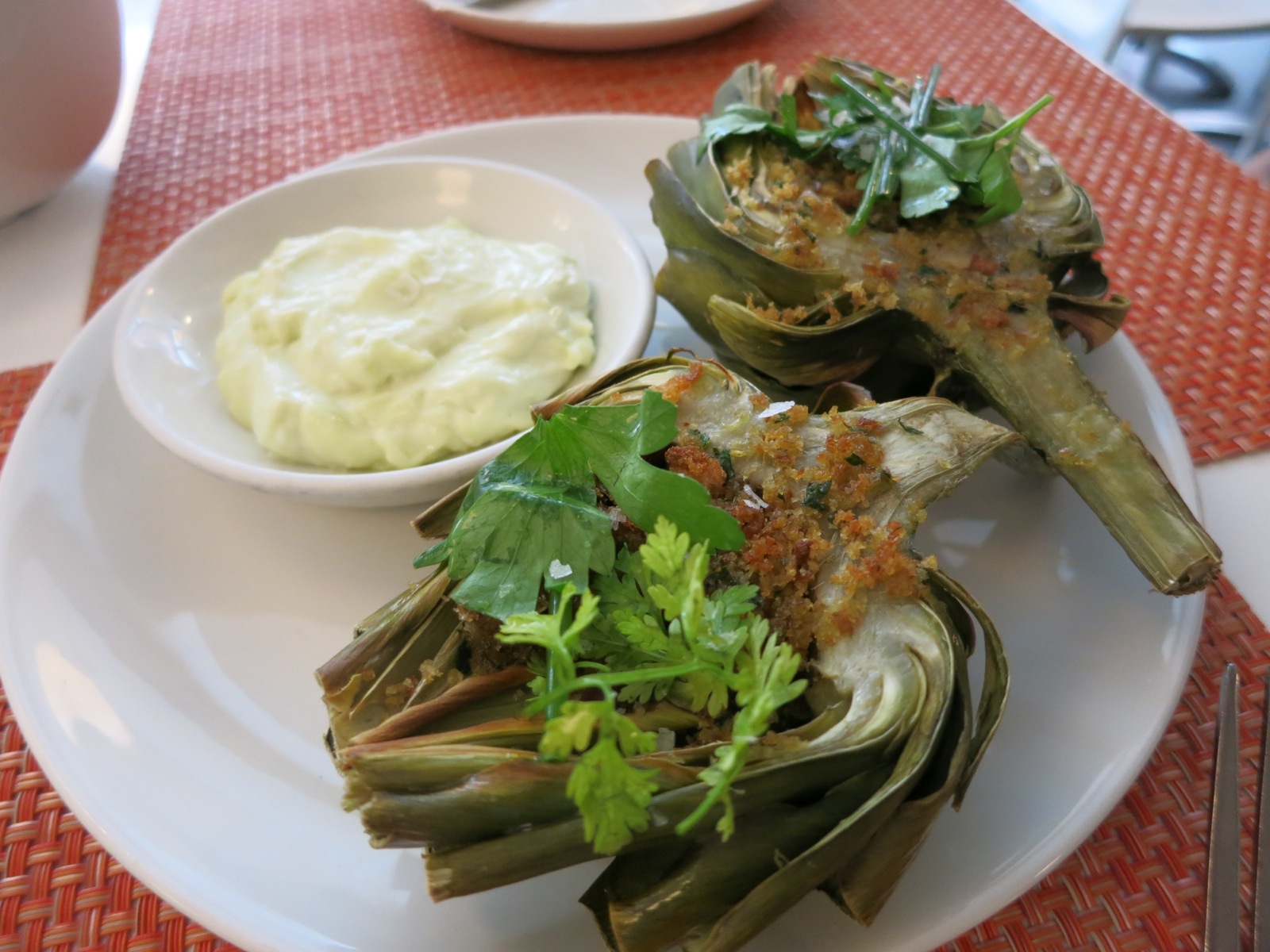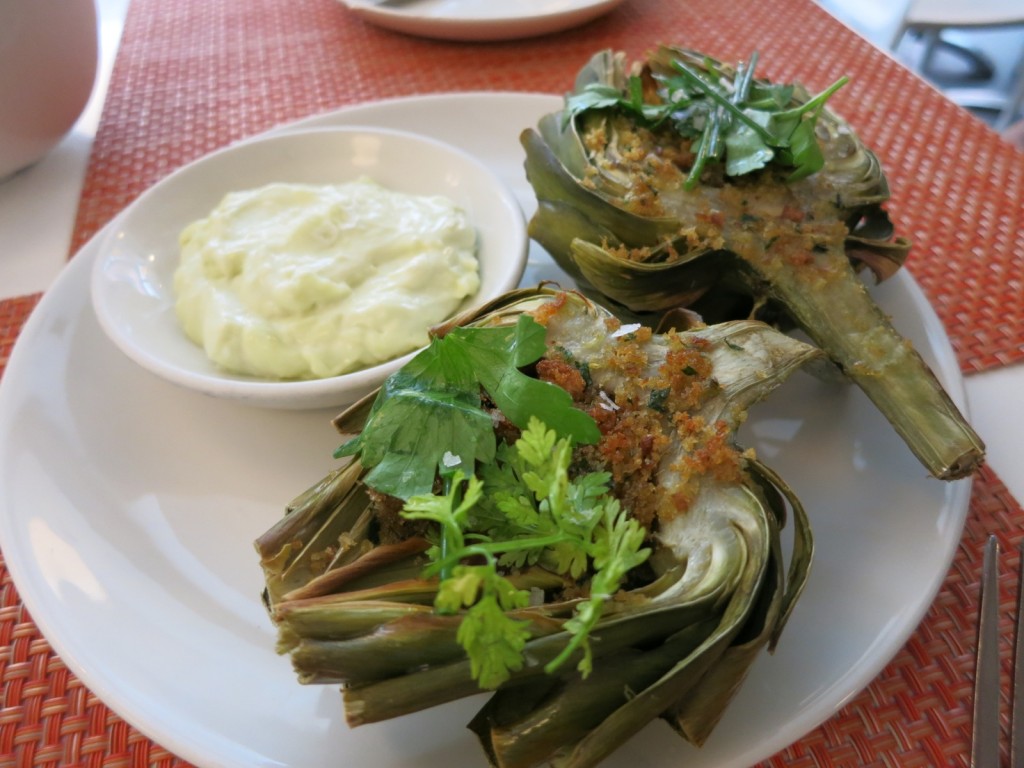 This Barbara Lynch lunch-counter spot, in the Seaport District of Fort Point, excels in homemade pastas. Sit yourself down on a stool where orange is the shade-de-jour, and munch on breaded artichokes, Farfalle with Lobster, Squash and Tarragon, a rich, deceivingly creamy Vegan Tomato Soup, and the signature Potato Gnocchi – with mushrooms in truffle cream. My choice for mid-day decadence.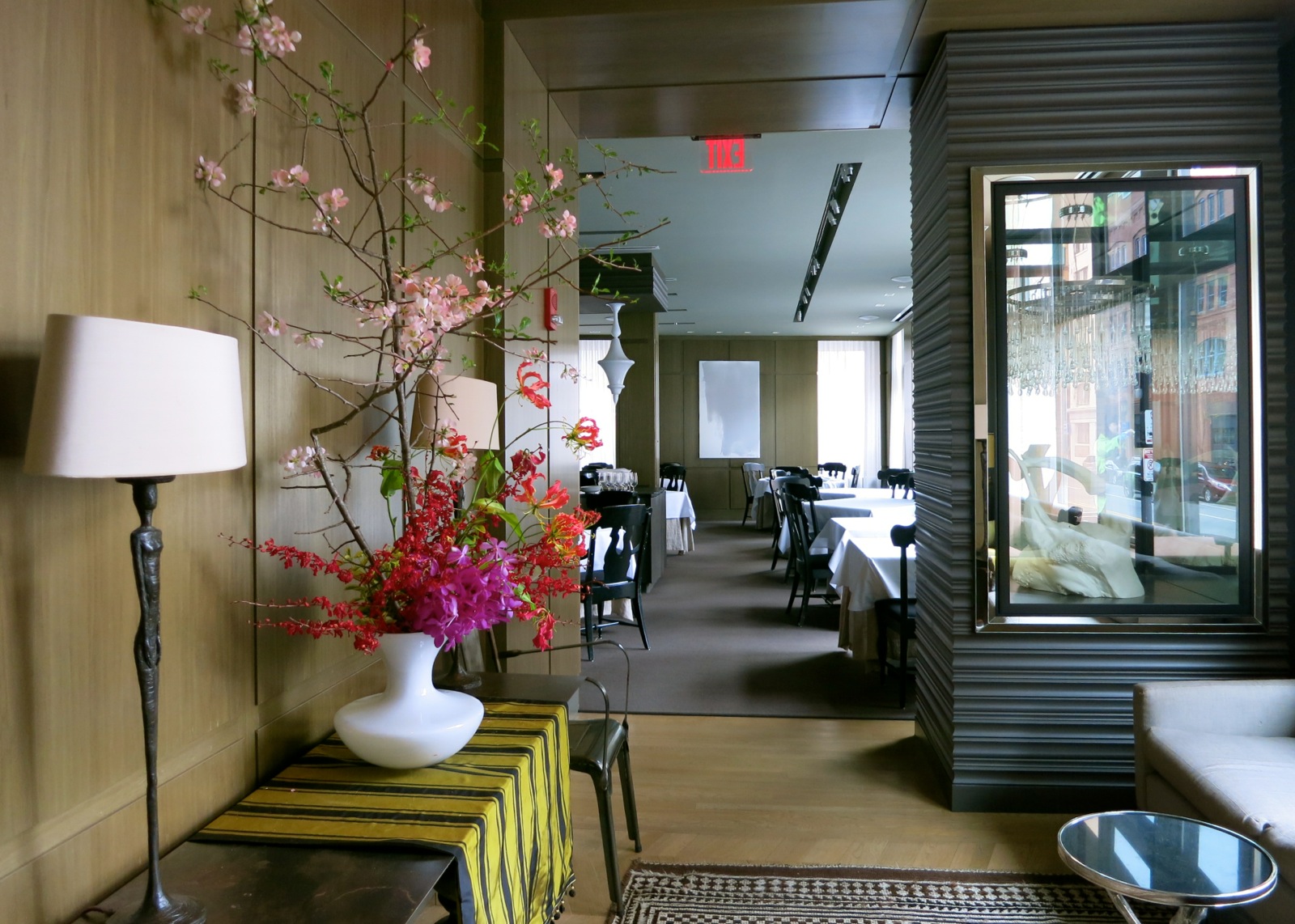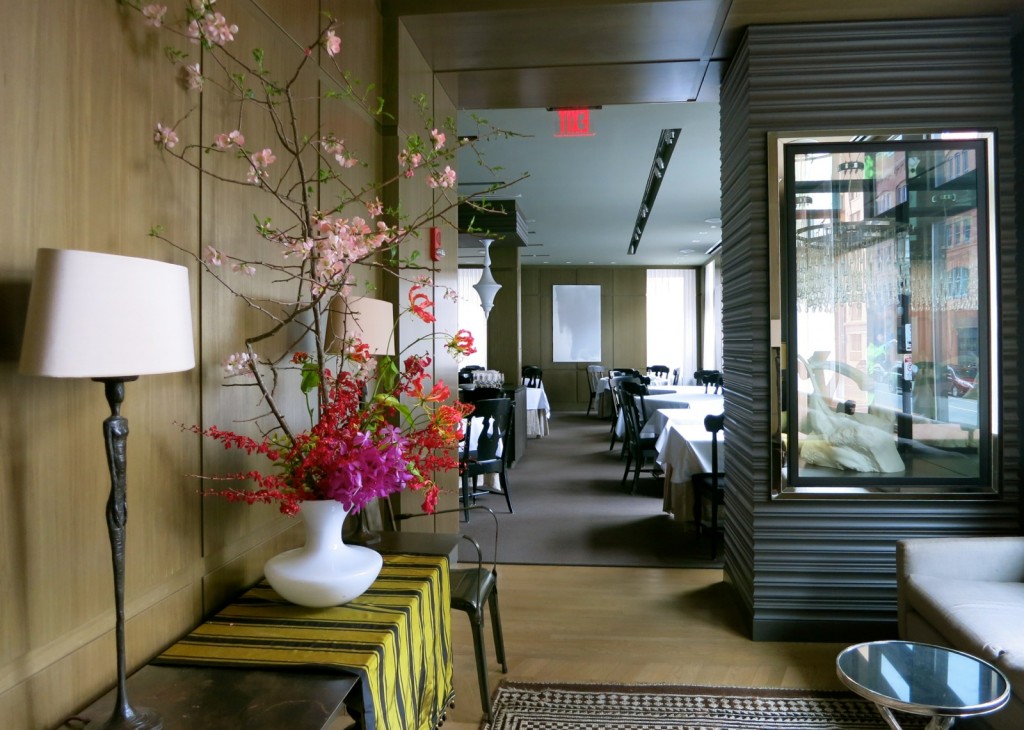 This beauty is consistently named one of Boston's Top Restaurants. Chefs share a prep kitchen with Sportello and Drink – all in the same building and all in the venerable Barbara Lynch Group. With its location in the Seaport District, the fish is flopped-off-the-boat fresh.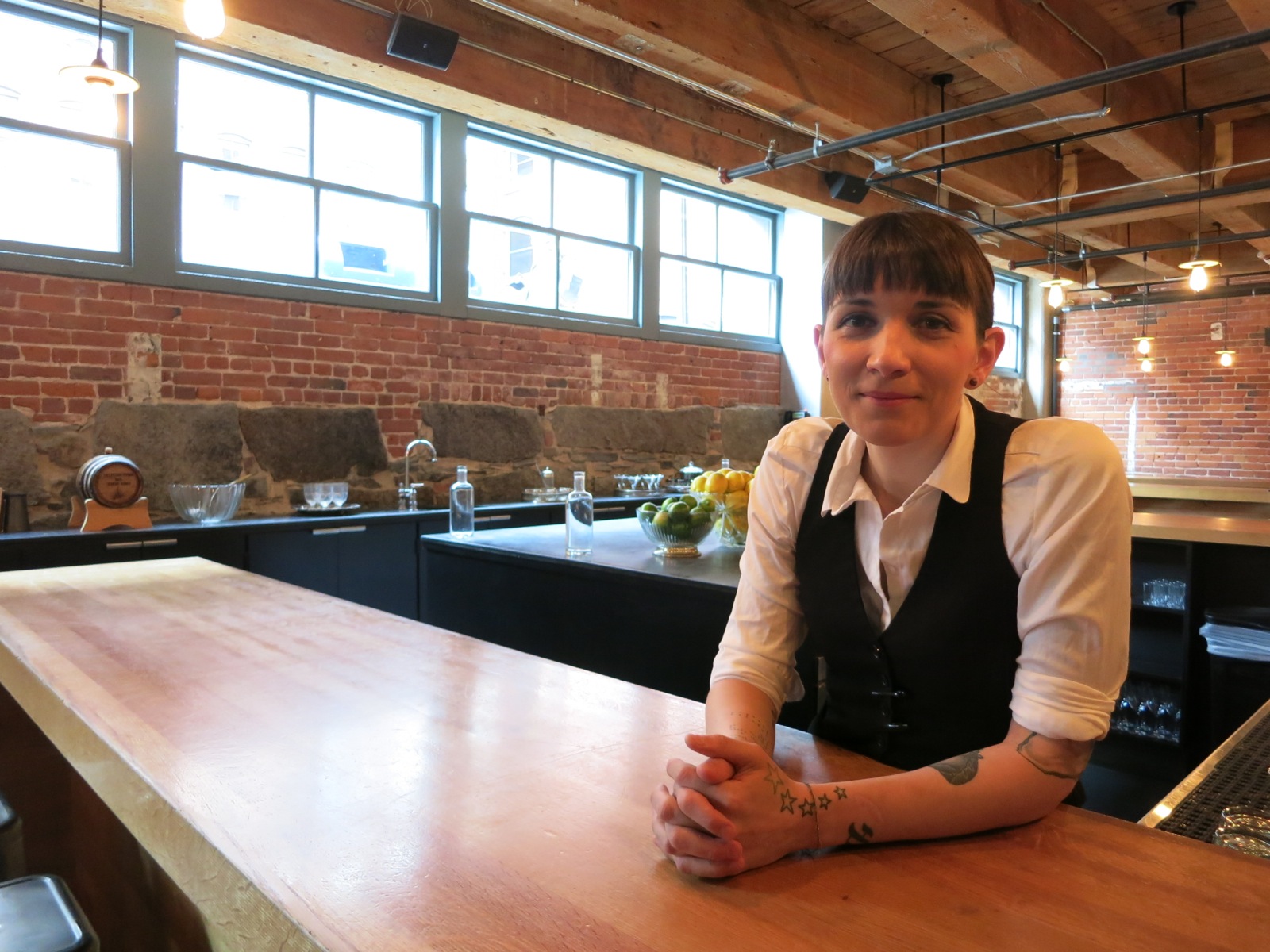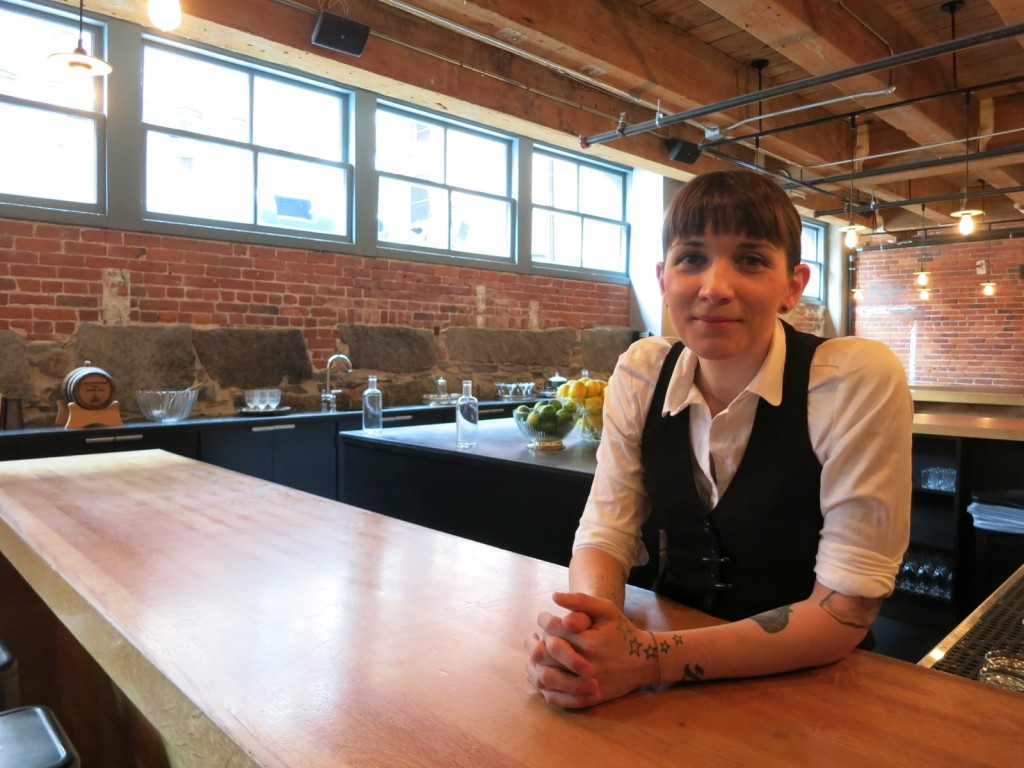 The so-called bad-boy of the Barbara Lynch Group, don't expect bar crowds three deep jockeying for attention or even a glimpse of a shelf of booze here. In 2013, Thrilllist named Drink the World's Best Cocktail Bar for its house-made juices, garnishes and 50lb blocks of crystalline ice. "It's more like a cocktail party at a friend's house," says Bar Manager, Ezra Star. "And nerds love us. We appeal to the people who read books about cocktails."
Where to Stay in Boston and Cambridge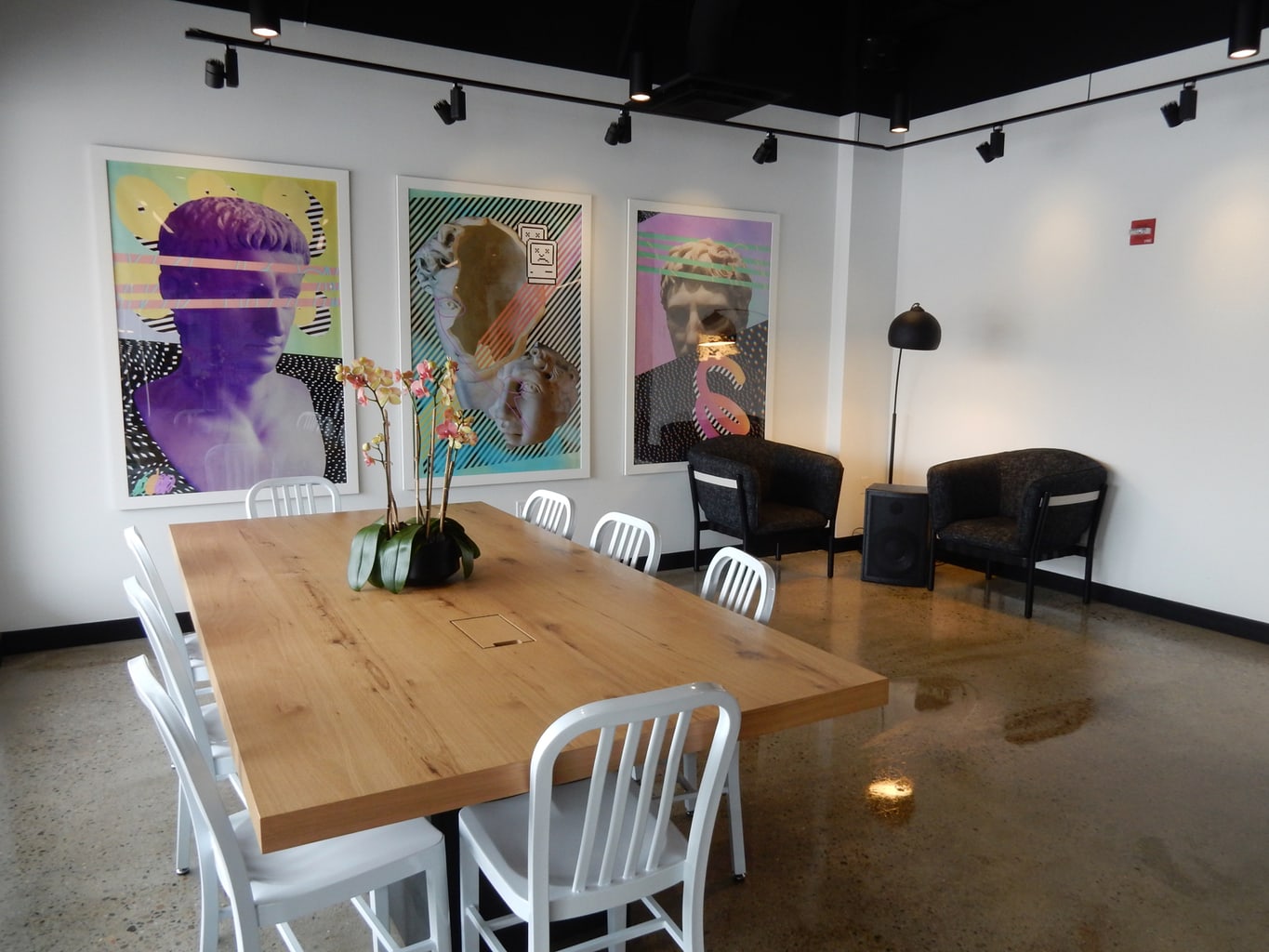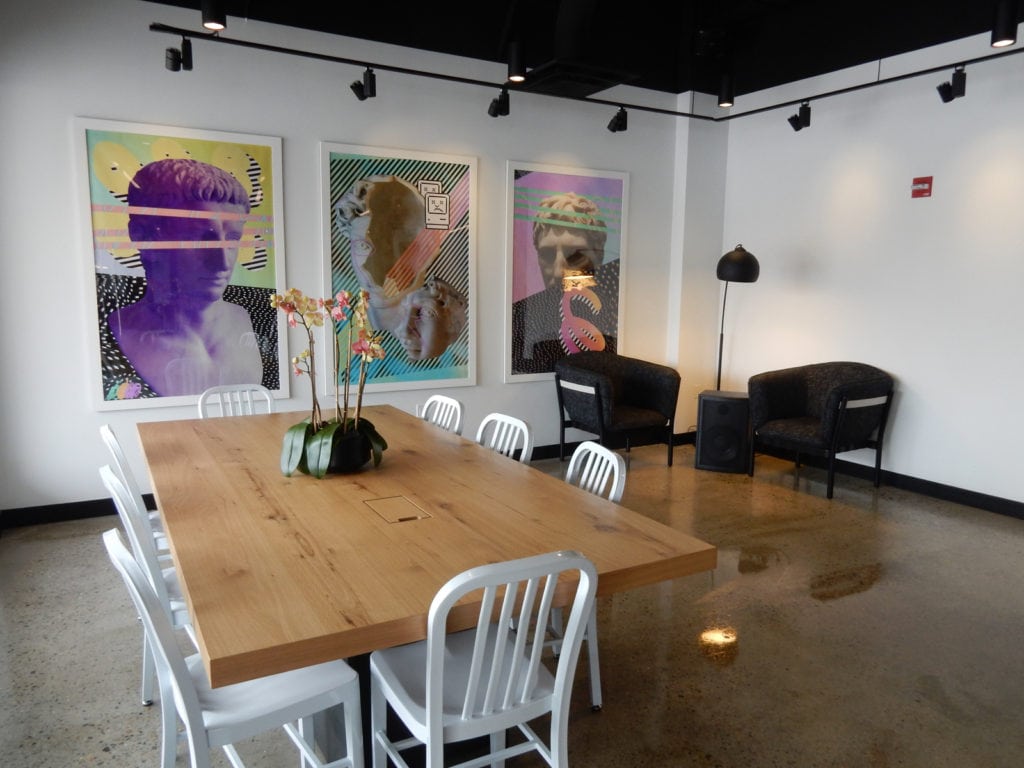 If you really want to stay artsy in Boston, you'll bunk down at this Allston neighborhood boutique hotel on Soldiers Field Road.
Imagine entering a real life version of the Beatle's Yellow Submarine. That's what you'll find when you first walk into the lobby of Studio Allston Hotel. A mosaic of color above and below you – leading to and splashed on the elevators, it's like a psychedelic Yellow Brick Road
Adjacent to Harvard University's football field, where the Charles River bends on Soldiers Field Road, what was formerly a Day's Inn is now a playful place with the vibe of a youth hostel on the main floor.
And upscale, witty, Mid-Century Modern guest rooms upstairs. It's a great out-of-downtown alternative for parents visiting their Boston and Cambridge students. The hotel's tag line? "The counterpoint to Colonial Boston."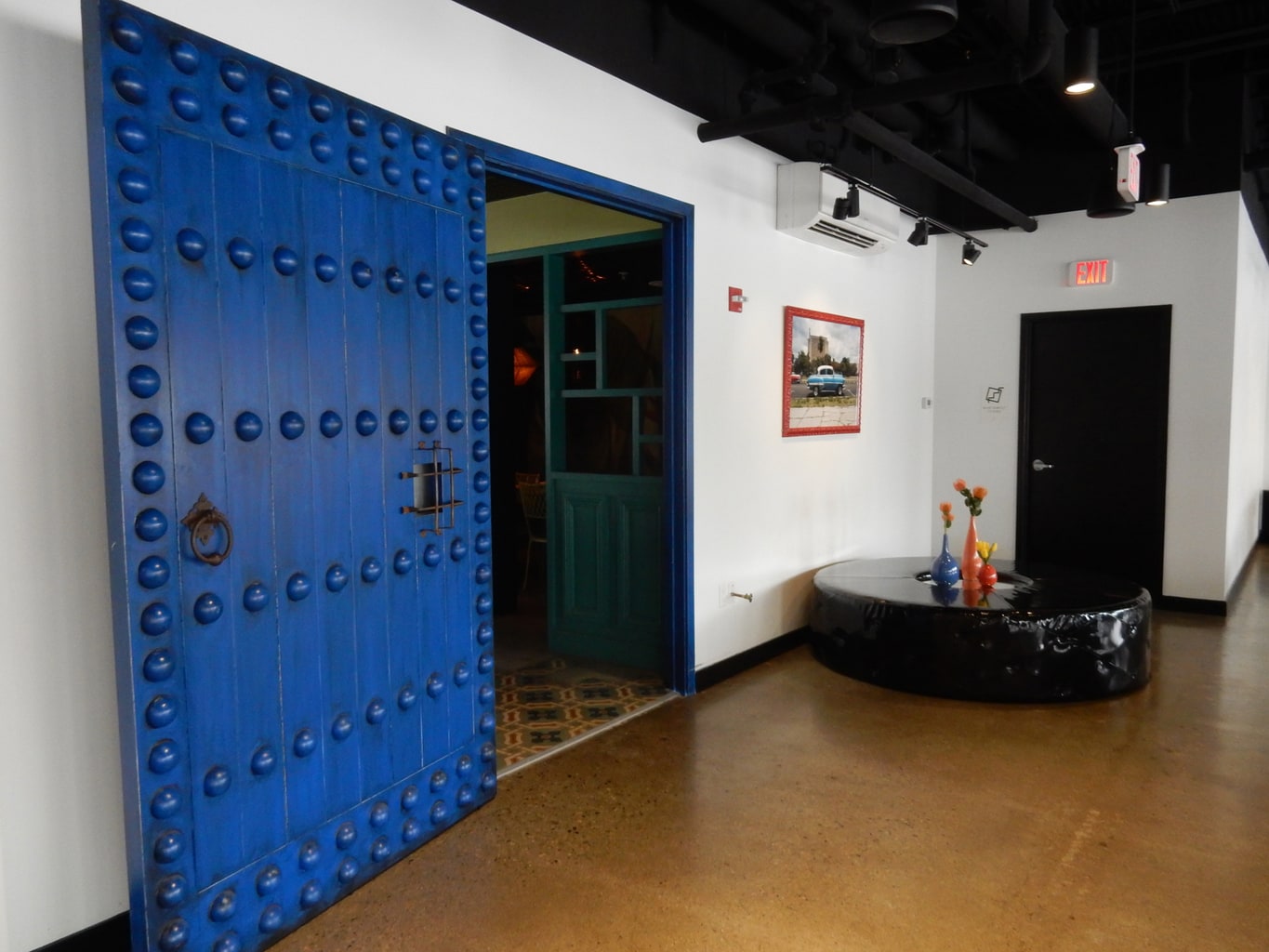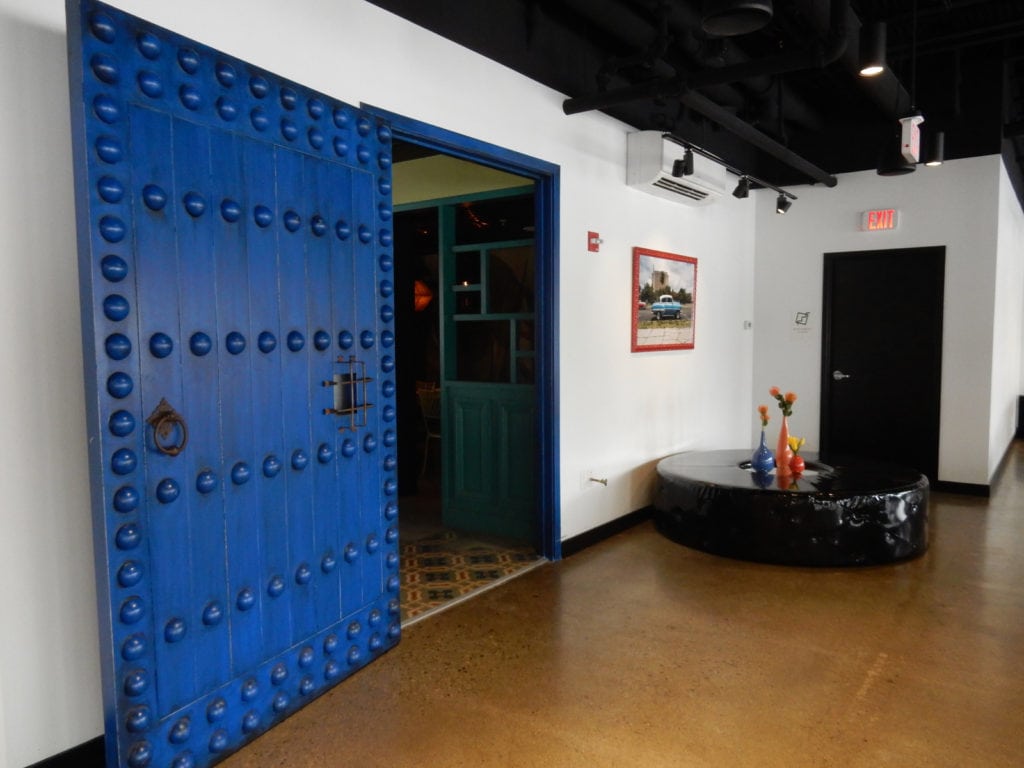 Brought forth by the same development team that transformed the faded Howard Johnson's at Fenway into the cool-bean music-centered The Verb, Studio Allston has art at its heart.
An "art studio" – get it? Like the Royal Sonesta Boston, which purchased art from prominent modern artists when it opened in the 1960's, Studio Allston covers its walls with the work of 22 local and national contemporary artists. The hotel is every bit as outlandish as The Verb, and, mark my words, will be every bit as popular.
First Impressions of Studio Allston Hotel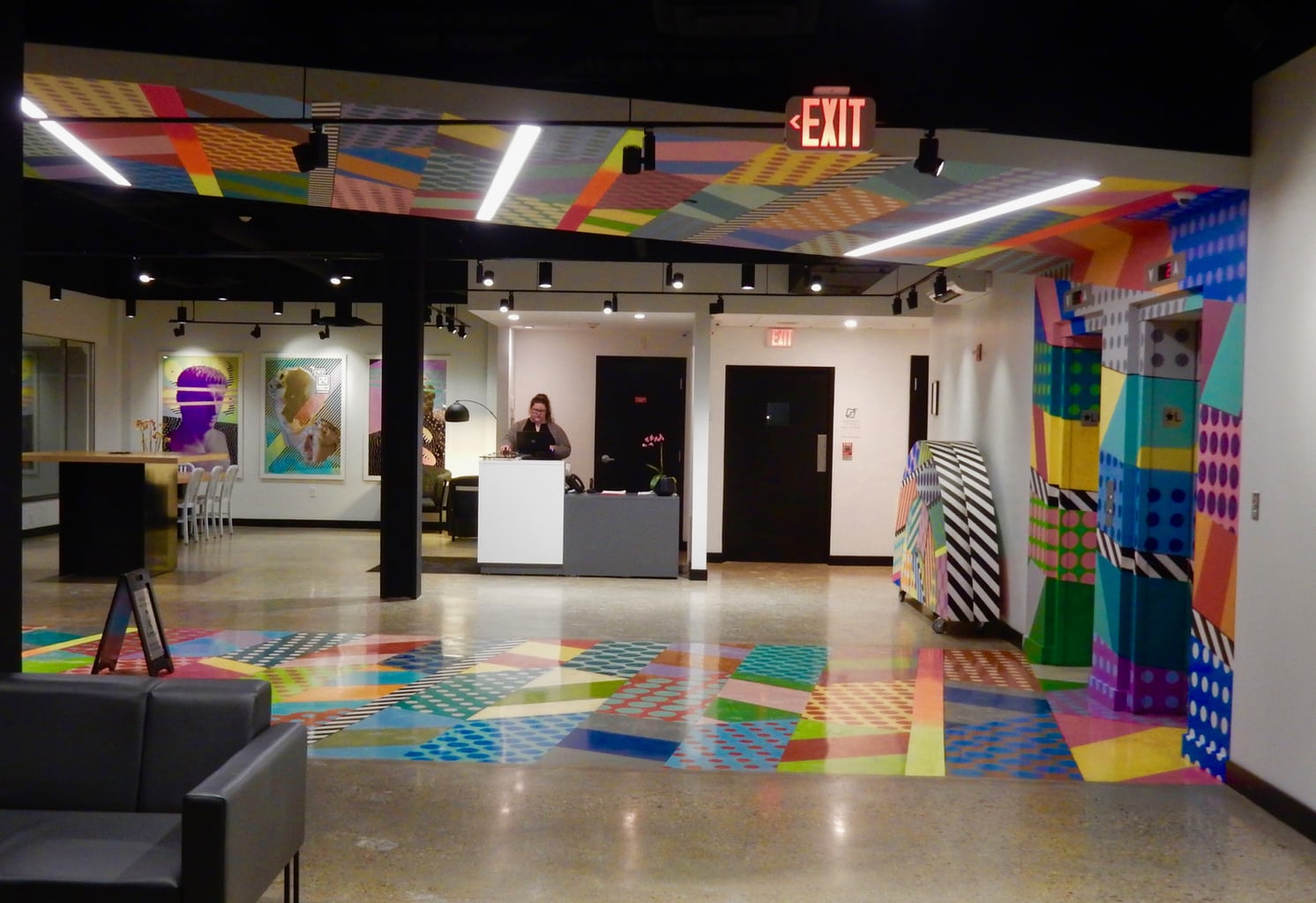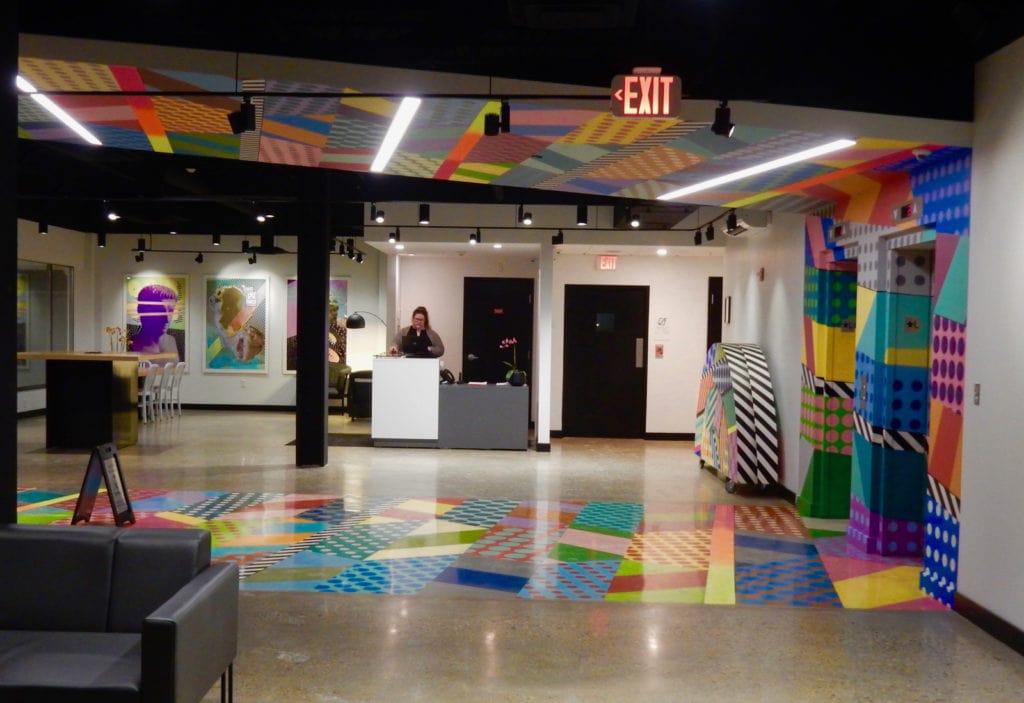 Right on the main thoroughfare of Soldiers Field Rd. Studio Allston is easy enough to get to. Even easier – there's no valet, just nice abundant self-parking. Take your bag, lock your car, walk in. It's that simple.
The lobby, as mentioned above, is both sparse and wild. There's one really personable employee at one reception desk, who, with an open heart rarely found in the lodging industry, genuinely wants to make sure that everything is ok.
While a section of the space is painted like the groovy 60's, the rest is polished concrete, industrial elements, and tables and seating for communal gatherings. It's fun, funky, and casual – not exactly plush luxury. But just wait till you get to your room.
Rooms and Suites at Studio Allston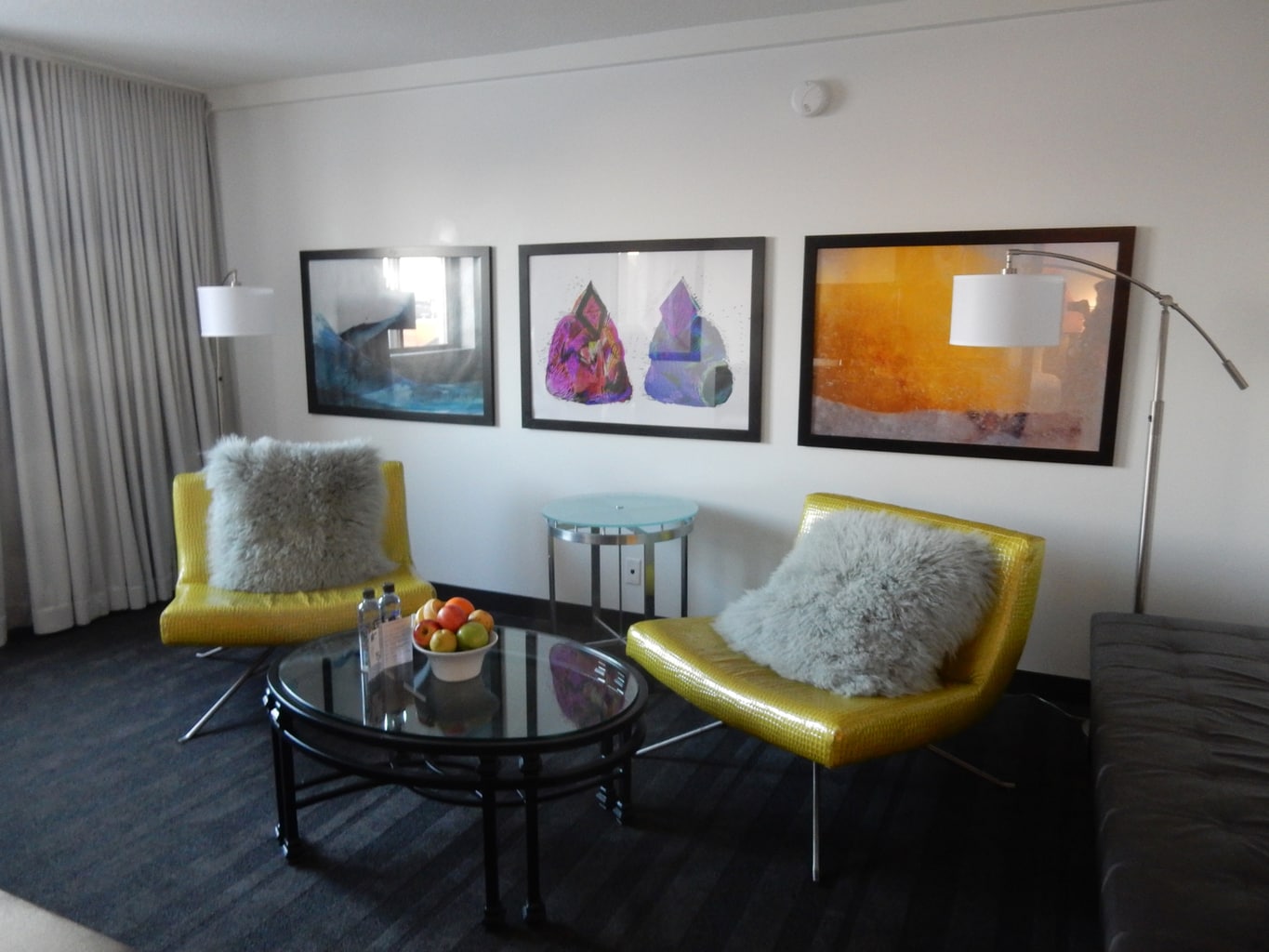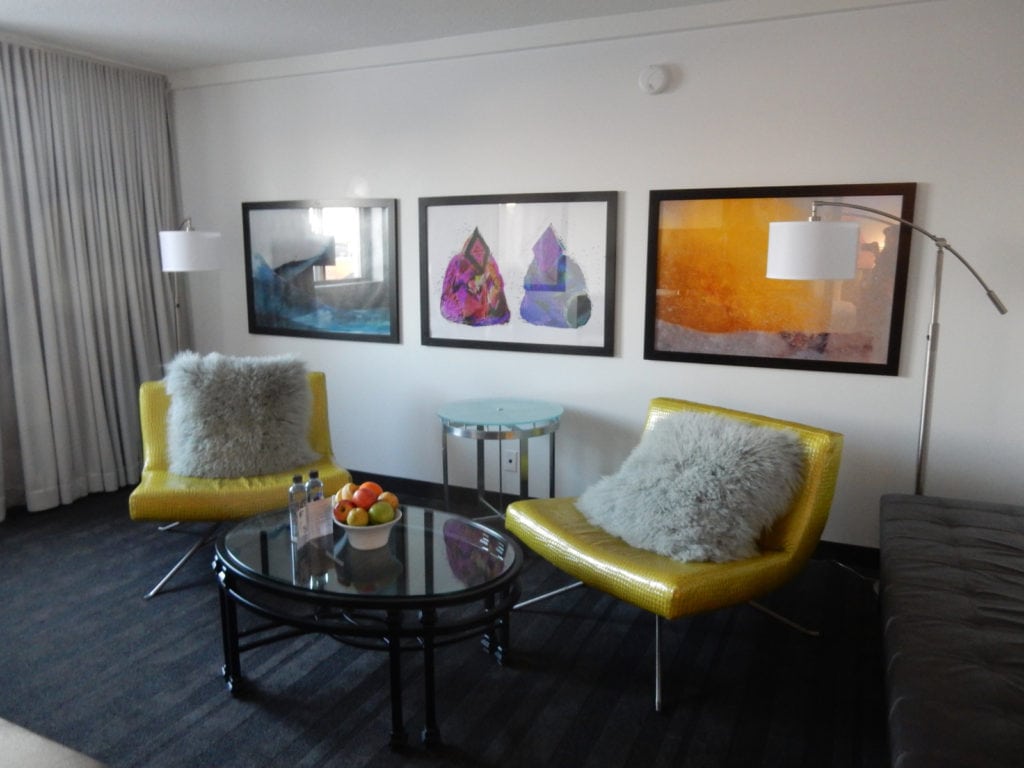 Guest rooms are done up in a preponderance of pigments, where faux leather, color, and Flokati rule. Each suite features a different décor, and showcases more local artwork. As far out as the rooms are decorated, the bathrooms are spare. Though immaculate and fine, there is no art, no color. A Corian skink, a bathtub shower.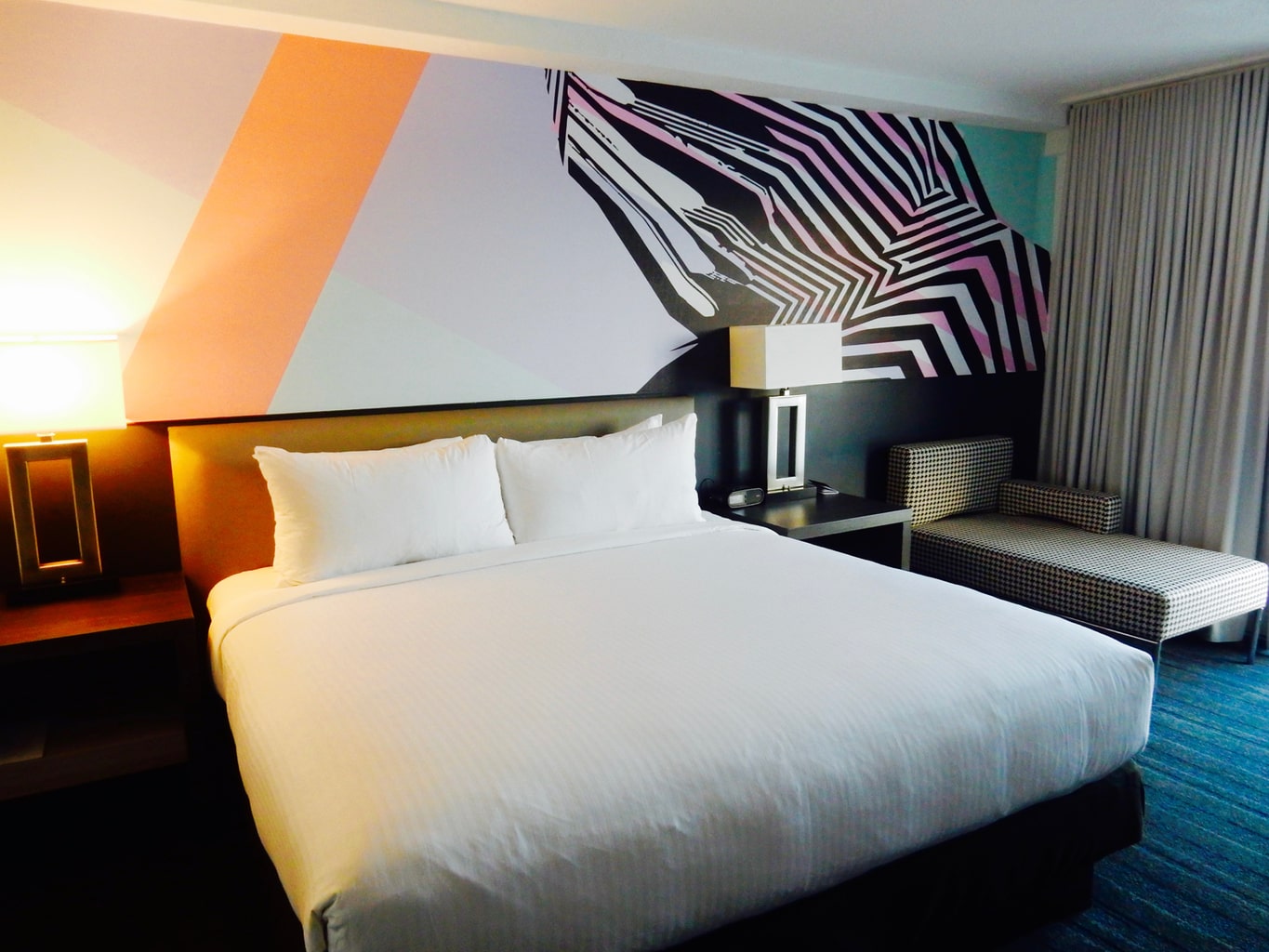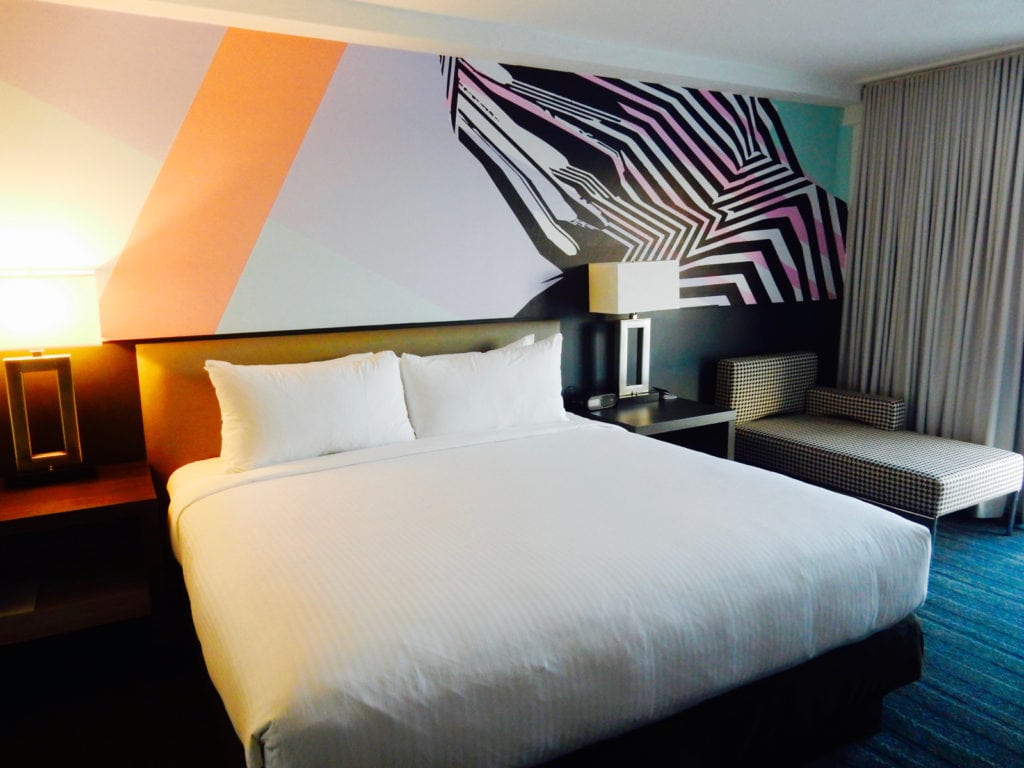 But the bed. Oh, I wanted to take that bed home with me. It was so comfortable, soft, with the scent of cleanliness – affording perfect sleep. Guests have remarked on how exemplary those beds are. I concur.
Dining at Studio Allston Hotel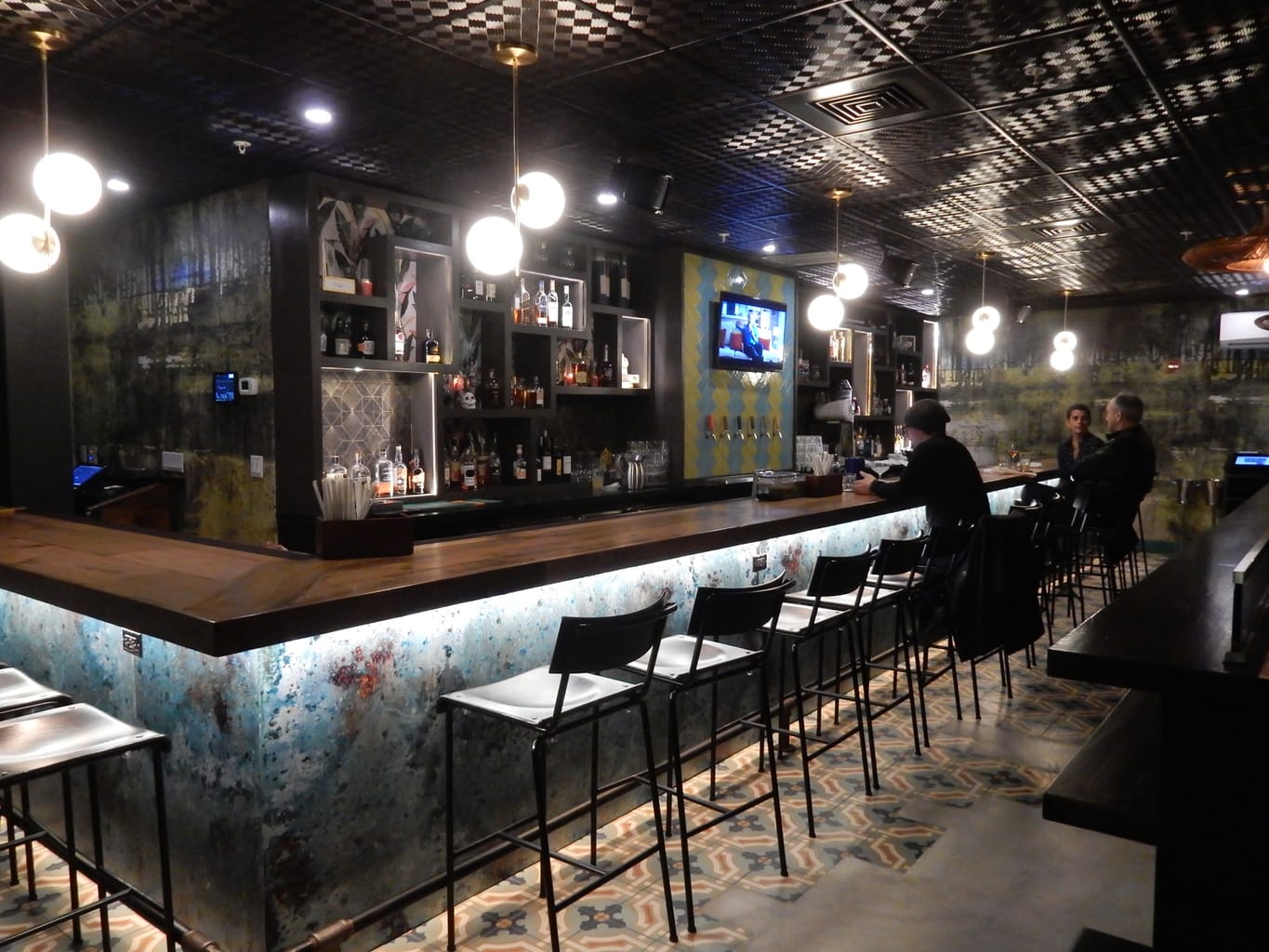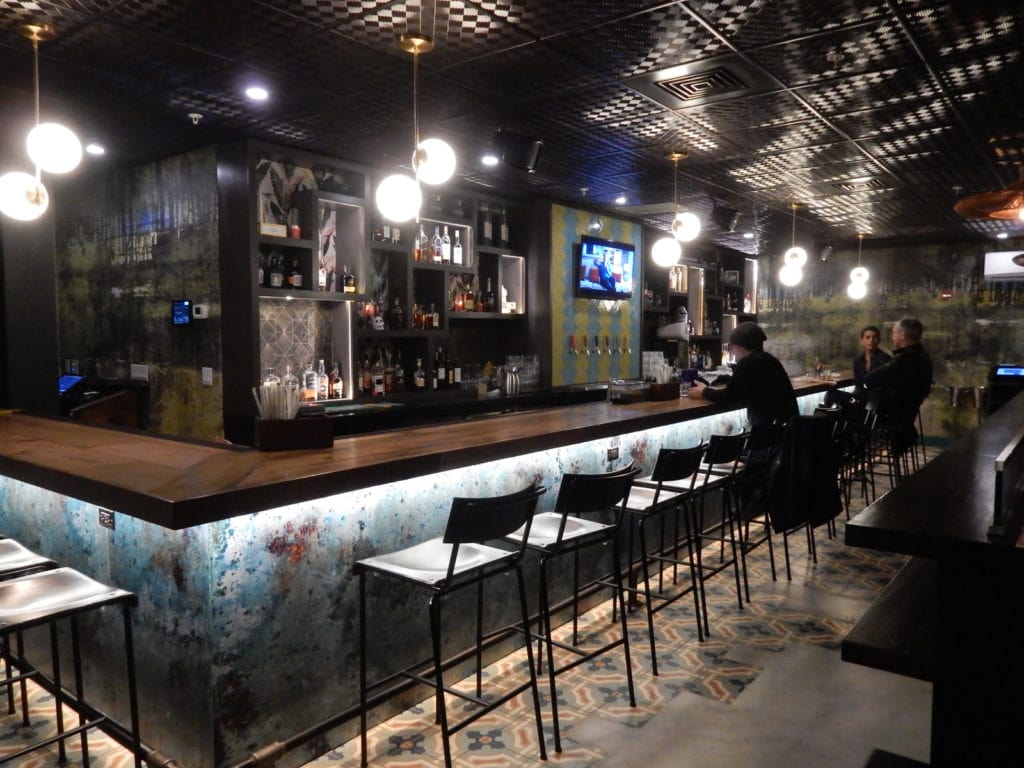 Casa Cana Latin Kitchen and Rum Bar is attached to the hotel, yet not owned by it. Nevertheless, guests of the hotel need not go anywhere else – the food and scene in this Cuban-influenced restaurant is beyond good. Drawing foodies from Boston and beyond, Casa Cana is becoming a kind of sensation, especially when the outdoor patio, the largest in Boston, is in full swing. I felt lucky it was just an elevator ride away.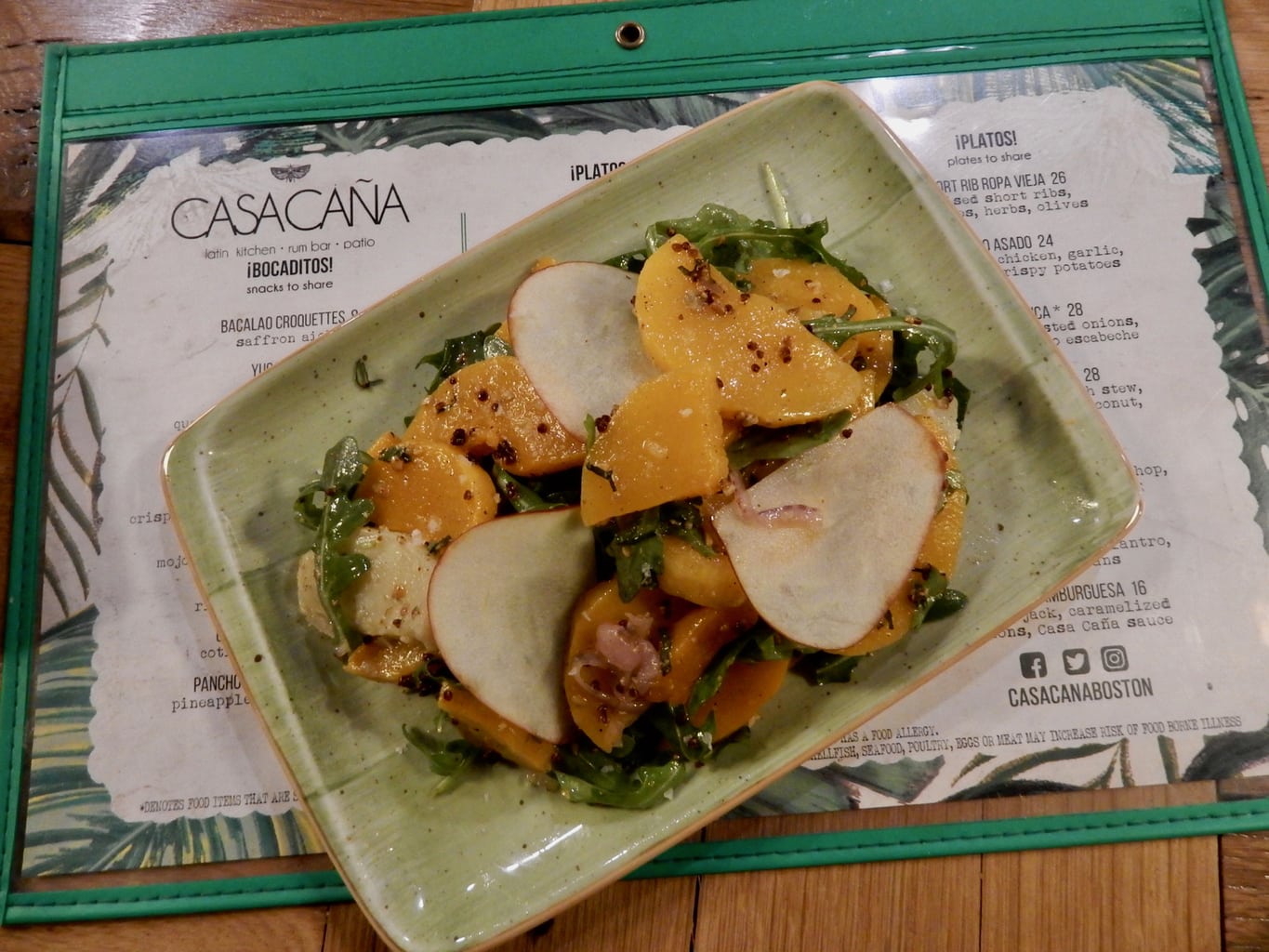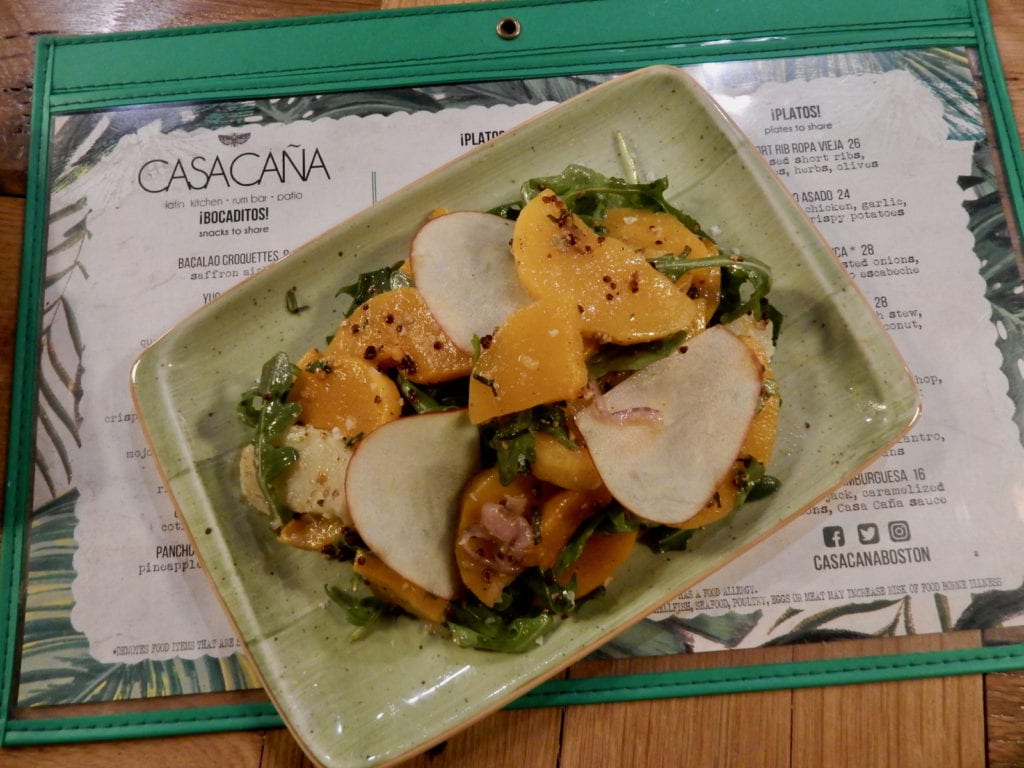 I sat at the bar and ordered Cuban Street Corn (ambrosial, but messy to eat, $8), and a Pumpkin-Apple Salad with honey lime dressing ($10) that blew me away with its combination of fall season tastes.
I wanted to order another just as soon as I pretty much licked my plate clean. But plenty of people come for the cocktails and rum drinks for which this eatery-Rum Bar is known.
Programs at Studio Allston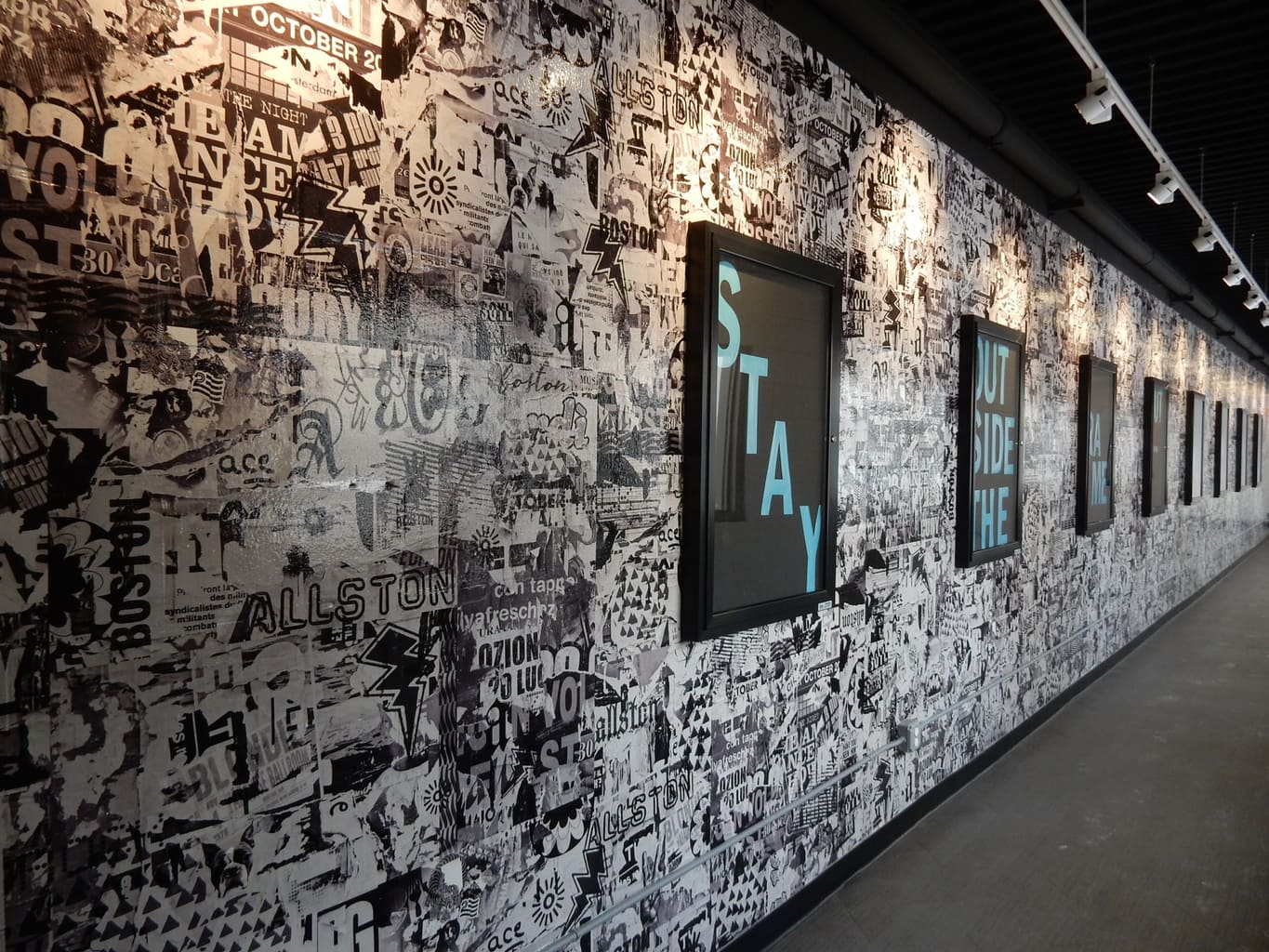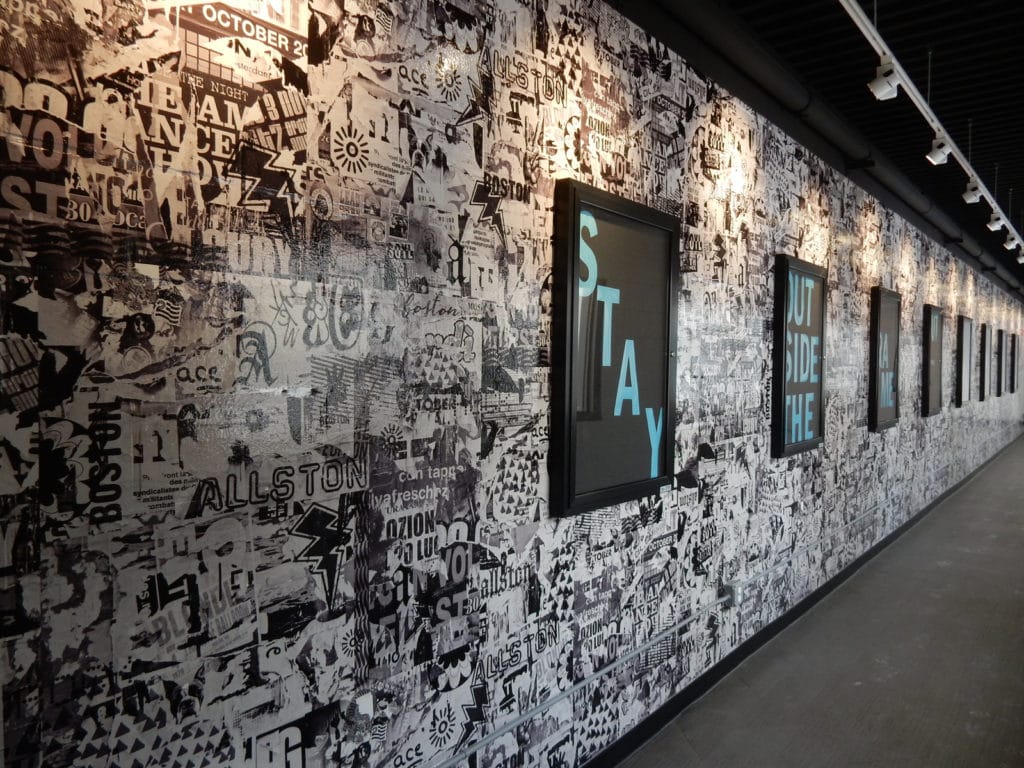 The hotel maintains relationships with its artists and offers programs to engage the community and guests. New art shows go up periodically in Studio Allston's breezeway Gallery. And plans are afoot to offer calligraphy classes and paint nights.
Management is keen to integrate into the local Allston community – a neighborhood experiencing revitalization just outside of Boston that is at a point where the now steaming hot Fenway area was seven years ago. The Harvard Art Lab and other great restaurants are opening nearby and young families are moving in. Rooms from $109 and suites from $169 include free parking and wi-fi.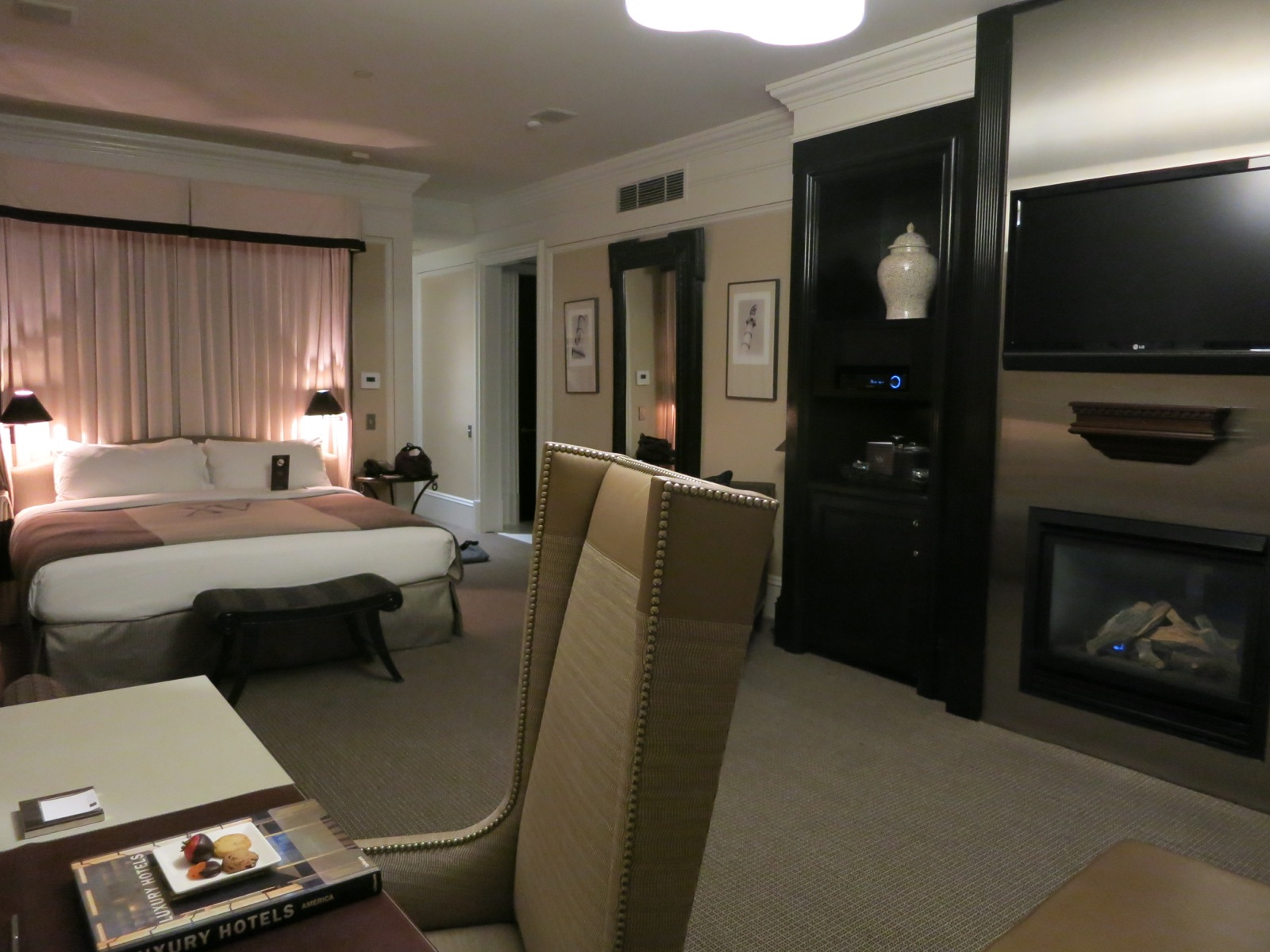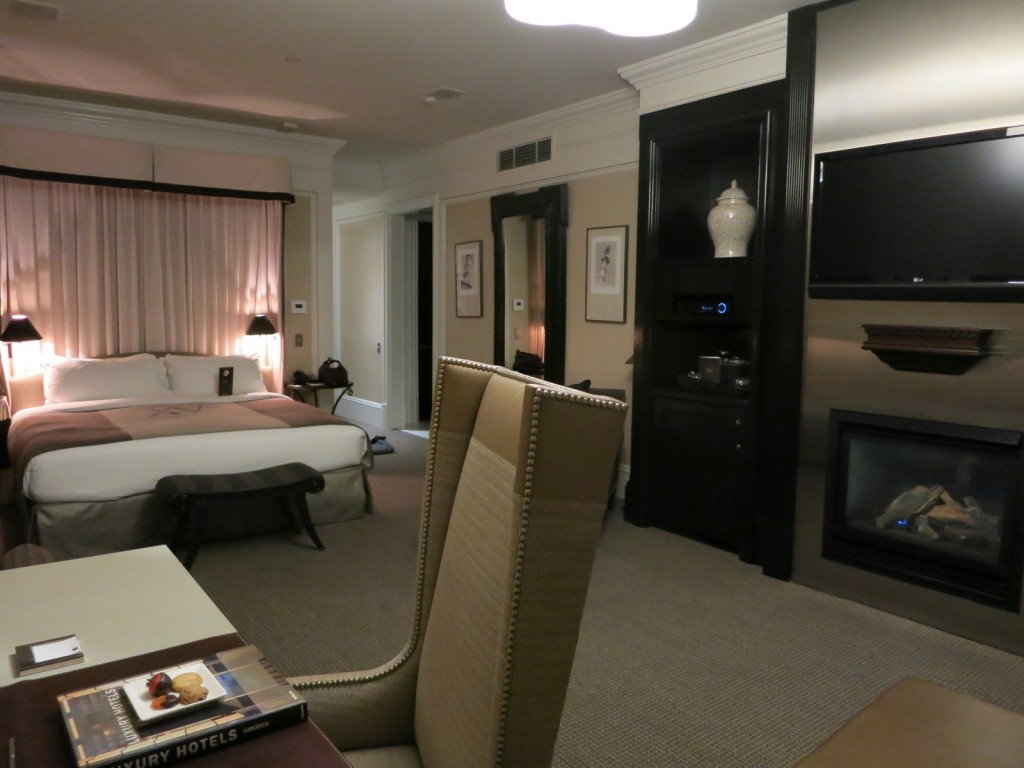 If you are a Boston Brahmin or just play one on vacation, check in to this 62-room boutique hotel for the Old World Bostonian private home experience fused with ultimate service (two Luxury Lexus Sedans on call to take you anywhere in Boston).
Stunning modern bathroom, with fresh orchids and "Fresh End" moist towelettes next to the toilet paper display an attention to detail unmatched by many other hotels. $375-$1500 per night for rooms and suites includes complimentary in-town chauffeured Lexus Sedans, complimentary shoe shine, free wi-fi.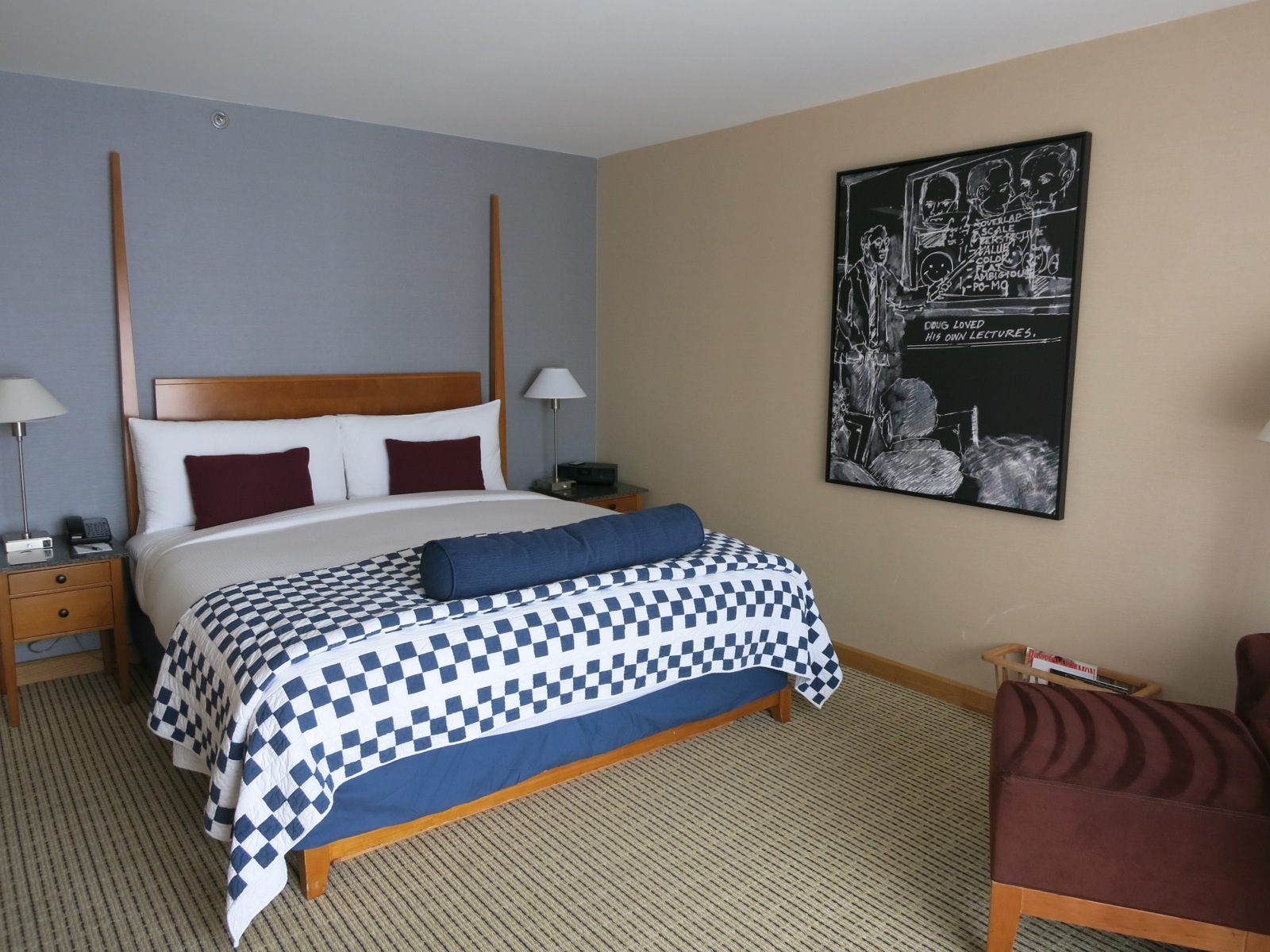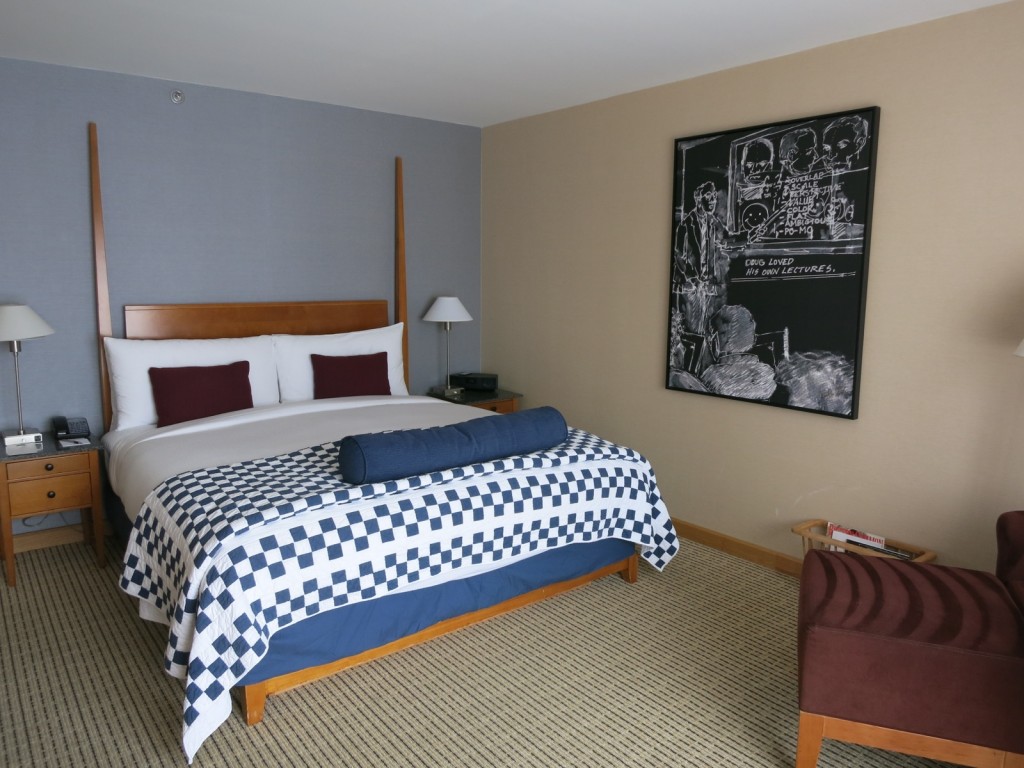 In Harvard Square, the Charles has defined understated luxury in Cambridge for years. Refreshed rooms sport Doug Hilson's chalkboard comic art, transparent mechanics wall clock, floor to ceiling windows, blue and white checkerboard quilts on beds of luxury linen. And, just in case you can't miss your show while shaving or putting on makeup, a TV's embedded in the bathroom mirror. Turndown is sweet – bathrobes spread on the bed, with side table lights turned low. It's nearly as comforting as a rose-pedal bath. Rooms from $290-$600 and more for suites in season.
Other Weekend Getaways In Boston