Often lauded as the ultimate playground for children, visiting Walt Disney World has long been associated with youthful escapades and fairy-tale dreams come to life. But what about Disney World for adults?
Beneath the surface of character meet-and-greets and animated parades lies a romantic allure for couples that goes beyond the obvious appeal for Disney fans. Far from a mere family-friendly attraction, this sprawling complex offers a one-of-a-kind romantic getaway for adults, teeming with exclusive dining experiences, enthralling shows, and charming attractions that elevate it from theme park to love park.
Looking for more weekend getaway ideas? Check out what to do in Orlando beyond theme parks and our top recommendations for more romantic getaways in Florida.
Romantic Things To Do at Disney World for Adults
The Disney World theme parks themselves have a plethora of activities to do together. Be sure to take a moment away from the big rides and enjoy a few intimate moments together exploring Disney World.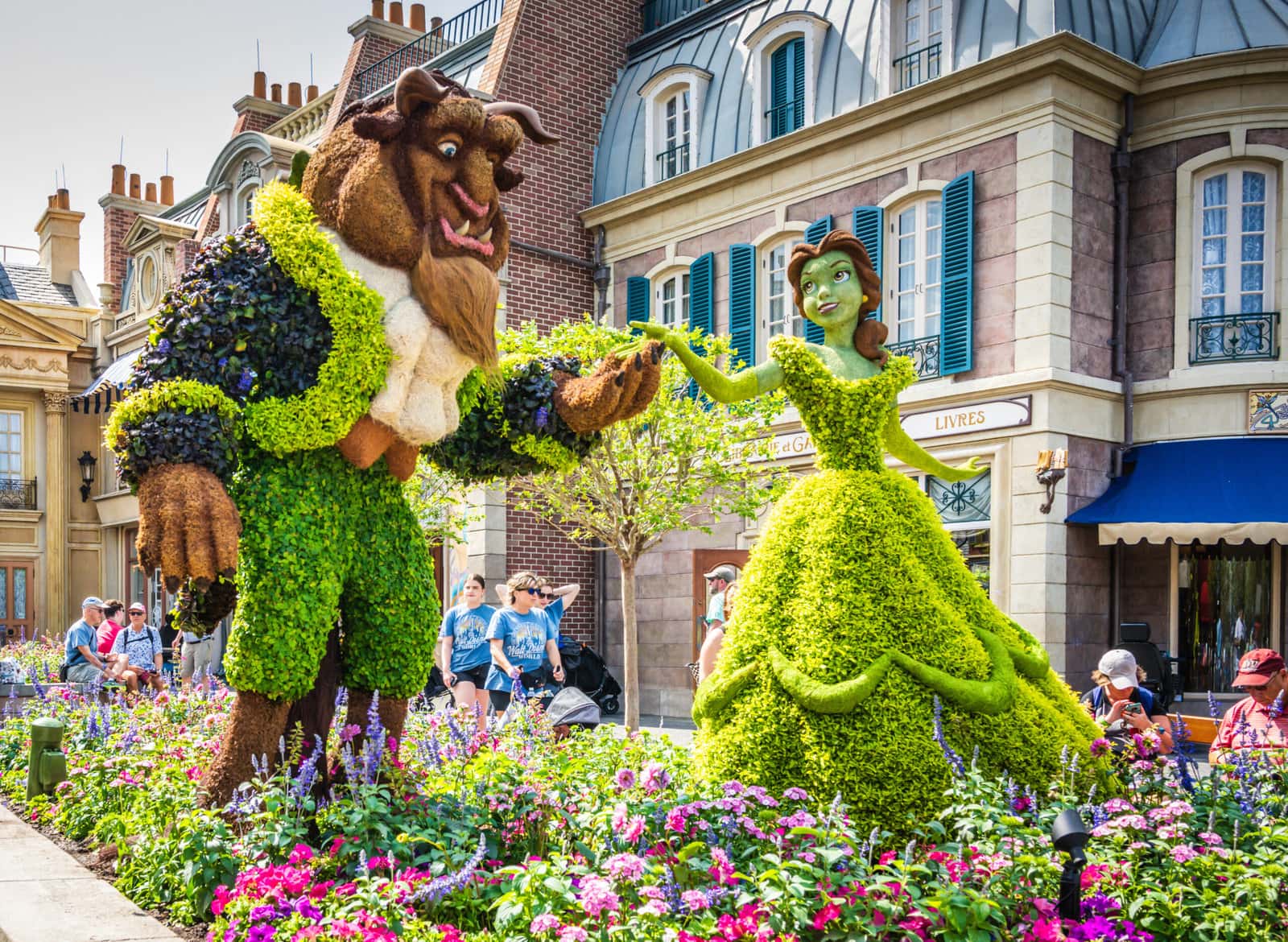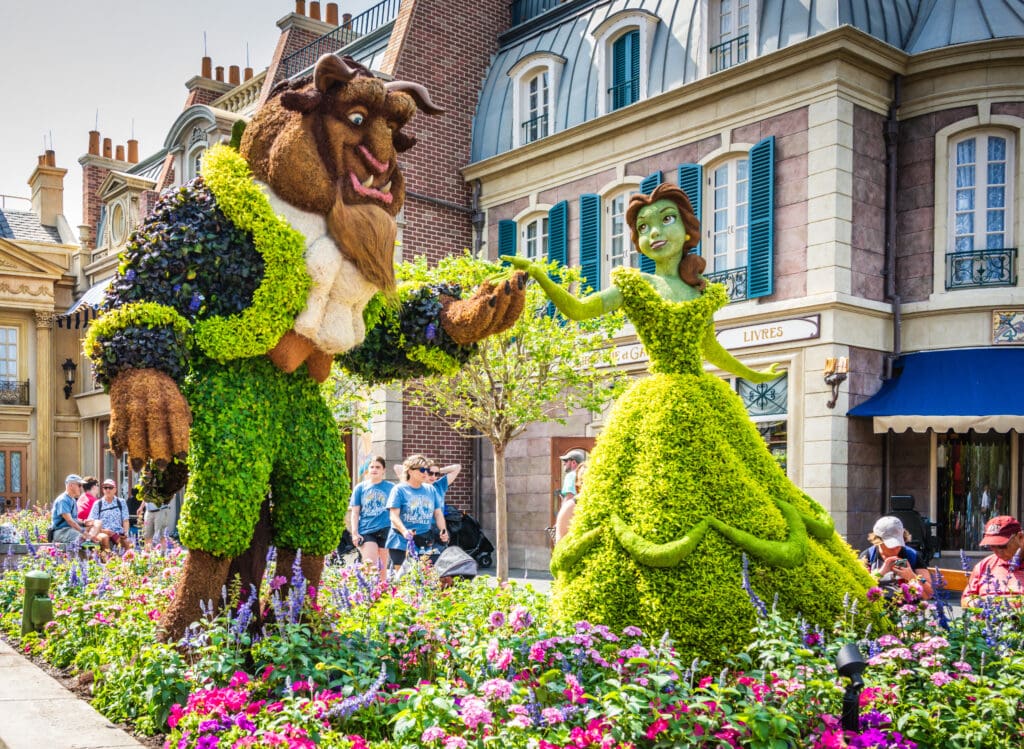 Romantic Things To Do at Disney World Theme Parks
Kiss Under the Castle
The main castle in the Magic Kingdom park is unquestionably one of the most romantic spots in all of Florida. Be sure to take a photo underneath the castle's archway and enjoy a magical kiss in the heart of Disney.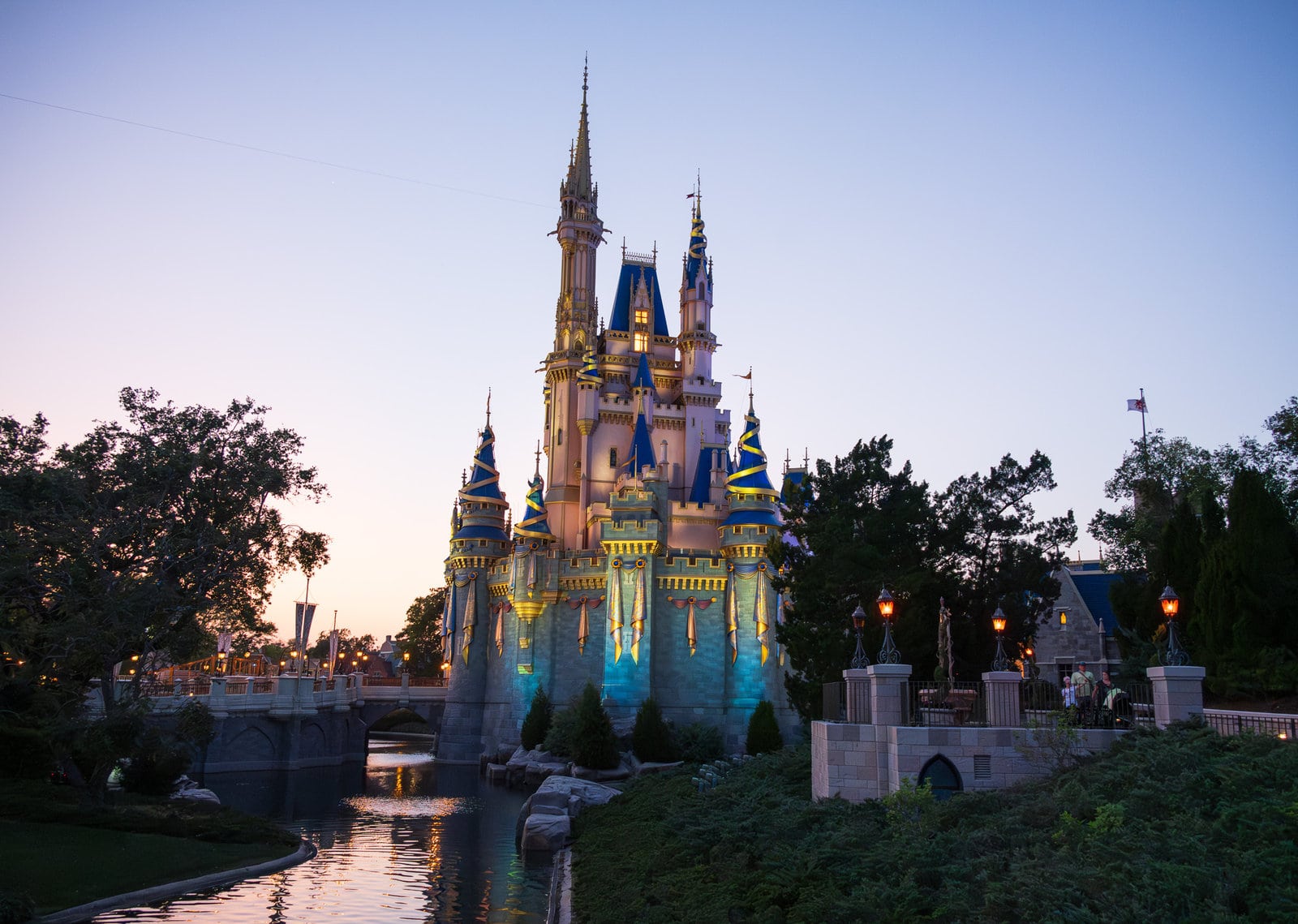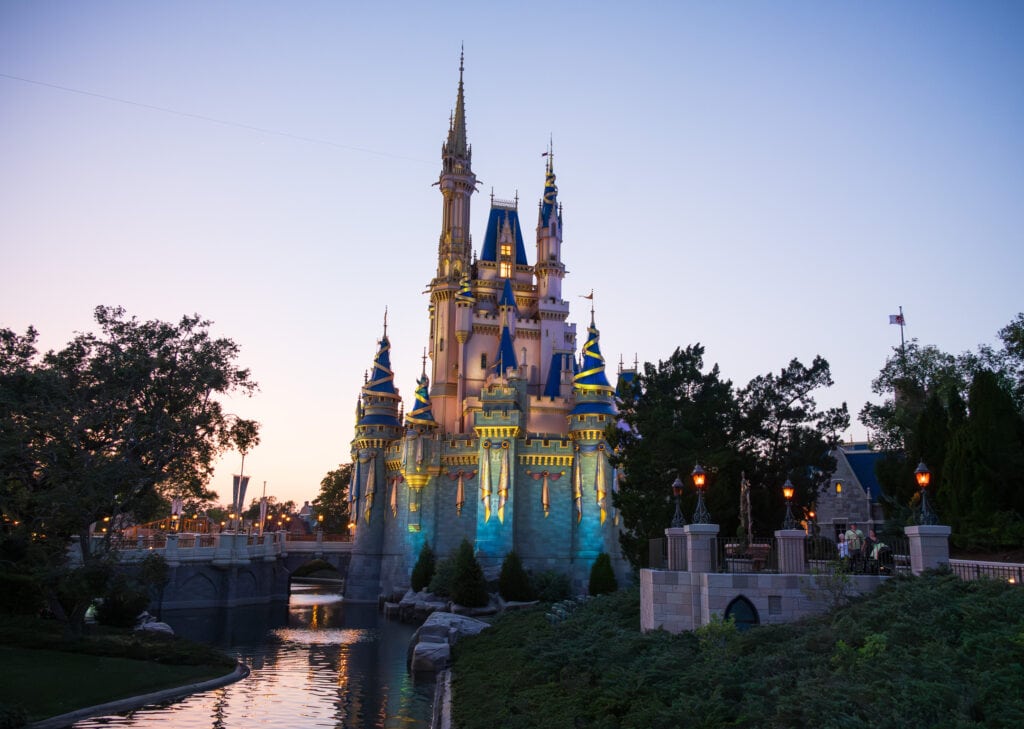 Make a Wish at the Wishing Well
After your stop at the castle, head for the wishing well. This is a hidden gem at Magic Kingdom, just down the path between the castle and the Merida meet and greet.
The Wishing Well is designed to emulate all of the magic of Cinderella. Each detail is a piece of her story, one of the most iconic love stories of all time. You can also feel good knowing that money from the well is used to help children's charities in Orlando, putting some good karma into the universe.
The wishing well is one of the most magical spots in the Disney Parks and is a great place to wish for a lifetime together or really make it happen, as the well is a scenic place for a proposal.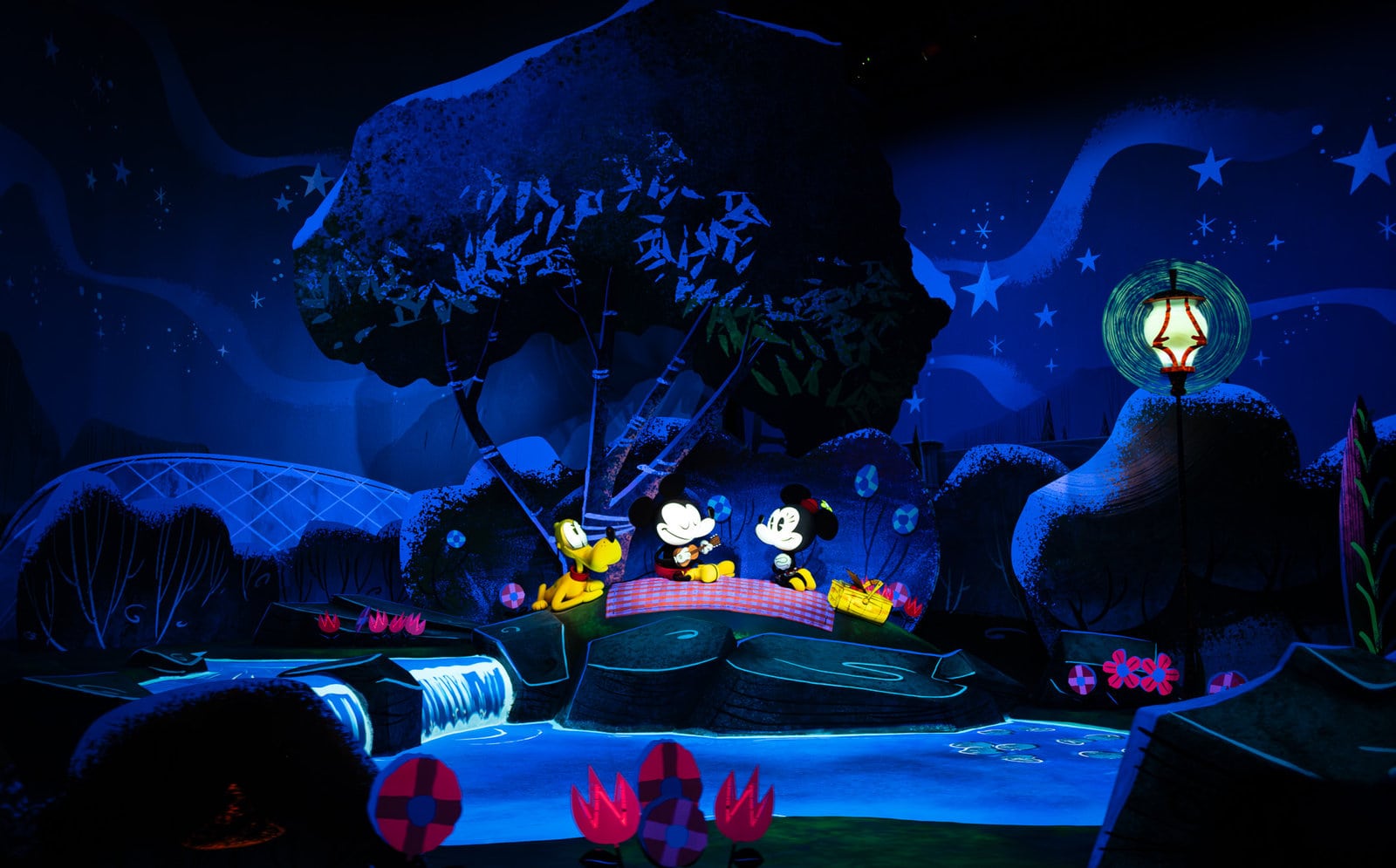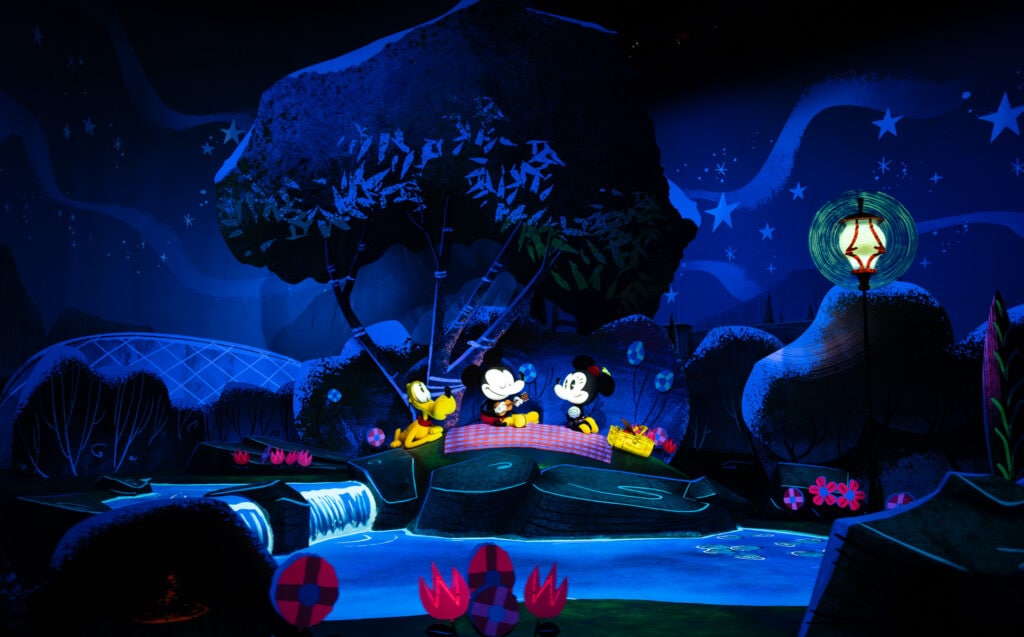 Ride Mickey and Minnie's Runaway Railway
The story of Mickey and Minnie is inspired by Walt Disney's love for his wife, Lillian. This fun ride at Disney's Hollywood Studios takes you through a series of misadventures with the iconic couple. And it ends with a happy moment between the couple, completely symbolic of your own romantic trip.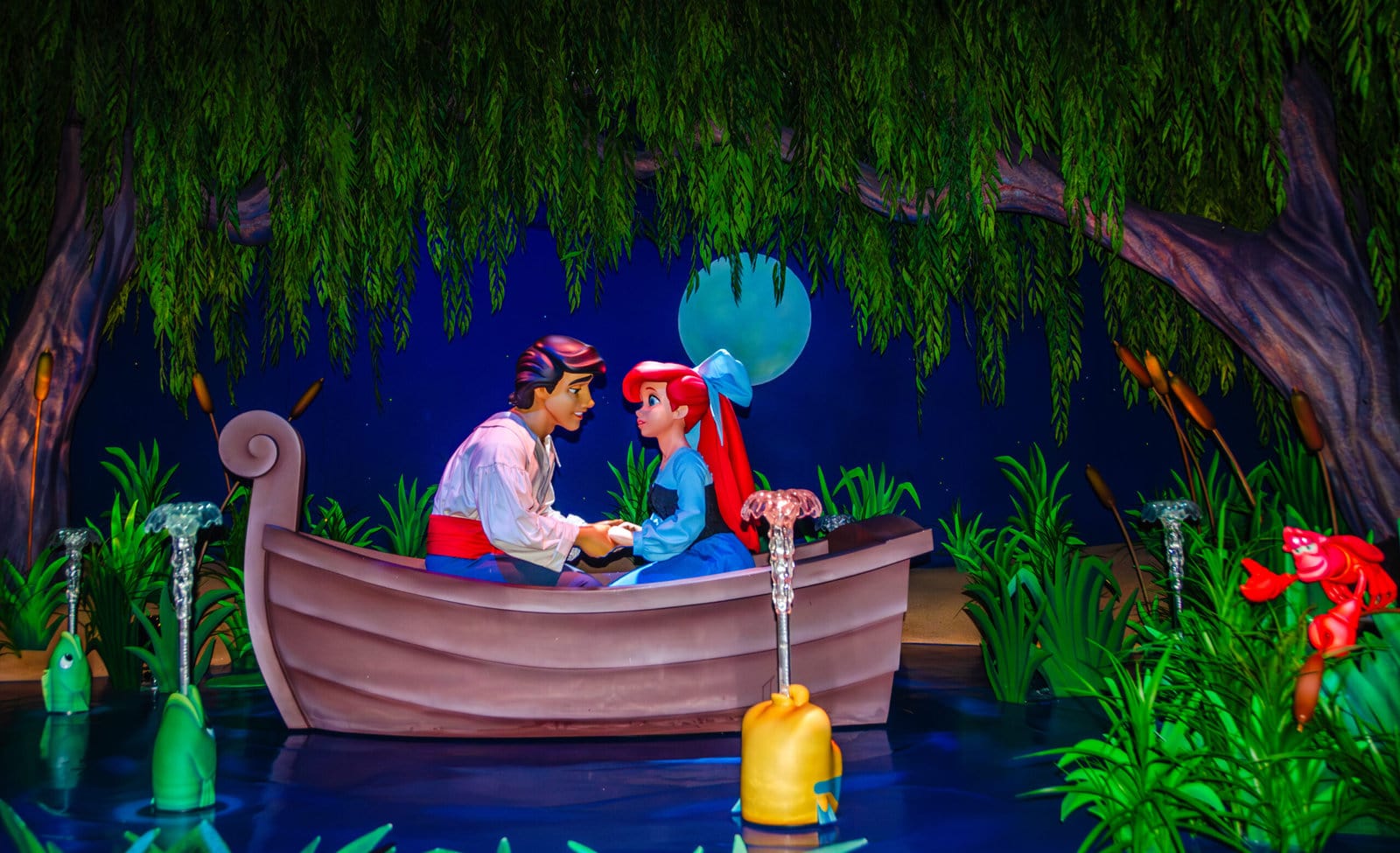 Float on the Under the Sea Attraction
At Magic Kingdom, the Under the Sea- Journey of the Little Mermaid ride is a reimagined tunnel of love ride. Experience one of your favorite love stories with this immersive ride through the scenes of the movie together. The seats of the ride are intimate sea shells, wonderful for cuddling up together during the ride.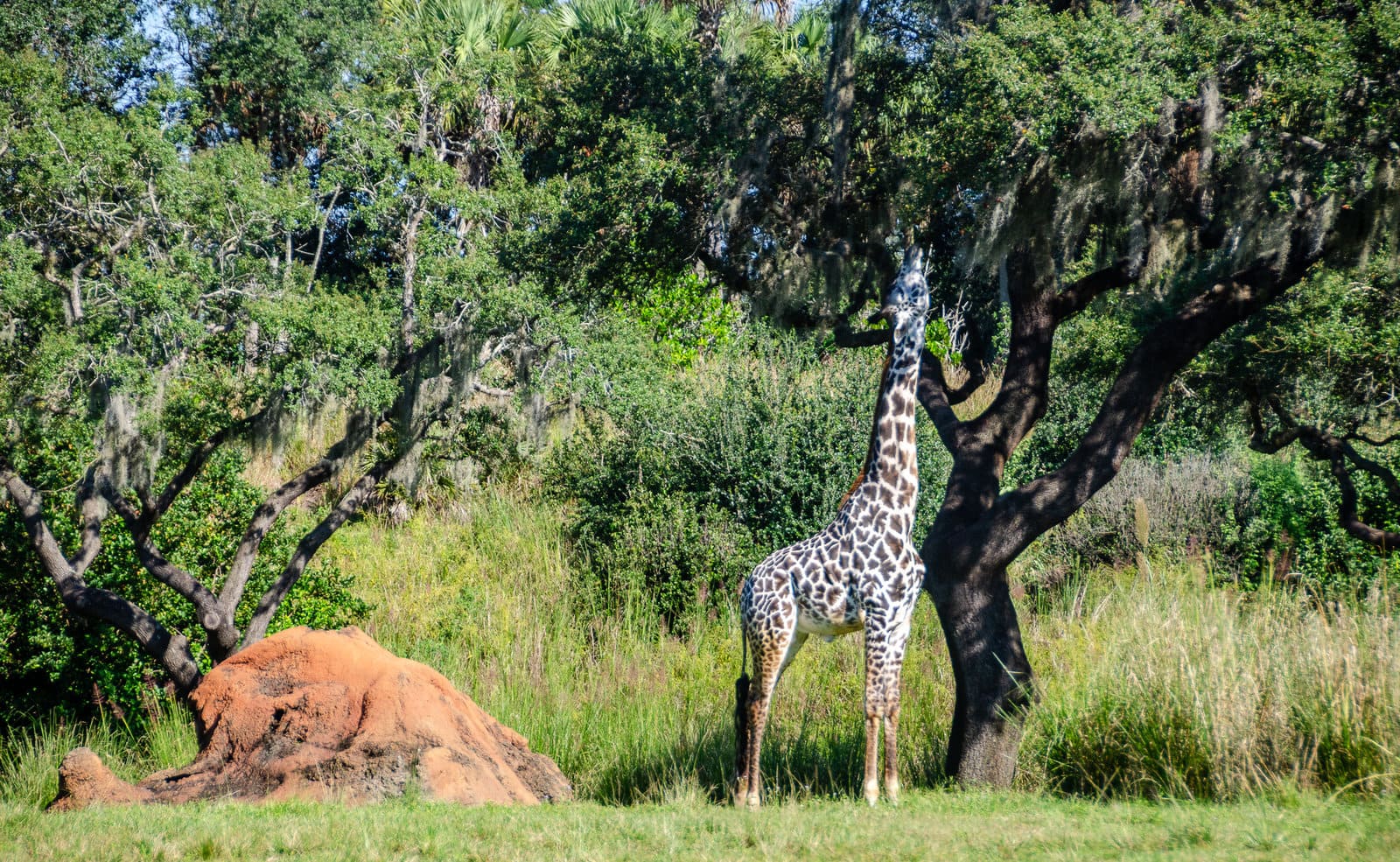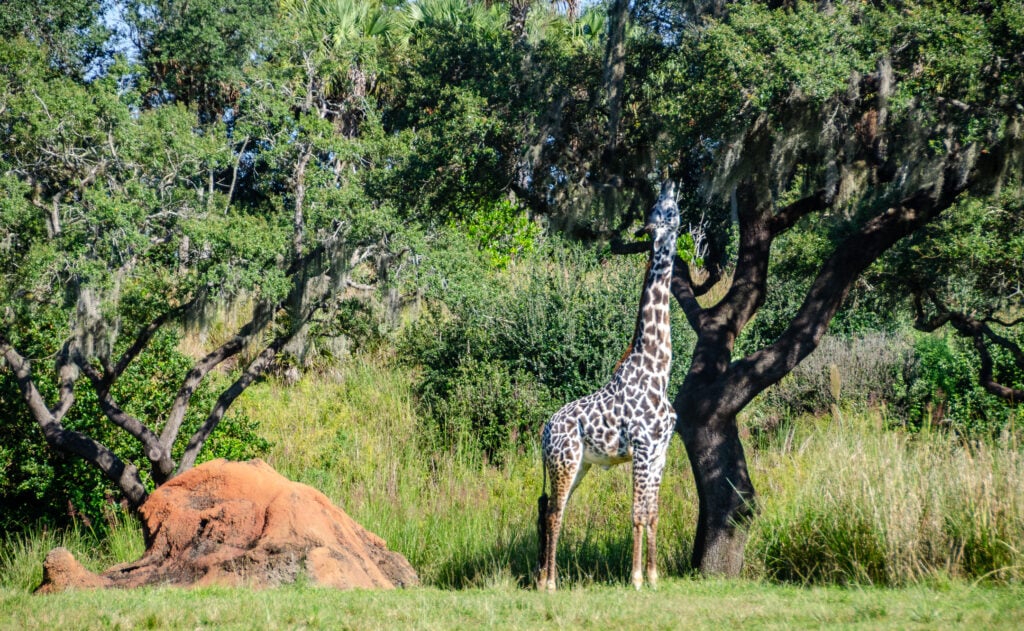 Take a Safari at Animal Kingdom
Exploring the romance of the Savanna is the ideal adventure to take together. This safari experience at Disney's Animal Kingdom allows you to get up close and personal with the wildlife without traveling to Africa. It also includes African tapas and drinks to enjoy together.
Play on the Fairways Mini Golf Course
The Fairways Miniature Golf Course isn't your typical mini-golf experience. This challenging course, located near the Swan and Dolphin Hotels, is designed to mimic a traditional golf course but on a smaller scale. Manicured greens, sand traps, and water hazards bring a sense of authenticity that appeals to golf enthusiasts, yet it retains a whimsical Disney touch that ensures fun for all ages.
Whether you're a seasoned golfer or picking up a putter for the first time, the course offers an engaging blend of skill and luck. Completing the course might entail a few playful rivalries, but at its heart, it's a shared experience that adds yet another layer of enjoyment to your Disney vacation.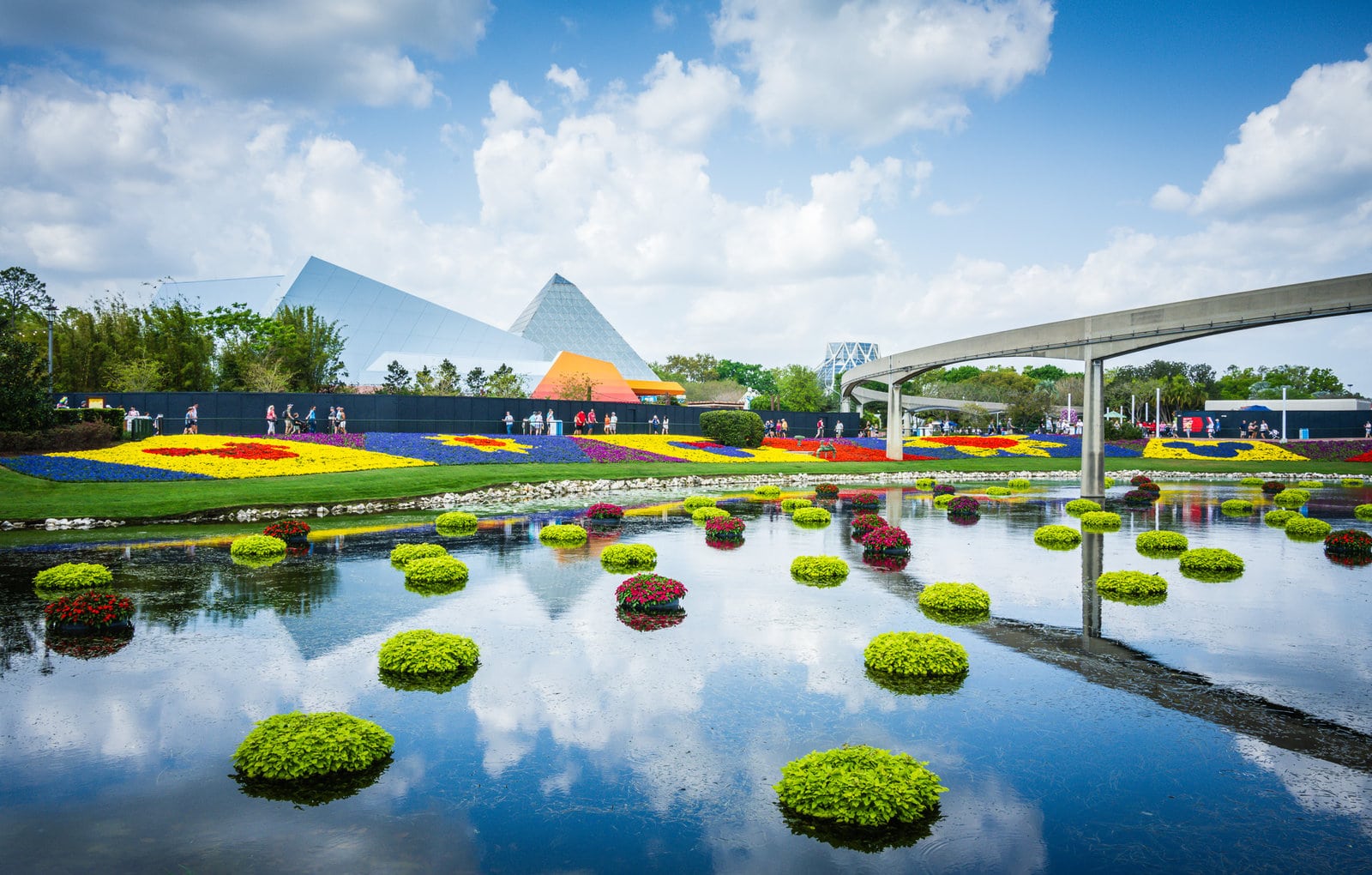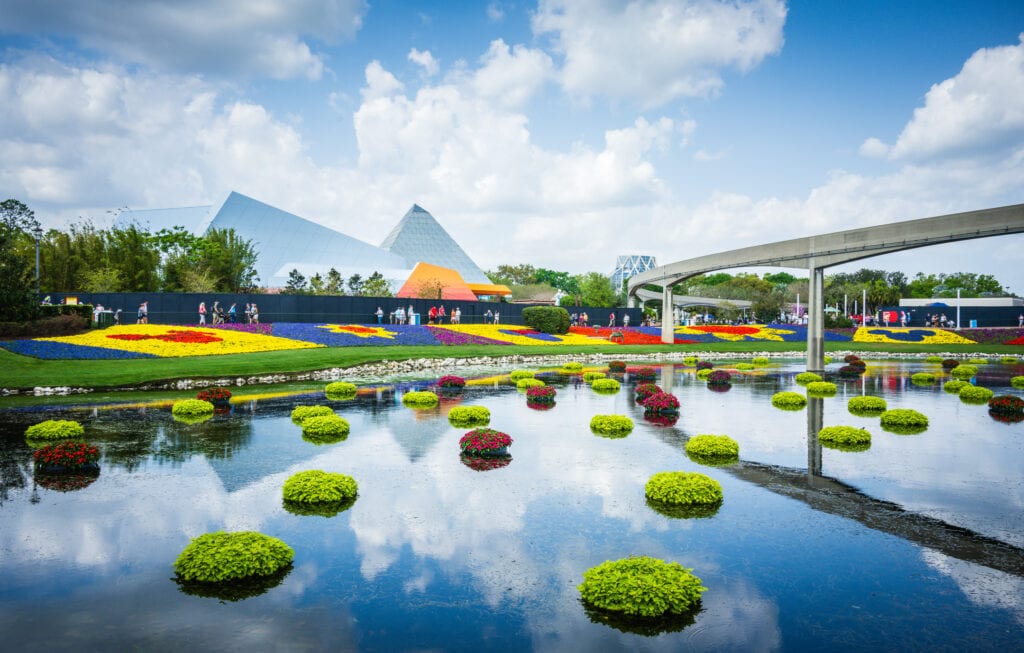 Take a Romantic Stroll in the Park Gardens
As you walk hand-in-hand through Tomorrowland in Magic Kingdom, the ambiance presents an intriguing mix of the future fused with nature. Here, love feels as timeless as the harmonious coexistence of technology and greenery. Metallic structures and neon lights stand alongside well-manicured bushes and futuristic planters. The soft glow from the futuristic installations casts a gentle light on your partner's face as the ambient electronic music creates a soothing backdrop. Sharing a moment near the softly illuminated water features, you both feel like you've stepped into a romantic sci-fi film where love transcends time and space.
Fast-forward to a cultural and horticultural escapade as you both find yourselves amidst EPCOT's World Showcase Gardens, each intricately designed to mirror the landscapes of the countries they represent. Stroll through the ornate gardens of the United Kingdom, filled with roses and perennials that remind you of an English romance novel.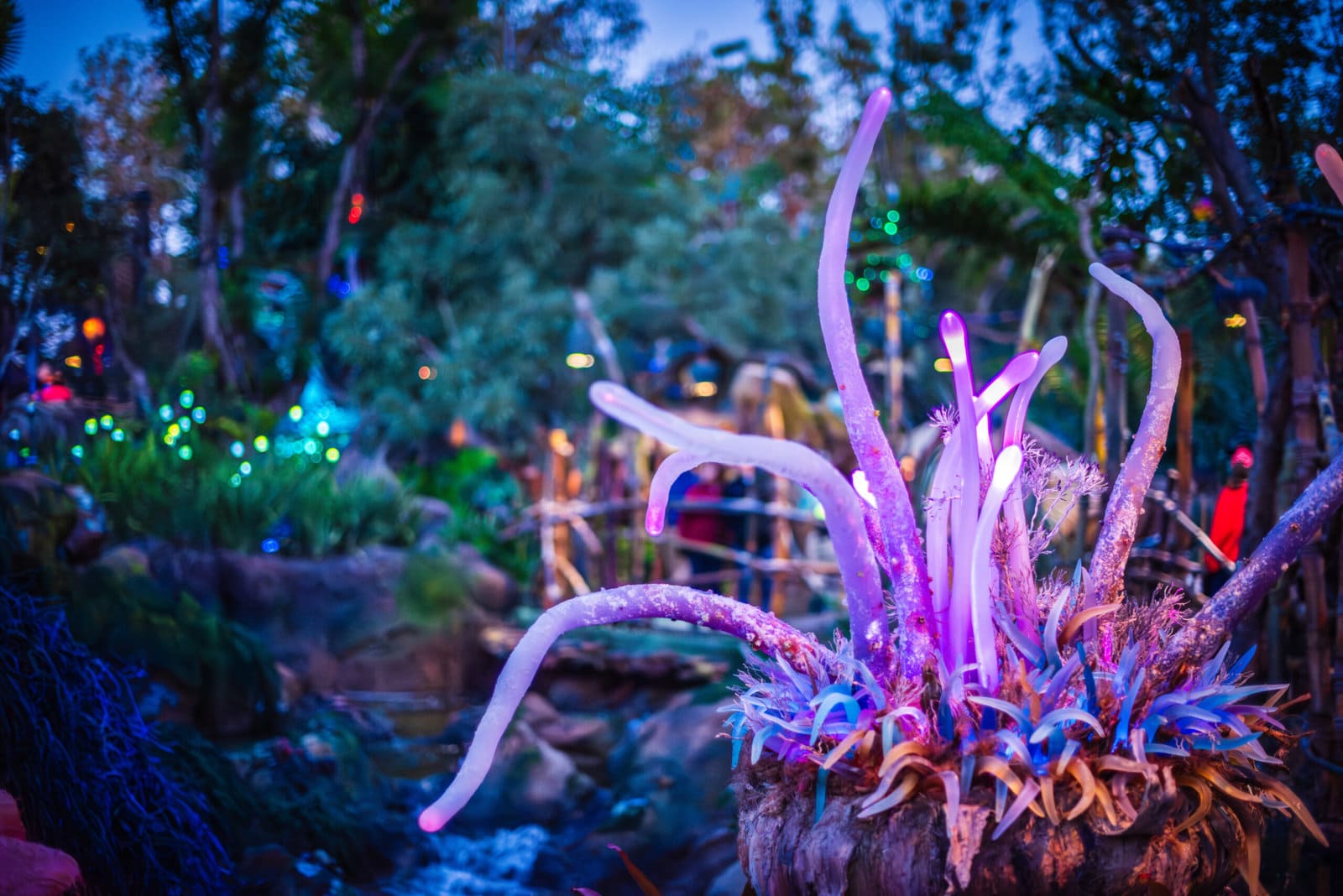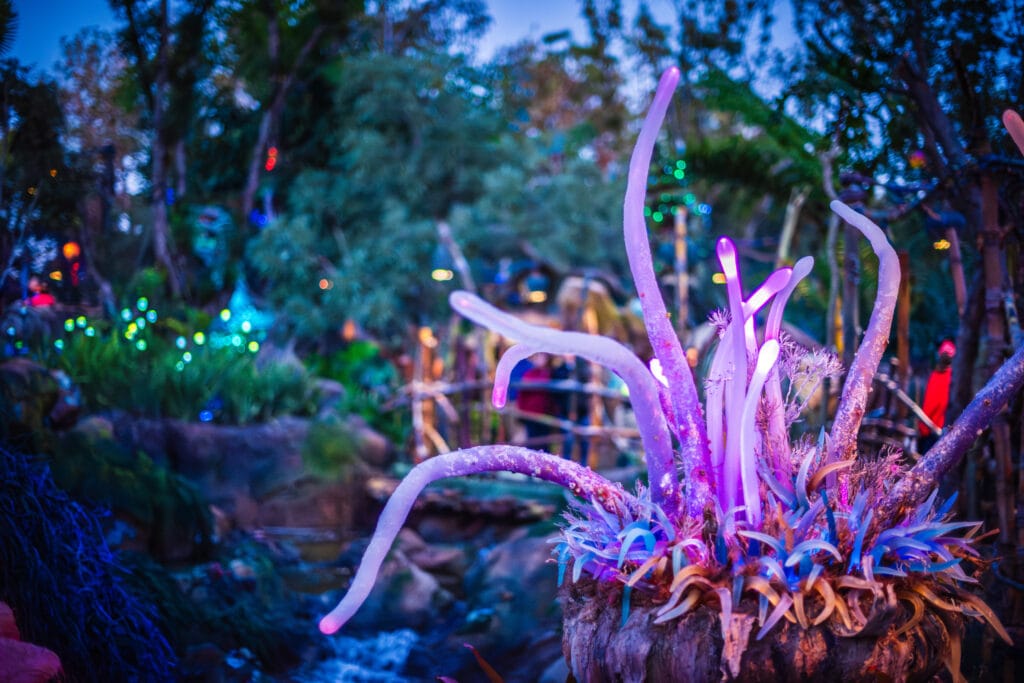 After capturing a few keepsake photos in the meticulously crafted Japanese garden with its ornamental koi pond, you might decide to journey to another world entirely—Pandora in Disney's Animal Kingdom. Bioluminescent flora light up as dusk settles, creating a dreamlike atmosphere. The exotic, otherworldly plants around you seem to dance in the soft glow of Pandora's moons while the soothing sounds of waterfalls and distant animal calls fill the air. Captivated by the ethereal beauty surrounding you, it's a quintessential moment of connection as if love itself has been transported to an entirely new dimension.
Time a Visit For A Festival
If your trip coincides with this seasonal event, no visit to Disney World's gardens would be complete without experiencing the annual International Flower and Garden Festival at EPCOT. Vibrant floral displays burst into full bloom, creating an awe-inspiring tapestry of color and fragrance. Intricately crafted topiaries of beloved Disney characters surprise and delight around every corner, making for perfect photo ops.
Special garden-themed food and drink stalls offer a gastronomic adventure, turning the already picturesque World Showcase into a veritable Eden. The festival enhances the romantic atmosphere, offering an ephemeral garden wonderland that leaves you both enchanted.
Disney World Festivals (with approximate dates):
EPCOT International Flower & Garden Festival (March-June)
EPCOT International Food & Wine Festival (mid-July-mid-November)
EPCOT International Festival of the Holidays
EPCOT International of the Arts (mid-January-February)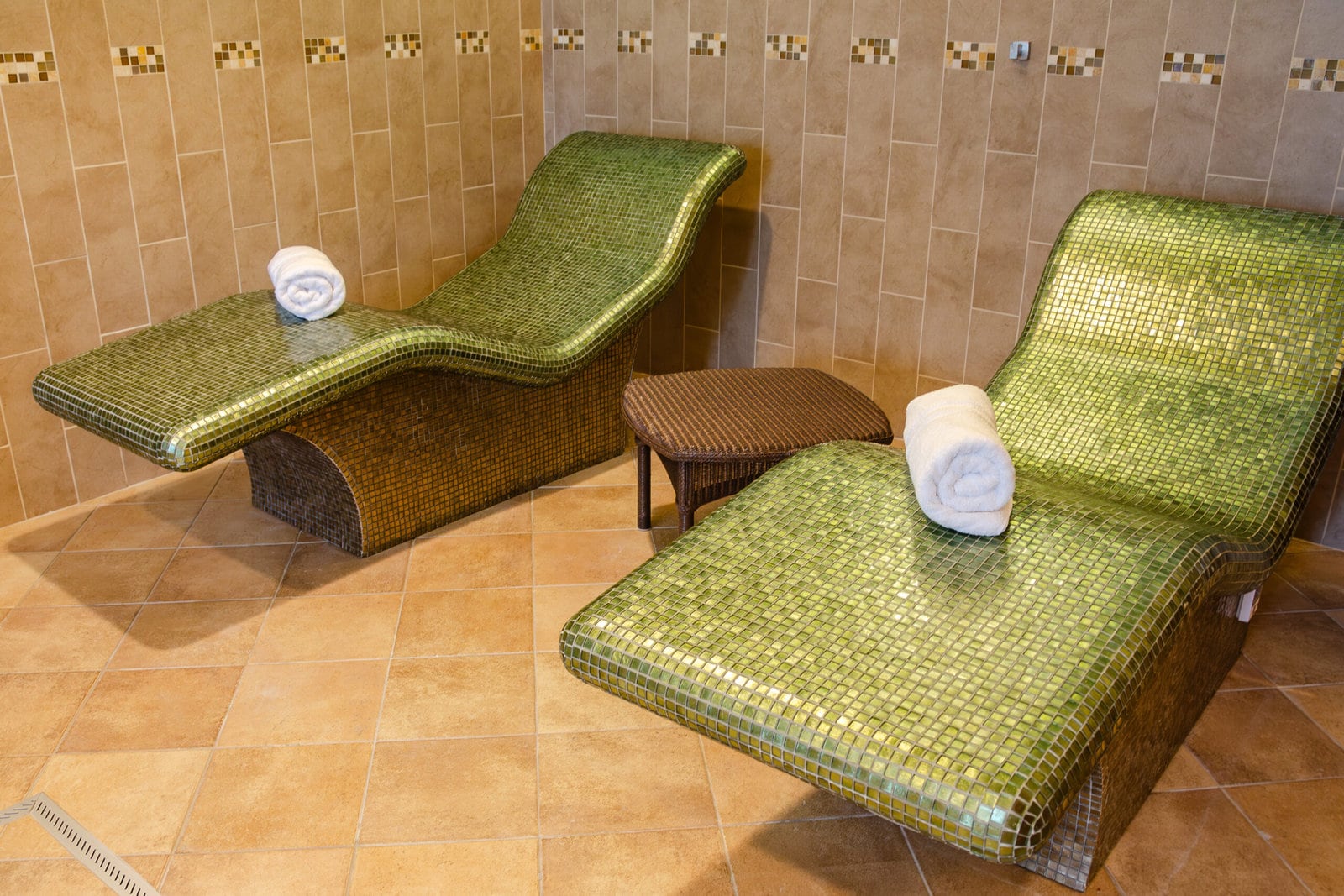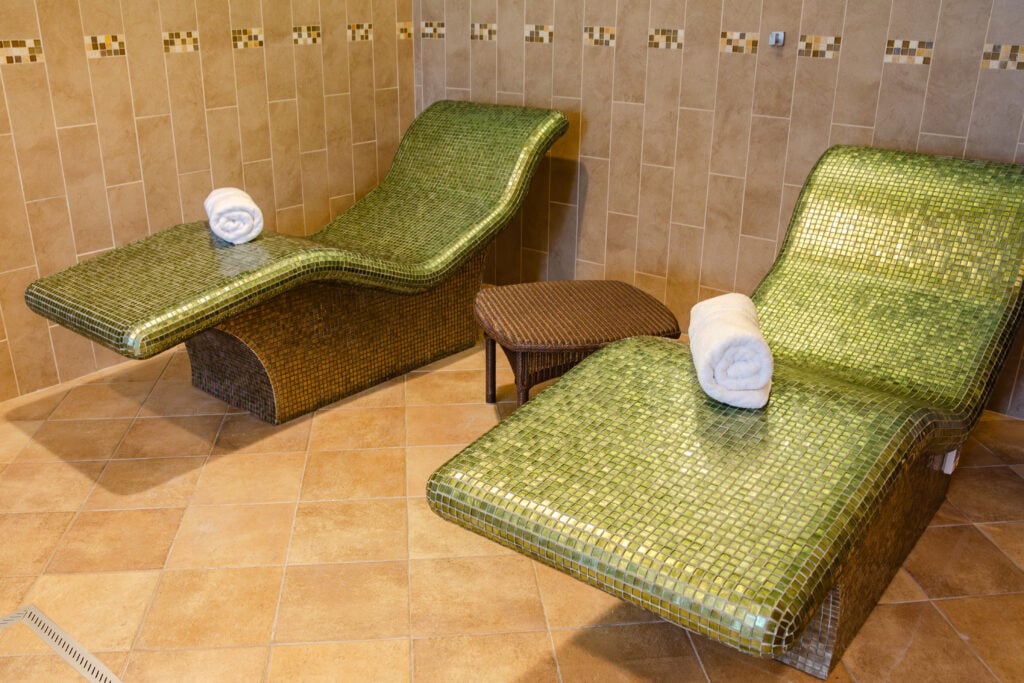 Indulge In A Couples Massage
A couples massage at Disney World's luxurious spa facilities offers a tranquil escape from the bustling energy of the theme parks. Whether at Senses Spa located in Disney's Grand Floridian Resort & Spa or another high-end wellness center within the resort, you and your partner can expect an unparalleled relaxation experience.
Nestled in a softly lit room filled with soothing music, you both lie down on adjacent massage tables as skilled therapists employ expert techniques to melt away stress and muscle tension. Aromatherapeutic scents fill the air, enhancing the mood and deepening your relaxation. The experience isn't merely a massage; it's an intimate journey into serenity, making it an ideal way to deepen your connection while treating yourselves to some well-deserved pampering.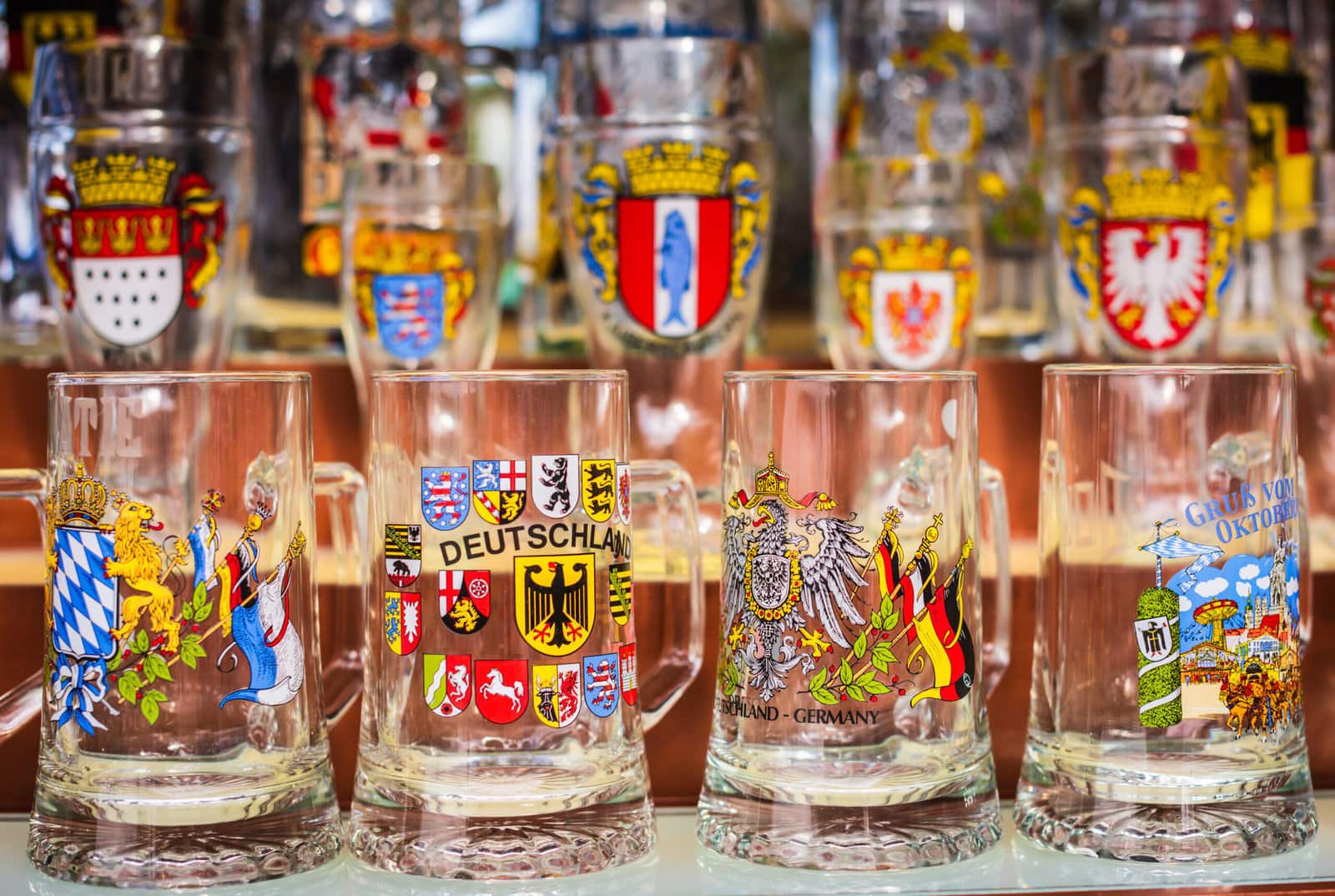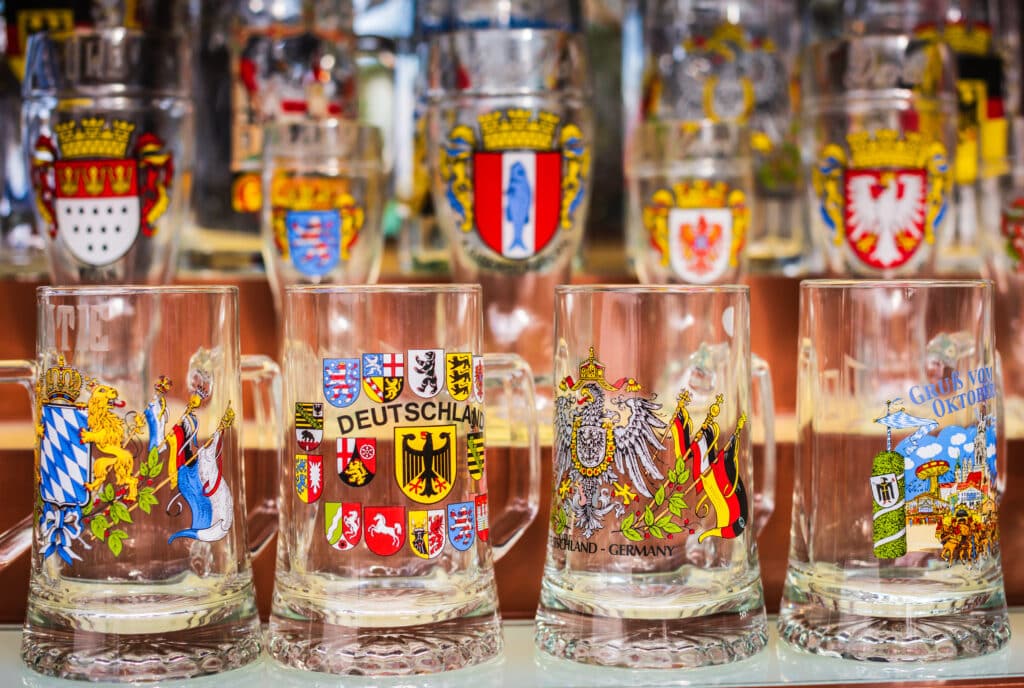 Drink Around the World at EPCOT
Drinking Around the World at EPCOT offers adults a rare and sophisticated Disney experience—a tour of global flavors without leaving Florida. As you meander through the 11 countries represented in the World Showcase, you can indulge in a carefully crafted margarita in Mexico, sip Champagne in France, or explore the nuances of sake in Japan.
Each pavilion elevates your journey with authentic drinks and cultural gems; all harmoniously mingled within the expansive park. Whether you're an oenophile, a cocktail enthusiast, or simply a traveler at heart, this EPCOT adventure offers a curated taste of the world in a vibrant and educational setting.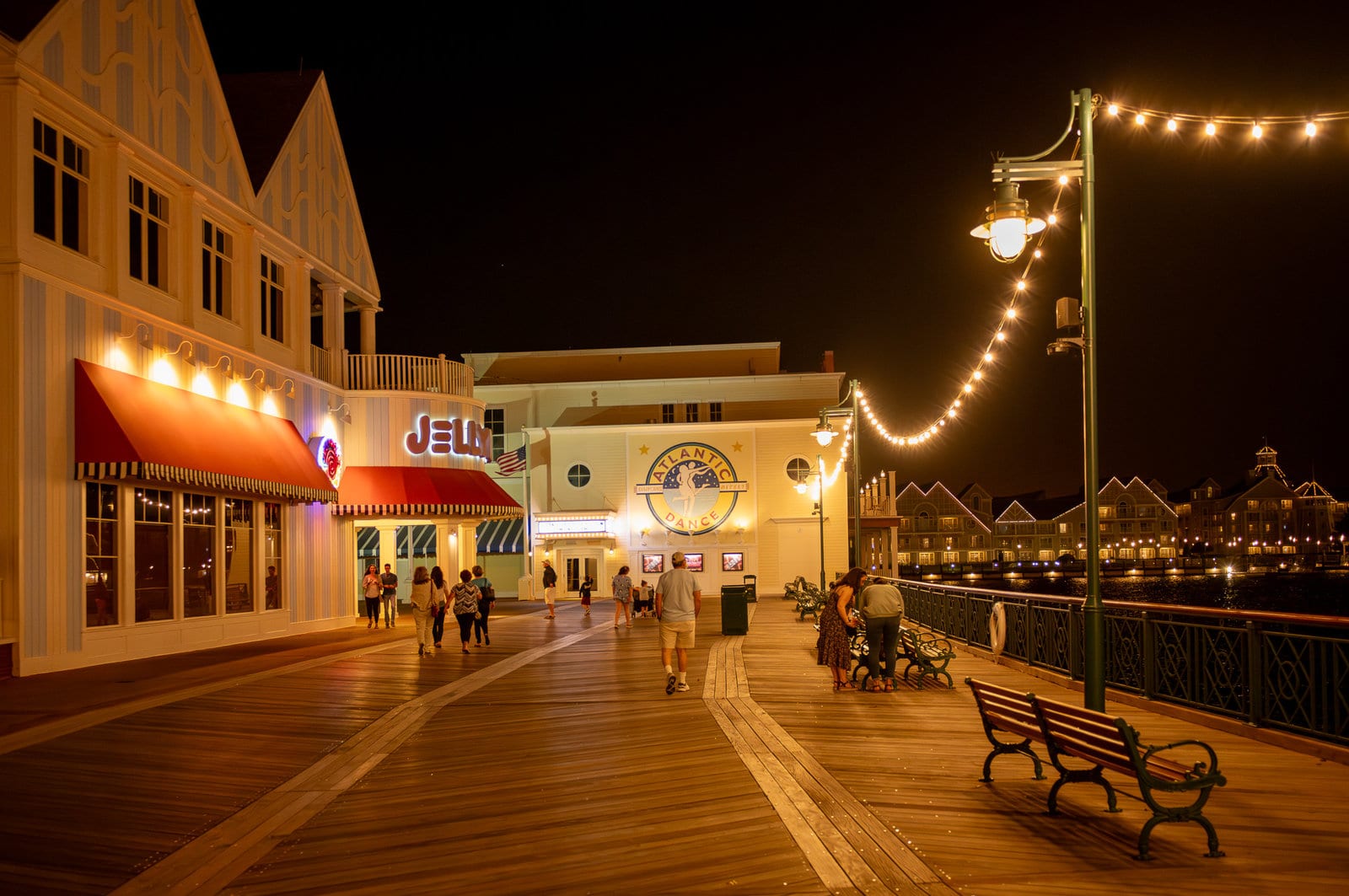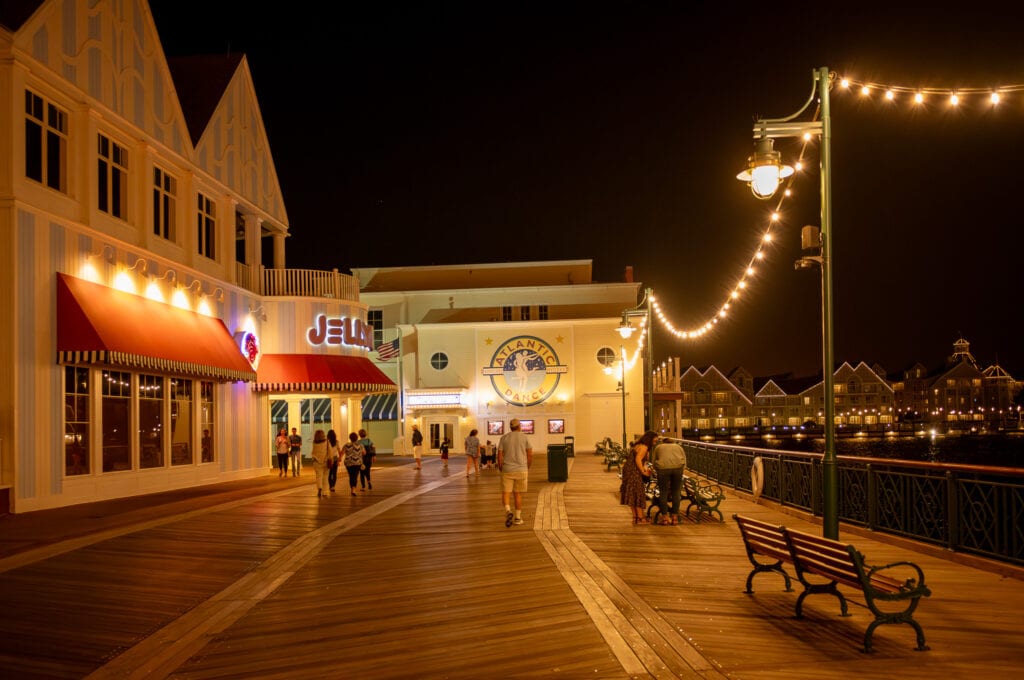 Stroll Disney's Boardwalk
Strolling along Disney's Boardwalk evokes the timeless charm of a 1940s Atlantic Coast boardwalk, yet with all the modern amenities that adults will appreciate. As you walk hand in hand, you'll encounter a vibrant tapestry of entertainment options, from dueling pianos at Jellyrolls to craft cocktails at the Abracada Bar.
And it's not just about the nocturnal allure—the Boardwalk comes alive in daylight with bike rentals, surrey carts, and gorgeous waterfront views. The atmosphere buzzes with a mellow, romantic energy that makes it the perfect backdrop for a dreamy date day or night, setting the stage for a memorable, adult-oriented experience in Disney World.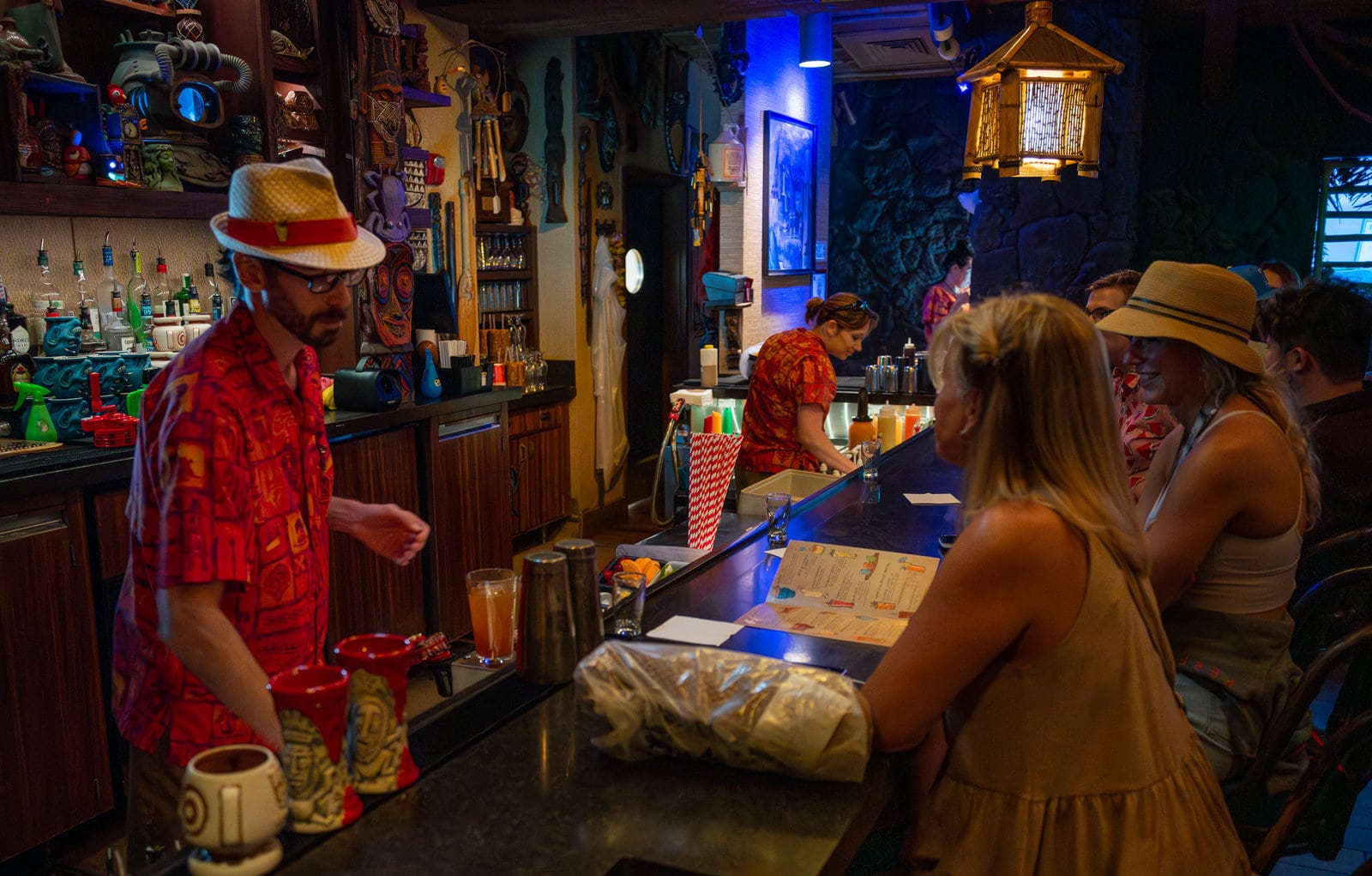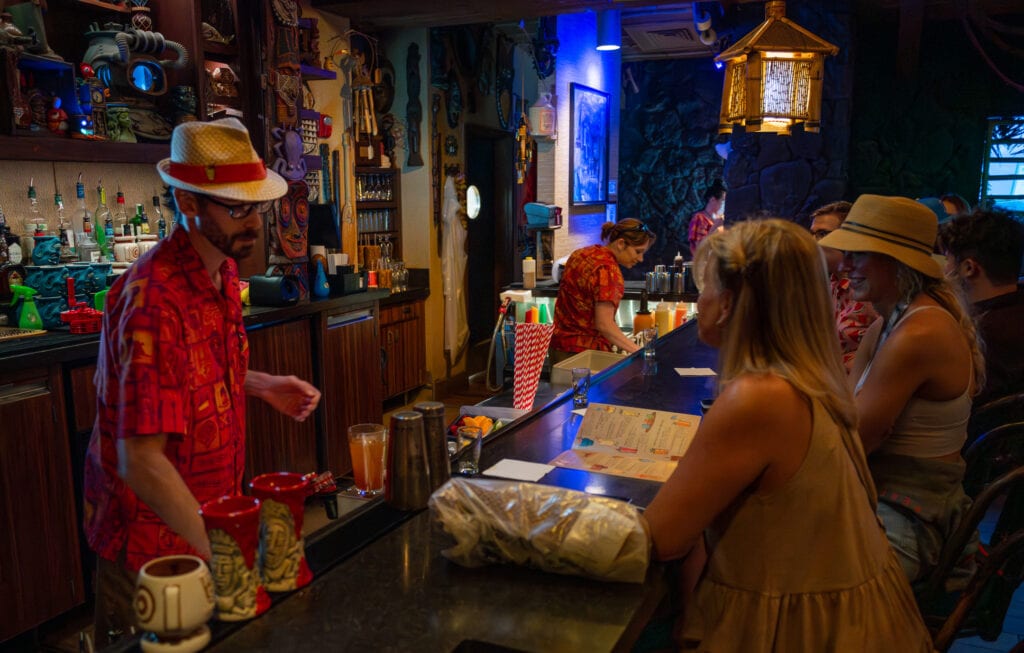 Imbibe at Trader Sam's Enchanted Tiki Bar
Trader Sam's Enchanted Tiki Bar, located in Disney's Polynesian Village Resort, offers a captivating and whimsical experience that transports guests into a vintage, South Seas-inspired setting. As you walk through the door, you're immediately greeted by an assortment of tiki artifacts, Polynesian décor, and a soundtrack that combines tropical tunes with exotic sound effects. The bar is more than just a place to get a drink; it's an interactive experience.
Ordering certain cocktails triggers a room-wide spectacle involving animatronics, lighting effects, and cast members who play along to create a memorable narrative for guests. From exotic concoctions served in unique vessels to small bites that carry a Polynesian flair, Trader Sam's provides a multi-sensory experience that is as entertaining as it is delicious.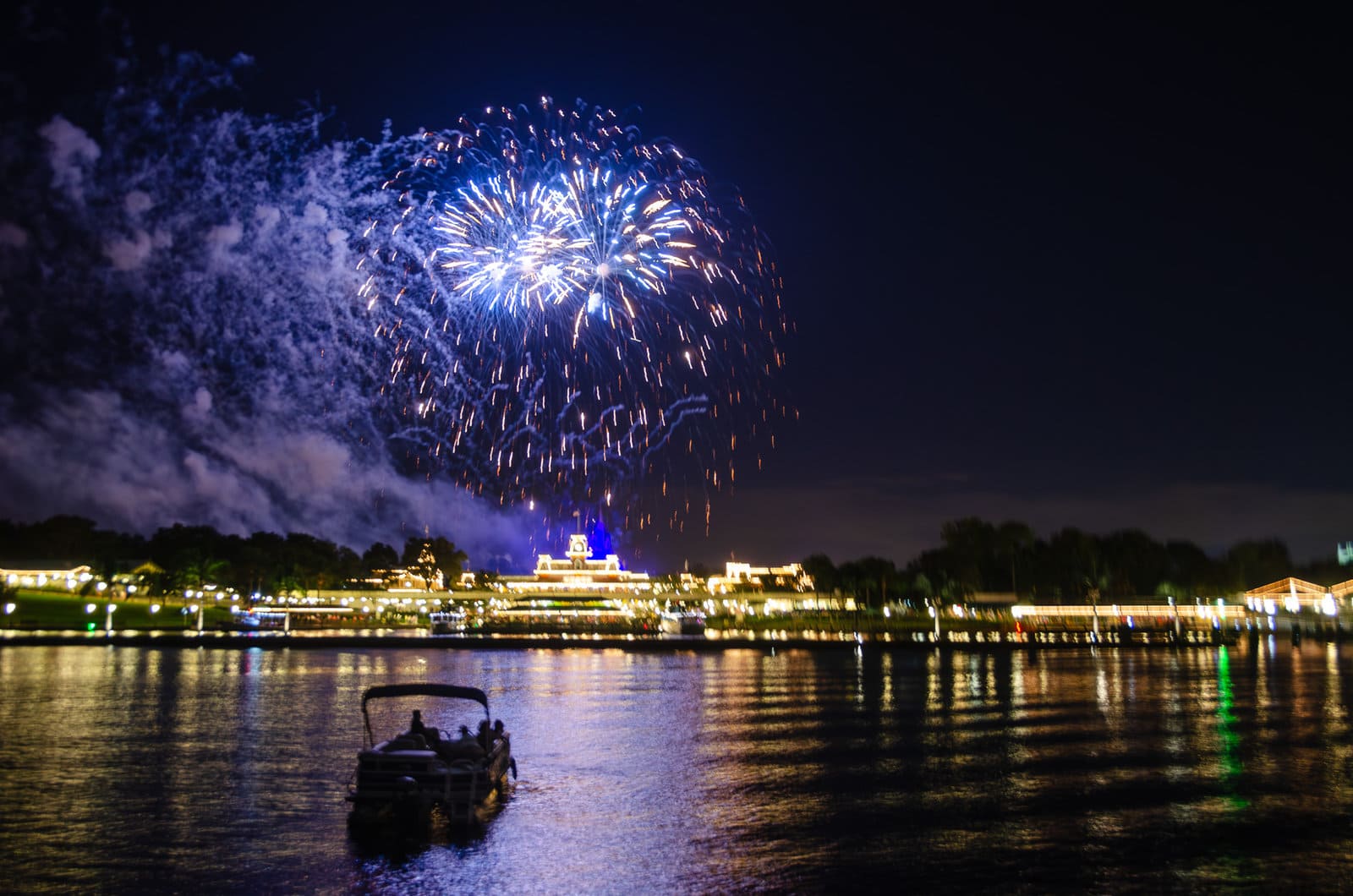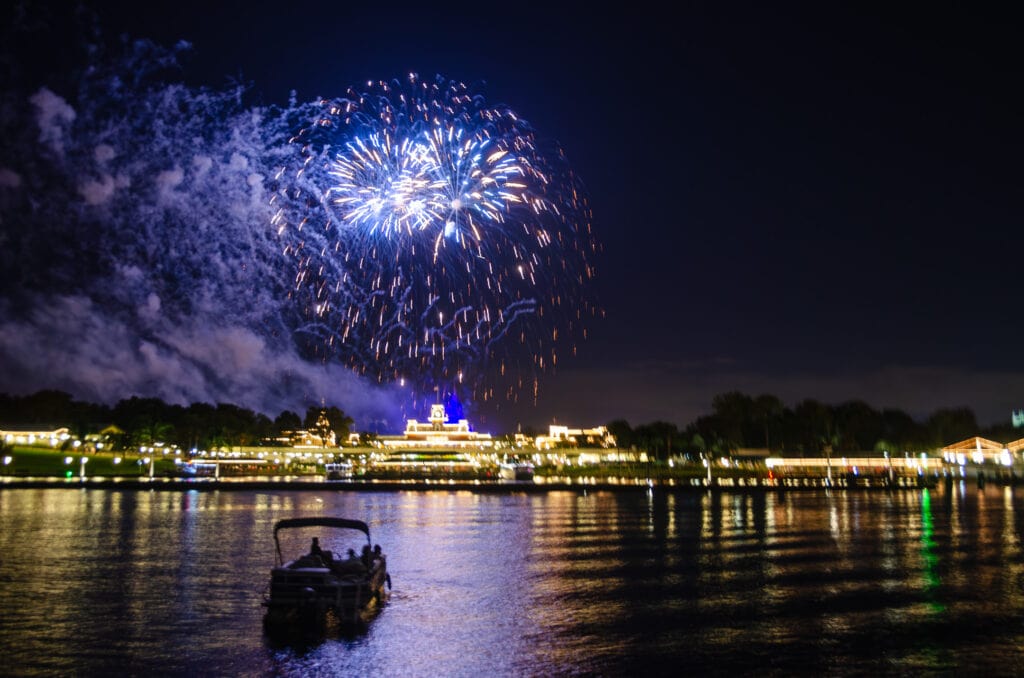 Watch the Fireworks Together
It isn't a successful trip to Disney World without viewing these famous fireworks. Relax under the stars and cuddle up together for the fireworks show over the castle. The show will be the perfect ending to a perfect day at Magic Kingdom. Or perhaps, pop the question and make this the beginning of a shared future.
If you're looking to elevate this already magical experience, consider booking a Disney World fireworks dessert party or a specialty cruise. These unique experiences offer a more exclusive vantage point for enjoying the fireworks, along with added indulgences like gourmet desserts, sparkling beverages, and sometimes even a dedicated server.
At a dessert party, you'll have reserved seating and an array of delicious treats to savor as you watch the night sky light up. Alternatively, a fireworks cruise provides an intimate setting on the water, offering panoramic views of the pyrotechnic display, often synchronized to a soundtrack that's piped right into the boat. Whether on land or sea, these premium options make the fireworks spectacle even more memorable, turning an already special evening into an unforgettable, romantic event.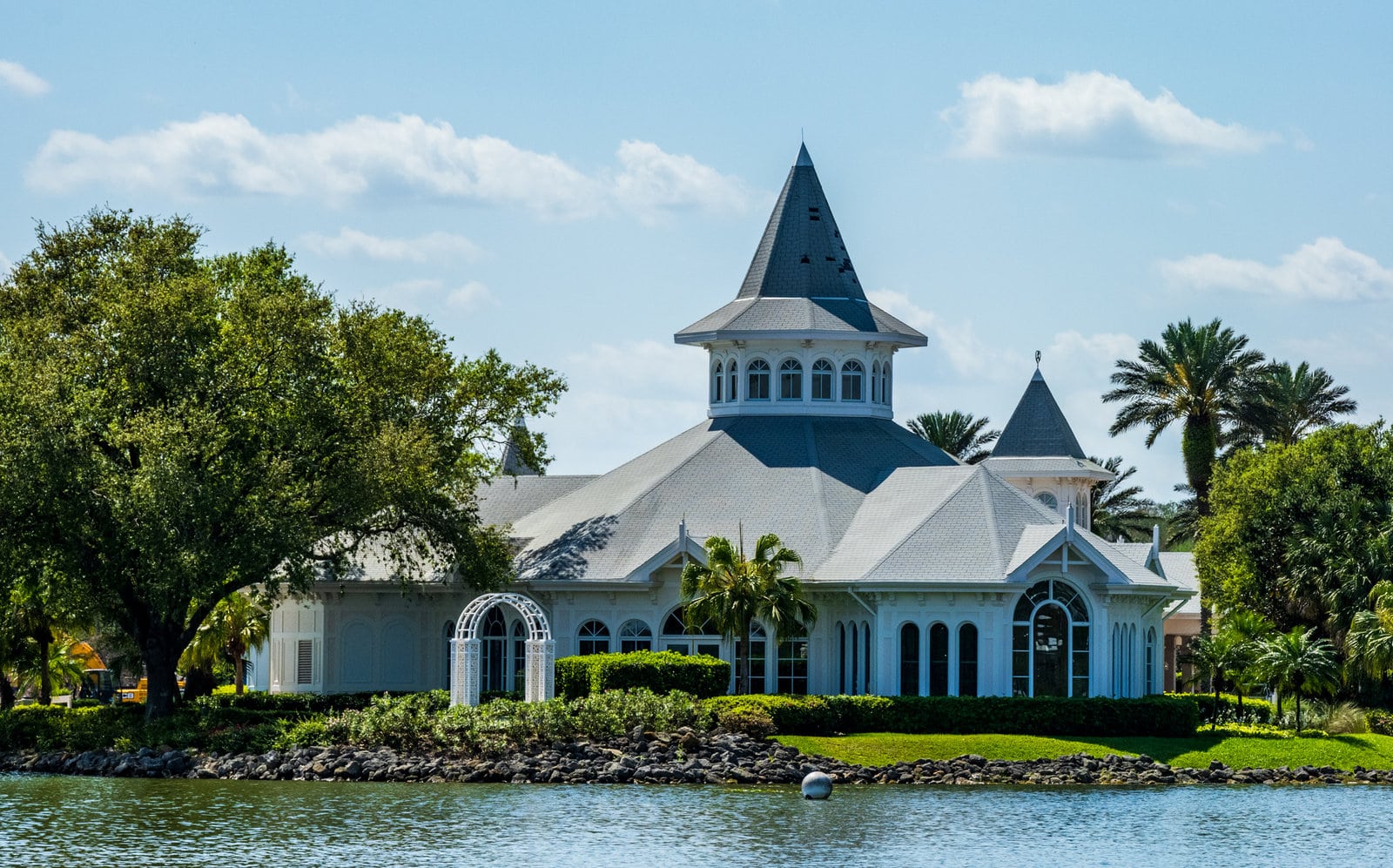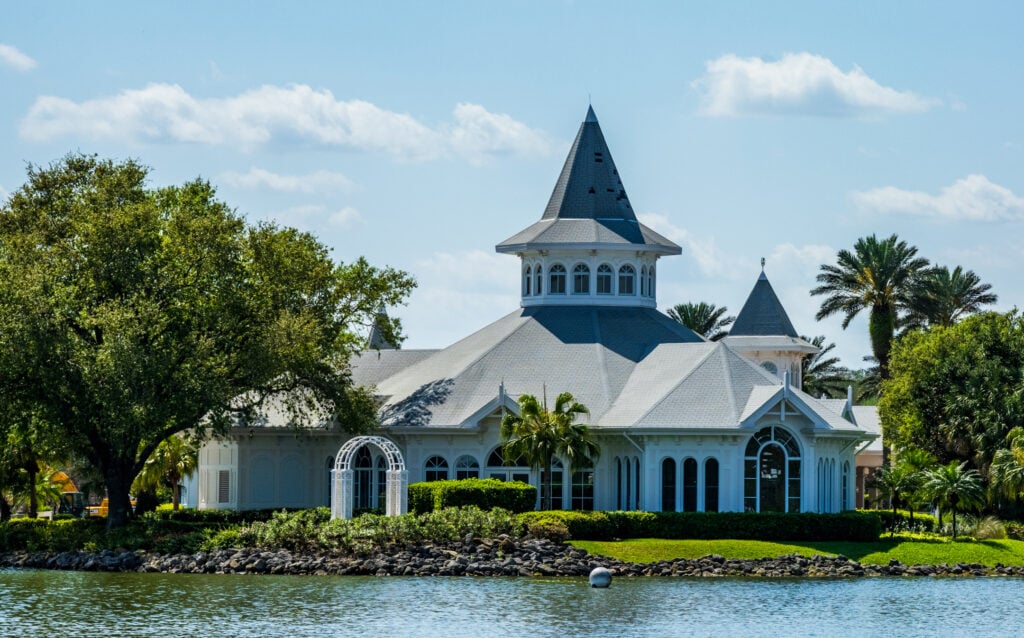 Tie the Knot at the Disney Wedding Pavilion
The Disney Wedding Pavilion on Disney's Grand Floridian Resort & Spa grounds offers an idyllic setting for couples looking to tie the knot in fairy-tale fashion. This Victorian-inspired chapel features elegant white wooden accents, a vaulted ceiling, and floor-to-ceiling windows that provide sweeping views of the Seven Seas Lagoon and Cinderella Castle in the distance.
From the moment you step into the chapel, it evokes a sense of enchantment and timeless romance, creating a picturesque atmosphere for a wedding ceremony. The pavilion's refined design and magical backdrop make it a captivating venue for couples seeking a truly Disney-inspired union.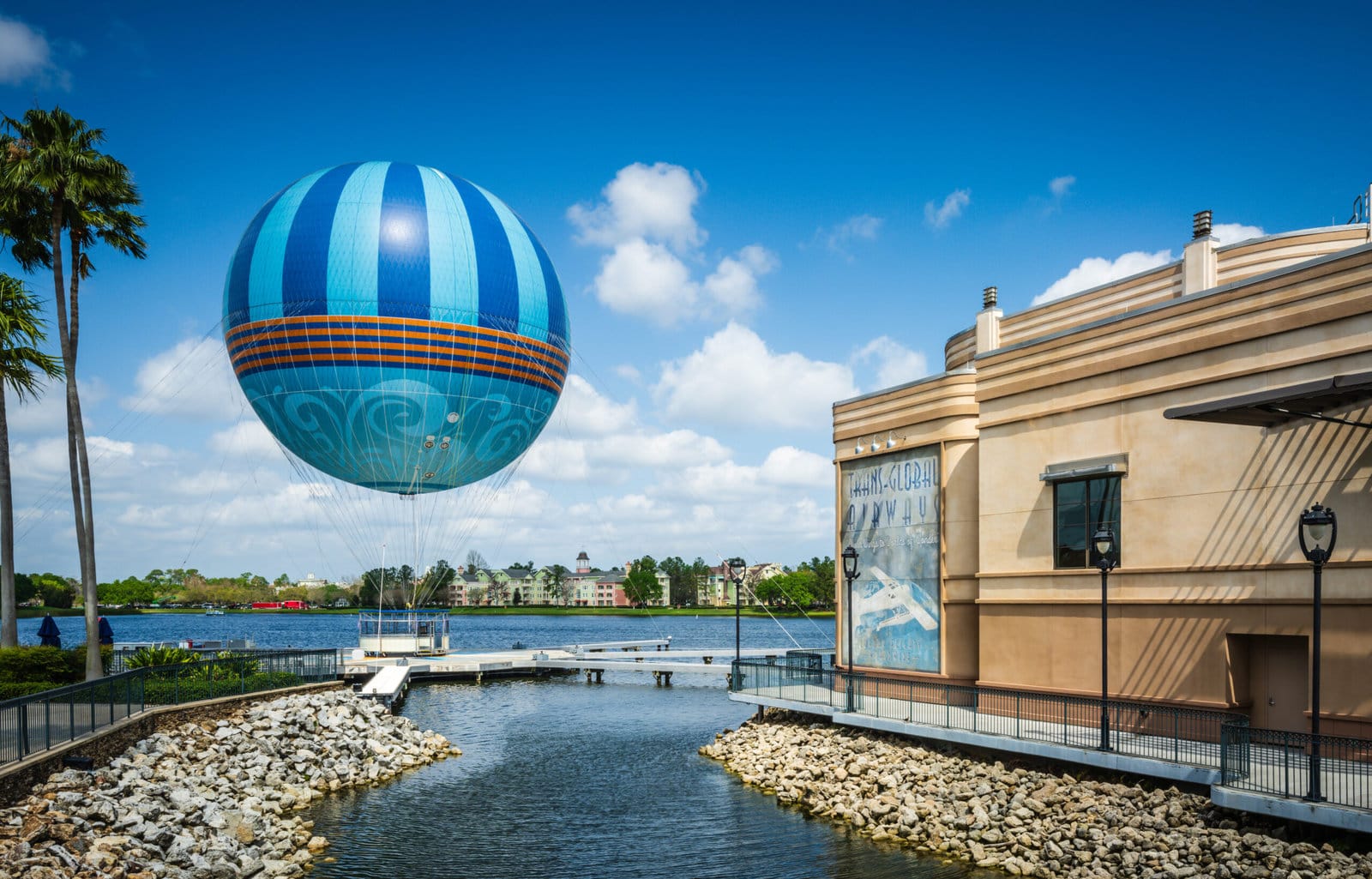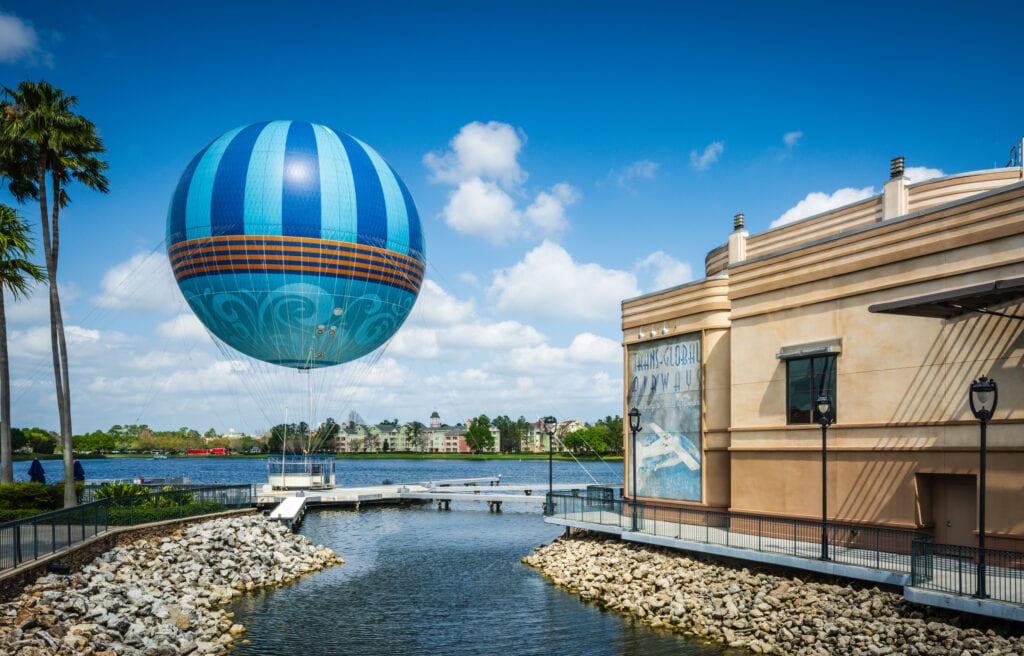 Book a Disney World Tour
Walt Disney World Resort in Florida offers a wide variety of tours and experiences designed to enhance your visit. Here are some examples:
Disney VIP Tours:
If you're looking for a highly personalized experience, Disney VIP Tours offers just that. With your own tour guide, customized itinerary, and the ability to visit multiple parks in a single day, these tours are designed for guests looking for a premium experience. Services often include direct access to attractions, reserved seating for shows and parades, and transportation between parks.
Animal Kingdom:
Wild Africa Trek: A privately guided expedition offering close encounters with African wildlife.
Caring for Giants: Learn about elephant conservation and get a closer look at these magnificent creatures.
Magic Kingdom:
Keys to the Kingdom Tour: Behind-the-scenes look at Magic Kingdom, revealing some of the secrets behind the magic.
EPCOT:
Epcot Seas Adventures – DiveQuest: Scuba diving experience in the 5.7-million-gallon saltwater tank at The Seas with Nemo & Friends Pavilion.
Behind the Seeds: A walking tour of the greenhouses seen in the Living with the Land attraction.
This is not an exhaustive list, and there may also be private or custom VIP experiences available for booking. Always check the latest information on the official Disney website or app for the most current offerings.
Romantic Things To Do At Disney Springs
PLAY: Splitsville Luxury Lanes
Splitsville Luxury Lanes at Disney Springs reimagines the classic bowling alley experience by infusing it with a splash of luxury and a hefty dose of fun. This two-story entertainment venue is far from your typical bowling alley; it boasts a modern retro aesthetic with plush seating and vibrant decor. Offering more than just bowling, Splitsville features an extensive menu with options ranging from sushi rolls to classic American fare and a well-stocked bar serving inventive cocktails.
Multiple indoor and outdoor seating areas provide a relaxed atmosphere where you can enjoy your meal, even if bowling isn't on the agenda. Whether you're throwing strikes or enjoying the lively ambiance, Splitsville Luxury Lanes offers a blend of recreation and relaxation, making it a standout destination within Disney Springs.
DO: AMC DINE-IN Disney Springs 24
The AMC DINE-IN Disney Springs 24 offers a unique cinema experience that goes beyond just watching a movie. Located in the heart of Disney Springs, this state-of-the-art facility combines the thrill of blockbuster films with the comfort and convenience of in-theater dining. From your plush, reclining seat, you can order a variety of meals, snacks, and beverages, including alcoholic options, right to your seat.
High-quality projection and sound systems ensure a top-notch viewing experience. It's not just a trip to the movies; it's a comprehensive entertainment experience that allows you to dine, relax, and immerse yourself in the world of film without leaving your seat.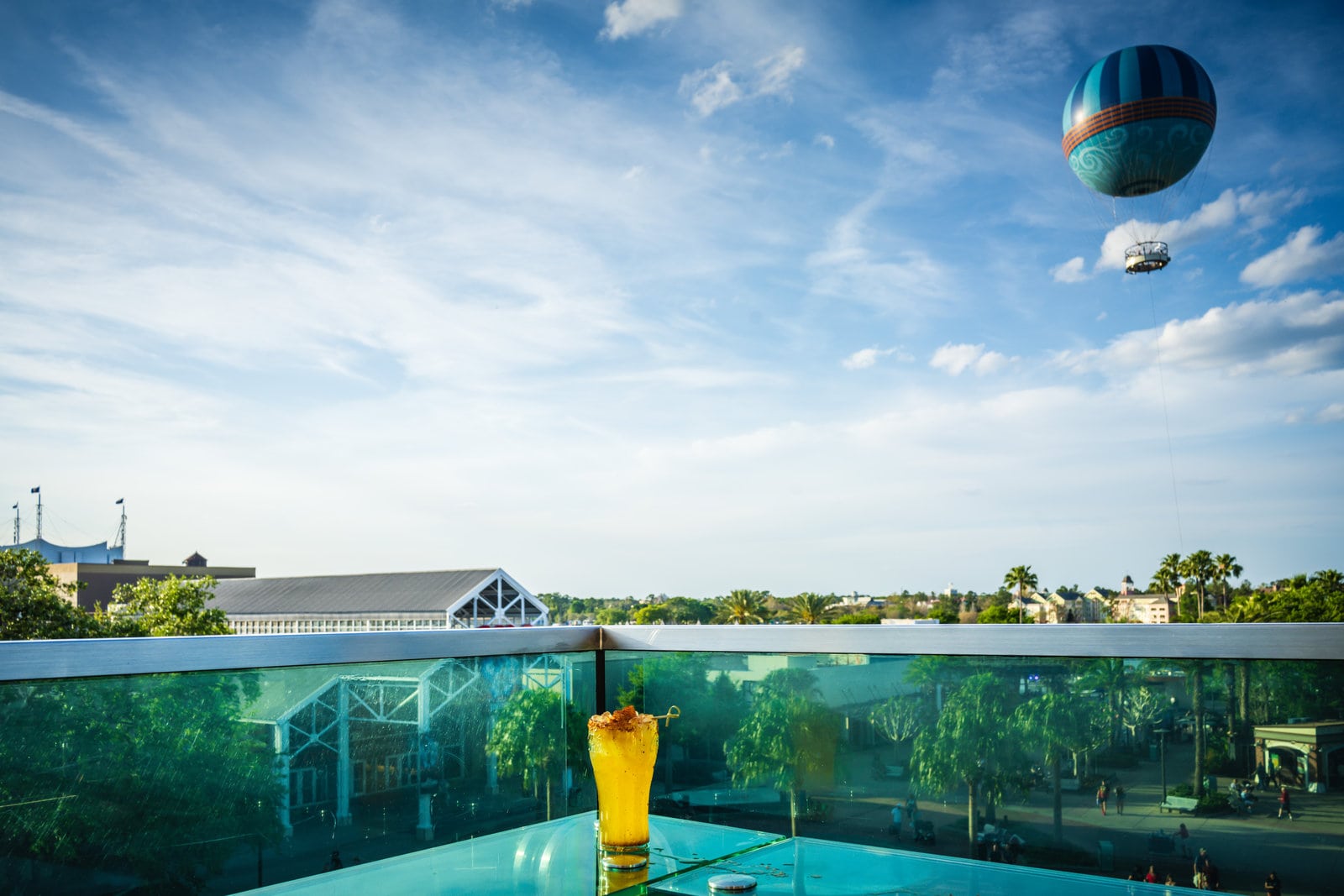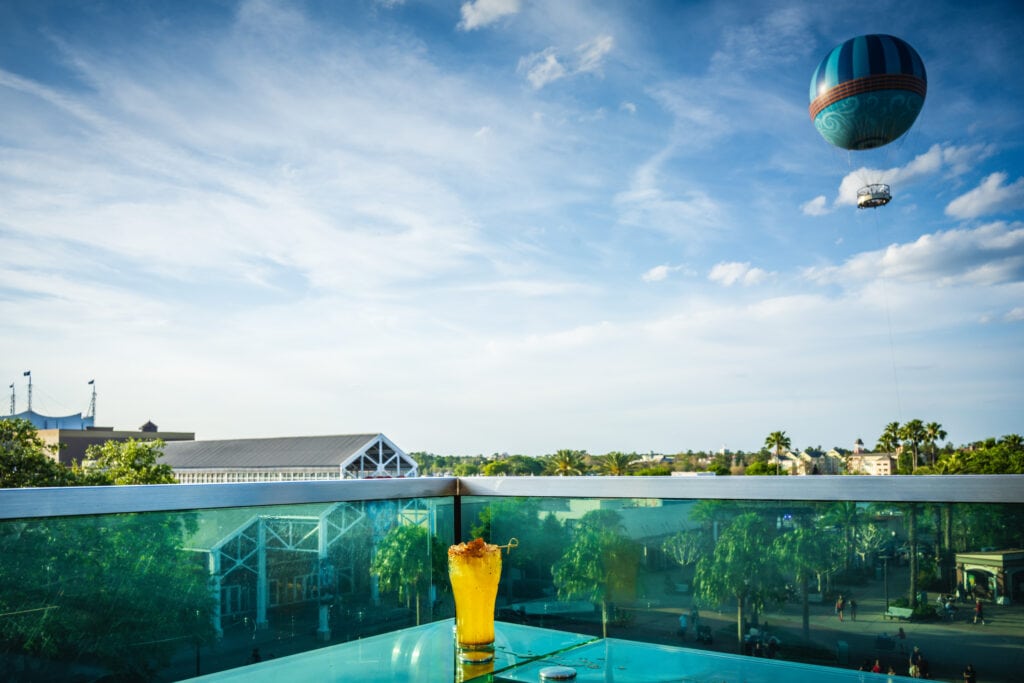 TASTE: Coca-Cola Store Rooftop Beverage Bar
The Coca-Cola Store Rooftop Beverage Bar at Disney Springs offers a unique opportunity to elevate your beverage experience. Situated on the third floor of the Coca-Cola Store, this open-air bar provides panoramic views of Disney Springs, setting a picturesque backdrop as you sip your drink. The venue serves a variety of Coca-Cola products from around the world, specialty cocktails, and mocktails, making it a flavorful pit stop for everyone.
Its modern, sleek design and comfortable seating make it a fantastic place to unwind, catch up, and people-watch from above. Whether day or night, the Rooftop Beverage Bar offers a refreshing pause in your Disney adventure.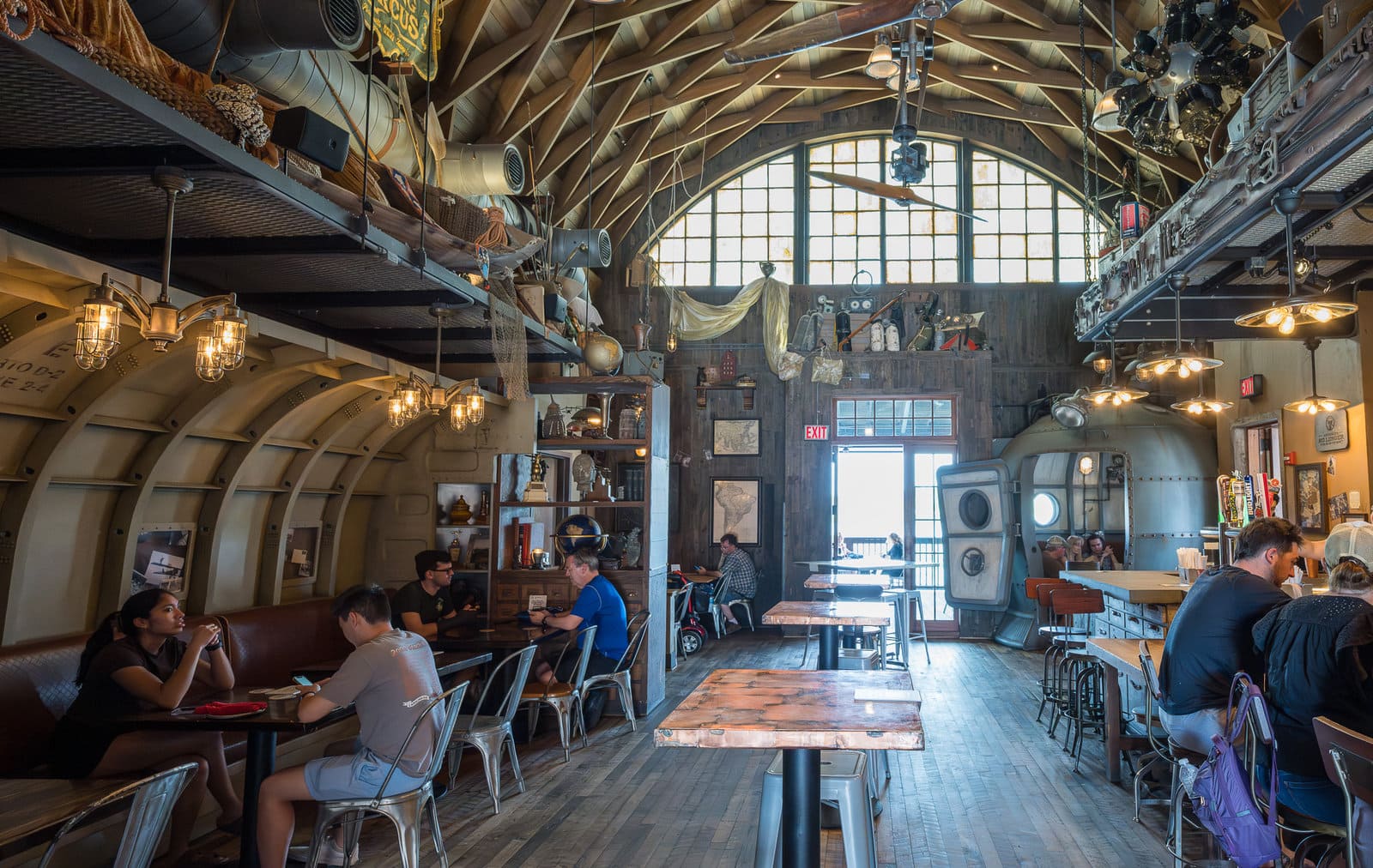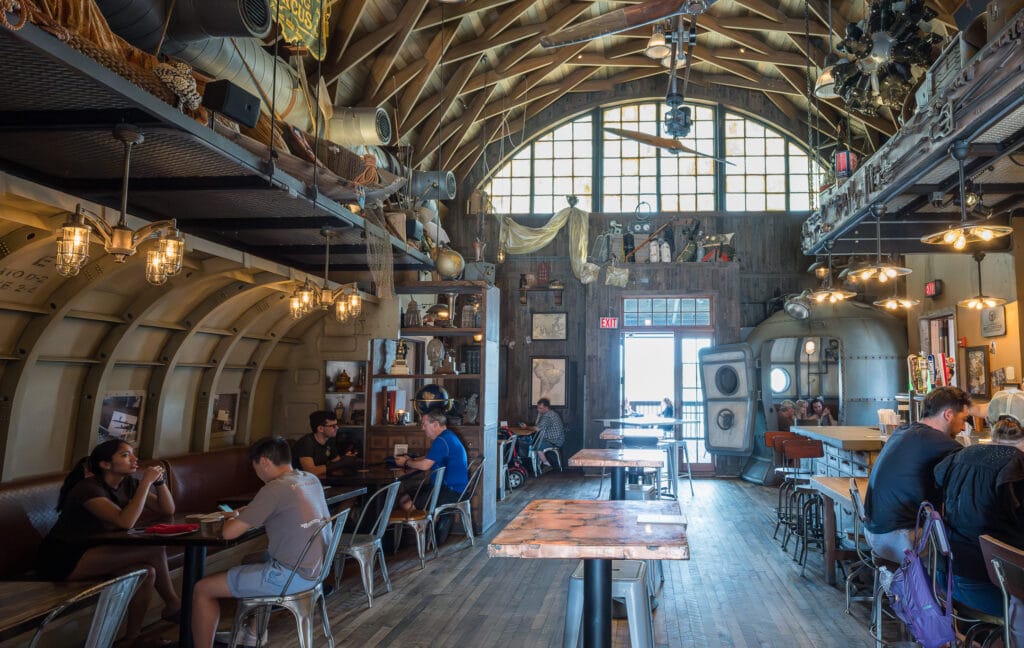 Jock Lindsey's Hangar Bar
Jock Lindsey's Hangar Bar, located in Disney Springs at Disney World, offers a unique blend of adventure, nostalgia, and mixology that transports guests to another era. Named after the fictional pilot from the Indiana Jones films, the bar invites visitors into an aviation-themed world, steeped in storytelling.
The interior feels like a vintage aircraft hangar crossed with an explorer's den. Filled with memorabilia, maps, and even a diving bell booth, the decor seems like it was lifted straight out of an Indiana Jones movie. The vibe is casual but engaged, inviting patrons to explore the cocktails and the many artifacts and curiosities sprinkled around the bar.
The drink menu echoes the adventurous theme, boasting a list of craft cocktails that journey across flavor profiles. From tiki-inspired drinks to classics with a twist, each cocktail is meticulously crafted and beautifully presented. The food is more than just an afterthought; small plates like rolling boulders, sliders, or squid! why'd it have to be squid? offer a global array of flavors, providing the perfect pairing for your drink of choice.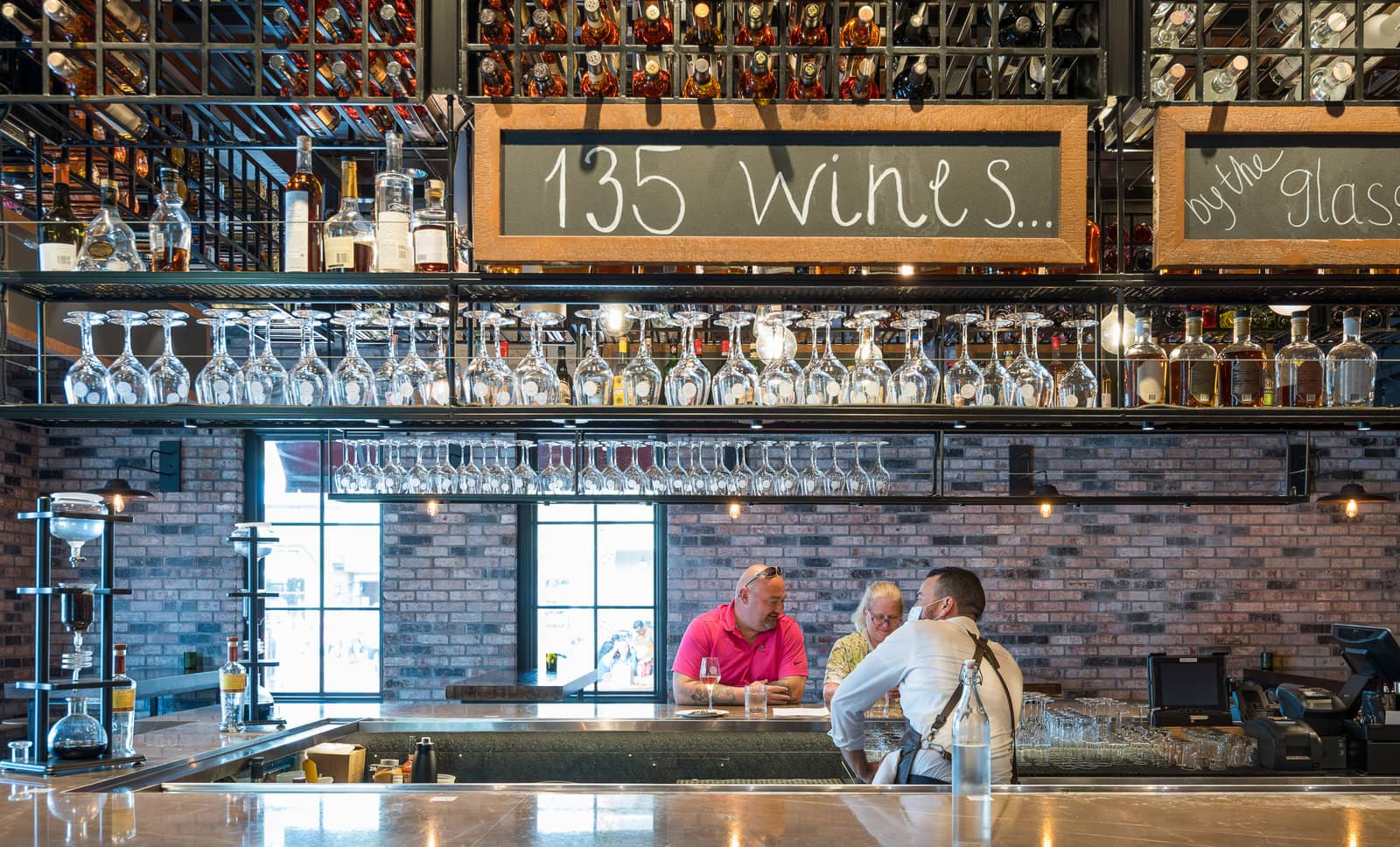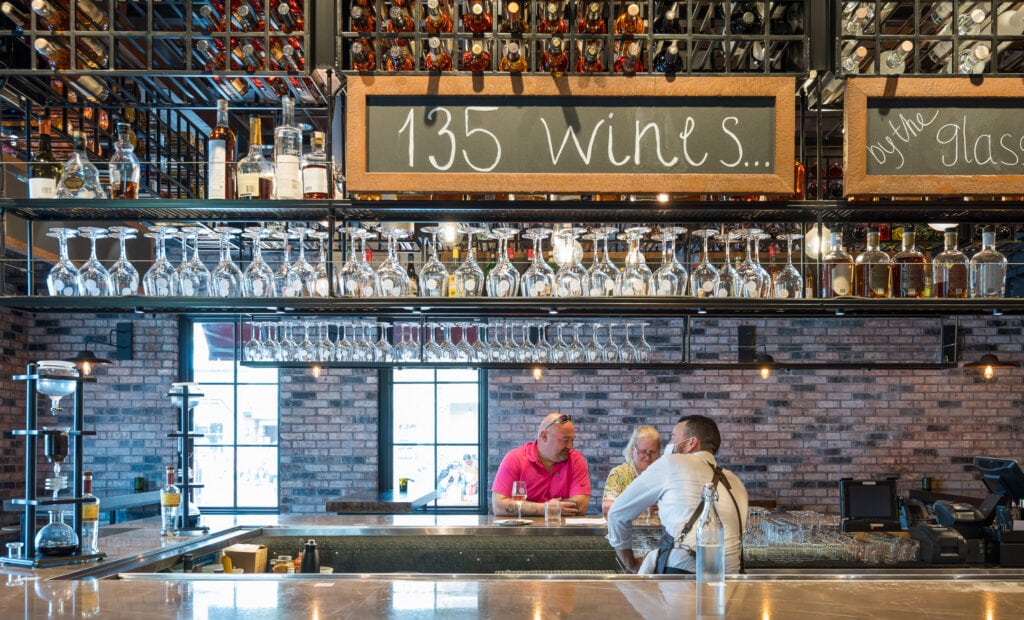 Wine Bar George
Wine Bar George offers an intoxicating escape for couples looking for an elevated dining experience. Helmed by Master Sommelier George Miliotes, the venue exudes sophistication without pretension, delivering a wine list that spans the globe and pairs exquisitely with a menu of delectable small plates. Think artisanal cheeses, charcuterie, and sumptuous desserts, all set within a cozy yet modern space.
Whether you're exploring the extensive by-the-glass offerings or sharing a "Wine Country Brunch," Wine Bar George adds a touch of refined romance to your Disney getaway, making it an ideal stop for adults in search of both flavor and intimacy.
Disney World Romantic Hotels
Discover the magic of Disney resorts, where each property offers not just a place to sleep but a unique adventure that elevates your experience. Note that one of the most popular themed adventures, the Star Wars: Galactic Starcruiser, was discontinued as of September 30th.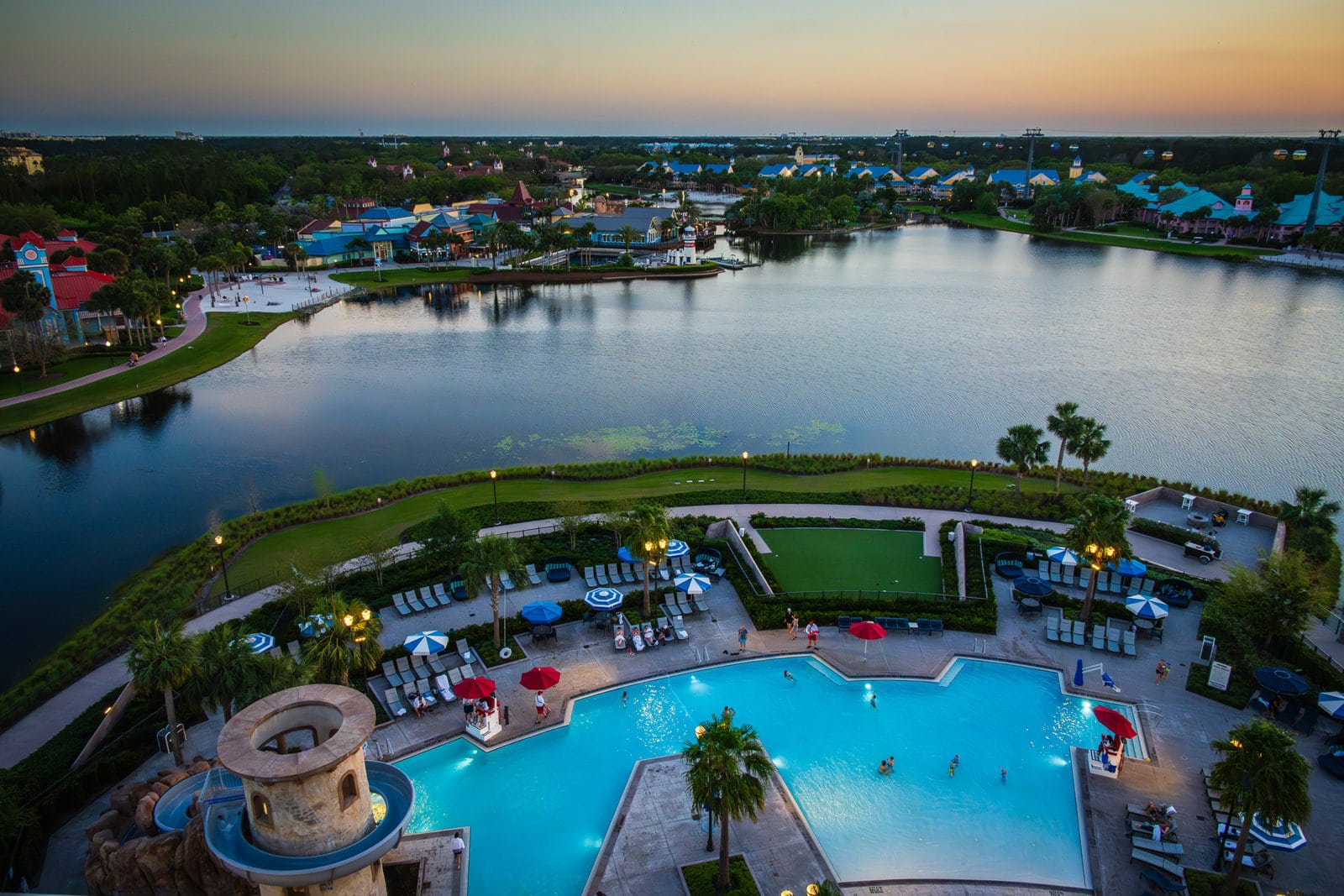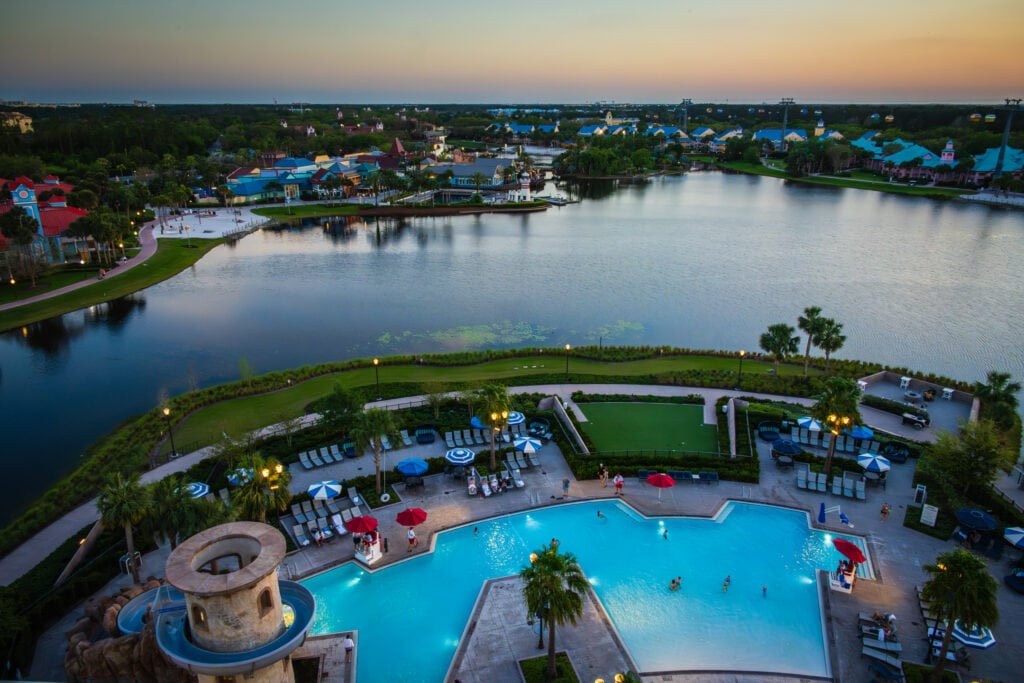 Disney's Riviera Resort
Disney's Riviera Resort is one of the most romantic hotels to stay at while visiting Disney. The romance and luxury of the European countryside inspire this resort. Right from your arrival at the resort, the grand archways and palm tree-lined entry will excite the imagination.
Inside the hotel, elegance surrounds you and your partner. This hotel is immaculately designed to transport you to the French Riviera, with a perfect balance of modern luxury and classic 20th-century furnishings. The walls are carefully lined with unique art that celebrates the magic of Disney.
Ideal for a couple, the brand-new Tower Studios showcases impeccable views in a modern and cozy space. These suites are specially designed for two, with a bed that tucks away into the wall for a stylish lounge space.
After a long day at the parks, enjoy relaxing alongside the Beau Soleil Pool. This quiet pool offers a space away from the children's area to relax as a couple and enjoy the Florida sunshine. In the evening, cuddle up for a movie under the stars.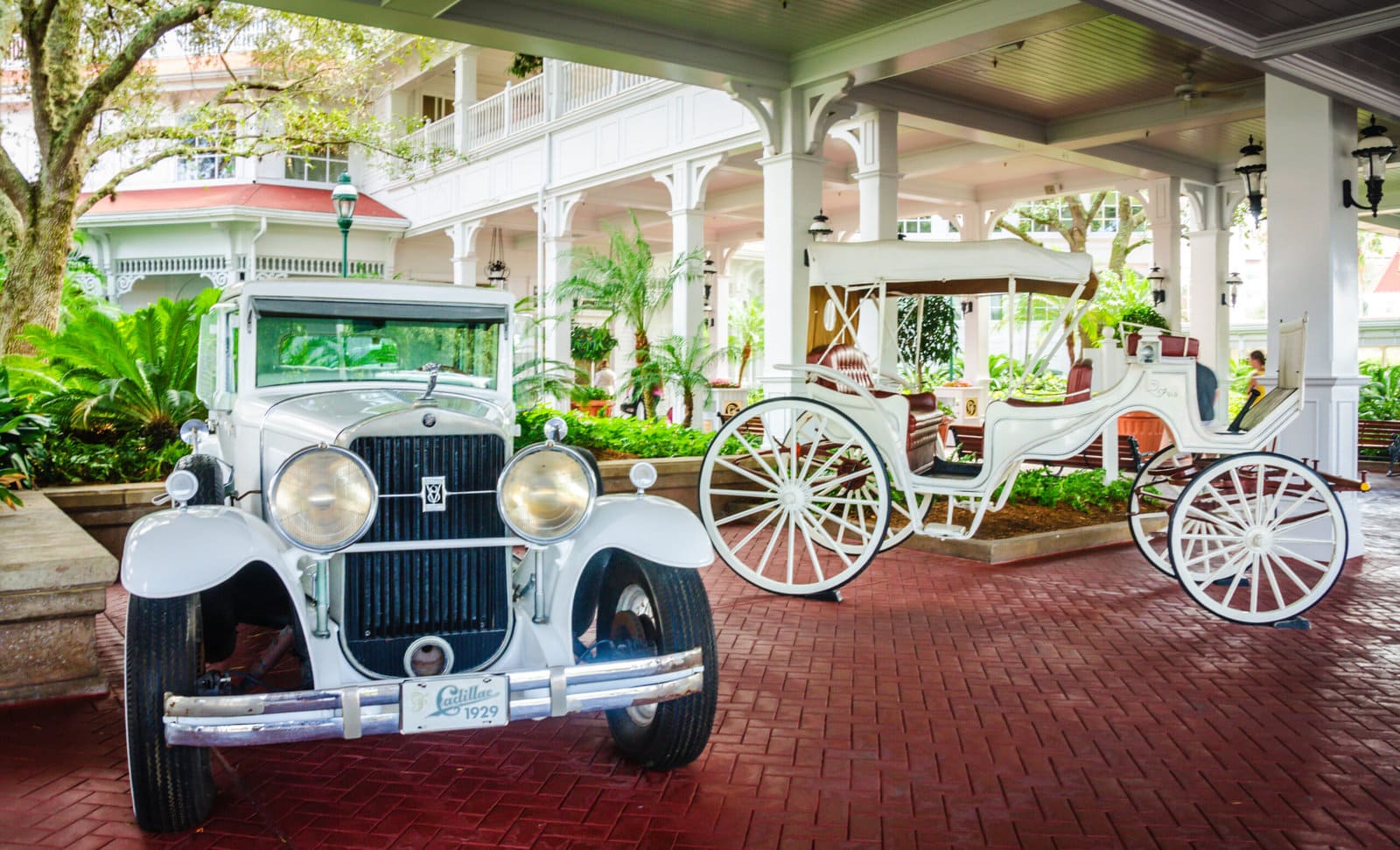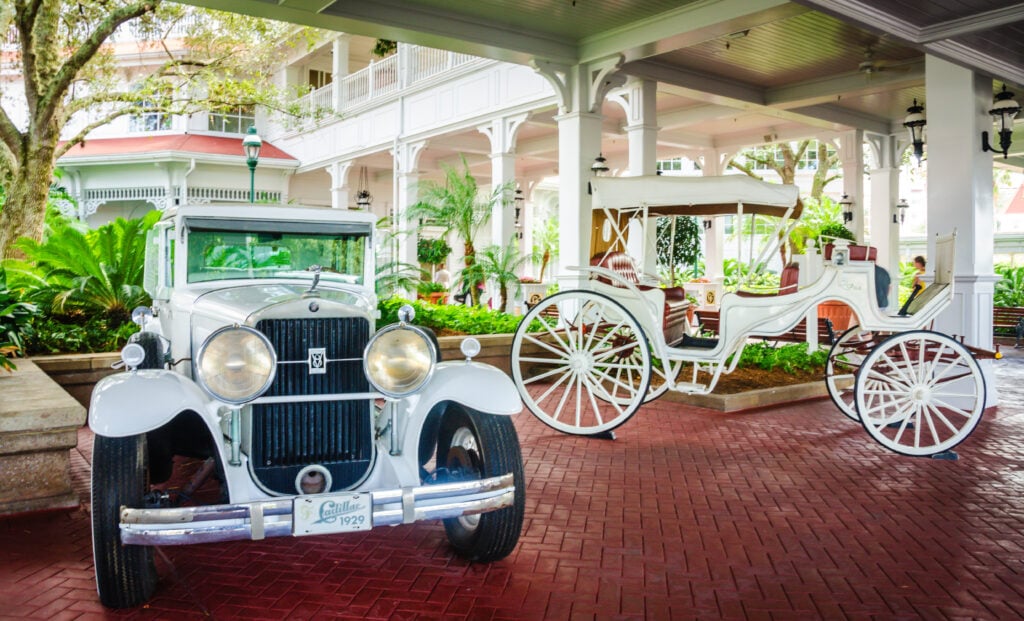 Disney's Grand Floridian Resort and Spa
For a romantic trip to Disney, the Grand Floridian Resort and Spa is an idyllic place to stay. This Victorian-inspired hotel is jam-packed with luxury and elegance. The Grand Floridian is just one stop from Magic Kingdom on the monorail.
Start your day in a cabana beside the pool. The Beach Pool sits directly adjacent to the Seven Seas Lagoon. Lay side-by-side next to the water and enjoy the Florida sun.
For even more fun on the Lagoon, the Fireworks Cruise is an unbeatable experience. With only 10 guests maximum per boat, this cruise is intimate and magical. You can depart directly from the Grand Floridian and get an incredible view of the fireworks over Magic Kingdom.
The Grand Floridian is packed with things to do on your Disney World vacation. Whether you want to enjoy being on the water or watching the Electrical Water Pageant from shore, the Grand Floridian ensures that you and your significant other are always enjoying your time.
You can't miss the Grand Floridian Spa for the ultimate in relaxation and romance. Everything is carefully designed for relaxation, from calming music to soothing lighting. Nothing will set the mood better than a long couple's massage in the spa.
The Grand Floridian is packed with romantic dining spots. Some of the best restaurants near Disney are within the resort's grounds. Enjoy luxury dining at Victoria & Albert's, enjoy fresh seafood at Narcoossee's, or relax at afternoon tea in the Garden View Tea Room.
After dinner, have an intimate cocktail hour at Enchanted Rose. Inspired by the romance of Beauty and the Beast, this sophisticated spot will enchant you and your partner. Finish your evening right with specialty cocktails and gourmet small plates in the light of the golden chandelier.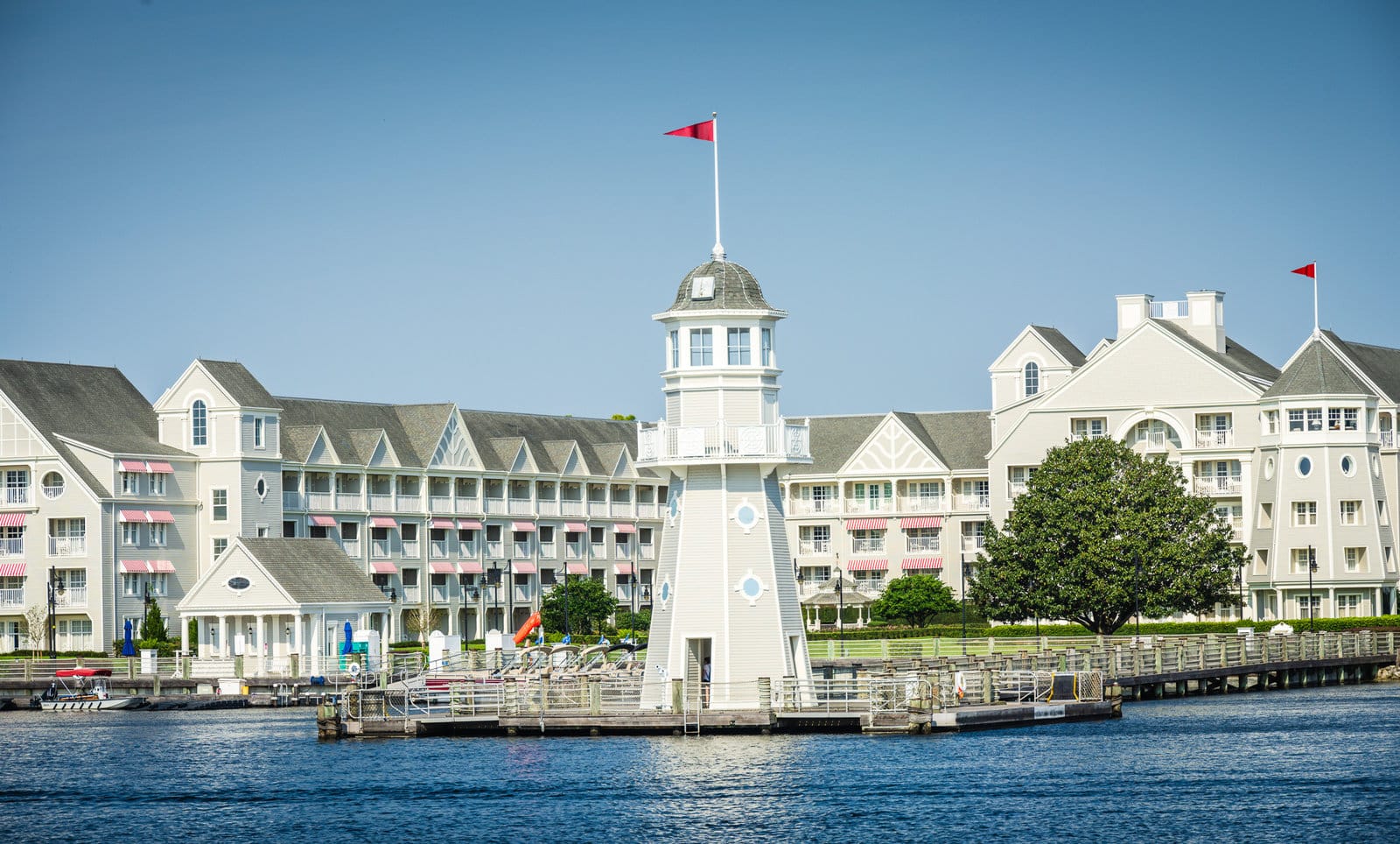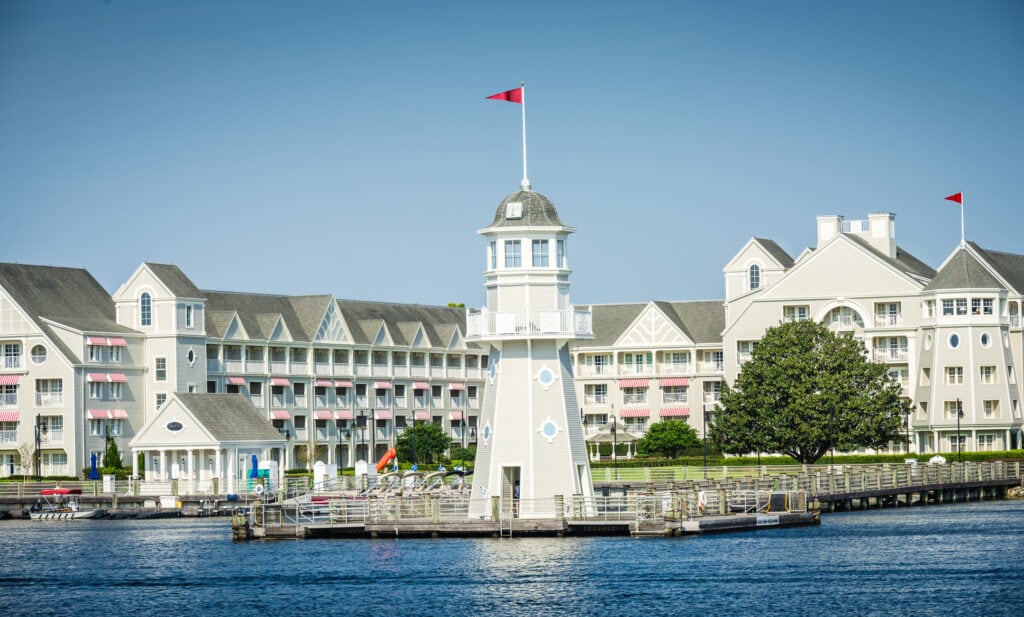 Disney's Beach Club Resort
Disney's Beach Club Resort is ideal for couples looking for a refreshing retreat. This New England-style resort is nestled along Crescent Lake, ideal for enjoying the water.
Situated at Stormalong Bay, the Beach Club resort is packed with activities for couples to do together. Relax together down the lazy river and enjoy the cool currents, or soothe your muscles in one of the 3 whirlpool spas. The elevated tanning deck is a great place to catch some sun and enjoy some quiet time together.
The villas at the Beach Club are superb for a luxurious escape with the romance of New England. They offer full kitchens, in-suite laundry, and spacious bedrooms. You and your partner will love the views of either the gardens or the water.
The Bay offers a wide variety of dining options for you to enjoy. The Martha's Vineyard restaurant adds to the New England charm and offers a variety of delicious wines with your meal. Martha's Vineyard is a fun casual option for those looking for a nice night out with their significant other.
For a high-end romantic dinner, try out Yachtsman Steakhouse. The Yachtsman gives the feel of a romantic evening on a yacht while enjoying the hand-cut, dry-aged steaks. The roasted seasonal mushrooms and the truffle mac and cheese make unbeatable side dishes.
If you are in the mood to share a sweet treat with your partner, head over to the Beaches and Cream ice cream shop. This shop was recently renovated and is reminiscent of retro soda fountains where many couples enjoyed sweet dates. A sweet ending to a perfect day is a romantic sundae for two.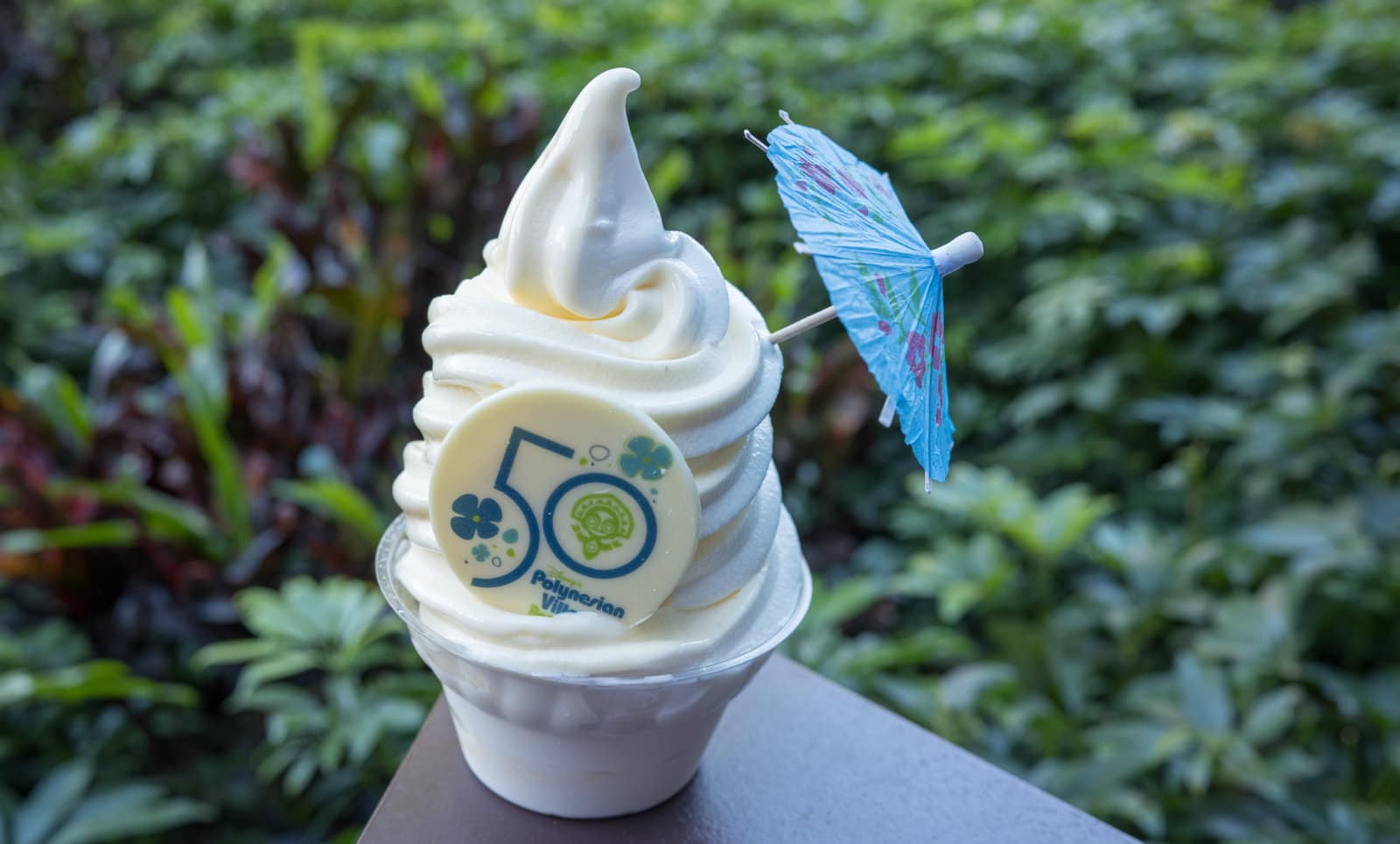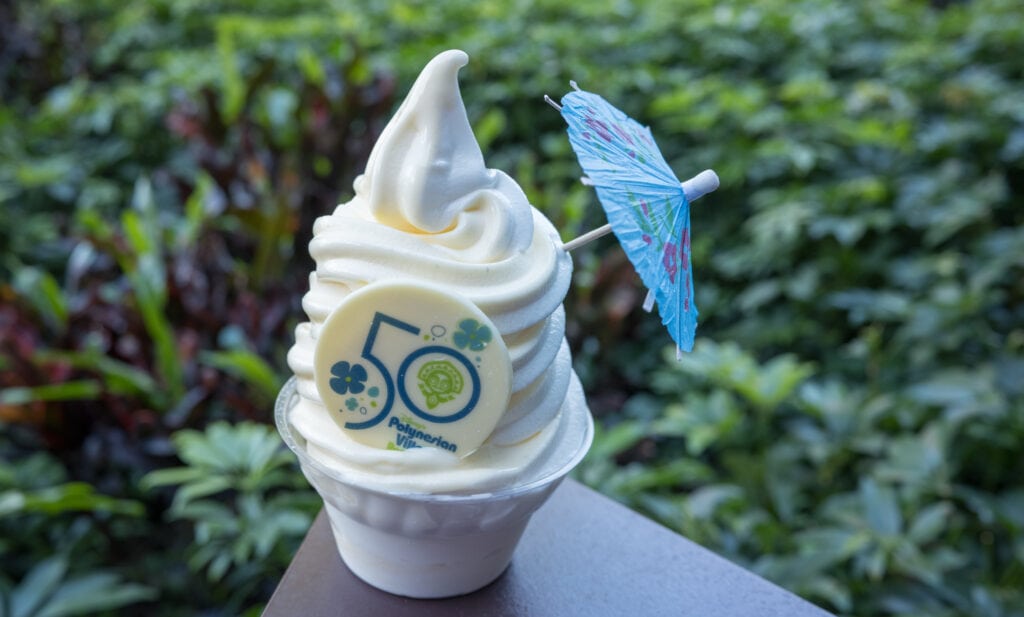 Romantic Restaurants – Disney World
Indulge In The Iconic Dole Whip Treat
Believing firmly in the mantra, Dessert First, no visit to Disney World would be complete without first making a stop for the theme park's beloved confection. Dole Whip, the iconic pineapple-flavored soft serve, offers a blissful moment of tropical indulgence right within Disney World. You'll find this refreshing treat at various locations across the park, including Aloha Isle in Magic Kingdom's Adventureland, the Refreshment Outpost at EPCOT, and the Pineapple Lanai at Disney's Polynesian Village Resort.
Brunch at Chef Art Smith's Homecomin' at Disney Springs offers a culinary experience that blends Southern comfort with modern flair, making it a must-visit for food aficionados and casual diners alike. Housed in a rustic-chic setting that feels like a warm embrace, the restaurant serves up hearty and thoughtfully crafted dishes.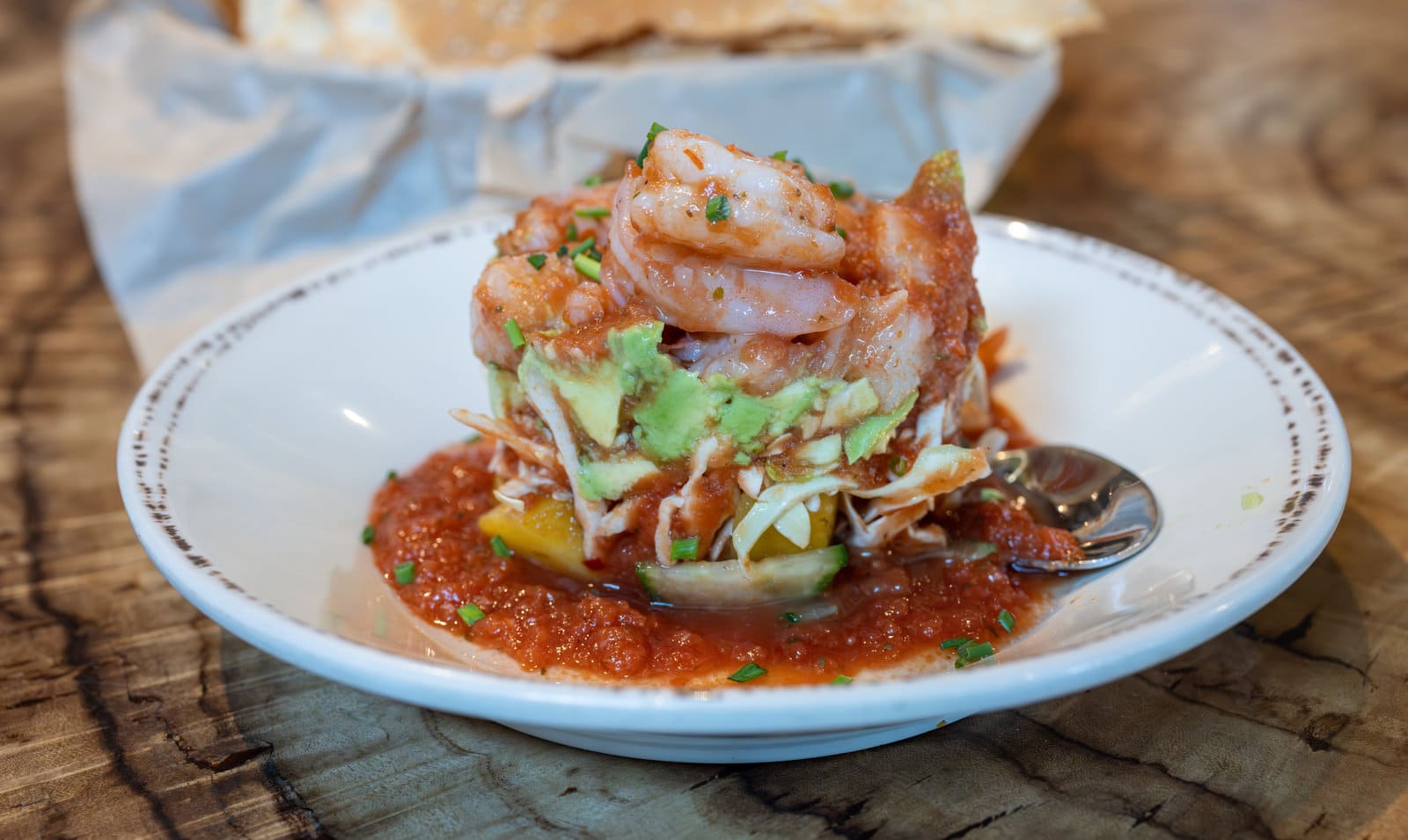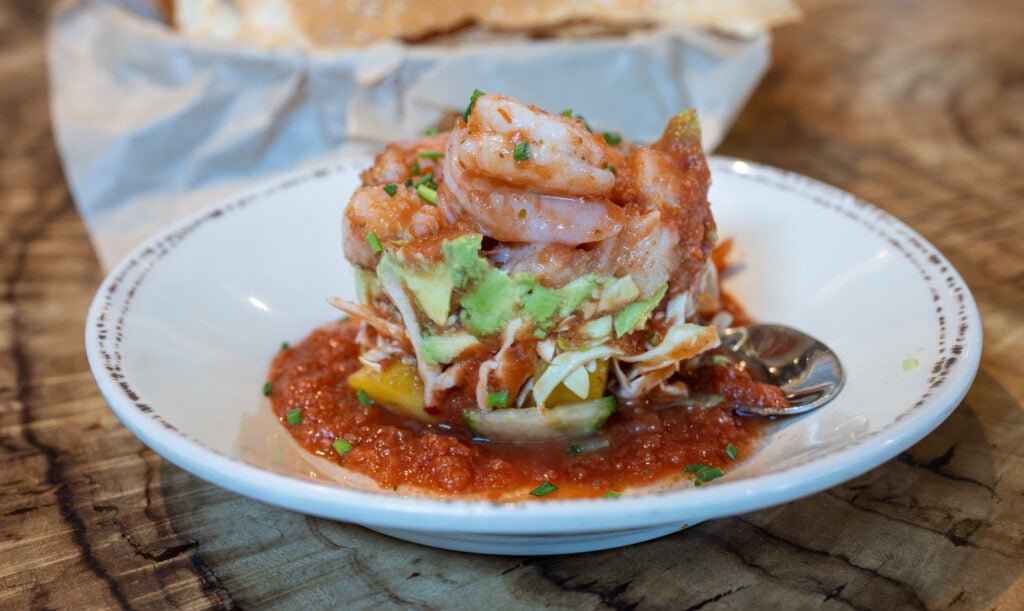 Each dish reflects Chef Art Smith's dedication to farm-fresh ingredients and traditional Southern cooking, from the decadent fried chicken and doughnuts to the savory shrimp and grits. The brunch experience is further elevated by a selection of craft cocktails, including mimosas and the restaurant's signature moonshine-based creations. With its inviting atmosphere and top-notch cuisine, brunch at Homecomin' becomes more than just a meal; it's a sumptuous event that's hard to forget.
Serving lunch, dinner, and weekend brunch.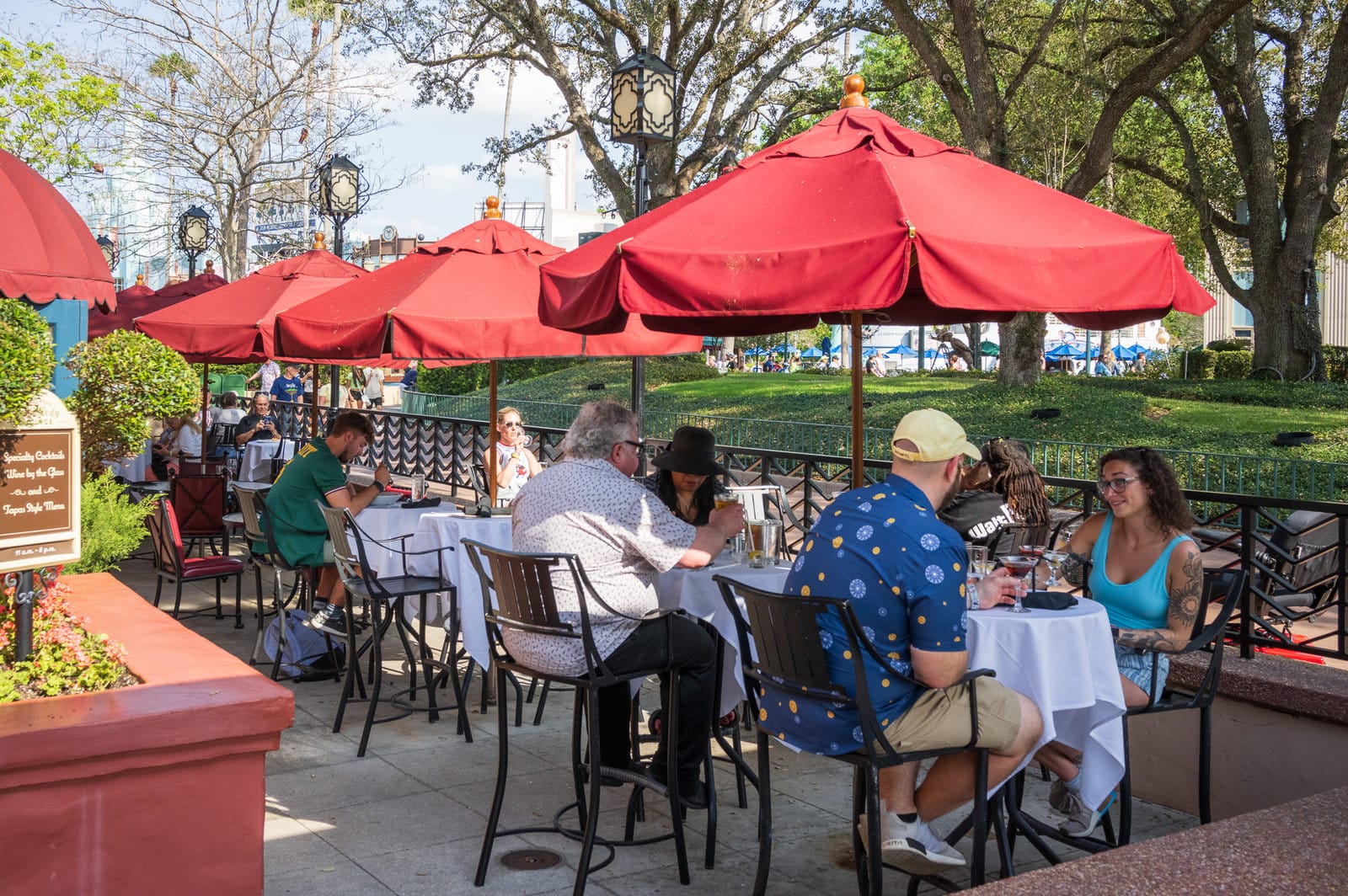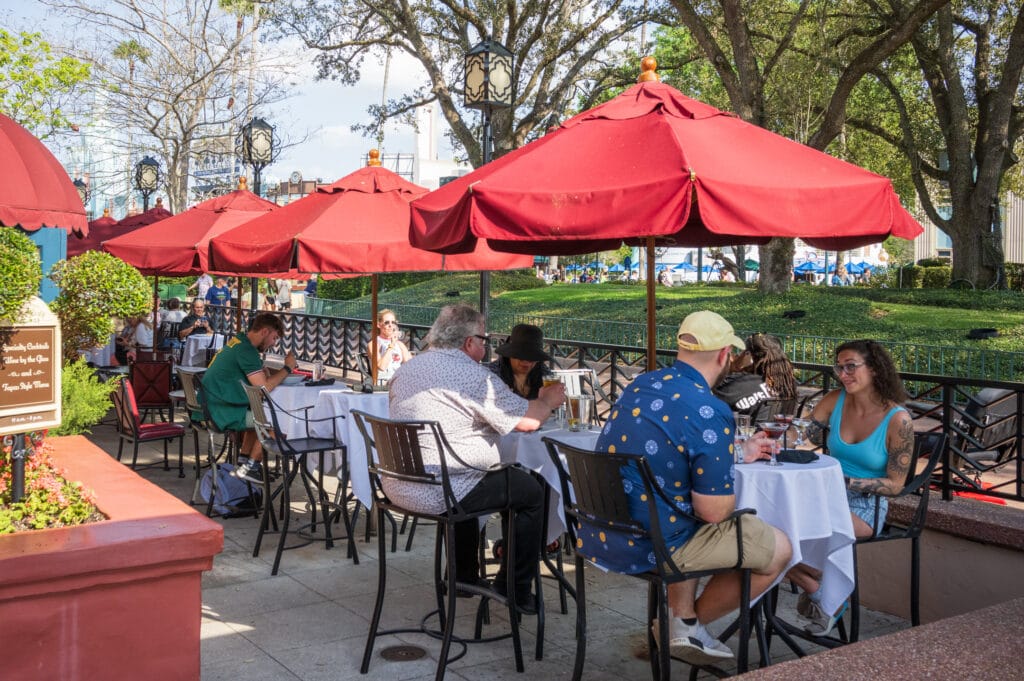 LUNCH/DINNER: HOLLYWOOD BROWN DERBY
The Hollywood Brown Derby at Disney's Hollywood Studios transports you back to the golden age of Hollywood, encapsulating the glamour and elegance of Tinseltown's heyday. Modeled after the iconic Los Angeles establishment of the same name, the restaurant exudes an air of sophistication, from its dark wood paneling to the caricatures of famous faces adorning the walls.
The menu is an ode to American fine dining, with the Cobb Salad and the Grapefruit Cake standing out as signature dishes that pay homage to the original Brown Derby. An extensive wine list and classic cocktails, like the Martini and the Old Fashioned, add to the sense of timeless luxury. Here, dining is not just about the food; it's an immersive experience that allows you to step back in time while enjoying a meal that meets contemporary culinary standards.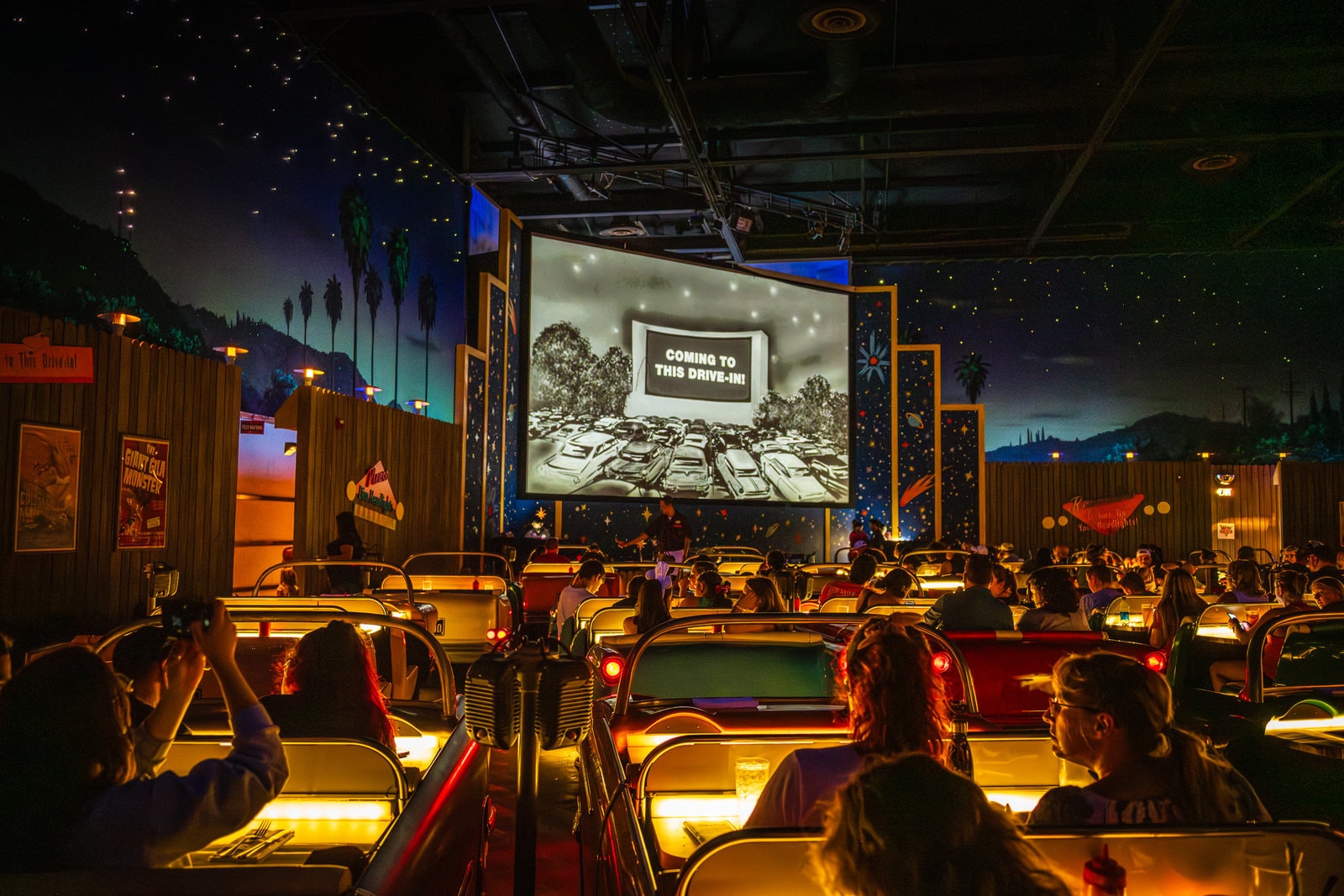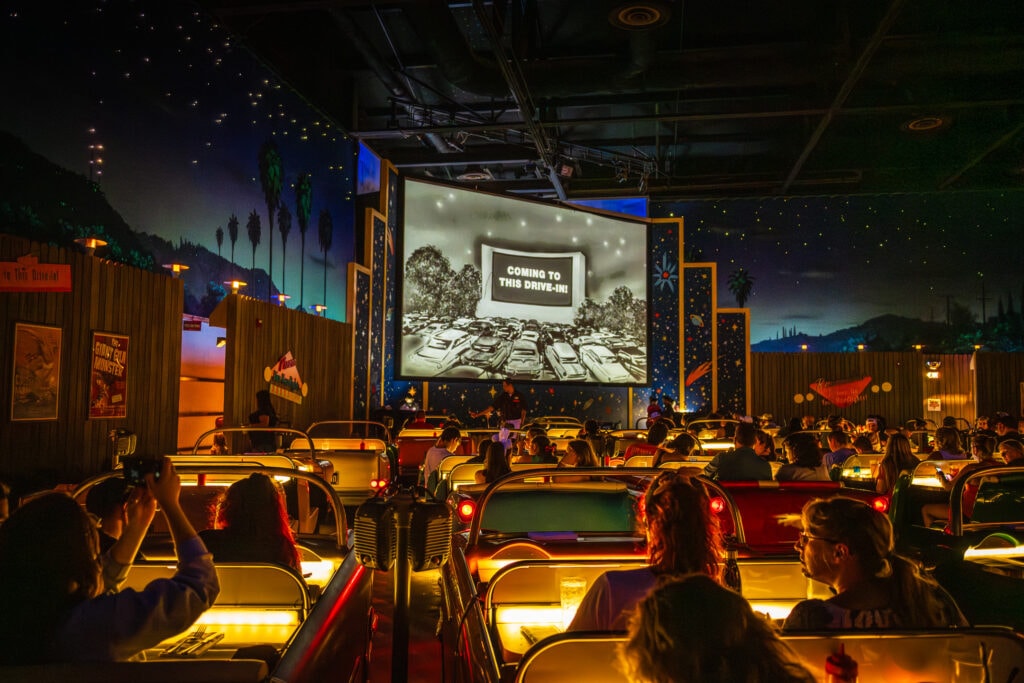 CASUAL: Sci-Fi Dine-In
For a romantic dining experience that is a bit less formal, try the Sci-Fi Dine-In at Hollywood Studios! Inspired by the drive-in movie theaters of the 1950s, these vintage automobile-style booths are the perfect place to cozy up and watch a show while enjoying your dinner.
The Sci-Fi Dine-In is continuously playing clips from sci-fi movies on the big screen. There are plenty of spooky scenes to enjoy together while sipping on some of the house cocktails, such as the Habanero Lime Martian Margarita. Each drink at the Sci-Fi Dine-In comes with glow-in-the-dark ice cubes and a unique and delicious cocktail.
Choose from burgers, turkey sandwiches, or a buffalo chicken salad for the main meal. For something sweet after the show, buy your partner a Sci-Fi Candy Bar.
Be sure to make reservations for the Sci-Fi Dine-In in advance to ensure you don't have a wait upon arrival.
FINE DINING: Victoria & Albert's
When it comes to luxury dining at Disney, Victoria & Albert's tops the list. Queen Victoria's Jubilee Celebration inspires every detail. A crystal chandelier adorns the ceiling, embroidery, and lace details line the fabrics, and Victorian-inspired murals hang from the walls.
Various culinary societies heavily award Victoria & Albert's. They have held the AAA Five Diamond Award since 2000 and the Forbes Travel Guide Five Star since 2018. Wine Spectator has also awarded Victoria and Albert the Best of Award of Excellence.
Victoria & Albert's food is modern American, with ingredients and influences from around the world. The menu is constantly changing to showcase the brightest seasonal flavors. The wine list features over 500 different wines from all over the globe- for a real toast to your love, consider splurging on one of their exceptional bottles from as far back as the early 1900s.
There are three experiences to choose from at Victoria & Albert's: The Dining Room, Queen Victoria's Room, or the Chef's Table. For a romantic evening, consider Queen Victoria's room. The dining menu is even larger than the Dining Room, and the ambiance is ultra-elegant. Only four couples can dine in Queen Victoria's room per night, so this is one of Disney's most intimate and romantic dining experiences.
Note – Advanced planning is important when planning your date night at Victoria & Albert's. Reservations are required, and the restaurant has a semi-formal/formal dress code.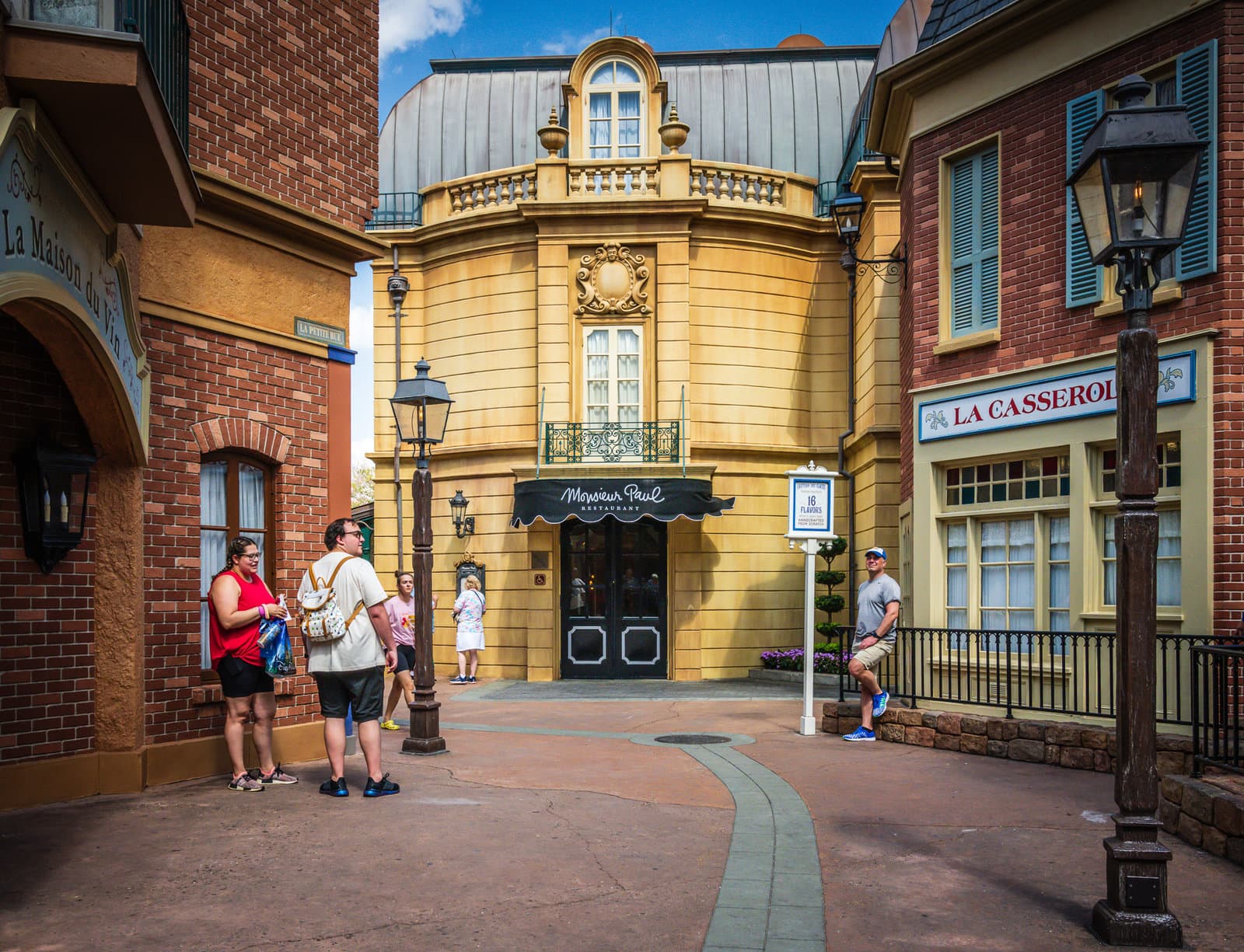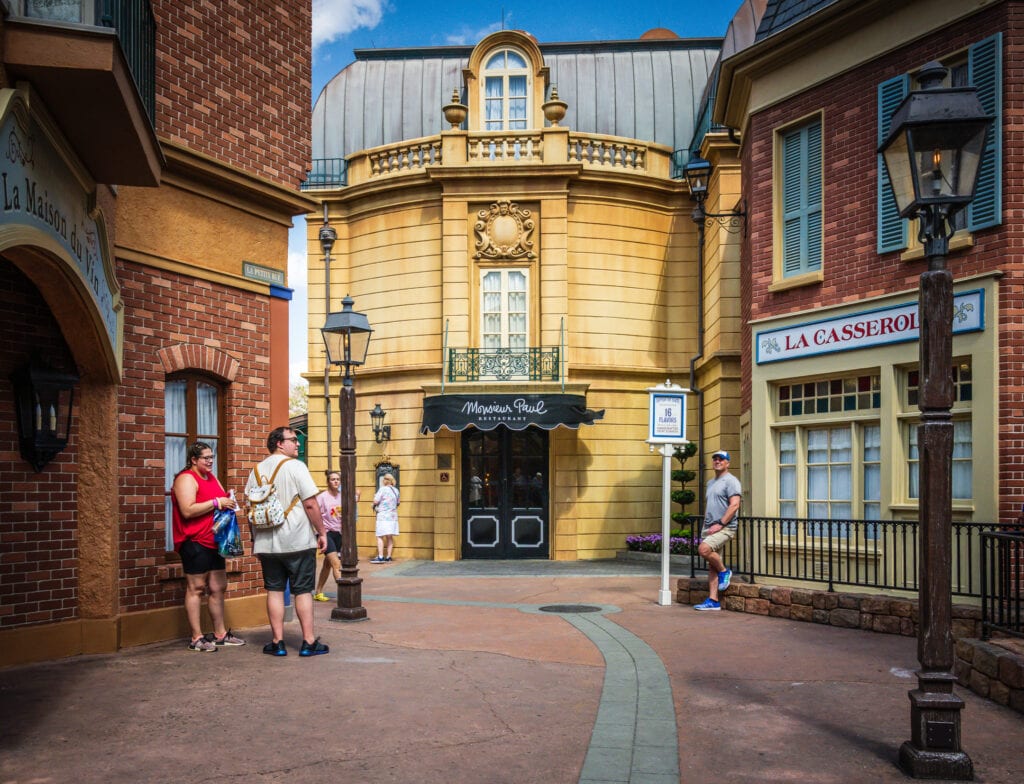 FINE DINING: Monsieur Paul's
Located in EPCOT, Monsieur Paul is dedicated to the famous cuisine of France. The creation of chef Paul Bocuse, the restaurant has been seated at the heart of the France Pavilion since 1982.
Monsieur Paul's is full of classic French design and colors. The architecture is elegant and modern. Tables next to the windows can be a rare treat, but they offer a lovely view of EPCOT.
You and your loved one will not need to fret about picking a good meal at Monsieur Paul's, as the menu is prix fixe. Each course is specifically selected to showcase the fresh flavors of the season. The recipes by Paul Bocuse and now his son, Jerome, have been passed down for generations.
Keep in mind reservations are highly recommended. You will want to book in advance to secure this experience. This restaurant is ideal for a romantic experience at EPCOT. Be sure to add on the wine pairing to complete the experience.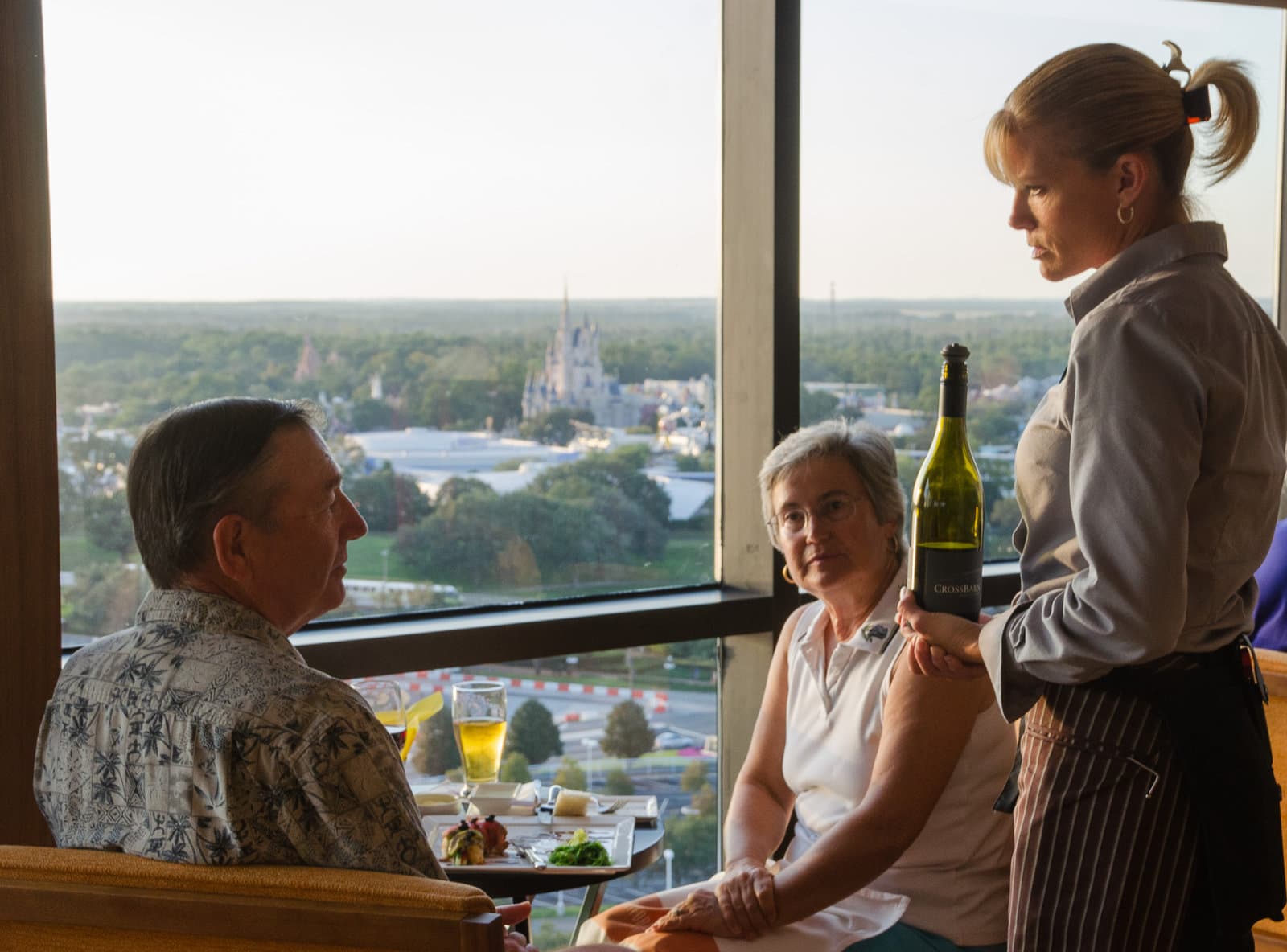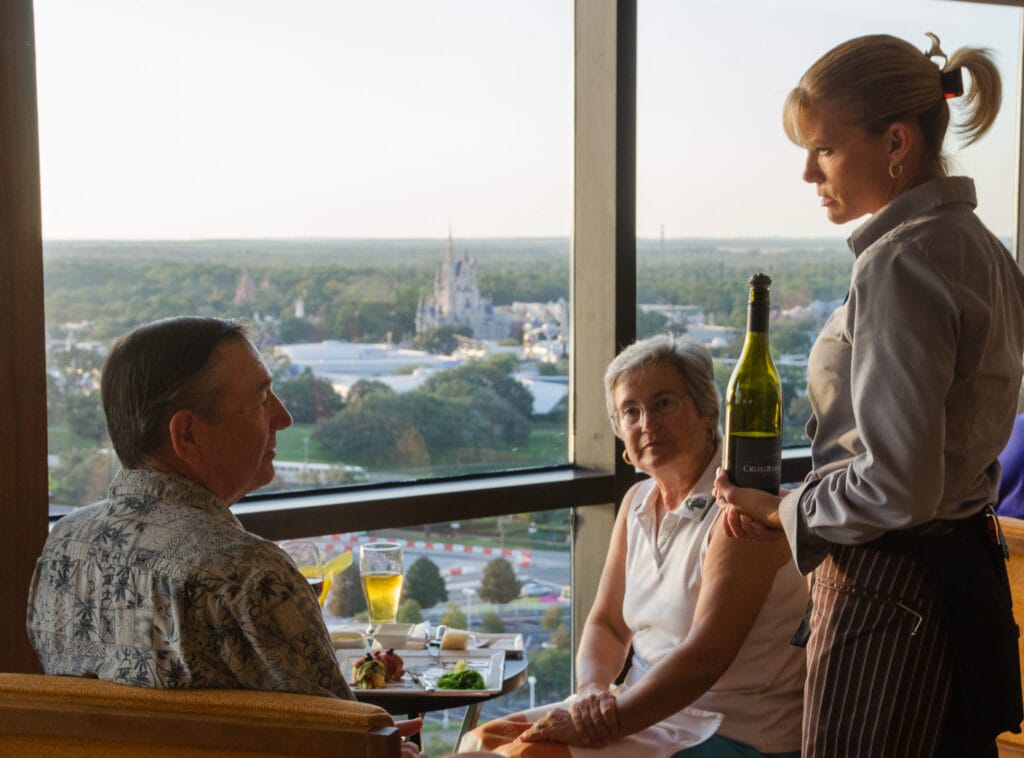 FINE DINING: California Grill
The California Grill is another outstanding date night option featuring the best of California cooking and a spectacular sunset view of the Magic Kingdom from its 15th-floor location. In the evening, this is one of the best spots to enjoy fireworks views together.
The California Grill is now featuring a limited-time 50th Anniversary of the Walt Disney World Resort Celebration Menu. This three-course menu features an appetizer course, an entrée, and a sweet dessert.
Start the meal with either the California grill sushi trio, plant-based veggie dumplings, braised short rib wontons, or a duck à l'orange pizza. The duck à l'orange pizza is inspired by a popular entrée from the Top of the World restaurant from their opening in 1971.
Your entrée course could be the oak-fired filet, grilled pork tenderloin, vegetarian-friendly bucatini cacio e pepe, or black grouper.
Finish off your meal with a sweet dessert of Grand Marnier Souffle or plant-based lavender sugar donuts. Each course is designed to be exquisite and thoughtful, perfect for you and your partner to enjoy together. Top the evening off with a California wine pairing- either a recommendation from a sommelier or a guided 3-course pairing with your meal is sure to delight.
FINE DINING: Topolino's Terrace
Topolino's Terrace is the showcase rooftop restaurant at Disney's Riviera Resort. If you opt to stay at Riviera Resort, you have to try Topolino's at least once. This French-Italian restaurant will charm you and your date with views and superb cuisine.
The details at Topolino's Terrace give all of the romantic feelings of the Riviera. The restaurant is located on the 15th floor of the Riveria Resort, showcasing unbeatable views and beautifully carved details and textures reminiscent of the ancient villages of the Riviera.
Topolino's Terrace features fresh seafood and meats, pasta made in-house, and delicious European-style desserts. Be sure to share a bottle of wine with your partner, as Topolino's features an impressive collection of Mediterranean wines to choose from.
Keep in mind this restaurant is very popular, and reservations are strongly recommended. The restaurant requests guests wear attire that suits the sophisticated aesthetic of the restaurant, so a nice outfit for your romantic night out is highly recommended.
FINE DINING: Coral Reef
The Coral Reef is a one-of-a-kind dining experience that you can't skip on your Disney World trip. Located in World Nature at EPCOT, you and your special someone can literally dine under the sea.
Each window in the restaurant faces out to the living coral reef right outside. The Seas is considered to be one of the biggest man-made ocean environments on Earth, with more than 2,000 different sea creatures and more than 60 species calling it home.
Watch the sea swim by as you dine, with sharks, rays, sea turtles, and all kinds of sea life right outside your windows! If you are lucky, you may even see a scuba-diving Mickey pass by.
The food is focused on globally inspired fresh seafood. The menu is seasonal, bringing the freshest flavors available forward. The lobster bisque is a must-try dish at the Coral Reef.
Just like Ariel and Eric, an exciting night under the sea is a romantic evening to remember. Finish off your meal right by sharing a sweet Chocolate Wave for dessert while enjoying the beauty of The Seas.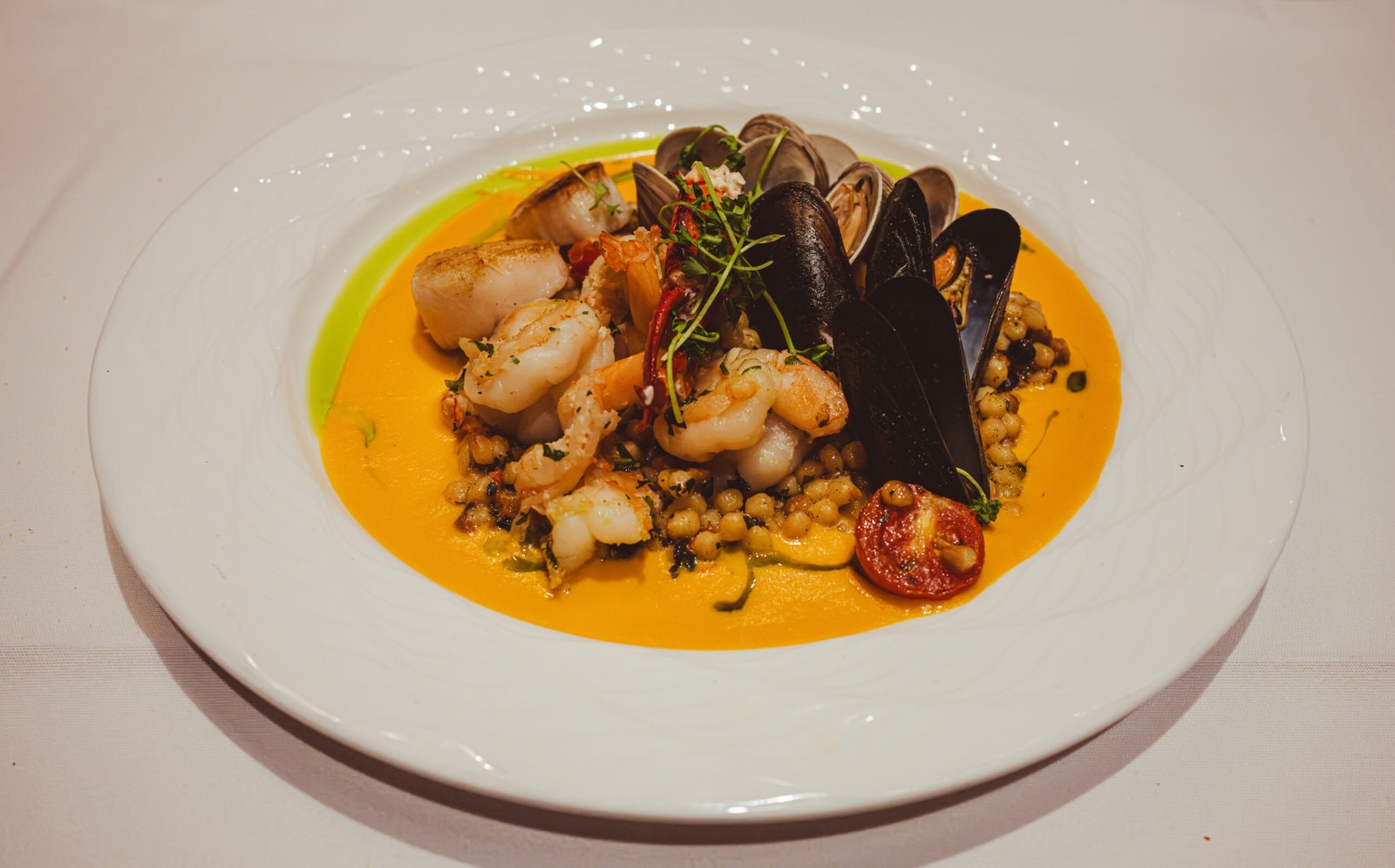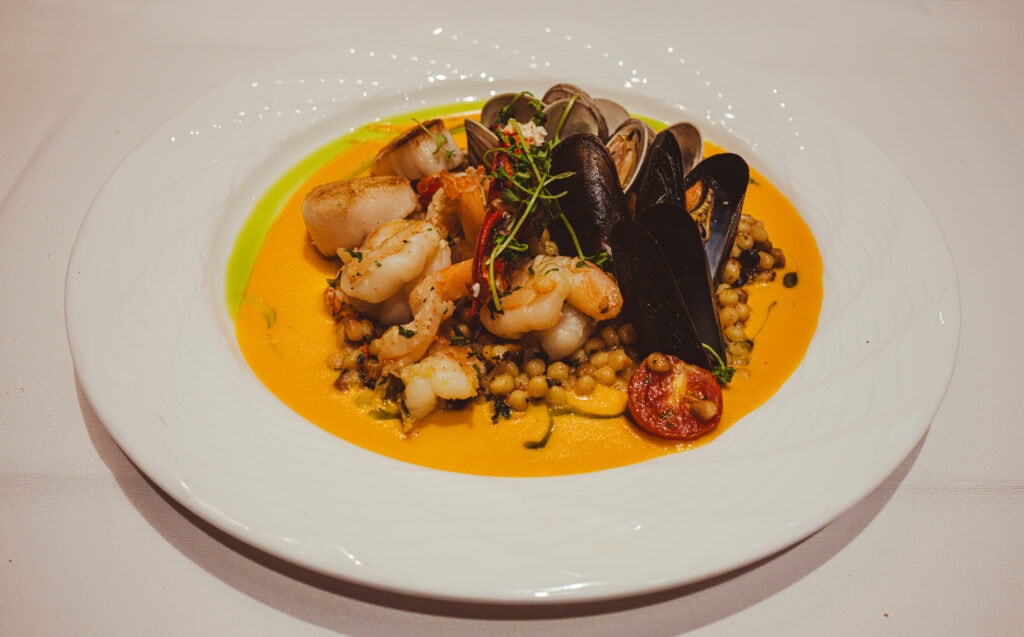 FINE DINING: Flying Fish
The Flying Fish, situated along Disney's BoardWalk, delivers an upscale dining experience with a focus on fresh seafood and seasonal ingredients. Known for its sophisticated atmosphere, the restaurant's design is influenced by the golden age of seaside amusement parks, complete with an open kitchen and an elegant, aquatic-themed decor.
The menu is a journey through oceanic flavors, featuring dishes that range from meticulously prepared crudos to sumptuous fish entrees cooked to perfection. With an exceptional wine list and a selection of craft cocktails to complement your meal, the Flying Fish offers a gastronomic experience that is both luxurious and thoughtfully curated.
Whether you're celebrating a special occasion or simply looking for an exquisite culinary outing, this dining destination aims to impress with its quality and creativity.
FINE DINING: Cítricos
Romance soars in Cítricos restaurant. Located in Disney's Grand Floridian Resort, Cítricos was recently re-imagined to emulate Mary Poppins Returns and the feeling of dining under the London sky. The dining room features motifs of butterflies and flowers to give the feeling of the garden scenes.
Chef Andres Mendoza has curated a menu of true Florida cuisine with a Mediterranean flair. Start your meal with a sweet corn bisque or a fresh strawberry salad. The butter-poached Florida cobia is a must-try entrée that you do not want to miss.
To seal the deal on your romantic outing at Cítricos, be sure to peruse the award-winning wine list. Sommeliers are on staff to help you find the right bottle to share or glass to enjoy.
Reservations are strongly recommended for visiting Cítricos. Remember to dress in a sophisticated style, as Cítricos does have a dress code like many fine dining restaurants.
More Romantic Weekend Getaways In Florida