Last Updated on April 15, 2021 by Editor
Location is just as important to dining as it is to real estate. This revelation came to me while at the newly remodeled California Grill atop Disney's Contemporary Resort in Orlando, Florida.
I was there with a group of journalists brought in to experience the Disney Golden Oak lifestyle. In a word–marvelous. Residents of the resort community call on a resident services team to arrange all kinds of special extras–anything from lawn care to hot concert tickets–and that includes hard-to-get dinner reservations at popular venues like the California Grill.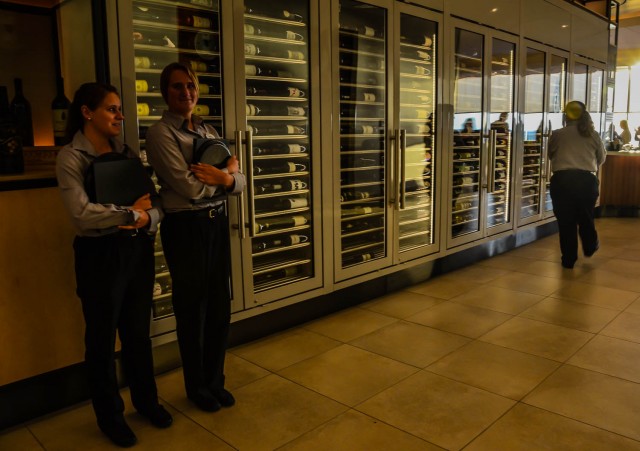 California Grill Experience
Stepping off the elevator on the 15th floor, the first item I noticed was a refrigerated wall of wine. The restaurants stocks over 300 hand-picked wine, many from from California, with over 50 available by the glass. Sommeliers are available to offer pairing suggestions, which is convenient in the face of so many choices.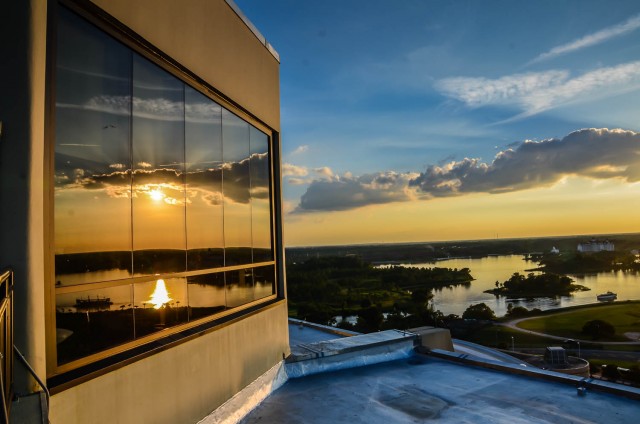 Entering the restaurant proper, I was struck by the view. Because it's located on the top floor of the tallest building as far as the eye can see, California Grill patrons have an unobstructed view through floor-to-ceiling windows of the Magic Kingdom's castle and Space Mountain, making this an exceptional spot to observe the fireworks at the Magic Kingdom. We were too early for the fireworks but instead saw another spectacle–a golden sunset that put man-made pyrotechnics to shame.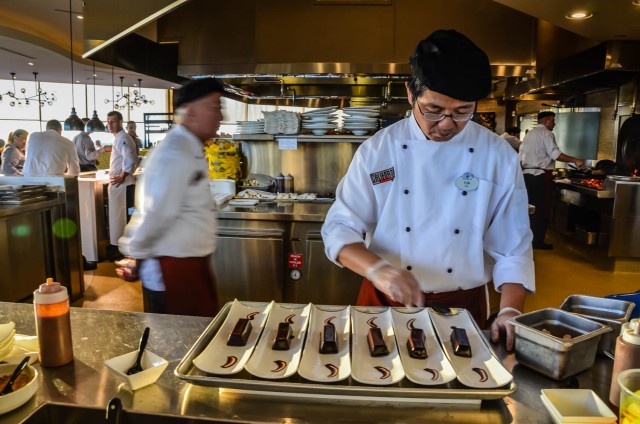 When I could tear my eyes from the view, I noticed the shiny new show kitchen at the center. We passed a number of food prep stations, including an intriguing sushi counter offering an Omakase tasting menu, but my eyes were immediately drawn to the desserts. One of the chefs was prepping a row of plates bearing Chocolate Pudding Cake, which looked almost too rich and pretty to eat. (See video for the recipe.)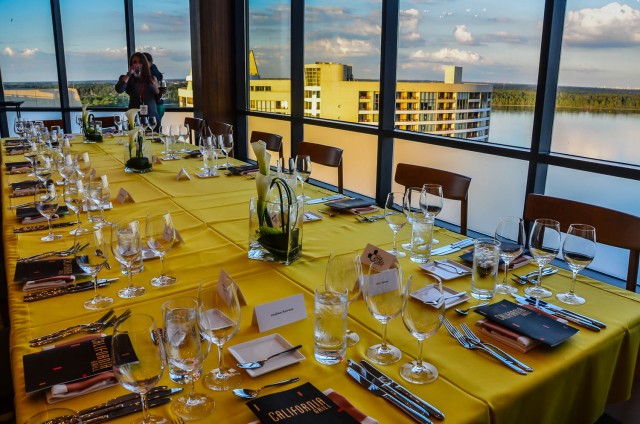 We were escorted to a private room, also with floor-to-ceiling window, looking out on the lush green space that Florida is known for. Few buildings dot that land, except for a terra cotta castle on the horizon that we were told will soon be the new Four Season Orlando. It was tempting to gaze out the window until dark, only a savory meal–perfectly complemented by new-to-me wines–and delightful conversation competed with the vista.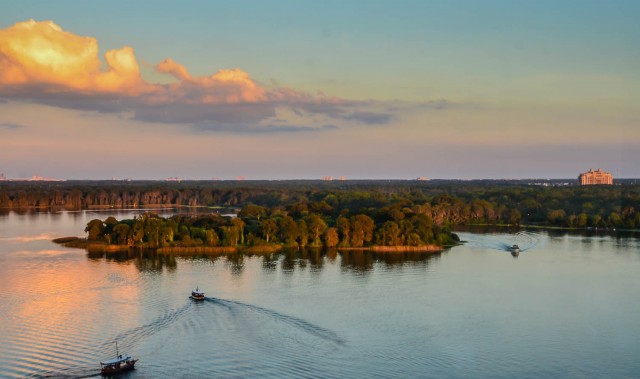 California Grill Wine Pairing Menu
Appetizer

Signature Three Meat Meatballs with Meyer Lemon, Lavender Mind, and Chimichurri Drizzle

Mini Spicy Kazan Sushi Bites with Scallops, Shrimp and Seared Tuna, Spicy Mayo and Micro Wasabi

Wine: Belle Glos Meiomi Pinot Noir, California Coast '12

Second Course

Individual Platters of Duck Charcuterie

Wine: Paul Hobbs "CrossBarn" Pinot Noir, Sonoma '11

Salad

Farmer Inspired Salad with a Honey and Sherry Vinaigrette

Wine: Cakebread Cellars Chardonnay, Napa '11

Sorbet

Pear Ginger Sorbet

Main Course

24 Hour Sous Vide Beef Short Rib…served with Red Curry Puree, Applewood Bacon, Brussel Sprouts, and Pomegranate Glaze

Wine: Tres Sabores Zinfandel, Rutherford '09
A word from the Getaway Mavens
This is the second of what will be an ongoing series showcasing wine pairing menus. After reading a number of pieces on wine tasting and wine pairing, I came to the conclusion that it would be much easier if I could see how others accomplish what seems to be equal parts science and art. We hope this will inspire your travels and/or home entertainment. At the very least, these posts should be good for vicarious pleasures. ¡Que aproveche! 
Many thanks to Disney Golden Oak for hosting my stay and this delicious meal!