Last Updated on
WHY GO: Boothbay Harbor, Maine was the first "off-Route-1 town" that became popular with tourists on the Maine Coast, and, centered in "Mid Coast Maine" is quicker to get to than Bar Harbor and Acadia National Park to the northeast.
Yes, tourists converge here in the summertime, but plan a trip in June, and you'll get the best of all worlds: temperate weather, phenomenal blooms, uncrowded attractions, and lower hotel rates.
There's a reason Boothbay Harbor and the adjacent Boothbay ME became so popular – collectively, it's stunning. So follow the Mavens' lead and head there late Spring.
Things To Do In Boothbay Harbor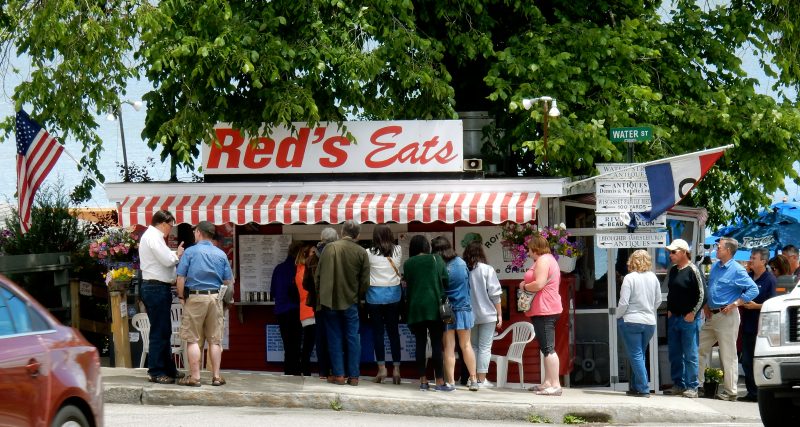 STOP: Wiscasset. From the south, you'll have to pass through this little town on Route 1 and cross the bridge before turning onto Route 27 to Boothbay Harbor. Most people stop for a lobster roll at Red's Eats or shop at cool stores like the new Birch Home Furnishings and Gifts.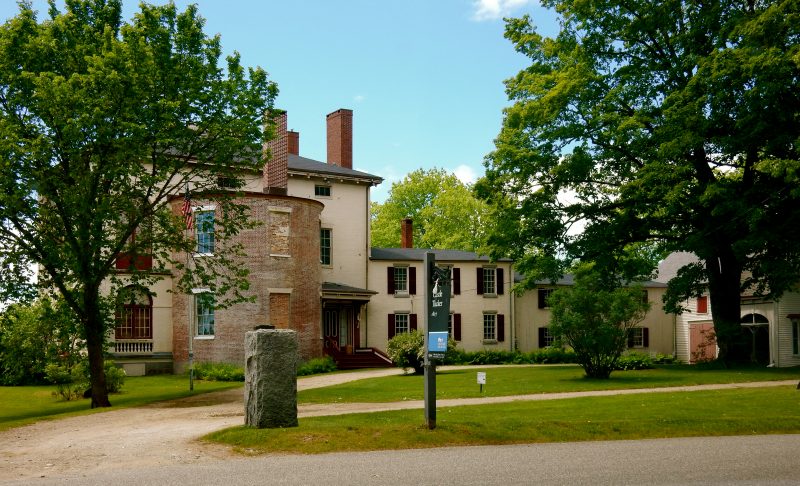 TOUR: Castle Tucker, Wiscasset. There are some quirky things to do in Wiscasset as well, such as a house tour of Castle Tucker, a home first built in 1807 with shipping wealth, added onto in 1866 at the wrong time with shipping in decline, and run as a boarding house when owners had to eek out a living.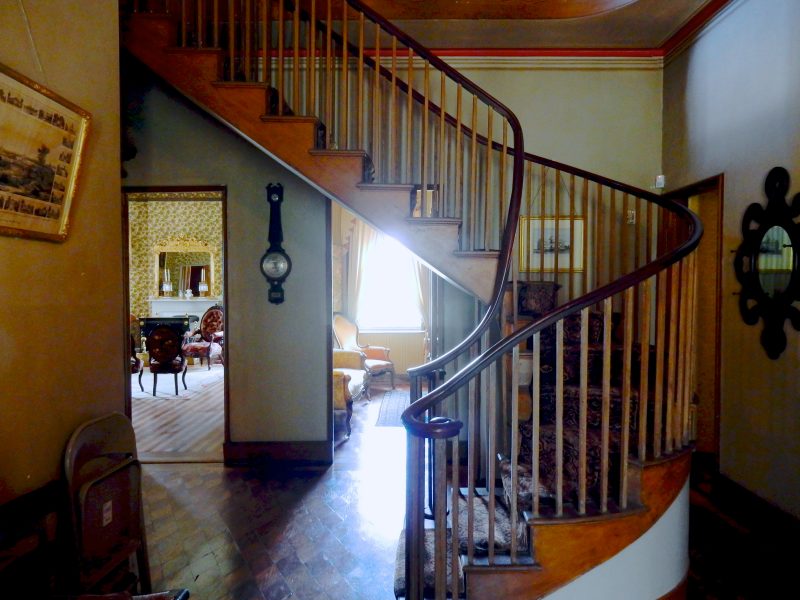 Castle Tucker, in fact, tells the story of a Wiscasset family, the Tuckers, and their rising and falling fortunes, through curious family artifacts and documents. Wiscasset was once the busiest harbor east of Boston, a deep harbor and huge shipping town. The original home – its center – was built with a Thomas Jefferson designed staircase. But the two semi-circular wings of the home, added in 1866, imbued it with a castle-like form.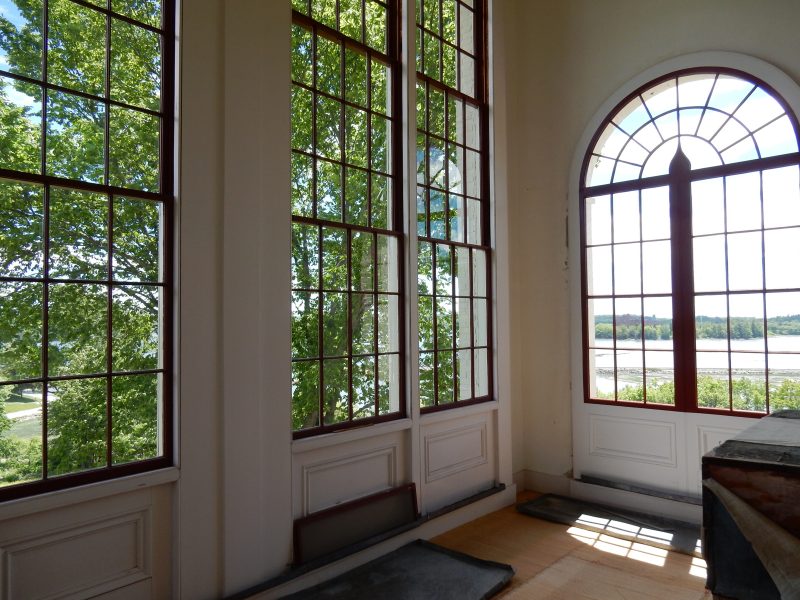 Filled with Victoriana and overlooking the water, Castle Tucker became a grand mansion after newlyweds Richard, age 42 and Molly Tucker, age 17, moved in, in 1858. Richard renovated and added wings using luxury materials – like the Black Walnut and White Ash for the diamond pattern parquet floors. The Tucker's raised five children here – two sons, and three independent daughters: Jane who acted in the Buffalo Bill Show, Patty, a published novelist in Colorado, and Jenny who lived in NYC and never married. When Richard's business nosedived, Molly opened their grand home to paying guests who would come from Philly, New York and Boston for the full Maine experience; three meals a day (but no indoor plumbing) included.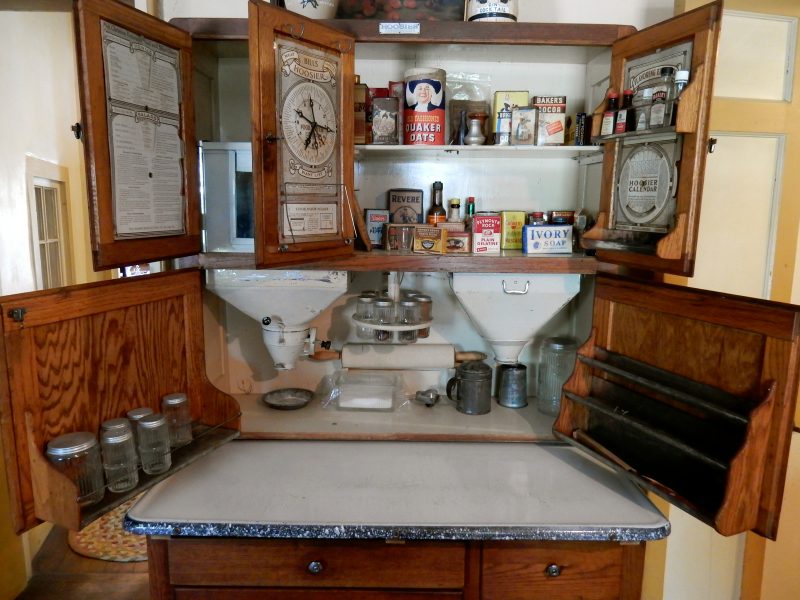 What makes this property so compelling is that it features all the furniture that Richard Tucker purchased for his bride in 1858 – collectively costing $797. You can peruse a copy of the bill of lading, some other furnishings that were gifts from an Italian Count, and a rare well-preserved 1921 Hoosier Cabinet in the kitchen, that no doubt worked overtime when boarders were in residence. The last Tucker granddaughter passed away in 2012, and the home has been open to the public for tours since then. Open June 1-Oct 15, Wed-Sun. 11-4, tours on the half our $8 adults, $4 kids.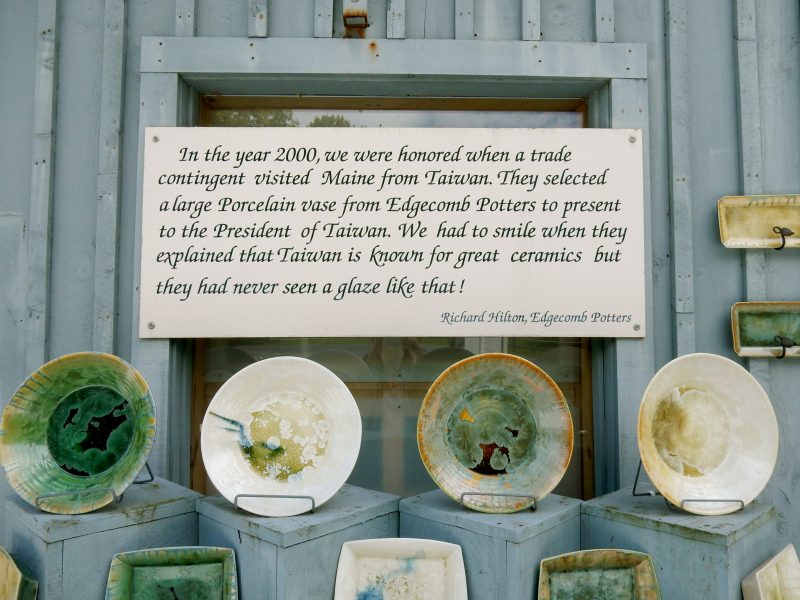 STOP: Edgecomb Potters. It's a 20-minute drive from Wiscasset to Boothbay Harbor on Route 27, so why not explore some worthy places along the way. One is the big multi-building pottery shop on the right hand side, an emporium of all things Crystalline Glaze (a specific glaze that creates a floral-pop pattern).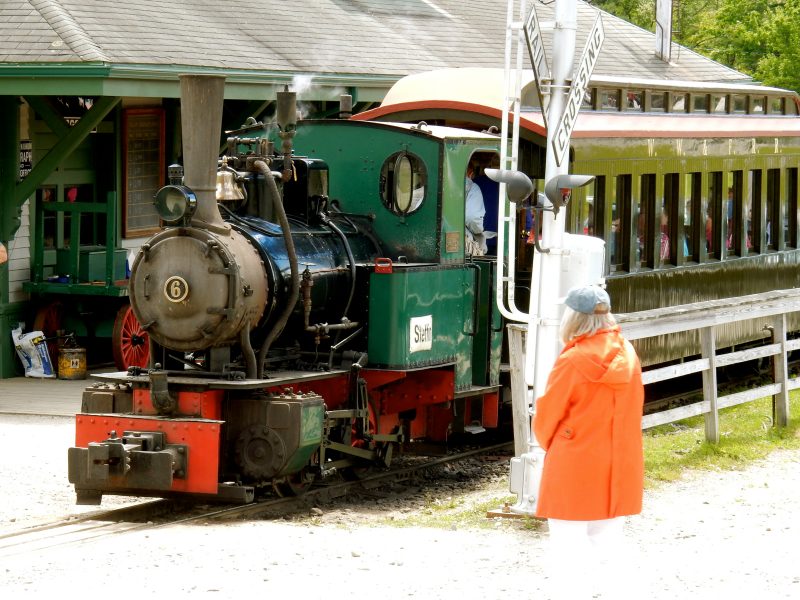 TOUR: Boothbay Railway Village, Route 27. So many people pass this place believing it to be a cheesy little train ride around a made up town, but none of that is true. The Railway Village is really worth an hour or two of your time for many reasons including the following:
Opened in 1965 by the still very much alive George McEvoy, a lover of historic preservation who as a kid worked at L.L. Bean during the summer loading catalogs on trains out of the 1912 Freeport Train Station, Boothbay Railway Village operated as a private enterprise until 1981 when it became a non-profit. McEvoy rescued the Freeport Station – the first building to be relocated here, shipped in pieces – to start Maine's very first railroad museum. There are two-dozen buildings on site, clustered around a narrow-gage railroad track that McEvoy himself installed.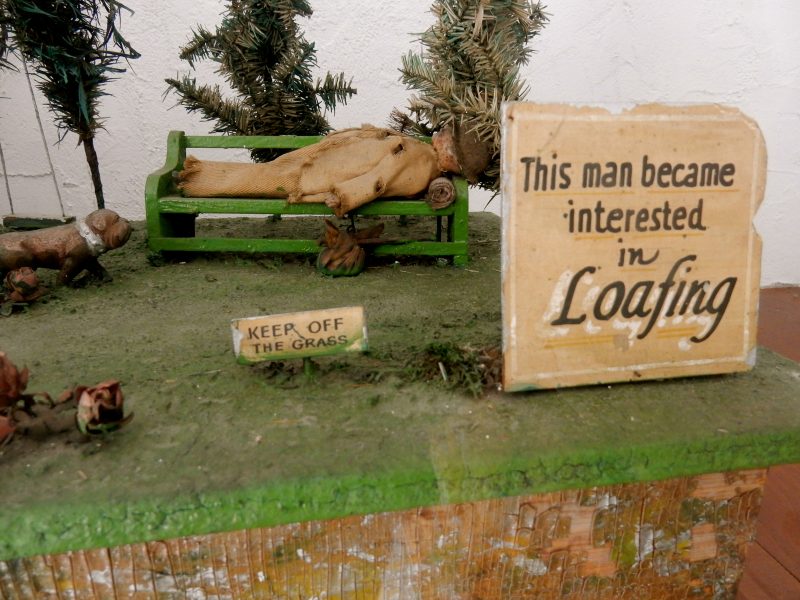 Each historic building holds some weird treasure, such as 1920 "Mechanical Parables" – tiny dynamic tin dioramas that traveled with carnival sideshows. Push the button beneath each one and they move – like the "breathing" vagrant asleep on a park bench.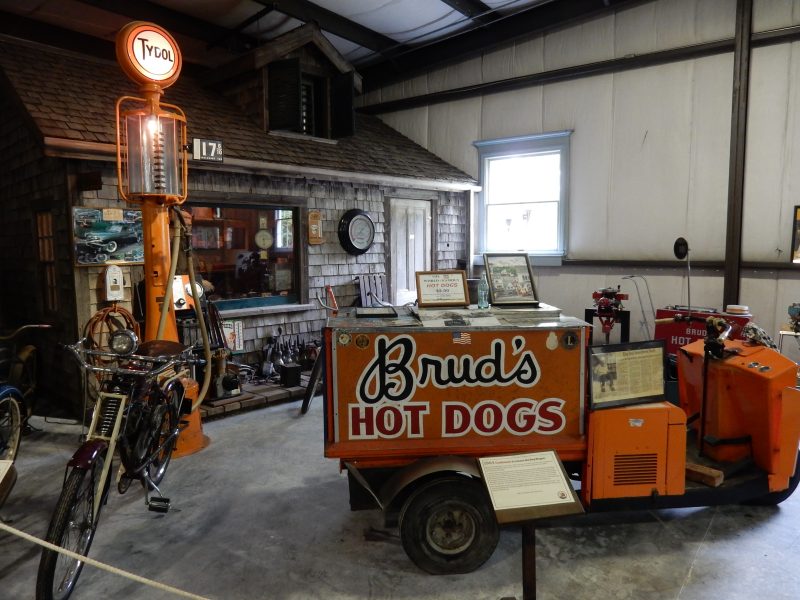 Among the 60 cars and fire trucks in a large pavilion is the limo that belonged to Thomas Edison's widow (with a red chauffer call-light on the roof), a pink 1957 Thunderbird – one man's gift to his wife – a 1926 Boothbay Harbor Register Newspaper truck, and Brud's Hot Dog Cart. Brud was a Boothbay "institution," who served up franks in good and bad weather for six decades (1943-2003).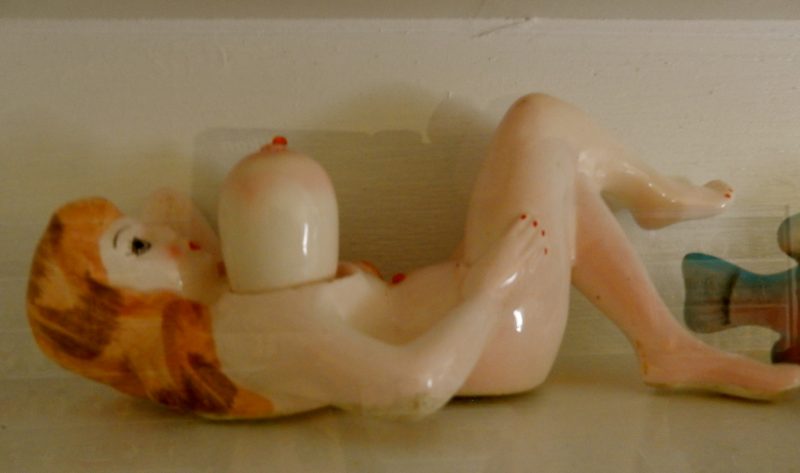 A Salt and Pepper Shaker exhibit with "naughty" and inappropriate (in today's society) versions of the popular traveler's collectable. Blackface mammies, "Indians" with tomahawks, and size XXX breasted women are interspersed between less offensive ones.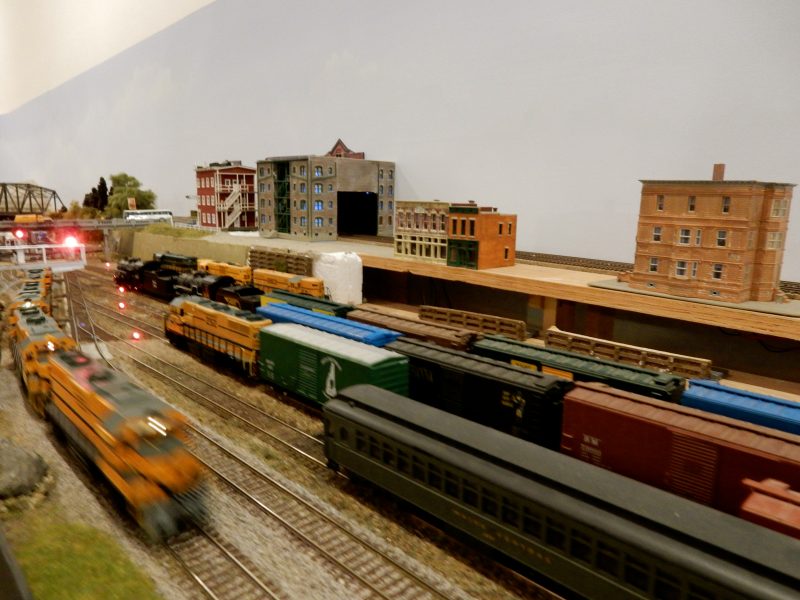 The rare narrow gauge model train diorama is a marvel, with computer switch system that works like the real thing.
The Spruce Point Chapel, built by a businessman who wanted his employees to go to church – but not his – was moved here in 1990's and is now a favorite wedding venue.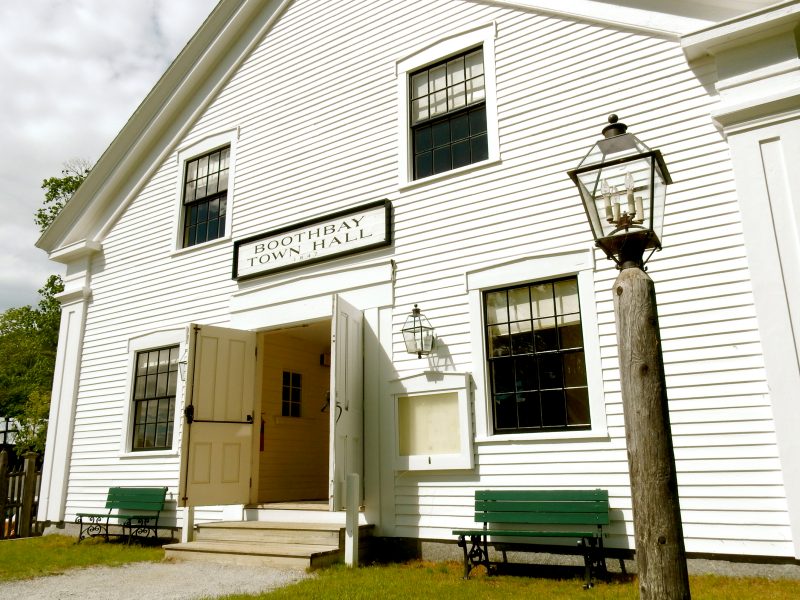 The original Boothbay Town Hall, built in 1847, is still in use for Town Hall Meetings.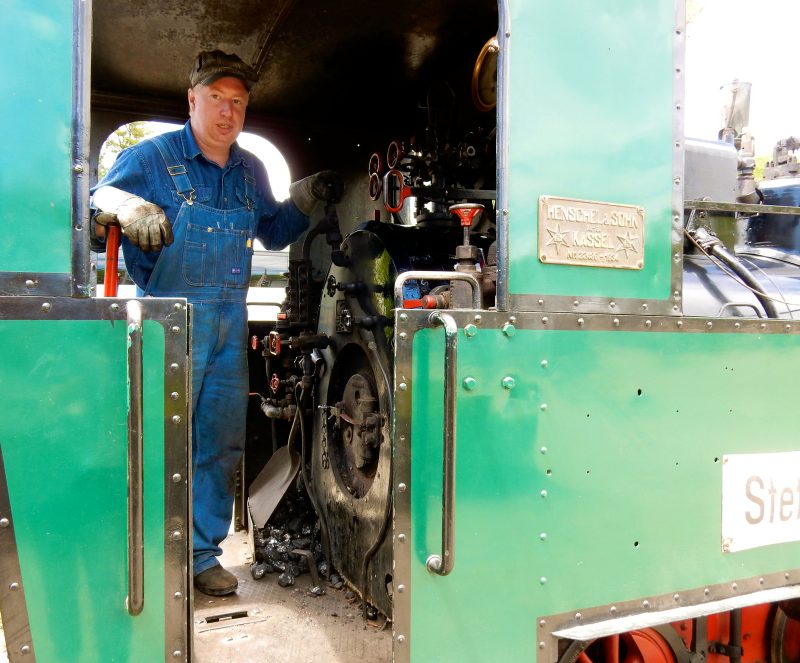 The small, coal-powered train runs many times a day during the summer season and is still stoked by a strong and most likely very hot human. Open end of May to Mid October, daily 10-5, $12 adults, $6 kids.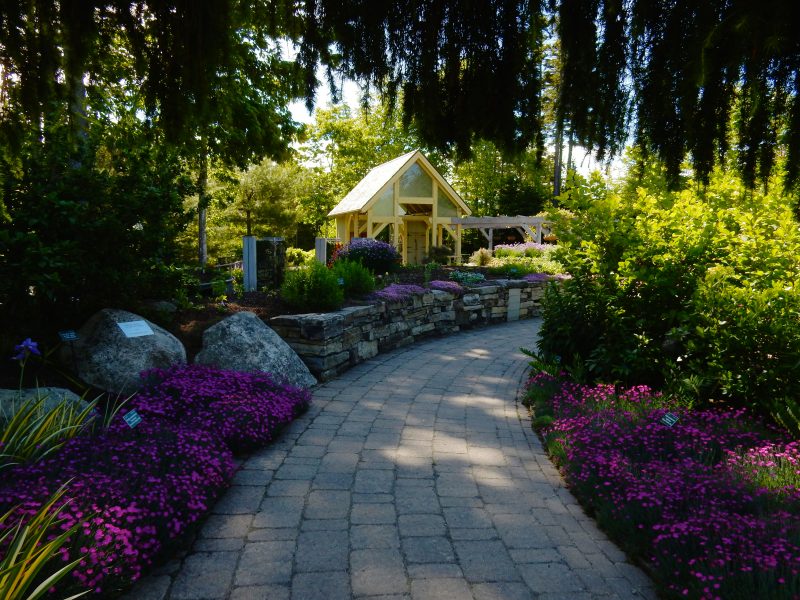 GO: Coastal Maine Botanical Gardens, Boothbay. It will take a good 2-3 hours to wander the trails of this spectacular 270-acre garden complex, and totally worth it. Begin in the Visitor's Center and walk out to your left. There, you'll find the Lerner Garden of the Five Senses – a collection of flora you'll be enticed to smell, nibble, and of course, gaze upon. There are benches, fountains, and sculptures galore as you wander the paved stone path.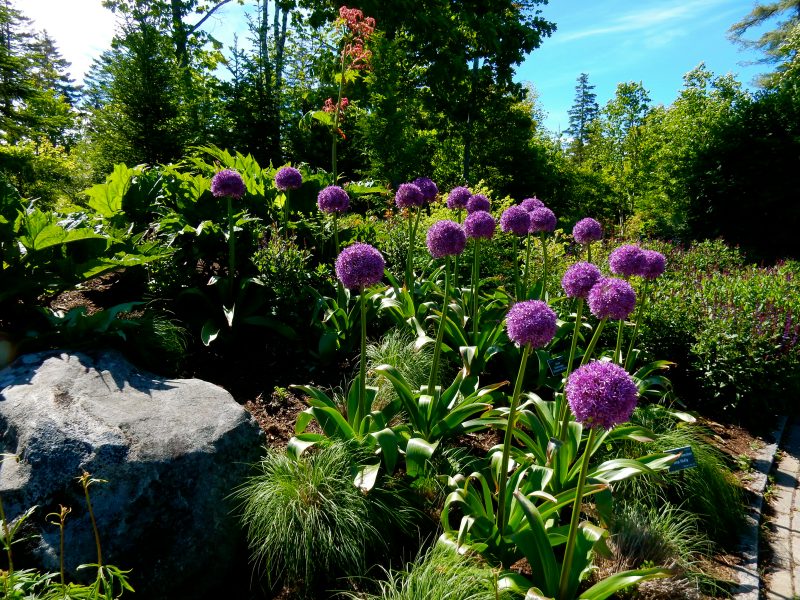 Continue on to the Woodland and Pond Gardens, passing strangely named plants such as "Shrubby St John's Wort," "Cut Leaf Prairie Dock," "Brunette Bagbone" and the aptly named Floppy Evergreens.
At the bottom of the hill, overlooking the water, you'll find a Stone Meditation Garden – a great place to pause to contemplate the beauty of the hand-hewn rocks.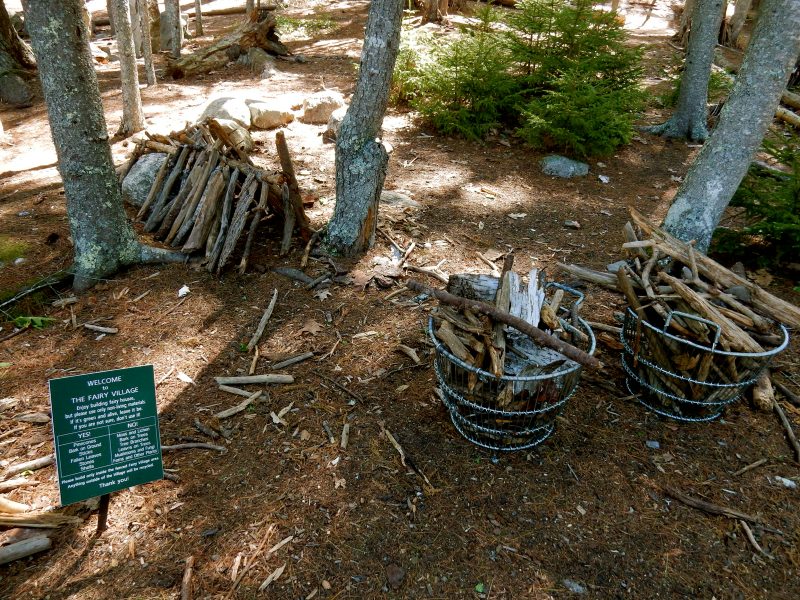 On to the Fairy Village, where most days you'll find busy kids constructing tiny homes made out of the twigs, bark and other materials left in baskets precisely for that use. Near here, the Botanical Gardens pier juts out into the Black River, and you can arrange to take a river tour on the resident boat.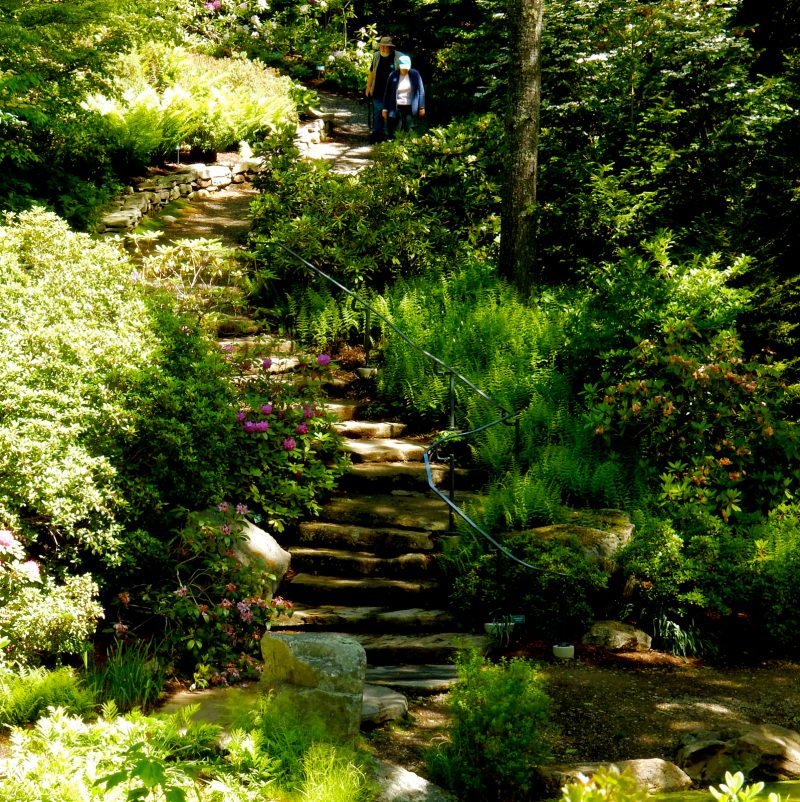 From the pier, continue uphill and follow signs for the Rhododendron Garden – a spectacular enclave you won't want to miss. This sunken garden, with rock ledges and waterfalls, is a photographer's (and artist's) dream, especially in late May and early June when the Rhody's are in full bloom.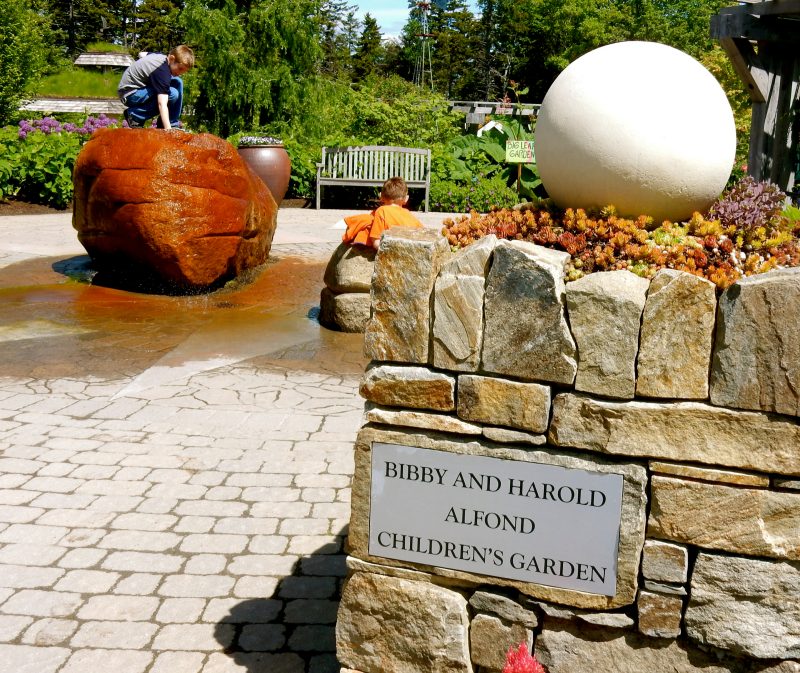 Before you exit the Gardens, plan to stop into the Children's Garden, even if you don't have kids. There's a maze, a pond, plenty of child-sized shovels, hoes, and watering cans, a little playhouse and staff to teach the rudiments of gardening. Open Mid April – Oct, 9-5 daily, $16 adults, $8 kids.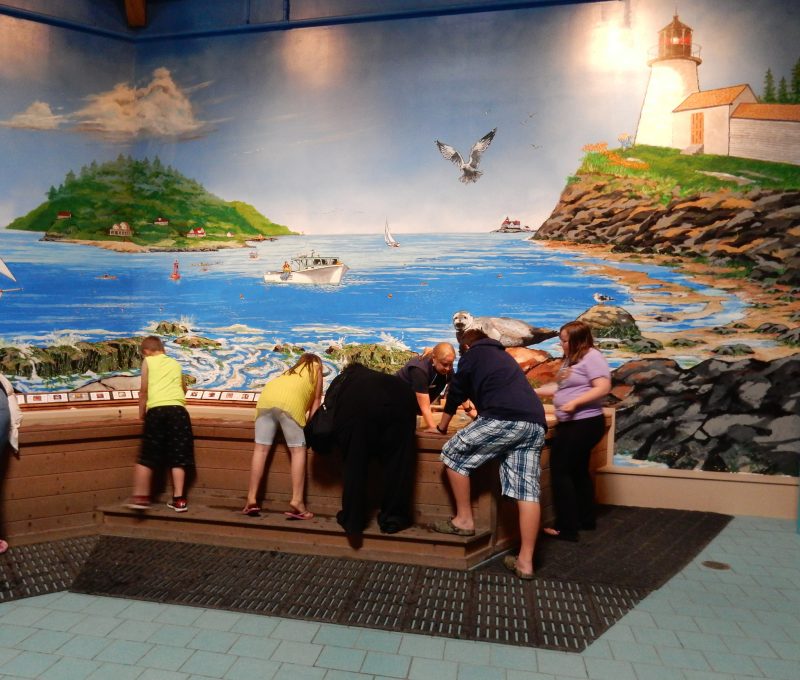 VISIT: Maine State Aquarium. This small but fantastic aquarium was the brainchild of educator and biologist, Elaine Jones, who serves as Director. First opened on the fishing docks in 1915, the Aquarium was moved to this bright new building in 1995 after Jones and her husband came up with the design for optimal guest interaction.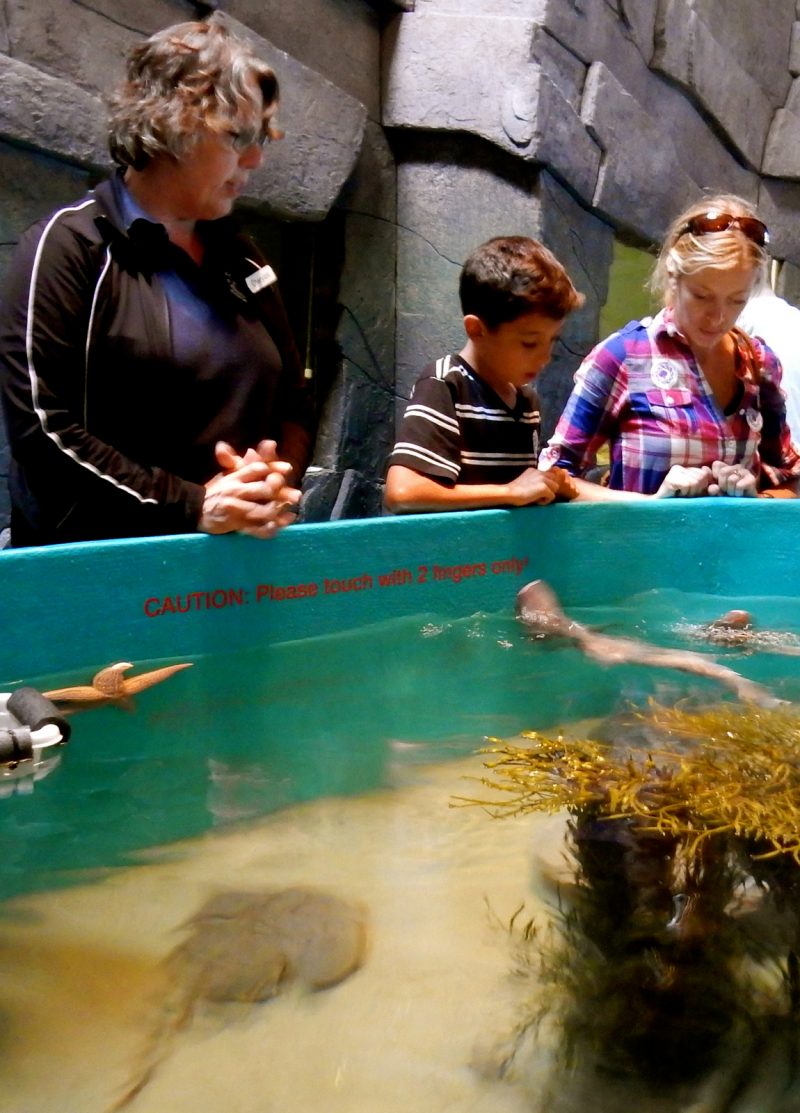 There's a touch tank with small sharks that seem to purposefully come to the surface to be petted, and odd creatures caught in commercial fishermen's nets (they know to call Jones when they find something weird).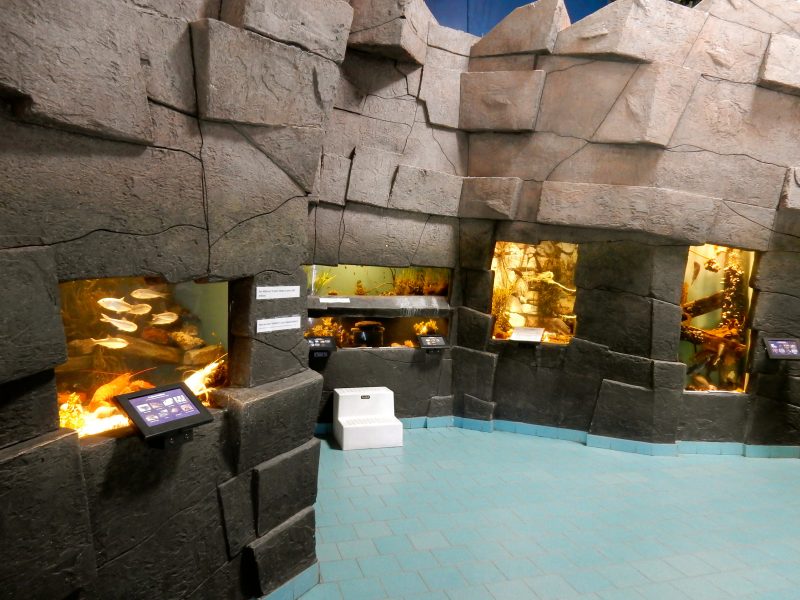 Be sure to stay for feeding time, when you can witness fish and lobster in small, clear glass tanks munch on lunch. There's nothing so mesmerizing as watching lobsters methodically stuff raw fish into their strange mouths using their smaller, unbanded claws. Open end of May through late-Sept, daily 10-5, closed Mon/Tues in Sept. $7 adults, $3 kids.
HARBOR TOUR: Novelty – Ferry to Squirrel Island. Why take a tour boat when you can ride with the locals? This ferry trip also offers narrated tours of Boothbay Harbor, but you could be riding with workers carrying ladders and lunchboxes, or the locals with homes on Squirrel Island – a better deal for people watchers.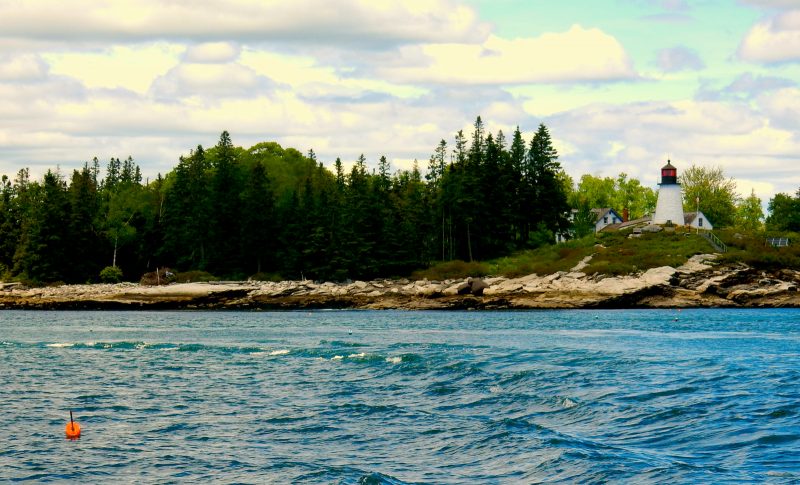 You'll get a gander at harbor-side hotels – Rock Tide, Browns, etc.- marinas like Carousel, where parts of the movie Carousel were filmed, Burnt and Cabbage Islands, and other ships in this protected harbor. The Novelty also takes visitors to Burnt Island two days a week in July and August for a 3-hour "Living History" tour of the Burnt Island Lighthouse, complete with costumed interpreters; a "step back in time" to the 1950's. Novelty runs March – November – $18 adults, $9 kids, check website for schedule.
TOUR/PUFFINS: CAP'n FISH's Audubon Puffin Watches. These 2 ½ hour cruises are offered June-August on select days only – and VERY popular. The boat heads out to Eastern Egg Rock – the closest Puffin colony to Boothbay Harbor. Wed, Fri Sun at 10am, Tues 1pm. $35 per person.
STROLL: 1901 Foot Bridge. This much-photographed wooden pedestrian bridge connects East to West Boothbay Harbor, and is a glorious place to be when the sun sets.
SPORTFISHING: With Dan Stevens. Only six people at a time can go out on Dan's 28ft custom fishing boat, Blackjack – a perfect number if you hate crowds. He runs four hour tours twice a day in pursuit of Stripers and Mackerel. $80 per person includes tackle.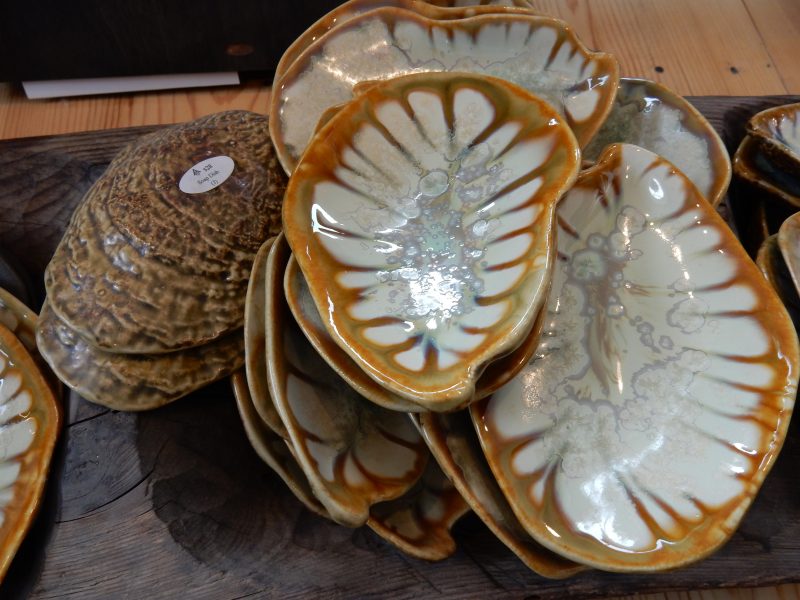 SHOP: Alison Evans Ceramics. You'll find this RISD grad's ceramic creations around the world, but stop into her Boothbay Harbor shop, and Alison in person is here to greet you. If you are a foodie, her work might look familiar: Evans makes the tableware for Hugo's and Eventide in Portland ME, and in New York, her Oyster Dishes and other cool creations are sold at ABC Home and Bunny William's Showroom. My choice here for a house or wedding gift: the beautifully boxed "Oyster Lovers Gift Set," which comes with an AE signature oyster platter, shucking knife, glove, towel, recipes and more ($227).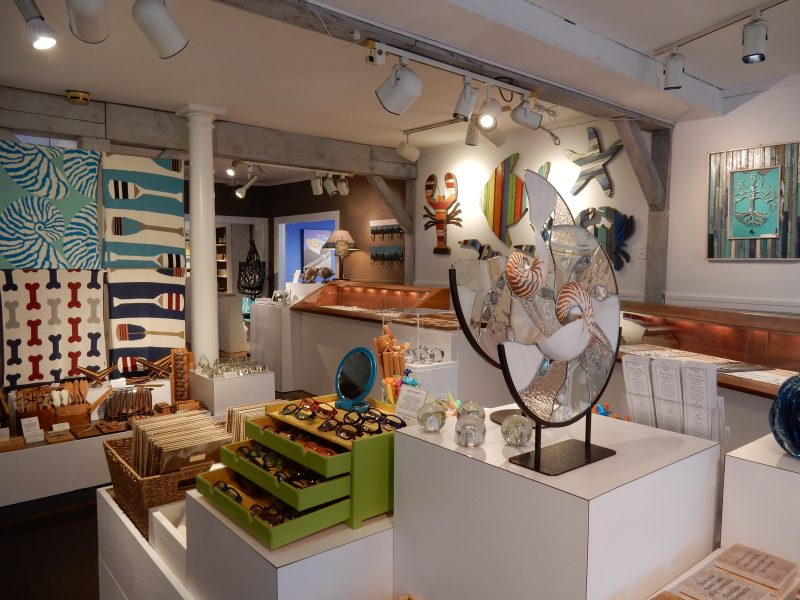 SHOP: Abacus. Though there are outposts all over Maine -Ogunquit, Freeport, Kennebunk, and Portland – Abacus first opened in Boothbay Harbor 45 years ago. Browsing the theatrical, whimsical collection of unique housewares is free, though I do believe you'll be tempted to purchase a thing or two. My favorite; wildlife images on original 1870 Webster Dictionary pages.
Restaurants In Boothbay Harbor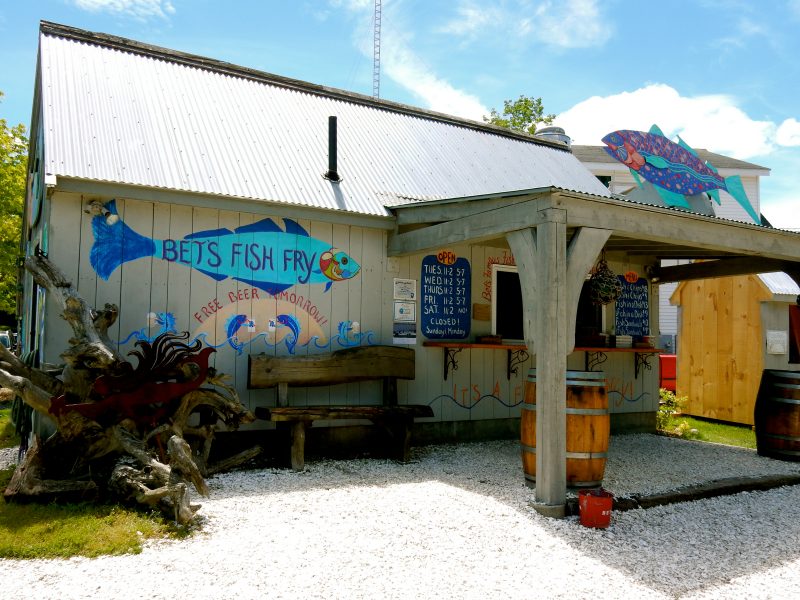 EAT: Bet's Fish Fry. From her well-known bright blue shack on a busy street, Bet sells one thing and one thing only – Fried Haddock. But it's the biggest, freshest piece of fried haddock you'll ever gobble up. The "half portion," which comes with a side of fries, is as big as a huge dinner plate and costs just $9. Bet used to have her own fishing boat, but this place became so successful (for good reason), she's here full time. And she's a trip!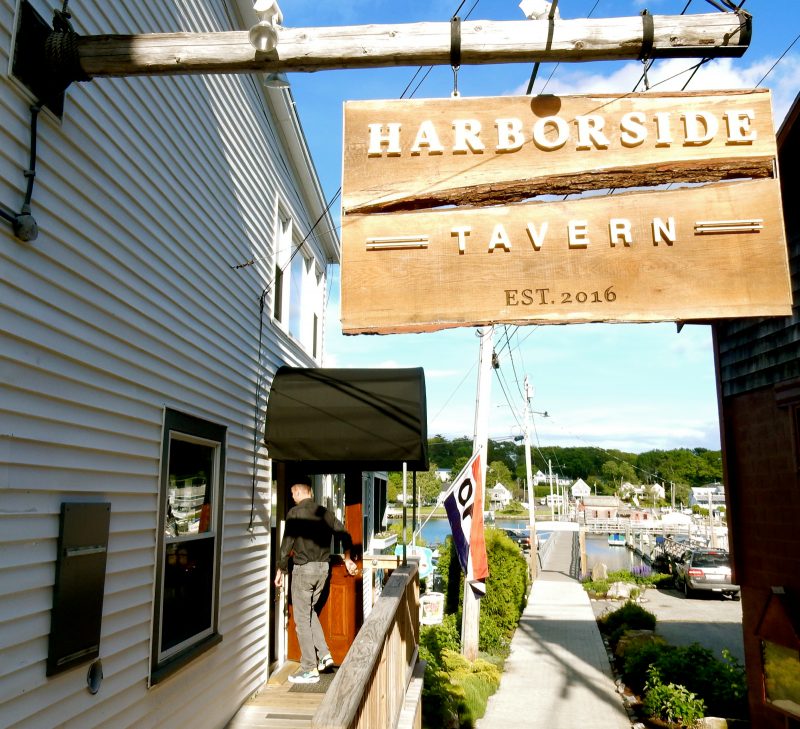 EAT: Harborside Tavern. New young chef, Fiona Dunlap, took over what was known as Andrew's Harborside last year and made it her own. Though still casual, it's been refreshed and so has the food; Seared Scallops ($27), Chicken ($21) and the like are very good, and the vibe is fun and congenial.
EAT/ISLAND: Cabbage Island Clambakes. For $62 you get several Maine experiences in one: a boat ride, an island visit, and a full, uber-local meal cooked right on site. Offered from mid-June to early Sept, once a day during the week and twice a day on weekends, these slots fill up quickly, so reserve far in advance.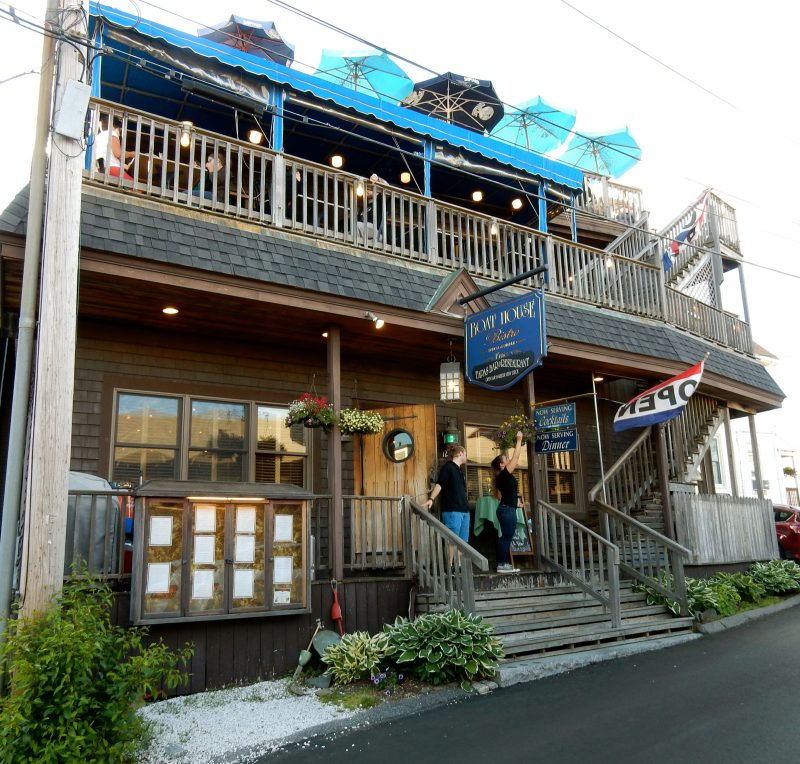 DRINK: Boat House Bistro. The roof deck provides a terrific view of the harbor. And, dogs are allowed!
Hotels In Boothbay Harbor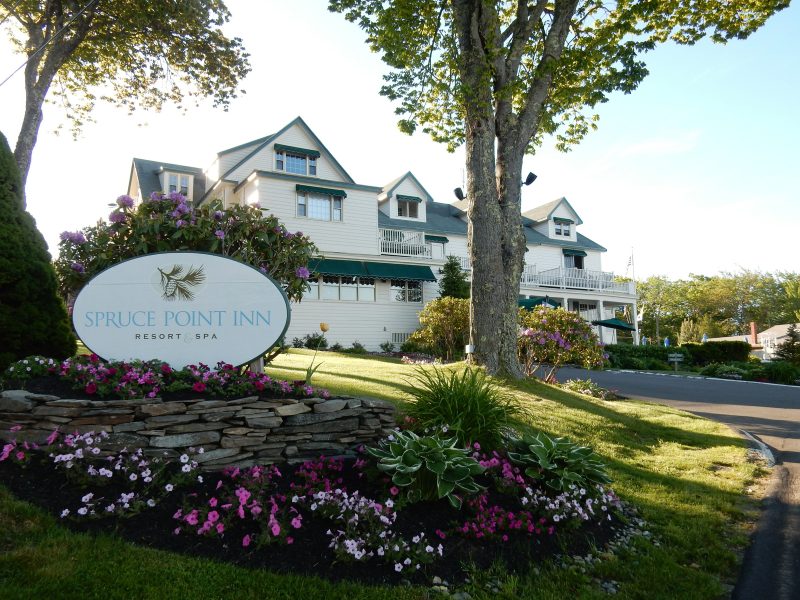 STAY: Spruce Point Inn. Spruce Point was never a totally laid-back, feet in the dirt, flip-flop kind of casual Maine Family Resort. A favorite of the Kennedy's and Ernest Hemmingway, Spruce Point was perennially spruced up for down-staters who searched for a certain kind of rustic comfort. Though rooms differ, most sport traditional Maine Shore from another era décor updated for today's travelers. READ THE FULL COVERAGE OF SPRUCE POINT INN HERE.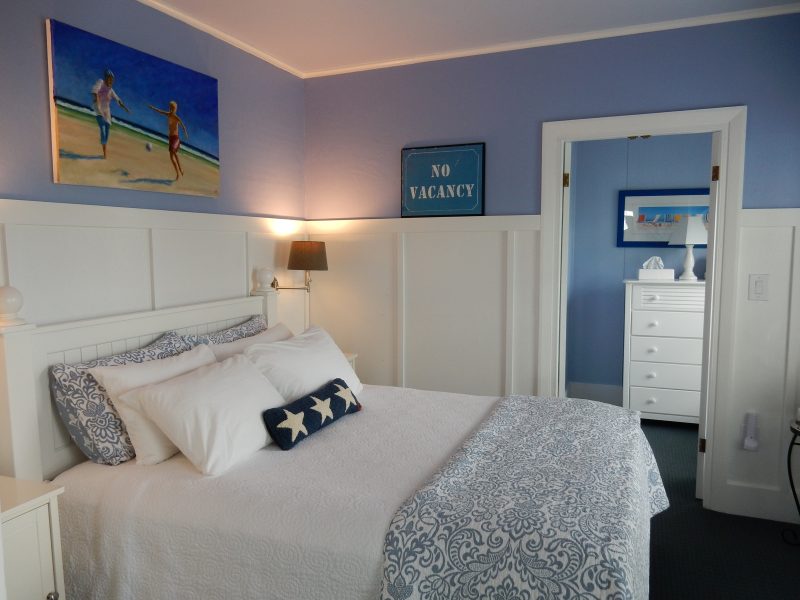 STAY: Topside Inn. This 22 room inn at the top of a hill remains open year round – one of the very few lodgings in Boothbay Harbor that does. Revamped in 2014, rooms are stylishly upscale and contemporary, in seaside shades of greens and blues. Low rates, even in season, reflect the absence of big hotel amenities like pools and fitness rooms. But for those who appreciate a serene getaway and fantastic gourmet breakfast, it's nirvana. Rooms from $189 off season, $209-$289 in season per night includes midday treats and gourmet breakfast for two.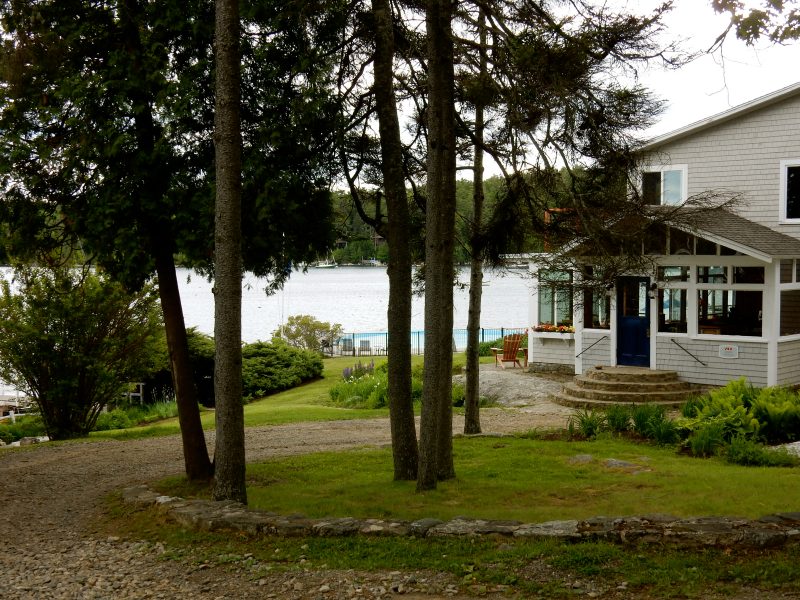 STAY: Linekin Bay Resort. A casual family resort, since the 1920's, Linekin had gone to seed until the owners of Newagen, Scott Larson and Steve Malcom, purchased it last year. They've knocked down some of the 20-30 cabins, built new ones, completely renovated the lodges and brought in new kitchen staff. A sneak-peak reveals rooms to be bright and nautical chic. Larson and Malcom anticipate Linekin will be revived as a "multigenerational sailing camp with good food." All inclusive only from end of June to end of August, two night minimum.