WHY GO: In Searsport ME and on the island of Islesboro, it's all about ship's Captains and Islanders – a Mid-Coast Maine that's far from the maddening crowds. From Searsport, it's about 20 miles (South) to Lincolnville, where you'll catch the ferry to lost-in-time Islesboro.
In Searsport, explore great exhibits in the absorbing Penobscot Marine Museum complex, and stay in an actual Sea Captain's grand home. This Getaway offers genuine, historic Maine at its best.
Things to do in Searsport and Islesboro ME
HALF DAY ISLAND EXPLORATION TRIP: Islesboro
To get a sense of authentic Maine, you've got to take a ferry. Islands are the ultimate in "off the beaten track," places. Thus, they are the antithesis of Route 1 towns that fill up with vacationers seeking lobsters, lighthouses and souvenirs.
Visit a Maine island, and you can be part of a community – or just observe one in action. Mosey around, learn some local history and gab with the locals at an ice-cream parlor.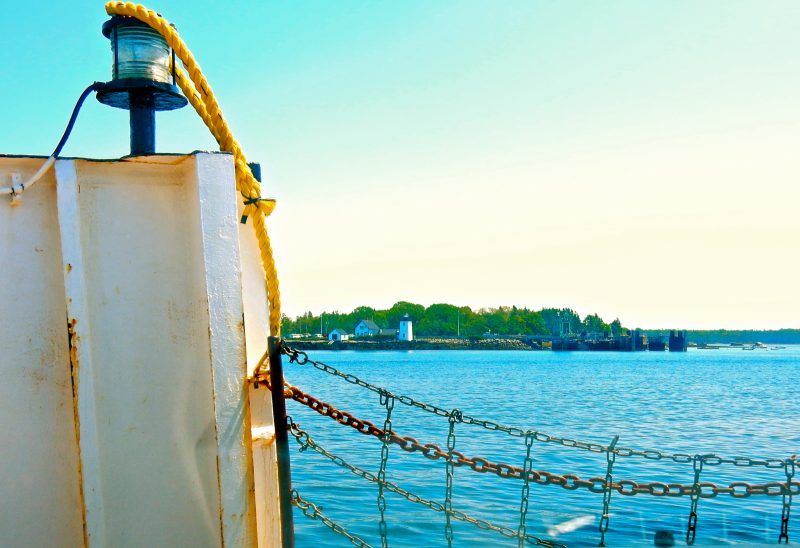 There are plenty of Maine islands to be sure, but Islesboro – accessed via ferry from Lincolnville – is welcoming and sweet.
For goodness sakes, all drivers wave to each other here – it's mandatory! All this niceness could give a city girl a complex.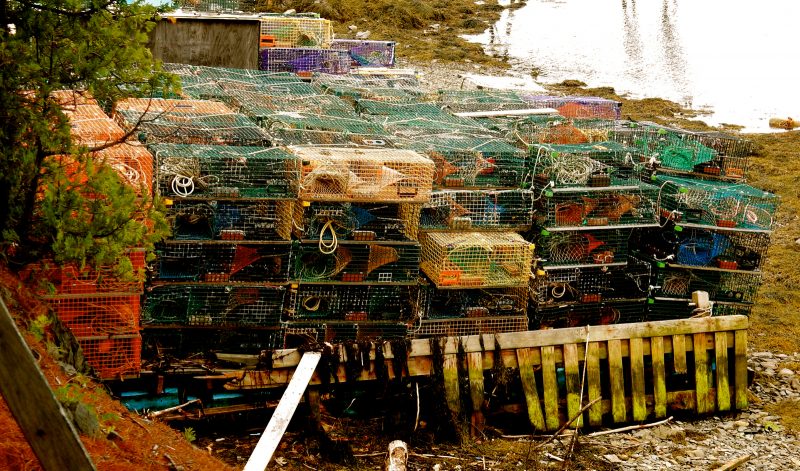 Islesboro is 14 miles long, about the length of Manhattan. There are two general stores, a café, an ice-cream shop, some gift shops, a lovely library, a Historical Society Museum, a Community Center, a school, and no stoplights. Be sure to take your car with you on the ferry ($27.50 round trip with driver) to get the most out of a foray here.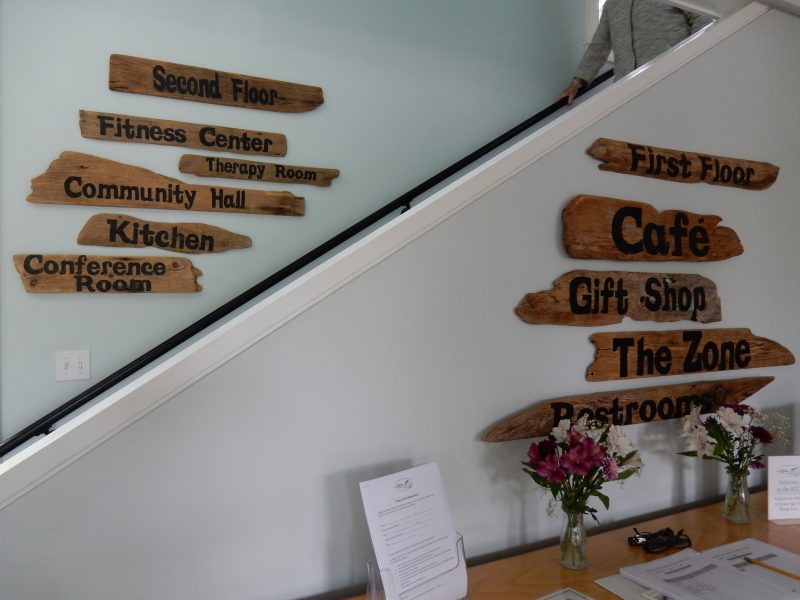 In the late 1800's wealthy families from Philadelphia, New York and Boston built summer "cottages" on the South end of the island, while the hoi polloi stayed to the North.
No cars were allowed on the island until 1933. The rich summer folks liked it rustic. But eventually modernity won out.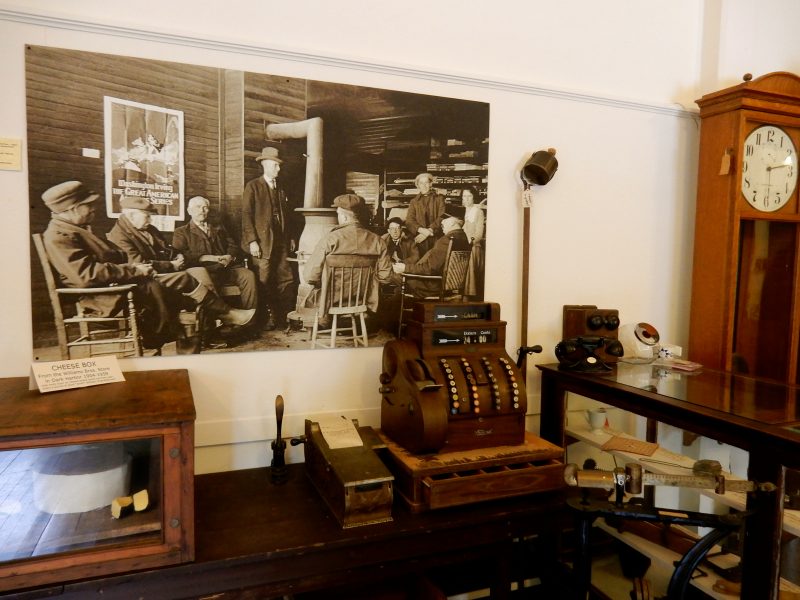 You'll learn all about Islesboro history at the info packed Historical Society Museum. It's located in the 1894 Town Hall, which served as the island's High School (until the school was relocated to a  mansion on the island's south end).
To get here, ask the first person you see when you drive off the ferry. Or, just drive to the T, take a left and drive to the next T. It's on your left right there.
The first floor serves as an art gallery in the summer and auditorium in the winter. Yes, about 500 folks live here year round, swelling to 5,000 in the summer months.
The Historical Society's rooms are full of artifacts worth inquiring about. Take notice of the old phone company switchboard. The ladies who ran it knew everything about everyone on the island.
There are signs and some inventory from F.S. Pendleton & Co. Fancy Good Store, the largest store on Islesboro, open for over 100 years.
You'll spy a statue of Abe Lincoln – a gift of the Class of 1914 – that the high school boys would "make walk" by jumping on the stage riser. Poke around for a bit, then ask for a map, get back into your car and drive.
Turtle Head Preserve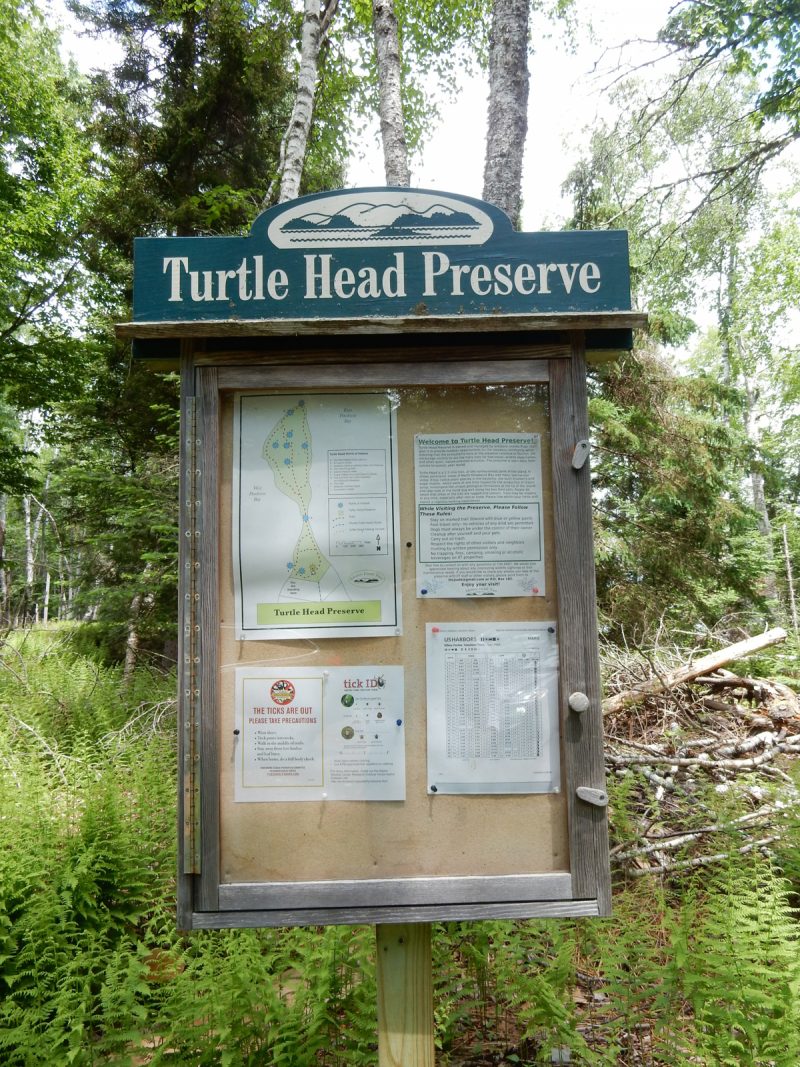 Head north (up island) through the "narrows" where you can see water on both sides of the road – the narrowest point on Islesboro. Hike on the 1.5-mile Turtle Head loop trail on the North End with wonderful ocean views. And then drive to Pendleton Point on the South End to picnic.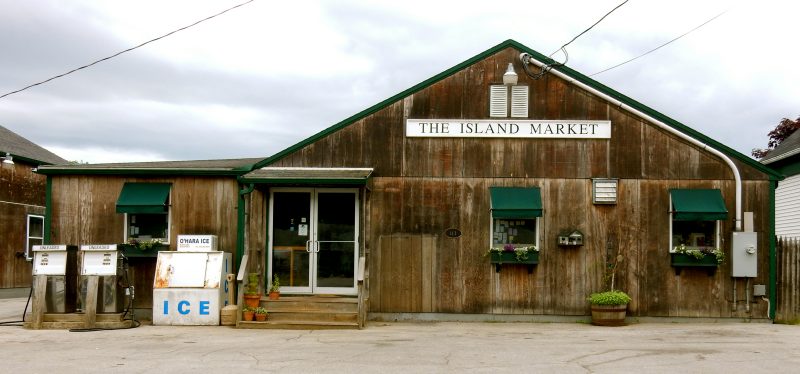 Along the way, you can make stops at Island Market General Store (closed on Sun) to pick up lunch, old cemeteries for gravestone rubbing, and the Alice Pendleton Library – they serve cookies on Sundays! Check out the Community Center, which has a gift shop, an Art Gallery, and the cute little Rabbit Corner Café.
Dark Harbor Shop For Sandwiches and Ice Cream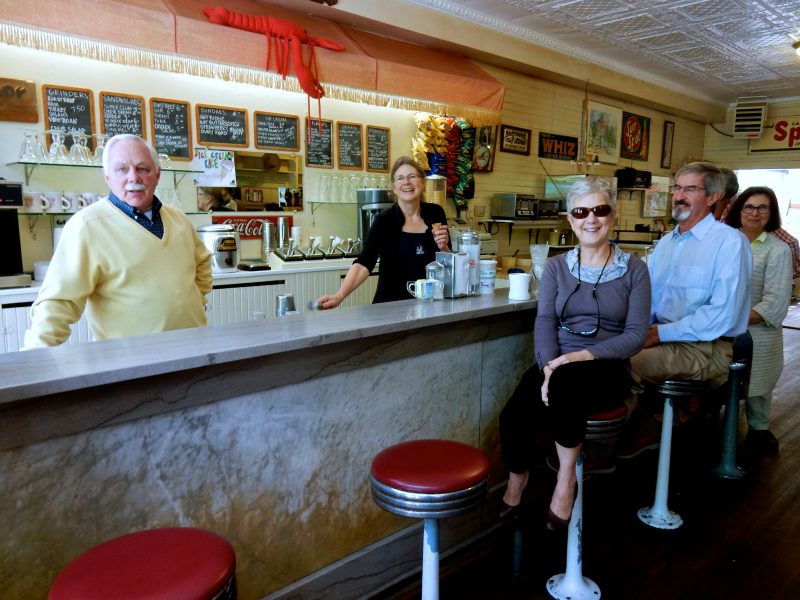 Sit at the old-fashioned stool counter at Dark Harbor Shop, owned by realtor Bill Warren, for a sandwich and ice cream. You'll likely find a bunch of locals here, as this place seems to be the one of the island's gathering spots. You can also reserve a New York Times or Boston Globe – Bill's all about accommodating the needs of seasonal folks.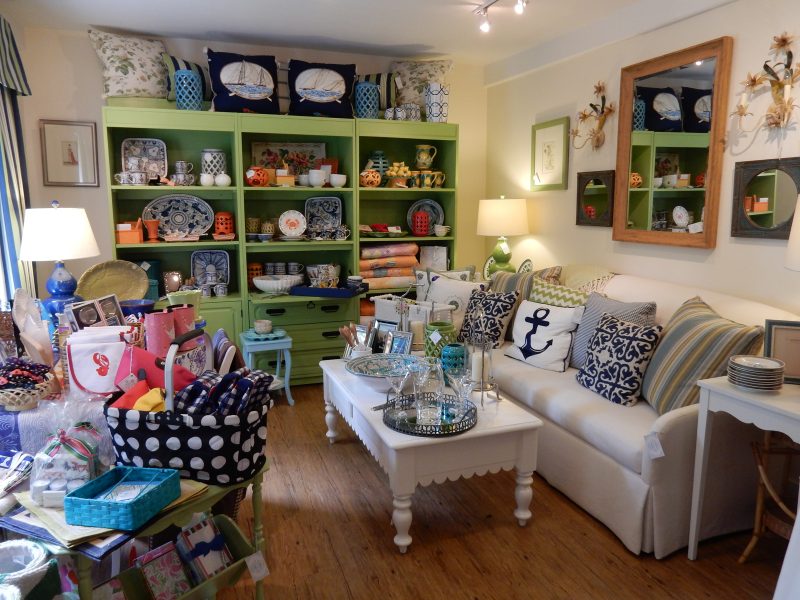 Dark Harbor shares a building with antique shop, Magpie's Caravan and is next door to the great home goods, clothing and gift store, The Summer Shop. Islesboro even has a rare, used and new bookstore – Artisan Books and Bindery – a block from this roaring "downtown" enclave of merchants.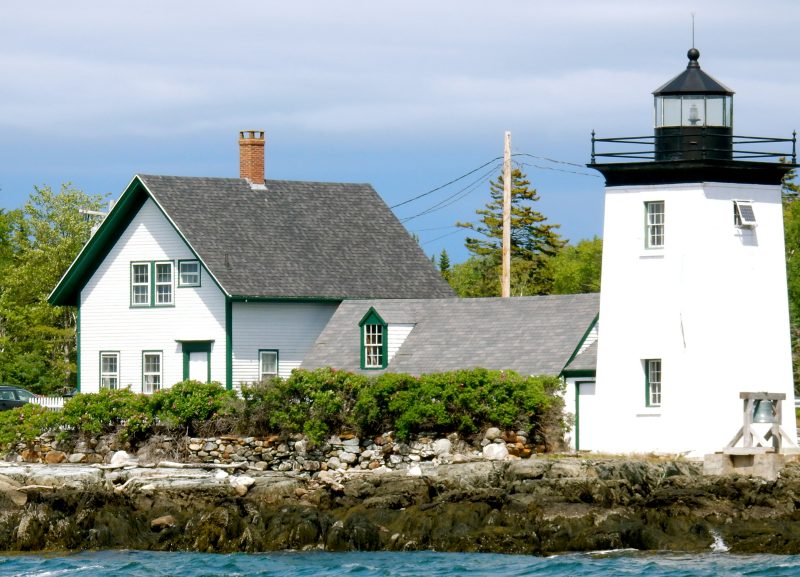 Before leaving Islesboro, stop in to the Grindle Point Sailors Museum and Lighthouse (open July 1-Labor Day, Wed-Sun. 9:30-4:30, Tues Noon-4:30) – right at the ferry landing. It highlights paintings and antiques of the nautical life here, and offers panoramic views of Penobscot Bay from the lighthouse tower.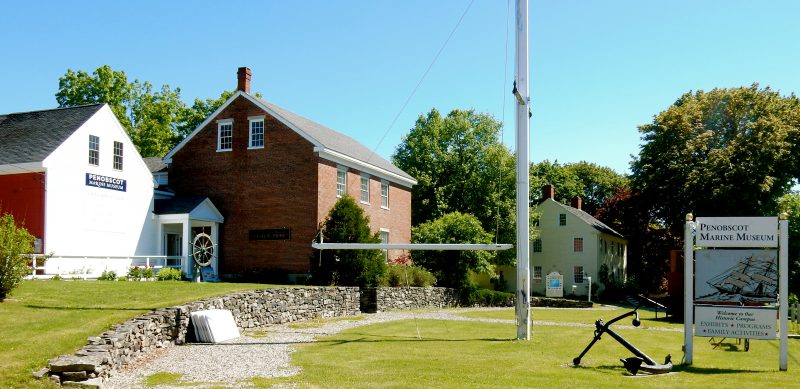 Searsport was a sea-captain town a hundred years ago, due to its deep water harbor. Nearly ten percent, over 500, who sailed the Seven Seas, hailed from the Lower Penobscot area. Their stories are told in this marvelous museum complex, which encompasses 12 buildings.
Start in the Visitor's Center and next-door Main Street Gallery for an overview of the part that these Captains played in world history.
Women Power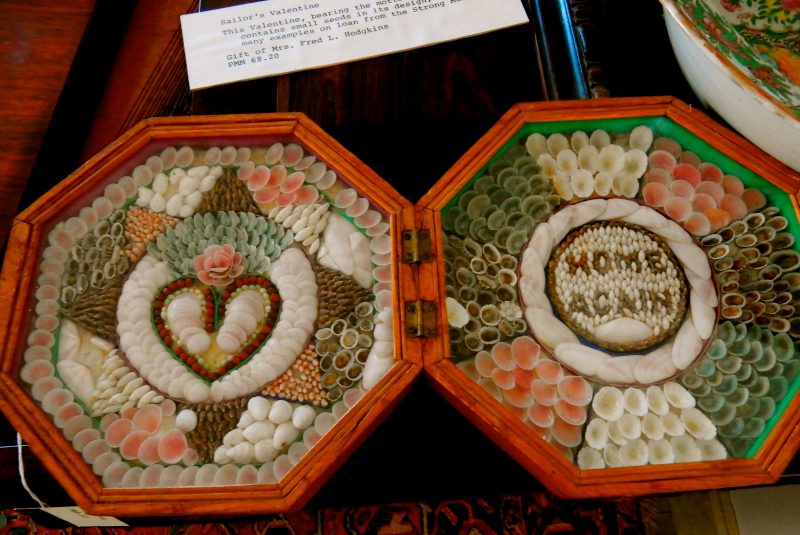 Searsport was distinct from most other sea-faring towns on the New England coast, as most wives here (72 documented) accompanied their husbands on their voyages. This was certainly a rarity when women generally stayed home to raise a family.
Many babies were born at sea, so midwives often traveled with these families to assist in births. And then it was off to the next ship and next pregnancy, as the the most highly rated midwives were kept very busy.
You'll learn all about these praiseworthy women in the Fowler-True-Ross House and Barn, featuring interactive videos along with unique artifacts.
My favorite was the romantic Sailor's Valentine made out of colorful shells. And, I adored the photo of the "Jolly Old Jokers Club" – a gathering of retired sea captains who looked like they're having the time of their lives.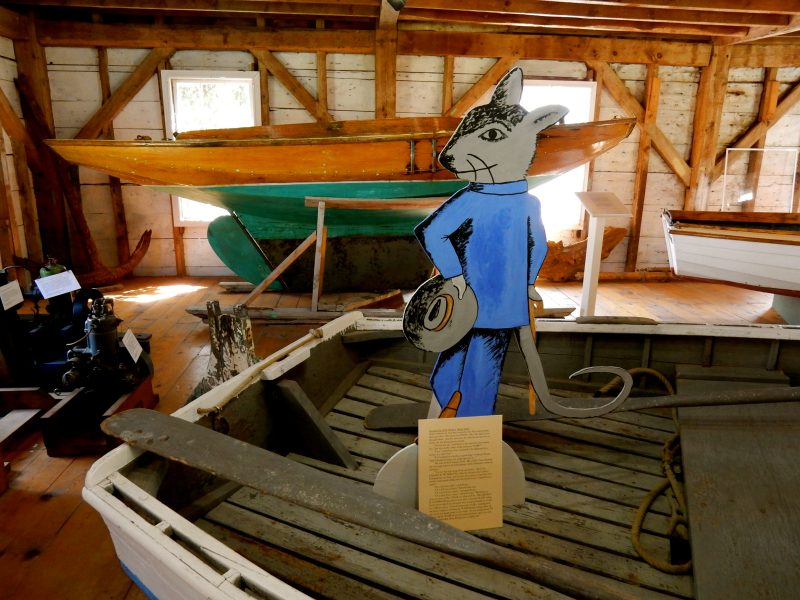 The Small Craft Building displays the kind of wooden boat E.B. White (author of Stuart Little) purchased to putter around the shoreline here.
And Old Town Hall features a cool exhibit on the area's commercial fishing industry: Lobster (of course), but also salmon, sardines, scallops, alewives/herring. A video of a lobsterman at the helm of his vessel runs repeatedly in a cool representation of a lobster boat.
Captain Jeremiah Merithew House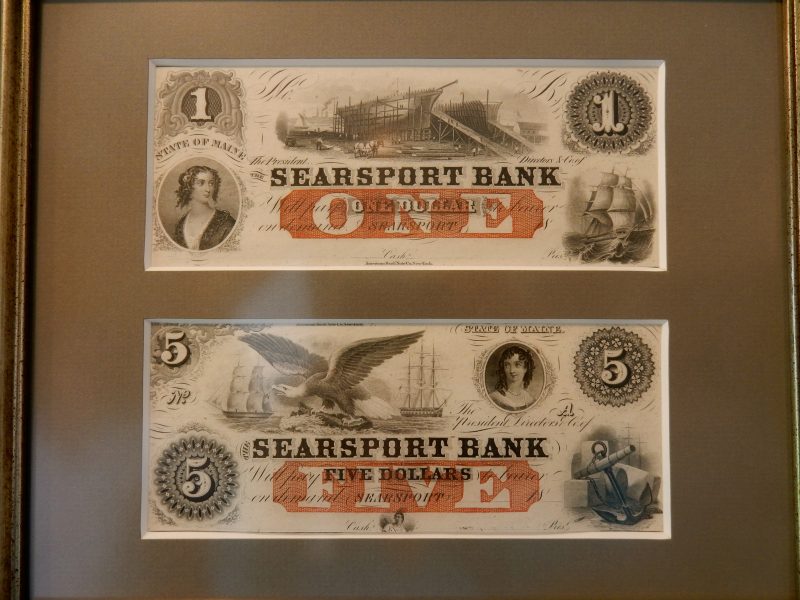 Other buildings display art and kids programming. But the one you'll want to spend the most time in is the Captain Jeremiah Merithew House, which is MUCH larger than it looks from its exterior.
Merithew, like many of his colleagues, was a wealthy man. In 1853, he opened the first Searsport Bank with its own currency, before the U.S. Dollar as we know it was nationalized. A familiar figure in town, Merithew strolled daily through Searsport with silk hat and cane.
The ground floor features a diorama of a failed Revolutionary War battle that took place near here: the 1779 Battle For Penobscot Bay.
Starring Paul Revere, in charge of Artillery, and Commodore Saltonstall, in charge of everyone, it was a botched attempt by an untrained militia to claim the British-held Fort George at the head of Penobscot Bay. It was a mess, and a huge loss for the American side.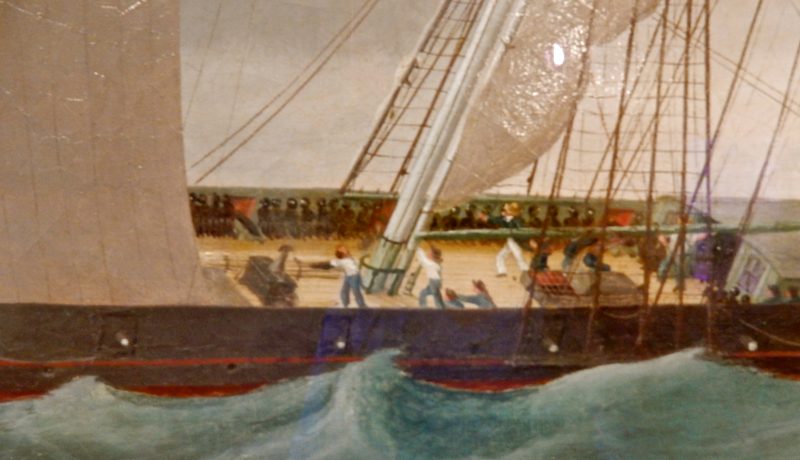 There are three floors filled with objects from the China Trade, scrimshaw, ship's models and Buttersworth maritime paintings.
But the most haunting piece of art is an 1840 painting by British Naval officer, E. Poulson, depicting a slave ship getting ready to dump its illegal "cargo" into the sea at the approach of a Royal Navy vessel. Though in miniature, the wide-eyed terror of captured slaves comes through loud and clear and is heartbreaking. Open late May through mid October, Monday-Saturday 10:00 am to 5:00 pm
Sunday 12:00 pm to 5:00 pm, $15 adults, $10 kids. 
Where to Eat in Searsport
DRINK/BITES: 1874 Tavern at Captain Nickels Inn
After an extensive renovation, Captain Nickels Inn is once again the place to imbibe and enjoy – while taking in views of Penobscot Bay. The 1874 Tavern replaced what was the in-house fine dining room – a move that's made the Inn more popular than ever.
EAT: Locals Recommend
You can find great sandwiches at the Coastal Café and Bakery. And Fish and Chips at the very casual Anglers Restaurant.
Where to Stay in Searsport ME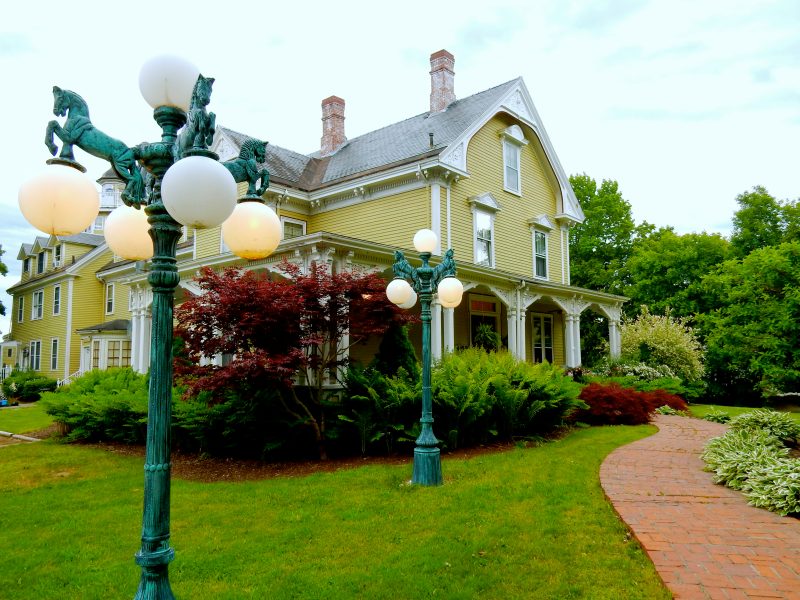 Tourists rushing to Bar Harbor on Route 1 have do doubt noticed this bright yellow home, the Captain Nickels Inn (on the National Historic Register), on the right while passing through Searsport. It stands out as the grandest structure in town.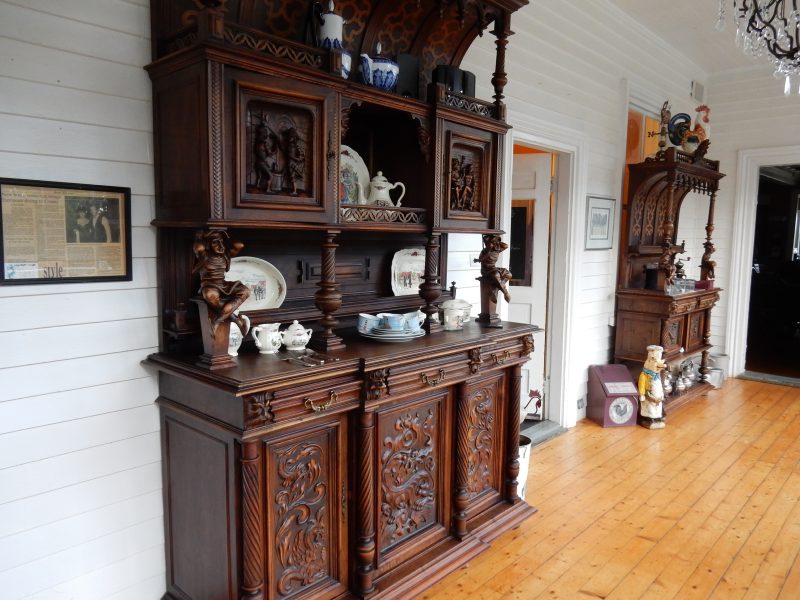 Mike and Brenda Liston, who served in the U.S. Military (he, as Air Force Officer, she, as Director of Airmen and Family Readiness), found this magnificent Sea Captain's home on the top a hill while cruising up Route 1 in Mid Coast Maine.
They purchased "the house that Brenda wanted to live in" in 2011 and completely renovated it to gorgeous effect.
In mid-2019, the Listons sold the Inn to mother-daughter duo, Dawn and Cassidy Gintz, who have renovated and updated the home even more.
First Impressions of Captain Nickels Inn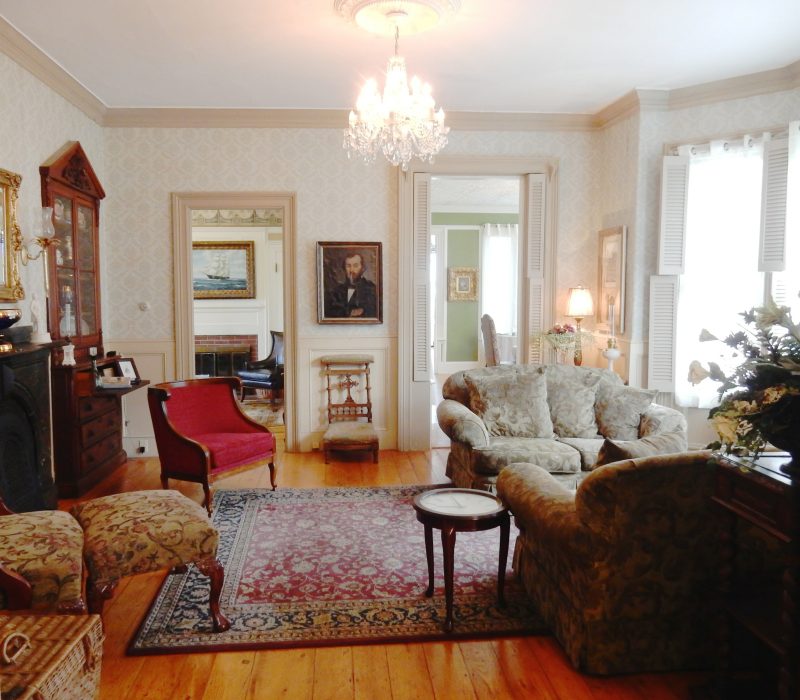 The Captain Nickels Inn is a splendid place, with over-the-top rooms and décor. Even if Searsport was not on your original agenda, it's worth adding another night just to stay here.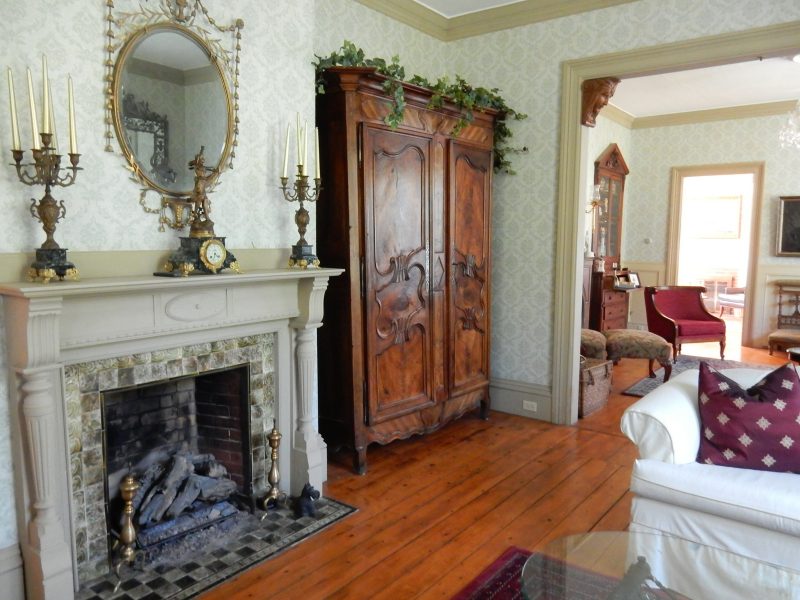 That grandness continues into the interior. Sunlit rooms with high ceilings feature substantial carved wood sideboards, wardrobes, seating and other stunning furnishings shipped from overseas.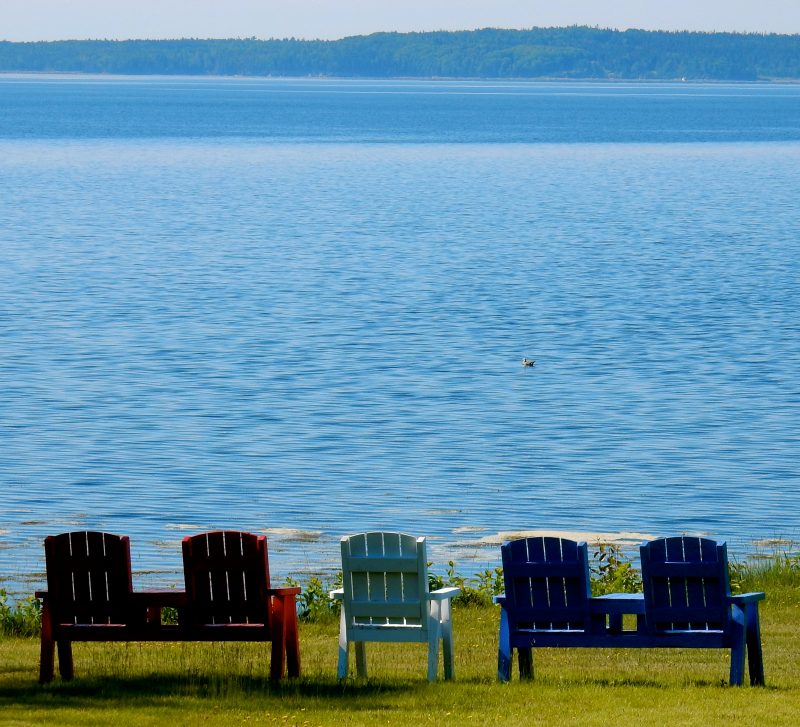 The inn's property extends down to the waterfront – a long walk past a garden and Bocce Court – where several Adirondack chairs and a patio with grill are available for guests.
Rooms at A.V. Nickels Inn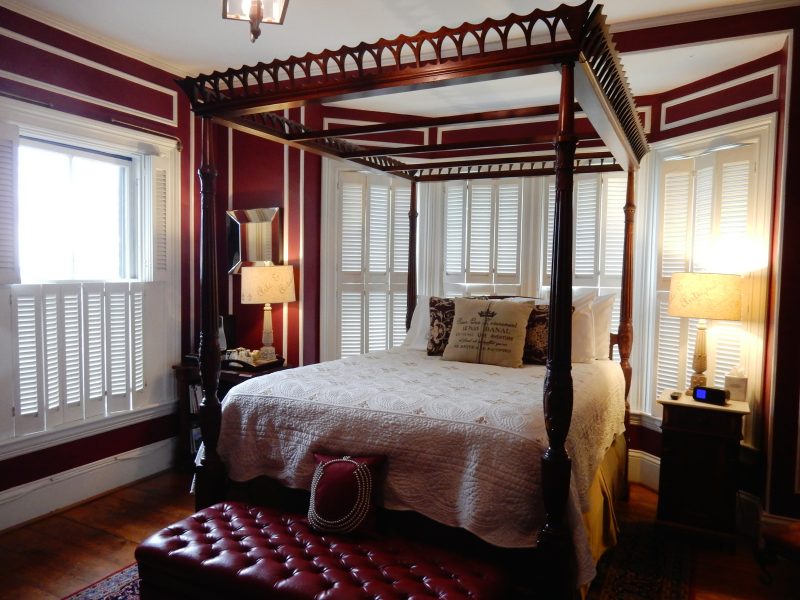 Eight rooms are individually decorated and named after all eight of Captain Nickels' children.
The Katherine – one of the most popular rooms, is boldly painted red and kited out with a carved four-poster canopy bed, white plantation shutters, polished wood floor with Oriental carpet, and Victorian art on the walls. The bed, it bears mentioning, is sink-in-ably decadent.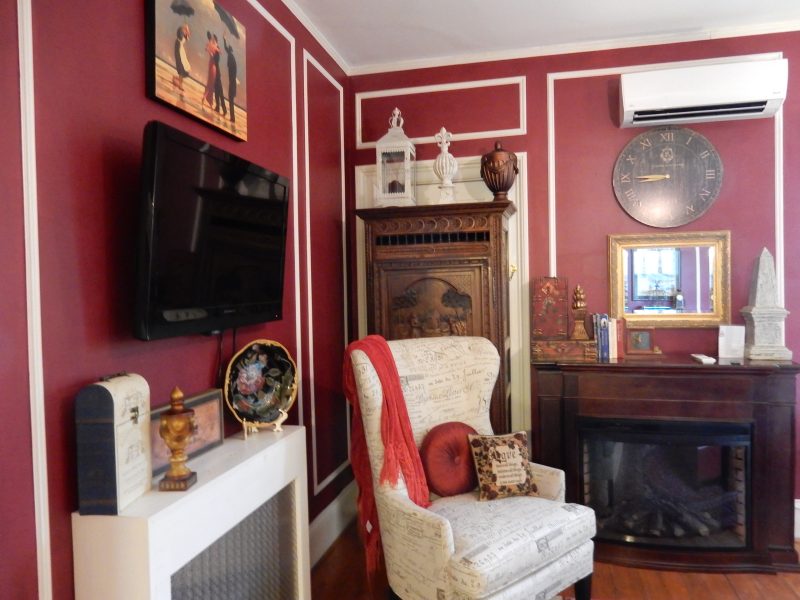 To create an "en suite" bathroom, the Liston's had to carve one out of a small closet. So, yes, the loo is small. But I didn't have to leave the room, which is big, to get to it.
Food at Captain Nickels Inn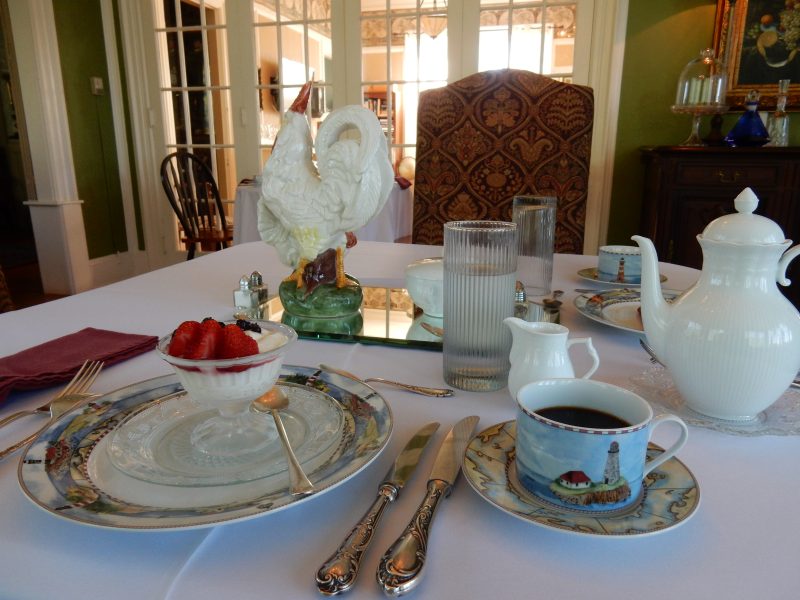 In the morning, groove over an outstanding gourmet breakfasts that reads like a fine-dining menu. Choose between frittatas, Caramelized French Toast, chicken and waffles, and tri-berry baked pancakes. Yes, you'll be very very spoiled. Rooms and suites from $215 to $675 per night, depending on season. Includes wi wi , parking, and gourmet hot breakfast.