Last Updated on July 26, 2022 by Editor
WHY GO: If the website Etsy was an actual place, it would be Hudson NY, an artsy town on the Hudson River that has managed to out-Brooklyn Brooklyn in cutesie-pie-ity.
Etsy in fact, did open a brick and mortar office here in 2013, following an area resurgence that began over twenty years ago.
In the late 1700's, Hudson was, inconceivably, a key US whaling port. (Ergo, little whales on street signs). The waterfront stank from whale oil processing while warehouses, wharfs and docks thrummed with activity.
Over time, industries came and went, but mostly went. So, by the 1960's, Hudson was a sad, neglected place.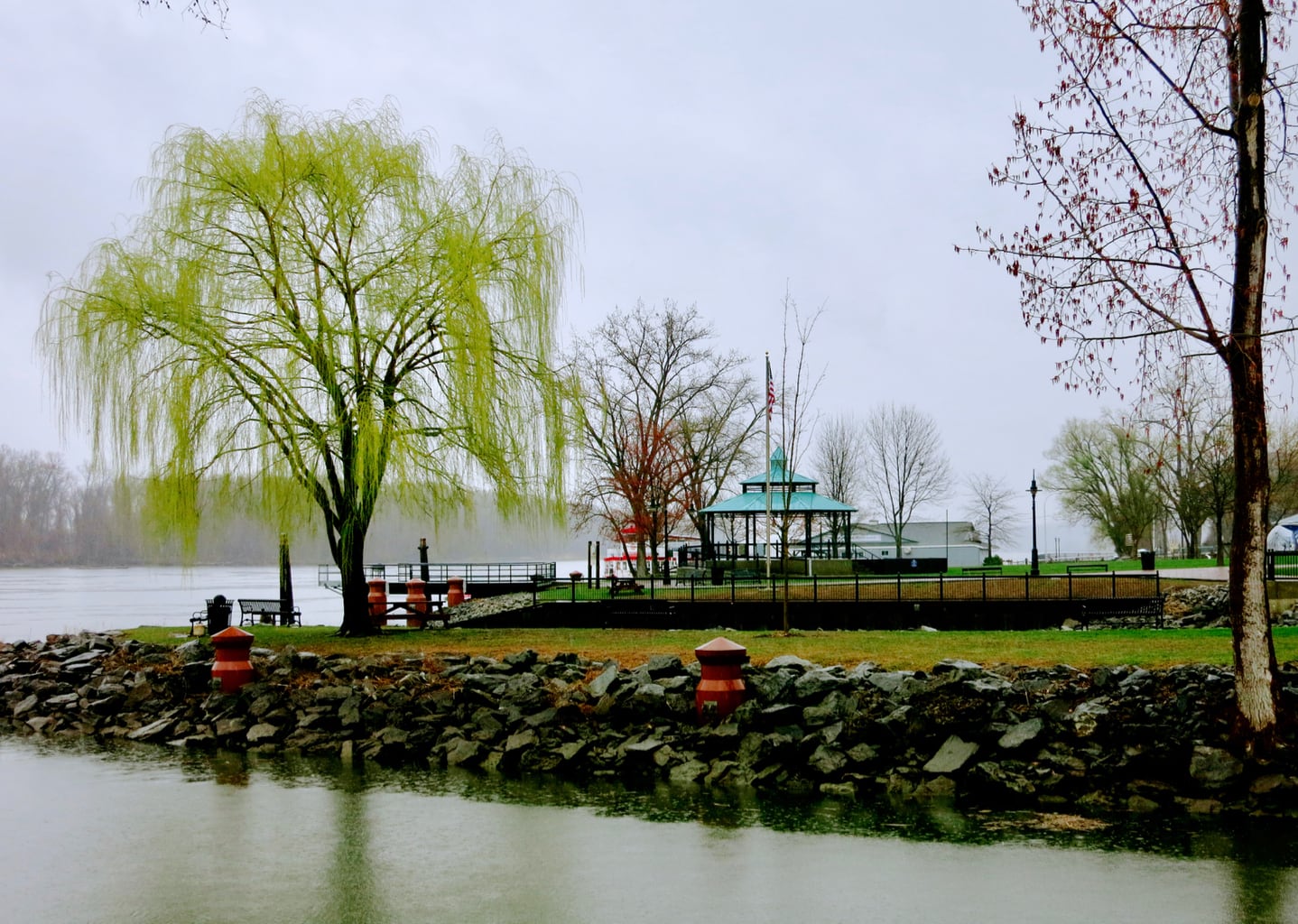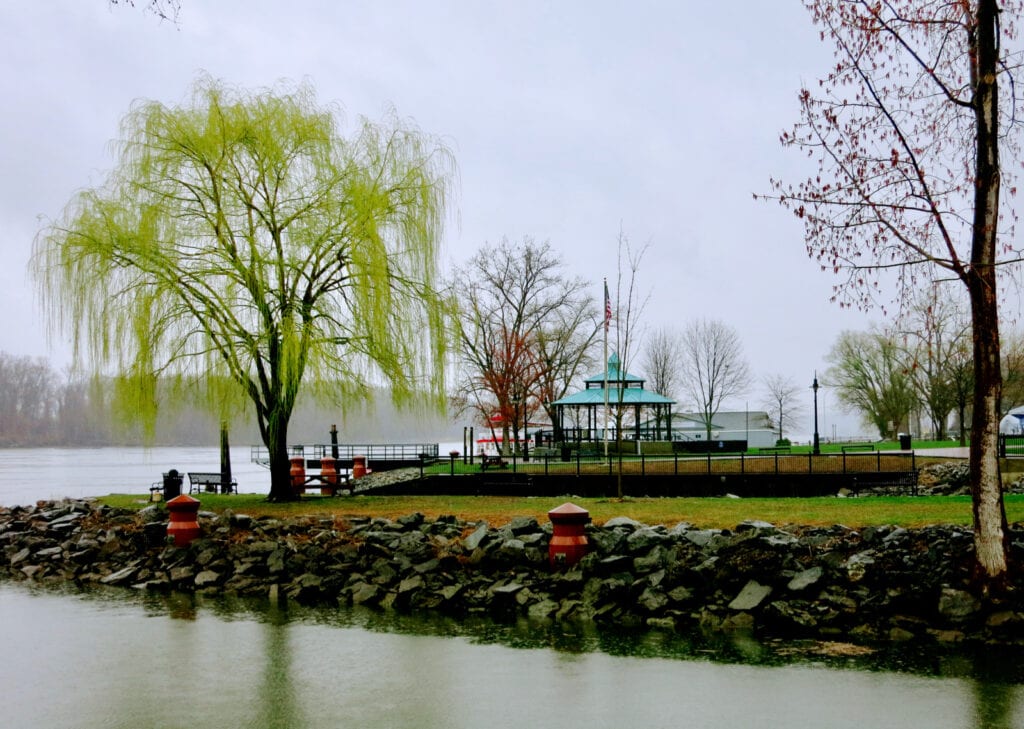 Hudson NY, An Antique and Arts Center
In the 1990's, Manhattan antique dealers and interior designers realized that they could purchase a beautiful turn-of-last-century warehouse in this depressed Hudson River town for a fraction of what it cost in the city. They moved here and set up showrooms for well-heeled clients.
The town gentrified as said clients bought second homes here, earning the nickname NoHo. Now, you'll find a selection of restaurants helmed by CIA-grads, shops like "Flower Kraut" (she does floral design, he makes the sauerkraut), Olana – the impressive Persian-esque home of Hudson River School of Art celebrity, Frederick Church, and charming boutique hotels and inns.
To sum it up, Hudson is now widely recognized as an antique and arts center, featuring a wide range of clothing, jewelry, and home furnishings. There's lots of quality packed into a very small area. The following recommendations are just the start. Begin with these.
Things to Do in Hudson NY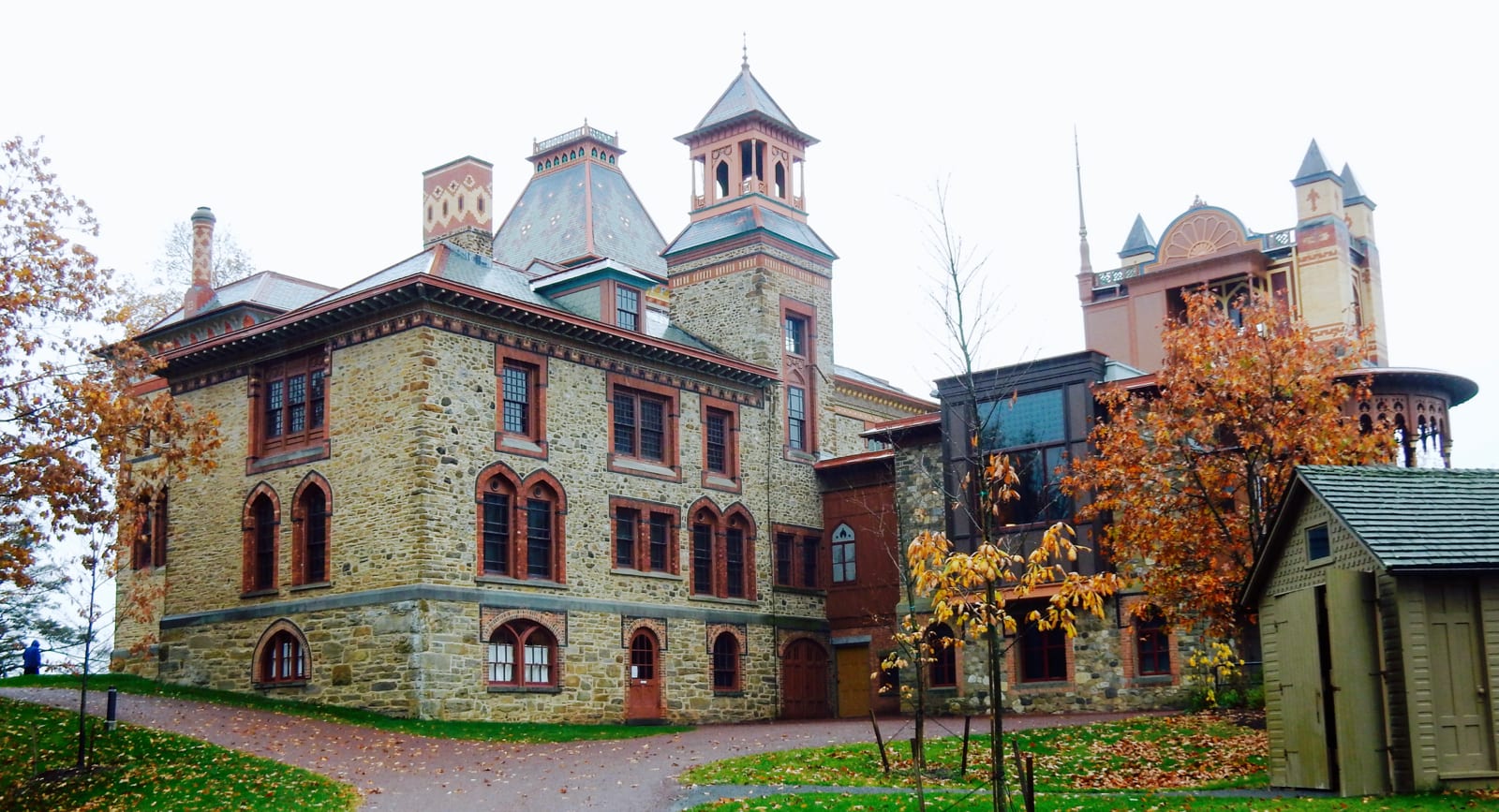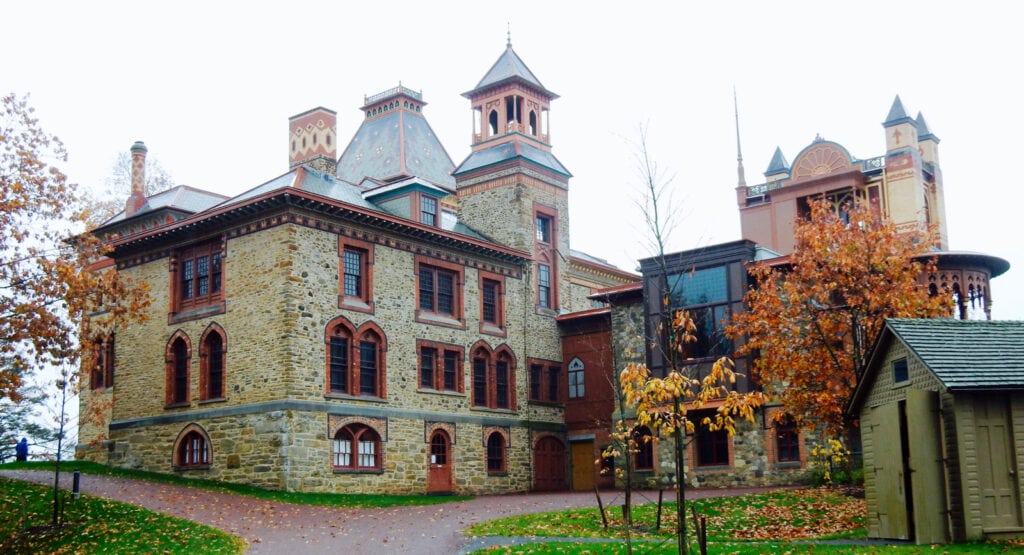 Hudson River School landscape artist Frederick Church, a founding member of the Metropolitan Museum of Art in NY, was the youngest artist inducted into the National Academy of Design at just 19 years of age. (That distinction still stands).
In the late 1860's, the prominent artist planned to construct a French Chateau atop this hill overlooking the Hudson River, but a trip to the Middle East changed his mind. As a result, Church commissioned this Persian-style confection as home and studio, living here with his wife Isabel and their children.
Must this mansion be destroyed?
Daughter-in-law Sally Goode-Church lived in Olana until she died in 1964. When the home and its contents were put up for auction, concerned citizens united to save it from the wrecking ball– an early example of Historic Preservation – with the slogan "Must this mansion be destroyed?"
The preservationists prevailed. In fact, historians consider this as much a preservation story as an art history one. Considered the foundation of America's growing "View Shed" movement, Olana and its spectacular 250 naturalistically landscaped acres, focuses on conserving fast disappearing scenic views. In this case, of the Hudson River Valley.
Start in the Gift Shop Visitors Center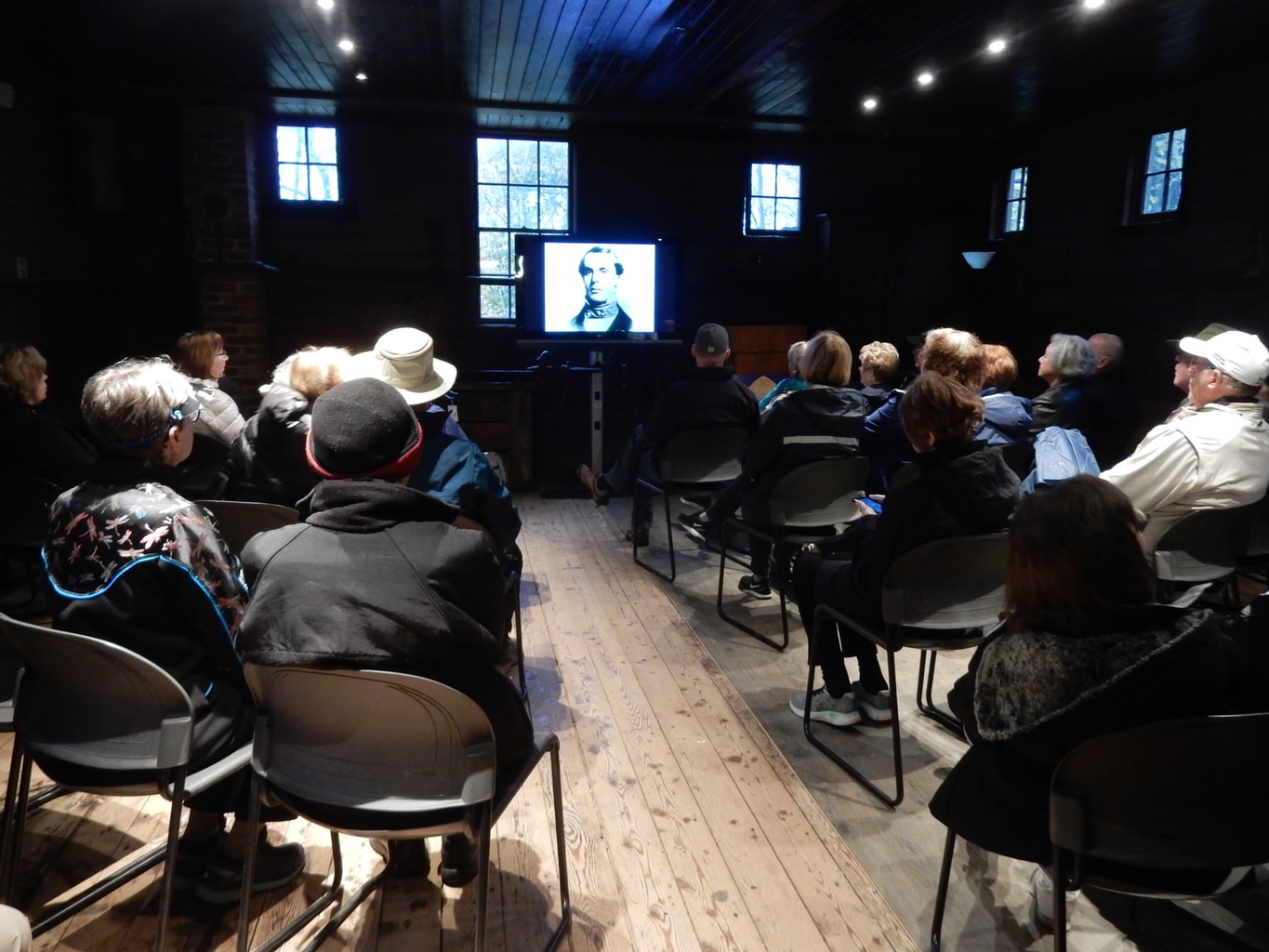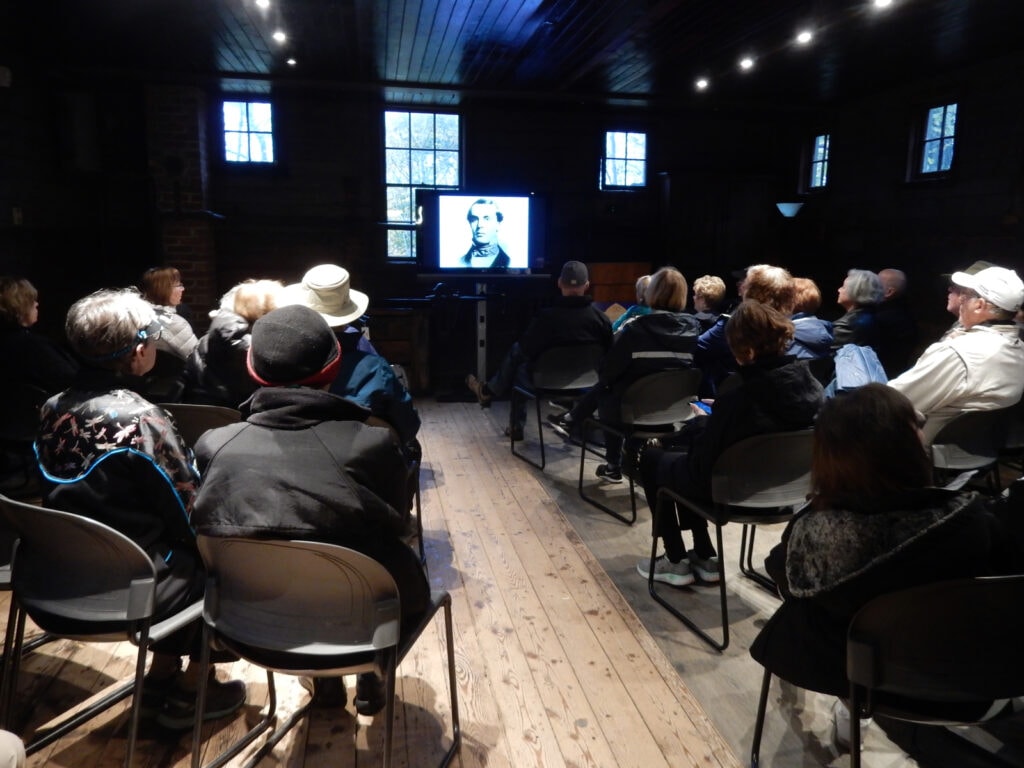 Begin your tour at the new Visitor's Center/Gift Shop where you'll be introduced to the famous painter and his home, Olana, though a 20 minute film. Olana is a quick uphill walk.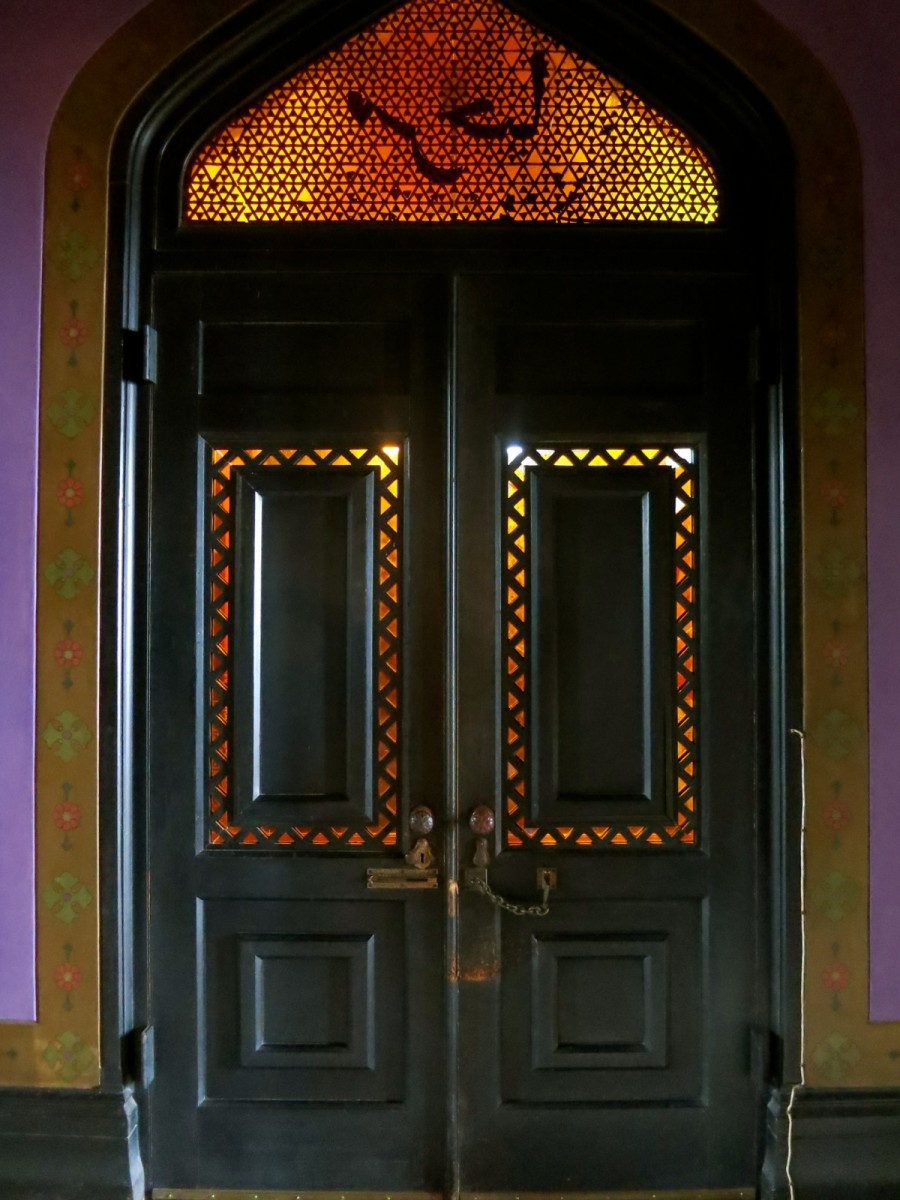 Enter through front door. "Welcome" in Arabic is etched into a sunset-colored stained glass panel. Olana's interior is a feast for the eyes. Church traveled the world and collected artifacts from all over, displaying pre-Columbian art from Mexico in his studio and framing fireplaces with carved teak from India. The "Court Hall" places you in the central courtyard of a Middle-Eastern home, where sunlight streaming through yellow glass casts the room in a honey-colored glow.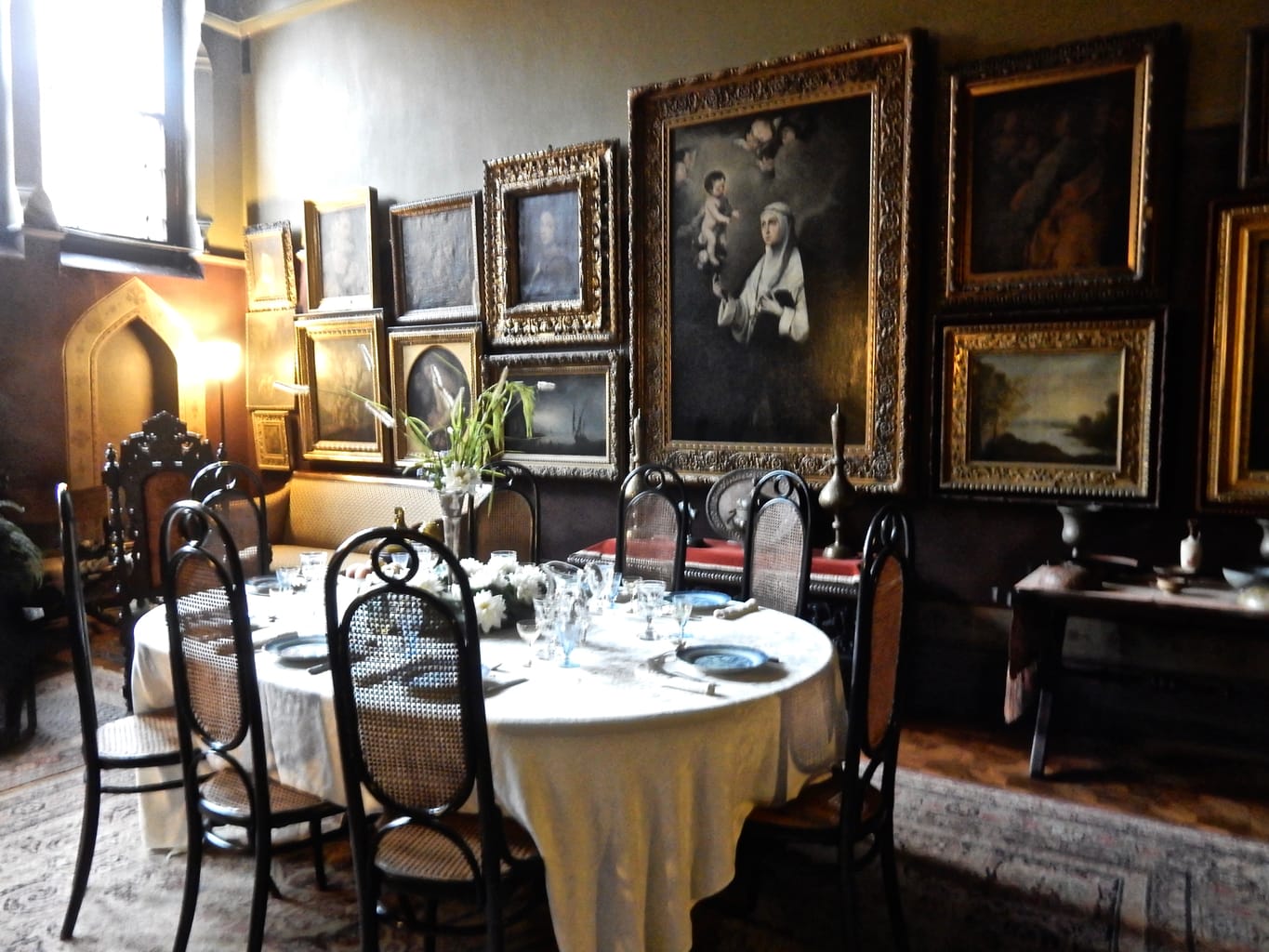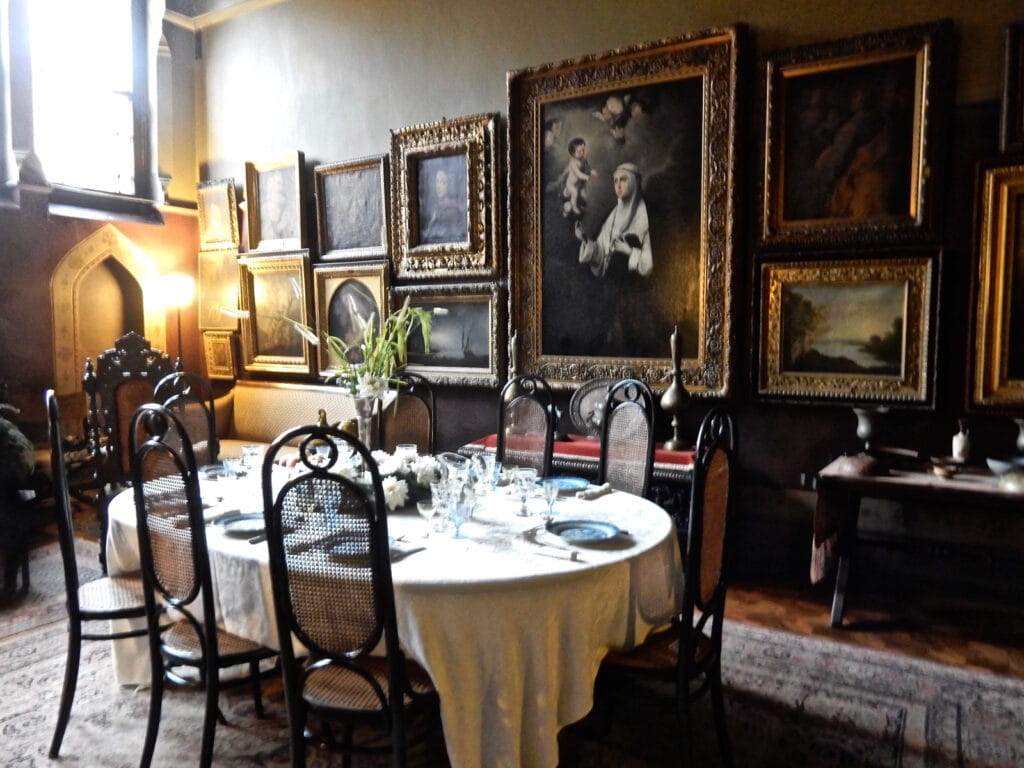 While most of the home features sizable windows affording clear views of the land and riverscape outside, the dining room is the only place in the home where sunlight is kept to a minimum, most likely to preserve the work of Old Masters that line the walls. Church wanted guests to travel back in time 400 years to discuss the art over dimly lit dinners.
Church Saves the Hudson River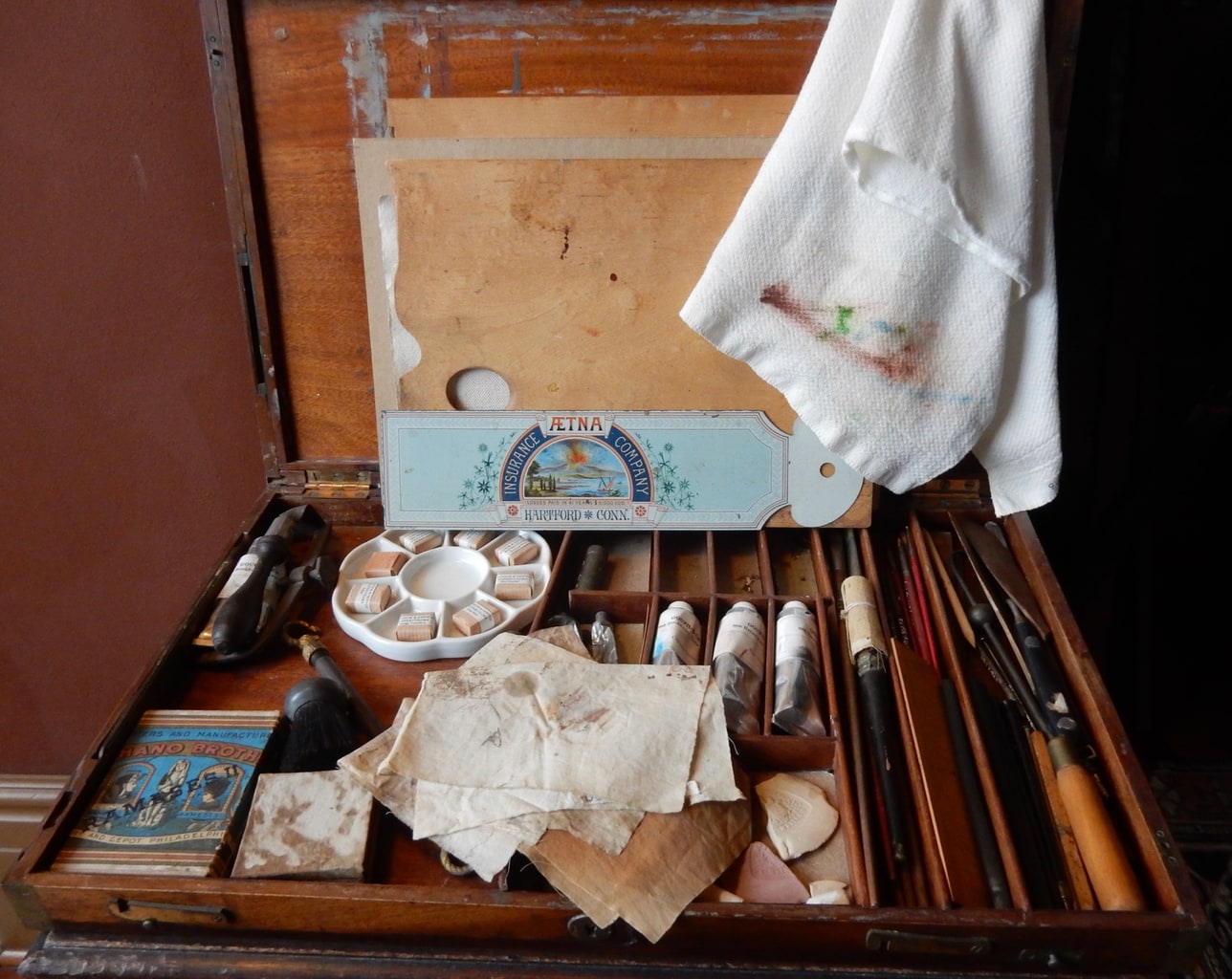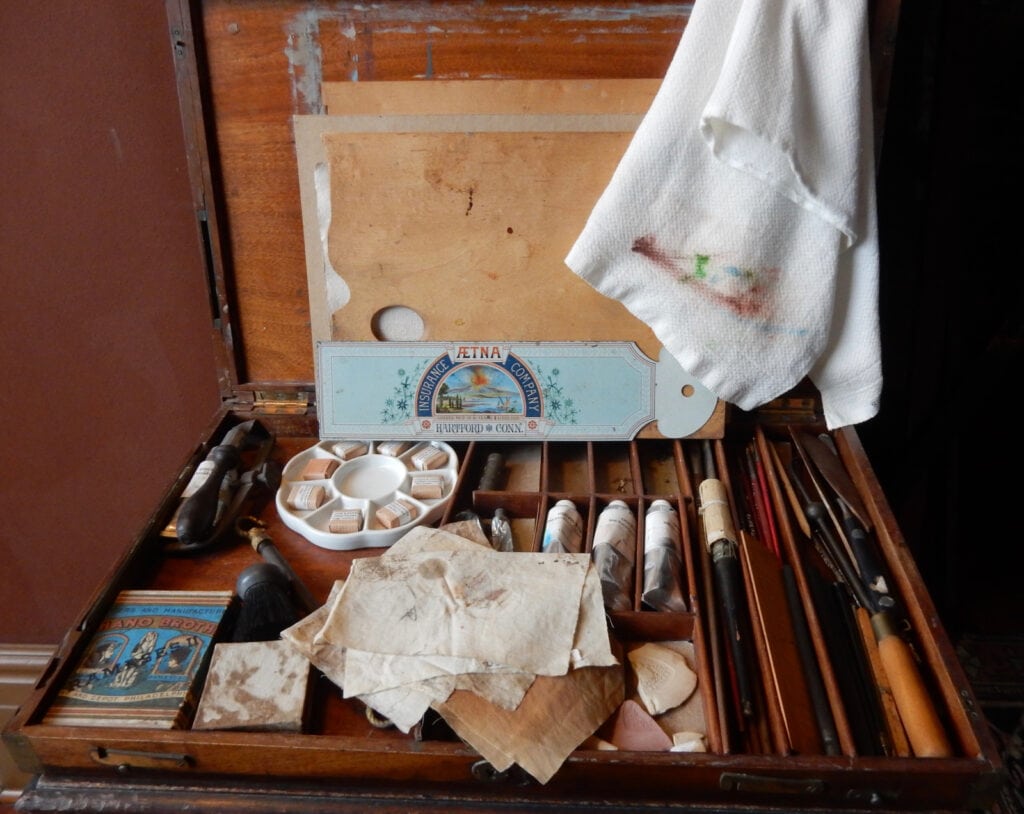 Posthumously, Church became one of the most important players in the Hudson River conservation movement. The artist often painted scenes of the river from Olana's porch studio, and in the 1970's, one of these paintings was employed in the drive to ban a nuclear power plant within view of here.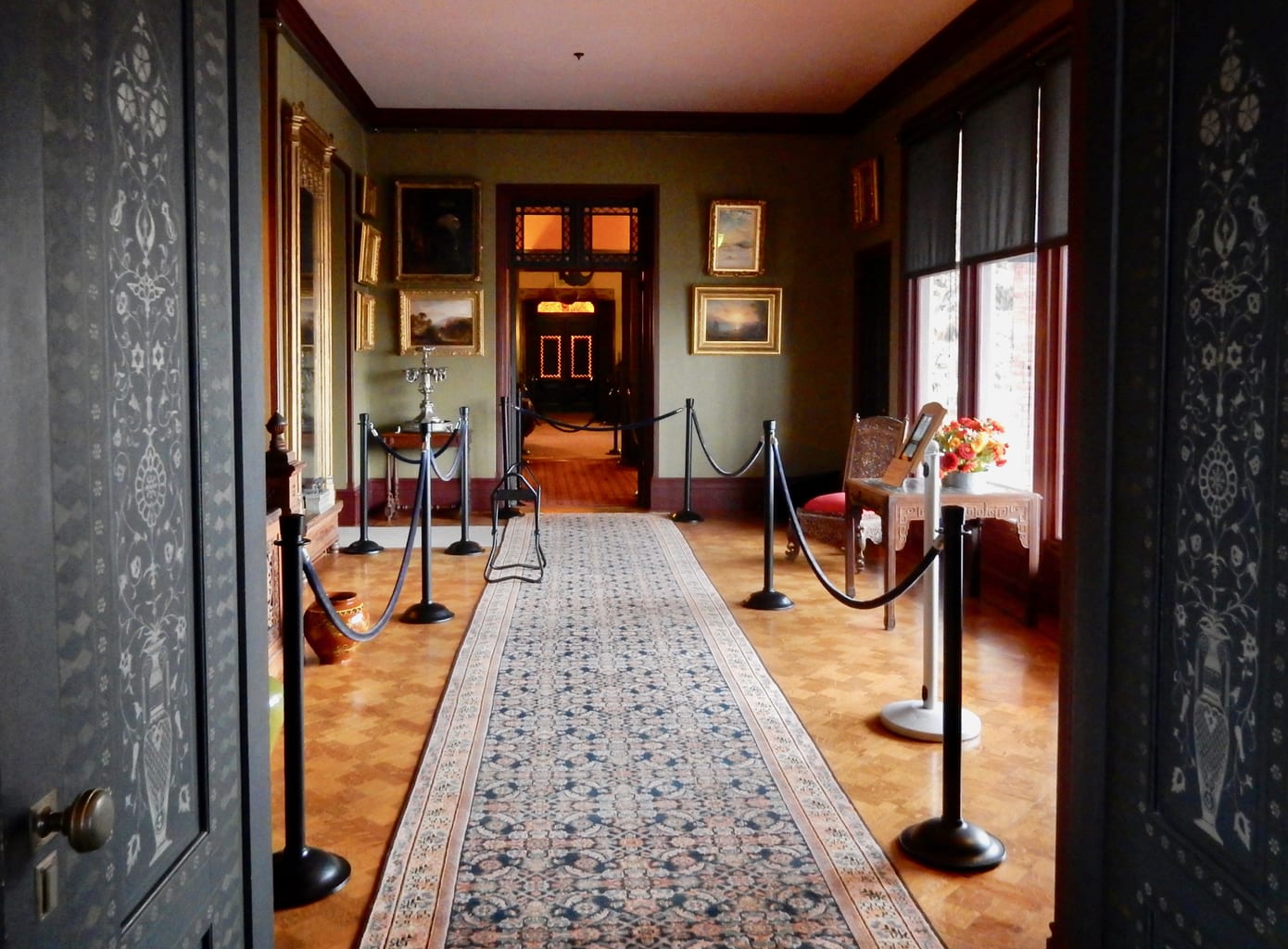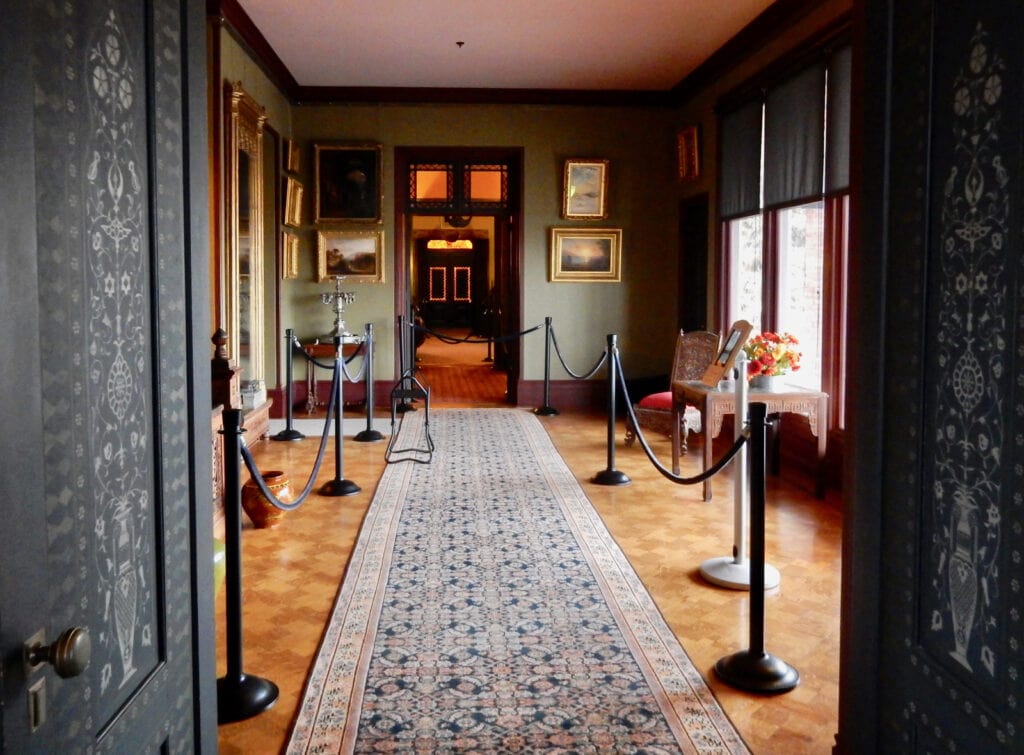 Protesters used one of Church's winter landscapes to show exactly how an industrial facility would mar the perfect scene. The ploy worked and the plant was situated elsewhere. You'll see this painting and many others on a fascinating one hour tour. $15. Open Mid-May-Oct Tues-Sun 10-5 (last tour at 4), Nov-Mid-May  Fri-Sun 10-4 (last tour at 3).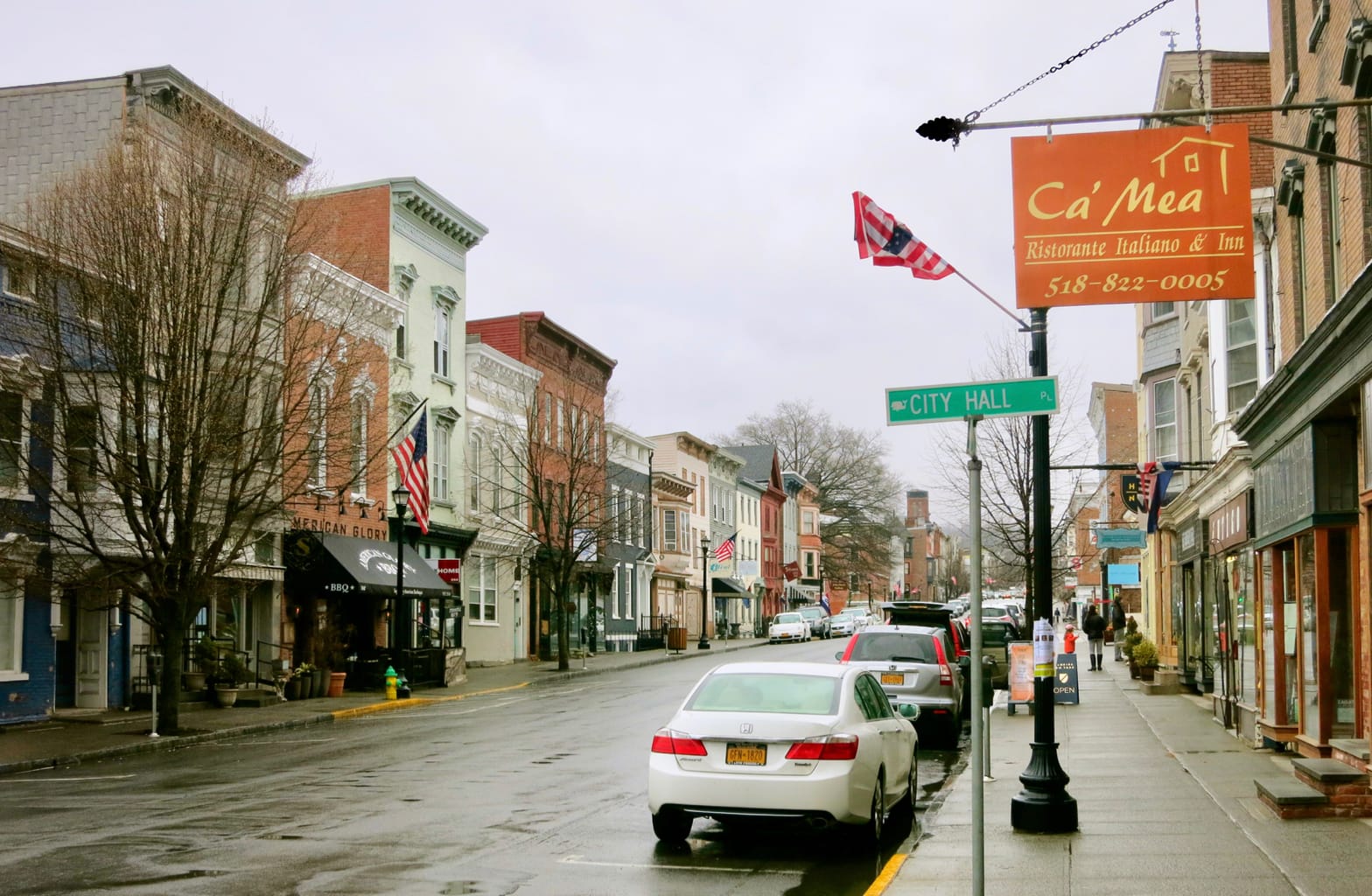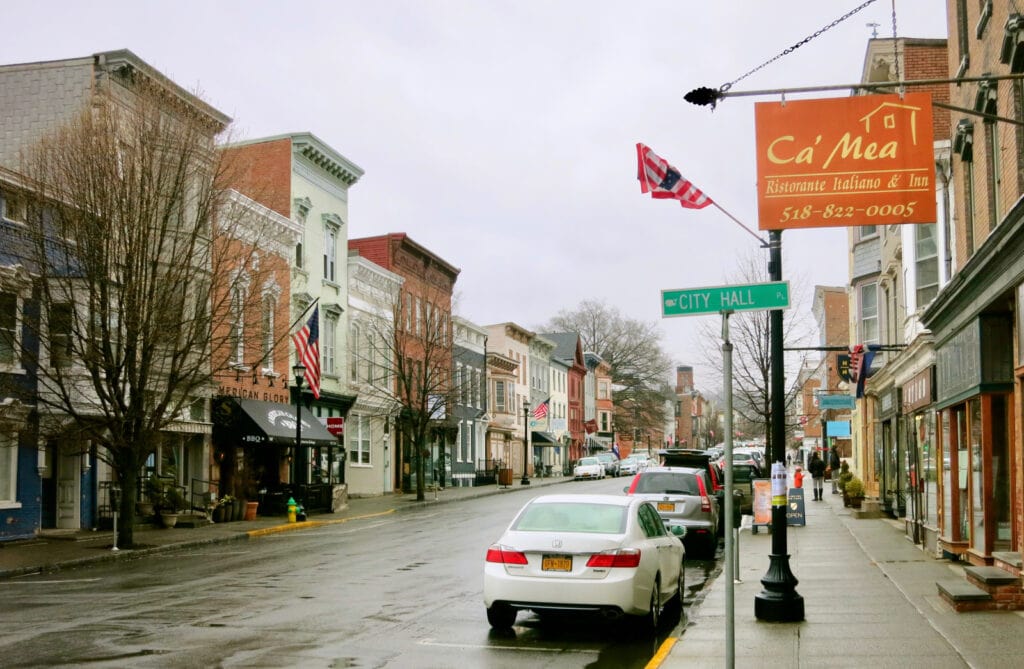 MEANDER: Warren Street
Window shopping is gratifying, but do stop in to the following places: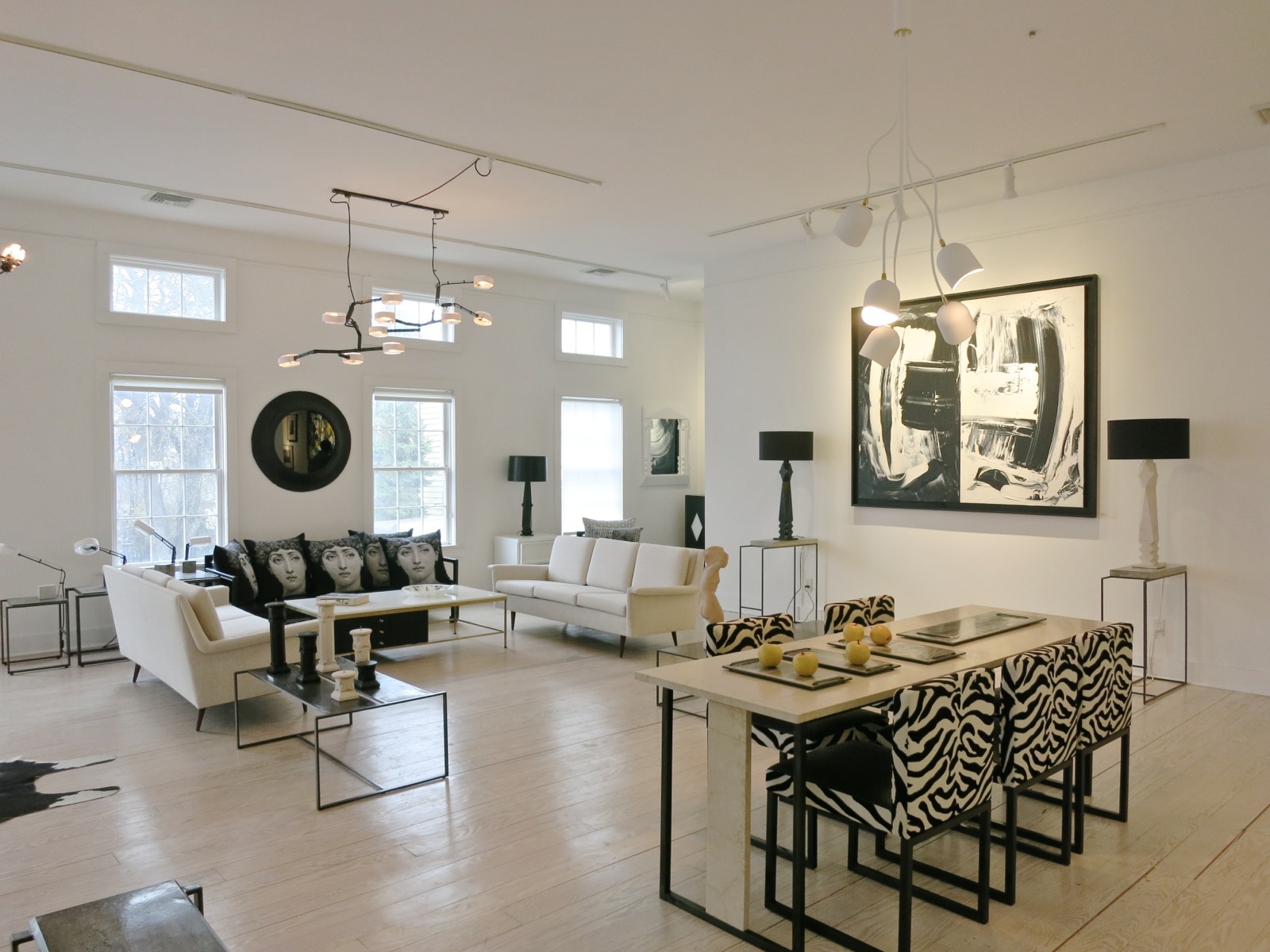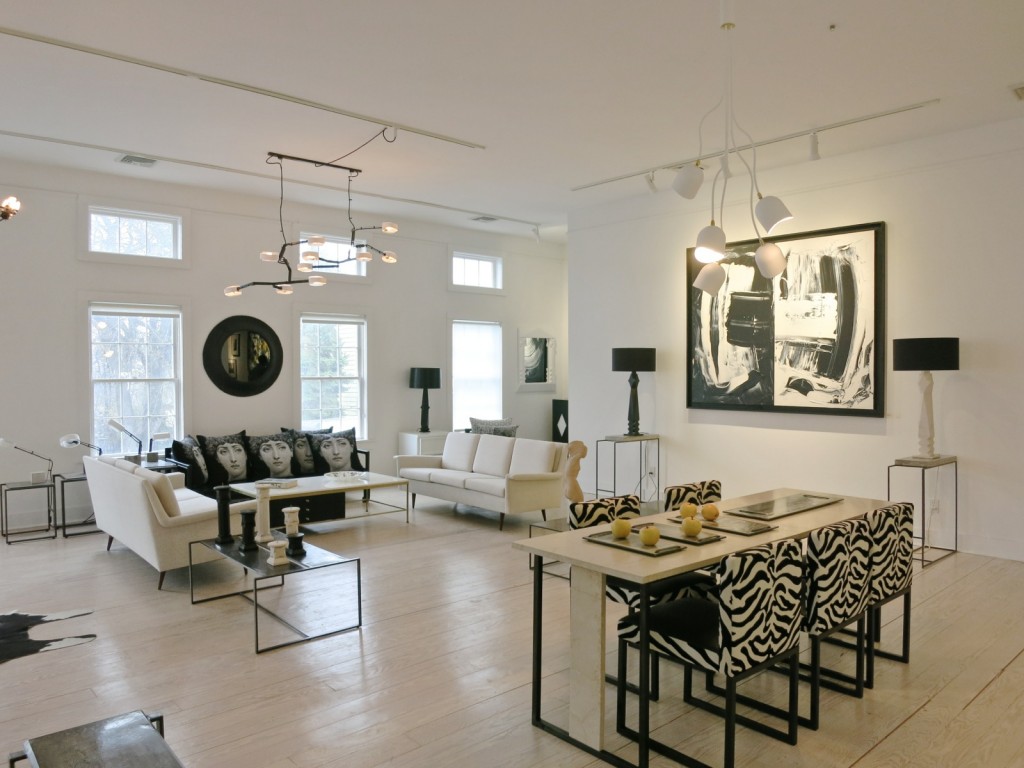 Rick Gillette "re-visions" mid-century modern furniture and features cool home accessories like Joshua Howe's "stone" tables and trays made from extraordinarily thin concrete.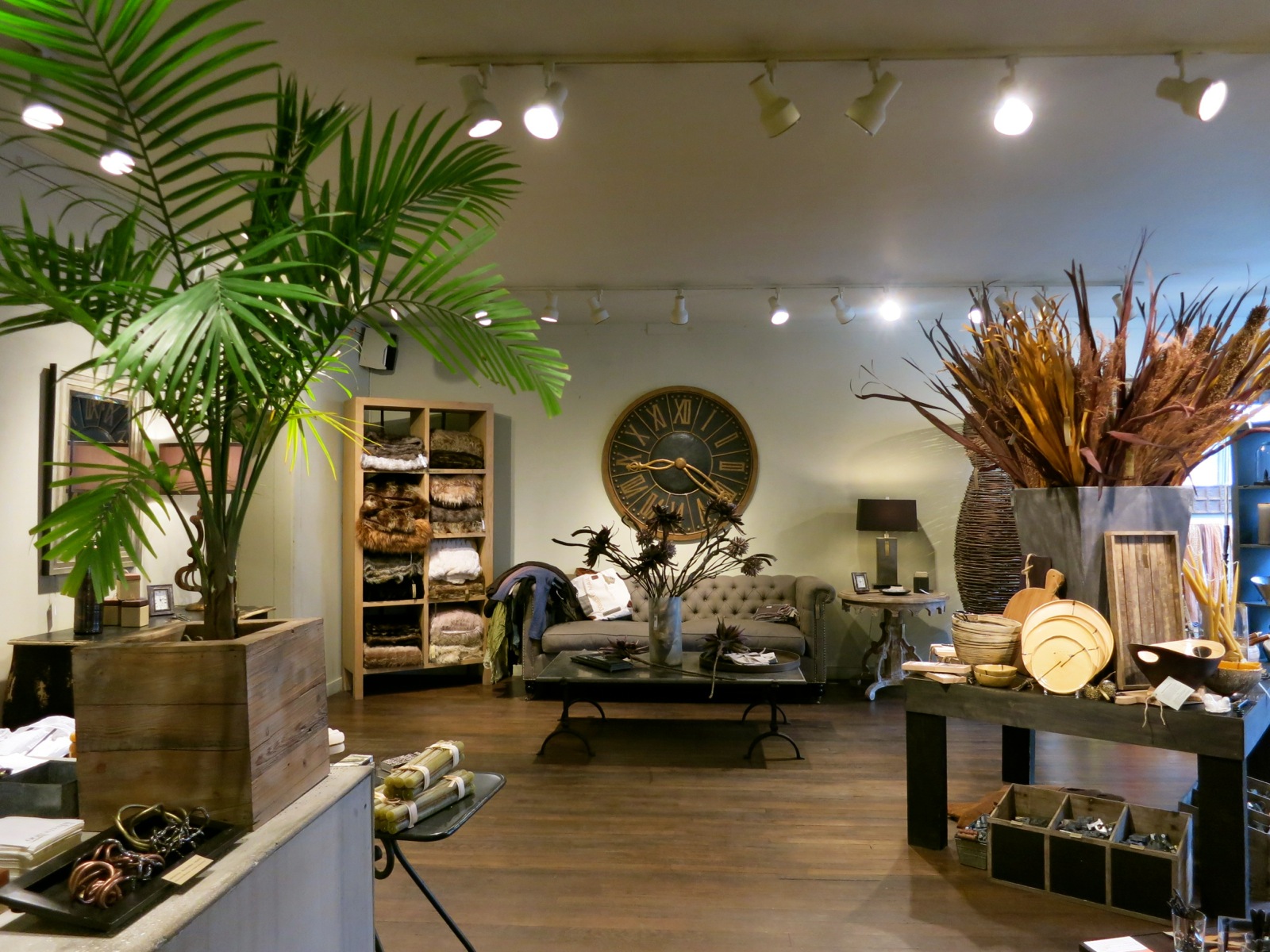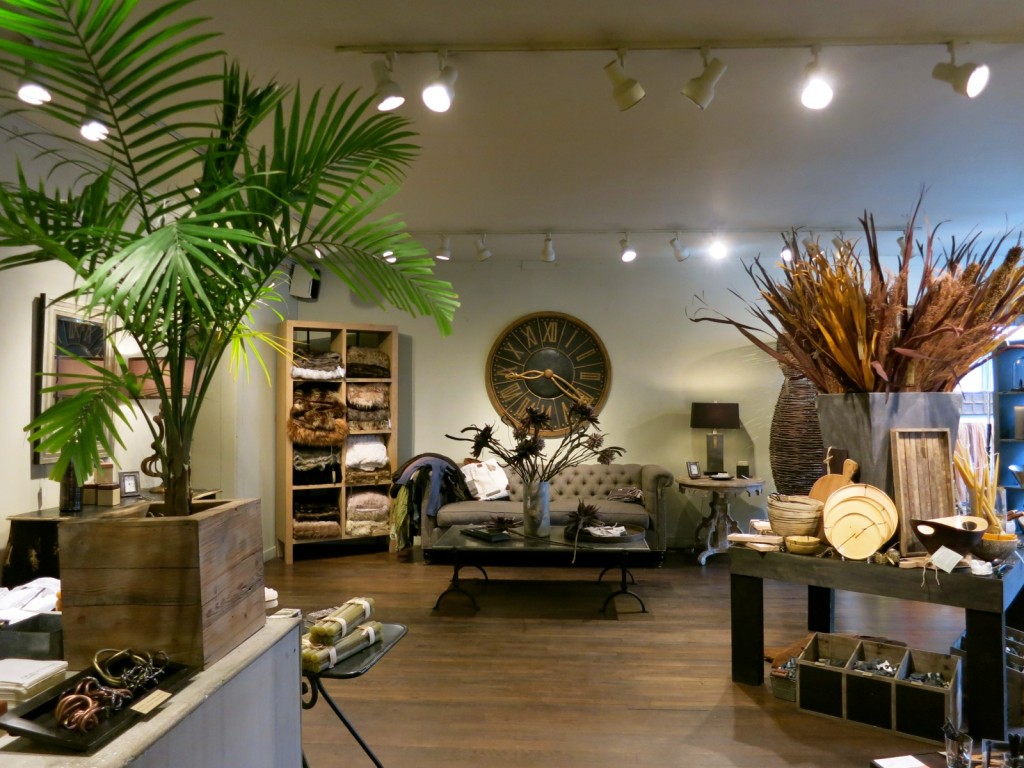 Prices are not too outrageous at this furniture/gift/home accessories wonderland.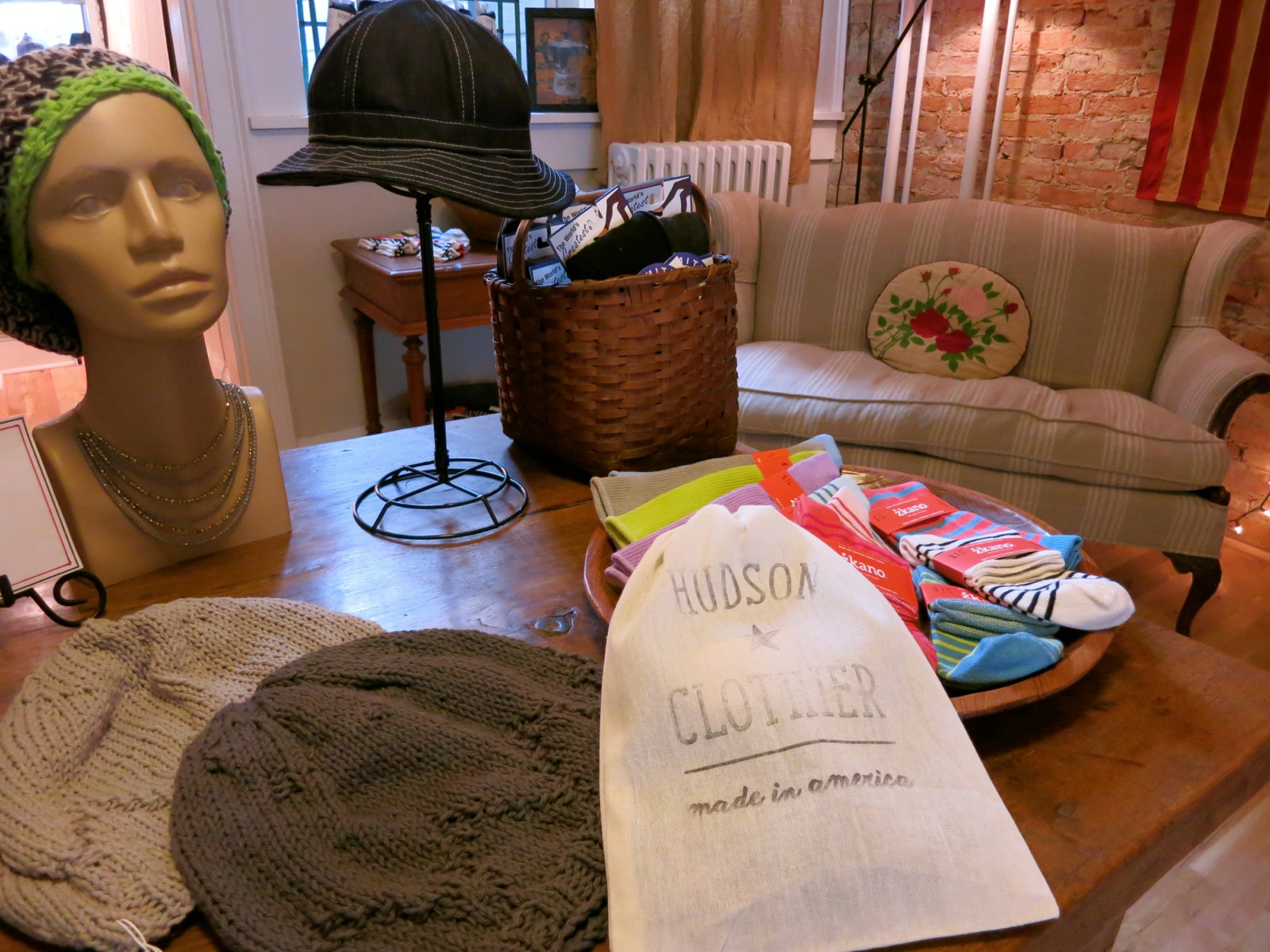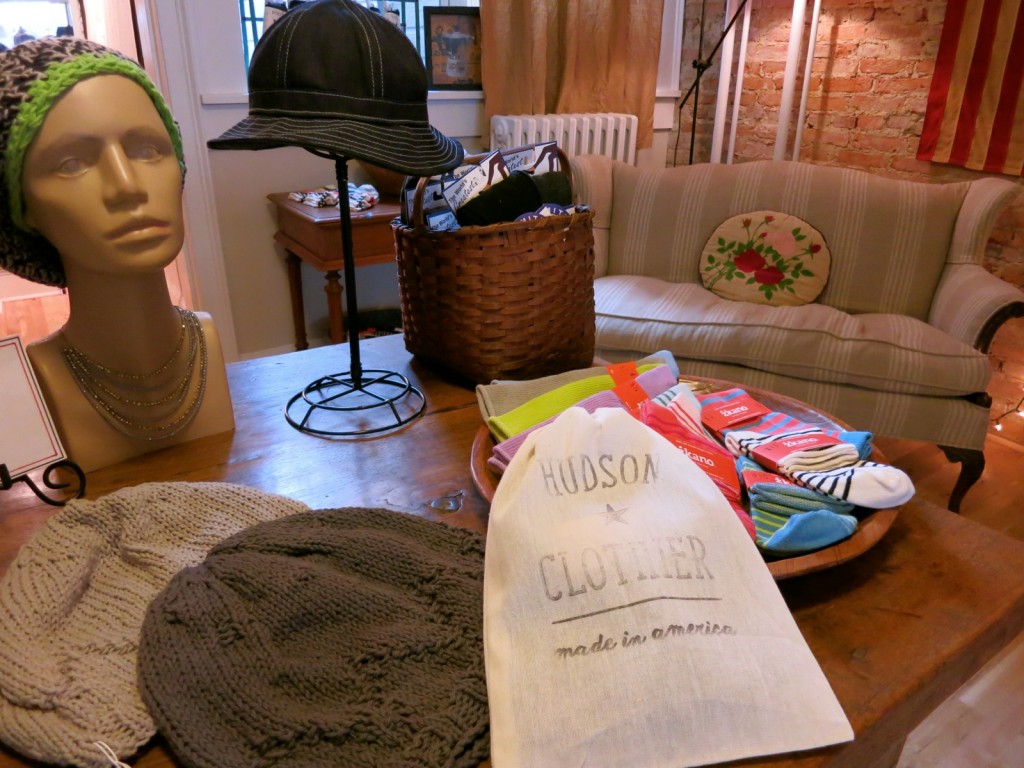 Comfy designs, hand knit hats, and great sales.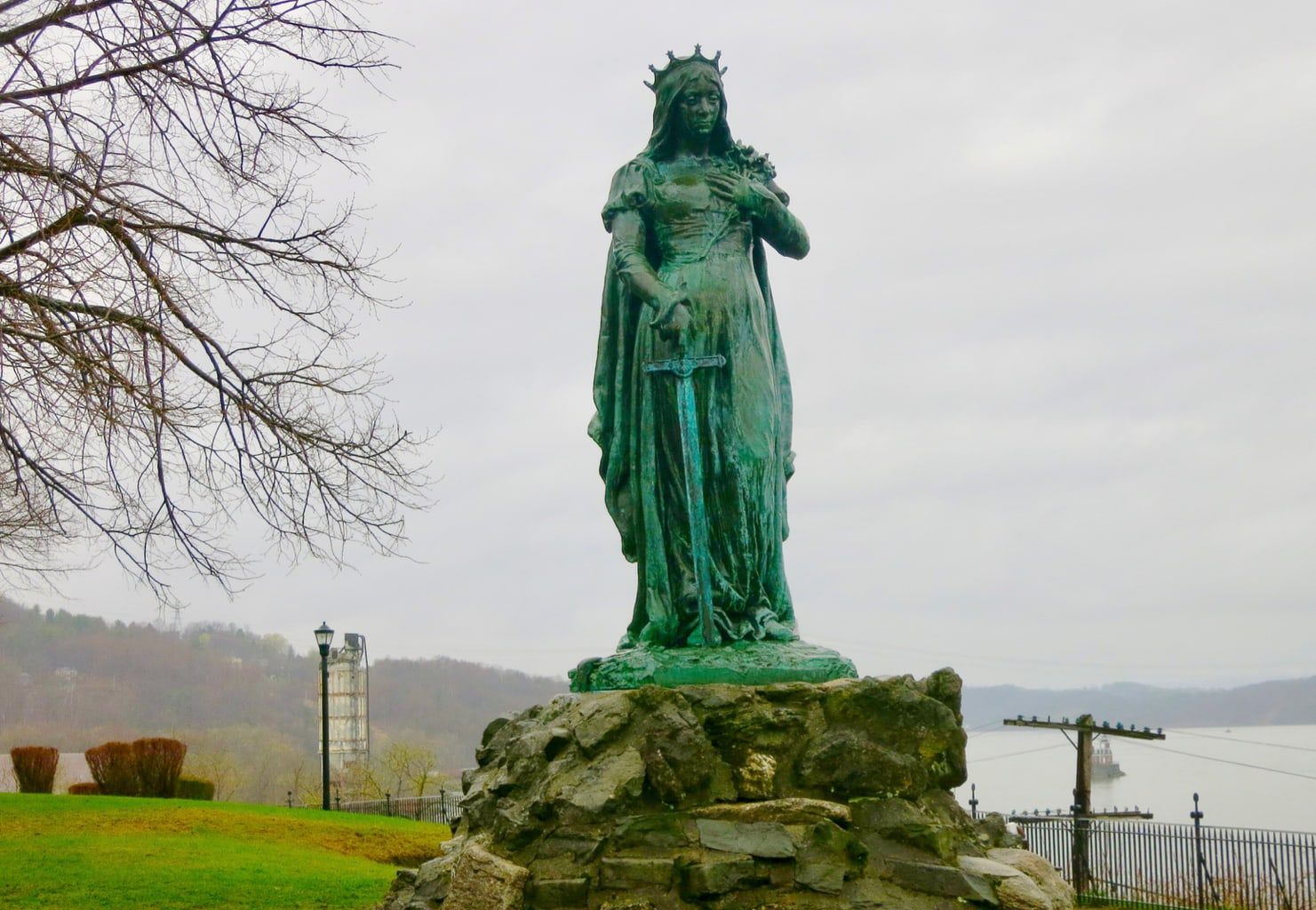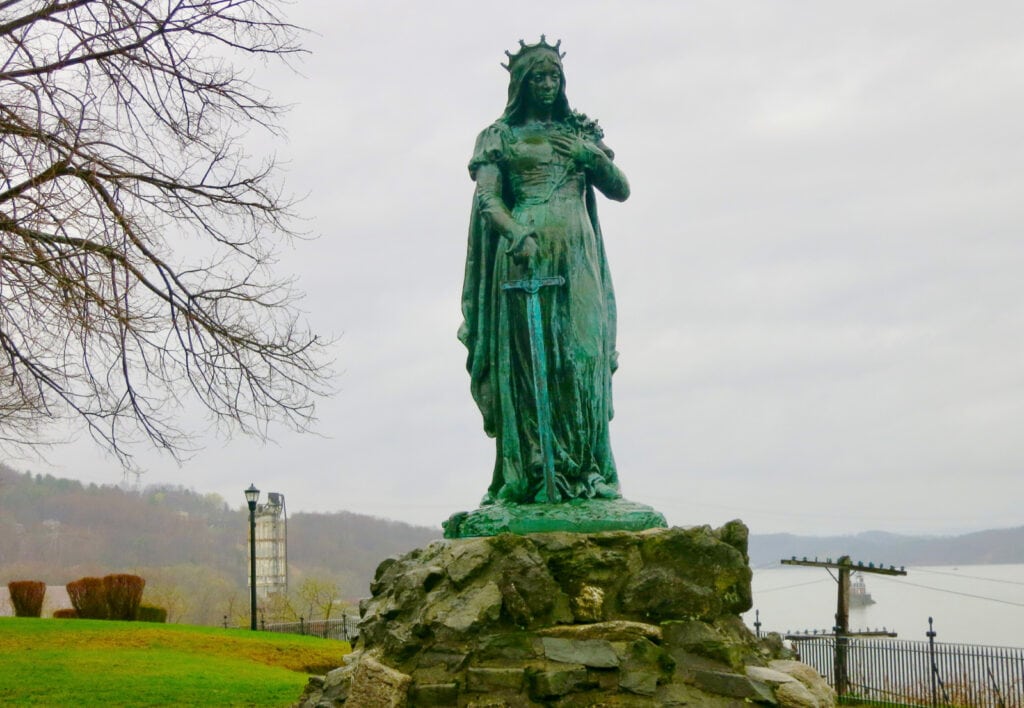 SEE: Parade Hill at Promenade Park
One of the first parks established in the USA for the viewing of scenic vistas, take the stairs at the foot of Warren St. up to the park overlooking the Hudson River. It's a stunning vantage point from which to see the 1874 Hudson-Athens Lighthouse with the Catskill Mountains beyond.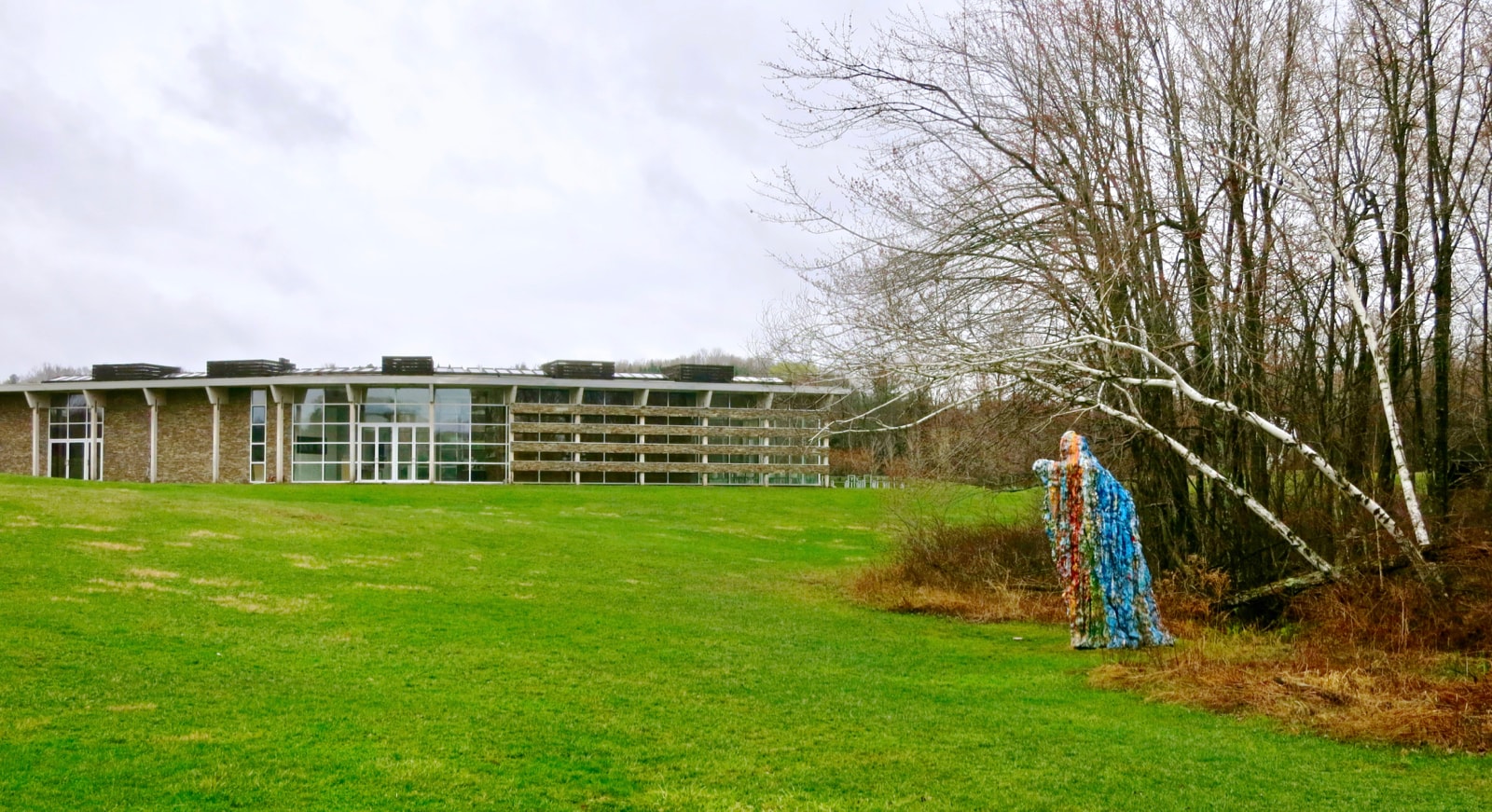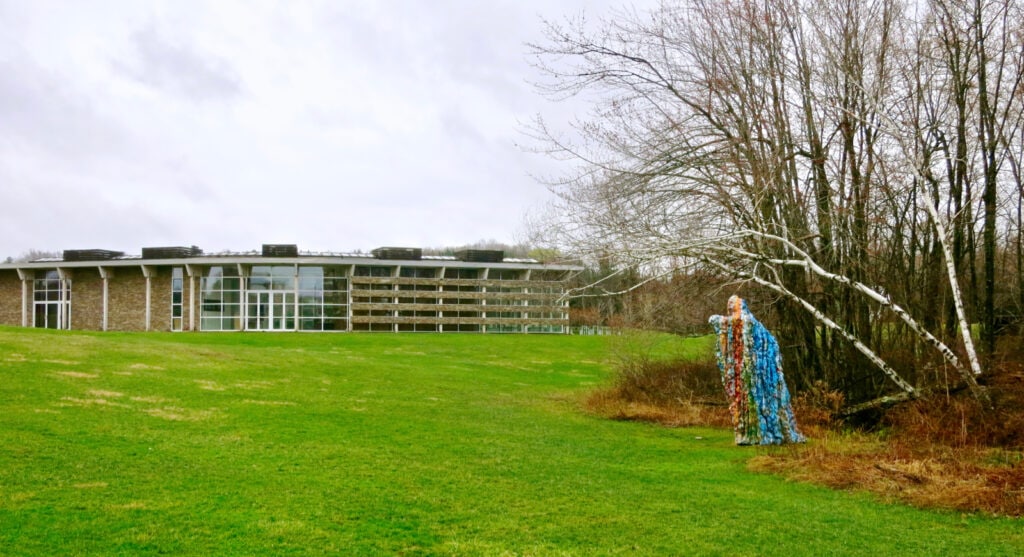 Drive 12 miles and allot one hour to the Storm-King-like 120-acre Fields Sculpture Park at OMI International Arts Center, a leg stretcher with a great pay off.
The LEED-Certified Visitor's Center, built in 2008, is a work of contemporary art in itself, with mushroom-wood paneling and polished concrete floors. Use foot or bike power (bikes available for free near the entrance) to see all 80 sculptures. Open dawn to dusk, café hours Sat and Sun 11-4. free.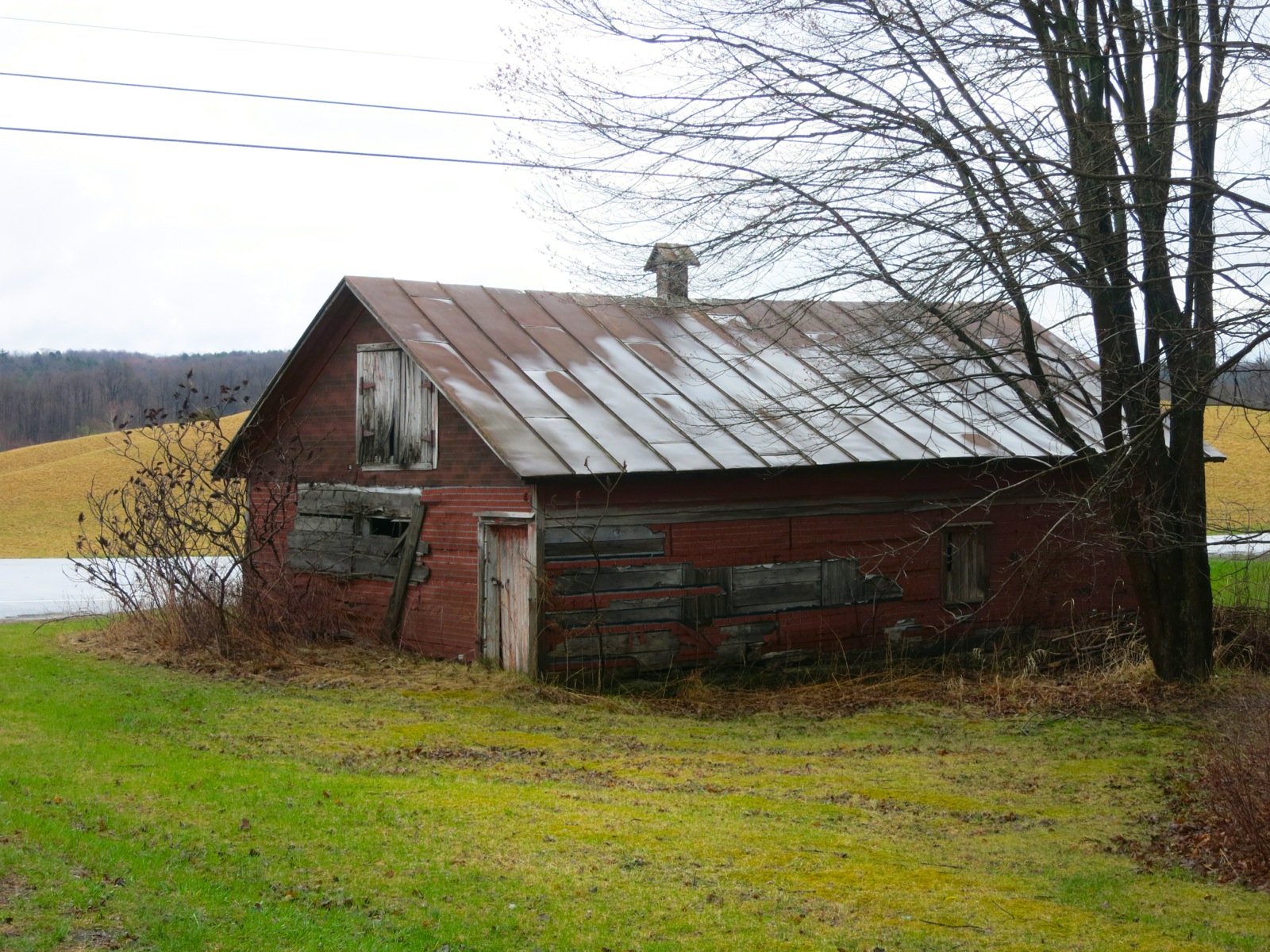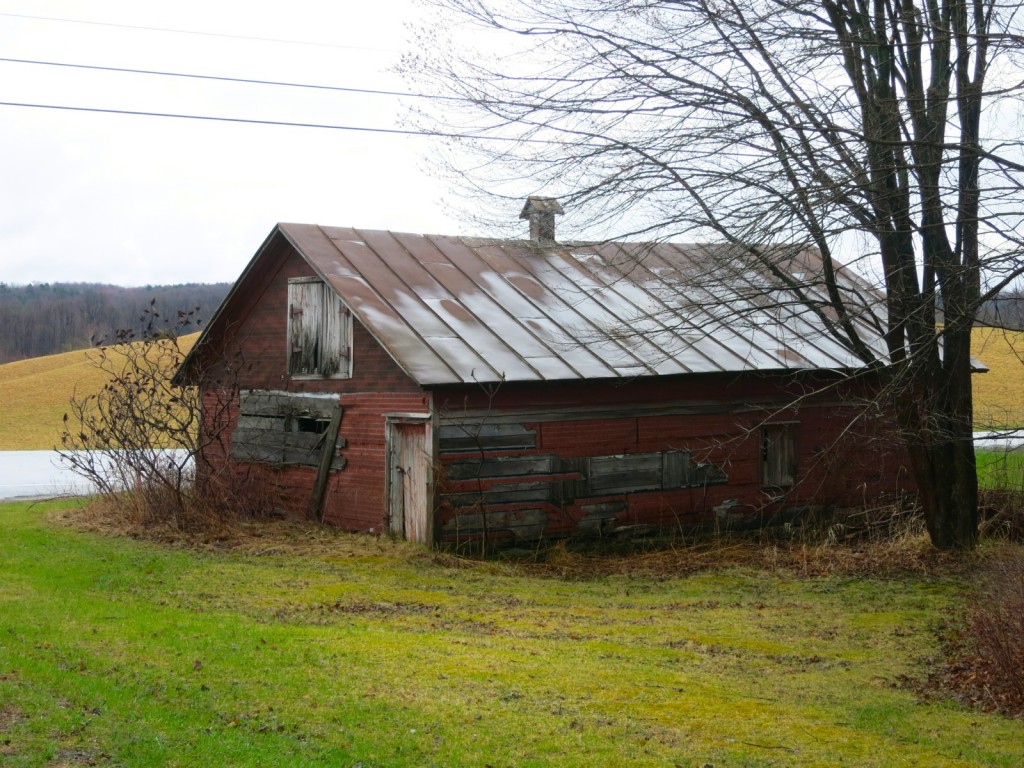 DRIVE: Just Drive. I've never seen so many beautiful barns in various states of decay.
Best Restaurants in Hudson NY
There are a few dozen restaurants in Hudson, and not a small number of CIA trained chefs. Everyone in town seems to have their own personal favorites. These are mine – for a start: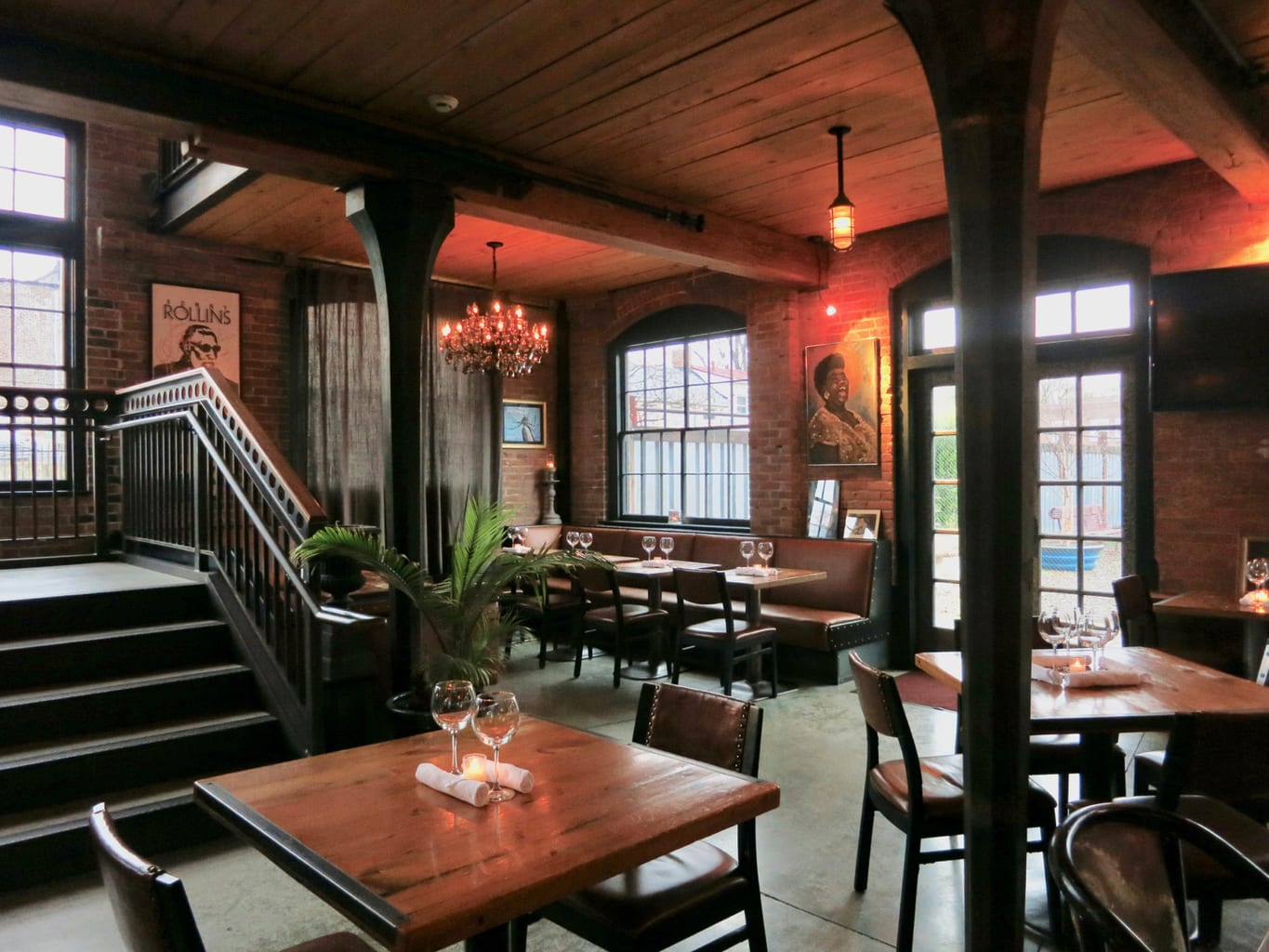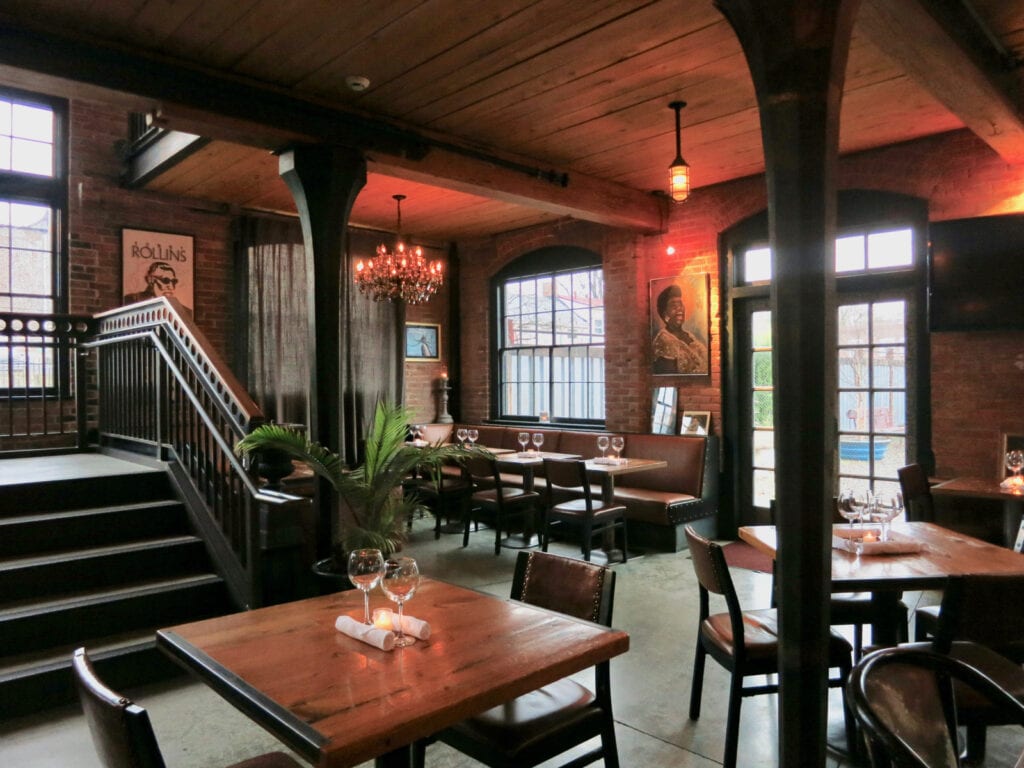 Though known mostly as a music venue, the Creole-cookin' Chef, Hugh Horner, buys locally sourced ingredients for excellent dishes like Low Country Shrimp and Grits ($25), Great Aunt Theo's Fried Chicken ($21), and meats cured and smoked in what's affectionately known as "Atticus" – the wood fired smoker out in the courtyard.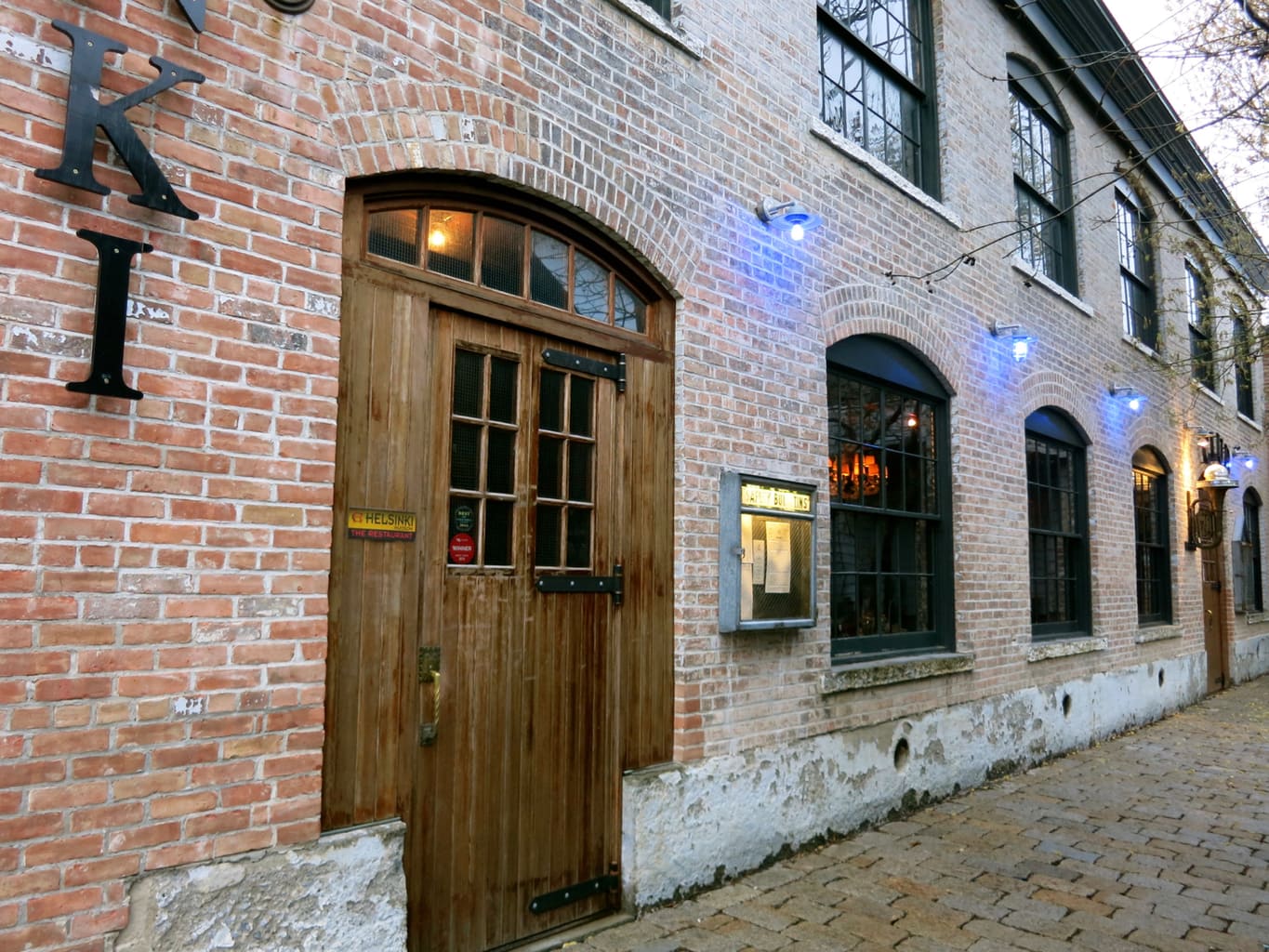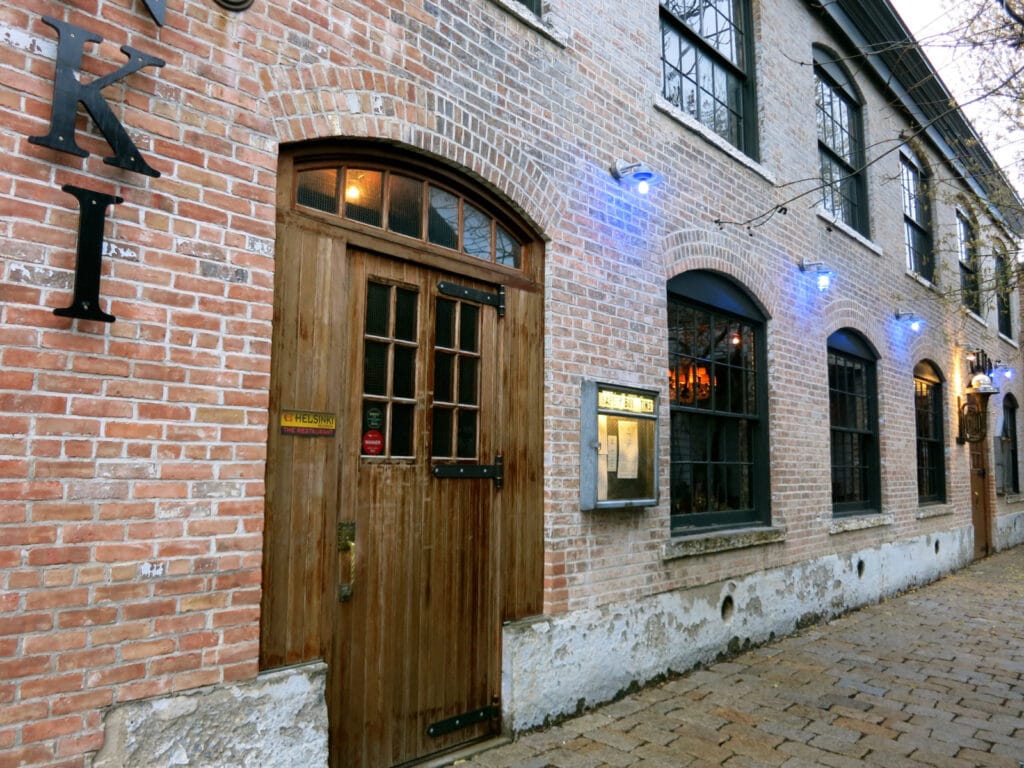 In a refurbished 1800's industrial building, Helsinki's decor — utilizing brick walls, rough hewn wood plank ceiling, leather seating, upside-down lampposts (serving as structural supports), local art, and chandeliers –  is a delight to the eye. Desserts include something maple (e.g. Maple Ice –Cream), made from syrup rendered on the owner's farm in Hillsdale.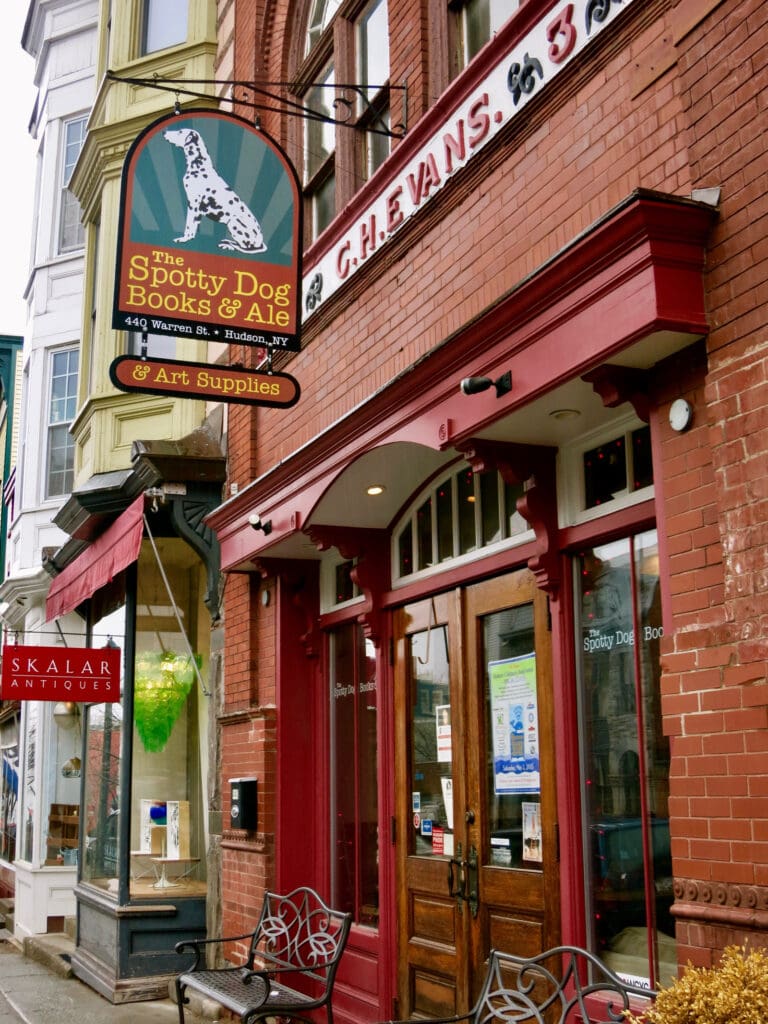 Like to have a cold one while browsing for books? Stop into this microbrewery pub and bookshop rolled into one.
EAT: Locals Recommend – Hudson Food Studio for Asian-influenced communal eating, Ca'Mea for excellent Italian, Baba Louie's for artisanal pizza, Café Le Perche for seafood.
Hotels In Hudson NY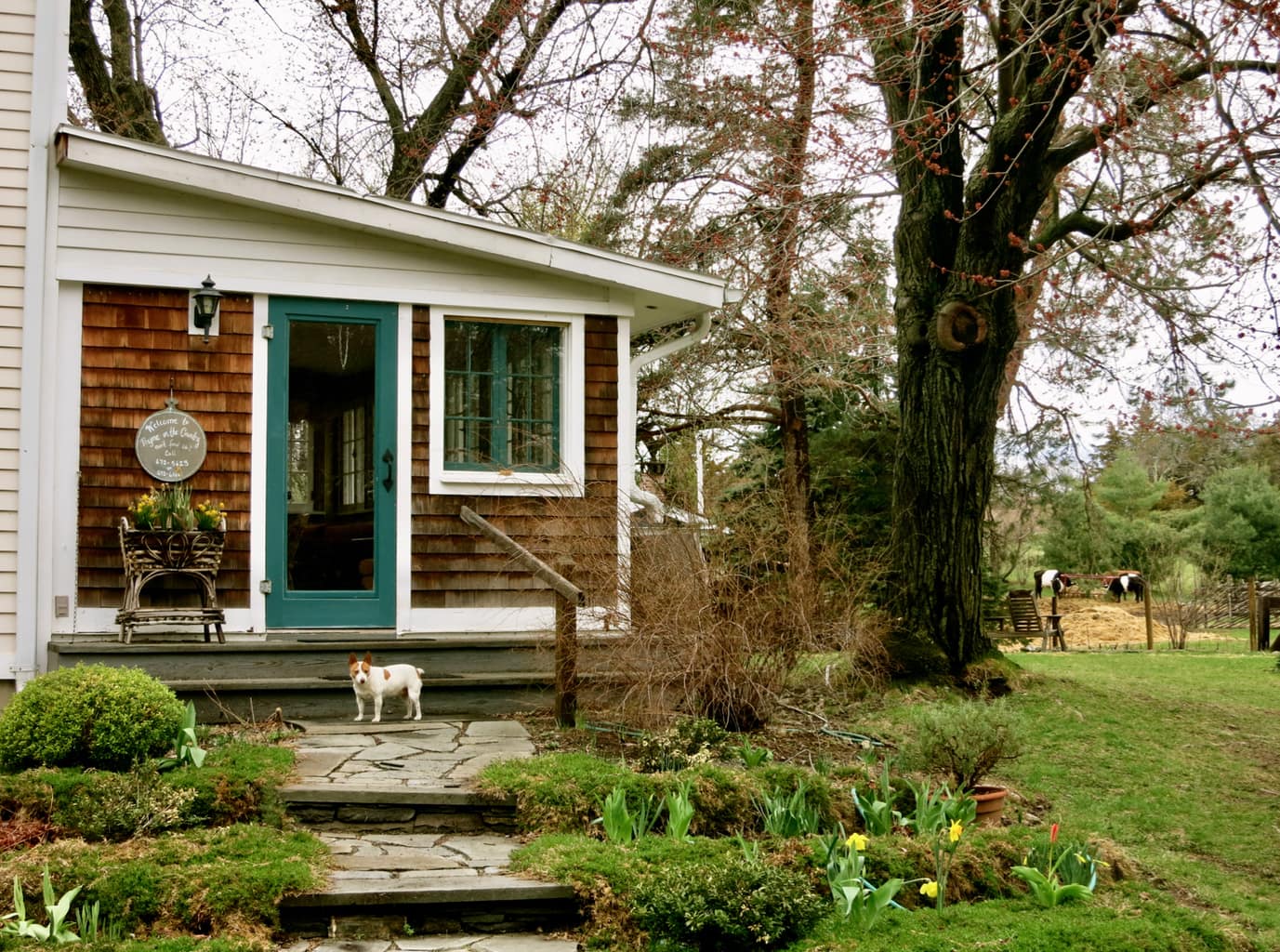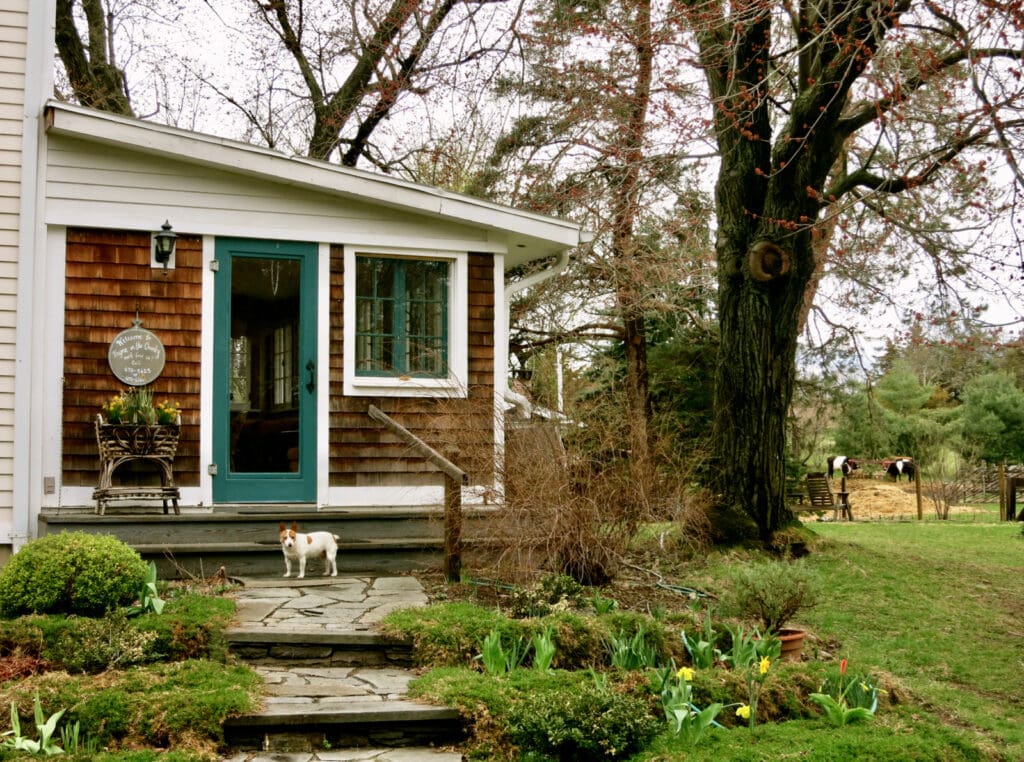 This is a few miles out of town, but perfect for "Green" back-to-nature, hypoallergenic folk. If the array of solar panels taking up a good portion of the backyard doesn't convince you this place is "a bit off the grid," the happy chickens running around certainly will.
Thyme in the Country is so green, every piece of bedding is natural and hypoallergenic, room amenities are organic, and milk for your morning coffee comes from resident cows.
Fish in the pond. Swim in the salt-filtered pool. Take a long hike from the backyard. Then head into little Philmont – a mile away – for local food in a repurposed garage – Local 111. And live music at Main Street Public House, with dartboards on walls and peanut shells at your feet. Rooms $165 and $180 per night include organic full breakfast.
Weekend Getaways in Upstate New York: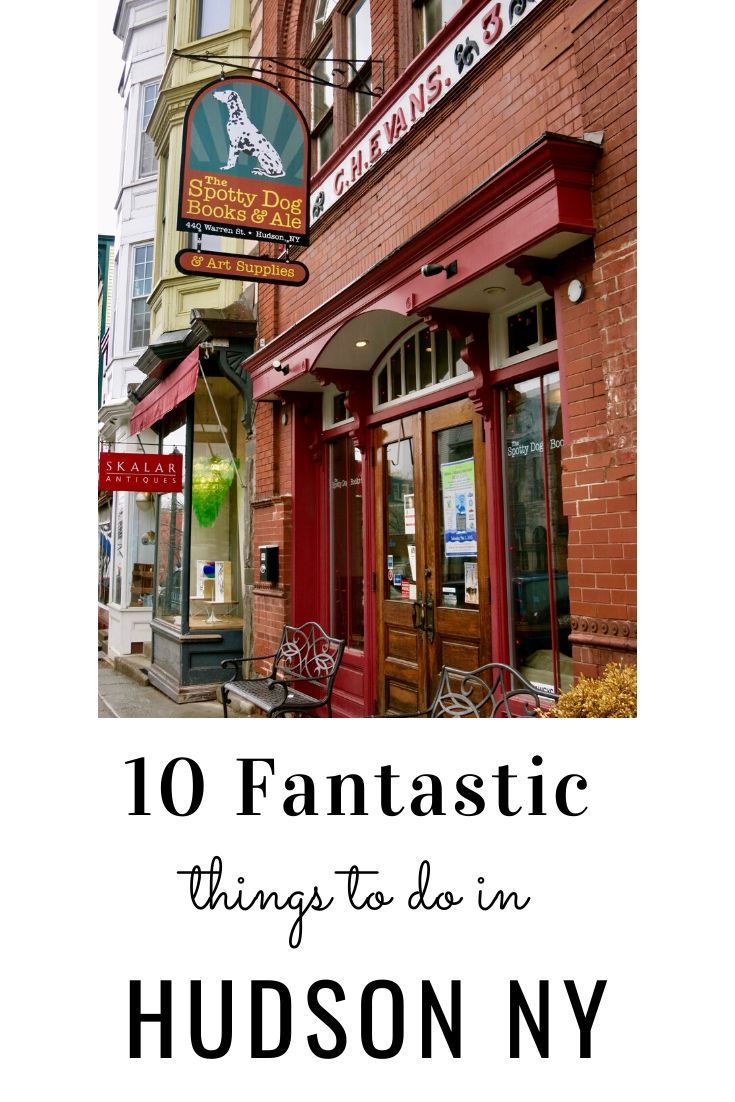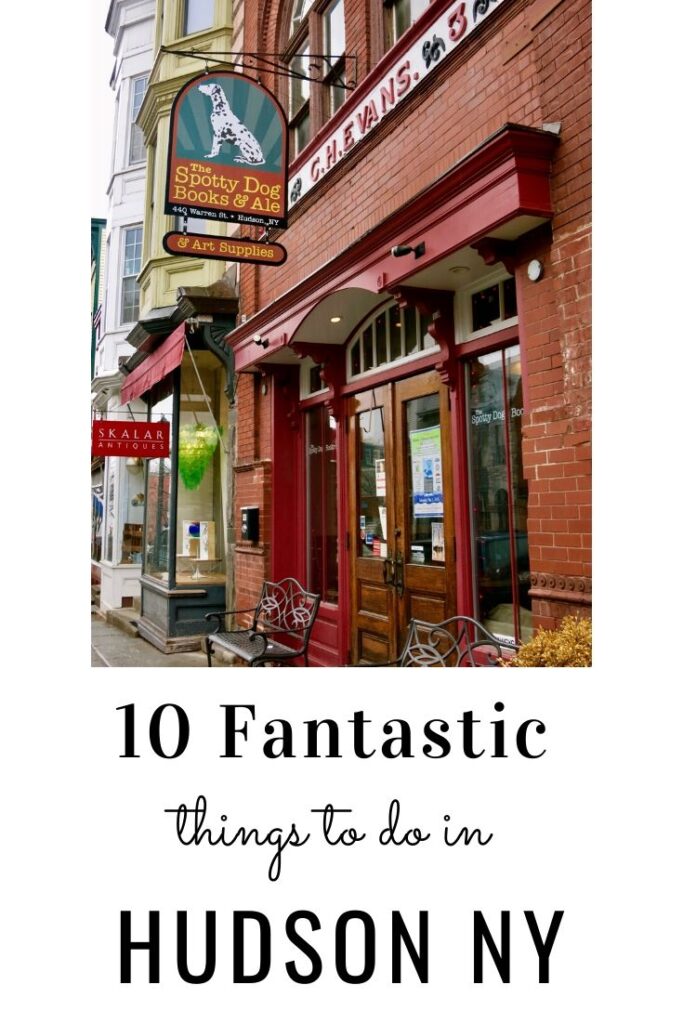 Pair this Getaway with one just across the Hudson in Catskill NY – home of the Father of the Hudson River School of Art, Thomas Cole.