Last Updated on June 24, 2022 by Editor
WHY GO: So, you think you've seen all there is to see in Plymouth MA. You've taken photos of "The Rock" and most likely have engaged with some of the original Pilgrims at Plimoth Plantation.
But did you make it up to the National Monument to the Forefathers? To the Pilgrim Hall Museum? Or one of the few historic homes built in the 1600's?
If not, your visit to Plymouth, originally charted and named by John Smith in 1614, was incomplete.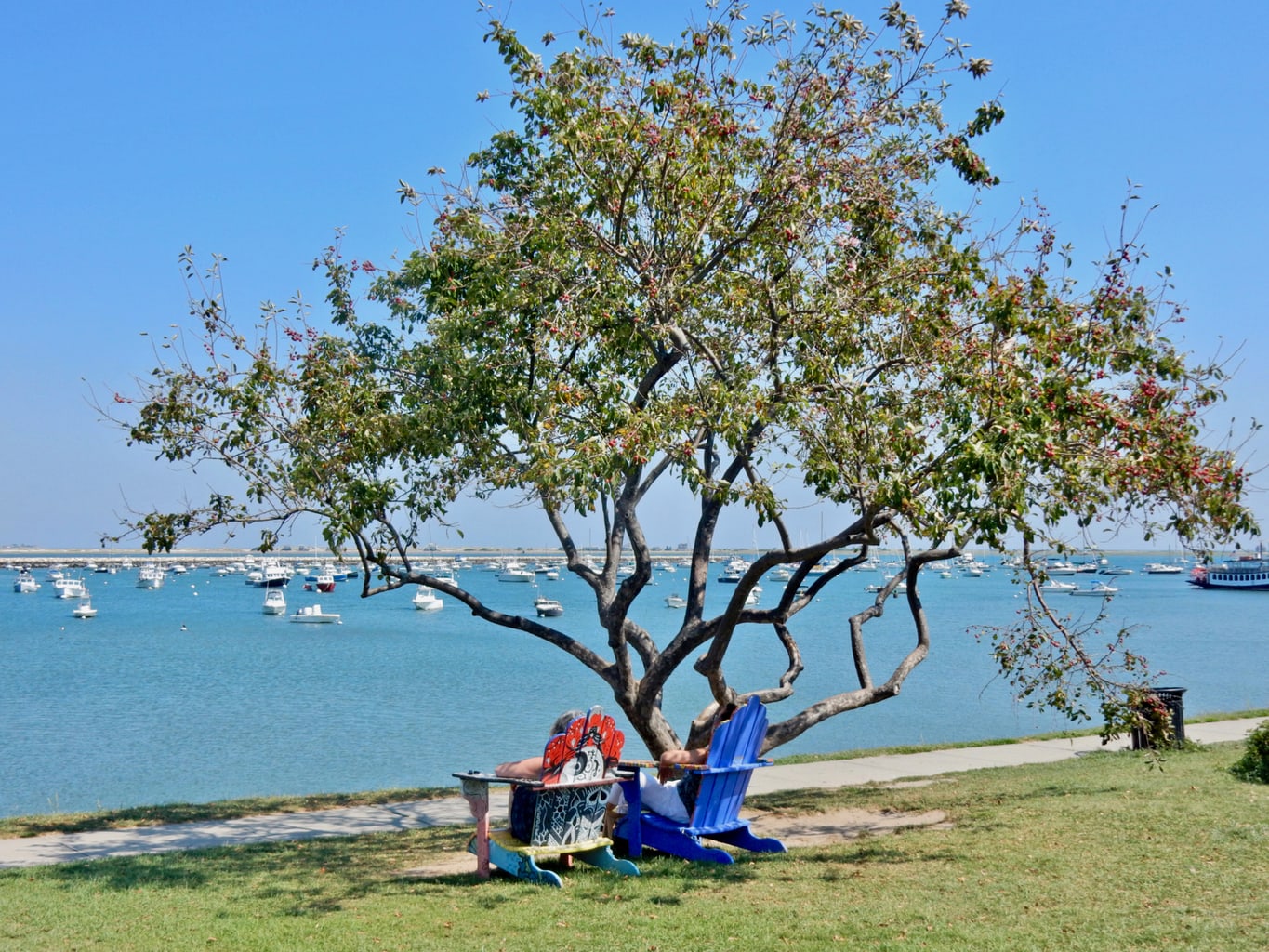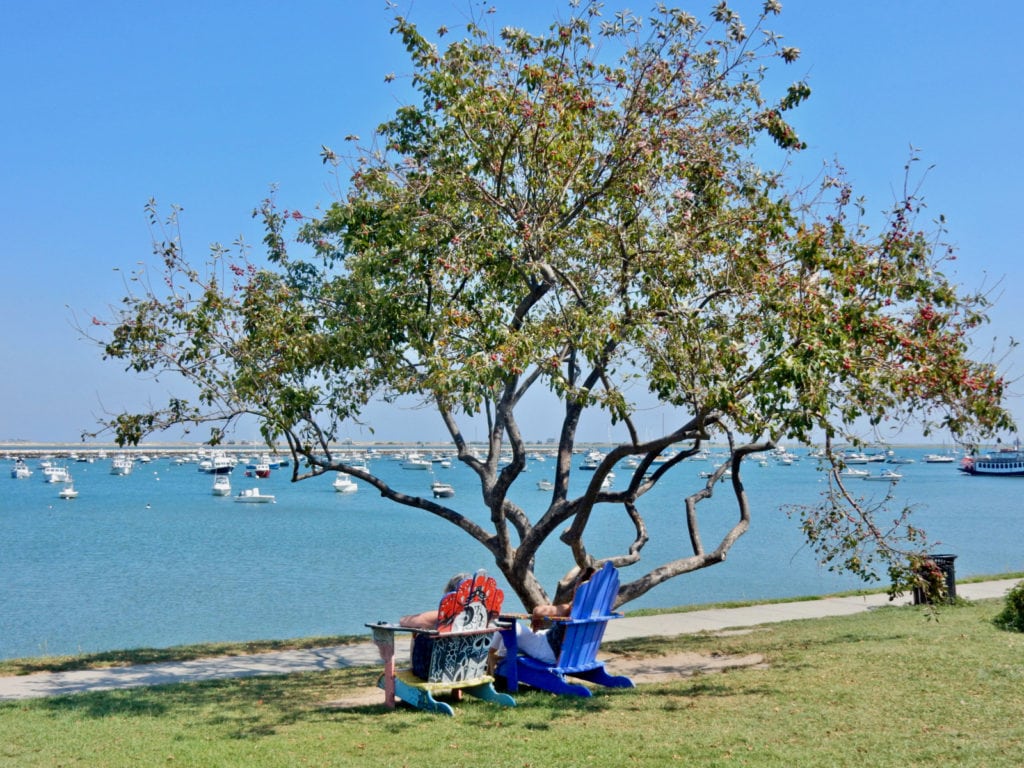 Plymouth has rebranded itself as "America's Hometown" and of course our country's history is the initial draw. But the Mavens throw in a fashionable winery, a gallery-rich main street (parallel to the tourist-rich street along the waterfront), a new boutique hotel, and lush spa resort for an enticing historic Getaway.
Plymouth MA – America's Historical Attraction
Coastal Massachusetts was not the ultimate destination for the 102 Mayflower passengers, a group consisting of religious Puritans (Saints) and fortune hunters (Strangers). Intending to settle "well south" of here in New York, they were blown off course, and in doing so had to deal with the harsh realities of winter in New England.
Half of them died within the first year.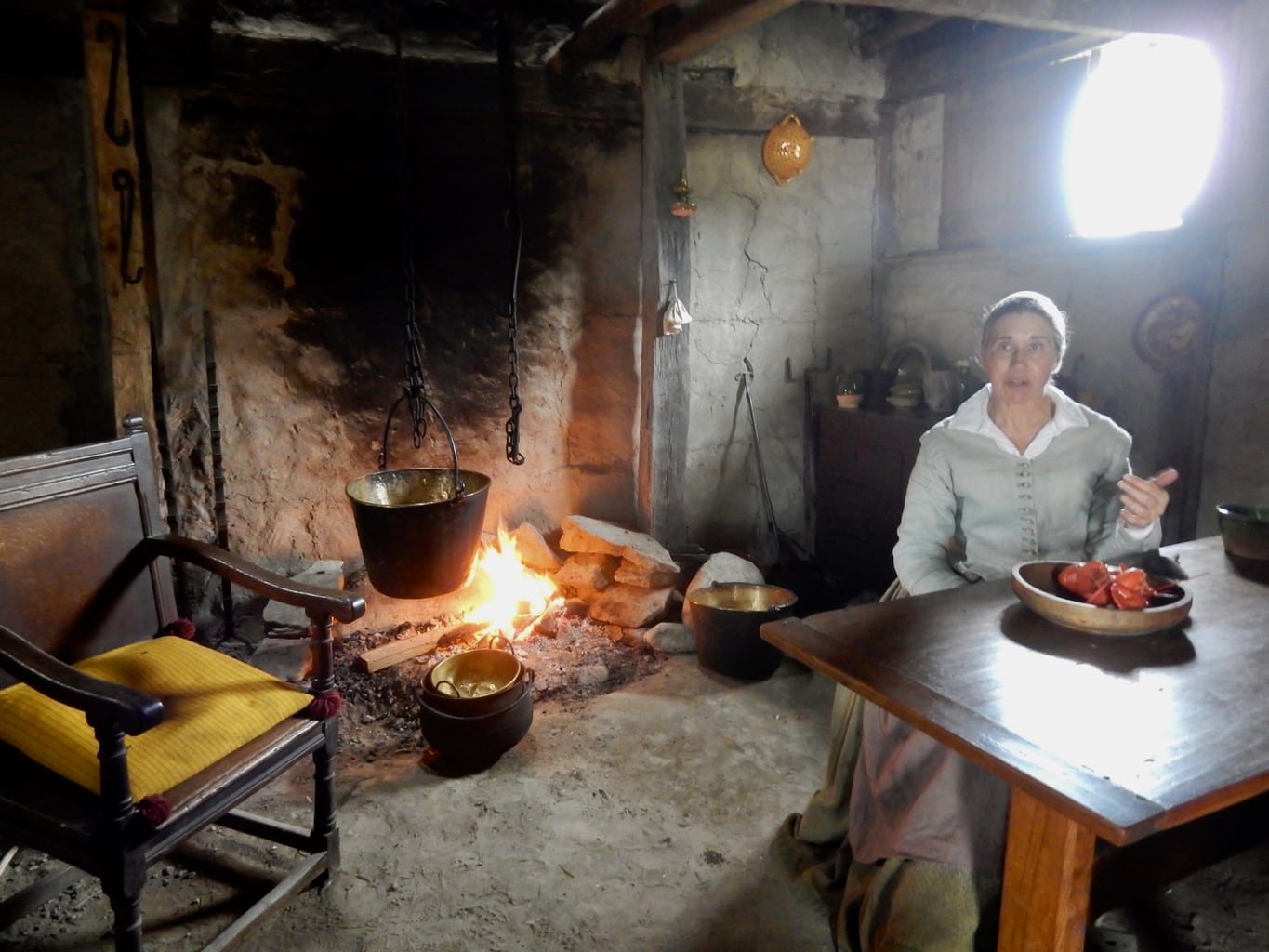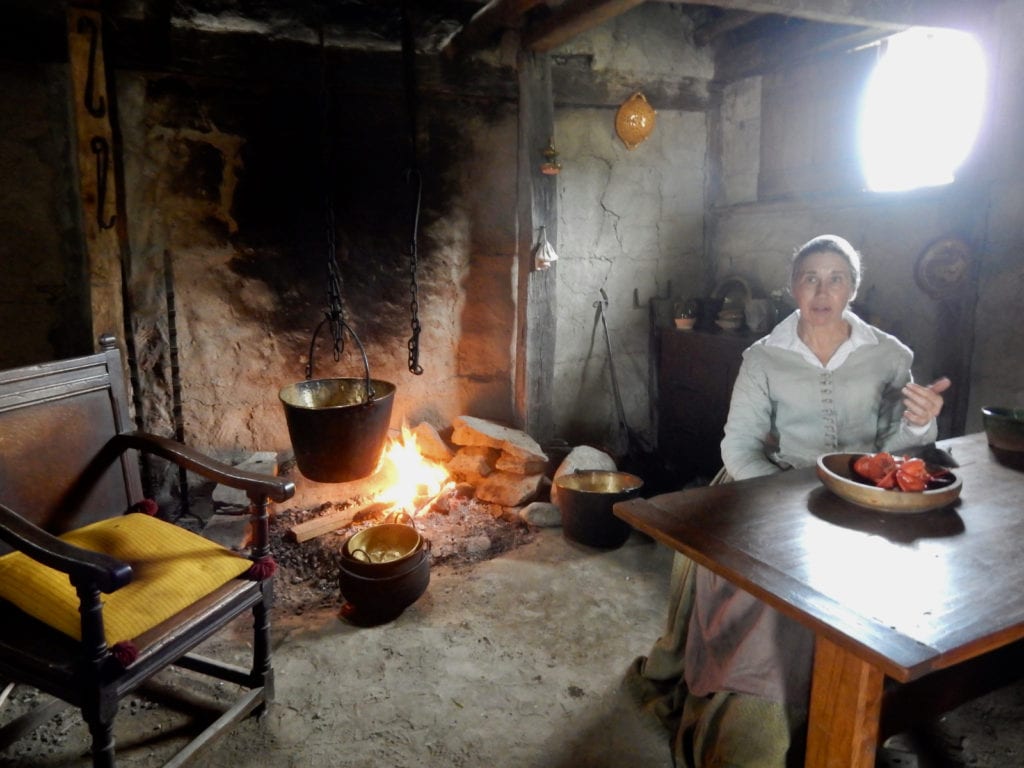 A current introduction would not be complete without mention of Plymouth 400 – an umbrella organization that, before Covid-19 hit, was coordinating the activities of member attractions and organizations hoping to celebrate the 400th anniversary of the Pilgrim's Landing in 2020. (Some event were conducted online. Others have been rescheduled for sometime in 2021).
To whit – the Plymouth Harbor was dredged (for the first time ever) in anticipation of the return of the Mayflower II (now back in town after restoration at Mystic Seaport in Connecticut), and to allow larger vessels to enter the inner harbor.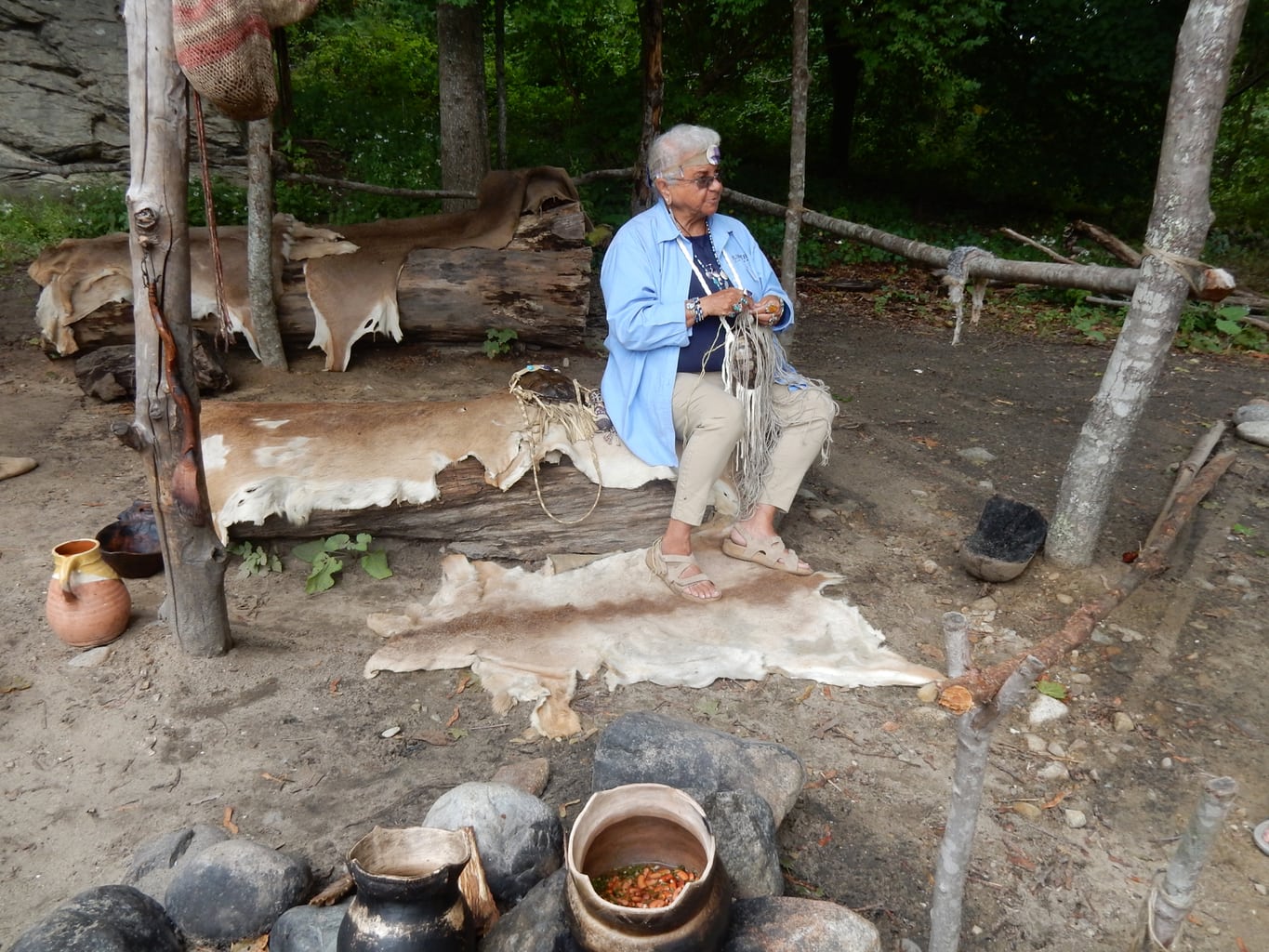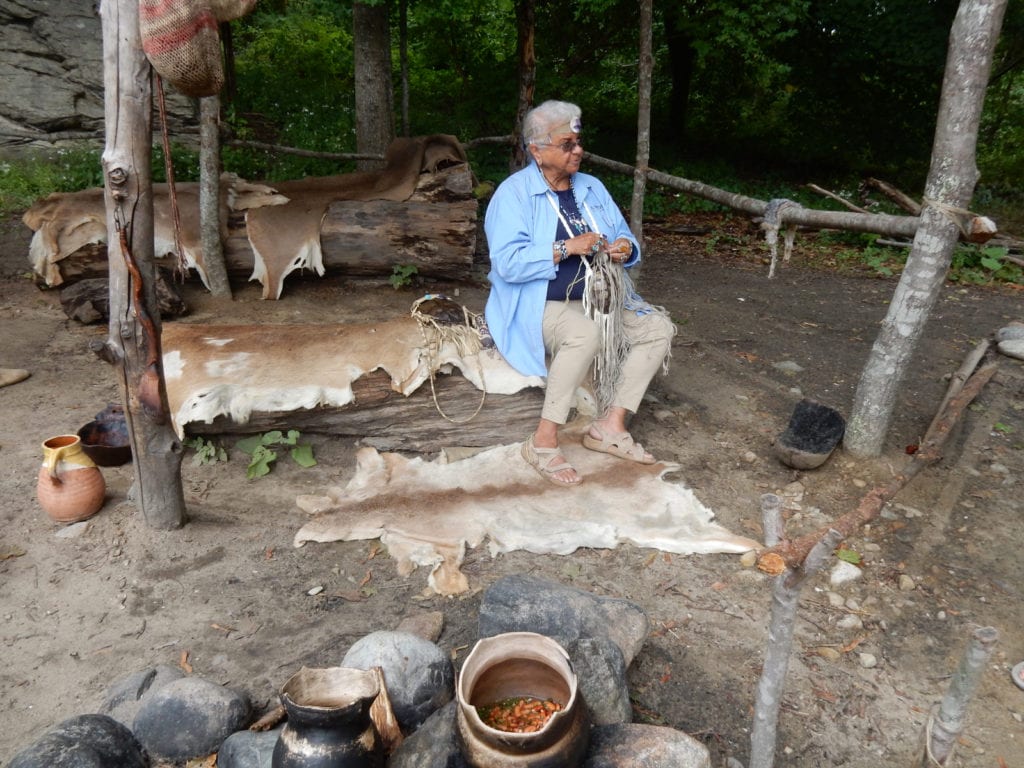 A "Path of Pilgrims and Wampanoug" Tourist Trail, much like the Freedom Trail in Boston, has been established. This Quadricentennial celebration will not ignore America's first residents – the Native Americans who had lived here for over 10,000 years before first welcoming our country's first immigrants with feasts of Thanksgiving – who perished in droves from foreign diseases and in battle with increasingly hostile newcomers.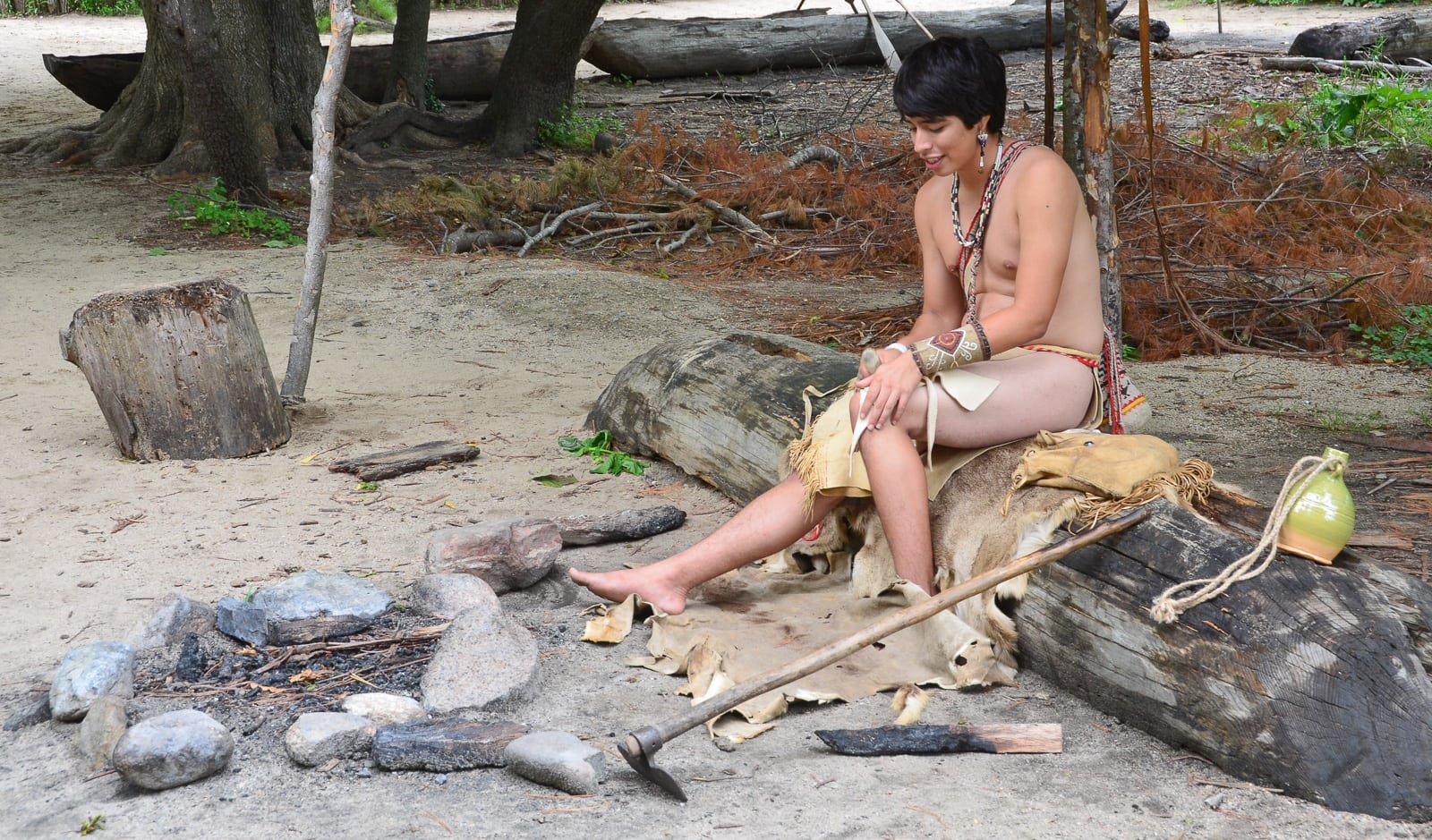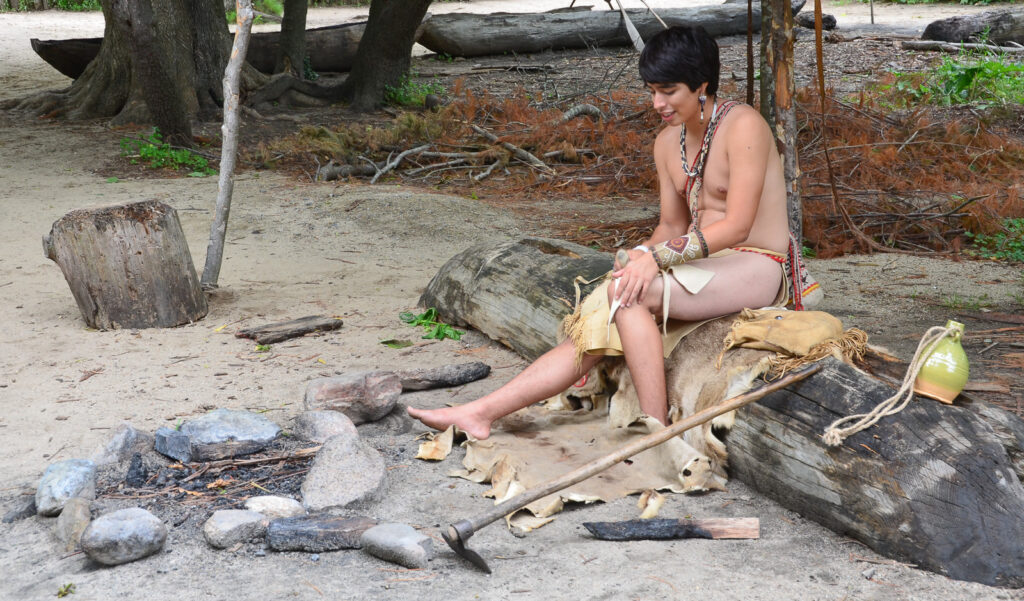 Plans are in the works for a Wampanoag Ancestor's Walk and Indigenous History Conference and Powwow to address this disconcerting aspect of America's origin story.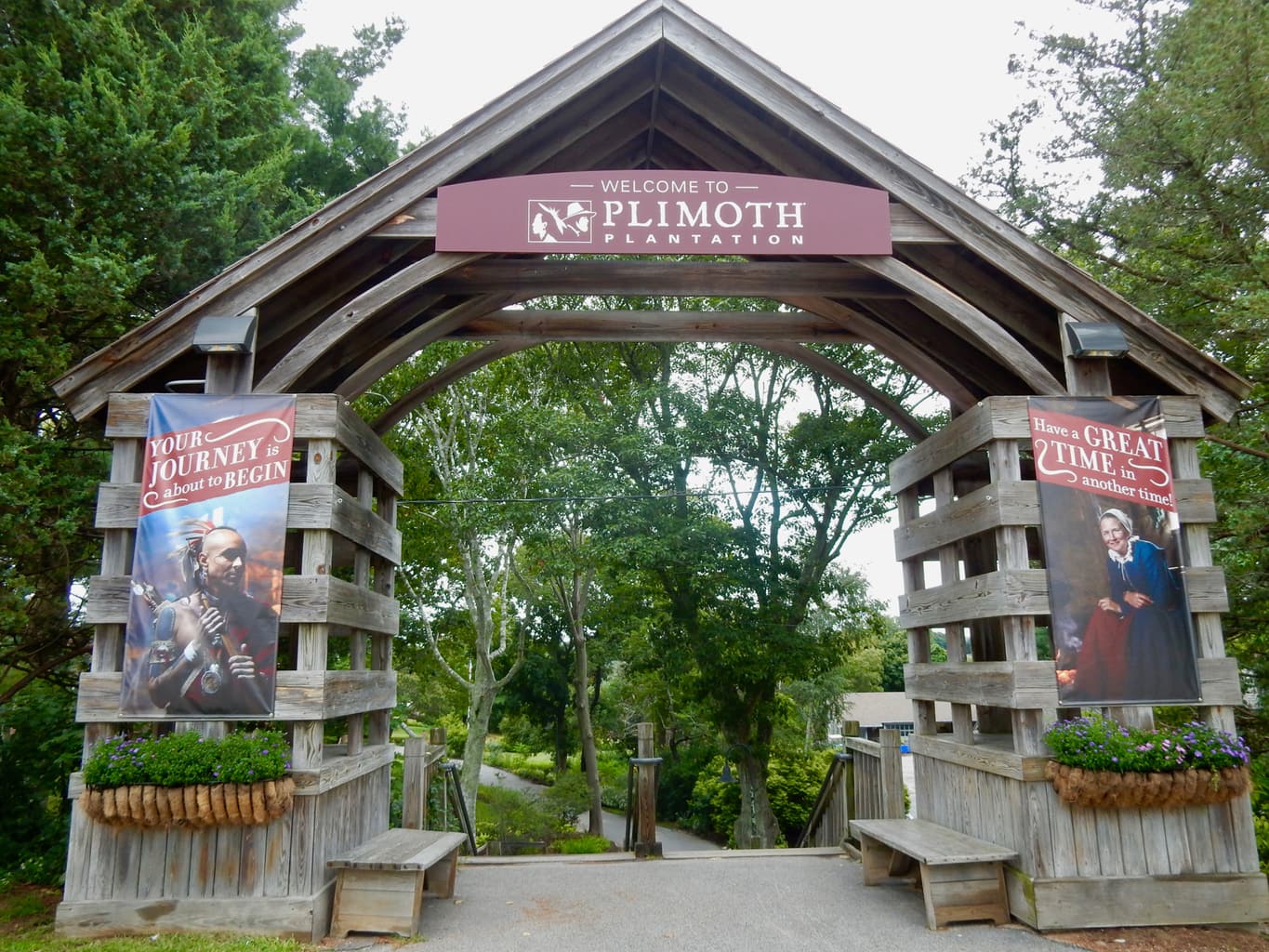 Several miles from its original placement, Plimoth Plantation was built in 1947 as a Living History Museum to recreate the structures and conditions of the Plymouth Colony in 1620.
Start in the Visitor's Center with a 15-minute orientation film, and then follow a well marked path, first to the Wampanoag Settlement, where Native American interpreters play the part of their ancestors who lived here, and then to the 17th Century English Village, built to look like the one established by the Mayflower Pilgrims.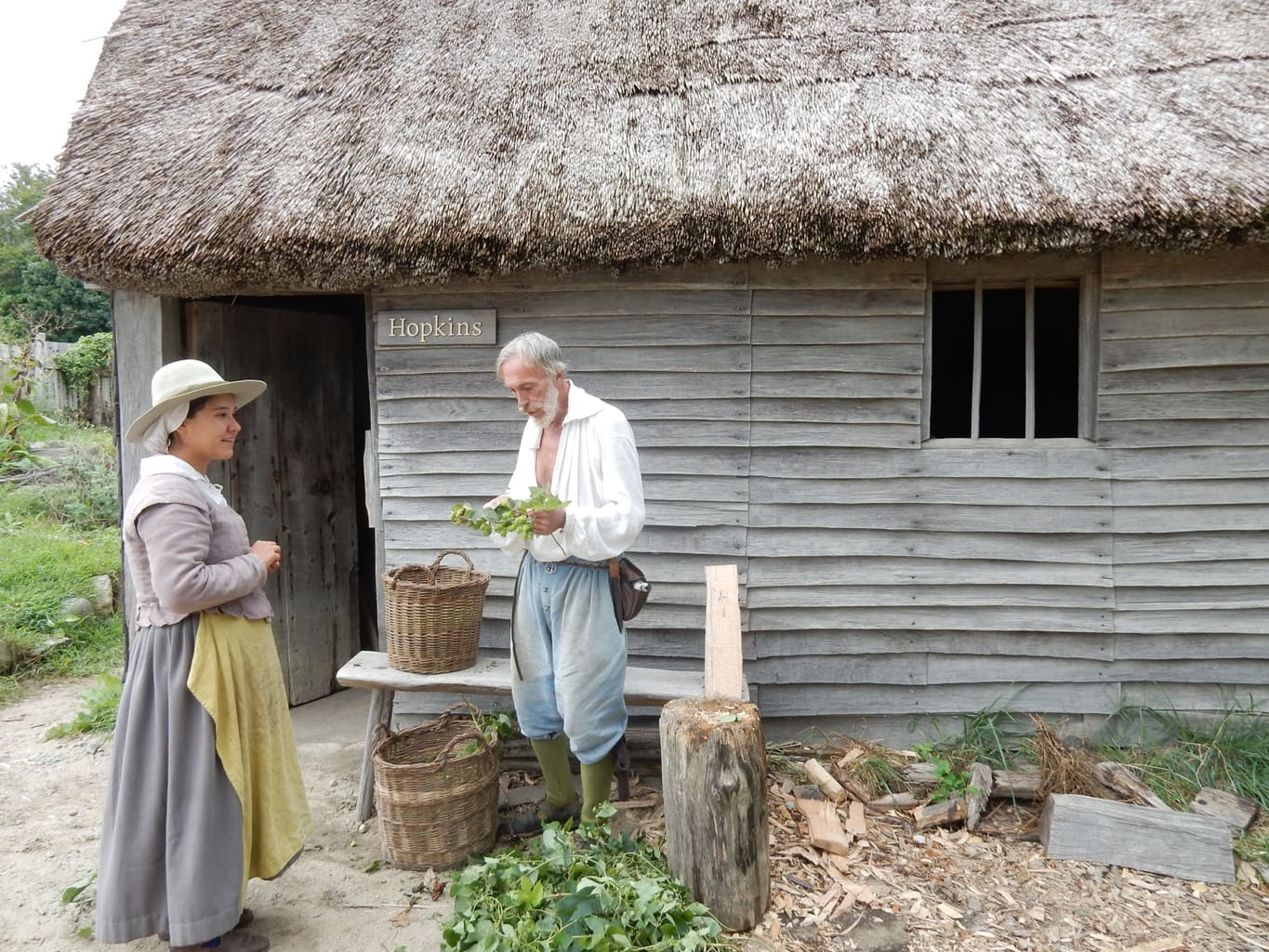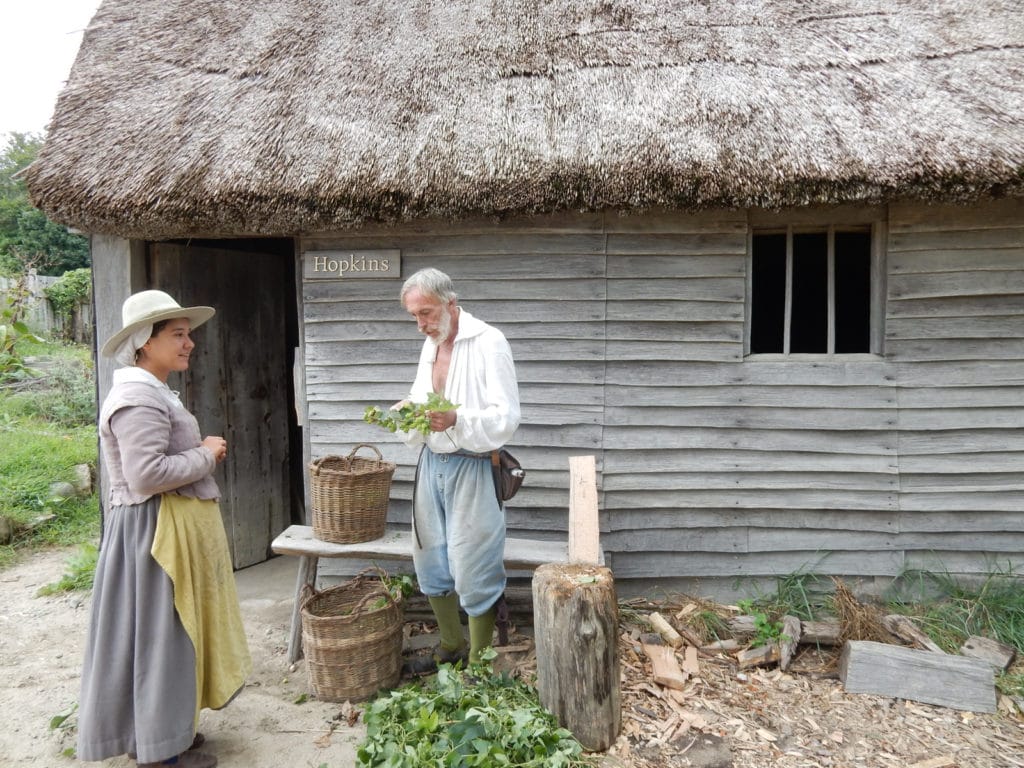 You'll find costumed docents cooking, gardening, doing chores, or gossiping with one another. Much of the fun comes from engaging these villagers in conversation. We stumbled upon Master Hopkins snipping hops buds from vines "to make beer out of ale."
This is Plymouth's most popular attraction for a reason. Open daily Late March to Sunday after Thanksgiving, 9-5, $28 adults, $16 kids. Plimoth Cinema on site shows first-run movies daily.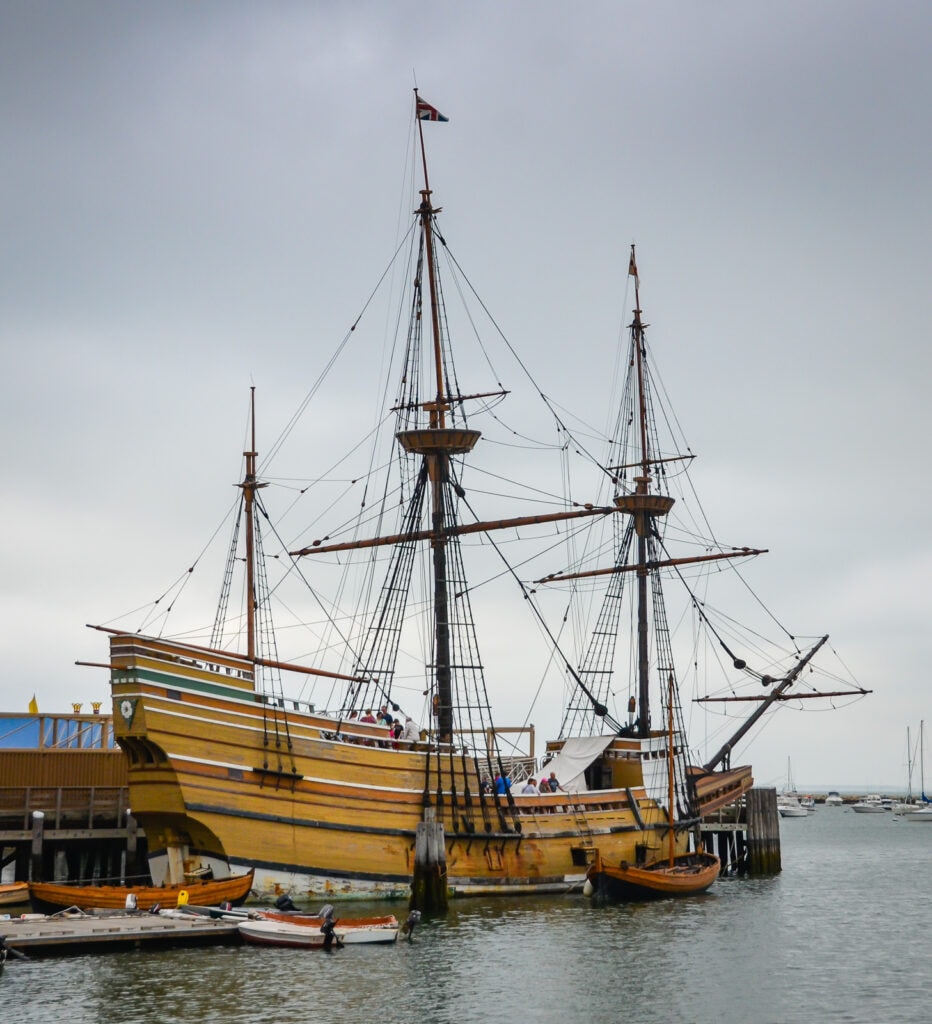 More Things to Do in Plymouth MA
In 1620, 102 men, women, and children sailed for ten perilous weeks from England to Plymouth, MA aboard the original Mayflower ship. No one knows what happened to the original, but its replica, the Mayflower II, recreated that journey in 1957.
Upon arrival, it was tied down to a pier where it remained until being restored to sailing condition in 1990. Now, she sails occasionally but mostly she is available for tours led by costumed guides who describe the dangerous journey and share the history behind the Mayflower Compact while escorting visitors through the ship's narrow confines.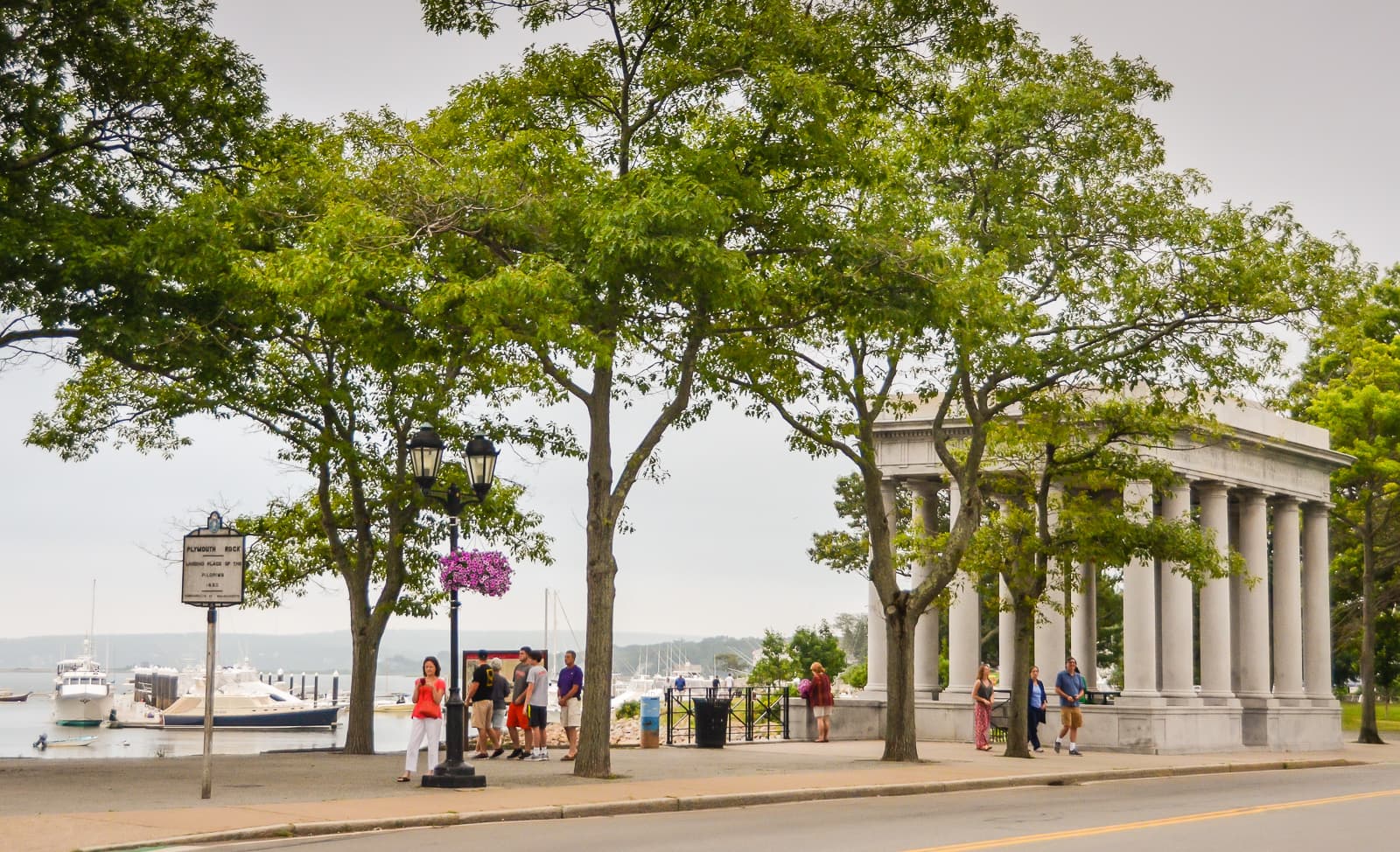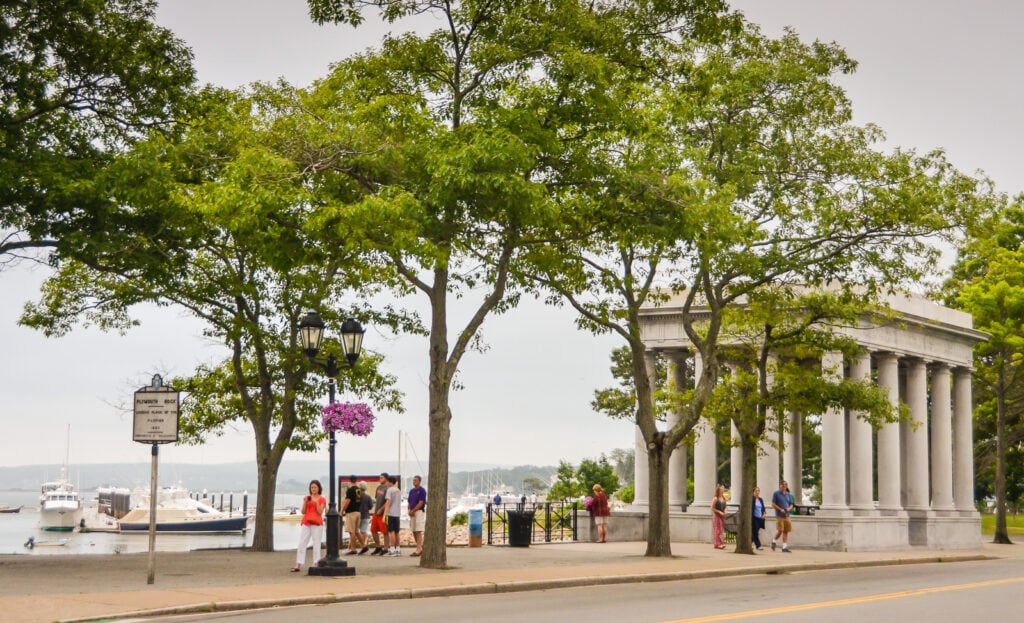 In 1741, when a certain rock on the shoreline of town was in danger of being concealed by a proposed wharf, a 94-year-old Church elder, Thomas Faunce, claimed that his father's friends, who had arrived on the Mayflower, told him that the boulder was the first stepping stone on land for the 102 disembarking passengers in 1620.
The wharf project was tabled, and the once large boulder became ever smaller as locals got wind of its importance. They chiseled it away, using pieces for stone floors and home decor.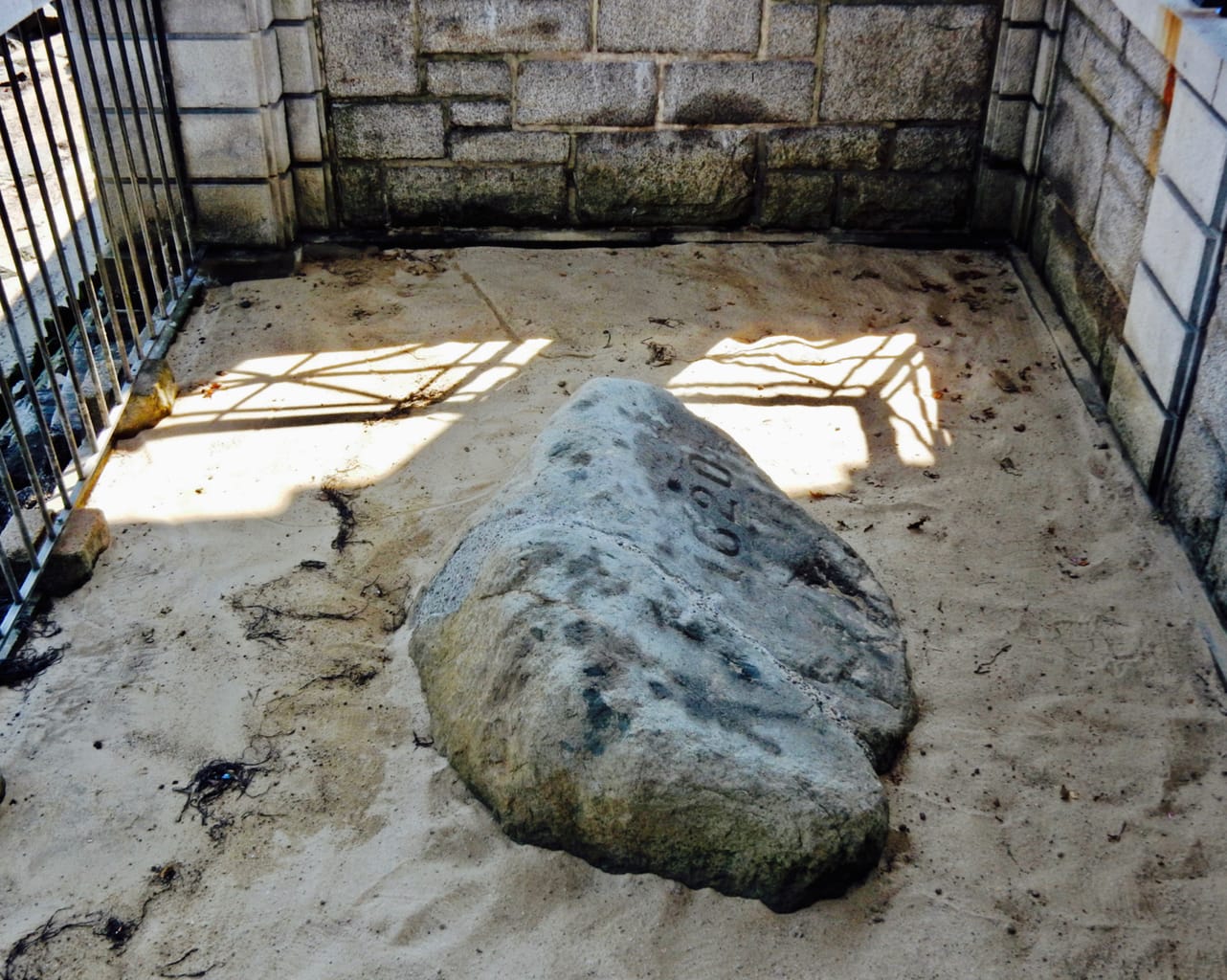 Now under shelter, what's left of "The Rock" would fit in the back of a pick-up truck: not quite the stirring sight you'd expect. The jury is still out on whether it was this exact rock, but many believe that the granite stone – standing alone amid thickets of brush and trees – would have certainly been a landmark to steer by, if not the actual landing site.
What's Left of Plymouth Rock?
Today, just 1⁄3 of the top portion remains, under cover of a  multi-column portico designed in 1920 by McKim, Mead and White for the Tercentenary Celebration of the landing. Look for "1620" clearly carved on its face, it's a later addition from about 1867.
We tend to agree with Bill Bryson in Made in America:
The one thing the Pilgrims certainly did not do was step ashore on Plymouth Rock. Quite apart from the consideration that it may have stood well above the high-water mark in 1620, no prudent mariner would try to bring a ship alongside a boulder on a heaving December sea when a sheltered inlet beckoned from near by.
Regardless, Plymouth Rock is an important symbol of America, and not to be missed.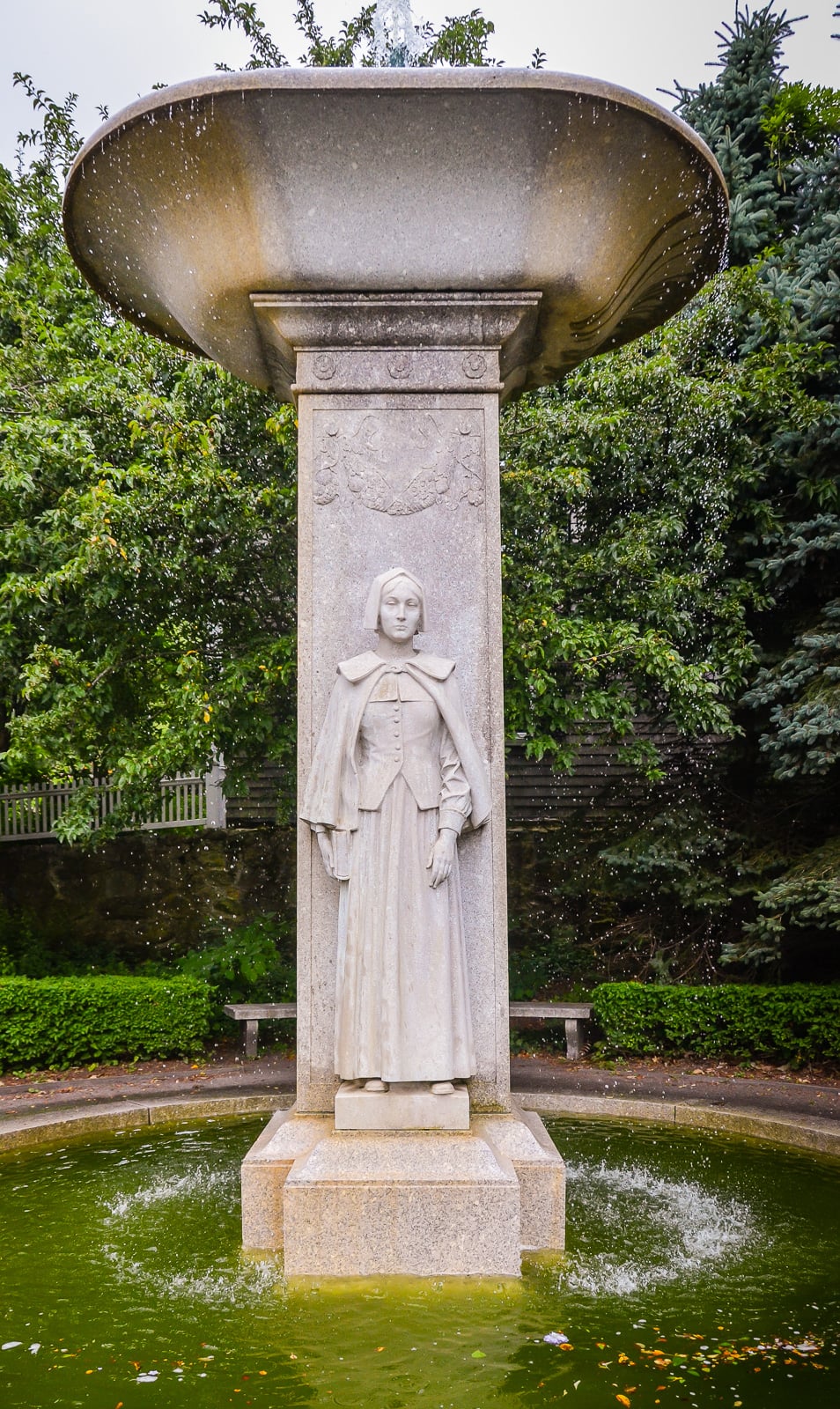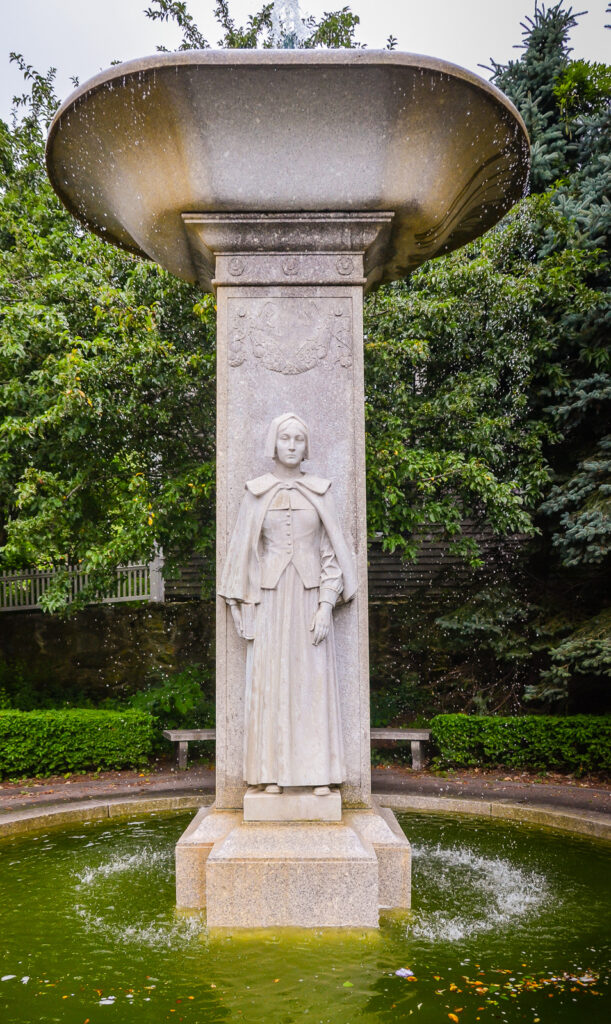 WALK: Both Plymouth Rock and the Mayflower II
These icons are located at Pilgrim Memorial State Park, along Plymouth Harbor, where there are a number of other monuments worth seeing. Look for the Pilgrim Mother Statue & Fountain across the street from Plymouth Rock, and climb Cole's Hill for a scenic view of the waterfront as well as the statue of Native leader Massasoit and a sarcophagus holding the remains of several early pilgrims.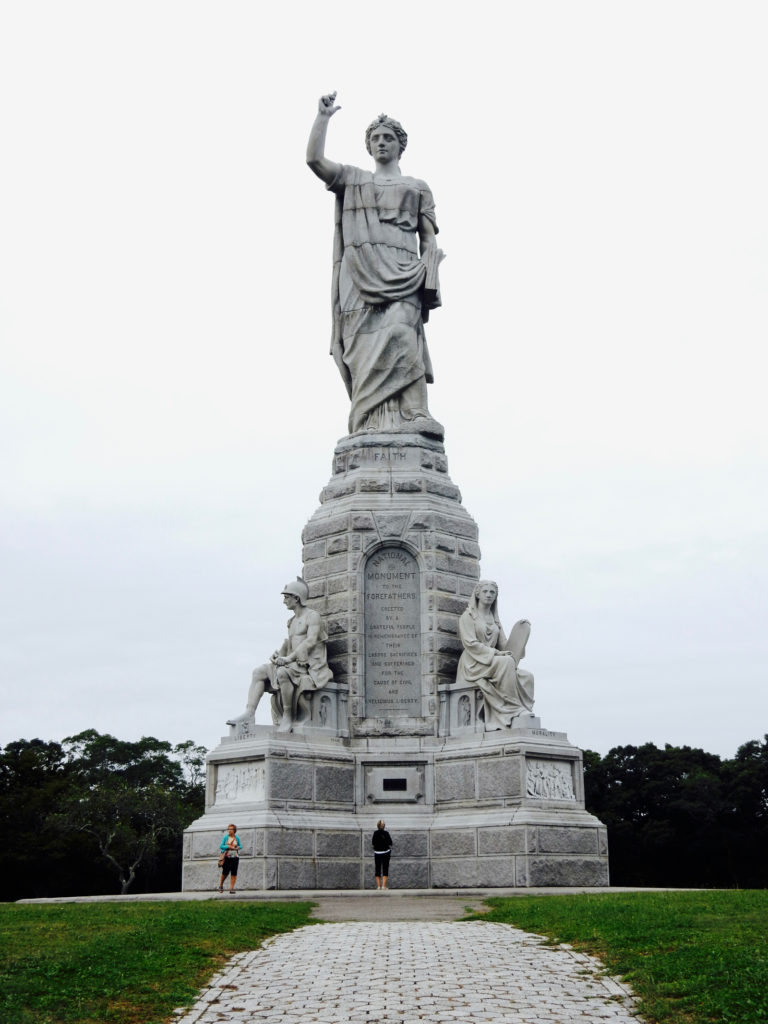 SEE/PHOTO OP: National Monument To the Forefathers
The 81ft tall monument, including the looming 36ft-tall granite rendering of Faith, stands on a hill several blocks from the waterfront and can be seen by boats entering Plymouth Harbor. Yet not many tourists know about this imposing structure.
First conceived in 1820 as the 200th year memorial to the Mayflower's arrival in the New World (Abe Lincoln sent a $5 donation), construction of the Pilgrim Monument was put on hold due to the Civil War. Finally completed in 1889, Faith is surrounded by sculptures representing four other Puritan values: Morality, Liberty Education, and Law.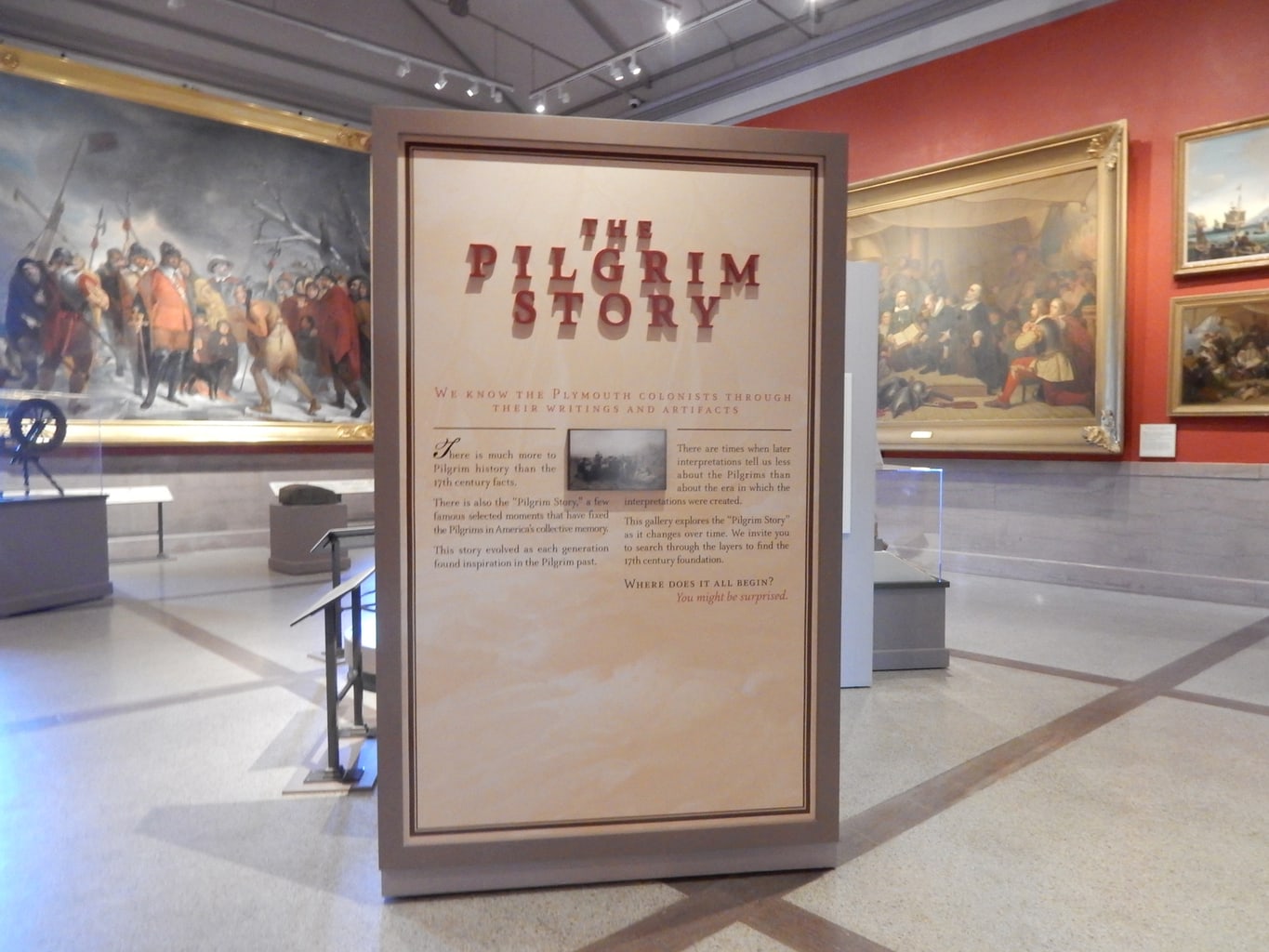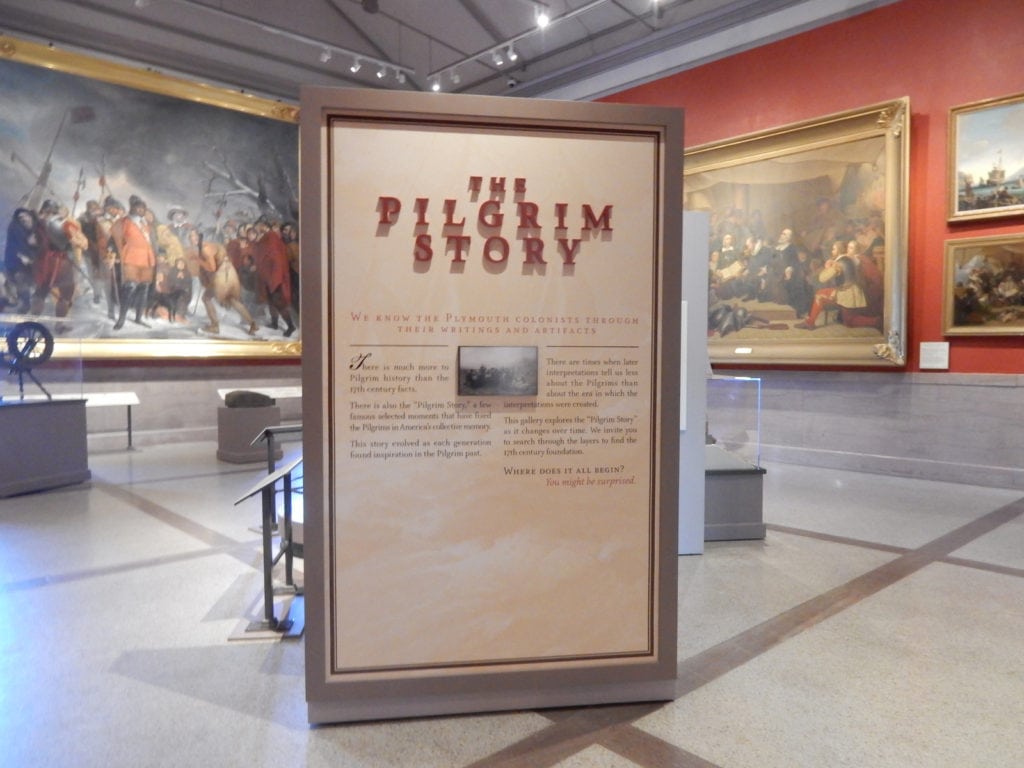 In 1820, local citizens and descendants of the 102 Mayflower passengers realized that treasured family artifacts – those transported here and handed down through the generations – were disappearing and would likely be gone in a few more generations unless they did something to preserve them.
And so, in 1824, the group spearheaded a fundraising campaign to build Pilgrim Hall – now considered the oldest continuously operating museum built as a museum in the country – in order to house the wares brought over on the Mayflower. Wings were added over the years, the latest a 2008 addition for handicap accessibility.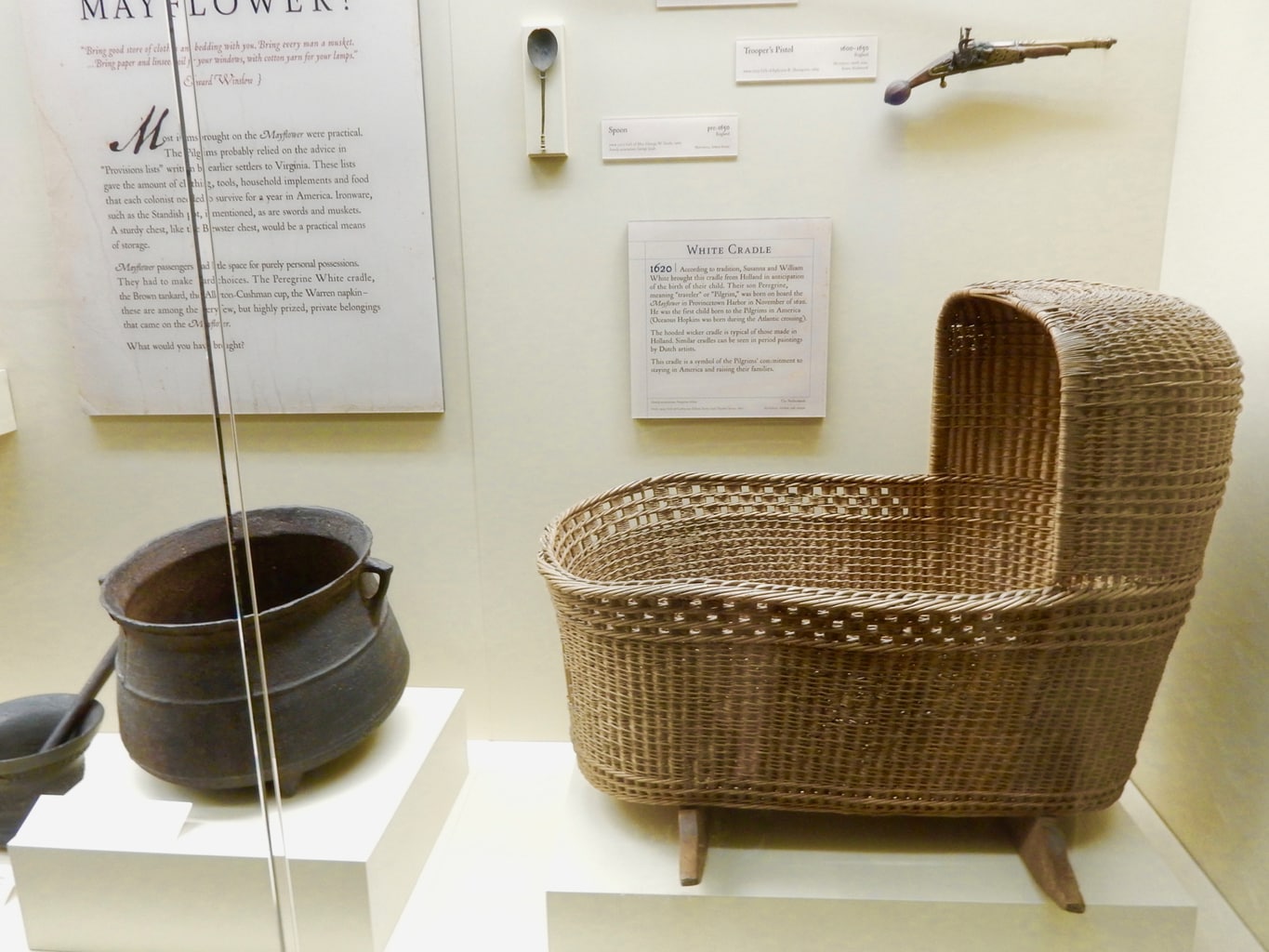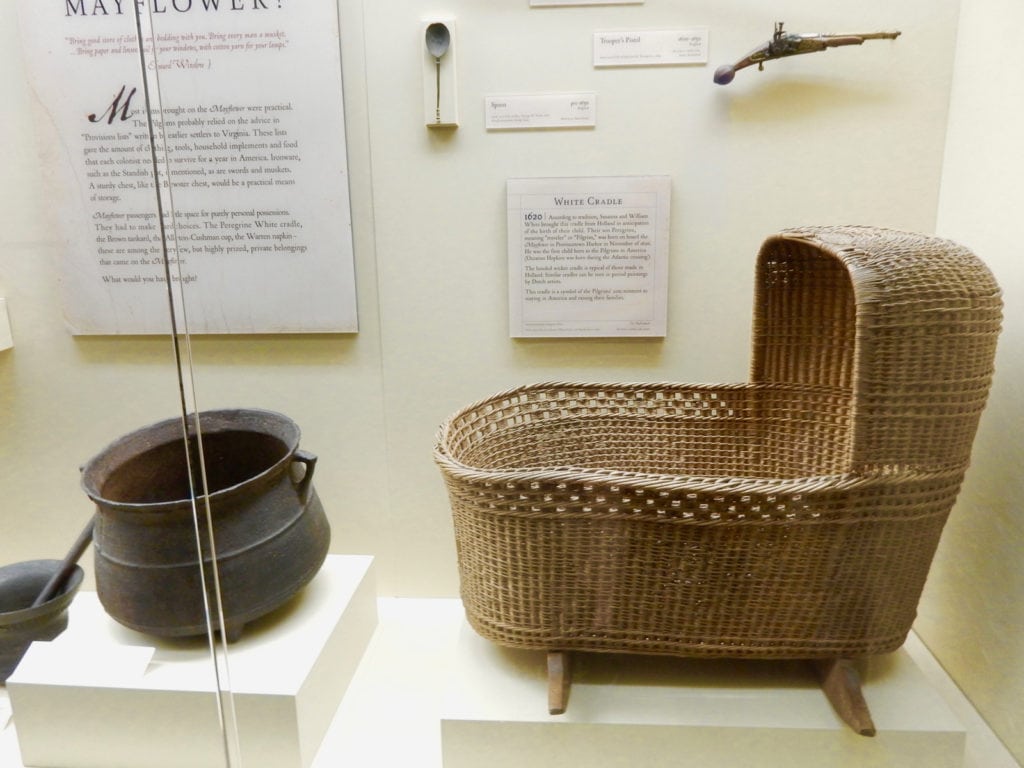 The museum tells the story of the Puritan sect that had first moved from England to Holland in 1609 to practice their own form of Christianity. Within 11 years, parents were dismayed to find that their children were "becoming Dutch," and so made plans to create a new life in another land.
It is quite astounding to be within inches of William Bradford's bible and the cradle that Susanna and William White took with them from England in anticipation of the birth of their child, along with packing trunks, bibles, and other cherished and necessary items that all traveled to the New World in 1620. Open daily Feb – Dec., 9:30-4:30, $12.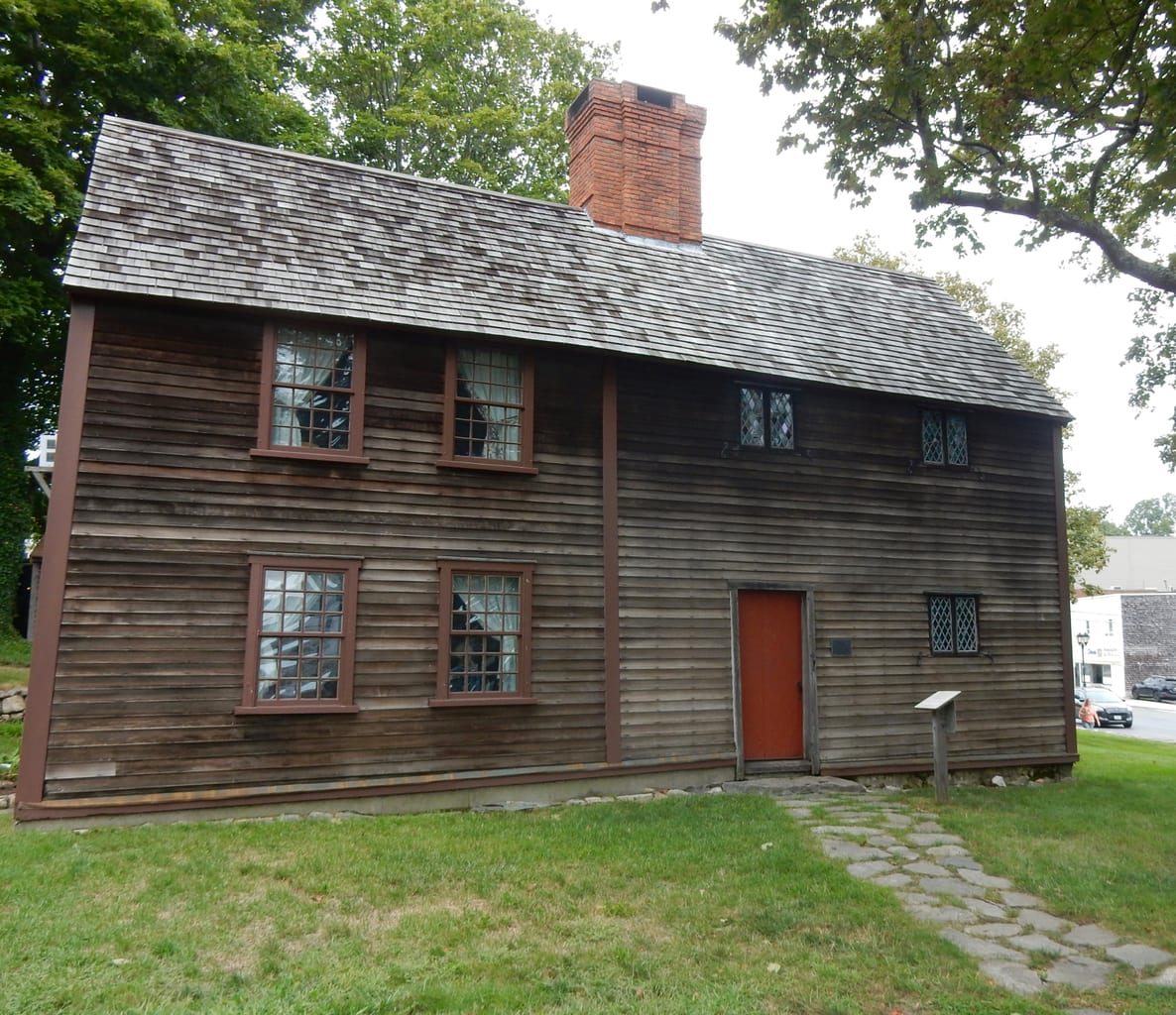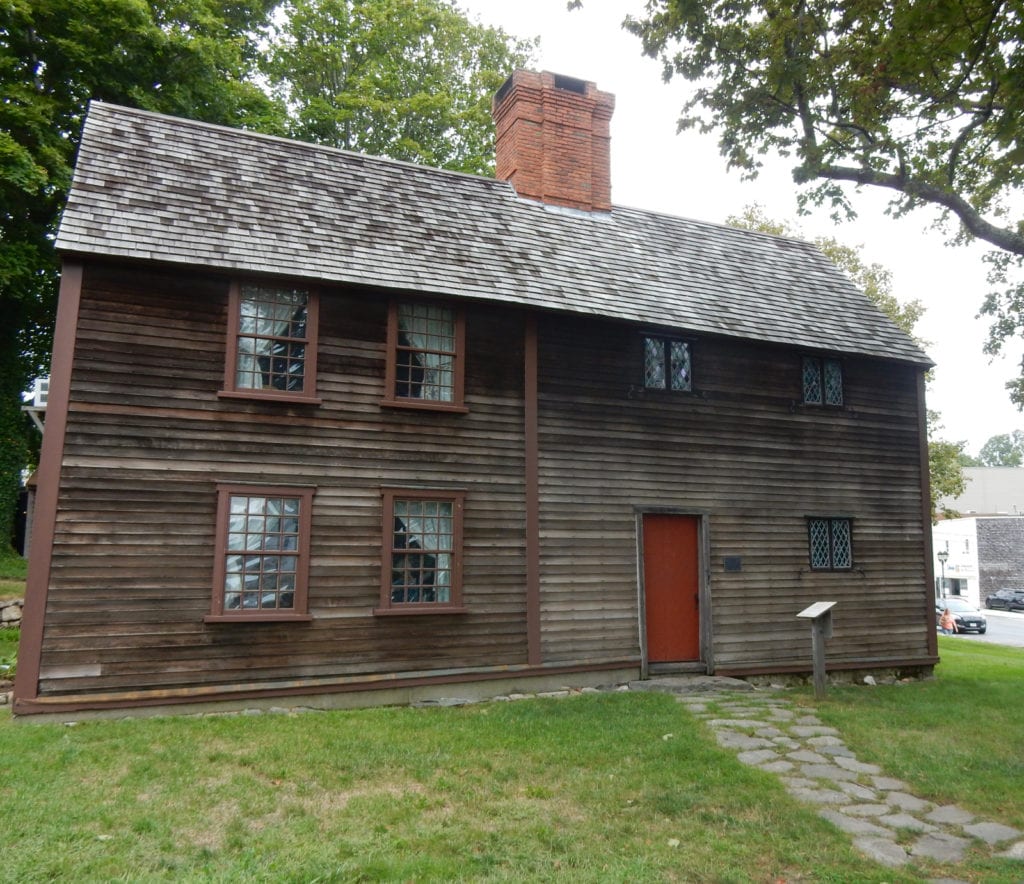 John Howland, 13th signer of the Mayflower Compact, fell off the ship during a terrible storm and lived (he held onto a line and was pulled back aboard).
Good thing, too, as he was then able to marry fellow passenger, Elizabeth Tilly (who was 13 during the voyage) several years later, and have ten children who all lived into adulthood (practically unheard of at the time) and who each had passels of kids of their own.
One of those children was Jabez Howland, who purchased the home in 1670. John moved in with his son and family in his later years and died in 1673.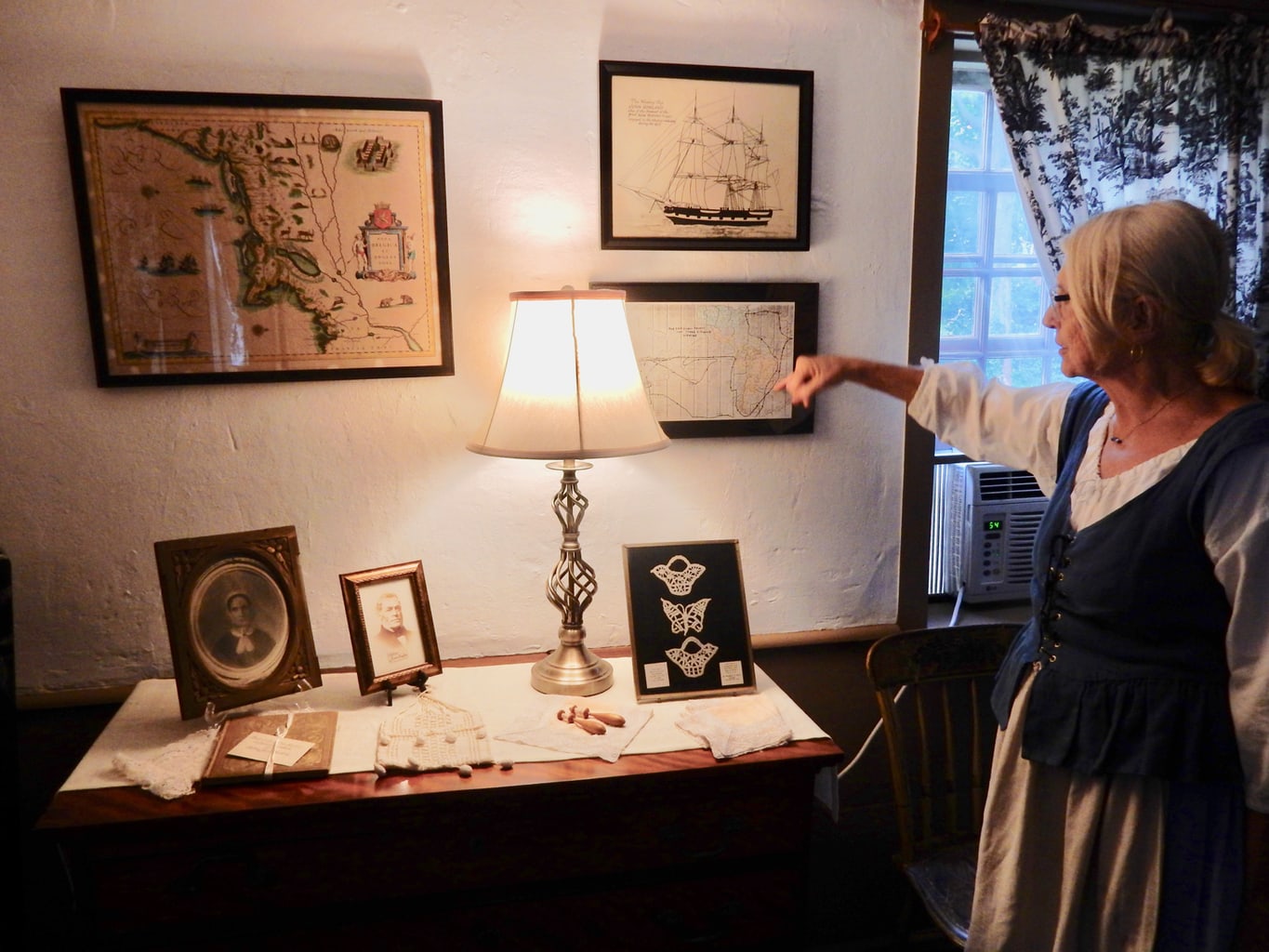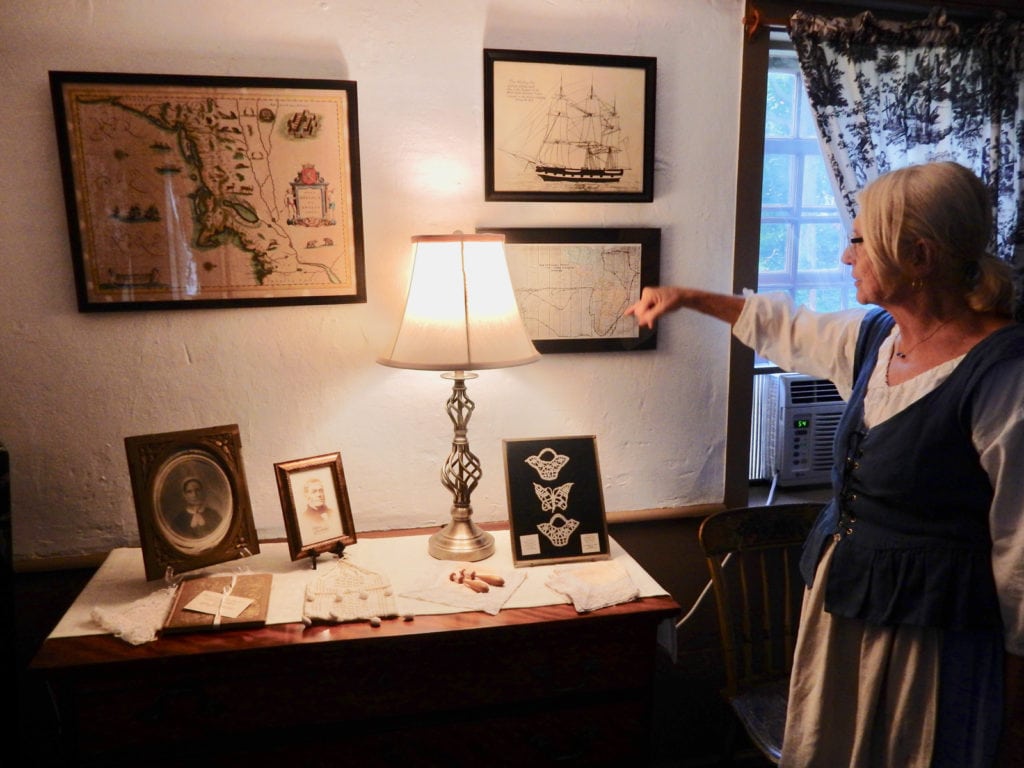 On your 30-minute tour of the last existing house where a Mayflower passenger actually lived, you'll see letters from Jabez to Reverend Cotton Mather, a 1635 "upside down" world map of Europe and the New World, and unearthed artifacts from an ongoing excavation of John Howland's Rocky Nook Farm. $6, Memorial Day to early October, 10-4:30 daily, tours on hour and half hour.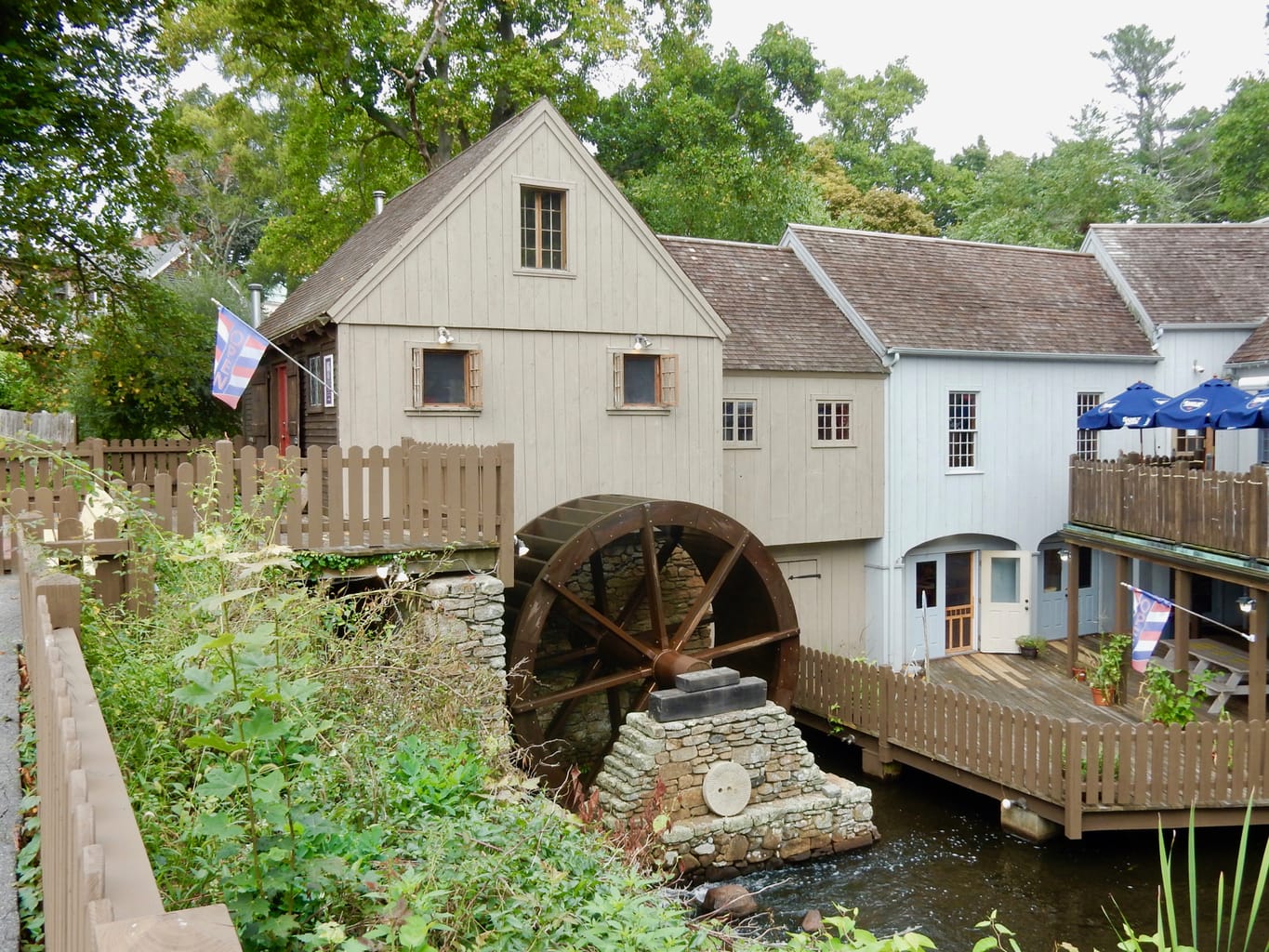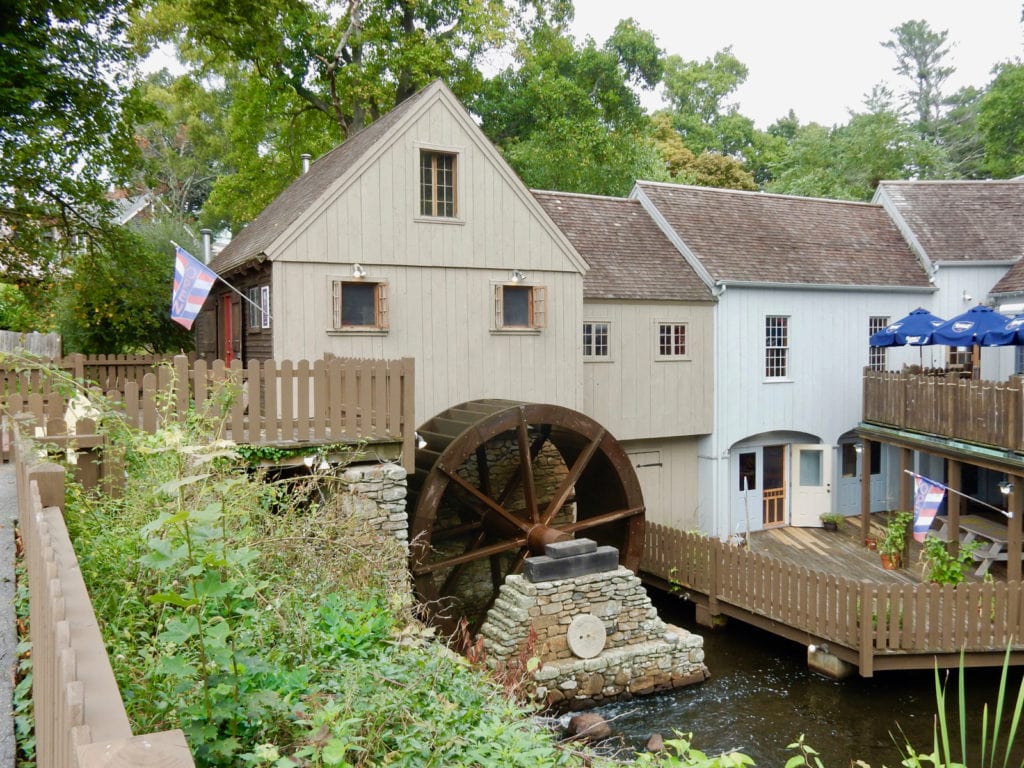 First built in 1636, the original gristmill burned down in the 1940's. This replica was constructed on its former footprint in the 1960's. Visitors can see a working water mill in action, purchase fresh-ground cornmeal, and then meander along the brook where the Pilgrims first came for water.
The now-commercialized Leyden St. was the site of the first Plimoth Settlement. Burial Hill, where some of the Mayflower passengers are buried, is directly behind First Congregational Church. Mill open daily March – Nov. 9-5, $7 adults, $5 kids.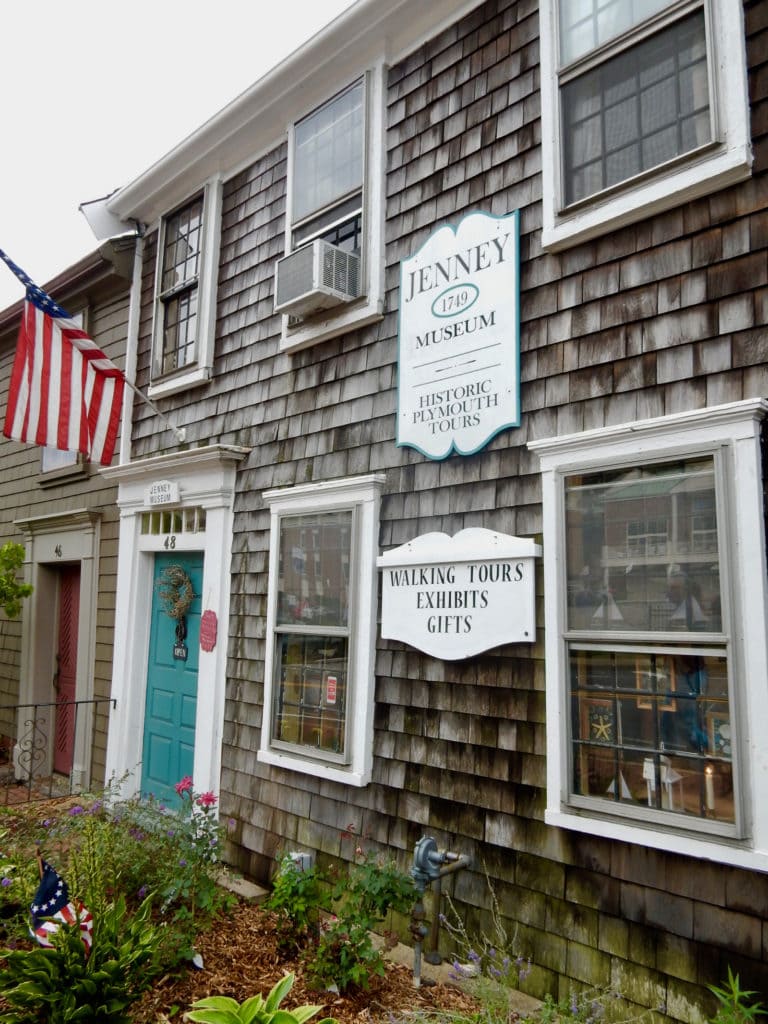 Run by Pilgrim Pursuit of Happiness author, Leo Martin, the Jenney Museum tells the story of the earliest abolitionists for whom family and faith were everything. More a history museum than a "house museum"- this place belonged to entrepreneur, John Jenny, who ran the Grist Mill next door as well as a brewery and bakery.
Upending their lives in England to travel to the New World, the Pilgrims sought "Five Liberties:" Spiritual, Religious, Political, Constitutional, and Economic. This pursuit came with a considerable cost: Within the first year, 51 of the 102 passengers died. Each themed room throughout the museum sparks discussions.
Martin also leads Historic Plymouth Walking Tours from here, including Discover Plymouth, National Monument to the Forefathers, Conversations With A Pilgrim, and more. Reservations required. Open April – mid November, Mon-Sat. 9:30-5, $7 self guided, $15 guided tours.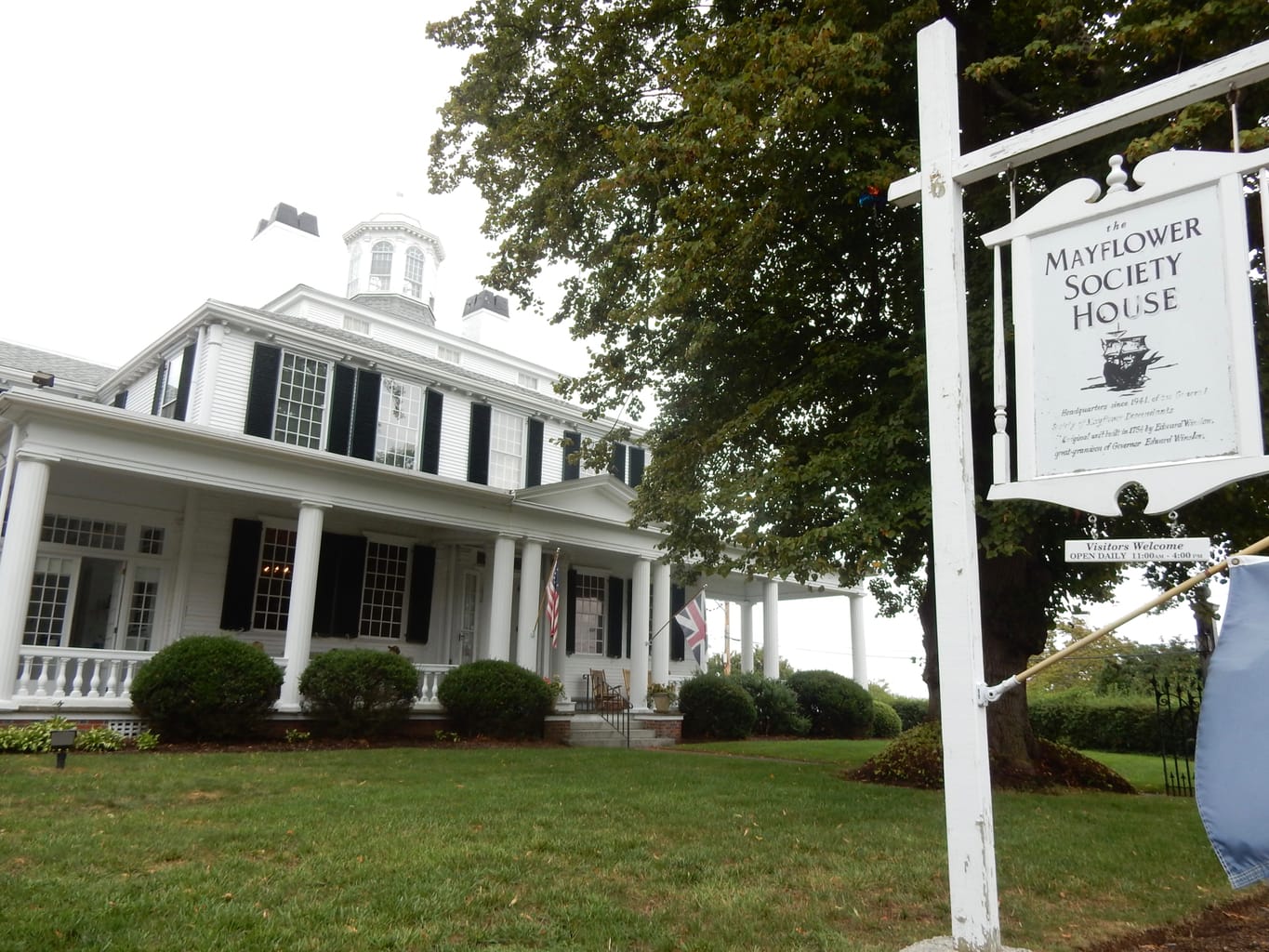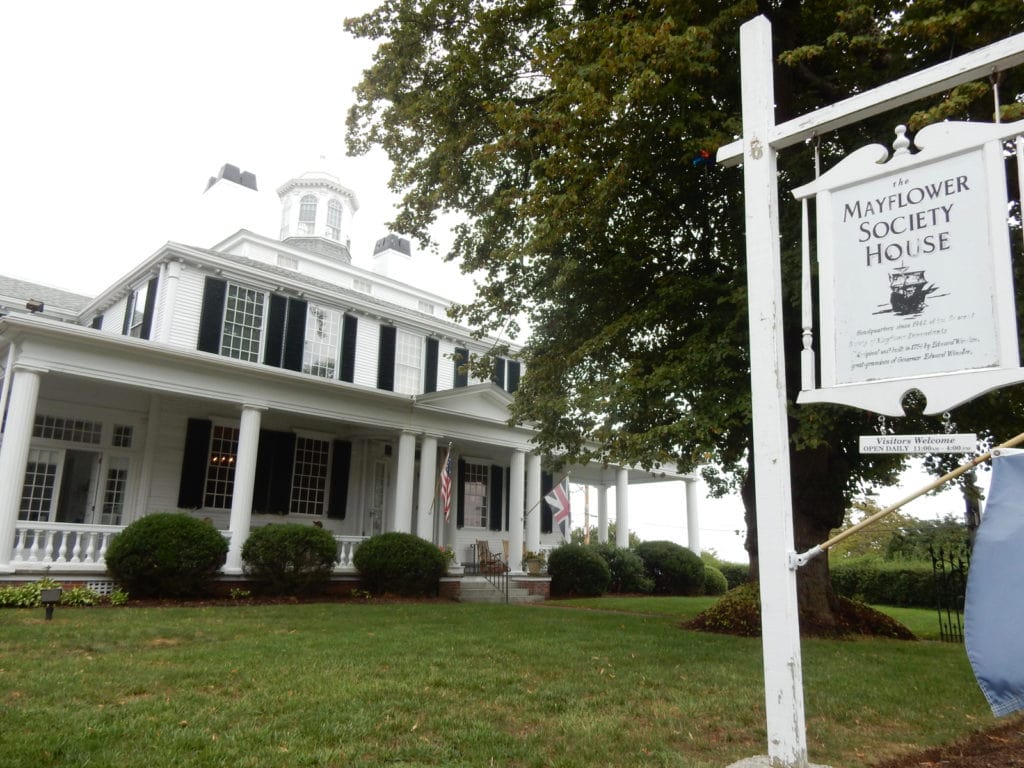 Housing the headquarters of the General Society of Mayflower Descendants, this high-ceiling manor also serves as a museum open to the public.
There are an estimated ten million Mayflower decedents all over the world – those Puritans were a prolific bunch – and a guided tour here depicts several notable ones: for example, Ralph Waldo Emerson, who, in 1835, married Lydia Jackson in front of the fireplace framed with bible-themed Delft Tiles.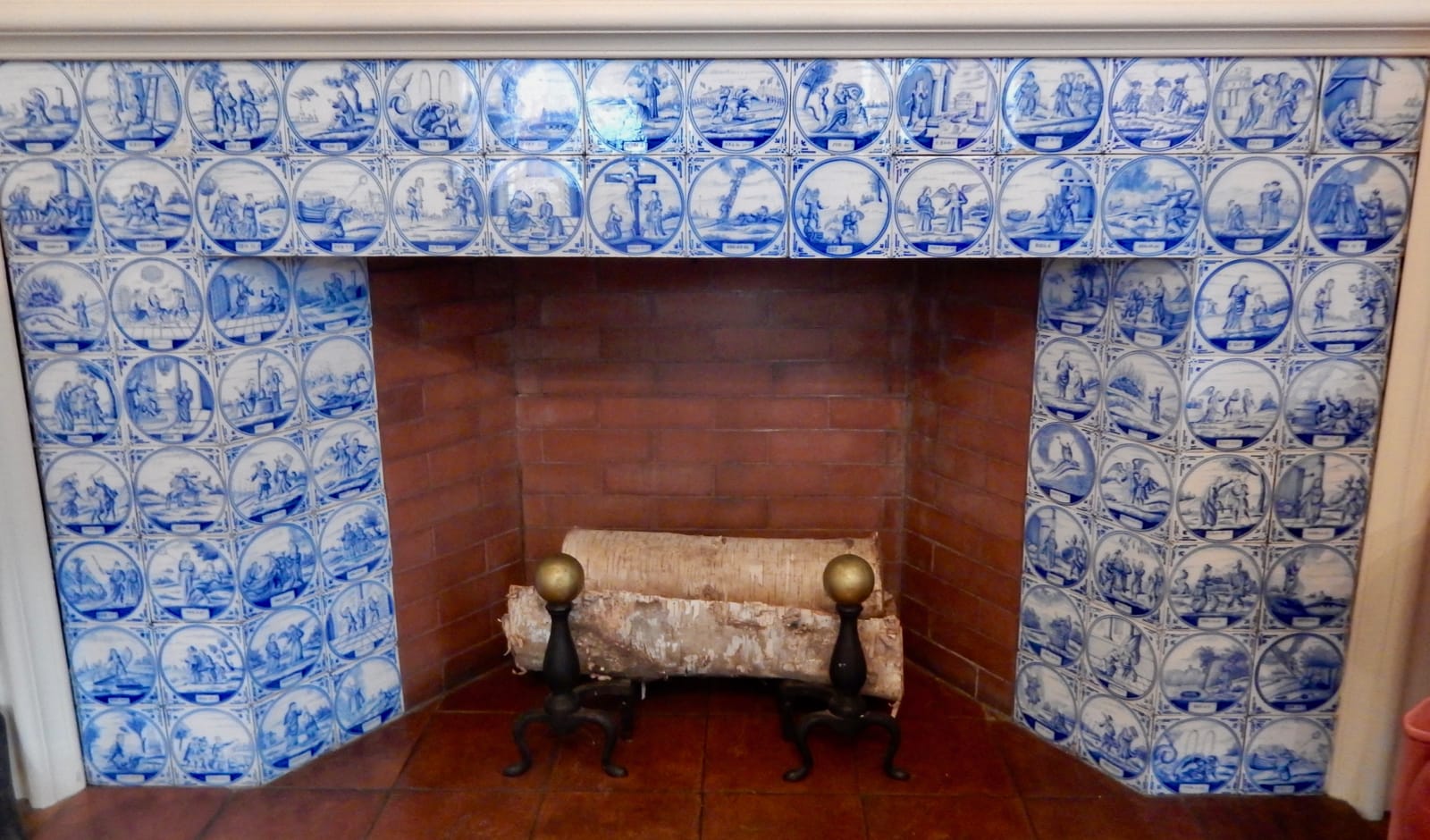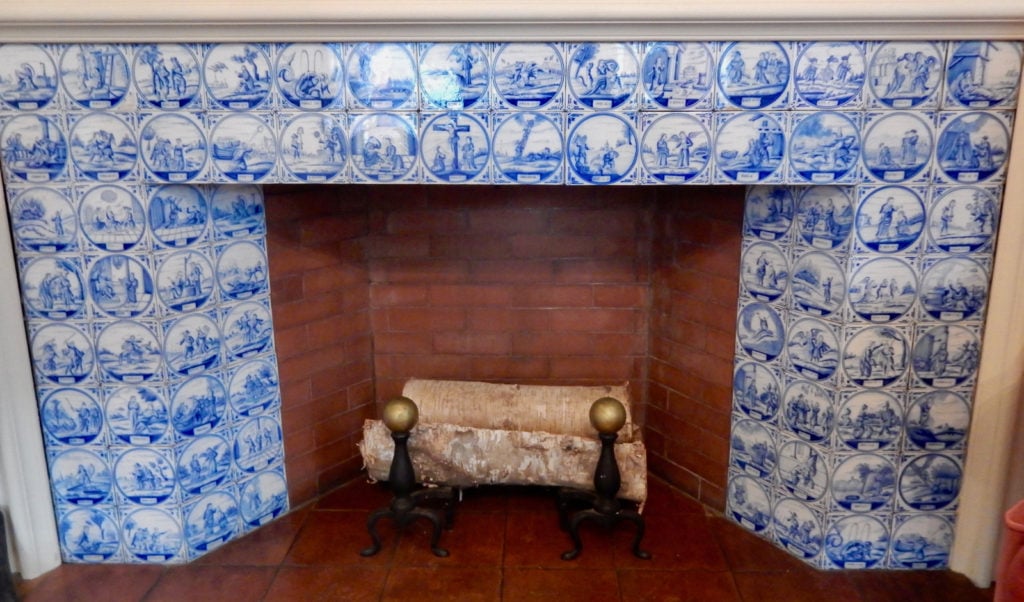 Built in 1754 for politician and Loyalist, Edward Winslow (who fled back to England in 1781), this reproduction of an English Manor House cycled through a succession of owners, and served as a Red Cross Station, until Chicago clothier, Charles Willoughby left it to the Mayflower Society in 1941.
Visitors come to see the space-saving double floating staircase and formal dining room with black walnut woodwork and Waterford crystal chandelier, as well as to peruse the stunning gardens out back. A genealogical library is open by reservation. Open Mid-June to Early October, Thurs-Sun 11-4, $7 for guided tour.
1670 Harlow Old Fort House, 1749 Spooner House, and 1804 Hedge House Museum tell the story of Plymouth MA as it evolved from the 1600's to the 1800's.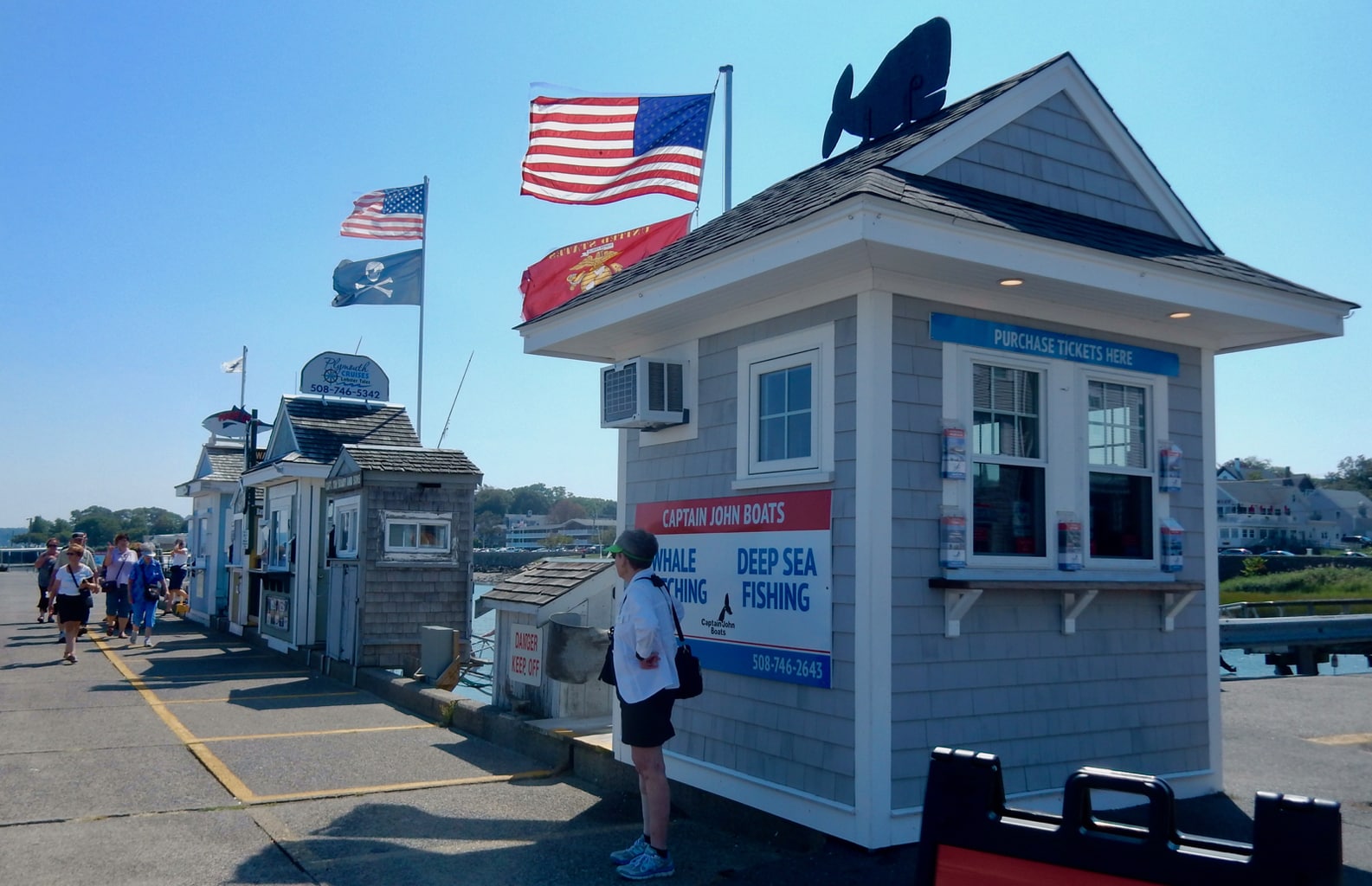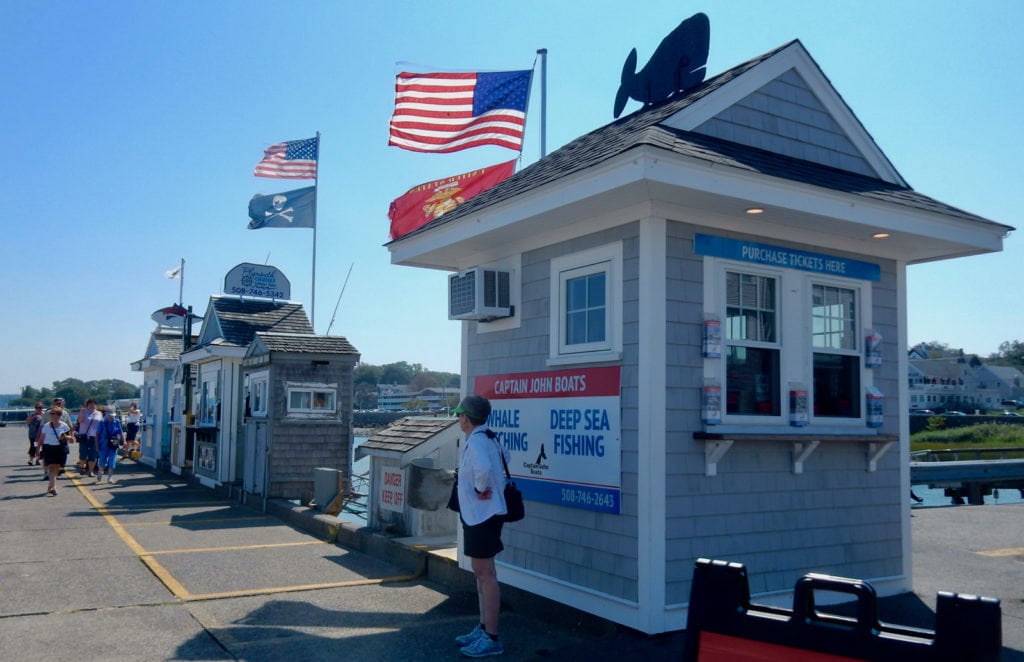 TOURS: There are tours galore in town
Ghost Tours, Pedicab Tours, Captain John's Whale Watching, and more. You can spend the better part of a week here and not see/do everything.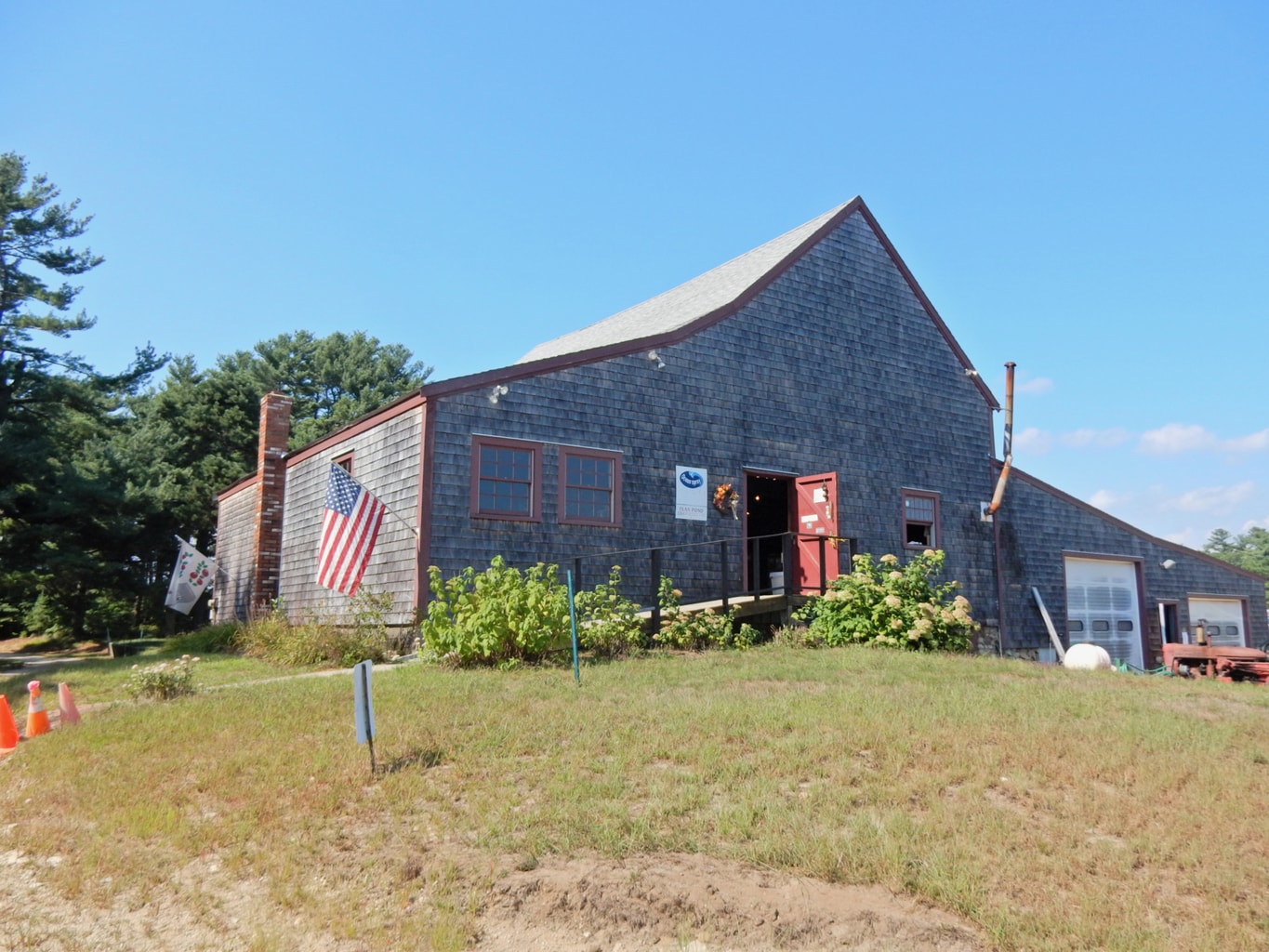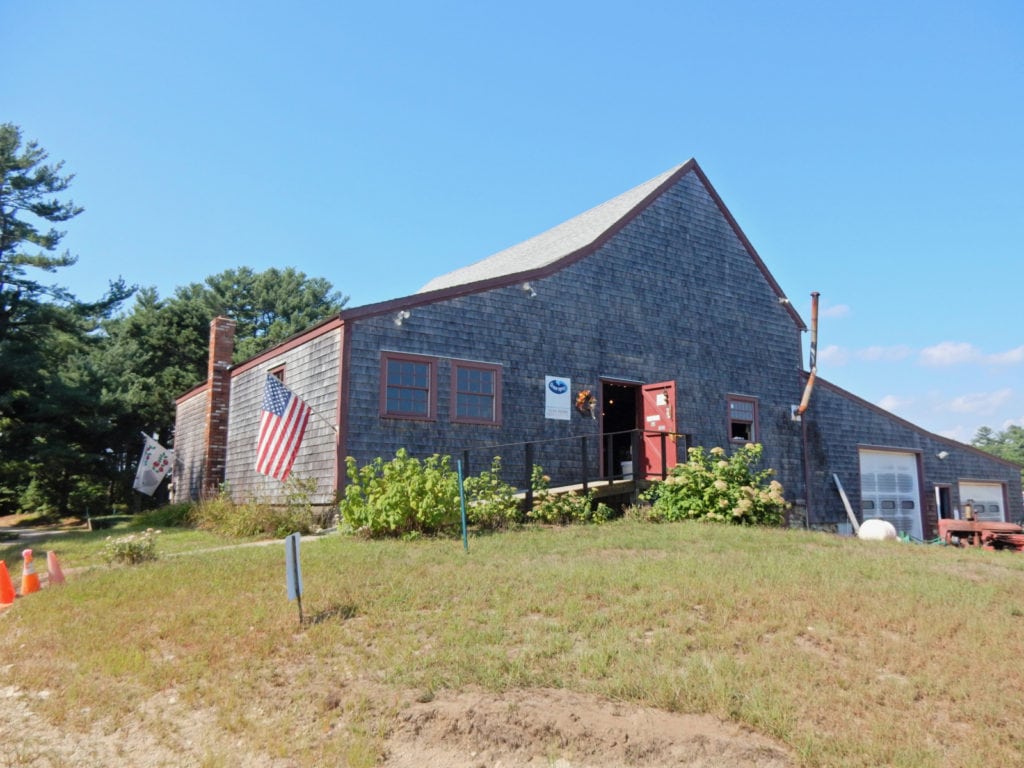 Day Trip From Plymouth MA
TOUR: Flax Pond Farm Bog Tours, Cranberry Bog,  Carver, MA
It's a bit of a drive (about 20 minutes) from Plymouth to Carver, but worth it to learn about the Cranberry biz from Dot and Jack Angley, Ocean Spray grower-owners. (Flax Pond Farm is one of the 800 plus farms that make up the Ocean Spray cooperative, formed in 1936.)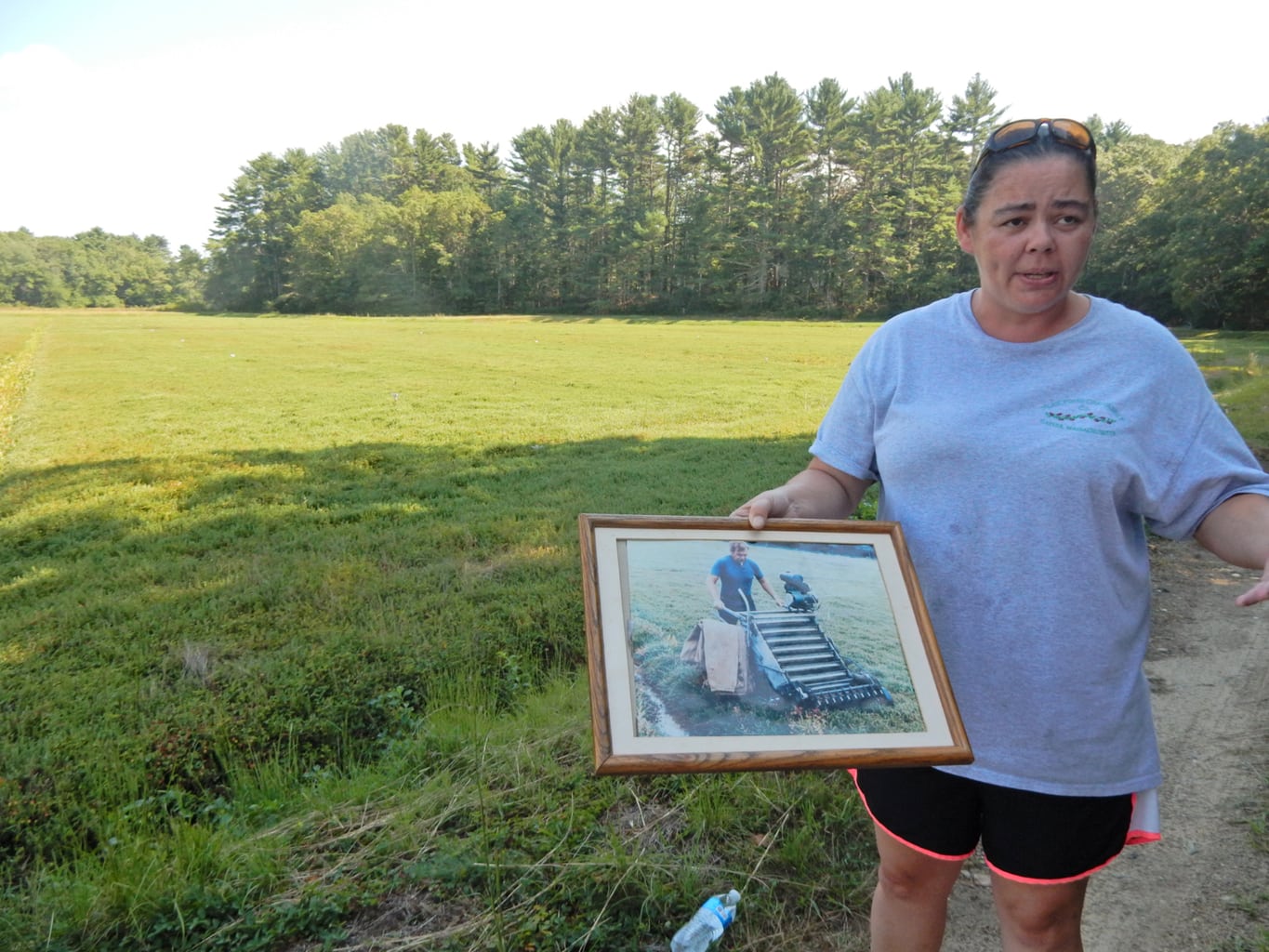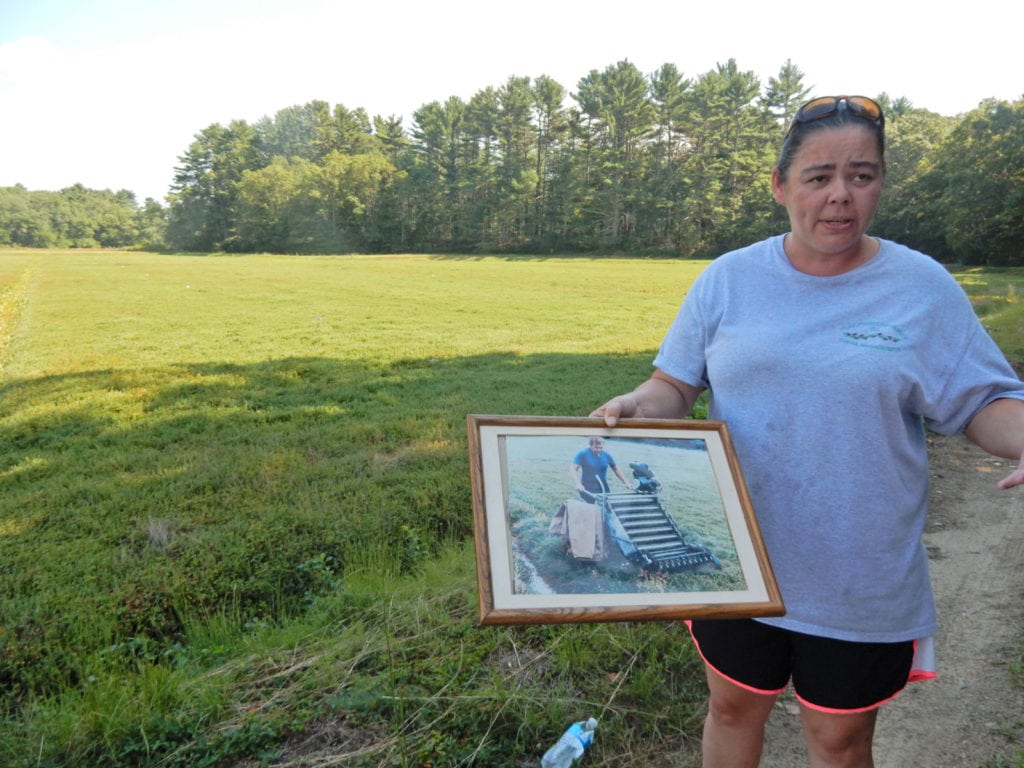 Everything you know about cranberry growing (admit it, from the two guys on Ocean Spray commercials) is wrong. Or at least partially wrong. The ads depict a now rarely-applied "Water Harvest." Before modern irrigation techniques, cranberry bogs were flooded, causing the berries to rise (and allowing for the eye-catching sea of red in which the Ocean Spray guys stand).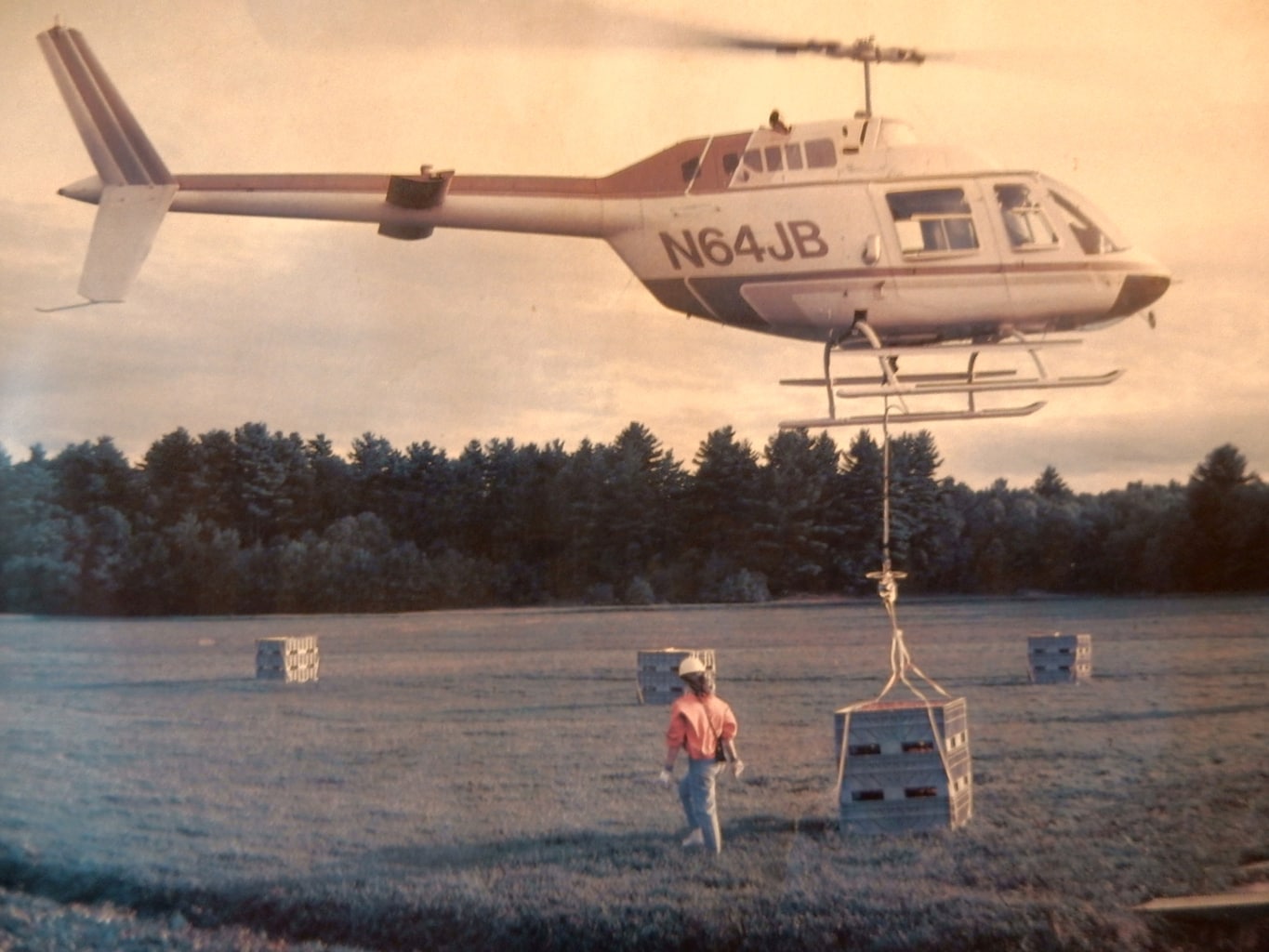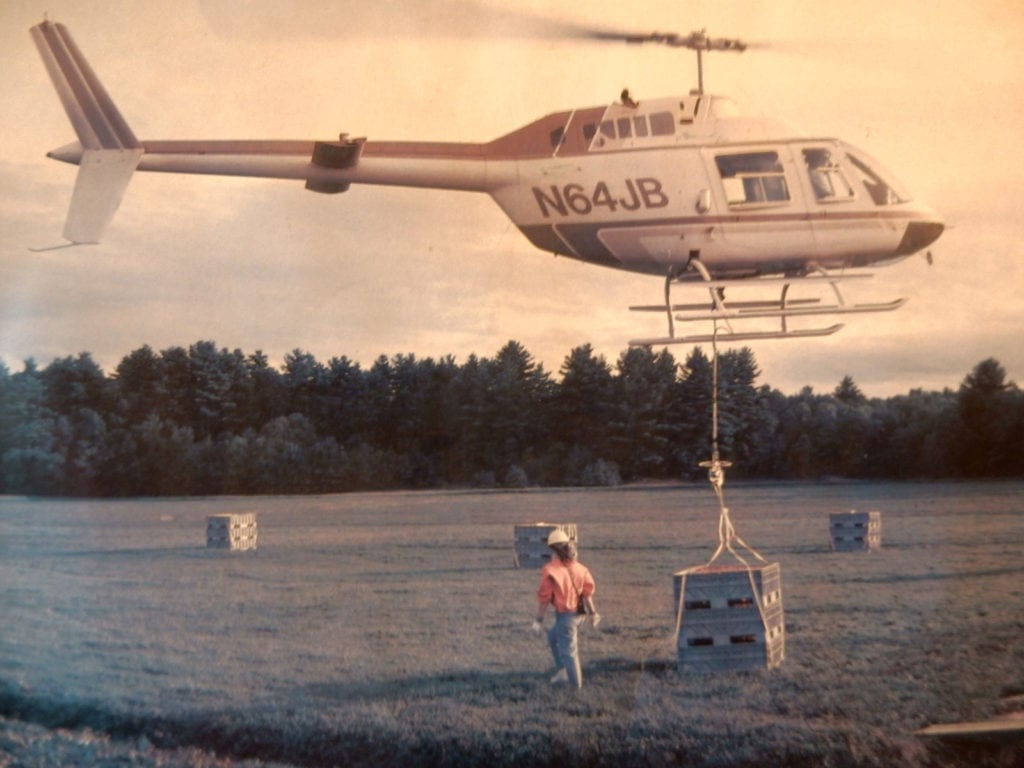 Flax Pond Farm is a "Dry Bog" where berries are grown for fresh fruit (rather than for juice or jellies), first planted in 1893. By the time the Angley's purchased the bog in 1967, it was a decades old operating farm. Jack's Dad was a Harvard-trained doctor with a patient who needed to sell his bog. Jack – 27 at the time – knew nothing about cranberries, or farming for that matter, but was "up for a challenge."
He and Dot have now been growing heirloom varieties on 36 acres "for 52 years."
The Art of Cranberry Cultivation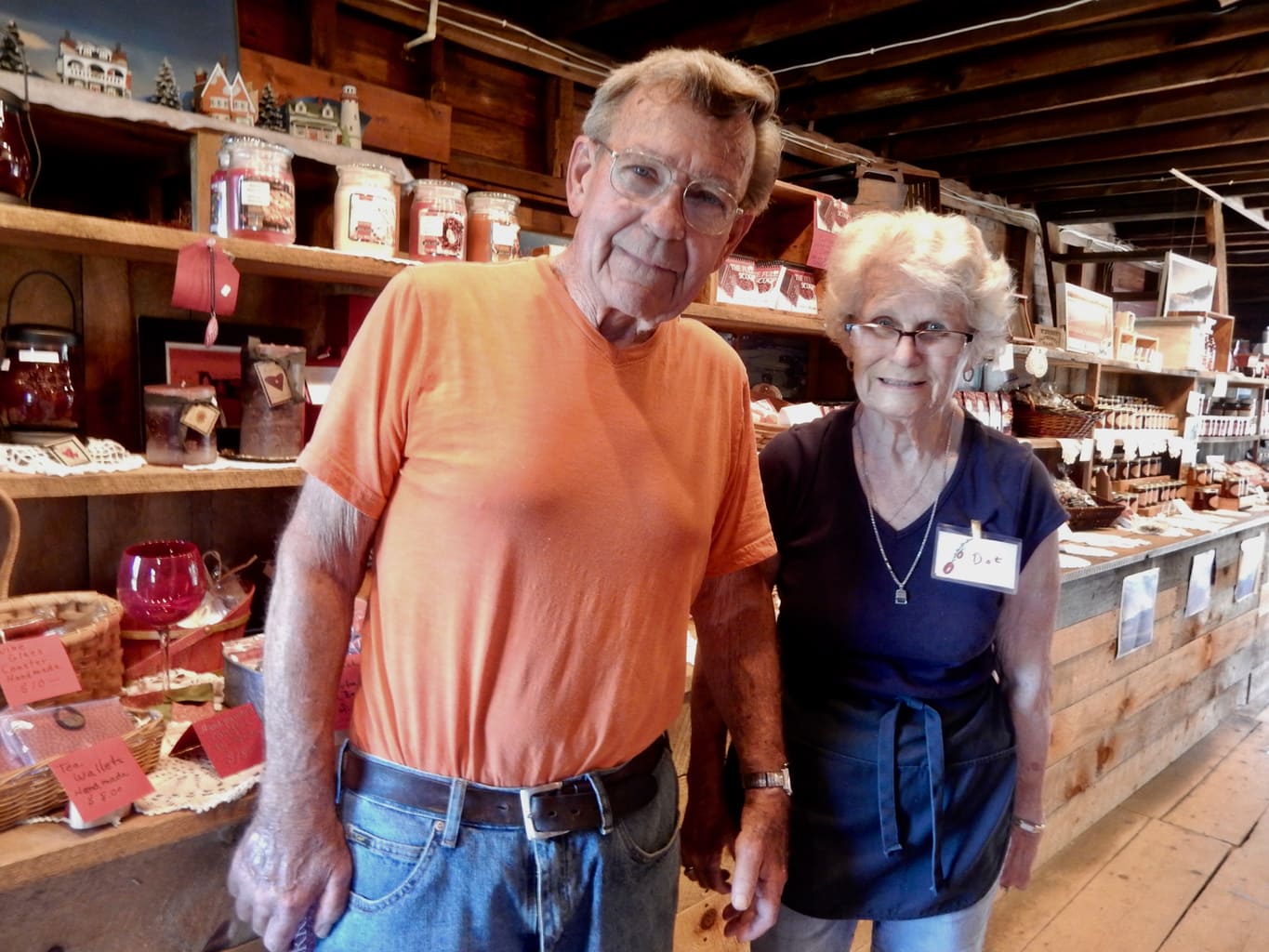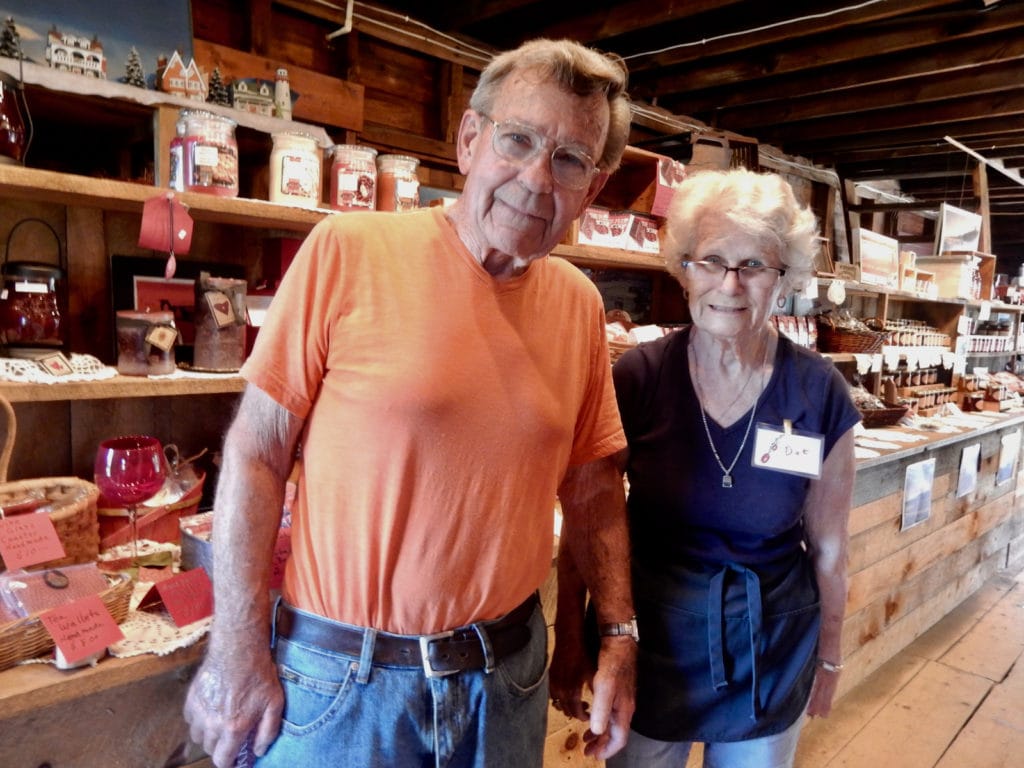 A tour here takes you through the timeline and process of cranberry cultivation – from pollination (bringing in the bees), to harvest, sorting, and finally being picked up by helicopter (in half ton bins), and flown to flatbed trucks that offload at a mega Ocean Spray plant in Middleborough MA.
There, the berries are cleaned, screened, and packed in those 12oz packages you buy to make fresh cranberry sauce for Thanksgiving dinner. While here, be sure to pick up something cranberry-related in the barn gift shop: soap, jam, juice, or even Ocean Spray Bloody Mary Mix, generally sold only to bars and restaurants. Call ahead for tour times, if available.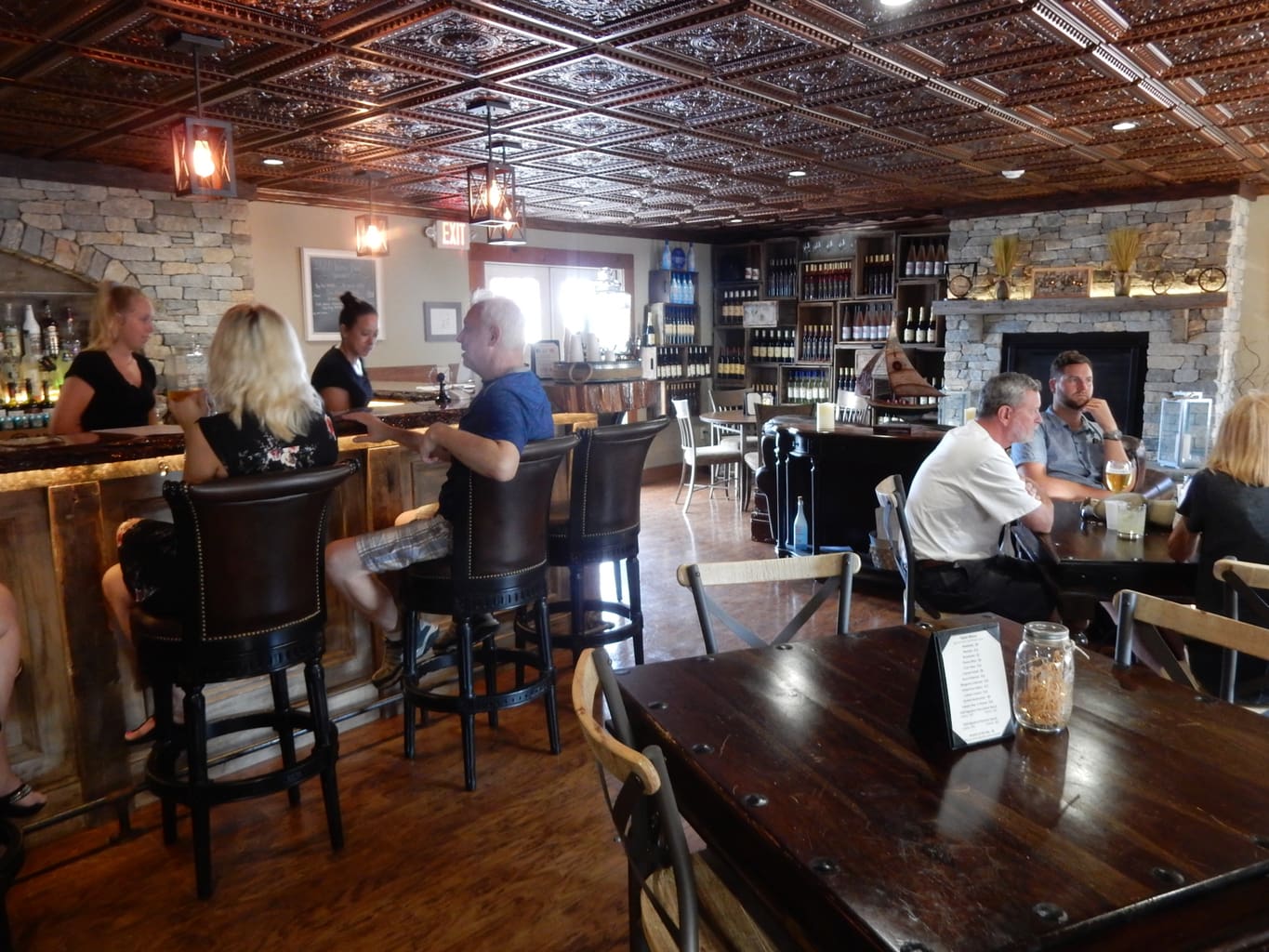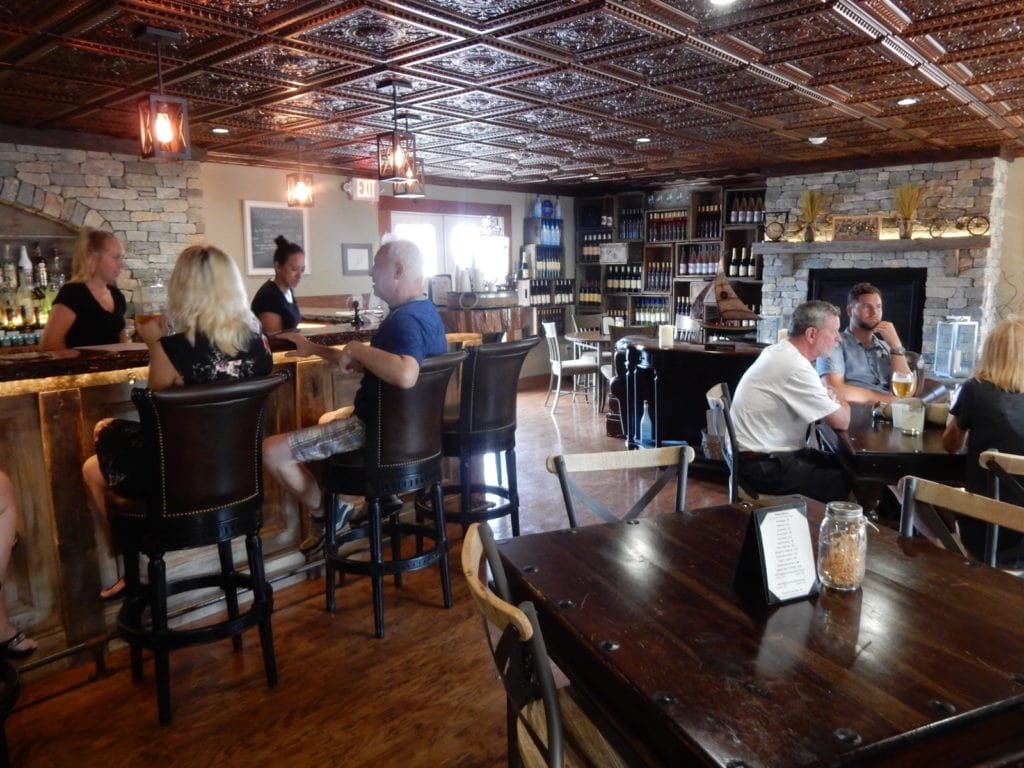 Restaurants in Plymouth MA
THANSGIVING DINING
People come from all over the world to experience the traditional Thanksgiving meal at Plimoth Plantation, but it's only scheduled a few times a year. Never fear! There's a whole slew of themed meals planned spring through fall.
Bought by Robert and Raquel Mullaney over three years ago, the former Plymouth Winery now references the year of the Mayflower landing.
The 1620 Wine Bar,  located at Village Landing Marketplace on Water St., serves up its own wines and vintages from around the world – as well as homemade tapas – in a beautifully designed upscale, clubby space.
Filled with patrons on a mid-week afternoon, 1620 Wine Bar is a very hot spot at the moment. "We don't have a wine club," says Raquel. "We have a wine cult."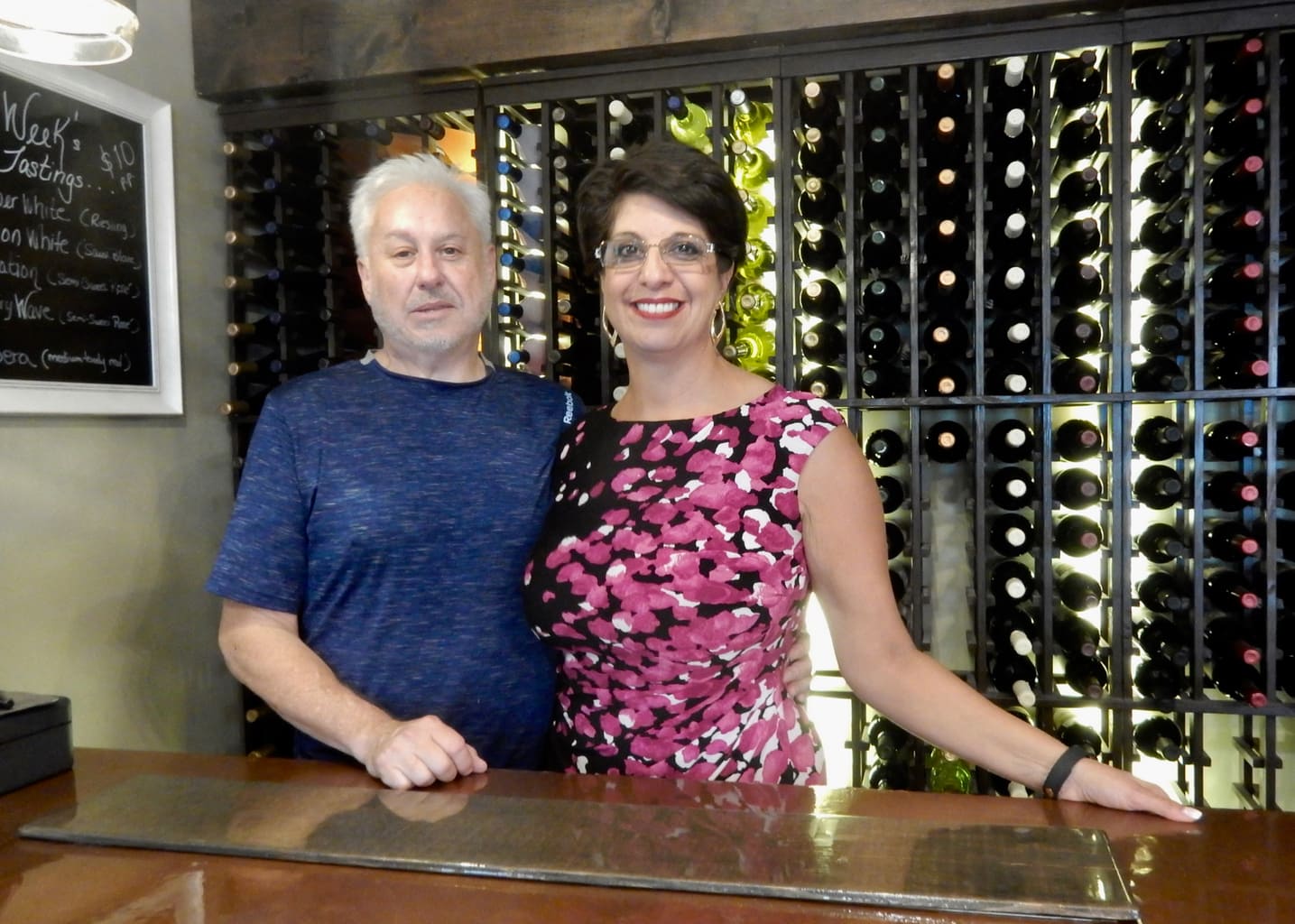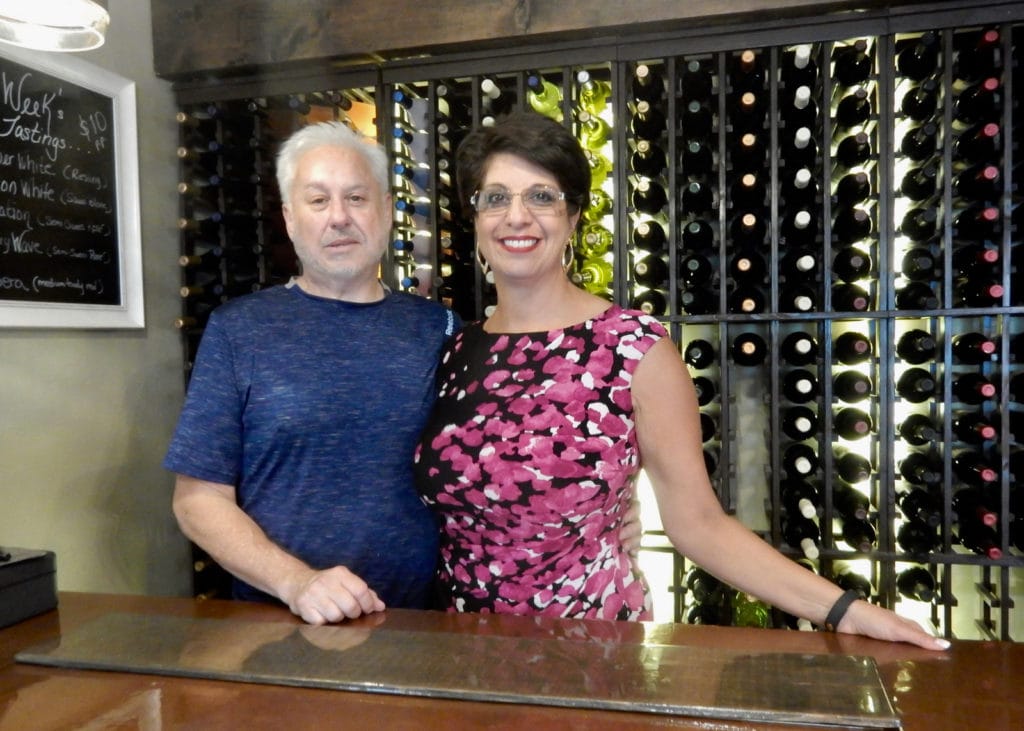 Robert concocts the house wines, calling some of them, like the cold-brew Coffee Wine, his "chemistry projects." Pilgrim Off White (Oaked Chardonnay), Plymouth Rock White (Pino Grigio), Plantation White (Sauvignon Blanc), Plantation Red (blend), Wampanoag Red (Sangiovese), and Bug Light Red (Zinfandel), are popular dry wines, with Black Magic Rose – made with black currants – on the sweeter side.
1620 Winery
The 1620 Winery itself is situated at Cordage Park, former home of Plymouth Cordage Co., the 1829 rope-maker that sold to tall ships all over the world. (In the early 1900's, Plymouth Cordage made the rope for the USS Constitution.) It's now a top spot for weddings and wine pairing dinners.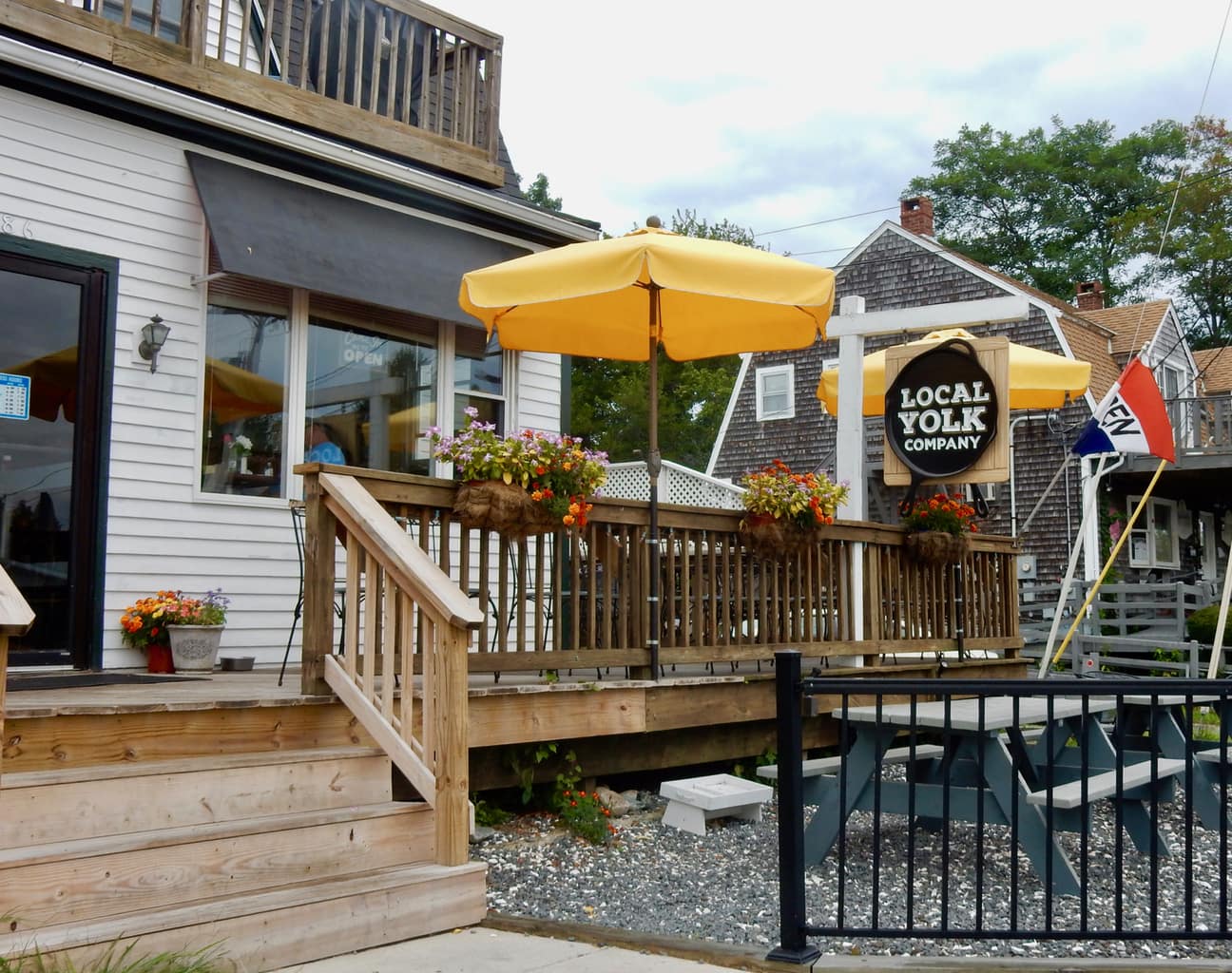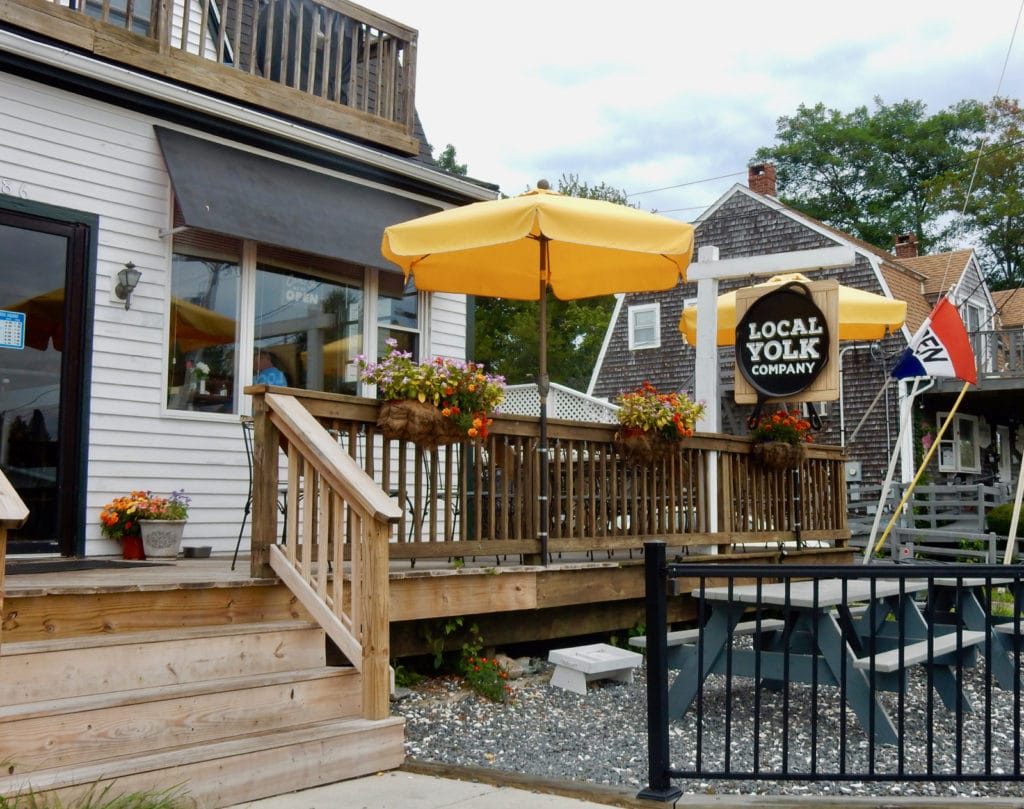 This tiny space overlooking the harbor is sweet both in décor and service – and tends to be jam-packed on weekend mornings. That's because the locally sourced eggs make for simply good breakfasts.
Described as the "best breakfast on the south shore," servings are fresh and plentiful. The bakery is pretty good too, pick up a muffin to go.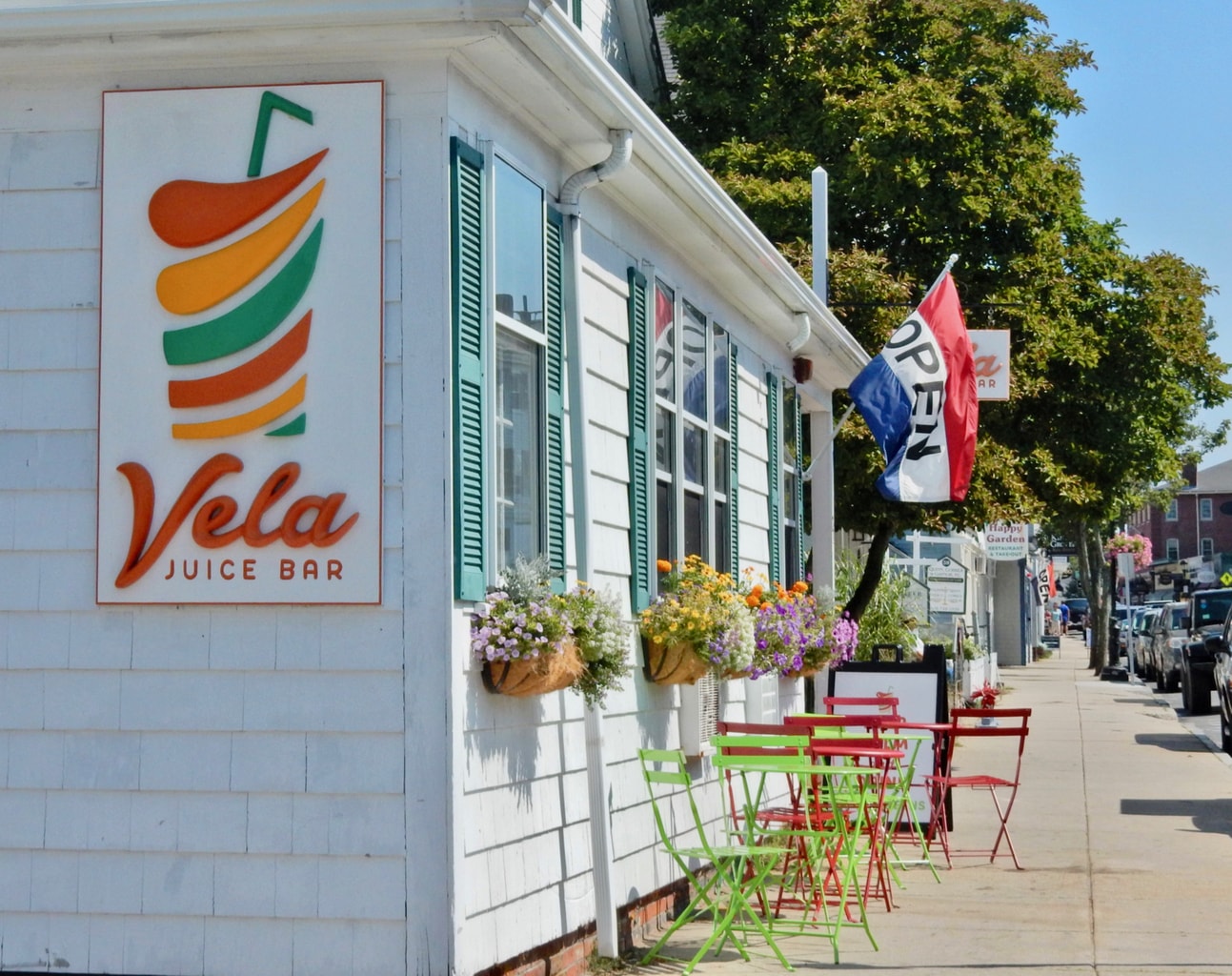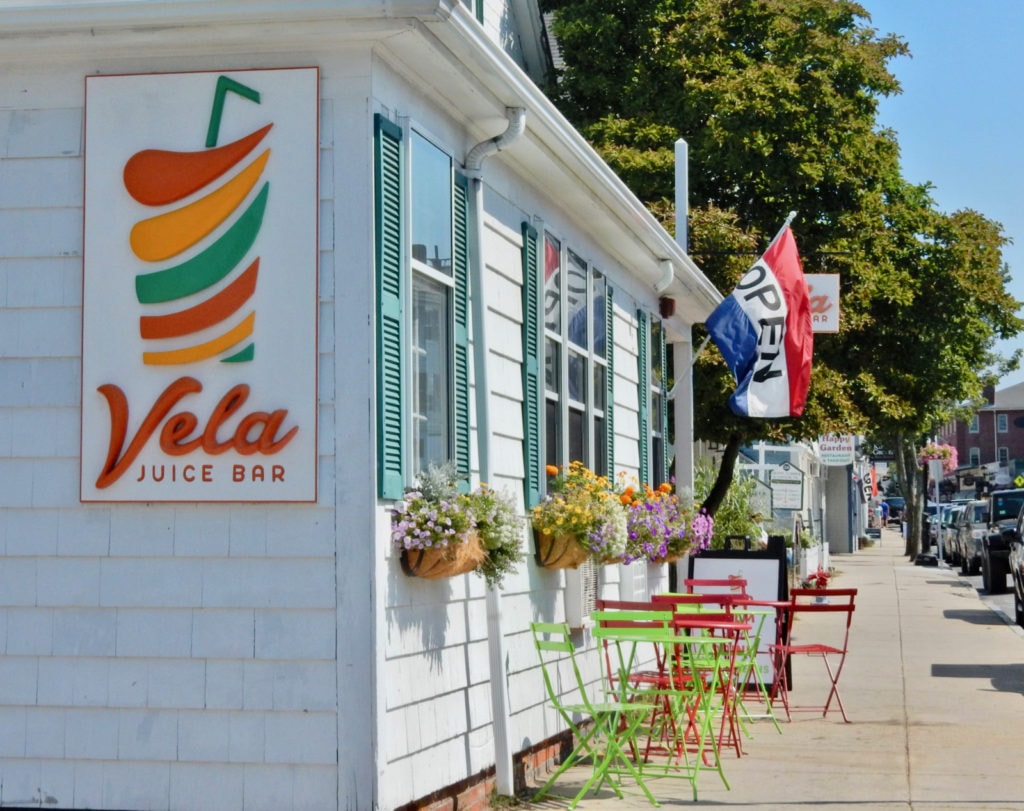 EAT: Locals recommend
Vela Juice Bar – next door to Pilgrim Hall and perfect for a mid-day healthy pick-me-up,  East Bay Grill, Wood's Seafood (on a pier where fishermen unload their catch), and Lobster Hut for unpretentious dining, The Tasty for great drinks and small bites, and Waterfront Bar and Grill for the views, beer, and Buffalo Chicken.
Family-friendly, the menu is a cut above the usual pub fare. Located in the historic downtown, it's a fun hangout spot with live music on weekend nights.  Locals rave over the char-broiled flatbreads too.
Hotels in Plymouth MA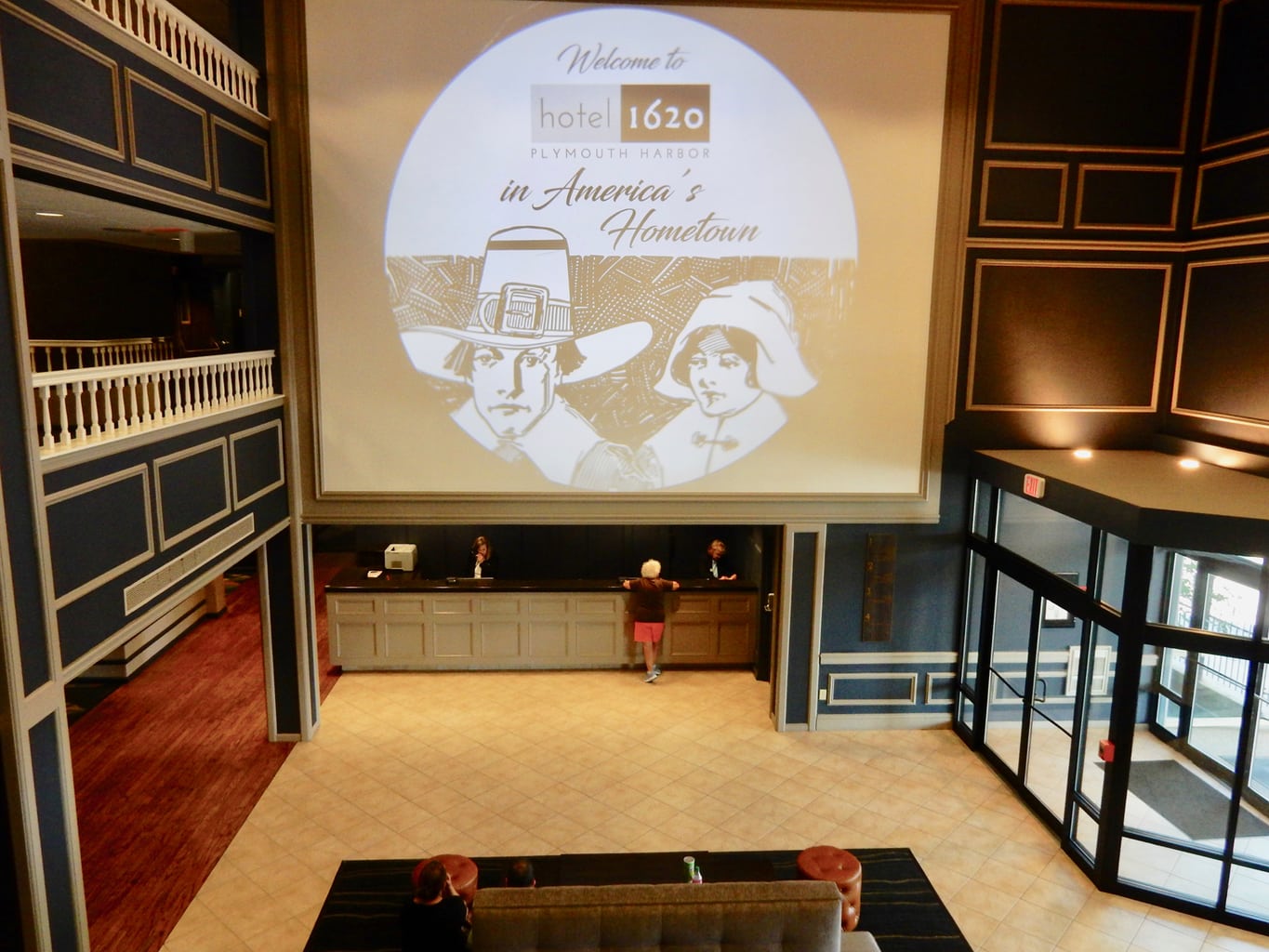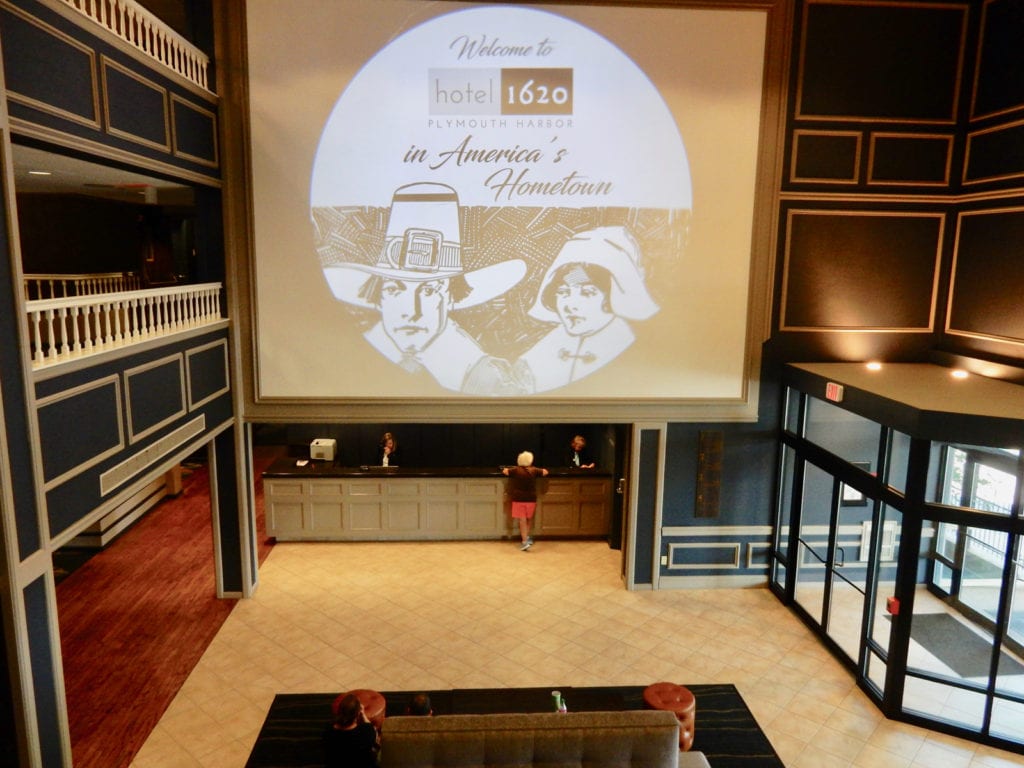 You'll never forget where you are as you enter the newest boutique hotel in Plymouth: there's a huge projection of a couple of Pilgrims over the reception desk – welcoming you to "America's Home Town" and the Hotel 1620. An upstairs seating area features a small, but well done, homage to The Mayflower Passengers, who arrived to these shores in, yep, 1620.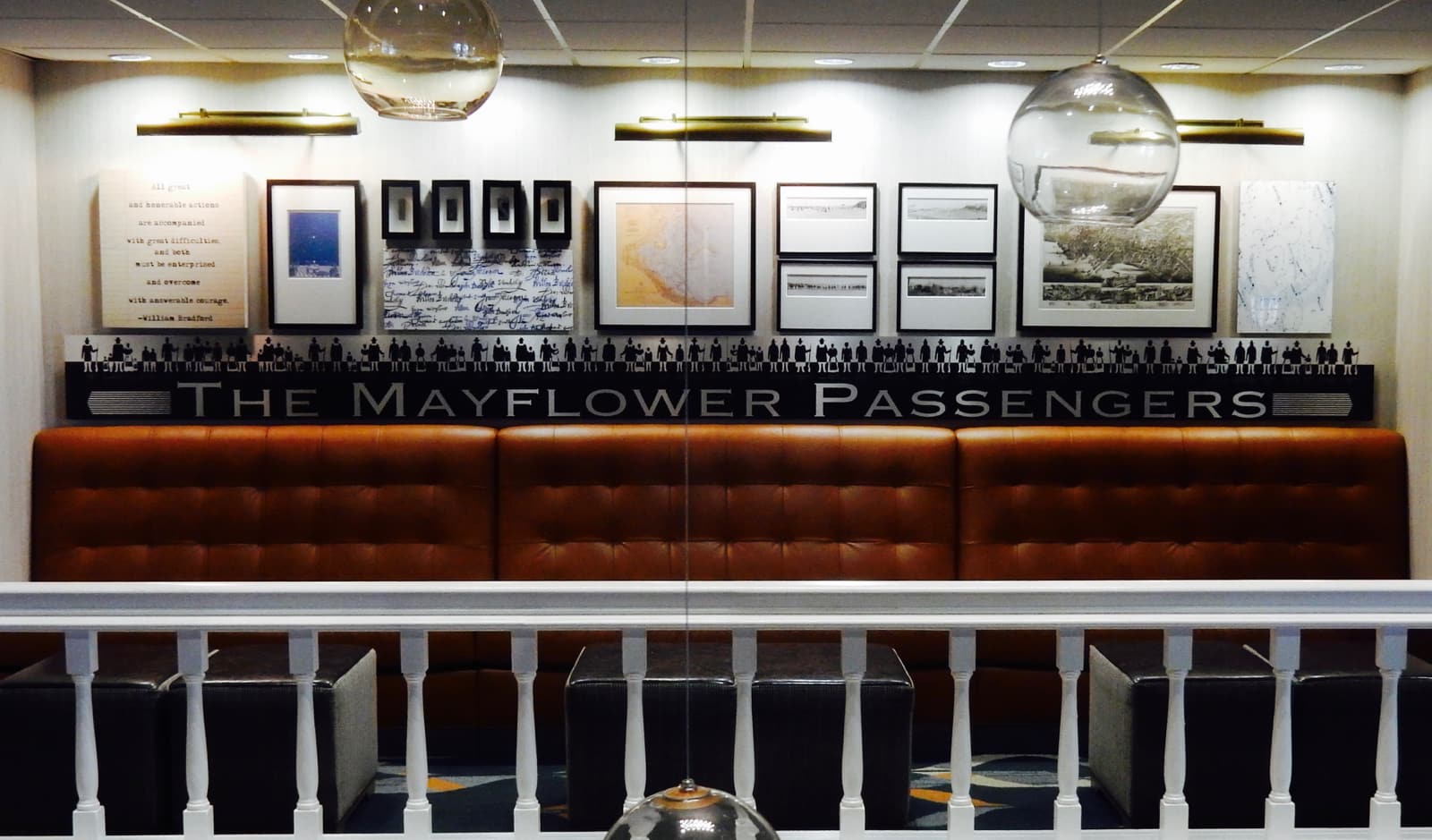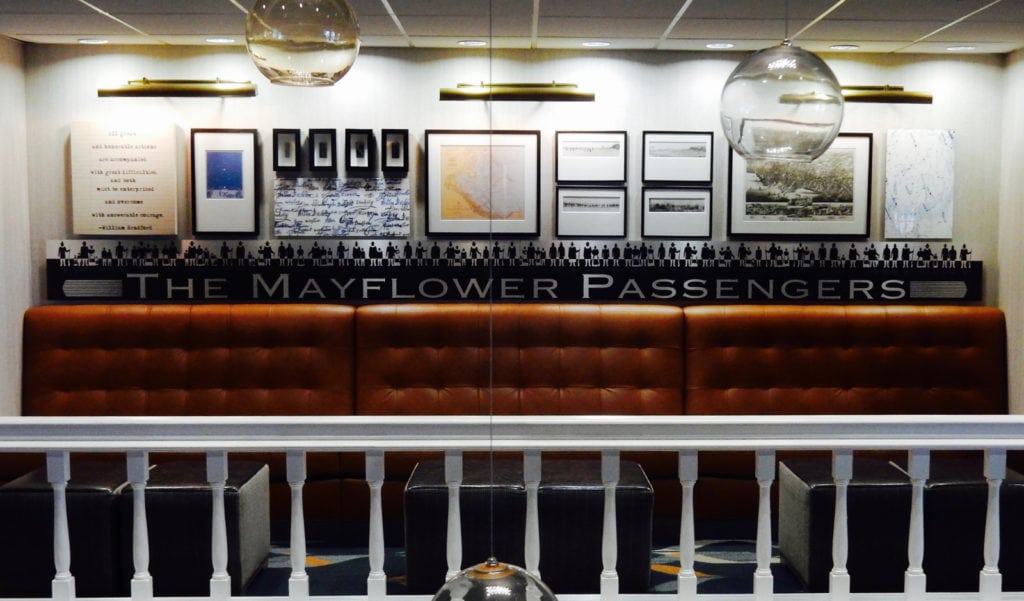 Like most boutique hotels, The 1620 draws from and capitalizes on local history – but besides the common areas, it's not so in-your-face, and therein lies its charm. What the hotel lacks in harbor views (it's not on the waterfront), it makes up for in crisp décor and excellent service.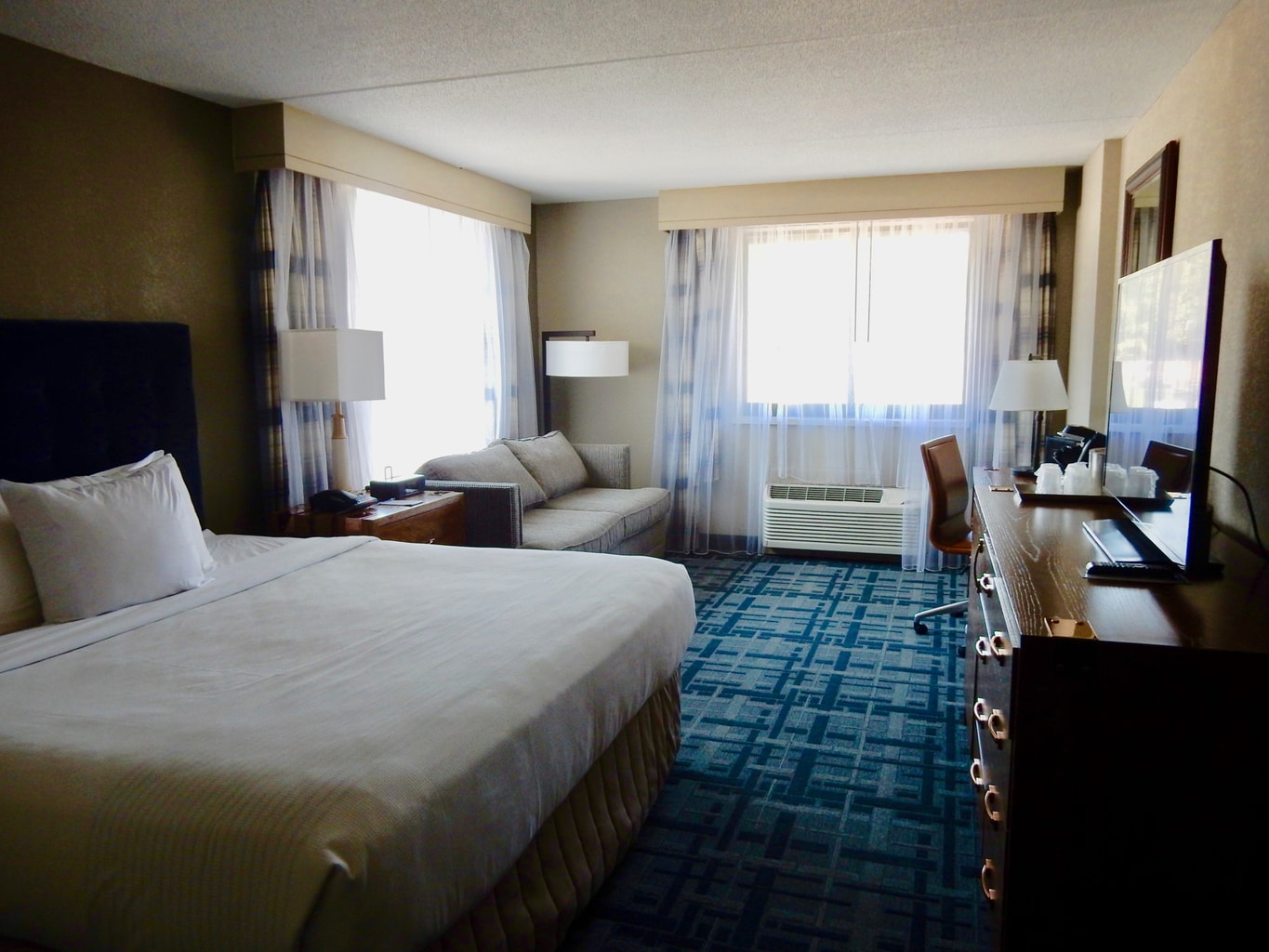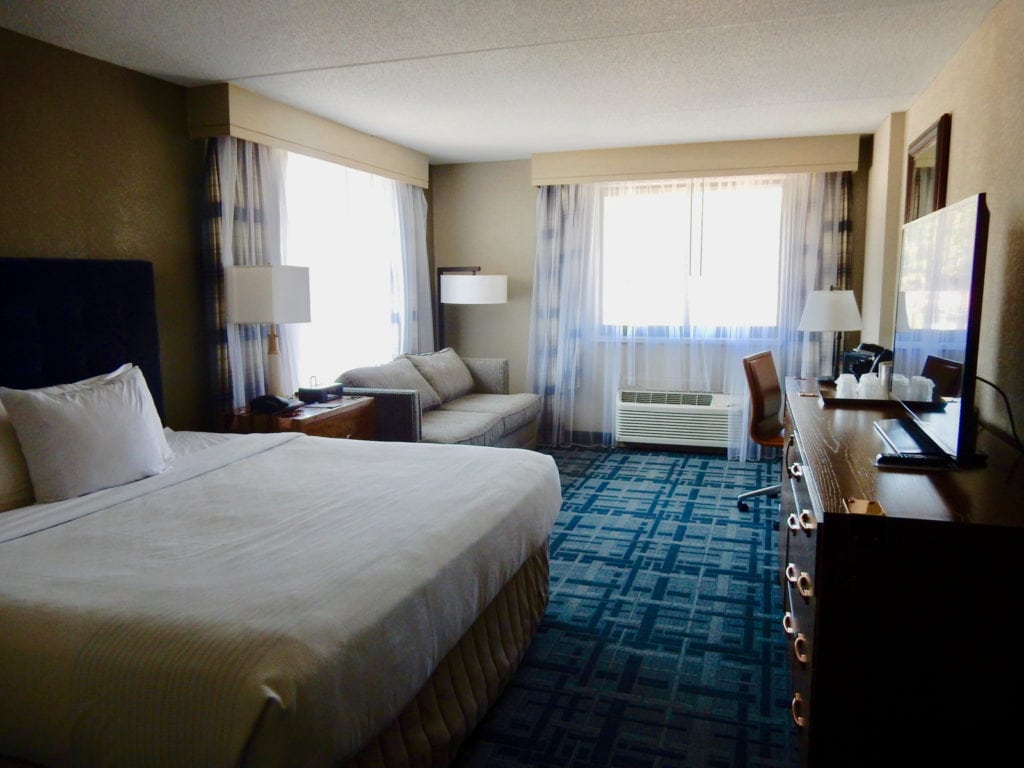 Ship-shape rooms are done up in nautical blues and grays with yachting life furnishings.  Bathrooms are bright, with gleaming glass showers clad in Navy Blue tiles.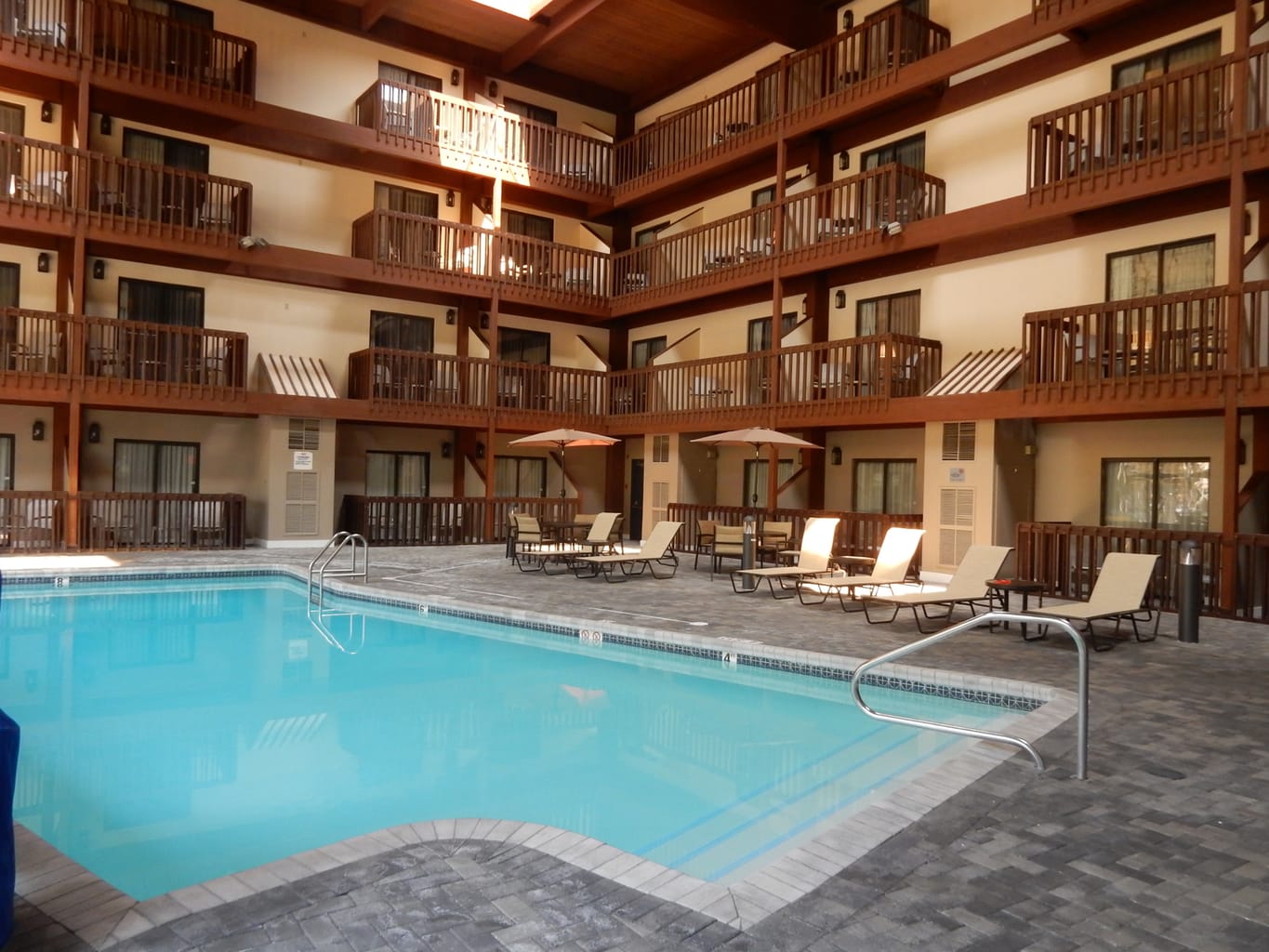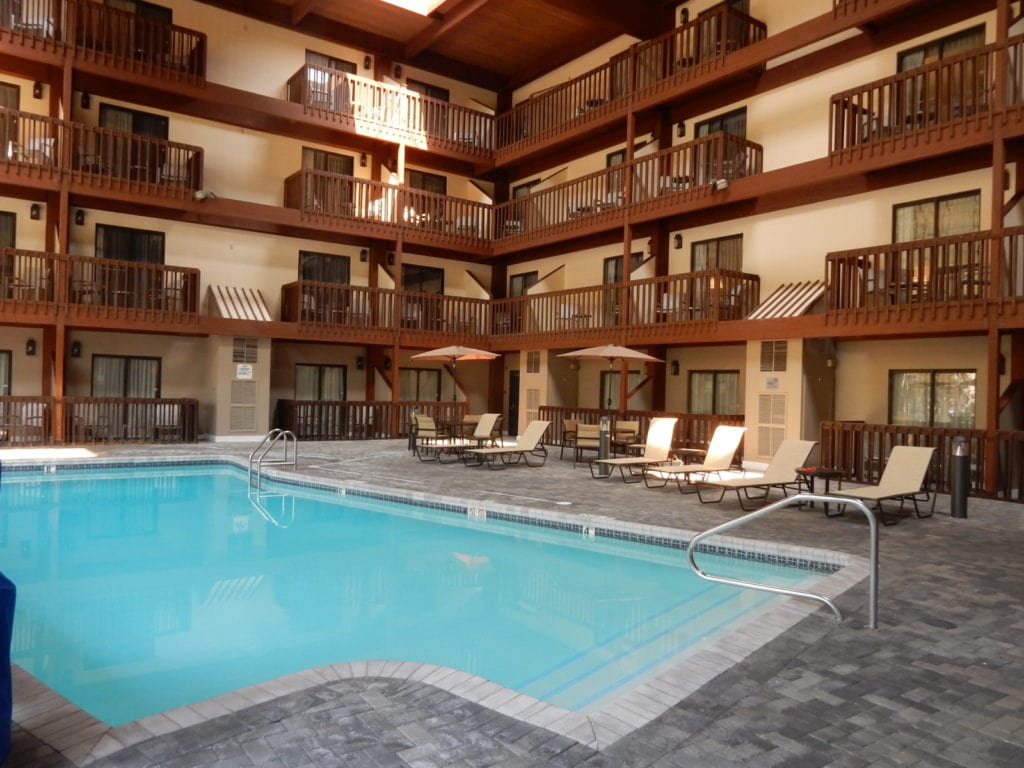 Many room balconies overlook a large indoor pool that takes center stage in an enclosed courtyard. The fitness room is small but has state of the art equipment. Room rates start at $120 off season and start at $350 in season.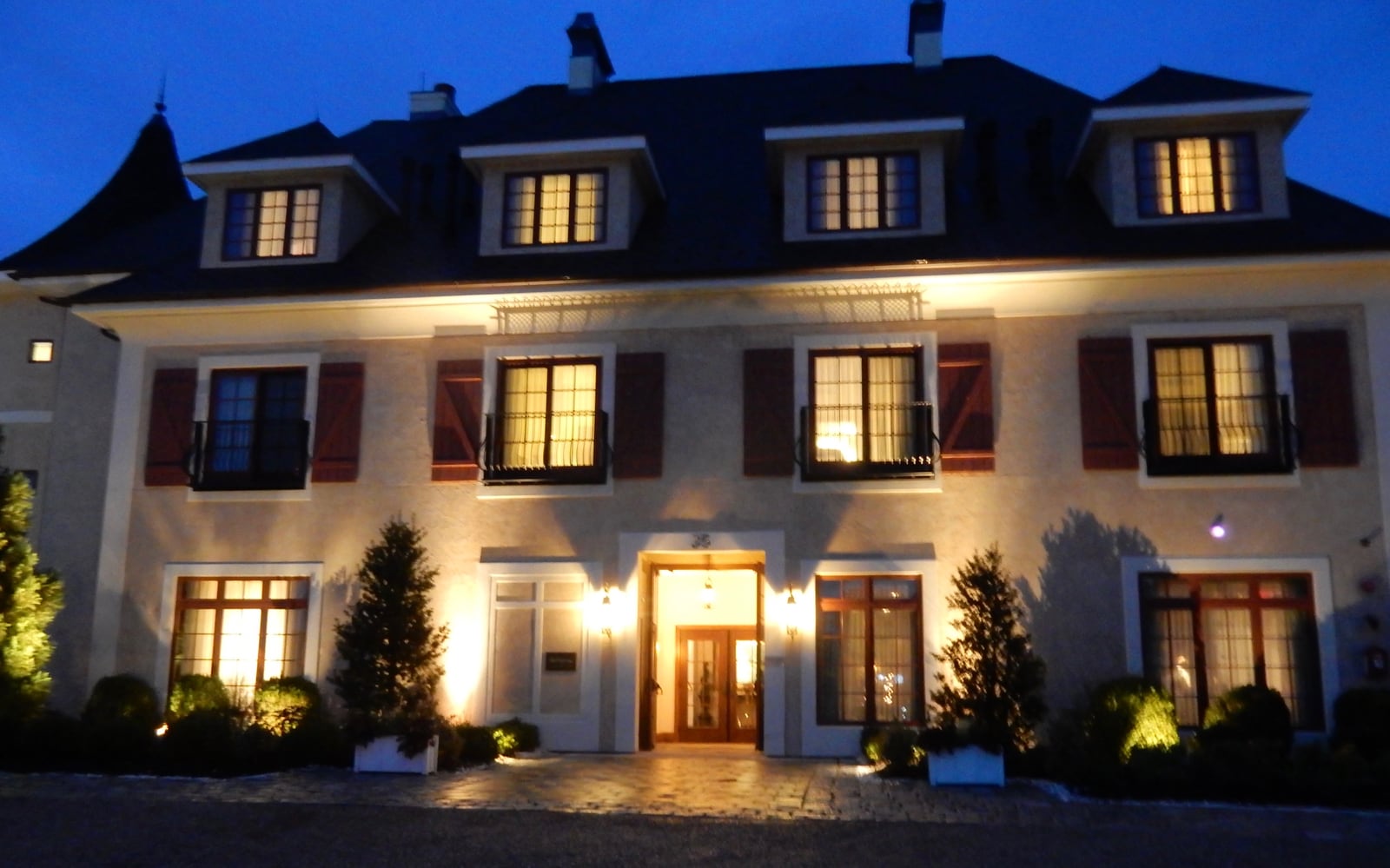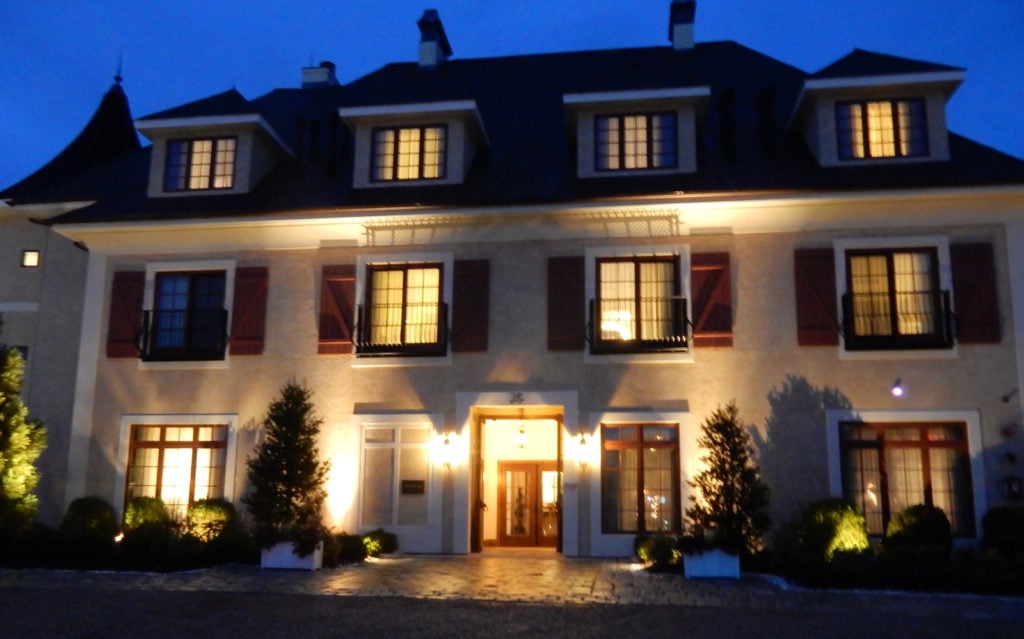 Opened in 2014, Mirbeau's French Country décor, bewitching gardens (with "Monet Bridge" popular for wedding photos), and well-regarded spa appeal to brides and Boomers alike. And, of course, girlfriend groups.
Fifty guest rooms are quietly luxurious – not overdone – and common areas, with fireplaces, are the go-to spots on a snowy winter's eve. If you don't plan to stay here, at least reserve a table for lunch or dinner at The Bistro & Wine Bar – a fantastic meal that begins with addictive popovers and honey butter.
Reasonably priced starters and entrees, like Warm Mushroom Salad ($11) and Steak Frittes ($29) are deftly prepared, and service is top notch. Rooms from $300 – $400 per night in season, from $220 off season. 
Guests rave about the view and location. Located on Plymouth Harbor, the B&B sees stunning sunrises from the front porch and guest room windows, and it's in easy walking distance from most historical landmarks.
Kids (and kids at heart) love the pool at the John Carver Inn. Who could resist a 80′ water slide winding through a replica of the Mayflower and a whirlpool set in a mock Plymouth Rock? The hotel itself is charming, equally suitable for family or romantic getaways, and interestingly enough, it's located on the site of the original pilgrim settlement.
More Weekend Getaways Near Plymouth, Massachusetts