As one of the oldest cities in New England, you would expect to find a lot of historical homes and museums in Providence, Rhode Island. Perhaps less expected is that this city is also one of the most creative, producing an eclectic blend of top things to do in Providence RI.
From colonial charm to contemporary culture, this dynamic city beckons to be explored. Whether you're interested in the arts, history, or a gastronomic journey that delights the senses, Providence has a plethora of activities to captivate any traveler. With attractions ranging from the intellectual havens of Brown University to the elemental beauty of WaterFire, this city is far more than the sum of its parts. Downtown Providence is punctuated by cobblestone streets, vibrant markets, and hip eateries that serve up delicious farm-to-table fare.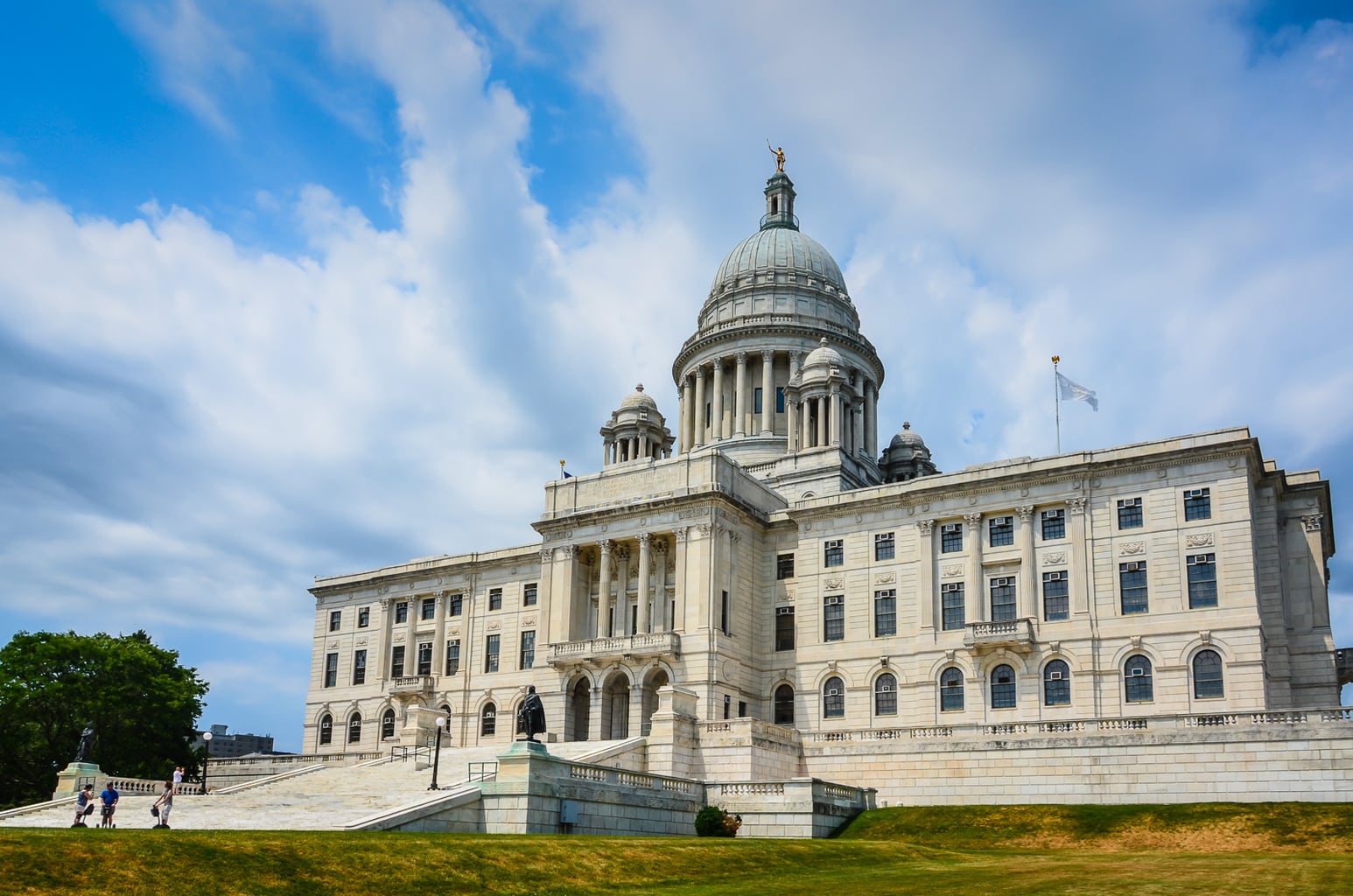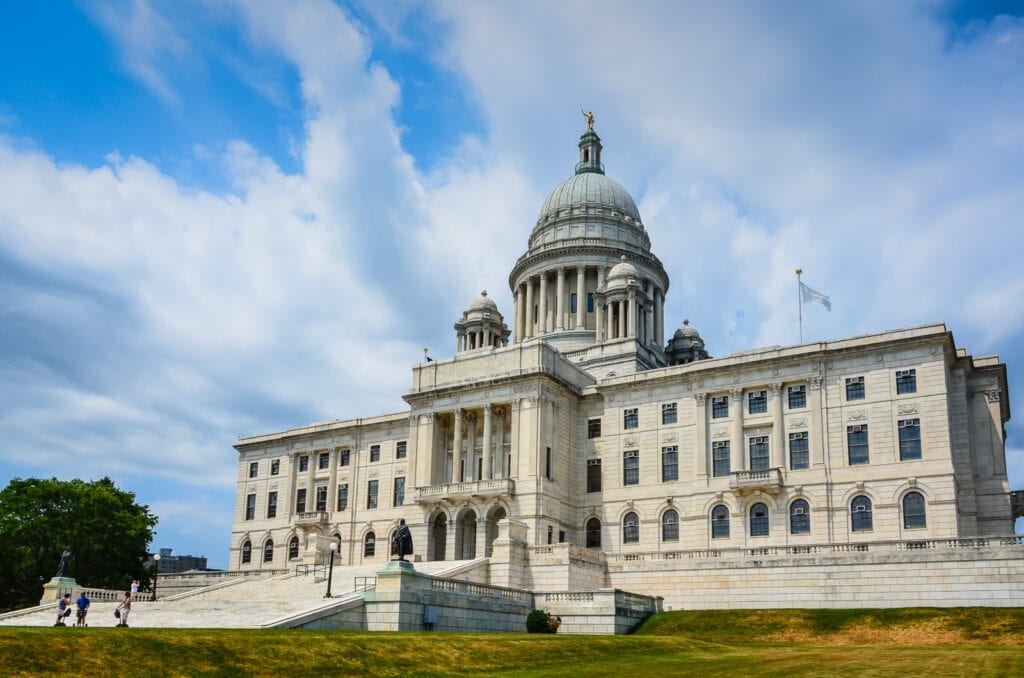 Looking for more weekend getaways in Rhode Island? Check our roundup, and for even more, see our list of top romantic getaways in New England.
Things To Do In Providence RI
TOUR: Captain Tom's Providence River Boat Company
One of the most unique guided tours of Providence's urban waterways is via a 28-foot pontoon boat offered by the Providence River Boat Company on the Providence River. Tours run daily from Waterplace Park through the Hurricane Barrier into Providence Harbor.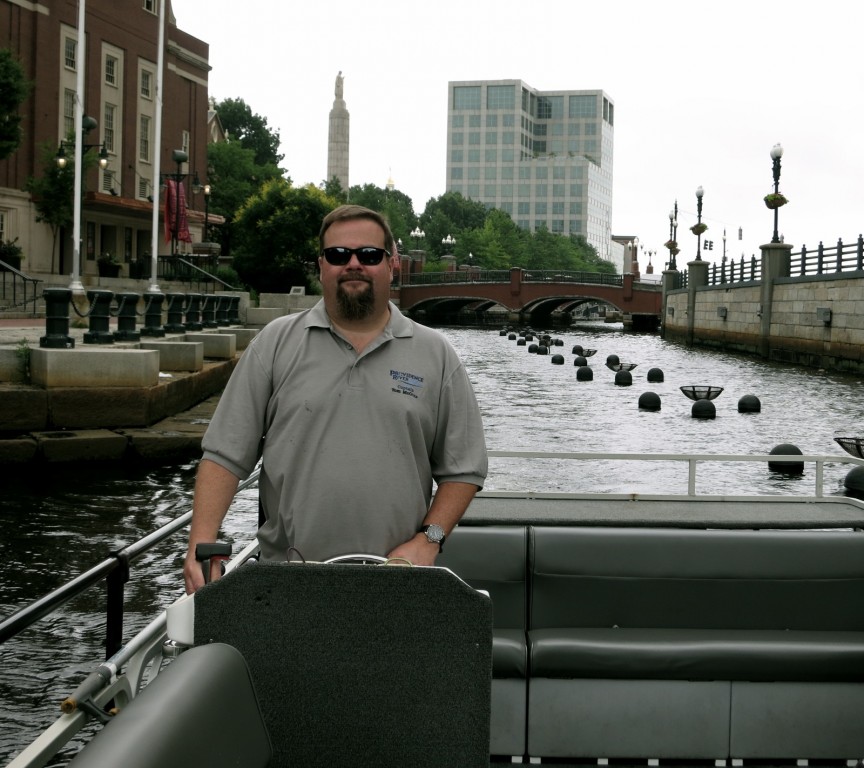 Captain Tom McGinn expounds on the history of the Providence waterfront or lets you enjoy it silently (your choice). It's as close to Venice as you're going to get in New England.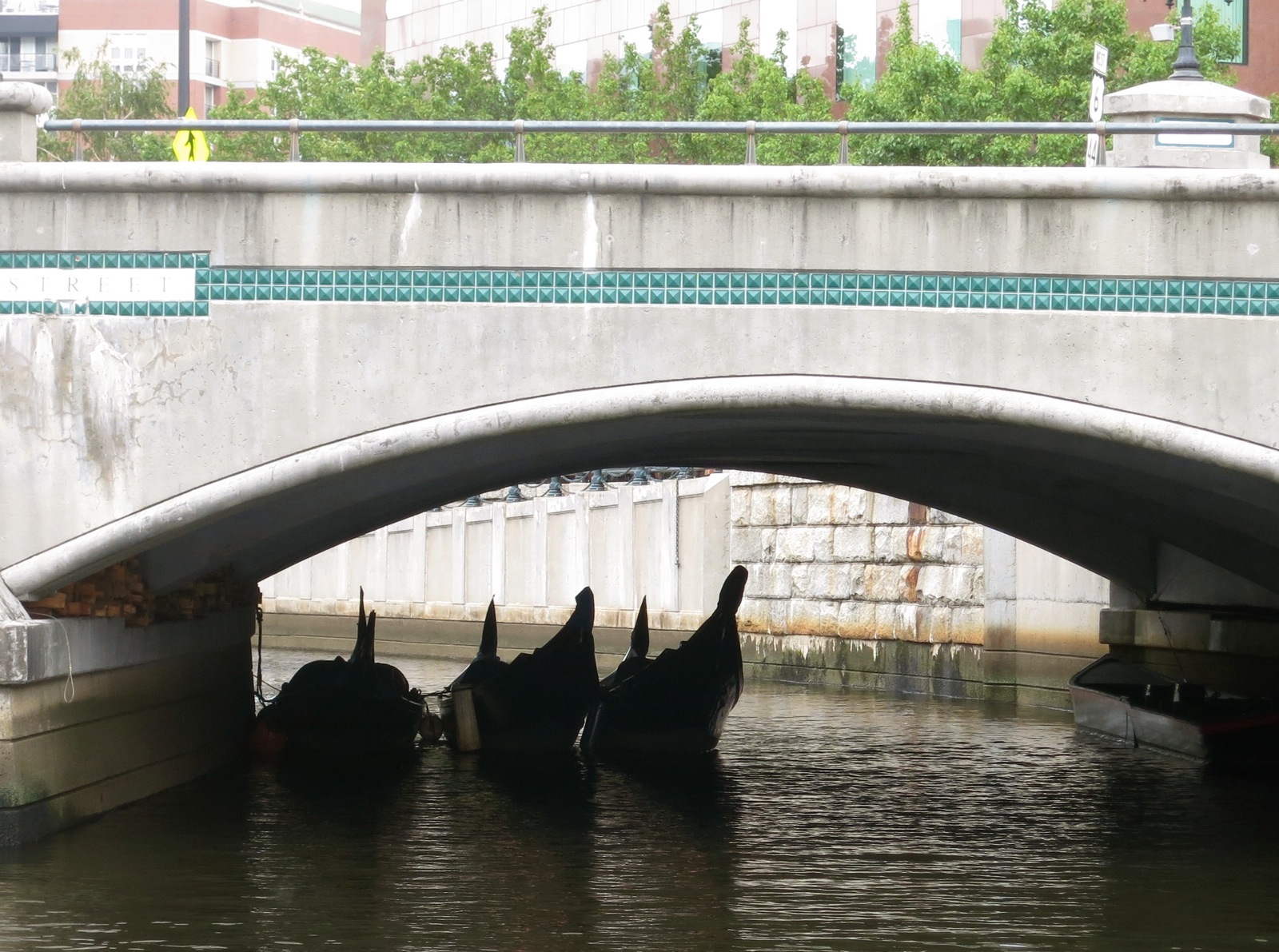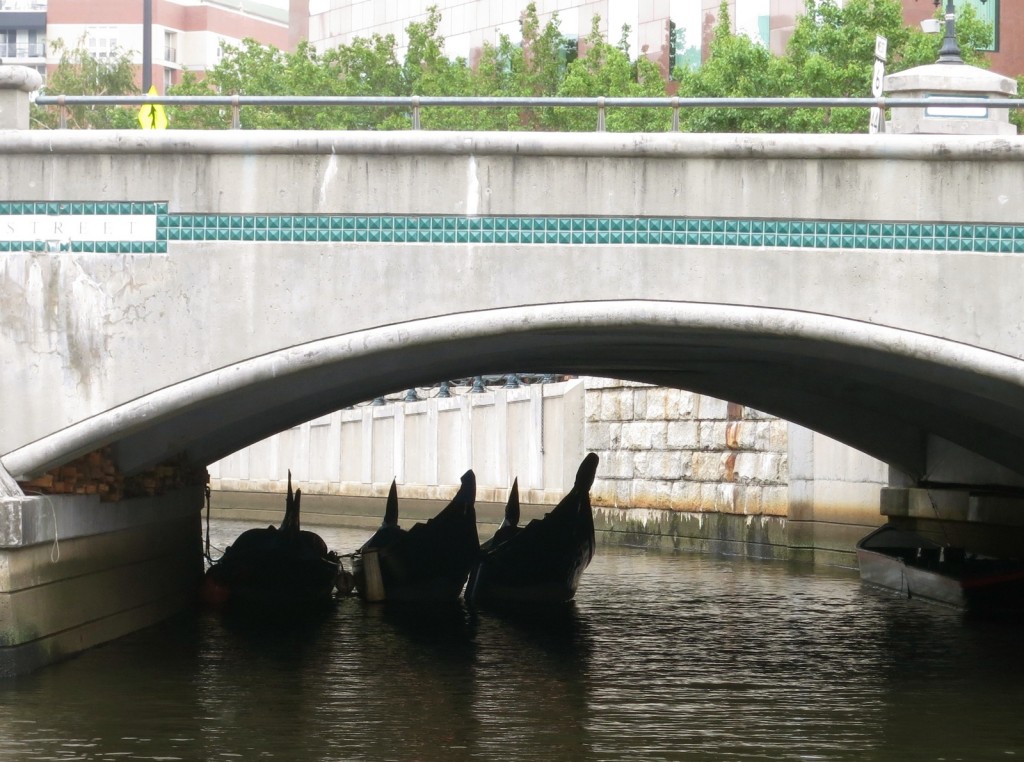 TOUR: La Gondola
An alternate, more romantic way to experience Providence-as-Venice is via your own La Gondala excursion. Depending on the package, your gondolier will sing to you as you nibble biscotti and sip Italian wines. Note that WaterFire trips are not available for online booking. (Call ahead to book at 401-421-8877.)
GO: WaterFire Festival
One of Providence's most thrilling art projects is the annual WaterFire Festival which sees over 80 braziers blazing, accompanied by a music program, along the riverwalk on select nights in June-November.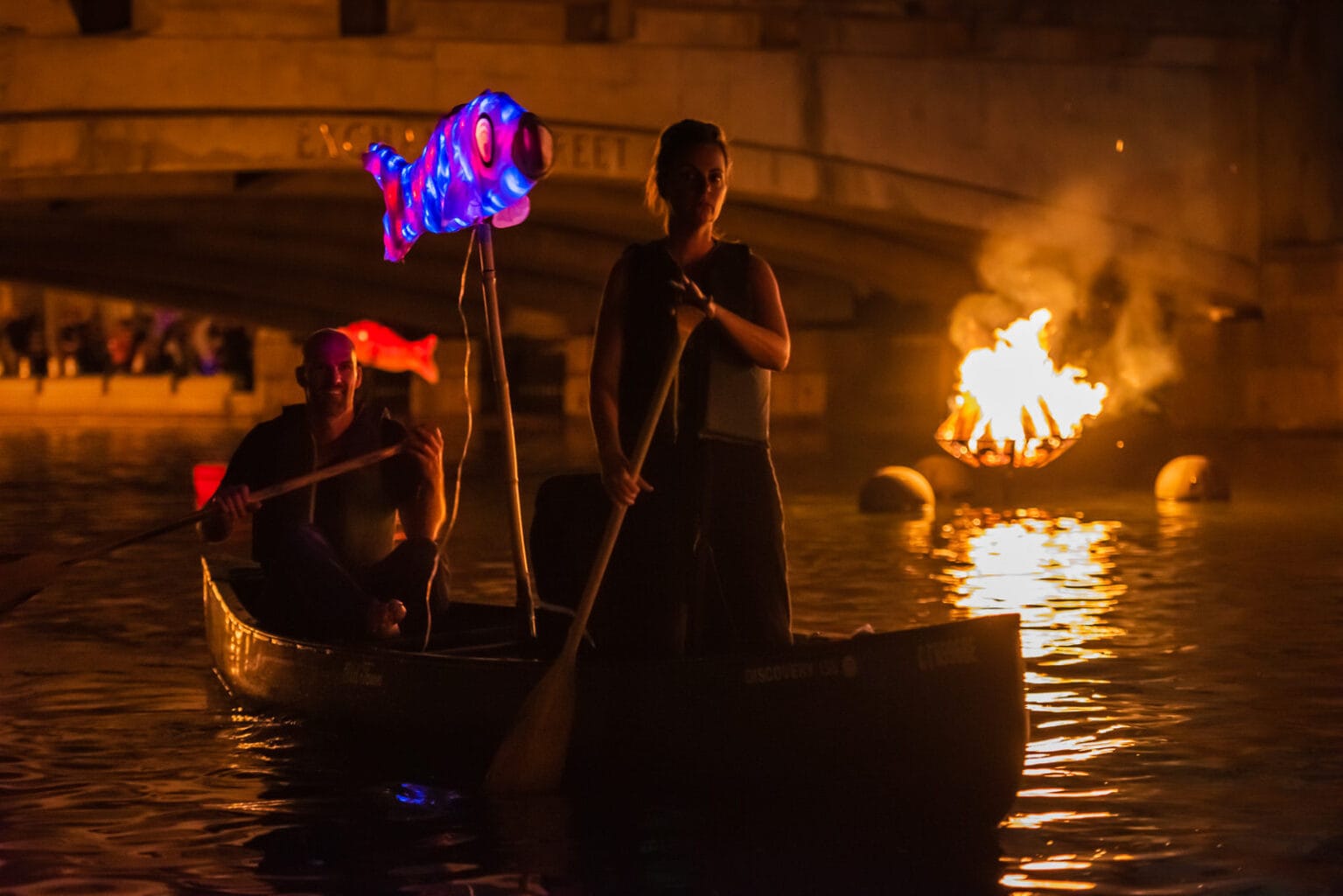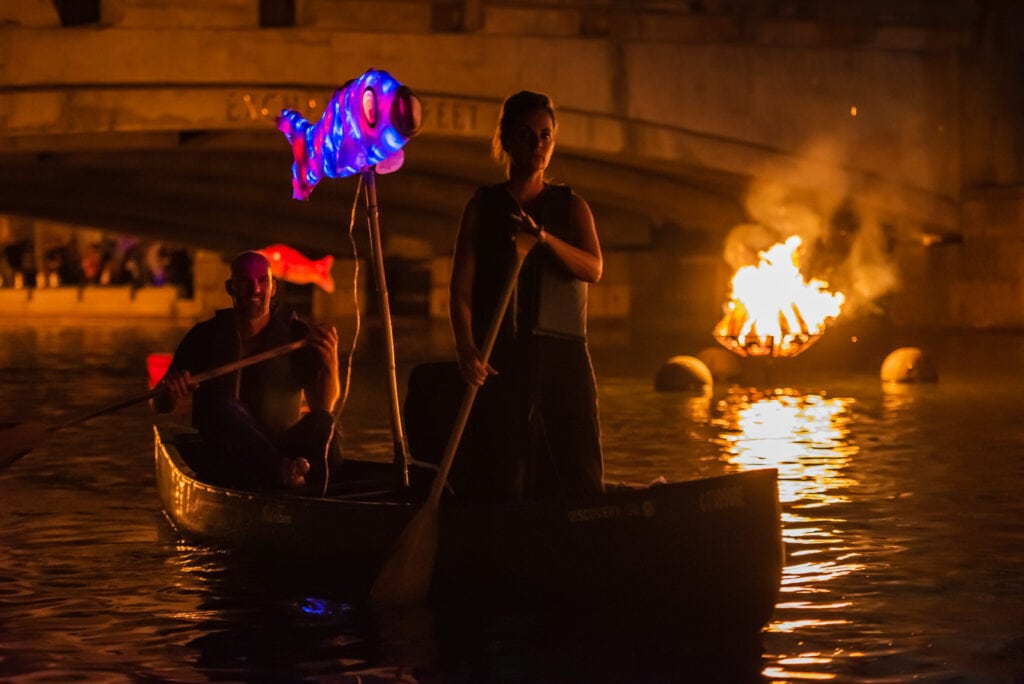 The 2023 Season began with partial lighting on April 1st and will conclude with full lighting on November 4th. In all, there will be seven full lighting events and five partial. Find the full 2023 Waterfire Lighting Schedule online.
TOUR: Providence Ghost Tours
Some of the stories on Providence Ghost Tours' nearly two-hour walking tour are gross and creepy, but isn't that part of the fun?
Beginning at the Roger Williams Statue in Prospect Terrace Park (offering spectacular city overviews at sunset), you'll hear about the fate of William's remains and learn about the four categories of ghosts (FYI – Orbs, Apparitions, Poltergeists, and Specters).
From there, your guide weaves tales of dorm room hauntings, unexplained deaths, and sightings with Providence history.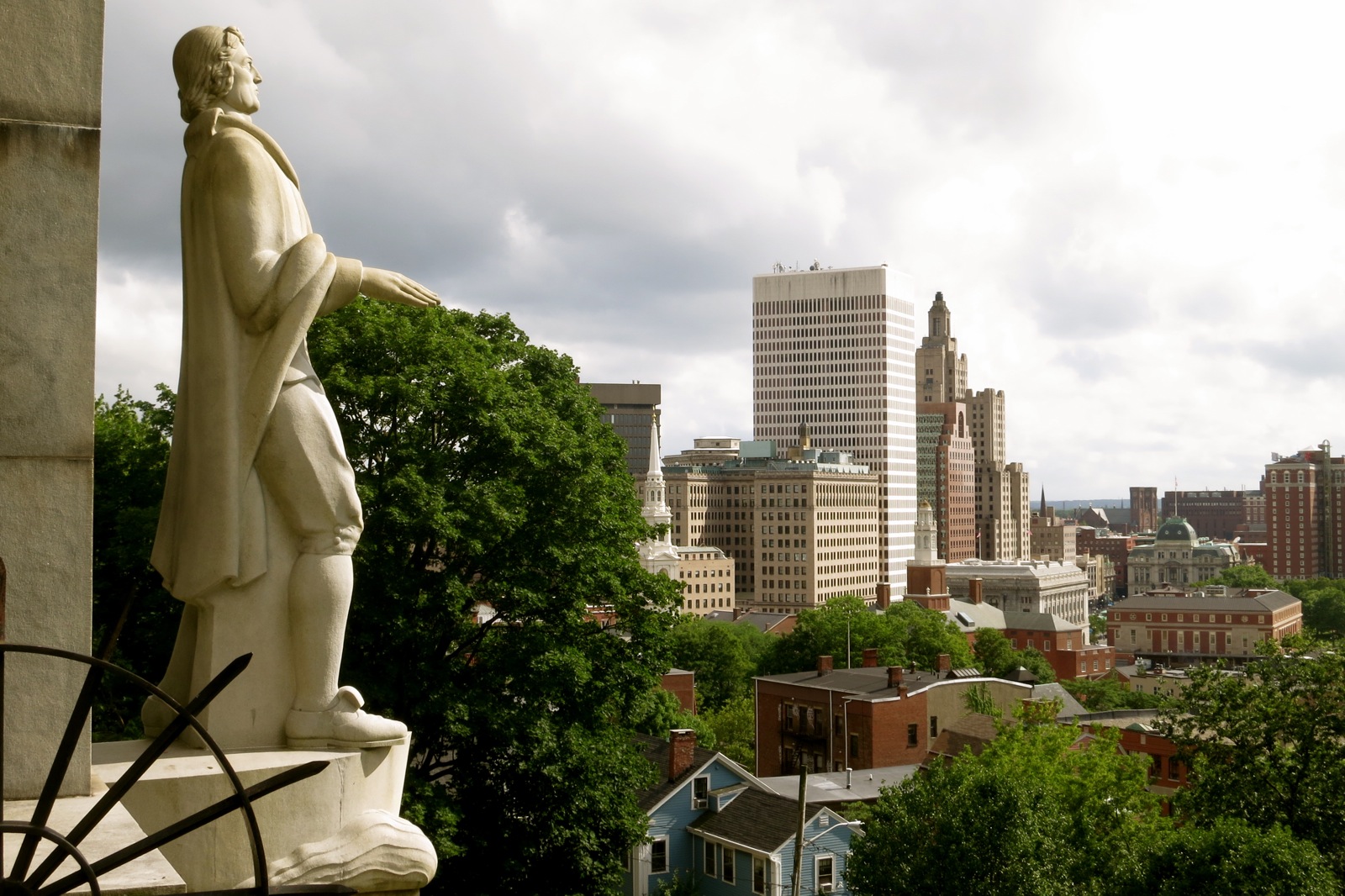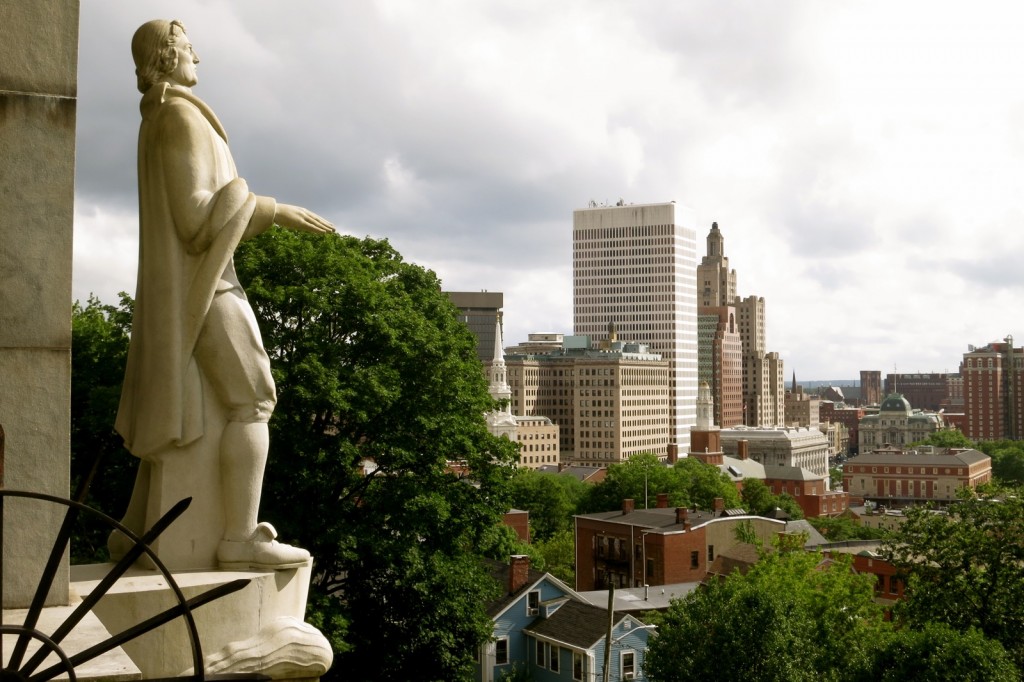 Find out why a horseshoe impression remains on the stairs of a former Revolutionary War hospital now a university dorm, and who promised to "arise from their graves and mingle."
VISIT: Roger Williams National Memorial
Roger Williams – born in London in 1603 and trained in the ministry – fled to Boston, where he encouraged separation from the National Church.
Cast out of Puritan Massachusetts for his beliefs (Williams founded The First Baptist Church in 1638), he was assisted by Native American tribes in the wilds of what is now Rhode Island, and established a settlement at the head of the Narragansett he called "Providence."
This was the first British colony that sanctioned freedom of conscience and religion, a philosophy that informed the basis for the US Constitution's First Amendment over a hundred years later; "Congress shall make no law respecting an establishment of religion, or prohibiting the free exercise thereof."
See a (free) short movie, and then climb the hill to see his statue and a magnificent view of Providence at the Roger Williams National Memorial Visitor Center.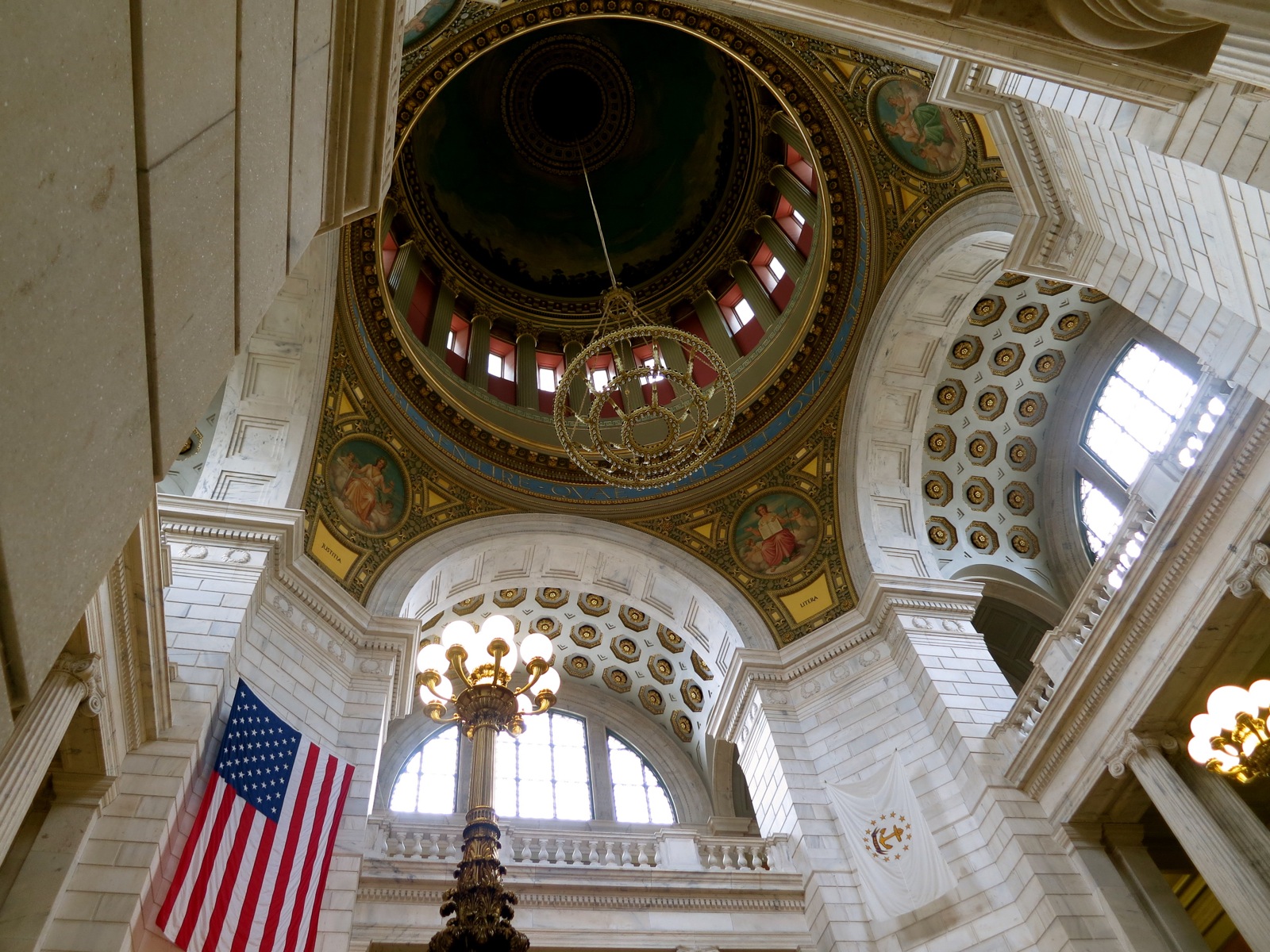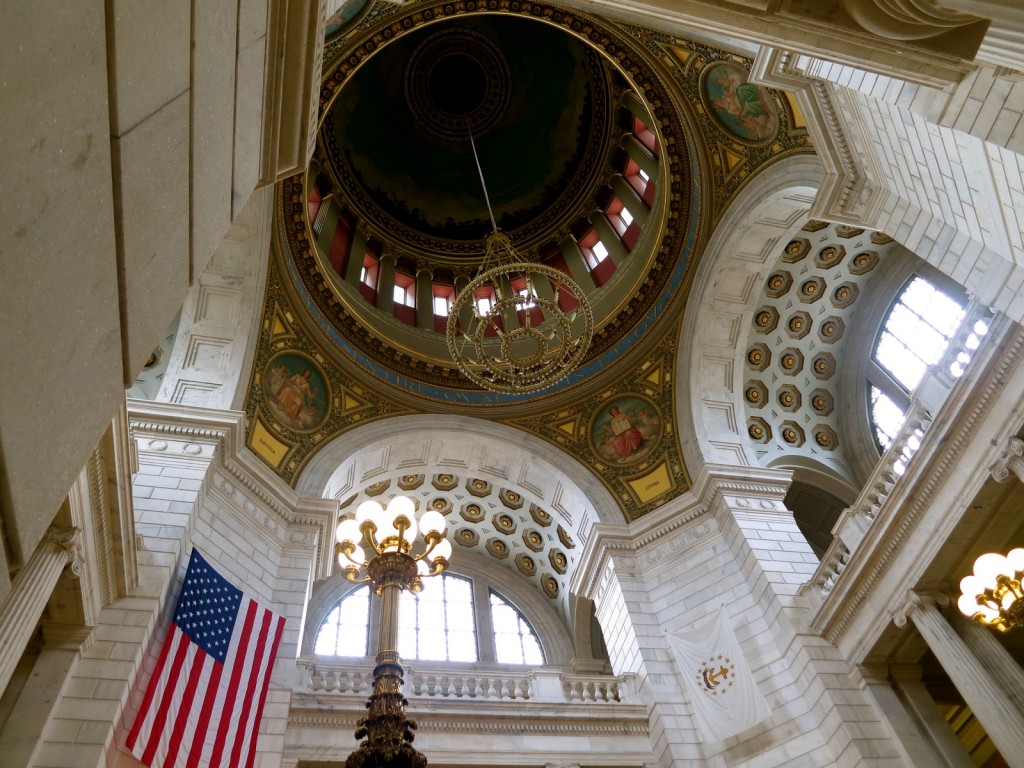 VISIT: Original Rhode Island Charter at the State House
A climate-controlled pocket museum within the Rhode Island State House tells the story of how this wilderness became a hotbed of religious freedom.
Filled with artifacts and documents leading up to the establishment of Rhode Island as a colony, the piece de resistance is the original Rhode Island 1663 Charter signed by King Charles II himself. Don't leave the State House without looking up towards the magnificent, vibrantly hued dome.
Encircling its interior base is a Latin inscription, dating from first-century Rome, that translates to "Rare felicity of the times when it is permitted to think what you like and say what you think."
WALKING TOUR: East Side Historic Tour
Take the East Side Historic Tour, a self-guided walking tour that takes you past some of Rhode Island's oldest homes. Visit the Stephen Hopkins House, built in 1707; it's named for one of the signatories of the Declaration of Independence. You'll also pass the John Brown House Museum at a mansion that once hosted our earliest American presidents, including George Washington, Thomas Jefferson, and John Quincy Adams.
STROLL: Benefit Street
Benefit Street is often described as a "mile of history," and for good reason. This iconic thoroughfare showcases a stunning array of architectural styles, from Colonial and Federal to Victorian, making it an outdoor museum of sorts for history and design aficionados. The street is lined with meticulously restored homes, churches, and buildings, many of which bear historical plaques detailing their significance.
Among its noteworthy landmarks is the Providence Athenaeum, an independent library that has been a pillar of intellectual life since the 19th century, and the First Baptist Church in America, which dates back to 1638.
Benefit Street is not just a walk through history; it's also a vibrant part of modern-day Providence. Peppered among the historic sites are art galleries, quaint cafes, and small boutiques that add a contemporary flair to the area.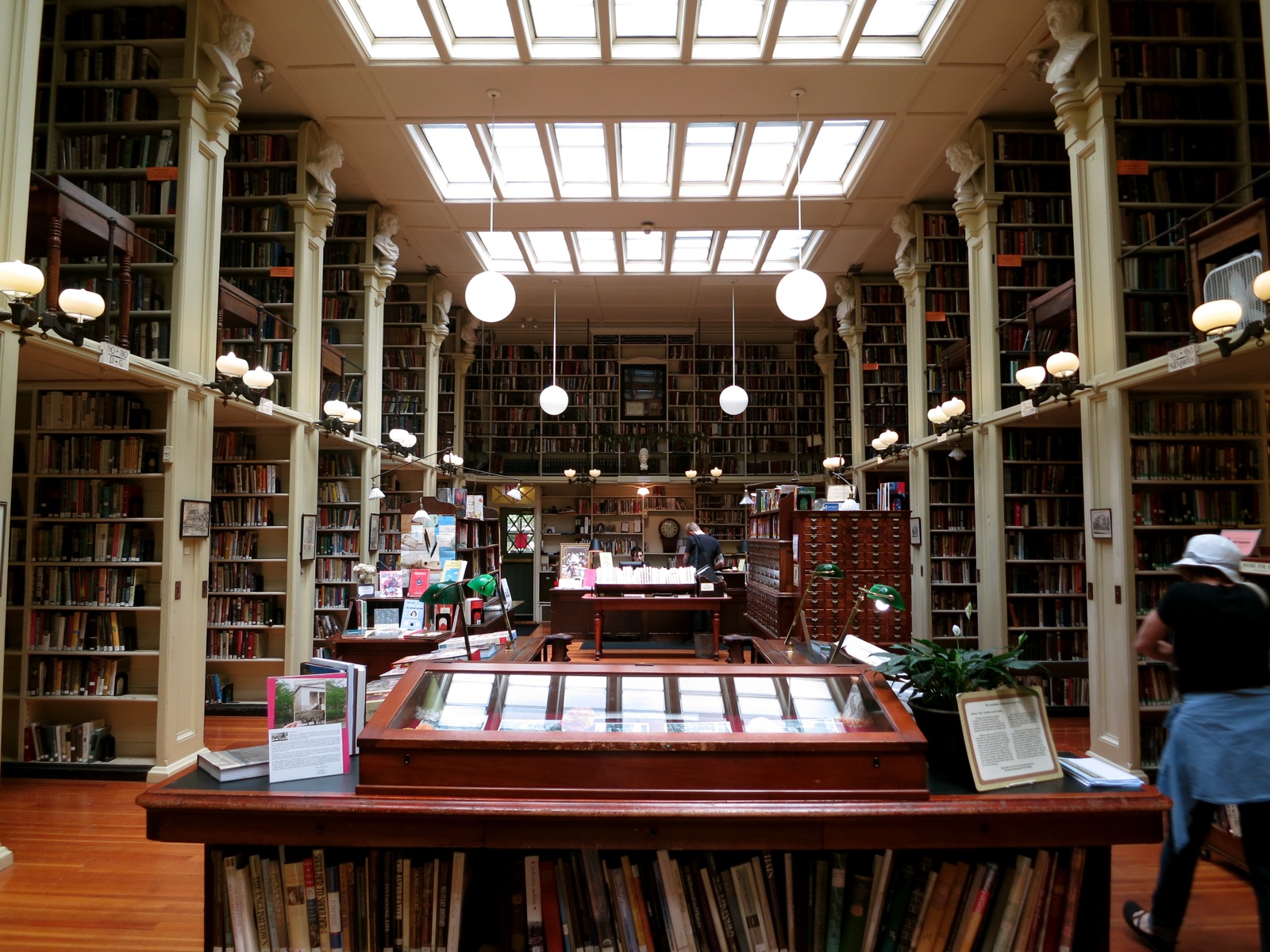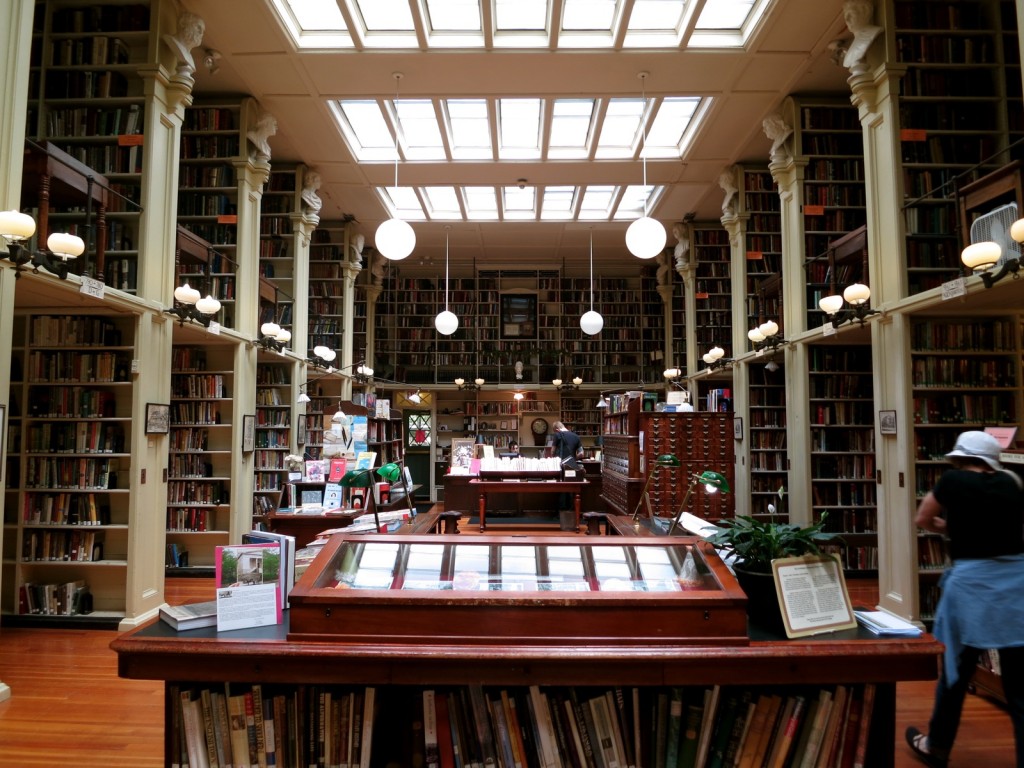 VISIT: Providence Athenaeum
Edgar Allen Poe courted his ladylove Sara Helen Whitman among the stacks of the Greek Revival, member-supported Providence Athenaeum library.
Built in 1838 and filled floor to ceiling with rare books and pulp, the Athenaeum is a city treasure. Take the self-guided "Raven Tour" ("follow the ravens") to find stories about Poe, the building itself, and original handwritten cards in the still-functioning card catalog.
Come on a Friday evening from 5-7 p.m. for the free coffee-house style Salon Series that serves to amplify what's happening in Providence. Check the website for speakers. Wine, sherry, nibbles, and "brilliant conversation" are complimentary.
Note – The Providence Athenaeum is one of the Getaway Mavens' quirkiest places to propose in Rhode Island.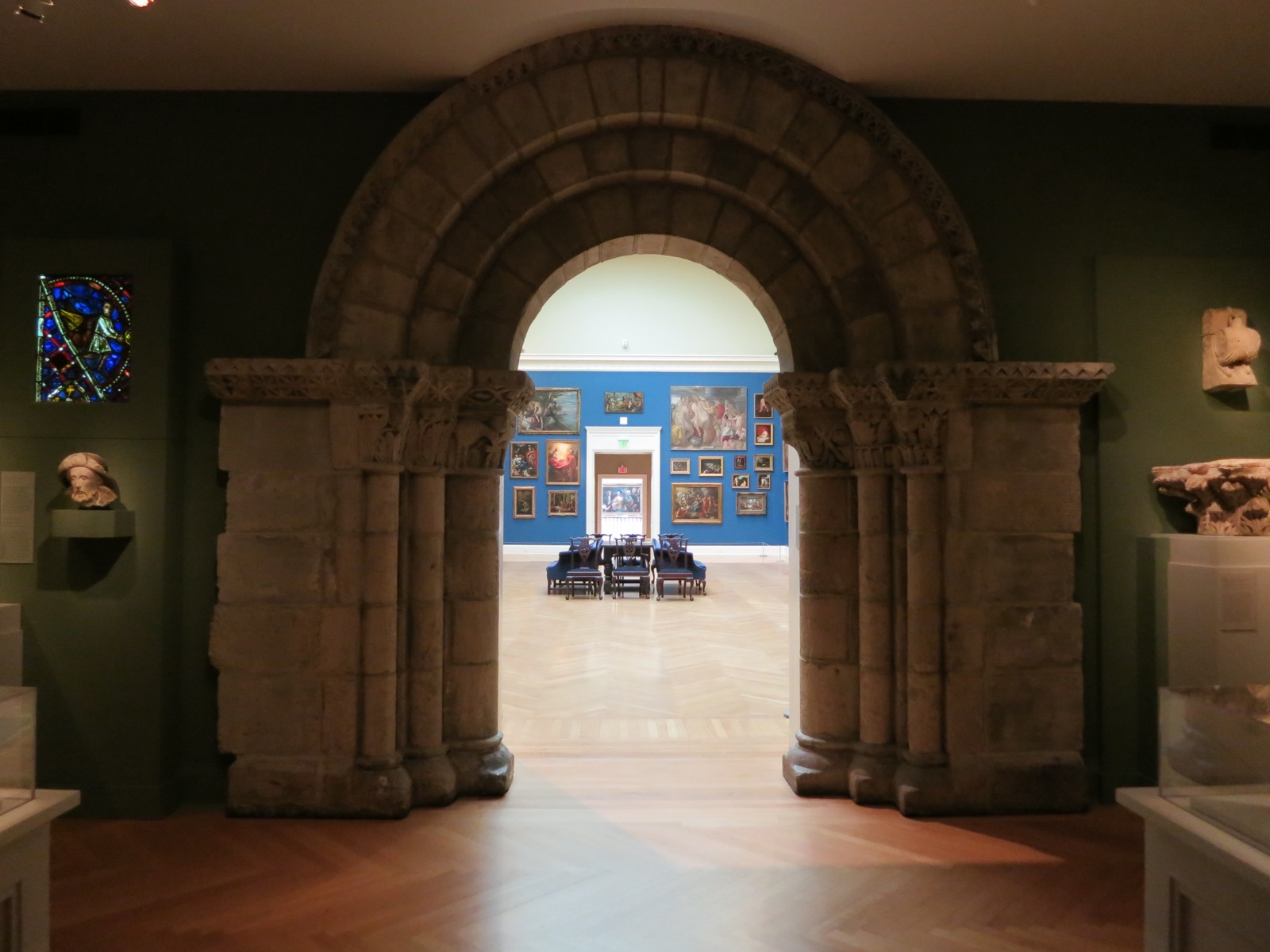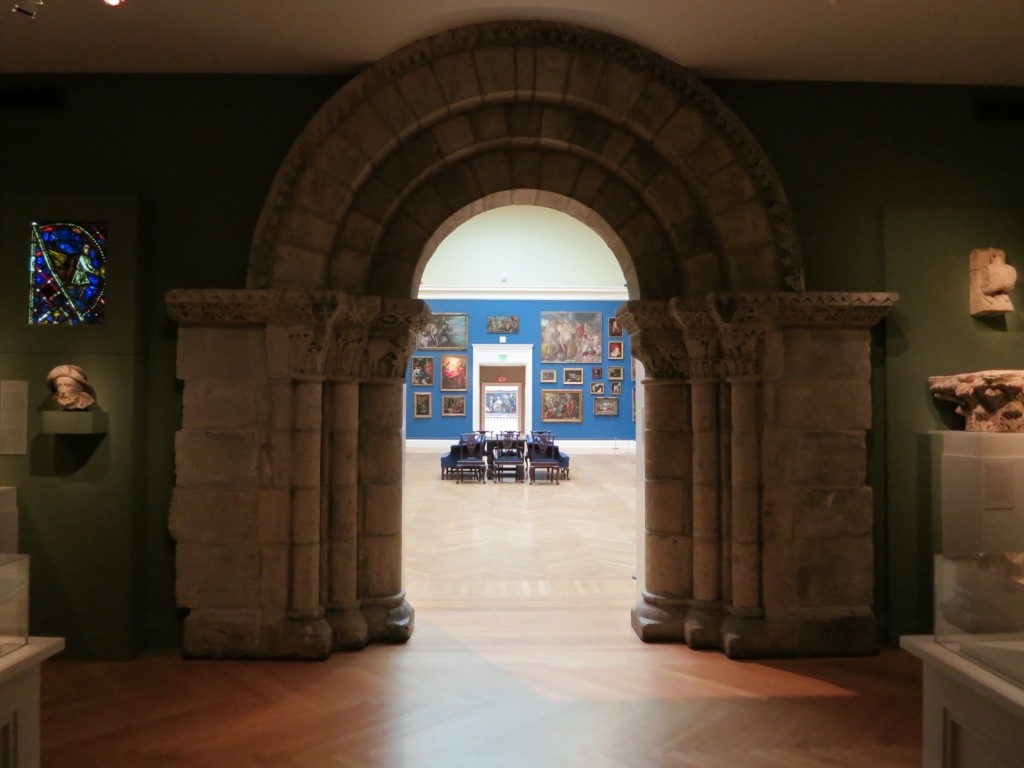 VISIT: RISD Museum of Art
Though the college itself is known for forward-thinking design, the RISD Museum looks as far back as antiquity.
You'll find an Egyptian mummy lying by its sarcophagus, medieval cherub, landscape and religious oils, and Greek urns all the way up to Matisse, Cézanne, Warhol, and Koons among 86,000 objects and artifacts.
But each year, you'll also find an exhibit by a winner of the Donner Prize, which invites student artists to submit art installations or projects in a wide variety of new and emerging mediums.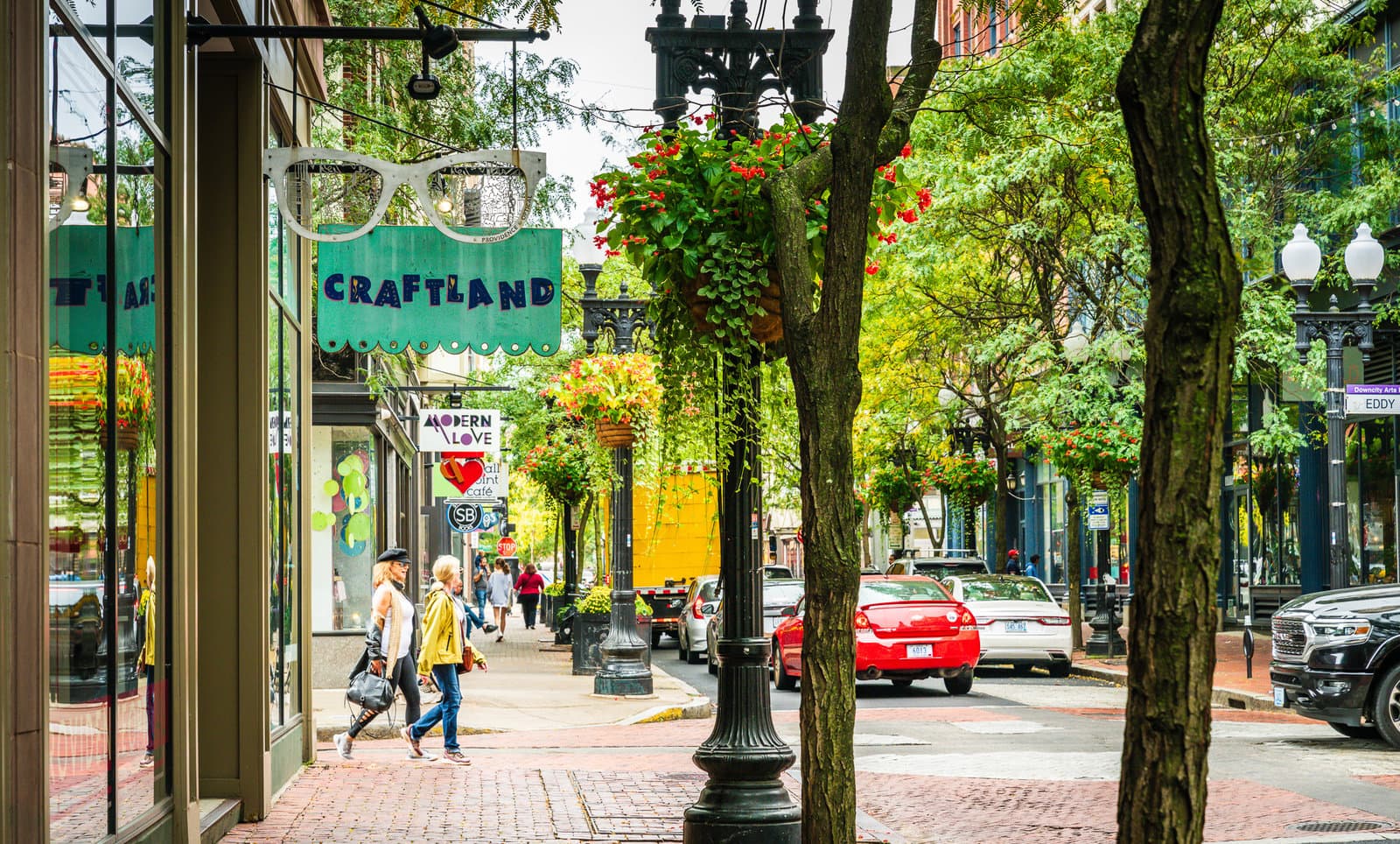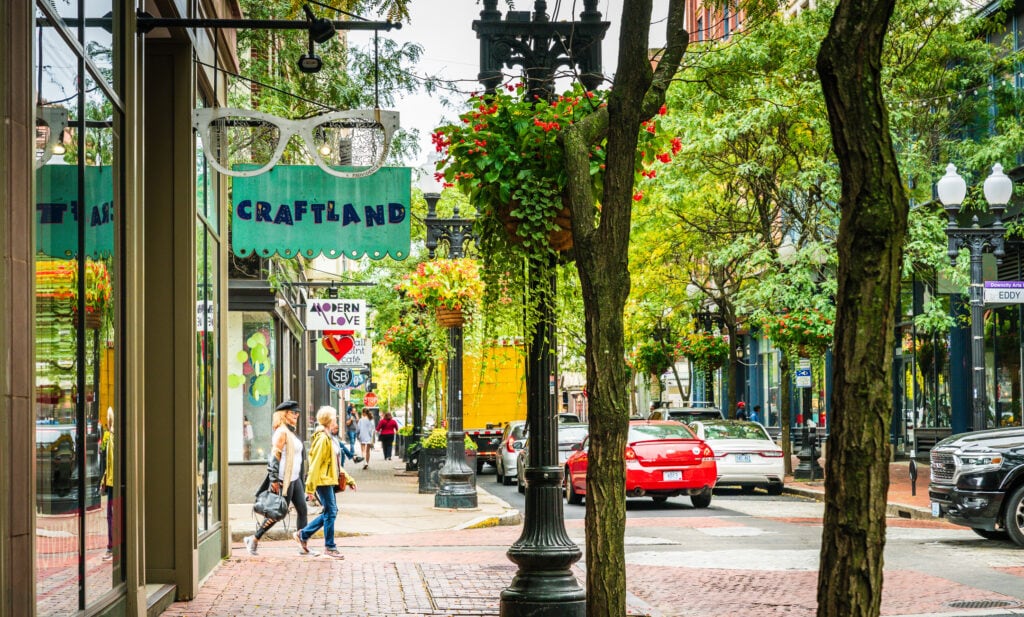 SHOP: Westminster Street
Westminster Street is experiencing quite the revival with trendy, local craft shops like Craftland, crammed with soaps, jewelry, t-shirts, and knitted everything, the independent bookstore Symposium Books & Vinyl Records, and Homestyle ("artful objects for life and home"), which melds function with humor.
GO: Federal Hill
Federal Hill is often heralded as Providence's vibrant Italian neighborhood, a bustling enclave where culture and cuisine meld in delightful harmony. Strolling down Atwells Avenue, the neighborhood's main artery, you'll encounter a tapestry of restaurants, bakeries, and delis serving up authentic Italian fare—from heaping plates of pasta to fresh cannoli and artisanal bread.
A focal point of the area is DePasquale Plaza, where al fresco dining and live music create a convivial atmosphere, evoking the feel of an old-world European plaza. The area is also rich in history, dotted with traditional red, white, and green Italian flags, and is home to the iconic gateway arch that welcomes visitors into the neighborhood.
Beyond its culinary offerings, Federal Hill boasts art galleries, boutique shops, and frequent cultural festivals, making it a dynamic hub of community life in Providence.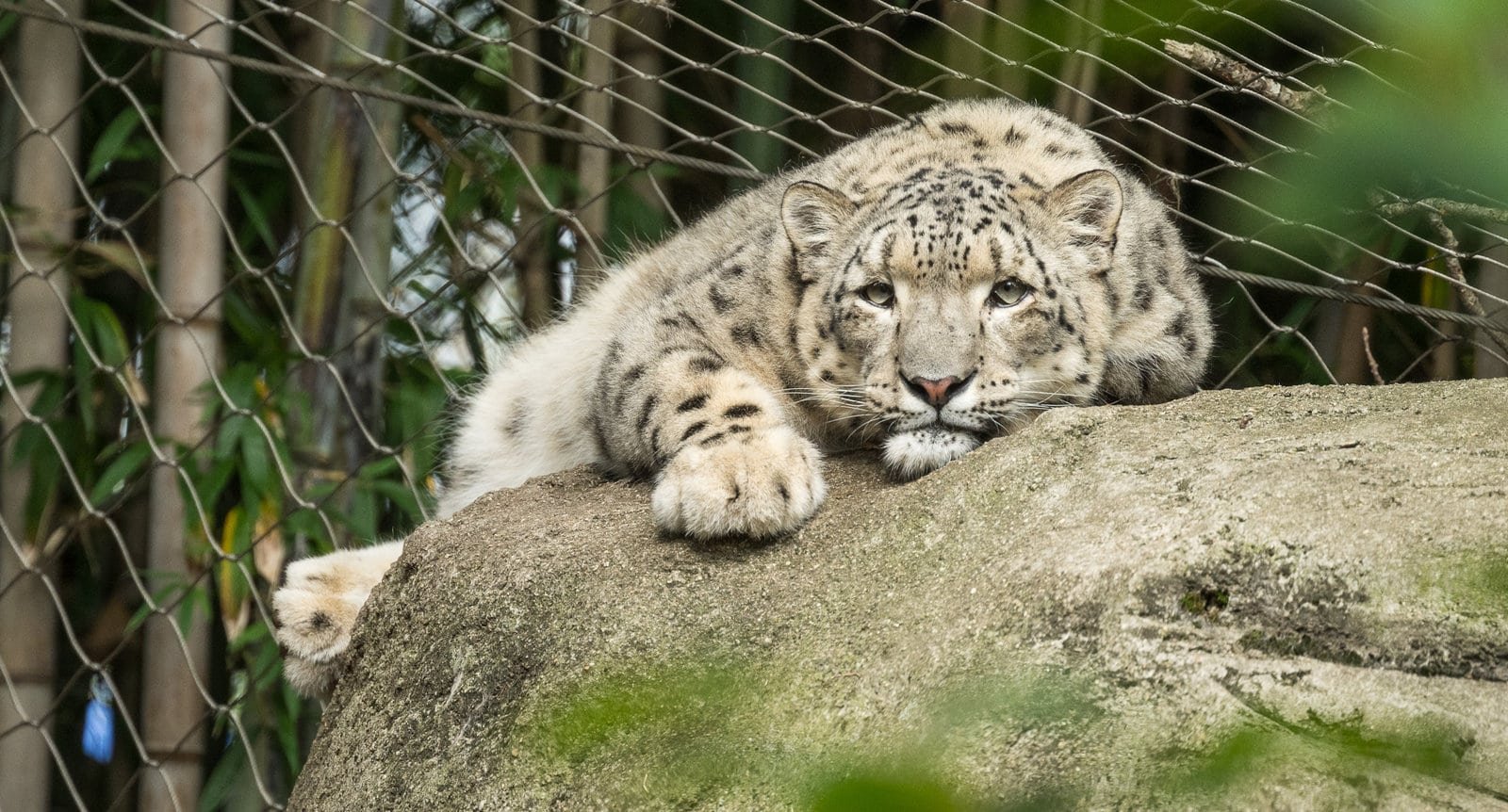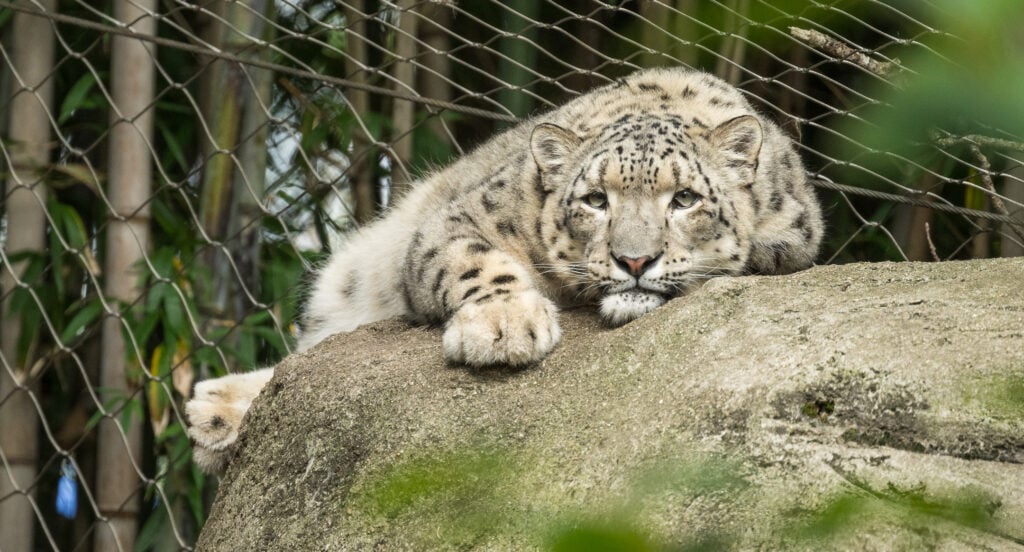 GO: Roger Williams Park Zoo
Roger Williams Park Zoo is one of the oldest zoos in the United States, having been founded in 1872. Spread across 40 acres, the zoo is home to over 160 species of animals from around the globe, offering visitors a chance to explore the wonders of the natural world in a thoughtfully designed environment. The zoo strongly emphasizes conservation and education, featuring entertaining and educational exhibits, highlighting the importance of biodiversity and wildlife preservation.
The facility is divided into various themed areas, such as the "Tropical America Rainforest," "Fabric of Africa," and the "Marco Polo Trail," each designed to replicate the natural habitats of the animals. From the lumbering elephants and regal lions to more exotic species like the Komodo dragons and snow leopards, the zoo provides a comprehensive and interactive experience.
In addition to animal exhibits, Roger Williams Park Zoo offers seasonal events like the Jack-o-Lantern Spectacular that makes for an adventurous date night.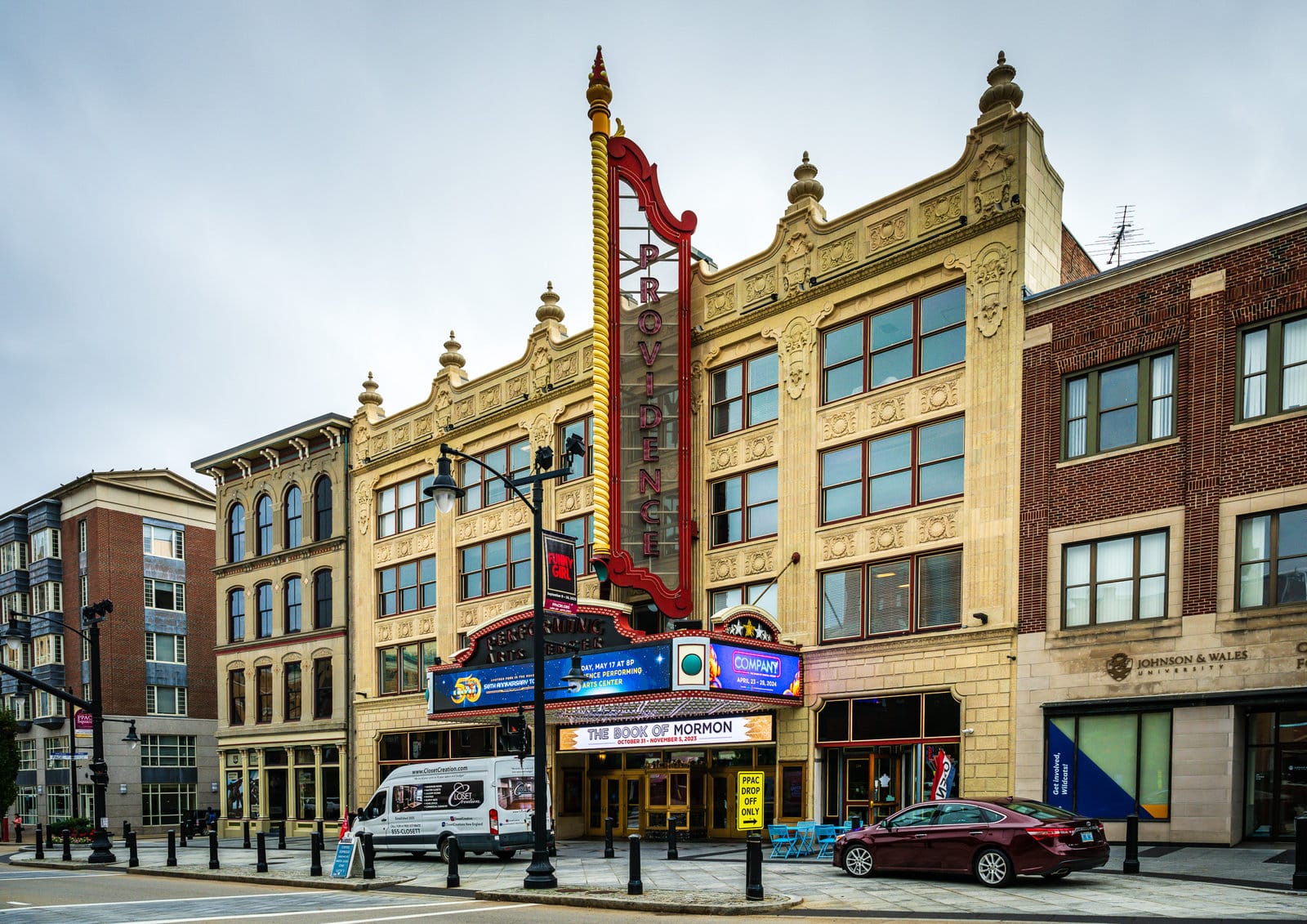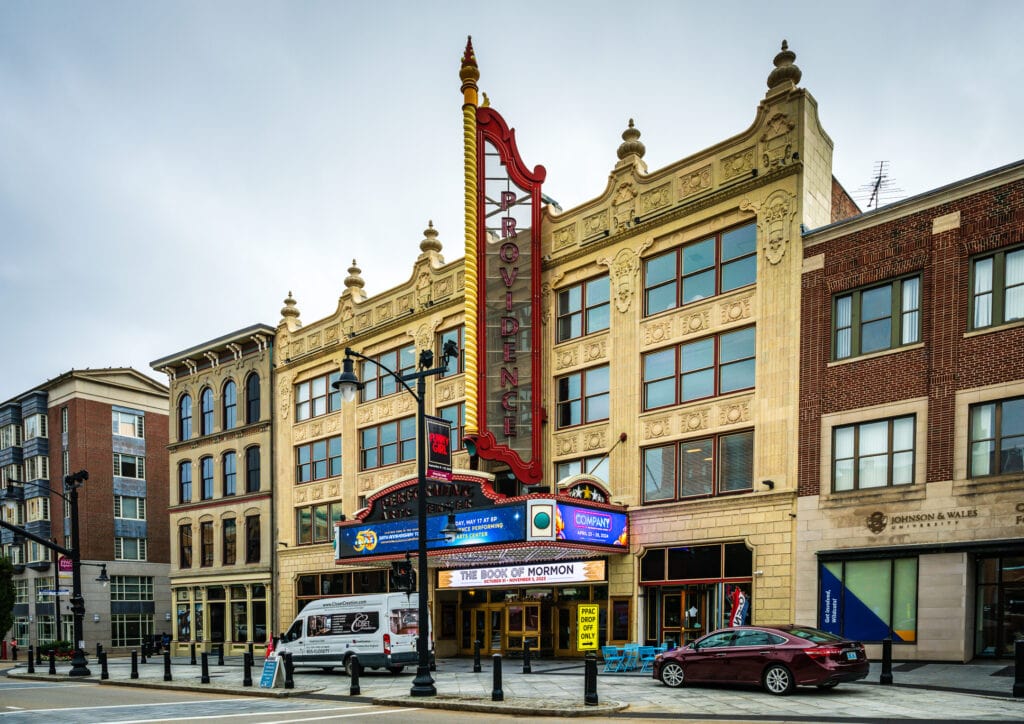 ATTEND A SHOW: Providence Performing Arts Center
The Providence Performing Arts Center (PPAC) opened in 1928 as Loew's State Theatre, but in the 1990s, the art deco building underwent a major restoration and has since become a premier destination for theatergoers in the Northeastern United States.
The venue features a grand, ornate interior that evokes the glamour and elegance of the Golden Age of Hollywood. The main auditorium seats over 3,000 people- the country's second largest of its kind- and boasts a stunning proscenium arch, intricate plasterwork, and sparkling chandeliers. The stage is equipped with state-of-the-art lighting and sound systems, allowing for a wide range of performances, from Broadway shows and concerts to ballet and opera.
LIVE MUSIC: AS220
At the other end of the performance spectrum is the arts incubator, AS220, which is known for its commitment to promoting diversity and inclusivity in the arts. The organization hosts a wide range of events and programs, including concerts, art exhibits, and workshops, that are open to the public and intended to engage and inspire the local community.
One of the most notable aspects of AS220 is its live music venue, which has become a staple of Providence's music scene. The venue hosts local and touring musicians of all genres, from punk and metal to hip-hop and jazz.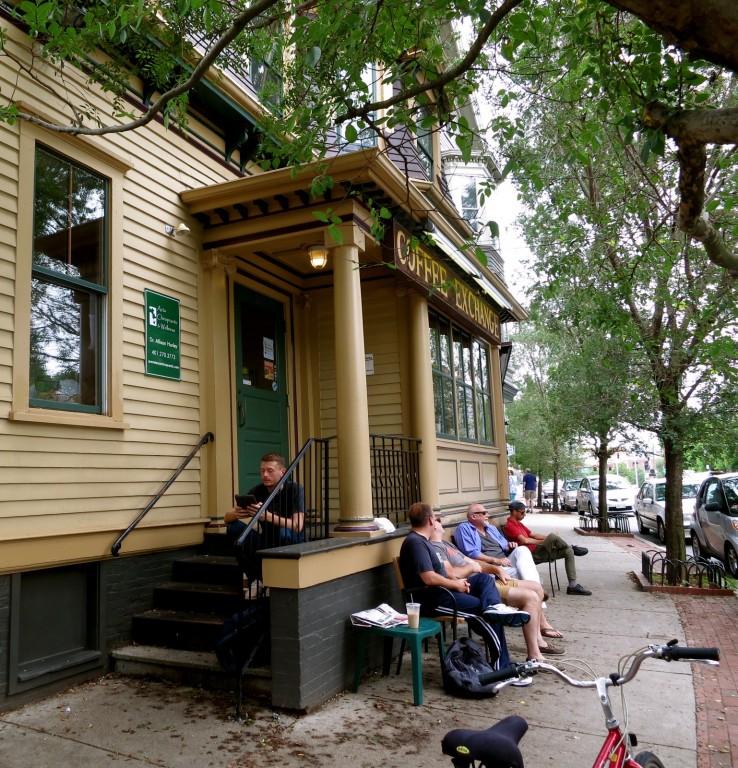 Providence RI Restaurants
RECHARGE: Coffee Exchange
In the funky Fox Point neighborhood of Providence RI, the Coffee Exchange hits all the buzzwords – Fair Trade, Sustainable, Organic – rendering it the hot spot for very a diverse clientele. Walk in any morning to find the dew of youth chatting with cane-wielding seniors, tattoos, and pinstripes, all enjoying that first (or fifth) jolt of caffeine. A buzzing place for sure.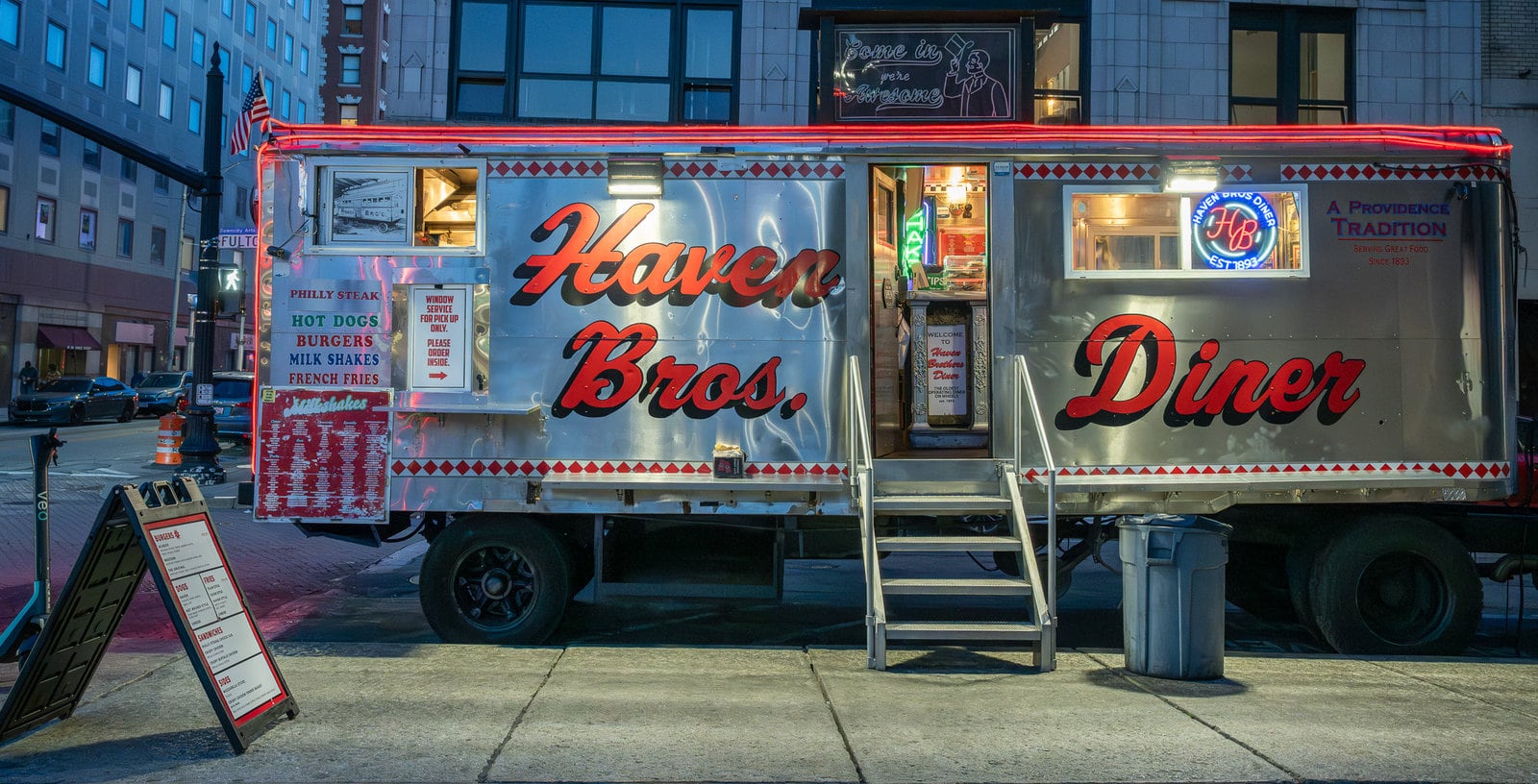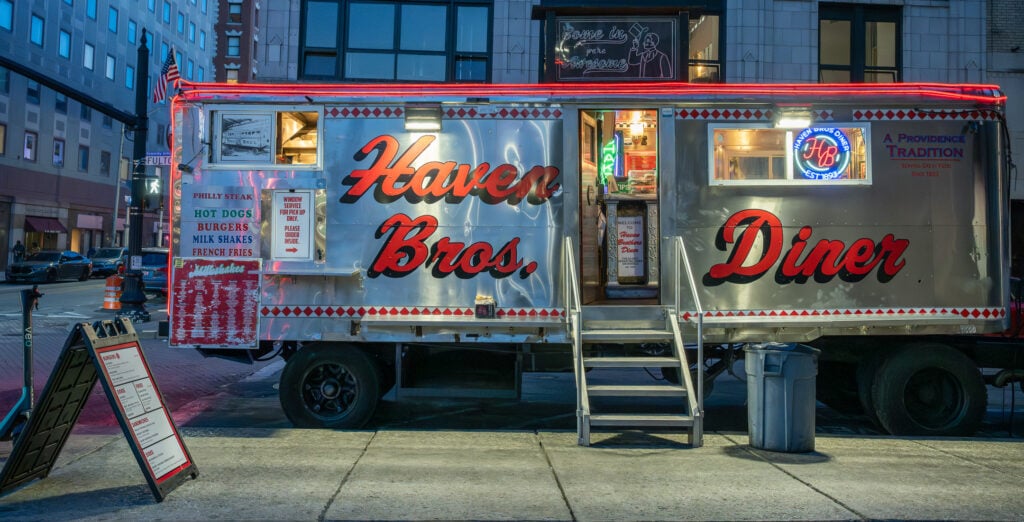 ROAD FOOD: Haven Brothers Mobile
Haven Brothers Diner is an iconic mobile eatery with a storied history dating back to the late 19th century. Known for its late-night availability–the rush hour is 2 a.m. when the bars let out– and a menu that features American fast-food classics, this diner-on-wheels has been a staple in Providence's culinary landscape for generations.
Stationed beside Providence City Hall in the evenings, Haven Brothers becomes a bustling hub where people from all walks of life—students, late-night workers, and night owls—gather to satiate their cravings.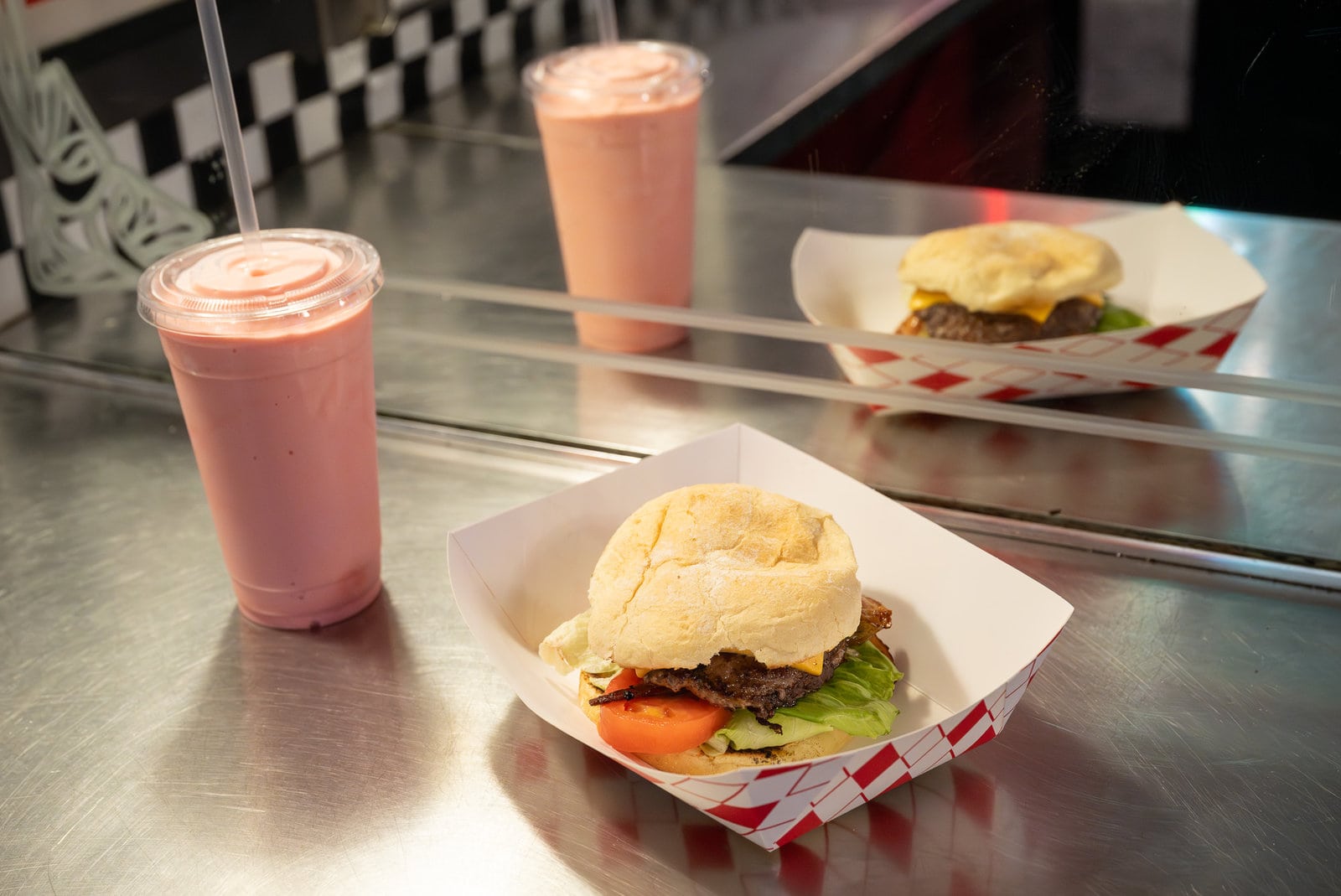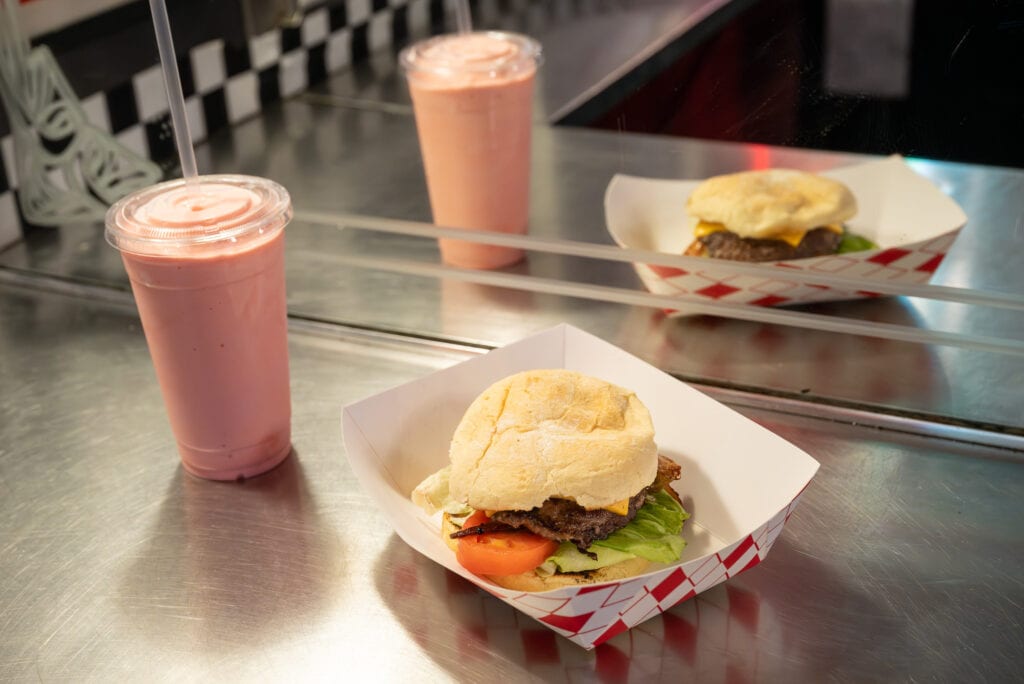 The menu offers a range of comfort food options, from burgers and hot dogs to milkshakes and fries, all served in a no-frills, nostalgic setting. Whether you're looking for a quick bite or want to experience a piece of Providence's cultural history, Haven Brothers delivers both flavor and character in spades.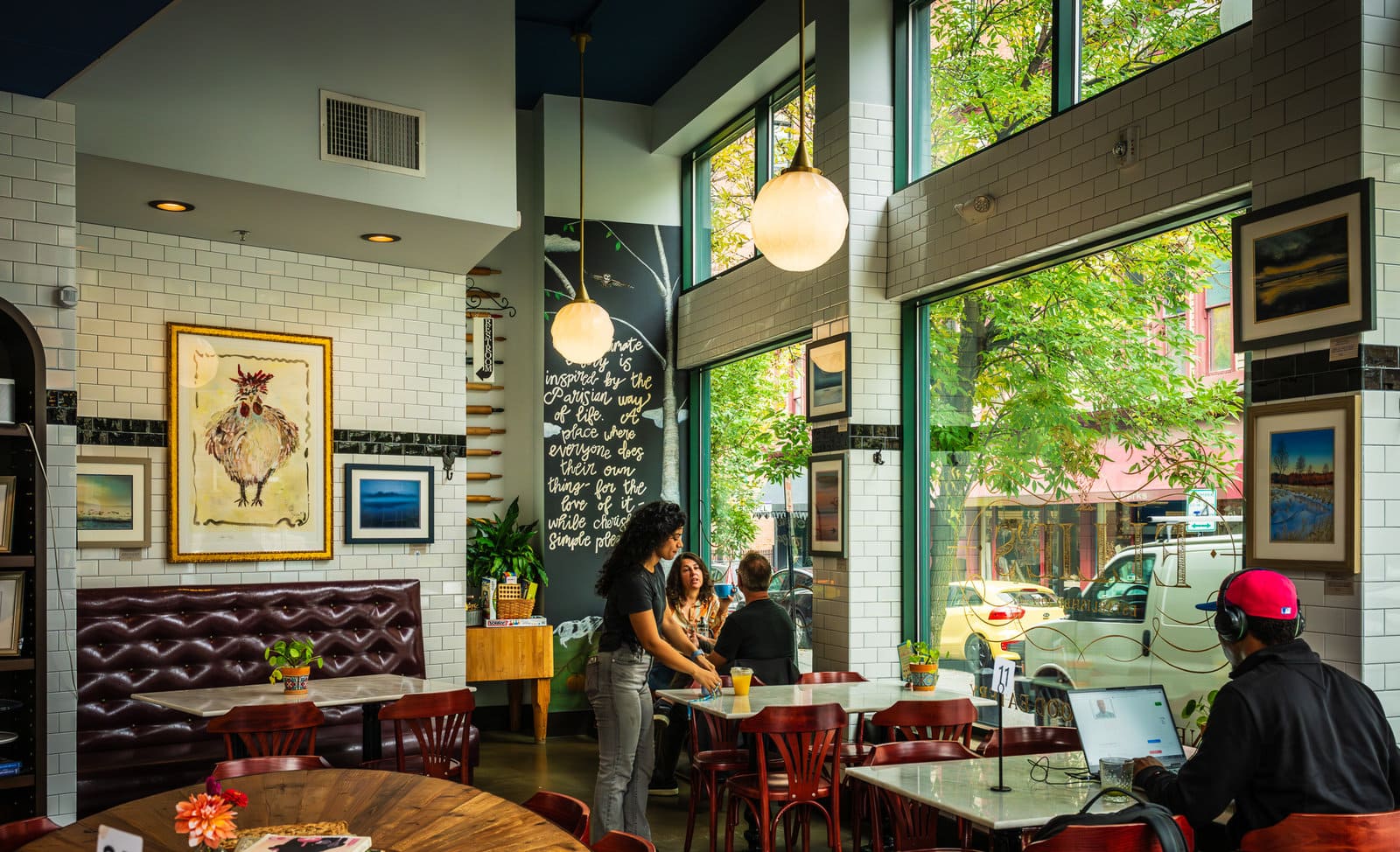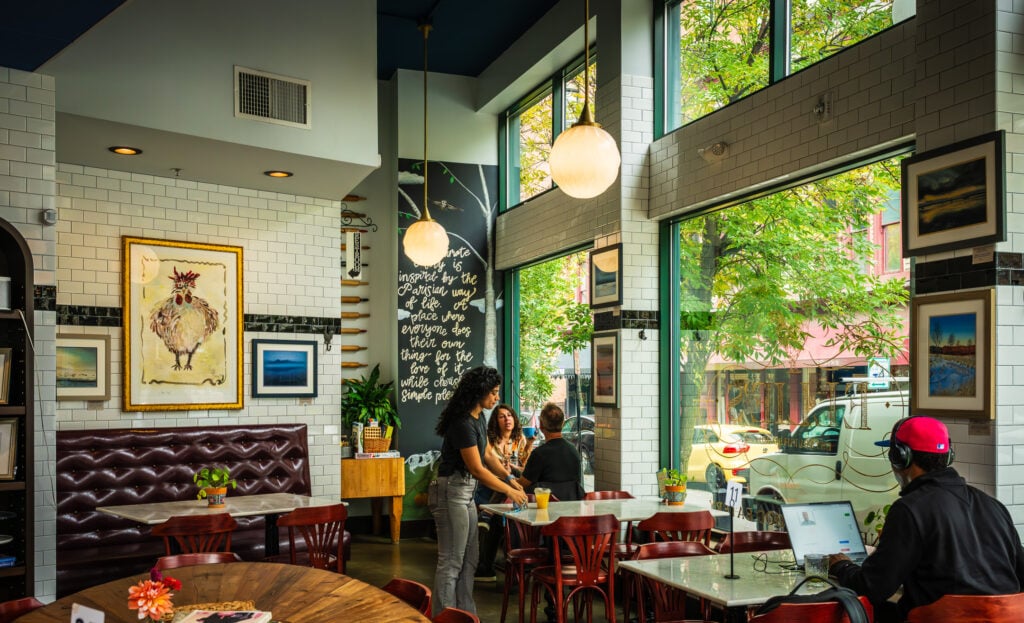 BAKERY: Ellie's
Ellie's in Downtown Providence is more than just a cafe; it's a culinary experience steeped in French-inspired elegance and local New England flavor. The charming eatery greets guests with the irresistible aroma of freshly baked pastries, from flaky croissants to intricate tarts and cakes. The cozy and stylish atmosphere sets the stage for a locally sourced breakfast and lunch menu.
More than that, the establishment offers baking classes that allow patrons to get hands-on experience and learn the secrets behind their delectable pastries. Taught by skilled bakers, these classes provide an educational experience and a delightful way to immerse oneself in the culinary arts.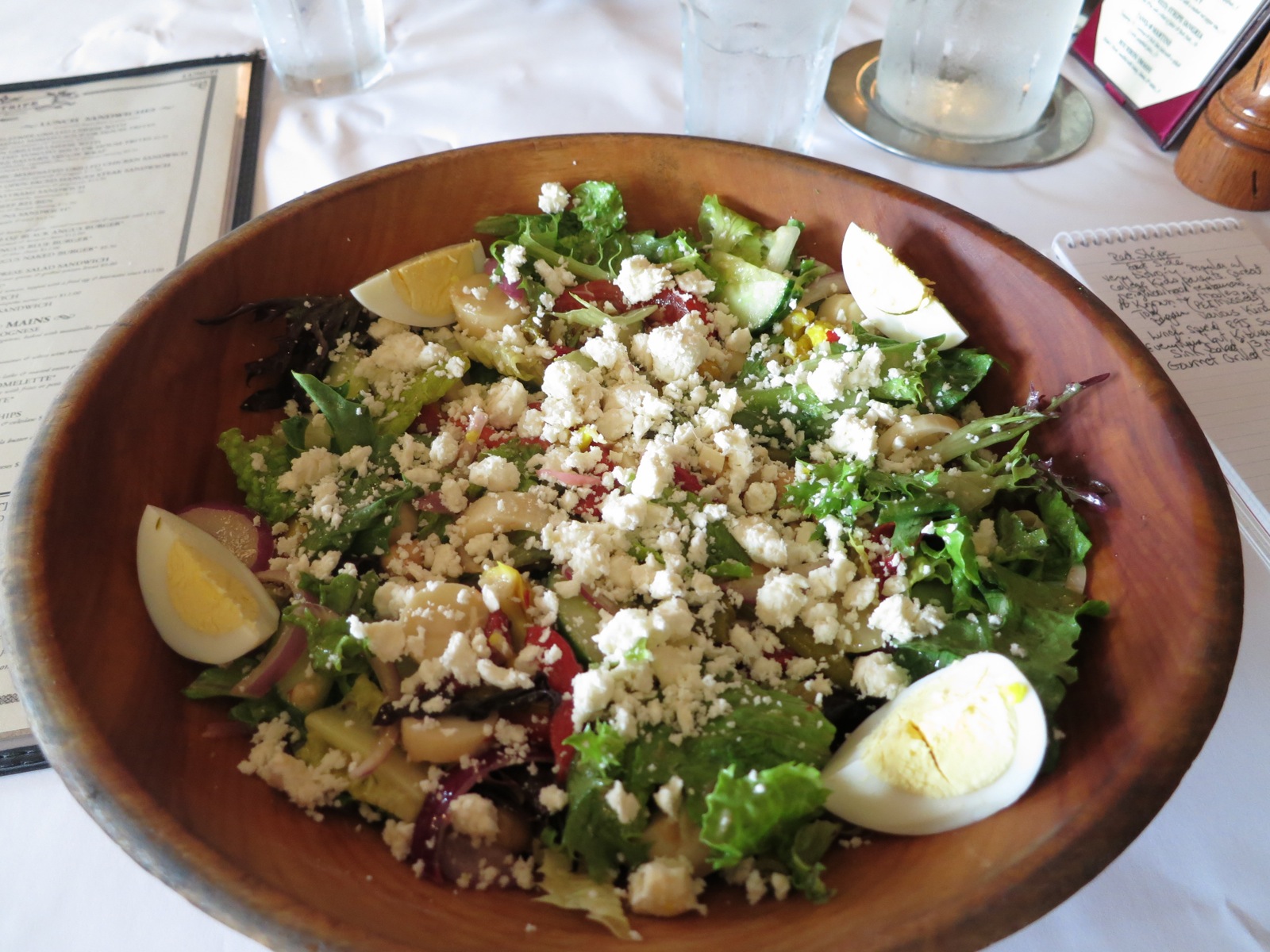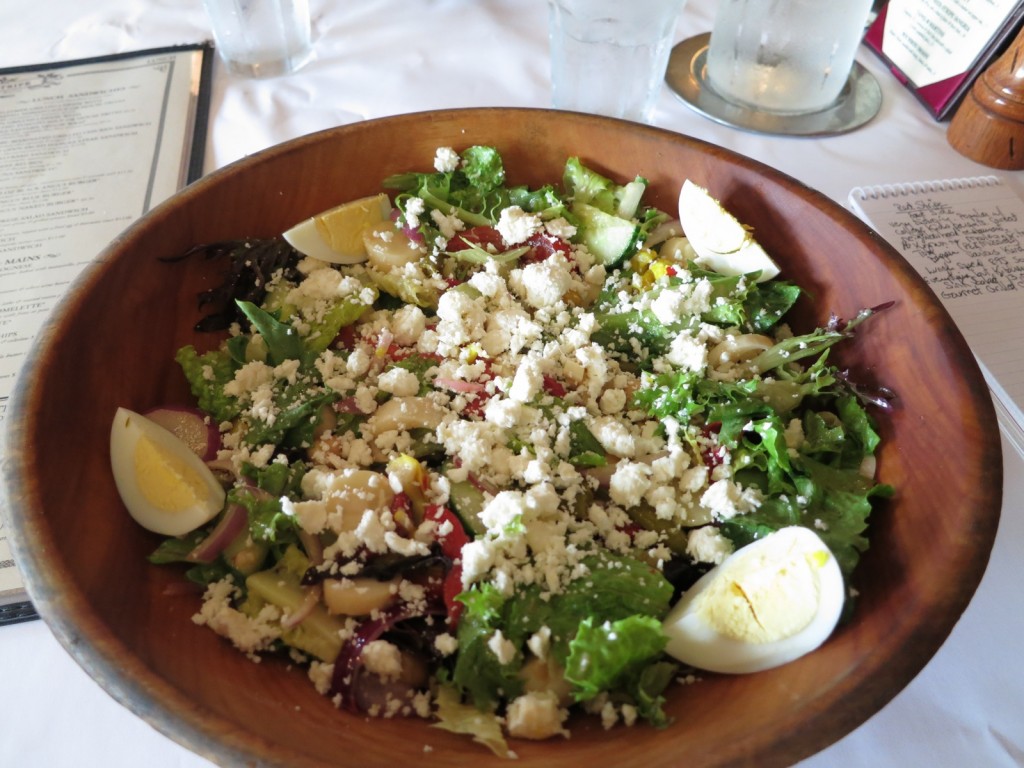 EAT/Lunch: Red Stripe
If you love mussels (and even if you don't), Red Stripe is a neighborhood bistro that's popular with college kids (and their parents.) Known for "Moules & Frits," you can get a plate of seasoned shellfish with a variety of seasonings for a student-friendly price.
Don't like mussels? Try the "Everything But the Kitchen Sink" salad, a wooden bowl brimming with chopped Romaine, pickled green beans and cauliflower, hearts of palm, feta, chickpeas, hard-boiled eggs, and lots more.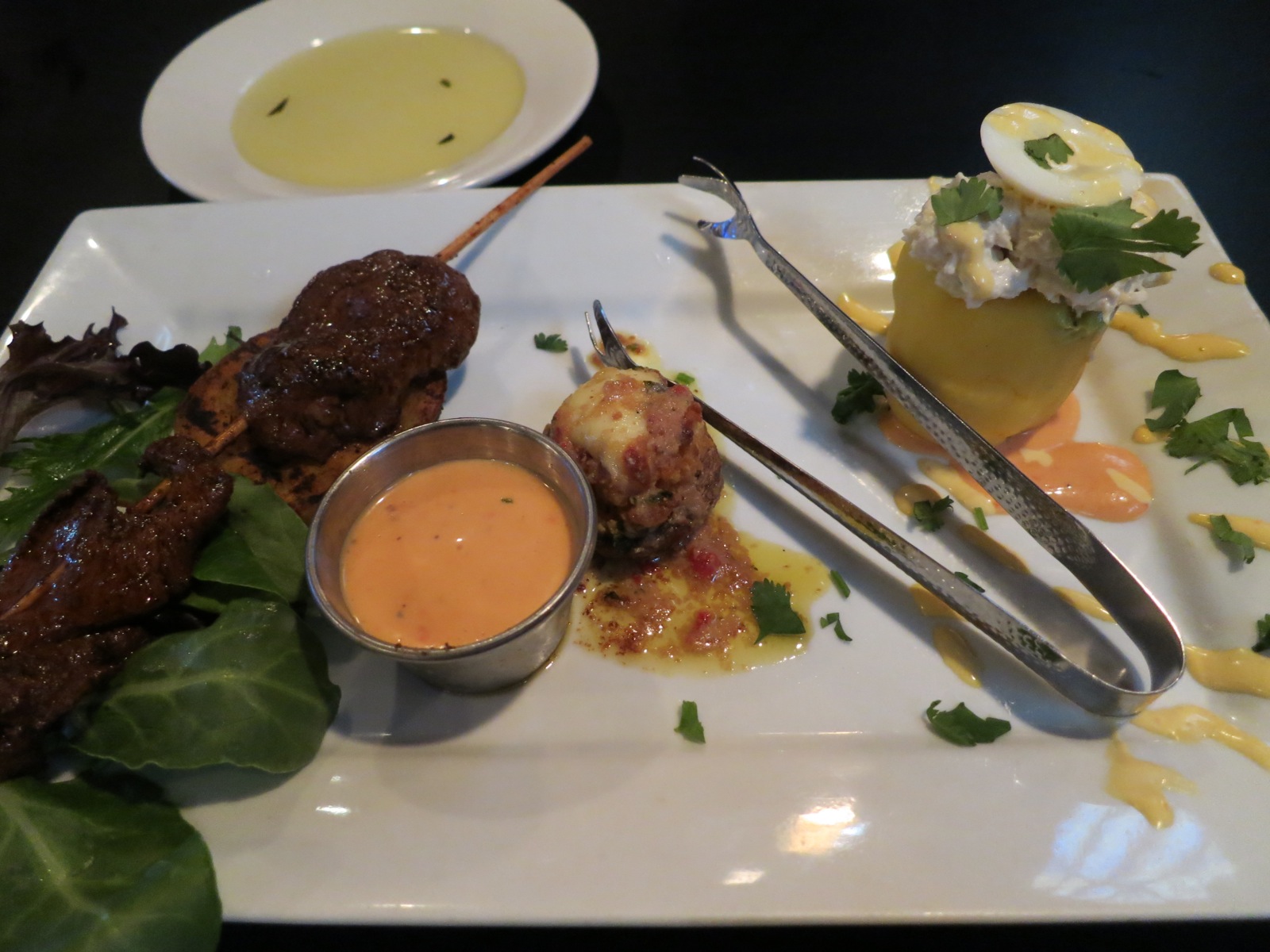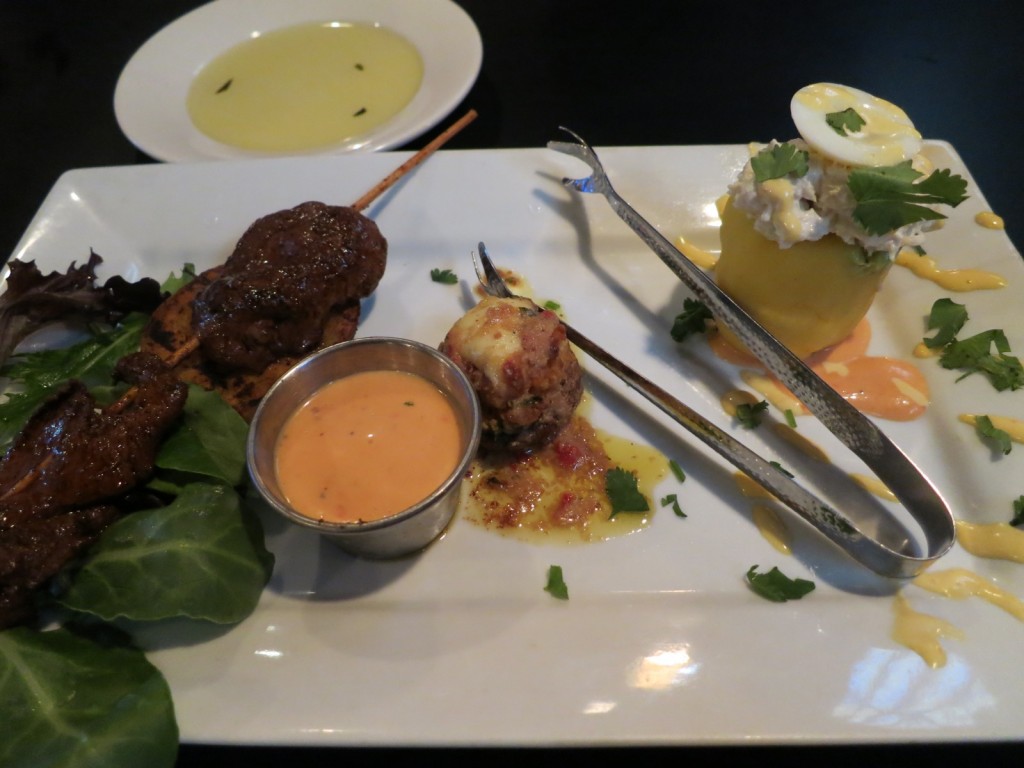 EAT: Los Andes
In a nondescript building nowhere near the downtown scene, Los Andes needed one thing to get people in the door when it opened years ago. Great food.
Since then, it's been winning top honors among foodies. And the talented owners, brothers Omar and Cesin Curi, keep 'em coming back. How? Great food.
The tables are candlelit. Waitstaff is informed and enthusiastic and dressed in white button-down Oxford shirts and ties.
Los Andes dishes up innovative Peruvian/Bolivian cuisine with Italian and Japanese influences. The signature Ceviche Martini, a humongous martini glass packed with citrus-snappy calamari, mussels, shrimp, and fish tidbits, is big enough for two.
My favorite? The Envuelto Pollo – an ambrosial amalgamation of chicken breast, roasted red peppers, spinach, mushrooms, and creamy cheese, rolled and coated in seasoned Ritz Crackers.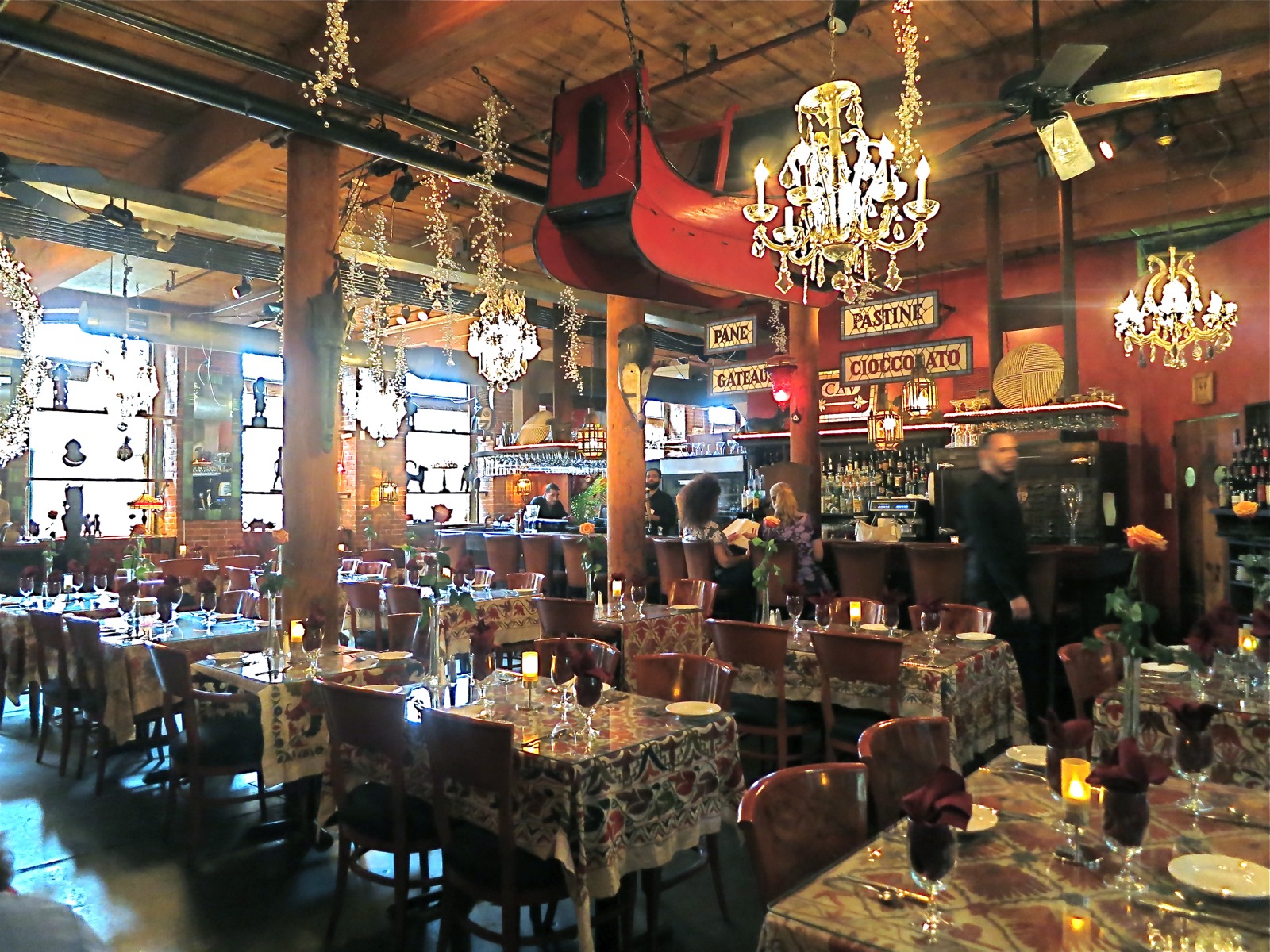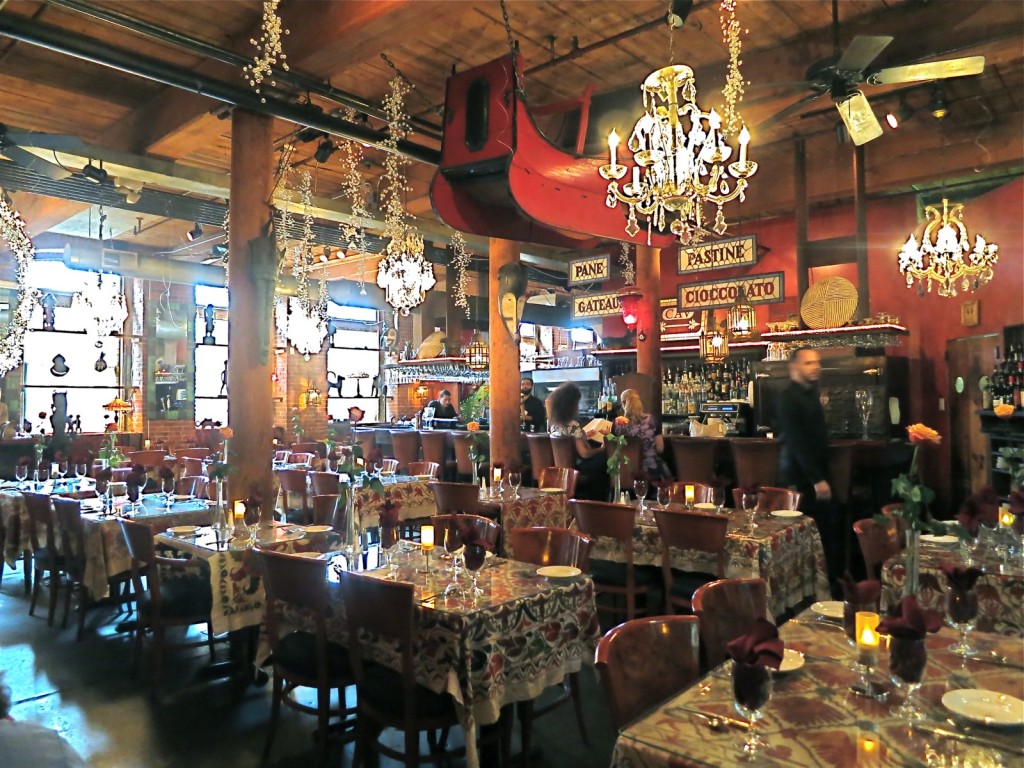 EAT: CAV
An acronym for "Cocktails, Antiques, Victuals," CAV, located in a factory building in the former jewelry district, is a delight for the eye and palate.
Kiln rugs, crystal chandeliers, and carvings enhance the French-inspired innovative fare. Start with delicate Goat Cheese Croquettes with Balsamic Reduction. And try one of the more intriguing dishes like Poulet aux Poires. Pan-seared chicken breast with red pears in red wine and ginger pear sauce with Asian Chive Dumplings. Strange, but surprisingly lip-smacking.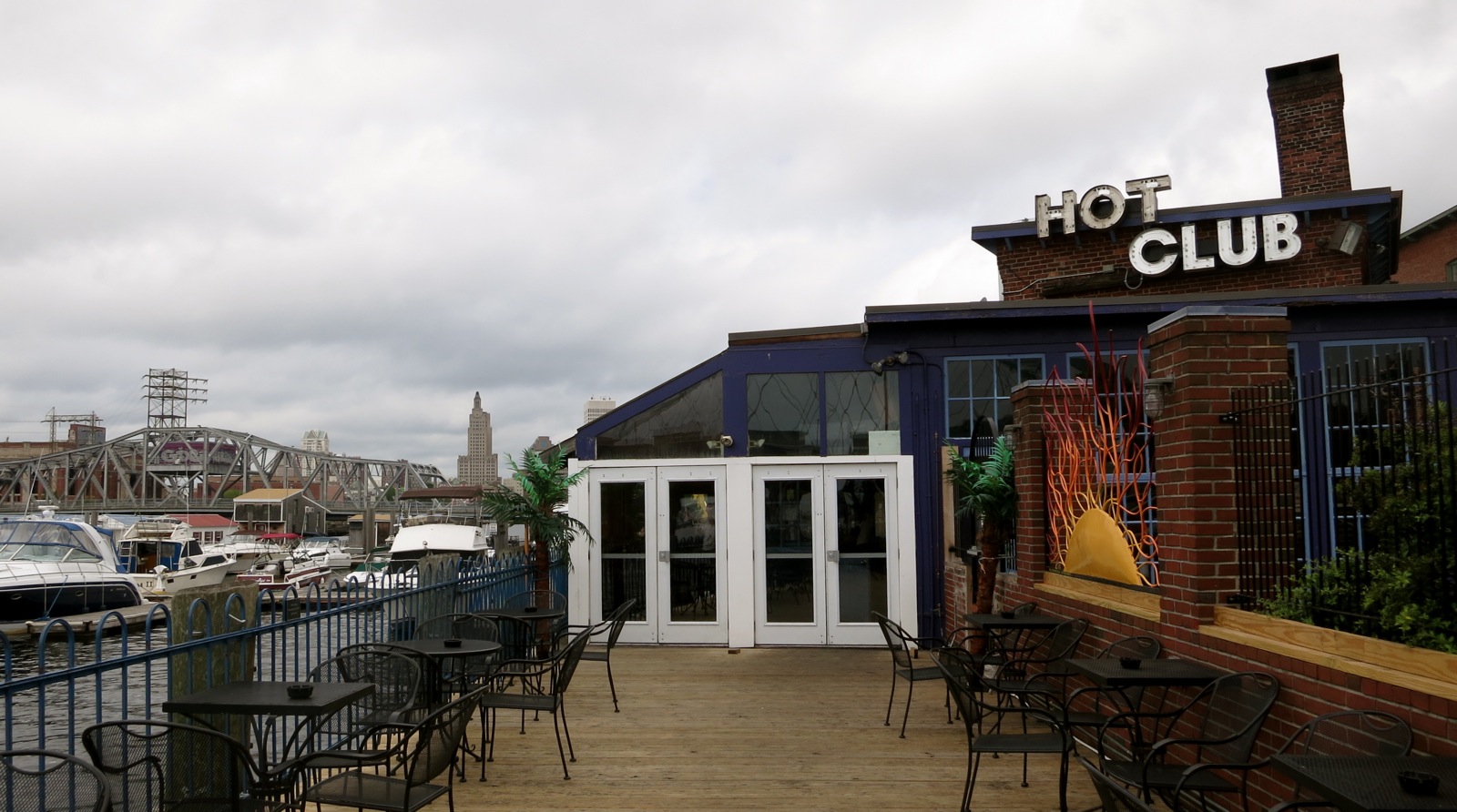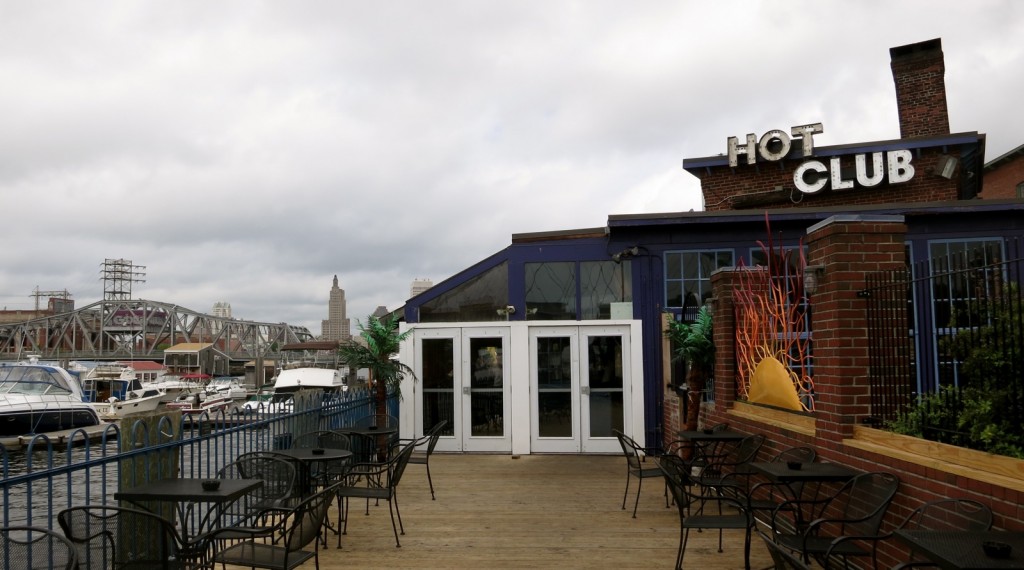 DRINK: The Hot Club
Although the "best waterfront bar in PVD," this is not a "hot" club. Its name stems from the building that this extremely popular neighborhood joint, hard by the Providence River, occupies: the former Steam Room for surrounding factory buildings.
The Farley Brothers, Providence home boys, filmed parts of Something About Mary on these weathered plank floors. Take the 30-minute Providence River Boat Tour from the Hot Club patio; best of all, you can take your drinks!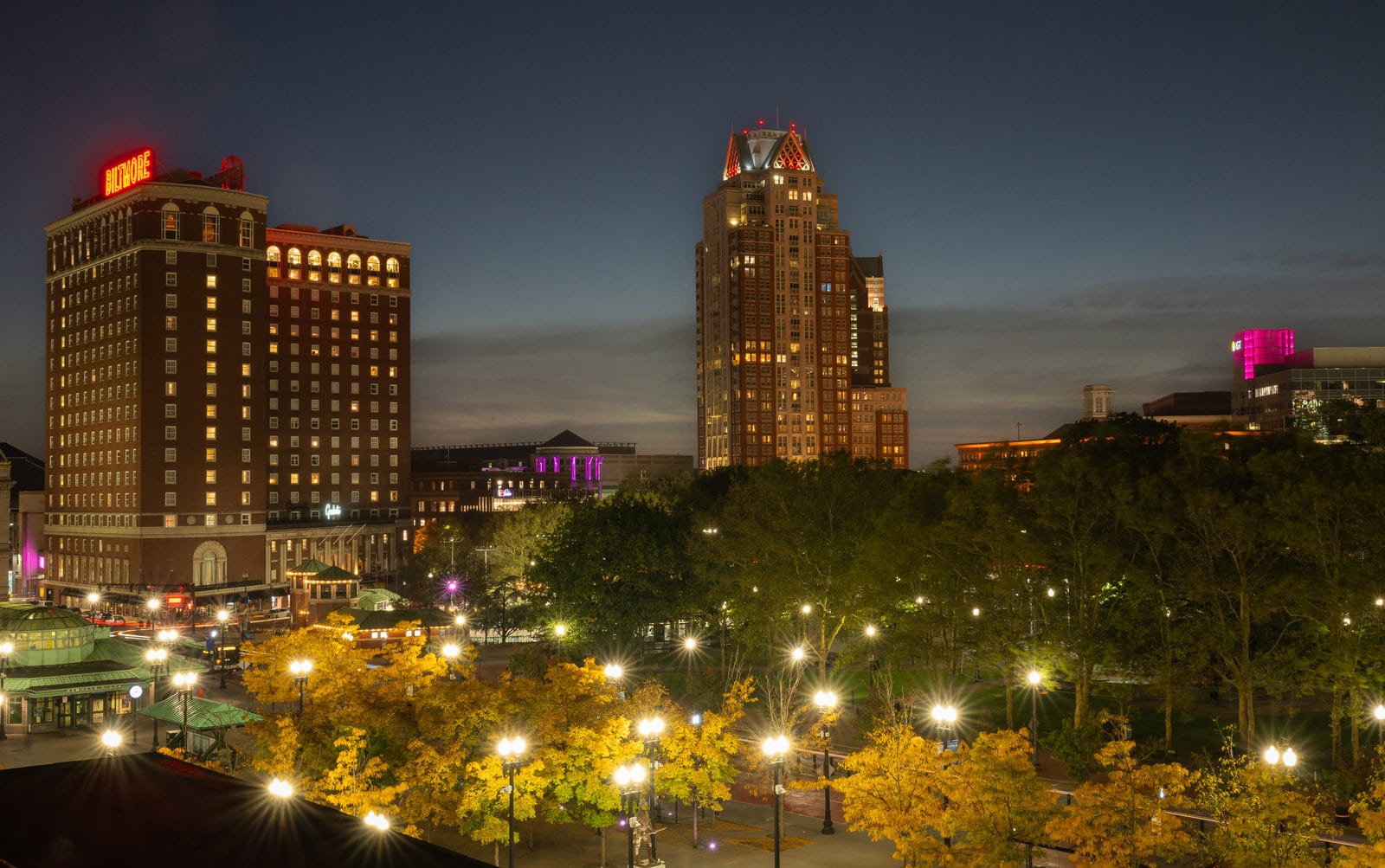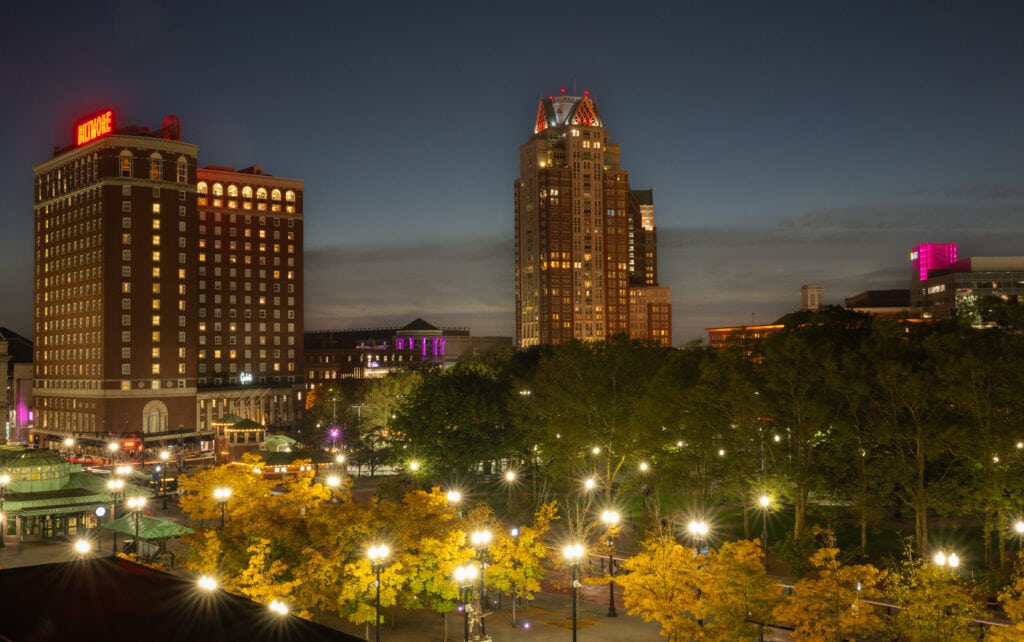 Hotels In Providence RI
STAY: Christopher Dodge House
While the highway-side location of the Christopher Dodge House might give one pause, this 1850s brick home is a beautiful and quiet oasis of hospitality.
Stay in a "Prime" room facing away from I-95, and, on your torso-high four-poster bed, you could be at any lovely country bed and breakfast. Burnished original wide plank floors, 11-foot ceilings trimmed with elaborate moldings, fresh baked goods and drinks 24/7, and gourmet breakfast, it's a nice and friendly alternative to larger hotels in town.

Rooms range from standard to luxury (Prime), with prices that reflect the difference. The bathrooms are clean and fine. While walking in the neighborhood during the day is ok, driving downtown at night is probably safer.
All rooms include free Wi-Fi, free parking, fresh-baked goods in the afternoon, and a gourmet multi-course breakfast.
STAY: The Beatrice
The Beatrice Hotel stands as a testament to refined elegance and contemporary luxury, conveniently situated in the city's bustling heart. From the moment you enter its grand lobby, adorned with carefully curated art, you're enveloped in a sophisticated and inviting atmosphere. The architecture offers a seamless blend of classic and modern aesthetics, complete with high ceilings, plush furnishings, and intricate moldings that celebrate Providence's rich history.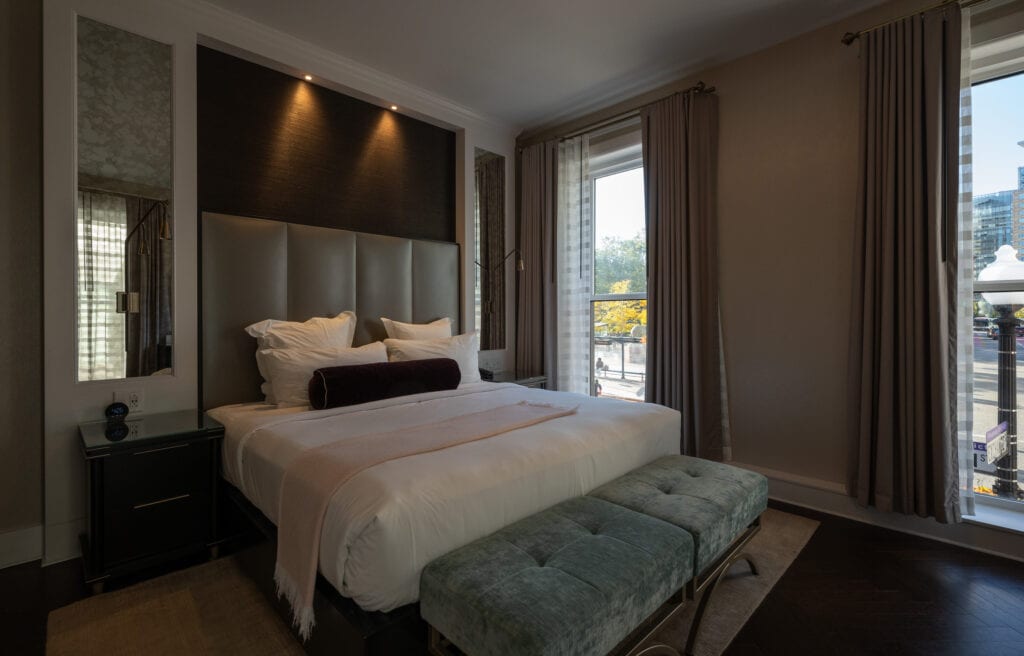 Accommodations at The Beatrice don't disappoint, featuring a variety of rooms and suites meticulously designed to prioritize comfort and elegance. From sumptuous beds graced with high-thread-count linens to state-of-the-art amenities, every detail has been thoughtfully considered.
One of the hotel's standout features is its rooftop bar, a chic gathering spot that offers panoramic views of the Providence skyline. Whether sipping a craft cocktail as the sun sets or enjoying light bites under the stars, the rooftop experience adds a layer of luxury to your stay. With a range of on-site dining options that mirror the city's culinary diversity, The Beatrice provides a stay that captures the essence of Providence—offering a unique blend of old-world charm and modern vibrancy.
Map Of Providence RI
More Weekend Getaways In Rhode Island
All articles belong to Getaway Mavens LLC, and all photos belong to us as well, unless otherwise noted. It's all copyrighted. Please don't repost anything elsewhere without asking us first. All rights reserved. This site uses cookies to enhance your experience.
We make no guarantees of any price listed on our site. We're not responsible for content on external websites linked to ours, including linked resources, an external blog post, any partner site, hotel property sites, or affiliate sites. We only write about places we have vetted, but can't guarantee that your experience will be exactly the same.
Posts may contain affiliate links at no cost to you. Several of our trips are also compensated by the respective tourism boards for the city or state we are visiting. This never impacts how we share the destination with you – opinions are always our own and we pride ourselves on that. We do not sell links or accept unsolicited guest posts under any circumstances. Don't even ask.
United States Copyright, Getaway Mavens, LLC