Last Updated on June 1, 2022 by Editor
WHY GO: Those who believe that New England beach resort towns are dead in the wintertime must visit Narragansett RI – a popular Atlantic Ocean beach community – in the coldest months.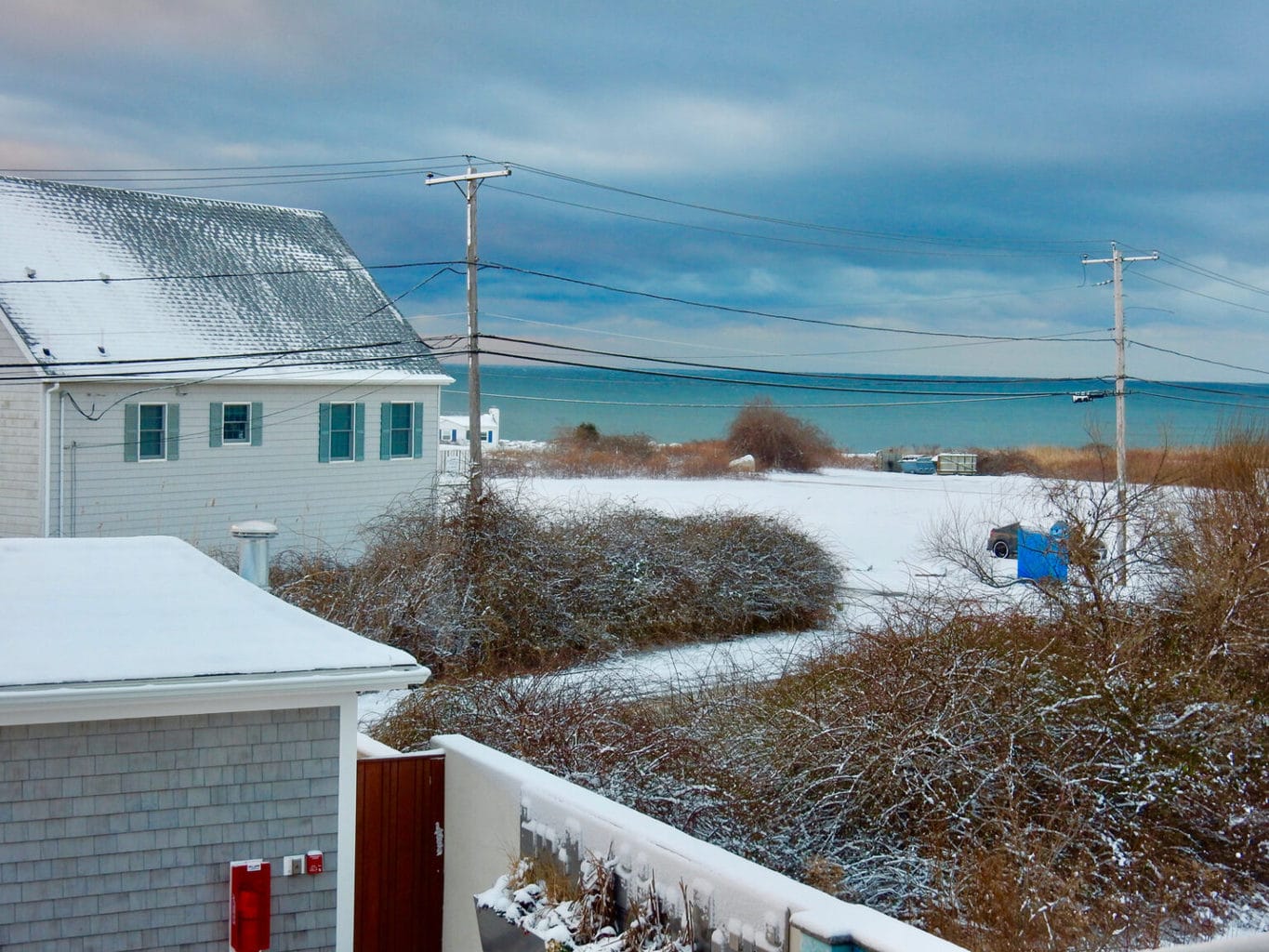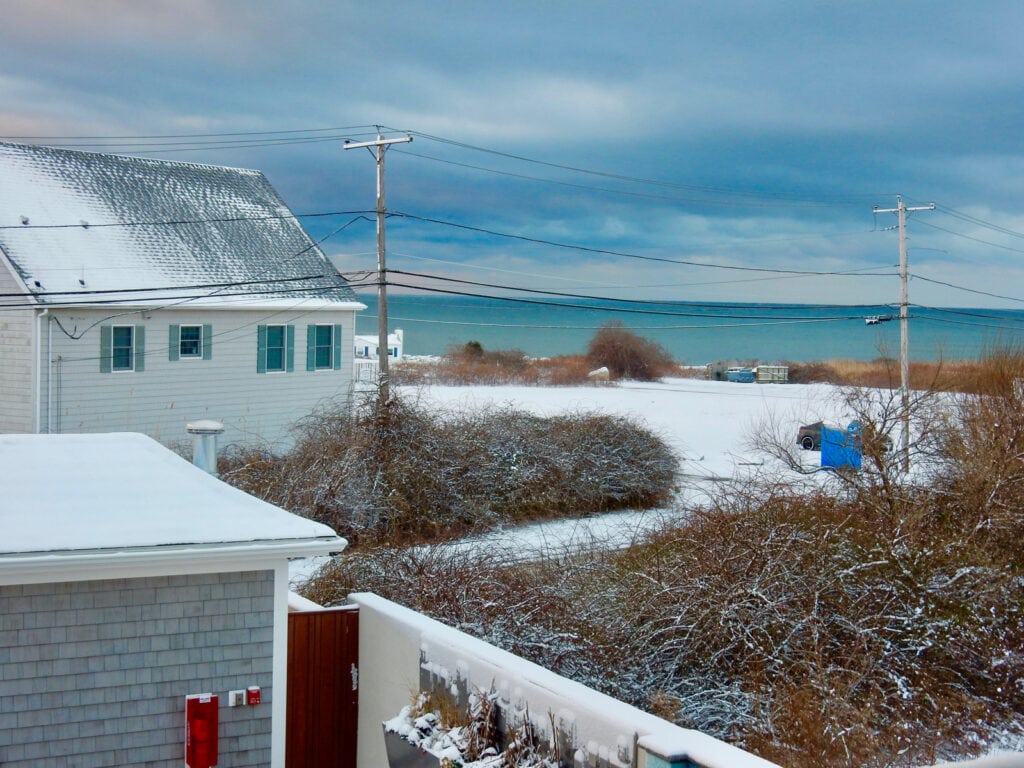 For starters, January is the best month for surfing (who knew?). Down-filled outerwear is made for brisk strolls on snow-covered sand. Favorite restaurants still buzz with happy eaters, shops are open, and best of all, rates at the coolest boutique hotel are satisfyingly low. So plan a day or two, "chill out," and beat the summer crowds in Narragansett RI.
Things to Do in Narragansett RI in Winter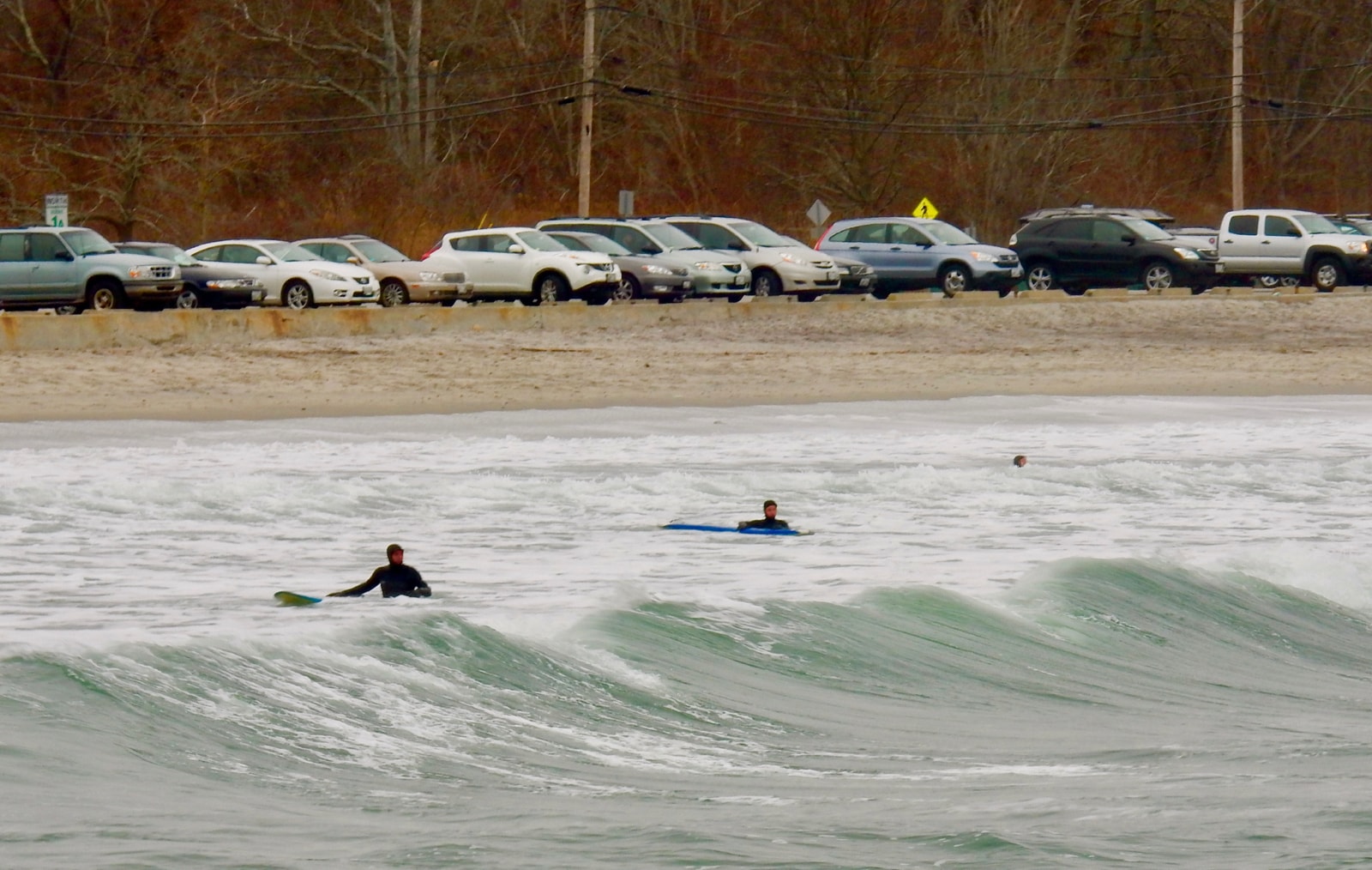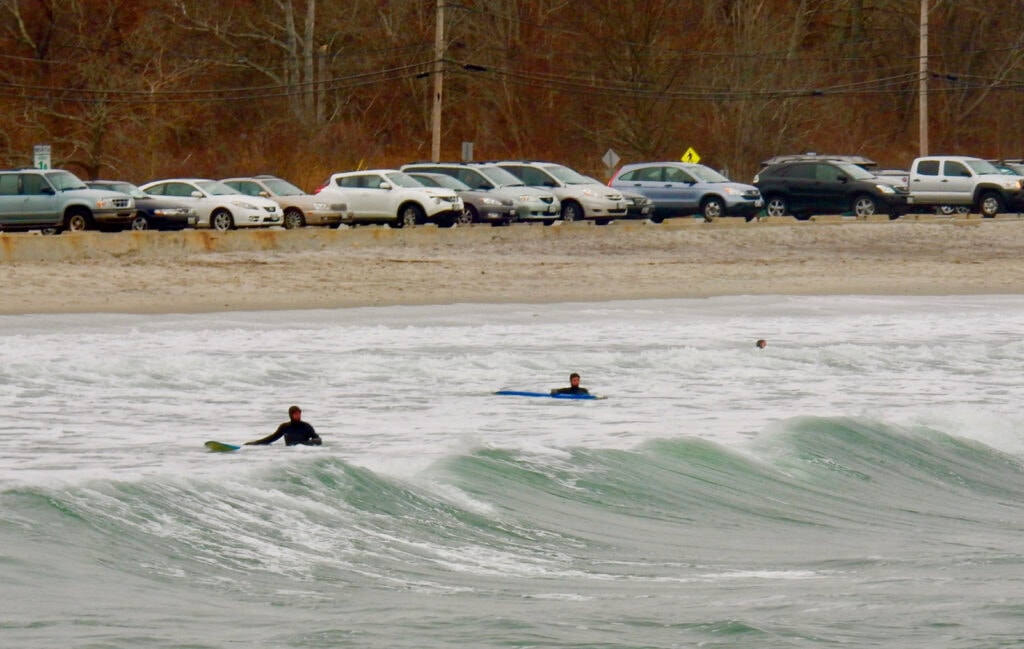 So, temps are in the 20's and snow flurries dance in the wind. That won't stop the hardy surfers who don full body (and head) wetsuits in order to catch that 7 ft. wave. It's not Hawaii or California, that's for sure, but this East Coast version of Hanging Ten proves that nothing will stop a surfing fiend.
Surfing here is one of the Getaway Mavens' quirkiest places to propose in Rhode Island.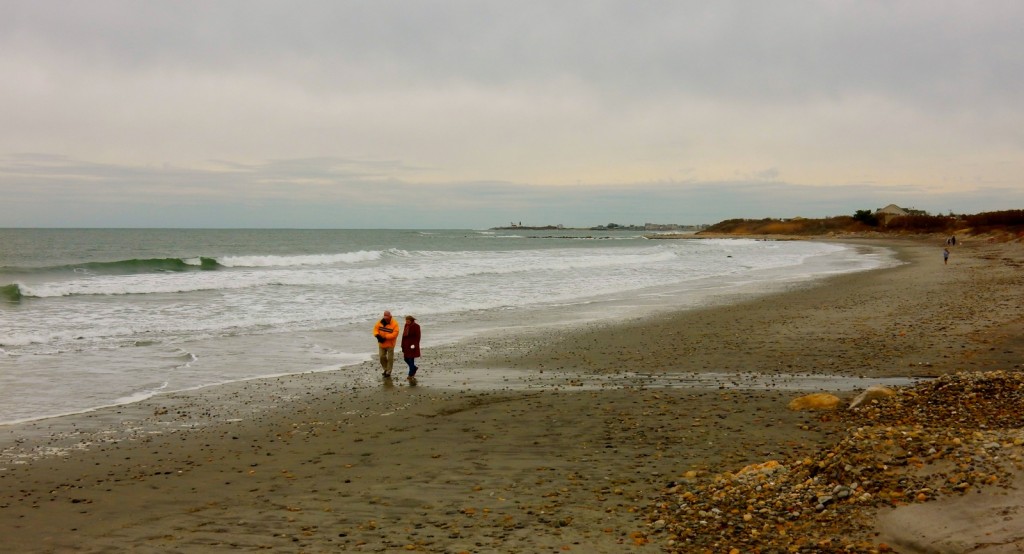 DO: Walk on Scarborough State Beach
It might be brisk, but it's still beautiful. And you will be far from alone.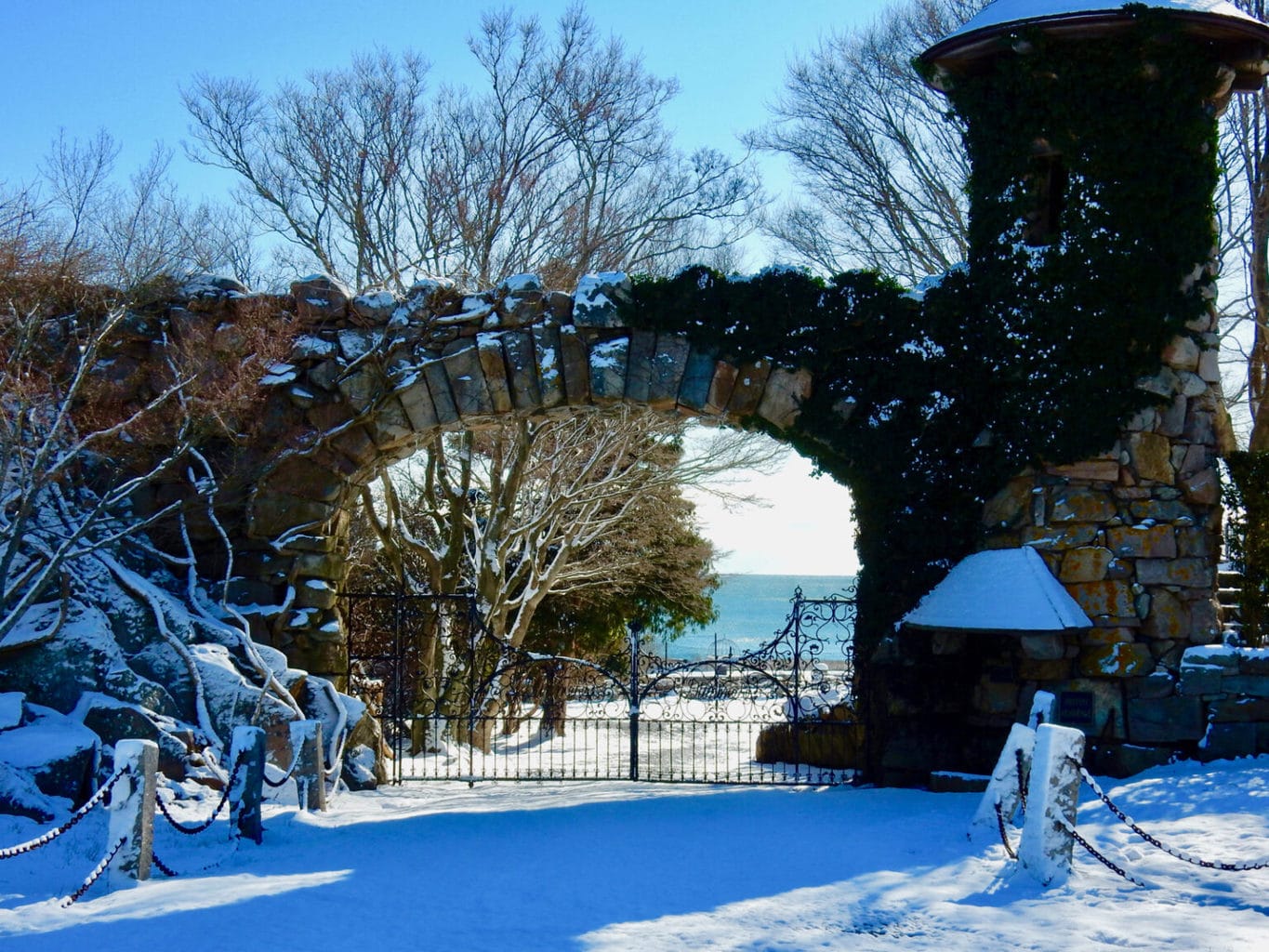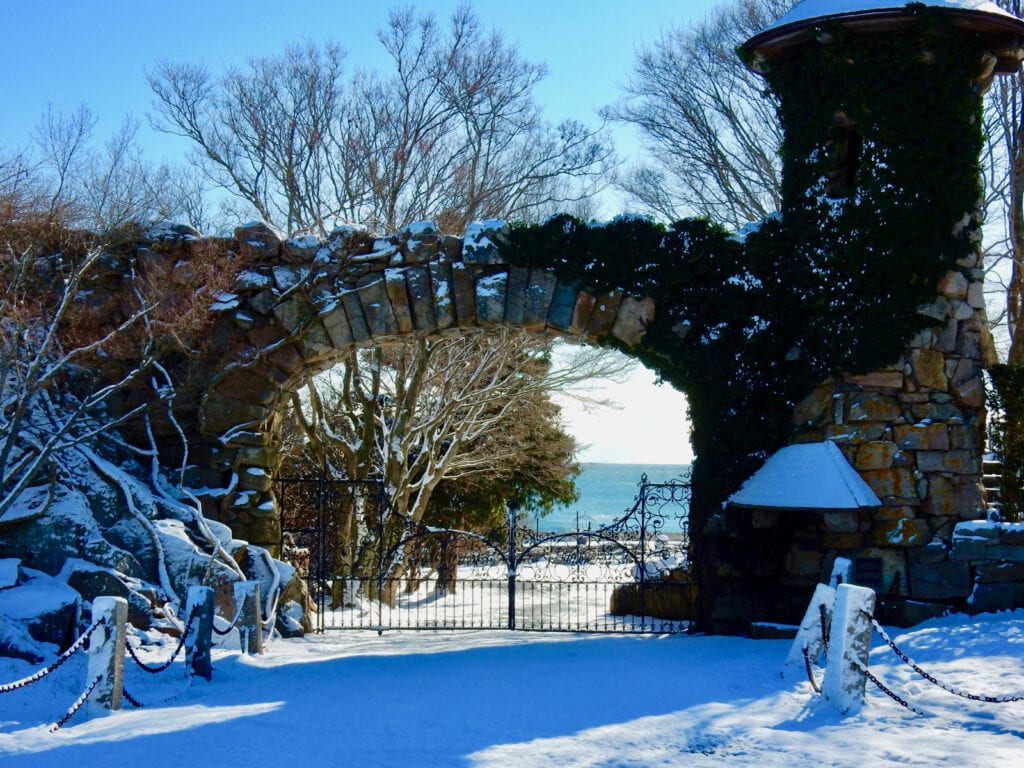 DO: Drive Ocean Road
From The Break Hotel (see below), it's a ten-minute drive up the coast to Narragansett Town Beach. You'll pass other public beaches and oceanfront estates, before driving under the arches between the town's defining landmark, The Towers. This is the remaining section of a Gilded Age Casino designed by McKim, Mead and White, that burned down in 1900.
SHOP: In Neighboring Wakefield
You'll find plenty of boutiques, consignment, gift shops and galleries two miles from the beach in Wakefield. My favorites: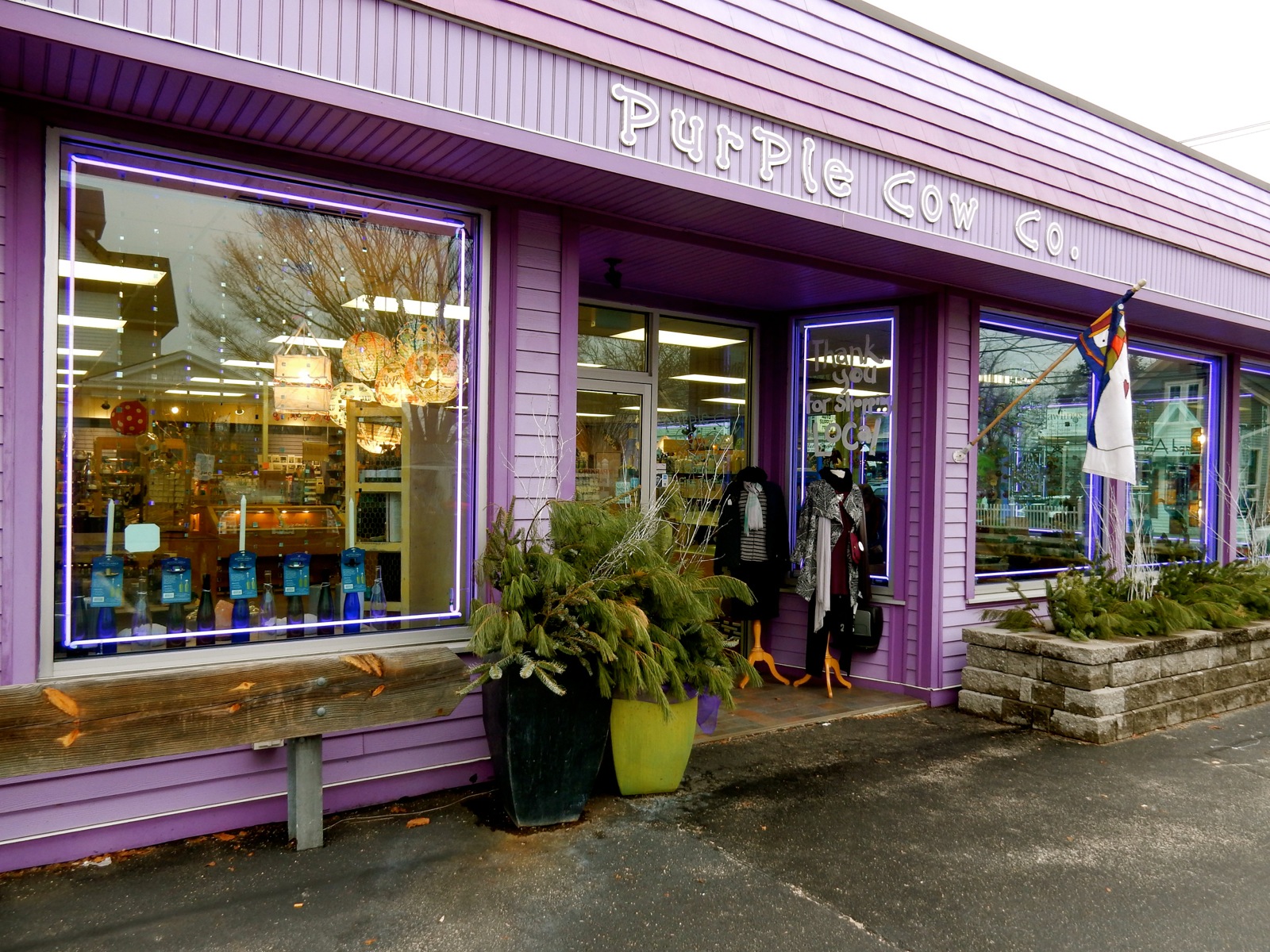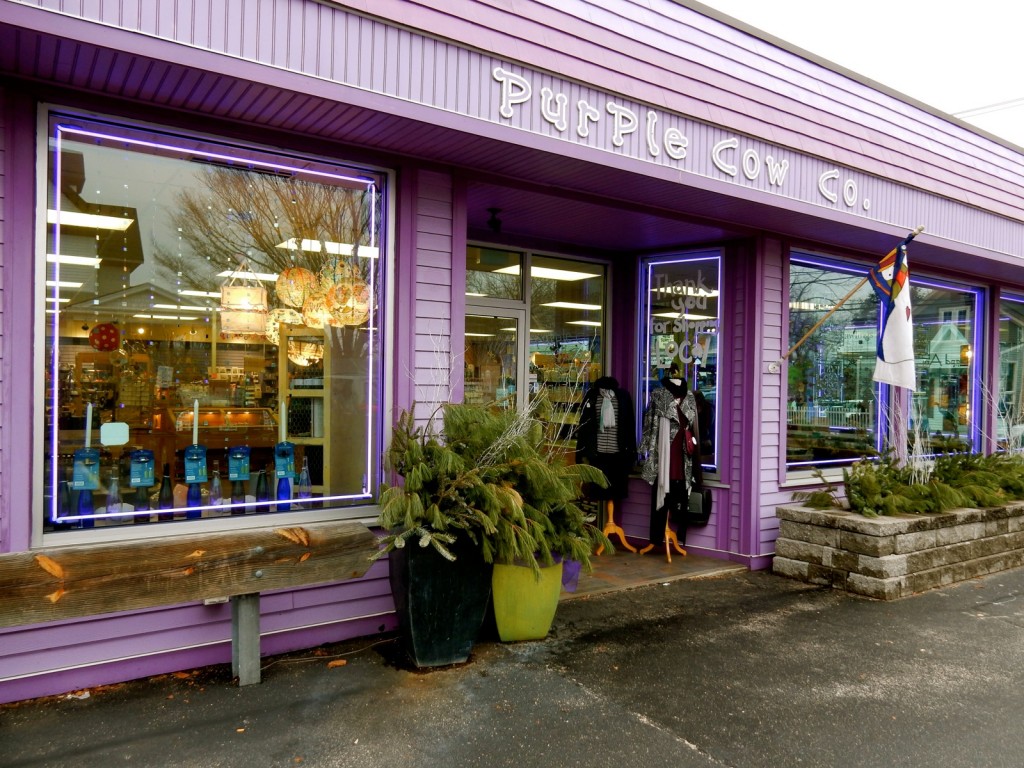 Purple Cow – for unique clothing, jewelry and gifts.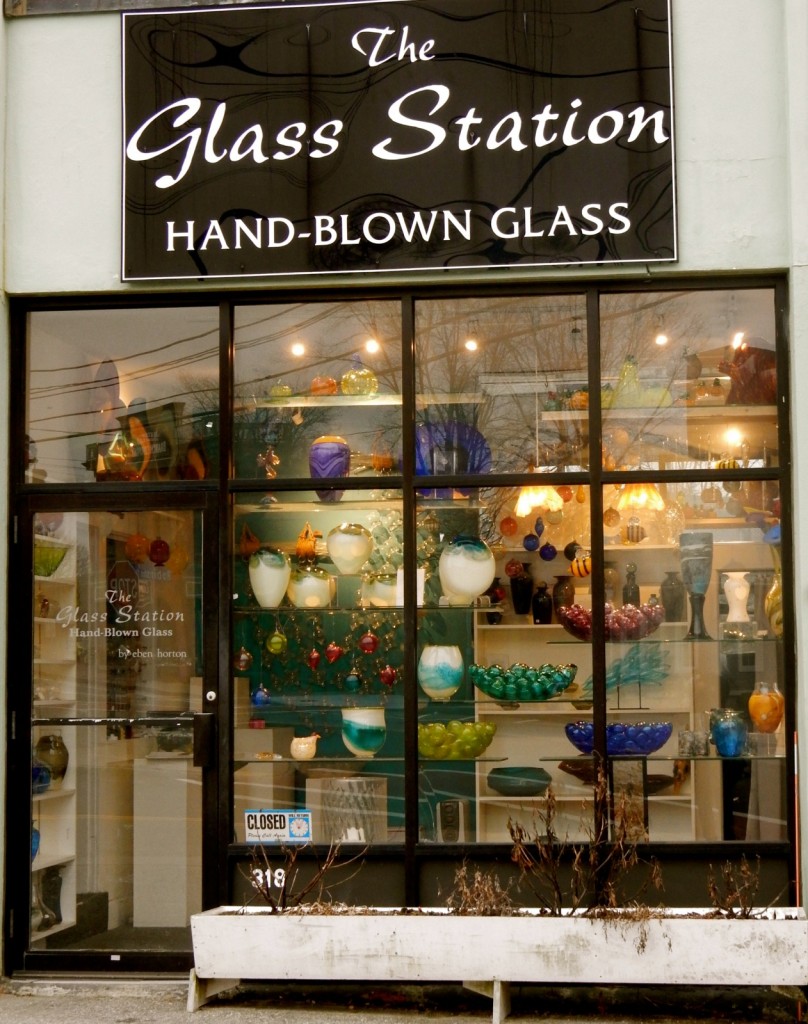 The Glass Station – artisanal glass pieces in a old repurposed gas station.
Best Restaurants in Narragansett RI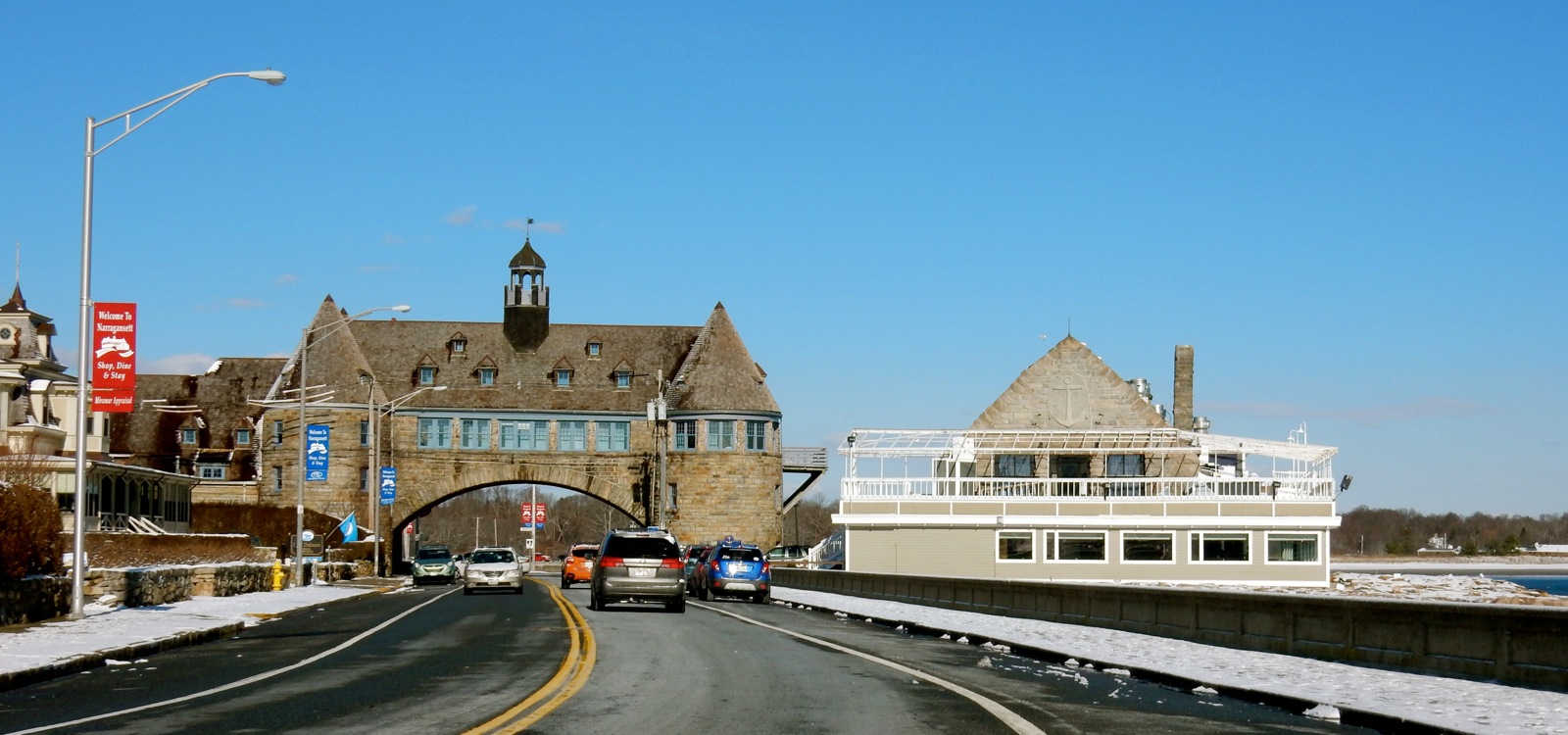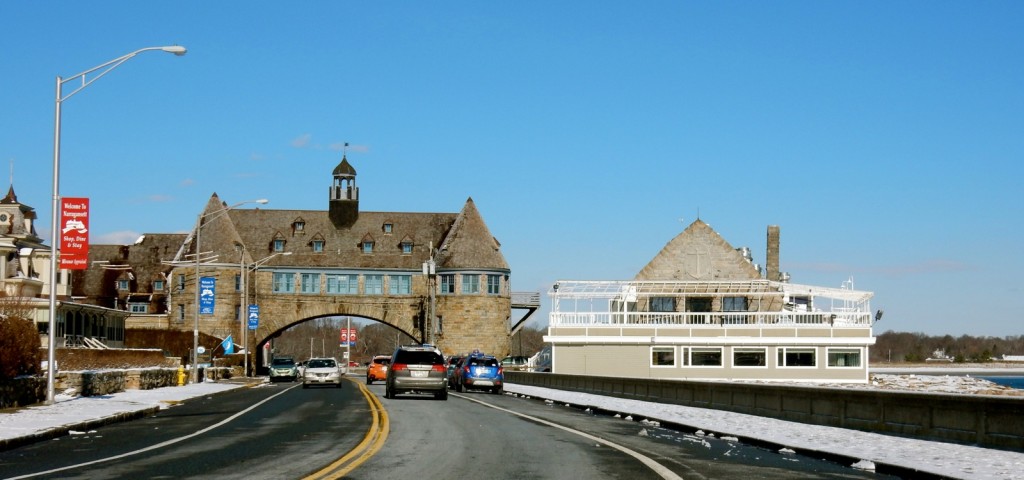 Almost attached to The Towers, adjacent to the Town Beach, this iconic eatery set in an 1800's Life Saving Station, has been serving up good salads, burgers, seafood and steaks with straight-on ocean and beach views since 1949. Hurricane Sandy nearly demolished the building, but after a vast renovation, it's come back stronger (and prettier) than ever.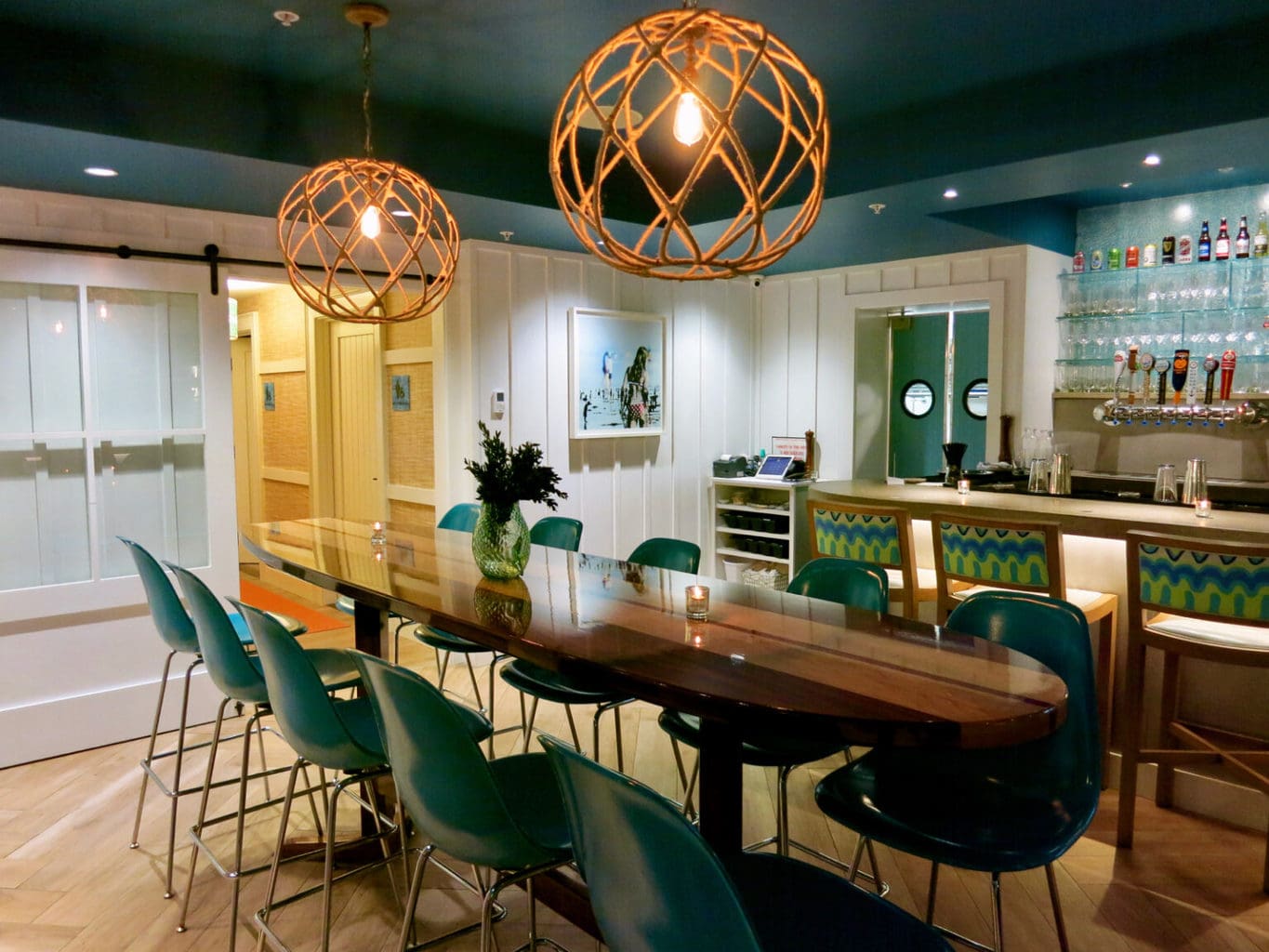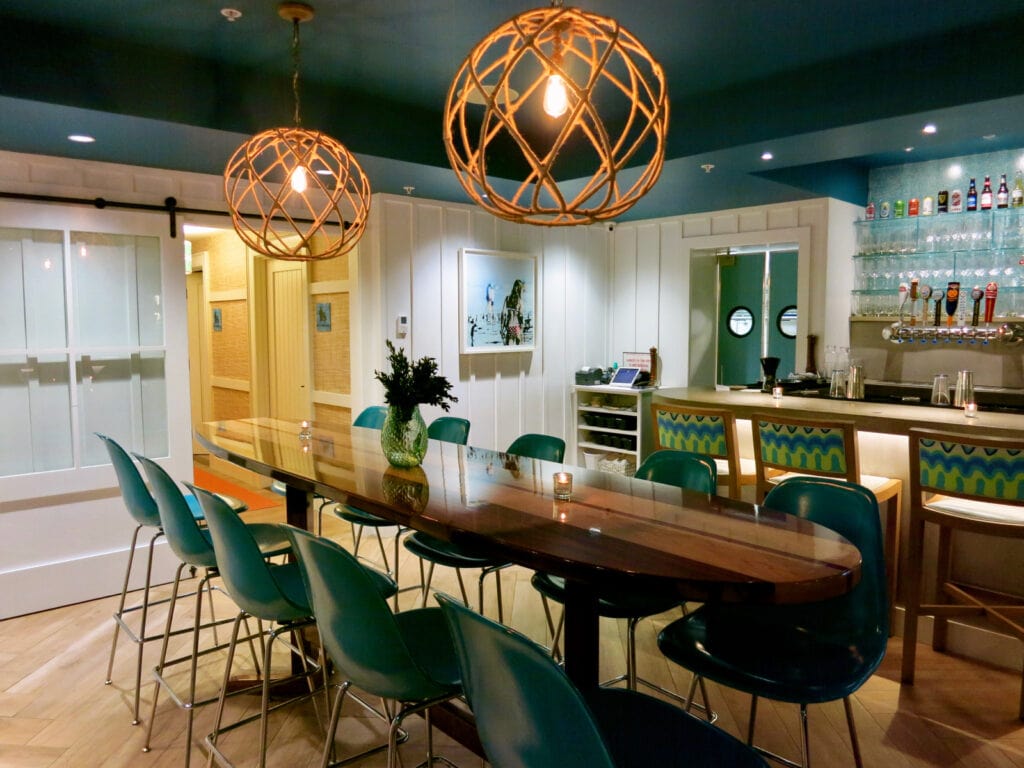 EAT: Chair 5, in the new boutique hotel, The Break (see below)
This marine-hued in-house restaurant is fast becoming a destination unto itself. Private and communal tables (one, in the shape of a surfboard), beneath a carpeted ceiling and lovely blown-glass lamps, promote communication and sharing. Helmed by Chef Basil Yu (formerly chef de cuisine at the celebrated Muse Restaurant in Newport RI) dishes, like the Funnel Clam Cake ($7), are innovative tweaks on traditional American fare.
Where to Stay in Narragansett RI
The Break Hotel sits on a side street in a residential neighborhood a couple of blocks from the steely Atlantic Ocean in Narragansett RI.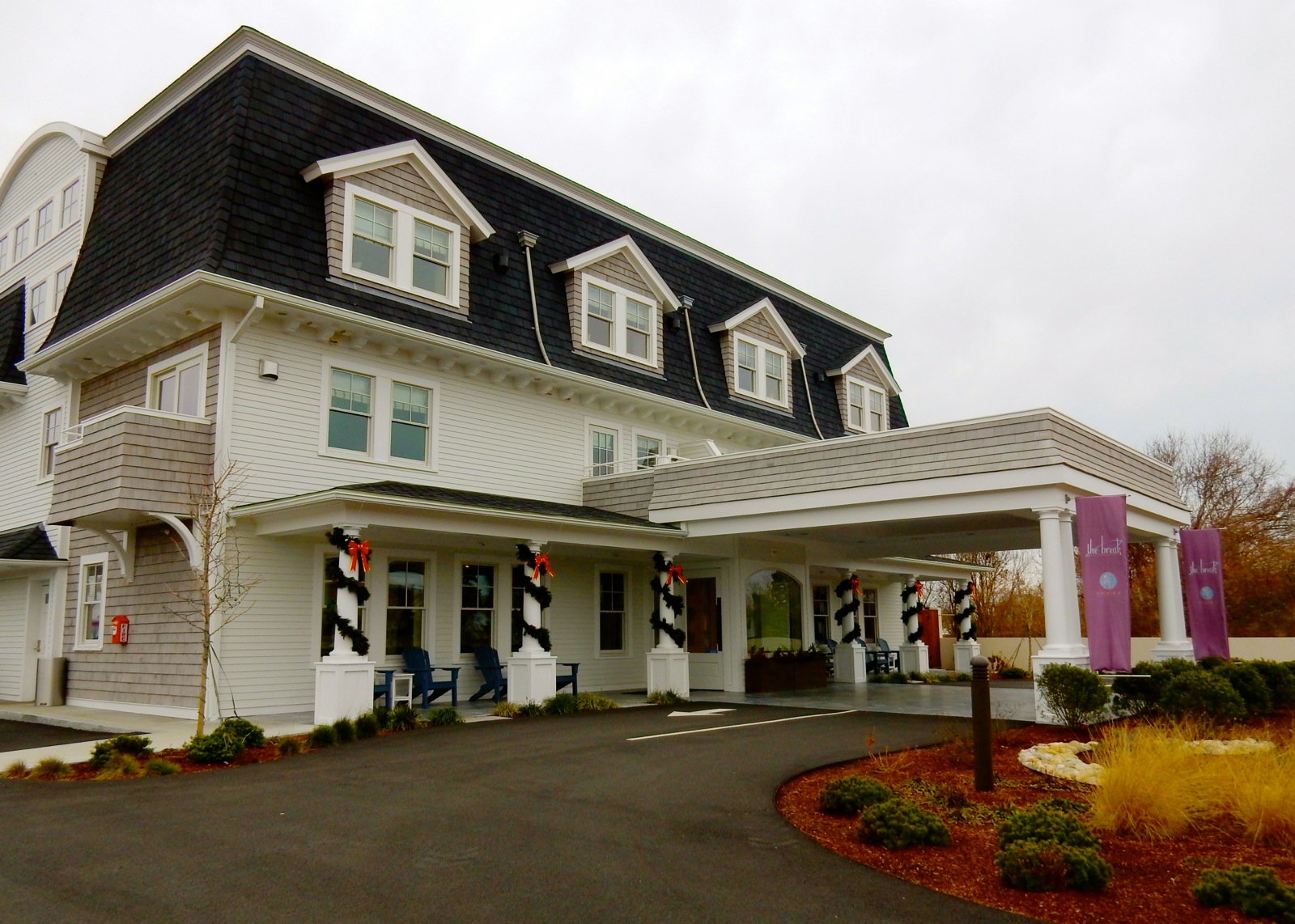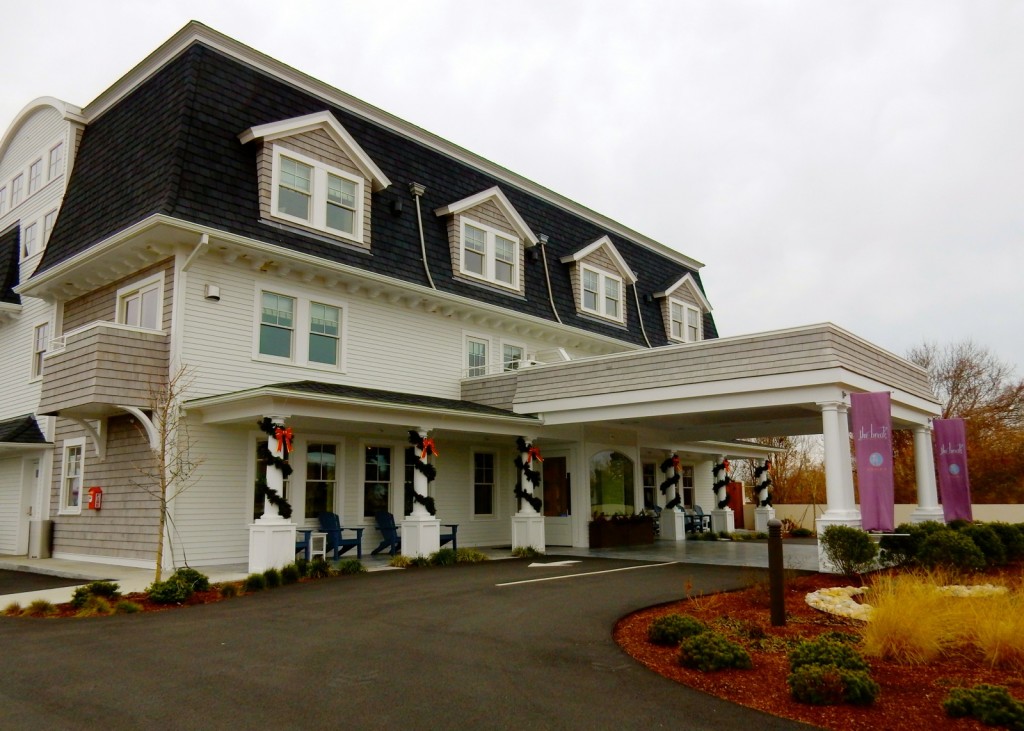 This beautifully designed 16-room boutique hotel is a respite for travelers who appreciate what's come to be a growing trend in American hospitality: the happy middle ground between stark minimalism and over the top glitz, in-house "small-bite" farm-to-plate dining, and friendly but not overly fussy service.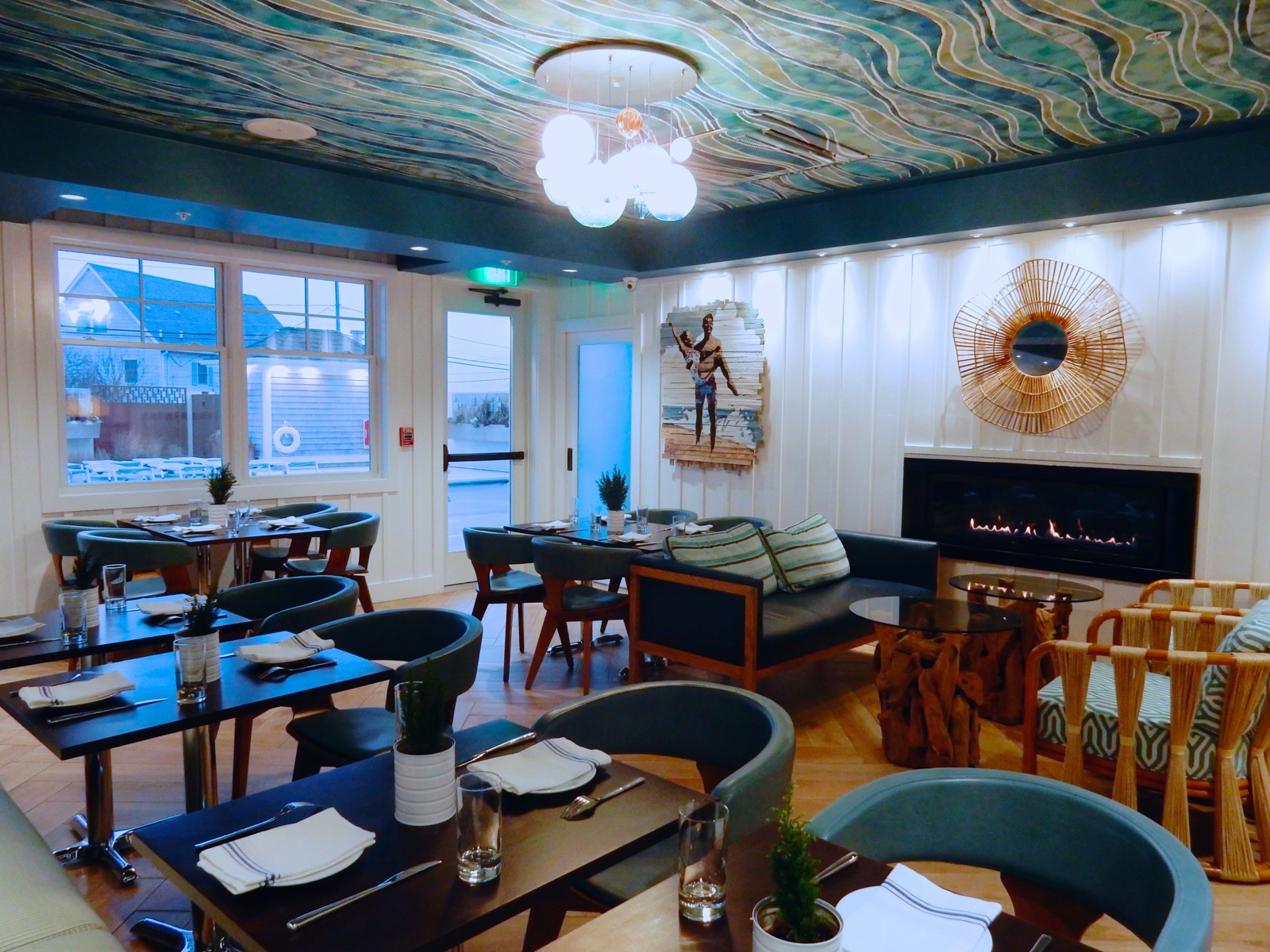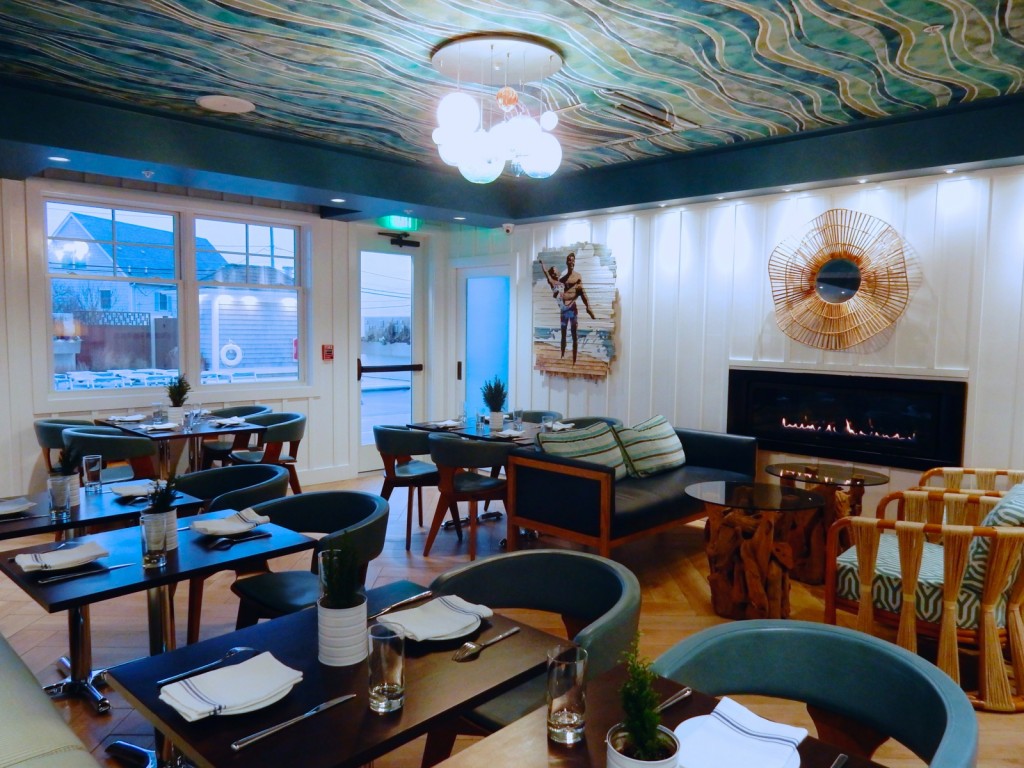 One in the trend-setting Lark Hotel Group, The Break Hotel has all of these components. So it's no surprise that it is often fully booked – even off season.
First Impressions of The Break Hotel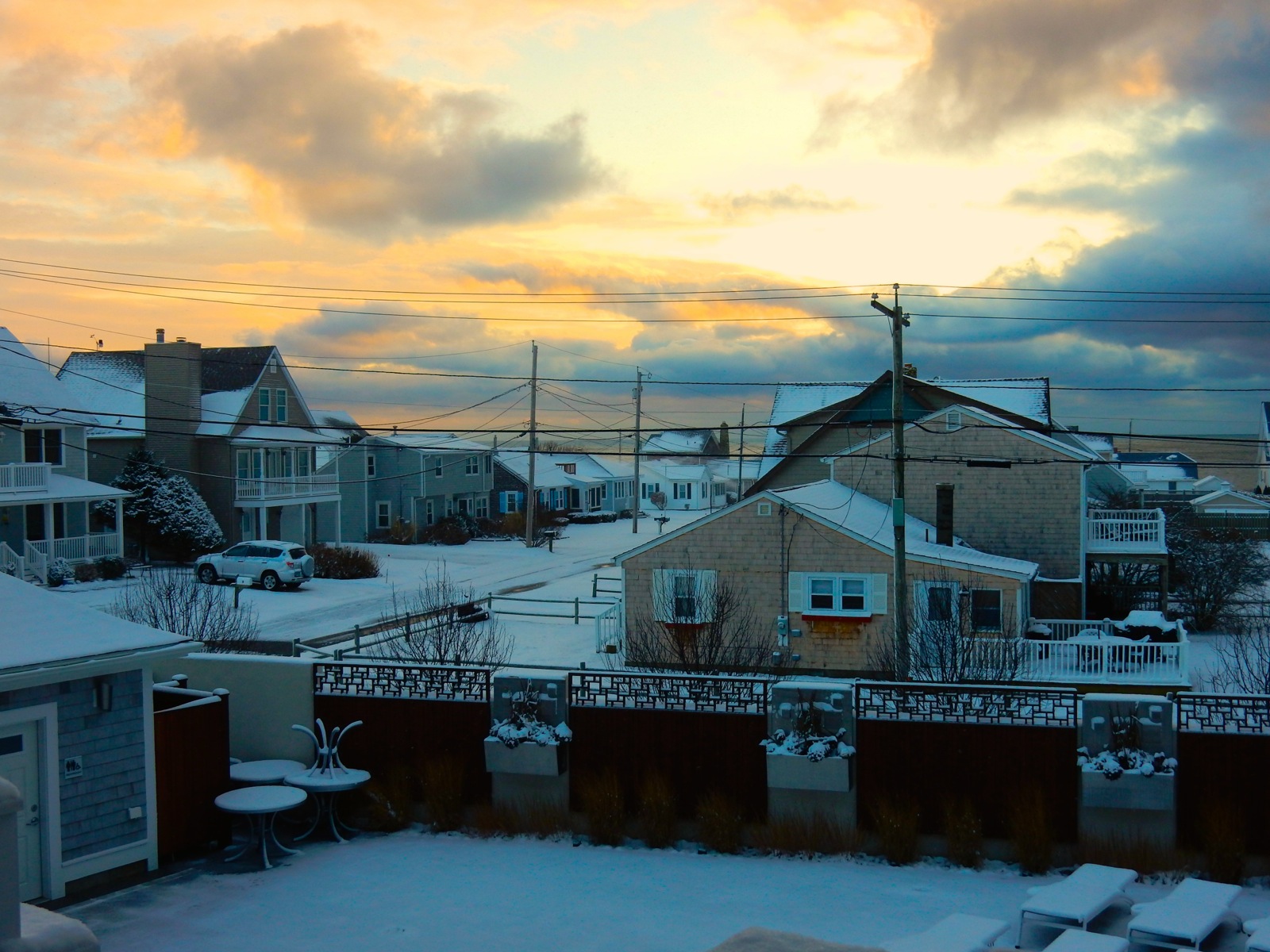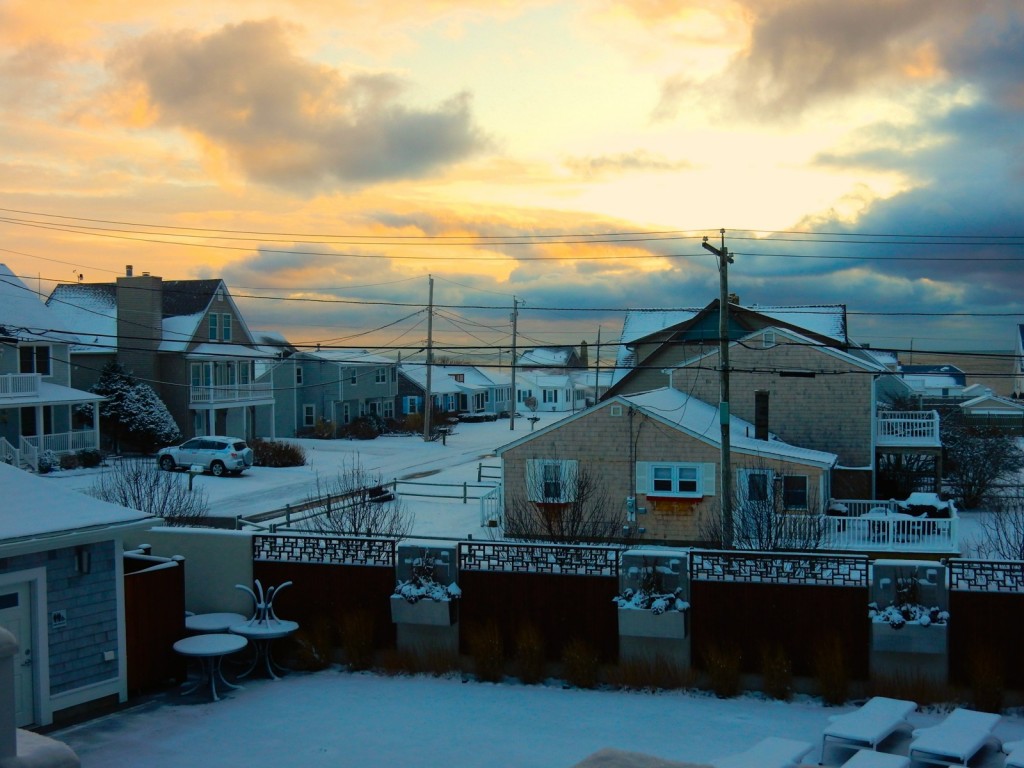 I'll get this out of the way. Narragansett is a beach town. But The Break is not right on the beach. However, no other hotels are, either. Most near the public Narragansett Beach vicinity – a 10 minute drive up Ocean Road – are across the street from the shore.
Here, don't expect to walk out the door and on to the sand. That said, people who book a room at The Break are generally not the "grab a beach-chair and Mai Tai then spend the day tanning" set. Guests seem to prefer cool design and friendly service over direct access to the beach.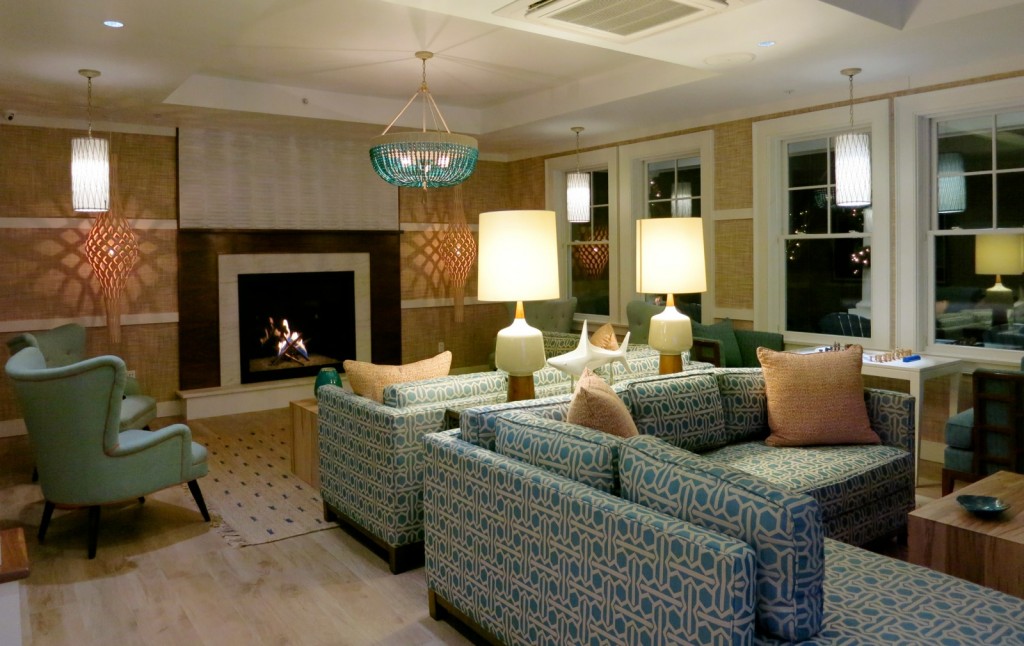 I was swept away by the stylish and colorful lobby – its centerpiece a crystal clear, and impeccably maintained saltwater aquarium.
In winter, a fire blazes behind glass, casting shadows on the salmon, aqua, mustard and cream-colored seating. It's a most inviting tableau.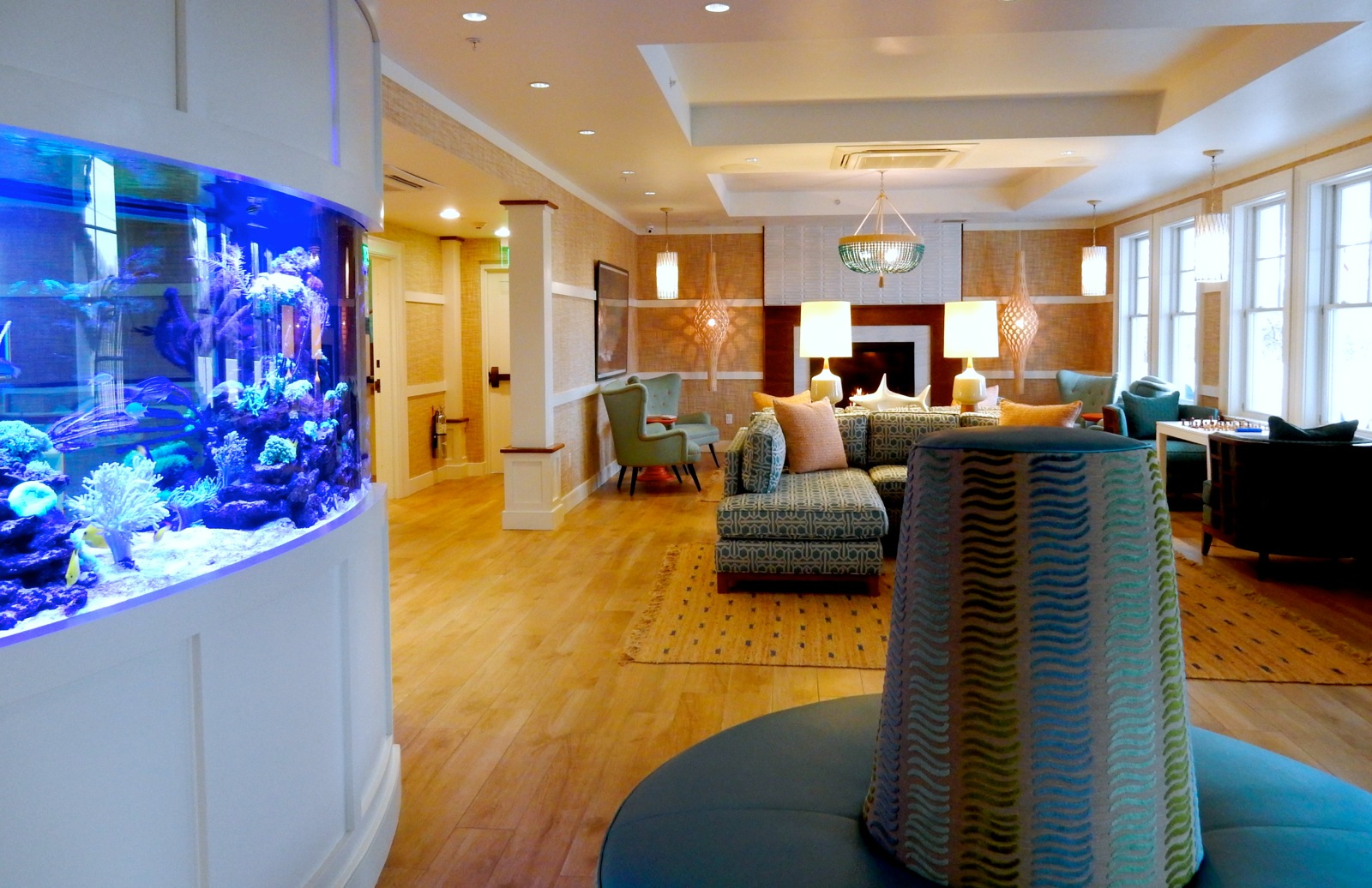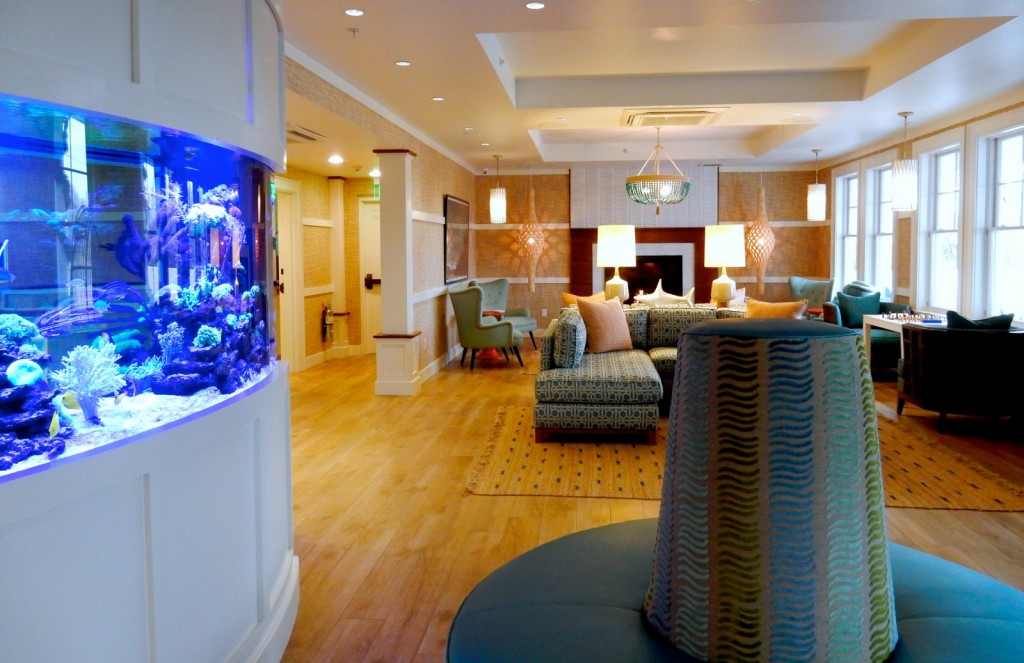 Check in is efficient, friendly and mellow. You receive an I-Pad, loaded with information about the hotel and the surrounding area, to use during your stay.
Rooms at The Break Hotel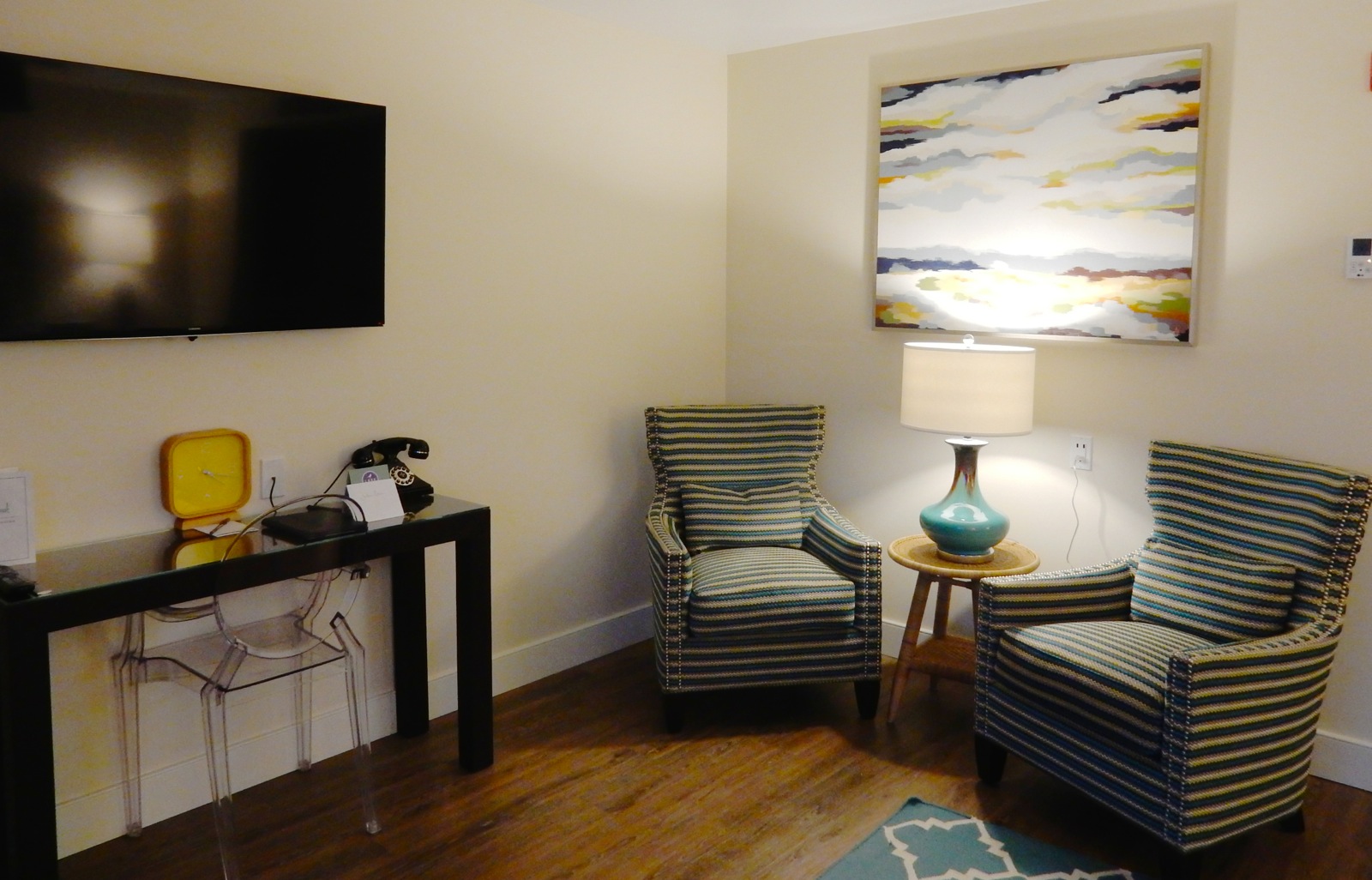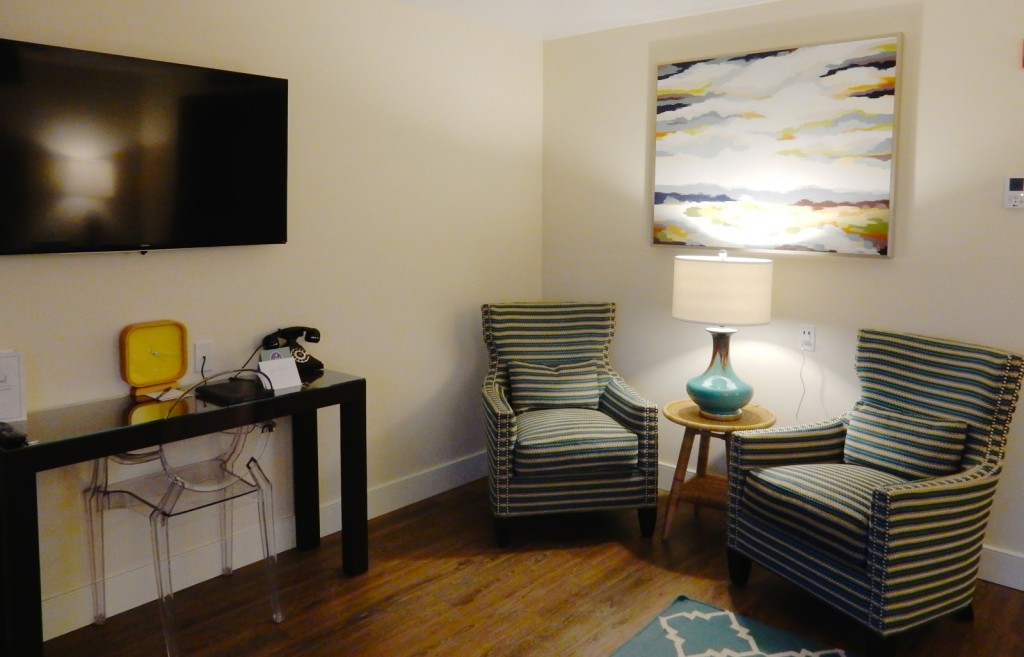 Rooms are sizeable, fresh and playful, encompassing a grab bag of furniture and accessories. There's a small wood-stove-like fireplace in the corner, an analog clock and old-fashioned dial phone atop a simple desk with clear Lucite chair.
Polished wood floors, large flat screen TV, a painting above two upholstered chairs: it's a fun take on your Auntie's shore home.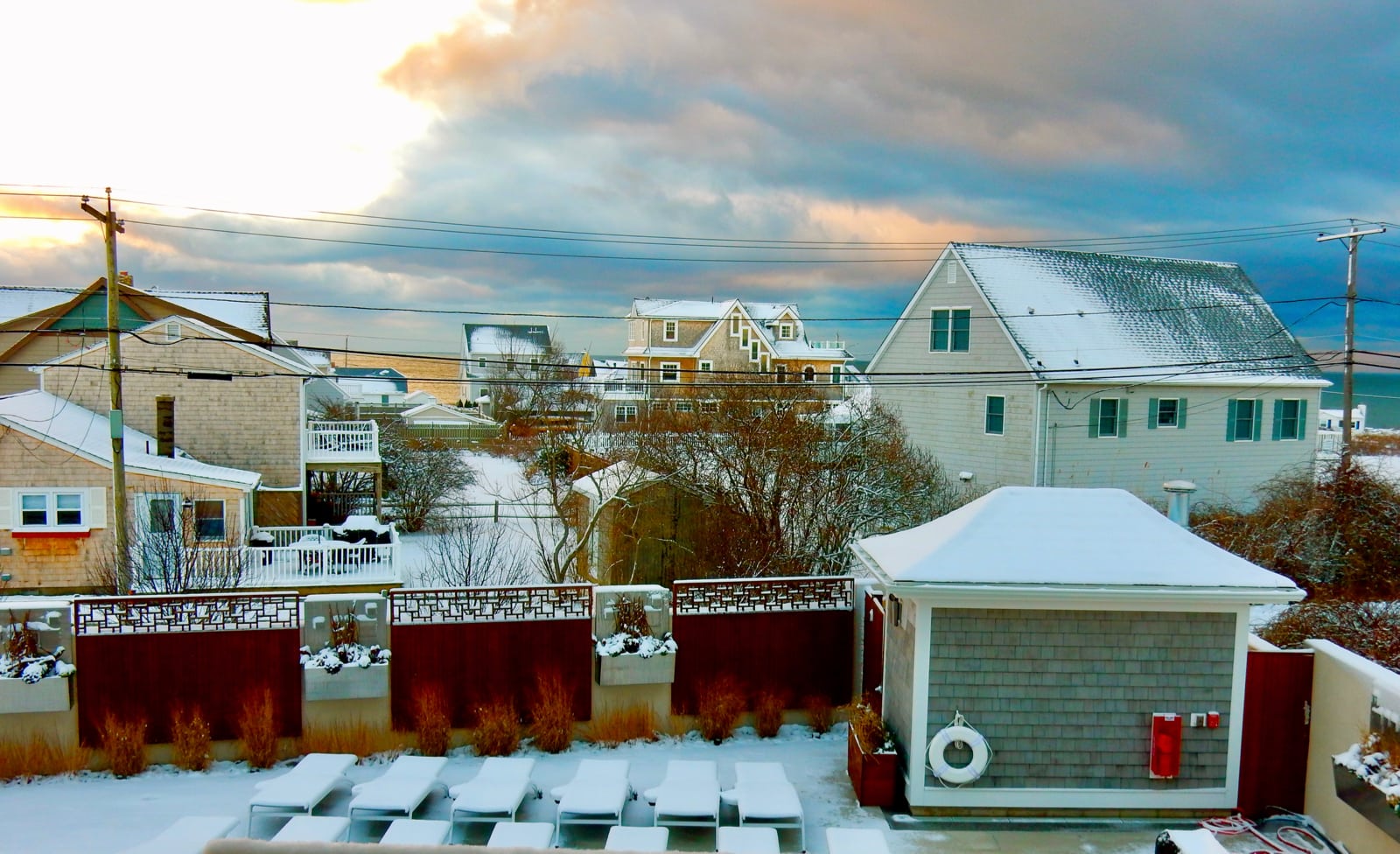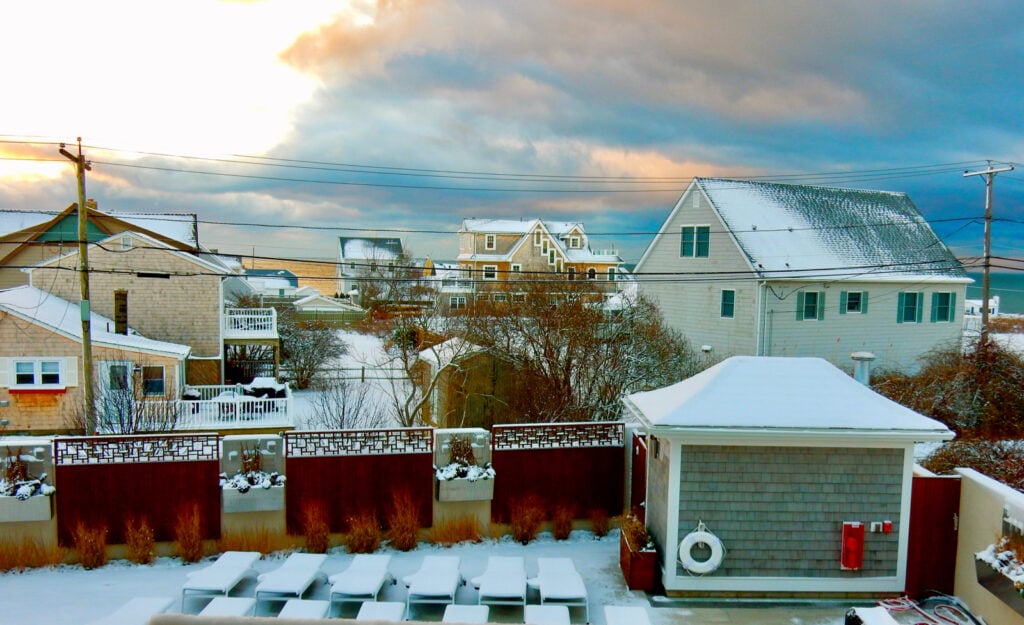 Bathrooms are bright white with a punch of French's Mustard Yellow colored sink and wall in the immaculate double rain shower.
Drinks and Dining at The Break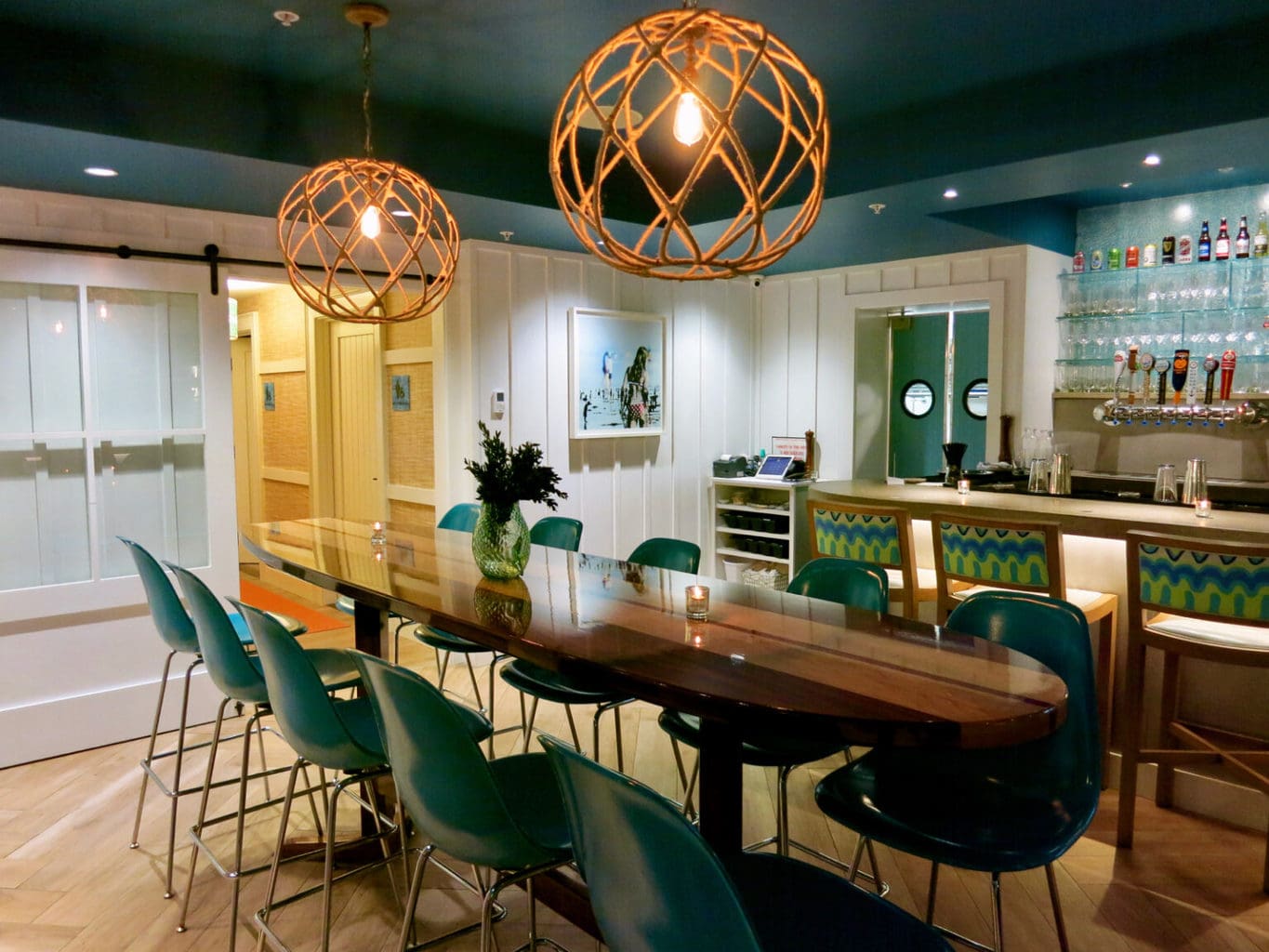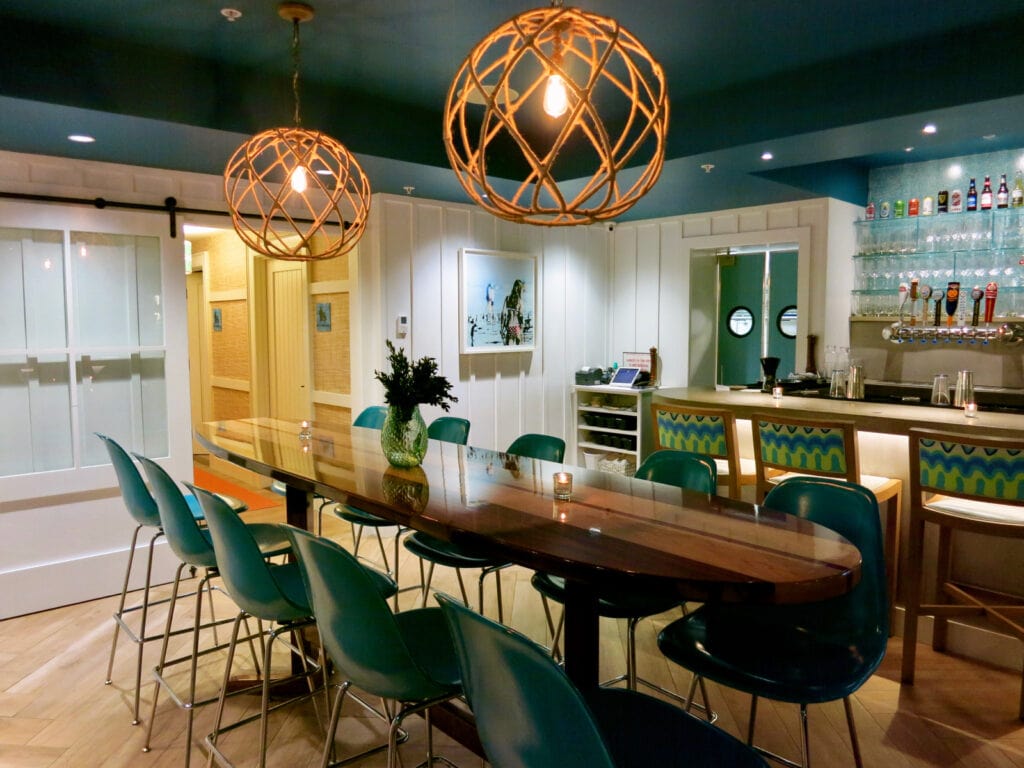 The Break's marine-hued in-house restaurant, Chair 5, has turned into a destination unto itself. Private and communal tables (one, in the shape of a surfboard), beneath a carpeted ceiling and lovely blown-glass lamps, promote sharing and conversation.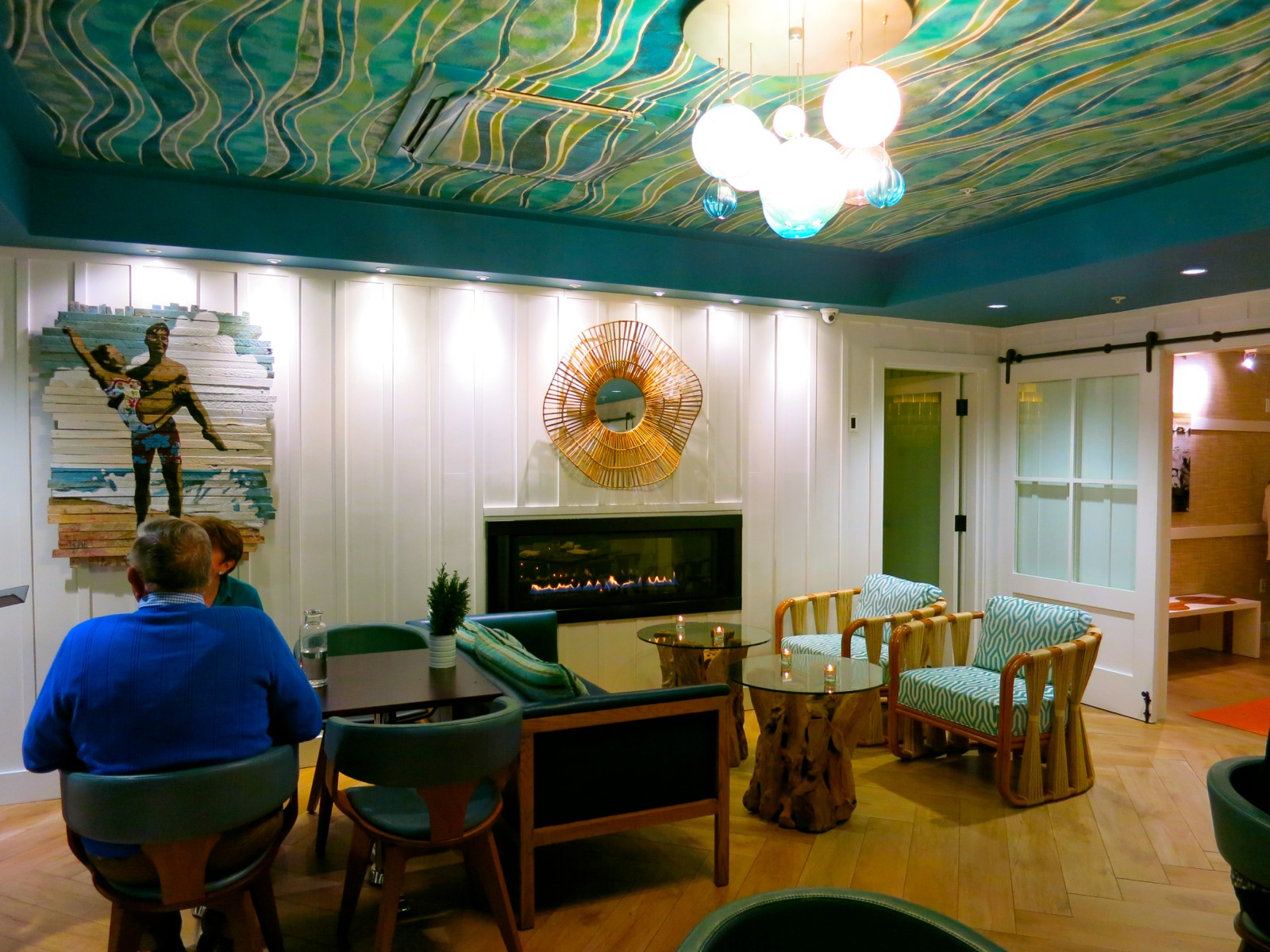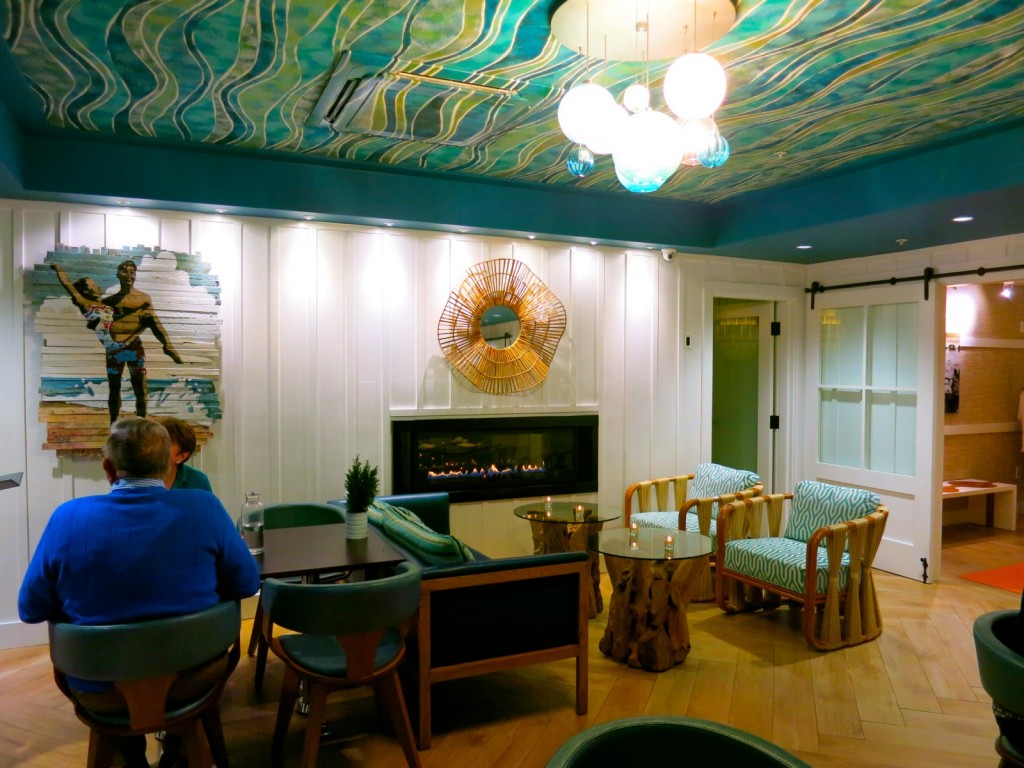 Dishes, like the Funnel Clam Cake, are innovative tweaks on traditional American fare. I could have scarfed down a few orders of the phenomenal Fried Brussels Sprouts, crispy-brown and sprinkled with slices of garlic. That and the wonderful Smoked Chicken Wings could have been a complete meal for me.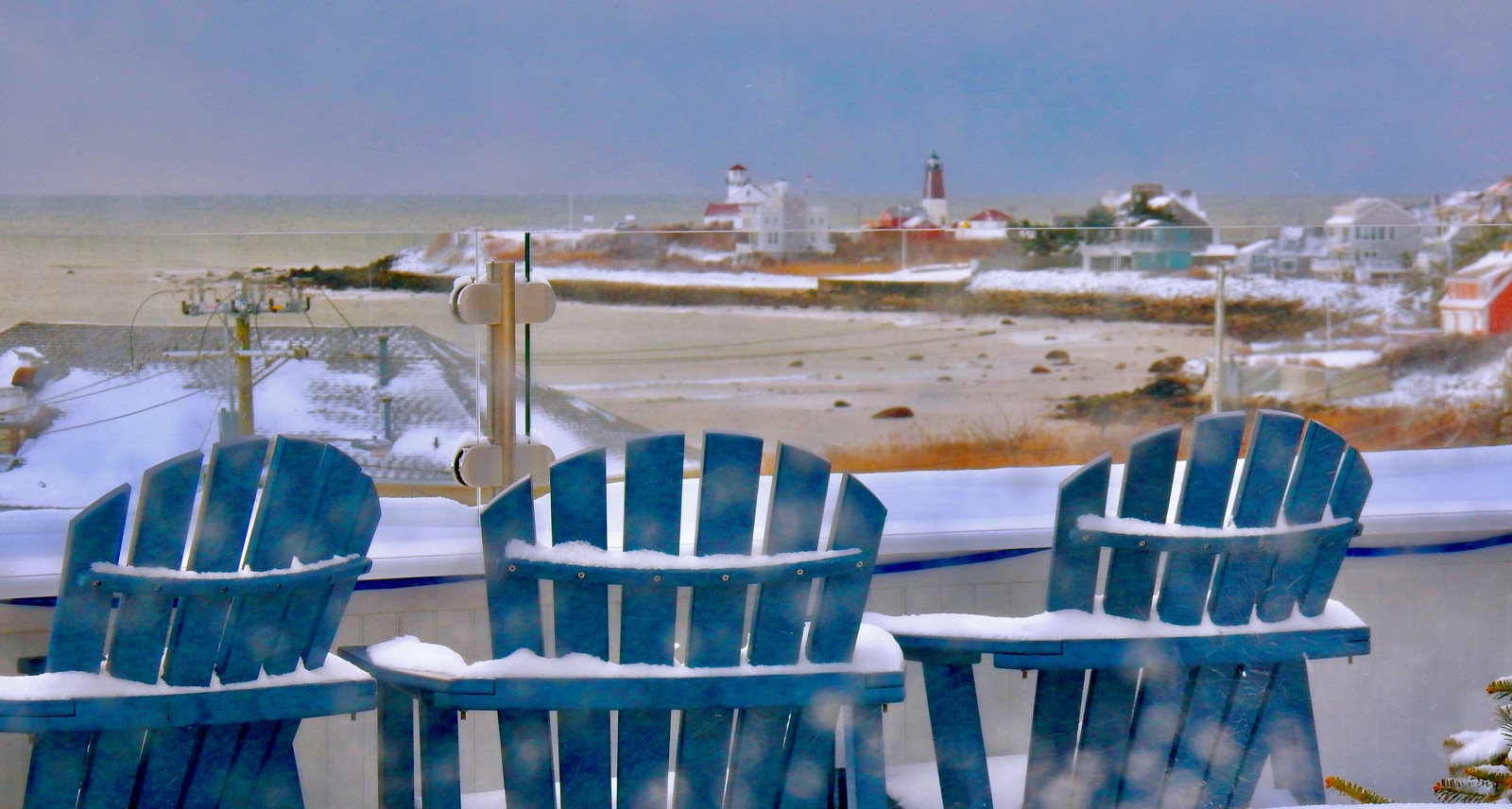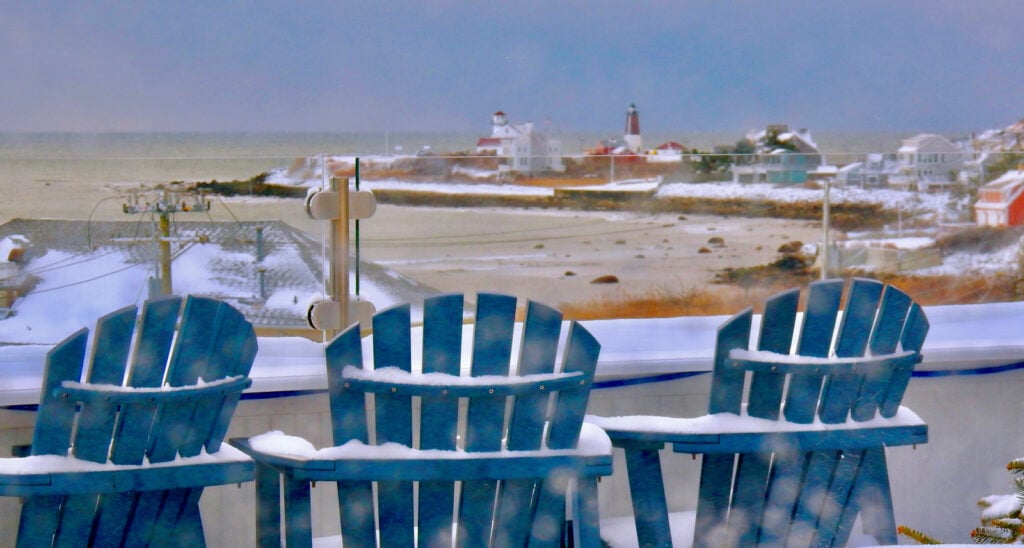 Views from the 4th floor bar and lounge are gorgeous. Plus, it's the perfect place to visit and catch up with friends and family. In warm weather, the deck throngs with patrons, but off-season, vistas are best savored from inside.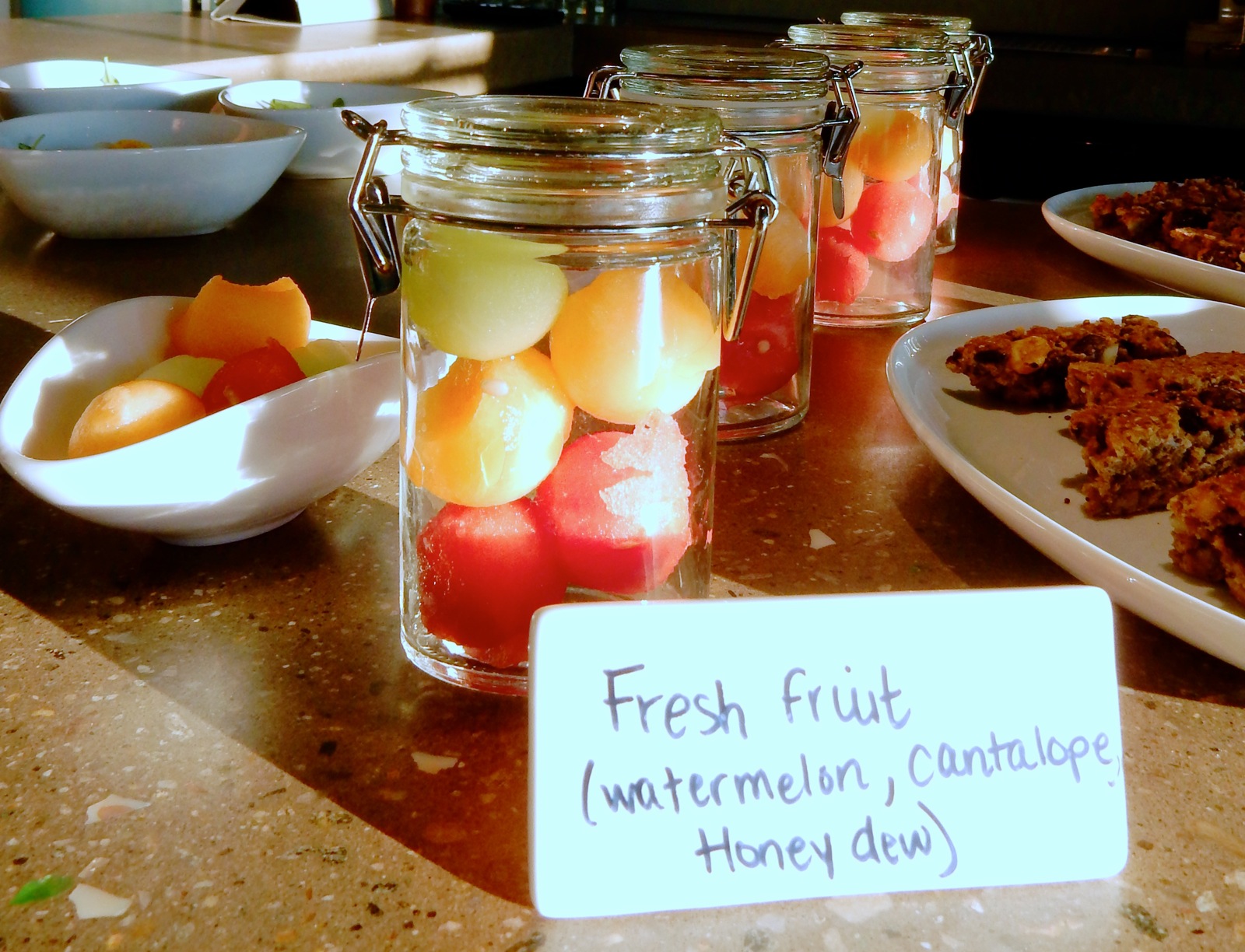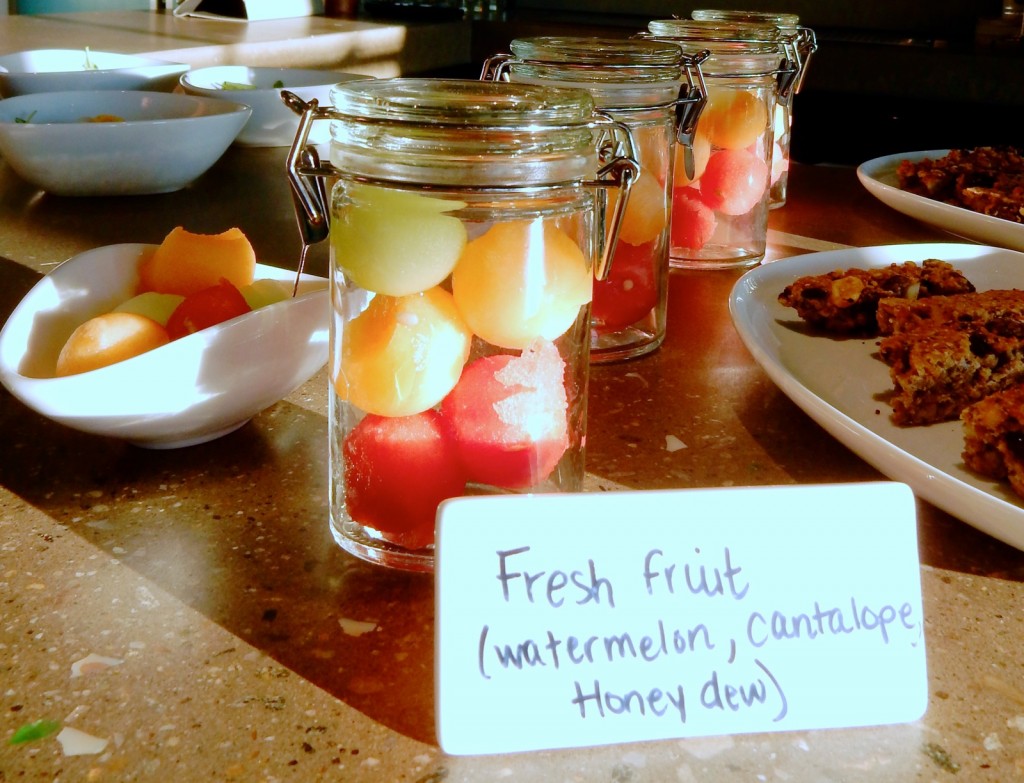 In the morning treat yourself to a complementary smorgasbord. If you adore tapas (and who doesn't?), you'll fall for the freshly made small-bites, set out in individual portions.
Sweet and savory tarts and scones change daily, as do egg dishes. But don't miss the homemade Greek Yogurt. It's as dense and creamy as premium ice cream.
Hotel Amenities
The Break has a small fitness room. There's also a heated saltwater pool, kept covered off-season until a guest wishes to take a dip. Then, the cover is removed and steam rises like that from a geothermal hot spring: particularly beguiling while its snowing. Rooms and Suites from $179 to $589 (depending on room size and season) include afternoon treats, water bottles, and large "tapas" style gourmet breakfast.
Weekend Getaways In Rhode Island