Last Updated on March 13, 2023 by Editor
WHY GO: In the late 1800's, vacationers came to the beach towns of Watch Hill and Westerly Rhode Island for fresh sea air and to frolic on clean wide swaths of sand. Now, as you climb the hill that overlooks Watch Hill RI harbor on one side and the Atlantic Ocean on the other, you can almost hear the joyous shouts of those Victorian era travelers as they hauled their steamer trunks to the portico of the yellow Ocean House. This splendid resort, originally constructed in 1868, was renovated in the late 'aughts as a stunning Relais and Chateaux hotel.
Among discerning travelers, Watch Hill is best known for The Ocean House. Fans know, also, that Taylor Swift, purchased a mansion down the street.


But there are other reasons to discover this section of coastal RI – which also includes Westerly and South Kingston. These include a restaurant owned by a woman chef who took down Bobby Flay on "Beat Bobby Flay," and a humble oyster farmer so renowned, he's been written up in National Geographic Magazine and owns one of the Top Seafood Restaurants in America.
Discover all this and more on the following Southern Rhode Island getaway.
Things To Do in Westerly, Watch Hill and Southern RI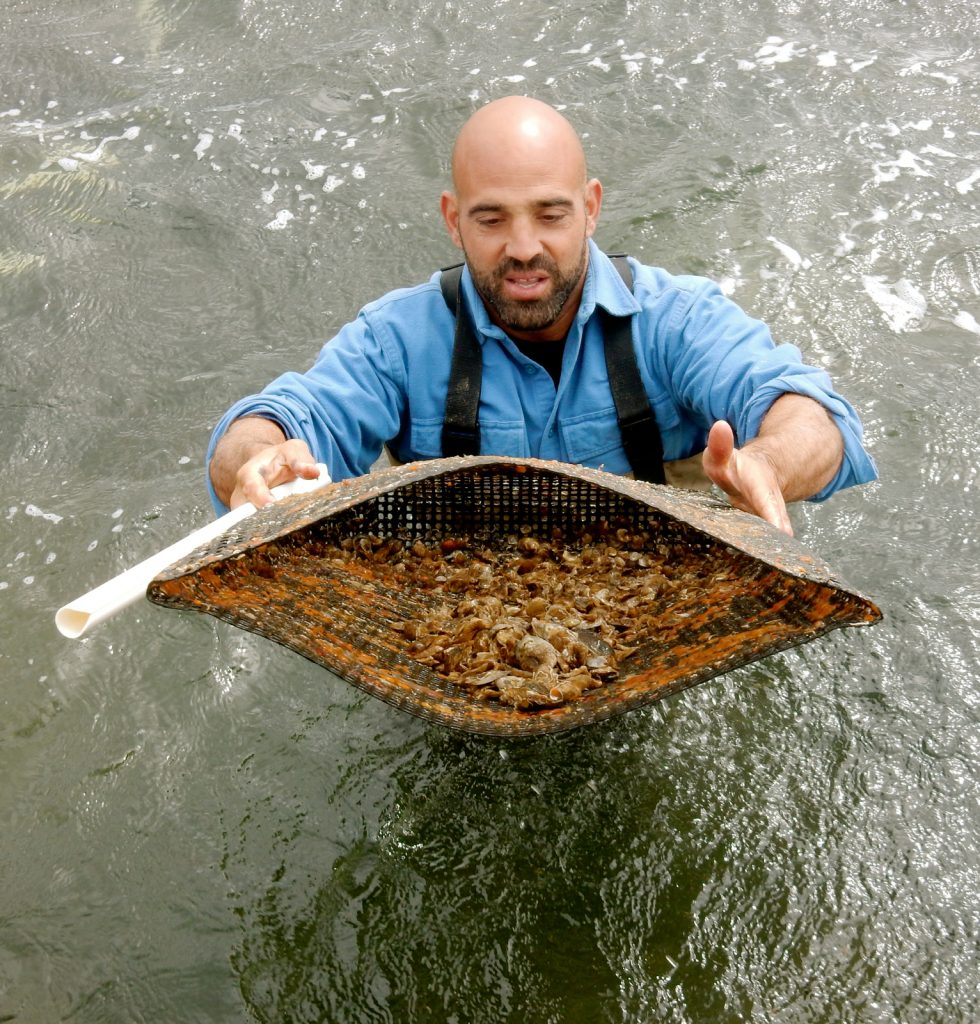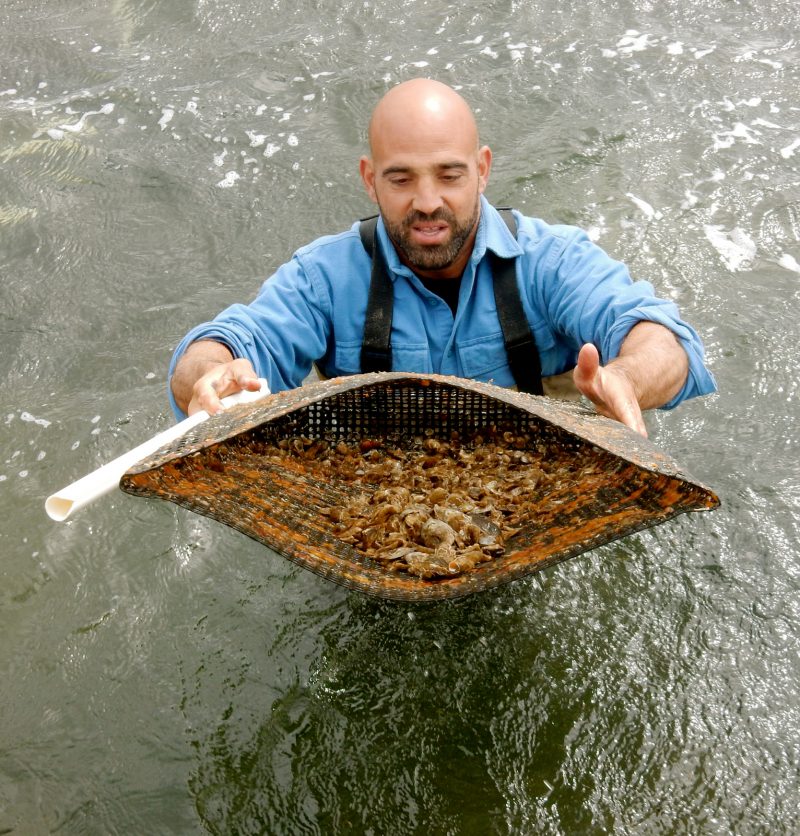 TOUR: Matunuck Oyster Farm, South Kingstown
It's about a 30 minute drive (north) from Westerly and Watch Hill RI. Yes, absolutely worth it for both the Oyster Farm tour and Matunuck Oyster Bar and Restaurant. (See under Where to Eat below).
Perry Raso, Oyster King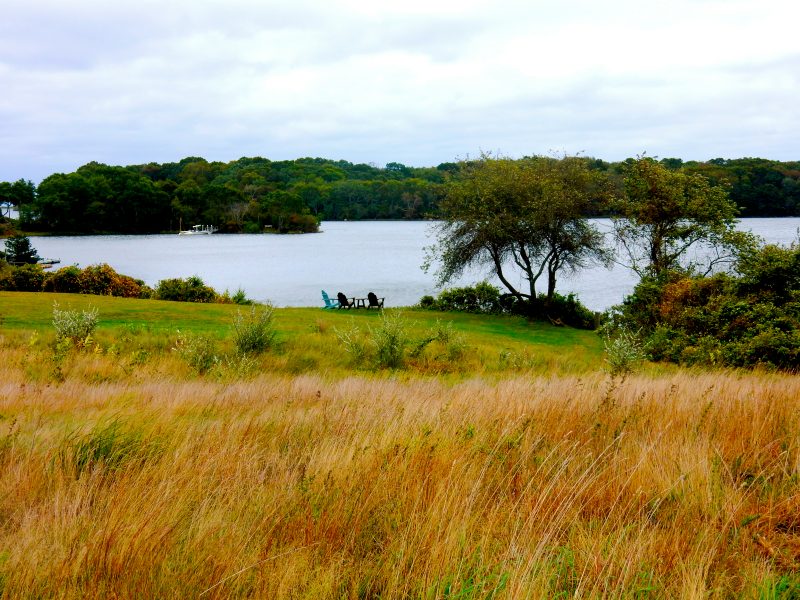 Matunuck Owner, Perry Raso, comes across as a humble fisherman. But don't let that modest exterior fool you. He's has been acclaimed in publications as prestigious as National Geographic. With a Masters in Aquaculture, Raso begins his 1.5-hour tour with a dissertation on the growth of the industry.
Though "terrestrial agriculture" has been "going on for hundreds of years, commercial/industrial aquaculture is relatively new." (There's a distinction between oyster packing companies – which have been in existence for over 150 years – and corporations that "farm" or "grow" oysters, a relatively new concept).
Growing Oysters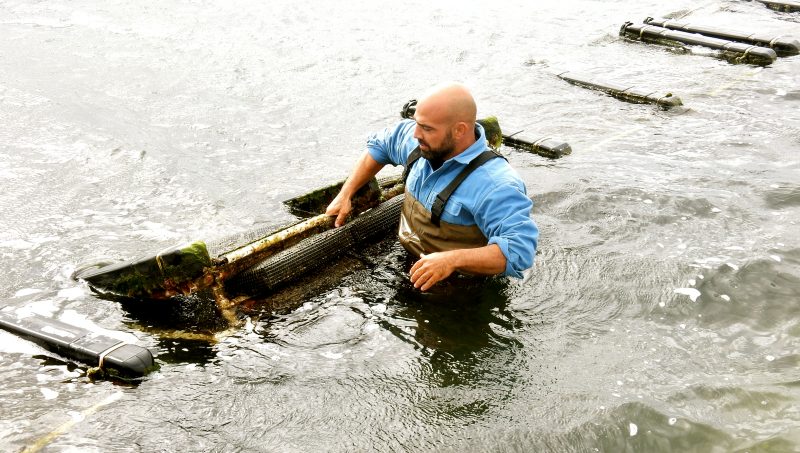 As a "farmer," Raso generates oyster "seeds" in a hatchery. He does this by controlling the water temperature so that oysters release sperm and eggs into the water year round, rather than only during the warmest months.
When these "seeds" are large enough, they are placed in steel mesh "bags" that either sit on the pond's mud bottom or float for two to three years, until the oysters are large enough to harvest.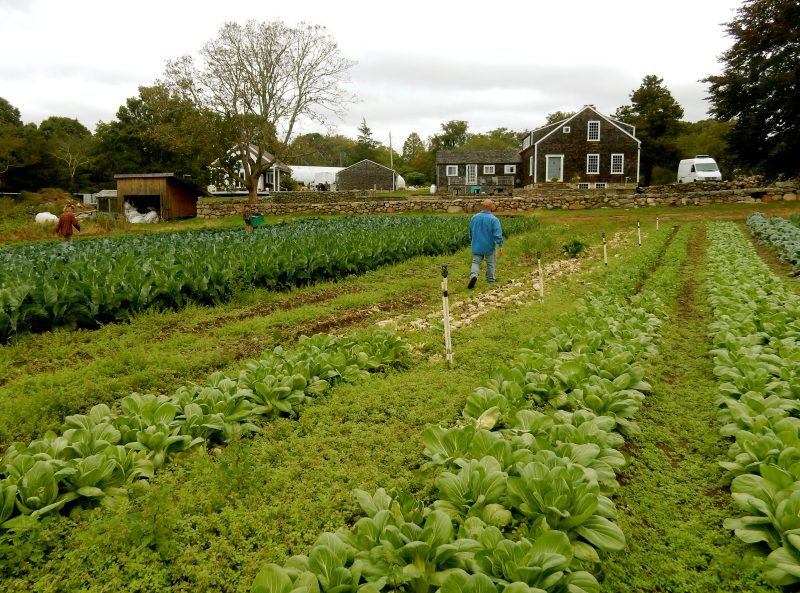 Raso has a bit of the scientist and educator about him. Because of this, he's become a spokesperson for green practices in aqua and agriculture.
Raso seems most at home either in the water tending to his shellfish, or on his new organic farm. You'll see both his oyster beds and gardens on a tour that brings you via motorized platform boat around Potter Pond. Here, Raso and his employees harvest over a million oysters – coveted by top chefs from New York to L.A. – every year.
Best Oyster House – Rural Edition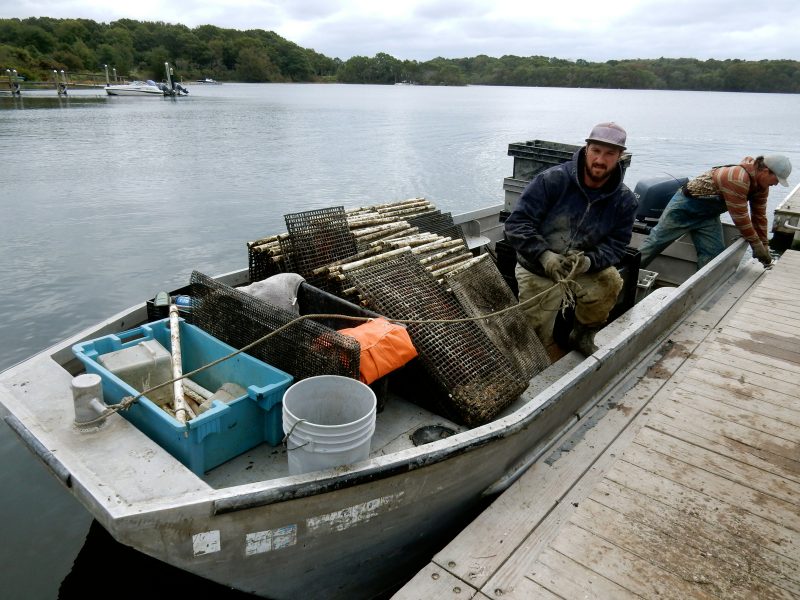 Matunuck Oyster Bar began as a byproduct of Raso's oyster farming business. It has subsequently turned into one of the top restaurants in the USA. Raso didn't intend to become a restaurateur. It just happened organically.
He began selling oysters from the dilapidated seafood shack that came with the property. These gems garnered enough of a following that, in 2009, building an upscale restaurant, with a "Pond to Plate" theme, made sense. In 2011, realizing the need for hyper-local organic produce, Raso planted a garden on 7 acres of his own property around the corner. Tours are free, call or email 401-783-4202 ext 2, events@RhodyOysters.com.
Matunuck Oyster Farm Tour is one of the Getaway Mavens' quirkiest places to propose in Rhode Island.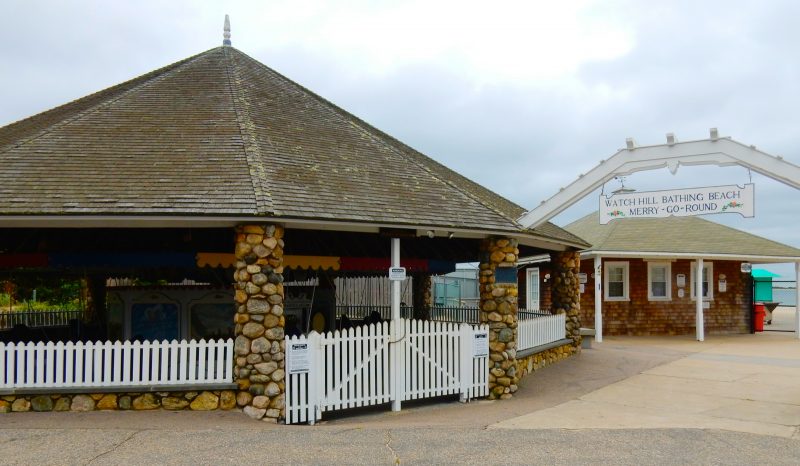 DO: Ride The Flying Horse Carousel, Watch Hill
Since Victorian times, summer visitors have been grabbing for the brass ring on this diminutive, but historic "flying horse" merry go round, built in 1883.
On the National Historic Register, it's the oldest operating carousel in the country with horses suspended from chains. Open daily in season till Labor Day. Weekends only until Columbus Day. Check website for times.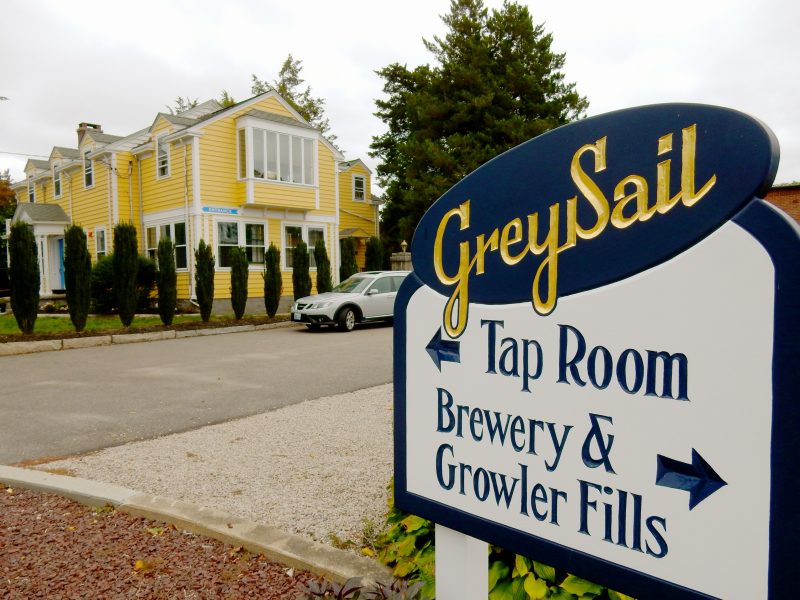 After setting up shop in the repurposed Westerly Macaroni Mfg. building, and launching their Flagship Cream Ale on November 11, 2011 (11-11-11), GreySail Brewing was credited with attracting a younger, year round crowd to Westerly. "People say this town is dead in winter, but lots of locals come here," says manager Jacq Campbell, "especially since we opened the Tap Room in May '16."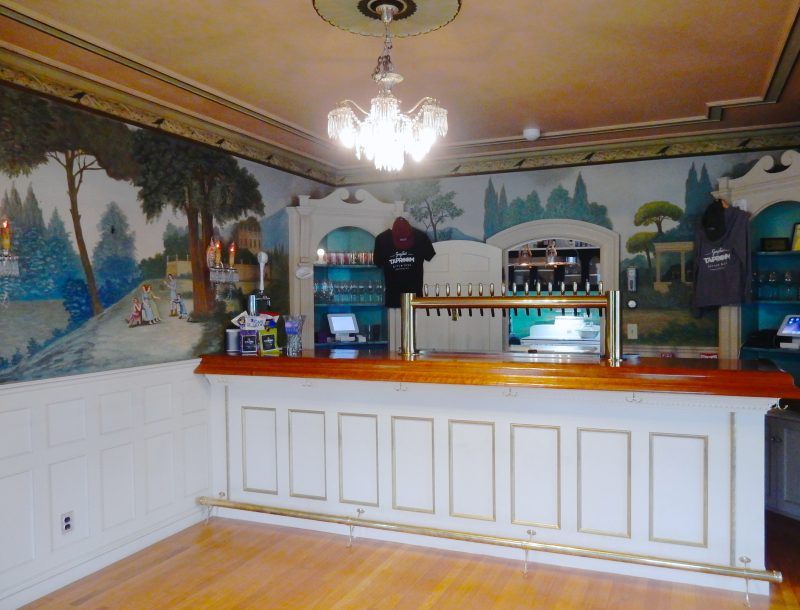 GreySail purchased the bright yellow house next door, built by the owners of Westerly Macaroni Co in 1934, leaving its historic murals and light fixtures intact. Despite its fancy digs, the Tap Room is a "proper pub," with 8 craft beers on tap (four GreySail brews, four "guest" brews).
It offers flights ($10 for 4 5oz pours) and full 16-oz pours for $5 and $6. Though Captain's Daughter Double IPA put Greysail on the map, other beers, like Flying Jenny Extra Pale Ale, Great Ketch India Pale Lager and Pour Judgment (made exclusively for Pour Judgment Pub in Newport), have gained favor.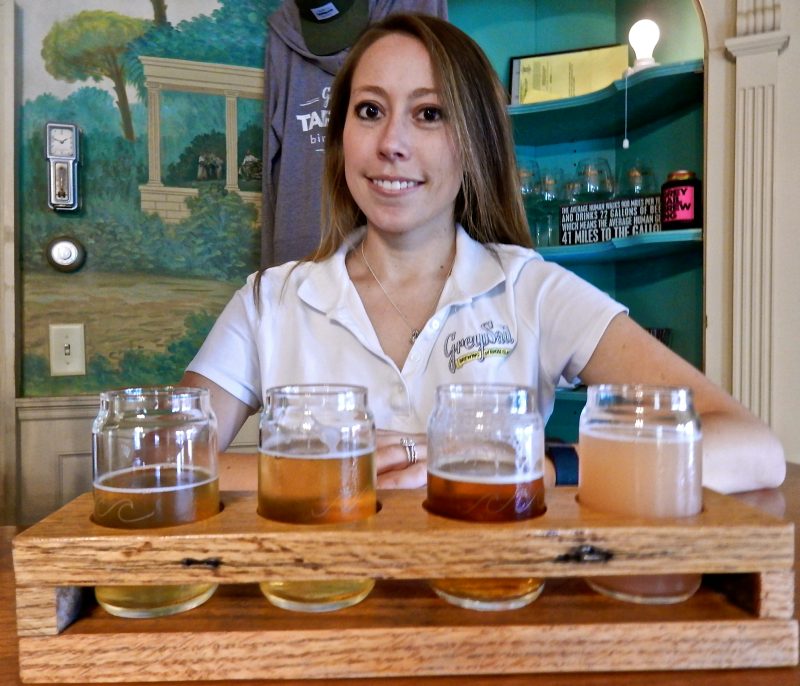 The Tap Room also features a warren of comfortable "living" rooms, a dartboard room, and an outdoor beer garden where guests can play bocce and corn –hole and watch homemade pizzas charring nicely in the brick oven. Stay for pizza and take home some cans of your favorite frosty. Tap Room open Mon, Wed, Thur 3-8 PM. Fri-Sat 12-8 PM. Sunday 12-5 PM.
SHOP: Downtown Westerly
Fun and funky shops in downtown Westerly are intermingled among Mixed Martial Arts and Yoga Studios, gyms, antique and traditional furniture stores. And restaurants. Among my favorites are: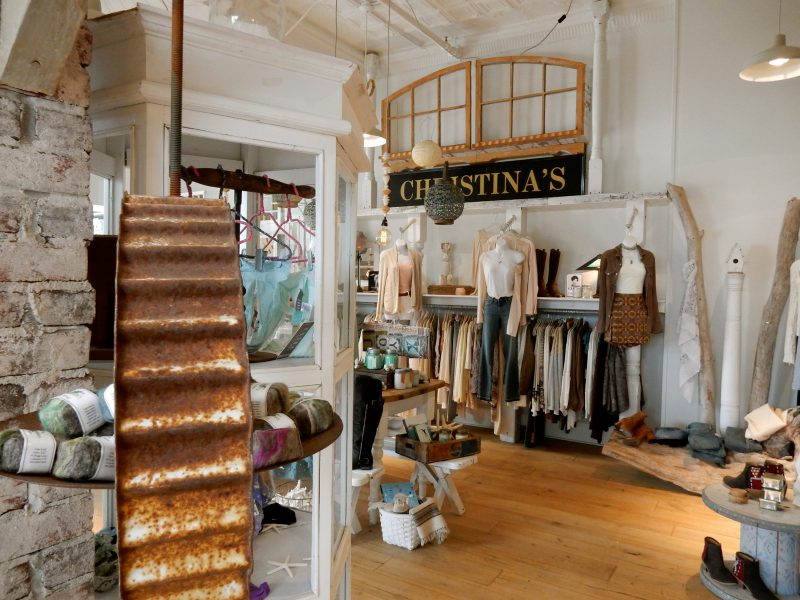 Christina's
for scarves, soaps, gossamer blouses, beer making kits and other esoteric gifts. My favorite desktop placard reads, "Kind People Are My Kinda People."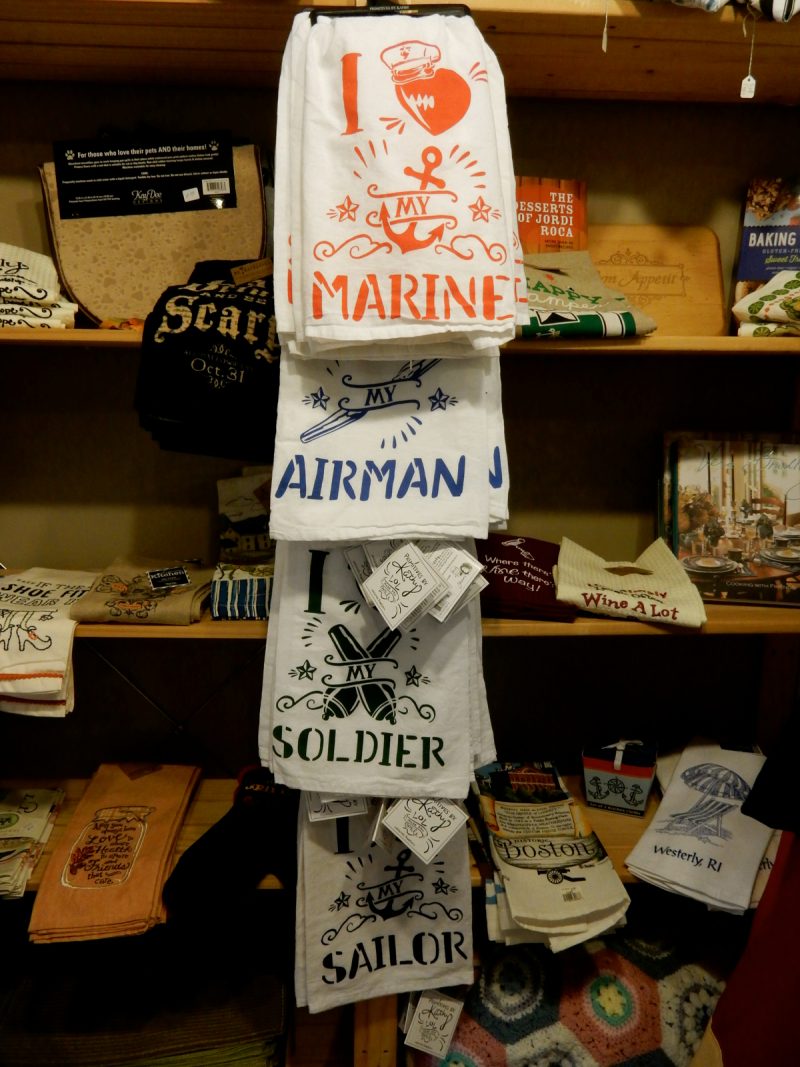 features American-made products and is crammed full of Vera Bradley, Brighton, and Rhode Island's own John Medeiros jewelry. But the best thing about Eagle's Nest is its generosity towards and acknowledgement of US Military families, with discounts and store items (i.e. $7 tea towels) specifically for them.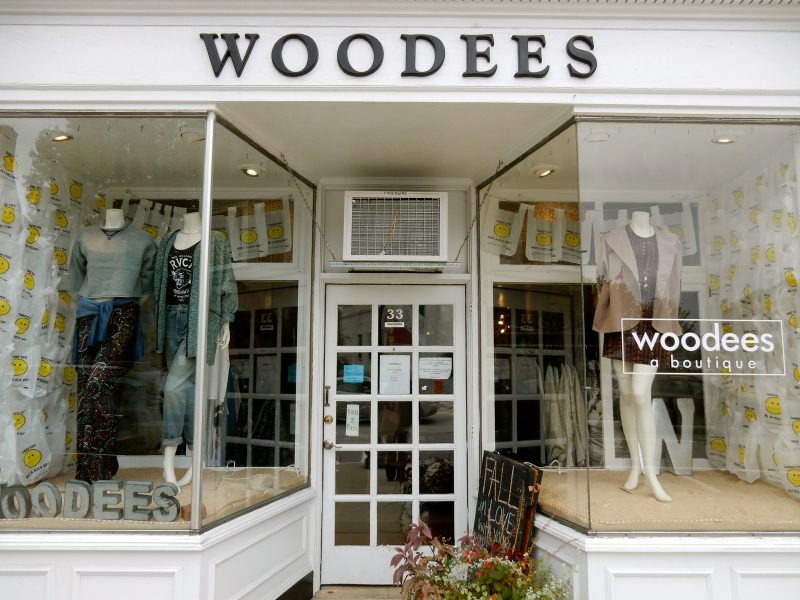 This woman's clothing boutique stands next to the long-standing (since 1904) Woodmansee's. It's also owned by the same family. Woodee's is Woodmansee's younger, funkier cousin, with prices a bit lower as well.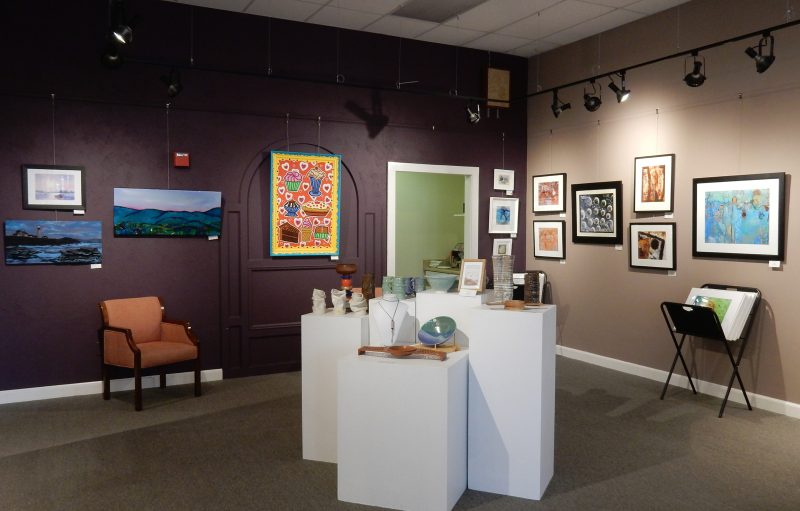 A new show every month features two local artists, who seem more professional than amateur. Stop in for very reasonably priced jewelry, ceramics, photography and paintings.
Restaurants in Westerly, Watch Hill and So. RI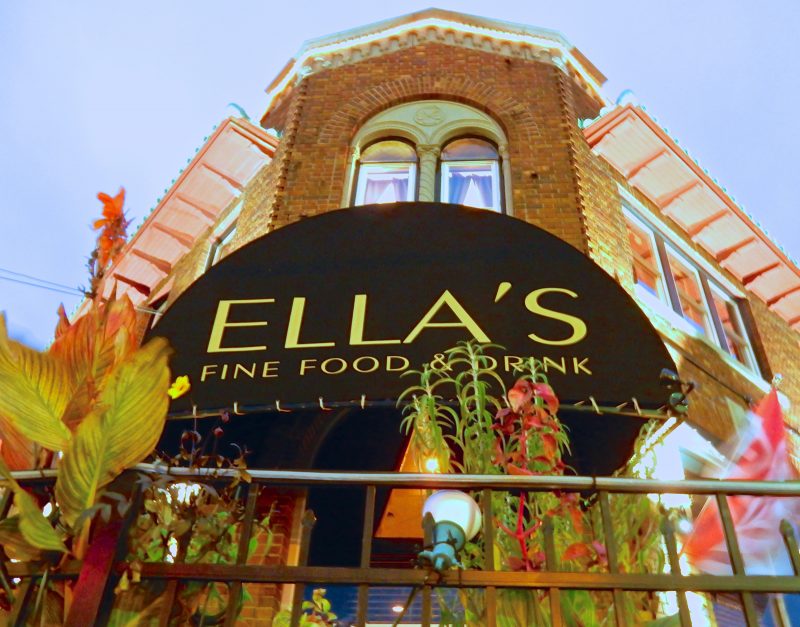 It is rare that a town this small is home to a restaurant so outsized in excellence. But Ella's is testament to chef/owner Jeannie Rolland's talent and to Westerly's sophisticated palette. Culinary Institute of America grad Jeannie, and her husband James, have been in the restaurant business for 25 years.
In 2000, they opened their first restaurant, The Perfect Caper, in Punta Gorda, Florida, where it's still going strong. Jeannie, a five-time James Beard nominee,  beat Bobby Flay on The Food Network's "Beat Bobby Flay," whipping up her fantastic Mussels Frites.
A Connecticut native, Jeannie was eager to return to New England. She and James found this building on a busy street (formerly a neighborhood Italian joint), and transformed it into a modern dining room. Pale grey walls showcase the vibrant folk-artsy paintings of New York artist, David Black.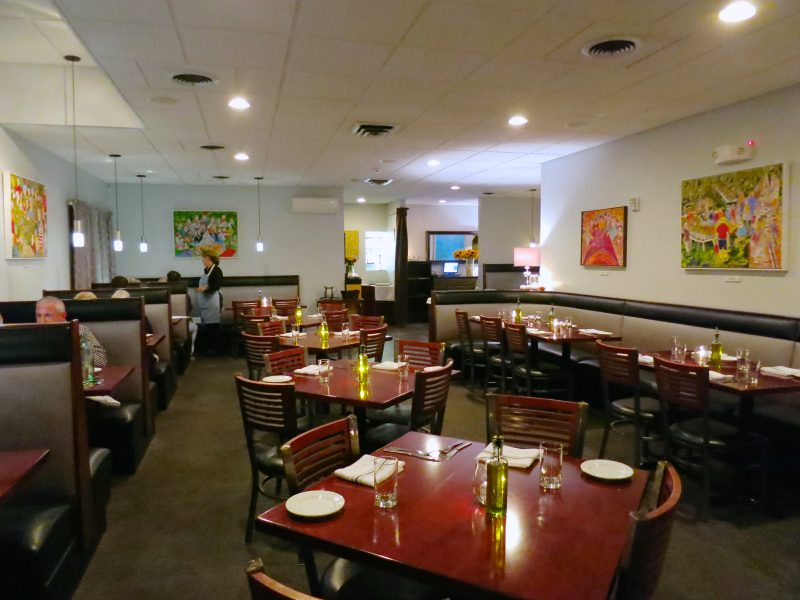 Each dish here is cooked from scratch, with ingredients sourced either locally or from organic farms all over the country.  Jeannie has a remarkable way of balancing sweet and savory, as she does with her astoundingly fine Apple Celery Soup – a seasonal dish that manages to highlight the essence of autumn without being cloyingly sweet.
Signatures include the perfectly-cooked Miso Salmon on a disc of Toasted Coconut Black Rice with Chili Bok Choy, and decadent Momma's Chicken – buttermilk soaked and duck-fat-fried chicken with yellow corn grits, which James tried to take off the menu to much protest. Other comfort-plus dishes, like the Ultimate Grilled Cheese, prove that Ella's can satisfy all tastes, from down-home to refined. Worth a trip from anywhere.
Sign up for an educational tour of the oyster farm (offered a few times a week in summer – check website) or dive right in to the food that put this place on the map. Savor oysters every which way – from raw-just opened ($21.95 per dozen), to paired with a "shooter," to fried or bathed in every toothsome sauce imaginable.
Order a "Stuffie"($3.95 each) – Rhode Island's version of a stuffed clam – or even Vegetarian Tacos ($10.95) for the shellfish adverse. Whatever you choose, you can be sure it's fresh, tasty and amazingly good.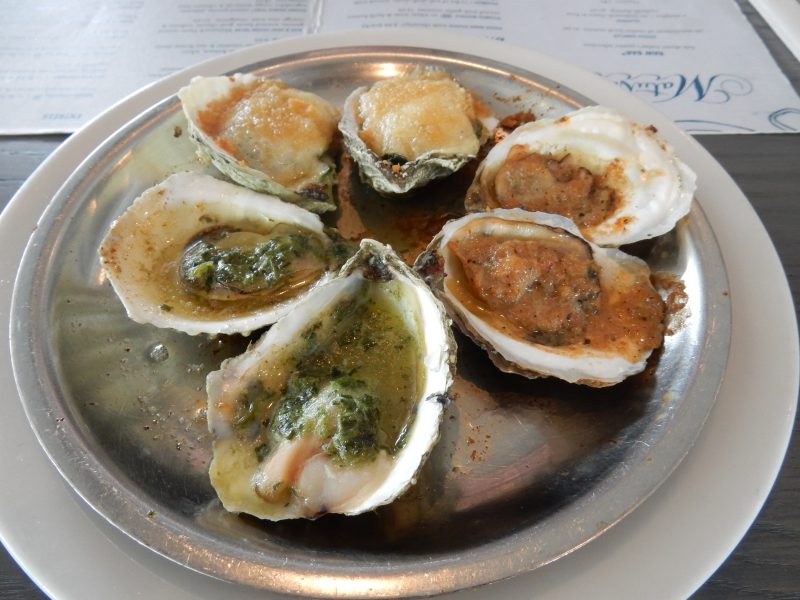 In the summer, this strip of land is a mob scene with hundreds of people per night jockeying for a table. With websites like Timeout.com ranking Matunuck "One of the Top 21 Seafood Restaurants in the USA," (in April '16) these crowds won't be thinning out anytime soon.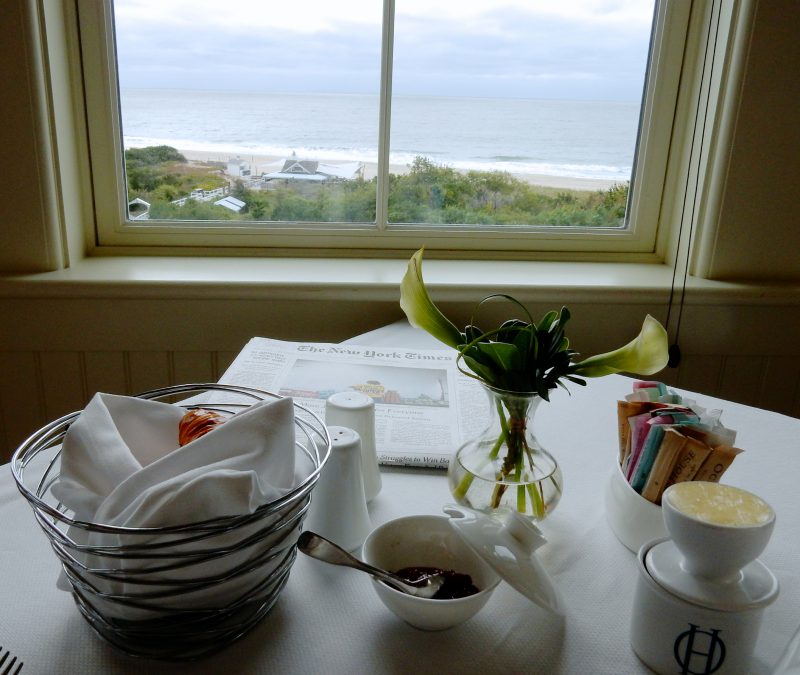 EAT: COAST at the Ocean House
Overlooking all moods of the Atlantic Ocean, COAST is wonderful offseason, especially on blustery days when grey green waves crash on the nearly deserted beach below, and seasonal breakfast dishes incorporate butternut squash, gingerbread, sweet potato, and other delights of the season.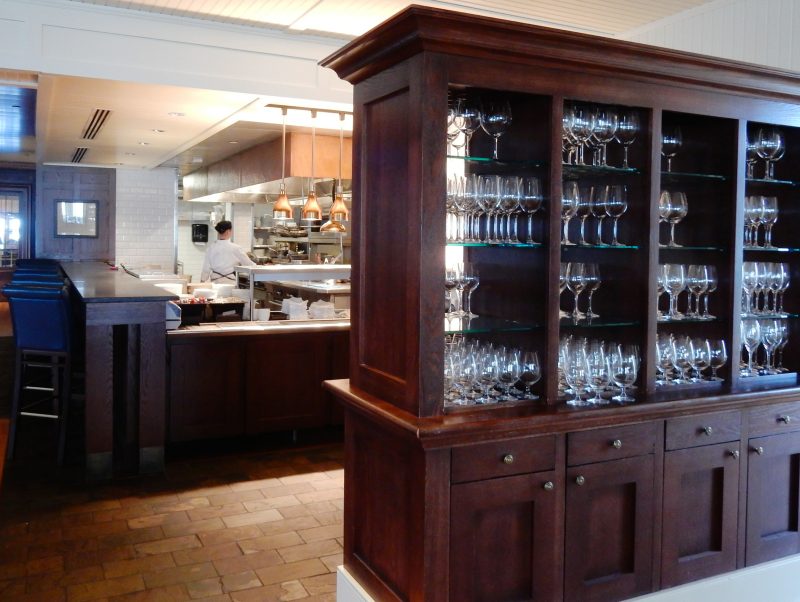 The dinner menu is created daily from ingredients freshly picked by the Ocean House Food Forager. Every day, Backman crafts dishes that are creatively conceived, often witty, and ultimately scrumptious. For foodies who'd prefer to observe cooking action over action on the beach, ask for a seat near the demonstration kitchen,  a "hot spot" for sure.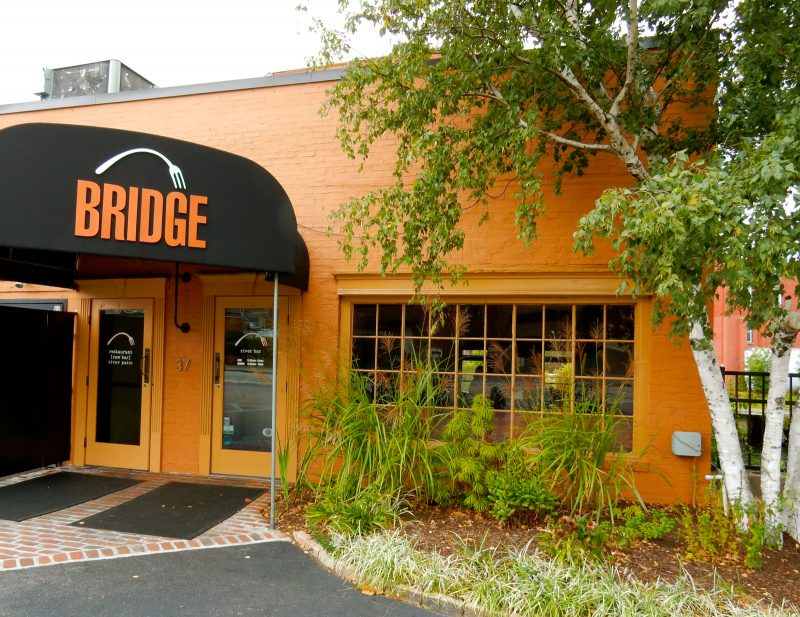 Stride across the pitted wide-plank floor to your brown paper topped table overlooking the river, and settle in for good seafood and vegetarian dishes. It's rare to find an eatery where tofu fans can be just as happy as clam-lovers. If you live with a vegan, everyone will be happy here.
EAT: In Westerly, locals also love
The Malted Barley for craft beer on tap, gourmet pretzels and its "incredible Roast Beef sandwich on a Pretzel Roll."
Where to Stay in Southern RI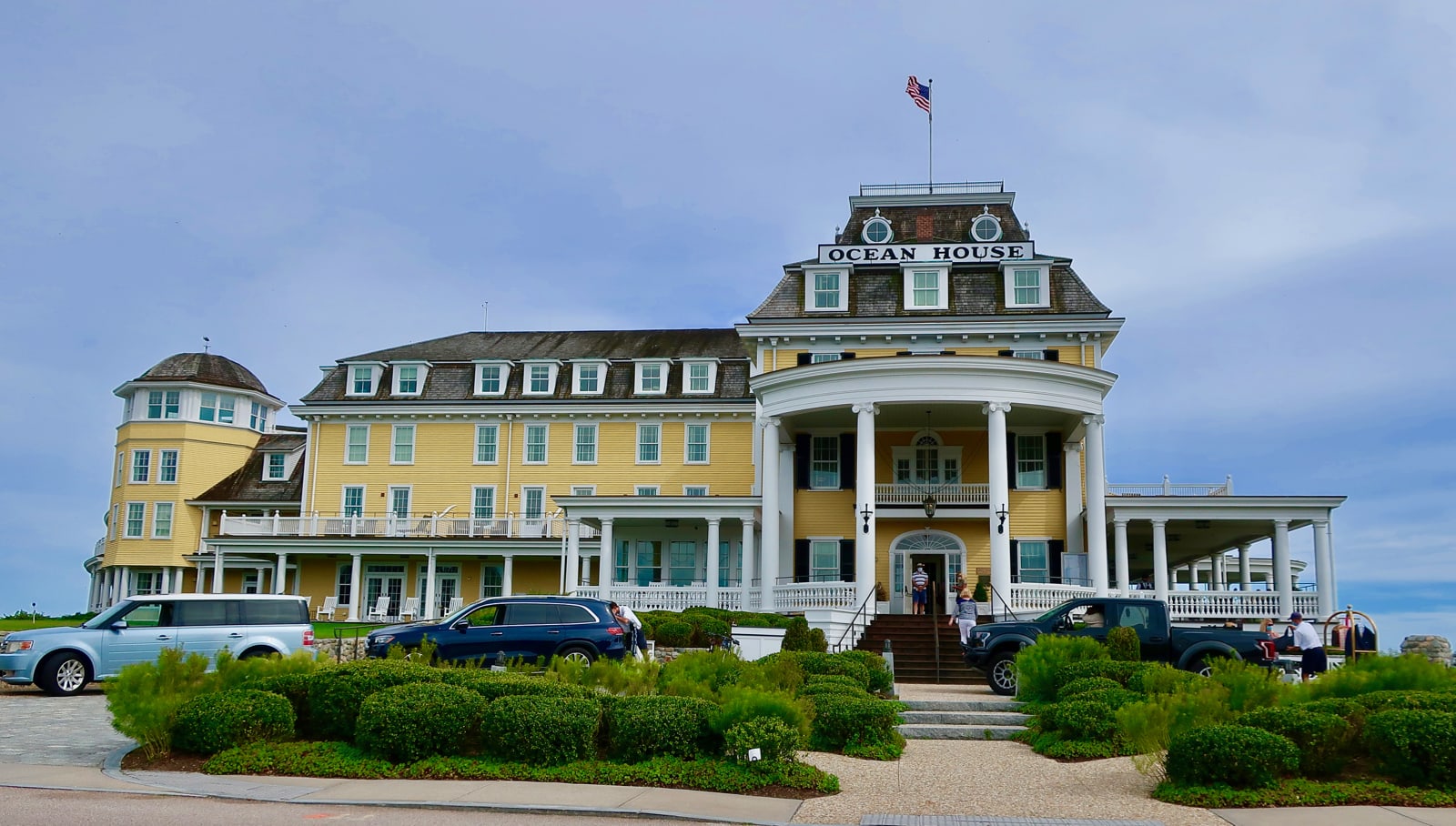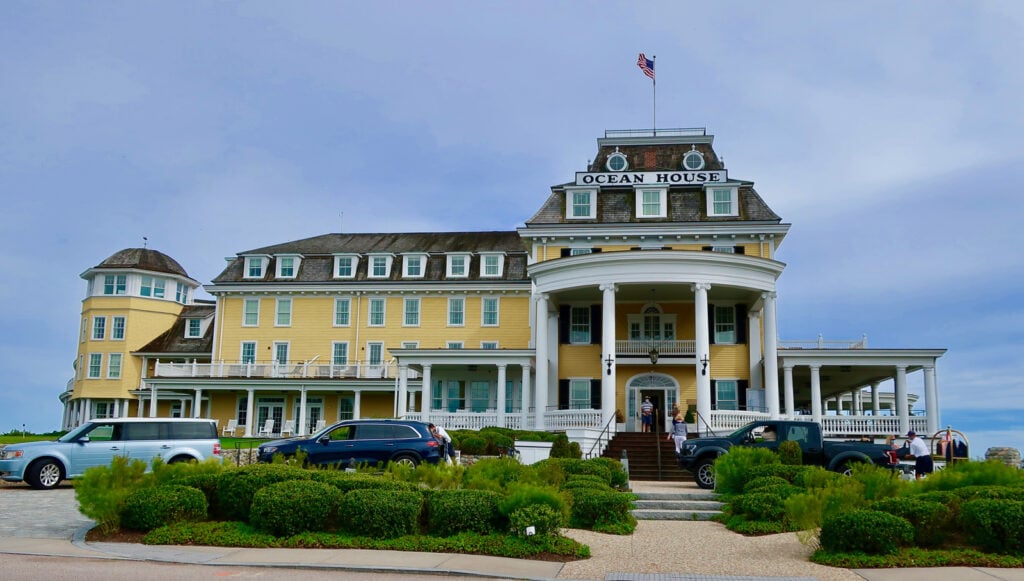 If you want to be spoiled in the best way possible, come to the Ocean House in Watch Hill RI. You'll enjoy as civilized and tranquil a shore stay as you'll find anywhere in the world, with over the top service well worth the pretty penny you'll spend.
Originally built in 1868, by 2003 the 153- room Ocean House had deteriorated to the point where the top two floors were dangerously uninhabitable. Early fans recall small rooms, shared bathrooms, squeaky plumbing, and warped floors. Most claimed it, however, the "most stunning location in the world."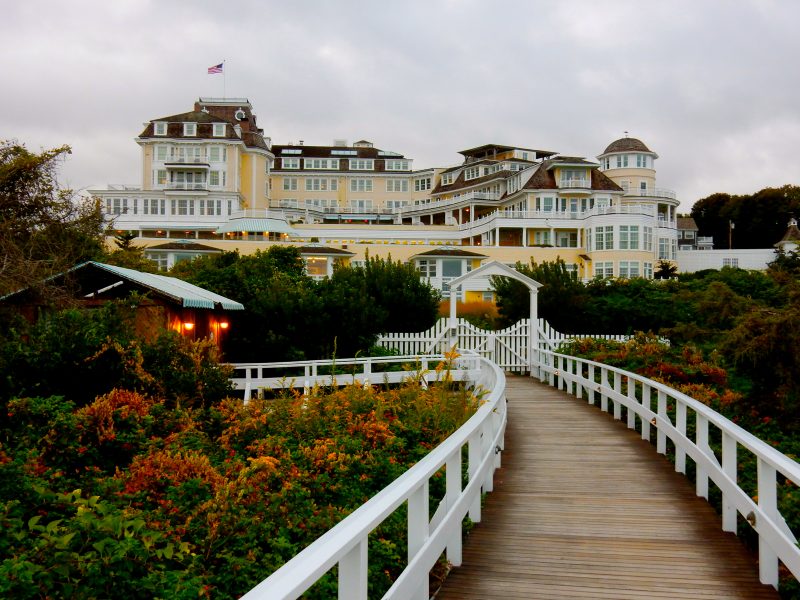 One of those fans was New York Investment Advisor and Watch Hill summer resident, Charles Royce. Royce had the heart and resources (raising $140 million) to reimagine the Ocean House as a 49-room Relais & Chateaux hotel.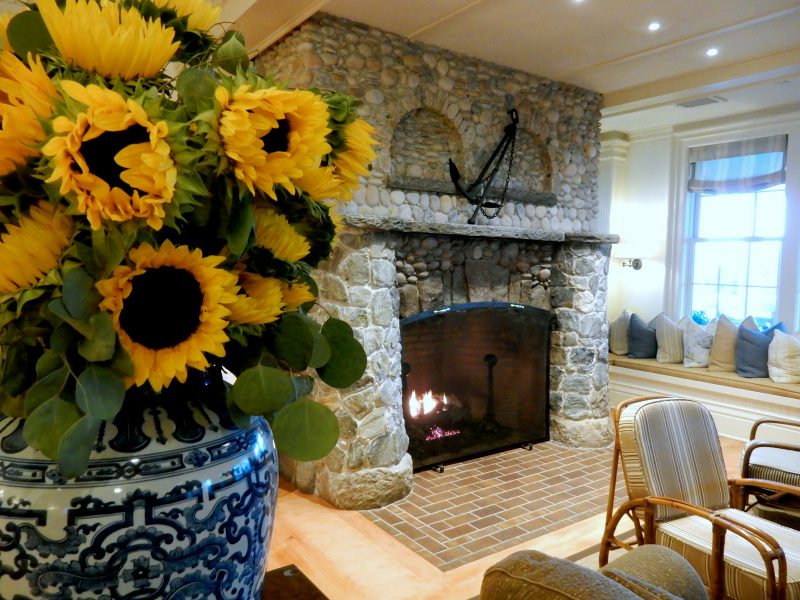 Too expensive to renovate, the structure was disassembled and rebuilt as an exact historic restoration using 5,000 original pieces. Some of these make up the external clapboard, railings, front door, wavy windows, reception desk and stone fireplace in the lobby.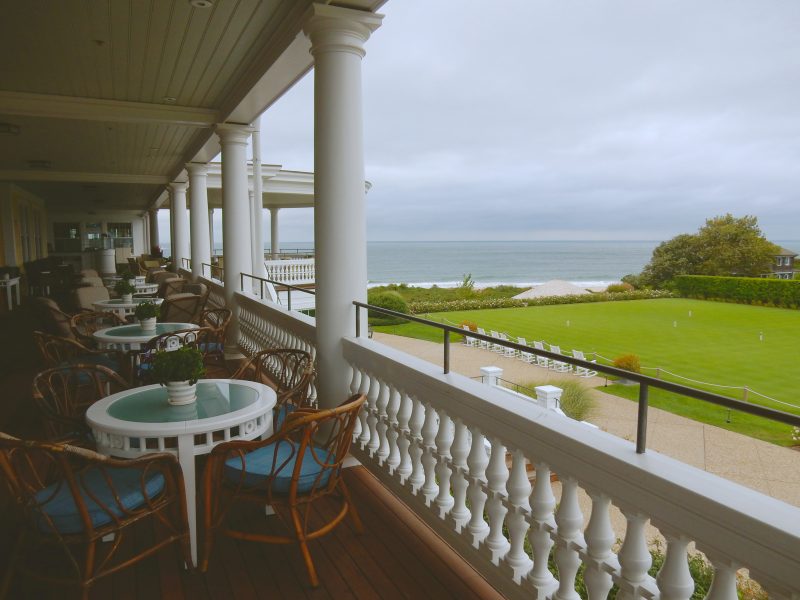 With a focus on exceptional service and warm hospitality, The Ocean House has been winning over the community and past guests since it reopened in May 2010.
Rooms at Ocean House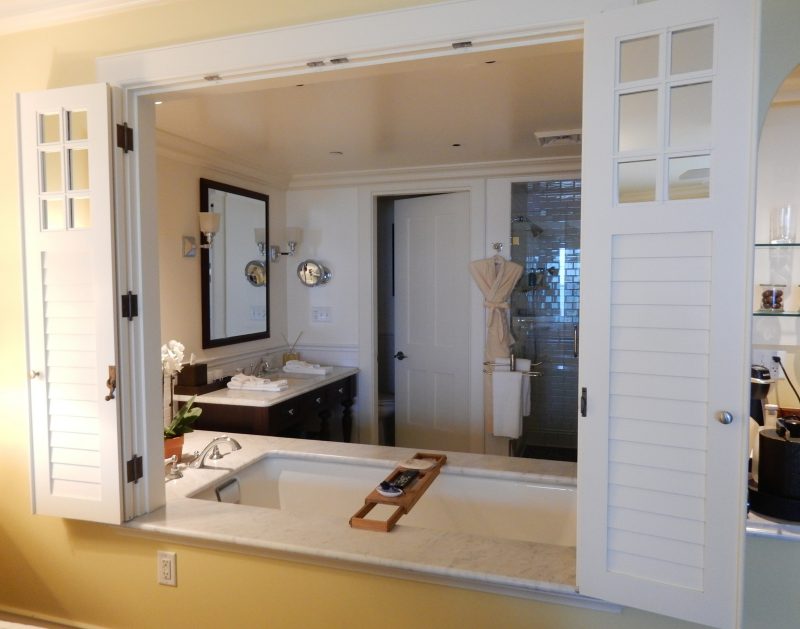 Colors and appointments mesh harmoniously with sand and sea. Rooms were designed to feel like a friend's summer shore home.
Observe your beloved relaxing in a deep soaking tub through clever cut-through shutter windows that open onto the bedroom. Shower floors are made of round beach stones, which provide an inadvertent reflexology massage. Though pricier, all rooms on the second floor have large terraces caressed by ocean breezes.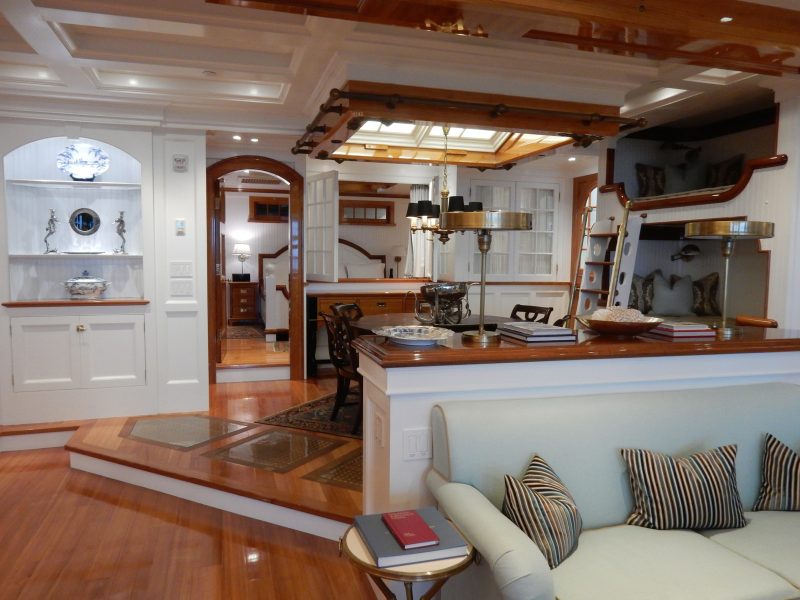 Big Wigs should strongly consider renting the 3 bedroom, 3,500 sq ft Morgan Suite (named for the Charles W. Morgan whaling ship in nearby Mystic CT). Owned by Charles Royce himself, this two-floor home within the hotel is outstanding in luxe-nautical décor and high end furnishings.
The lower level features a walk out patio just steps from the beach. Rates for this suite range from $3,500 per night off-season to $6,500 per night in high season. With three bedrooms, two bunk beds and pull-out couches, it's perfect for a multi-generation getaway.
Dining at Ocean House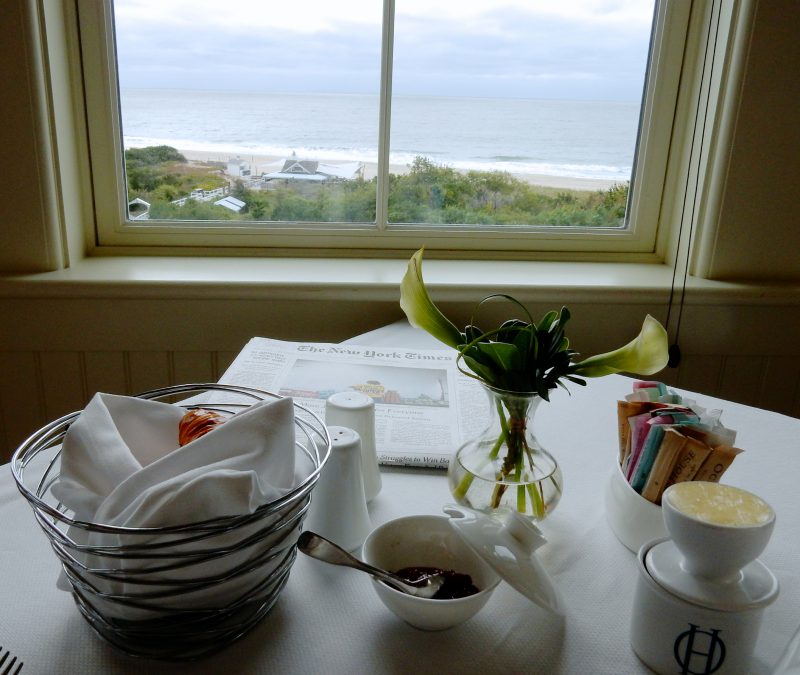 Overlooking all moods of the Atlantic Ocean, COAST is wonderful offseason, especially on blustery days when grey green waves crash on the nearly deserted beach below. Seasonal breakfast dishes incorporate butternut squash, gingerbread, sweet potato, and other comfort food for cool weather.
Every day, chefs crafts dishes that are creatively conceived, often witty, and ultimately scrumptious. For foodies who'd prefer to observe cooking action over action on the beach, ask for a seat near the demonstration kitchen.
Amenities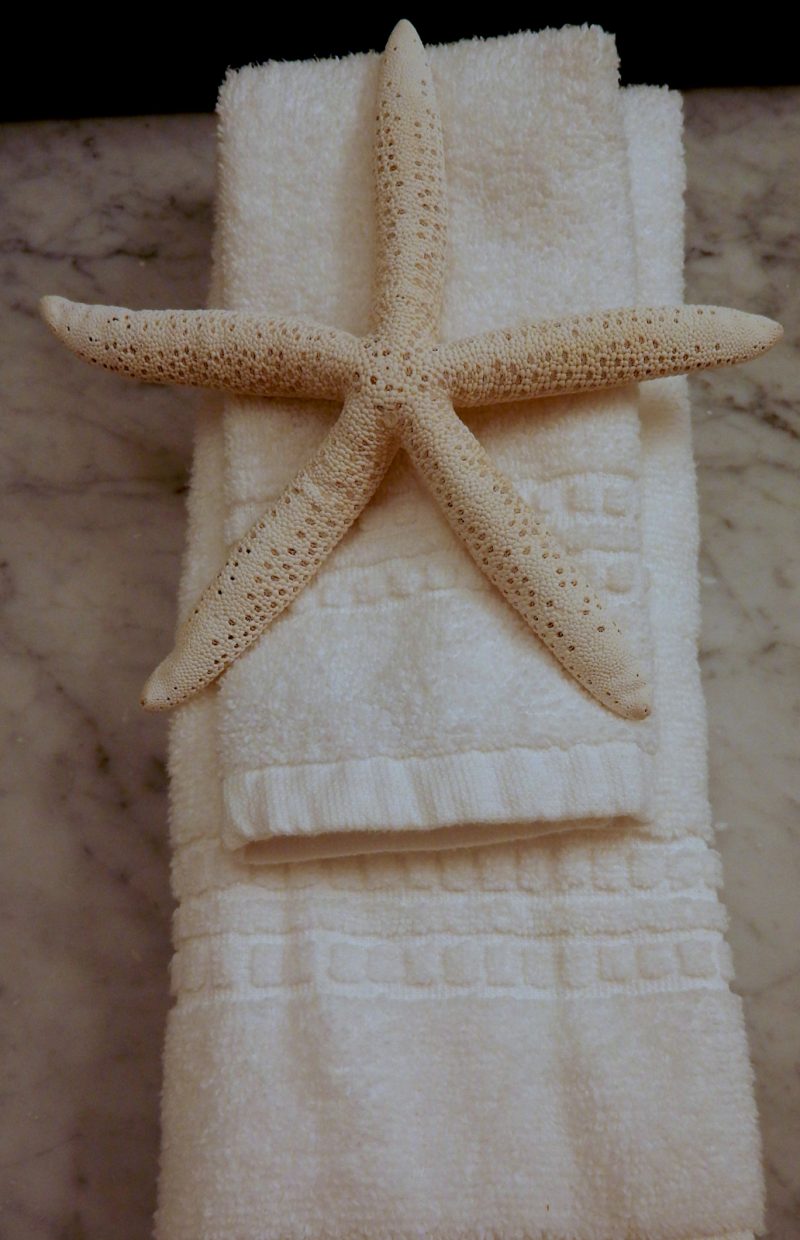 The OH! Spa features eight treatment rooms and is a full-service salon (a huge benefit for on-site weddings). Treatments change seasonally, inspired by both Ocean and Harvest (thus the O&H).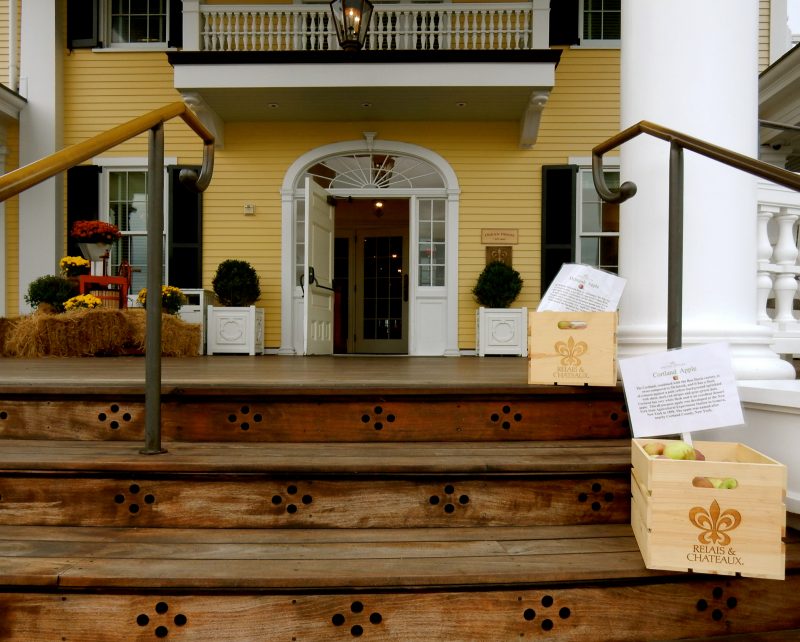 Perhaps the splashiest amenity is complementary use of one of 4 Mercedes Benz cars on property – either from 7am-5pm or from 6pm-midnight. Yes, complimentary, I said: though first-come first served.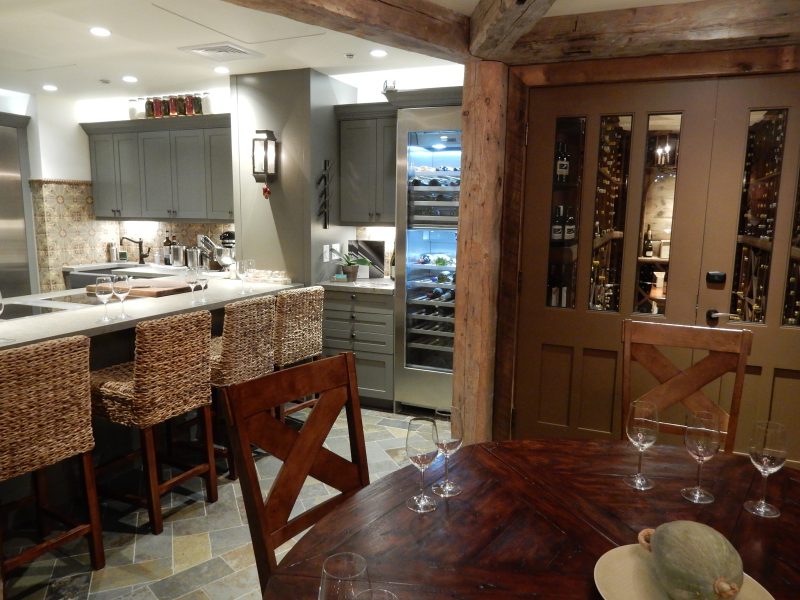 Downstairs the new rustic-chic chef's teaching kitchen space, fashioned with reclaimed Connecticut tobacco barn beams, hosts the Center for Wine and Culinary Arts. The complimentary Wine Tasting class is also very popular.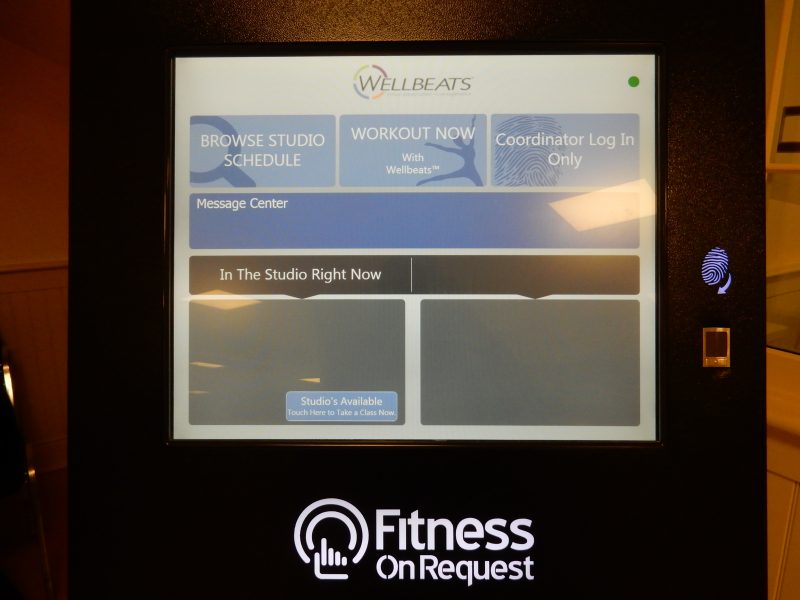 The fitness center is State of the Art. Includes TechnoGym equipment and studio classes on demand through the magic of video.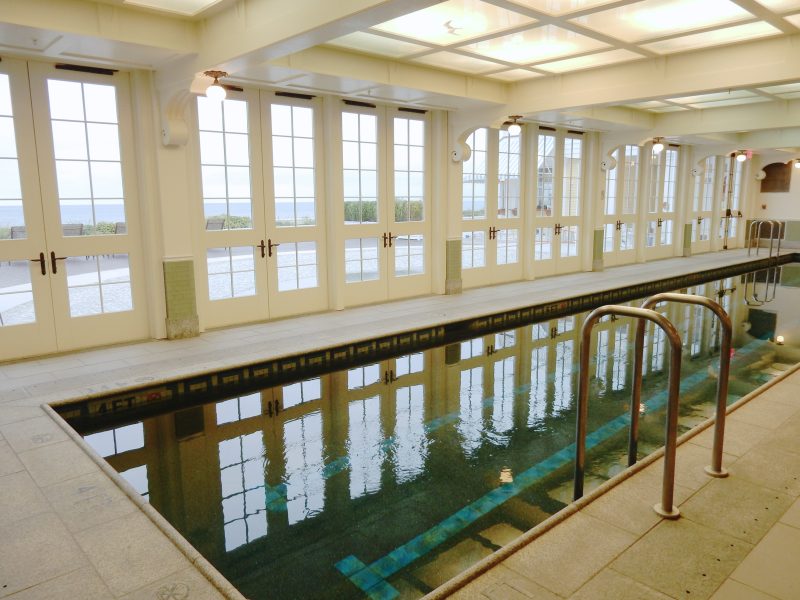 Swim in the indoor Saltwater Lap Pool.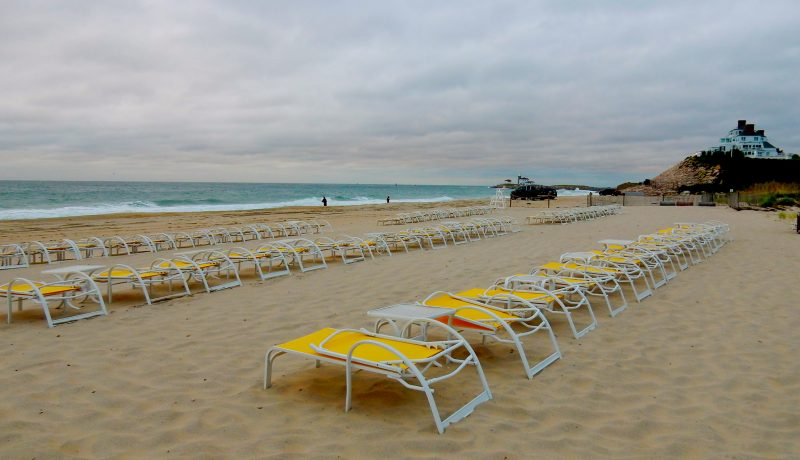 Excellent service continues on the wide, clean "guests only" Atlantic Ocean beach. There's no shortage of chaise lounges, and restaurant service.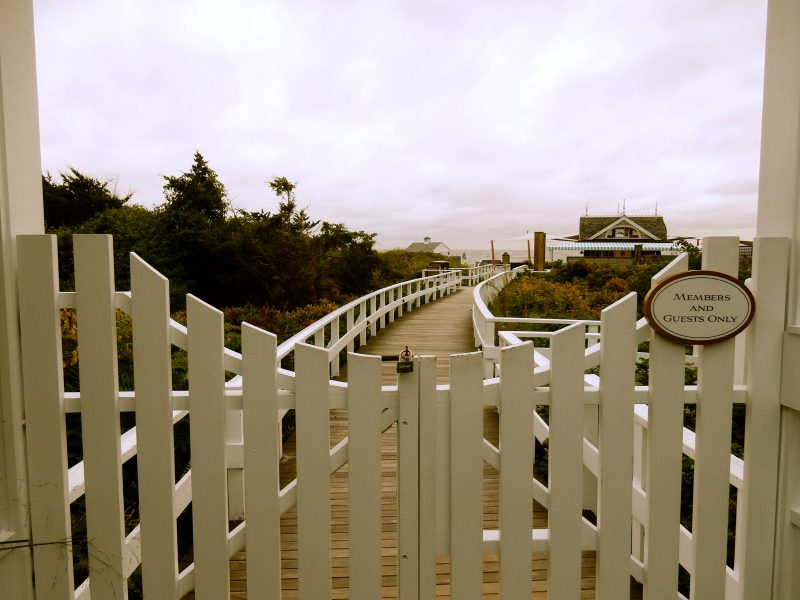 Though there's no outdoor pool here, there is one about 15 minutes away at sister property, the Weekapague Resort, where OH guests can also take advantage of other experiences like ranger-led nature tours. Rooms and suites $425-$2500 per night depends on size of room and season. 
This sister property to the Ocean House is just four miles down the road. The Weekapaug Inn has been a community center and touchstone for generations of families who summer or live on the Rhode Island shore.
For over 60 years, the Weekapaug Inn was a family resort, with no TV's or phones in the rooms. Recently renovated, the enclave retains its classic Cape Cod design with wrap-around porch. Some rooms offer private decks and plunge-pools and lush views of quiet coves framed by cattails and evergreens.
In Fall, crowds thin out. This is one of the most spectacular times to walk on the beach with the Inn's Resident Naturalist. The Inn will also arrange bike tours of the area or a fishing charter from neighboring Watch Hill. Rooms and suites from $420 (plus $38 per person resort fee). Includes wi-fi, stocked pantry, valet parking, resort activities, all tips and welcome amenity.