WHY GO: In the 1870's the railroad brought prosperity to Boyertown PA. So it's kismet that a revitalized Tourist Railroad is doing the same. Pair this railroad lovers getaway with an artsy things to do in nearby Reading PA for a delightful stay in Southern Pennsylvania.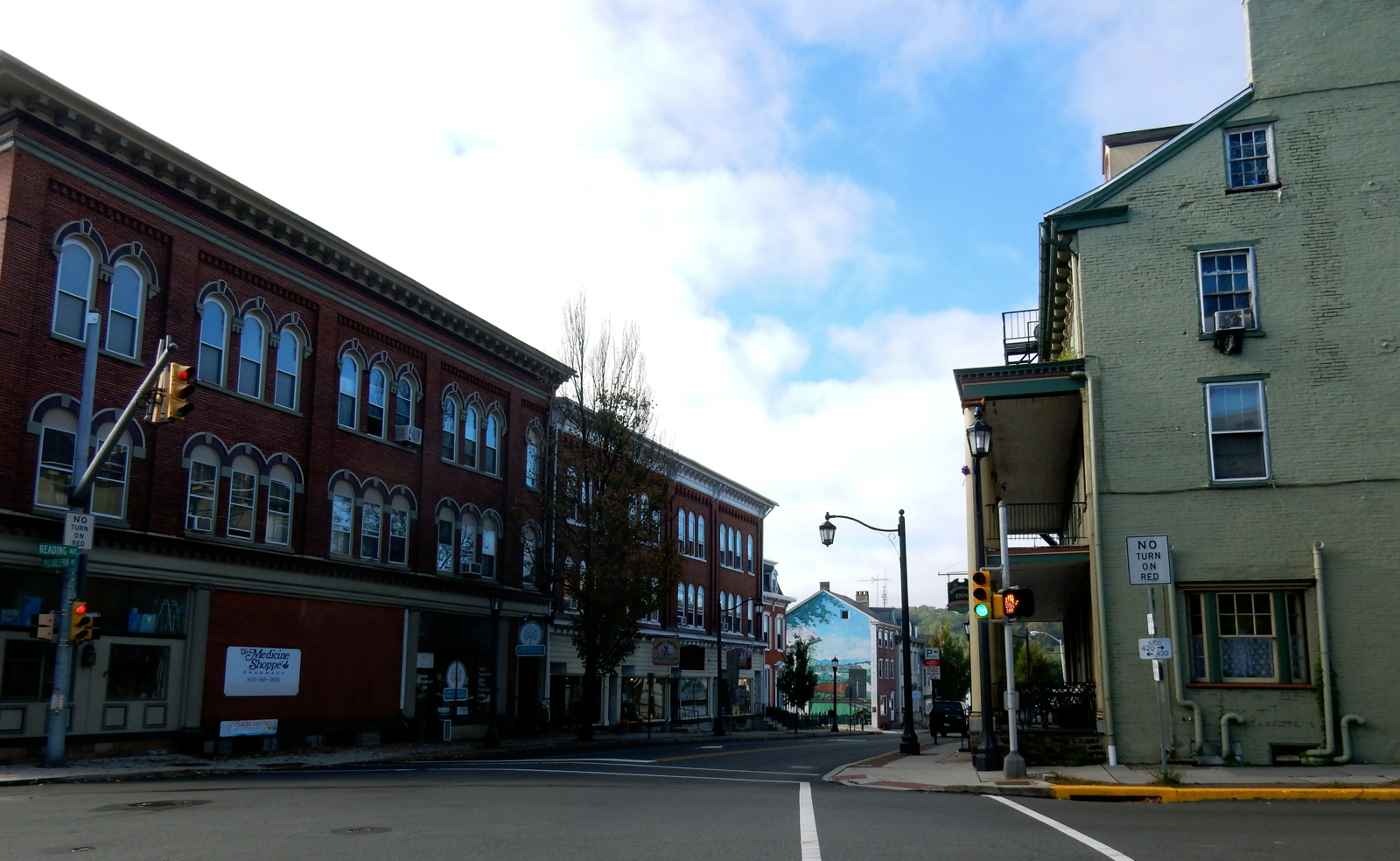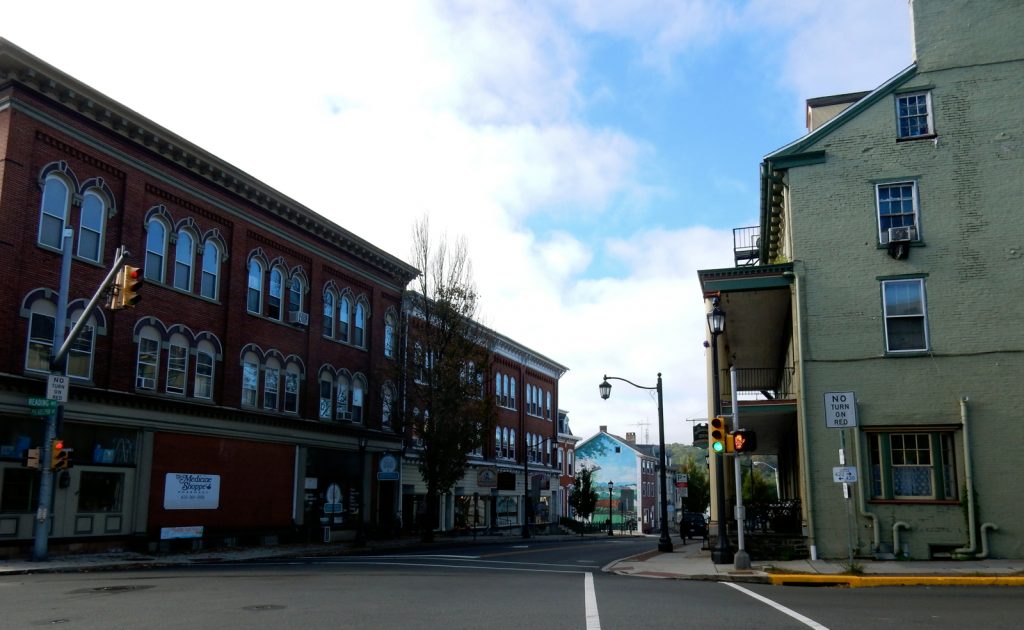 Things To Do In Boyertown PA
The town's largest employer, Boyertown Burial Casket Company, opened in 1893. This coffin maker was the second largest in the world in the 1960's and 70's. BBCC employed over 1,000 workers, and produced over 60,000 caskets per year.  When the company closed in 1988, Boyertown naturally fell into decline.
But that was not the first tragedy this community-minded town endured.
In 1908, the horrific Rhoads Opera House fire claimed the lives of 170 theatergoers and one firefighter who perished in an accident rushing to the scene. The fire was the area's most devastating disaster before or since.
But Boyertown has resilience in spades. In 2002, town visionaries began to brainstorm ways to bring Boyertown back, through Building A Better Boyertown.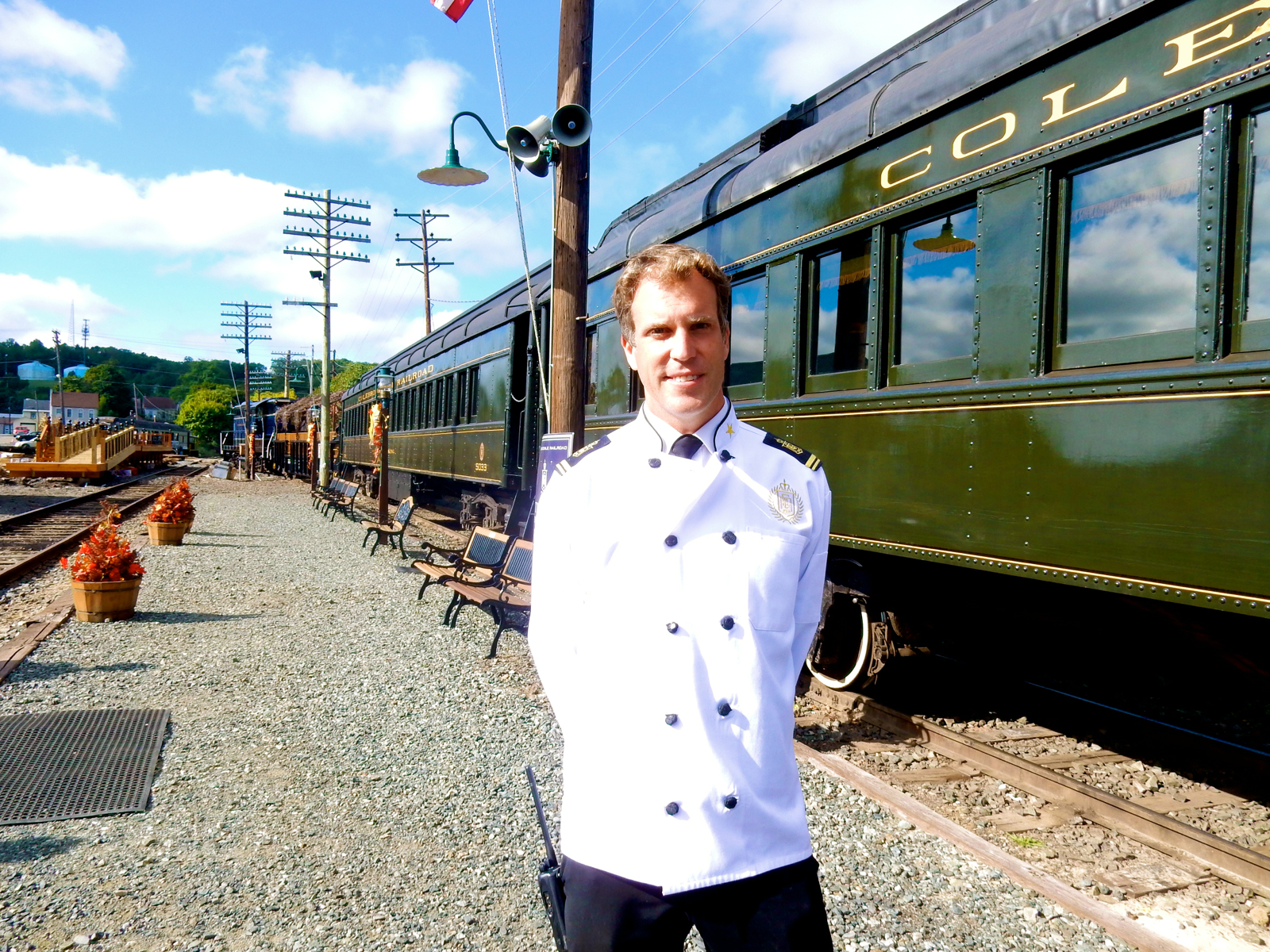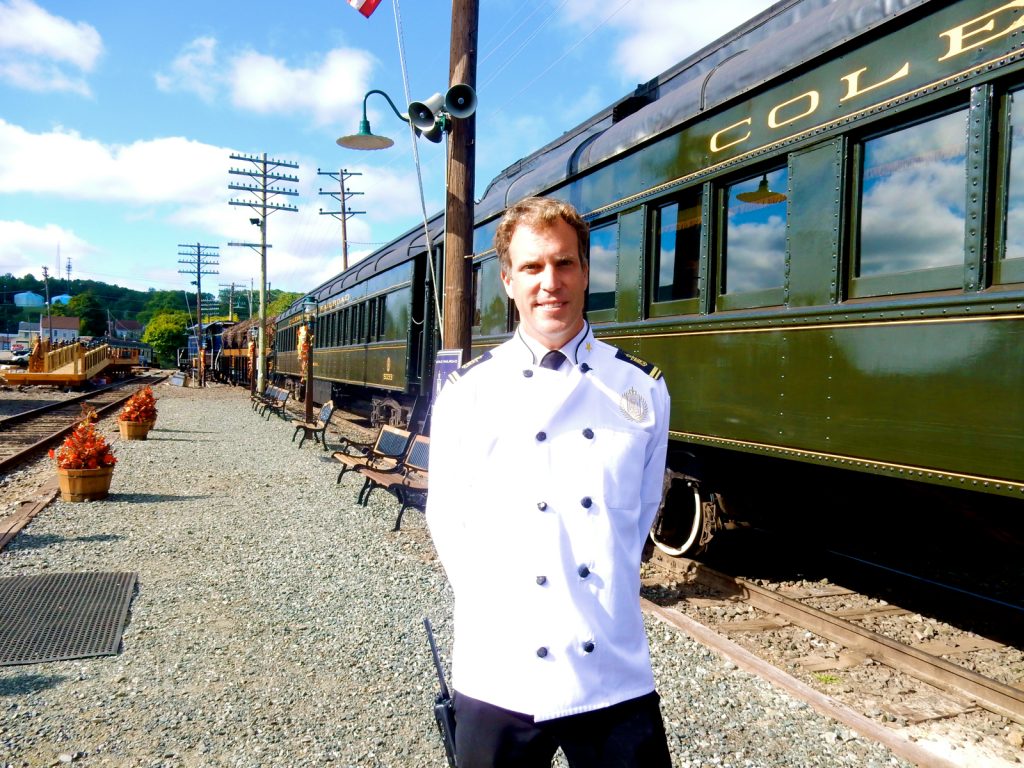 Spearheaded by Lawyer and Historic Preservationist, Nathaniel Guest, this tourist train, inaugurated in 2014, has been attracting thousands of visitors to Boyertown from all over the world. The original rail-bed, built by returning Civil War soldiers, opened in 1869, bringing local manufactured goods to newly developing towns and cities.
When these industries dried up, the rail line was all but abandoned. Guest raised funds to resuscitate the railroad. He has since turned it into one of the most preeminent year round Excursion Trains in the county,
Colebrookdale Railroad ride from Boyertown to Pottstown PA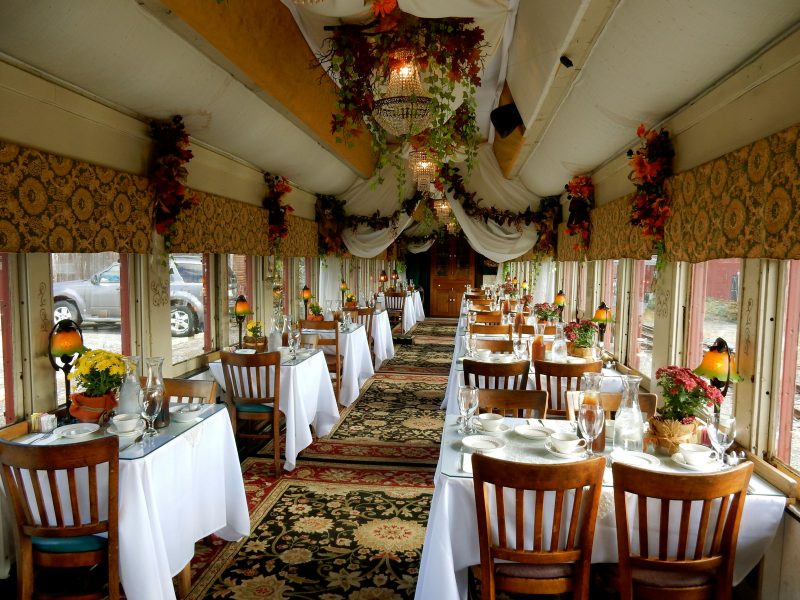 Dedicated as one of the country's "Preserve America Stewards" by first lady Michelle Obama less than a year after it was unveiled, the 1 ¾ hour, eight mile Colebrookdale Railroad ride from Boyertown to Pottstown, with its deep cuts and tight curves, crossing tall timber trestles and rushing creeks, is one of the most stunning you'll ever experience.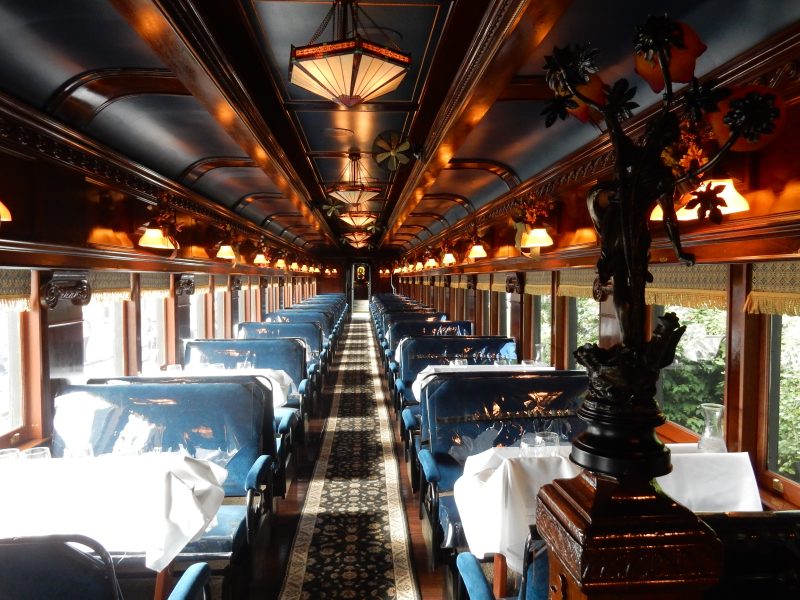 Holiday themed runs and foliage excursions are most popular. But special event trains, like Cupcake-Tasting, Mother's Day, and Brewery-to-Brewery Tours are gaining ground.
Riders in love might want to book a Valentines Day trip. "We had weddings on the train," says Guest, who also agrees it's a great place to pop the question. "This is the only excursion railroad with an open 360 degree-view railcar that's free for all to use. With guaranteed seats inside."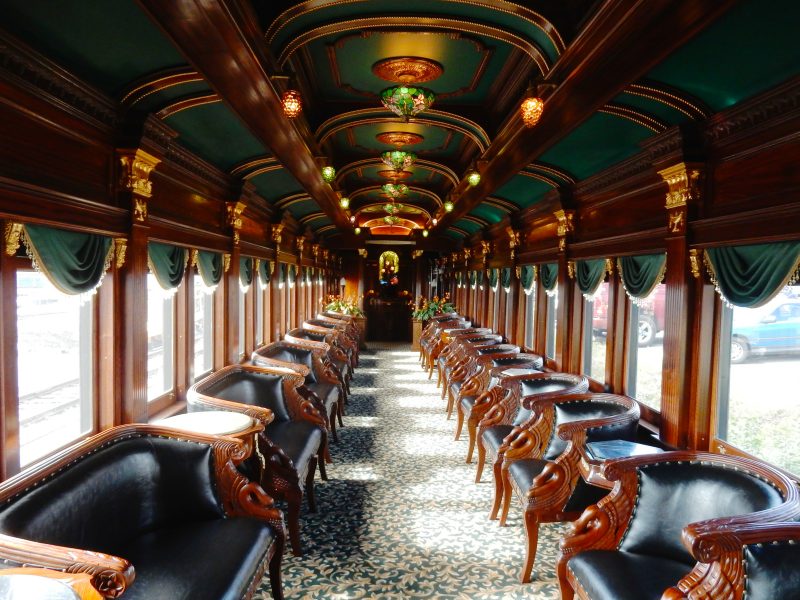 And oh, what seats they are. Pullman cars from the 1800's have been meticulously and lushly restored, down to plush leather seating, Maxfield Parish stained glass windows, Tiffany-style lights, drapes, mosaic tile floors, and other Victorian adornments.
Oak columns in the upscale Bar Car came from a theater in Rochester. Other train car appointments were either replicated or sourced to represent the period.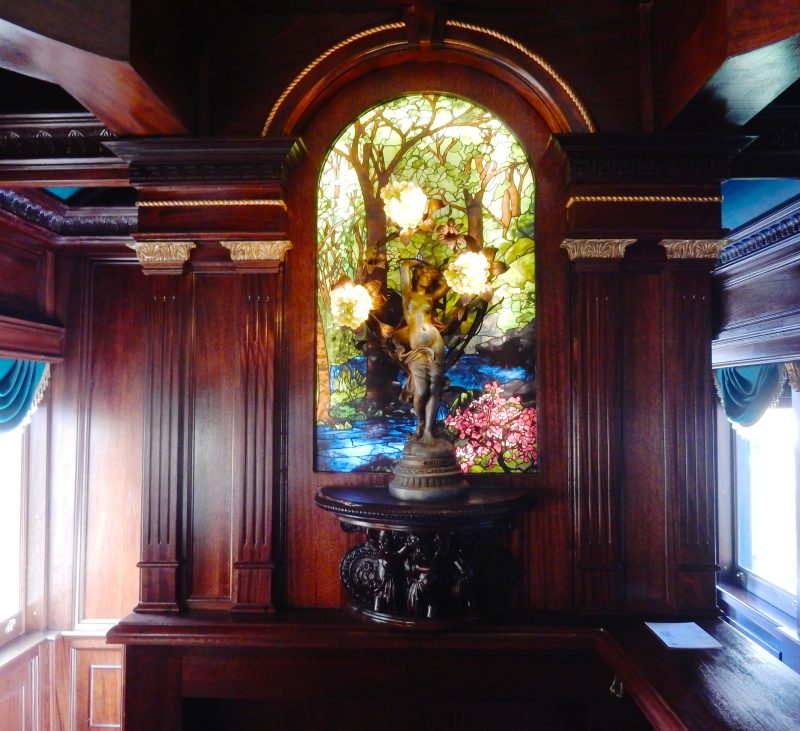 But Guest even saw to the new Train Station and its surroundings. He sourced fencing from the Smithsonian National Museum of Industry in Bethlehem PA and scored a Beaux Arts fountain from Detroit. And, talk about repurposing! Over 110,000 handmade bricks, discovered under asphalt in Pitcairn PA, were used to pave the walkway.
Reinvesting in Heritage
Guest, who teaches Historic Preservation at Cornell University one day a week, grew up in this area. He believed in capitalizing on what made this town unique. "Reinvesting in heritage is a wonderful way to bring people, money and investment to the area."
As a result, many businesses have opened here since Colebrookdale RR began running trips. Excursions run year round. Check website for schedule and RSVP portal. Tickets start at $36 adults, $50 with meal, Polar Express $45.
Colebrookdale Railroad is one of the most quirky-romantic places to propose in PA.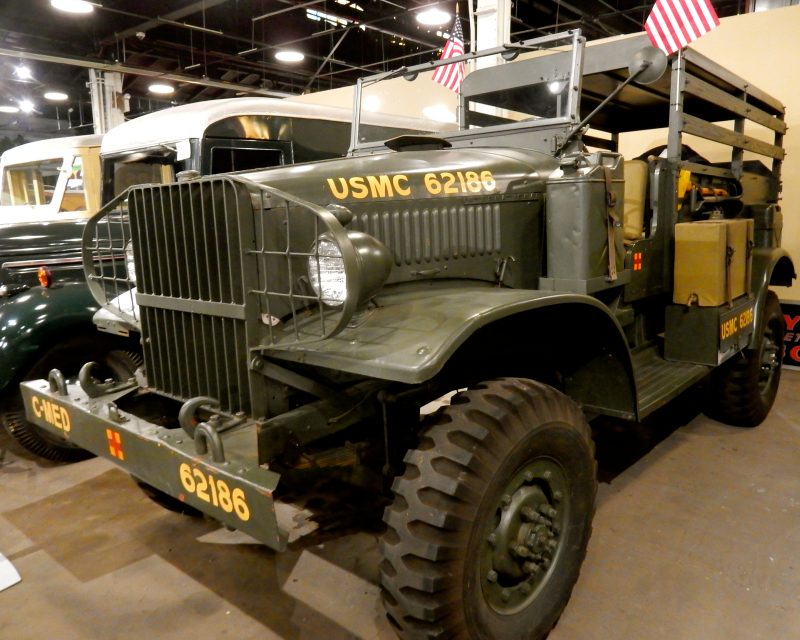 The Boyertown Museum of Historic Vehicles opened in 1965 in a 1872 carriage factory turned custom truck manufacturer. So, you'll find a collection of over 90 historic vehicles made in PA, some produced right on site.
Standouts include a white fiberglass 1952 Henry J, commissioned by a local businessman who loved boats, a 1958 Mr. Softee Truck, assembled right in the building, and a 1942 International Half Ton WWII M-1-4 Ambulance, one of 900 made in Boyertown.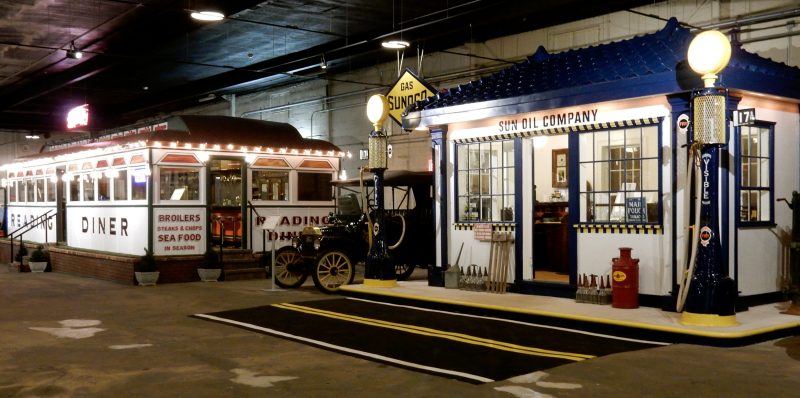 The collection also includes the historic Reading Diner. This Reading icon is a huge draw twice a year on Diner Day when it opens to the public. On those days, food prices reflect those of 1938 (5 cent coffee!). The authentic 1921 Sun Oil gas station also brings back many a memory.
Visit on Saturdays and you can tour the original carriage factory, featuring a period machine shop and three blacksmiths (one woman!) who bang out iron carriage parts – which in the 1800's included the wheels. Open Tues-Sun 9:30-4. $8 adults, under 15 free.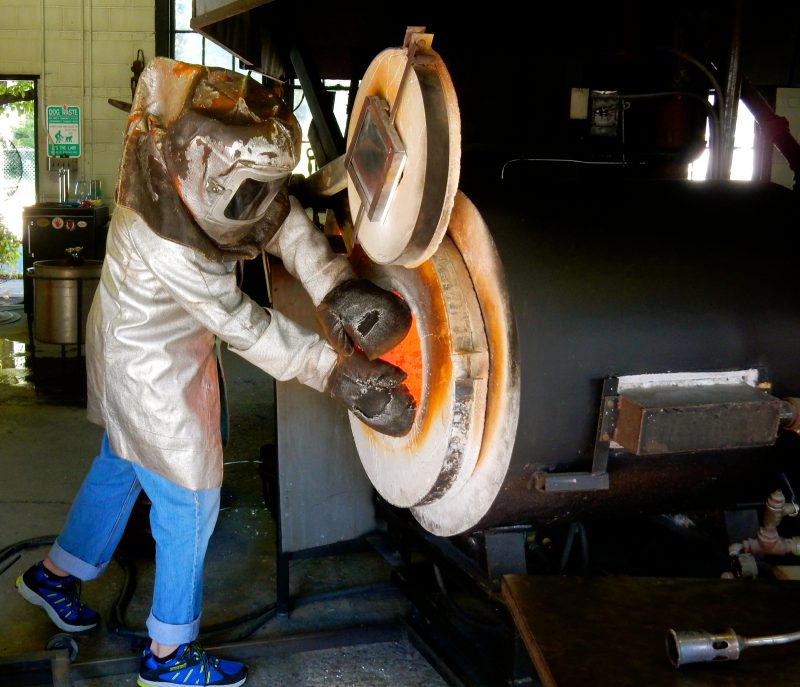 Owned and run by RISD Grad and Tyler School of Art instructor, Will Dexter, this working non-profit glassblowing studio also acts as an ersatz "Grad School" for aspiring glass artists.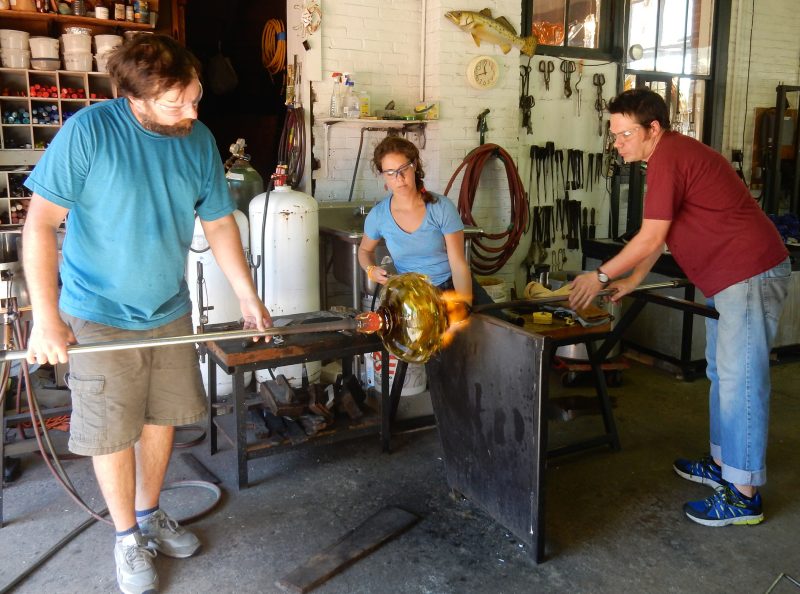 Dexter's custom lighting and designs can be found in theaters, homes, museums, and galleries all over the country (most famously in the Smithsonian, the Philadelphia Museum of Art, Corning Glass Museum, and The Colby – formerly Kodak – Theater where the Academy Awards are held). But in his own studio he is both a coach and creator.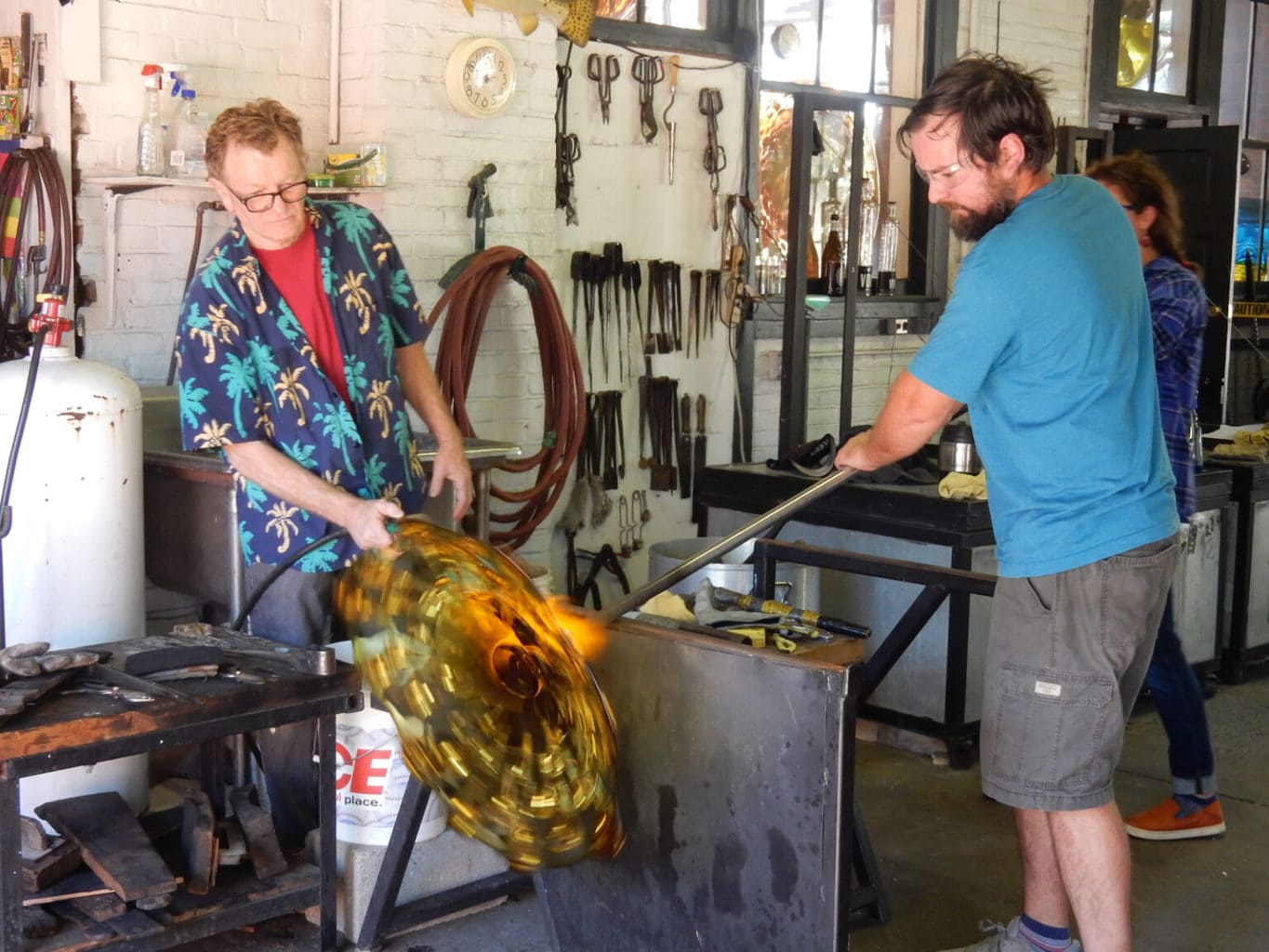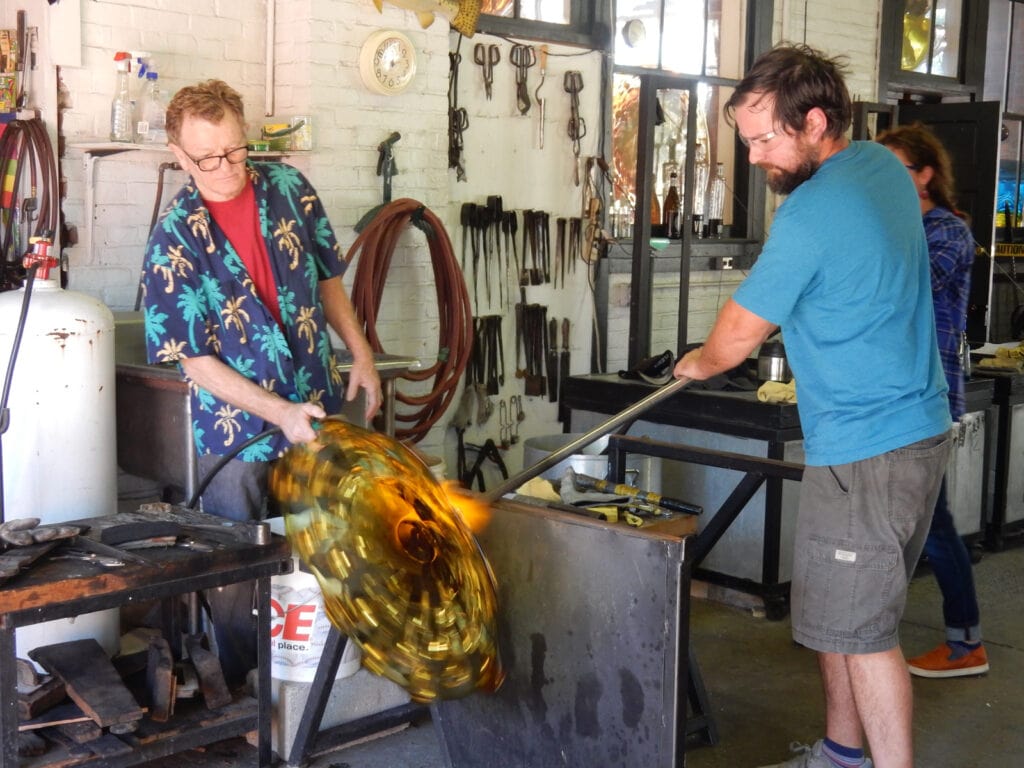 Come here, and you might get a behind the scenes tour. Dexter invites visitors to feel the heat of several 2,150 degree Fahrenheit ovens. These beauts have been running over two years nonstop! Watch fantastic pieces being formed by his employees, Dan Alters, Tim Frankenfield and Maggie Gallen, in real time.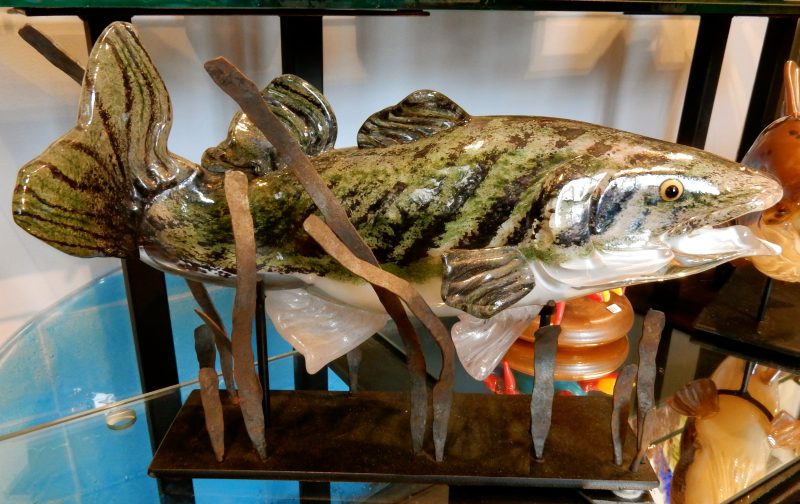 Stop in to peruse the gallery, or sign up for a workshop and walk away with your own glass creation. Open M-F 9-5, Sat. 11-5.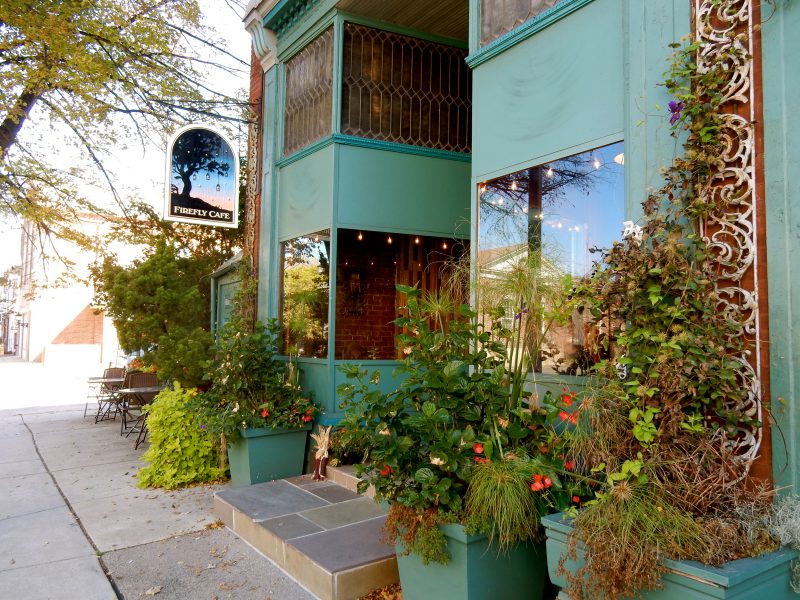 Restaurants in Boyertown PA
Even omnivores can dine contentedly at this cute Vegan restaurant. The Vegan Pulled Pork Sandwich ($12) made with Jackfruit, is strangely like the real deal. But you'll also find Vegan Mac and "Cheese" of the day, Vegie Burgers, and many other non-meat choices on the menu.
EAT: Locals Recommend
Grind for upscale comfort food and cocktails. Brakeman's Cafe for coffee, sandwiches, and brunch. And The Other Farm Brewing Company for fresh-brewed beer and pizza.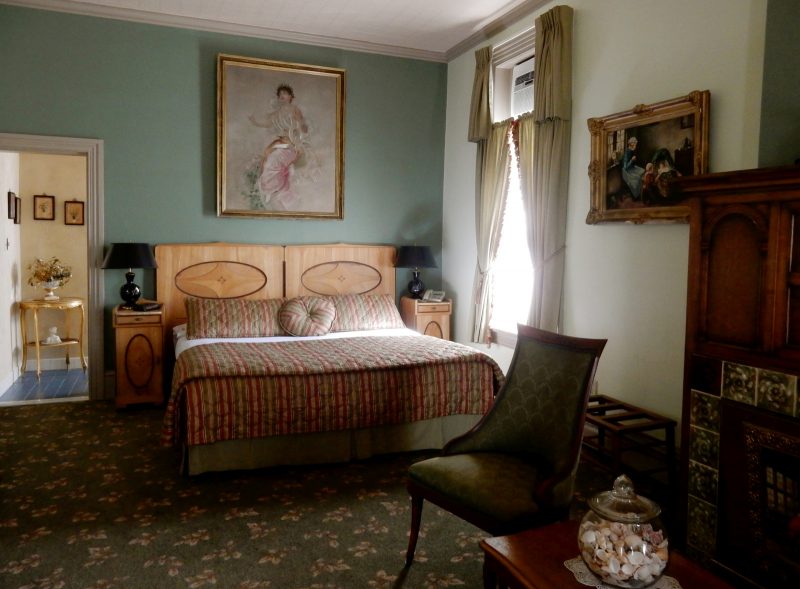 Hotels In Boyertown PA
STAY: Twin Turrets Inn, Boyertown. Owned by Mayor, Marianne Deery, this ten room downtown Victorian Inn is as homey and comfy as it gets. Plus, of course, with a bit of turn of last century grandeur. Rates $124-$154 include breakfast.