WHY GO: Nicknamed "The Electric City," Scranton PA, in Northeastern Pennsylvania, was the first city in the country with an electric trolley system in 1886. Ironically, electricity didn't put Scranton on the map, though. Anthracite coal and a major railroad center did.
Scranton, in fact, once fueled the country. The resulting wealth attracted world-renowned architects like Raymond Hood (NY's Rockefeller Center), who designed the still-standing Masonic Temple.
But these days, Scranton is best known as setting for the fictional Dunder Mifflin on the former hit TV show, The Office. Though it didn't film here, exterior shots and many Scranton references (including those on this Straight Outa Scranton Office Rap video) are scattered throughout the series 2005-2013 run.
Scranton PA: More than Steam Trains and Coal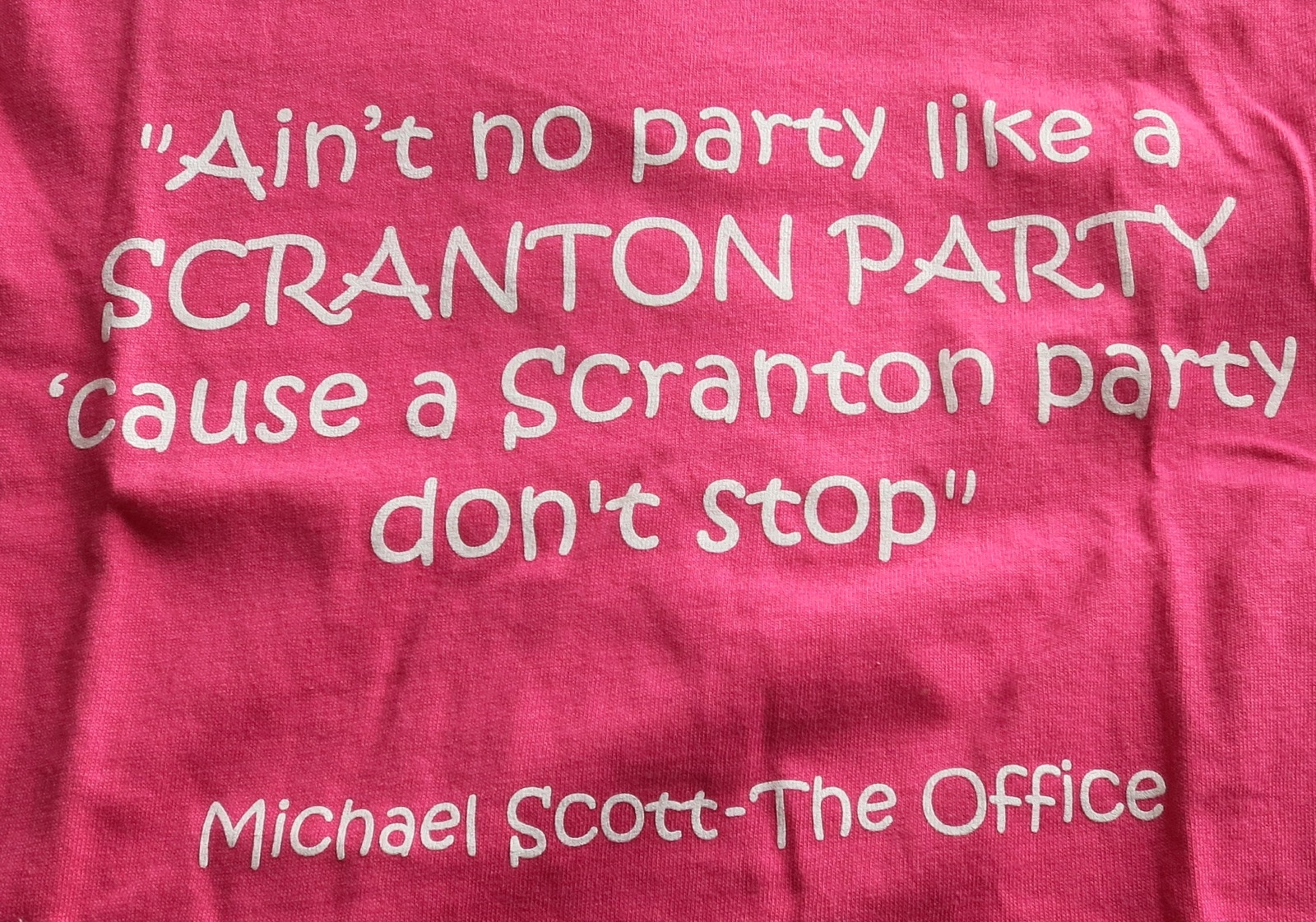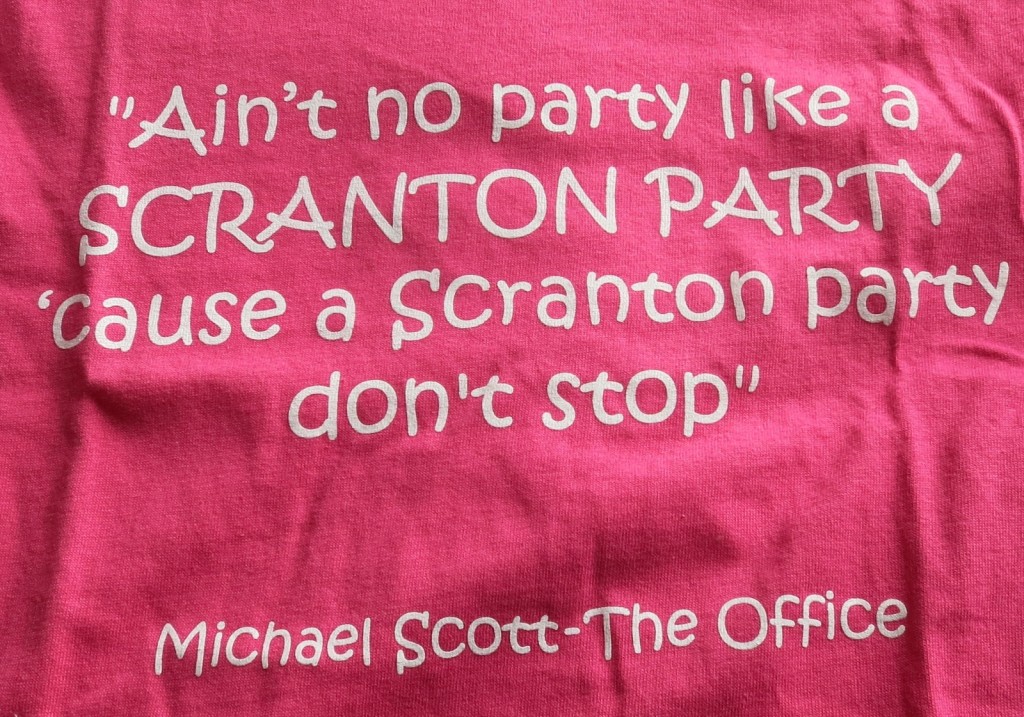 Scranton PA is not shellacked up for "resort" tourism.
So what about this working class city makes it so appealing as a getaway? Major attractions, like Steamtown NHS and the Lackawanna Coal Mine Tour bring in tourists for sure. But Scranton has a very friendly, pitch-in, can do vibe.
It's where world-famous magicians can hide in plain sight, where pockets of town are sprouting hipster-meets-hippy spots, and where you can stay in what once was a grand train station. The treasures of Scranton are no longer a secret. Just keep reading.
Best Things to Do in Scranton PA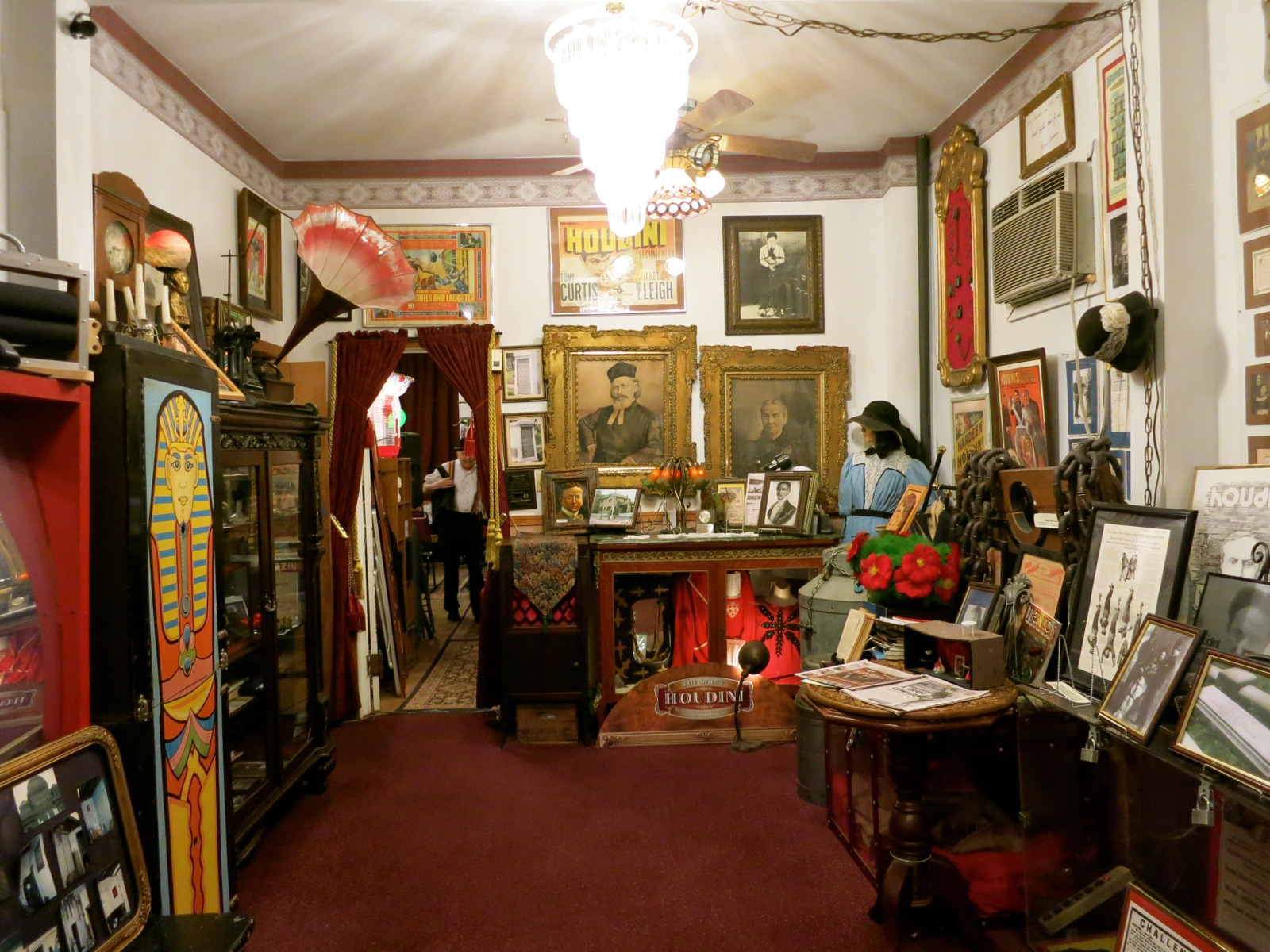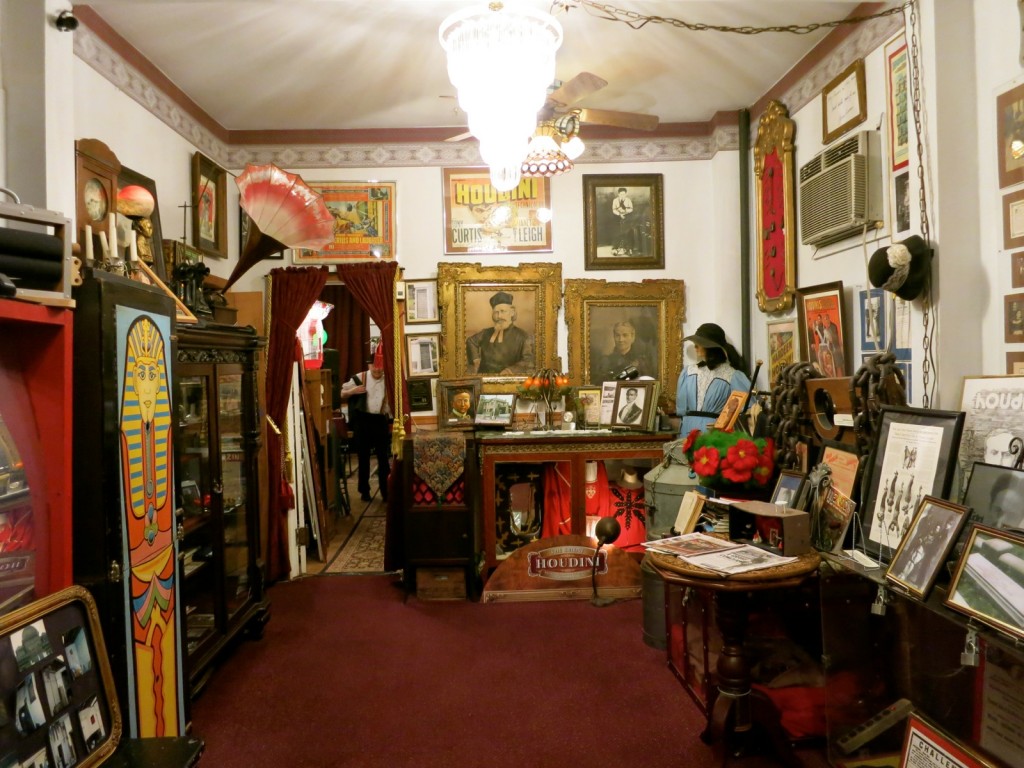 Ladies and gentlemen, be prepared to be amazed. You think you're coming to a museum devoted entirely to Harry Houdini, and a cute little magic show.
Magic Royalty
But you probably didn't know that the Houdini Museum's founders, Dorothy Dietrich and Dick Brookz, are well known in their own right. Incredibly, they are considered "Magic Royalty."
In fact, Dietrich was coined "The Female Houdini," as her escapes are legendary. She's worked with Tony Curtis, Bill Cosby, and David Blaine. She sawed Robert Klein in half on national TV. And she is the only woman to have done the Mouth Bullet Catch stunt, a trick that Houdini himself refused to do.
Dietrich also gained international attention by escaping from a straightjacket hanging upside-down 150 feet off the ground as the rope on which she was suspended was set on fire. (Isla Fisher's character, an "escapologist" in the hit movie, Now You See Me, was based on Dietrich).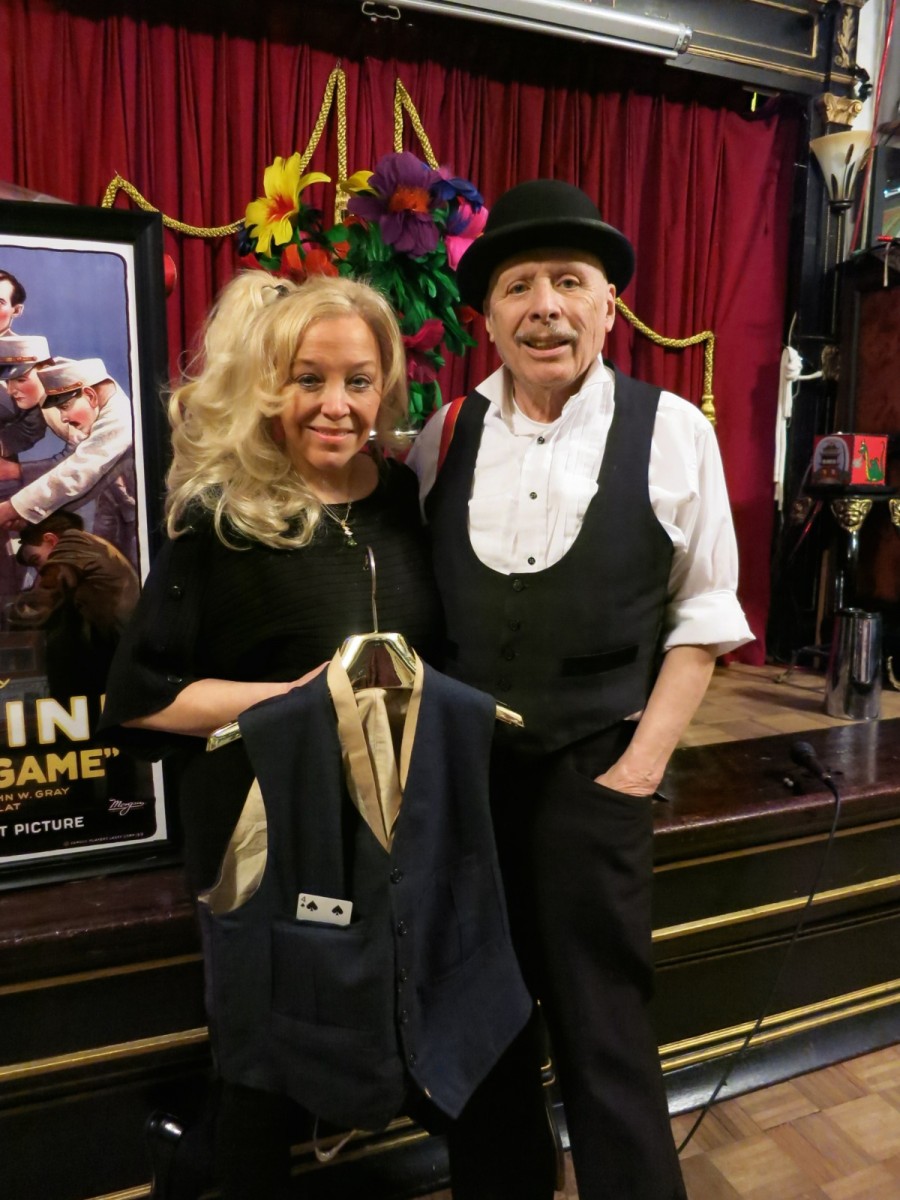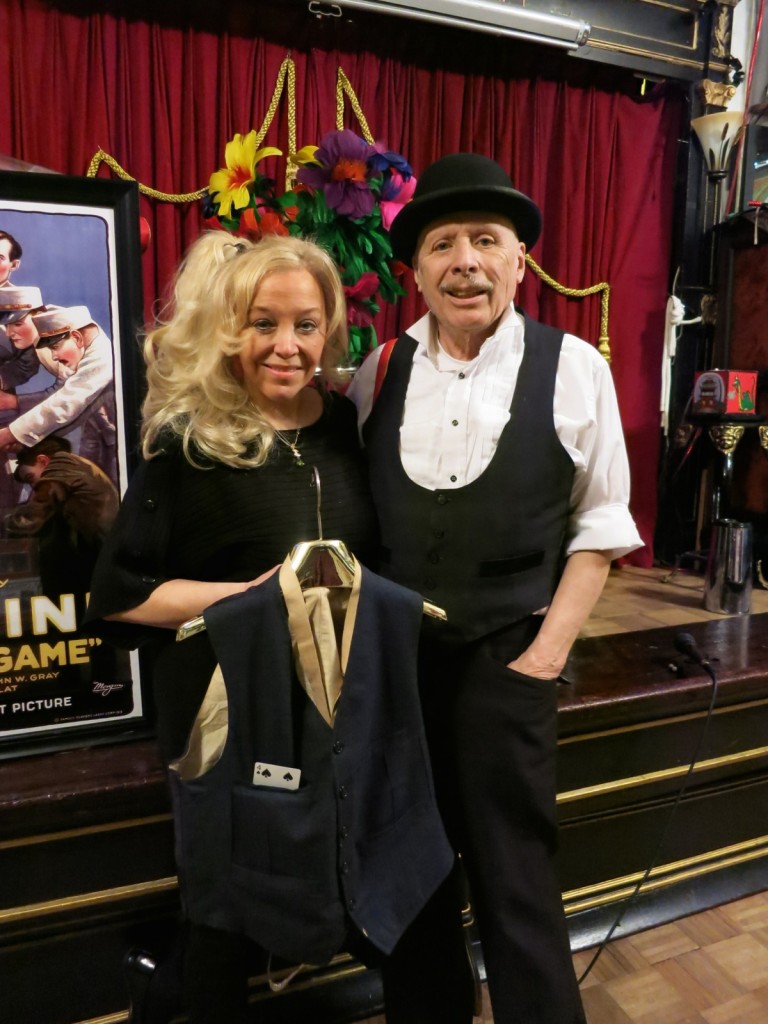 Dietrich and Brookz, "met in an agent's office" in New York, and bonded over their mutual adoration of Houdini.
The Grim Game
They opened this tough-to-find, vaudeville style, quirky paean to the Master Magician himself, with artifacts, posters, letters and now, a newly unearthed Houdini film, The Grim Game.
This 1919 silent movie was believed to have been lost for all time, but was in fact in the hands of Houdini artifact hoarder, Larry Weeks. Weeks released his single copy to The Turner Classic Movie Chanel shortly before he died in October 2014, at age 95.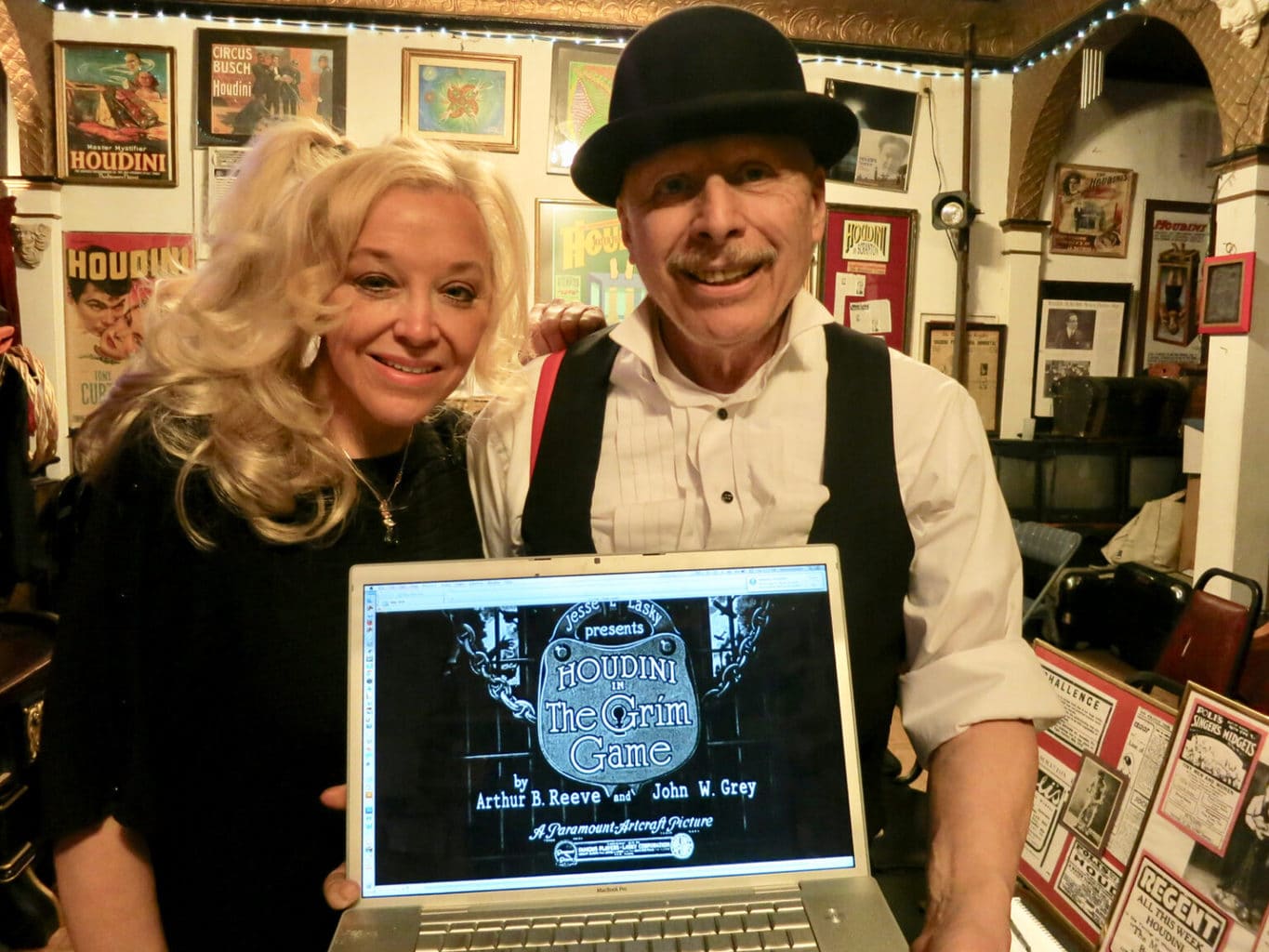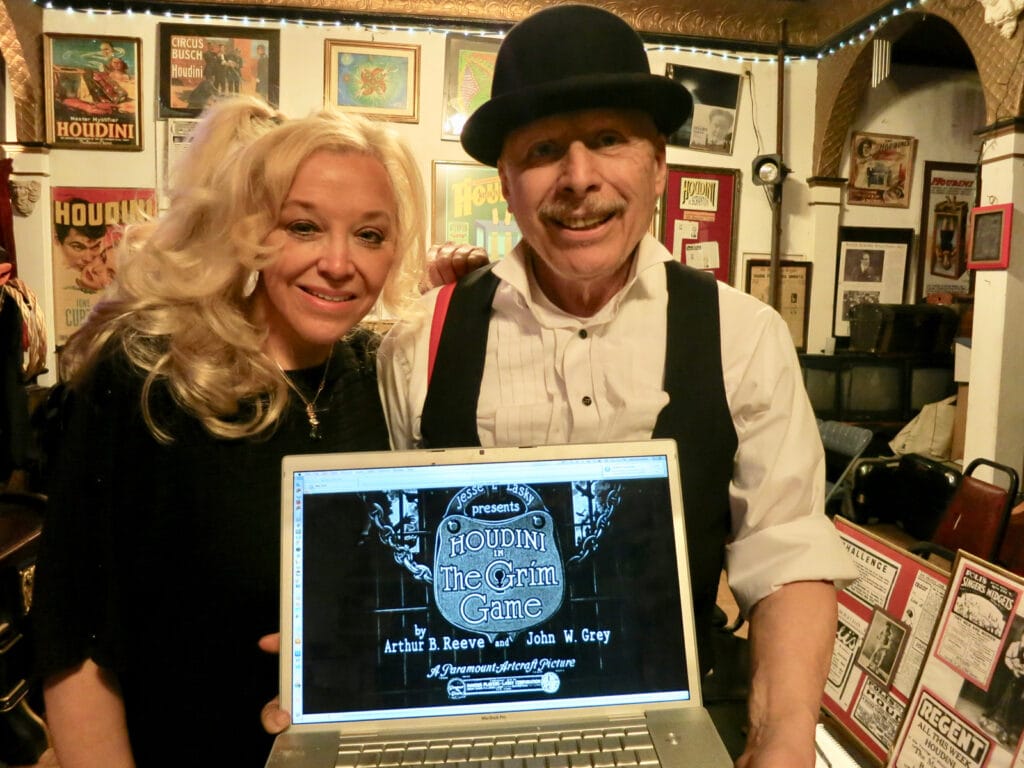 Dietrich and Brookz expound on their vast knowledge of Harry Houdini, born on March 24, 1874 in Budapest, Hungary, as Ehrich Weisz, on a three hour tour/show in this tiny grandma's closet of a place.
Houdini the Spiritualist Debunker
On your tour, you'll hear more about Houdini's background, his celebrity status, escapes, and distain for the mystics and "spiritualists" of the day.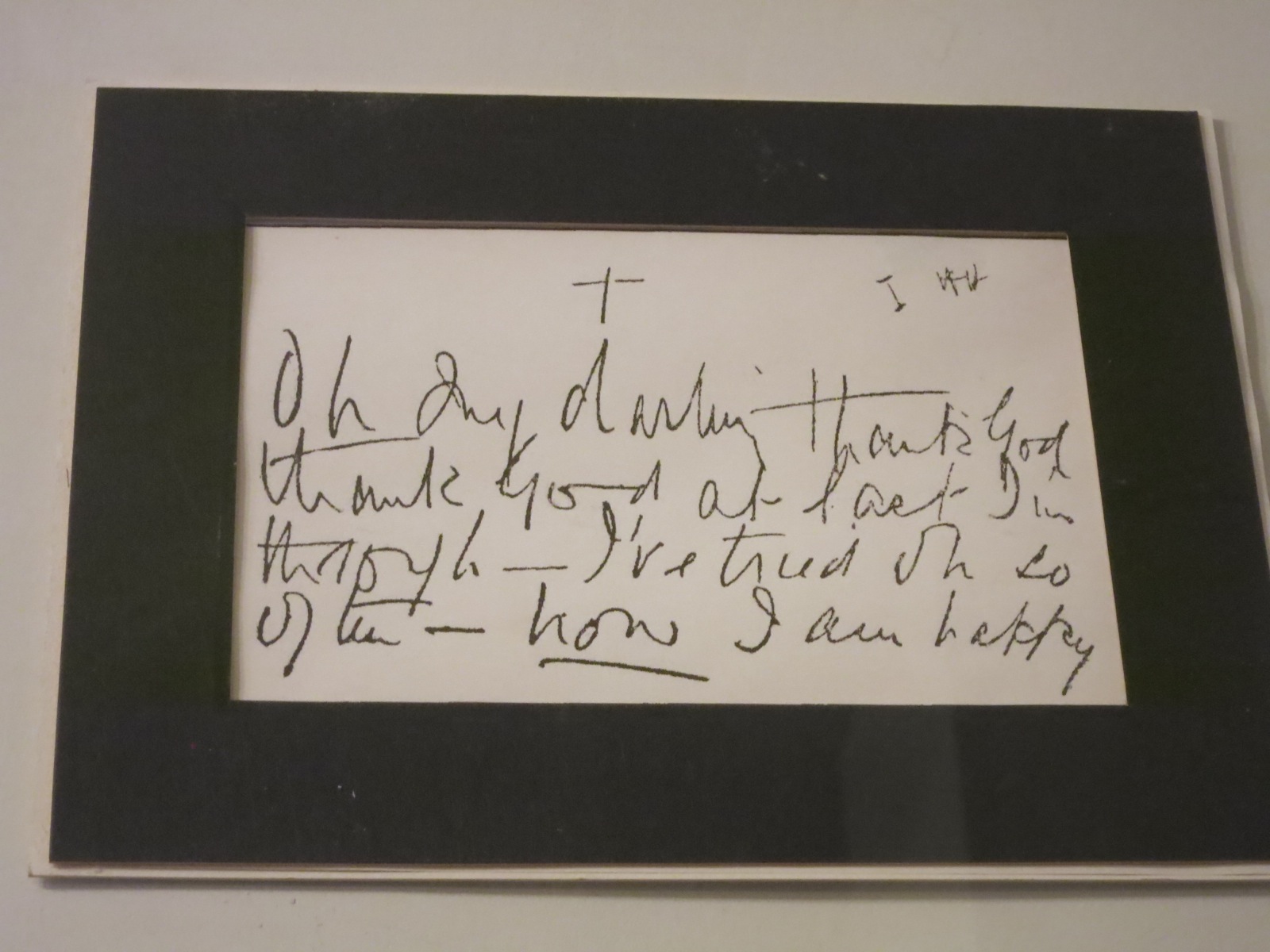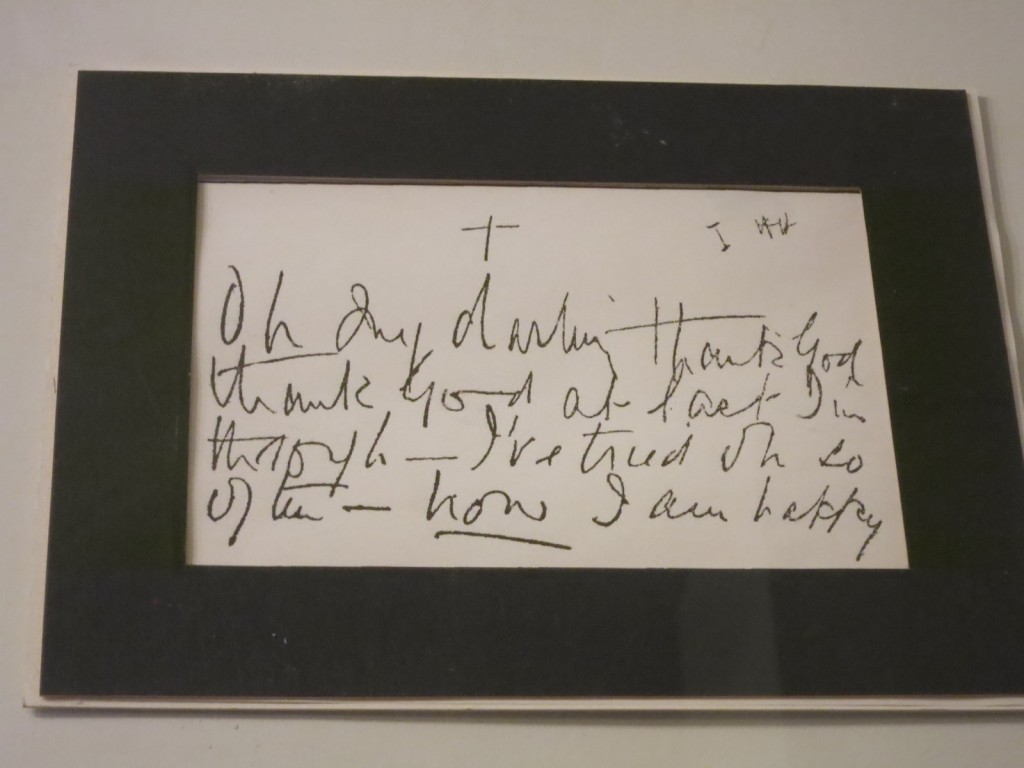 Houdini claimed to be "an honest deceiver" with an intention to purely entertain. He called these charlatans "dishonest deceivers" who cheated people out of money.
One such dishonest deceiver was Arthur Conan Doyle's wife, famous for her "automatic writing." Doyle would go into a trance and jot down notes sent from the "great beyond."
Houdini, in disguise at one of her seances, received the message from his "Mother" that hangs on the wall of the museum. Above the very vague note that begins, "Oh My Darling," is a crucifix.
Apparently the "automatic writer" had no idea that the very Jewish Houdini's father was a Rabbi! Busted! Open year round Saturdays and Sundays, in July and August Daily. Only one tour and show (plan on 3 hours) per day, $17.95 adults, $14.95 under 11. You must CALL for RSVP (570-342-5555). The museum is in a house on a very busy main street, with a parking lot in the back.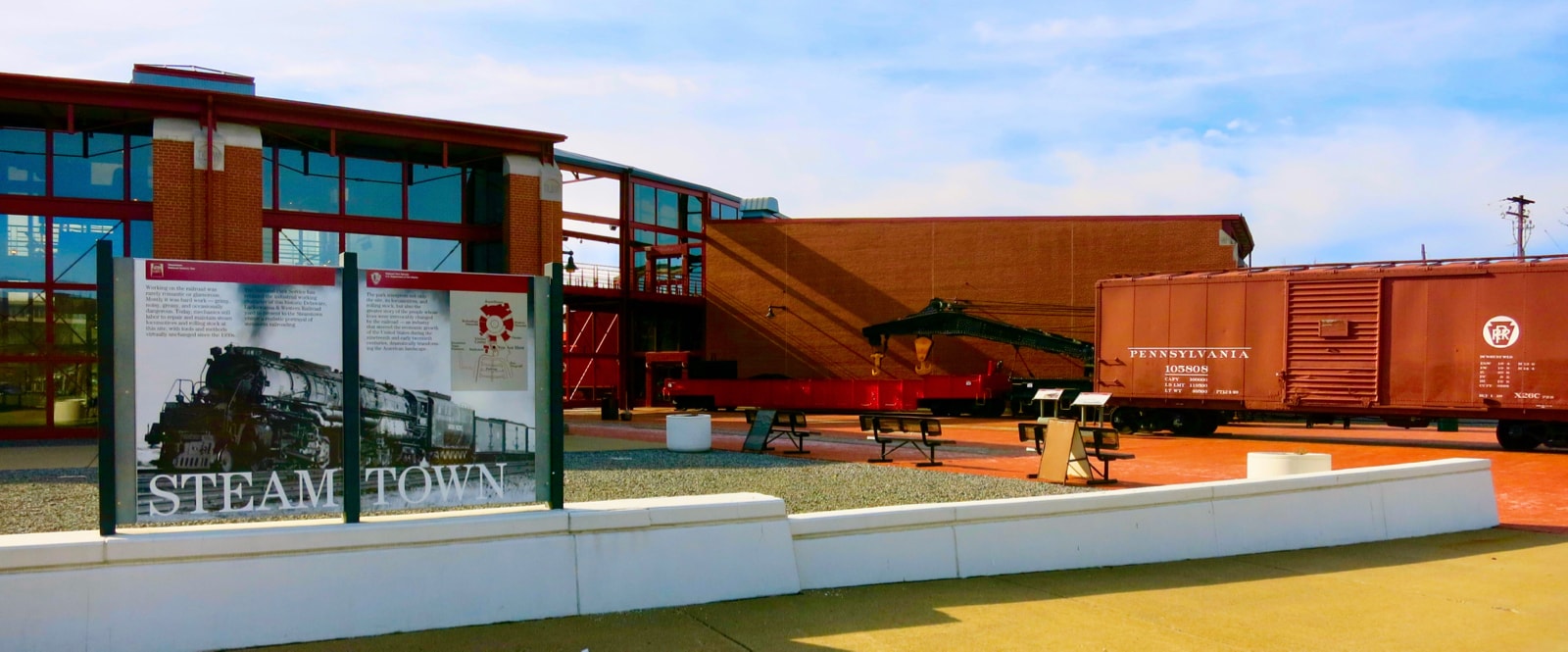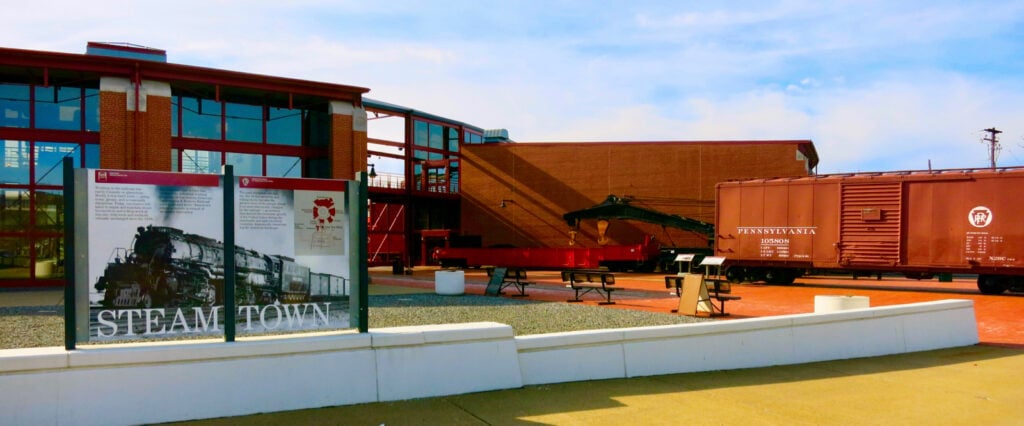 A "can't miss" diversion for train buffs, you can climb on an apartment-sized steam engine, see turntables that rotate locomotives at the end of the line, and learn about the lure of railroad life.
Wander through the History Museum, Roundhouse, and Technology Museum. You can also choose from over 30 different tours, the most popular being the Locomotive Shop Tour (given twice a day).
Why Scranton PA is Steamtown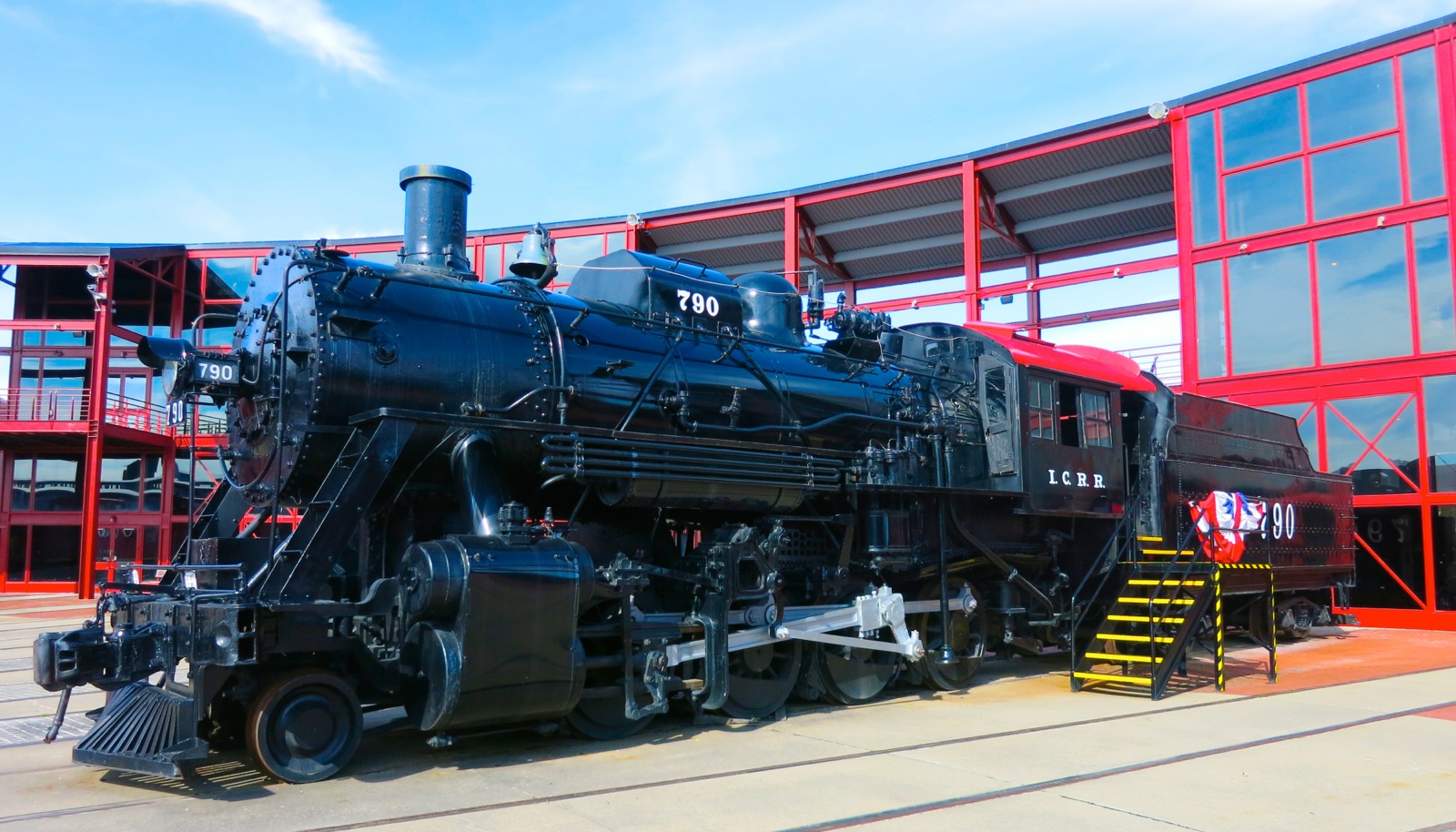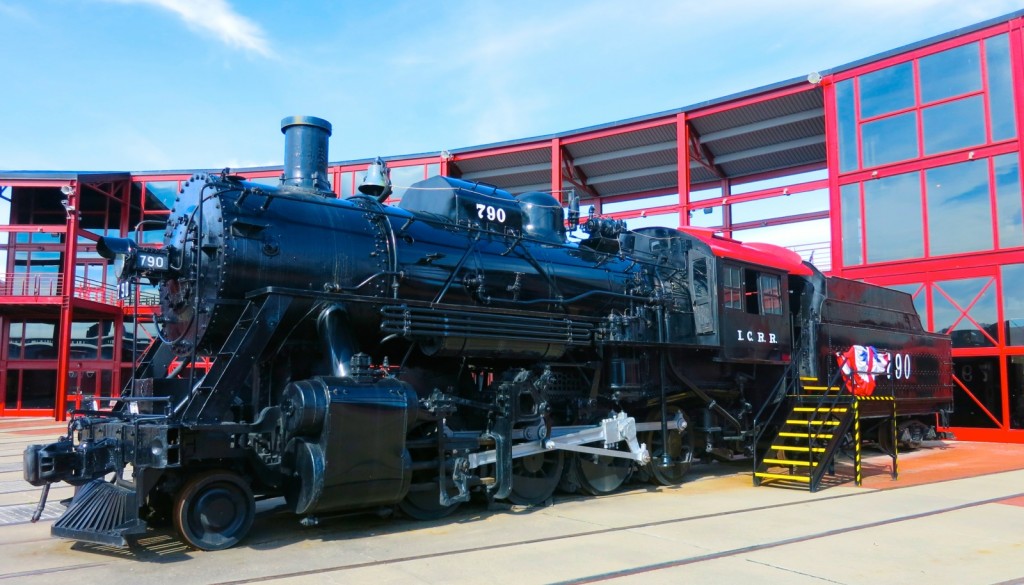 According to Bill Clark, one of the site's exceptional rangers, the Delaware, Lackawanna & Western Railroad was based in Scranton for three reasons.
1) Scranton was one of the only places on earth with reserves of Anthracite Coal – a fuel that burned hot and clean.
2) Anthracite's metallurgic properties (94% carbon) made it the perfect element to forge iron.
3) when scientists discovered feasible methods to burn Anthracite, along with its applications in the iron making process, the newly in-demand coal had to be shipped by rail to furnaces countrywide.
Helper Engines
"You might have noticed coming in to Scranton that it's in a hole, surrounded by mountains," Clark states. "So locomotives needed "Helper engines" to get them up and over the hills." Steamtown NHS preserves the buildings in which these "Helper" cars were kept and maintained.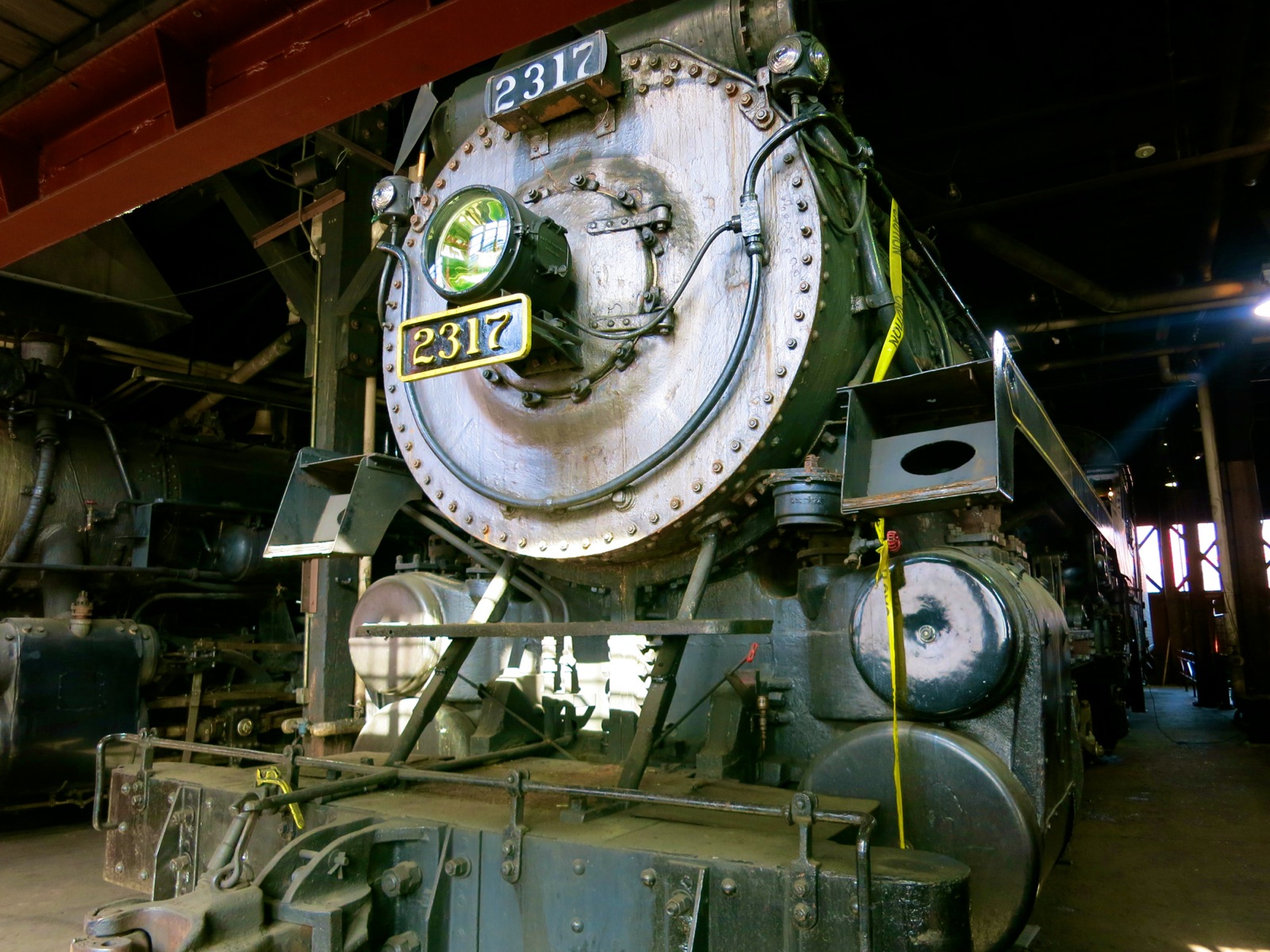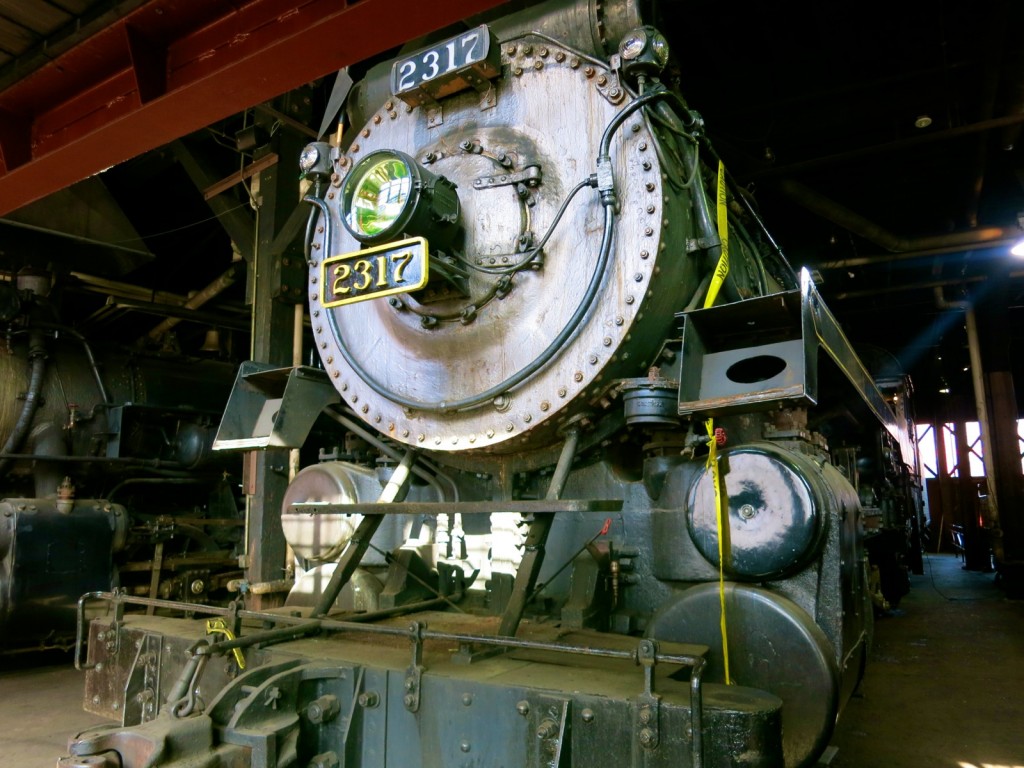 In steam's heyday, the Roundhouse was the "Jiffy Lube" for locomotives. "The number of people it took to run the railroad was mind-boggling," Clark says, as he stands before a muscular Engine 2317.
"An engine had to be serviced every 200 miles. In 1924 alone, this engine racked up 210,000 miles. Which meant it had to be in a roundhouse thousands of times that year."
The glory of the steam engine age reached its height in the 1920's. By 1960's, most locomotives were replaced by diesel electric. "But the Union Pacific Railroad still has a steam locomotive they have not retired yet," says a wistful Clark. "So you can say that we are, in a way, still in the Age of Steam." Open daily 10-4, Summer till 5, $7 adults, free under 15. Excursions additional cost.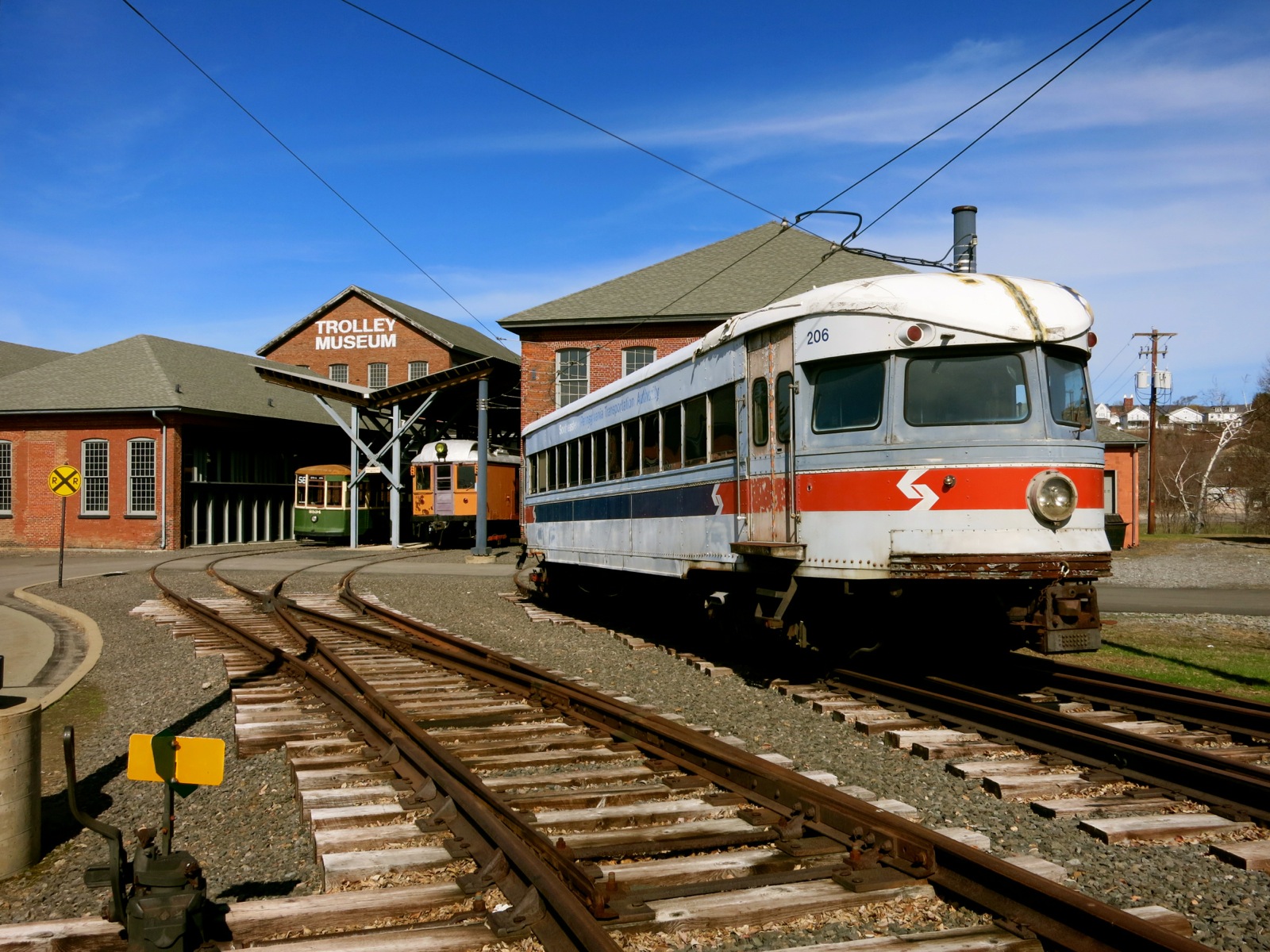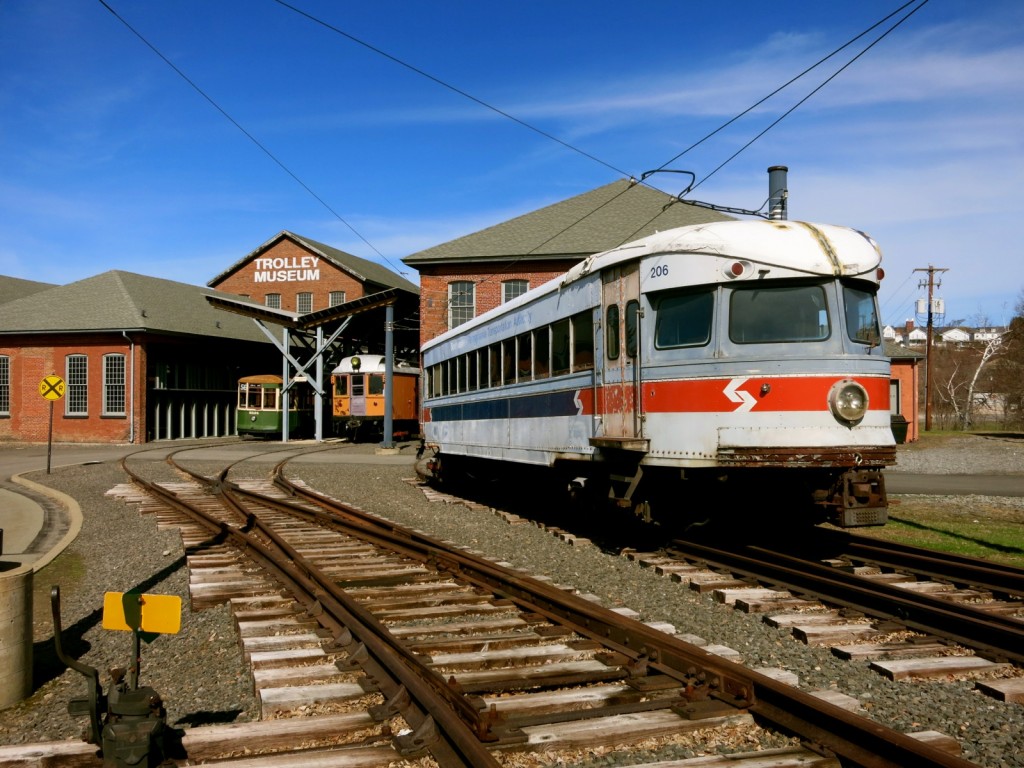 In the Steamtown NHS complex, you can continue your nostalgia trip. For example, take a ride on one of the trolleys that clacked, via electricity, through downtown Scranton. It's what gave this coal town it's "modern" nickname.
VISIT: Iron Furnaces
Just some ruins remain, with informational signage. This was where the iron that formed railroad tracks was forged in the mid-1800's. An open park – daily, free.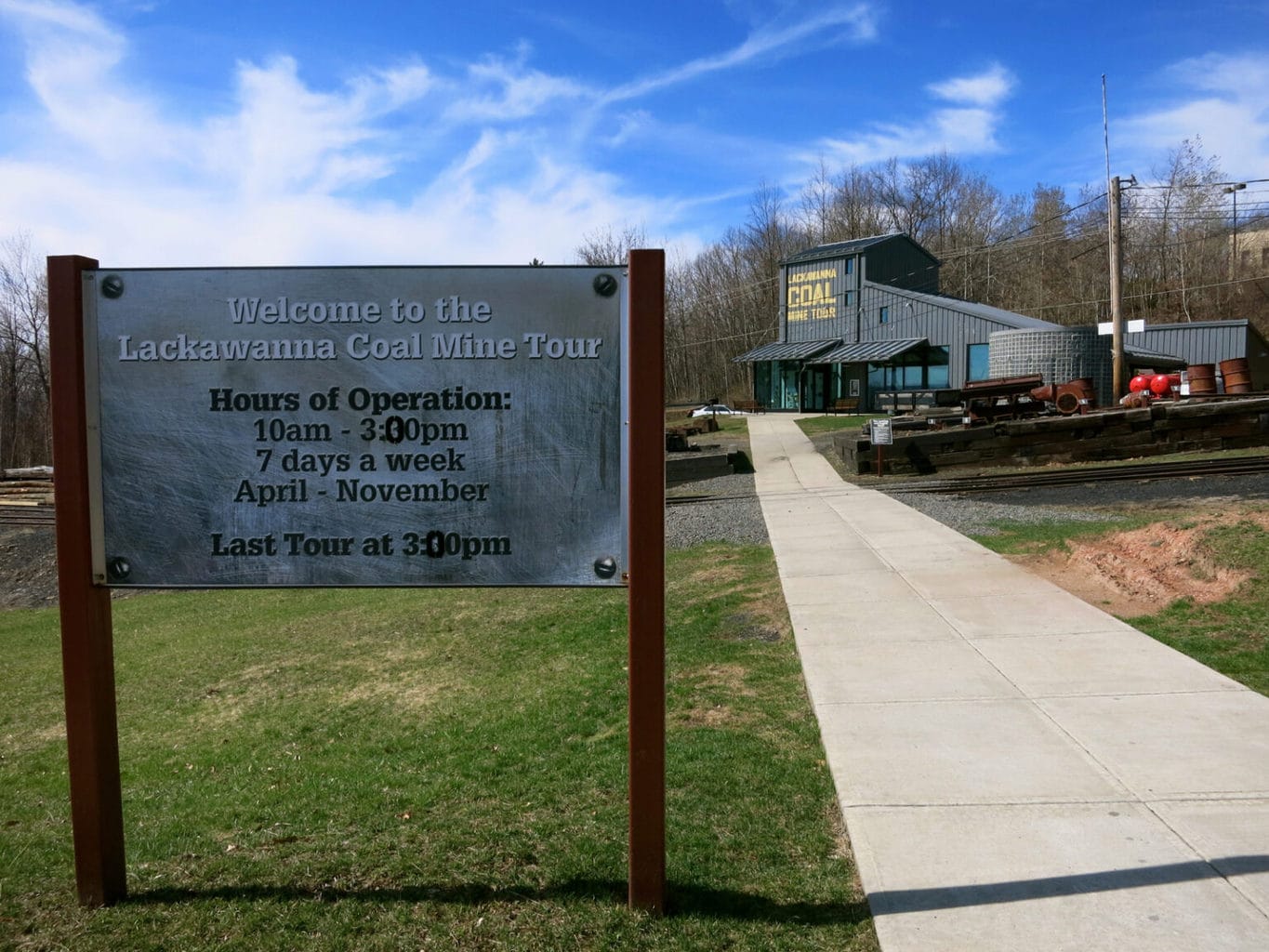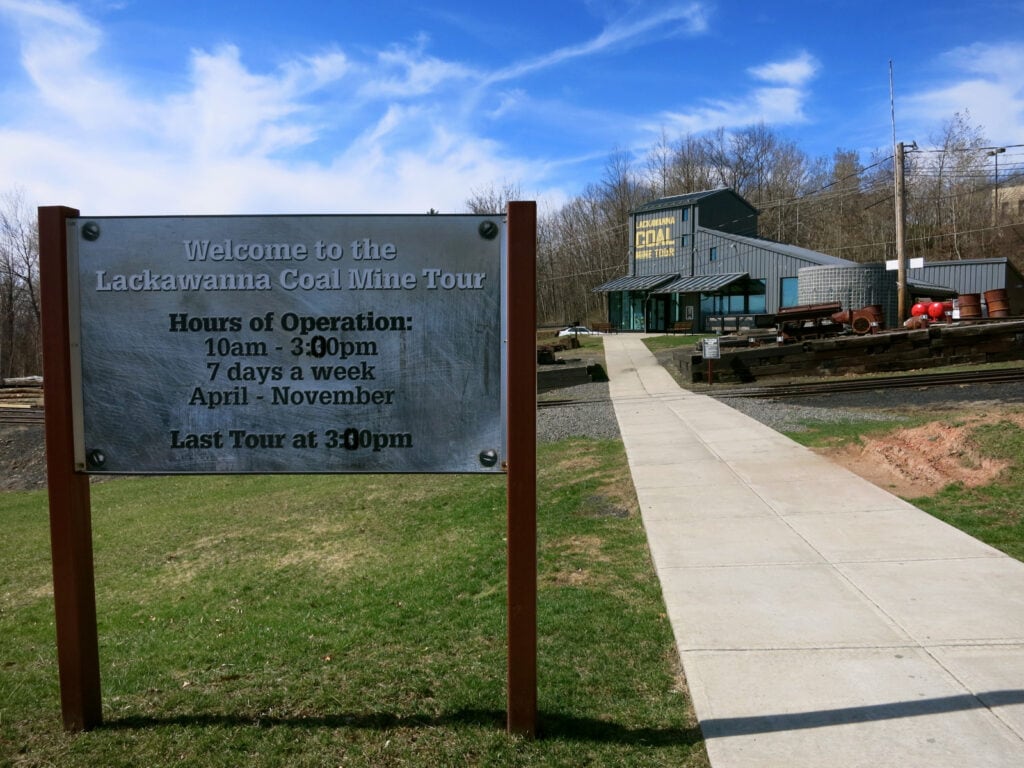 Feel what it's like to be a coal-miner, descending deep down in the earth. You'll travel backwards slowly down a 1,350 foot slope in a specially designed mine car. You'll then spend about an hour, walking nearly a mile, 300 feet underground.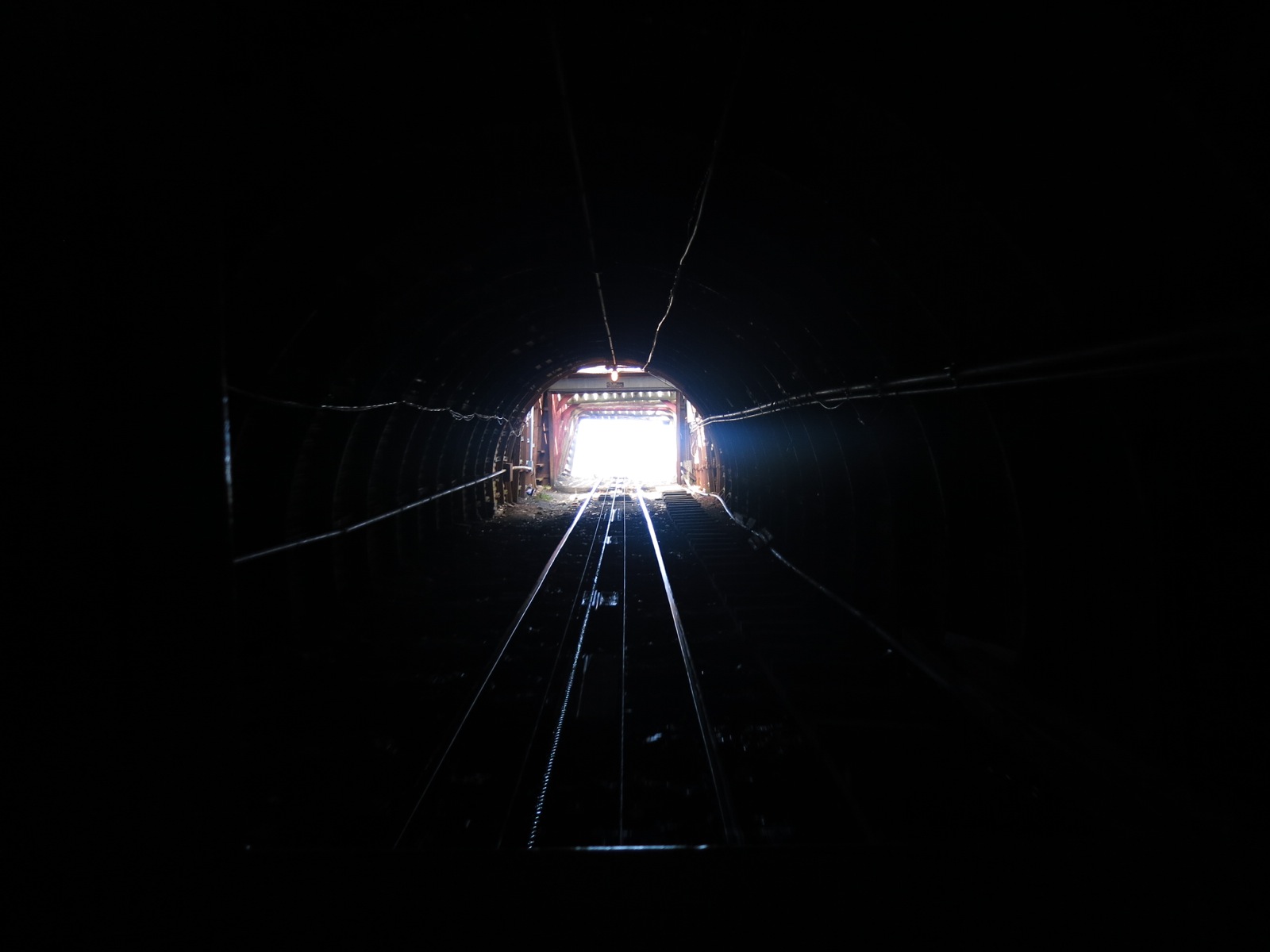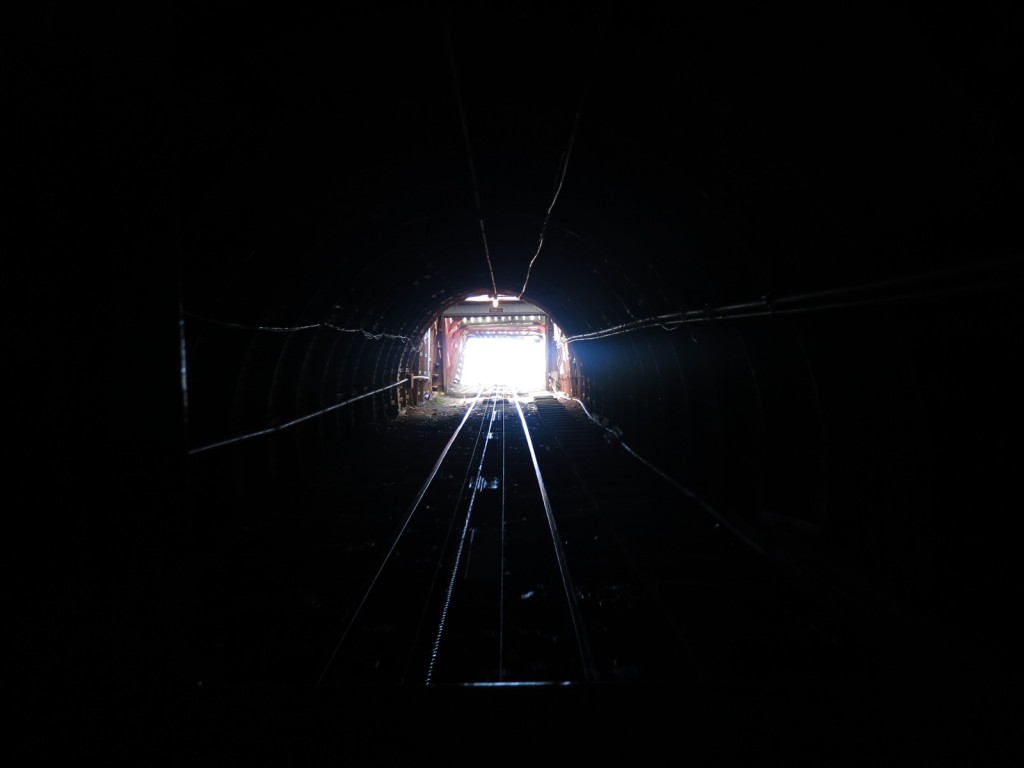 Though in a coal mine that operated from 1862 until 1966, this tour is held to the same safety standards as an operating mine. So each guide is actually a mine foreman.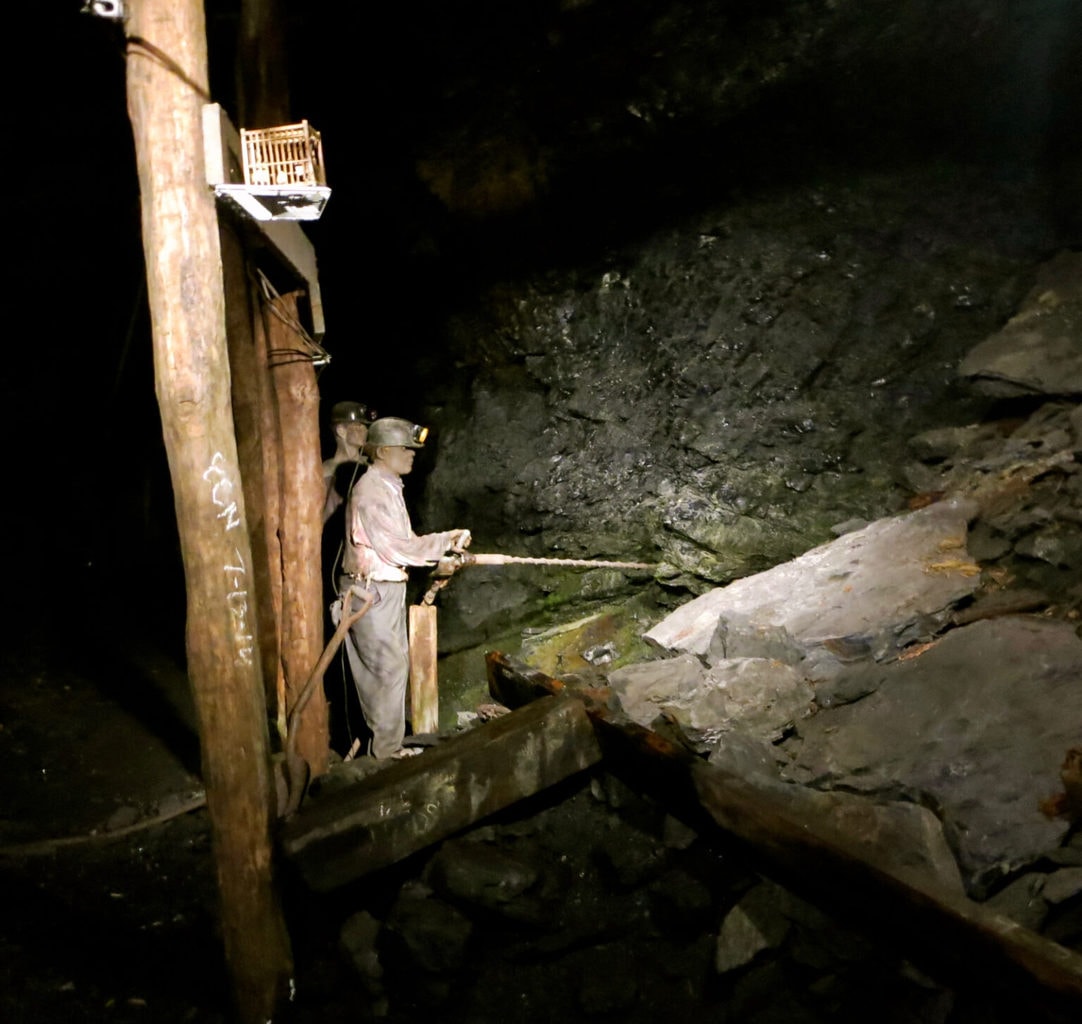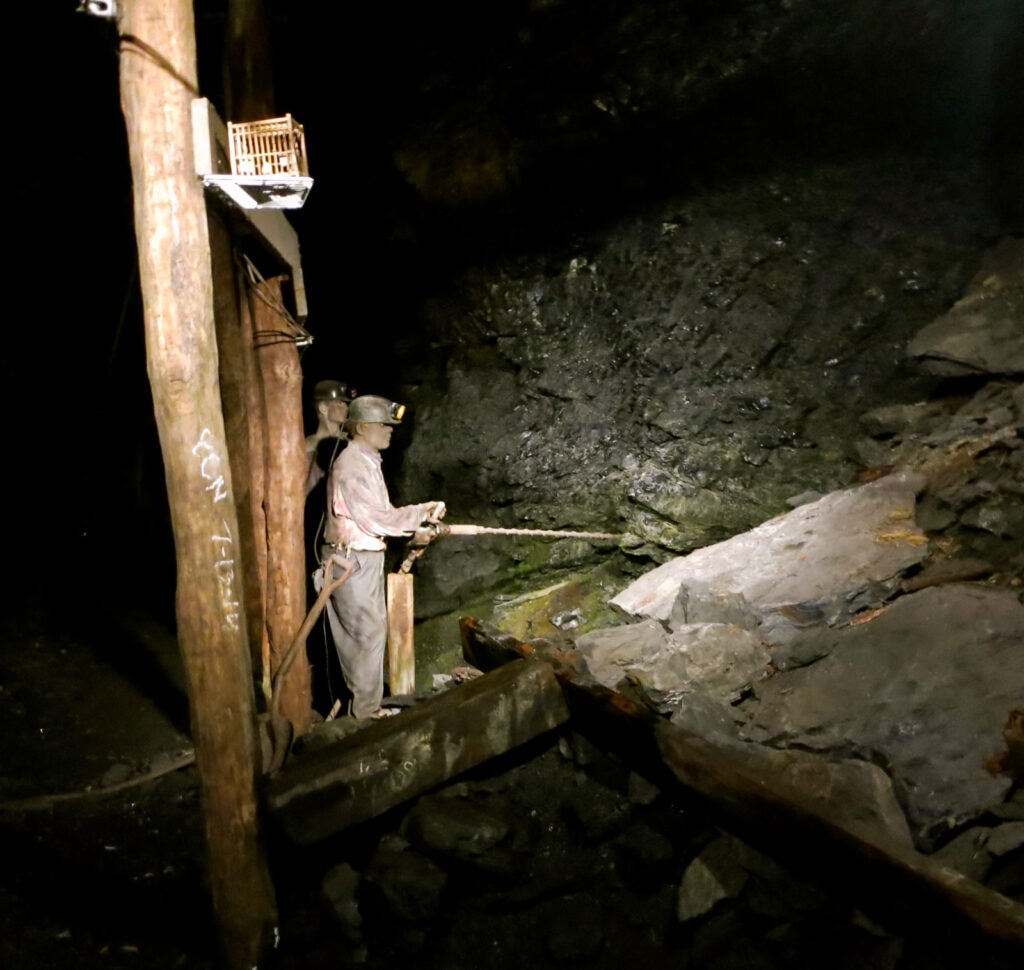 This is doubly beneficial, as he can keep you safe and regale you with authentic stories. My guide was 5th generation coal miner, Lewis Graver, who has fond memories of first going into the mines at age 6 with his grandfather.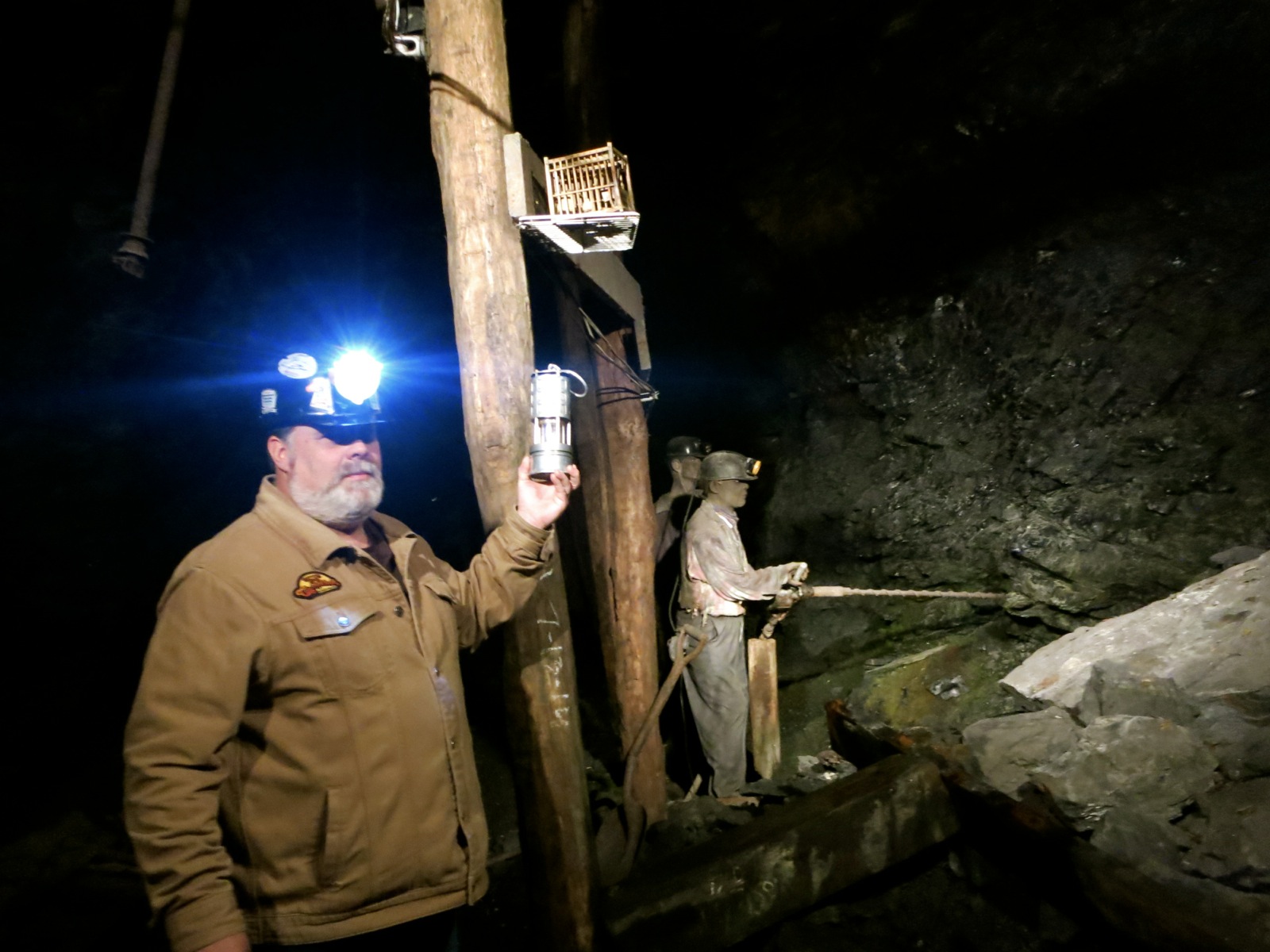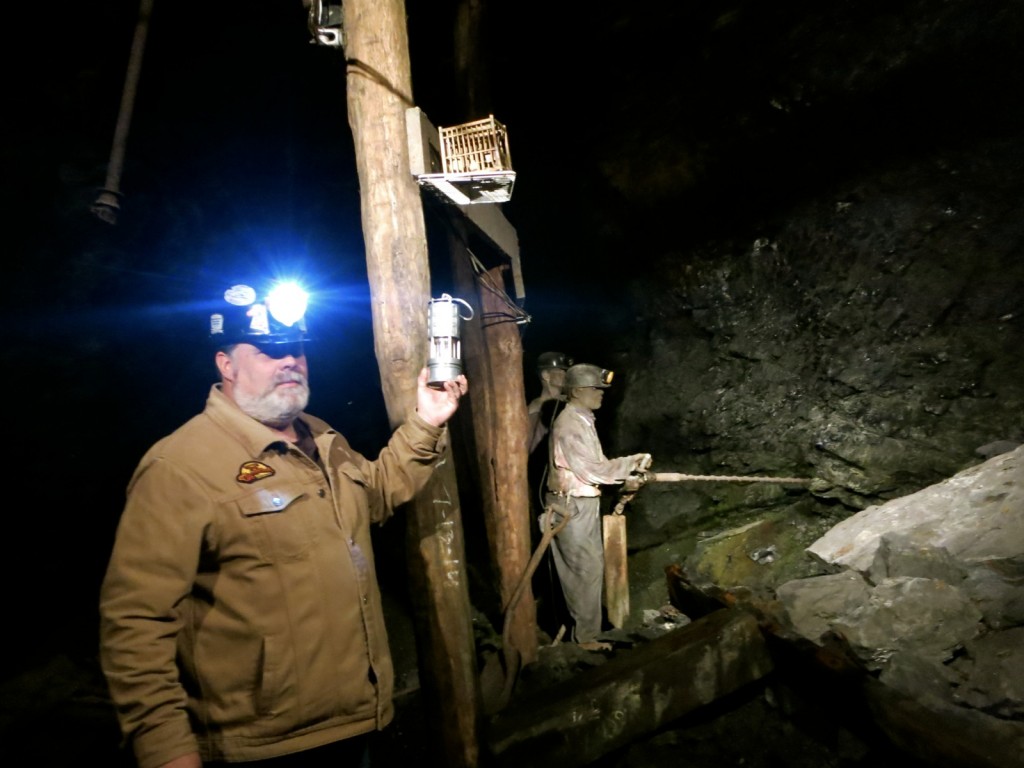 Begin by viewing a sectional view of the mine. Moving on, learn about the room and pillar method of mining, ventilation systems, and safety equipment (canaries first, then Flame Safety Lamps) to detect the double whammies of "bad gas" – methane and carbon dioxide.
Your guide demonstrates various methods of drilling (hand crank to pneumatic). And then, to the general glee of all kids (and kids at heart), he "blasts" a wall of rock (using a prerecording).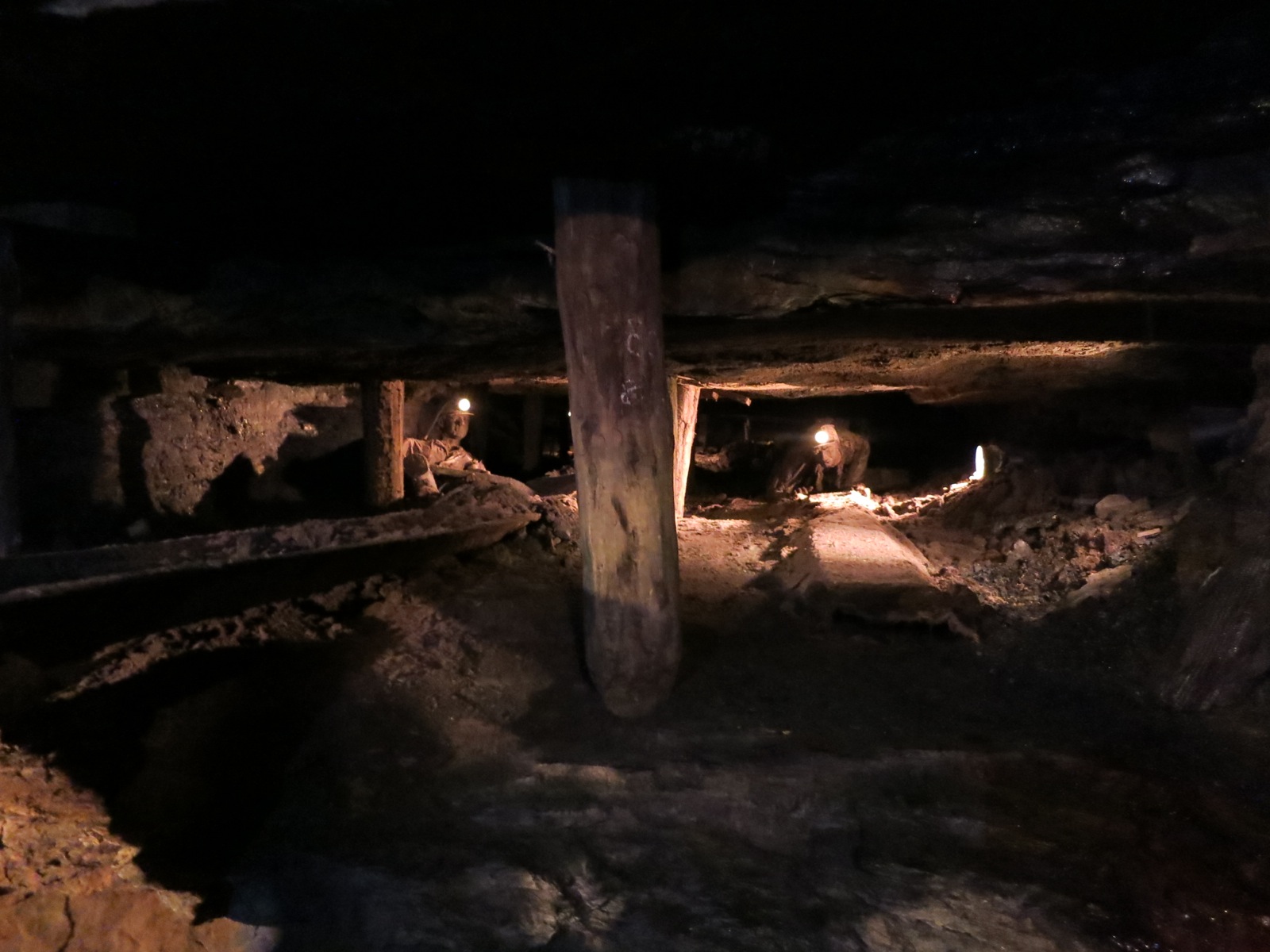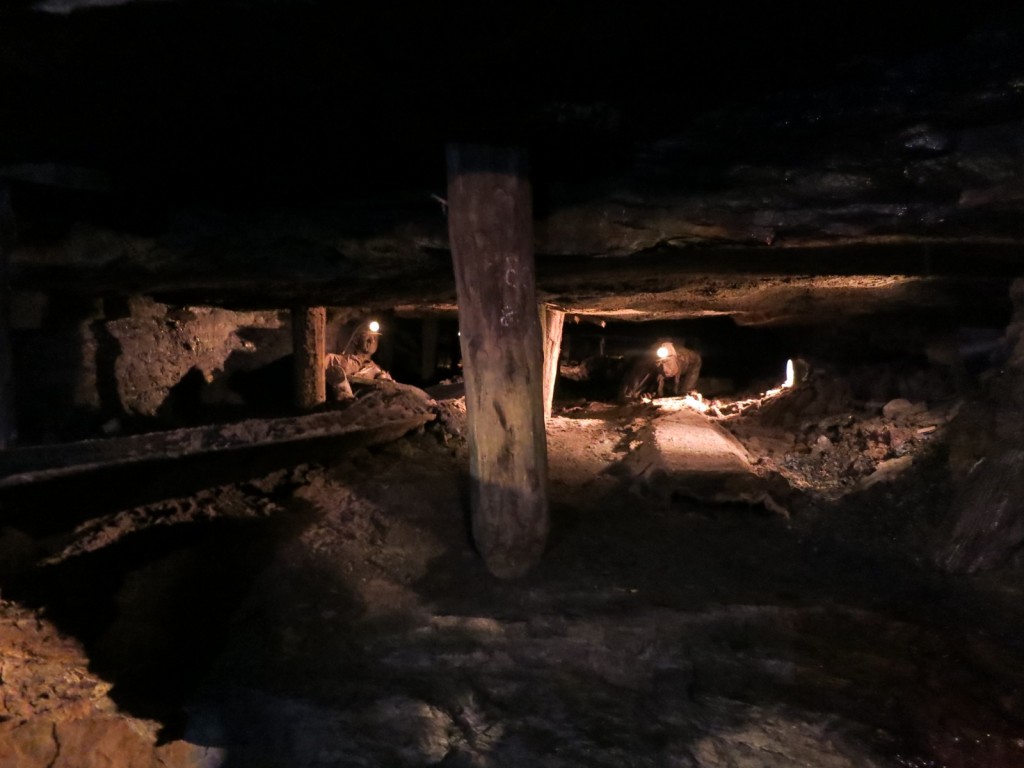 You'll walk through dark tunnels to see the veins of anthracite coal left there, and "meet" miners – including young boys – who worked the mines. It's a great tour, and one that provides you with a good glimpse into this tough, dangerous life. April 1-Nov 30, daily, 10-3, $10 adults, $7.50 kids.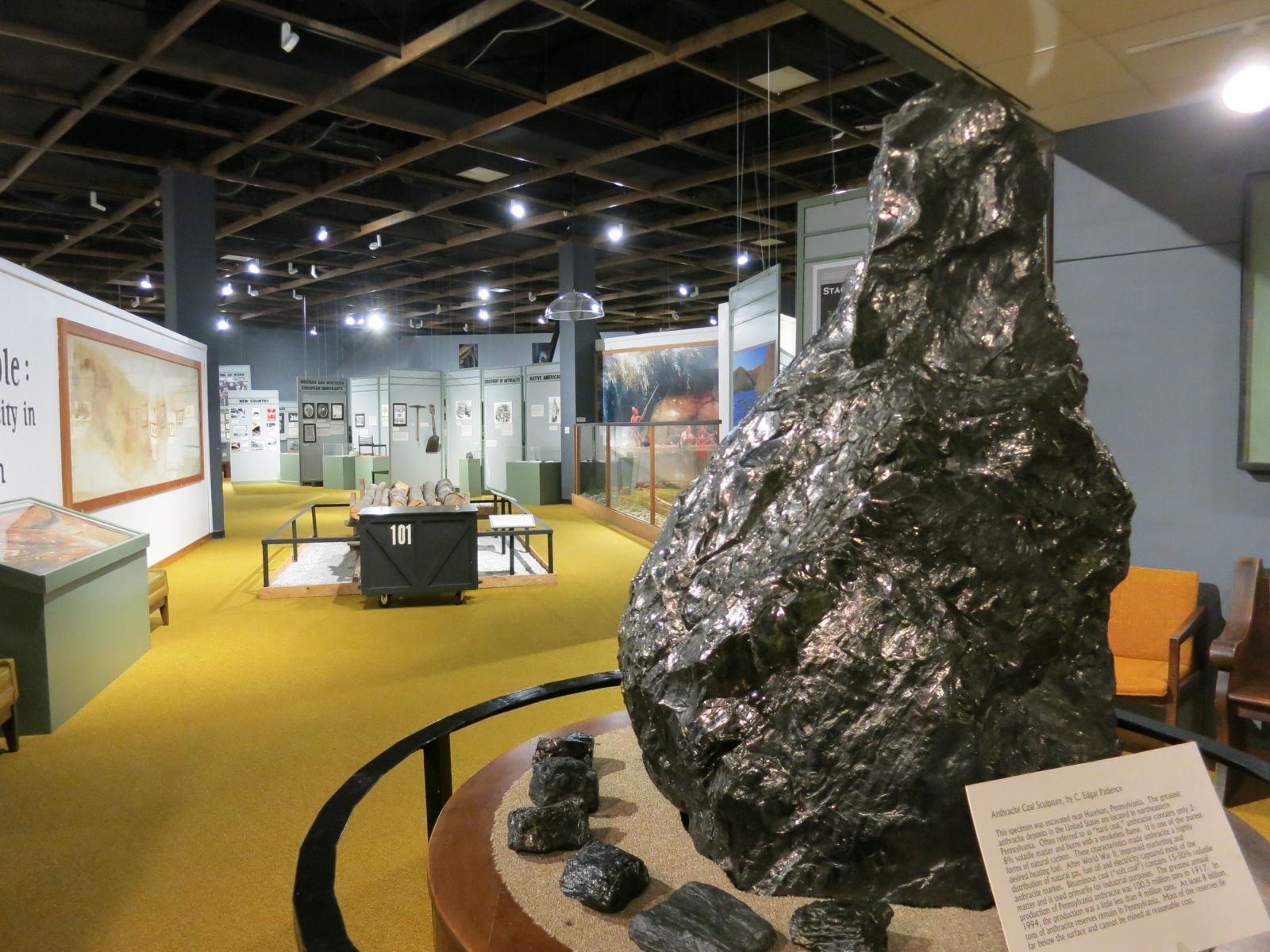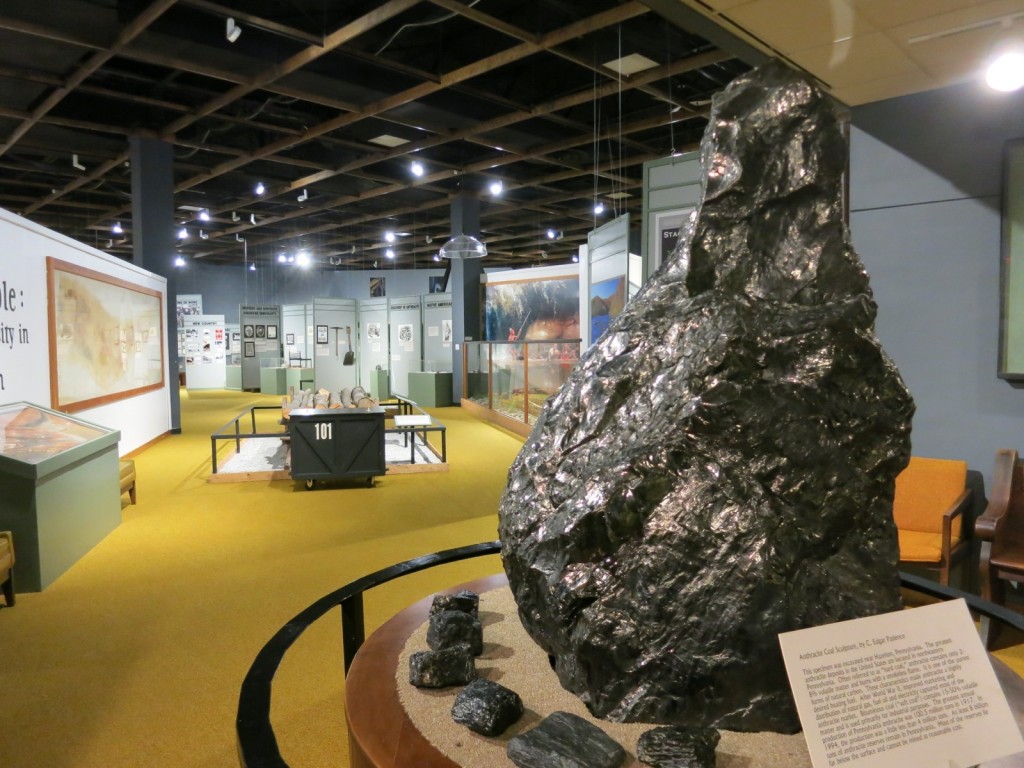 Learn all about the coal that burns clean in this excellent 17,000 sq ft. museum, right above the Coal Mine Tour Visitor's Center. It features displays of the rock that fueled the American Industrial Revolution, exhibits about the dismal conditions in which the miners worked, and the relatively pleasant miner's homes.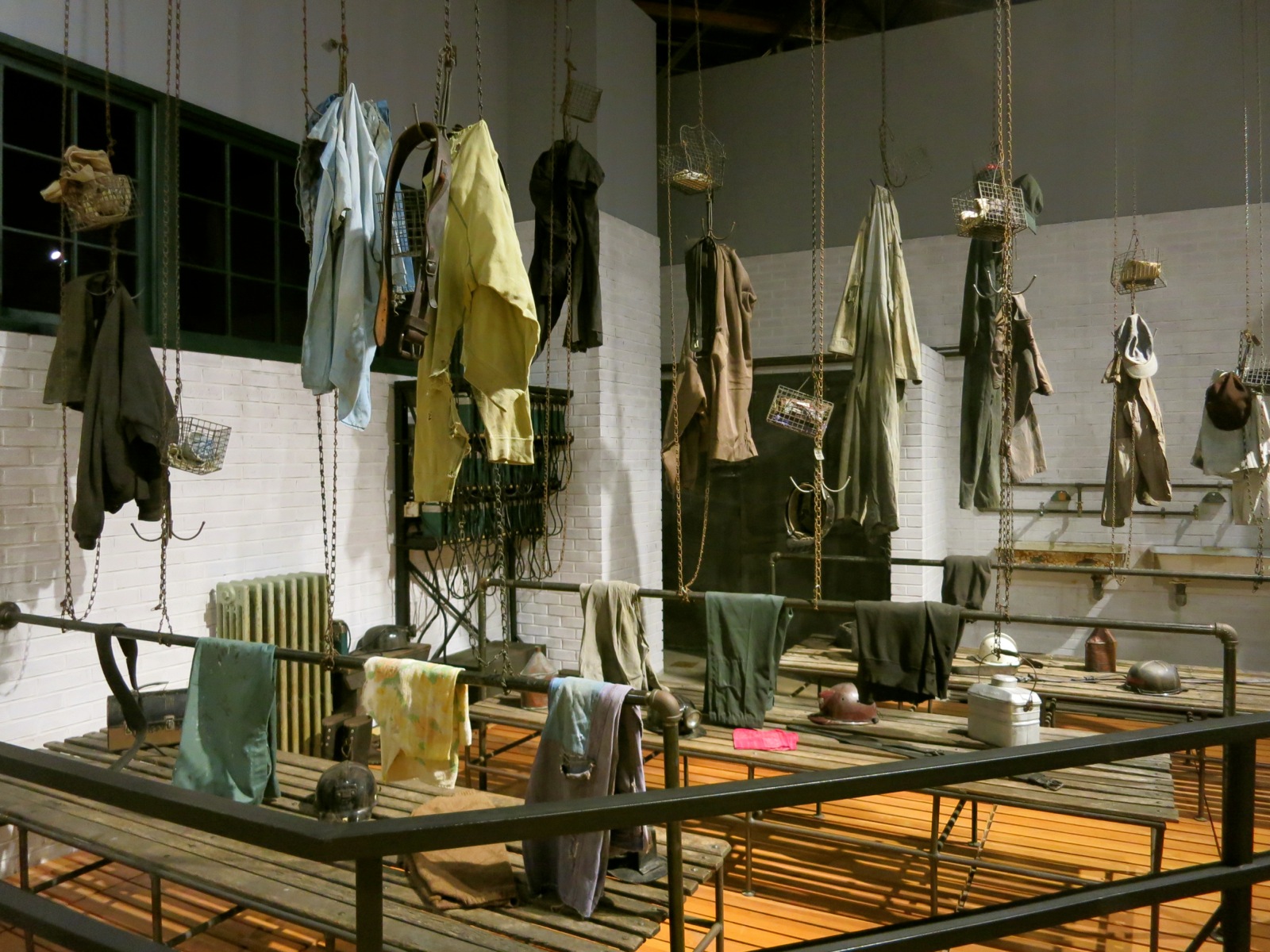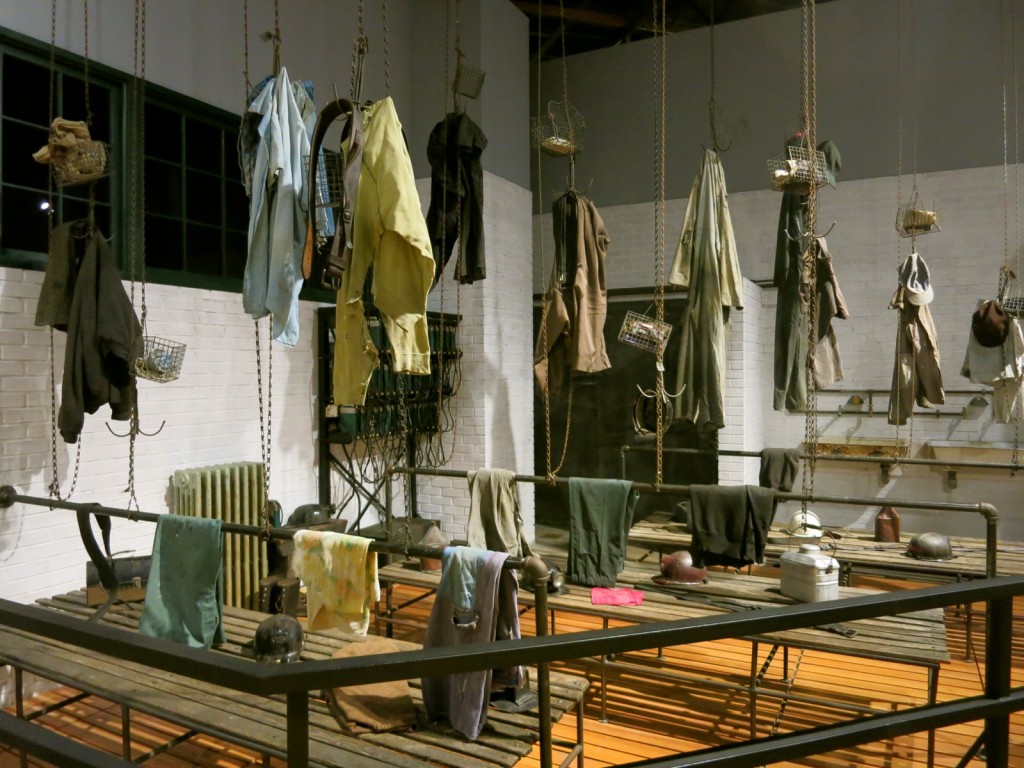 Thousands of immigrants from Eastern Europe came to Scranton for jobs in the mid 1800's. While men as young as 8 worked in the mines, women worked in the many silk mills. Mon-Sat 9-5, Sun 12-5, $7 adults, $5 kids.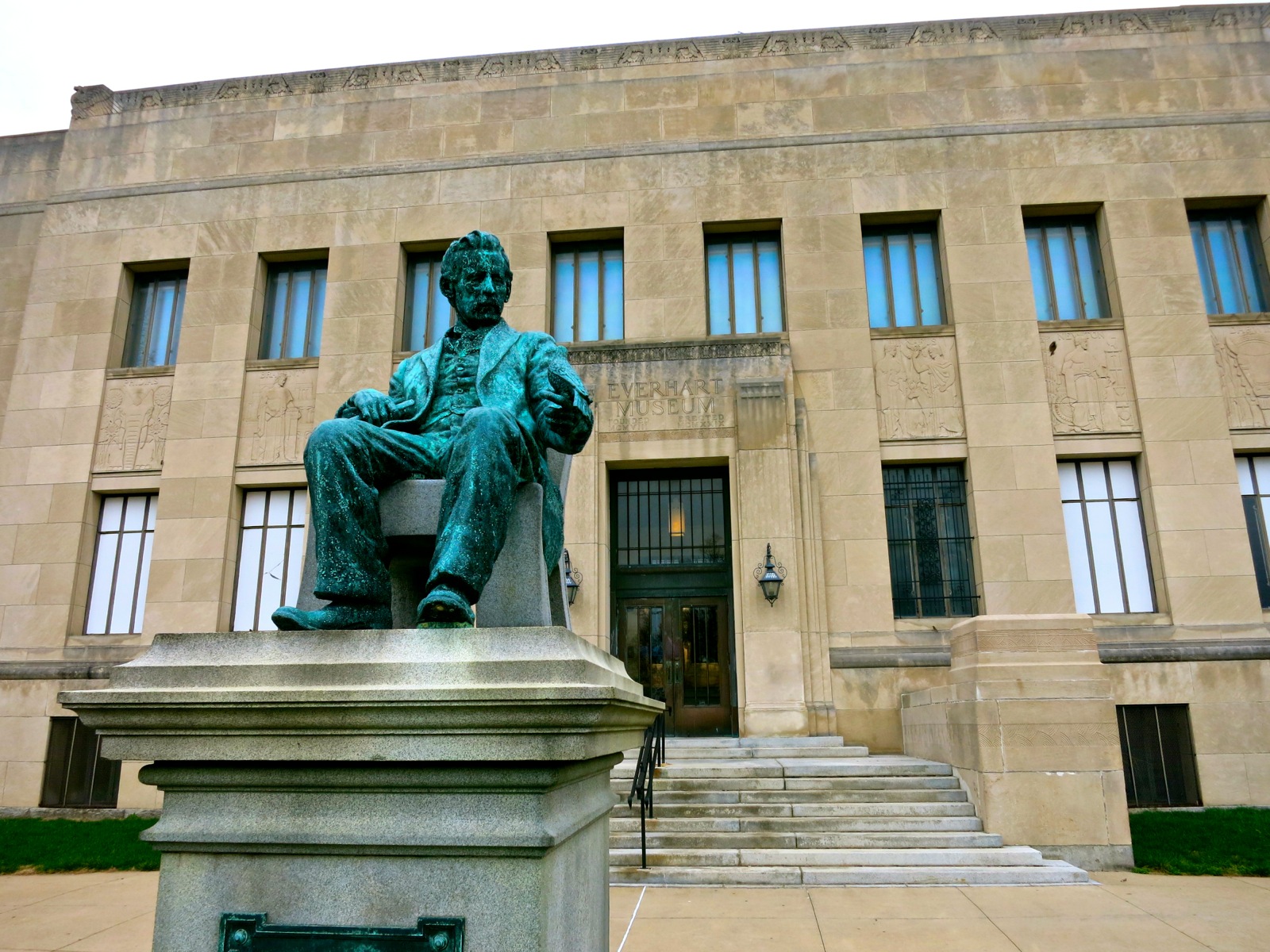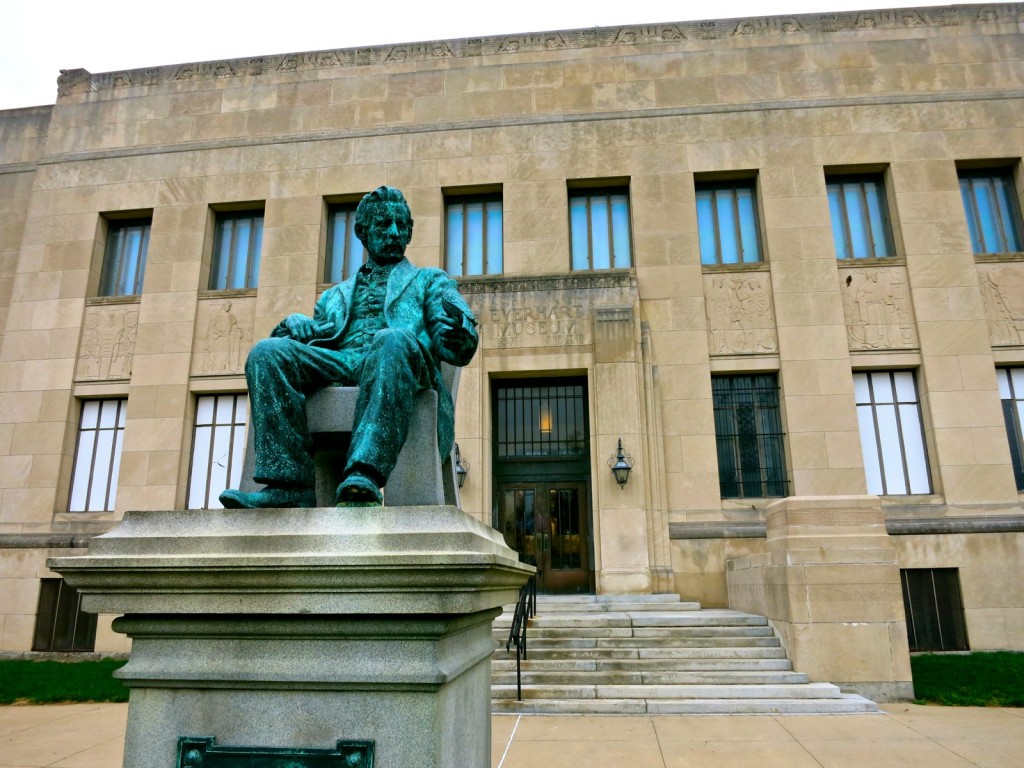 Built in 1908 in Nay Aug Park, this small and accessible "General Museum" runs the gamut of rocks and minerals, American Folk and African Art. It also features one of the largest collections of Dorflinger Glass in the country.
Everhart – a Civil War surgeon – was also an amateur taxidermist, and some of the encased birds are his work. Friendly and engaged staff hold birthday parties for Spike – the popular Stegosaurus skeleton – who turned "about 175 million years old this year." $7, open Feb-Dec, Mon, Thur Fri 12-4, Sat 10-5, Sun 12-5.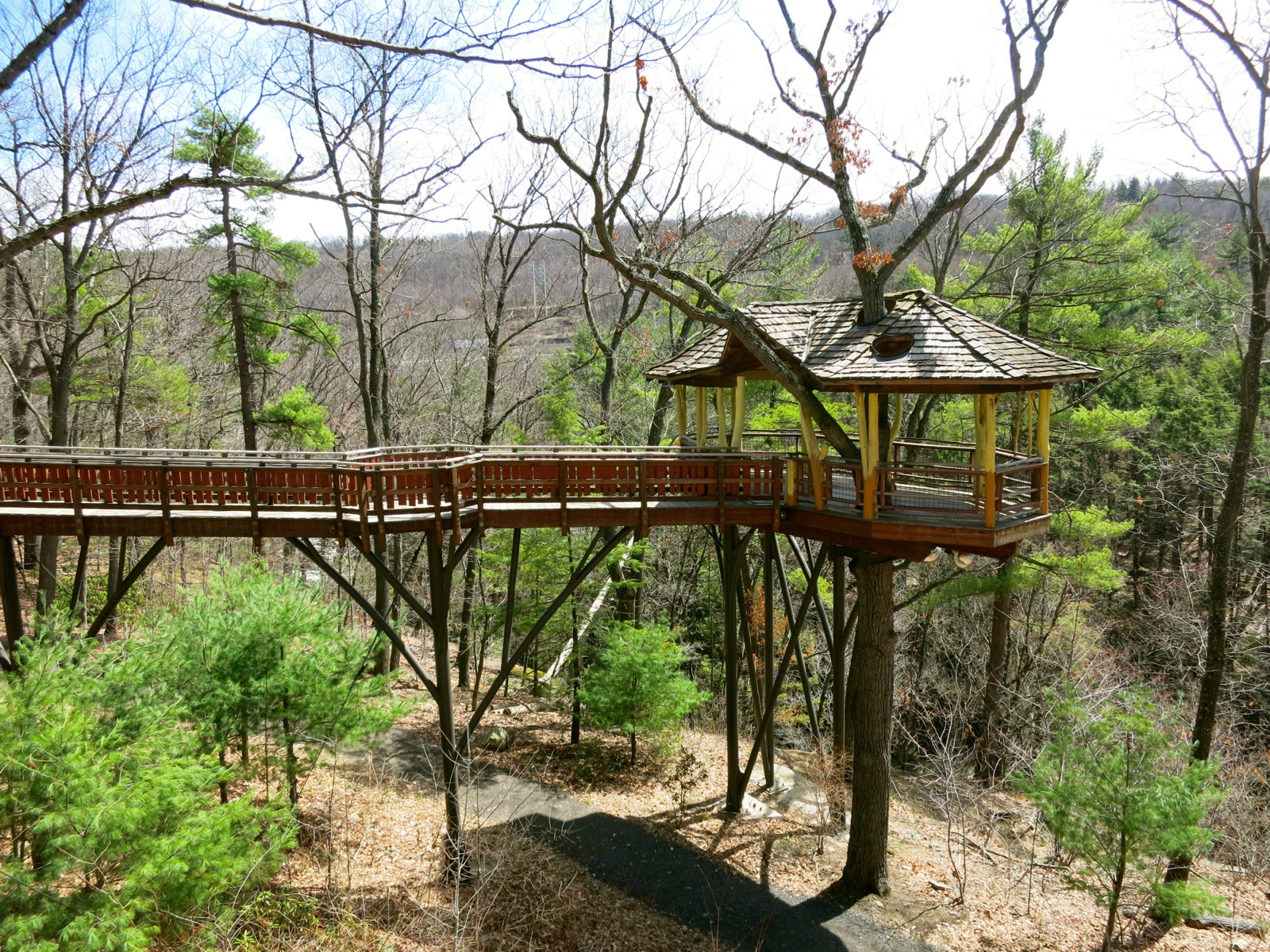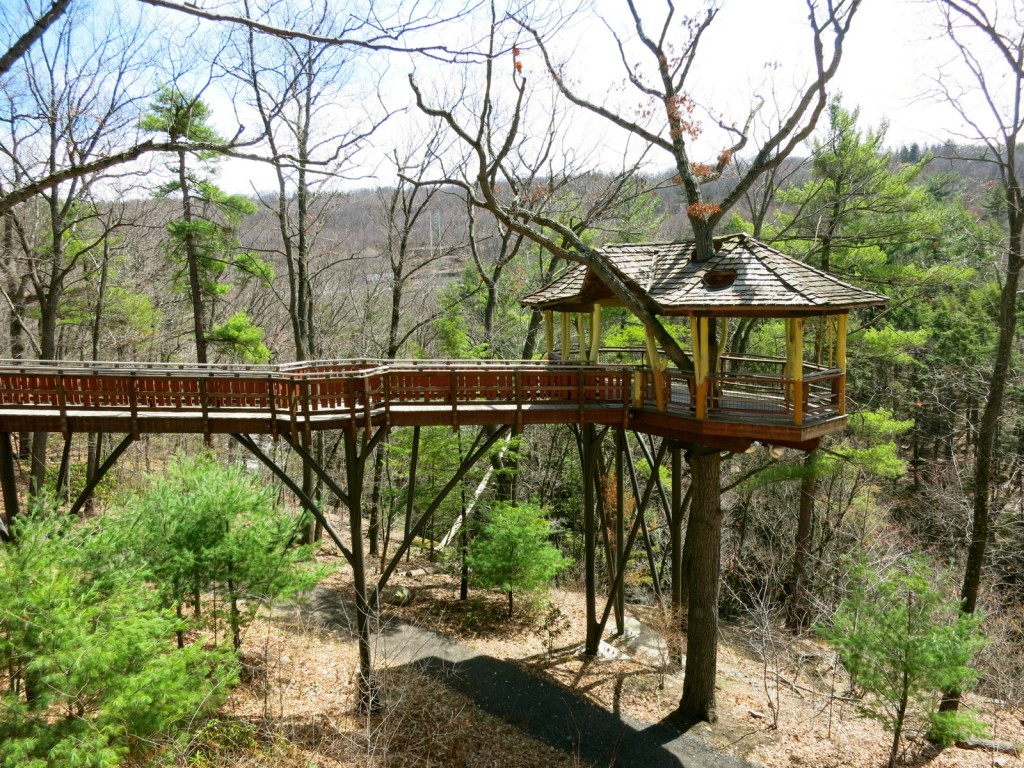 STROLL: Nay Aug Park Scranton PA
Setting for the Everhart Museum, this gorgeously landscaped park features hiking trails, waterfalls, a pool, a Greenhouse (where you can drop in for Yoga Class and also purchase plants), a moving memorial to area soldiers who perished in Iraq and Afghanistan, and the new David Wenzel designed "Treehouse."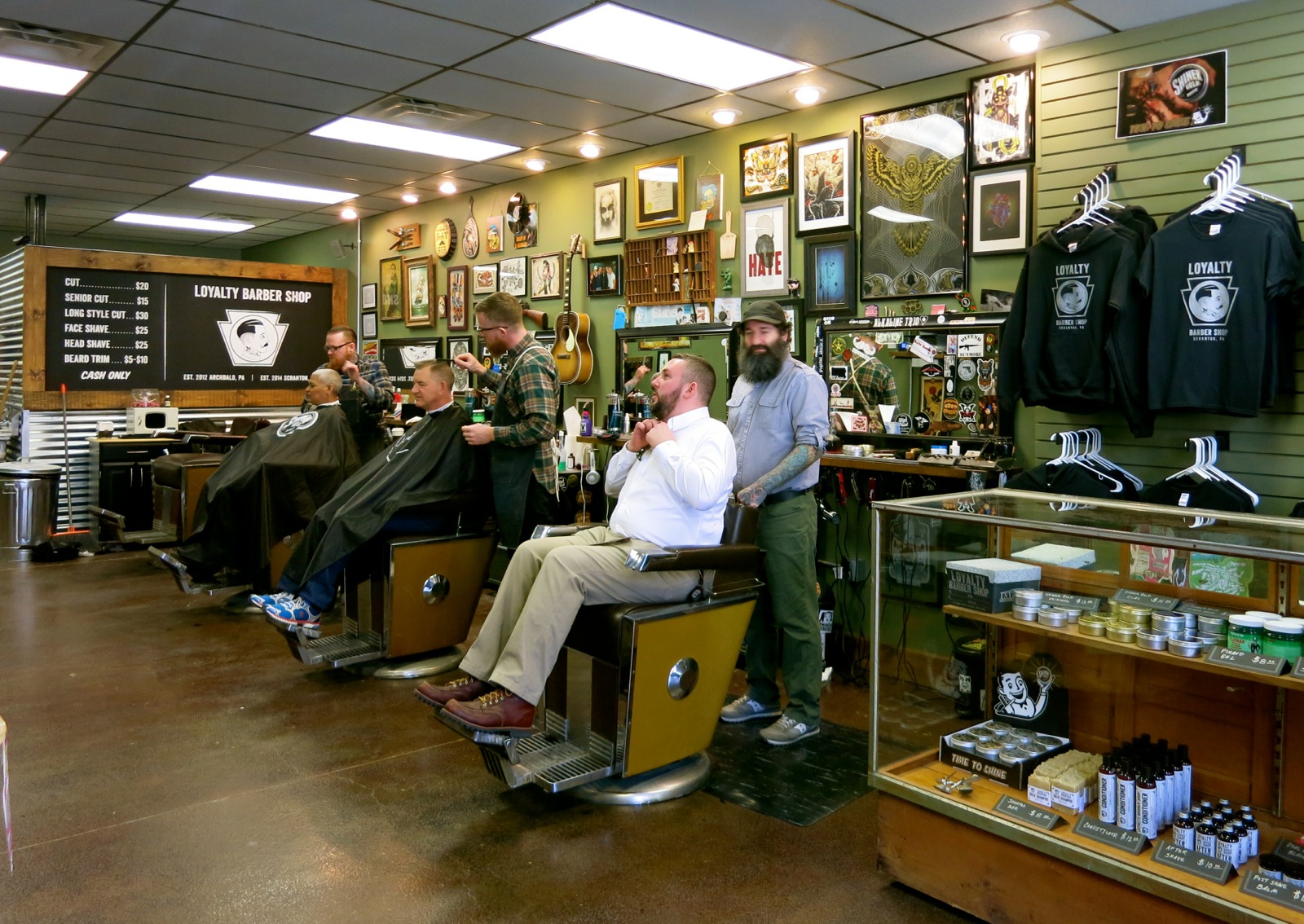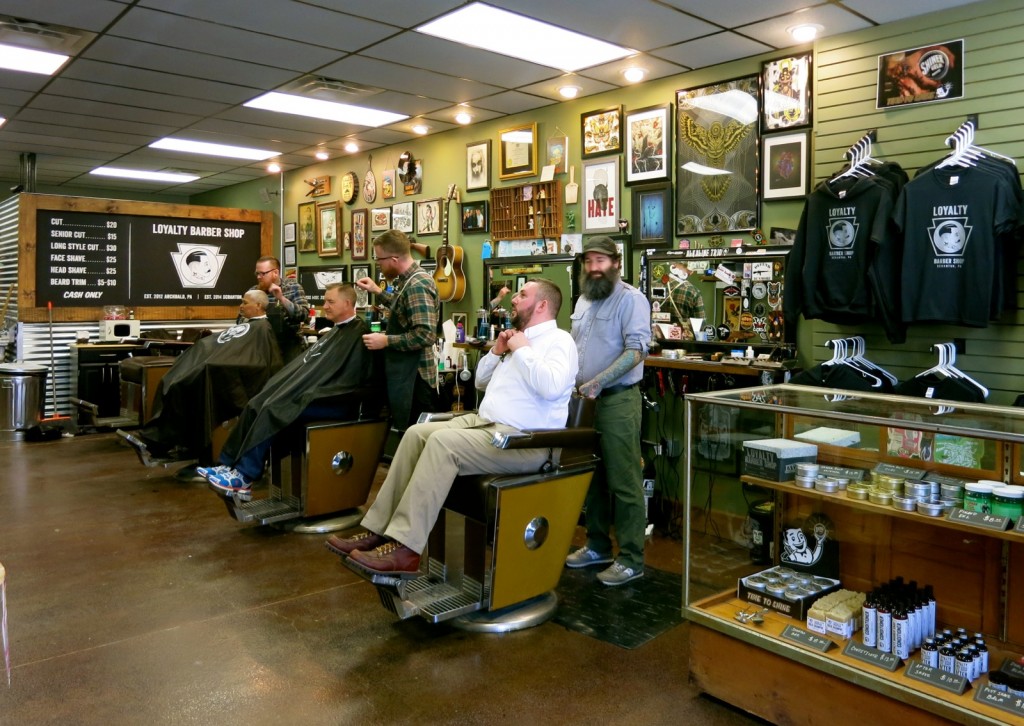 EXPORE: Funky Adams Avenue area
Scranton PA has its own little version of Brooklyn within a four block radius. Eat at the vegan "Eden Café," or try the great Kale Apple Raw Juice at Coconut Summer Grill.
Get a haircut at hipster Loyalty Barbershop. Find the perfect record album at Embassy Vinyl. Pick up a poster at Letterpress Shop. And try your hand at making custom soaps at The Post. You'll find cute outfits for women (Freed Love, New Laundry), men (Burlap and Bourbon) and babies (The Moon), as well.
Restaurants in Scranton PA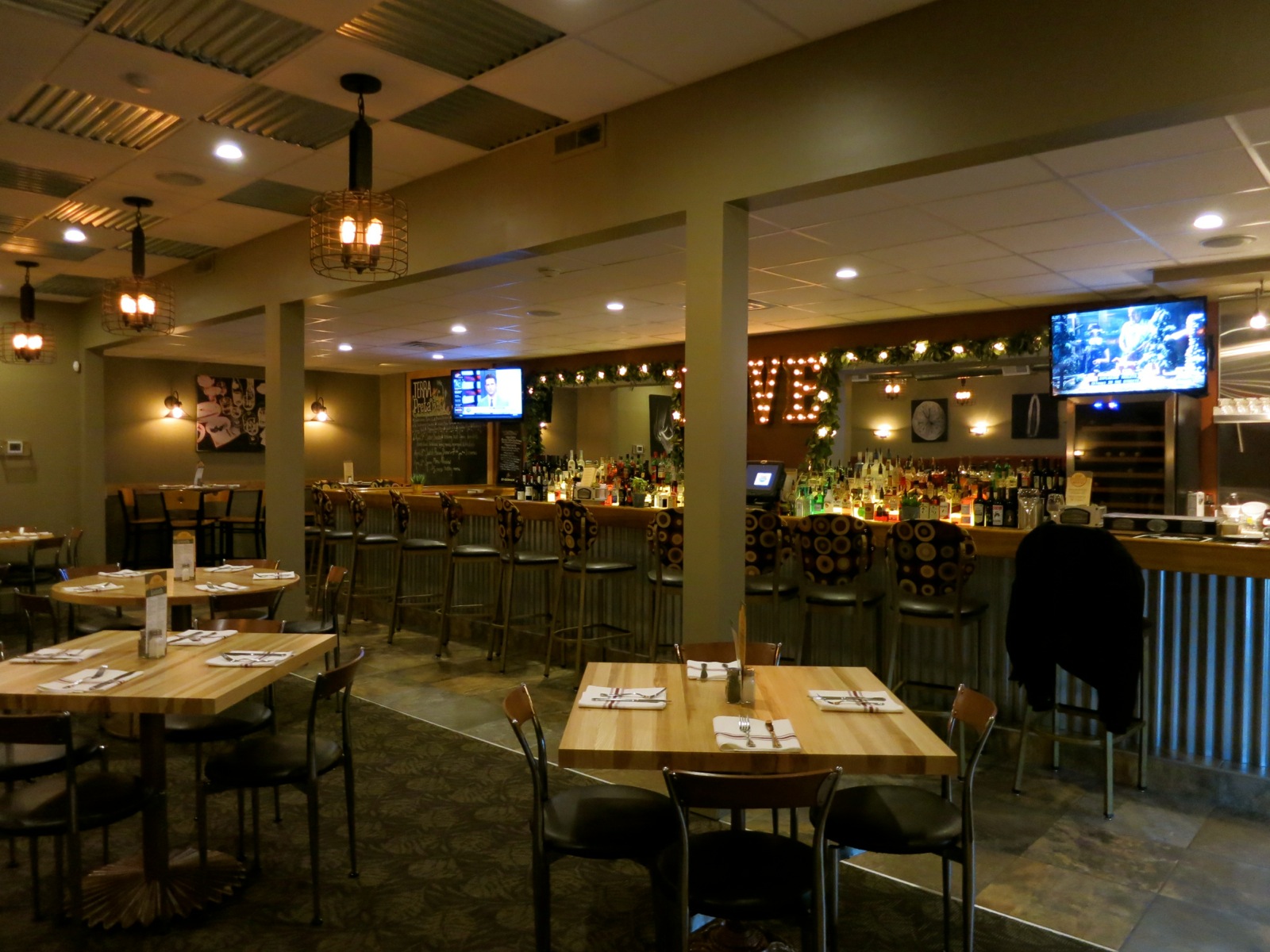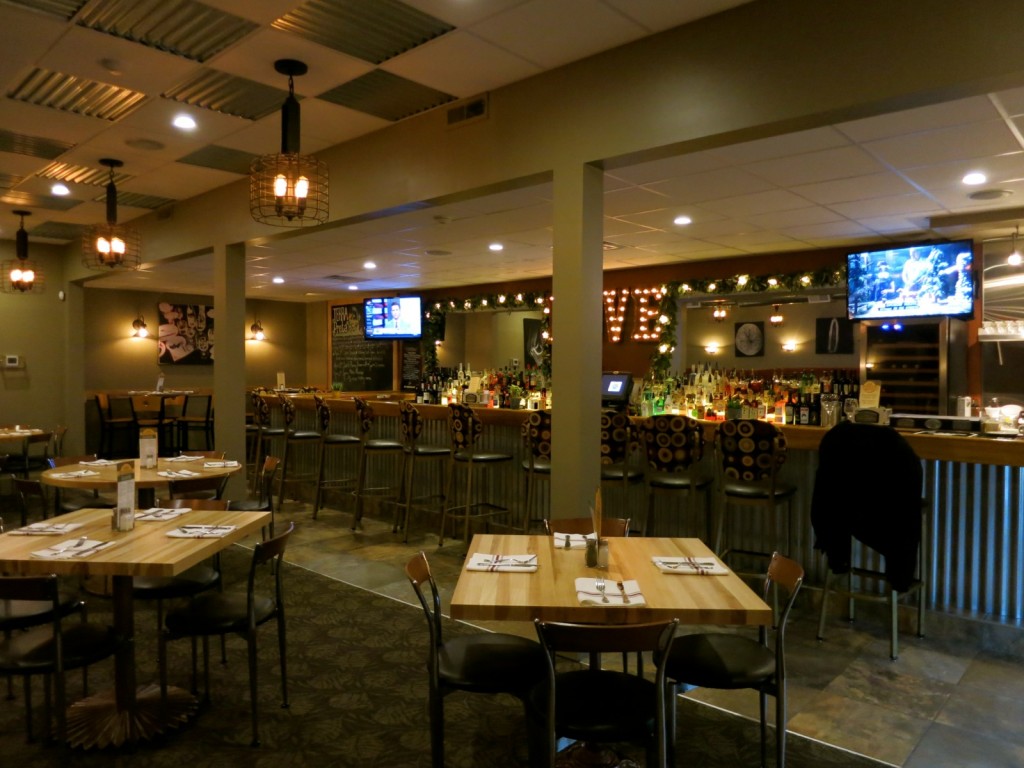 Owner Trish Dickert-Nieves grew up in the restaurant business. Her father owned Carl Von Luger's in town. Yes, THAT Luger's. Uncle Pete happened to be the world-famous Peter Luger's in New York.
Trish was diagnosed with MS in 2006. After trying medications that made her feel worse, she decided to go the nutritional route – banning sugary drinks and processed foods from her diet. She is now "pharmaceutical free" – and bases her menu on what she calls "root to leaf" cuisine.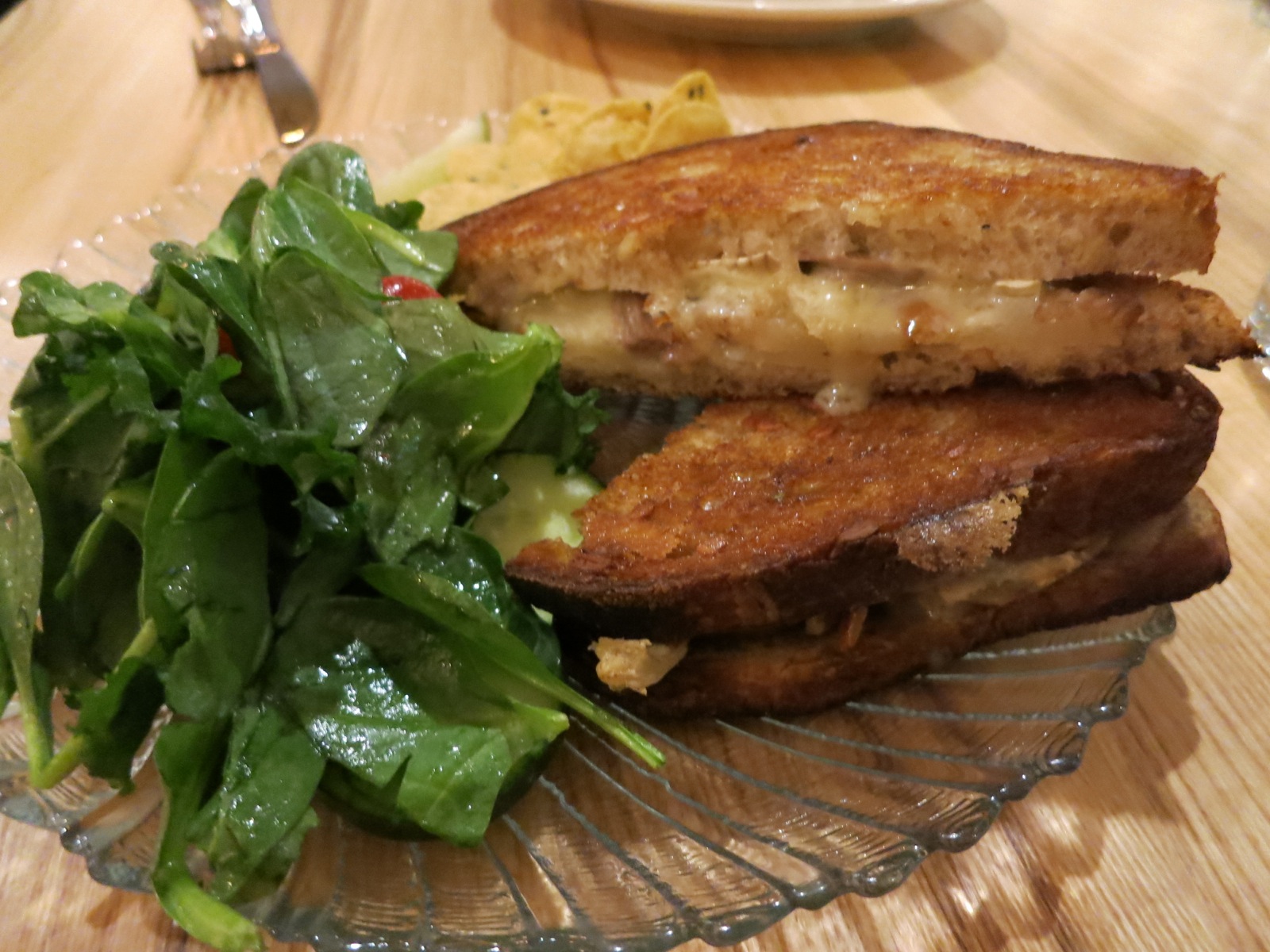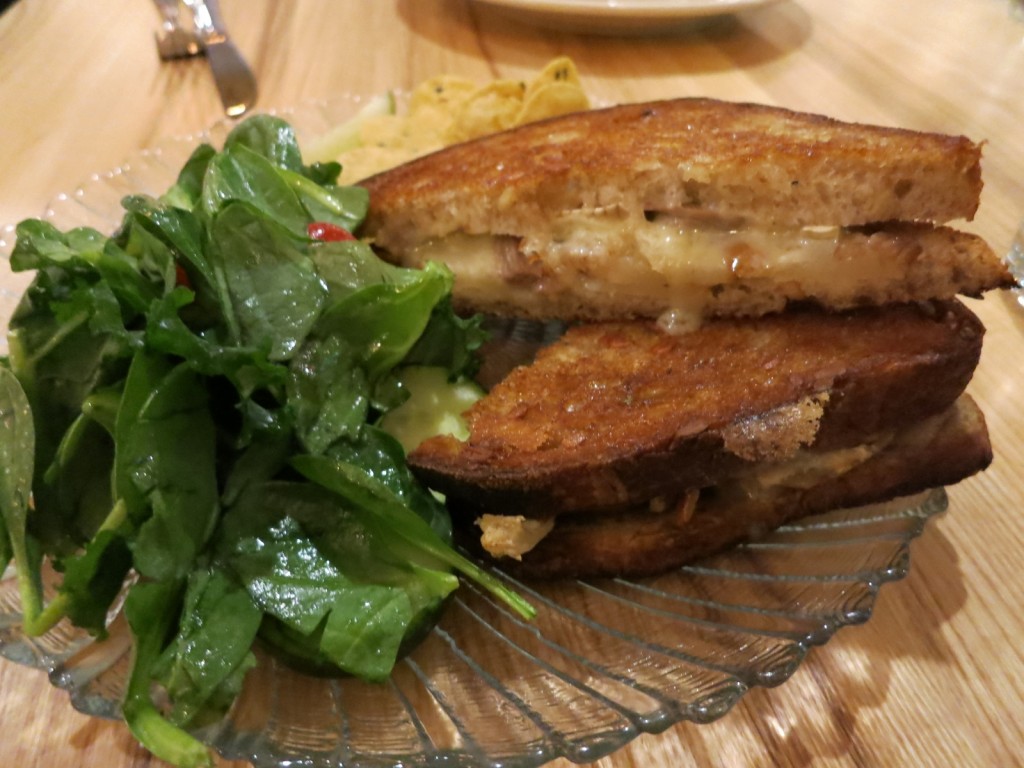 Though Terra Preta is very, very Vegetarian friendly, Dickert-Nieves "knows where our meat comes from and what the animals have been eating."
Favorites include Steamed Pork Belly Buns – "inspired by Momofuku in NYC," Vegan Bowls, like Chick Pea Curry Rice Bowl, and home-baked breads.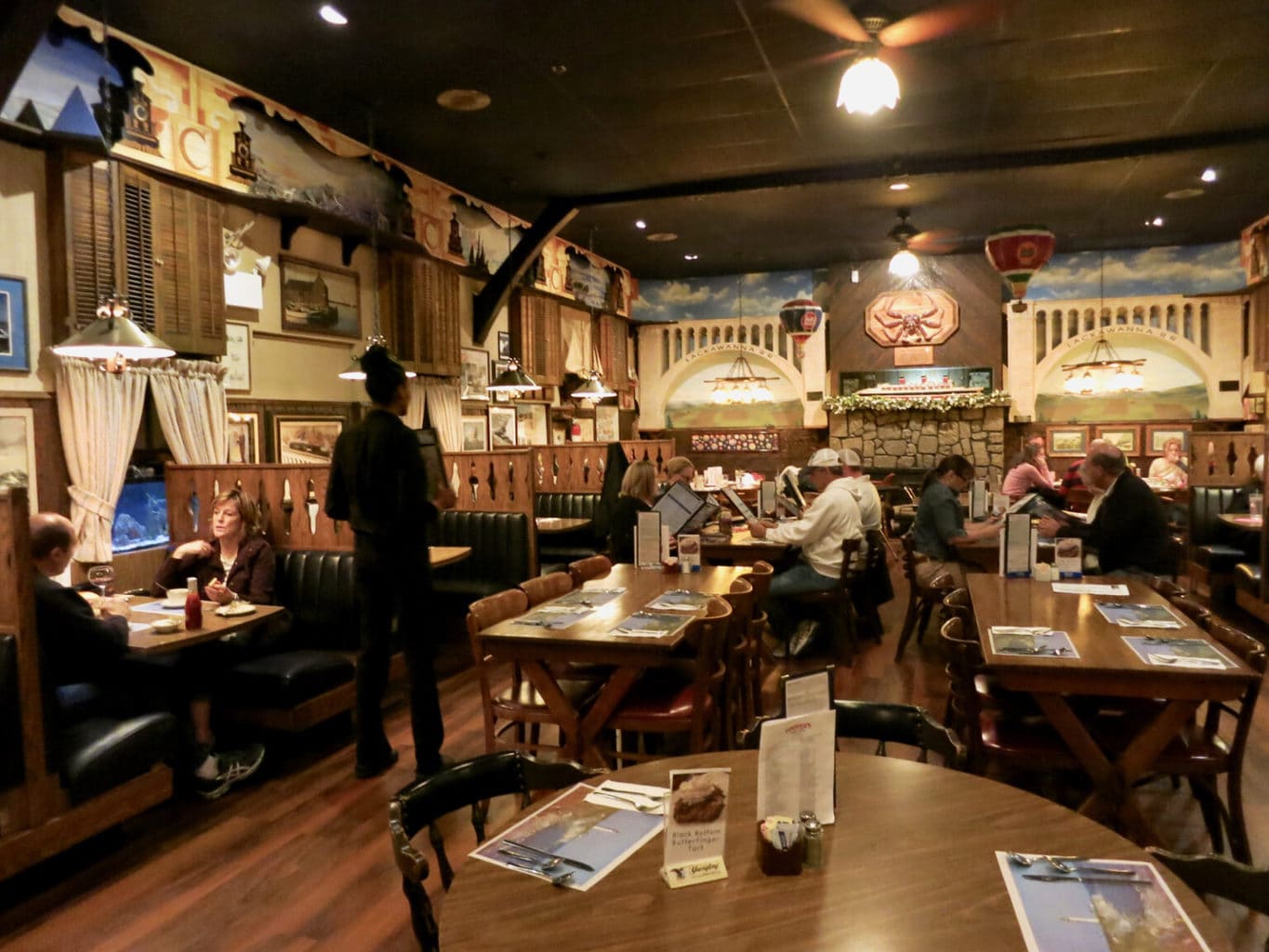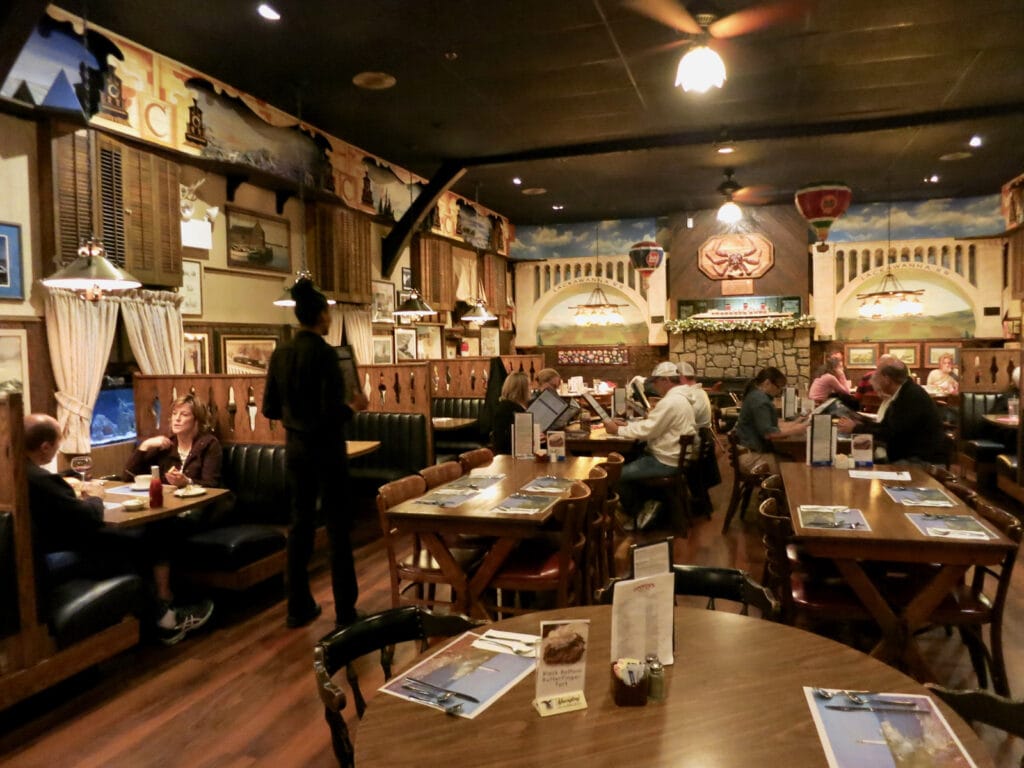 Drink in the outrageous décor. And then choose from a huge selection of 445 different craft beers from the 23-page "beer bible." This quirky place –identified by the lighthouse and the enormous squid on the roof – has been a Scranton tradition since 1948.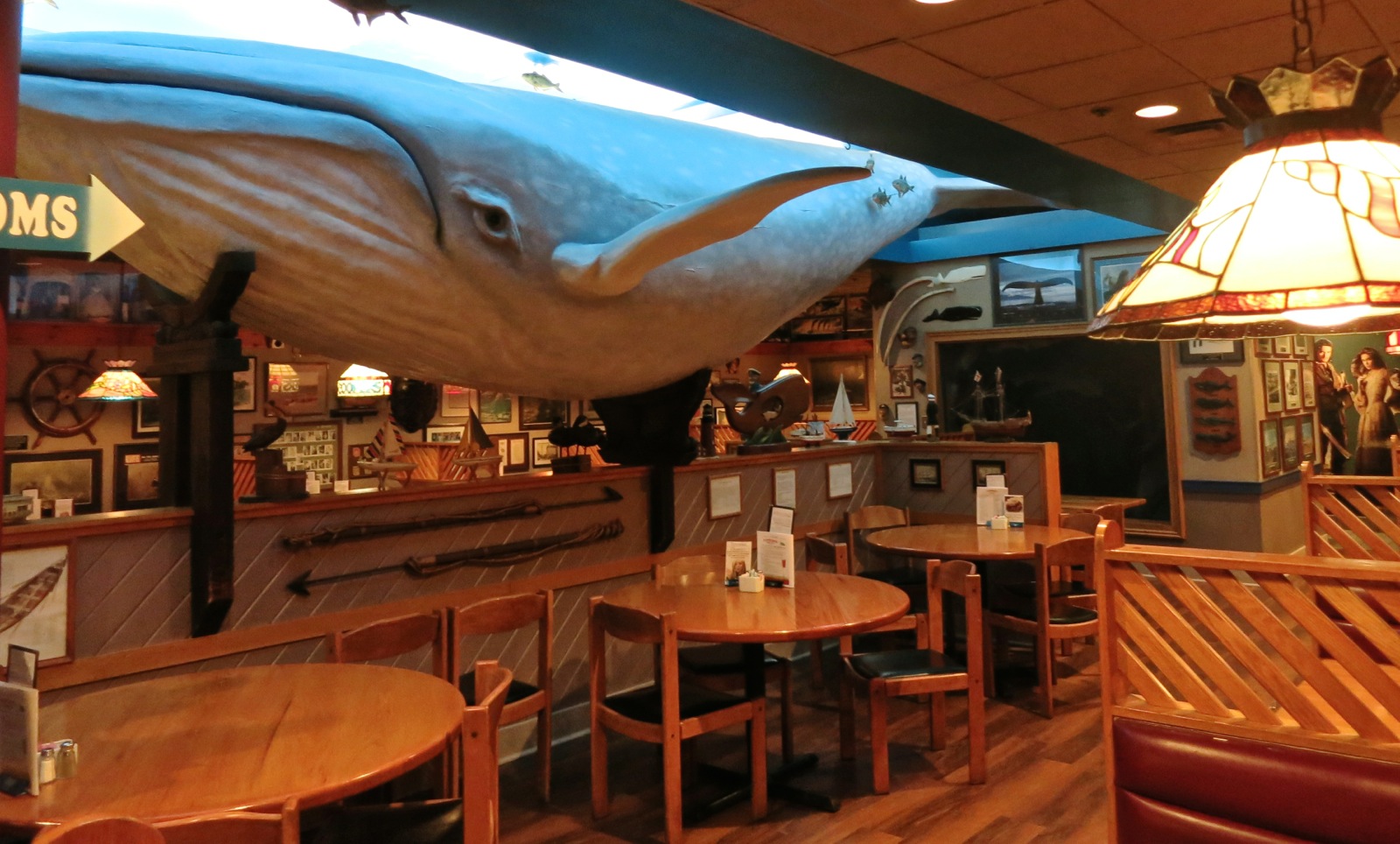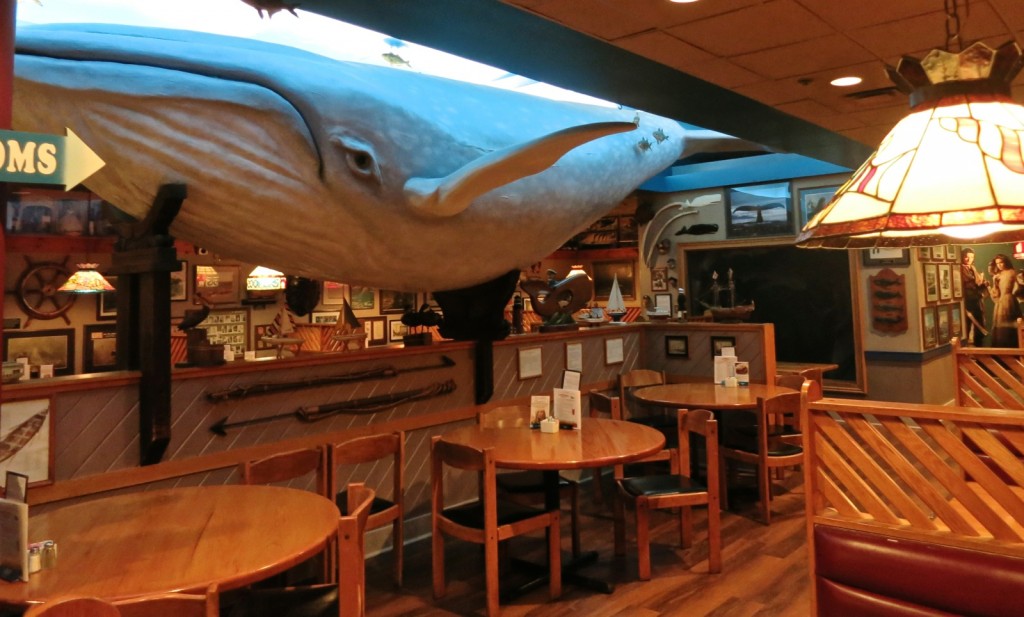 Dine among deep-sea divers, under a paper mache whale, in a booth with its own private fish tank, surrounded by posters, newspaper clippings and toys of the past.
Soups, breads, salad dressing and desserts are all house-made. And, though not innovative the food, overall, is tasty.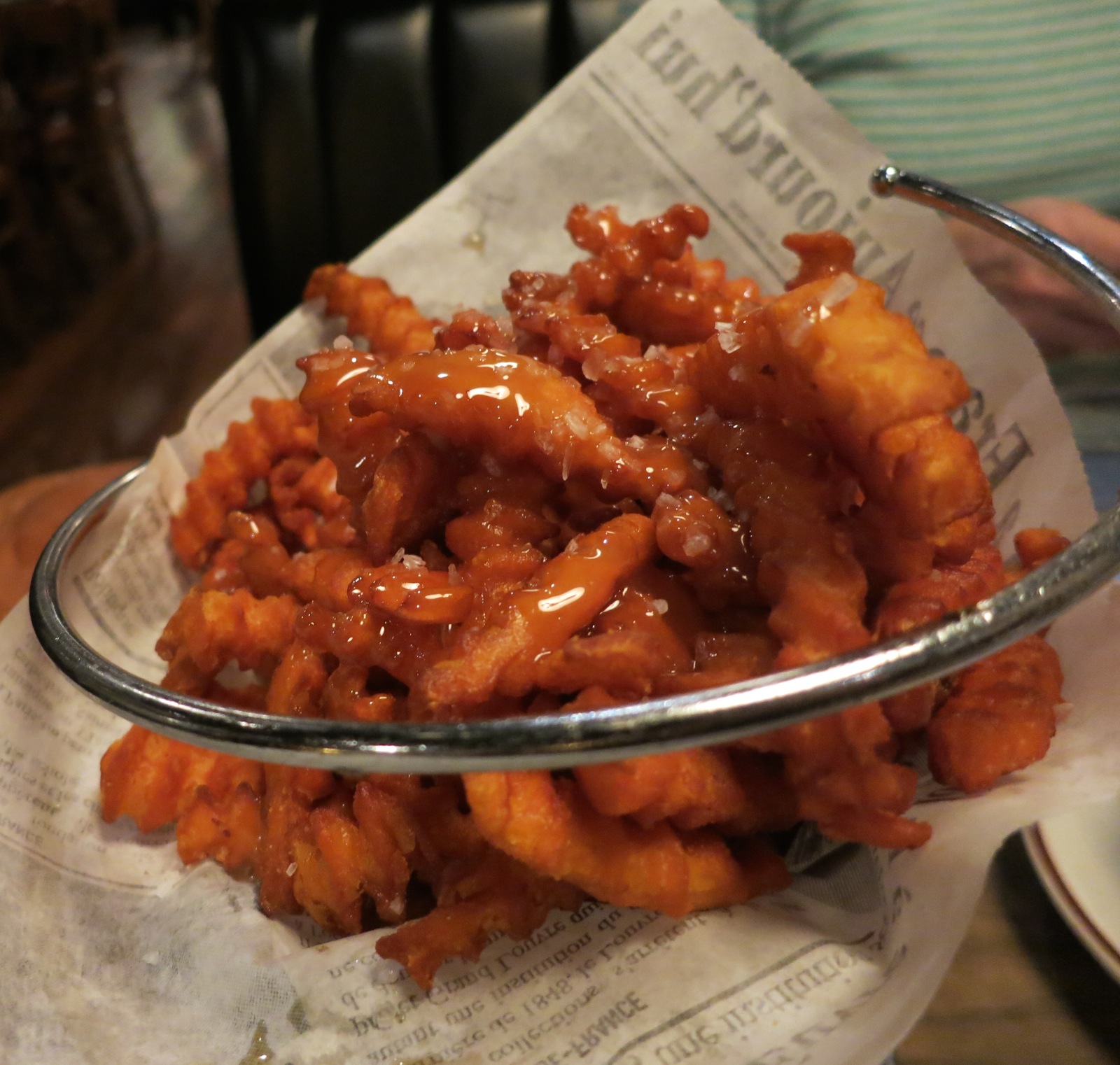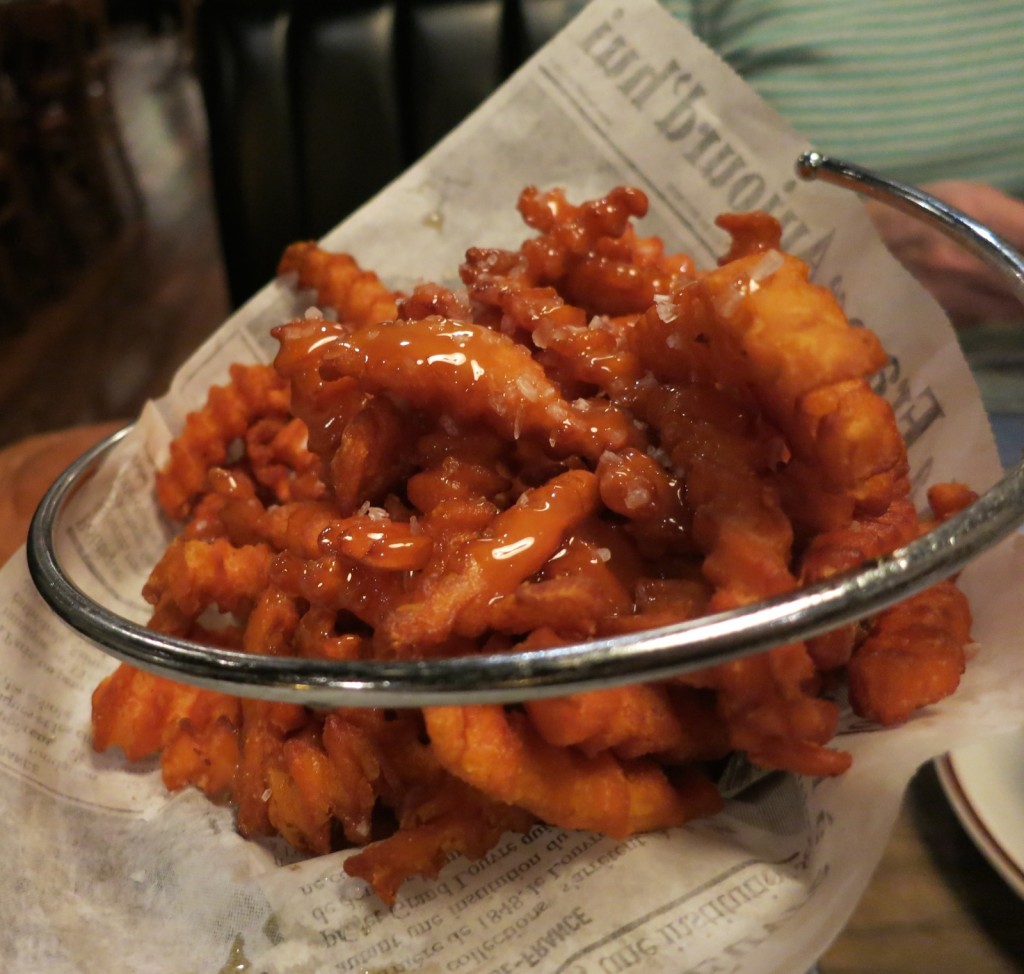 But let me tell you about the addictive "Salted Caramel Sweet Potato Fries." They are crispy, sweet, salty and dangerously amazing.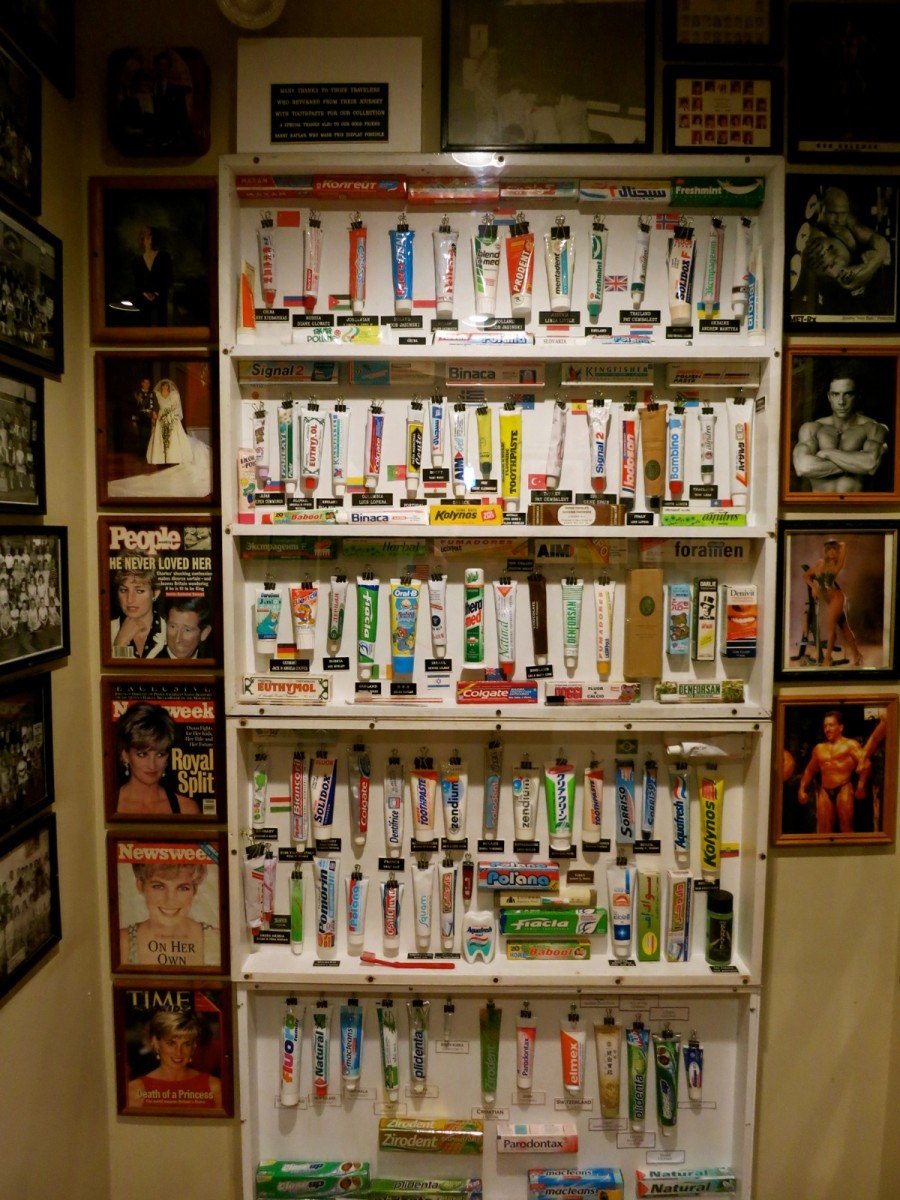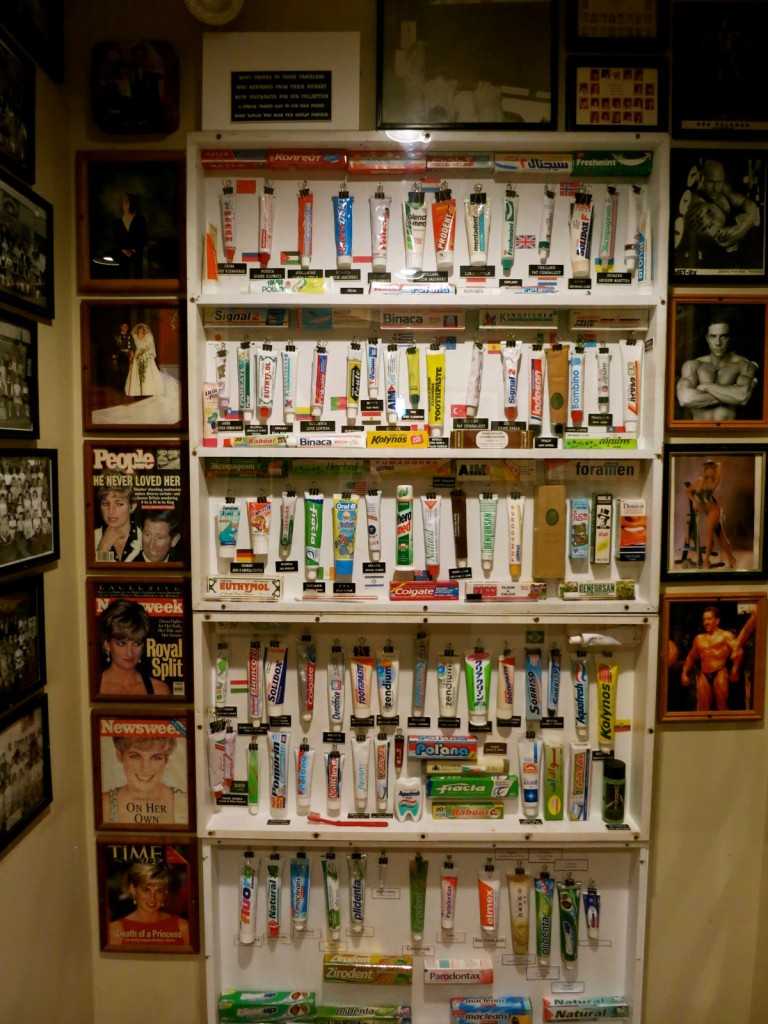 End with the popular Key Lime Pie, which won over a very picky Florida native. Cooper's version – pale yellow ("thankfully not green!"), meringue piled high with Lorna Dune Cookie Crust – was one of the best she's ever had. On your way out, don't forget to check out the collection of toothpastes. They were sent by satisfied customers from all over the world.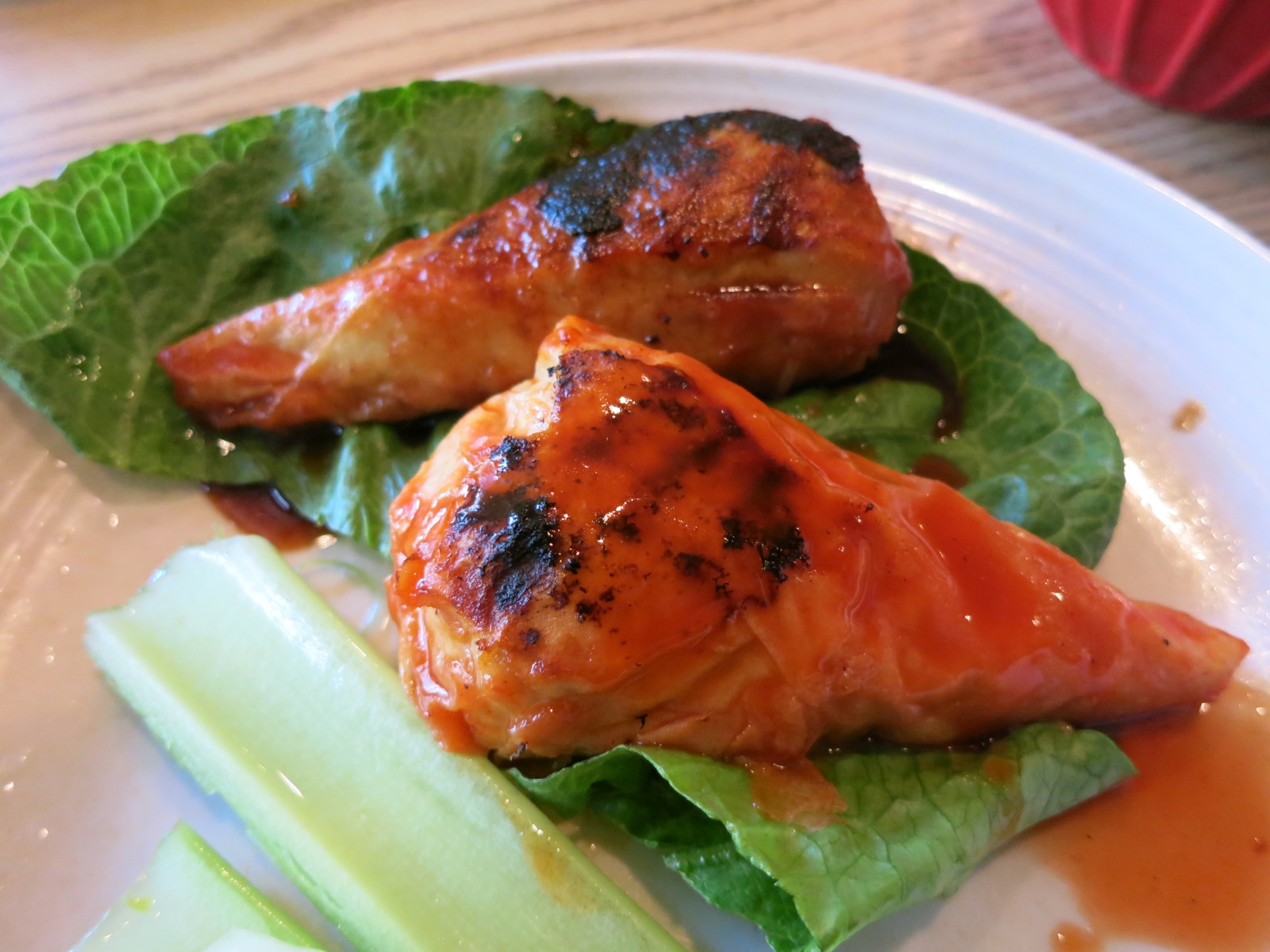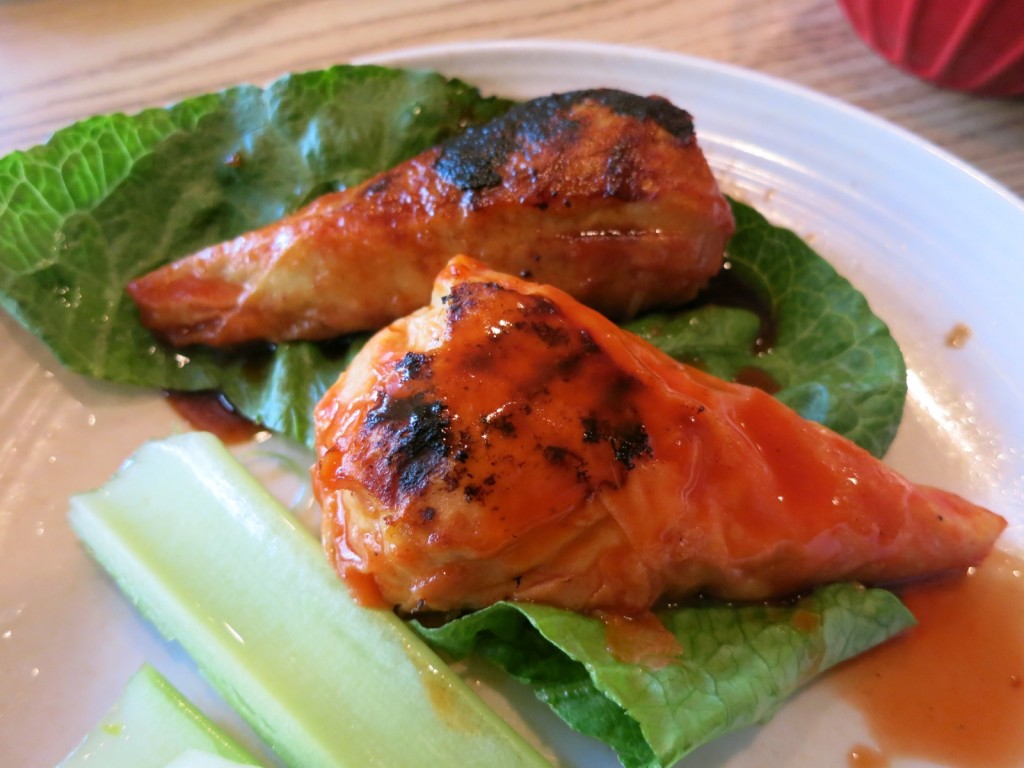 EAT: Eden Vegan Café Scranton PA
Get your meatballs, burgers and "chicken wings" at this all-vegan shop. The chef does wonders with soy products, crafting foodstuffs like the real things. Winning high marks on the Vegan website, Happy Cow, the "Happy Cow" ap draws tons of travelers off of I-81.
EAT: Locals recommend
POSH for chic ambience. The gastropub Backyard Ale House. Ipanema Grill for Brazilian style meats. And Angelo's Italian for, you got it.
Hotels in Scranton PA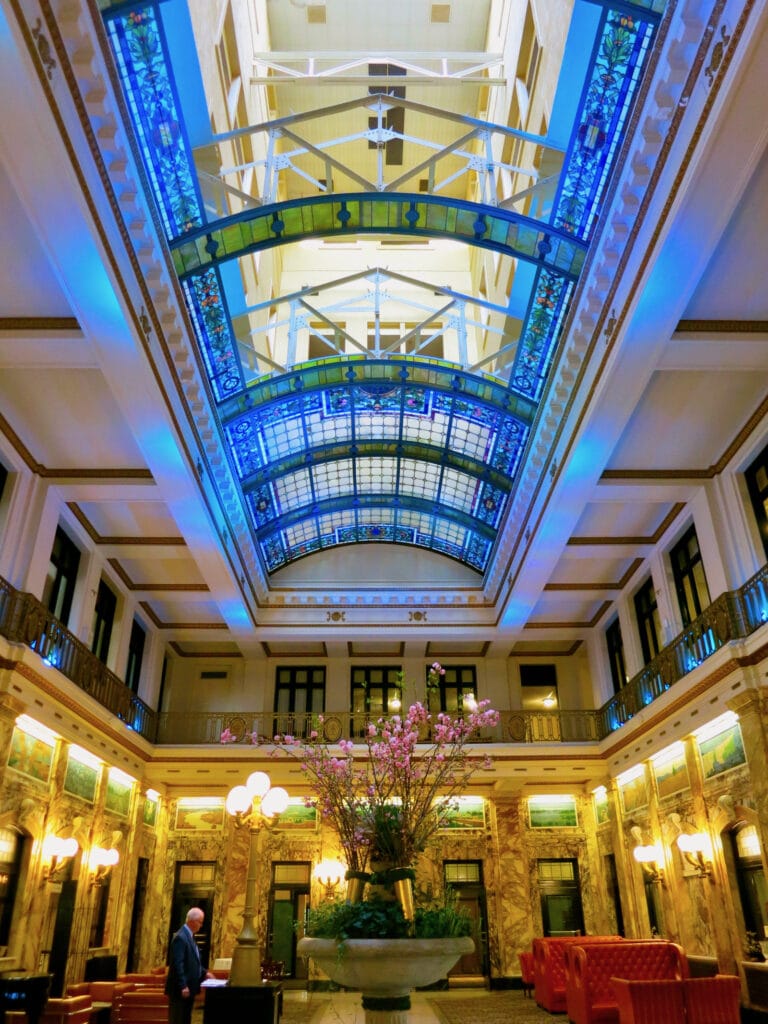 STAY: Radisson Lackawanna Station Hotel Scranton PA
In 1986, this former French Renaissance-style Lackawanna Train Station was transformed into this grand hotel.
The hotel's soaring ceiling is composed of arched Tiffany stained-glass skylights. Some of these fragile treasures were destroyed in the 70's. Incredibly, movers chose to throw railroad office desks through the glass from higher floors rather than carry them down.
Diffused light filters into a lobby gleaming with Sienna and Alpine green marble walls and terrazzo-tile floor. You can almost hear the ghostly echoes of "All Aboard."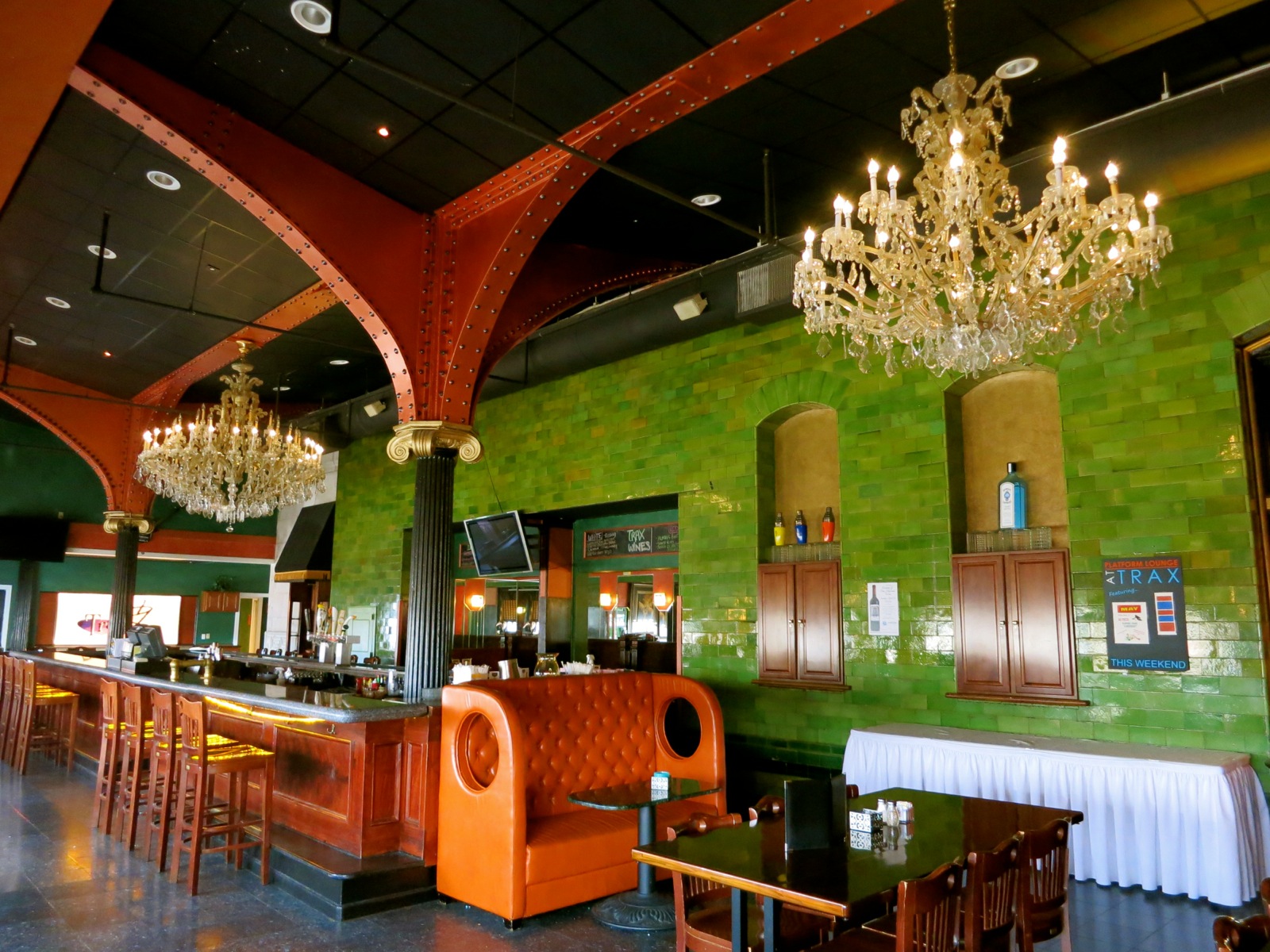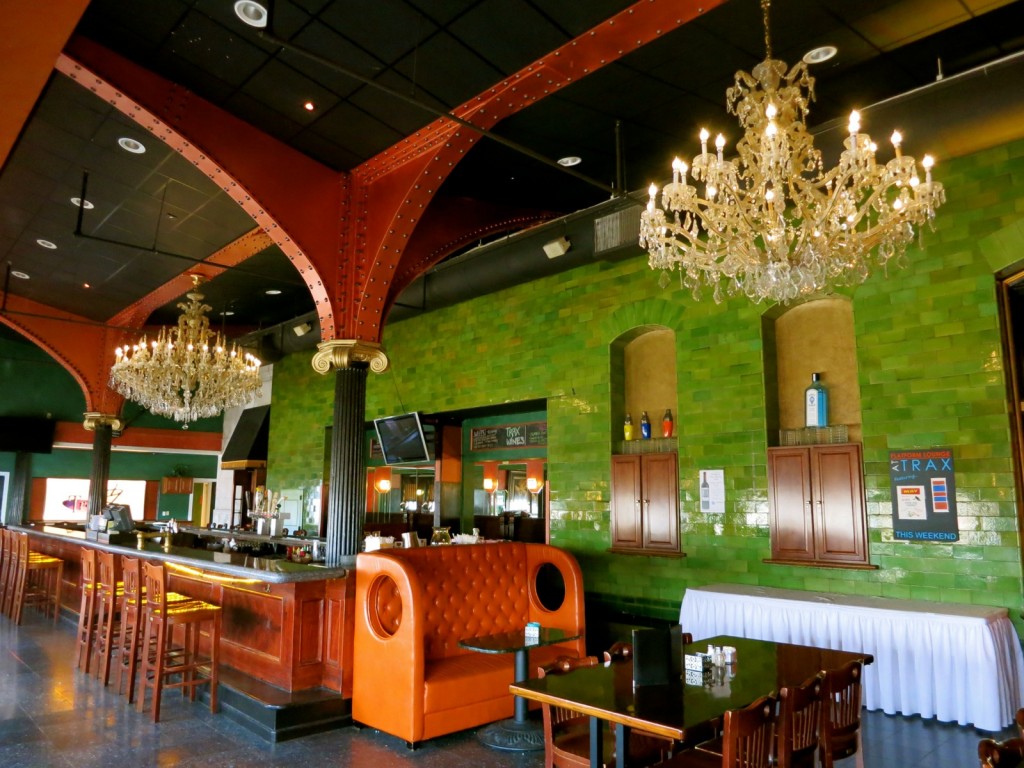 Rooms were upgraded to cool grey hues and modern furniture. This is still a working railroad yard, so plan on a few freight trains rolling by your window in late afternoons.
A couple of incongruous crystal chandeliers add some glitz to the otherwise clubby Trax Lounge. The bar also features what was originally an exterior platform wall, scraped by trains coming around a tight corner. Ask to see these indentations while enjoying a drink. Rooms from $95 per night.