WHY GO: Hudson Yards – the latest development to join New York City landmarks like the Empire State Building or Rockefeller Center  – is in the spotlight right now. What was until just recently a West Side wasteland is now a playground for the rich – and the curious tourist.
Where is Hudson Yards located?
Hudson Yards construction remains robust, and is nowhere near complete.
The entire Hudson Yards neighborhood spans from the northern terminus of the High Line at 30th Street to 41st Street. And from 8th Ave to the Hudson River. It's a pop-up neighborhood, adjacent to the Javits Convention Center, in the footprint of the old New York City rail yards, where trains still sit idle.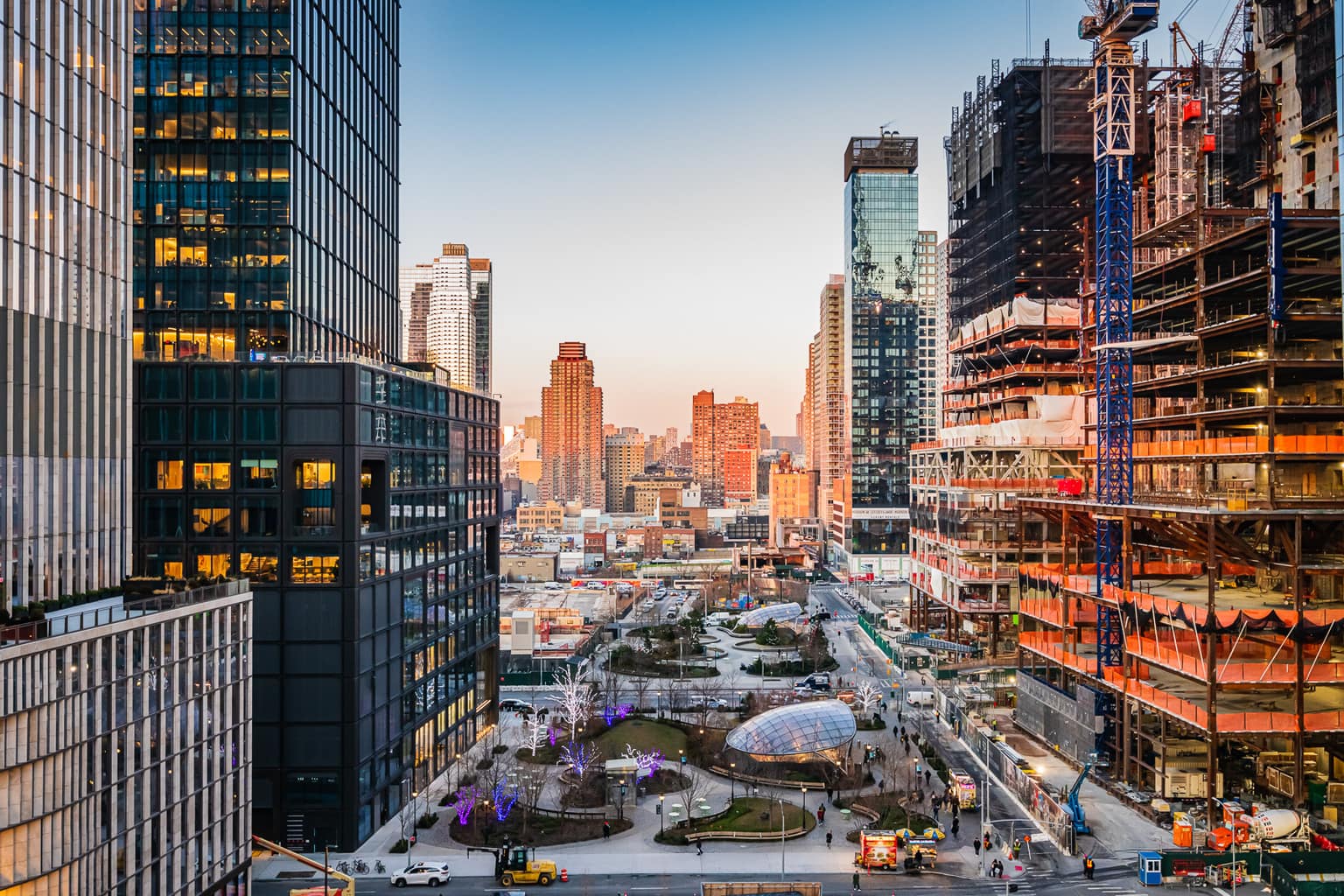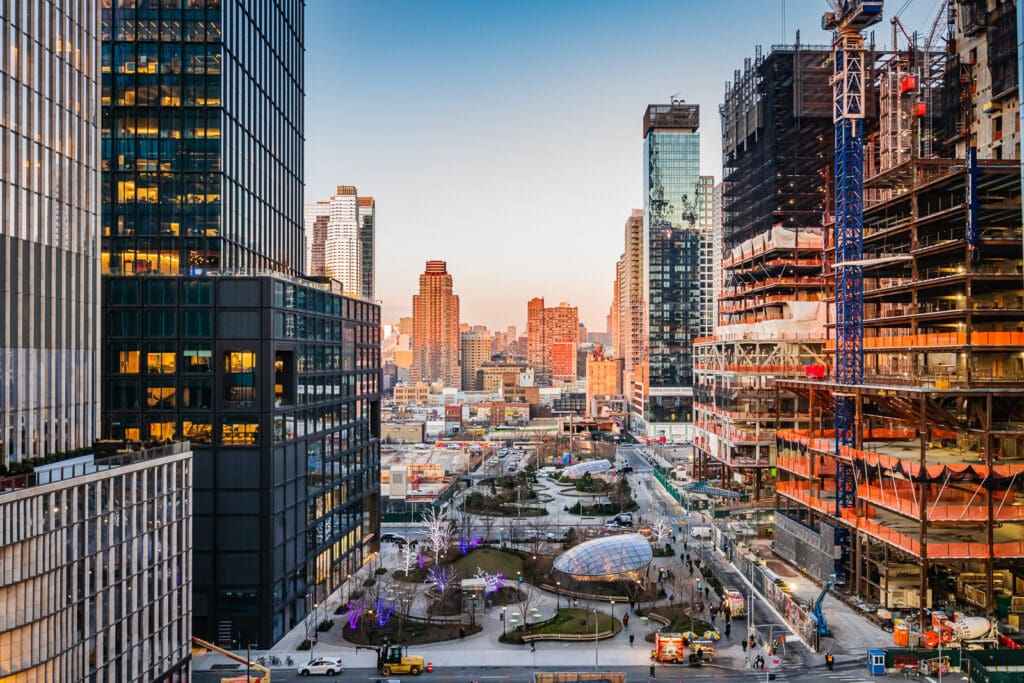 But the pop-up is here to stay. French cosmetics company, L'Oreal, joined Coach at 10 Hudson Yards for their US Headquarters. And those who can afford it are moving in.
Much has been written about the exorbitant condo prices here. Apartments, featuring fancy-pants accoutrements out the kazoo, start at $4.2 million.
Fortunately, visitors can tap into the festive and audacious attractions at Hudson Yards for a song, especially if they stay in neighboring/overlapping Hell's Kitchen or Garment District.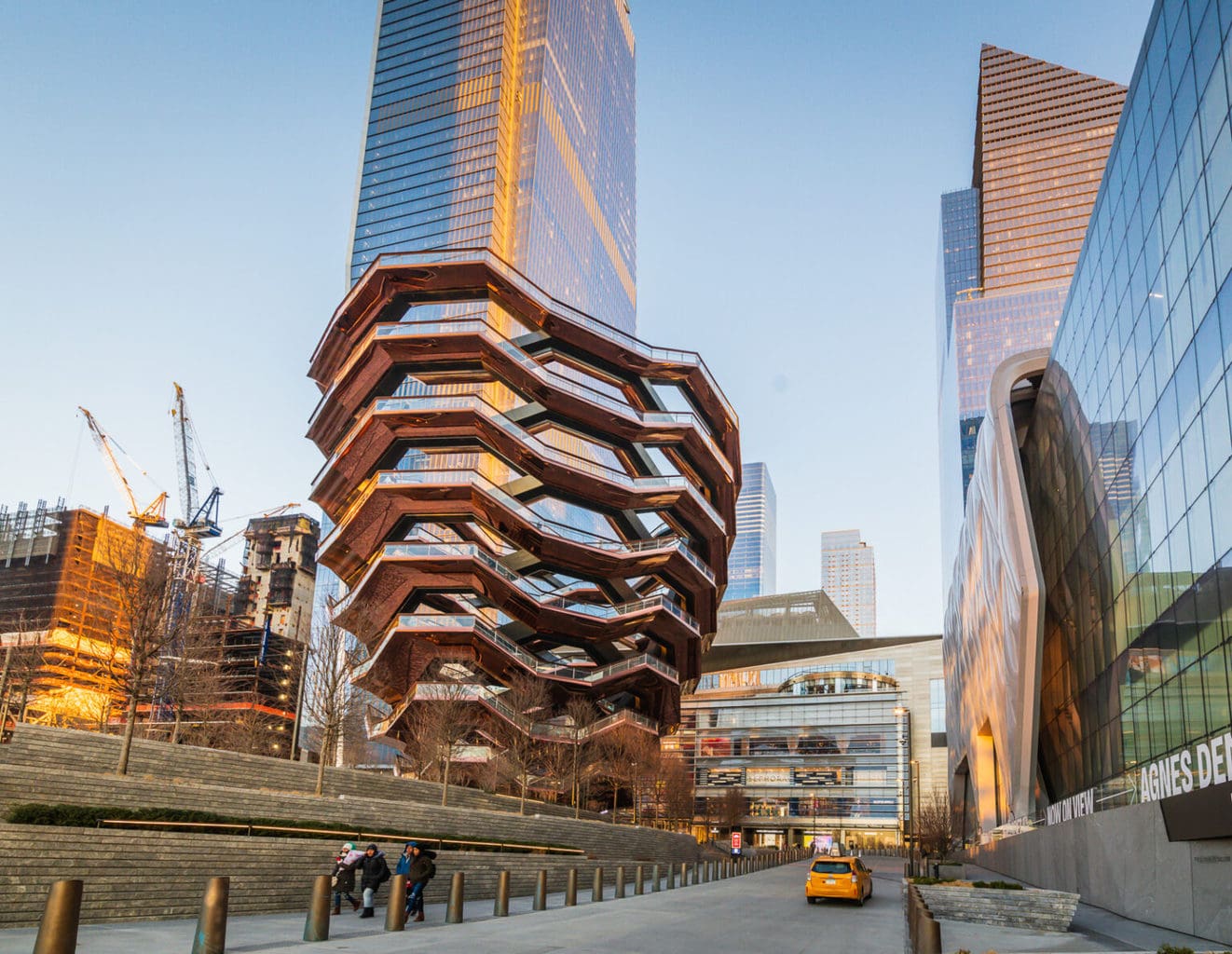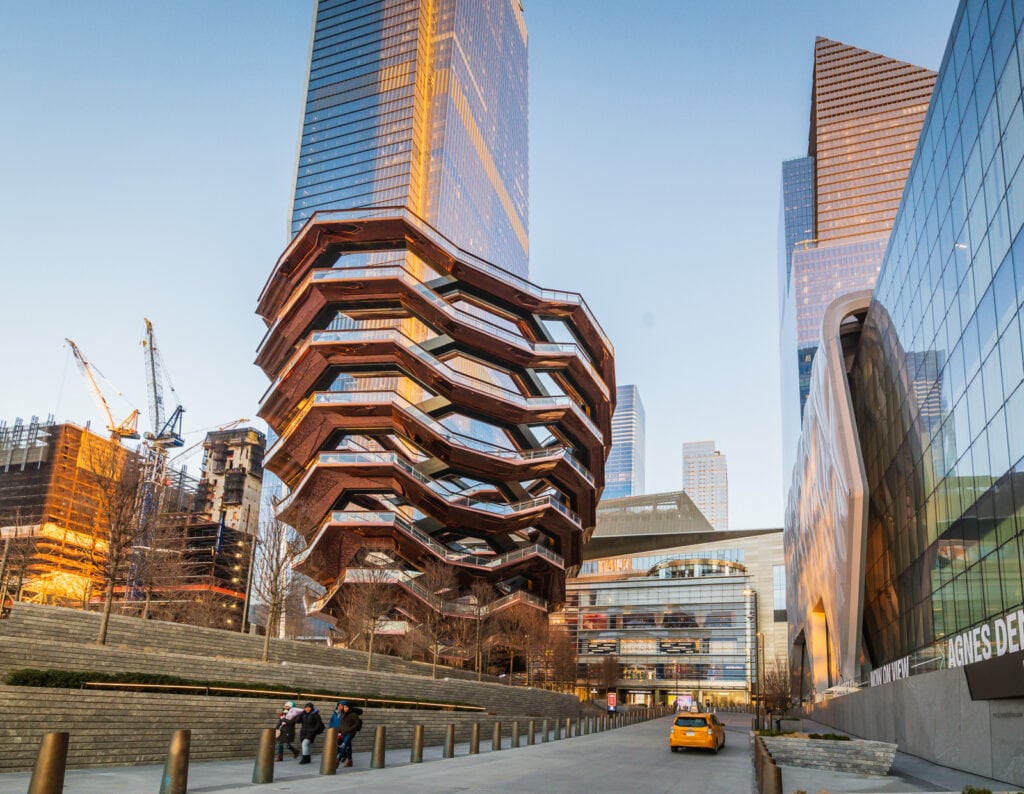 Things To Do In Hudson Yards
The Vessel–a 150' tall "interactive" installation designed by British designer Thomas Heatherwick–caused quite a bit of chatter when it opened on March 15, 2019. Not all of it was good.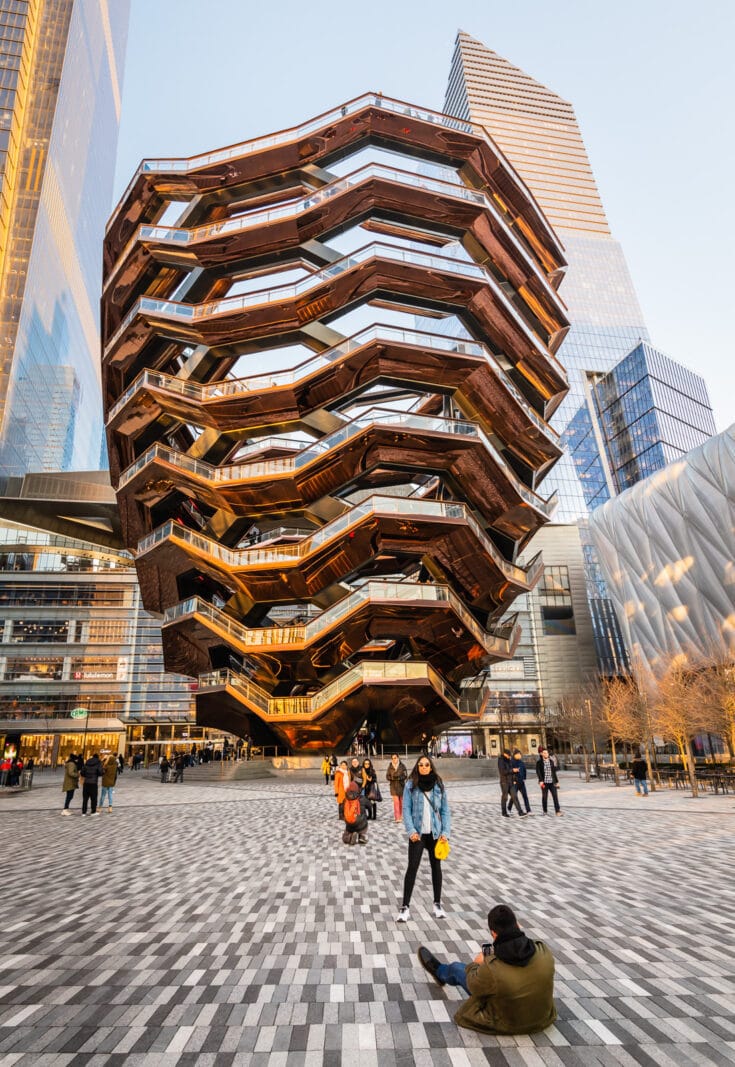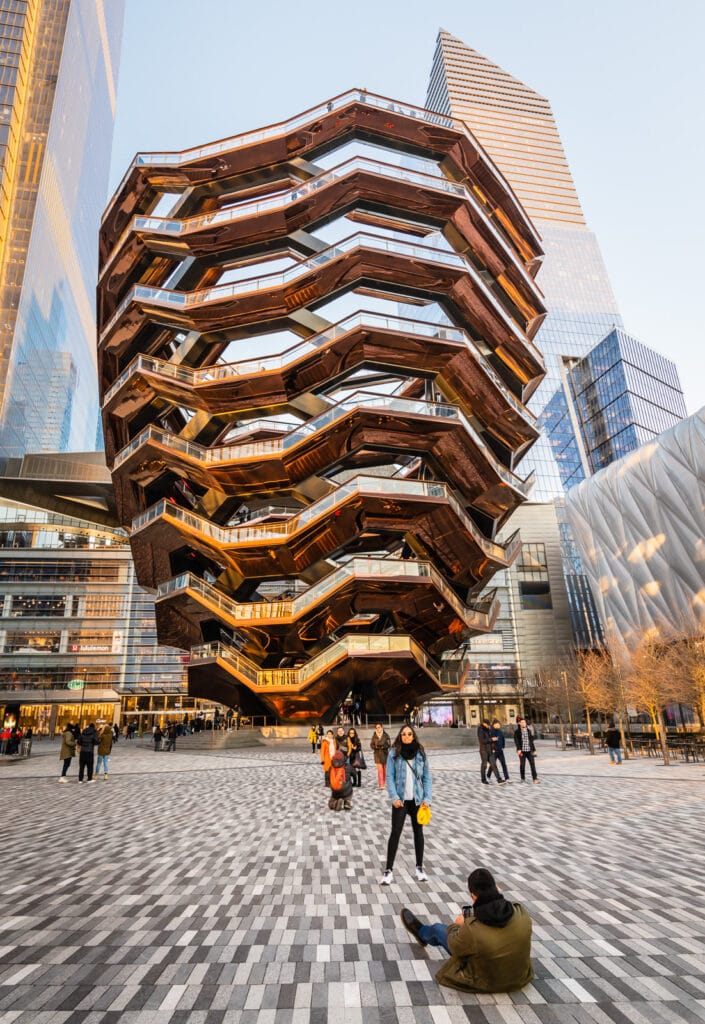 But visitors have grown to love this luminous open basketweave sculpture that transforms from rose-gold to bronze as the sun goes down.
In fact, sunset is the perfect time to amble its series of staircases. Watching the sun set over the Hudson River is downright transcendent.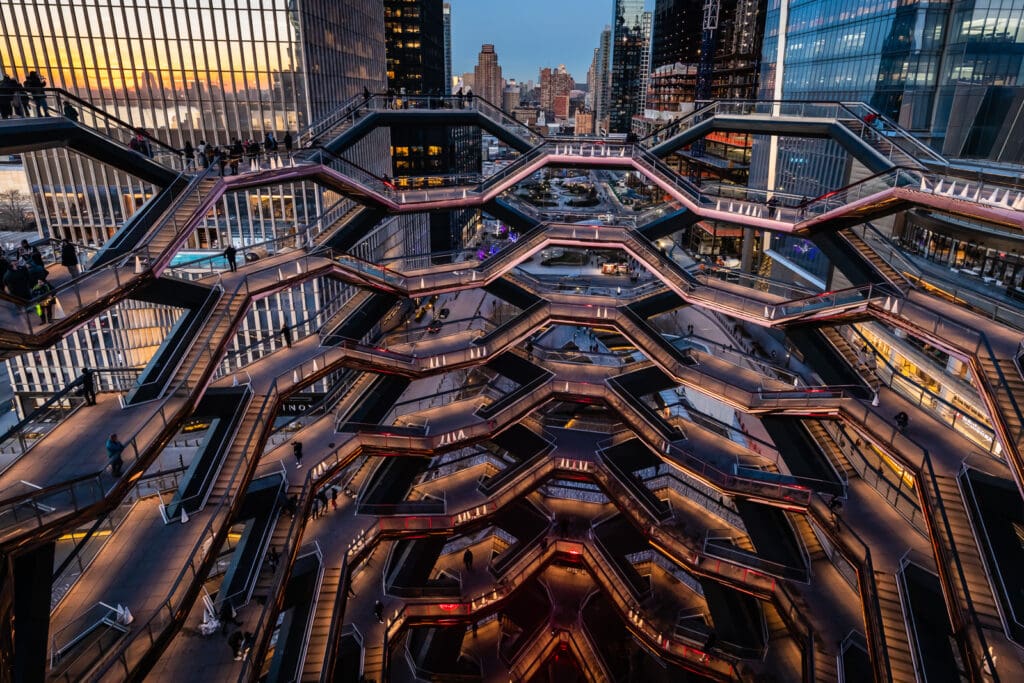 Over 2500 steps spread over 16 stories and 154 flights of stairs producing an Escher-like conundrum of direction.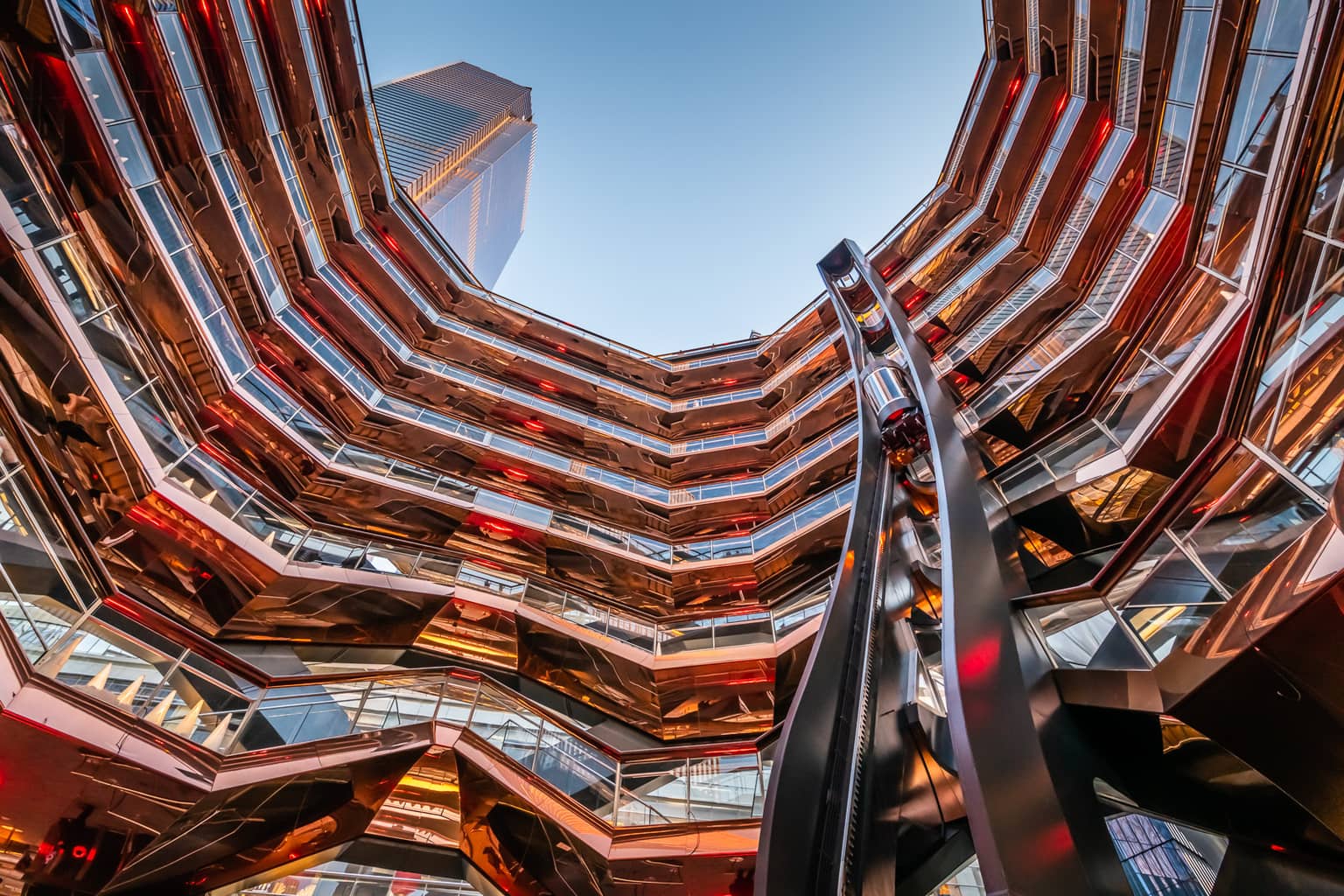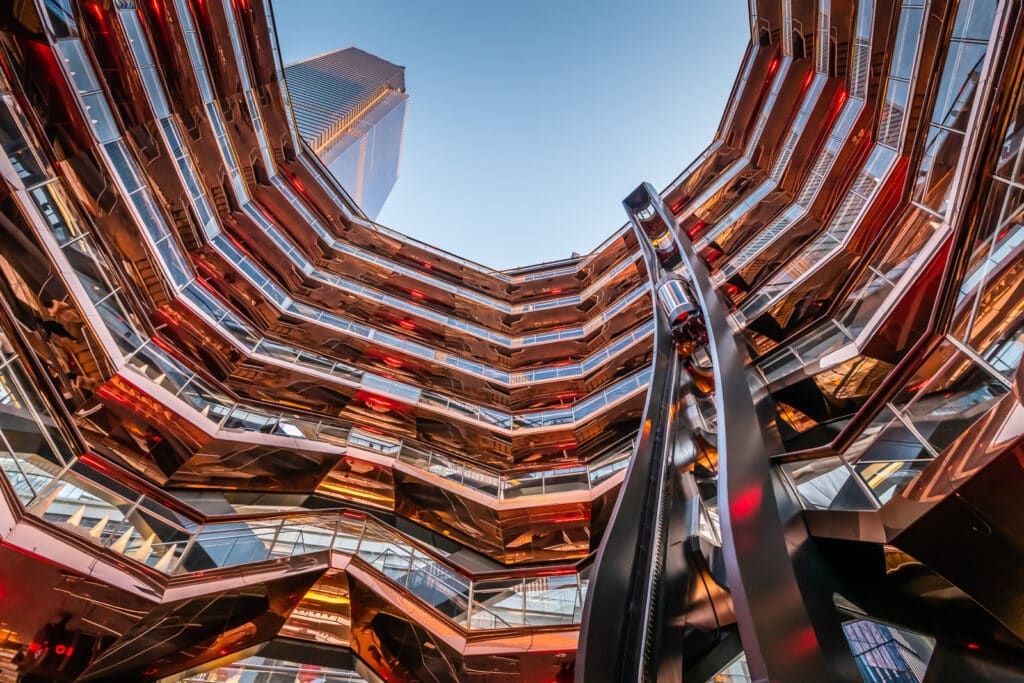 Of course, you can skip the work out and ride the unusual Liberty elevator.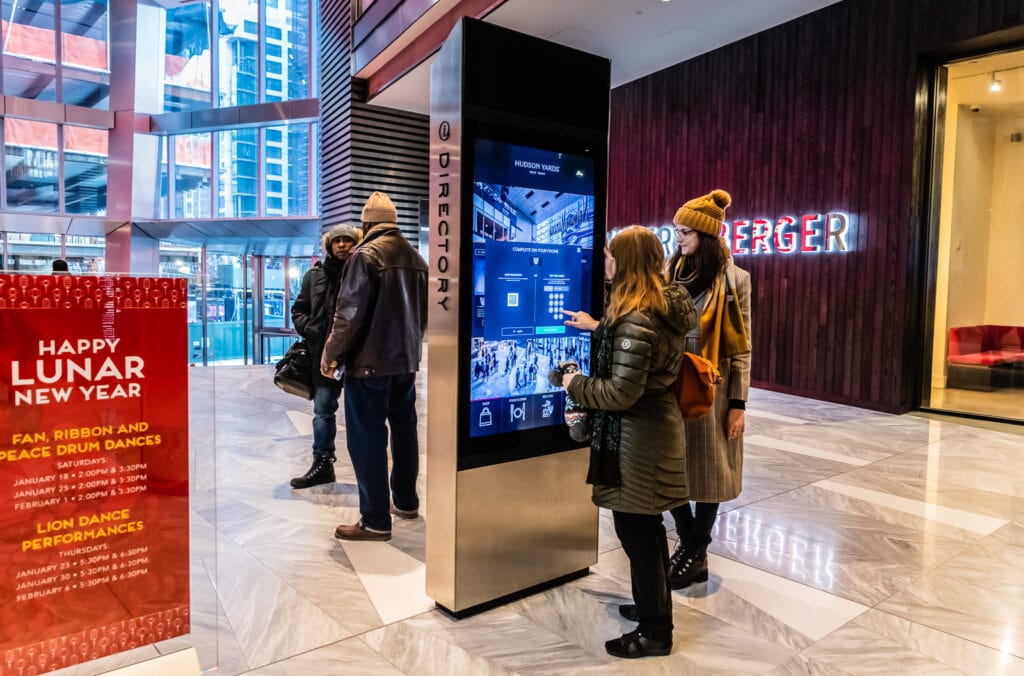 Same day timed tickets are free, but first come first served. Book at any kiosk in Harbor Yards. You can also book a specific date up to 6 months in advance for $10 per ticket.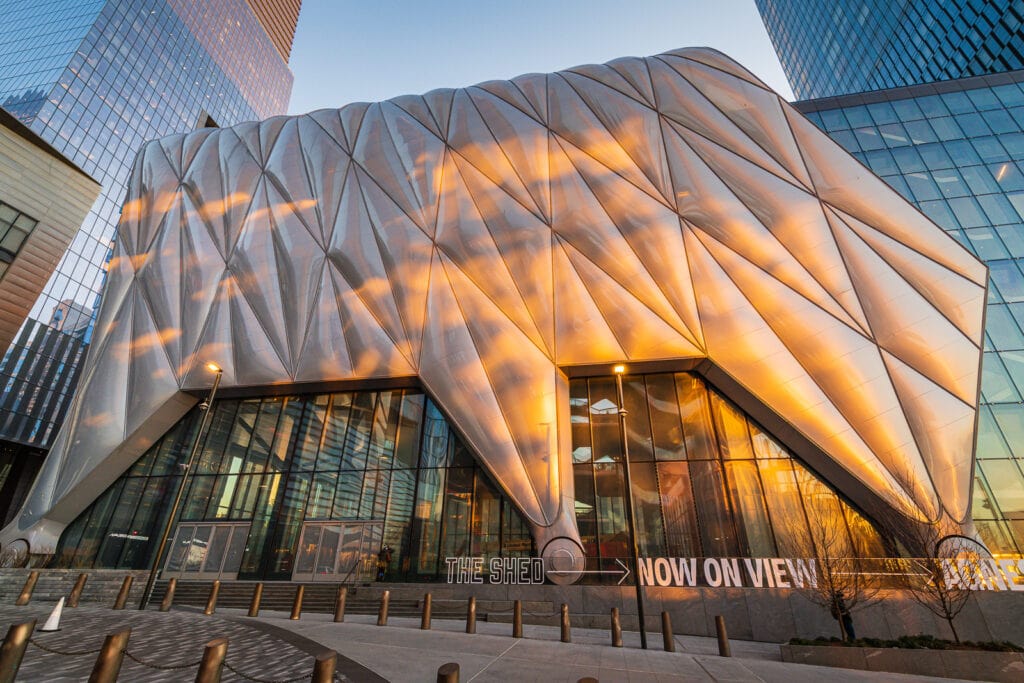 Billed as a "cultural event space," the 6-story Shed is also an architectural marvel. Designed by Diller Scofidio + Renfro, the firm behind the High Line, the canopy opens onto a public plaza.
The space can be nimbly reconfigured for larger events via a retractable shell positioned on wheels. This dynamic component transforms what would have been a traditional building into a model of ingenuity and design.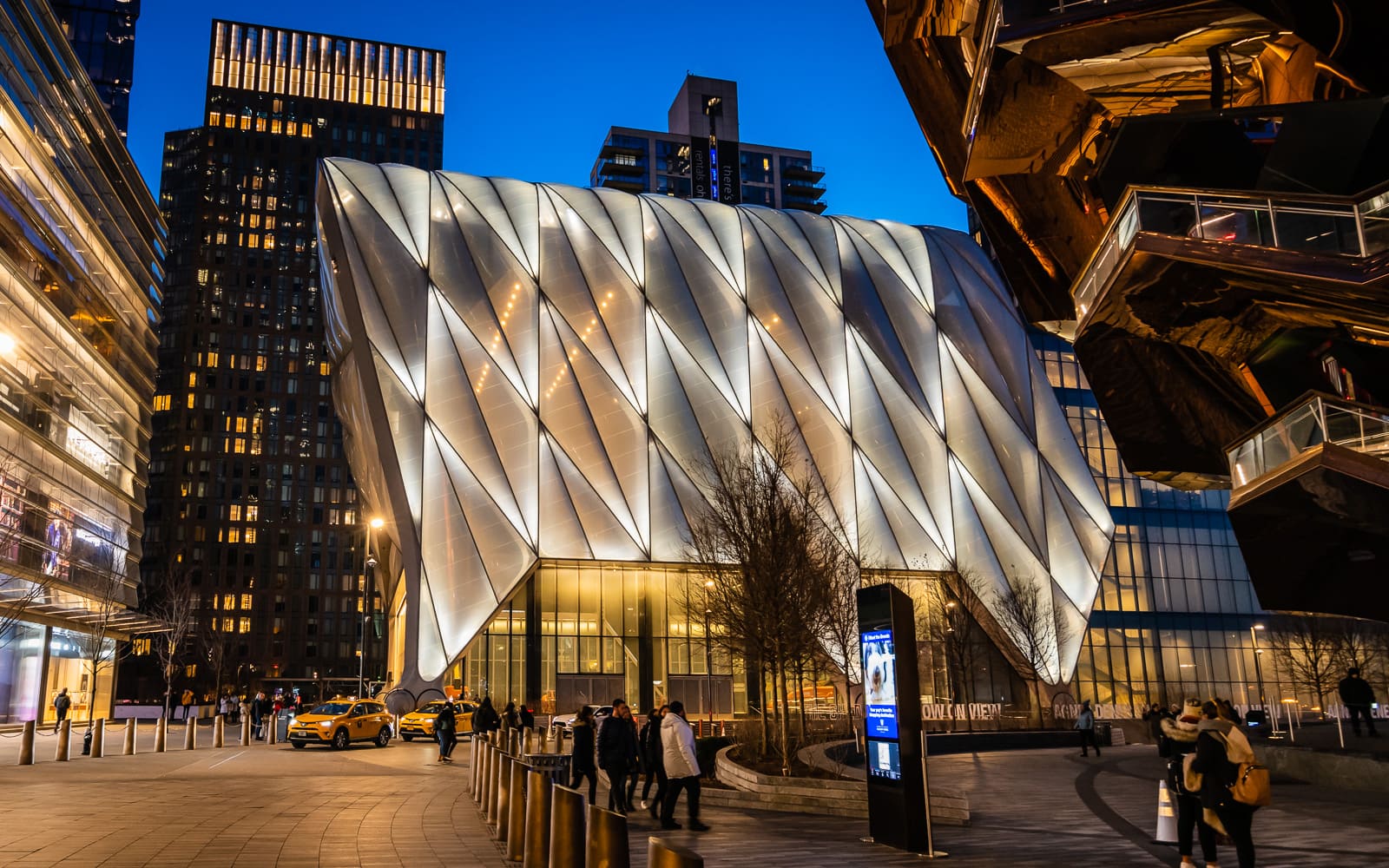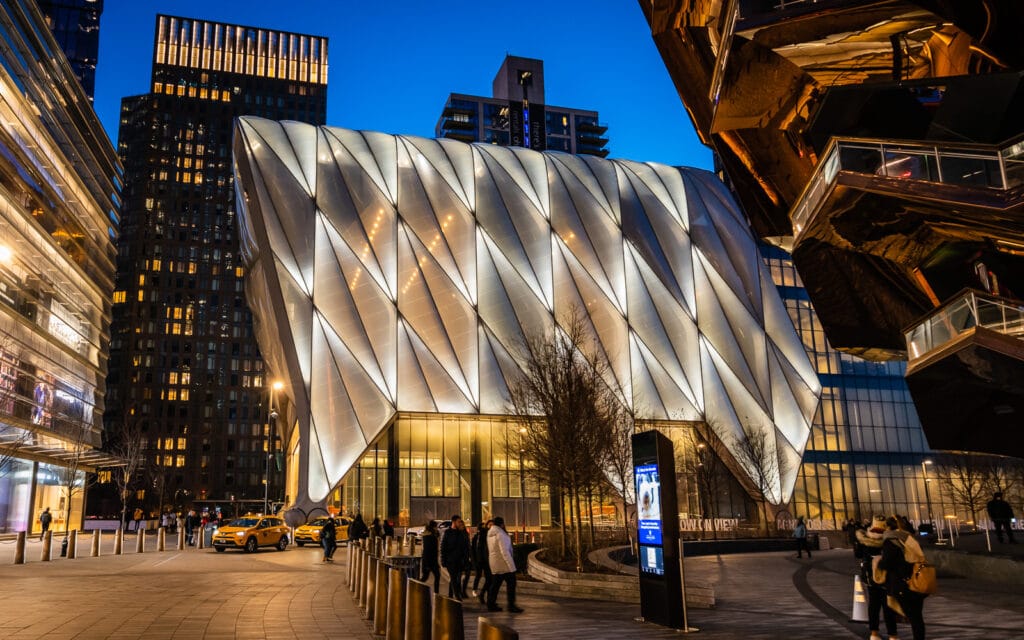 Plan to see a performance here. Or at least visit two floors of art exhibits, featuring the latest in avant-garde and contemporary art. Check website for performance schedule. Galleries open Sun-Wed. 11am-6pm, Thurs-Sat 11am-8pm, $10 adults.
Hudson Yards connects with the northern end of the 1.5 mile High Line at 30th and 10th Ave.
On any given day, this elevated linear City Park teems with tourists. But if you stick around, you might find a down time when it's less crowded.
On your aboveground stroll, thrill to multi-faceted spectacles: from new whimsical buildings to glimpses of the Hudson River, to brick alleys, and traffic-clogged roads.
Plus, art installations. The Plinth – an open-air contemporary art space at "The Spur" can be accessed behind The Vessel (after construction of Hudson Yards is complete in mid 2020).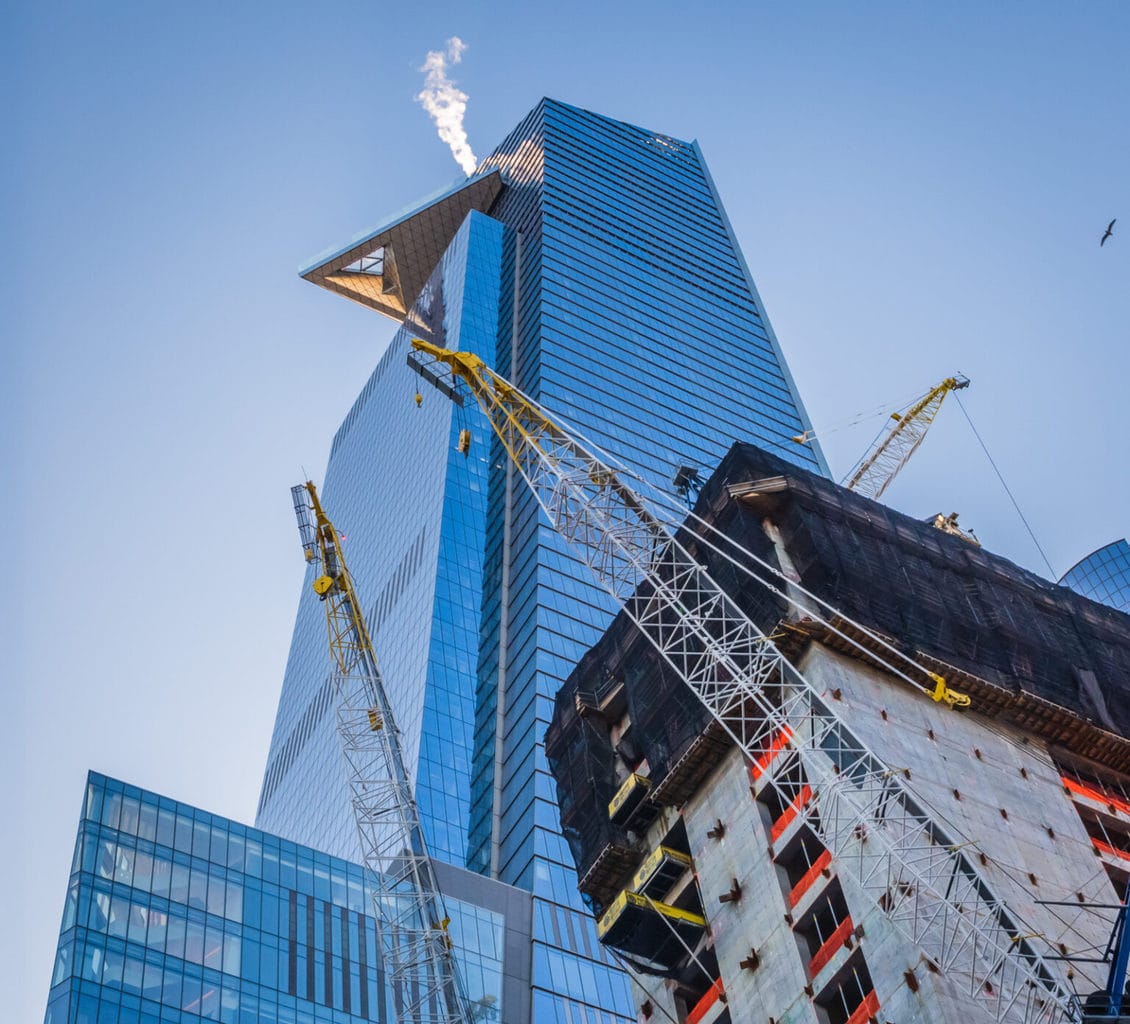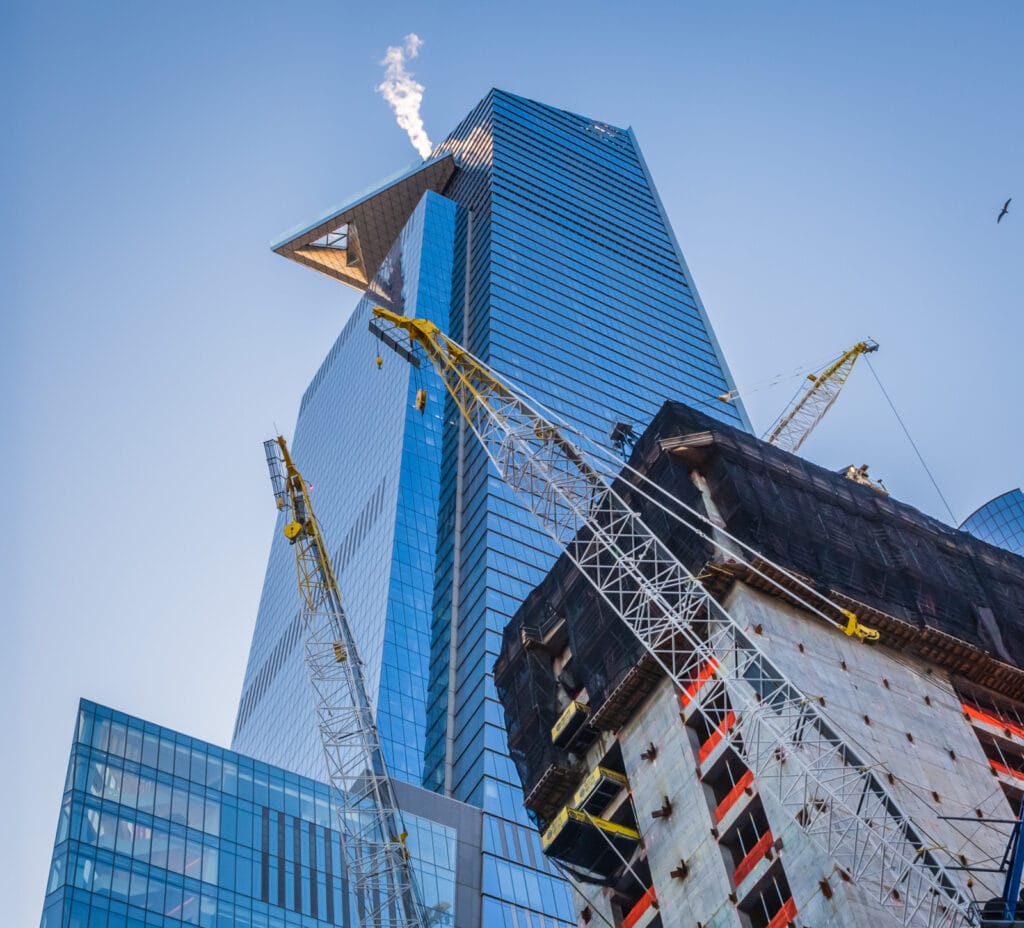 Off the 101st floor, more than a thousand feet up in the air, Edge is the highest outdoor observation deck in the Western Hemisphere.
Wedge-shaped, and jutting 80 feet out over Manhattan, the sky deck's partial glass floor might be a bit much for those who suffer from acrophobia.
But if possible, coax your honey on over to Edge's farthest point. Lodged at the tip of the triangular platform, snap a selfie of what is sure to become a NYC Instagram hit.
Will you have the guts? It will cost you in nerve and wallet. Opens March 11, 2020.  $36 adults, $31 kids, open daily 8am-midnight.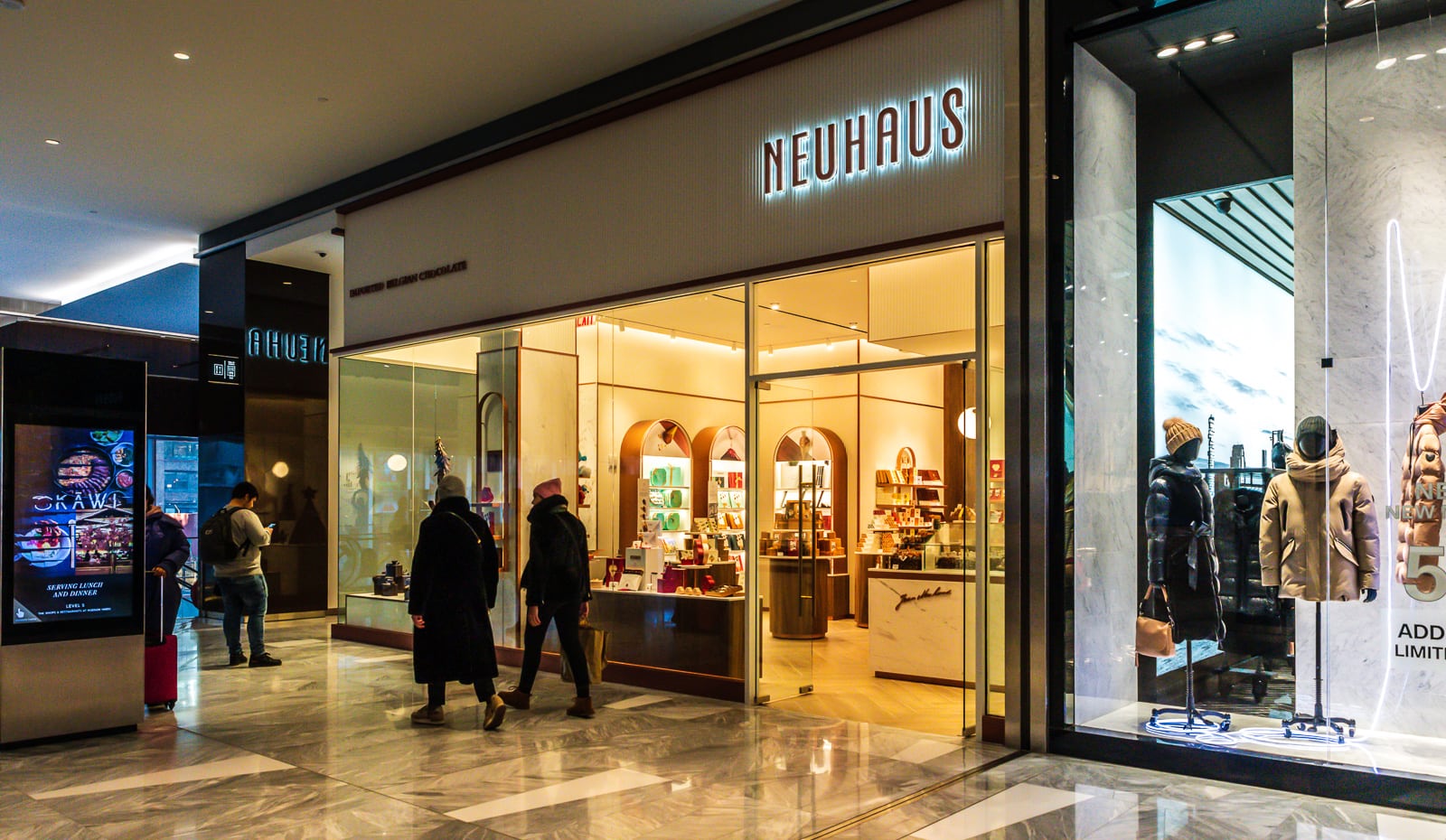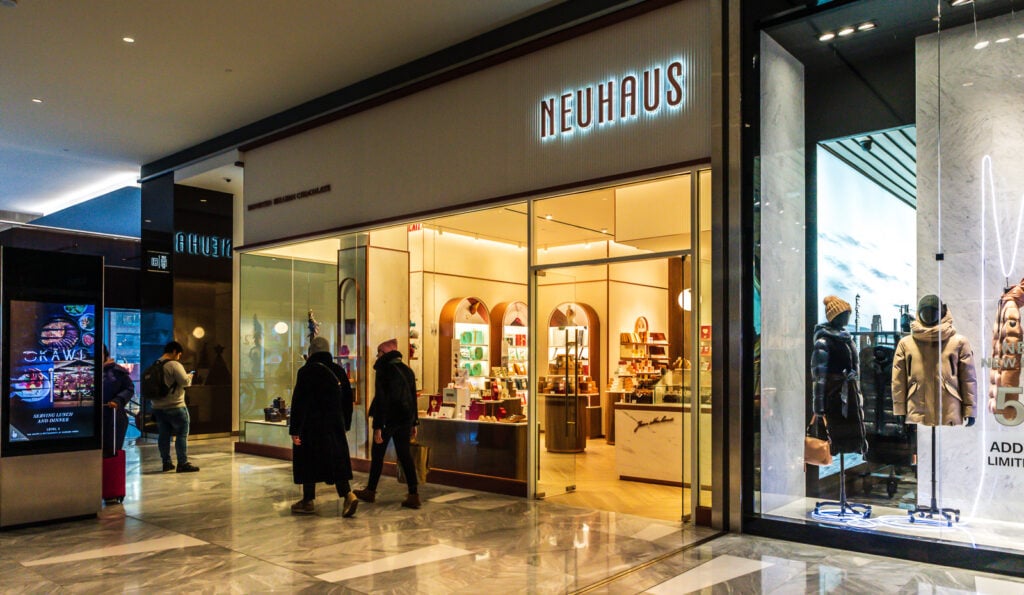 This slightly antiseptic, starkly polished 5-story mall has the feel of a Crazy Rich Asian shopping emporium.
But do you need to be crazy rich to shop here?
Of course, there's Van Cleef & Arpels and Tiffany for all of your diamond needs. There are also purveyors of Patek Philippe and Rolex for those who can drop twenty grand on a timepiece. And, given the residential demographic, Fendi, Chanel, Dior, Louis Vuitton, Neiman Marcus, and the like, might do well here.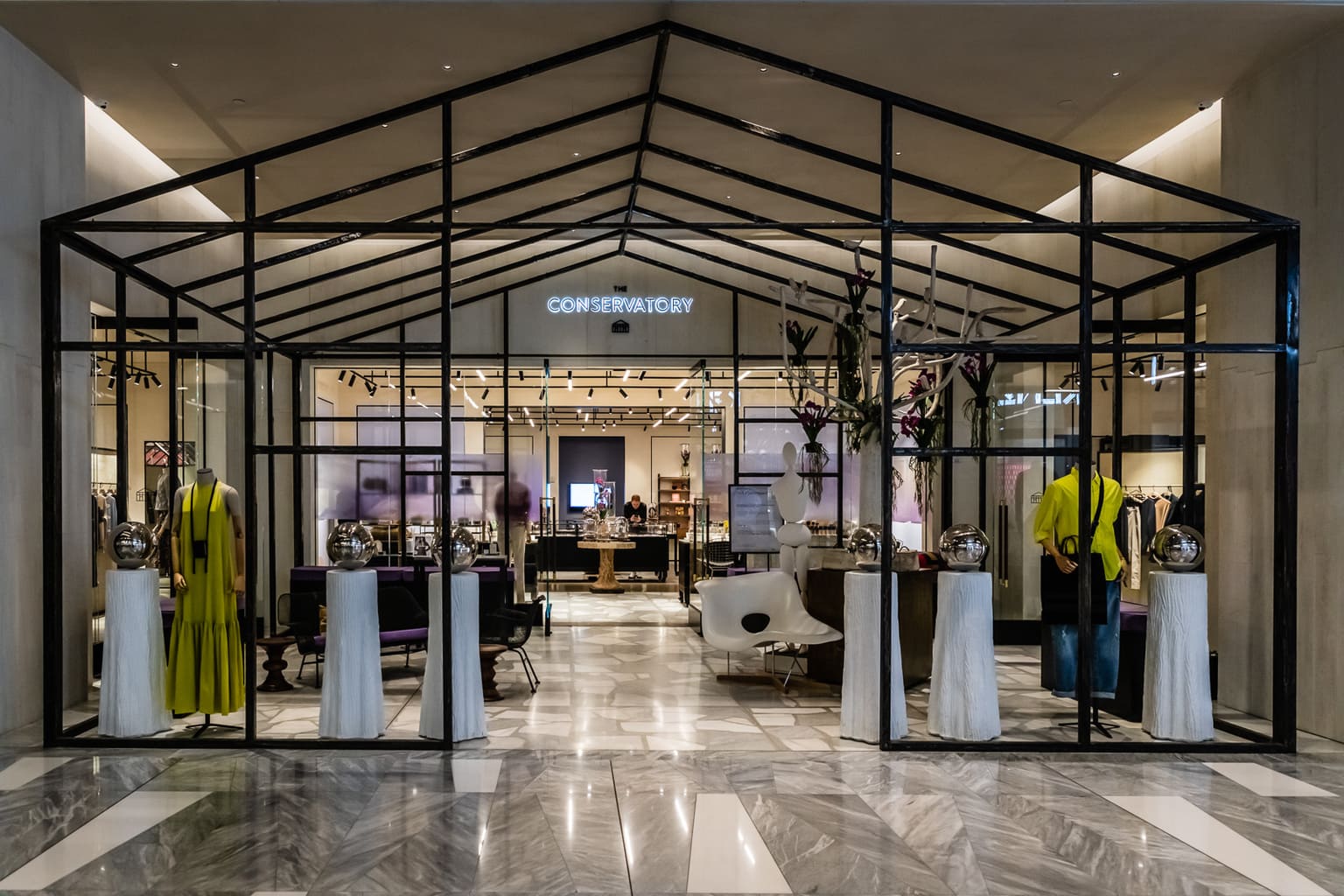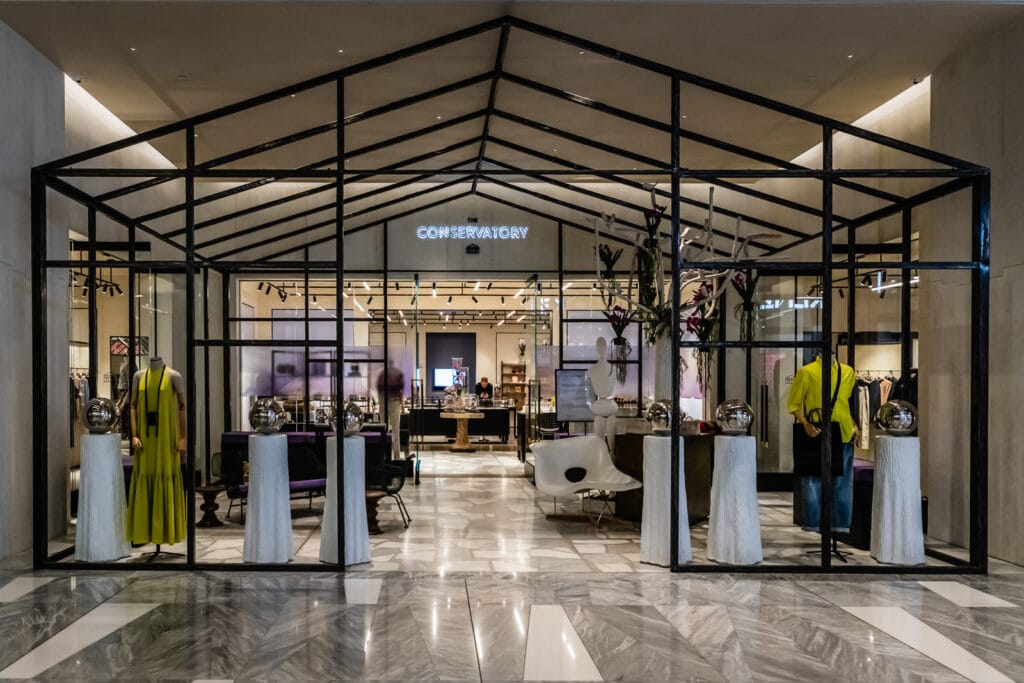 But for those who can't afford couture or bling, fear not. This mall is also home to H&M, Zara, Uniqlo, and other reasonably priced merchants.
Even if you don't plan to make a purchase, the Hudson Yards Mall is also a fantastic place for people watching and window-shopping. While meandering, keep your eye out for cool, and sometimes freaky displays that rival those on 5th and Madison Avenue.
Take a break at Blue Bottle Coffee café or Teak Tea Room, and then wander on every level.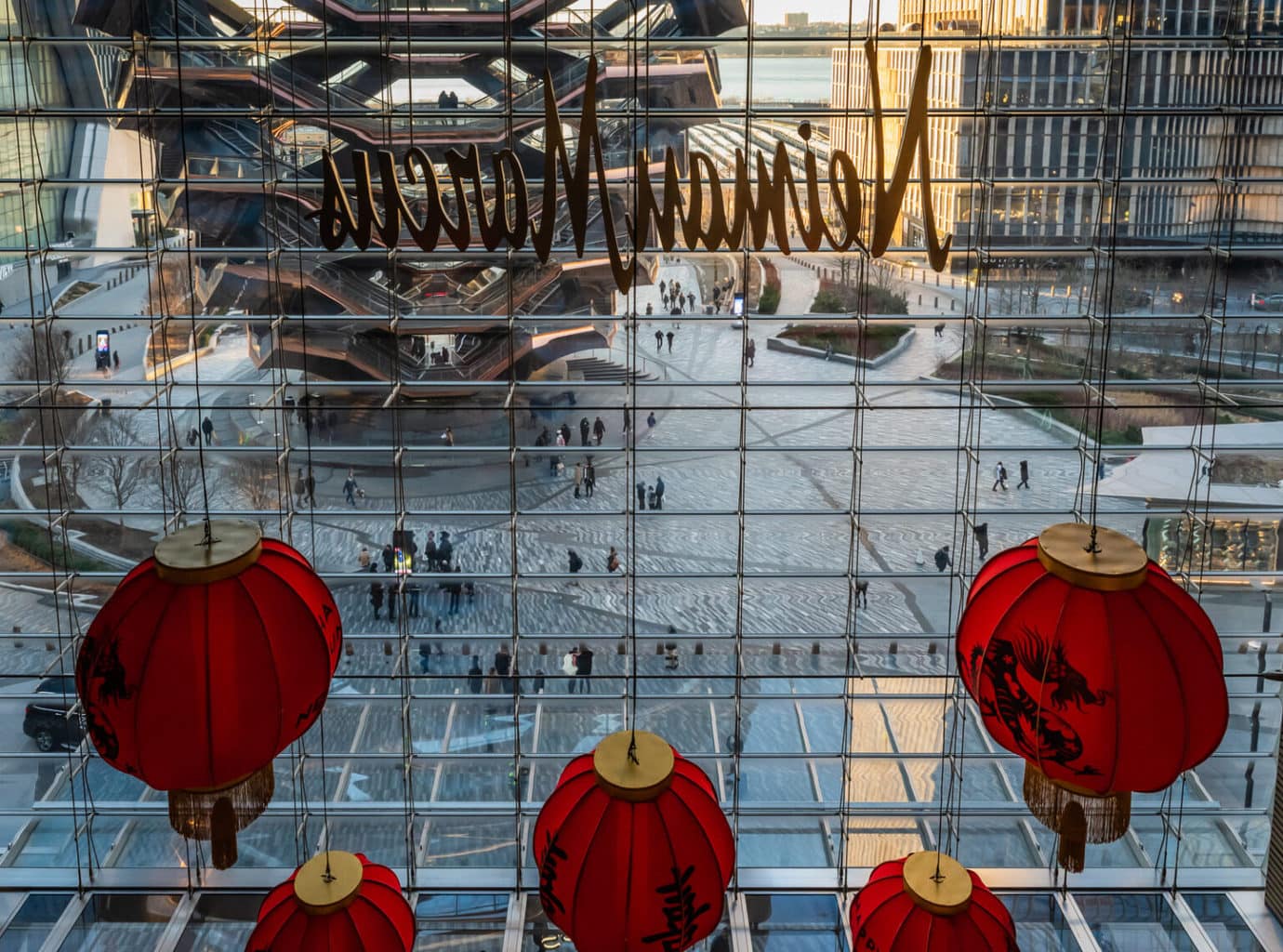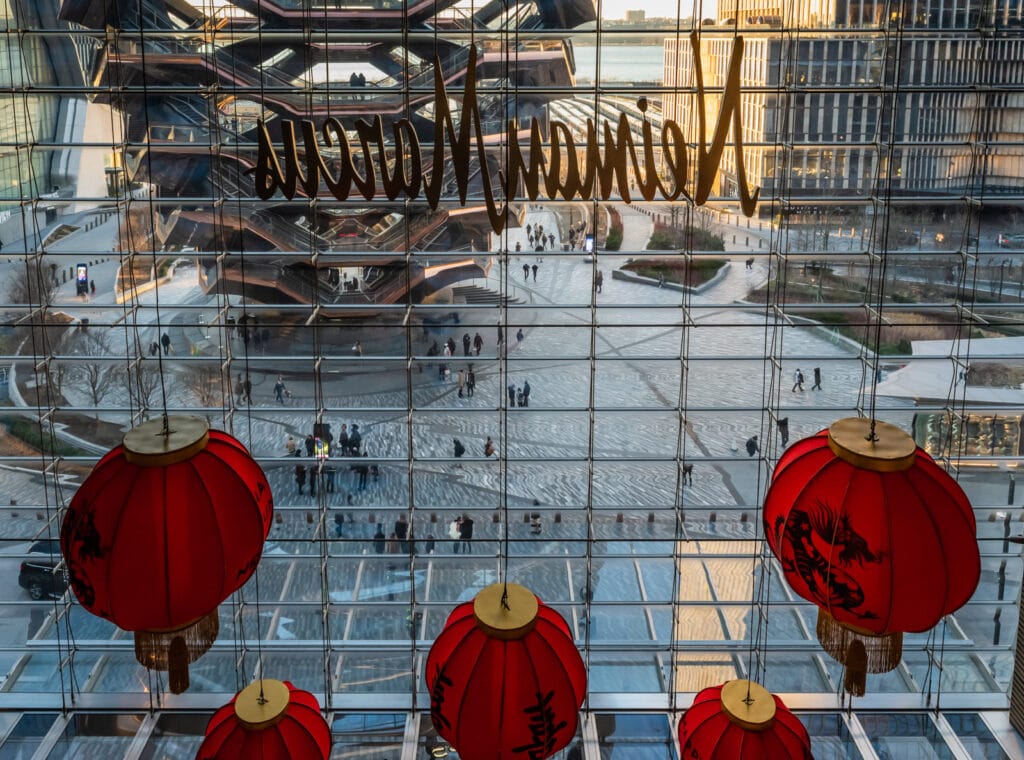 My choice for the perfect photo op is on the 3rd or 4th floor, where The Vessel appears metallic and wavy behind a massive glass window.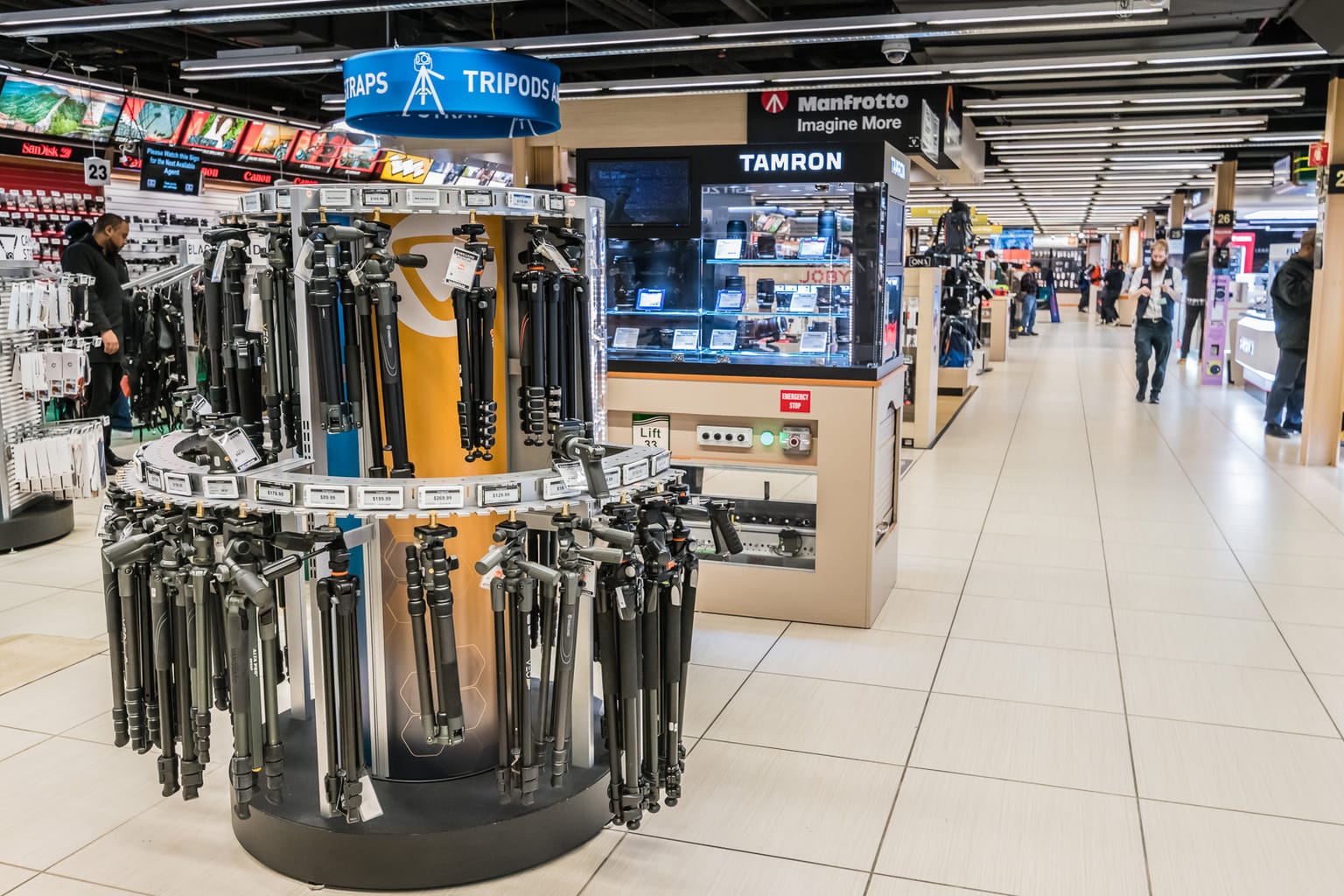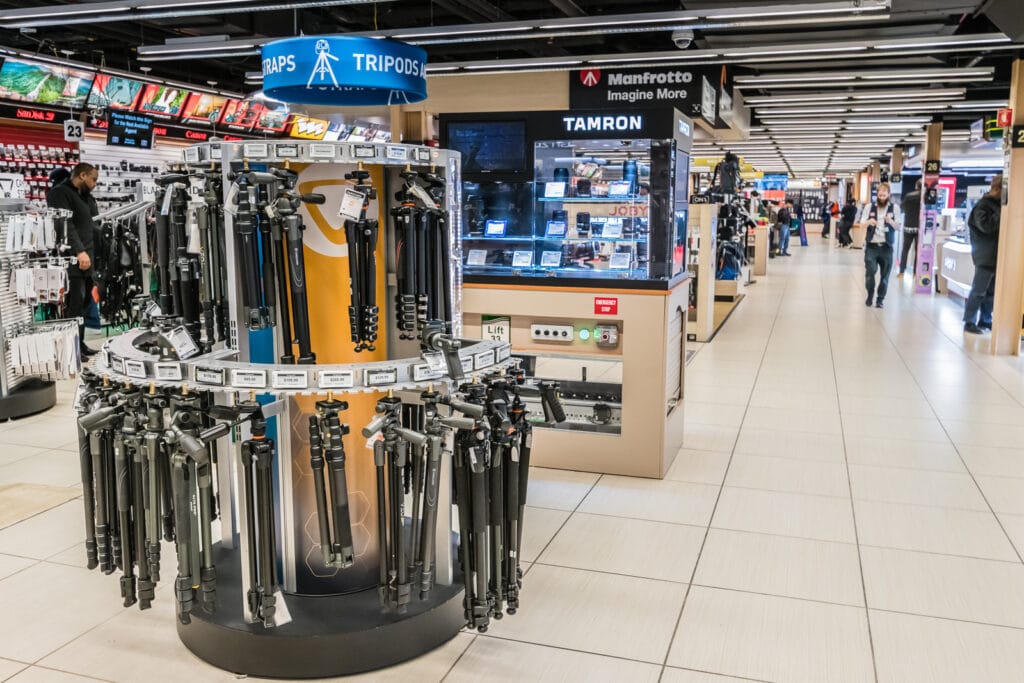 SHOP: B&H Photo 9th and 34th
The legendary B&H Photo requires no introduction among photographers. The multi-level facility sees over 5,000 professionals and hobbyists daily (except for Saturday,) and that's just a fraction of the online traffic. There is no better place to find a full range pro-level camera and video equipment.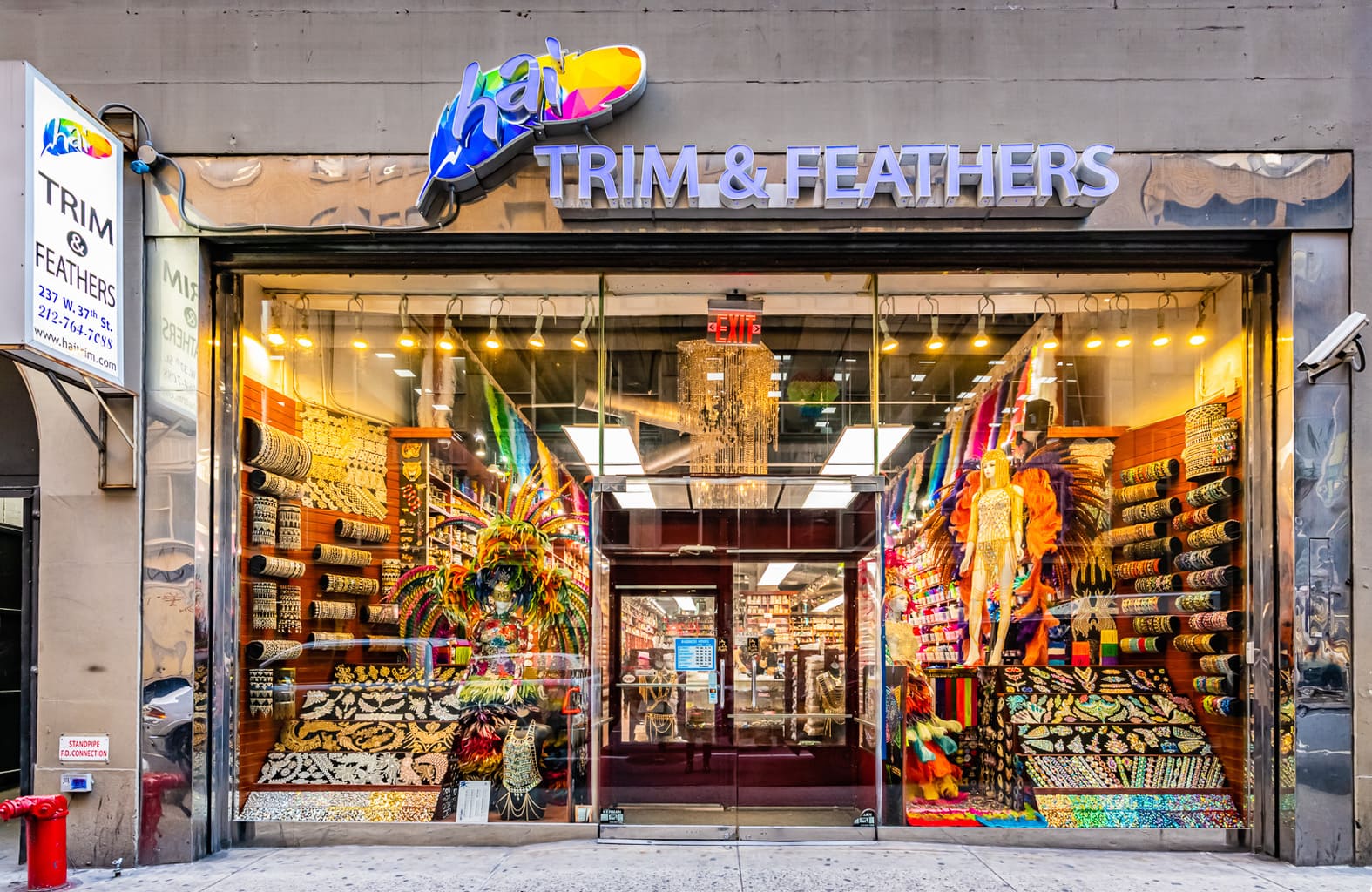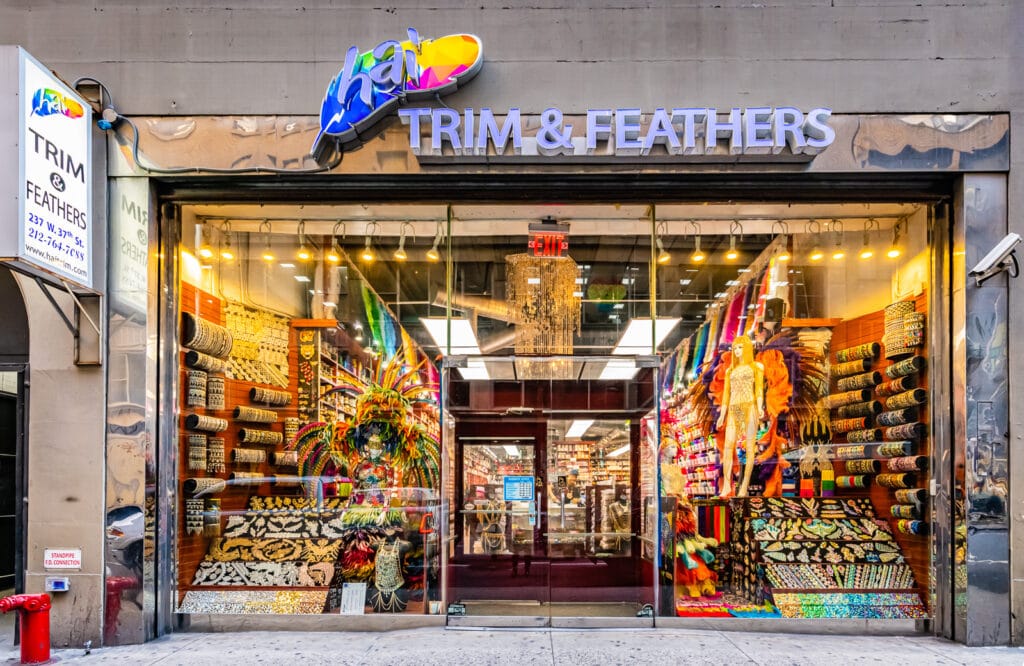 Things To Do In The Garment District
Because Hudson Yards was carved out of existing streets, some neighborhoods overlap. The Garment District, also known as the Fashion Center, covers 35th to 41st Streets along 5th to 9th Avenue. Note: Fashionistas may also want to check out the Fashion Institute of Technology Museum nearby, see our Chelsea NYC post for details.
You never know what you'll find on your walk around Hudson Yards and the Garment District. To whit, on our way back to our hotel on 36th between 8th and 9th Aves, the Mavens spied what appeared to be fancy smoking jackets hanging in a window.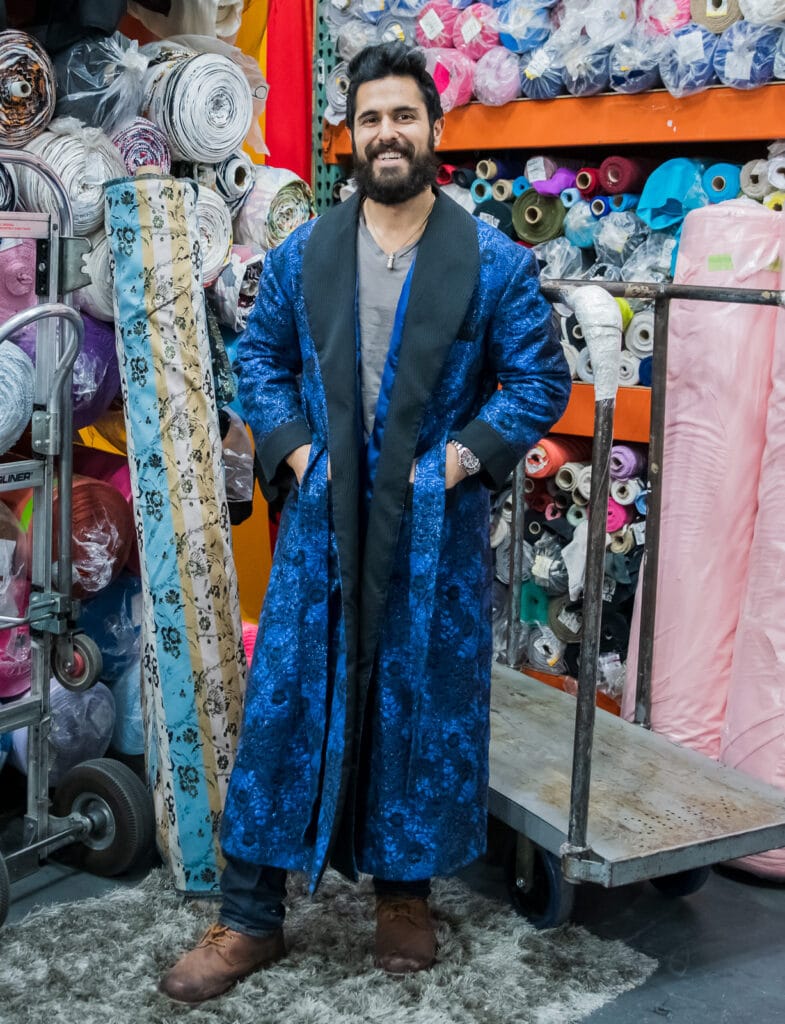 The designer, David Morris, beckoned us in. He informed us that these were not bathrobes or smoking jackets. They are Kimonos, American style. He worked for clothing designer Zac Posen a while back, but this was his own gig.
Morris always had a penchant for kimonos ever since his grandfather gifted one to him as a kid. Whenever he wore it, he felt endowed with "cosmic superpowers."
He created his version out of fine Italian silk brocade and wore it out clubbing one night. "People loved them, so I started making more." Patrons can customize their own kimonos. Prices start at $399 and go into the thousands.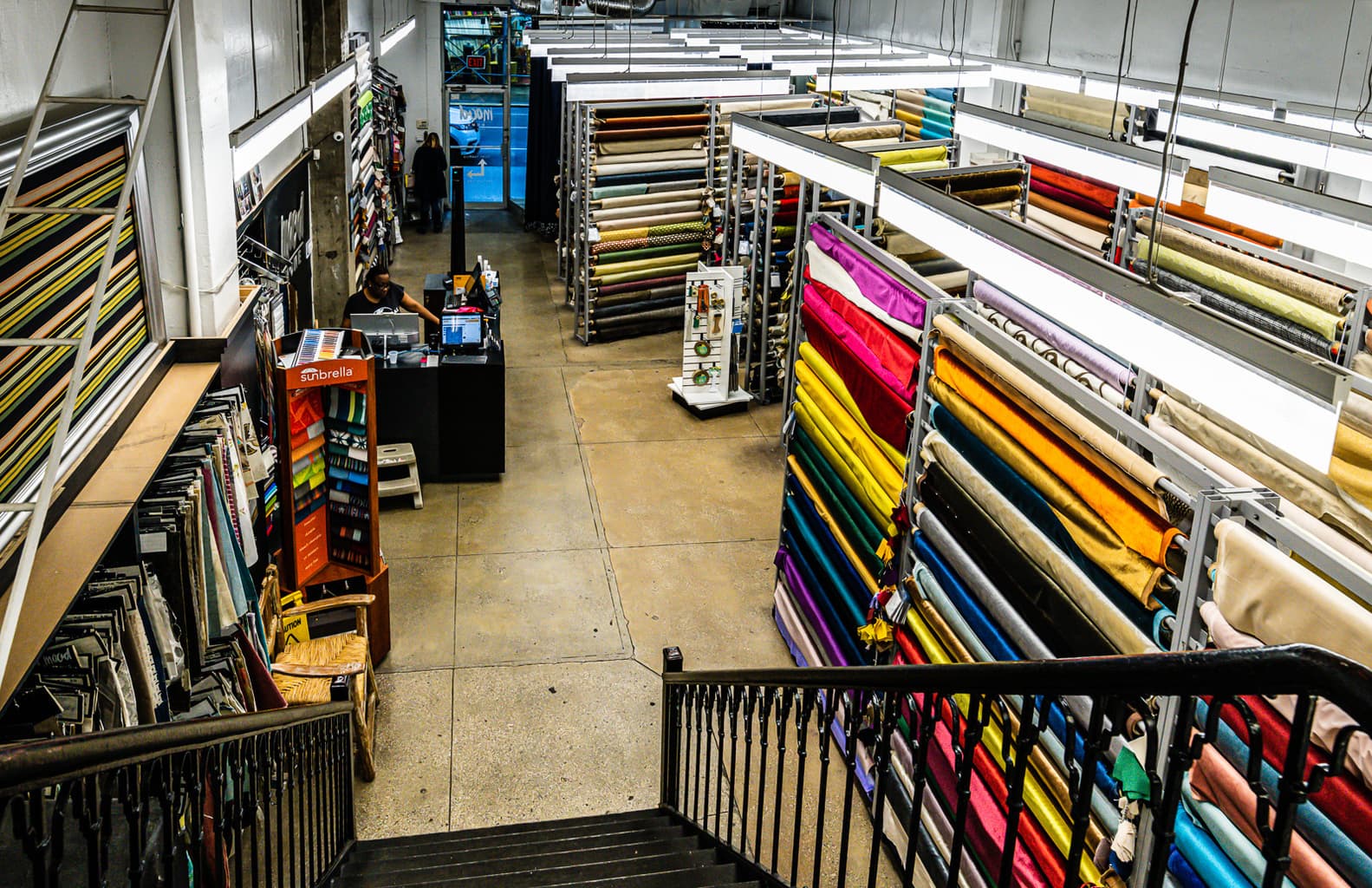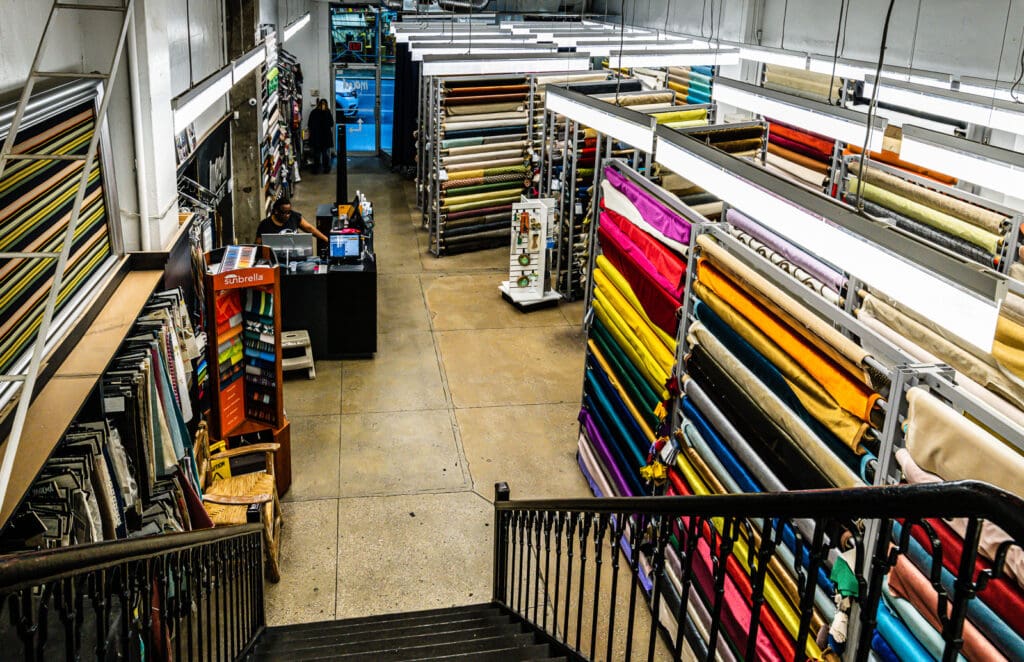 SHOP: Mood Fabrics
If you've ever watched Project Runway, now in its 18th! Season, then you've seen Mood Designer Fabrics. It's where designers head for luxury fabrics, but even non-sewers will appreciate the visual feast of colors and patterns.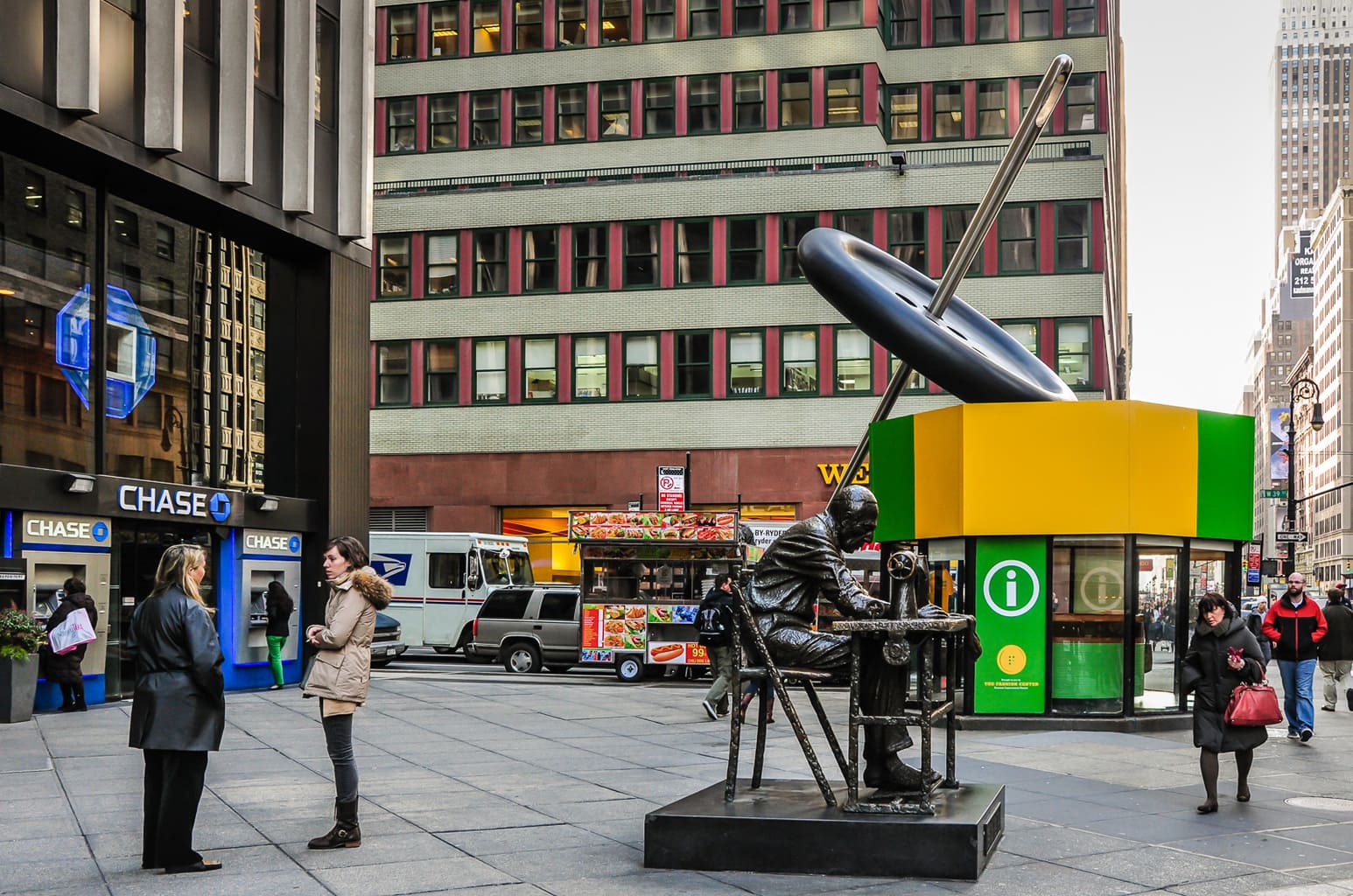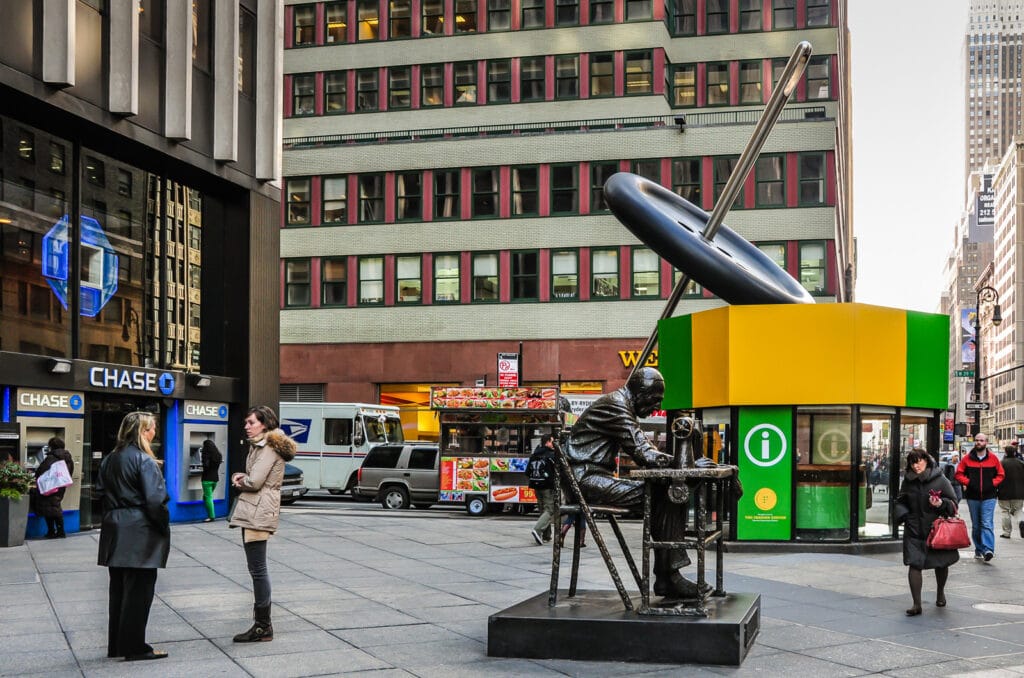 With over 35 years in the Garment Center, Mike Kaback is uniquely qualified to lead a walking tour that includes stops from a designer showroom to the Fashion Walk of Fame.
SHOP: Sample Sales
Lots of shops have sales, but true sample sales are only found where the designers are–mainly New York City and, to a lesser extent, Los Angeles. Here's how to find NYC Sample Sales:

Hudson Yards Restaurants
The Mercado Little Spain is the Spanish answer to Eataly. Taking up one far side of the Hudson Yards Mall, descend down two escalators to a food court like no other.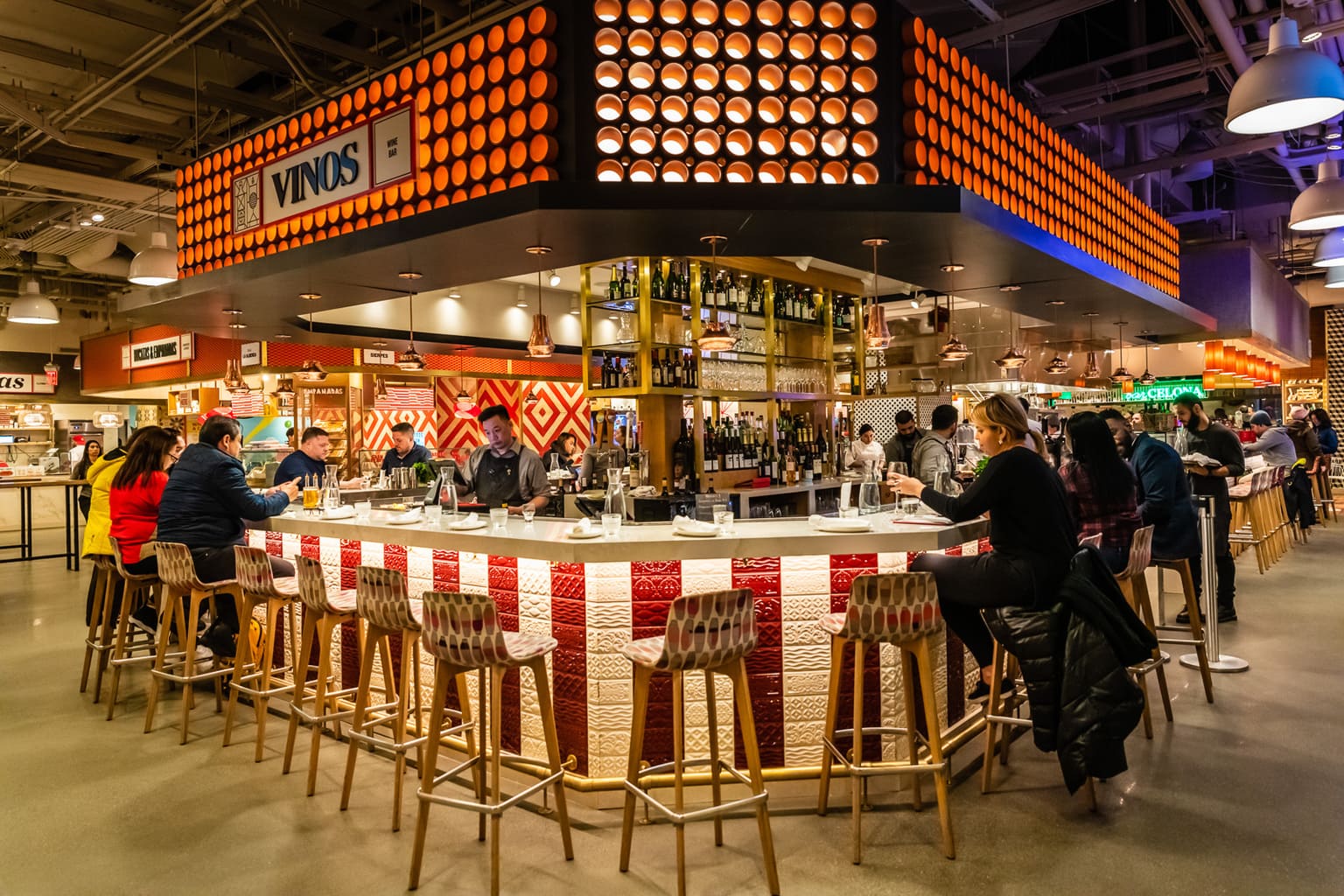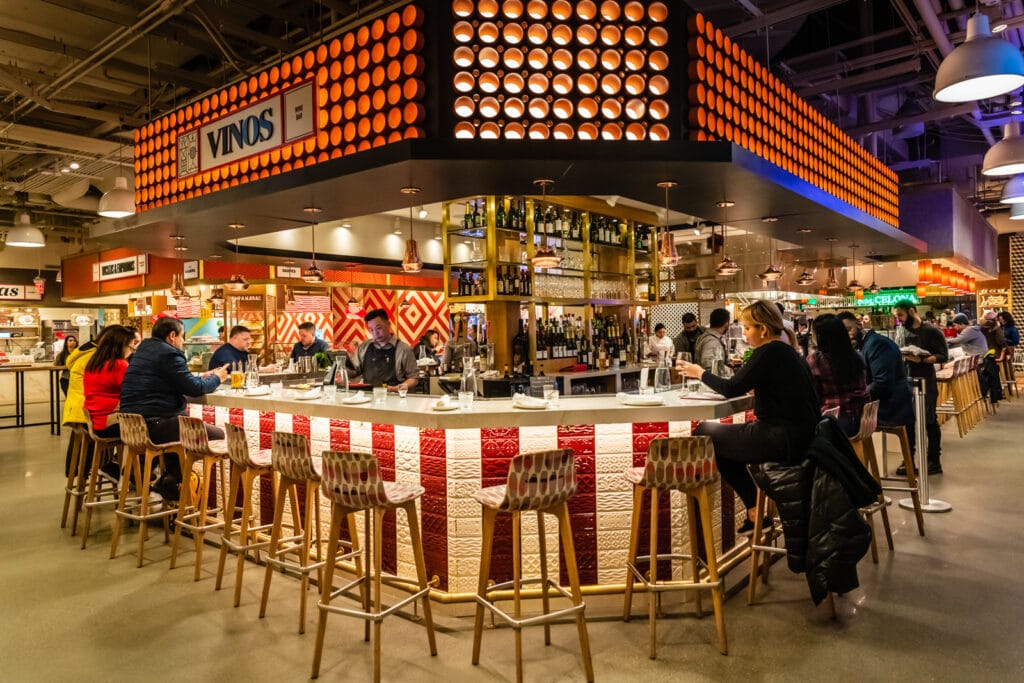 Part of celebrity Chef Jose Andres "Think Food Group," the Mercado is comprised of more than a dozen food stalls dishing out everything from empanadas, to churros, tortillas, street grub, paella, octopus, pastries, and more.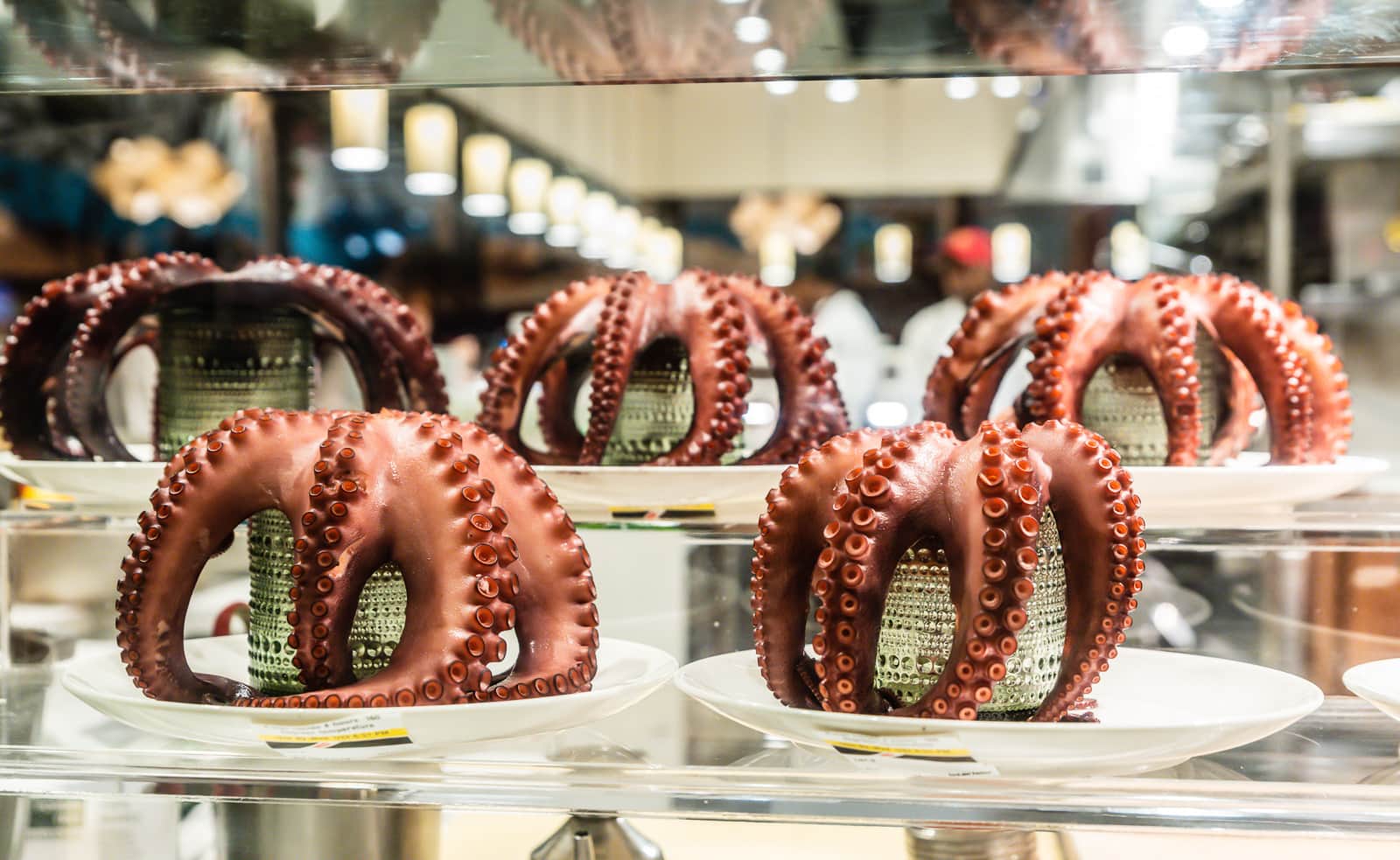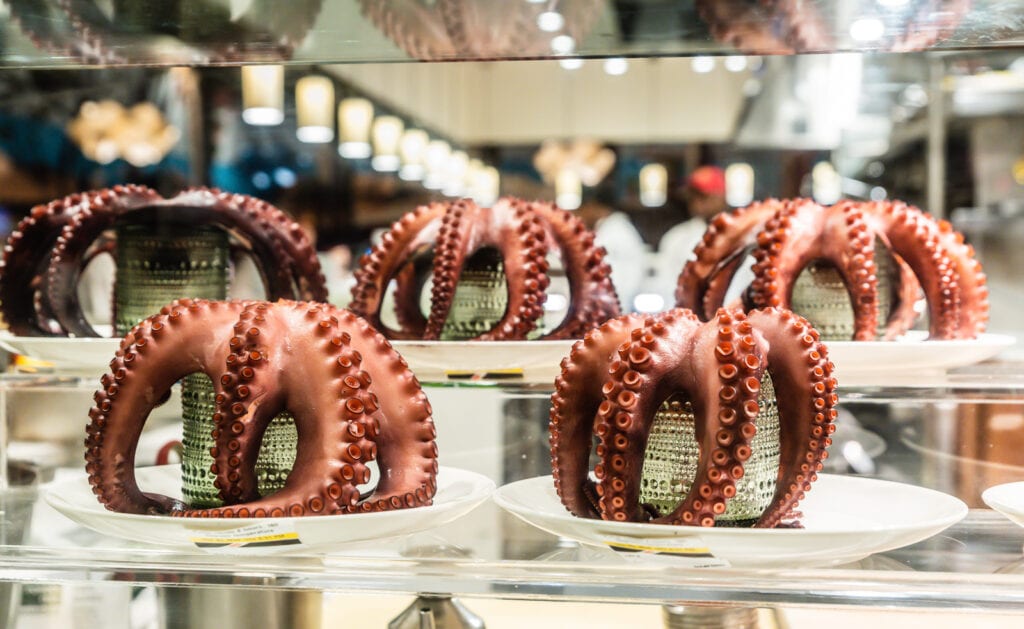 In addition, there are three restaurants from diner to fine, and bars as well. The whole place is a spirited, fun, Spanish fiesta.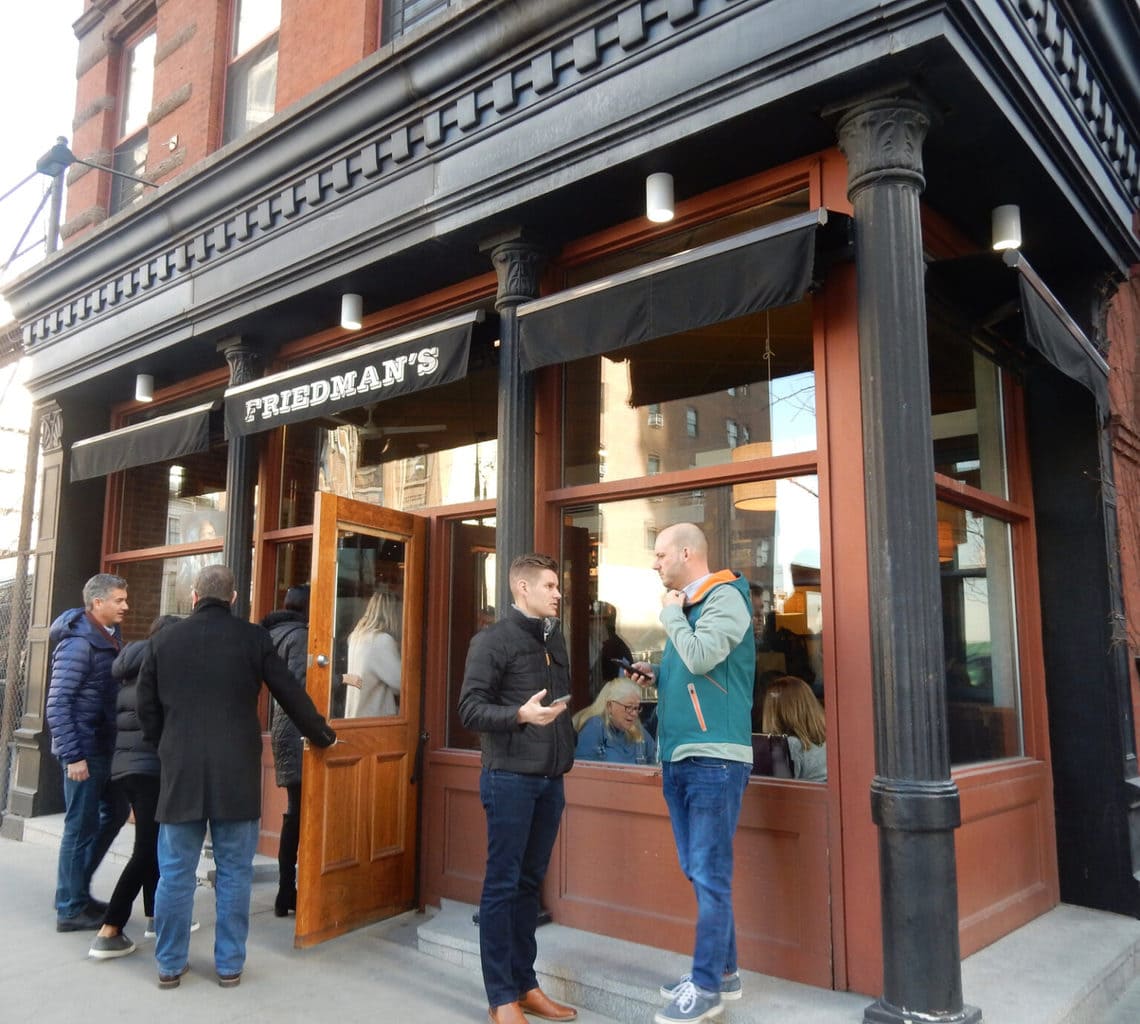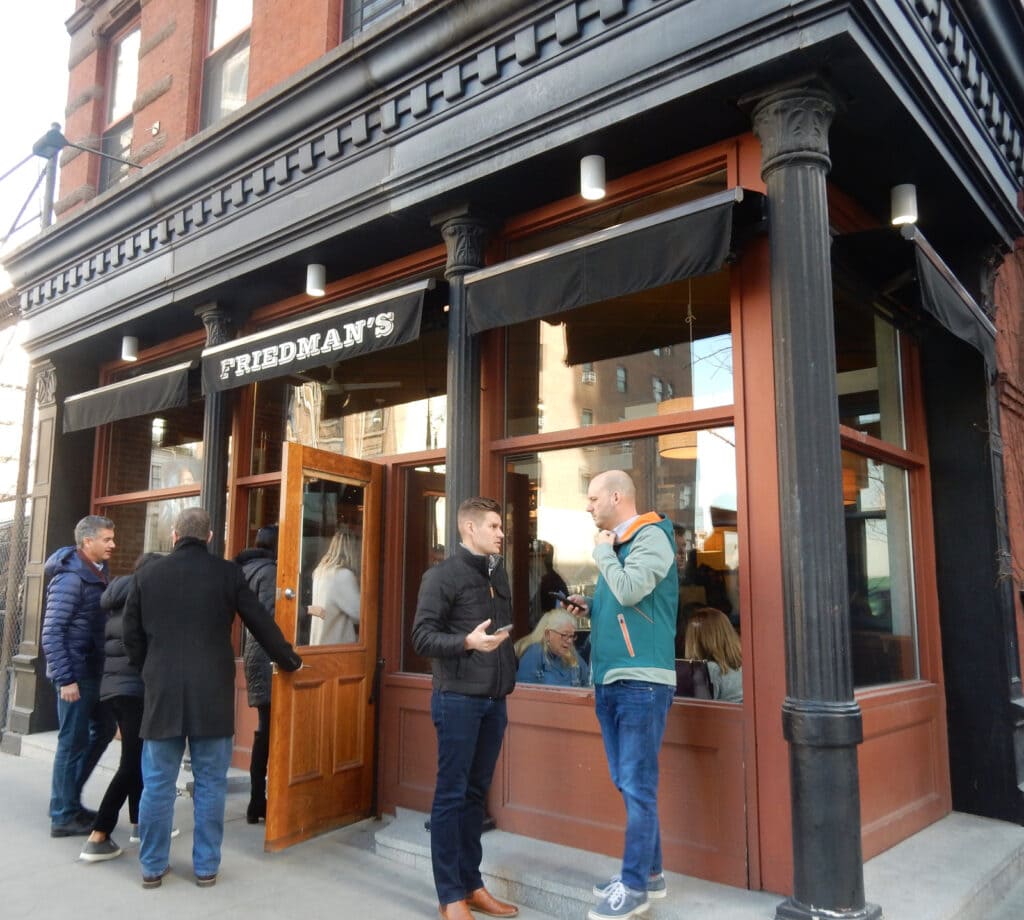 A family-run business with several locations throughout the city – Friedman's, closest to Hudson Yards, looks like a throwback to watering holes of yore. With a twist. Most proteins (eggs, cheese, meats) are sourced from farms in New York State. And the food is clean and excellent.
EAT: Zoob Zib Thai Noodle Bar at 9th and 36th
Have a penchant for little noodle bars? Offerings, from soup to duck, are flavorful and fine. And really a good deal, with most mains under $20.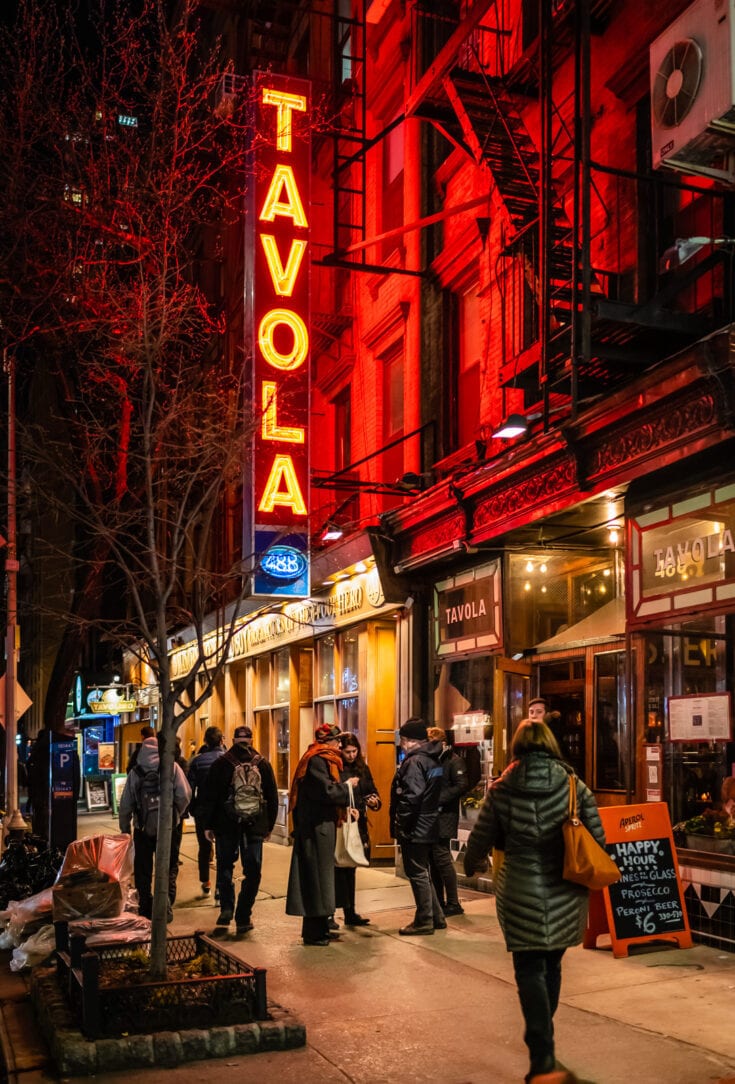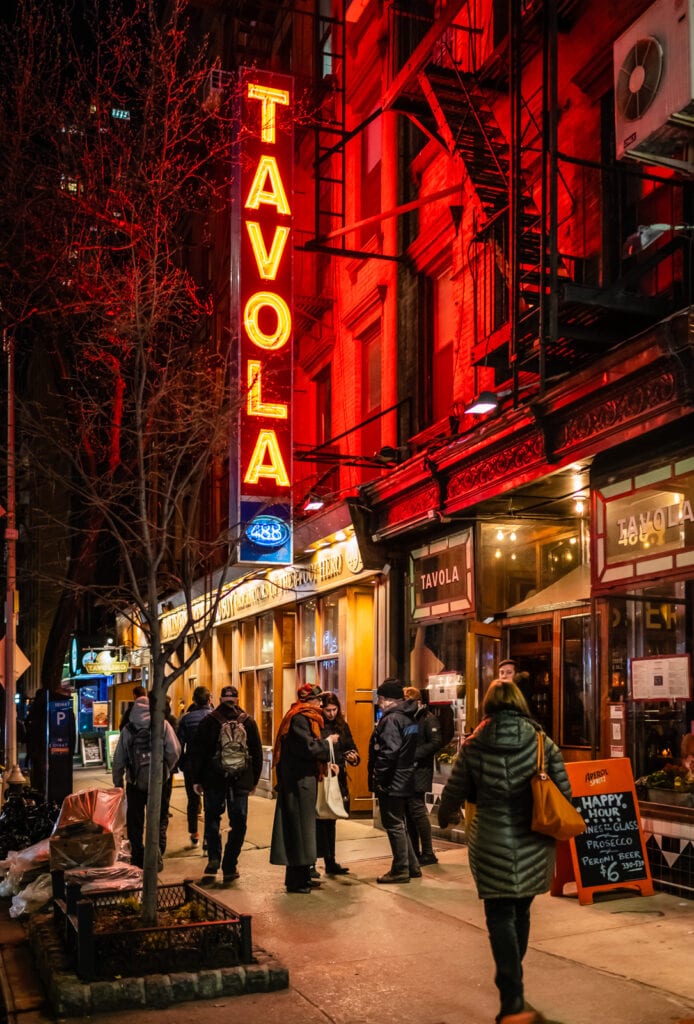 ITALIAN: Tavola at 9th and 37th
Situated where Hudson Yards crosses into Hells Kitchen territory, intimate quarters at Tavola remind patrons of its former use as Manganaro's Grosseria Italiana–a 100-year-old establishment reputed to be the creator of the hero sandwich. Wood-fired pizzas, wild boar meatballs, fresh pasta, and light-as-clouds gnocchi are popular items on a menu that draws heavily on owner Nick Accardi's family recipes.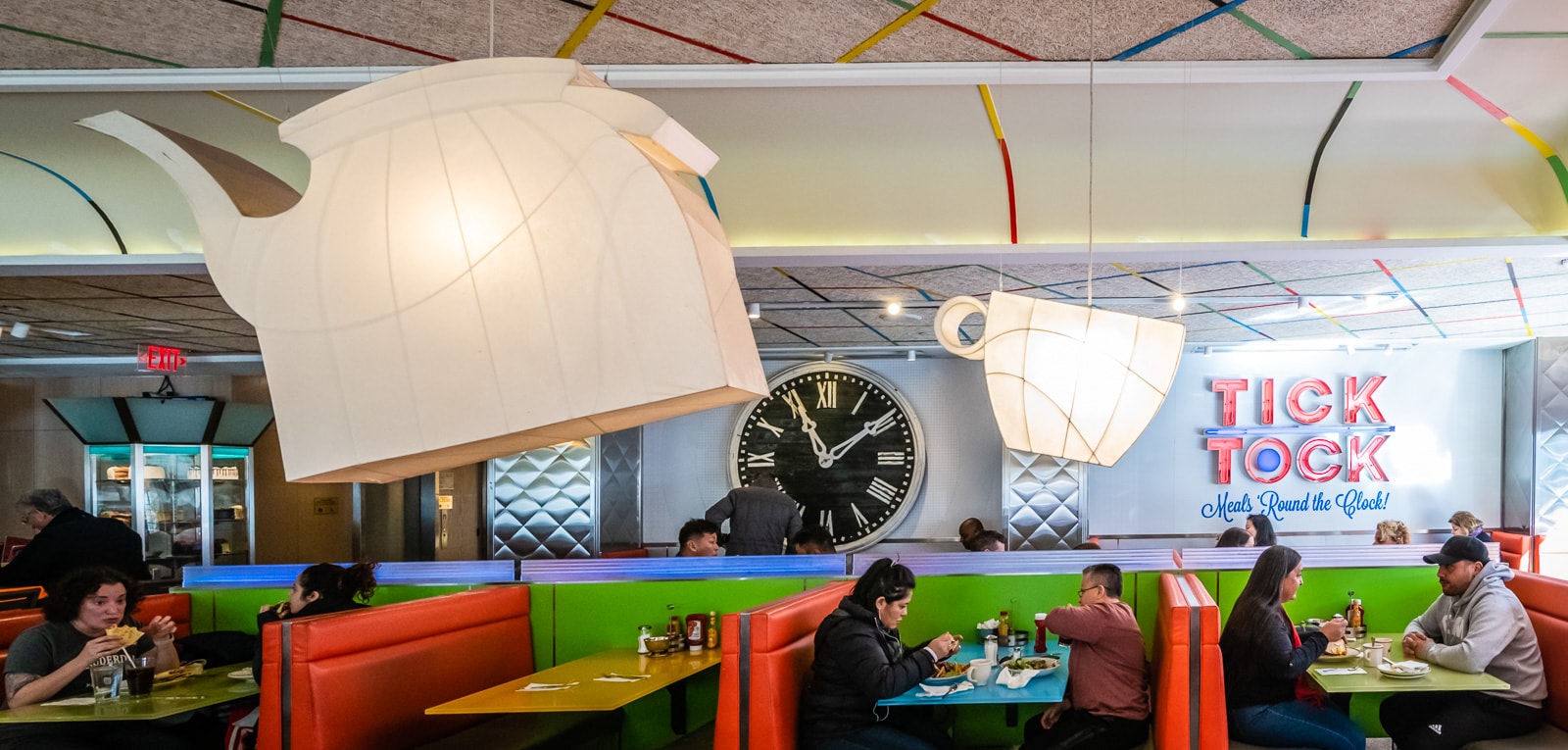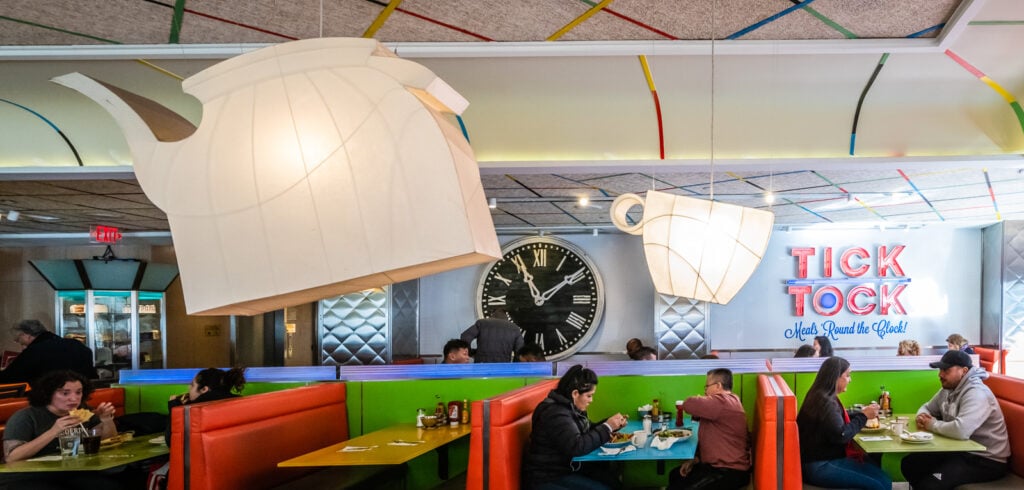 All day breakfast and 24/7 service across the street from Penn Station (where you catch Amtrak, NJ Transit, Long Island trains, and subway connections.) With 280 seats, you never wait to sit at Manhattan's largest diner.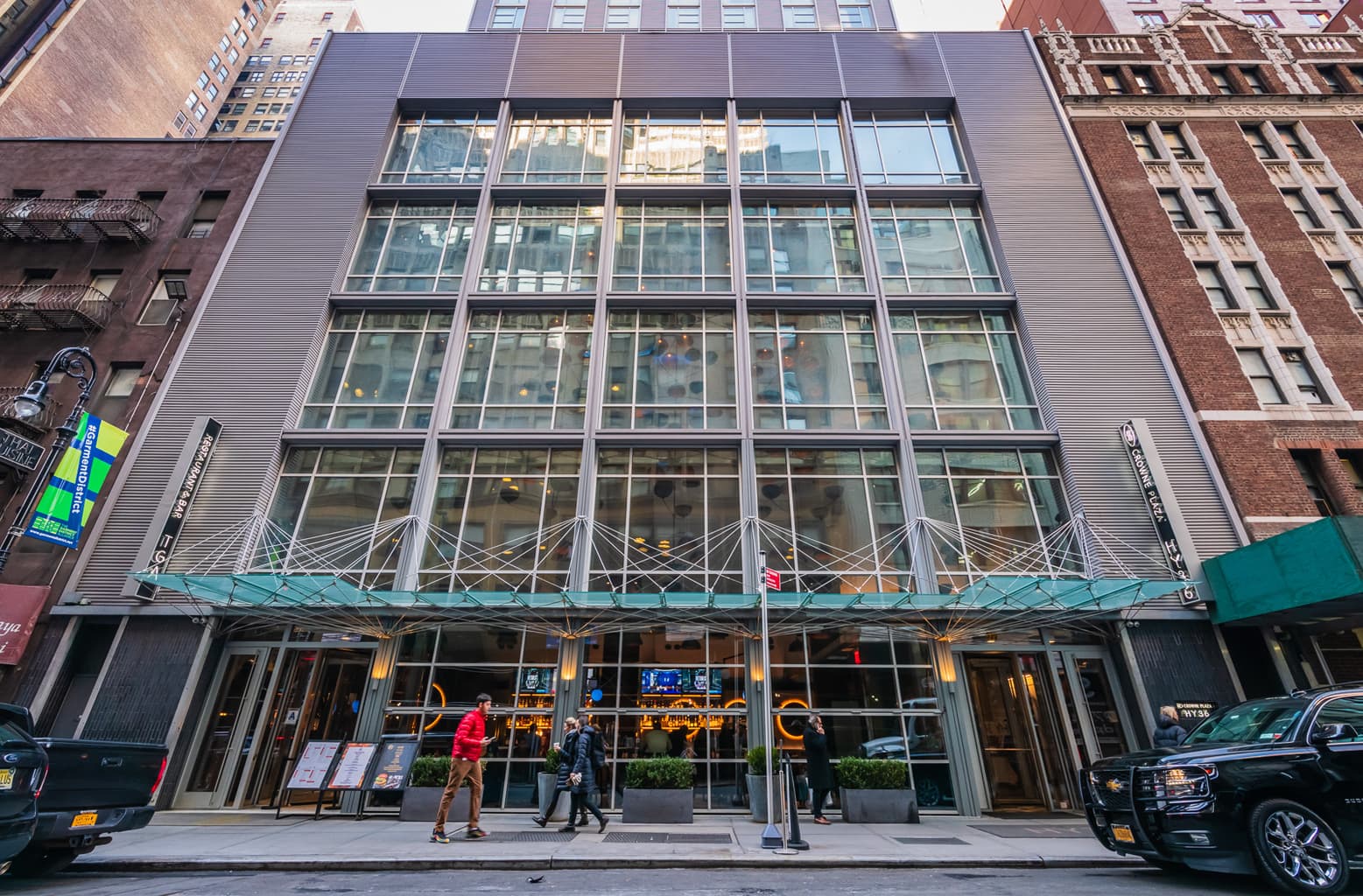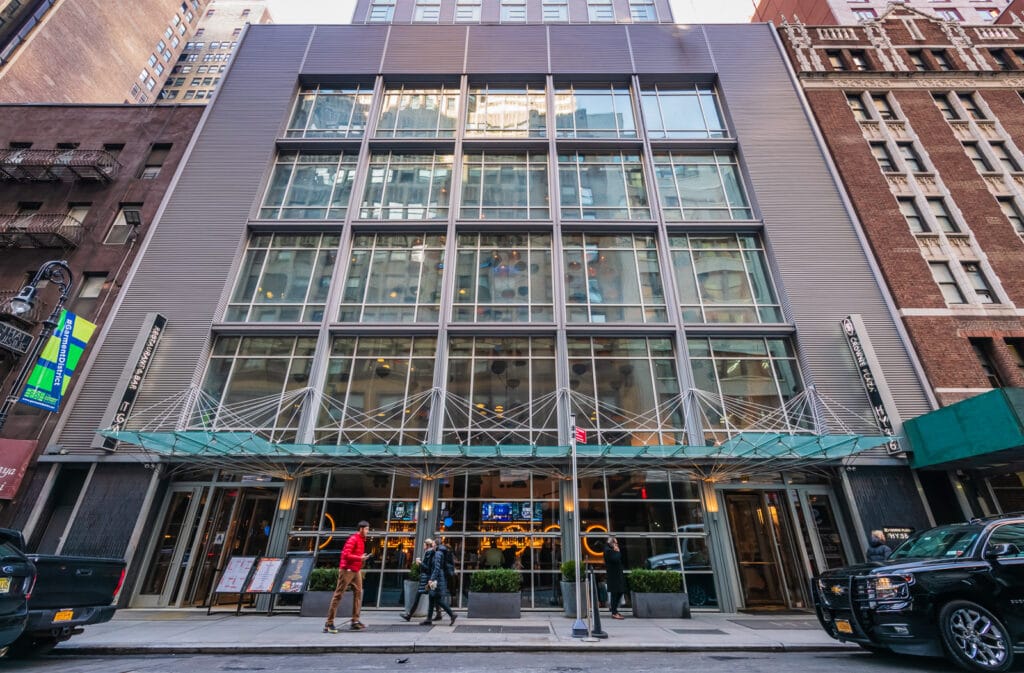 Hudson Yards Hotels
The Crowne Plaza HY36, situated within NYC's garment district, has a small lobby and large bar. So, yes, it's got its priorities straight.
Located on 36th St. between 8th and 9th Avenues, this mid-list hotel, is a brisk 5-minute walk to the Javits Center (straight down 36th St) and Hudson Yards (34th and 10th).
What a difference a few blocks make in terms of rates. Off-season, you can easily find a nice, updated room for around $200 per night. (Contrast that with the $650+ for Equinox Hotel's least costly room).
What do you get for that rate?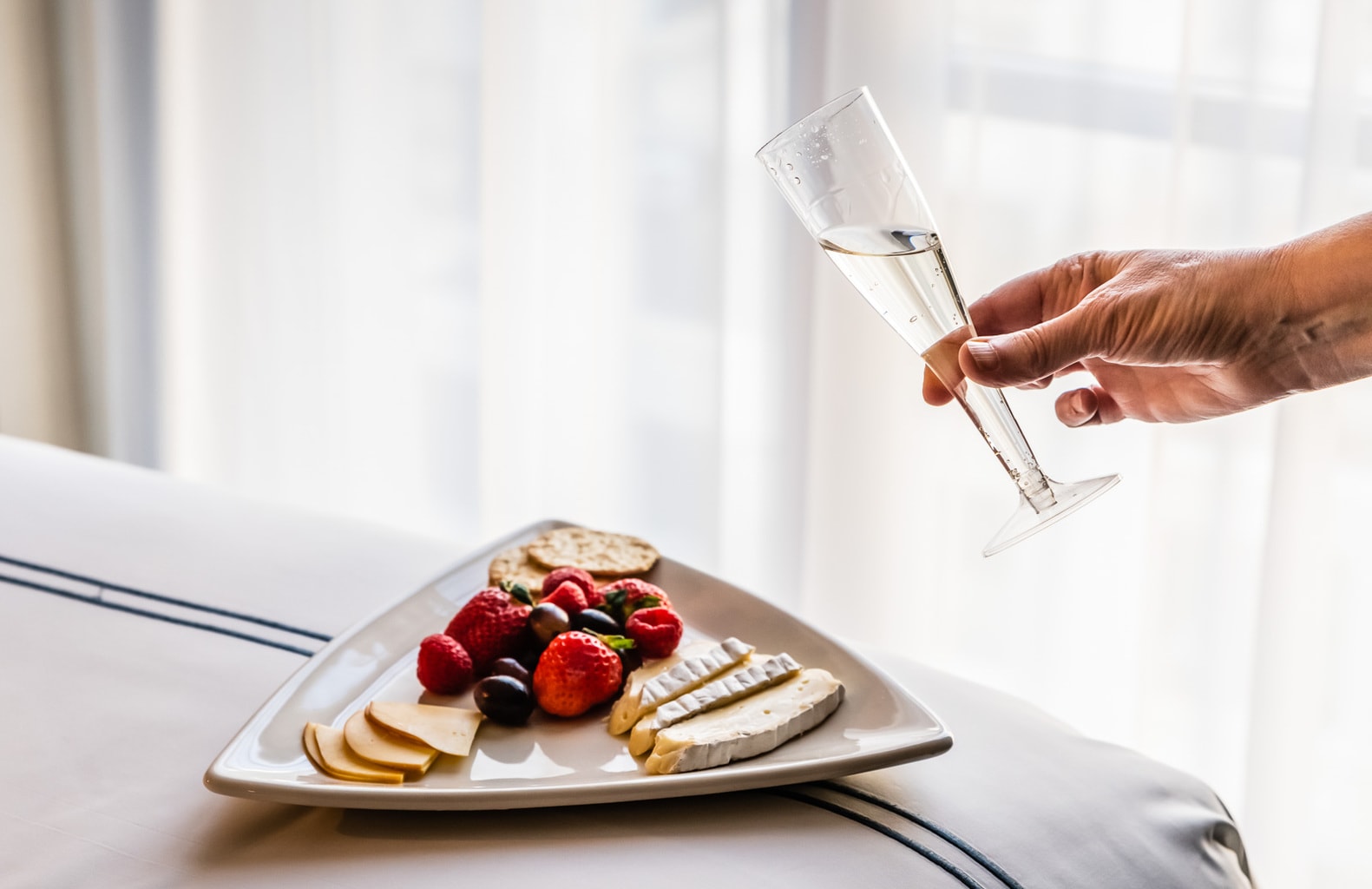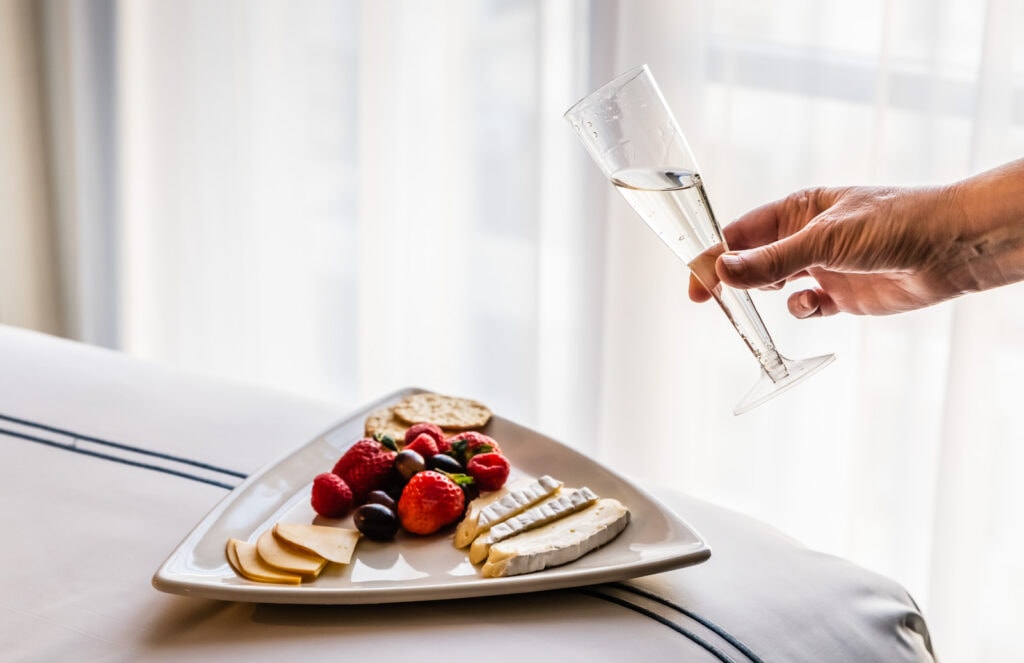 First Impressions of Crowne Plaza HY36
To start – the friendly reception staff hands you a glass of bubbly wine upon arrival. It's a nice perk, especially at this price point.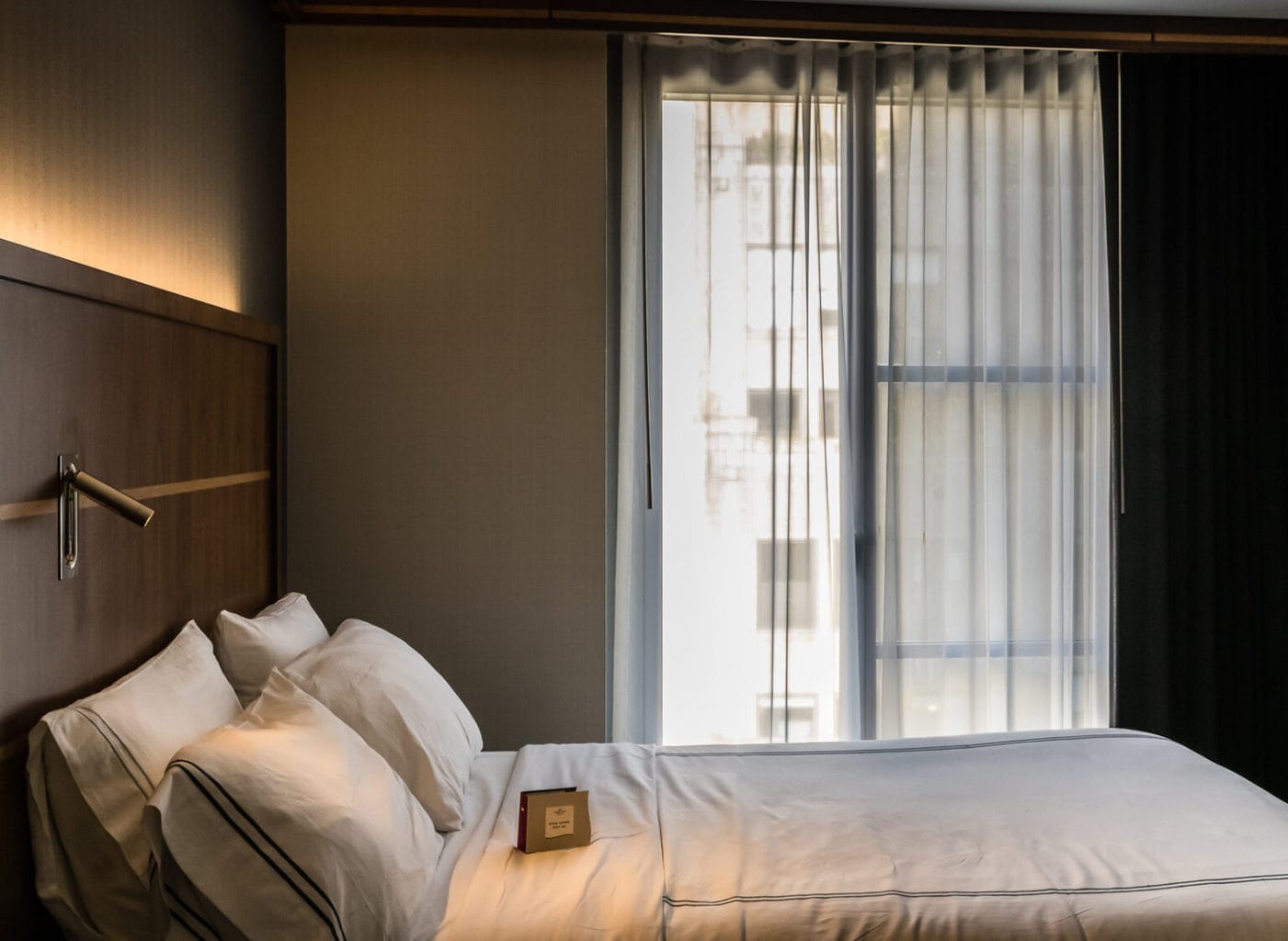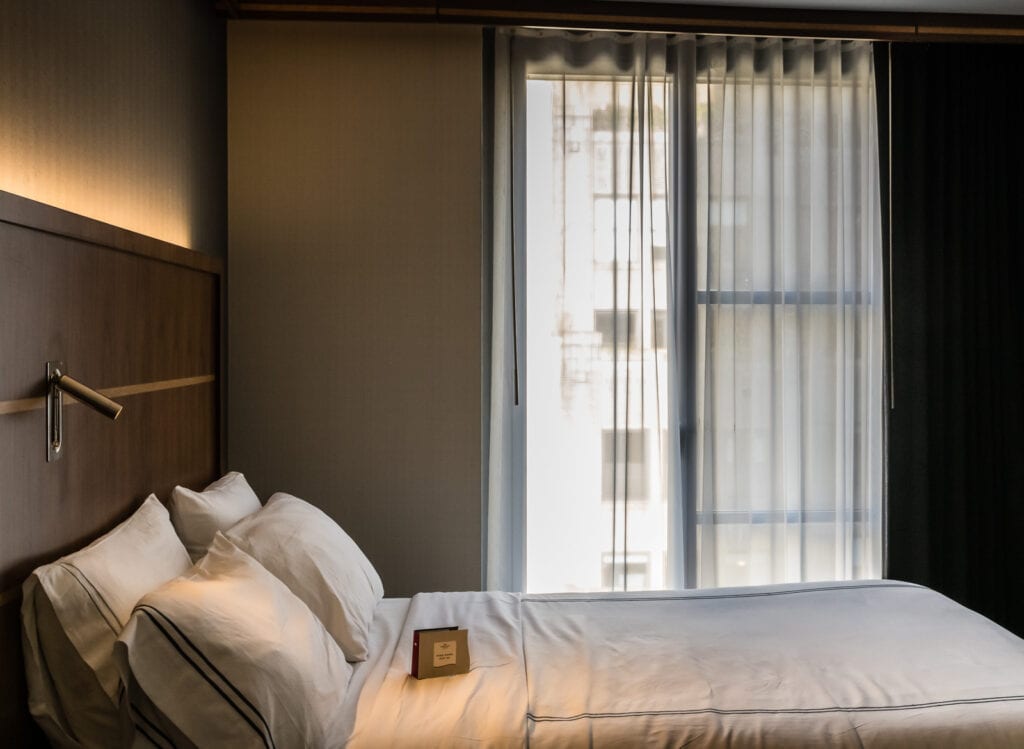 Rooms and Views of Crowne Plaza HY36
Renovated rooms are snug, but comfortable. Bedding is supreme, and flat-screen TV's are larger than most. On your pillow, there's a small spritz of lavender and a soothing facial wipe to send you off to sleep.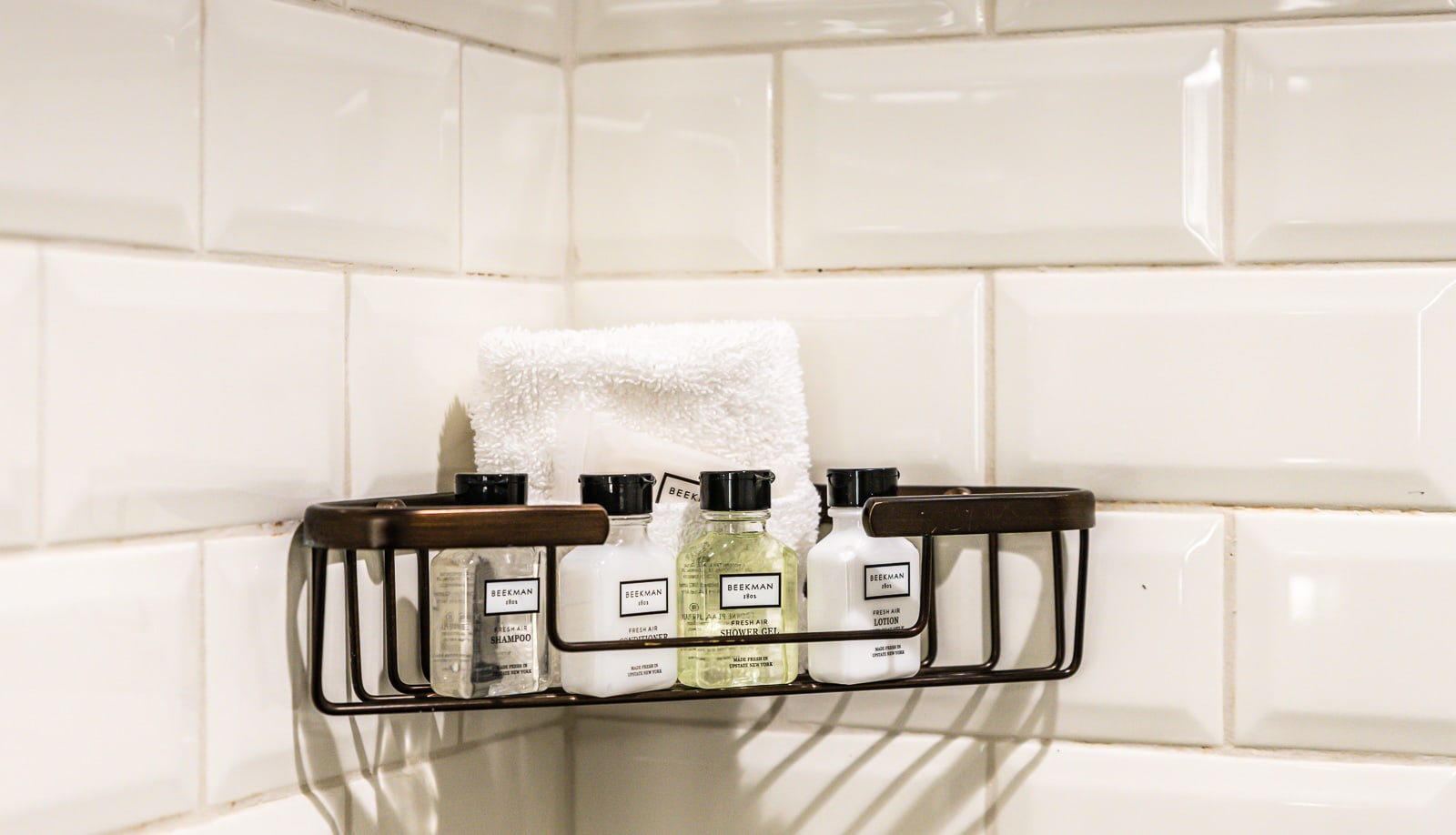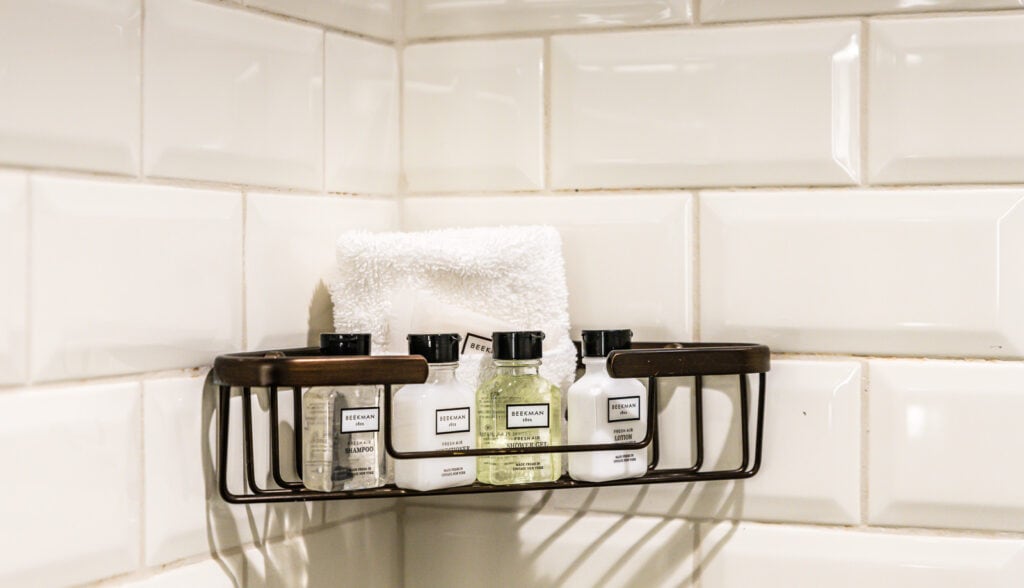 Bathrooms are gleaming bright – with beautiful beveled-subway-tile rain showers and botanical-based Beekman 1802 toiletries (made in Schoharie New York.)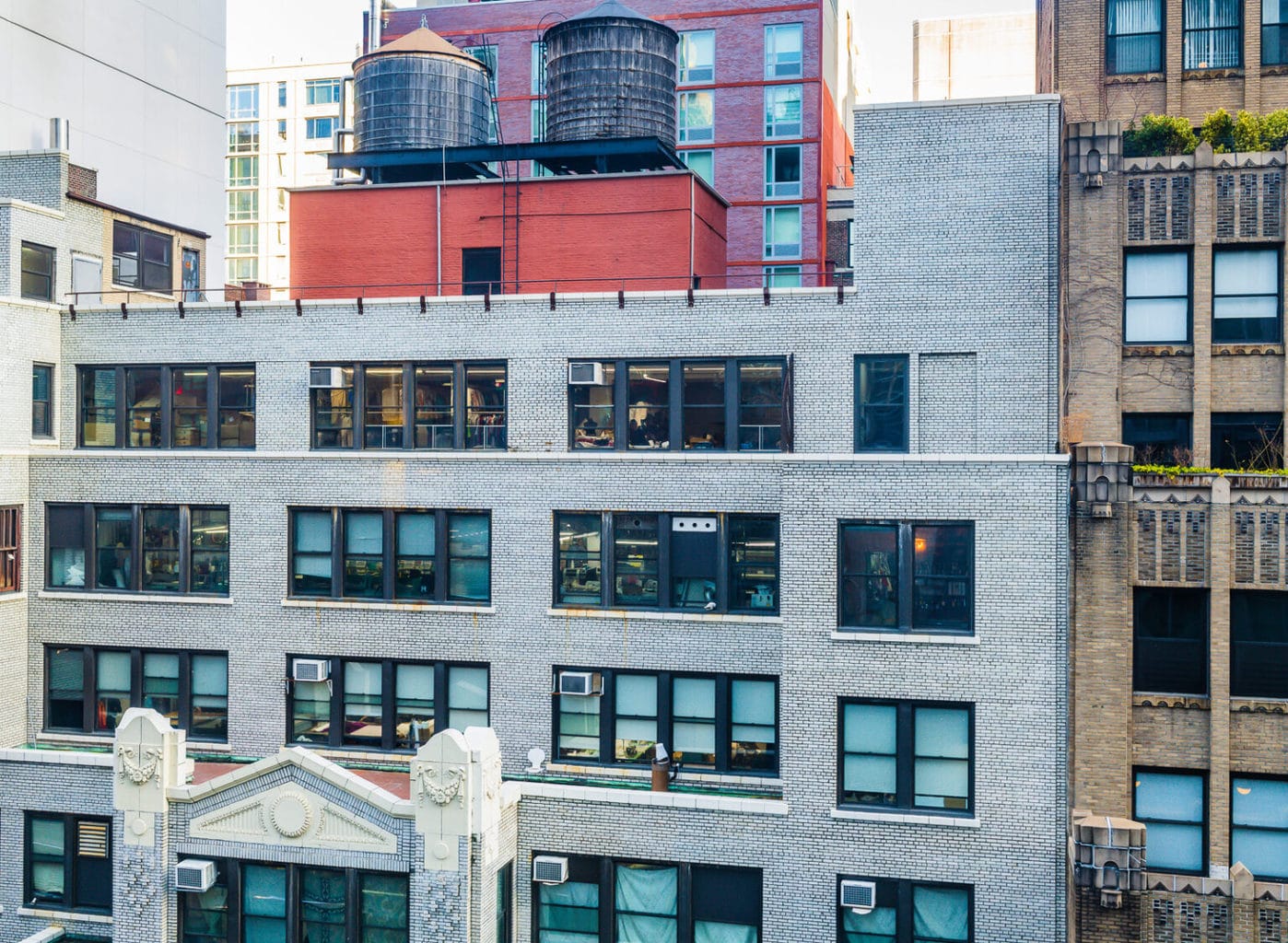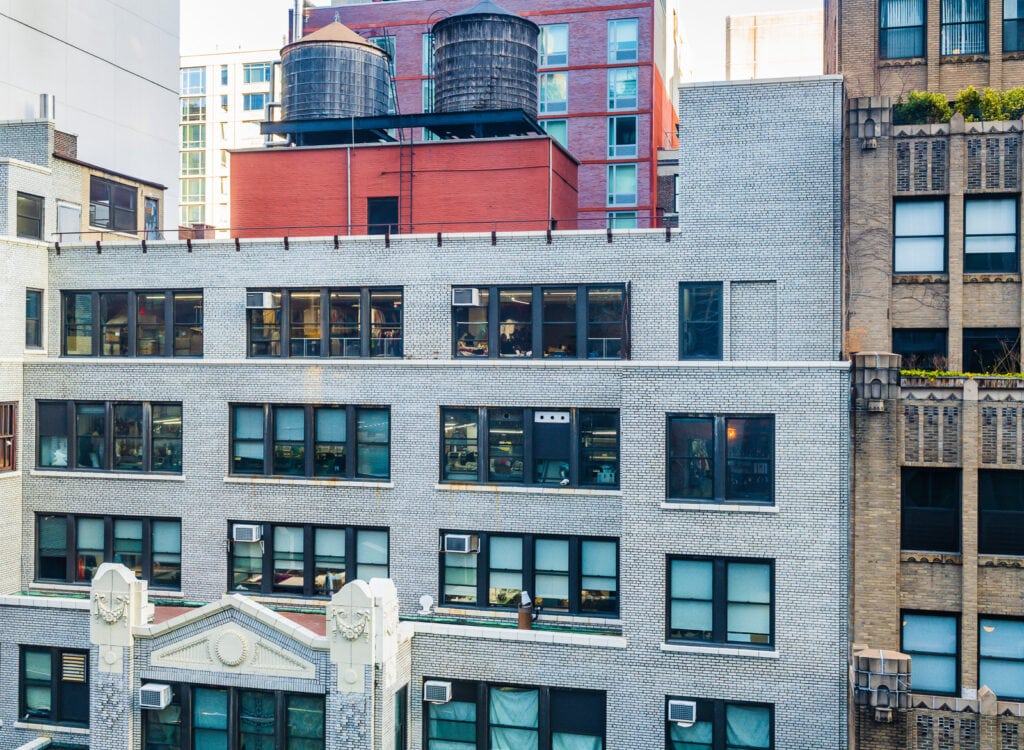 To get a sense of place, just look out your guest room window across the street. If you're lucky (and nosy, like me), you can watch workers laying out and cutting bolts of fabric, or see racks of just-stitched garments ready to roll. It's kind of thrilling to surreptitiously witness fashion in the making.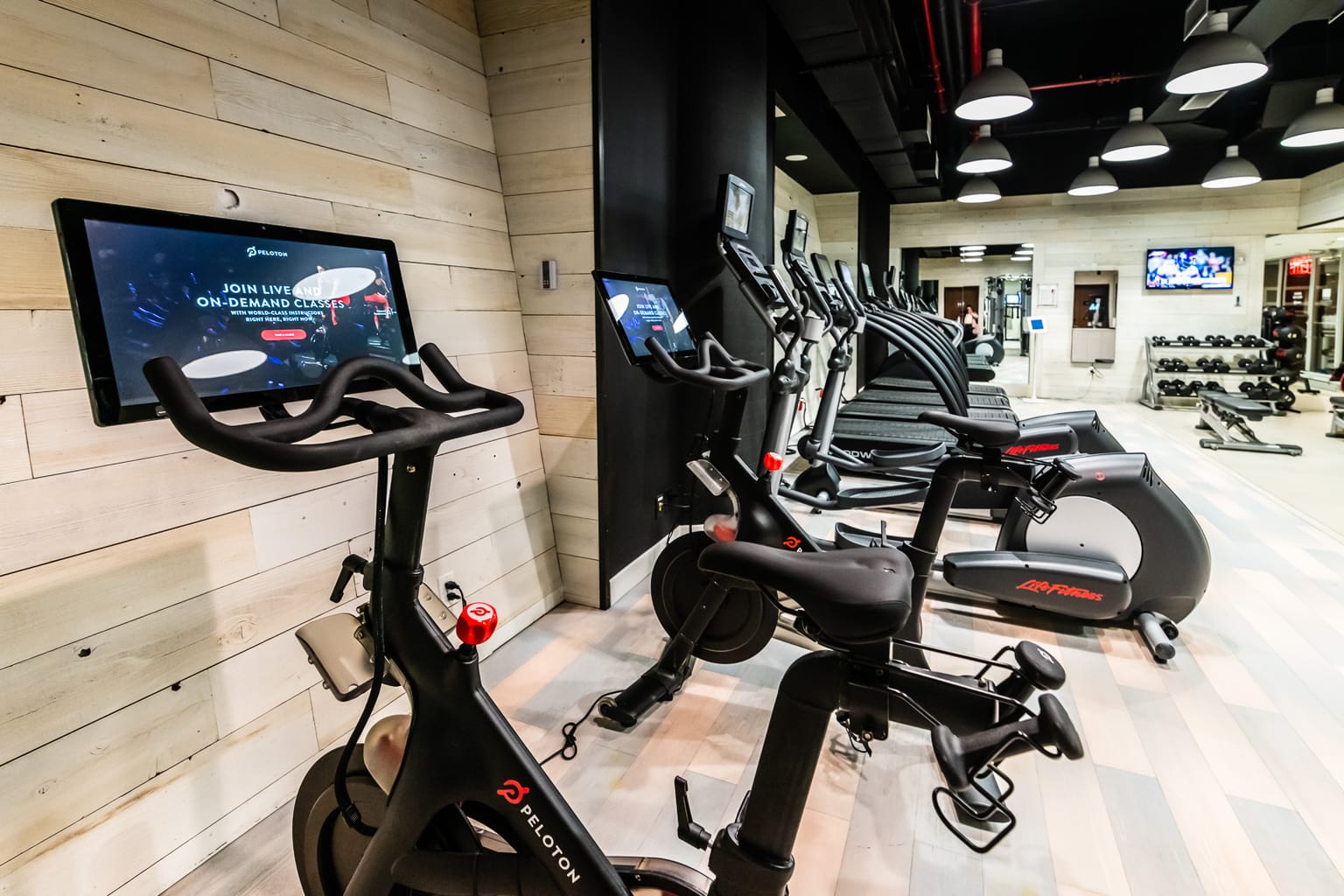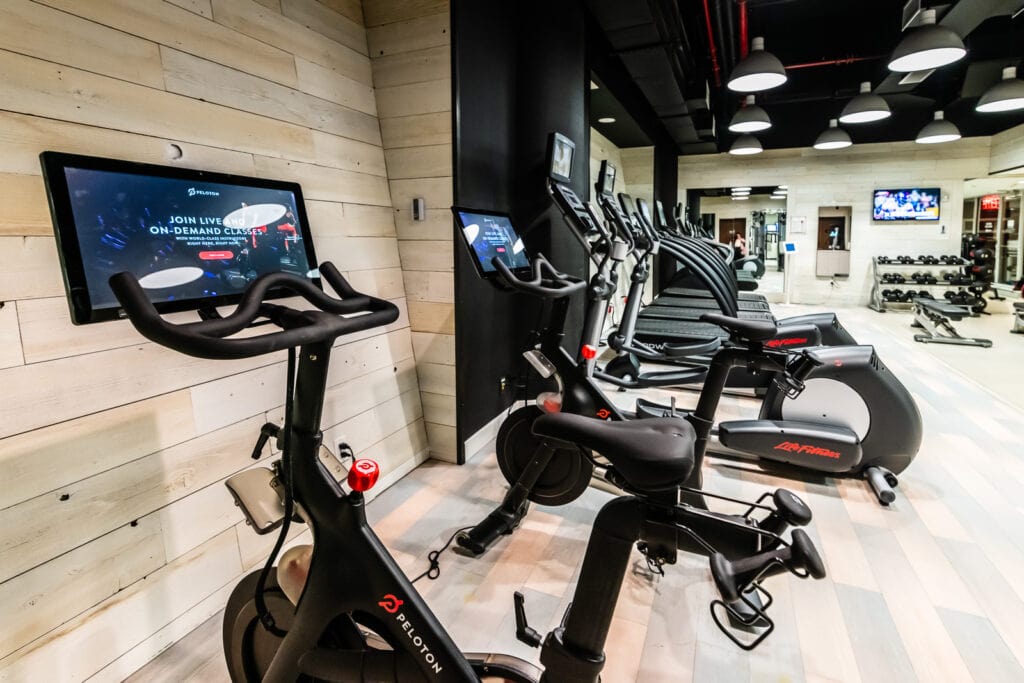 Amenities at Crowne Plaza HY36
The moderately sized Fitness Center on the 6th floor has the latest workout equipment, including several Peloton bikes.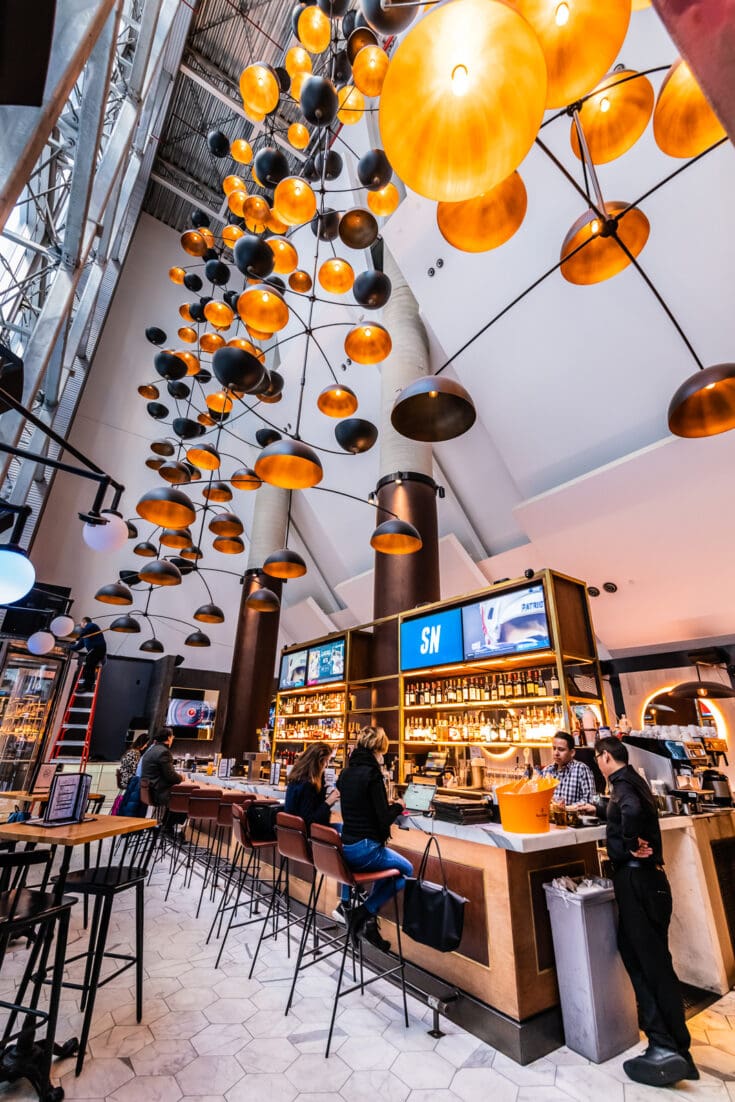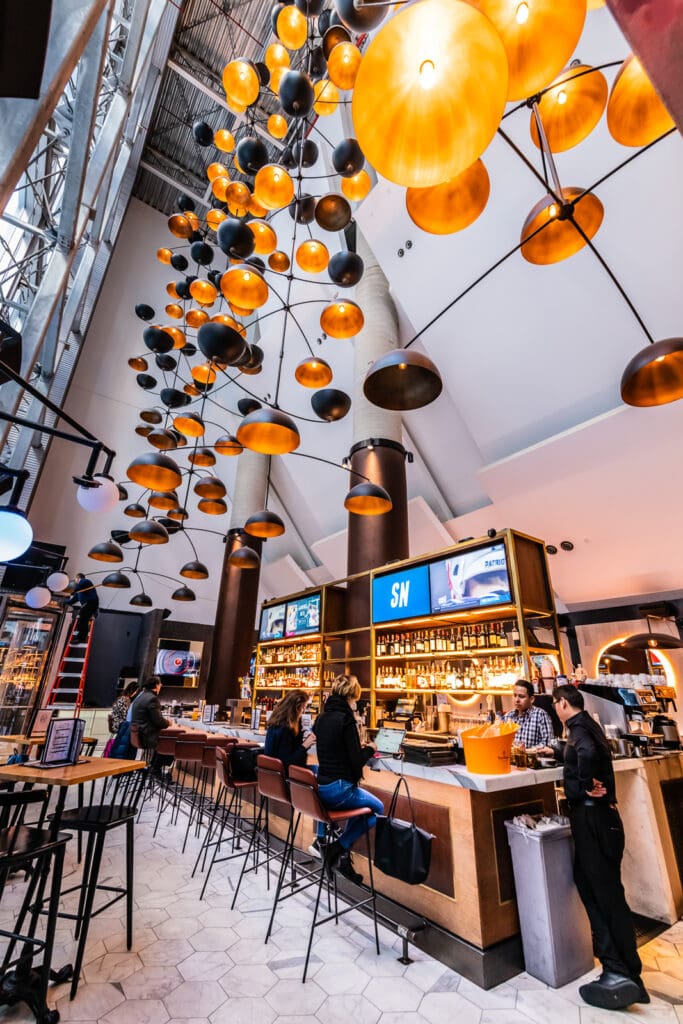 In-House restaurant and bar – TGA NYC – features a soaring blockbuster of a lighting fixture. Though food is your standard upscale pub grub, it's little wonder that the bar throngs at night. The space is fashionably hip.
Rooms range from $149 (+ tax/fees of $60) to over $500 in season. Includes wi-fi, drink on arrival.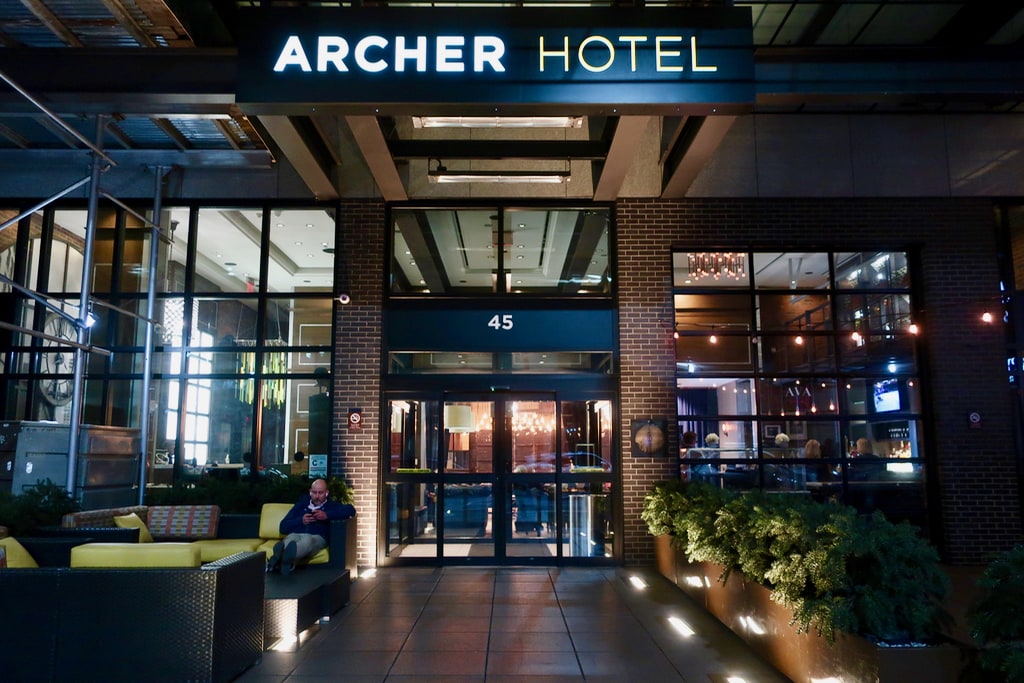 STAY: Archer Hotel  – Garment District
Where fashionistas flock, boutique hotels are sure to follow. (Or, is it the other way around)? That's true for NYC's Garment/Fashion District. The Getaway Mavens are fans of the Archer Hotel (on 38th between 5th and 6th), so it earned its very own post.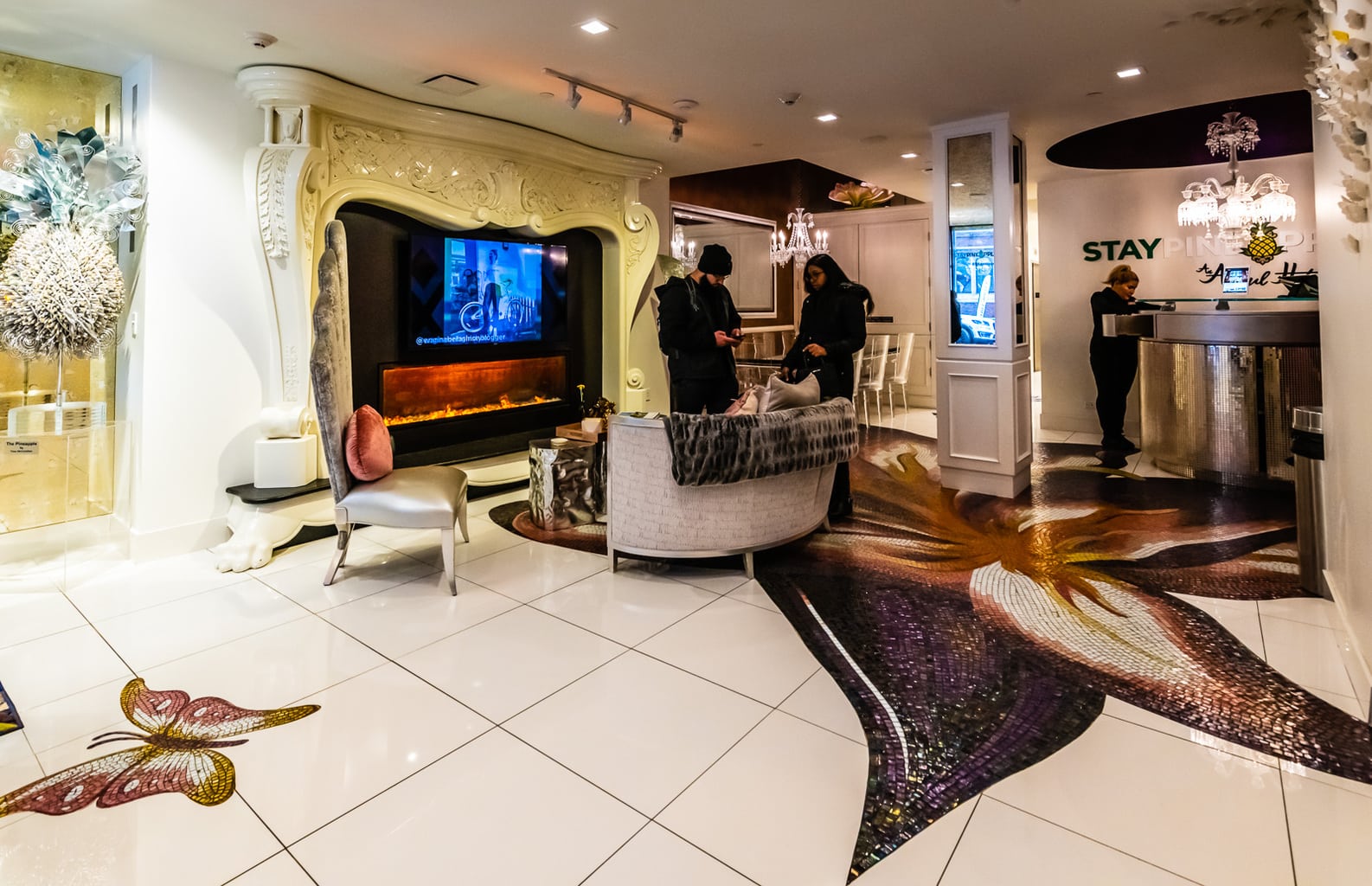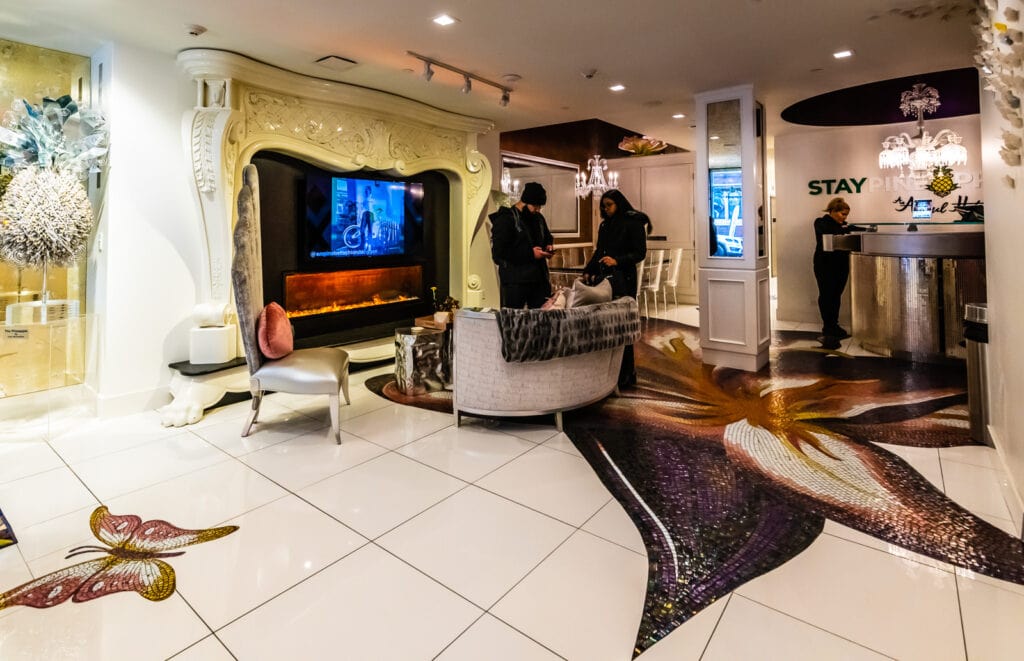 STAY: Additional Hudson Yards Hotels
Both Springhill Suites by Marriott and Fairfield Inn and Suites by Marriott are nearby.
Boutique-lovers will love Staypineapple, an Artful Hotel NY, right across from the Crowne Plaza.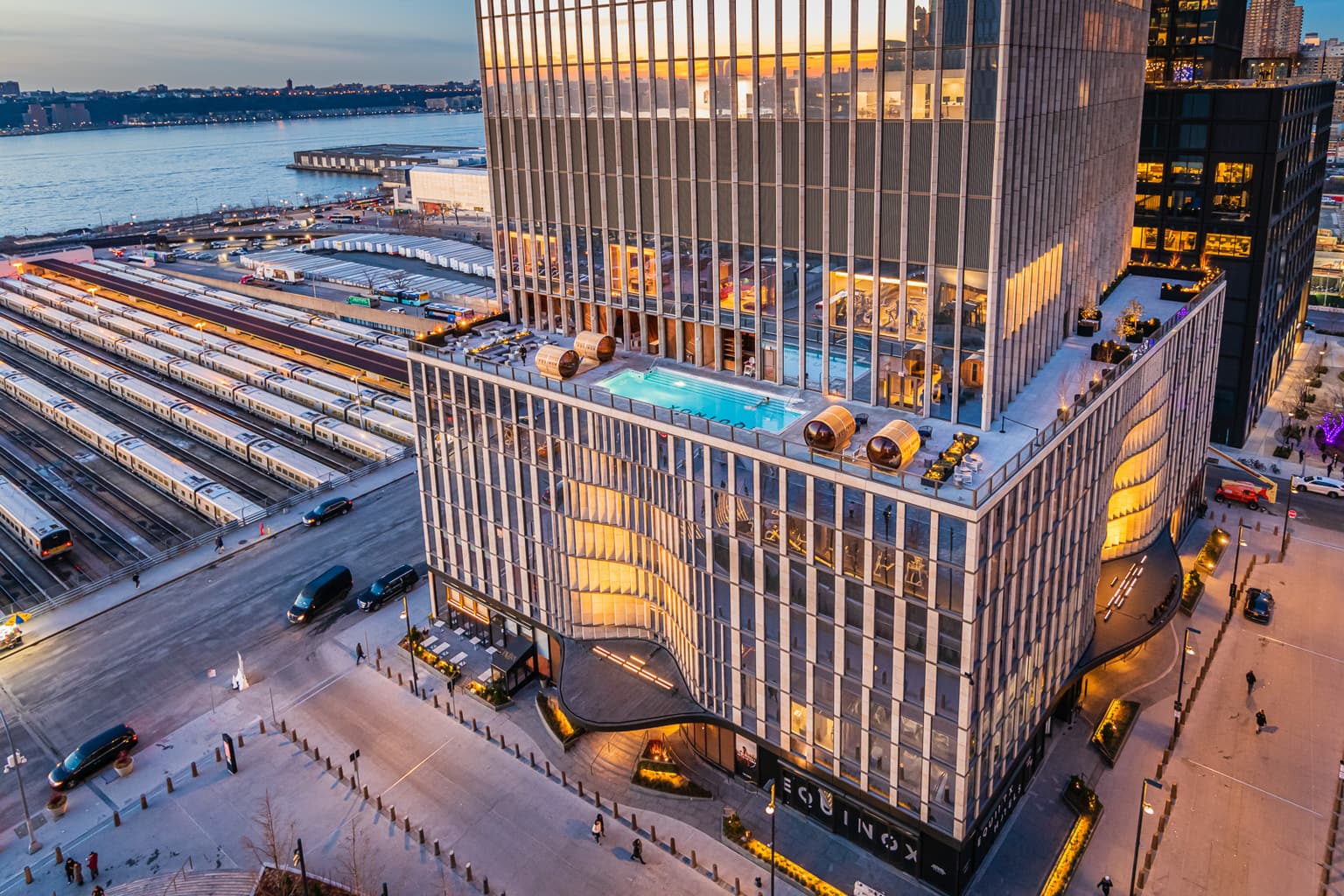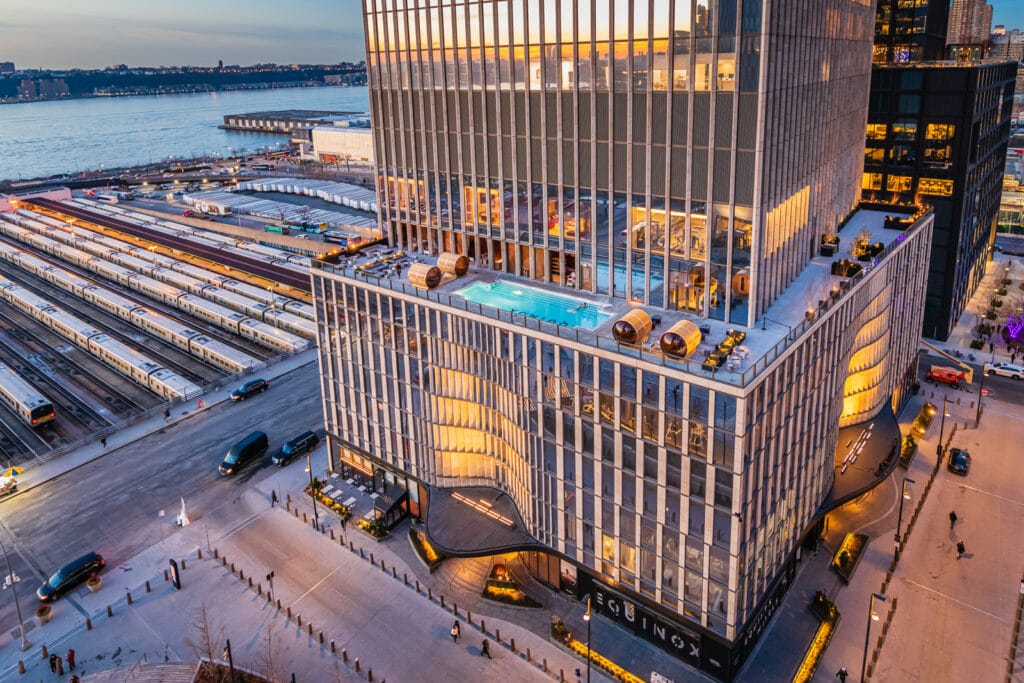 The Equinox Hotel – the Fitness chain's first ever hotel – is smack dab in the midst of Hudson Yards, overlooking both the Hudson River and The Vessel. Room rates, with tax and fees, start at $700 off season.

Getting To Hudson Yards – New York
SUBWAY: 7 Subway from Grand Central Station and Port Authority
If you're coming in by train to Grand Central Station or by bus to Port Authority – it's a quick 5-10 minute trip on the 7 Line to Hudson Yards.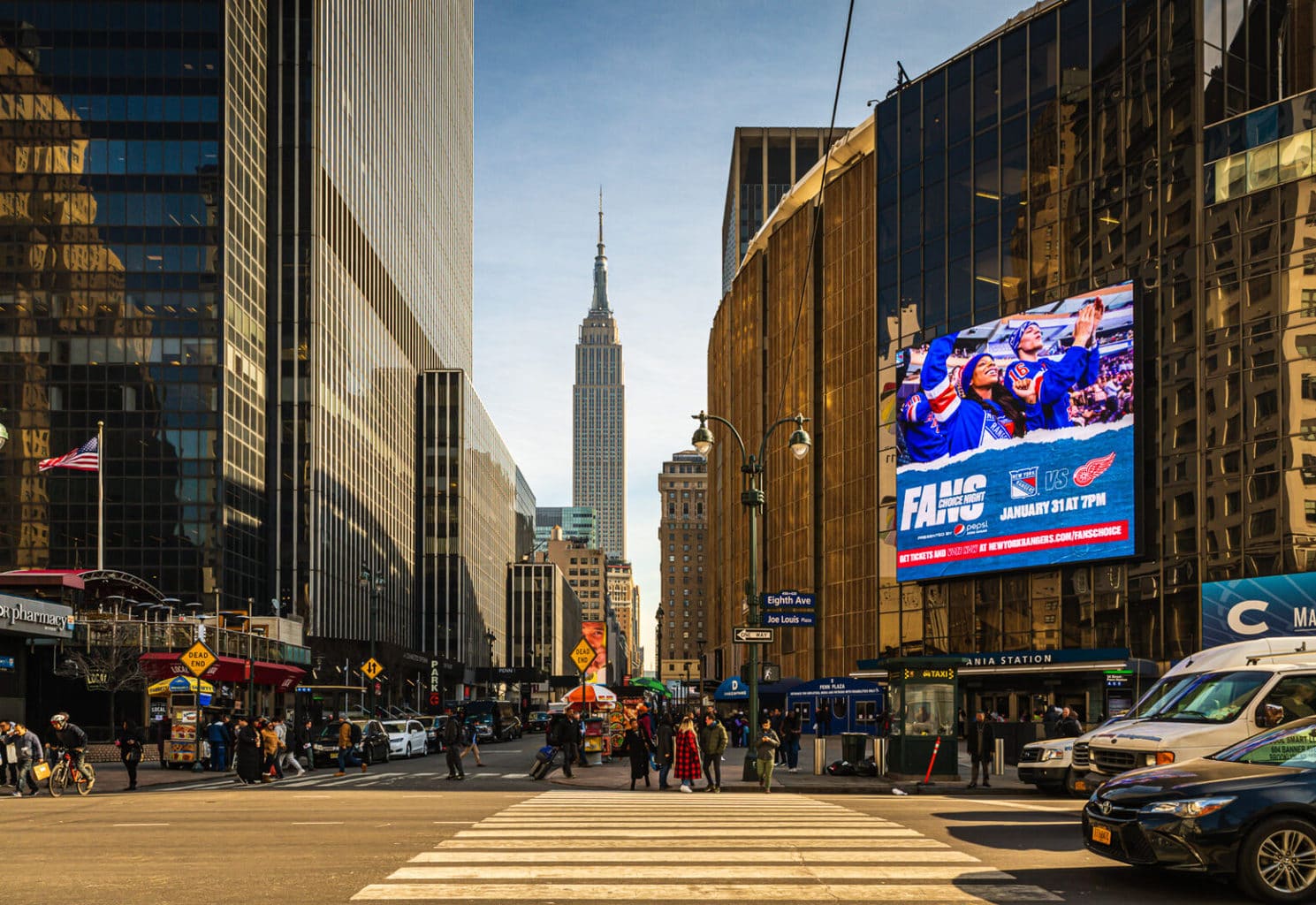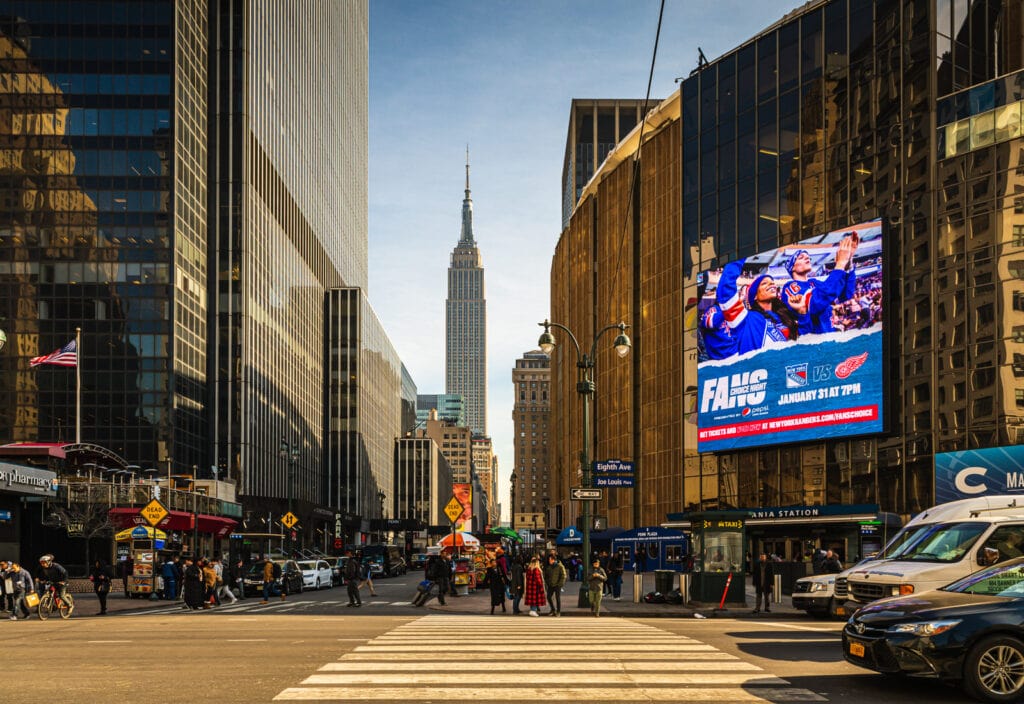 TRAIN: Pennsylvania Station
Penn Station is massive, encompassing multiple blocks between 7th and 8th Avenue, and from 31st to 34th Streets. The exit on 8th and 34th places you closest to Hudson Yards attractions. Inside, you'll find connections to multiple subway lines as well as Amtrak, NJ Transit, and the LIRR.
Weekend Getaways In New York City