Lake George, New York, often referred to as the "Queen of American Lakes," provides the ultimate setting for couples seeking romance. This picturesque destination, with its stunning lake views and surrounding Adirondack Mountains, is packed with incredible things to do for couples who love nature and luxury.
From the more touristy, kitschy, southern end of Lake George – Lake George Village itself – to the island-rich mid-lake Bolton Landing, the 32-mile-long clear, clean, gorgeous lake has been drawing visitors and heat-weary city folk to Lake George NY for over a hundred years.
You can go as rustic as a tent pitched on one of a few hundred small islands, or as grand as the venerable Sagamore Resort. Either way, a few days on Upstate New York's Lake George is a beautiful thing.
Looking for more weekend getaway inspiration? Check out our roundup of Romantic Getaways in Northeast USA.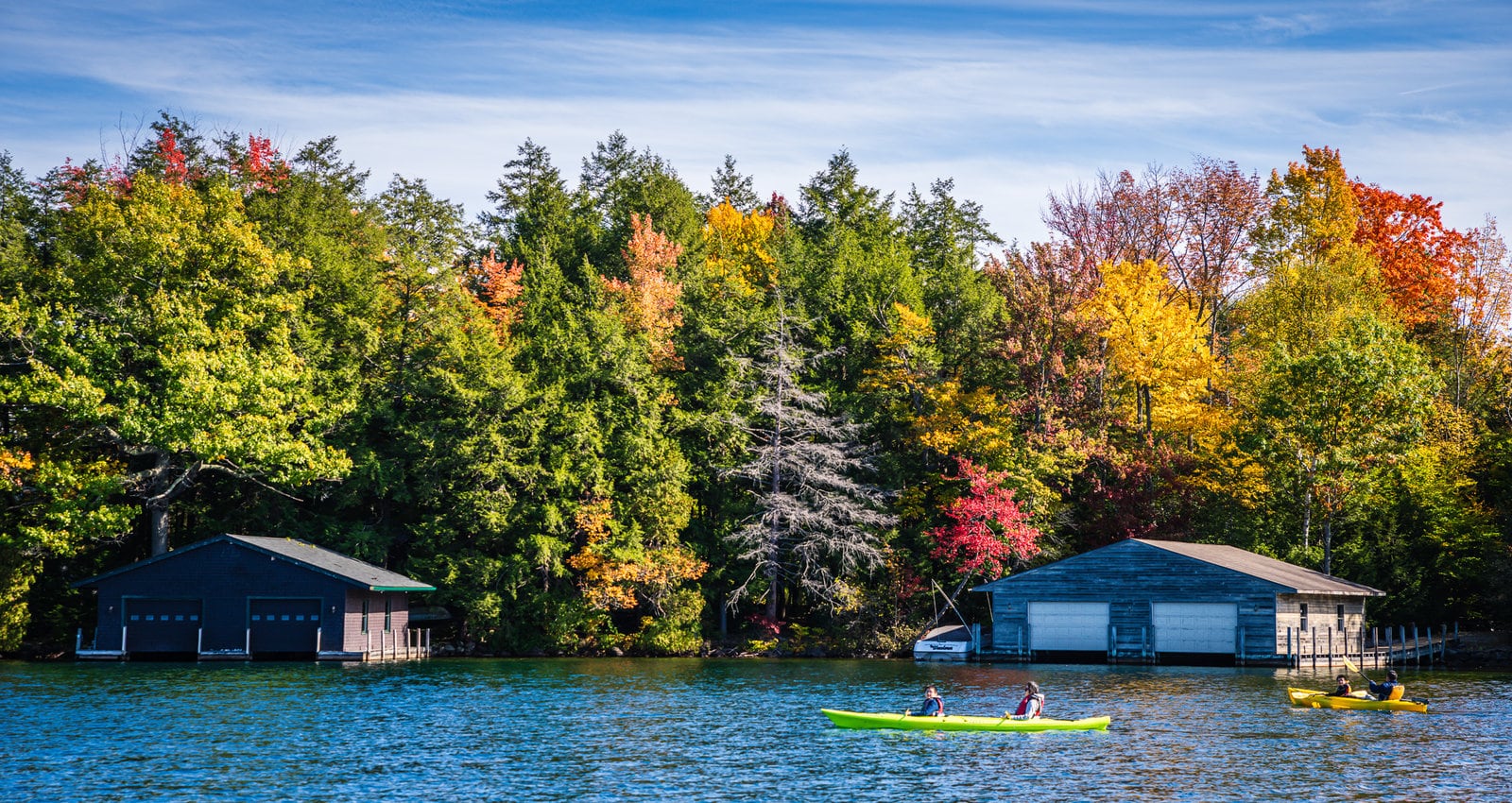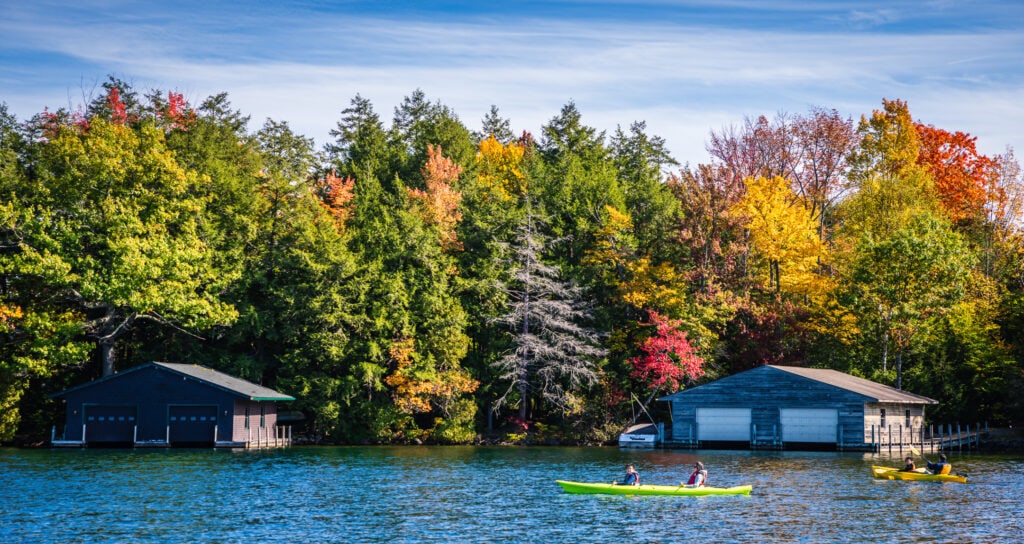 Where Is Lake George NY?
Located along the shoreline of Lake George, this Warren County town in New York State is about a 1-hour drive from Albany NY, or four hours from New York City. It's considered to be the gateway to the Adirondacks region, with Lake Placid an hour-and-a-half drive away.
Romantic Things to Do In Lake George
Tool around the island-studded midsection of Lake George on a 26 ft. burnished-wood Lyman with Ron and Kathy Miller. You can arrange to be picked up almost anywhere on the lake, and Ron will custom-design a route specifically for your party (up to 6 people).
I took a one-hour sunset cruise on a stunningly beautiful and warm May afternoon, as Ron and his wife Kathy (who owns a custom-Lake-George-gift company called Love Is on Lake George) pointed out landmarks.
The 32-mile-long Lake George, a narrow basin of almost unimaginably crystal-clear water, can be divided into three sections. The northernmost region, the Ticonderoga area, is most rustic, with not much development except for the age-old Silver Bay YMCA Conference and Spiritual Center.
The southern tip of Lake George, encompassing the town of Lake George, is more commercialized with Mom and Pop motels and lodgings, huge tour boats, shops, and restaurants.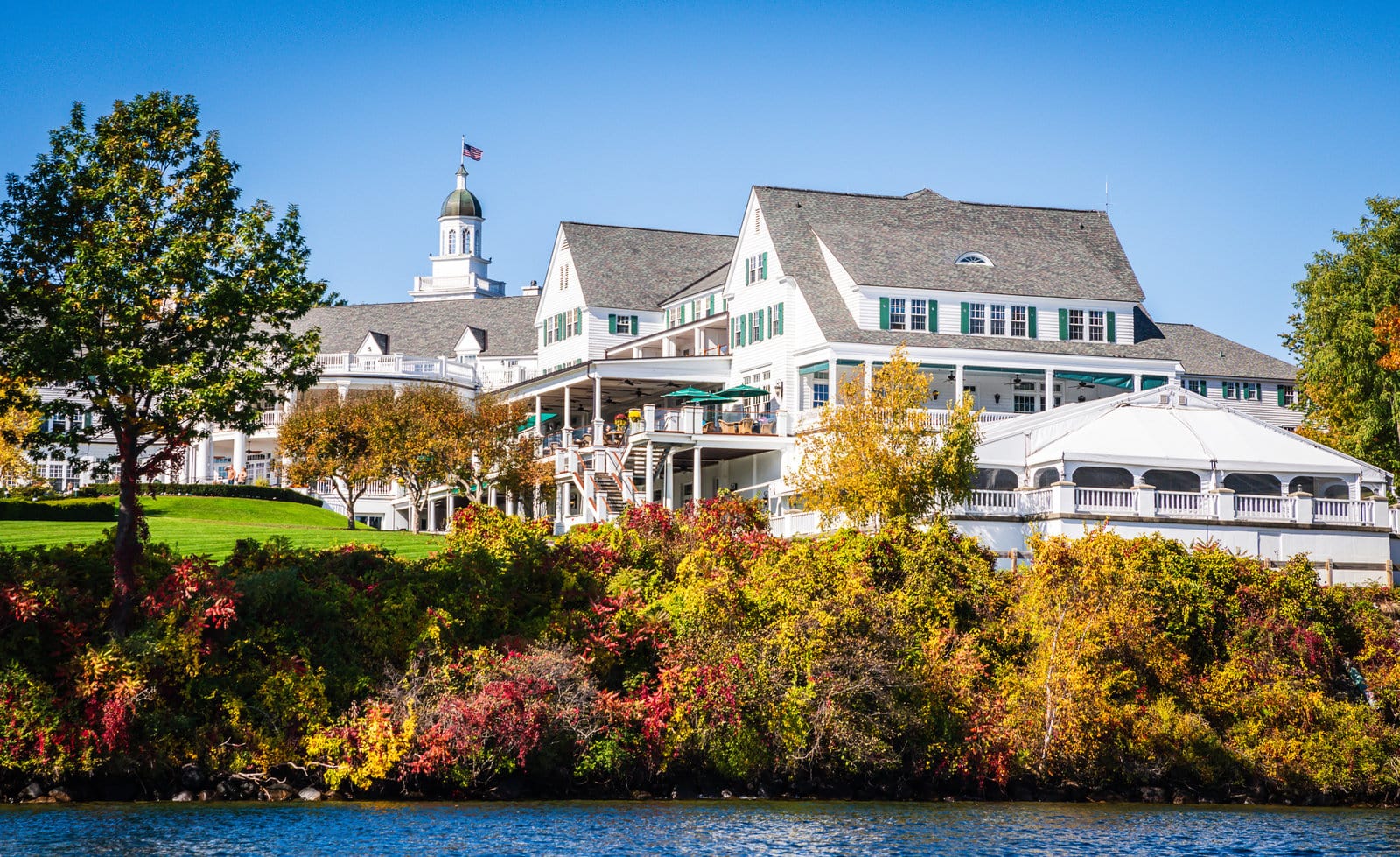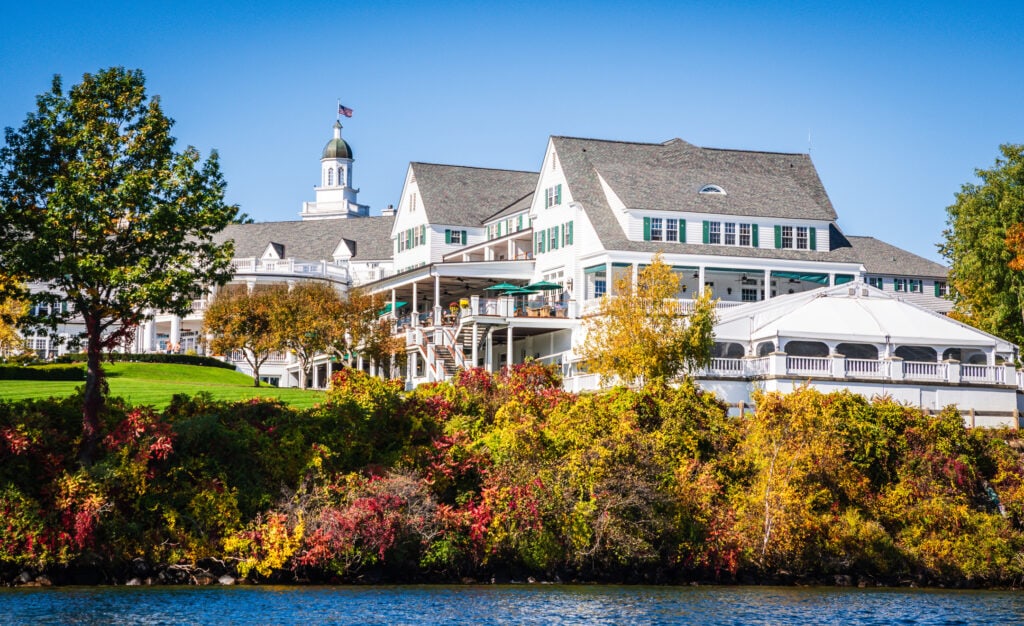 The middle portion of the lake, studded with over 100 islands ranging from the size of a Great Estate to the width of a single boulder, is where most of the larger lakefront homes – as well as The Sagamore Resort – are located.
And this is where Ron chose to cruise. We headed into the "Narrows" – watery paths through popular camping spots; state-owned islands that are outfitted with picnic tables, grills, outhouses, and tiny docks.
Ron piloted around Paradise Bay – a little swimming hole of a private cove, by Glen Island ("it's a right of passage to get an ice-cream cone from the Ranger Station there"), and into Sandy Bay, where you can moor your own boat.
This is the most intimate and tranquil way to experience Lake George, and perfect for a wedding or celebratory party.


If you're looking for a party atmosphere (Taco Tuesday Sails, Pizza Thursday Cruises, etc.) on a big paddle-wheeler or steamer, book a spot on one of these big boys.
Lake George Steamboat Company offers a selection of cruises, from all-day full-lake dinner cruises to one-hour jaunts. The Mini-Ha-Ha even offers Moonlight Cruises with live entertainment on Saturdays in season.
GO: Million Dollar Beach
Million Dollar Beach, located at the southern end of the lake, adjacent to Lake George Village, is one of the most popular sandy spots in the area, and for good reason. It offers a spacious layout for sunbathing, swimming, and beach volleyball, all with a stunning backdrop of the Adirondack Mountains. The beach also features amenities like picnic areas, restrooms, and lifeguards, making it an ideal location for a full day of lakeside fun.
RENT A BOAT: Chic's Marina – Bolton Landing
Don't need a DC (Designated Captain) and want to avoid a bunch of tourists? Take your friends or family out tubing, water-skiing, or for a cruise around the lake by renting a boat for a few hours or a day.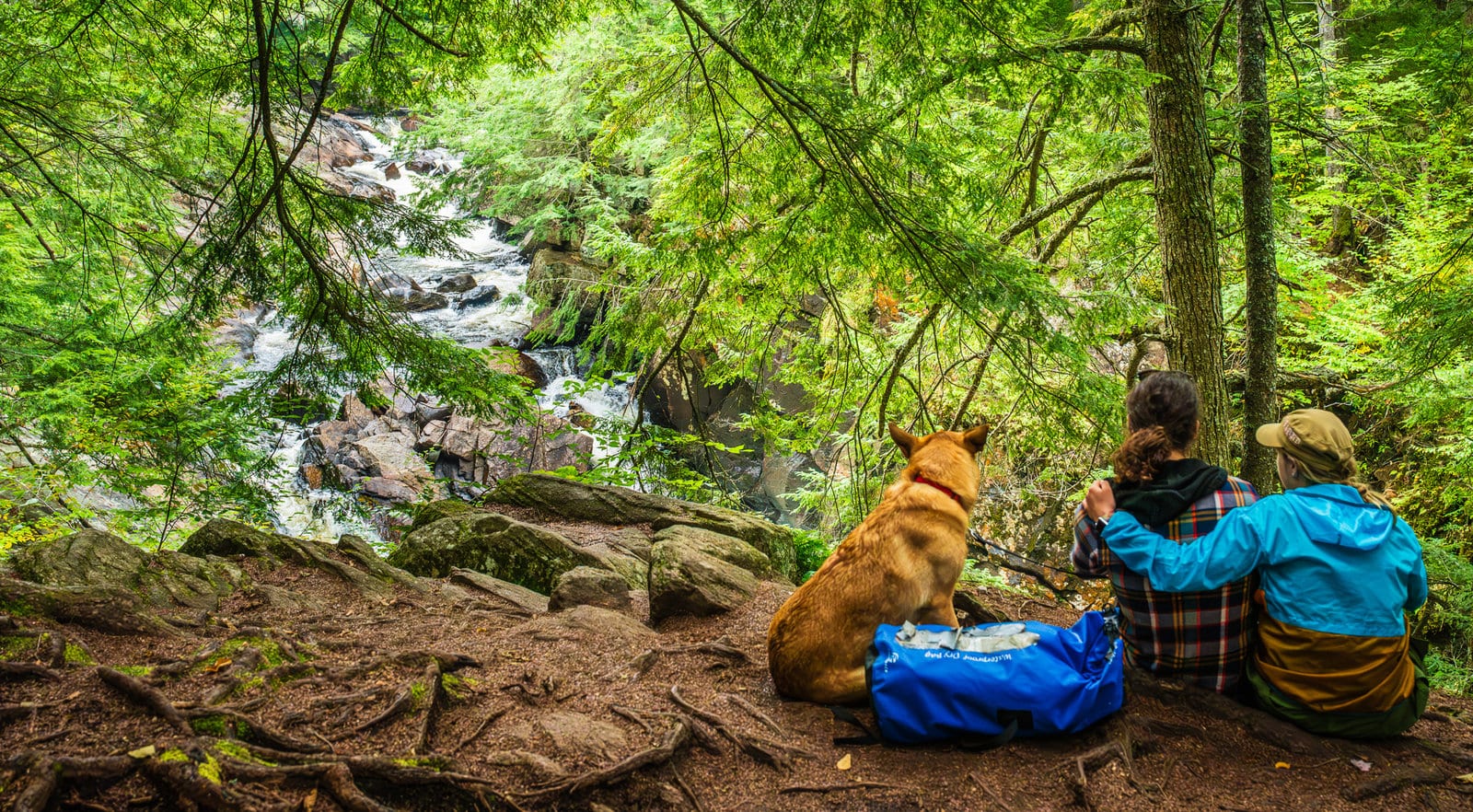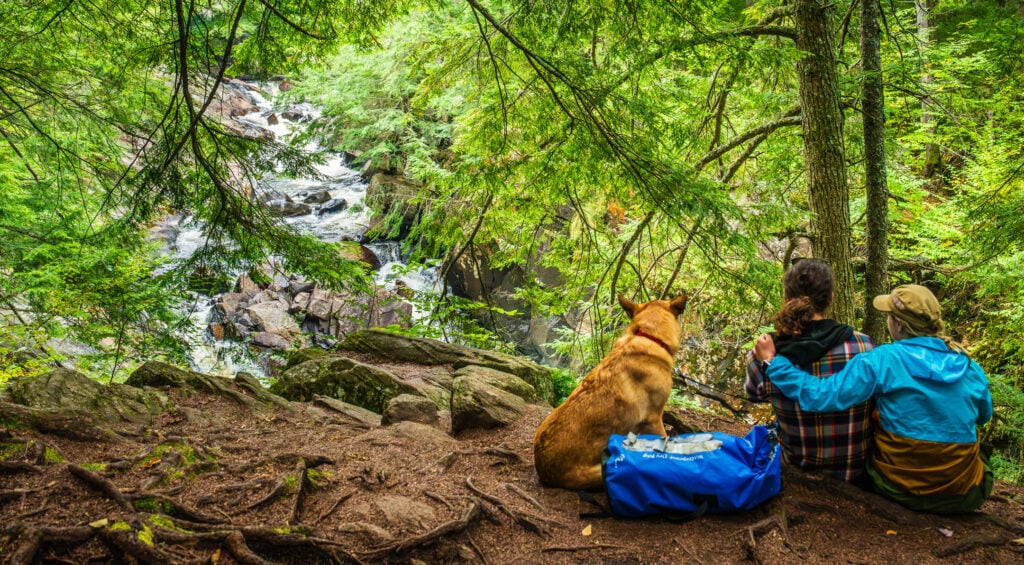 HIKE AROUND LAKE GEORGE
Sleeping Beauty Mountain – This trail culminates in a summit that offers magnificent lake views. The hike is moderate, making it accessible for both beginner and experienced hikers looking for a romantic outdoor adventure.
Auger Falls Trail: A relatively easy and short trail, Auger Falls is perfect for couples who want to experience the beauty of a cascading waterfall without the strenuous climb. The trail winds through a wooded area before revealing the breathtaking falls, making it a perfect romantic setting for nature lovers.
Shelving Rock Falls: Perfect for those looking for a less strenuous hiking experience, this trail leads you to a beautiful waterfall. It's an ideal spot for a romantic picnic and some unforgettable photos.
Buck Mountain Trail: Offering sweeping views of Lake George and the surrounding Adirondack Mountains, Buck Mountain Trail is a moderately challenging hike that rewards you with one of the best panoramas in the area.
Prospect Mountain Trail: For those seeking a bit of a challenge paired with incredible vistas, Prospect Mountain Trail is a must-do. The 1.5-mile hike ascends steeply, culminating in sweeping views of Lake George and the surrounding Adirondack Mountains—ideal for a shared sense of accomplishment and a memorable scenic backdrop.
Constructed in 1755 and burned down by the French in 1757, this exact replica of Fort William Henry on its former footprint has been a favorite of families since its opening in 1953.
Most thrilling, obviously, is mustering for the militia – with uniforms and guns and shooting demonstrations. But the whole complex, stocked with passionate costumed interpreters, is an excellent way to learn about US History. And have fun, too.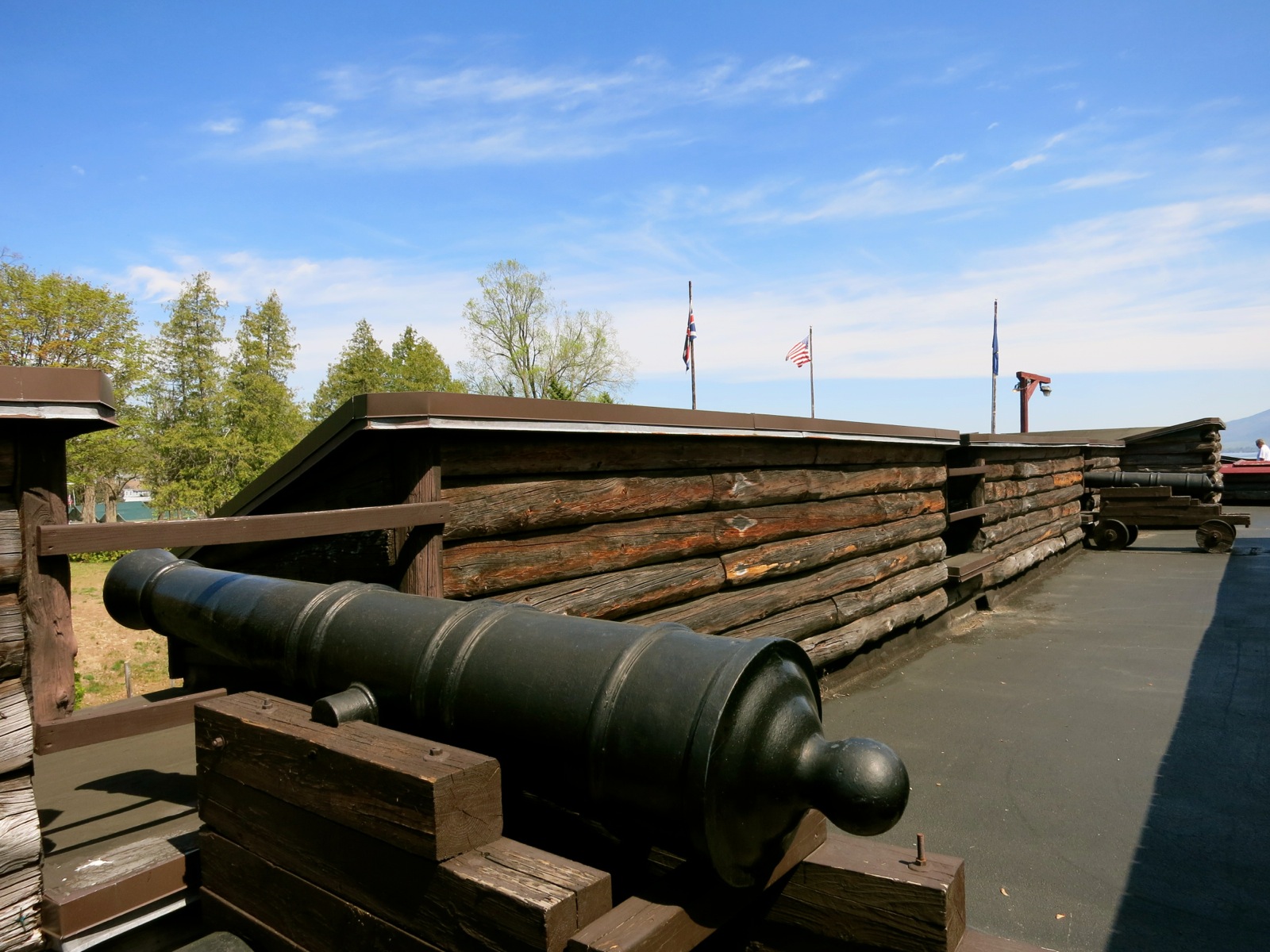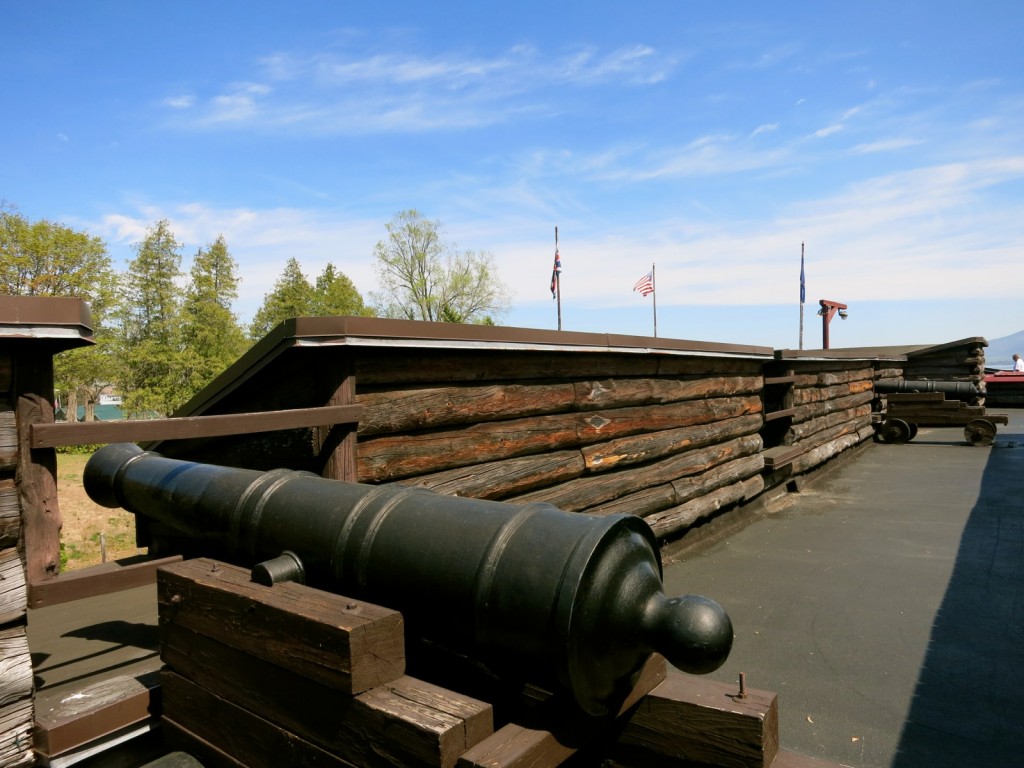 In the early 1700s, this area of New York, so close to Canada, was a contested region, and as such disputed territory during the French and Indian War. The French claimed the lake and its environs as theirs – ever since 1646 when Father Isaac Joque set his eyes upon it and called it Lac Du Saint-Sacrement.
In 1755, Major General William Johnson, with a cadre of Colonial Volunteers and British regulars, built this fort at the Southern end of the lake, to protect British interests to the south.
The Fort, named after two grandsons of King George II, served as a launch point for raids and as a frontier hospital. It didn't see much action until 1757 when 8,500 French soldiers burned it down.
Take an engaging hour-long tour, with bomb toss and musket ball molding demonstrations. If you've got kids or grandkids, don't leave before they are recruited into the 35th Regiment. Each child is issued enlistment papers, a wooden shilling, a waistcoat, a three-cornered hat, and a musket, and then marched around the center of the Fort to fire their muskets.
The docents and interpreters never tire of seeing the glee on the kids' faces.
In the center of Lake George Village, this storefront tasting room is one of the most popular attractions in the area. Though it does not grow its own grapes (it outsources them from the Niagara Region), the Adirondack Winery does make its own wines. The sweet and satisfying "Calm After the Storm" – a dark chocolate orange port – is the most popular. Try a tasting – the seven samples cost ncludes a souvenir wine glass.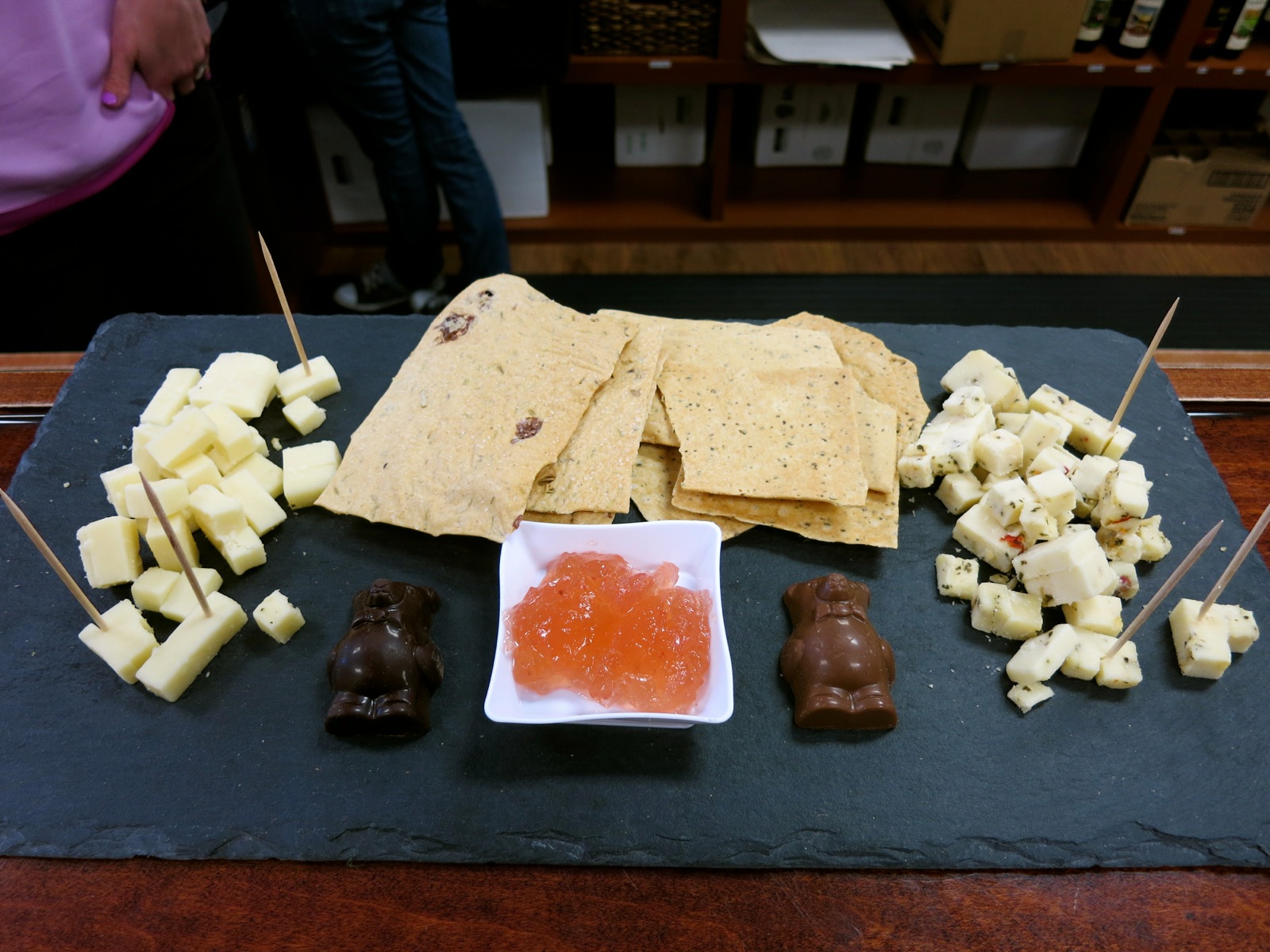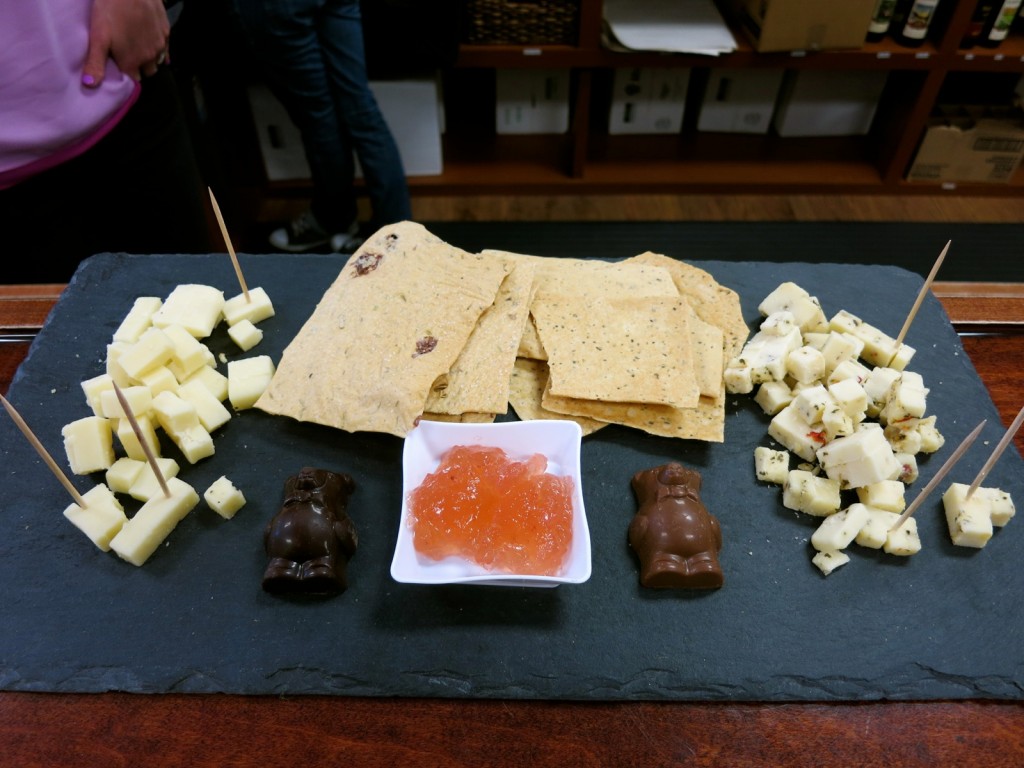 To complete your tasting, ask for a "Slate Plate," It's a delicious and eye-catching presentation of Saratoga Crackers, cheeses from the Adirondack Cheese Co., local jelly from Surprenant's Berry Farm, and little chocolate bears from Birnn Chocolate set out attractively on a slab of black slate.
Together with the wine, it's a mini-feast celebrating the best of the region. A hit with Bachelorette and Bridal parties as well, Adirondack Winery will personalize wine labels for gifts or weddings.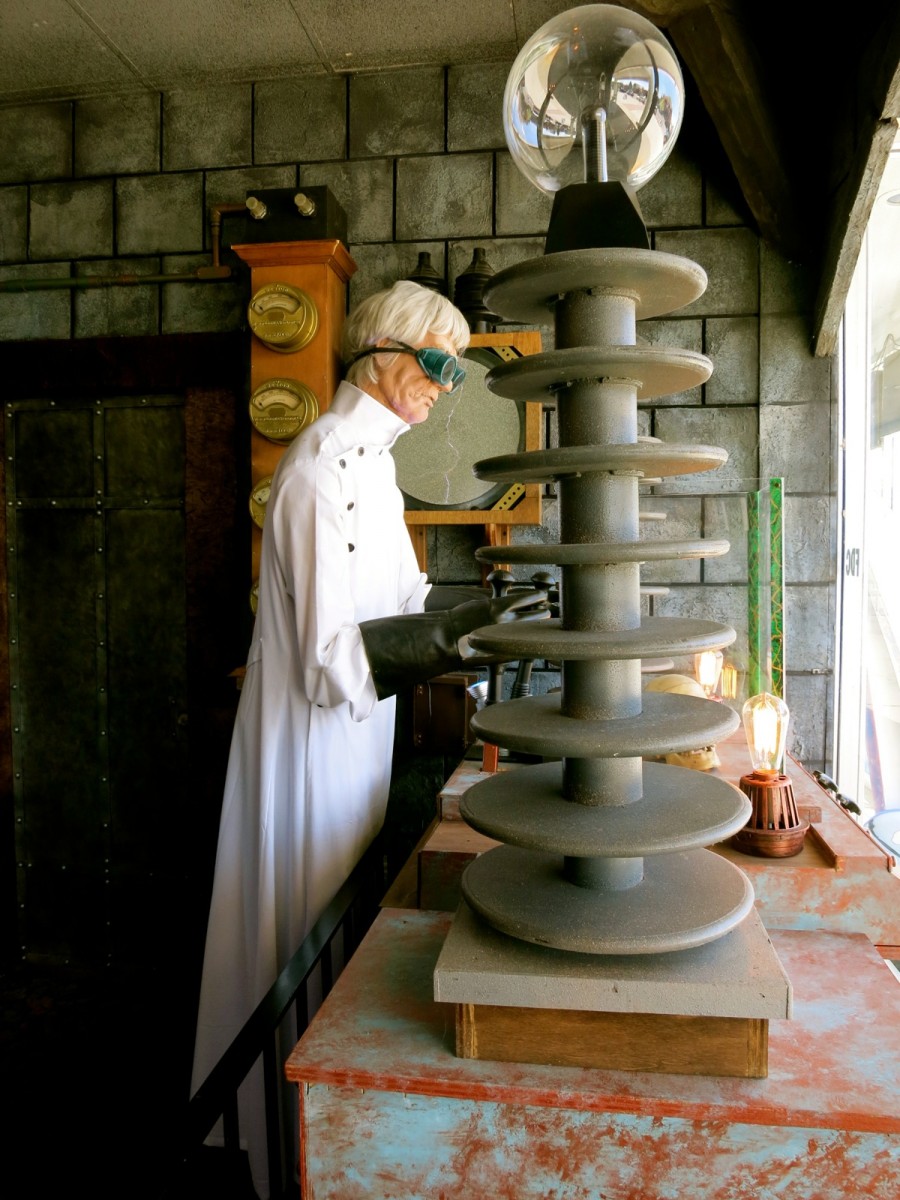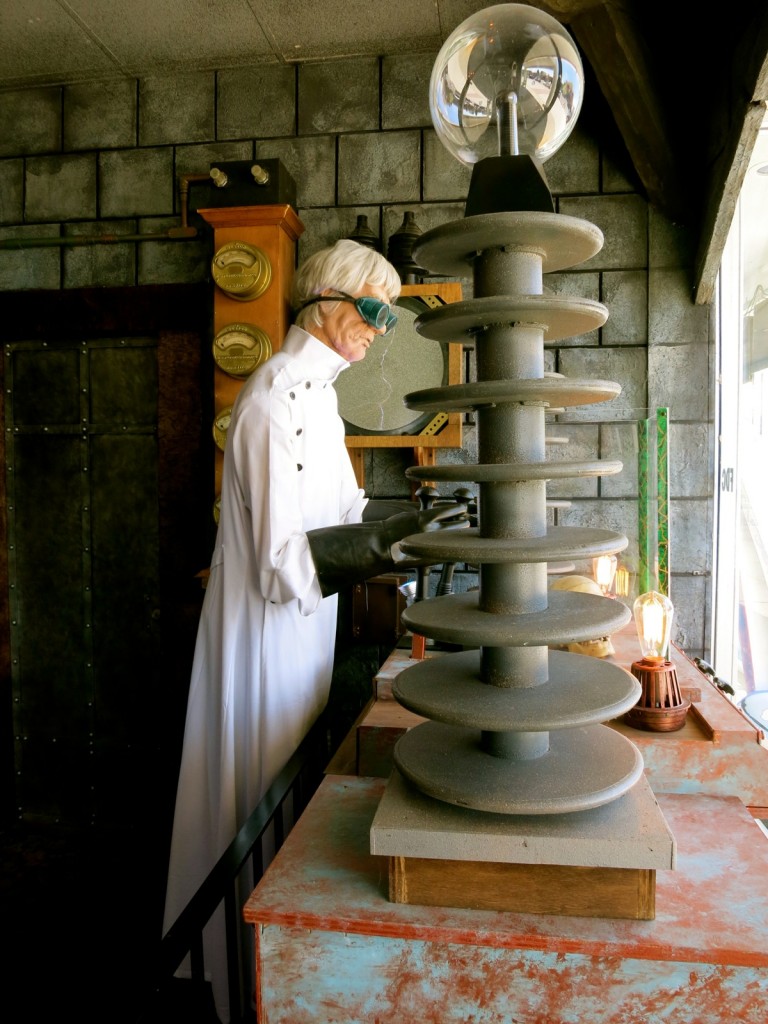 You know you want to. Yes, it's got Frankenstein himself at the door, the mad scientist at work in the window. This place has been here for decades and shows no sign of aging.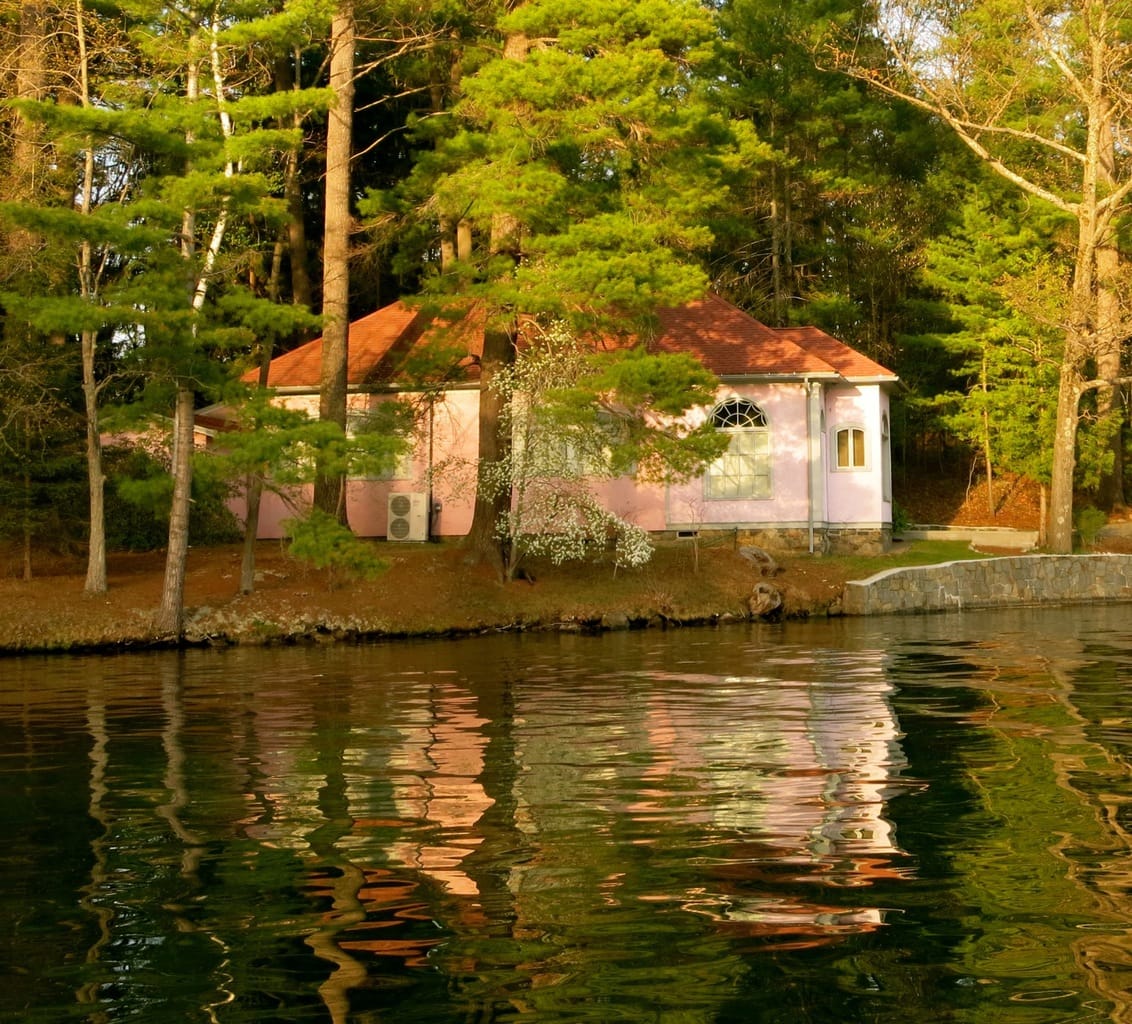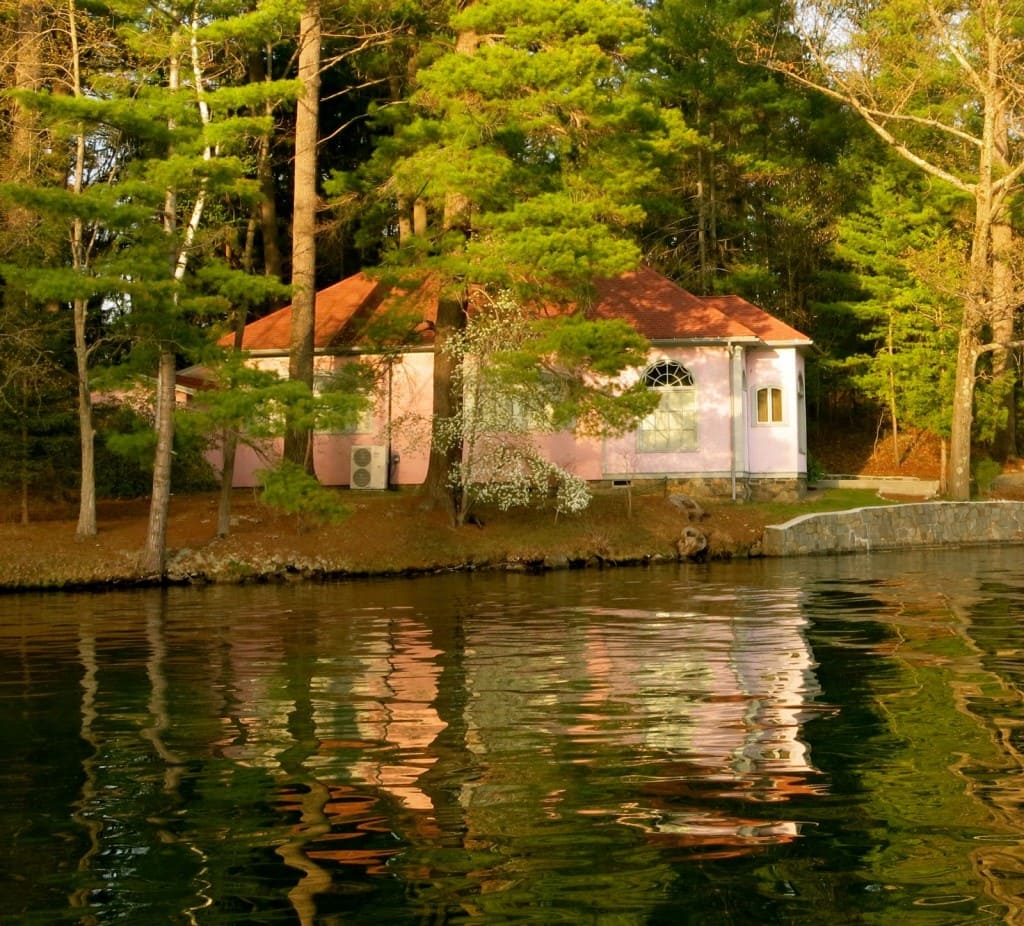 VISIT/CONCERT: The Sembrich – Bolton Landing
The studio of famed opera diva, Marcella Sembrich, who sang with the Met in its initial season in 1883, is open as a costume and artifact museum and intimate concert venue.
You can literally rub elbows with some of the world's greatest opera singers when they perform in this adorable pink studio overlooking beautiful Lake George.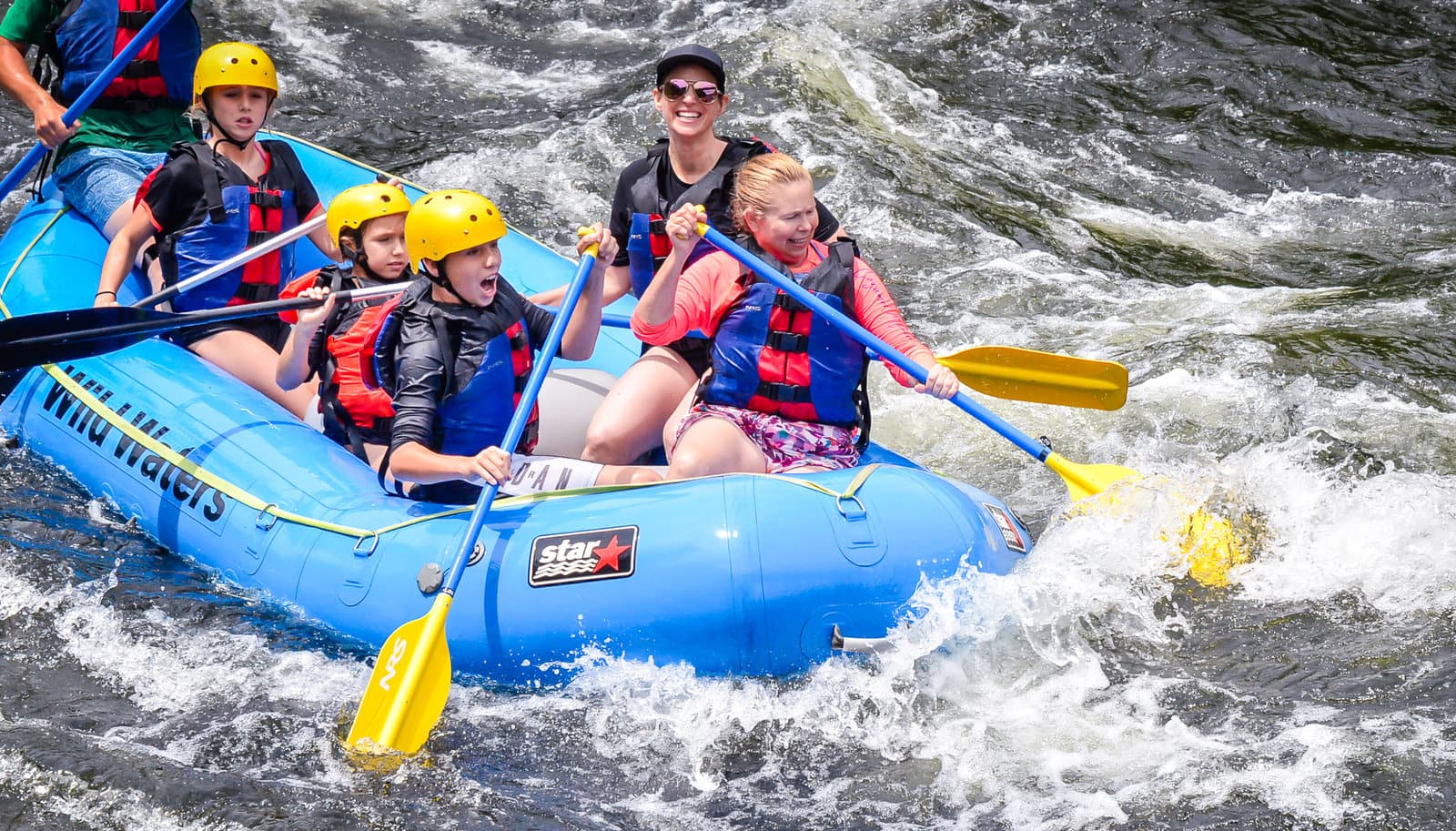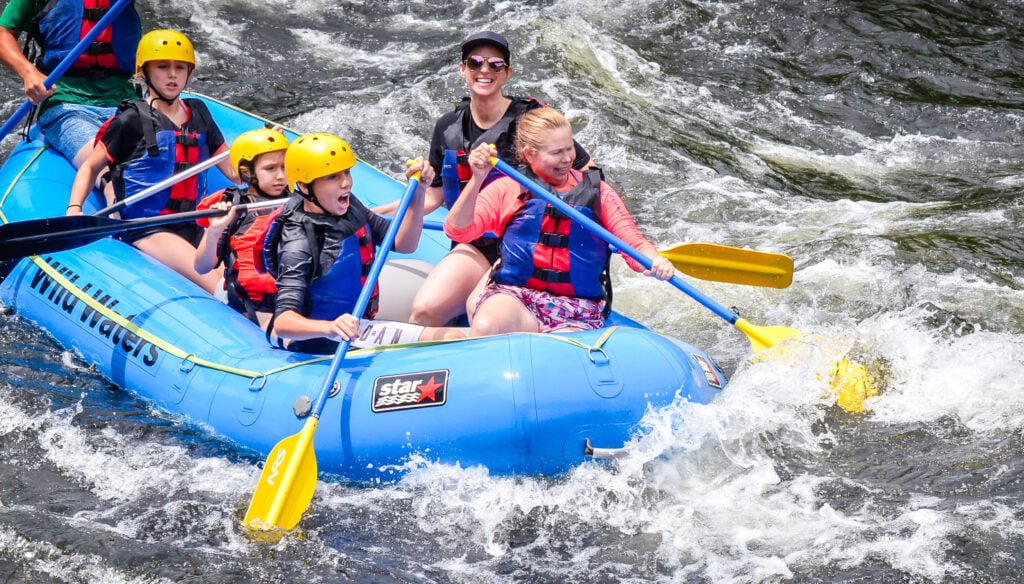 GO: White Water Rafting on the Sacandaga River
For couples craving an adrenaline rush, whitewater rafting on the Sacandaga River with Wild Waters Outdoor Center offers a perfect blend of excitement and natural beauty. Just a short drive from Lake George, the Sacandaga River winds through the scenic Adirondack Mountains, providing a backdrop that's as breathtaking as the rapids themselves.
The river features Class II and III rapids, making it an accessible adventure for rafters of all skill levels. Rafting companies in the area often provide all the necessary gear and expert guides, so you can focus on paddling, teamwork, and the thrilling surges of whitewater. It's an exhilarating way to bond with your partner while soaking up the raw beauty of the Adirondacks.
Family-Friendly Things To Do In The Lake George Area
Lake George has the requisite theme parks and playgrounds for children (and adults who love to play!) See Rex (or Lightening), the "Nation's Only Diving Horse" at the perfect-for-tots Magic Forest. Do some water tricks yourself at Water Slide World. Experience all 135 rides at Six Flags Great Escape Theme Park. Or challenge yourselves at the Adirondack Extreme Adventure Course. All are open in season only.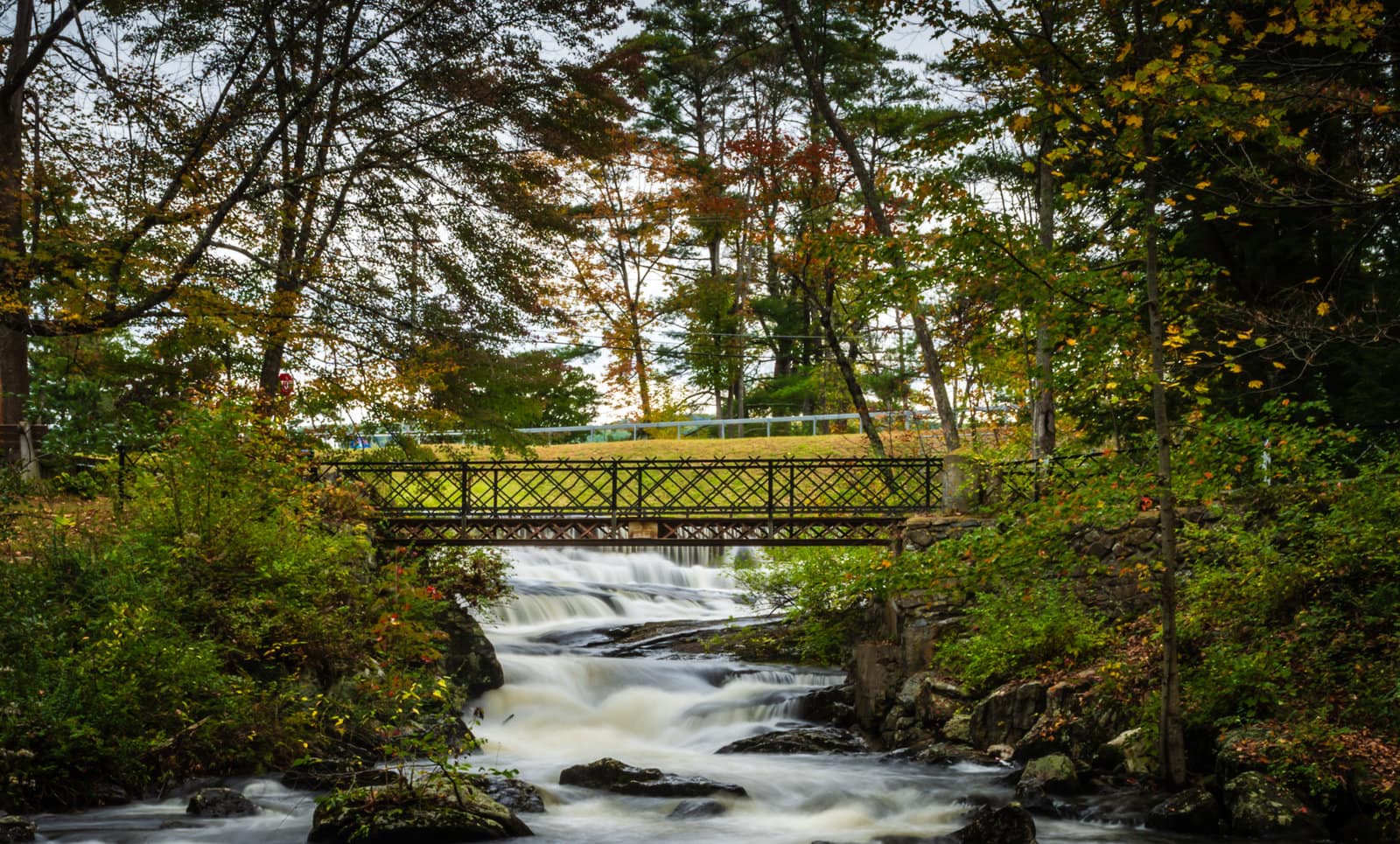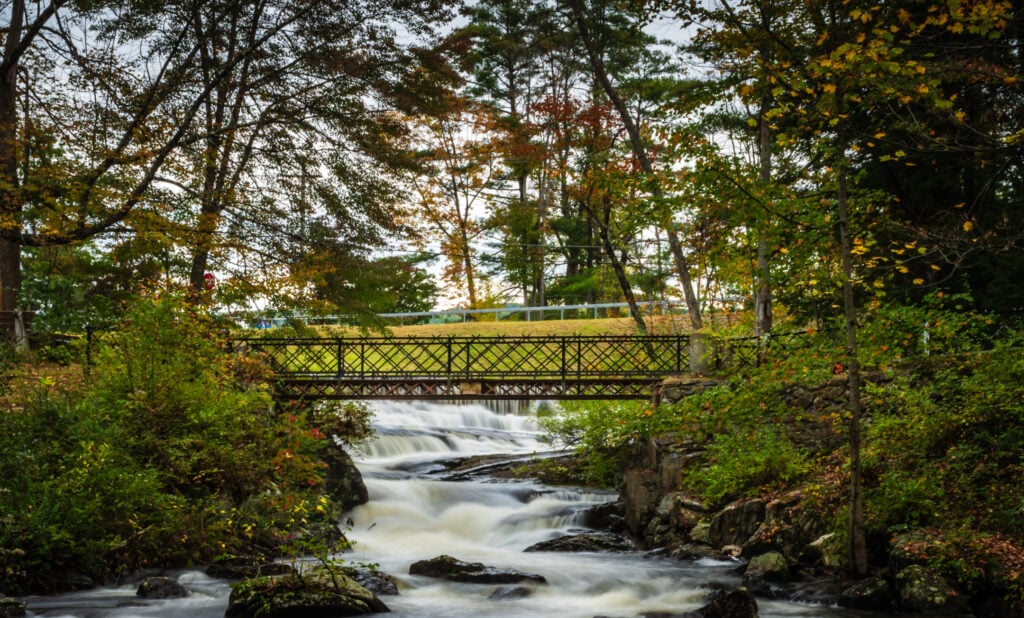 DAY TRIP: Explore Lake Luzerne
Just a short drive from Lake George, Lake Luzerne offers a quieter, more laid-back atmosphere that's perfect for those looking to escape the crowds. Nestled among the Adirondack foothills, this smaller body of water provides excellent opportunities for kayaking, fishing, and paddleboarding. Nearby, you'll find a mix of hiking trails and campgrounds, as well as quaint shops and local eateries. Whether you're an outdoor enthusiast or simply looking for a peaceful lakeside retreat, Lake Luzerne makes for a delightful detour on your Lake George getaway.
DAY TRIP: Explore Glen Falls
Glen Falls is a charming city located approximately 20 minutes south of Lake George, offering a range of activities that complement your lakeside adventure. Known for its rich history, the city is home to the Hyde Collection, an exceptional art museum, as well as numerous historic sites. But it's not just about culture; nature lovers will find the aptly named Glens Falls, a beautiful waterfall in the heart of the city, to be a peaceful diversion. A trip to Glen Falls also opens up dining options, with a variety of quaint cafes, breweries, and farm-to-table restaurants to explore.
Lake George Restaurants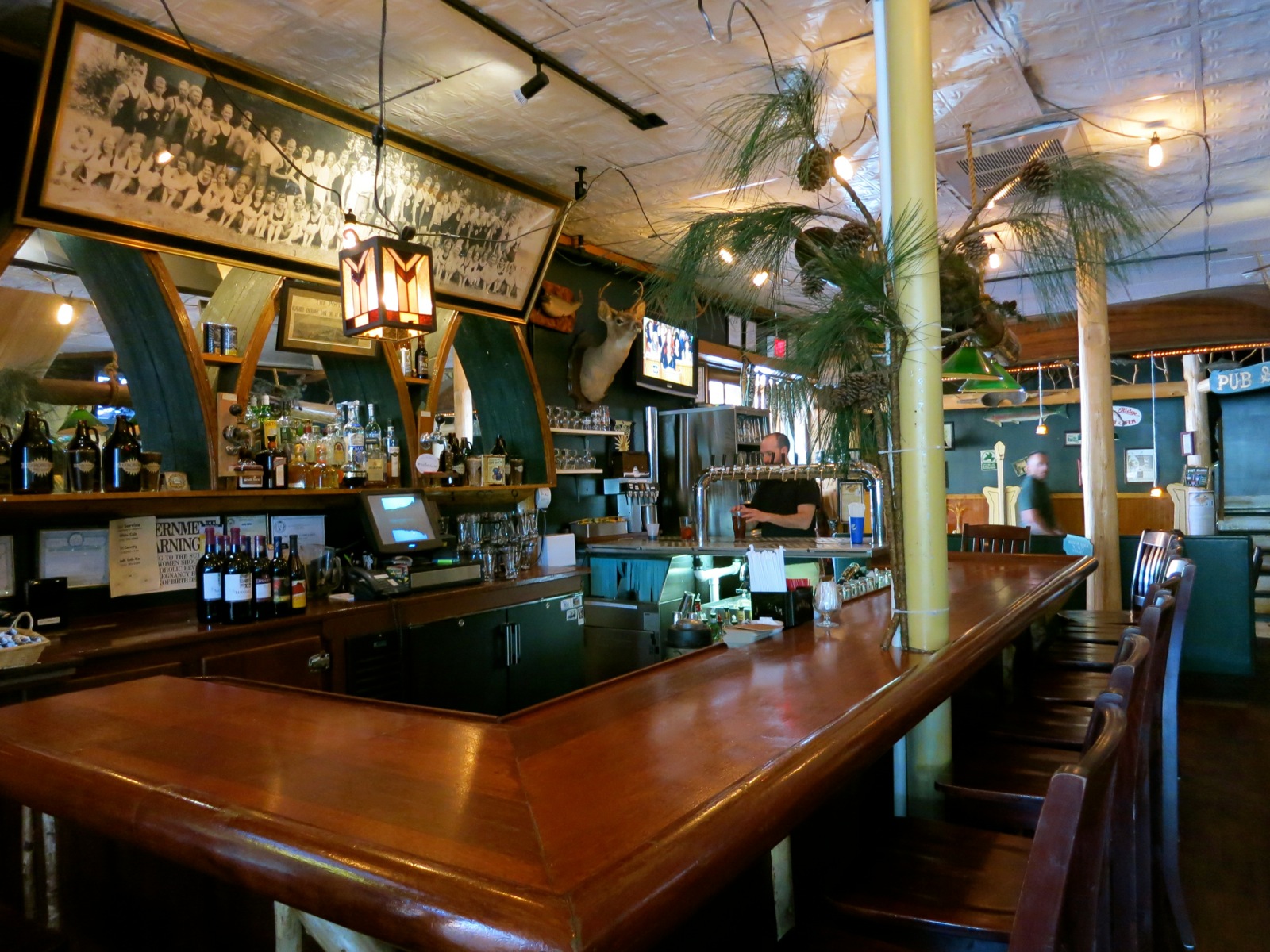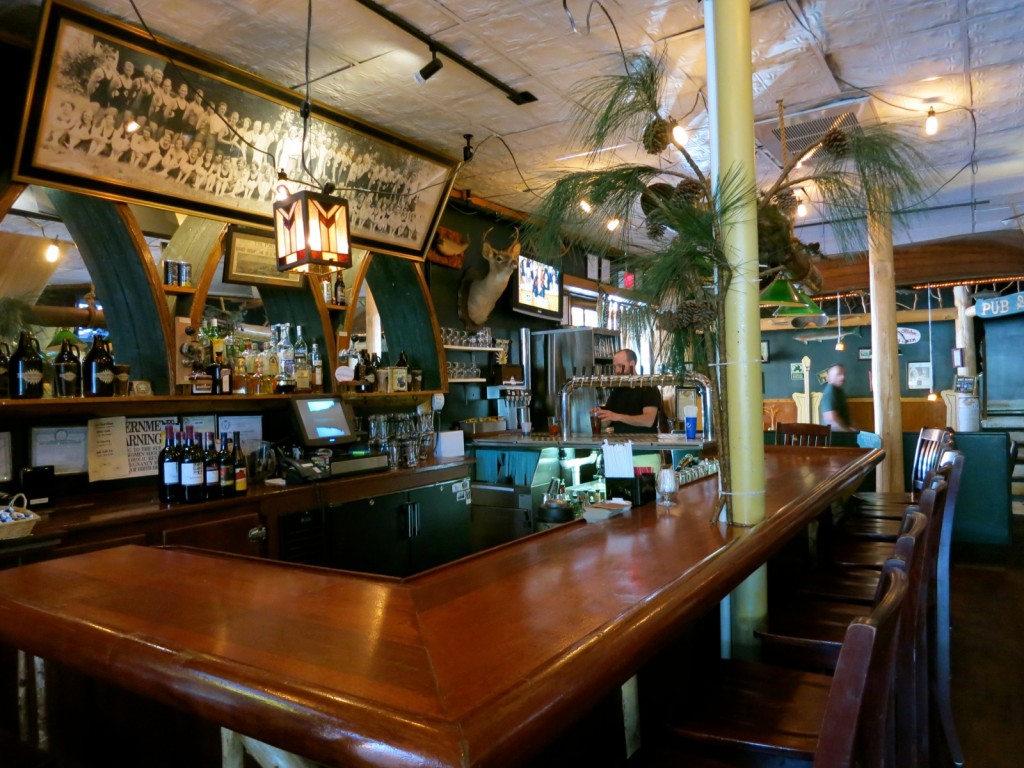 Food is good, beer is awesome at this oft-times raucous craft brewery in the center of Lake George Village. Go for Eggplant Fries or Fried Cheese Curds and wash it down with one of Adirondack's signature brews – Bear Naked or Iroquois Pale Ale.
The Log Jam Restaurant in Lake George blends rustic charm with a robust menu focused on traditional American fare. With its log cabin-inspired architecture and a welcoming atmosphere complete with fireplaces, it's a wonderful spot for those seeking a hearty meal in a quintessentially Adirondack setting.
Bistro Le Roux, located just a short drive from the heart of Lake George, offers an intimate dining experience with a focus on locally sourced ingredients. With its elegant yet cozy ambiance, this French-inspired bistro serves up gourmet meals that pair excellently with its extensive wine list, making it a perfect choice for a romantic dinner.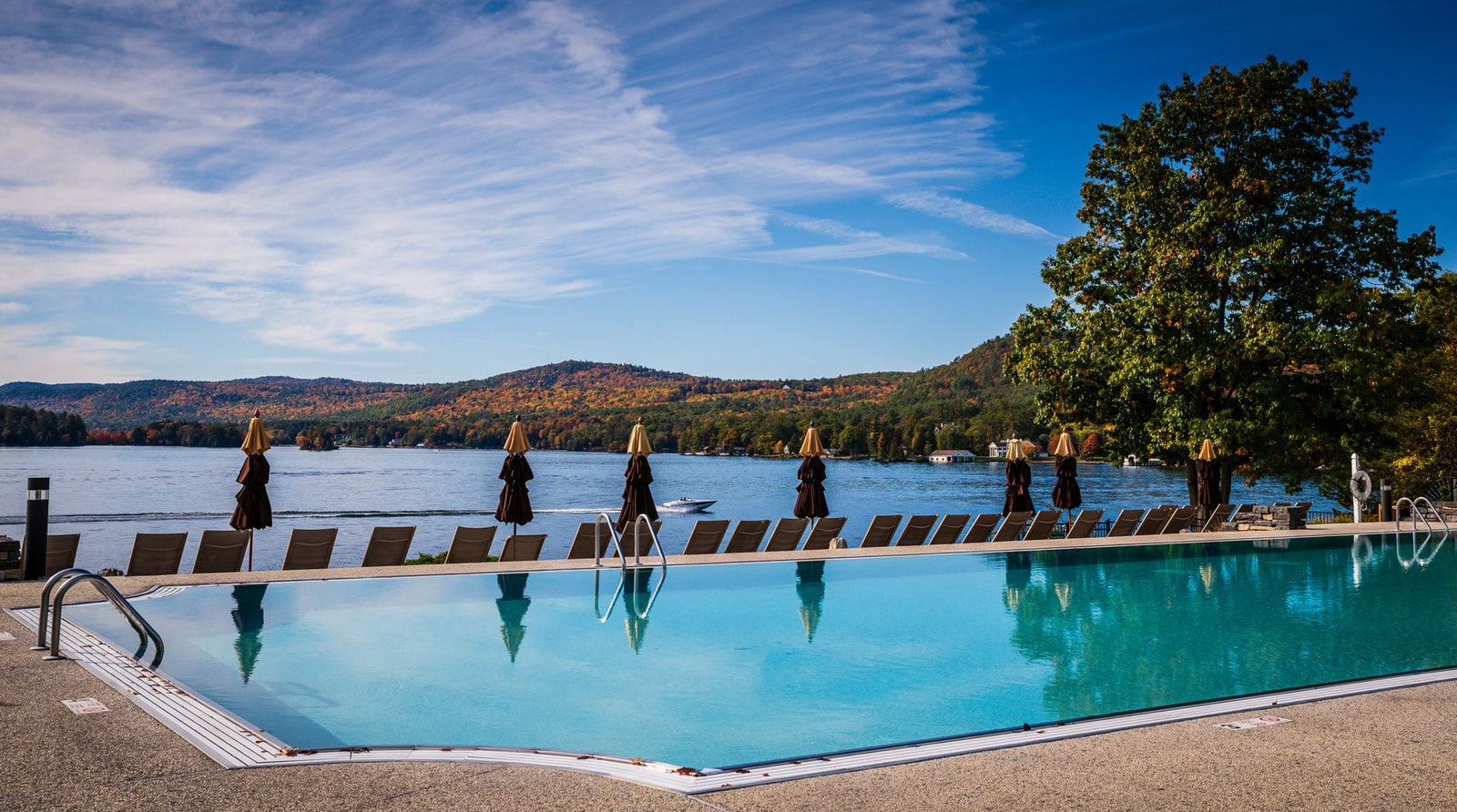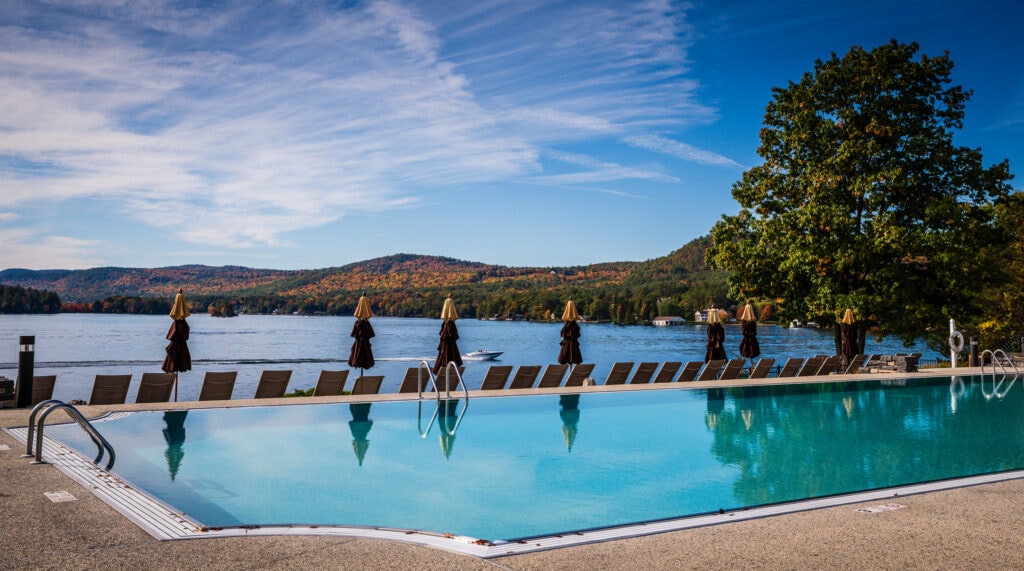 Lake George Hotels
The Sagamore Resort in Lake George is the epitome of Adirondack luxury, perched on a private island overlooking the crystalline waters of the lake. This historic resort, which dates back to the 1880s, seamlessly blends the rustic grandeur of a bygone era with modern amenities, offering guests a variety of experiences from a championship golf course to an award-winning spa.
The resort's diverse dining options, from elegant fine dining to casual lakeside grills, cater to every palate. Ideal for romantic getaways, the Sagamore offers a unique blend of relaxation, adventure, and elegance amid the natural beauty of Upstate New York.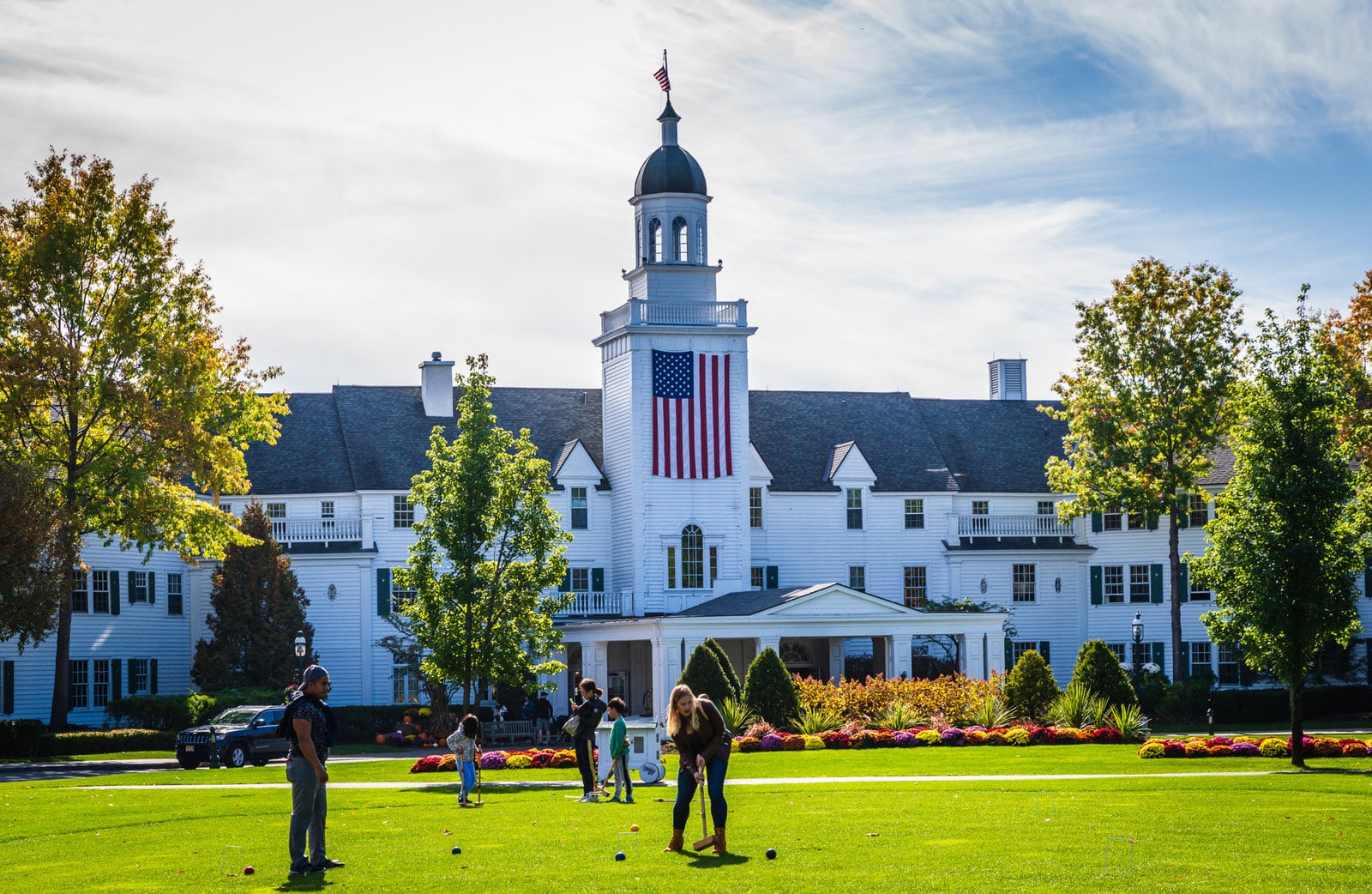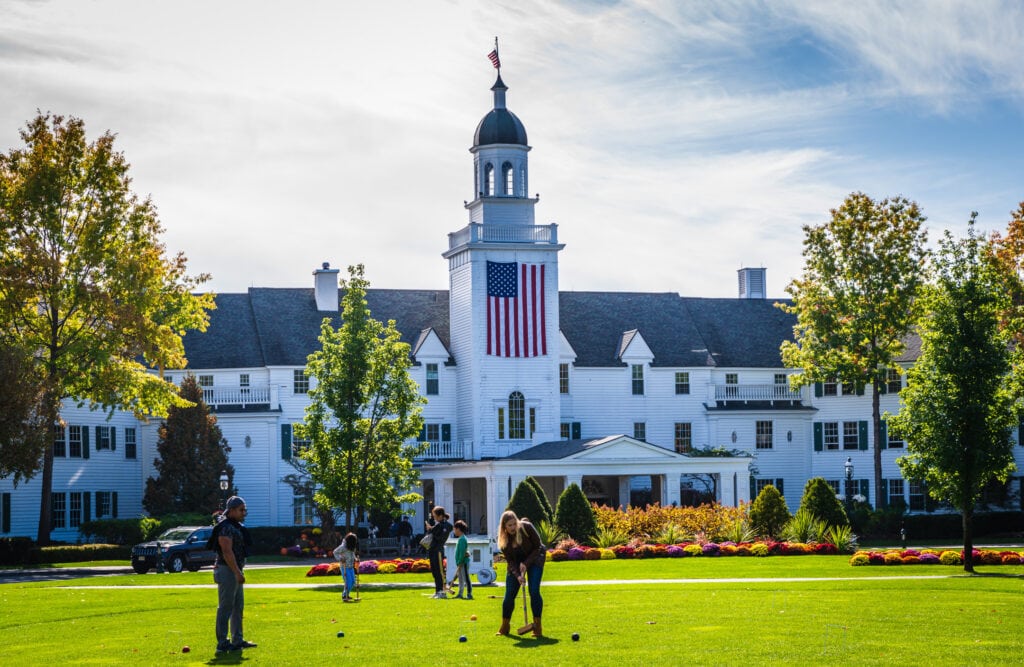 We love this resort so much that we've stayed multiple times! Here's our Sagamore Resort Hotel Review.
If you wish to stay on Millionaire Row in a stone lakeside mansion, this beautiful Bed and breakfast is a perfect hideaway.
Situated just steps away from the scenic shores of Lake George, the Courtyard by Marriott Lake George offers a blend of modern comfort and convenience. The hotel features contemporary rooms and suites with sleek design, as well as amenities like an indoor pool, fitness center, and an on-site restaurant with lakeside views.
Ideal for couples and families alike, this property puts you in close proximity to boat tours, hiking trails, and downtown shops, making it a compelling choice for those who want to experience everything Lake George has to offer while enjoying the trusted comforts of the Marriott brand.
There are so many lakeside motels and lodges on Lake George, that it's tough to know which ones are "the best." For the price, Canoe Island Lodge comes close – say many local residents. Family-run and clean, Canoe Island is a friendly place with lots of repeat customers. It's also an "all-inclusive" resort – all meals and activities (waterskiing, etc) are included.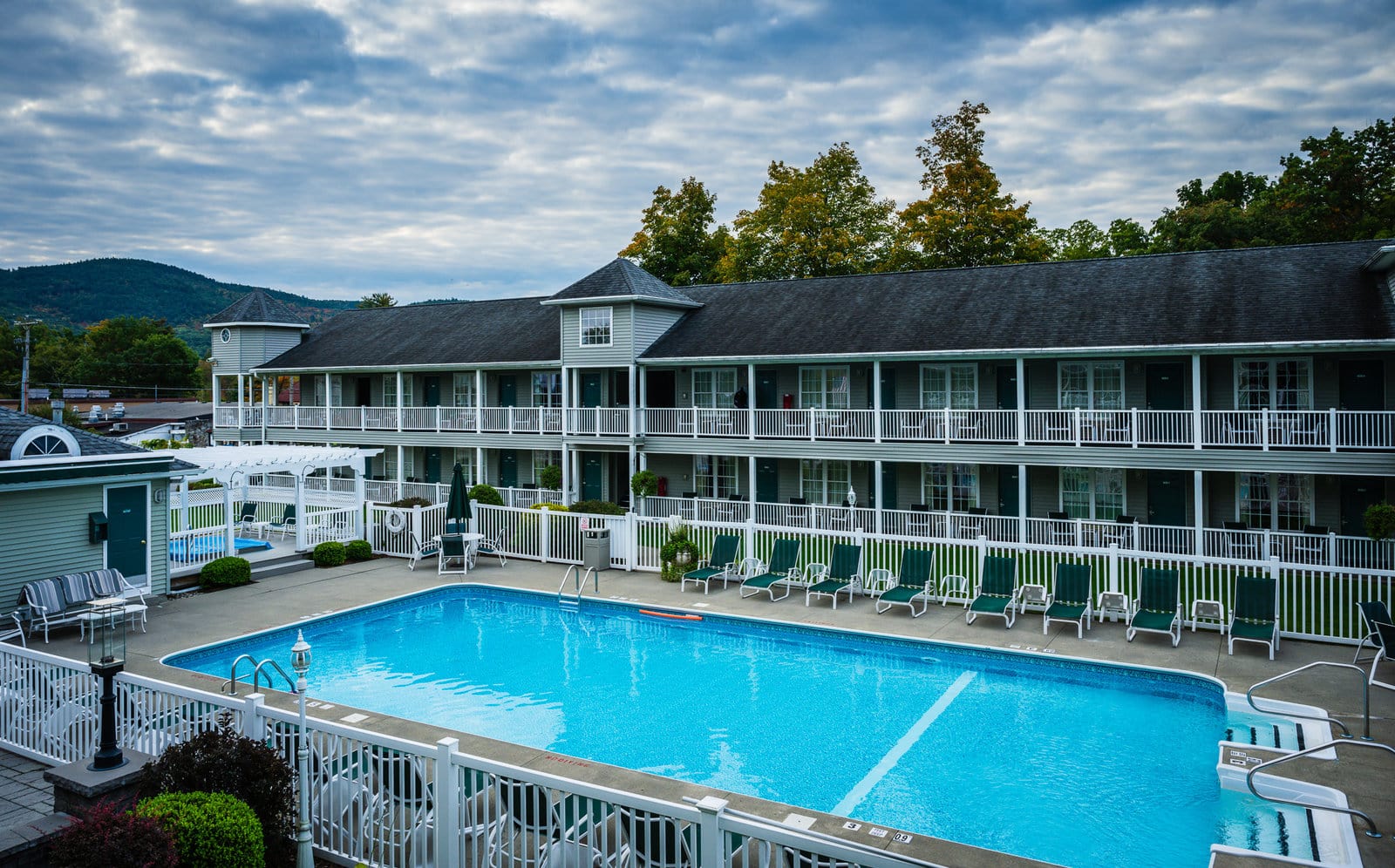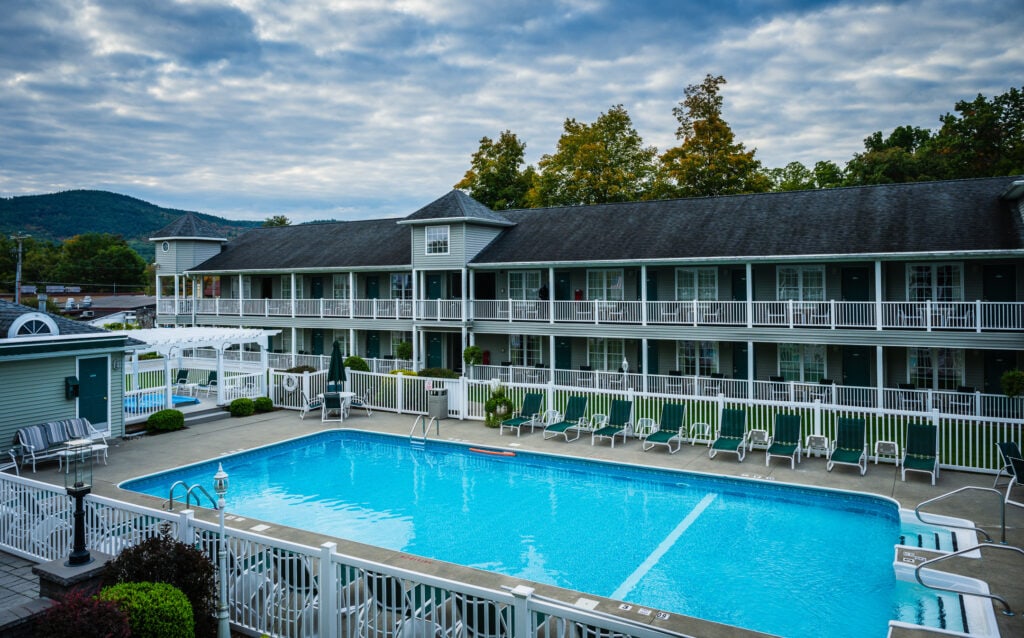 Conveniently located in the heart of Lake George Village, the Quality Inn Lake George offers an affordable yet comfortable lodging option for travelers. Known for its clean rooms and friendly service, this hotel provides a variety of essential amenities including free Wi-Fi, an outdoor pool, and complimentary breakfast.
It serves as a practical base for exploring the surrounding Adirondack Mountains and is within walking distance to popular attractions like the beach, the boardwalk, and an array of shops and restaurants. Whether you're in town for a romantic escape or a family adventure, the Quality Inn offers a fuss-free, value-driven stay.
All articles belong to Getaway Mavens LLC, and all photos belong to us as well, unless otherwise noted. It's all copyrighted. Please don't repost anything elsewhere without asking us first. All rights reserved. This site uses cookies to enhance your experience.
We make no guarantees of any price listed on our site. We're not responsible for content on external websites linked to ours, including linked resources, an external blog post, any partner site, hotel property sites, or affiliate sites. We only write about places we have vetted, but can't guarantee that your experience will be exactly the same.
Posts may contain affiliate links at no cost to you. Several of our trips are also compensated by the respective tourism boards for the city or state we are visiting. This never impacts how we share the destination with you – opinions are always our own and we pride ourselves on that. We do not sell links or accept unsolicited guest posts under any circumstances. Don't even ask.
United States Copyright, Getaway Mavens, LLC