This year, spend some time on the Harriet Tubman Trail. It's a great way to celebrate the 200th birthday (March 2022) of the diminutive woman who smuggled so many of her brethren out of bondage.
Remember when Harriet Tubman was supposed to replace Andrew Jackson on the $20 bill in 2020? Well, as we now know, 2020 had other plans.
Even so, there was major pushback on the Jackson-Tubman swap-out, even before Covid hit that auspicious year hard. But if anyone deserves this honor, it's "The Moses of Her People," who not only led hundreds of enslaved people to freedom, but also served as a spy and led a successful military operation for the Union Army during the Civil War.
The Getaway Mavens have followed this wonder woman from cradle to grave: from Dorchester County Maryland where Tubman was born, to Auburn New York where she is buried.
But other places between them are worth noting – and so we'll tell you all about those, also, below. Follow the links for more information about Tubman in each region on our Harriet Tubman Trail.
Harriet Tubman's Birthplace, Dorchester County MD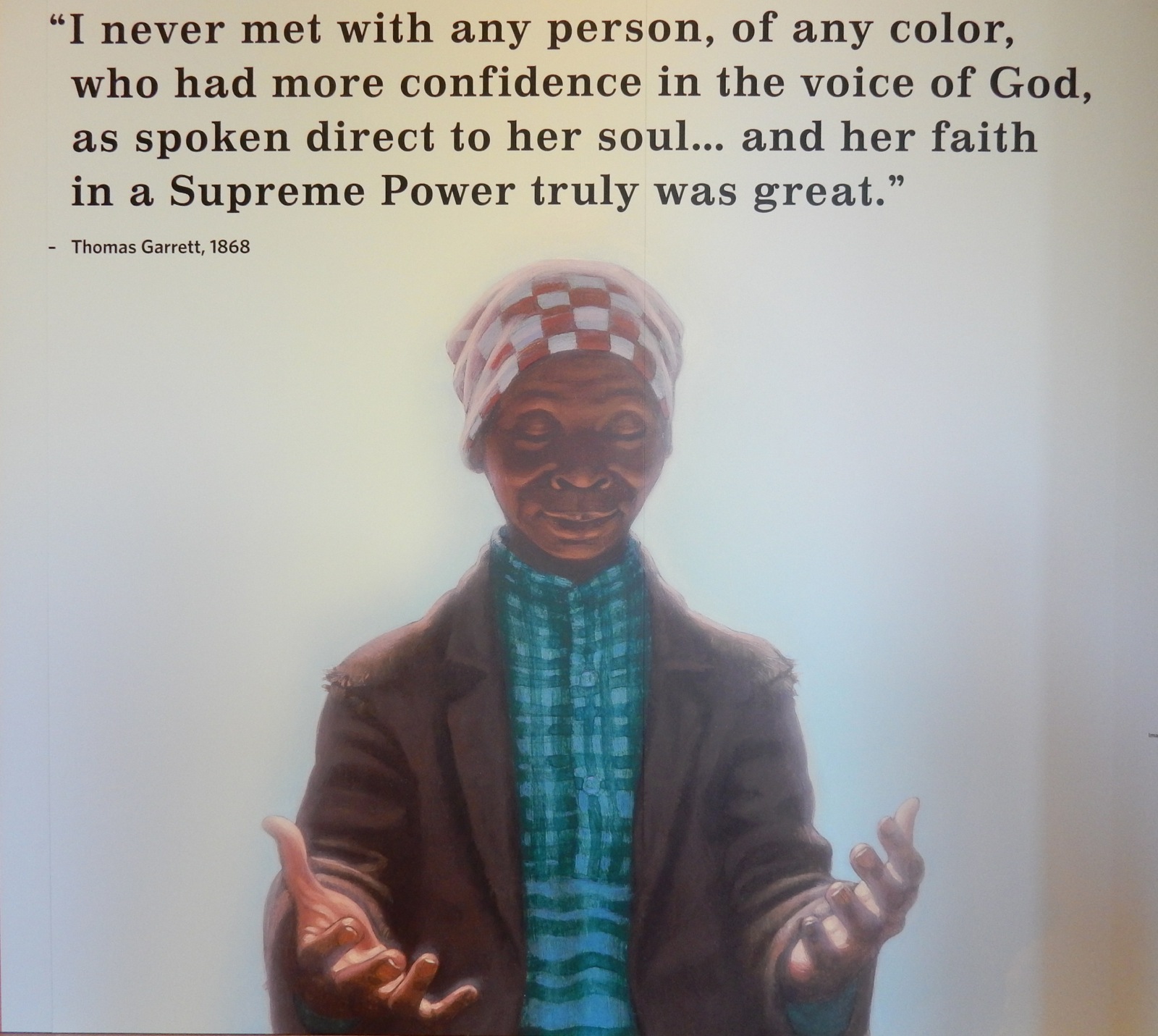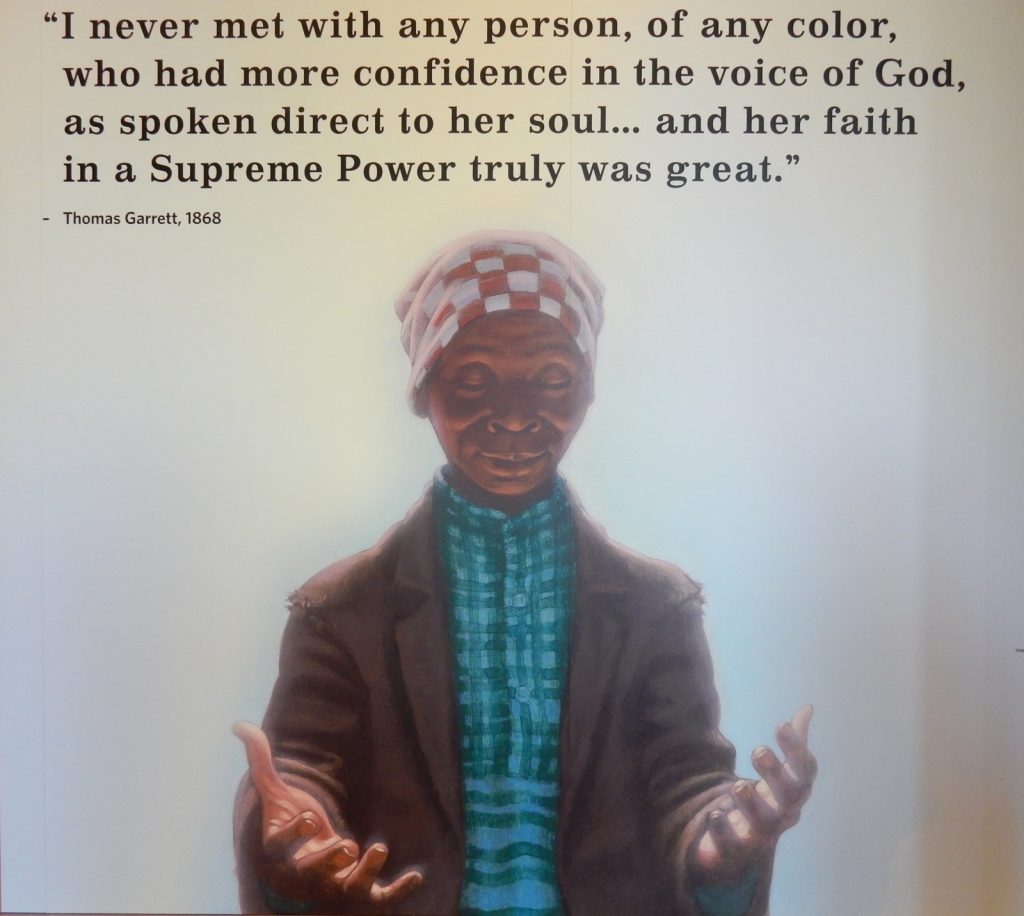 Harriet Tubman was born into slavery in Dorchester County MD sometime in or around 1822. Daughter of Ben Ross and Harriet "Rit" Green, Tubman was named Araminta "Minty" Ross at birth. Three of her nine siblings were eventually sold off, leaving her family traumatized by separation and loss.
Tubman Enslaved
Minty Ross and her mother were the property of Edward Brodess who terrorized the young girl, forcing her outside in winter, without a coat or shoes, to catch muskrats. When Minty was 12, she defended a young enslaved boy at the Bucktown General Store, and was gravely injured by an iron weight, thrown at her, in the process. This head injury was most likely responsible for the epileptic-type fits Tubman endured the rest of her life.
In 1844, Araminta married John Tubman and took her mother's first name.
Edward Brodess died in 1849, leaving his wife, Eliza, in financial straights. Eliza would surely have sold Tubman, then age 27, to a plantation in the South, a virtual guarantee that she would never see family again.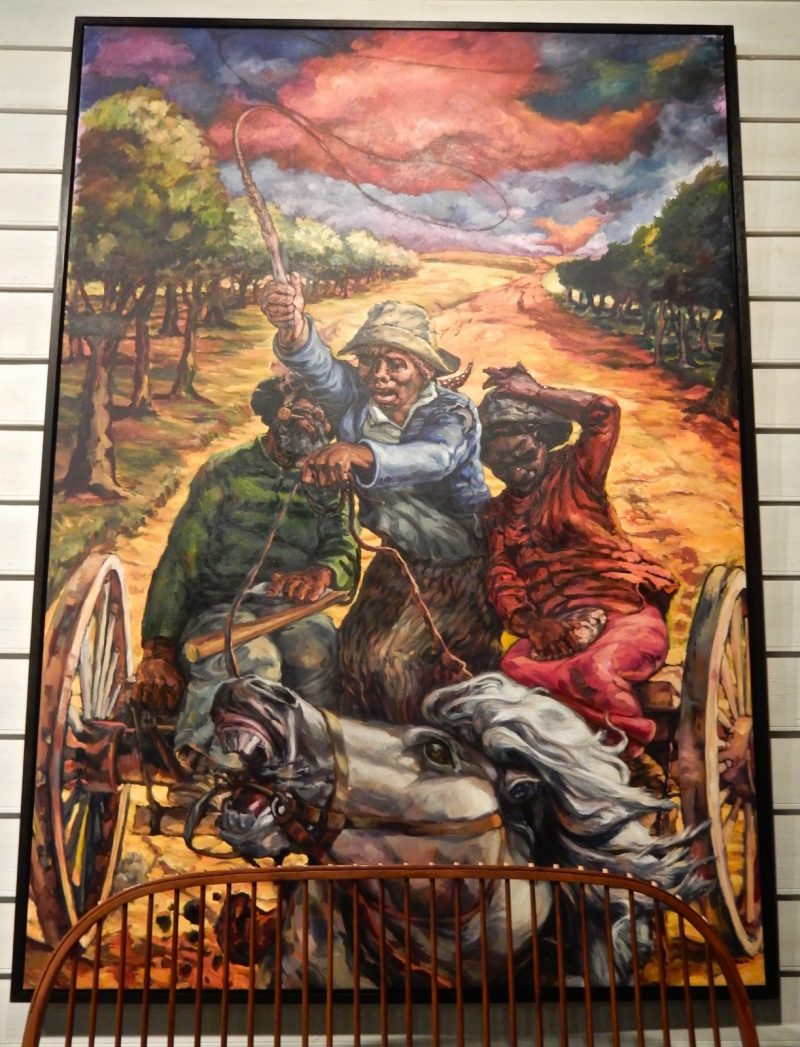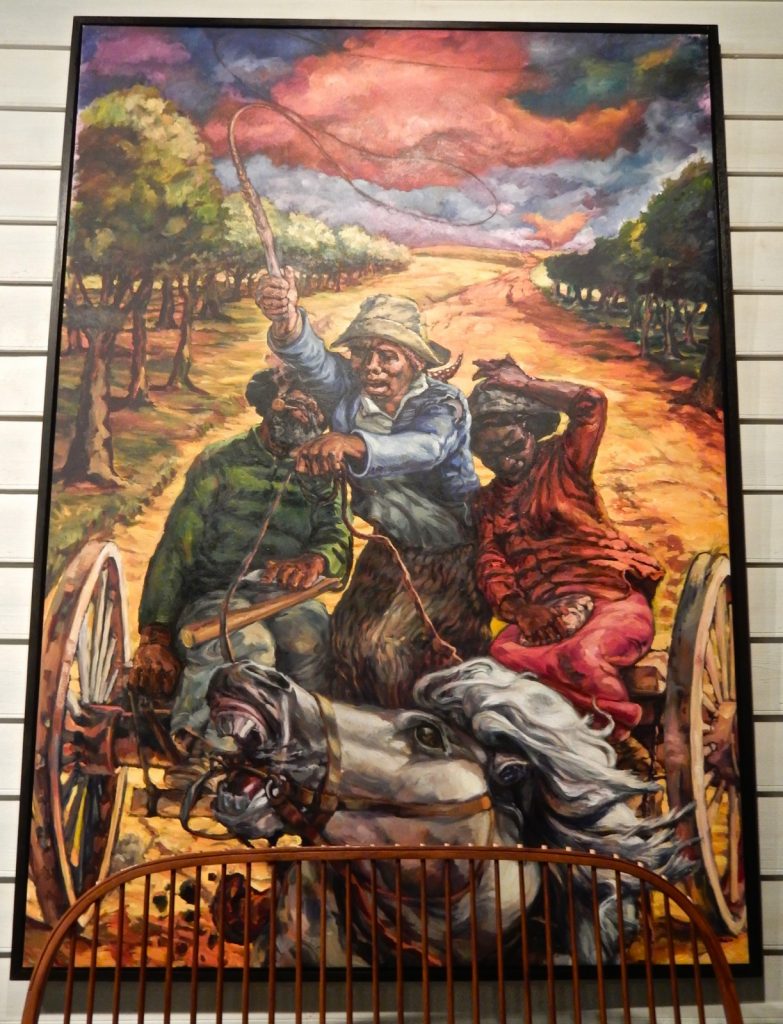 It was this knowledge that motivated Tubman to escape and then return time and time again to rescue her family and friends.
First Stop on the Harriet Tubman Trail
All of this information, plus more about the Underground Railroad in Maryland and Delaware, can be found at the fantastic Harriet Tubman Underground Railroad National Historic Park and Visitors Center.
For a deeper dive, log on to the Tubman Underground Railroad Byway app to find historic sites along a 223-mile drive through Maryland and Delaware, ending in Philadelphia PA.
Philadelphia PA, Raising Money
In 1849, Tubman escaped the Brodess Farm, along with two of her brothers (who turned back), and made it to Philadelphia PA. Freedom.
From there, she worked as cook and maid (and did the same in Cape May NJ during the summer season). She saved enough to return home 13 times, rescuing 70 enslaved men, women, and children: many related to her.
Unfortunately, Harriet's marriage to Tubman did not weather the upheaval. He stayed behind and remarried.
Cape May NJ, Summer Jobs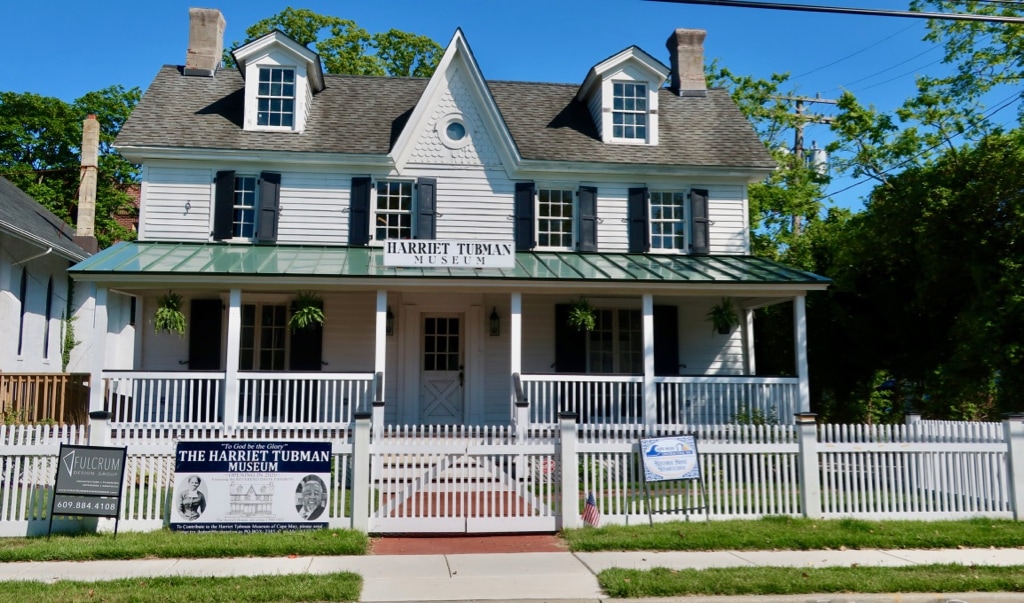 In the summer season, Harriet Tubman worked in Cape May NJ to earn money for her dangerous missions. The Cape May Light guided freedom seekers to this New Jersey shore town, 16 miles across Delaware Bay.
From Delaware, New Jersey was one state closer to safety up North.
Wilmington DE, Forming a "Trust Network"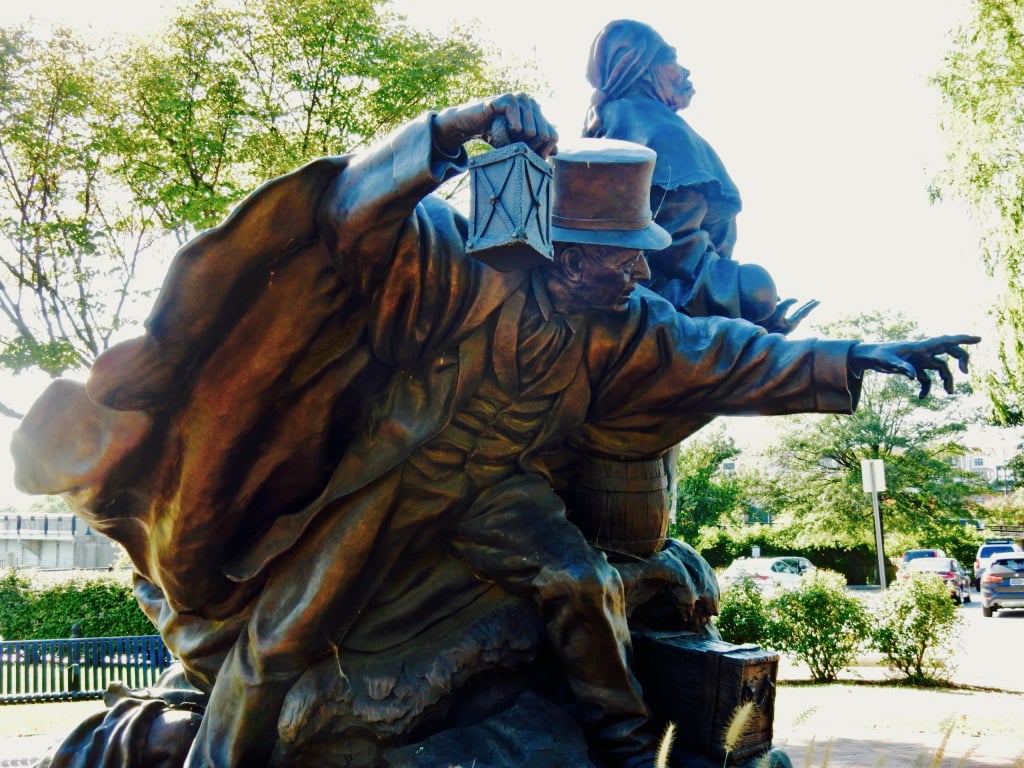 A "border state," Wilmington DE was a crucial "station" on the Underground Railroad. It was the last Southern city before crossing into free Pennsylvania. Tubman forged a close connection with the Abolitionist Quaker and Wilmington Underground Railroad "Stationmaster," Thomas Garrett.
She also worked with free Black, Samuel Burris, one of Delaware's most notable URR "Conductors;" and free Black, William Still, who established an Anti-Slavery office in nearby Philadelphia.
On the Underground Railroad, trust was a key commodity, as runaway slaves were betrayed all the time. Garrett and Still developed a "Trust Network," allowing freedom seekers multiple options to move through Delaware. This was a major reason why Tubman's efforts were so fruitful here.
New York: A Crucial Underground Railroad State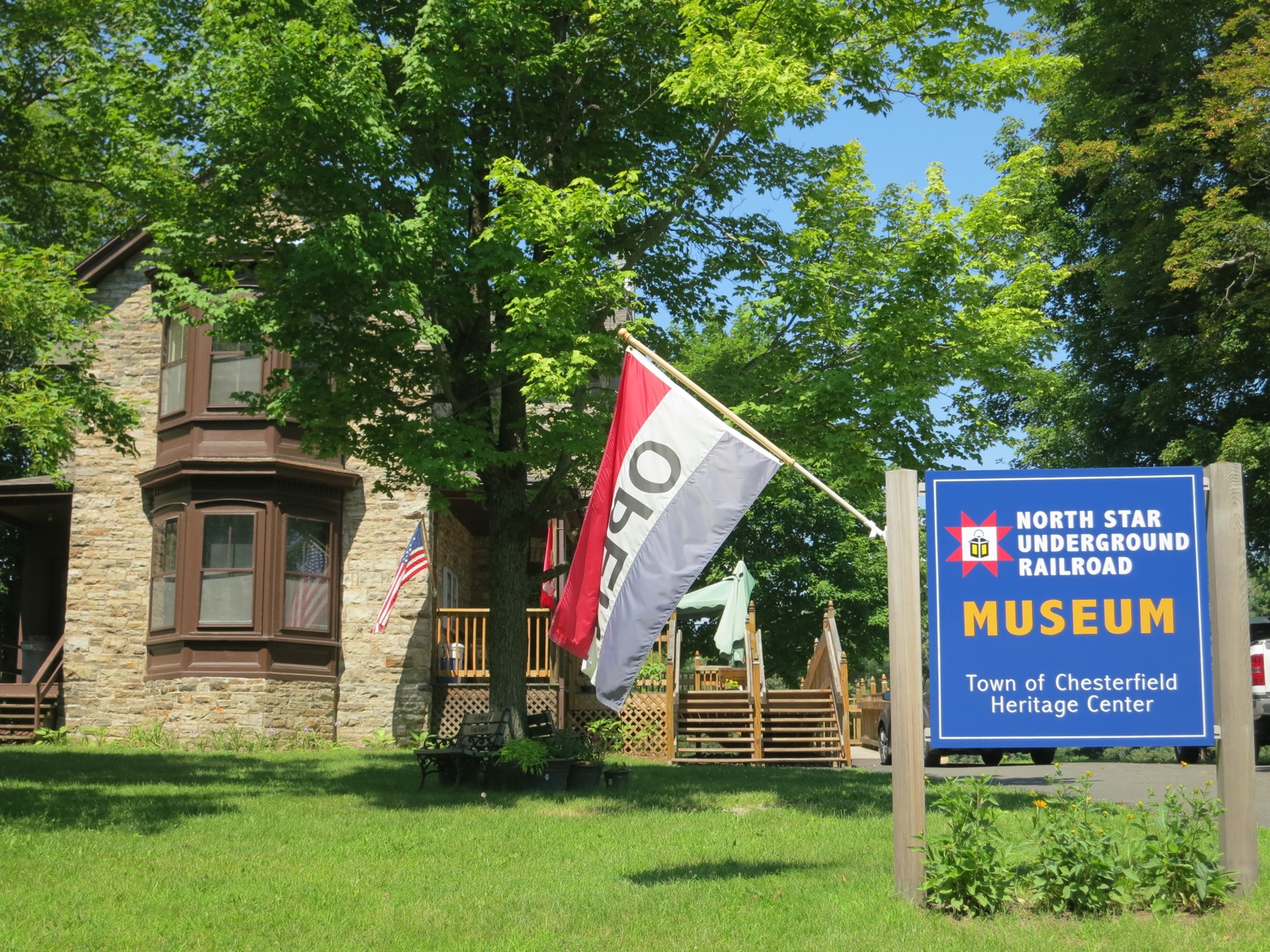 New York state borders Canada – a final destination for many escaped slaves after the enactment of the Fugitive Slave Act in 1850. At that point, Tubman began leading her people out of the so-called "Free States" to the relative safety of another country, where slaveholding was illegal.
However, many freedom seekers ended up staying in New York and prospering, due to the generosity of Abolitionist Gerrit Smith. Smith gave away 120,00 acres of land to over 3,000 runaway slaves so, as landowners, they could vote in New York.
The North Star Underground Railroad Museum in Ausable Chasm in the New York Adirondacks tells this tale in a very intimate and emotional way.
Find much more through this New York Black History All Year post.
Buying Property in Upstate NY, 1859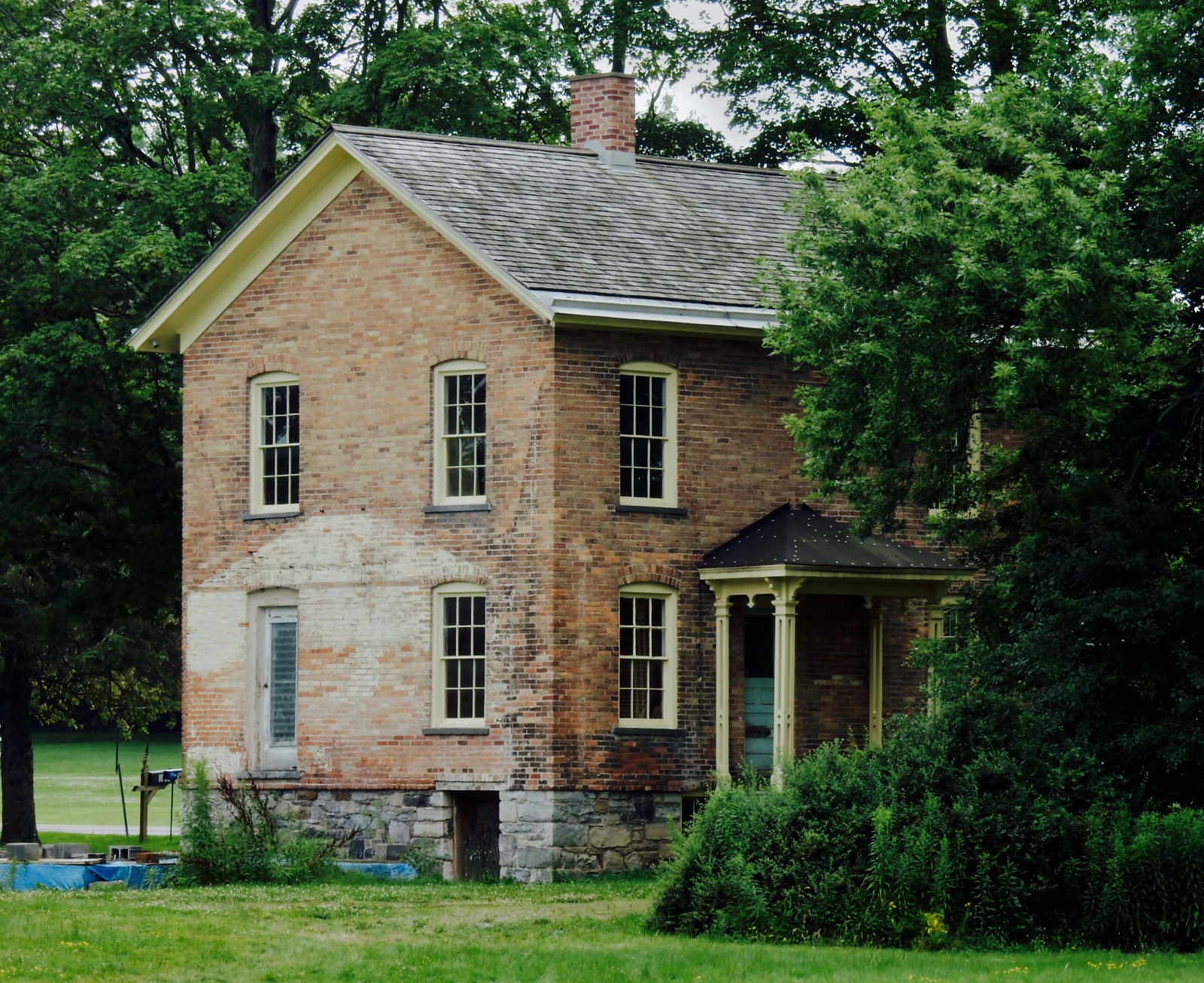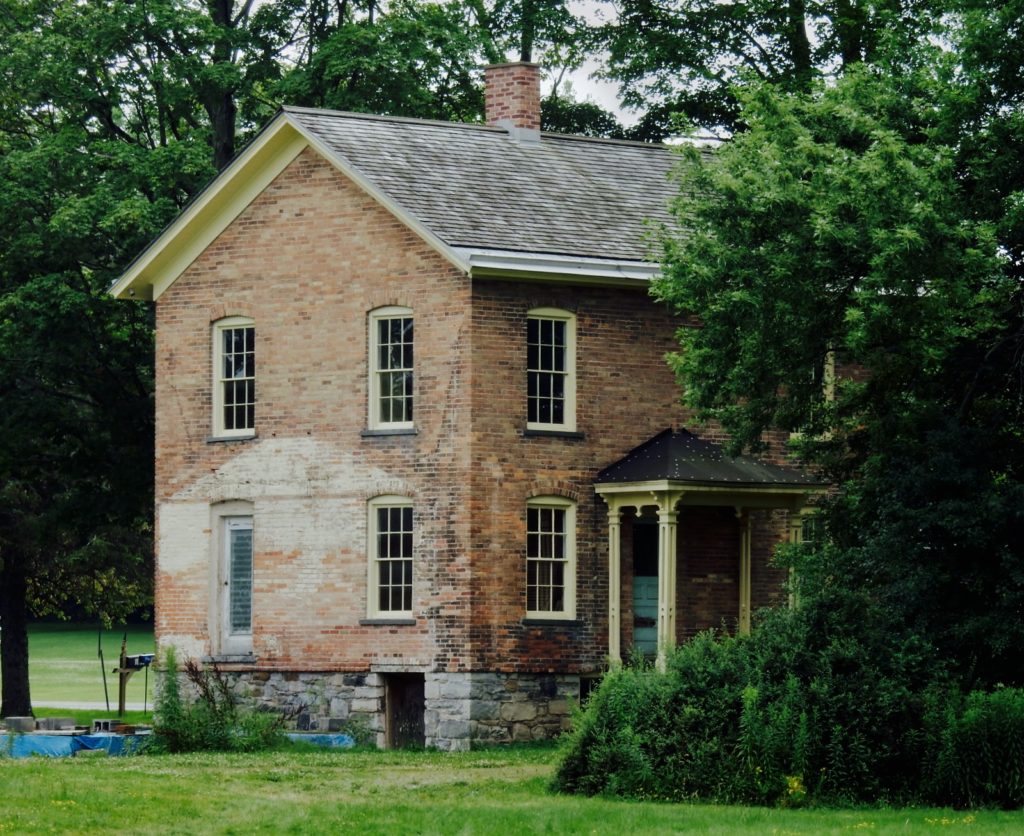 By 1859, Harriet Tubman was well known among abolitionists and "Stationmasters" on New York's Underground Railroad. One such benefactor was Senator William Seward (of "Seward's Folly" renown).
Seward lived in Auburn NY in the Finger Lakes – then a hotbed of suffragists and abolitionists. He offered to give Tubman a house free of charge, but Harriet refused the handout. She preferred to purchase the brick home herself, paying $1,200.
You can visit the site of this still-standing home (now being renovated), and the Home for the Aged that Tubman established and ran until her death, at the Harriett Tubman National Historic Park in Auburn NY.
Auburn is honoring Harriet Tubman's 200th Birthday all year long. Check out their Harriet Tubman 200 website.
Coastal South Carolina, Tubman as Union Spy and Black Savior on Combahee River Raid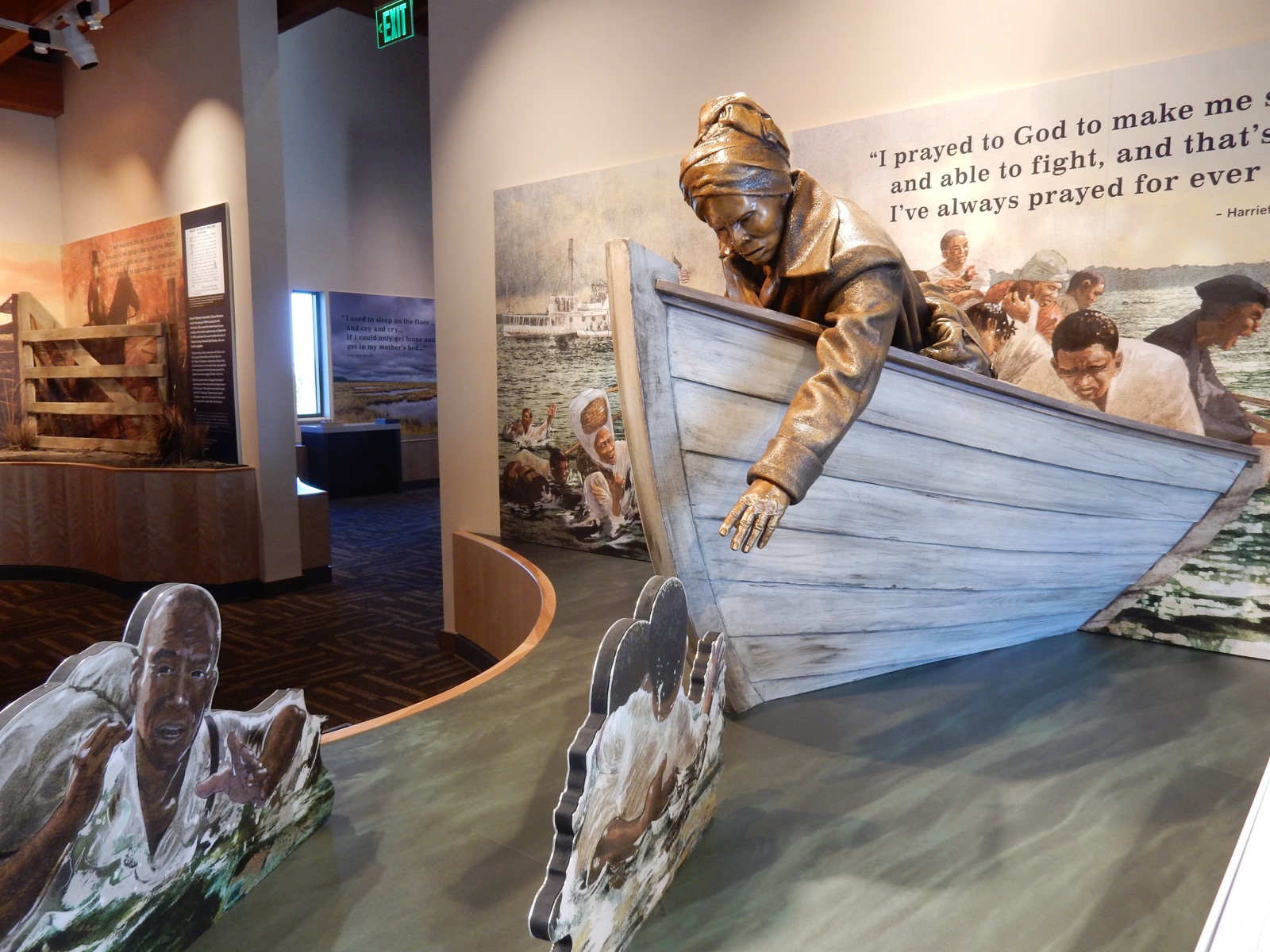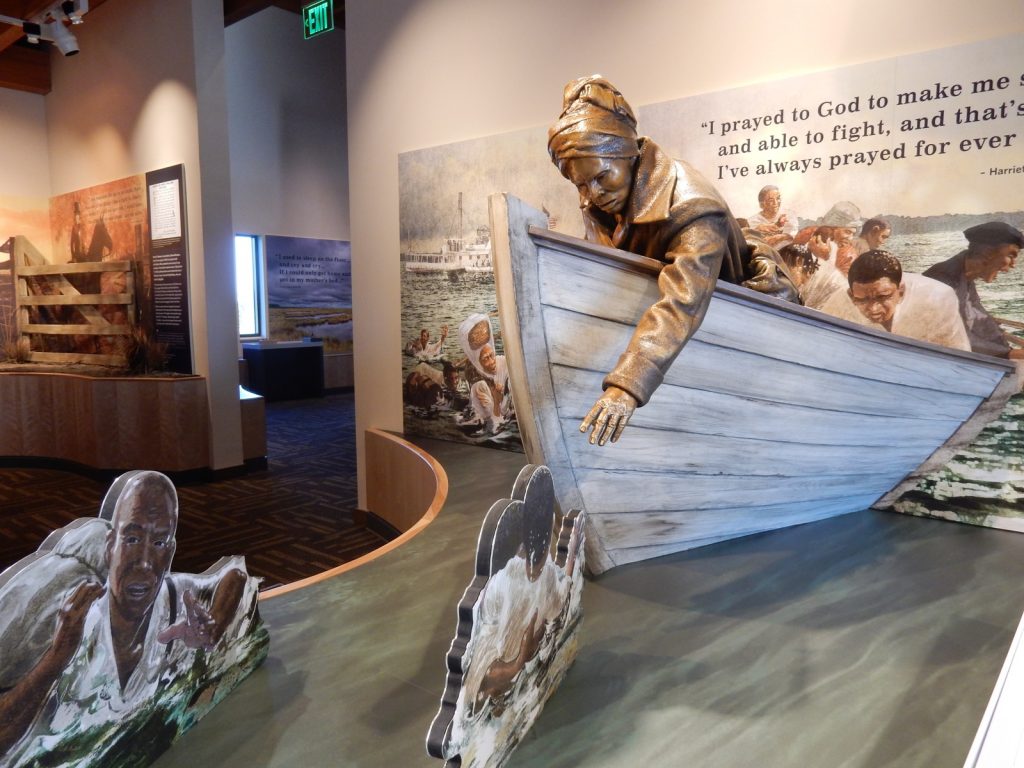 At the age of 41, in 1863, Tubman carried out the Combahee River Raid under Union Colonel James Montgomery.
Tubman had volunteered to be a cook, nurse, and spy for the Union Army. Based on her selfless, heroic acts, Colonel Montgomery enlisted Tubman to head up a mission along the South Carolina Coast.
A true American hero, Tubman was the first woman – black or white – to lead a major military operation in the United States.
According to Blackpast.org, "Tubman had gained vital information about the location of Rebel torpedoes planted along the river from slaves who were willing to trade information for freedom. Because of this information Tubman was able to steer the Union ships away from any danger. She led the ships to specific spots along the shore where fugitive slaves were hiding and waiting to be rescued. At first many of the slaves were frightened by the Union soldiers' presence, but Tubman was able to talk with them and convince them to come aboard."
It's estimated that Tubman liberated an additional 700 enslaved people during the operation.
Auburn NY, Late 1860's to Early 1900's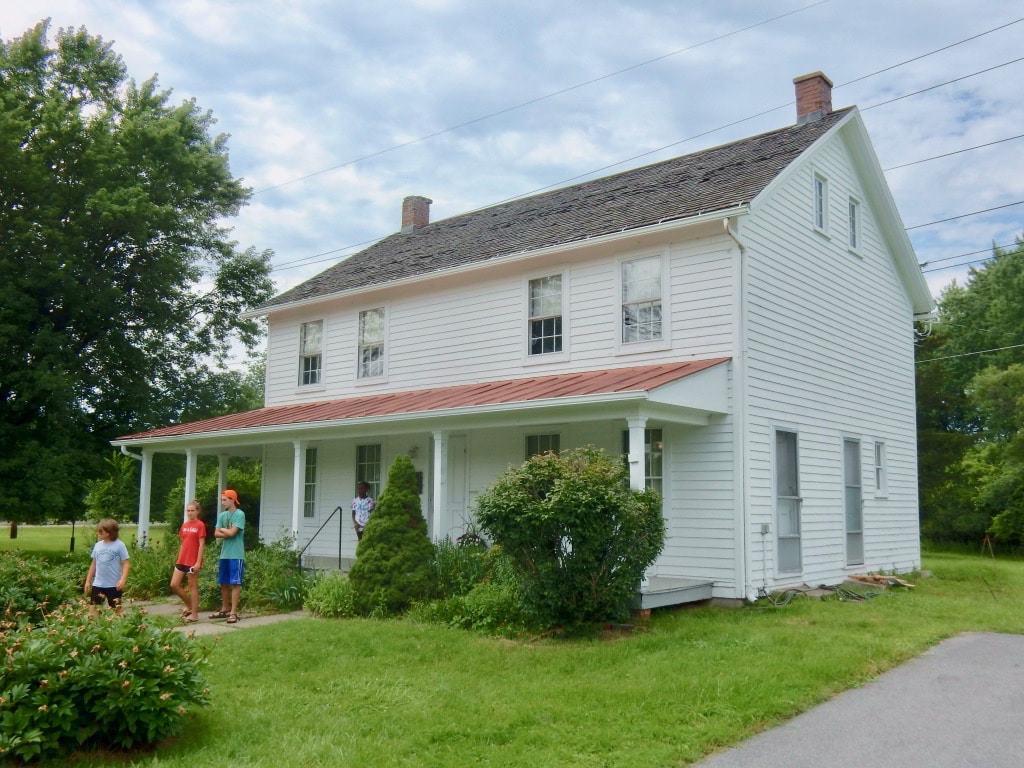 At the end of the 19th century, into the 20th, Tubman was a household name. No less than Frederick Douglas was fan and friend. He wrote, in an August 29, 1868 letter to her:
"I have had the applause of the crowd and the satisfaction that comes of being approved by the multitude, while the most that you have done has been witnessed by a few trembling, scarred, and foot-sore bondmen and women, whom you have led out of the house of bondage, and whose heartfelt, "God bless you," has been your only reward."
After the 1869 biography, Scenes In the Life of Harriet Tubman, was published, her fame went into overdrive. She joined Douglas and other well-known abolitionist-suffragists, like Susan B. Anthony and Lucricia Mott, on the lecture circuit.
Harriet was in her late 40's when she married Nelson Davis, 20 years her junior. Although they never had children together, they adopted a girl named Gertie (about whom little is known).
Tubman's Death and Gravesite, Auburn NY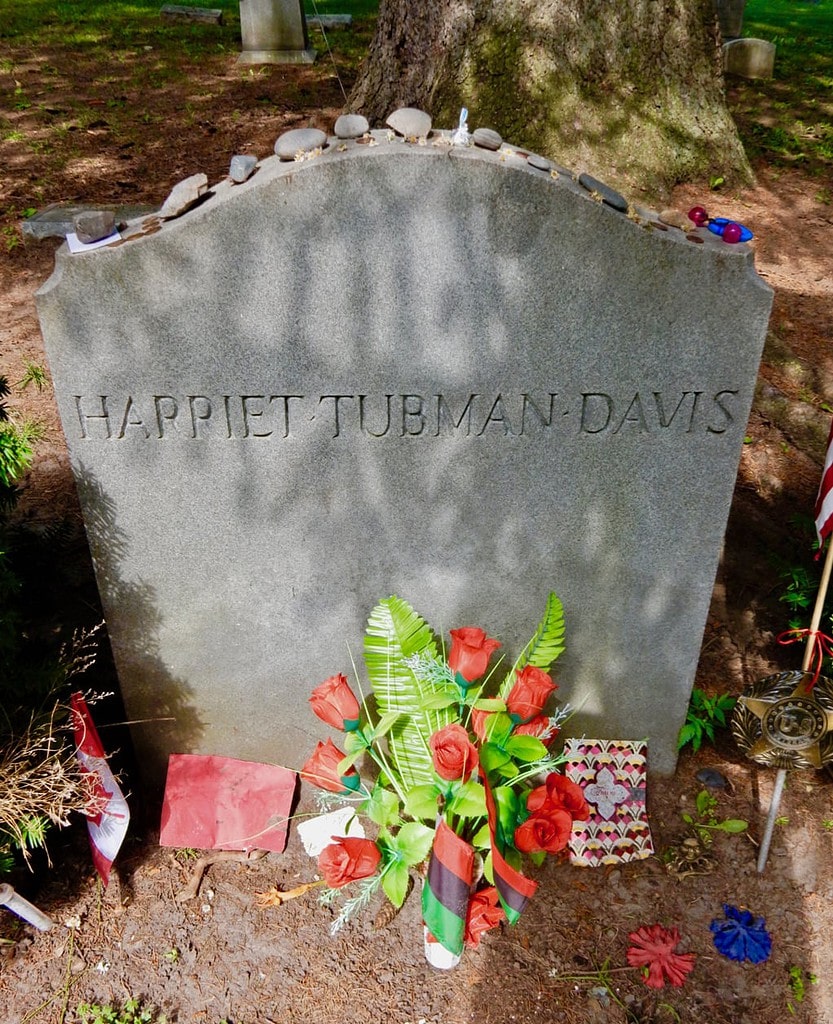 Harriet Tubman died at home in Auburn NY at age 93 in 1913. She was buried with military honors at Fort Hill Cemetery in a modest grave.