Last Updated on January 11, 2022 by Editor
WHY GO: Visit Fall River MA for all things Lizzie Borden, Portuguese cuisine, and the largest collection of WWII Naval vessels. In the late 1800's, Fall River, known as "Spindle City" was the world's largest producer of printed cotton cloth. It was the very epicenter of looms that turned out thousands of miles of fabric a year.
One mill alone produced 85,000 miles of cloth annually. Because of its concentration of wealth, Fall River was also hub of the luxurious multi-vessel Fall River Massachusetts Steamship Line: each boat a 450 ft. 2,000 passenger "floating palace" connecting rail travelers from Boston to New York City.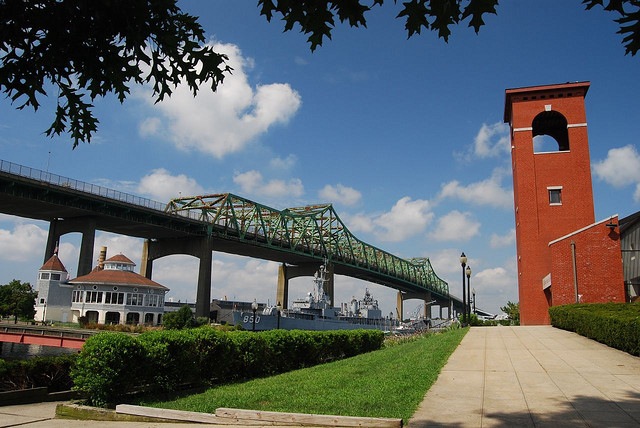 But like most mill towns in the Northeast, Fall River fell hard. Now, the area offers a rare opportunity to visit a proud working-class river city on the verge of change.
Shells of decrepit factory buildings, set on the since-buried Quequechan River ("Falling Waters") after which the city is named, dot the landscape. For adventurers who consider distressed warehouses romantically grungy, this may be the time to see the place. Besides, ghost-hunters love it here.
In 1892, mill owner Andrew Borden and his wife were axed to death, purportedly by their daughter, Lizzie, in a house that now serves as a Bed & Breakfast.
Things to Do in Fall River MA
GO: Battleship Cove, the world's largest assemblage of Naval ships.
In 1965, the 608 ft. Battleship USS Massachusetts was sent to pasture in Fall River, followed by the Destroyer Joseph P. Kennedy, Jr. (used in the movie "Thirteen Days"), the Submarine Lionfish, a Russian-built Missile Corvette, PT boats and various military aircraft. Battleship Cove now consists of acres of floating gray.
You can spend a good part of one day and see just a fraction of the seemingly endless exhibits. Each of these ships had illustrious histories.
The USS Massachusetts, aka Big Mamie, built 108 ft. wide ("two feet narrower than the Panama Canal") was victorious in the Battle of Casablanca. The Destroyer Kennedy stopped freighters thought to have nuclear-tipped missiles during the Cuban Missile Crisis.
Be prepared for enough torpedoes, rifles, mess halls, officer's quarters, vintage urinals, diesel-scented engine rooms, watertight doors, sick-bays, and other floating implements of destruction (including shells from 16" guns that each weigh as much as a Volkswagen Beetle) to sink a ship.
Scout Troops and Youth Groups have always been invited to stay aboard overnight, but several nights in season have now been reserved for families.  If you ever served on one of these ships and wish to show your kids and grandkids what it was like, this is the perfect opportunity. Open April 1-Labor Day Wed-Sun 11-3. Labor Day – Sept 29, Sat-Sun 11-3. $20 adults, $10 kids.
RUN OR WALK: Taunton River Boardwalk
Along the Taunton River on a mile-long boardwalk that extends from the historic Carousel in Fall River Park/Battleship Cove to a replica of the famous Iwo Jima statue in leafy Bicentennial Park.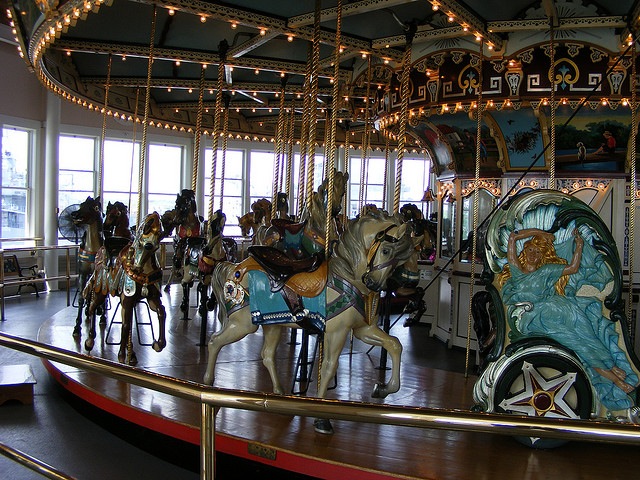 RIDE: Battleship Fall River Carousel
Take a spin on one of the four dozen hand-carved and painted horses of the Battleship Fall River Carousel. Housed in a Victorian-style pavilion, it's open in the warmer months and is a buck a ride.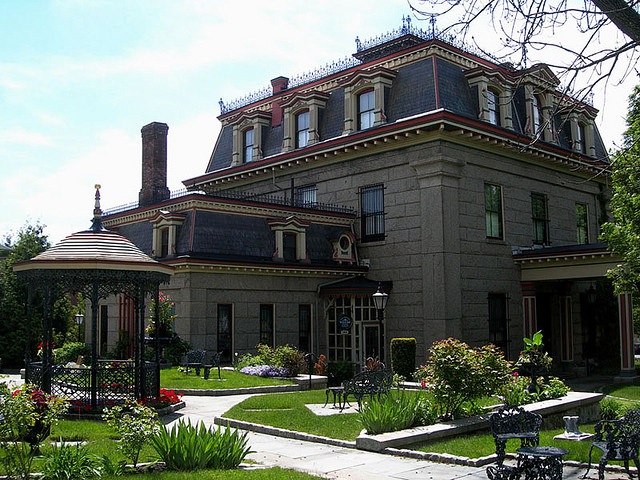 Fall River Historical Society is located within a beautifully preserved, mill-owner's, granite Greek Revival mansion.
Stenciled 14 ft. ceilings, dramatic interior colors, oval dining room with unusual curved cabinet doors, and indoor plumbing were features of "a typical house on the hill" in the 1800's.
Owned by mill-magnate David Brayton, this home epitomized the lifestyle that Lizzie Borden yearned to live. After the trial, she did move around the corner to a now-private home she called Maplecroft, where she resided until her death.
The Historical Society maintains a comprehensive archive of the Borden case. Artifacts include the "handleless" hatchet  – the purported murder weapon used to do the whacking.
After a day of War and Mayhem, it's nice to just kick back and listen to sometimes famous, other times not so famous bands. Check the line-up at Narrows, once a factory and now a beautiful gallery and performance space. You'll be surprised how cheap the tickets are.
EAT: Don't miss the Portuguese enclave of Columbia Street
– a section of town best known for its authentic Portuguese restaurants and bakeries.  Fall River, always an ethnically diverse city due to the mills, is 65% Portuguese.
Whatever you do, though, don't miss a meal at Sagres, owned and operated by Victor Silva. Repeat patrons near and far got their wish after Sagres suffered a tragic fire several years ago.
Rebuilt and better than ever, happy eaters find sinfully fresh and creamy goat cheese, tantalizing grilled Catch of the Day, and end dinner with a perfect flan in, once again, an inviting, lemon yellow dining room.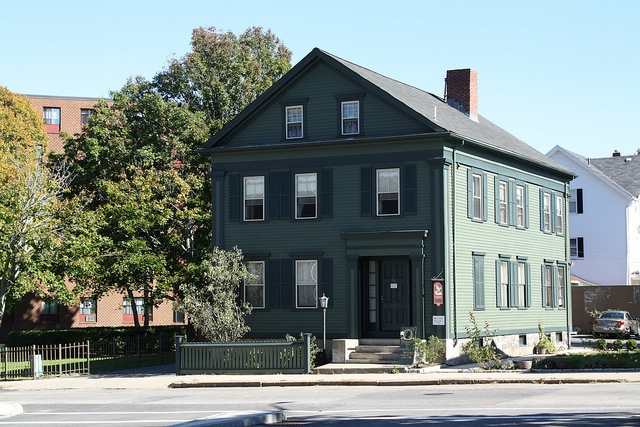 Opened as an inn in 1996, this B&B is,  as you can imagine, an obsession of the paranormal set.
Weekends at the Borden House are often fully booked, especially for the guest room where one murder took place.  Also, from ten to 100 people per day stop in to take a tour of this macabre landmark.
The Murders That Captivated A Nation
On the morning of August 4, 1892, Lizzie's father and stepmother, Andrew and Abby, were found bludgeoned in their 2nd Street Greek Revival home.
Lizzie, 32, and the housekeeper, Bridget Sullivan, 23, were home at the time of the murders, though they both claim that they heard nothing unusual.
The subsequent trial led to an acquittal. Afterwards, Spinster Lizzie moved to the fashionable district of town and died in 1927 at the age of 66.
Take A House Tour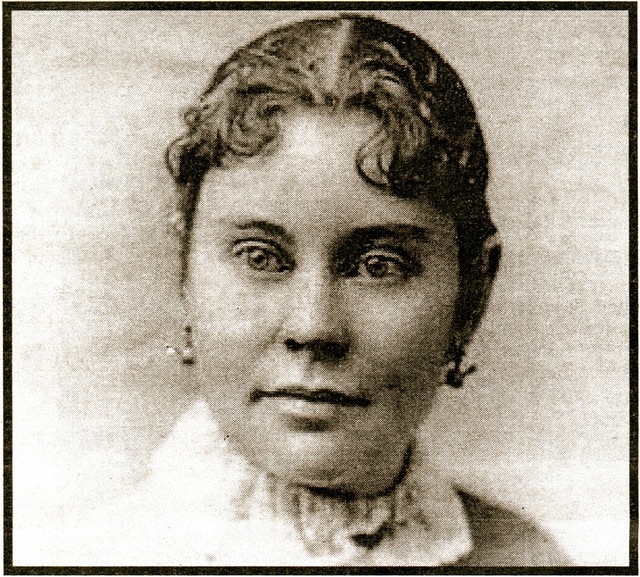 You can take a one hour tour, which begins in the dining room where the Borden's had their last meal. Then, you'll head into the sitting room, where Andrew was found lying on the sofa, his head on a blood-soaked pillow. Guides take delight in showing photos of the crime scene. The bodies and subsequent autopsies were done right away on the dining room table.
Replicas of Andrew and Abby's skulls – or what was left of them – sit daintily in the dining room curio cabinet, like china.  Next upstairs – to see the room in which Abby Borden was discovered face down on the floor.  Nineteen strokes from an ax had all but obliterated her head.
Theories abound about the case, which is still considered unsolved. Even today, there is much speculation about who committed the murders.
There may have been a violent itinerant.  Lizzie may have been abused by her father. In addition, Andrew, with a net worth estimated at $12 million in today's dollars, was notoriously frugal. So Lizzie may have felt entitled to a more luxurious lifestyle.
Lizzie was not fond of her stepmother, that much is known.  Also known is that Abby Borden sustained 19 "whacks" to the head, while Andrew received ten.  ("Forty whacks" came from a children's jump-rope rhyme popular during the trial).
Stay Overnight in Lizzy's Room
If you've got the guts, you can stay in the bedroom where Abby was axed to death. A crime scene photo is displayed conspicuously on the wall.  It's a charming room, actually, with a beautiful carved bed, cream-colored crocheted bedspread and Victorian nick-knacks.
Or opt instead for Lizzie's room, an equally attractive space as Victorian B&B rooms go. Your morning meal is modeled on the last breakfast that the Borden's ate on that fateful day; Johnnycakes and Irish soda bread. Hold the three-day old mutton stew. $250-$300 per night. Includes breakfast, free WiFi and tour of home.
STAY: Hampton Inn Fall River
For the lily-livered, there's always the Hampton Inn Fall River/Wesport – 3 miles away. Standard stuff. But no ghosts.