Named for the indigenous people of the region, Cayuga Lake is the stuff of legends. Nearly 40 miles long, the longest of Upstate New York's eleven Finger Lakes, and 435 feet deep at its deepest, this glacially-formed lake inspires some of the most outlandish myths.
Starting in the late 1800s and well into the 1970s, folks claimed to see a sea serpent named "Old Greeny." Others continue to swear they hear unexplainable cannon-like booms emanating from lake shores.
How likely, or whether the result of consuming the Finger Lakes' renowned wines, you decide.
What is true is that you can spot bald eagles and osprey at Montezuma National Wildlife Refuge on the north end of the lake. And the south end boasts enough Atlantic salmon, largemouth bass, and varieties of trout and pike to sate any fisherman.
Because Cayuga Lake is so large, with over 95 miles of shoreline, we've created three different weekend getaway travel guides.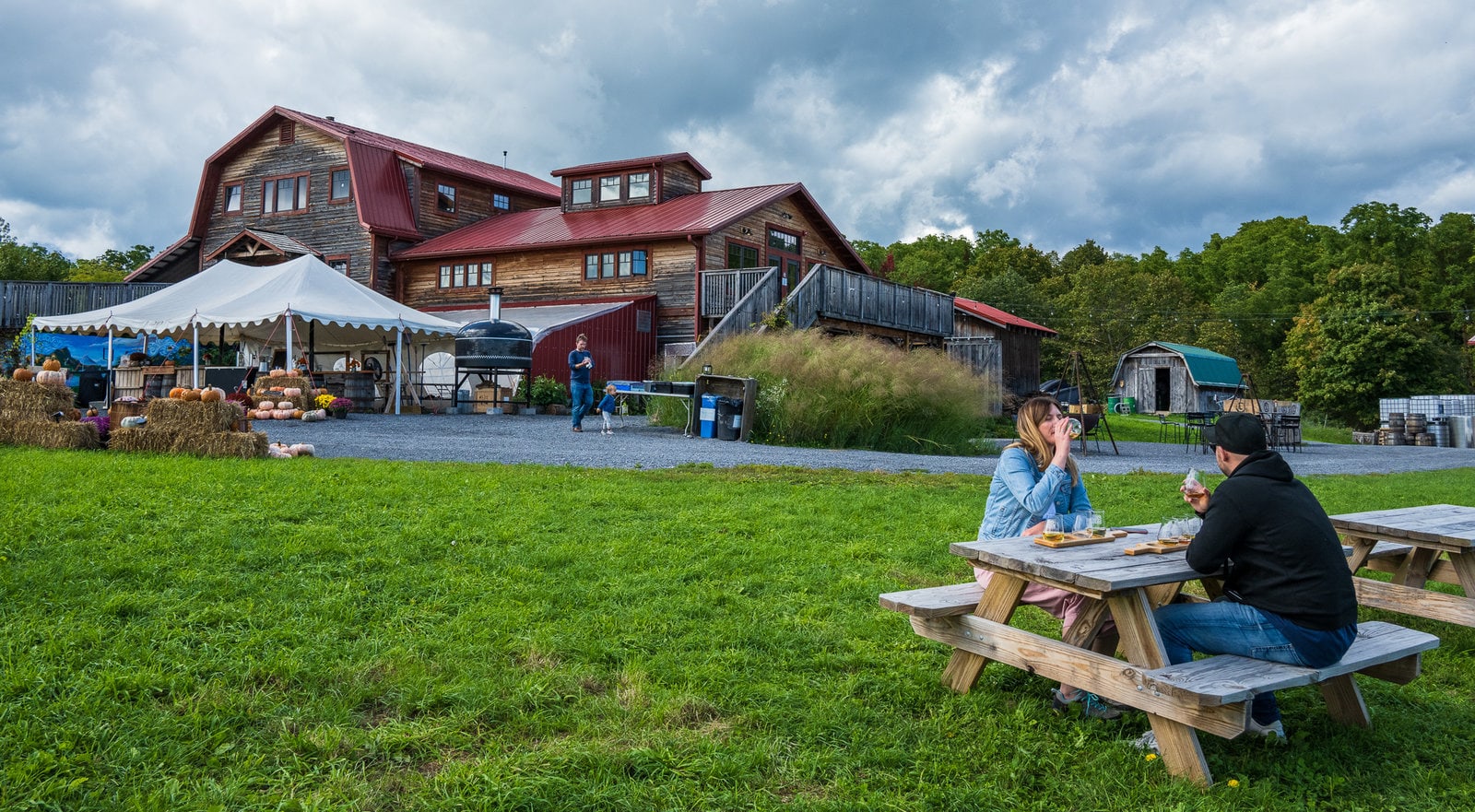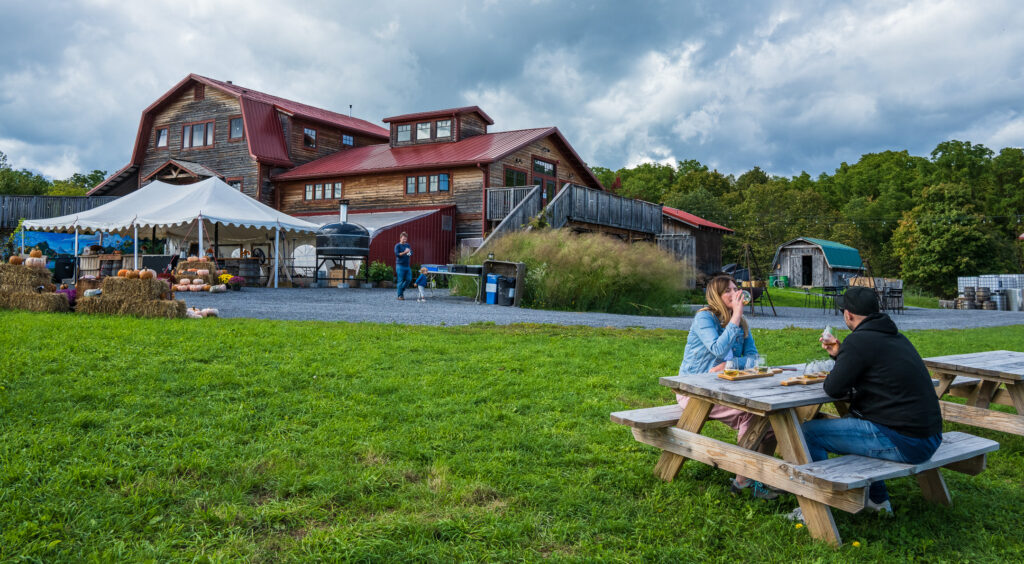 On the north end of Cayuga Lake, go back in time to explore American History and stay at a charming bed and breakfast in Seneca Falls NY. Alternatively, chase waterfalls and the lively Ithaca College town scene in Ithaca NY.
As for Cayuga Lake NY, this romantic getaway is ideal for outdoor lovers who enjoy watersports, wine flights, comfort food, and fine linens after campground fires.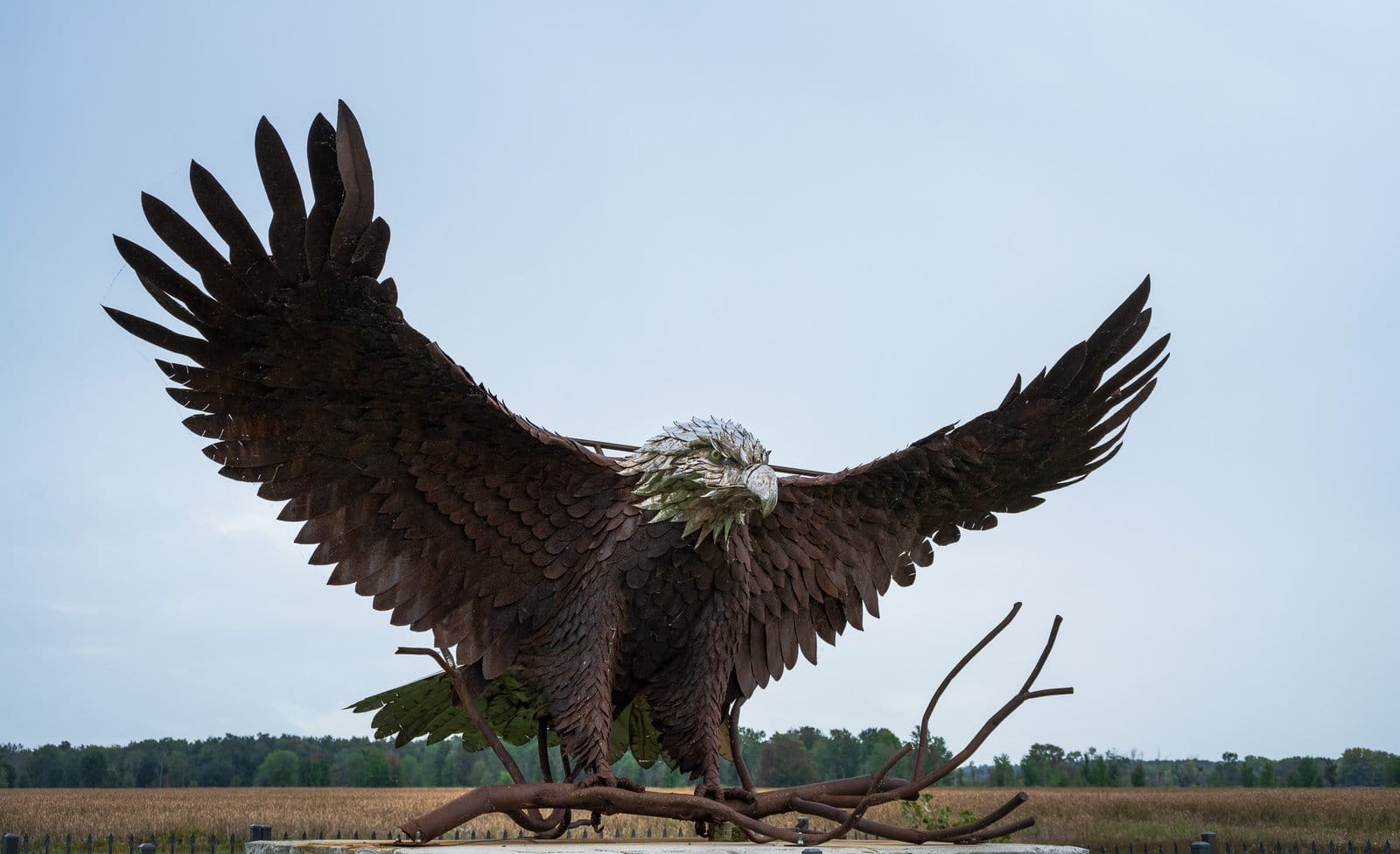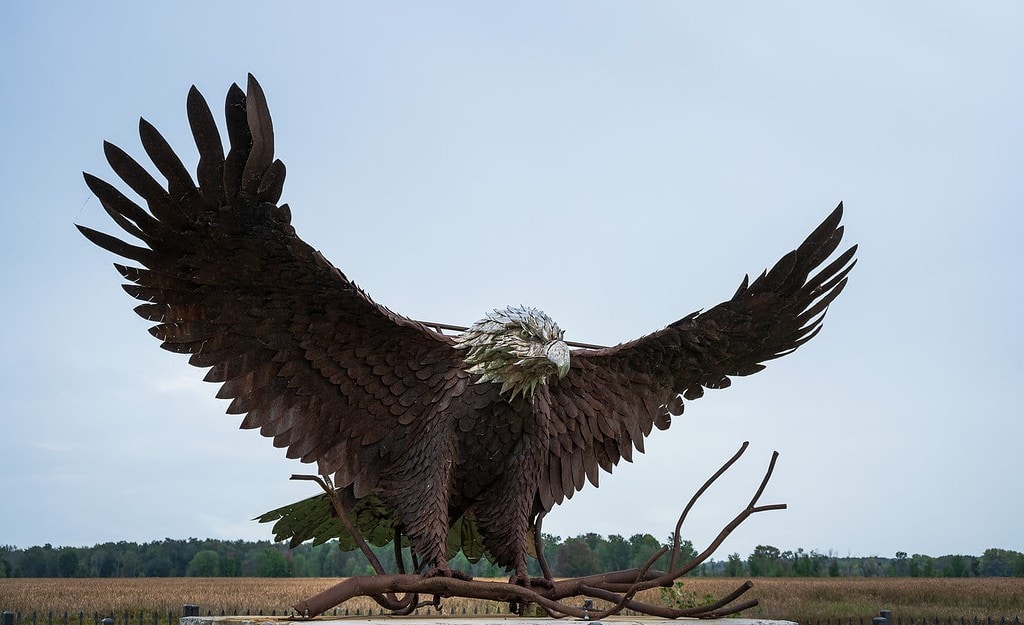 Where Is Cayuga Lake?
Almost midway between Buffalo NY and Albany NY along the I-90, very near Syracuse NY, and Rochester NY, you can't miss seeing the giant bald eagle statue perched close to Exit 40. Created by Rochester artist Jay Seaman to celebrate the 40th anniversary of New York State's bald eagle restoration program, the sculpture resides at the Montezuma Wildlife Refuge.
The refuge is located on the northern tip of Cayuga Lake.
Since the lake is so long, it straddles three counties–Cayuga, Seneca, and Tompkins. And, besides Seneca Falls and the city of Ithaca, there are a number of smaller towns around the lake (see the blue squares on the map below.)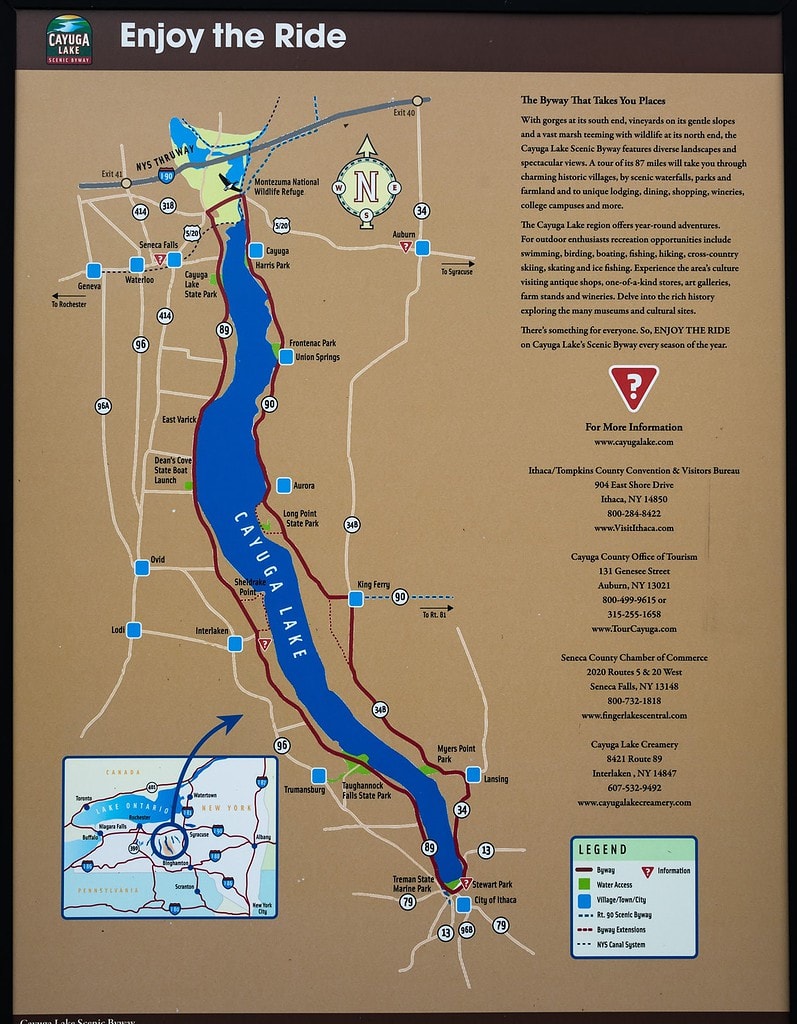 Things To Do On Cayuga Lake
Cayuga Lake Scenic Byway
One of the best ways to see Cayuga Lake is to drive the entire 87-mile Cayuga Lake Scenic Byway loop. The road trip should take about three hours if you stick to Route 89 on the western side of the lake and Route 90 on the east side.
But don't be surprised if it takes much longer when you're tempted by the many wineries, museums, scenic overlooks, and other attractions.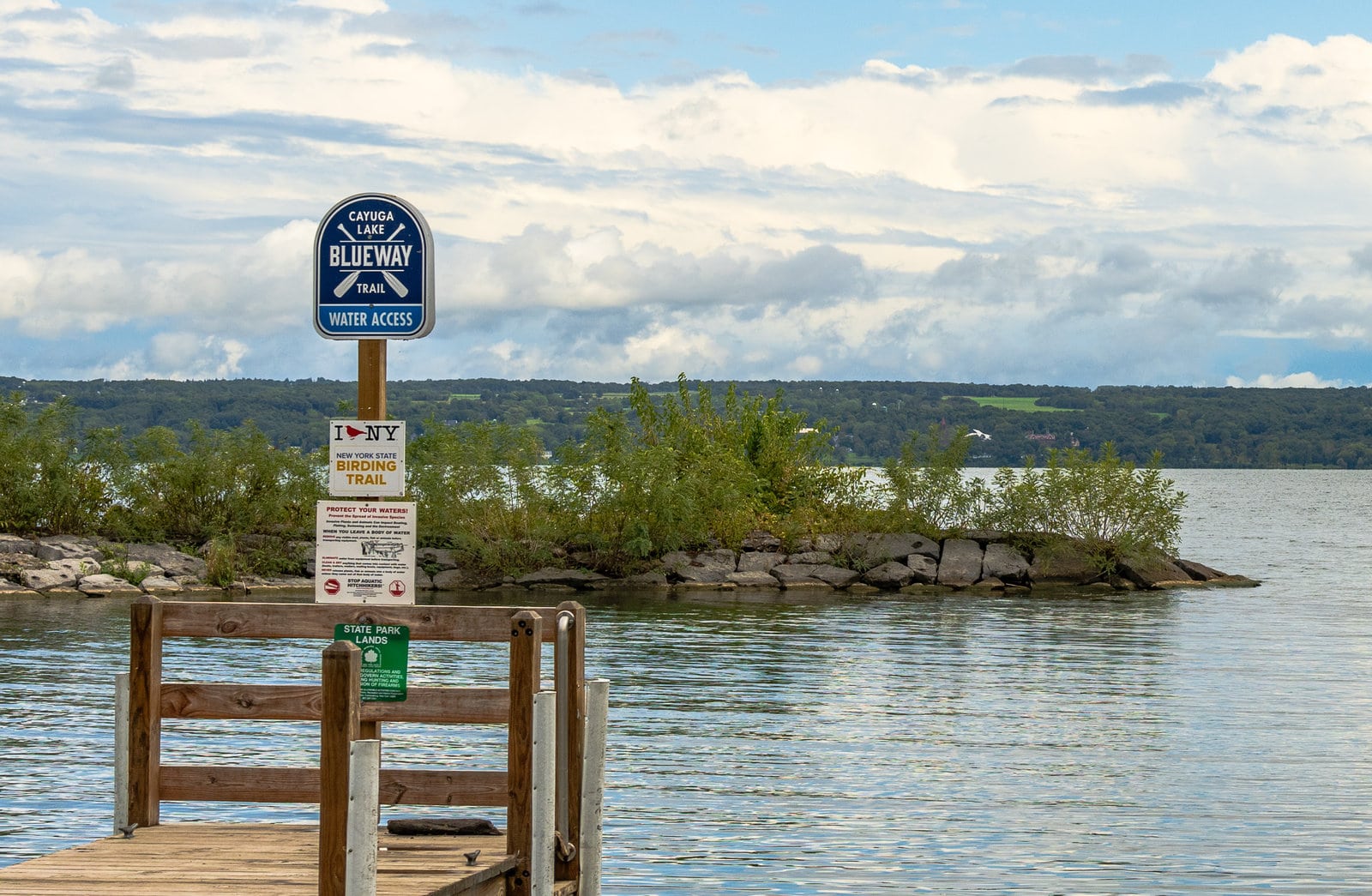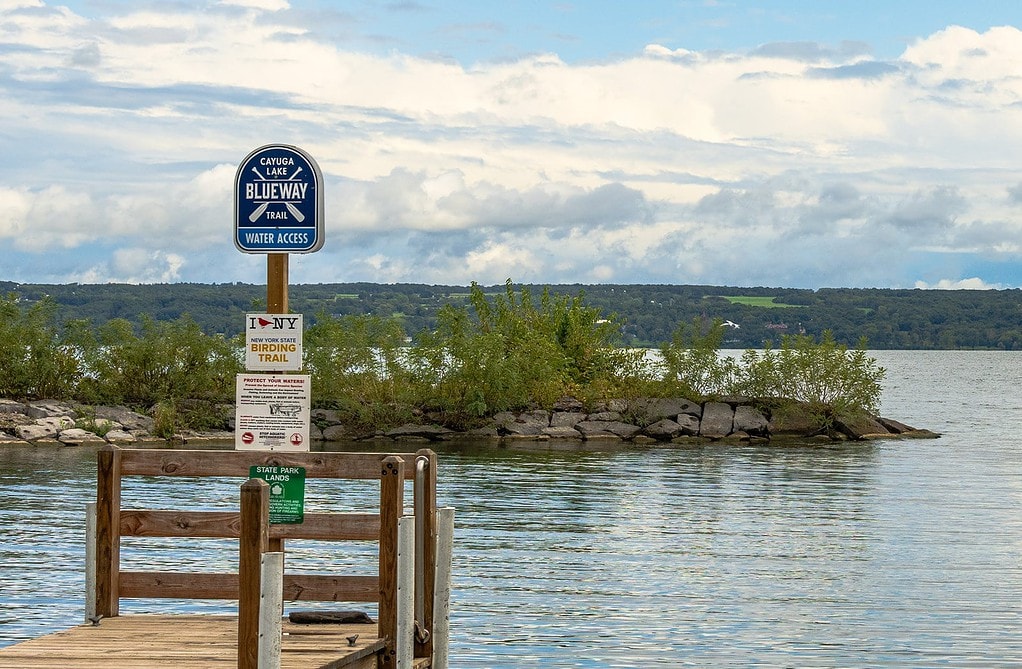 Cayuga Lake Blueway Trail
For a more intimate perspective, consider kayaking. The newly designated Cayuga Lake Blueway Trail features 12 public access points where you can not only launch a kayak, but also take a break for hiking, dining, and more.
Each of these (with the possible exception of Sheldrake Park) will sport a Blueway Trail sign so you can be assured that it's perfectly OK to step ashore.
Kayaking the entire length of the lake would be an extremely ambitious, and most likely multi-day experience. So, the Blueway Trail breaks it up into day trips ranging from four to eleven miles, and they've even described three kayaking itineraries that include dining and sightseeing stops.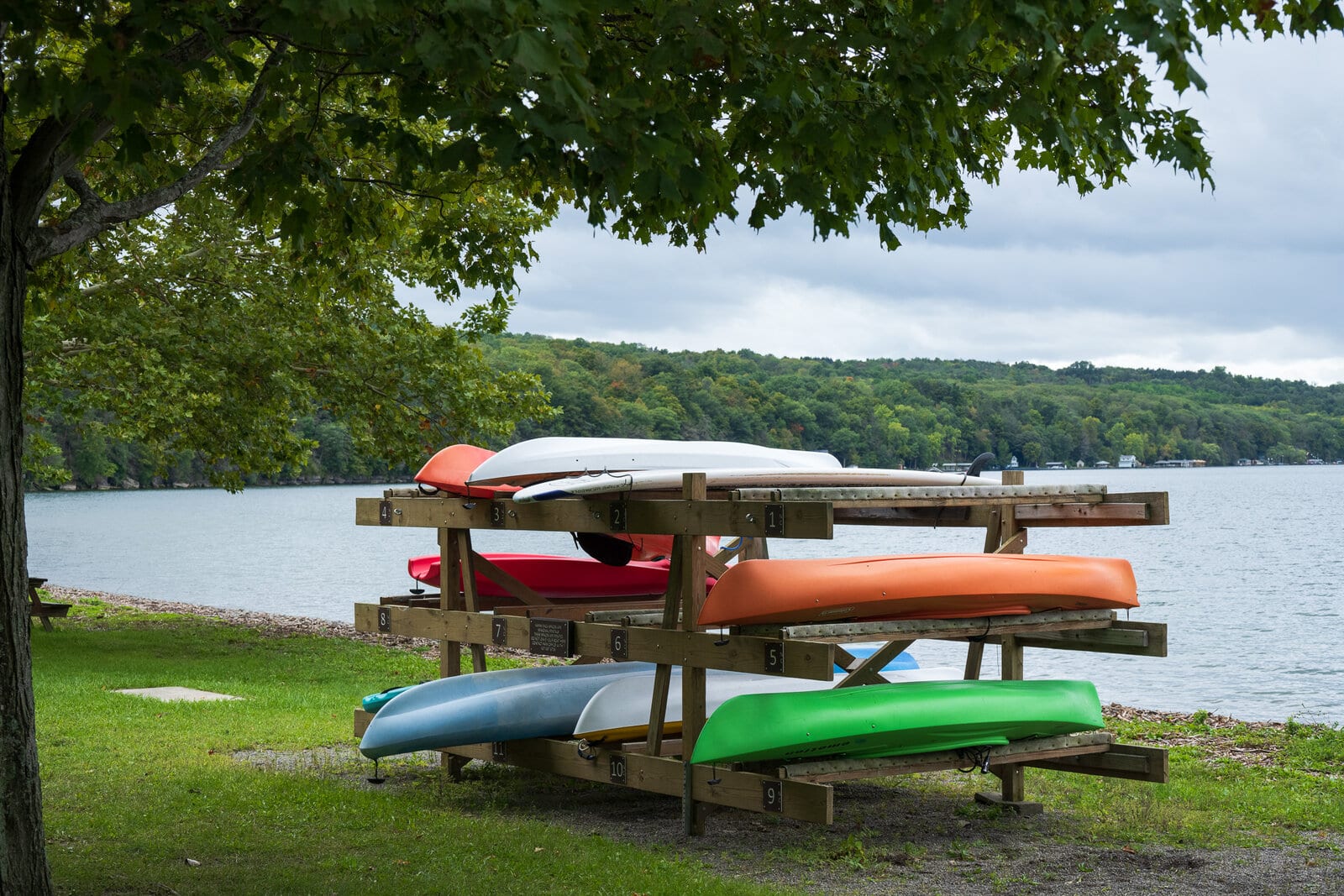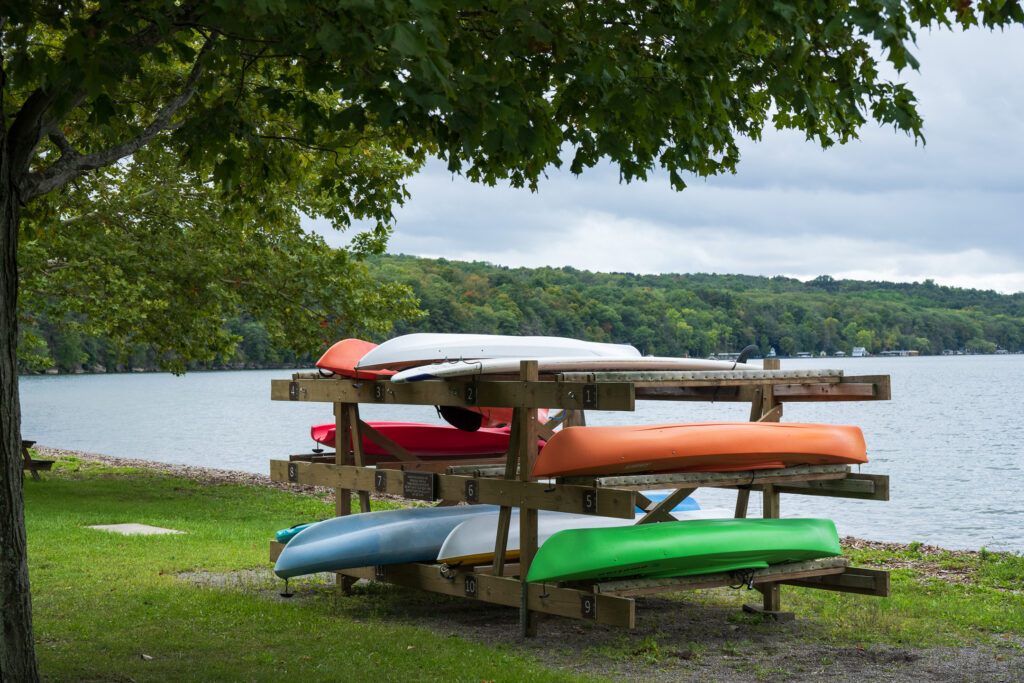 Find kayak rentals, lessons, pickup/dropoffs, and other services from the following outfitters: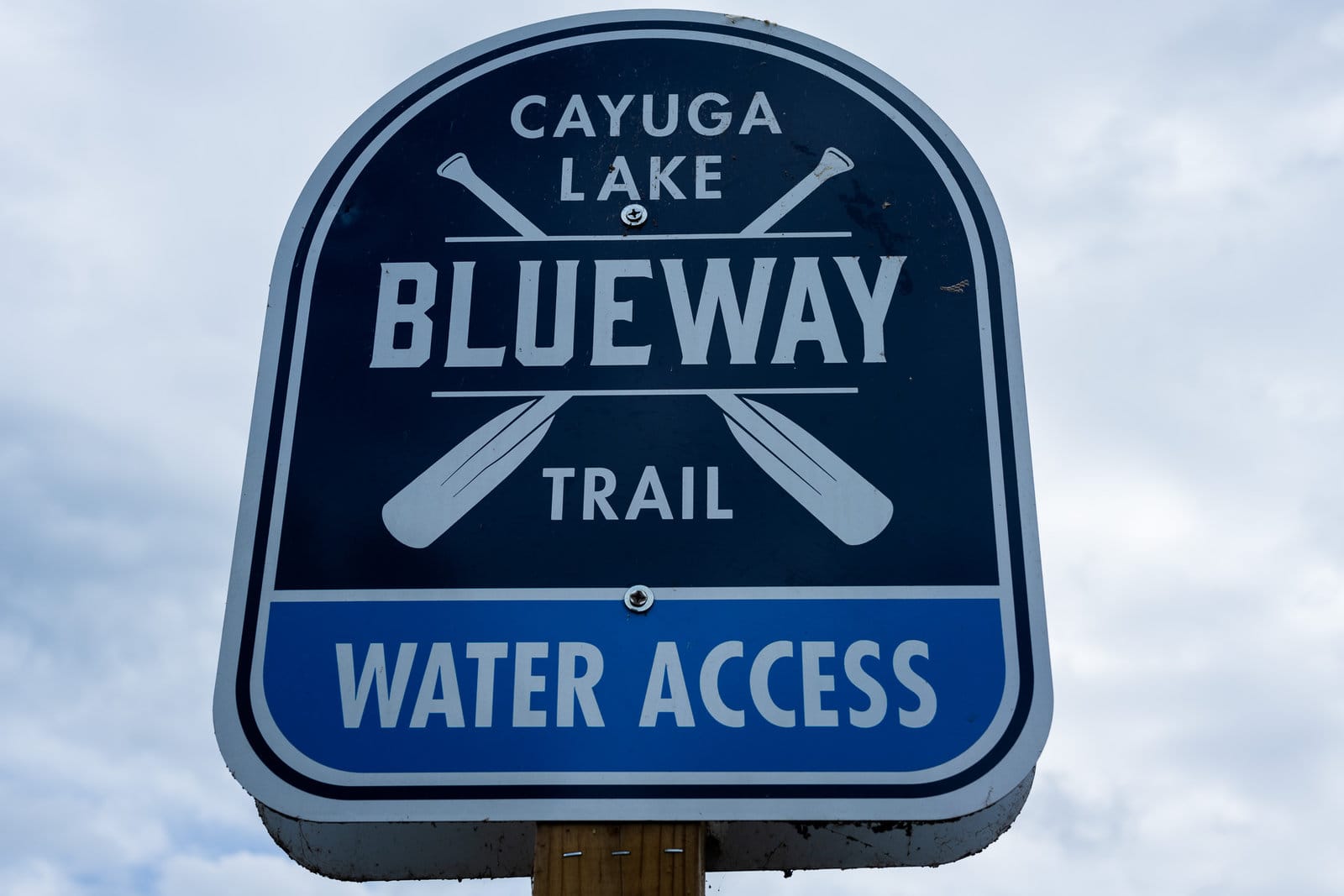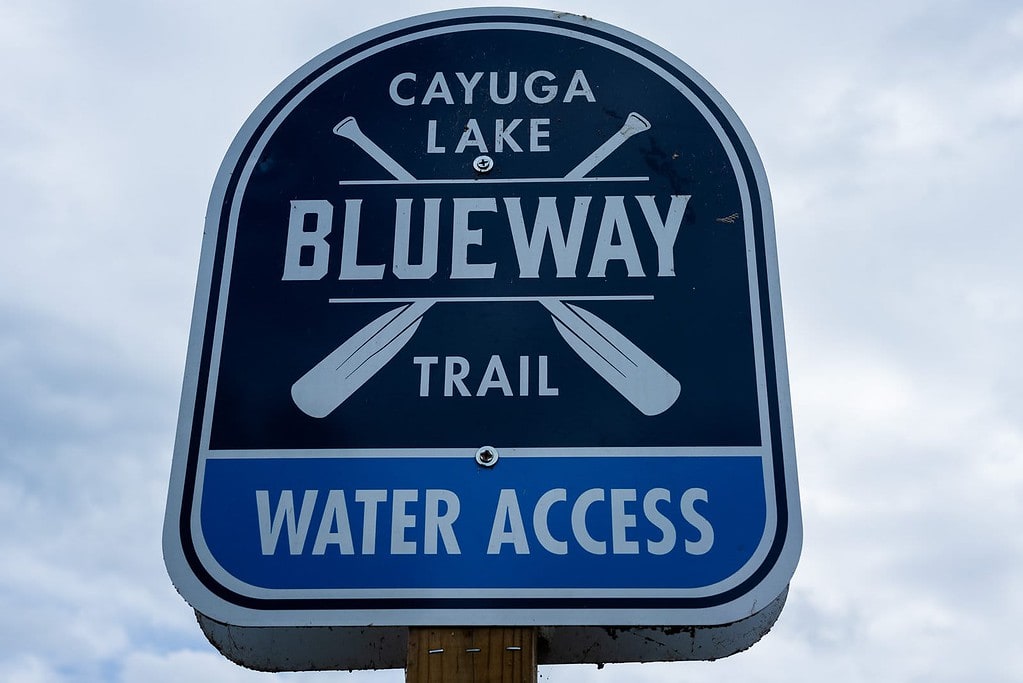 The twelve Blueway Trail stops are, north to south:
(1) Mud Lock, Seneca Falls NY- North Tip, at the edge of Montezuma National Wildlife Refuge marshes. Limited facilities, fishing access, parking, and port-a-potties.
Visiting Seneca Falls NY? Add on a kayaking trip along the Cayuga Erie Canal and into Montezuma Wildlife Refuge. Here is a downloadable Cayuga Seneca Canal Map from the Erie Canalway National Heritage Corridor.
(2) John Harris Park, Cayuga Village NY – East side of the lake. Seasonal beach with lifeguards, picnic tables, and restrooms. Open May-October sunrise to sunset.
(3) Cayuga Lake State Park, Seneca Falls NY – West side of the lake. The 141-acre park offers swimming areas, early or late-season hunting, ice fishing, x-country skiing, campsites, cabins, restrooms, and showers.
(4) Frontenac Park, Union Spring NY – East side of the lake. The small municipal park offers seasonal swimming, picnic tables, and views of Frontenac Island, one of only two Finger Lake islands.
(5) Dean's Cove Boat Launch, Romulus NY – West side of the lake. The New York State Park boat launch site is just that; there are no facilities, just the launch site, and parking spots. There is fishing access, and seasonal hunting is permitted.
(6) Long Point State Park, Aurora, NY – East side of the lake. The 296-acre park covers the gamut of lake shore, grasslands, spruce plantations, and mature forests. Several short hiking trails with scenic overlooks offer a good opportunity to stretch your legs. There's also supervised swimming, fishing, hunting, campgrounds, and cabin rentals.
(7) Sheldrake Park, Ovid NY – West side of the lake. This small boat launch site is simply a gravel shoreline with limited parking.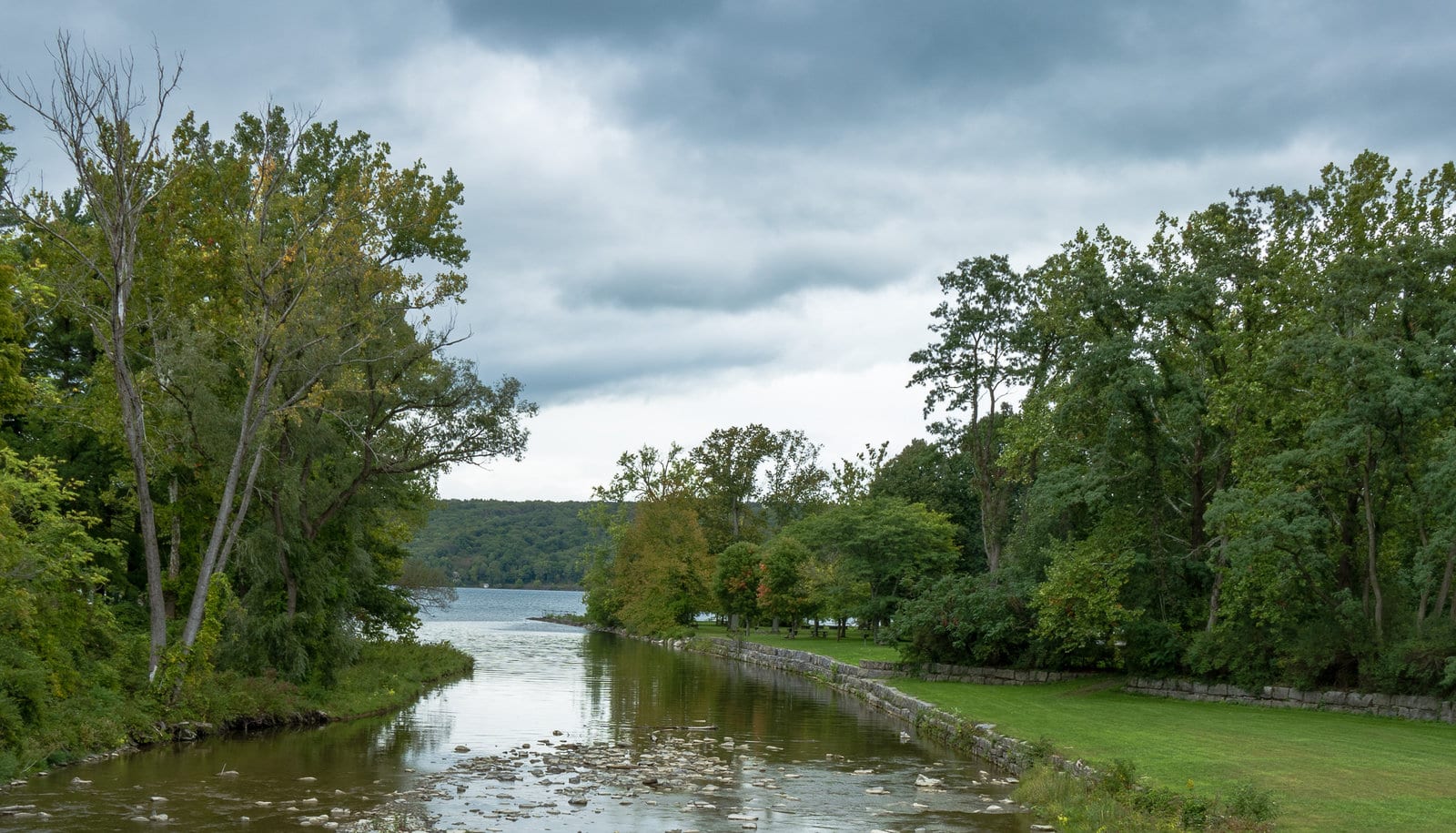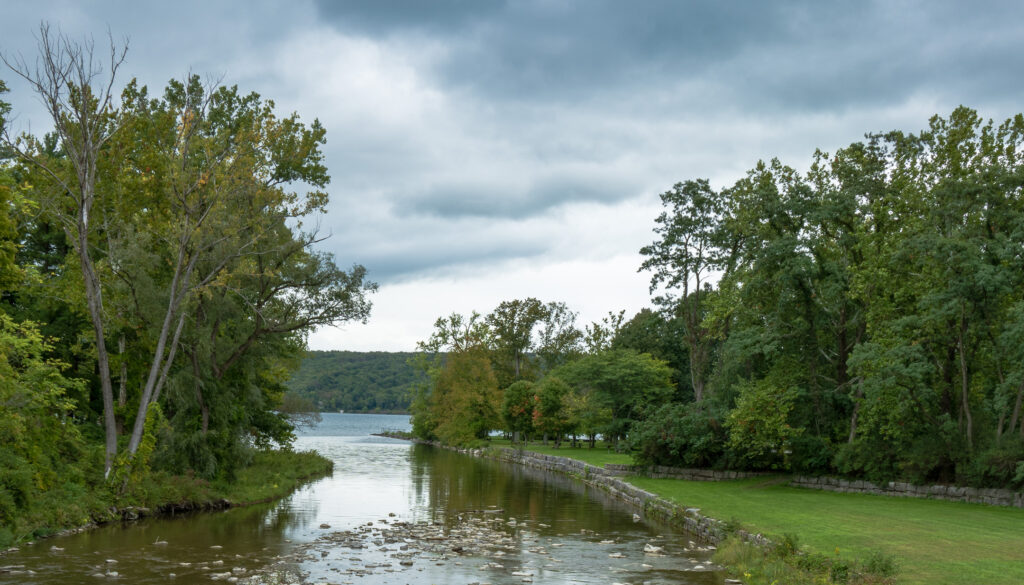 (8) Taughannock Falls State Park, Trumansburg NY- West side of the lake. At 750 acres, this park is massive. In summer, there's a swimming beach and watercraft rentals. In winter, there's ice skating, snowshoeing, and cross-country skiing.
Restrooms, showers, campgrounds, cabins, and lodging are available as well.
A multi-use stone dust trail, the 8.5-mile Black Diamond Trail, provides a level path for cyclists and hikers to travel all the way to Cass Park in Ithaca NY.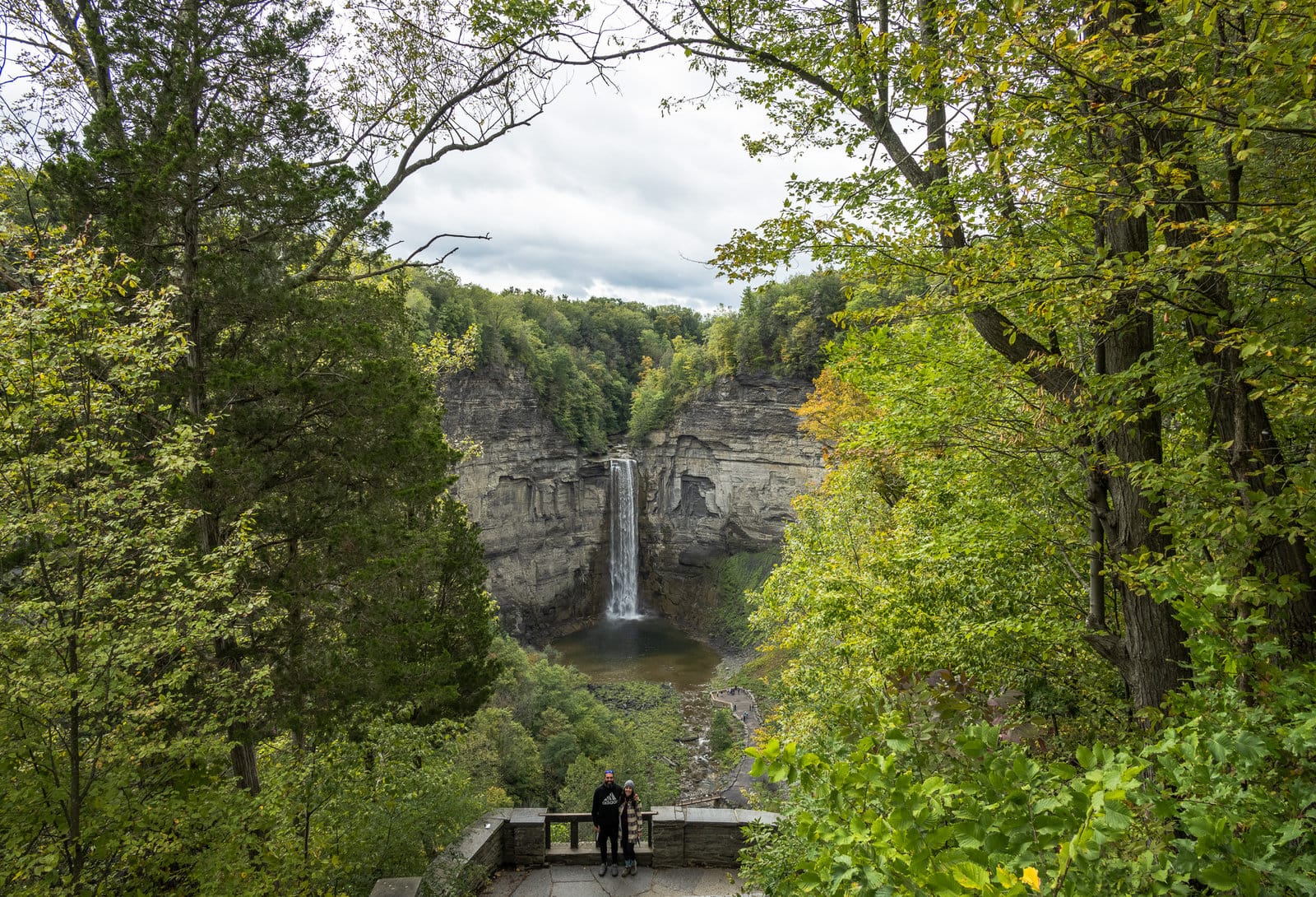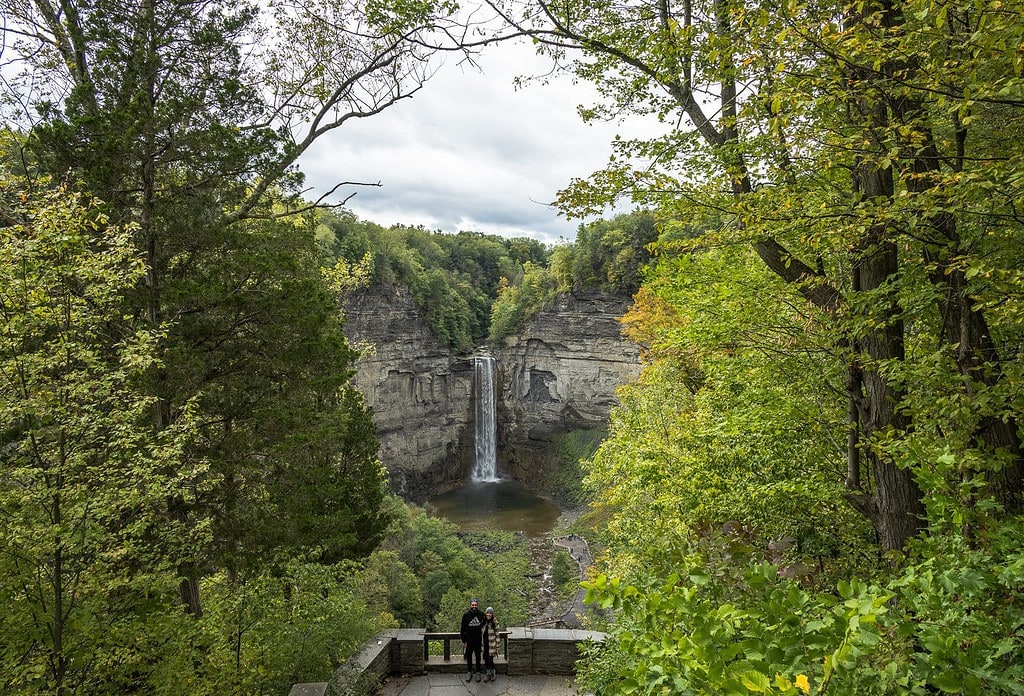 Best of all, take the less than 1 mile (uphill!) Gorge Trail hike from the lakeside to the Taughannock Falls Overlook. Taller than Niagara Falls, the 215-foot Taughannock Falls is the tallest free-falling waterfall in the northeastern United States.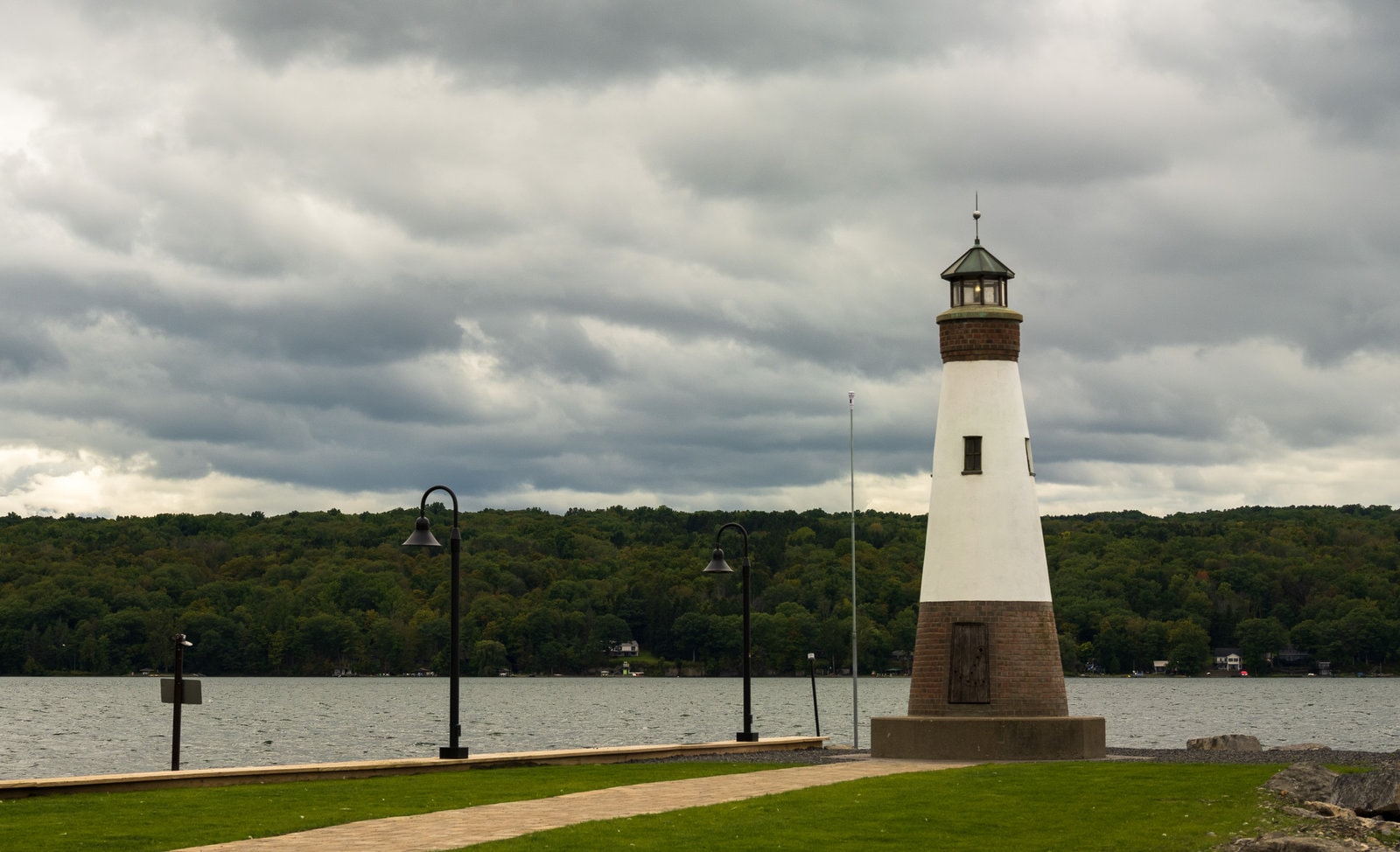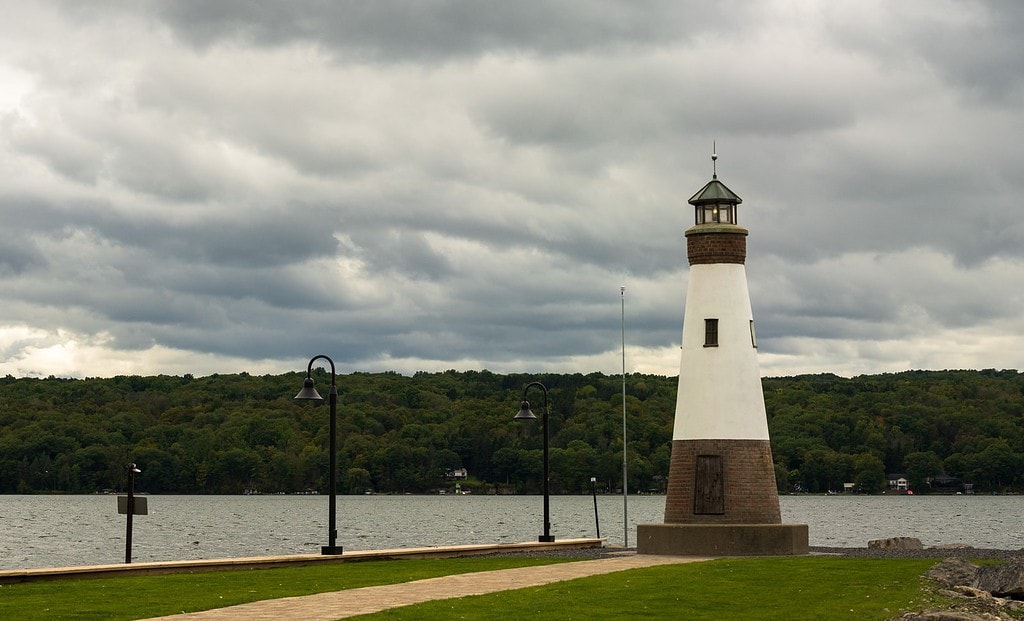 (9) Myers Park, Lansing NY – East side of the lake. A supervised swimming beach, seasonal camping, a summer music concert series, and a large boat marina are a few of the 31-acre park's attractions. But we particularly like the lighthouse.
Built by volunteers with 3000 donated bricks, its light flashes every six seconds all night long from April to November. And it's one of the most spectacular spots for a sunset photo shoot on Cayuga Lake.
Nearby, Salmon Creek offers outstanding fishing and is known for getting a good run of rainbow trout, as does the spawning grounds of Cayuga Inlet.
(10) East Shore Park, Ithaca NY – East side of the lake. Small parking lot and rocky shore, this public launch site shares a driveway with the Merril Family Sailing Center at Cornell University.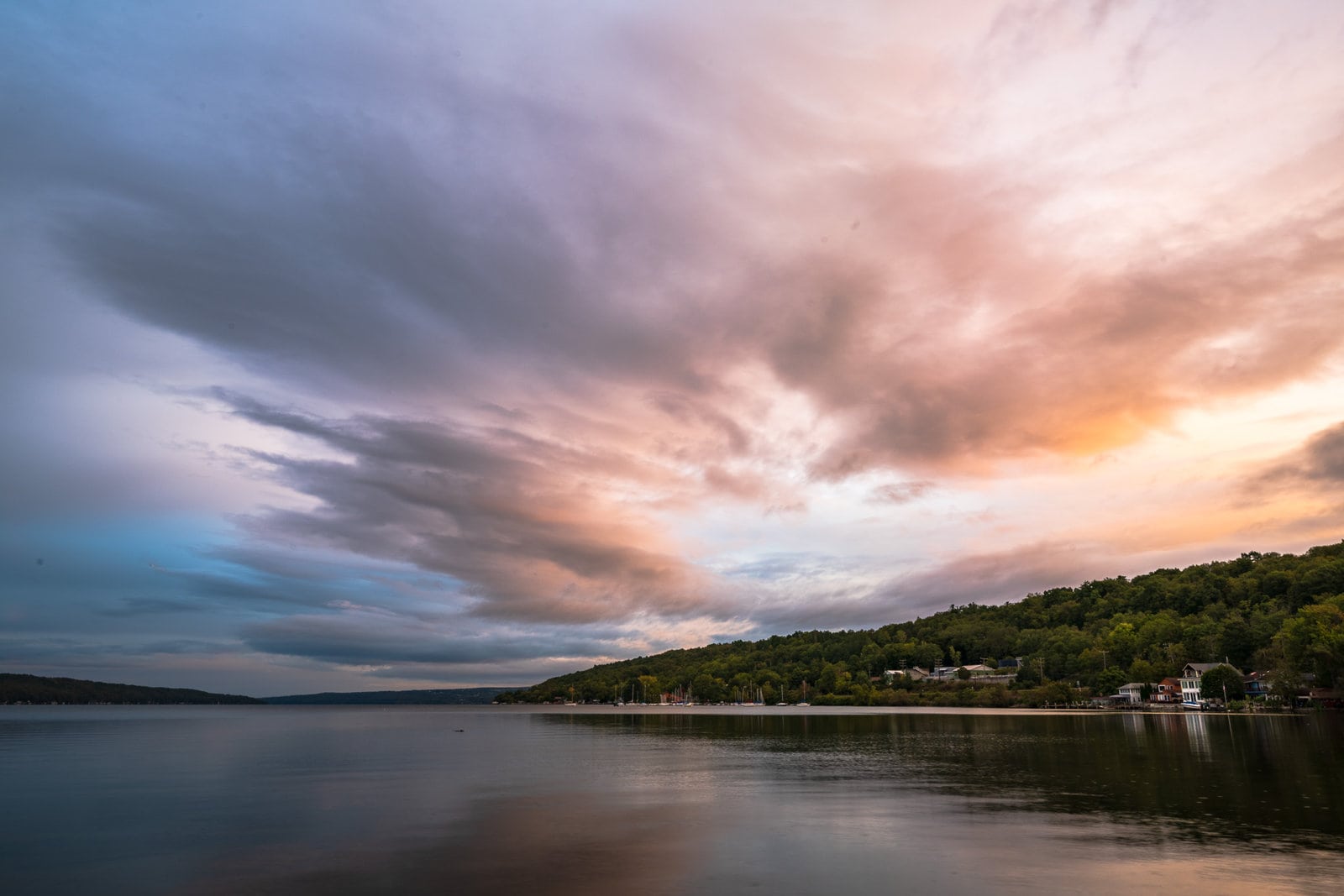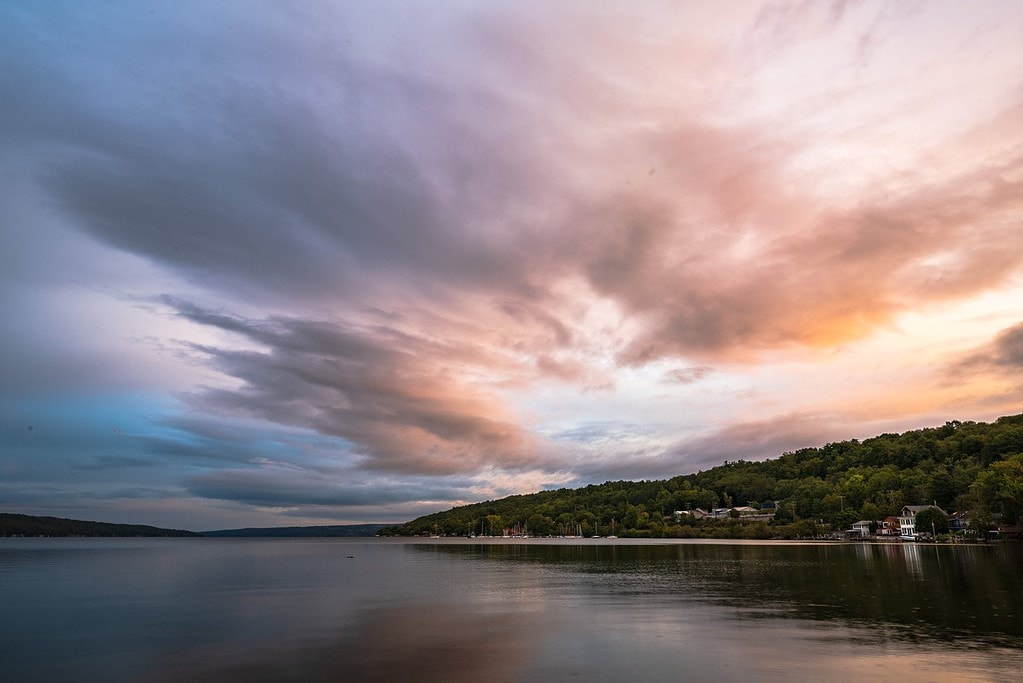 (11) Stewart Park, Ithaca NY – South tip. This historic city park once belonged to the Revolutionary Army and sat undeveloped for over a hundred years before opening to the public as Renwick Park in 1894. In the early 1900s, the park hosted a vaudeville theater in addition to a merry-go-round, zoo, and bird sanctuary.
It still has a bird sanctuary and carousel (open in summer,) and the grassy willow-tree-lined shores offer serene picnic spots. Restrooms are open to the public.
(12) Cass Park, Ithaca NY – South tip. Located next to Allen H. Treman State Marine Park (see our Ithaca NY getaway) this athletic park features a pool, an indoor ice rink (currently under construction,) as well as public boat launch access.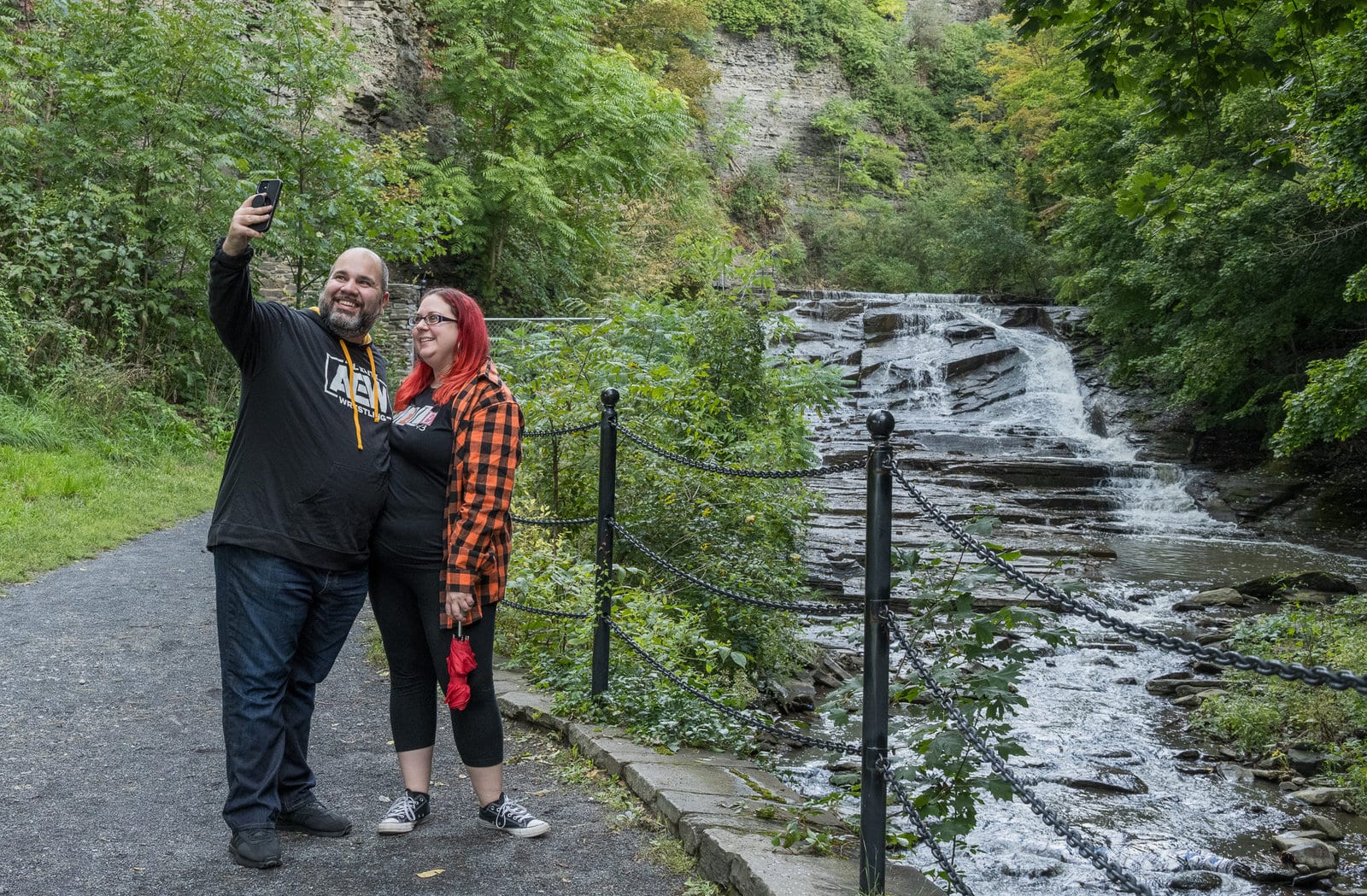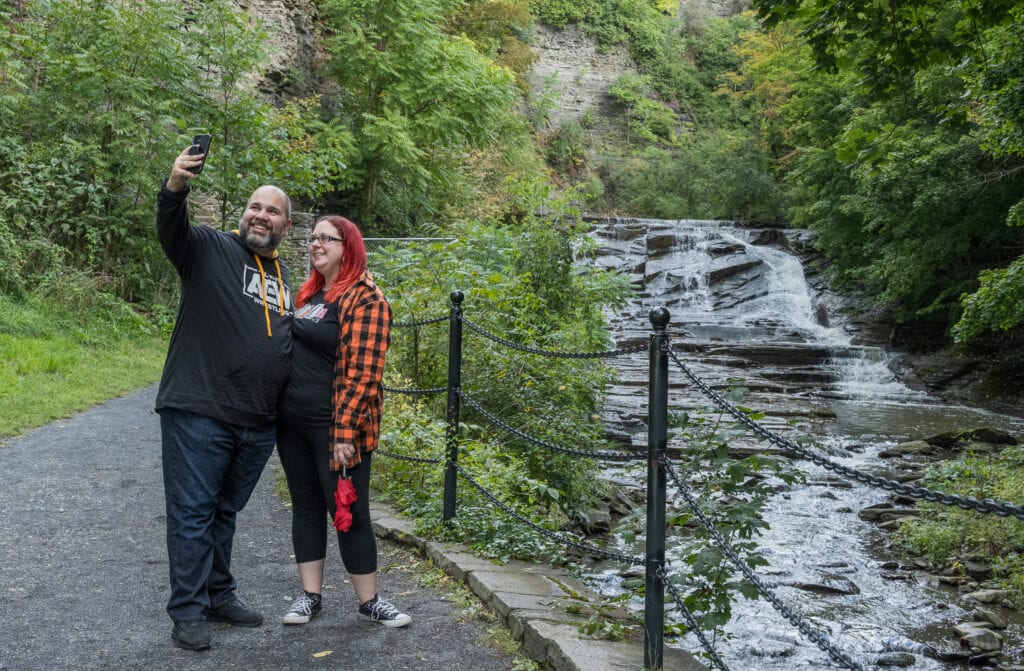 This is the best stop for accessing things to do in Ithaca's downtown. That includes the Cascadilla Gorge Trail which passes eight waterfalls while connecting downtown Ithaca with the Cornell campus. Another great hike nearby is the Ithaca Falls trail on Falls Creek.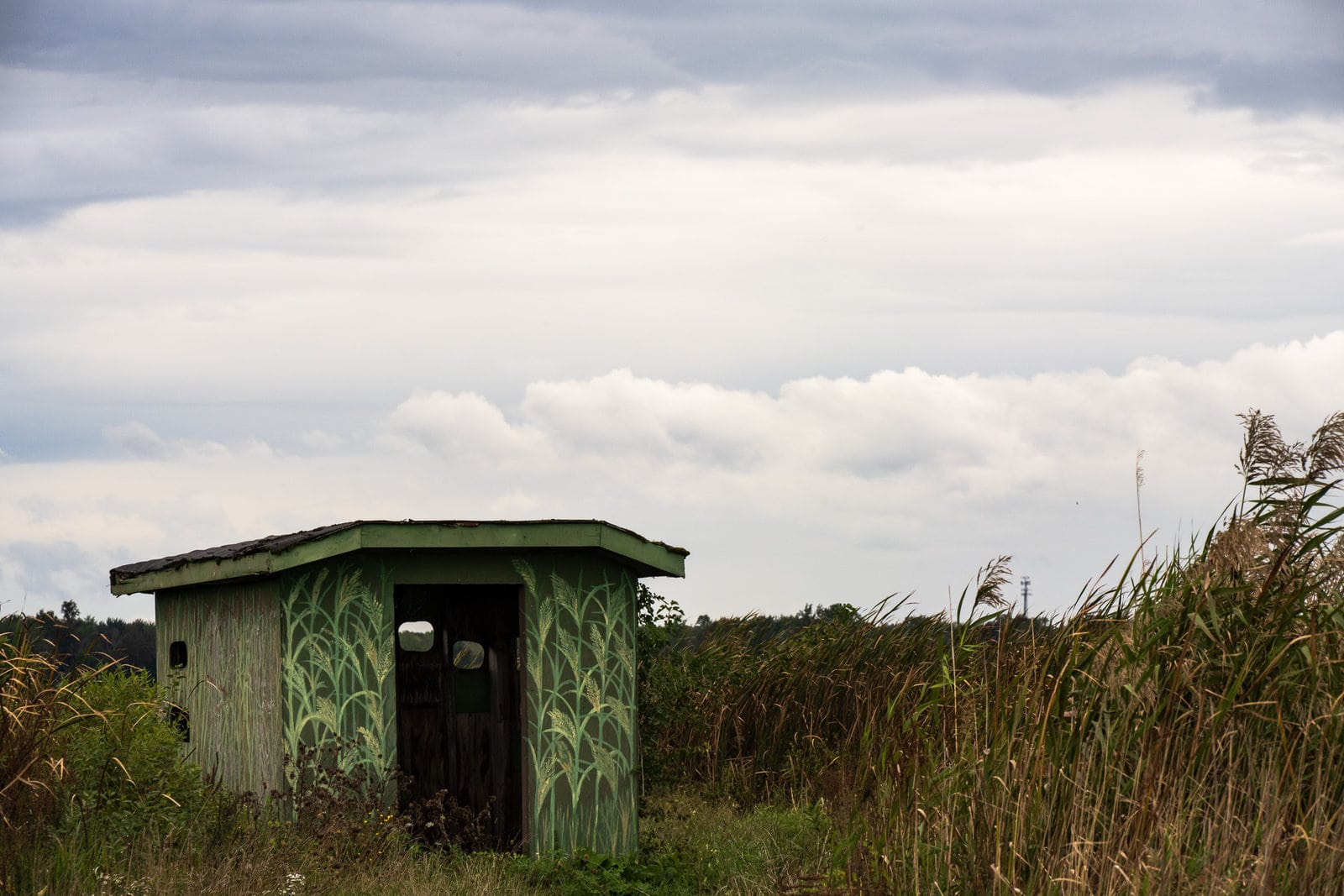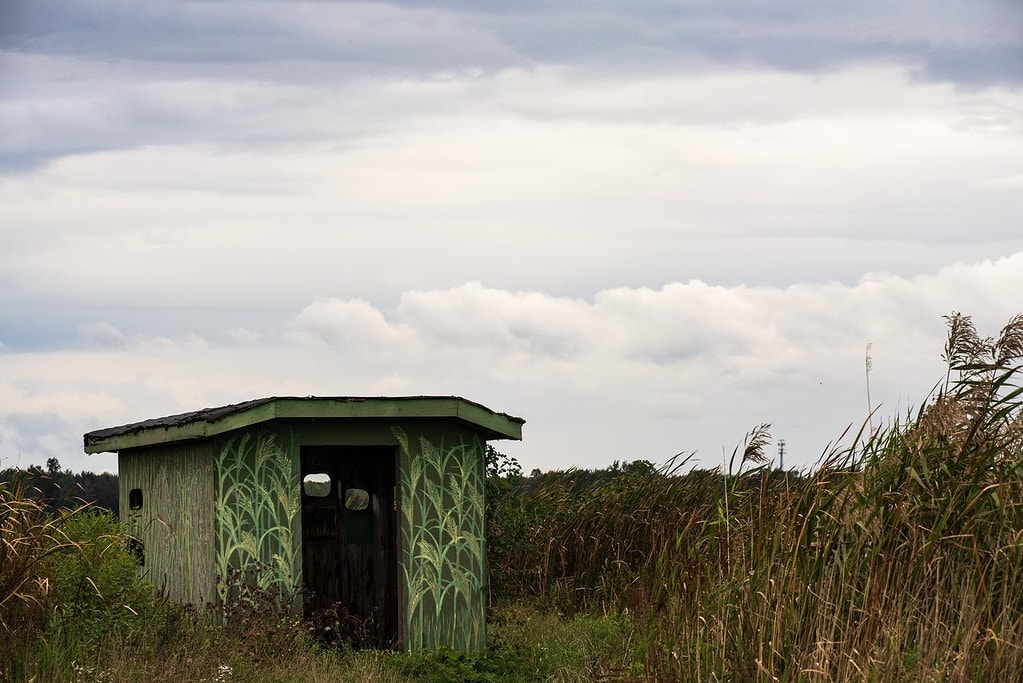 Montezuma National Wildlife Refuge
Established in 1938, the Montezuma NWR encompasses over 10,000 acres of wetlands that are critically important bird migration and nesting habitats. You can spot bald eagles flying over your vehicle on the 3-mile Wildlife Drive auto tour route, or pause at a designated view site to observe waterfowl from a blind.
Drop by the Visitor Center to learn more about the wildlife that can be seen here, and also to find out where to go for the best fishing and hiking trails.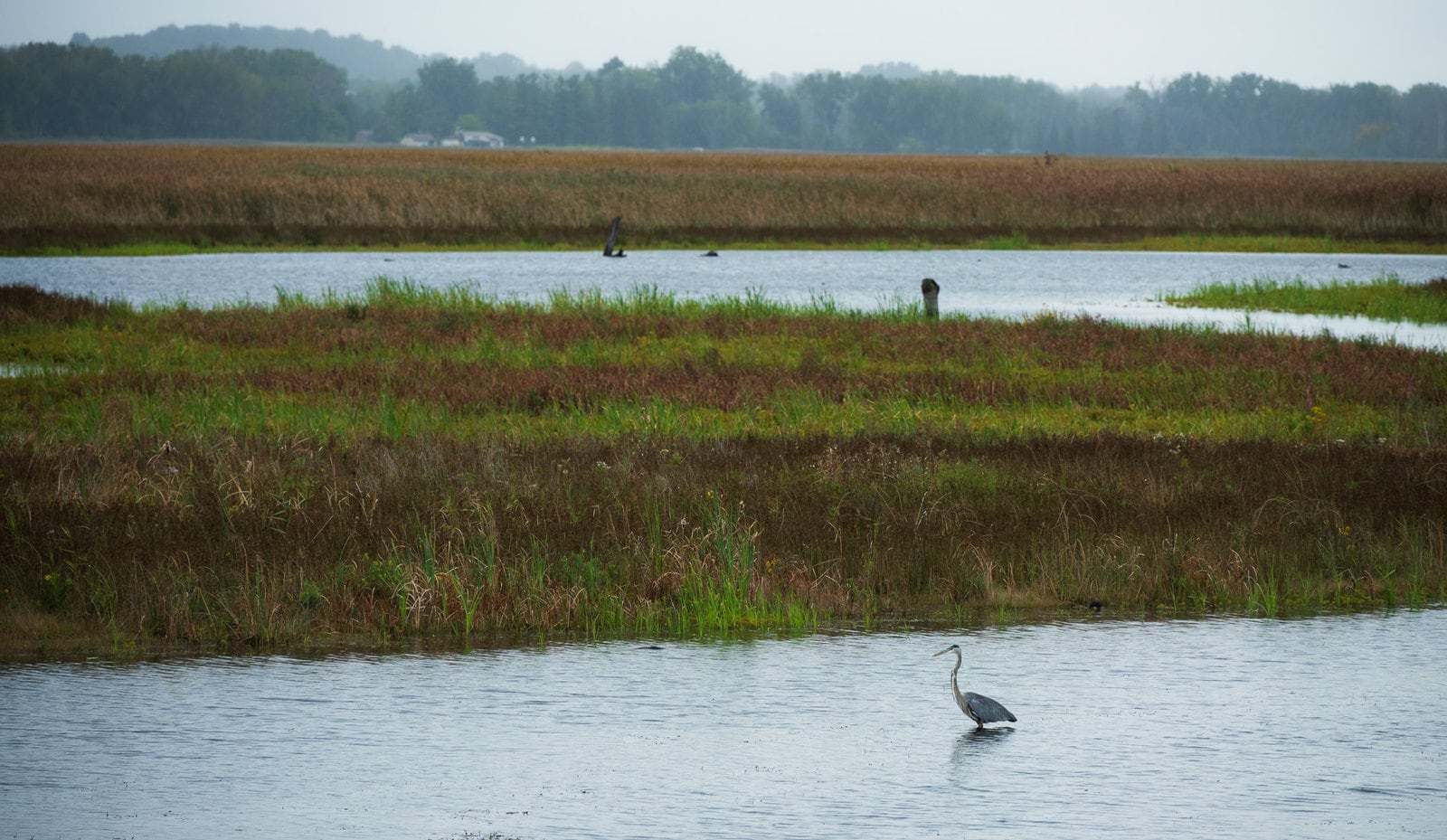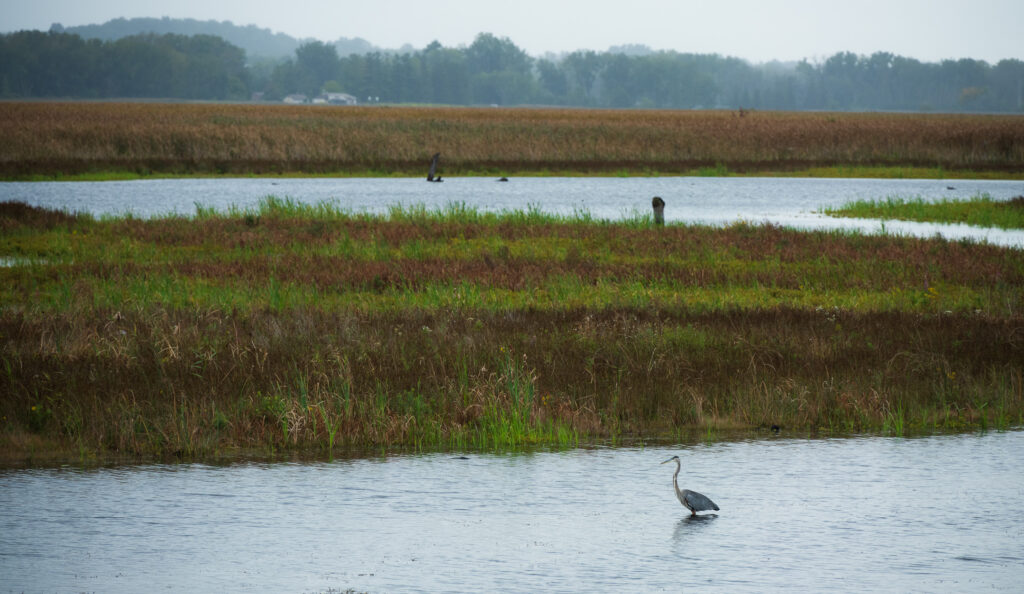 Cayuga Lake Birding Trail
As an important stop on the migratory bird flyway, it's not surprising that Cayuga Lake offers excellent birding opportunities. In addition to the Montezuma NWR, excellent birding locations are found at Union Springs, Aurora, Myers Point, Stewart Park, Allen H. Treman State Marine Park, and Sapsucker Woods at the Cornell Lab of Ornithology (see our Ithaca travel guide.)
But it turns out that almost all the points on the Cayuga Lake Blueway Trail also double as the Cayuga Lake Scenic Byway Birding Trail. Discover seasonally featured birds as bird identification resources on the Birding Trail page.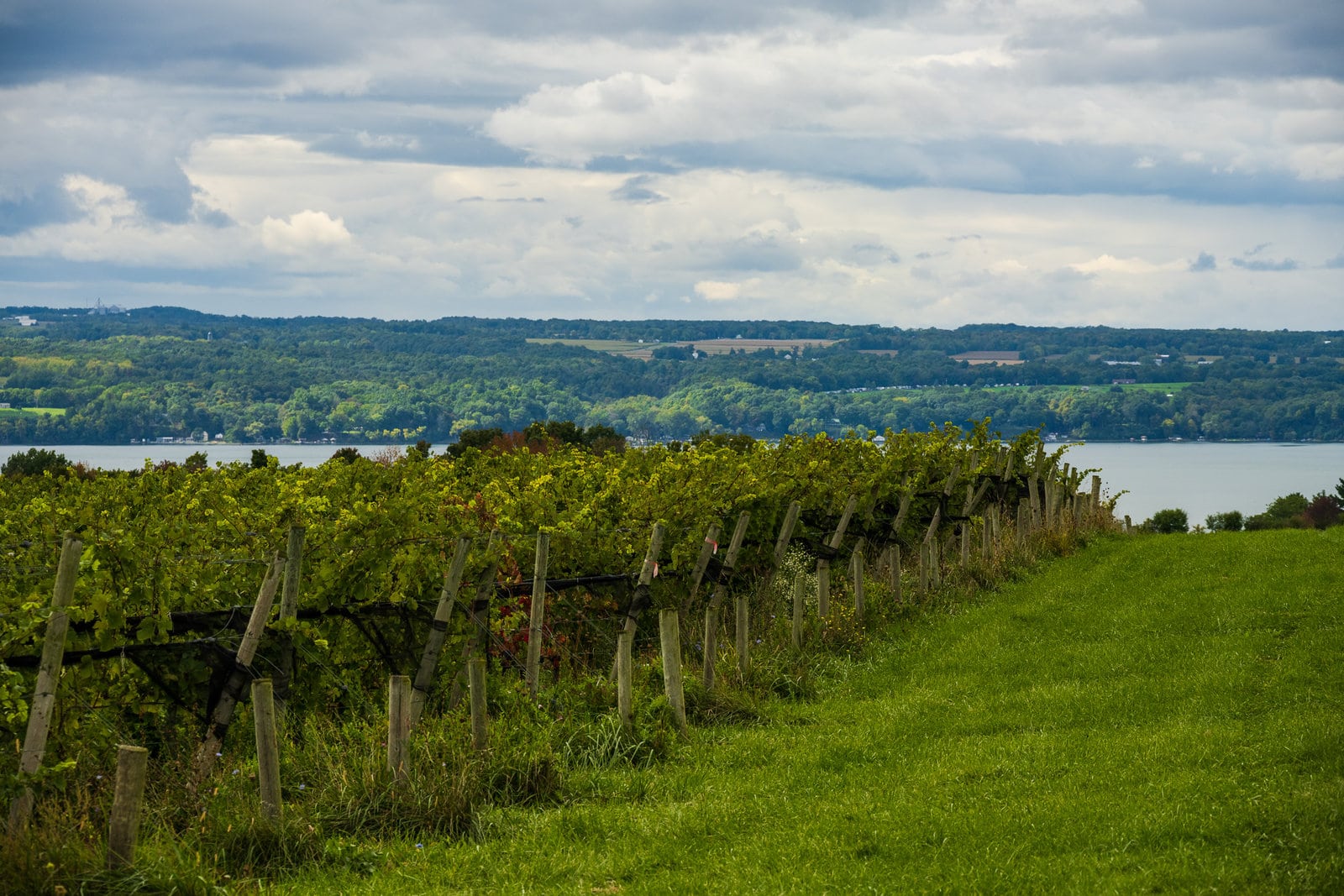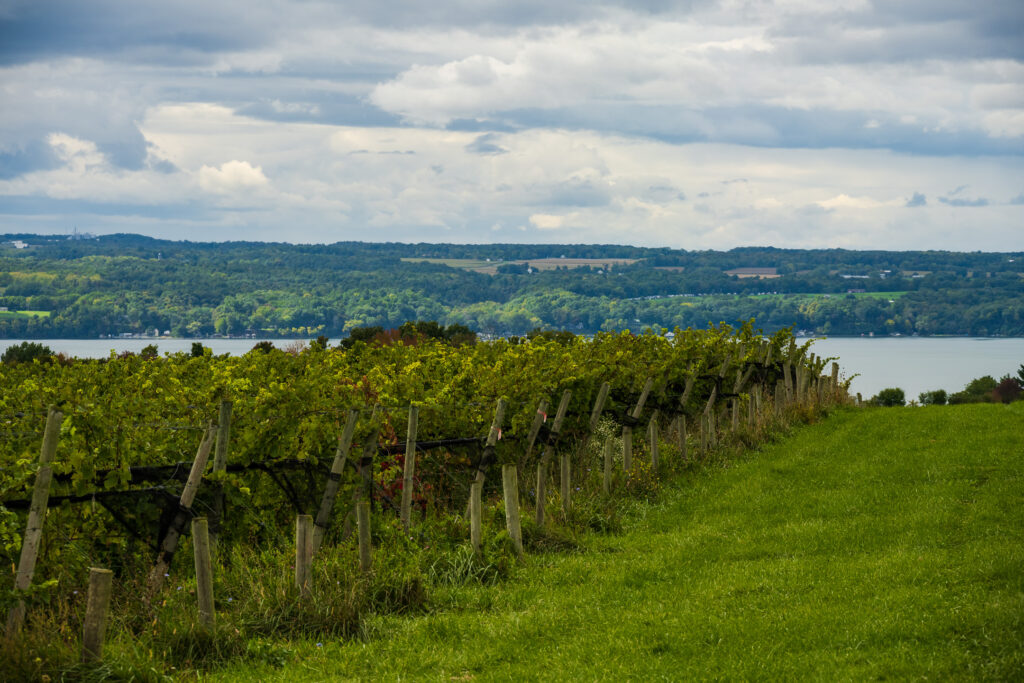 Cayuga Lake Wine Trail
With thirteen-member wineries, it might take more than a weekend getaway to visit all the vineyards on the Cayuga Lake Wine Trail. Add in all the cheese makers, breweries, and cideries and this could turn into a very worthwhile lifelong project.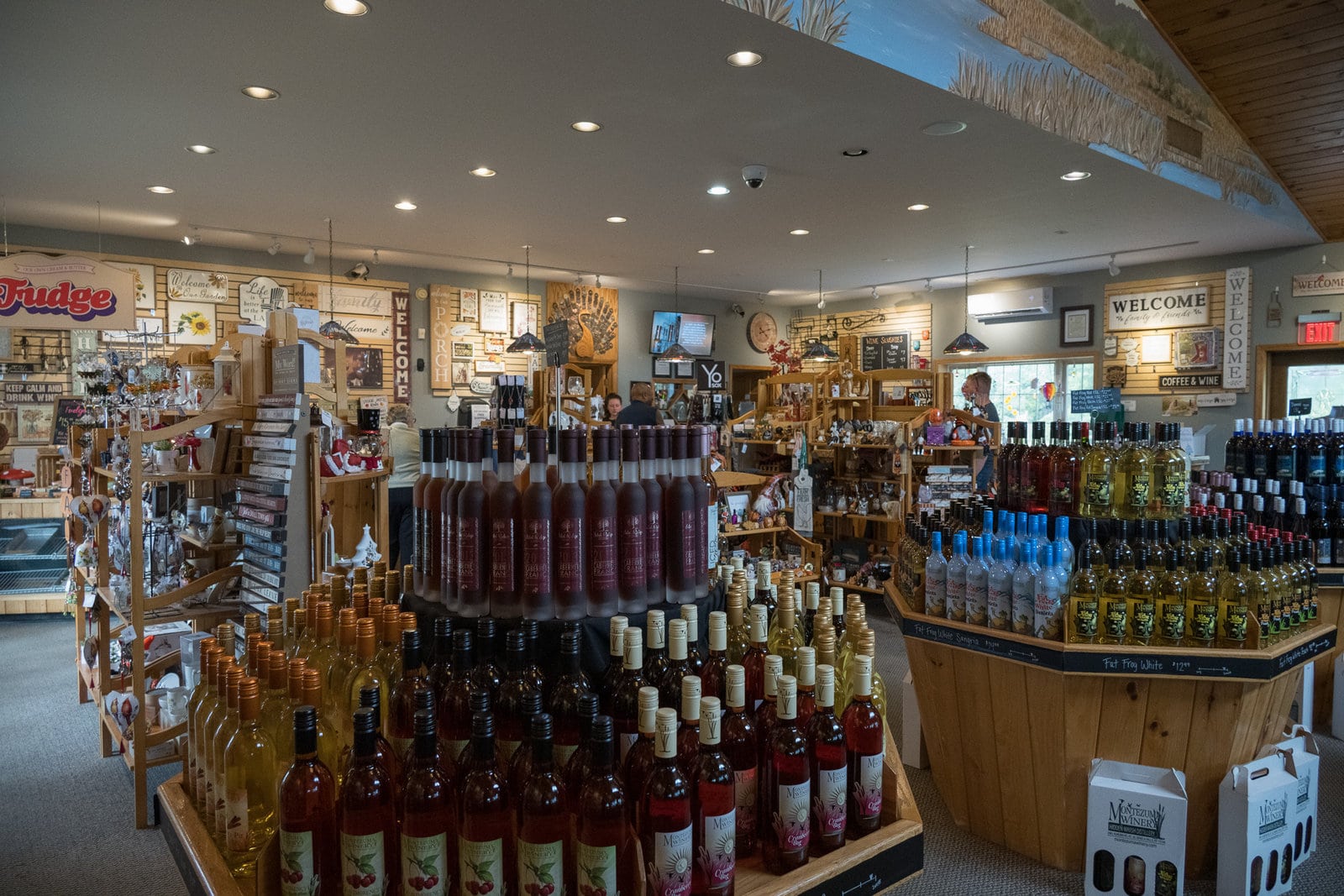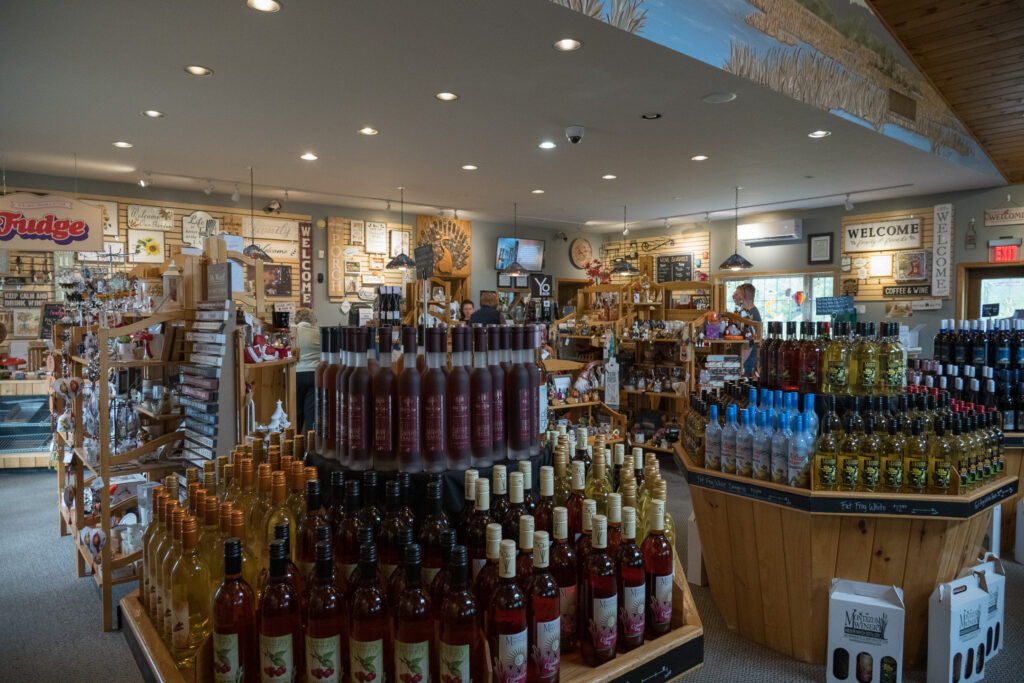 On a recent visit, I dropped into the Montezuma Winery, located on the northern tip of Cayuga Lake. Known for its sweet wines, this is a fun stop at the end (or beginning) of the Cayuga Lake Scenic Byway loop.
In addition to wine and spirit tastings, they sell snacks and fudge, and their beverage offerings run the gamut, including Jello shots, wine slushies, and mimosa flights.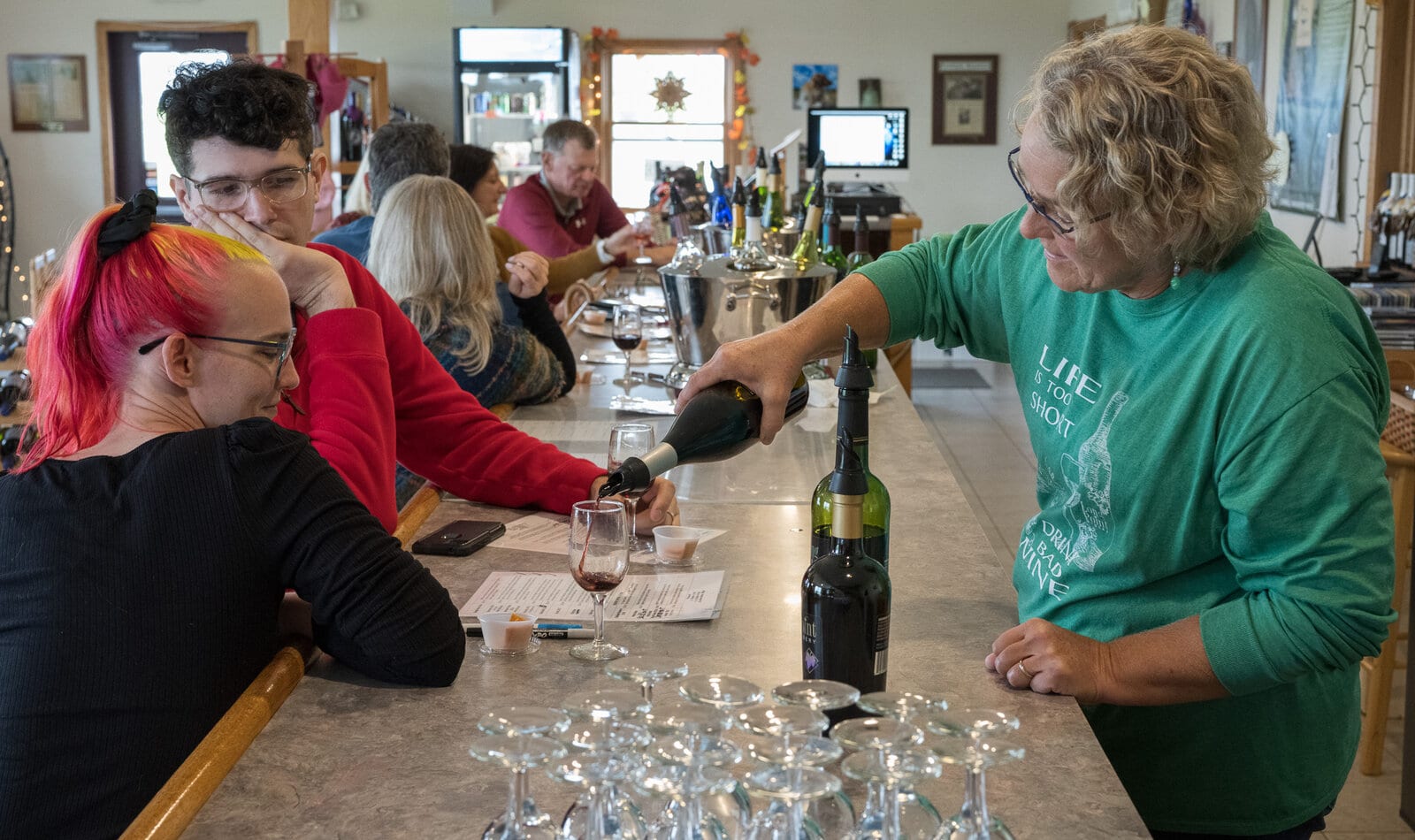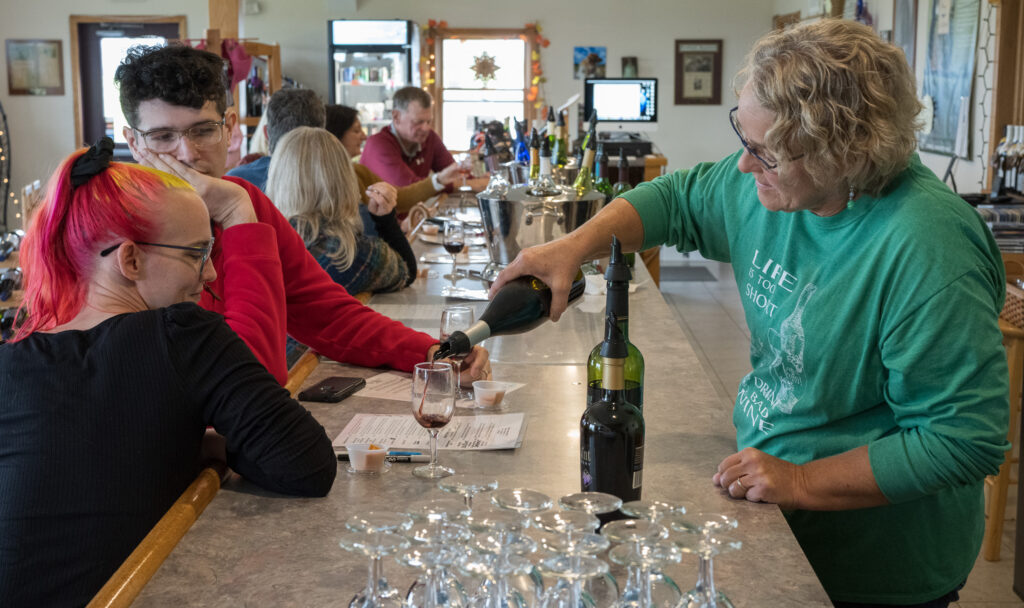 We also enjoyed a quiet moment sampling Long Point Winery's Rieslings and a Rubitage at a picnic table overlooking vines sloping toward Cayuga Lake. It's near enough Aurora to drop by before, or after, a leisurely meal in town.
If you would like to make a day of it, consider booking a limo or wine tour:
Charles Limousine Service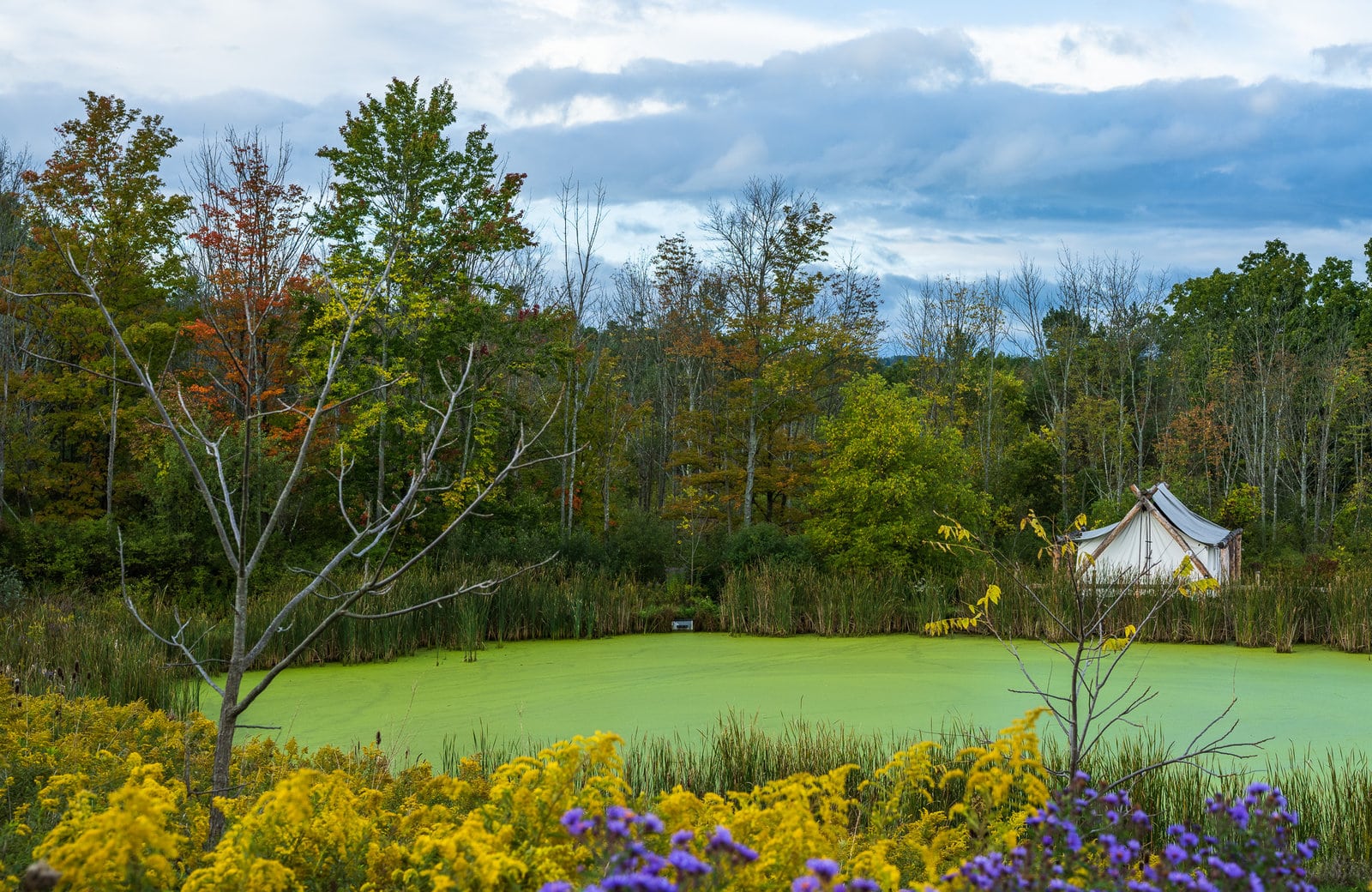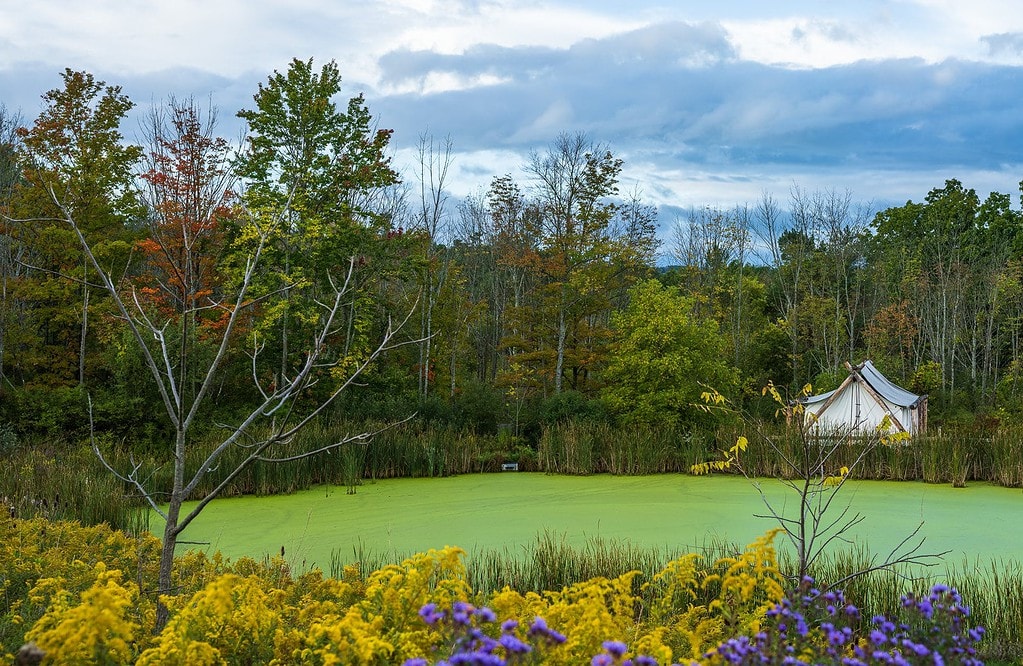 Cayuga Lake Hotels
Firelight Camps
One of the most romantic places to stay near Cayuga Lake isn't a hotel at all, it's the luxury glamping Firelight Camps.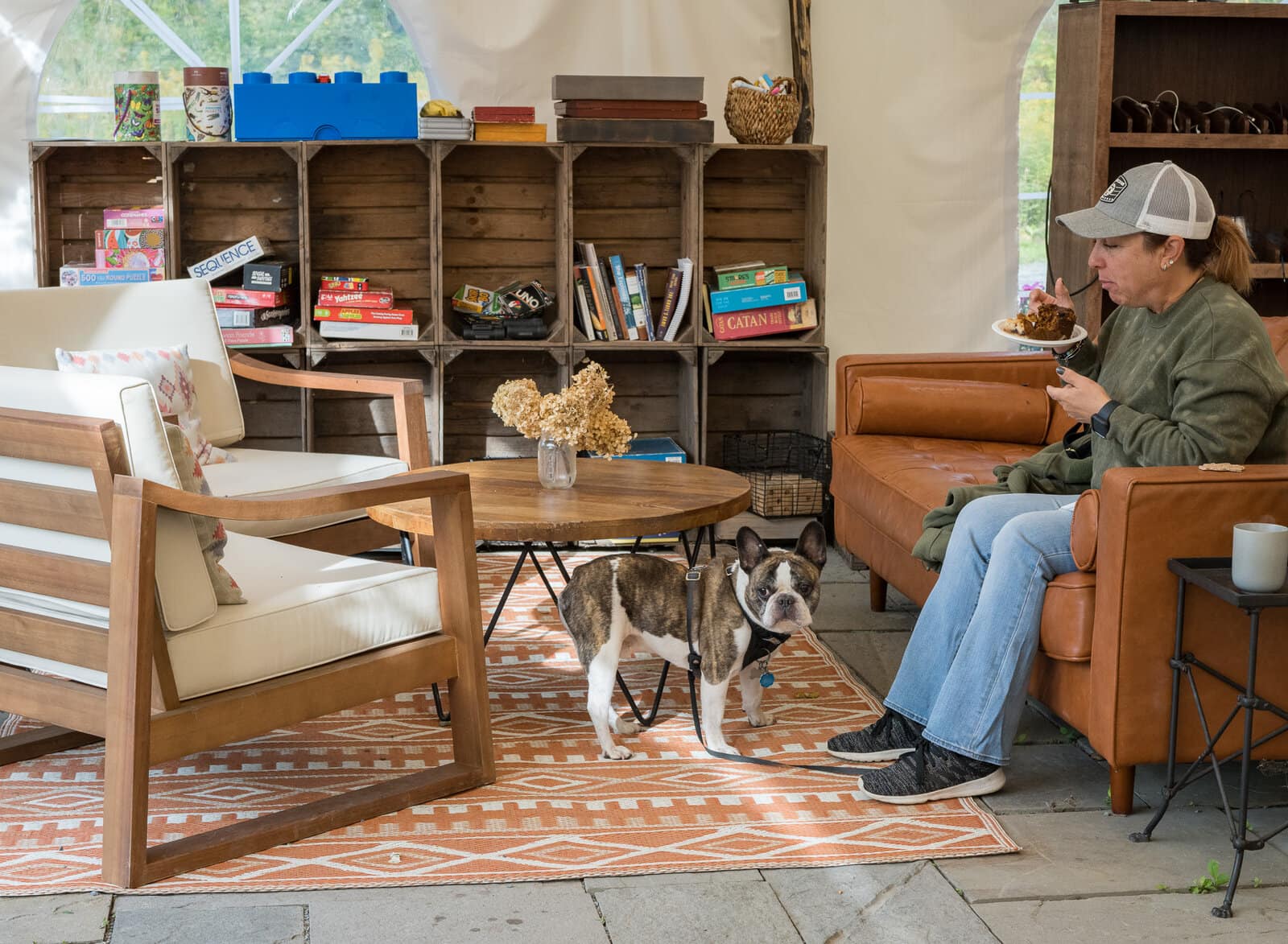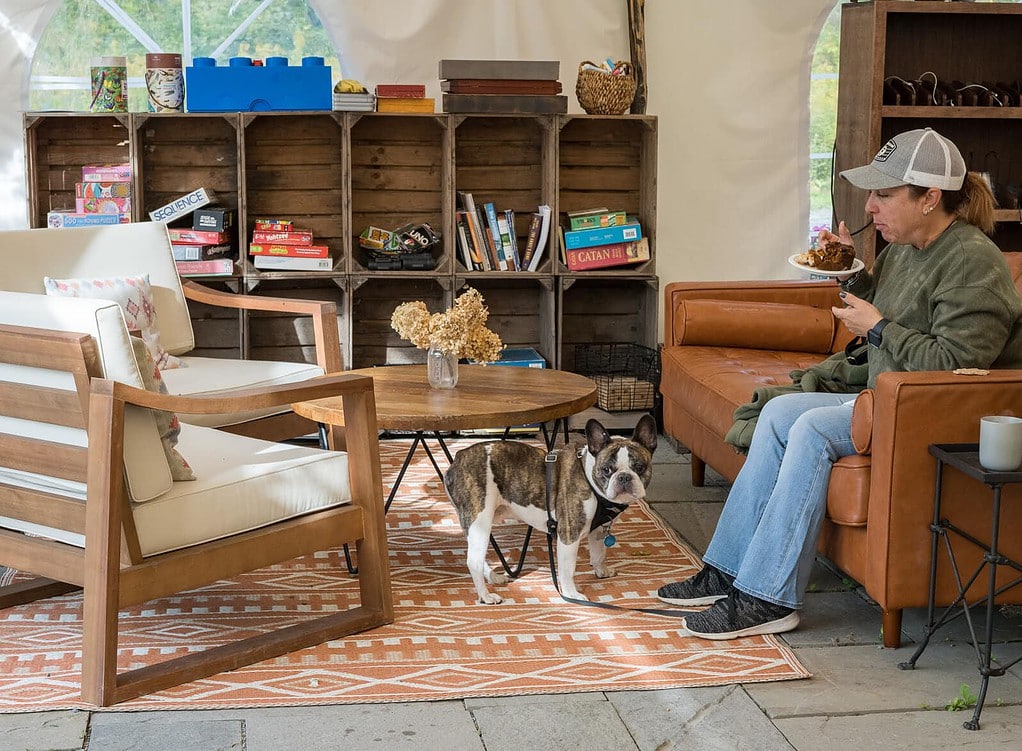 The experience begins with check-in at the main tent, where you also find a fully stocked bar (which remains open until 11 p.m.) and a tea and coffee station that seems to be available 24/7. There's a lounge area with lots of board games and more play areas with cornhole games and a bocce court set outside.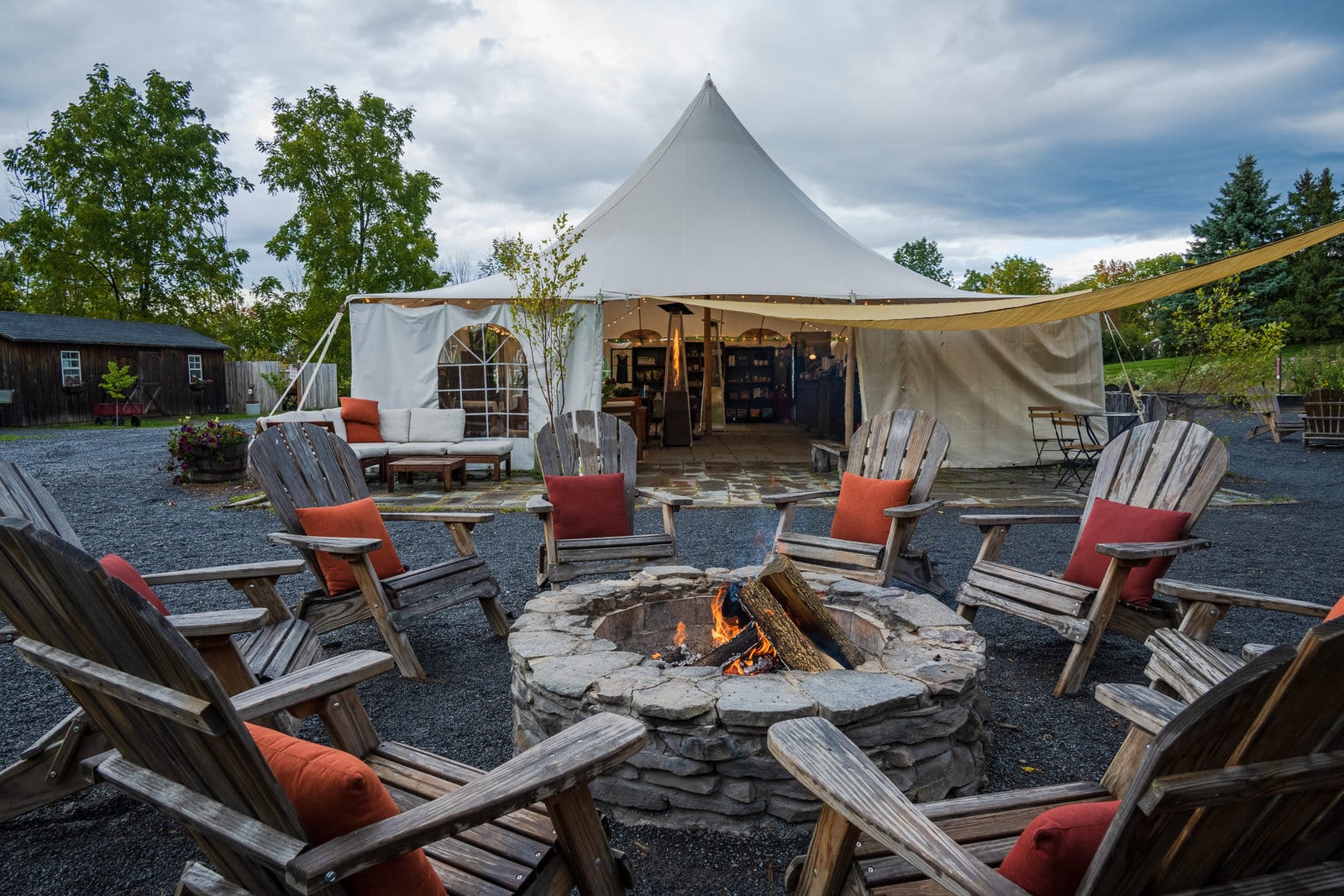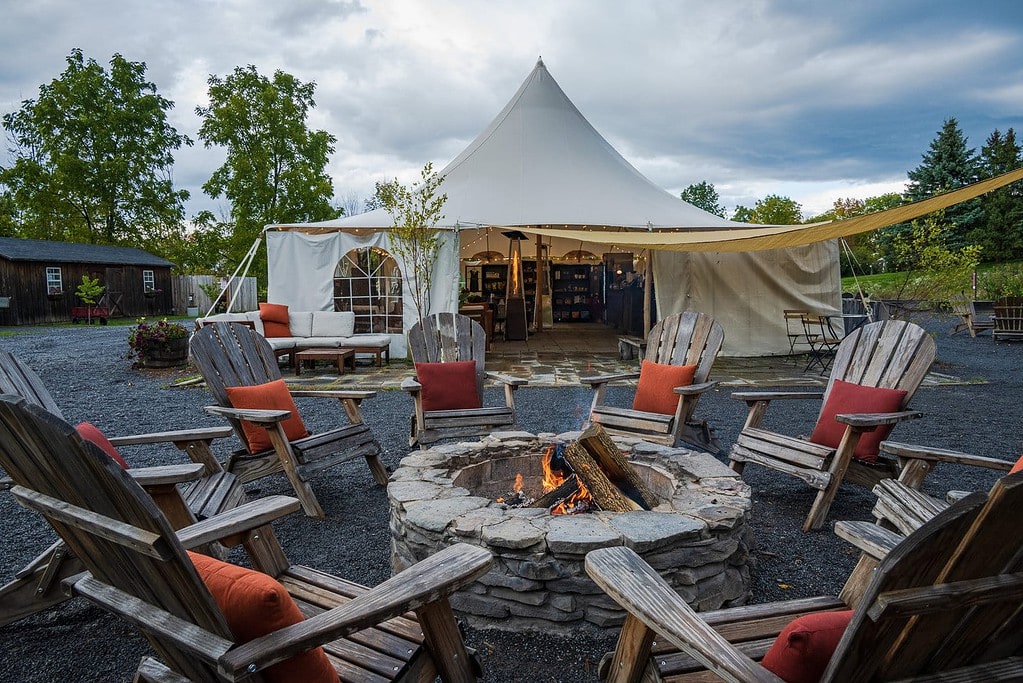 At check-in in you receive a token for one free s'mores kit that you can use at the communal campfire that goes on all night, or take it to one of the more private fire pits.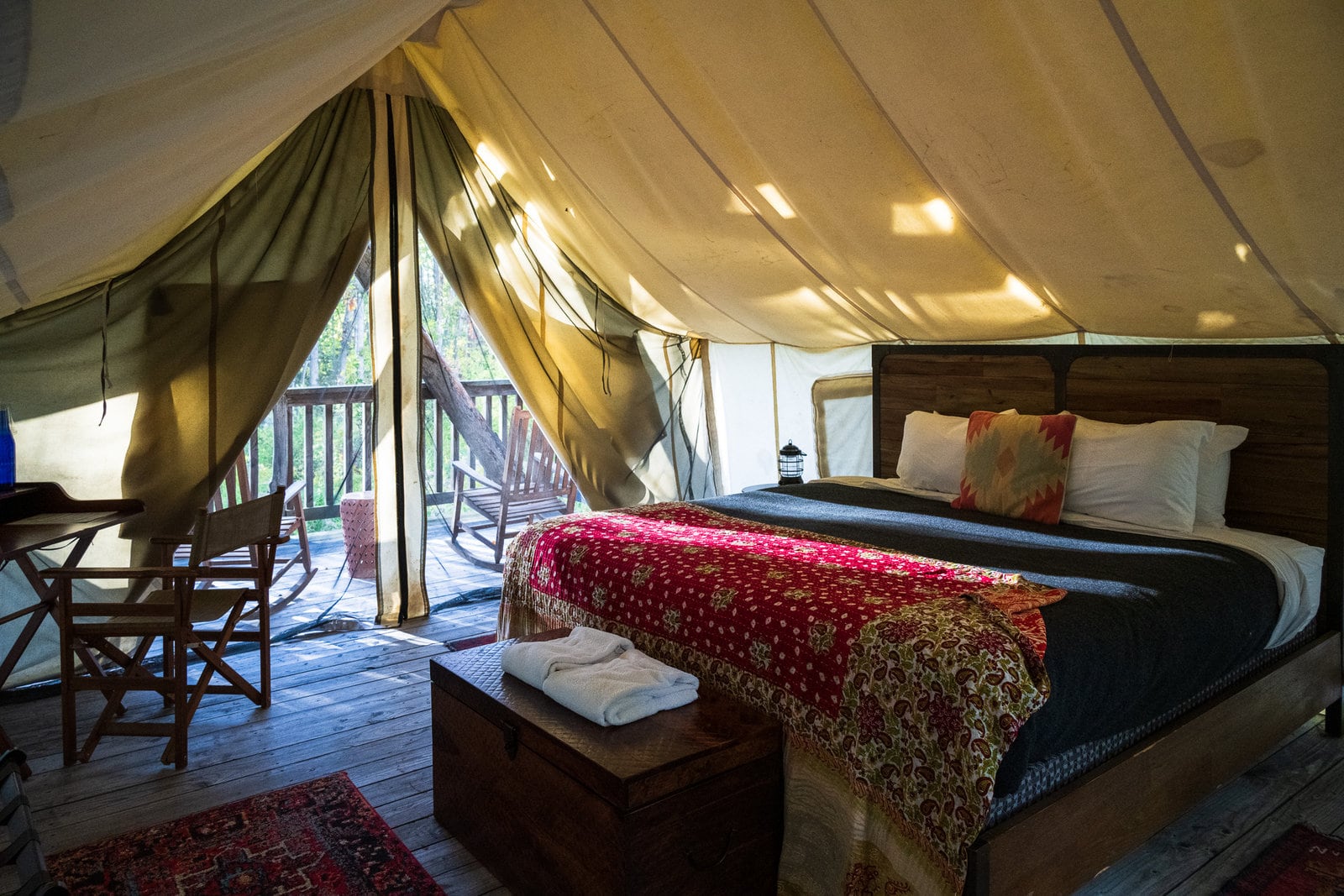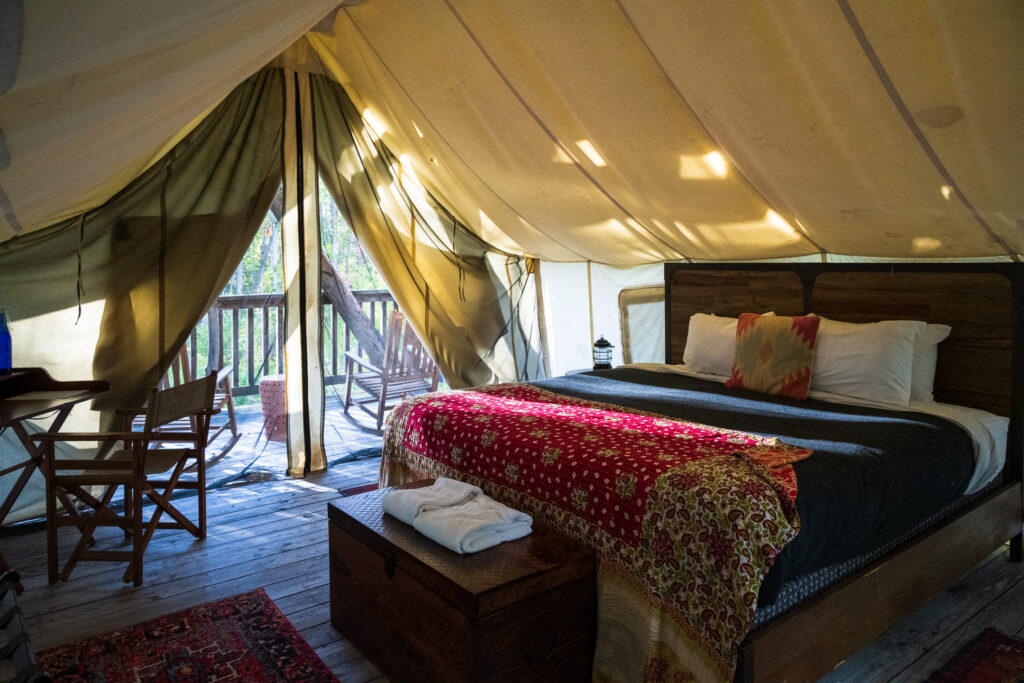 As for the camping tents, they are a far cry from our usual backpacking kits. These are heavy-cloth permanent setups with a hardwood floor, plush bedding, safari desk, velvet seat, and rocking chairs on a private porch.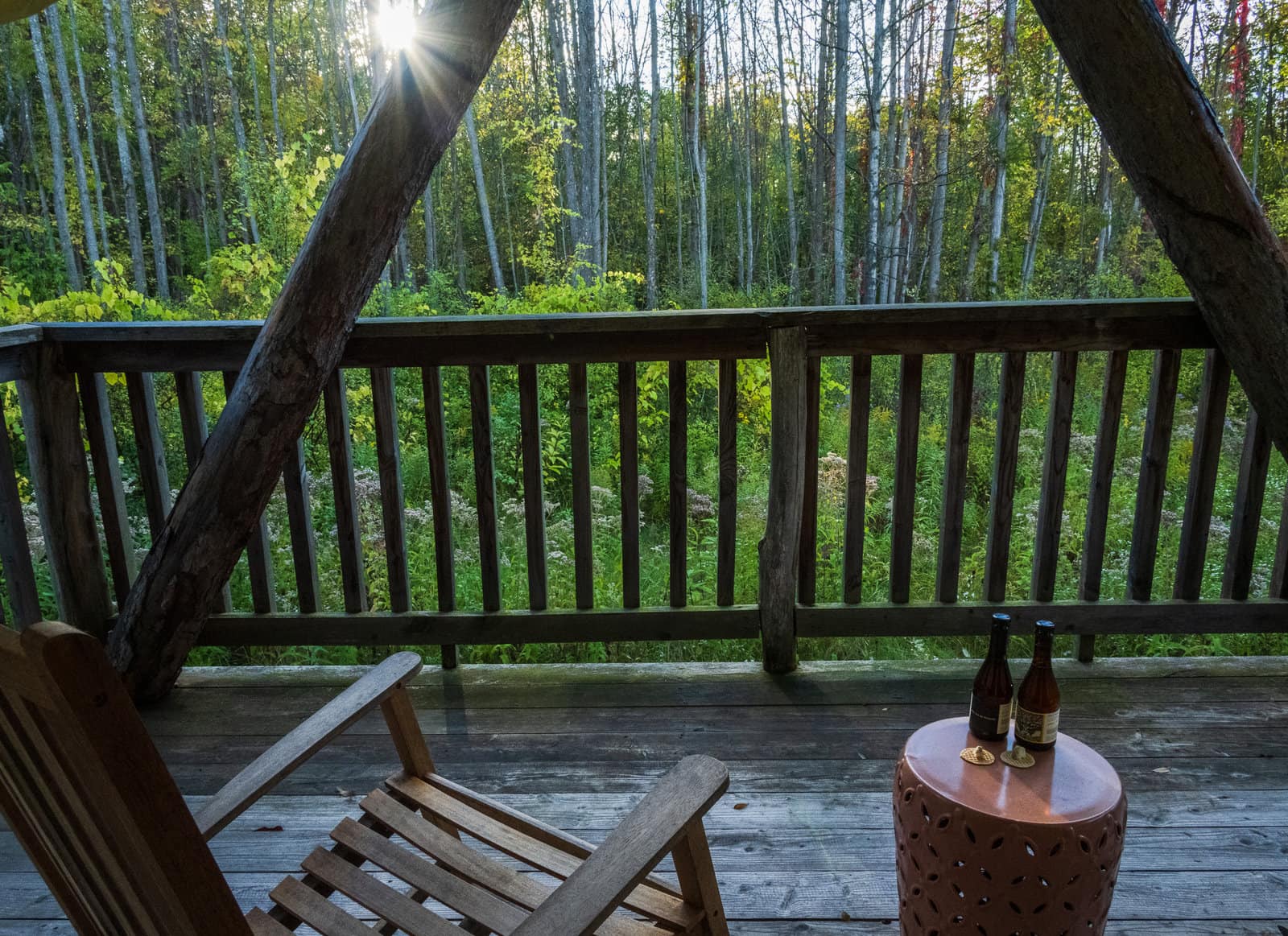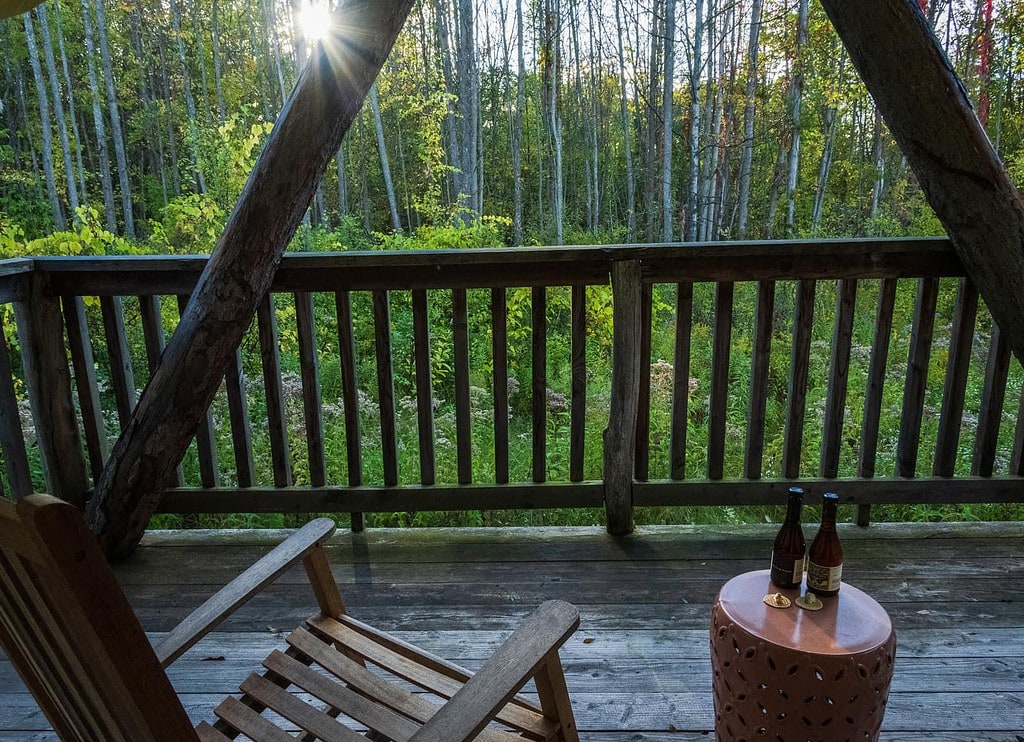 Lanterns are provided at the bedside, but when those lights go out, it's pitch black and so very peaceful. This may well be the most restful slumber you'll ever encounter.
More Hotels On Cayuga Lake
Firelight Camps is located next door to the 3-star hotel La Tourelle where you can also find the high-end August Moon Spa reviewed in our Ithaca NY blog post.
For shoreline accommodations, see the very luxe Inns of Aurora or the newly renovated farmhouse and lakeside cottages at Cayuga Shoreline.
And for even more options nearby, check our Ithaca and Seneca Falls travel guides (links at end of the post.)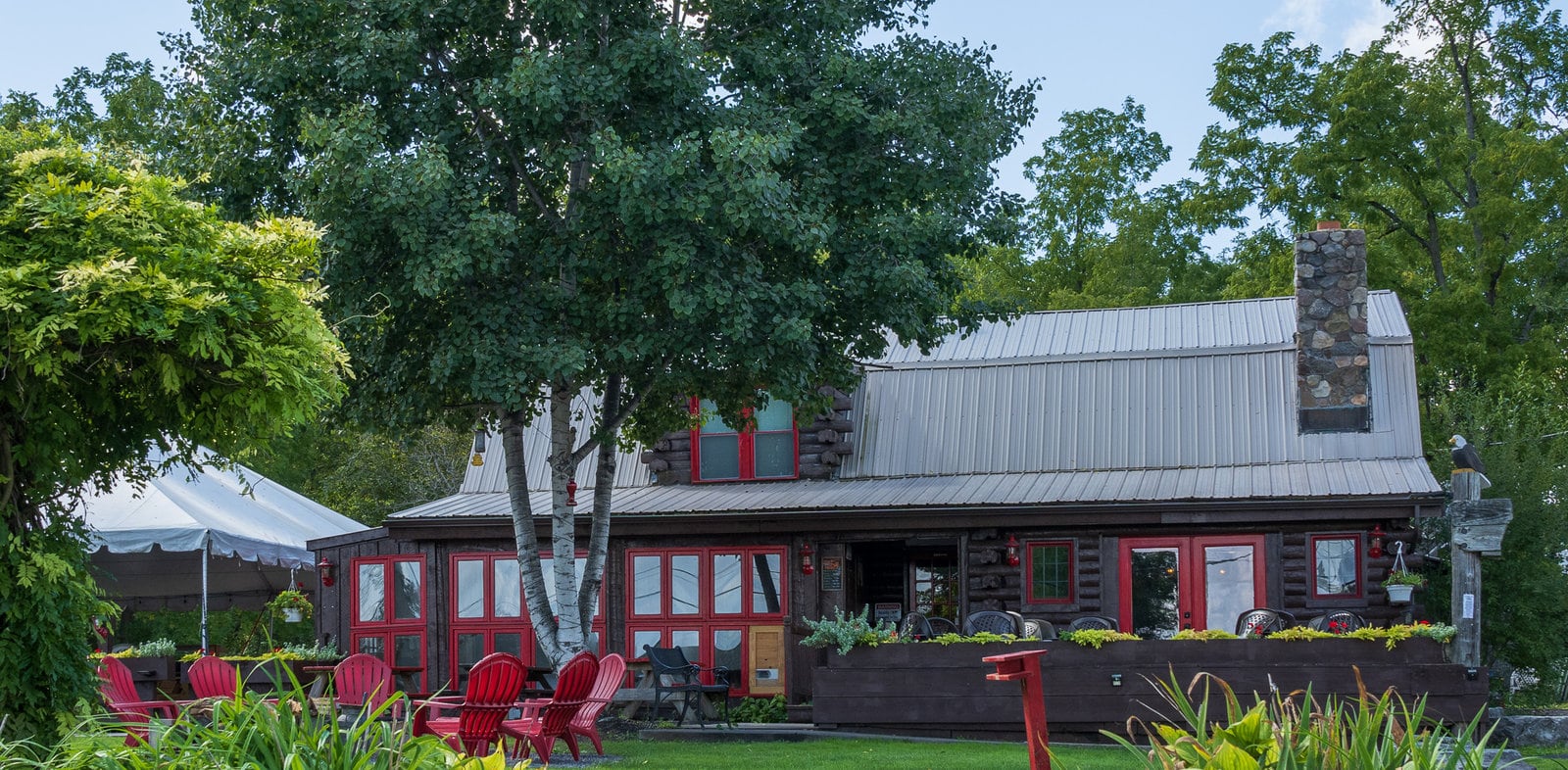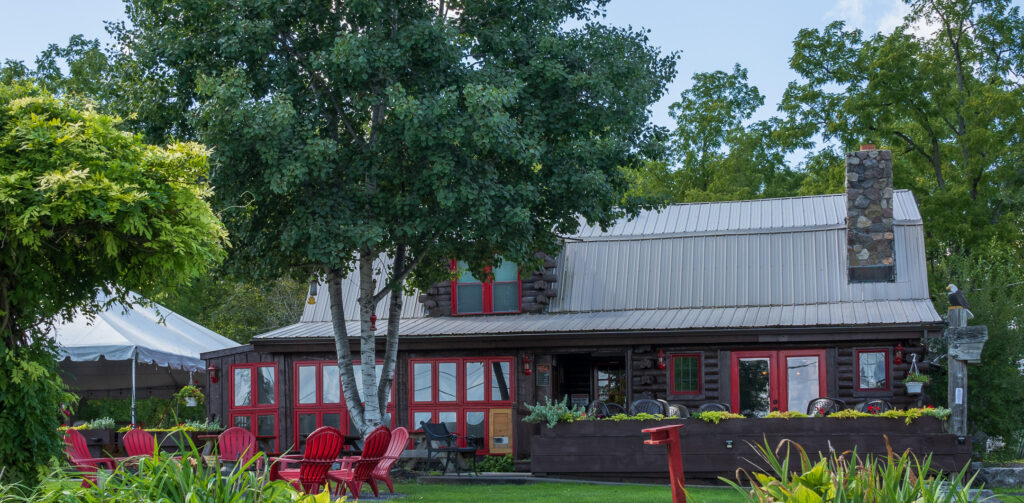 Cayuga Lake Restaurants
Both Seneca Falls and Ithaca boast a number of fine dining establishments, most only a few minutes from the Cayuga Lake shoreline. However, on a recent getaway, we set out to find restaurants on Cayuga Lake.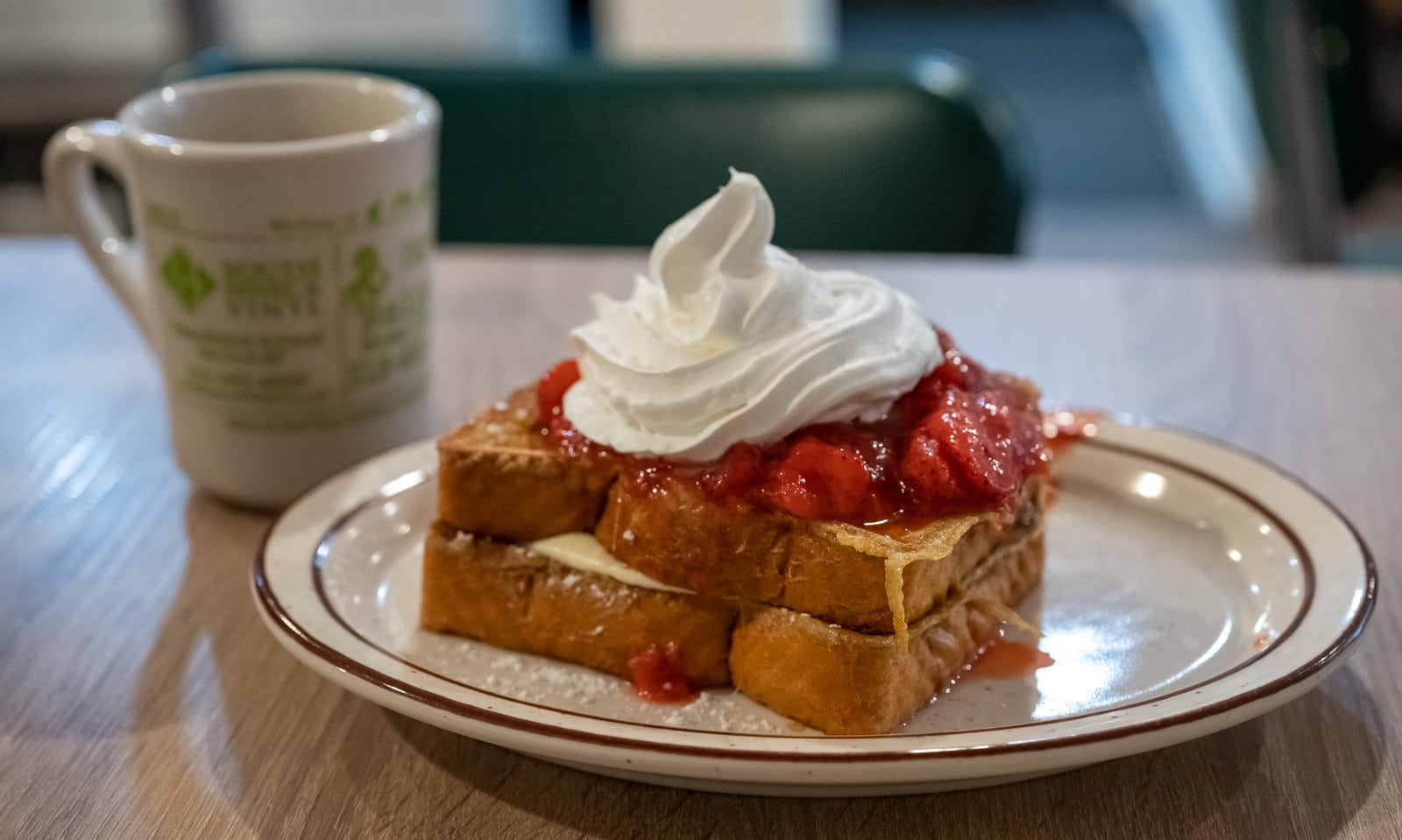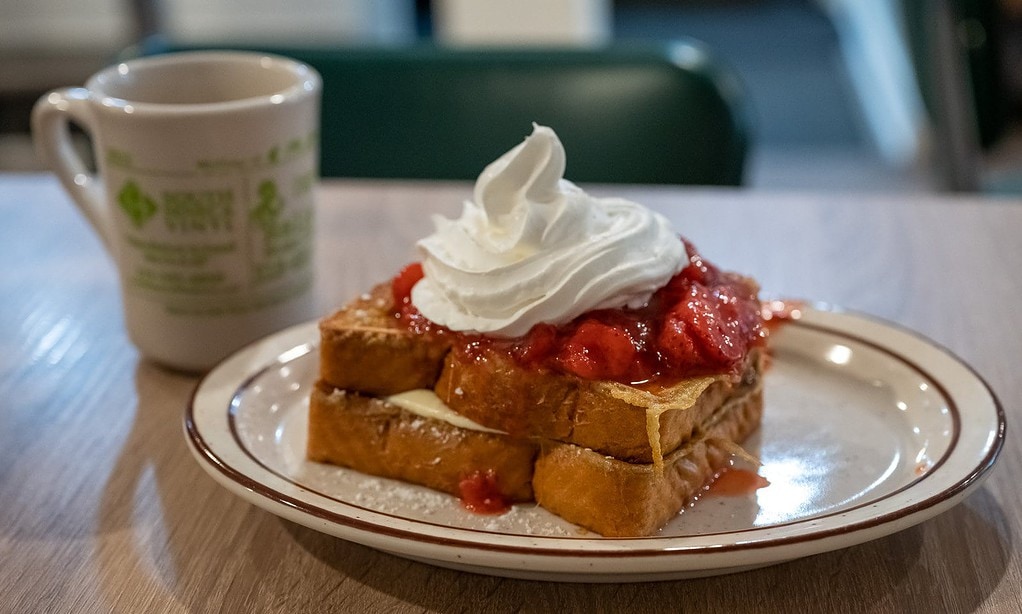 First, we stopped at The Green Apple in Waterloo NY, the "Finger Lakes Gateway" historic village in Seneca County. I had hoped to sample the Grape Pie that the Finger Lakes Region is known for, but they were all out. Instead, because they serve breakfast all day, I opted for the Stuffed French Toast, and I have no regrets.
Heading south, we dropped by O'Malley's Cabin On The Lake. The exterior was charming and their view of the lake was unparalleled, but the burger joint seems to be more of a weekend venue. They were closed at the time, and it turns out they are only open Thursday-Monday.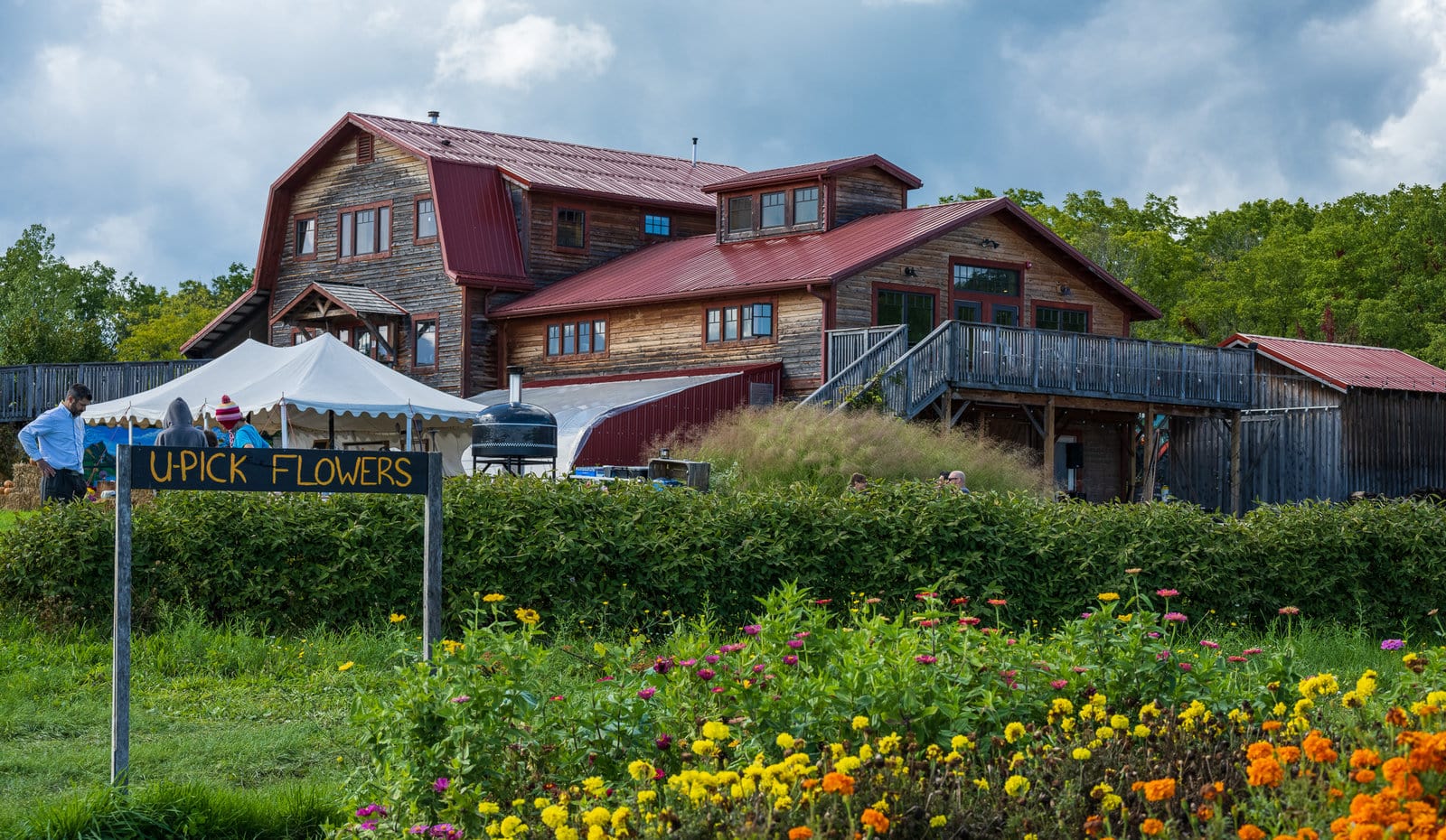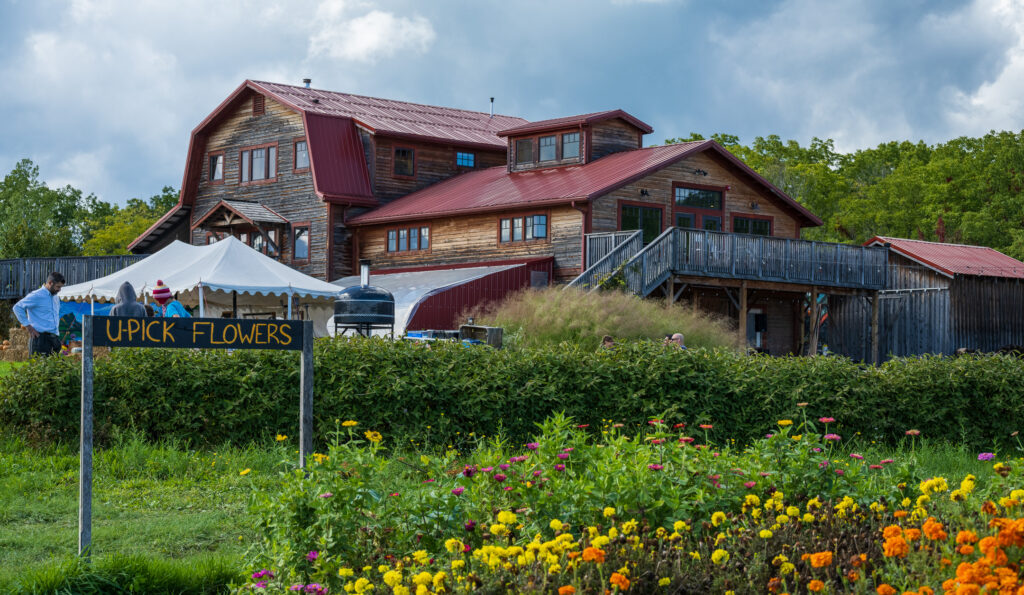 One more stop on the western side of Cayuga Lake turned out to be more than we had hoped for as the Finger Lakes Cider House at Good Life Farm in Interlaken NY served elevated pub fare and a whole lot more.
Their award-winning ciders are delicious (we carried home a couple of the mini bottles and later wished that we had opted for the six-pack.) They offer a well-stocked convenience shop for all the cheese and crackers a romantic picnic requires, as well as U-Pick strawberry and flower fields to elevate your game to the stratosphere.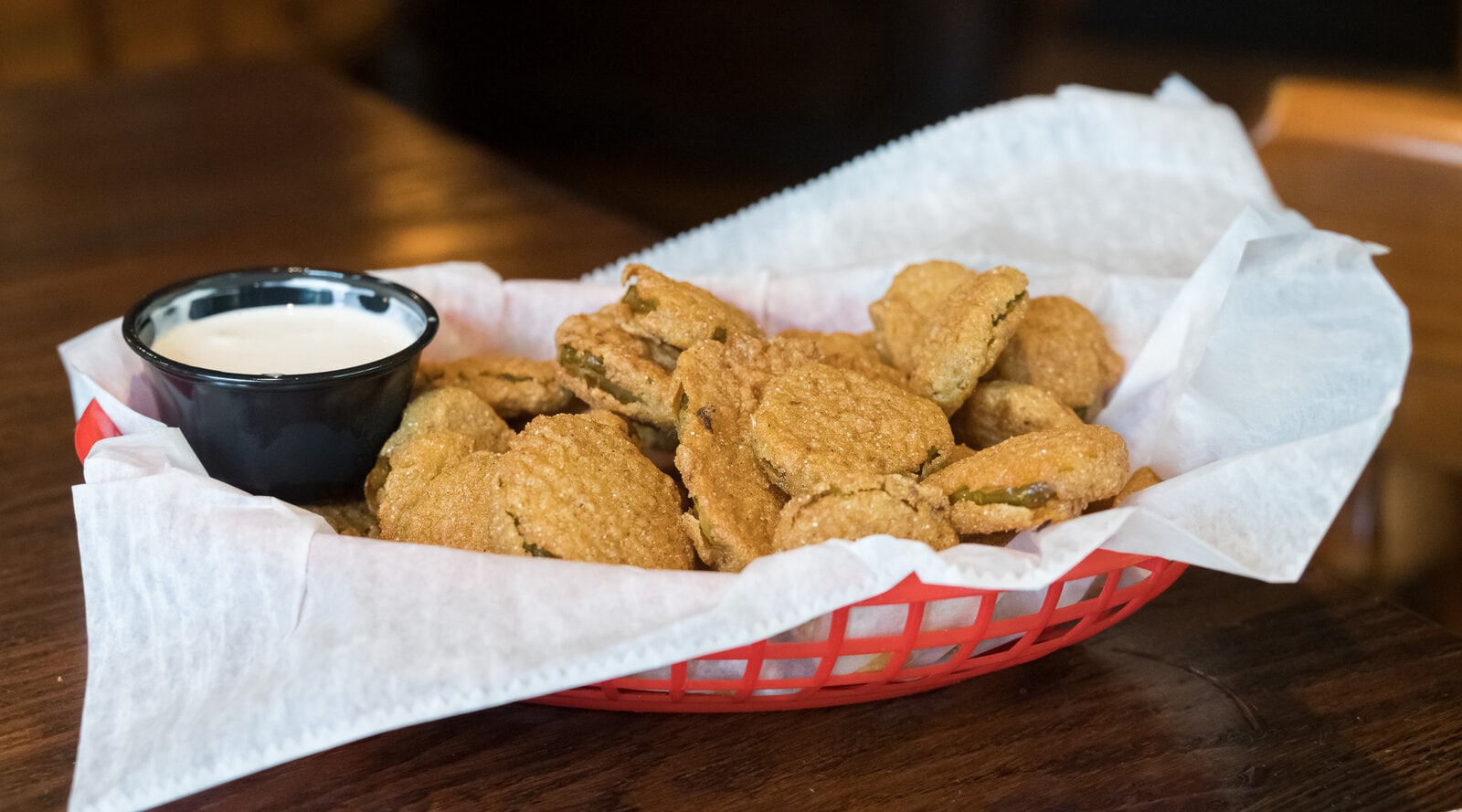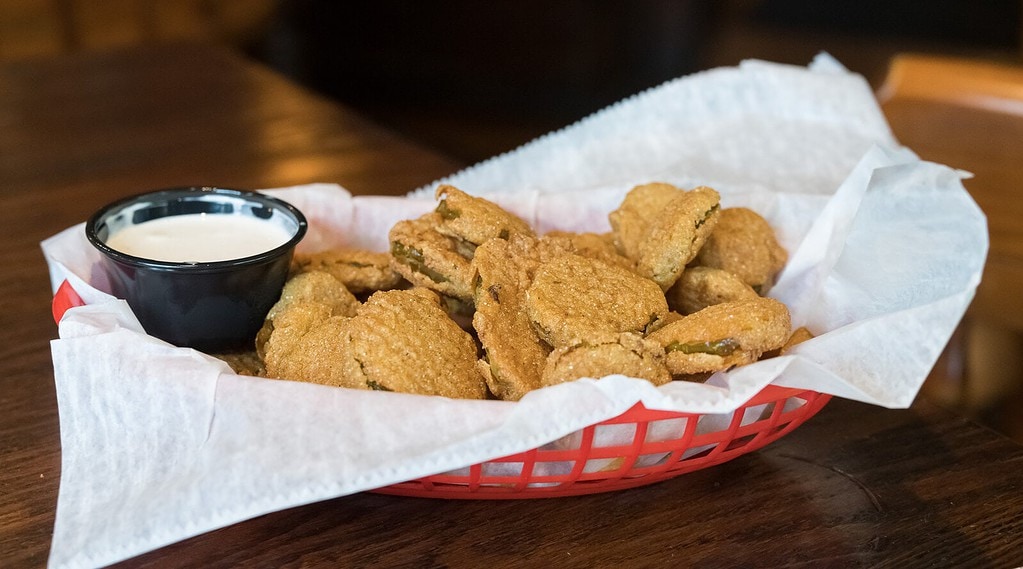 Finally, the Fargo Bar & Grill in Aurora NY might not have a view of the lake from the restaurant tables, but you can see it from the entry porch. That counts, right?
Plus, they make up for the lack of view with a cozy tavern where you can spend hours playing pool or throwing darts. We loved the Fried Pickles, hearty salads, and hefty sandwiches. Paired with local brews, of course.
More Romantic Getaways In The Finger Lakes Region