WHY GO: A world center for Marine Biomedical and Environmental Science, Woods Hole MA draws island hoppers and brainy scientists to its almost-too-perfect-to-be-true fishing village environs.
Research offices, labs and ships sprawl throughout this tiny section of Falmouth – the southwestern corner of Cape Cod – and the best part about it is that some are open to the public.
Though it takes some untangling (review sites don't help), the Getaway Mavens guide you to the assorted scientific wonders of Woods Hole.
What should you expect at the private Marine Biology Laboratory (MBL) and Woods Hole Oceanographic Institution (WHOI)? The government run National Marine Fisheries Service (NOAA) is located here as well. When and how do you access them?
Woods Hole is the jumping off point for Martha's Vineyard. The Steamship Authority loads cars and island-bound visitors from here.  Great restaurants and inns round out a budget-friendly educational escape to this ersatz MIT By the Sea.
What to Do in Woods Hole MA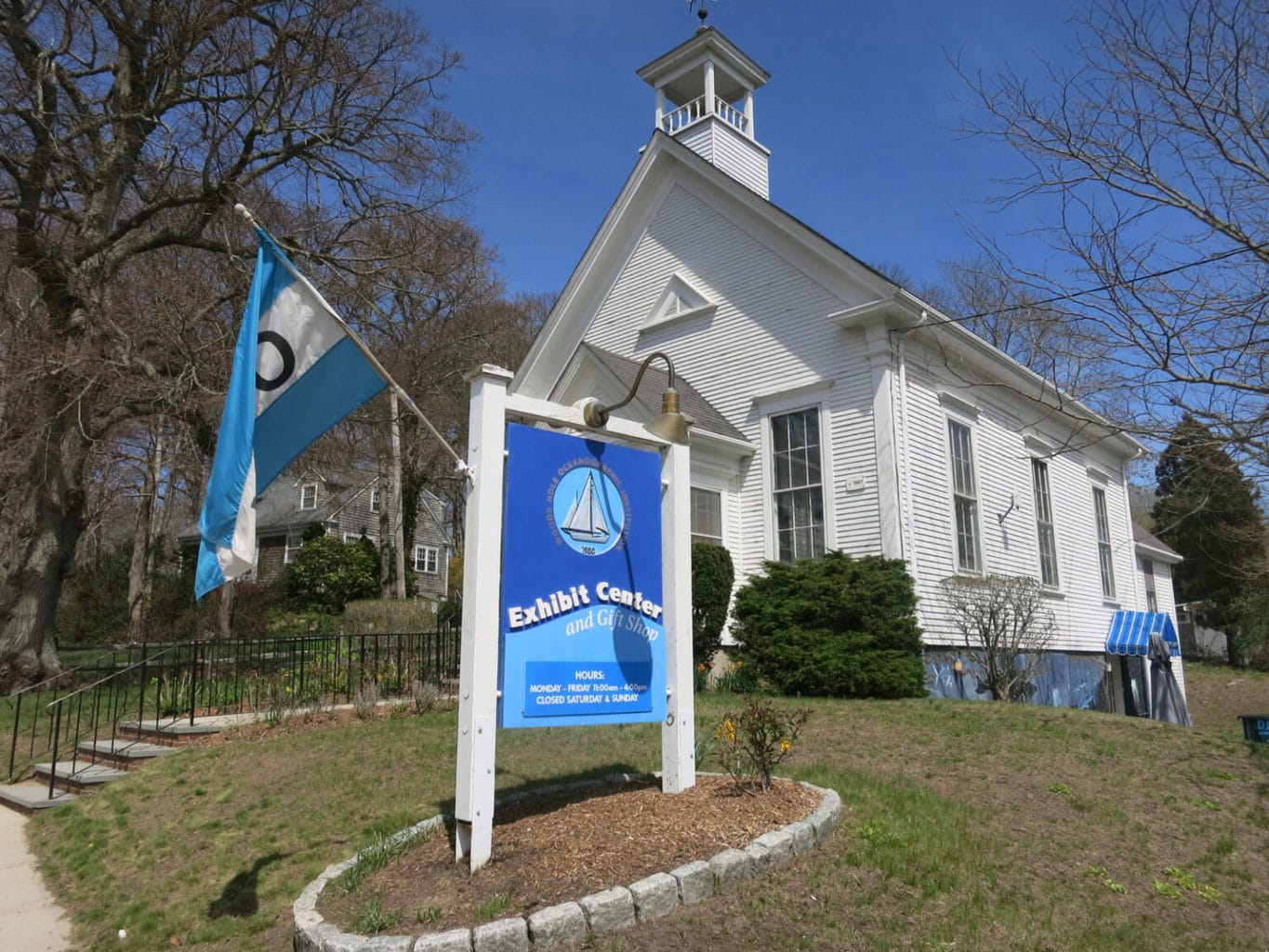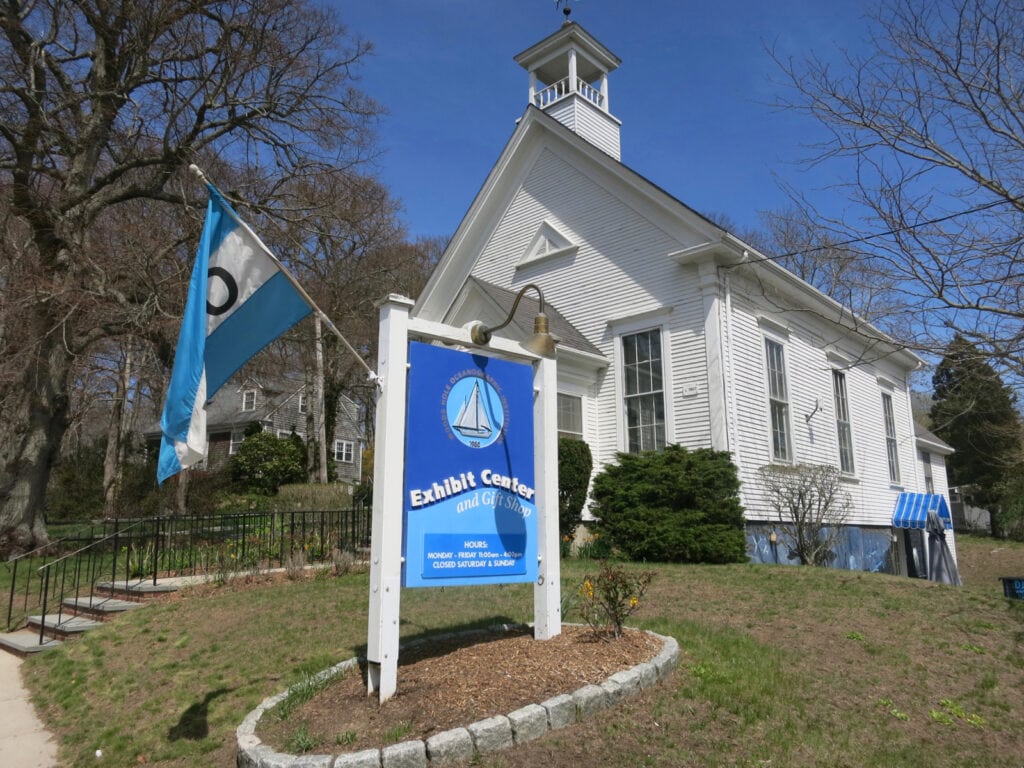 This former New England Church is packed with fascinating interactive displays. Start with the 7-minute video about the deep ocean floor, luminous creatures, hydrothermal vents – "the most extreme environment on our planet" at 400 degrees Celsius (752 Fahrenheit) – poisonous fluids, and a diversity of new life forms to rival the tropical rainforest.
Humans got their first look at these ocean-floor vents via the research submersible, Alvin. Thanks to advances in submersible technologies, researchers found robust chemical-based sea life swarming 8,000 feet beneath the ocean surface.
These discoveries in the late 1970's were no small thing. They upended long held assumptions that all Earth-born life is created and sustained by the sun's energy.
This being a fun and highly interactive museum, visitors can sit in a crosscut prototype of Alvin. And there's plenty more to do with other hands-on exhibits.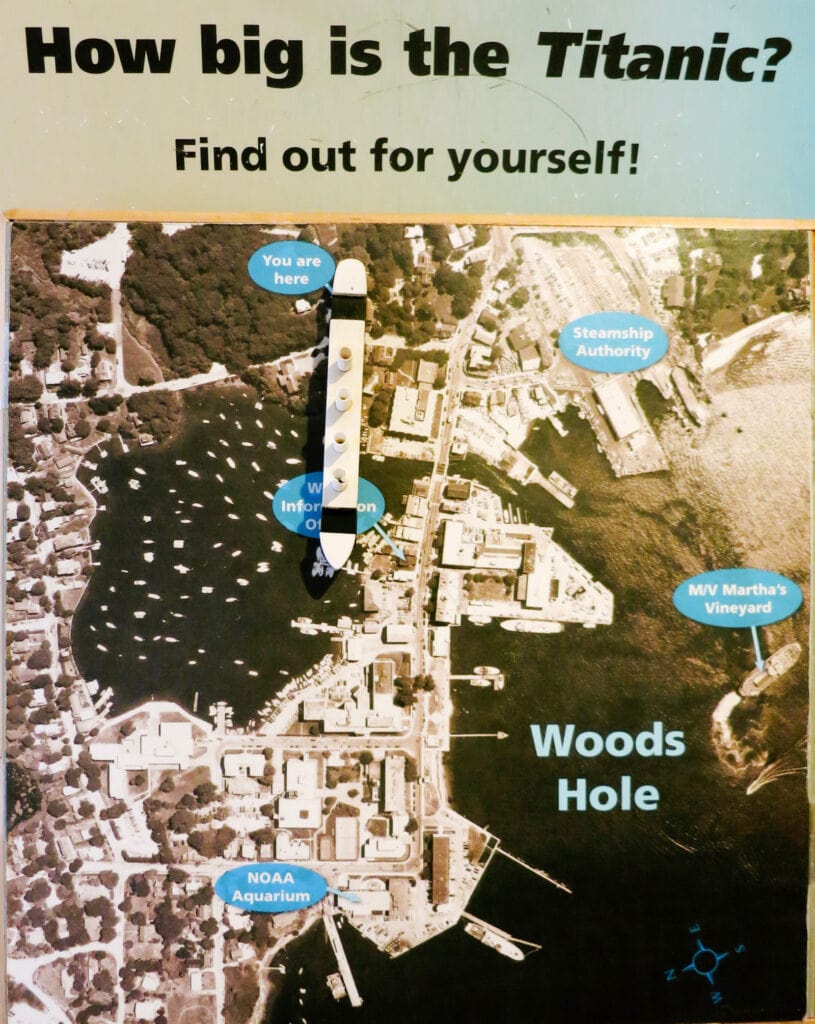 Program the Magic Planet Digital Video Globe that displays wind patterns and storms all over the world. Manipulate a scale model of the Titanic around an aerial photograph of Woods Hole to get an idea of its respective size.
And just get a load of what the fiberglass cast of a Right Whale's tail, mounted high up on the main floor wall, is used for!
Every so often, the tail serves an important roll in marine biology training. Scientists tie it to a rope extended off the back of a boat and practice lassoing and tagging these elusive ocean mammals. Open Mid-April – Memorial Day,  Mon-Fri. 10-4:30, Memorial Day – Oct. Mon-Fri. 10-4:30, Sat 11-4:30, Nov and Dec Tues-Fri. 11-4:30. Free.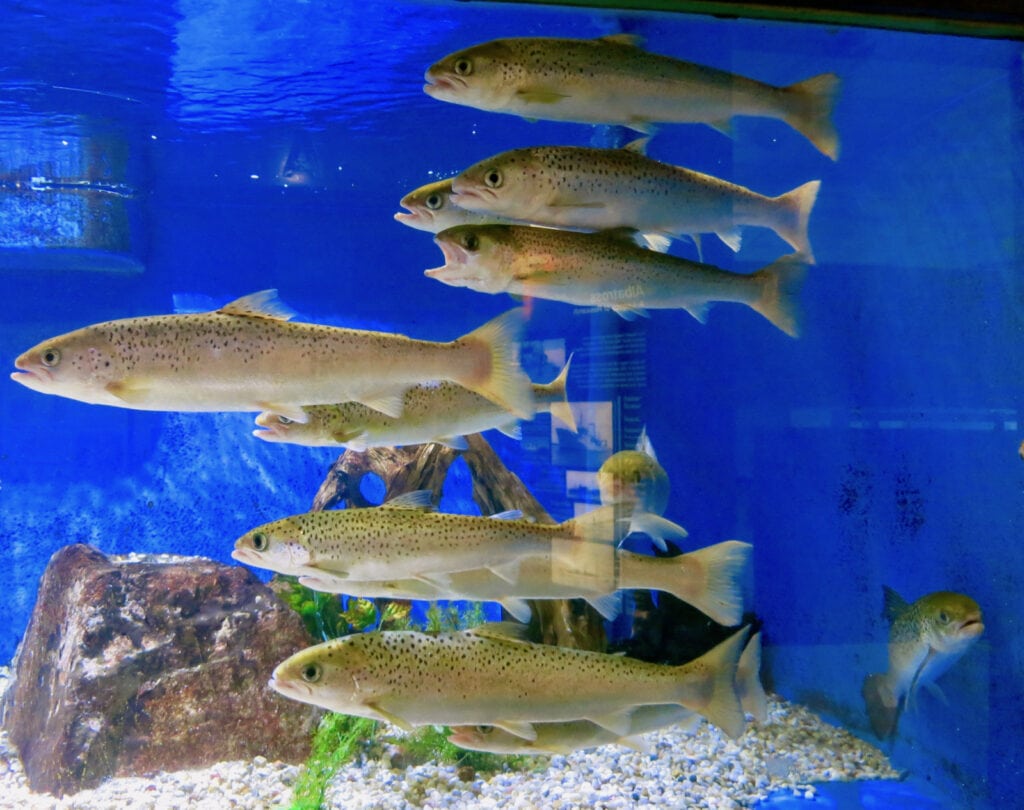 Marine veterinarians care for injured sea-life at WHSA. Hence, you'll see everything from seals to horseshoe crabs in various stages of rehabilitation, as well as schools of salmon, fish tanks and vats full of local crawly and swimmy things. Scientists monitor these creatures to study marine ecosystem health, aquaculture, habitat conservation, and biodiversity. Open year round Mon-Fri 11-4, free.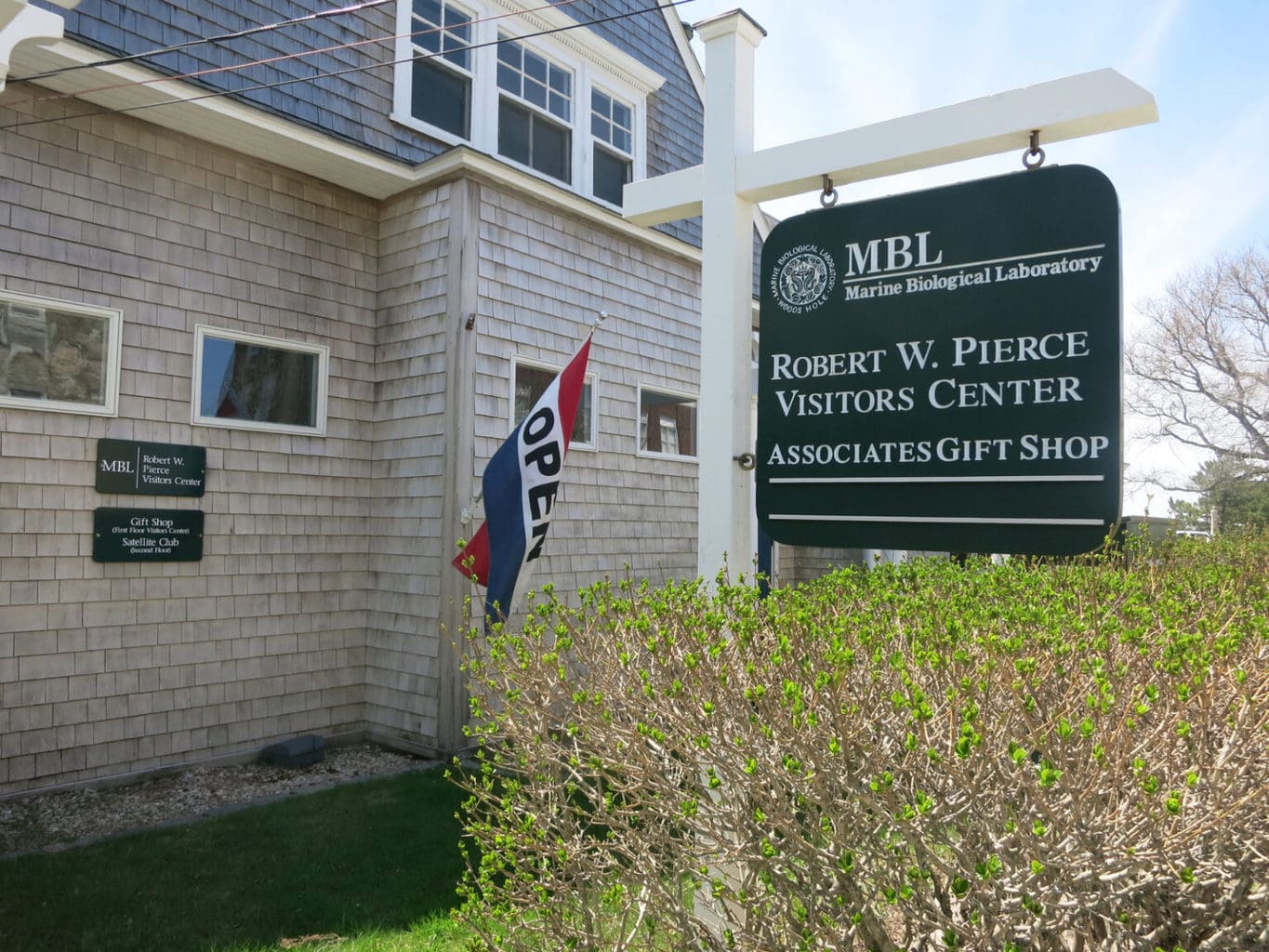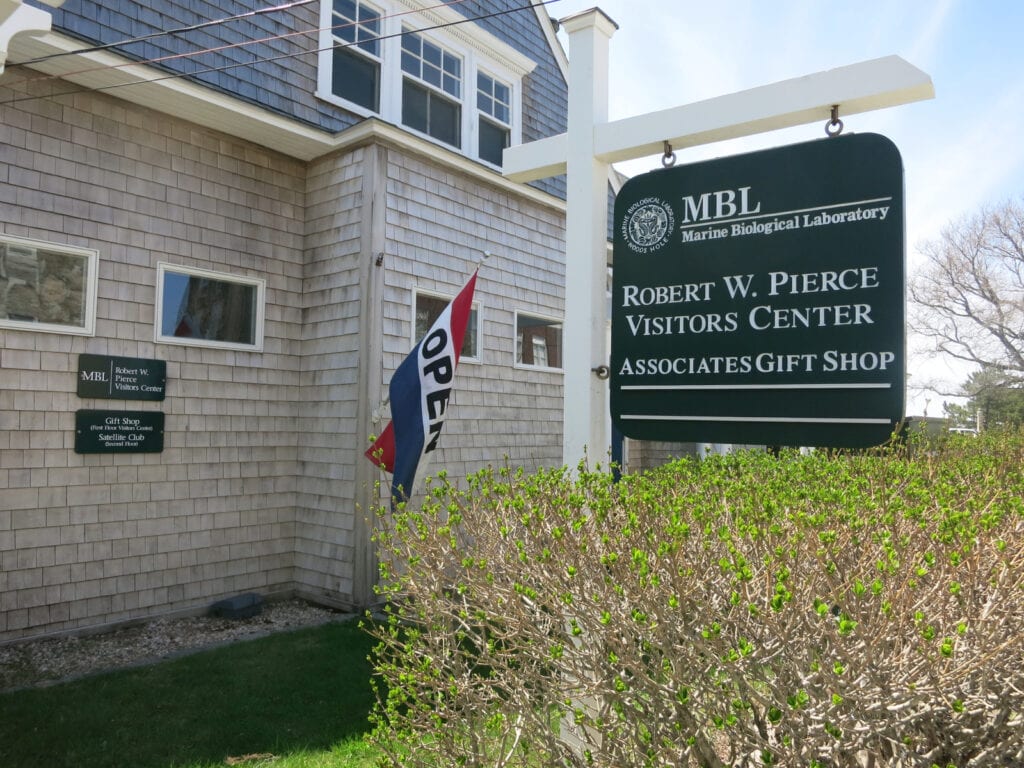 "Discovery never ends," according to a pullout quote on the wall of this small but engaging science center. Accordingly,  you're invited to don a white lab coat and spend time investigating dozens of shells, marine life skeletons and even computer chips though a high-powered microscope.
Touch a replica of a giant squid near its eyes and watch "nerves" fire. The novel light show imitates the way the squid vamooses from predators. Not scientifically inclined? Never mind. You can't help but learn a bit of marine biology here. May- Mid June Mon-Fri 11-4, Mid June-Aug Mon-Sat 10-5, Sept-mid-Oct Wed-Sat. 11-4, Guided tours in season.  Free.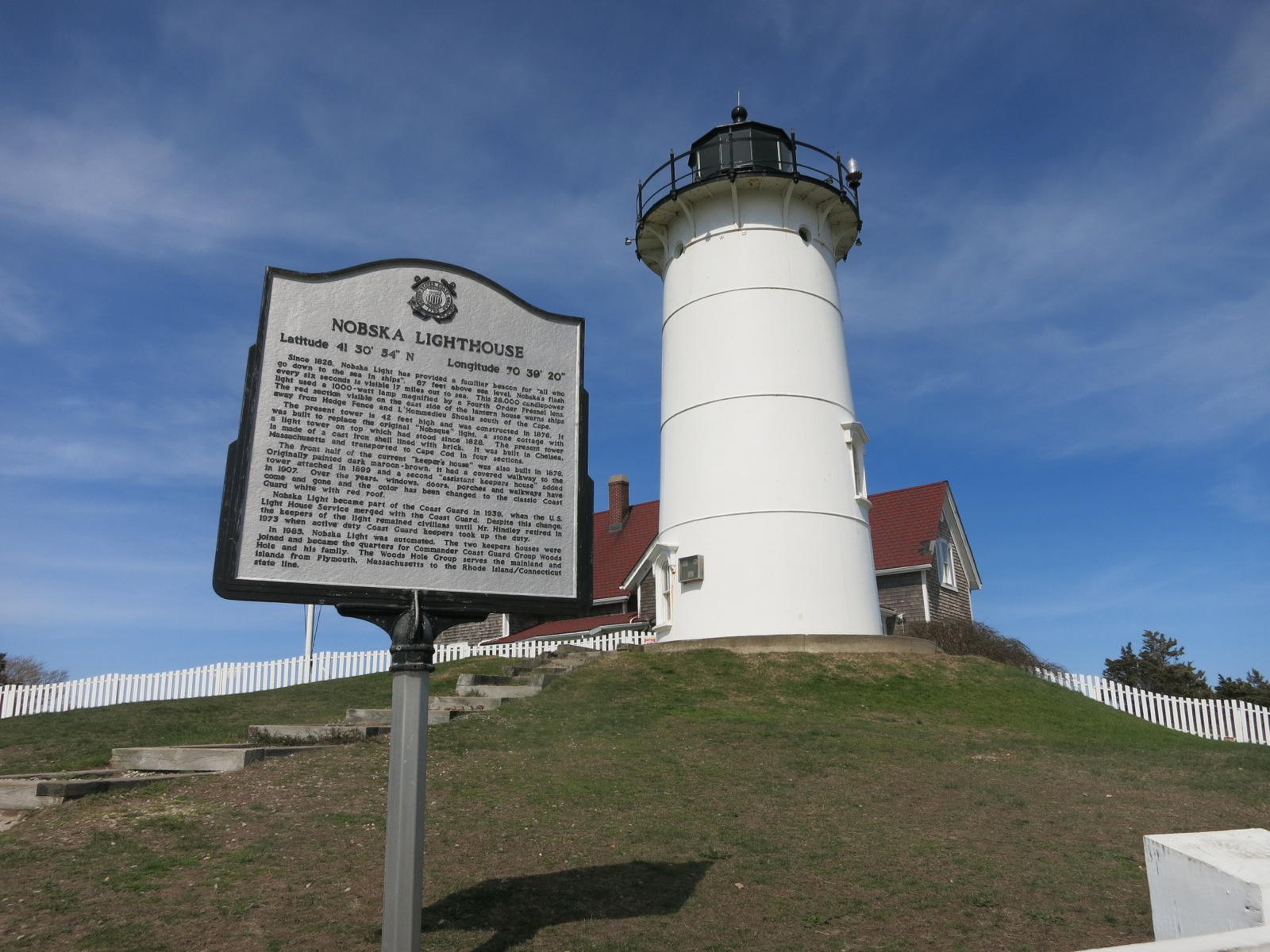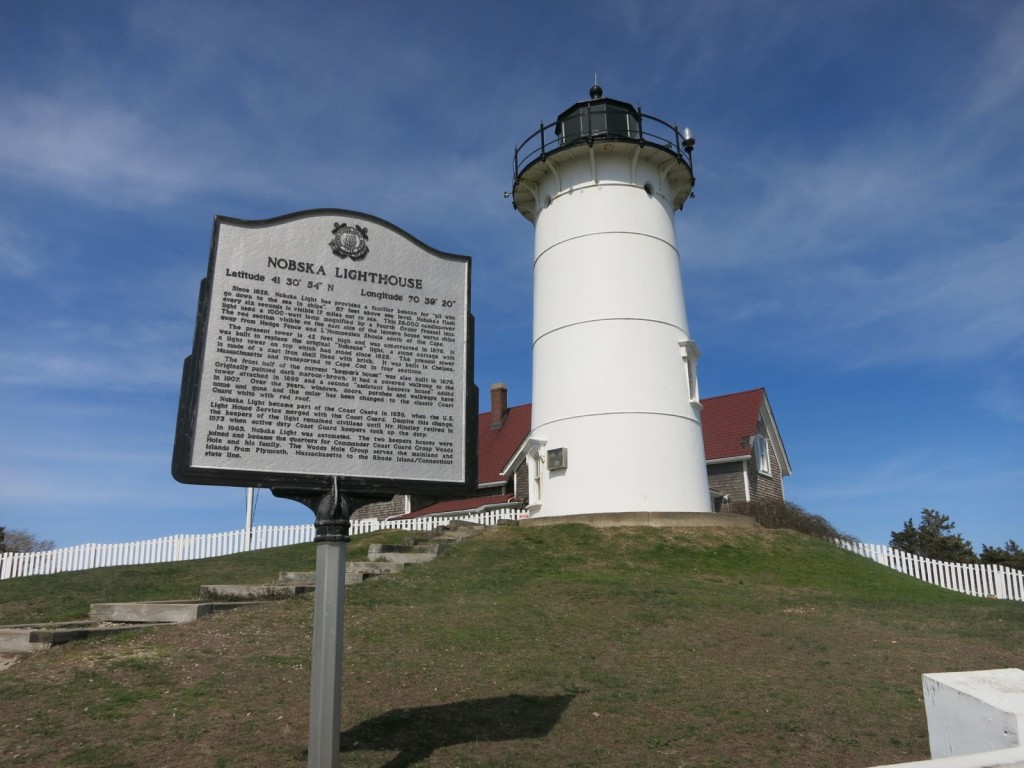 Built in 1878 at the end of Church St. (first right out of town), the Nobska Lighthouse was automated in 1985. It casts its shadow on water so aquamarine blue-green, you could mistake it for the Caribbean.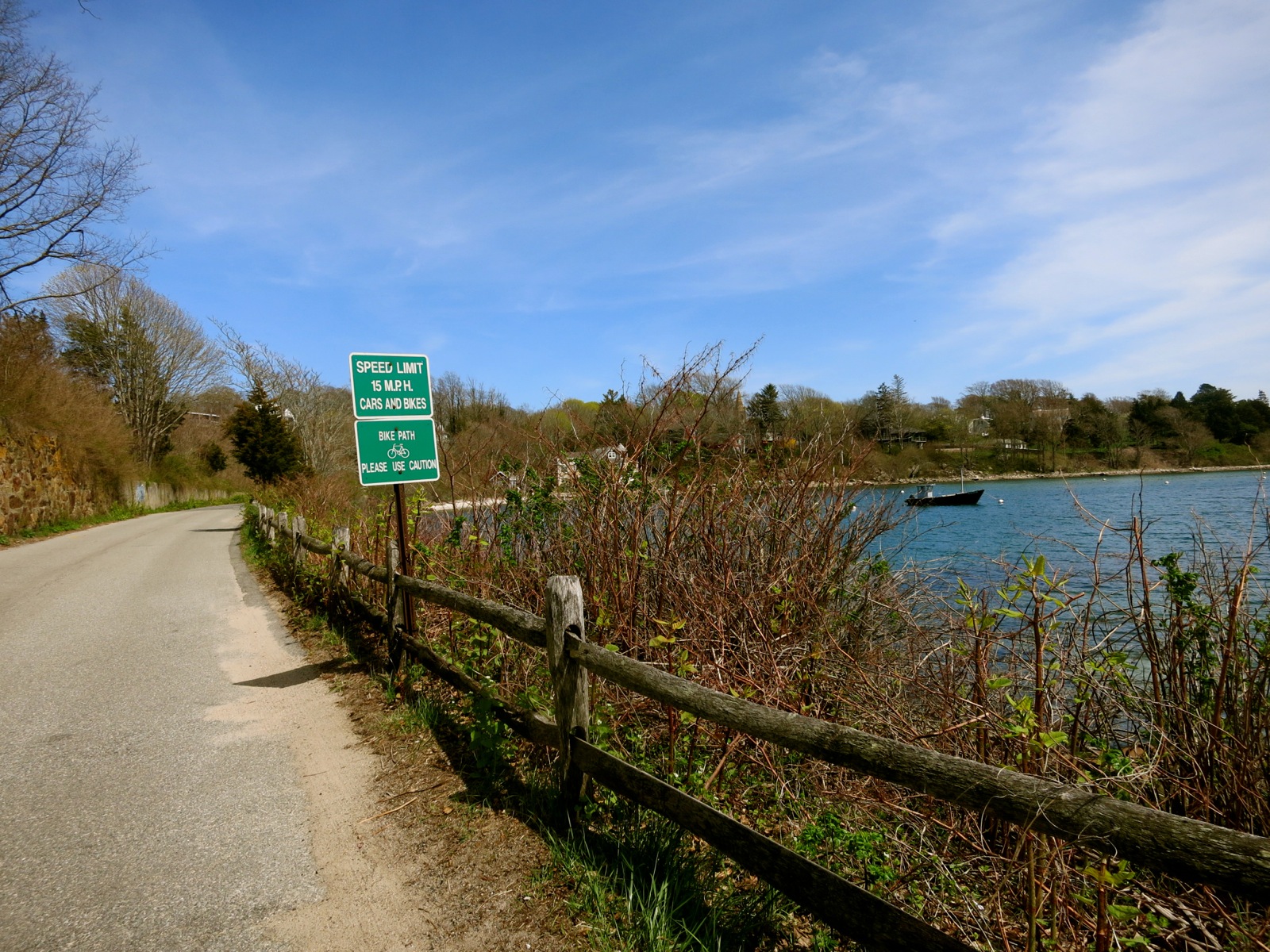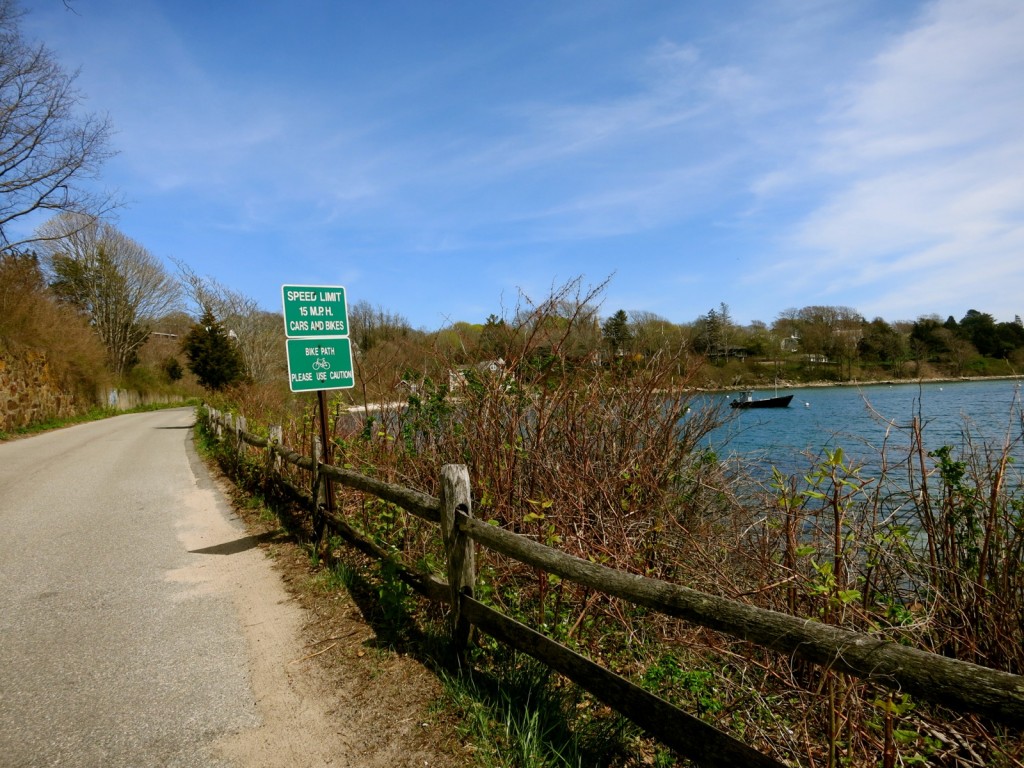 From the ferry parking lot, hop onto a paved path and ride 11 miles up the coastline to North Falmouth. On your way take in absolutely gorgeous and bountiful views of both Vineyard Sound and Buzzards Bay.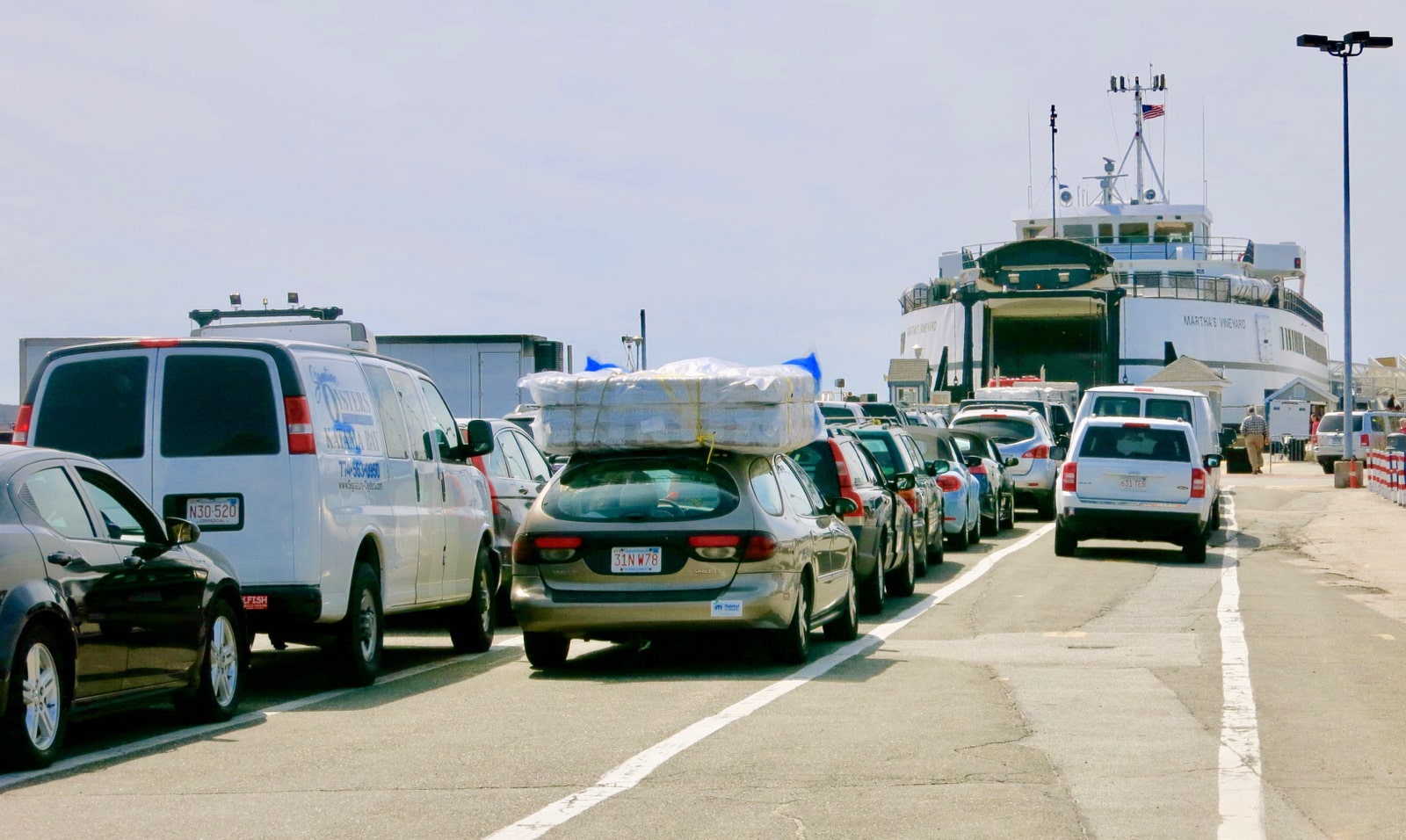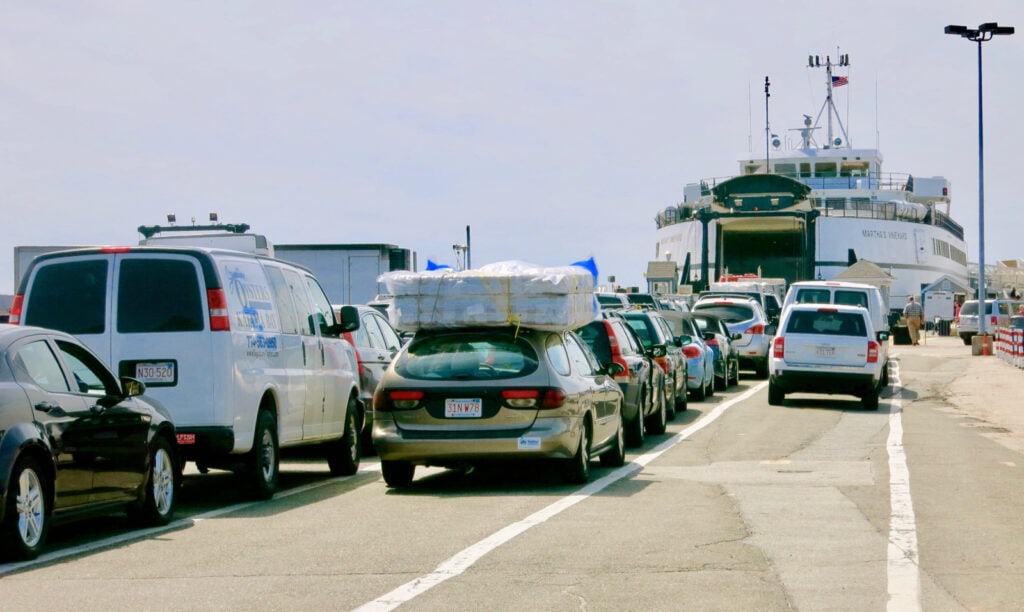 Spend the day on the island that celebs and presidents love – only 45 minutes away. $17 pp roundtrip. Add $8 per bike, $110-$200 for car round trip depending on season and day of week.
Restaurants in Woods Hole MA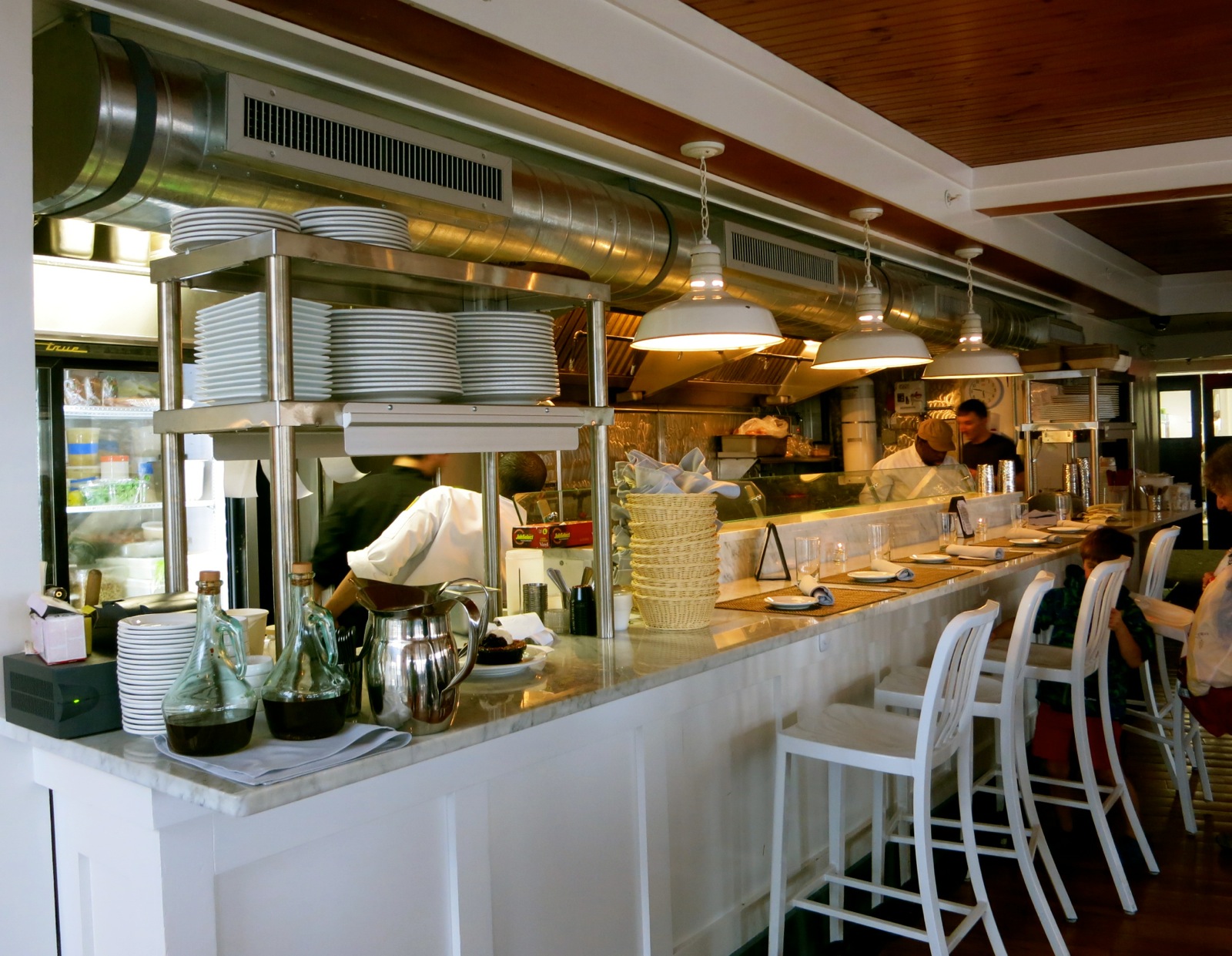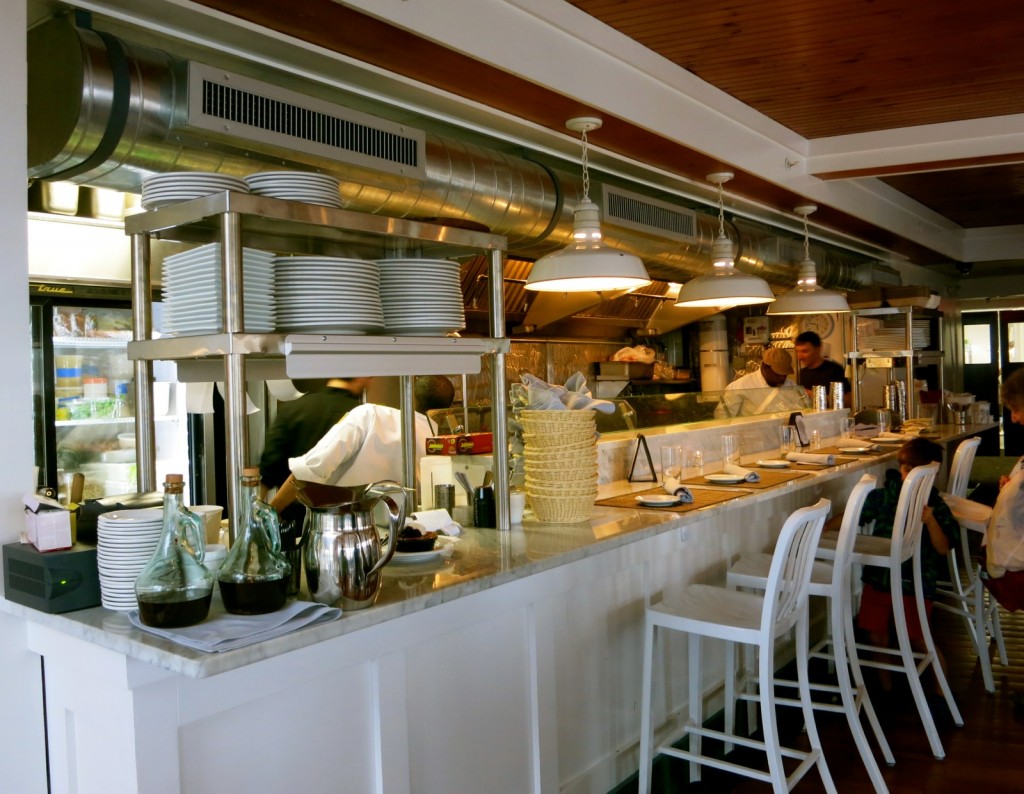 Not to be confused with the more casual Quicks Hole taco place next door, the Tavern hits high marks for foodies. The downstairs bar is clad in white. Upstairs dining features full on views of the Martha's Vineyard ferry and harbor.
With tweaked New England fare like Quinoa Succotash and Bone-In Sirloin with Lobster, Quicks Hole Tavern  is a tough RSVP to get in high season.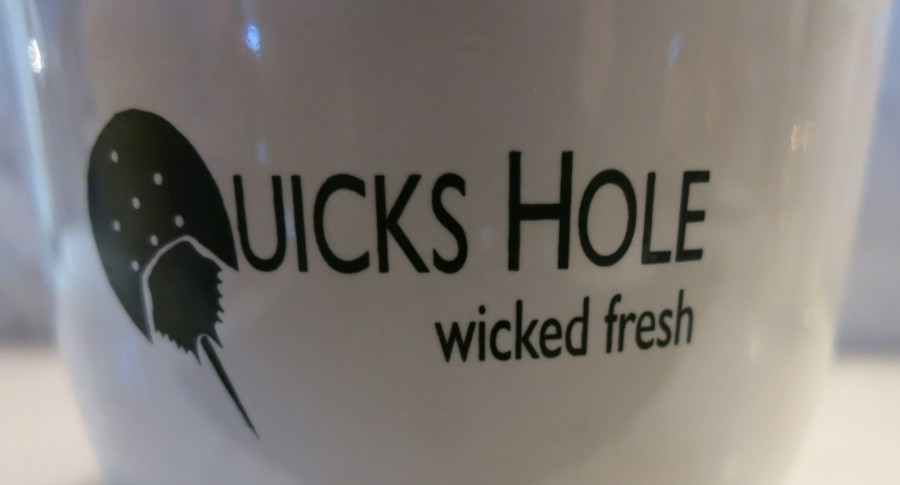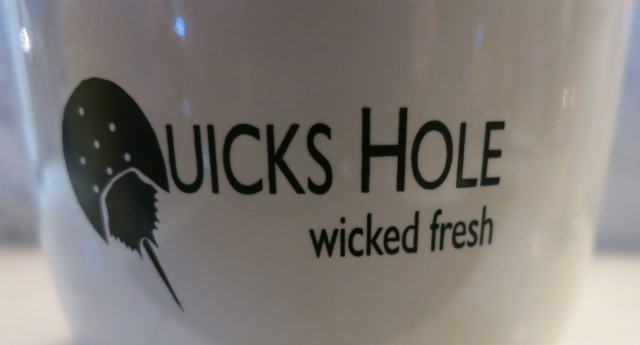 Cape-Cod meets Cali Cuisine. Quicks Hole Taqueria serves "Lobster Tacos" among other farm-and-sea-to-table dishes in a very casual, cheeseburger-in-paradise type space.
If you don't mind standing or taking your Lobster or Fish Tacos to the picnic tables out back, join the lines for these and other summer-casual fresh and quick foodstuffs.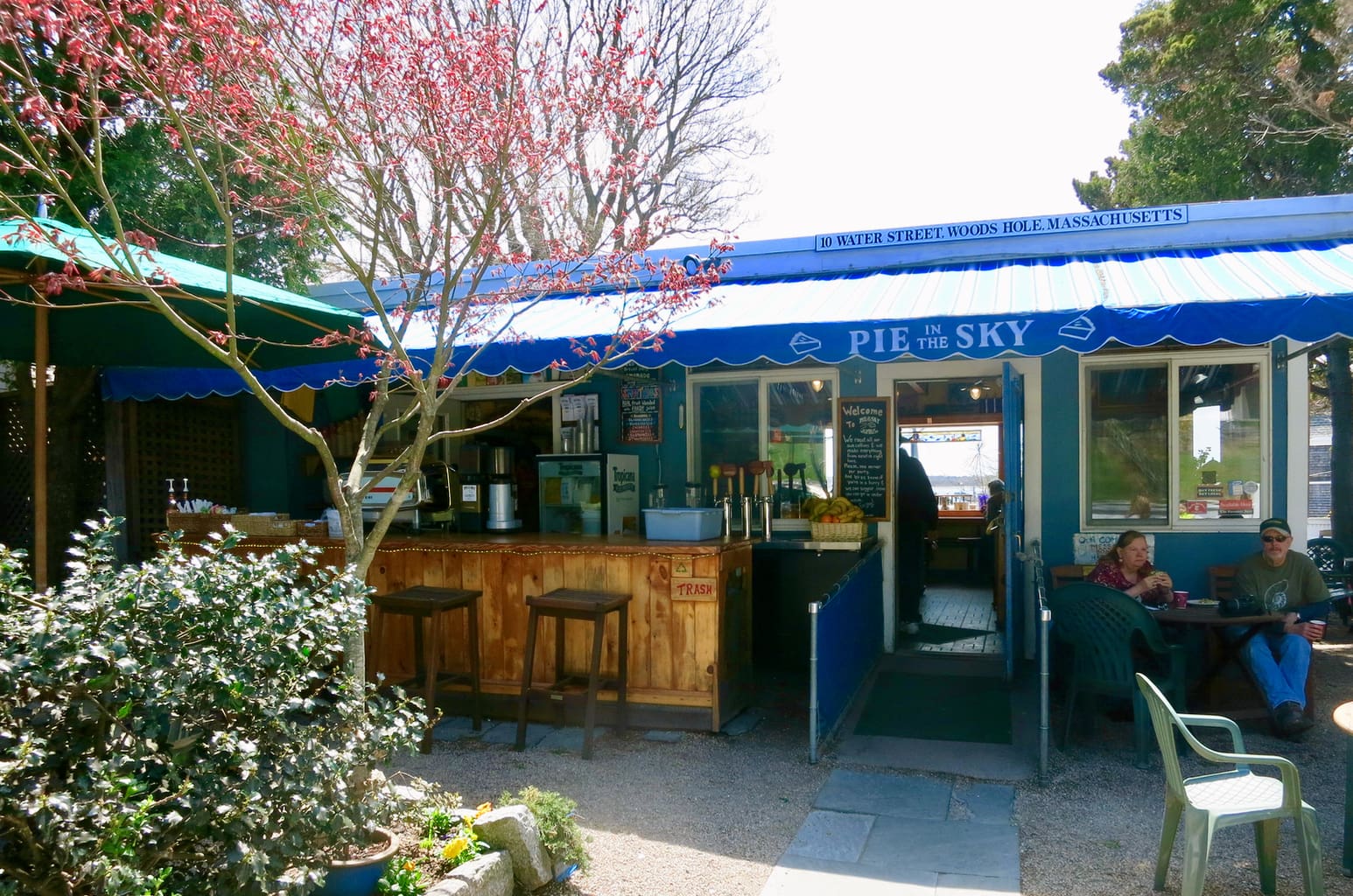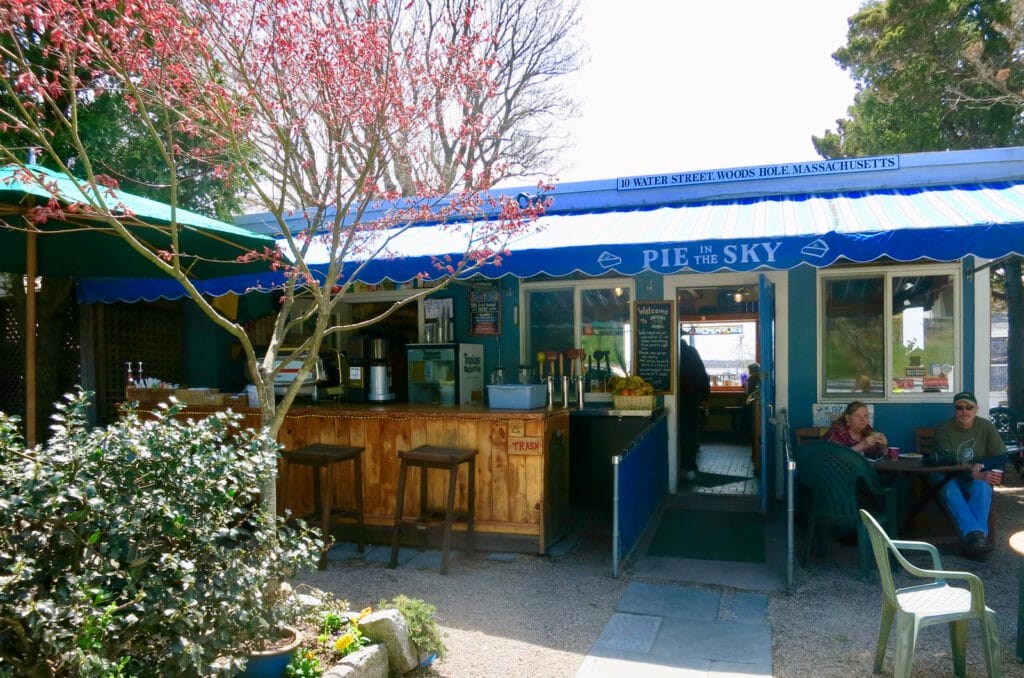 Pie in the Sky is a favorite haunt for those completing, or just getting ready to start on. the Shining Sea Bike Path. Coffee is home-roasted its pies and sandwiches are beyond compare.
Where to Stay in Woods Hole MA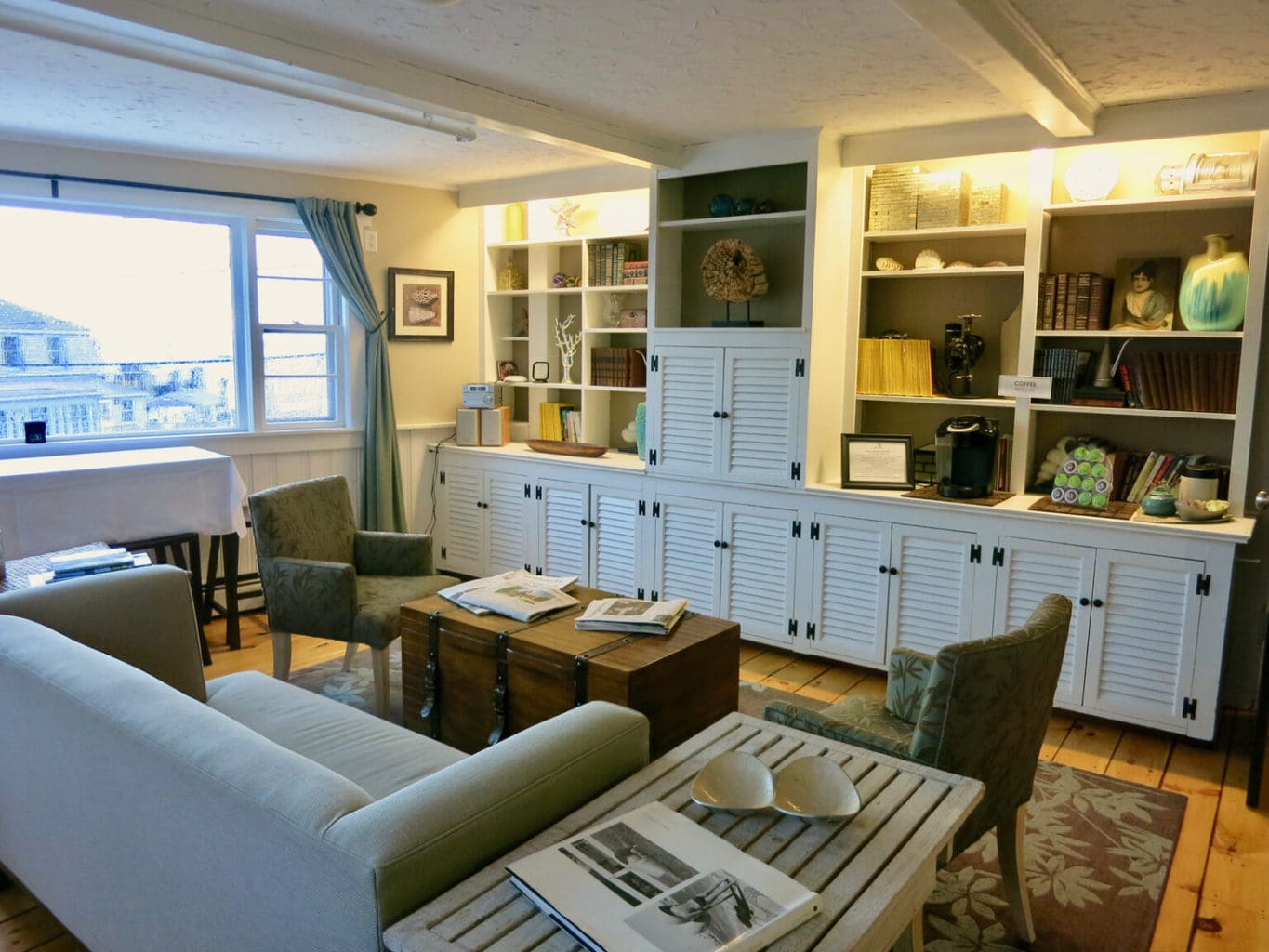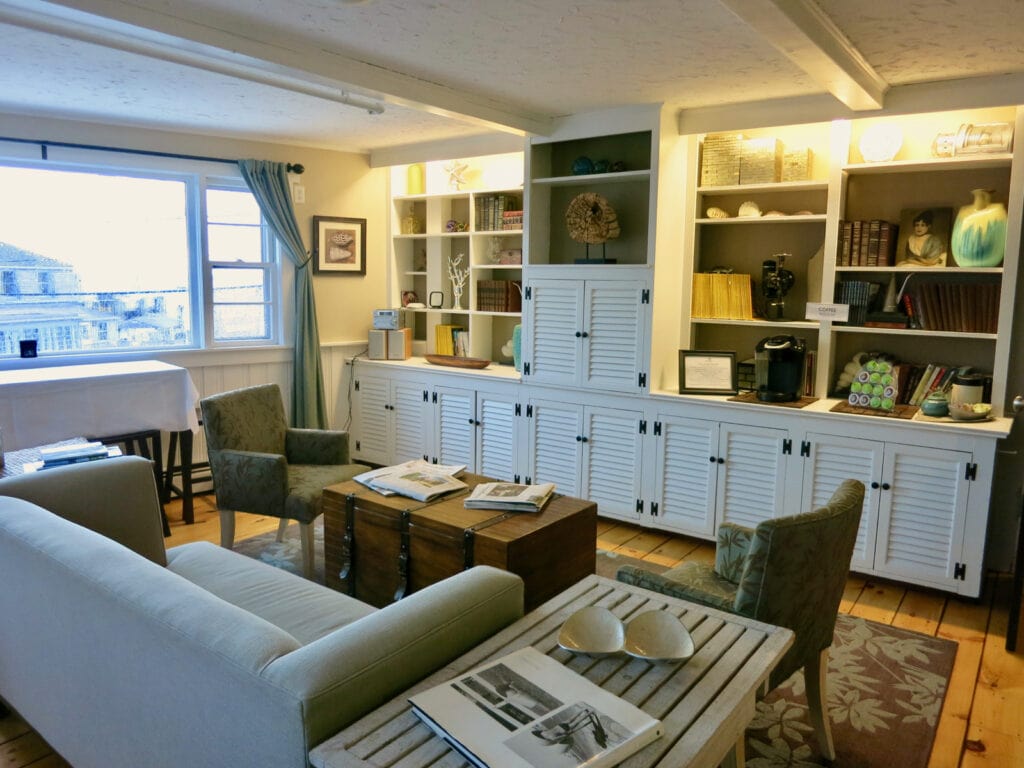 Los Angeles residents and television writers Beth Colt and P.K. Simonds (producer of Ghost Whisperers) purchased a dilapidated hotel/boarding house, originally built in 1878, and turned it into a nautical chic, "Vintage Restored" inn. The Level of hospitality year round is, most guests say, "extraordinary."
Across the street from Woods Hole Oceanographic Institute (WHOI), it's just a fishing rod cast away from the Martha's Vineyard Ferry. Because of this many patrons stay overnight either before or after a trip to the Vineyard.
Decked out in turquoise and sea foam pastels, white wainscoting, distressed wood floors, and whimsical knickknacks, the Inn is a true in-town boutique.
Rooms at Woods Hole Inn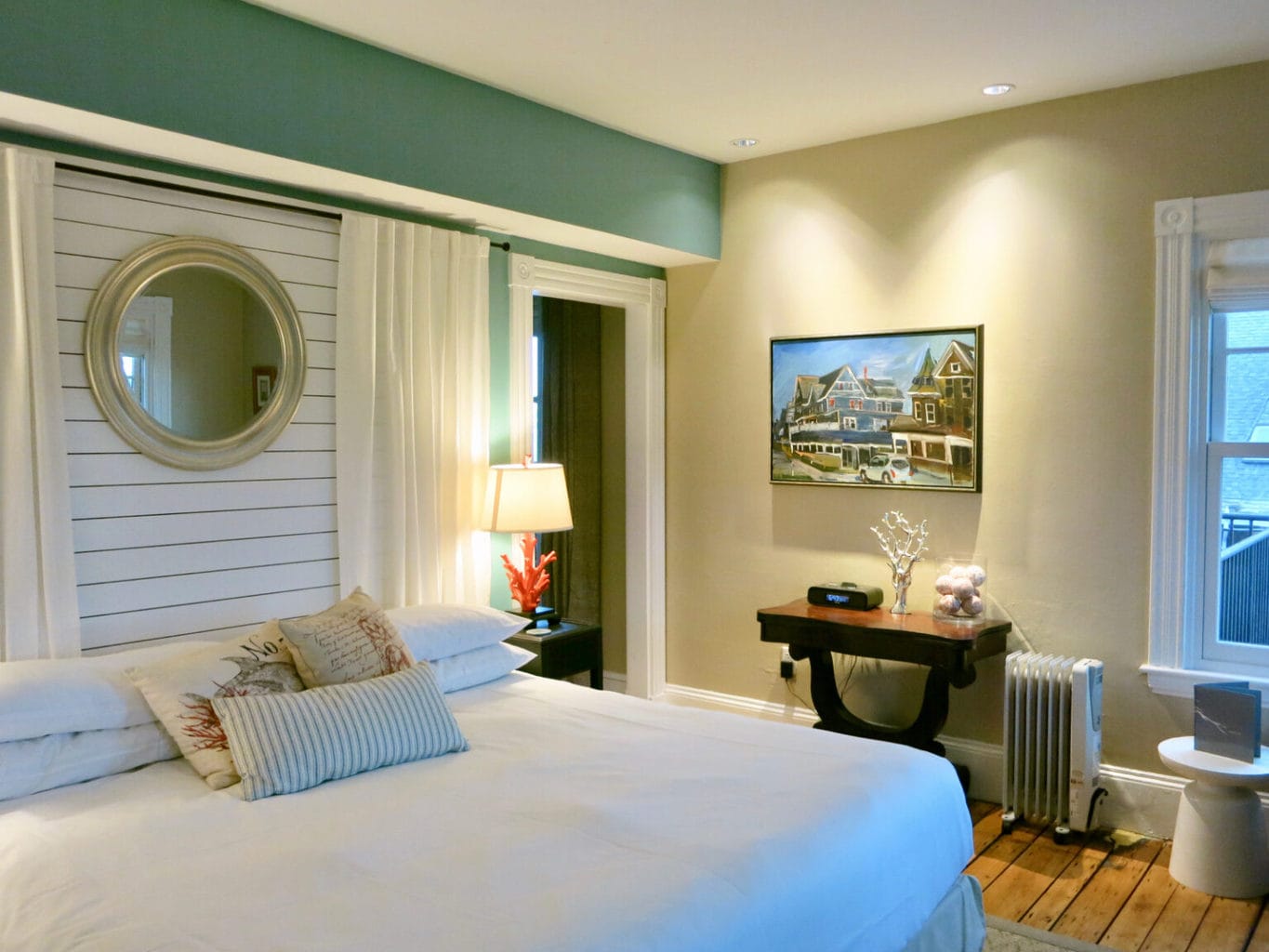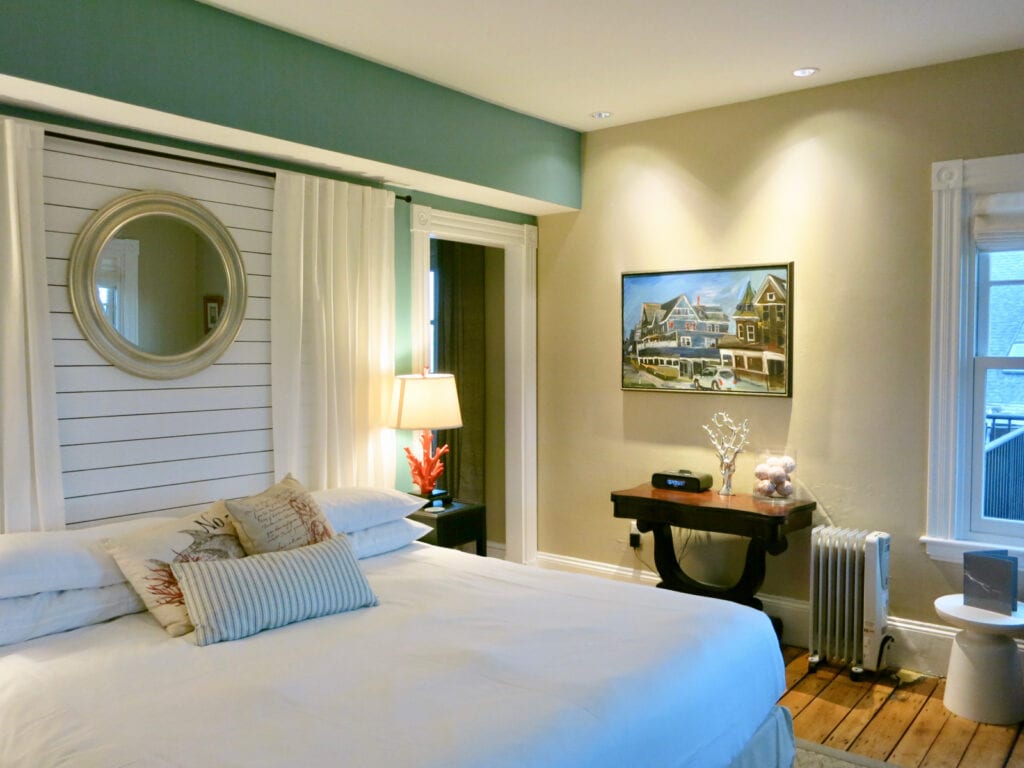 Art and pillows in colors of the sea punch up 14 bright rooms. White furniture, topped with tchothkes you'd pick up in Home Goods or local gift shops, add informal flair.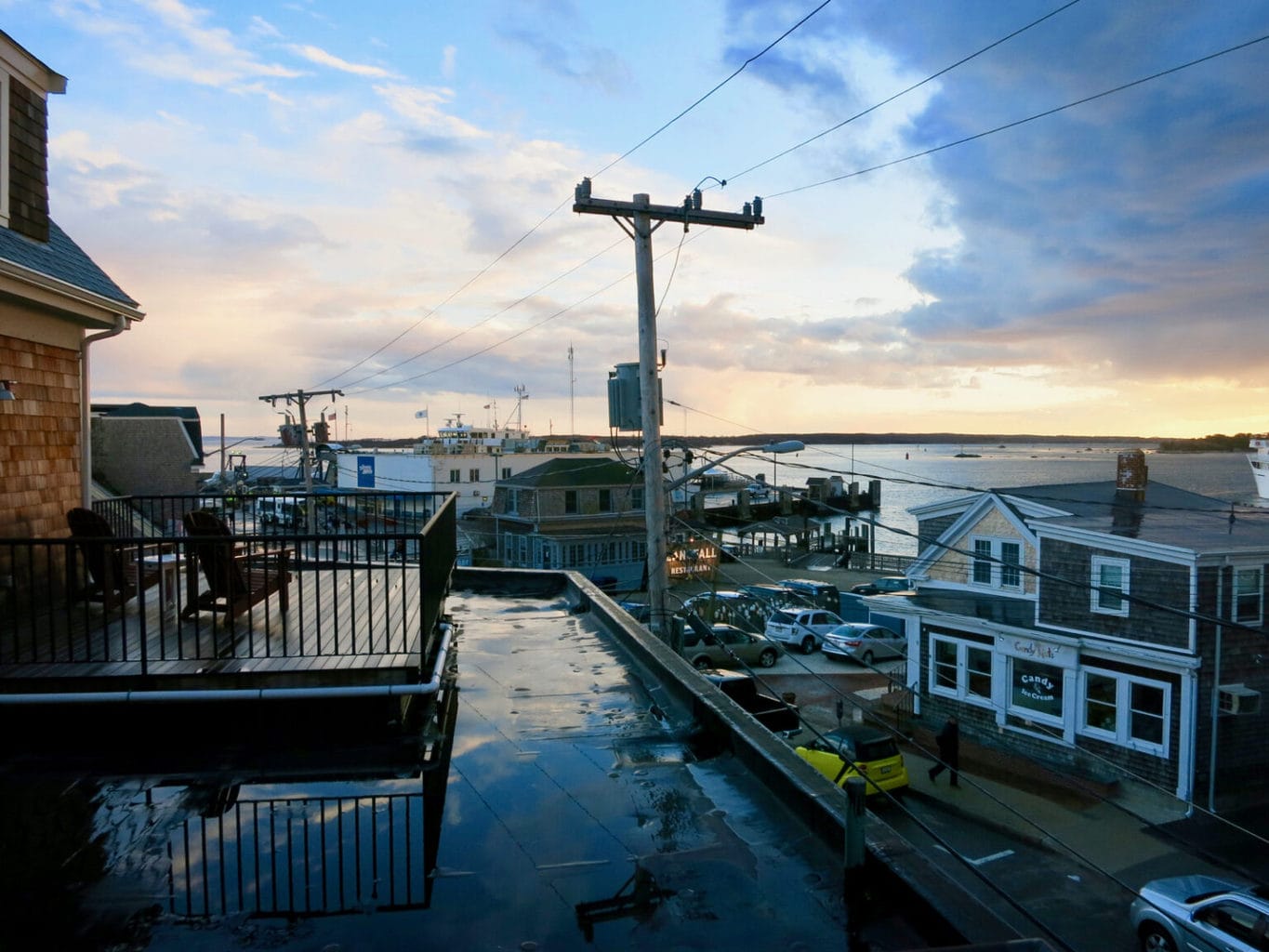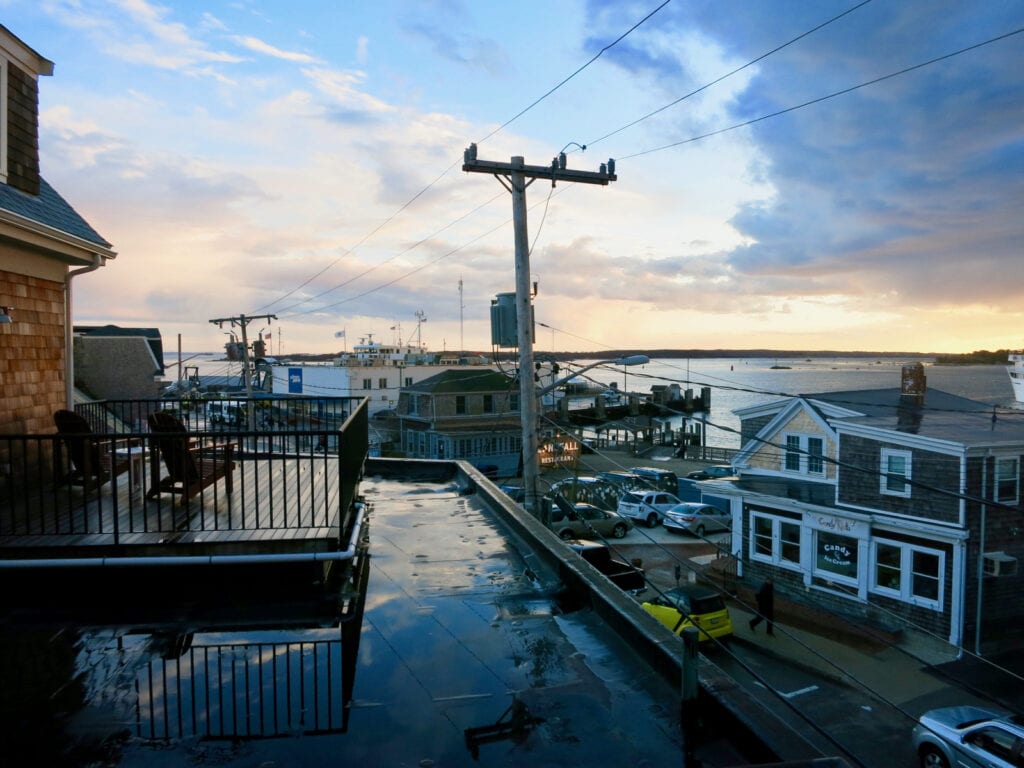 Ask for the Penzance or Nonamessett Room, each with its own private deck, claw foot tub and a direct view of the Ferry and the serene harbor beyond. The extra cost is worth it for the spectacular sunsets over the harbor islands alone. Complementary breakfast is "upscale" gourmet; lots of fruit, baked goods, quiches and tarts.
And here's a bit of trivia. The Red Chair Travels began here, when Beth Colt painted an old wooden chair red and made it the star of her Woods Hole photographs. The Red Chair is now sponsored by Bedandbreakfast.com as it makes its way, one inn after another, across the USA.  Rooms and suites range from $155-$435 (depending on day and season) and include free gourmet breakfast and even more importantly, free parking. 
Find Woods Hole Inn on our latest 15 Top Romantic Hideaways Northeast US 2022.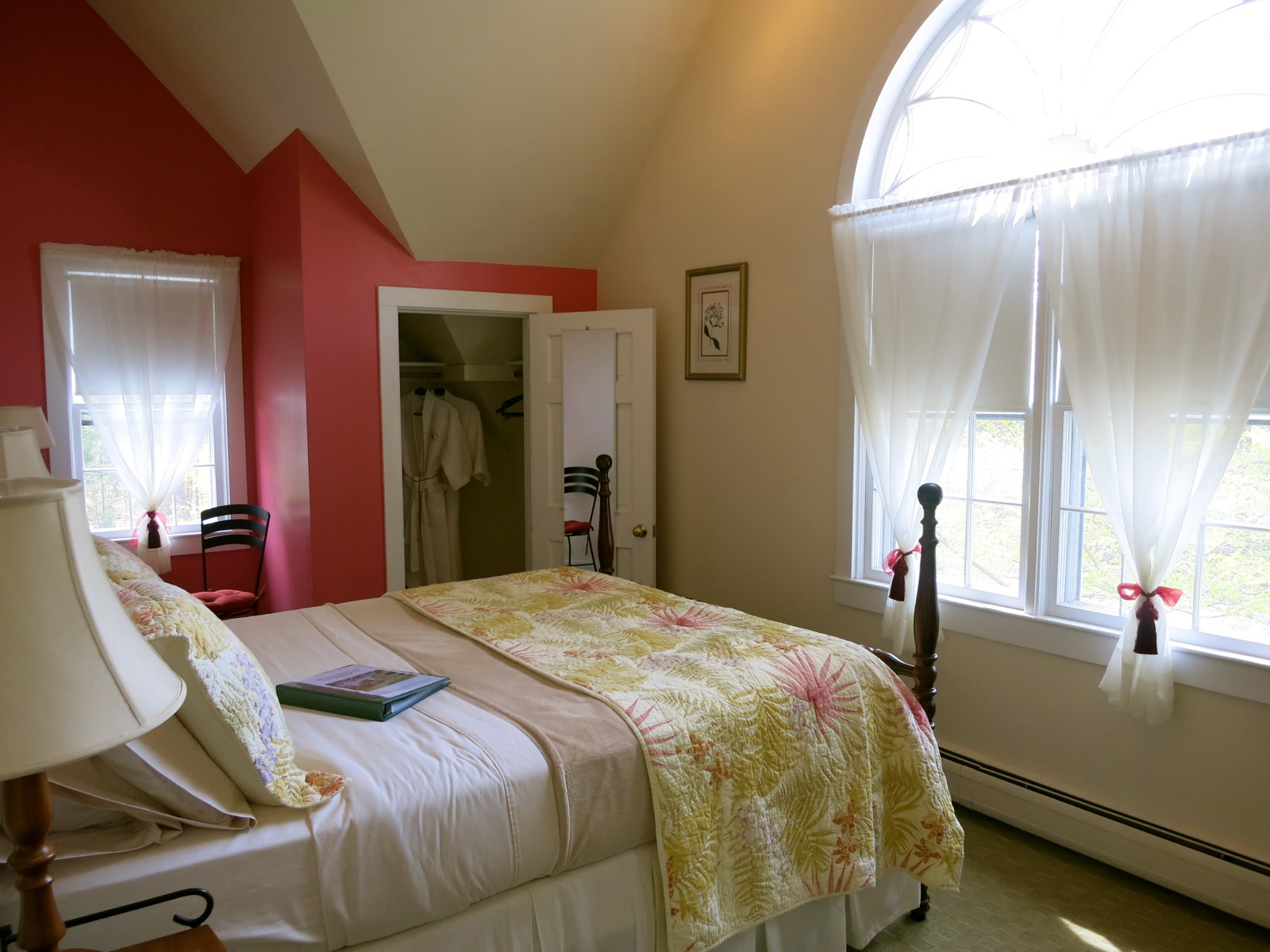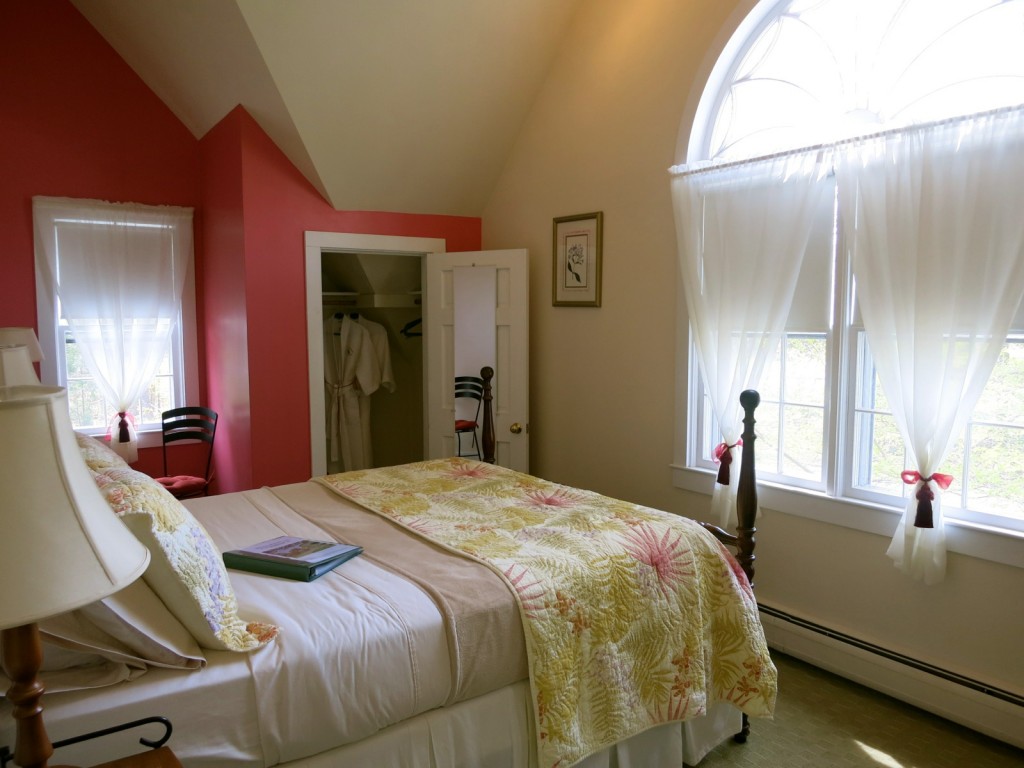 Julie Brienza and Martha Bridgers opened this beachy B&B on the main road two miles from Falmouth and two miles from Woods Hole.  It was an immediate hit. Kid friendly and all about service and value, each colorful, whimsical room – decked out with colorful quilts – is different. Former pastry chef, Martha, creates mouth-watering gourmet breakfasts which you can enjoy on a patio overlooking the gorgeous, huge back yard.  Five rooms $179-$250 include gourmet breakfast, afternoon tea and cookies, and use of bikes.